Discover the Difference: Disney's Boardwalk vs. Disney Springs
If you are planning a Disney World vacation and aren't too familiar with the property, you might run across mention of Disney's Boardwalk vs. Disney Springs. Guests generally say they love spending an evening on Disney's Boardwalk. Meanwhile, others chime in that they prefer to go to Disney Springs for all the dining options and shopping.
This review will examine the differences between Disney's Boardwalk and Disney Springs. While each option can be fun, they are entirely different. So first, we'll clarify the differences. Then, I'll provide an overview of what you can expect at each location.
Additionally, I'll add a few tips for dining and tips for using Disney transportation to get to either location. The only question left–which one will you choose?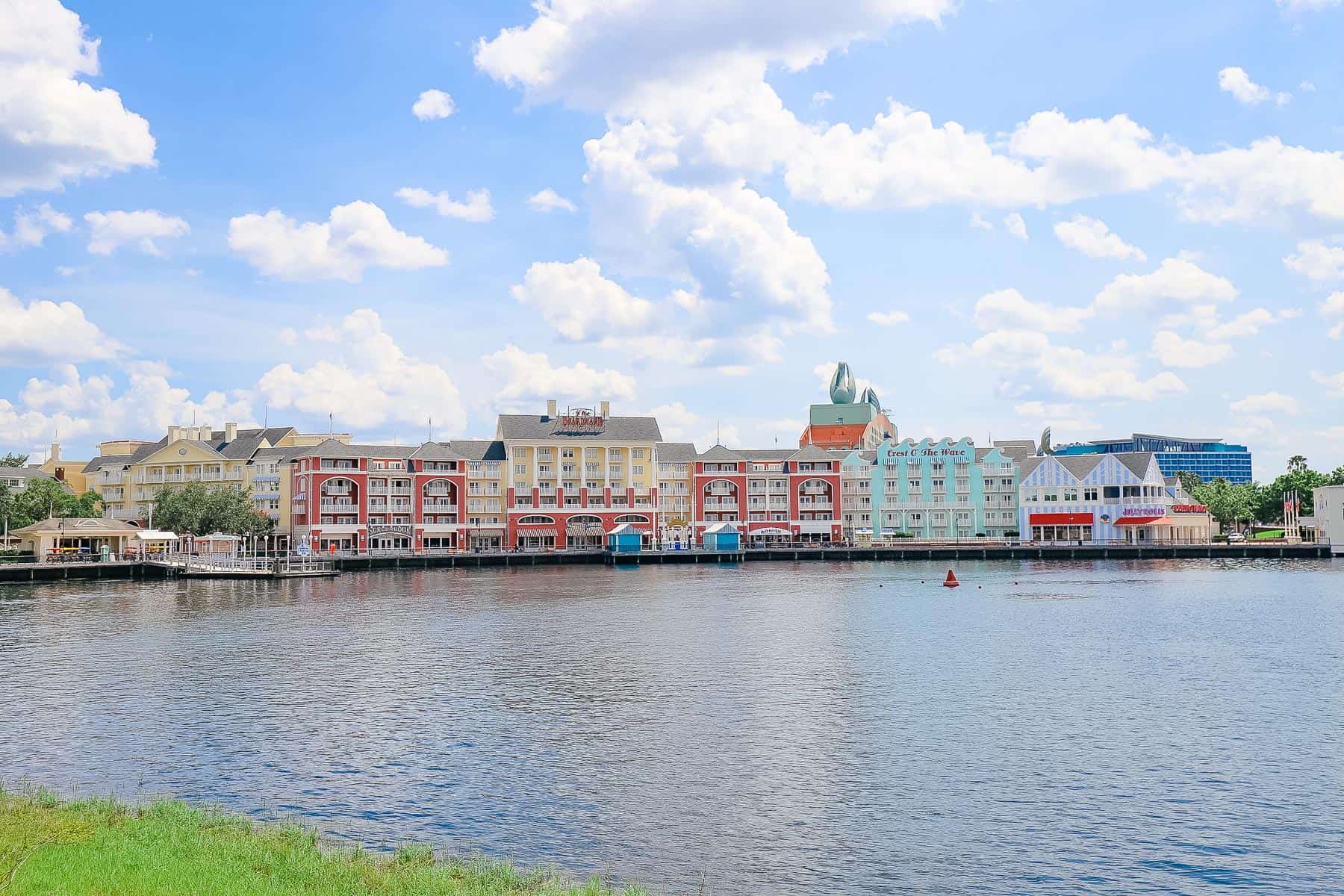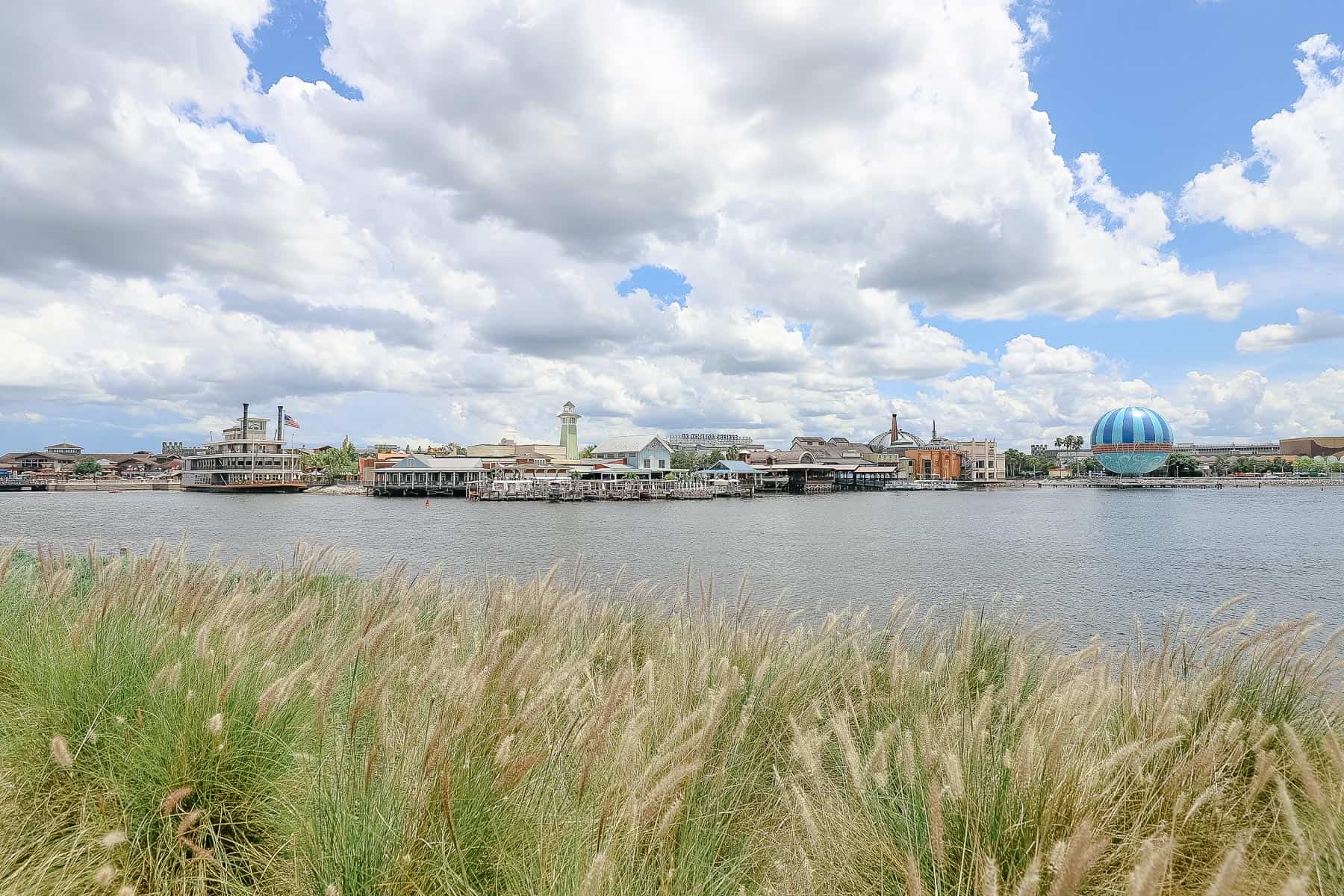 Disney's Boardwalk vs. Disney Springs
For starters, Disney's Boardwalk is a resort with a themed area. At the same time, Disney Springs is a venue that offers shopping, entertainment, and dining.
While it doesn't cost anything to visit either of these locations, you will need to be aware of parking if you drive a car. Disney Springs has free parking at its parking decks and surface lots. At Disney's Boardwalk, guests will, in most cases, need a dining reservation to park at the resort.
If you do park at the Boardwalk, you'll have to park and walk through the hotel to get to the Boardwalk. If you prefer not to walk through the hotel, a separate outdoor staircase leads to the Boardwalk. It sits to the right of the main entrance.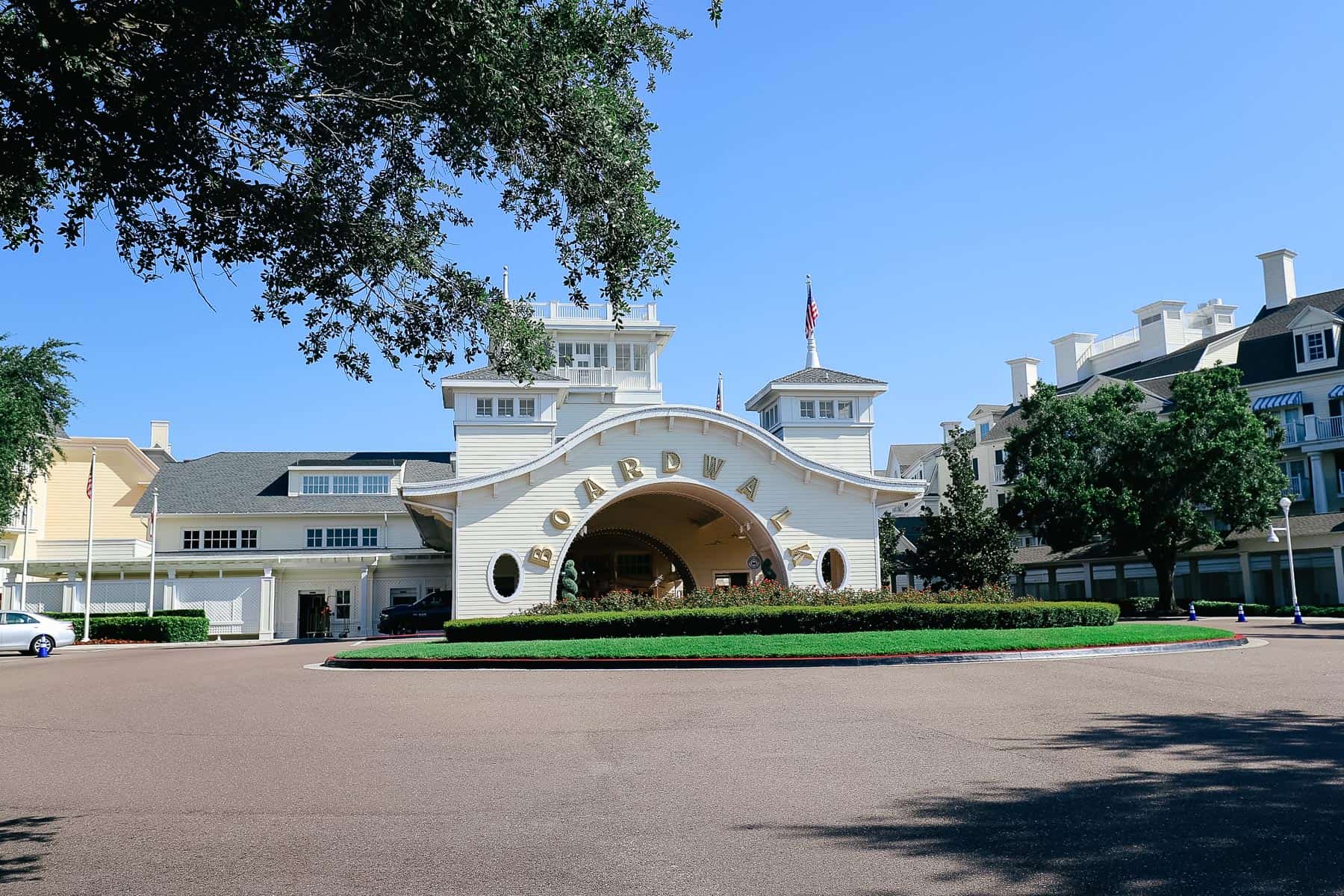 Once you walk down those steps or through the lobby, you'll see the resort's large green lawn. From here, you'll continue forward toward Crescent Lake.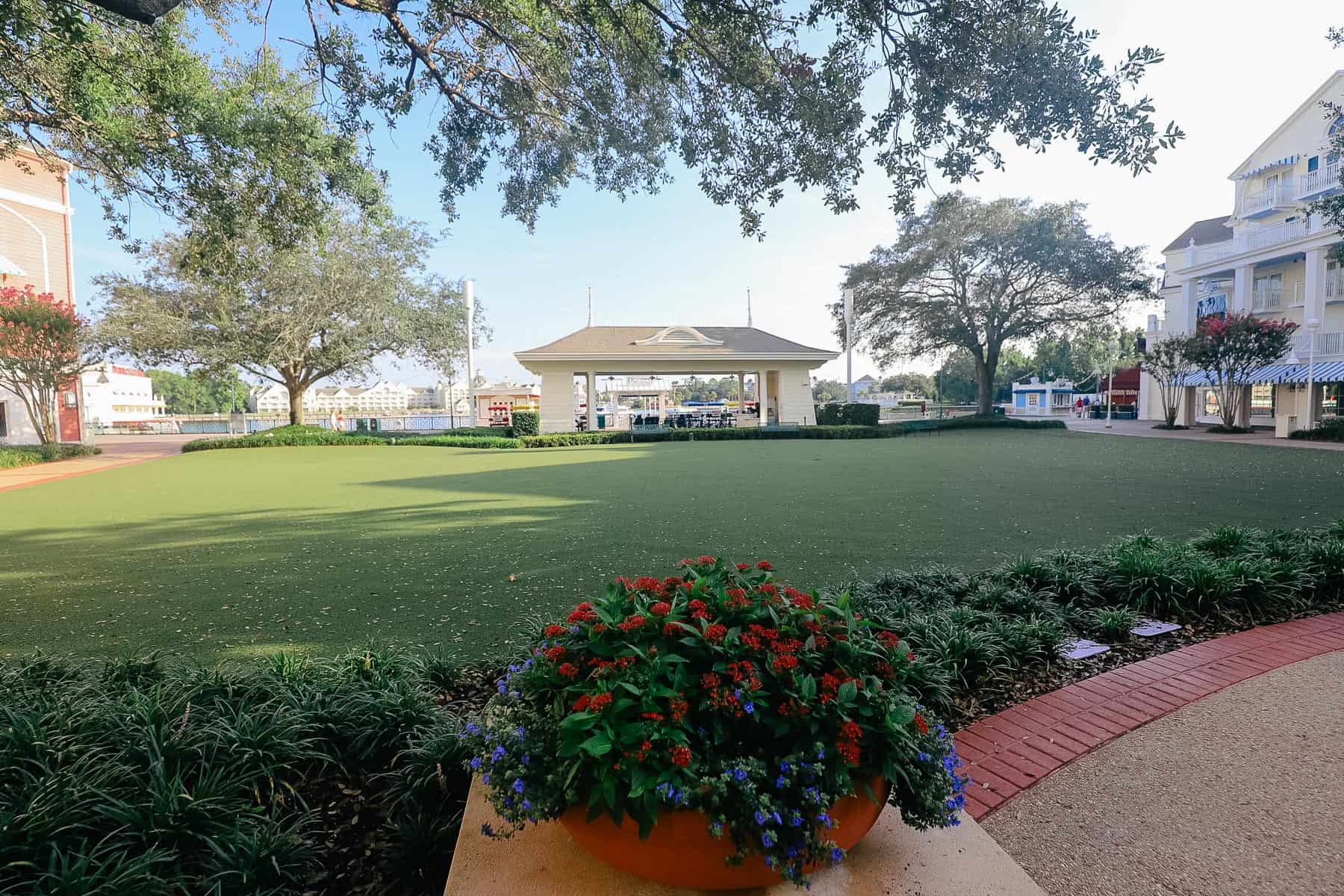 Disney's Boardwalk was designed to look like a turn-of-the-century seaside boardwalk. It features an old-fashioned wooden boardwalk. While on the Boardwalk, you'll run into a few shops, approximately 11 restaurants, and several recreational activities.
Disney Springs has approximately 100 shops, 60+ dining locations, and around 20 entertainment options. Comparing the two, one area is much larger than the other.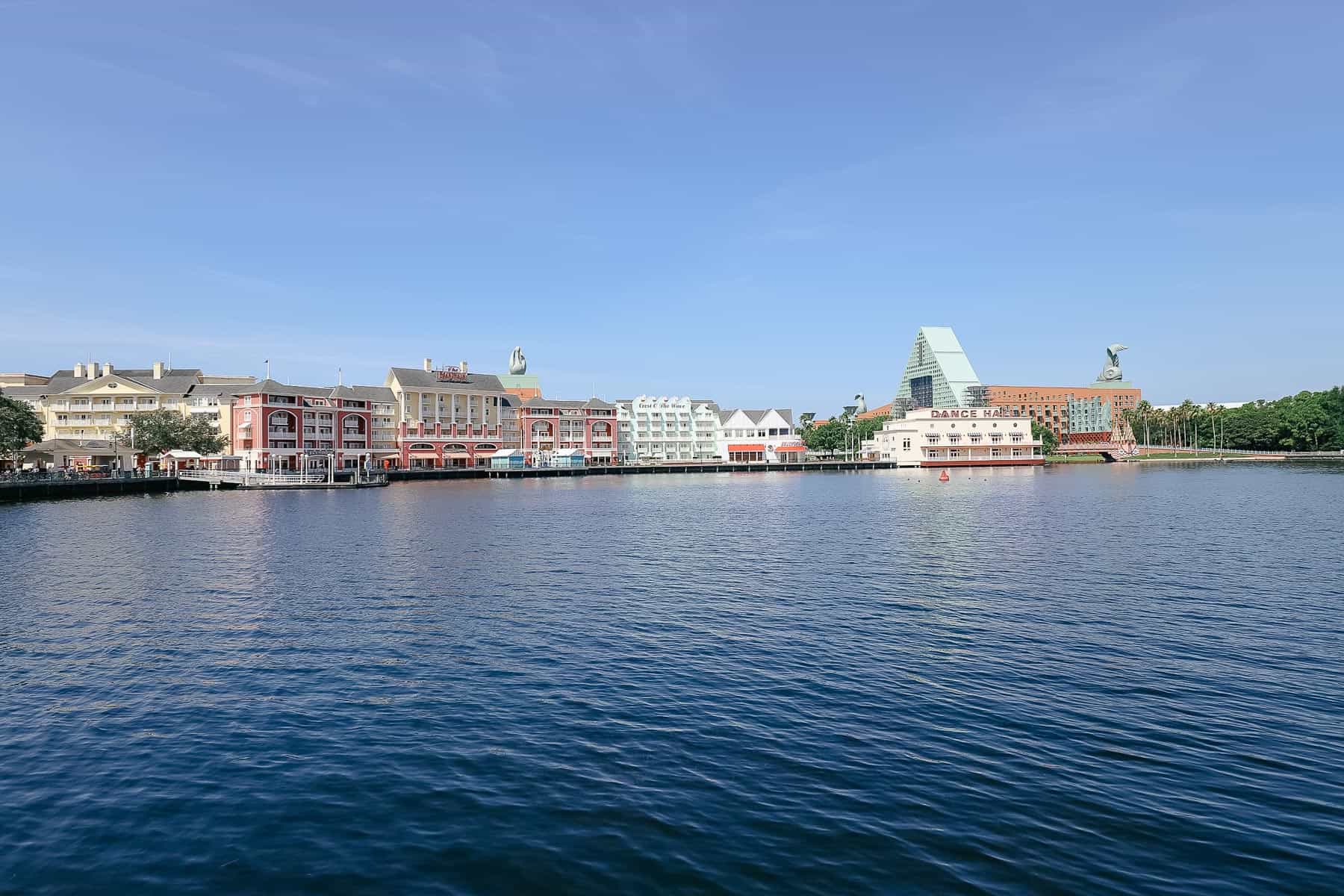 Dining
While Disney Springs has many more dining options than the Boardwalk, they have several excellent options. Some of the popular dining options at Disney Springs include:
You can read more about these options in our guide to the best restaurants at Disney Springs. It includes tips for securing hard-to-get dining reservations at the venue.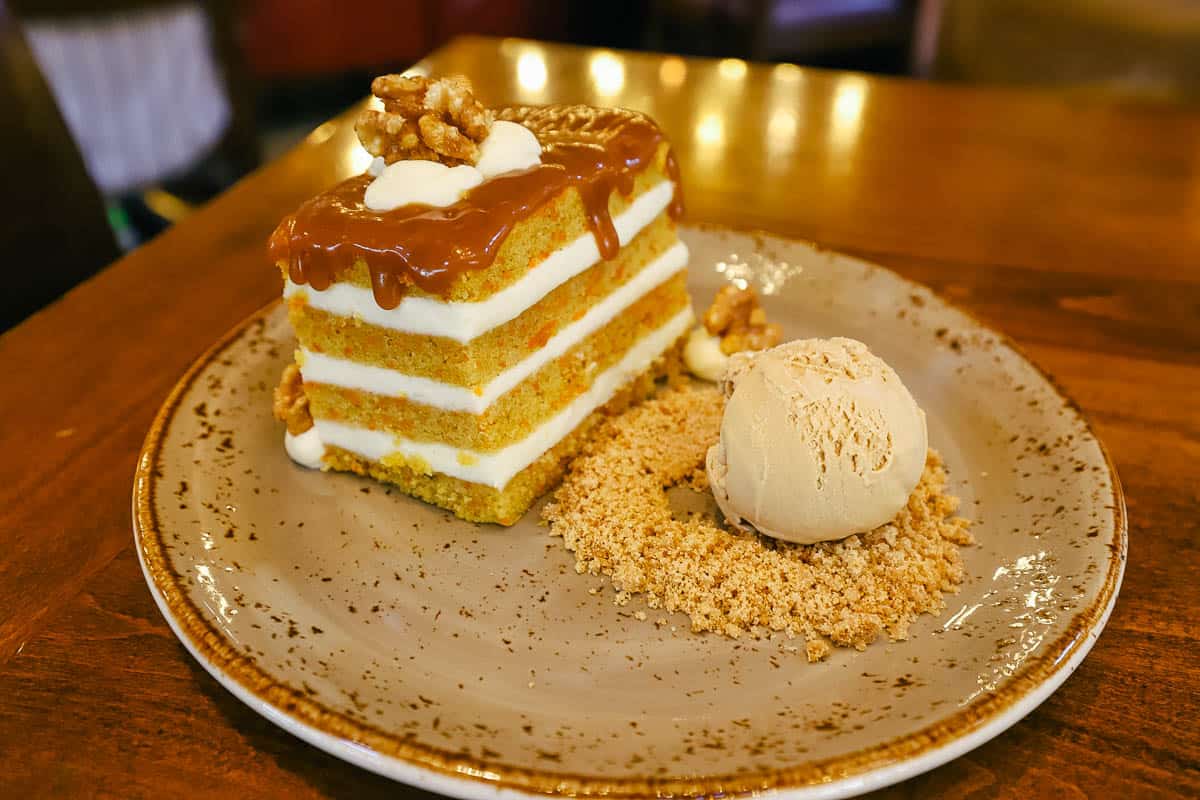 At the Boardwalk, you might like to dine or pick up a treat at one of the following locations:
Trattoria al Forno
Flying Fish
Pizza Window
Joe's Marvelous Margaritas
Abracadabar
Belle Vue Lounge
Boardwalk Ice Cream Shop
We have a list of Disney Boardwalk Restaurants if you want to learn more about any of those options. Both Disney Springs and Disney's Boardwalk have multiple new dining locations expected to debut later this year.
While both locations have plenty of restaurants, you'll have much better luck securing reservations at Disney Springs. Additionally, more walk-up options at Disney Springs don't require advanced reservations.
Shopping
When it comes to shopping, you'll want to visit Disney Springs. However, the Boardwalk has some charming shops, like their large resort gift shop, The Screen Door Store. They also have a wonderful art gallery called The Promenade, formerly the Wyland.
However, Disney Springs has a variety of shops featuring famous brand names that you won't find anywhere. Some of the stores include:
The Lego Store
Lululemon
UNIQLO
Vera Bradley
Alex and Ani
Tommy Bahamas
In addition, this is one of the best places on Disney property to shop for Disney-specific merchandise. Some of those shops include:
Ever After Jewelry Co. & Accessories
Disney Style
The Art of Disney
Tren-D
Marketplace Co-op
Disney's Days of Christmas
World of Disney
Once Upon a Toy
You can preview the entire list of shops available at Disney Springs.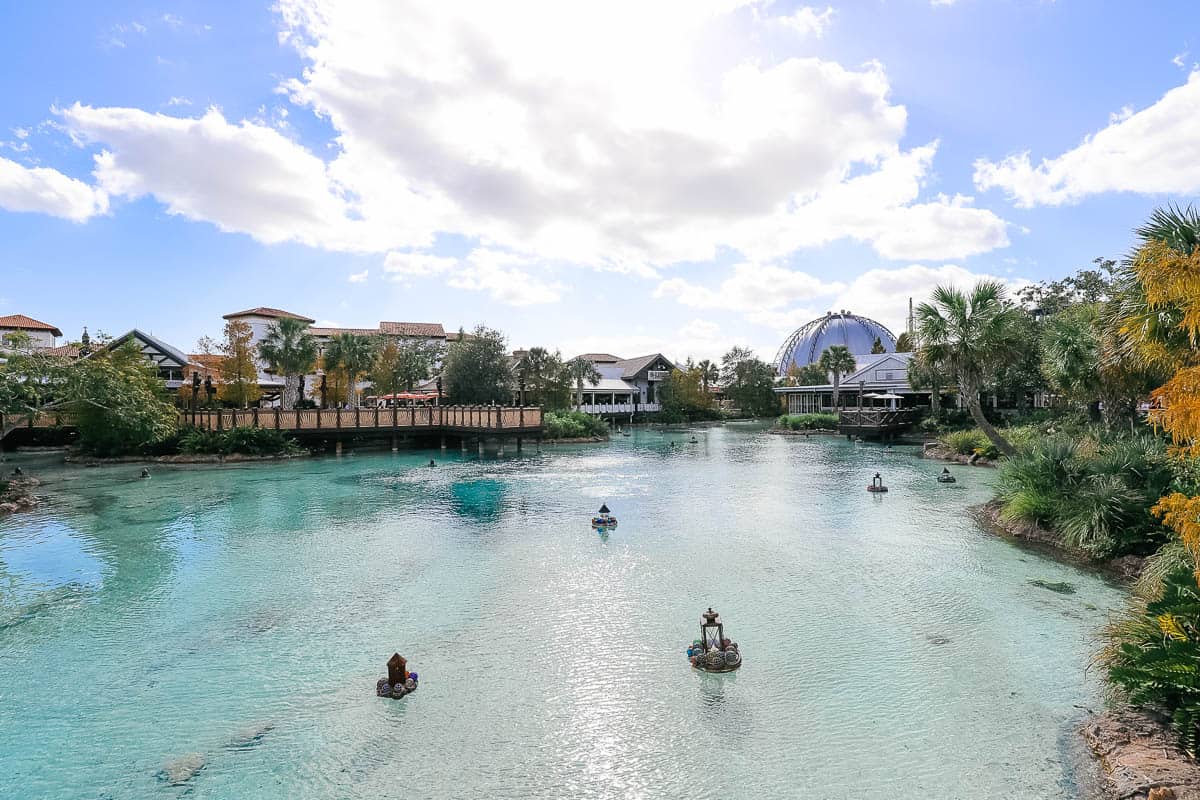 Entertainment
Both Disney Springs and Disney's Boardwalk have several options when it comes to entertainment. At the Boardwalk, you'll find a few carnival-style games. Later in the evening, entertainers often perform.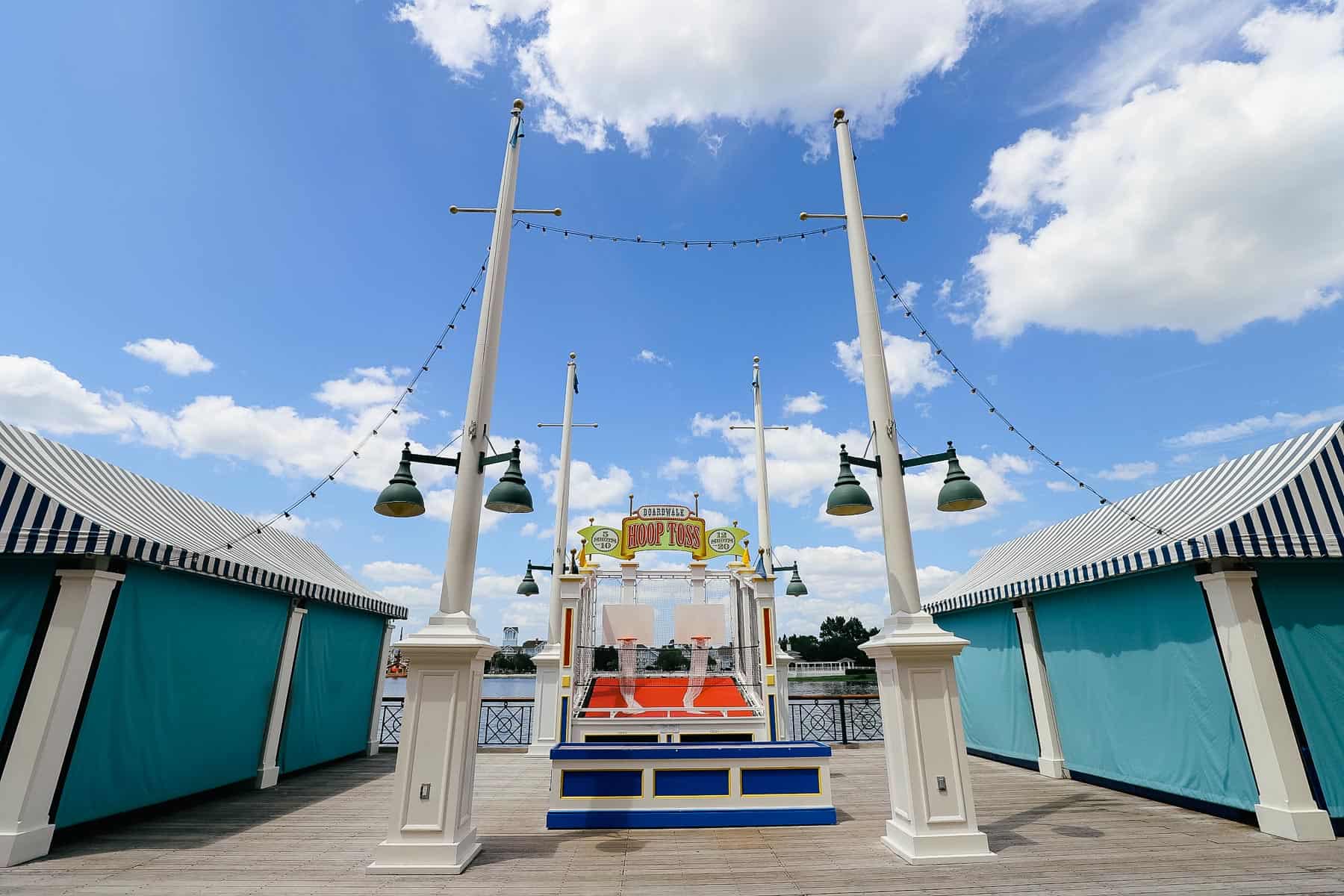 Surrey bike rentals are available to ride around Disney's Crescent Lake area.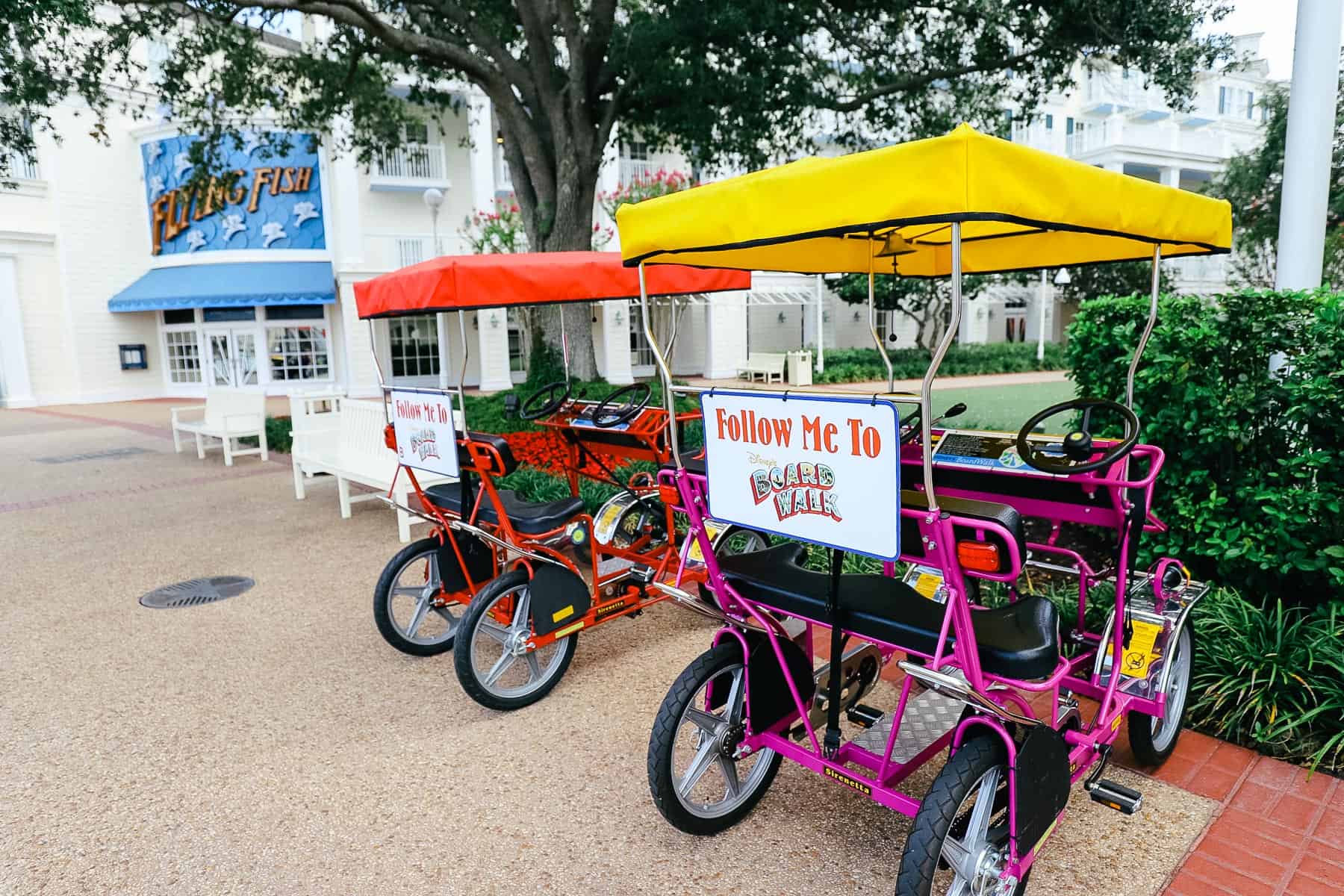 You might also enjoy an evening stroll around the lake. If you want, you could resort hop the surrounding resorts. You could browse their gift shops, try small plates and cocktails in the various lounges, or visit the lobbies.
Several swing sets are available on the beach at Disney's Beach Club. We've often enjoyed pausing here to take in the sunset.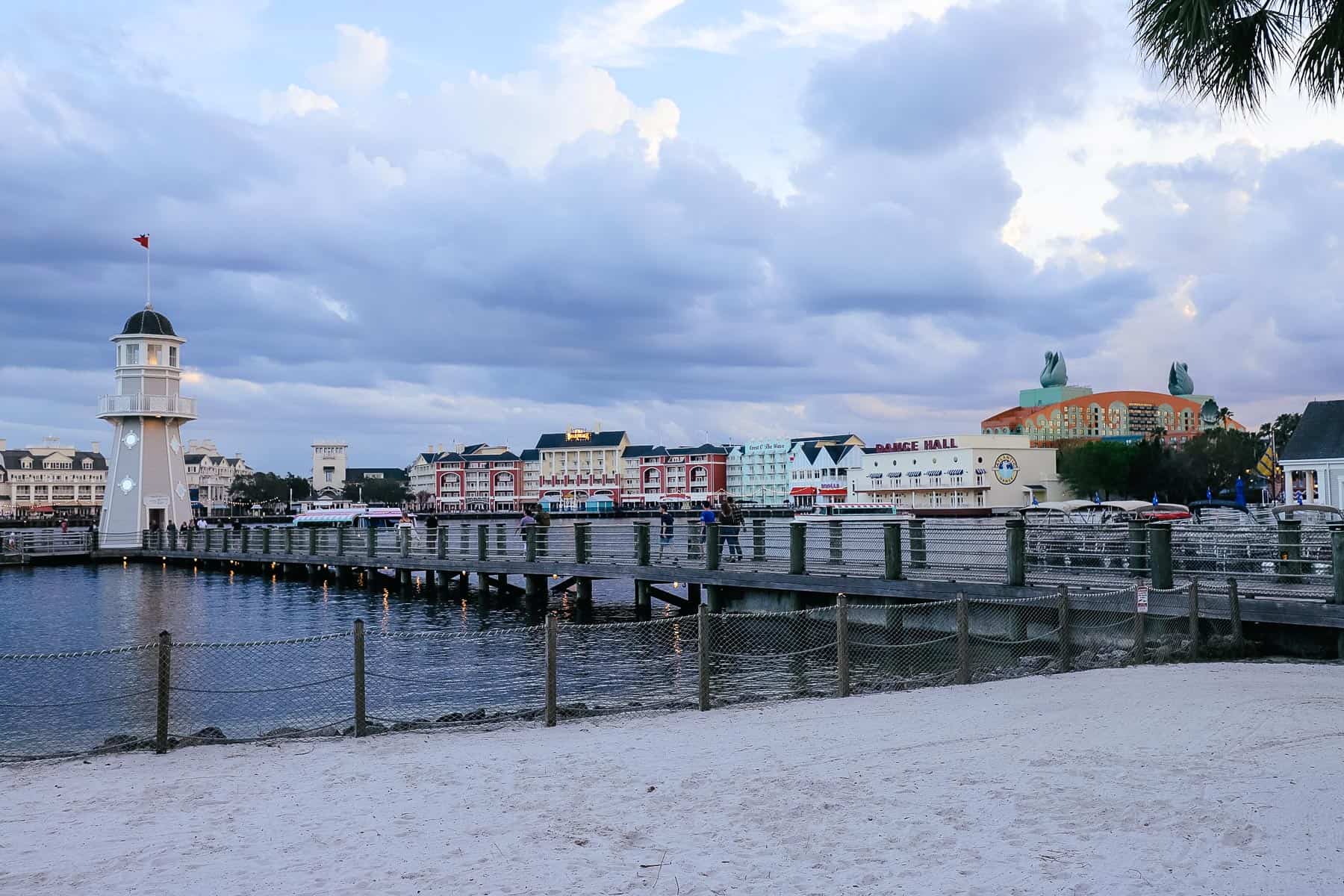 In comparison, Disney Springs has much more to do regarding entertainment. Perhaps, one of the most popular touristy things to do is take flight on the Aerophile balloon. If not, it's still lovely to see it from various viewpoints while you walk around Disney Springs.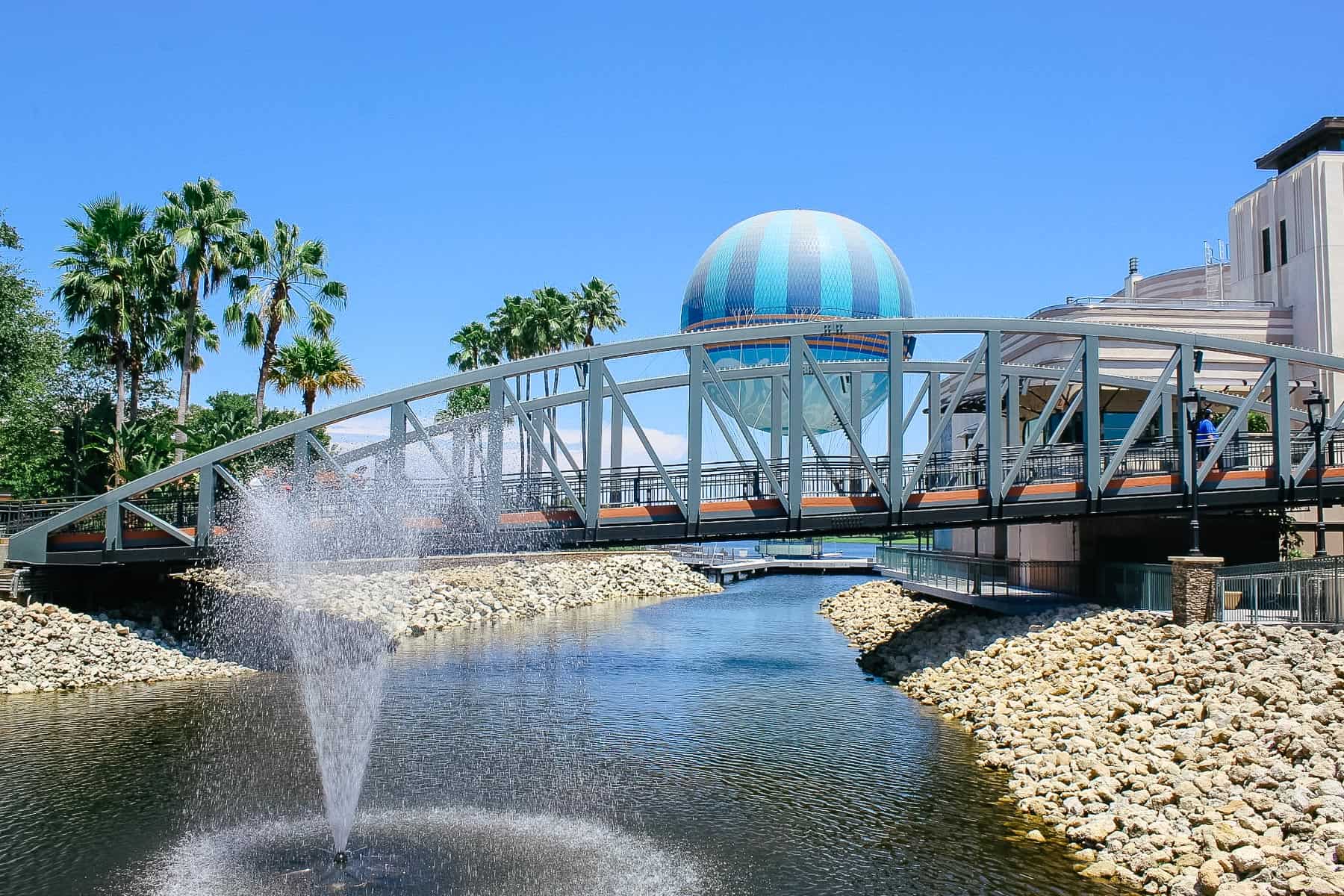 AMC Disney Springs Dine-In Theater is also available, offering a unique dinner with a movie experience. However, regular theaters are available if you'd rather have dinner elsewhere and then take in a movie.
The Boathouse restaurant has amphicars. These amphicars are boats you can drive out onto the water at Disney Springs. So this might be a fun option and something different. We have a review of the Boathouse at Disney Springs if you want to learn more.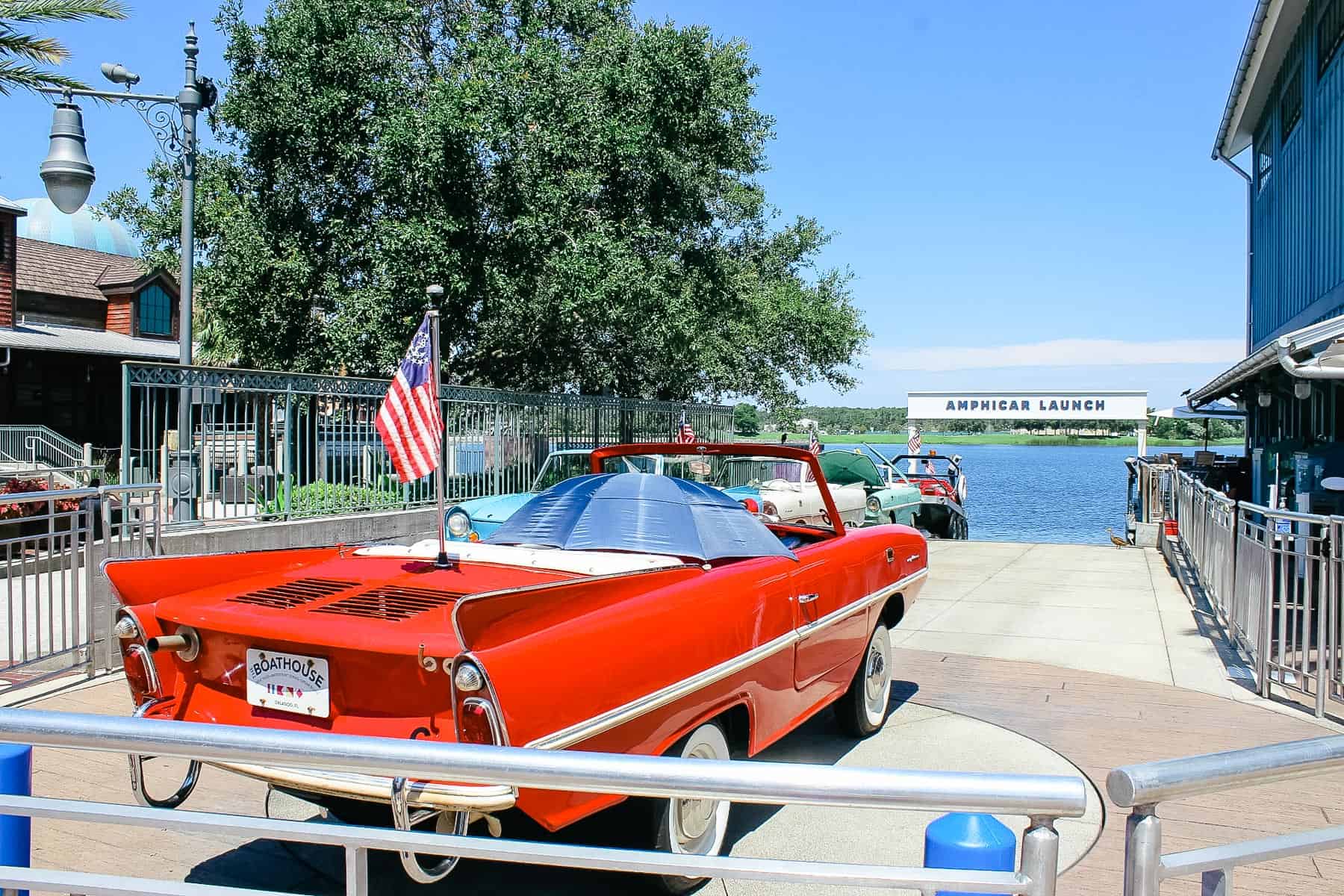 Sports fans will love Splitsville, a bowling alley that doubles as a restaurant. For a more elaborate form of entertainment, you might choose to purchase tickets for Cirque De Soleil.
Additionally, Disney Springs has live performers (musicians and artists) during the evening hours. You'll be able to find plenty to do here, ranging from free to extra-cost activities.
As far as adult-only entertainment goes, the Boardwalk has Jellyrolls with Dueling Pianos and Atlantic Dance Hall for adults age 21 or older. Disney Springs has The Edison, which turns into a nightclub scene later in the evening.
Both Boardwalk and Disney Springs have a lot going for them. However, those looking for a variety of things to do will be better off at Disney Springs. While anyone looking for a more calm, casual vibe will likely enjoy an evening at Disney's Boardwalk.
Traveling to Disney's Boardwalk or Disney Springs
Lastly, I want to share a few tips for getting to Disney Boardwalk and Disney Springs. Most guests will want to take a bus from their resort to Hollywood Studios. From Hollywood Studios, you can take the walking path to the Boardwalk.
If you prefer not to walk, you can take a Friendship Boat to the Boardwalk from Hollywood Studios. Or you can take a bus to Magic Kingdom and then take a bus to Disney's Boardwalk Inn.
Additionally, guests of the Skyliner Resorts (Riviera, Caribbean Beach, Pop Century, and Art of Animation) can take the Skyliner to either Hollywood Studios or Epcot's International Gateway (International Gateway will be closest) and walk over to the Boardwalk.
If you are staying at one of the Epcot Resorts, like the Beach Club, Yacht Club, or the Swan and Dolphin, you can walk or boat to the Boardwalk.
Okay, if you're traveling to Disney Springs, that's an entirely different ballgame. Every Disney Resort hotel offers direct bus transportation to and from Disney Springs.
However, if you leave a theme park to get to Disney Springs, you will want to check out our Disney Springs transportation guide. This guide will help you with different routes to get to Disney Springs and around the venue if you don't want to walk the entire thing.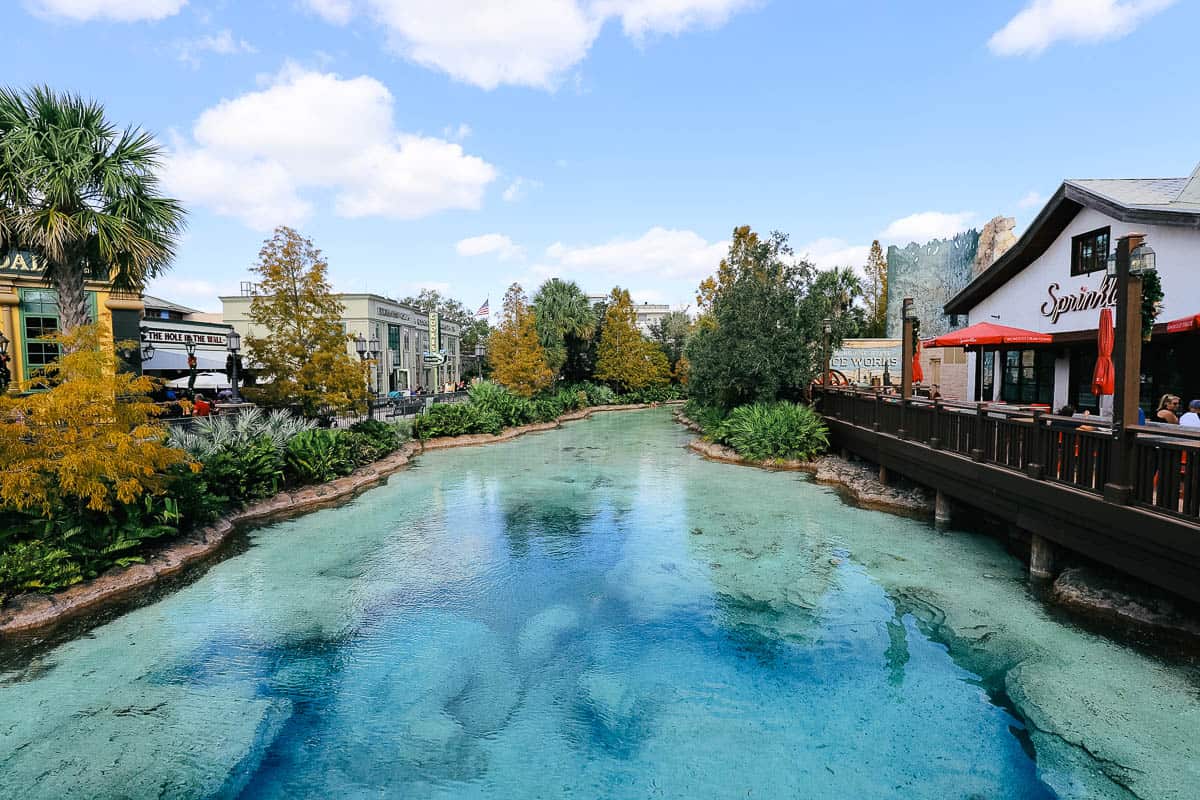 Hopefully, this article gave you a better idea of the differences between Disney's Boardwalk vs. Disney Springs. They are both great options–yet very unique.
But I understand how it can be confusing if you've never visited either location. Walt Disney World is a large place, and one can quickly become overwhelmed with planning.
For more details about the resort, try our resort guide:
Or you might enjoy some of these other popular articles:
In the Comments
Have you decided whether Disney's Boardwalk vs. Disney Springs suits you? Which do you prefer? Let us know your thoughts down below in the comments.
Planning a Walt Disney World or other Disney Destination vacation?
Our friends and travel partner, Firefly Travels, excels at doing Disney differently. You can fill out a plan your trip form on their website, and someone will reach out shortly to discuss the specifics.