Discover the Difference: Disney's Boardwalk vs. Disney Springs
If you are planning a Disney World vacation and aren't too familiar with the property, you might run across mention of Disney's Boardwalk vs. Disney Springs. People generally say how they love to spend an evening on Disney's Boardwalk.
However, others will chime in that they prefer to go to Disney Springs for all the dining options and shopping.
In this review, we will look at the differences between Disney's Boardwalk vs. Disney Springs. Then, I'll provide an overview of what you can expect at each location.
I'll add a few tips for dining and guidance on using Disney transportation to get to each location.
For starters, Disney's Boardwalk and Disney Springs are two entirely different places in almost every relation. One is a resort with a themed area, while the other is a tremendous shopping, entertainment, and dining venue.
In similarity, both Disney's Boardwalk and Disney Springs are free. Therefore, you don't have to pay admission to access either.
However, if you drive to the Boardwalk, you will need a dining reservation to park there. In comparison, parking at Disney Springs is free and doesn't require anything.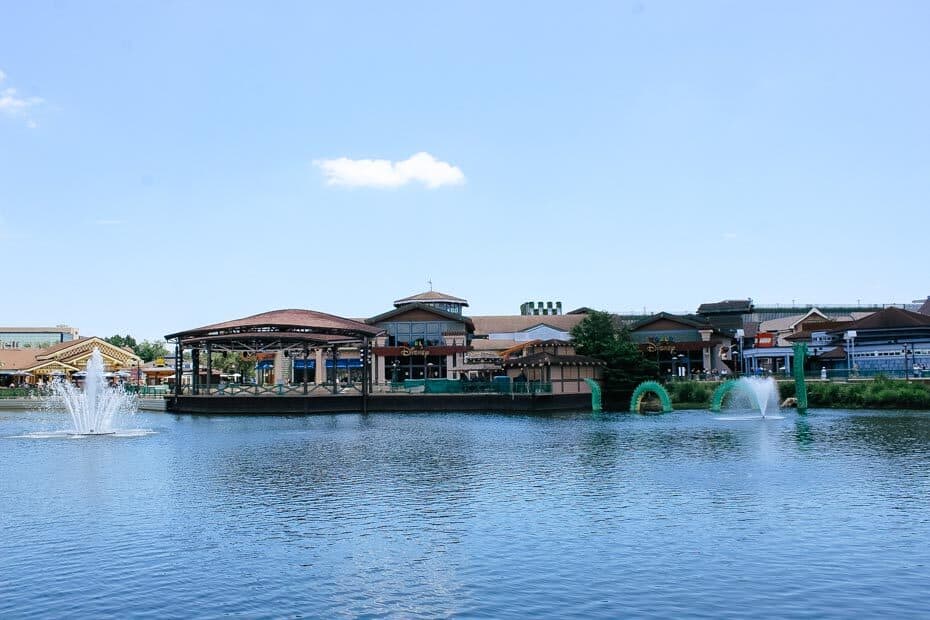 Disney's Boardwalk vs. Disney Springs
As mentioned above, the Boardwalk and Disney Springs are not similar locations. The Boardwalk is part of Disney's Boardwalk Inn Resort and Disney's Boardwalk Villas.
This resort hotel is classified as a Disney deluxe resort with a separate Disney Vacation Club wing.
Related: Disney Boardwalk Inn Review
The backside of Disney's Boardwalk Inn is designed to look like a turn-of-the-century seaside boardwalk. It even has wooden flooring. While on the Boardwalk, you'll run into a variety of shops, dining venues, and activities.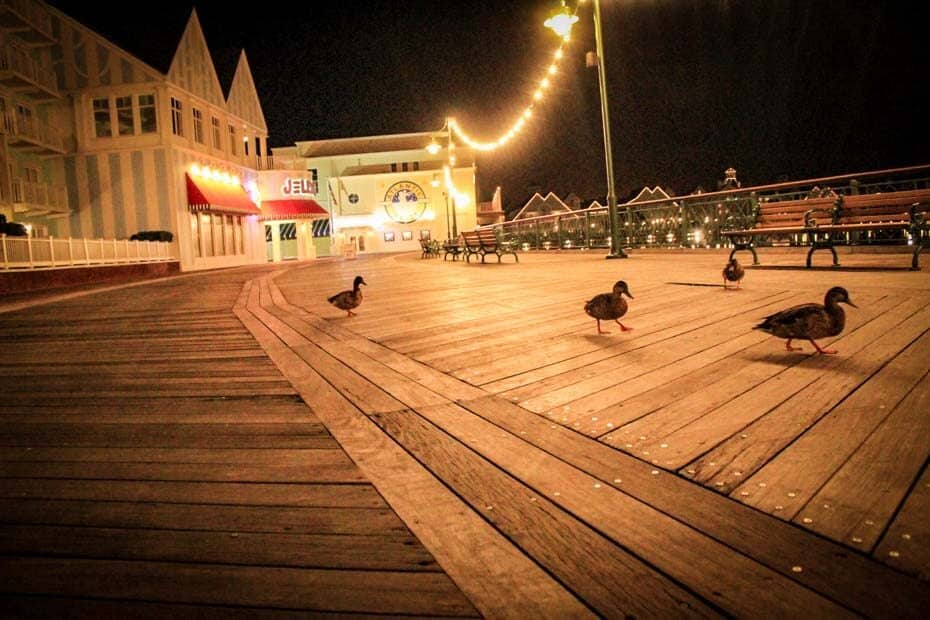 One of the fun things about staying at Disney's Boardwalk Inn is having a room that looks out onto the Boardwalk. This resort is one where a room view upgrade is worth consideration.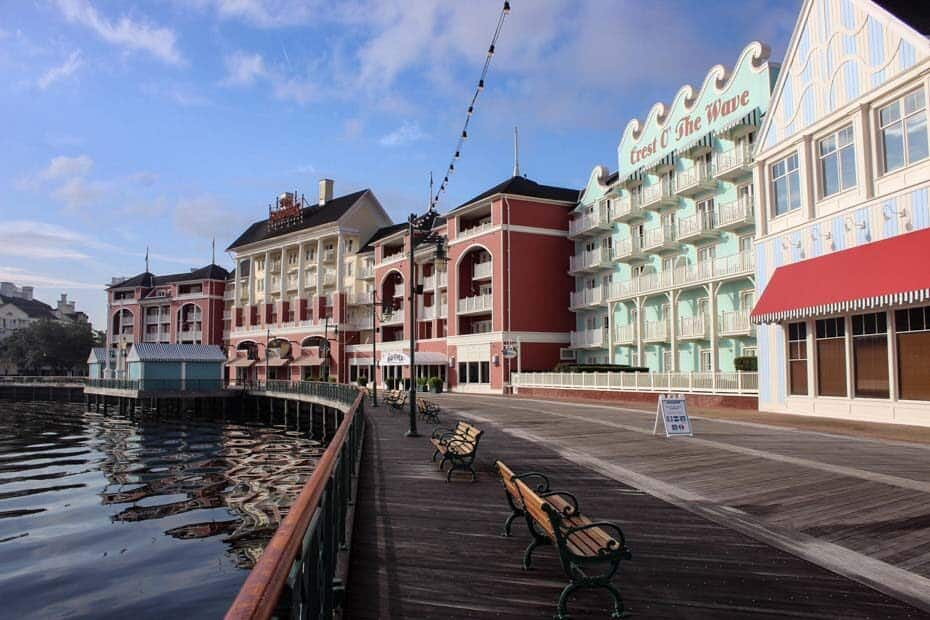 As for Disney Springs, it's about 1.5 miles down the road from Disney's Boardwalk. However, both locations are conveniently located off Buena Vista Drive.
Dining
Disney Springs has approximately 100 shops, 60 dining locations, and around 20 different entertainment options. In comparison, Disney's Boardwalk Resort has a little over ten dining options along with a few shops and entertainment.
Some of the popular dining options at Disney Springs include:
Raglan Road
Wolfgang Puck Bar and Grill
You can read more about these options in our guide to the best restaurants at Disney Springs. It also includes tips for securing hard-to-get dining reservations at the venue using OpenTable.
At the Boardwalk, you might like to eat at one of the following locations:
Trattoria al Forno
Flying Fish
Big River Grille and Brewing Works
ESPN Club
Pizza Window
To Go Cart
Joe's Marvelous Margaritas
We have a complete restaurant guide to Disney's Boardwalk Resort available if you would like to learn more about these options.
While both of these locations have plenty of restaurants, you're going to have much better luck at securing reservations at Disney Springs. Additionally, there are more walk-up options at Disney Springs that don't require advanced reservations.
Shopping
When it comes to shopping, you'll want to visit Disney Springs. However, the Boardwalk has some charming shops like their large resort gift shop, The Screen Door. And they have a wonderful art gallery at The Wyland.
Related: The Shops at Disney's Boardwalk
However, Disney Springs has a variety of shops featuring big brand names that you won't find just anywhere. Some of the stores include:
The Lego Store
Lululemon
UNIQLO
Vera Bradley
Alex and Ani
American Threads
In addition, this is one of the best places on Disney property to shop for Disney-specific merchandise. Some of those shops include:
Ever After Jewelry Co. & Accessories
Disney Style
The Art of Disney
Tren-D
Marketplace Co-op
Disney's Days of Christmas
World of Disney
Once Upon a Toy
You can preview the entire list of shops available at Disney Springs here.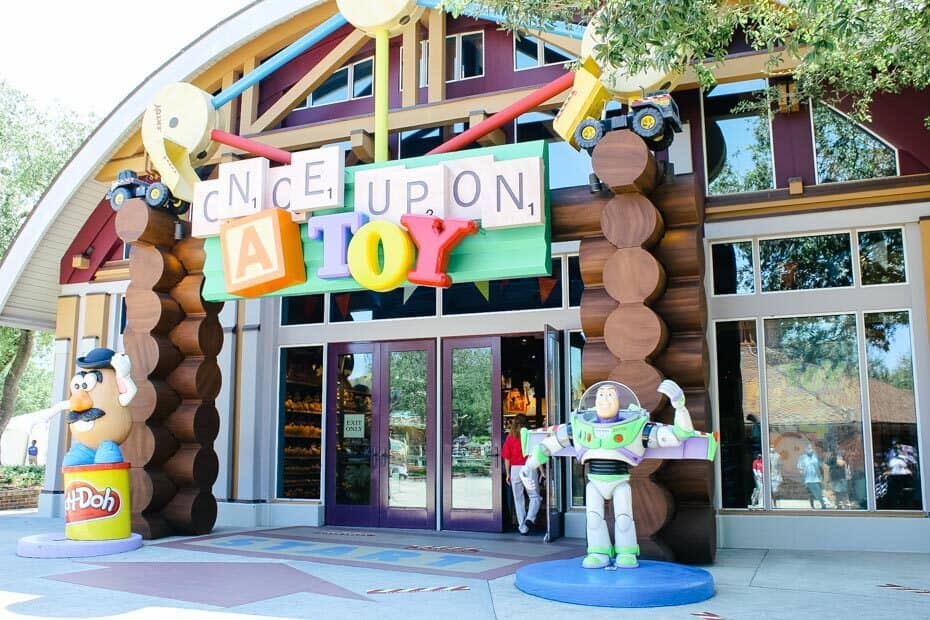 Entertainment
Additionally, both of these locations have some entertainment options. For instance, the Boardwalk offers a few carnival-style games.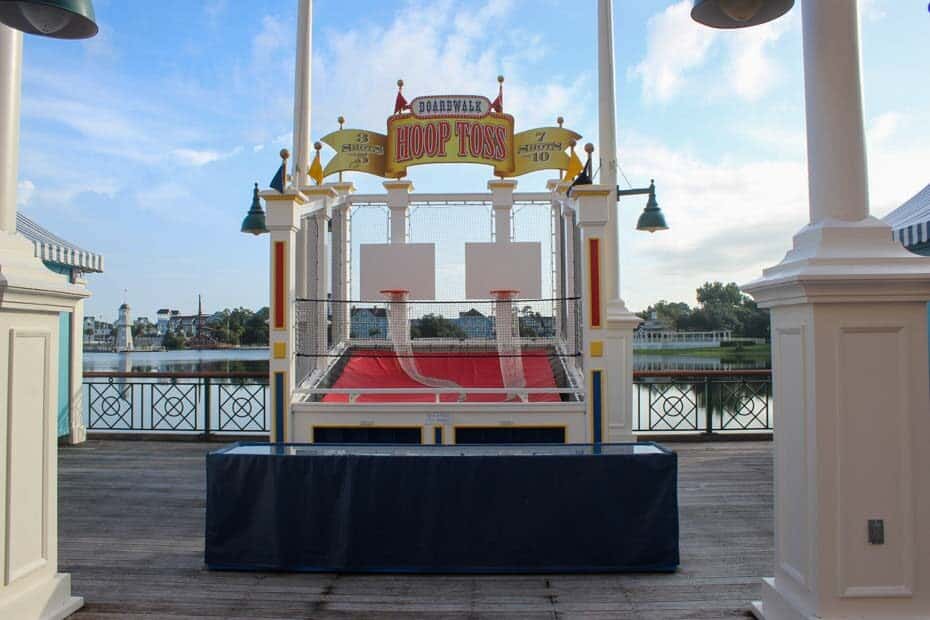 Surrey bike rentals are available to ride around the Crescent Lake area.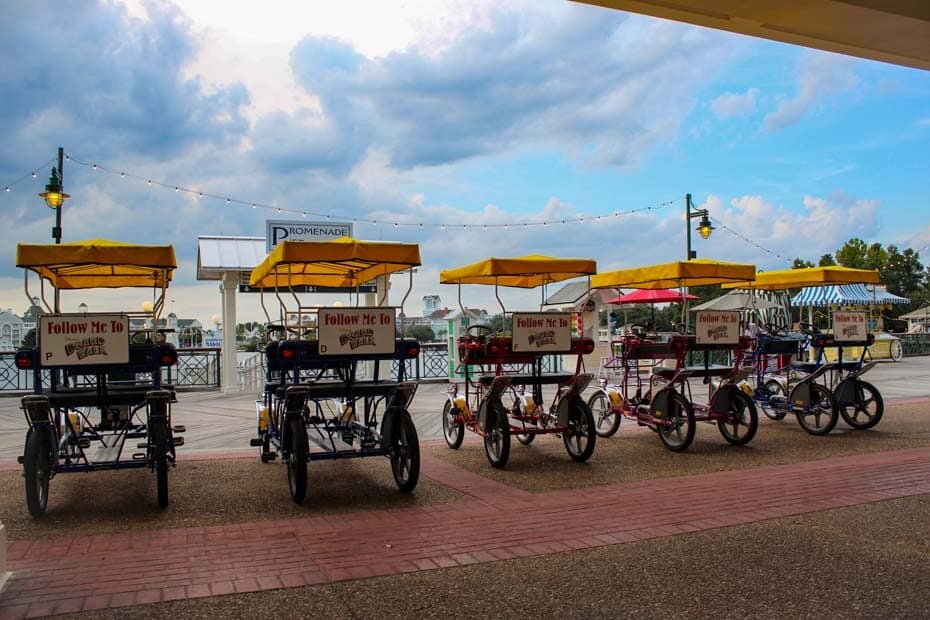 Speaking of Crescent Lake, my favorite thing to do here is take an early evening stroll around the lake. You can stop at the different resorts in the area to tour, browse the gift shops, or pick up a cocktail.
There are swing sets on the sandy beach at Disney's Beach Club Resort if you like to enjoy the sunset. I've sat here many times over the years and am the better for it.
Related: Disney's Beach Club Review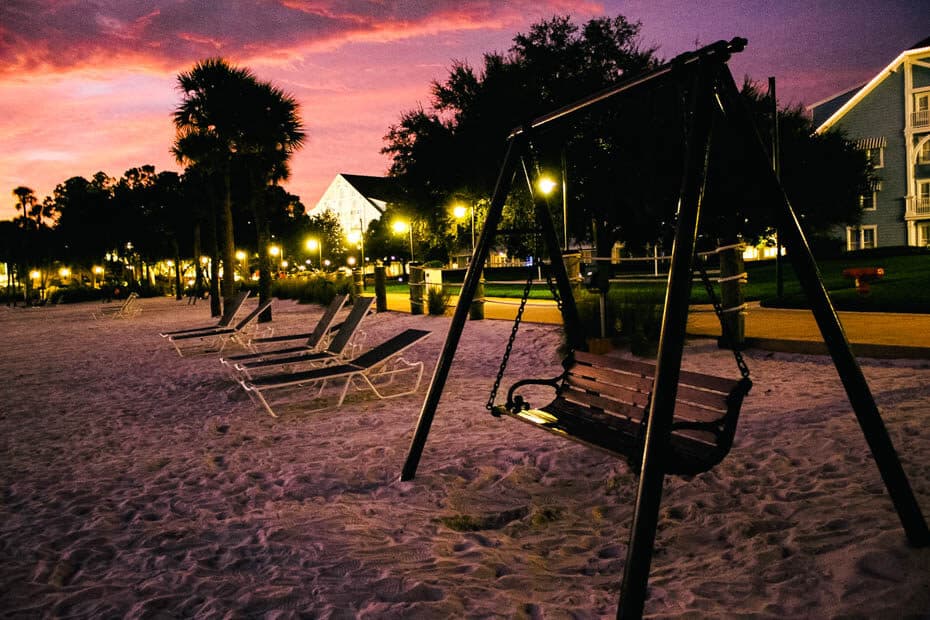 Since Disney's Riviera Resort has opened, you can hop on the Skyliner from this same area and tour that hotel as well.
Related: Disney's Riviera Resort Review
You might even walk over to Caribbean Beach Resort and check out the Banana Cabana.
Related: Disney's Caribbean Beach Review
In comparison, Disney Springs will have much more to do as far as entertainment goes. Perhaps, one of the most popular touristy things to do is take flight on the Aerophile balloon.
If not, it's still lovely to see it from various viewpoints while you walk around Disney Springs.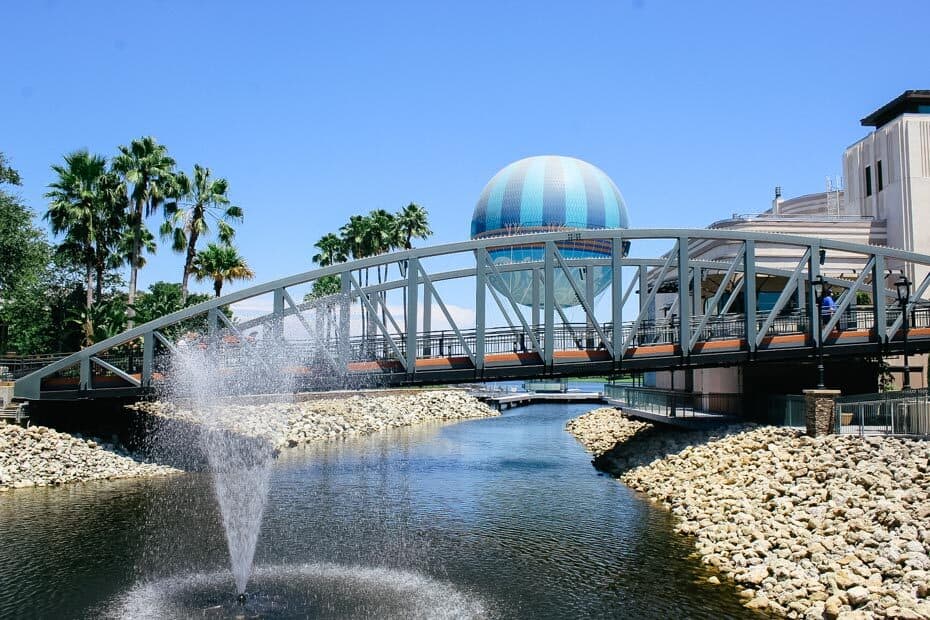 AMC Disney Springs Dine-In Theater is also available, offering a unique dinner with a movie experience. If you'd rather have dinner elsewhere, there are regular theaters available.
The Boathouse restaurant has amphicars. The amphicars are boats you can drive out onto the water at Disney Springs. So this might be a fun option and something different.
Related: The Boathouse Review at Disney Springs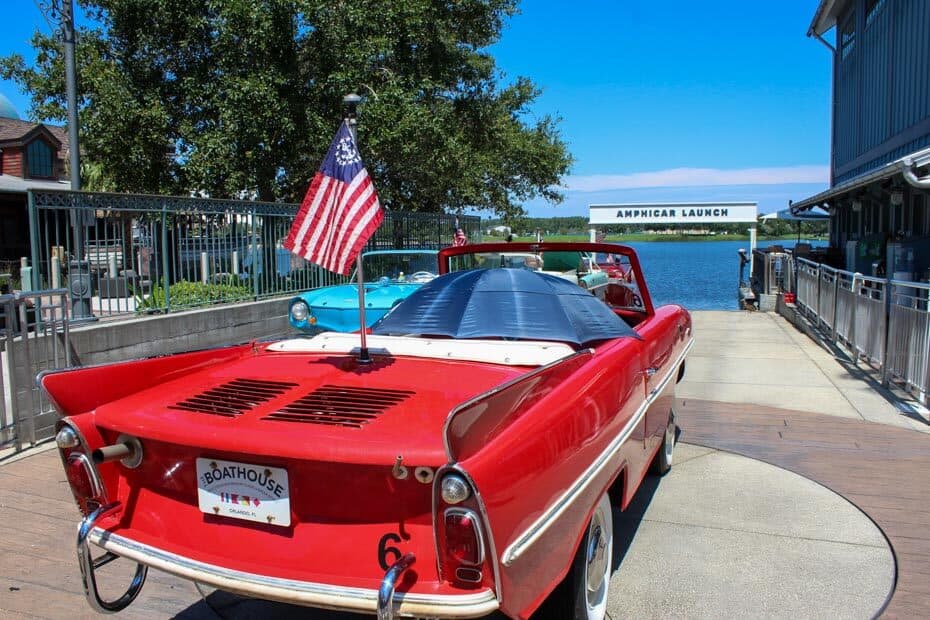 Sports fans will love Splitsville, a bowling alley that doubles as a restaurant. And the NBA Experience is supposed to be pretty cool when it eventually re-opens.
For a more elaborate form of entertainment, you might choose to purchase tickets for Cirque De Soleil. Drawn to Life is their newest performance.
Additionally, Disney Springs usually has live performers (musicians and artists) out and about during the evening hours. You'll be able to find plenty to do here, ranging from free to extra cost activities.
As far as adult-only entertainment goes, the Boardwalk has Jellyrolls and Atlantic Dance Hall for adults over 21.
And Disney Springs has The Edison, which turns into a nightclub scene later in the evening.
Both Boardwalk and Disney Springs have a lot going for them. However, those looking for a variety of things to do will be better off at Disney Springs. And anyone looking for a more calm, casual vibe will likely enjoy an evening on the Boardwalk.
Traveling to Disney's Boardwalk or Disney Springs
Lastly, I want to share a few tips for getting to Disney Boardwalk and Disney Springs. For accessing the Boardwalk, guests of the monorail resorts (Grand Floridian, Polynesian, Contemporary) will want to take a bus to Disney's Hollywood Studios and walk to the Boardwalk.
Additionally, you can take a Friendship Boat to the Boardwalk from Studios. Or they can take the monorail to Magic Kingdom and then take a bus to Boardwalk Inn.
For Wilderness Lodge, it's pretty much the same steps, except you'll have to take a boat to Magic Kingdom.
Guests of Animal Kingdom Lodge and surrounding resorts (Coronado Springs, All-Stars) might take a bus to Animal Kingdom. Then take a bus from the park to Boardwalk Inn. Or you can take a bus to Disney's Hollywood Studios and walk or boat over to the Boardwalk.
Those staying at a Disney Springs area resort (Port Orleans Resorts, Saratoga Springs) will also want to take a bus to Hollywood Studios. Then walk or boat over to the Boardwalk.
And guests of the Skyliner Resorts (Riviera, Caribbean Beach, Pop Century, and Art of Animation) can take the Skyliner to either Hollywood Studios or Epcot's International Gateway (International Gateway will be closest) and walk over to the Boardwalk.
If you are staying at one of the Epcot Resorts, like Beach Club, Yacht Club, or the Swan and Dolphin, you can walk over to the Boardwalk.
Okay, so if you're traveling to Disney Springs, that's an entirely different ballgame. Every Disney Resort hotel offers direct bus transportation to and from Disney Springs.
However, if you leave a theme park to get to Disney Springs, you will want to check out our Disney Springs transportation guide. This guide will help you with different routes to get to Disney Springs and around the venue if you don't want to walk the entire thing.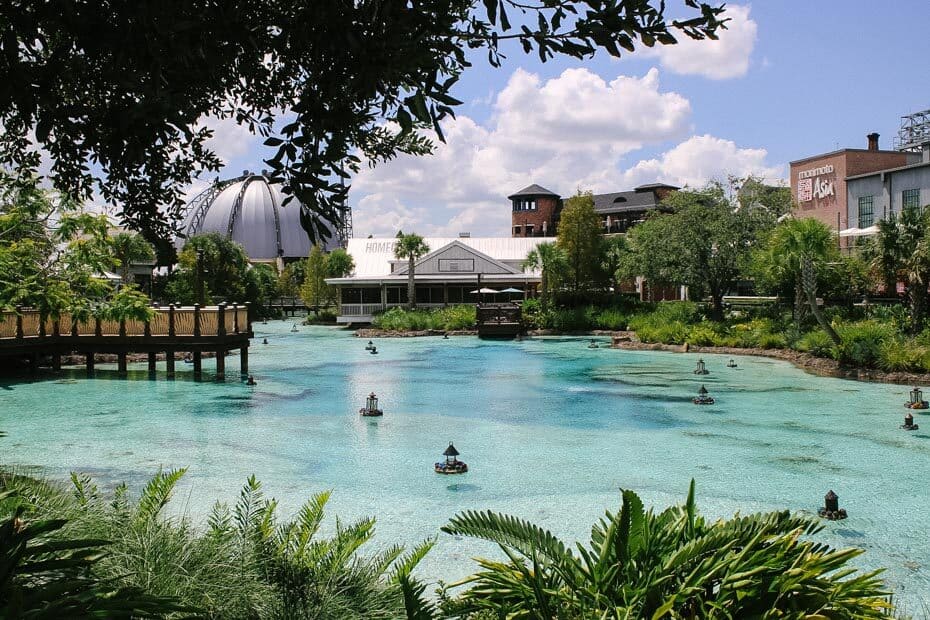 Wrapping things up, I hope this review gave you a better idea of the differences between the Disney Boardwalk vs. Disney Springs. I know that planning a Disney vacation can be pretty challenging.
When you start doing your research, it's easy to get confused, given the amount of information available.
If you are interested in learning more planning tips for Disney, make sure to join us here in the Resorts Gal Lounge on Facebook. All Disney fans are welcome!
We strive to provide helpful information that will benefit your trip.
Additionally, there are several experienced, authorized Disney Vacation Planners from Firefly Travels in the group that can help answer your questions.
For more information about Disney's Boardwalk Inn, all of our articles related to the resort are available here. Or you might enjoy the following:
Have you decided whether Disney's Boardwalk vs. Disney Springs is right for you? Which do you prefer? Let us know your thoughts down below in the comments.