Step Inside the Settlement Trading Post at Disney's Fort Wilderness
As we continue our coverage of Disney's Fort Wilderness, I thought we'd tour the Settlement Trading Post gift shop at the resort. Below we'll take a photo tour of the shop to see what items you can expect to find during an upcoming visit.
With all of our gift shop posts, the items pictured were available on the day of this particular visit. Therefore, every item shown might not be available during your stay. However, most of the food items will likely remain the same.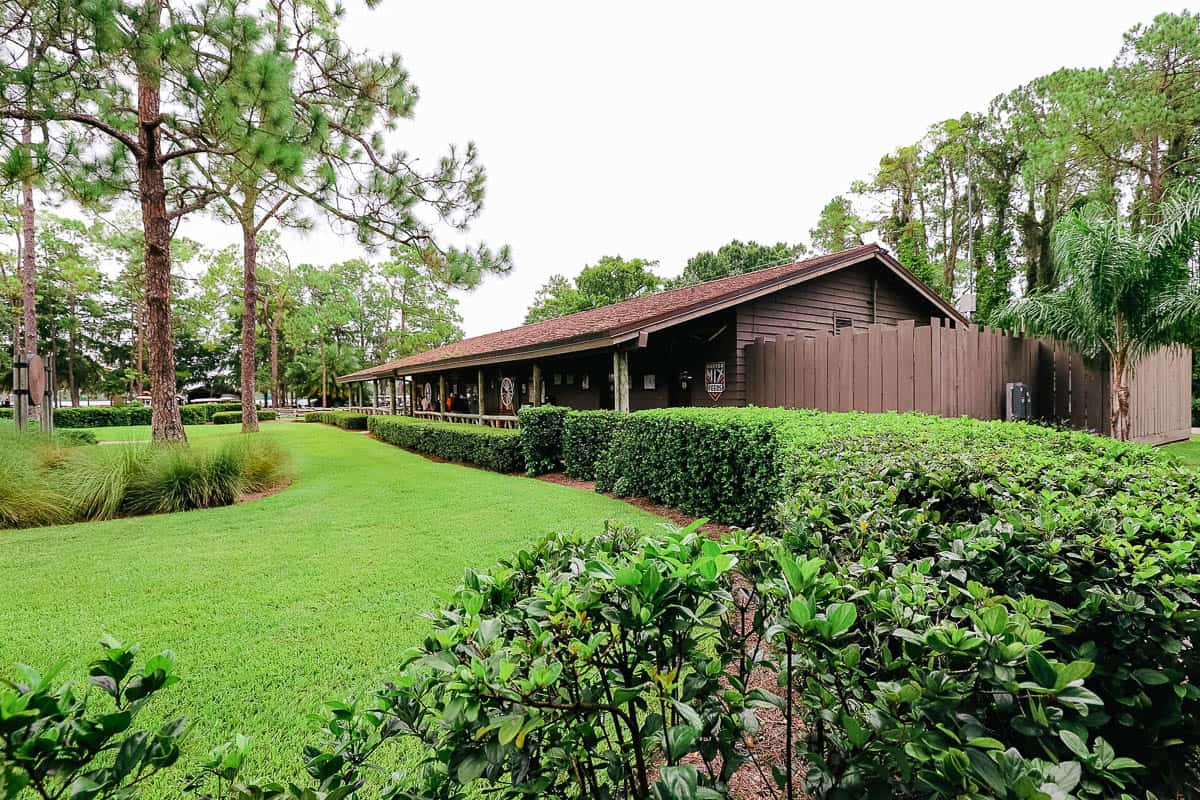 Settlement Trading Post is the first building you'll run into when you travel to the resort via boat service. Once you exit the boat, you'll pass a parking area for golf carts and bicycles. Behind that lies a pathway to the trading post.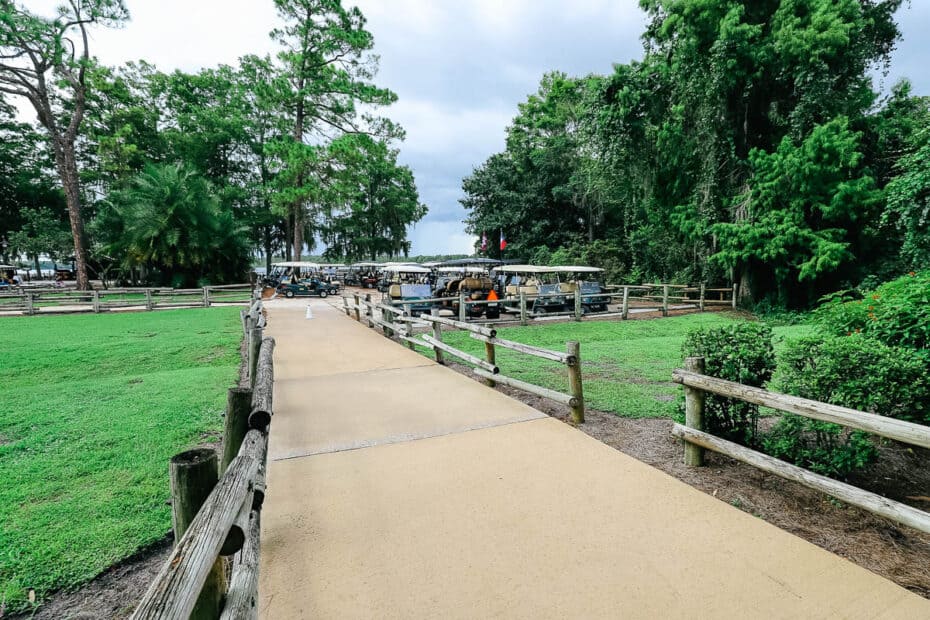 Settlement Trading Post hours were listed as 11:00 a.m. until 9:00 p.m. during my visit. You might notice that's a paper sign in the window below.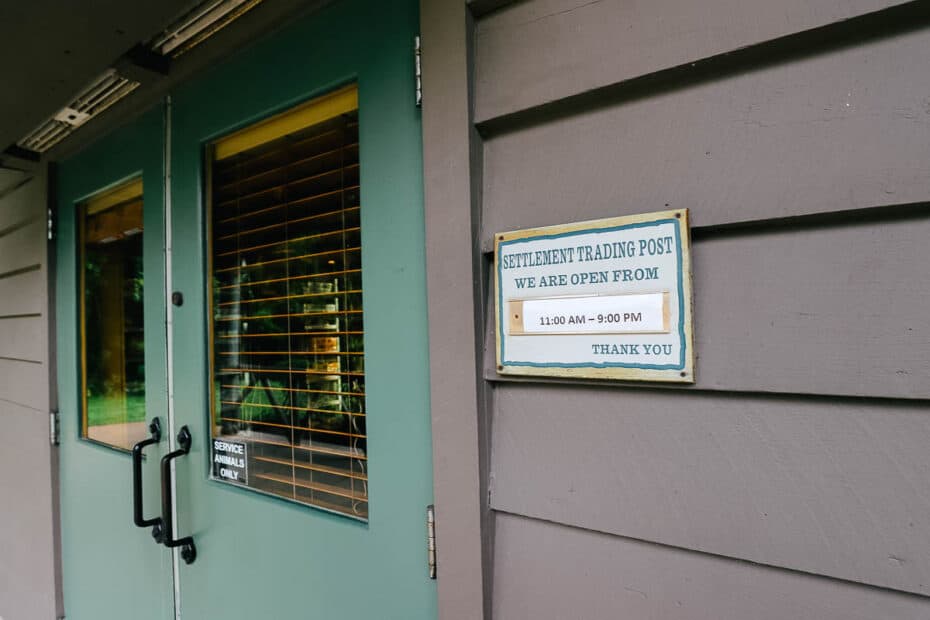 So hours can easily change from time to time. Therefore, you'll want to check the exact hours of operation for the shop during your visit.
Additionally, please don't confuse this location with the Meadow Trading Post, located near the resort's feature pool area. We'll cover that gift shop in a separate article.
Related: What You'll Find at Meadow Trading Post
A pair of restrooms sits on the far right-hand side of the Settlement Trading Post. So if you're returning via the boat service, this is the closest set of restrooms from the dock.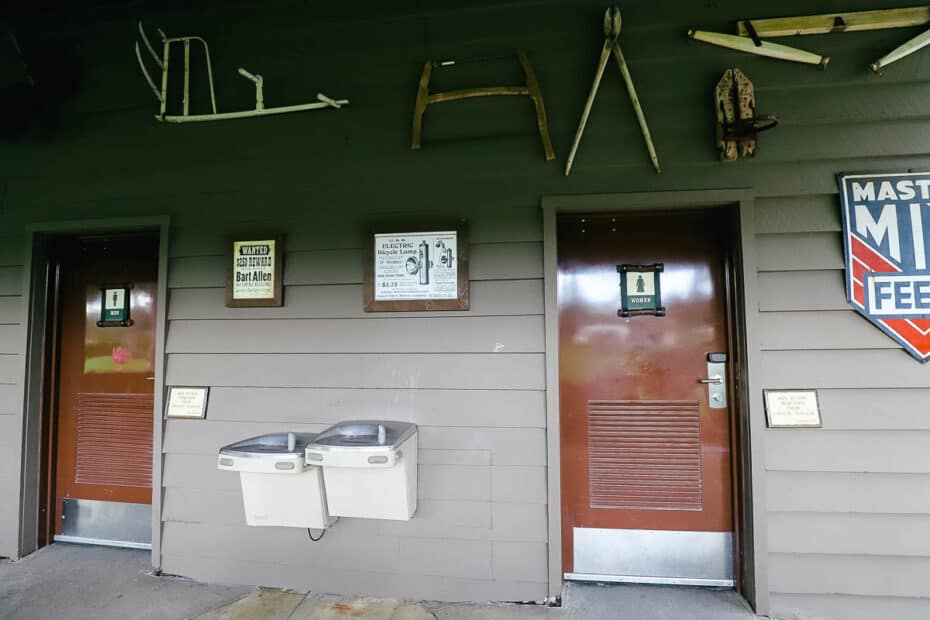 I was delighted to find a considerable amount of resort-branded merchandise on this visit. Note there are a few Hoop Dee Doo Musical Revue shirts. This popular Fort Wilderness dining location recently reopened.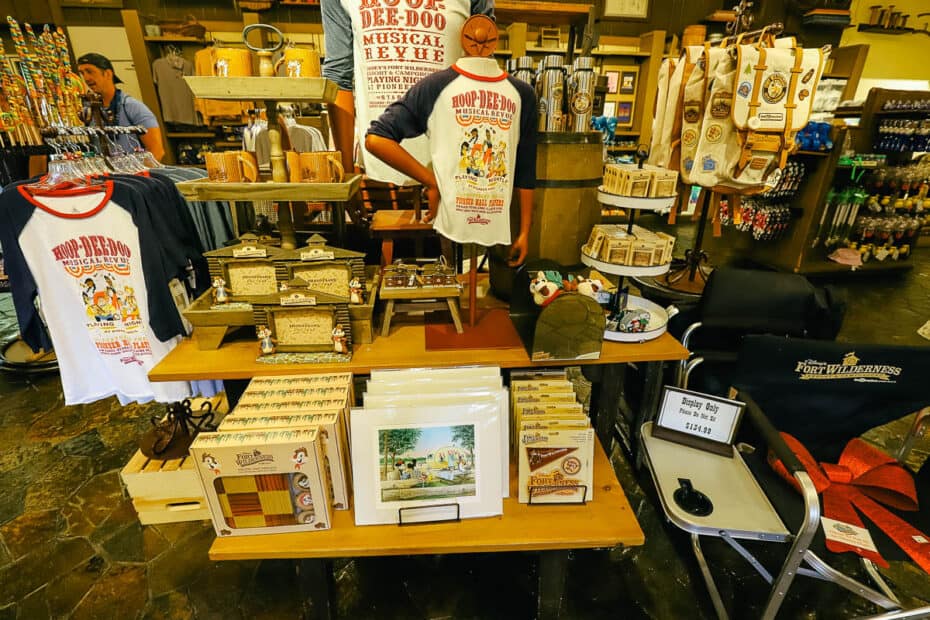 Here is a closer look.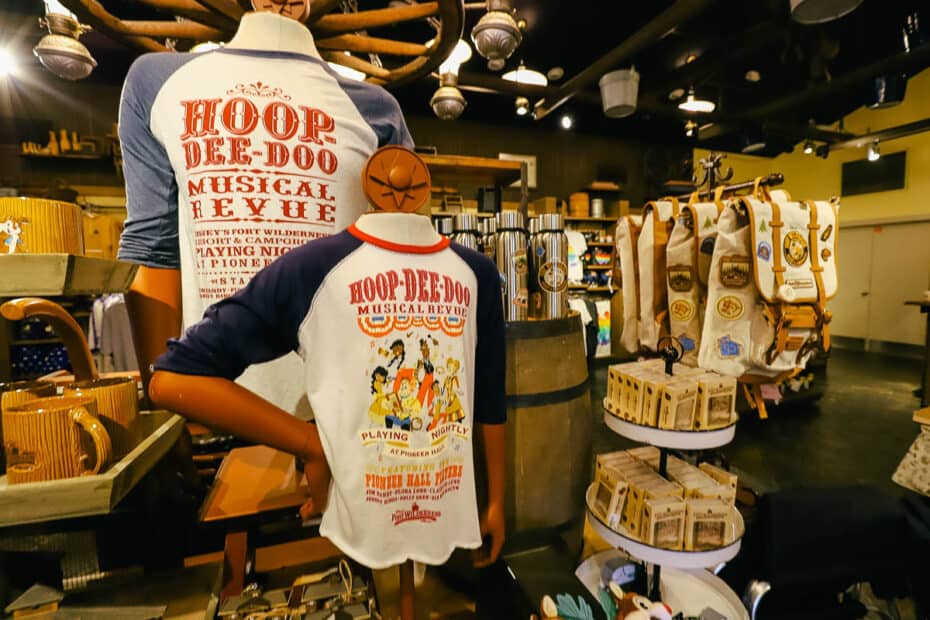 In addition, there were a few patches, games, photo frames, and a canvas print representing the resort.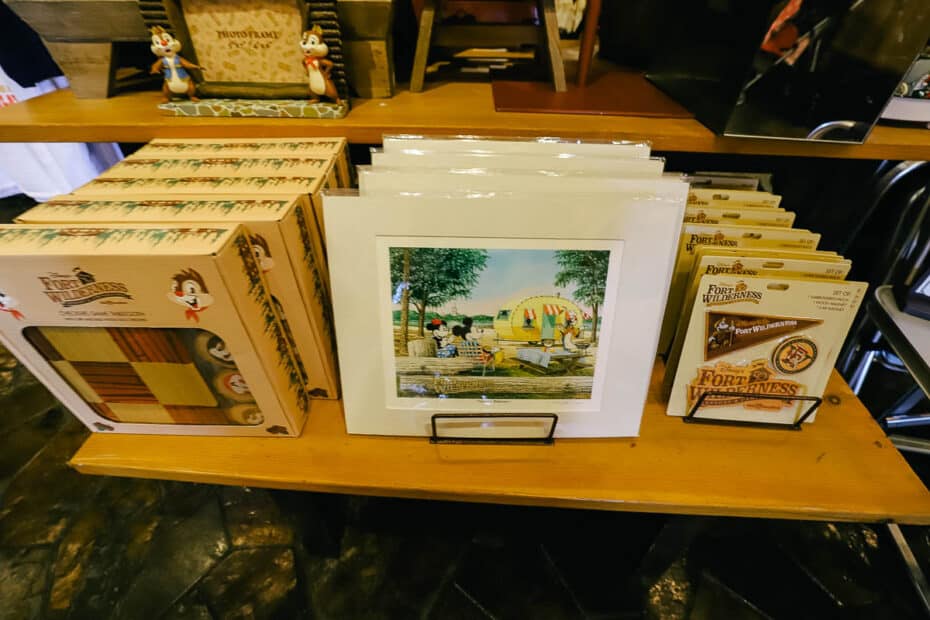 I thought this foldable campground chair was super cute.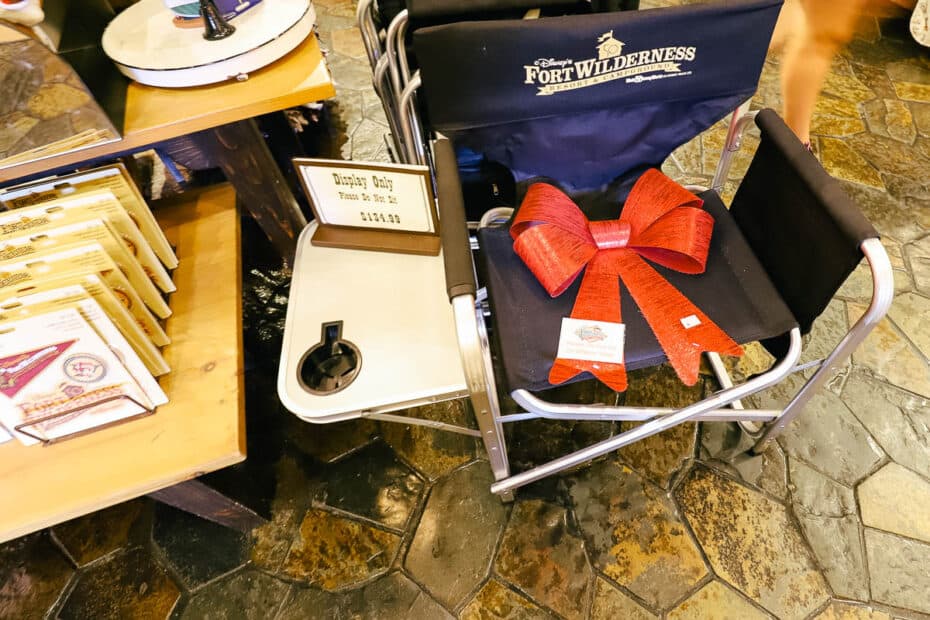 A Fort Wilderness backpack was also available. It reminds me of the Adventure by Disney vacation I'm currently on as I write this. Unfortunately, our busy tour schedule has caused me to get behind.
Nevertheless, we'll strive to get back to our regularly scheduled content in the coming weeks. We have a few more resorts to get to between now and the end of the year. And Christmas is coming.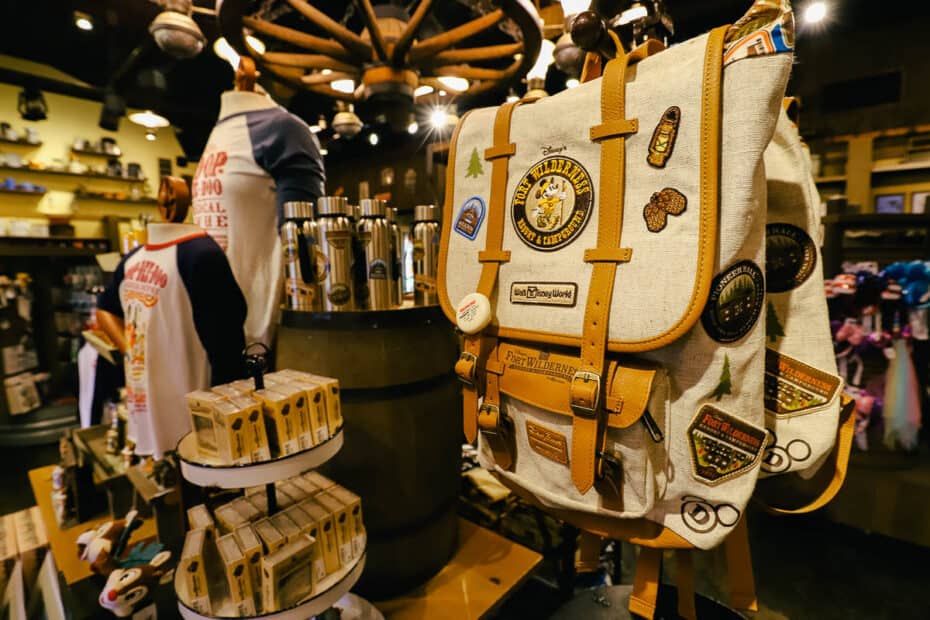 Several blankets were available should you need a little extra warmth by the campfire.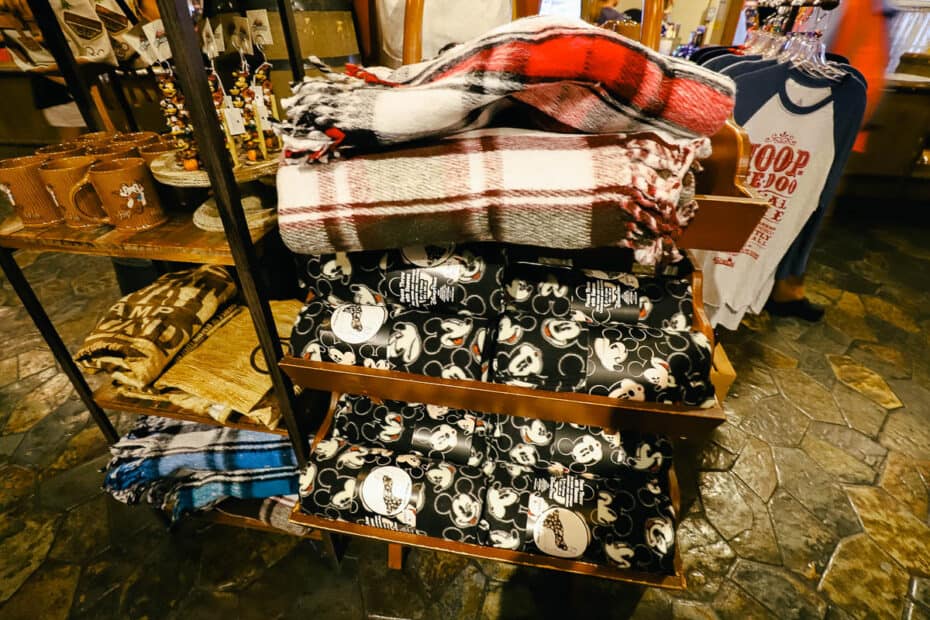 Here we have a few Fort Wilderness mugs, and that folded brown item is a towel.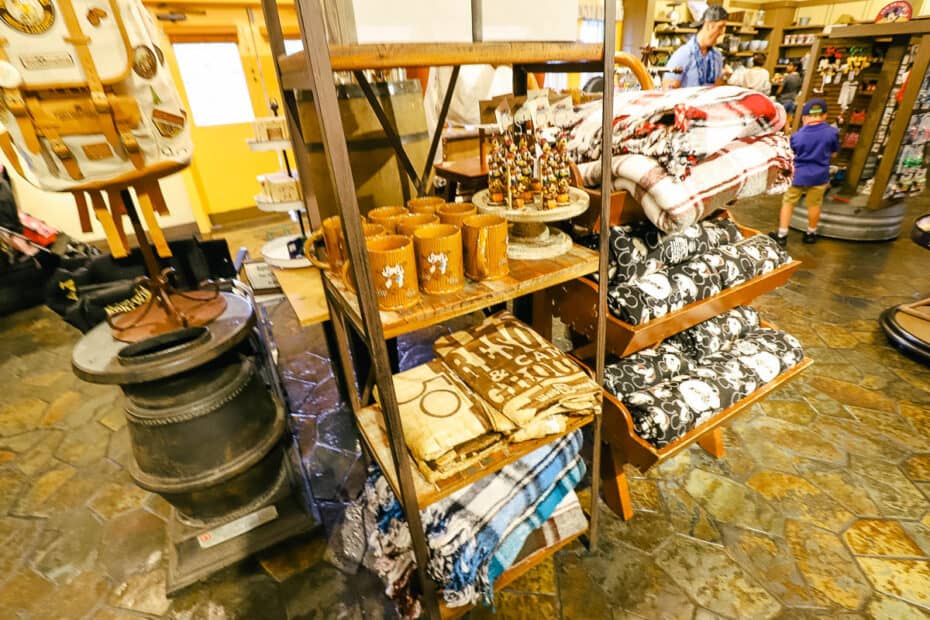 I went the extra mile and unfolded it so I could show it to you.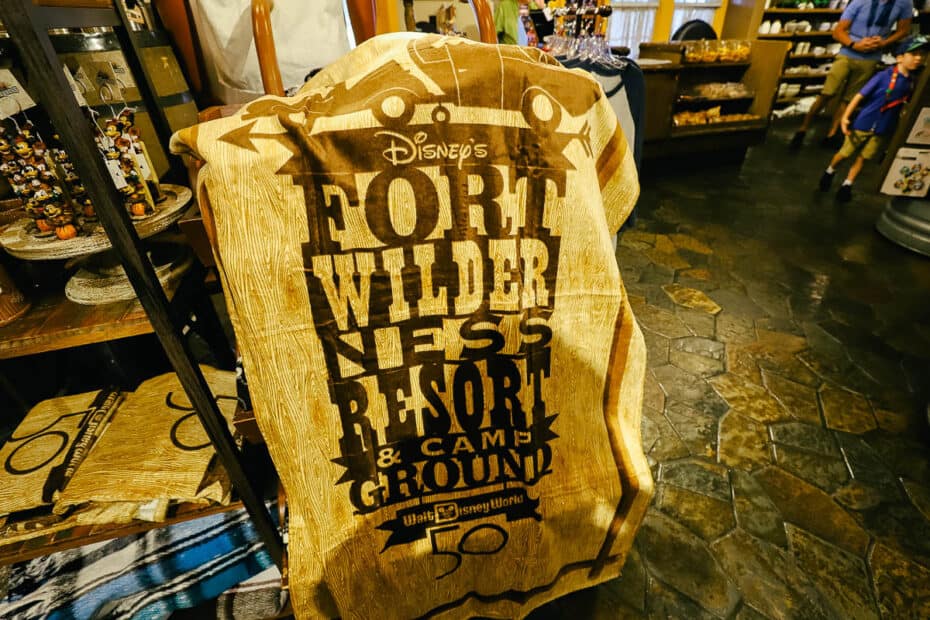 If the mug, blanket, and towel weren't enough, you could always purchase a coonskin hat or a bear hood.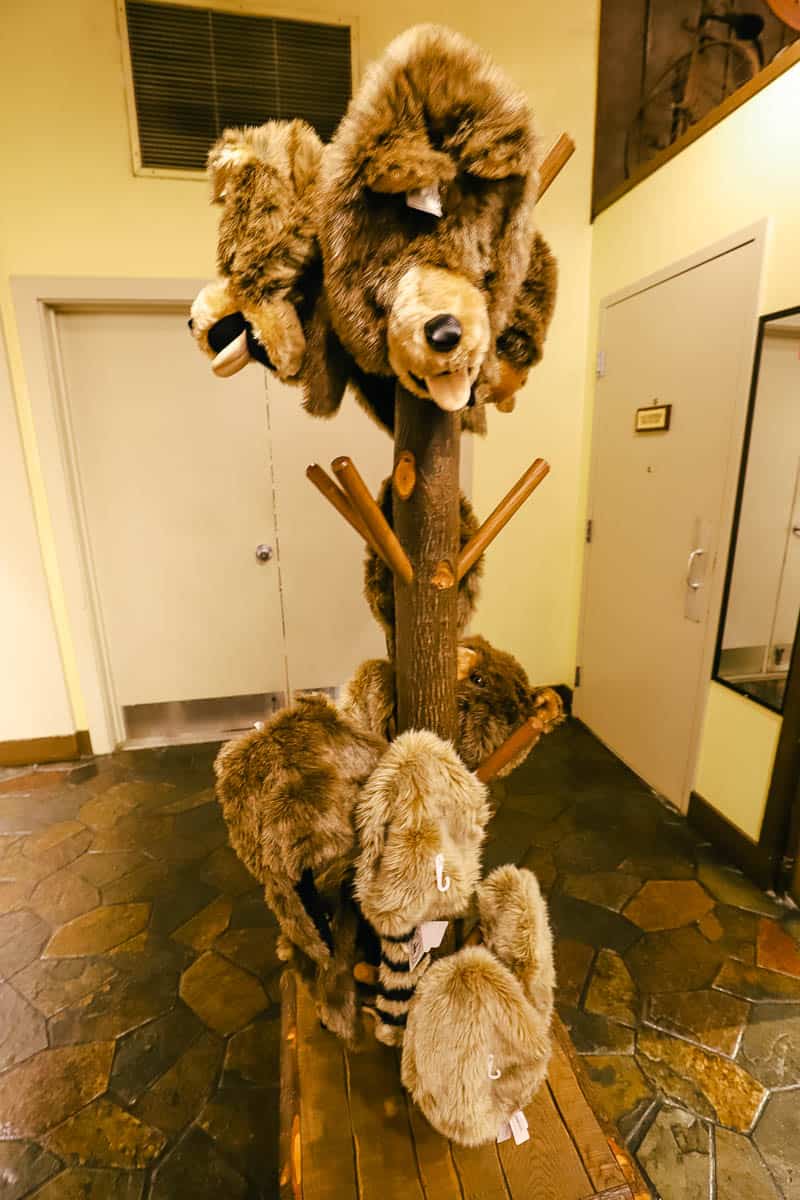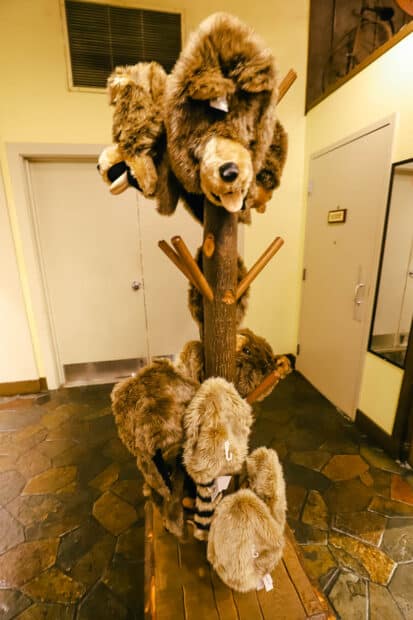 We continue to see 50th-anniversary merchandise throughout the gift shops. That should change as the celebration begins to wind down during the first quarter of 2023.
Related: The Best Disney World Resort Gift Shops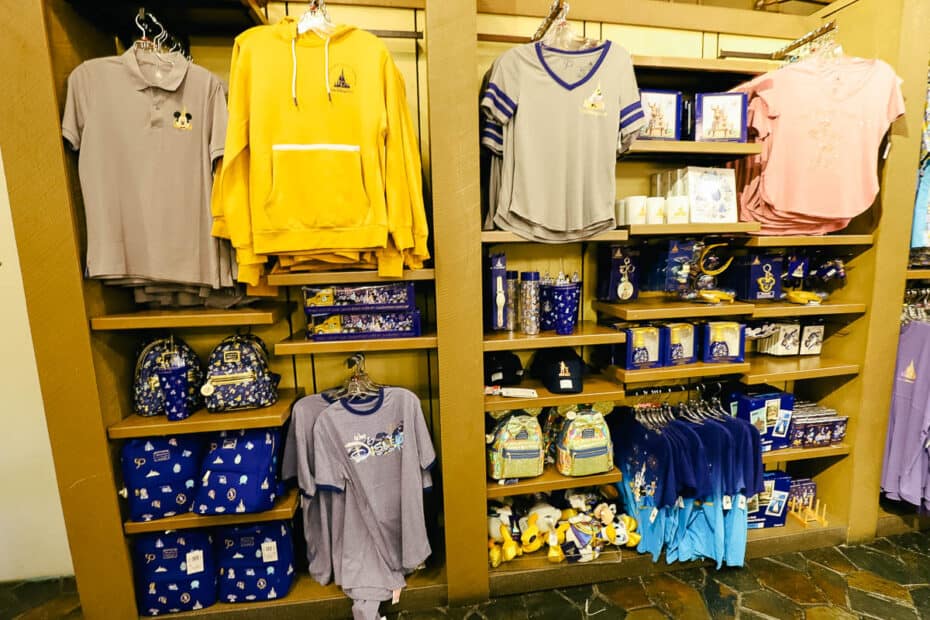 T-shirts are always available.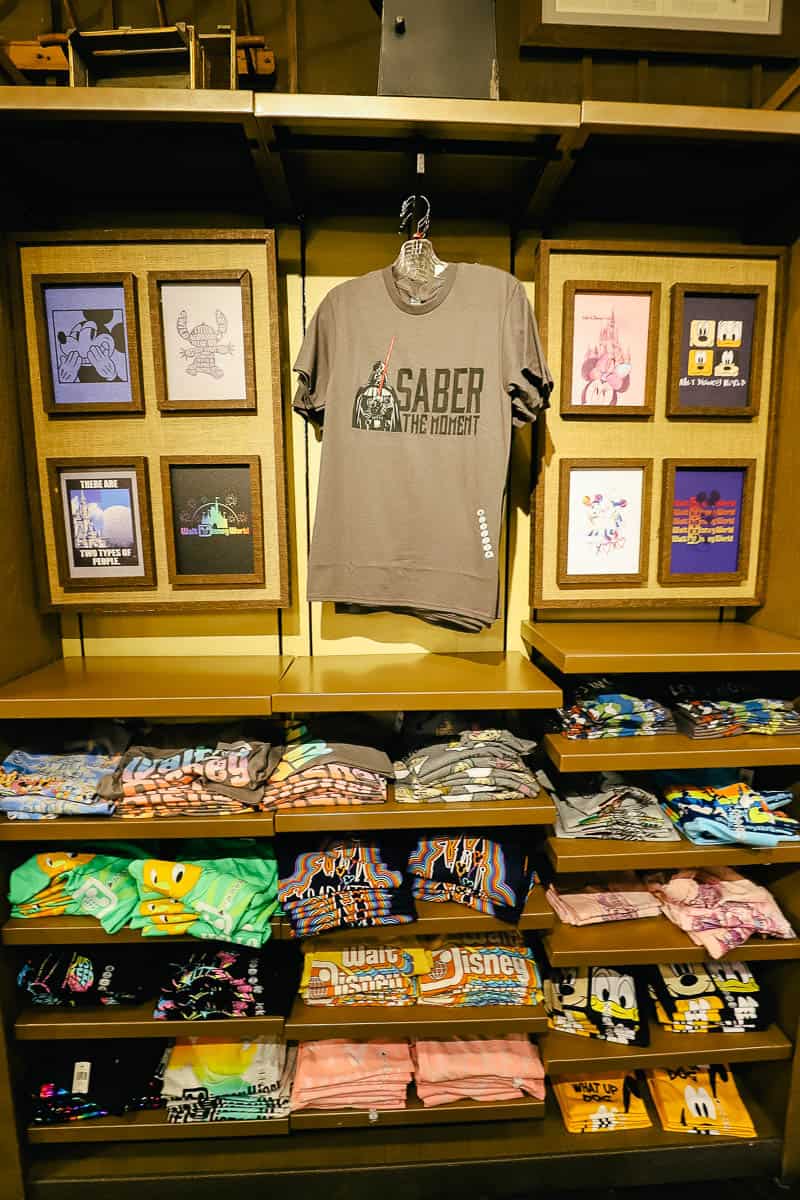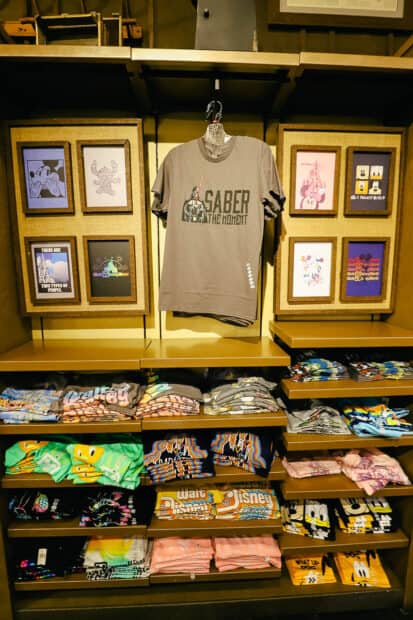 Here are a few cooling towels and other miscellaneous items.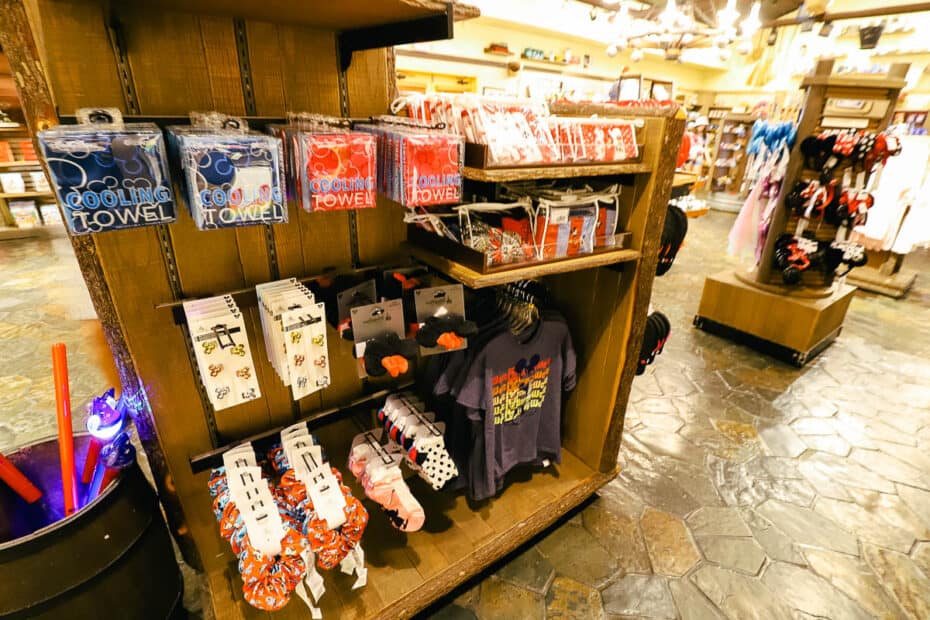 Minnie Ears are always available, too.
Related: Minnie Mouse Ears Timeline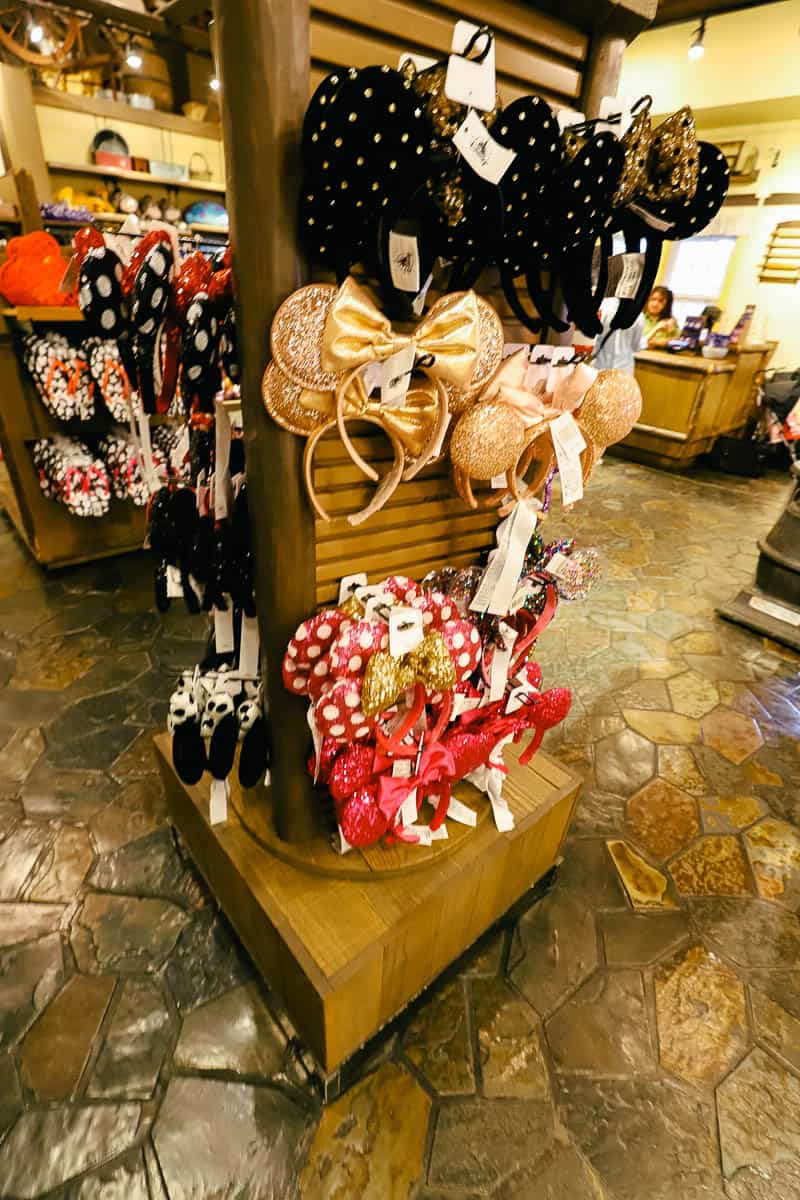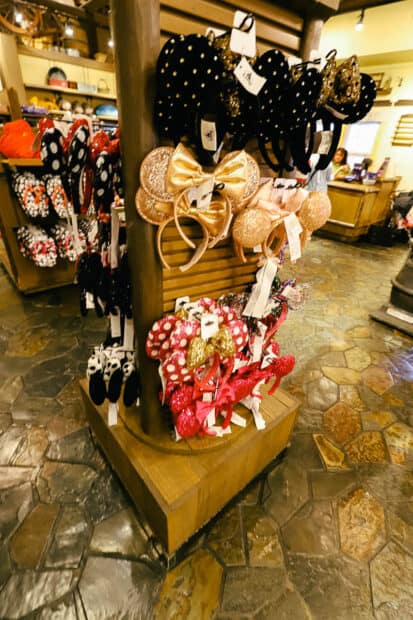 Or, if you're more like me, you might pick up a baseball cap or other accessories.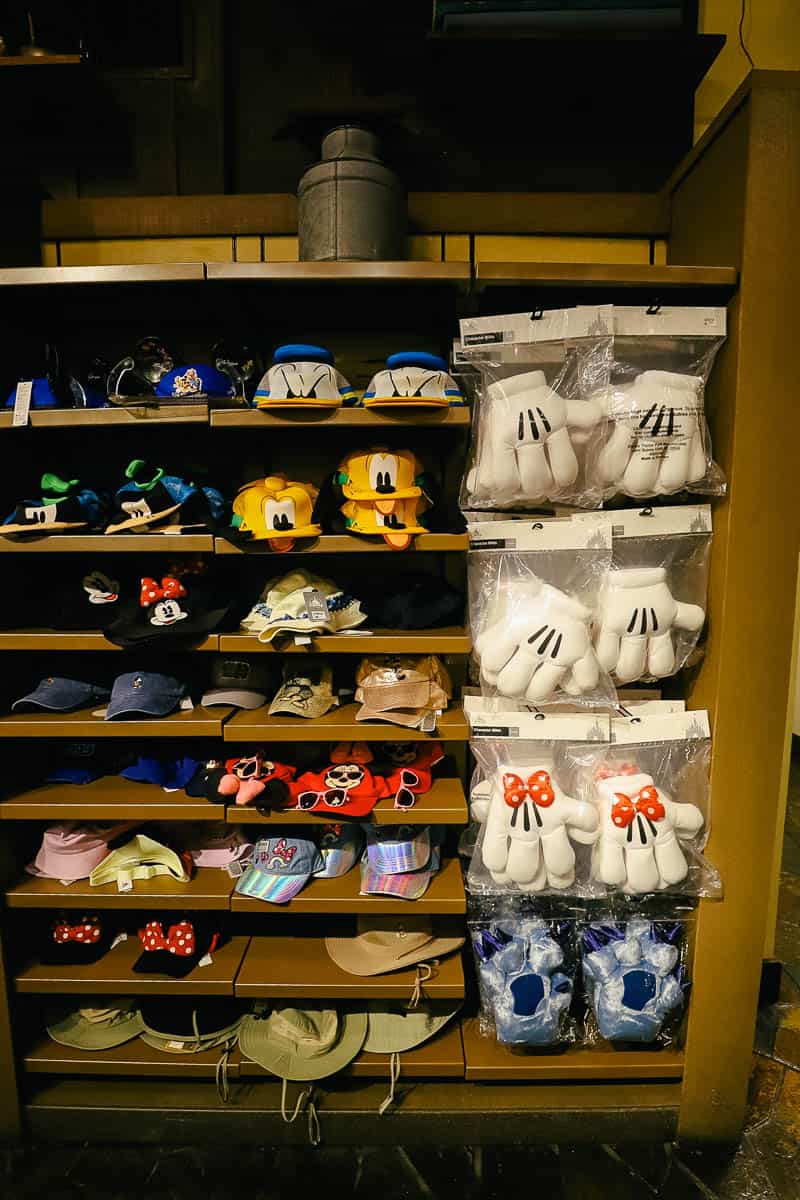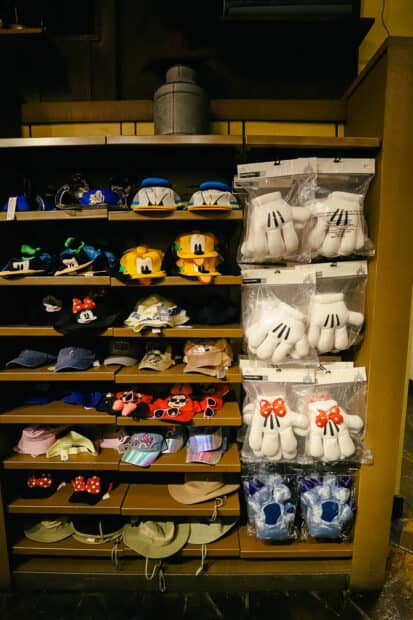 Pin collectors might find a few items of interest in the Settlement Trading Post.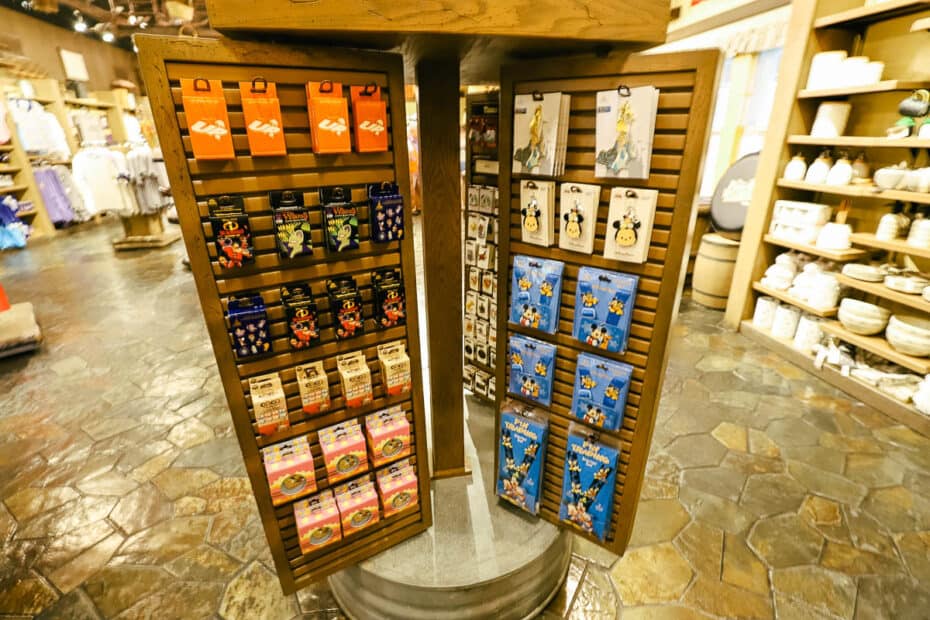 Like most shops, there is a selection of toys.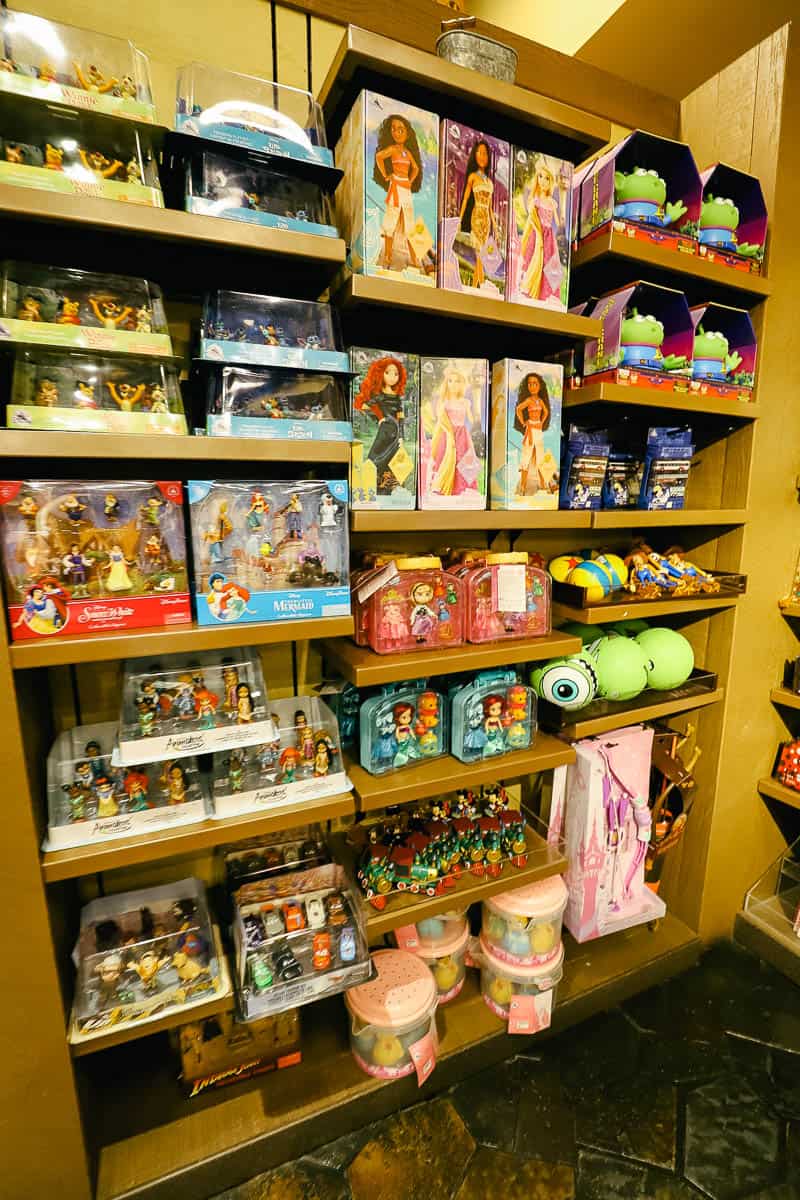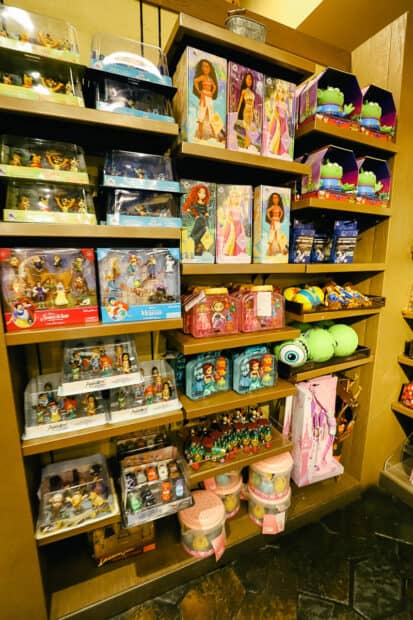 Games included Disney-themed Monopoly, Candyland, Battleship, Perfection, and more.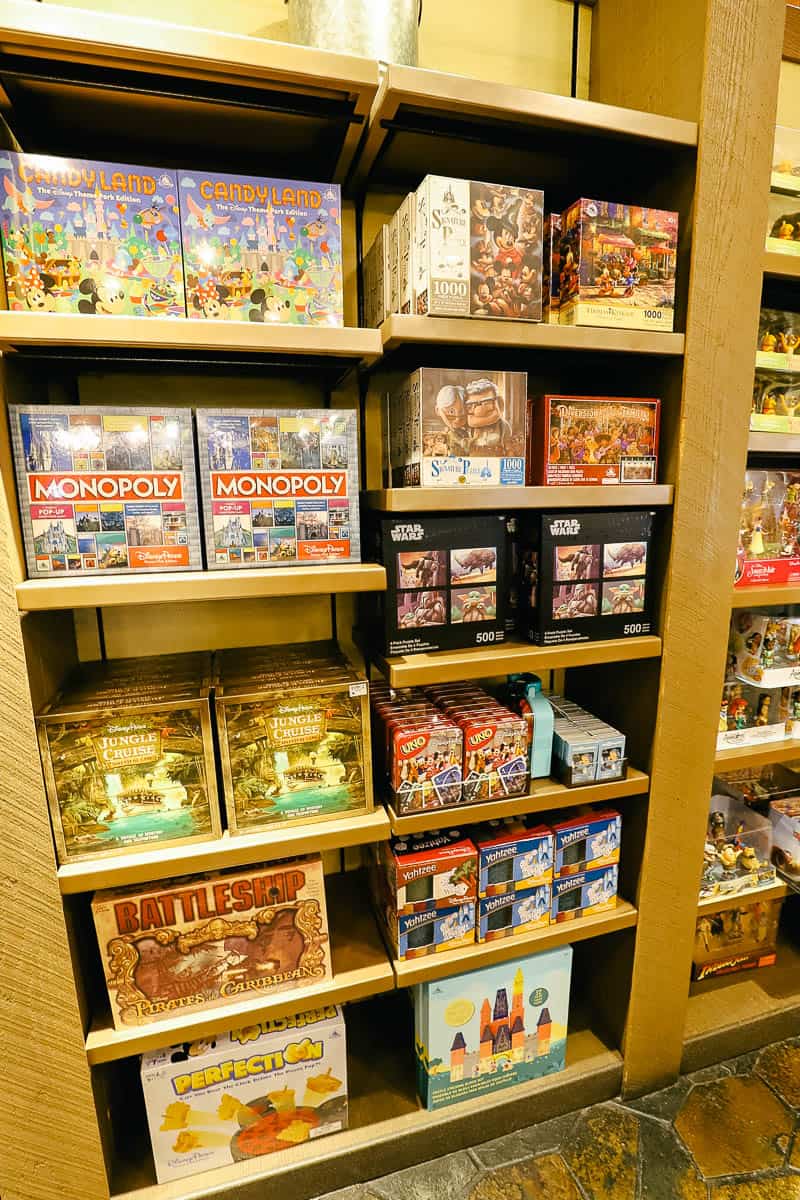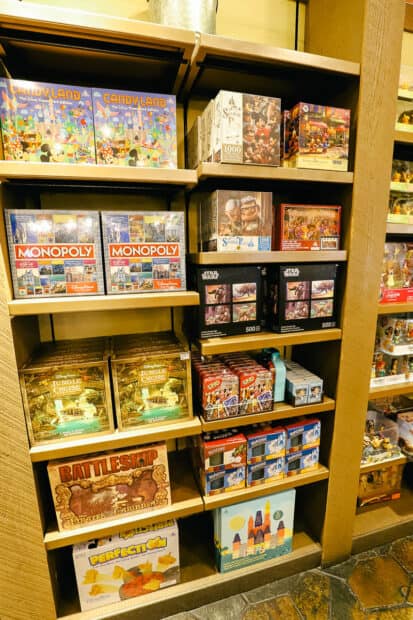 I don't know about you, but I wouldn't mind snuggling up to some of these sleepy plushes for an afternoon nap.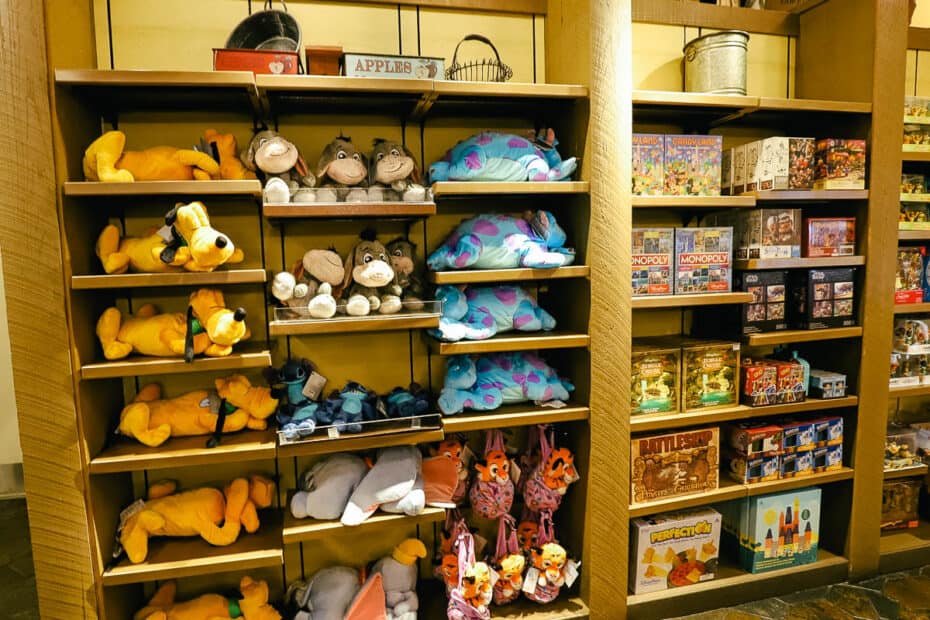 Since Fort Wilderness is a dog-friendly resort and campground, you'll find a selection of items for your pet.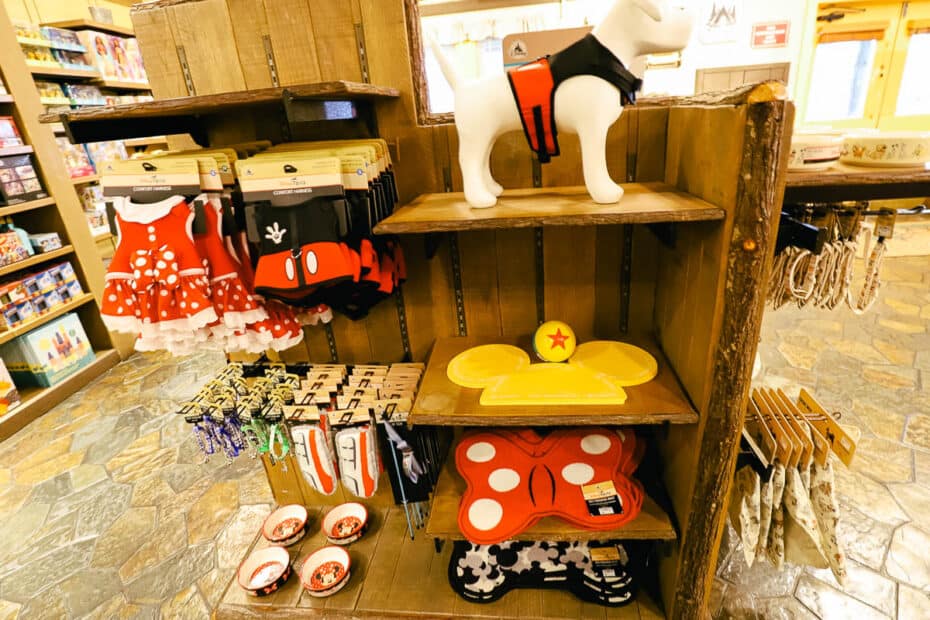 Here are a few more things.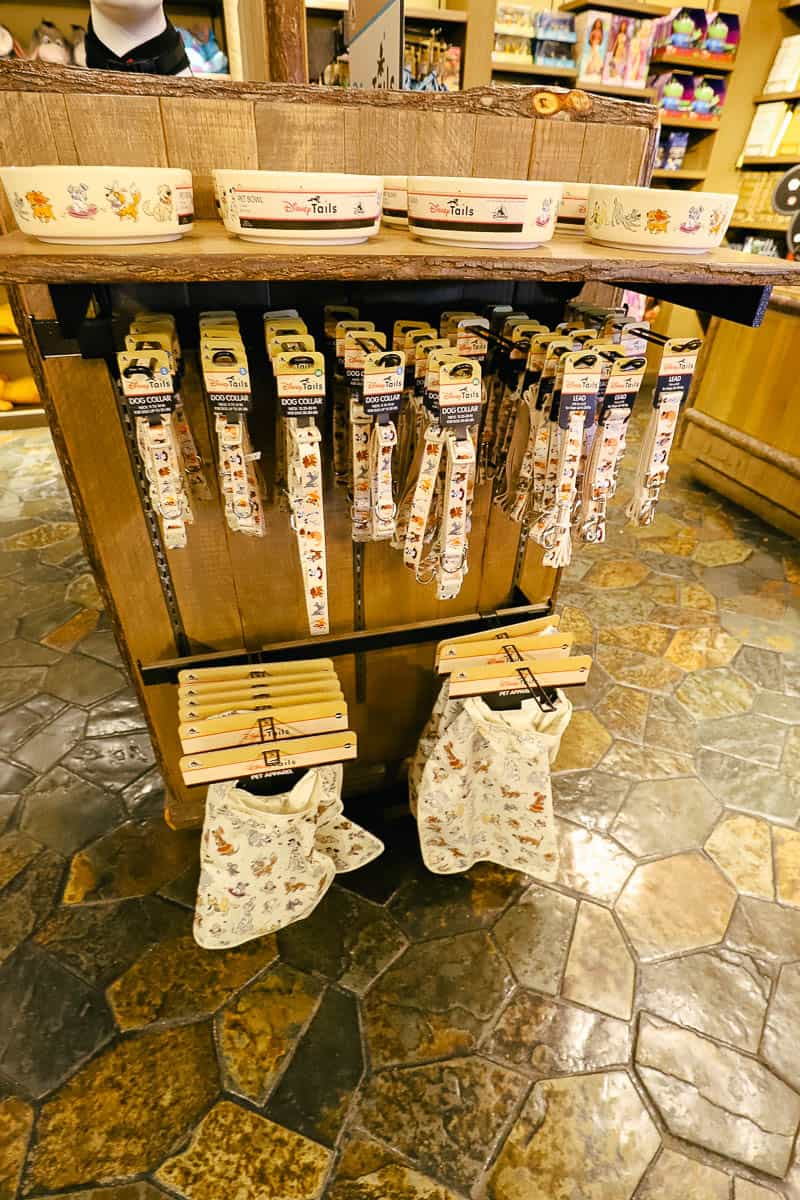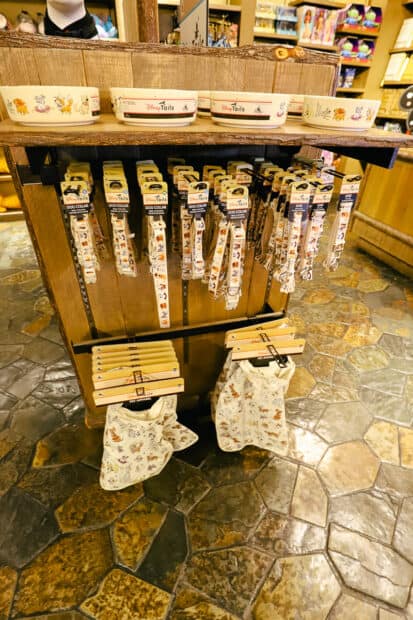 Items for the home include mugs, dishes, canister sets, and bowls.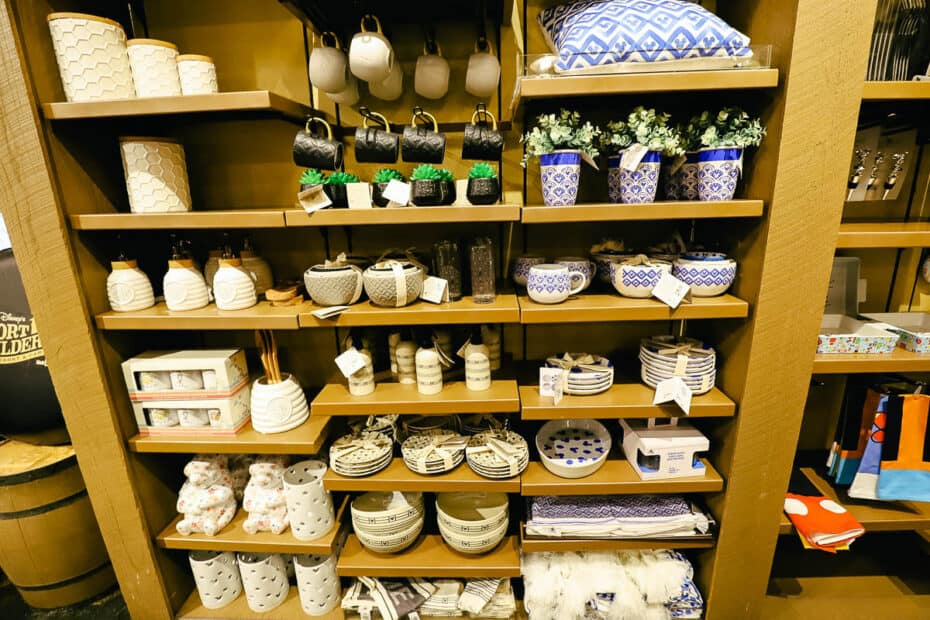 Here are a few items with a splash of color.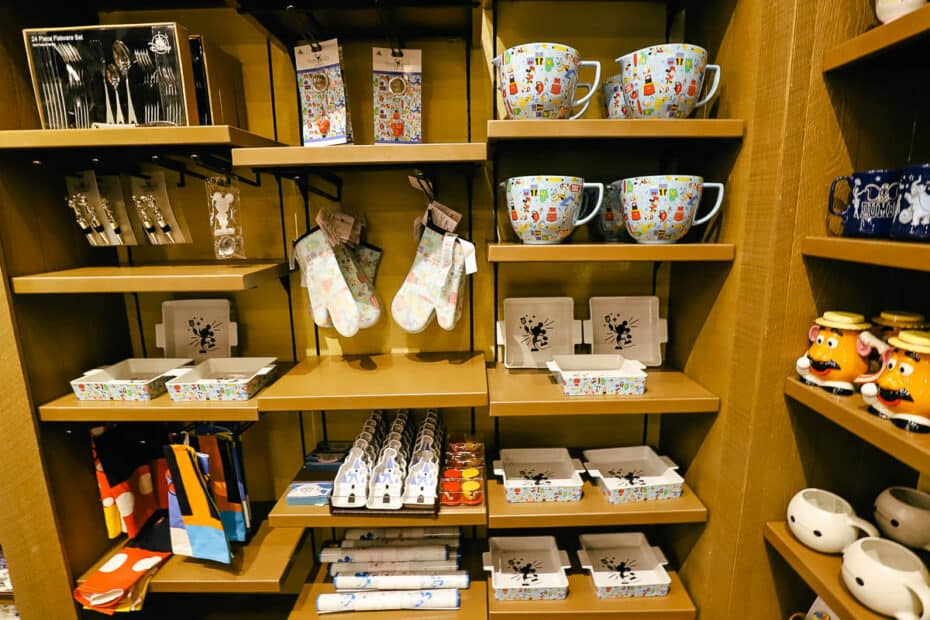 Lastly, we'll browse through the selection of food items.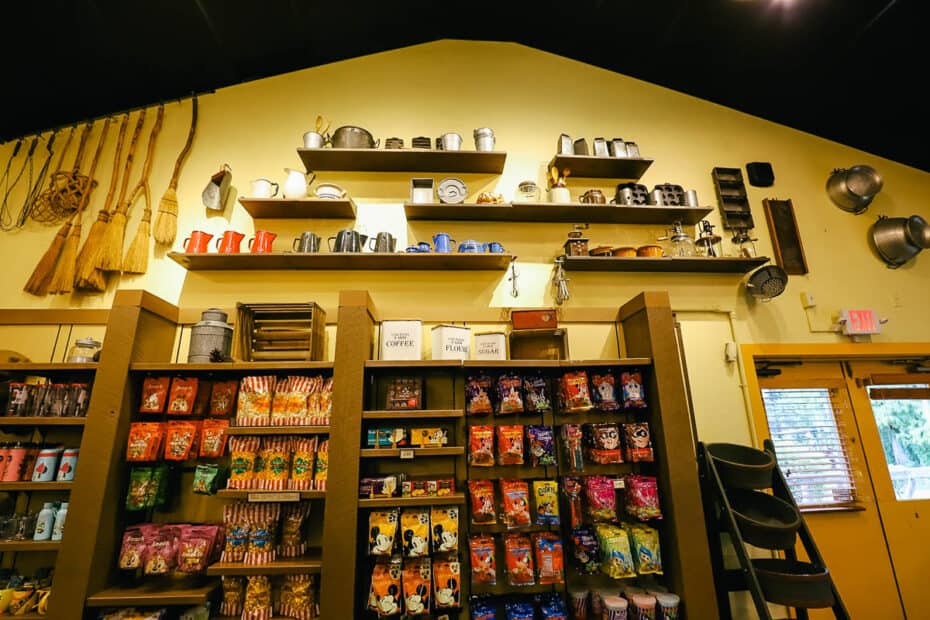 Here we have Disney-branded candy and multiple flavors of popcorn.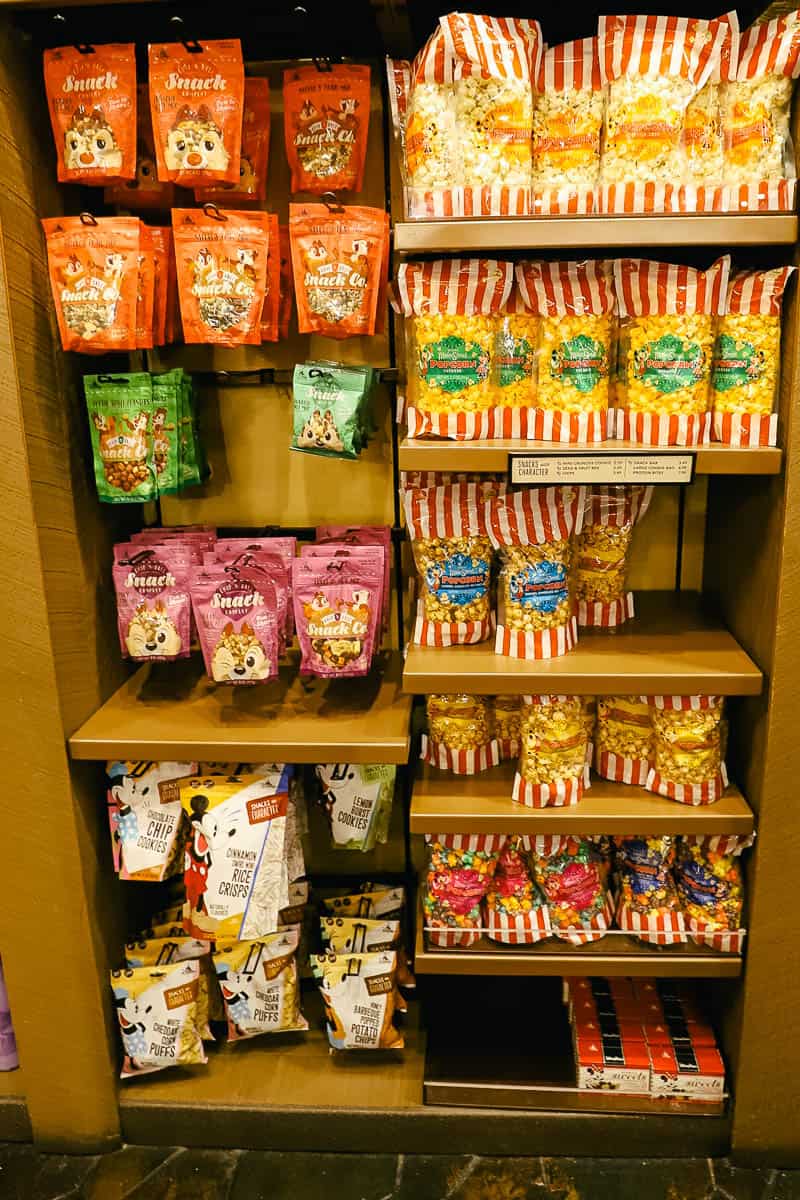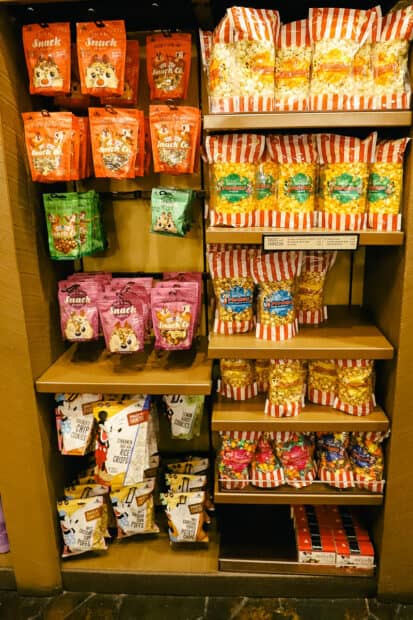 More Disney-branded candy.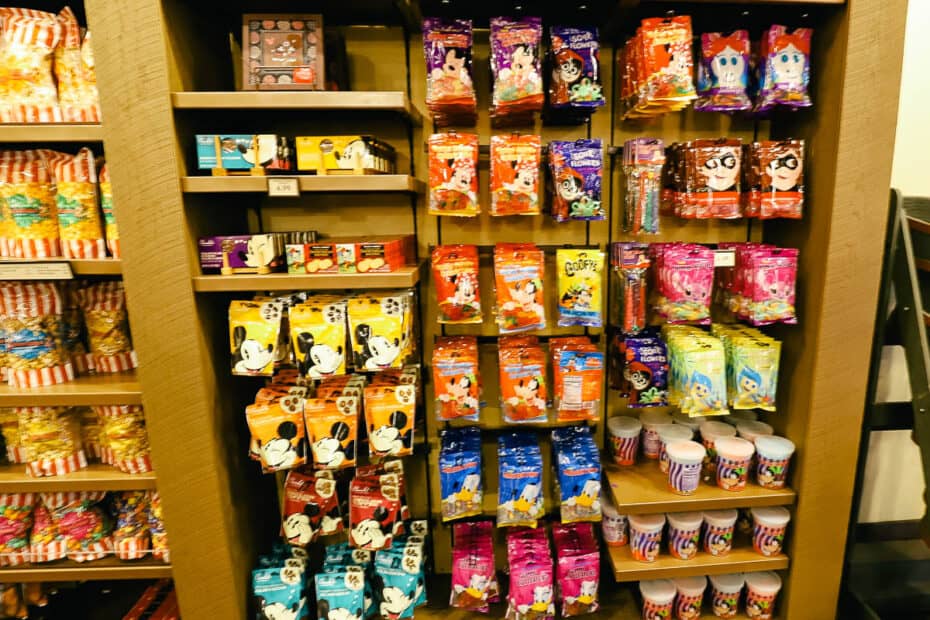 This is a terrible photo, but Settlement Trading Post has various condiments, pancake mix, microwaveable macaroni and cheese, crackers, and other similar items.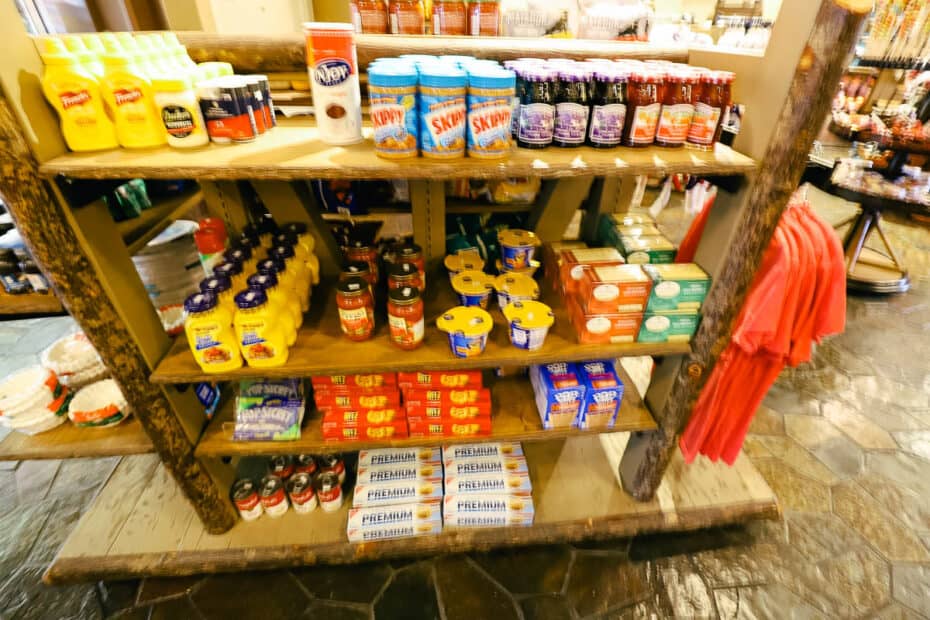 There were plenty of chips, dip, and salsa.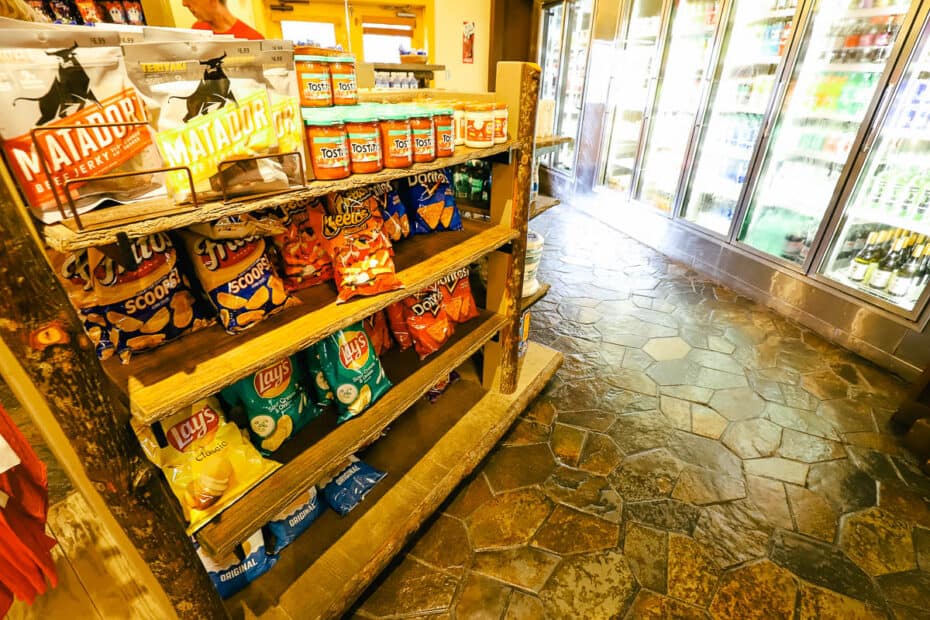 Here we have a few items like specialty milk, Gogurt squeeze packs, baby food, paper plates, and coffee filters.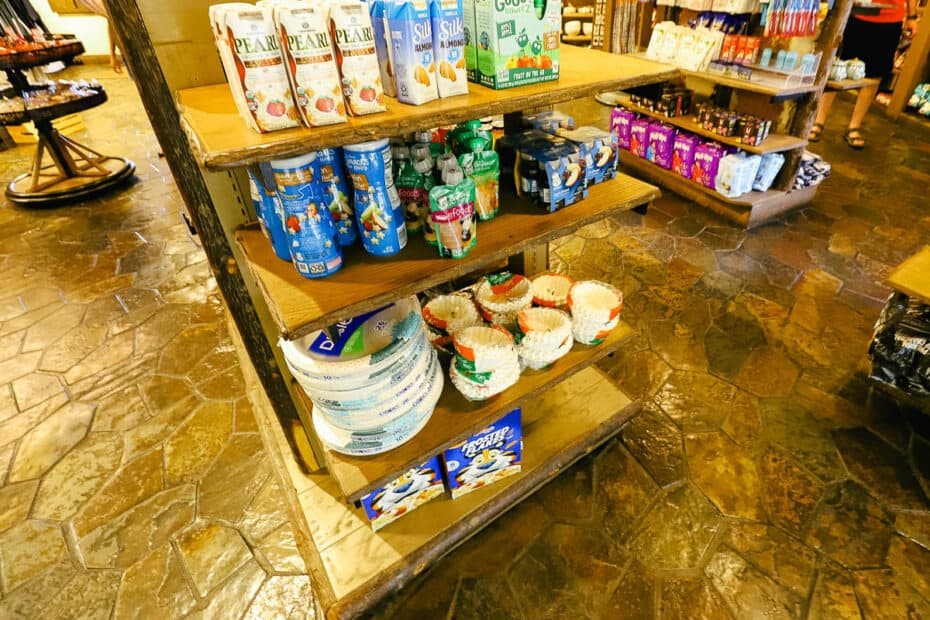 Individual packages of candy are available if you don't want to purchase a super-size pack.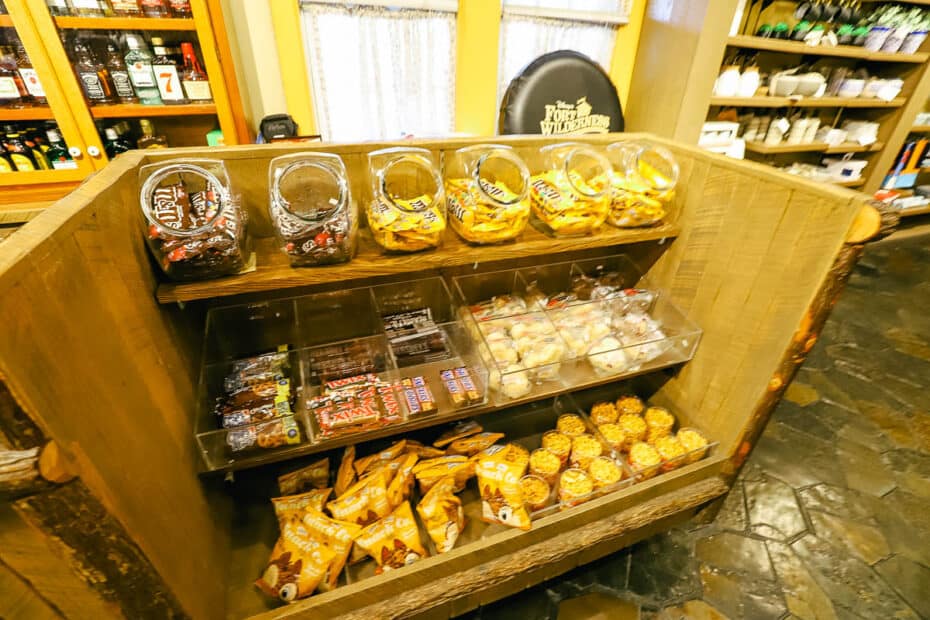 Speaking of super-size, does anyone ever finish these lollipops?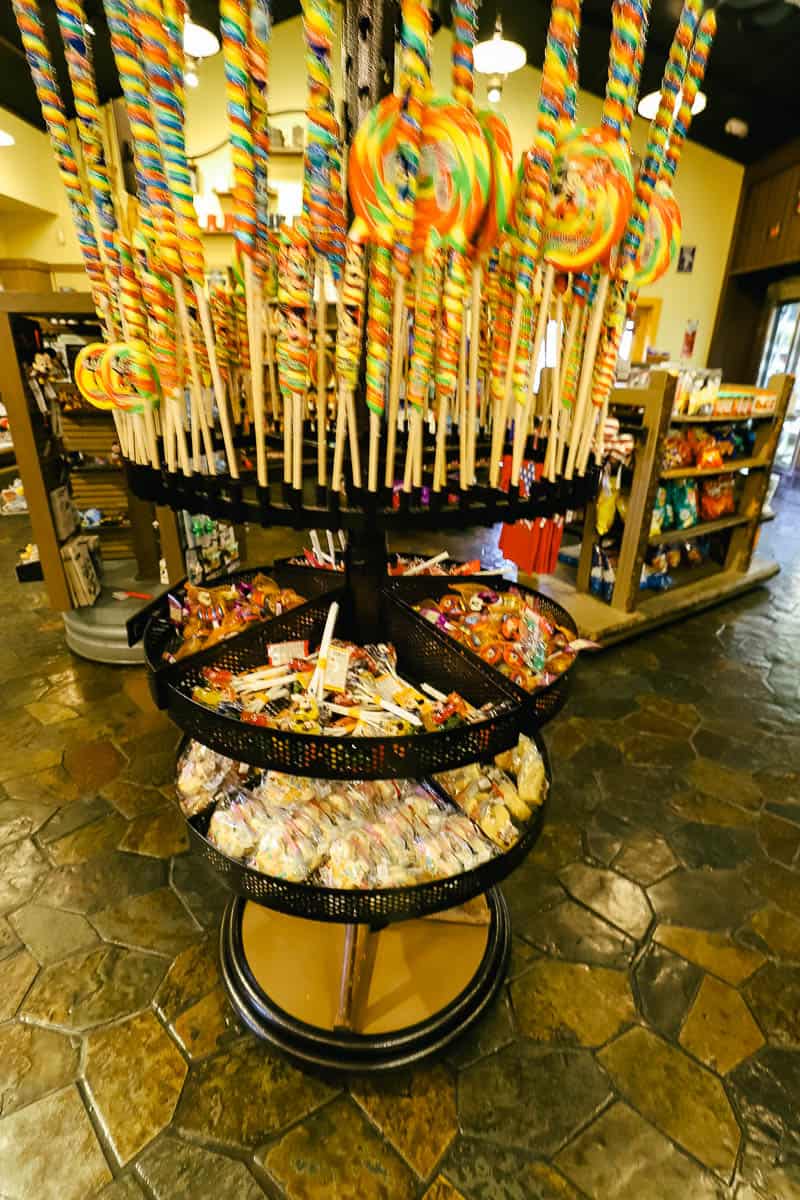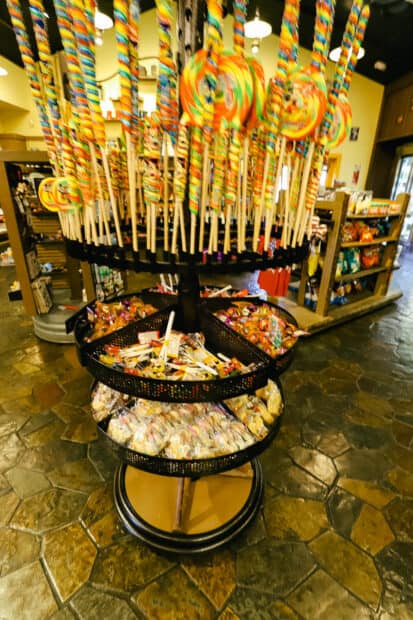 Carbohydrates range from bagels and English muffins to boxes of various Entenmann's pastries.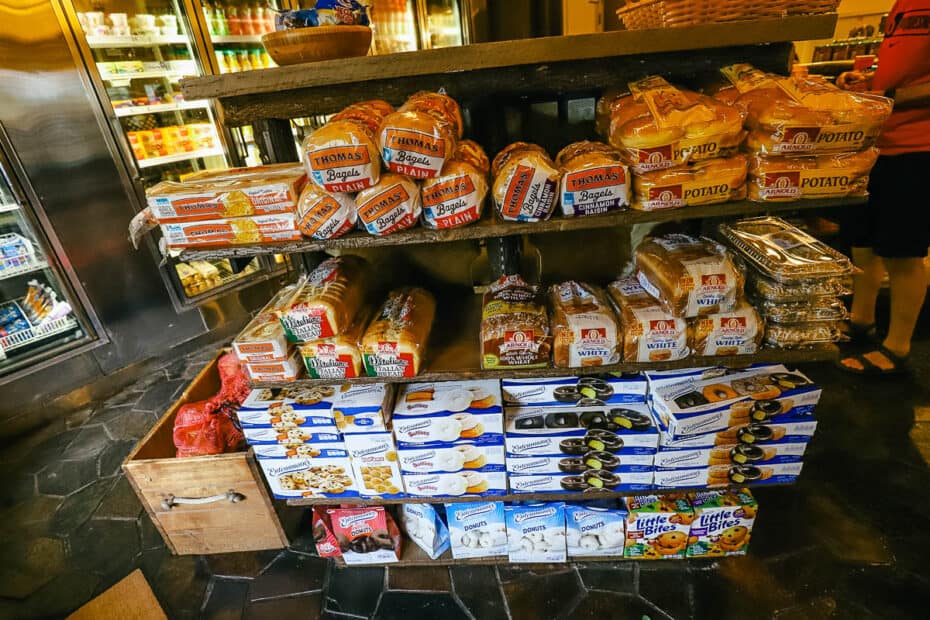 Refrigerated cases contain juice, milk, Lunchables, yogurt, and sliced cheese.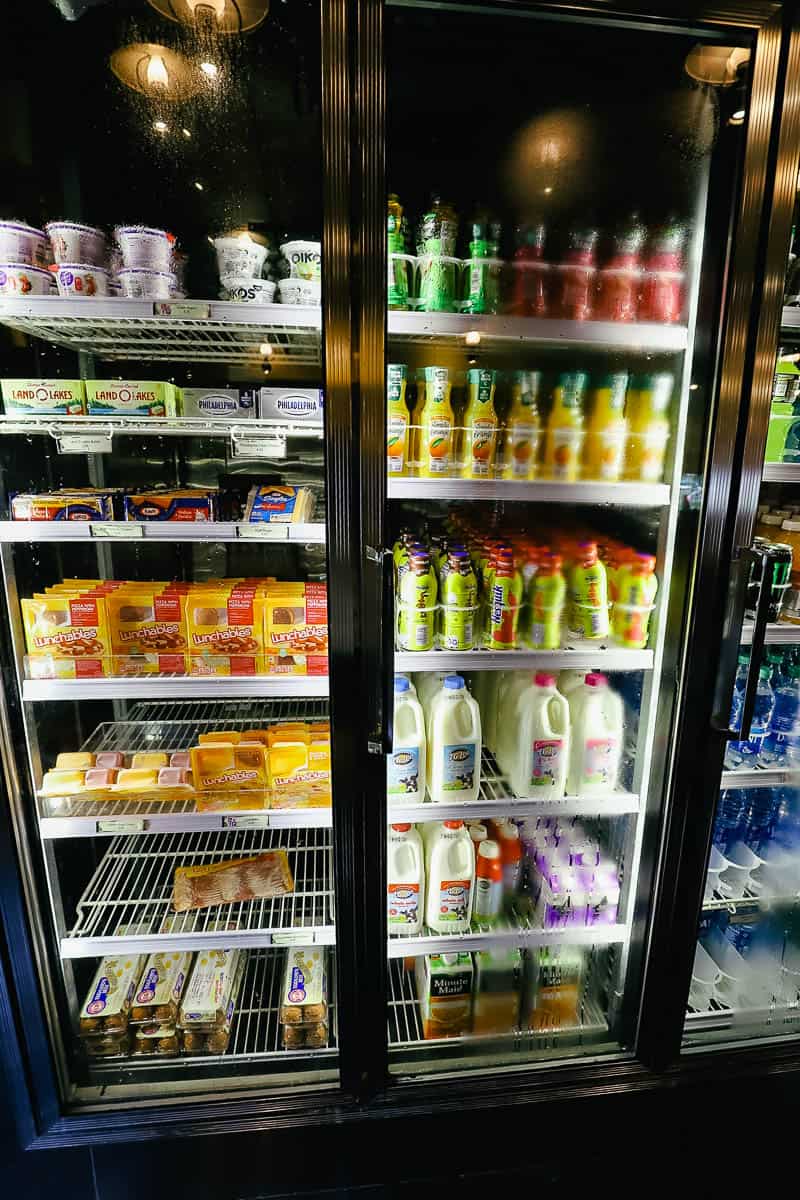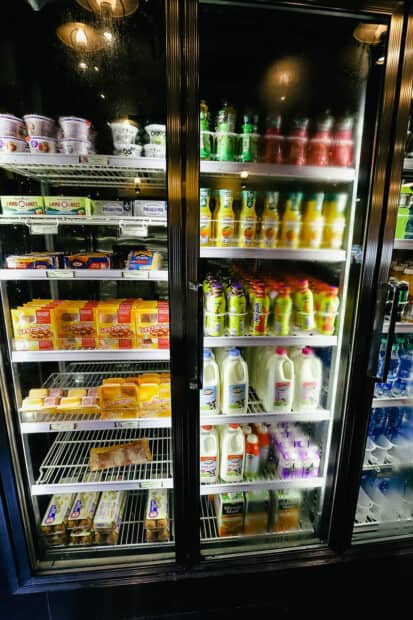 Next door, there was bottled water, sports drinks, and soda.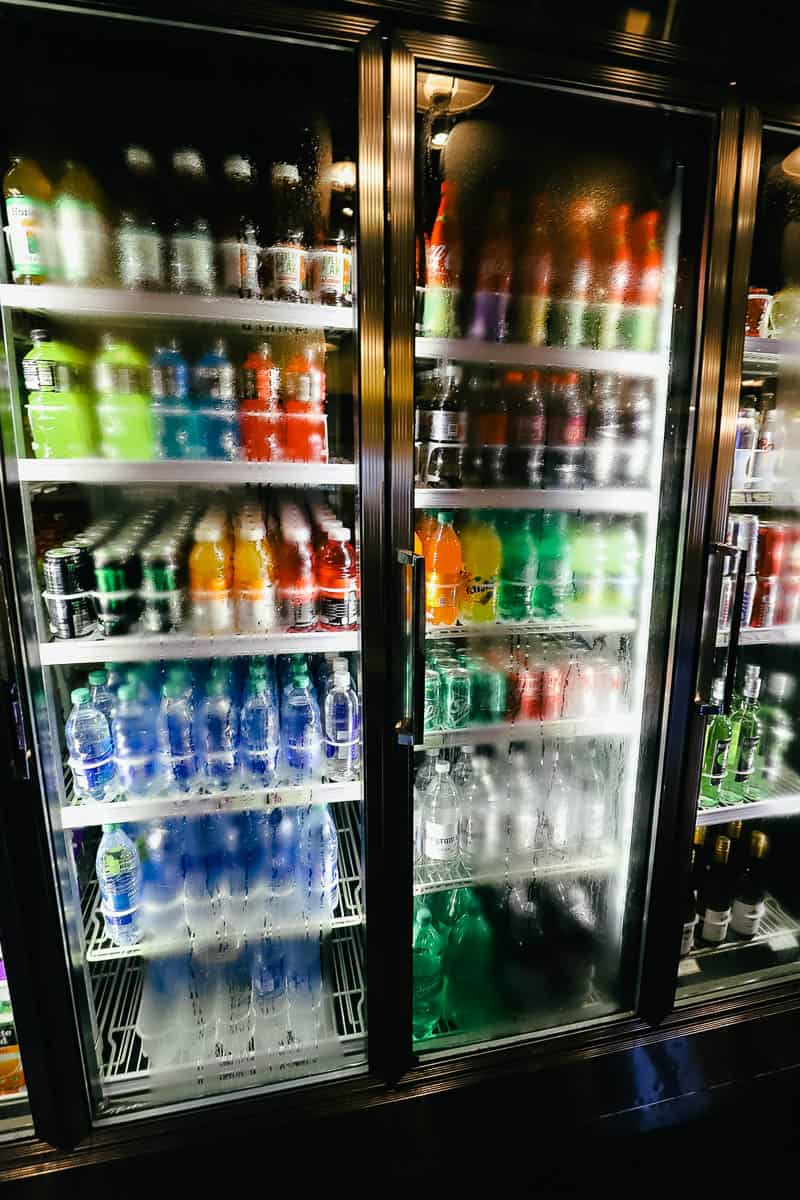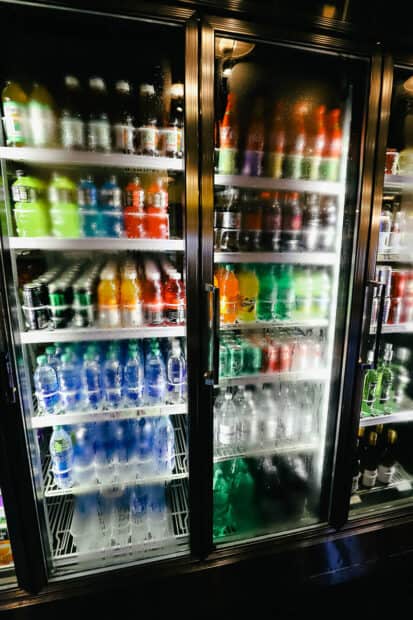 Here we have various beers and a few kinds of wine.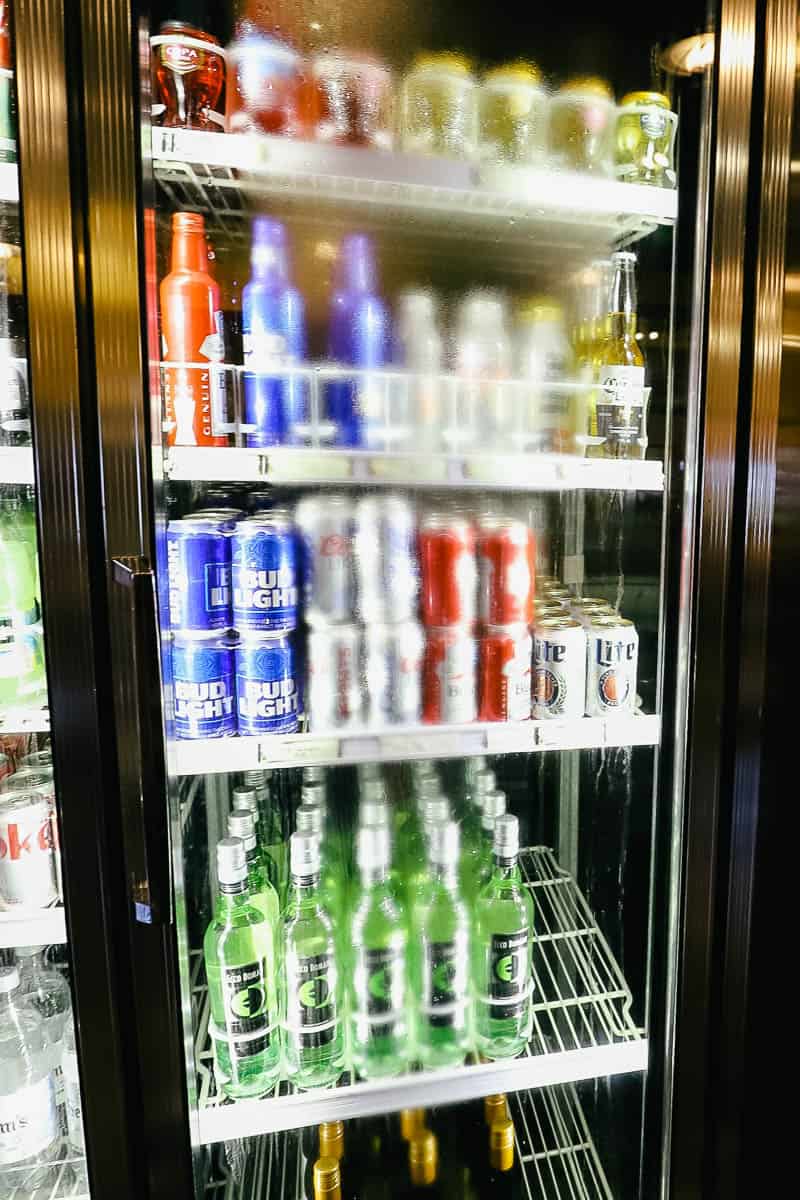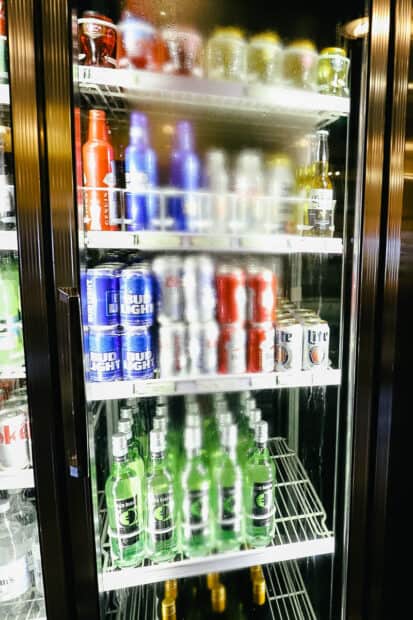 Frozen selections include waffles, fries, pizza, ice cream, and Mickey bars.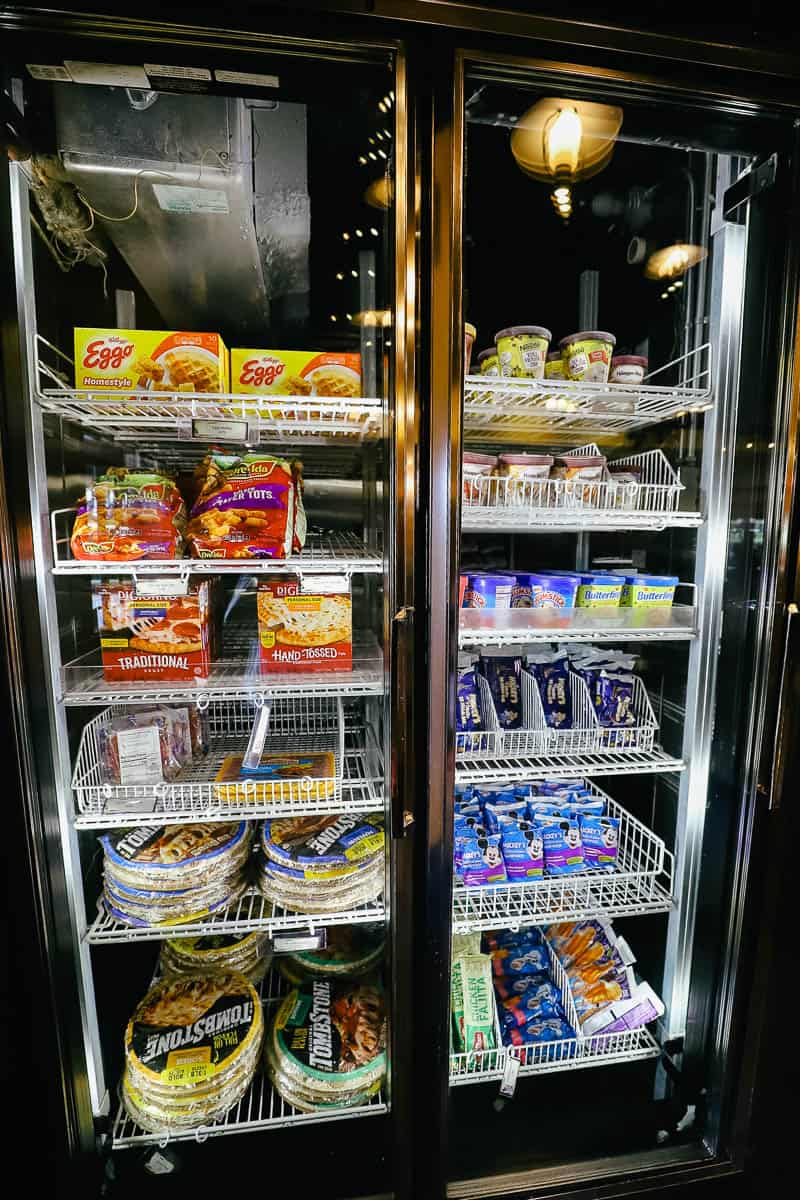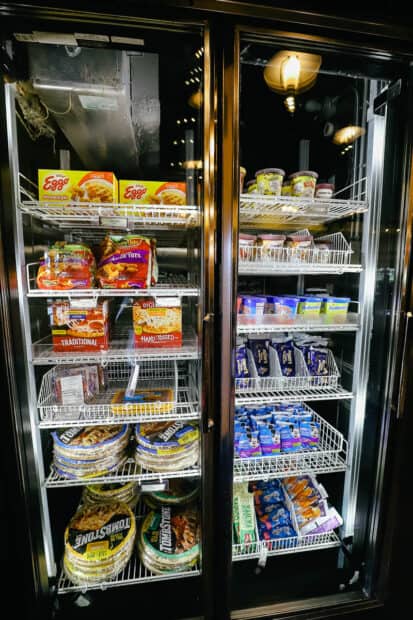 Behind the register, there's a selection of liquours.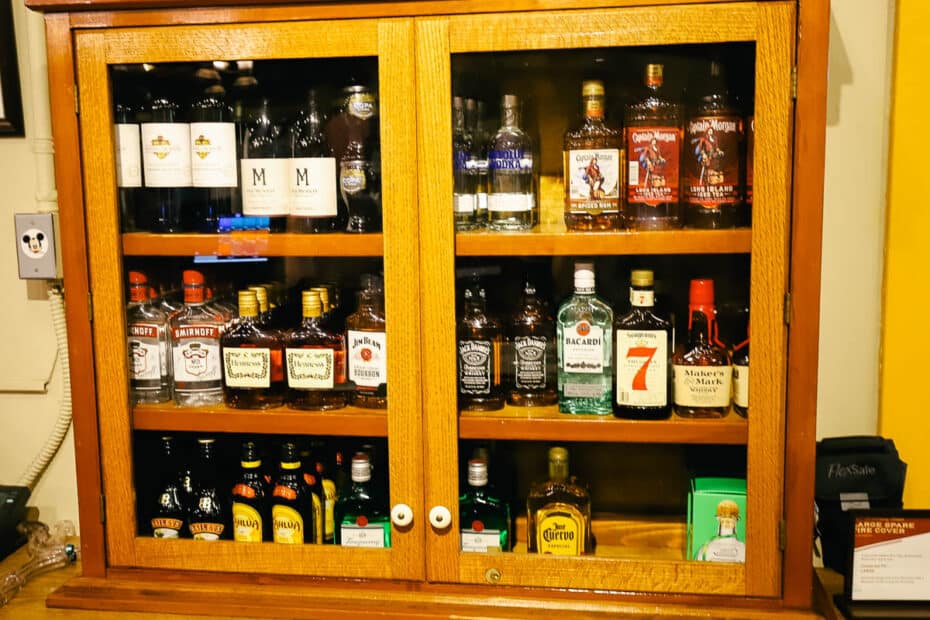 Lastly, one of the end caps has several health and beauty items.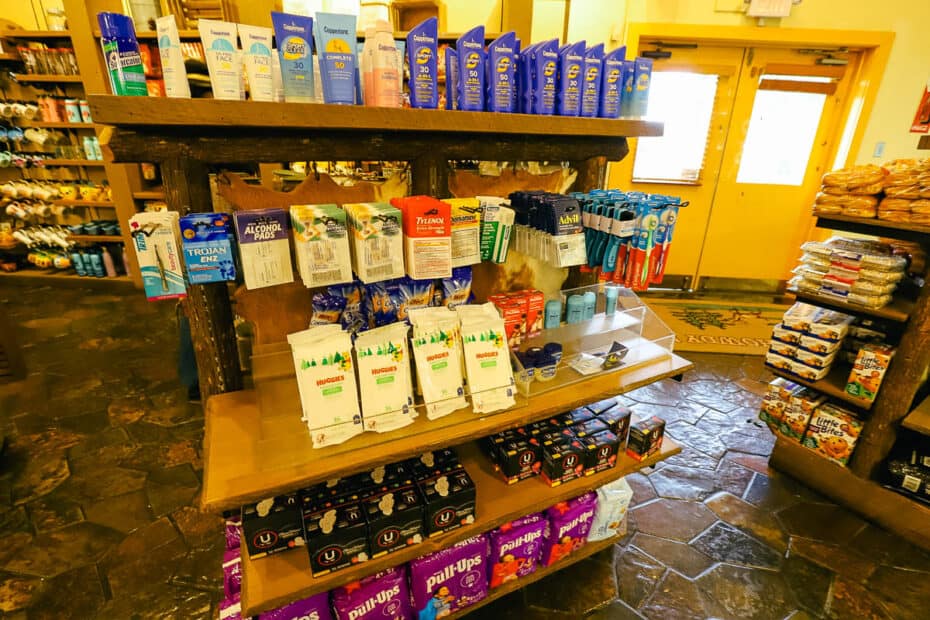 Overall, Settlement Trading Post has a substantial amount of items available. It's nice to have a shop, or two nearby should the need arise for some of these items.
For more information about Disney's Fort Wilderness Resort and Campground, you might enjoy these other articles:
In the comments:
Have you ever visited the Settlement Trading Post at Disney's Fort Wilderness? Do you enjoy vacationing here or have any other questions about the area?