A Visit to the Mercantile Gift Shop at Disney's Wilderness Lodge
As we continue a few updates for Disney's Wilderness Lodge, I thought it would be fun to visit the Mercantile gift shop. This gift shop features resort-branded merchandise, some of the latest Disney products, and plenty of convenience items.
Mercantile sits off the corner of the lobby at Disney's Wilderness Lodge. The gift shop runs the length of the interior walkway that leads out to the resort's bus stop.
It's one of those stores that's deceiving in size. On the outside, Mercantile appears tiny, but inside, the store is open and much larger than you would expect.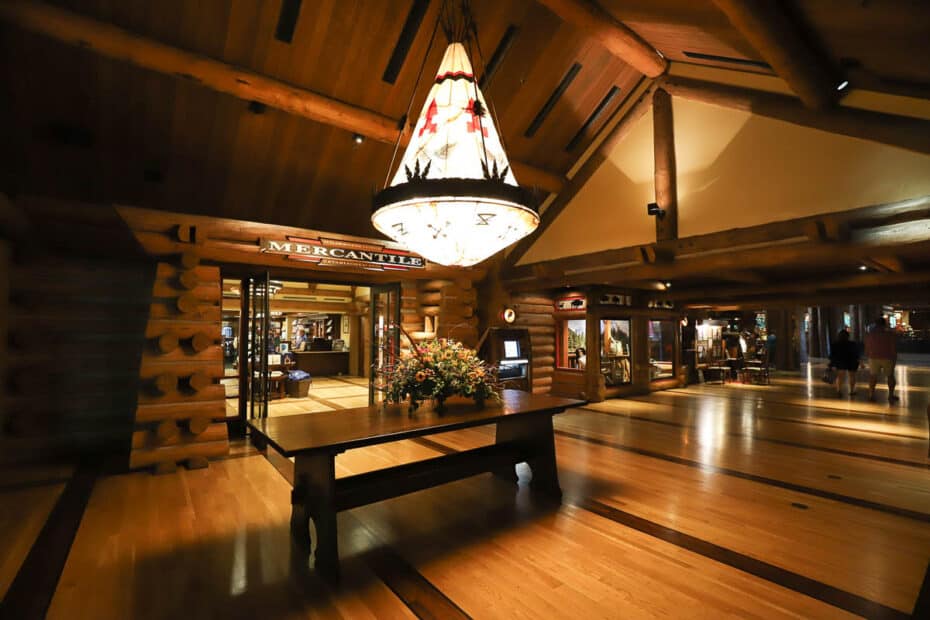 You'll pass these windows when you walk in from the bus stop entrance. They usually display a few items available in the gift shop.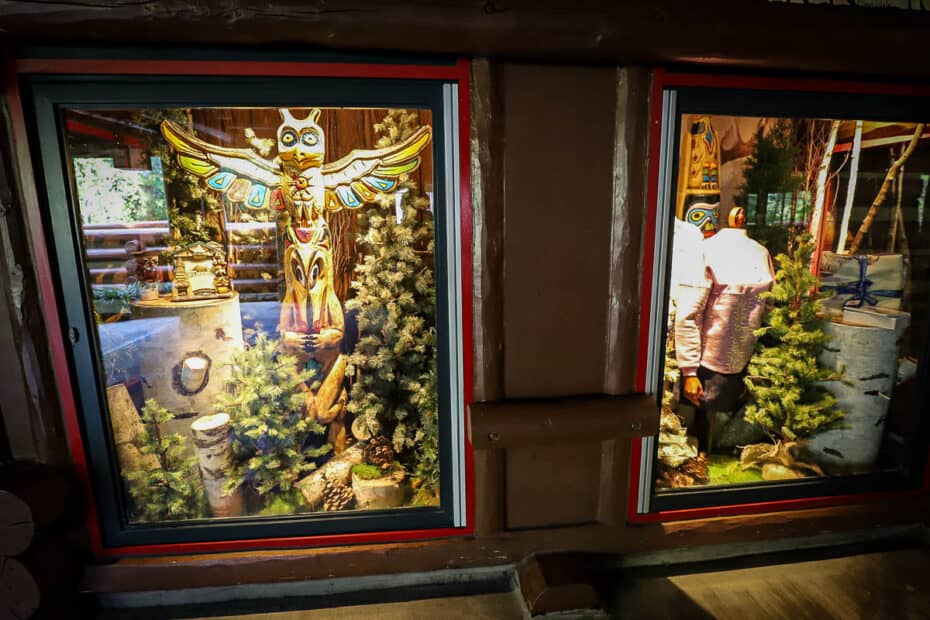 Like the rest of the Wilderness Lodge, Mercantile has a few traditional Native American pieces on display. This regalia is beautifully framed over the fireplace.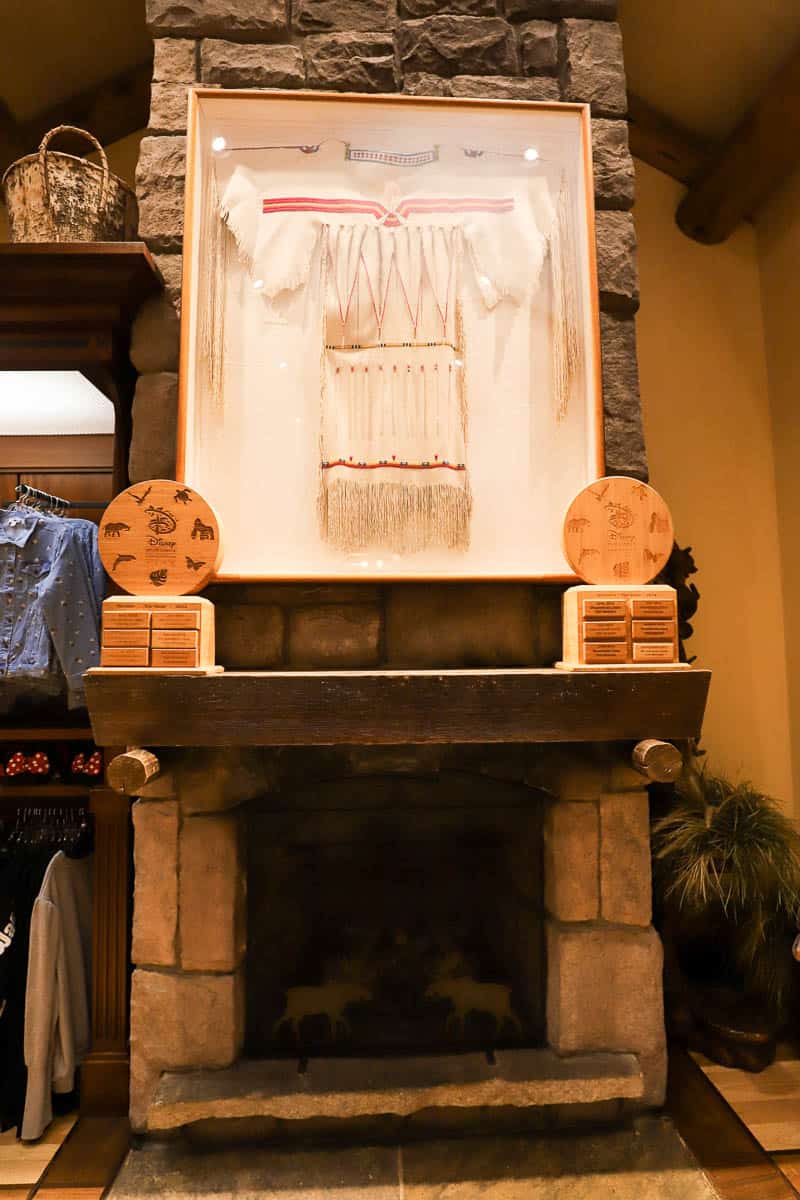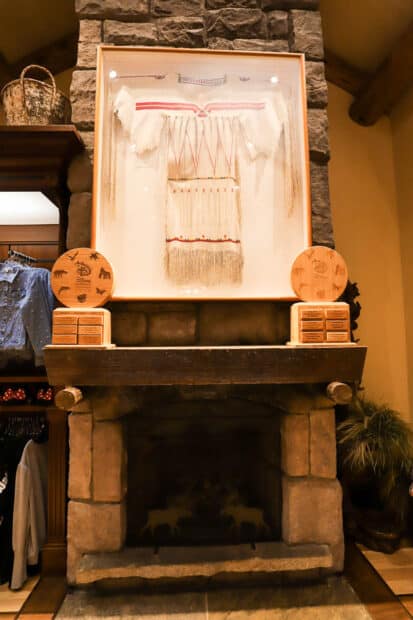 Toward the front of the store, there was a good deal of 50th-anniversary merchandise.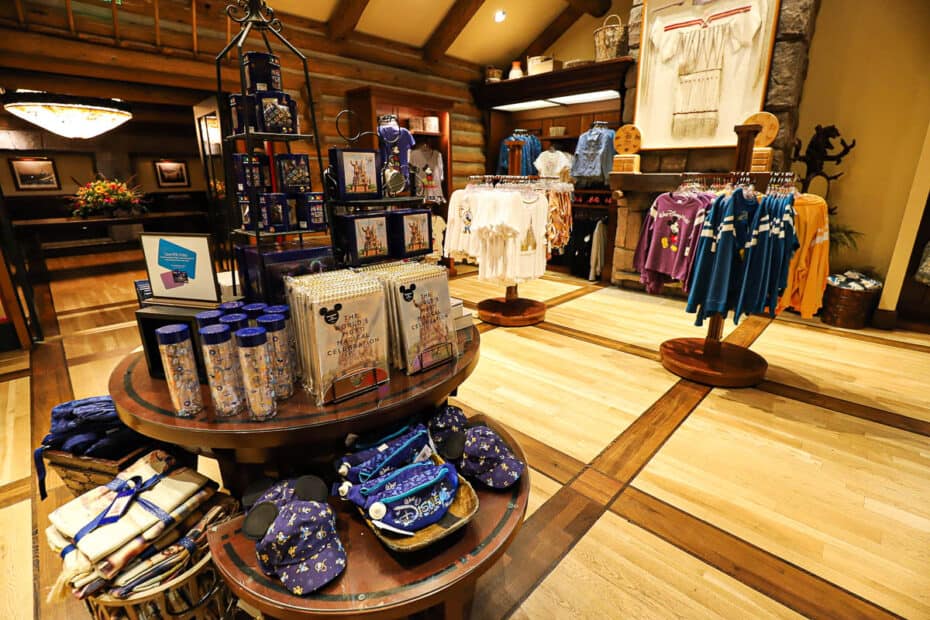 This long sleeve t-shirt is cute. Disney's Wilderness Lodge is one of those places where you can get away with wearing long sleeves in the summer. Well, you can wear long sleeves as long as you stay inside.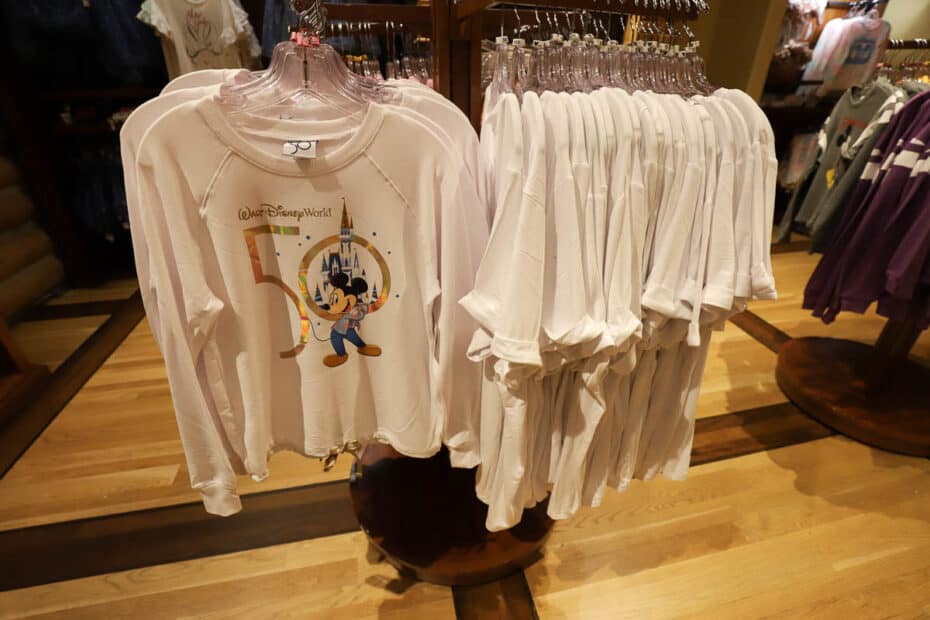 There was plenty of women's apparel.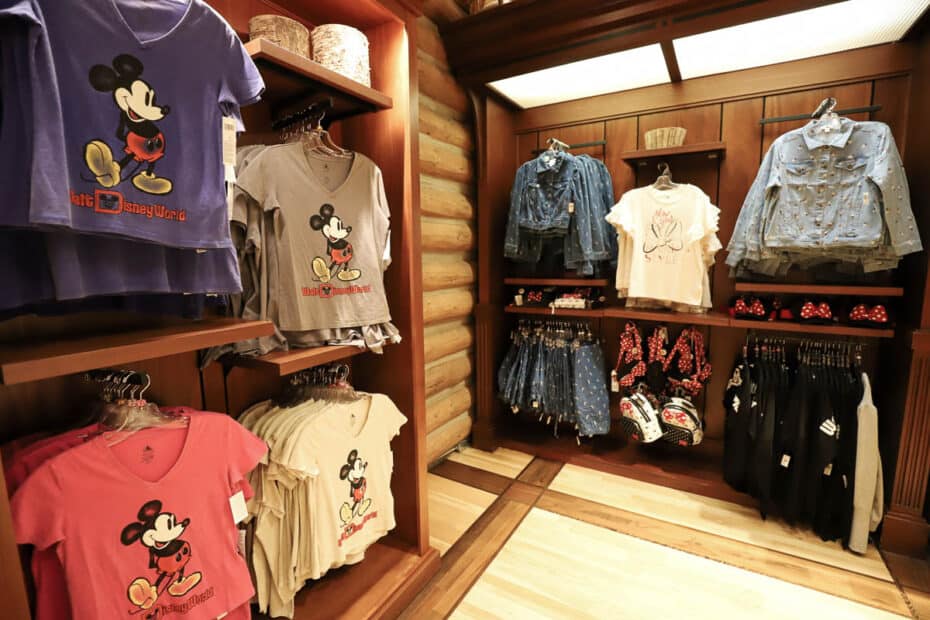 Here are a few matching pieces.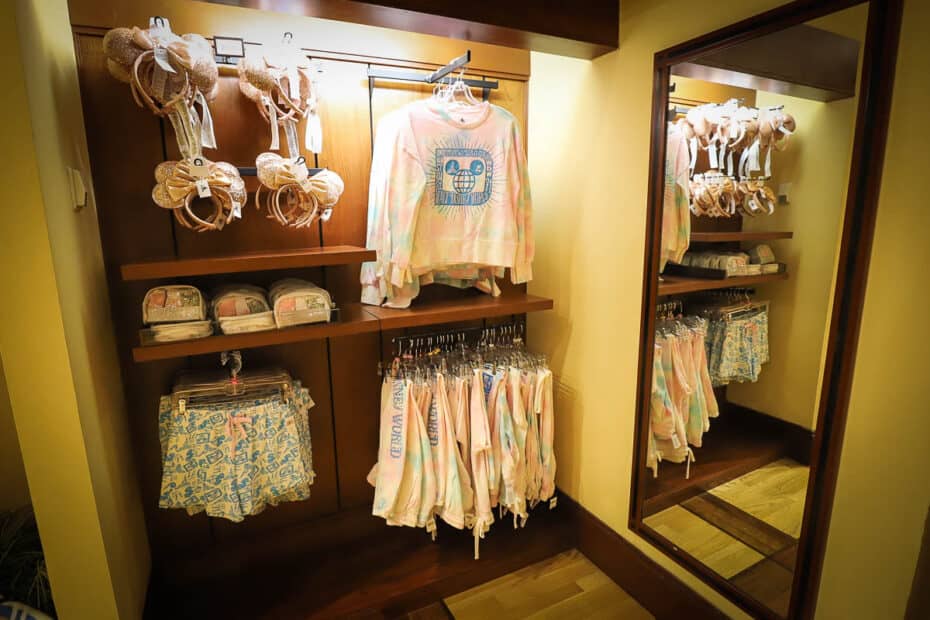 This picture below shows a room dedicated to clothing items. When I took these photos, I remember thinking there was more stuff in here than I had realized.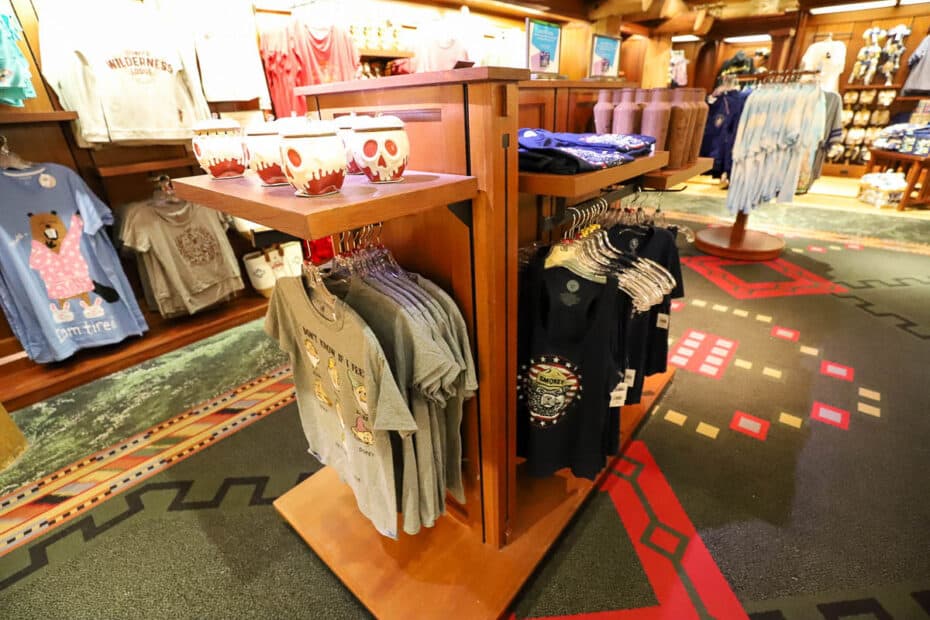 Below we have a few pieces of merchandise specific to the resort.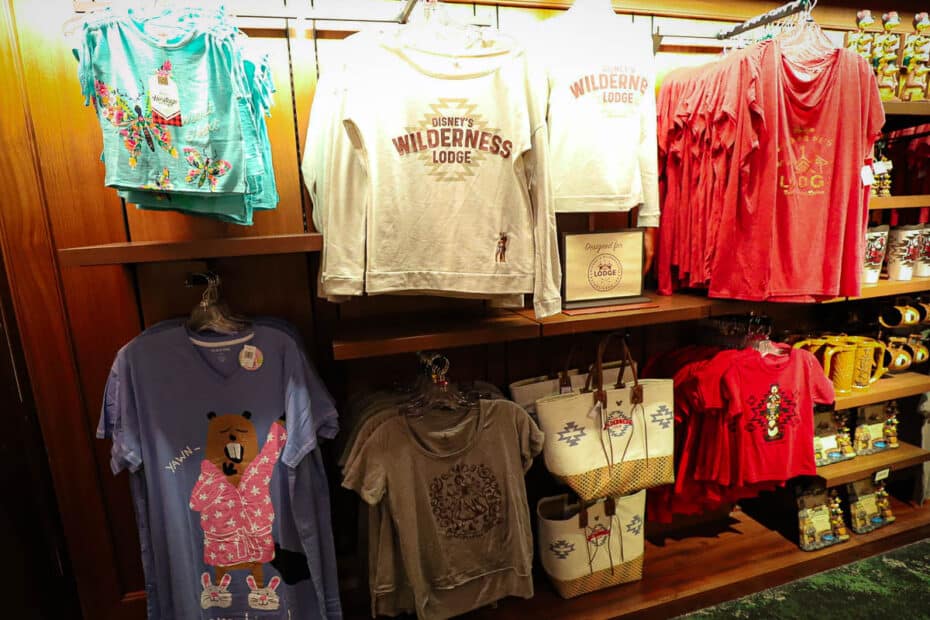 There were socks.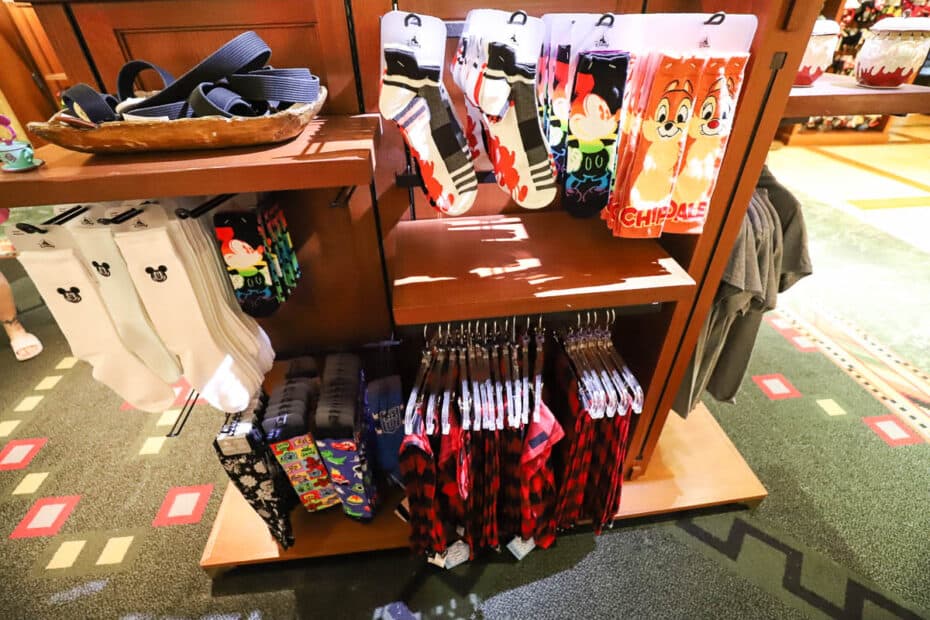 Here we have a few men's shirts and the traditional deluxe resort robe.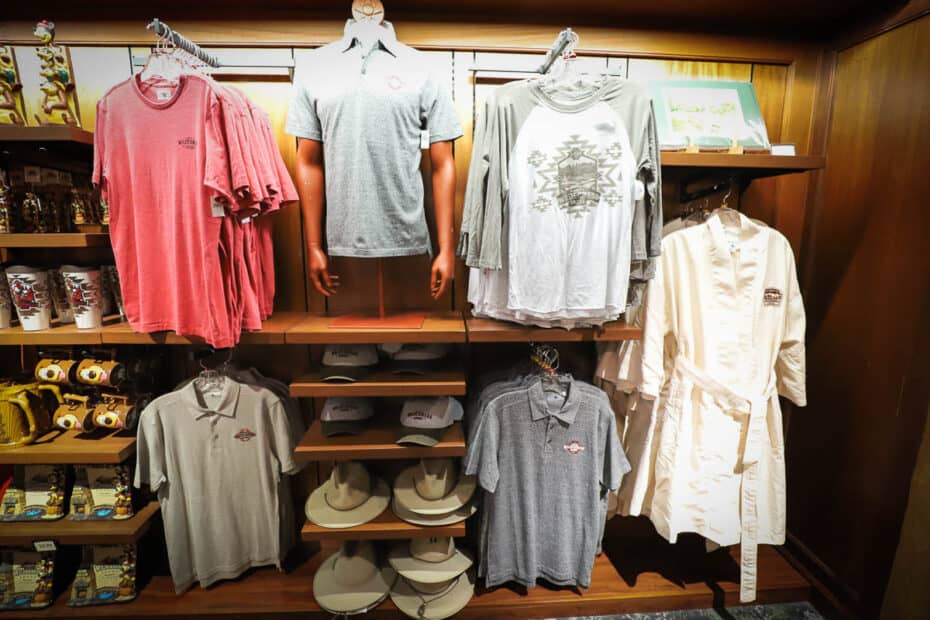 Those totem pole figurines feature Donald, Goofy, Mickey, and Humphrey the Bear. Humphrey is kind of the mascot for the Wilderness Lodge.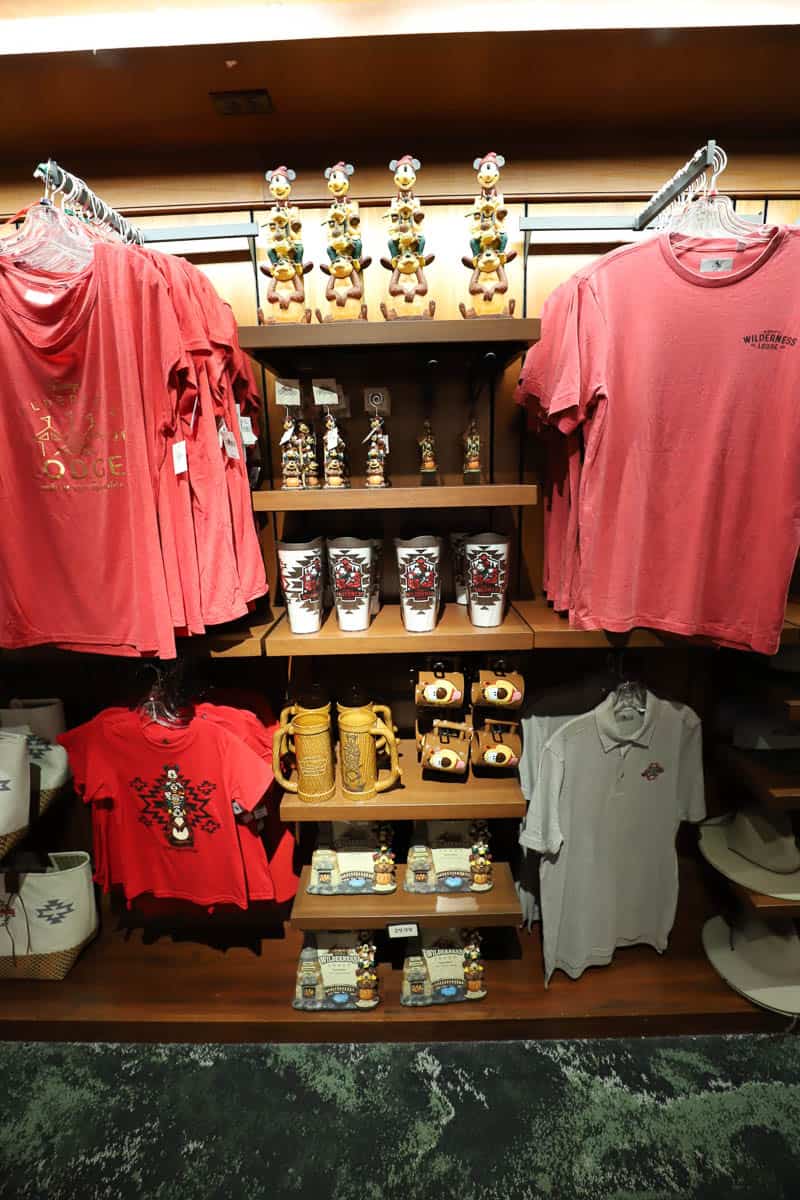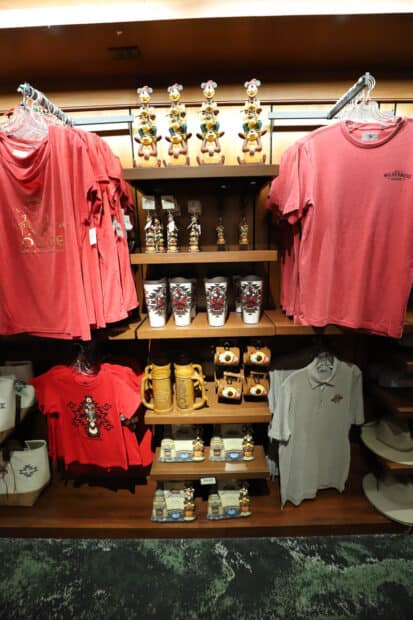 The Wilderness Lodge is home to two Disney Vacation Clubs, Boulder Ridge and Copper Creek. For the record, all of the resorts that are home to a secondary vacation club offer DVC merchandise in their gift shops.
Related: Disney World Villa Resorts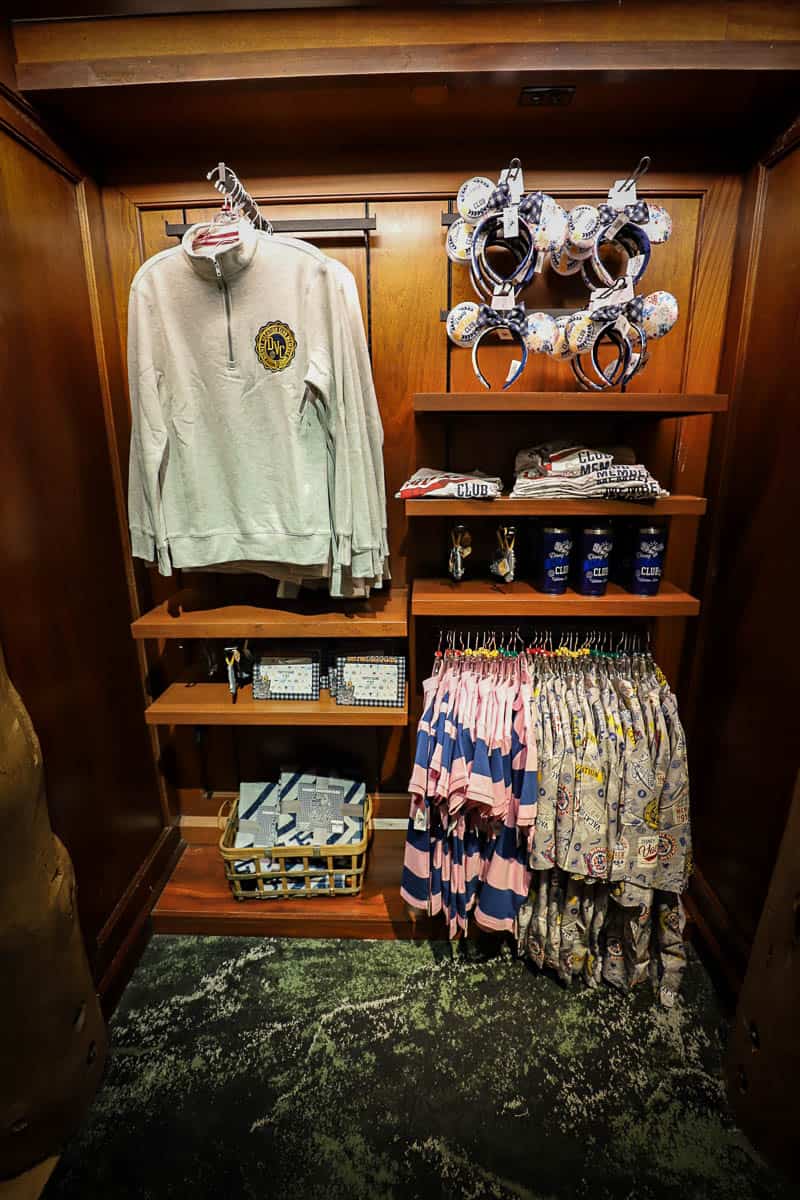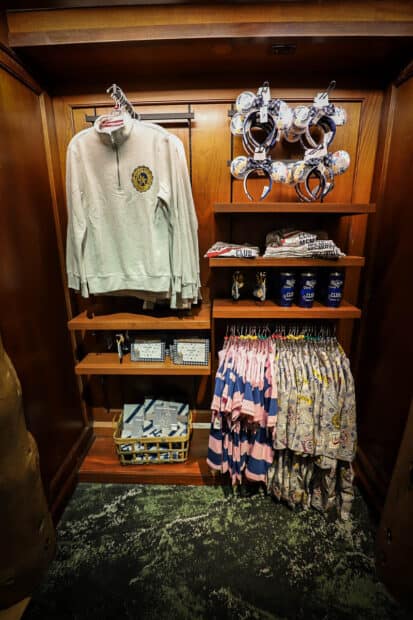 Since Mercantile has more than one entrance, there is even more 50th-anniversary merchandise.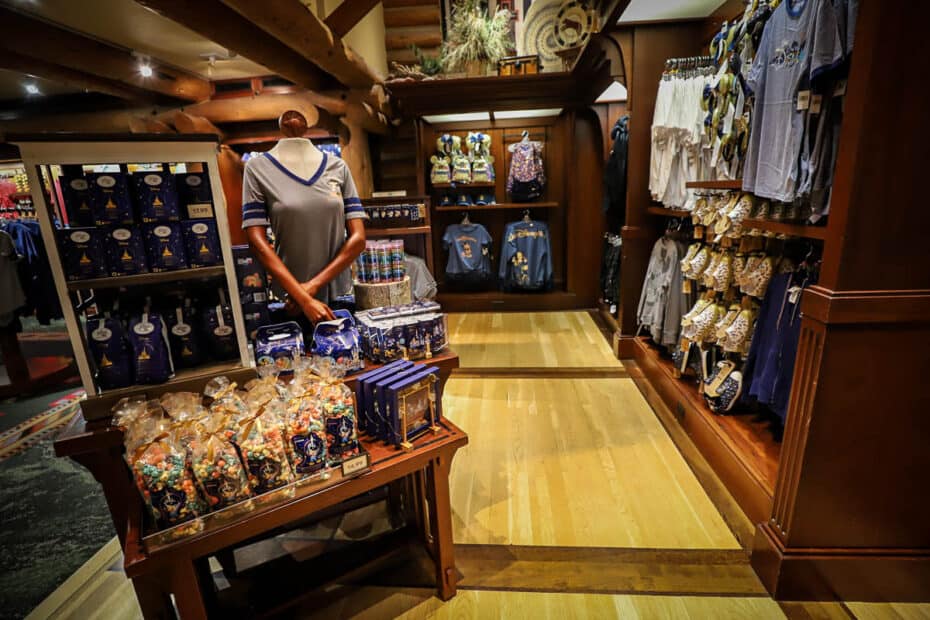 This shop had plenty of choices.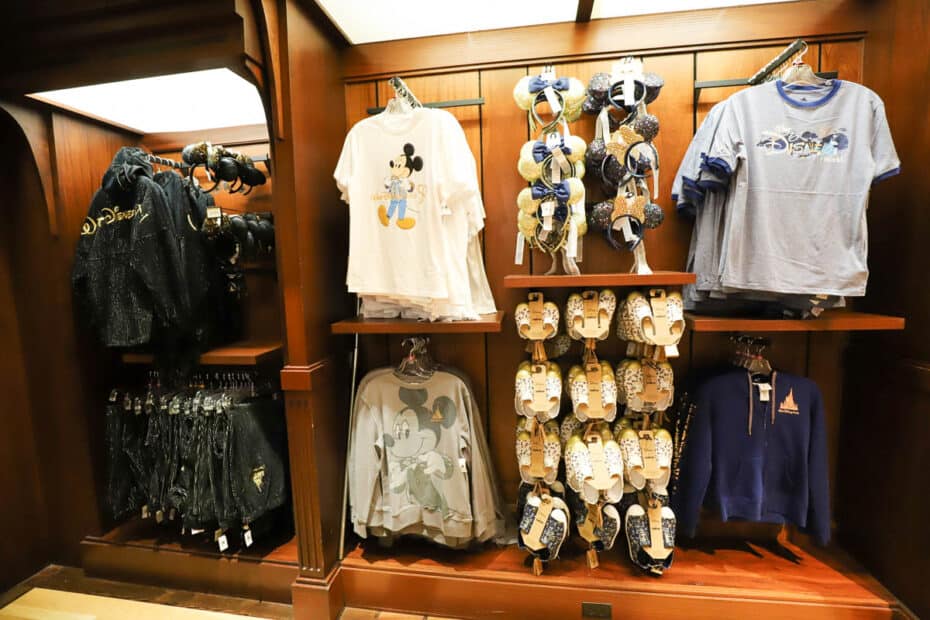 There were even several pieces of Smokey the Bear branded merchandise.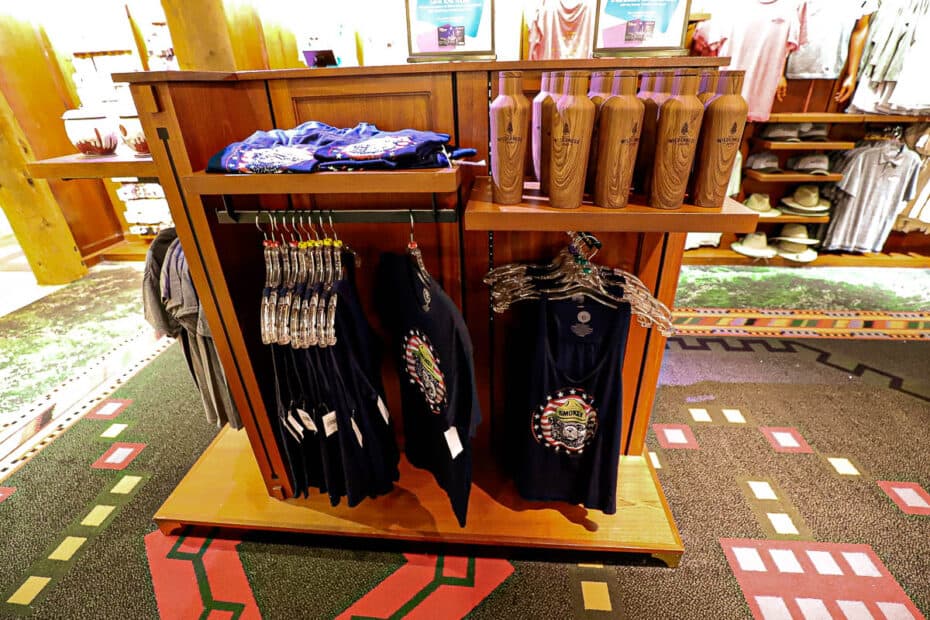 I love these hats.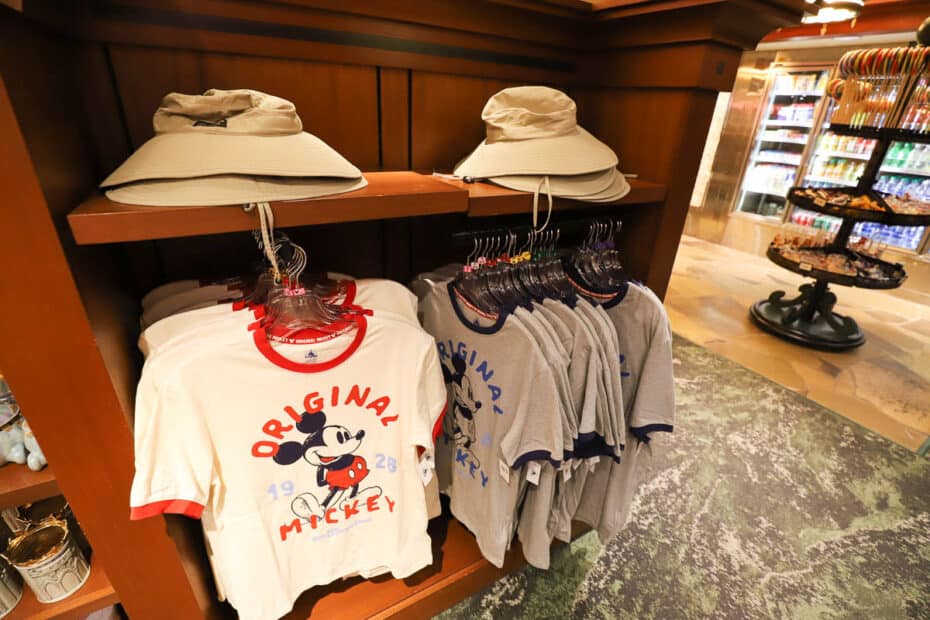 Below we preview the men's apparel.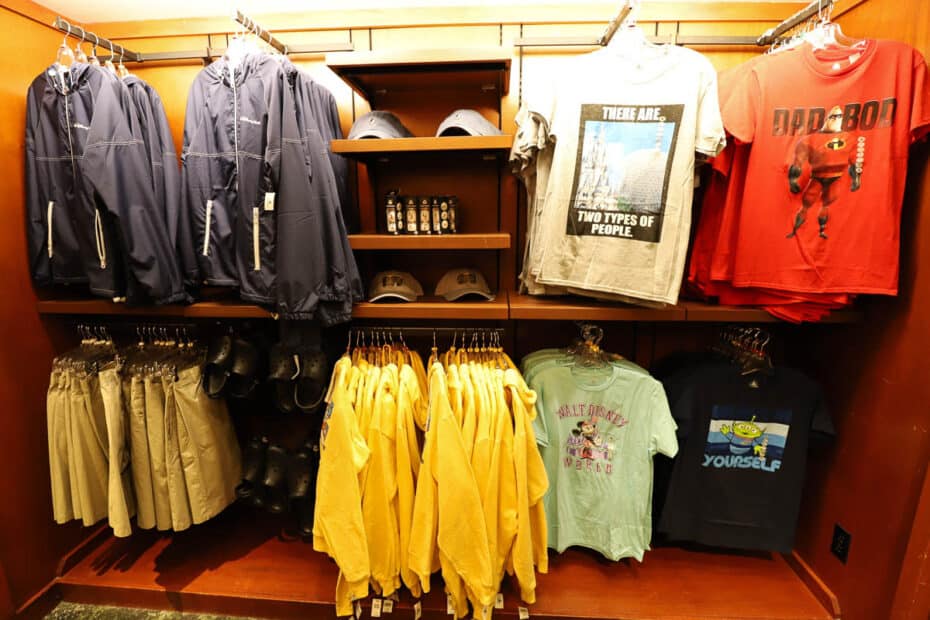 I don't dig Mondays either.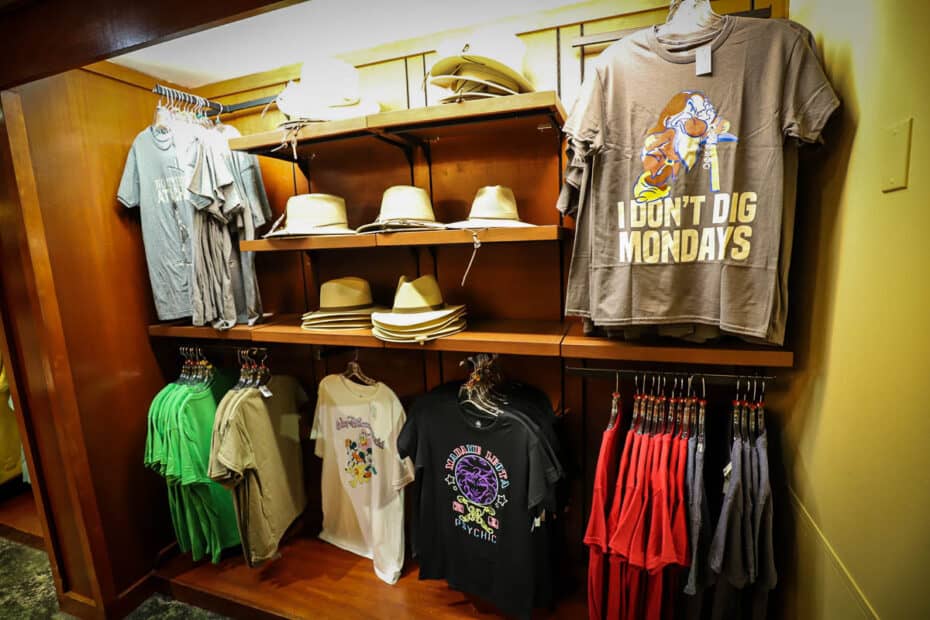 If you forget to bring your swimsuit or other pool accessories, several selections are available. The Wilderness Lodge has two beautiful pools and the entire outdoor setting is so serene.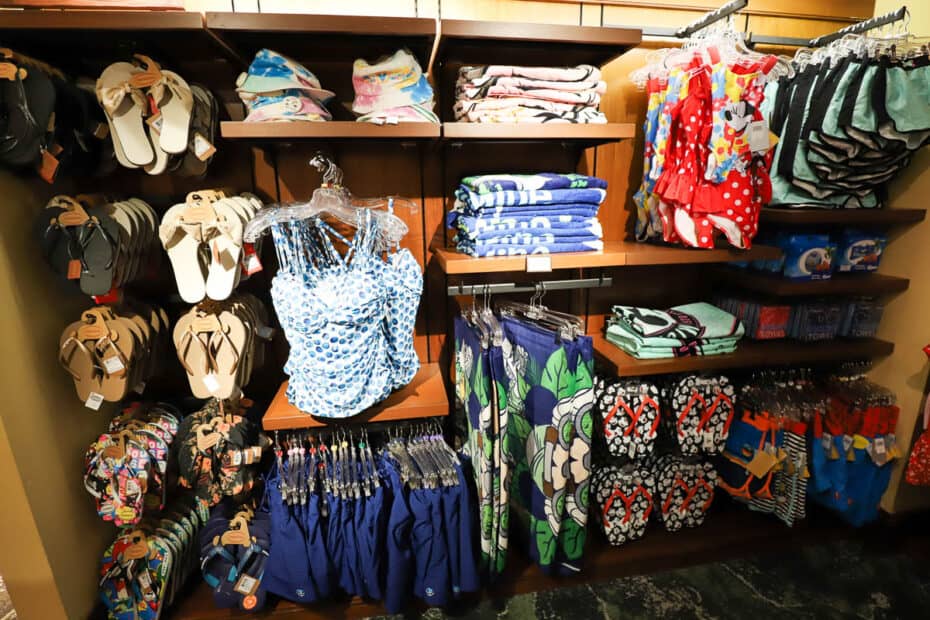 And here are a few clothing items for children.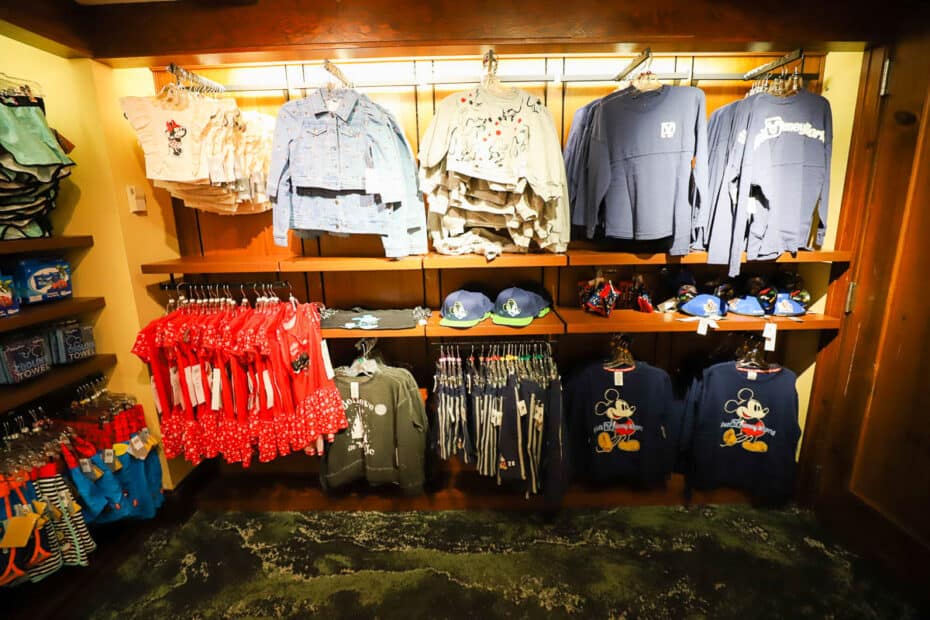 Anyone who collects charms might like to browse the Pandora case.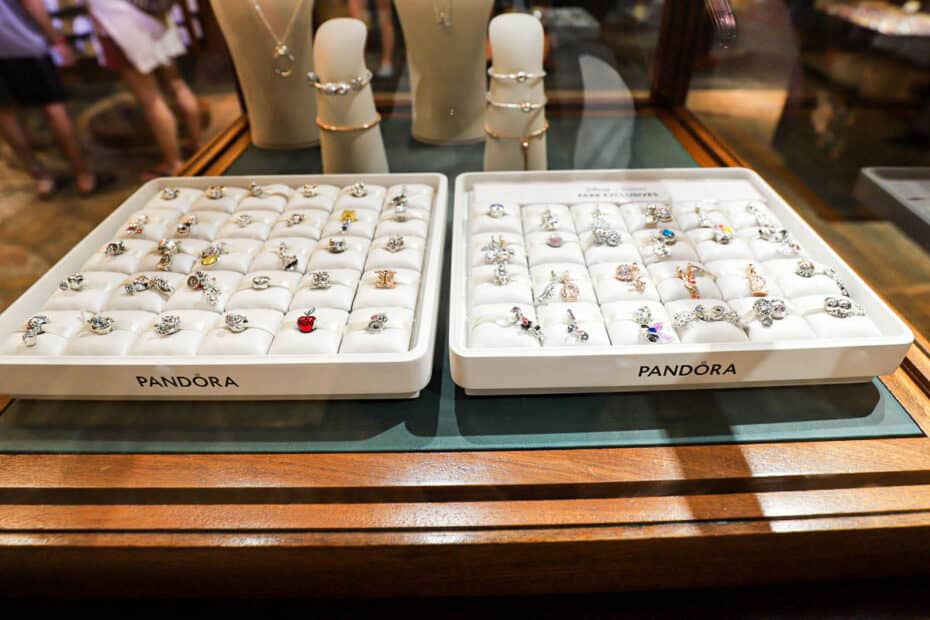 And there were a couple of other higher-end jewelry pieces.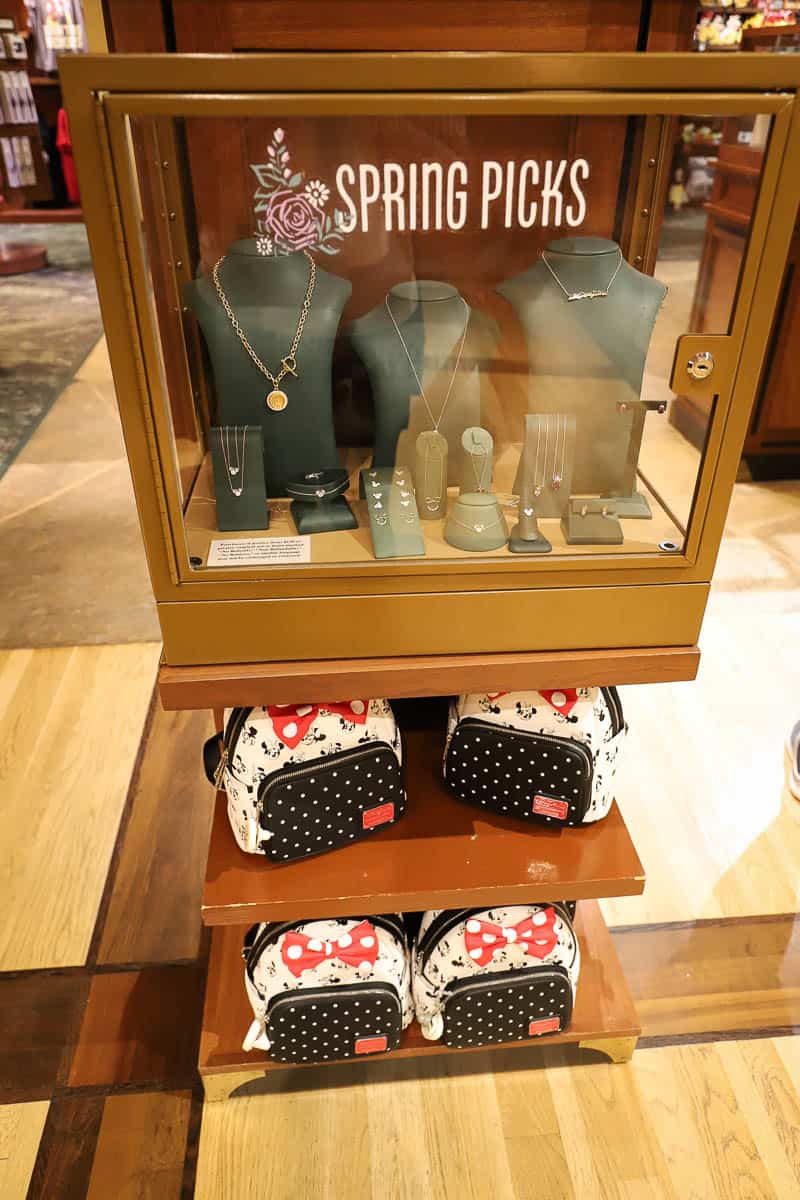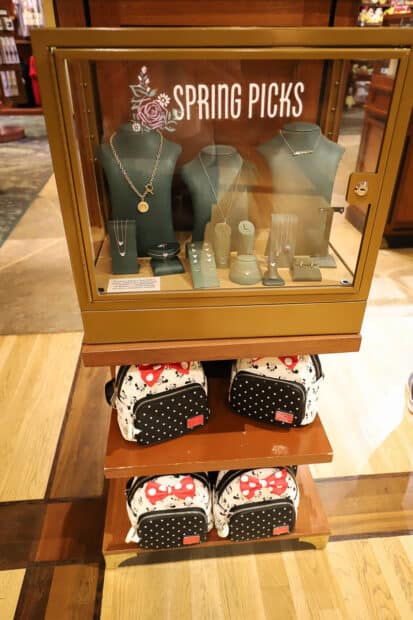 I thought the shop had a good number of Minnie Mouse Ears. Unfortunately, many of these have sold out online.
Related: Minnie Mouse Ears List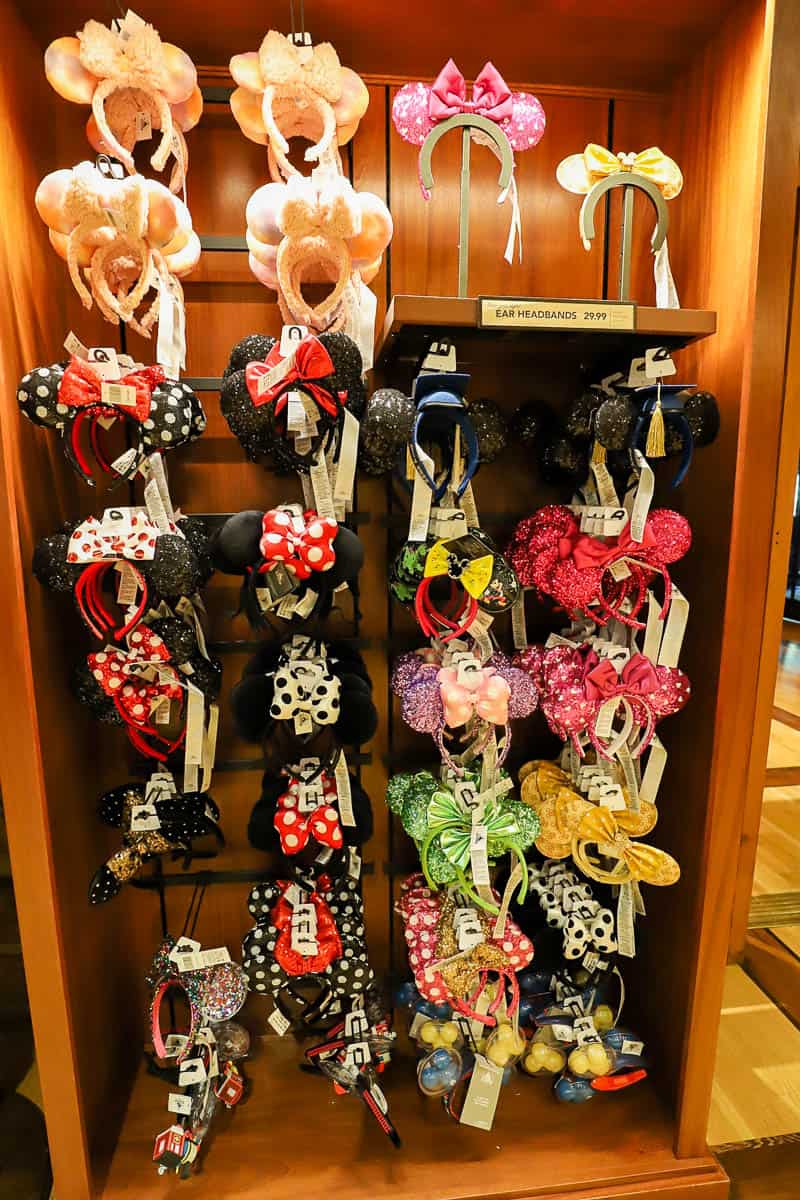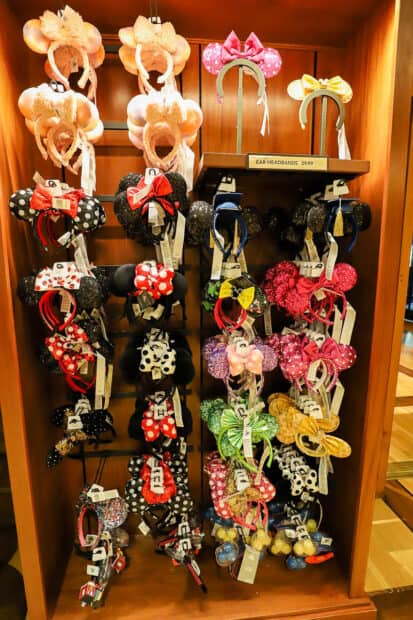 Or you might prefer a more rustic hat.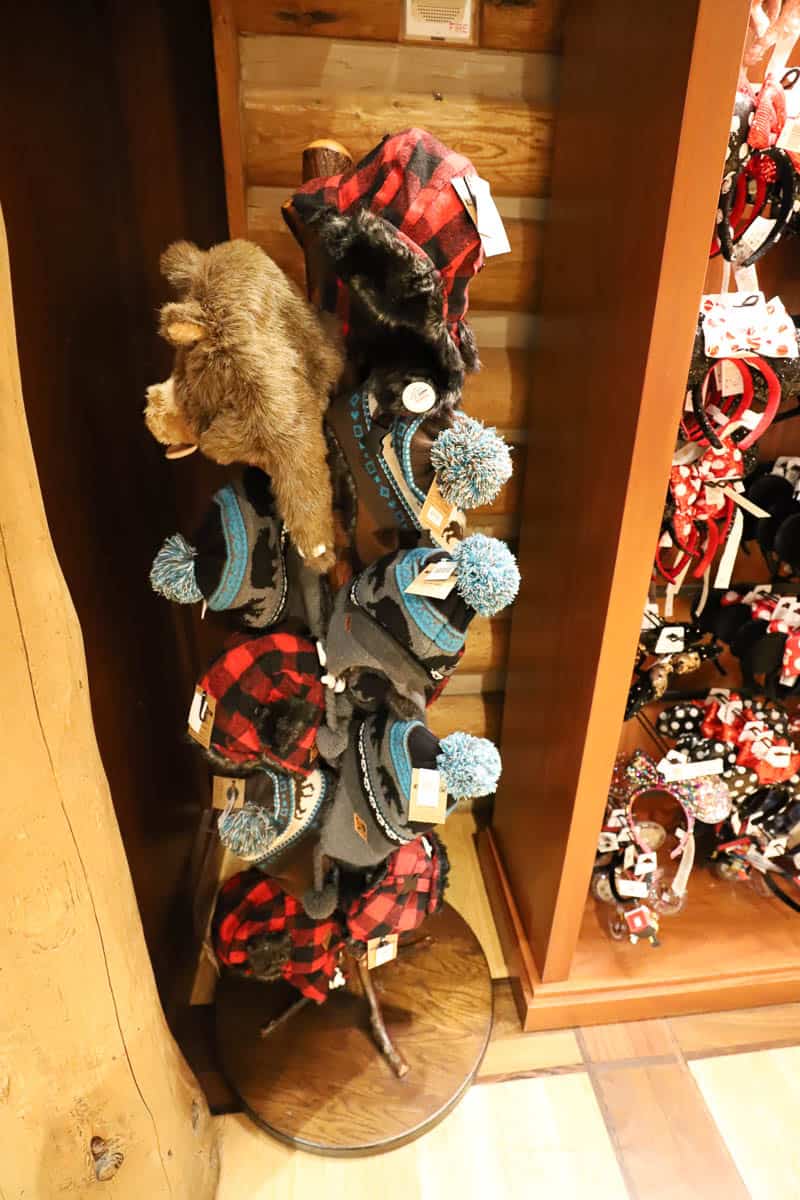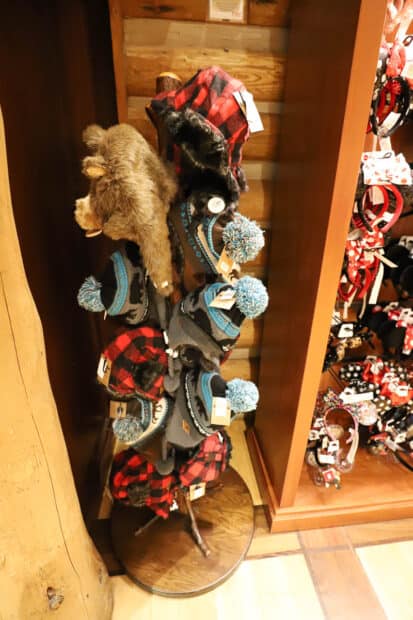 These ball caps are more my speed. No, I still haven't found my Monsters University hat. It's probably sitting packed away in a storage unit awaiting an upcoming move. At least, I hope.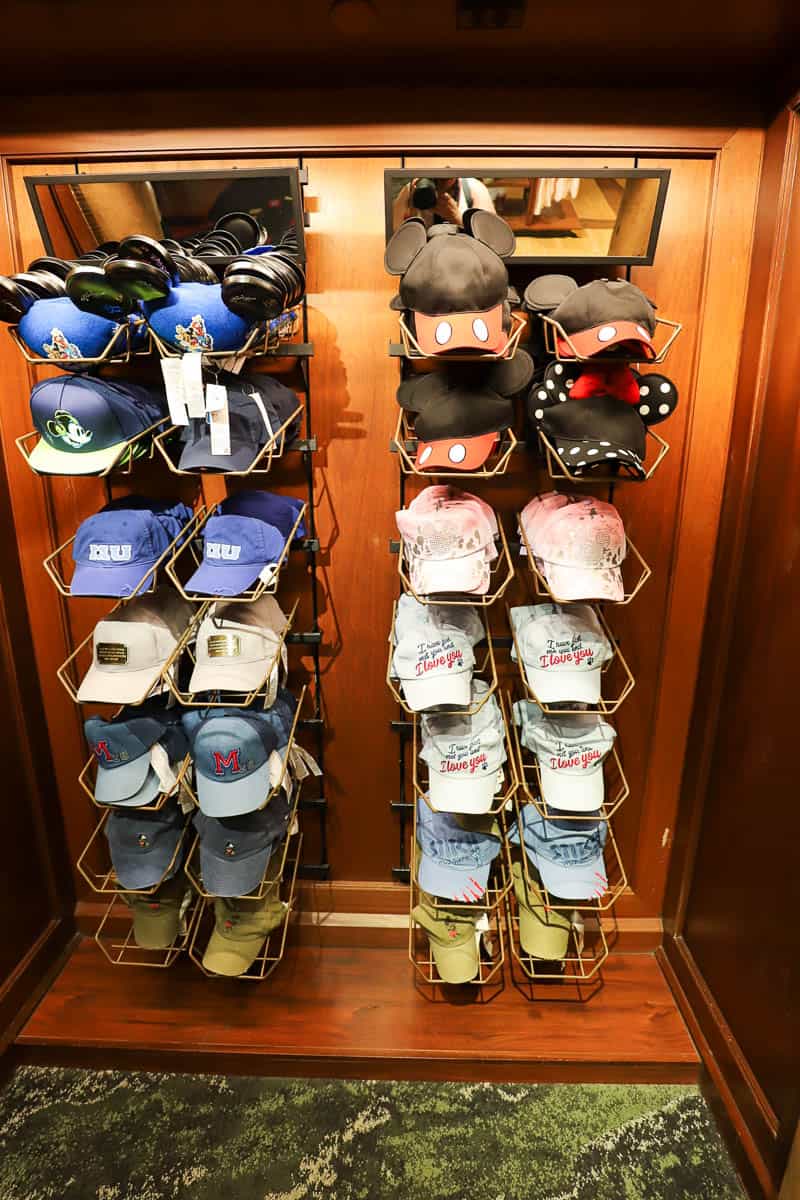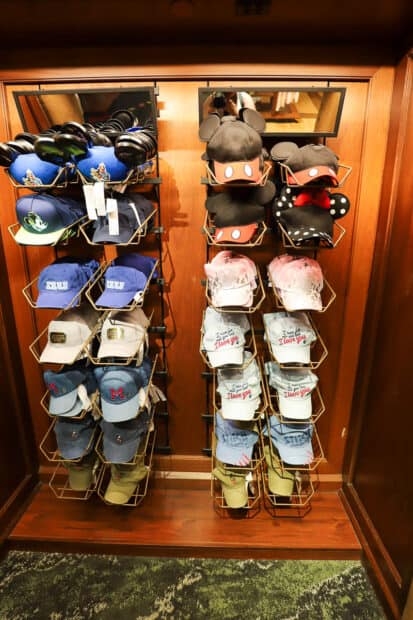 Pin collectors will find a few things to browse in the shop.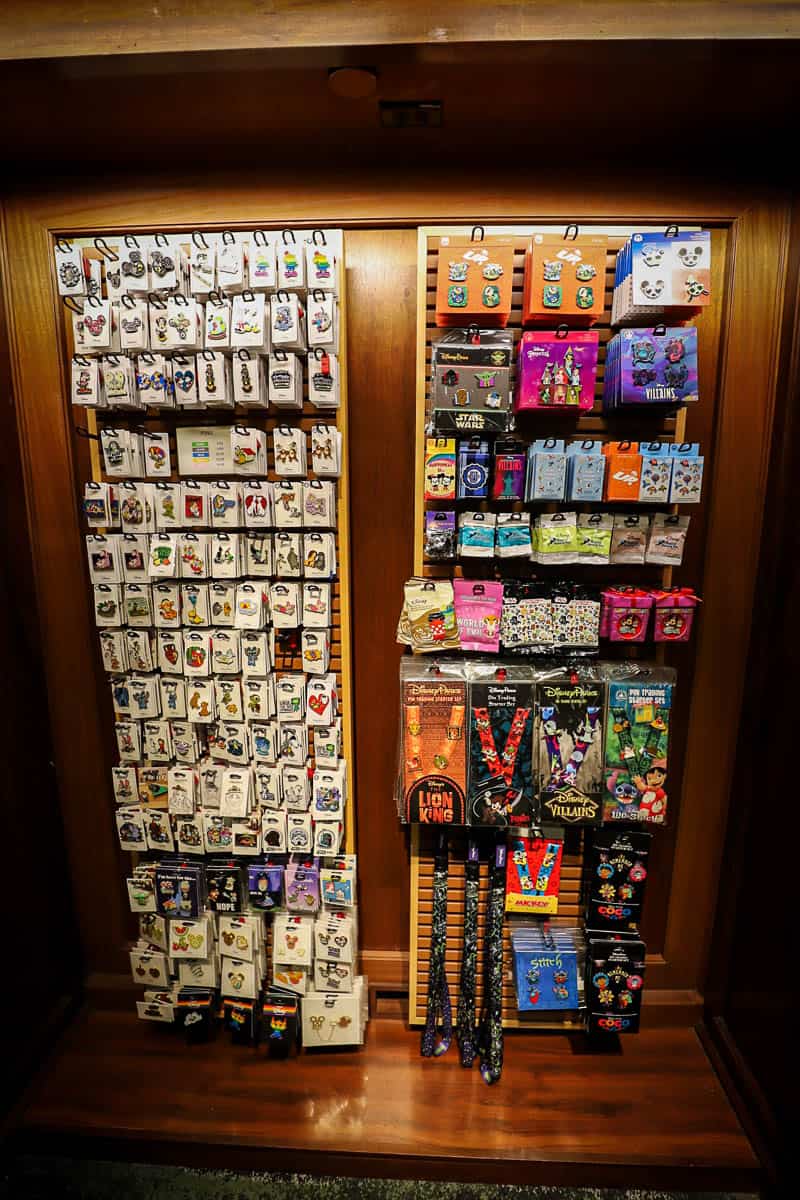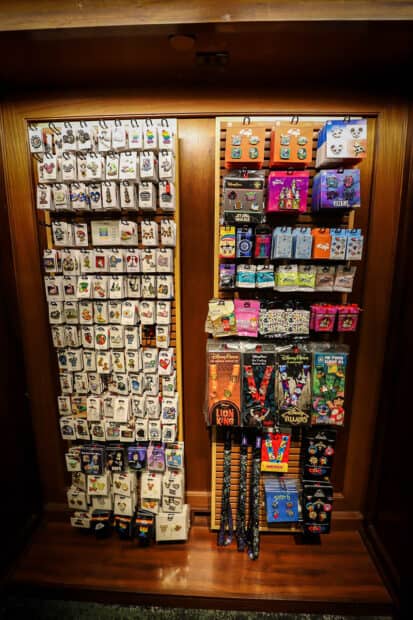 As always, there are a few selections of patches, key chains, and other souvenirs. Most of these are priced by the color in which they are labeled.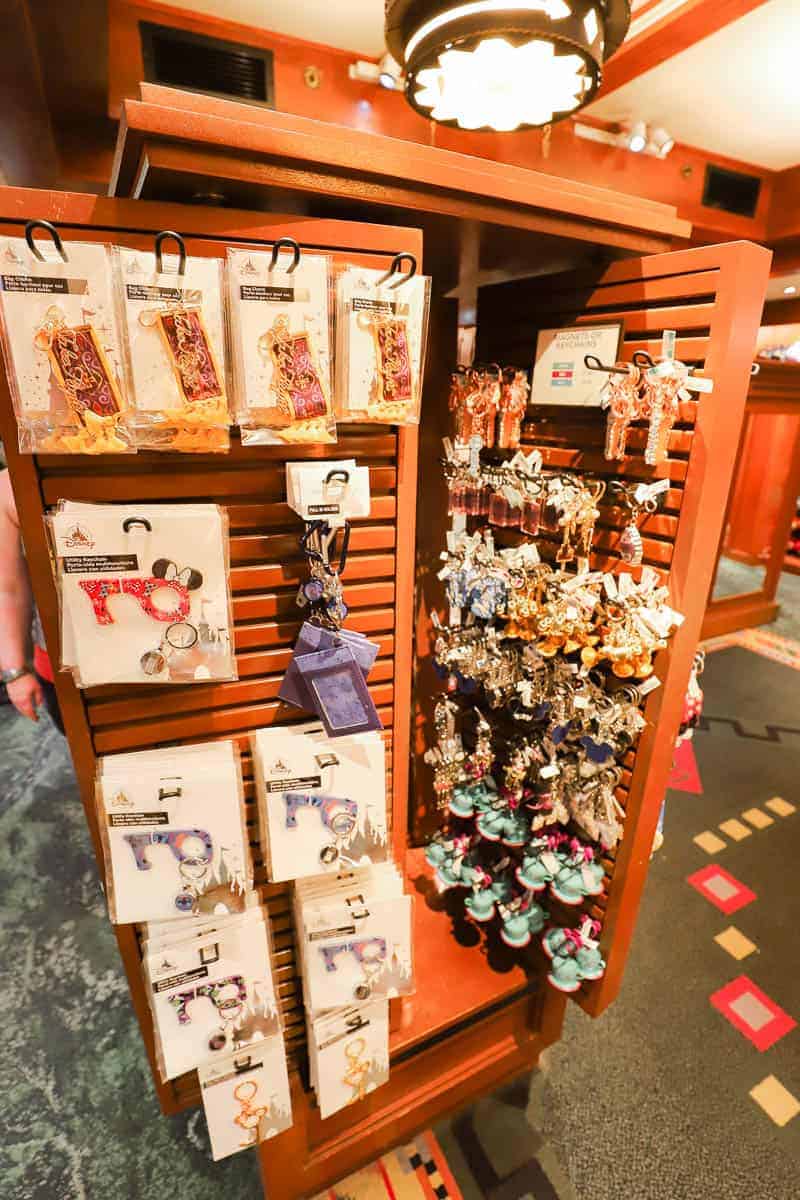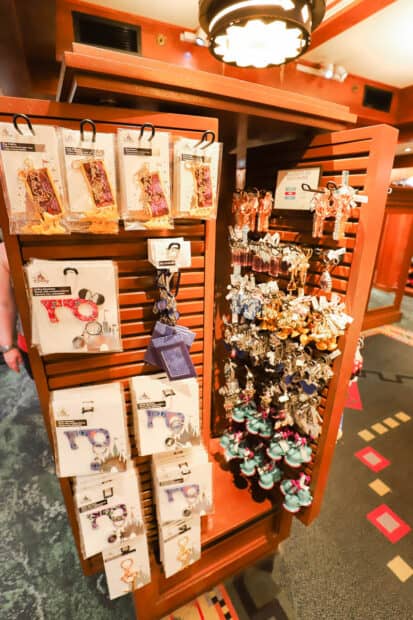 I don't know about you, but I often need to pick up a pair of sunglasses. It's probably best to pack an extra pair or two. These cheaper sunglasses will run you upwards of $20.00.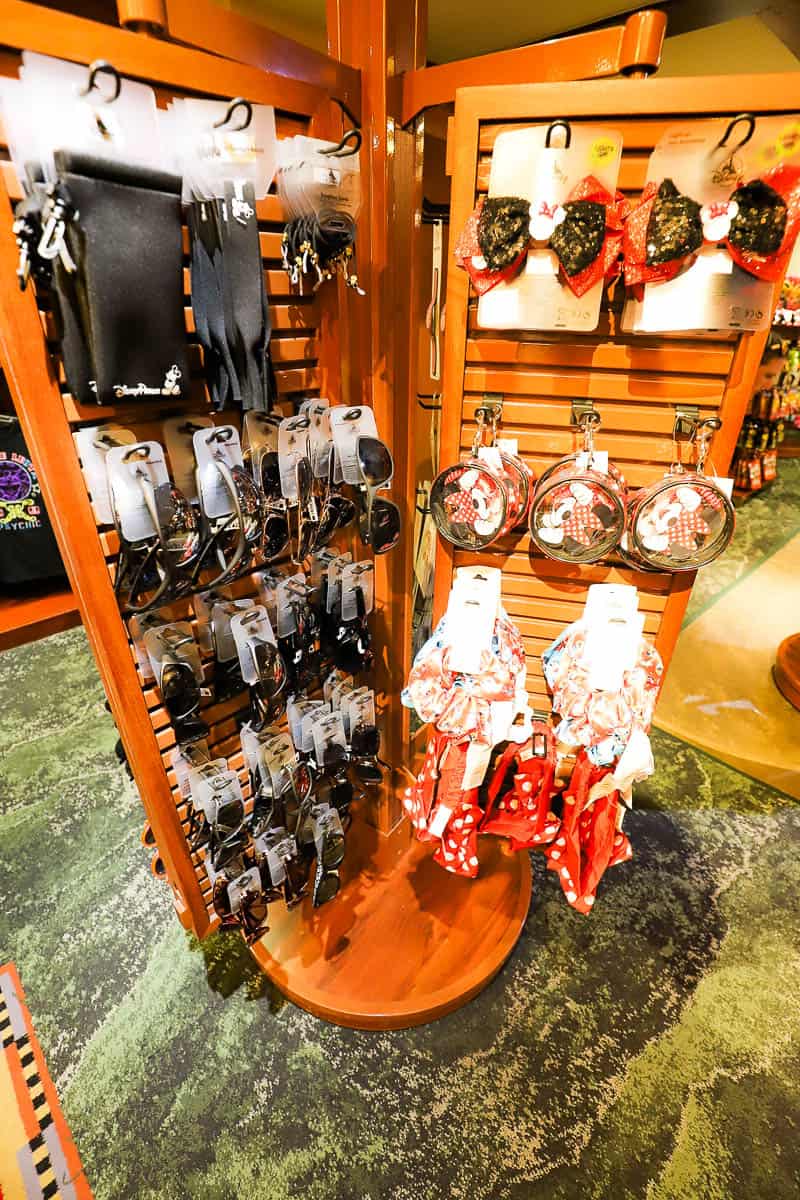 You are probably at that point of thinking how much more is there.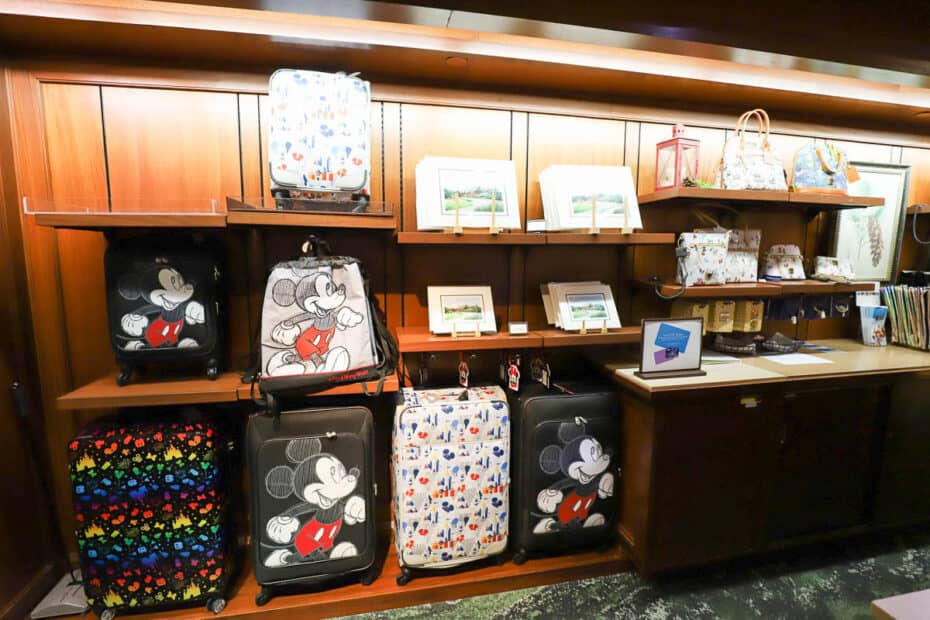 There's only so much one can say. Look, there's a mug I never saw before!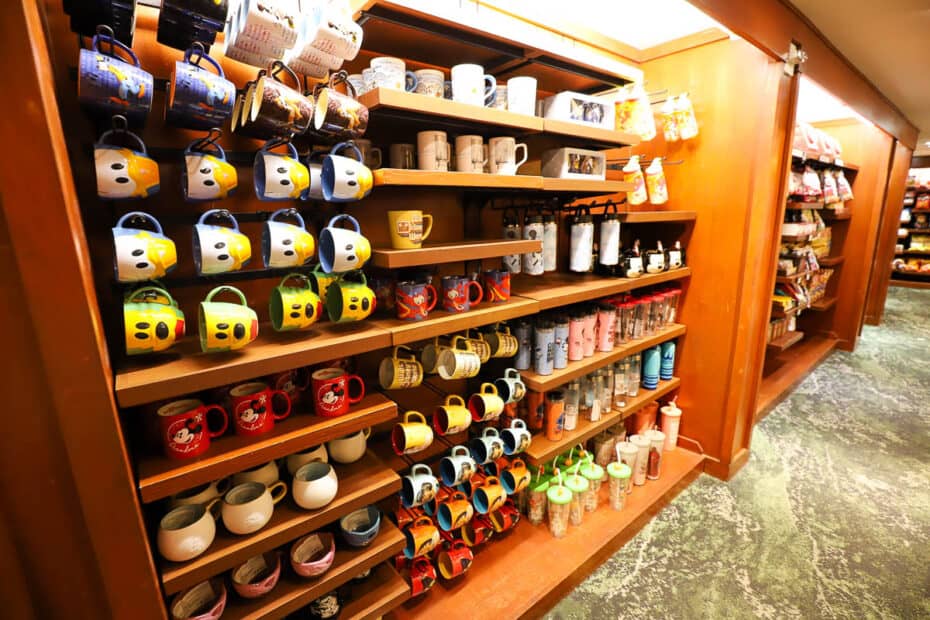 And here are a few home essentials.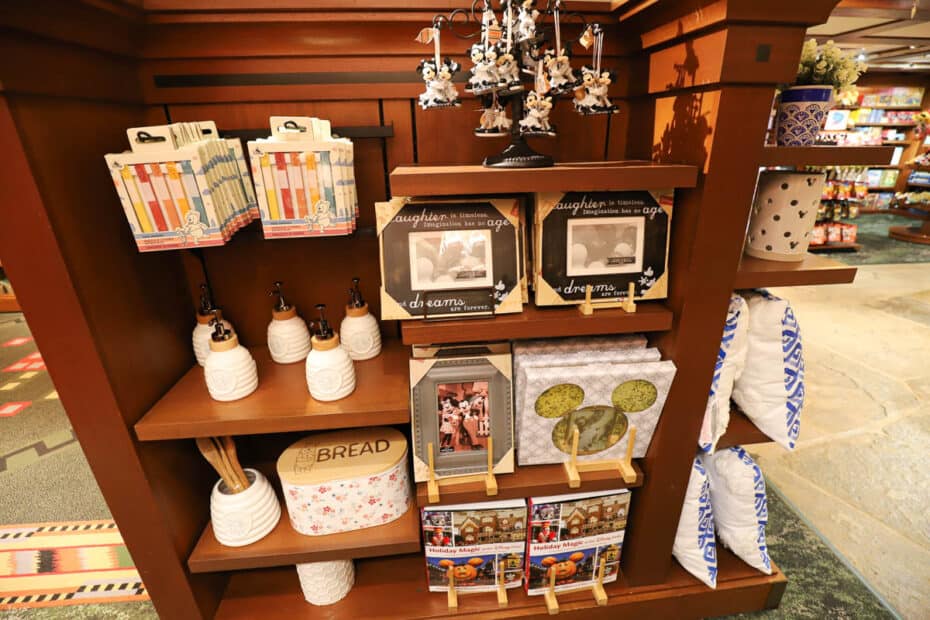 Seriously, I need (want) that red colander. It's not like I didn't just pack four of them in boxes this past weekend. However, I did leave the largest one out to use in the meantime, only to be ridiculed by someone for not leaving the best one.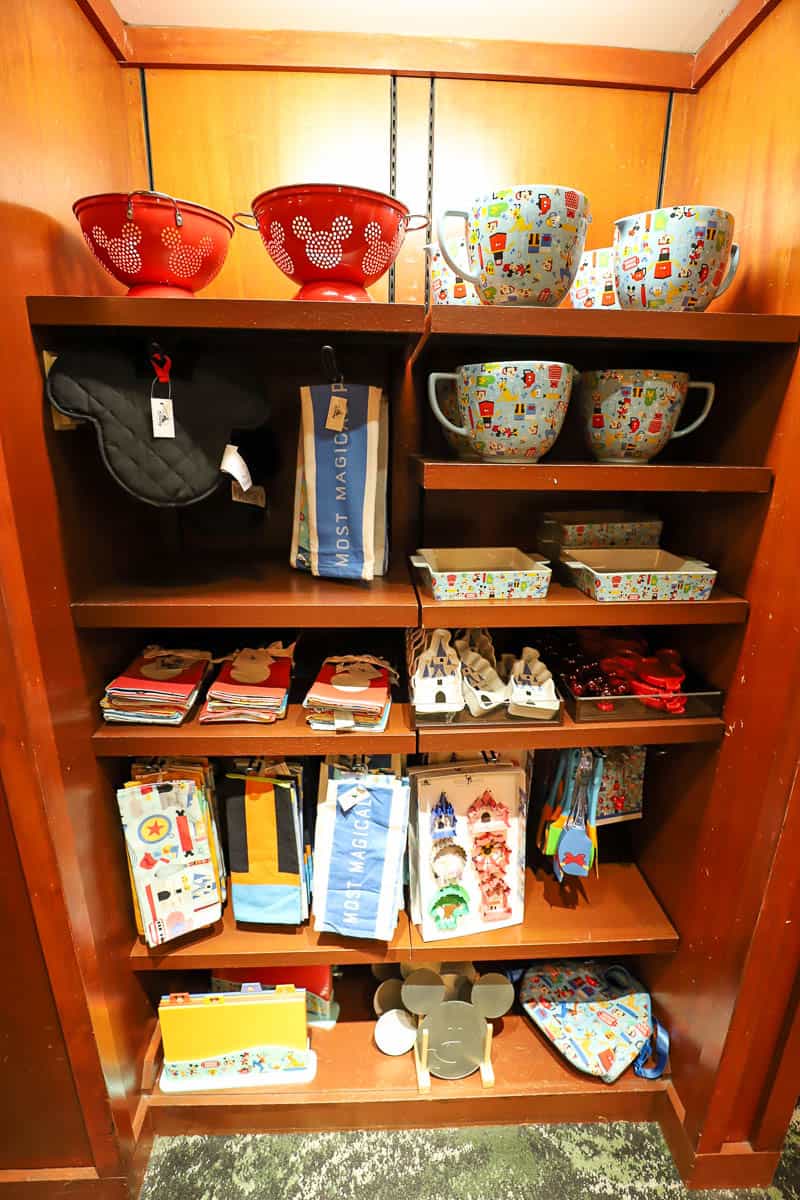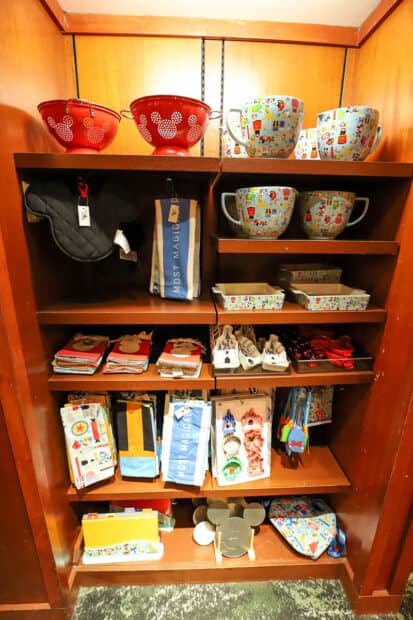 Anyway, no one in my family reads these blog posts. So I should get by unscathed, or else I'll find out otherwise.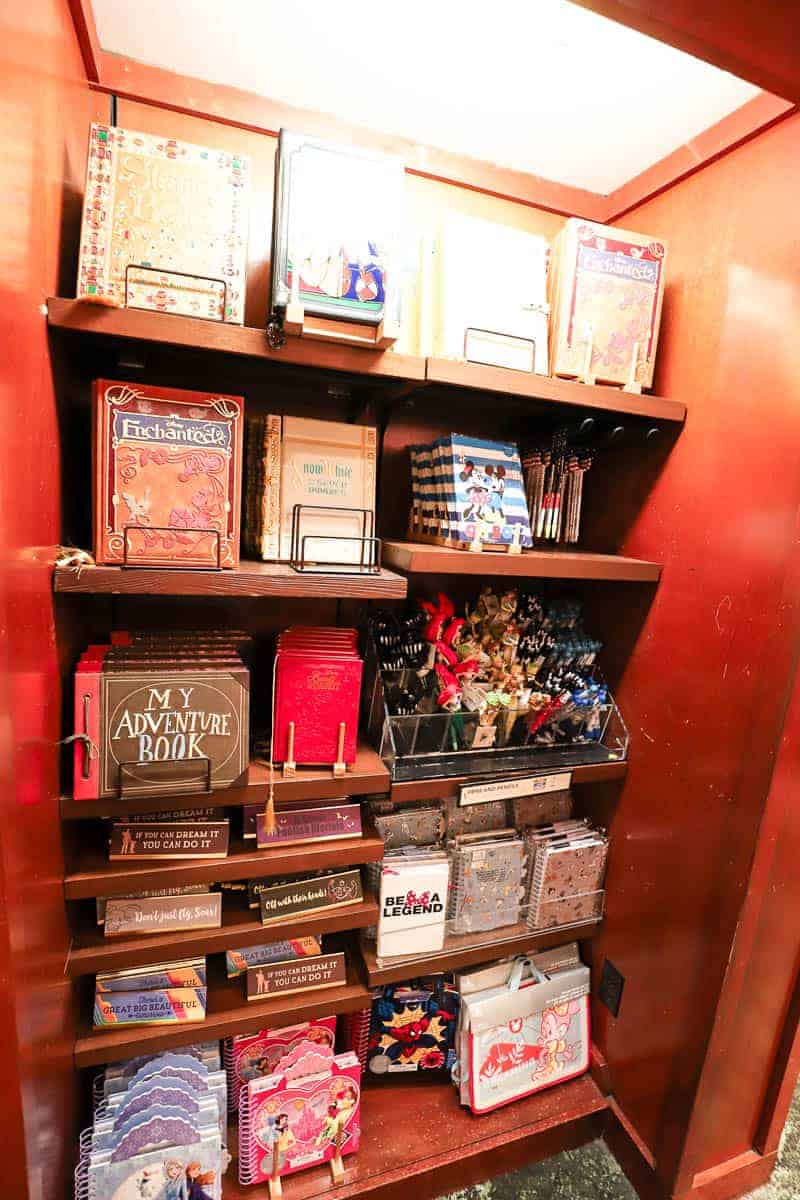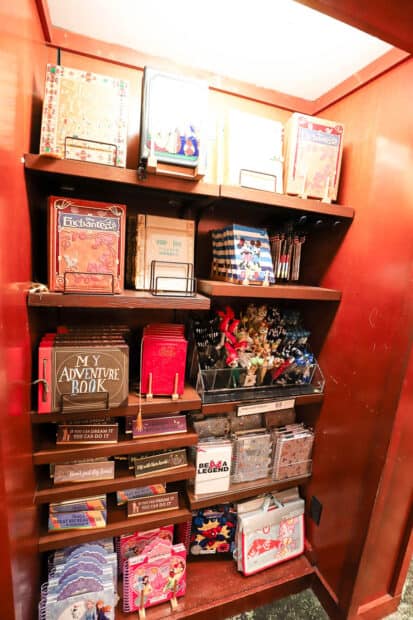 Toward the back of the store, there were several board games, puzzles, plush, and miniature transportation toys. I bought my nephew one of those mini-monorail toys a few years ago.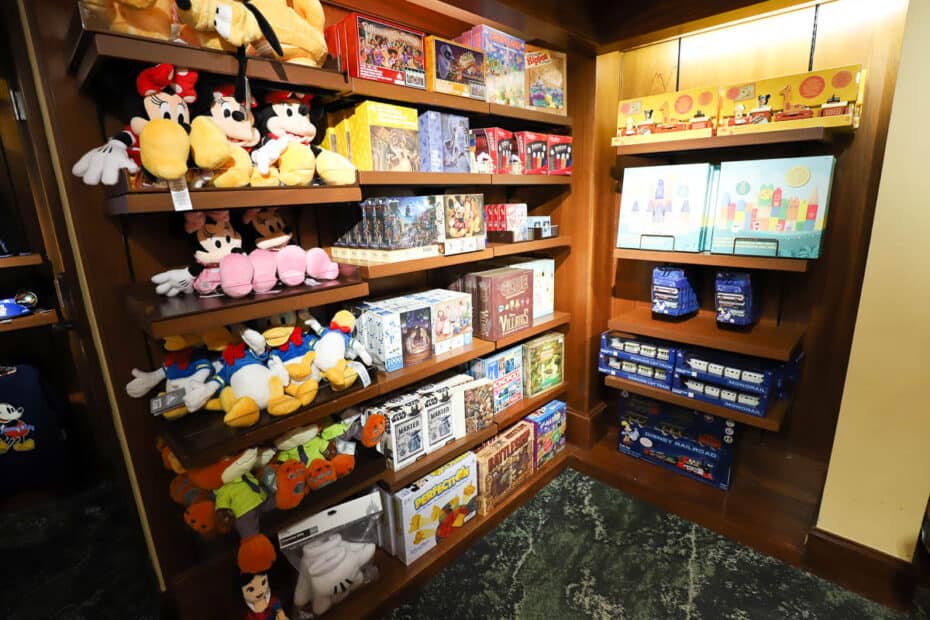 Unfortunately, it broke in less than an hour's time. I remember examining it and thinking it wasn't that great of quality, which is a shame.
However, these figurine sets and bathtub toys are of better quality. I have purchased several of these for younger relatives and am a fan of both.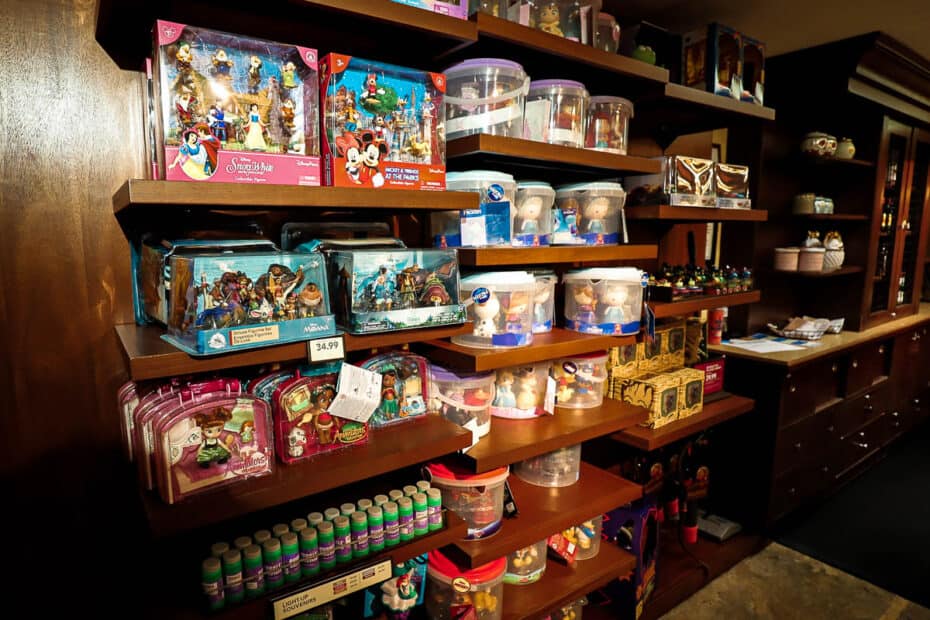 A whole wall was dedicated to Disney-branded candy.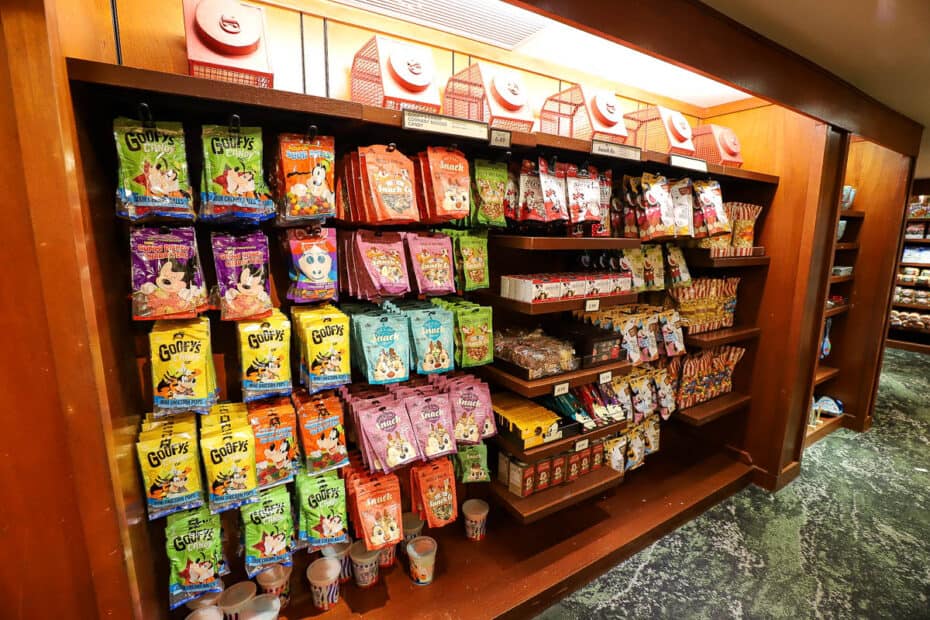 Those who enjoy tea time will appreciate this selection of merchandise. A friend once sent me some of those shortbread cookies, which are delicious.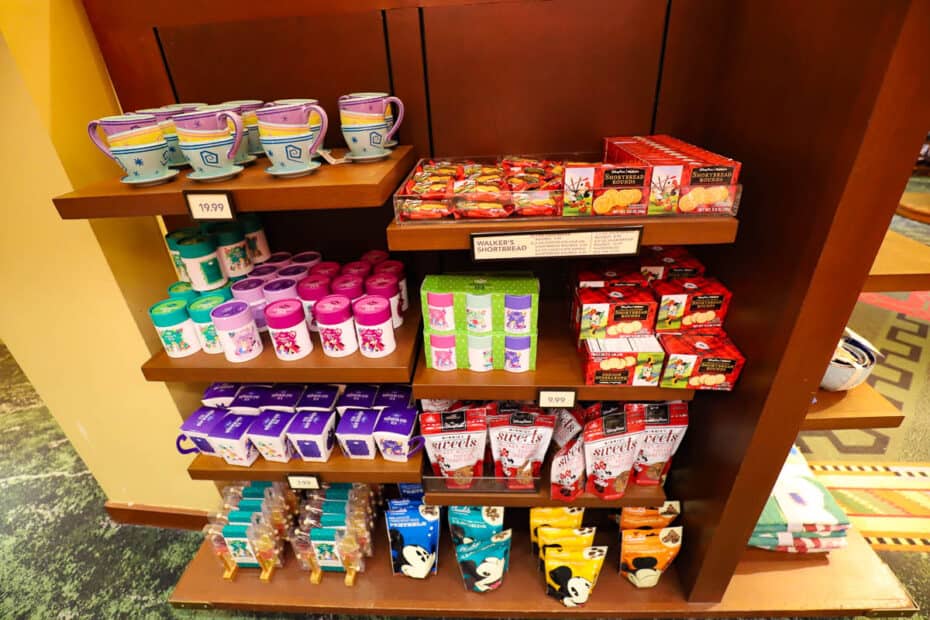 The fresh fruit selections were running a little low.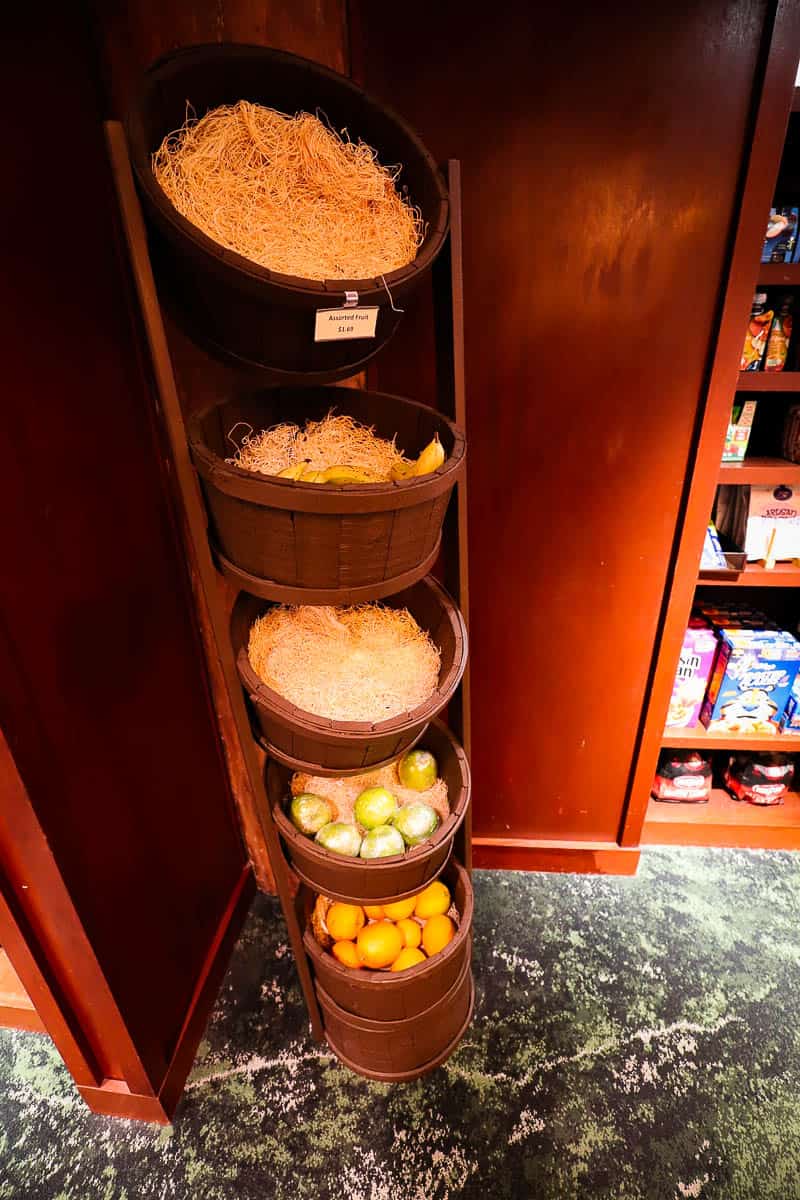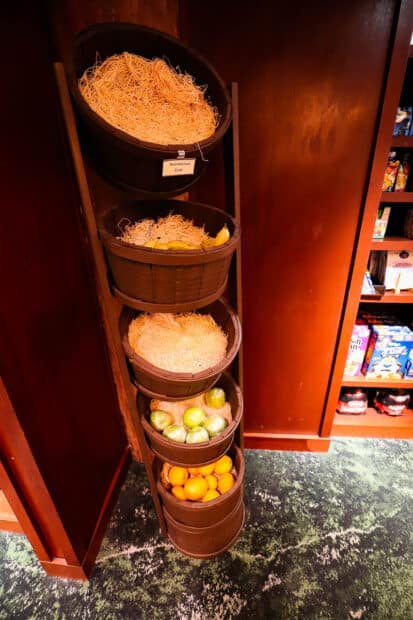 Since the Wilderness Lodge is home to Disney Vacation Clubs, you'll find more grocery and pantry items than at a regular resort.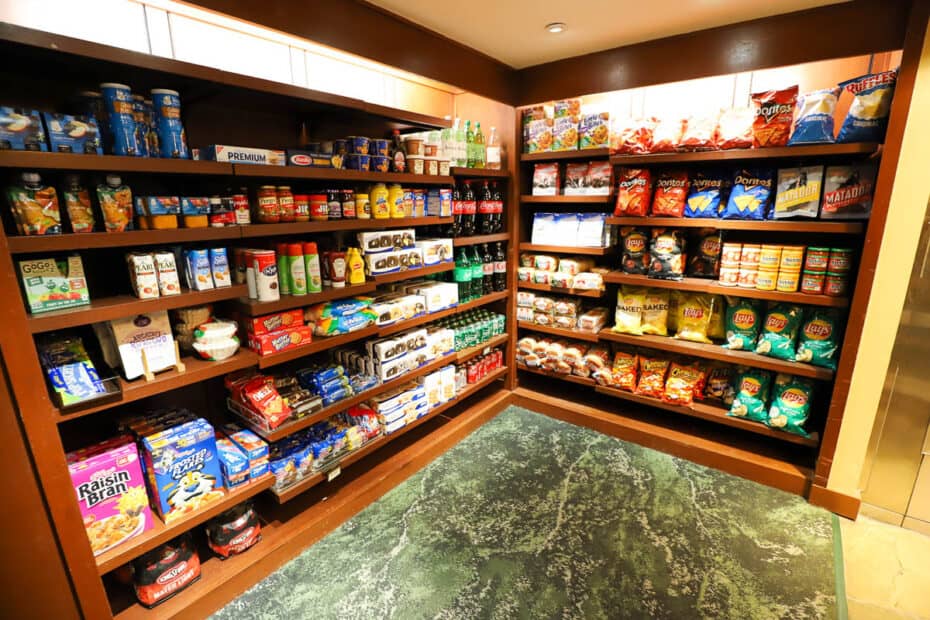 The deluxe studios have a mini-fridge and microwave in the rooms. Those staying in the cabins will have a full kitchen.
Related: Copper Creek Villas Review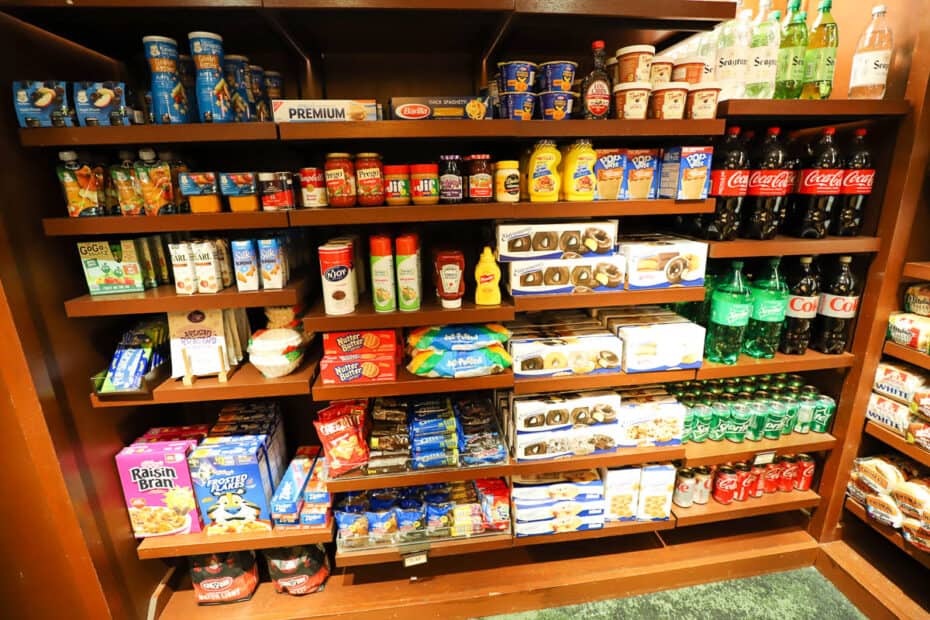 However, the standard rooms at the resort won't have those upgrades. But you can use the microwave or toaster oven at Roaring Fork if needed.
Related: Roaring Fork Review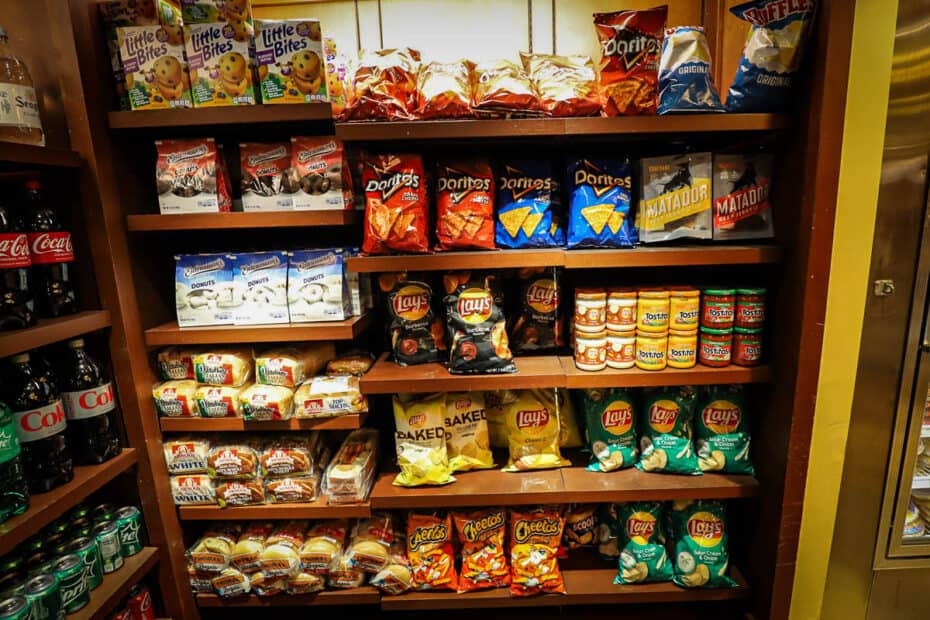 Mercantile has several selections of wine ranging from individual servings to full bottles.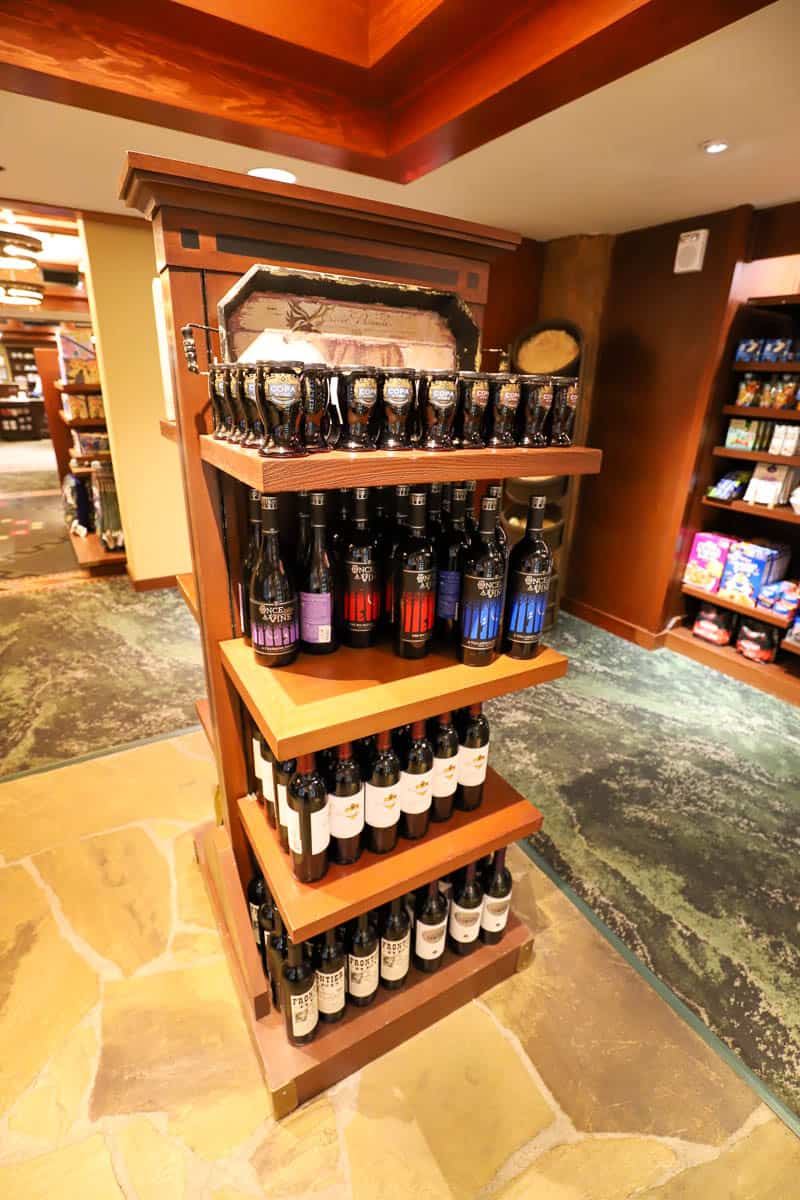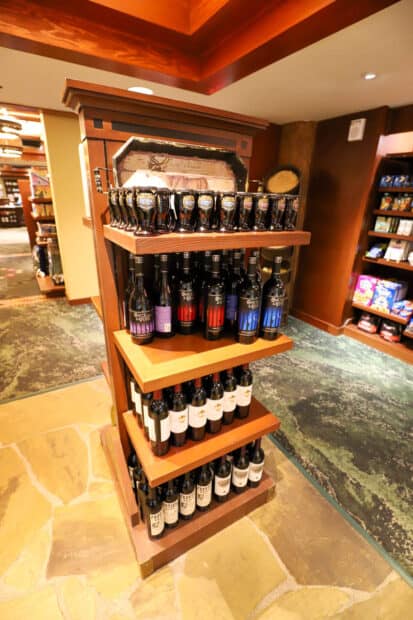 And champagne.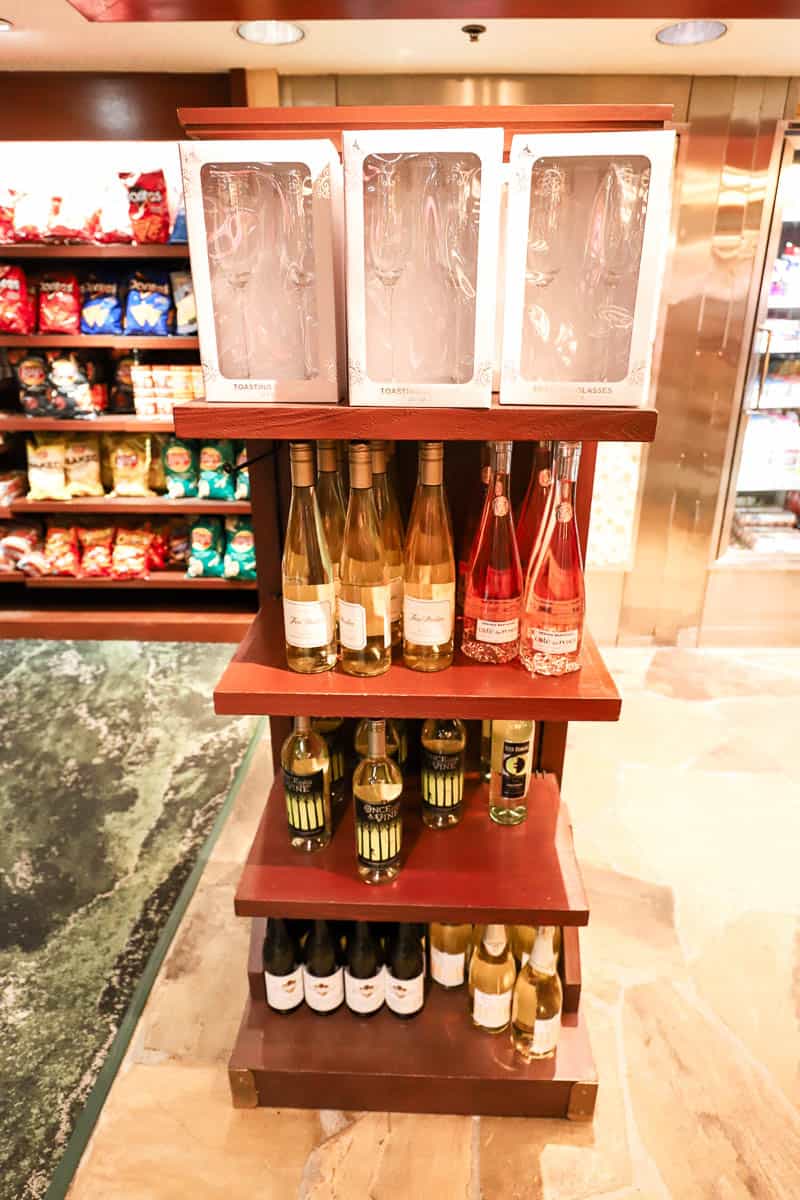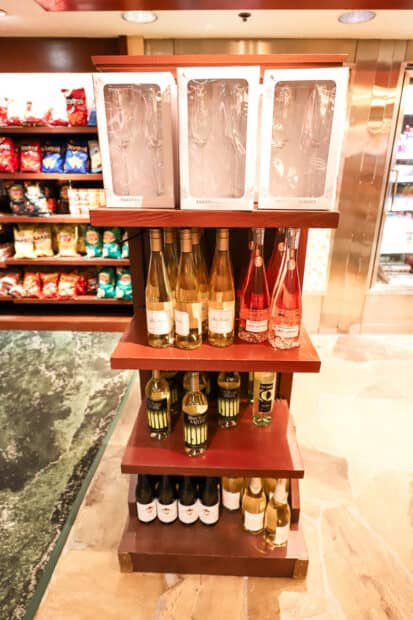 The freezer cases had items like frozen waffles, microwave meals, and frozen pizza.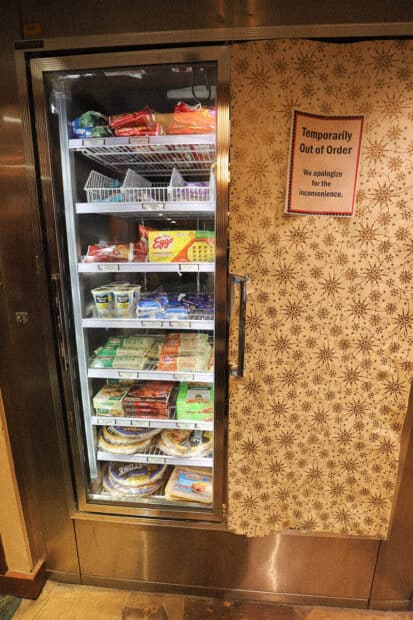 There were plenty of refrigerated beverages, juices, and water.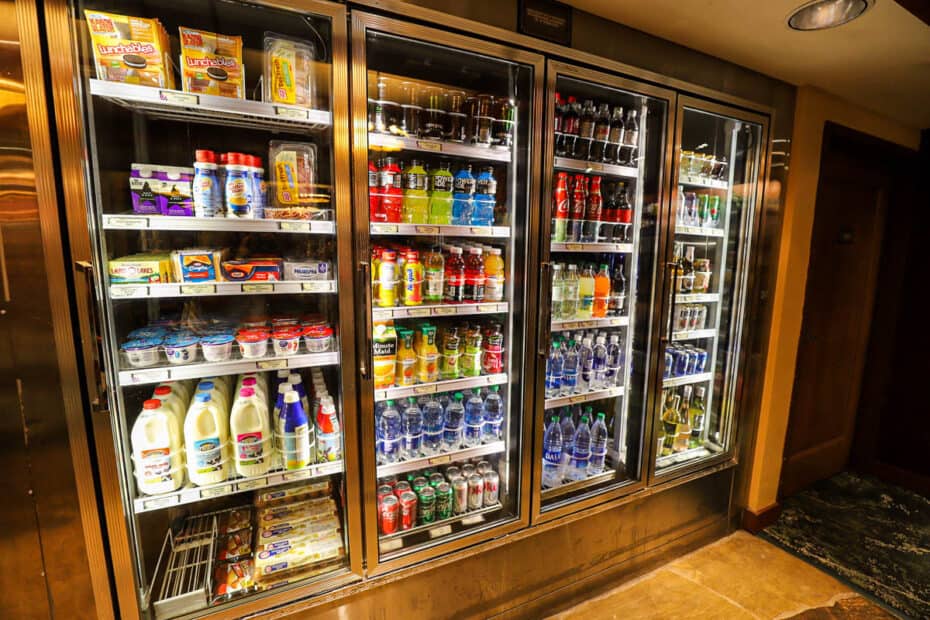 Here we see items like Lunchables, creamer, milk, sandwich meat, yogurt, sliced cheese, butter, cream cheese, and eggs.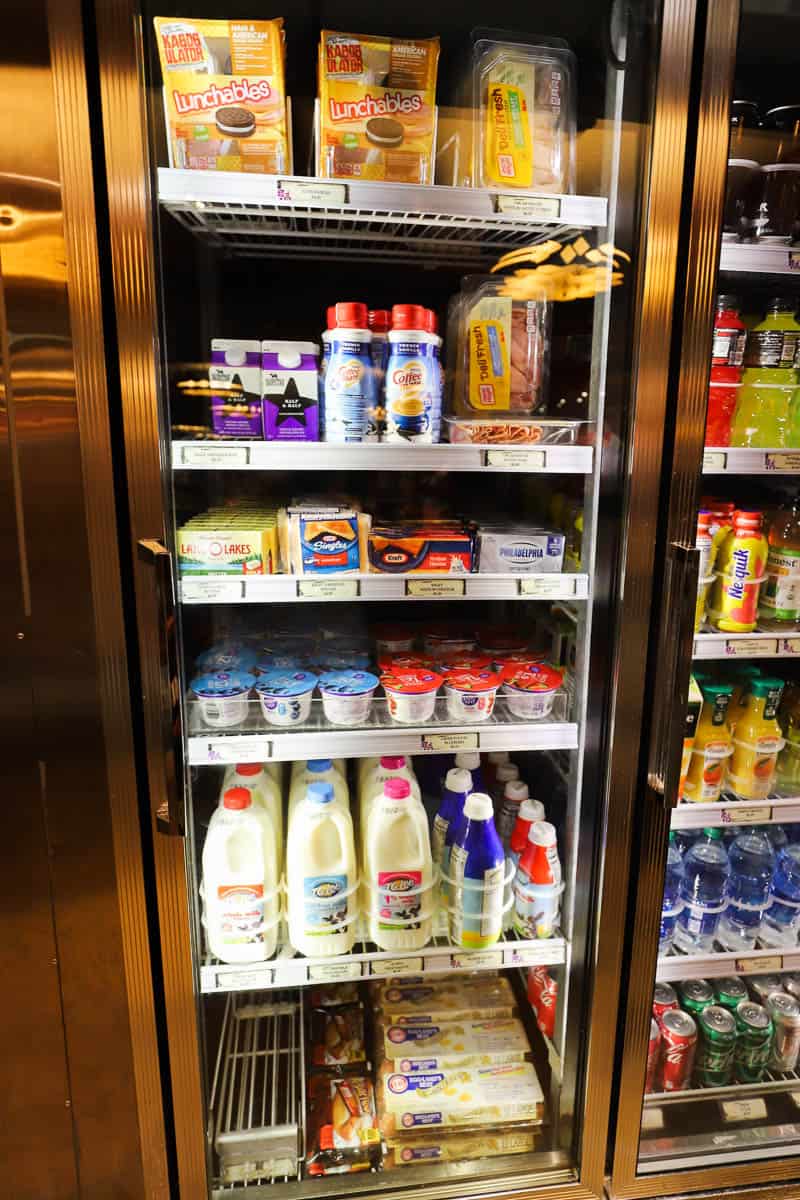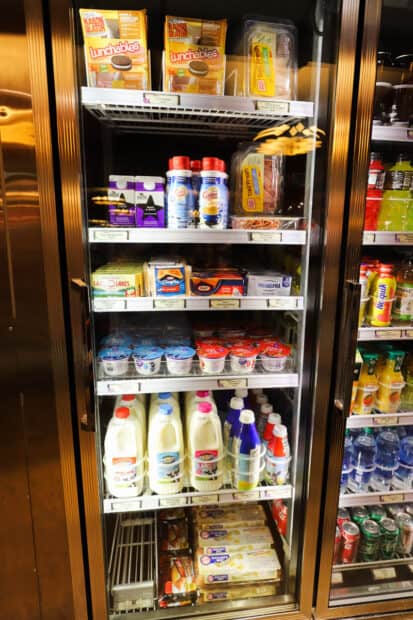 There's plenty of variety.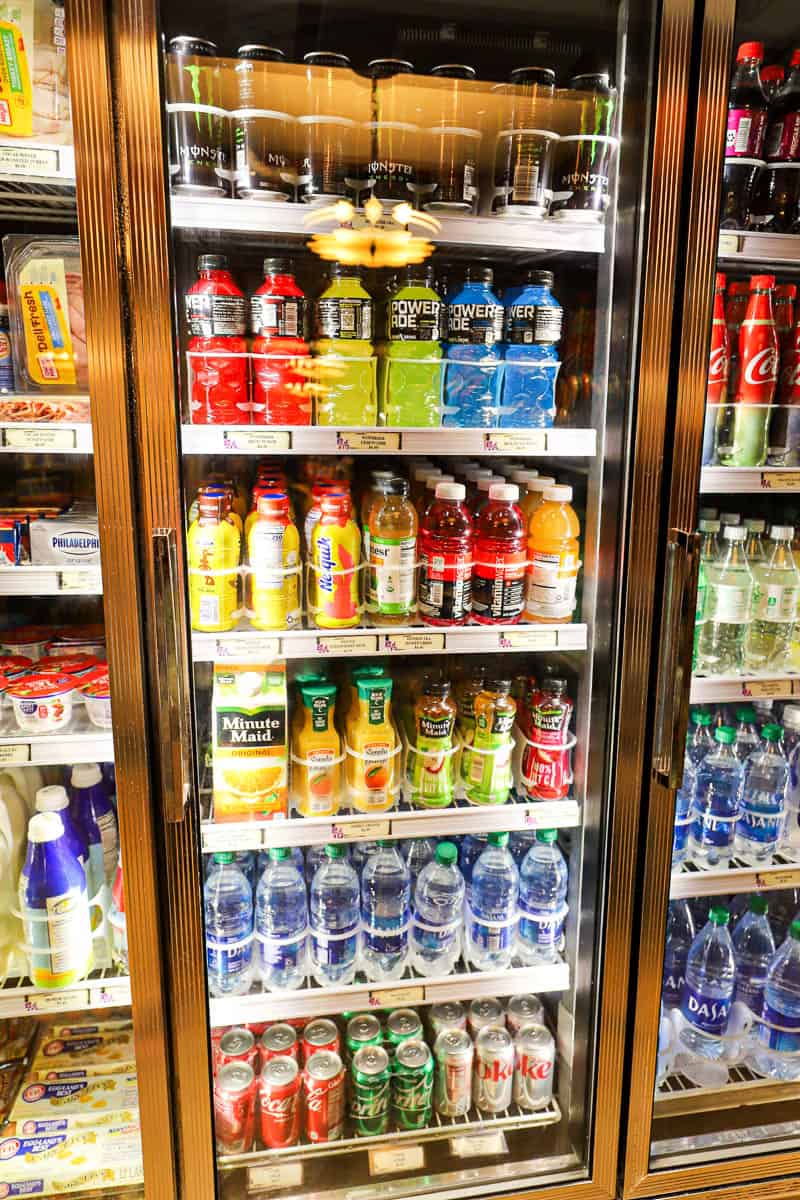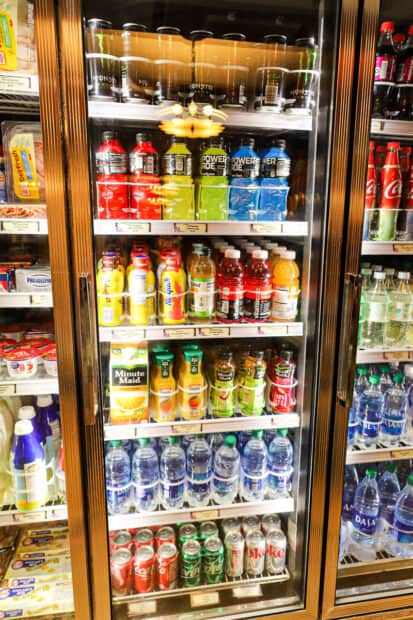 And here's that last case with beer, refrigerated wines, and champagnes.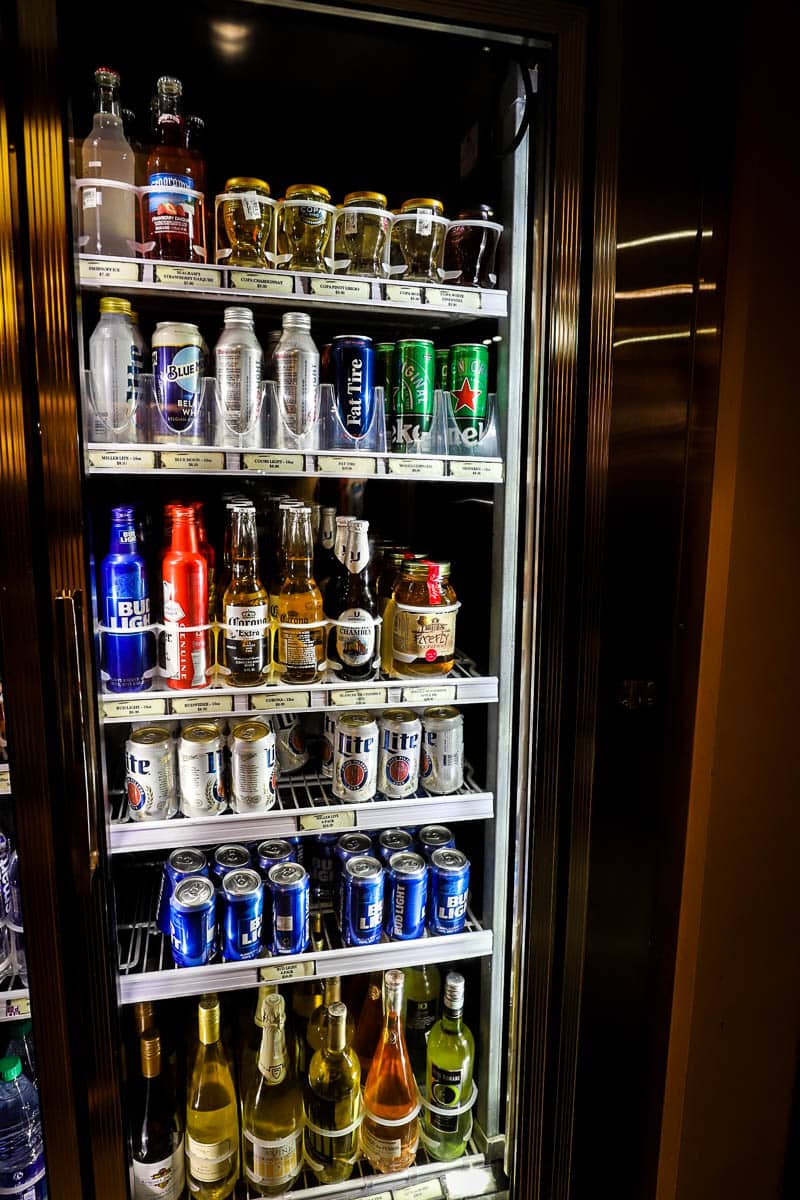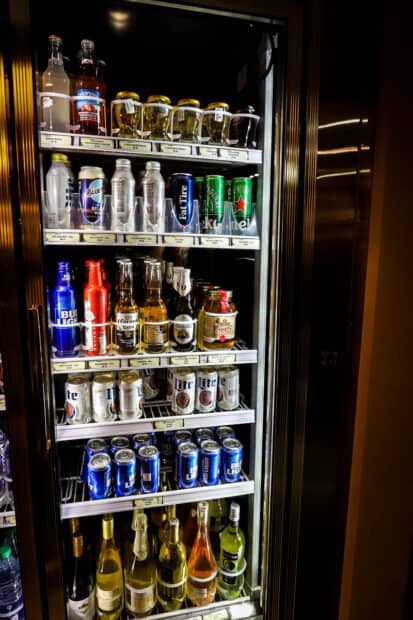 Convenience items include over-the-counter medicines, floss, toothbrushes, personal items, sunscreen, and diapers, among other things.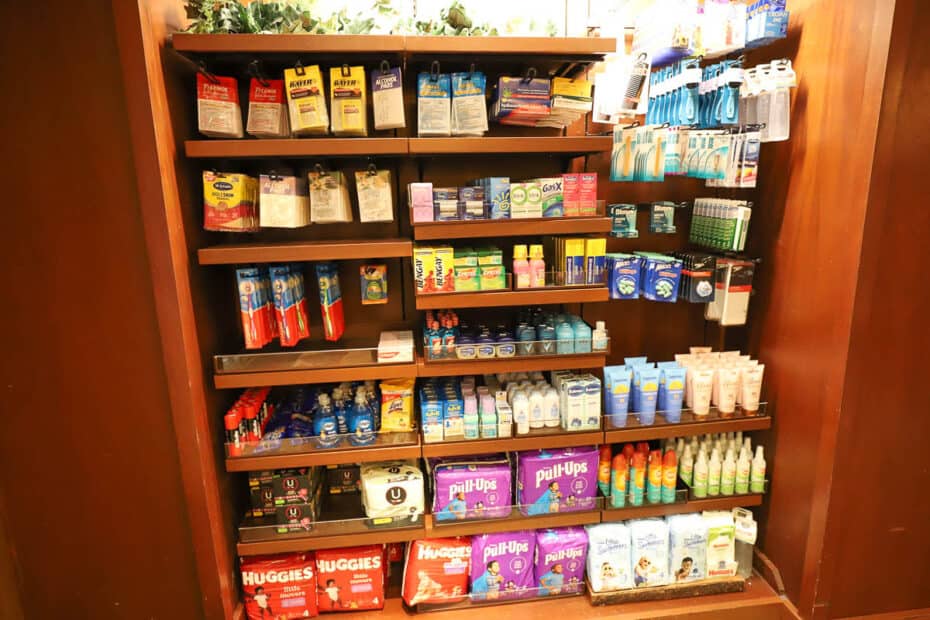 Lastly, there's a case with various liquors behind the register.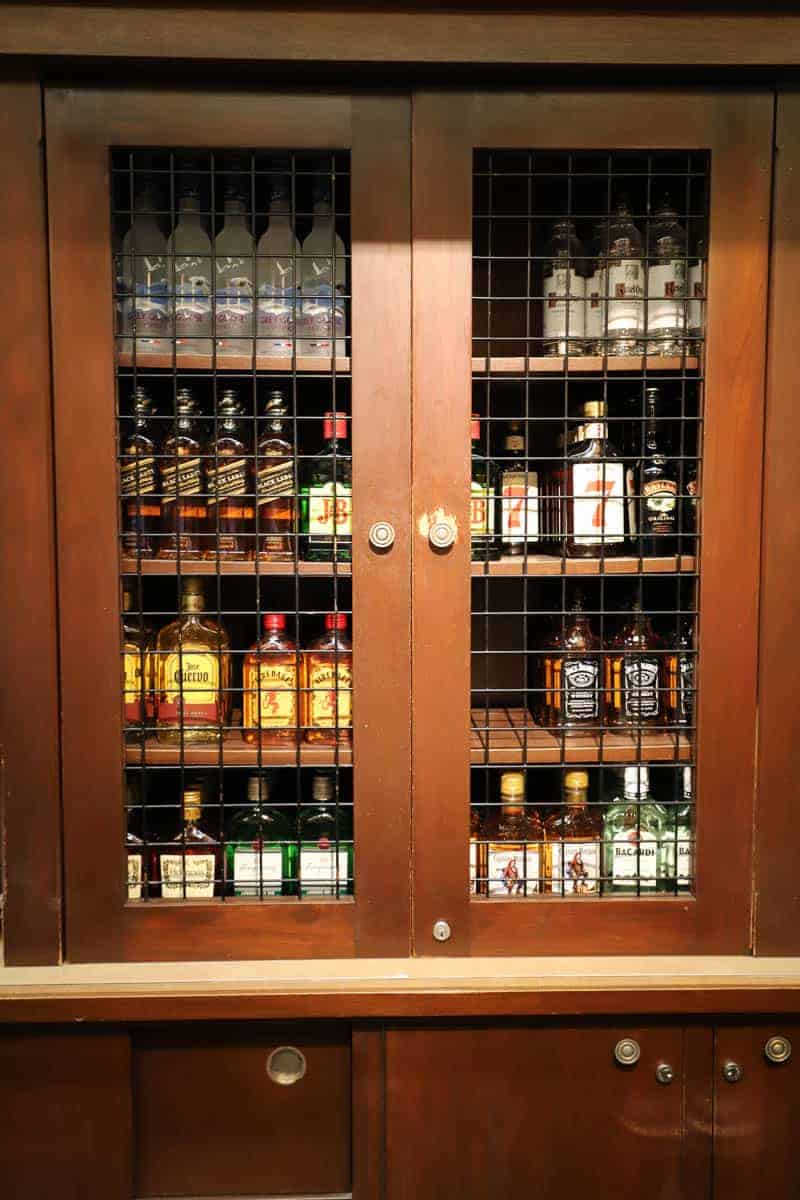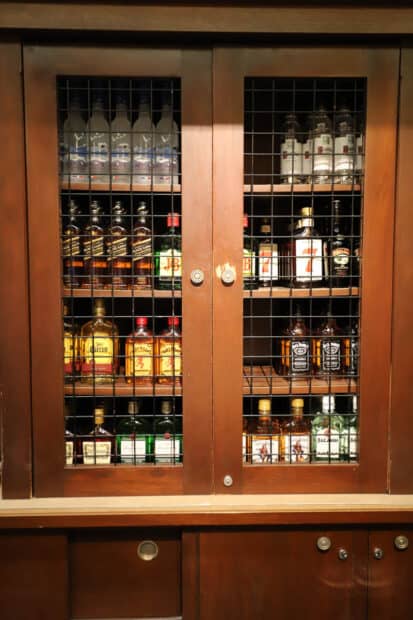 All in all, I think most guests will be able to find what they're looking for at the Wilderness Lodge's gift shop.
Coming up, we'll have a few more updates for Disney's Wilderness Lodge. Then we're moving on to a new resort series that I'm excited to share with you.
In the meantime, all of our coverage for this resort is listed in our complete guide:
Or you might enjoy a few of these other articles:
In the comments: What are your thoughts on the gift shop at Disney's Wilderness Lodge? See anything you like?