Disney's Wilderness Lodge Dining & Restaurant Guide
Dining at Disney's Wilderness Lodge is always a treat. The resort offers several different restaurants that are worth the trip over for a meal. Therefore, I've decided to put together a guide to help you decide where to eat when it comes to the Wilderness Lodge restaurants.
Often, I think about what a person traveling to Walt Disney World needs to know. And often, many websites (including my own) get bogged down in telling you basic planning information.
But then I think about what you need to know, that you don't know you need to know. Yeah.
Disney is so much more than a place where you hit up a theme park and ride attraction after attraction all day long until you can't go anymore. Instead, it's a place where you can plan a week-long stay, never enter a theme park, and have…well…a vacation.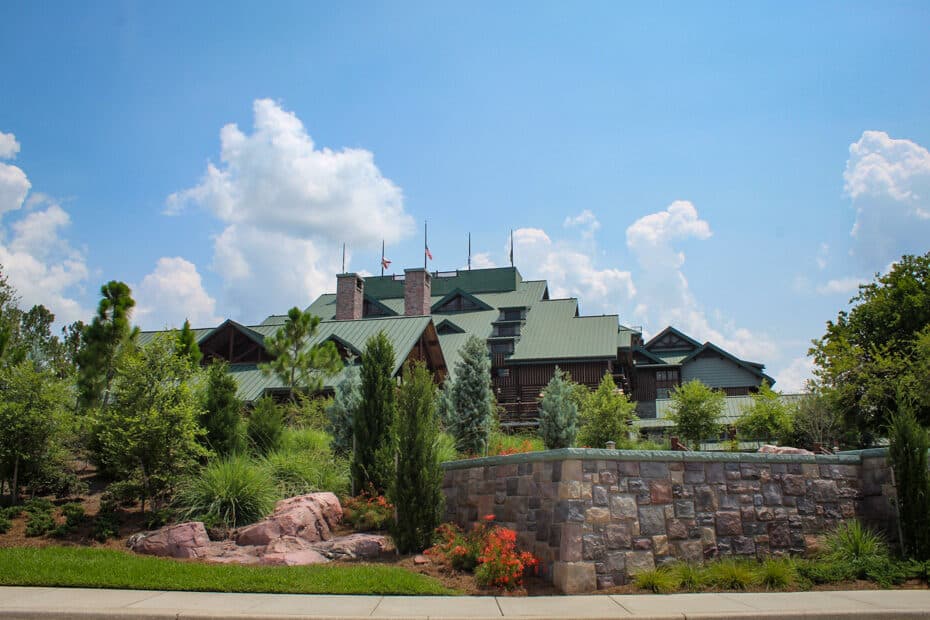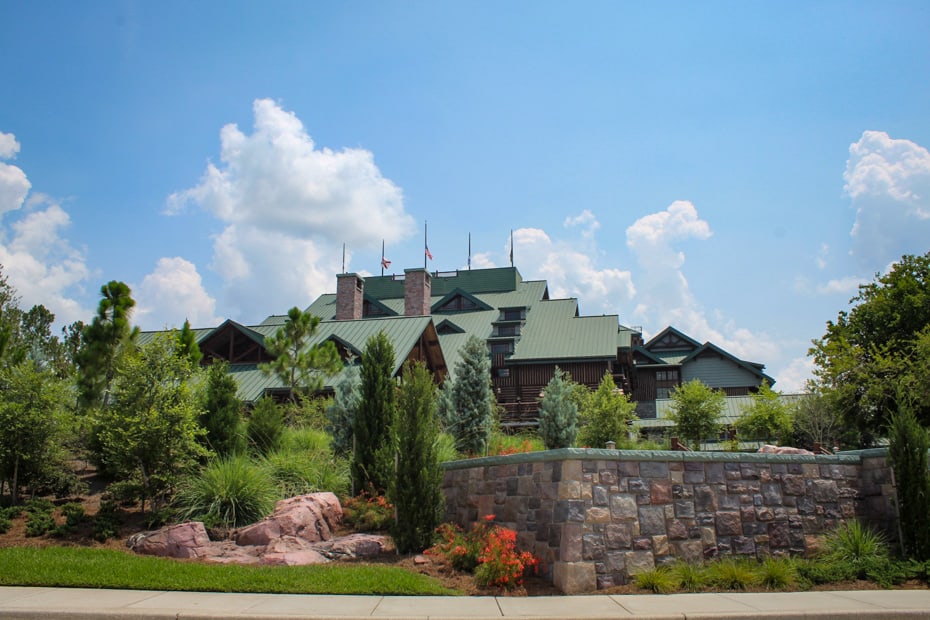 And the Wilderness Lodge is one of those resorts that offers a true vacation vibe. Not only that, but the resort is home to a few fun dining choices, whether you are grabbing a quick service meal or wanting to dine with characters.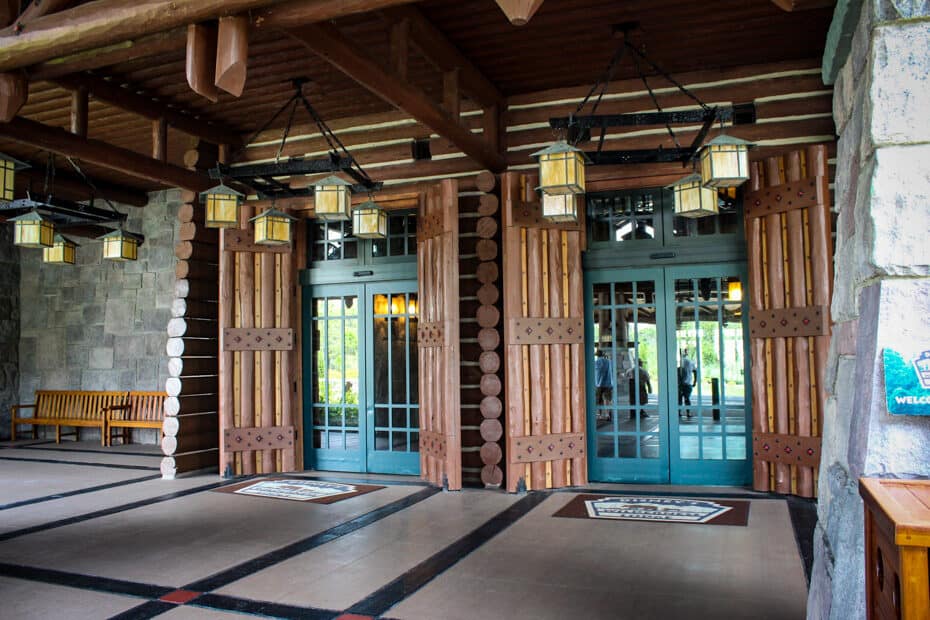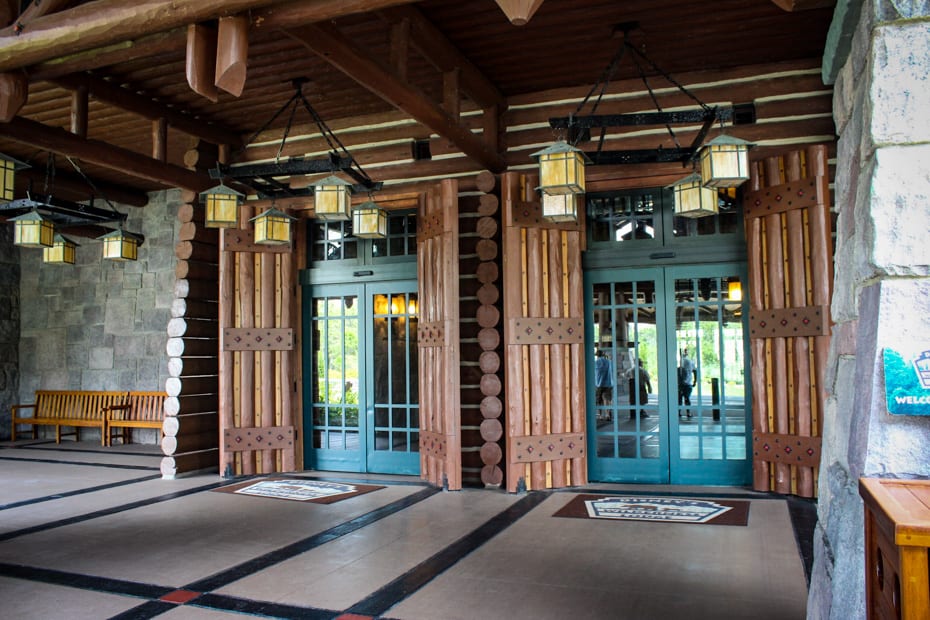 Personally, I've spent several quiet evenings at the Wilderness Lodge over the last few years. When reflecting on times I have enjoyed most on Disney property, these types of evenings always stand out.
There's something extraordinary about being able to take a boat ride from Magic Kingdom and escape to this woodsy retreat for a meal.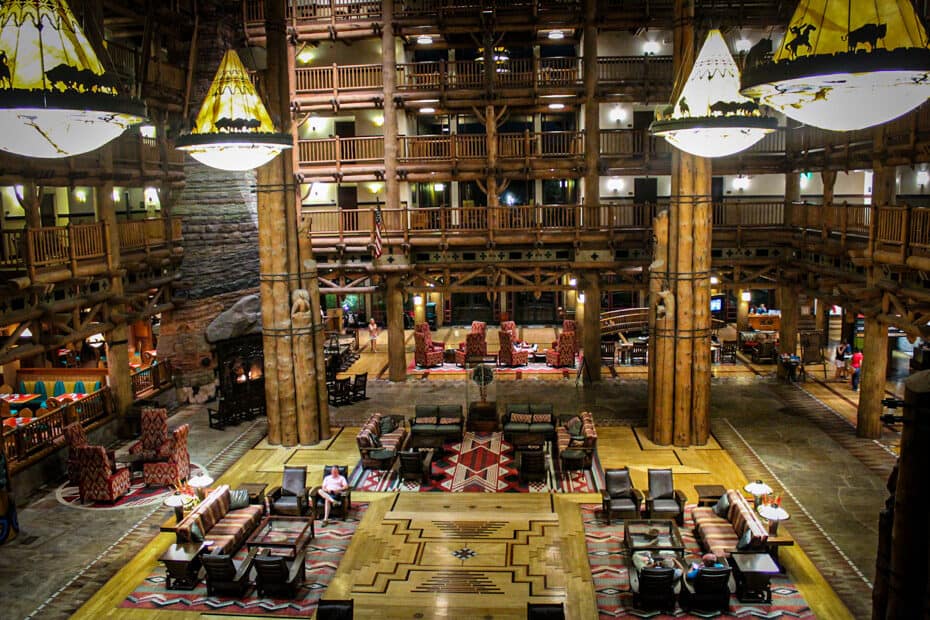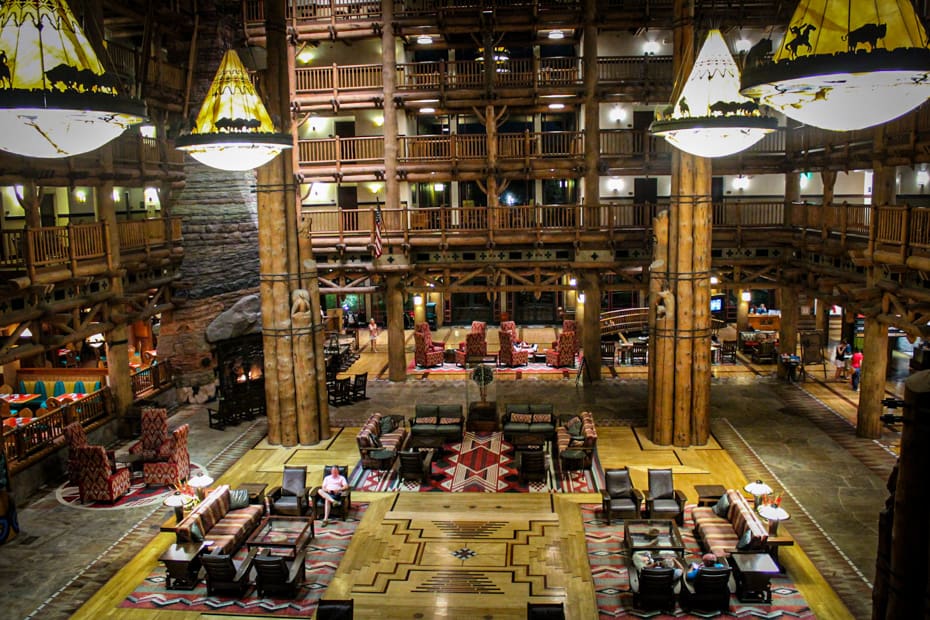 Did you know that you can go a few floors up and sit at a private fireplace all to yourself like the one below? There are several of these seating areas. It's a great place to kick back for a bit after dining at the Wilderness Lodge.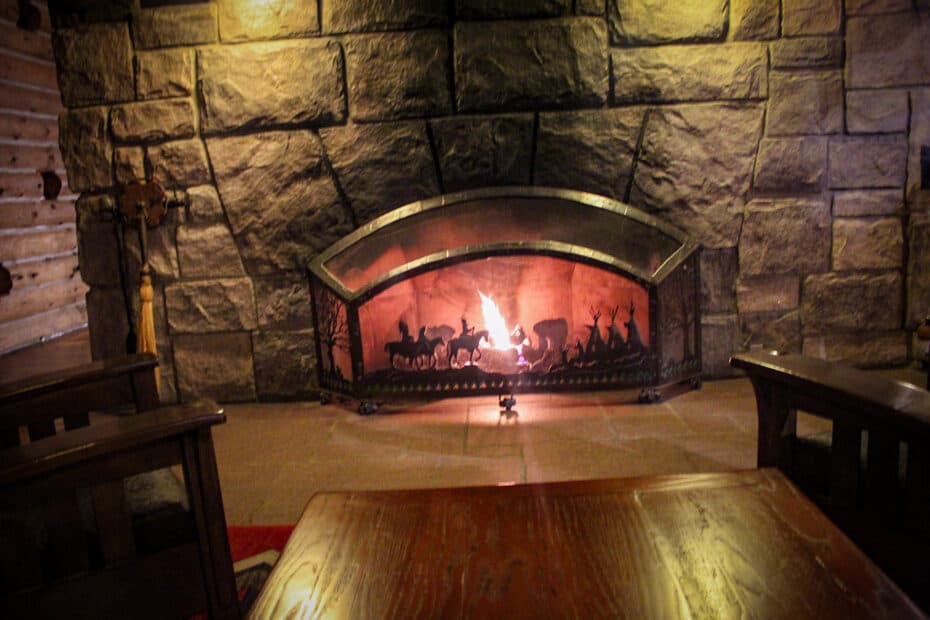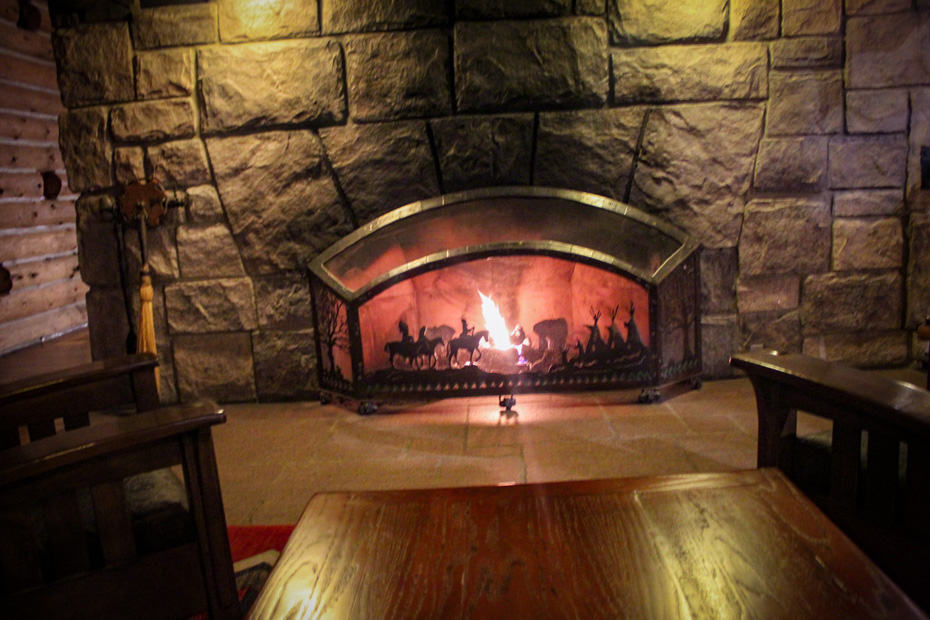 Or you might visit Disney's Wilderness Lodge during the daytime to tour the beautiful grounds and see the waterfall. It is gorgeous.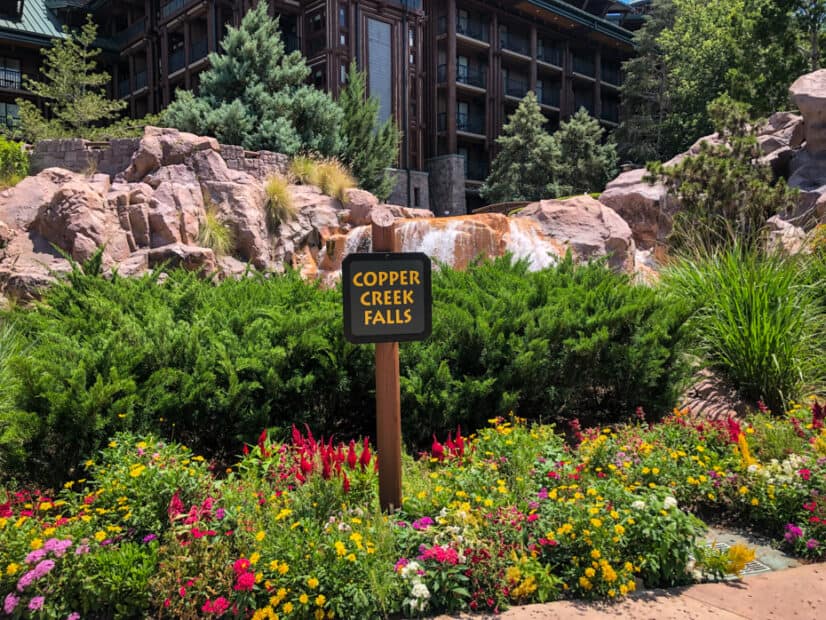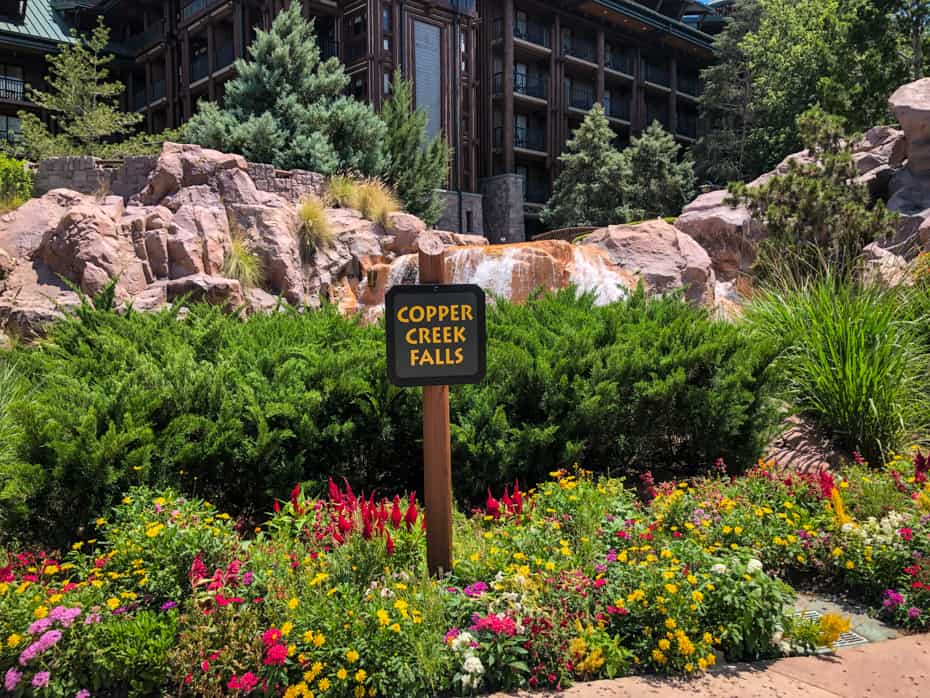 Some people prefer an early evening visit for a chance to watch the geyser erupt before dinner. Believe it or not, the geyser, Fire Rock, goes off at the top of every hour, starting at about 7 a.m. until 10 p.m. daily.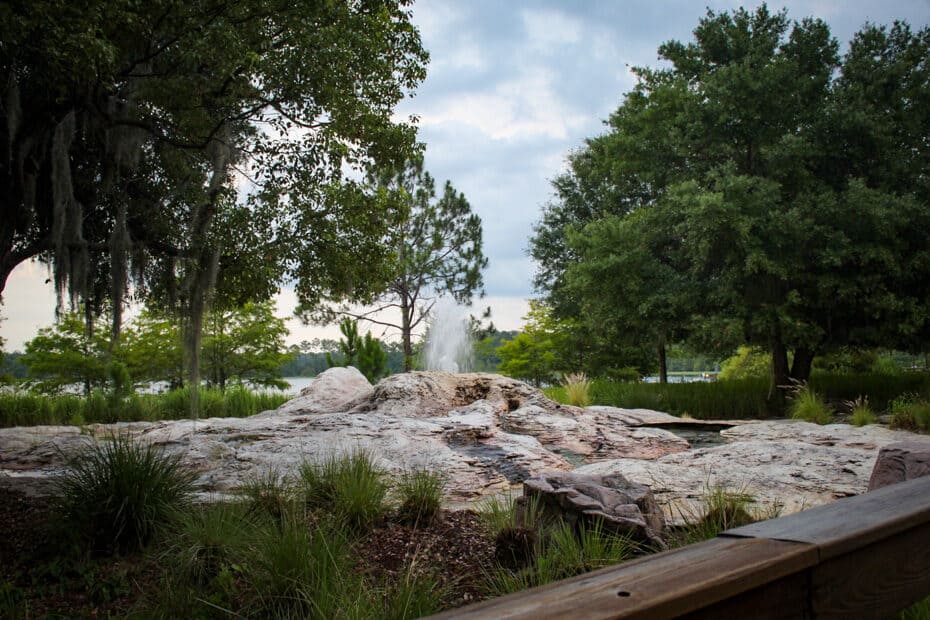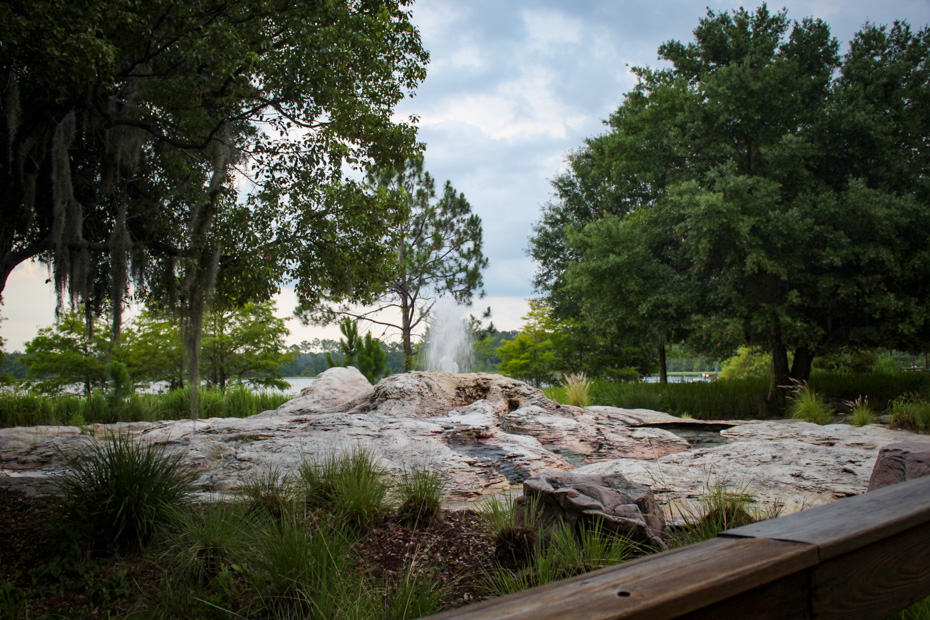 As you can see already, there are probably a lot of things that you don't know about the resort. So let's take a further look at all the different Wilderness Lodge dining and restaurant options.
That way if you do decide to go over for a visit without dining reservations, you'll know which places to easily pick up a meal. In fact, only two of our five dining options require reservations.
Wilderness Lodge Restaurants
Here's a list of the restaurants available at Disney's Wilderness Lodge to give you a brief overview.
Roaring Fork (Counter Service)
If you are looking for a sweet treat or sandwich, then you have found the spot! Roaring Fork is the quick-service dining option at Disney's Wilderness Lodge.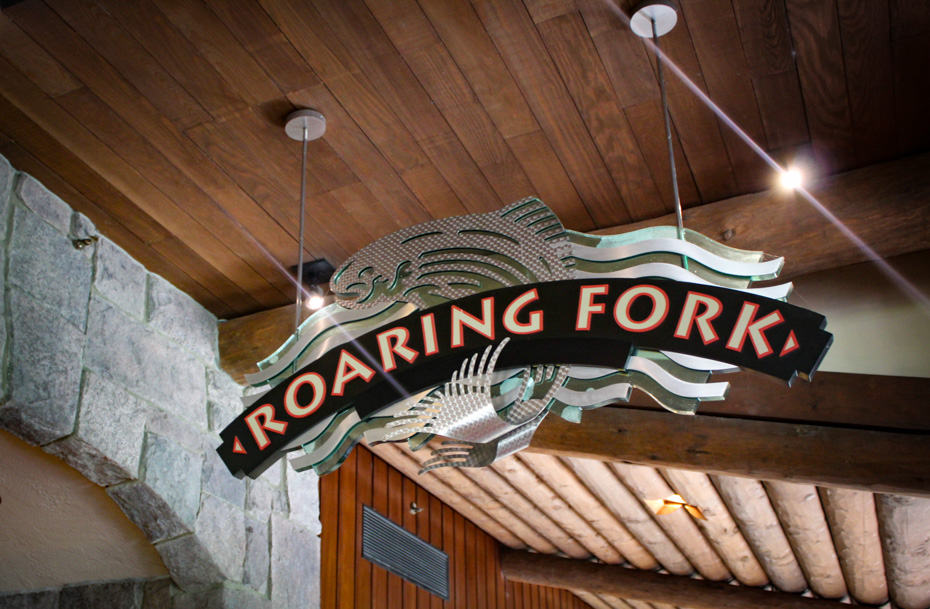 Roaring Fork is usually open all day from about 6 a.m. until 12 a.m. This location serves breakfast, lunch, and dinner.
Here is a close-up of the lunch and dinner menu. You can see they have several different sandwiches, burgers, salads, and flatbreads.

Inside Roaring Fork, there are several pastry cases around the back wall.
And if you have any inclination to pick up a sweet treat, you will want to stop here. It's one of the few places on the property that I will allow myself a treat.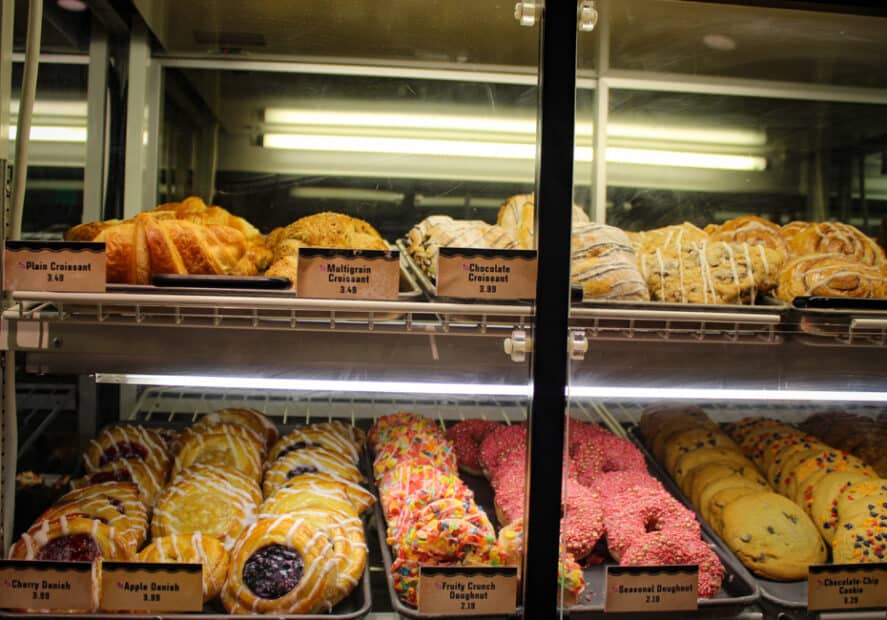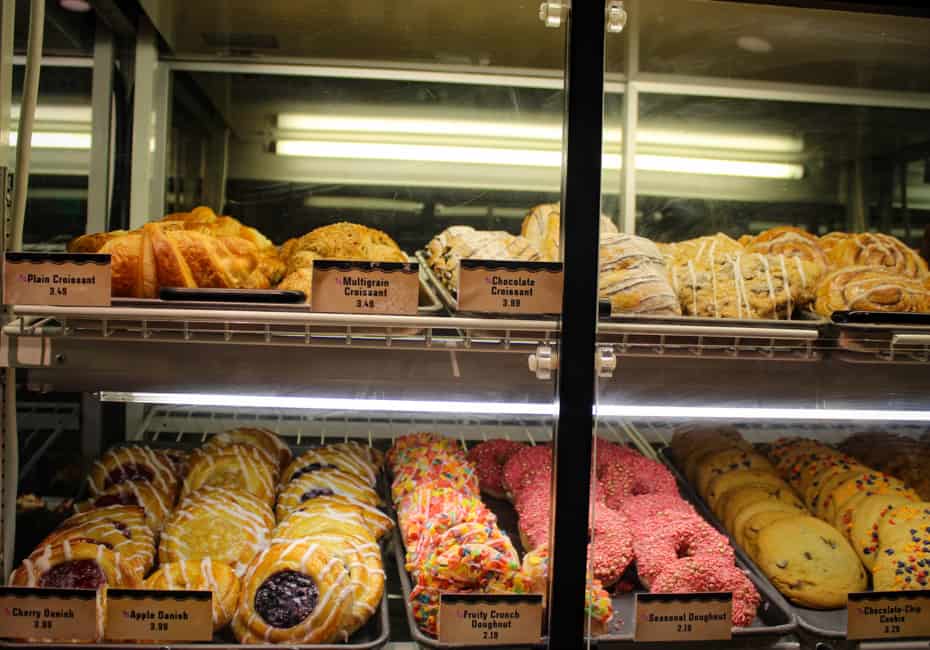 Because they have Magic Bars, and they actually call them Magic Bars! This is what I grew up calling them, but most people say they are seven-layer bars.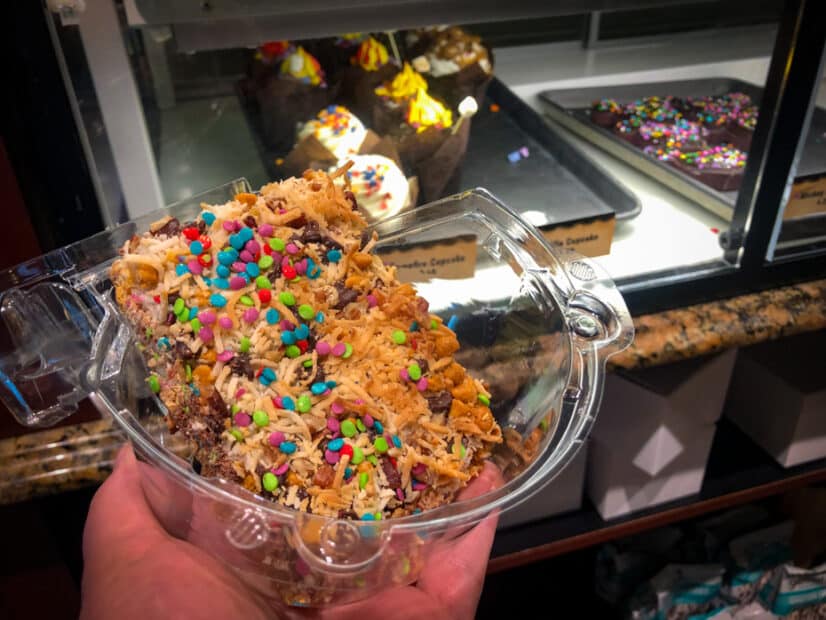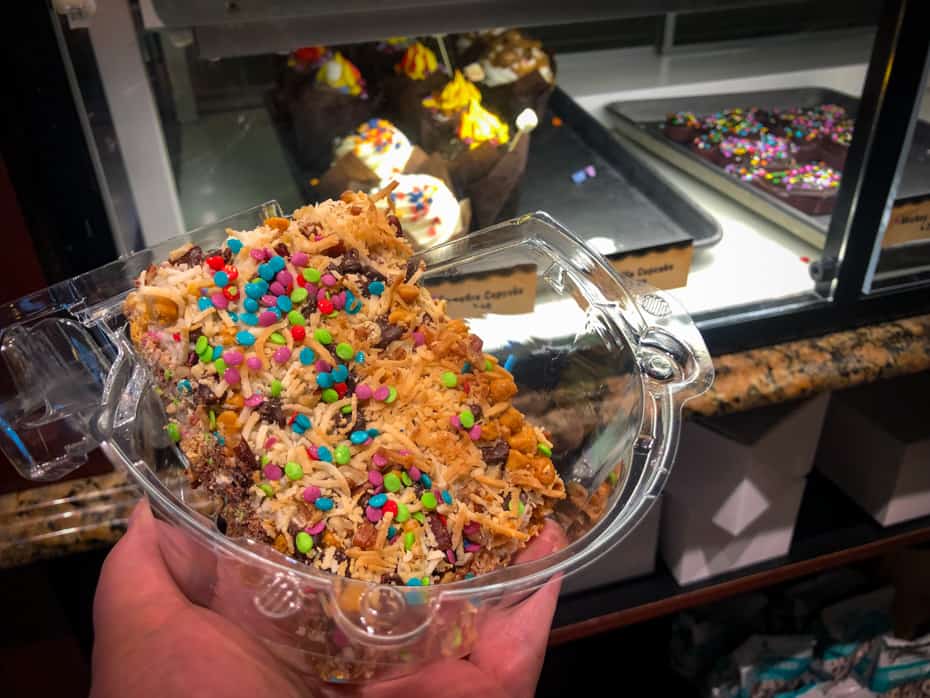 They are kind of hard to turn down. Additionally, Roaring Fork has some pretty good cupcake options.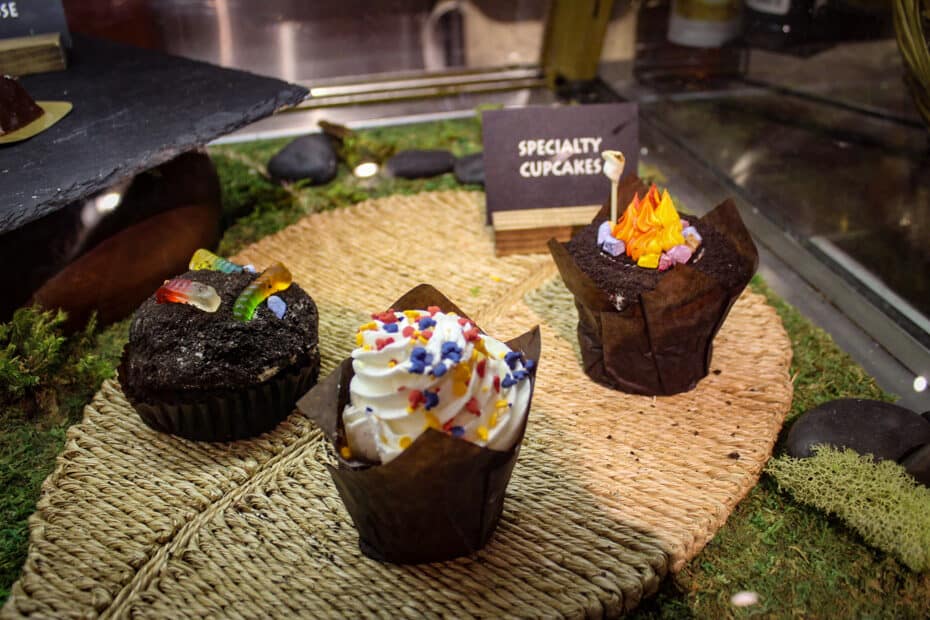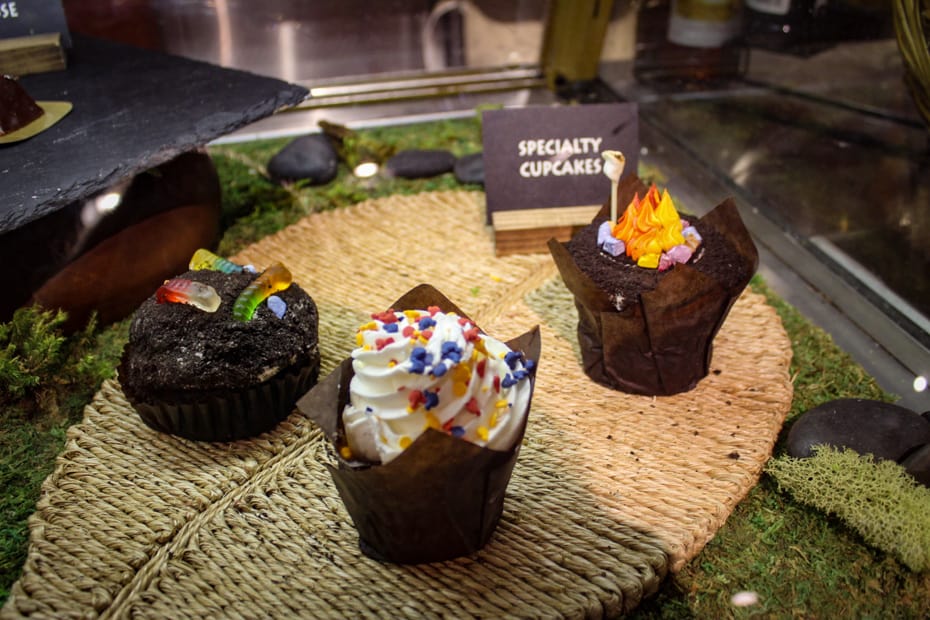 Not to mention the infamous Campfire Cupcake, which is a must-try item. I had one a couple of months back and was quite impressed.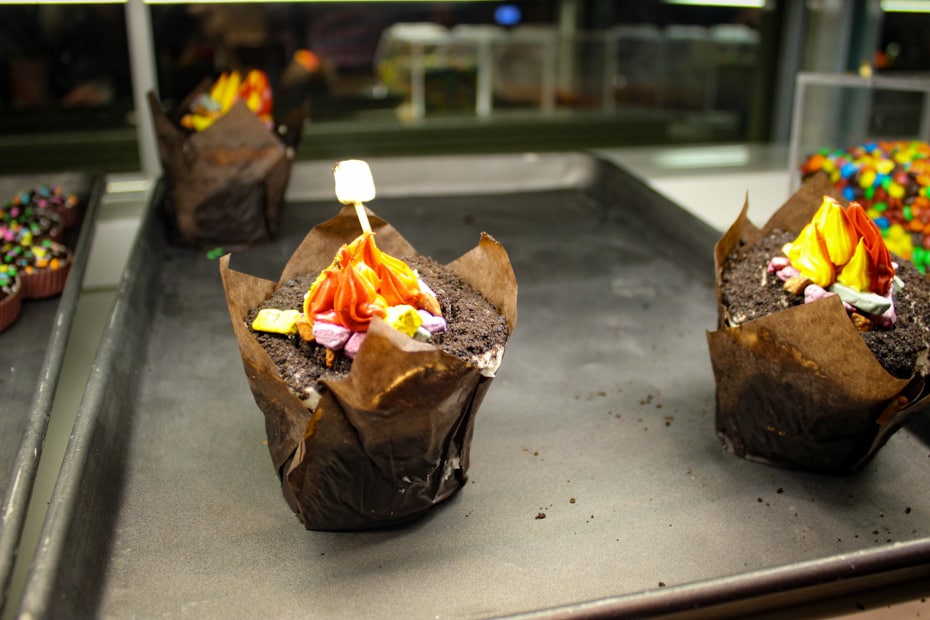 This cupcake reminds me of a devil's food chocolate with a marshmallow-y topping. My experience with most Disney cupcakes has been that they are overrated. However, this cupcake lives up to its popularity.
Roaring Fork offers a preview of a few sandwiches in the display case.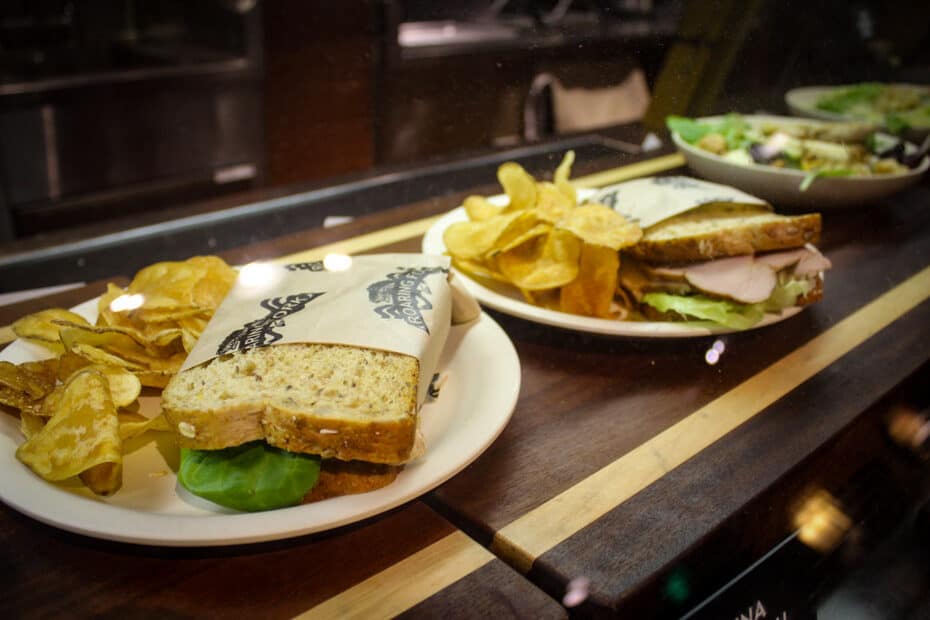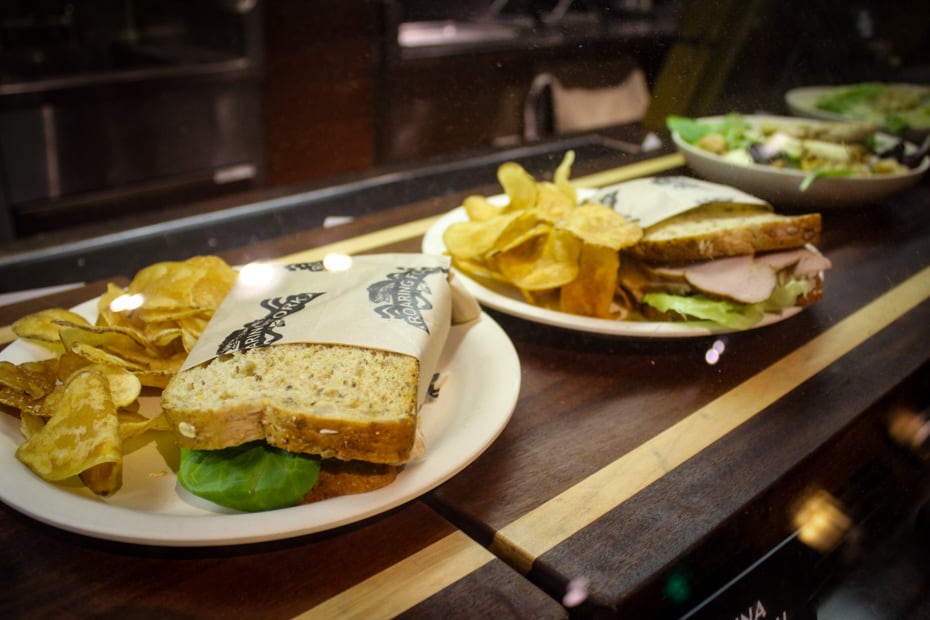 They also have a vegetarian pita. If you are interested in these types of options, I have a whole vegan food guide at Disney World.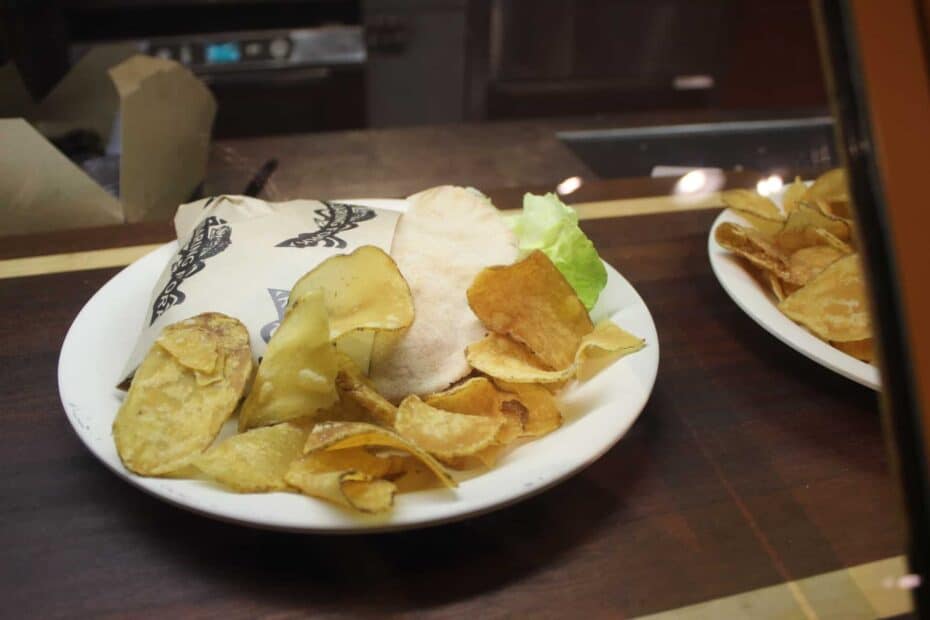 This Wilderness Lodge dining venue provides an opportunity to sit outside. There is interior seating as well. However, if the weather is even remotely nice, I would recommend sitting out here.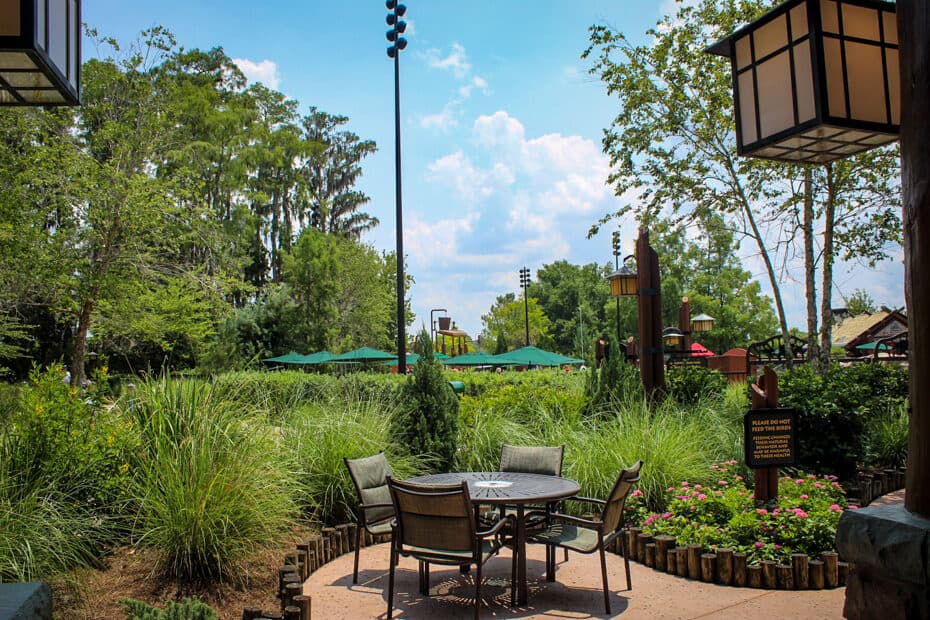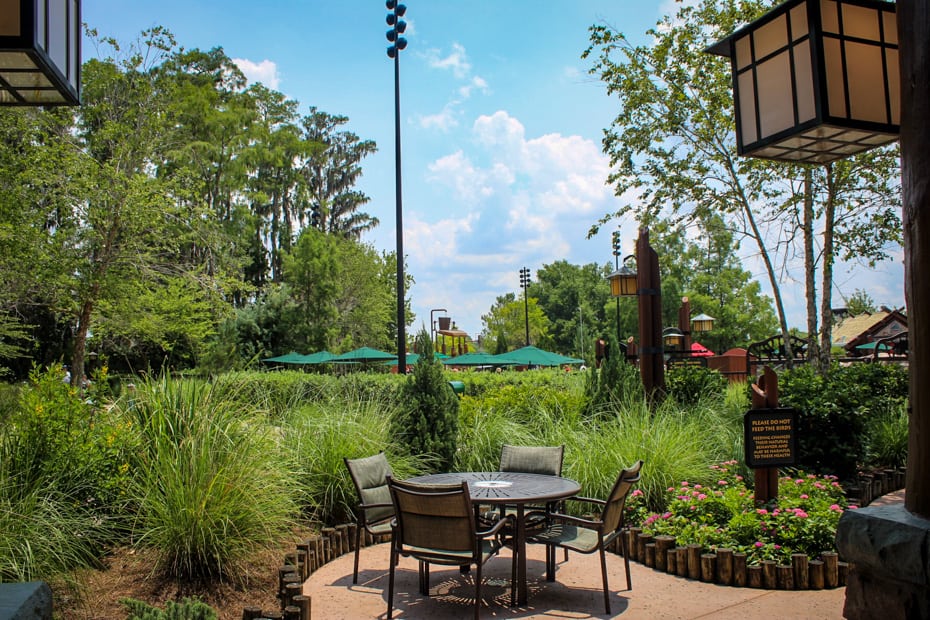 Territory Lounge
All of the Walt Disney World deluxe resorts offer some type of lounge. From my experience, these lounges are quite the hidden gems.
Territory Lounge at the Wilderness Lodge is no exception to that observation. It is a delicious stop for several different items.
Before you object, I know there's a bar, and it is defined as a "lounge," but you are at Disney World. These types of places are actually family-friendly. However, they are not what you would probably imagine as being a typical bar scene.
With that being said, you may or may not see families dining here. I really think it's because people aren't familiar with these dining stops more than anything.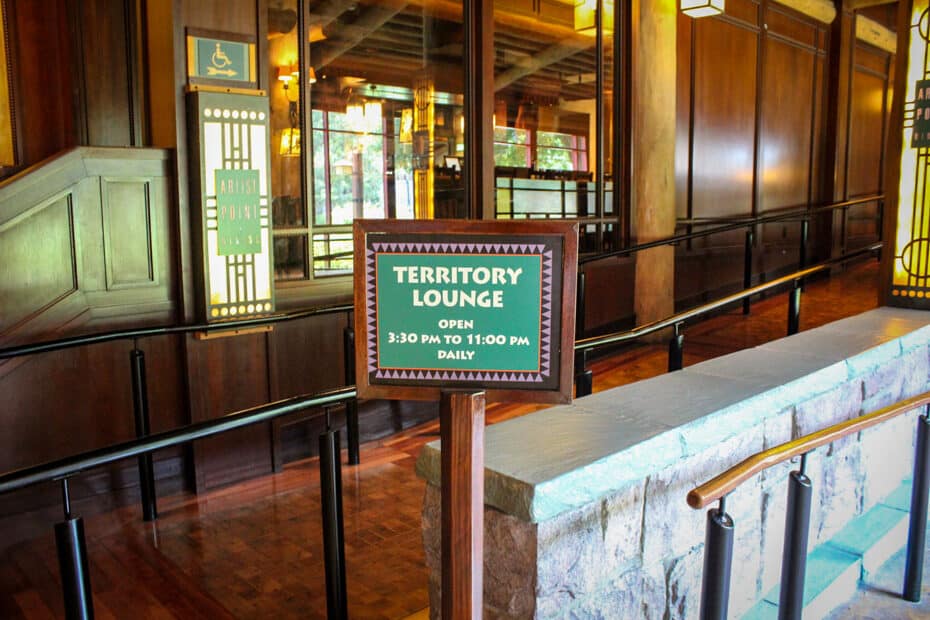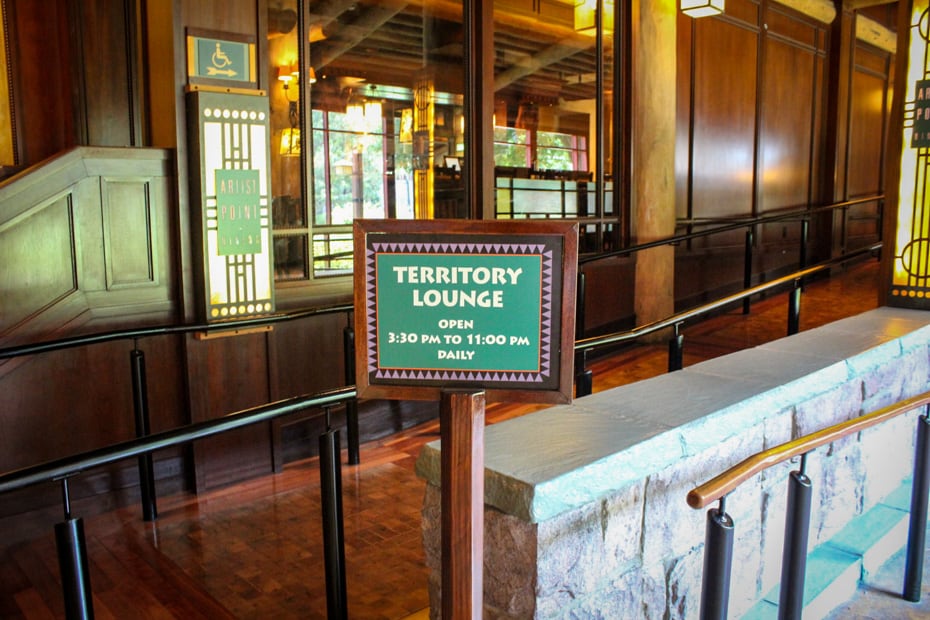 The lounge offers a variety of different style-seating. The decor here is a Northern Pacific Americana. It's all warm and inviting, like the rest of the Wilderness Lodge.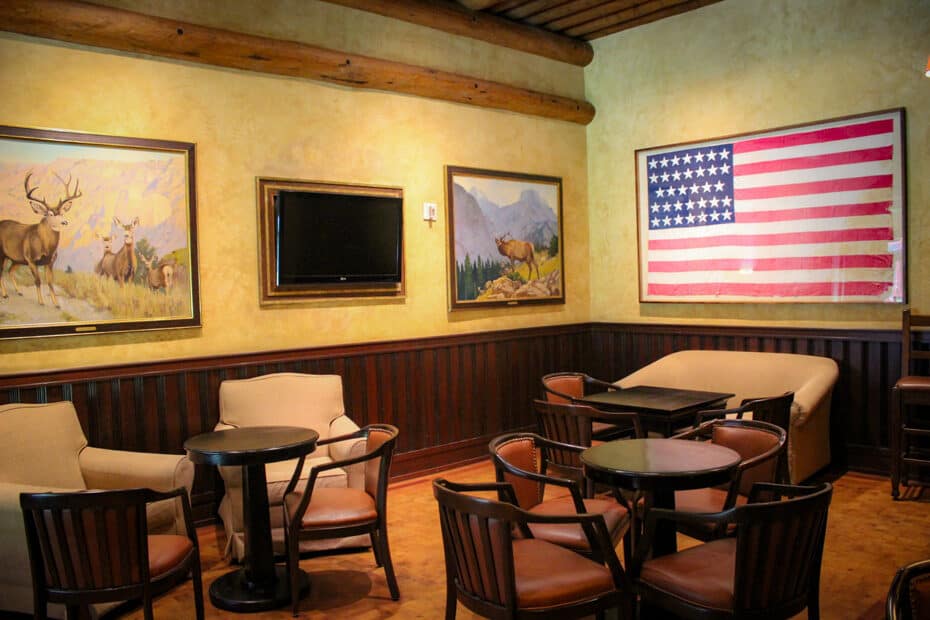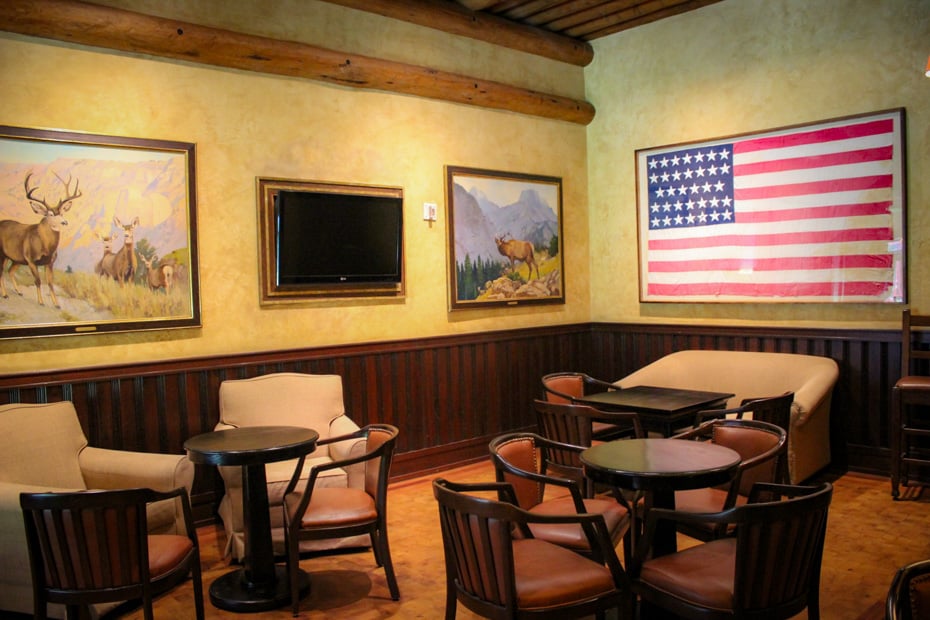 Speaking of warm and inviting, if you just look up, you'll see the ceiling mural with Native Americans and early explorers of the different territories.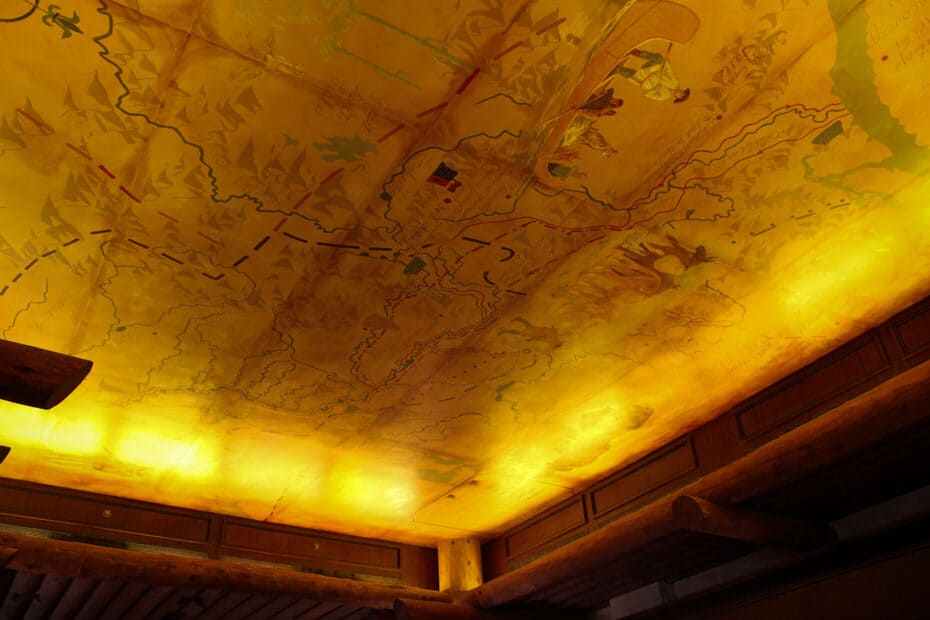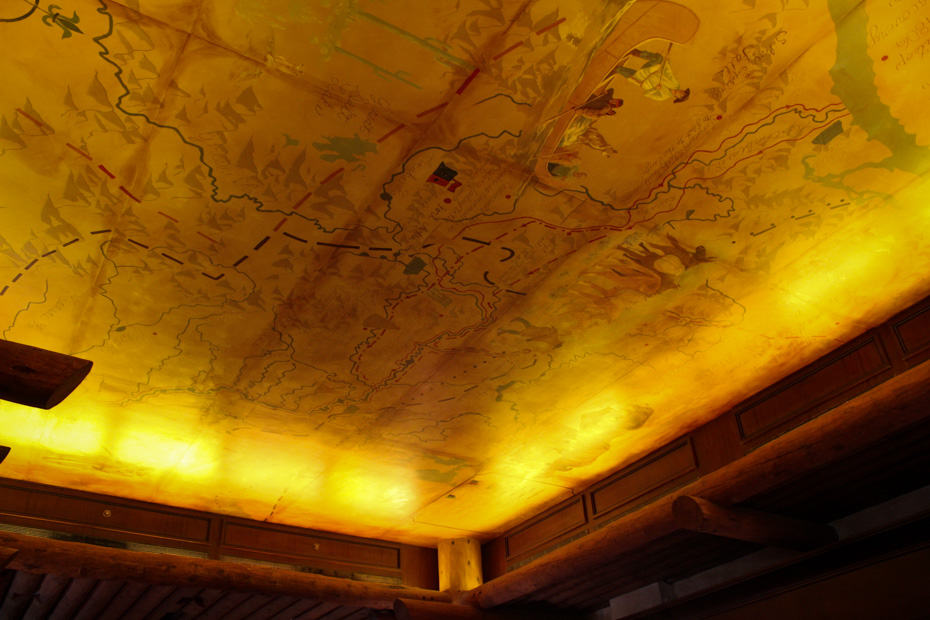 Even the bar area is nicely finished with the bear carvings serving as columns on each end.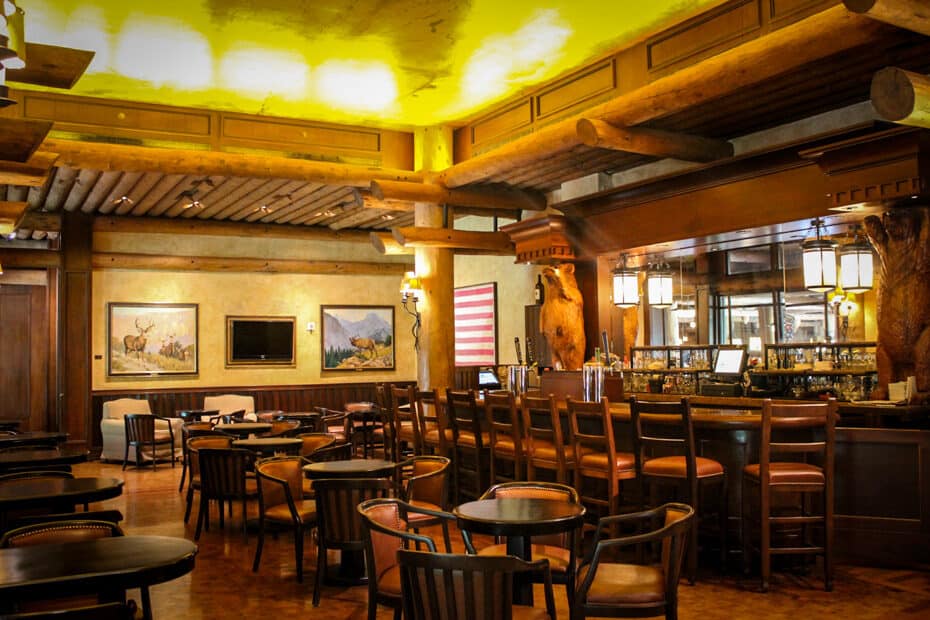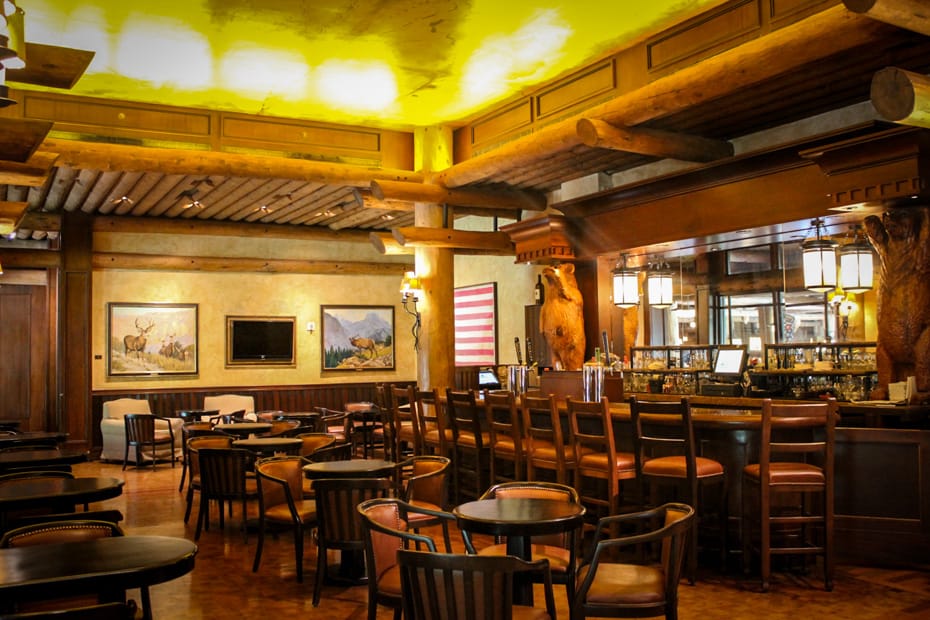 Territory Lounge is also where you can find the popular Mushroom Bisque that the former Artist Point served. So if you are a fan of mushrooms or are craving a bowl of warm soup (yes, the Wilderness Lodge can put you in a chilly mood no matter the outdoor Florida atmosphere), then make sure to add Territory Lounge to your list of dining stops.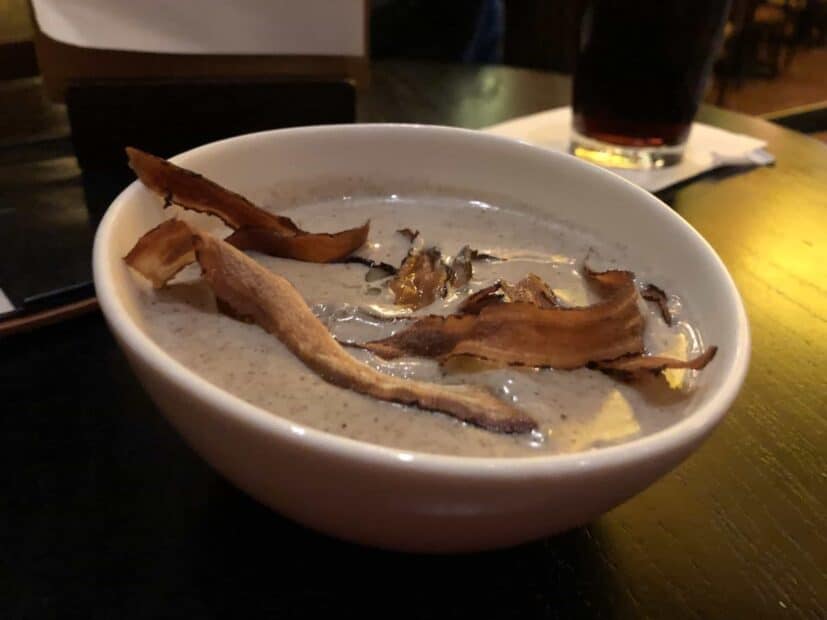 Whispering Canyon Cafe at Wilderness Lodge
Our next stop for dining at Disney's Wilderness Lodge is none other than Whispering Canyon. Of course, you might have heard of Whispering Canyon Cafe. It's the Disney restaurant that's known for jokes and silly mischief.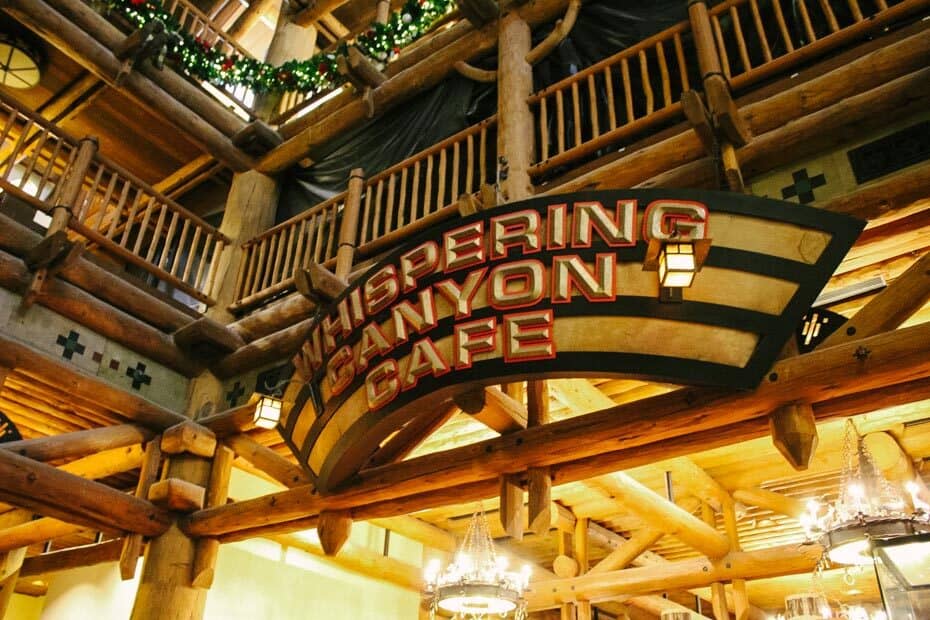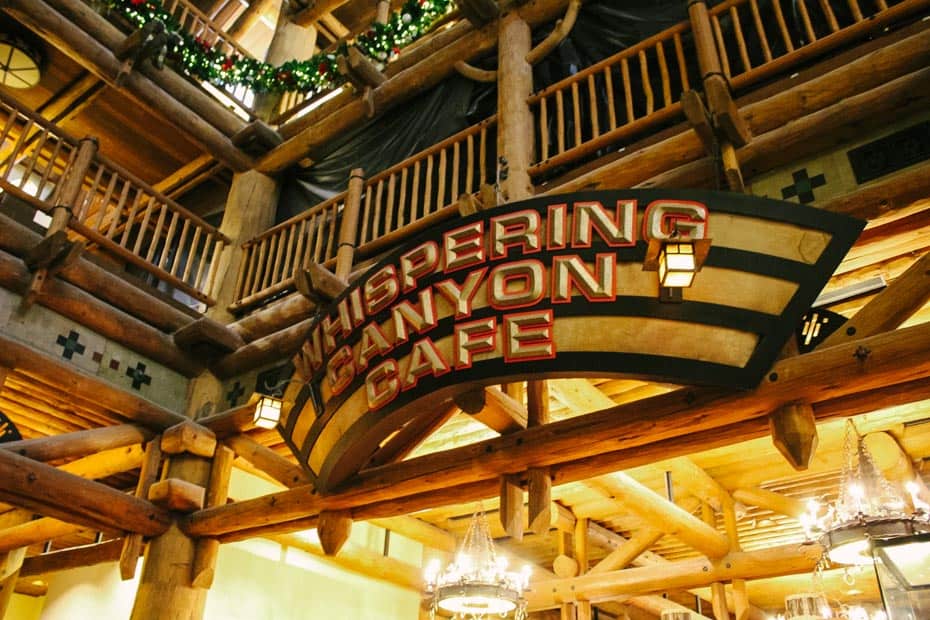 Even the sign at the entrance warns about the "goings-on" of the dining experience. With that being said, this is a fun and extremely family-friendly dining choice at Wilderness Lodge.
Our family recently had breakfast at Whispering Canyon Cafe. The menu mainly consists of a variety of breakfast-style skillets and different egg preparations.
We had participated in a character breakfast at 'Ohana the day before. For the record, we enjoyed the experience, food offerings, and price here at Whispering Canyon better than 'Ohana.
You can view the online menu here with the most current prices for breakfast, lunch, and dinner.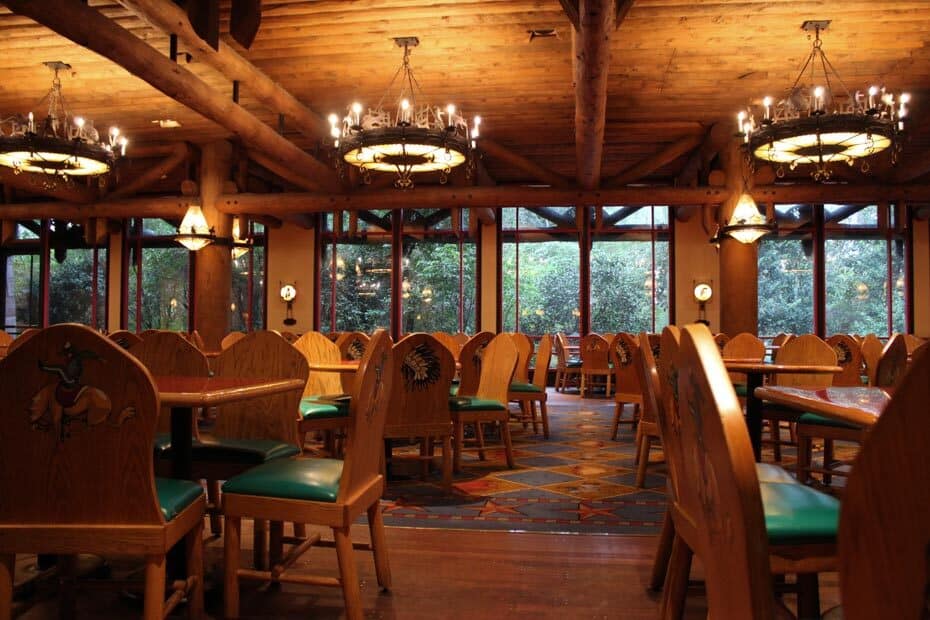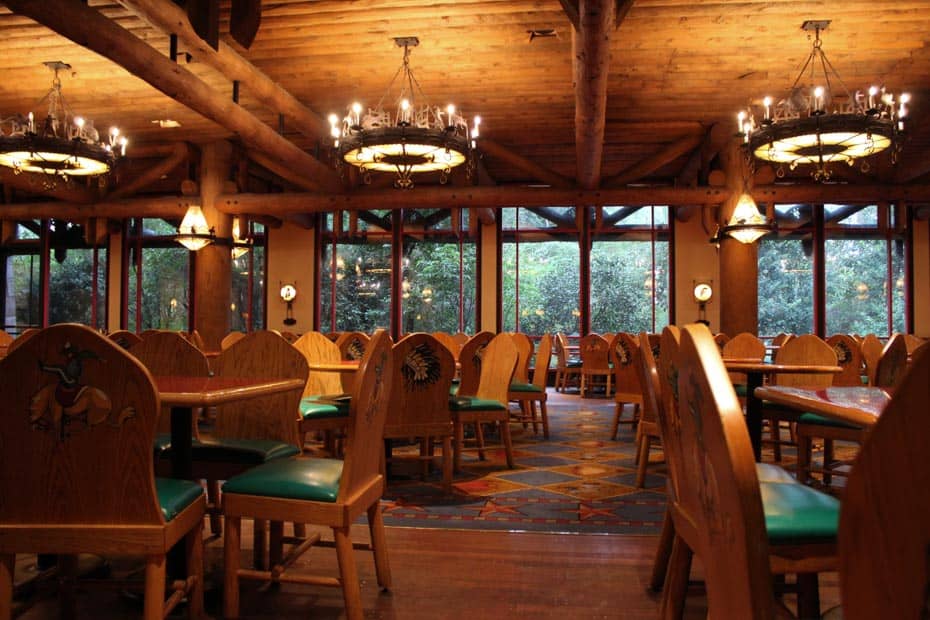 But for this meal, I went with the House-Smoked Salmon Frittata. This is similar to an omelet in preparation and came with large salmon baked into the mixture. There were also chives and a generous amount of parmesan cheese.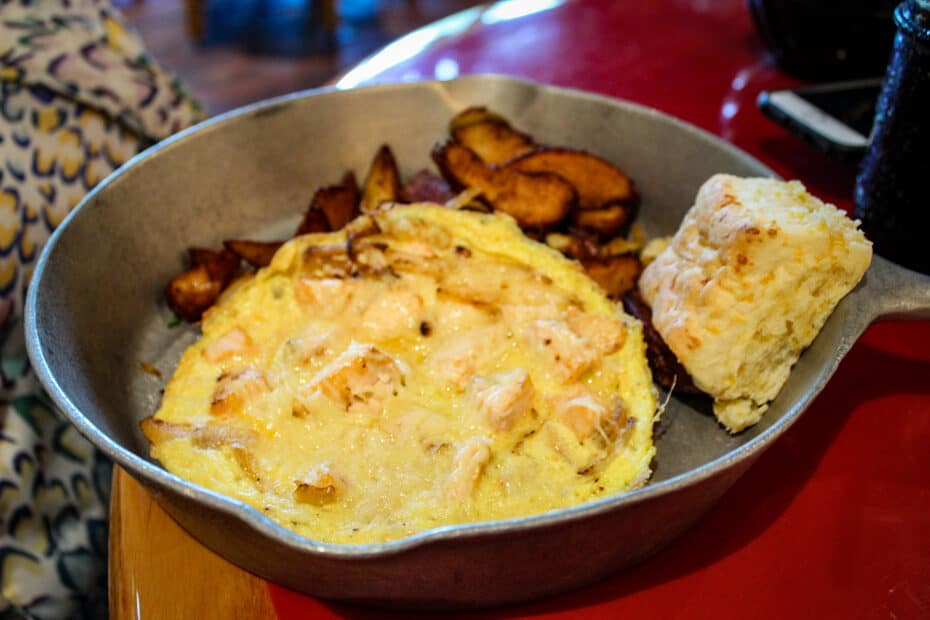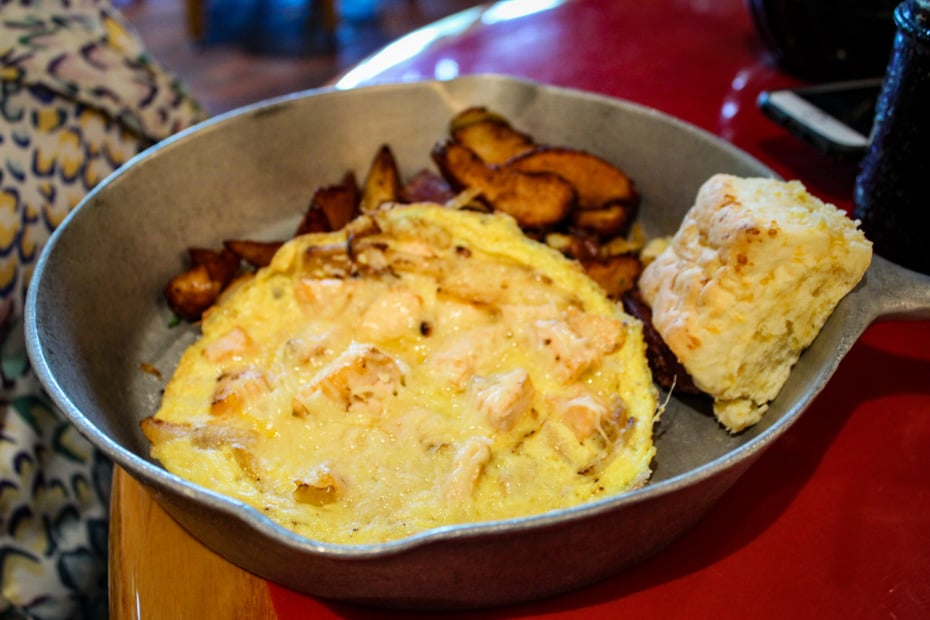 The dish came with a side of breakfast potatoes and a biscuit. I really enjoyed this entree and felt good about my meal here.
If you decide to visit Whispering Canyon, I would recommend making reservations in advance. I was able to secure these fairly easily, but we are also a smaller party.
I visit the Wilderness Lodge fairly often, and the restaurant is open to the resort lobby. They do have a decent capacity, but I've noticed that it's quite often full. Expect a lot of humor and good old-fashioned family fun.
Storybook Dining at Artist Point (Character Dining)
If you have visited the website on the regular, then you might remember one of my initial reviews was of a Disney character dining experience at Wilderness Lodge.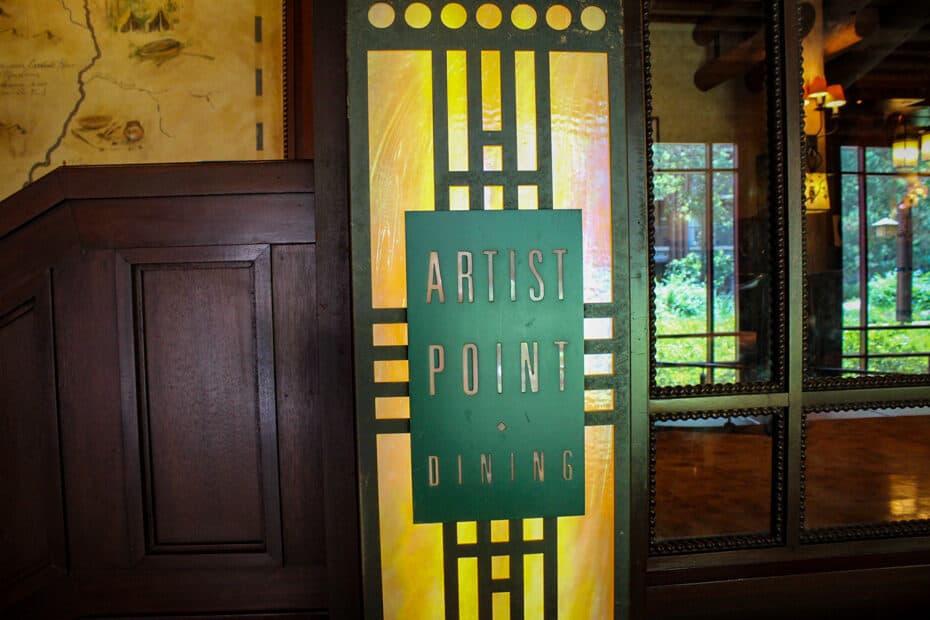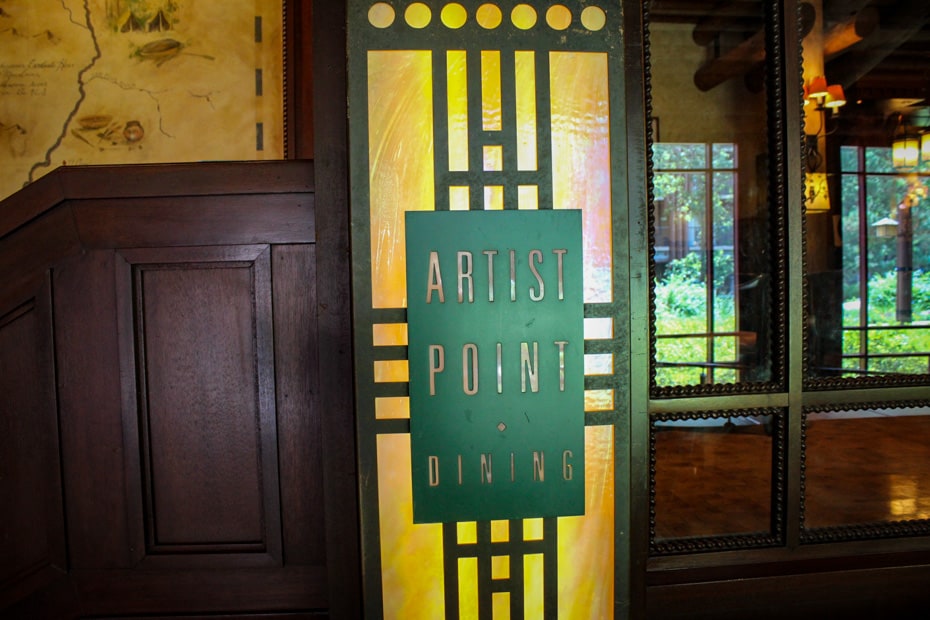 Storybook Dining at Artist Point features a chance to meet several characters, including the very elusive Evil Queen from Snow White.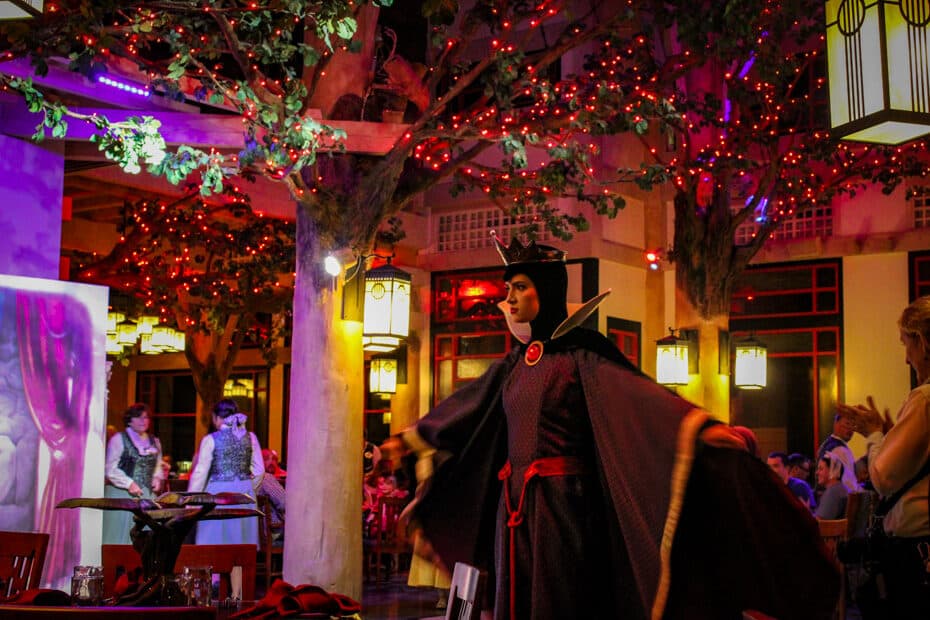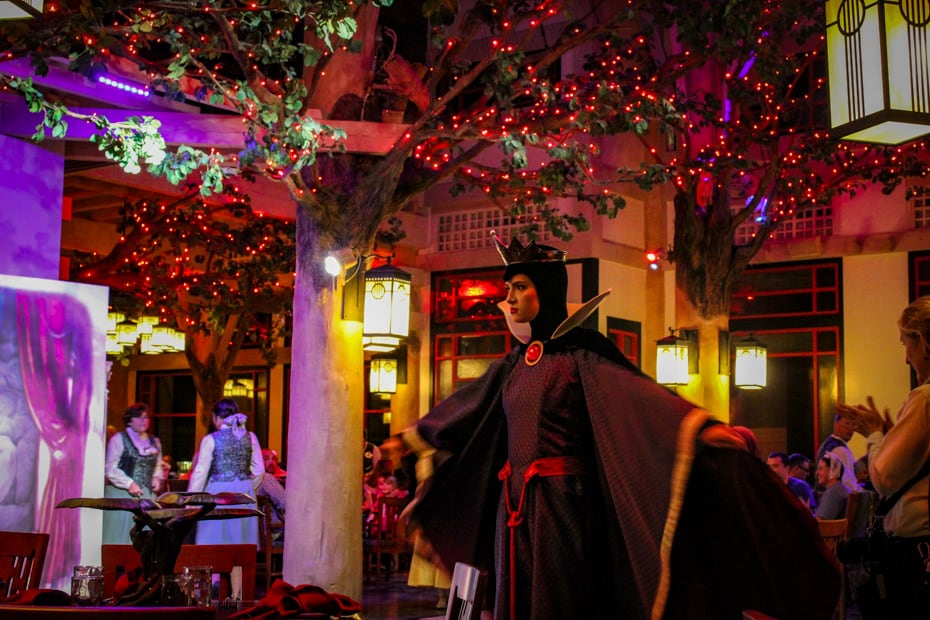 She makes an appearance several times throughout the course of the meal with a special photo opportunity.
Snow White, Grumpy, and Dopey also come table side during your visit like a normal character meal. The Evil Queen actually meets in the middle of the restaurant. There are a backdrop and a PhotoPass photographer to capture your image.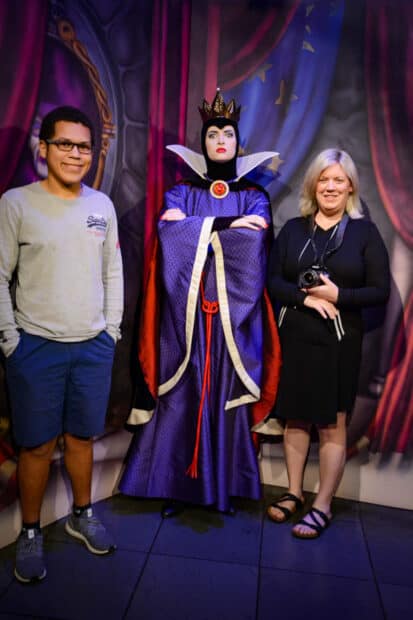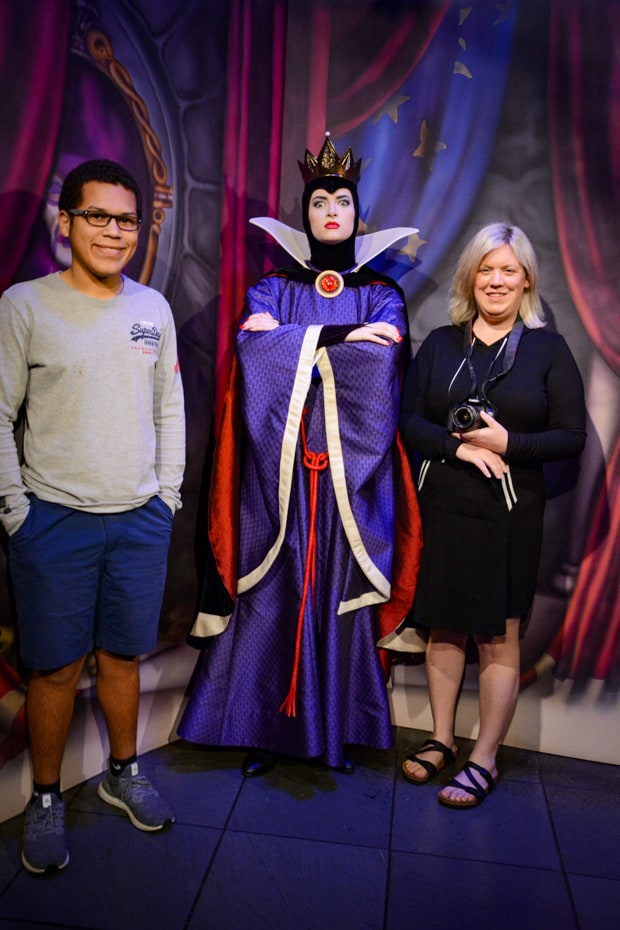 This is also a good time to remind you to bring your camera or have your phone handy for photo options. When the characters come tableside, the PhotoPass option isn't offered, so you will need to take your own photos.
The meal works a little bit differently than most dining options. First, you'll receive a trio of appetizers to share at the table. Then each guest gets a choice of entree.
Toward the end, you'll receive a trio of desserts. They are all very photogenic, but I would rather have the option to choose just one dessert that better suited my sweet tooth.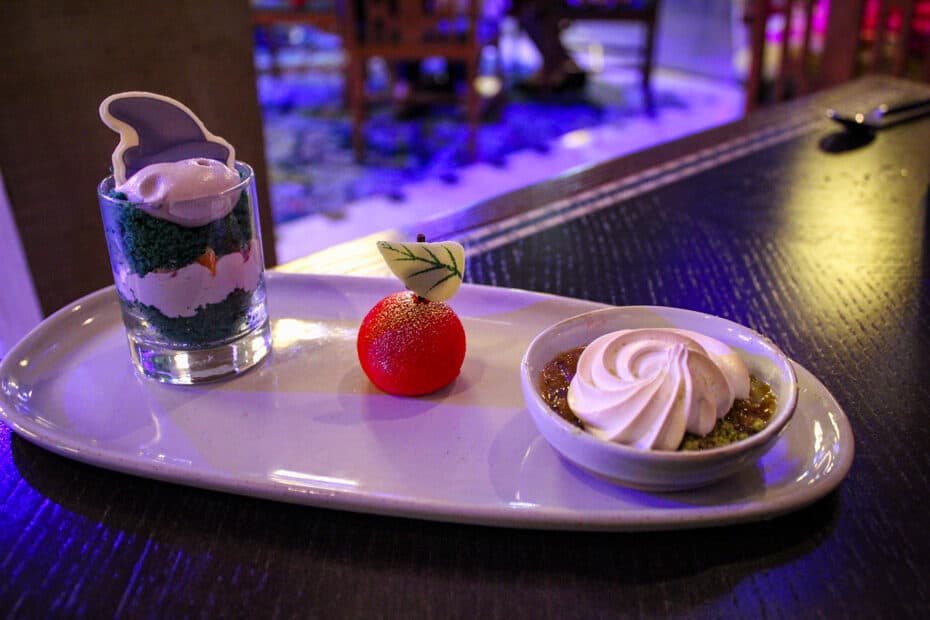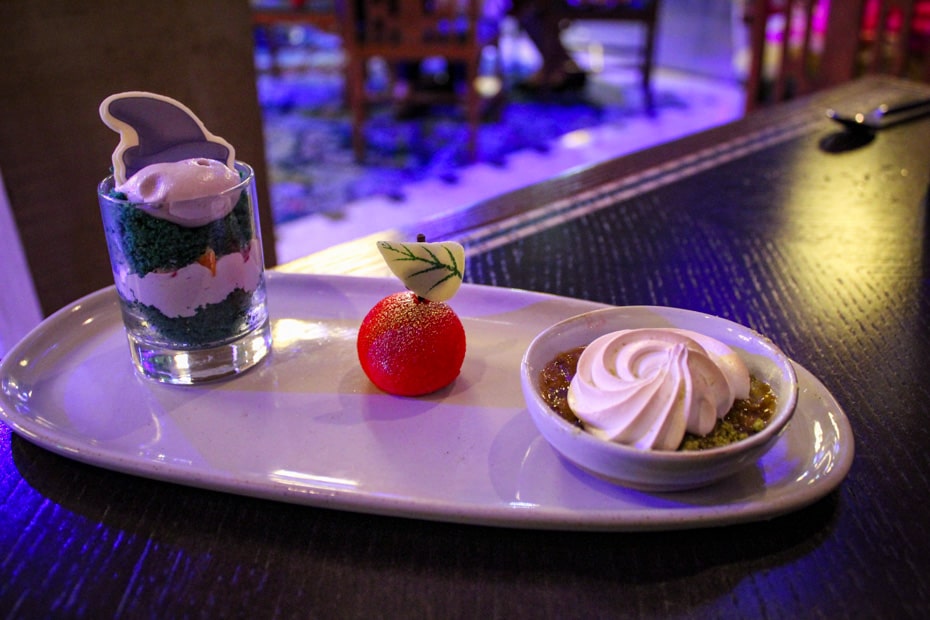 While we weren't really fans of the food at this Wilderness Lodge restaurant, we still had a wonderful time and hoped that selections would improve.
Related: Disney World Character Dining
Geyser Point Bar & Grill
Last but not least, we have one of the newest dining opportunities at Wilderness Lodge. Over the past few years, I've had several meals at Geyser Point and can say I will definitely continue to return.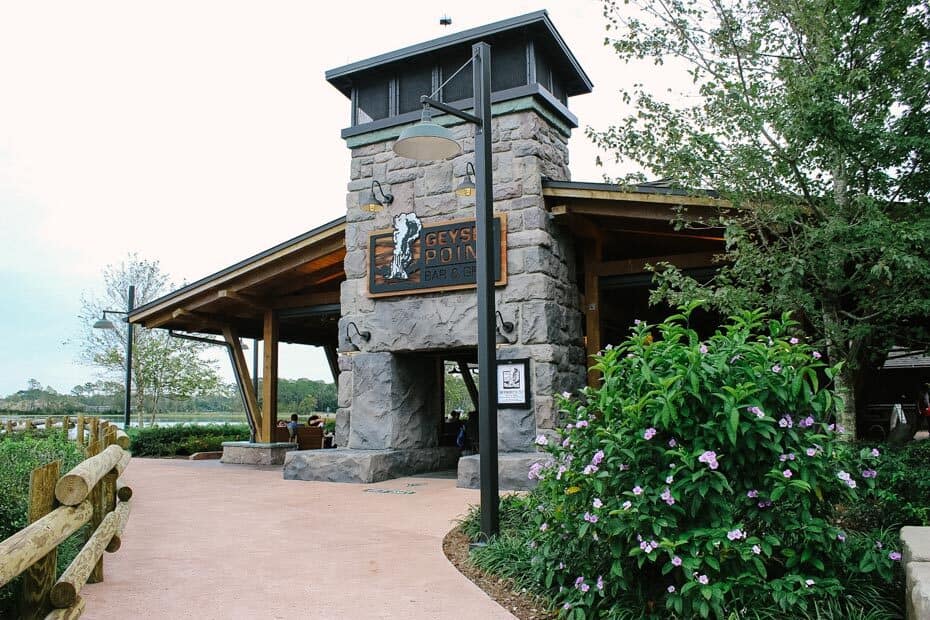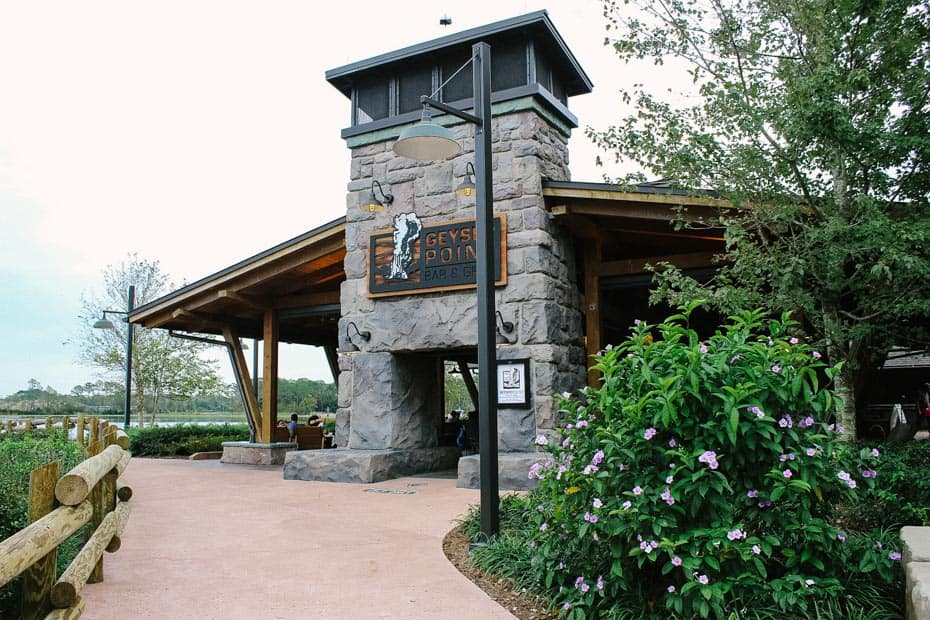 As with many places at Disney in general, Geyser Point provides a unique dining opportunity to have a meal while taking in views of Bay Lake.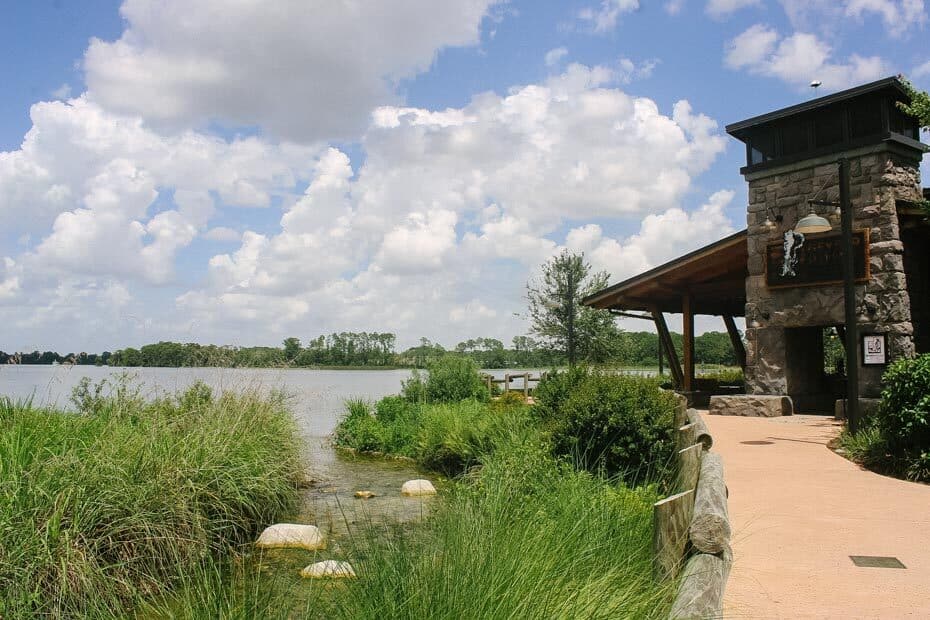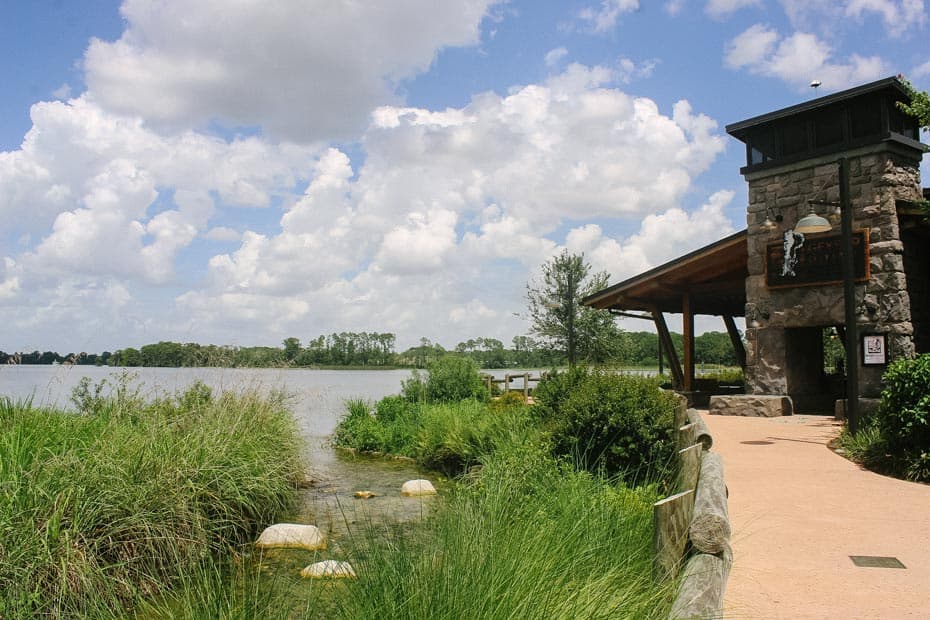 And if you are lucky, you might find yourself here later in the evening, relaxing with your family as the Electric Water Pageant drifts by you in passing.
Geyser Point doesn't accept dining reservations, but you might have to wait if the restaurant is crowded. The first time I dined here, I got the impression that you walk up and find your own seat. That is actually not the case.
You'll want to walk up to the hostess stand and request a table.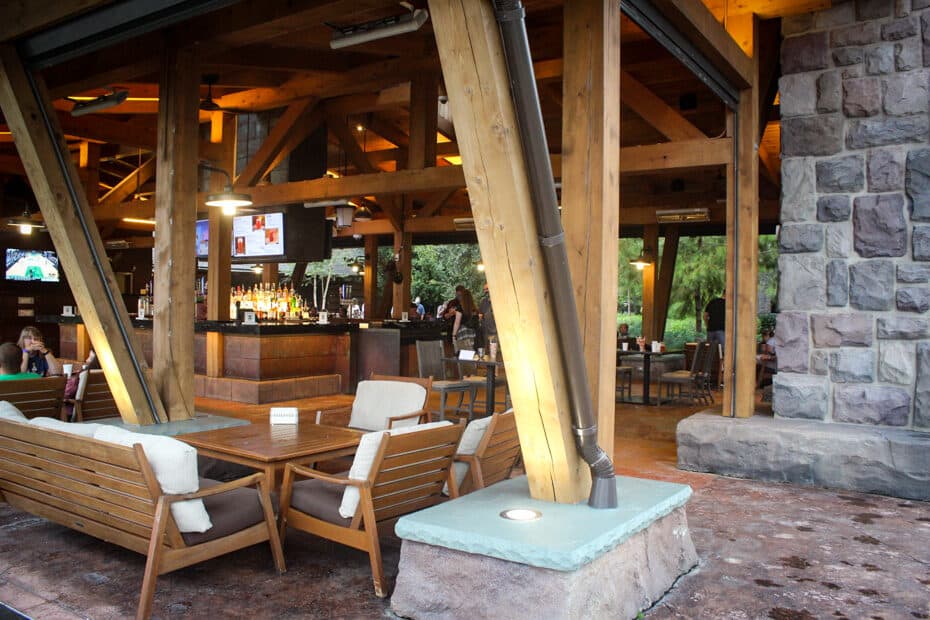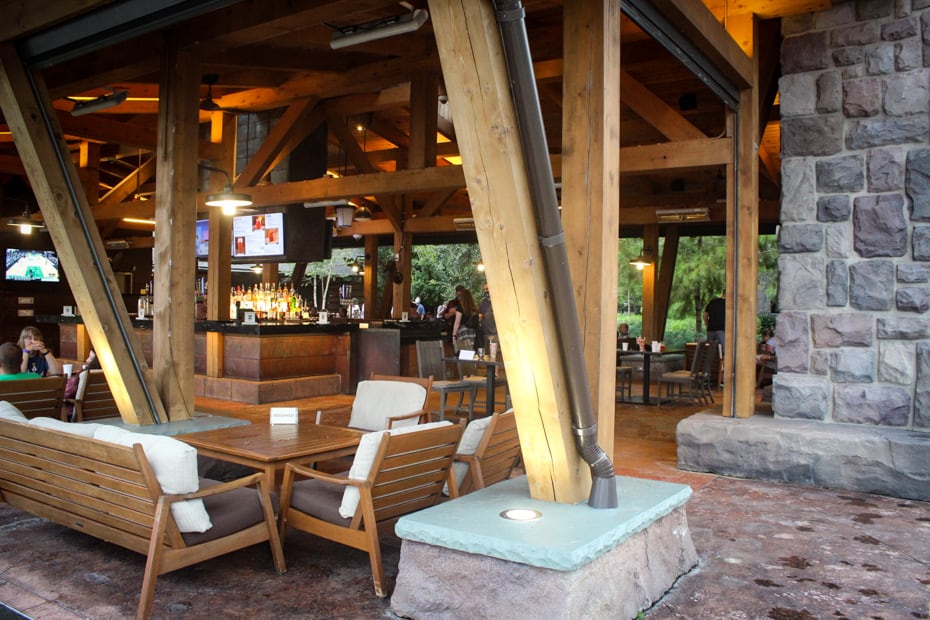 The restaurant is in a covered outside area facing the water. It is open to the elements on three sides. The fourth side is the back, where the restaurant's kitchen and restrooms are housed.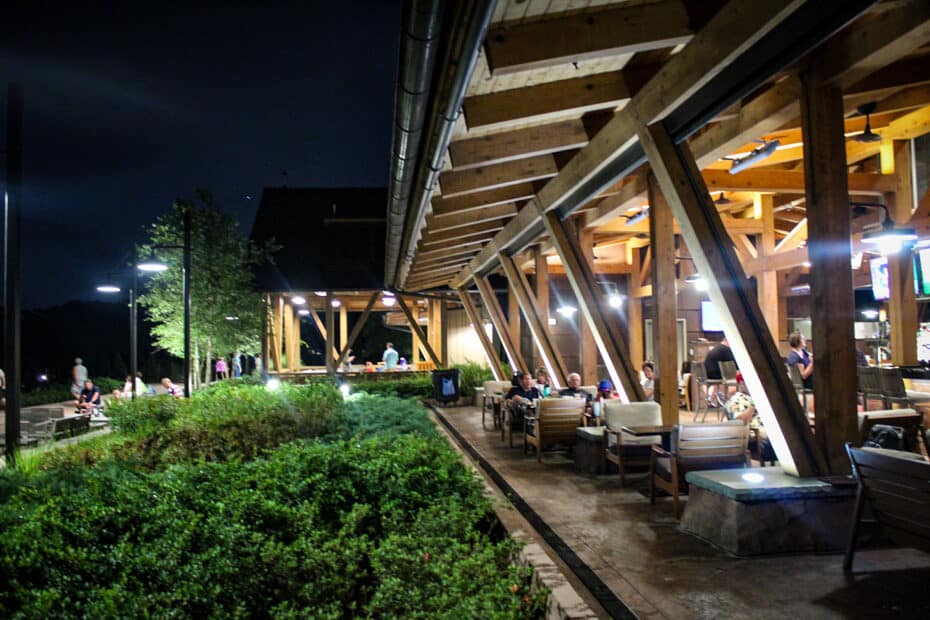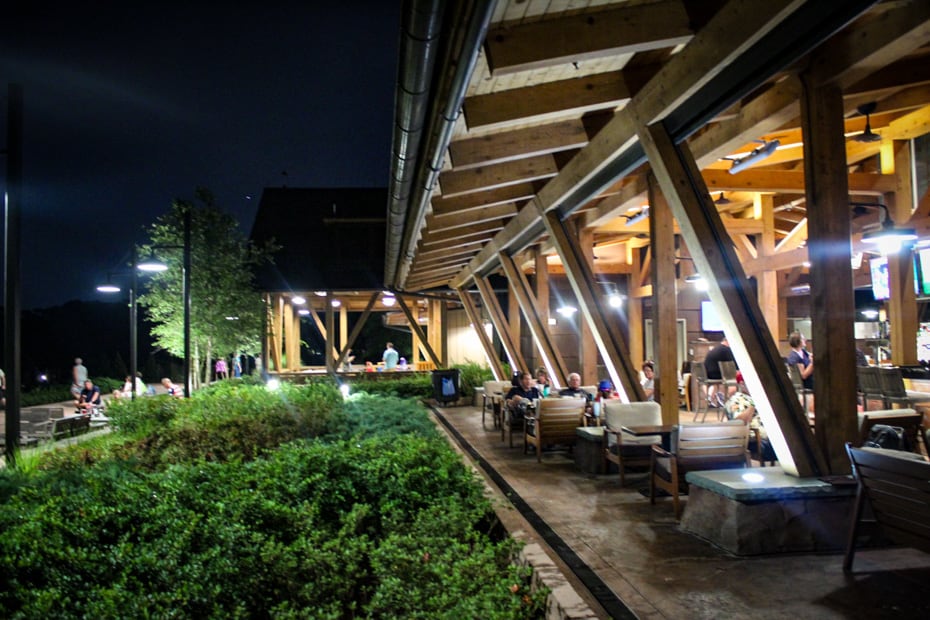 If you eat here on an evening that it happens to be chilly out they usually have space heaters. I kind of like eating al fresco in the cold like this, even though I don't really care for the cold in general.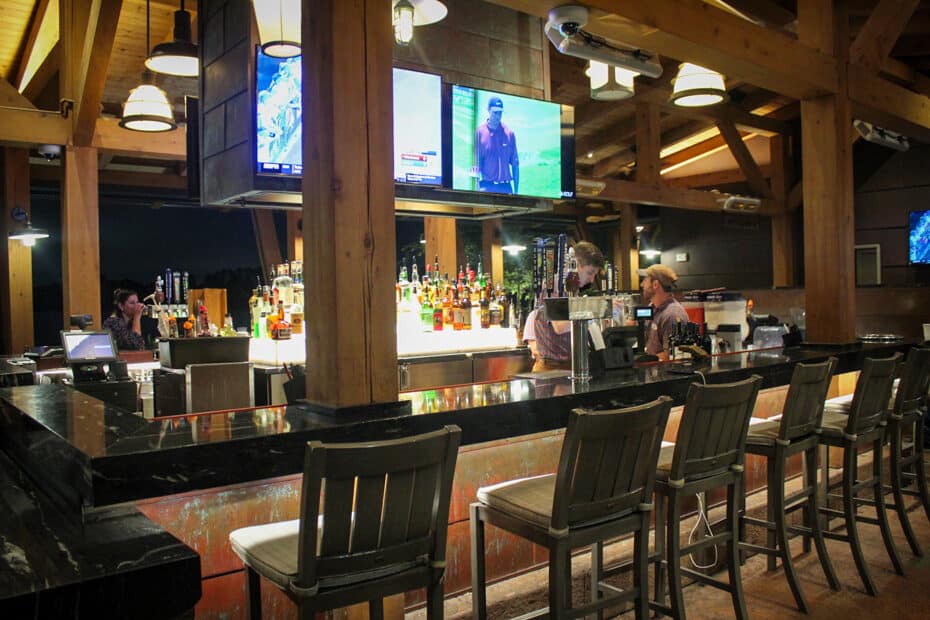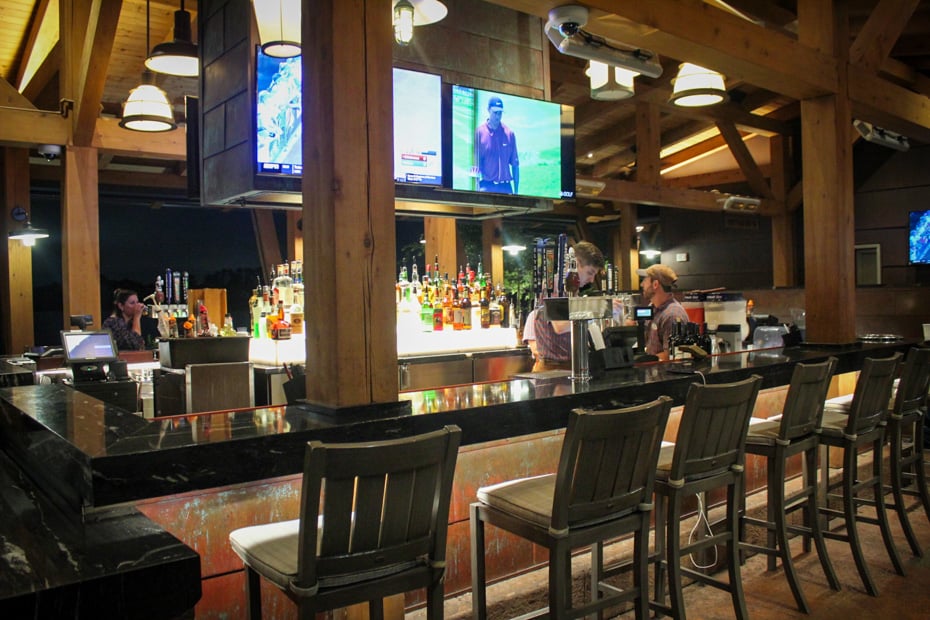 But it's also something different, and most of us who venture to Disney do like different. Just remember to dress appropriately and keep that into consideration when ordering hot food.
On my last go around I ordered a chicken sandwich with waffle fries. I'm a picky eater so I ordered mine more on the plain side.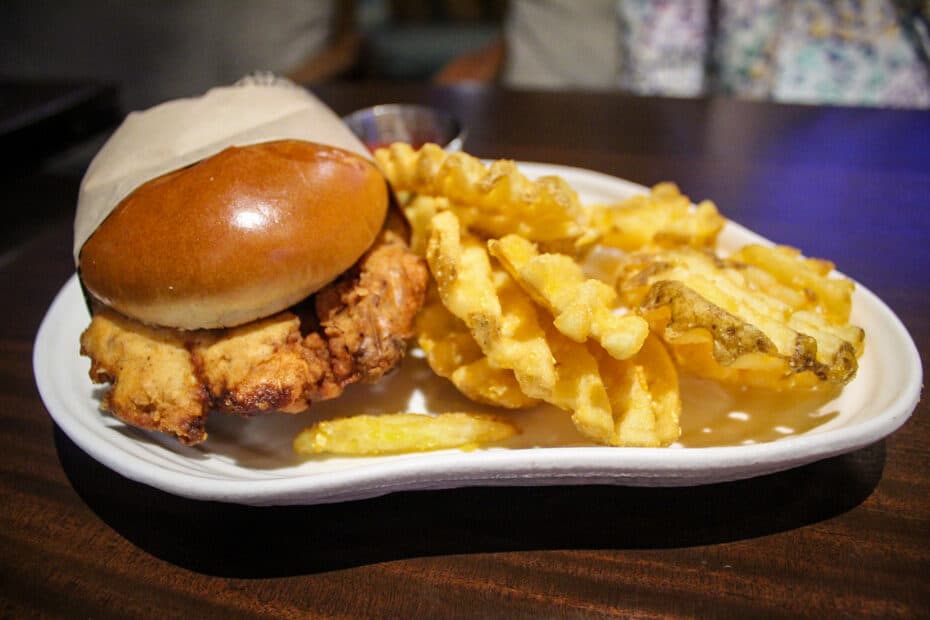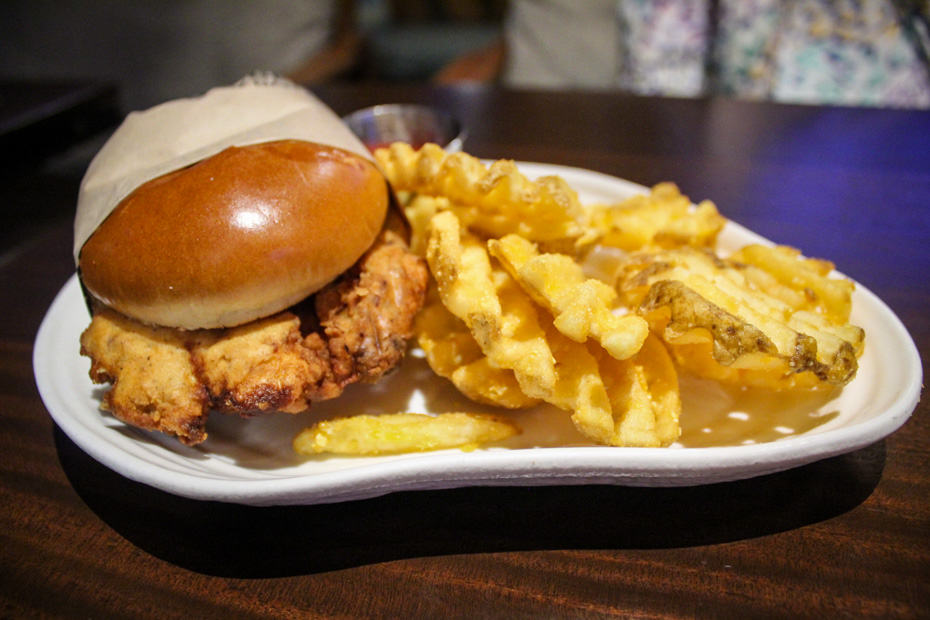 The chicken sandwich turned out to be a great option and was very filling. This came in at $12.00, and I felt pleased with the quality of the meal along with the price, considering I was at Disney. You can read the full Geyser Point Bar and Grill review here if you'd like to know more.
Final Thoughts on the Wilderness Lodge Restaurants
Visiting any Wilderness Lodge restaurants is a great way to change up the normal routine if you find yourself at Disney often. For those looking at staying here in the near future, you might want to read the entire Disney's Wilderness Lodge Review. It covers everything you'll want to know about the hotel prior to your visit.
Those that take the time to walk the exterior grounds of the resort during your visit will probably run into the Buffalo topiary.
Related: Copper Creek Villas Review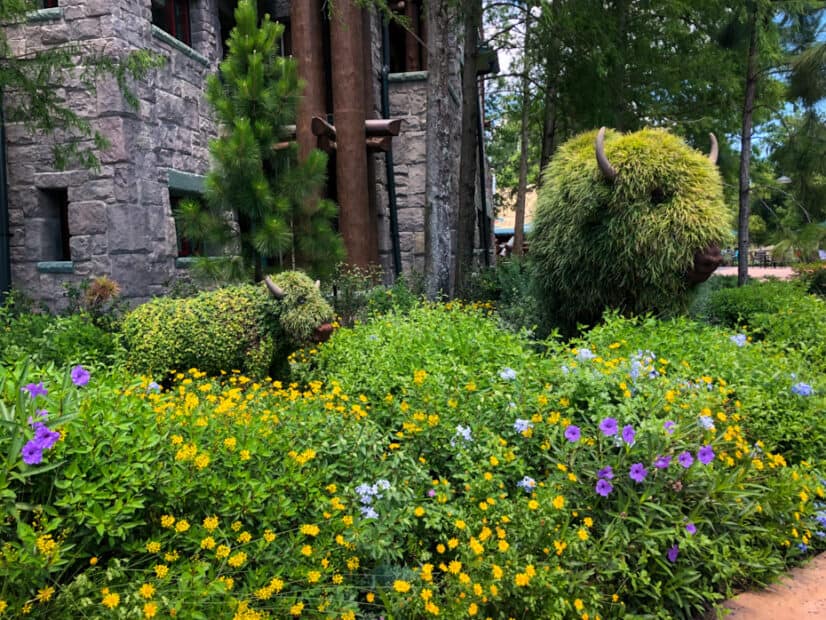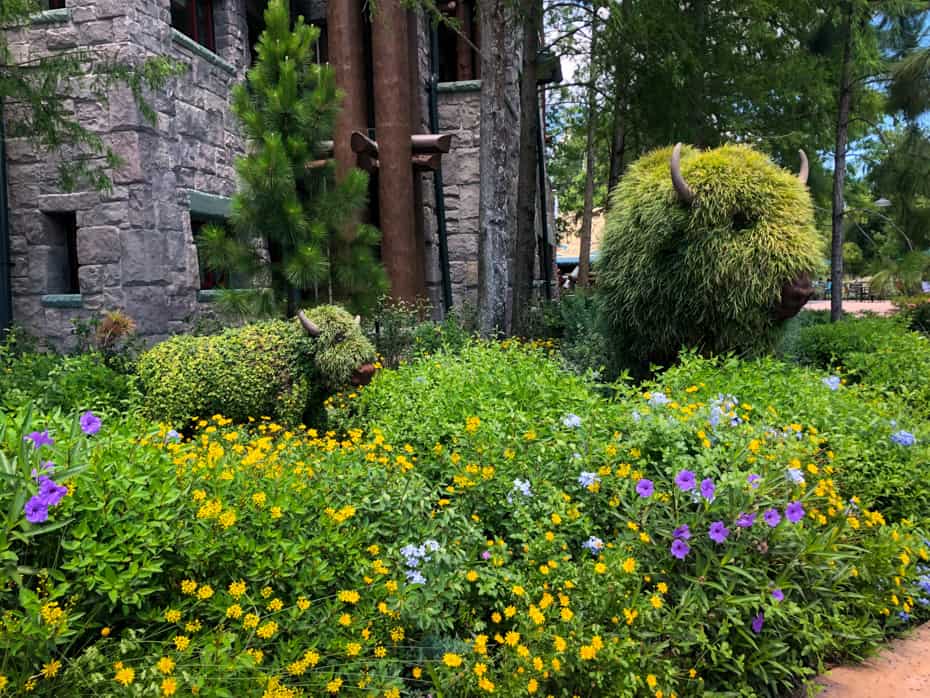 The lobby is definitely worth the visit to see. And during the Christmas holidays, a trip over to see the decor is a special treat. I have a post detailing photos of the Wilderness Lodge during Christmas.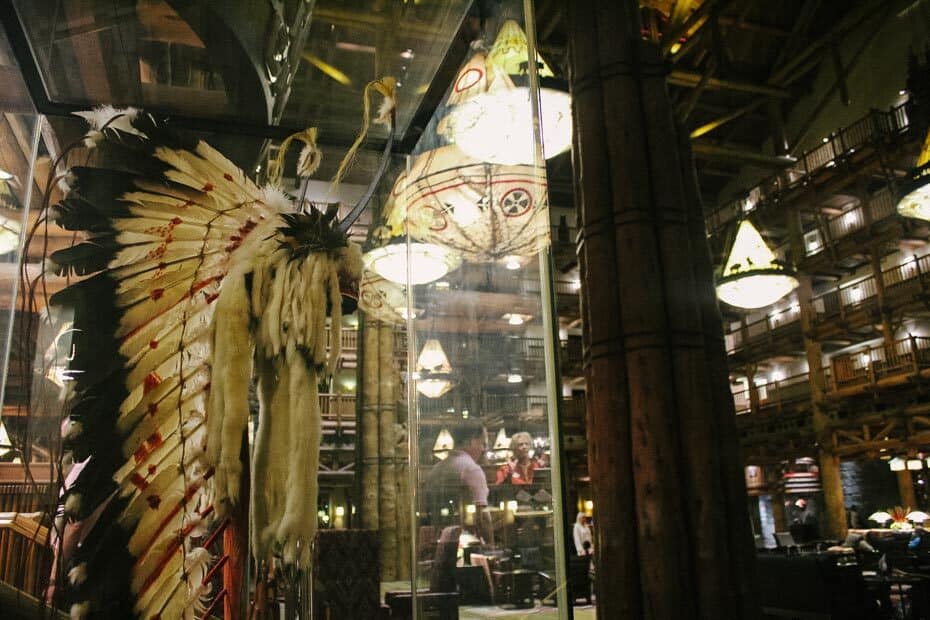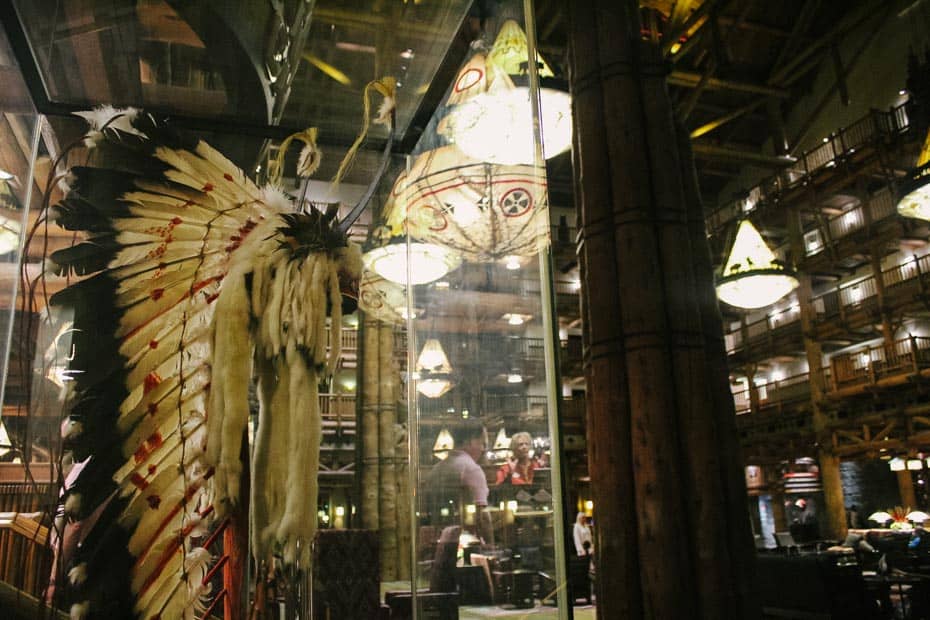 Take some time to explore the lobby on your visit. There are several neat art displays. The woodwork is pretty incredible, too.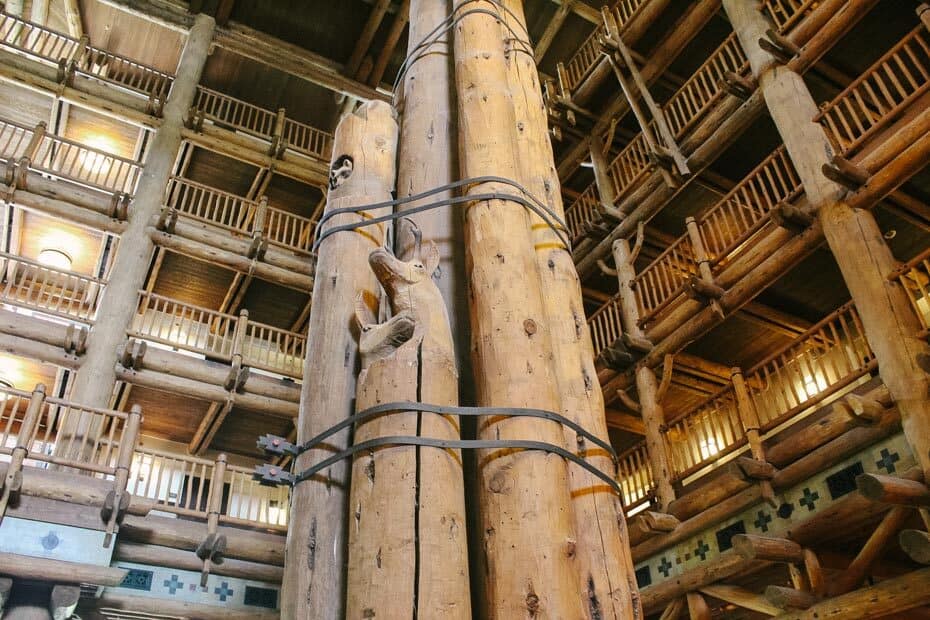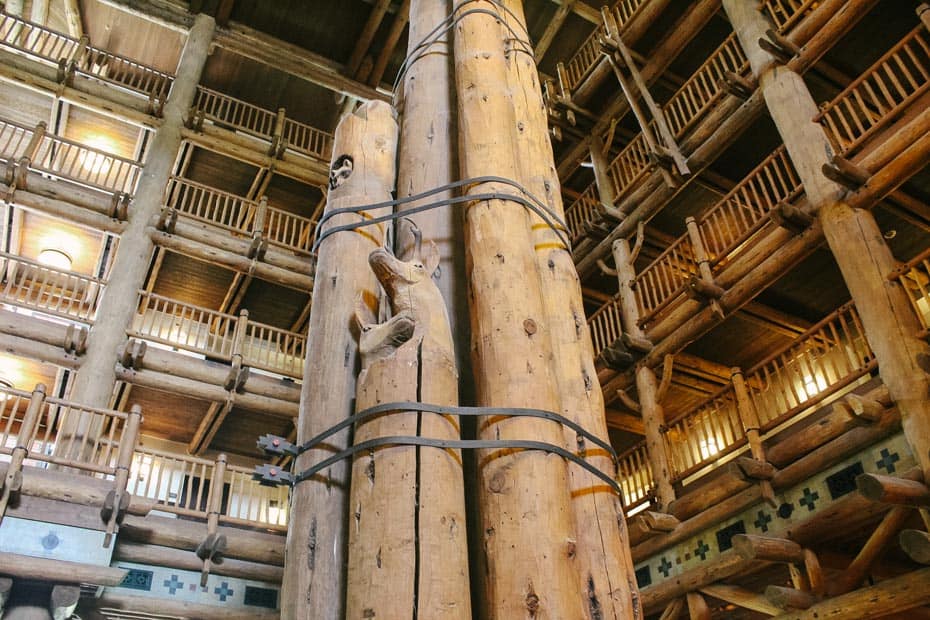 The resort also has a fun Mercantile gift shop off the lobby. The exit past the Mercantile down this hallway will take you back out to the resorts bus stop.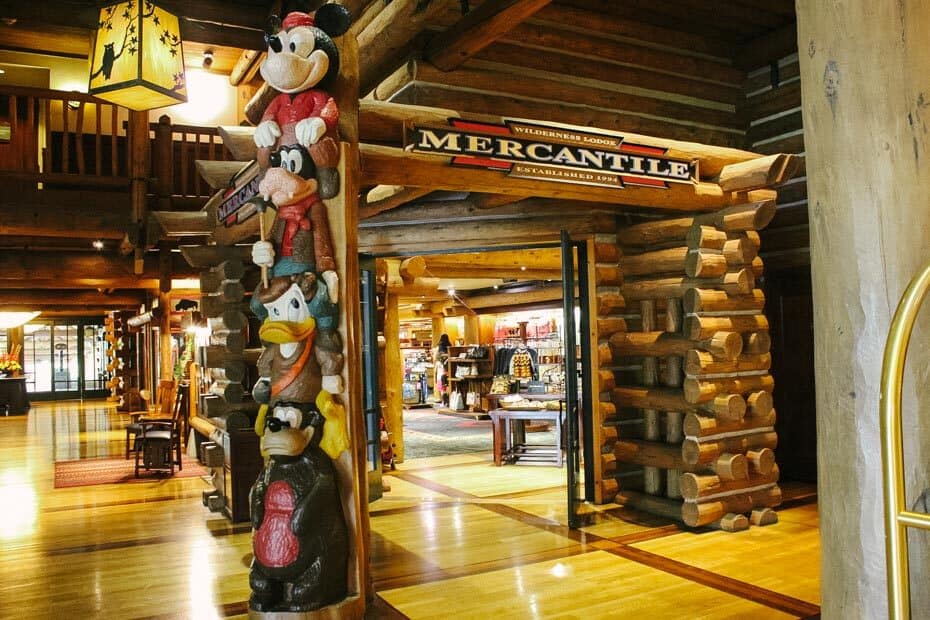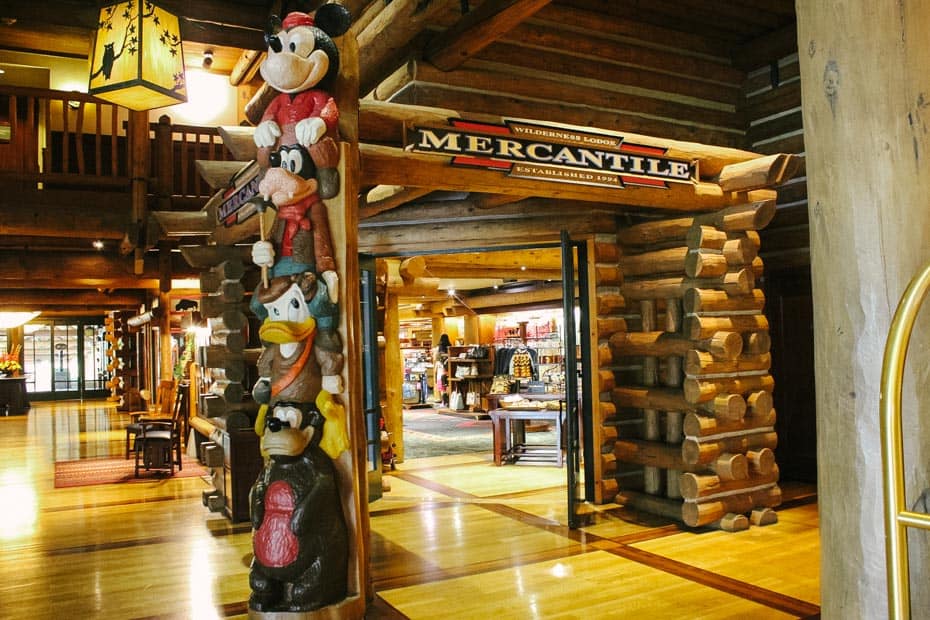 You might even find yourself on a bridge in the middle of the lobby with water running to the outside falls directly beneath you.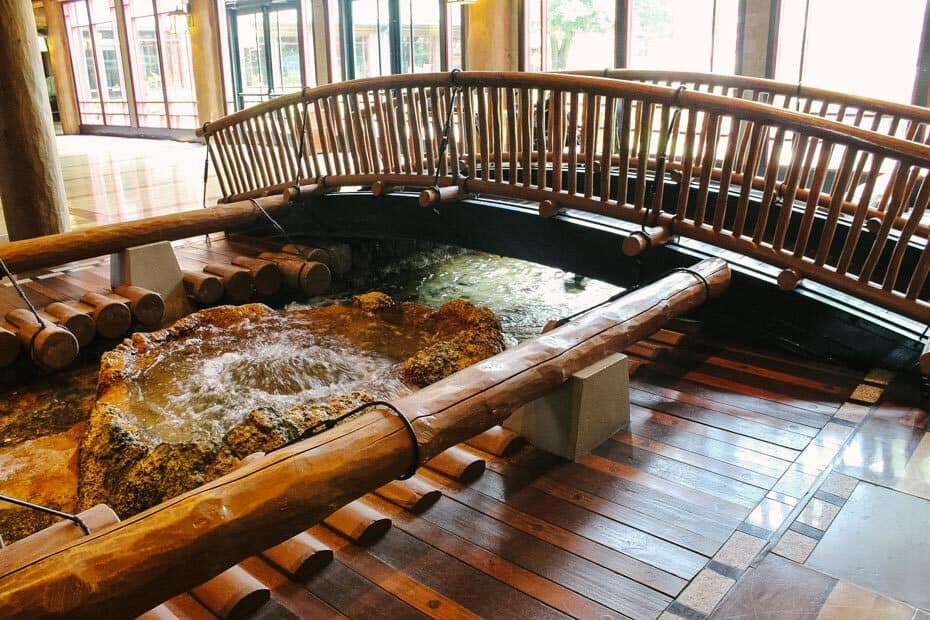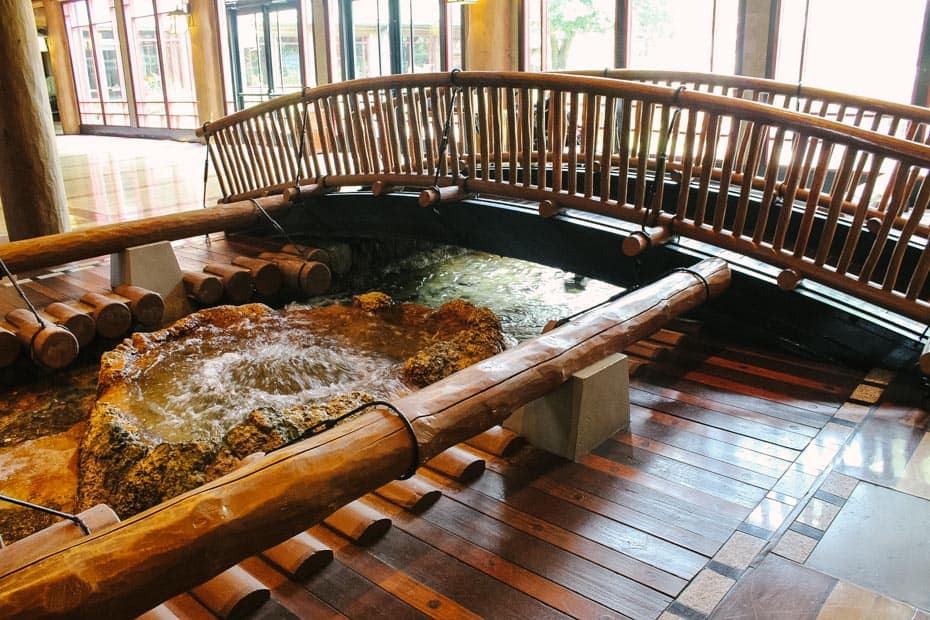 And don't forget to check out the geyser either before or after your dining experience.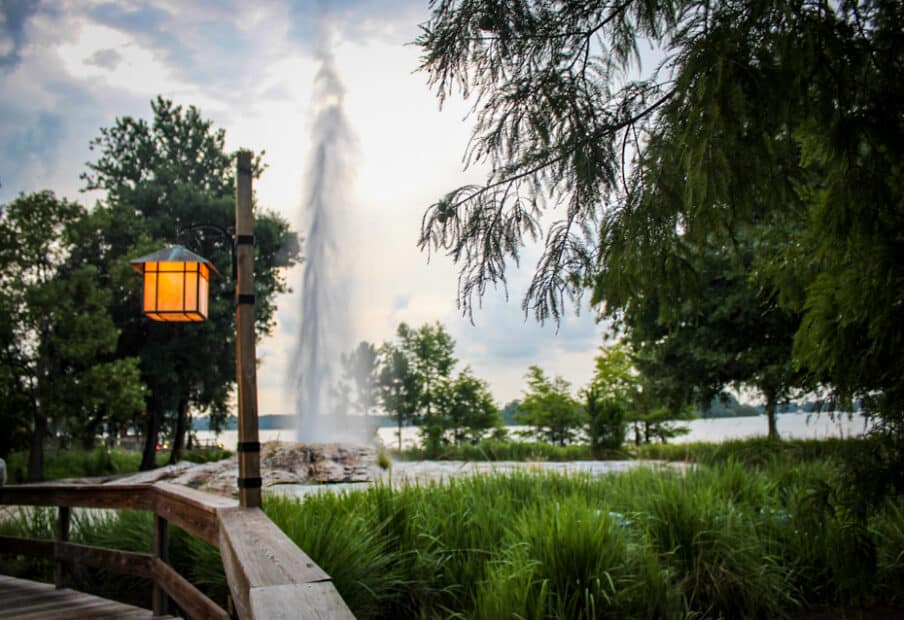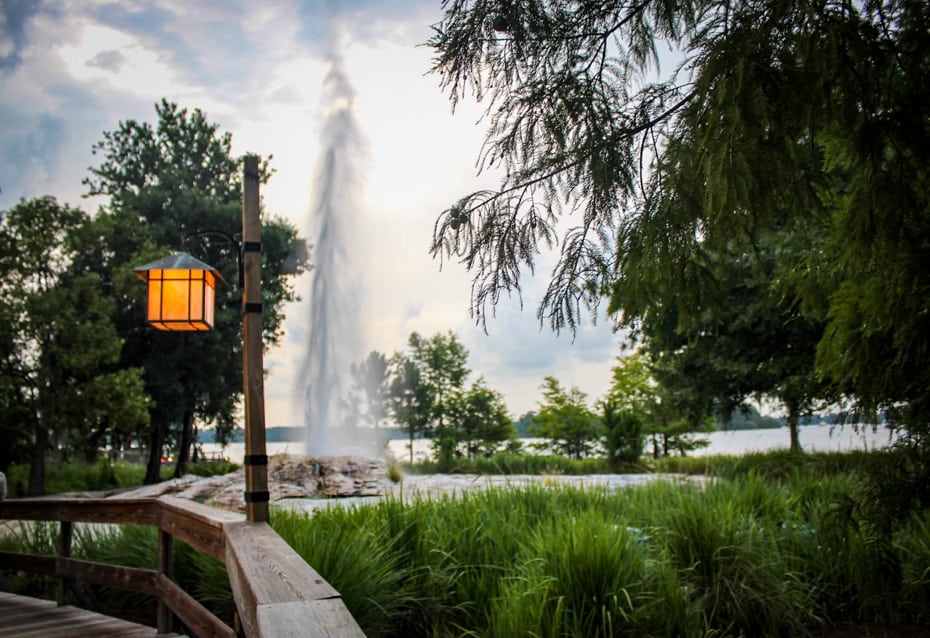 Wherever you decide to dine, I'm sure you will enjoy your visit here. But fair warning, you might find yourself daydreaming of spending your next vacation at this stunning resort. It's okay, I wouldn't blame you.
As for me, I'll be at Territory Lounge, eating mushroom soup. Or you might find me up a few floors in one of the galleries by the fire. Just look up, a little past the totem pole.
For more information about dining, check out all of our Disney Dining Reviews. You might also enjoy these full resort dining guides:
Can't make your mind up where to stay? Browse our list of Disney World Hotel Reviews. They include other favorites in the Magic Kingdom resort area like:
As for dining at the Wilderness Lodge, I truly hope you'll add a meal there into your vacation schedule. Leave a comment and let me know which restaurant you're most looking forward to visiting. Or tell me, what is your favorite Wilderness Lodge Restaurant?