Resort View Room Tour at Disney's Yacht Club (Is an Upgraded View Worth It?)
This article provides a tour of a resort view room at Disney's Yacht Club. We were assigned room #4216 on the fourth floor of Disney's Yacht Club. We'll also discuss where and when an upgraded view is worth your consideration.
Disney's Yacht Club is one of our favorite resorts at Walt Disney World. So, when it came time to pick a resort for a personal trip, Yacht Club was at the top of our list.
You may remember we stayed at Disney's Yacht Club earlier this year. Therefore, I won't write another review of the Yacht Club for this trip. But I wanted to provide a tour of our room and discuss room view categories.
You may be aware that Disney recently changed the description of their room views. Formerly, Yacht Club rooms offered the following views: standard, garden or woods, or a water view. Now, those categories (at the Yacht Club) are standard, resort, or water views.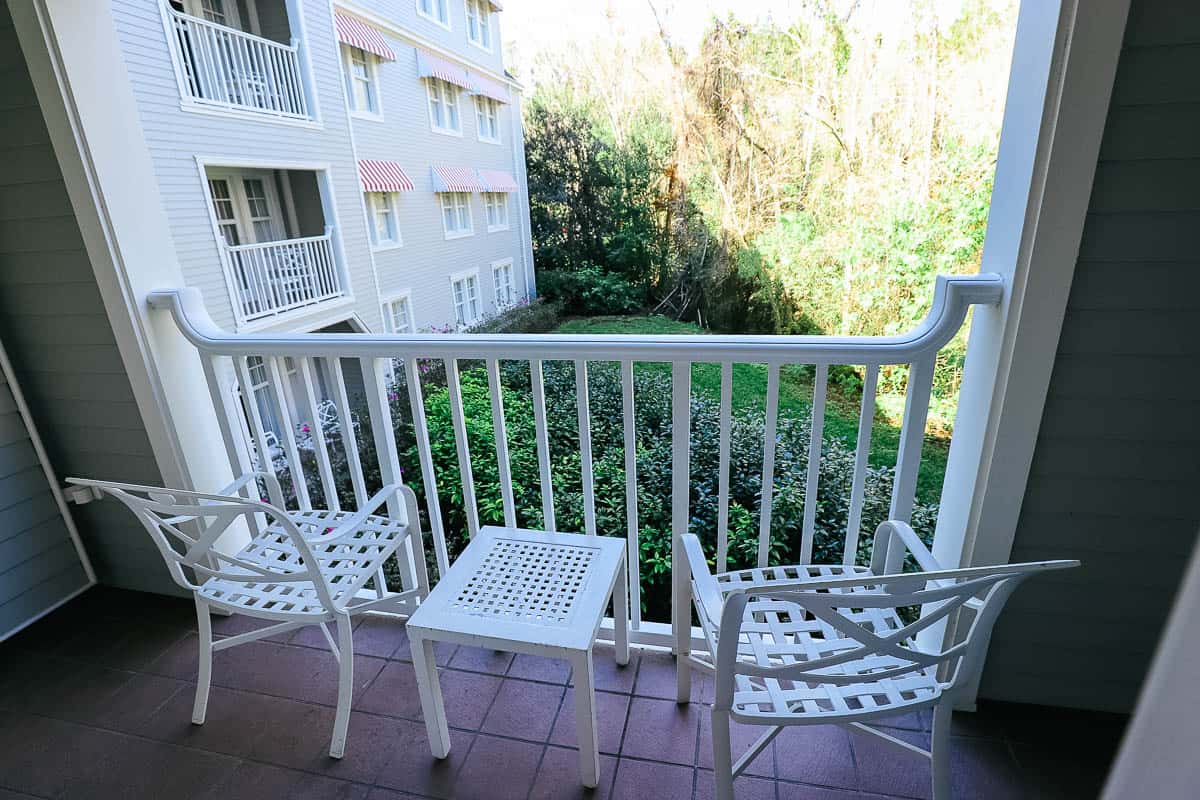 A standard view is of a rooftop or parking area. A resort view is a view of a garden, rooftop, or parking area. Lastly, a water view is considered a view of Crescent Lake or the quiet pool.
Disney's Yacht Club is one of the few resorts I would consider splurging on a water view. However, we went with the resort view for this trip because it was within a reasonable price range that fit our budget.
We spent the greater portion of each day at Stormalong Bay, so I didn't necessarily miss having the water view. But I did catch myself thinking–next time, we'll do a water view.
If we had booked this upgrade and our water view had been of the quiet pool, I would not have been happy. If and when I upgrade to a water view, I want to see Crescent Lake. To me, a view of the quiet pool versus a view of Crescent Lake isn't comparable. So you'll want to consider this when booking a room upgrade.
Also the same goes for a standard view. If you get a rooftop view or have a large HVAC unit sitting outside your room, it will likely put a damper on things. So make sure you consider these things when planning a trip.
However, if standard view pricing allows you to stay at the Yacht Club within your budget, the view probably won't matter. But don't go into the trip with expectations of waking up each morning to a stunning view–because you probably won't have one!
Here is our room.
Standard rooms at Disney's Yacht Club feature two queen beds with a sofa that converts to a single sleeper. This room sleeps up to five guests. We were a party of two adults and one child. So we each had a bed. This sleeper is comfortable and comparable to the single sleeper in the Incredible rooms at Disney's Contemporary.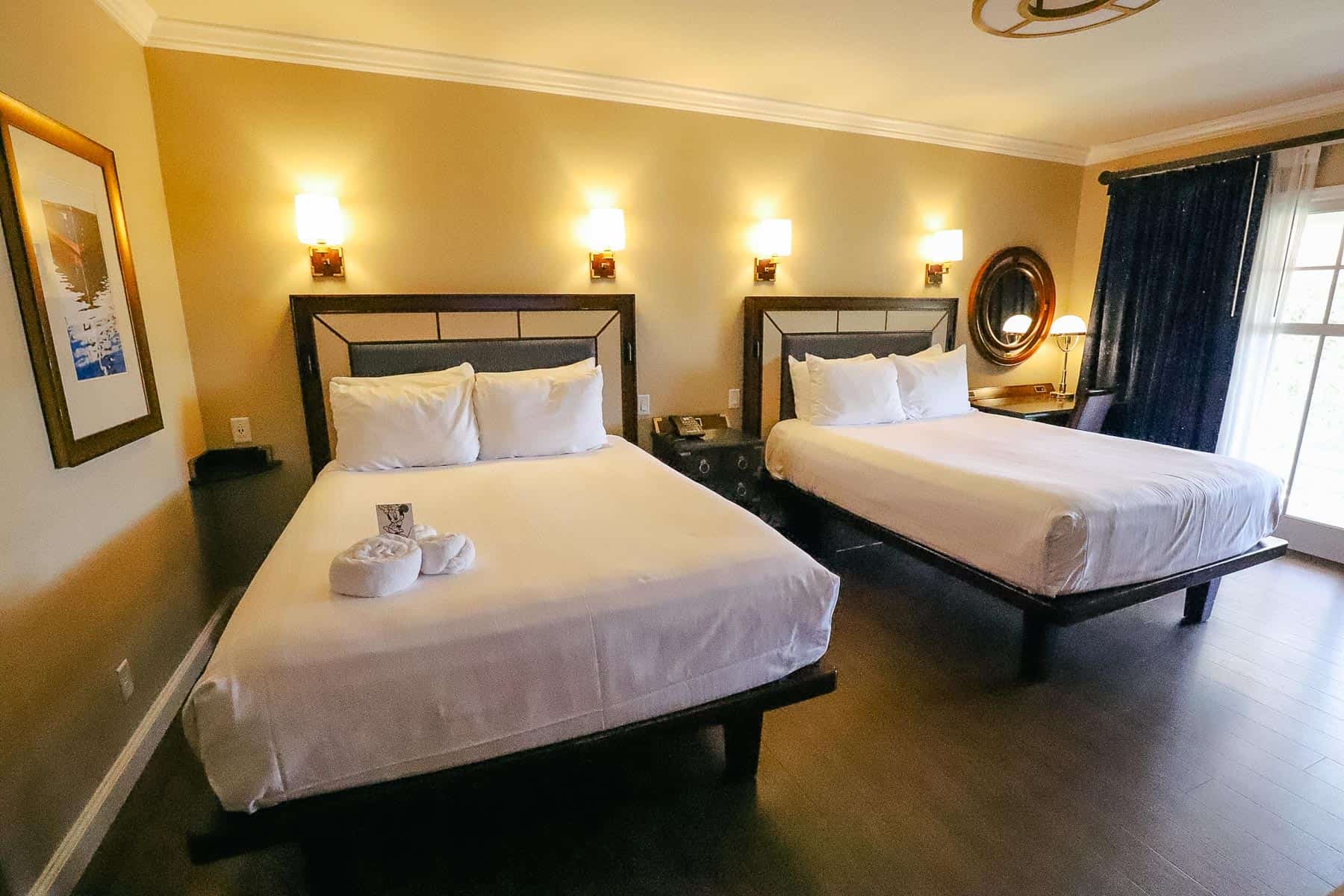 Here is a close-up of the futon-style bed.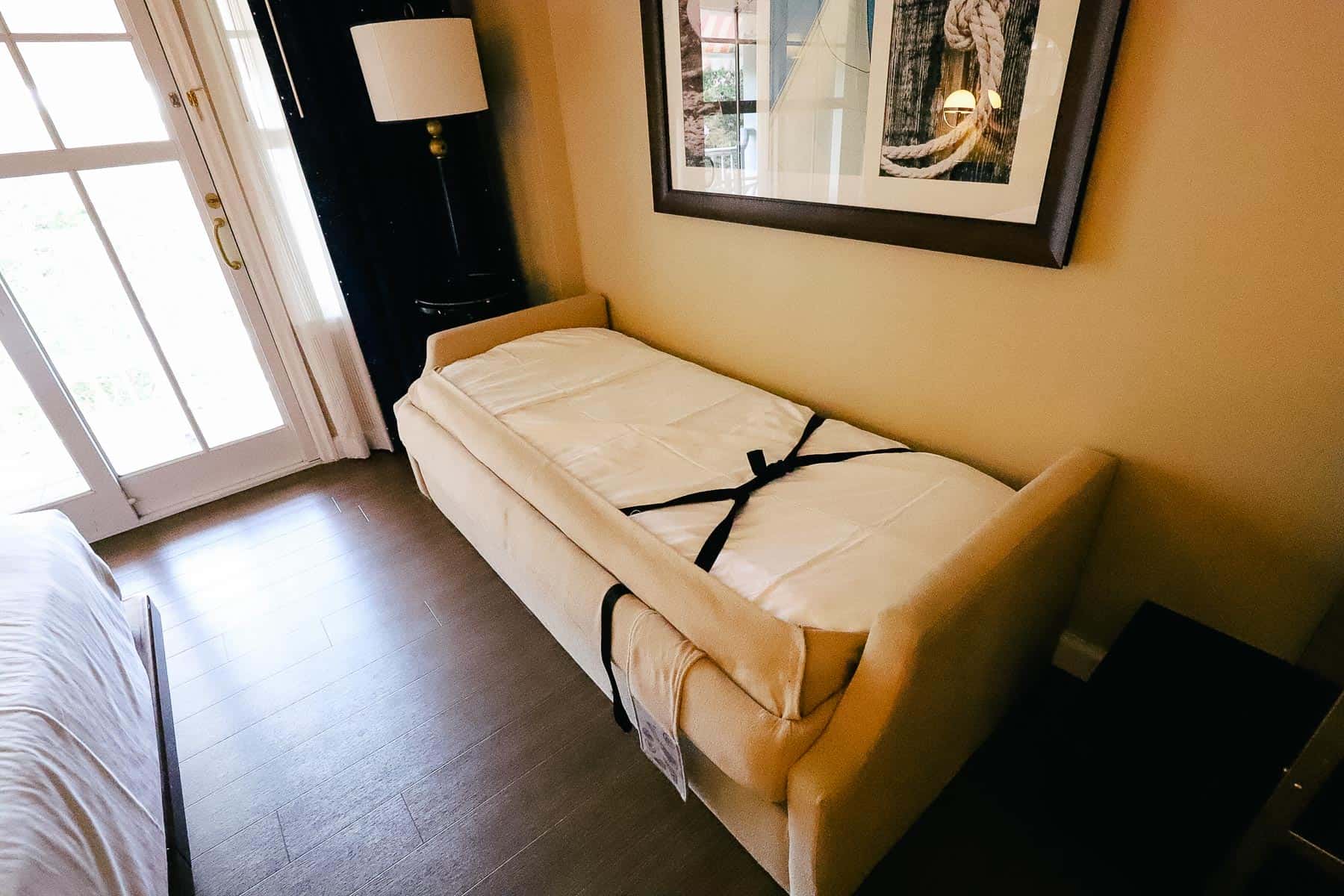 When the bed is not in use, it makes for a nice sitting area. Since we used the bed, we left it converted the entire trip. Housekeeping made up the bed each day. I also wanted to mention that we had excellent service during our stay. We came home to towel creations and a well-attended room each evening.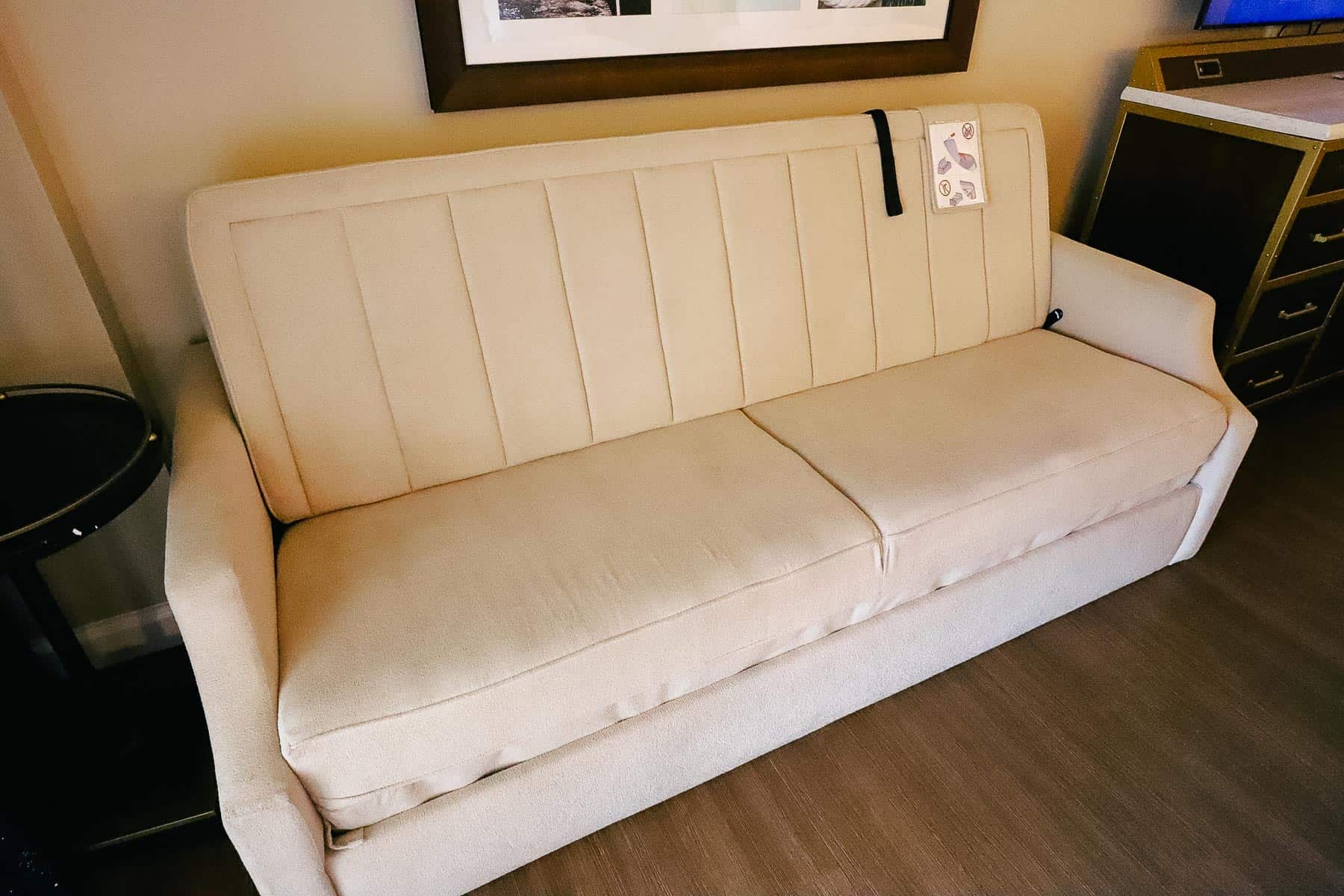 Our room had a dresser with plenty of storage.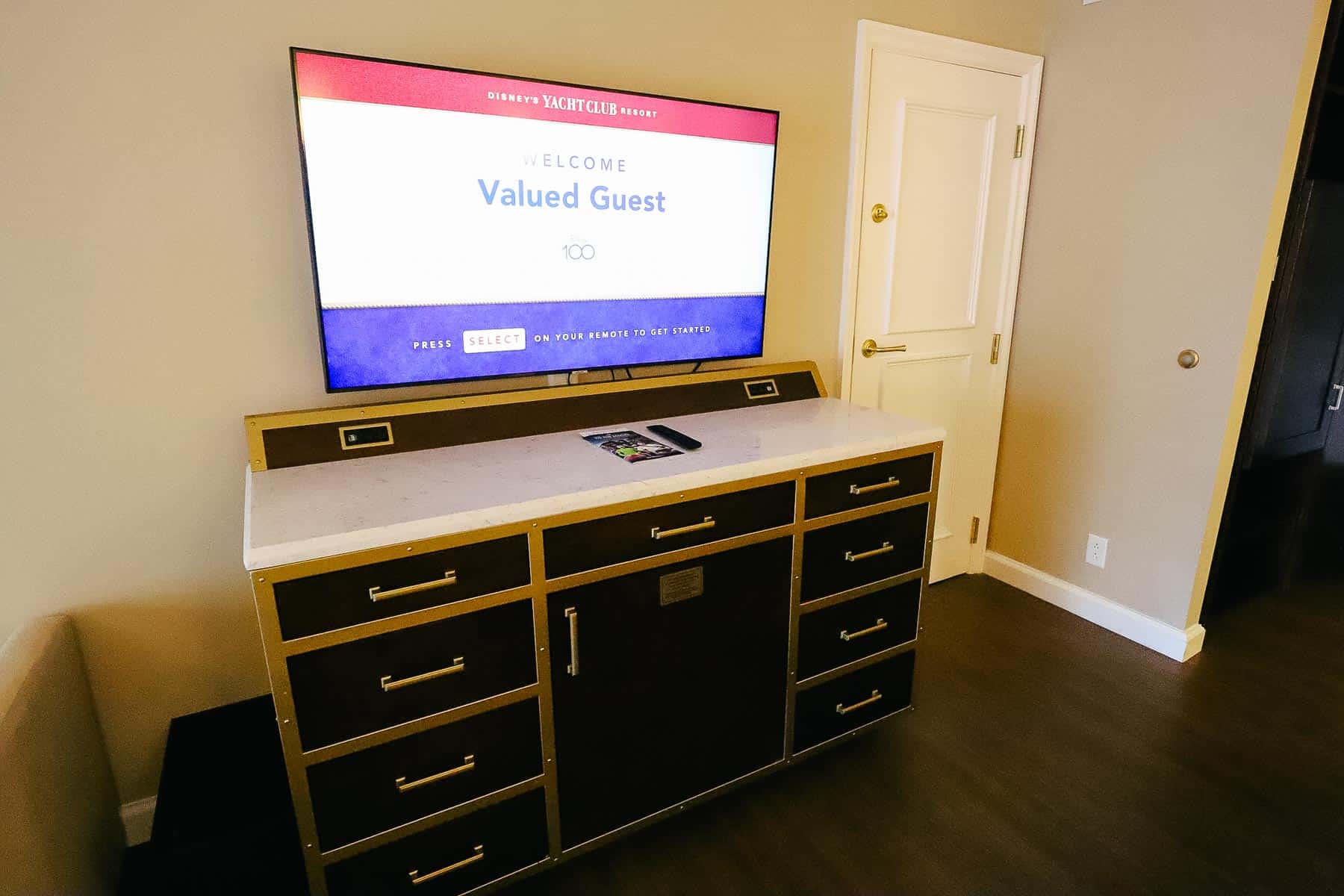 On top of the dresser, there was counter space, plus several outlets and USB ports.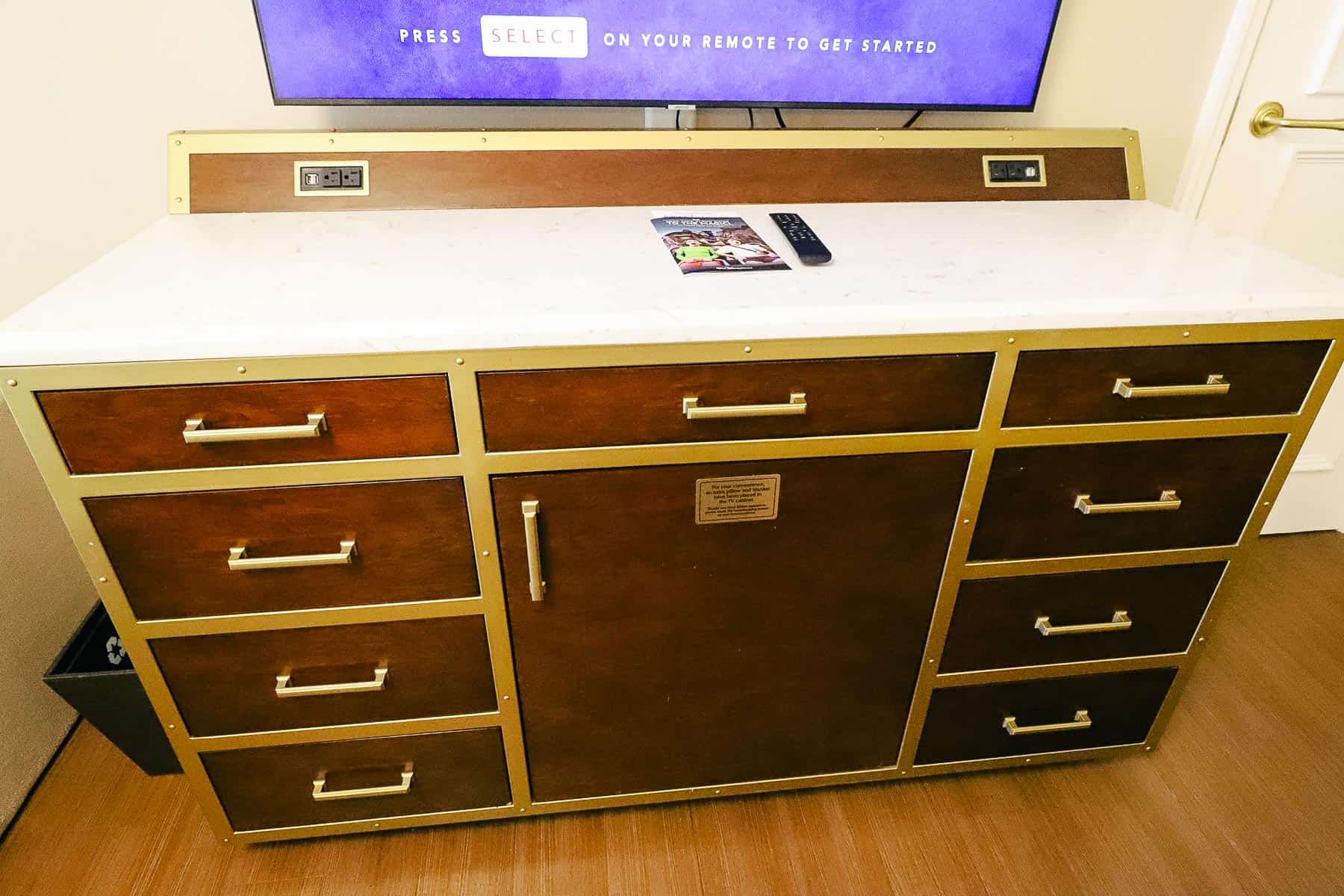 An extra pillow and blanket were tucked away inside. If you need more, call housekeeping or leave a note. They will leave what you need in your room.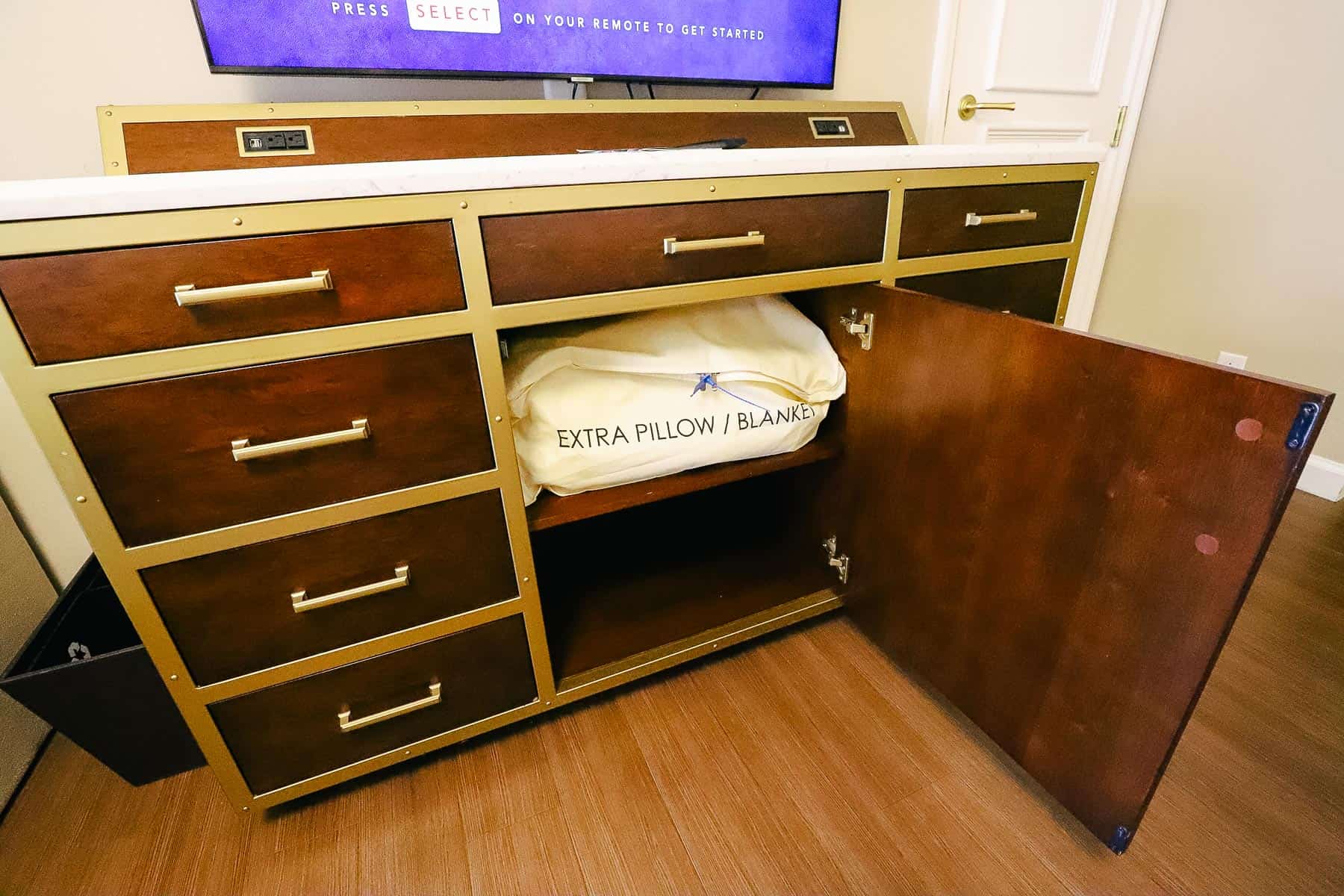 One of the things I like about the rooms at Disney's Yacht Club is the built-in closet area.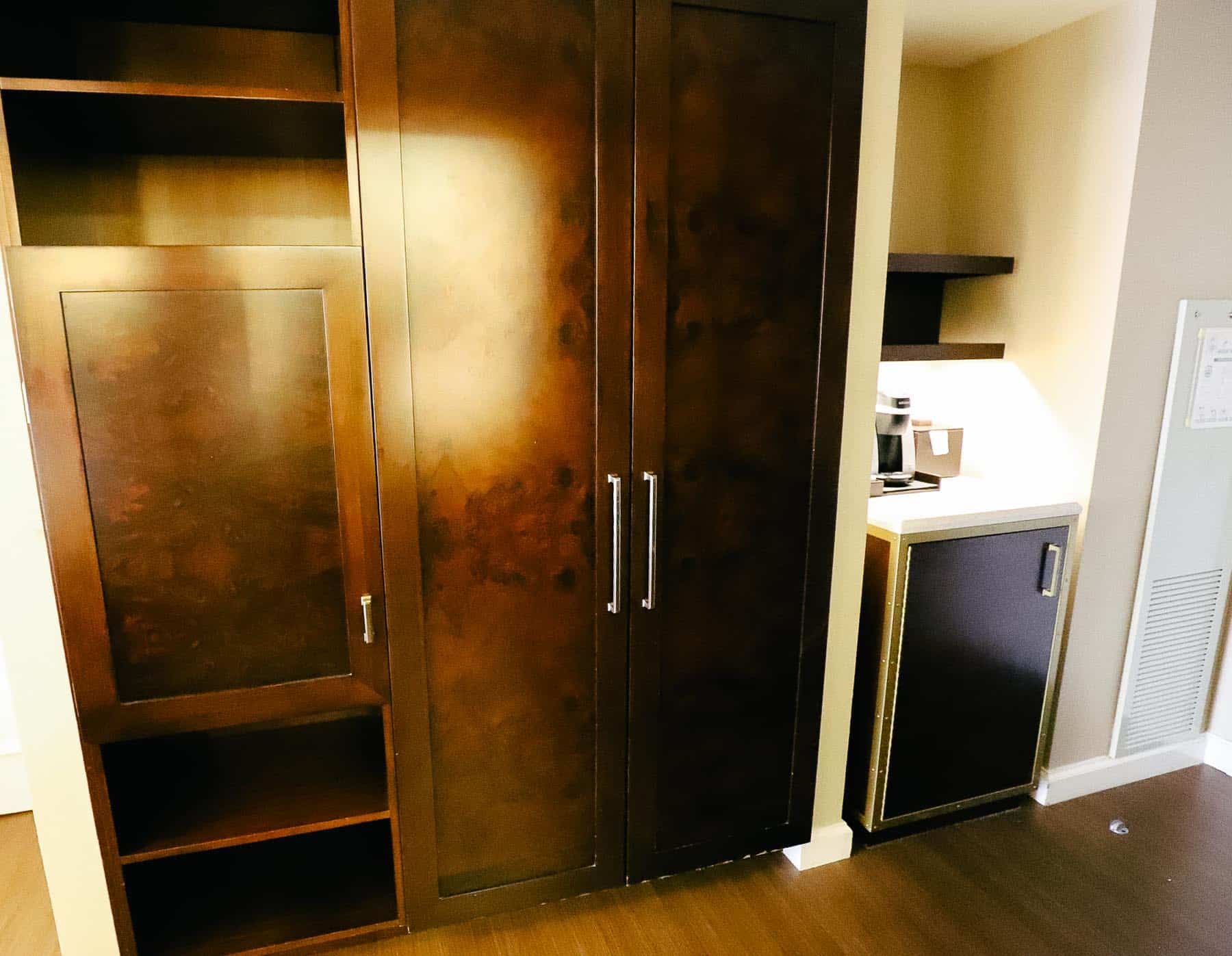 This area provides multiple spaces to hang clothes or store items. When traveling with others, having a place to organize your personal belongings is helpful. Not only does it simplify things, it also provides the ability to get ready more efficiently.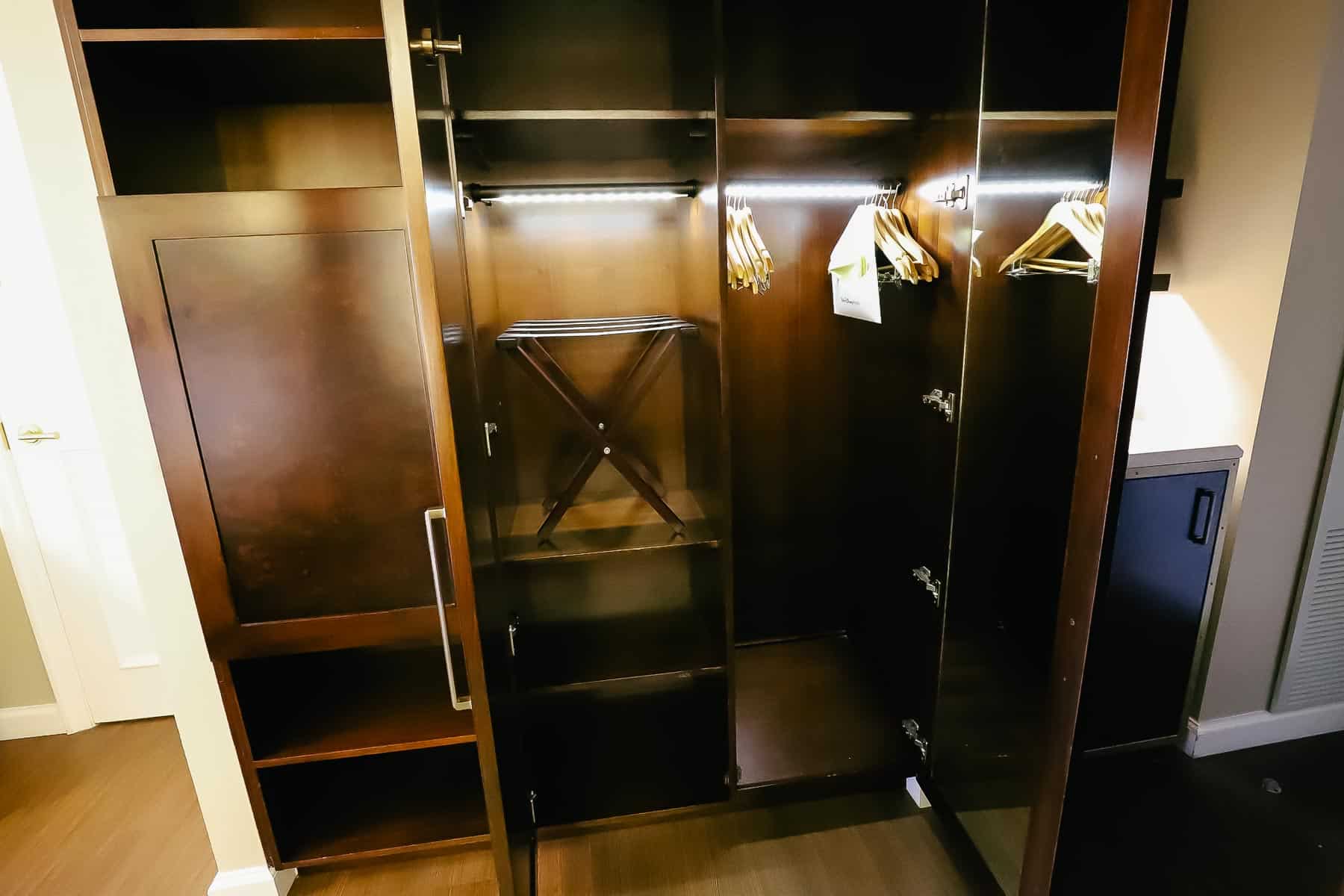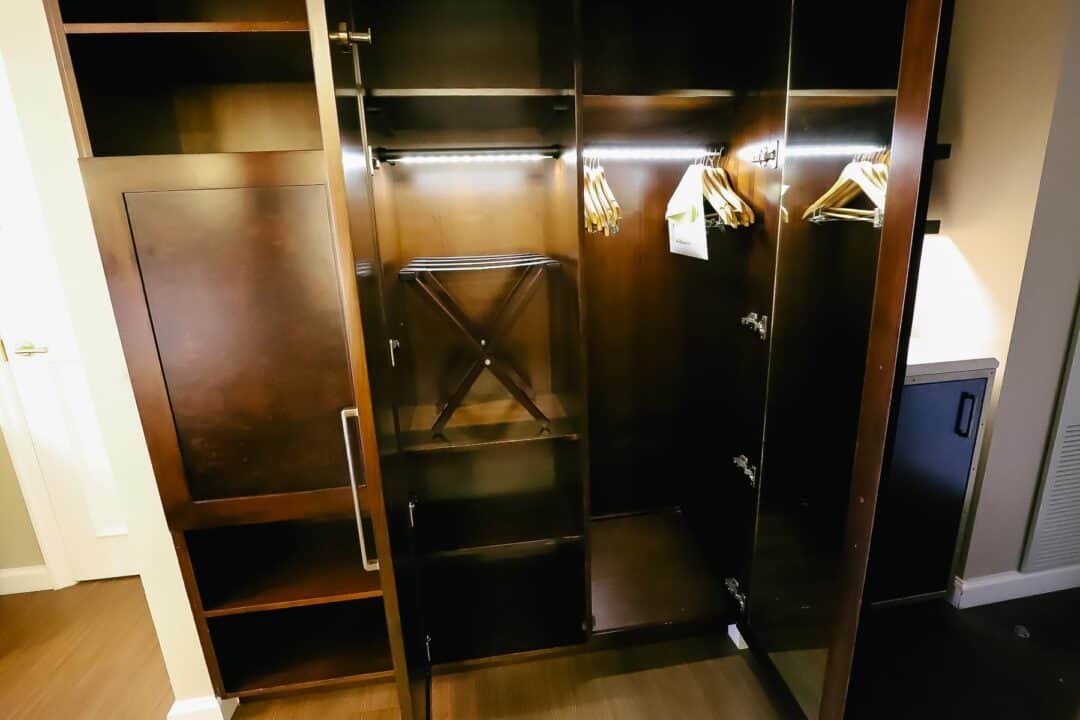 An in-room safe, steam iron, and ironing board are available.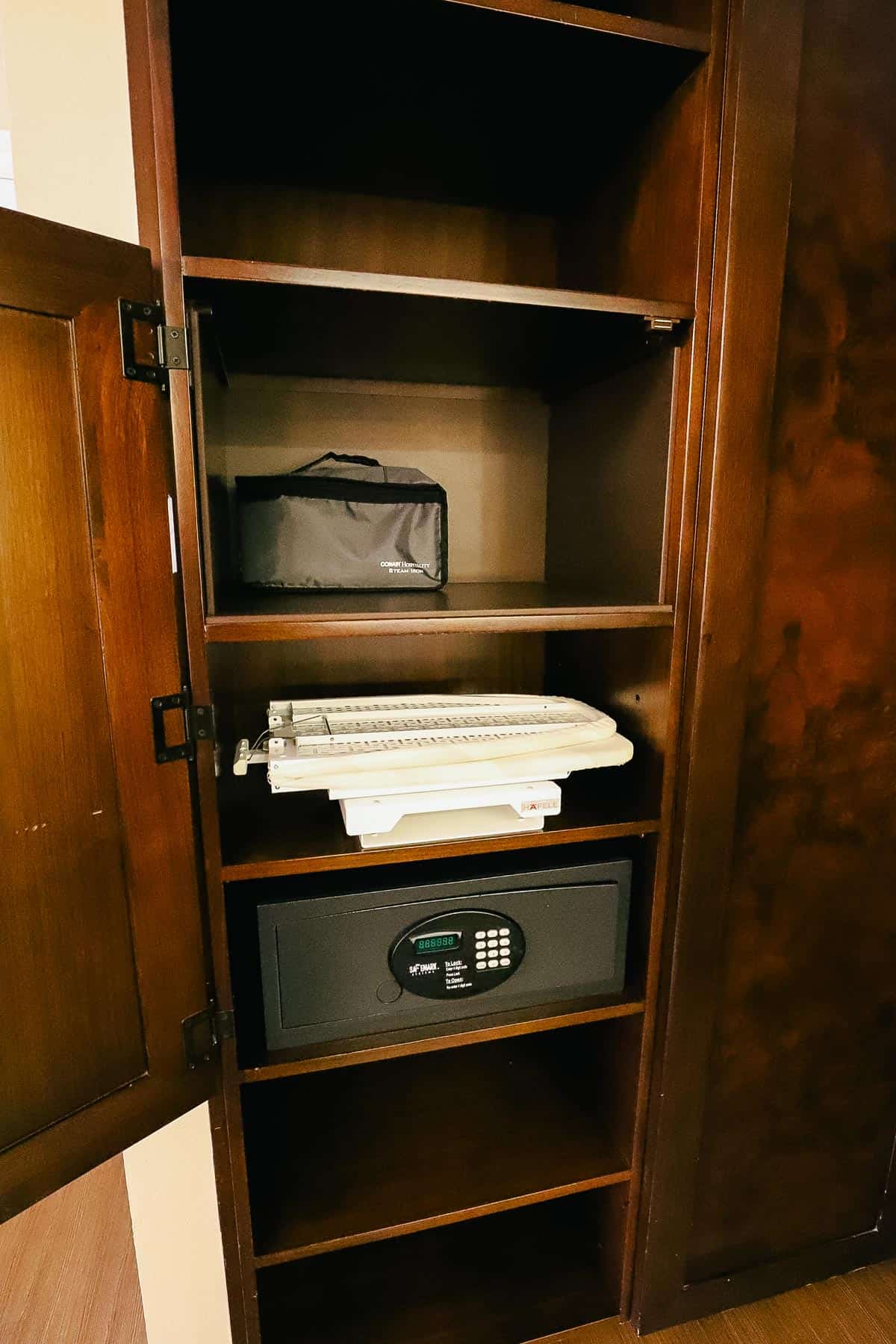 At the front of the foyer, a separate built-in provides shelving and a few other in-room amenities.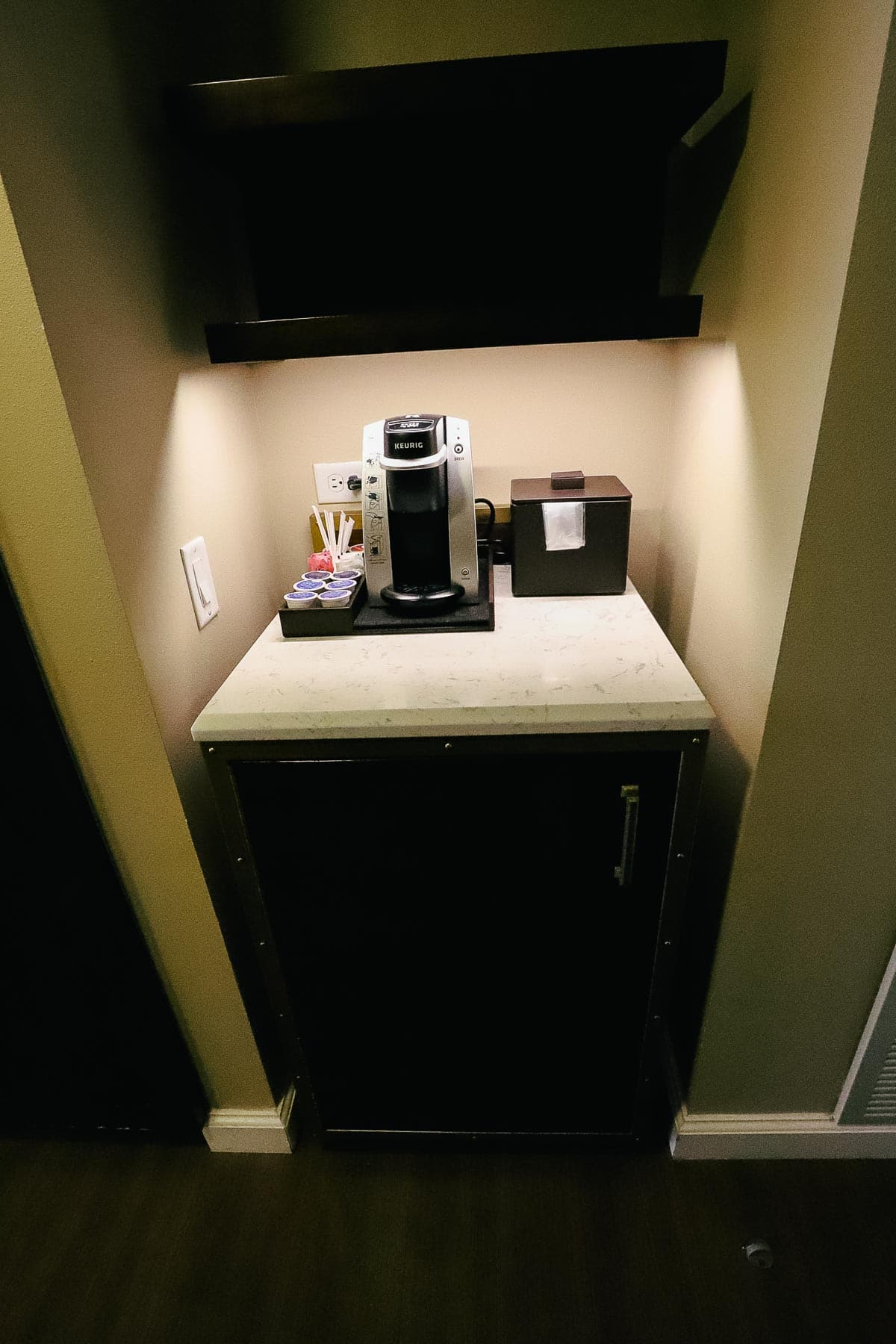 An individual Keurig coffee maker with accompaniments was available.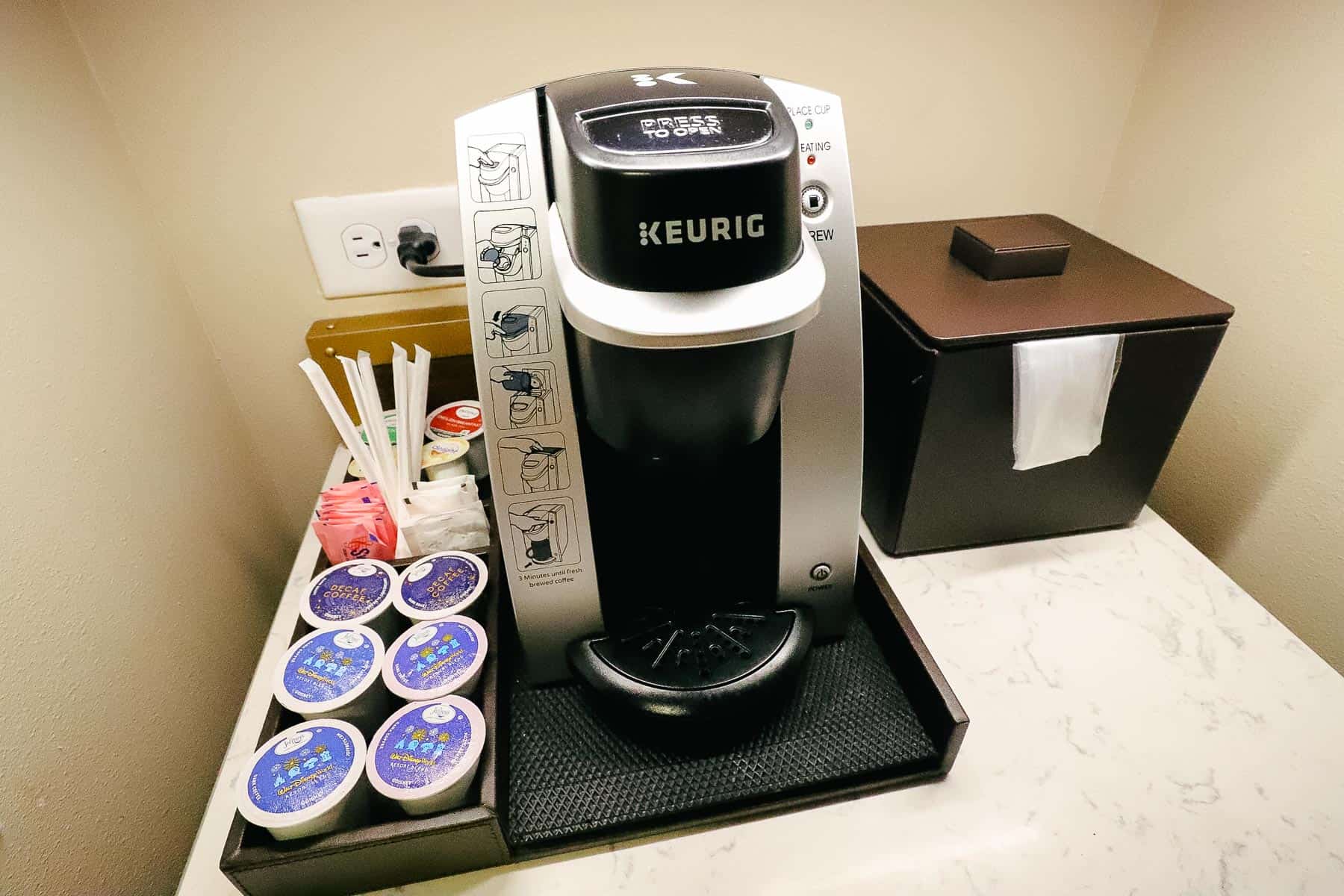 Underneath, a door opens to provide a beverage cooler. A separate drawer above the fridge provides extra storage space. It had a few paper cups and lids for coffee cups.
However, it's disappointing that Disney has not replaced paper products in the rooms with glassware. I don't know how you feel, but paper products are cheap. They are also not environmentally friendly.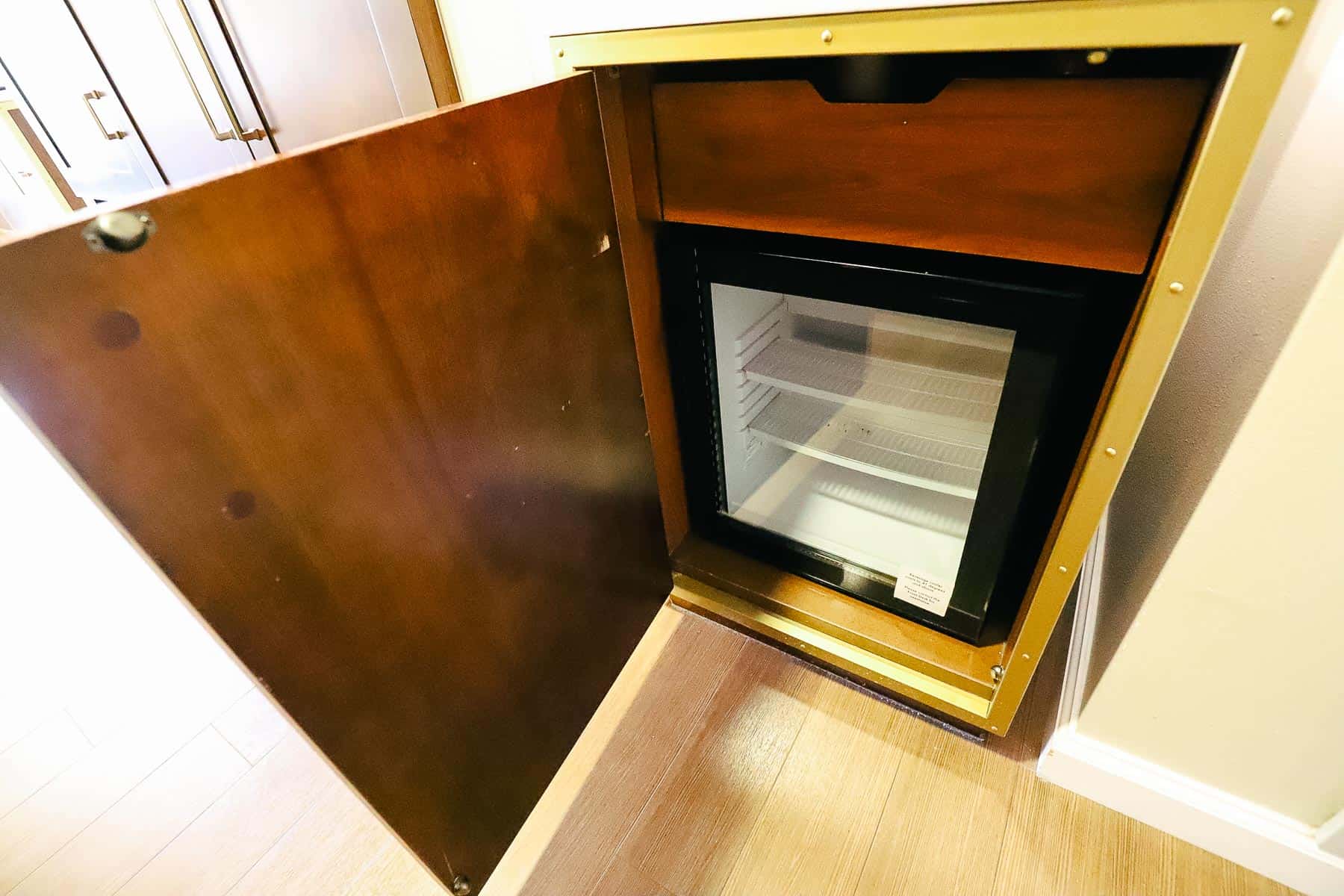 Here is a look at the layout of the guest bathroom.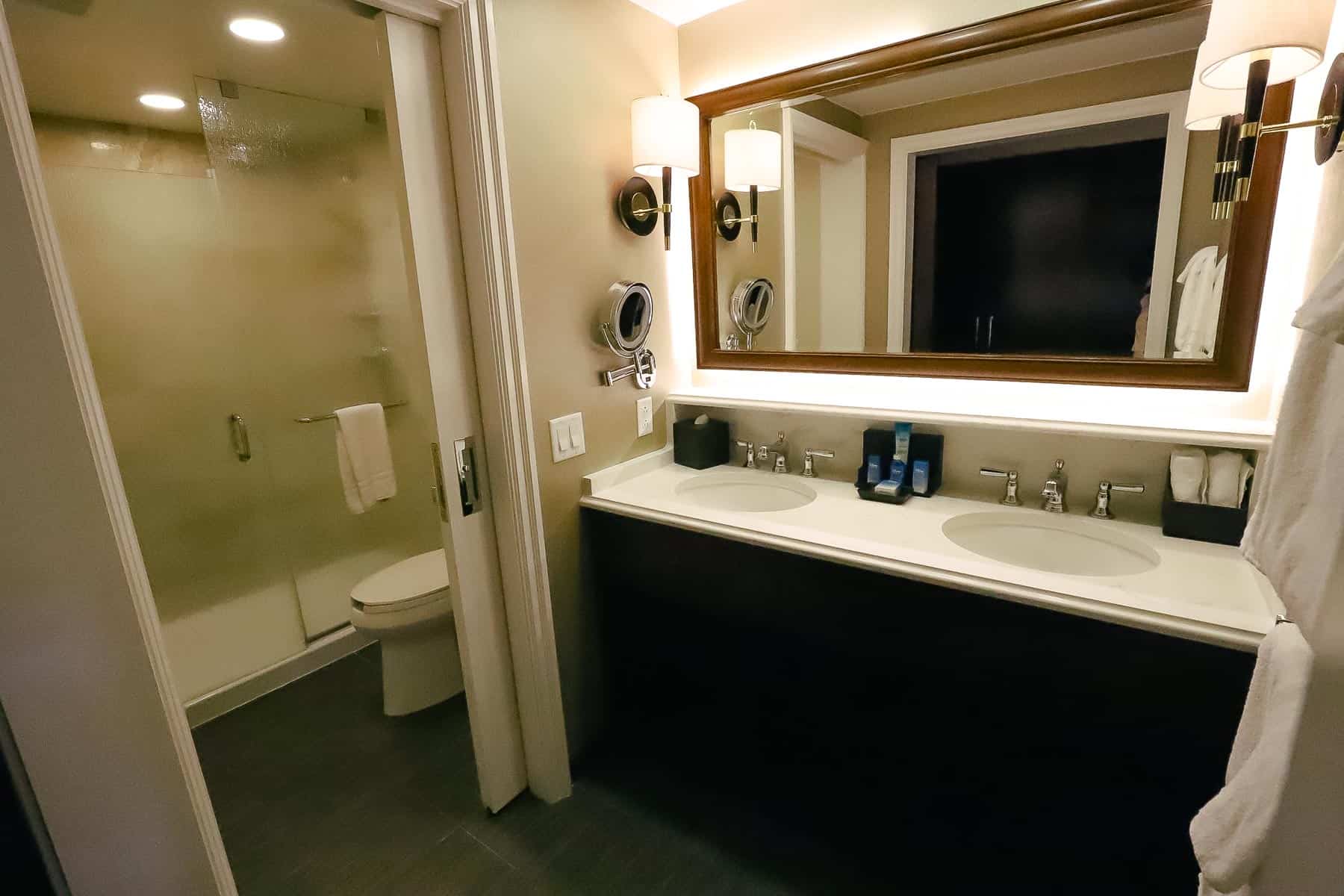 Rooms have a single vanity with two sinks and plenty of toiletries.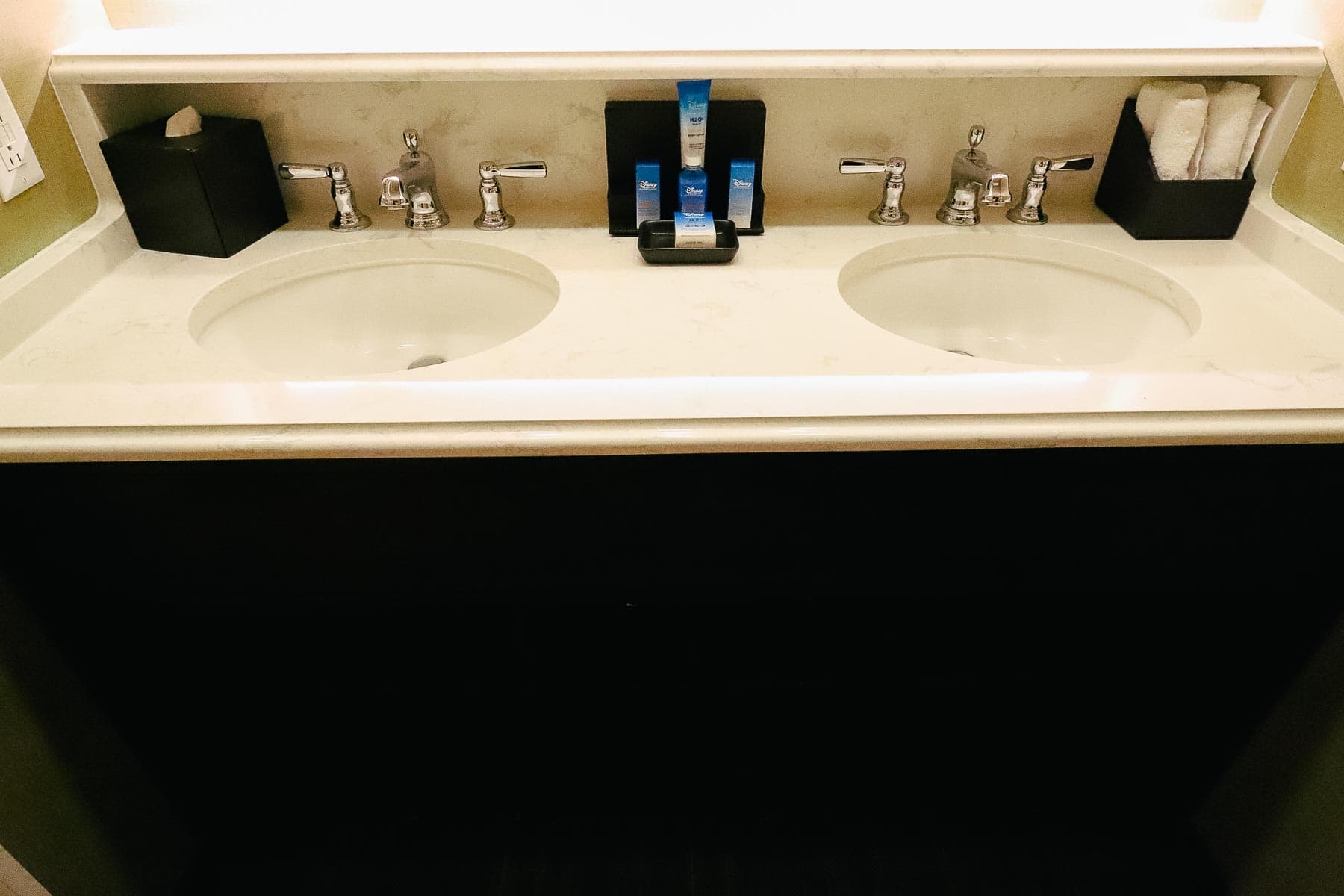 A ledge is available underneath the mirror, which allows plenty of space to store personal items. Additionally, a make-up mirror, hairdryer, and a plethora of towels were available.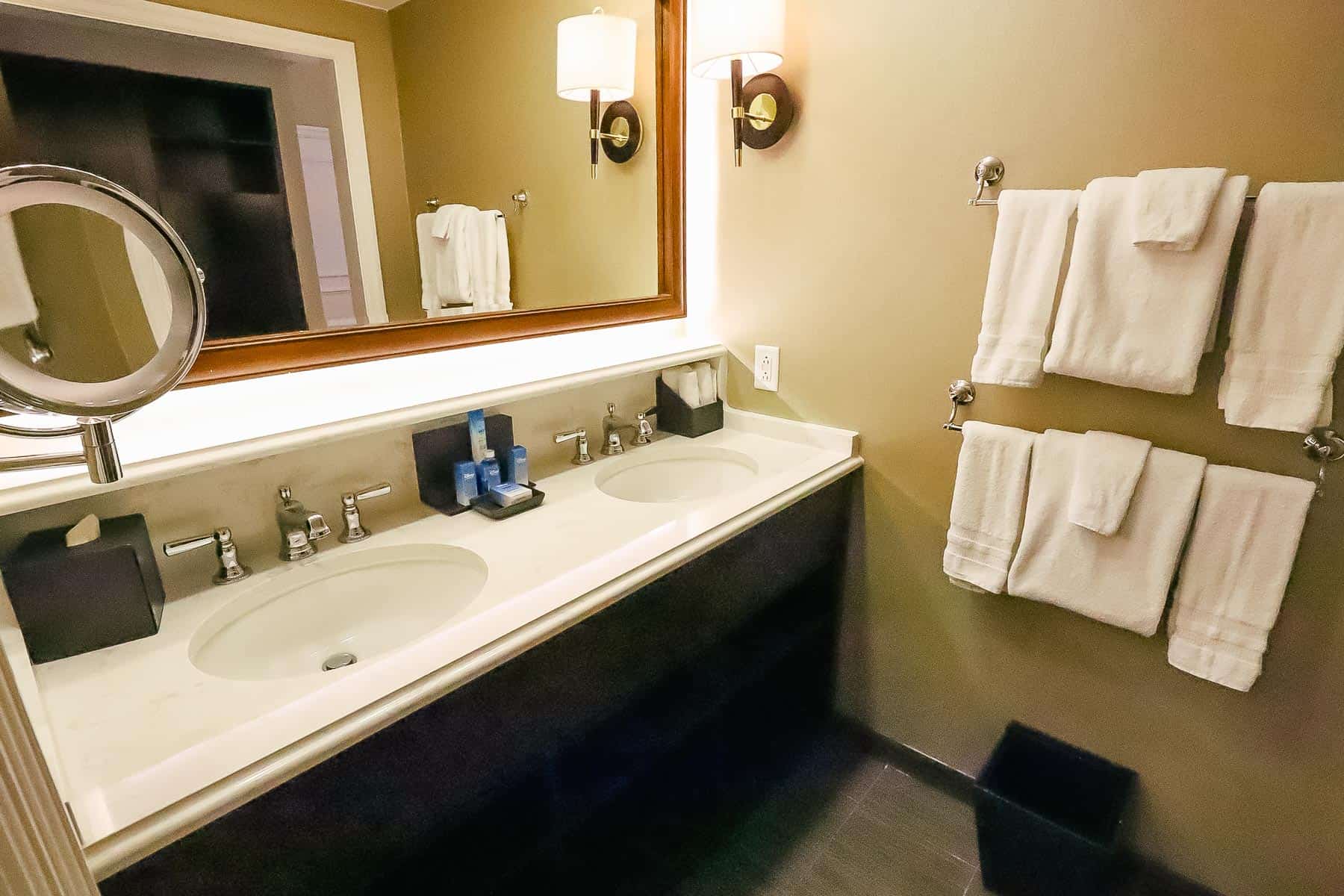 Our room had a stand-alone (walk-in) shower.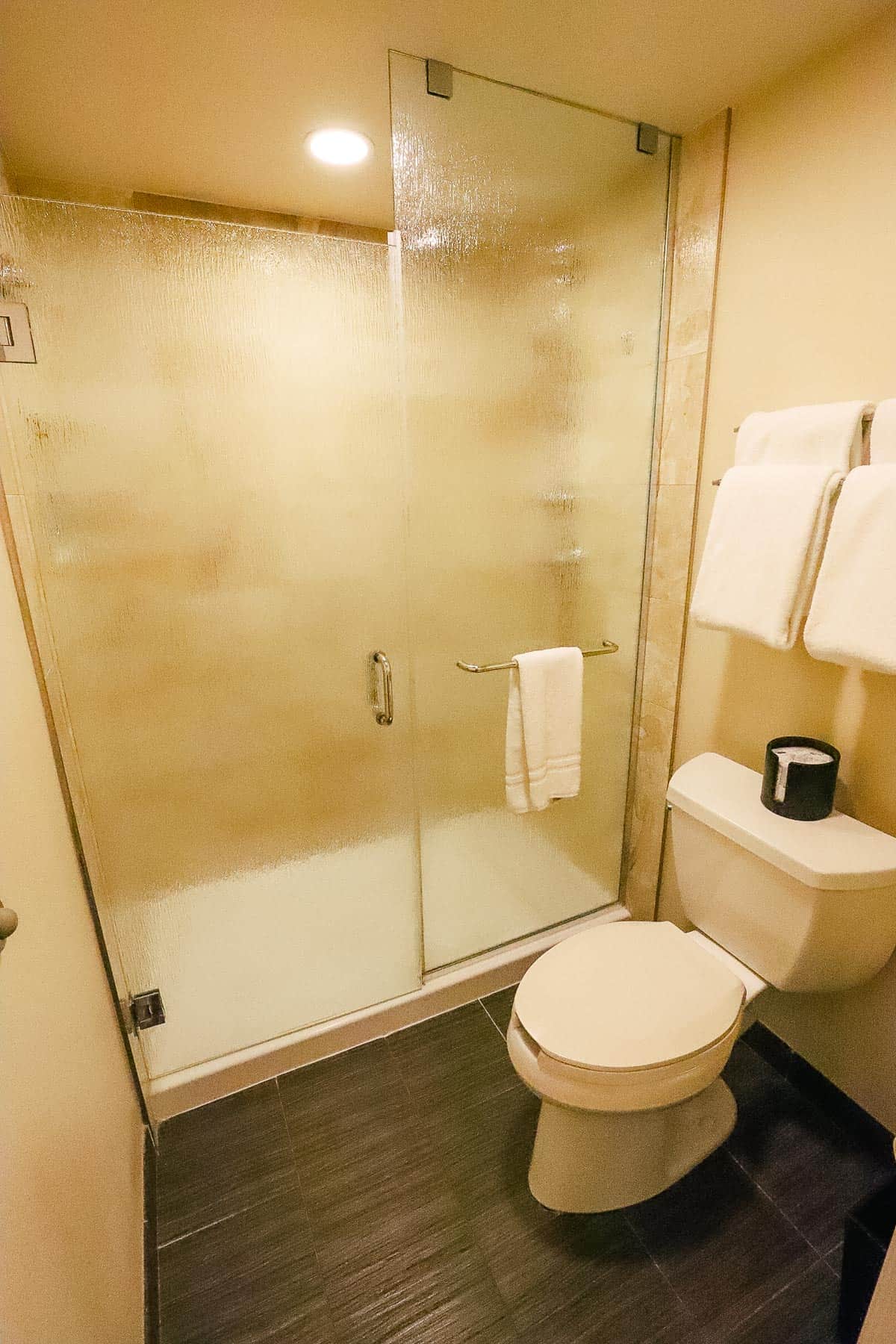 It had a primary showerhead and a detachable one.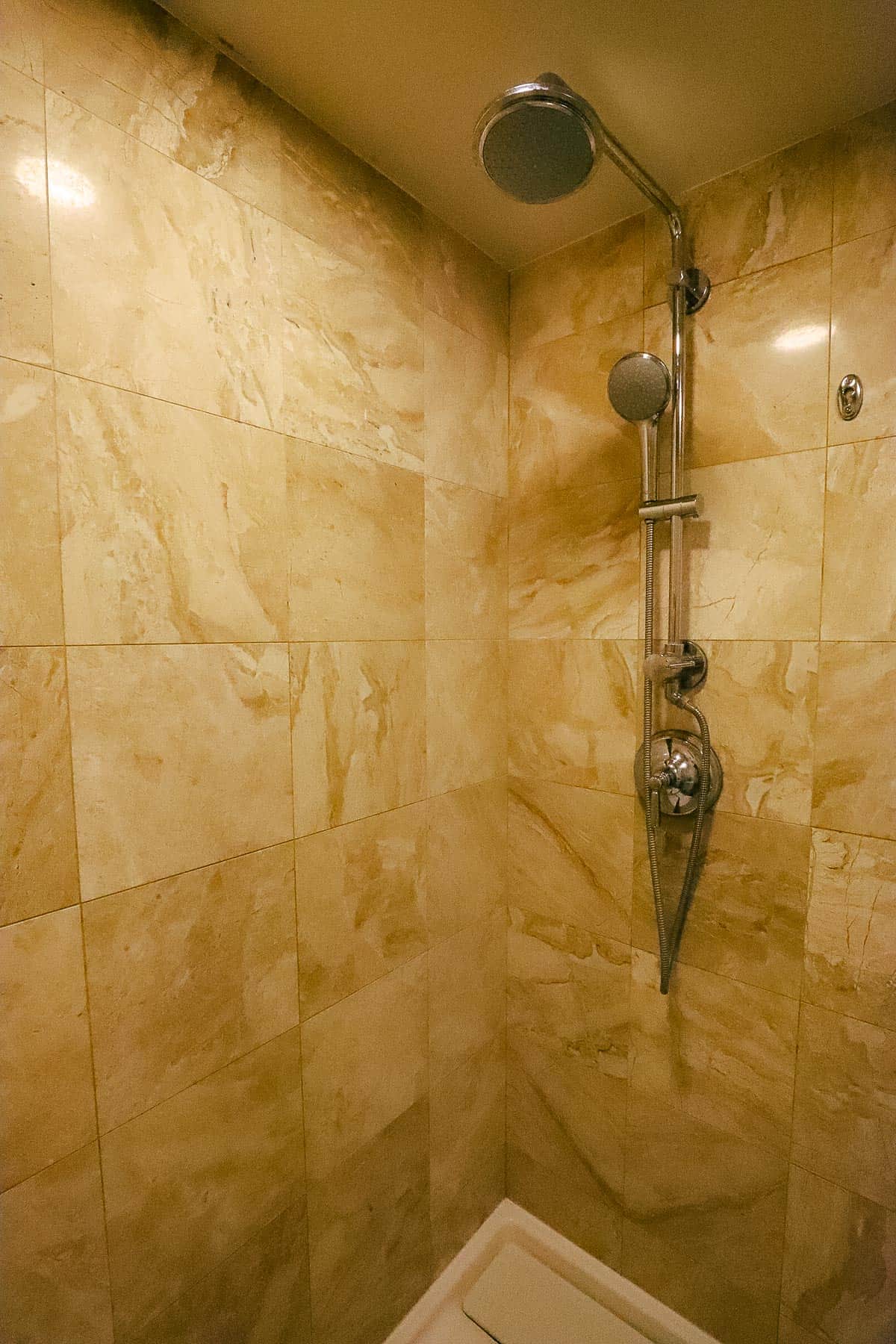 Disney's Yacht Club offers individual toiletries, including body wash, bar soap, facial soap, shampoo, and conditioner.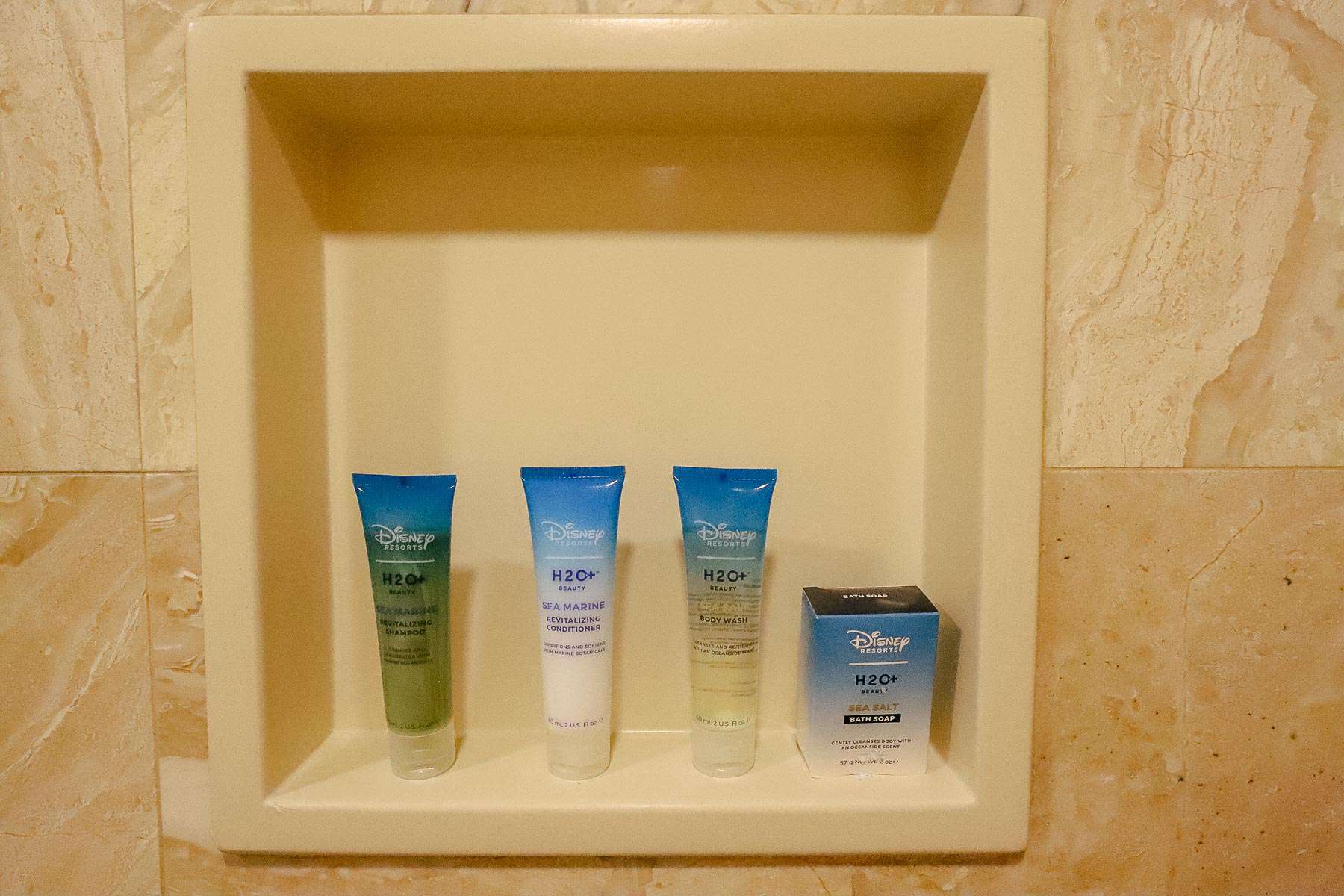 We had a desk with a chair in the far corner of our room. A roll-out table is tucked underneath the desk. It can be moved anywhere in the room.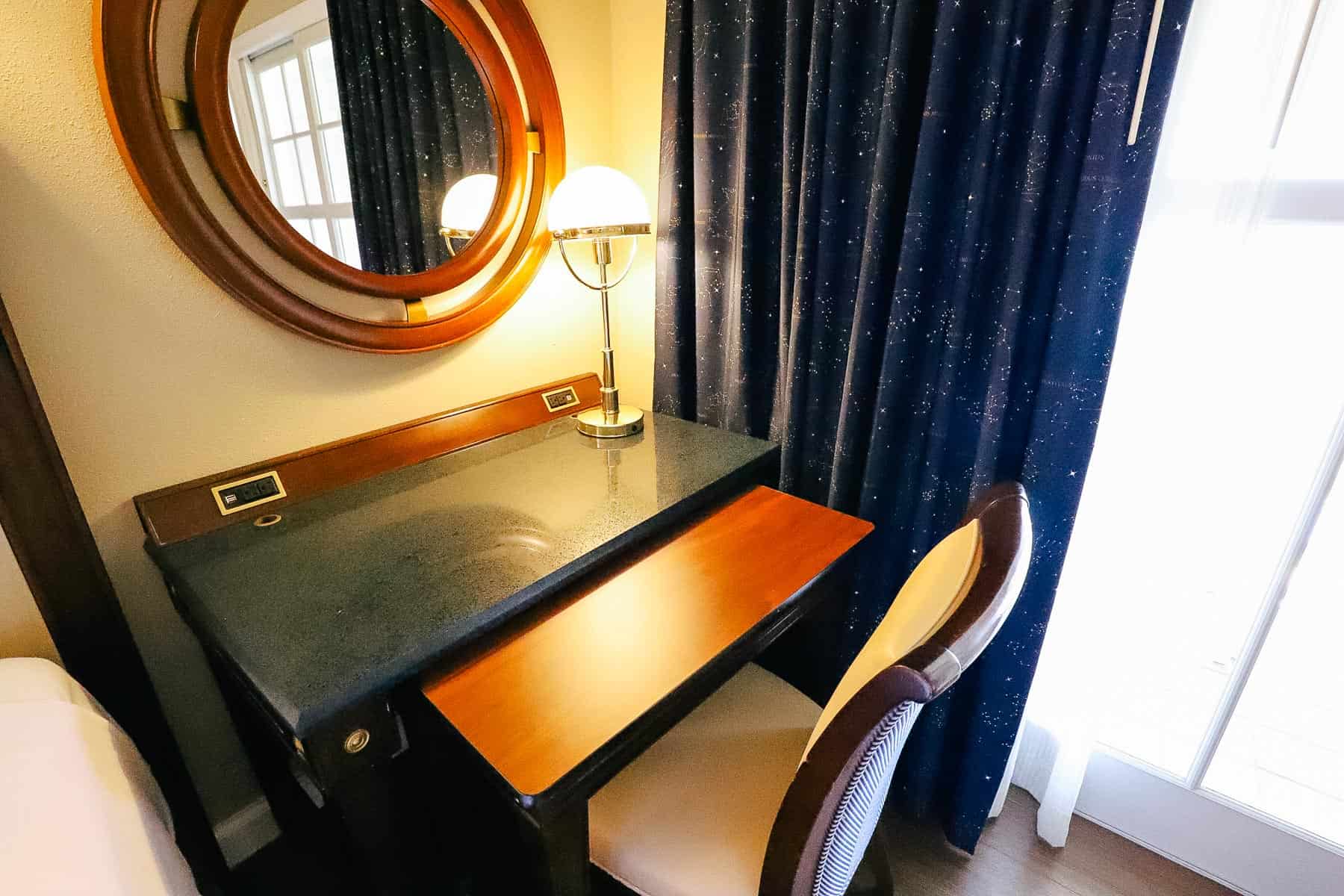 Curtains at Disney's Yacht Club are designed to look like constellations. Each cluster of stars connects to form a Disney character.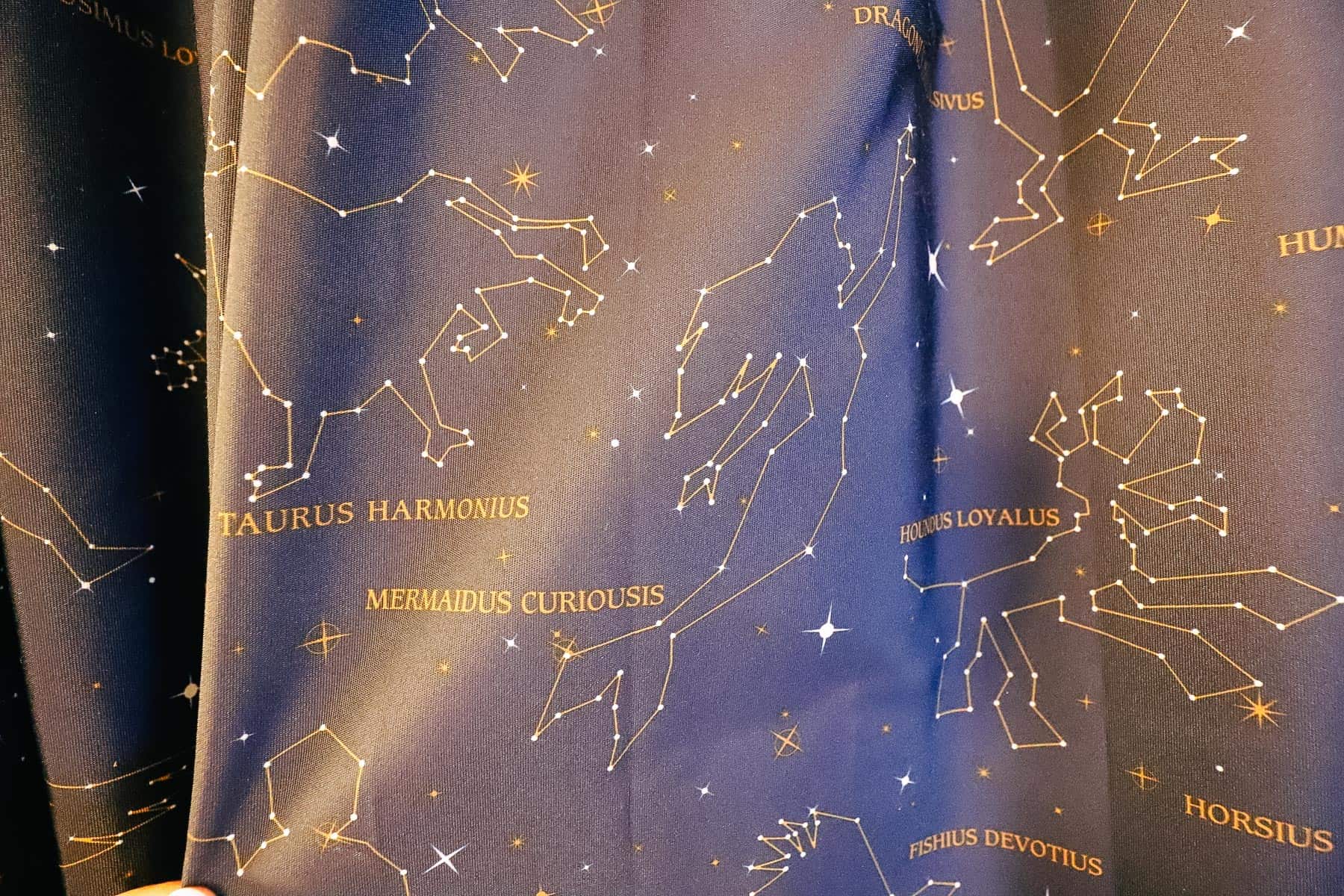 We ended up with a large balcony and a pleasant resort view.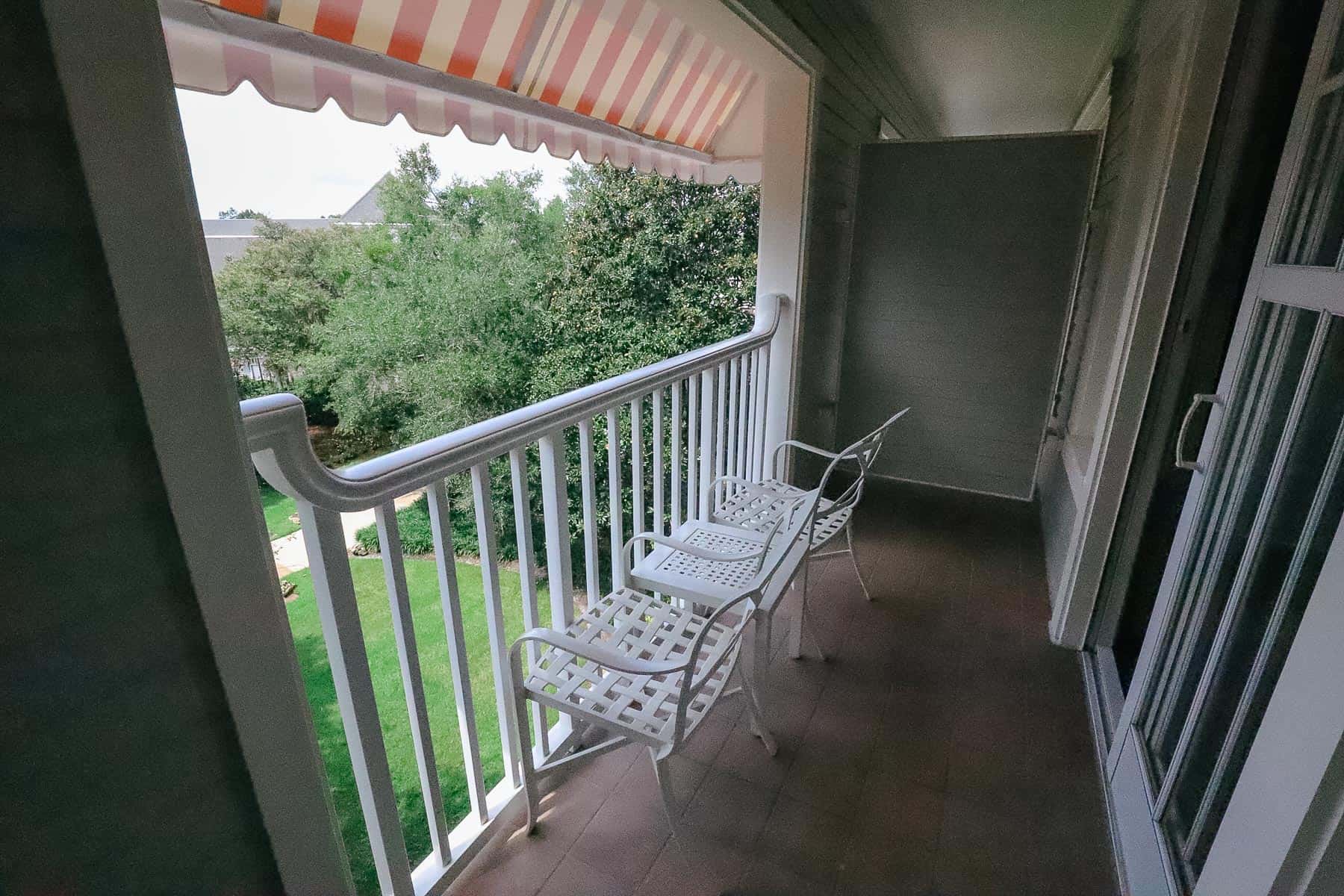 Here is a photo. This view faces the front of the resort, and that's the Yacht Club's convention center in the distance. If I leaned out and looked to the left, I could see the port cochere at the Yacht Club's main entrance.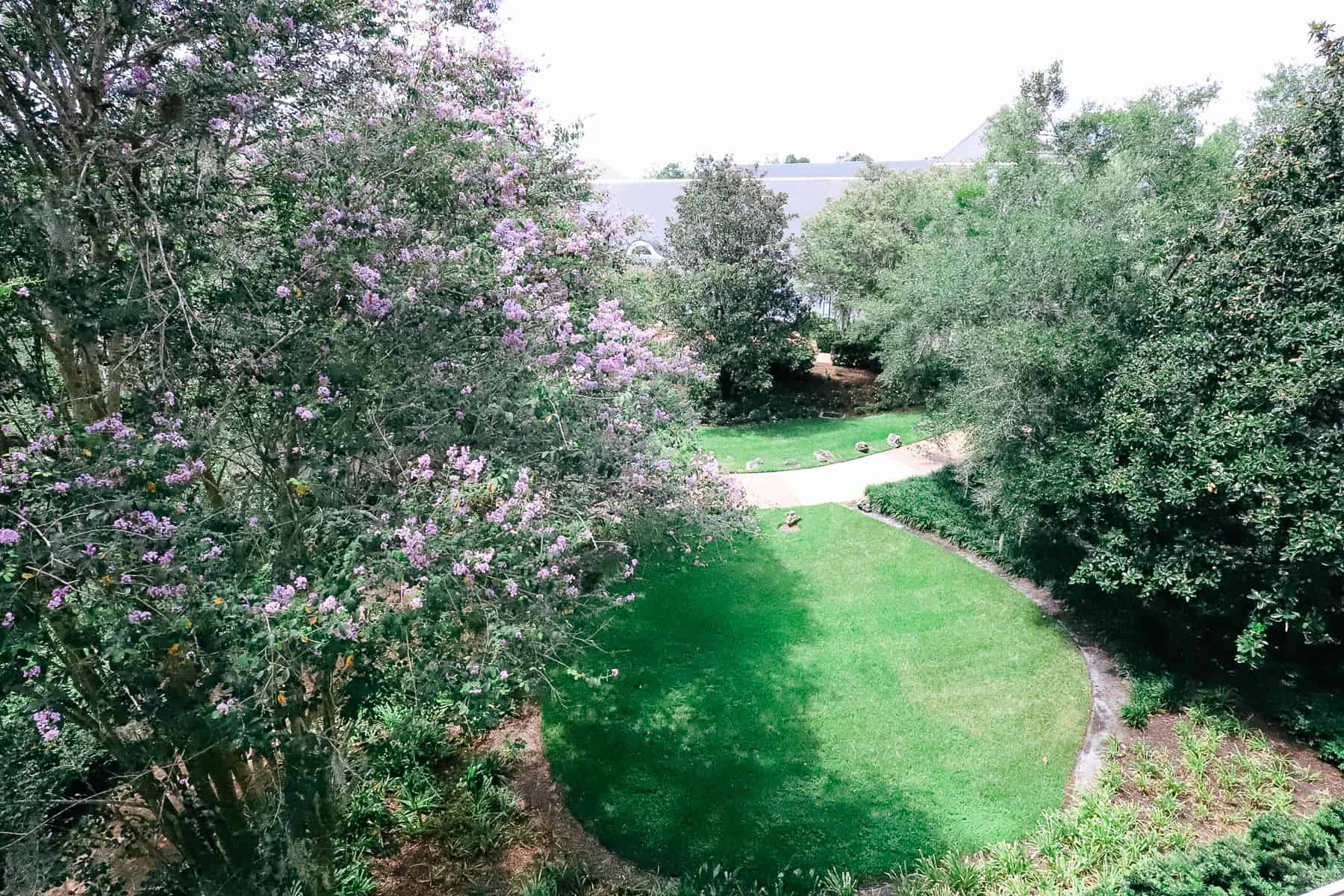 Video: Resort View Room at Disney's Yacht Club
Here is a video tour of our resort view room at Disney's Yacht Club.
Final Thoughts
Overall, we were satisfied with our resort view room. If you or someone in your party plans to spend a decent amount of time in the room, a resort or water view upgrade is worth consideration.
However, if you'll spend a ton of time at the pool or park-hopping between neighboring Epcot and Hollywood Studios–you might prefer to save the money and book a standard view.
Those are decisions you'll have to make. But, ultimately, it's hard to go wrong with Disney's Yacht Club. We love this hotel and are always excited to stay here.
For more details about one of our favorites, we have a resort guide for Disney's Yacht Club. Or you might enjoy the following:
What do you think about the resort view at Disney's Yacht Club? Is an upgraded view at the Yacht Club worth it to you?