Staying at a Disney World Resort Over the Fourth of July? (Here's Everything You Need to Know!)
When it comes to the 4th of July, Disney knows how to let freedom ring! From resort activities allowing guests to celebrate minus the daunting crowds to dazzling fireworks spectaculars at Magic Kingdom and Epcot, Walt Disney World offers something for every guest.
While this year's holiday has passed, I wanted to share what to expect when planning a resort stay at Walt Disney World over Independence Day. First and foremost, the 4th of July is an excellent time to stay on Disney property. Whether you're coming from afar or only live 20 minutes up the street, not having to leave the Disney bubble has its perks.
We spent the holiday at Disney's Boardwalk Inn. Since Epcot is within walking distance of Disney's Boardwalk, it seemed an ideal choice. Likewise, guests staying at one of the monorail resorts can benefit from walking to and from their resort to the Magic Kingdom.
Of course, other options are available. But when you stay at a resort within walking distance, you can quickly return to your hotel in the after-fireworks madness. This perk is worth every penny.
We'll elaborate more on other resort perks below. But first, let's look at what to expect around the resorts and theme parks.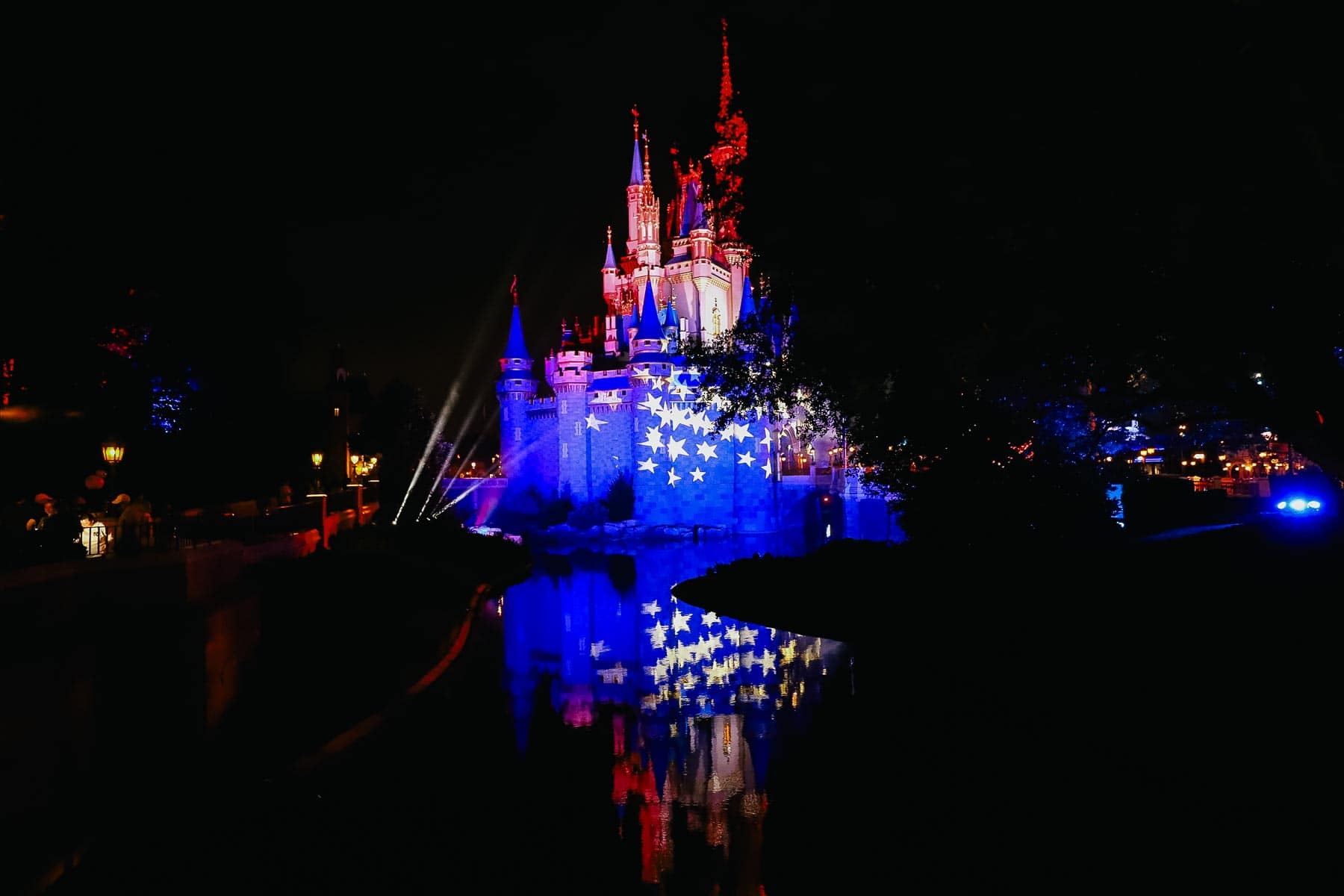 Fourth of July at the Disney Resort Hotels
When picking up Disney Resort recreation calendars on the first of July, I noticed many resorts had unique calendars dedicated to Independence Day.
For instance, Disney's All-Star Movies Resort had a Captain America movie marathon from 4:30 p.m. until 9:00 p.m. at the Reel Spot. Additionally, many resorts had block parties scheduled around the same time as fireworks. For example, Disney's Animal Kingdom Lodge had a Light Up the Sky Glow Party from 8:45 p.m. until 9:45 p.m.
Several resorts had more extensive offerings. For example, Saratoga Springs hosted their annual Patriotic Pargo Parade at 11:30 a.m. A Stars and Stripes Street Party followed it from 12:00 p.m. until 4:00 p.m.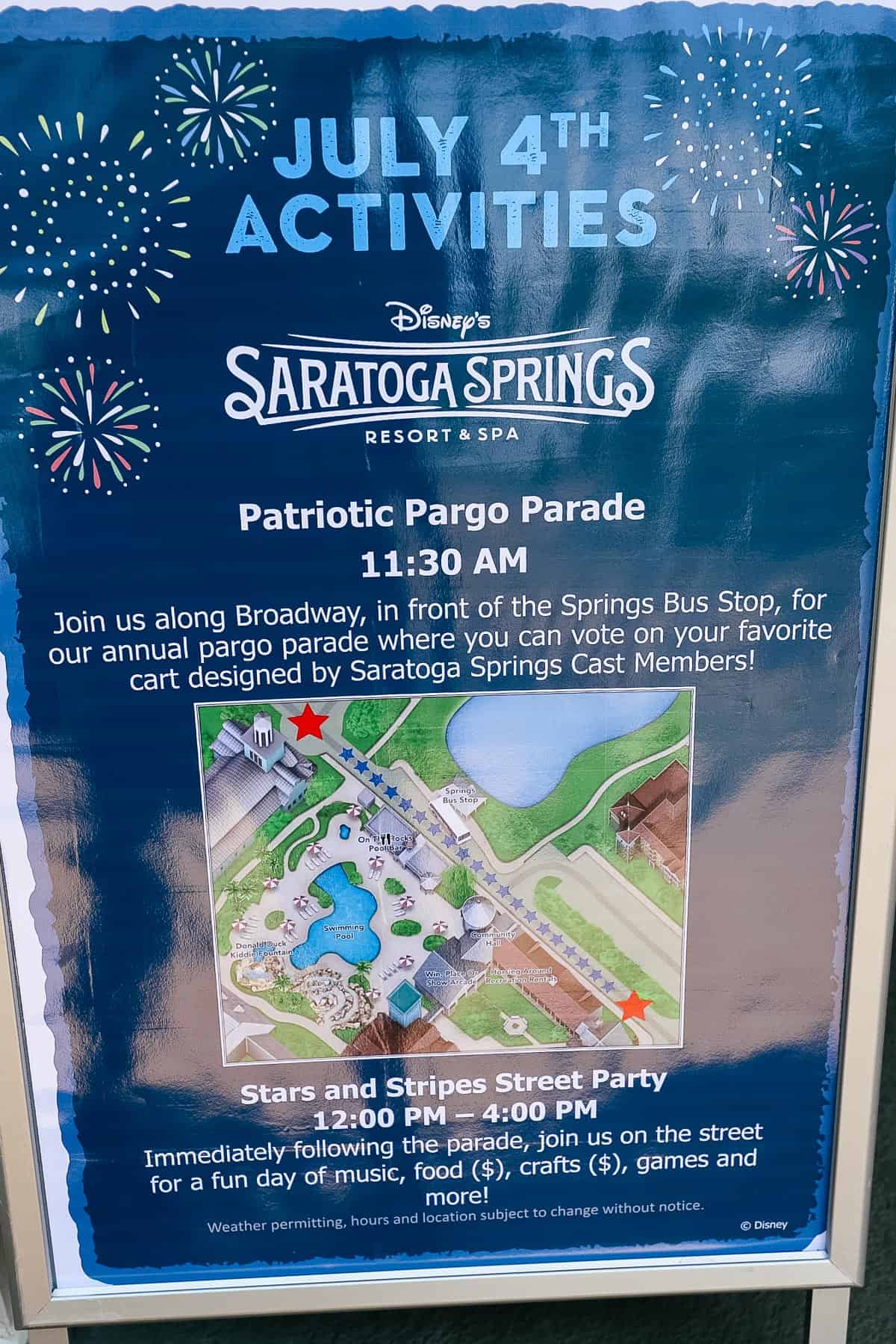 Disney's Old Key West had its annual Pargo Parade from 10:00 a.m. until 10:30 a.m. It was followed by a Patriotic Dance Party, the 4th of July Games, and more as the day continued.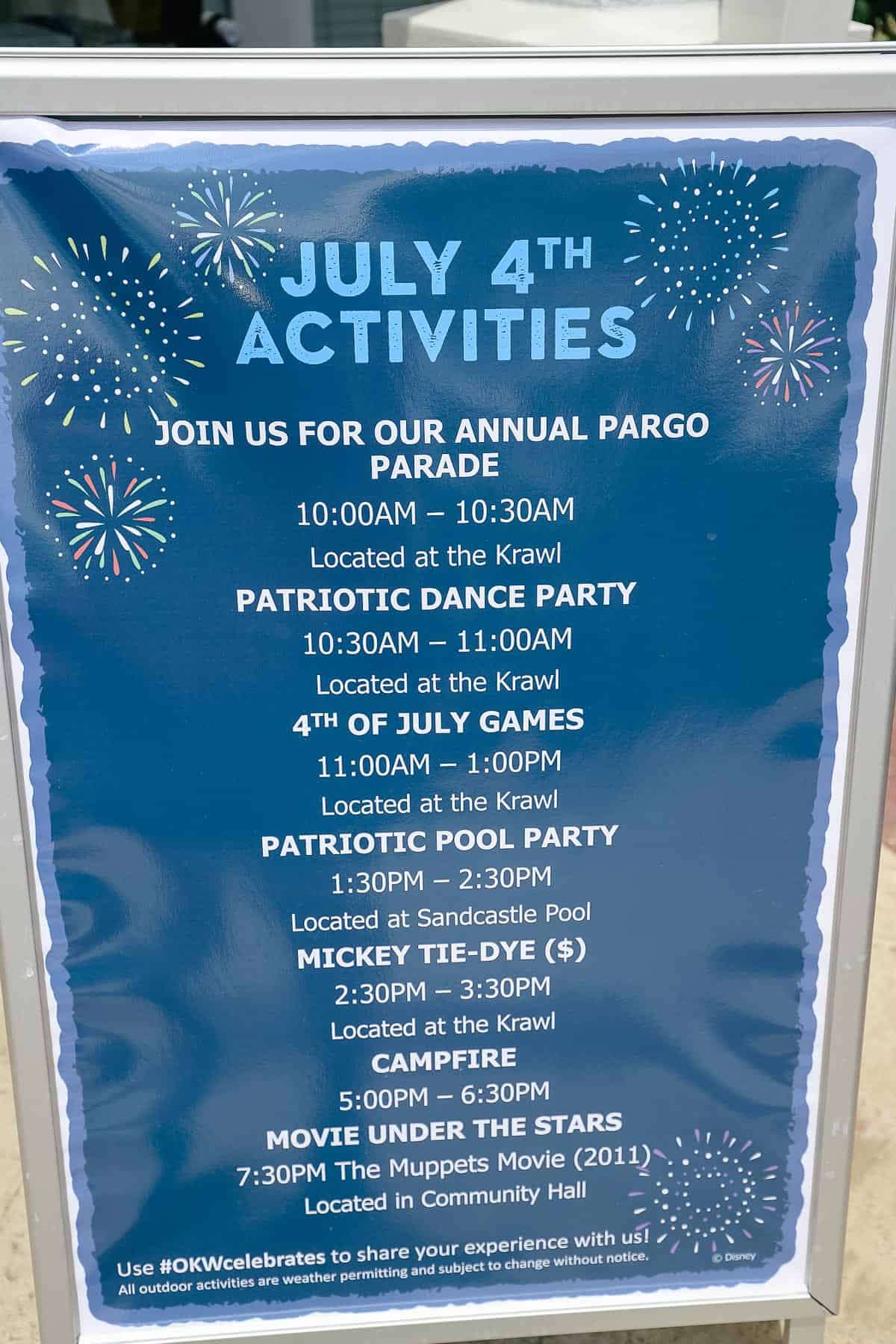 Below is a photo of the start and finish lines for the parade. Until last week, I had no idea these parades at Saratoga Springs and Old Key West existed.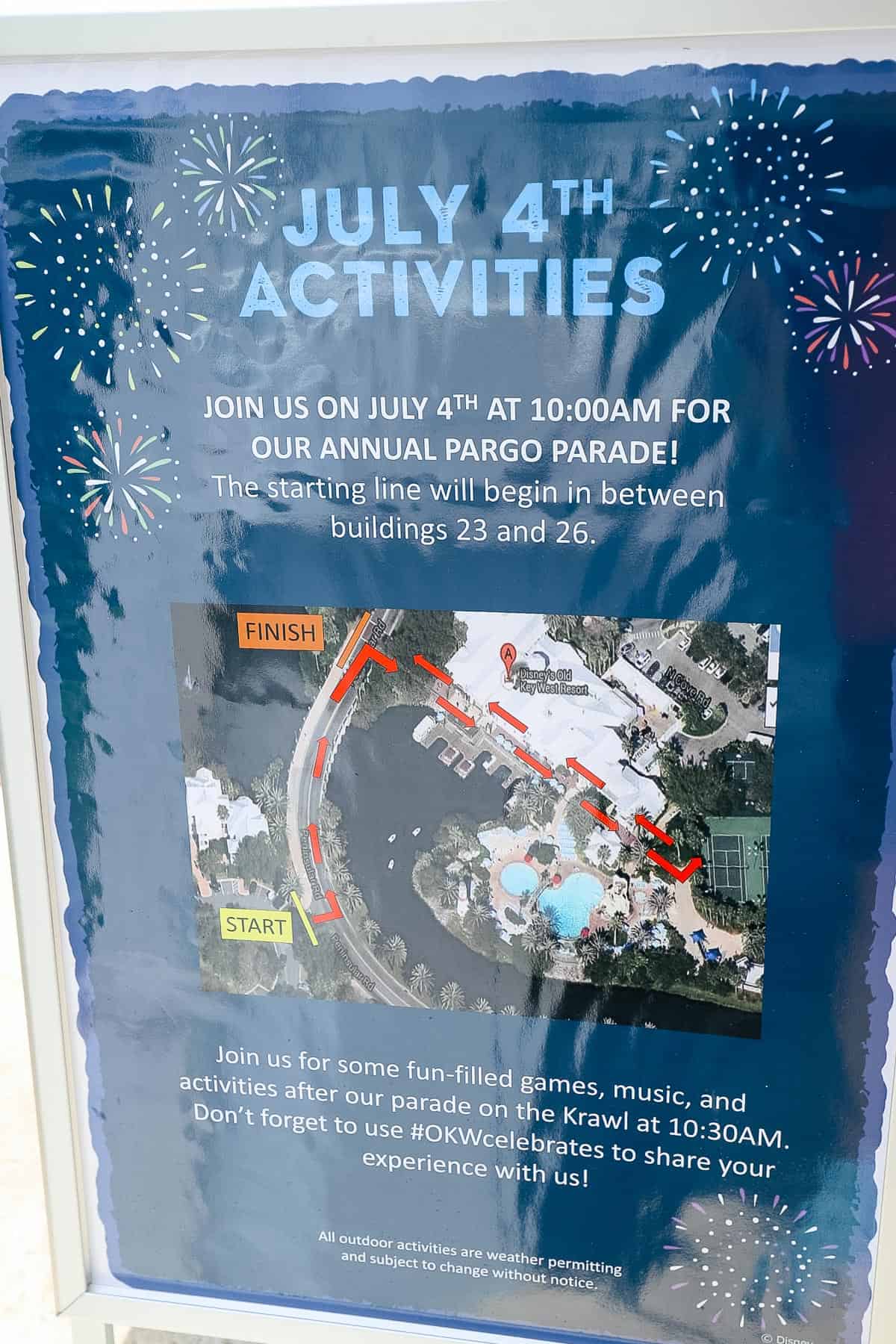 If you stay at Disney's Contemporary or Bay Lake Tower, you might enjoy their 4th of July Party at the Contemporary Convention Center's Port Cochere.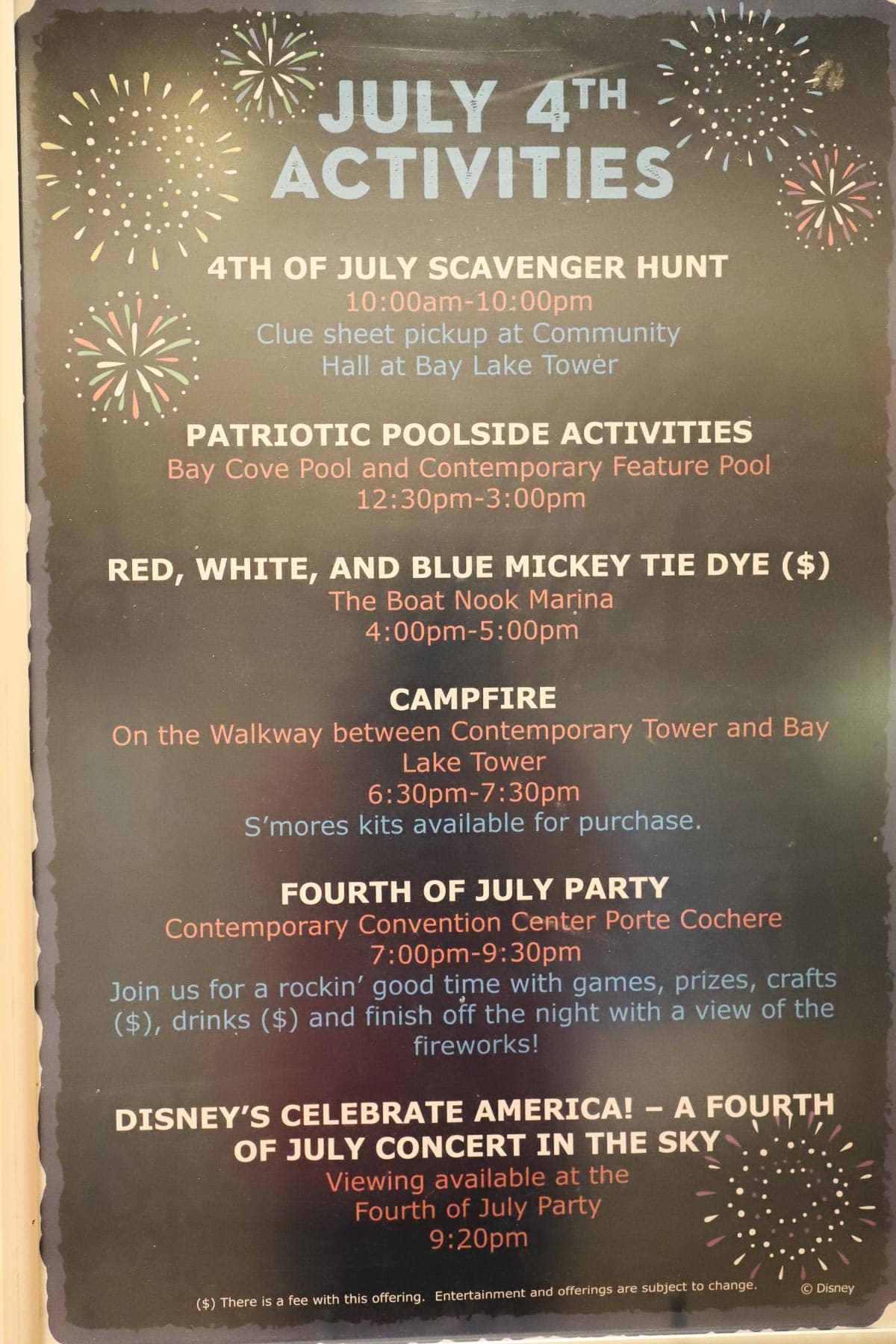 At Disney's Wilderness Lodge, guests could participate in a watermelon-eating contest at 5:30 p.m. A Let Freedom Ring block party was held later that evening that included a special Magic Kingdom fireworks viewing from the resort.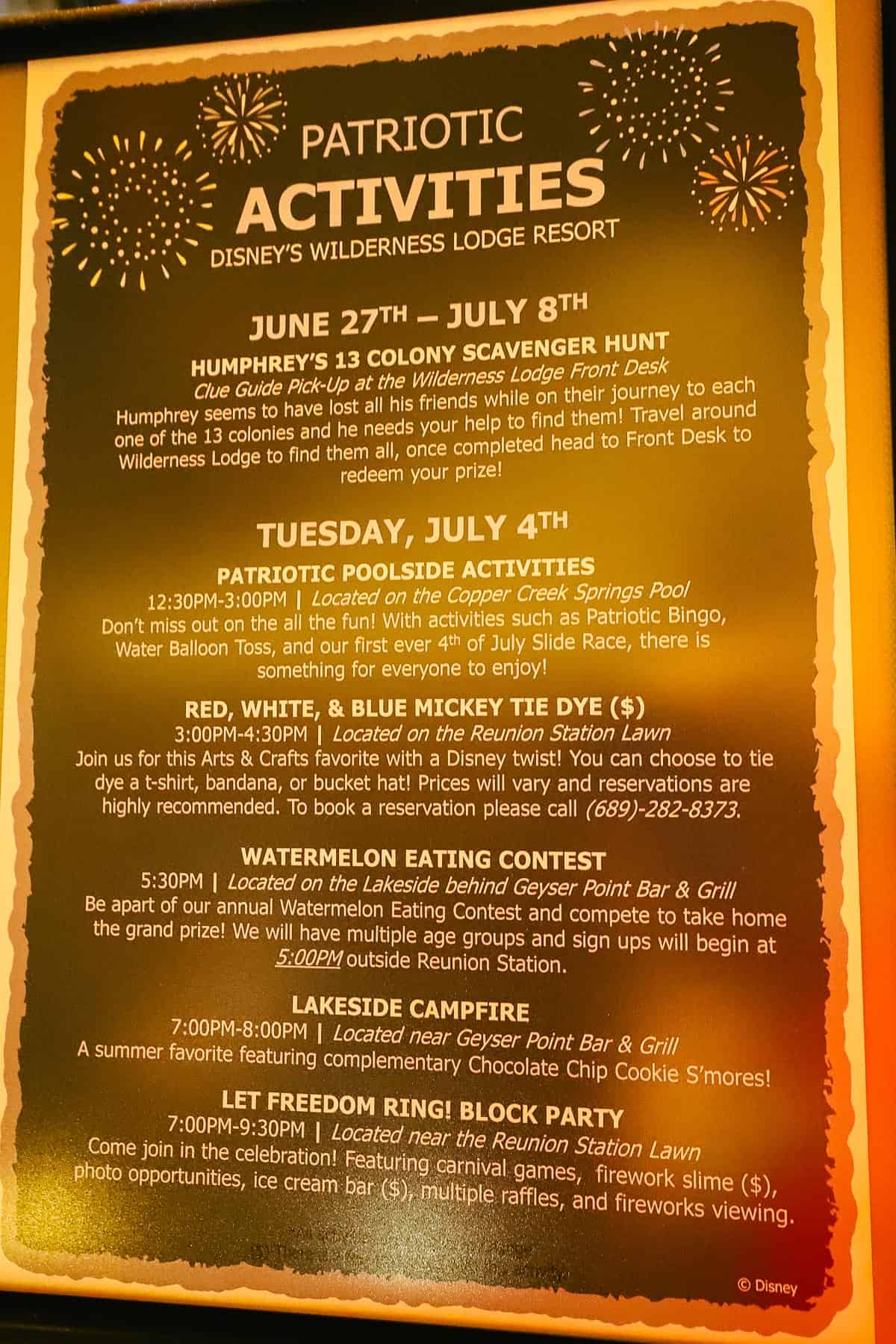 As far as fireworks viewings outside of the parks go–in most instances, you need to be a guest of the resort to be allowed to use the special viewing areas. For example, Disney's Polynesian resort guests might enjoy watching Disney's Celebrate America: A Fourth of July Concert in the Sky from the resort's white sand beach.
During the day, resort guests are given wristbands that allow them to come and go freely from the beach area later that evening. This allows resort guests to enjoy the area without overcrowding.
The following resorts are the best options for watching Magic Kingdom's holiday fireworks in the distance:
Disney's Polynesian Resort (viewing from the beach)
Disney's Grand Floridian Resort and Spa (viewing from the boat dock)
Disney's Contemporary Resort (viewing from the Skyway bridge, exterior stairwells, or reservations at California Grill)
Guests of the Epcot Resorts like to watch the fireworks from the bridge between Epcot and the Boardwalk. Additionally, some guests watch the fireworks from the area outside the International Gateway entrance to Epcot.
We were in the Epcot Resorts Area during this year's holiday fireworks spectacular. No restrictions were in place, and guests were allowed to freely come and go through the area.
While you can see the fireworks from these areas, having a ticket for Epcot on the evening of the 4th is worth it. The park has an explosive fireworks spectacular called The Heartbeat of Freedom Fourth of July Fireworks Show. In my opinion, it is difficult to see Epcot's fireworks well from outside the park.
If you want to preview either show, BlogMickey has a video of the 2023 4th of July fireworks at Epcot and Magic Kingdom. Those videos will give you an idea of what it's like to see the fireworks from inside the parks.
However, you'll need to find a spot at least two hours before for a good view. Cast members will close off any area that reaches capacity.
Regarding the resorts, another item is worth mentioning–the Golf Cart Extravaganza Parade at Disney's Fort Wilderness. This year's parade featured over 100 golf carts. Some were elaborate works of art.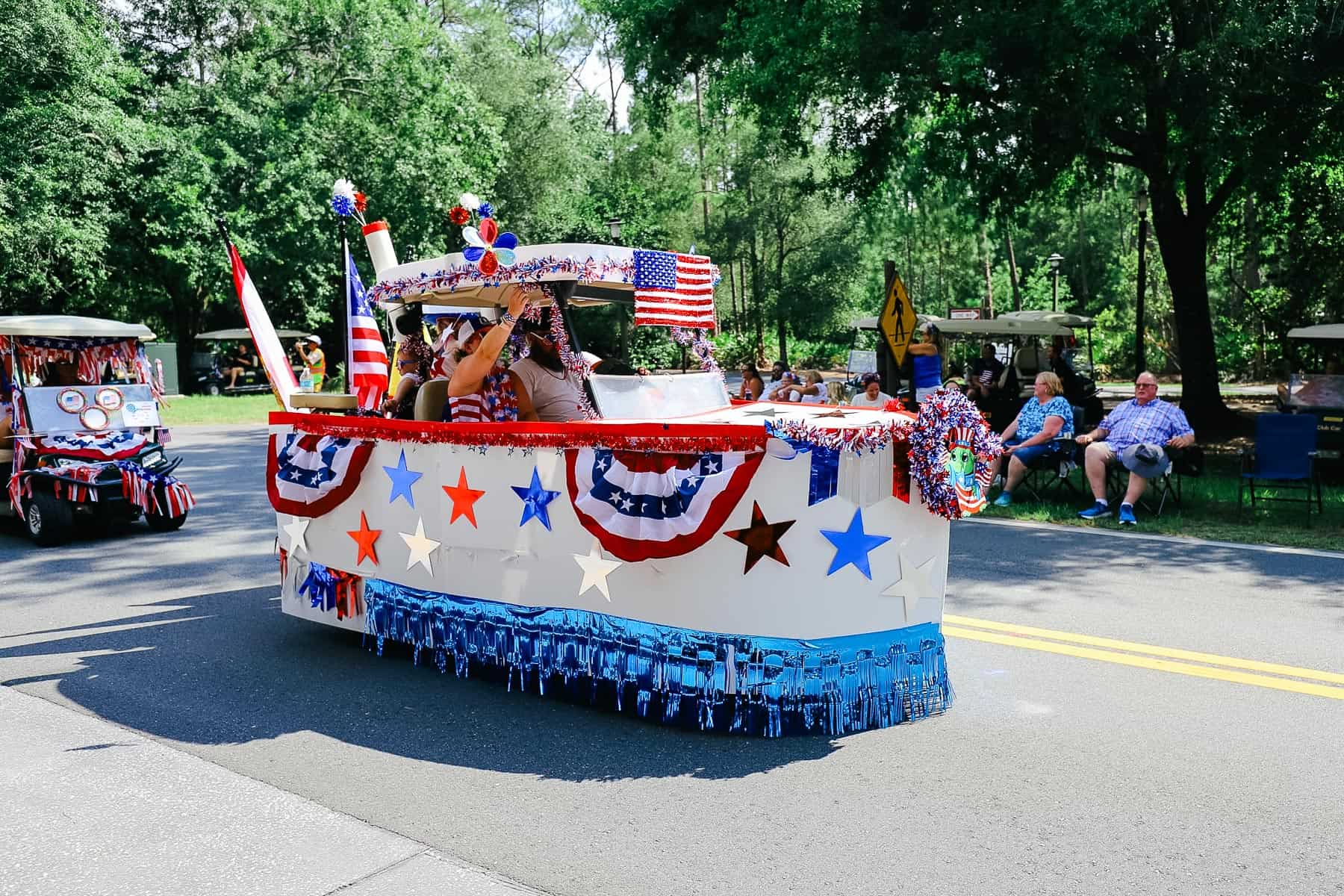 Don't Miss 4th of July Activities (Magic Kingdom)
As you can imagine, the fireworks at Magic Kingdom are the big bang when it comes to celebrating Independence Day. As mentioned above, Magic Kingdom's 4th of July fireworks are historically held on the 3rd and 4th to allow guests the option to enjoy the Epcot's firework display on the 4th.
Also, the park's entrance and Main Street U.S.A. are decorated for the holiday. Here is a look at the entrance.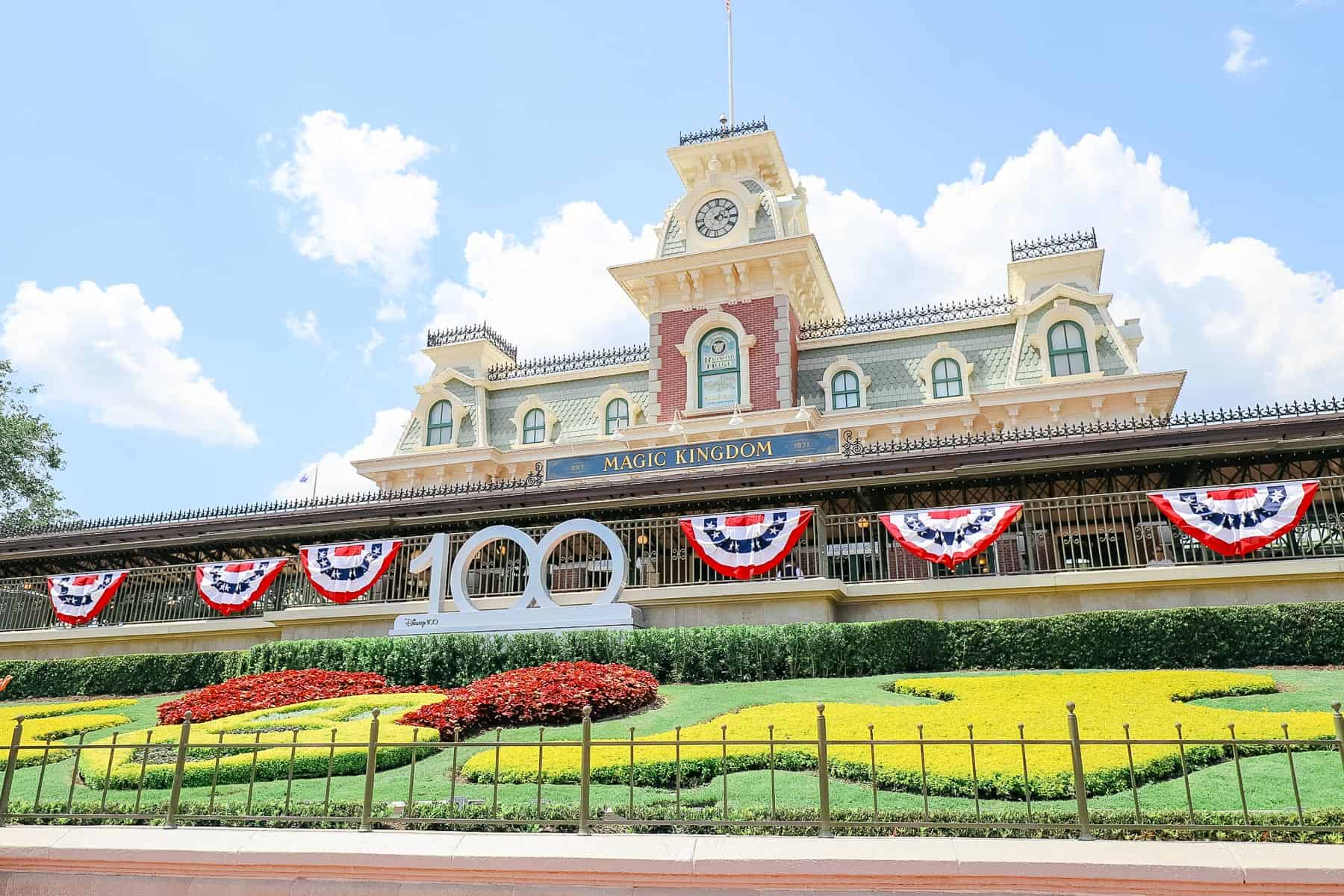 You'll see bunting and other red, white, and blue decorations.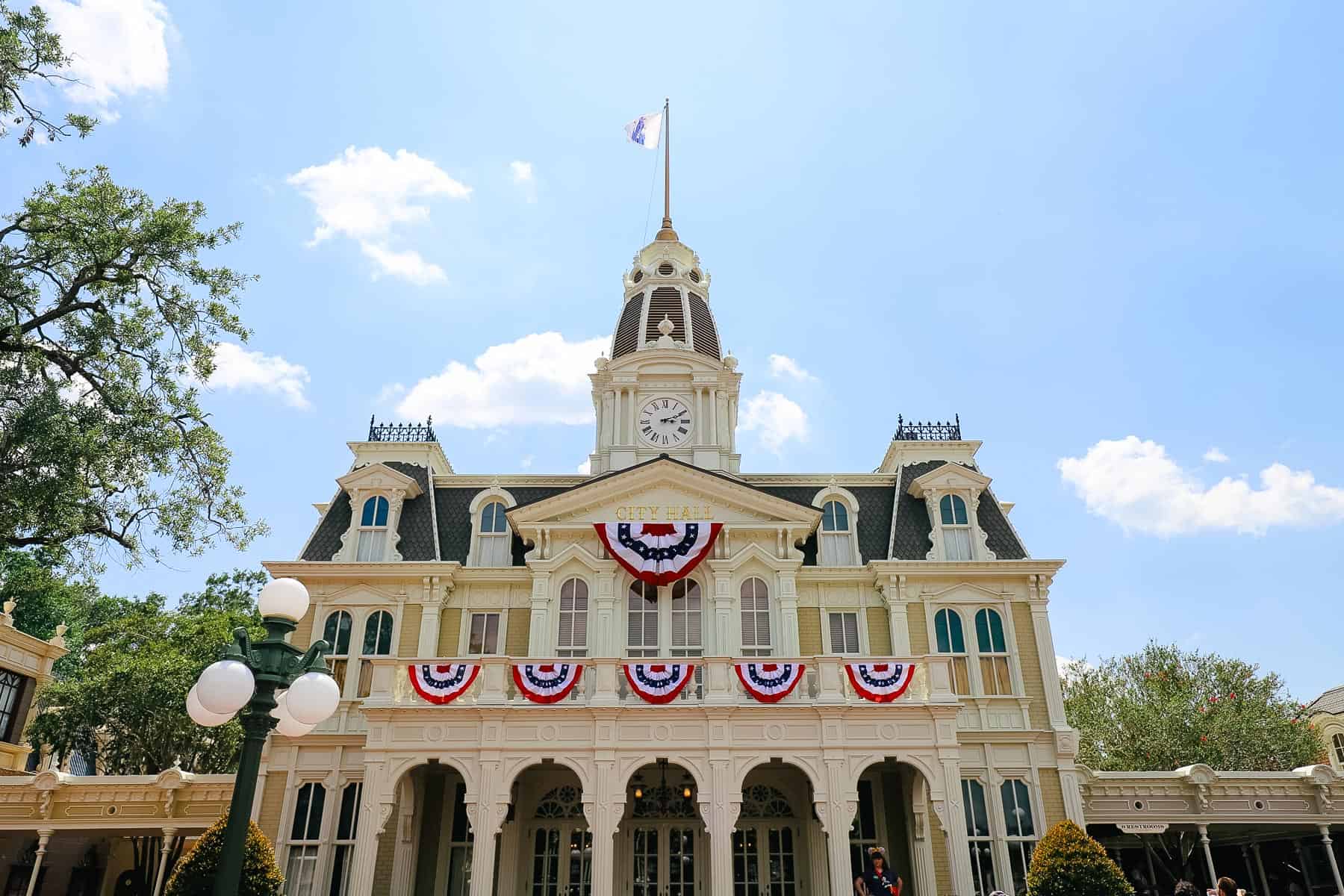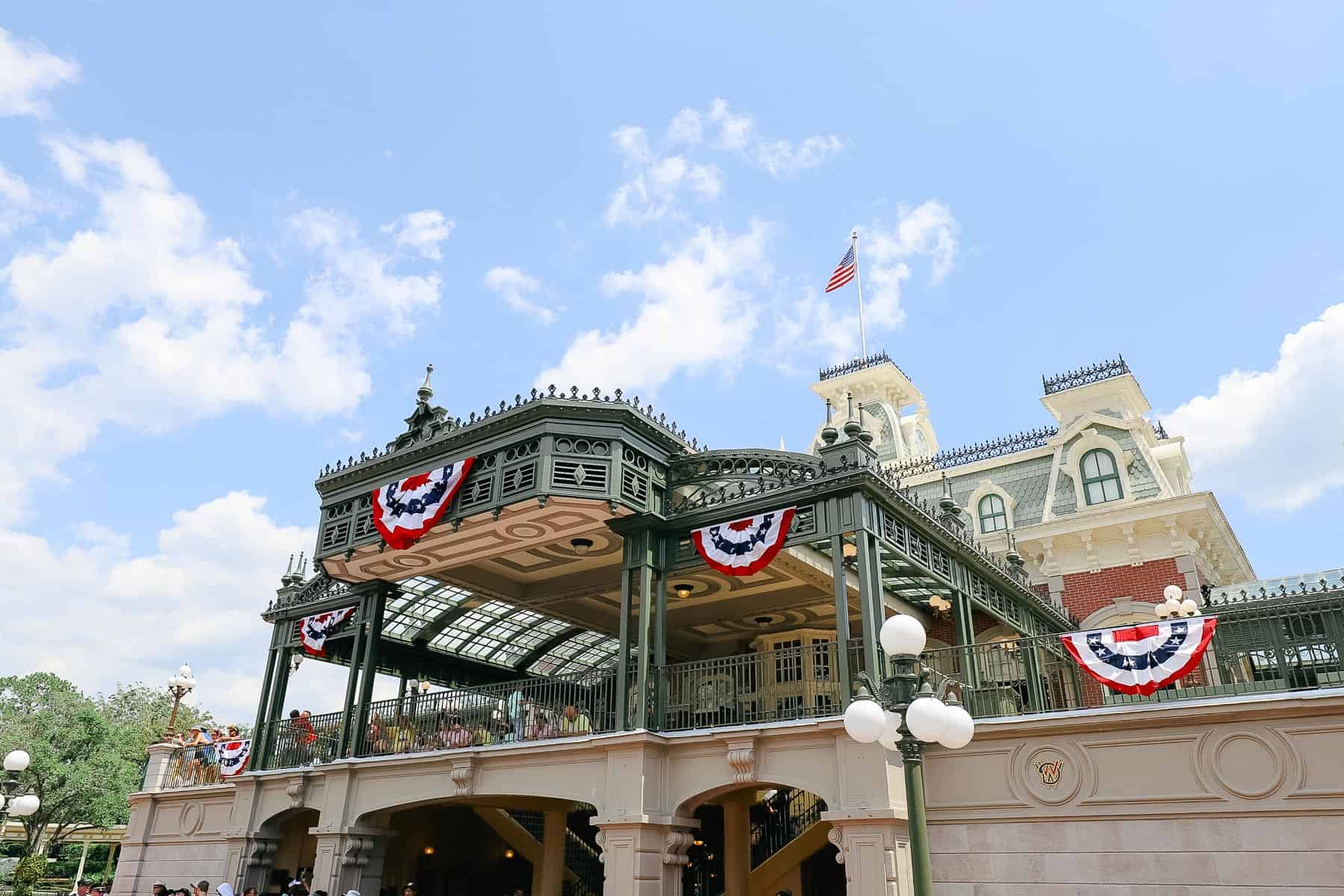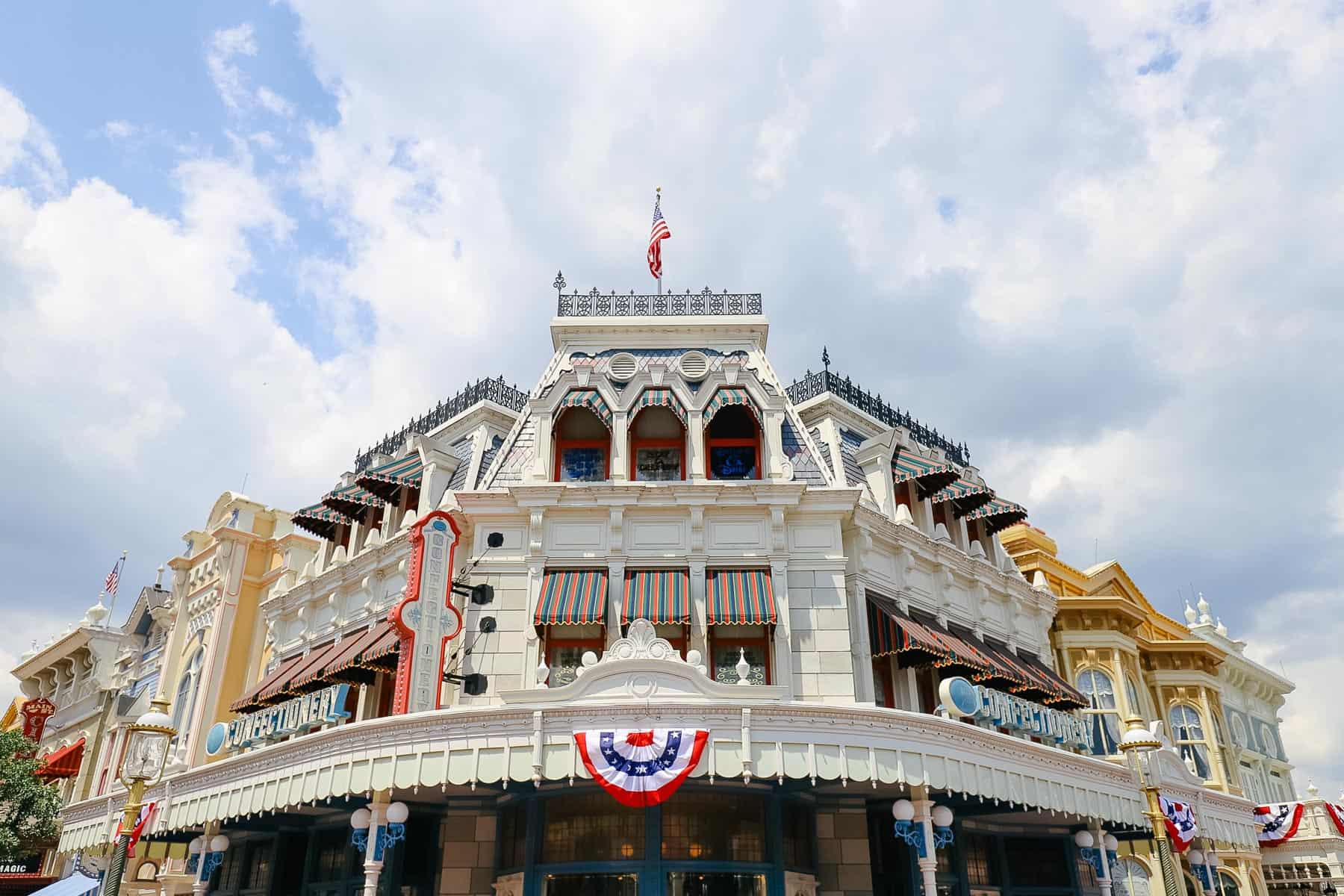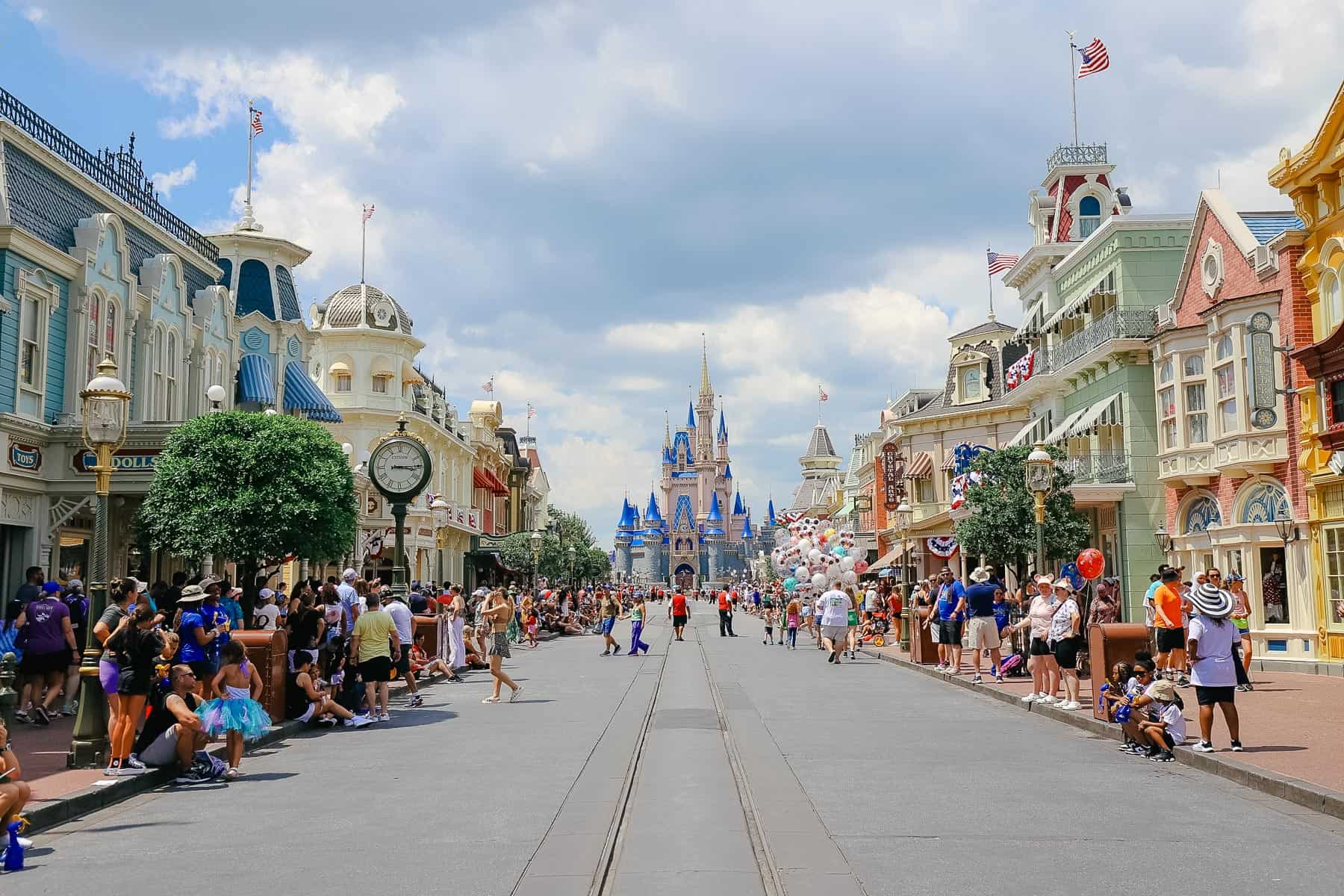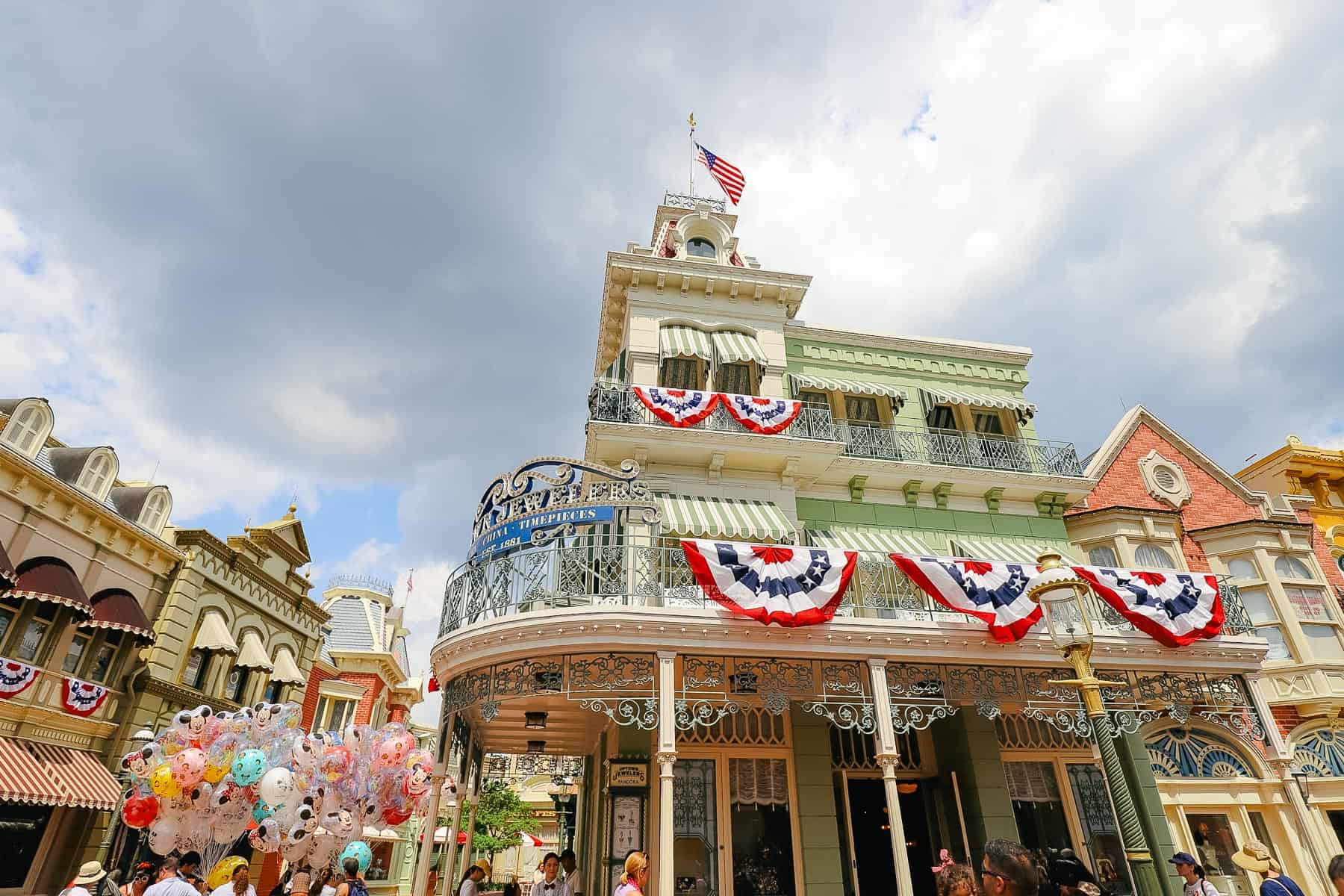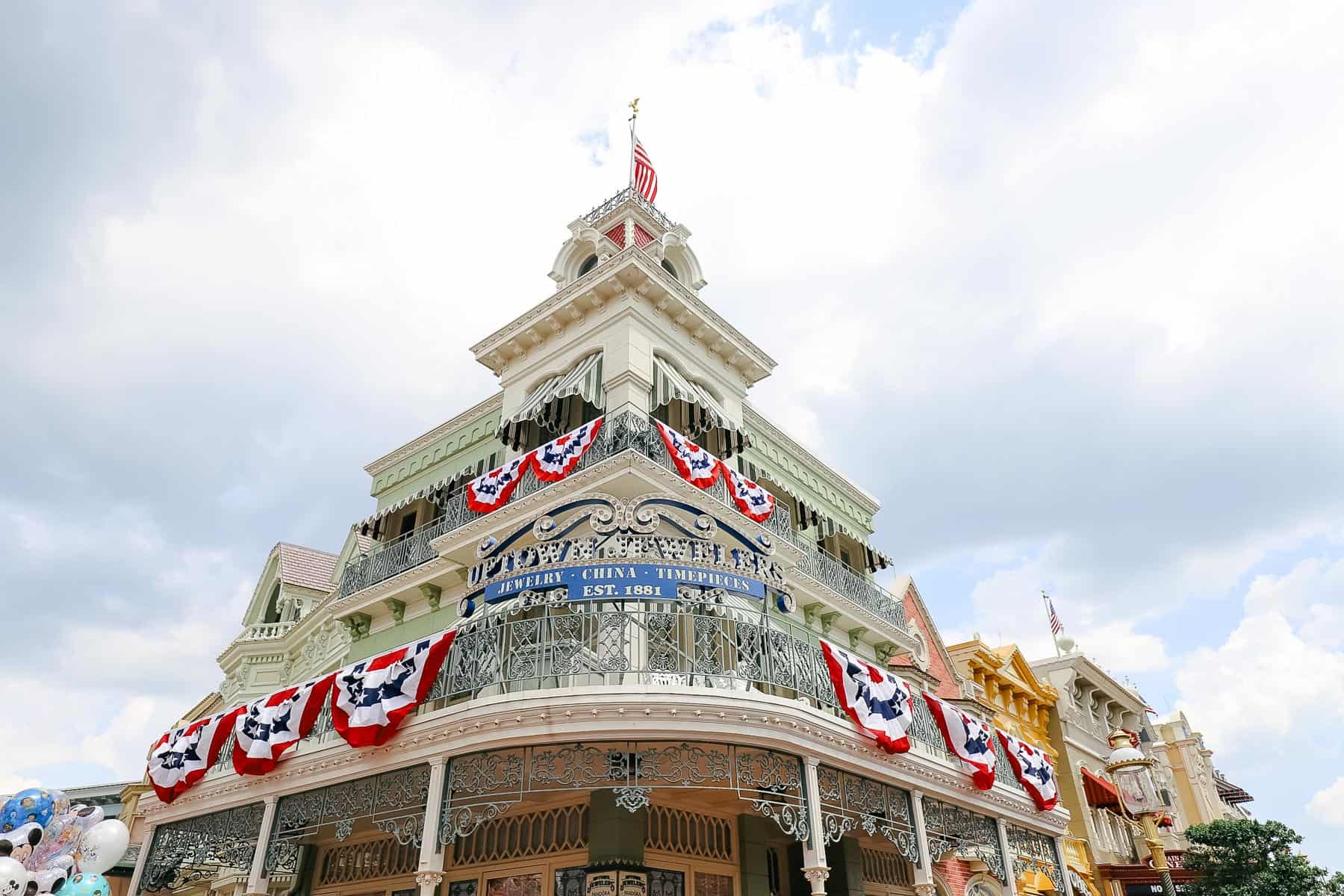 Cinderella's Coach is usually out for the holiday. It sits along the Fantasyland wall behind Cinderella Castle.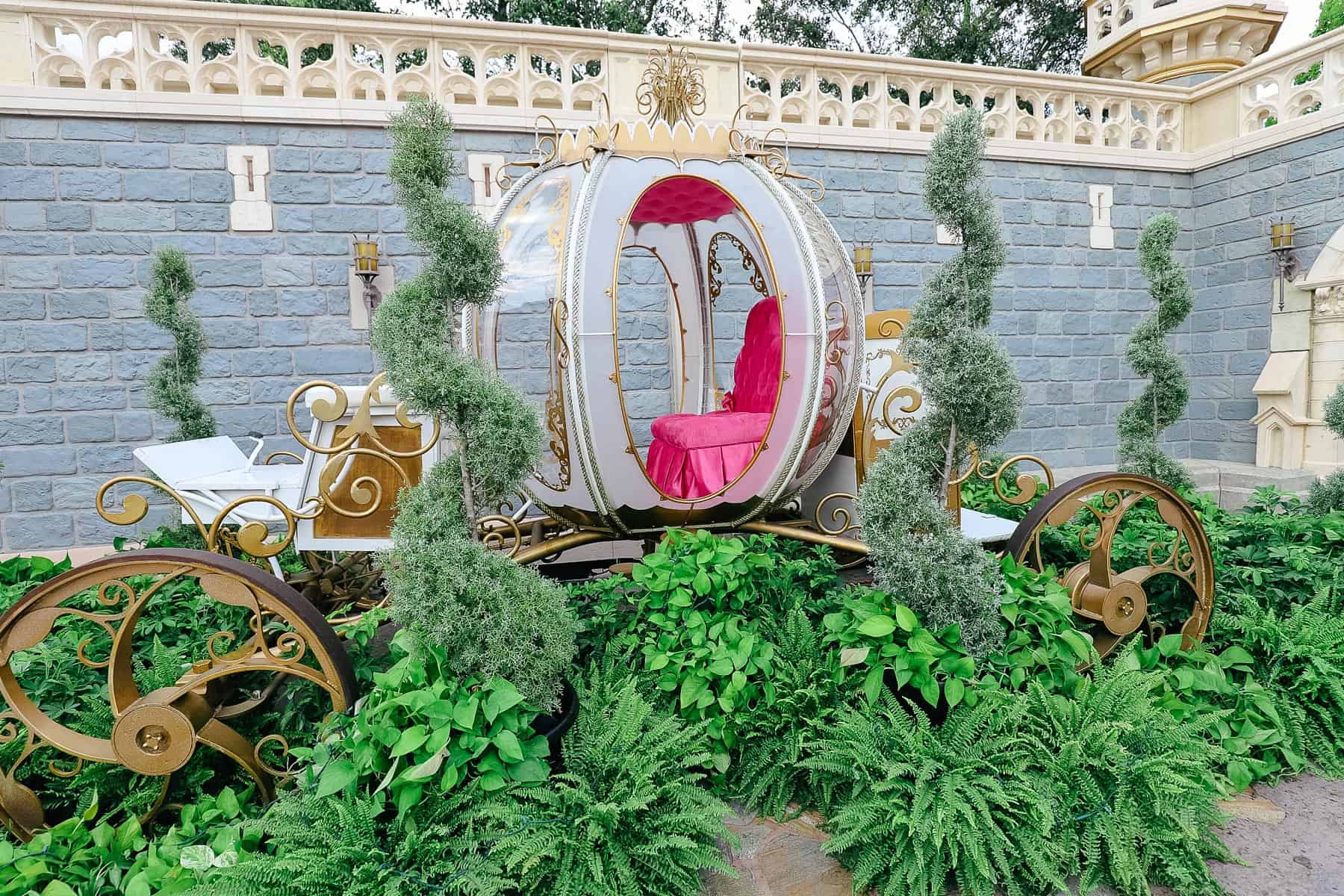 Here are a few photos.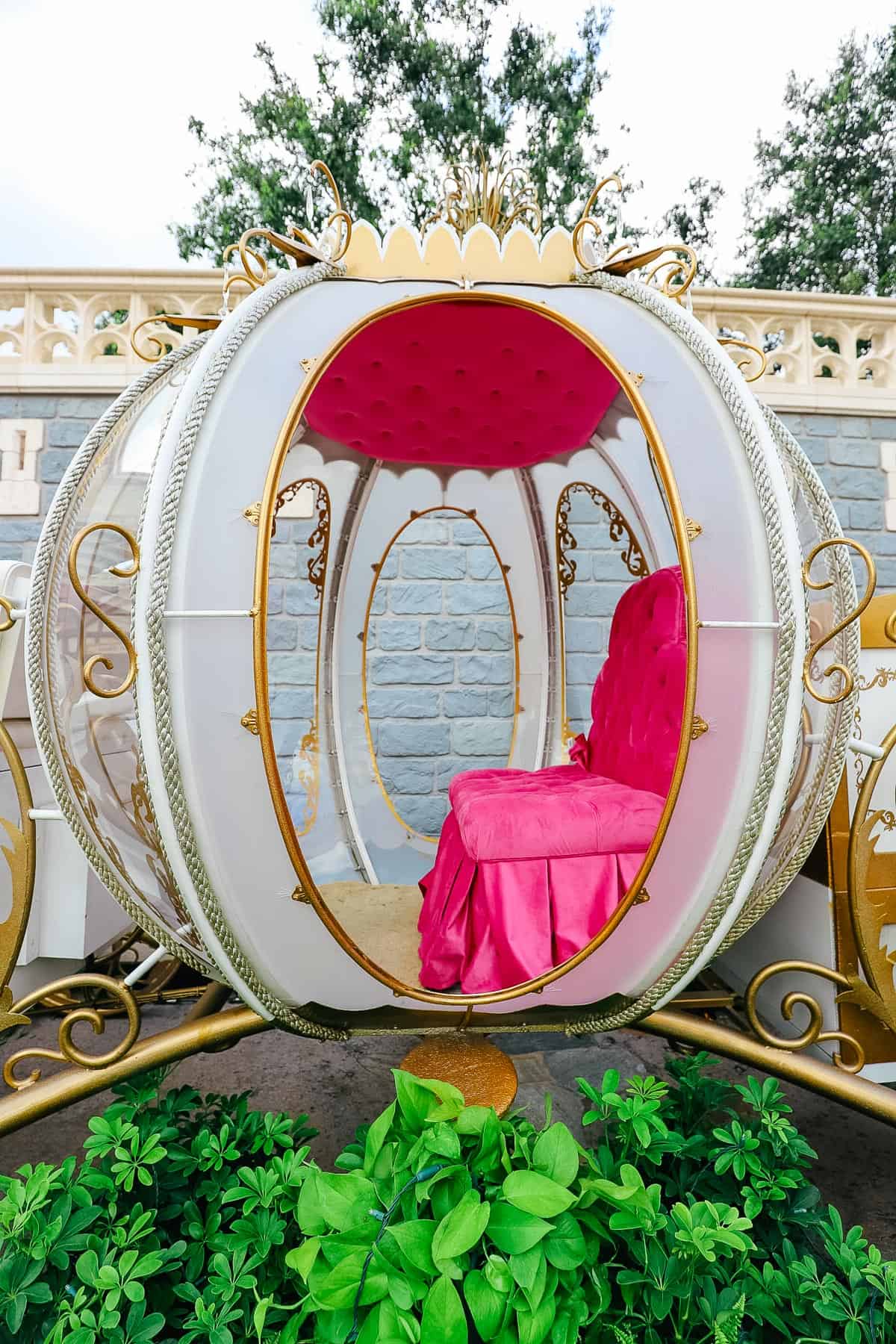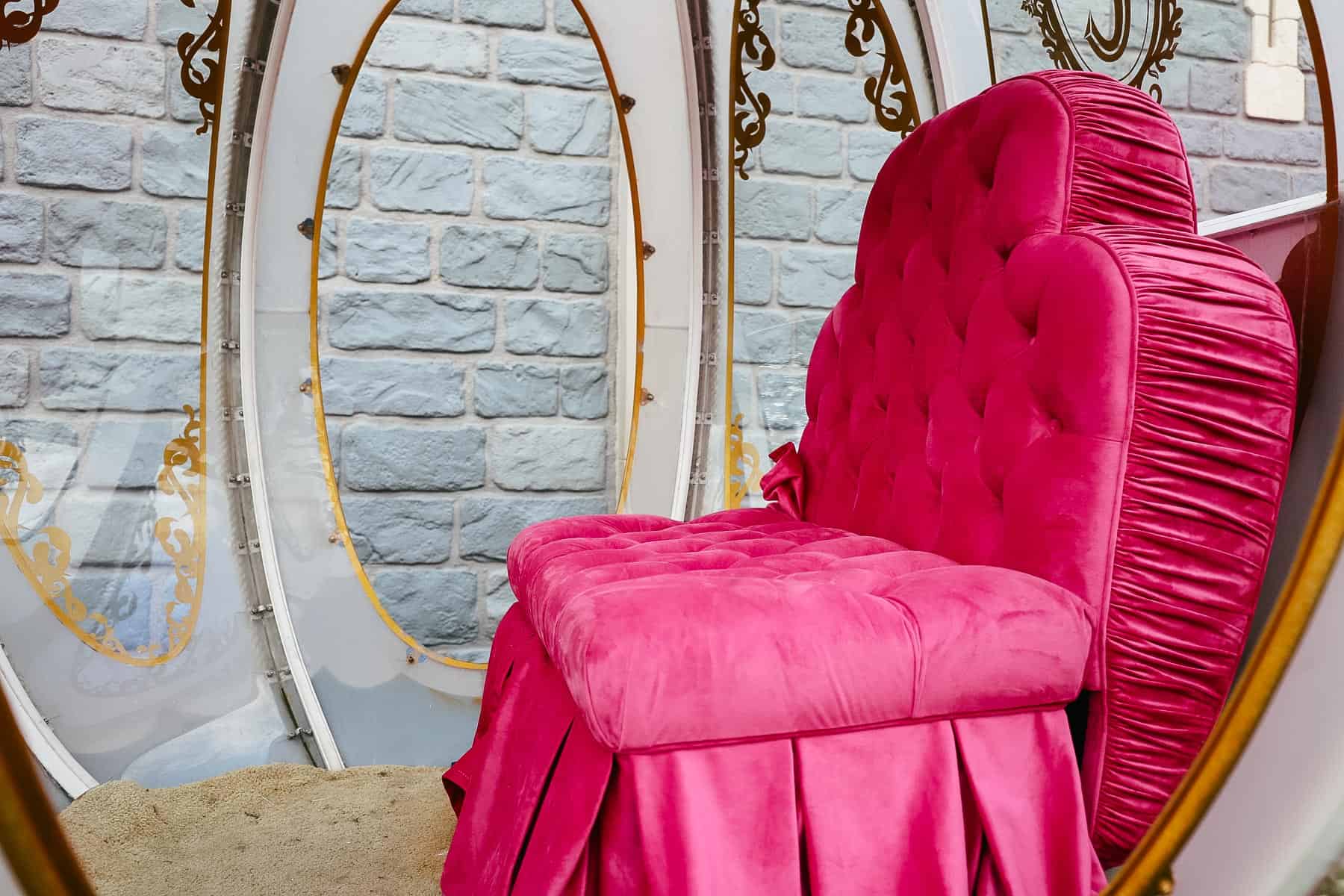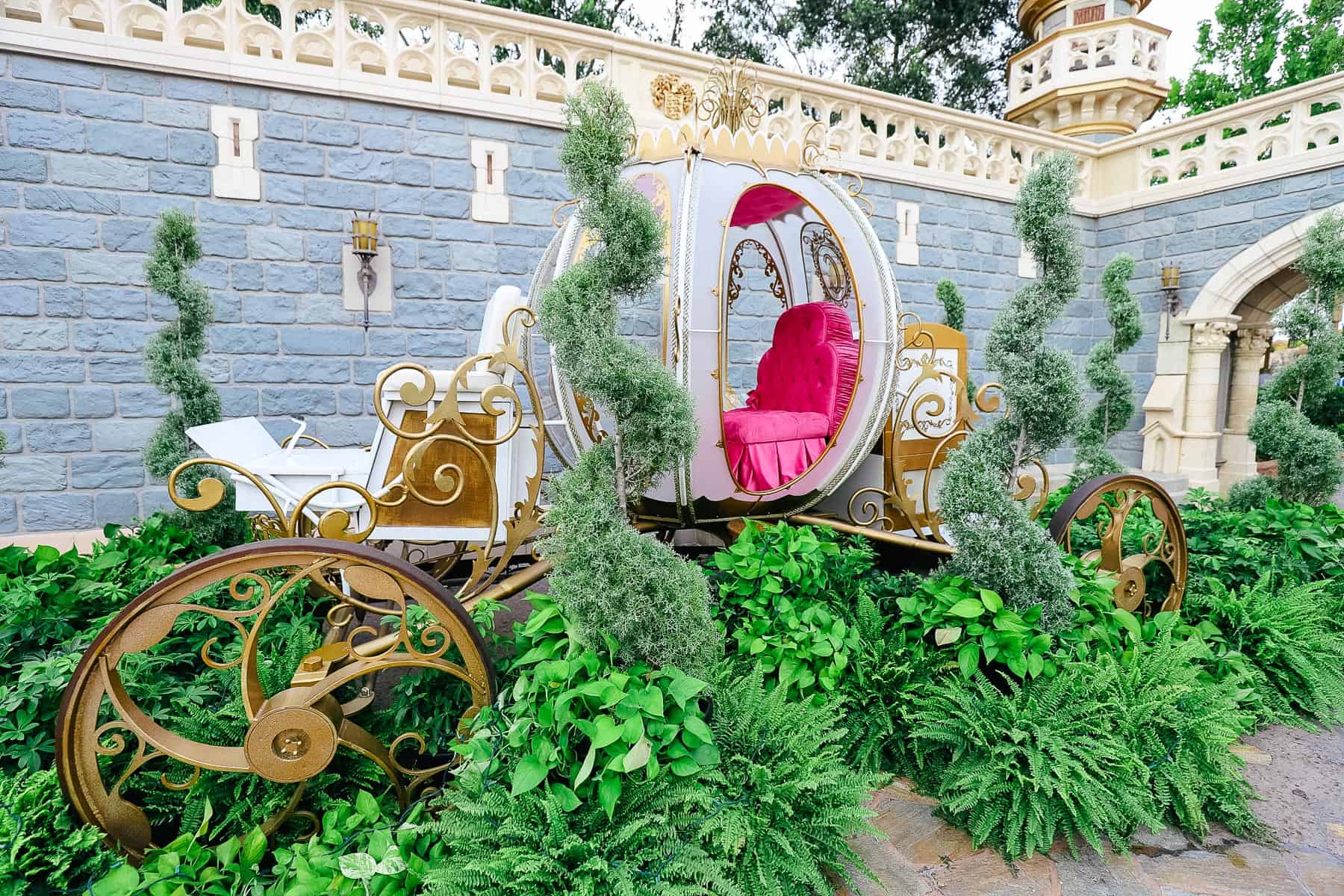 A PhotoPass photographer is in the area. They are usually out in the daytime and the evening.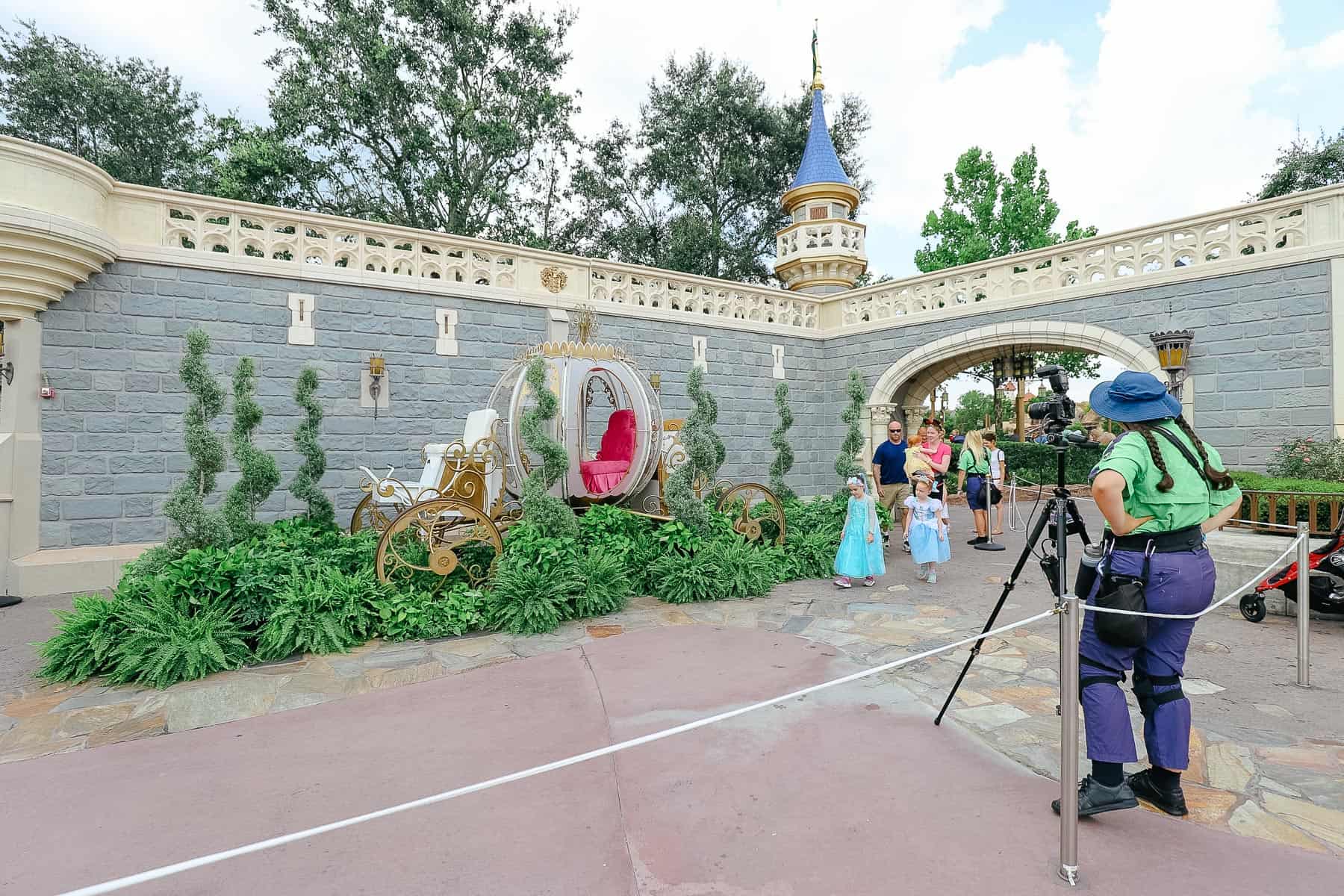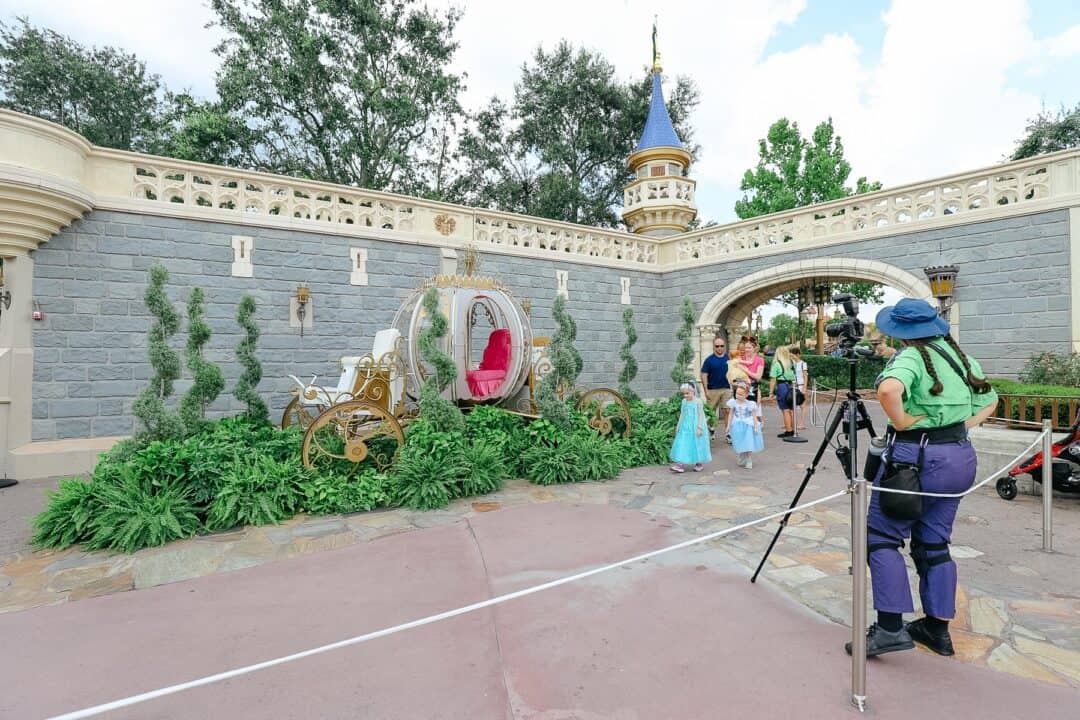 As soon as it gets dark, projections are displayed on Cinderella Castle. Below is a photo of the crowd right before the fireworks began.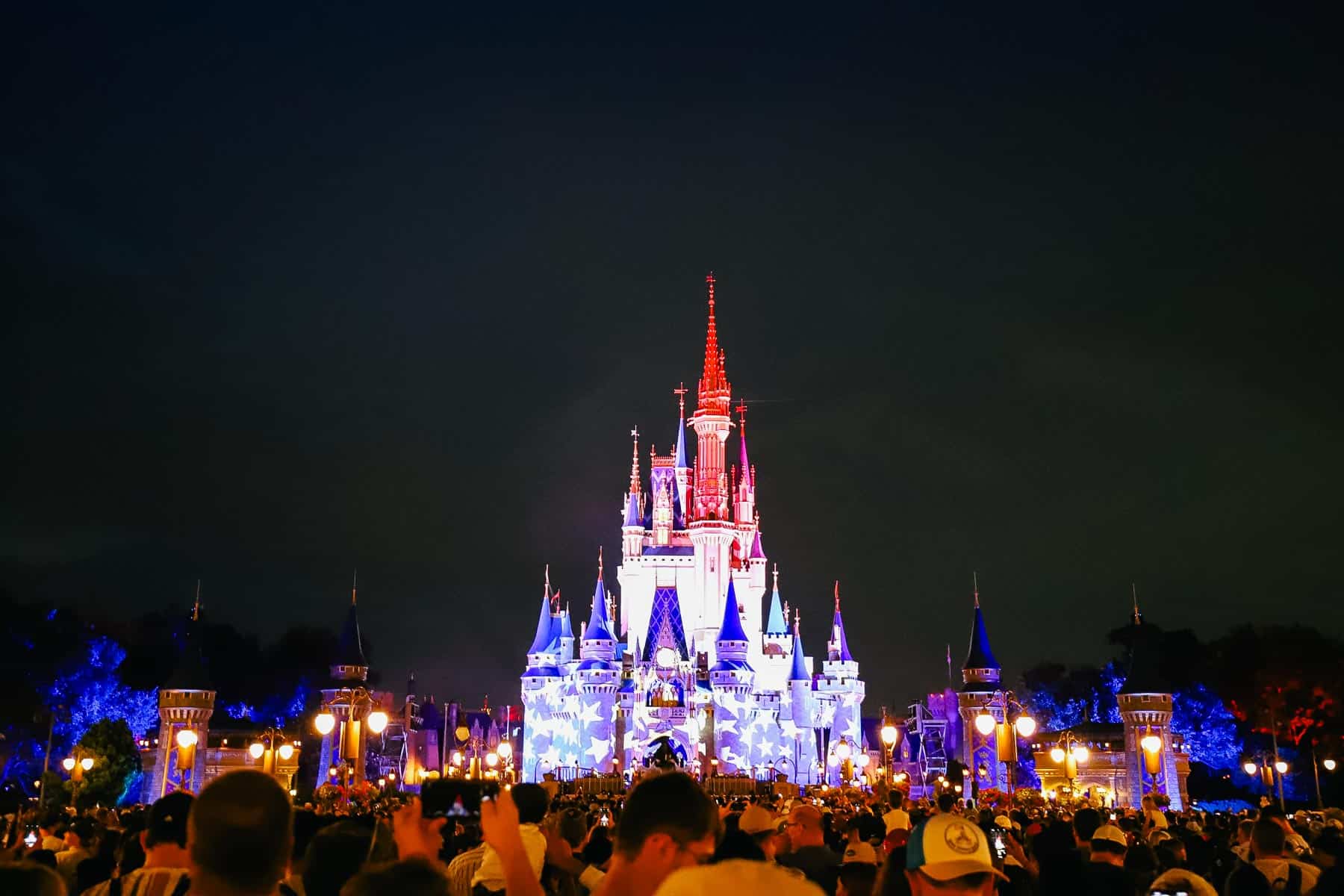 DJs and dance parties are available before and after the fireworks. Parties are located on the castle stage, Frontierland, and Tomorrowland.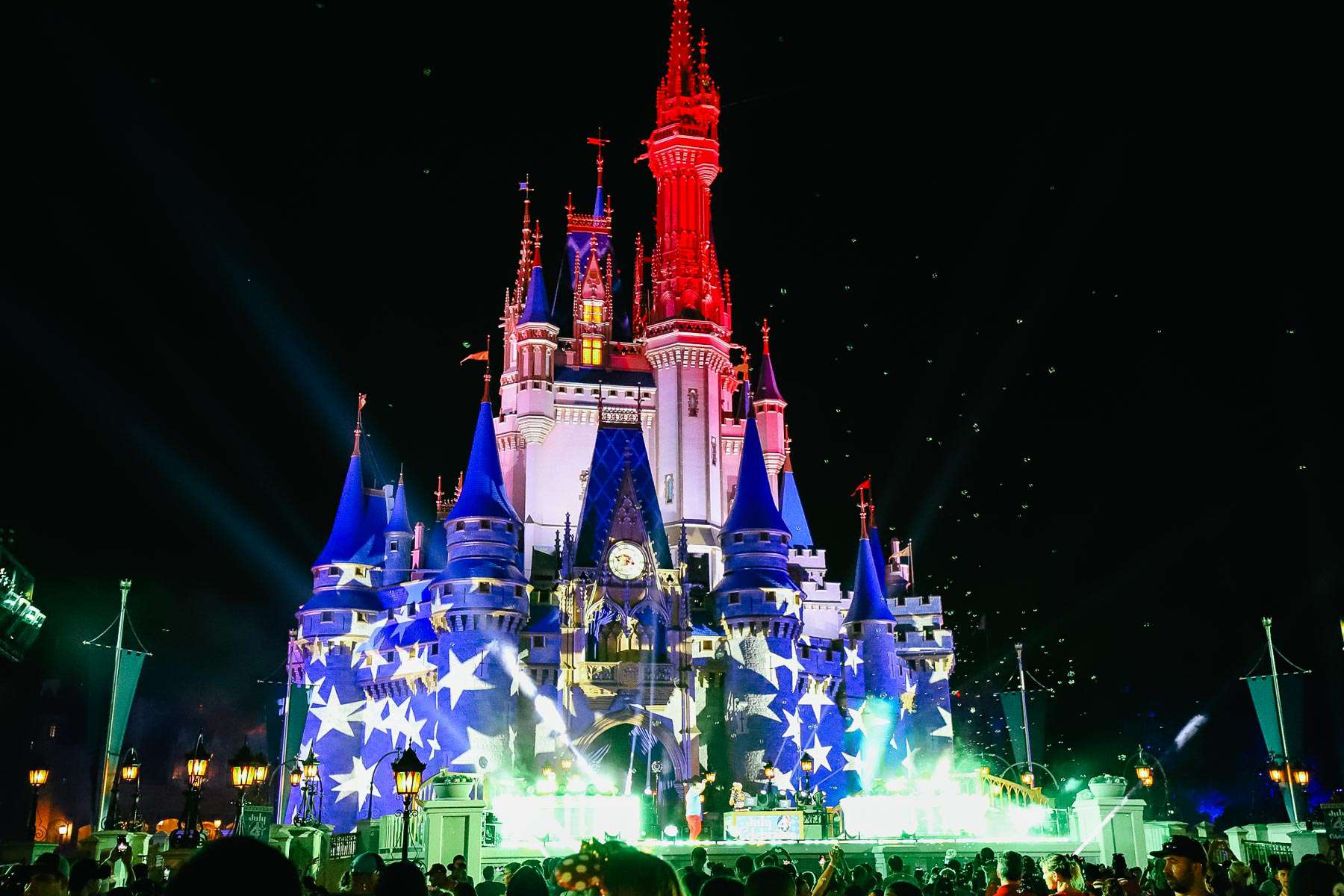 Here is a look at the dance party area in Tomorrowland right before the park closed.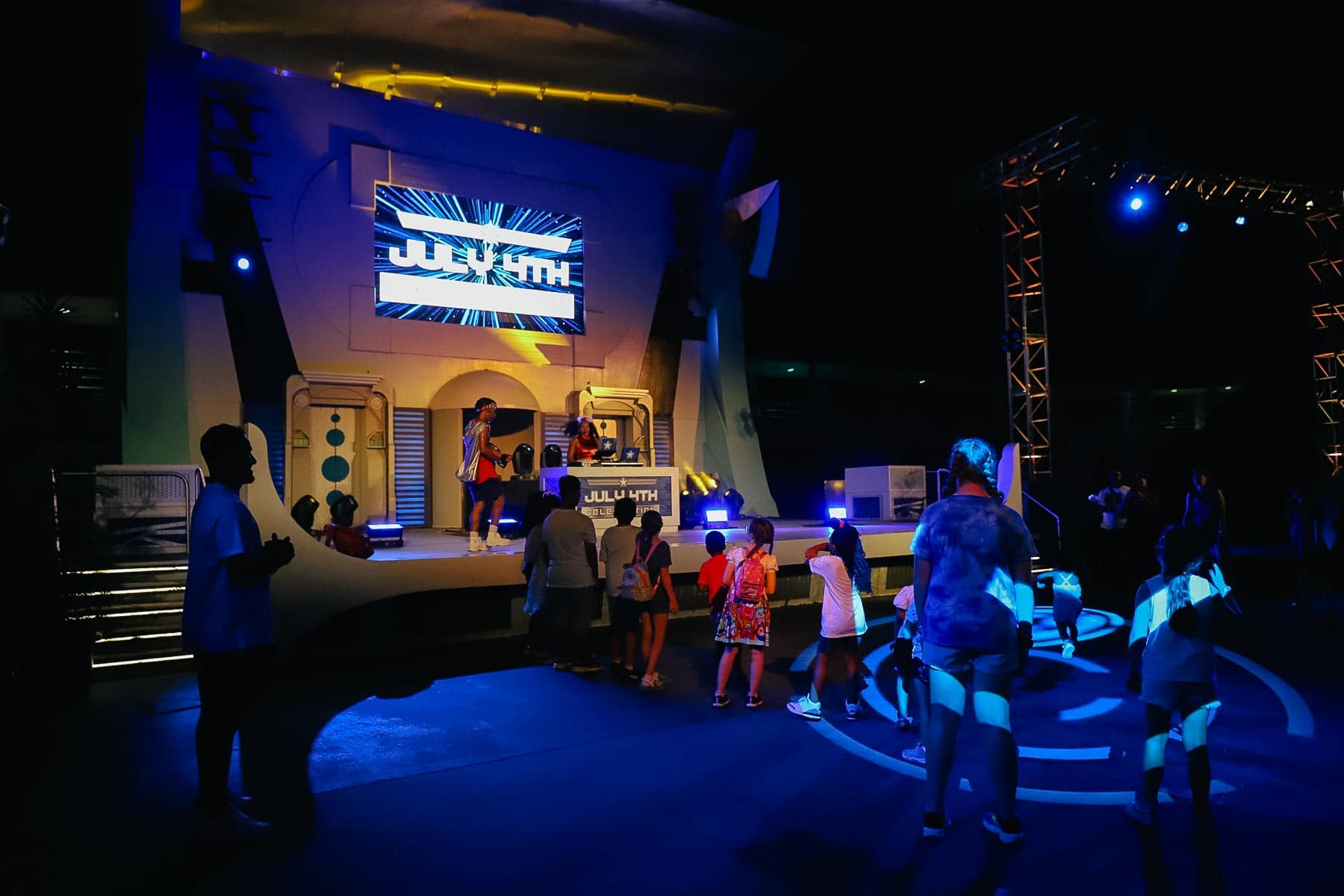 After the fireworks, you might take the time to stroll the park and take in the views of Cinderella Castle with its holiday projections.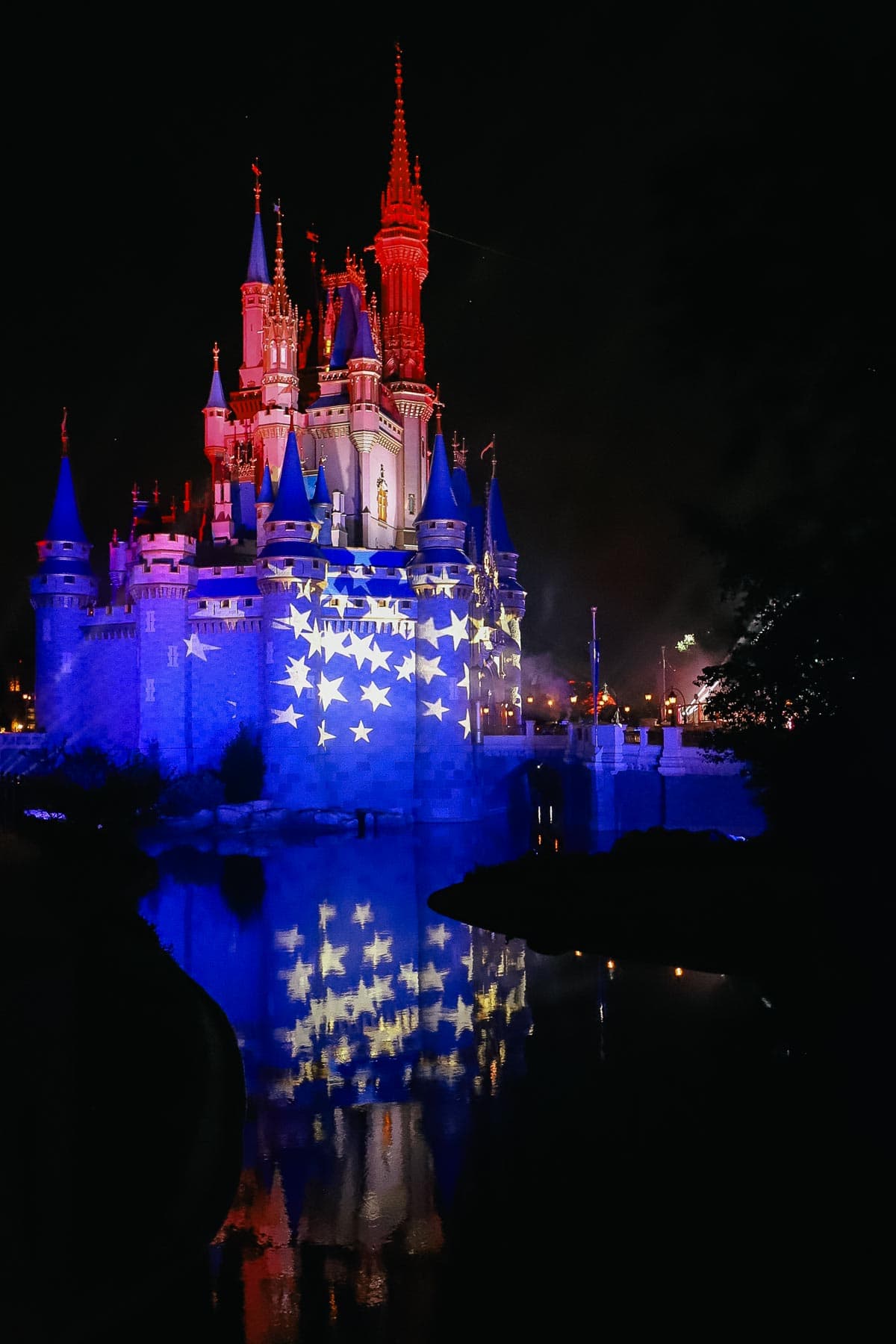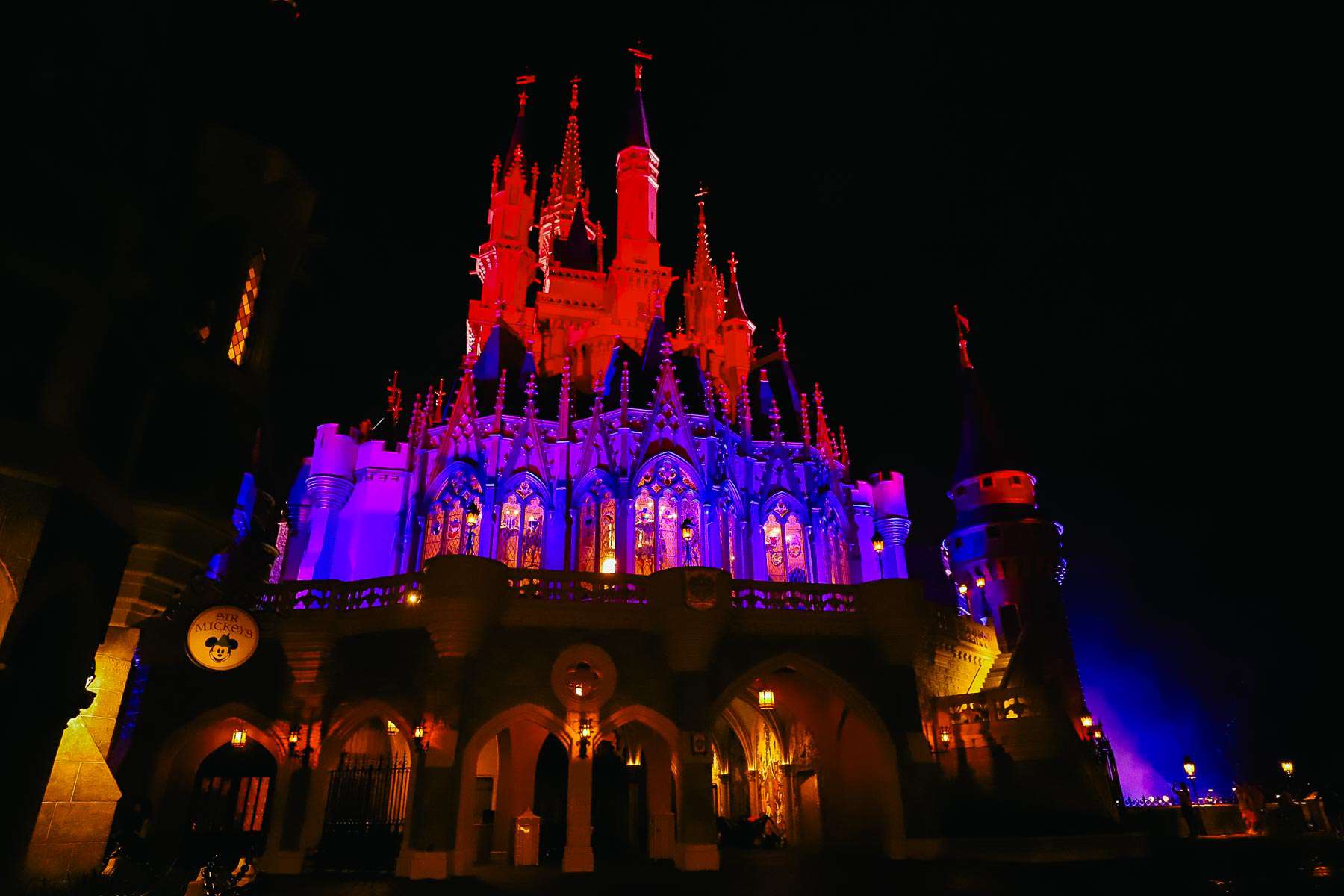 *This year, Magic Kingdom had a special military flyover to salute our troops in conjunction with Disney's 100th anniversary. However, this is not a traditional flyover that typically happens on the 4th of July. More information about this special event is available on the Disney Parks Blog.
Don't Miss 4th of July Activities (Epcot)
Epcot also offers several fun festivities for guests. The American Adventure Pavilion is home to several rare character meets for the 4th of July. First, Goofy, Mickey Mouse, and Pluto meet on the far side of the pavilion. We waited approximately an hour to meet the trio.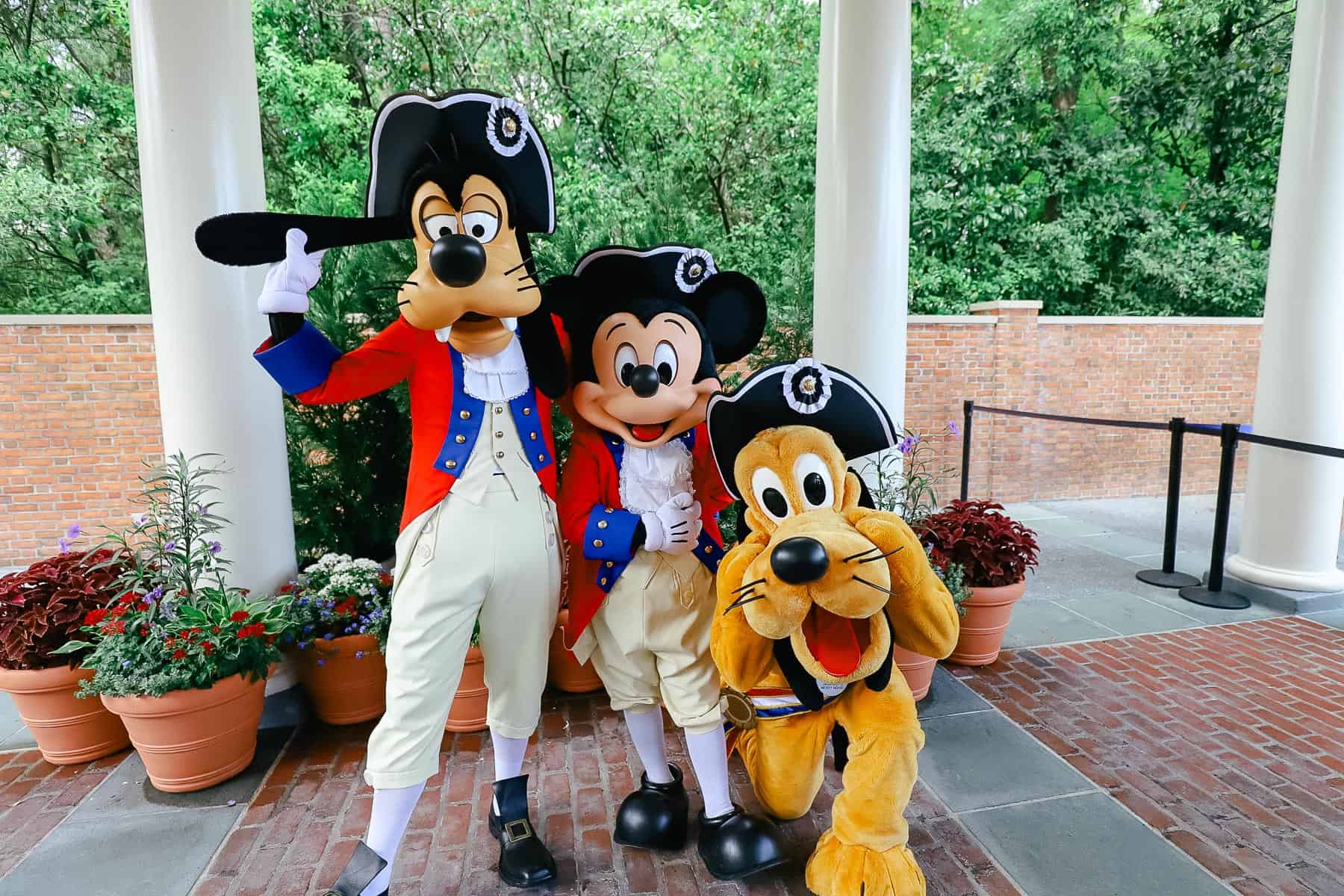 Chip and Dale meet guests throughout the day on the opposite side of the American Pavilion.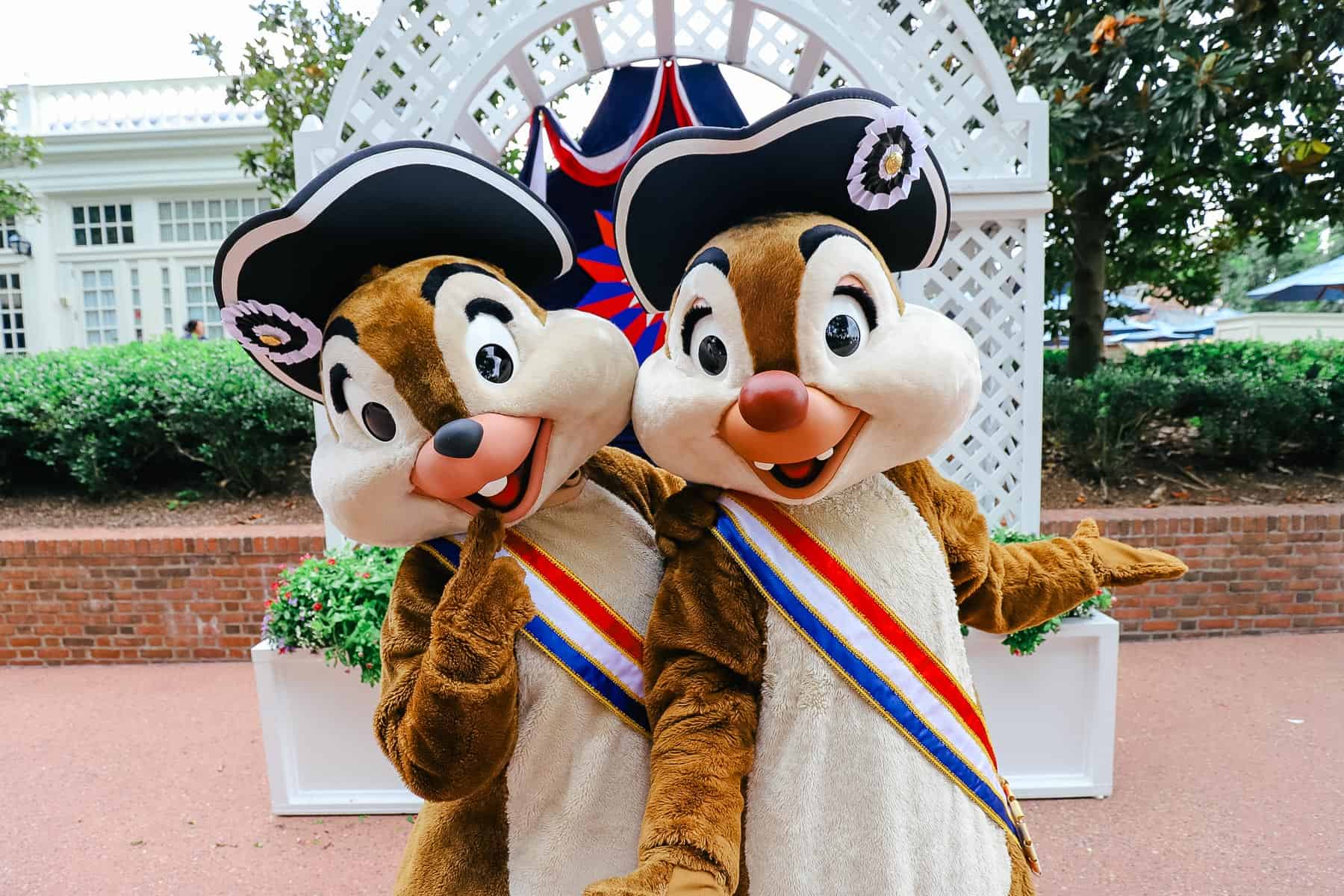 Inside the colonial mansion, the Voices of Liberty offer a special holiday performance celebrating Independence Day.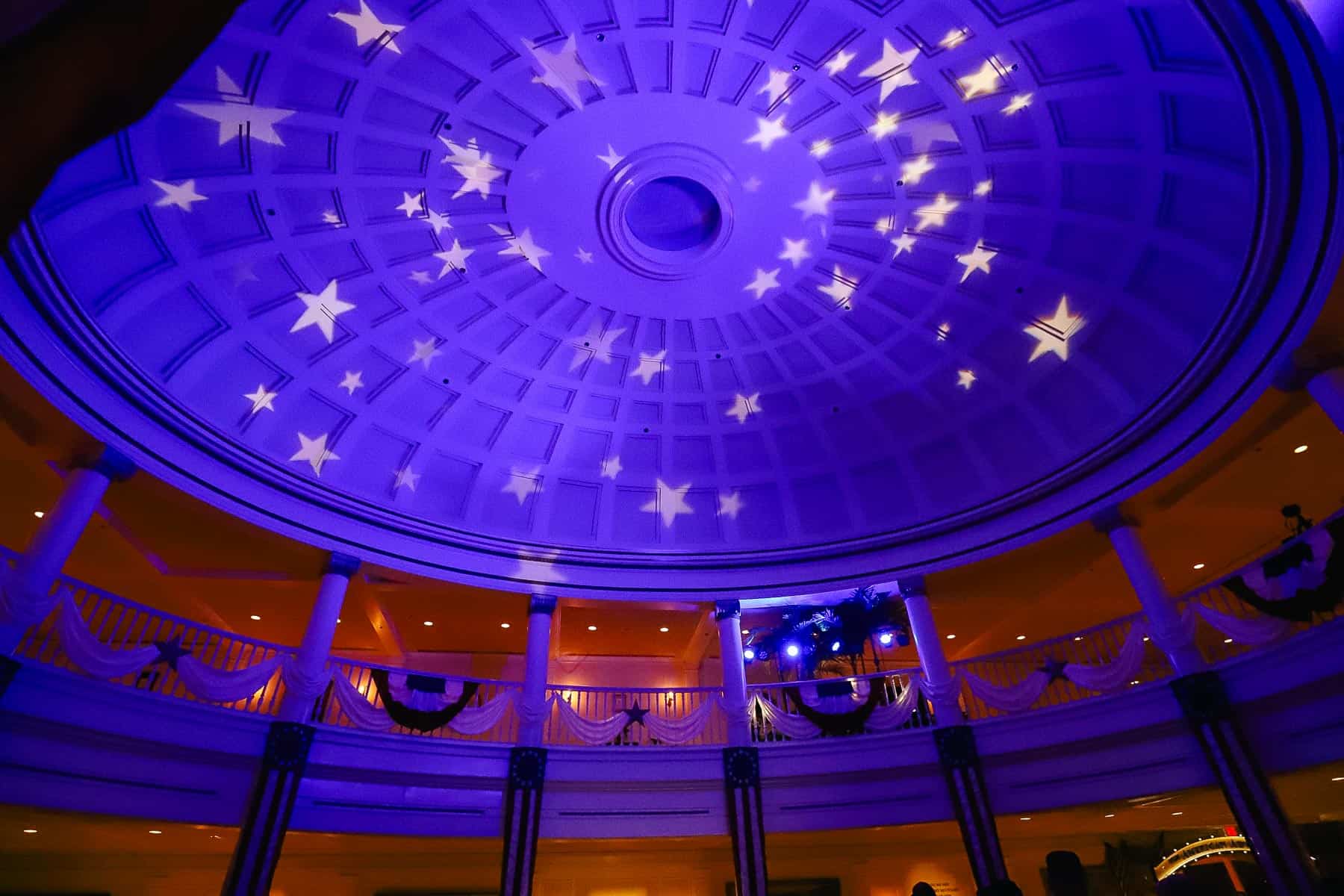 This is a performance you don't want to miss.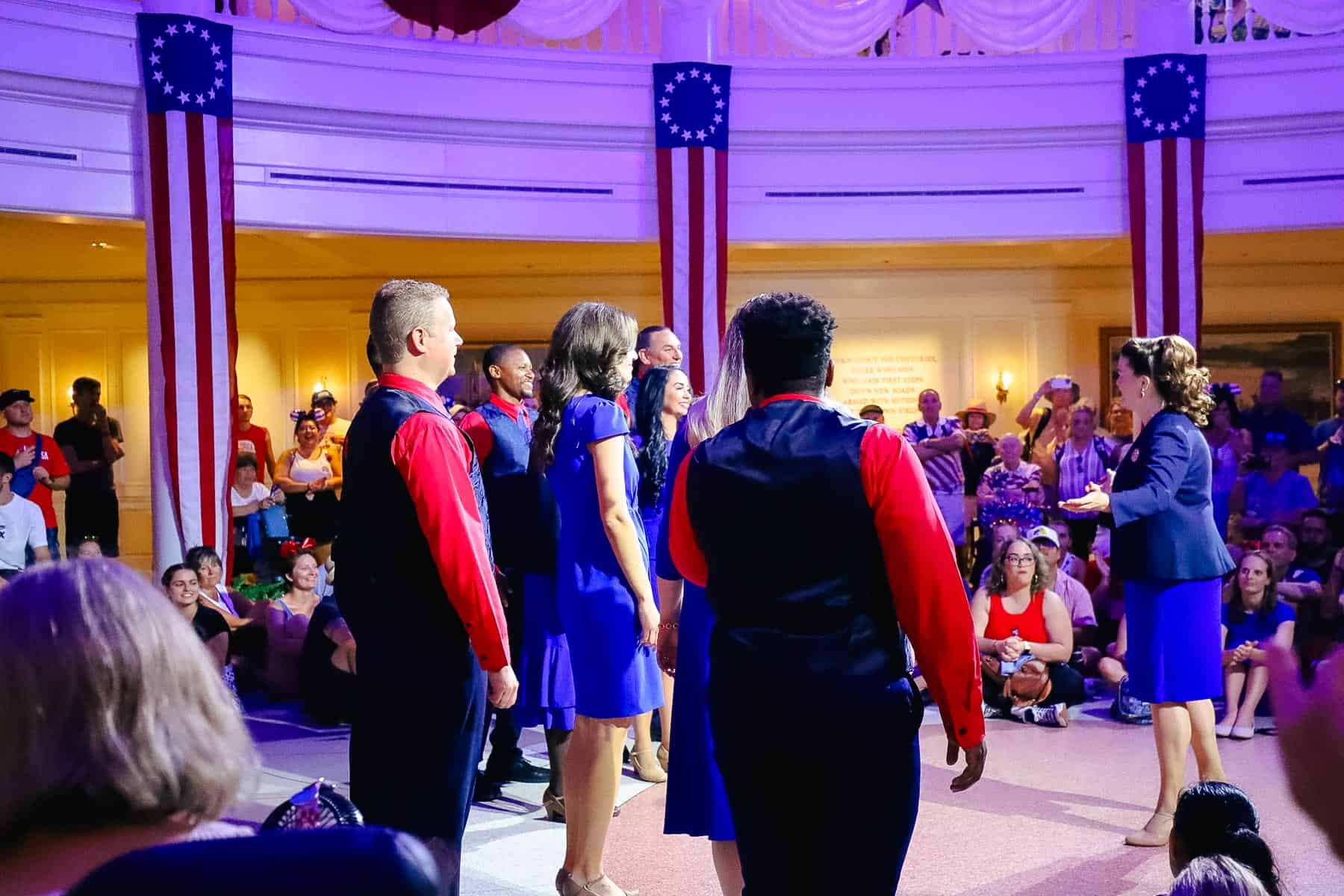 Toward the end, they are joined by other performers who fill in the balcony underneath the dome.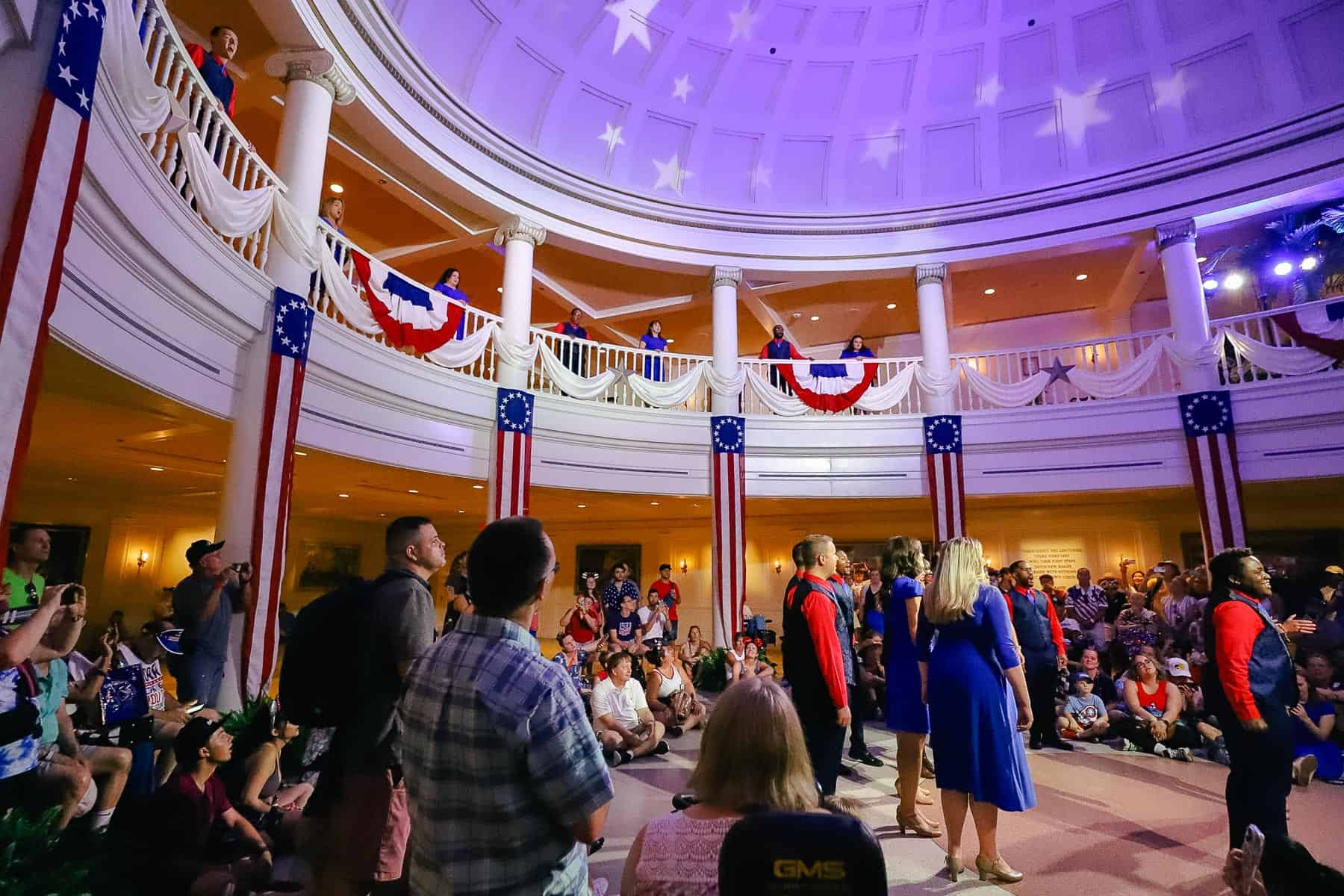 At night, Spaceship Earth takes on a red, white, and blue look.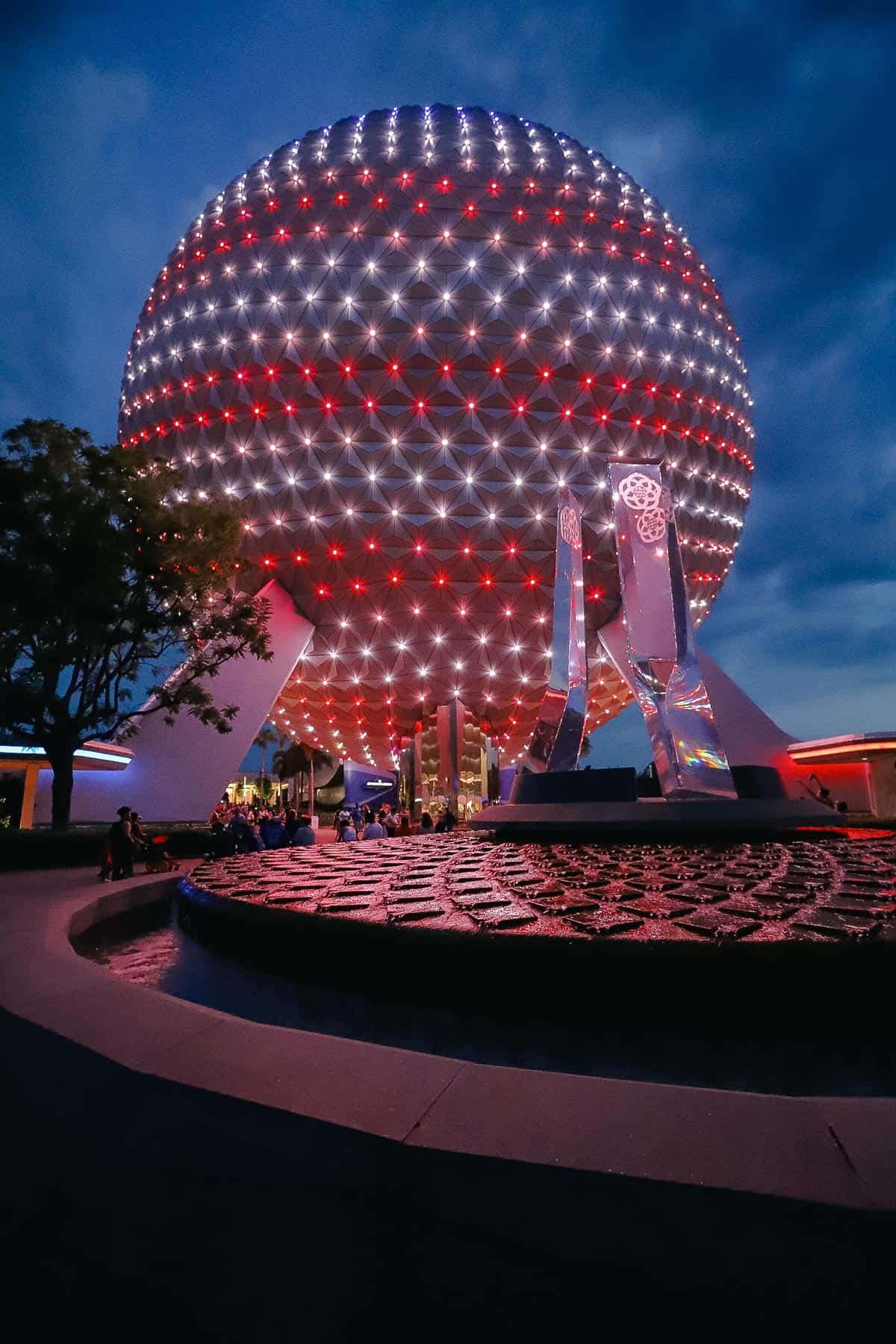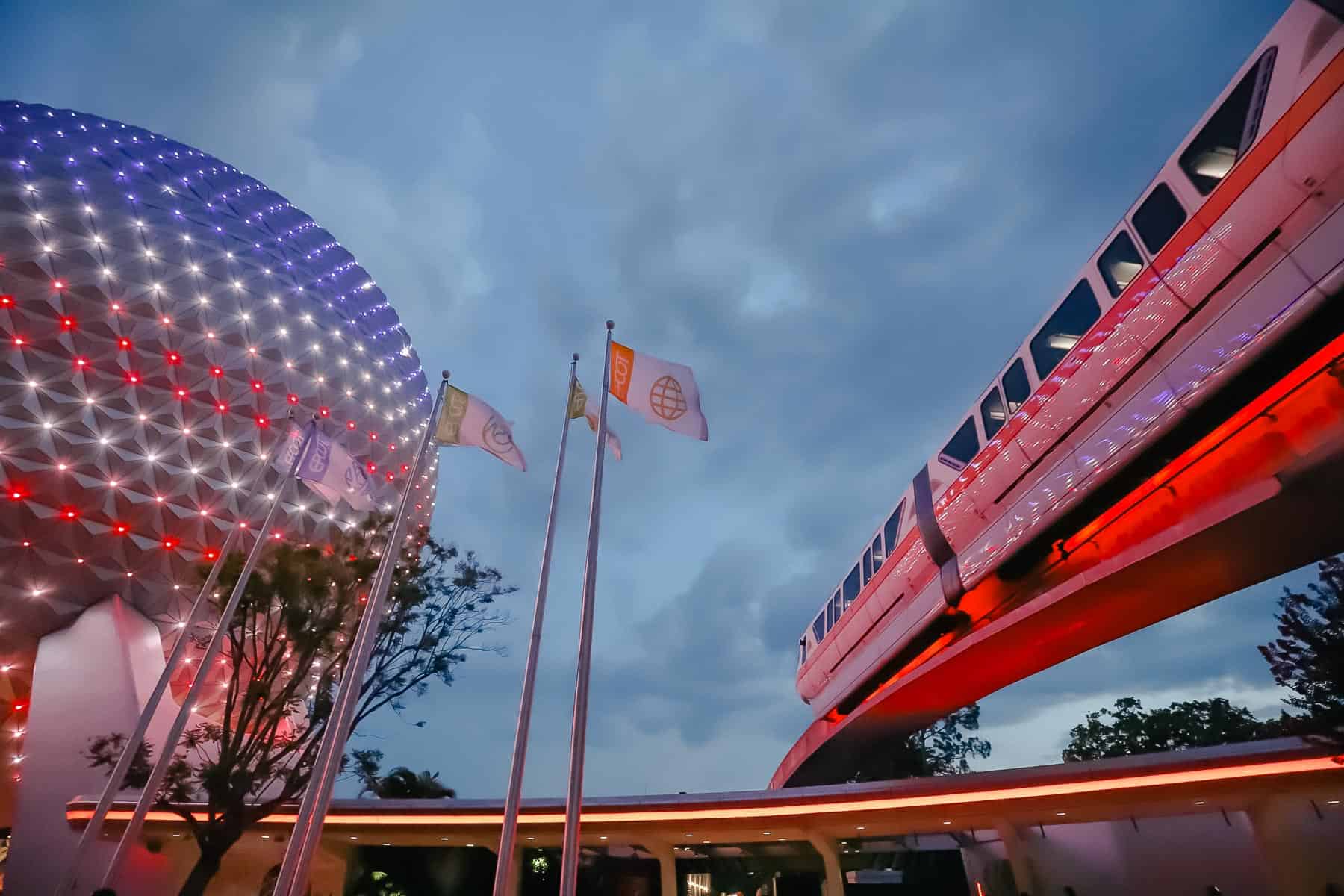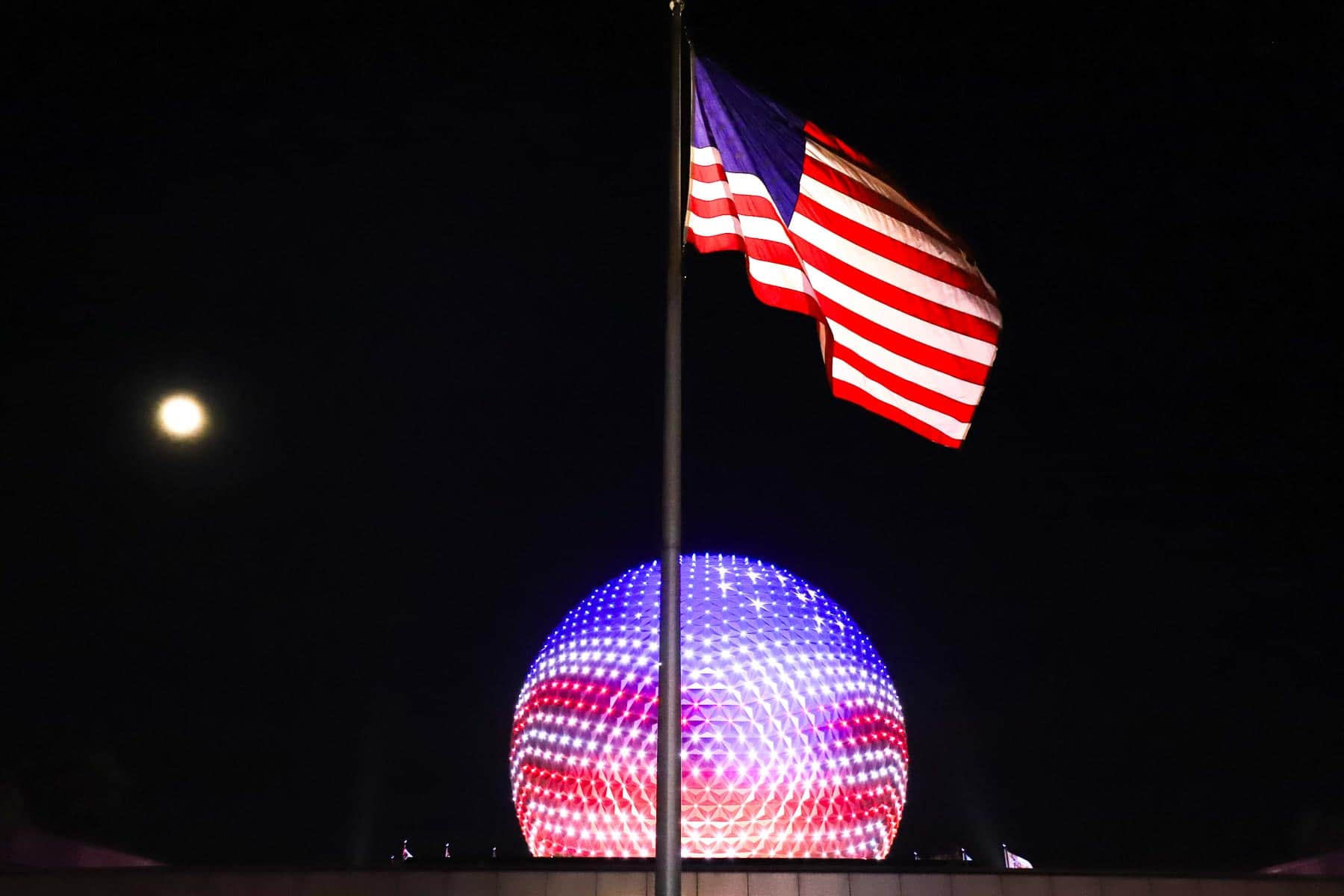 Why We Love Staying on Property During the 4th of July
Ultimately, the 4th of July holiday is an excellent time to stay on property. I cannot stress enough how nice it is to have access to Disney transportation to take you to and from the parks.
Of course, if you stay at a resort that's not within walking distance, you will have to deal with some crowds. For example, we watched the fireworks at Magic Kingdom on July 3rd this year. Then we stayed later to let the crowds clear since we had to take a bus back to the Boardwalk.
We left Magic Kingdom at approximately 10:30 p.m. While a bus was waiting when we got to the bus stop, we sat in traffic for about 15 minutes on our way back to the Boardwalk. That wasn't a big deal, but it would have probably been longer if we had left earlier.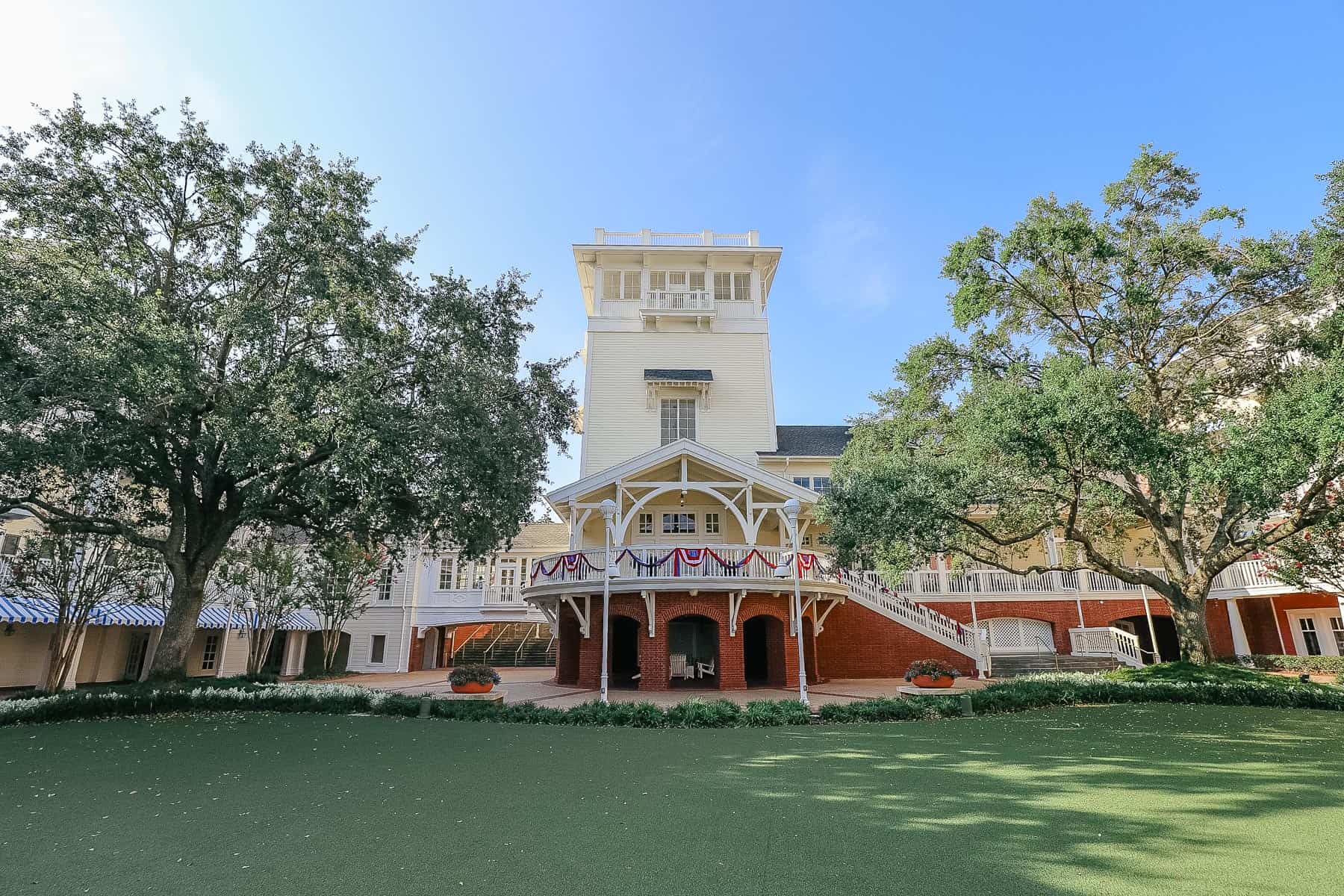 However, on the 4th, we watched Epcot's fireworks from the Boardwalk area. In hindsight, we probably should have taken a break at the resort this afternoon. But after a full morning and afternoon at Epcot, followed by an excursion to Fort Wilderness, we left the park before the fireworks started. It had been a miserably hot day, and we were trying to cover as much as possible.
With so much to do for the holiday, it's impossible to take in everything. So my best advice is to select a few things that are important to your group. And if you can find a hotel within walking distance of either park–take advantage of the opportunity!
Happy planning for your 4th of July Walt Disney World vacation!