Disney's Old Key West
Disney's Old Key West is a charming resort that falls under the Disney Vacation Club Resort category.
This resort guide showcases the resort and includes our articles related to it.
Address: 1510 North Cove Road
Lake Buena Vista, FL 32830
Check-In Time: 3:00 p.m.
Check Out Time 11:00 a.m.
Disney's Old Key West Overview
---
Ask any owner, and they will gladly share why Disney's Old Key West is their "home" resort. Their story usually goes along the lines of, "We've been coming to Old Key West since back in the 90s, and it's just as magical today as it was back then."
They will continue to go on and on about the stunning grounds, peaceful pastels, friendly cast members, and all the things "to do" at the resort. You'll also hear about Olivia's Cafe and how you must enjoy at least two or three meals at the hidden gem during your stay.
Trust me, this is exactly how the story goes. I've heard it many times. But I have to warn you. It's important not to get any preconceived notions about the resort.
Old Key West is not a modern hotel by any means. When I try to think of a way to describe the resort, two clear images come to mind.
First, the resort gives off this campy vibe. Do you remember the excitement of returning to the same summer camp year after year? You couldn't wait to see old friends, make new ones, and hang out at the lake.
If you were fortunate enough to attend summer camp, a flood of memories is likely rushing to your brain. This is that feeling that the Old Key Westers are describing–a home away from home.
---
Also, it reminds me of the resort in the movie Dirty Dancing. Of course, Old Key West doesn't offer dancing lessons. But the resort does have a community hall, tennis courts, regular gatherings for movies, and buildings with individual units scattered over its grounds.
If you can picture either of those examples, you probably have a good idea of what to expect at Disney's Old Key West. It's a familiar place that serves a heaping scoop of comfort and a whole lot of charm.
Did I mention this was a Walt Disney World Resort? If it weren't minutes from the magic, you would never know it!
Below, we'll go over the specifics of planning a stay at Disney's Old Key West Resort. This resort guide strives to provide a complete overview of everything you need to know about the resort.
In some instances, we link to additional articles about our experiences at the resort. If you are interested in learning more about a particular subject related to Old Key West, you might want to read them.
For example, we've rented bikes at Old Key West and have an article that details our experience. If you enjoy riding bikes, you might want to check it out. If not, skip over it.
We'll highlight the most important details where necessary and let you know when it's essential to learn more!
A Note on DVC Resorts
Since Old Key West is one of Disney World's Villas, it operates a little differently from the average Disney Resort Hotel. Members of Disney's Vacation Club will have a first-come, first-serve choice of rooms when reservations become available. However, it is rare for rooms to fill up, so Disney makes these rooms available on a cash basis to regular resort guests.
So you do not have to be a DVC member to stay at this or any other Disney Vacation Club Resort.
---
Rooms
Below are the available room types for Old Key West.
---
Deluxe Studio
Deluxe studios at Disney's Old Key West sleep up to four guests. They have two queen size beds in addition to other room amenities, including a kitchenette.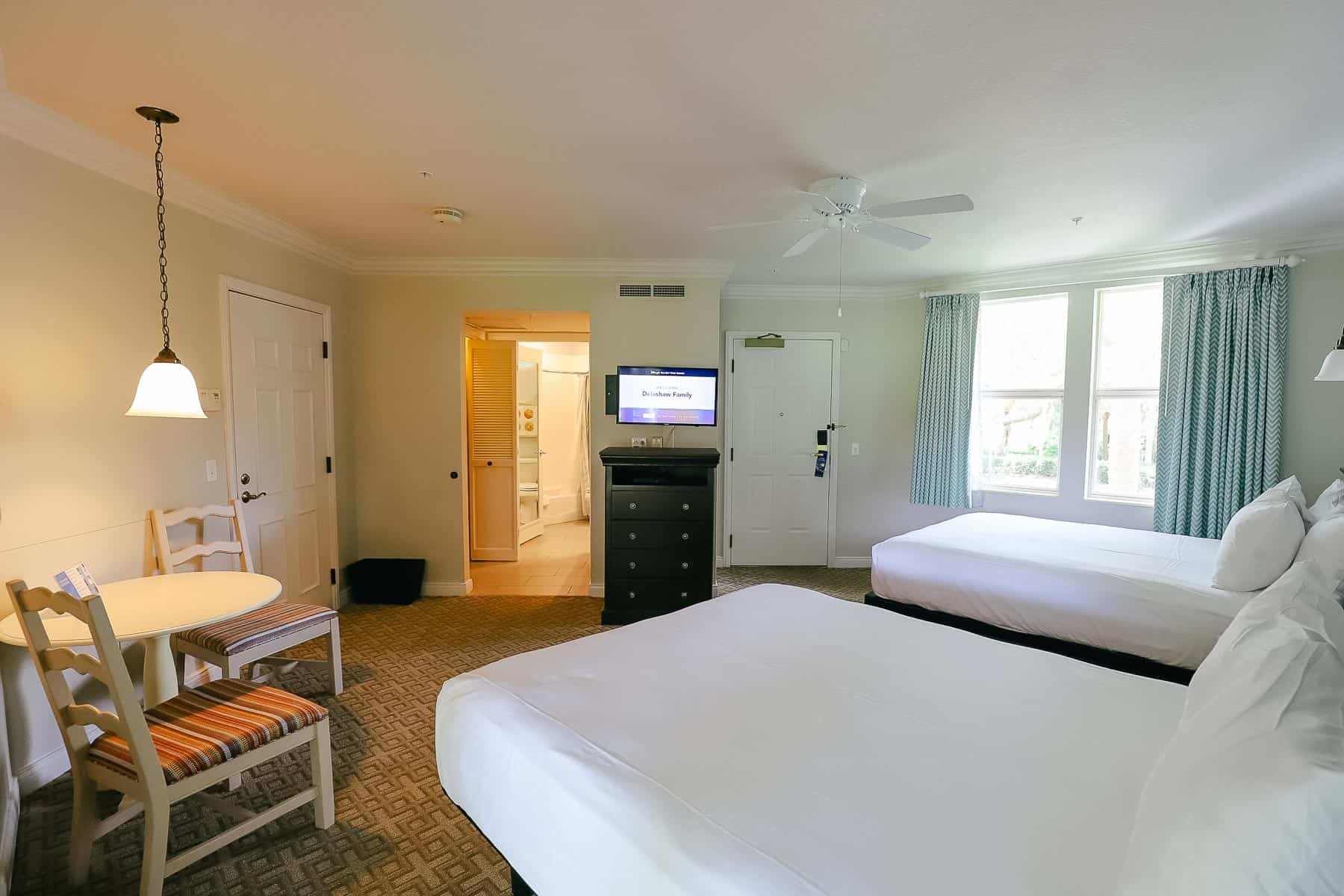 Other room options include the following:
One-Bedroom Villa–These units sleep up to five adults. Sleeping arrangements consist of a king-size bed, a queen-size sleeper sofa, and a twin-size sleeper chair. A one-bedroom villa has an open living room, kitchen, and dining area. It also features a separate bedroom, laundry area, and a full-size bath.
Two-Bedroom Villa–Two bedrooms sleep up to nine adults and have two full-size baths. This unit has all the same features as a one-bedroom, however, the sleeping arrangement consists of two bedrooms.
The first bedroom features a king-size bed, and the secondary bedroom is similar to a standard hotel room with two queen beds. This villa's living room features a queen-size sleeper sofa and a single pull-out sleeper chair.
Three-Bedroom Villa–Count your blessings if you have the opportunity to stay in a three-bedroom grand villa anywhere at the Walt Disney World Resort. Three-bedroom villas at Old Key West are two stories and have four bathrooms!
This fabulous unit sleeps up to twelve adults! Sleeping arrangements for this unit include a king-size bed in the primary bedroom, two queen-size beds in the second bedroom, and two double beds in the third bedroom. Like the one and two-bedroom units, the living room offers a queen-size sleeper sofa and a single pull-out sleeper chair.
Other Room Amenities
All units feature views of the water, woodlands, or fairways. In addition to the two-bedroom unit, a separate two-bedroom lock-off unit is also available. Lock-offs combine a deluxe studio and a one-bedroom unit.
One bedroom and larger units have a washer and dryer. Large laundry rooms are available (at no charge) to guests staying in deluxe studios. Since Old Key West is a Disney Vacation Club Resort, free laundry is a perk you won't find at regular Disney Resorts.
Additionally, one-bedroom and larger units have a whirlpool tub with a separate walk-in shower off the master bedroom. These units come with a fully-equipped kitchen. Deluxe studios will have a microwave, coffee maker, toaster oven, and a few dishes.
*See Laundry at Old Key West for more details, photos, and locations of the laundry facilities. For dry cleaning laundry service, you'll need to drop off any items with bell services before 9:00 a.m.
All units at Old Key West have either a patio or balcony. Some of the larger units will have patios with enough space to enjoy an outdoor meal.
---
Disney's Old Key West Resort originally opened in 1991 as the Disney Vacation Club. Due to its popularity and success, Disney decided to distinctly rename the resort Old Key West in 1996. Like its name, the resort pays tribute to the Florida Keys.
Unfortunately, the resort has an interesting backstory that has not been retold enough over the years. For instance, the name of the resort's fictional town is Conch Flats. When you first arrive at the resort, you'll cross a long bridge. This bridge was intended to symbolize arriving in the Florida Keys. If you've ever driven to any island, you know you must drive across a bridge to access it.
A grouping of palm trees greets you at Hospitality House's porte cochere. Hospitality House is the heart of Conch Flats. Located toward the front of the resort, Hospitality House is where you'll find the lobby and check-in area, Papa's Den, restaurants, Community Hall, the Sandcastle pool, Conch Flats General Store, and the marina–boat dock and all!
Conch Flats General Store is the gift shop for Old Key West. Since this is a Disney Vacation Club, the gift shop contains not only souvenirs and Disney-branded merchandise but a tremendous amount of grocery items and snacks. These items might come in handy if you decide to prepare a few meals in your unit. However, most guests use modern grocery services these days to have items delivered to the resort.
What is Papa's Den? Papa's Den sits next to the lobby at Old Key West. It's a large sitting area nicknamed after Ernest Hemingway, who was often called Papa. In more recent years, the lobby has been renovated. However, if you look closely, you'll find nods to the famous writer throughout the space.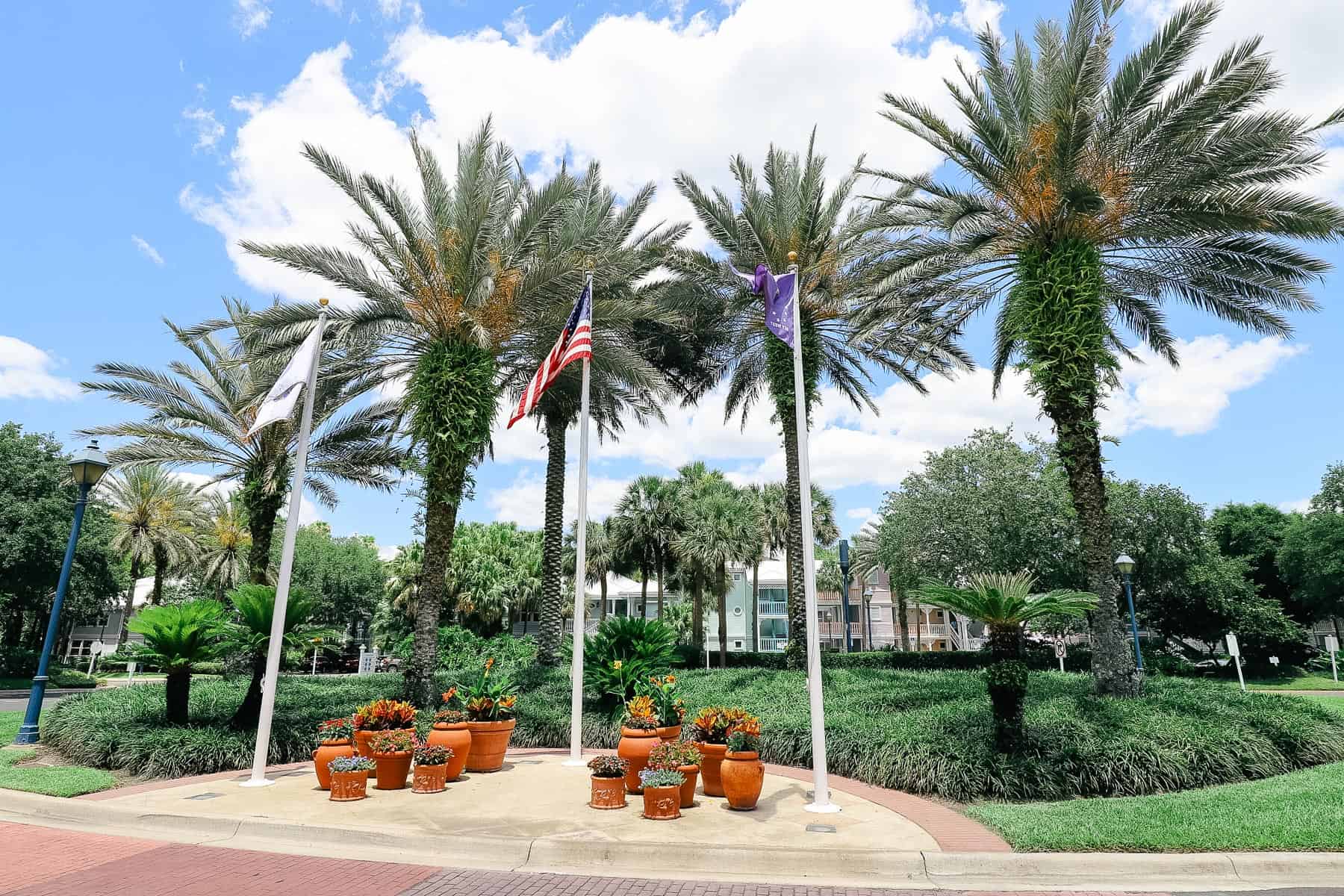 ---
---
Unfortunately, dining is not Disney's Old Key West Resort's strong point. But we'll let it slide some because the resort's table service restaurant, Olivia's Cafe, is excellent.
When it comes to dining options at Old Key West, the immediate options available at the resort are:
Gurgling Suitcase Libation and Spirits–This location sits in the center of Conch Flats and serves as the resort's lounge and pool bar.
Good's Food To Go–This counter service restaurant offers quick items that you can enjoy at the pool, around Conch Flats, or take back to the room. This central portion of the resort offers plenty of outdoor tables and chairs for casual dining.
Turtle Shack Poolside Snacks–This poolside quick service is located at the resort's largest leisure pool.
Olivia's Cafe–Most will agree that anytime to enjoy a meal at Olivia's Cafe is a good time. We love to have breakfast on the covered patio outside the restaurant before it gets too hot. But the interior of the restaurant is just as charming. Inside, you'll find pictures of many of the members and their families who have enjoyed Old Key West throughout the years.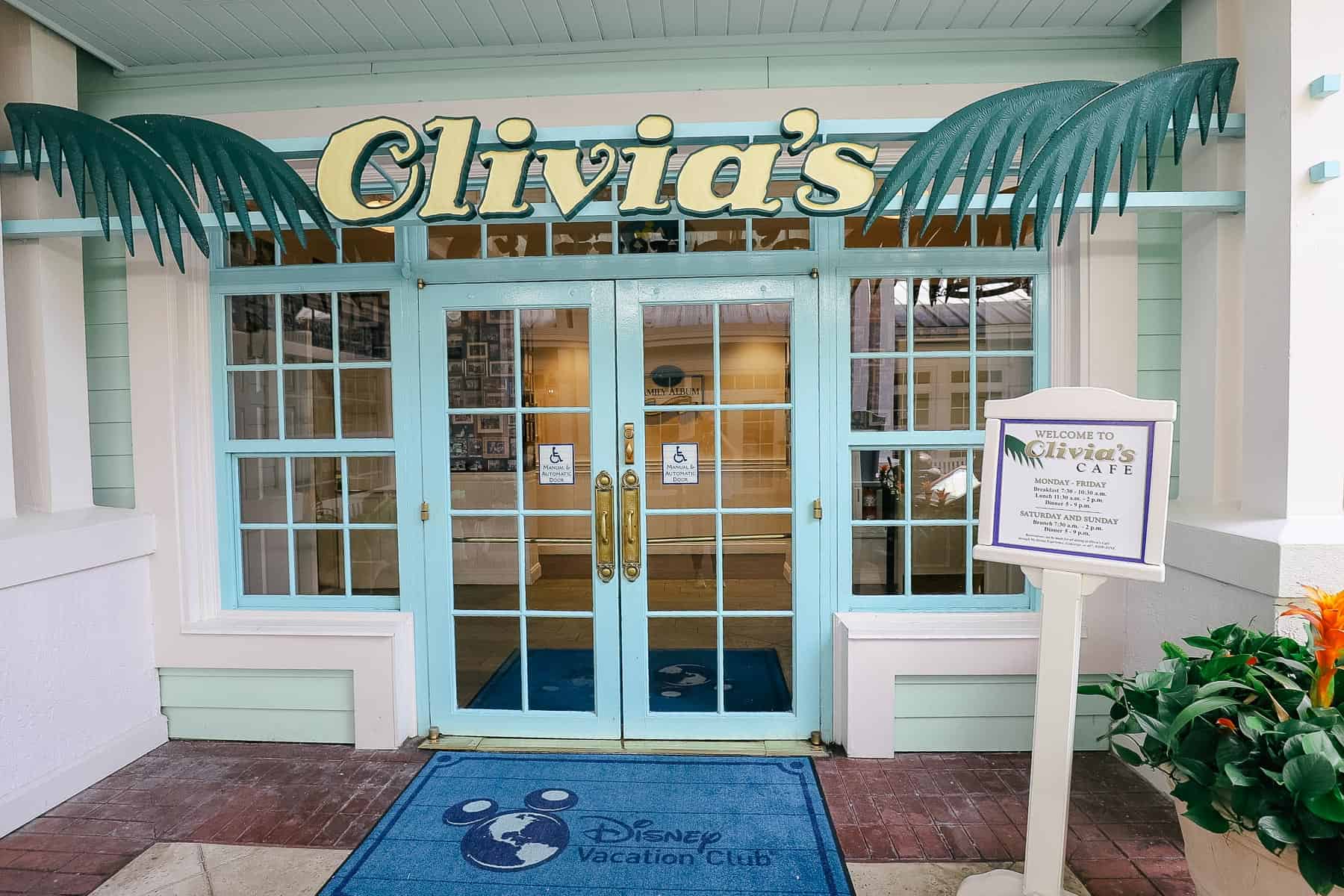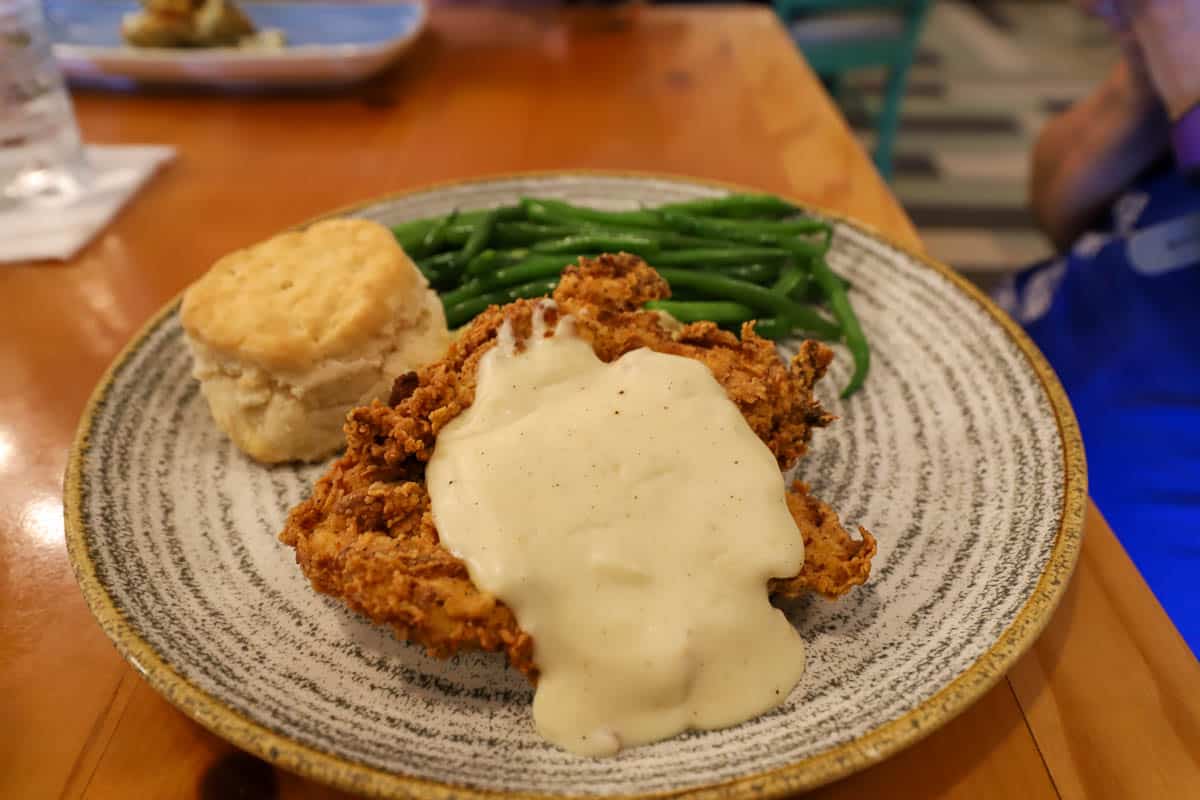 Thankfully, guests will find ample dining at nearby Disney Springs. Since Disney's Old Key West makes up part of the Disney Springs Resort Area, the resort offers boat and bus transportation to the venue.
So you can hop on a boat and dine at Disney Springs when you arrive. Not only is the boat ride pleasant, but Disney Springs has excellent dining options, ranging from quick service to fine dining.
But if you're only looking for sandwiches, burgers, pizzas, or chicken nuggets for the kids, you'll be able to survive off the options at Good's Food To Go. However, you'll find me enjoying an order of pancakes from Olivia's Café while taking in the beautiful views of the marina.
*See Olivia's Cafe Review for more details about our multiple experiences dining there.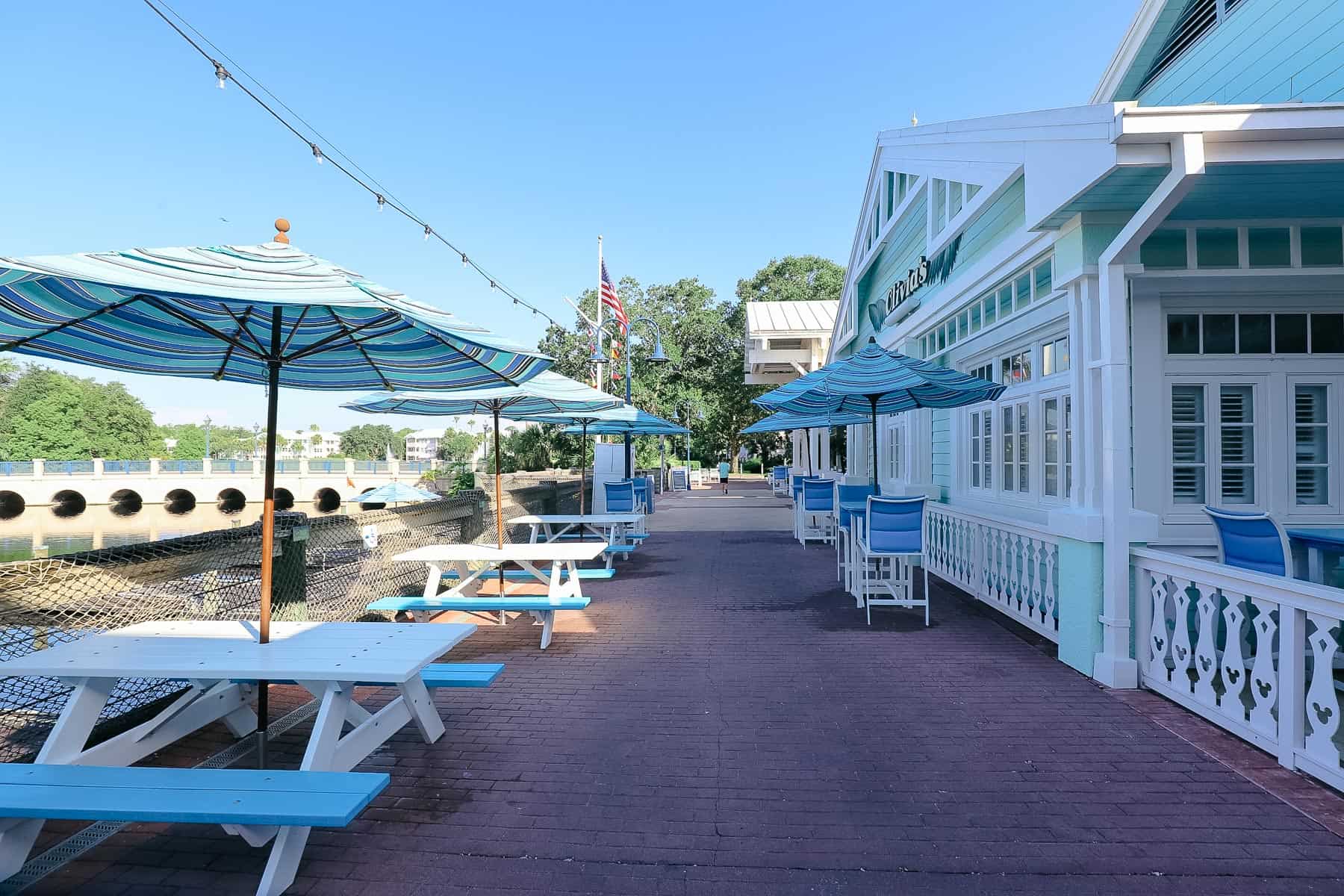 One thing is for sure. Old Key West is winning when it comes to recreation. There is so much to do here. You could spend an entire week hanging out at the resort and enjoying all it has to offer.
Here is an overview of those items:
Sandcastle Pool-First, the Sandcastle Pool is the resort's large feature pool. Located near Hospitality House, the pool has a giant sandcastle feature that doubles as a water slide and a hidden Mickey! A separate kiddie pool makes up part of the feature pool area.
A lighthouse sits toward the back of the pool. Most people probably don't realize it, but a dry sauna is available inside the lighthouse. A whirlpool spa is also available at the pool.
Playground-A fun playground sits adjacent to the Sandcastle Pool. This area provides an excellent place for young children to play on equipment or enjoy the sand.
Leisure Pools-Three leisure pools are available at Old Key West in addition to the Sandcastle Pool. They are located at Miller's Road, Old Turtle Pond, and South Point. The Turtle Shack quick service is located at Old Turtle Pond. This location also has a separate playground, arcade, and shuffleboard court.
---
Recreation Courts-Old Key West is home to a basketball court, tennis courts, pickleball court, volleyball court, foosball, shuffleboard, and more. If you're looking for outdoor activities, this resort is perfect!
Bike Rentals- As mentioned earlier, Old Key West offers bike rentals. They have a few Surrey bike rentals, but I think most will be interested in individual bicycles at this resort. In addition to biking around the resort, another path is available that joins Saratoga Springs. You can bike for several hours between the two resorts without doing much backtracking.
Arcades-Old Key West has two arcades. One is the Electric Eel arcade at Hospitality House near Community Hall. The other is The Flying Fish arcade, which you'll find next to the Turtle Shack.
Community Hall -This building sits across from the Sandcastle Pool in the Hospitality House area. You'll find the resort's recreation calendar, Movies Under the Stars, and other information. Cast members hold various activities inside Community Hall. You'll need to see what's available for the month of your stay. We try to post updated calendars monthly for each resort.
You can check out equipment for the various sports courts at Community Hall. Additionally, if you are a DVC member, they have a DVD rental program. While I know that sounds ancient, most of the units at the resort have a DVD player.
---
Guests staying at Old Key West will need to take Disney's bus transportation to the following locations:
Magic Kingdom
Epcot
Disney's Hollywood Studios
Disney's Animal Kingdom
Water Park(s)*
Additional boat transportation is provided to Disney Springs. If the water is low, boat transportation is not available. We have a separate article that details how to get to and from Disney's Old Key West.
*Disney has two water parks-Typhoon Lagoon and Blizzard Beach. However, they are not always open simultaneously. Signage is available at the resort's bus stop, indicating which bus to take. Guests must take a transfer bus to get to either location.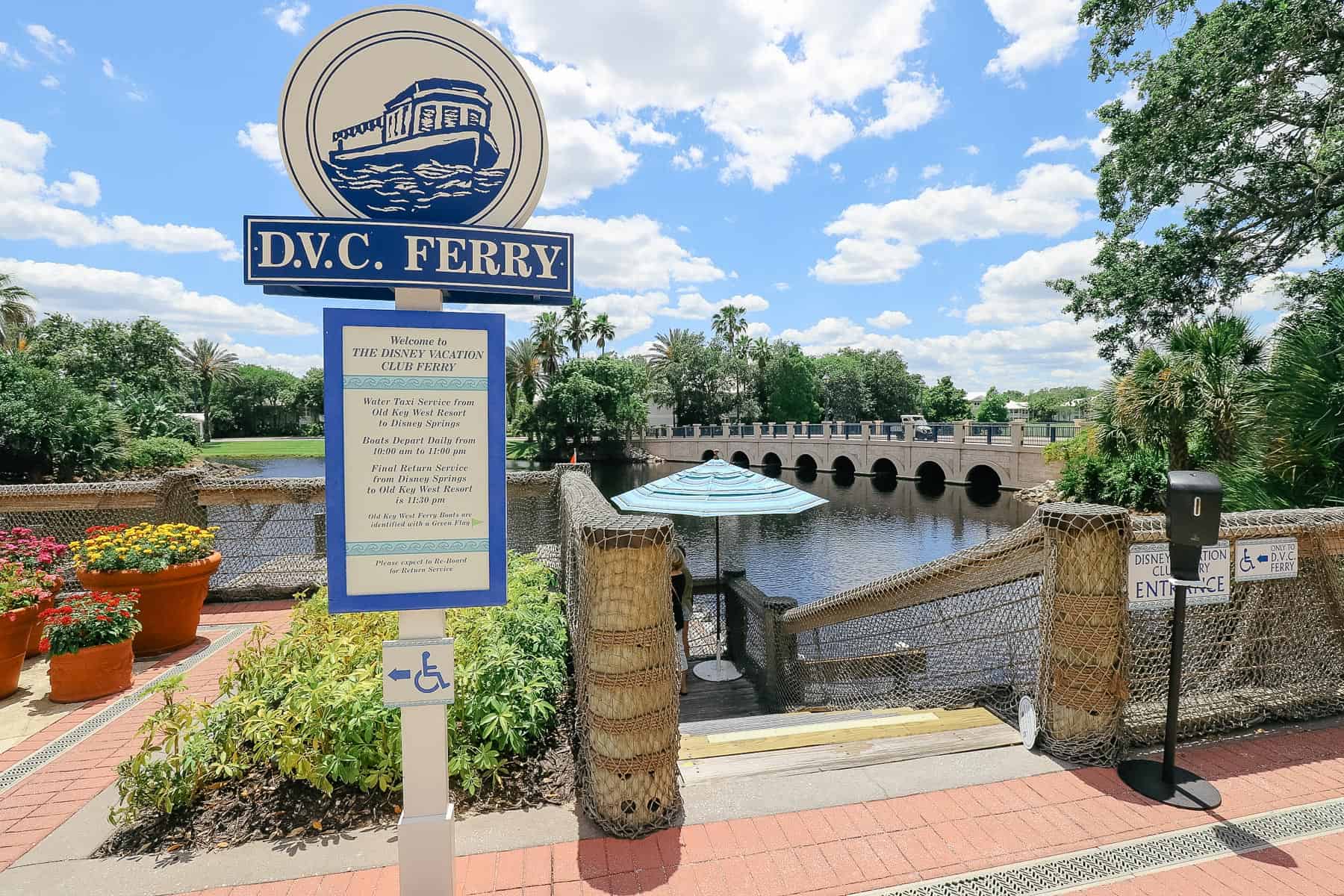 ---
What We Love About Disney's Old Key West Resort (and Don't)
---
Like every resort, Old Key West has its pros and cons. Perhaps one of the significant things to consider is the vast size of the resort. It has 49 buildings (each three stories) spread out on over 100 acres! The resort is so large that it's broken down into five sections, each with its own bus stop.
Peninsular Road
South Point
Old Turtle Pond Road
Miller's Road
Hospitality House
Unfortunately, another consideration is that most of the buildings do not offer elevators. From my understanding, only three buildings at the resort have elevators. Those three elevator-equipped buildings at Old Key West are 62, 63, and 64.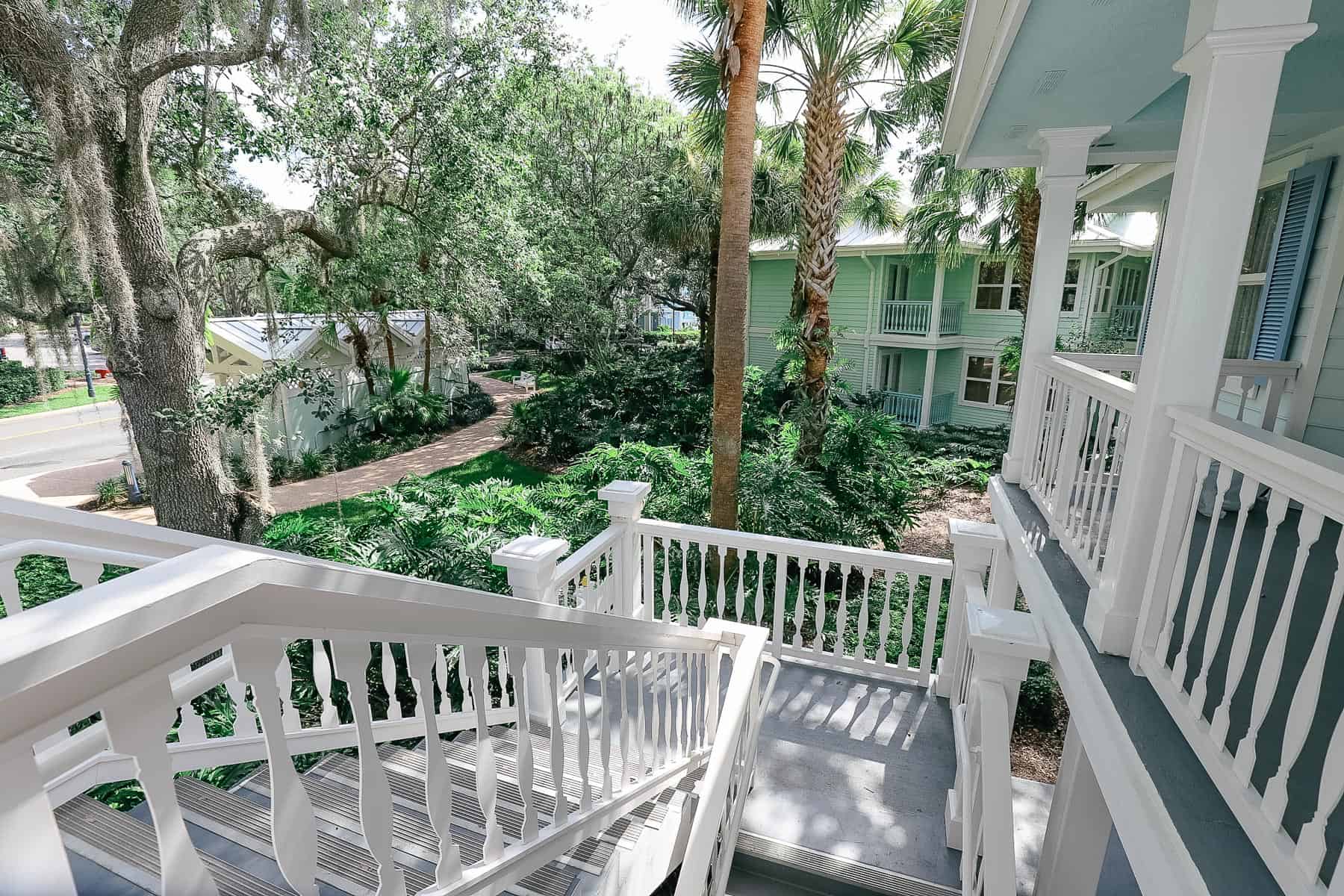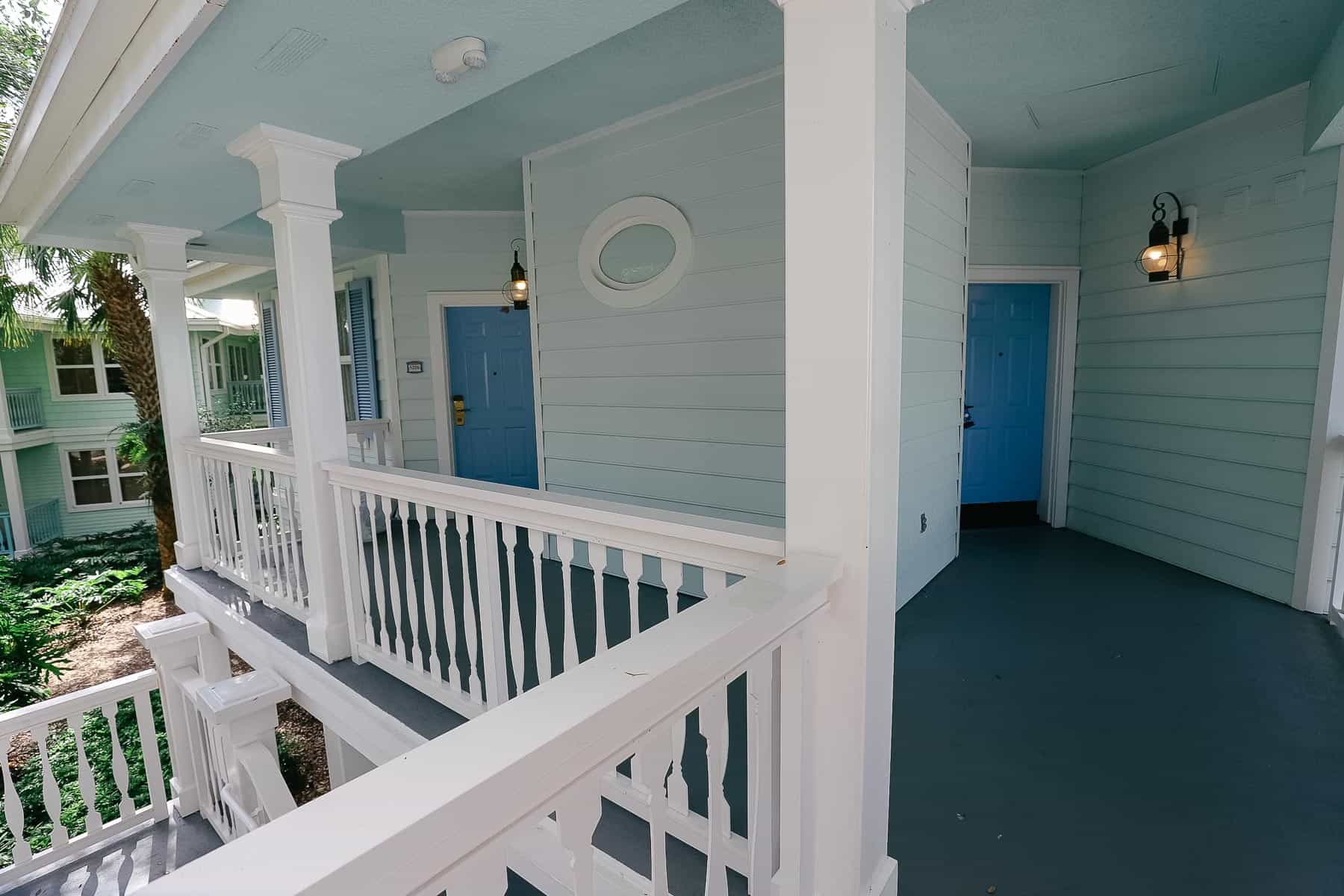 During our last stay, we were assigned a third-floor room near the back of the resort. While we enjoyed the privacy of our location, it was more effort than usual to bring our luggage up and down from the room. It was also a long hike to Hospitality House. As someone who enjoys recreational walking on an almost daily basis, I loved the long walks across the resort. But I couldn't help but notice how the resort might not be suitable for everyone.
Some might tell you that the resort is further from the parks than others. Compared to most of the deluxe resorts that are within walking distance of a theme park–it's true. But this resort is not any further out than most of the moderate resorts or Animal Kingdom Lodge, which sits on the opposite end of Walt Disney World. So I wouldn't necessarily let that factor sway my opinion unless I was considering staying at an Epcot or Magic Kingdom Resort.
With those minor (or possibly major) considerations aside, I am an outdoors person and love this resort as much as many of the owners. But if you are not one for walking long distances or staying in a place that's not set up like a hotel–you might want to look elsewhere. When others ask me about Old Key West, I kind of gush and say how much I love it. But then I also feel the need to immediately explain that they shouldn't expect a lush, high-end feel.
It's Old Key West, as Hemingway put it, "It's a St Tropez for the poor." It's really a beautiful sentiment.
For more thought on the resort, we have an entire review of our stay at Old Key West.
Resorts Near Disney's Old Key West:
Preview all of the Walt Disney World Resorts.
Disney's Old Key West Resort