A Visit to the Charming Olivia's Cafe at Disney's Old Key West (Dining Review)
Did you know that you can open the My Disney Experience app almost any time and find immediate availability for a handful of restaurants? One of those restaurants is usually Olivia's Cafe.
But even though it's almost always available, I wouldn't write it off. You see, Olivia's Cafe is a bit of a hidden gem. And hidden gems are few and far between at Walt Disney World.
Whether it's breakfast, lunch, or dinner, this off-the-beaten-path restaurant has something for everyone. Oh, and there's brunch too!
So for this article, we're off to Disney's Old Key West for a review of Olivia's Cafe. We'll look at a lunch I enjoyed with dear friends and take a peek at what I had for breakfast on a recent stay.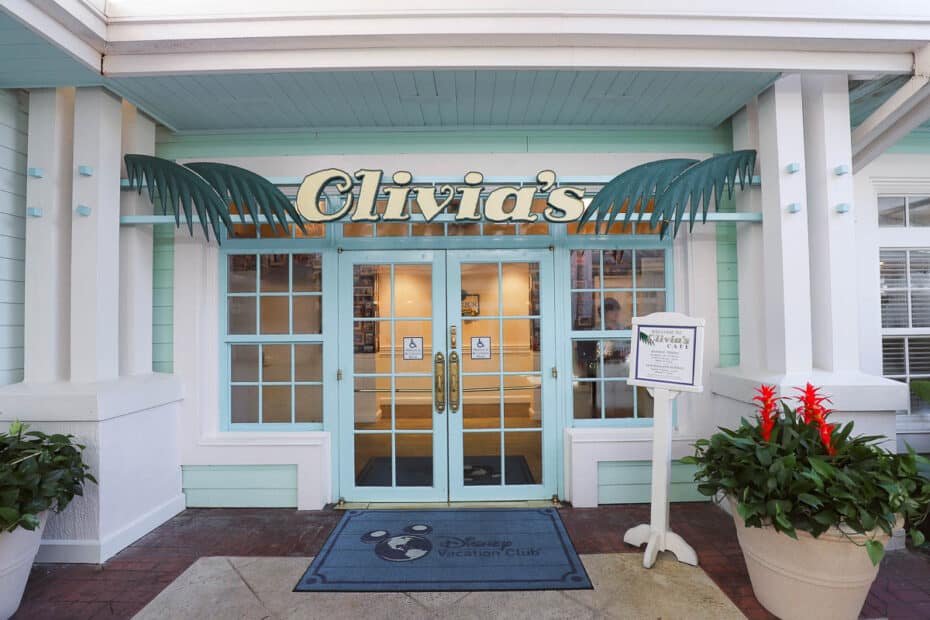 Olivia's Cafe serves breakfast Monday through Friday between 7:30 a.m. and 10:30 a.m. Then lunch from 11:30 a.m. through 2:00 p.m. Dinner service begins at 5:00 p.m. and lasts through 9:00 p.m.
However, brunch is available on the weekends (Saturday and Sunday) between 7:30 a.m. and 2:00 p.m. You can expect a combined breakfast and lunch menu with a few other options for brunch. Then the restaurant re-opens for dinner between 5:00 p.m. and 9:00 p.m.
* Update: Olivia's Cafe now offers a brunch menu throughout the week.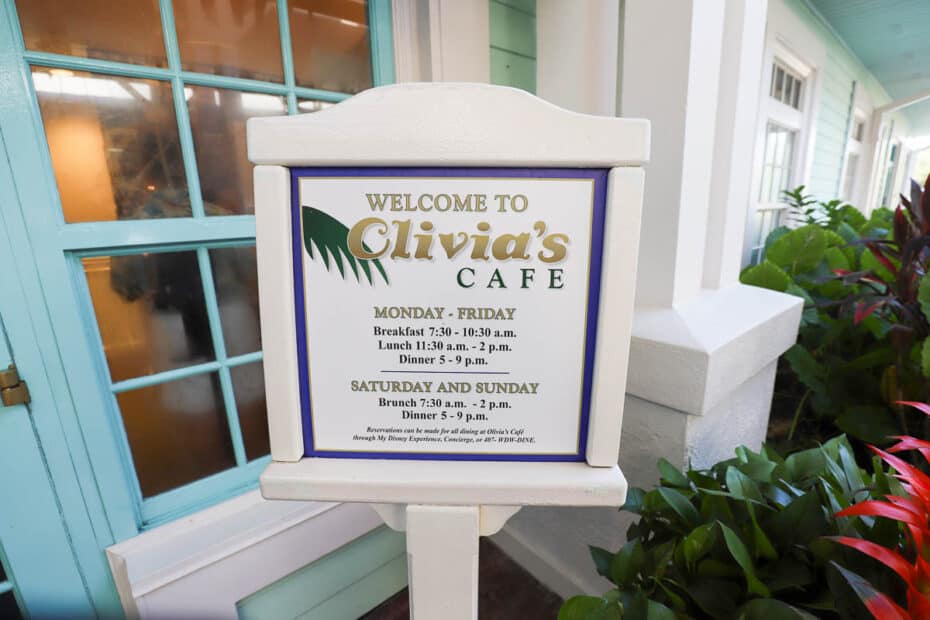 Olivia's Cafe is located at Hospitality House behind Conch Flats General Store (the gift shop). The restaurant sits directly across an exterior walkway from the lobby.
Several menus are posted near the restaurant entrance if you want to preview what's available. Most will want a reservation in advance, but the restaurant will take walk-ups based on availability.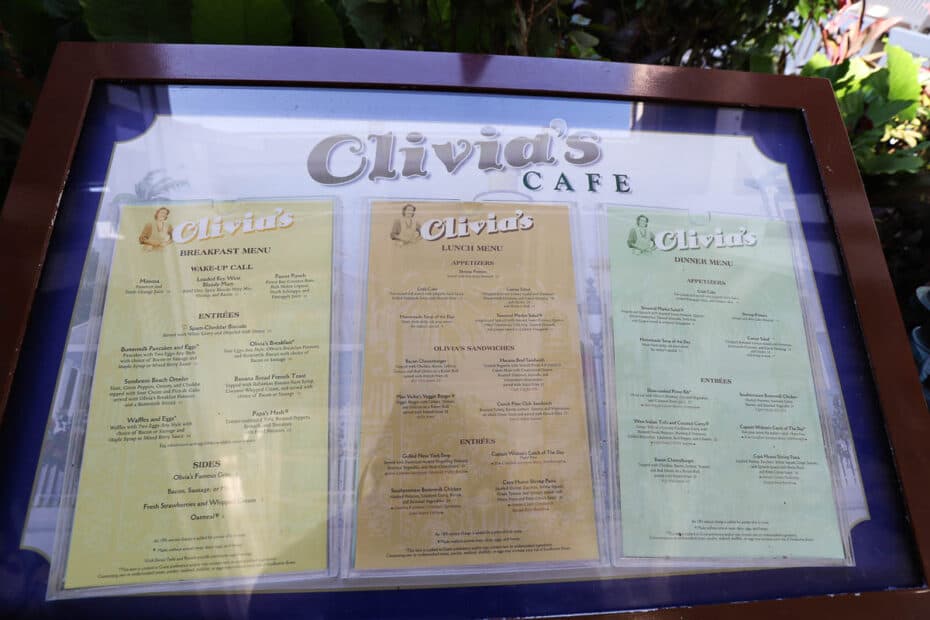 In addition, Olivia's Cafe is one of the few restaurants at Disney World that takes to-go orders. So if you're staying at the resort or nearby, you can place a to-go order in the My Disney Experience app and pick it up.
Old Key West, as a whole, offers a serene vibe reminiscent of the Florida Keys. That mood continues inside Olivia's.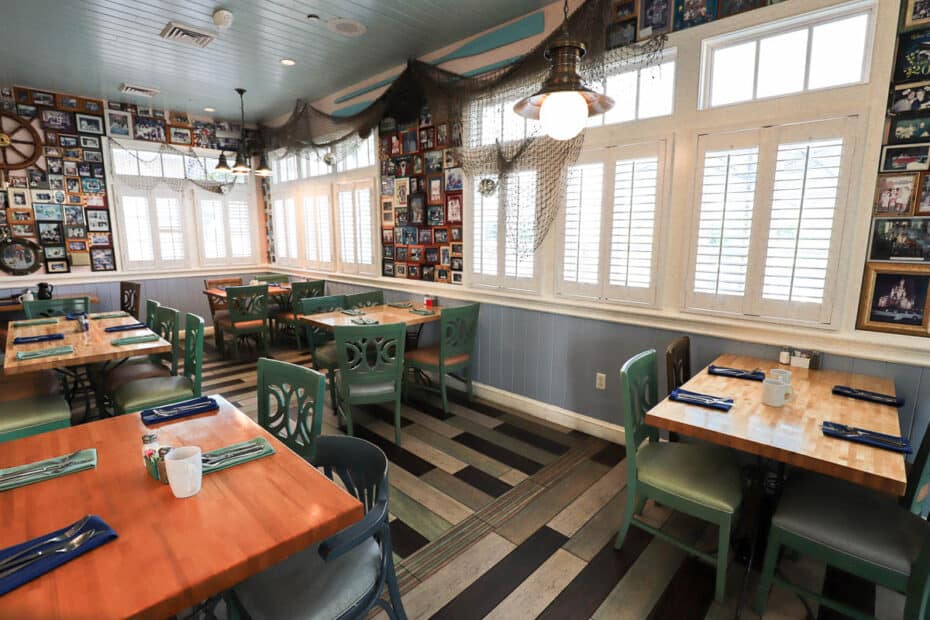 You may notice tons of family photos posted in some areas of the restaurant. This is because Old Key West was the original Disney Vacation Club at Walt Disney World. Many of the owners (DVC members) are pictured in various places throughout the entire Hospitality House area.
If you aren't very familiar with Old Key West, I can assure you the members would probably like to keep it that way. The whole resort is charming and one of the few places at Walt Disney World that hasn't seen tremendous changes over the years.
But the truth is, most members are exceptionally proud of the resort and still feel good about the investment they made many years ago. As much as they'd like to keep the resort under the radar, the ones I've met also enjoy sharing what they love about the place in hopes that you will love it similarly.
For many of us, these are the types of things that make us fall in love with a place like Walt Disney World. Consequently, it's that same nostalgia many of us hope to recapture when we return.
Anyway, I was invited by my friend Denise to join her and her husband and another couple for lunch. Since I had stayed at Old Key West the week before to start work on reviewing the resort, the timing couldn't have been more perfect.
Related: Disney's Old Key West Review
Most of you know that I spend a good deal of time at the Disney Resorts before providing a thorough review. Unfortunately, Old Key West is one we haven't had much coverage of to date.
Thankfully, the opportunity to have dinner with friends helps to expand that coverage.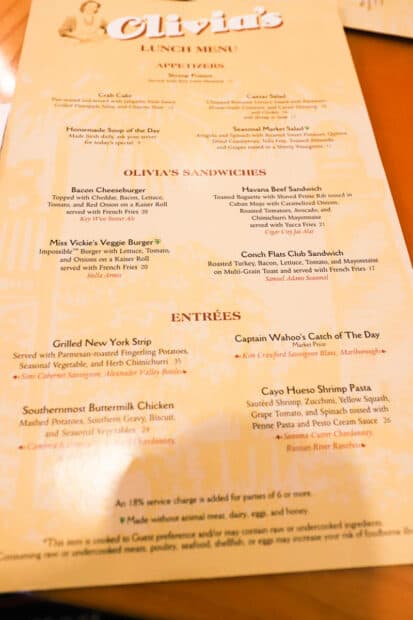 Olivia's Cafe's lunch menu had a nice selection of appetizers, sandwiches, and entrees. Between the four of us, we ordered something from each section. You can preview the lunch and dinner menu here on Disney's site.
Denise's friend, Jo Jo, elected to order two appetizers instead of an entree. This is similar to how I often order, and she soon discovered that each item could have easily made a full meal.
She starts us off with the crab cake. The menu describes this dish as a "crab cake with pan-seared and served with jalapeño aïoli sauce, grilled pineapple salsa, and chayote slaw."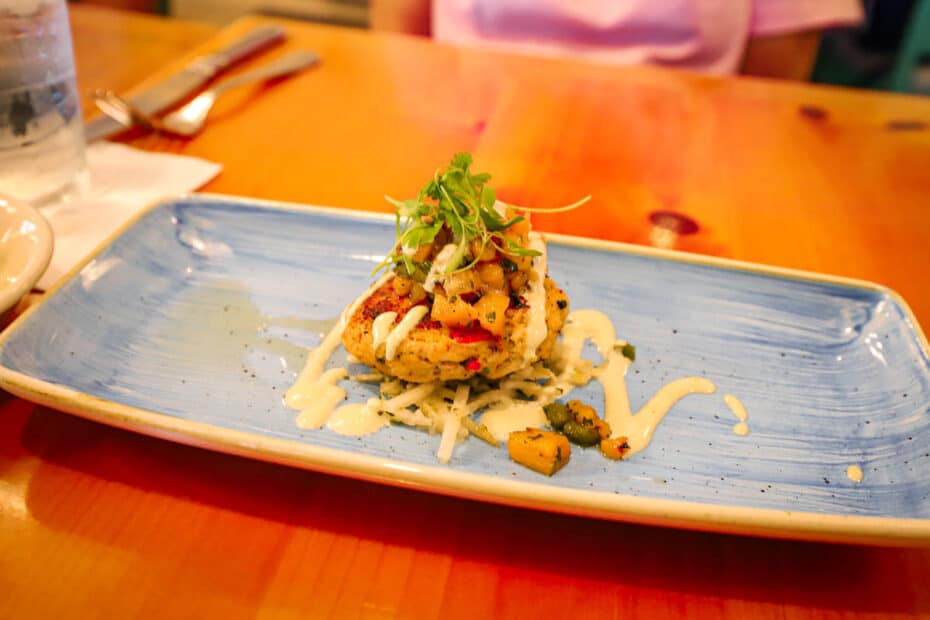 There were no complaints here.
In addition, she ordered the seasonal market salad described as an "arugula and spinach salad with roasted sweet potatoes, quinoa, dried cranberries, toasted almonds, tofu feta, and grapes tossed in a sherry vinaigrette."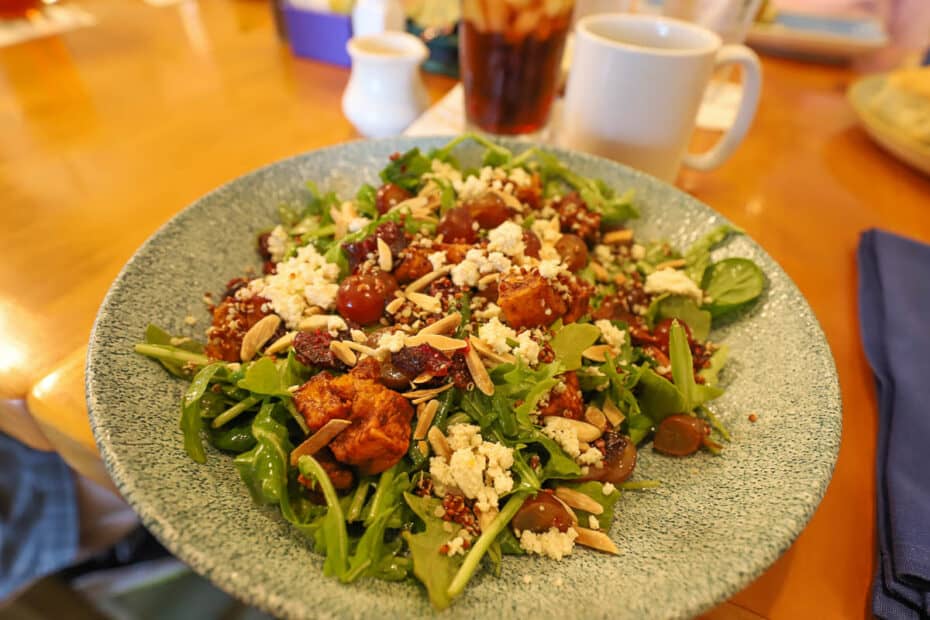 As you can see, the salad was huge and packed with toppings. Next time I visit, I'll likely order this for myself or pick it up as a to-go order.
I don't think the menu noted it, but this salad should be a plant-based option. We all marveled over the size of the salad and how delicious it looked. I pulled the menu up again and noted that the feta was made from tofu.
Denise ordered the Southernmost Buttermilk Chicken. She mentioned that this was her go-to when she dined at Olivia's Cafe, and you can see why.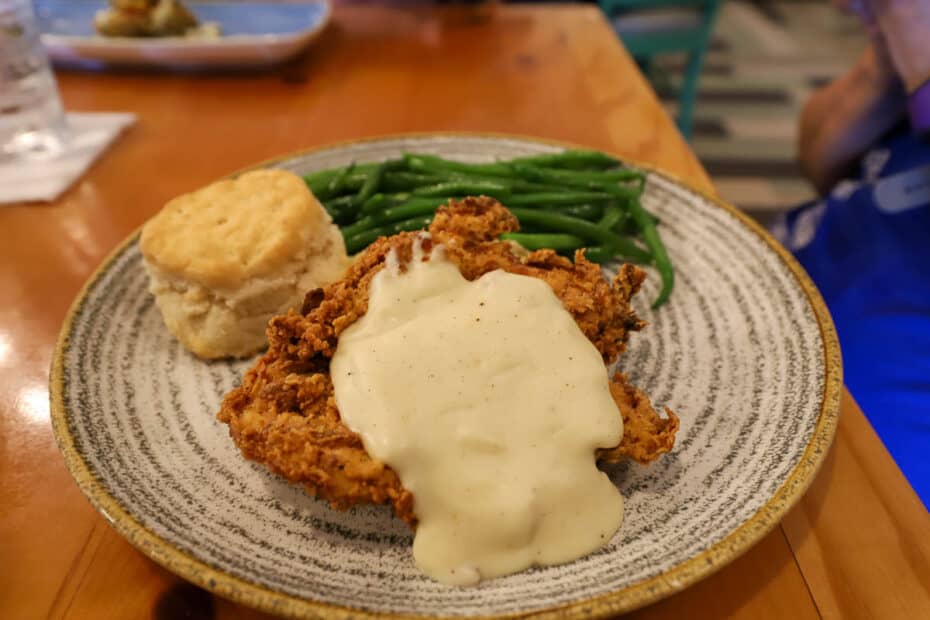 The menu describes this dish as "fried chicken with mashed potatoes, southern gravy, biscuit, and seasonal vegetables." Seriously, how good does this fried chicken topped with gravy look? It was covet-worthy.
Both of the guys ordered the bacon cheeseburger. The burgers were huge, with plenty of toppings. Each order had a towering side of fries.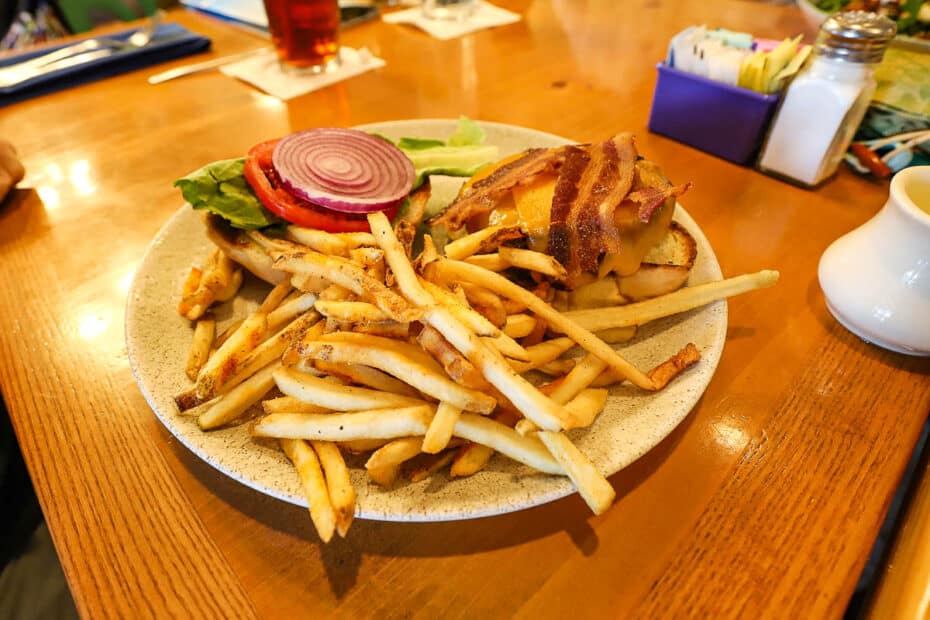 And I went with Conchs Flat Club Sandwich. Unfortunately, my sandwich was turned into a grilled chicken sandwich due to supply shortages. So I can't comment on if the club sandwich is worth ordering.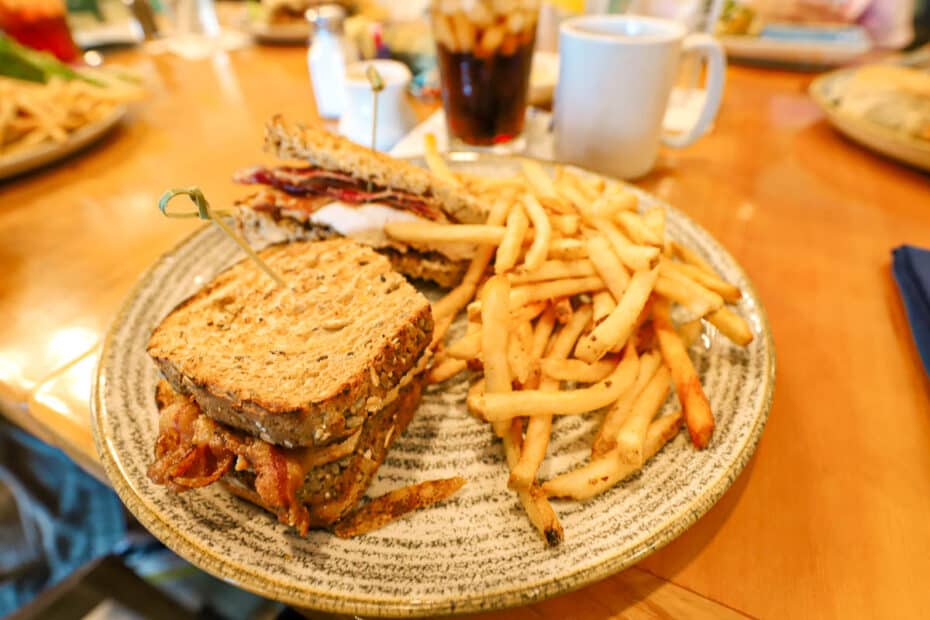 However, the grilled chicken sandwich was an acceptable replacement. But, ultimately, I would have preferred a club sandwich.
Since our entrees and appetizers were hearty portions, we were too stuffed for dessert when we finished our meal. So if you plan to order dessert, keep that in mind while eating.
Lastly, we'll look at what I had for breakfast at Olivia's Cafe the week before. That morning I was hoping to get pictures of the pool as soon as it opened and before it got crowded.
However, I had arrived at the pool an hour early (it didn't open until 9:00 a.m.), and I hadn't had breakfast. So I walked over to Olivia's, asked if I could get walk-up seating, and mentioned that I would love to dine outside if possible.
About 15 minutes later, I was seated on the patio, perusing the menu over a cup of coffee. You can preview the breakfast menu here on Disney's site.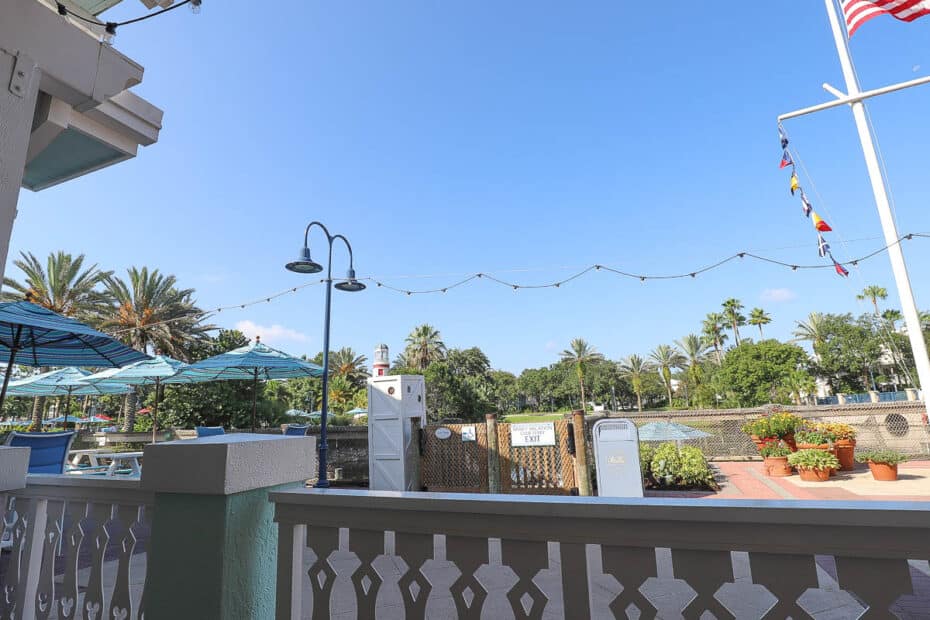 Since I was in the process of reviewing Food and Wine items, I wanted to keep things simple. So I asked the server if I could order the Buttermilk Pancakes and Eggs entree and replace the eggs with something else.
Thankfully, she obliged and gave me a list of items I could order instead. Ultimately, I went with a small side of Olivia's Famous Grits.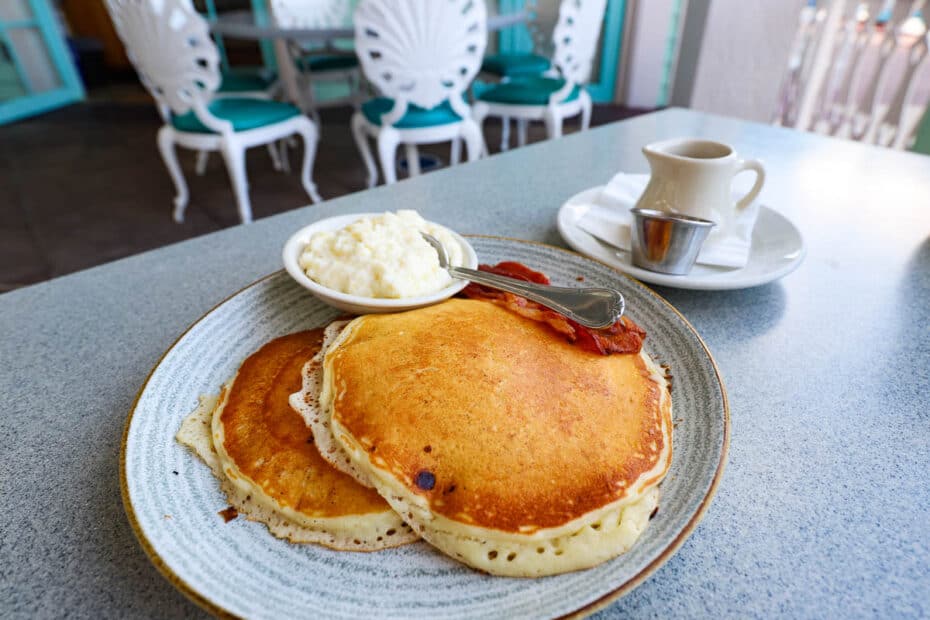 The pancakes were delicious, and the grits were outstanding. A choice of bacon, ham, or sausage comes on the side.
This is another meal I look forward to enjoying at Olivia's Cafe in the future. We'll try to get back over the way and check out the brunch menu sooner or later. You can preview it here in the meantime.
Overall the food we enjoyed was spot-on, and the service at both meals was excellent. Suffice it to say a meal at Old Key West's one and only table service restaurant is worthy of your consideration.
For more restaurants we consider hidden gems at Disney World, try these:
In addition, you might enjoy some of these other popular dining reviews:
Do you have any restaurants you consider hidden gems? Did you find this review of Olivia's Cafe helpful?