Disney's Riviera Resort Restaurants and Dining Guide
When dining at Disney's Riviera Resort, you are in for a real treat. The resort has some of the best options for dining across the entirety of Disney World property.
This article will preview the restaurants at Disney's Riviera Resort. Then, we'll look at every dining option available at the resort.
From quick-service dining to character meals, the resort has you covered. Even if you're not staying at the Riviera, you'll likely want to visit for the sake of a meal.
Riviera's food offerings are impressive. So impressive that I think you'll be pleased with your decision to dine at any one of these restaurants.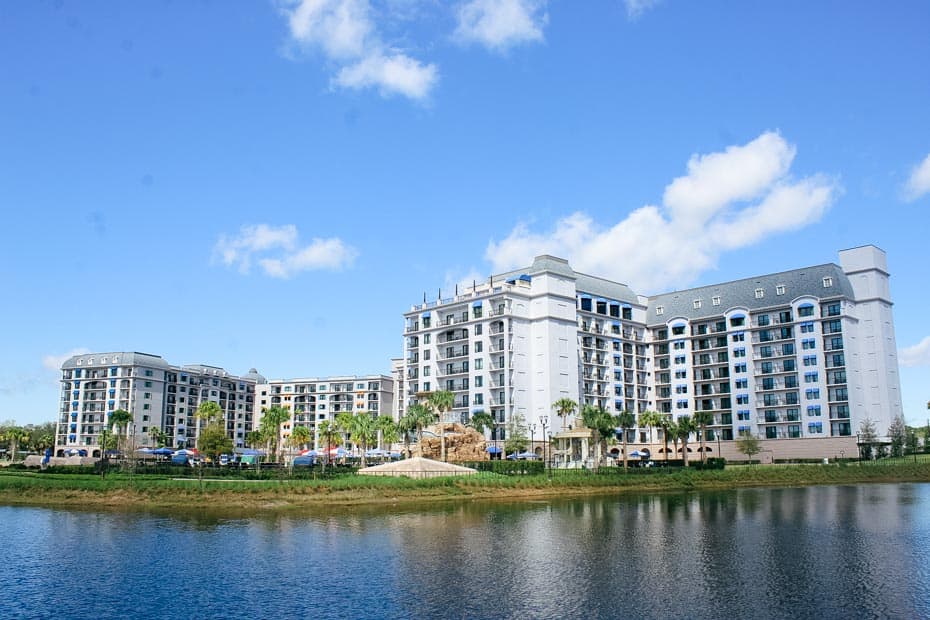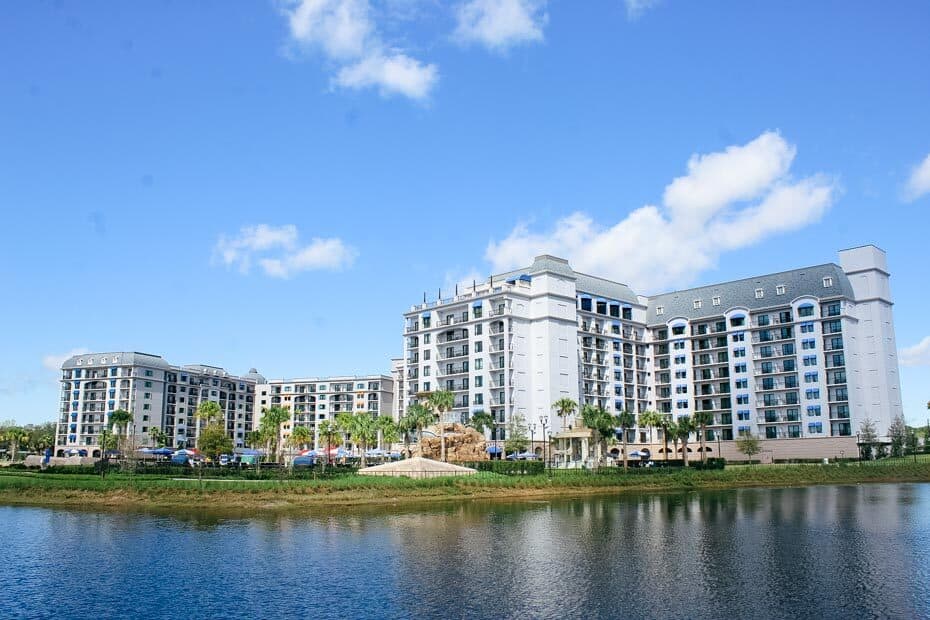 Disney's Riviera Resort Restaurants
Below is the list of dining options at Disney's Riviera Resort. Further down, I've provided an overview of each restaurant that links to complete restaurant reviews for each option.
Bar Riva
Le Petit Cafe
Primo Piatto
Topolino's Terrace
Disney's Riviera is a beautiful resort, and I think anyone will be pleased with the opportunity to dine or stay here during their Walt Disney World vacation. We have been fortunate enough to visit the resort often since it opened and always look forward to returning.
Related: Disney's Riviera Resort Review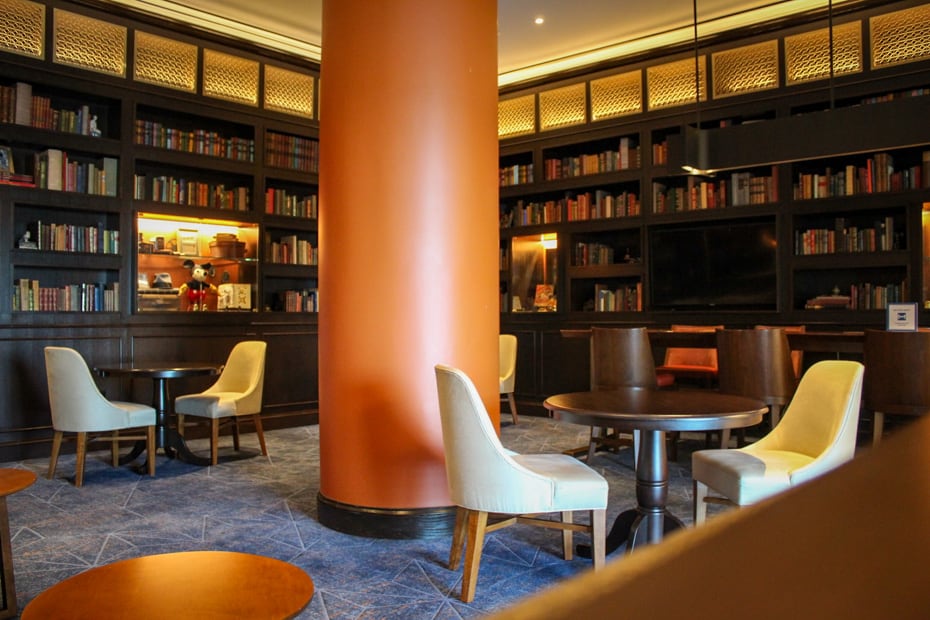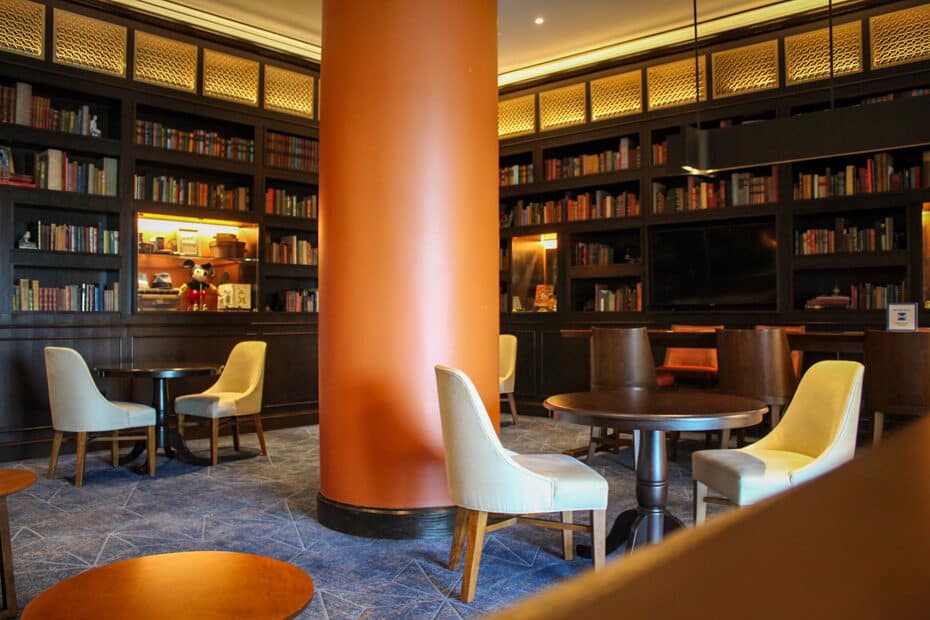 Bar Riva
We'll start with Bar Riva, which serves as the Riviera's lounge and pool bar. Bar Riva sits on the resort's ground level next door to Primo Piatto.
Additionally, it's located across the walkway from the feature pool.
Related: The Pools at Disney's Riviera Resort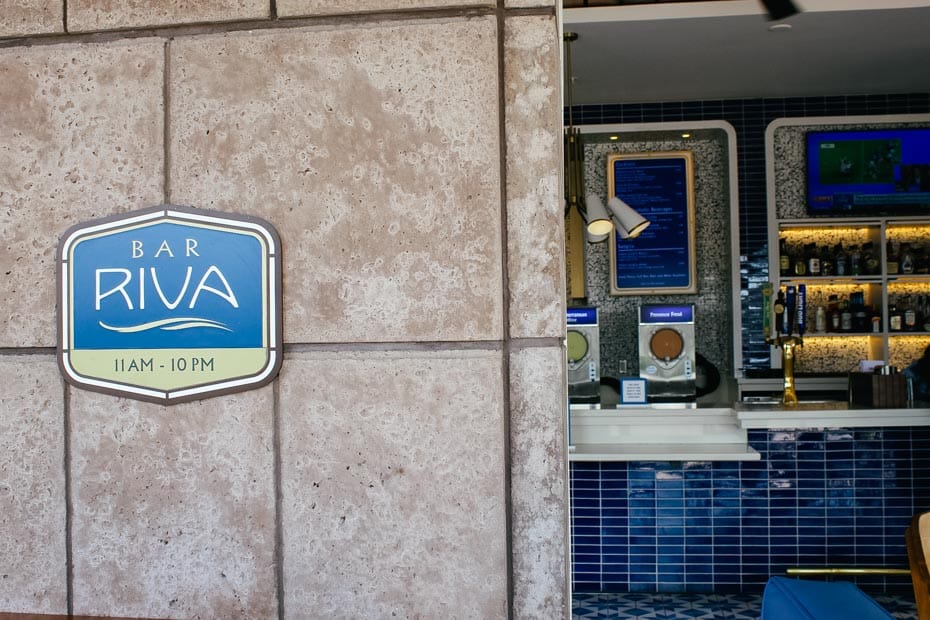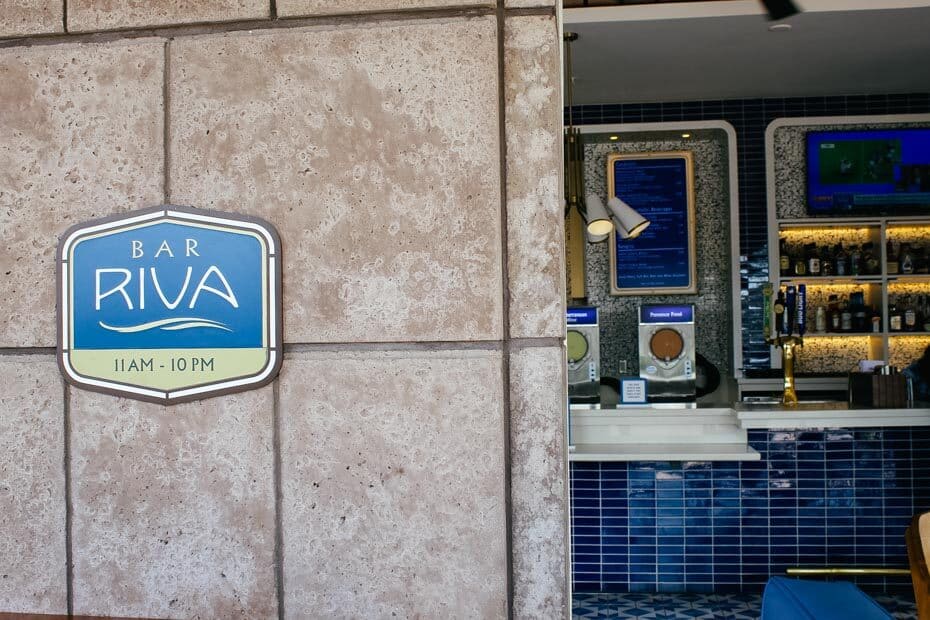 This restaurant at Disney's Riviera is unique in that it offers a bright Mediterranean vibe with wood ceilings, mosaics, and stunning blue and white tile work.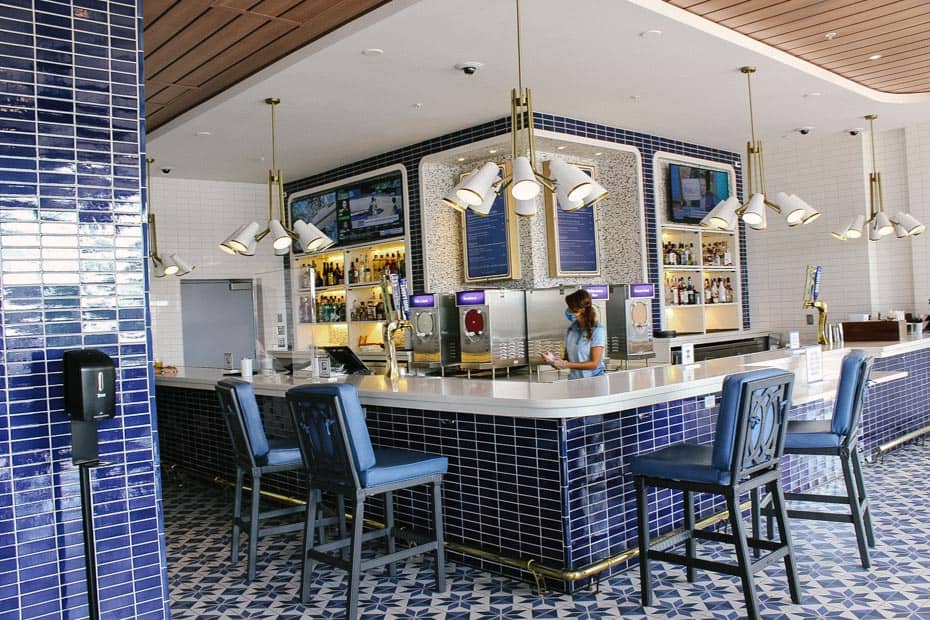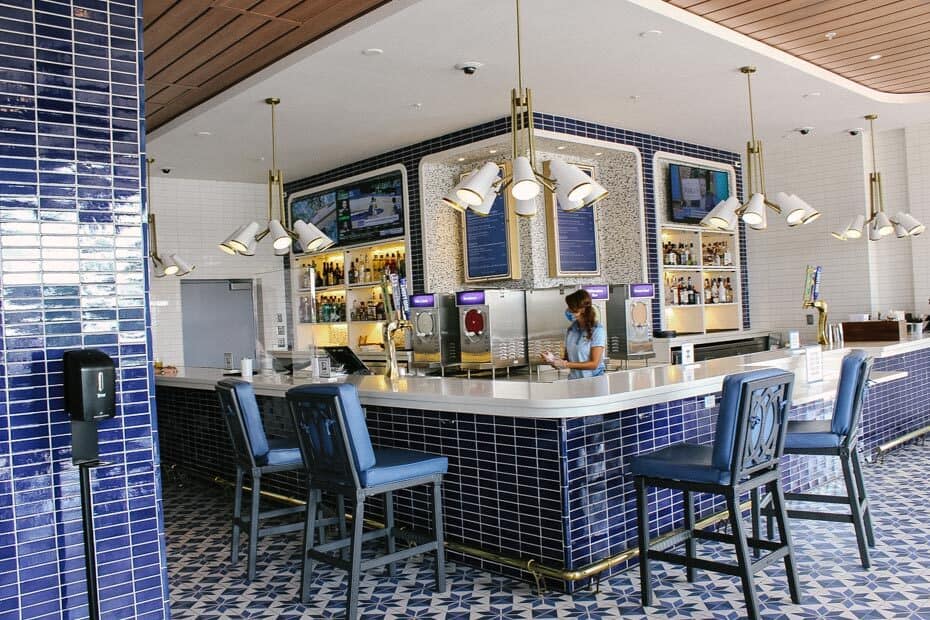 One entire wall has artwork featuring a Disney Cruise Line ship as it sails past the Riviera coastline.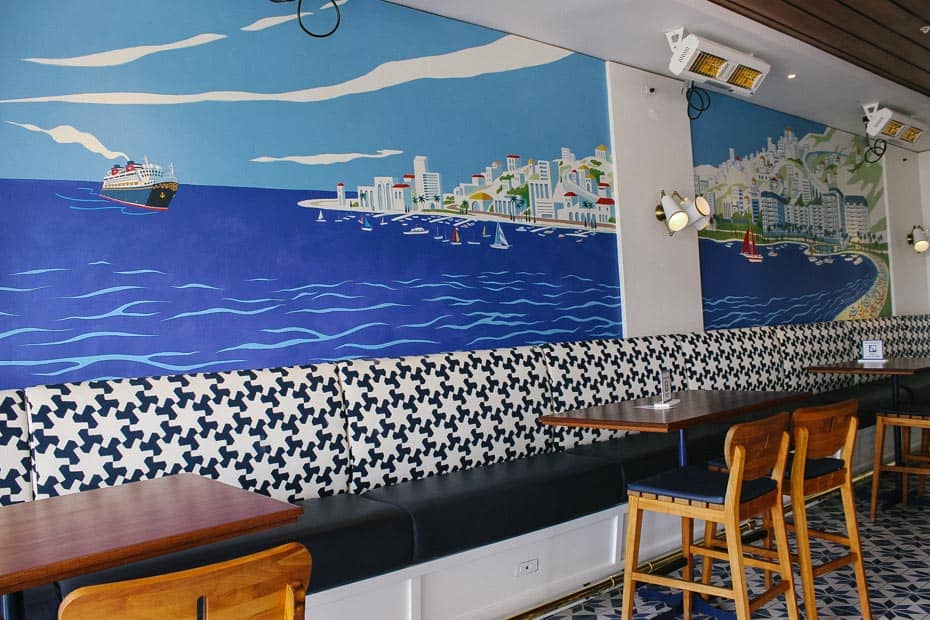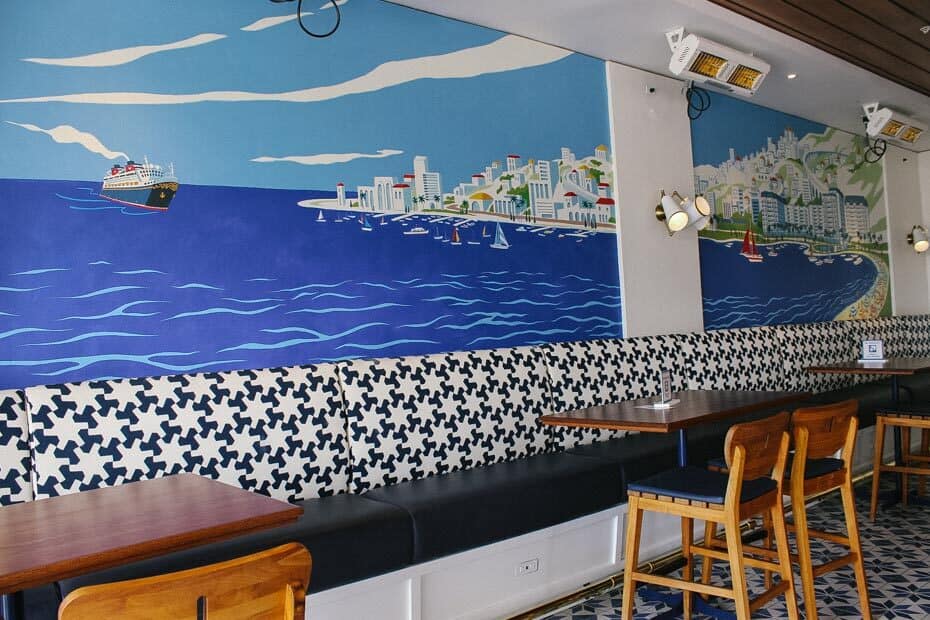 You might notice there are a few heat lamps during cooler temperatures. That's because the front of the restaurant is entirely open to the elements.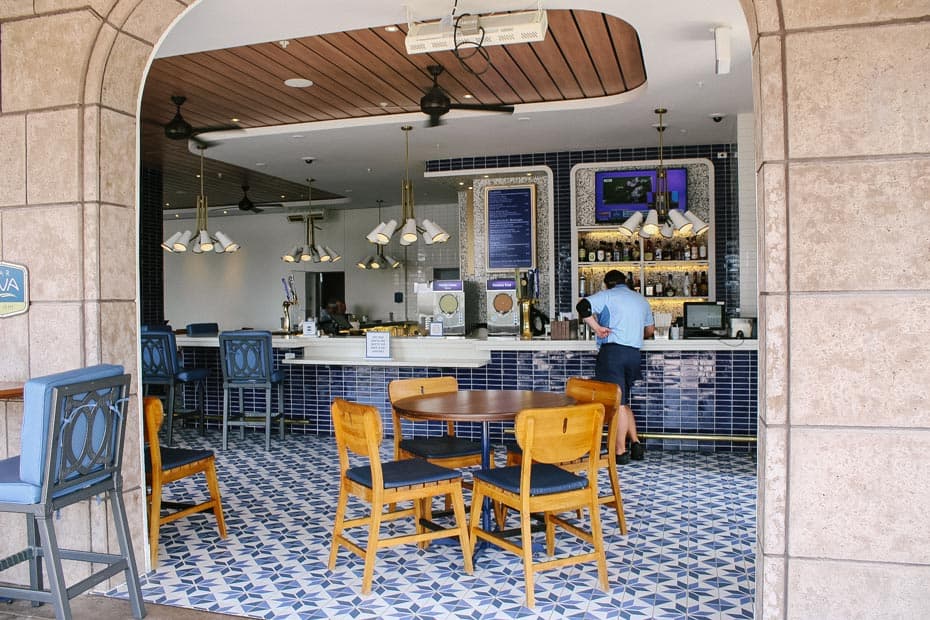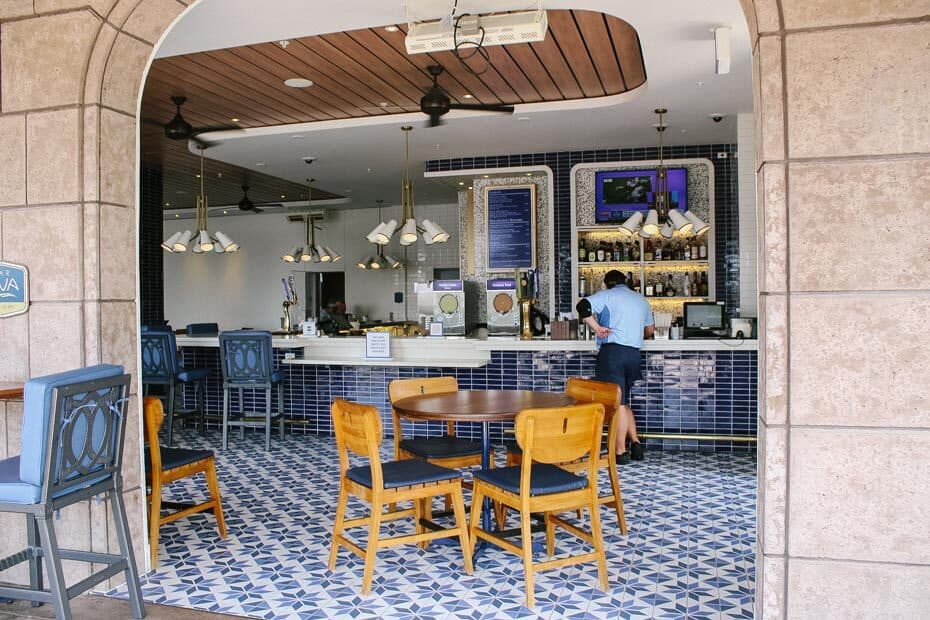 As for dining here, you can pick up one of the resort's signature cocktails and various sandwiches, salads, and burgers. Most of the offerings are similar to what you'll find at neighboring Primo Piatto since they share a kitchen.
For instance, I picked up this plant-based grilled vegetable skewer a few months back. It is offered at both Bar Riva and Primo.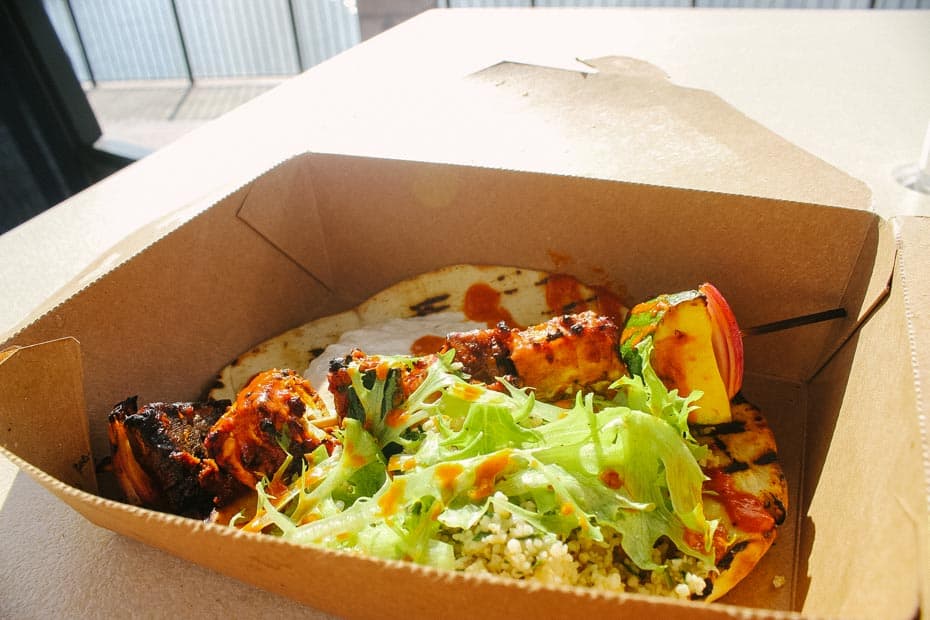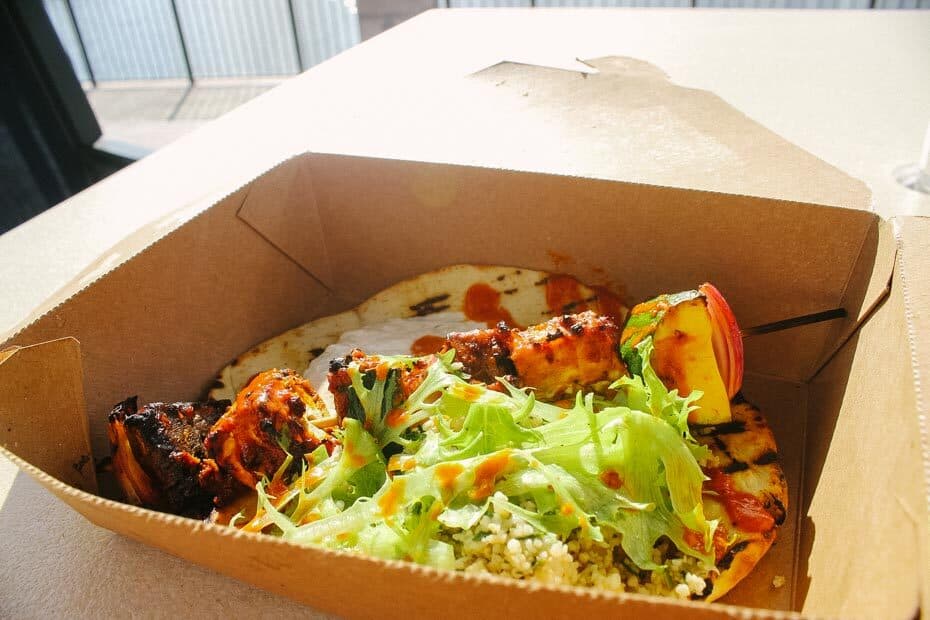 This wrap was a delicious menu item with eggplant, mushrooms, zucchini, and onions skewered over a bed of couscous. It came with a delightful harissa sauce and pita wrap.
If you would like to preview the menu of Bar Riva, it's available here on Disney's site.
Related: Bar Riva Review at the Riviera
Le Petit Cafe
Our next restaurant stop at Disney's Riviera has become a fast favorite. Le Petit Cafe is located off the resort's lobby. The cafe serves a mix of bakery items and has a full coffee and cocktail bar.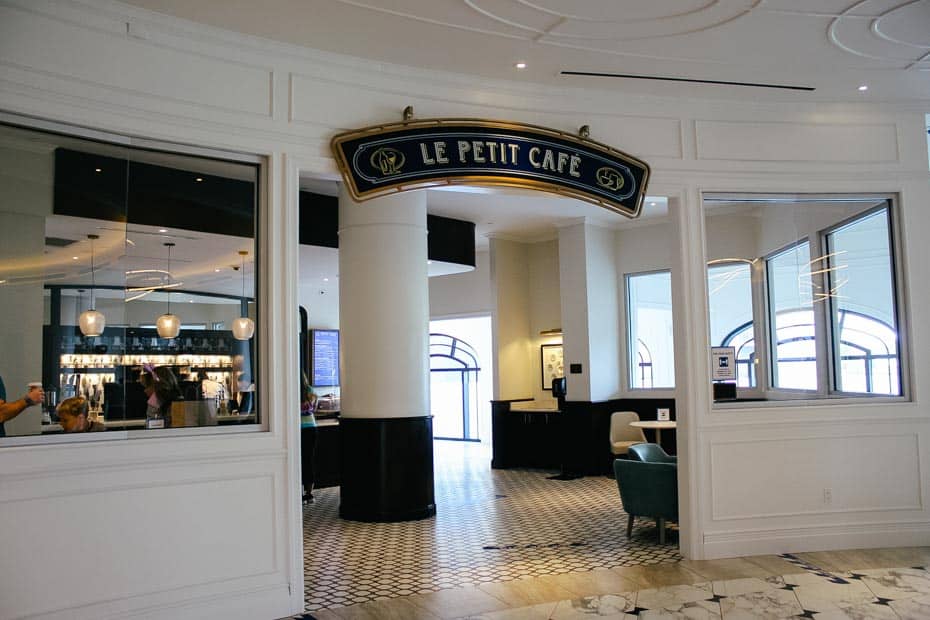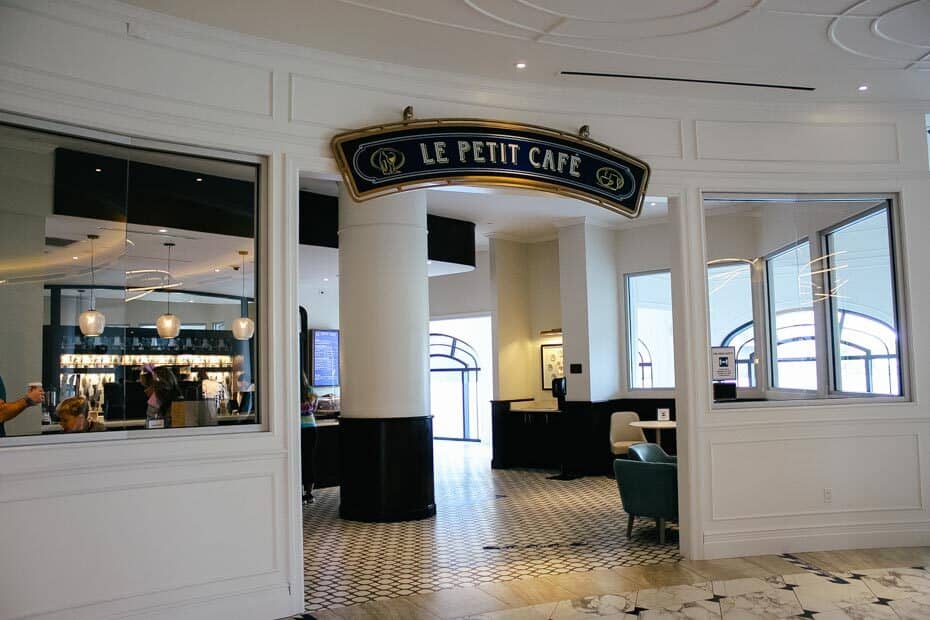 You'll find the full coffee bar menu displayed in the mornings, along with iced coffee and hot tea.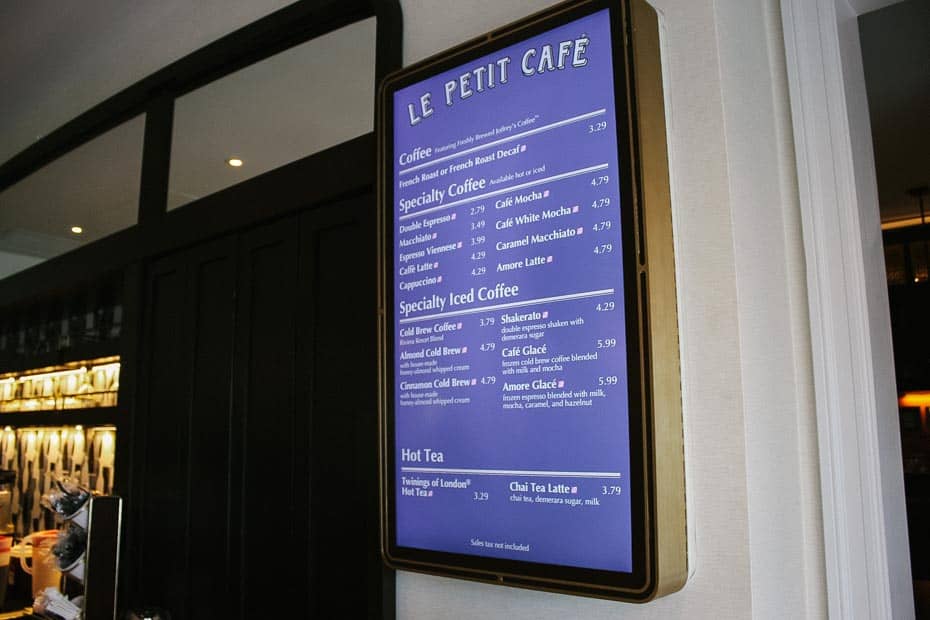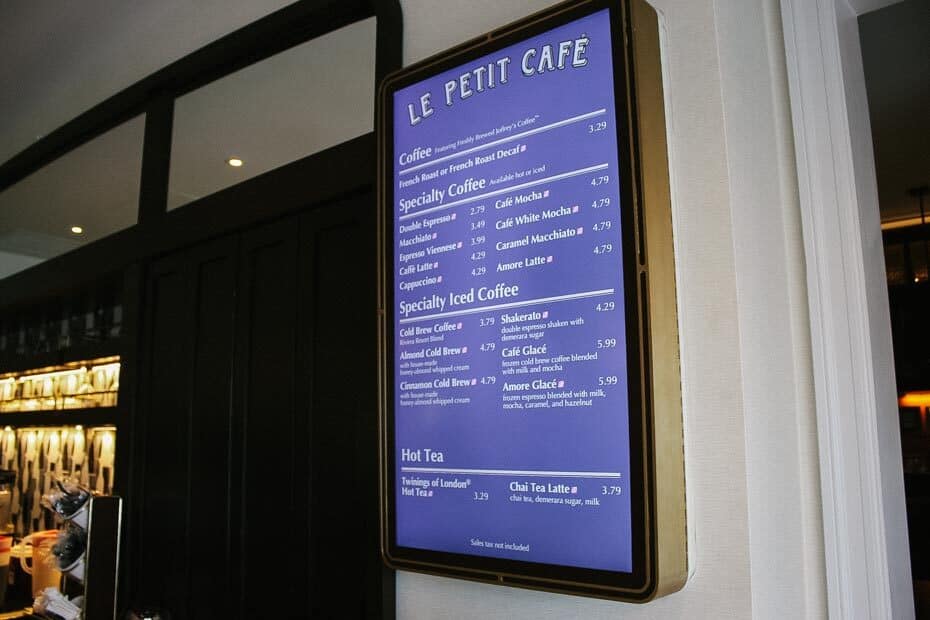 The pastry case will feature a variety of croissants and pastries that might be more appropriate for a sugary breakfast than a cupcake. Then, closer to lunch, the pastry items are replaced with these delectable desserts.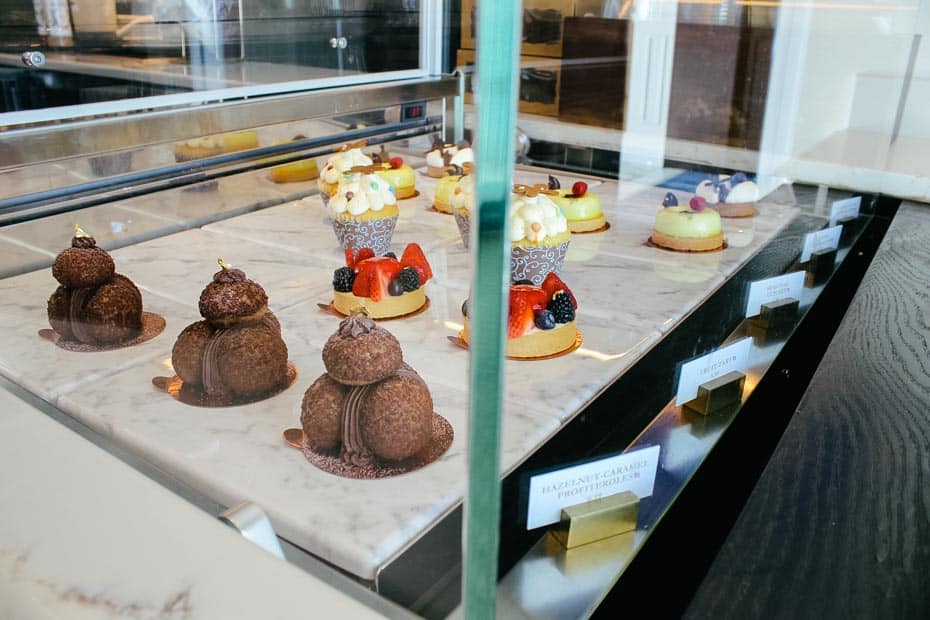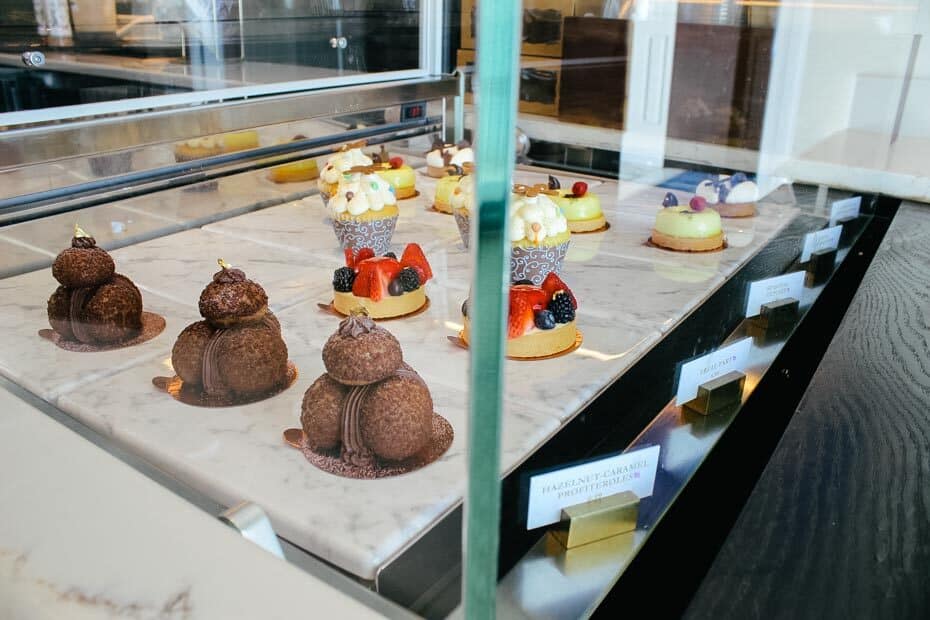 I've tried quite a few things to date at Le Petit Cafe. I'm doing this thing where I try one new item every visit, like this fruit tart. It turned out to be a perfect to-go dessert one evening.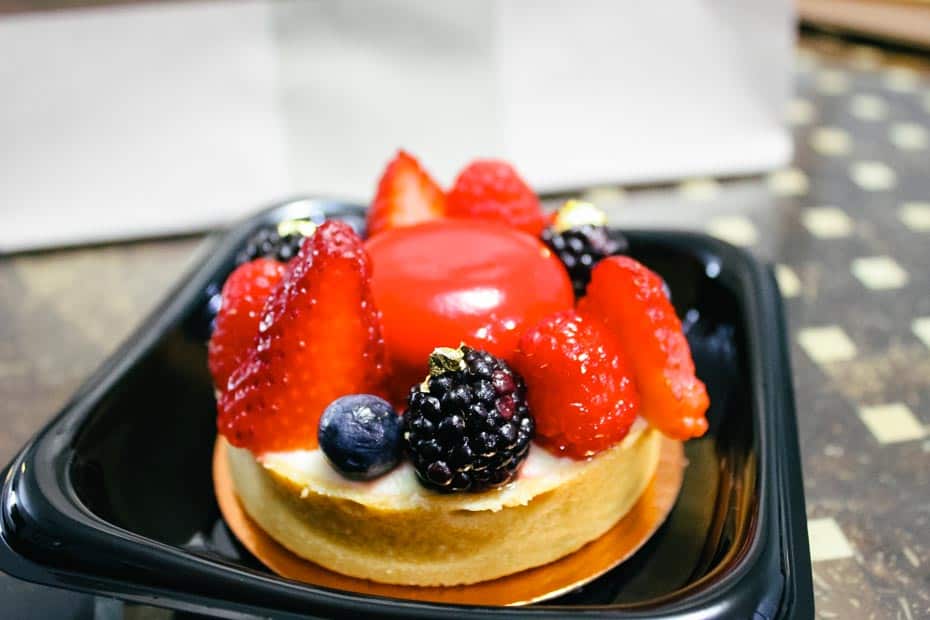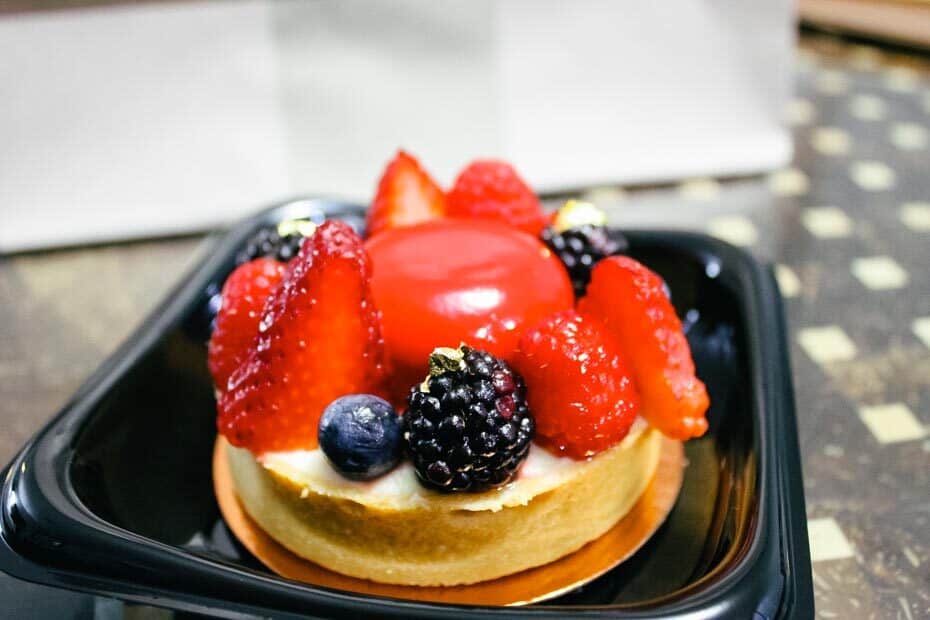 One morning, I had breakfast at Riviera before heading out for the day. When I returned to retrieve my car after a bit of resort-hopping, I purchased this tart to bring back to my condo.
Since I was staying at Orange Lake Resort that week, I had committed to preparing most meals in my room for the sake of a little research.
Related: Orange Lake Resort Review
The fruit tart was not near as sweet as you might think, and I appreciated that it wasn't an overload of sugar. Instead, think of this tart as fresh fruit, pastry cream, and a graham cracker crust.
The red piece in the center was a raspberry mousse (pink on the inside) encased in a candy shell. It added the perfect touch of richness to the dish.
My next planned item is the Bouchon Brownies, and the Profiteroles are out-of-this-world delicious! So what are you thinking about getting?
Related: Le Petit Cafe Review
Primo Piatto (Riviera's Quick Service Restaurant)
Another of Disney's Riviera restaurant stops is the resort's counter service dining location, Primo Piatto.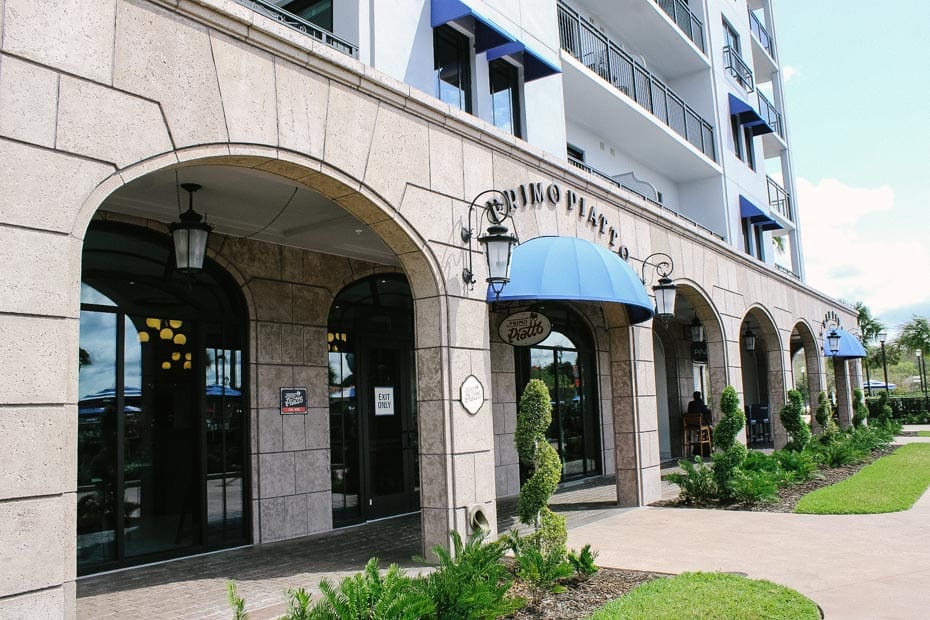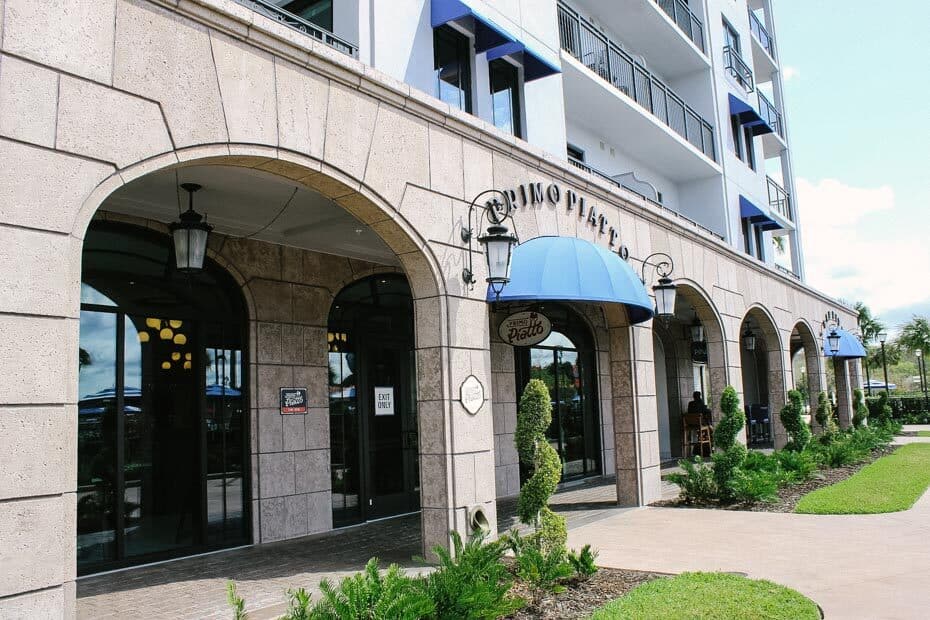 If you were to ask me to describe this quick-service dining location in one word, it would have to be uplevel. By that, I mean it's not comparable to any of the other quick-service dining options at Disney World.
Related: Best Quick Service at Disney World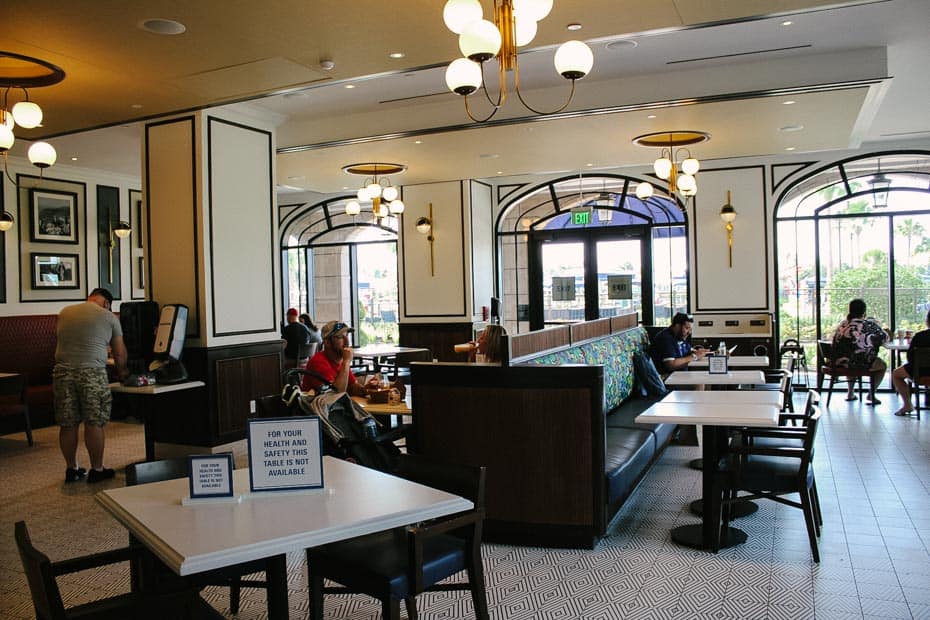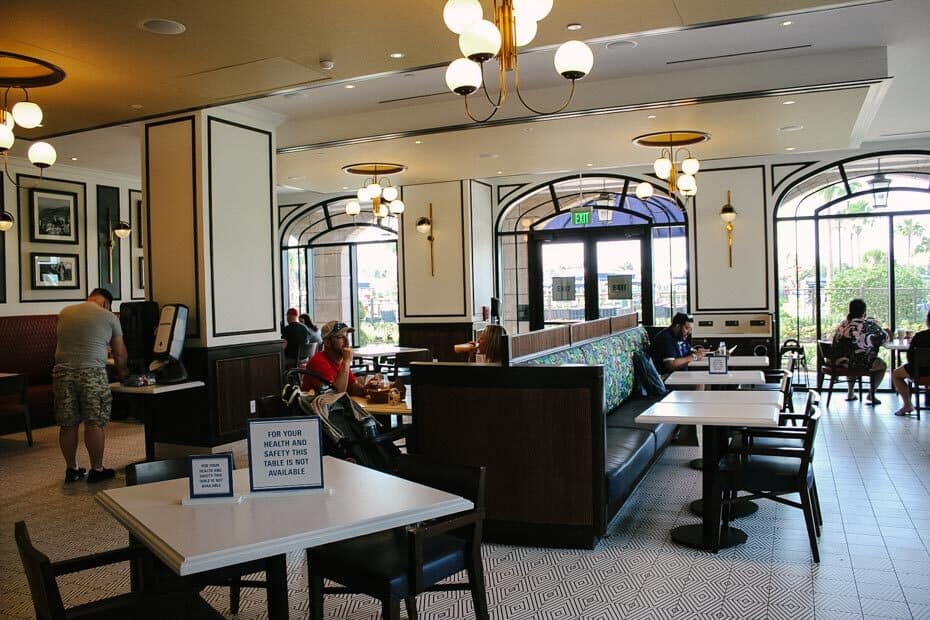 Below we have the blueberry lemon mascarpone pancakes that I ordered with a side of plant-based sausage. The pancakes, however, are not plant-based.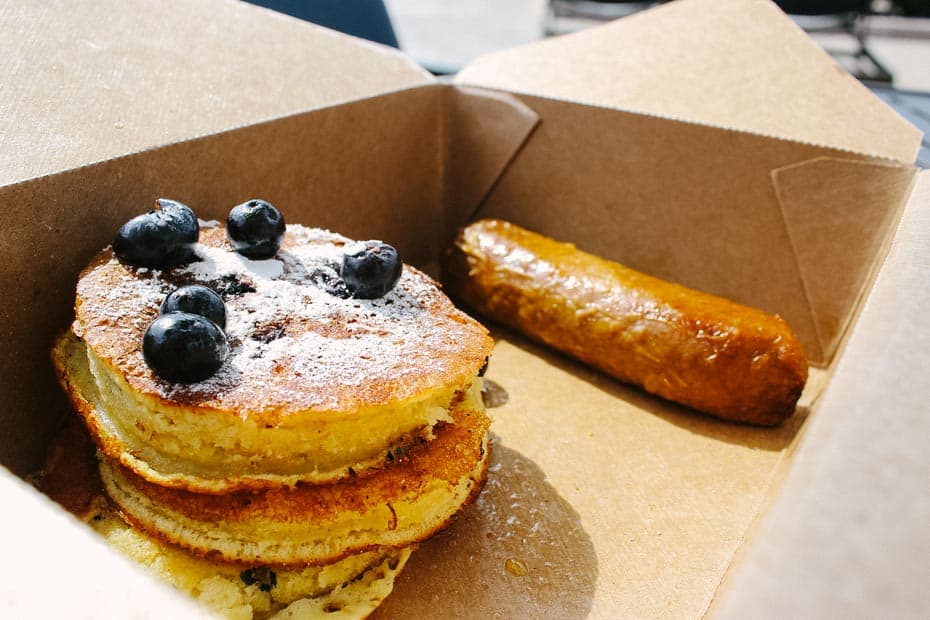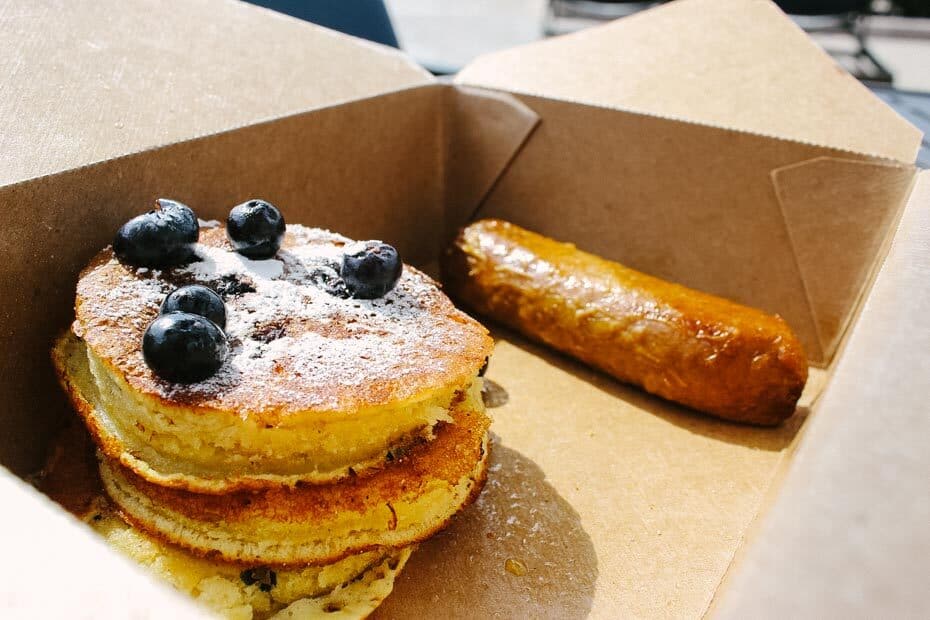 As far as this quick-service restaurant at Riviera goes, they accept Disney mobile orders. The mobile order option is exceptionally convenient when ordering your food from your room.
You can literally walk down to pick it up when you get the notification that it's ready. It's that simple.
Additionally, I've enjoyed several other items here, like the vegetable skewer and Croque Monsieur sandwich. You can read the full review of Riviera's Primo Piatto here if you like. Oh, and those pancakes, they were fabulous.
Topolino's Terrace
Our last restaurant at Disney's Riviera offers two completely different dining experiences. Spoiler: they both serve excellent food, and there's a pretty nice view from the rooftop terrace.
Topolino's Terrace is a restaurant located on the rooftop of the Riviera Resort. They offer a character dining experience that surpasses all the ones I've visited to date at Disney.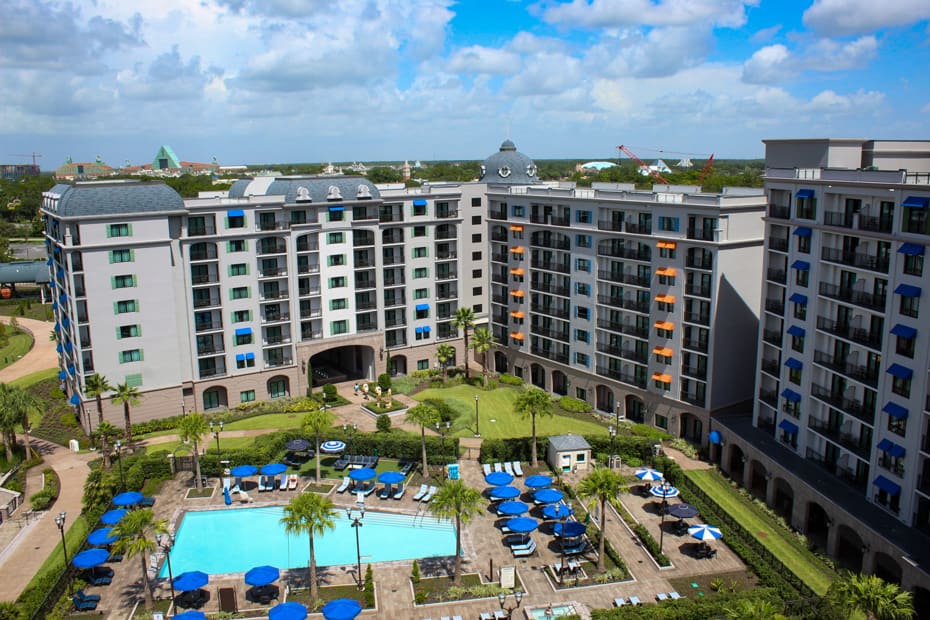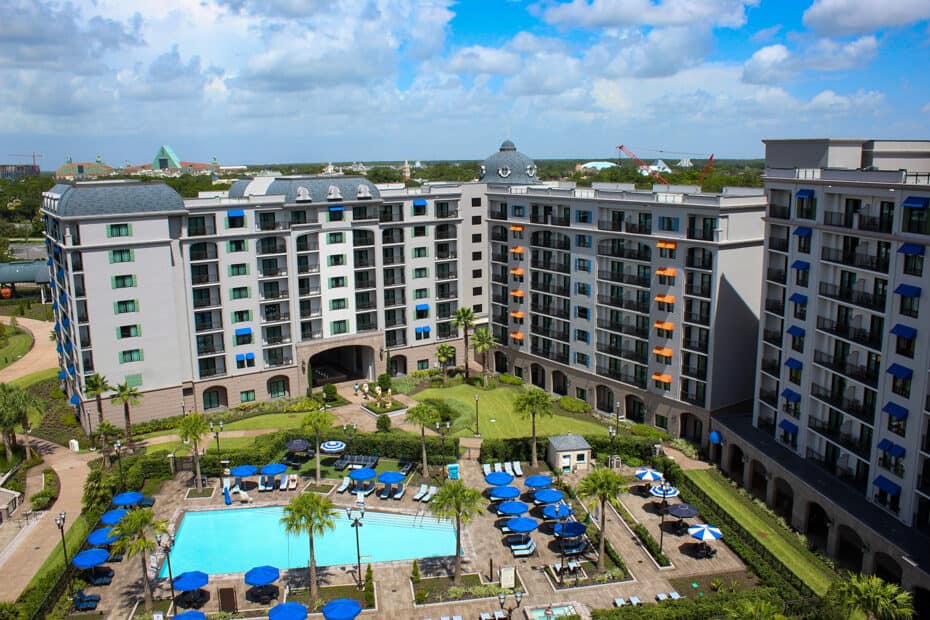 You can read the review of Breakfast a la Art with characters here to learn more.
In addition, there's a complete guide to Disney World Character Dining that provides an overview of every experience available. The guide includes the characters at each meal.
Like the rest of the restaurants at Riviera, I find the food at Topolino's Terrace elevated.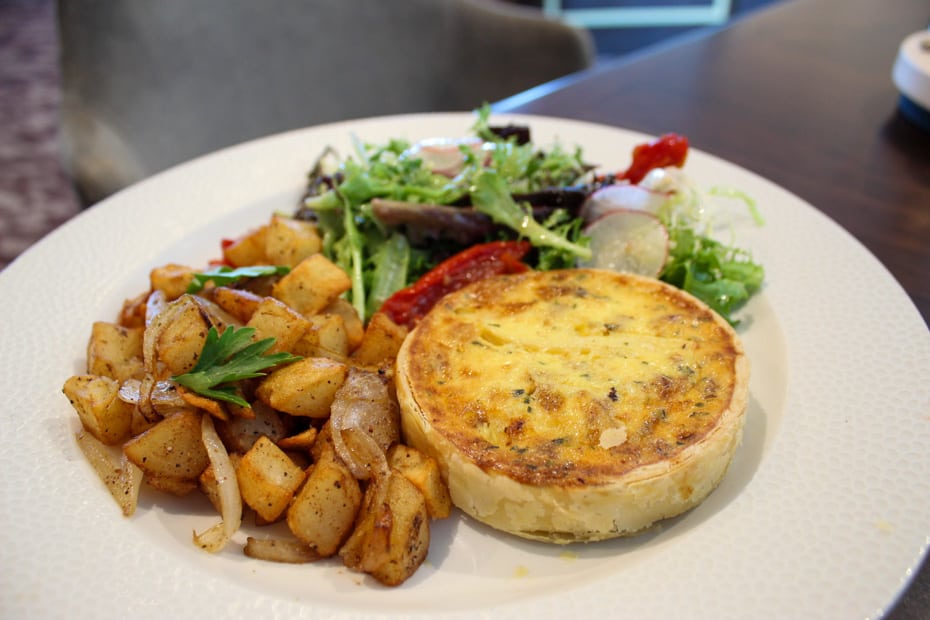 Dinner service changes over from character dining to a Disney signature dining location. You might want to arrive a little early for your reservation to enjoy a cocktail with a view on the outdoor rooftop lounge. (Preferably, at sunset.)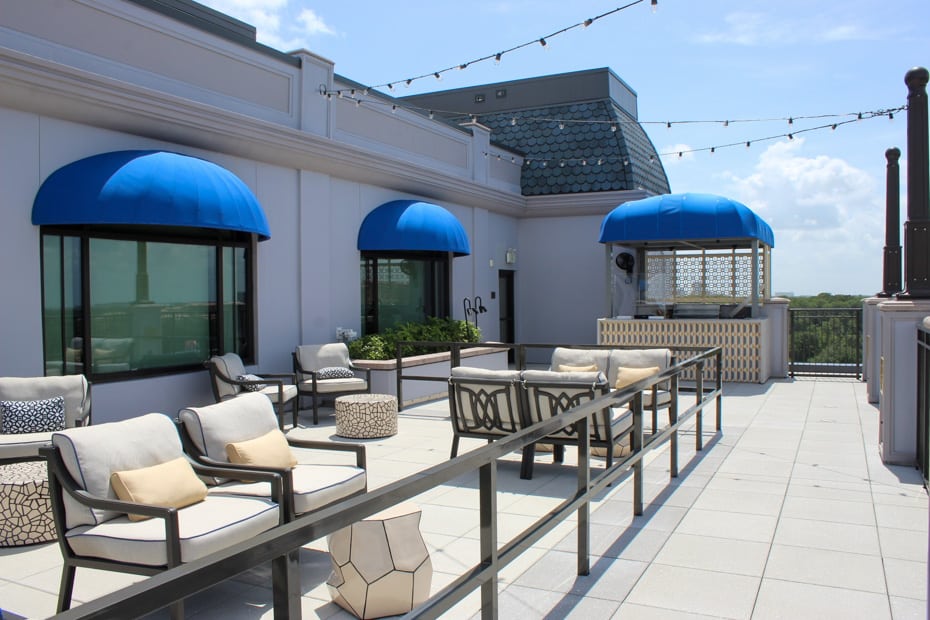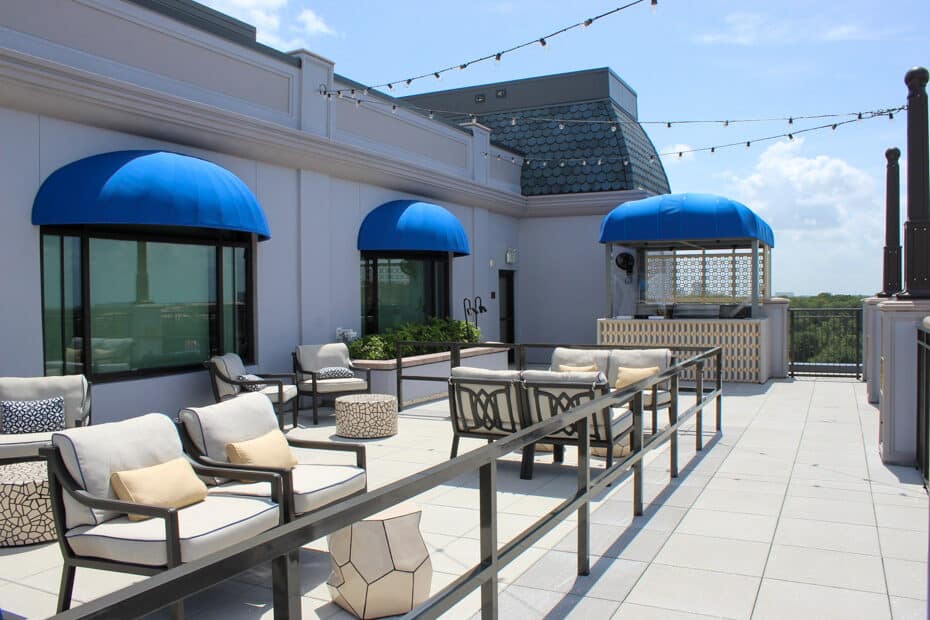 You can view the menu for Topolino's here on Disney's site.
Final Thoughts on Disney's Riviera Restaurants
I hope this restaurant guide sets you straight for dining options at the Riviera. If you plan a stay at the resort, you'll want to try every restaurant here during your trip.
All of Riviera's options are excellent. And that's rare for me to admit.
The only other resort I would say that about is Disney's Animal Kingdom Lodge. They also have a shocking amount of supreme dining options.
Related: Animal Kingdom Lodge Restaurants Guide
There's an overwhelming amount of options when it comes to dining at the different Disney World Resorts. That's the reason I put the restaurant guides together.
Before I got into providing information about our resort experiences, we learned a lot of lessons the hard way. I hope you won't spend a week at Riviera or any other resort and miss out on the amenities or dining options available to you.
For instance, if you plan a stay at Disney's Caribbean Beach Resort, you might not be aware that Riviera sits next door until after your arrival.
Related: Disney's Caribbean Beach Review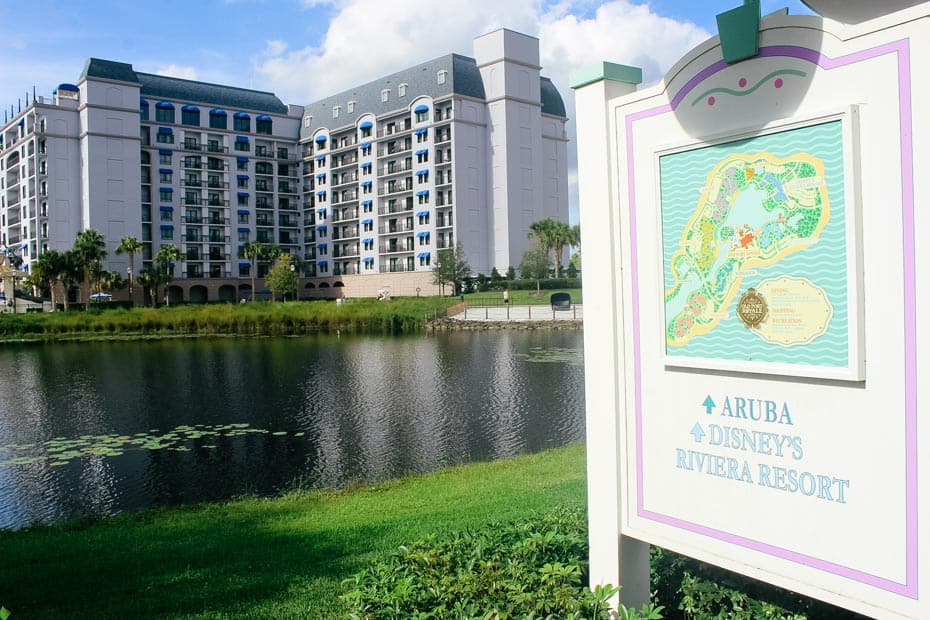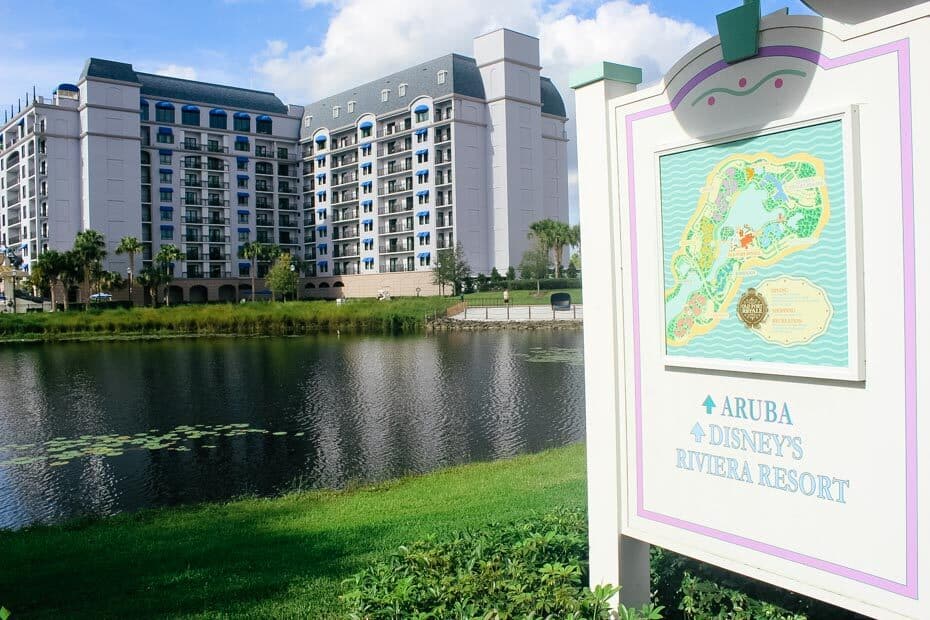 You can walk over from Caribbean Beach and enjoy their dining locations.
Related: Disney's Caribbean Beach Restaurants
Not only that, but Disney's Riviera has its own Skyliner station. You can hop on the Skyliner and drop into the Riviera for a meal. Or you can take the Skyliner over to the Epcot Resorts area and enjoy a meal there.
Related: Disney's Skyliner Resorts with Travel Times
One last thing about dining at Riviera, there are tons of outdoor seating locations. Usually, I pick up a meal and enjoy it outside when I'm over this way. The resort has plenty of tables and chairs with umbrellas that provide a lovely shade.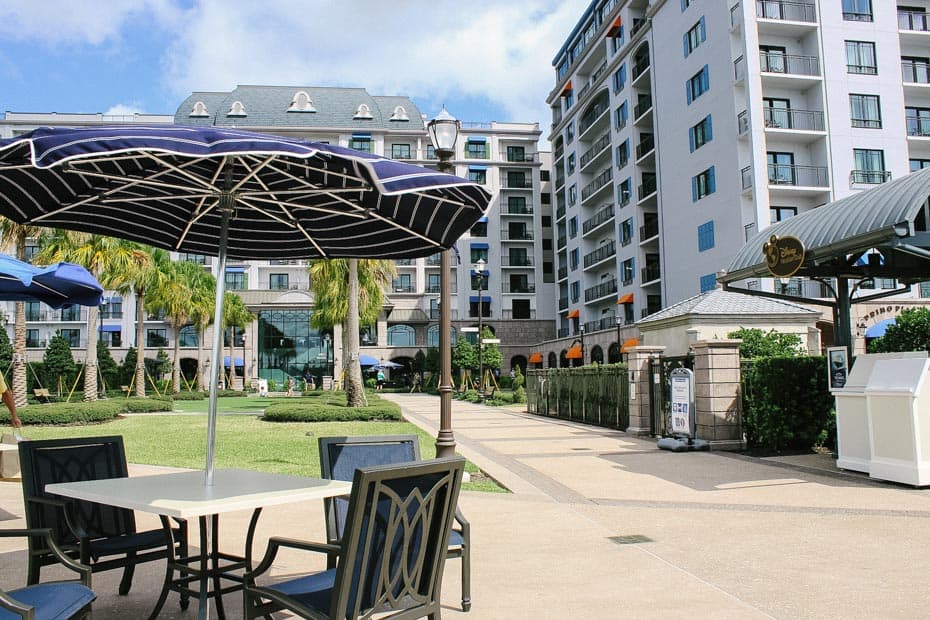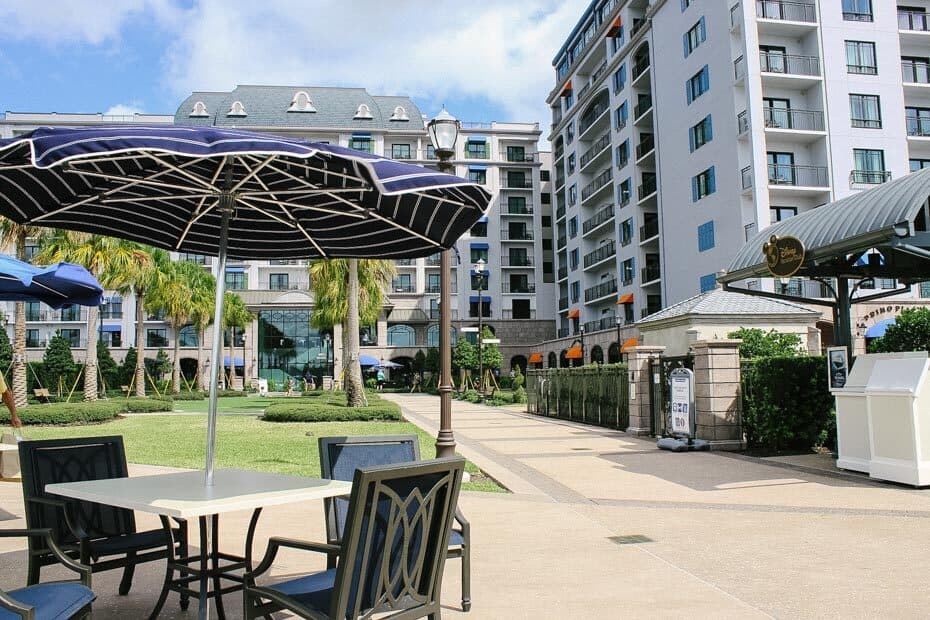 The surrounding views of Barefoot Bay aren't so bad either.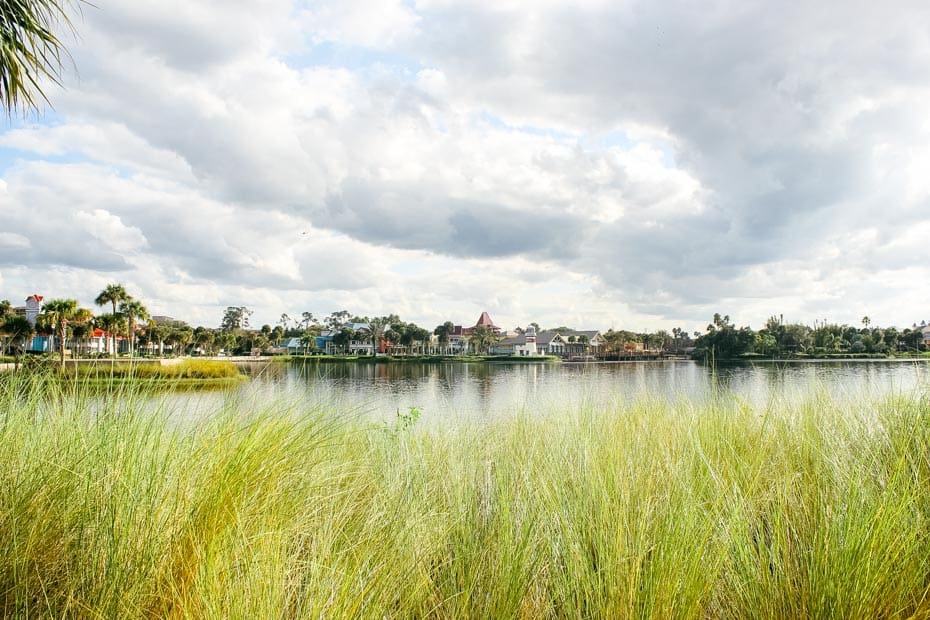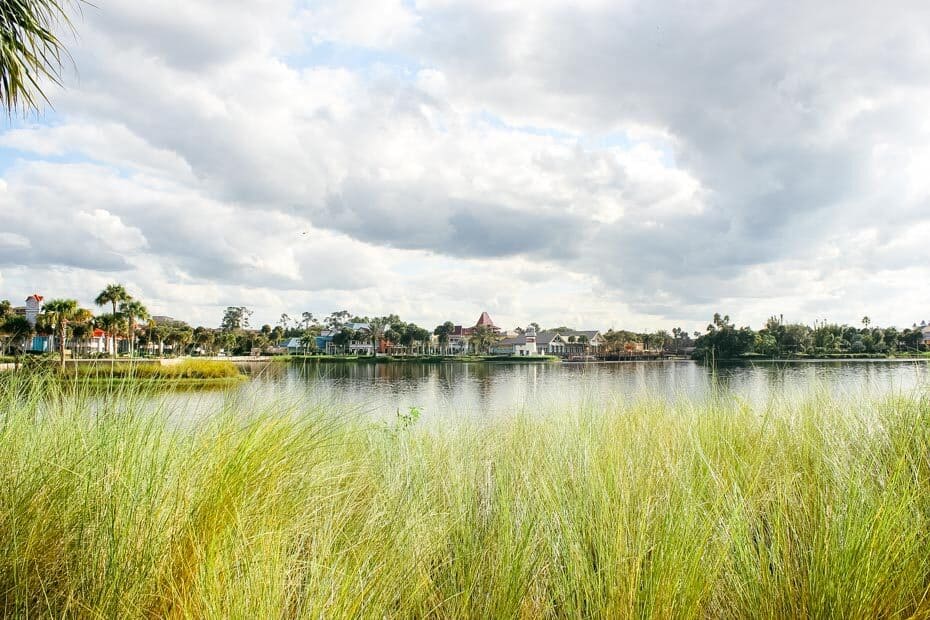 For more Disney Hotel Restaurants, you might enjoy these dining guides:
Additionally, our articles for Disney's Riviera Resort are available here.
Or you can view every single Disney World restaurant review we have available.
Now that you've had a good look at all of Disney's Riviera restaurants, what looks good? Let me know in the comments below.
Planning a Walt Disney World or other Disney Destination vacation?
Our friends and travel partner, Firefly Travels, excels at doing Disney differently. You can fill out a plan your trip form on their website, and someone will reach out shortly to discuss the specifics.