A Vegan Visit to Flame Tree Barbecue at Disney's Animal Kingdom
Flame Tree Barbecue at Disney's Animal Kingdom is a popular stop for many on their visit to the theme park. This Animal Kingdom quick service has a menu offering some of the finest smoked chicken, ribs, and pulled pork at Disney.
While that sounds like a lot of meat, don't worry. Flame Tree Barbecue has a wonderful vegan menu item, the hot link smokehouse sandwich. In this review of Flame Tree Barbecue, we'll take a look at the plant-based menu item. I'll also share with you an overview of the large outdoor seating area with a few tips for dining here.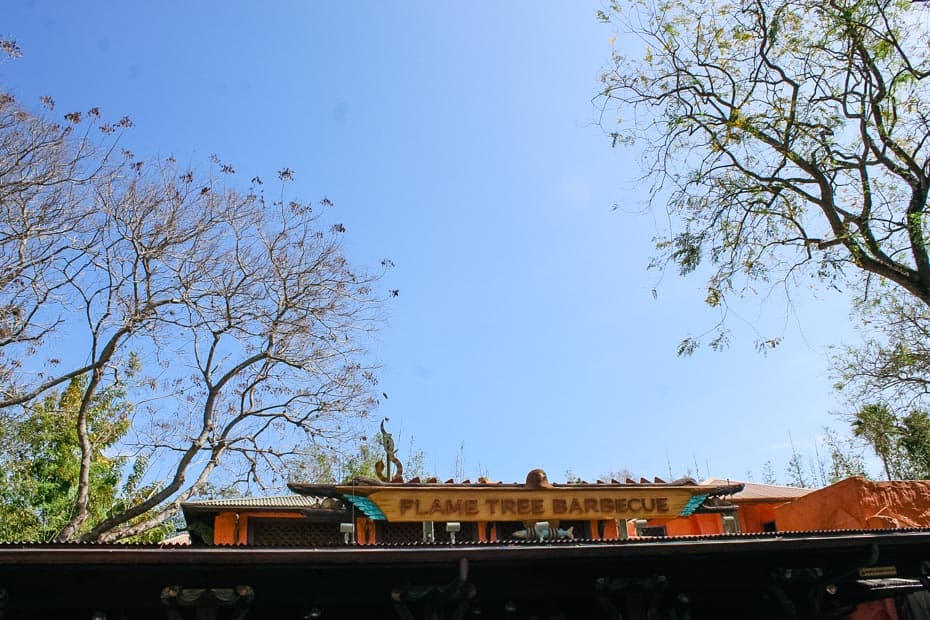 Flame Tree Barbecue sits on the outskirts of Discovery Island. If you enter the park and take a right toward Dinoland, the restaurant will be on your immediate left. From the front, it almost appears not to have a dedicated seating area. However, they have probably the largest seating area in all of the parks.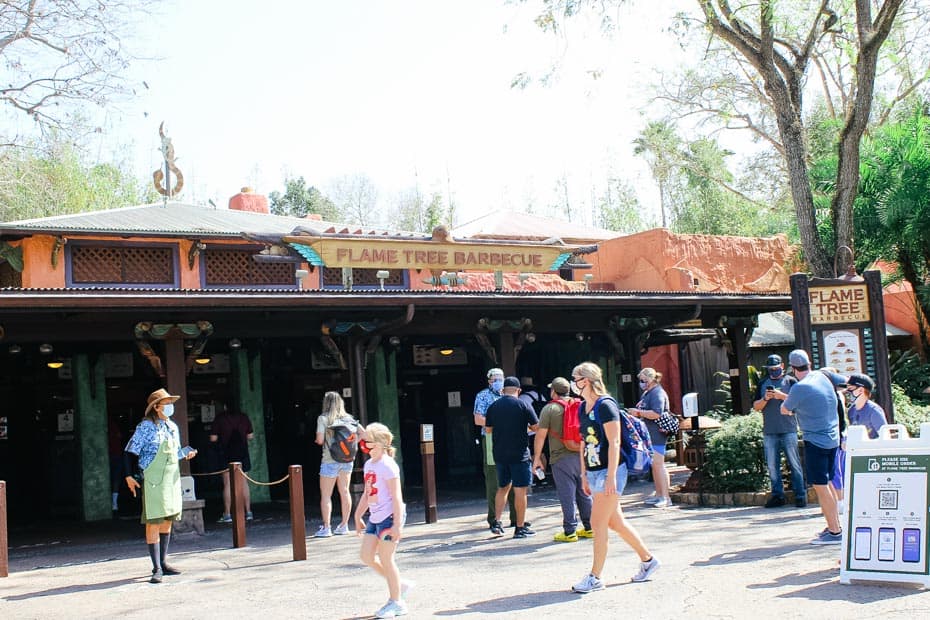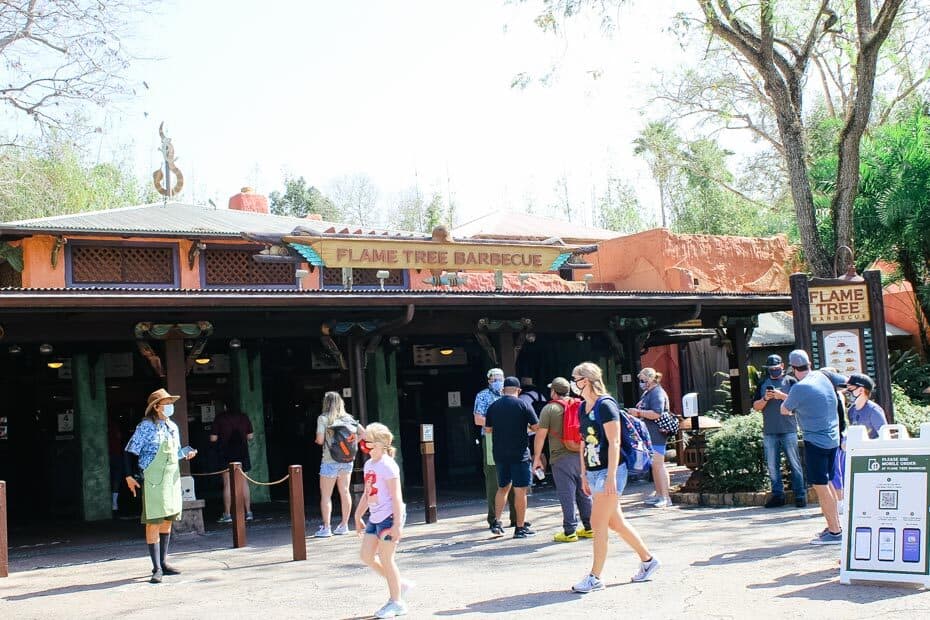 Flame Tree accepts mobile order service. I highly recommend taking the time to familiarize yourself with using mobile order at Disney before your next vacation.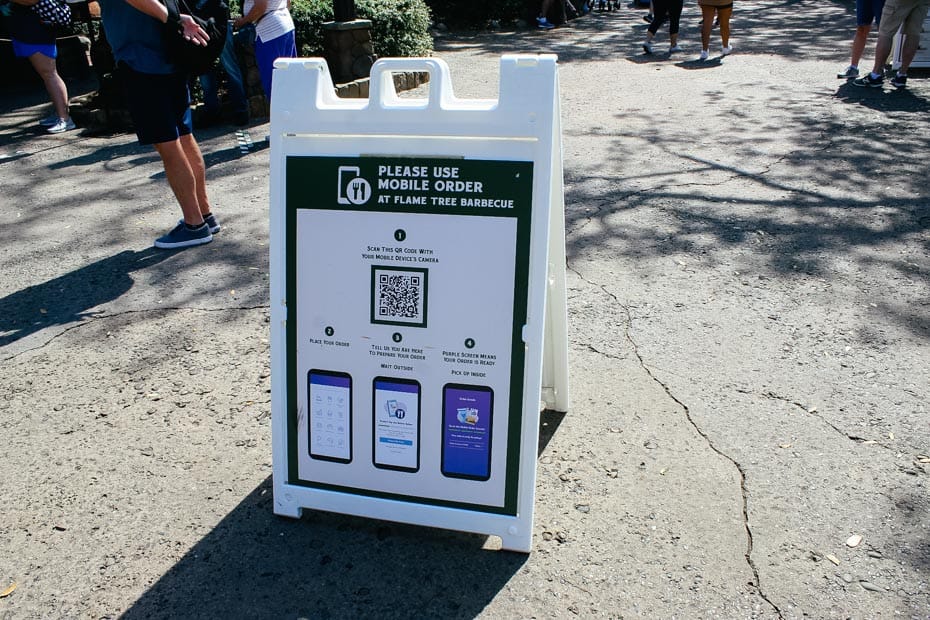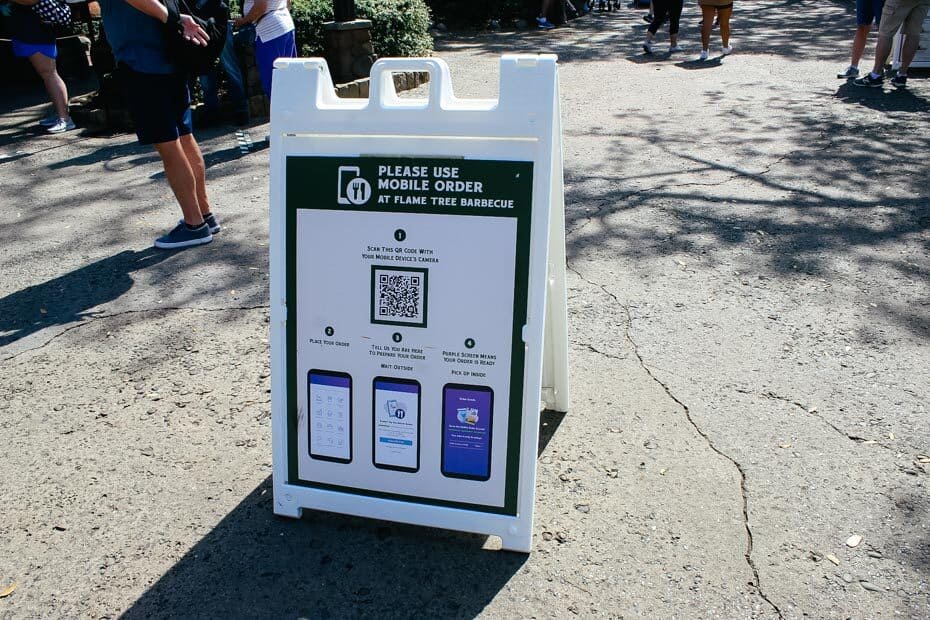 Back in December, I had planned to eat at Flame Tree Barbecue for lunch one day. At the time, Satu'li Canteen was showing quicker availability. Since I was interested in the vegan tofu bowl at Satu'li Canteen (review), I elected to order from there instead.
Then on my next visit, I blew off Flame Tree for Impossible Sliders at Nomad Lounge (review). In my opinion, (and everyone who's been) Nomad is the best lounge anywhere. Ever.
So on this visit, I promised to finally stop in and try the vegan item at Flame Tree Barbecue. I was in the Pandora area of the park when I placed my mobile order for the sandwich. Since I wasn't too far, I placed the order and then selected the "I'm Here, Prepare My Order" option. My order was ready shortly after my arrival.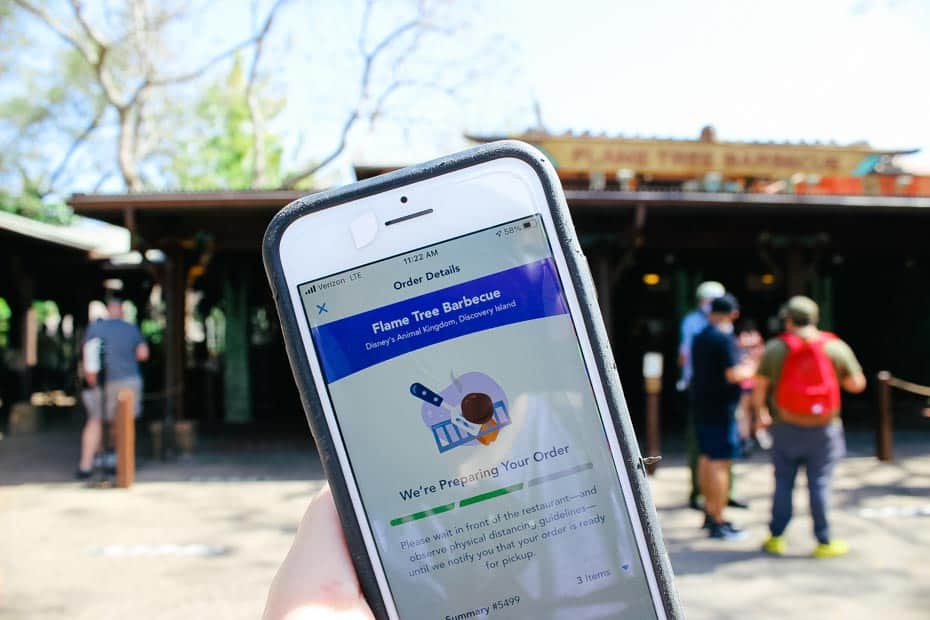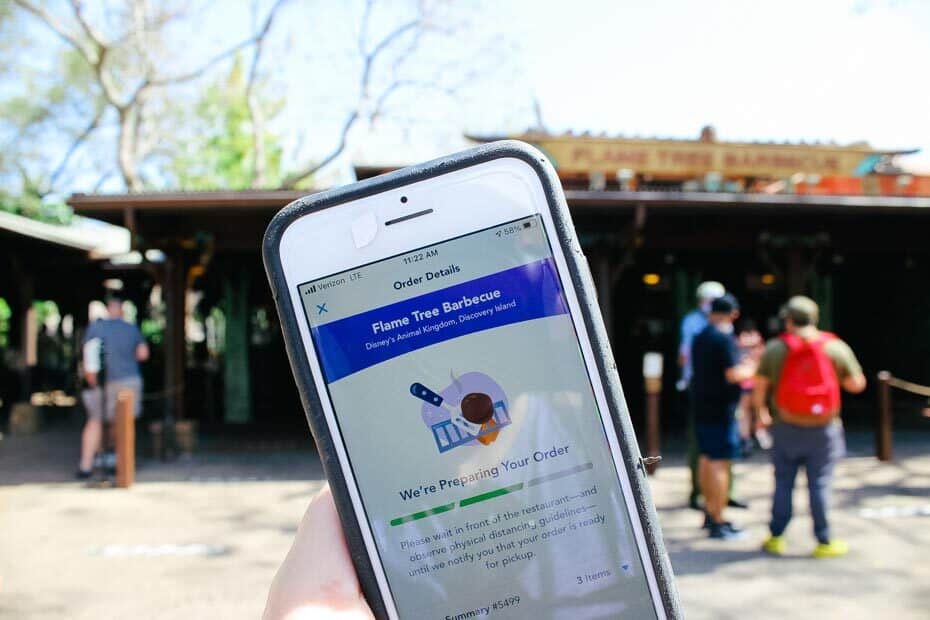 On average, it seems to take anywhere from 15-25 minutes to receive mobile orders depending on crowds. I recommend not waiting until the moment starvation kicks in to place your order.
Once your order is ready, you'll be assigned a number to pick up your items.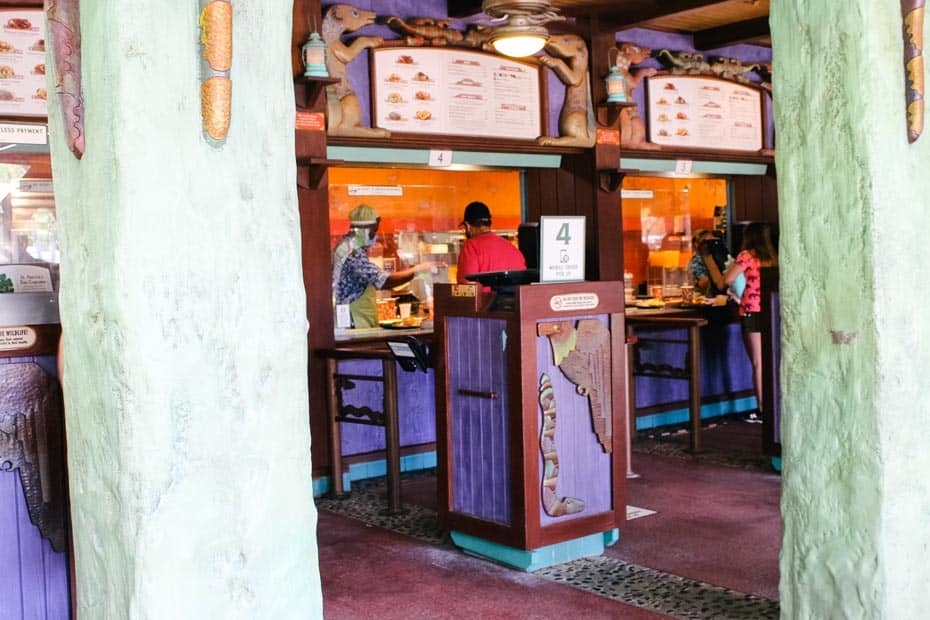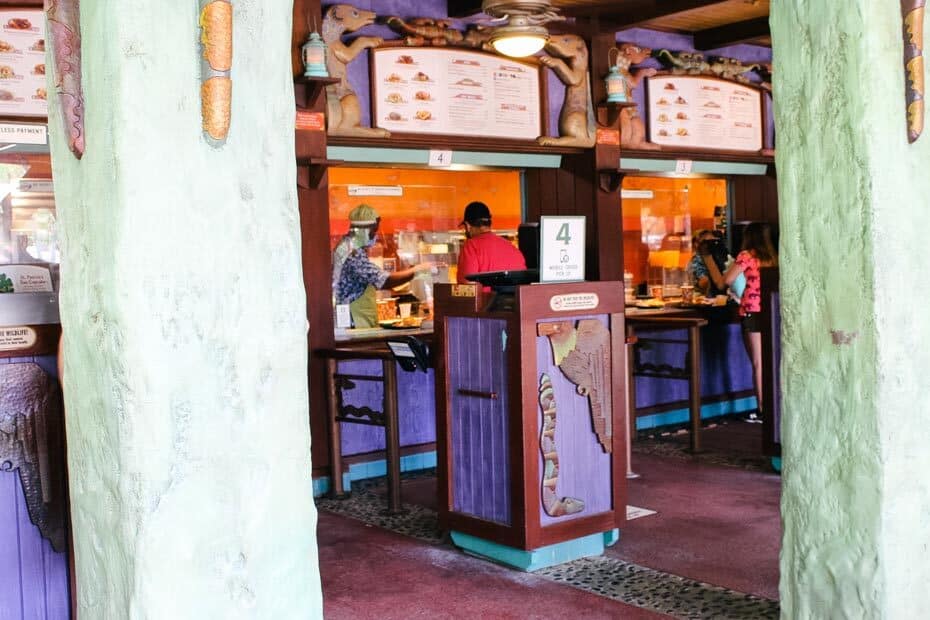 If you can't mobile order or have a food allergy, someone outside the restaurant can assist you. Here is a look at the menu for Flame Tree Barbecue.

You can view the full menu here on Disney's site if you like.
One thing to note is when the app says your order is ready, you might still have to wait in line for a few moments. The lines are properly spaced out if you have to wait.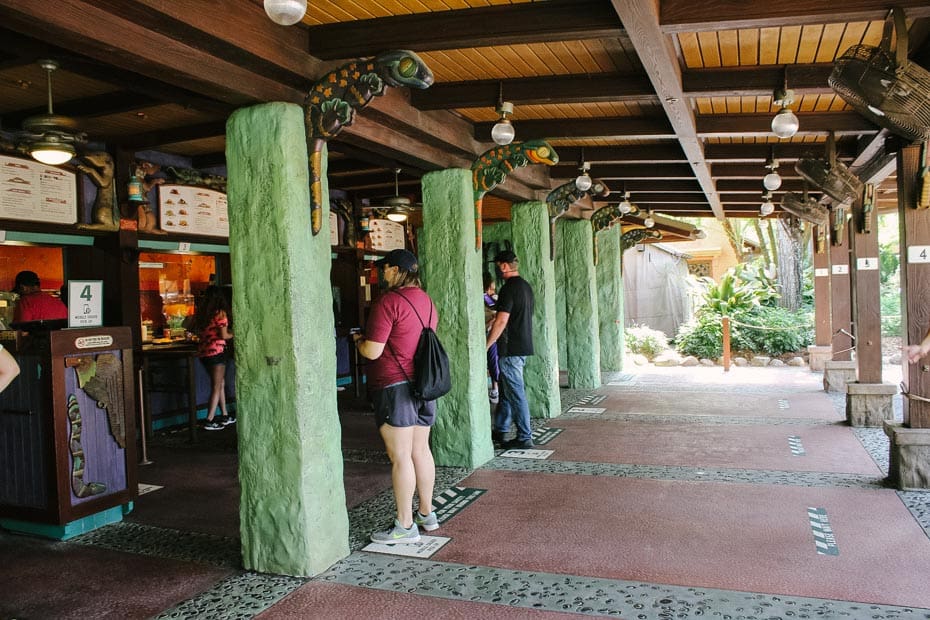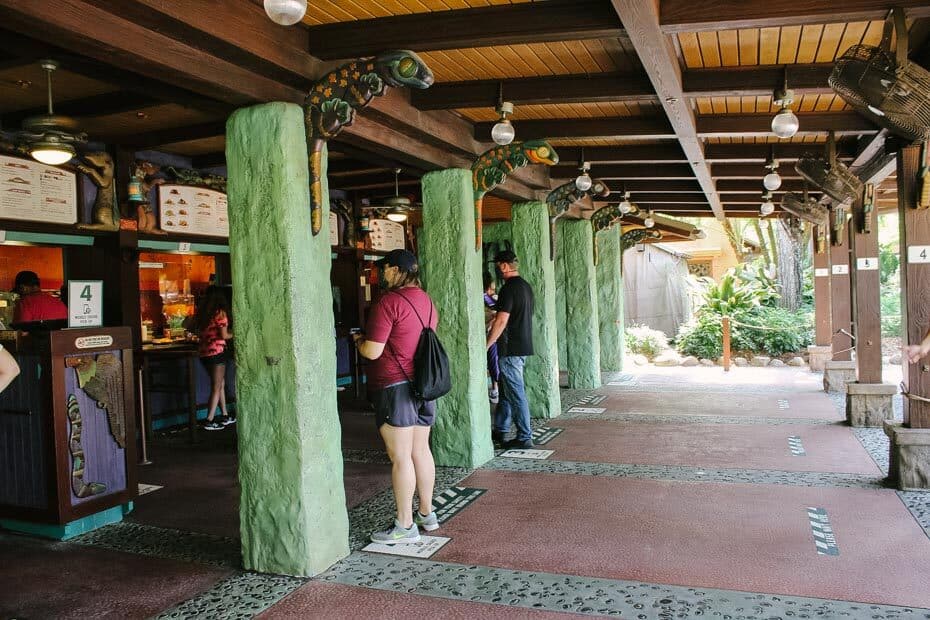 While waiting on your order, I recommend getting your family situated at a table before picking up your food. Flame Tree Barbecue has a huge outdoor dining area with a variety of seating.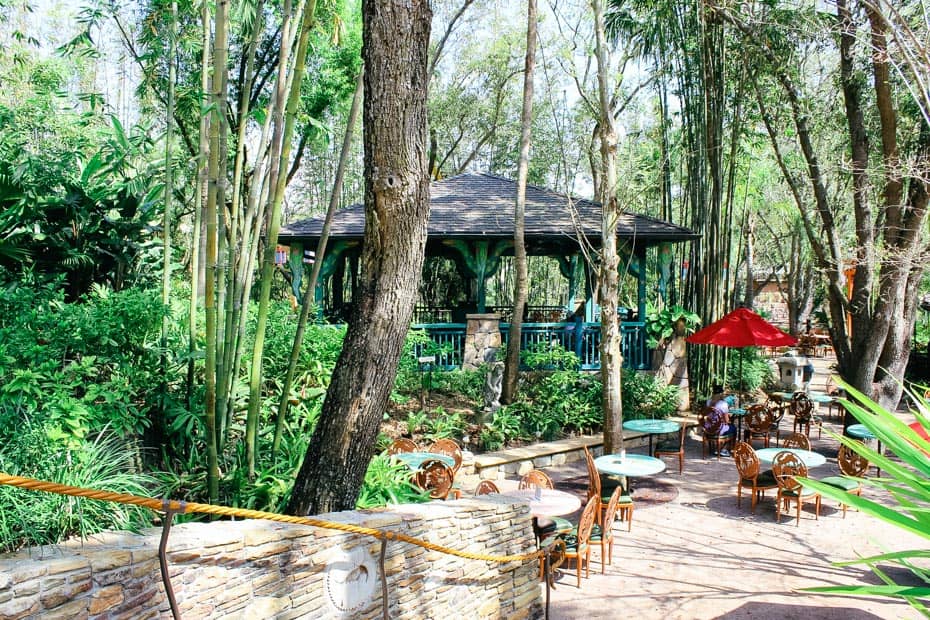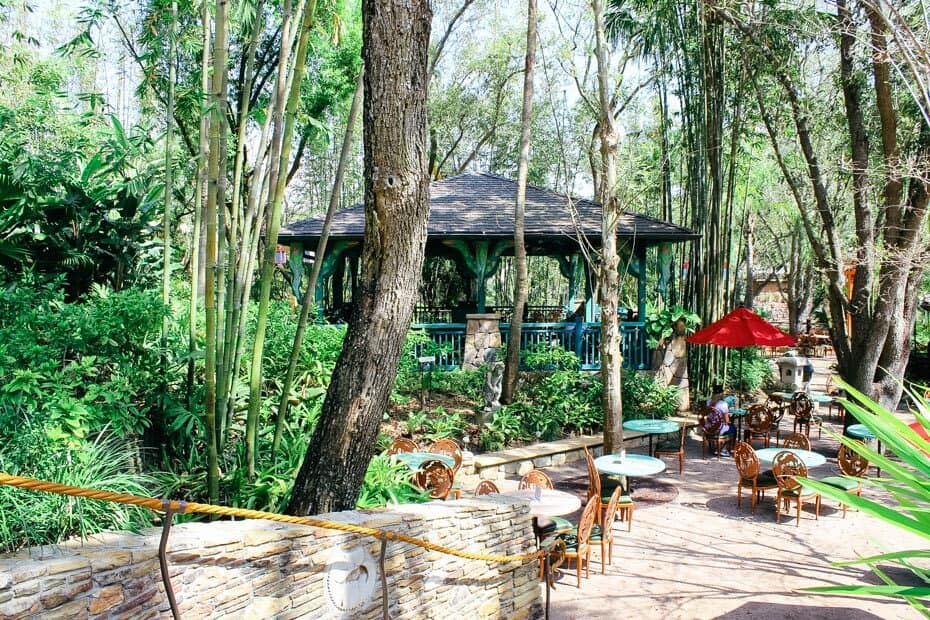 There is a nice water feature in the center of the dining area. Some of the tables and chairs have umbrellas providing a little extra shade.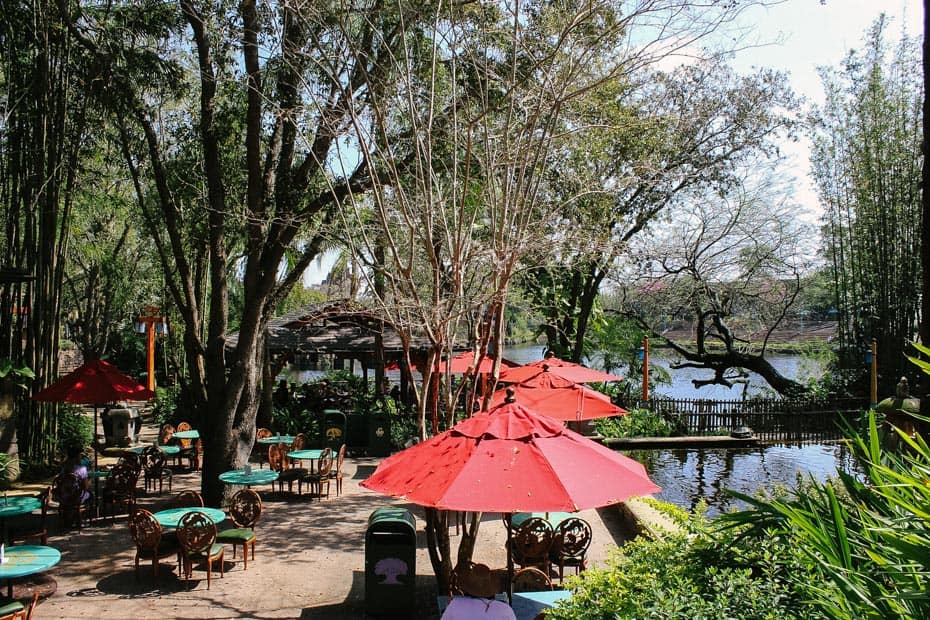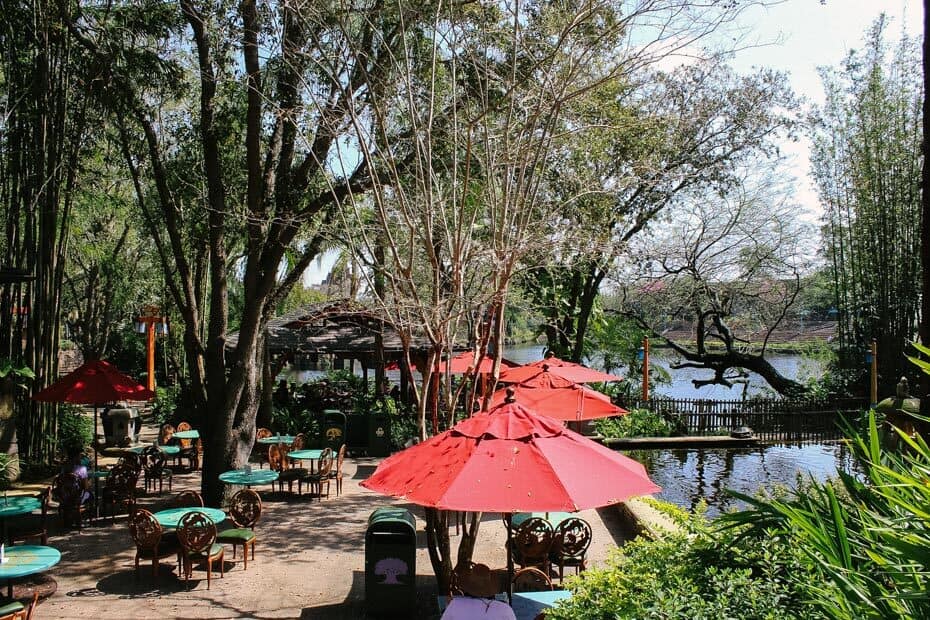 I often come down here and sit when I need a break or have a little work to do.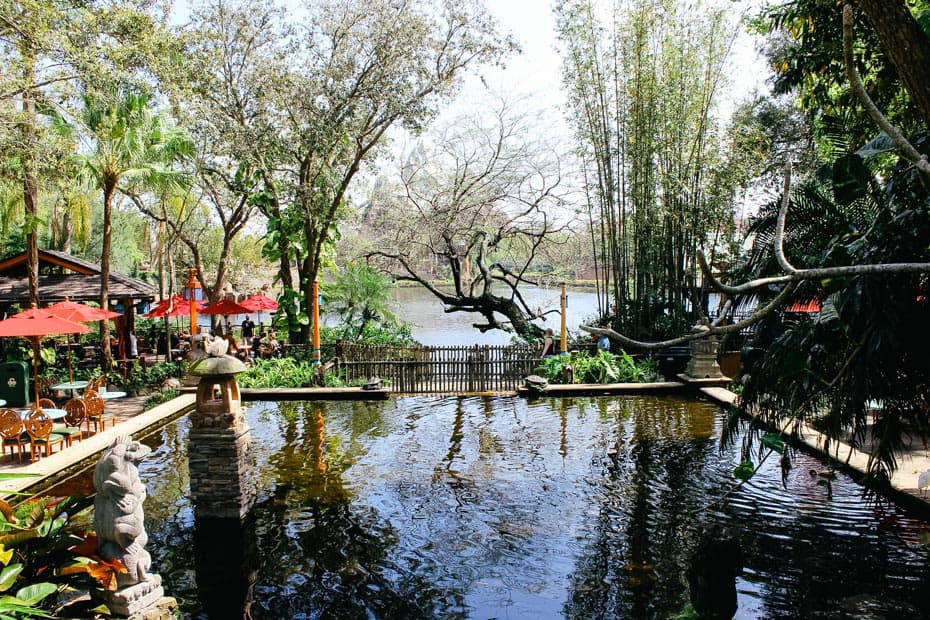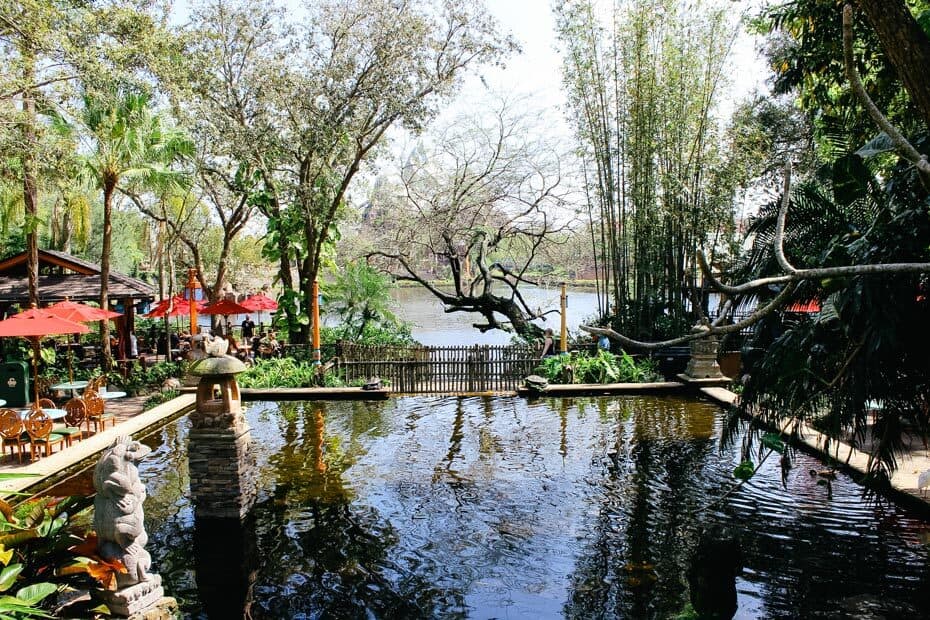 Flame Tree has several pavilions that provide covered seating areas.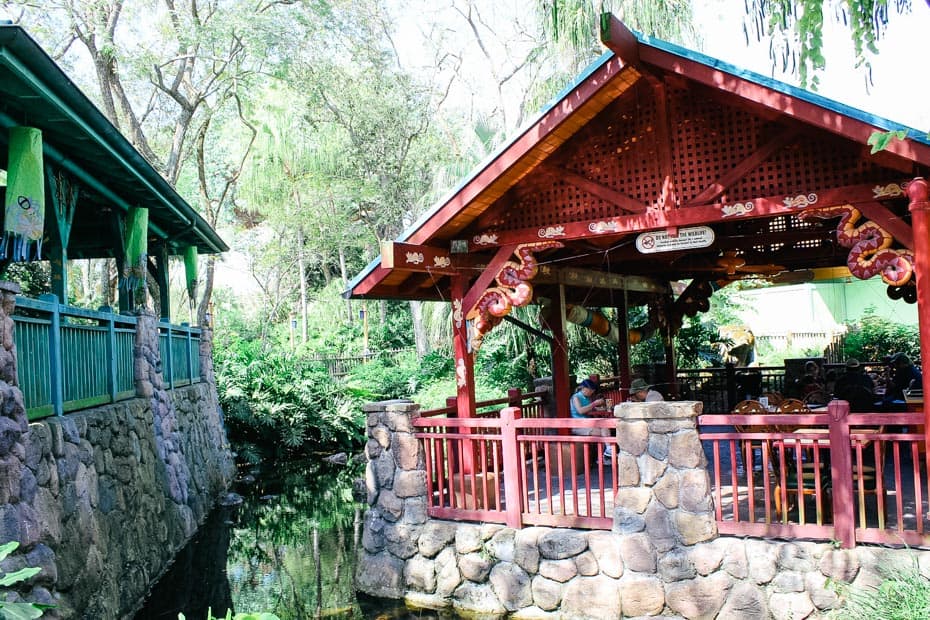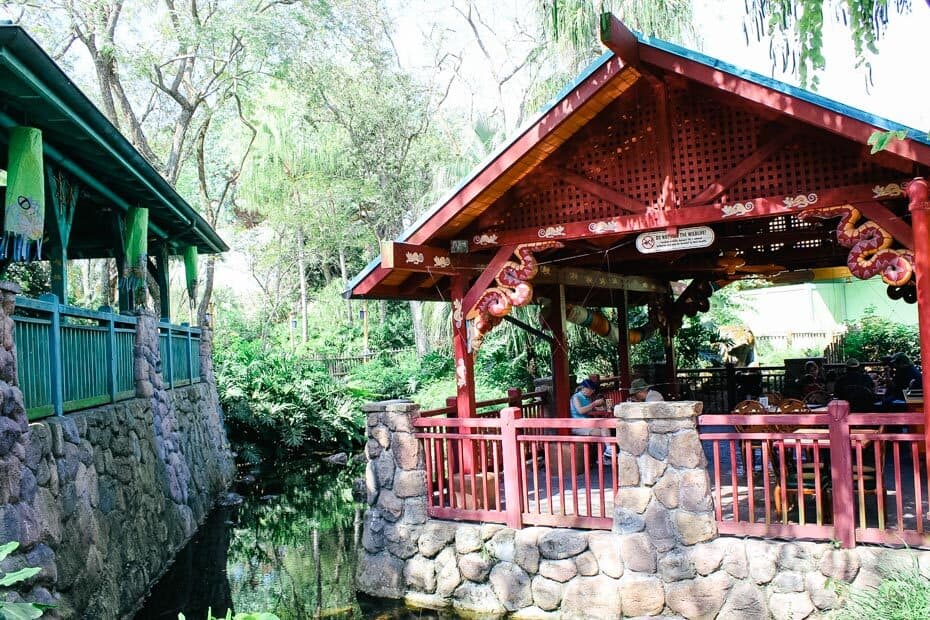 One of the cool things about Flame Tree Barbecue is the theming. It's predator versus prey, like the snake and the mouse on the corner of the pavilion.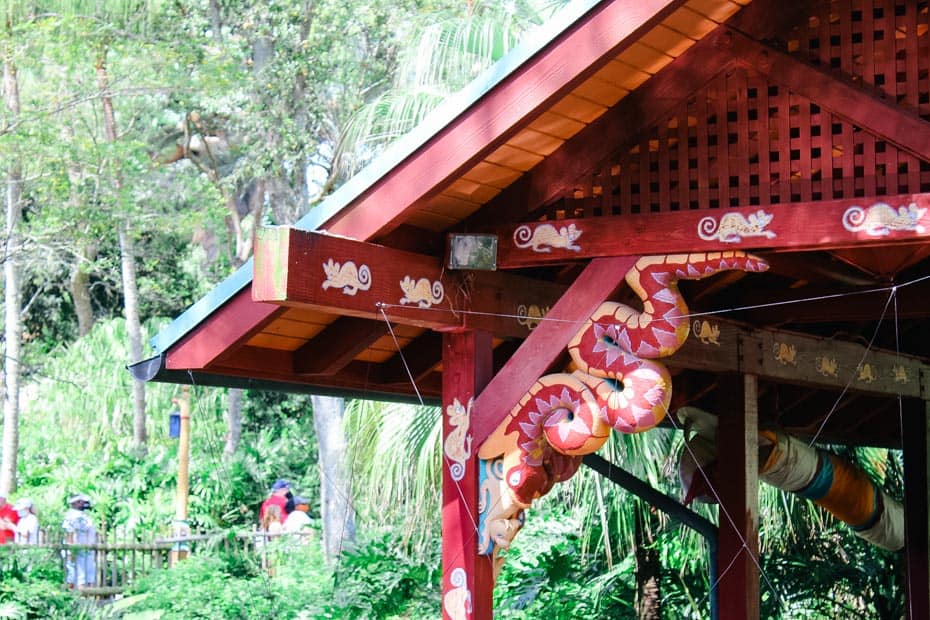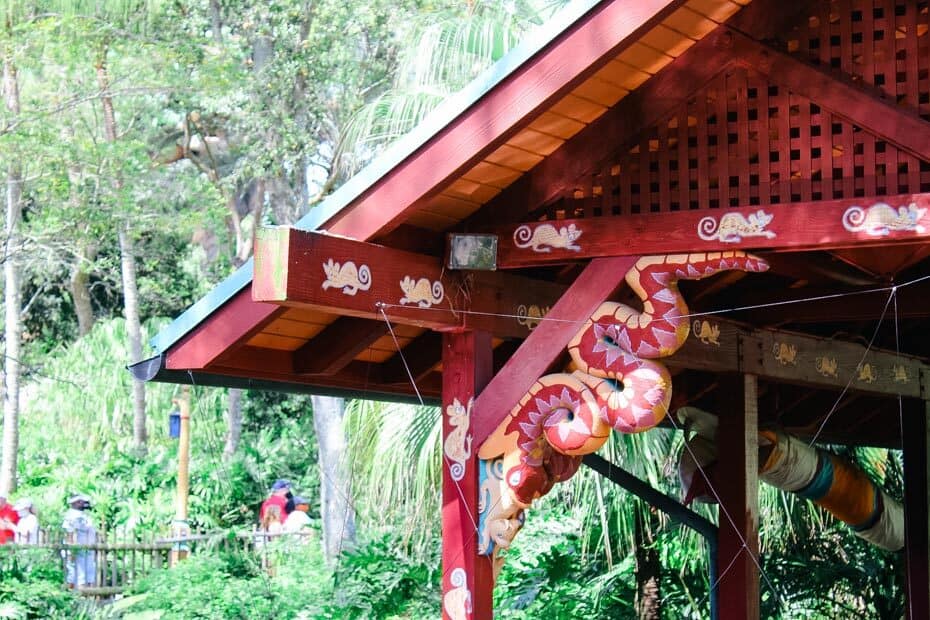 A spider is weaving its web to catch a moth.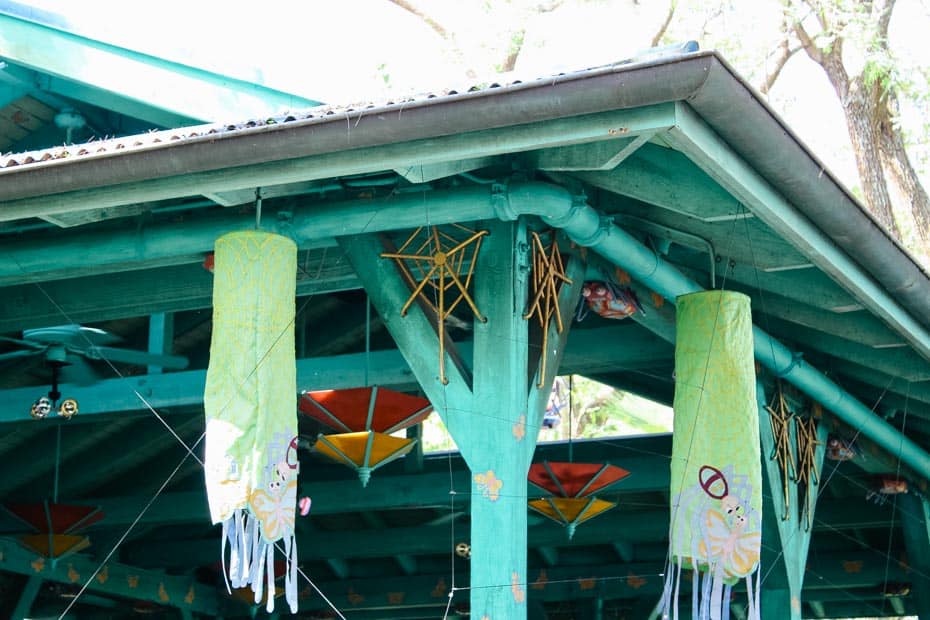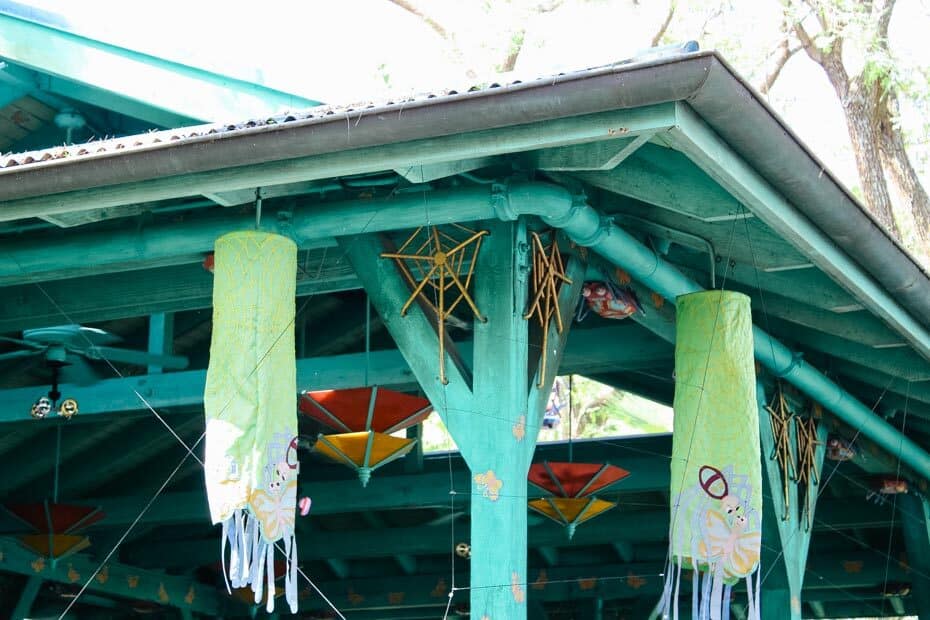 There are so many references. One could write an entire review on the subject alone.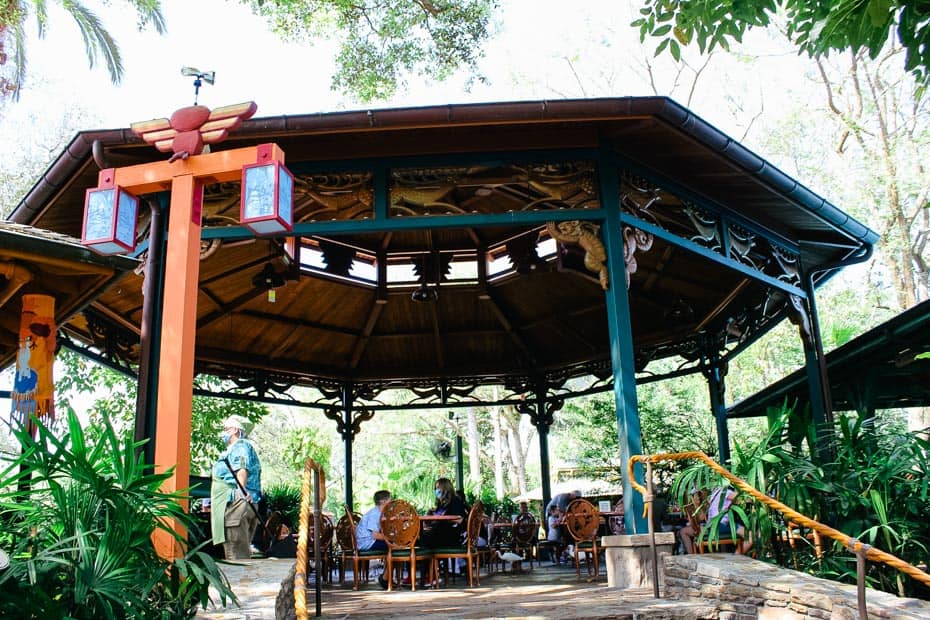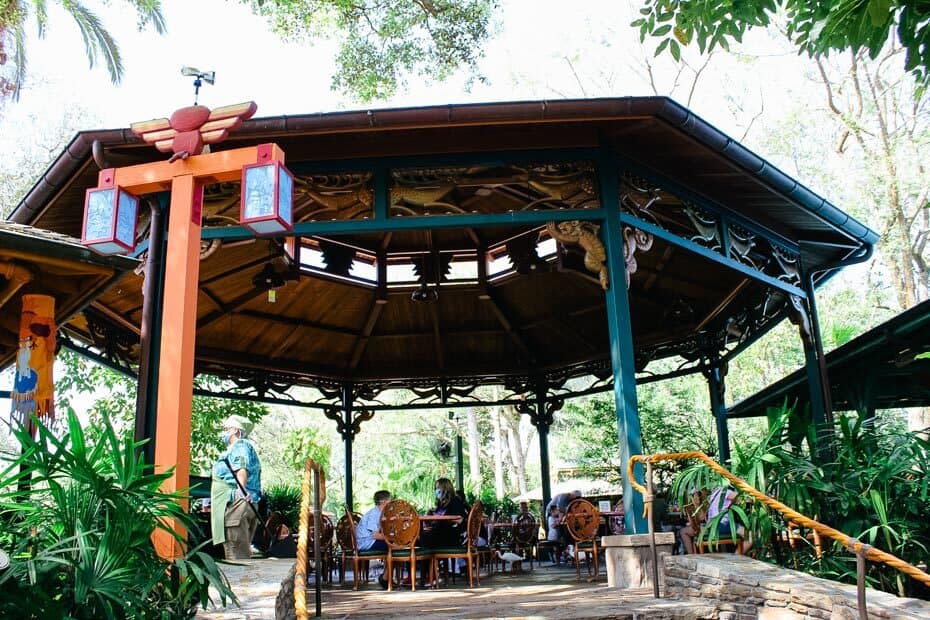 In case you haven't noticed, there is a plentiful amount of seating.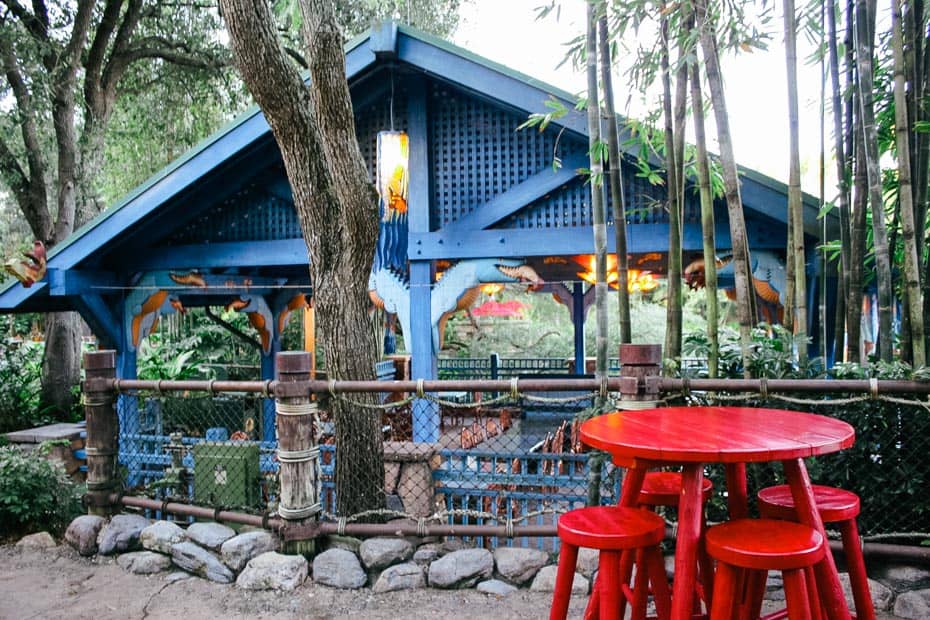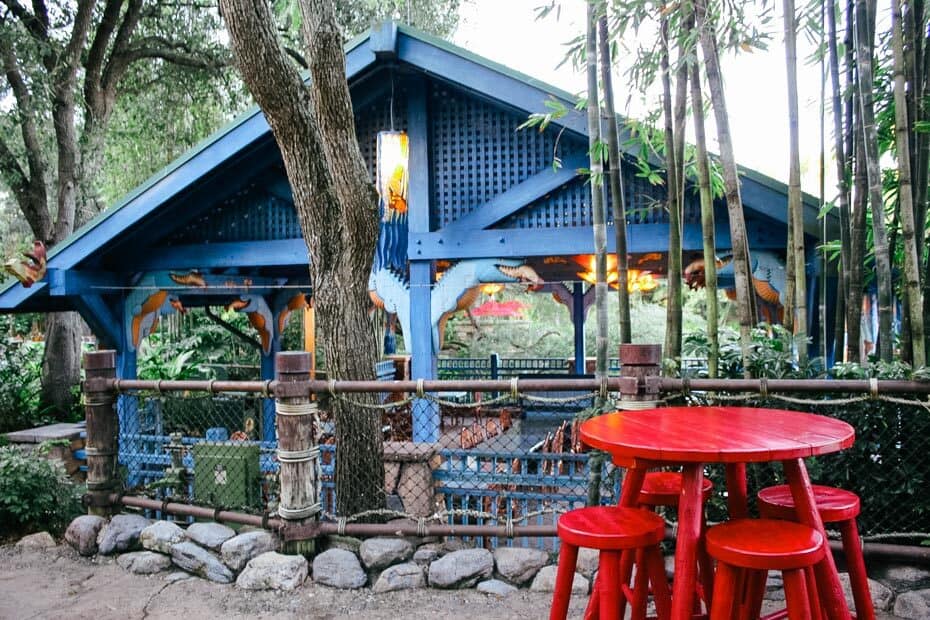 The landscaping and trees add a touch of privacy, make it a serene spot to enjoy a meal.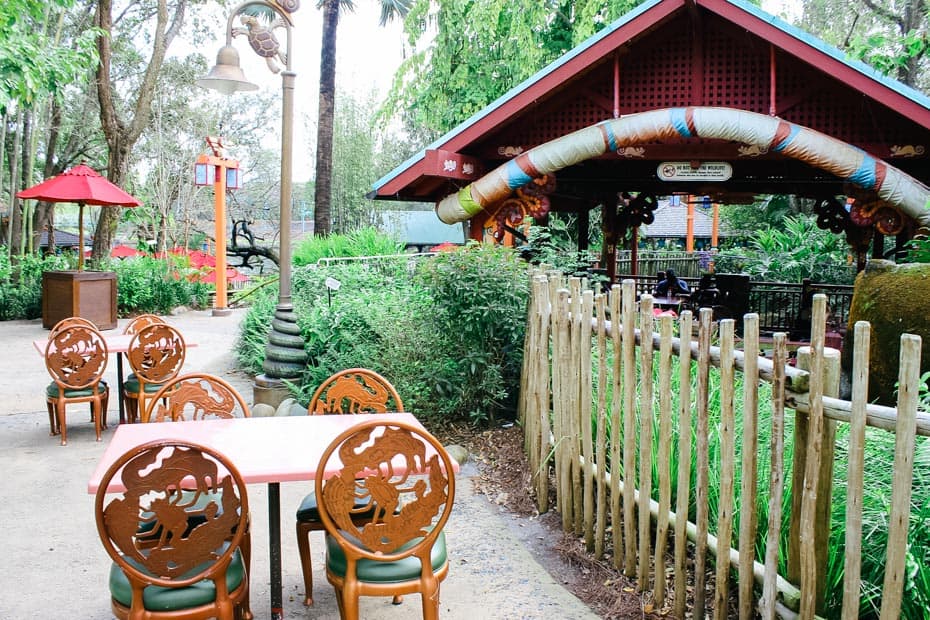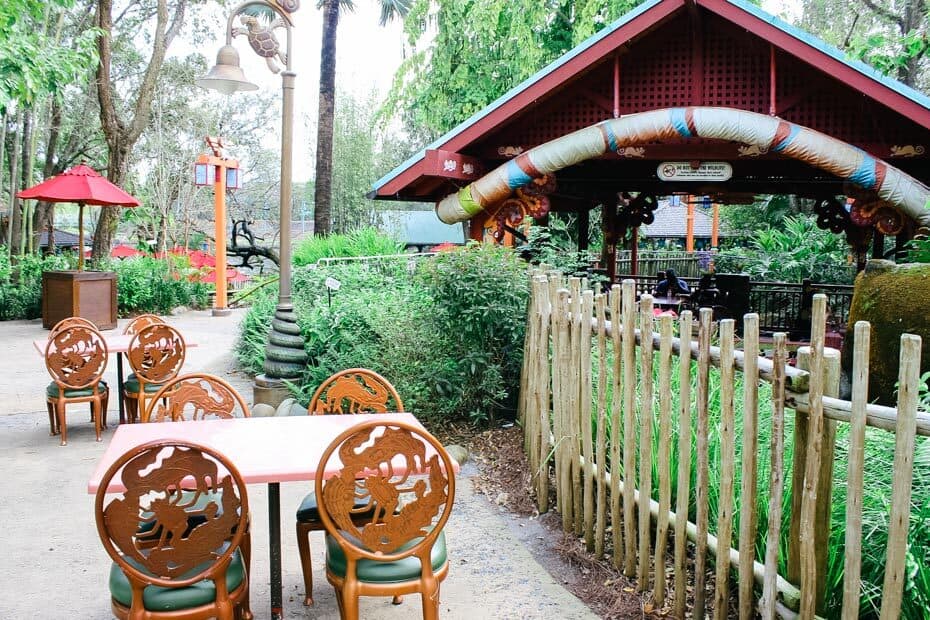 I prefer to walk all the way down to the Discovery River, where Expedition Everest sits in the distance.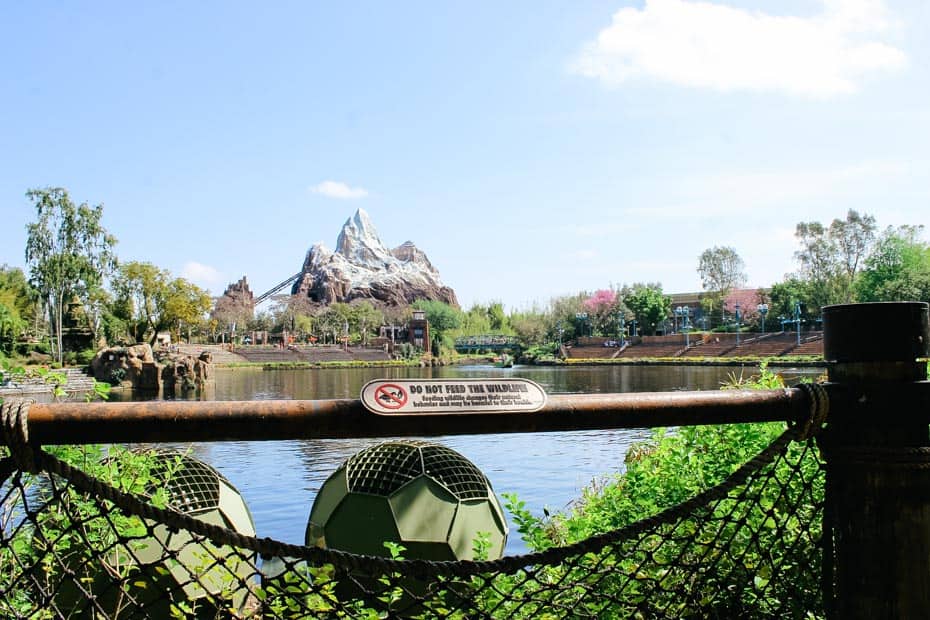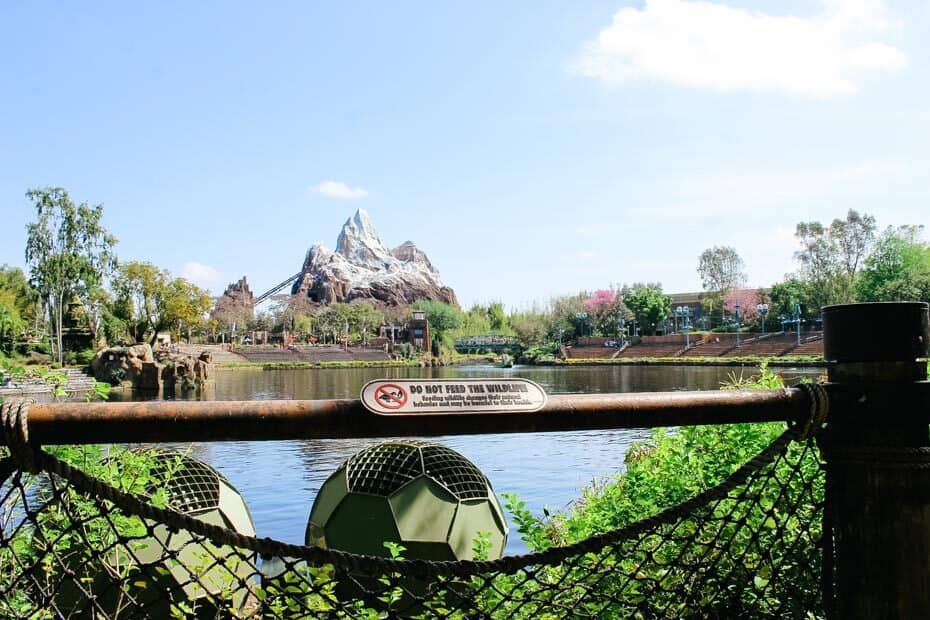 The area provides the perfect spot to show off your fancy plant-based sausage sandwich! I expected this meal to be similar to the vegan Italian sausage sub I had at Pizzerizzo (review) a few months back.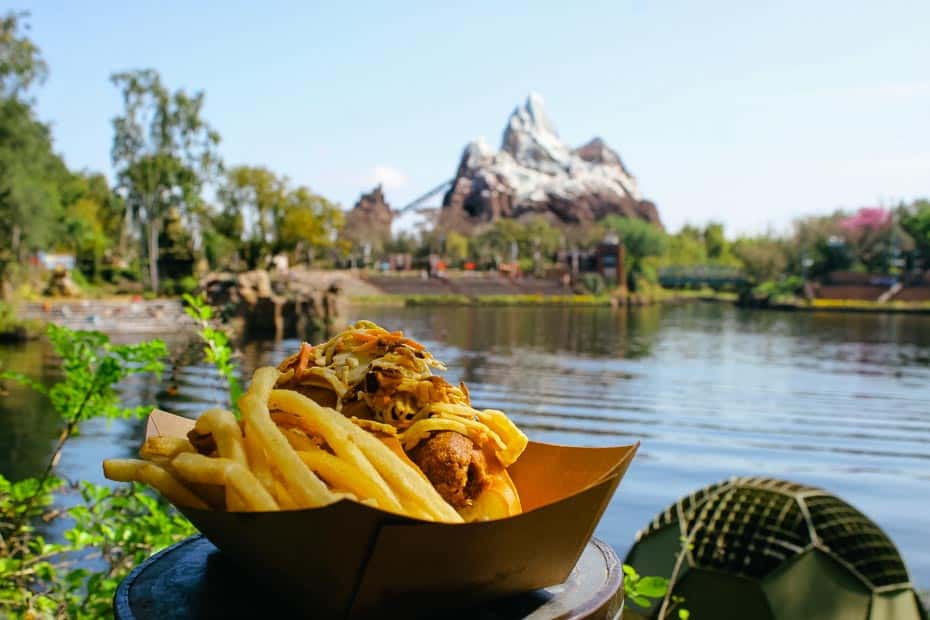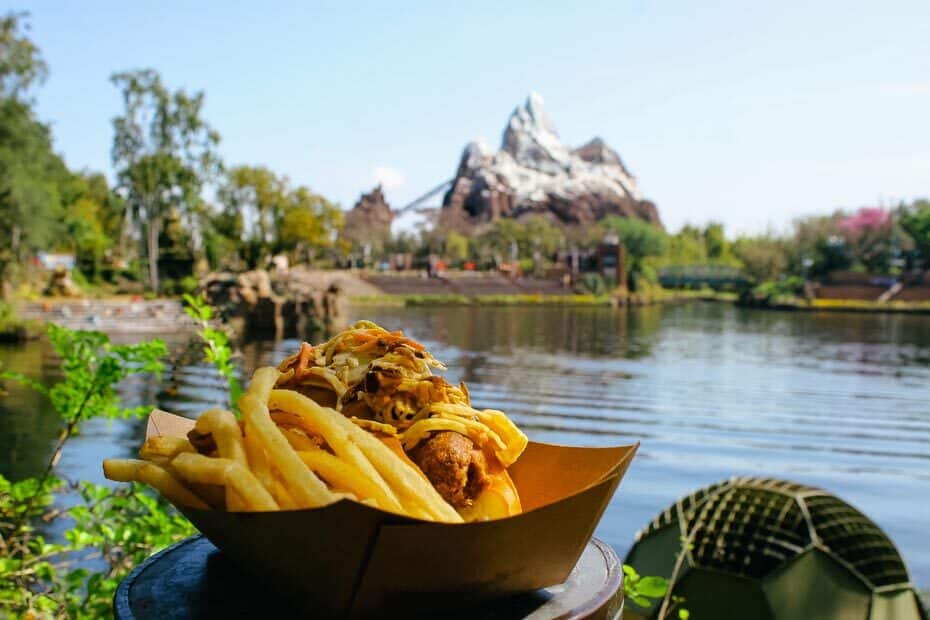 It was actually fairly different. I believe Beyond Burger makes the hot link. The link had enough of a flavor kick not to be bland. However, it wasn't spicy either. I loved the mustard cabbage slaw that topped the sandwich. The slaw was somewhere in the middle of not too dry and not too soggy.
It might be hard to tell but this was a huge meal. French fries come on the side.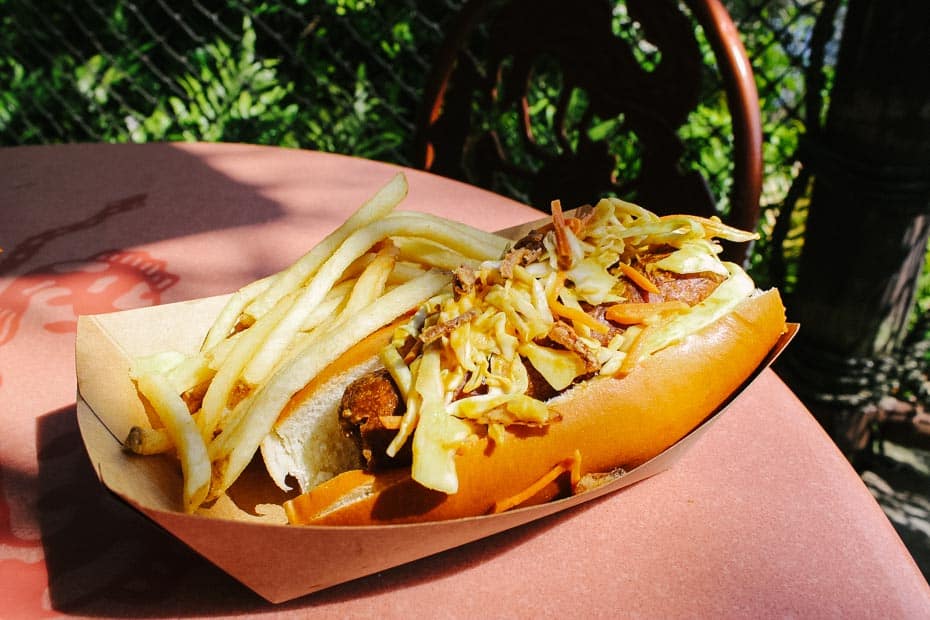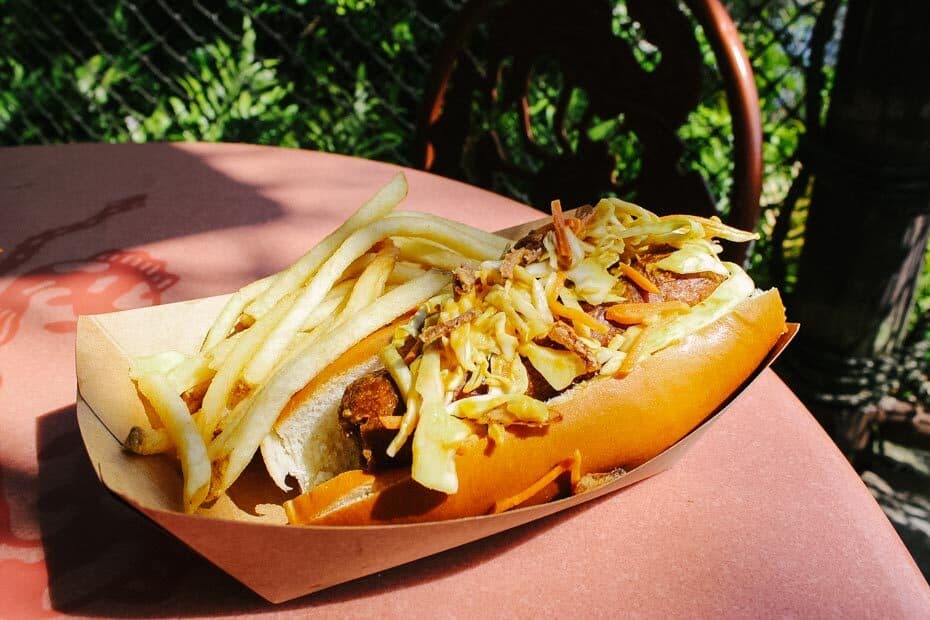 Had I known it would be such a large meal, I probably wouldn't have ordered these onion rings. The onion rings are not listed as plant-based. I assume they probably have dairy or possibly eggs in the batter.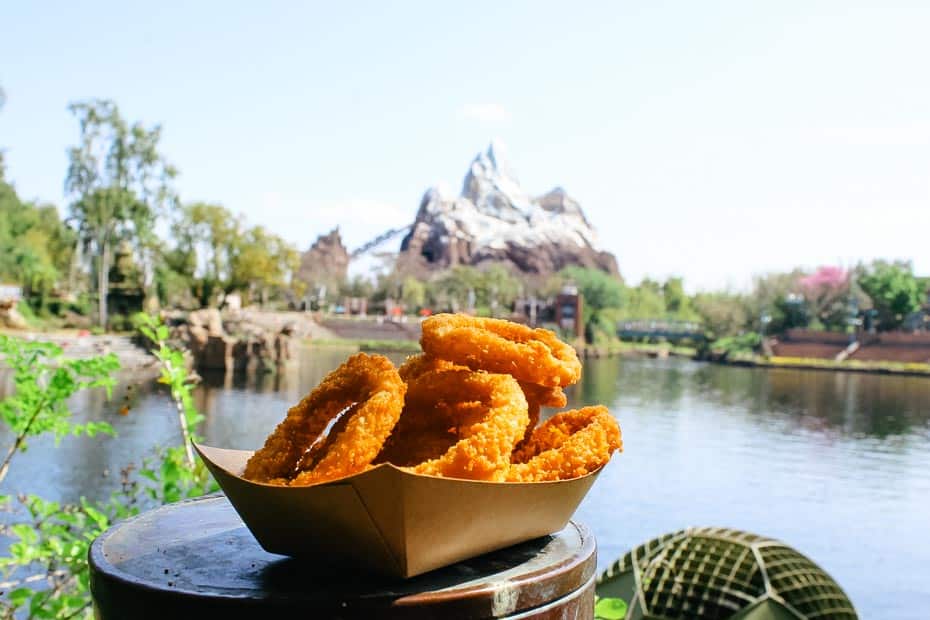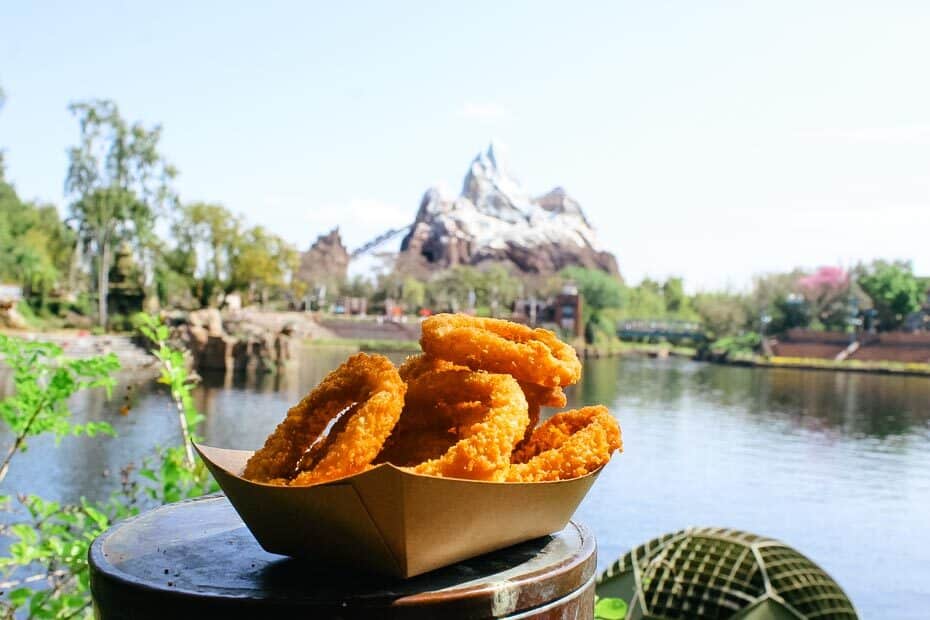 Since I'm more of a vegetarian than vegan, I enjoy these kinds of treats from time to time. I think you can tell by the picture that they were outstanding. Not to mention the large portion size for $4.49 on the day of this visit.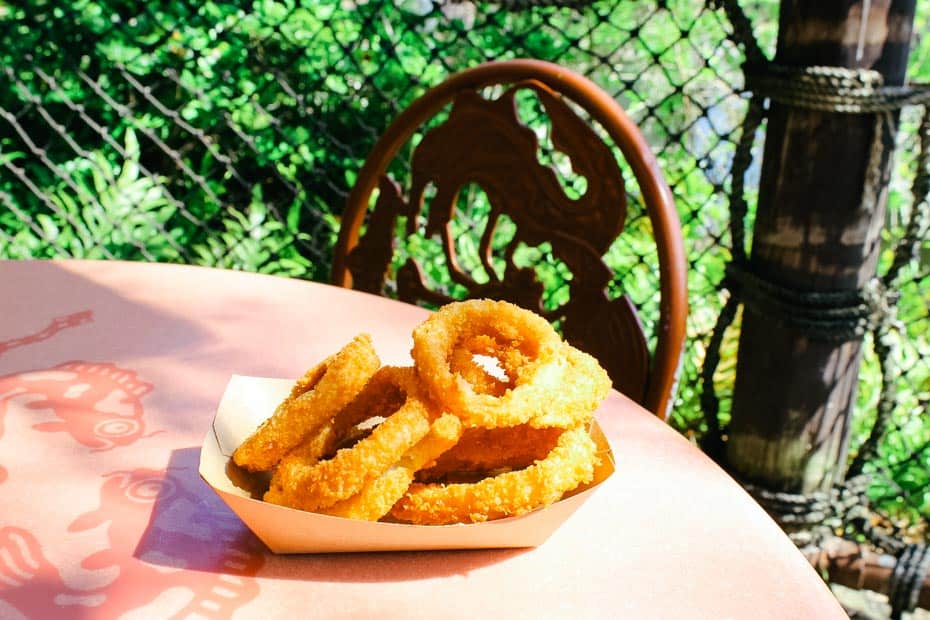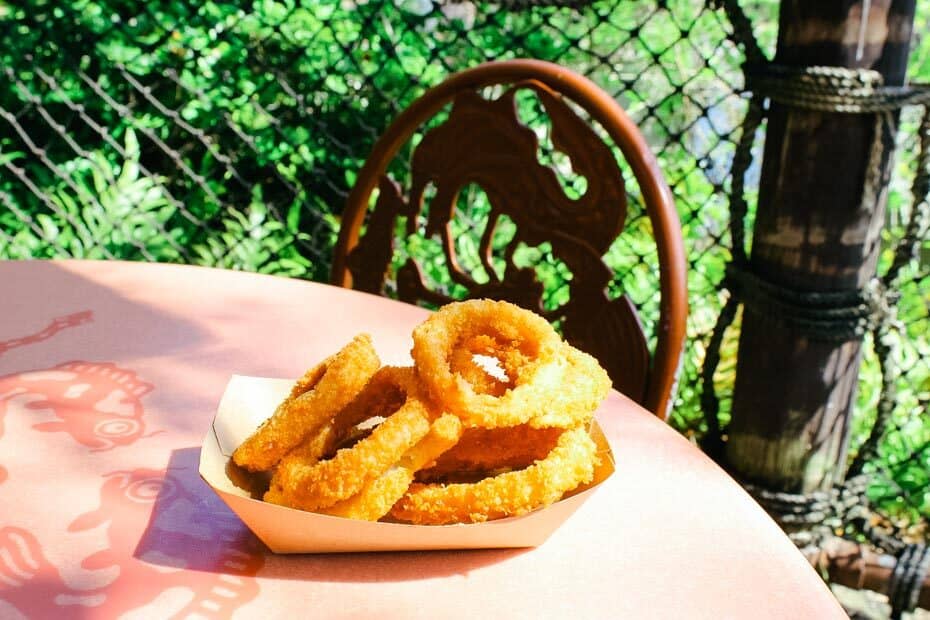 Flame Tree definitely provides a lot of bang for the buck.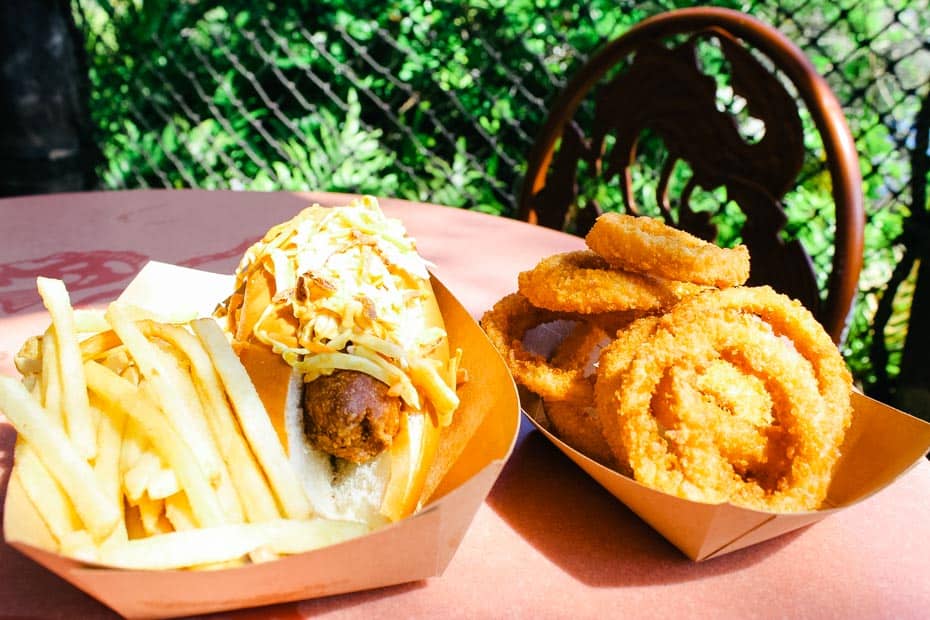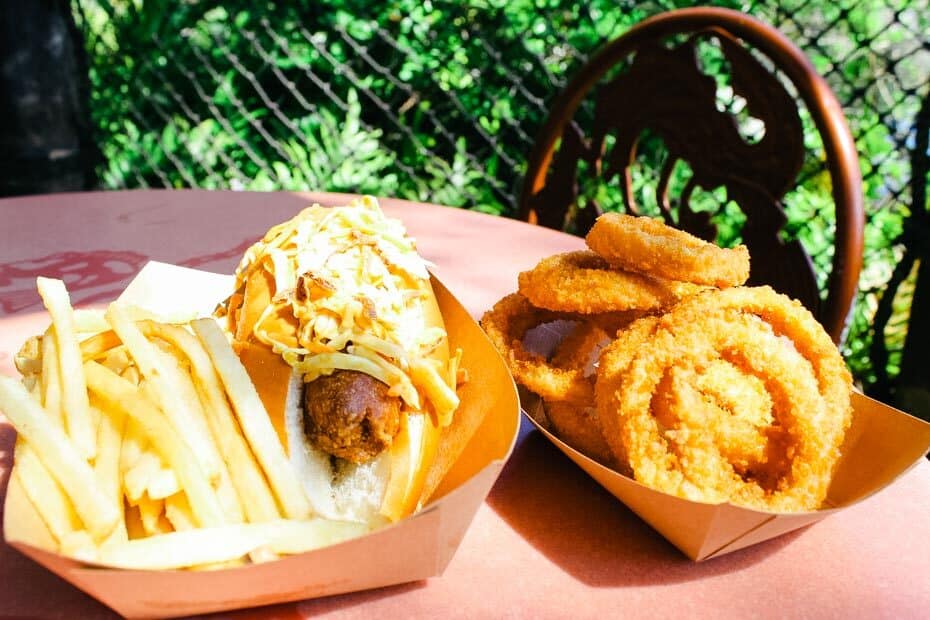 An added bonus was the different characters coming by during my meal. Below you can see Meeko and Pocahontas cruising down the river.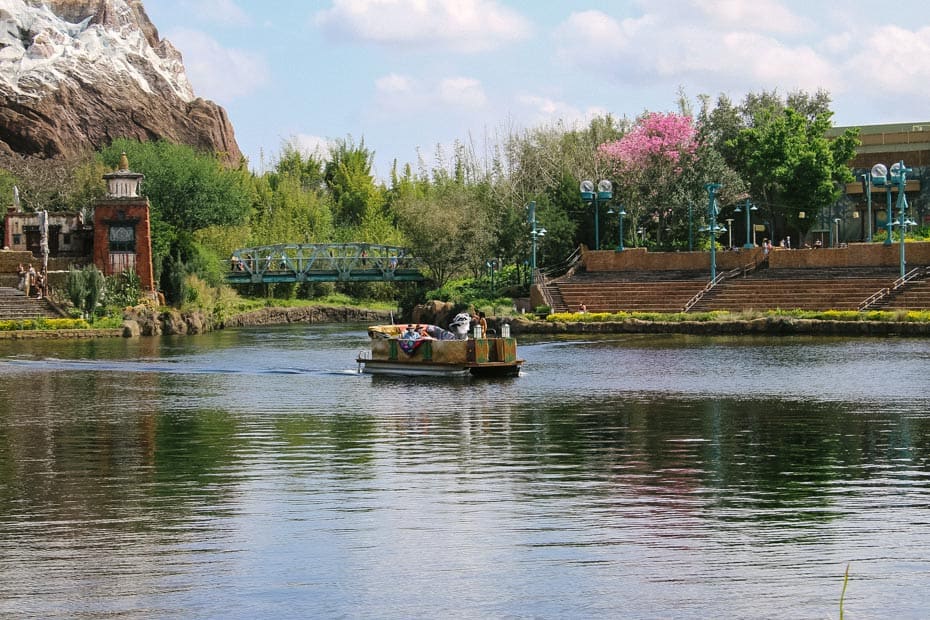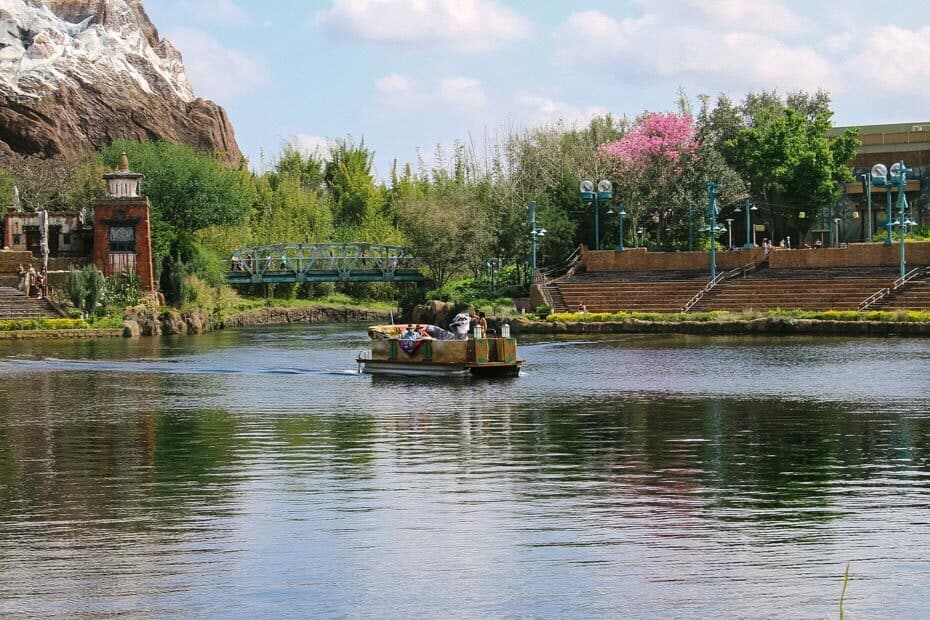 The views around sunset aren't bad either.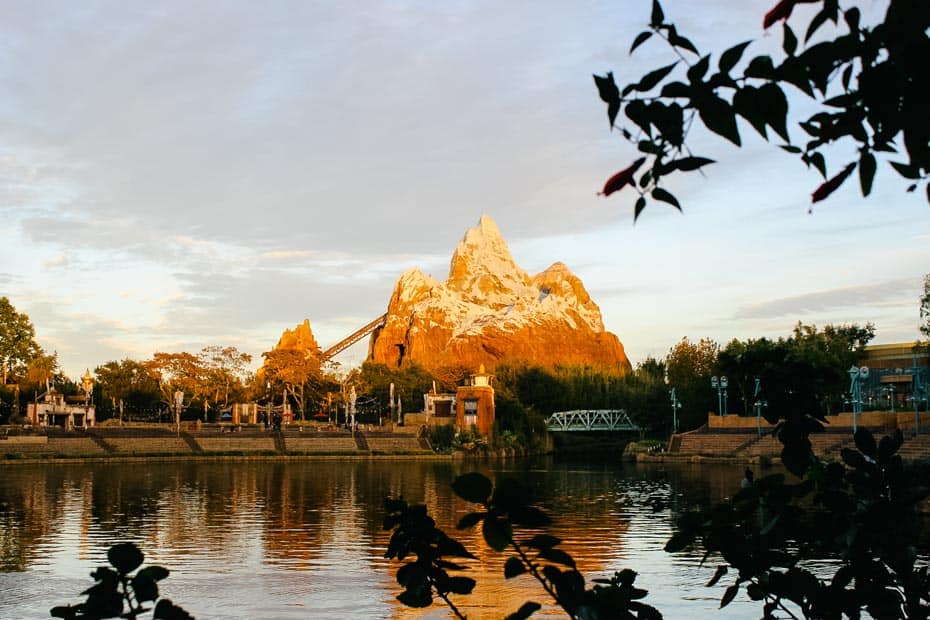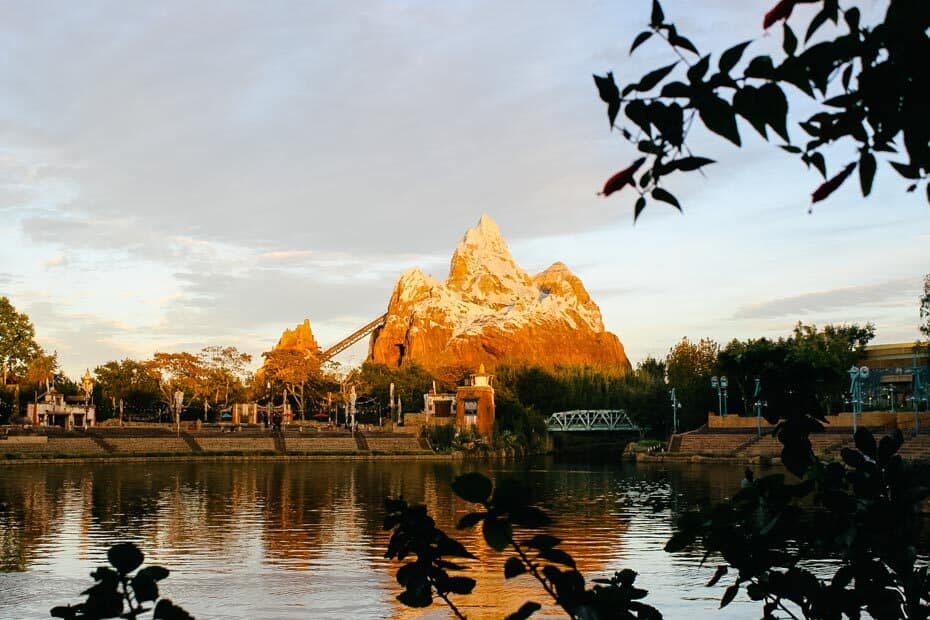 Here are a few more photos.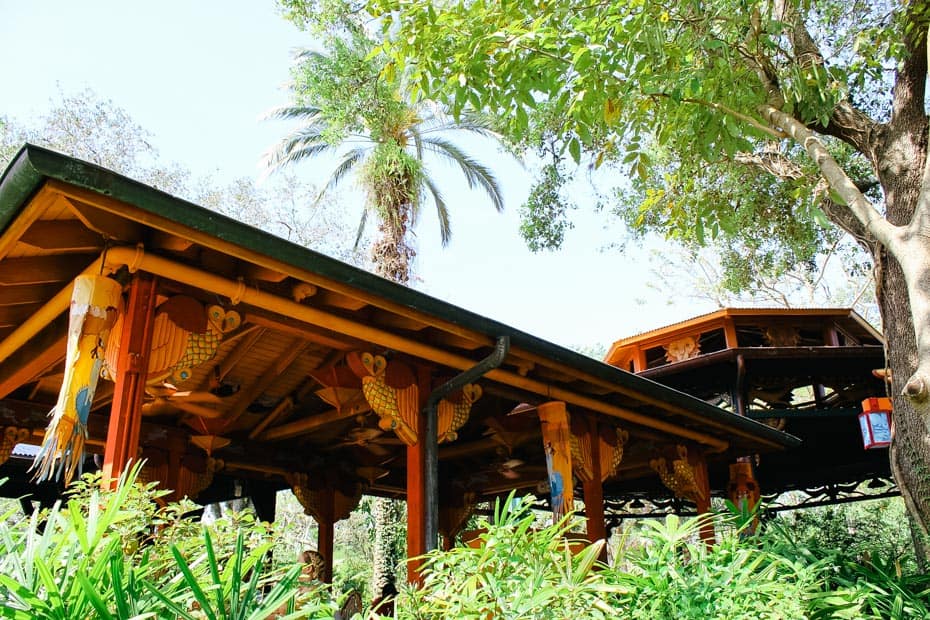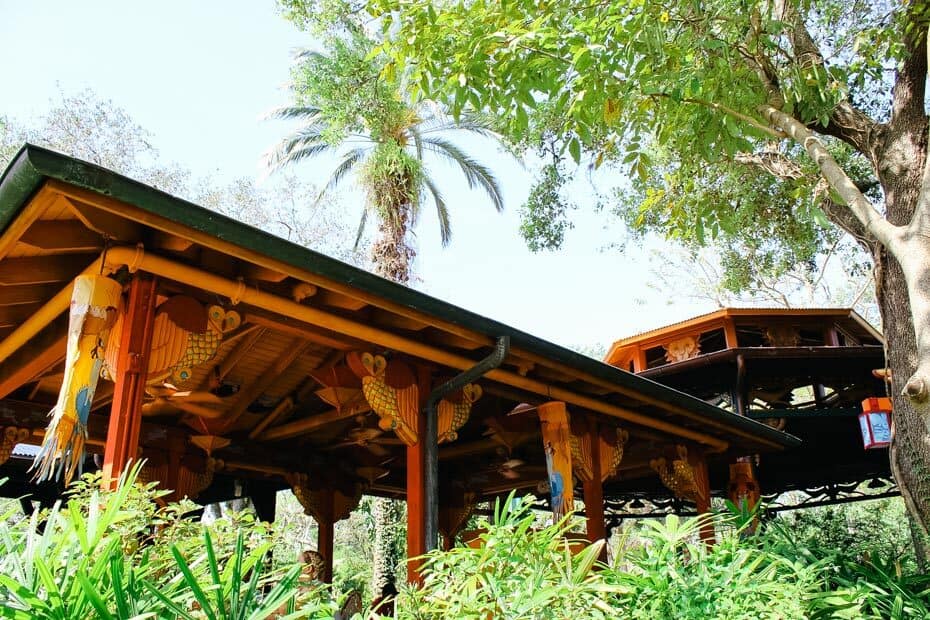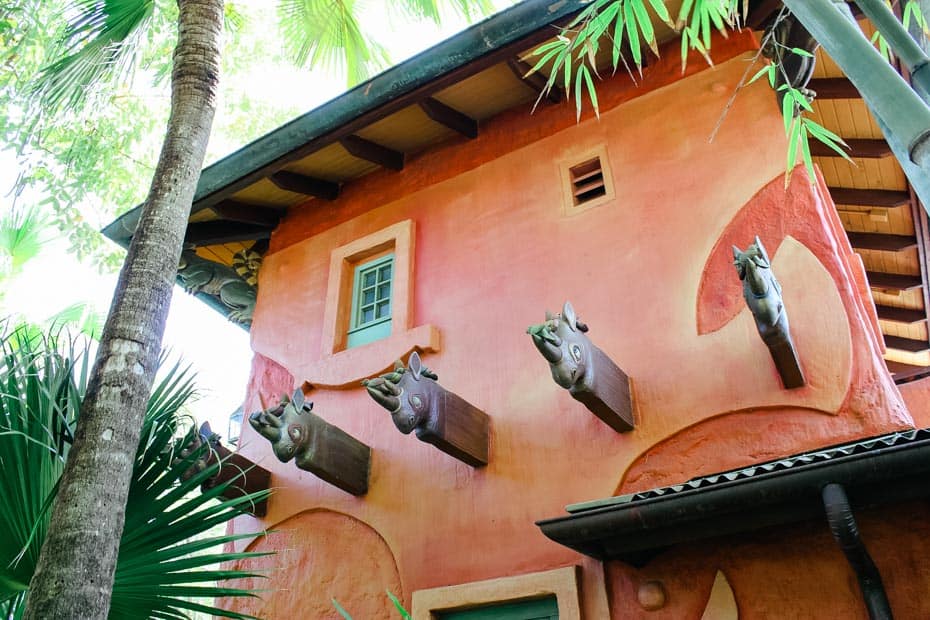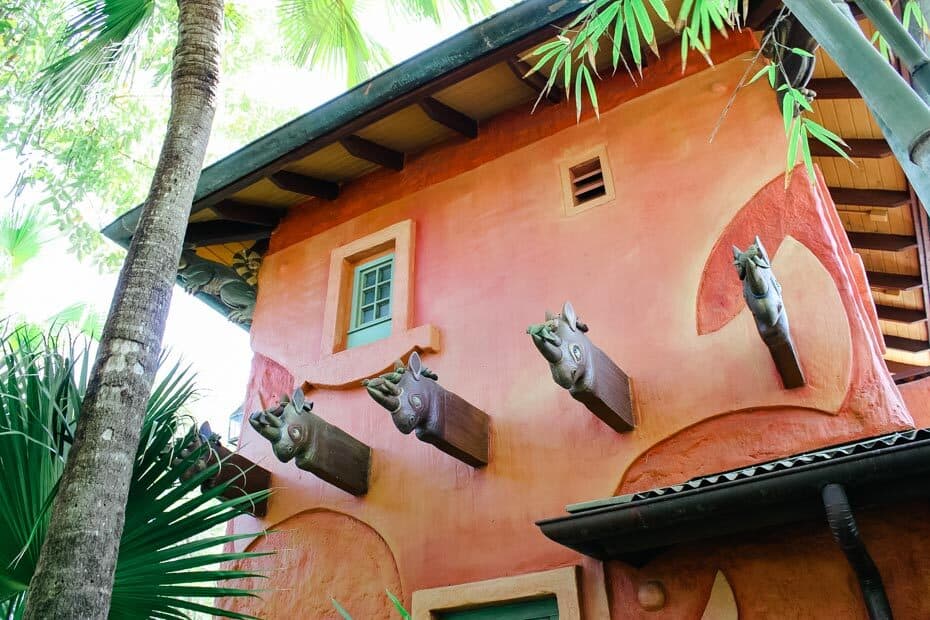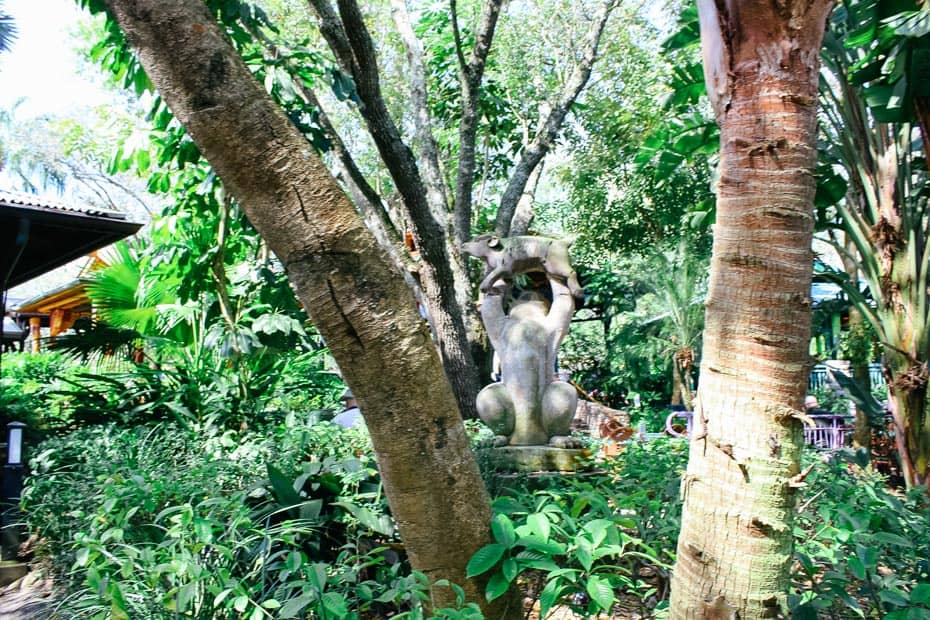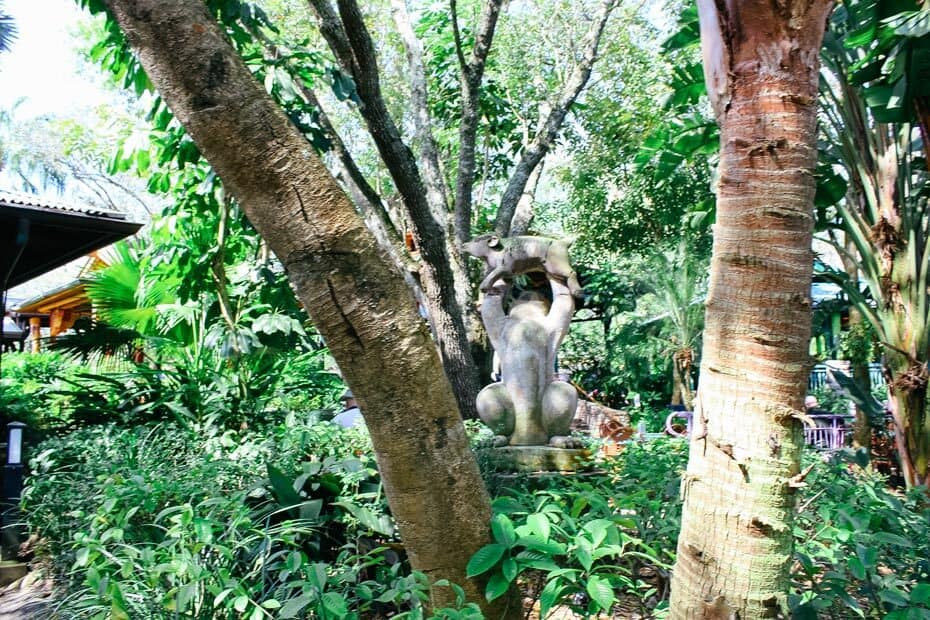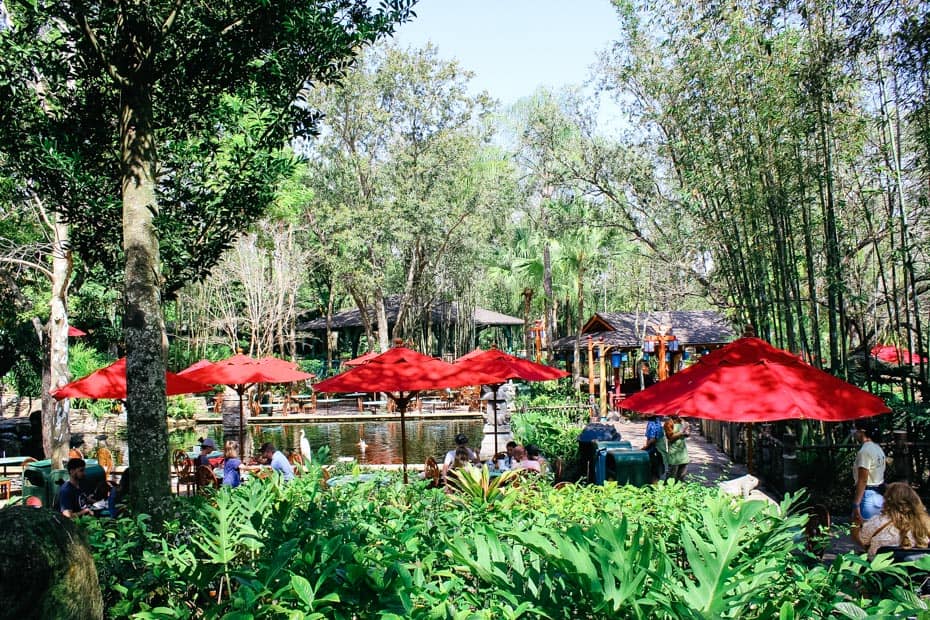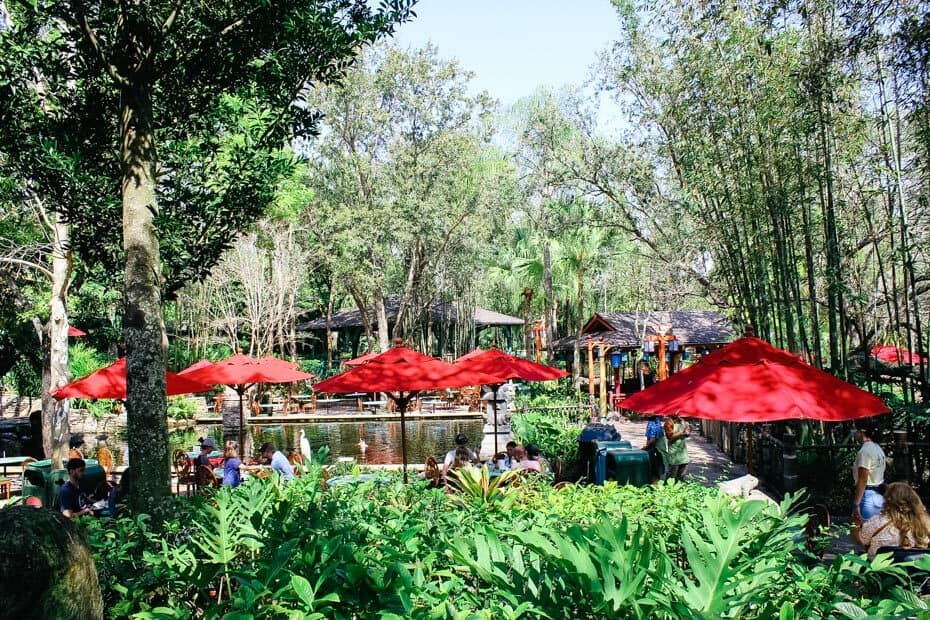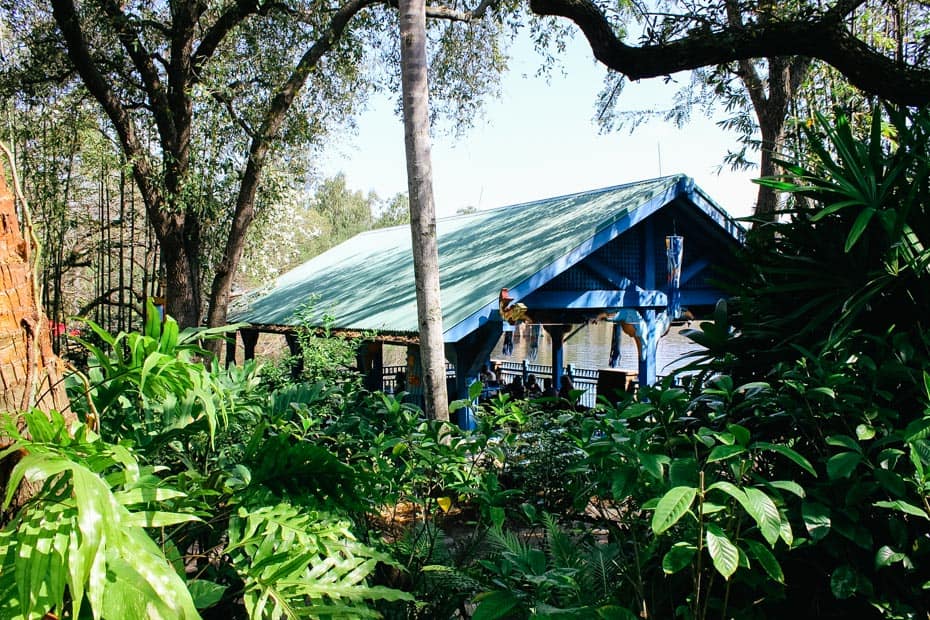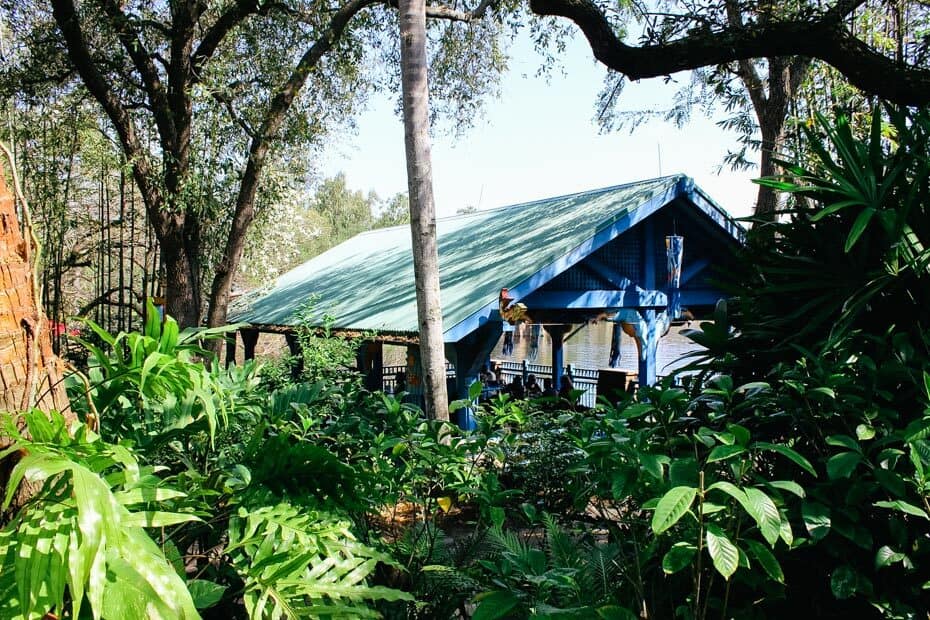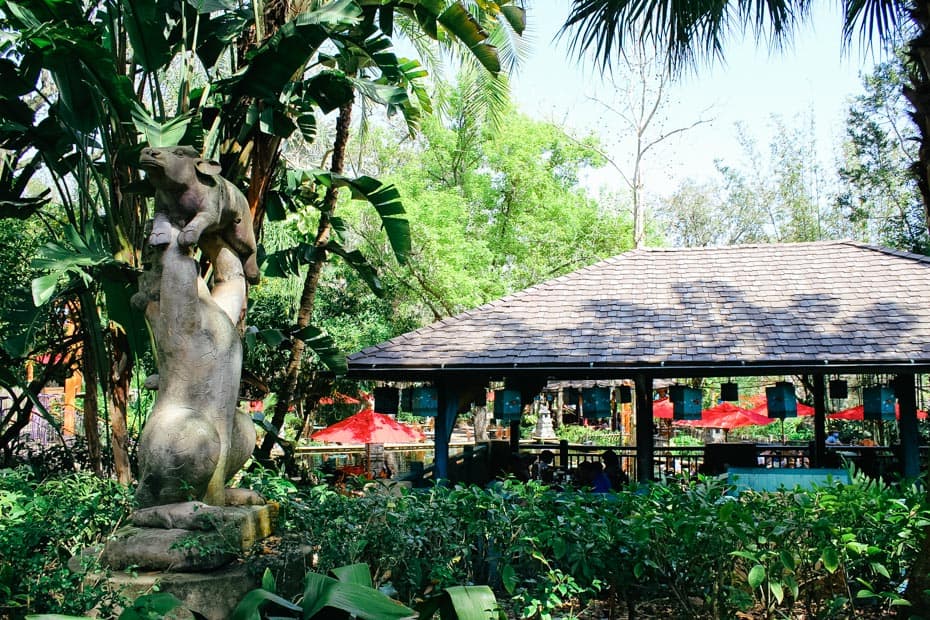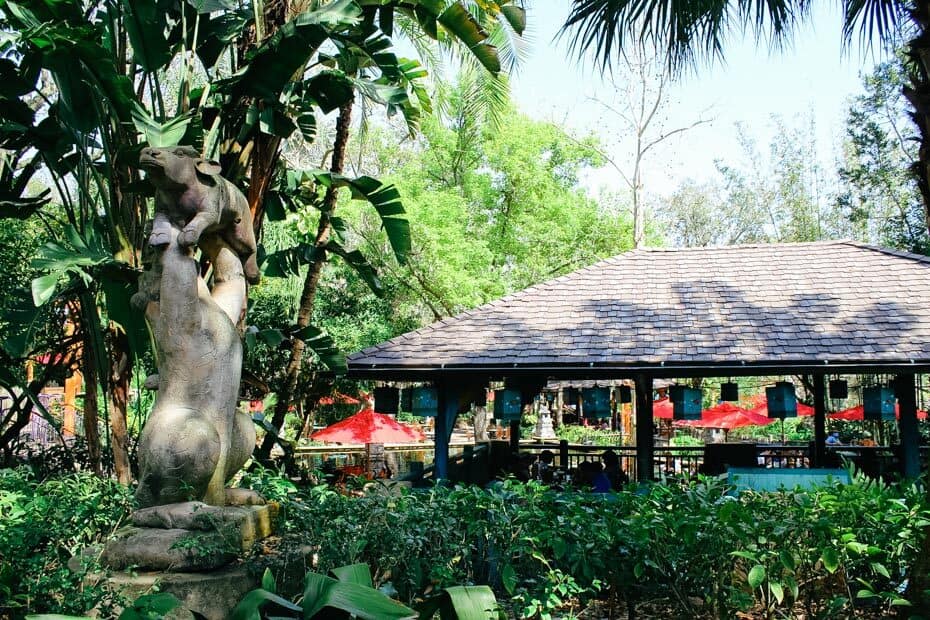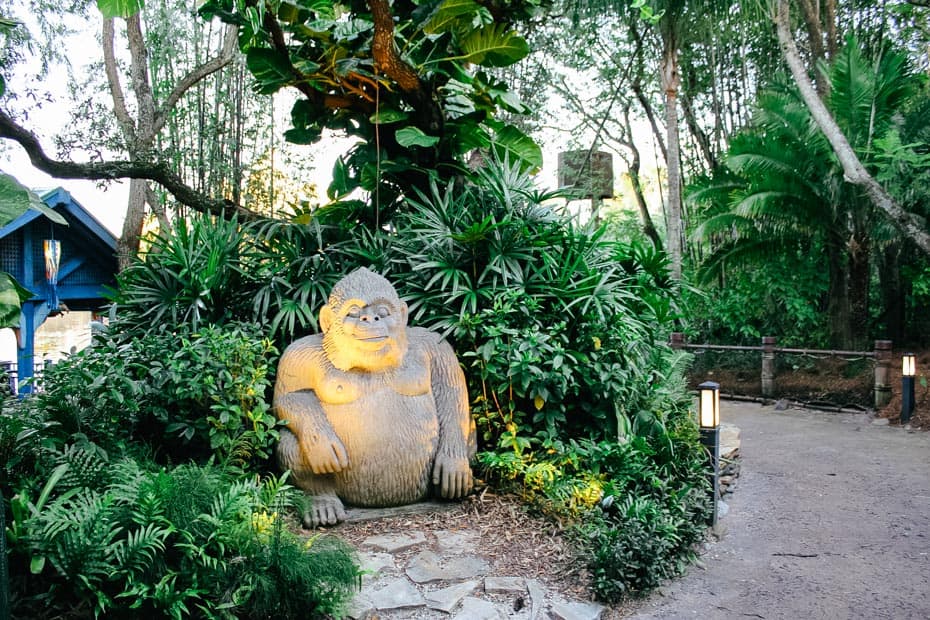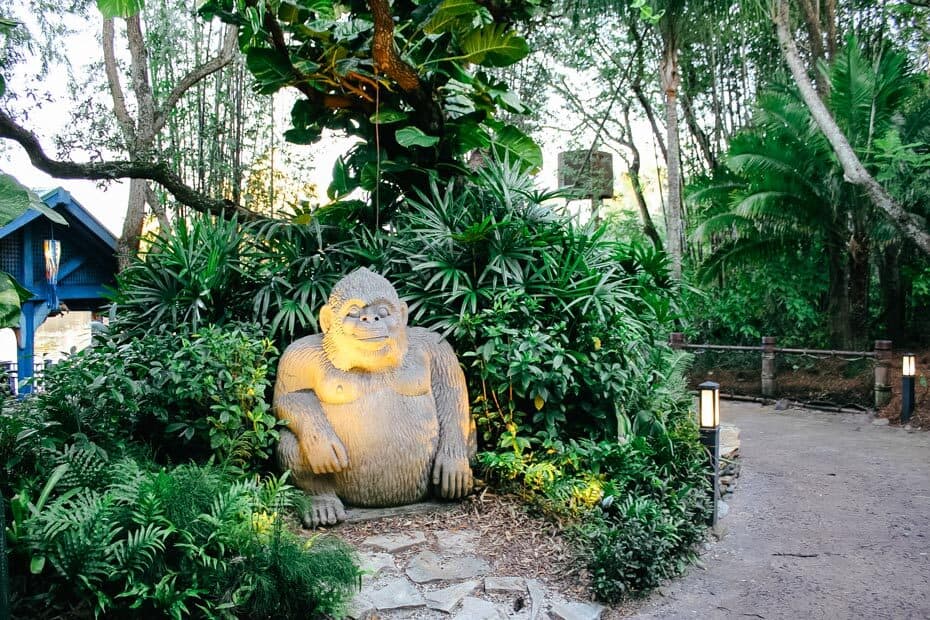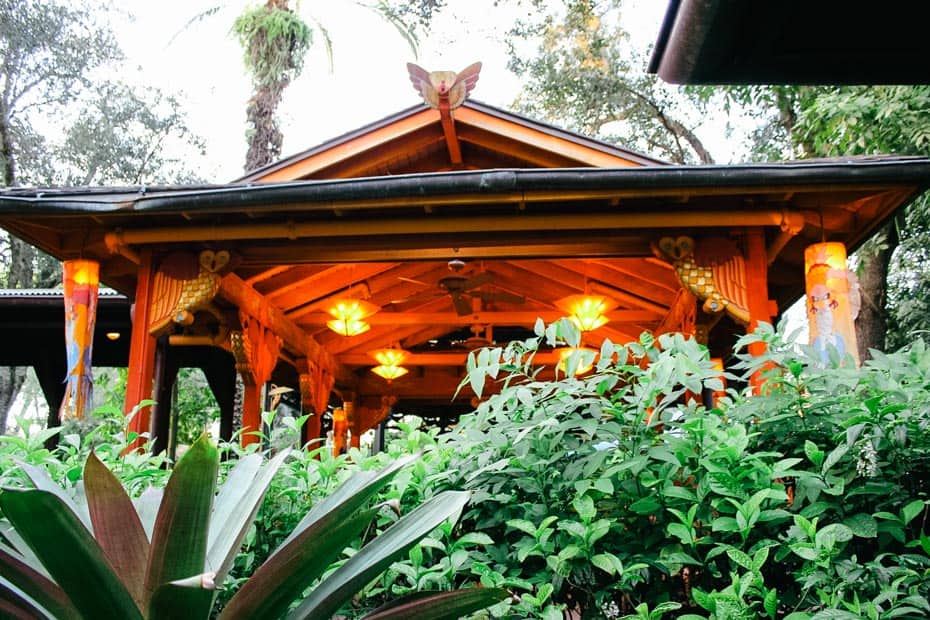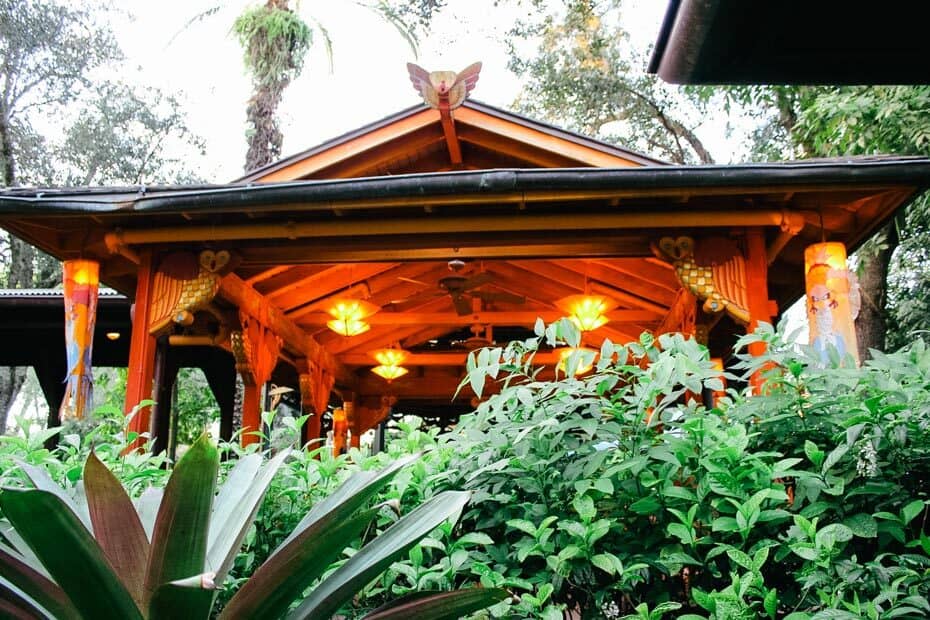 Since I've started eating plant-based meals at Disney this last year, I've accumulated several reviews. You might also enjoy these items on your vacation:
Anyone planning a Disney vacation might also be interested in our entire list of Disney restaurant reviews. These include vegan-friendly and standard dining experiences.
Flame Tree Barbecue is a wonderful option for a vegan-friendly meal. Let me know your thoughts in the comments below. Do you enjoy barbecue or have a favorite item on the menu here?
Planning a Walt Disney World or other Disney Destination vacation?
Our friends and travel partner, Firefly Travels, excels at doing Disney differently. You can fill out a plan your trip form on their website, and someone will reach out shortly to discuss the specifics.