Cabana Bar and Beach Club at Disney's Dolphin
Cabana Bar and Beach Club is a poolside restaurant at Disney's Swan and Dolphin Resort. The restaurant is located on the Dolphin side of the resort.
This article will preview the Cabana Bar and Beach Club and look at a few menu items. If you find yourself looking to enjoy a freshly prepared meal alfresco, I recommend stopping in for a visit.
Cabana Bar and Beach Club is a poolside restaurant that provides a walk-up bar. The outdoor dining venue is pleasant and offers a slightly different experience than most of the surrounding eateries.
The restaurant casually sits alongside the resort's lap pool and is bordered by semi-private cabana-style seating areas. The main dining area has standard tables and chairs to help accommodate larger or smaller groups.
Now, you might be wondering how I ended up here.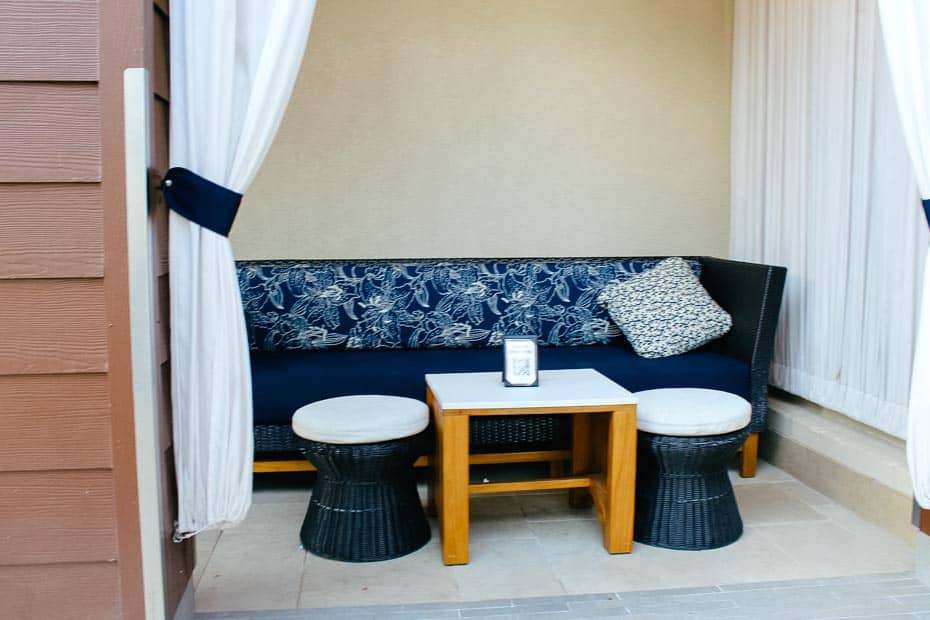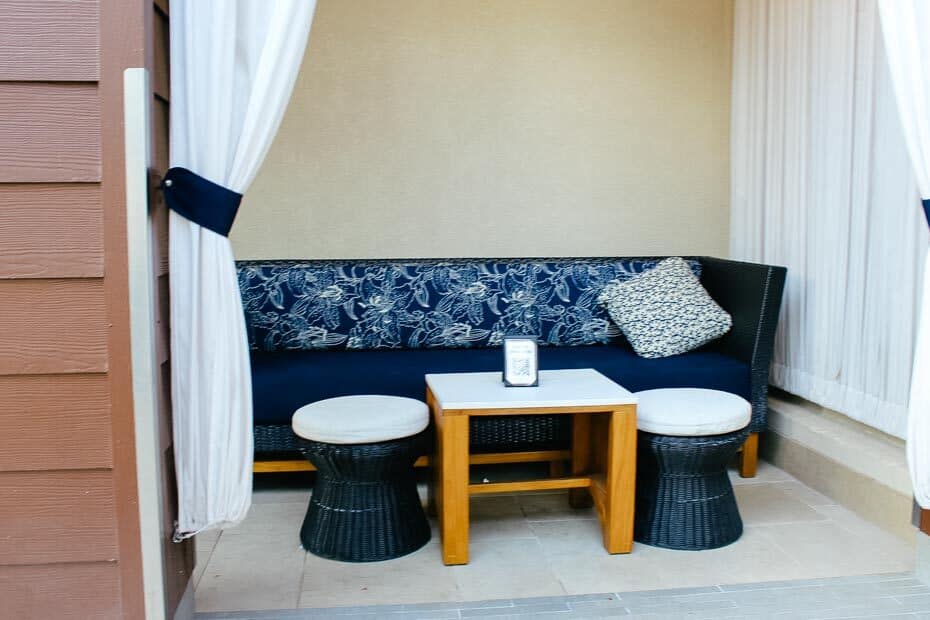 A few weeks back, I was visiting Epcot and decided to head over to Disney's Yacht and Beach Club to see if I could find a decent late lunch. Unfortunately, the only vegetarian item I was able to find at both of the resort's quick services was a premade sandwich.
And there was a snack option at Hurricane Hanna's.
These choices were not ideal. So I decided to walk over to the Swan and Dolphin Hotel to see if I could find something more suitable. I already knew Picabu hadn't reopened at the time.
I had high hopes that The Fountain had re-opened, and I could try their plant-based burger. As it turned out, I was a few days early. Thankfully, they are now open.
By the time I got over to the resort, I was fairly hungry. Additionally, I needed to stay in the area to get a few photos of the Dolphin's Grotto pool for the site.
Related: The Pools at Disney's Swan and Dolphin
Insert the Cabana Bar and Beach Club, which turned out to be quite satisfying.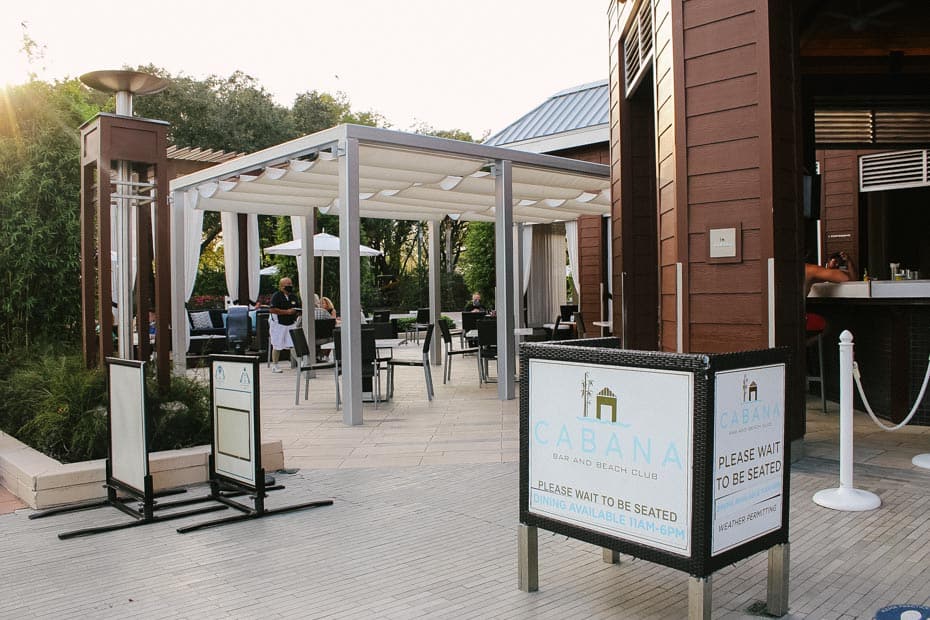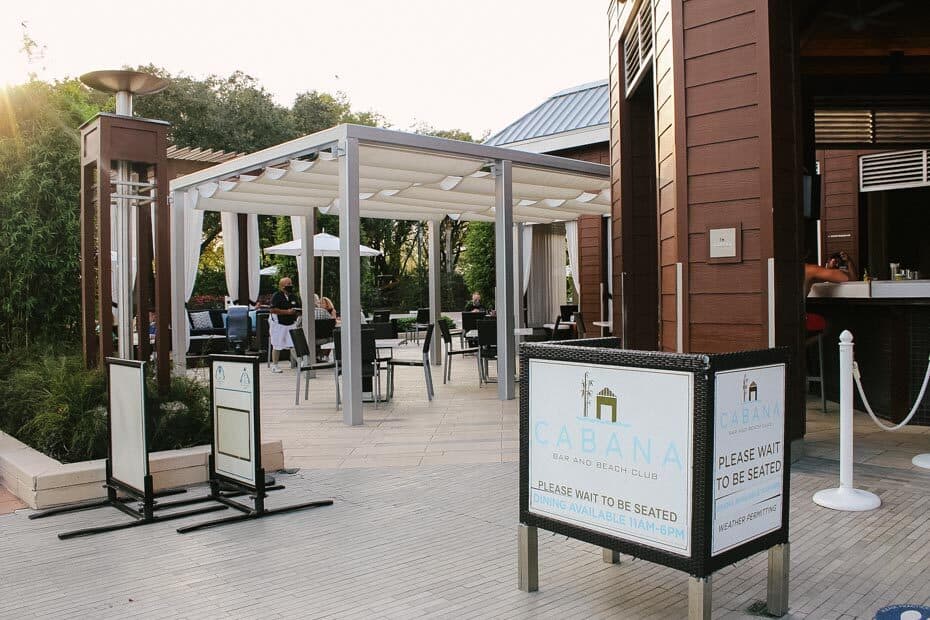 Upon arrival, I was greeted by a sign indicating to wait in the area to be seated. While I was waiting, I noticed there was a walk-up bar available. Anyone can join the line and order the beverage of their choice to enjoy while lounging at the pool.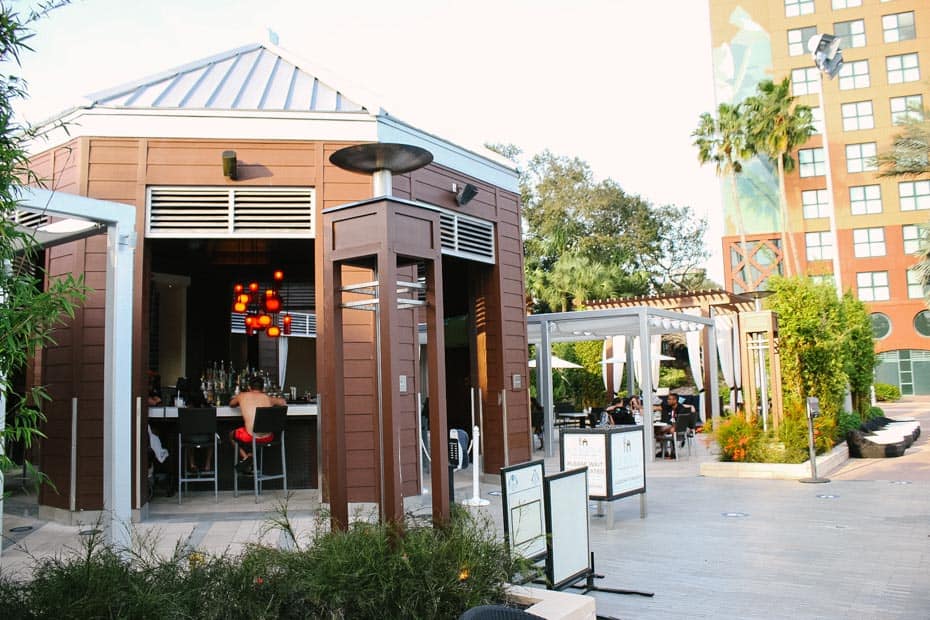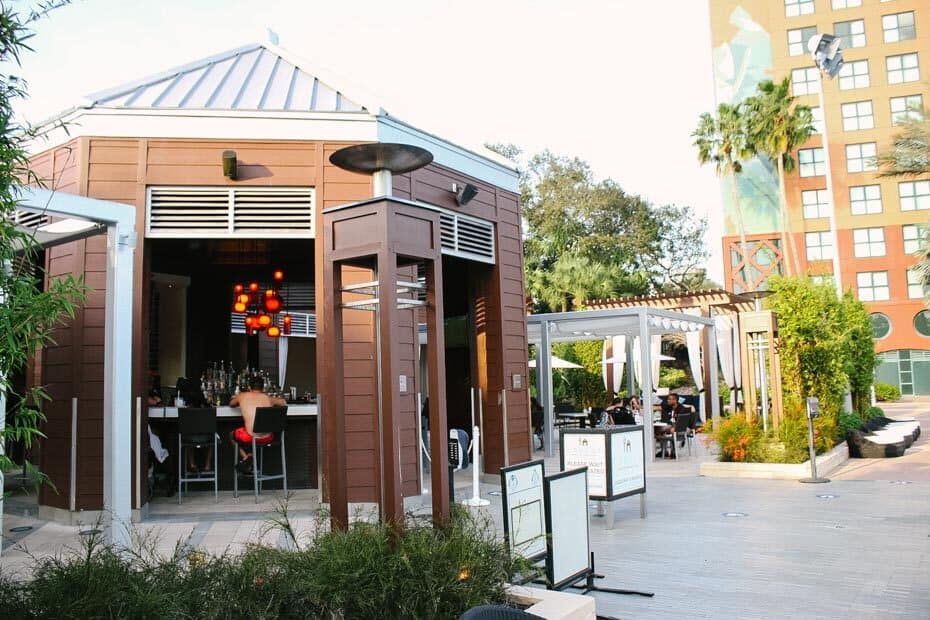 Additionally, the restaurant has a mobile order service if you would like to pick up a to-go order. You can scan the code on one of the signs and place your order.
Within a few moments, I was greeted and taken to a seat. Here is a look at the different seating areas.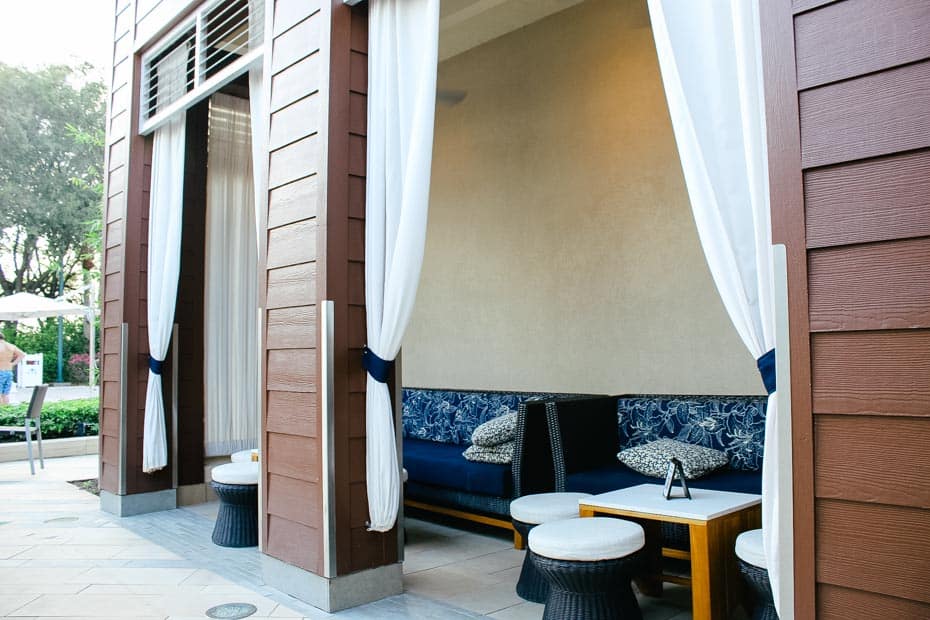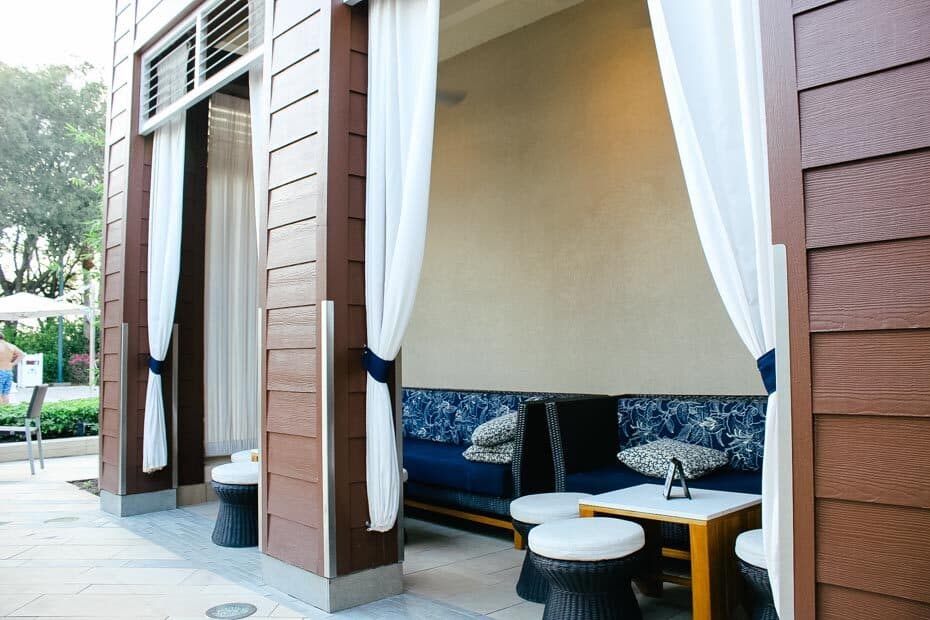 I thought the pergolas were a nice touch and added to the ambiance of the outdoor dining space.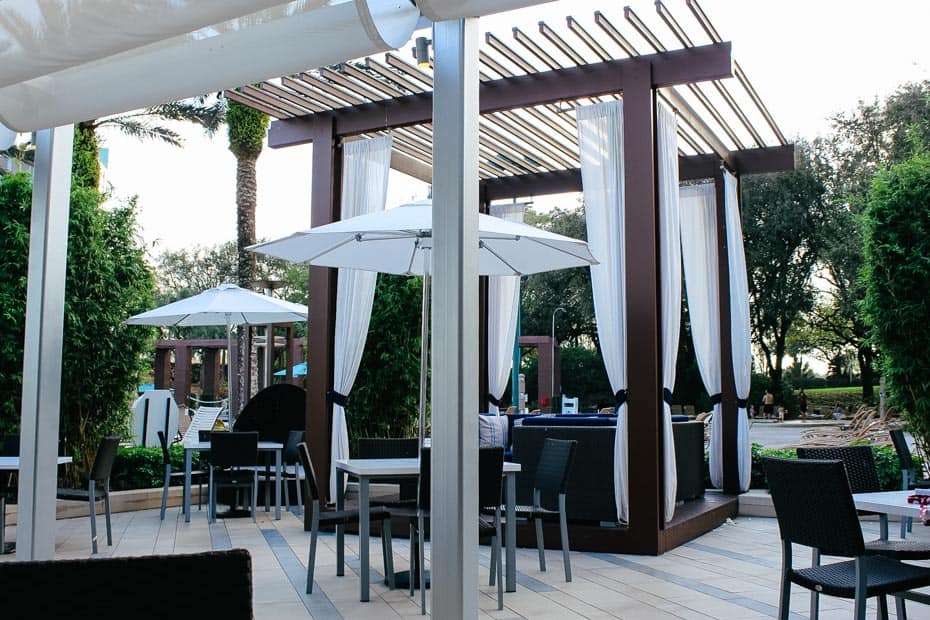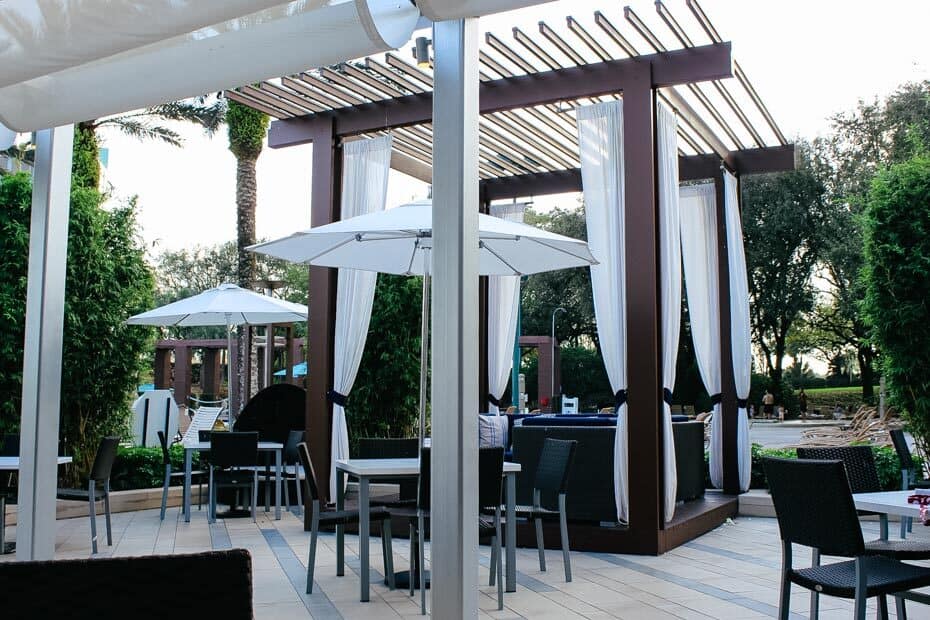 The menu is available via a QR code. It's nice to be able to scan the code with the photo application on your phone. The menu pulls right up.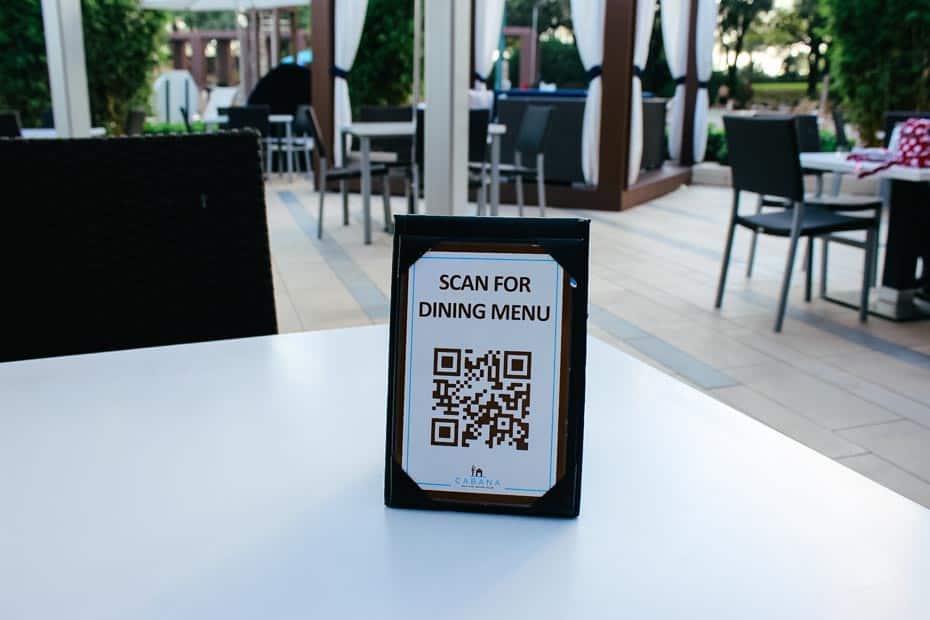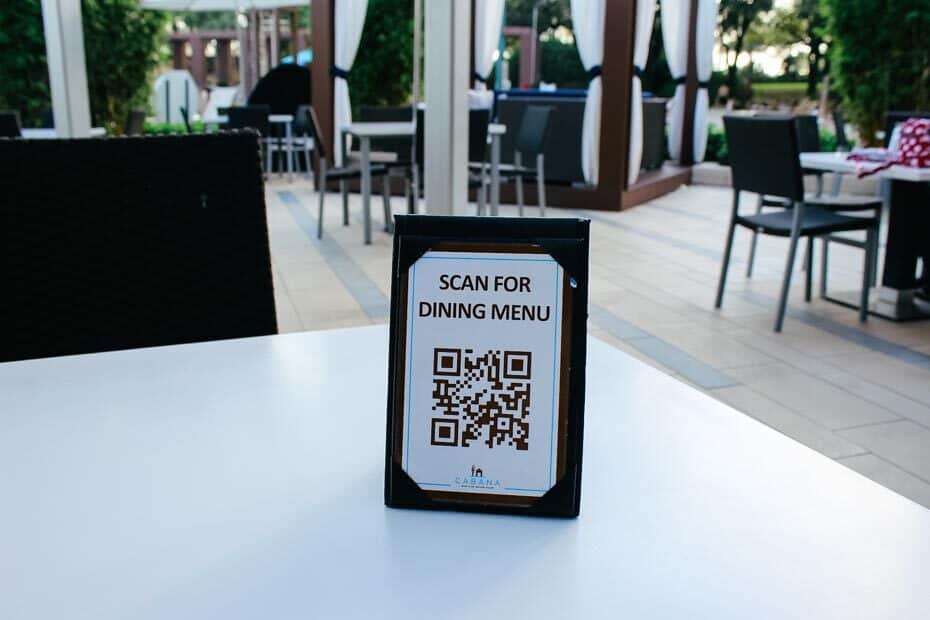 If you are reading this on your desktop, you can scan the code above with your phone to pull up the current menu. I actually took a screenshot of the menu that day on my phone.
You can look over it here as well. I think that most will be impressed with the variety of offerings and reasonable pricing.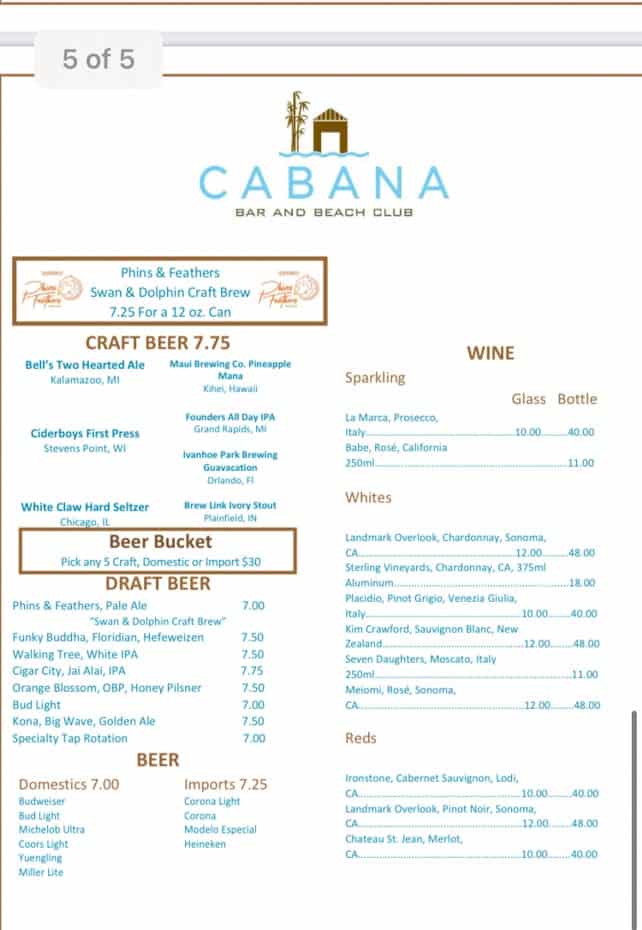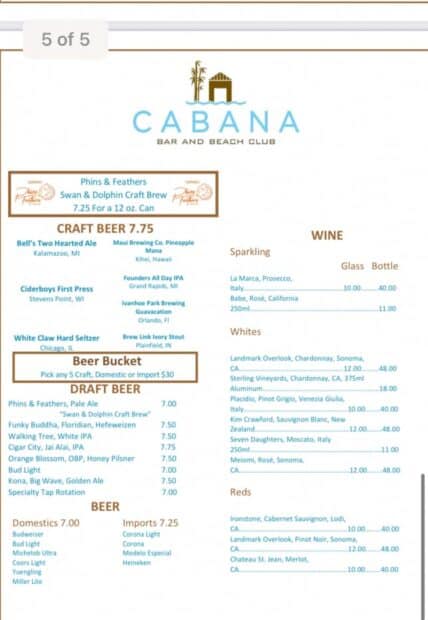 The specialty cocktails are a bit high on the pricing side, but they align with standard Disney pricing. Meaning you aren't going to do any better or worse while on Disney property.
However, they do offer a unique drink menu. I can't tell you how many people I saw with the Strawberry Basil Lemonade Jar.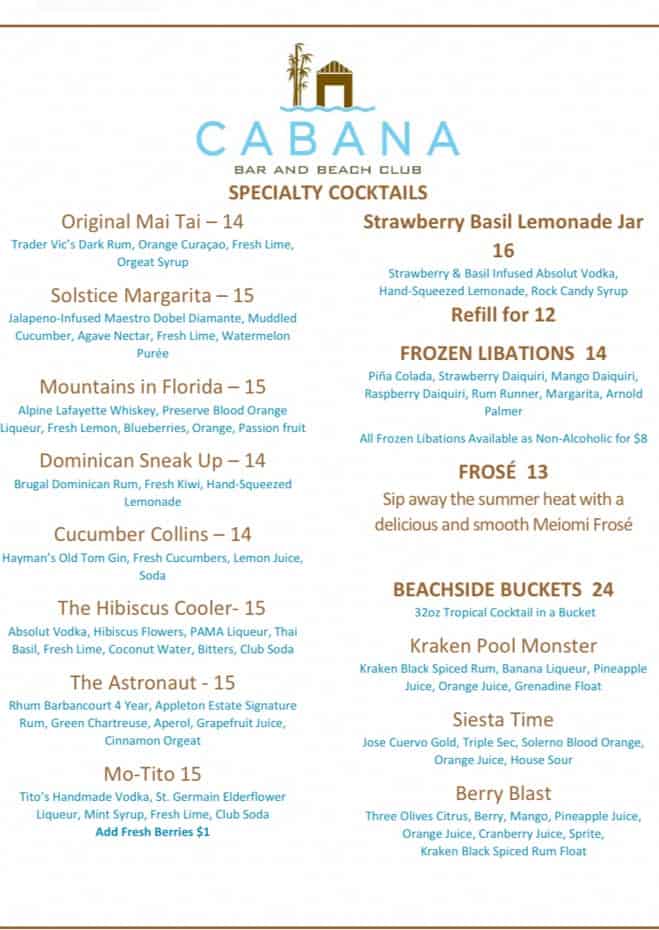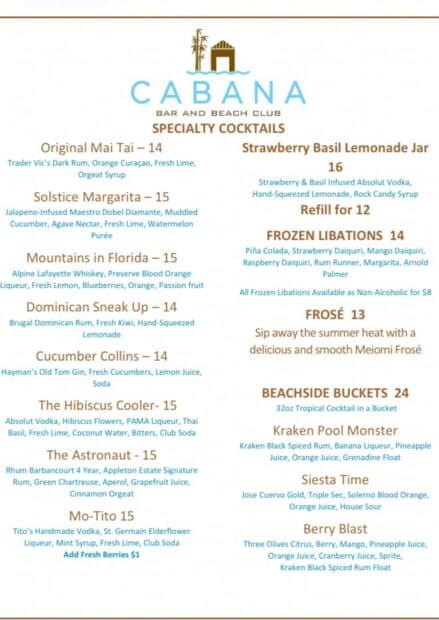 I went from complaining over icky pre-made sandwiches to having a tough decision on what I wanted to eat. Everything on the menu looked so good.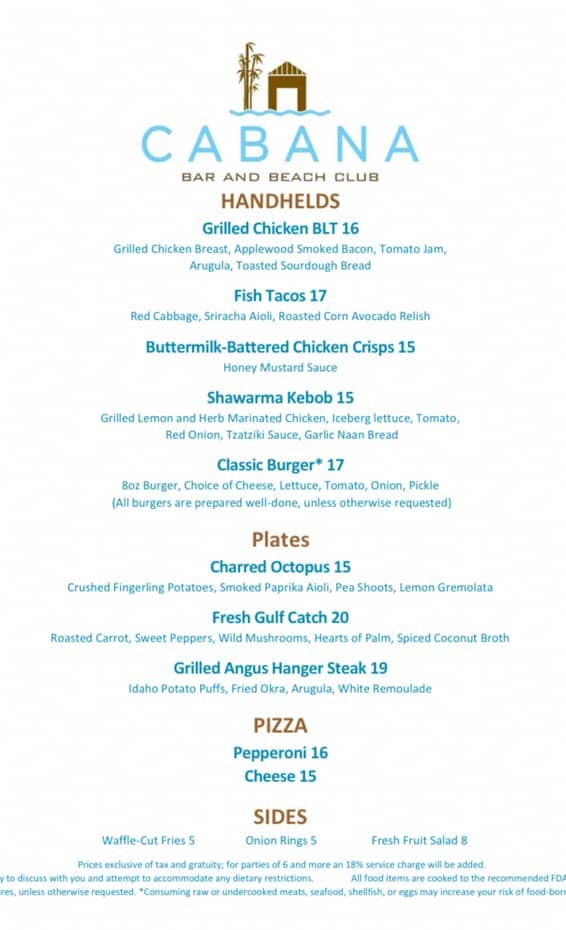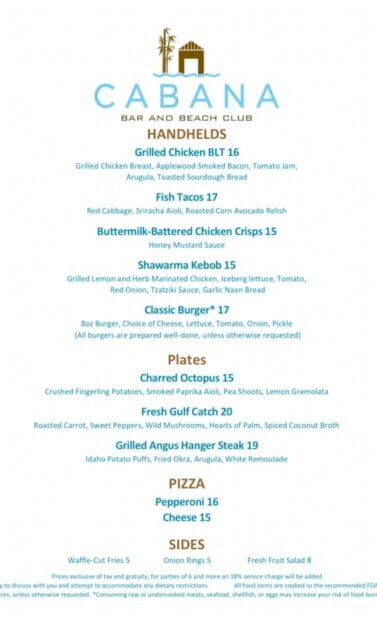 The options for kids' meals are also nice here at the Cabana Bar and Beach Club. I have a feeling an adult could easily order one of these to enjoy at the pool.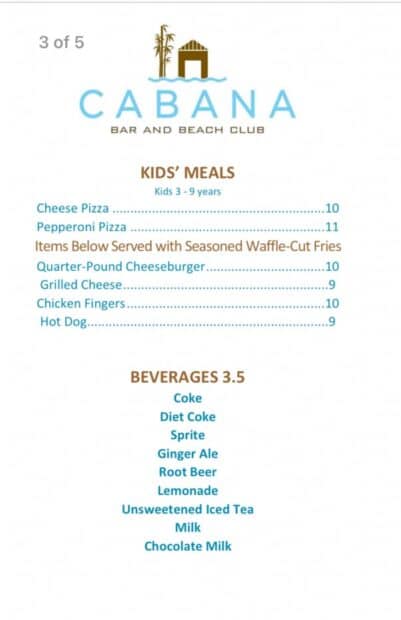 Not only that, but there is a full appetizer menu with shareable items, salads, and bowls.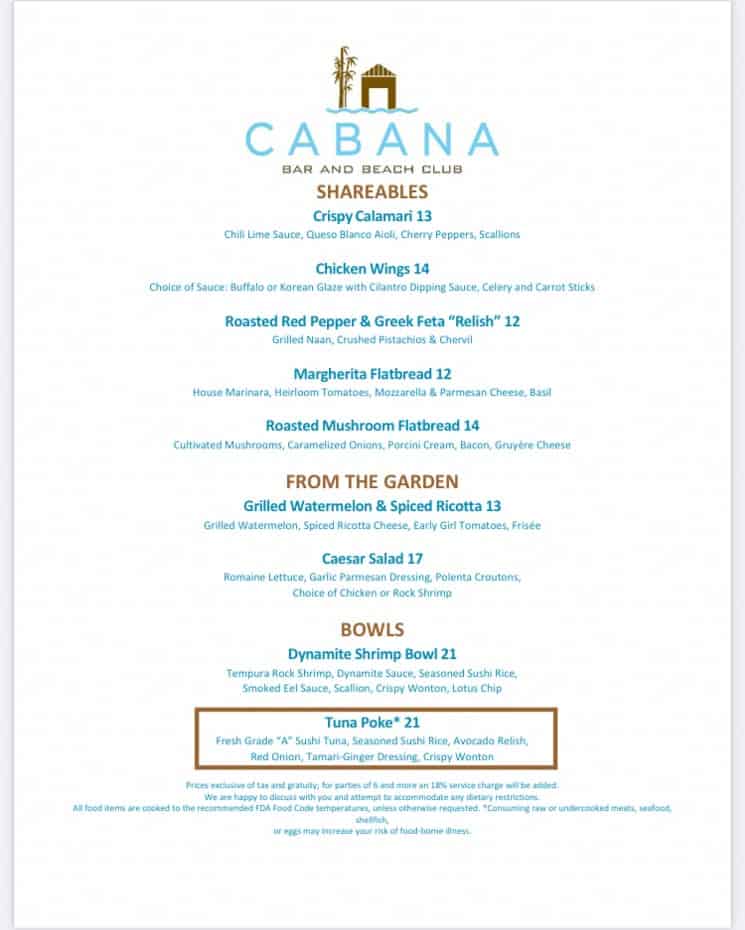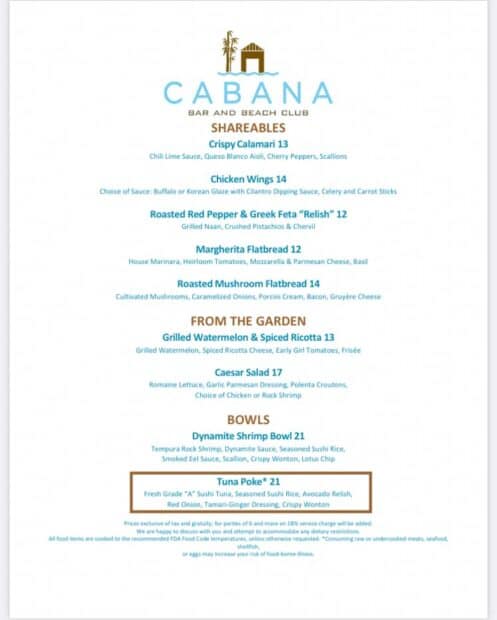 I ordered the grilled watermelon with spiced ricotta and a side of waffle fries.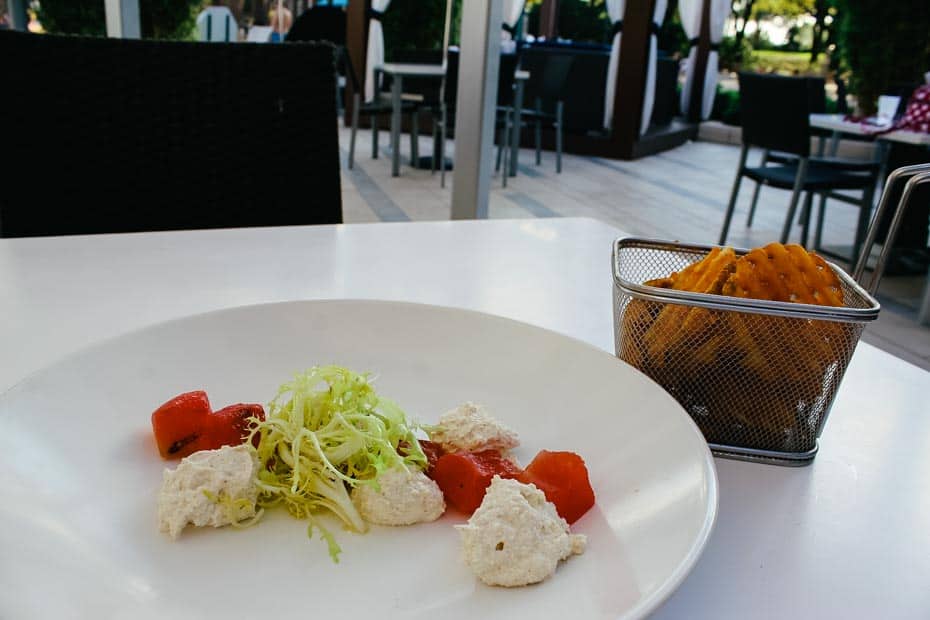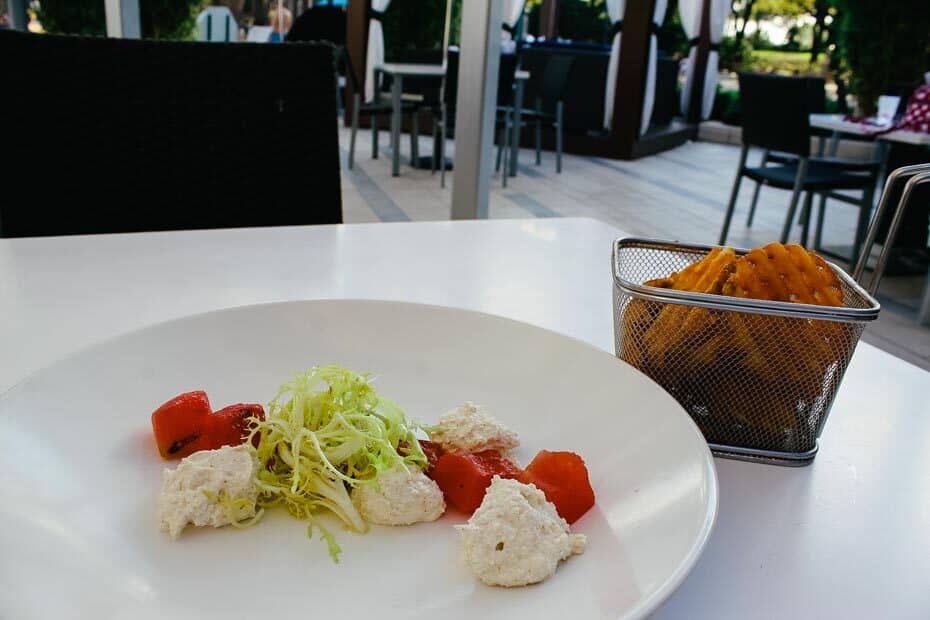 The salad actually comes with tomatoes, but I ordered mine without. The ricotta was smooth and creamy, complementing the fresh bites of watermelon. The dish was topped with frisee lettuce.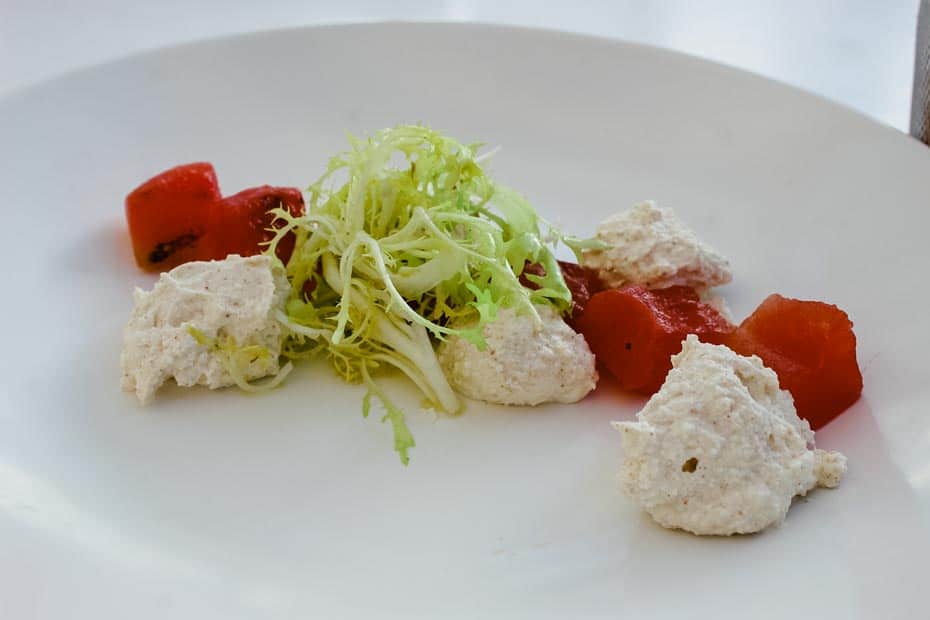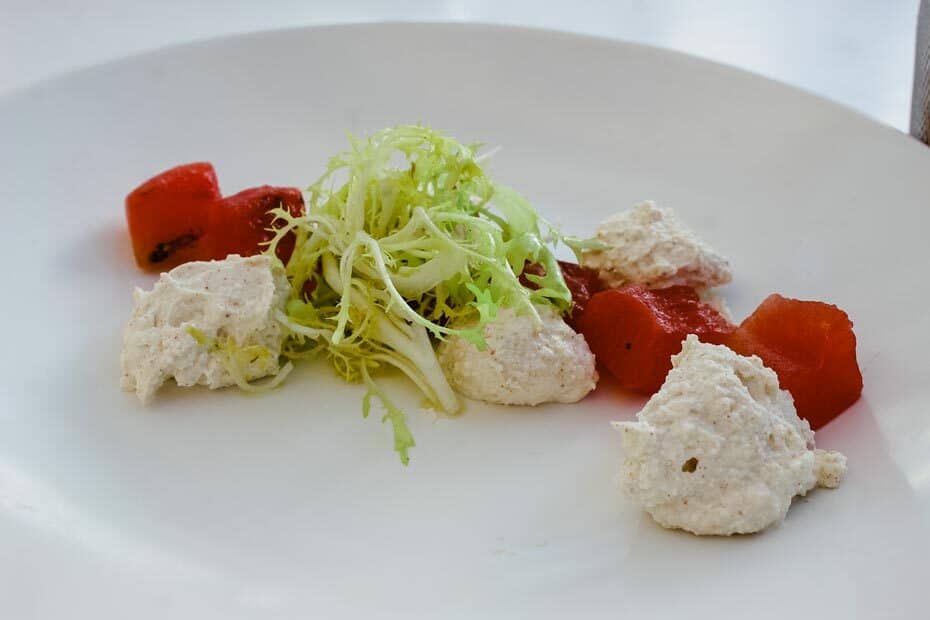 The ricotta had a spicy seasoning, and I wasn't for sure if I actually liked it or not. Overall, I enjoyed the bites when I combined them all. But I didn't care for the taste of the cheese mixture on its own.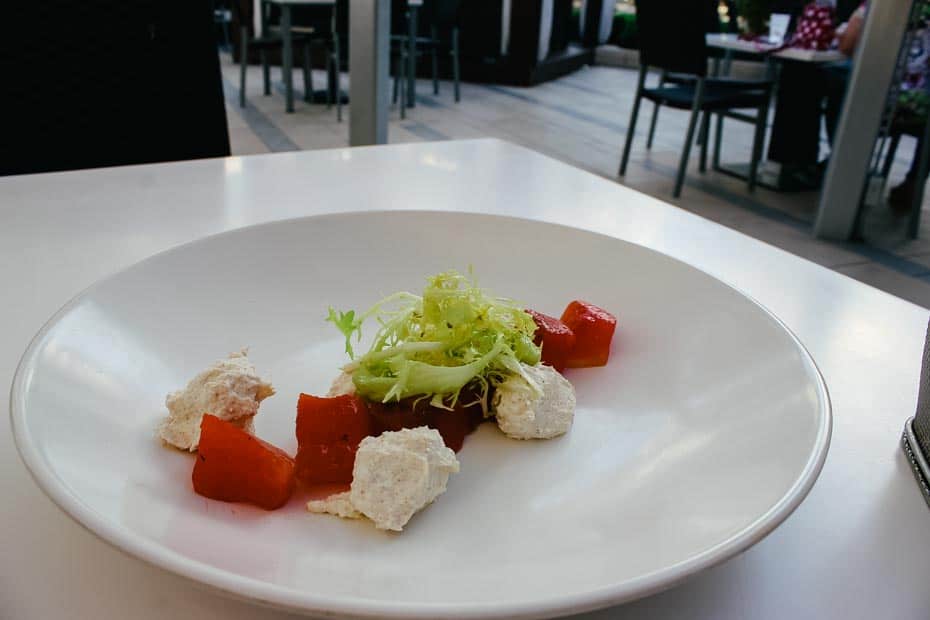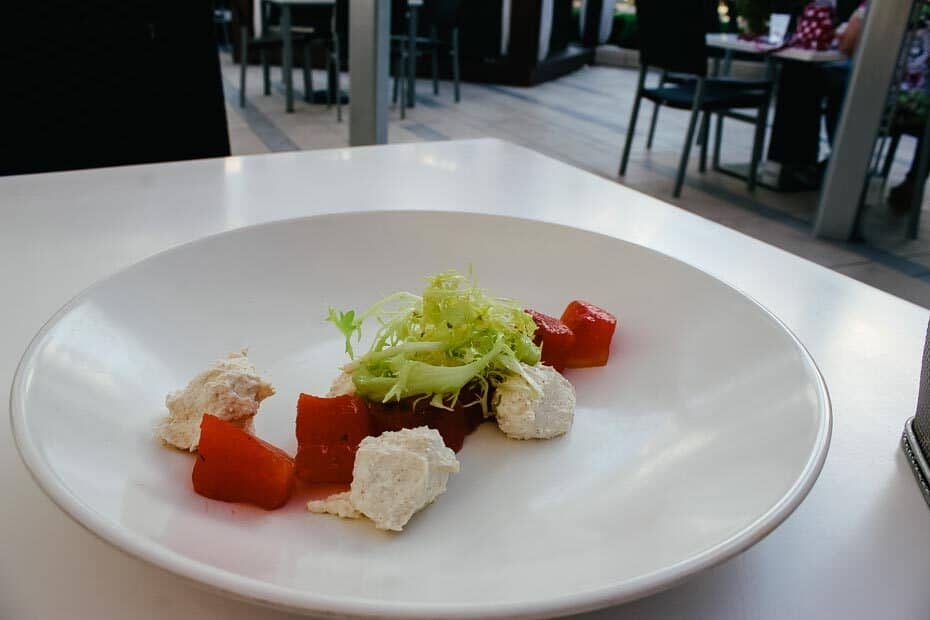 The waffles fries were great and I was glad I ordered them.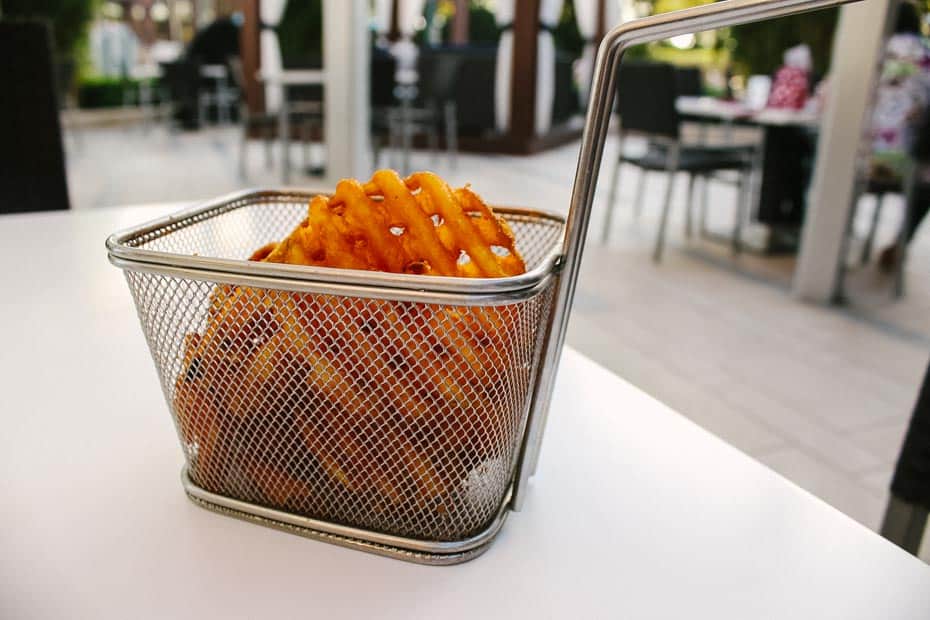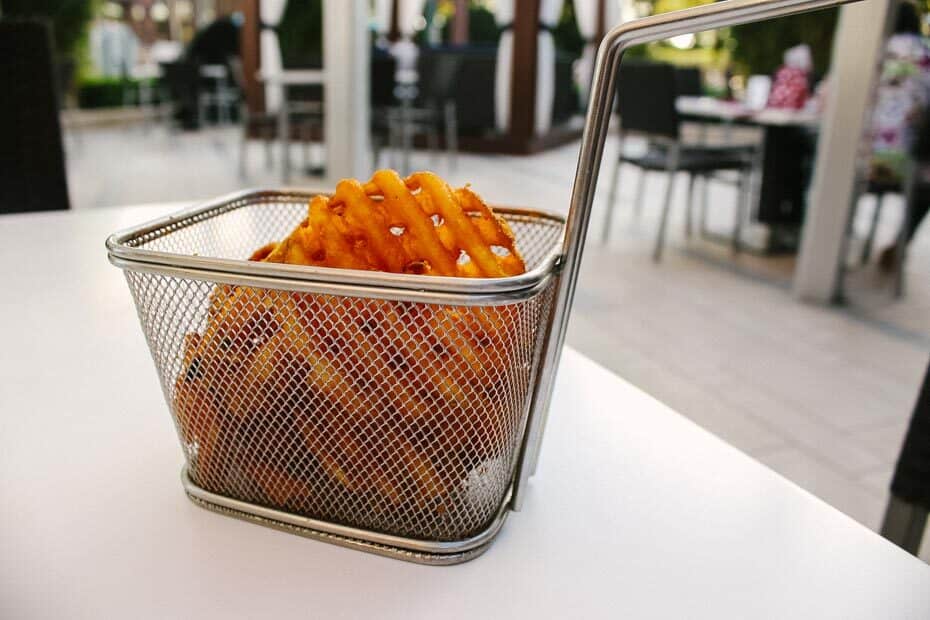 As far as dining here goes, I had to wait approximately five minutes to be seated. Then I ordered within a few moments of sitting down and received my meal shortly after. The service at Cabana's Beach Club was excellent.
One of the things I noticed was that everyone seemed relaxed and having a nice time. You don't always feel that way when you are in a busy theme park and are feeling starved when sitting down for a meal.
All the while, you're worried about how long it will take to finish because you have things you haven't gotten to yet. And it's your last day in that particular park. That sounds stressful, doesn't it?
I guess that's why I started Resorts Gal. Over my years visiting Disney, I've taken the time to find the places where you actually feel like you are on vacation. And the Cabana Bar and Beach Club is one of those places.
For those staying in the Epcot Resorts Area, make sure to add this restaurant to your list of places to grab a meal near your hotel.
And if you are looking for an early morning meal, try Ale and Compass for breakfast. They have an excellent breakfast.
As far as the Magic Kingdom Resorts area goes, check out Trader Sam's Tiki Terrace combined with Captain Cook's at the Polynesian for a similar outdoor eating venue.
Lastly, if you visit Disney's Riviera Resort, you might enjoy this review of Primo Piatto. Riviera is also home to what I consider the best character breakfast at Topolino's Terrace.
For more information about Disney's Swan and Dolphin, all of our articles are available here. Or you might enjoy the following:
I hope you enjoyed this mini-review of the Cabana Bar and Beach Club at Disney's Dolphin Hotel.
In the comments: Does the Cabana Bar and Beach Club look like a place you might enjoy during your Disney vacation? Have you ever visited the resort before?