A Look Inside Riverside Mill Food Court at Port Orleans Riverside
Riverside Mill Food Court is the name of the primary quick-service dining location at Disney's Port Orleans Riverside Resort. The food court is designed to look like an old-fashioned mill.
There's even a large working wheel outside the restaurant used to generate power for a cotton press. The restaurant provides a unique place to enjoy a meal while staying at the resort.
This article will look inside Riverside Mill to see what's available. We'll preview the menu, take a look at the display cases, and check out the overall theming of the restaurant.
For those planning an upcoming vacation at Port Orleans Riverside, this article should give you an idea of what will be available. Additionally, I'll link to a few comparable options nearby.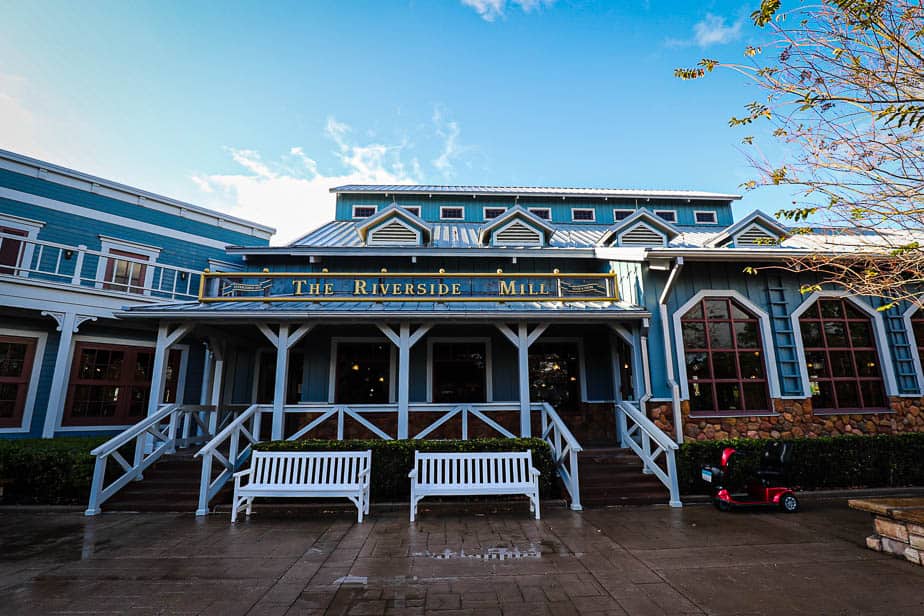 Riverside Mill Court is just as extraordinary as the resort where it resides. Inside, the large cotton press spins round and round.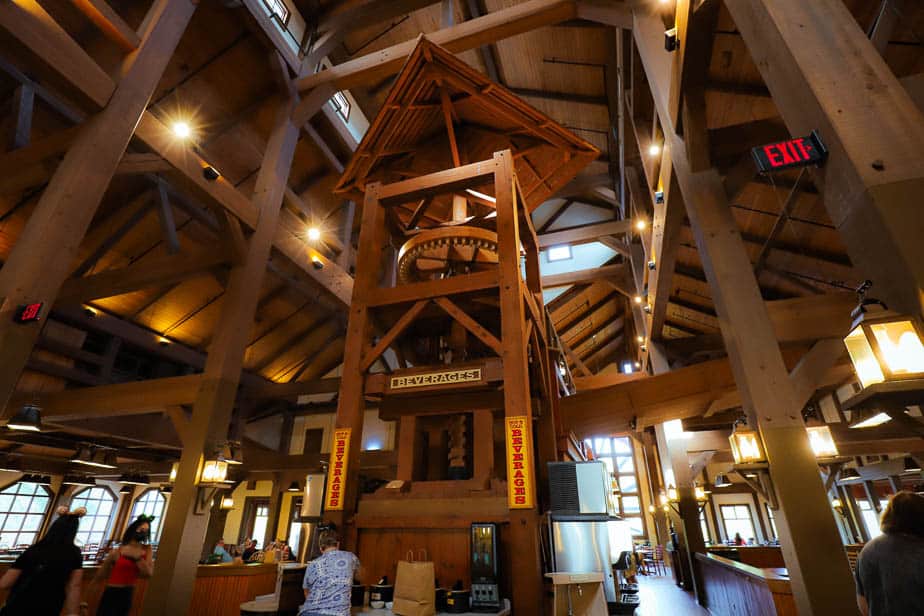 Here is the water wheel that keeps everything moving.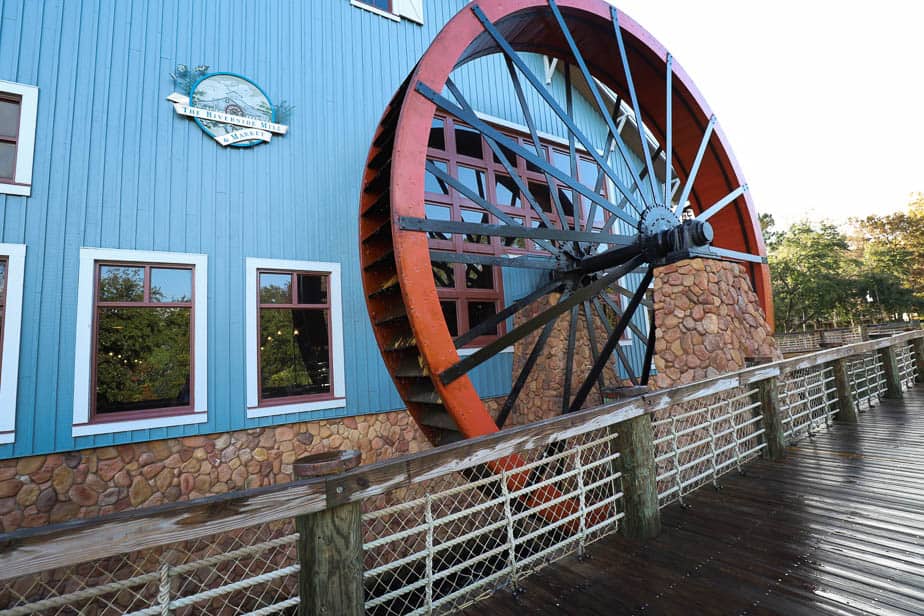 You can sit near all the action and take it in while enjoying your meal.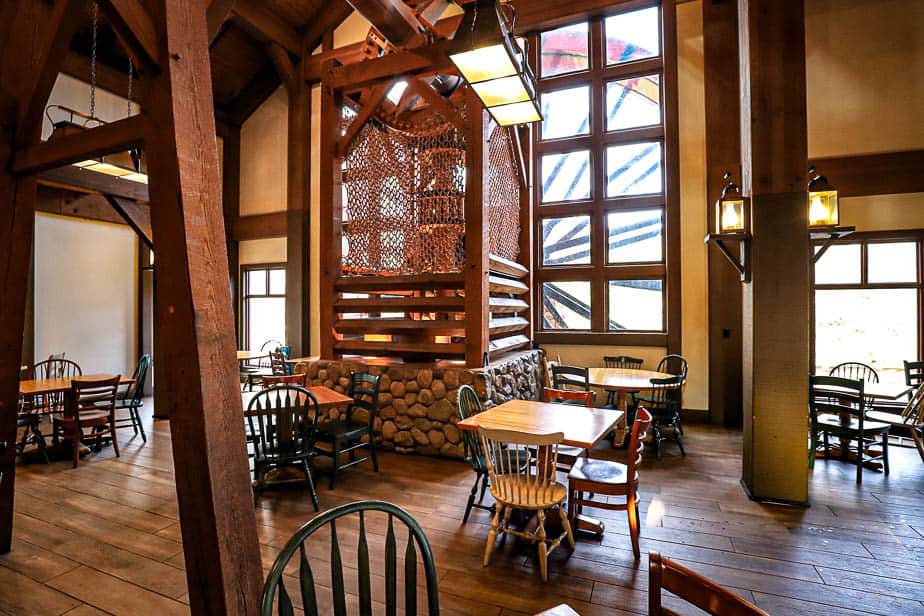 Toward the front of the quick-service restaurant, you'll find the food court. There are several stations set up that provide various cuisine.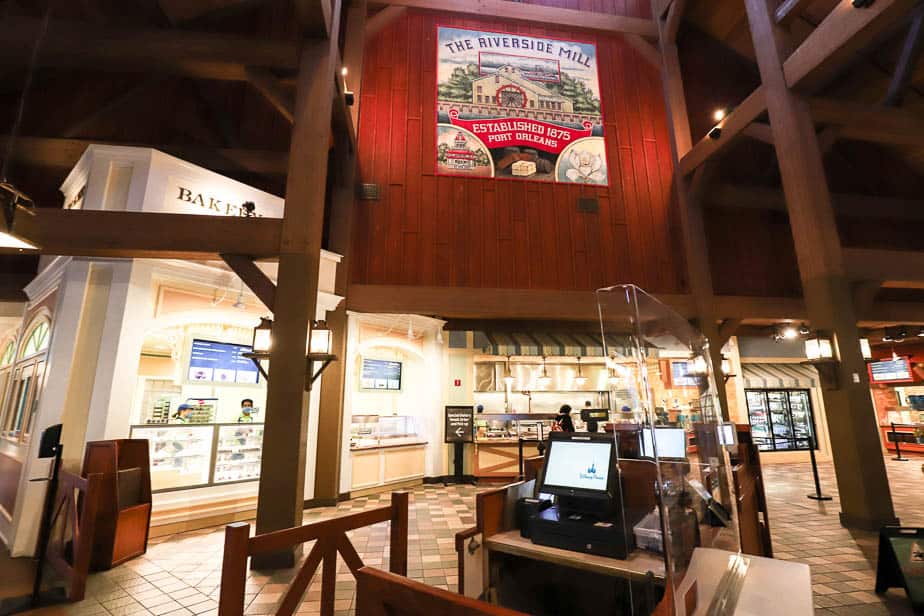 For instance, there's a bakery, grill, a pizza and pasta station, and a salad and sandwich station.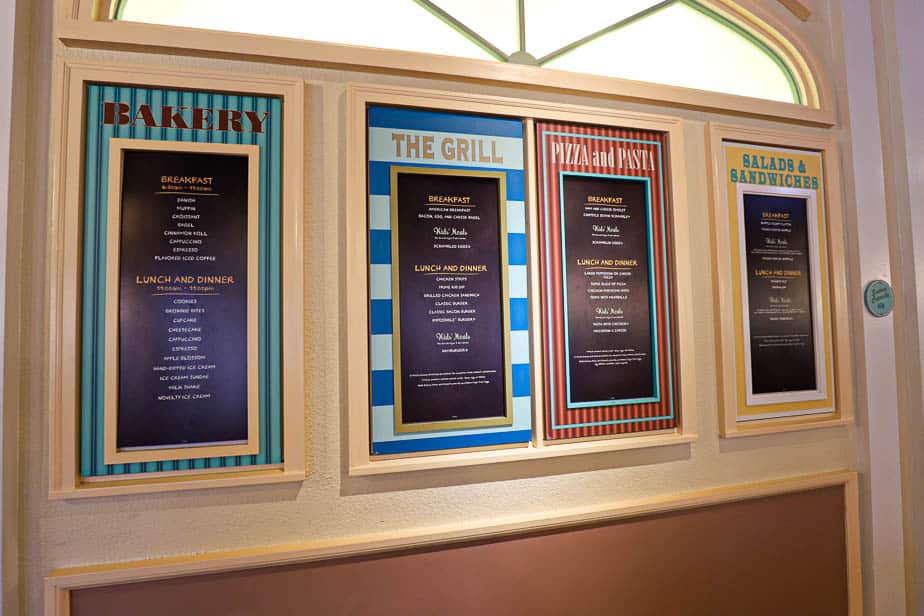 Below, we'll preview the available menus. Some of the items on this one include:
Prime Rib Dip
Bacon Cheddar Cheeseburger
Classic Cheeseburger
House-Seasoned Grilled Chicken Sandwich
Kids' meals:
Cheeseburger
Chicken Strips (2 pieces)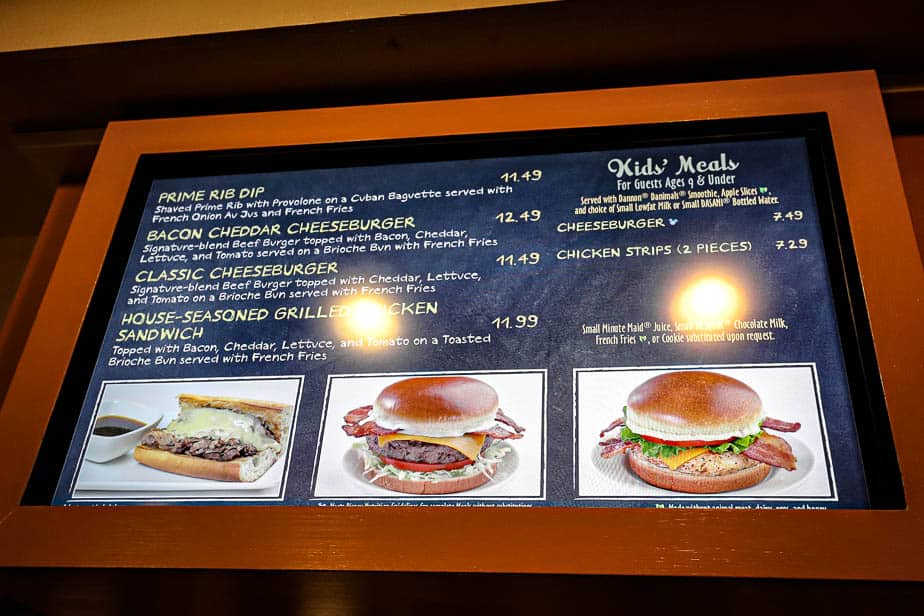 A few other items:
Chicken Strips
Signature Pimento Bacon Cheeseburger
Barbecue Pulled Pork Sandwich
Impossible Barbecue Burger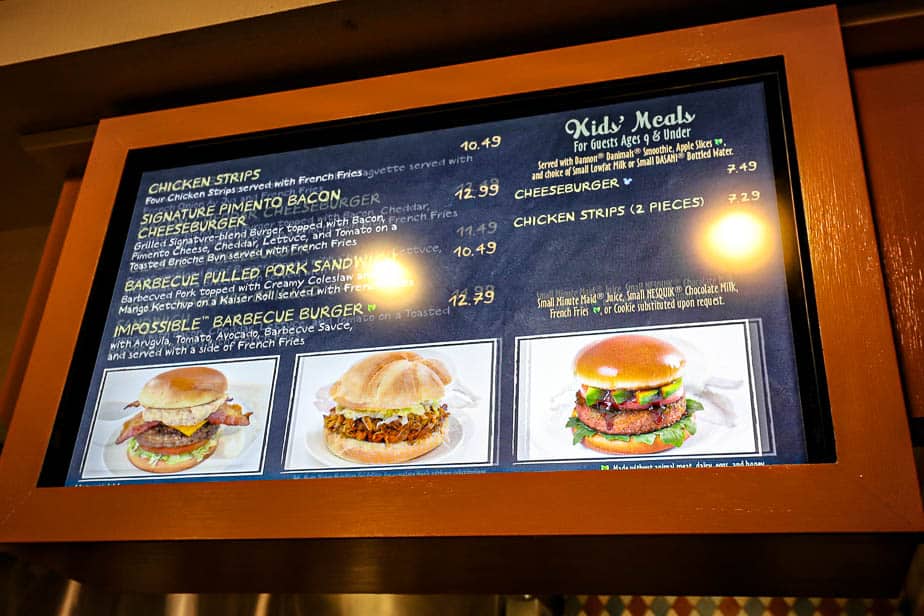 The Italian station features:
Large Pepperoni Pizza
Large Cheese Pizza
Super Slice of Either Kind
Kids' Meals:
Pasta with Chicken
Macaroni and Cheese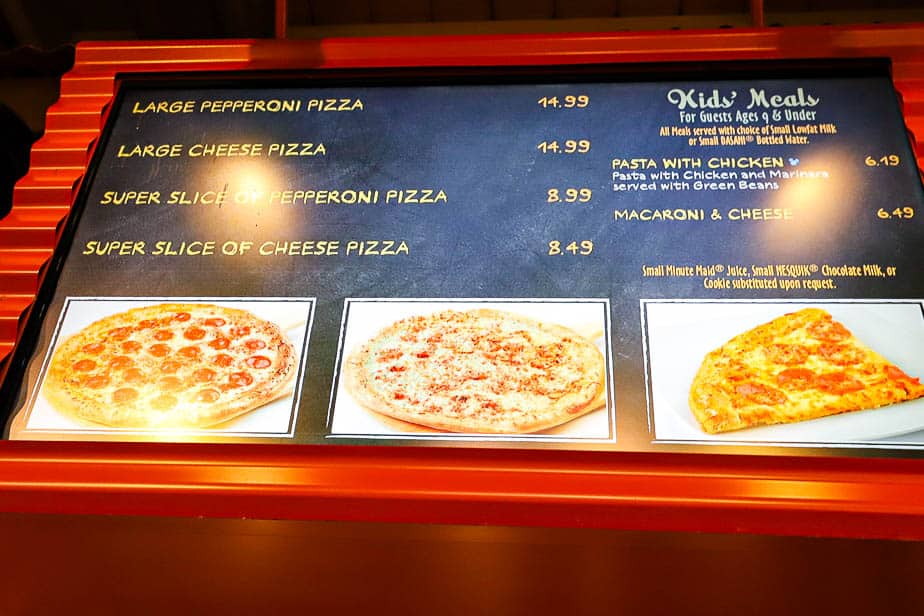 Here's a look at that hot pizza waiting for you. It's probably not the worst thing you could order after a long day in the parks. However, it is relatively generic.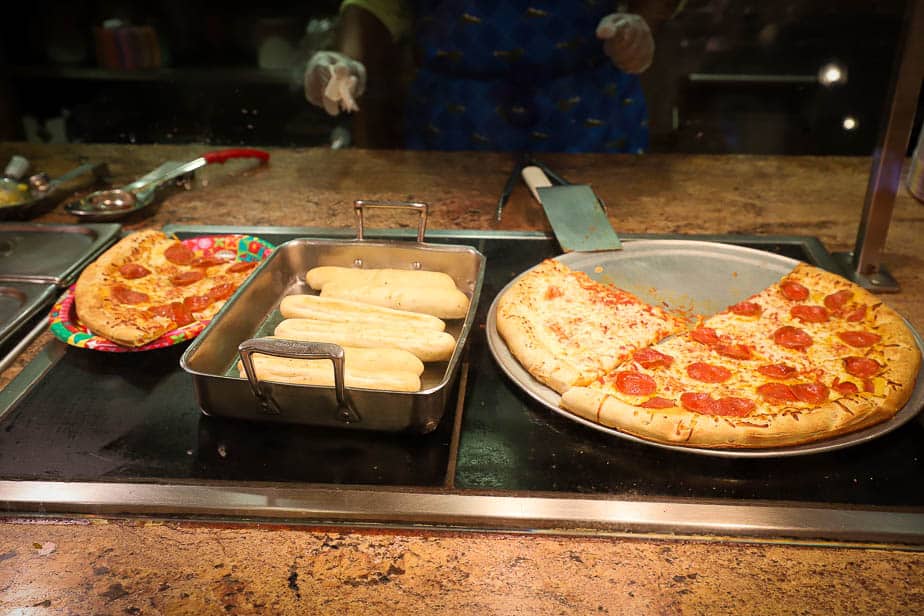 A few other items were available:
Jambalaya
Pimento BLT
Turkey Sandwich
50th Celebration Chili
Kids' Meals: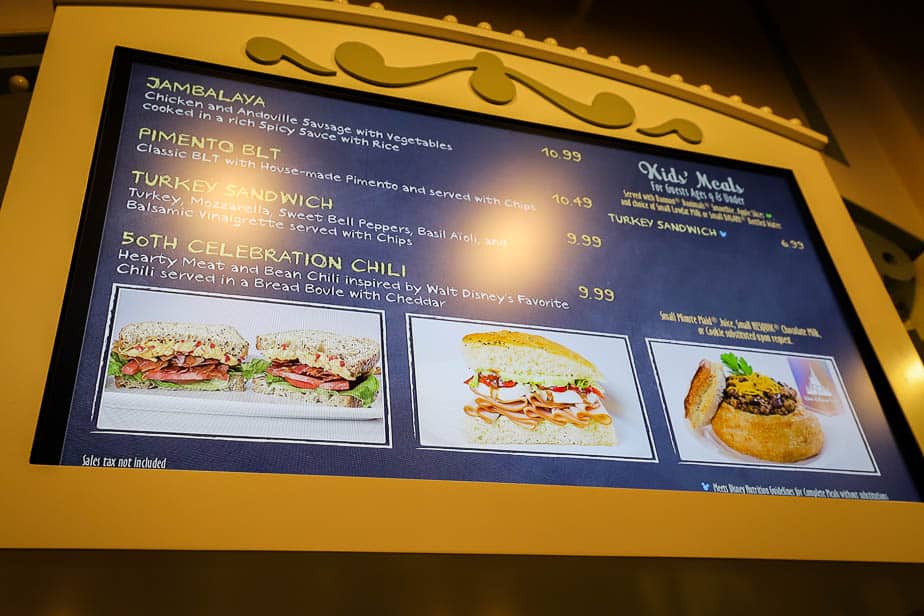 Let's all give up a heavy sigh for the pre-made sandwiches. But, hey, those housemade potato chips are delicious.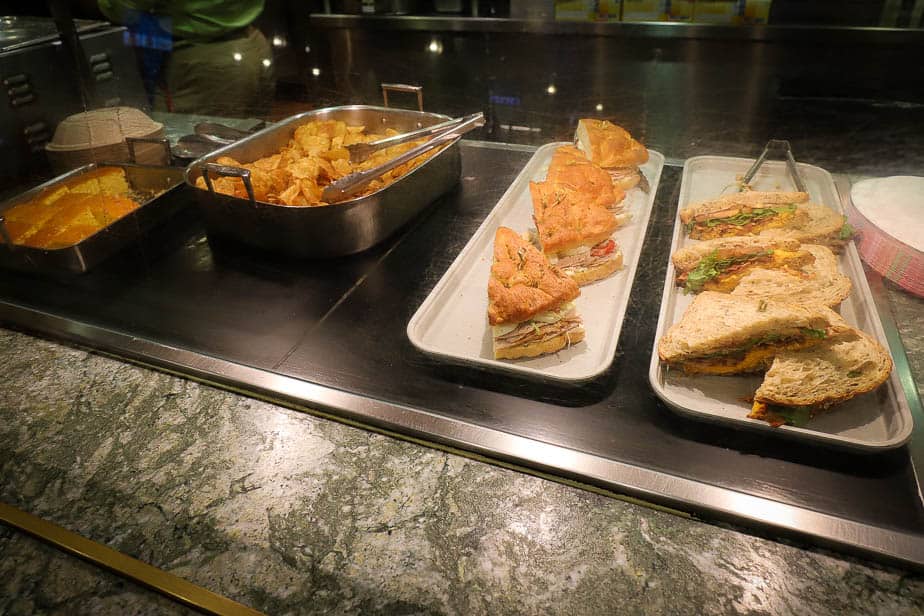 Those looking for more formal menu items might enjoy these selections:
Roasted Salmon Dinner
Roasted Tuna Dinner
Pot Roast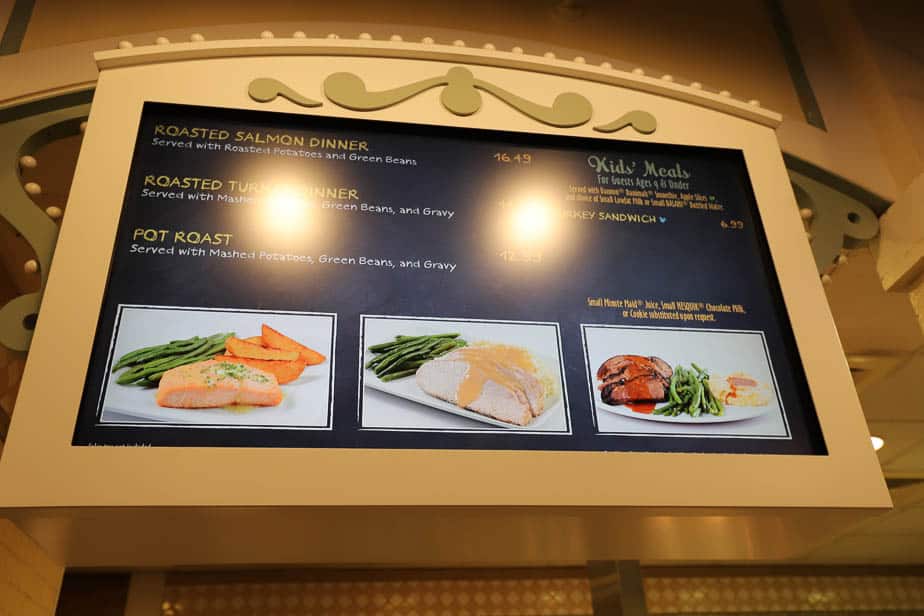 If you have previously visited Riverside Mill Food Court, you might remember the infamous create-your-own-pasta station. To date, that option hasn't returned, but there are a few others:
Chicken-Parmesan Pasta
Pasta with Meatballs
Kids' Meals
Pasta with Chicken
Macaroni and Cheese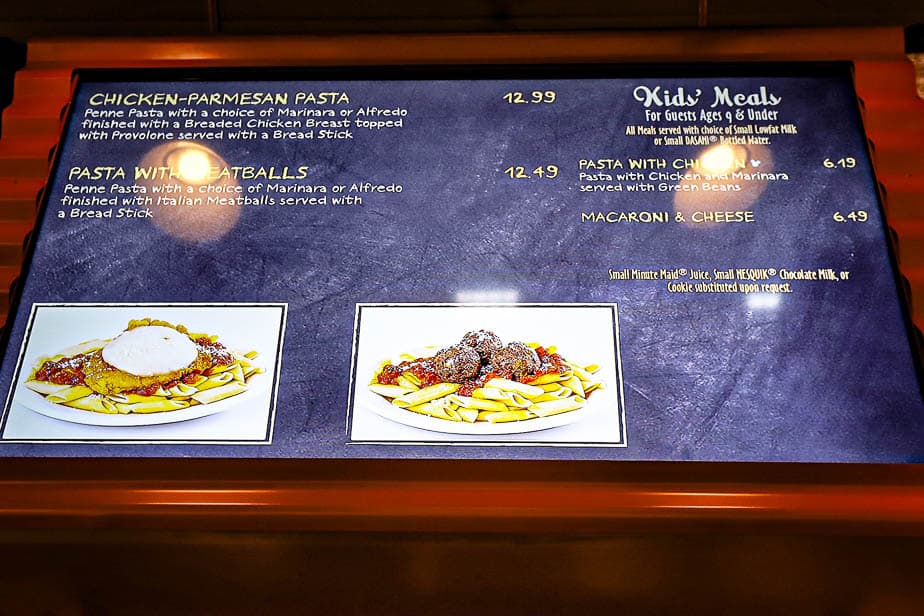 Unfortunately, I didn't get a chance to preview the breakfast items available. However, you can preview the breakfast menu here on Disney's site if you would like.
But I did check out the desserts:
Apple Blossom
Warm Apple Blossom A La Mode
Ice Cream Sundae
Double Scoop Hand-Dipped Ice Cream
Ice Cream Cookie Sandwich
Milkshake
Single Scoop Hand-Dipped Ice Cream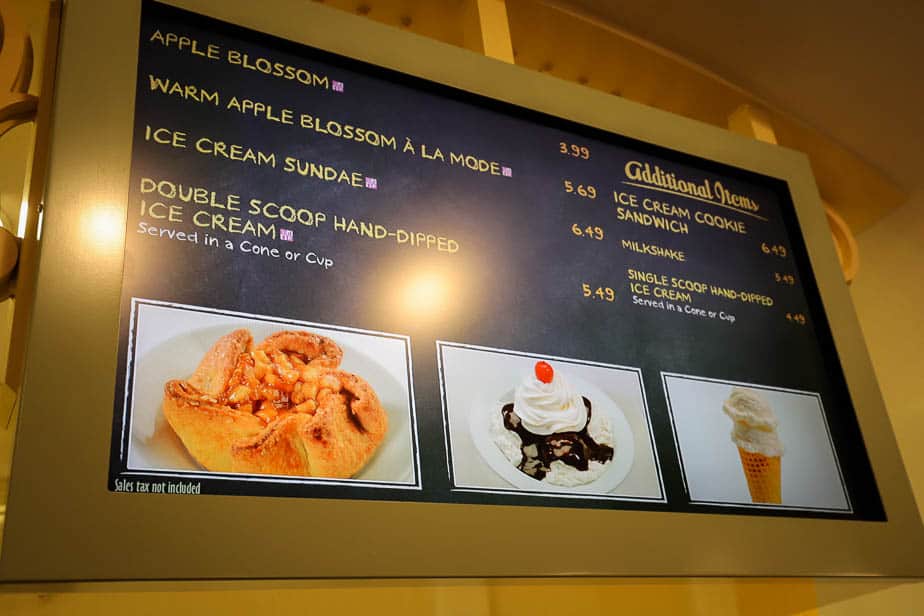 The apple blossoms looked delicious.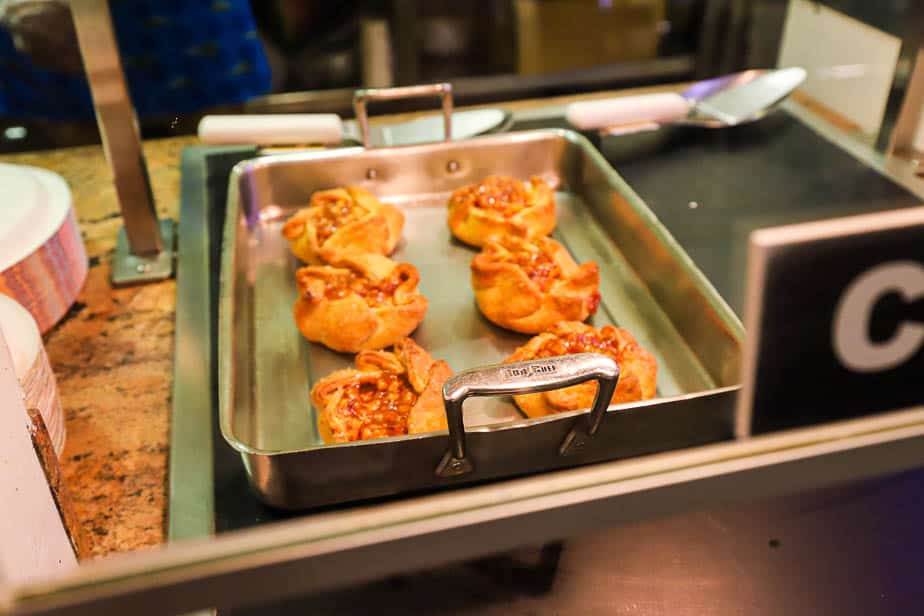 And it's always fun to be able to choose your own flavors of hand-scooped ice cream.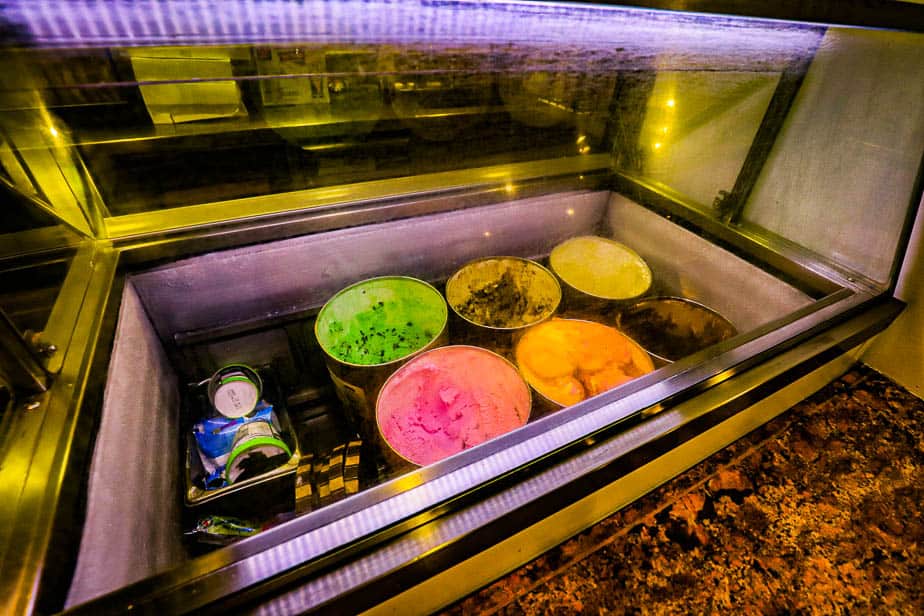 Wouldn't it be yummy to top one of those warm apple blossoms with a scoop of cold vanilla ice cream right about now? I bet you can almost taste it.
That's how it feels taking these photos and then again writing these blog posts. So I'm like, why didn't I try that while I was there?
Anyway, there were a few pre-made items in the bakery like brownies, cupcakes, cookies, etc.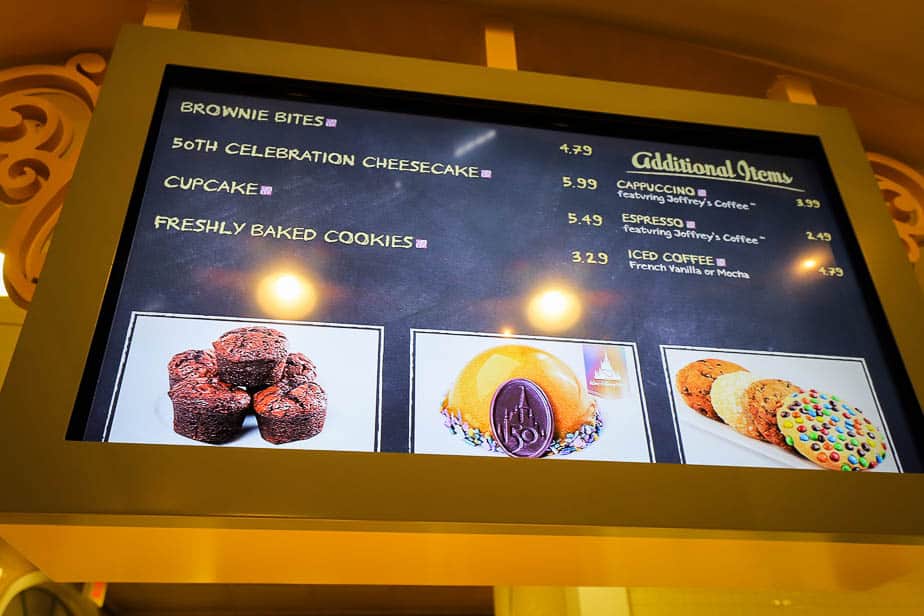 That 50th-anniversary cheesecake is available at every resort at Walt Disney World.
I've had good luck with the pastry case here. But it's hard to go wrong with carbs.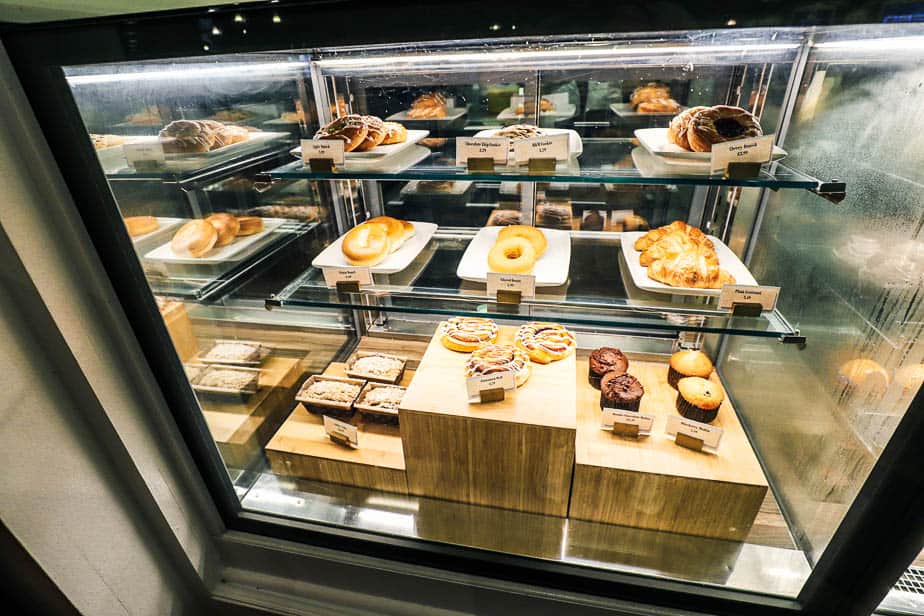 Those cupcakes are adorable with the little cookie ears. And the anniversary cheesecakes are underneath them.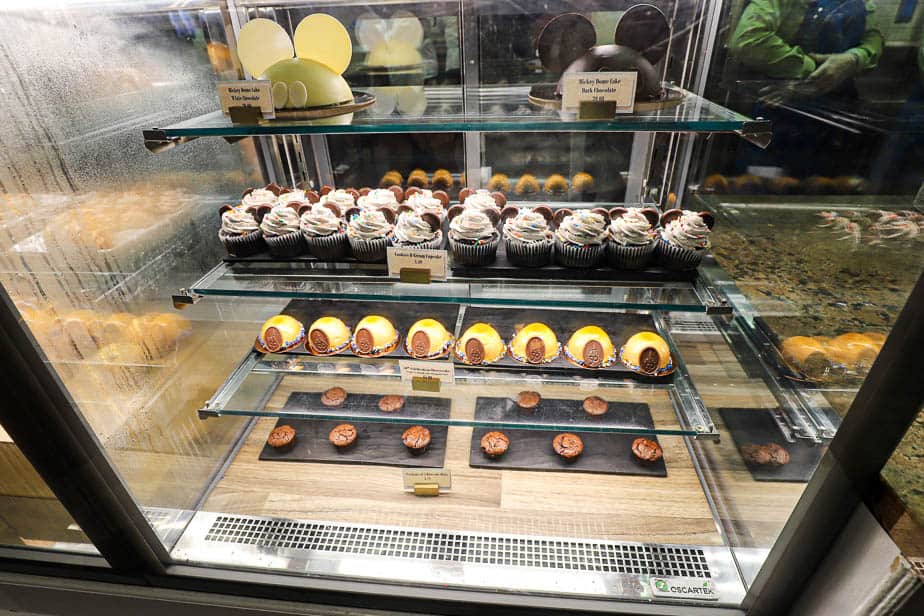 You can walk up to the window and preview what's available before ordering.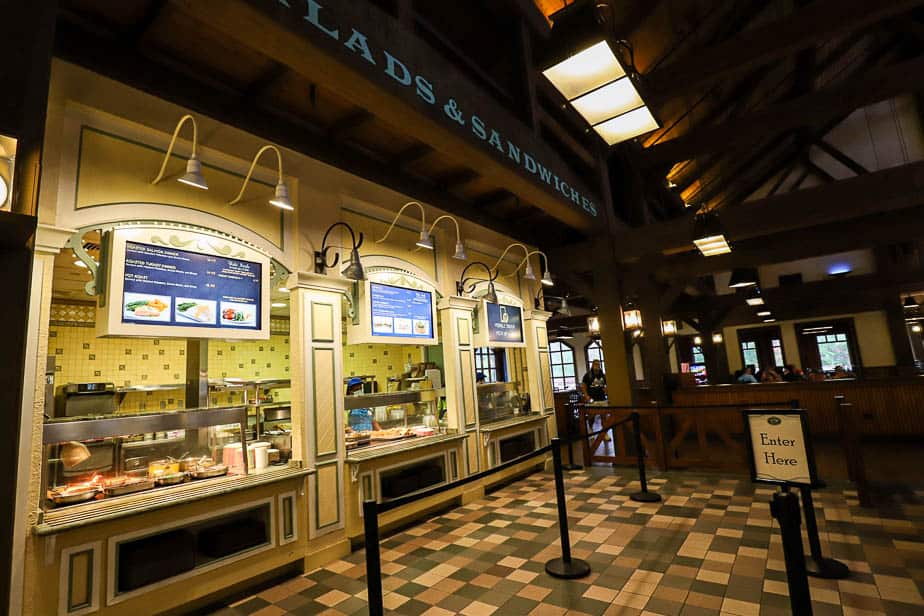 Or you can mobile order in advance and pick up your order at the window.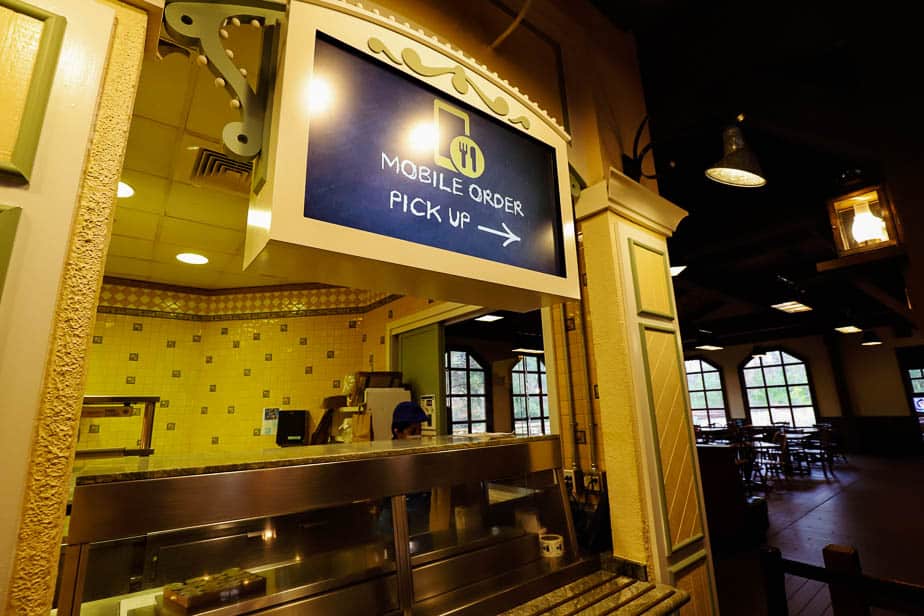 In addition to made-to-order type items, a few pantry items are on display. Below are the allergy-friendly Enjoy Life brand options and a few Rice Chips.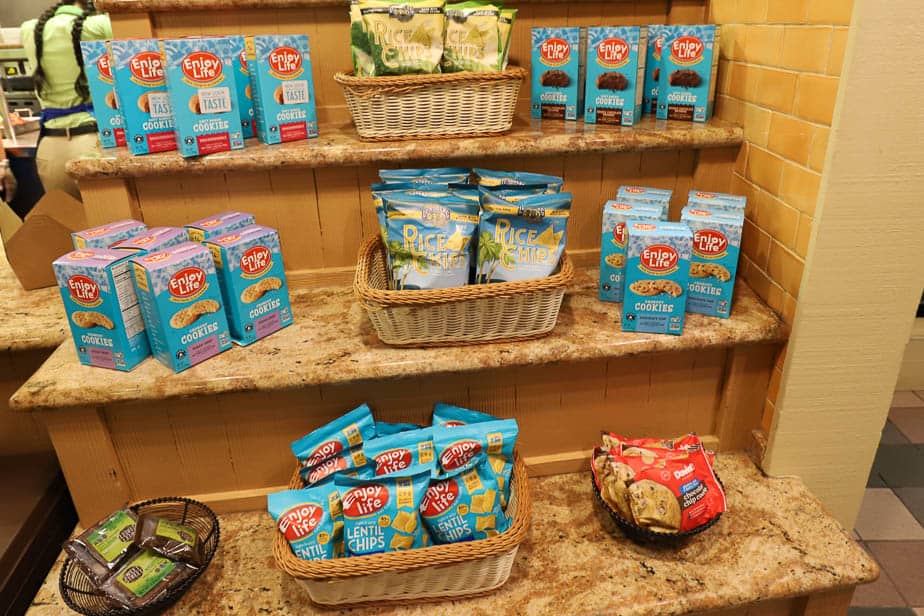 The refrigerated case has juice, water, bottled soda, beer, wine, fruit cups, and a few premade salads.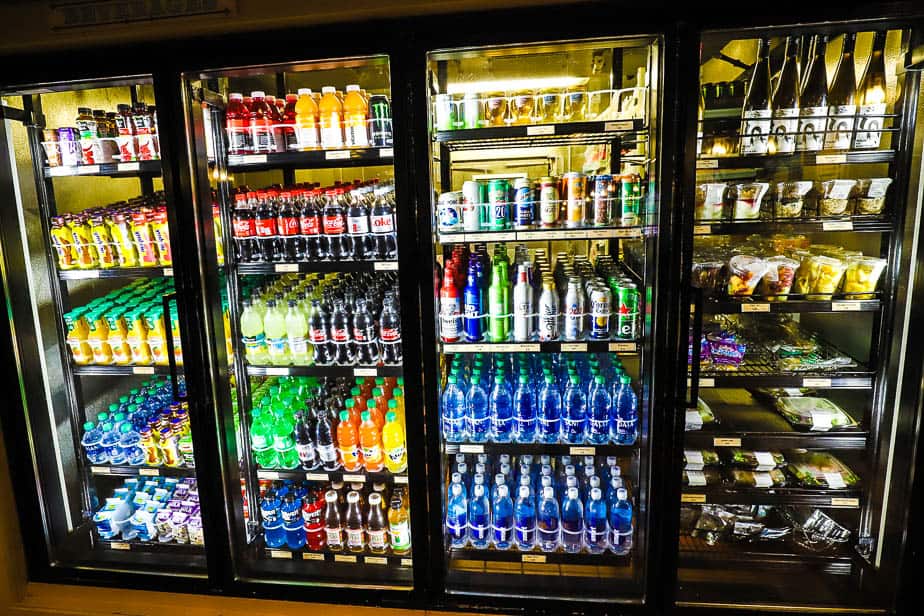 There were a few other wine options on display.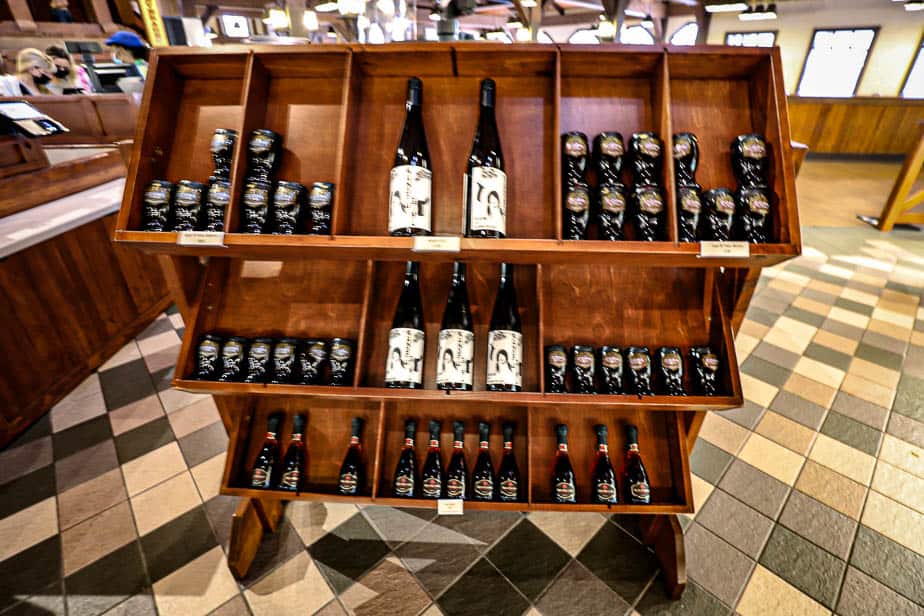 Near the register, there were individual packs of cereal available. If you have one of those rapid refill mugs, you could always order milk with your kids' meal. Then you could use the milk for cereal at breakfast the following day.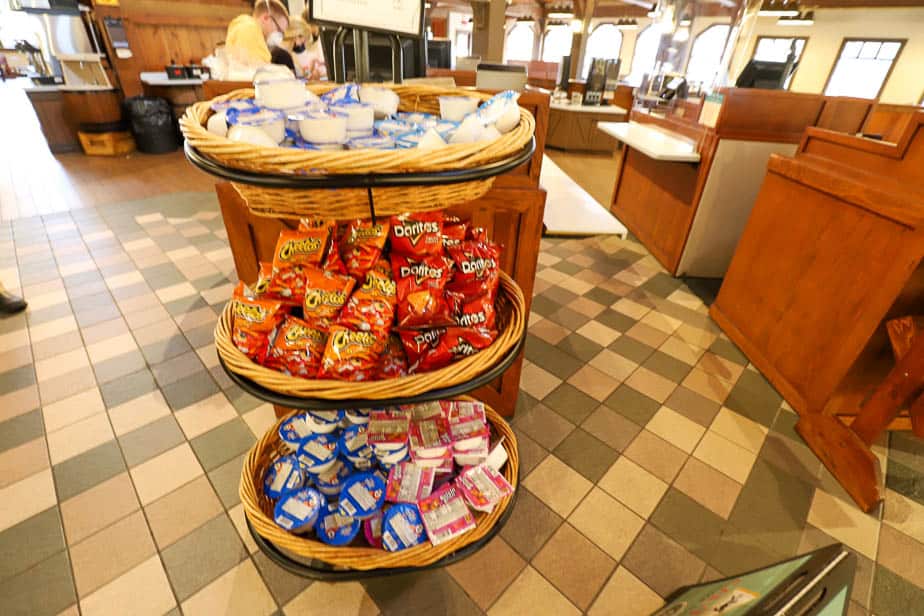 Speaking of rapid refill mugs, guests staying at the resort can purchase them at Riverside Mill Food Court. They are usually around $19.99 for an entire week's stay.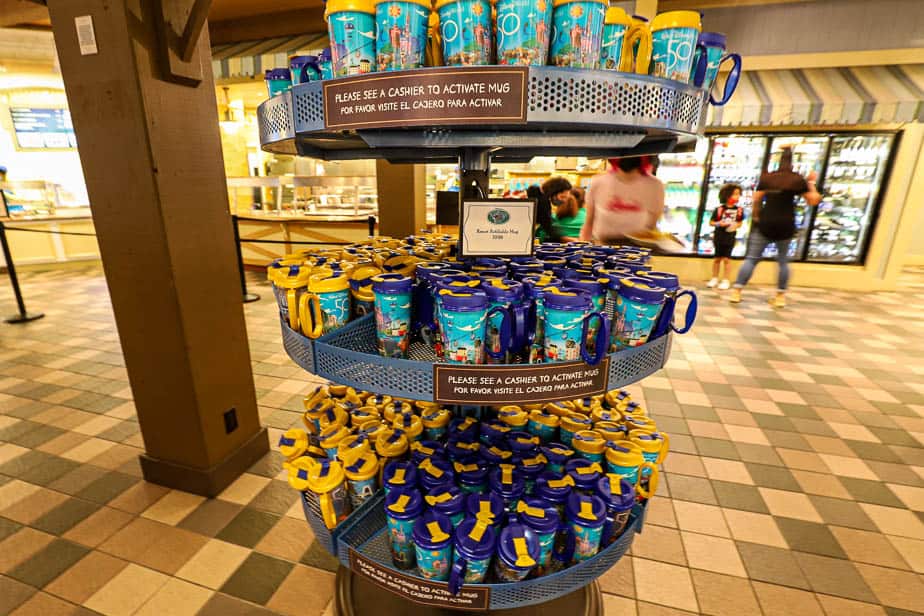 You can use them here at the food court and the pool.
Related: Pools at Port Orleans Riverside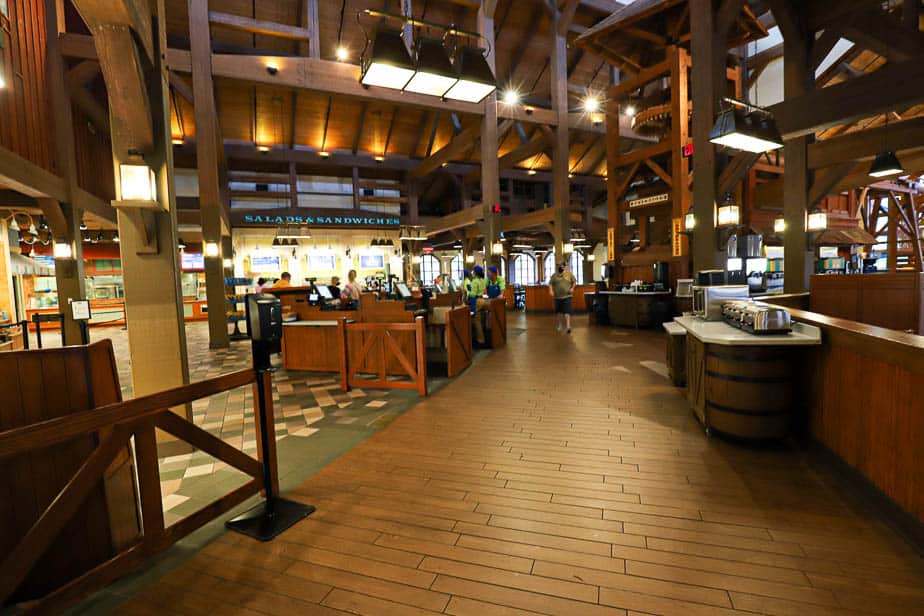 If you require a toaster or microwave during your stay, you'll find several available at the food court.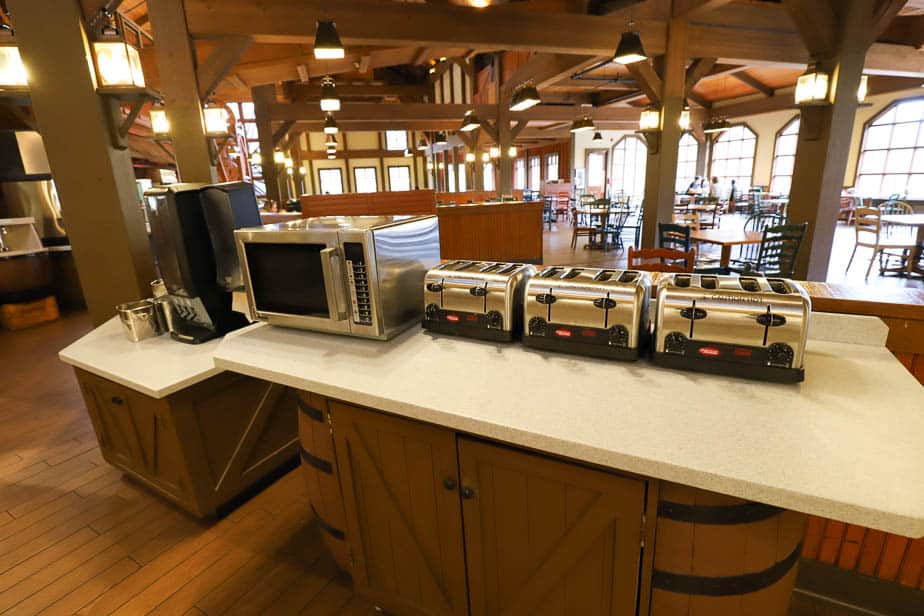 Additionally, there's a sink to wash out your rapid refill mug.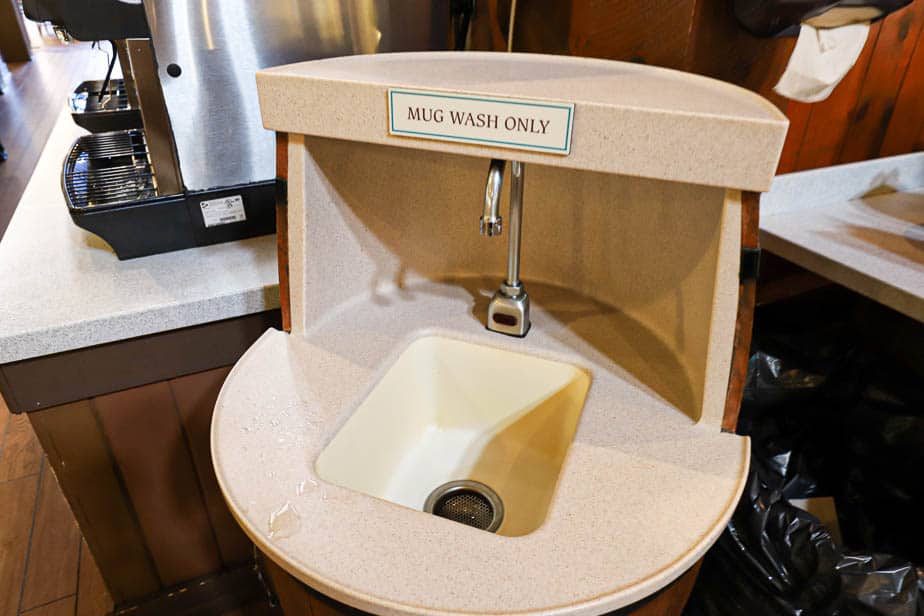 Standard Coca-Cola fountain drinks are available.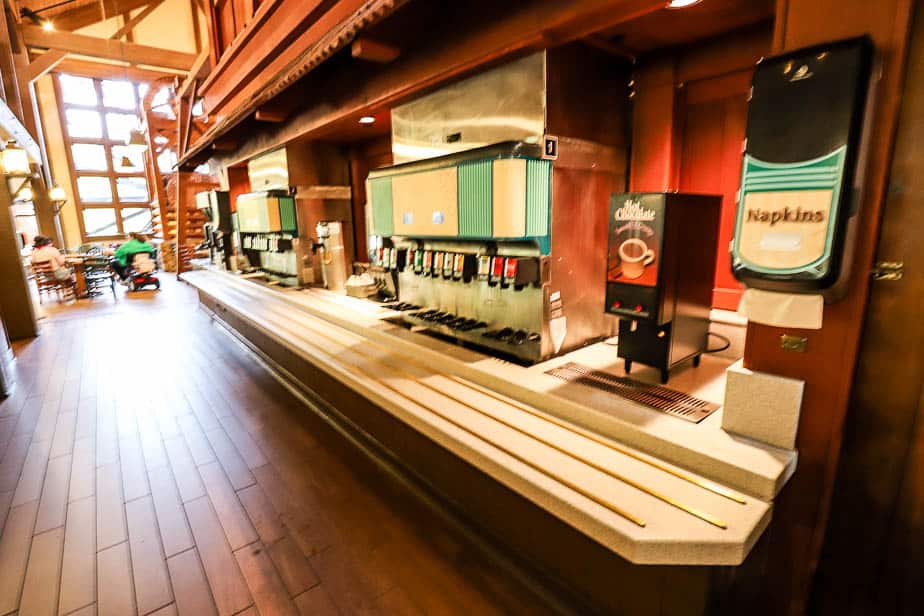 Joffrey's coffee is available in the room or at the food court.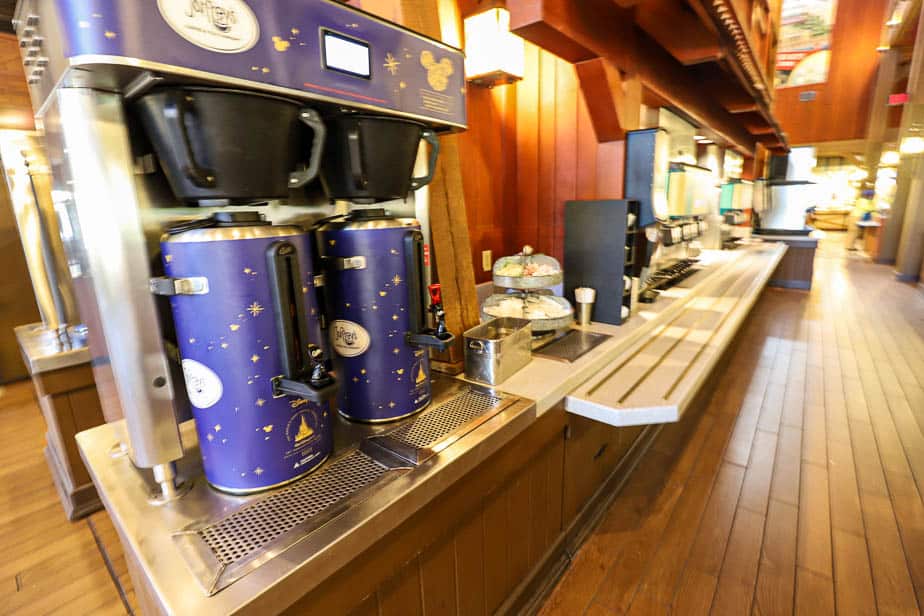 Below is a look at the dining space.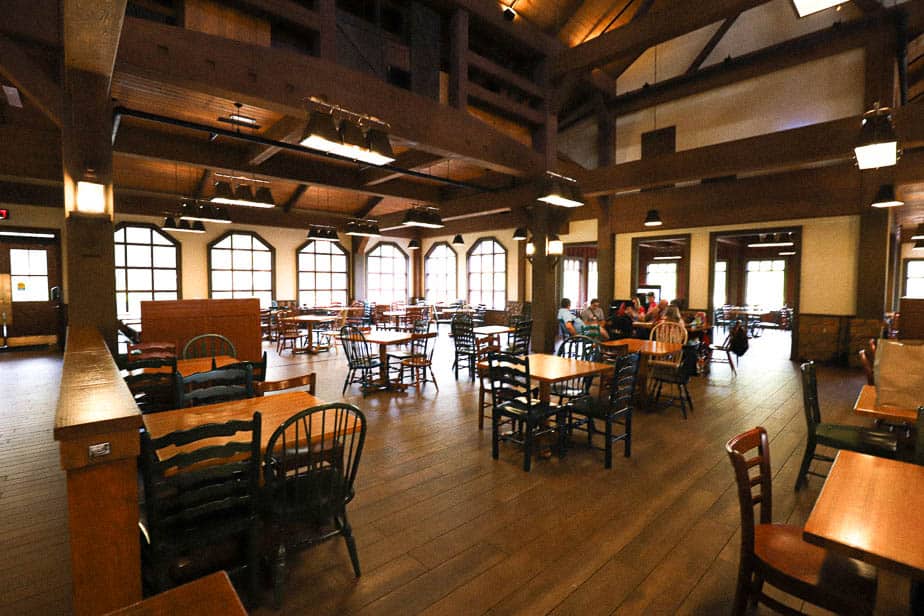 We've always enjoyed stopping in here for a snack or a meal.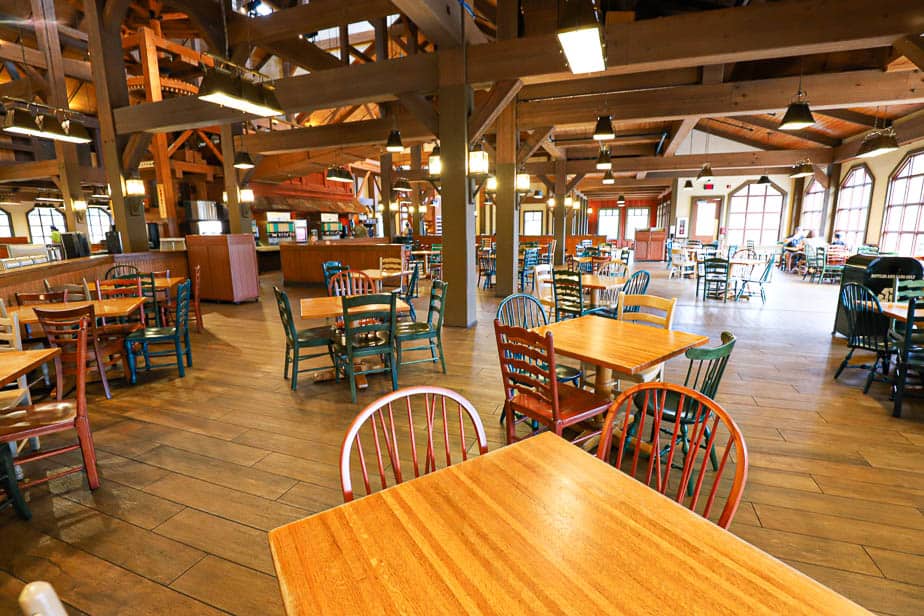 While Riverside Mill Food Court does serve as the primary quick-service at Port Orleans Riverside, the French Quarter is only a short walk or boat ride away.
You might also enjoy dining at Sassagoula Floatworks and Food Factory. I tend to favor some of the menu items there a little over Riverside Mill.
Related: Sassagoula Floatworks and Food Factory
Additionally, Disney Springs is only a short boat ride away. Some of our favorite quick stops there include:
You can learn more about the resort in our complete guide:
Or you might enjoy these individual articles:
I hope this article provided you with a good idea of what to expect at the Riverside Mill Food Court. Did you see anything that looked appealing?