Review: Toy Story Land at Disney World
Toy Story Land is located in Hollywood Studios at Walt Disney World in Orlando, Florida. This review will cover everything you need to know about planning a visit to the Pixar-inspired land. We will take a look at the attractions, layout of the land, and dining options.
* 2021 Update-The information in this Toy Story Land review is up to date with two exceptions. Disney is not using the FastPass system during this time, and there are no character meets available in the theme park. However, you can see favorite Toy Story characters at Disney's Hollywood Studios during the pop-up motorcades that happen daily. Additionally, all guests are required to have a valid theme park reservation before entering the park.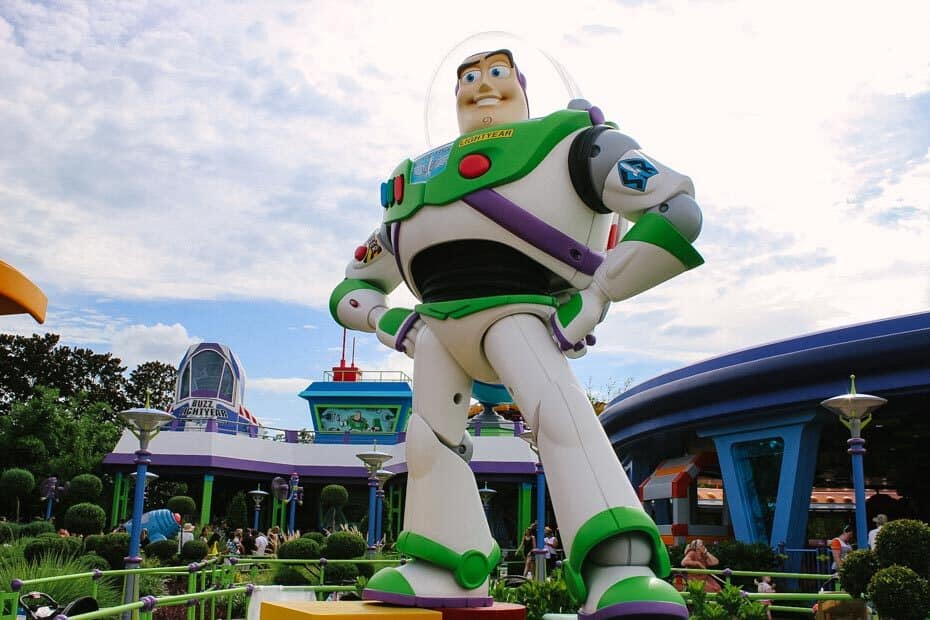 Disney's Toy Story Land is truly the most adorable addition to the park. When you visit, expect to be surrounded by vibrant colors, whether it's day or night. And I promise, there will be plenty of little green aliens.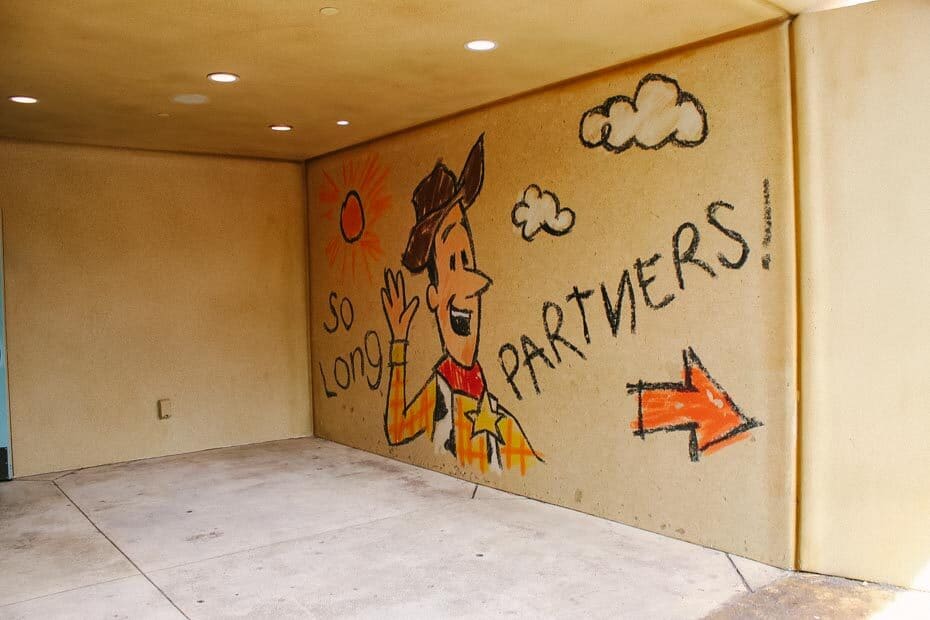 You might even see a green army man here or there. Speaking of green army men, guests are invited to shrink down to toy size and consider themselves an honorary toy while visiting!
So right this way partners, to find out all the information you need to know about the new Toy Story Land for your Walt Disney World vacation.
Toy Story Land Review
First, I wanted to mention a tip when visiting Disney's Hollywood Studios via your personal vehicle. It's important to know that the theme park has a new entrance. The entrance is located on Victory Way toward Osceola Parkway and is extremely convenient and accessible.
After you arrive at this Disney park, there are two separate entrances and exits to access the land. For example, the main entrance is around the corner from Walt Disney Presents and the former Pixar Place.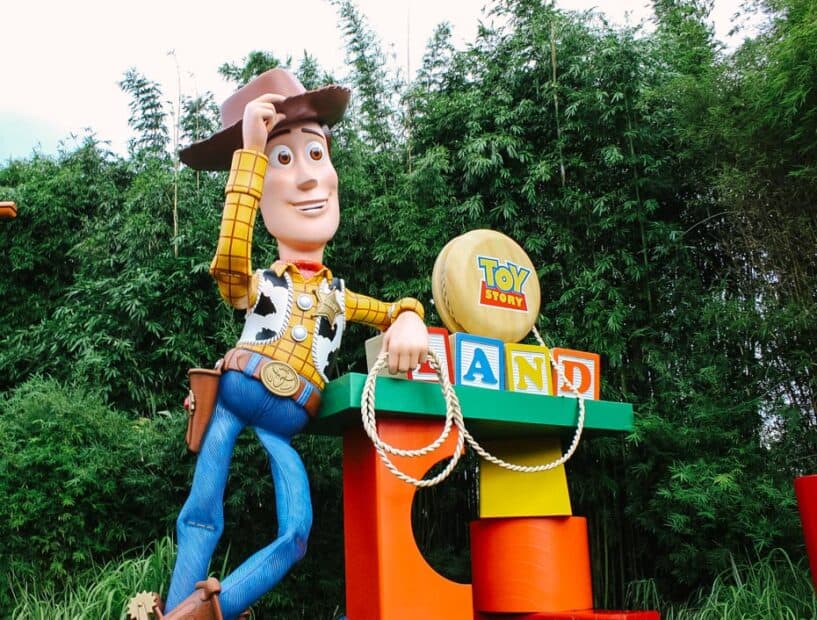 Since Galaxy's Edge opened, a new entrance comes from that land into the back of Toy Story Land. It comes out at the Alien Swirling Saucers attraction.
The land is themed, similar to what you would expect from the original Toy Story film. The idea is that you have stepped into Andy's backyard. You can expect to see classic toys like a Rubik's cube, a Tinkertoy set, Slinky's, and more in the backyard.
If it's not too crowded, you might even notice Andy's footprint stamped into the concrete. While there's a ton of references from the Toy Story movies, there are also a few things you won't find. For instance, there's no Pizza Planet or Al's Toy Barn.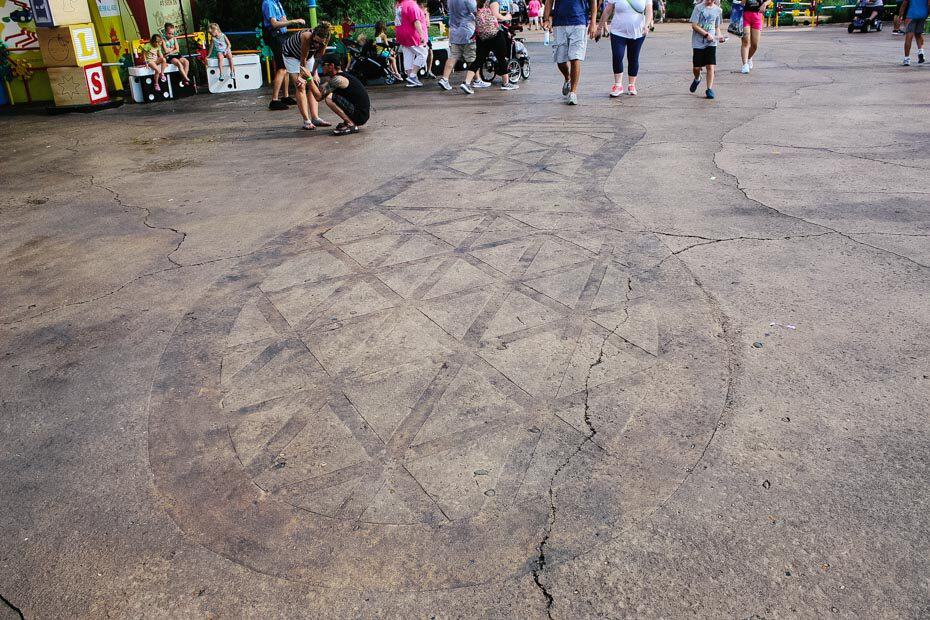 You will find a new attraction or two, the original Toy Story Midway Mania, and Woody's Lunchbox eatery.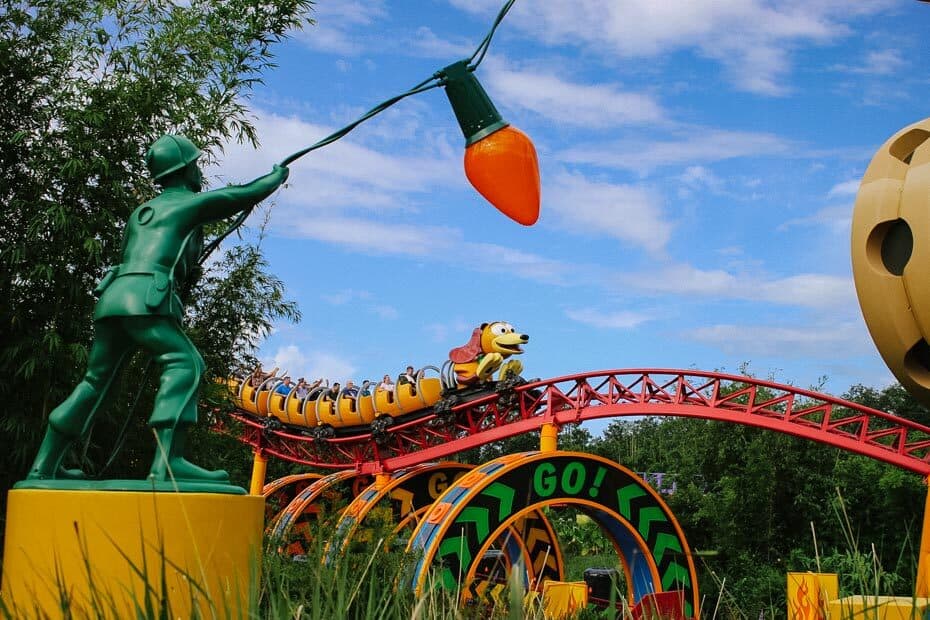 If you have visited Disney's Hollywood Studios before the opening of the new Toy Story Land, then you probably remember the original ride Toy Story Midway Mania. The former entrance of that attraction is now closed. It now has a new entrance within the land. Along with this classic ride, two new attractions opened with the land. They are the Slinky Dog Dash coaster and the Alien Swirling Saucers attraction
Let's take a closer look at all three rides.
Slinky Dog Dash is a roller coaster and also the premiere attraction for Toy Story Land. The ride has stolen the hearts of many park-goers with its fun theming and gentle tickle your tummy drops.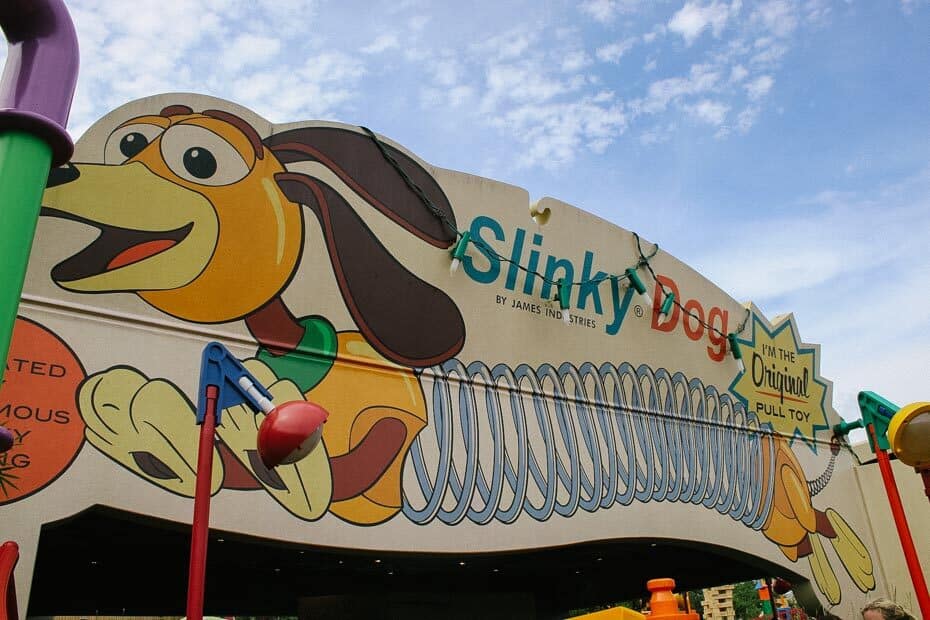 Not to mention its little wagging tail and Slinky body. You might remember that Slinky Dog was Andy's toy in the movies.
I never anticipated loving this attraction as much as I do. When the concept was first introduced to the parks, I only assumed it to be a gentle kiddie coaster similar to Barnstormer over at Magic Kingdom. From the moment I first rode Slinky Dog Dash, I knew that I had discredited it poorly in advance.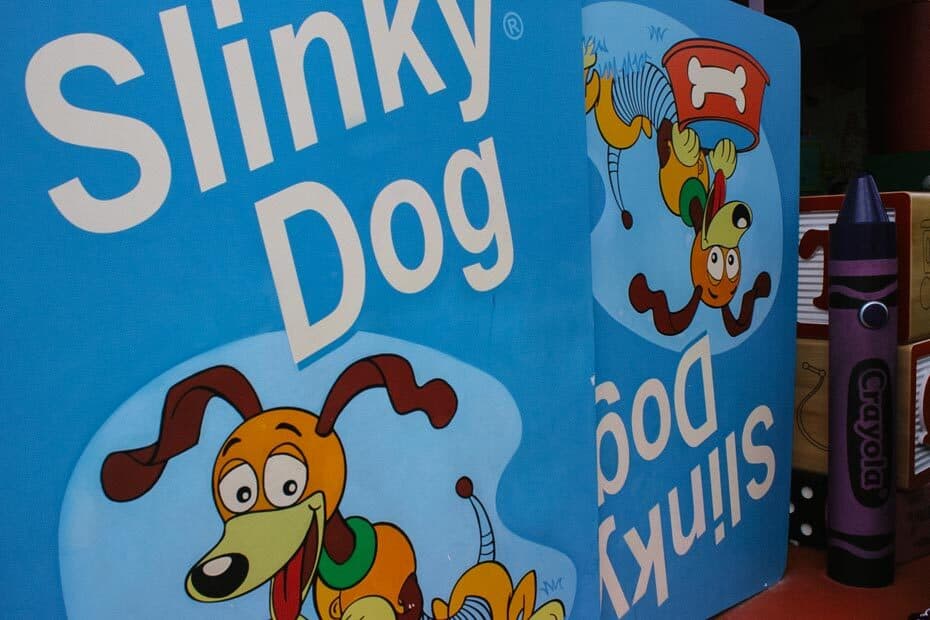 Expect gentle drops and scenic views of the Disney park in the distance. Slinky goes through one section on the right-hand side before pausing in the middle. Then he soars back up the tracks before encountering three small hills back to back. You really can't help but smile or laugh while riding.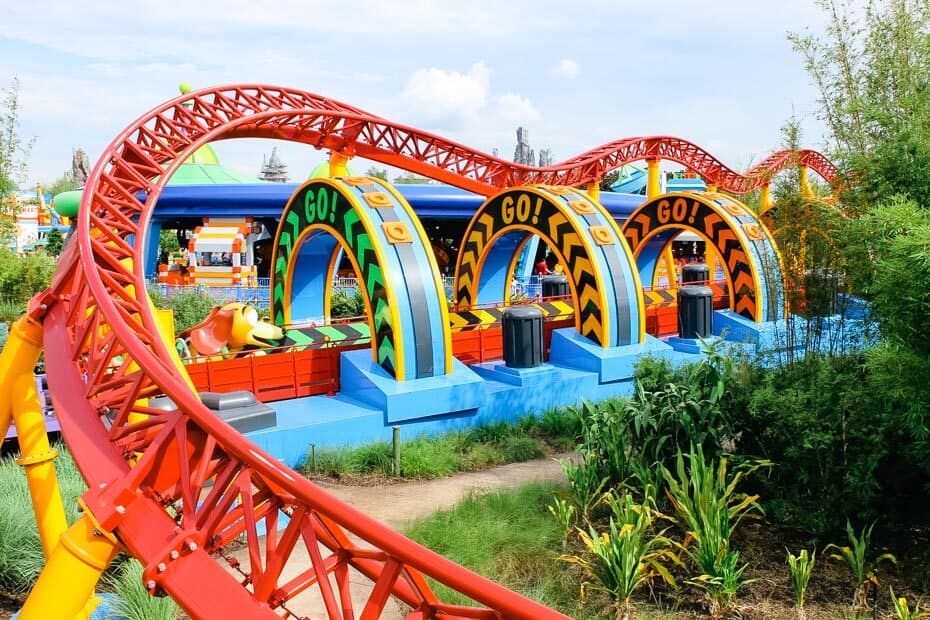 Toward the end, you will encounter Wheezy offering a rendition of "You've Got a Friend in Me." He even has a Partly Cloudy book providing him with more shade than you will probably ever find in the land itself.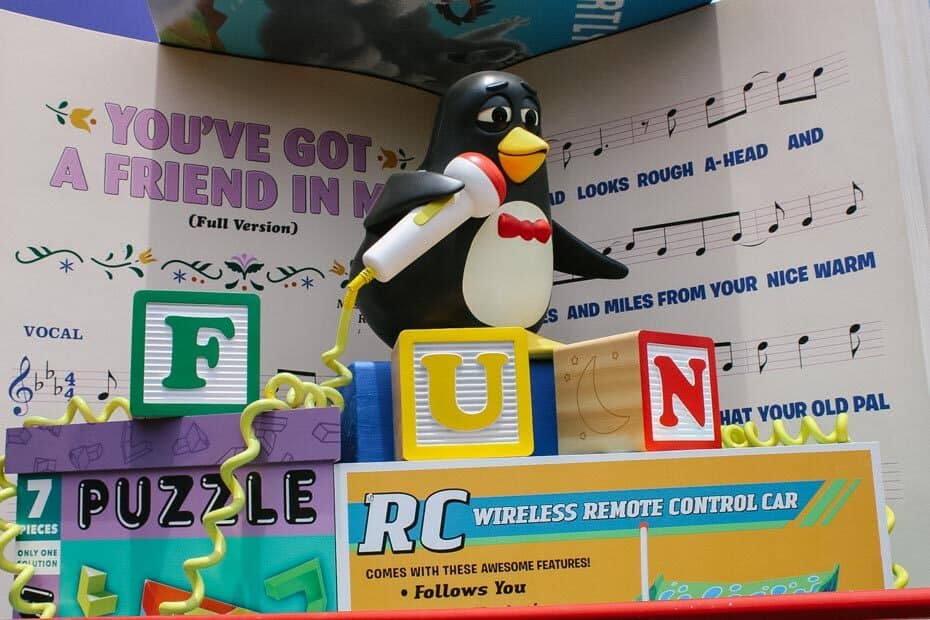 Slinky Dog Dash falls into Disney's Hollywood Studios FastPass+ system as a Tier 1 attraction when the program is available. That means it will be more difficult to reserve than other rides.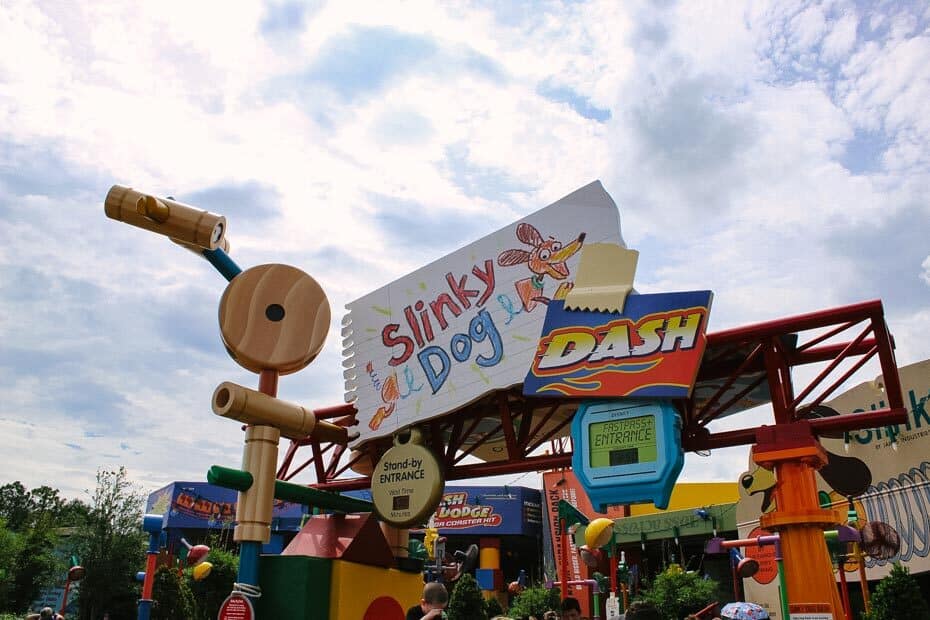 If Slinky Dog Dash is a top priority for your family, I recommend trying to reserve it first when the FastPass system returns.
While the land is child-friendly, you'll also need to know that the Slinky coaster does have a height requirement of 38″. Additionally, cast members often check heights at the entrance and again before guests board.
If any of these issues might affect your group, pick up a copy of my Disney World height requirement guide. There's a guide for each park, and it's designed to save to your phones for an easy reference in the park.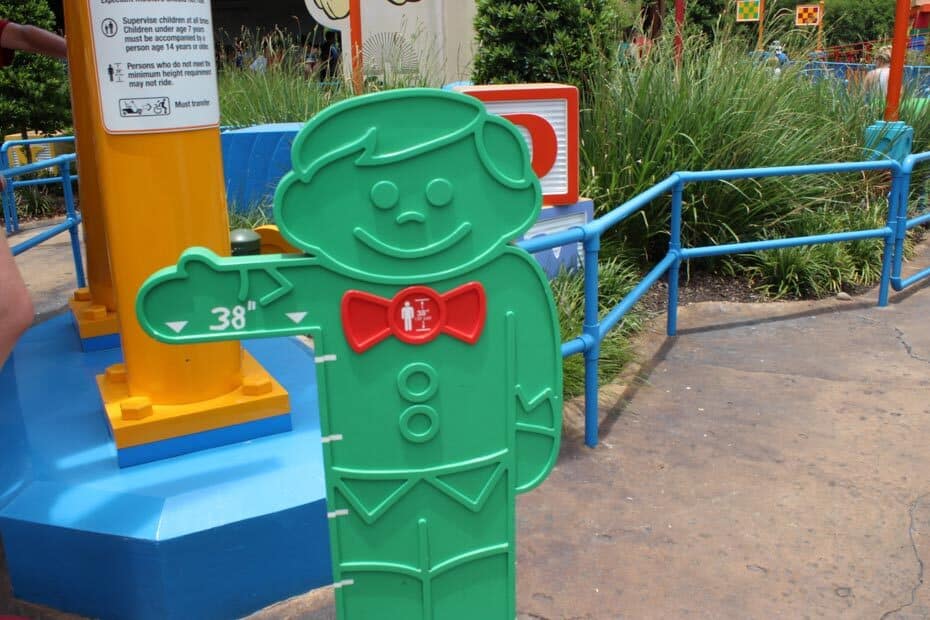 Toy Story Mania is the original Toy Story-themed ride at Hollywood Studios. This is a bit of a gentle spinning ride to some degree with 3D effects and a gaming system. There is no height requirement to ride Toy Story Mania.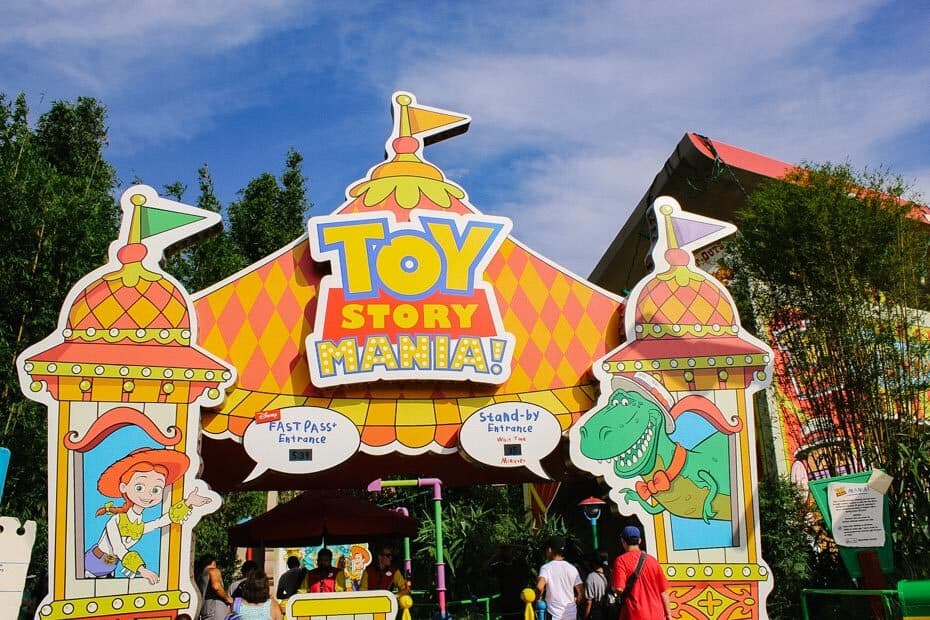 This attraction is a Tier 2 FastPass+ option, when the system is available.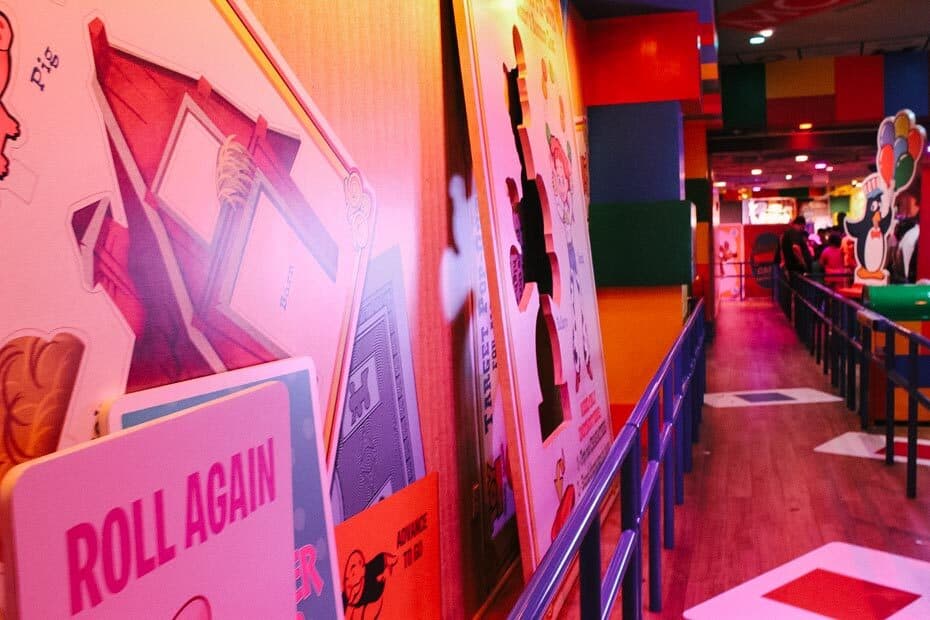 I prefer to reserve Toy Story Mania over some of the other tier 2 options. It is one of my favorite rides, and the majority of the queue is inside. Making it more ideal for riding in the event of extreme heat or rain/thunderstorms.
You can also experience this one easily during the rain because it doesn't close. Orlando gets a lot of rain during the hotter months, especially late afternoon. So keep this one in your back pocket if you see the skies start to cloud up during your visit.
I've also found good luck with riding Toy Story Mania at the end of the evening. Usually, you can get in line at about one hour before park close for lower than average wait times.
If you are touring the parks later during the evening try the following:
On a 9:00 p.m. close, ride via standby at around 8:00 p.m. If time permits get in line prior to park close for Slinky Dog Dash. As long as you enter the queue (or any queue that's operating) prior to park close you can ride that attraction and then exit the park after completion.
Our last stop is none other than Buzz Lightyear's Alien Swirling Saucers. This is a ride that spins but in more of a hoisting motion than an actual direct spin.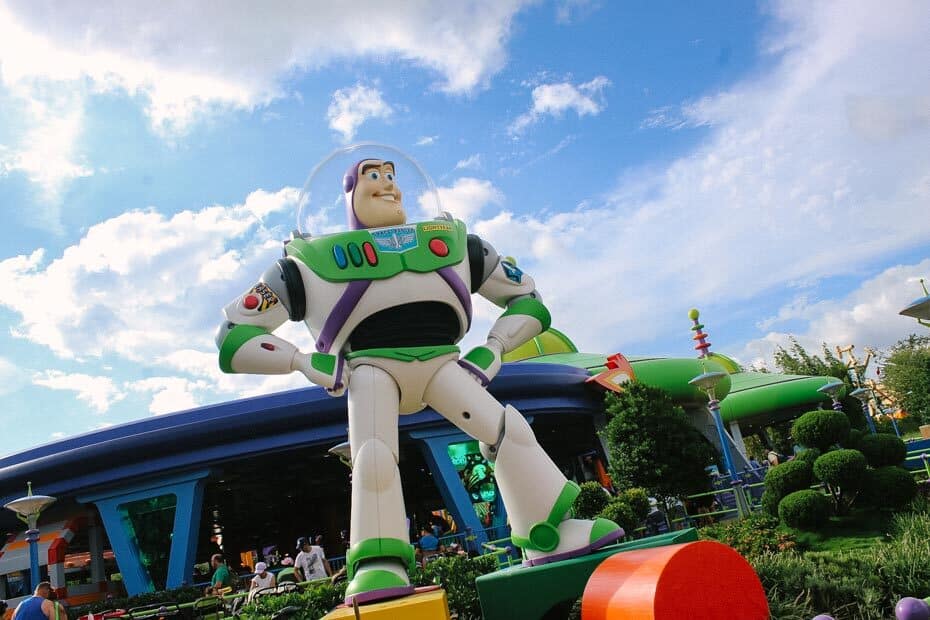 What I mean by that is the attraction kind of throws you out in your alien vehicle and then pulls you back in as it moves you around the floor of the ride. Each alien car is positioned around a center-element like the claw. You work your way around each element as you move around the entirety of the ride floor over the course of the ride.
There is a 32″ height requirement to ride Alien Swirling Saucers.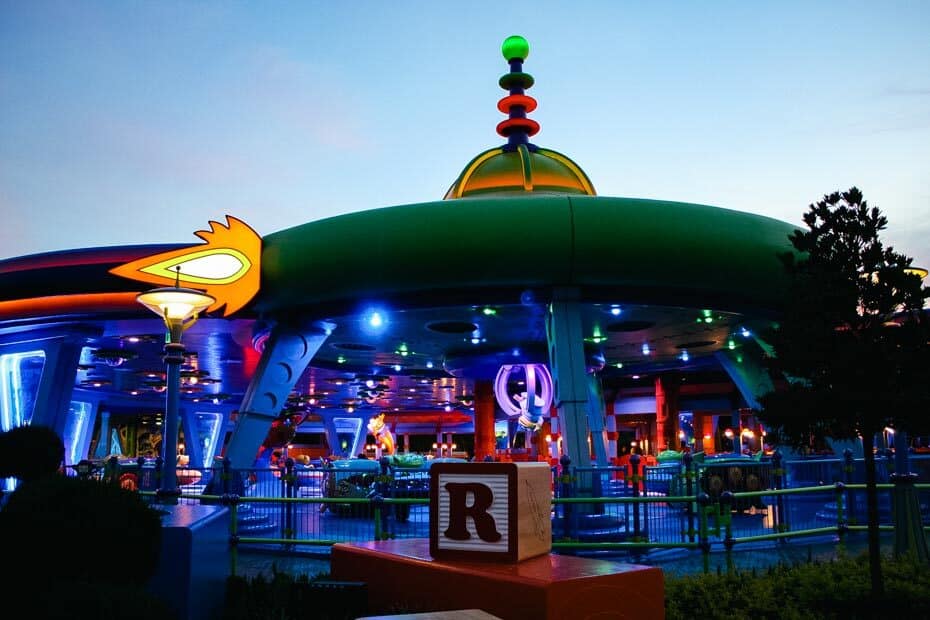 Alien Swirling Saucers is a Tier 2 attraction. This would also be one of the last FastPass+ options I would book initially. This particular experience has not proven to be as popular as the others.
Here is a look at the attraction entrance. FastPass+ is on the right-hand side. If you are visiting the Studios on a busier day try booking this one as a 4th or 5th FastPass+ option. I find this line to move fairly quickly and the longest so far I've had to wait for it is about 30 minutes during higher crowd time.
Part of the queue is covered and you can see going into the line if you will be in the exterior or interior section in the event of rain. Just like Slinky Dog Dash, Alien Swirling Saucers will close in the event of a lightning threat.
But they continue to operate during light rain. The ride portion of Swirling Saucers is covered but you will meet the outdoor elements again as soon as you exit.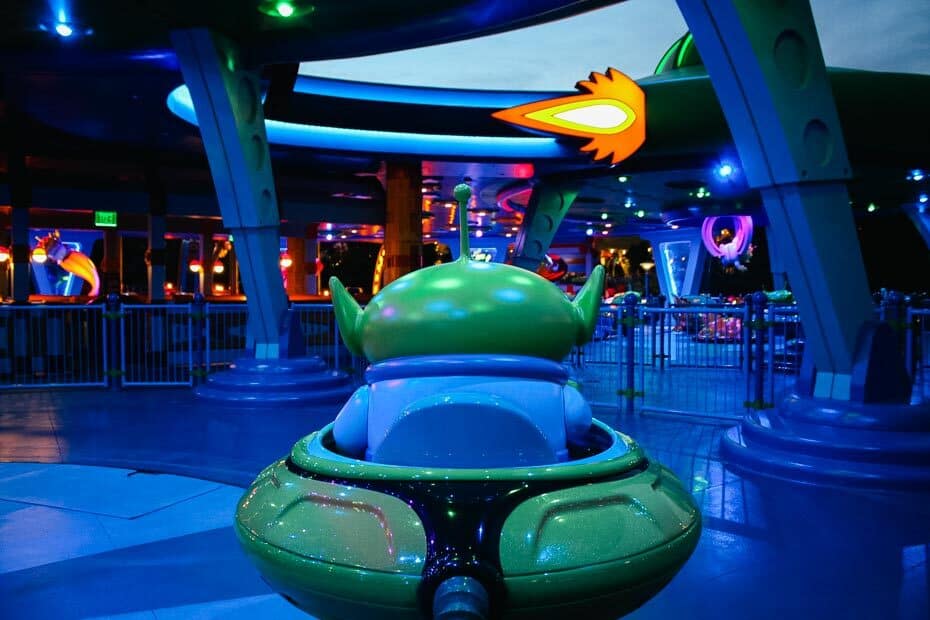 Above, you can see your alien vehicle driver is positioned (almost rickshaw like) in front of you. This little guy will pull you around the floor. Warning, there will be a lot of "Oh's" and "Ah's." He will do everything he can to prevent you from becoming a victim of the claw.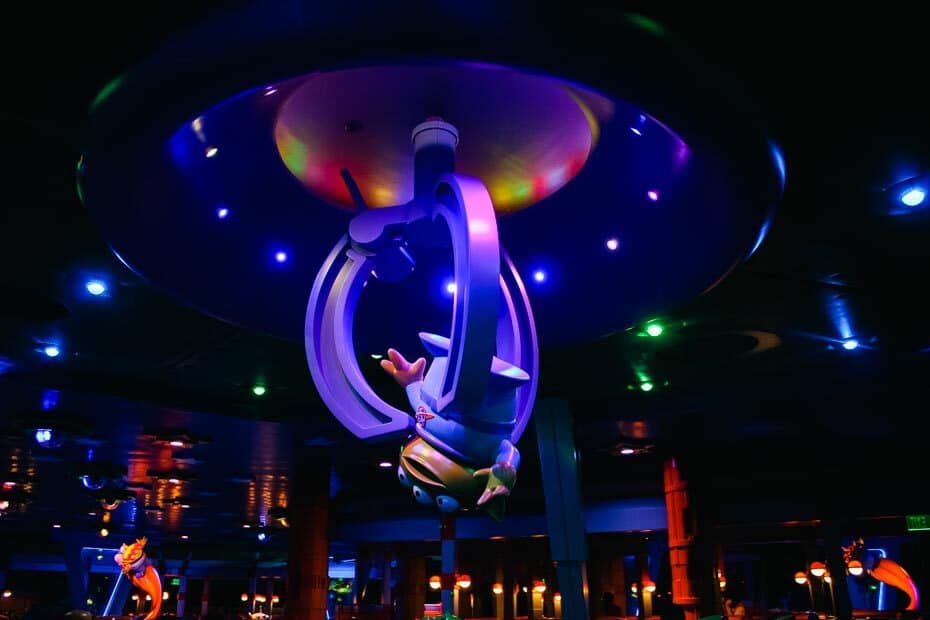 Here is a little better view.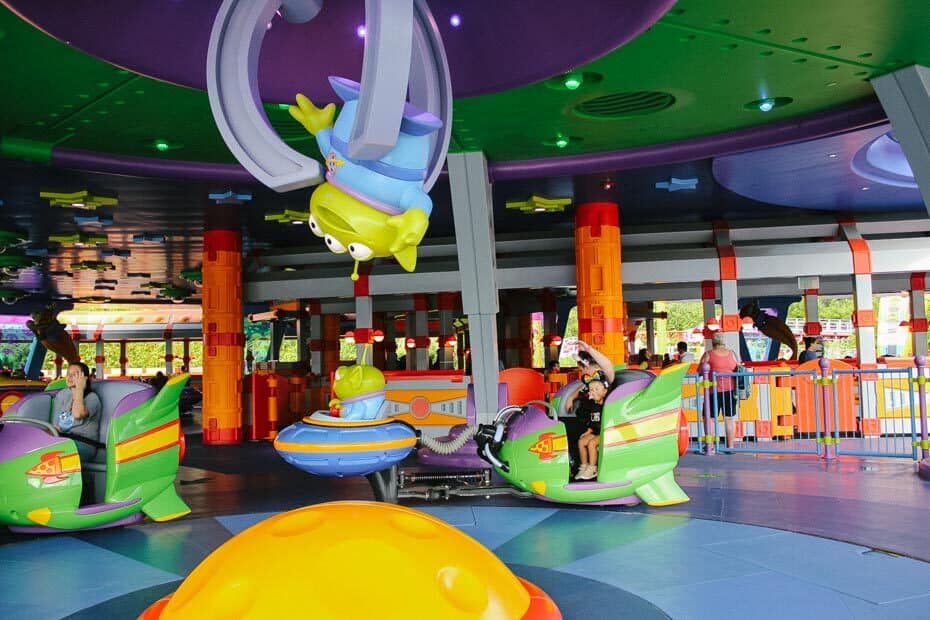 Toy Story Land Rides & Rules
This is a good reminder that children (like adults) sometimes have a hard time being patient in line. It's important to have a plan for everyone's sanity to keep your children entertained during their waits.
And sometimes nature does call in the wake of very long lines. See a cast member for a restroom pass so you can secure your place in line in the event of an emergency restroom break.
Additionally, Disney policy requires that all guests 7 years old or younger must be accompanied by a guest 14 years or older. For example, I ran into this a few years ago when my niece was 6, and my son was 13 years old. At the time, I felt my son was responsible enough to escort my niece on some rides like the Teacups or Barnstormer. My idea was to stand at the exit waiting for them. This did not apply to us, though, at these ages.
Cast members do an excellent job of noticing parties of children and will ask them their ages upon entry or at the ride load. Thankfully, the next year when my niece visited with us, they were both at the appropriate age to ride together without me.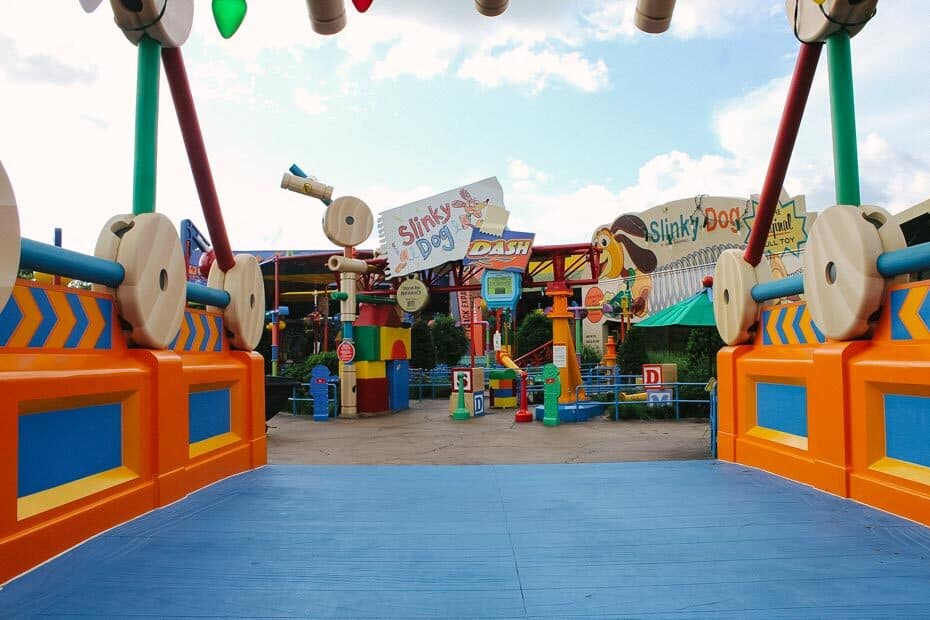 Another reminder, in the event of lightning, some attractions will close. However, if there is light rain, most will stay open. In a sprinkle, I would wait and ride. In a drizzle, I would not.
Even with a poncho, you will end up fairly soaked if the skies decide to open up mid-ride. Feel free to ask me how I know this, and this applies to any exterior ride.
Make sure to check Disney's site here for all of their policies and guidelines if you have any specific issues or questions.
Toy Story Land FastPass+ Tips
Remember FastPass might not be available on your visit.
We went over FastPass+ priority in detail for each ride section. But for a quick refresher, here is a look at FastPass+ options and priority in Toy Story Land.
All three attractions in the new land offer FastPass+.
FastPass+ Attractions in order of priority are:
Slinky Dog Dash ( difficult to obtain and Tier 1)
Toy Story Midway Mania (Tier 2)
Alien Swirling Saucers (Tier 2)
In the instance, you have a larger party and haven't been able to obtain that Slinky Dog Dash FastPass+ before your visit, here's a suggestion. When refreshing for additional FastPass+ after the initial three, refresh the My Disney Experience app in smaller people.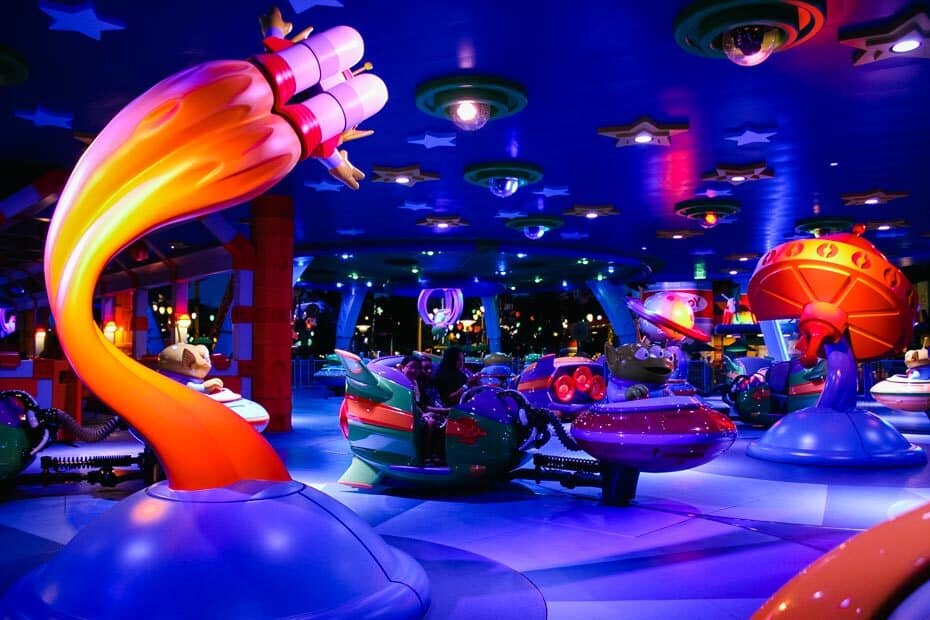 For example, if you have a party of four, refresh the app for two people at a time for a better chance of securing one. This doesn't always work, but chances are greater on a busier day with smaller groups than larger ones. If you can get them in overlapping times (even if not exact), both parties can still ride together.
In case you don't quite grasp that explanation here is a breakdown of what I mean:
Party 1: A & B FastPass+ 5:15–6:15 p.m.
Party 2: C & D FastPass+ 6:10-7:10 p.m.
Everyone enters the line around that 6:10 p.m. time to ride together.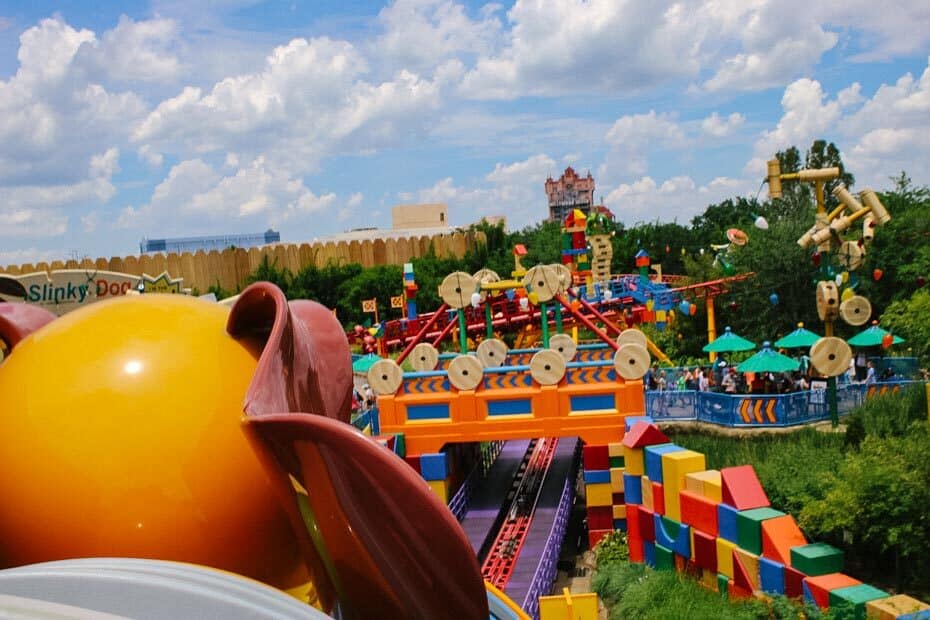 Toy Story Land Meet and Greets
At this time, characters at Hollywood Studios can be seen in the daily motorcade that comes through the park several times per day.
Before Toy Story Land opened there was the opportunity to meet Woody and Buzz across the way from the former Toy Story Mania location. Now that the new land is open and operating there are several Toy Story character meets available.
The only real downside is that all the character meets here are outside. So in the event of rain, there isn't a good place to meet and greet here.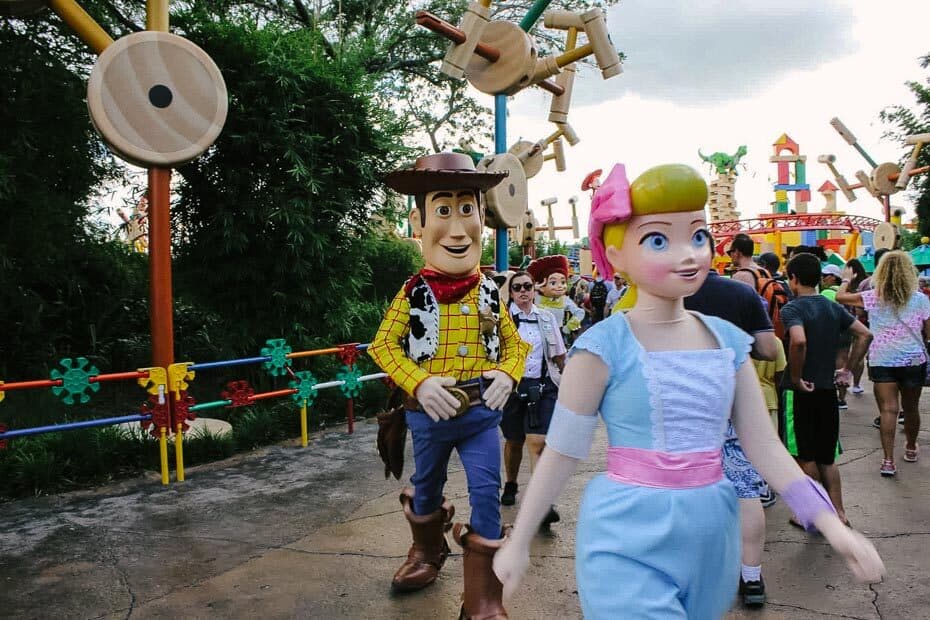 If characters are a priority on your vacation, consider meeting them as early or as late as possible. The four below are all located outside in areas with no shade. Prior to last year's closing, Bo Peep was moved to seasonal status, meaning she was no longer making daily appearances.
Check the My Disney Experience app on the specific day of your visit for exact timing and characters.
Here are a few characters you might run into while touring.
Woody is currently meeting in the large open area outside of Toy Story Mania. This line extends from this open area all the way back toward the exit.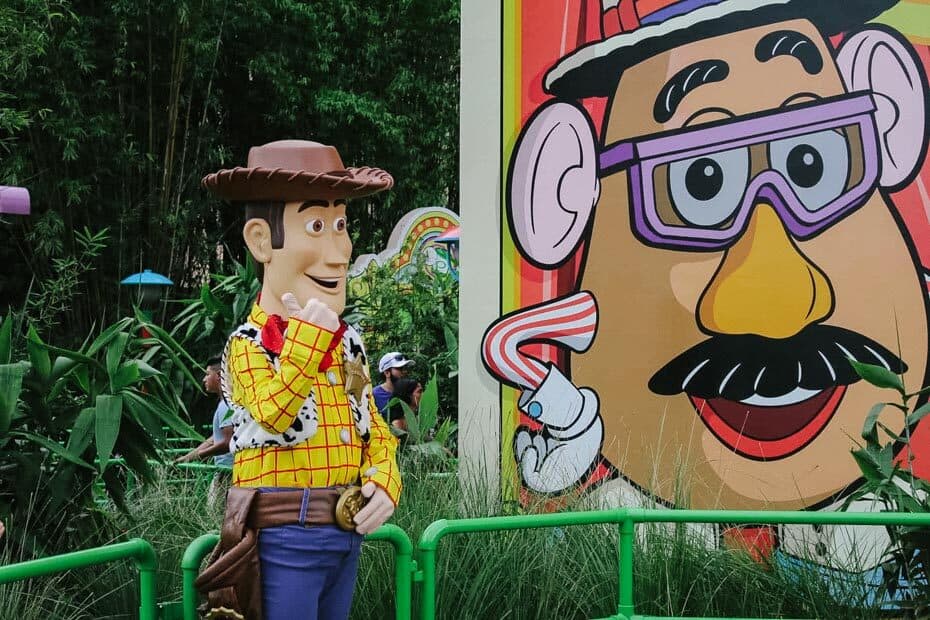 If you are looking to meet with Woody expect a 30 minute+ wait. These characters meet for a determined amount of time and take regular breaks. If you are in line, you will get to meet them. That is, unless bad weather shows up, in the meantime.
Know that if you see the characters walk away while you are in line, they will be back within a matter of minutes. So don't stress, reassure your family they will be back shortly.
Buzz Lightyear meets outside in front of Slinky Dog Dash. You will more than likely run into him first as you enter Toy Story Land from the main entrance.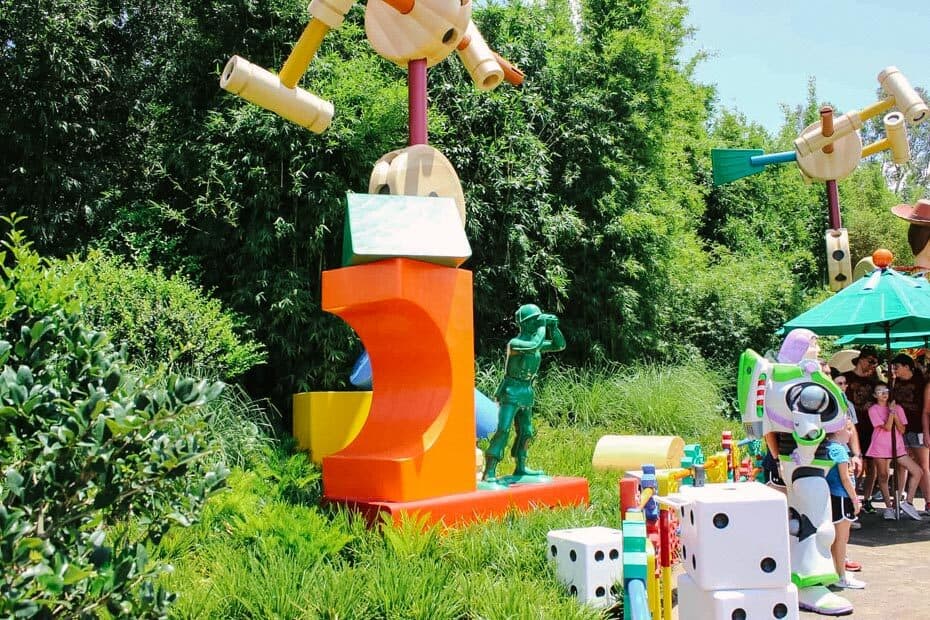 Buzz Lightyear also meets to long lines here at Hollywood Studios. In the event that you don't have the opportunity to meet with him here, you can find him daily at Magic Kingdom during the afternoon.
Bo Peep was first introduced in her modern outfit back around the release of the last Toy Story movies. Her character meet is no longer scheduled daily.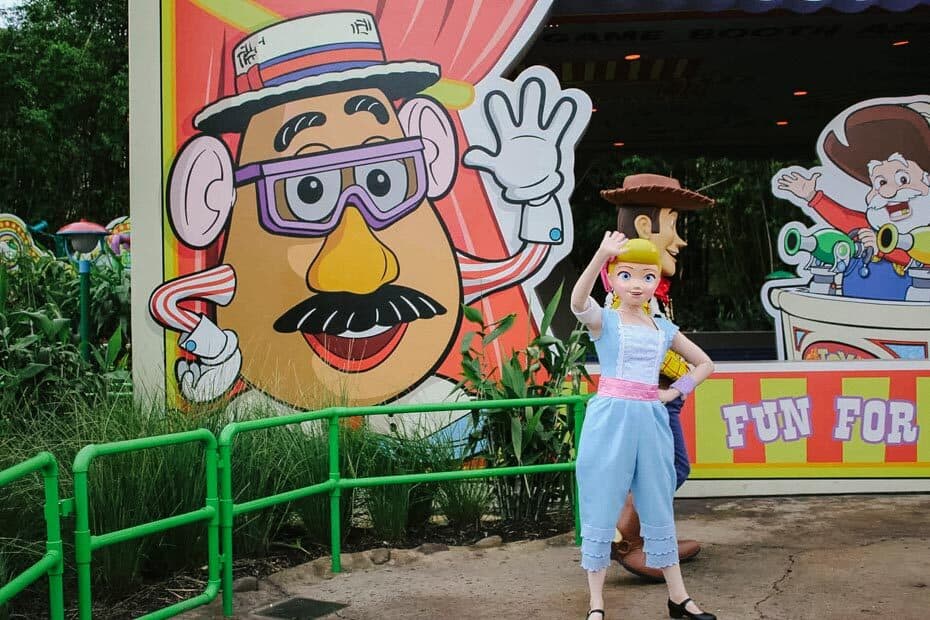 Jesse is the last of the characters in the land. She can be found toward the back of the land in the same area as Alien Swirling Saucers.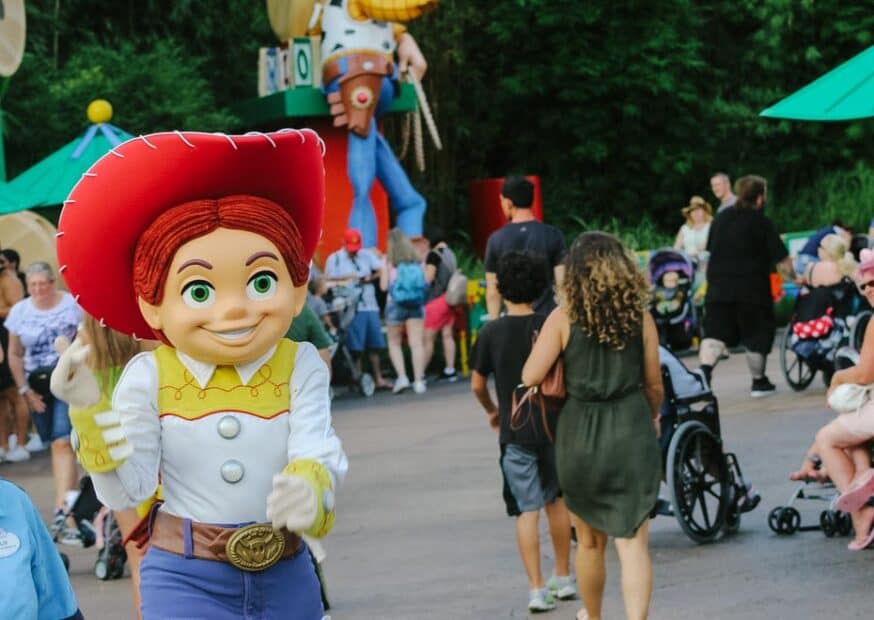 This is the only place to meet her at Walt Disney World, so if she is a priority make sure to fit her into your schedule.
Dining Options at Toy Story Land
In the future, there will be two dining options at Toy Story Land, but as of this time, there is only one, Woody's Lunchbox. As with most everything else here, it is an outdoor eatery offering mainly sandwich type items.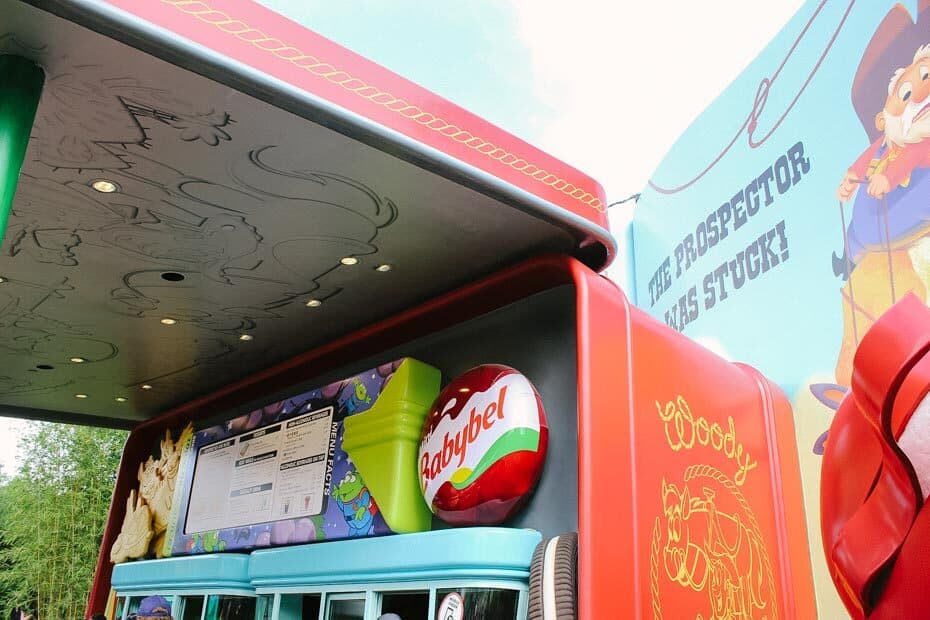 Woody's Lunchbox is themed to look like an actual lunch box with a lid hanging overhead to protect the counter ordering area.
There's a sign out ahead of the area offering an overview of the items you can find here.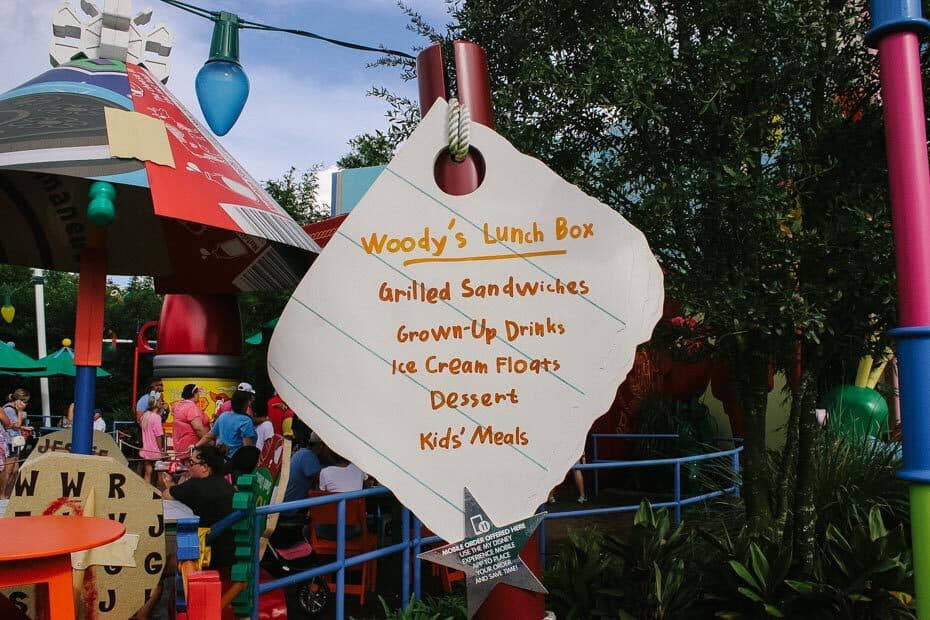 There are two registers ahead of the pick-up window. You might notice a thermos holding up one side of the lunch box lid.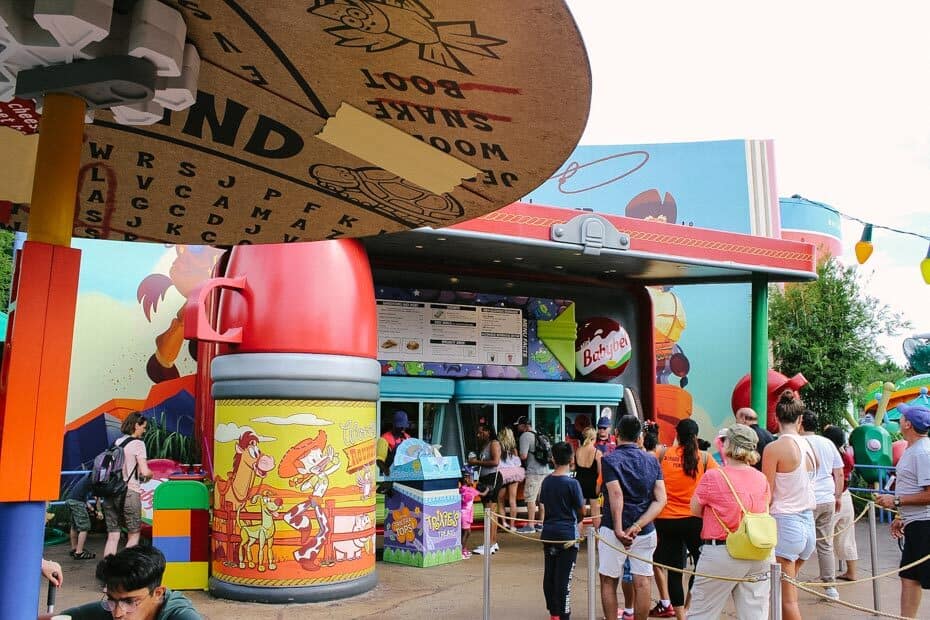 Below is the menu for lunch and dinner. They provide breakfast items as well if you find yourself here in the earlier part of the day. That lunch box tart is a pretty popular item.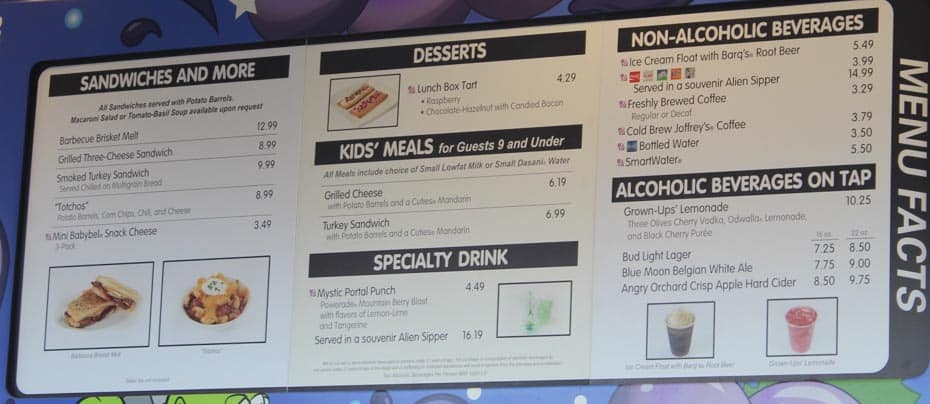 Unfortunately, seating is somewhat sparse at this outdoor eatery with only a few shaded tables available.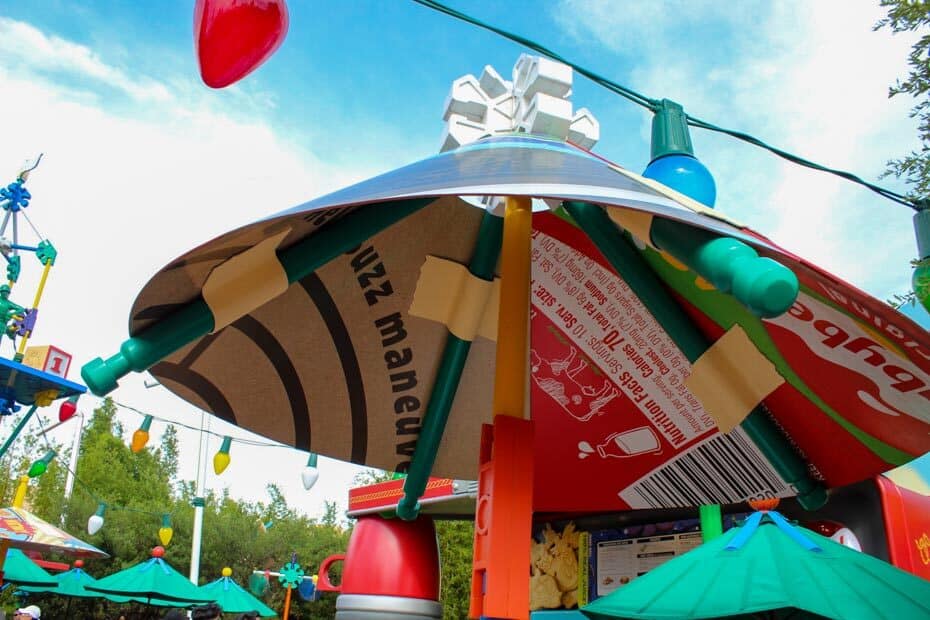 The theming is all very on-point with the idea of it being located in Andy's backyard. It seems like there would have been a nice opportunity for some kind of shade trees available though.
At some point, a new dining location, Round-Up Rodeo BBQ, is expected.
Toy Story Land at Night
If you are doing an entire day plan at Studios, then you must take the opportunity to tour the area not only during the daytime but evening as well. The land takes on an entirely different feel and landscape as the day turns to dusk.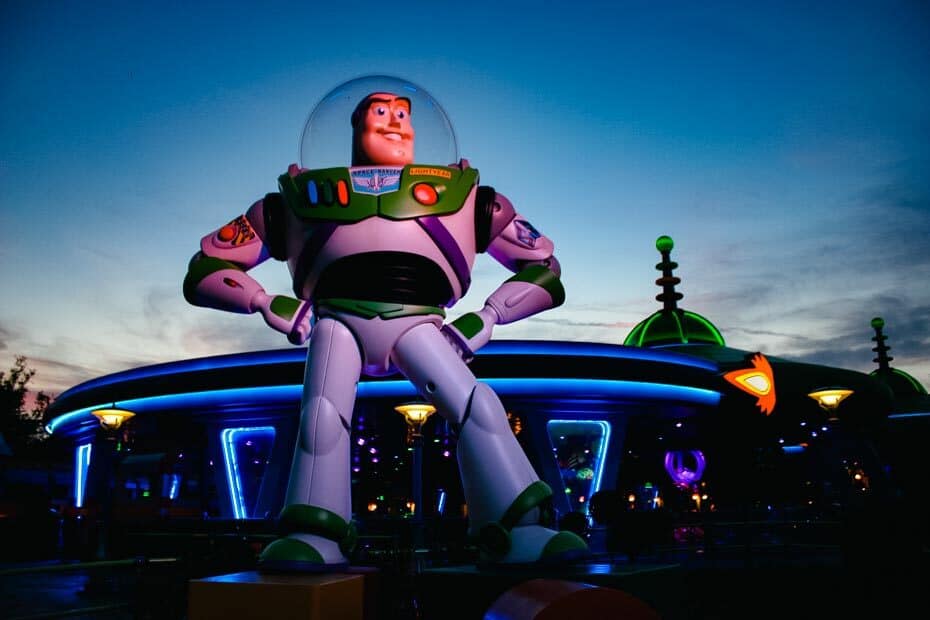 You really don't notice this during the day with all of the loud, primary colors. But the glow appeal at night is stupendous.
And Slinky Dog Dash has a completely different look and feel after sunset. Even the little "Hang On!" pause and "Go!" lights up in fun colors as you blast off again!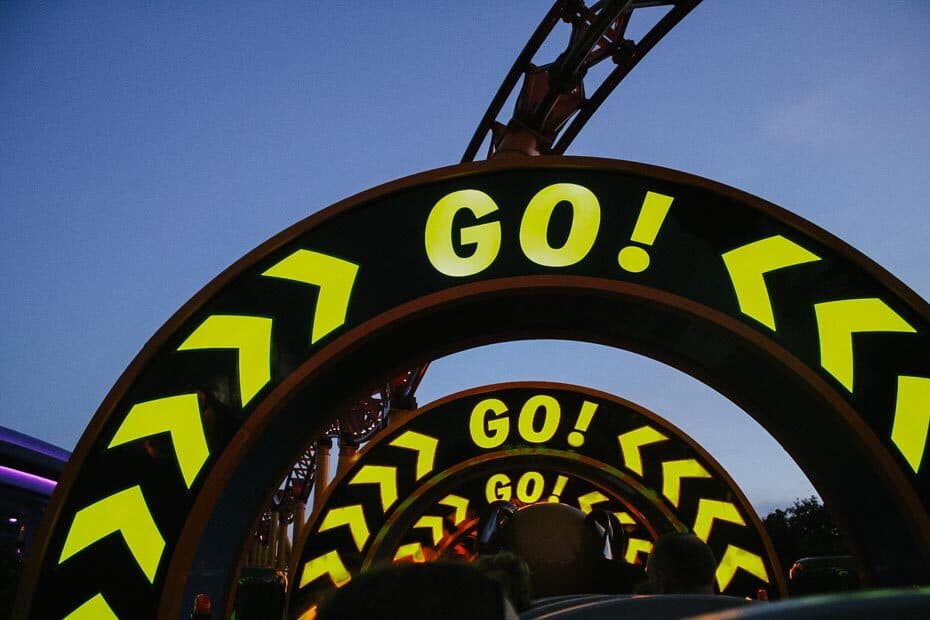 Just look at Jessie and Rex stringing up lights in Andy's backyard. Pause here on your visit for the vocals provided as Slinky Dog dashes by them.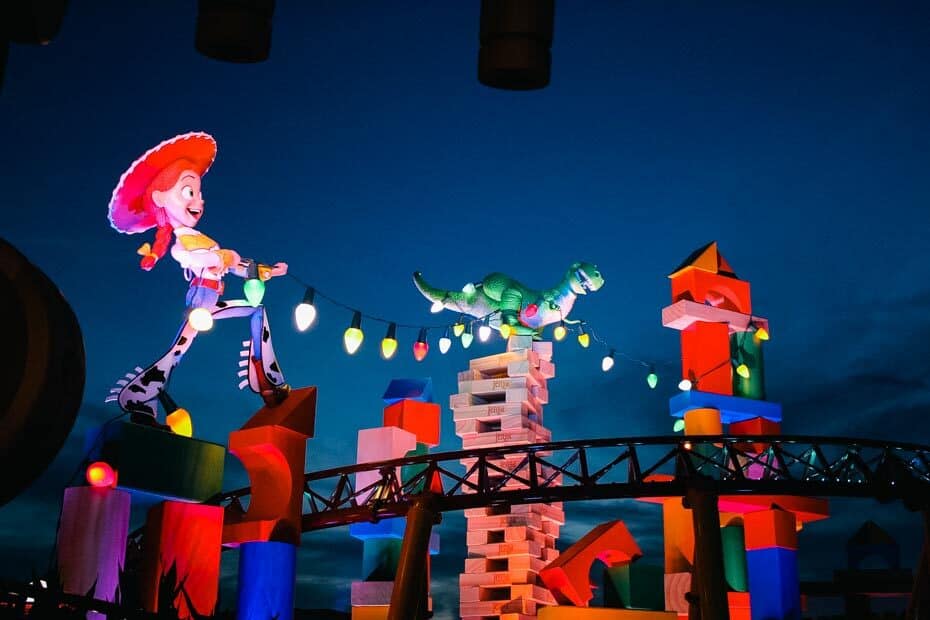 For reference, here is a similar picture. Above the land in the evening and below in the daytime.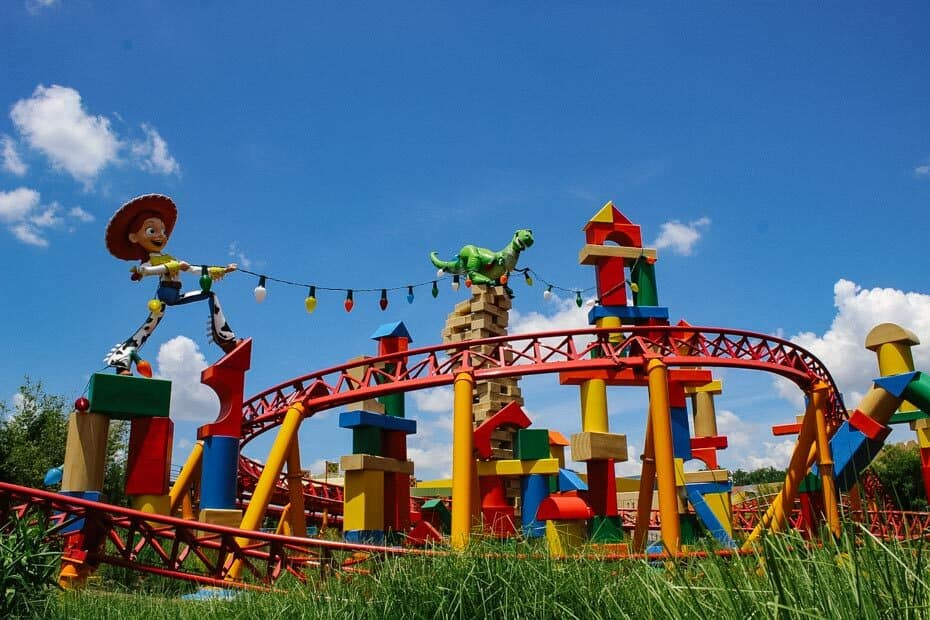 If you are working on a general layout of your touring plan, I would start with Toy Story Land closer to park opening and then again anytime after sunset in coordination with touring Galaxy's Edge in the evening.
As far as Toy Story Land entertainment goes, you will more than likely hear beating drums around you. Typically the green army men march through the land at various places and stop to perform an act. Make sure to try and see them if you catch them out.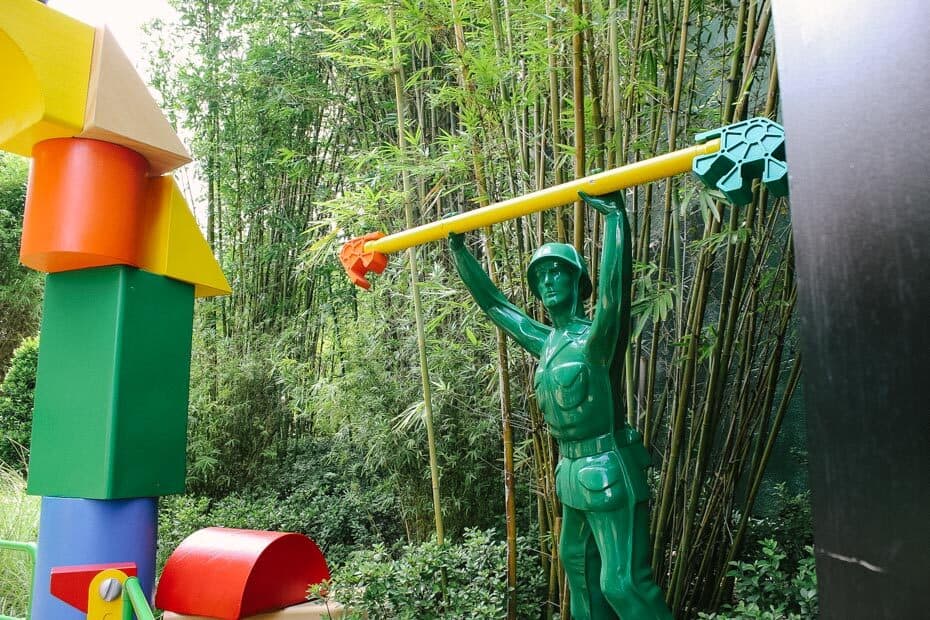 Additionally, you will find that Andy has scattered green army men all over his backyard. Be on the lookout for them! This one below appears to be covertly moving a snack from Woody's Lunch Box.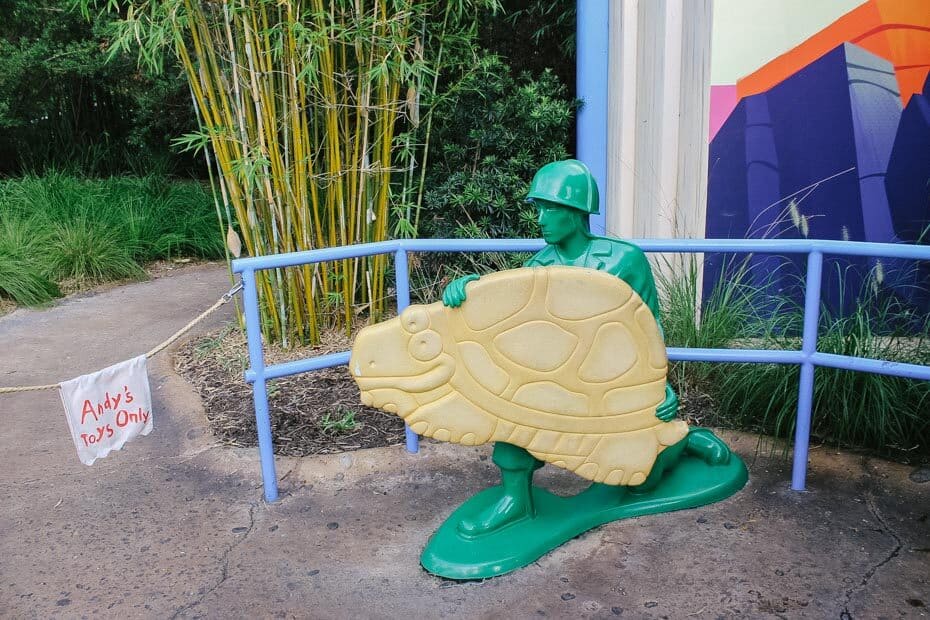 I always think this one below is mocking all of us staring at our phones. No one seems to remember that phones were originally created as a communication device.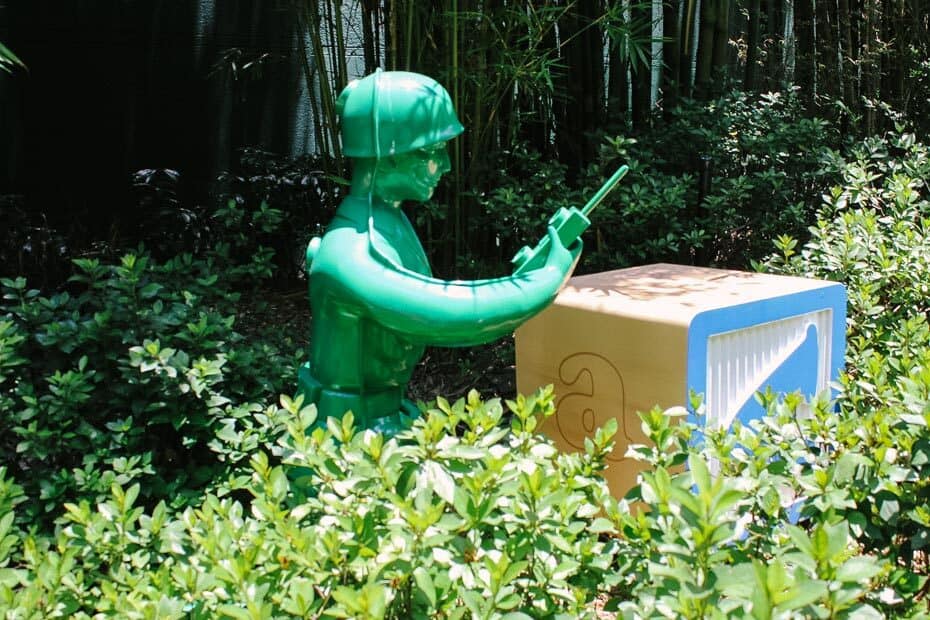 Restrooms in Toy Story Land
Because I am a mom and completely understand that when your kid says they have to go it's usually the last minute. I thought I would throw in the restroom location in case you are noting these type things for your trip.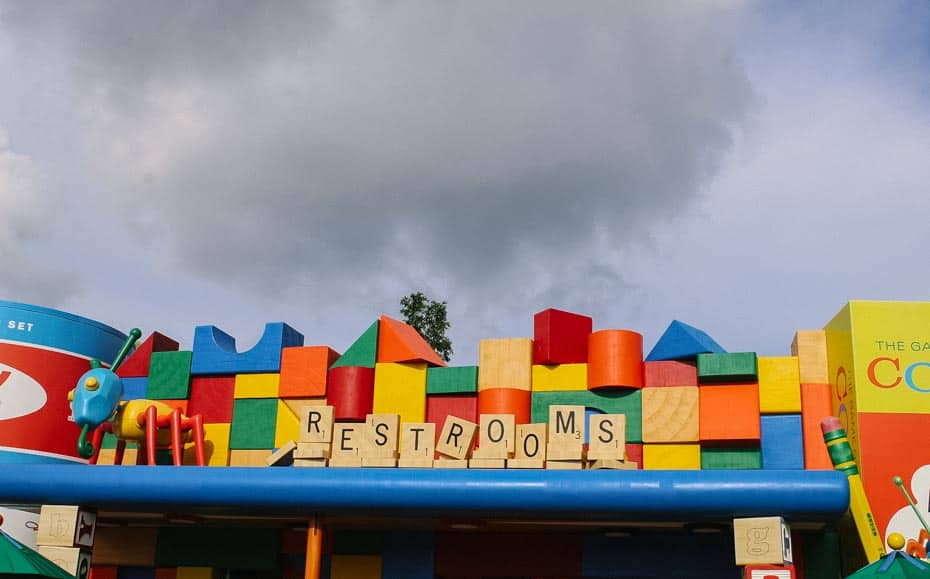 Toy Story Land has one restroom and it's fairly easy to locate. They are past Woody's Lunch Box on the left-hand side, right before the exit that heads into Galaxy's Edge.
Final Thoughts
This review has covered every single thing I can think you need to know about touring Toy Story Land. The land is a great addition to the park and an especially fun area for children.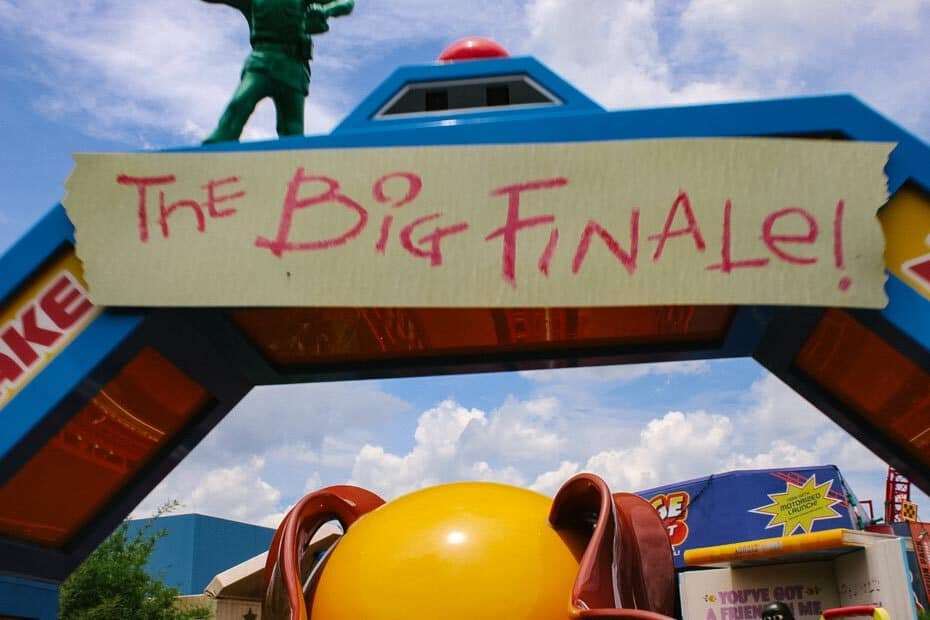 The main issue you might encounter here is that there's a lack of shade from the sun and shelter in the event of rain. Make sure to tour with these items in mind and adjust your plans properly if needed. Toy Story Mania is going to be your closest place to seek interior shelter if it were to sporadically start raining.
For most families, Slinky Dog Dash will be a must-do ride along with Toy Story Mania. Alien Swirling Saucers is fun but you won't leave feeling disappointed if you can't work it into your schedule.
You might also be interested in the following Galaxy's Edge Reviews: