Loews Sapphire Falls Resort Review (Universal Studios Orlando)
This article provides a review of Loews Sapphire Falls Resort at Universal Studios in Orlando, Florida. We'll discuss our experience at the resort, rooms, dining, recreation, and other amenities.
Sometimes you want a resort that offers the best of both worlds, insert–Universal's Loews Sapphire Falls Resort. It's a resort that offers a high-end feel without the expensive price tag.
Since our stay at Sapphire Falls, I've gone back and forth comparing the hotel to a few of the resorts at Walt Disney World. Given the price range and amenities, I've found Sapphire Falls most comparable to Disney's moderate resorts.
For those who are unfamiliar, Universal Orlando Resort groups its hotels into the following categories: value, prime value, preferred, and premier. Loews Sapphire Falls is currently the only resort that falls under the preferred category.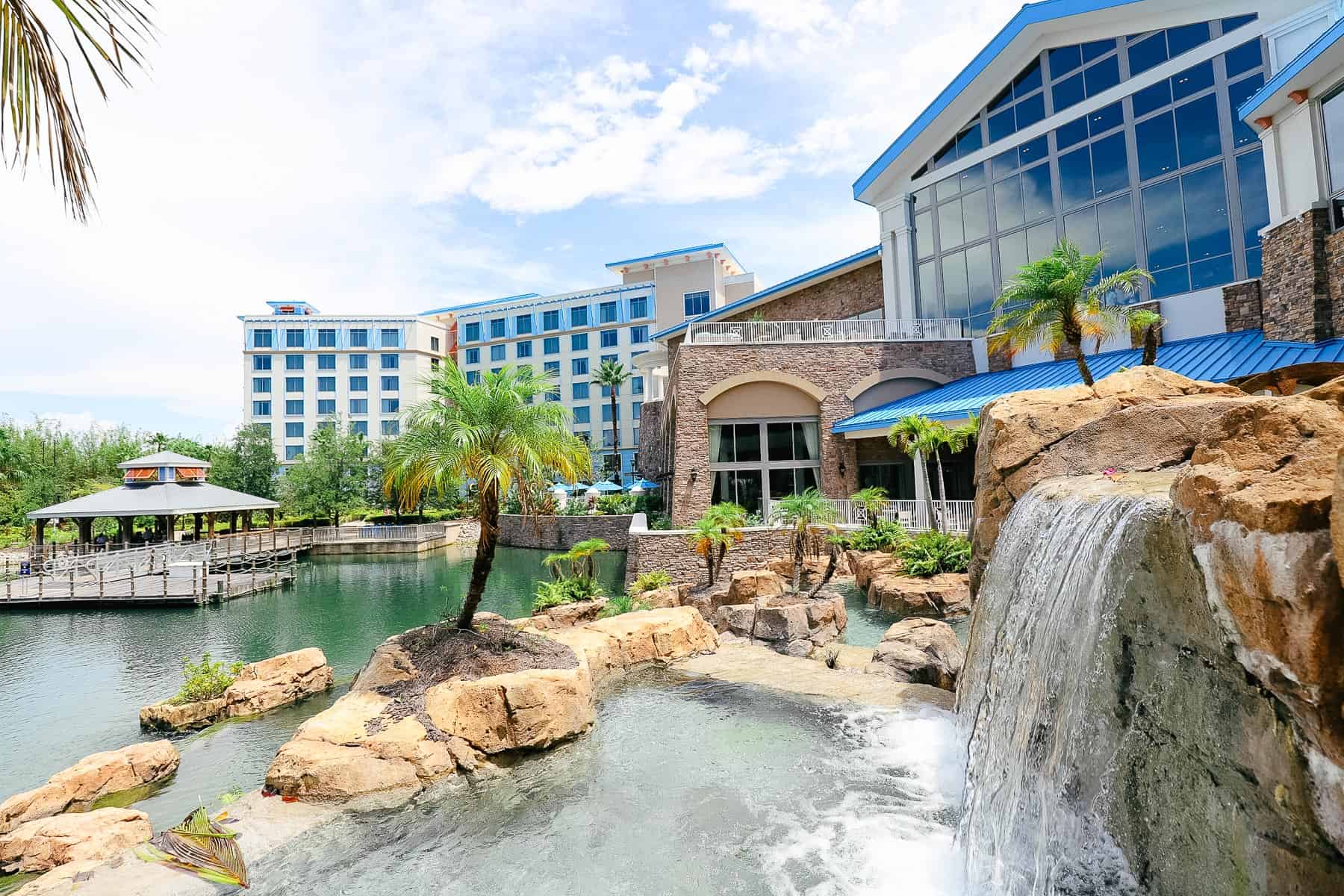 Extra Perks for Staying at Sapphire Falls Resorts
Guests who stay at Sapphire Falls are privy to the following perks:
Early Admission to The Wizarding World of Harry Potter–up to one hour before the park opens.
Complimentary transportation to the theme parks and Universal's CityWalk (shuttle buses, walking paths, and water taxis).
Resort-wide charging privileges with room key
Complimentary merchandise delivery throughout Universal to your resort.
Unfortunately, Sapphire Falls guests do not receive the Universal Express Pass, which allows select resort guests to skip the line at the most popular attractions at Universal Studios Florida and Universal's Islands of Adventure. That benefit is included for guests who stay at a Premier Hotel (Loews Portofino Bay Hotel, Hard Rock Hotel, Loews Royal Pacific Resort) with valid theme park admission.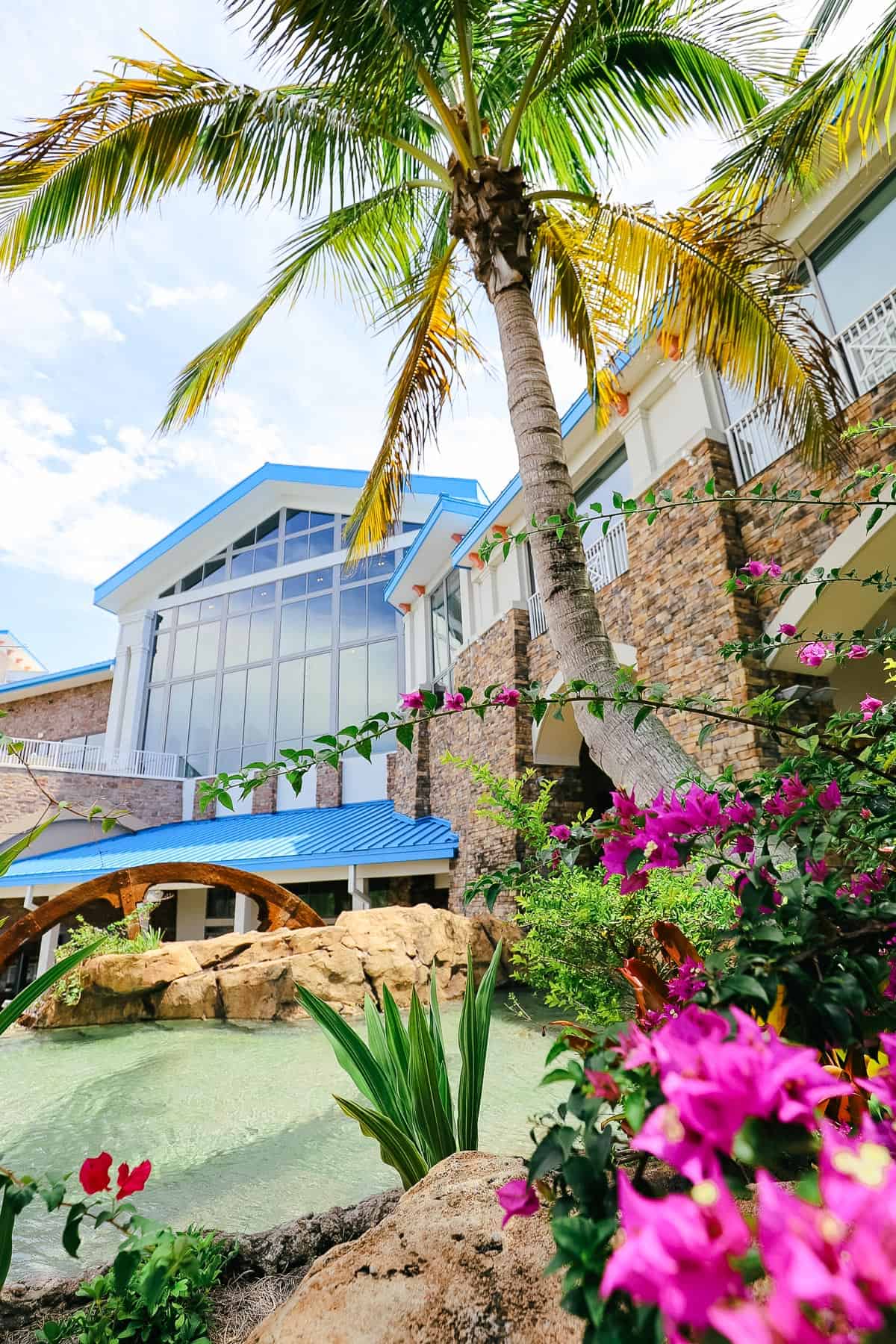 From the moment we arrived at Loew's Sapphire Falls, I was surprised and delighted. I've come to the opinion that while Universal's and Disney's theme parks are drastically different, both have unique resorts with outstanding amenities.
Sapphire Falls is considered an island escape themed to the Caribbean. A large silo representing an old-fashioned sugar plantation sits off the lobby. This entire silo features intricate stonework with artwork displayed on each level. A spiral staircase allows guests to travel back and forth from the resort's lower level to the lobby.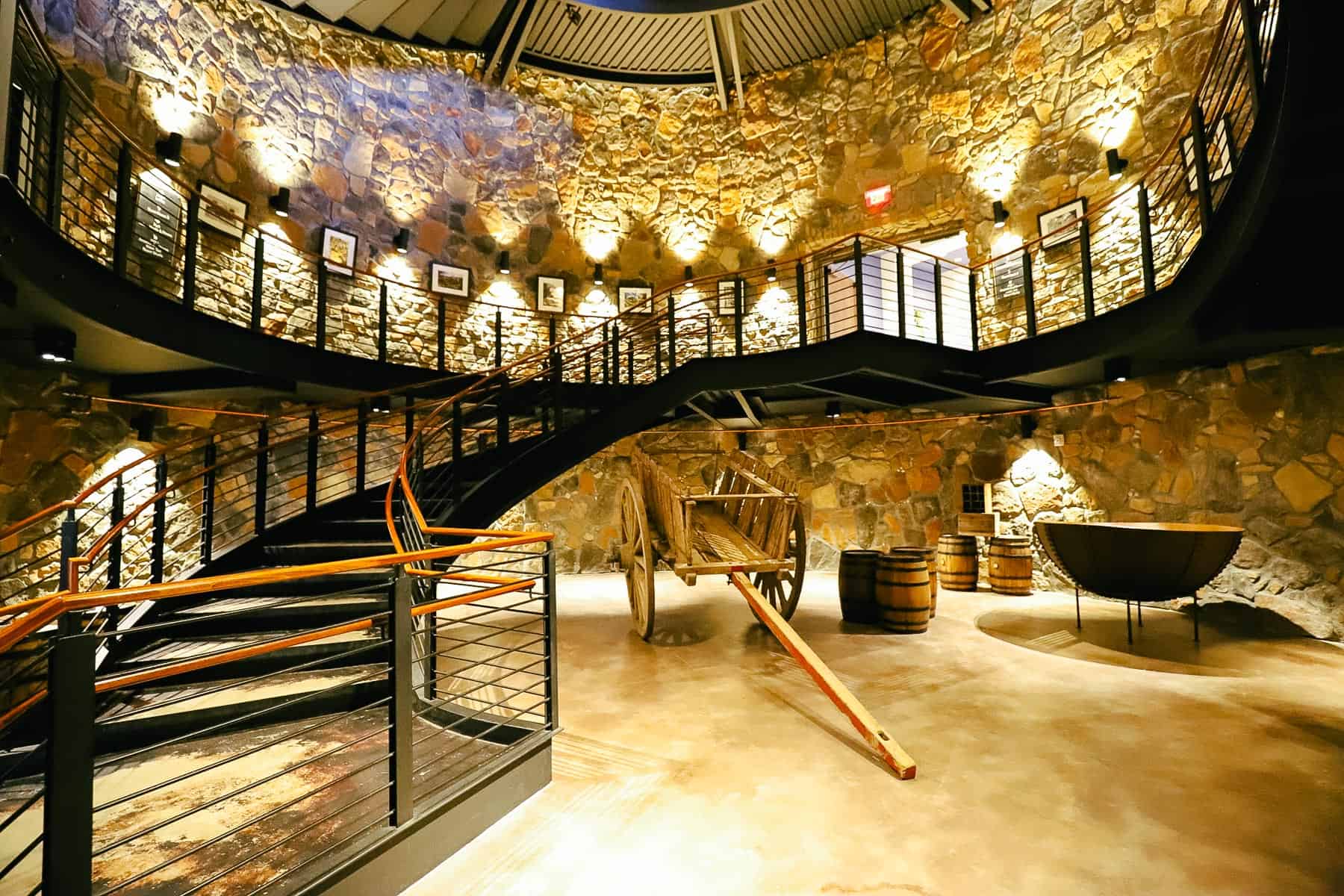 The entire space is truly a work of art. It feels as though you've stepped back in time, while realistically, multiple theme parks and Universal CityWalk, a major shopping and dining destination, are within walking distance.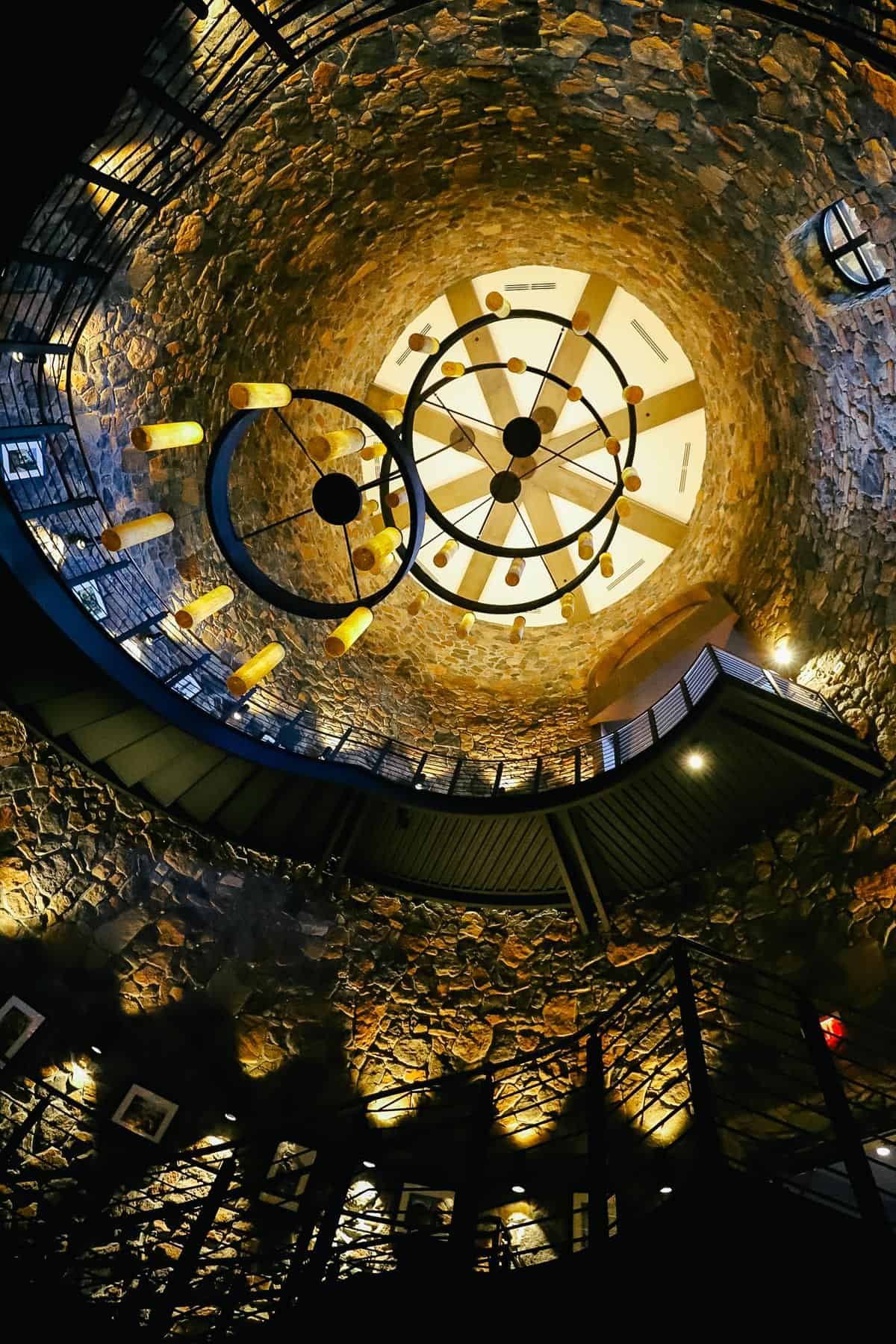 Throughout the hotel, several spaces offer modern furniture with bright pops of Caribbean artwork.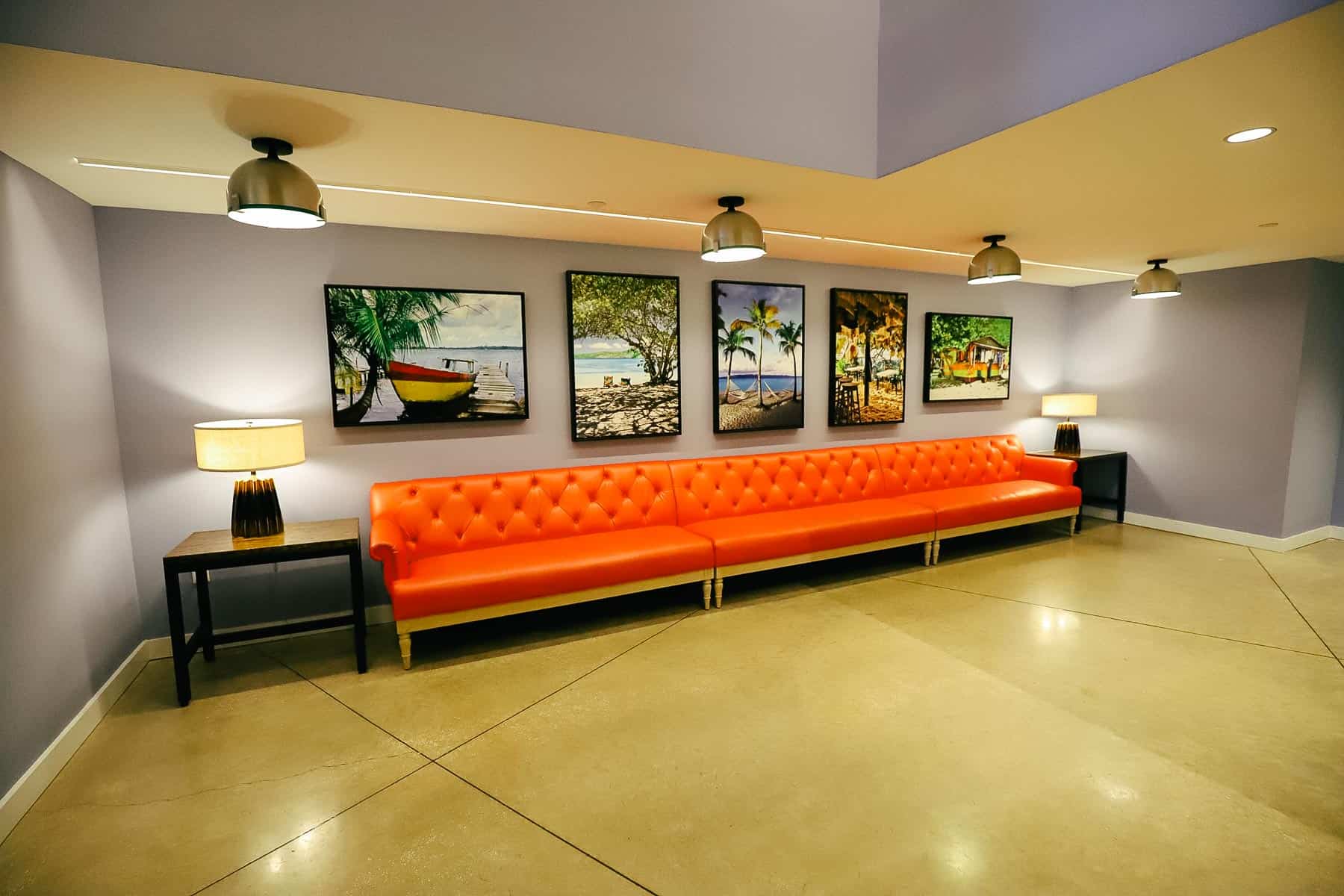 These small lobbies sit outside each guest house. They make for a great place to meet friends and family before heading to the parks.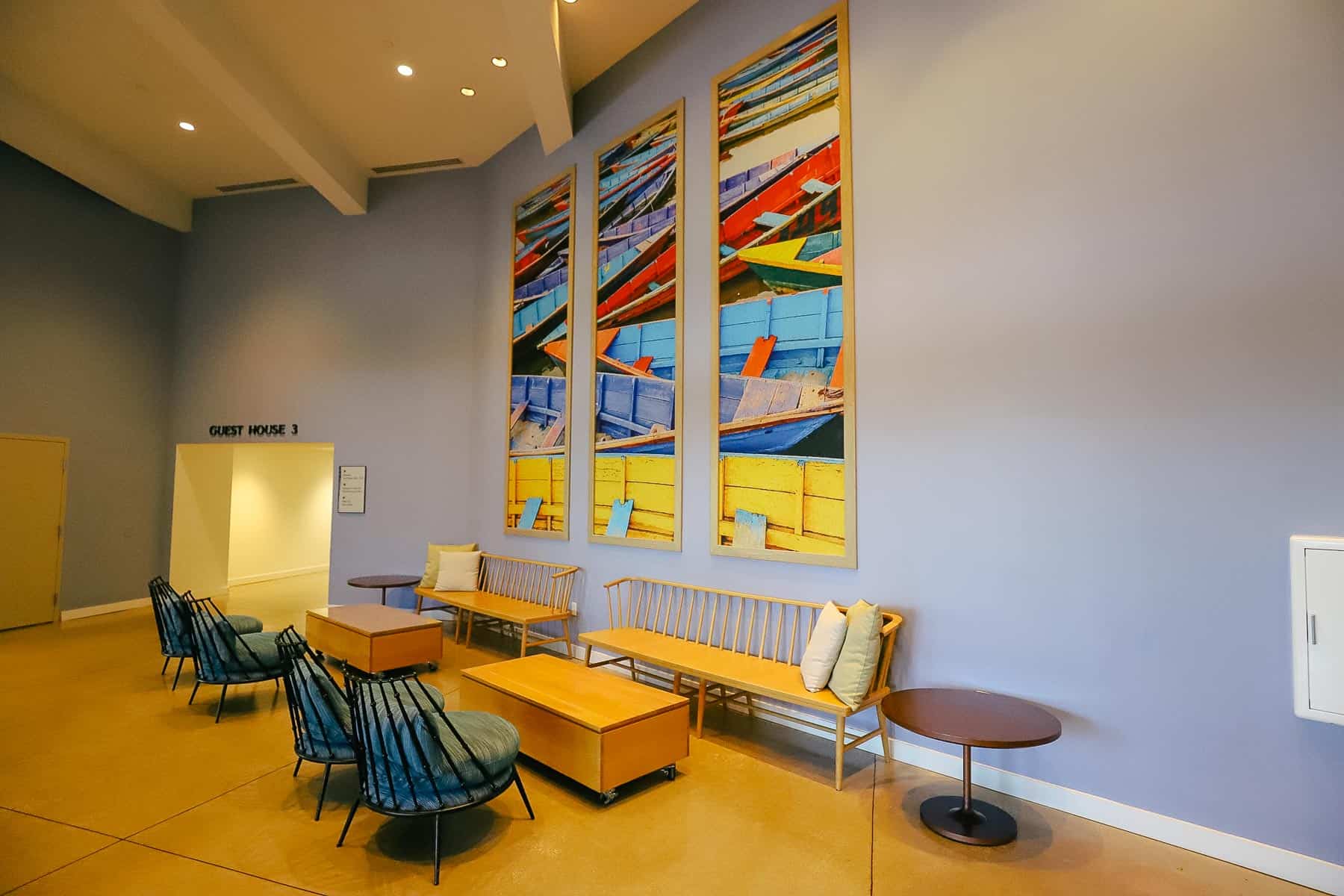 Outside, crystal blue waters form falls that spill out to the resort's gorgeous backyard. A large hallway with walls made of windows allows guests to walk above the waterfall area while enjoying the view from above.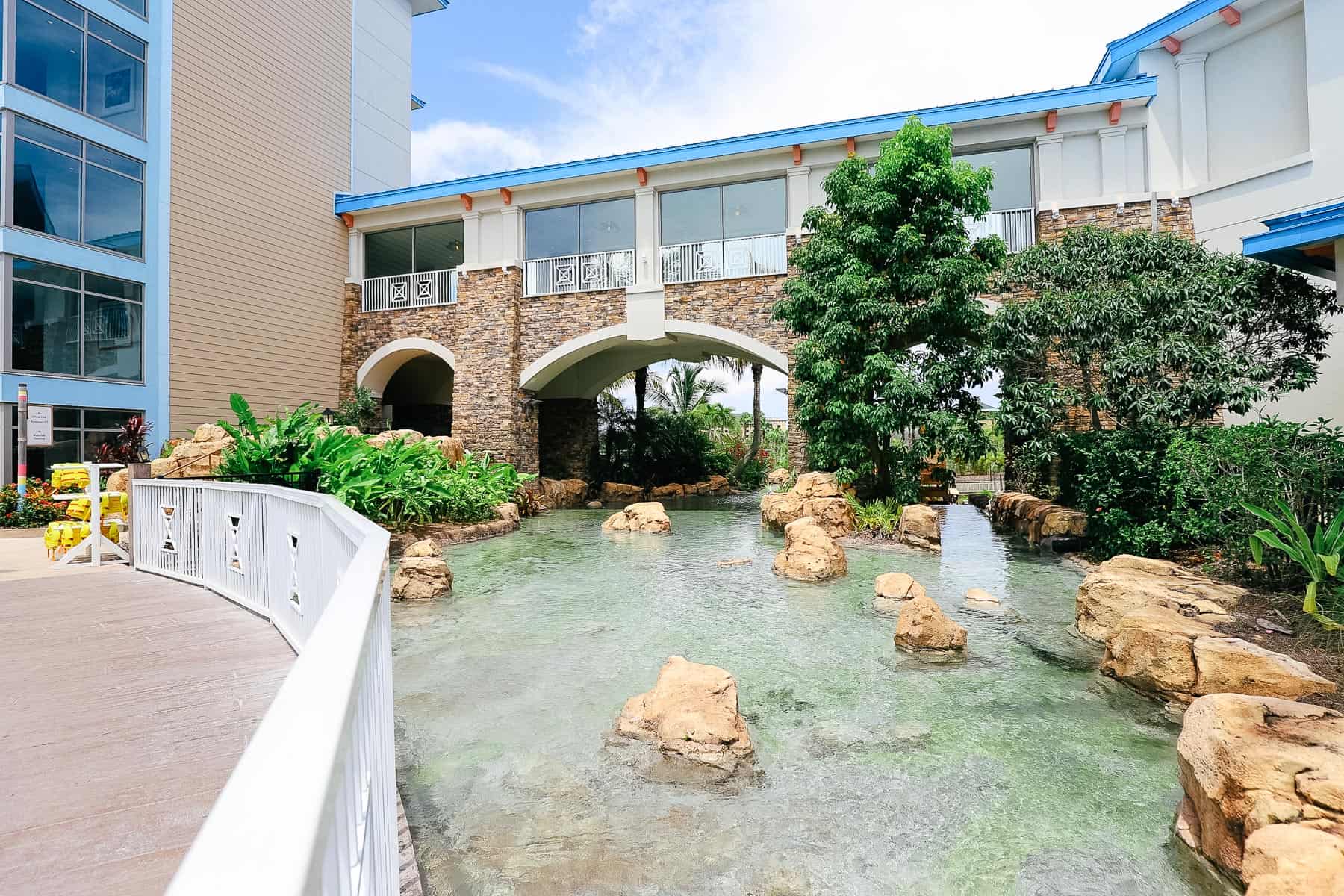 An outdoor staircase follows the waterfalls and leads to various paths around the resort.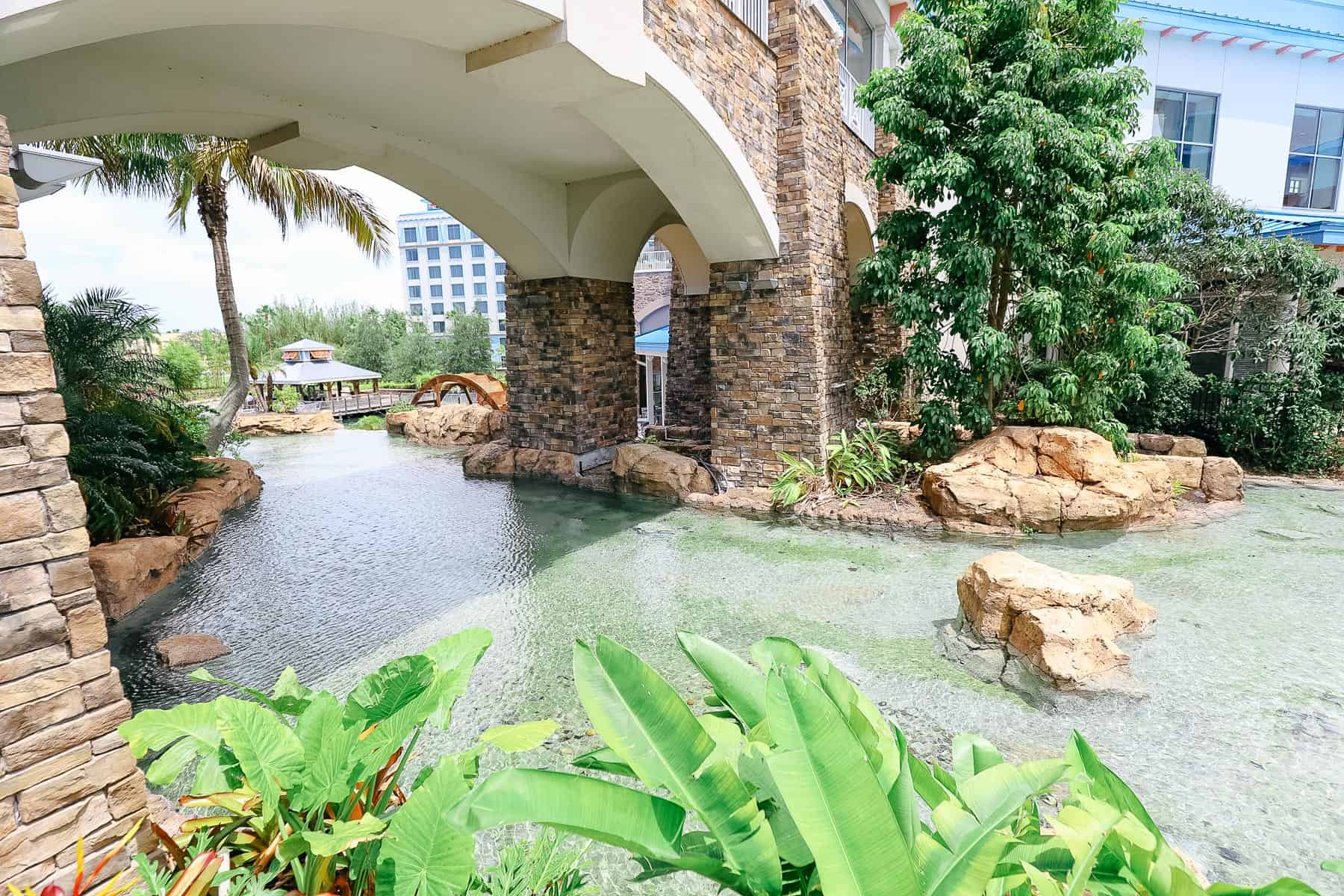 It's a gorgeous resort inside and out. However, while the resort is immersive, you'll still have views of the surrounding on-site hotels. Additionally, you can see select attractions from certain viewpoints in the distance.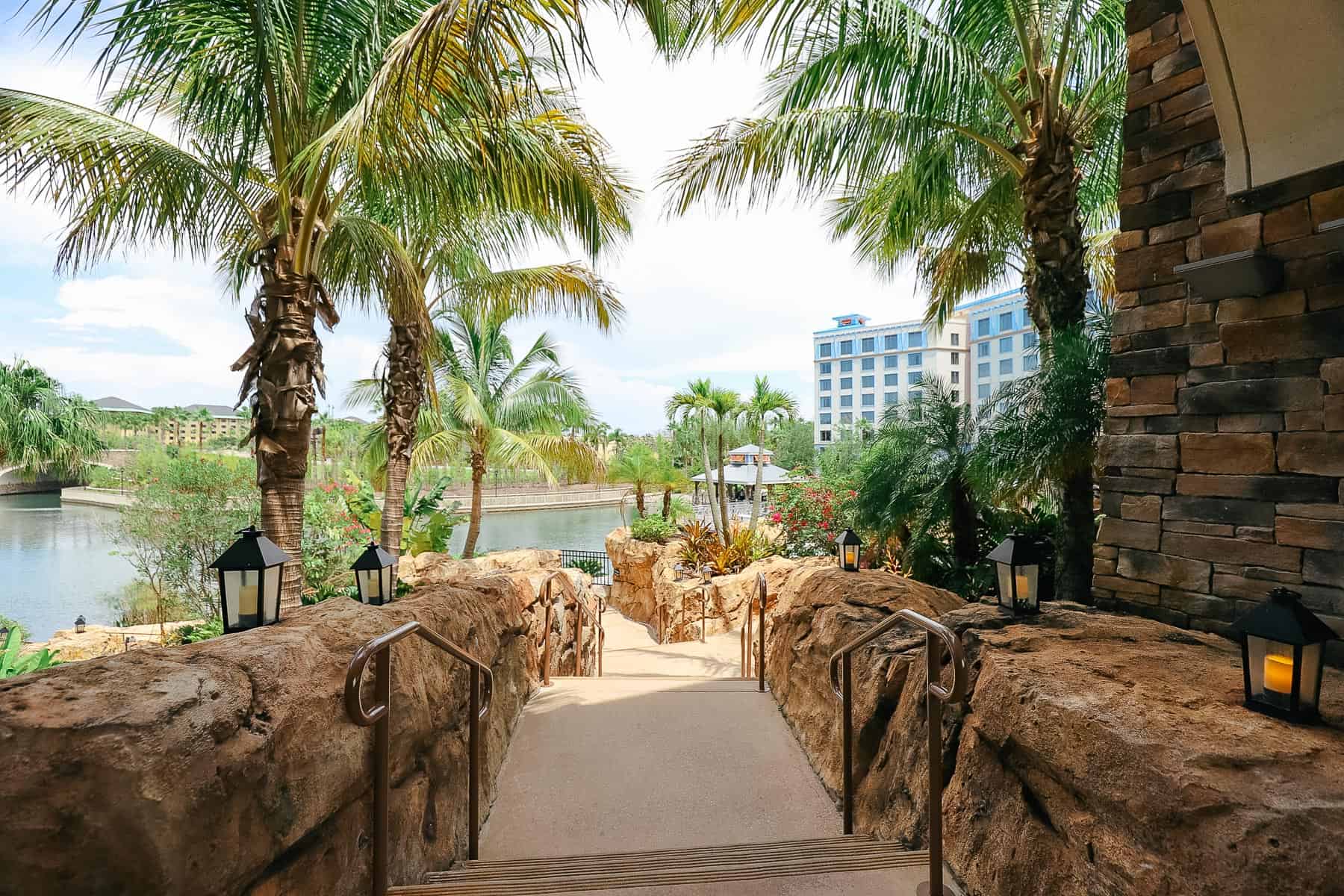 Here is a photo of Sapphire Falls from the back of the resort.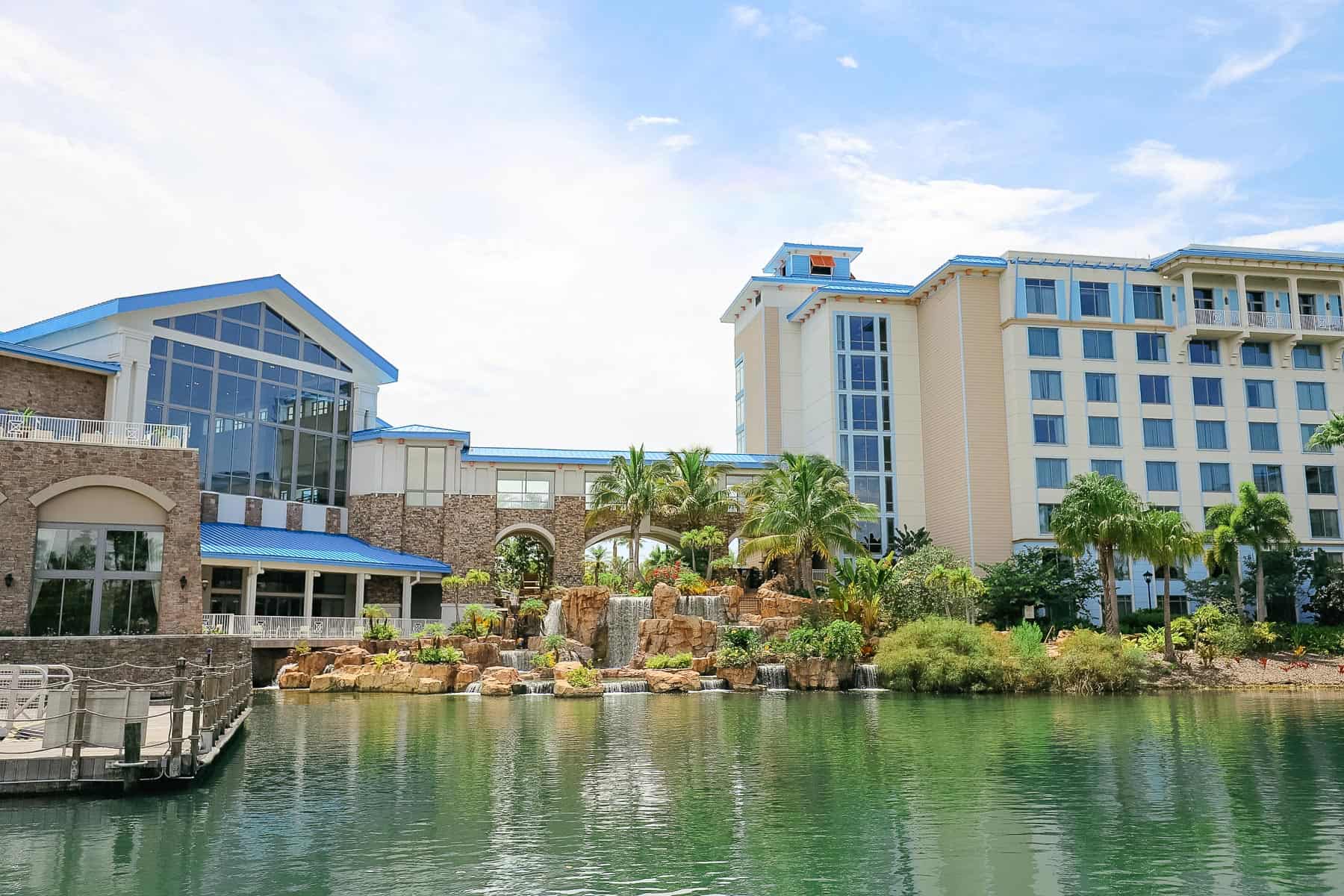 Rooms
Loews Sapphire Falls has several room types. A regular guest room has a standard view, typically a garden or resort view. Upgrades include a pool view or a lagoon view.
Standard rooms sleep up to four guests (a king bed with a queen sleeper sofa or two queen beds). Another option allows up to five guests in a standard room by adding a *roll-away bed. (*See Universal's Hotel Policy about additional fees.)
The following suites are also available: Kids Suites, King Suites, Sapphire Suites, Hospitality Suites, and Presidental Suites. We recommend checking with an authorized Universal Studios travel agent to learn more about these options.
For this stay, we were in a standard room with a resort view. Our room was on the resort's lower level near the main lobby. So we found it exceptionally convenient to get around the resort and access the various transportation options.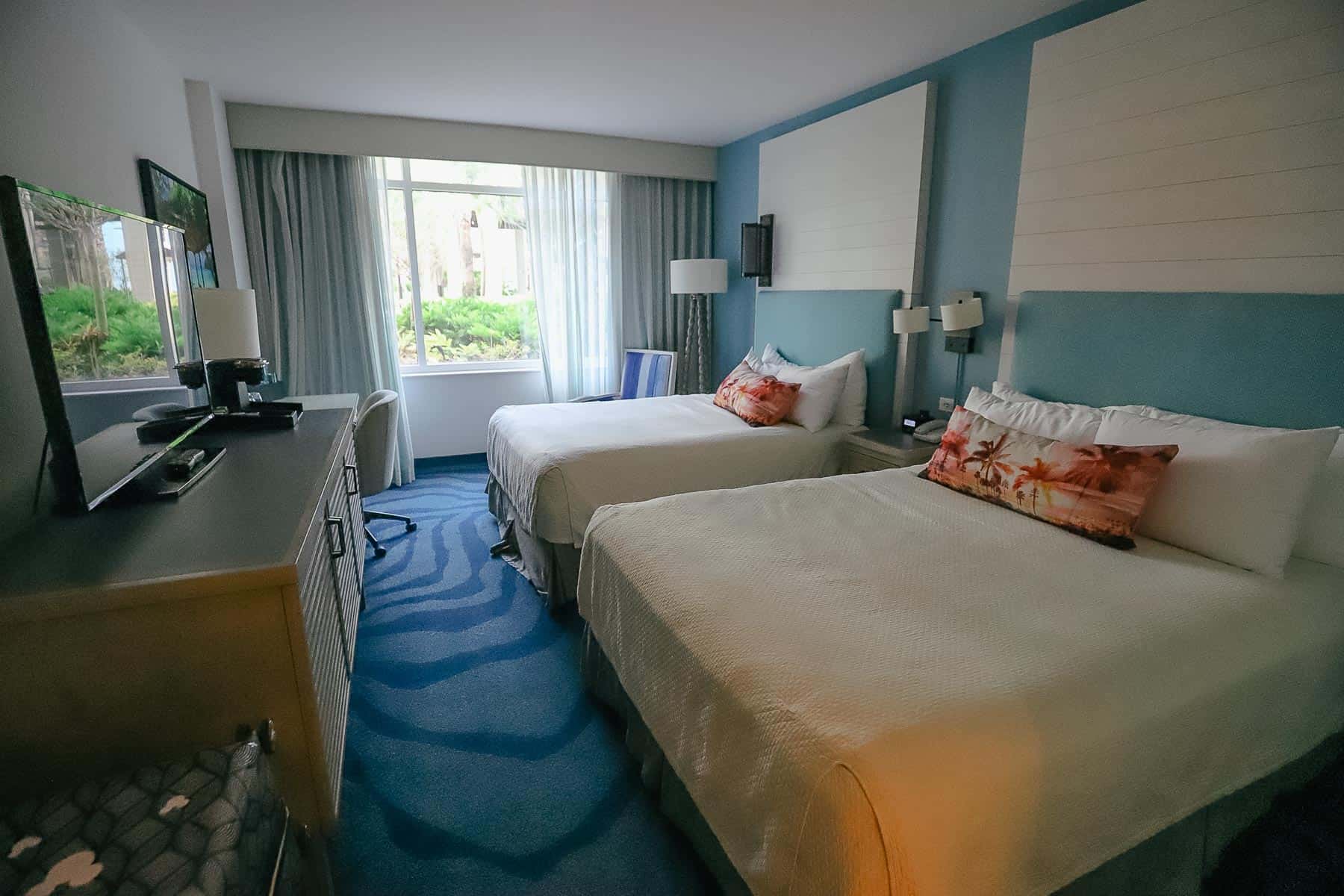 Our room featured two queen-size beds and felt like an island retreat. It was a calming space that provided a place to relax and decompress from the hot weather and crowds.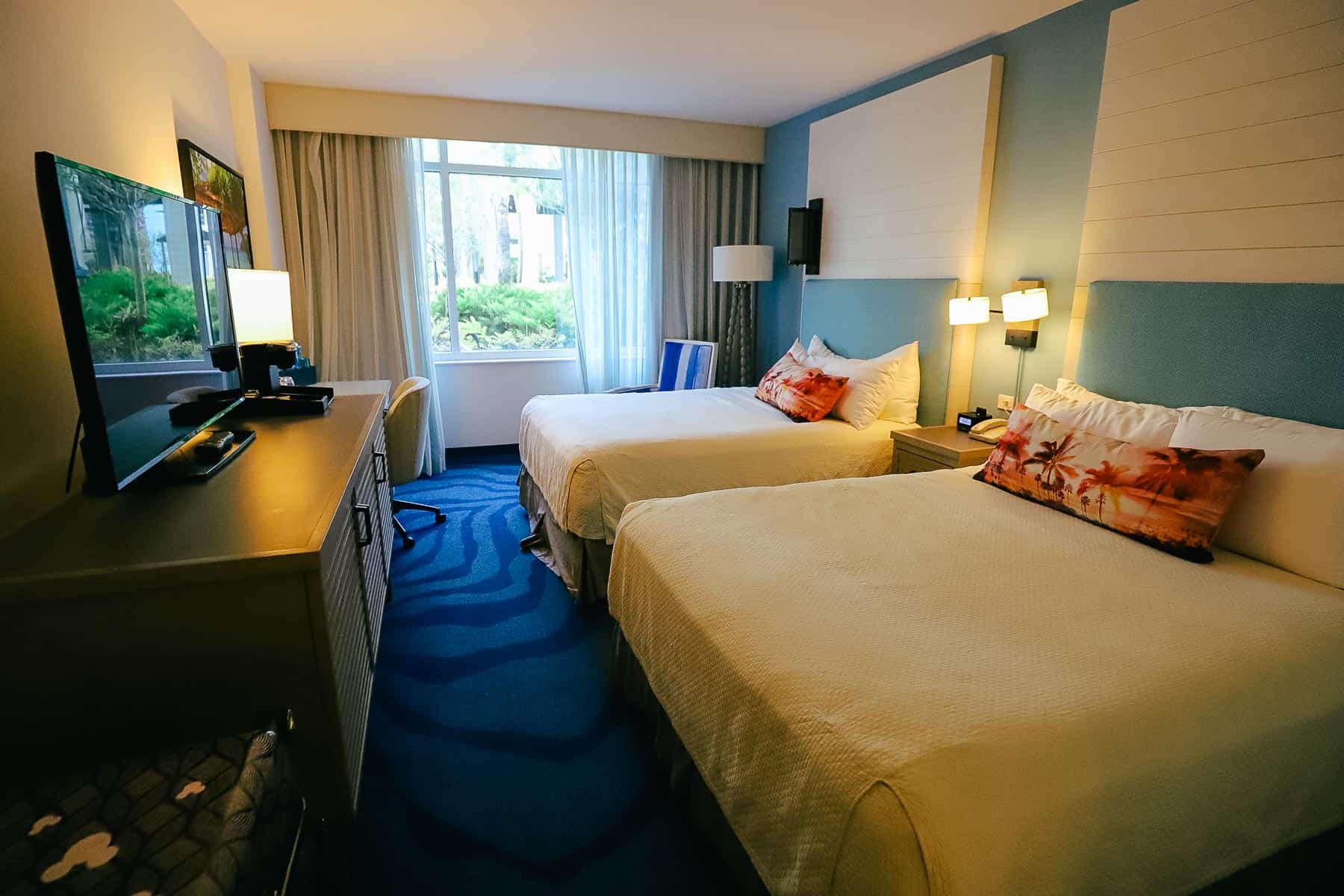 We had a flat-screen television and a dresser with storage space.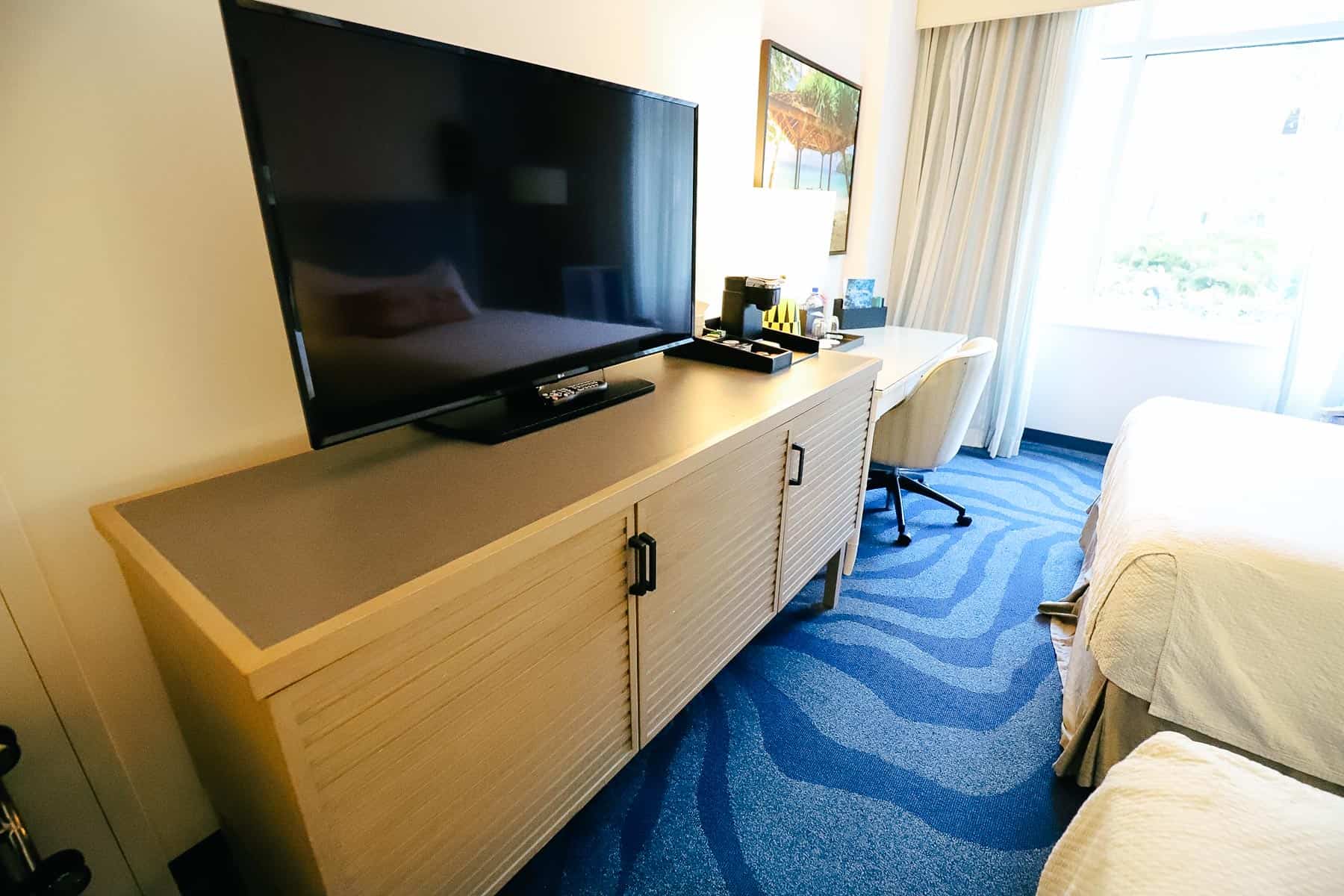 A cabinet on the far right of the dresser opened to reveal a mini-fridge. However, these newer room fridges are considered beverage coolers. They are intended to chill water and other drinks. Rooms do not include microwaves. But from my understanding, you could request one. But they are not guaranteed.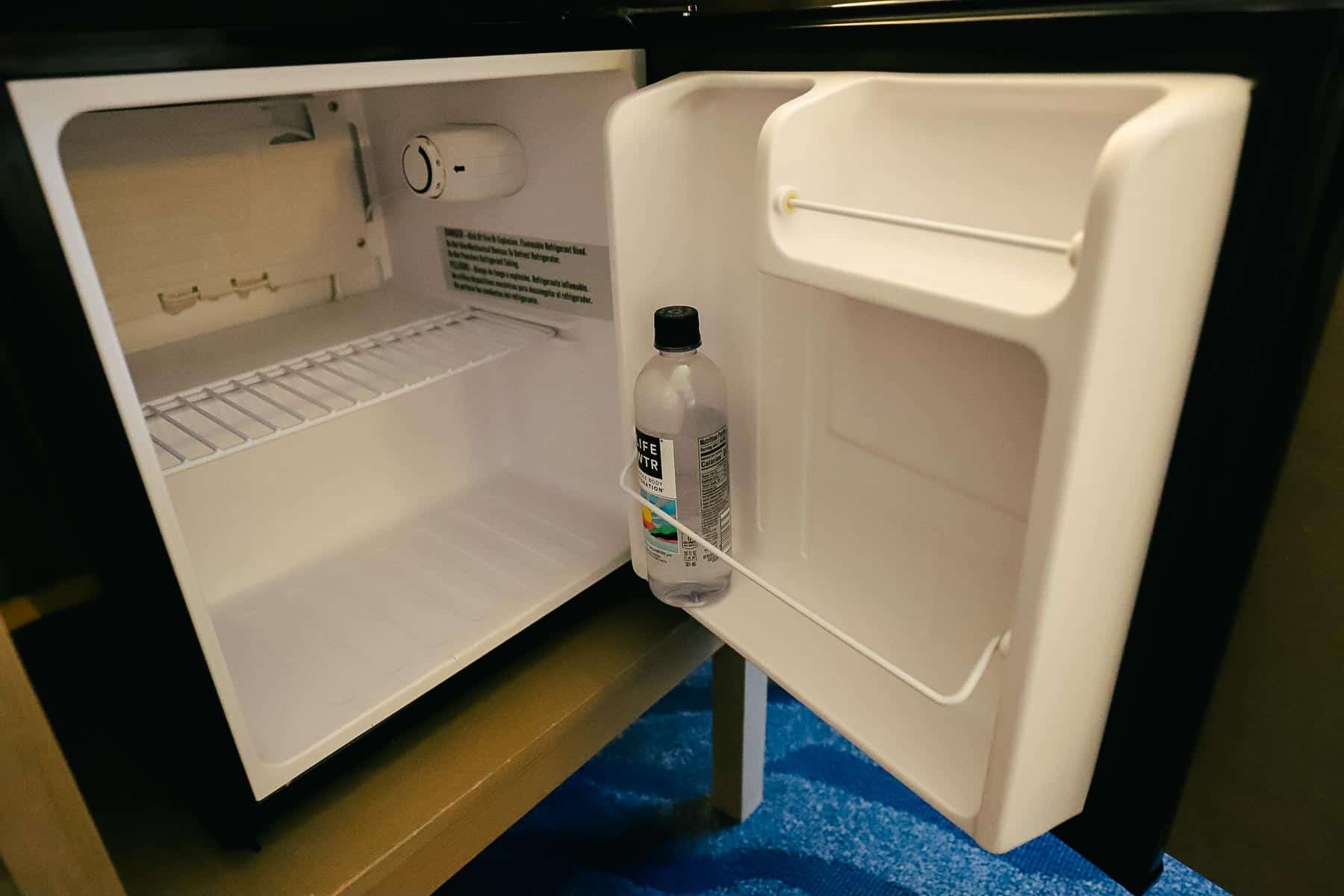 A desk with a chair sits in the corner of the room.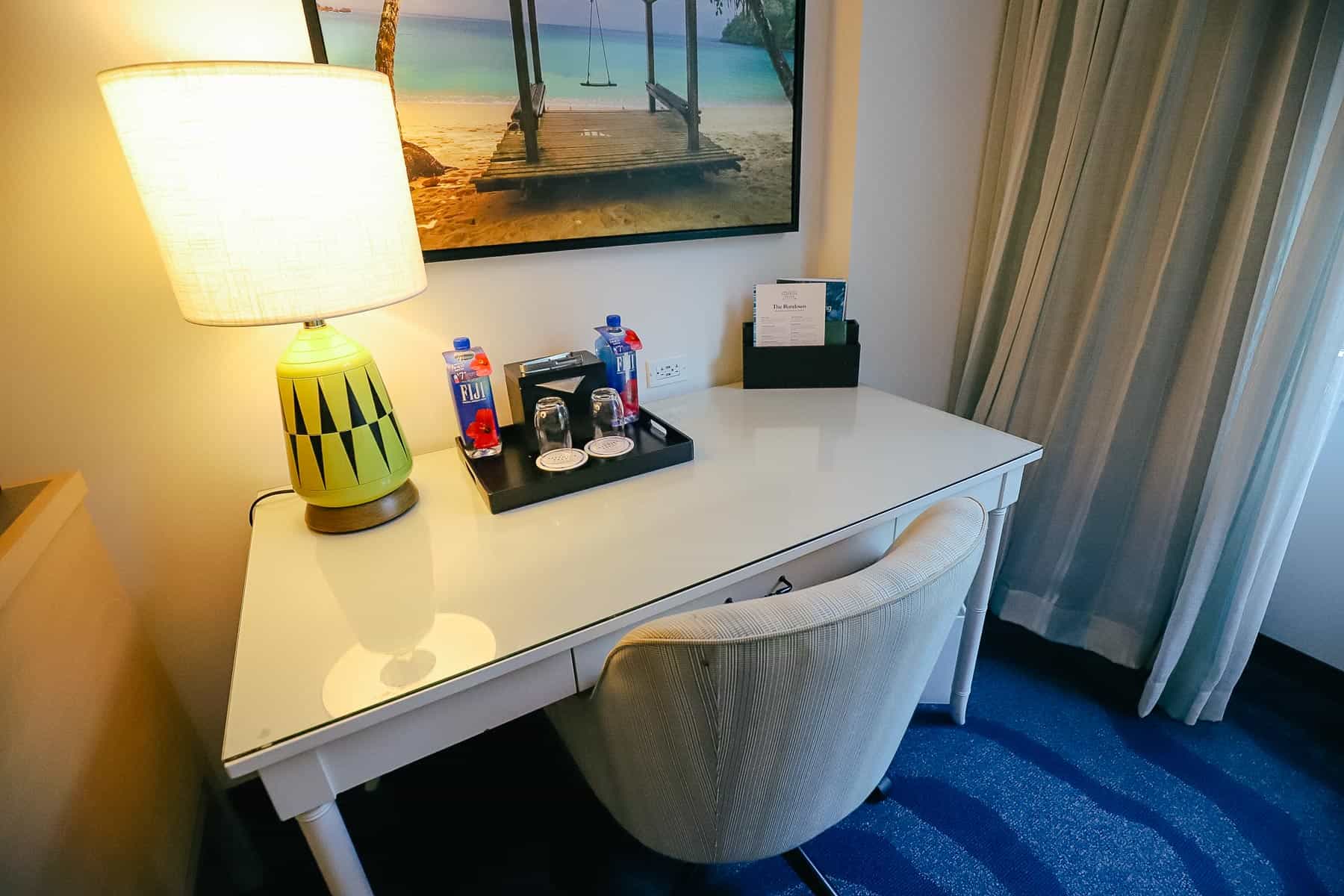 Several glasses and an ice bucket were available. However, you might not want to open the Fiji water since it costs extra. With that said, the glassware was appreciated.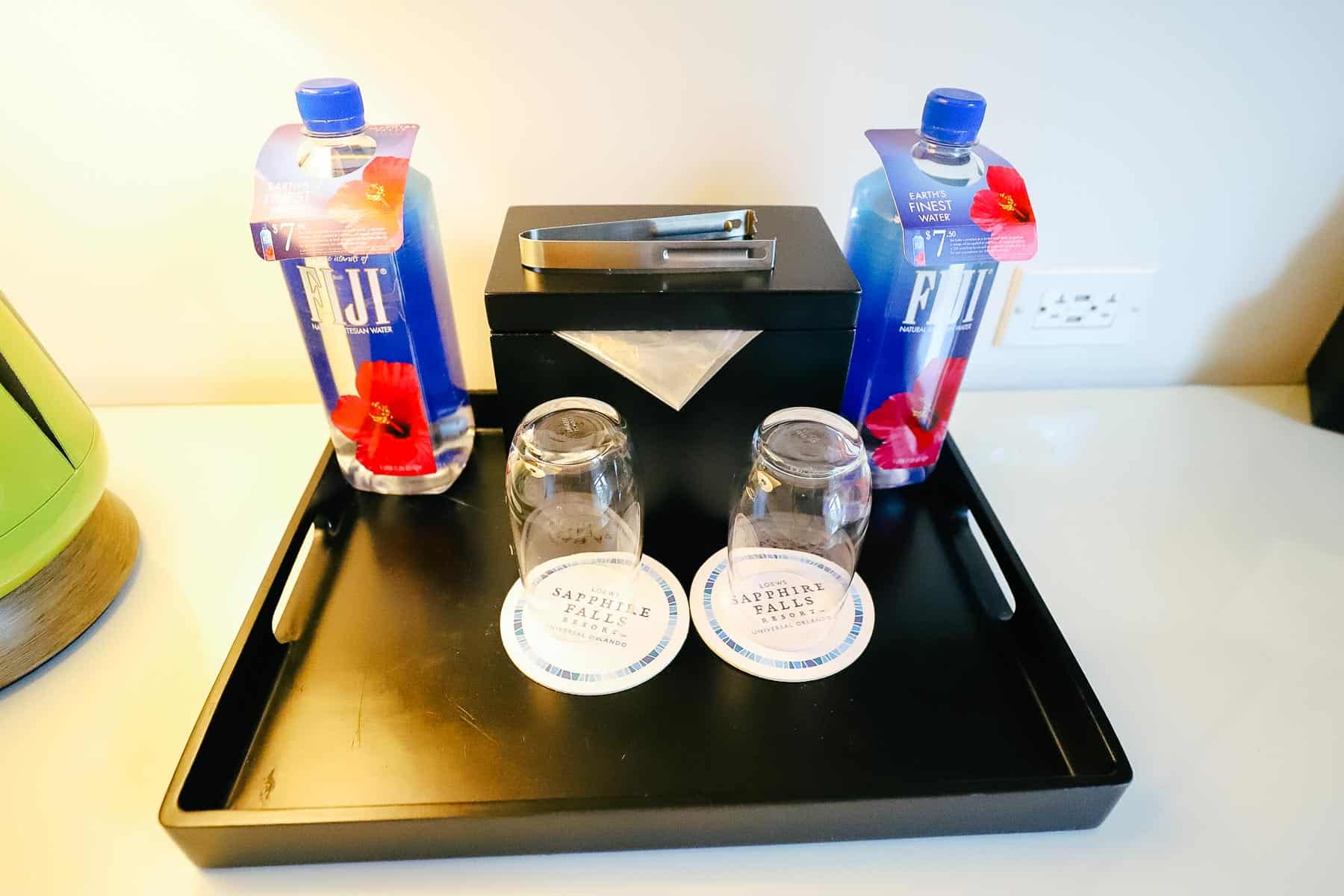 An individual coffee-cup maker was also available. I would be shocked to find a room without one.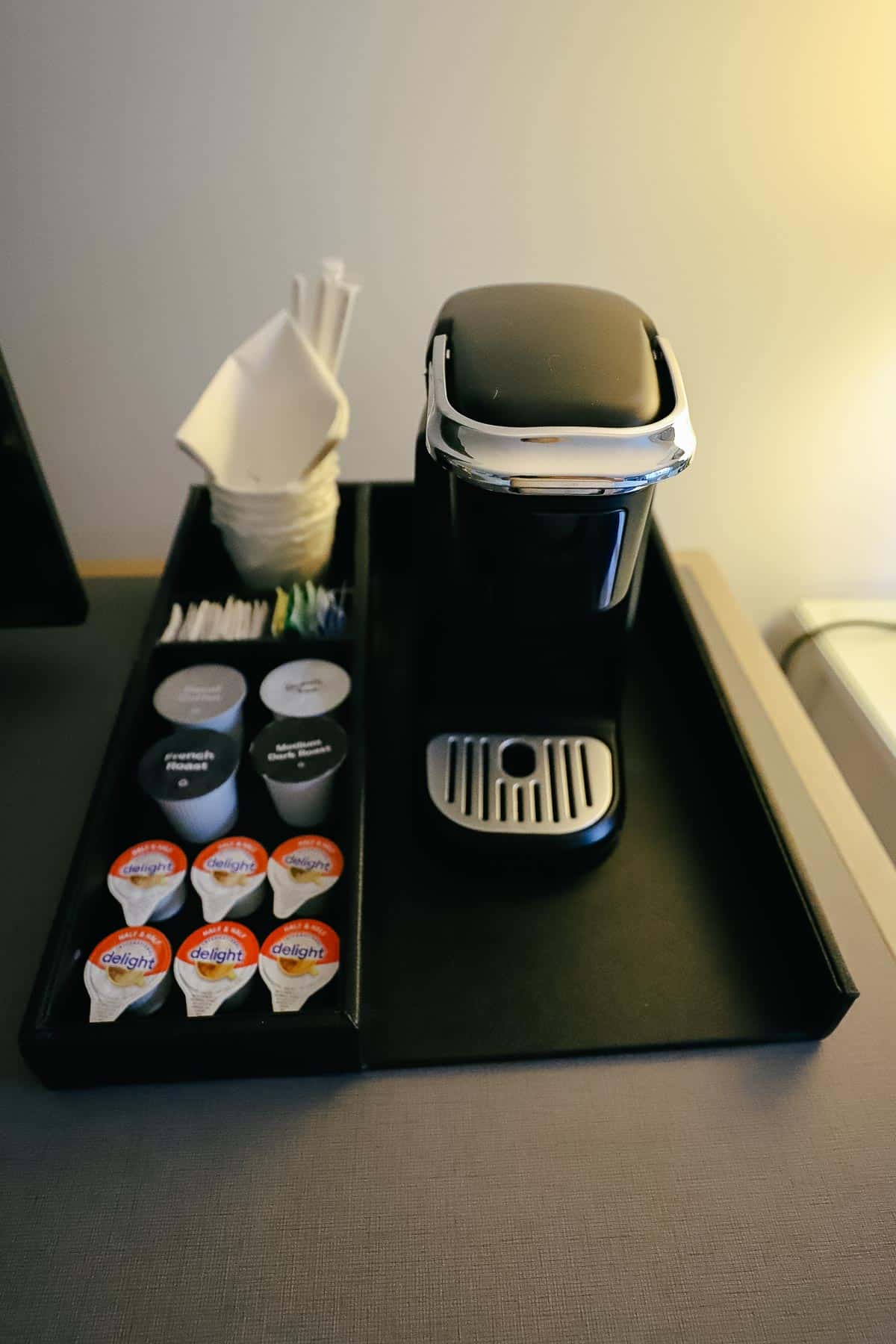 Our bathroom had a nice layout. A vanity area sits outside of the water closet. It featured a sink, counter space, and open shelves to store items underneath. A hair dryer, make-up mirror, and other toiletries were available.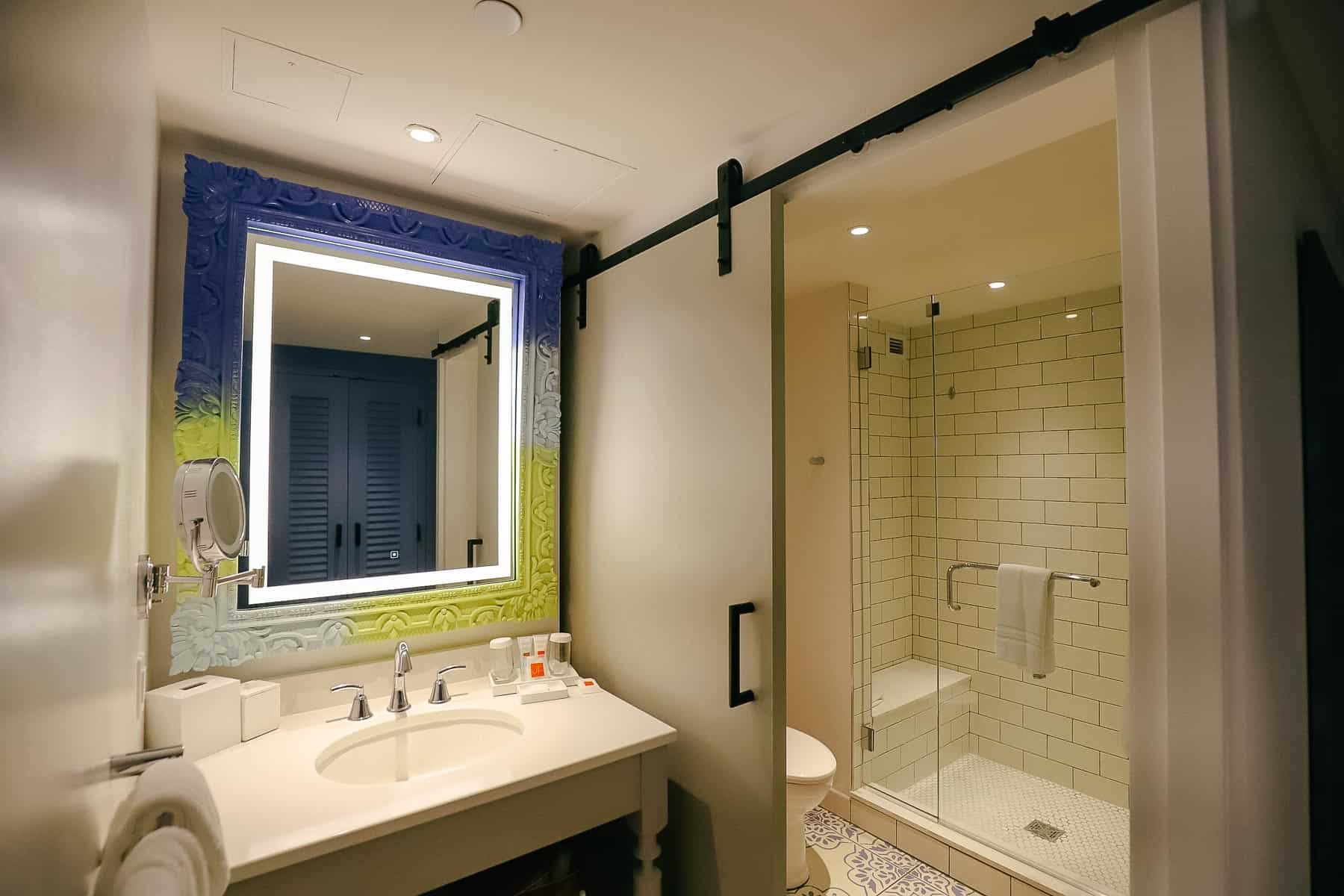 While the bedroom portion of the room had carpet, the entryway and bathroom had a pretty patterned tile.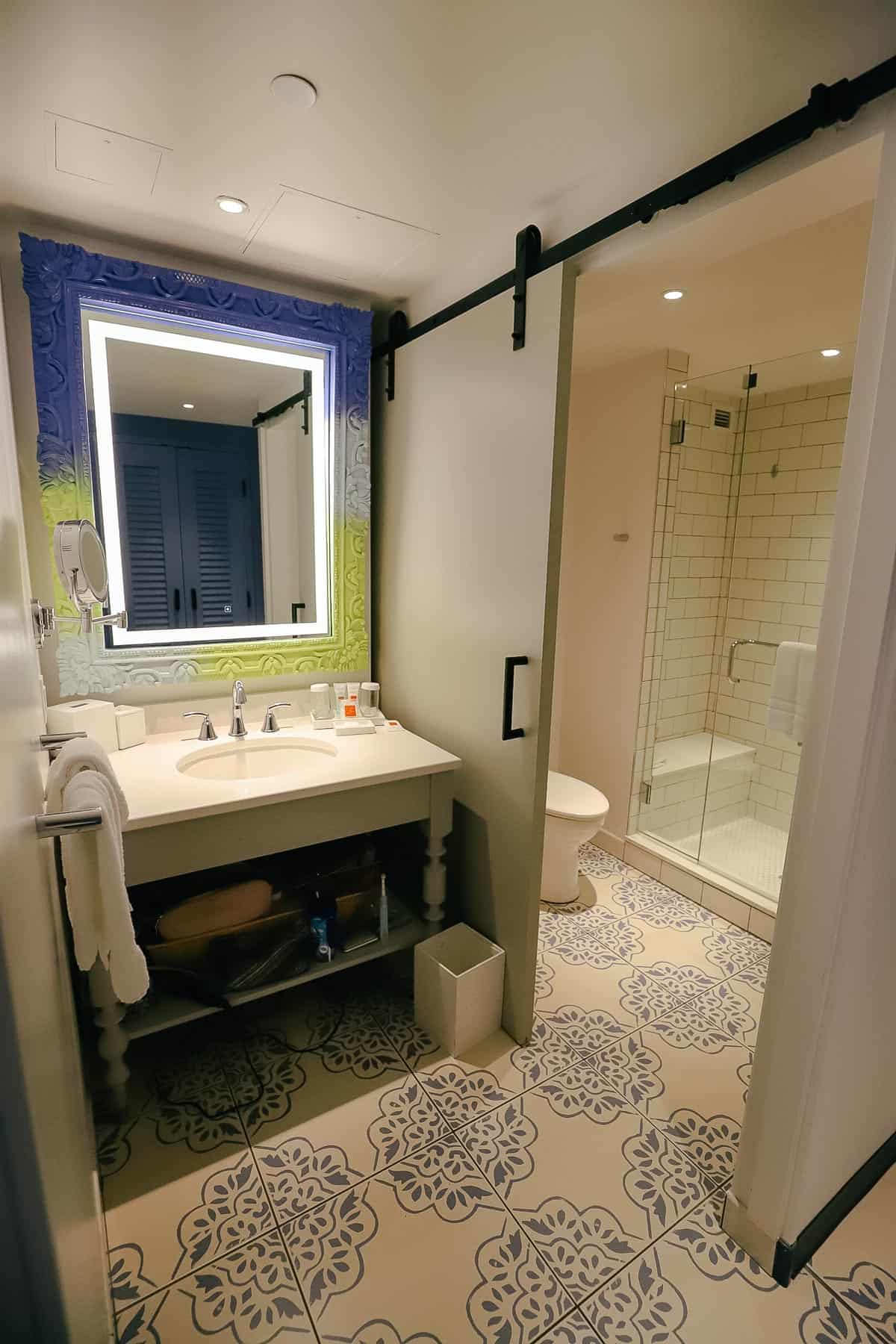 We had a walk-in shower with a built-in bench toward the back. We did not have an adjoining room. However, they are available.
Regarding the room, we didn't have any significant complaints. But we did hear some noises, especially other guests coming and going early in the morning, which indicated the walls are somewhat thin. So if you had loud neighbors, it could affect your stay.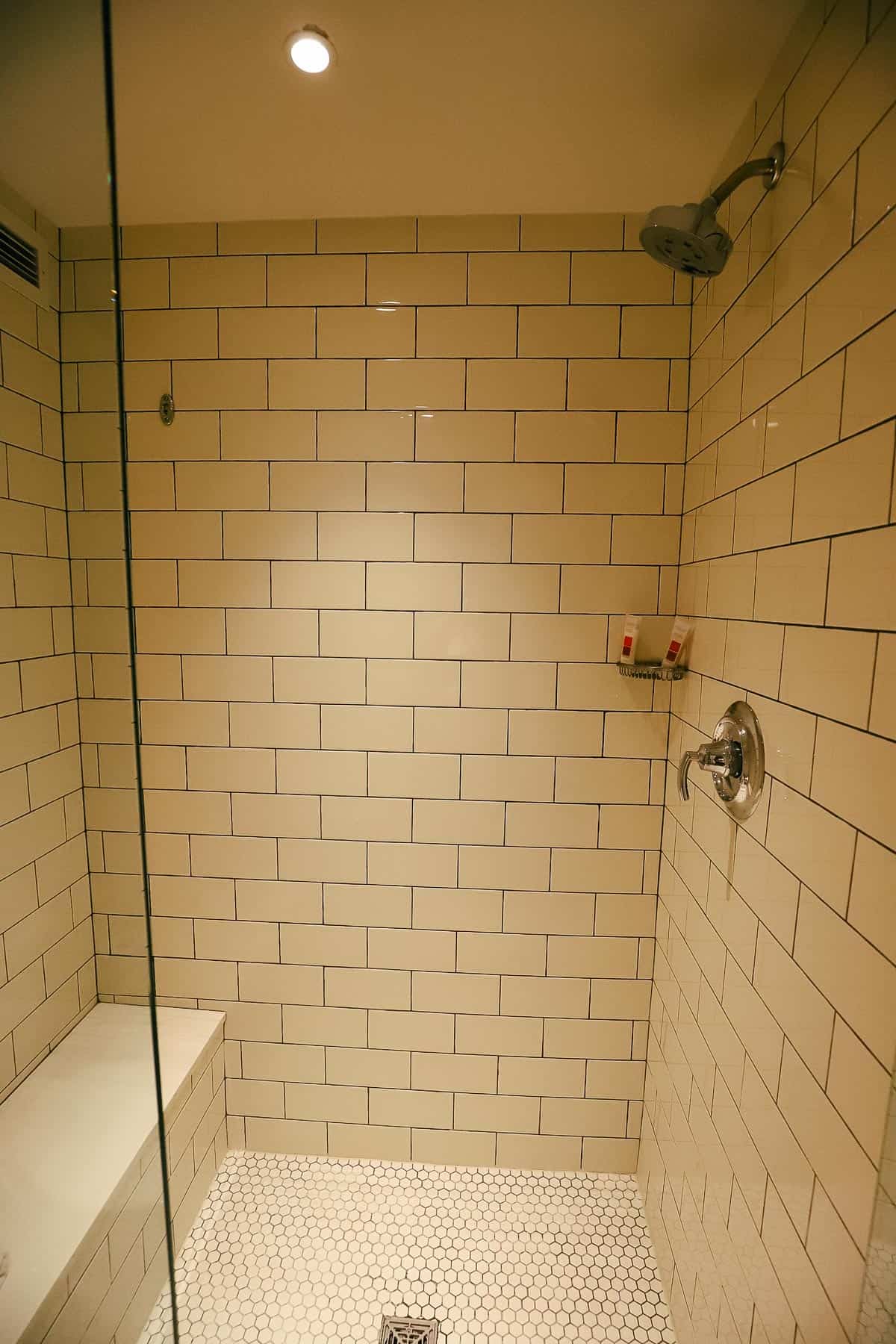 Room Tour
Here is a quick video tour of our room at Sapphire Falls.
Food Options at Loews Sapphire Falls
We were impressed with the food options at Loews Sapphire Falls. Throughout our stay, we enjoyed multiple meals at the resort and felt there were plenty of options. Some other hotels in Orlando could take a hint.
We'll start with New Dutch Trading Co., the resort's primary location for quick service, snacks, and beverages. You'll find New Dutch a few steps off the lobby.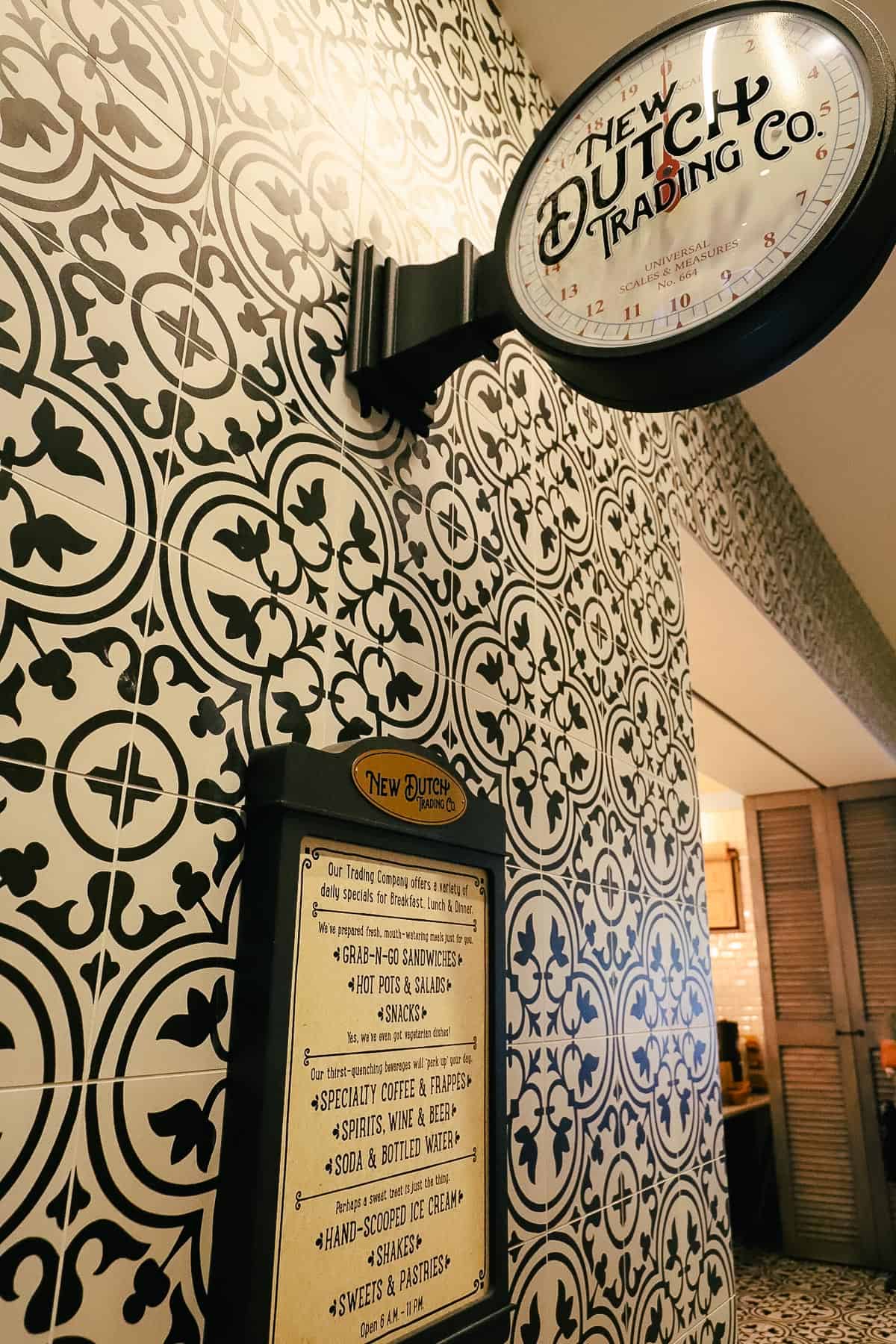 Inside, you can select from a variety of grab-and-go items or order something. New Dutch Trading Company is open from 6:00 a.m. until 11:00 p.m. and serves cooked-to-order breakfasts, lunches, and dinners.
Between the convenient hours and variety of freshly prepared items at the quick service, I realized it was a great disservice not to provide coverage of Universal Orlando's Resorts. So don't be surprised if your opinion changes as we explore options allowing us to hold other resorts accountable to higher standards. Mine has.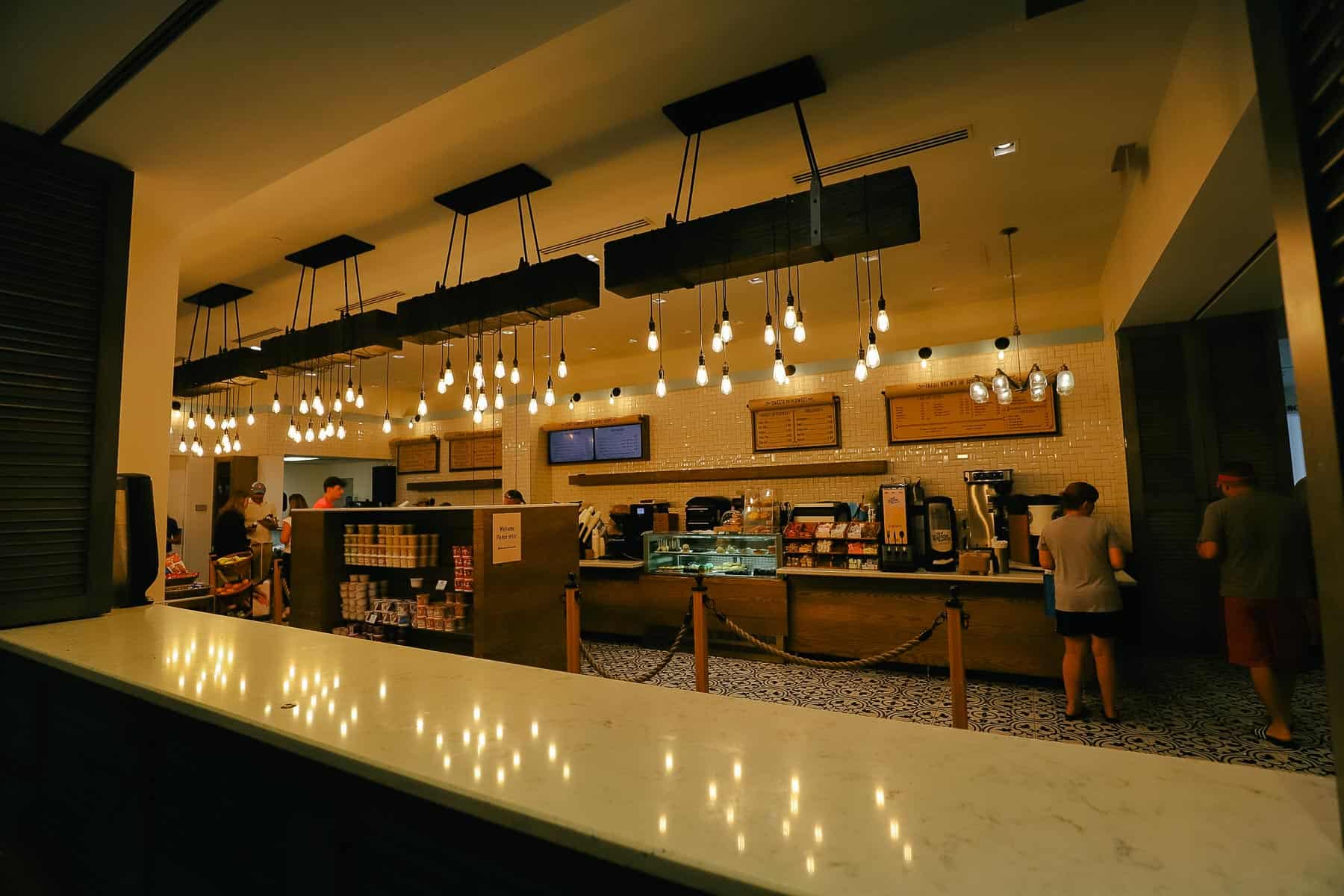 Signage outside New Dutch Trading Co. provides an overview of what you can expect, like grab-n-go sandwiches, hot pots, salads, and snacks. Specialty coffee drinks are also available.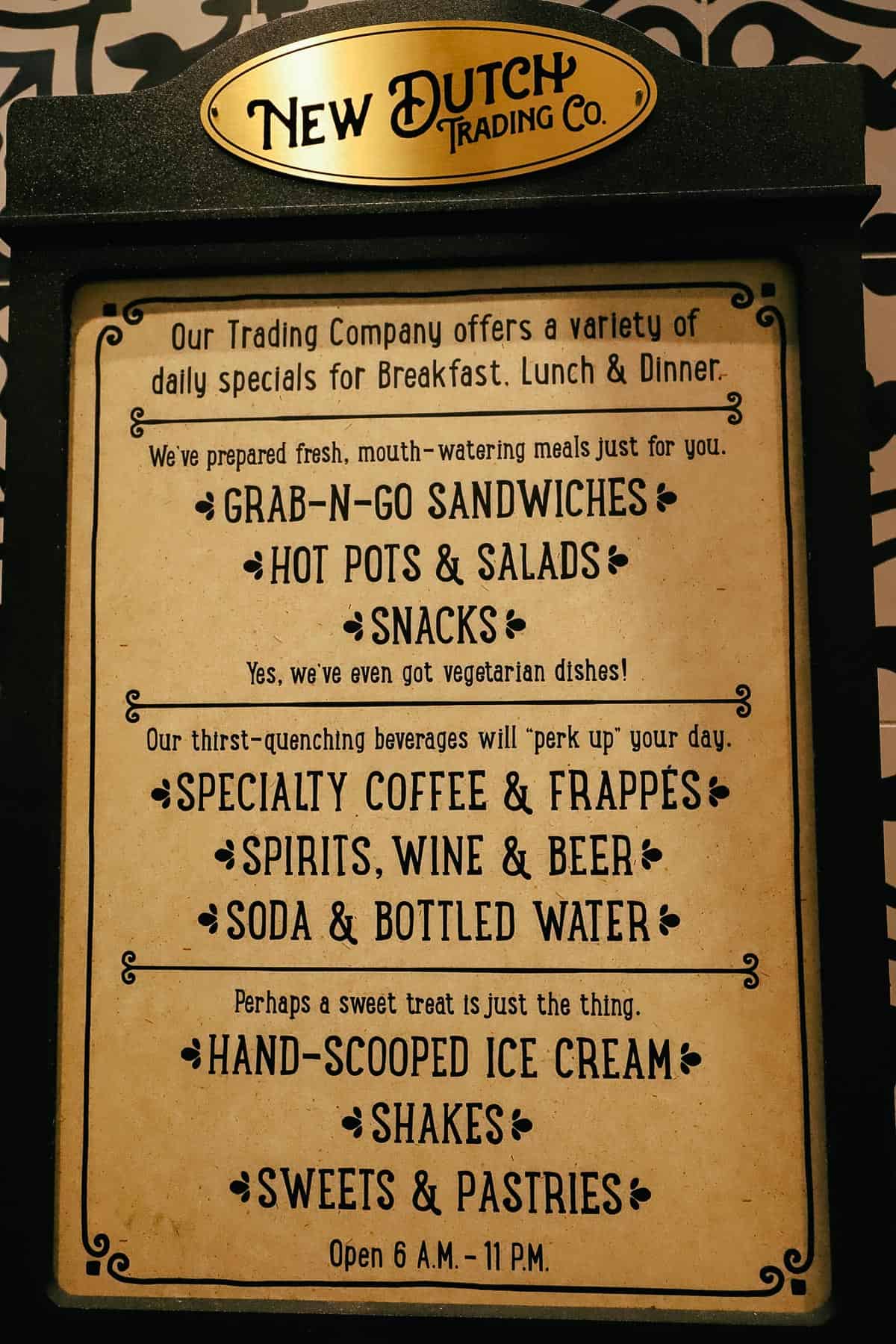 Several display cases offered an array of treats and pastries.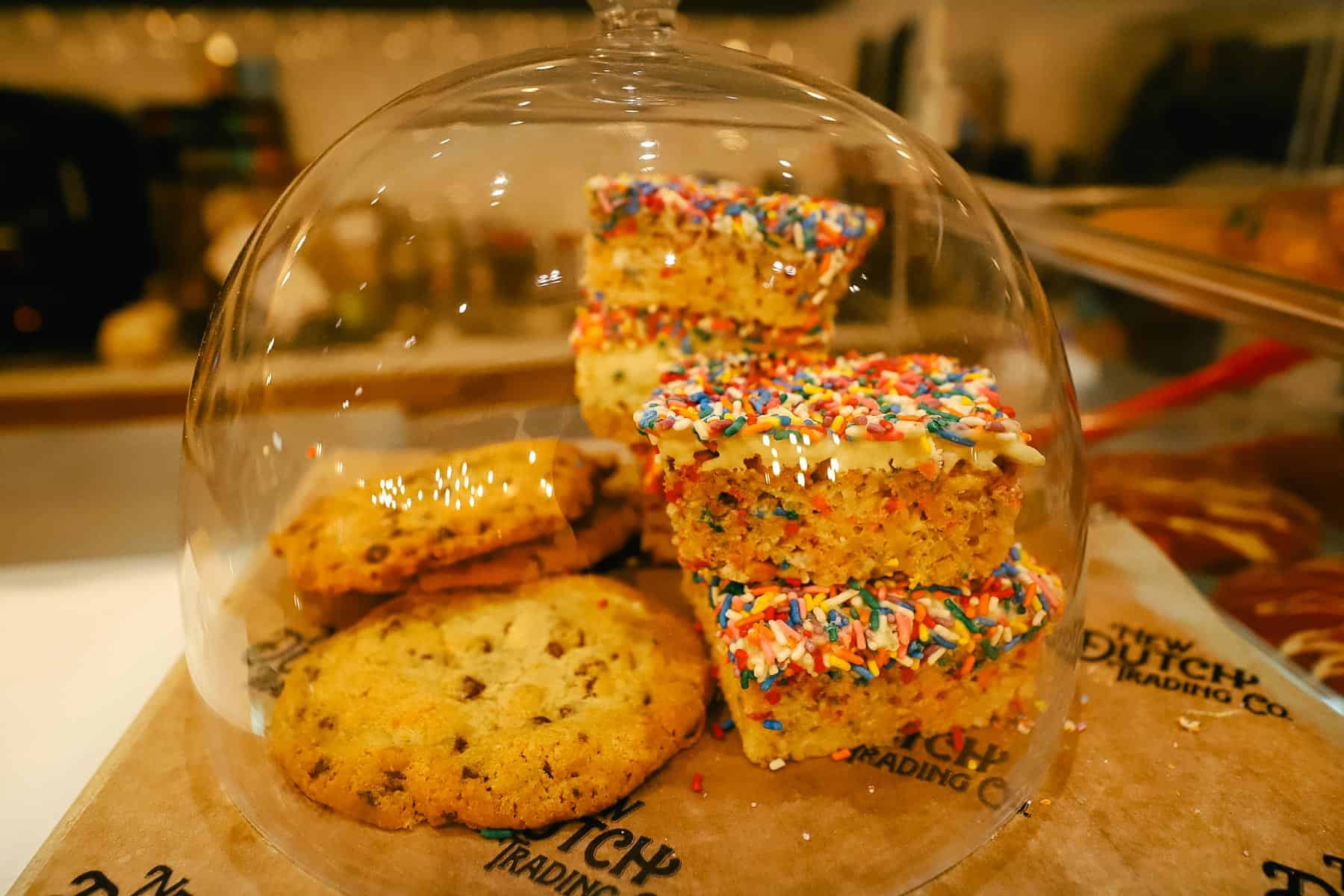 It was exciting to see so many options adequately displayed. I don't know about you, but I have difficulty deciding what I want when I see these items. Whereas if each of these items had been stacked in fogged plastic containers, I wouldn't have given them a second glance.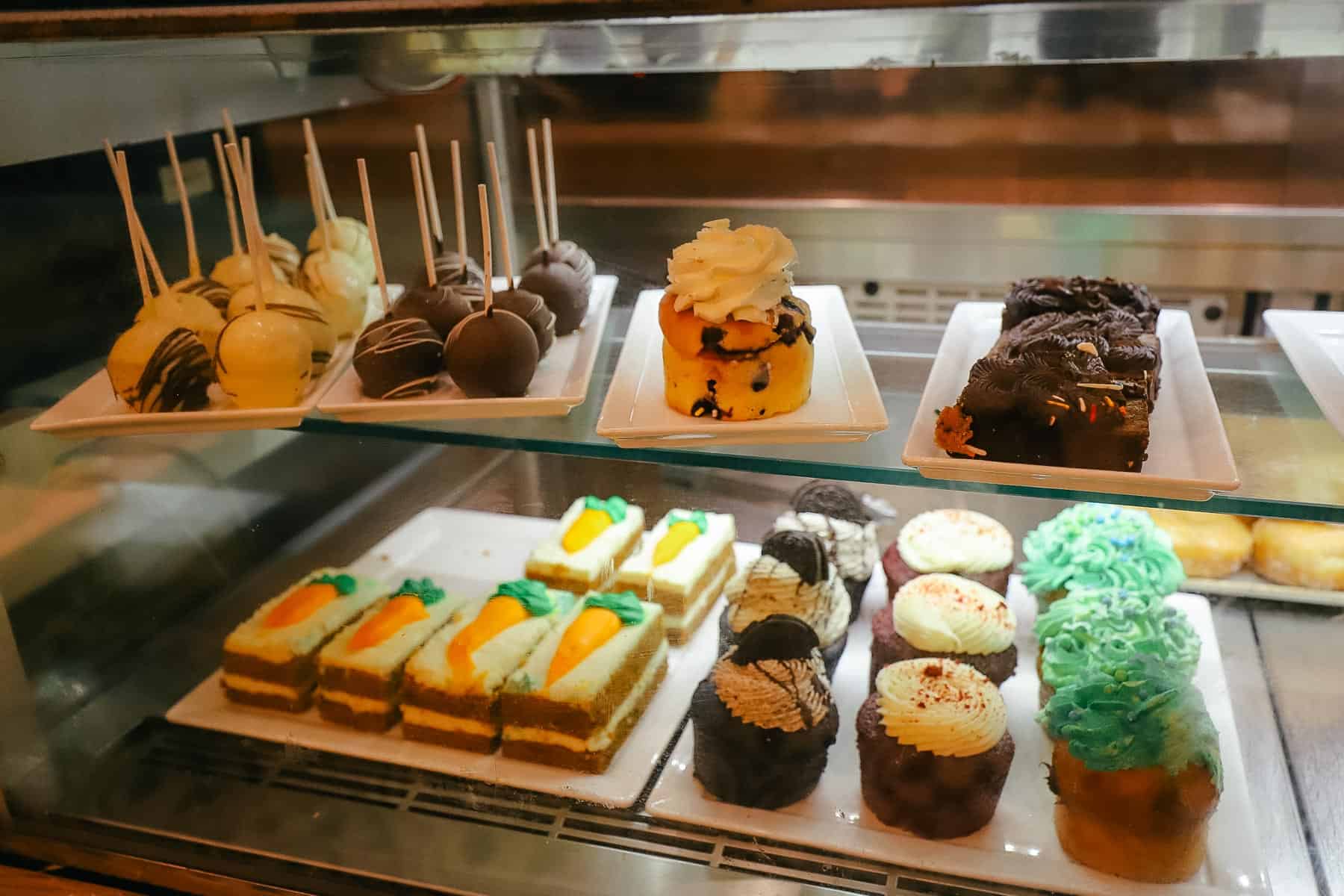 It was more of a question of which one I would try each night of my stay!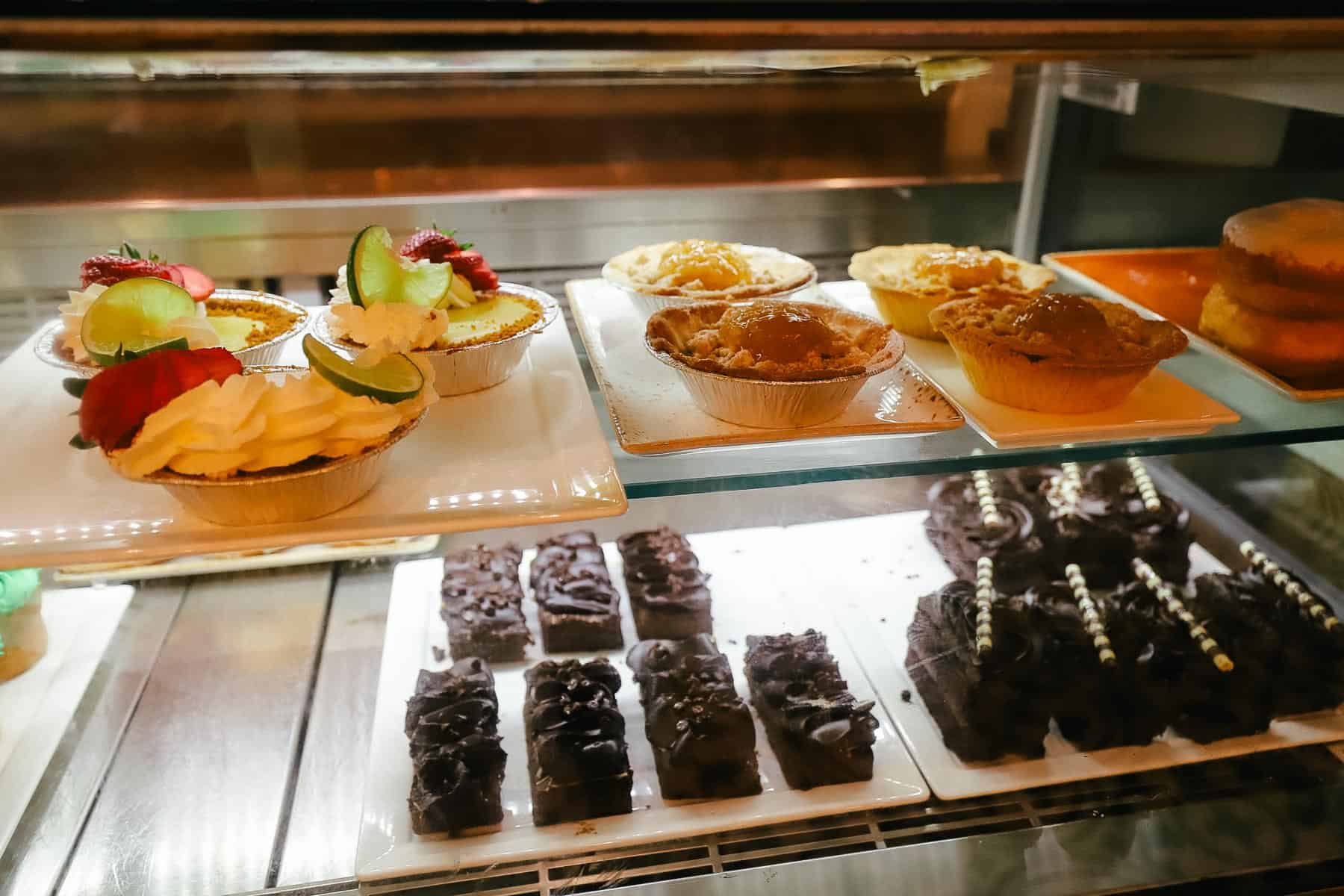 Ultimately, I ended up with one of these large chocolate chip cookies, and I assure you it didn't disappoint.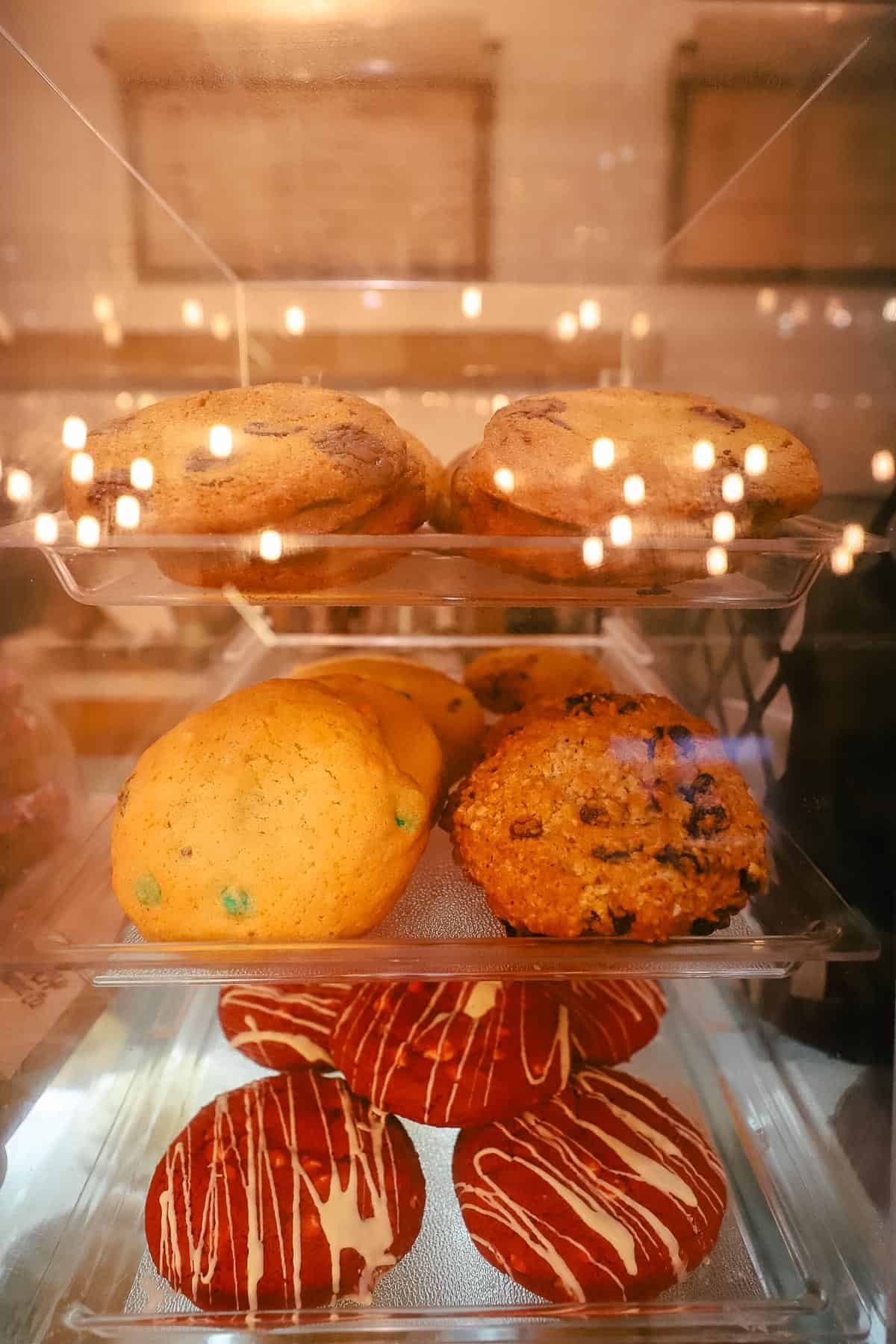 In addition to the various pastries, we see chips, nuts, and Pringles.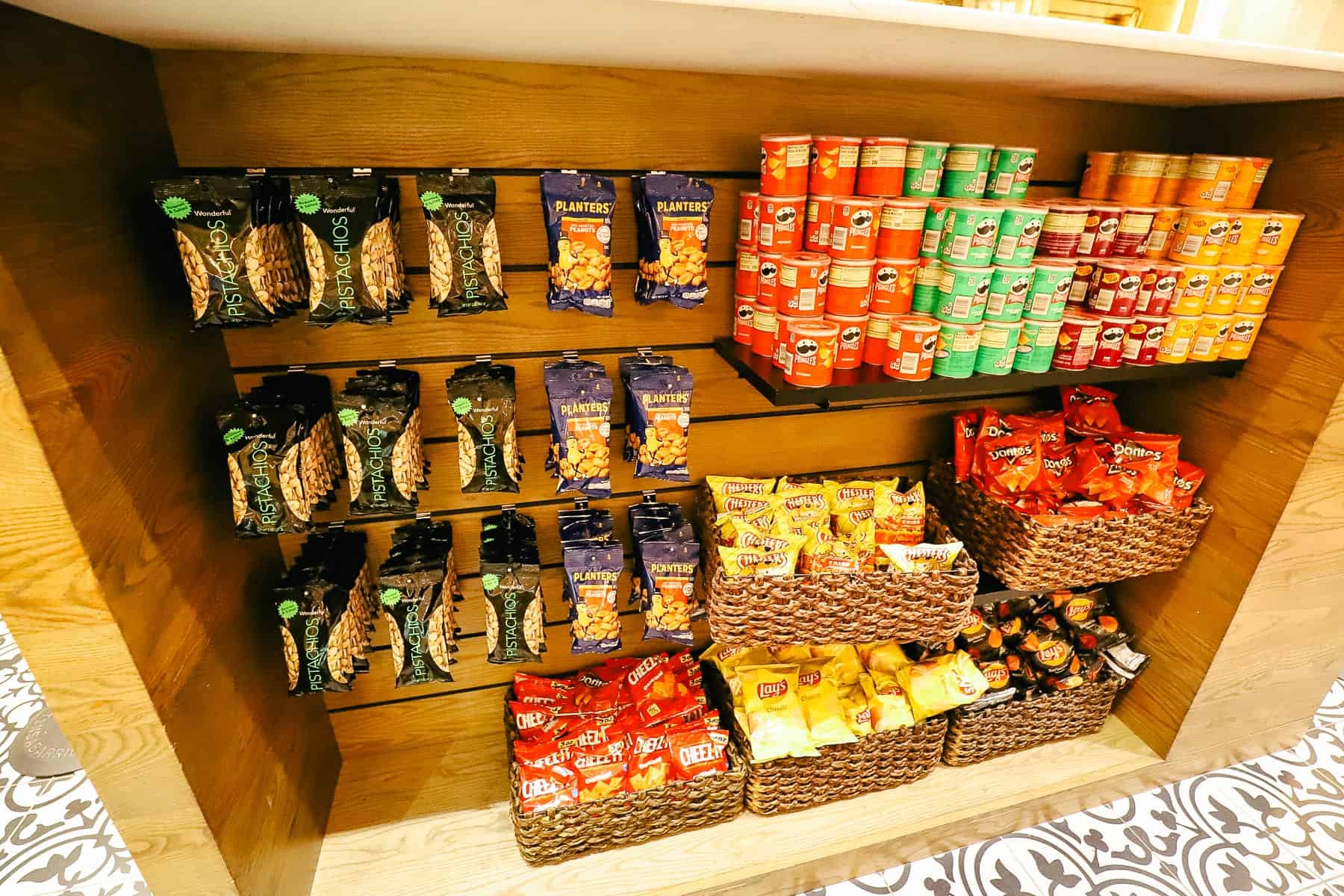 Various cereals and oatmeal flavors were also available.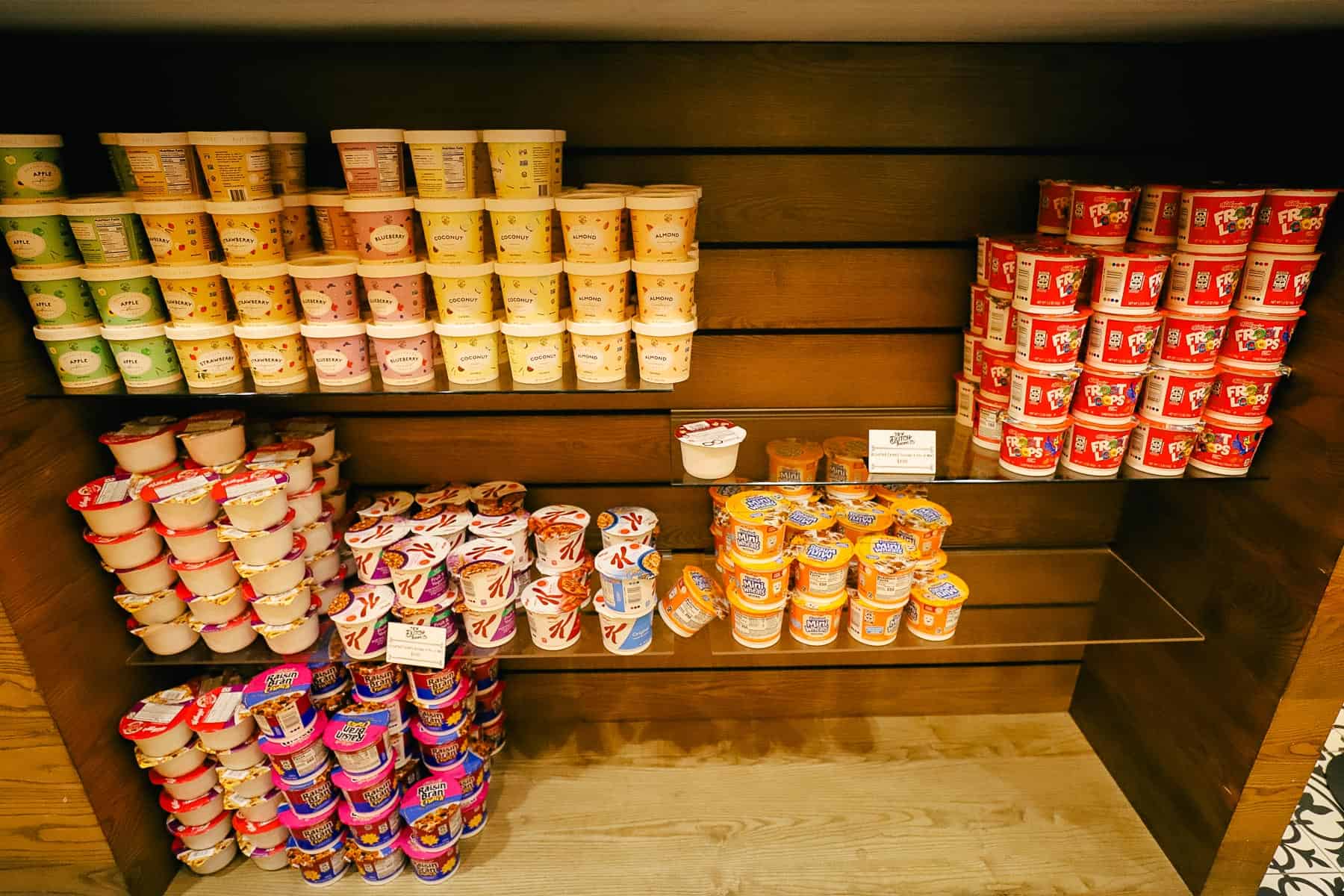 Here we have Bugles, Chex Mix, and shortbread cookies.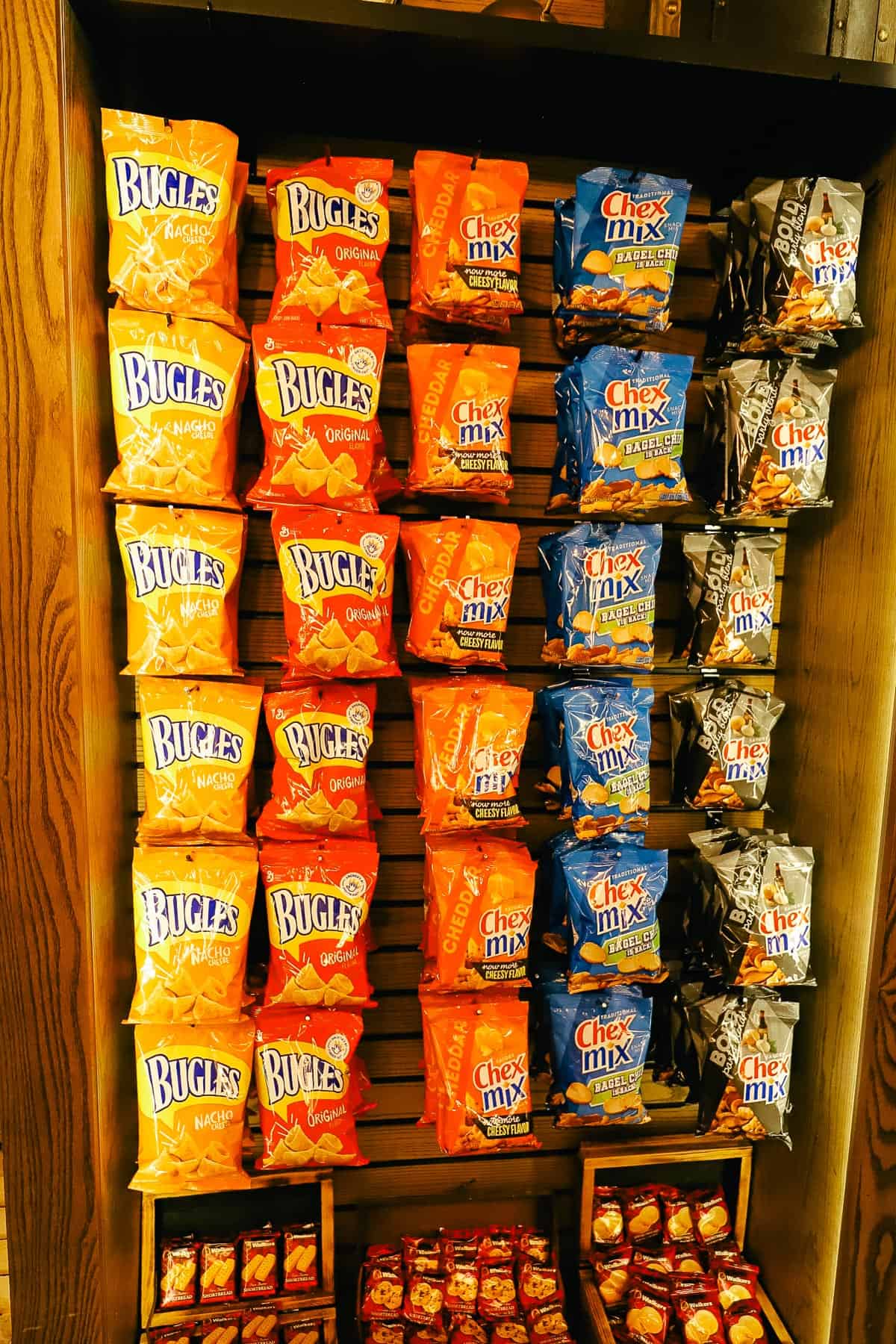 An area was dedicated to gluten-free options.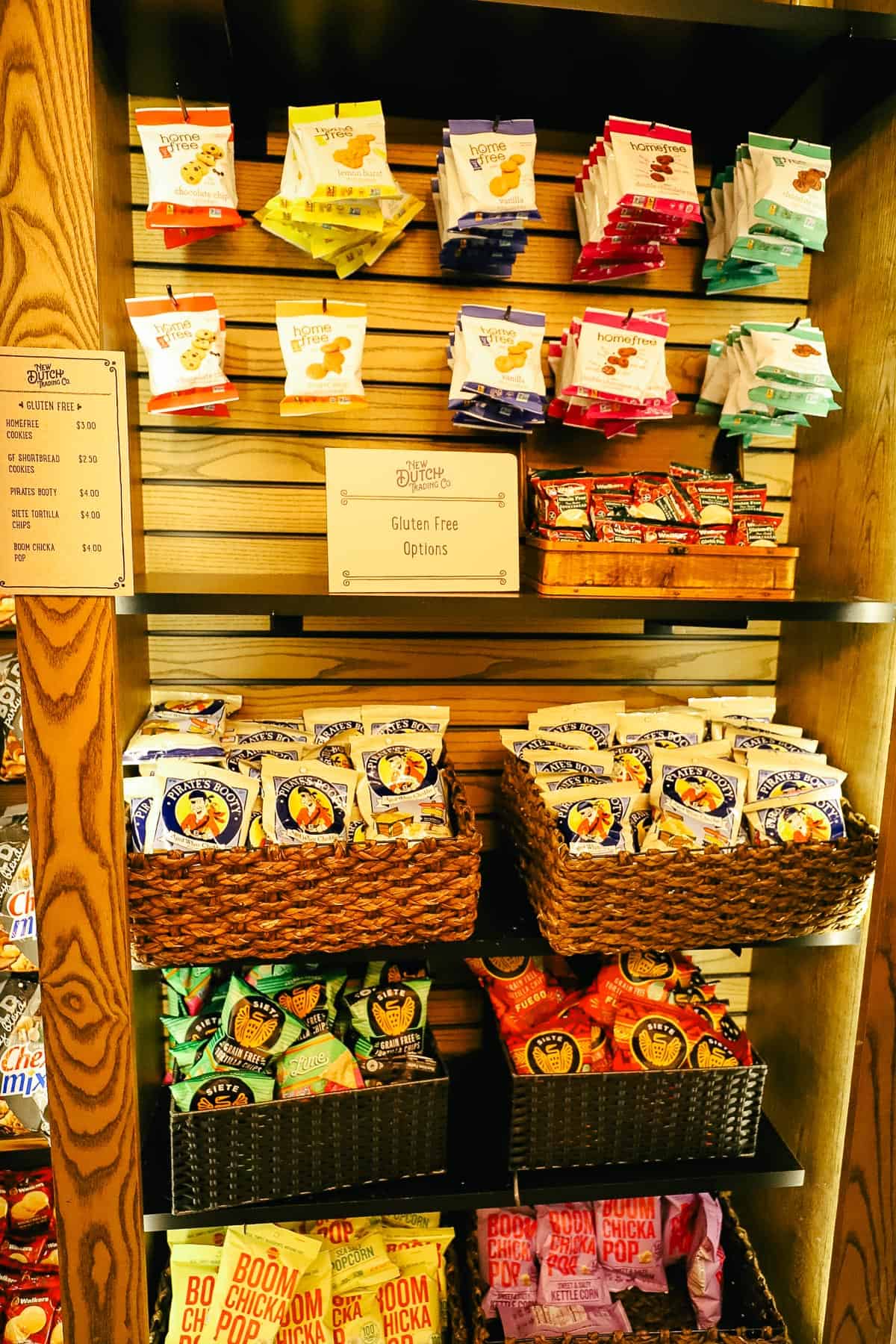 Everything was properly displayed and easy to locate.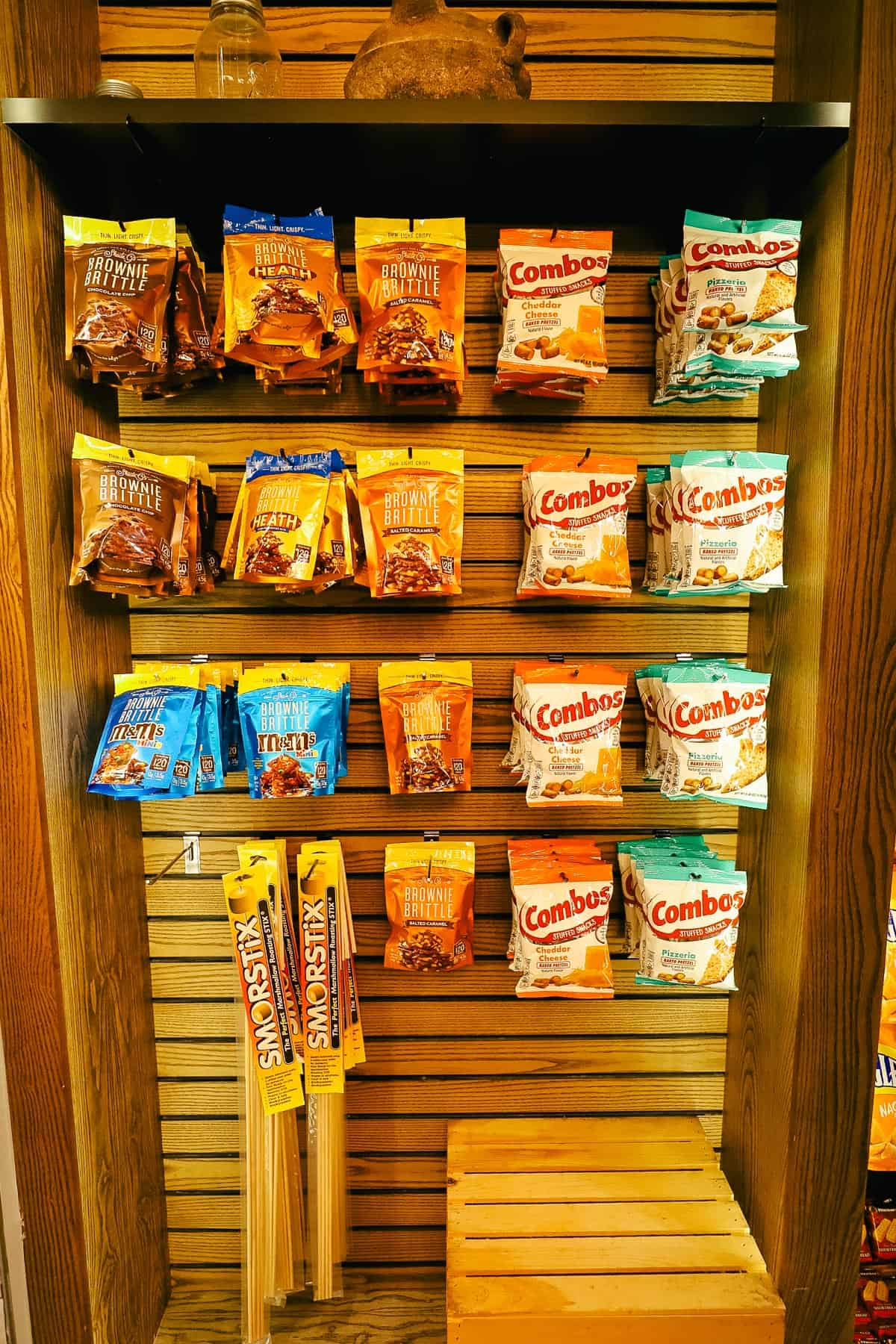 Toward the back of the store, we see a large display with several liquors and wine selections.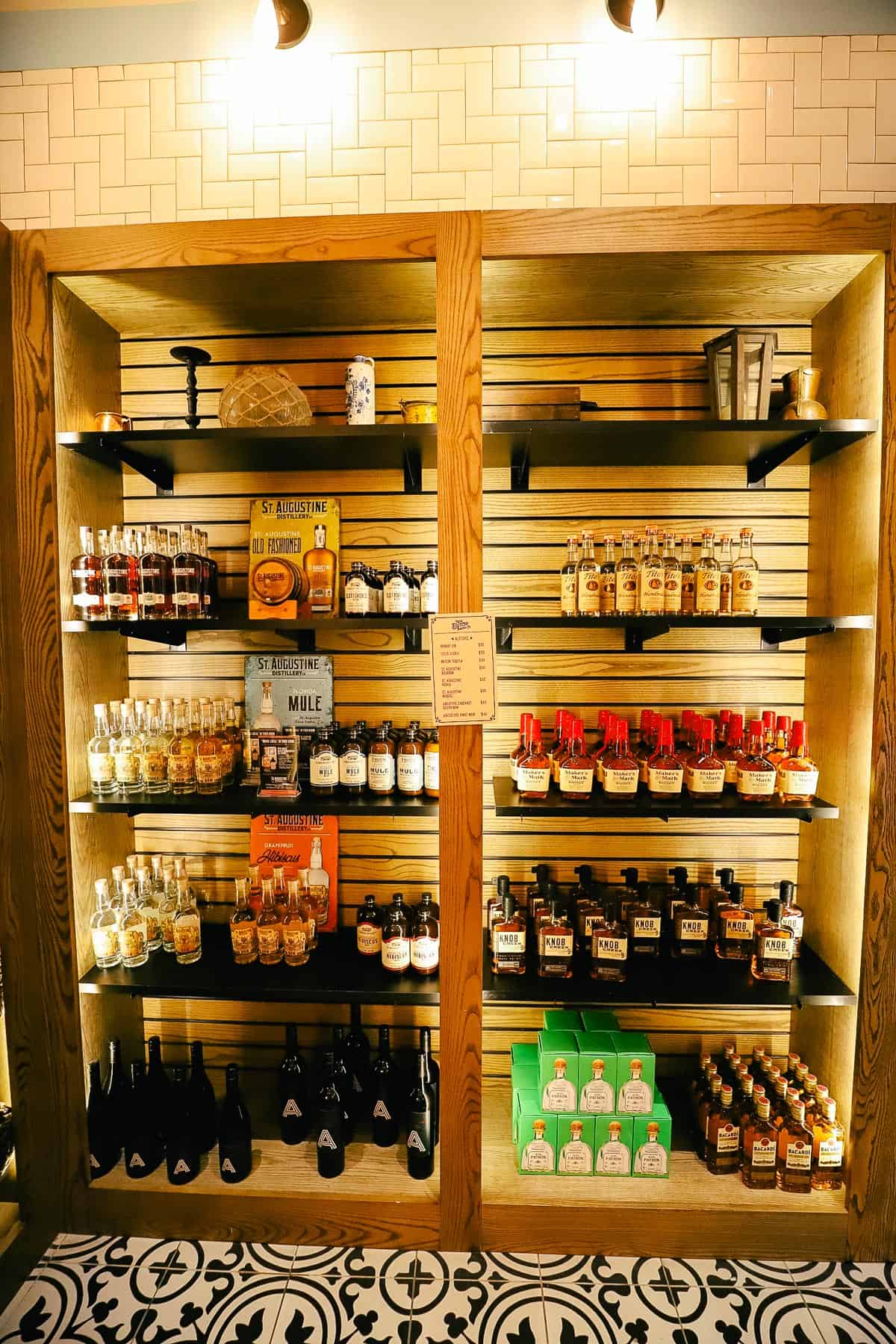 Here we have a few more snack options.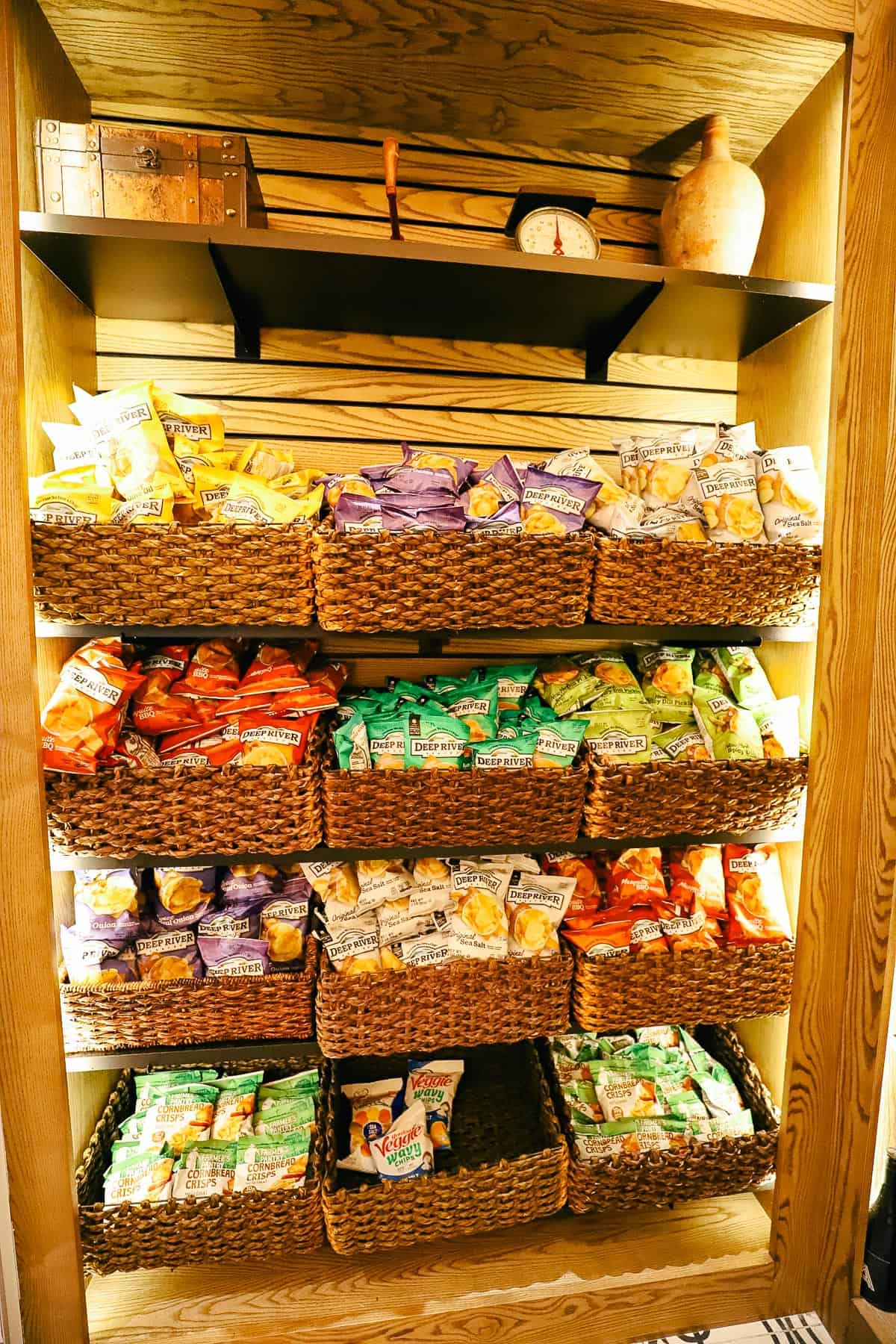 This case contained premade items, which I loathe. However, it wasn't a concern because we could order something freshly prepared at the register.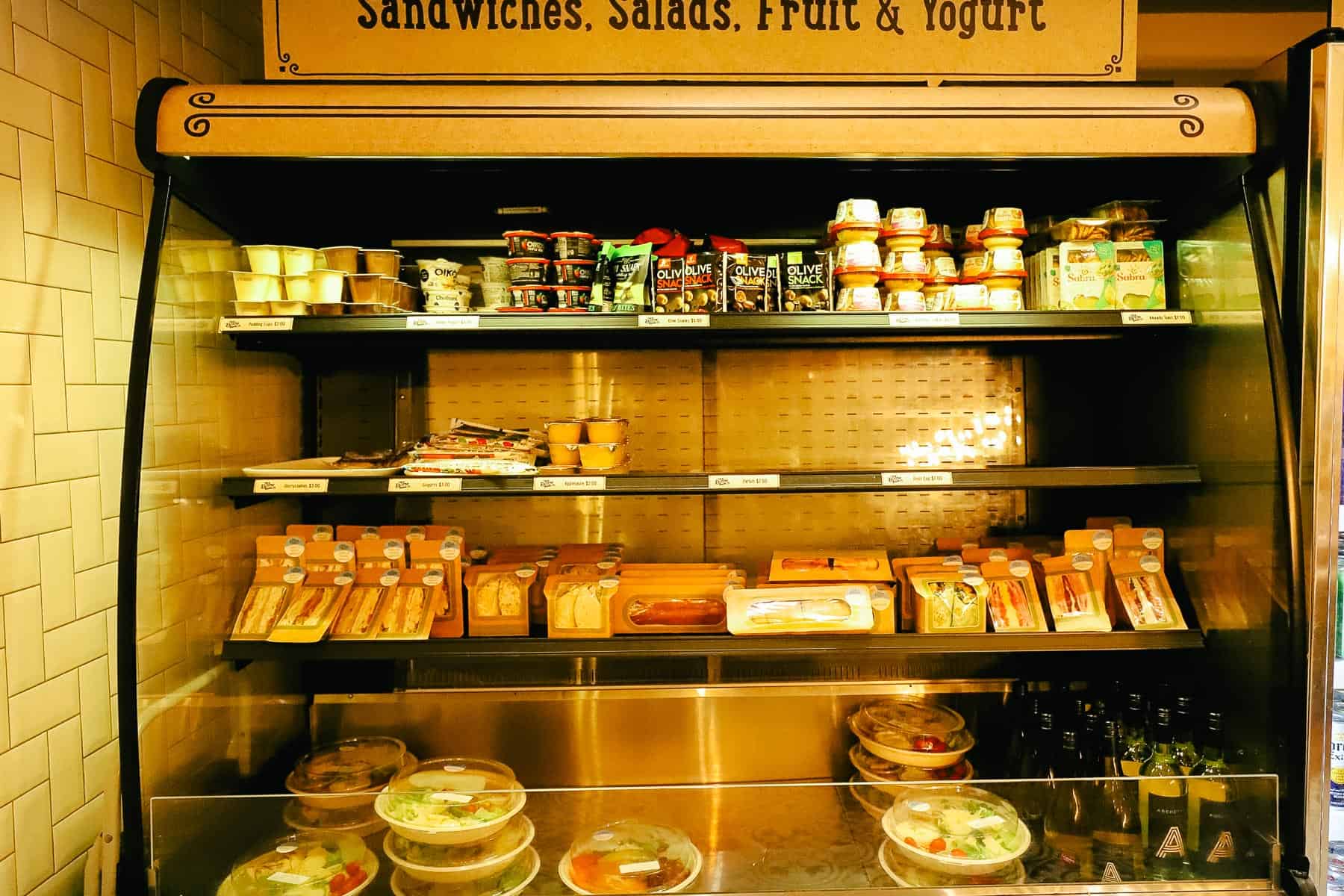 A beverage case contained a variety of beer, soft drinks, juice, sports drinks, dairy items, and water.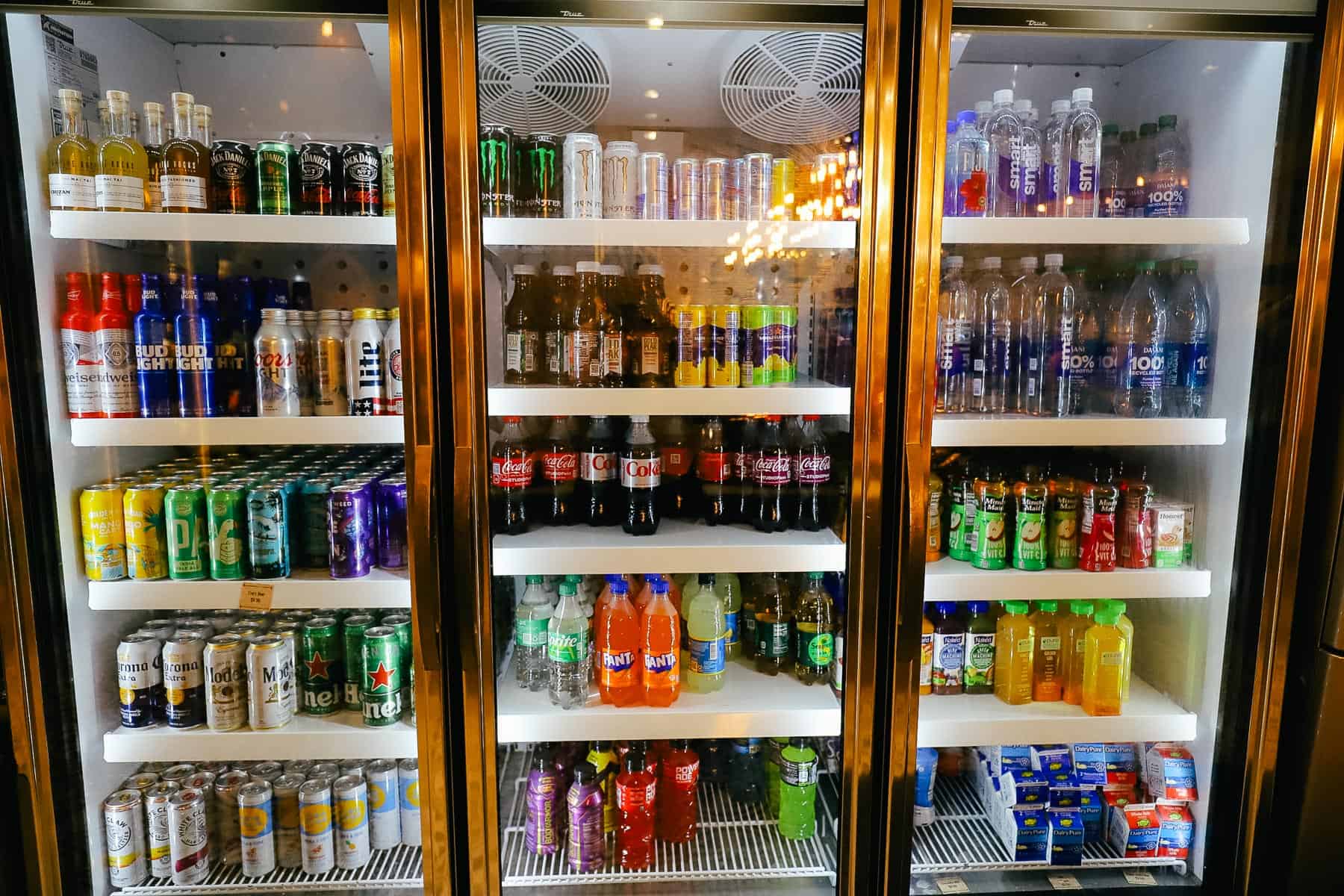 Freestyle Coca-Cola machines are located in New Dutch. Guests can purchase a single drink or a refillable mug during their stay.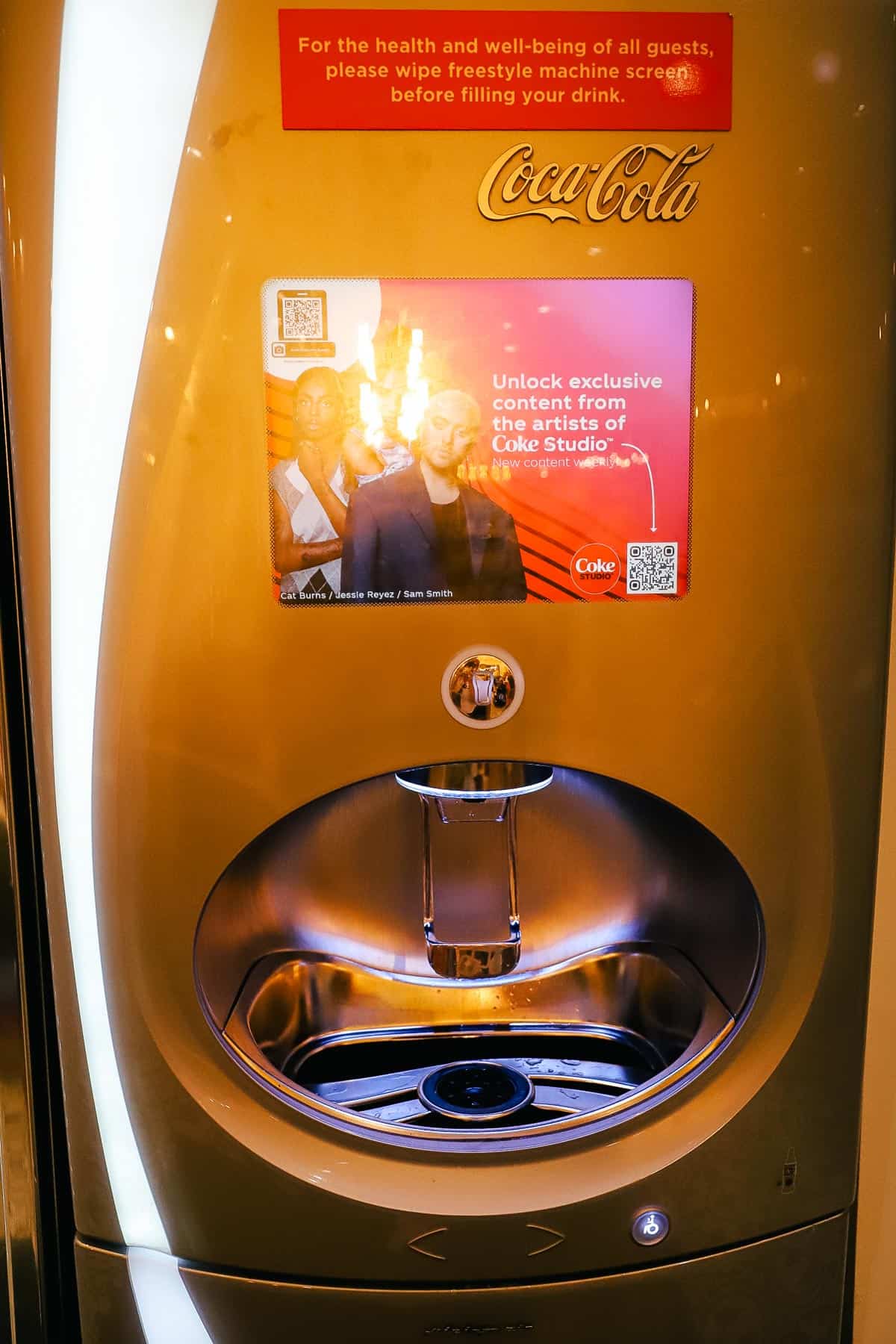 One evening, I ordered an individual pepperoni pizza from the quick service. While it wasn't what I would consider a five-star pizza, it was of good quality and made for an excellent meal while watching Captain Marvel under the covers in our room.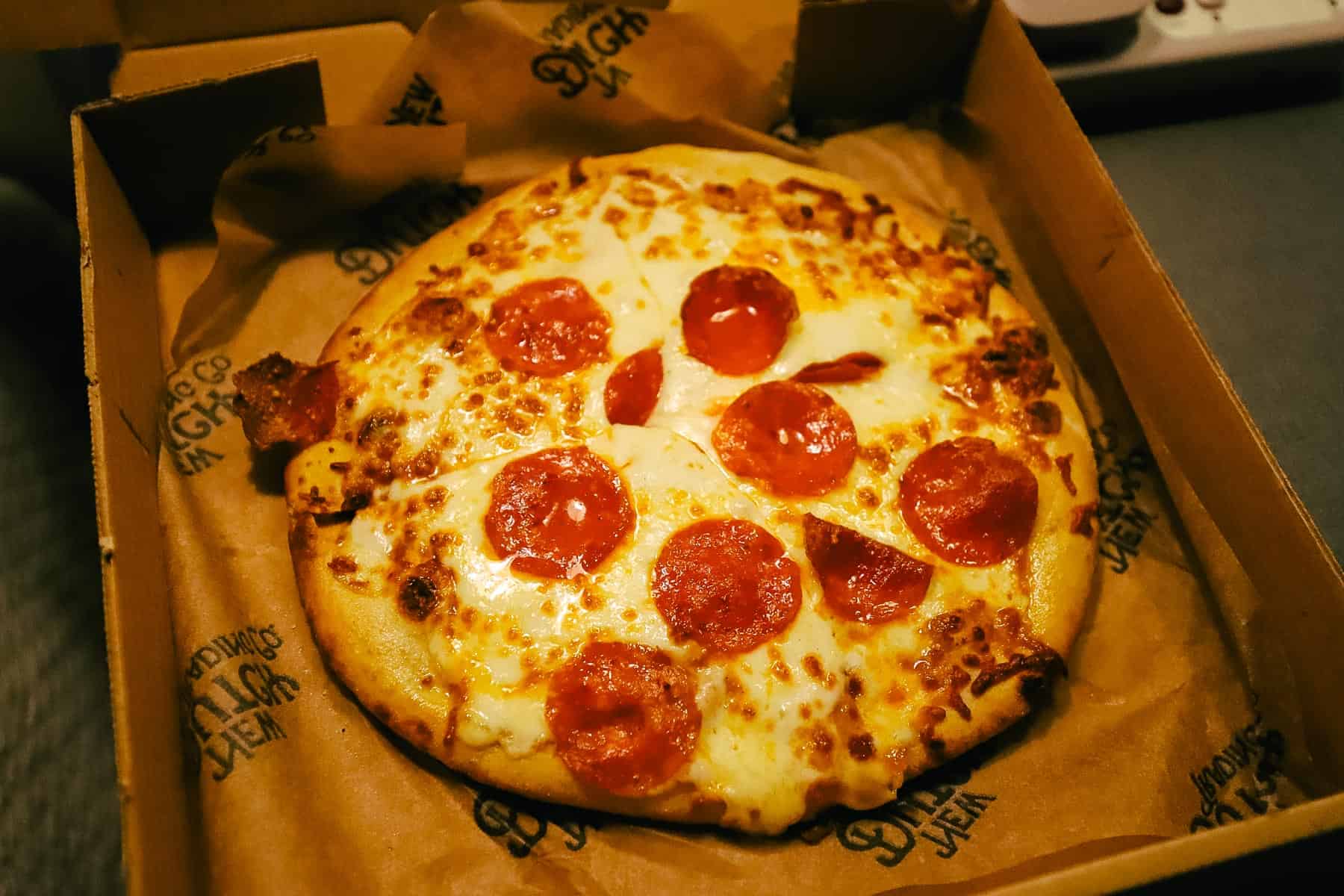 Speaking of dining in our room and holding other resorts accountable, Loews Sapphire Falls offers in-room dining. What a novel idea that someone might want to order room service during their vacation. It also sounds profitable, but what do I know?
I'm genuinely not bitter. But this hotel stay (at a reasonably-priced resort) made me aware that we've grown accustomed to paying exorbitant prices for lackluster accommodations, dining options, and other amenities. (No, they no longer have room service at the other theme park's hotels, with one exception.)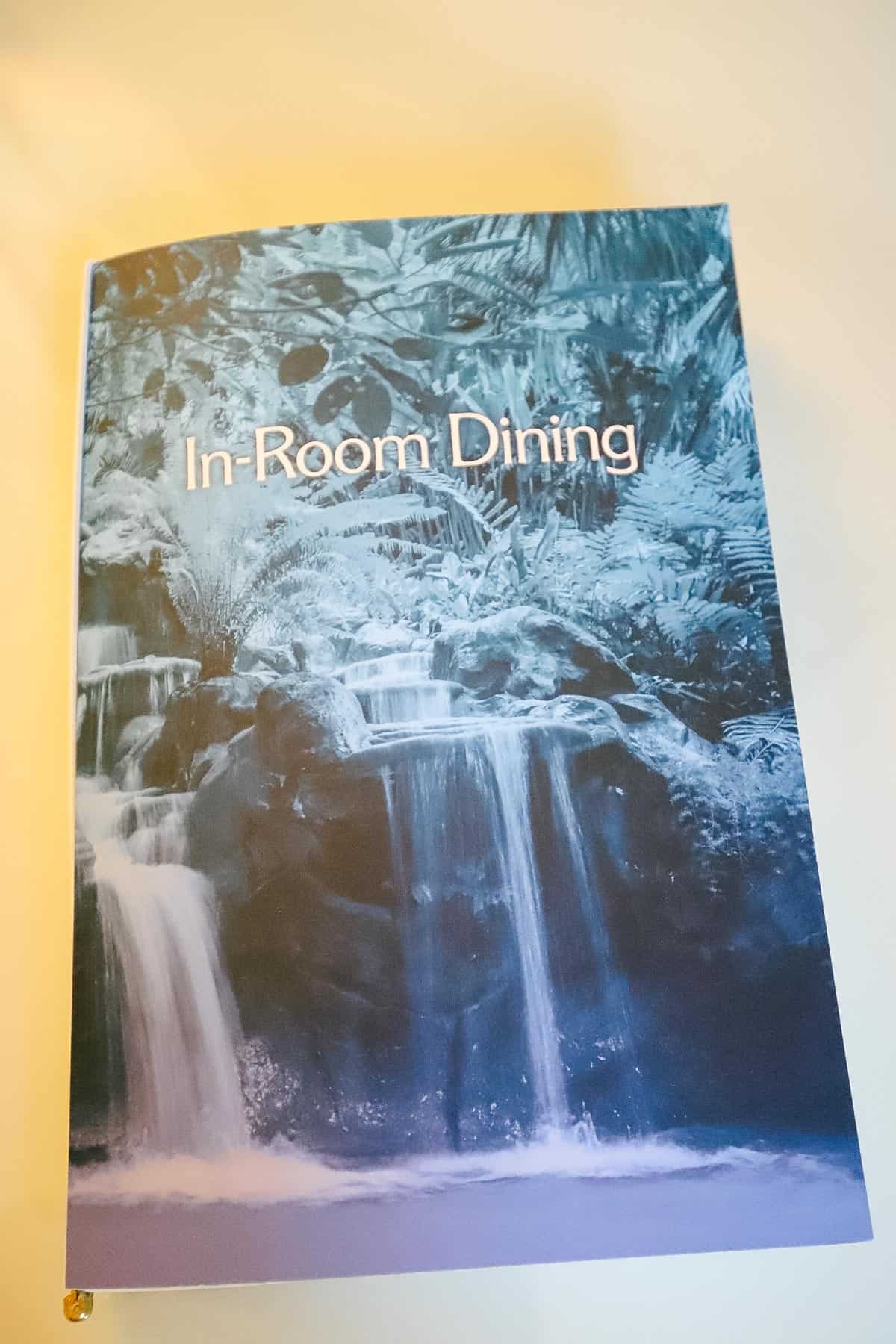 Anyway, Amatista Cookhouse is the resort's table service restaurant. It is open daily, serving breakfast, lunch, and dinner.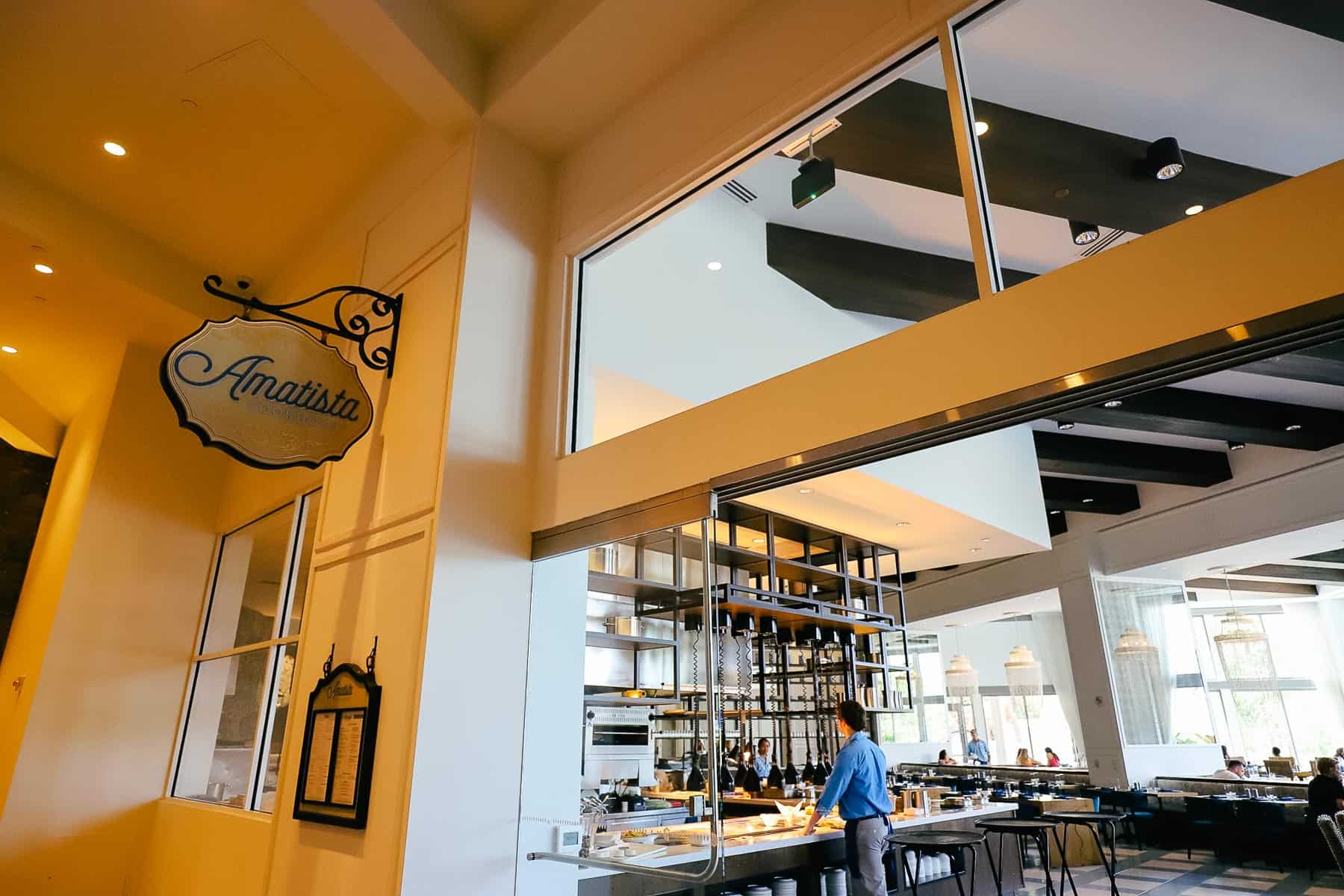 Here is a preview of the lunch menu that was available during our stay.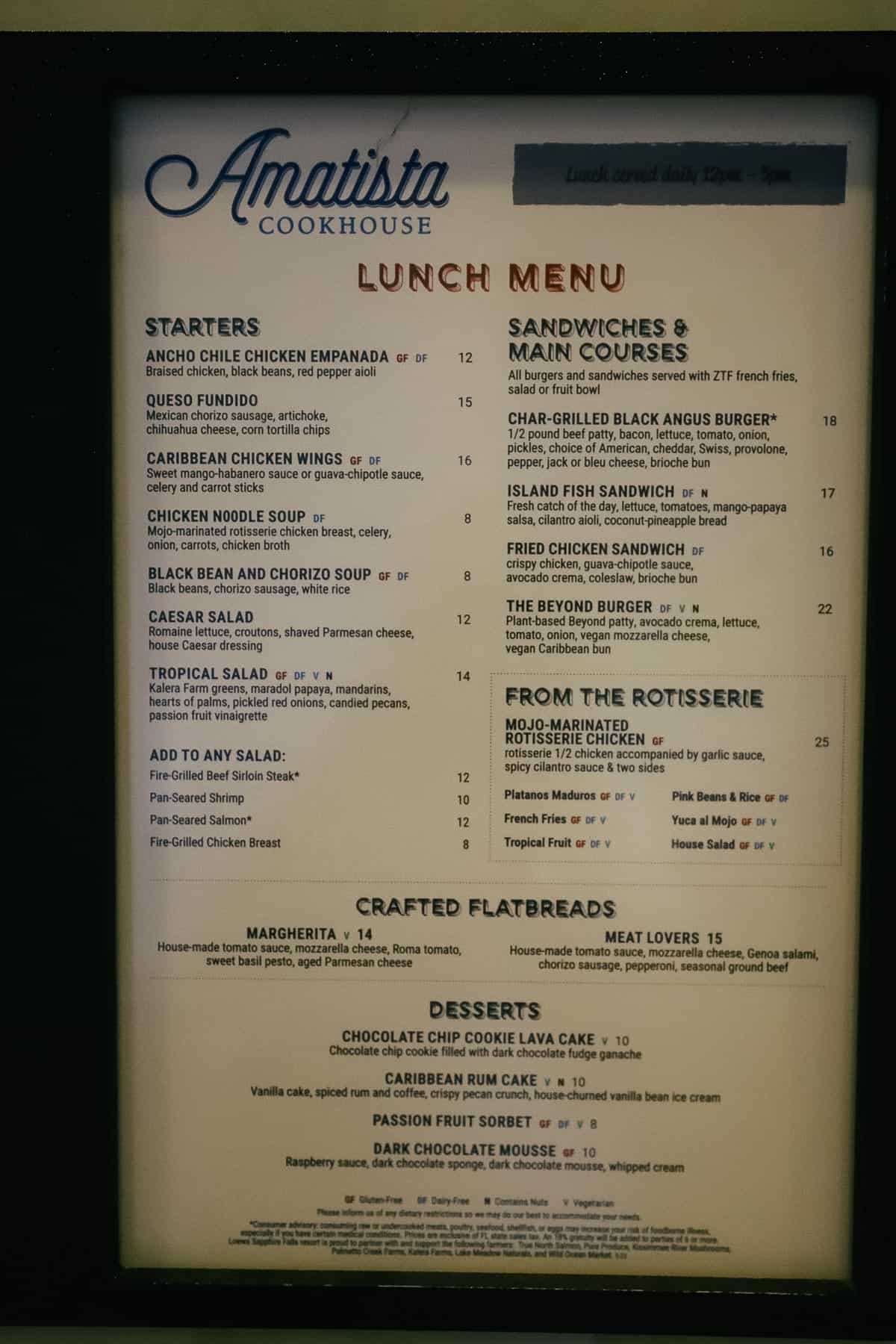 Next, we have the dinner menu.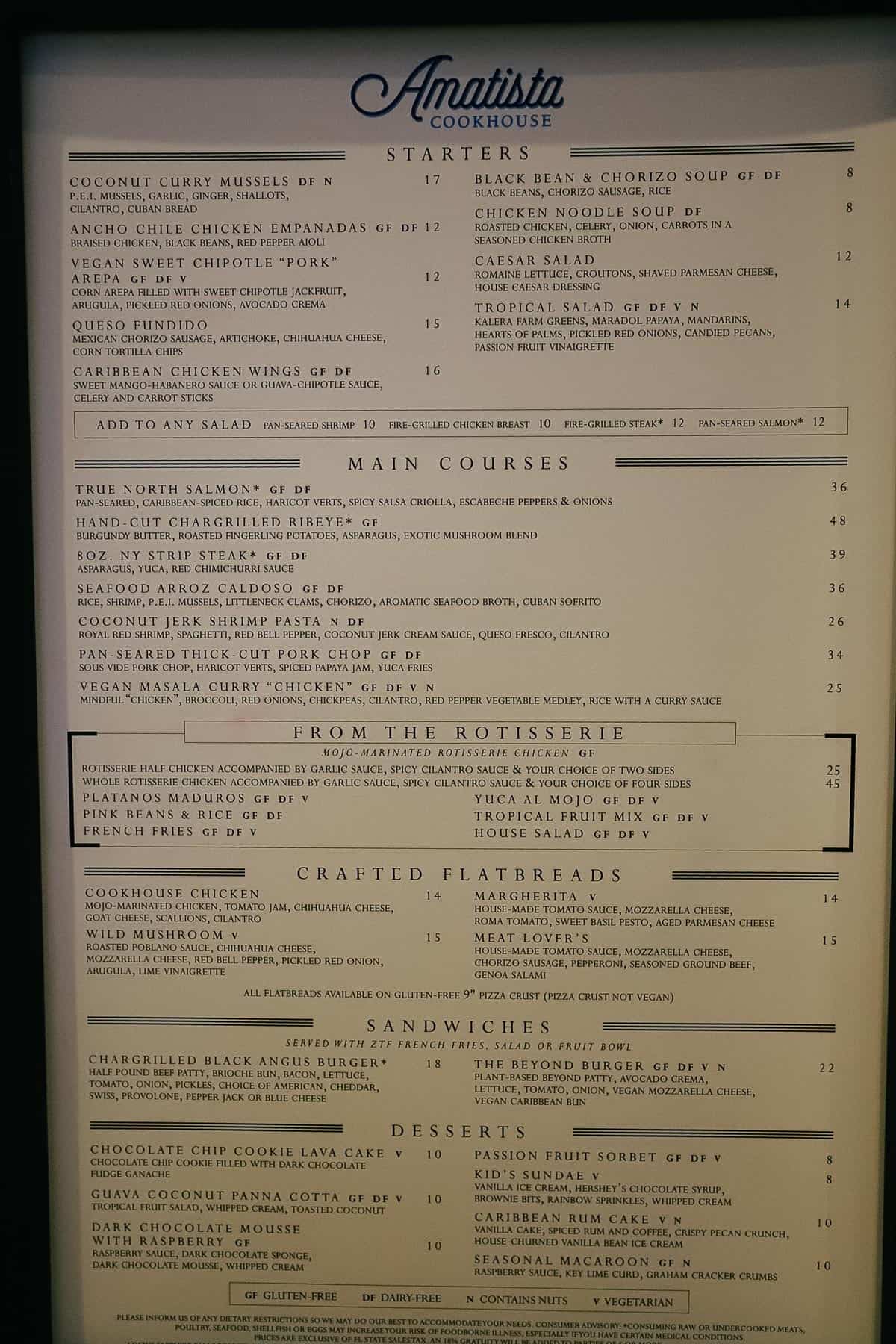 We stopped in one evening and ordered the Queso Fundido to share. It was a delicious dish featuring Chorizo sausage, artichoke, and Chihuahua cheese.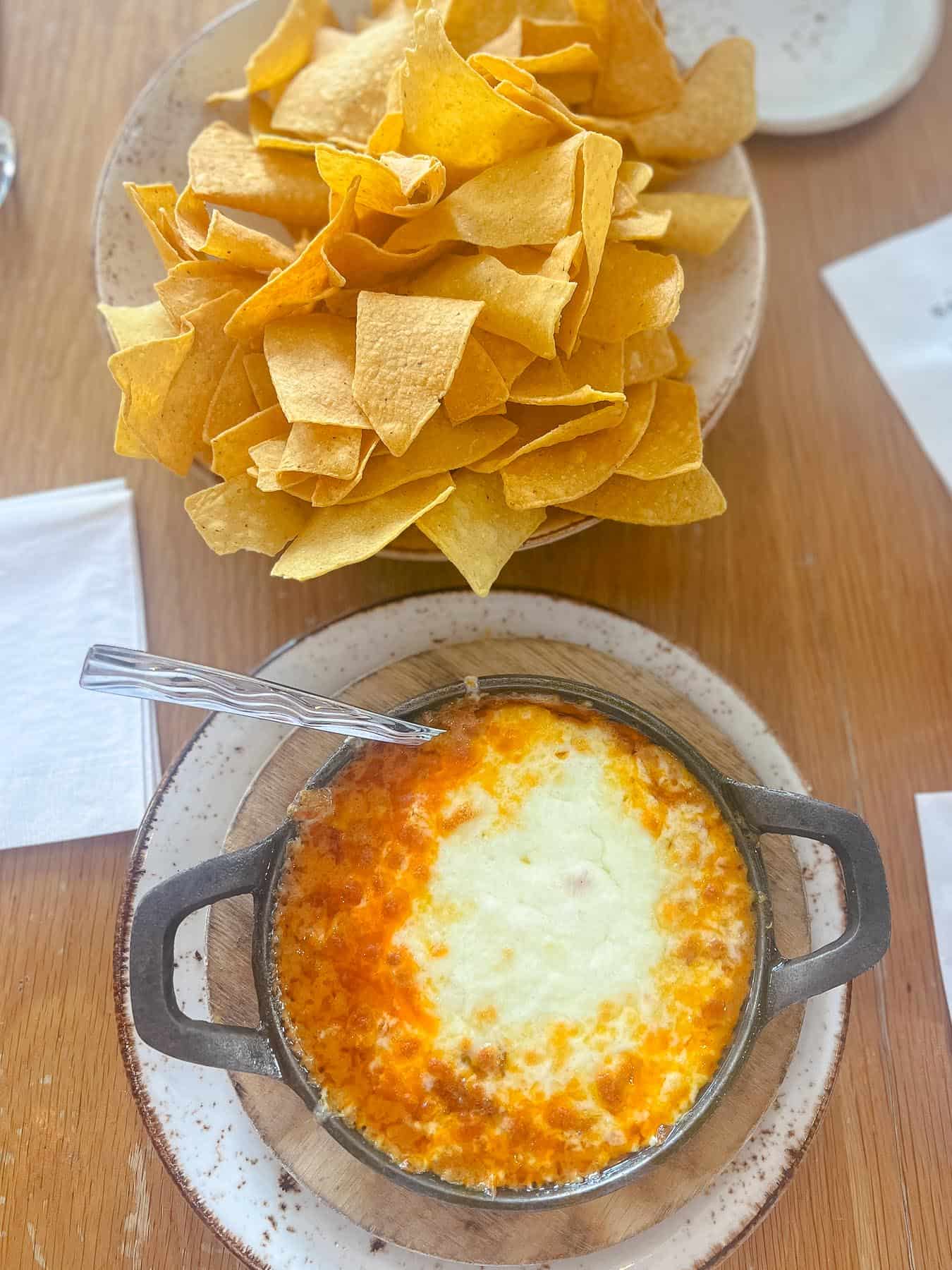 You can order snacks, entrees, desserts, and various beverages from the Drhum Club Kantina at the pool. This poolside bar is designed to look like another sugar silo.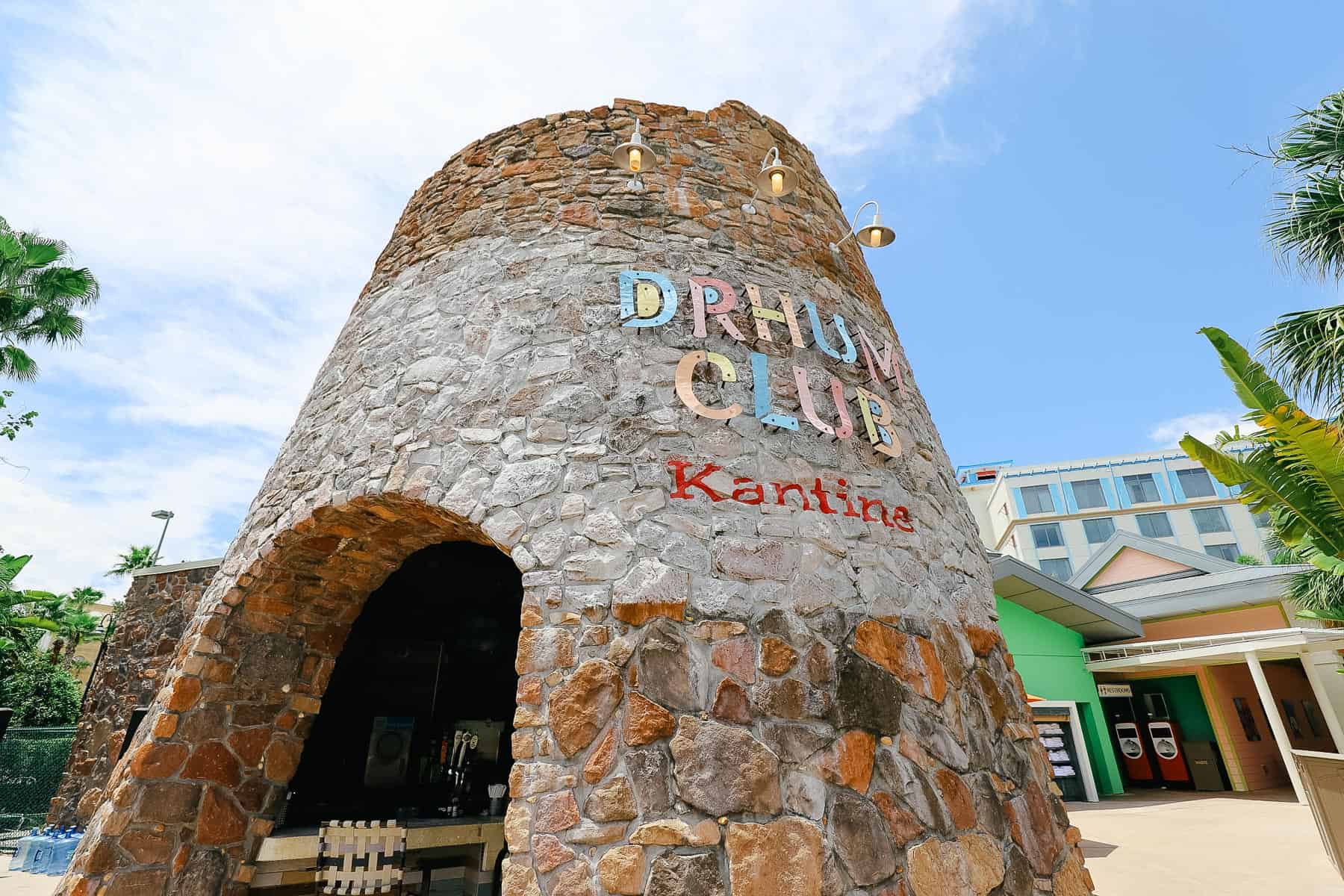 Again, the pool menu had plenty of options. You weren't limited to a burger, hot dog, or grilled cheese. You could order freshly prepared salads, flatbreads, wings, quesadillas, tacos, grilled chicken, and more.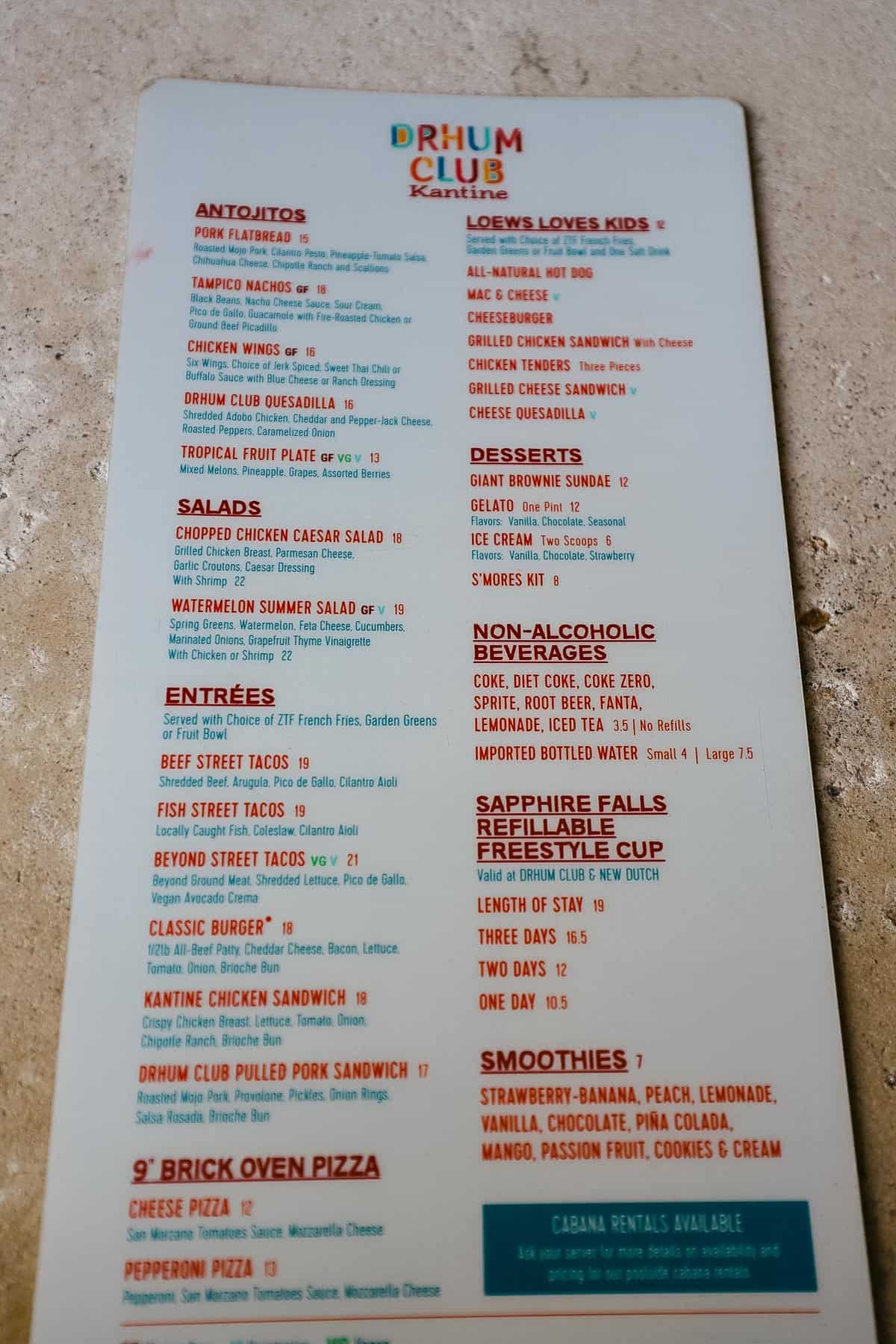 Here are a few of the beer selections on tap.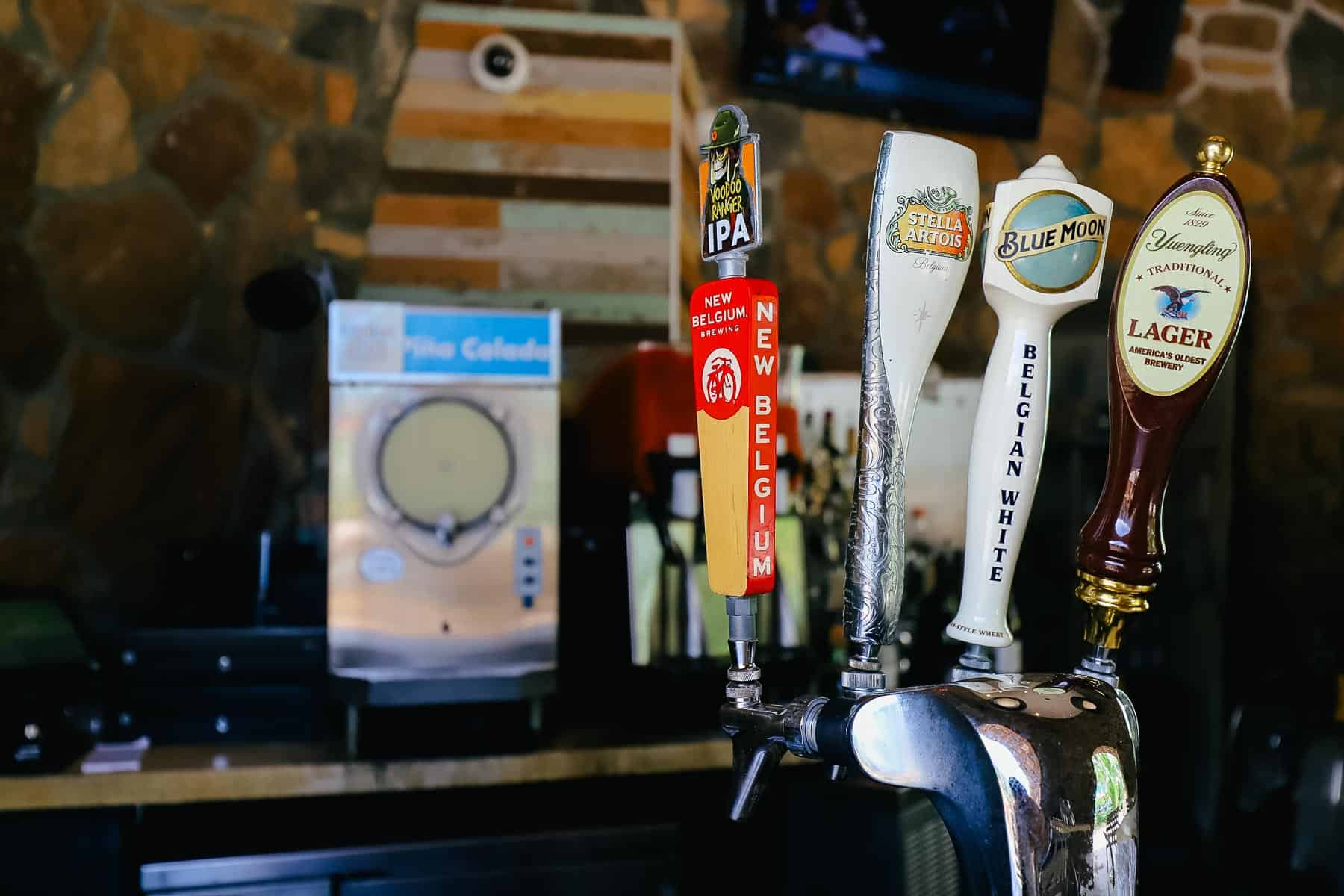 Several chairs were set up around the bar area.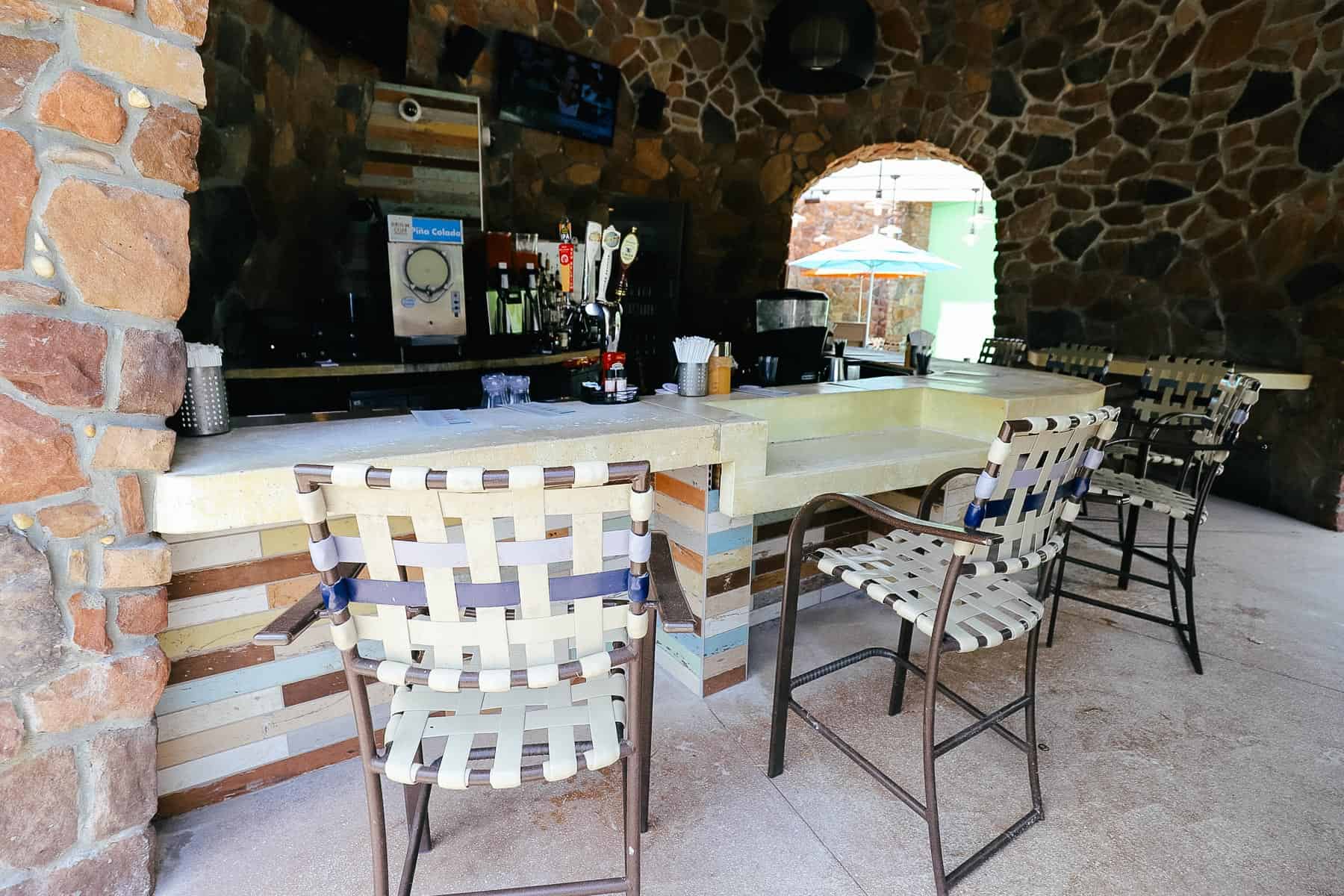 Additionally, tables with chairs were available in a covered outdoor seating area. But most guests were ordering food and drinks from their chairs at the pool.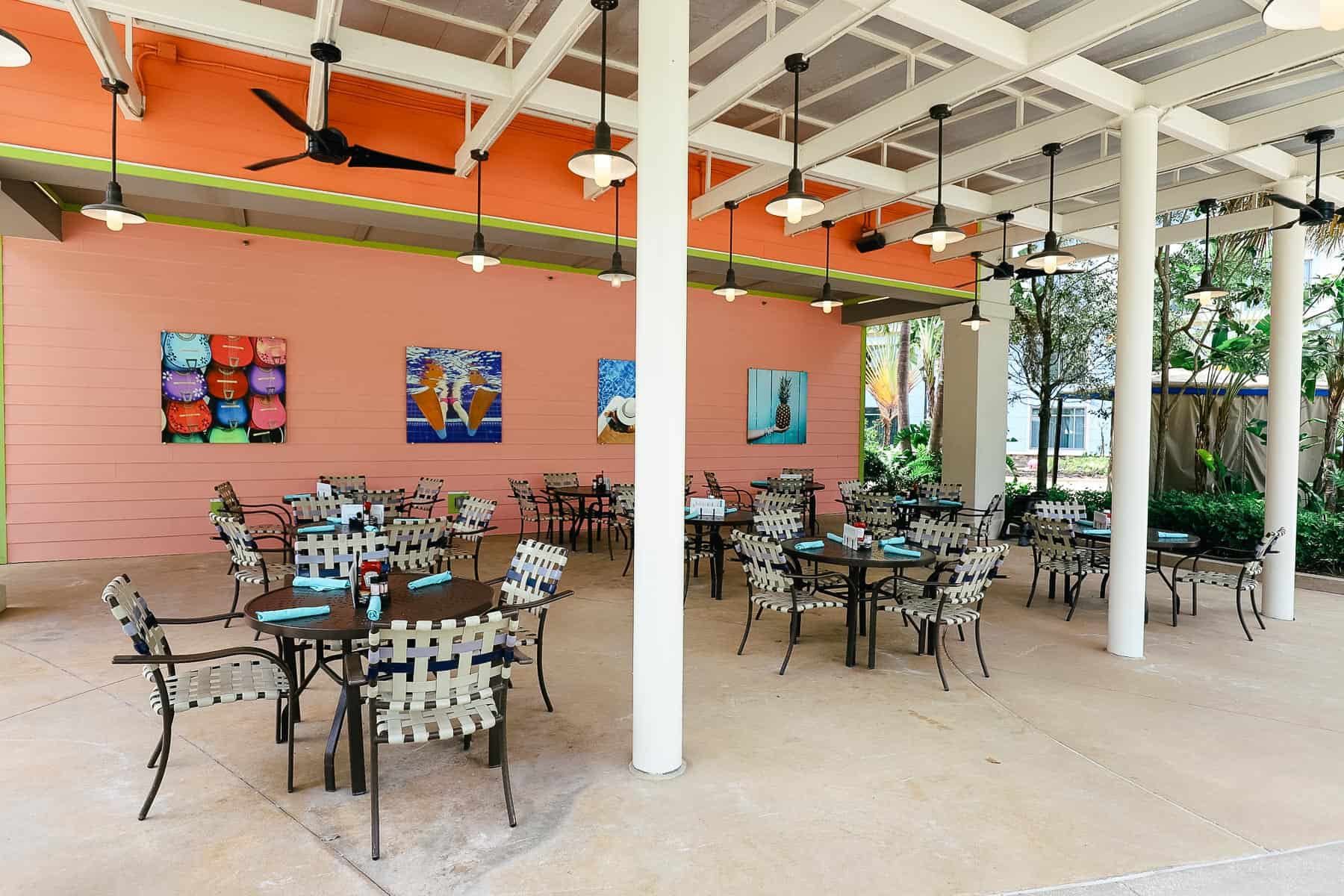 Strong Water Tavern is the name of the resort's lounge off the main lobby. We didn't have the opportunity to visit the lounge during this stay.
The lounge is open most days from 4:00 p.m. until midnight. They offer small plates, cocktails, flights, beers, red wine, white wine, and rum.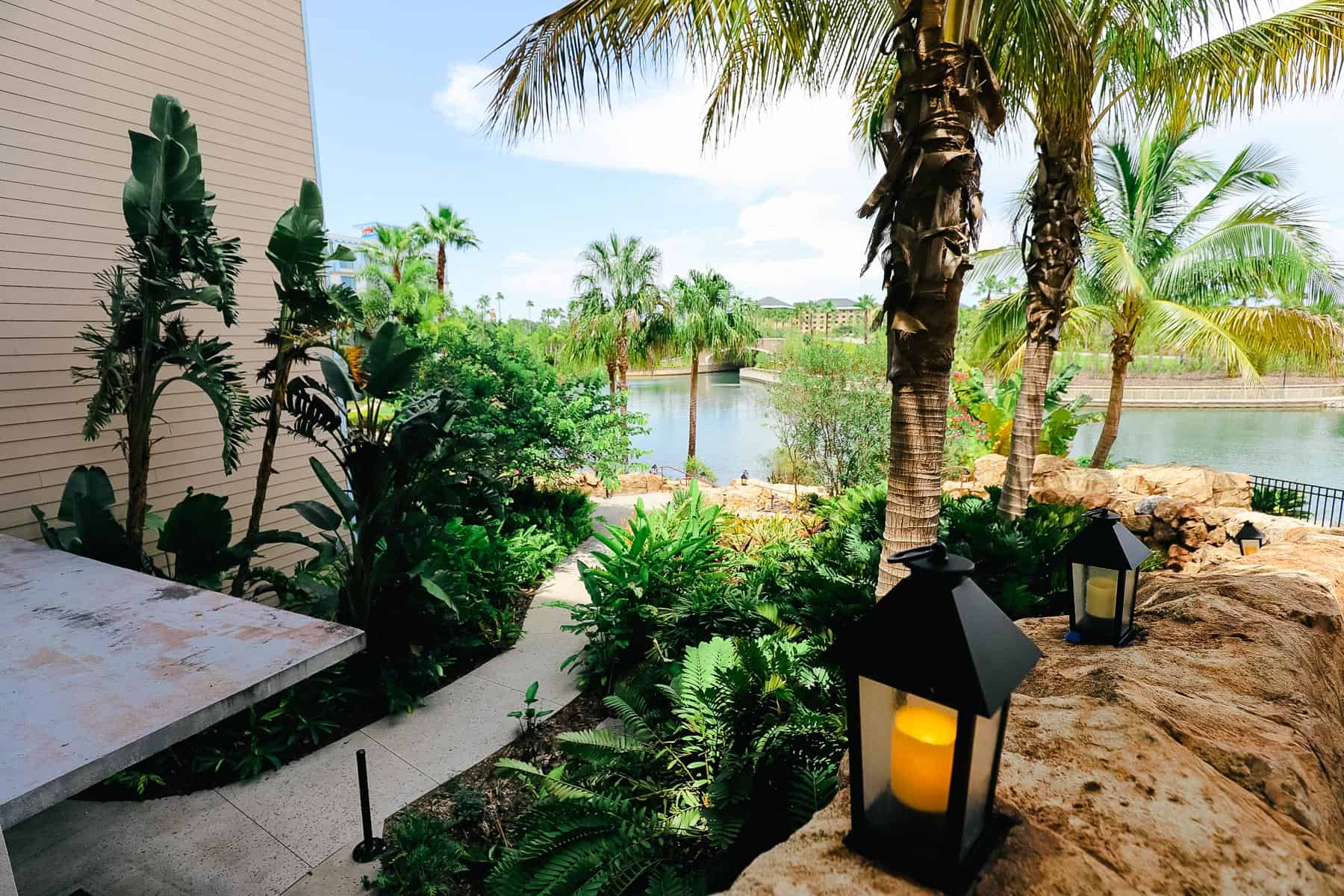 Pools
The resort's pool was so tremendous that we provided a separate article covering it. Sapphire Falls has a 16,000-square-foot pool area, the largest resort pool at Universal Orlando.
Related: Pool at Loews Sapphire Falls Resort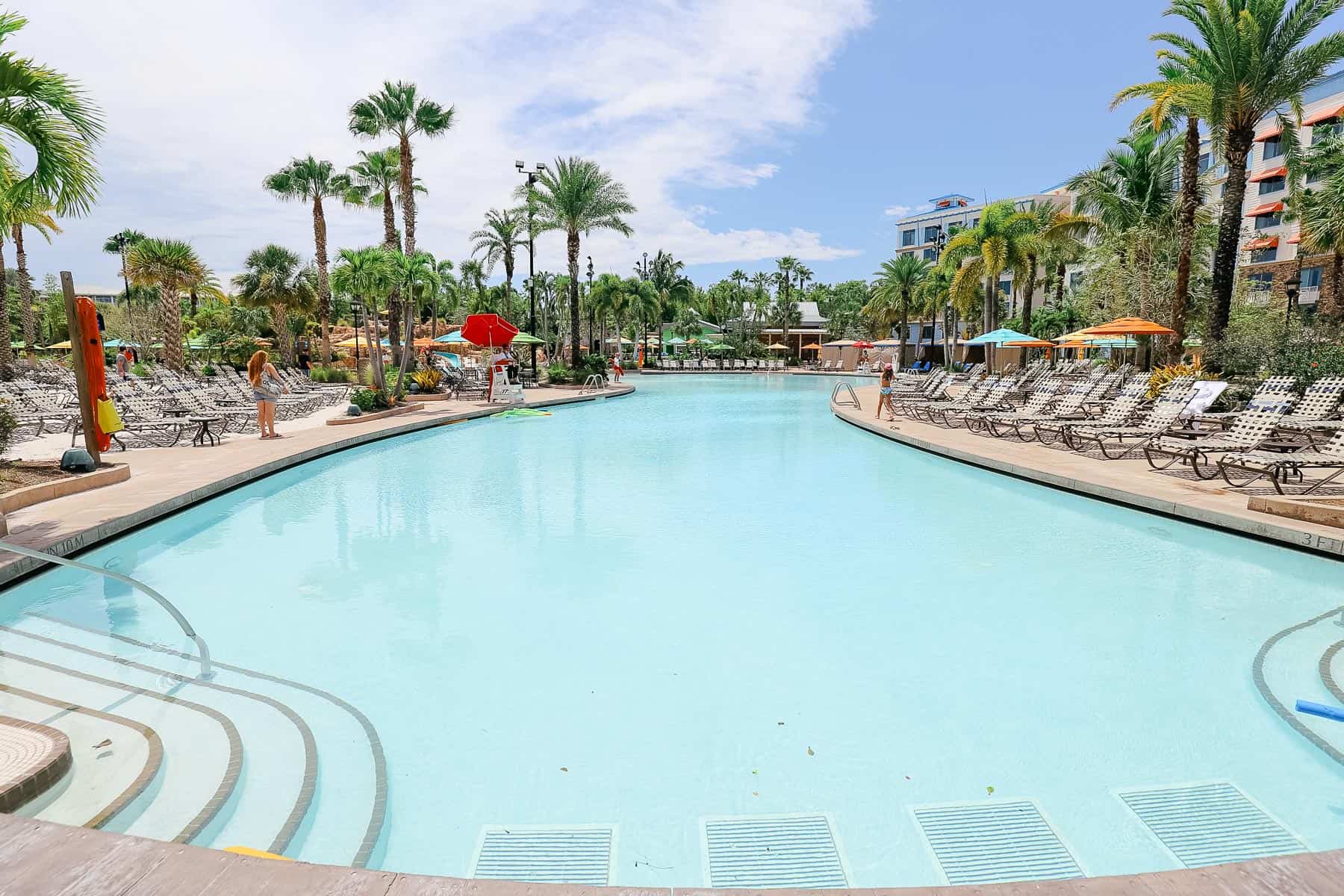 It's a beautiful space.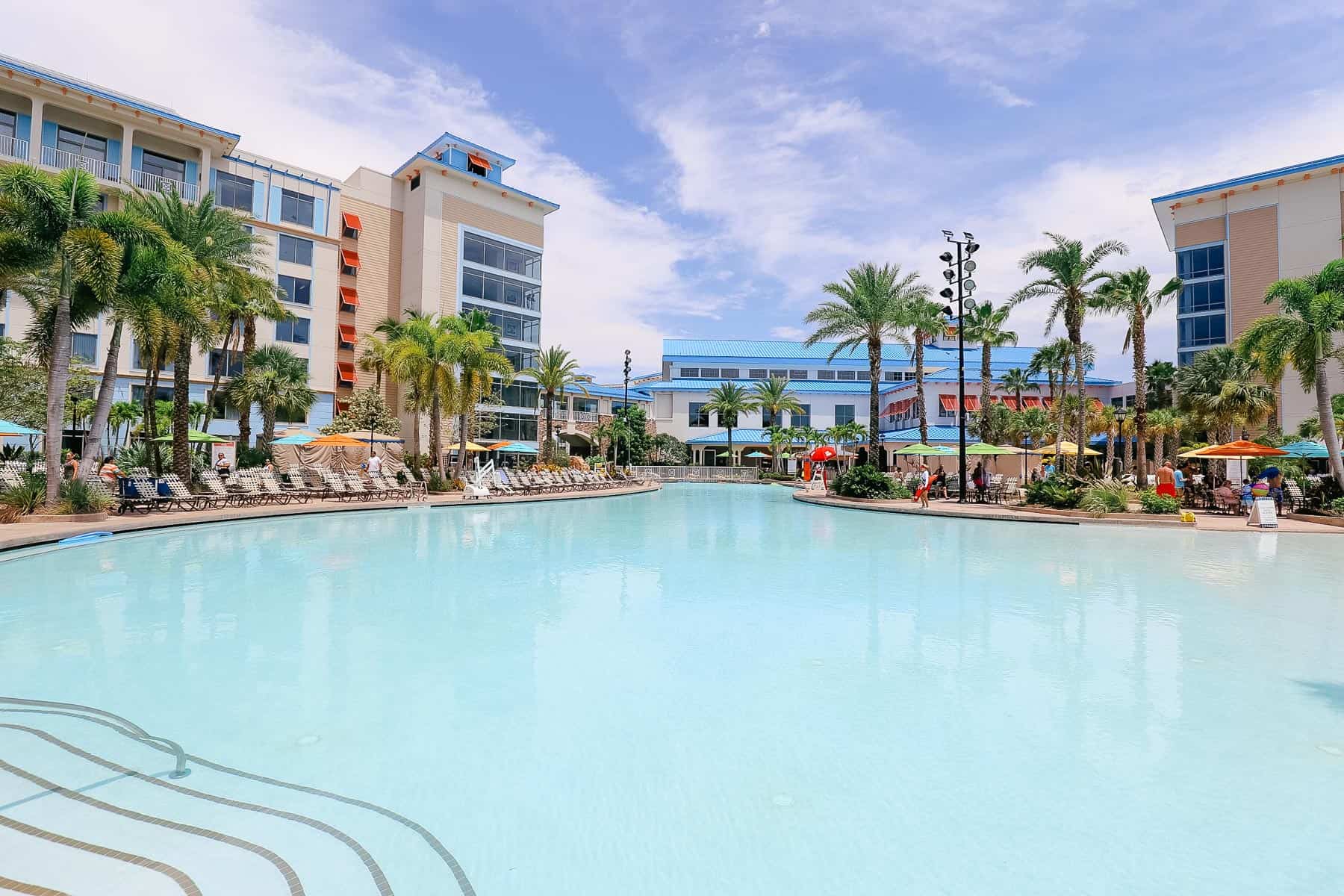 Toward the center, there's a zero-entry area on each side of the pool. It almost looks like a raised sand bar. You can see it in the photo below near the palm trees.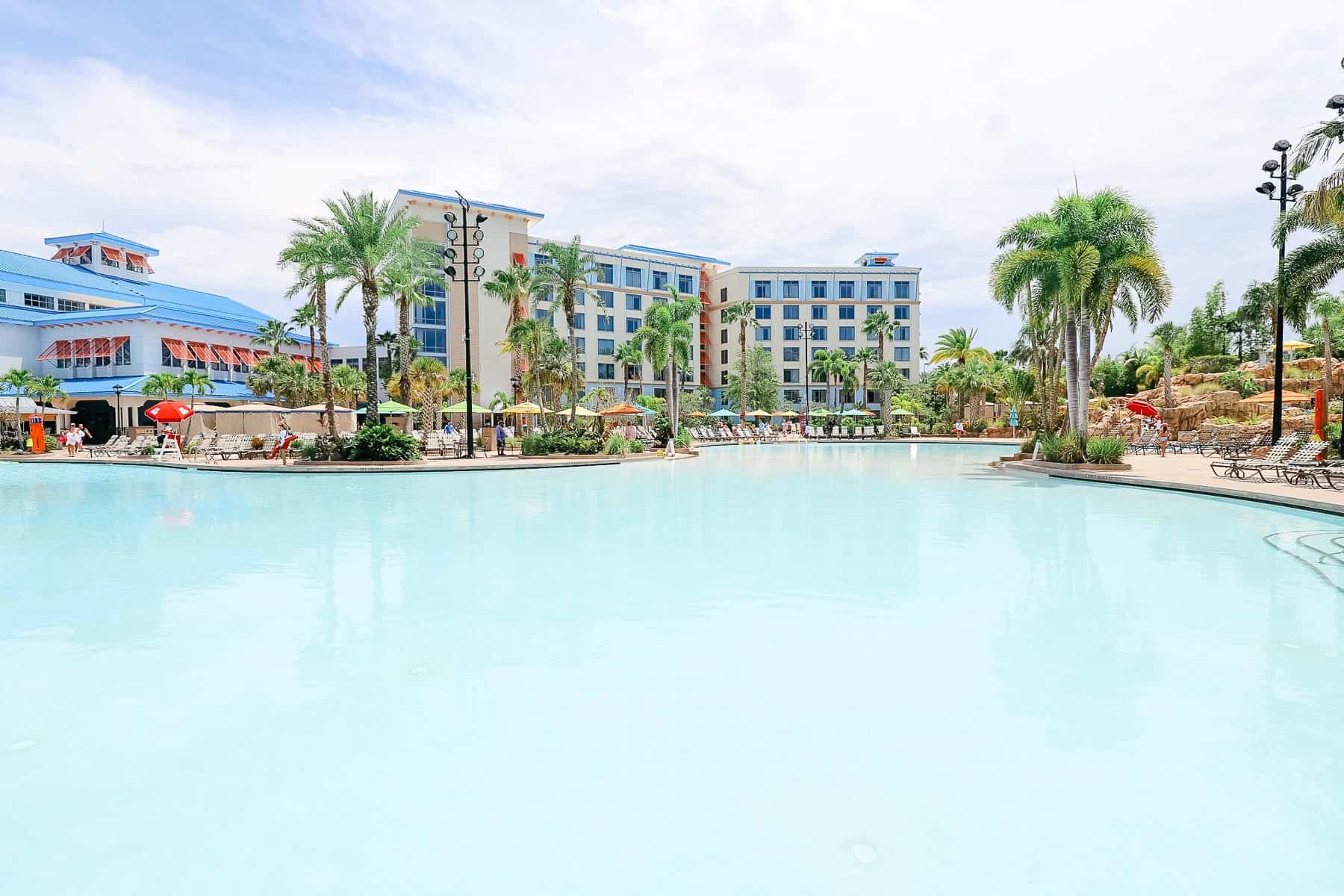 Plenty of lounge chairs surround the pool area.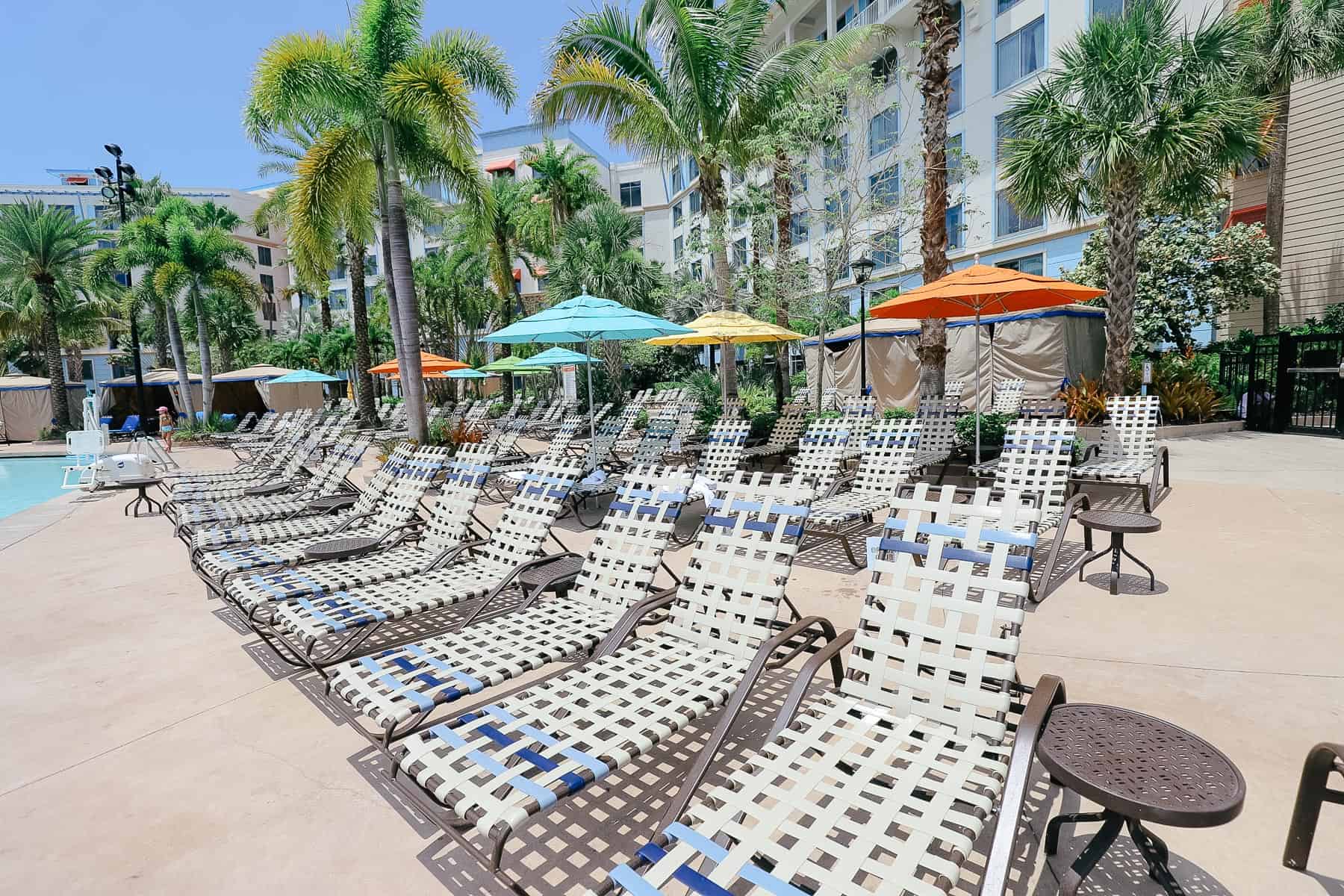 Private cabanas are available to rent.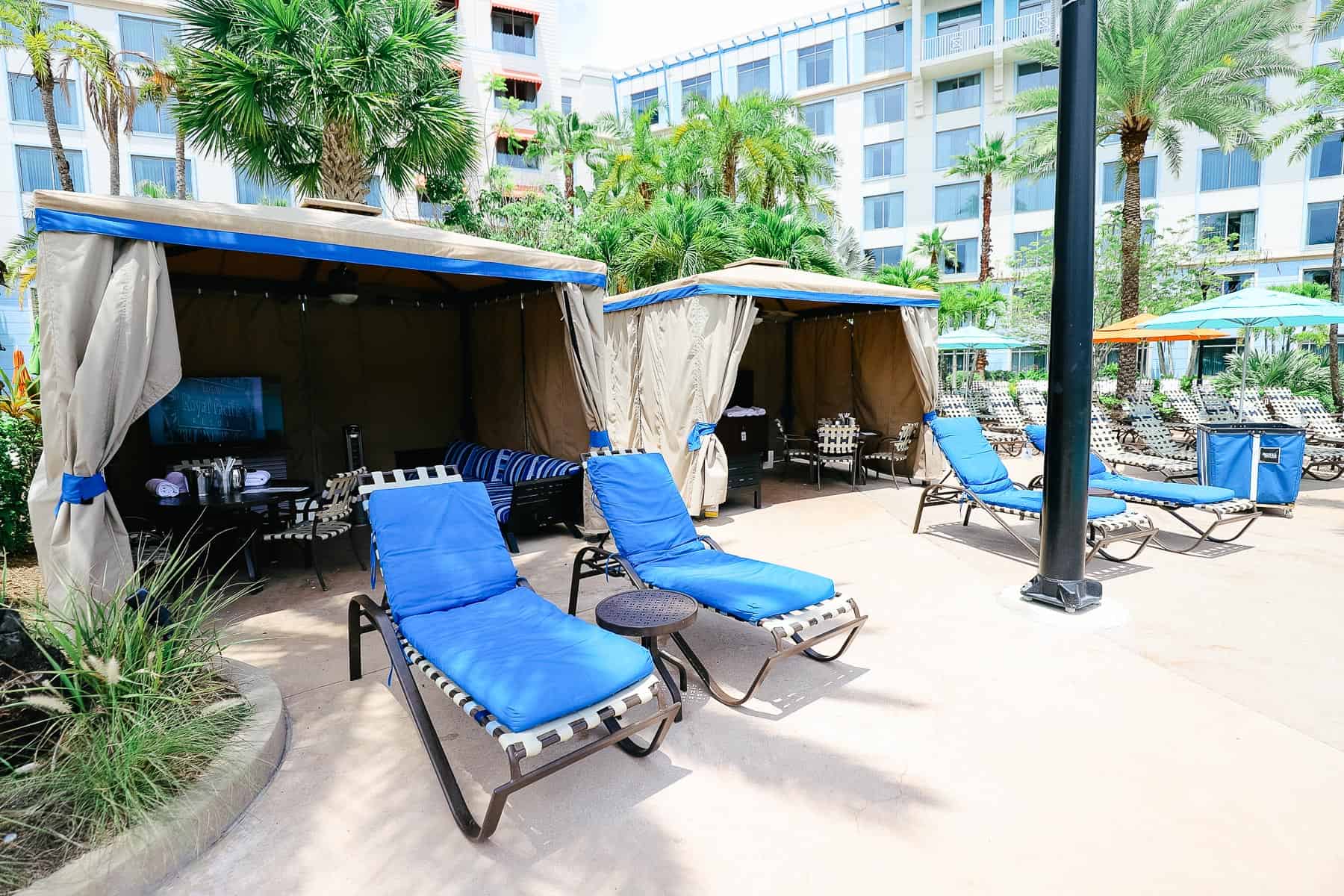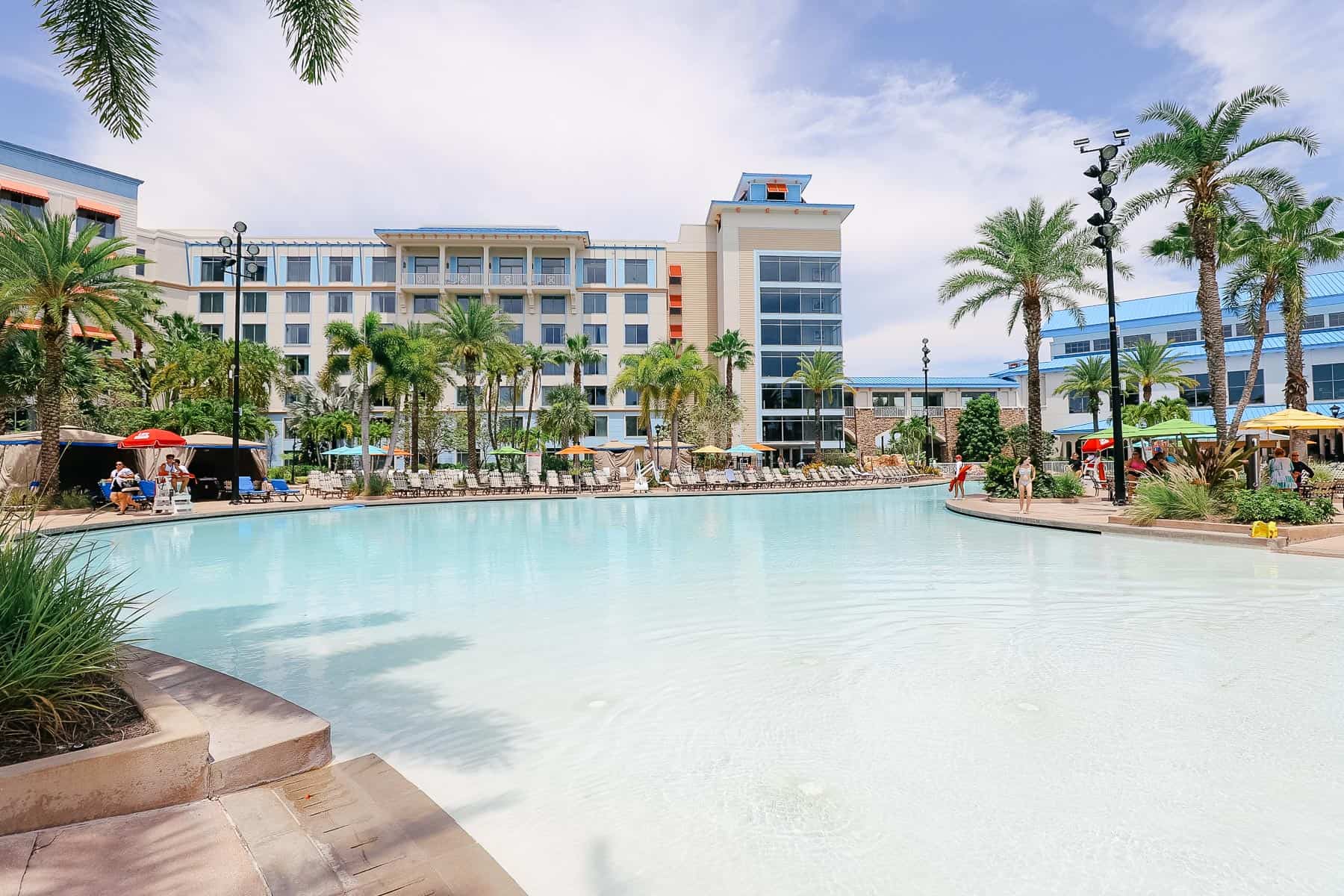 A water slide sits on one far end of the pool.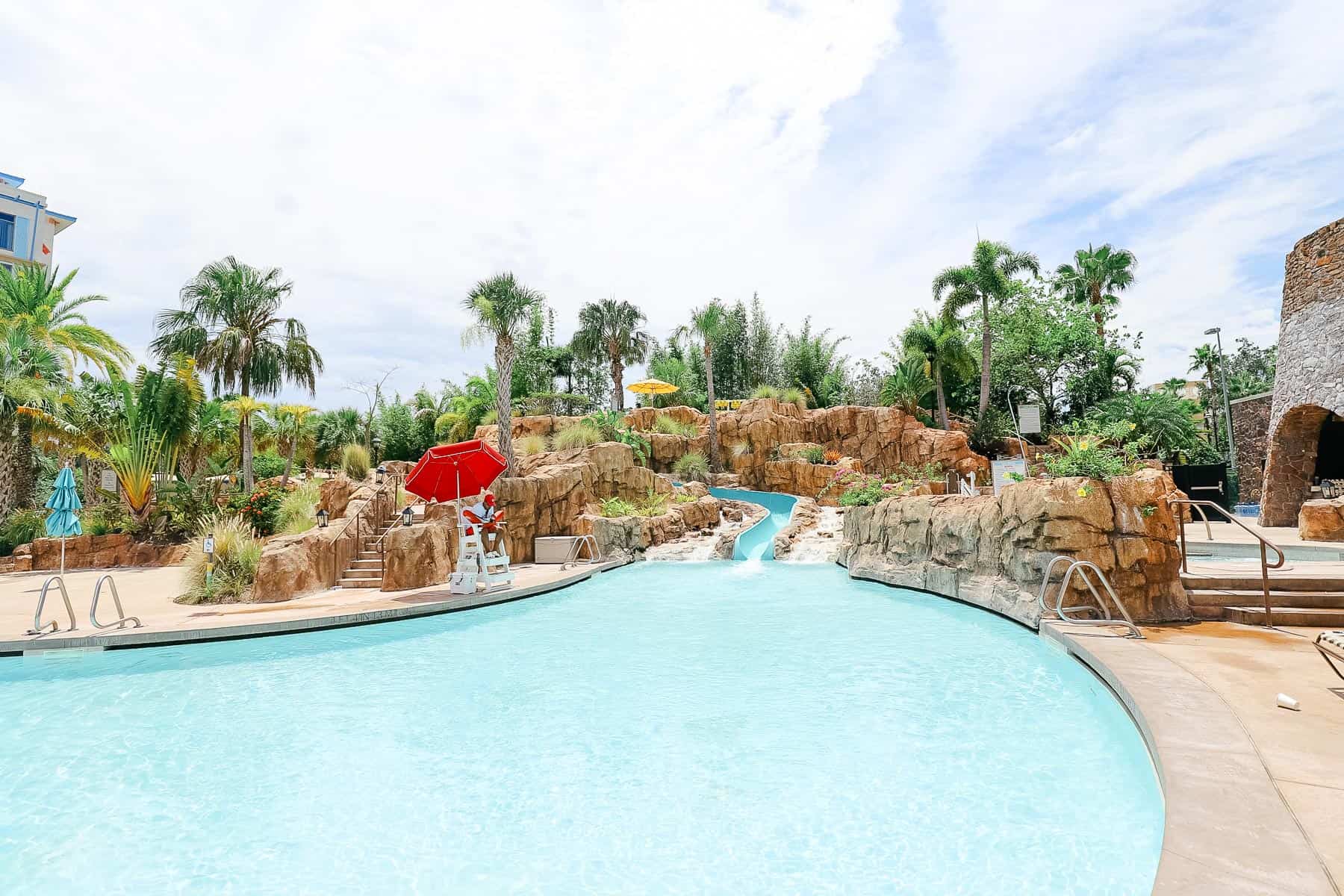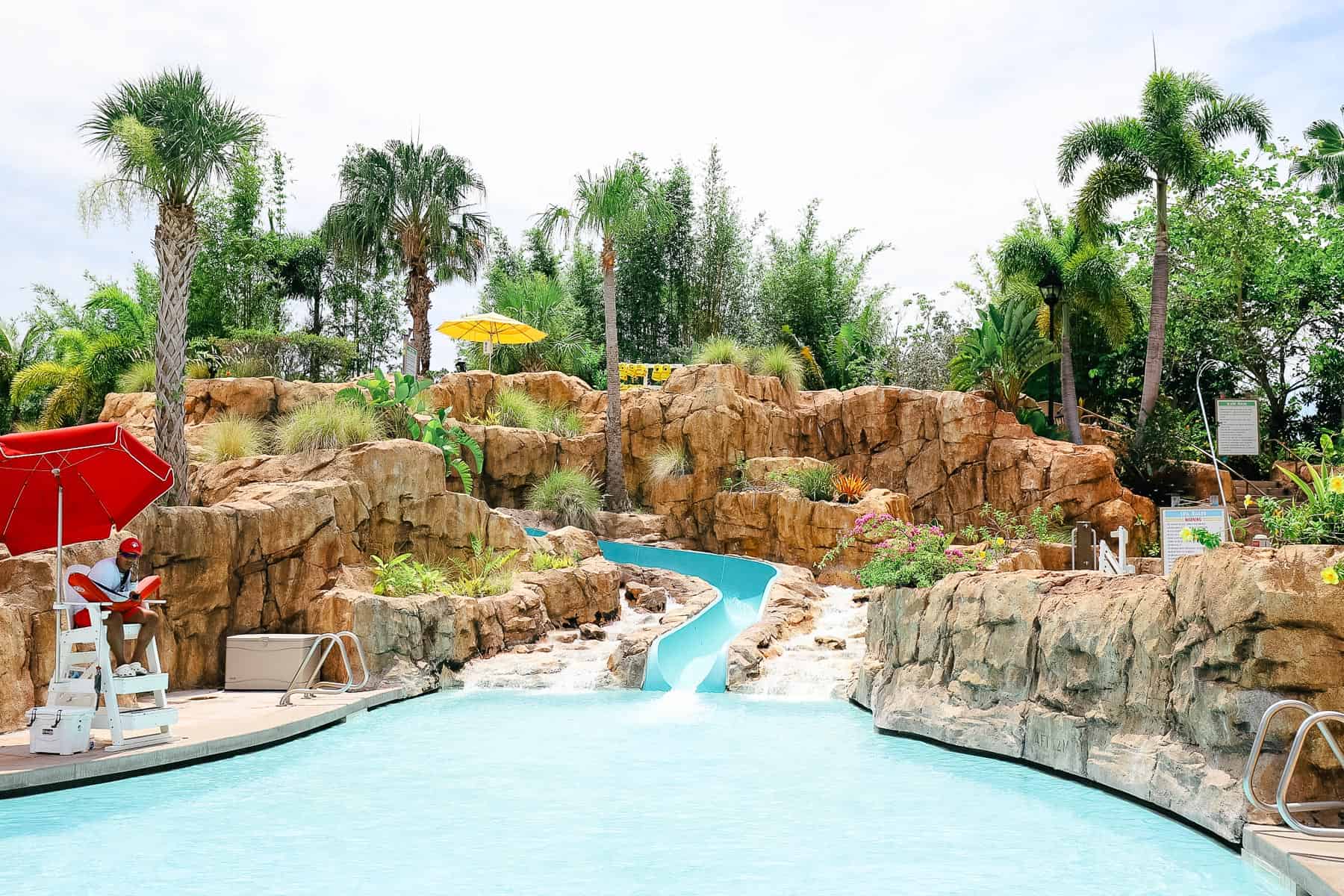 A large hot tub is available near the slide.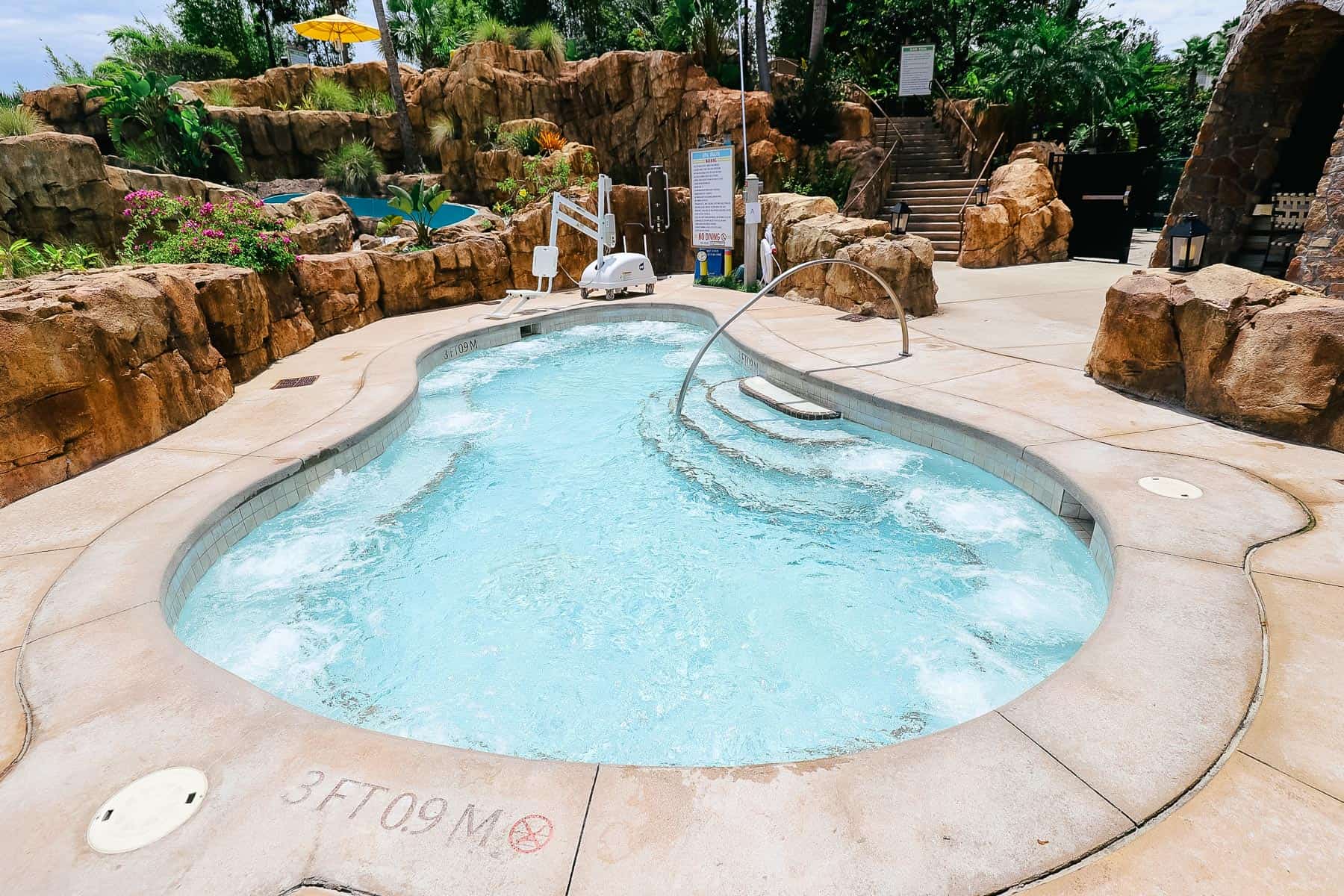 Smaller children might enjoy the splash pad, which sits outside the pool area.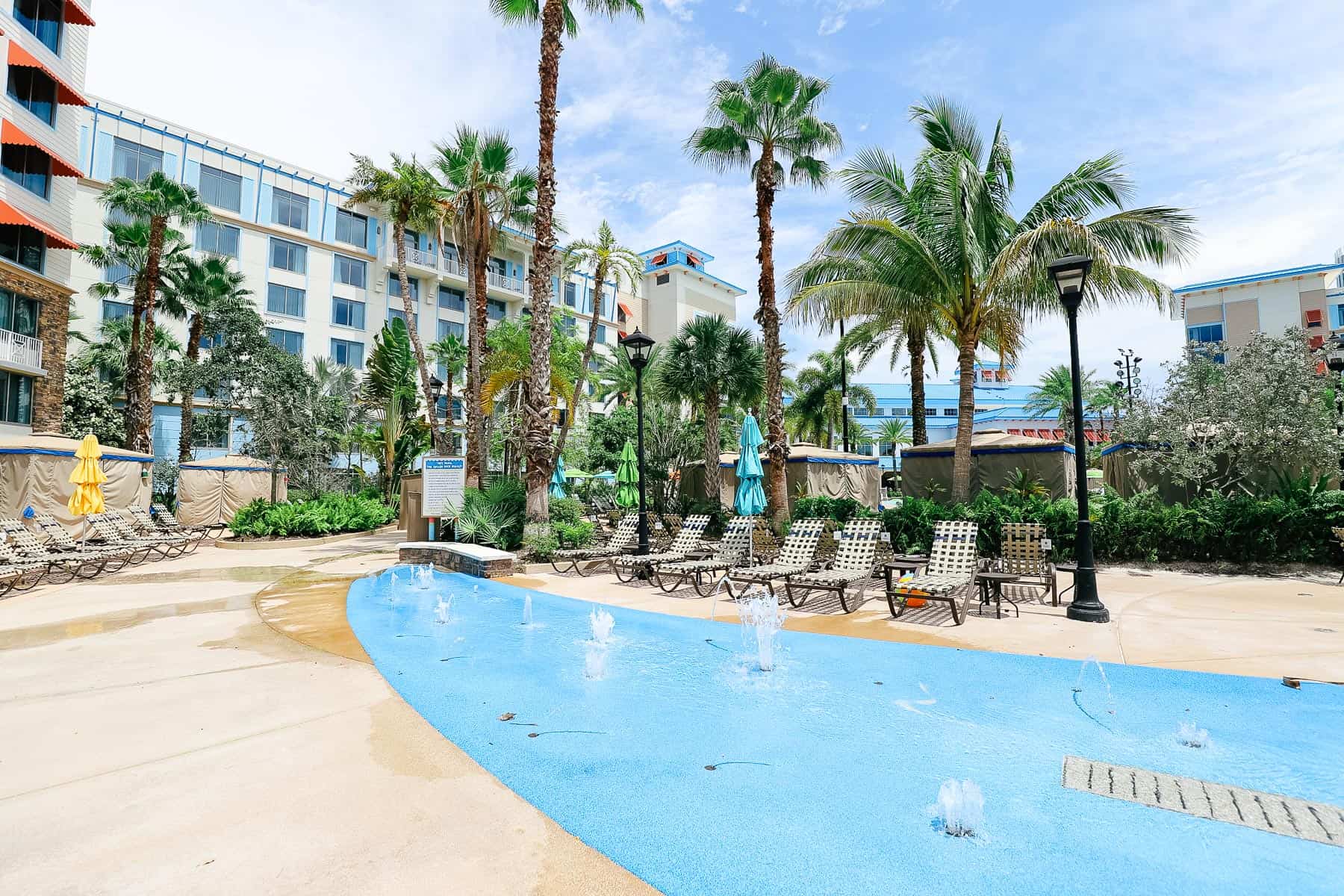 Here are a few more photos of the pool.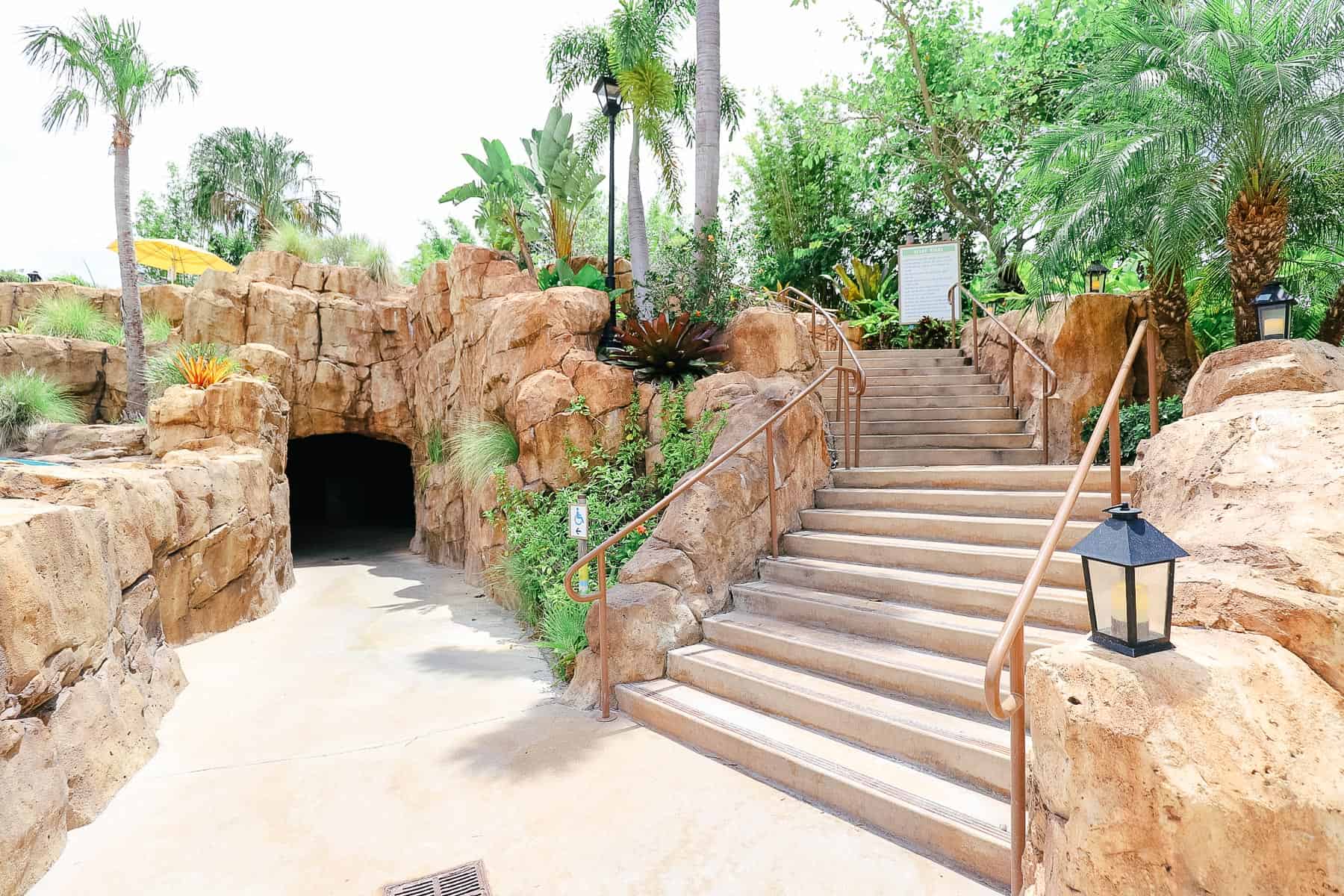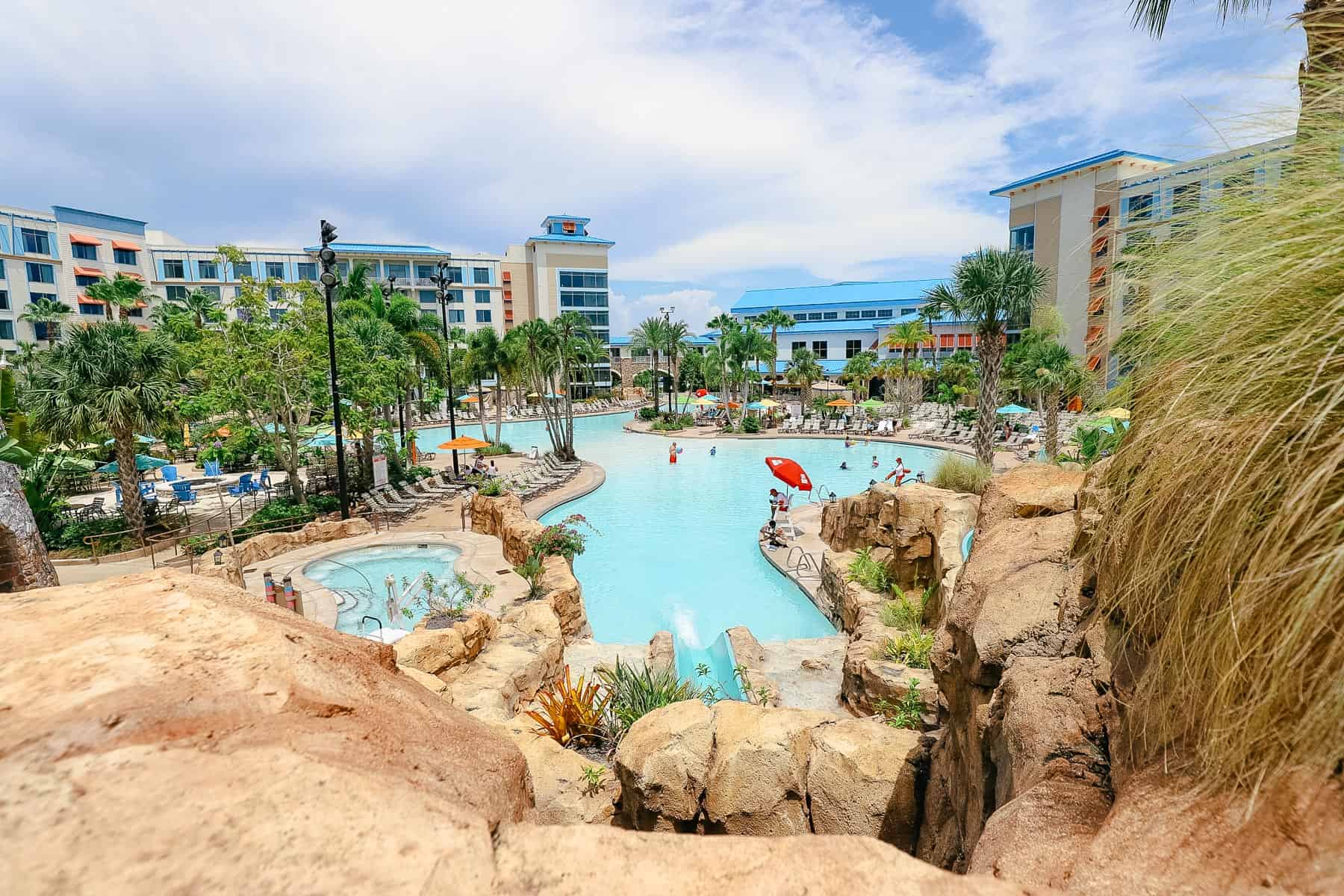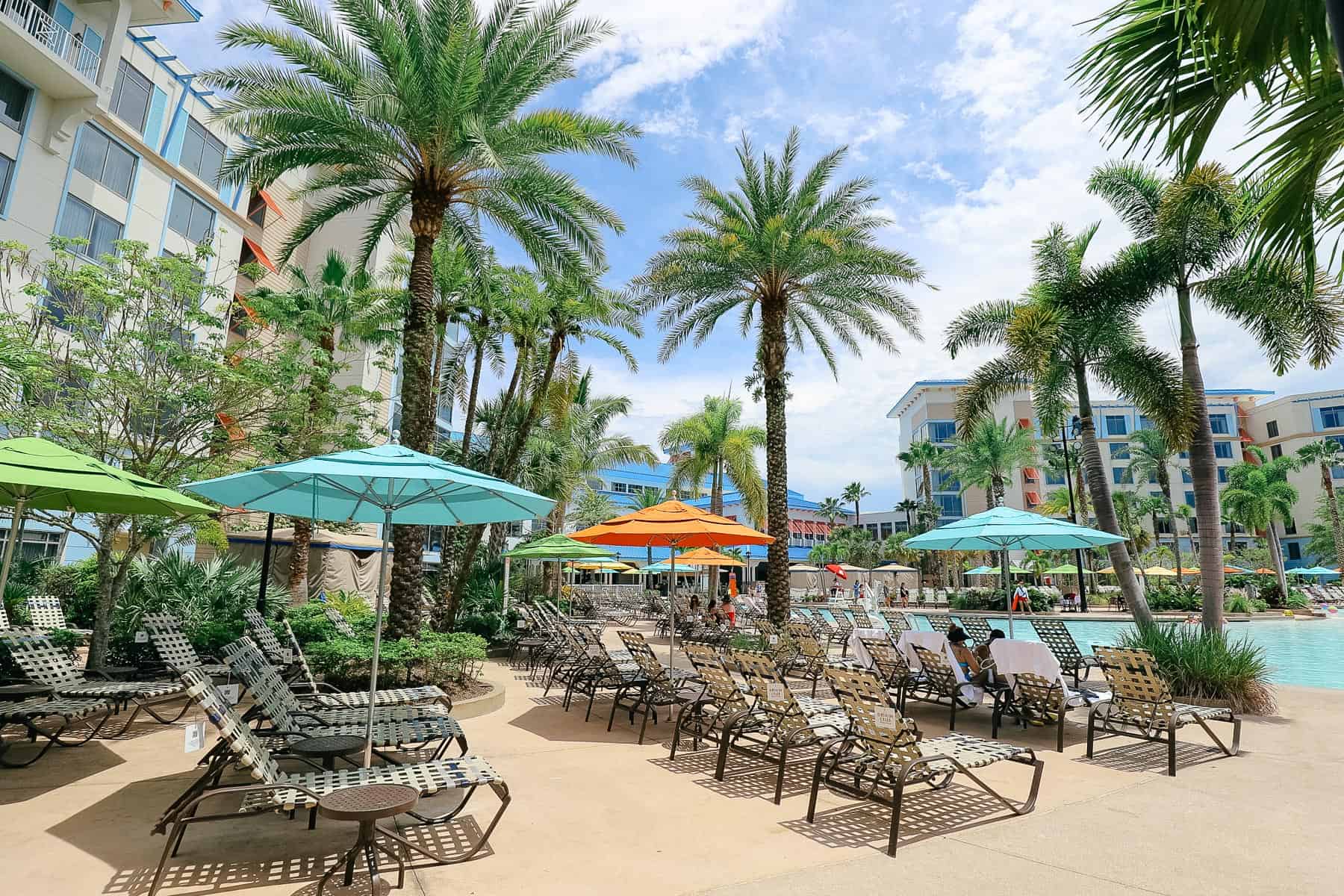 Recreation
The Kalina Fitness Center is near the pool area. I was able to work out here during our stay and enjoyed the views out to the pool area.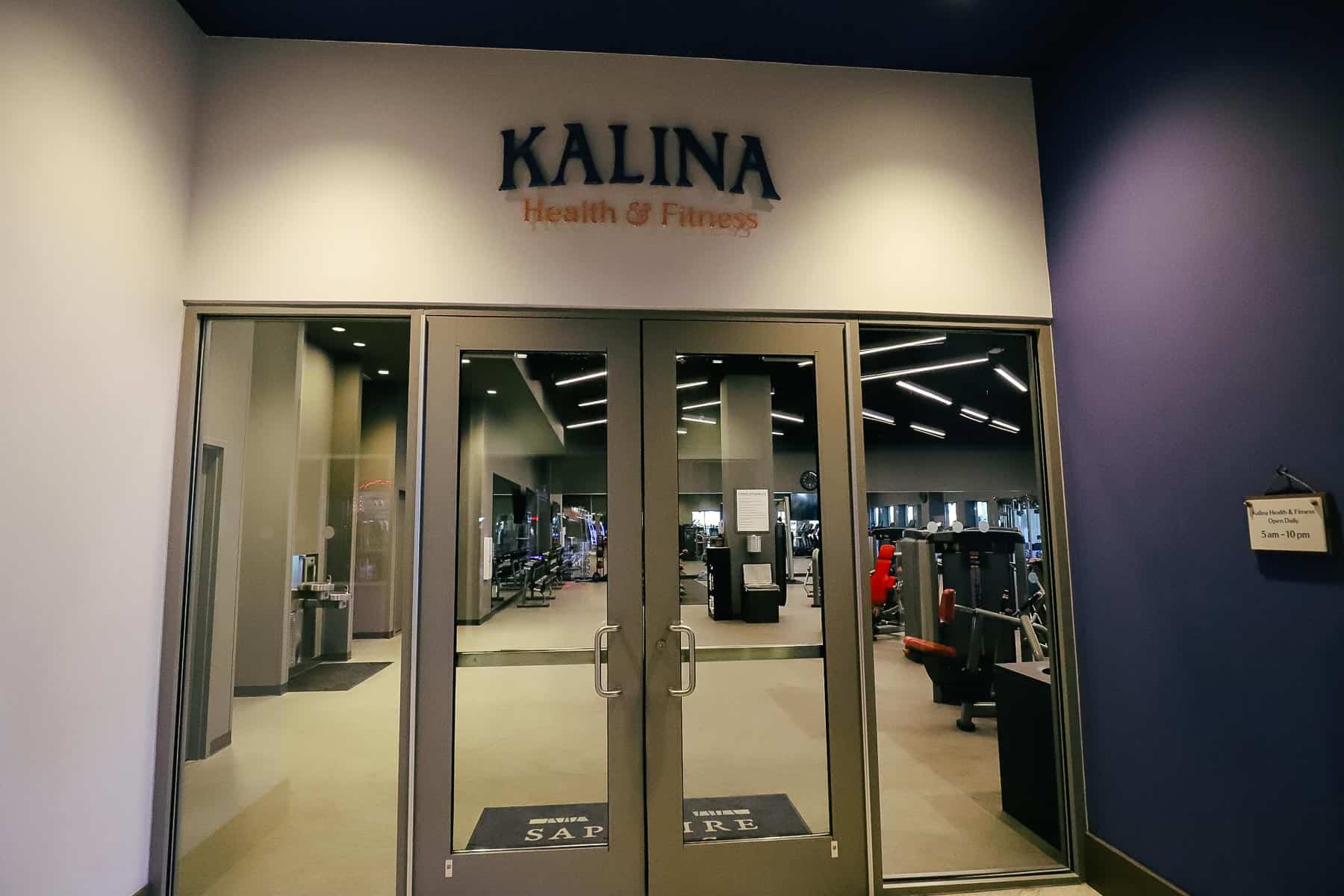 It's a massive gym with quality equipment. It had pretty much anything you might expect and then some.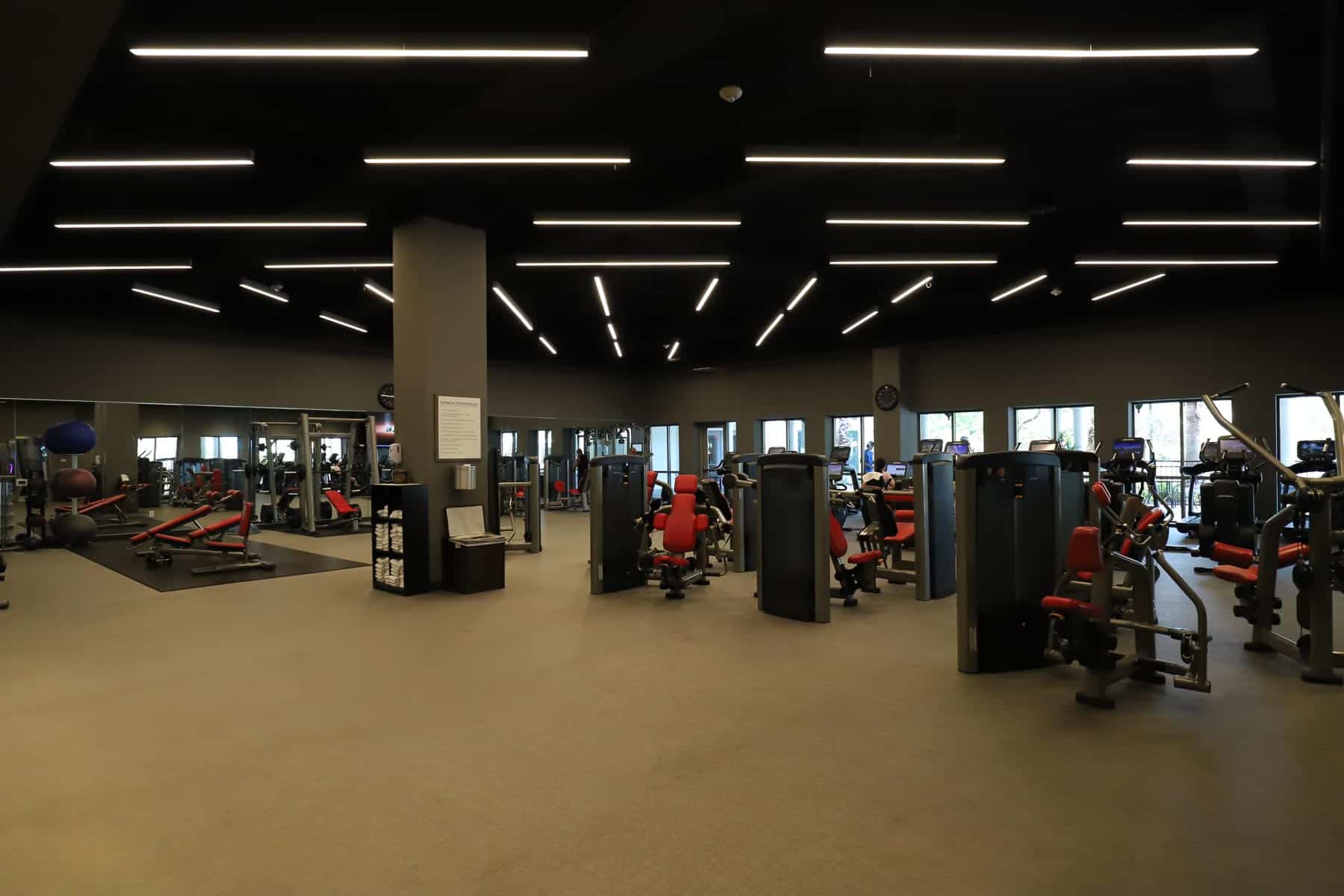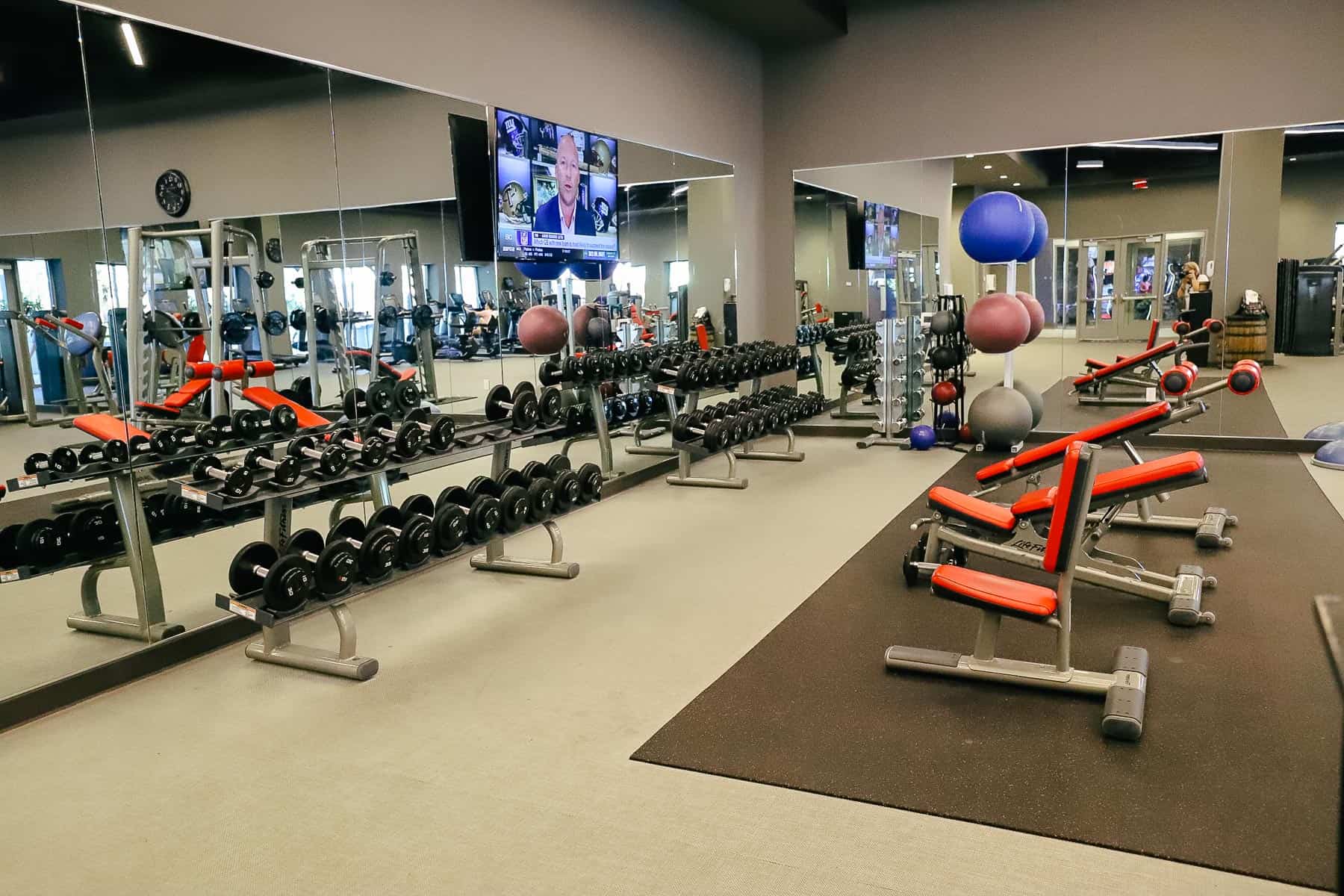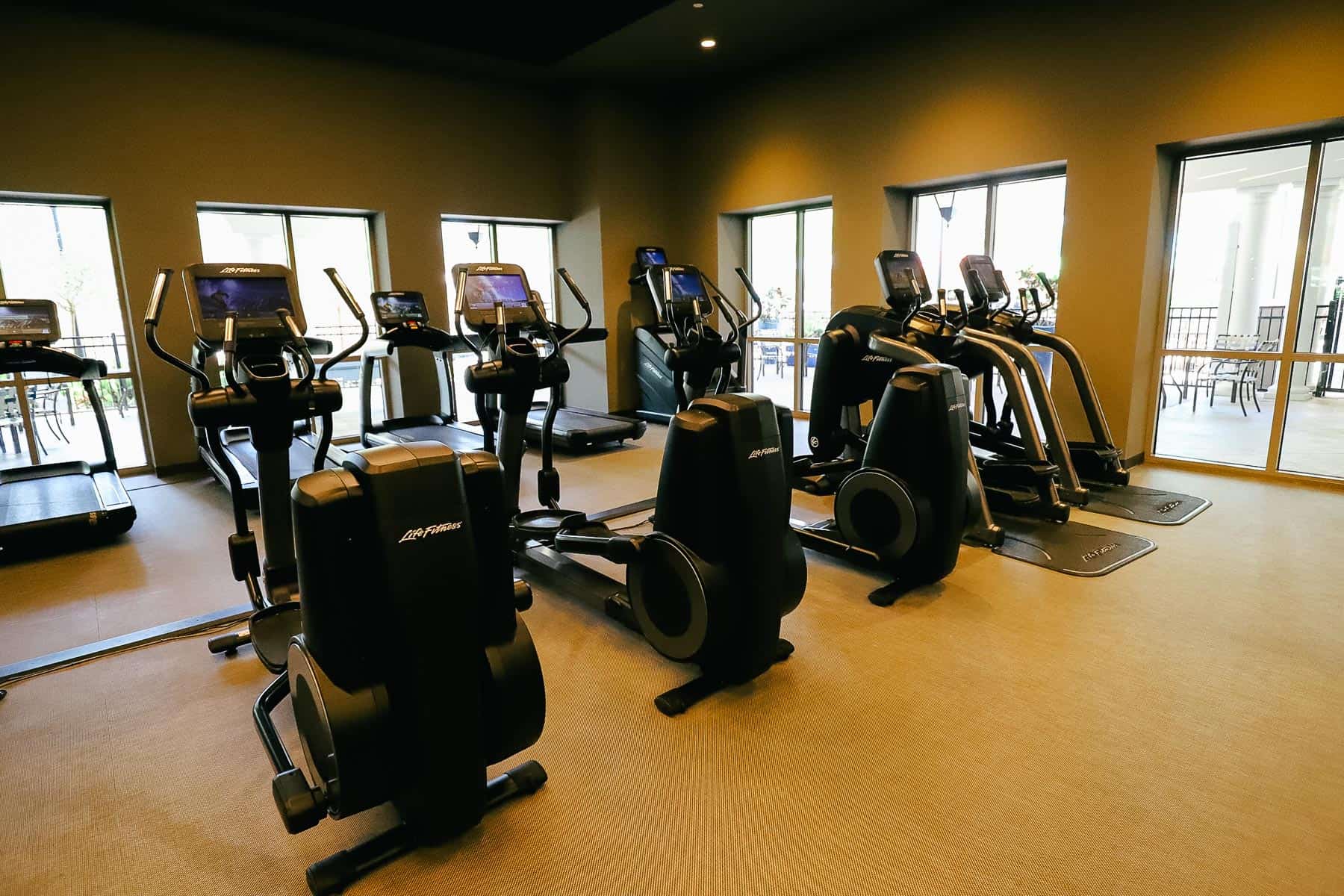 Across from the hotel gym, you'll find the Calypso Game Zone, the resort's arcade.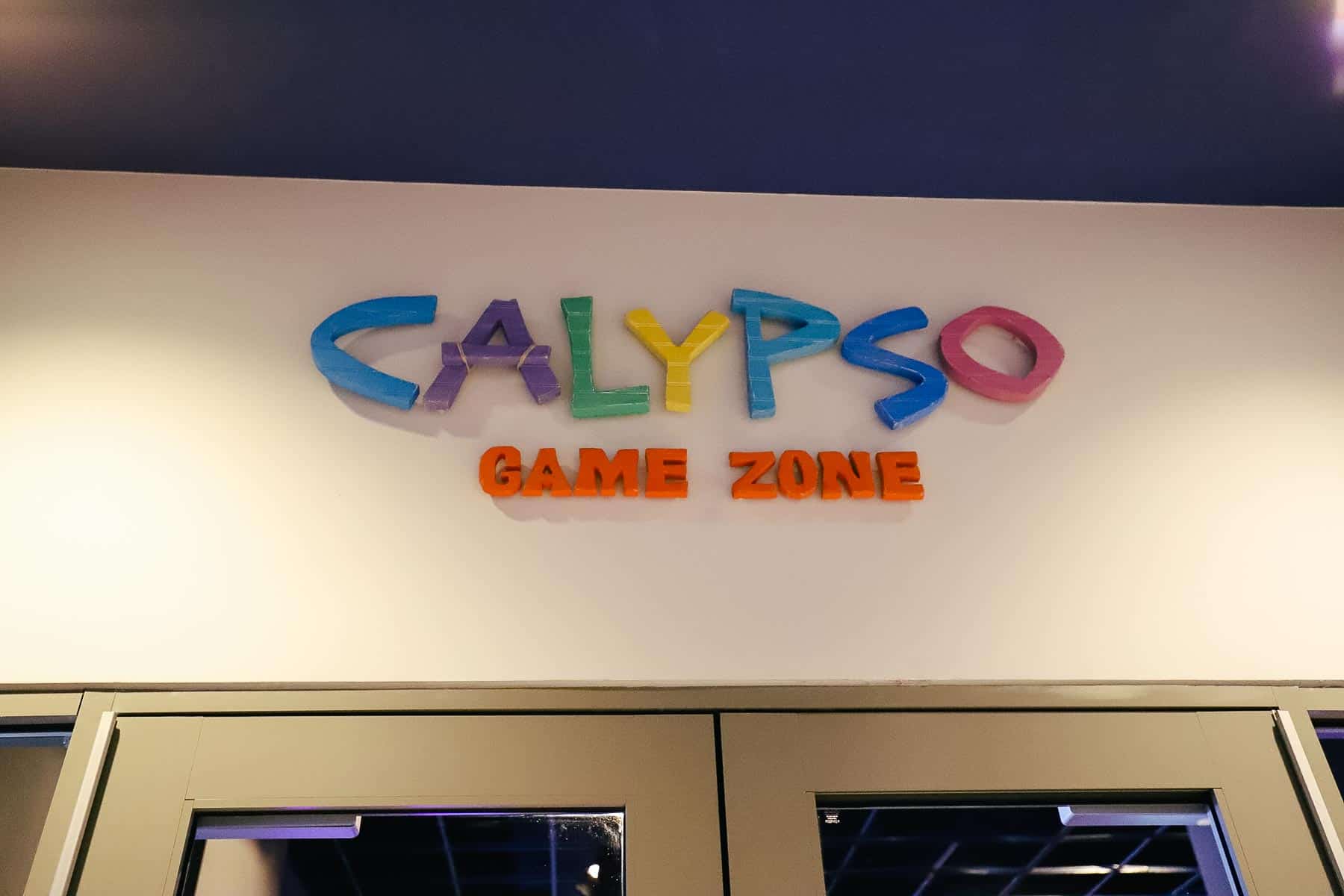 Several video games were available.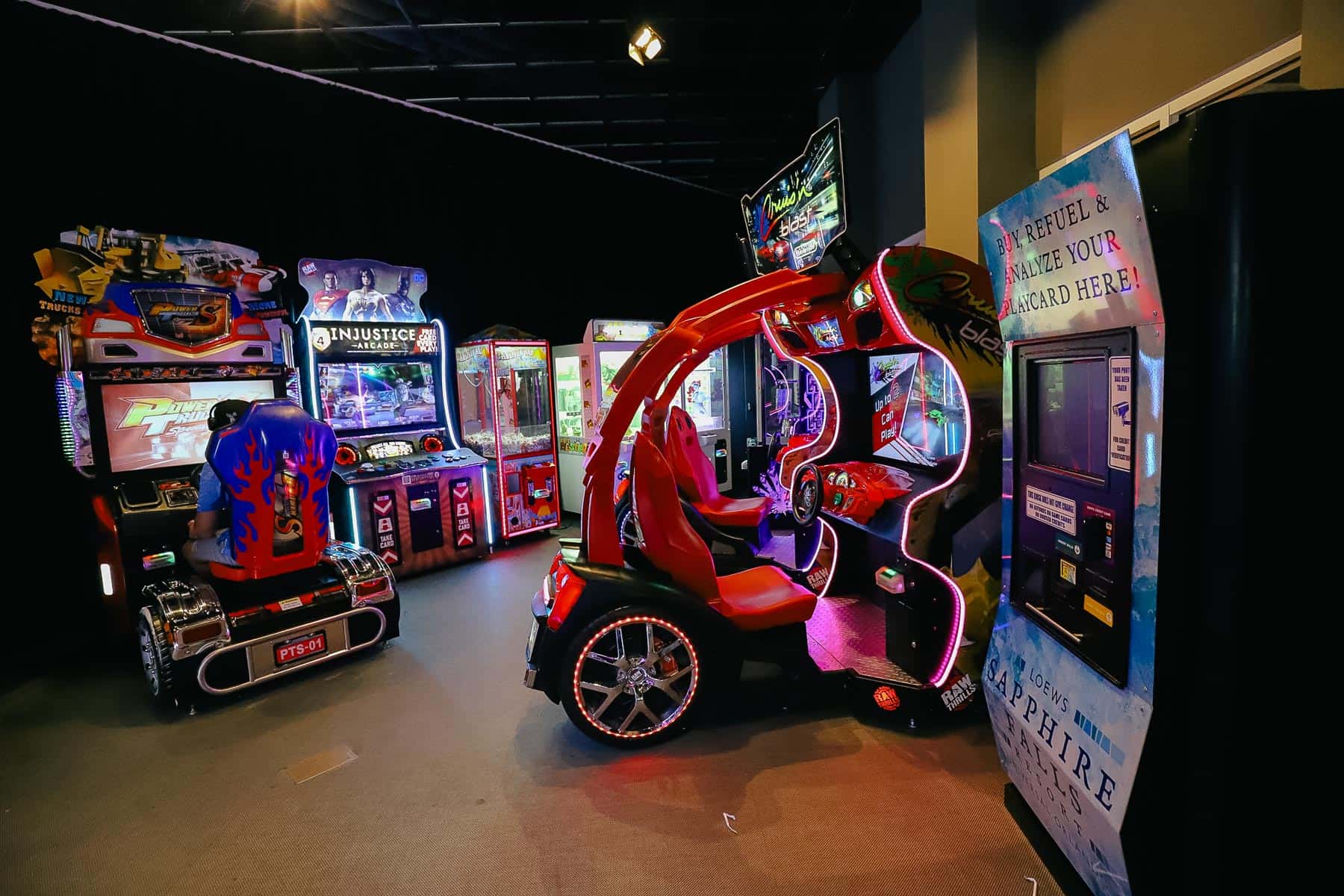 Transportation
Our stay at Sapphire Falls Resort was a mix of business and pleasure. So we didn't visit the parks during this trip. However, I walked through each transportation item so you would know how it works.
Universal has a Garden Walk from several resorts to the parks and CityWalk. It's a beautiful walk that's partially shaded in some areas. However, I noticed a good deal of the path from Sapphire Falls was in full sun.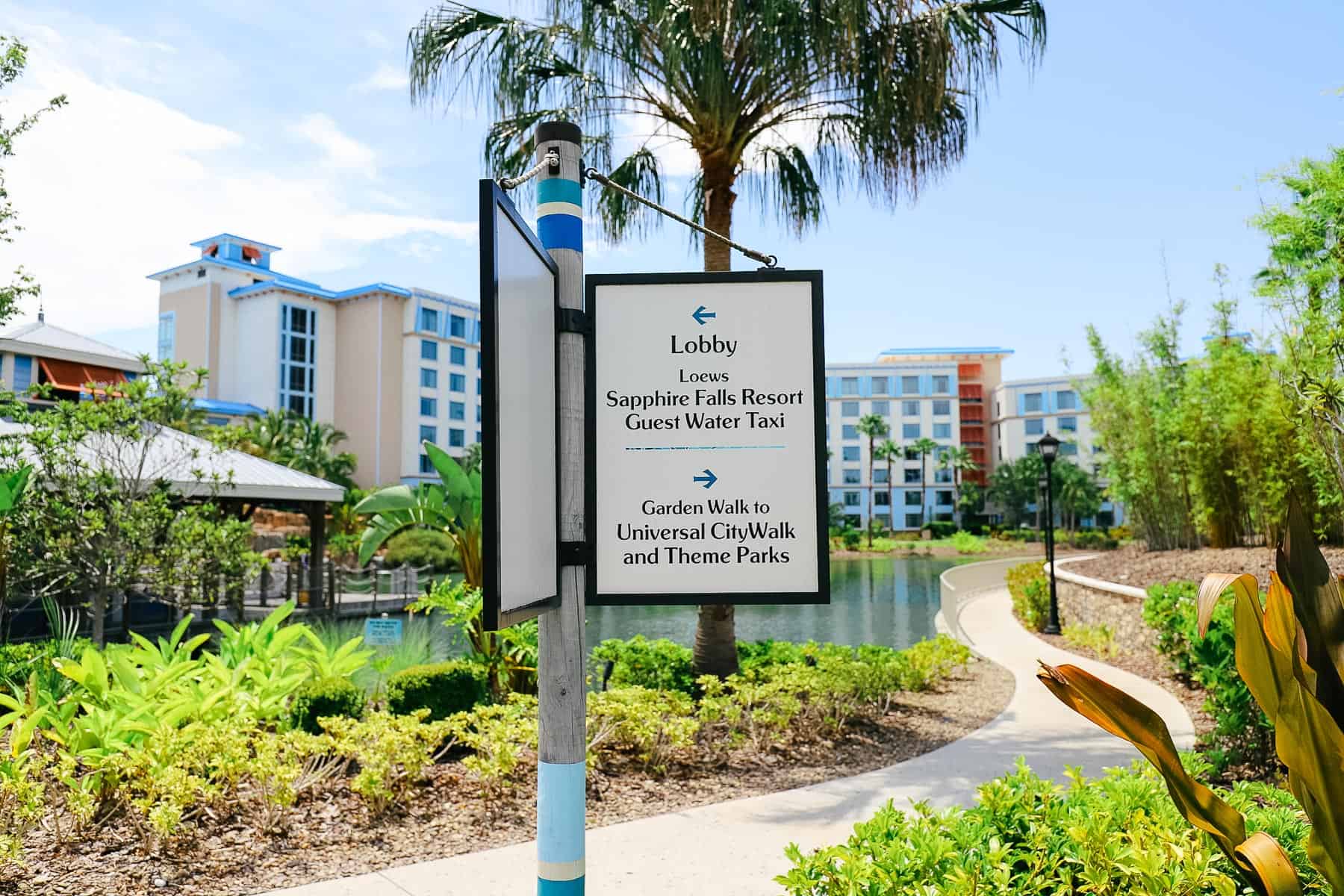 A separate walkway was also available to Universal's Volcano Bay water park, which is next to Cabana Bay Beach Resort. However, you will have to cross a street.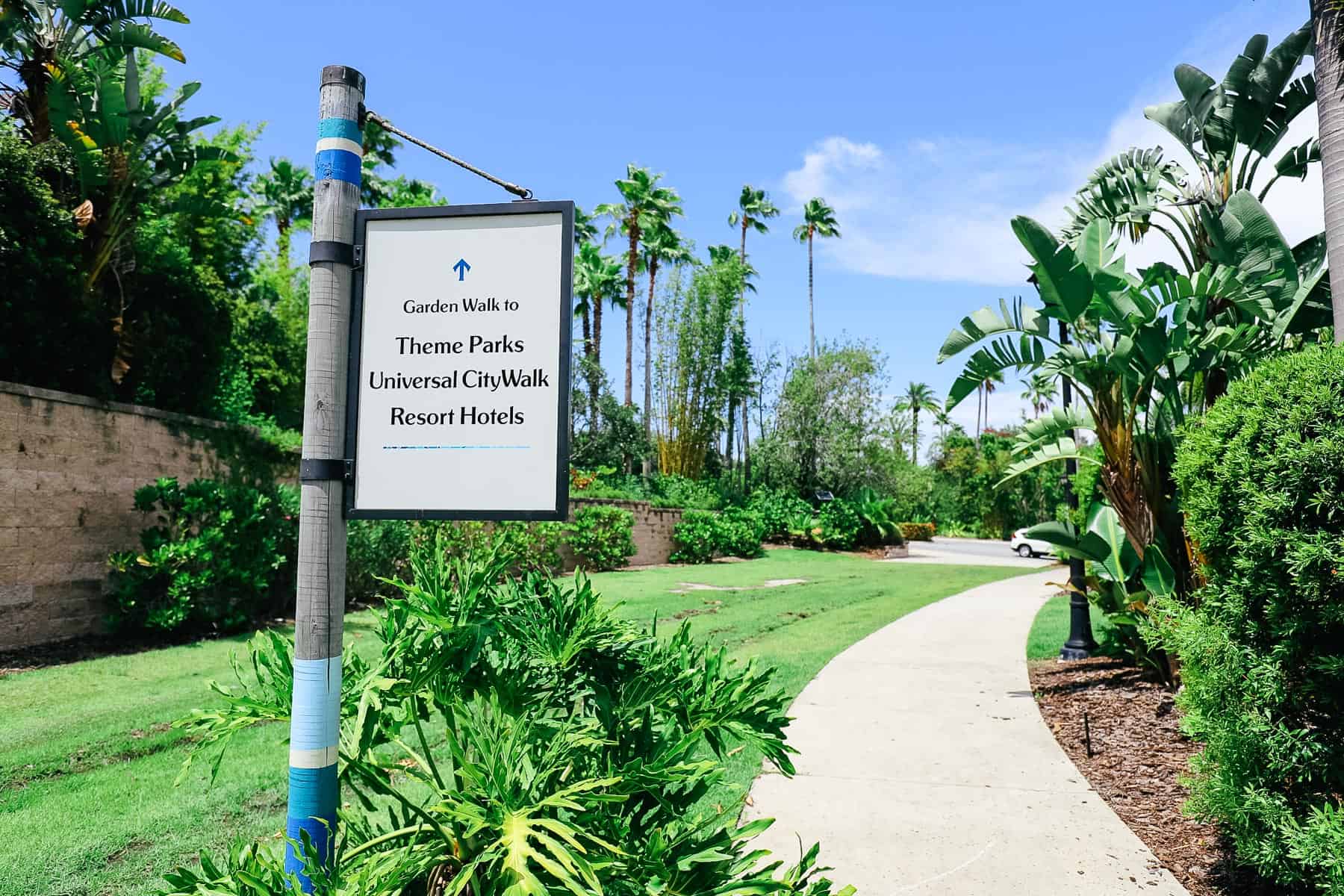 Free shuttle bus transportation is provided to CityWalk and Volcano Bay. Both park entrances are inside the CityWalk area.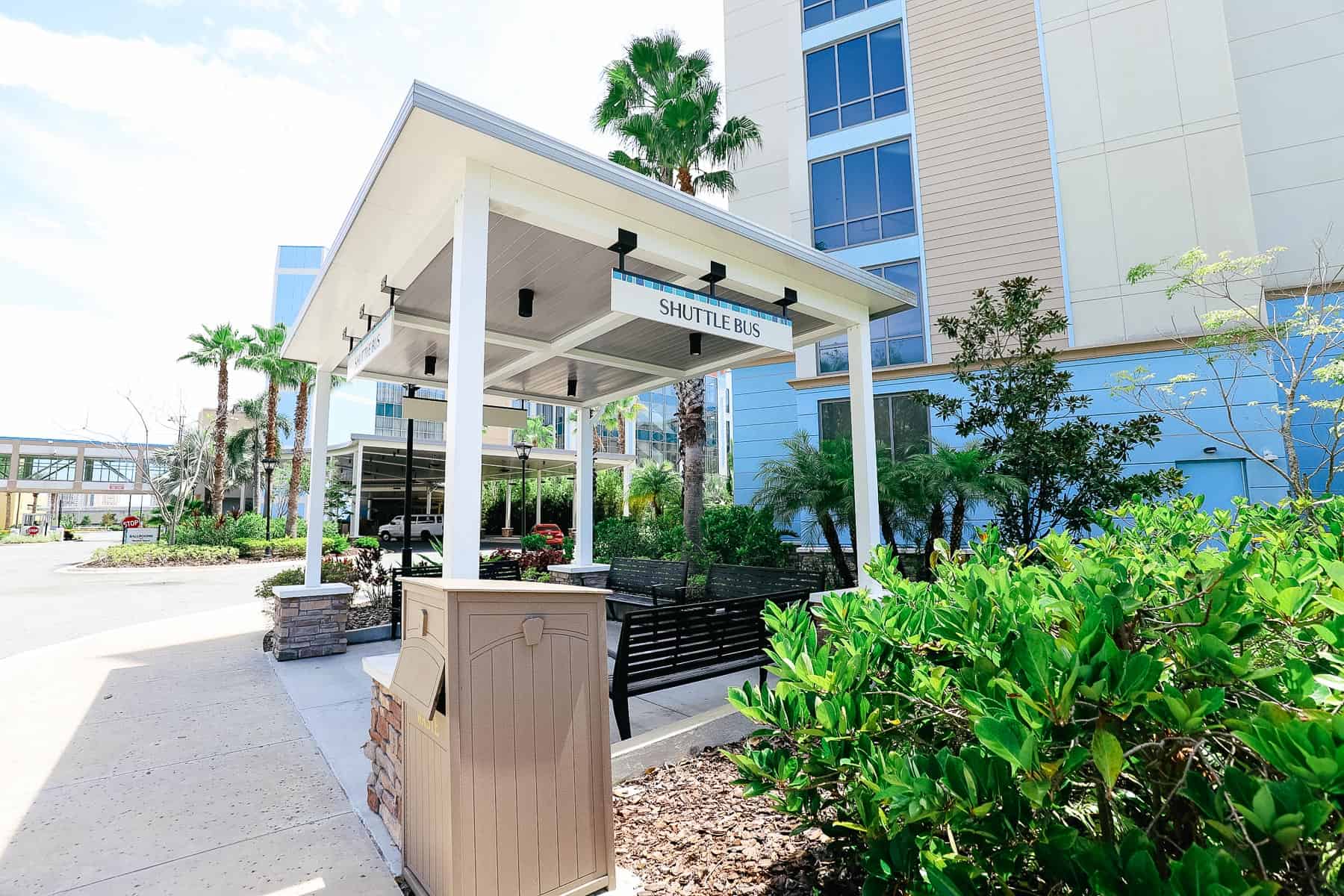 Water taxis travel to and from CityWalk.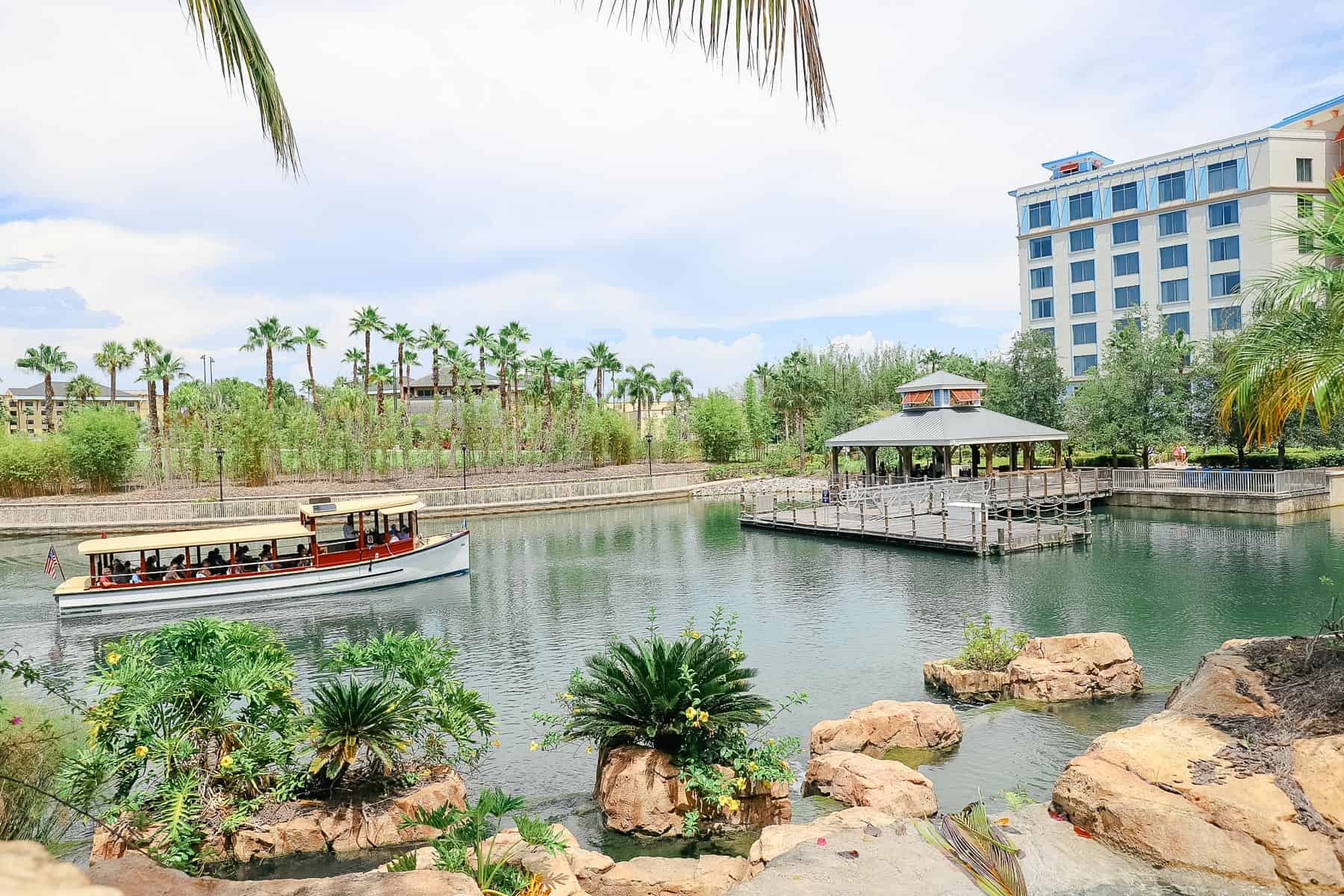 Additionally, Sapphire Falls charges $26.00 per vehicle (daily) for self-parking. Valet parking is $33.00 per day. We chose to valet during this stay.
Final Thoughts
Ultimately, we had a terrific time at Loews Sapphire Falls Resort. Universal Studios has distinctive hotels with amenities that deliver when it comes to meeting the needs of their guests. It is also worth mentioning that we received excellent customer service and had positive interactions with the hotel staff during our stay.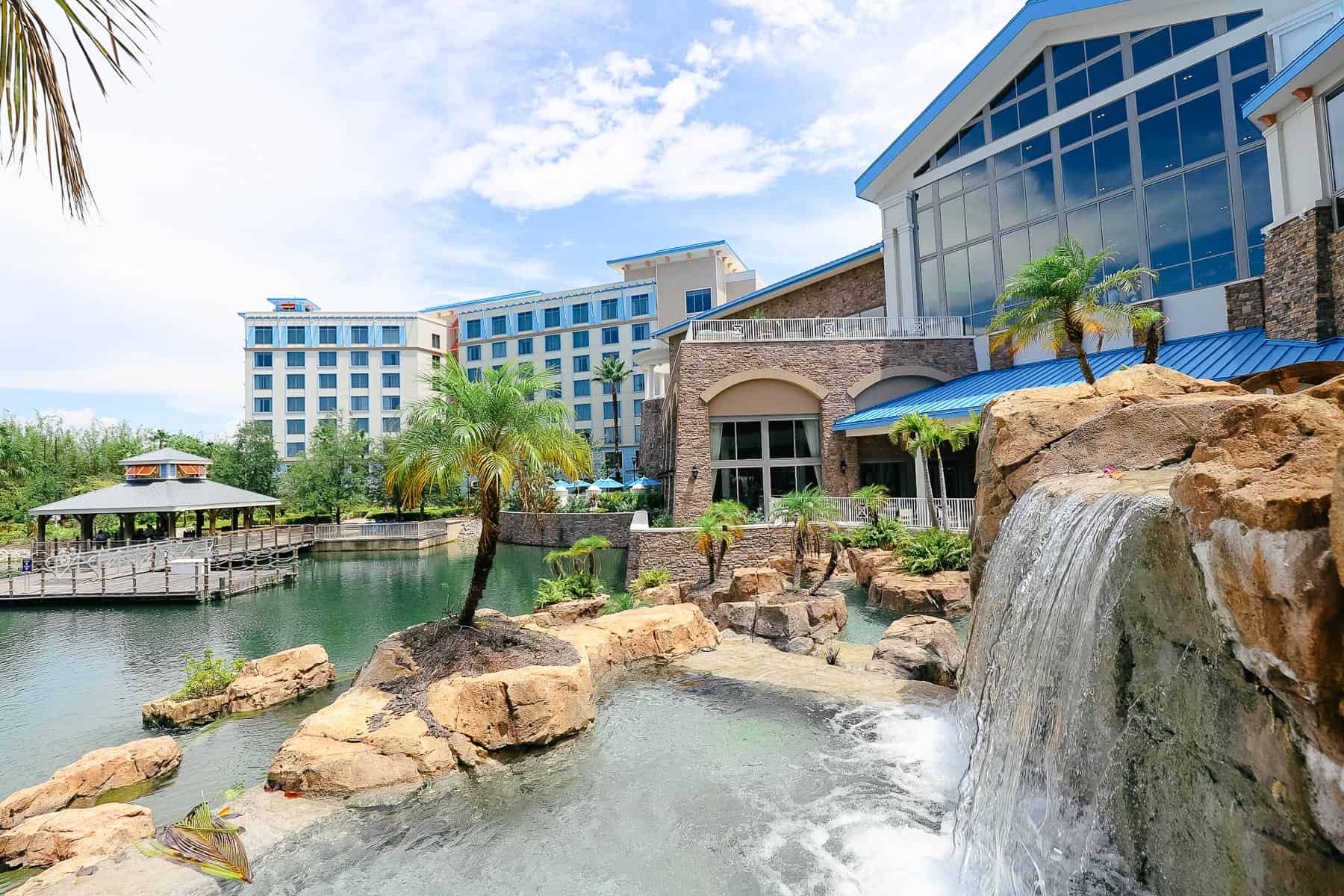 For more resort planning, you might enjoy some of our most popular articles:
For more about Universal Studios Resorts, we have a room tour of a Volcano Bay view room at Cabana Bay.
In the Comments
What are your thoughts on this Loews Sapphire Falls review? Have you ever visited the resort? Does it look like something your family would enjoy? When it comes to the resorts at Universal, what would you like to know? Share your unique point of view in the comments area below.