Volcano Bay View Room at Universal's Cabana Bay Beach Resort
This article provides a tour of a Volcano Bay view room at Cabana Bay Beach Resort at Universal Studios Orlando, Florida. We'll preview photos and a video of the water park view room.
Those planning a trip to Universal Studios primarily to visit Volcano Bay might enjoy being within short walking distance of the water park. If so, you might consider a room with a water park view at Universal's Cabana Bay Beach Resort.
We stayed at the resort to celebrate our first visit to Universal's Volcano Bay water park. To make things extra special, we reserved a tower room with a view of Volcano Bay. And the view did not disappoint!
As it turns out, we found Cabana Bay to be an excellent resort for those considering a mini-vacation, water park-only trip, or a budget-friendly hotel. Before this trip, our experience with Universal Studios was limited.
Initially, we were going to spend the day at Volcano Bay. But after thinking it over, I didn't want to deal with parking and taking transportation to the water park. While it wouldn't have been a big deal, the convenience of walking from the hotel to the park won out.
So on a whim, I called my travel agent at Firefly Travels and had her reserve two nights in a volcano-view room at Cabana Bay. Also, I think you will all agree. Our view of the water park from the room was worth it!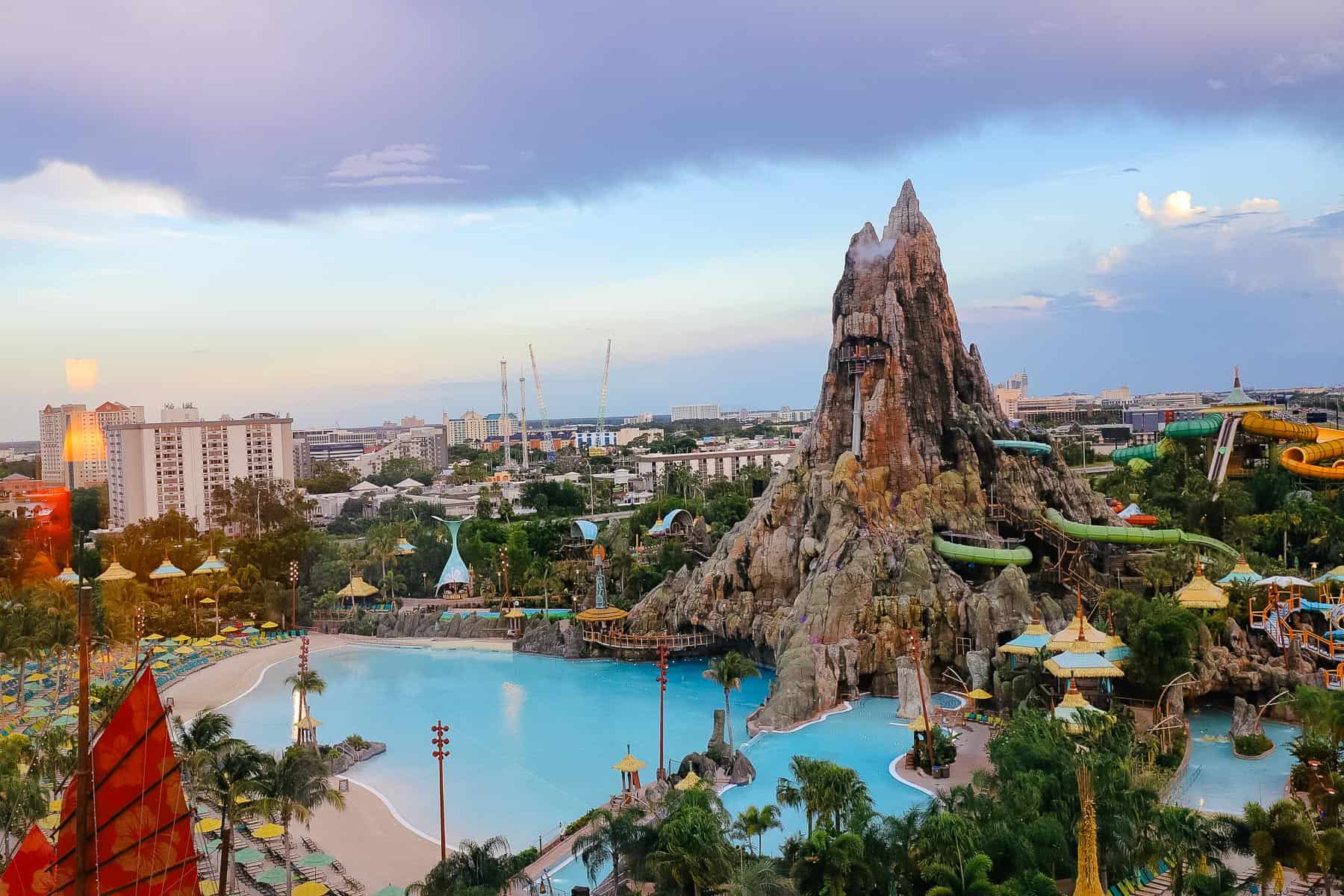 Our room wasn't too shabby either, especially considering this is a prime value-category resort. You'll want to know that the Volcano Bay view rooms are located in the towers at Cabana Bay Beach Resort.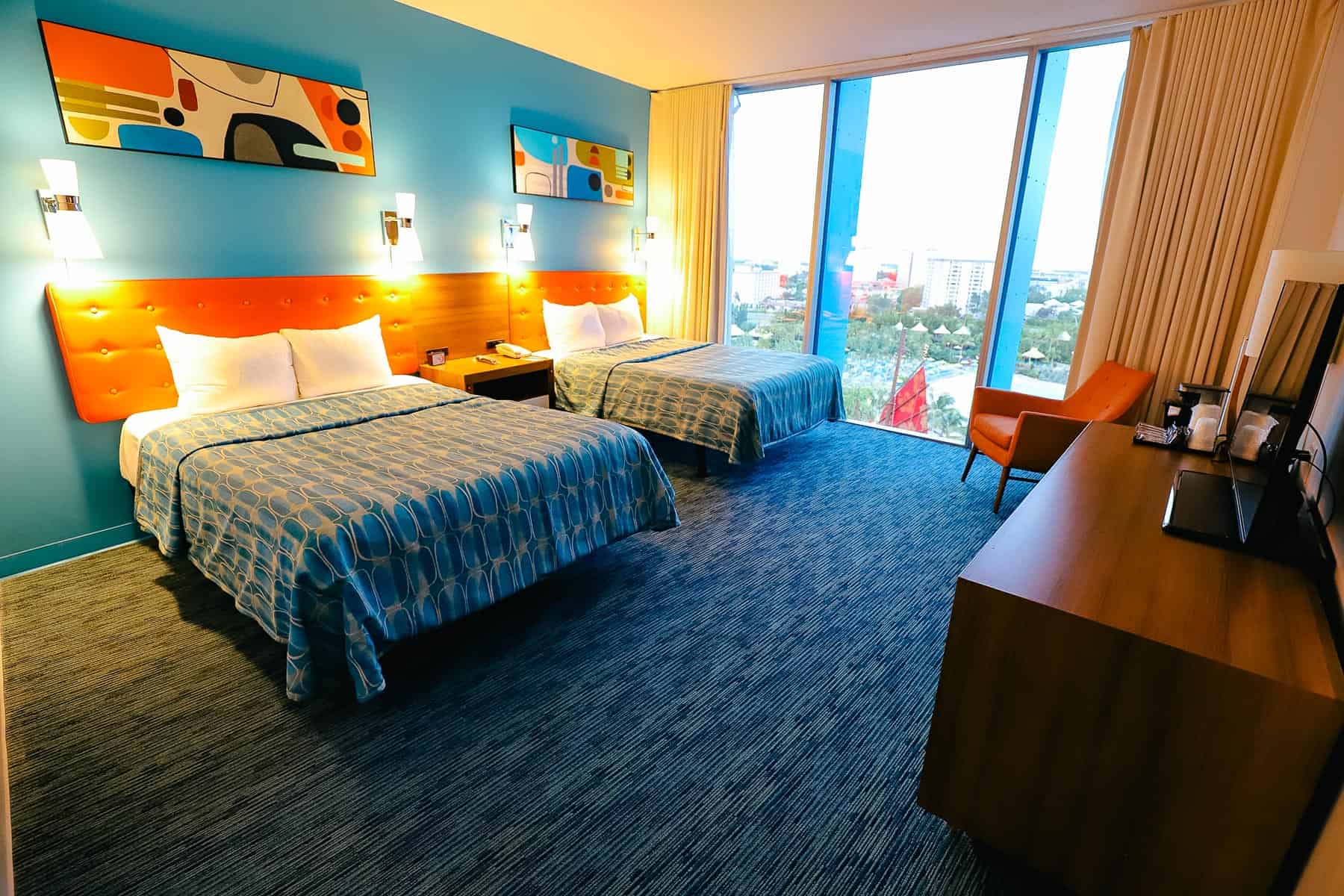 Standard rooms at the resort are in regular buildings and have exterior access comparable to a value resort at Walt Disney World. We found the tower rooms, which have interior access like a hotel, comparable to a moderate resort.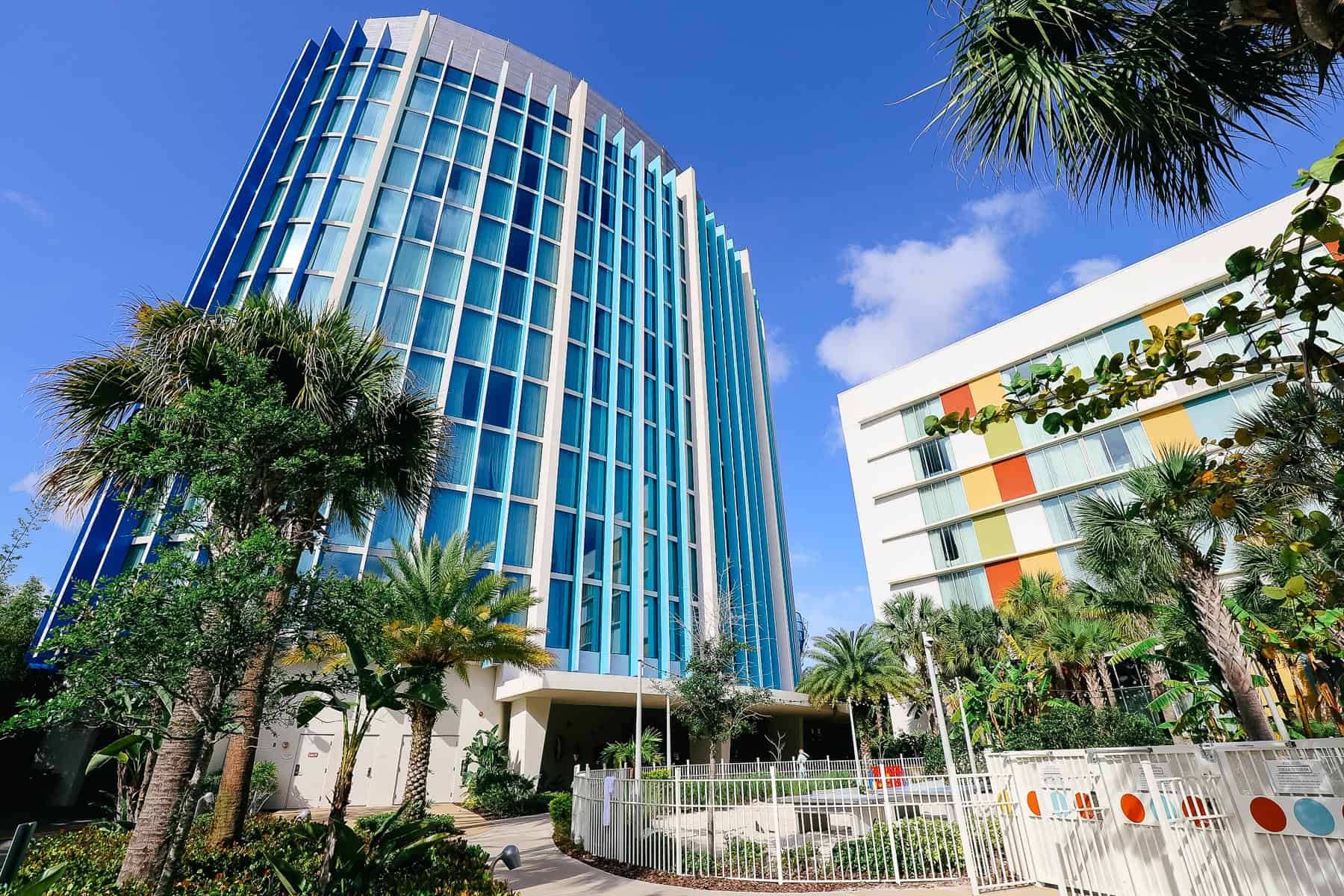 Cabana Bay Beach Resort has retro-theming that continues into the rooms. Our room featured two queen-size beds. An accent wall provided a bright blue backdrop for the bed area, while the other walls remained white.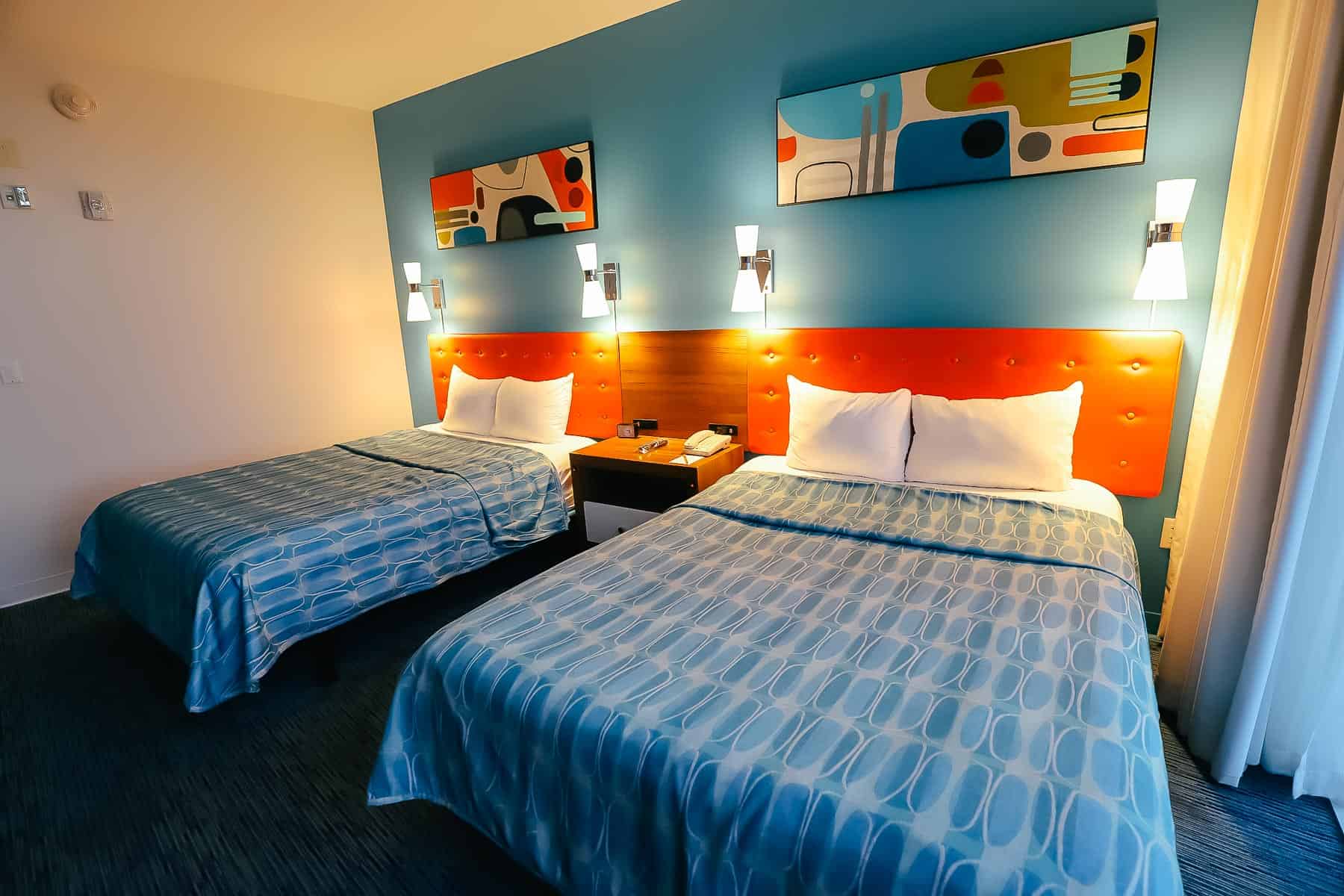 A large wall of floor-to-ceiling windows offers views of the water park. Long windows enhance the space making it feel larger.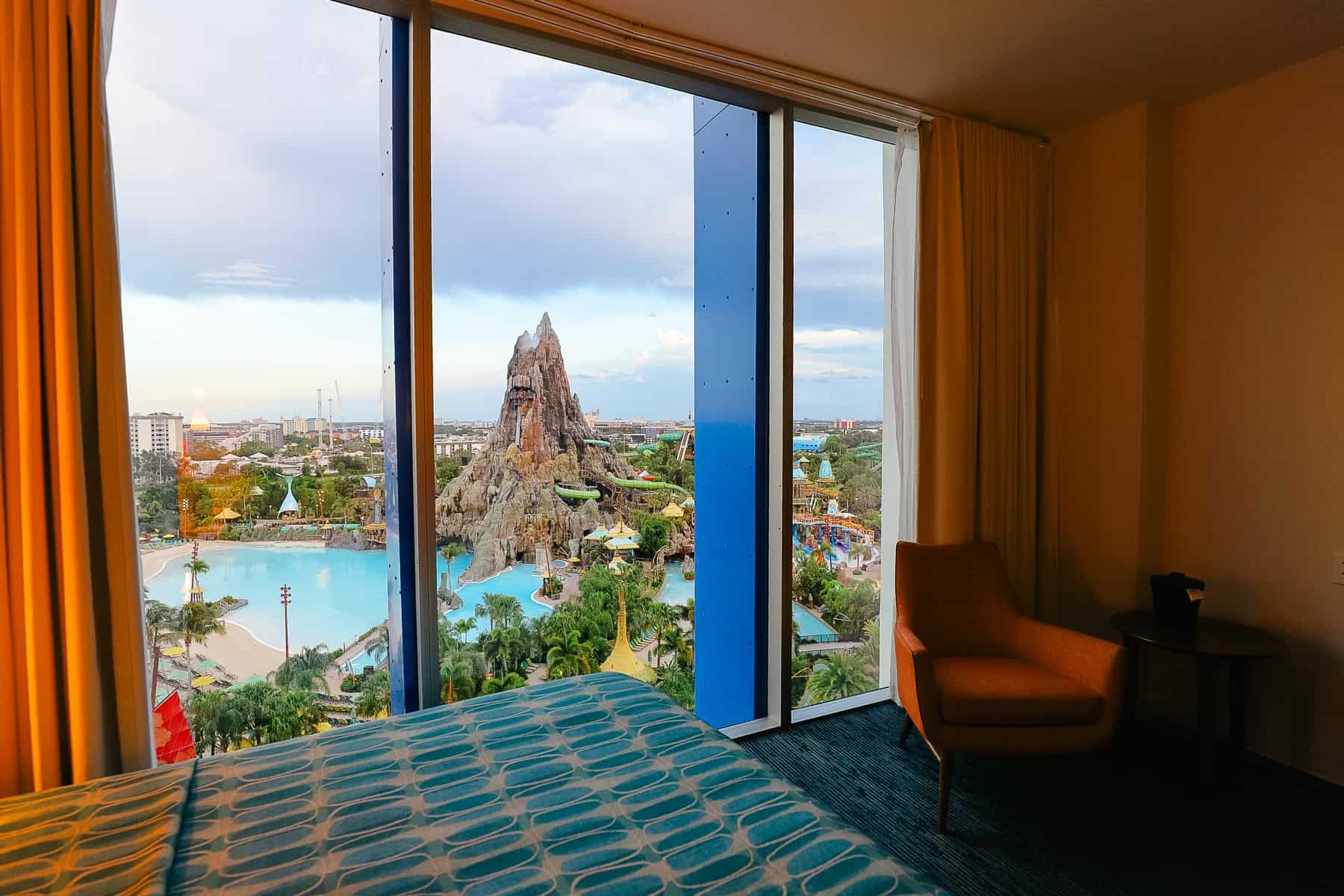 Orange-cushioned headboards came with reading lights on both sides. But it's hard to read with such an incredible view close by.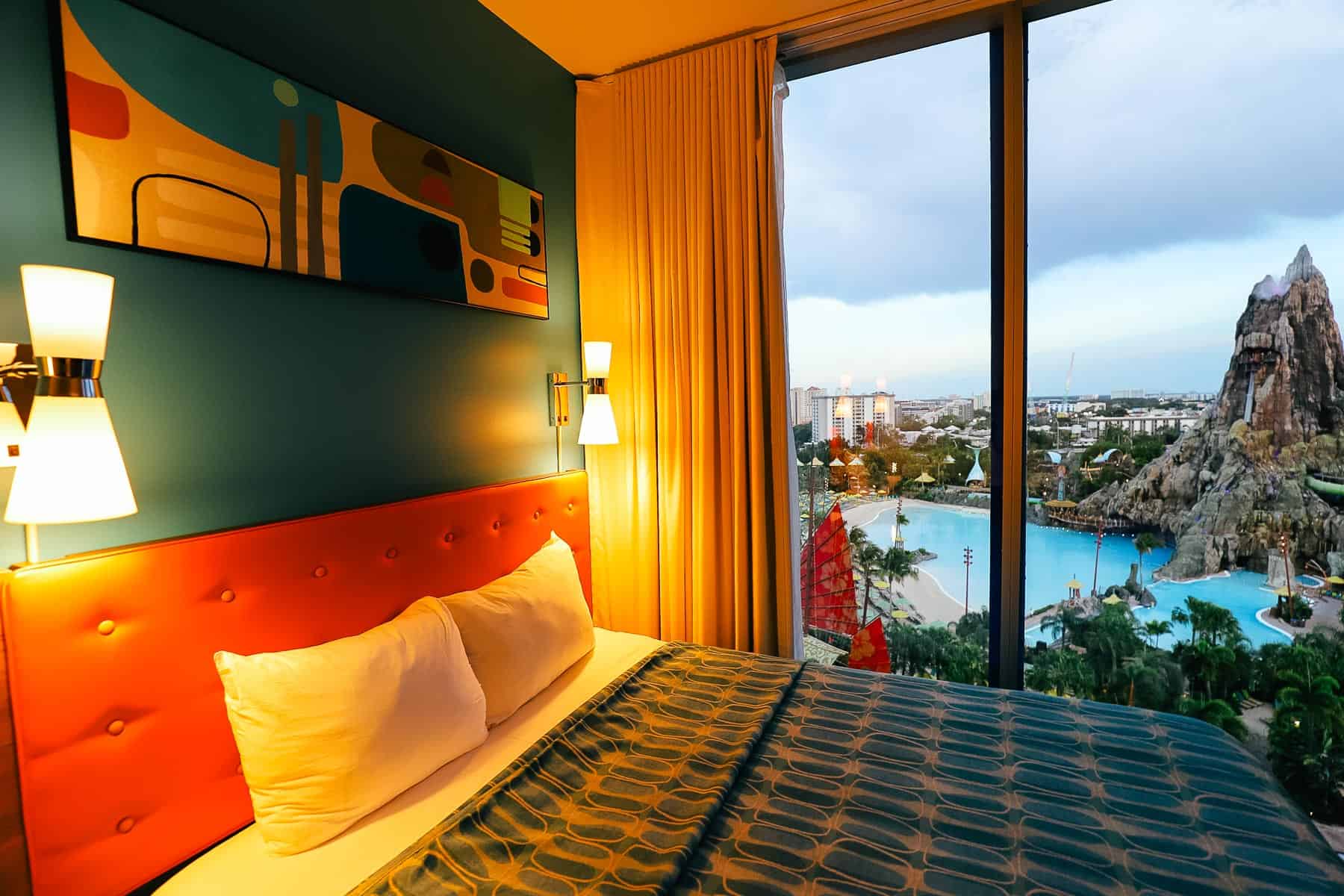 Here's another angle.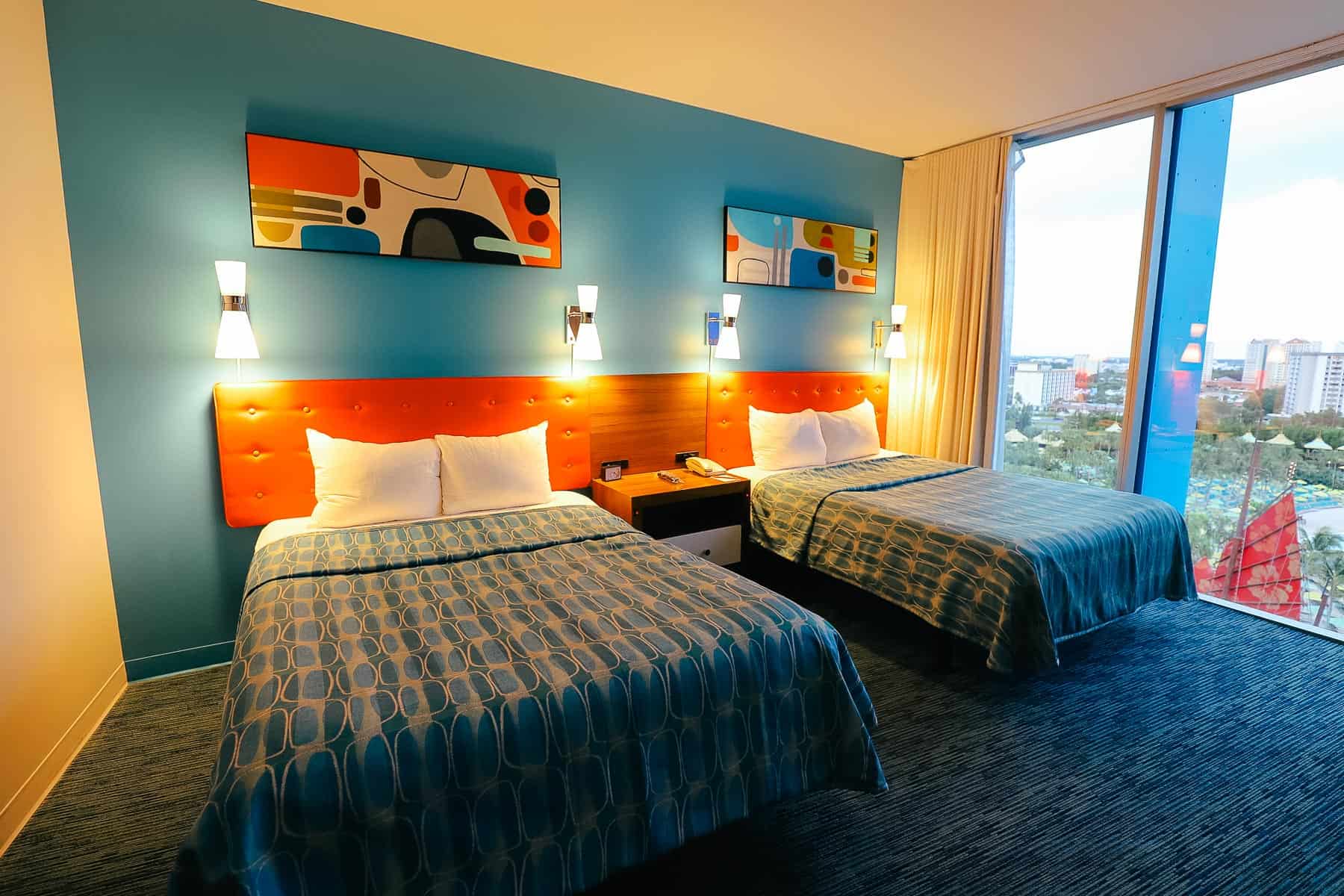 I enjoyed the minimalist look and feel of the room. Less is more.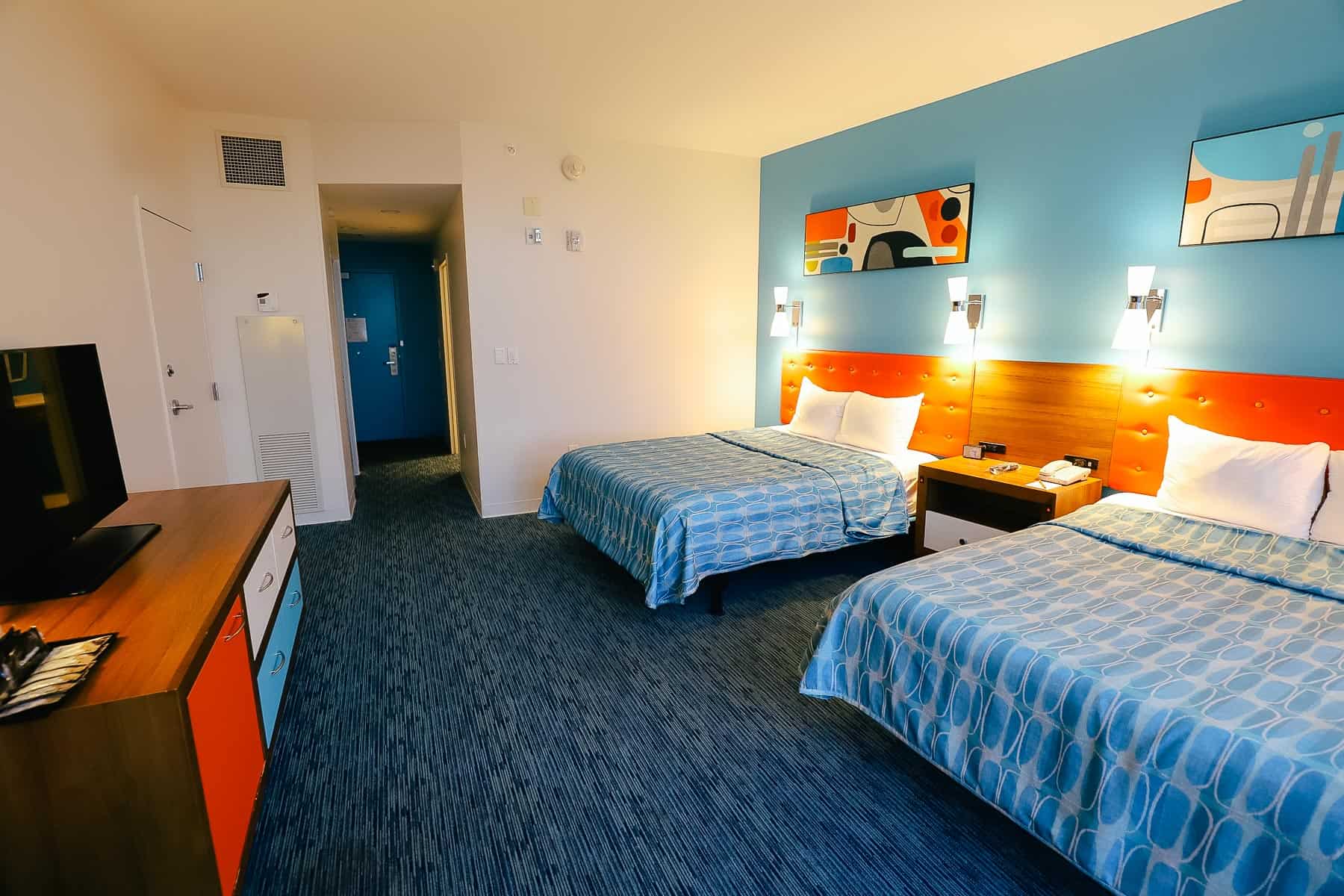 A retro chair sits in the corner by the window with a small table beside it.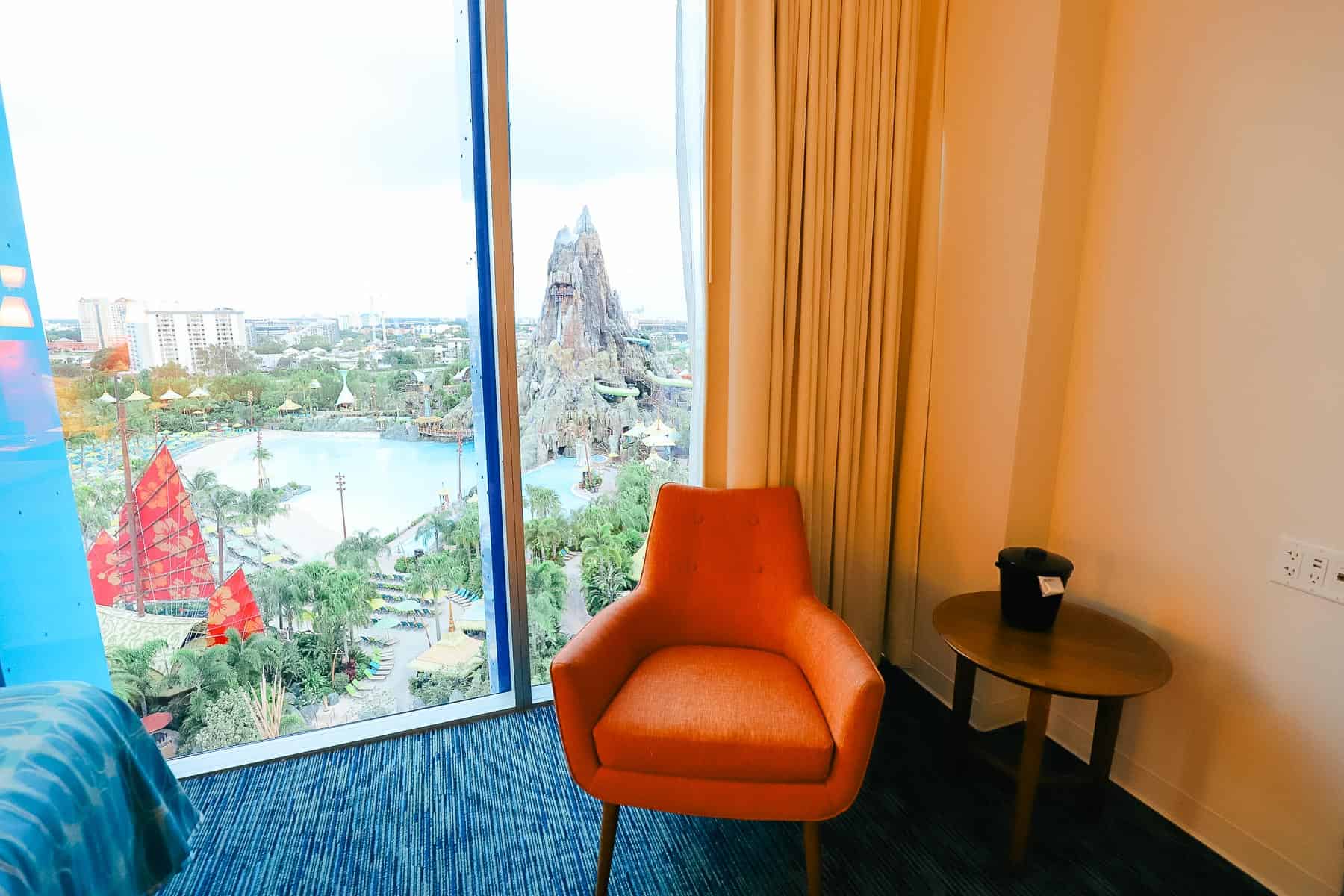 However, you'd probably prefer to turn the chair to face the stunning view.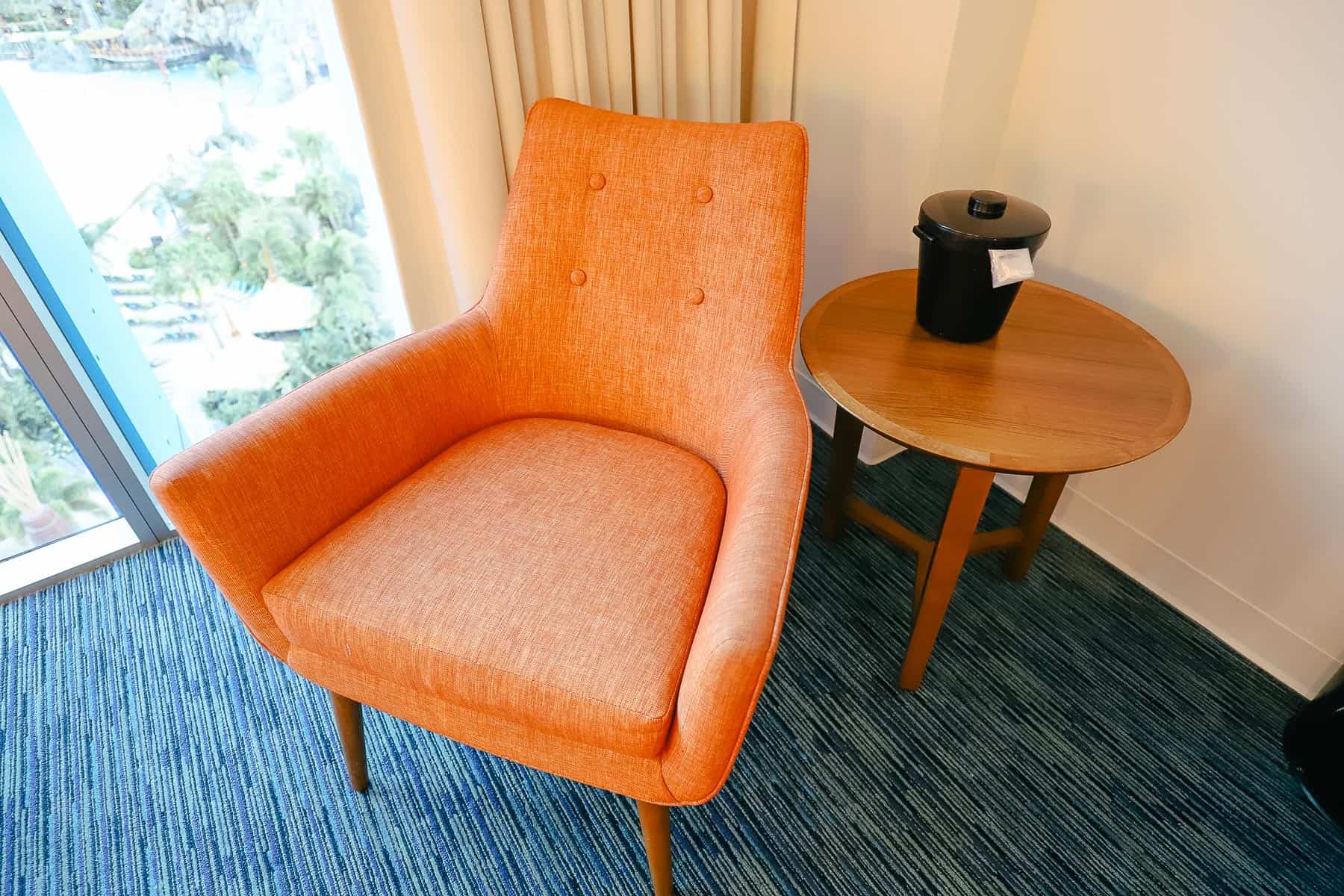 A dresser offered a few storage drawers and amenities.
A single-cup coffee maker by Cuisinart sat on top of the dresser.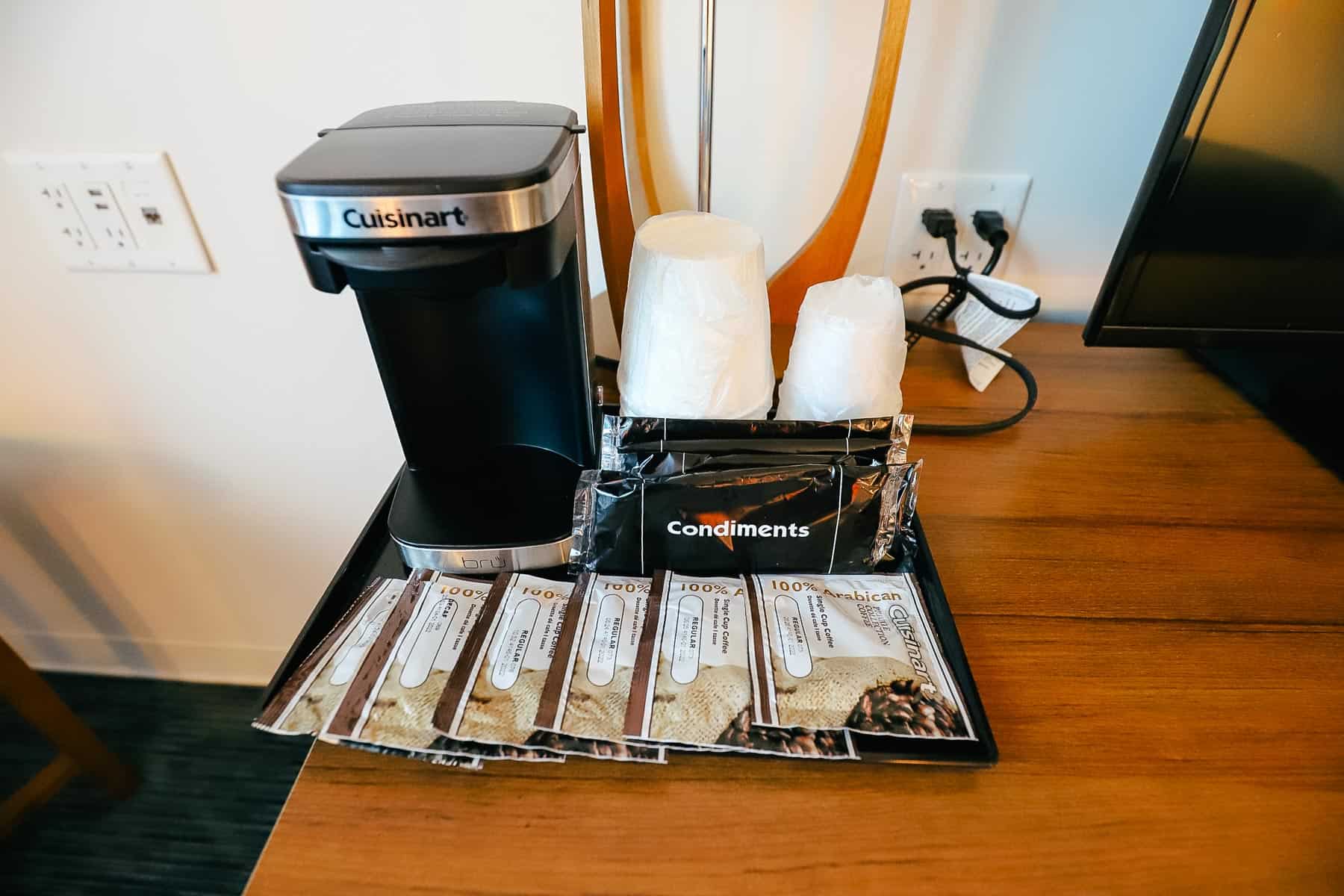 A cabinet on one side of the dresser opens to reveal a beverage cooler.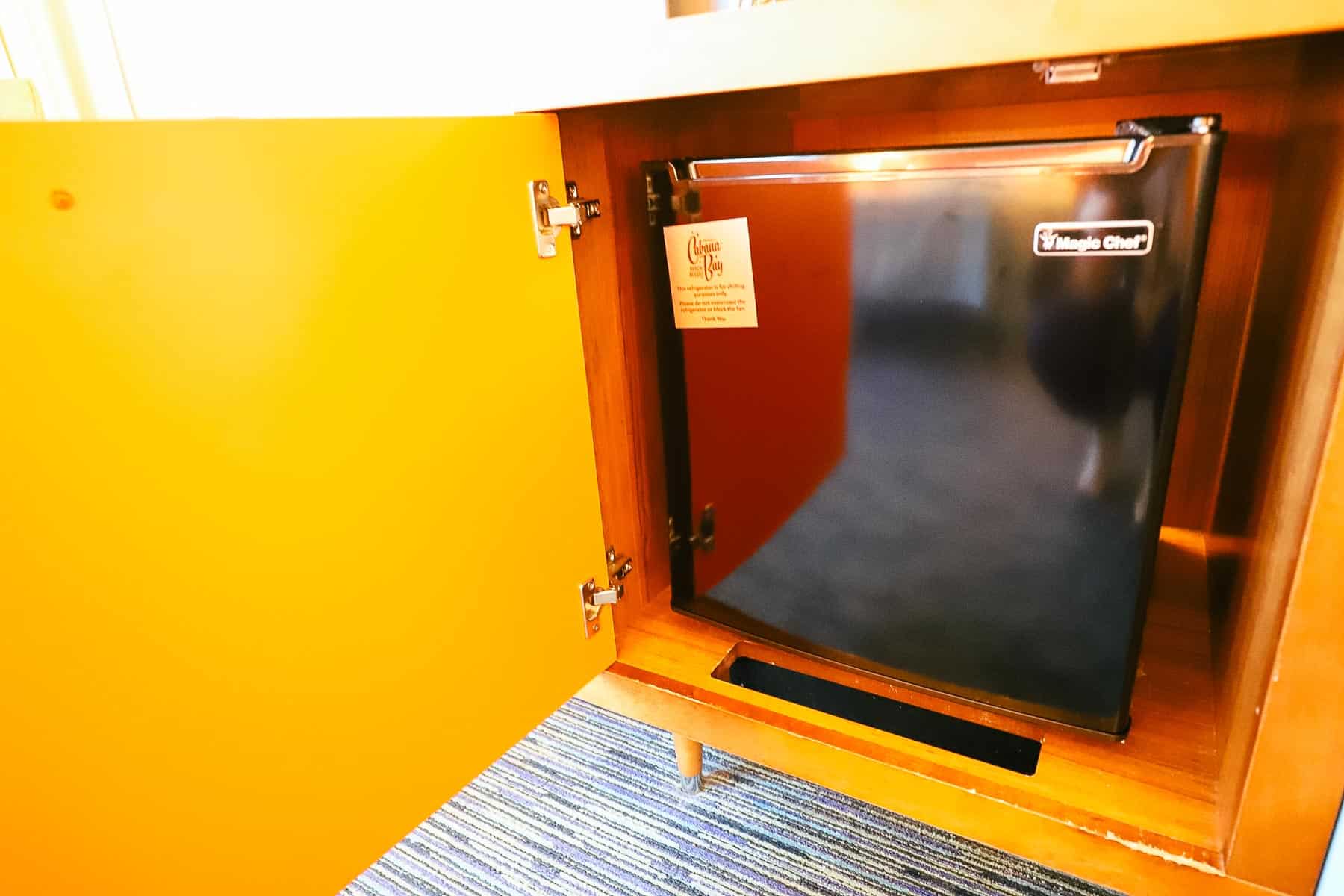 Here's a look at the inside. It did get pretty cold, but I would hesitate to call it a mini-fridge. These days, the trendy word is beverage coolers, indicating they might not get as cold as you or I would like.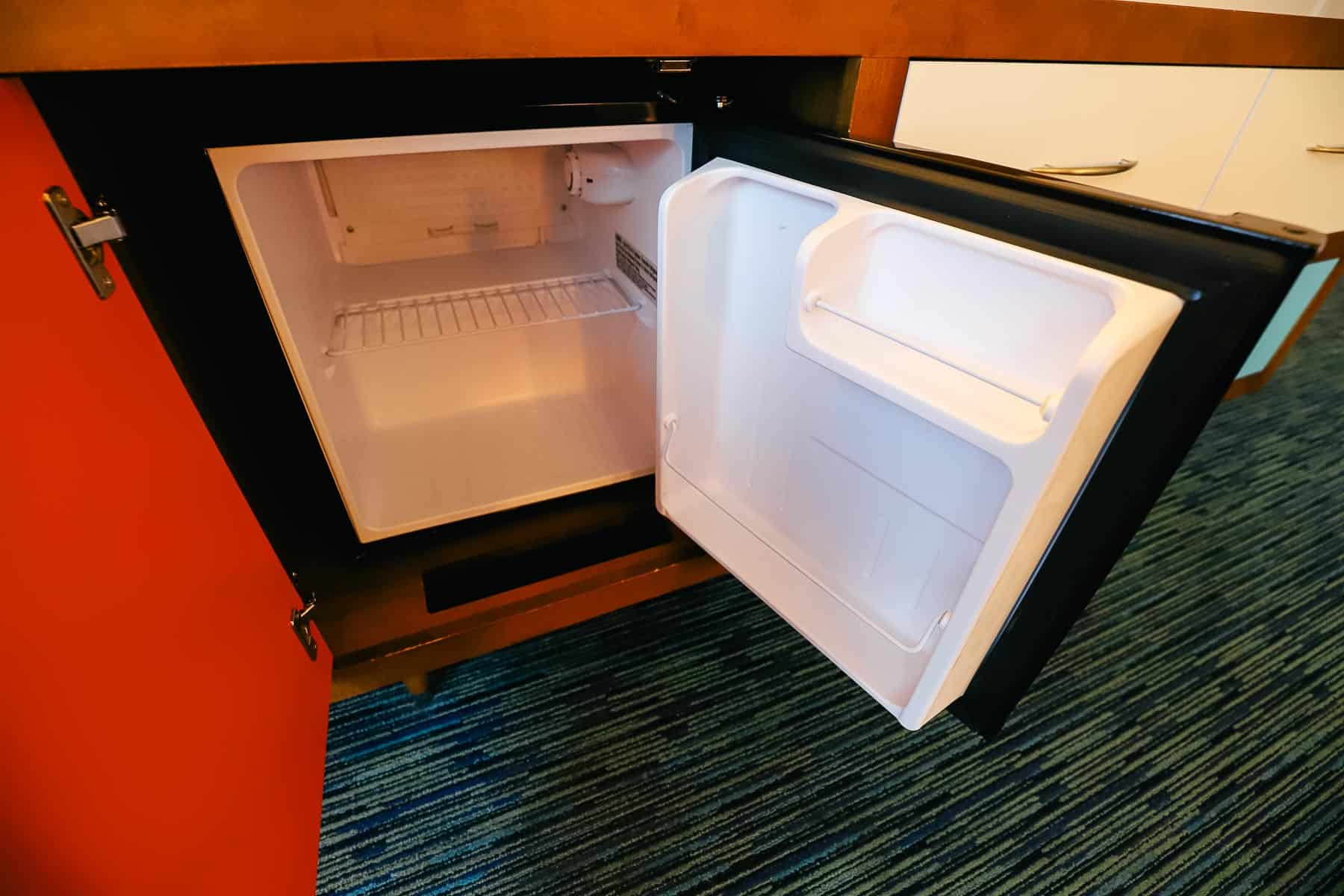 Other in-room amenities include a remote, telephone, alarm clock, and a notepad. You could also cast from your mobile device to the television.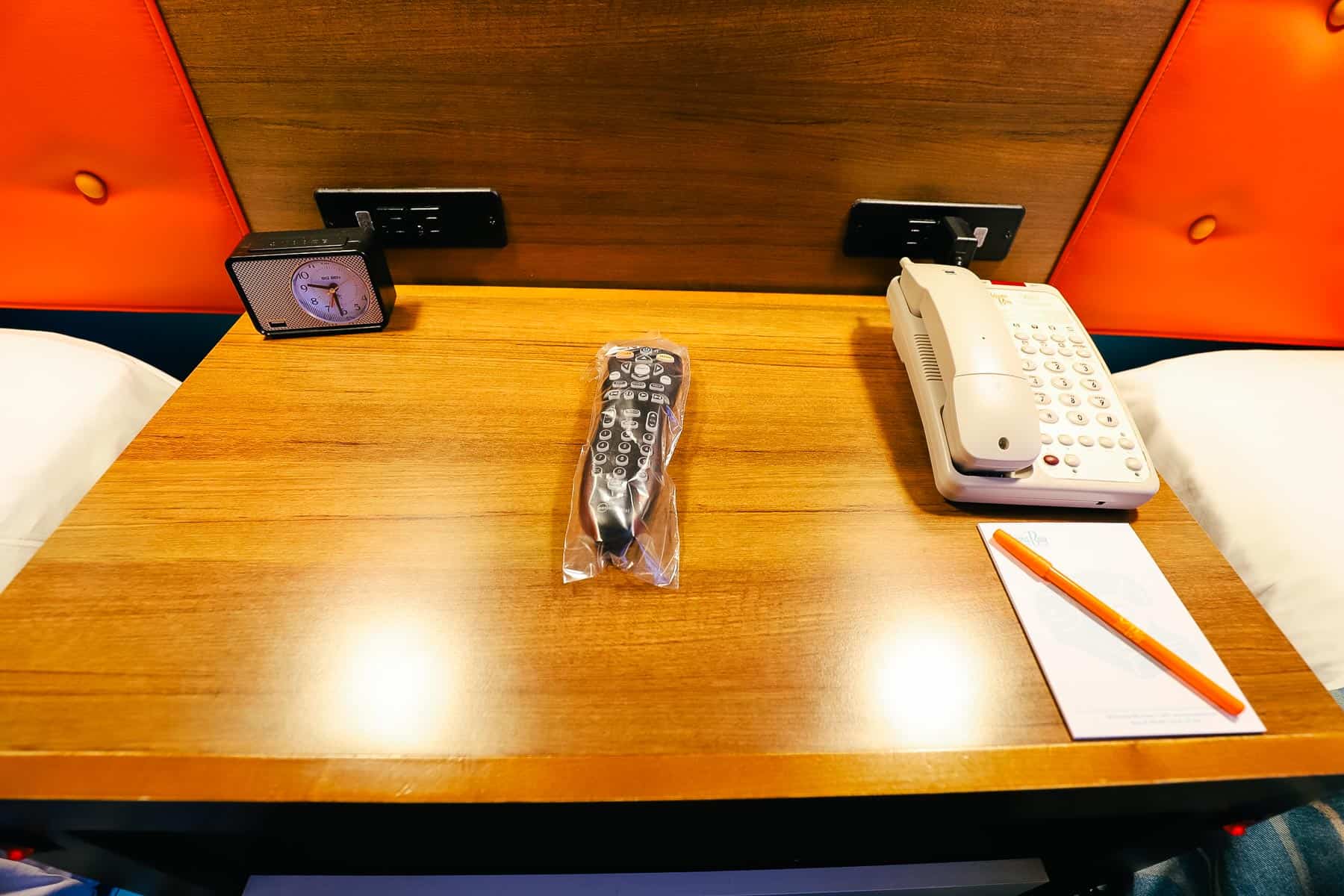 A closet holds the usual items like an extra blanket, pillow, iron, and ironing board.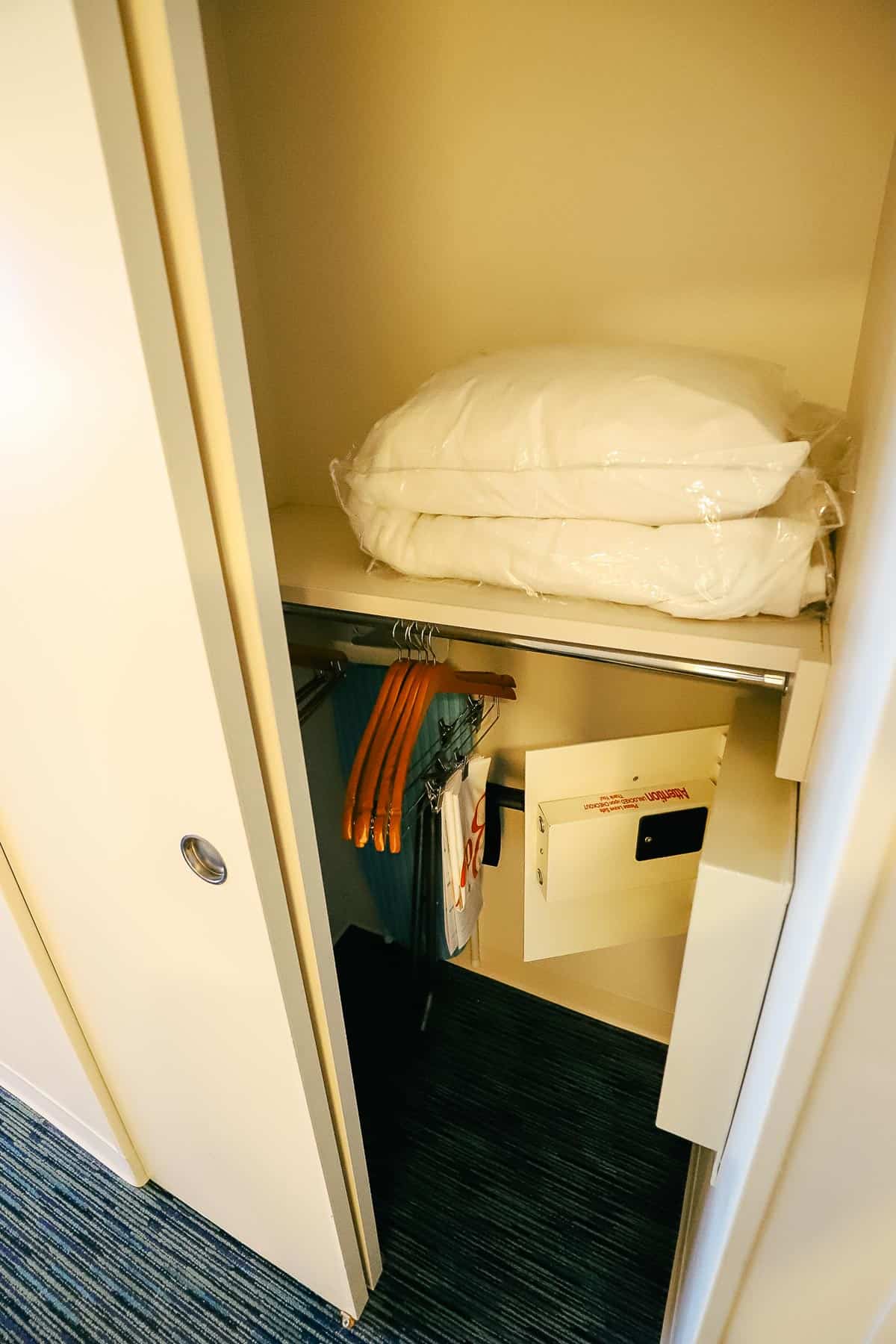 A safe and a luggage rack were also neatly tucked inside the closet.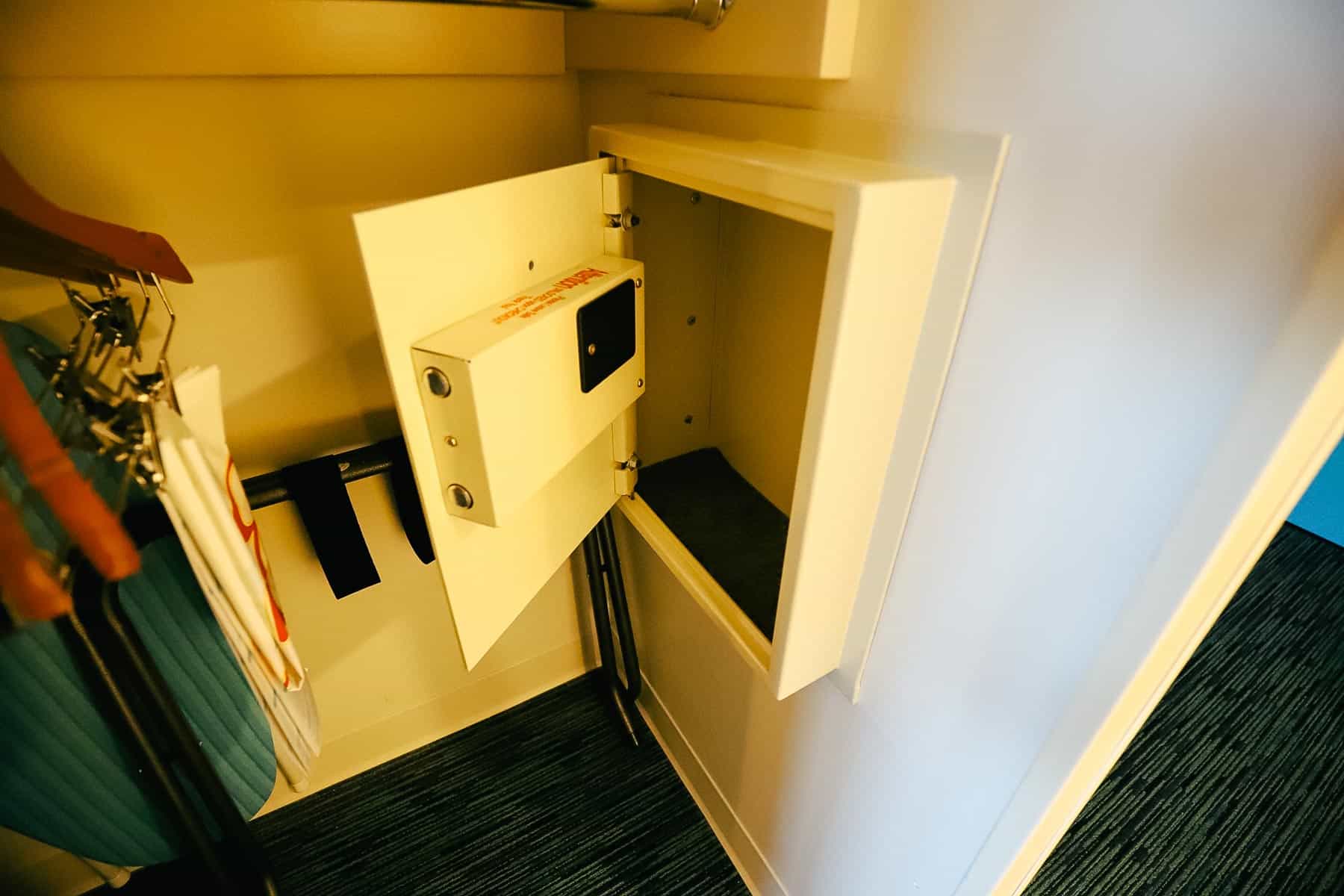 Our room has a handicap-accessible layout. I'm unsure if this is the case for all the rooms. But we didn't request any special room type other than the view.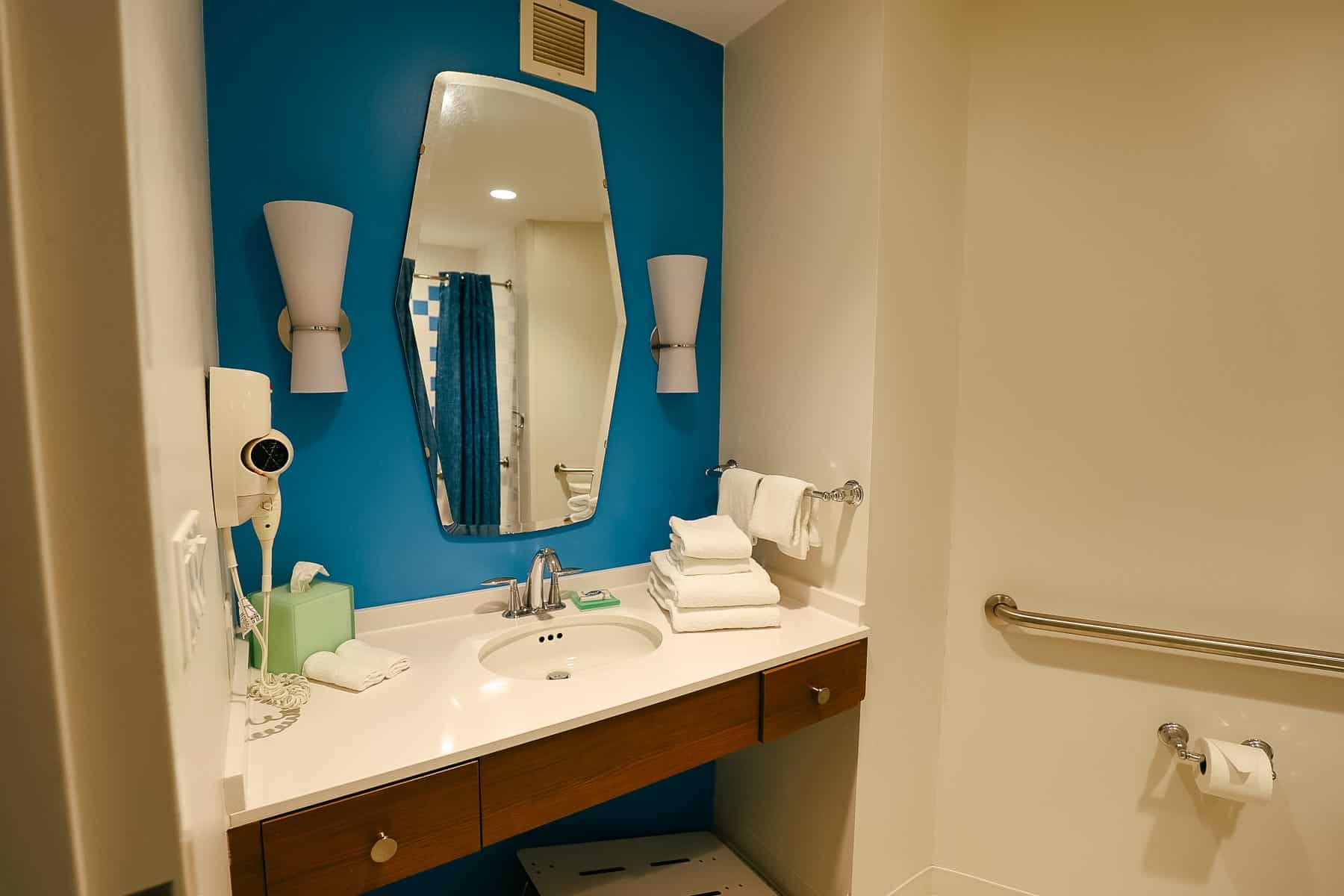 Our vanity provided plenty of counter space and a few small storage drawers.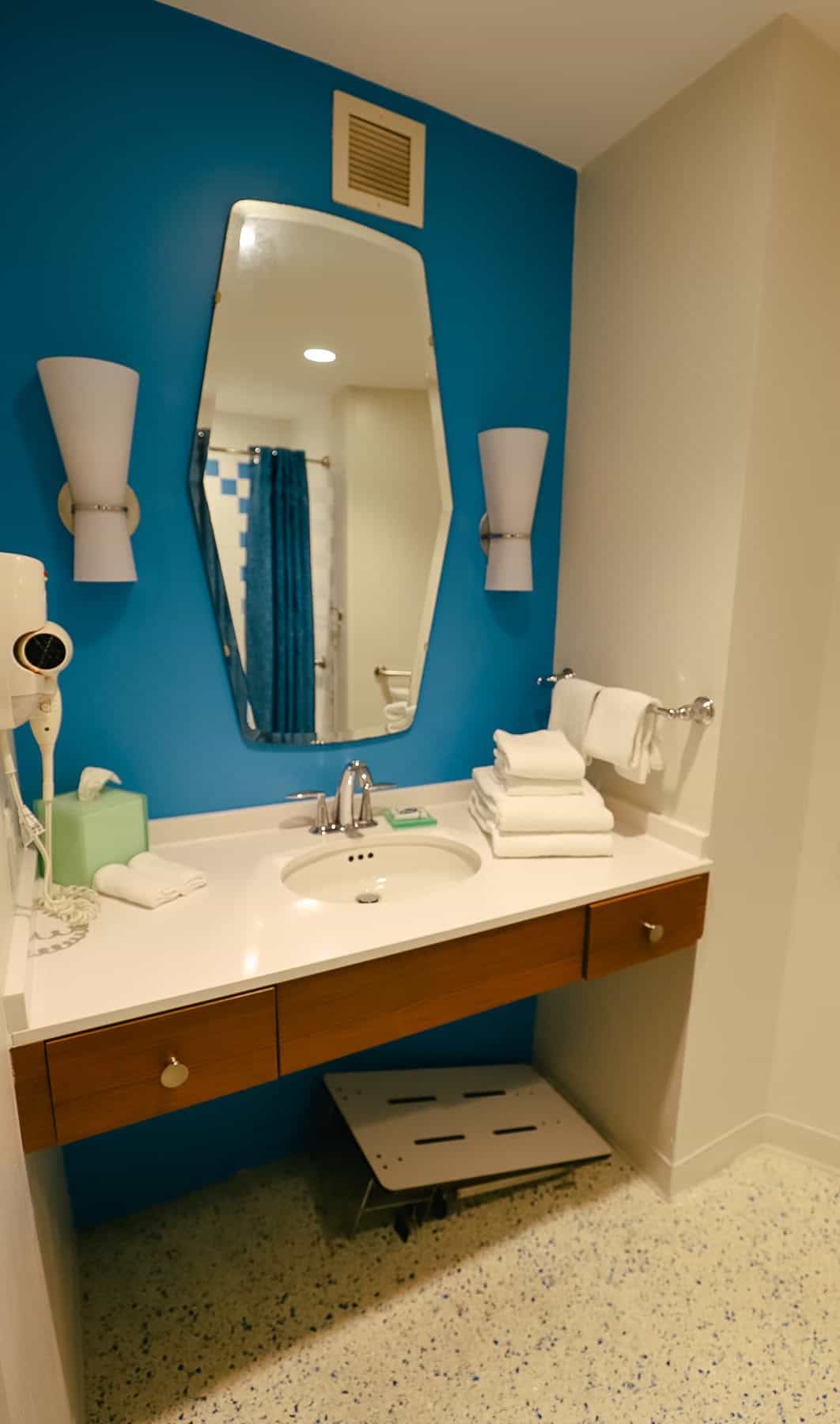 A hair dryer was mounted on the wall. All the items in the space, including the toiletries, were retro.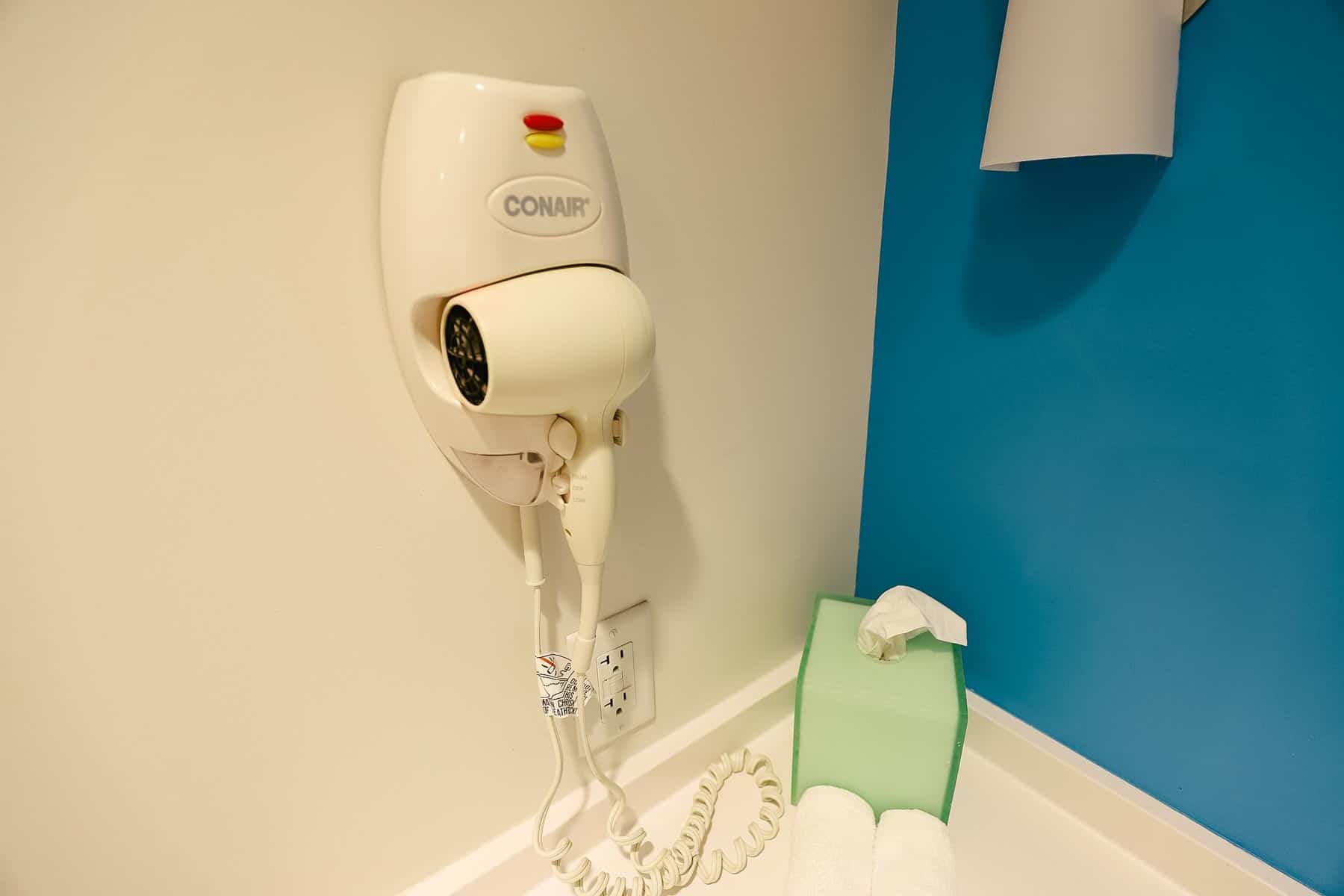 We had a standard bathtub with a shower combination.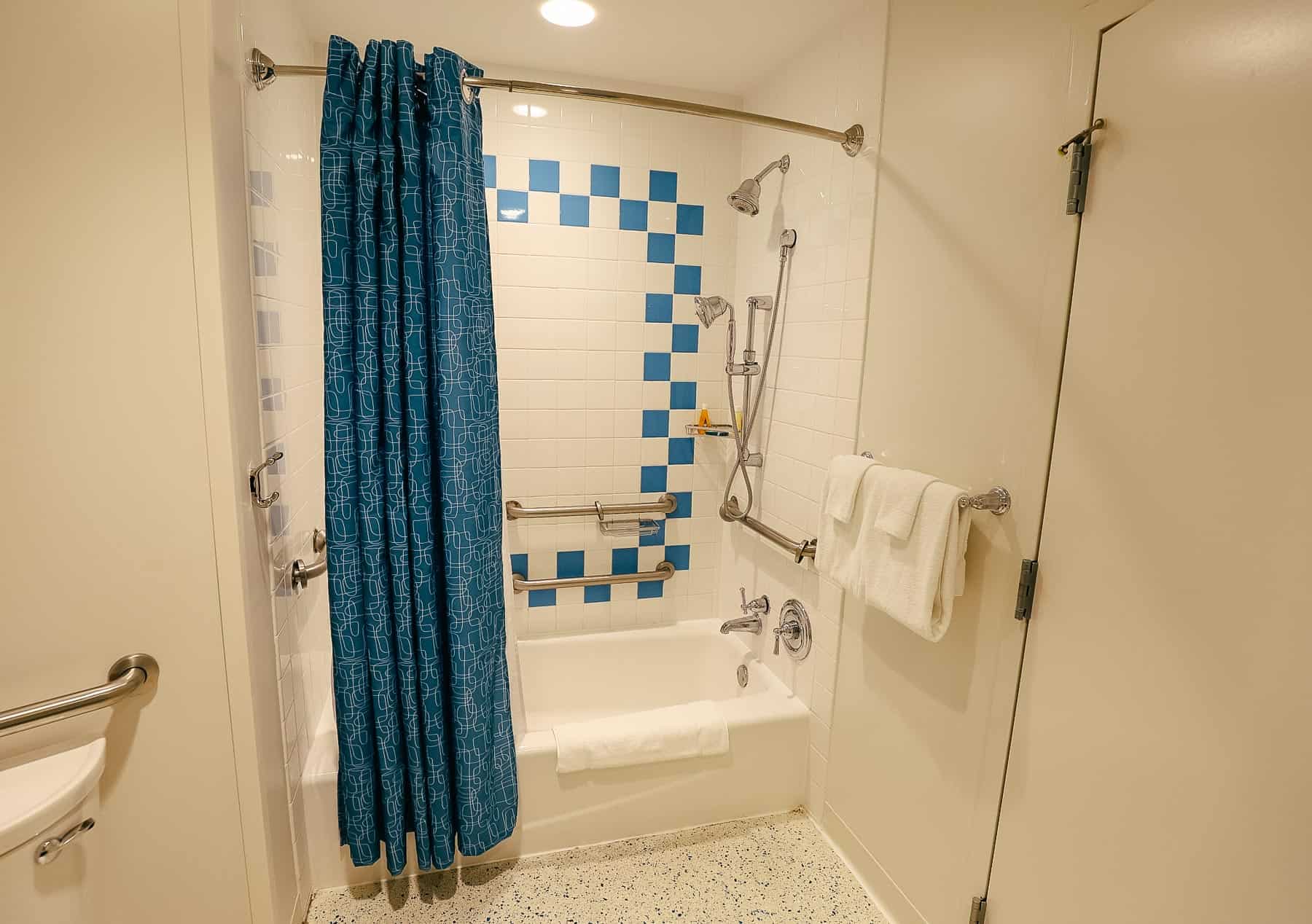 Standard and detachable showerheads were installed in the shower.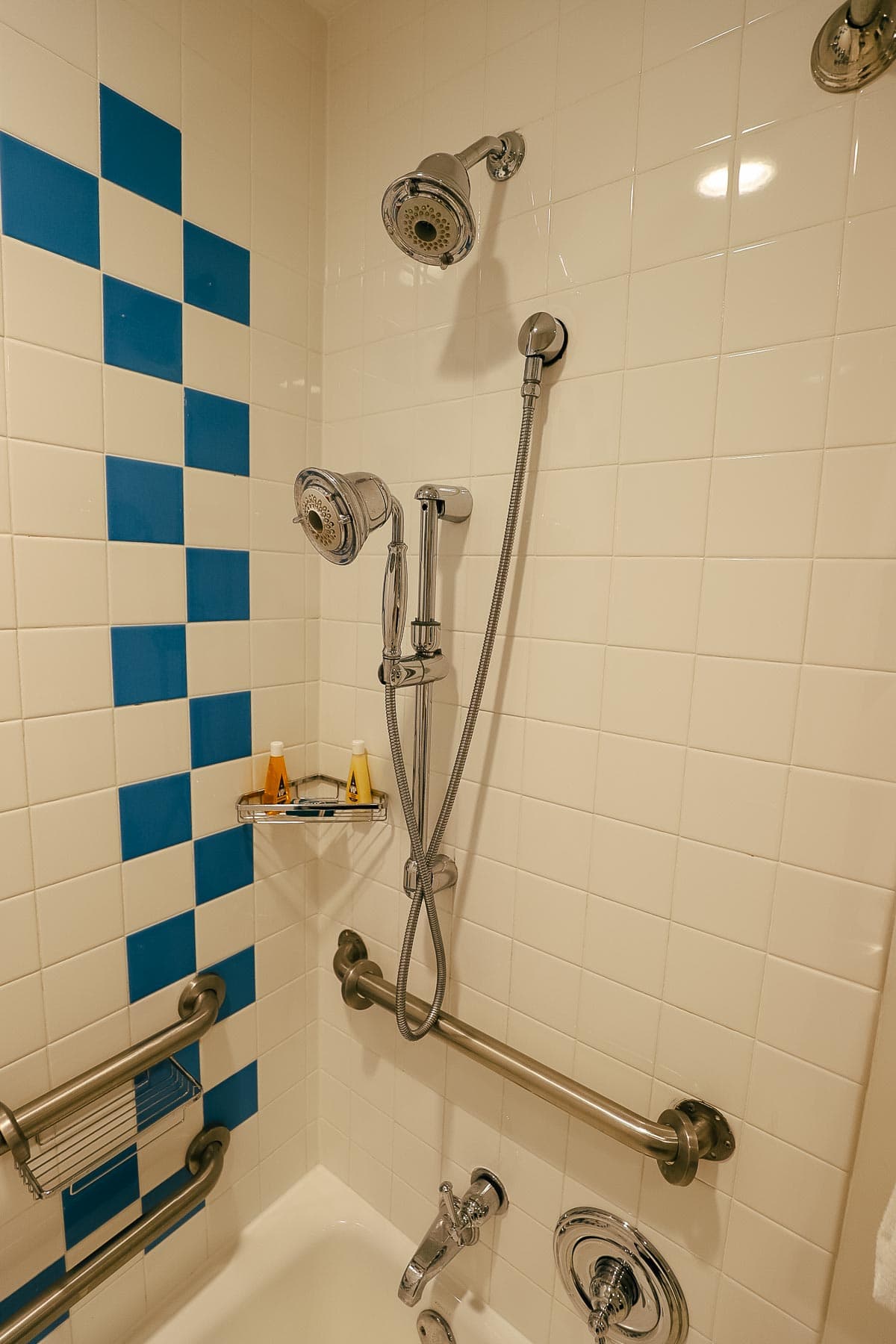 Toiletries included V05 shampoo with conditioner along with Zest soap. I initially thought it would smell like my grandmother's old house. Then I realized it was part of the resort's vintage vibe.
Regarding proximity to Volcano Bay, it took two minutes to walk from the front of the building to the security entrance at Volcano Bay. Being so close to the park was a huge advantage.
During the day, I was able to return to the room quickly. For instance, I took my camera to the park that morning. After lunch, I returned it to the room. Of course, I could have rented a locker at the park for extra storage. But there wasn't much need given the proximity of our hotel room.
While I don't always recommend a room view upgrade, I'll make an exception for Cabana Bay Beach Resort. If you're considering a water park view room, here are a few other things you'll want to note.
Cabana Bay Beach Resort has two towers with water park view rooms.
Each tower has interior hotel room access. (The other buildings have exterior room access and exterior elevators.)
Tower rooms and water park rooms are an upgrade.
Tower rooms have parking decks on each side. I was instructed to use the parking deck as a tower guest. Other buildings have regular parking lots.
It doesn't matter which tower you are assigned. The towers sit almost immediately next to each other.
You will hear music and other noises from the water park during operating hours. If you prefer to sleep late, this could be a slight nuisance.
No luggage assistance was available, so you'll need to handle your own luggage. (Luggage carts are available, but you have to find one.)
Request a higher floor for premium views.
Overall, we enjoyed staying in the water park view room at Cabana Bay Beach Resort. Our trip to the water park went smoothly. I was also happy with the decision to spend a few nights at the hotel instead of visiting as a day guest.
Several times during our stay, I thought it would be nice to come for a 4-day, 3-night trip and only enjoy the hotel and water park.
If you wanted to do something extra, you could walk to the neighboring City Walk and the other Universal Hotels. The Mall of Millenia and International Drive Premium Outlets are also approximately 10-15 minutes away.
And you really can't beat that view!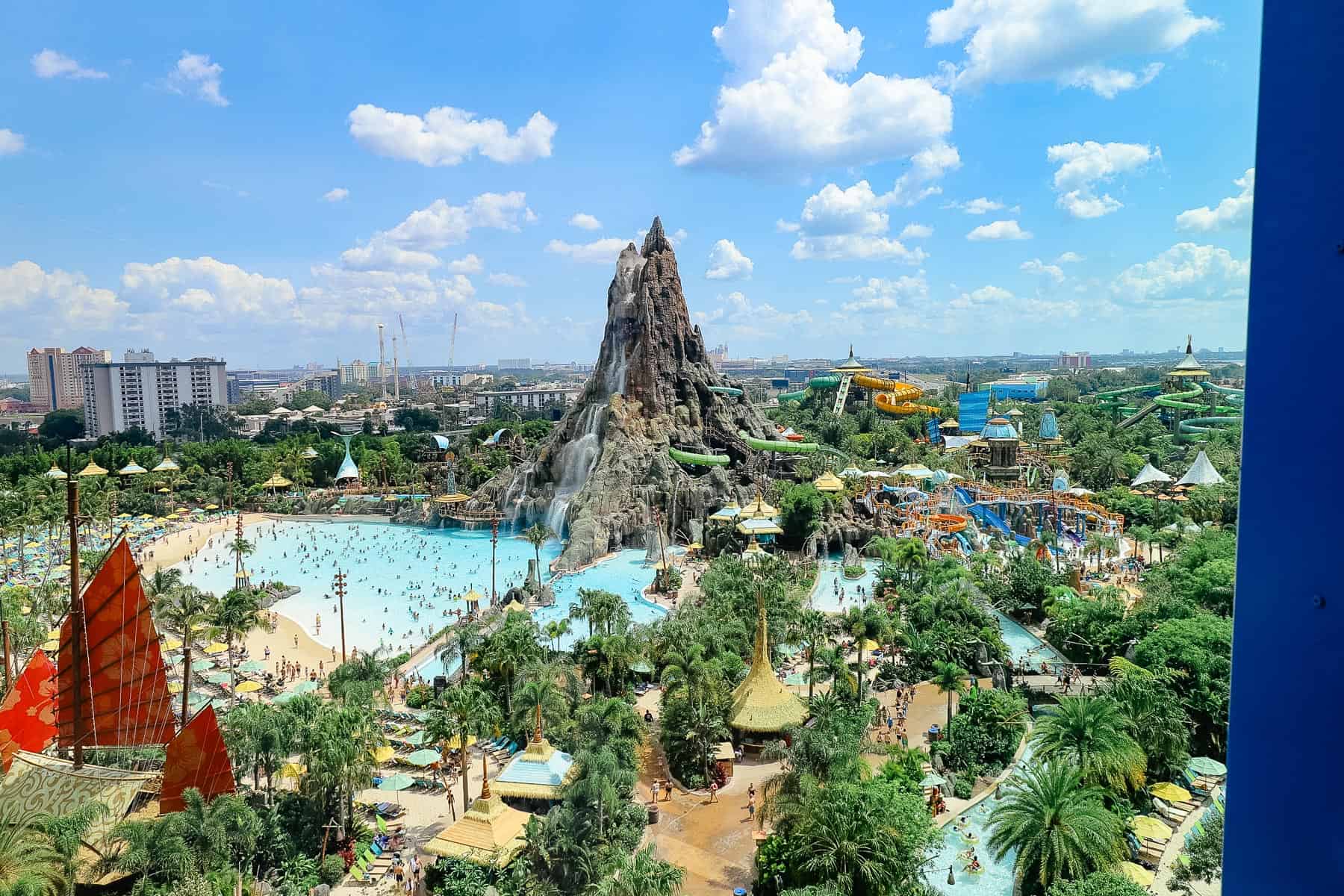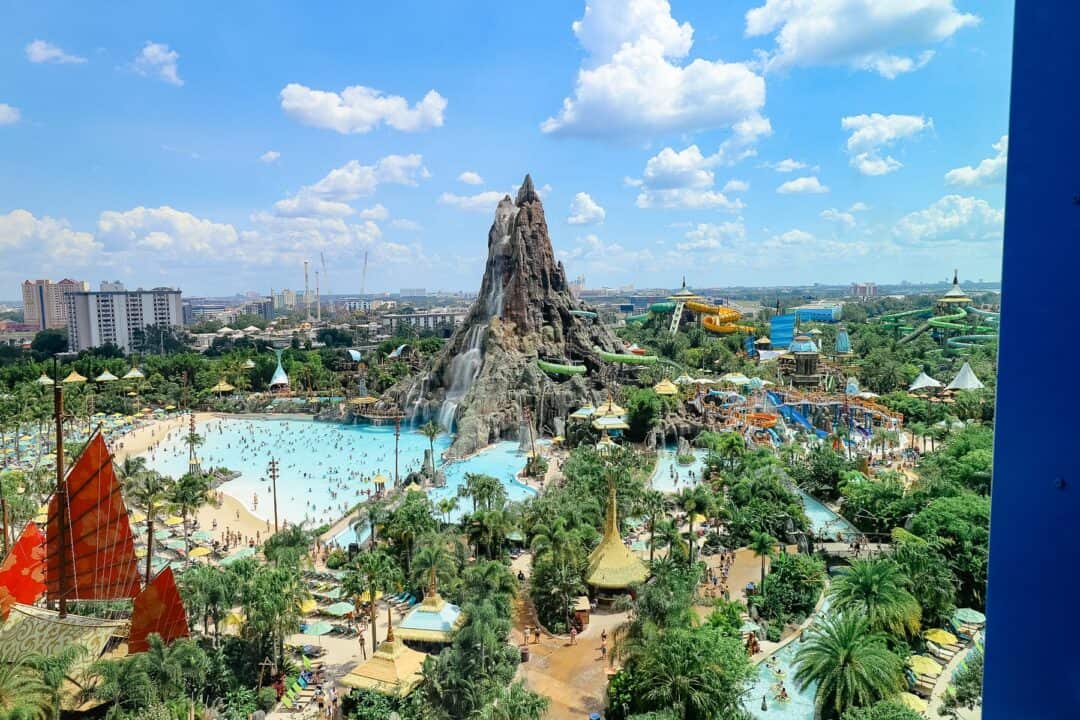 Here's the video tour of the room.
For other coverage of Univeral Orlando, you might enjoy the following:
Or you might like these other articles:
So, what are your thoughts on this Volcano Bay view room at Cabana Bay Beach Resort? Does the view look like something you might enjoy? Have you ever visited?