Wyndham Grand Orlando Bonnet Creek Resort Review
In this article, we review the Wyndham Grand Orlando at Bonnet Creek in the Walt Disney World area. This review details an account of my stay, along with other amenities of the resort.
The Wyndham Grand Orlando Bonnet Creek Resort was my first stop in a whirlwind series of resort stays over a two-week period. My drive to Orlando had been long, and I was beyond weary upon my arrival.
Having stayed at other Bonnet Creek Resorts in the past, I knew the exact location of the Wyndham and drove straight to the entrance. You probably already know that seeing the bellman waiting was a sight for sore eyes.
You see, it's been a while since I've received full bell services at a resort. So having someone on hand to deliver my luggage to my room was a Godsend. I didn't know whether to laugh or cry.
After loading the luggage cart, I was instructed to park my car in the nearby garage. The bellman even told me how to get back to the main level closest to the entrance.
Parking the car only took a few extra moments. Then, I walked inside the hotel to check in and receive my room assignment. It was 10:45 p.m., and I hadn't had supper.
An attendant at the front desk instructed me to walk to the nearby bar across the lobby and order food first. Since the bar was closing at 11:00 p.m., he assured me they would have me checked in by the time I returned.
As I approached the bar, I felt uncertain about what kind of welcome I might receive, given the late hour. But the server was kind. She told me to take my time and that she'd prepare my order when I was ready.
There were only a handful of people at the bar. It reminded me of how those slow nights waiting tables progress from a time long ago when I was a server. It's probably safe to imagine they've experienced many a slow night in the last few years.
I hated to be that one rude late-comer. But no one treated me that way.
When I returned to the front desk, my room key and paperwork were both ready. One swift signature was required, and I was allowed on my way.
The bell service guy was patiently waiting with my luggage. He noticed all of my camera equipment and showed me a few pictures he had taken of his wife on one of their recent Floridian adventures.
After depositing my items in the room, I immediately returned downstairs. After all, I was fairly hungry, and it had been a long day. My meal was already waiting. I graciously thanked everyone for their service before returning to the room.
Unfortunately, my meal would have to wait. You see, this is when a blogger's work begins.
Knowing the drill, I hid my belongings out of the way along with my meal. After that, it was time to take a few photos and try my hand at a bit of video work. Okay, I did eat a few fries first. I was famished.
Here is a standard guest room at the Wyndham Grand Orlando with a resort view.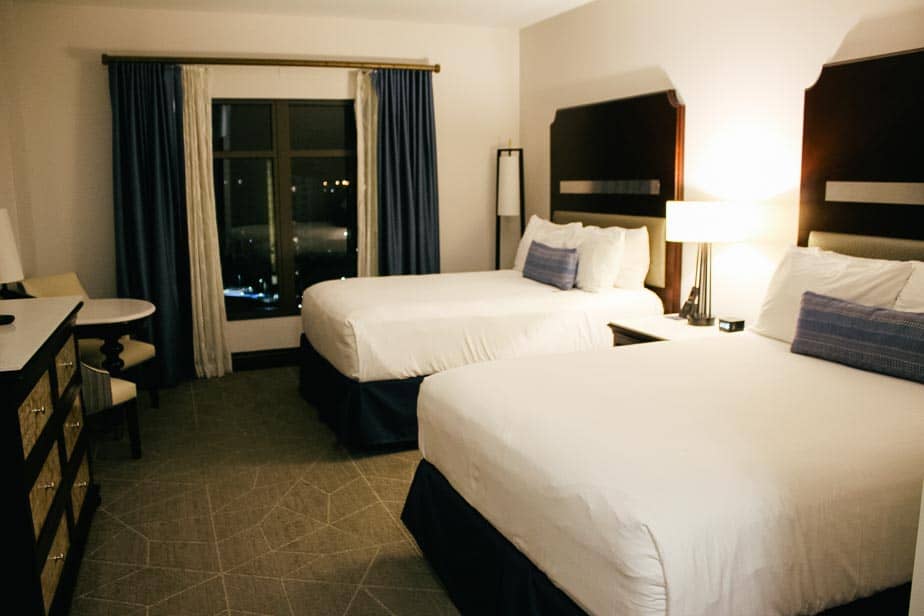 My room felt spacious, and there was plenty of storage between the dresser and closet. A small table for two was tucked in the corner of the room.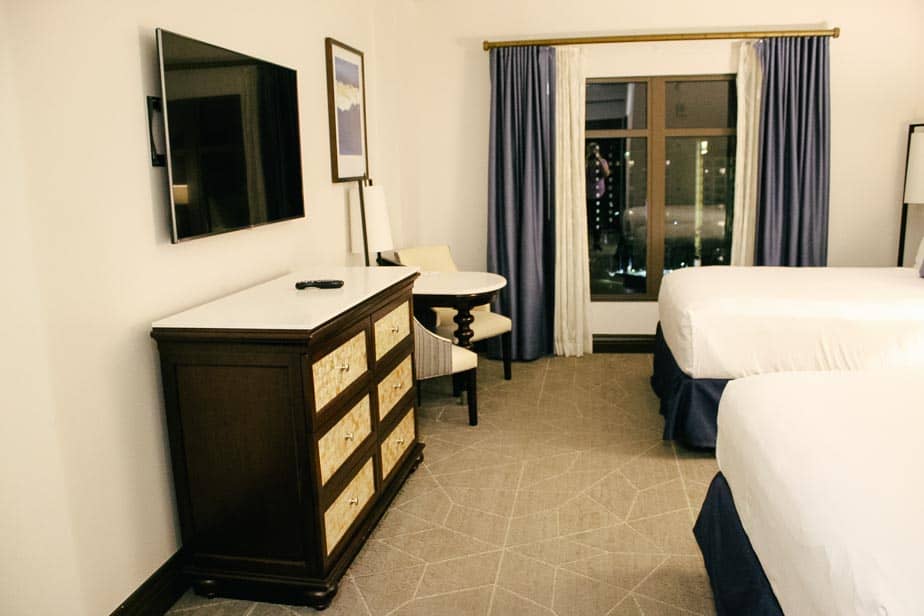 The bathroom had a furniture-style vanity with plenty of counter space and open shelves underneath. This style of vanity works because you can see all of your items and likely won't forget anything at the end of your stay.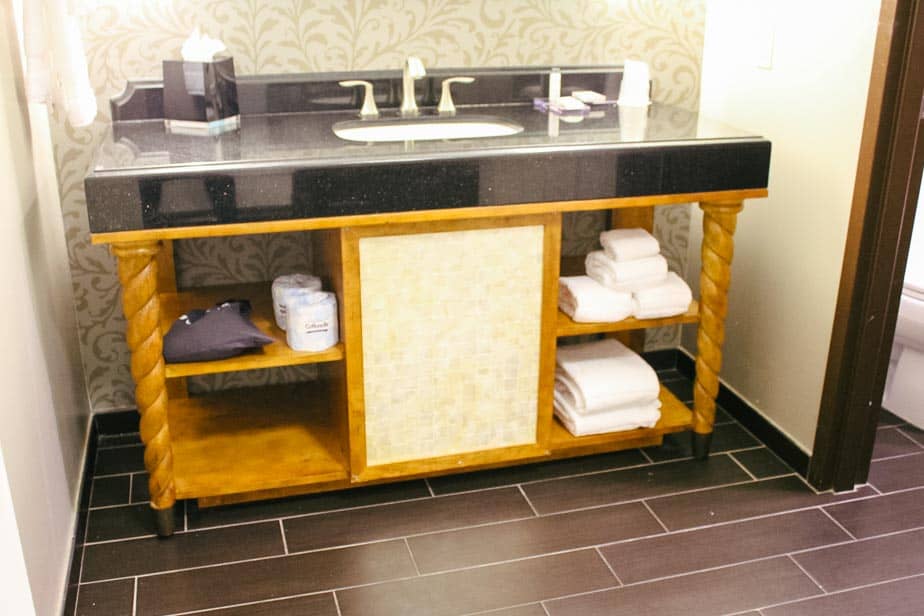 Inside the water closet was a standard tub with a shower combination.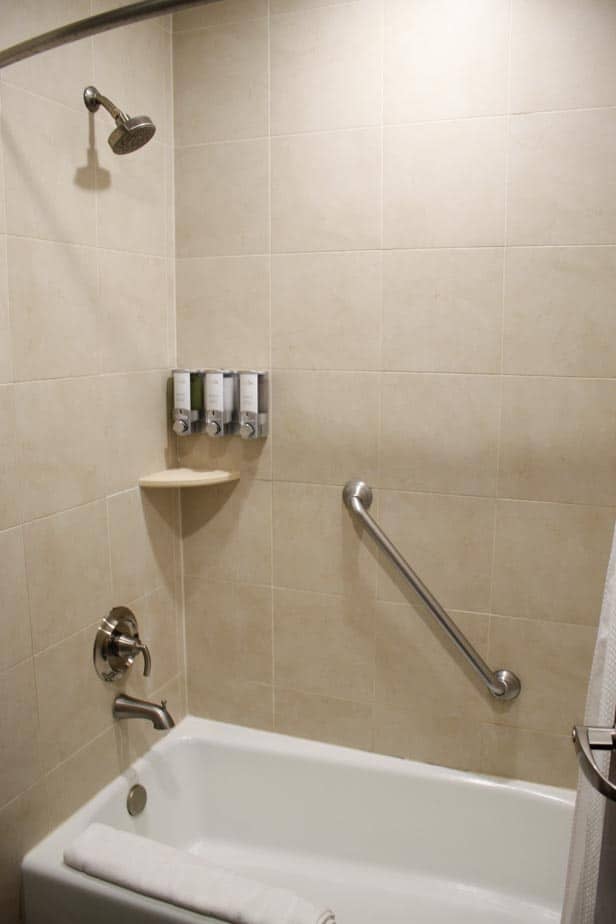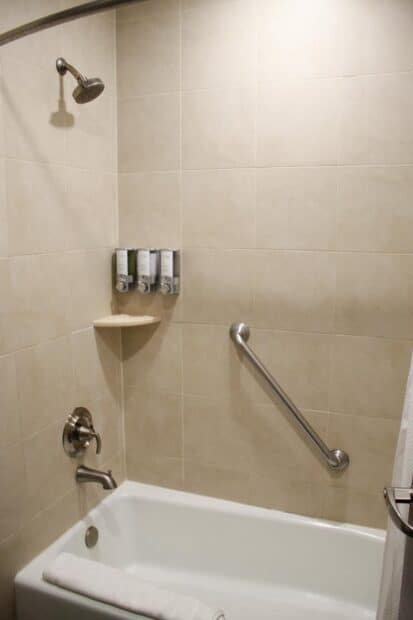 Inside the shower, a fixture with shower gel, shampoo, and conditioner was installed. I have to admit. I'm a big fan of these dispensers. They make it simple to bathe without having to deal with tiny samples.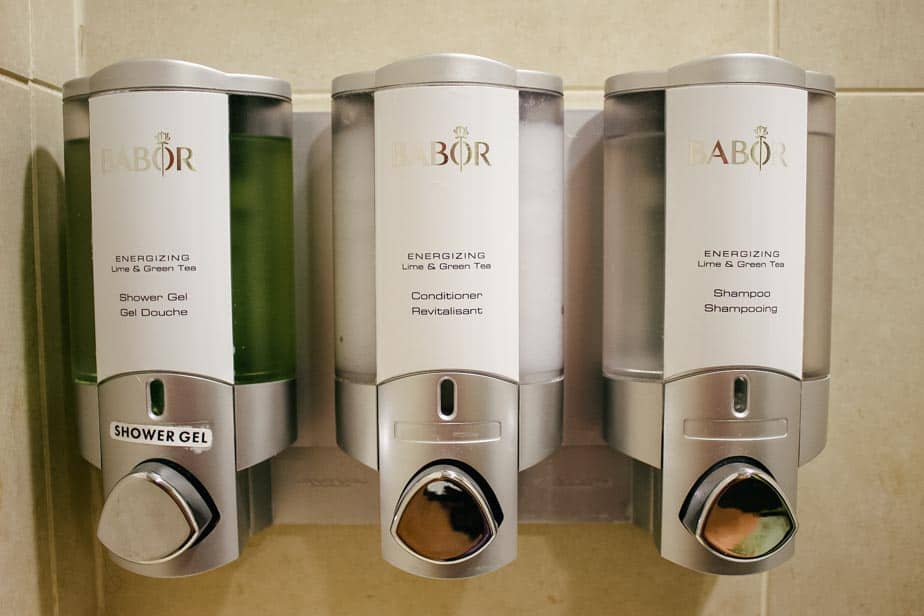 In the foyer, there was a closet and this built-in area that was a mini-beverage bar of sorts.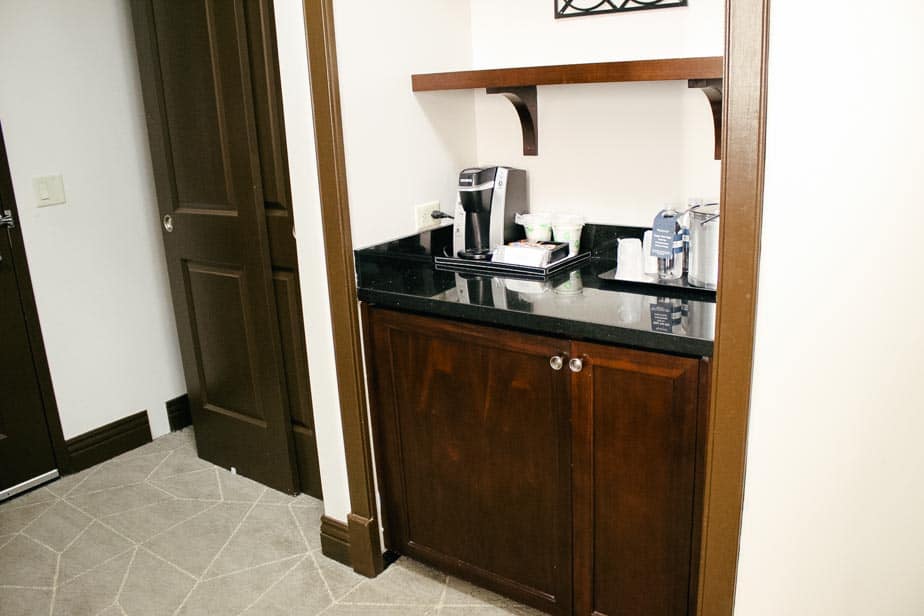 A Keurig coffee maker was available with several different coffees.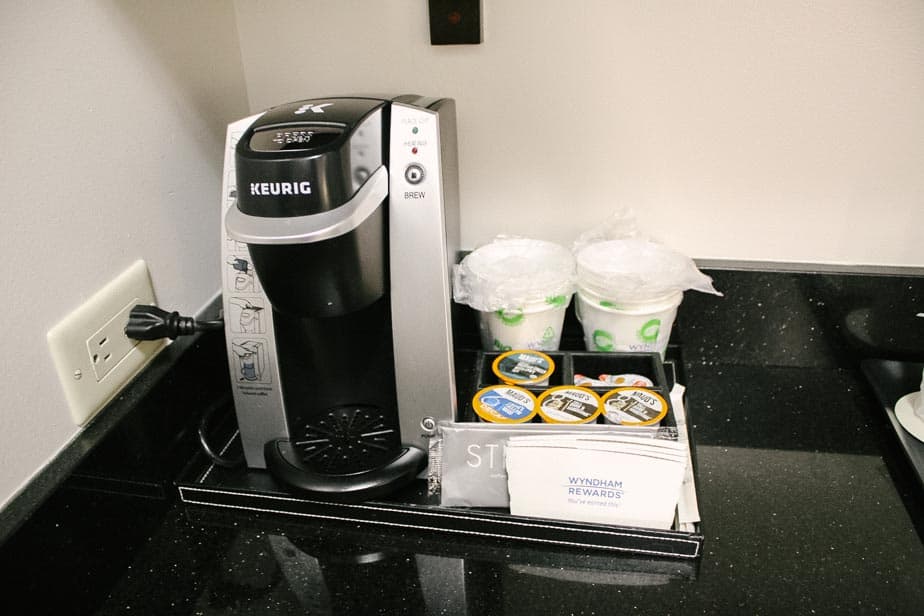 Two complimentary bottles of water came with the room.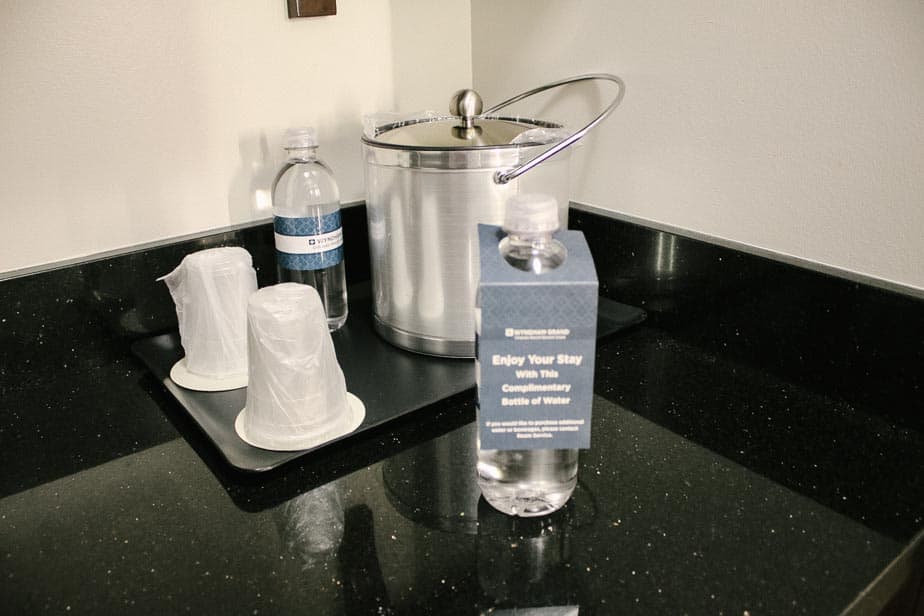 Below the counter was a safe, mini-fridge, and cabinet with storage.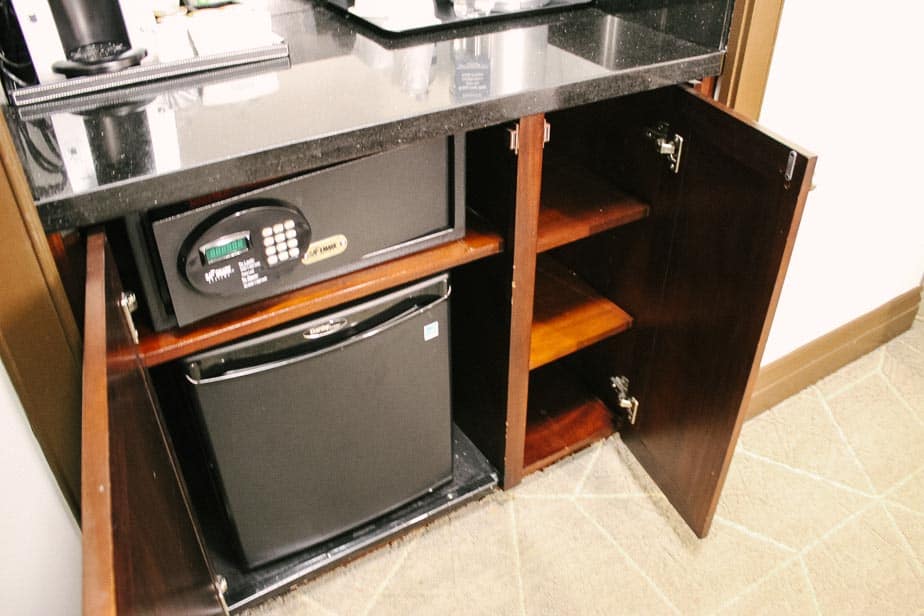 Perhaps, the best part of the room was the view.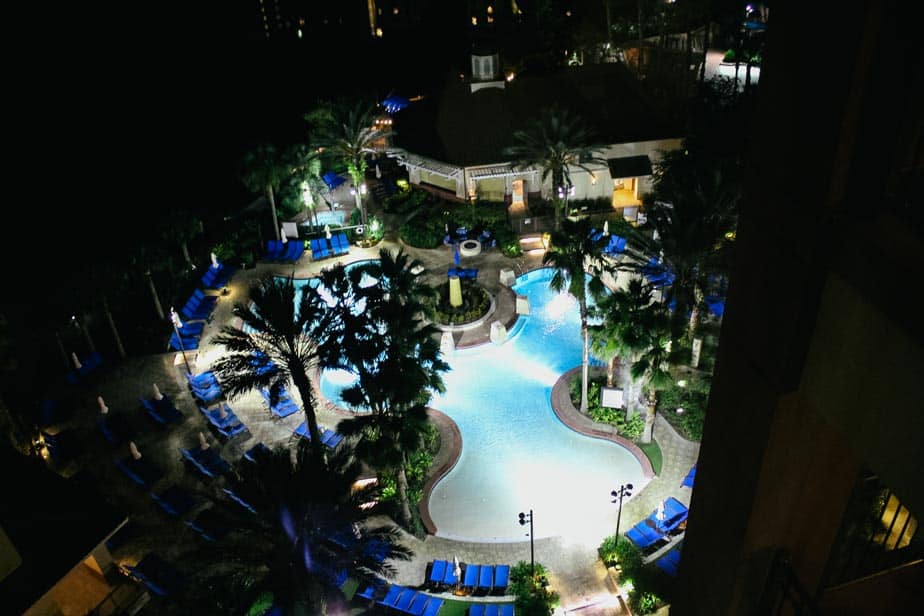 Below you can see the view much better. You can tell how close this location is to the parks. Disney's Swan and Dolphin is the triangular structure on the left-hand side of the image.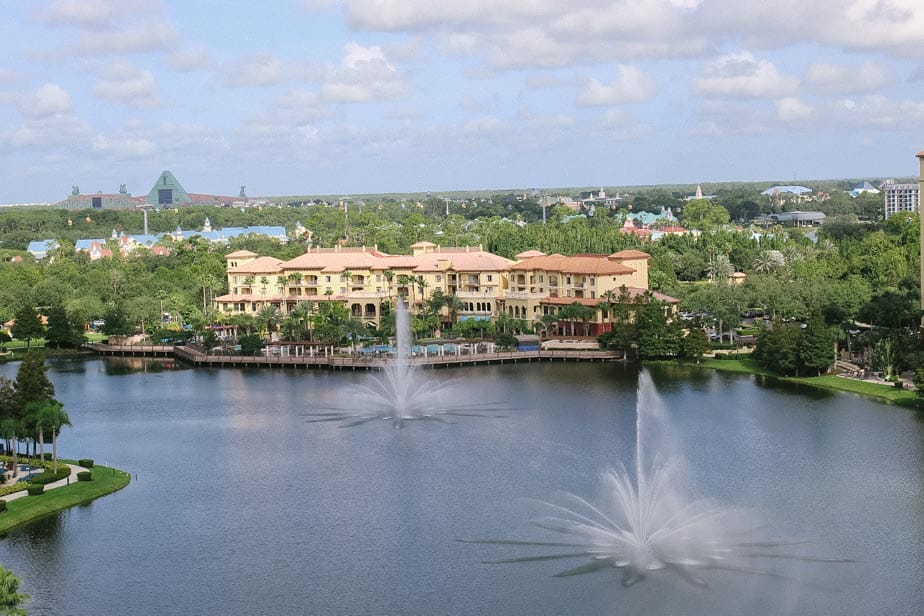 Anyway, it was a good thirty minutes later when I finished things up. Traveling with a blogger requires a good amount of patience.
My initial thought about this Bonnet Creek Wyndham is that everything was so clean. Unfortunately, amid a pandemic world, cleanliness has become security. I don't know about you, but I've become a bit of a germophobe during this season of life.
Cleanliness at a hotel is something we should all expect, and can all appreciate, no matter the time. After leaving the Wyndham Grand Orlando at Bonnet Creek, I didn't have the same feeling of cleanliness about my next hotel stay. You can read that review here if you would like.
After wrapping up photos, it was time for a hot shower and a little gazing out the window of my room with a view.
Oh yeah, and dinner. It was near 1:00 a.m. when I finally settled in for bed, which was way past this blogger's bedtime.
Most of the next day was spent at the resort working on this review. Believe it or not, I was up and out the door by 7:30 a.m. If that's not impressive, I don't know what else is.
For the rest of this review, we'll take a detailed look at the amenities at the Bonnet Creek Wyndham Grand Orlando.
We'll start with a few details about the location.
One of the most important factors to consider when staying near Walt Disney World is the hotel's proximity to the theme parks. You're not going to get any better location-wise when staying off-property than one of the Bonnet Creek Resorts.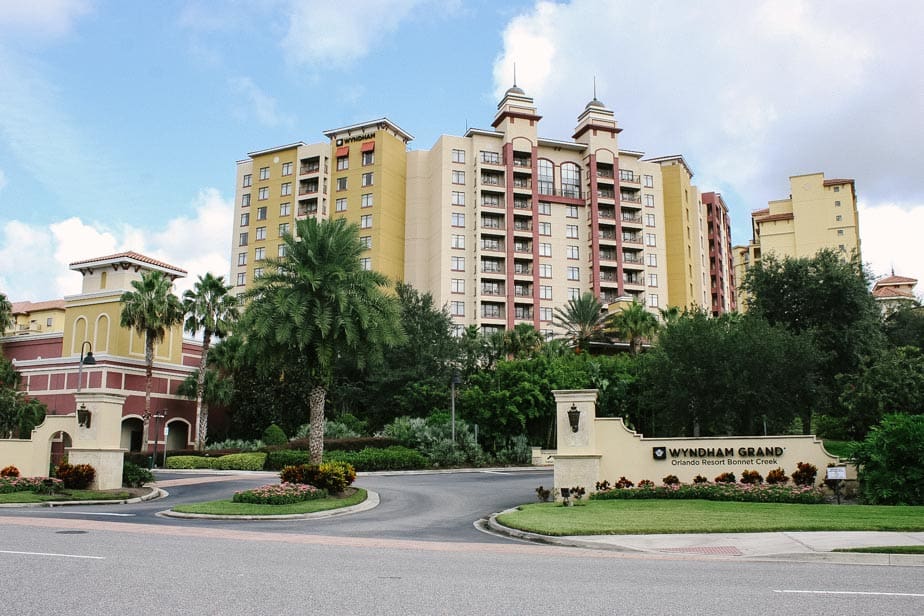 Bonnet Creek is not the name of the street where these hotels reside. It's a large creek that crosses a portion of Walt Disney World property. All of the resorts that make up part of this resort area sit along Chelonia Drive.
For reference, Chelonia Drive dead-ends into Buena Vista Drive, about a mile or so shy of Disney Springs. It's incredibly close to Disney's Caribbean Beach Resort and Disney's Riviera Resort.
The only way you would be closer to the parks is if you stayed at a resort that allowed you to walk to a theme park. However, that's getting into the deluxe resort category, which means much higher prices than what you'll pay at the Wyndham.
Related: Disney Deluxe Resorts
Location-wise, Wyndham Grand Orlando is closest to Disney's Hollywood Studios and Epcot. It's also right around the corner from Typhoon Lagoon and Disney Springs.
Self-parking is available for $27 per day, and valet parking is $34 per day. The image below indicates the short distance from the hotel's entrance to the parking garage.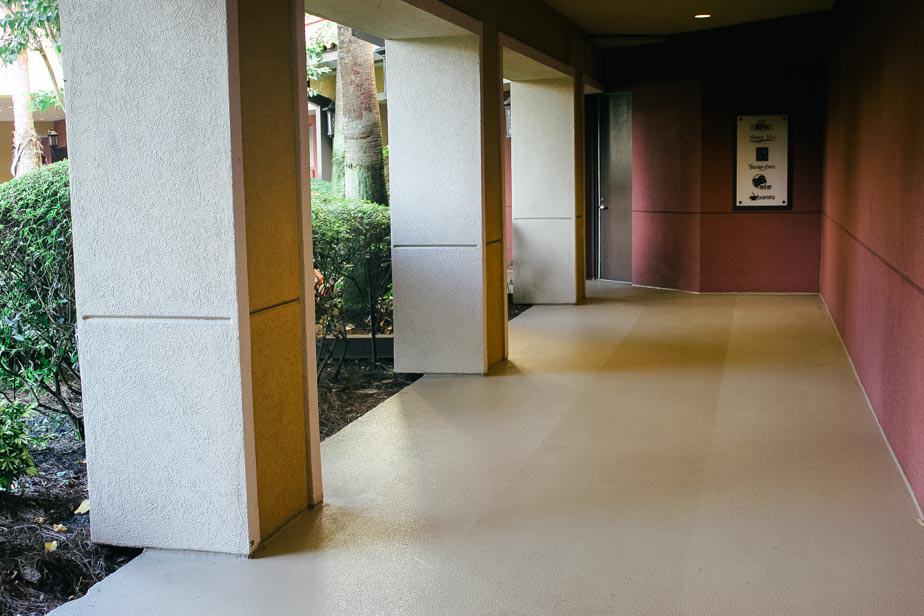 While I'm not a fan of parking charges, they are pretty hard to avoid. Even Disney charges for parking at their resorts.
In most cases, I recommend using valet when you're coming and going a bit from the resort. However, since the parking garage was so close and the entire walkway was covered, you'll probably do just as well with self-parking here.
When you enter the Wyndham Grand Orlando's lobby, you'll be greeted by a variety of casual seating areas.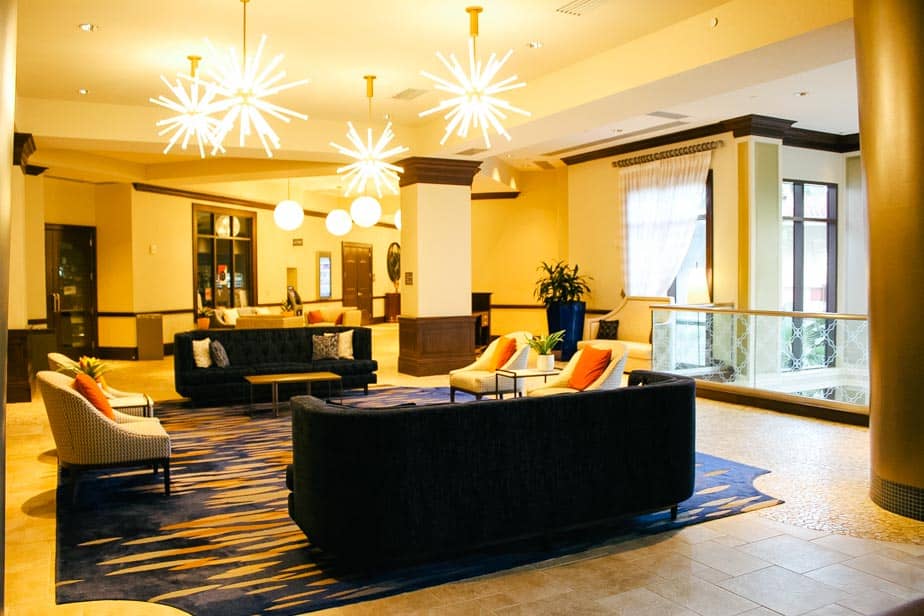 When I visit these "off-property" resorts, I'm reminded of how different hotels are from the resorts at Disney.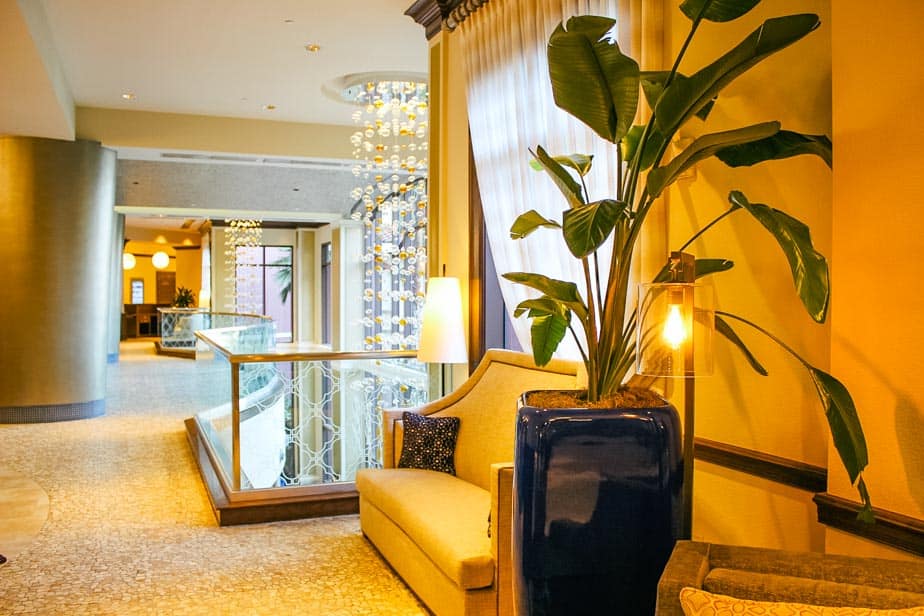 The back of the lobby has a wall of windows that looks out to the resort's tremendous backyard.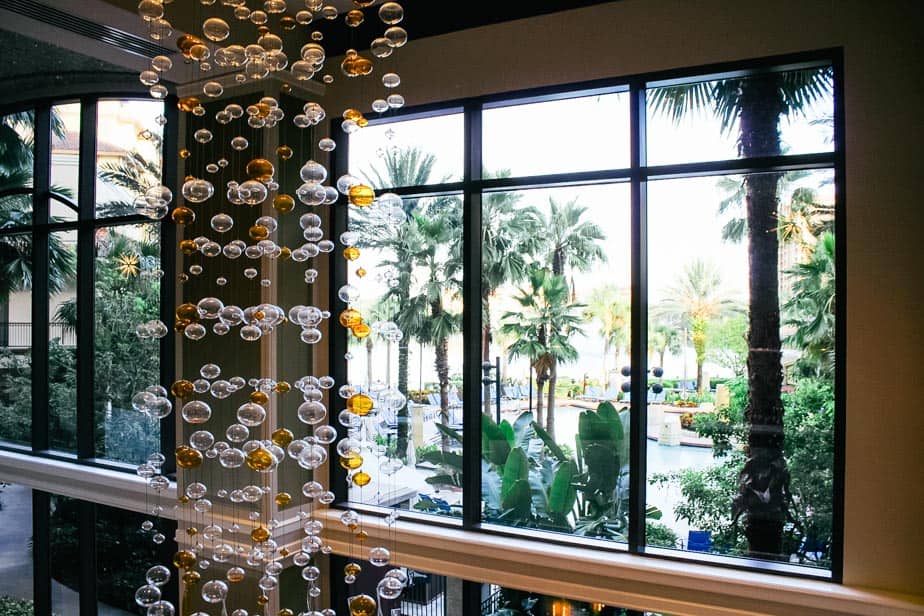 One of the things I found interesting was this art collection that sat back behind the coffee shop. There were several lovely pieces.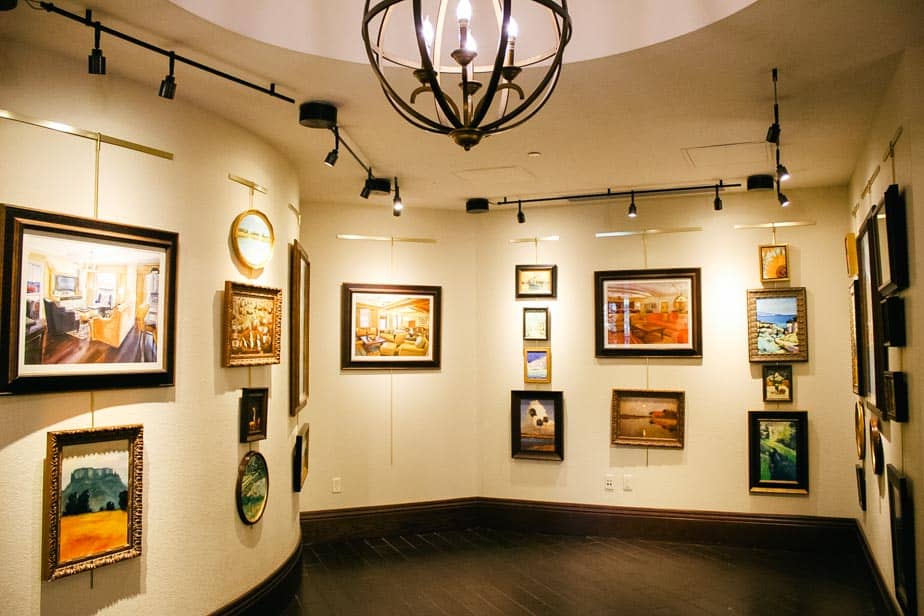 The corridors continued with a variety of seating.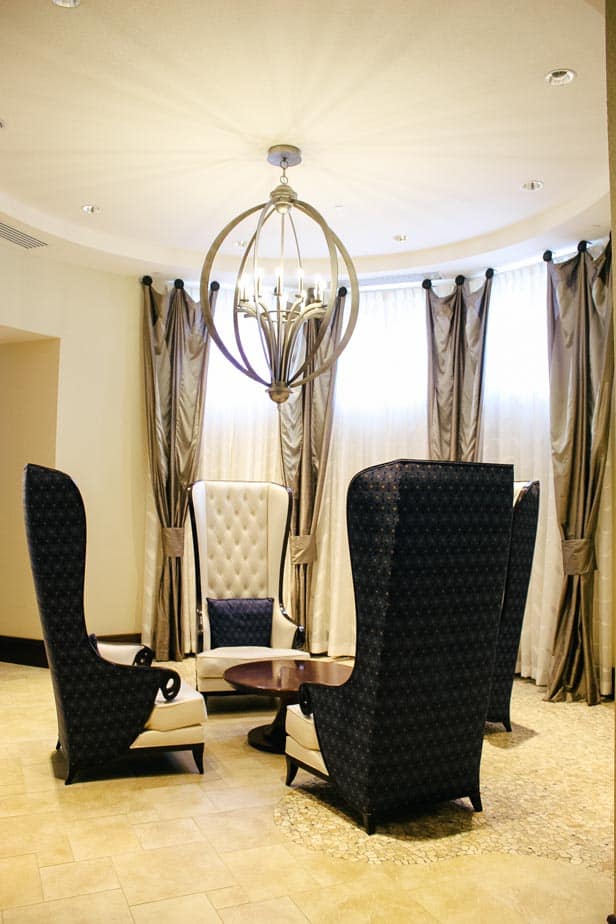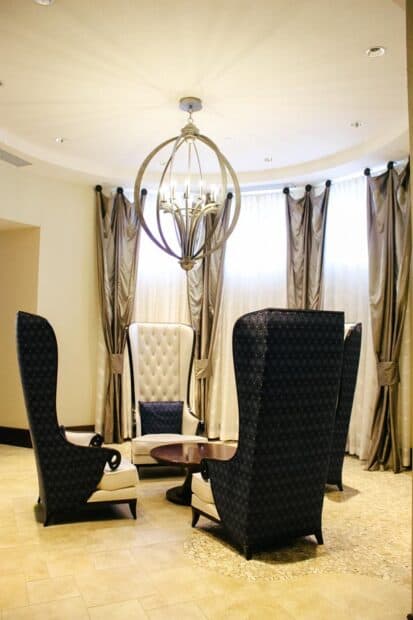 The far end of this tower has a convention center attached. Orlando, in general, but especially around the Disney area, is one of the largest convention centers in the world. Having the opportunity to visit the mouse is a perk after spending three long days in a sterile conference room.
How are they selling motivation these days anyway? I had probably better not answer that.
Let's face it. The hotel had me the moment I saw this mural of Queen Elizabeth I. Isn't it fabulous?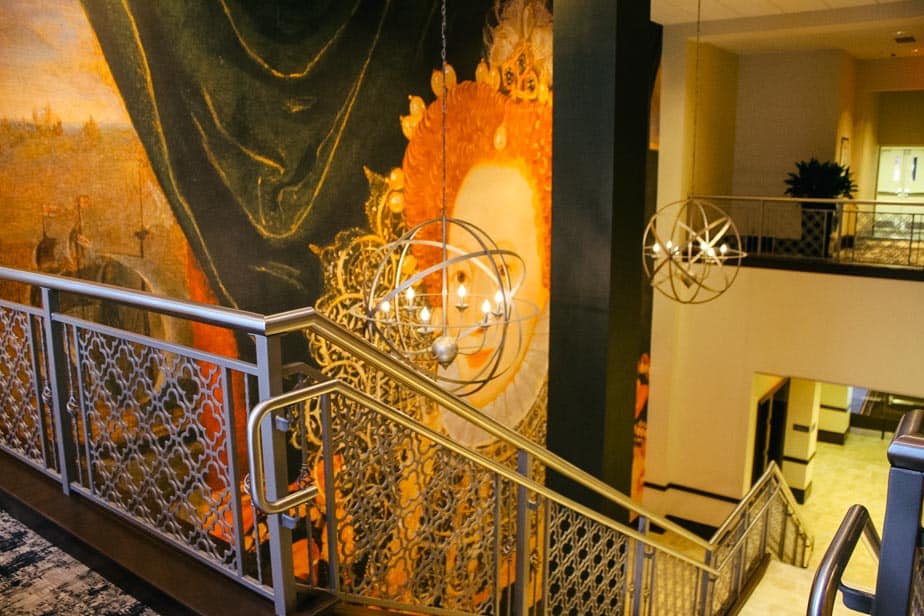 Well, I thought it was.
Another thing we are starting to see more of in hotels these days is interactive signs. I'm a sucker for a good sign and find these to be helpful in locating amenities.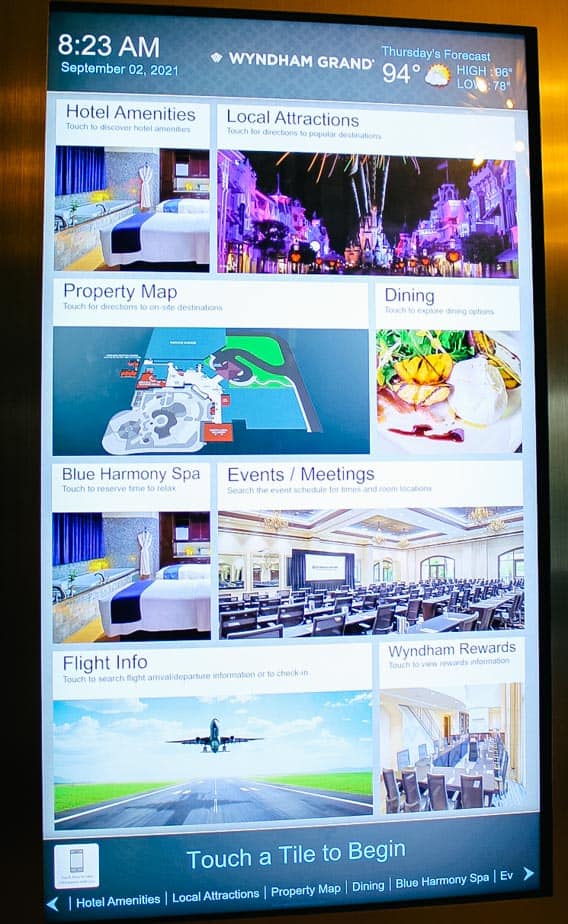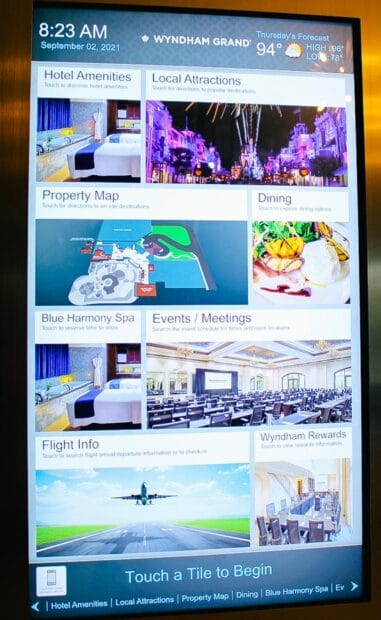 The Barista is a coffee bar that sits right off the hotel's main lobby.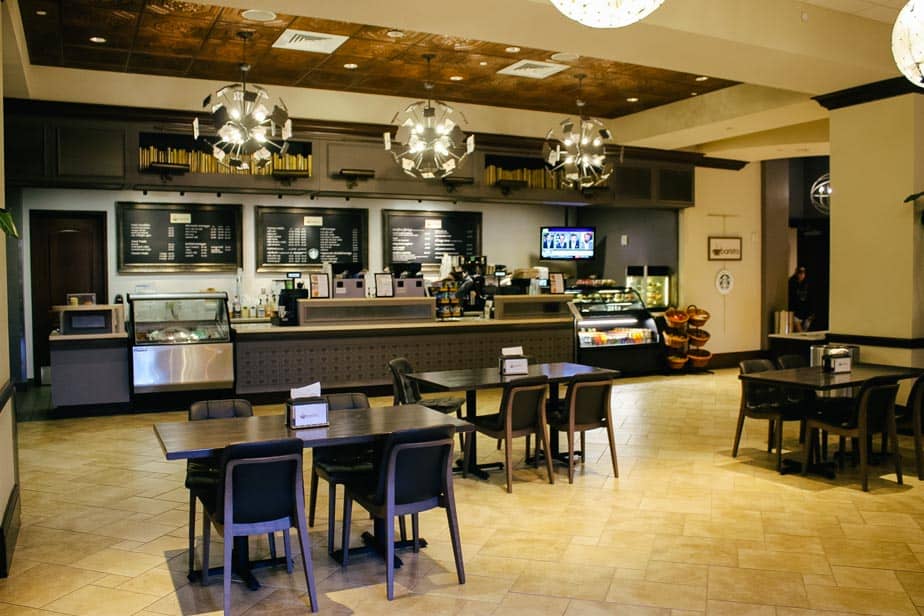 They serve Starbucks coffee and various pastries, sandwiches, and similar items.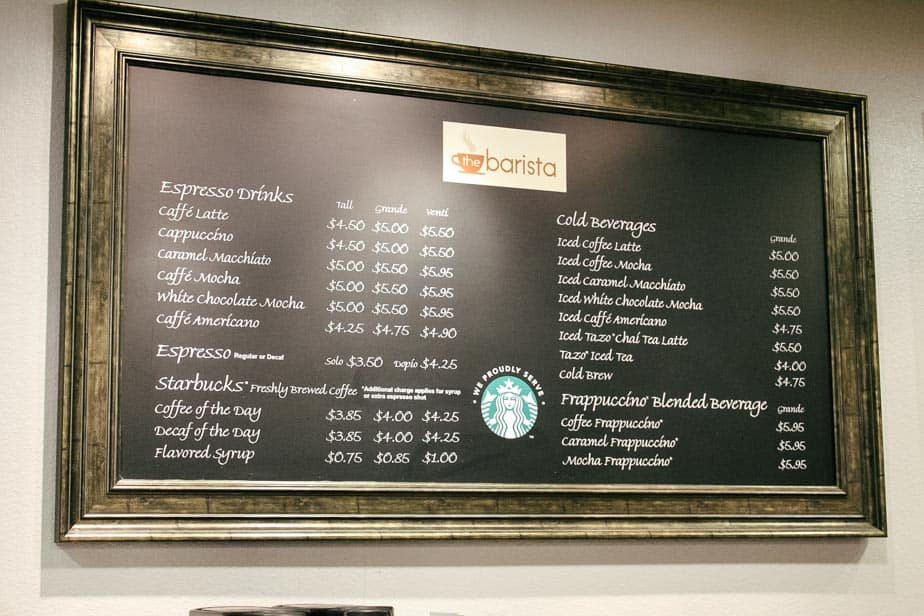 The Barista is open daily from 6:00 a.m. until 10:00 p.m. Here are a few of the items they had available.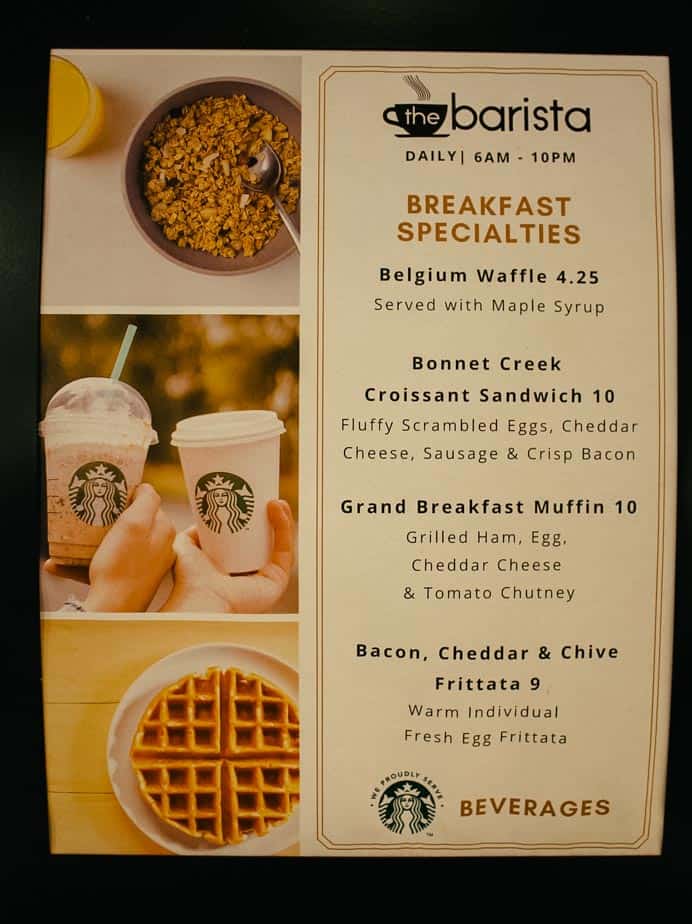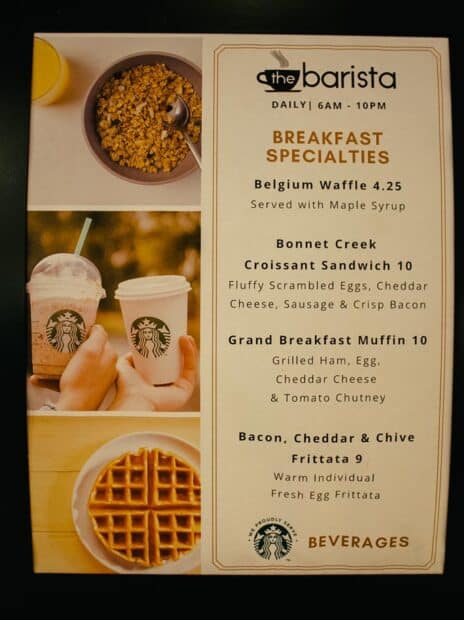 In case that's hard to read, the items include:
Belgium Waffle $4.25
Bonnet Creek Croissant Sandwich $10
Grand Breakfast Muffin $10
Bacon, Cheddar, & Chive Frittata $9
Here are a few things.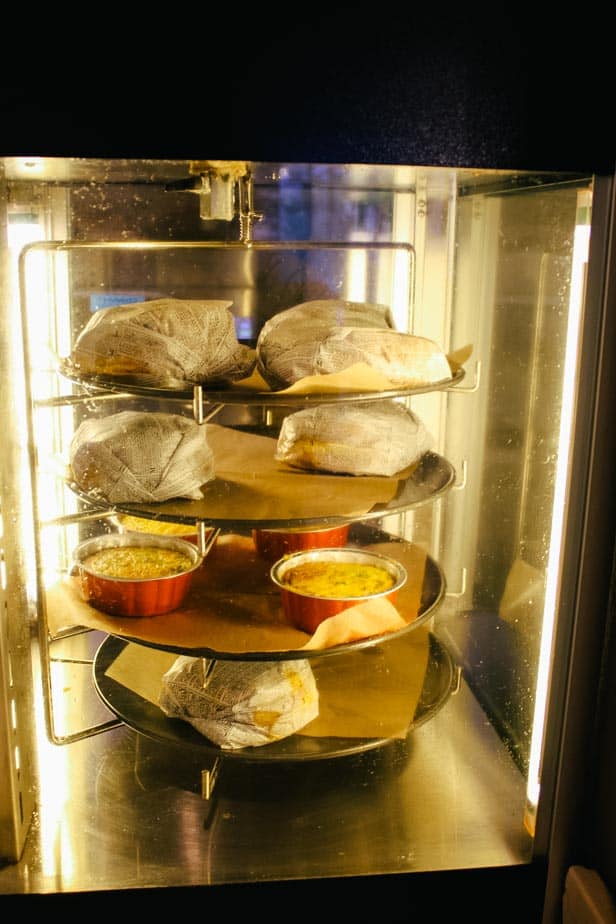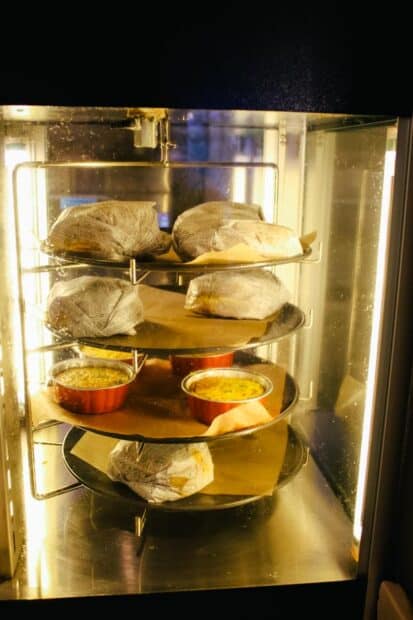 The pastries and desserts all looked very appealing.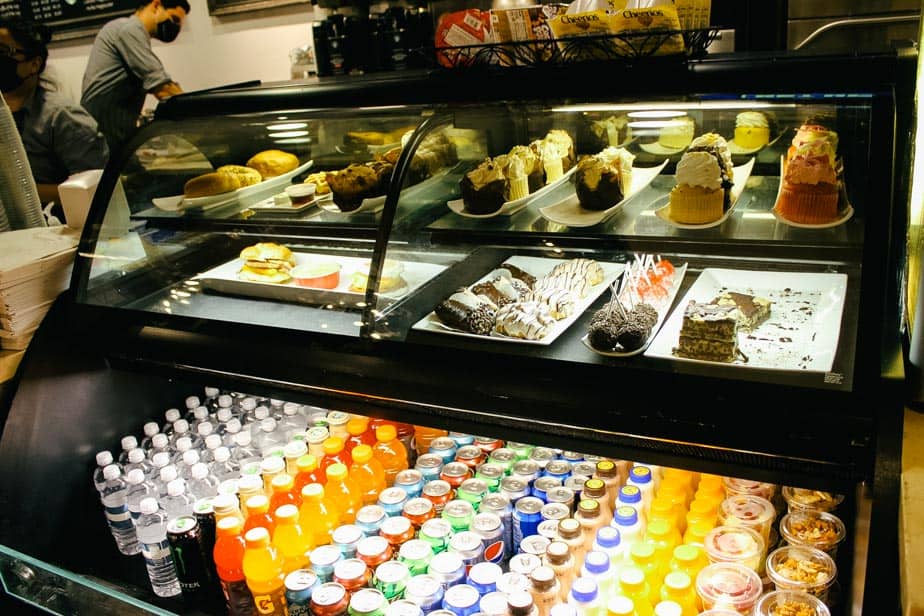 There was even a gelato case.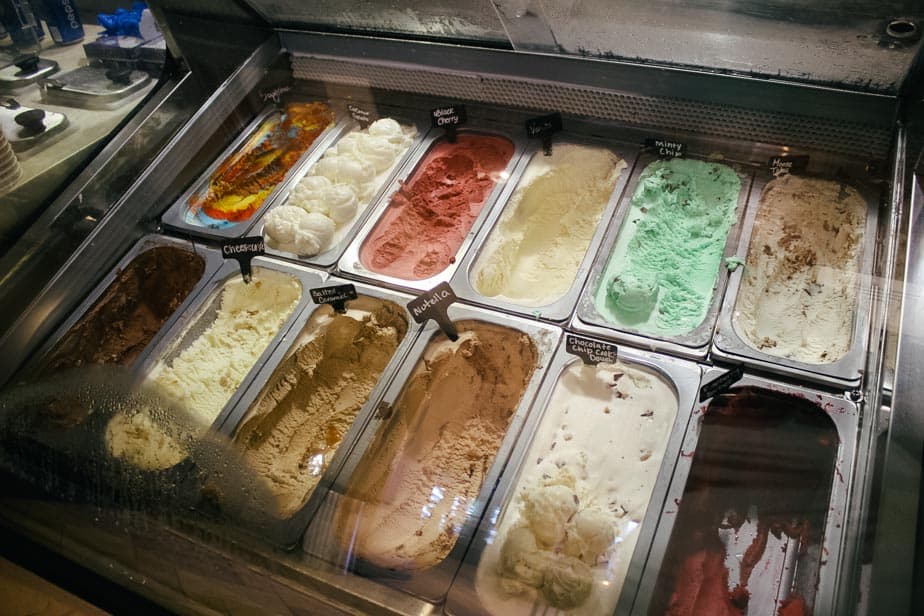 You'll find several outdoor balcony areas right off the lobby with tables and chairs. This would be a wonderful place to enjoy breakfast.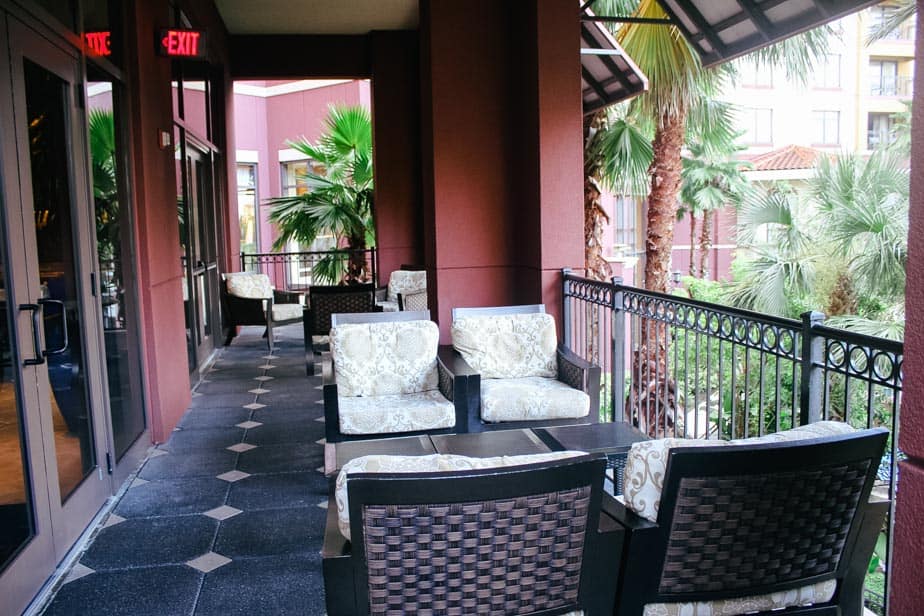 And the view wasn't bad either.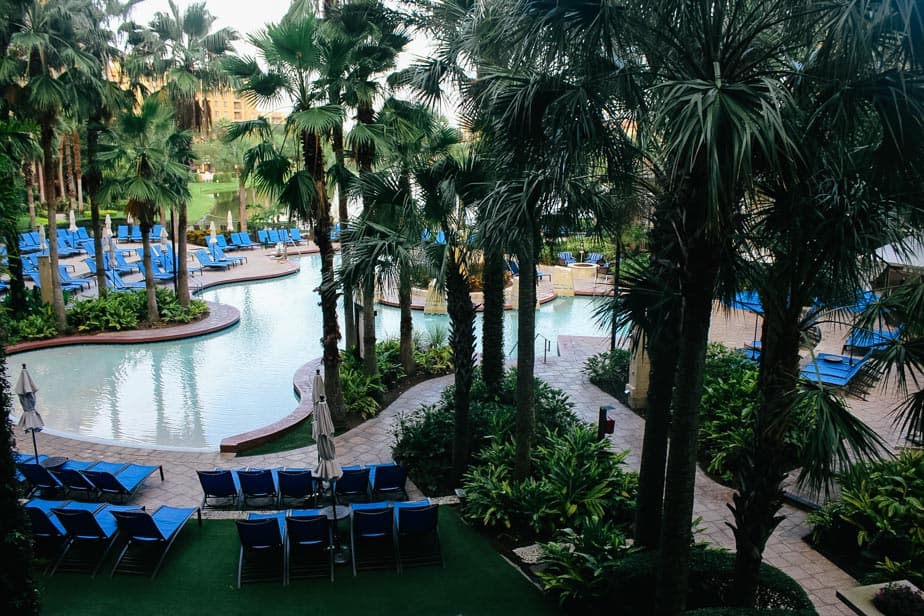 Back inside, there's Bar 1521. This is where I had ordered dinner the evening before.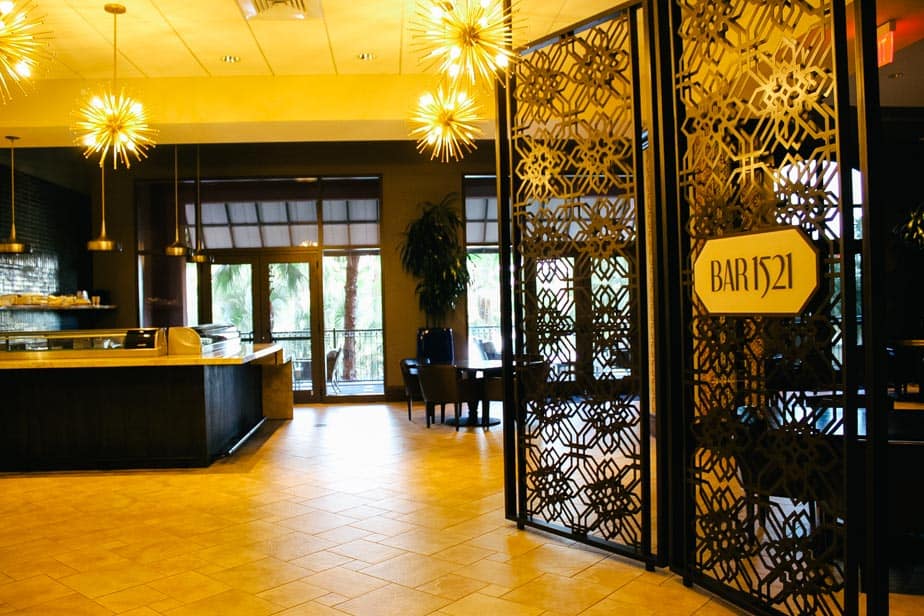 Bar 1521 Sushi is adjacent to the area. I've heard great things about the sushi bar here and am looking forward to trying it.
Related: Best Sushi at Disney World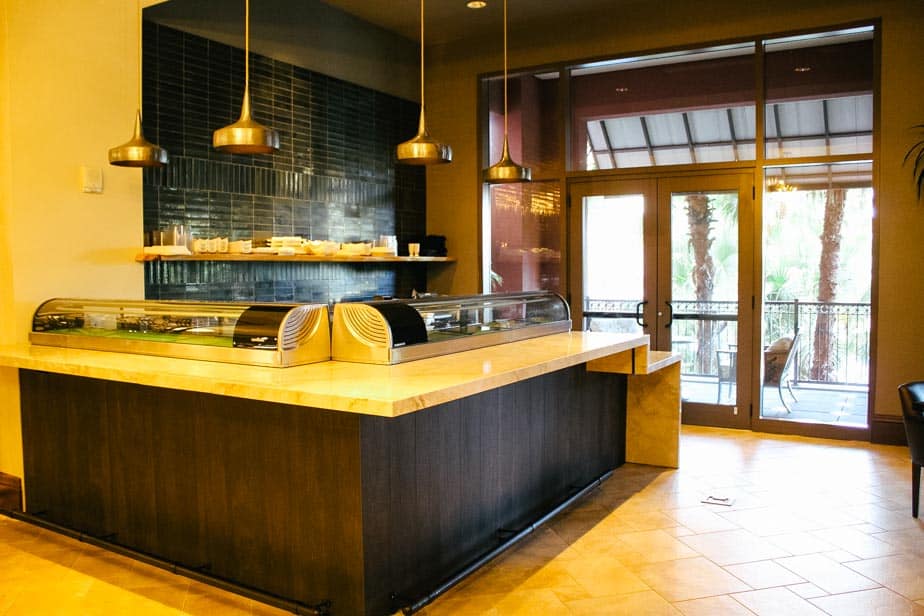 Anyway, Bar 1521 is basically a continuation of the lobby. They offer a full menu.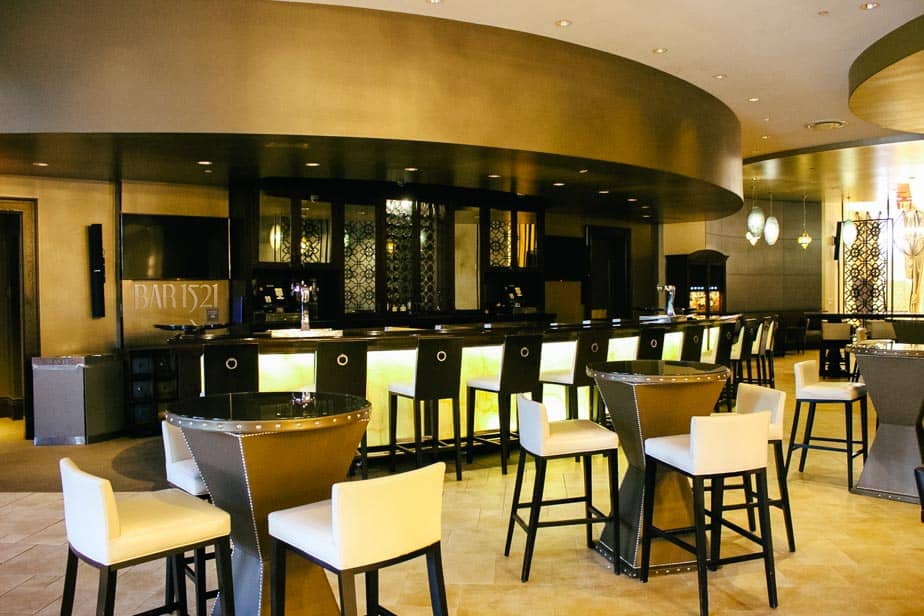 Tucked in behind Bar 1521 is the Deep Blu Seafood Grille.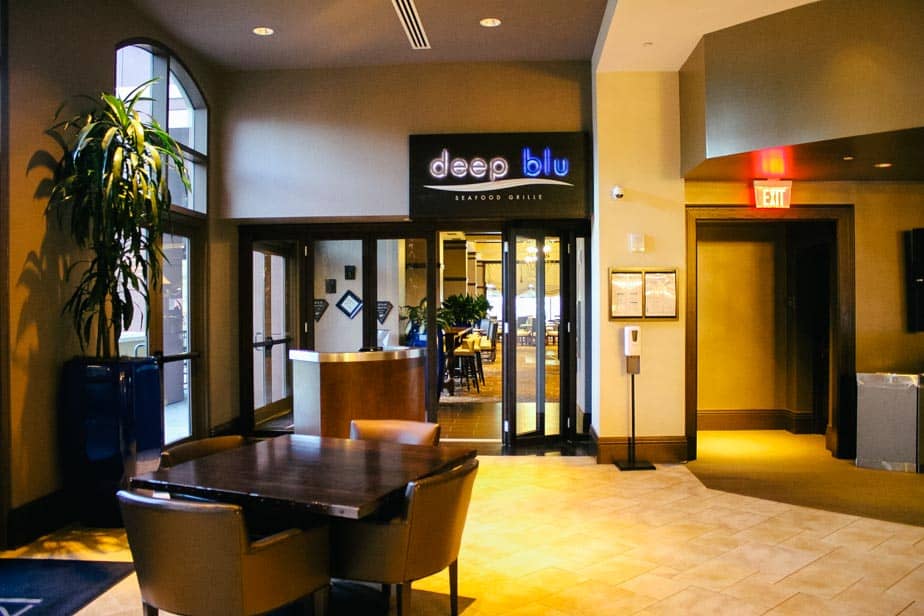 Since it was still fairly early in the morning, I snuck in for a few photos. The restaurant was beautiful, and I wished I had made plans to have a meal there.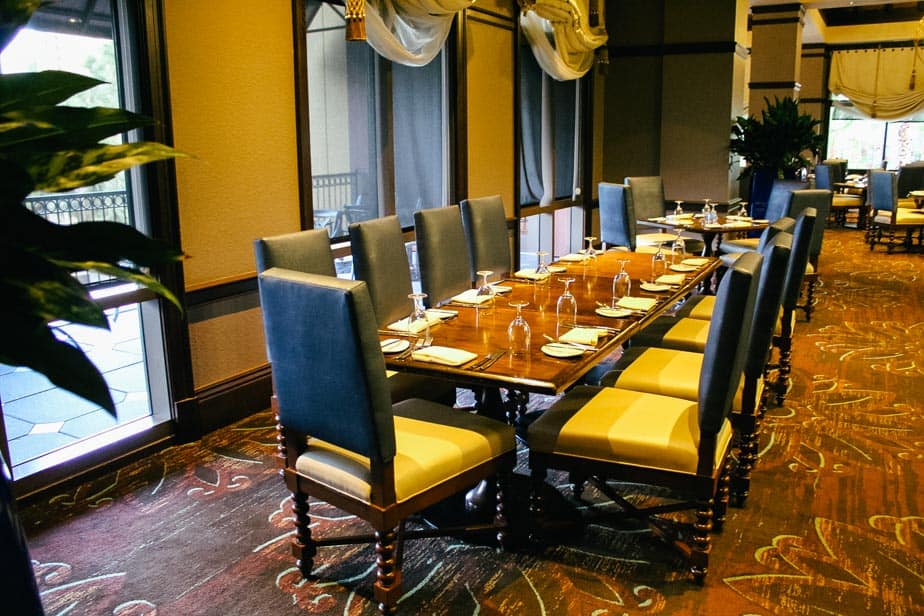 Deep Blu is participating in Magical Dining this year. It's a great value that runs through mid-October, where you get three courses for $35.00. Not only that, a portion of the proceeds goes to help the homeless community in Orlando.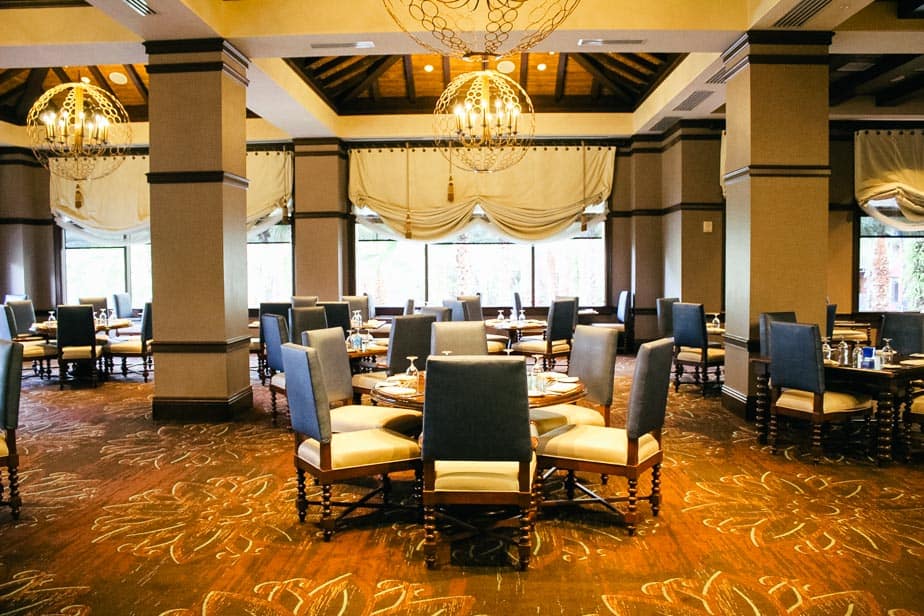 I have a complete account of how Magical Dining works in our Jaleo review. Anyone who visits the area during the early Fall will want to remember to take advantage of this unique opportunity.
Moving on, the lower level of the resort is home to a casual restaurant, Tesoro Cove. Right now, the restaurant has a breakfast buffet that's open daily from 7:00 a.m. until 12:00 p.m.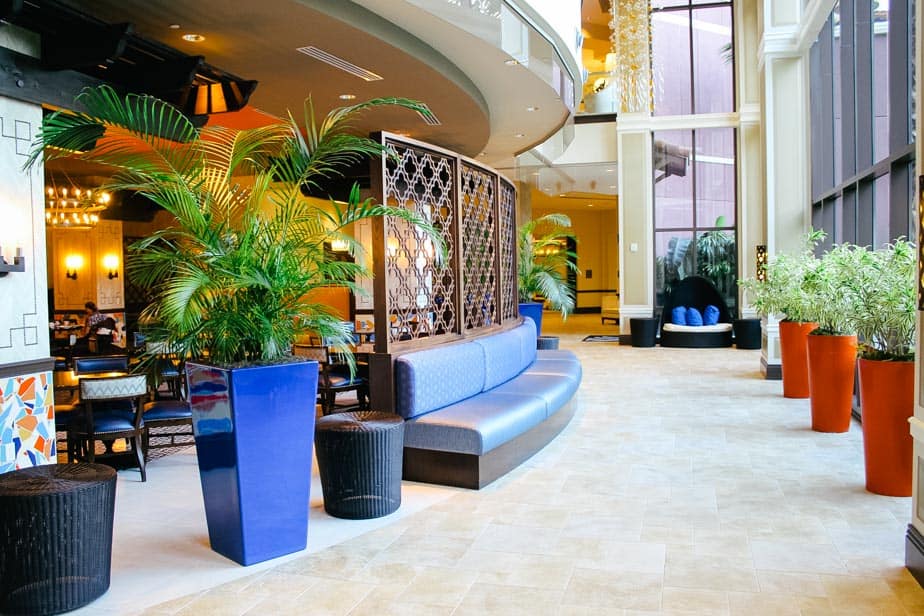 The pricing seemed reasonable for the meal. And I felt it was important to note that children ages five and under eat for free.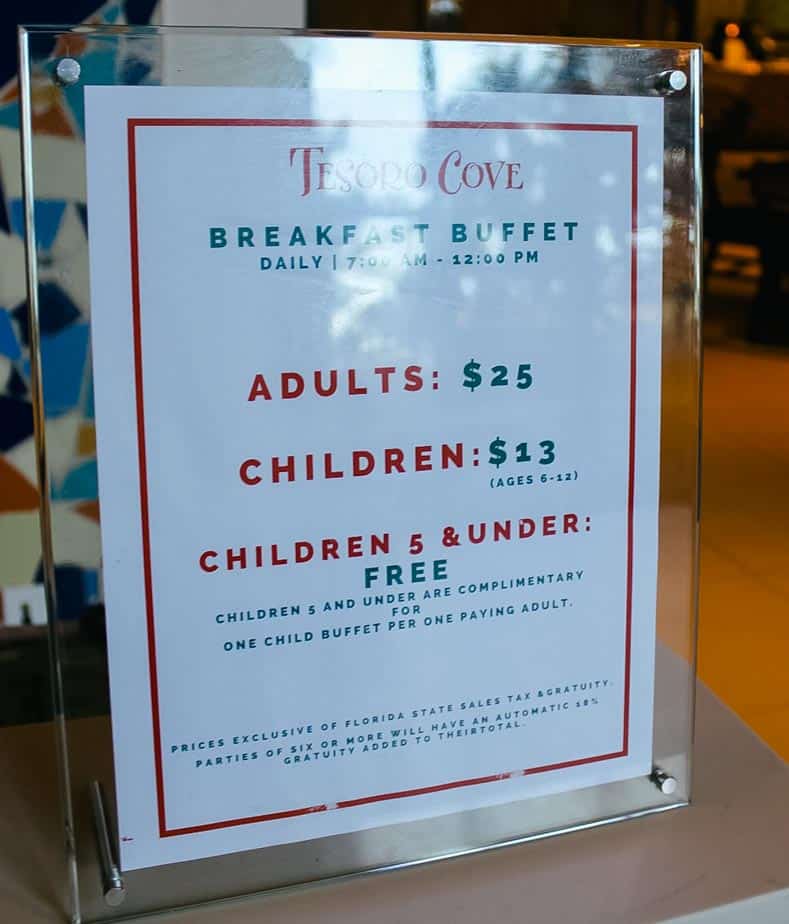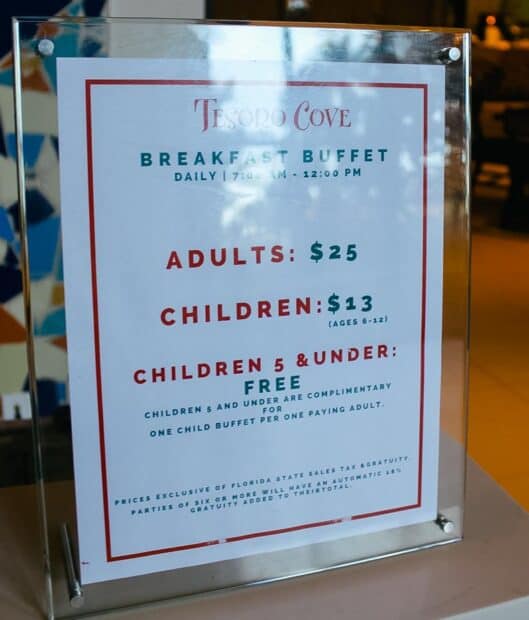 You can probably tell the hotel was not busy. Therefore, I decided to take a few buffet pictures for the sake of this review.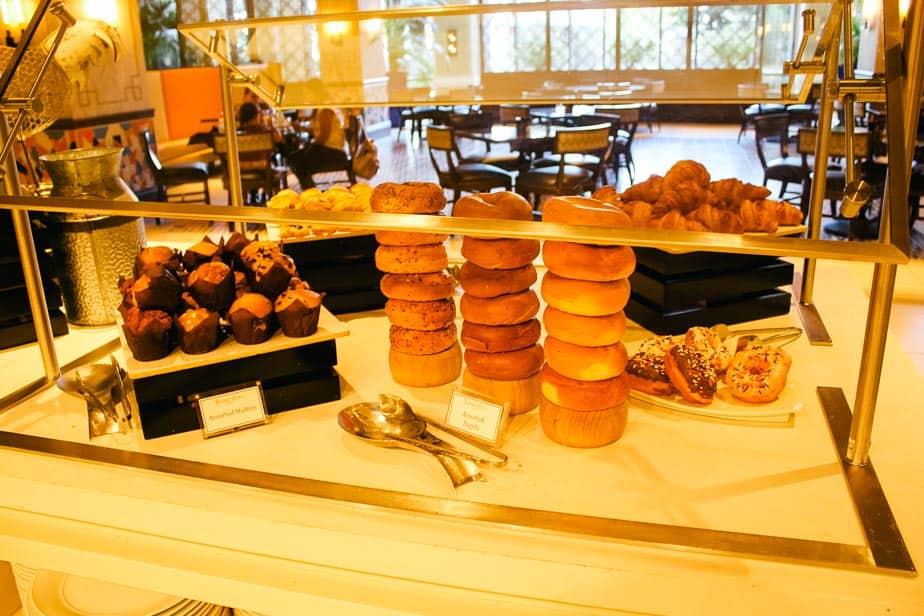 These were hot items like meats, eggs, and similar breakfast dishes.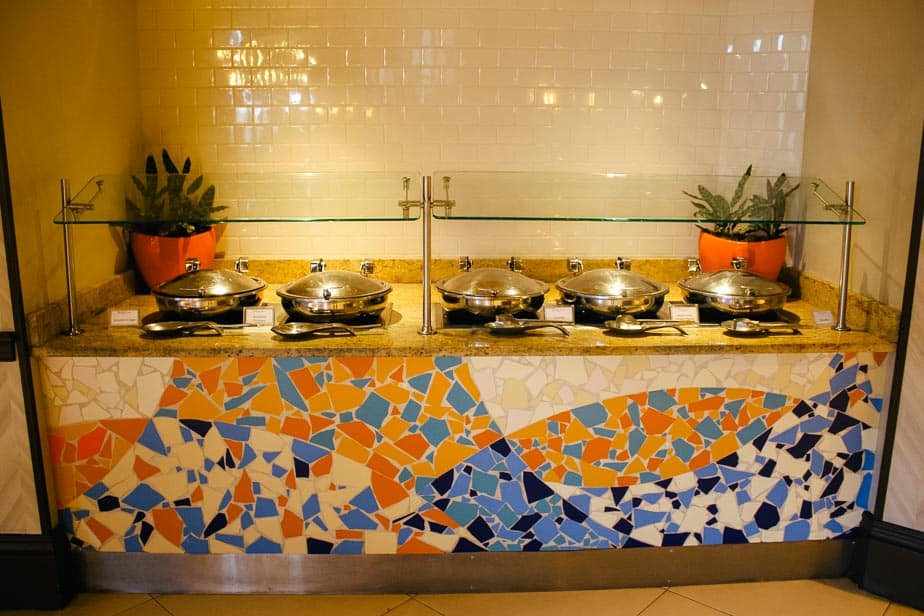 I thought it was cute how the grab-and-go items were all separately wrapped.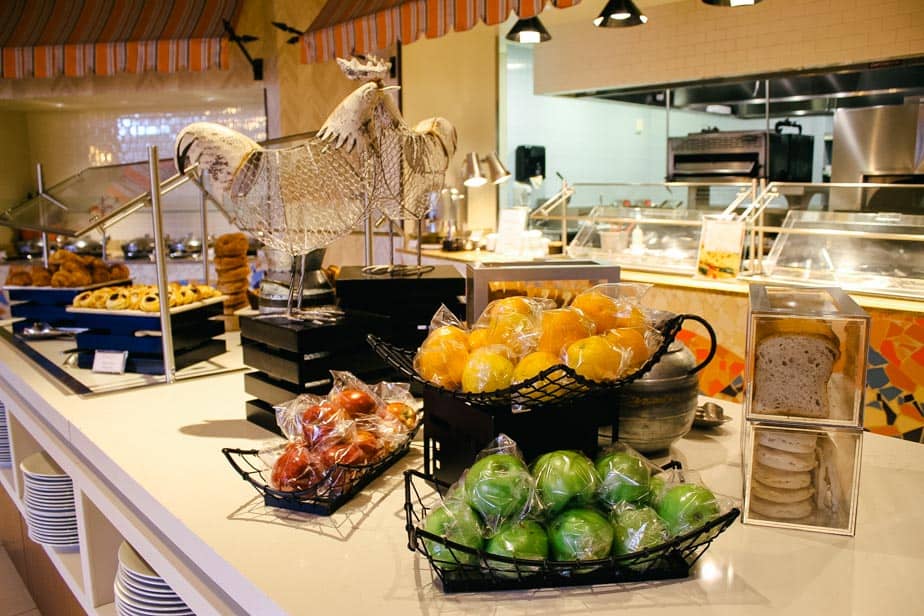 Fresh fruit was in abundance. Yes, please.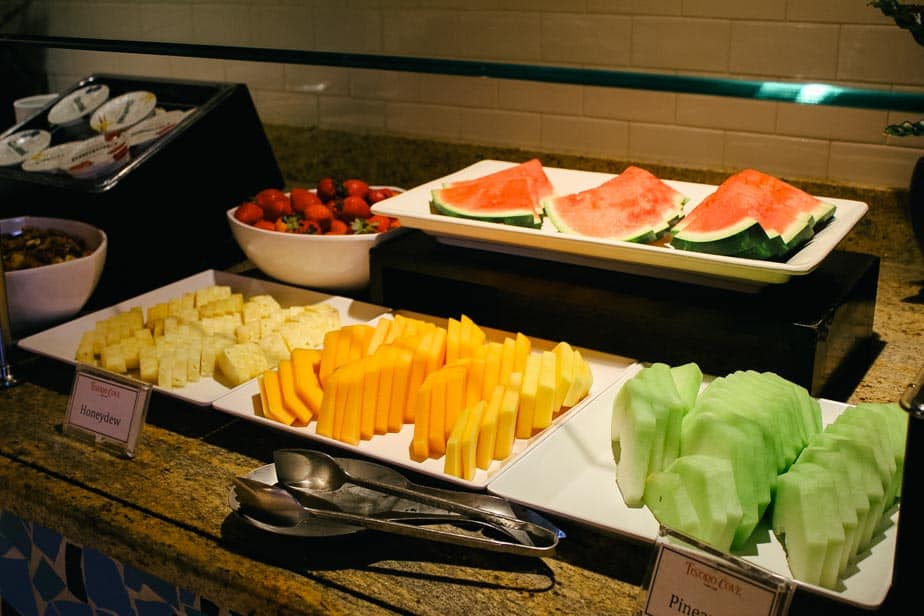 Smoked salmon, charcuterie, olives, yogurt, and granola were all in the mix.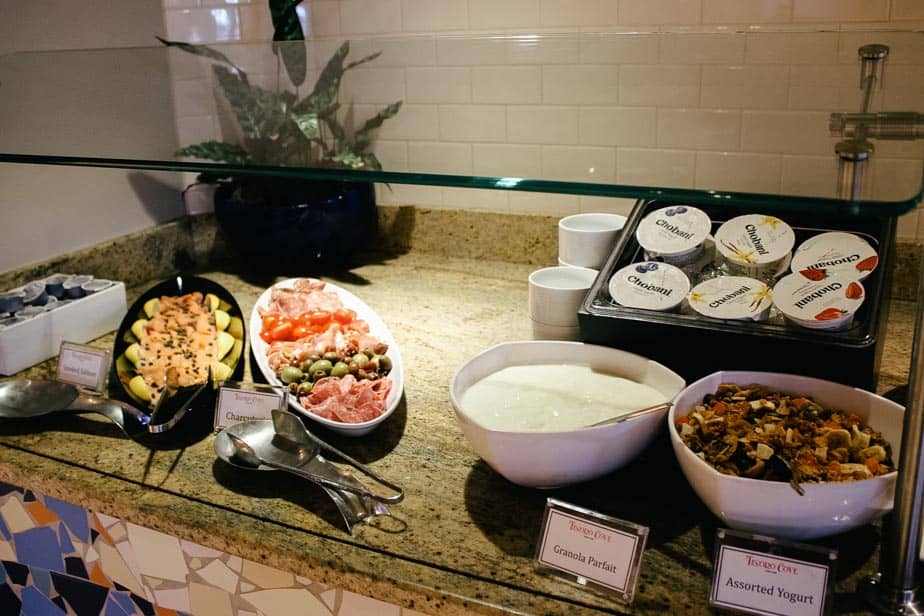 If you weren't sure about having breakfast here, you could easily walk through and check everything out before committing. I'll admit it was no Boma, Flavors of Africa. But we can't have Boma every day, now can we?
Before we head outside, there were a few other items worth mentioning on the lower level—for instance, this arcade.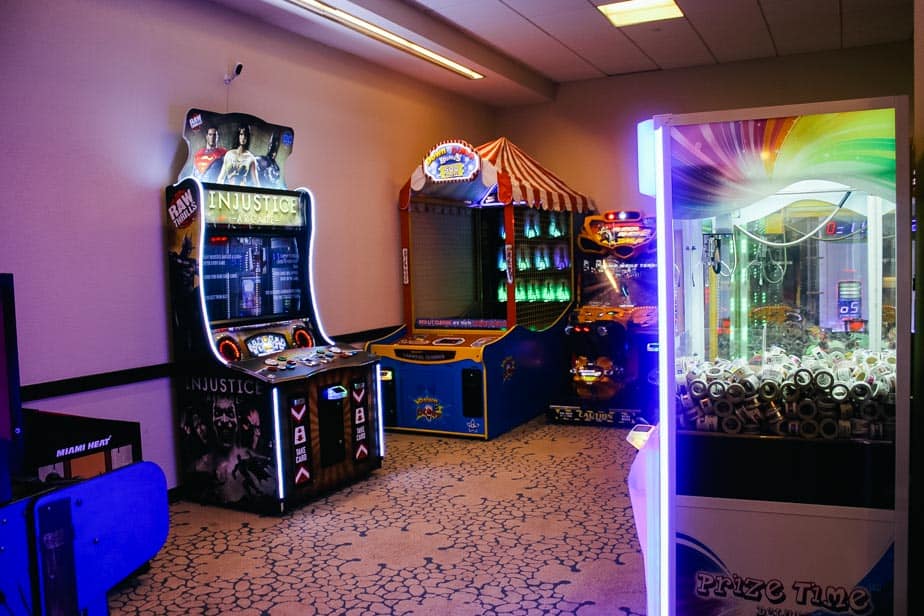 And the large fitness center.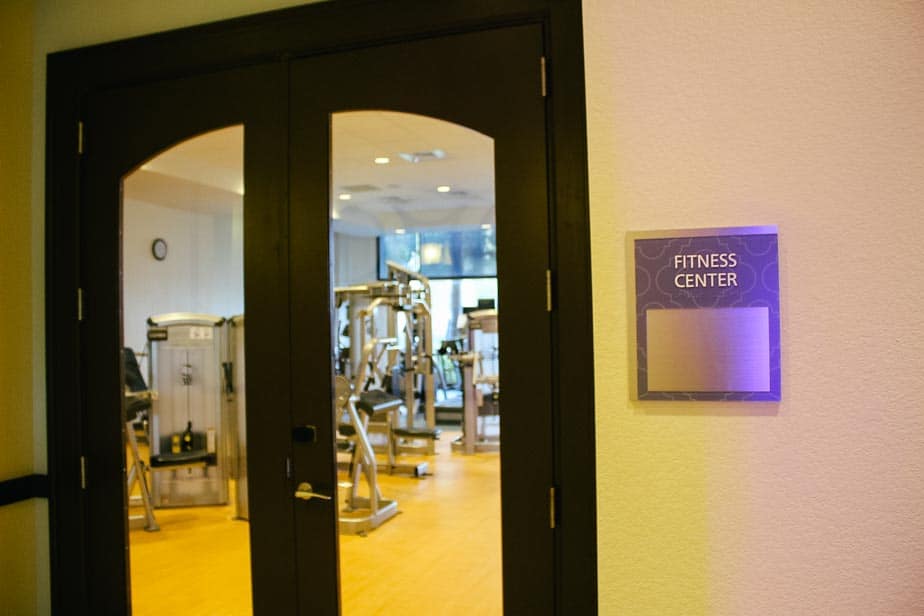 I'm always amused by these large gyms that hotels offer.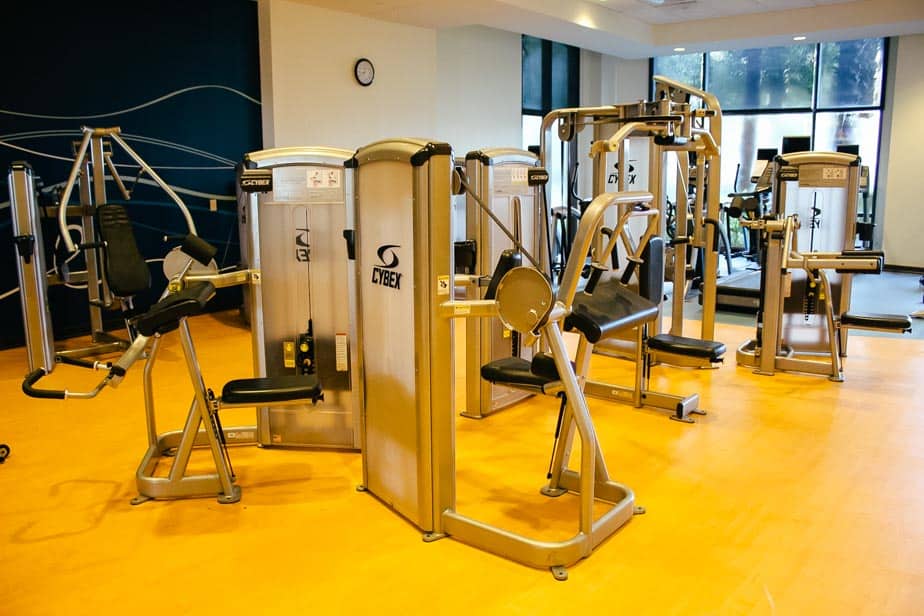 Rarely do I run into anyone. Therefore, I assume that guests must use them early in the morning or late in the evening.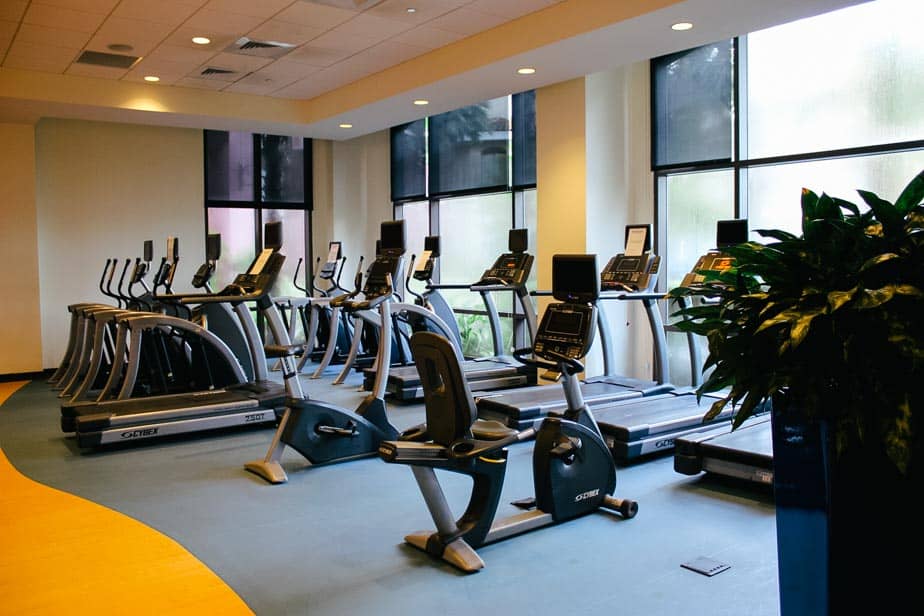 As you can see from the pictures, there was ample equipment to get in a workout. For comparison, I have all the resorts with gyms at Disney here. They all have excellent fitness centers as well.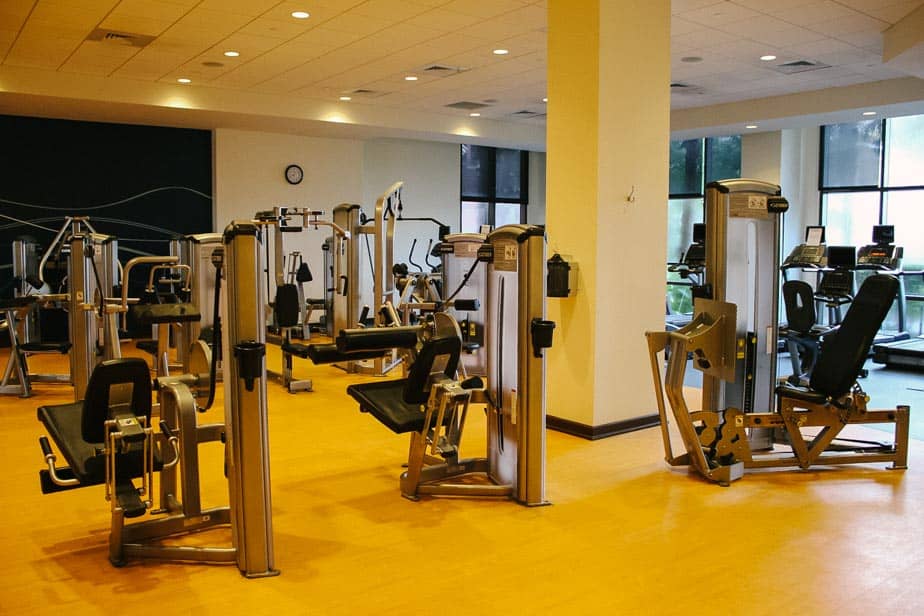 Around the corner from the fitness center was the Blue Harmony Spa.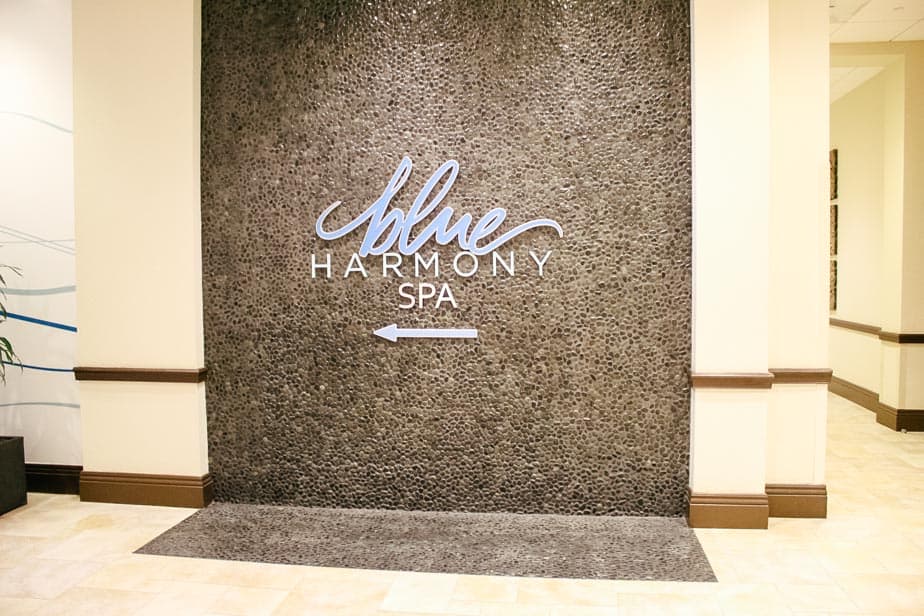 If you want to learn more about the spa, their menu with pricing is available here.
Now it's time for what I consider the best part of the Wyndham Grand Orlando: the large recreation area. Going into this stay, I knew the hotel was across the street from the Signia by Hilton. I've stayed at the Hilton many times.
Related: Signia by Hilton at Bonnet Creek Review
What I didn't know was that the Wyndham Grand Orlando was a separate hotel that adjoined the Wyndham Vacation Club. So the amenities are shared between all the towers.
This entire area around the lake comprises six different towers, the Wyndham Grand Orlando and the Puerto de Leon (registration for club guests.)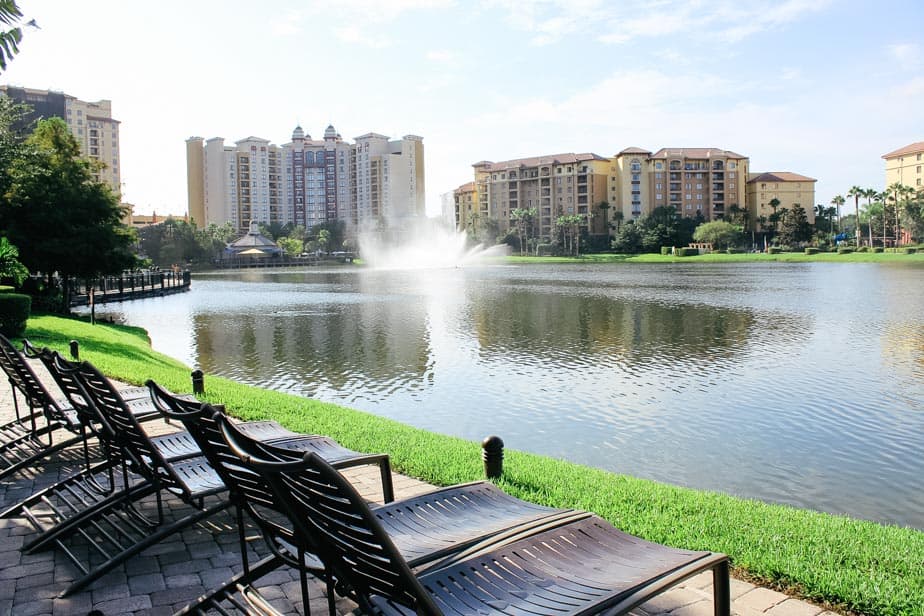 Basically, it's a huge vacation club ownership where members purchase points to use at various Wyndham properties.
I'll be honest. I had no idea I could access all of these different pools. At check-in, I received a wristband that indicated I was a guest of the resort. Additionally, they gave me some paperwork about the resort, but I had yet to look over it.
Since there is so much information about the pools at the Wyndham Grand Orlando, I'm going to do a separate review. First, however, we'll briefly go over the different pools below, starting with the Oasis pool.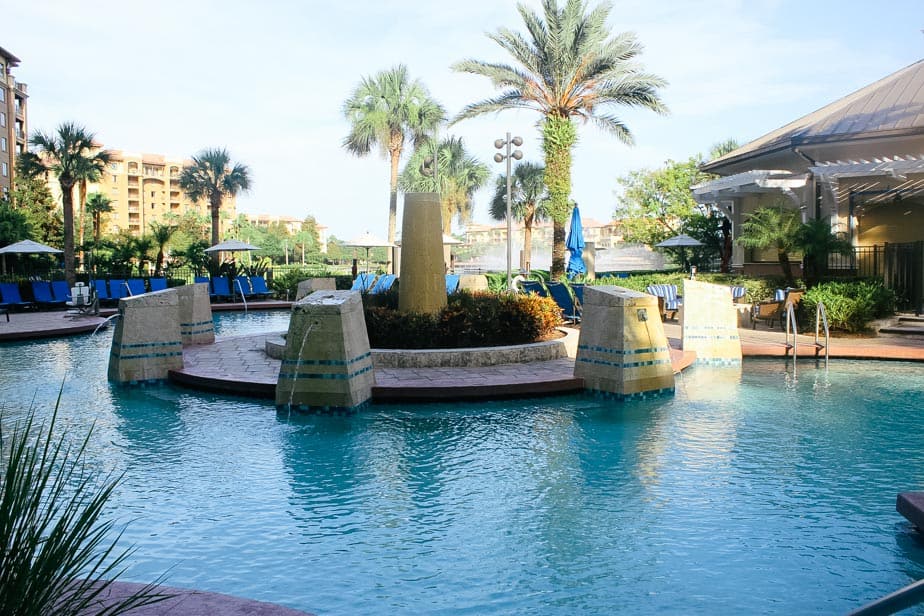 This is the main pool we could see from the room. It had a zero-entry area on one side.
There was an assortment of lounge chairs. I thought the little shared tables for drinks were a nice touch.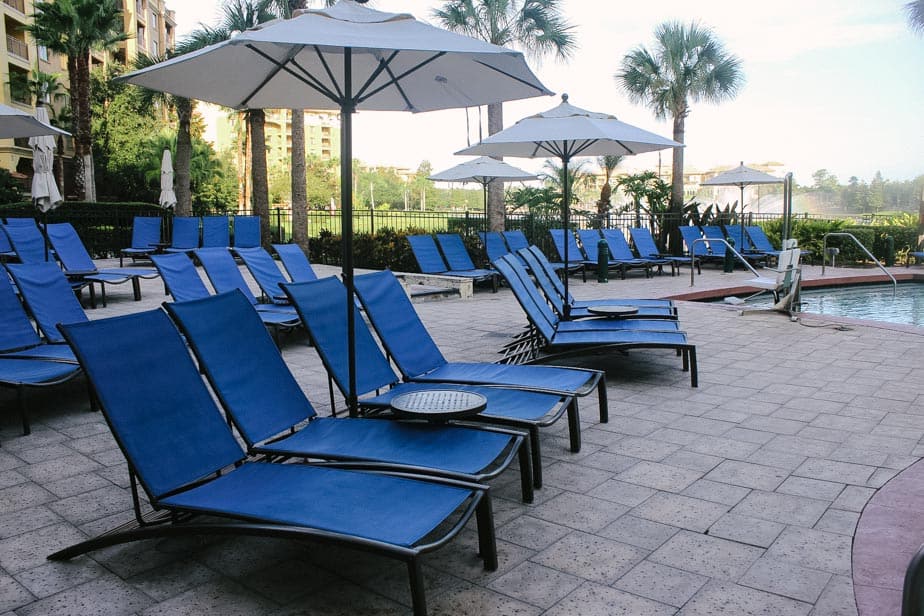 A whirlpool tub had a little landscaping around it, making it feel private. These are the best remedy to cure your woes after a long day in the Disney parks. Trust me.
A casual fire pit with chairs sits off to the side.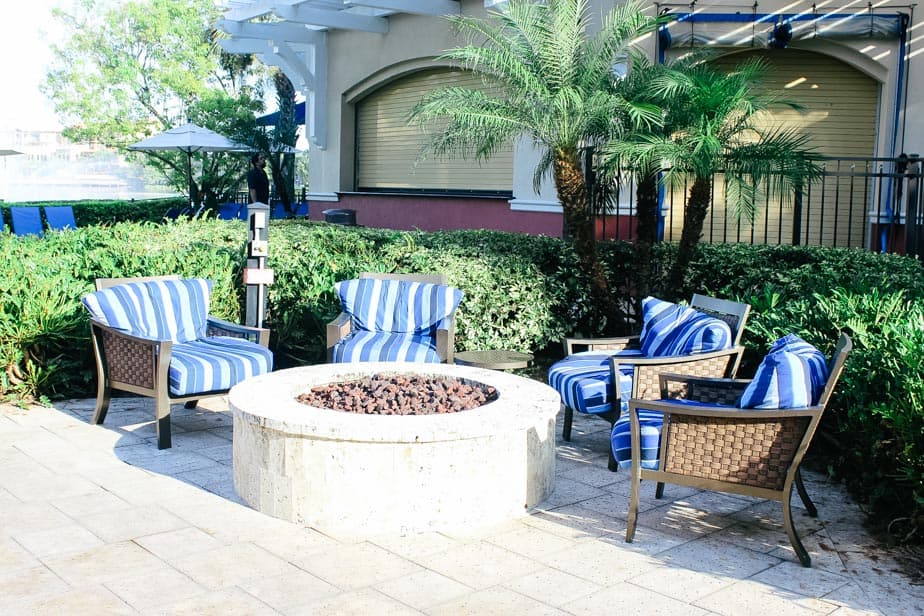 From where I was, I could see that the tower next door had a large pirate-themed pool area. Since I was a little confused about things, I decided to venture over and check it out.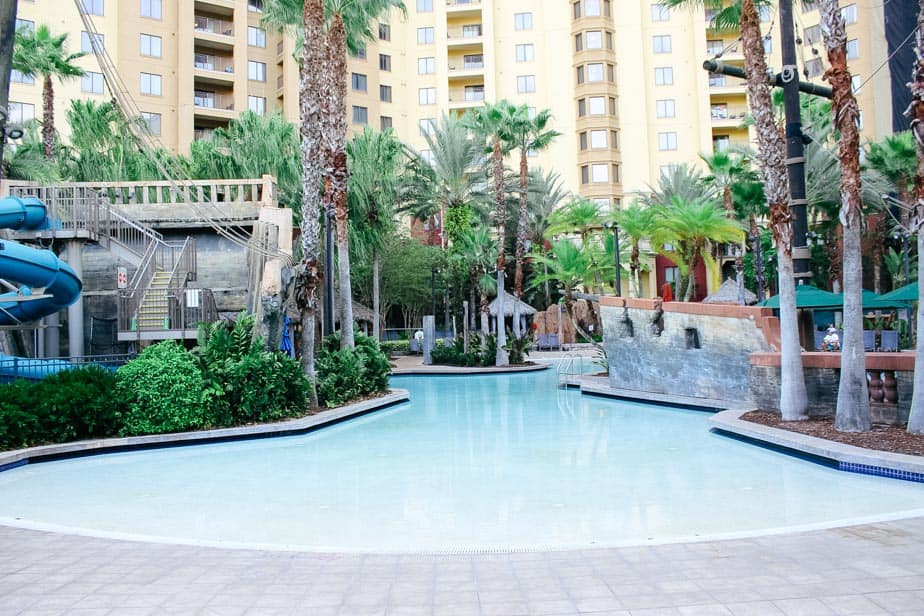 This is the Pirate Ship Pool at Tower Six. All guests of the Wyndham Grand Orlando have access to it. This pool has a fun, twisty waterslide.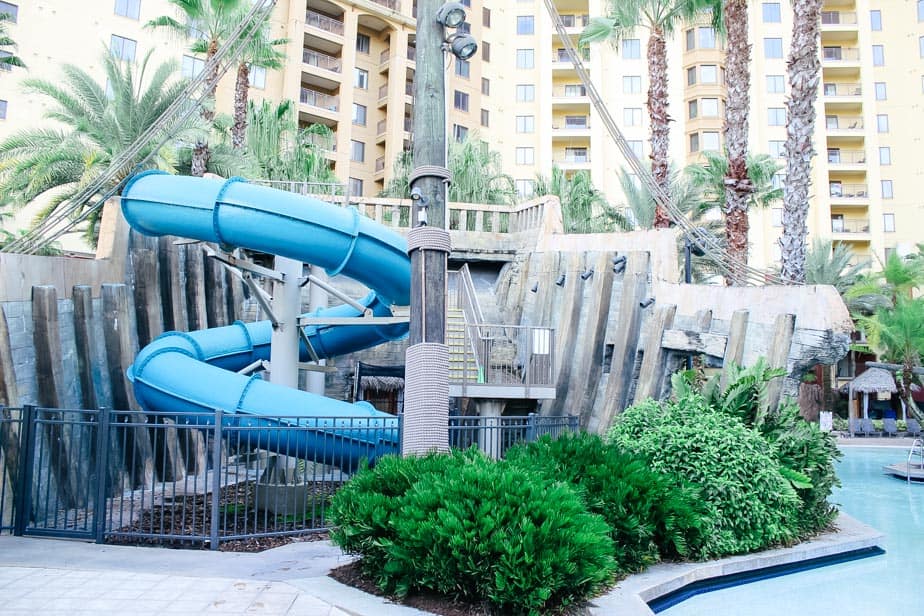 I thought this one was neat—most of the waterslides at Disney dump out into the pool.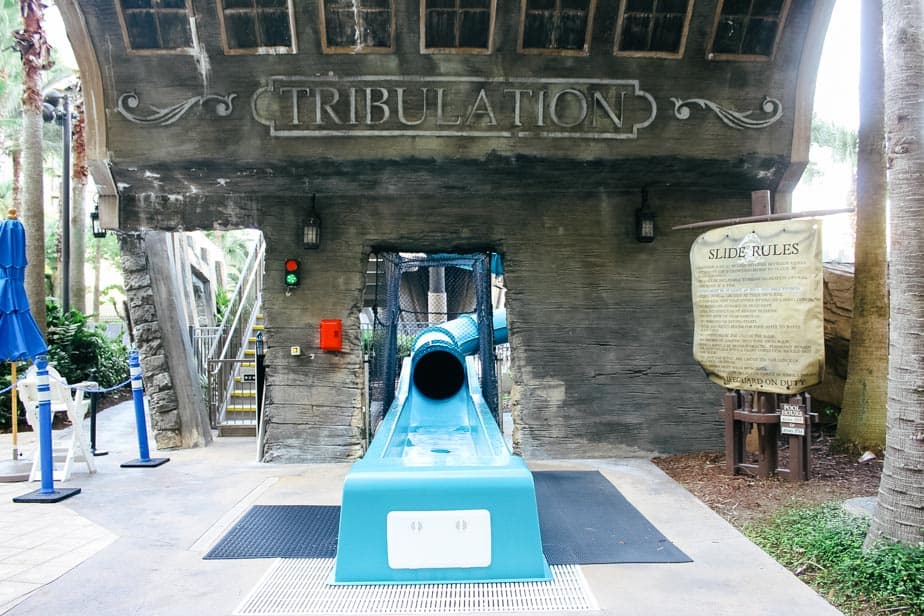 Private cabanas were available to rent. We recently spent an entire day at a cabana at Disney's Beach Club. You can learn more about that experience here.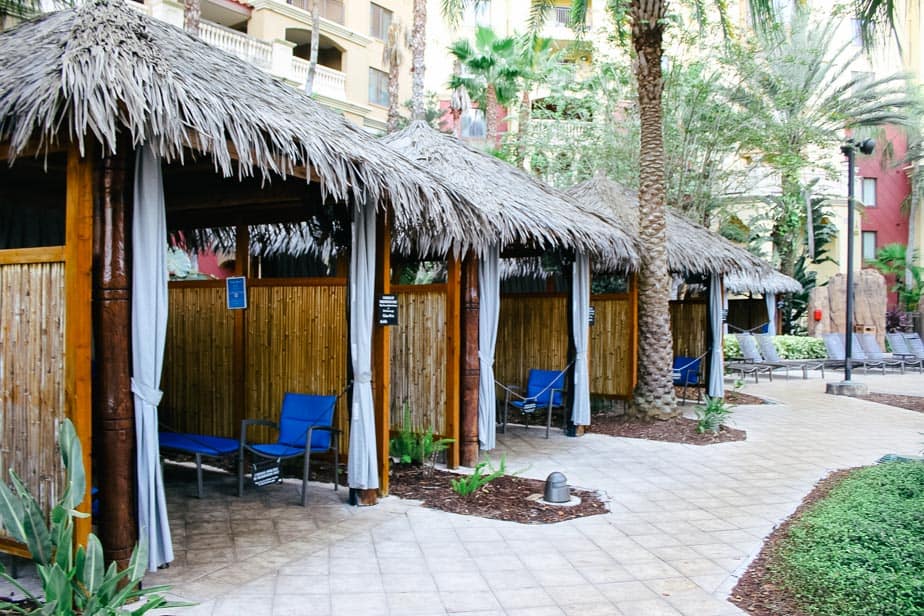 Behind the pirate pool was a counter-service restaurant called the Back Bay Bar & Grille. This location is open from 11:00 a.m. until 11:00 p.m.
The walkway around the lake looked peaceful, so I decided to venture a little further.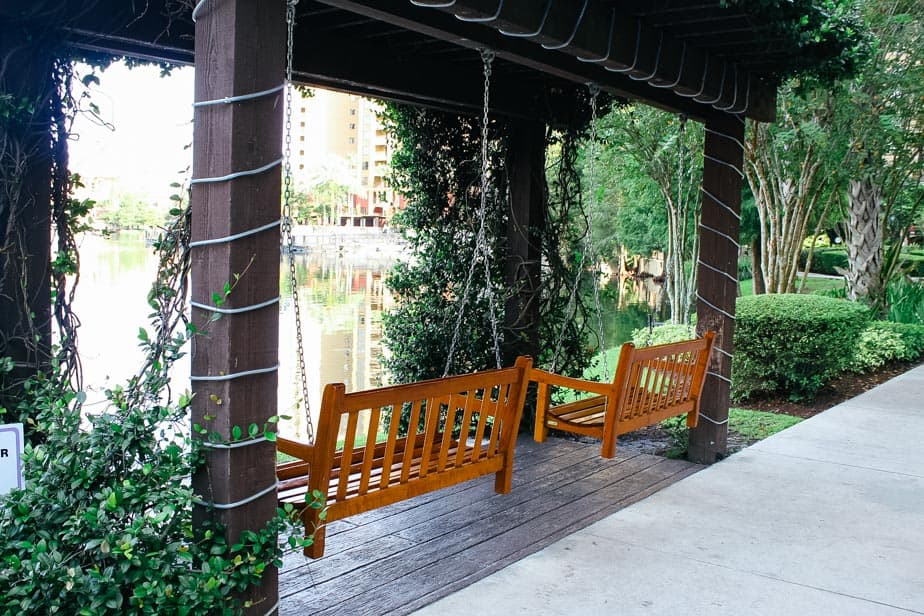 That's when I ran into this sign that indicated the entire property was part of Wyndham. Usually, I do my research in advance of staying at these hotels. However, this hotel was an unexpected, last-minute addition to my trip.
I think this turned out to be a good thing in my favor, though. It left me wondering how many guests stay here and don't plan any time at the resort. You would probably never know that all of this was included if you were going back and forth to the theme parks every day. And that's sad because this hotel has a lot to offer.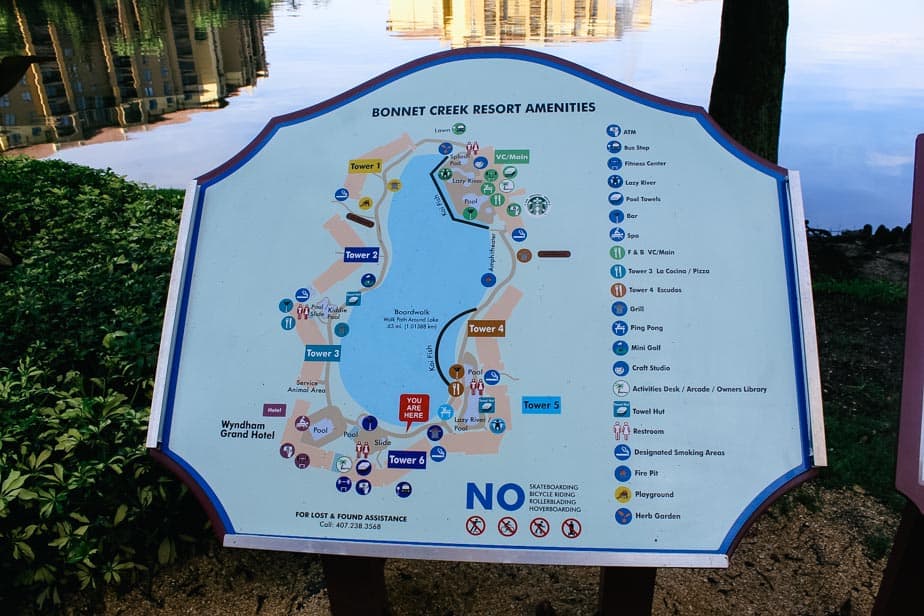 While Wyndham charges a $35 daily resort fee, the fee covers a reasonable amount of perks. Those perks include a resort shuttle to the Disney parks and Disney Springs, a pool concierge, bottled water in rooms, wifi, and several recreational activities.
You can view the complete list here on Wyndham Grand Orlando's site.
Additionally, there were lists posted with different activities that were offered daily. Therefore, I recommend planning at least one resort day here during your trip.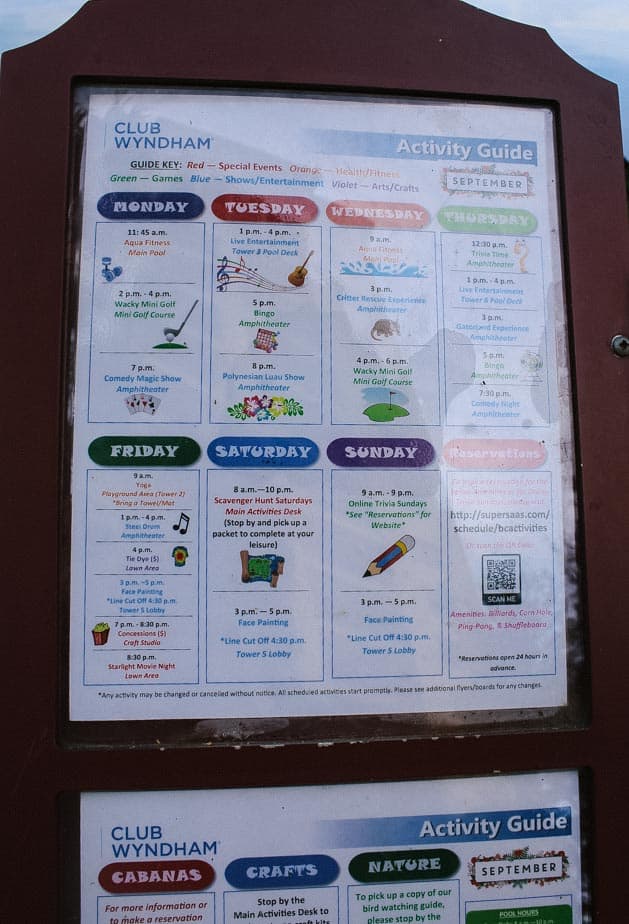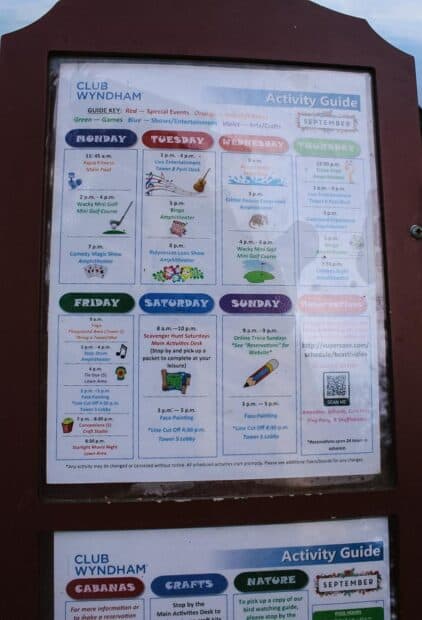 Multiple grill areas were available across the grounds.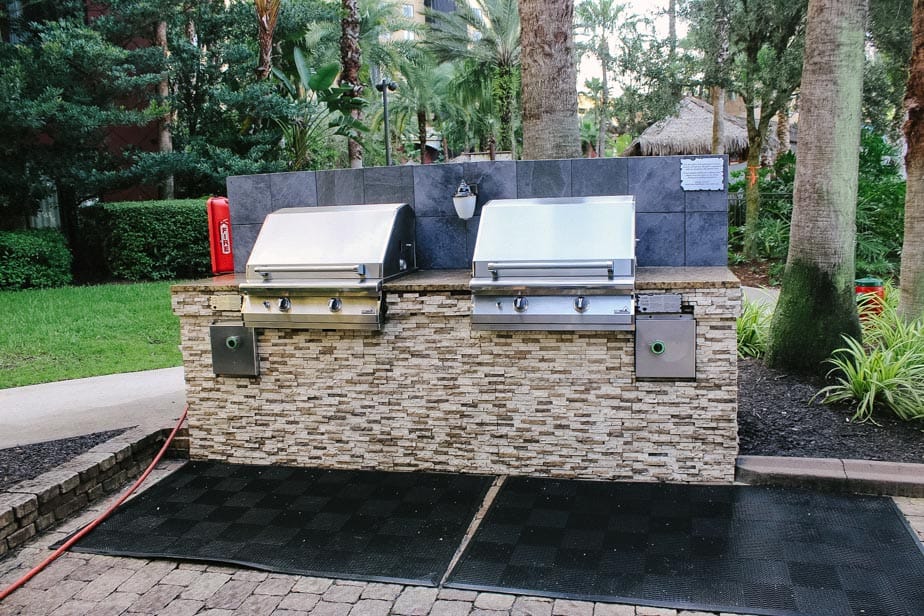 I didn't know this at the time, but most of the rooms in the other towers were condos with kitchens and multiple bedrooms. The Wyndham Grand Orlando was the only tower that was an actual hotel.
So, if you end up staying at the timeshare portion of the resort, you can expect a few differences. Most of those places try to offer you something in exchange for a timeshare presentation. That was not the case at the hotel.
Related: Orange Lake Resort Review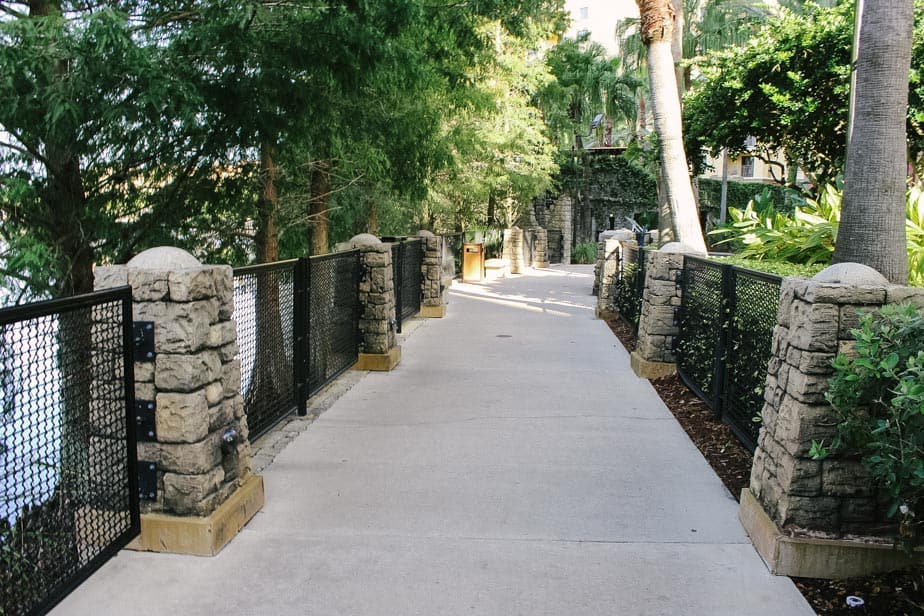 Anyway, my next stop along the path around the lake was at tower 5, where the lazy river is located.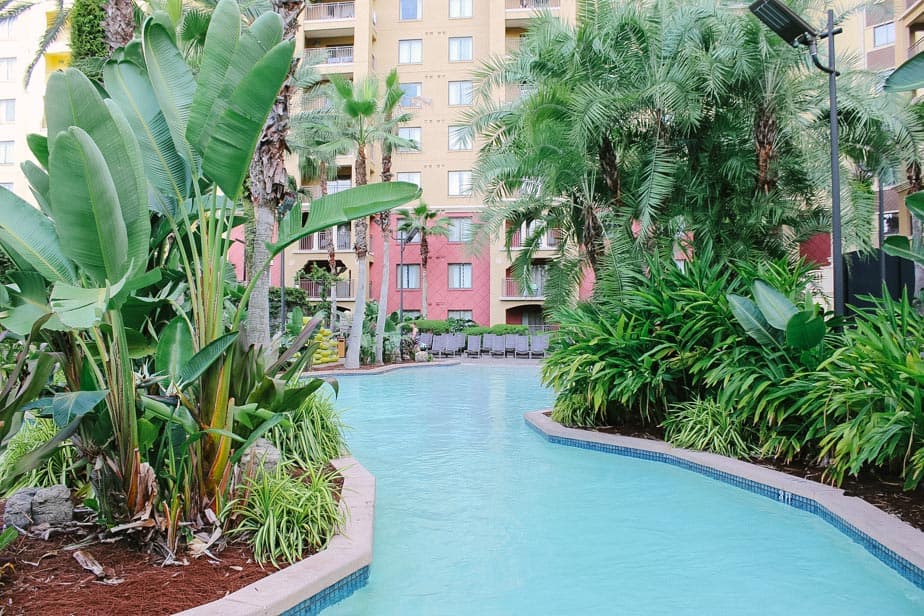 Parents, you'll probably enjoy letting your children play in this lazy river. It starts on one side of the zero-entry pool. Then it makes a small loop before exiting back into the same pool.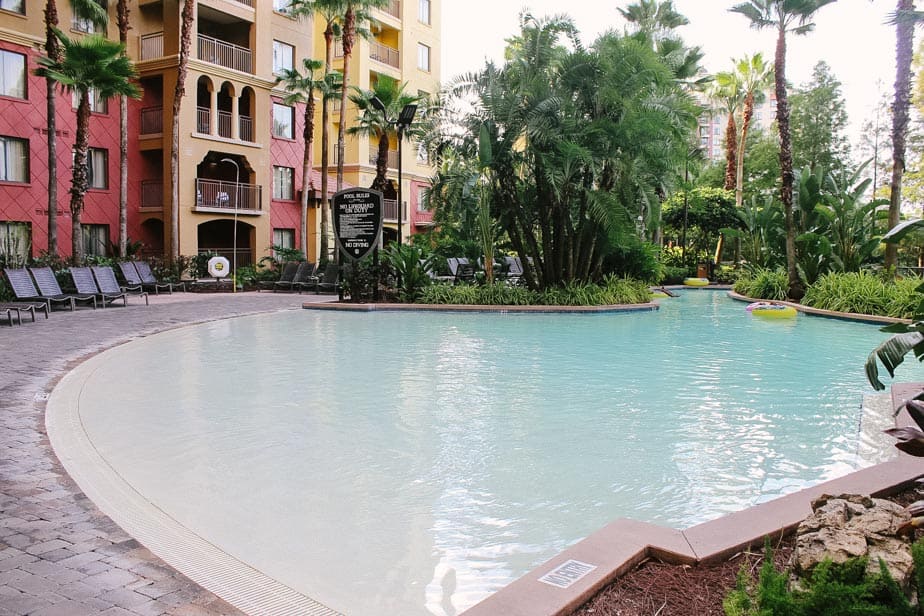 The landscaping provided a decent amount of shade.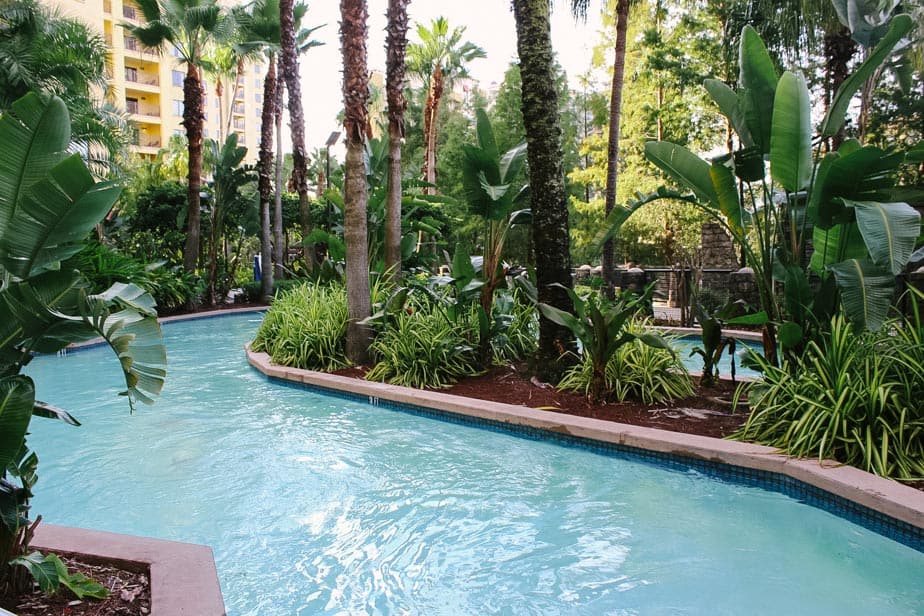 The lazy river went under a bridge.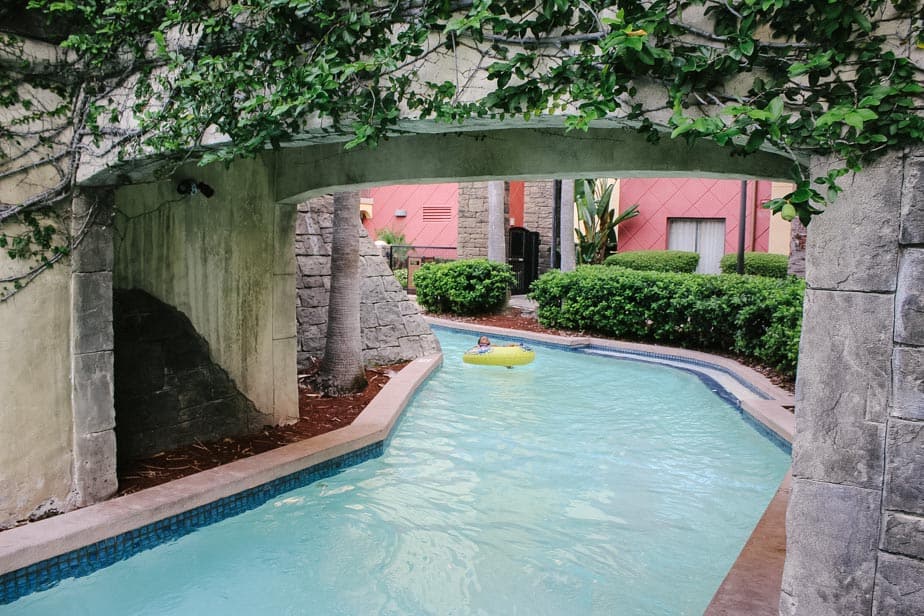 This is what the upper level looks like.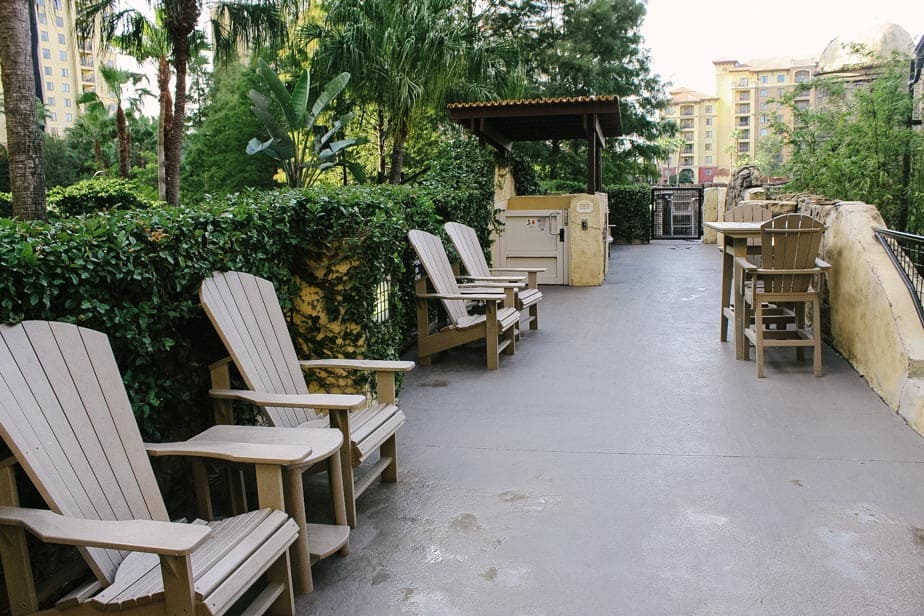 Here is a look down from above.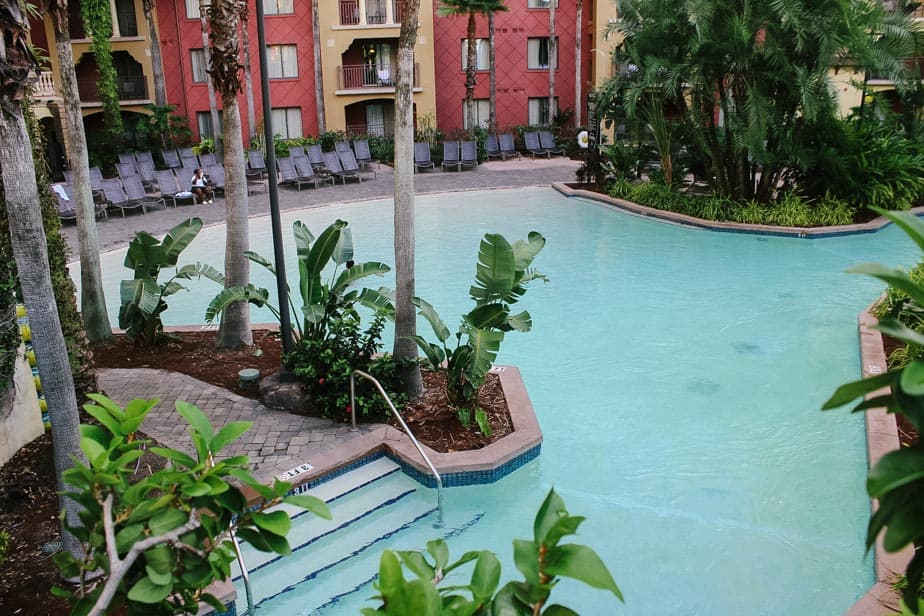 And the view out to the rest of the Wyndham Grand Orlando.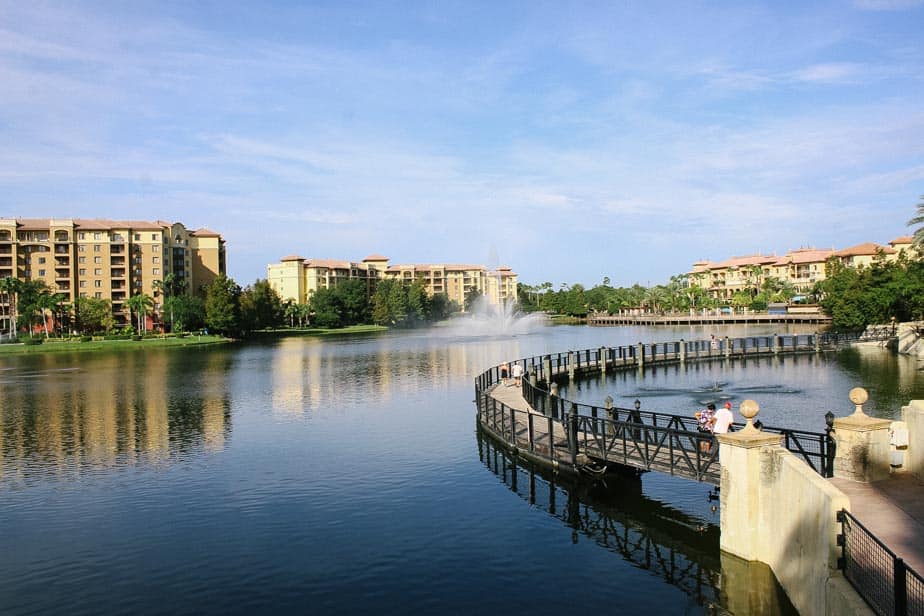 There were so many seating areas spread out over the grounds.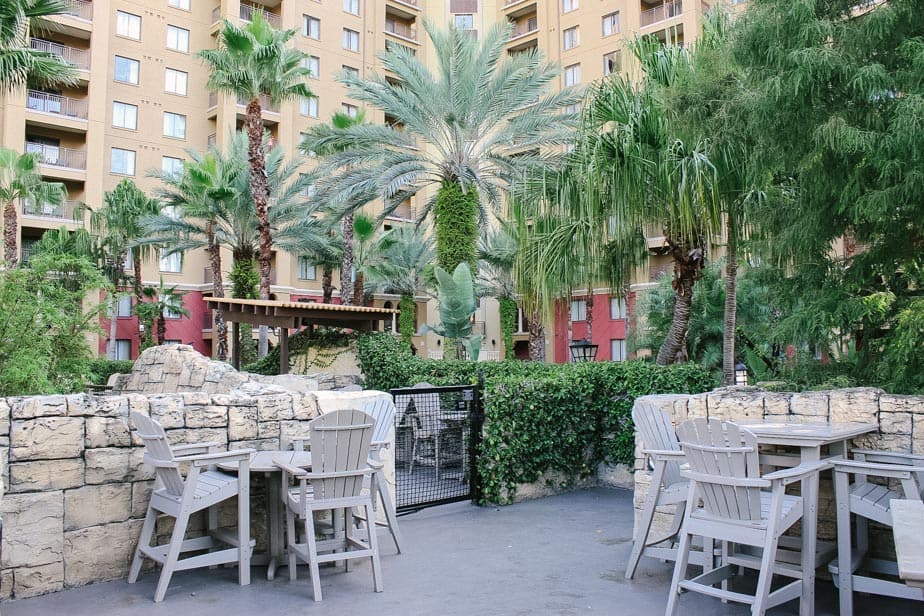 This area is like a pirate's fort.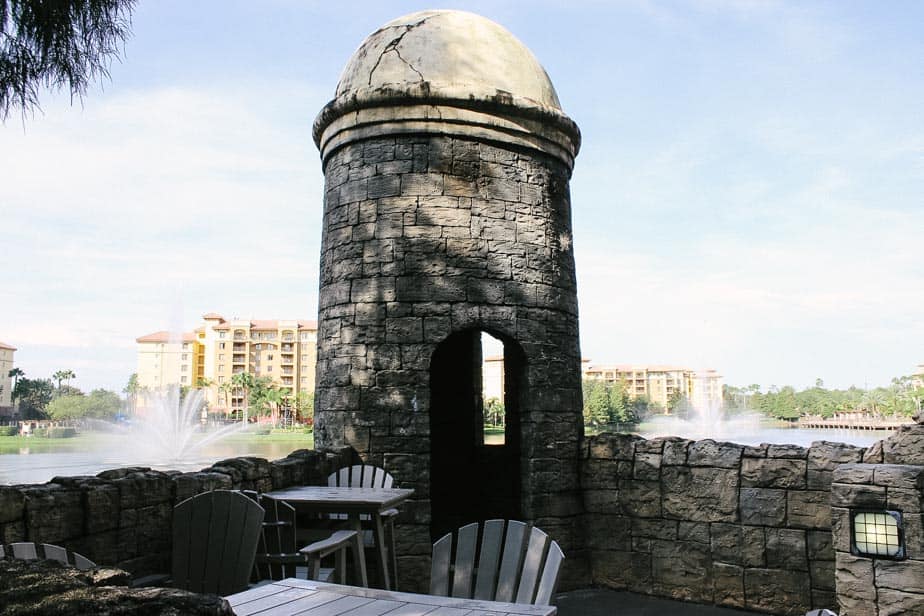 Down below, there were several recreation tables.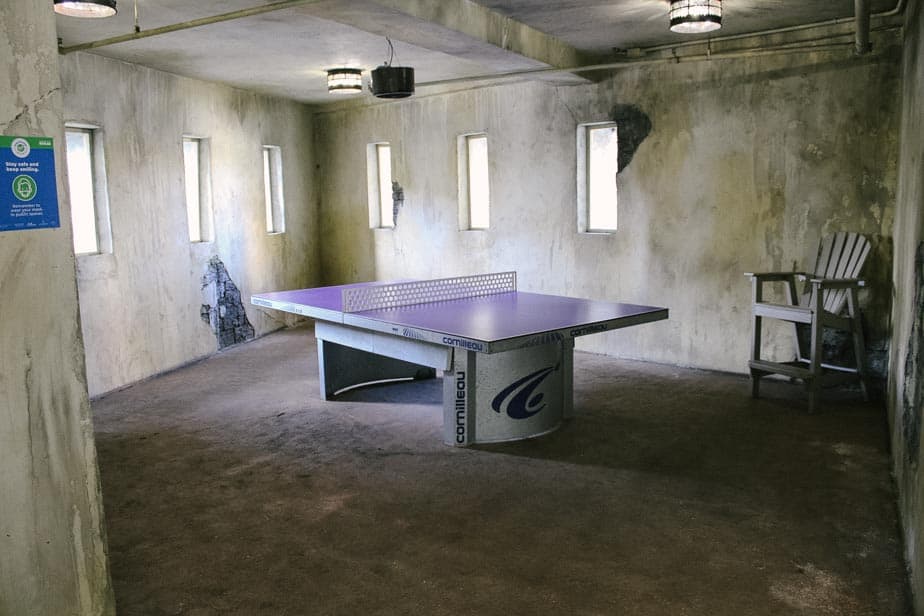 There was even a little pirate-theming. My kind of place…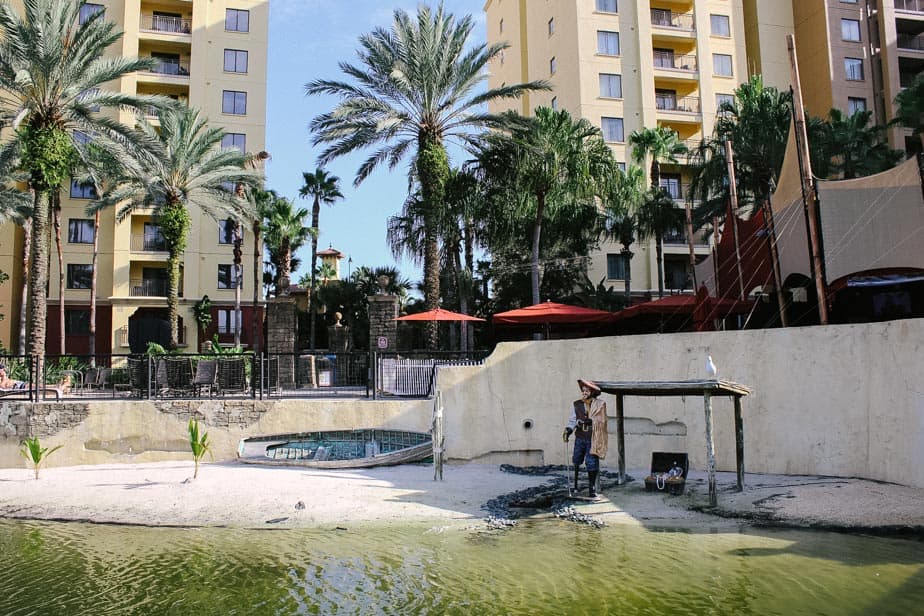 This walkway extends in a complete circle around the water. You can jog or walk around the entire thing.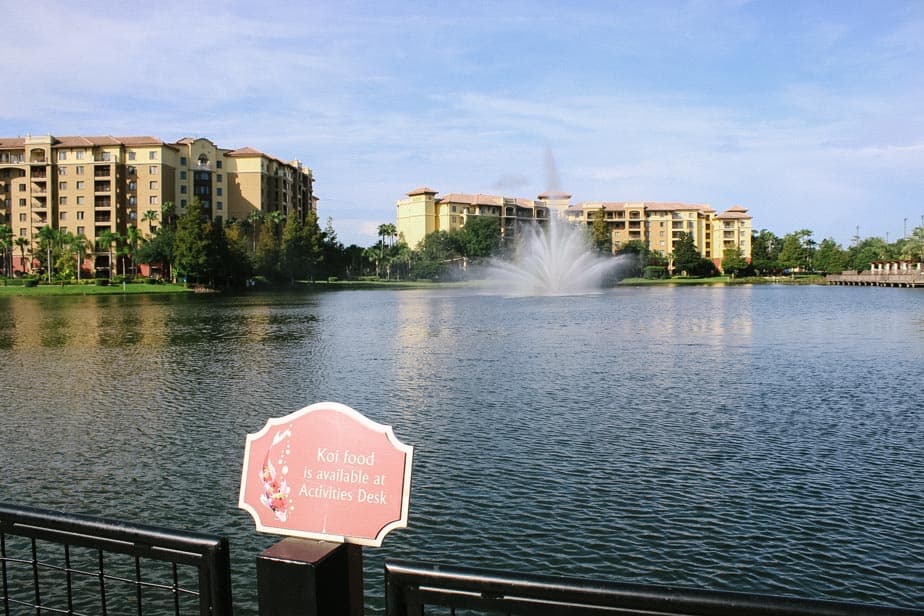 Now and then, you'll encounter a sign that indicates certain wildlife in the area. Koi food is available if you would like to feed the fish.
It felt like every age group was taken into consideration. I could see children, teens, young adults, parents, and grandparents all having a pleasant time here.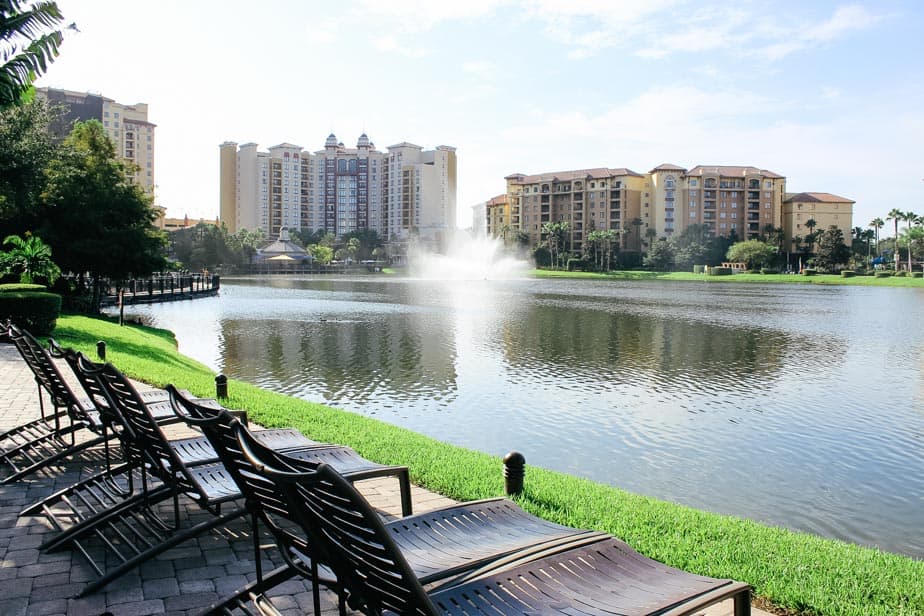 This little outdoor theater was set up.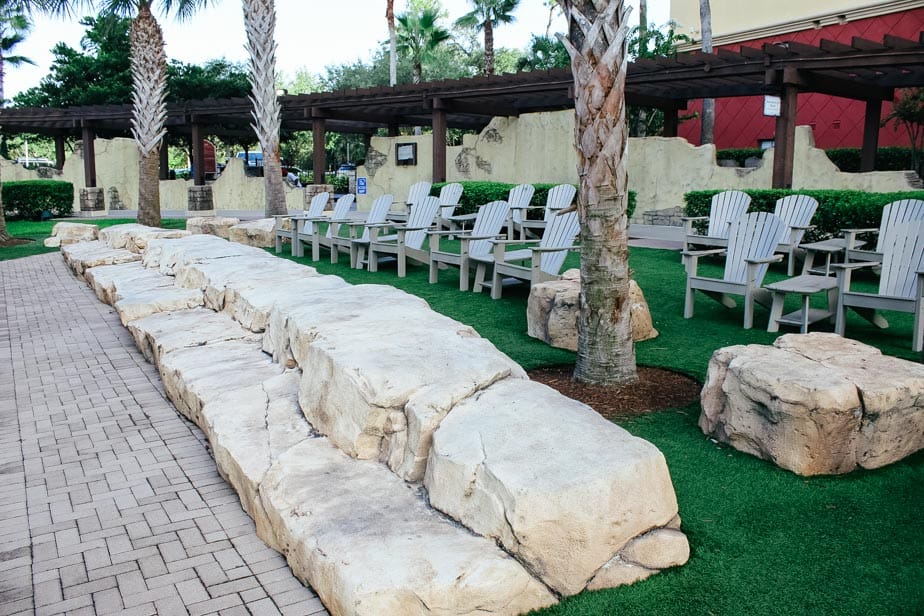 Sometimes in the evenings, a live performer is available.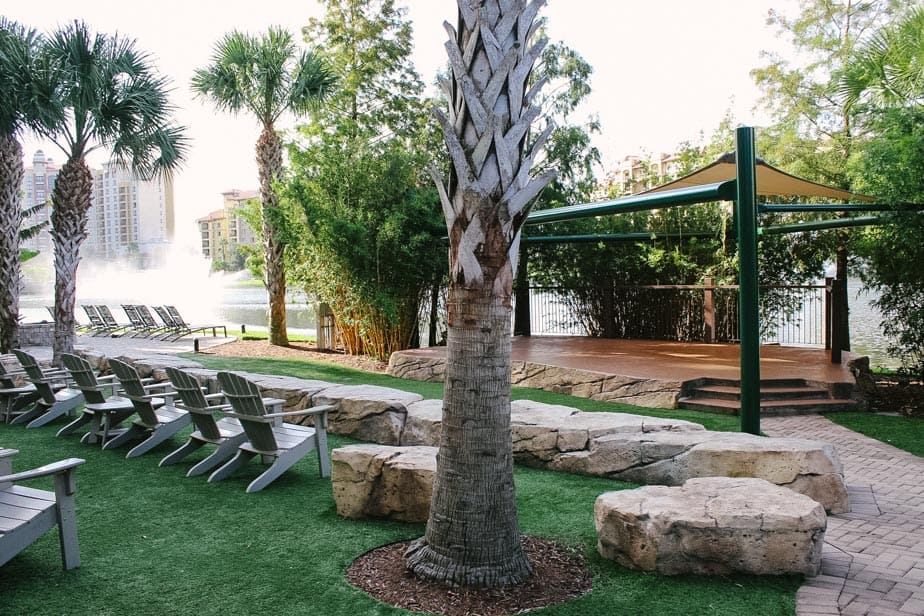 As I walked full circle, I ran into several more grills and outdoor dining spots.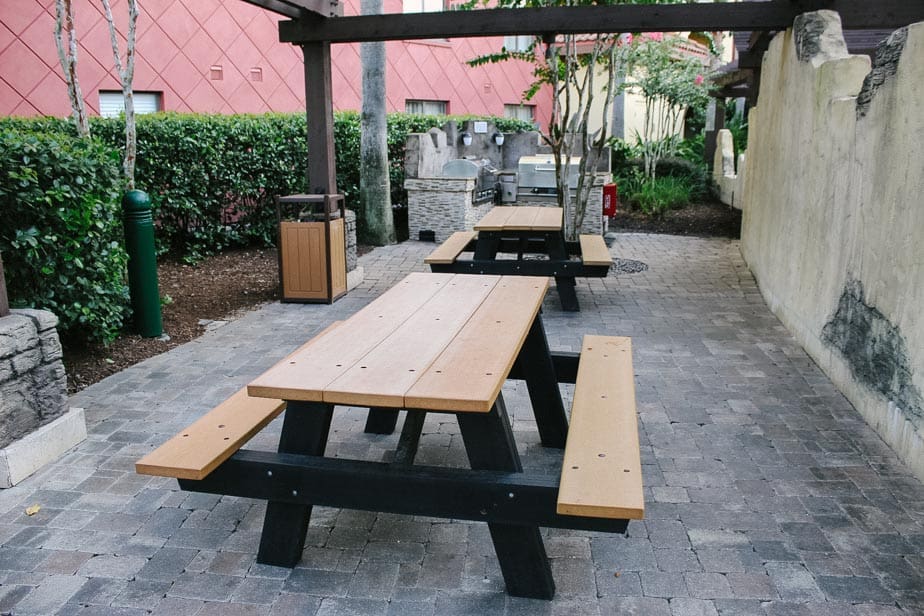 Shuffleboard.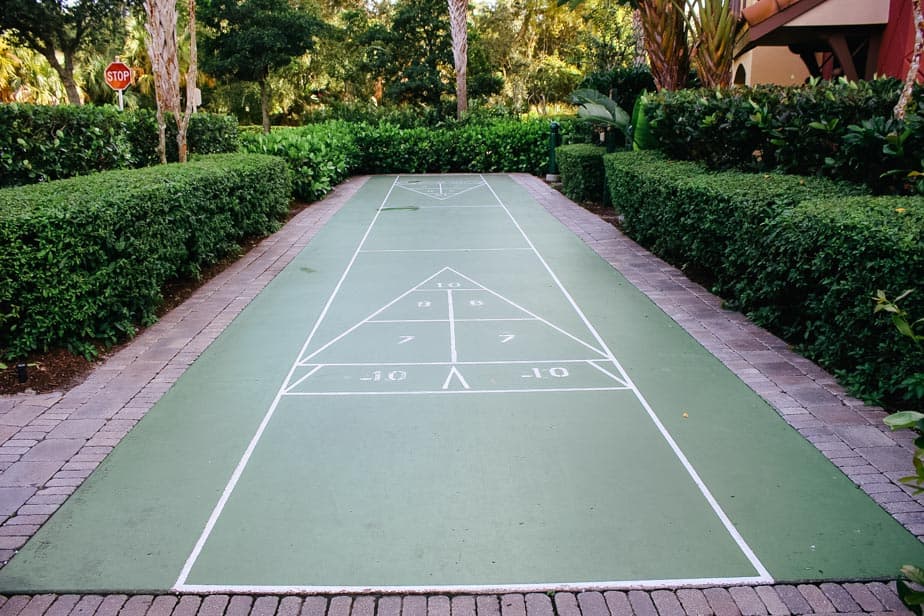 This is the main building for Club Wyndham.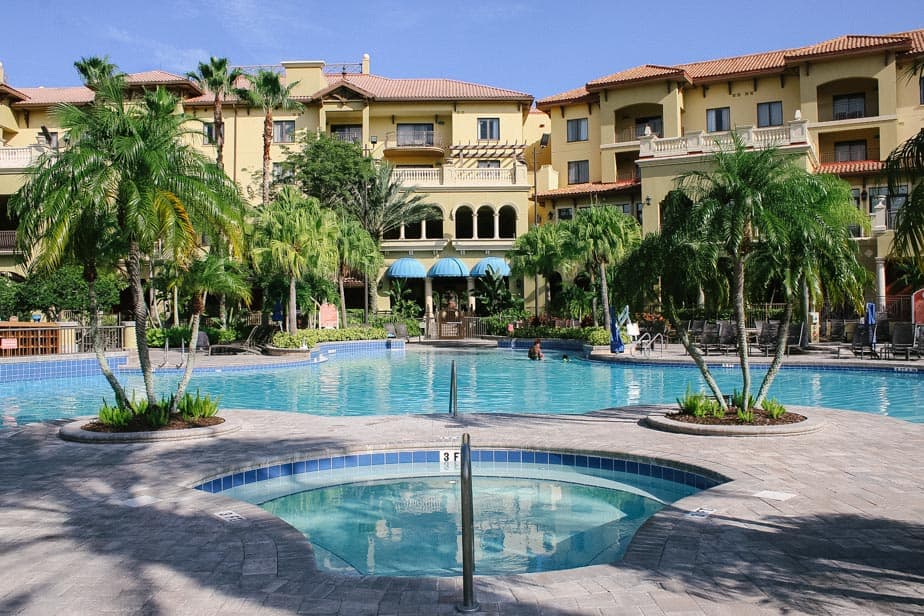 This area had a pool and a lazy river.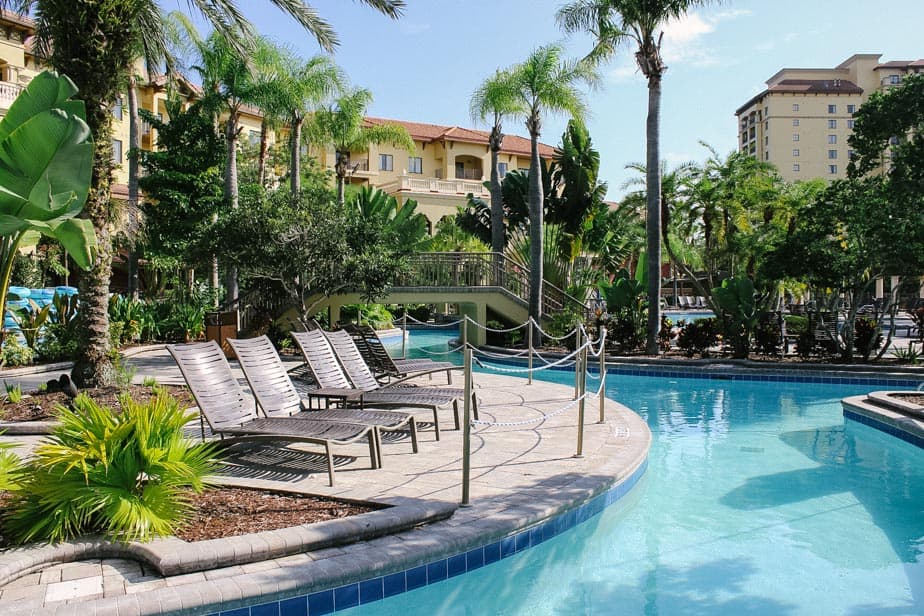 In addition, there was a children's splash pad.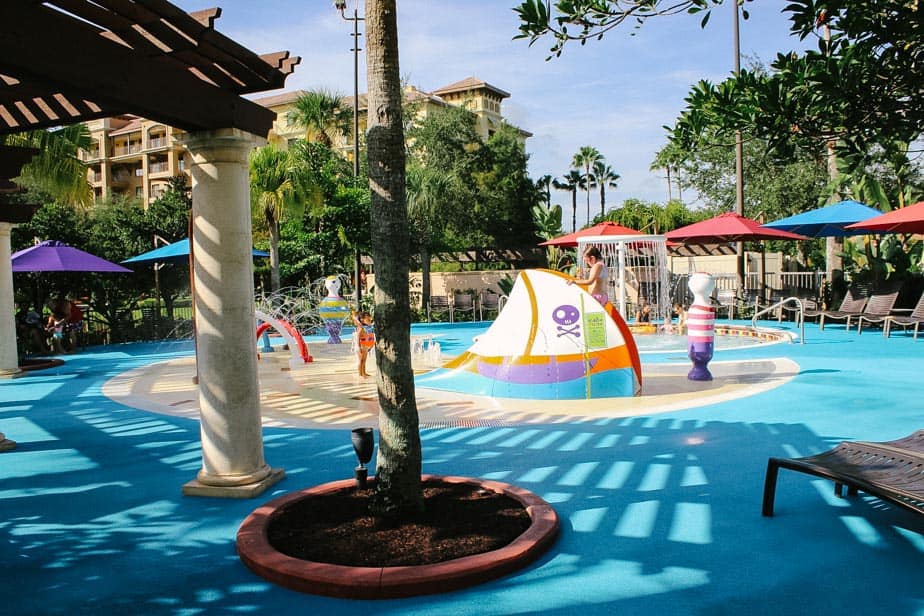 The pergola sat out in front of this pool.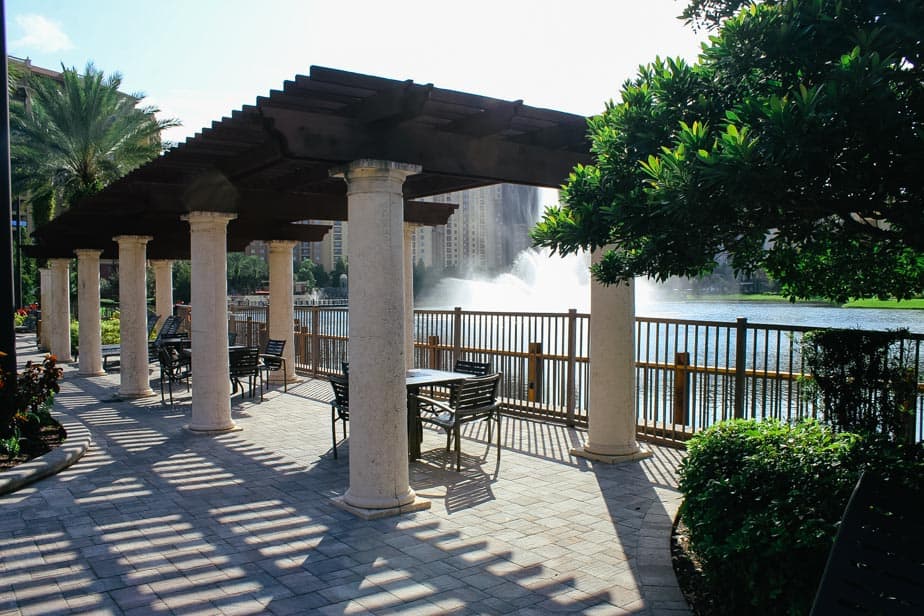 I couldn't help but notice the number of shaded areas.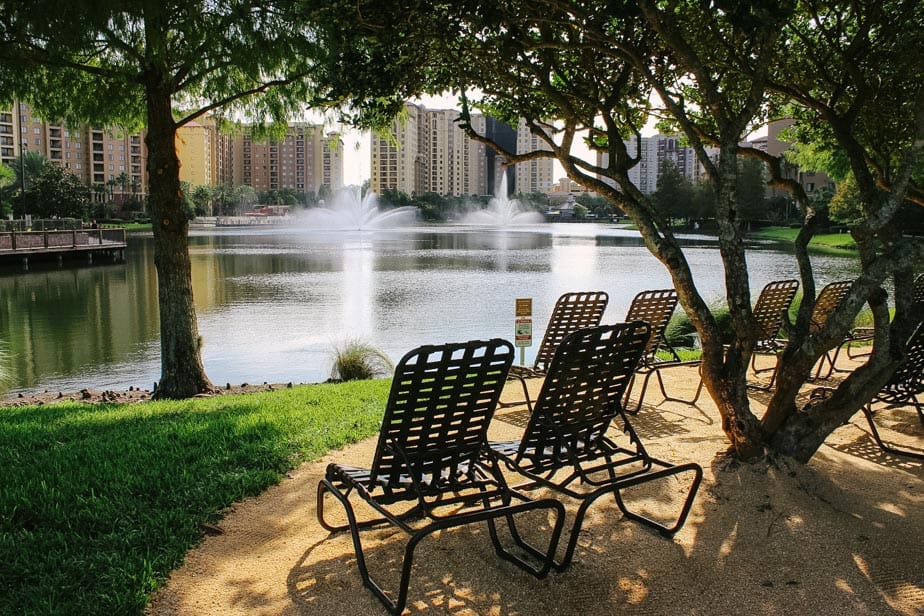 When I had nearly reached the hotel, I ran into this playground.
These are the best places to let children run off a little energy.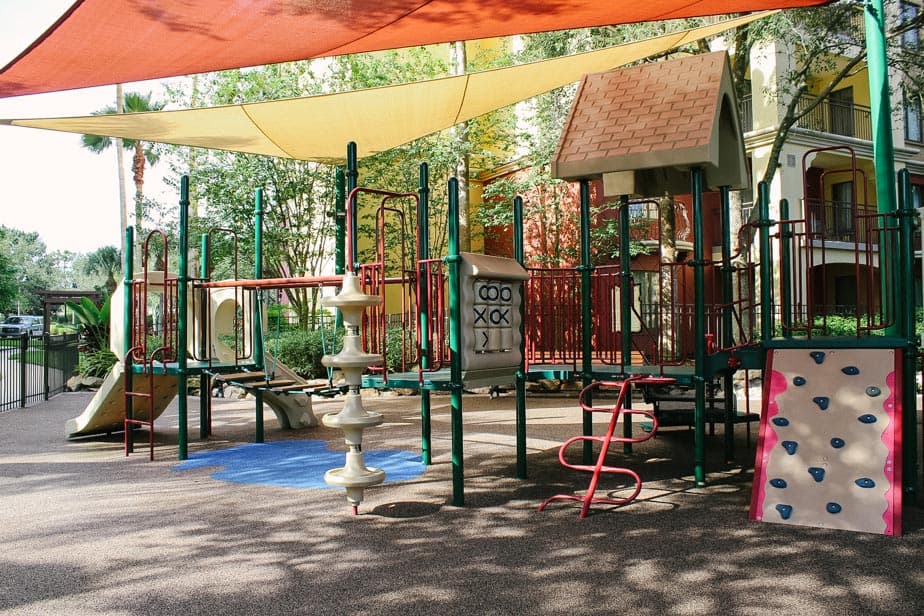 More shuffleboard courts.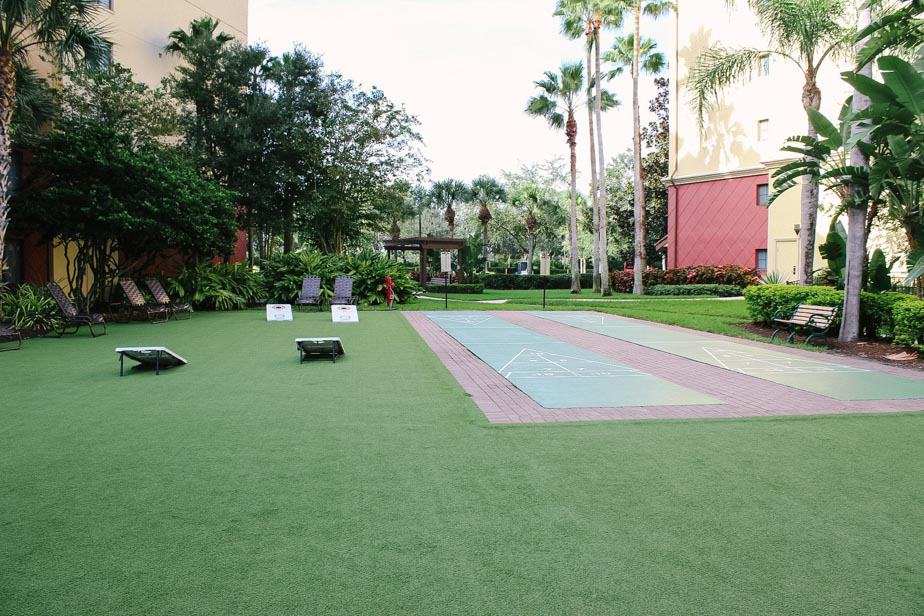 And there's a mini-golf course. Mini golf is available on a first-come, first-served basis and is included in the resort fee.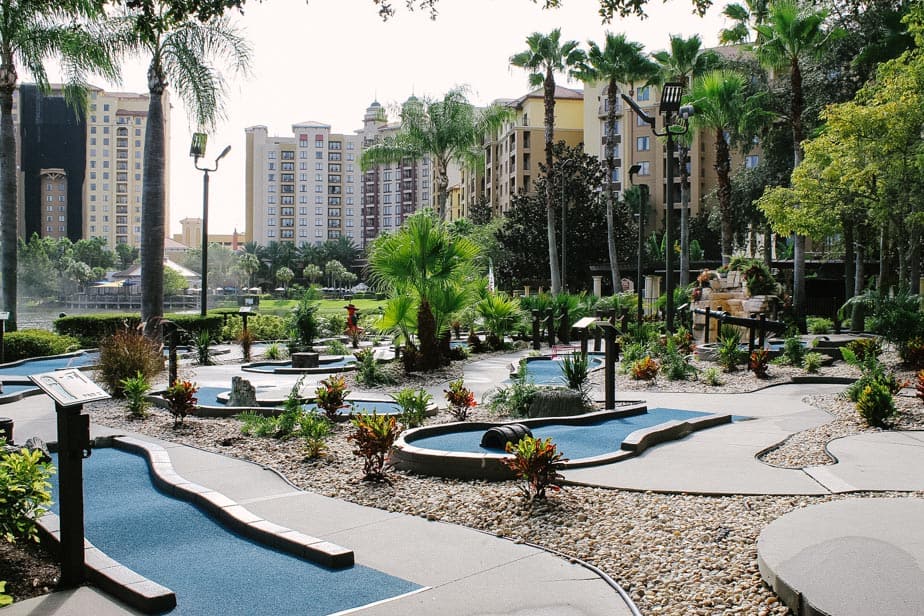 Speaking of golf, the Waldorf Astoria Golf Club sits right across the street. Tee times start at $45.00. You can read more about the course here.
We've also stayed at the Waldorf Astoria Orlando, which sits next across the street from the Wyndham and shares amenities with the Signia by Hilton.
Review: Waldorf Astoria Orlando Review
We have made the complete circle around the lake at Wyndham Grand Orlando Bonnet Creek hotel.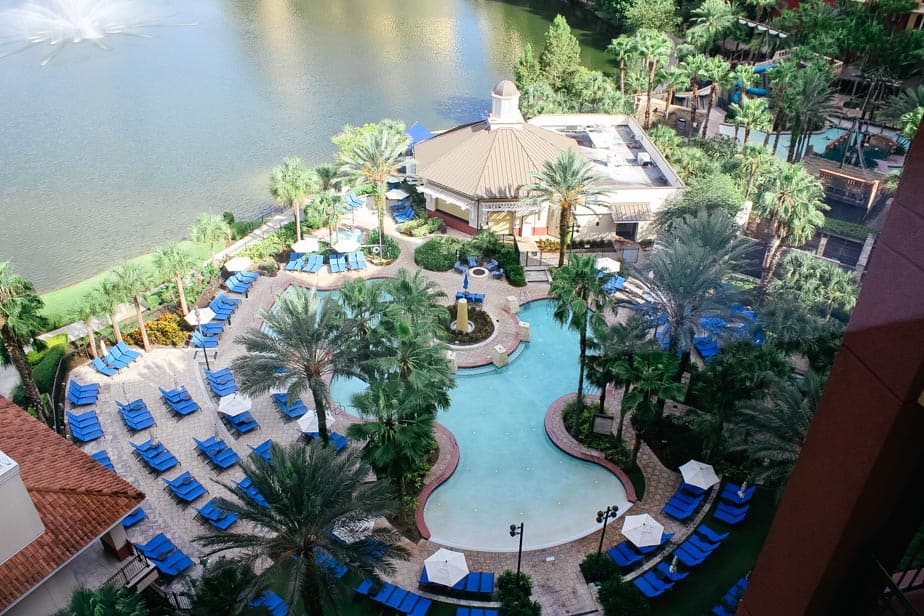 The only item I've yet to cover is the shuttle service available to the Disney Parks and Disney Springs. Wyndham Grand Orlando drops off and picks up several times per day. However, you'll be subject to their schedule if you decide to utilize the service.
Personally, I recommend having your own form of transportation available or being comfortable using a local car service. Rates should be extremely reasonable given the close distance to the parks.
Hopefully, this review of the Wyndham Grand Orlando at Bonnet Creek gave you the details needed to plan a stay here. I'll add this hotel to the list of the best off-site hotels near Disney World.
At the time of this review, the Wyndham Grand Orlando is not on the list of hotels that will receive early theme park entry at Disney World. You can check for updates here on Disney's site.
Additionally, you might like to check out our stay at the Hyatt Regency Grand Cypress. We have a full review available. I found both resorts comparable in many different aspects and would gladly return to either.
Related: Hyatt Regency Grand Cypress Review
Lastly, you might enjoy our latest review of the JW Marriott at Bonnet Creek. It's the hotel with the wow factor!
In the Comments
What are your thoughts on this review of the Wyndham Grand Orlando at Bonnet Creek? Have you stayed here before? What questions do you have?
Leave a comment below and share your experiences. Additionally, I'll be happy to answer any questions based on mine.