Meet Chipmunk-O-Saurus at Disney's Animal Kingdom (Chip and Dale)
Chip and Dale, I mean, the Chipmunk-O-Saurus, meet daily at Disney's Animal Kingdom. This pair of dinosaur-costumed chipmunks are quite the character meet. But you already knew that, right?
This article will discuss how to meet Chip and Dale in their dino costumes at Disney's Animal Kingdom. We'll look at where to meet them and what kind of wait to expect.
Unfortunately, my initial attempt to meet these two didn't go according to plan. Regardless, this character meet is worth the extra trouble, or should I say double the trouble?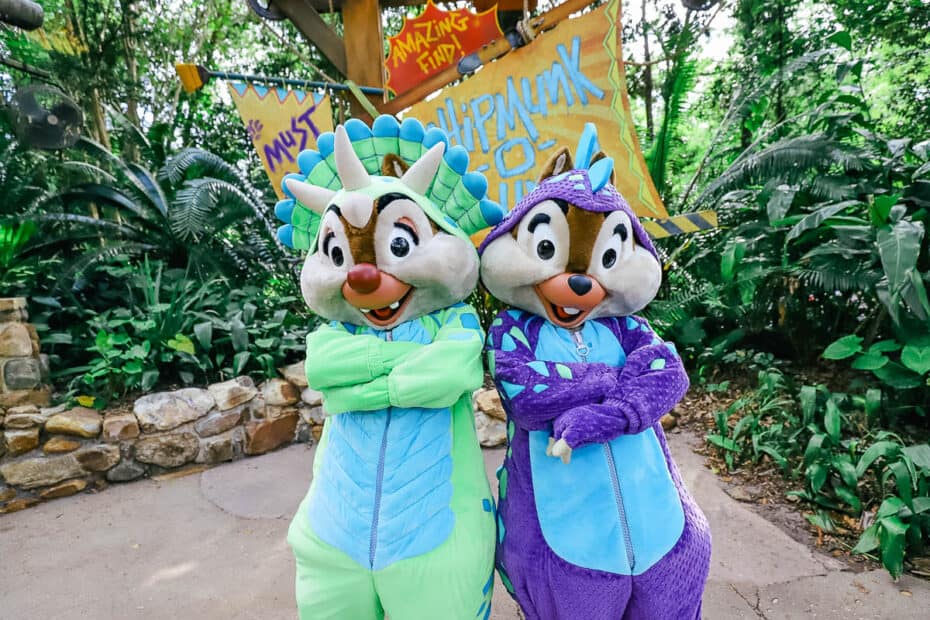 Chip and Dale meet off the Cretaceous Trail in Dinoland, U.S.A. at Disney's Animal Kingdom. This meet, in particular, is unique because they are wearing these crazy costumes.
As far as location goes, the entrance to the Cretaceous Trail is on the left-hand side of the walkway that leads to Dinosaur.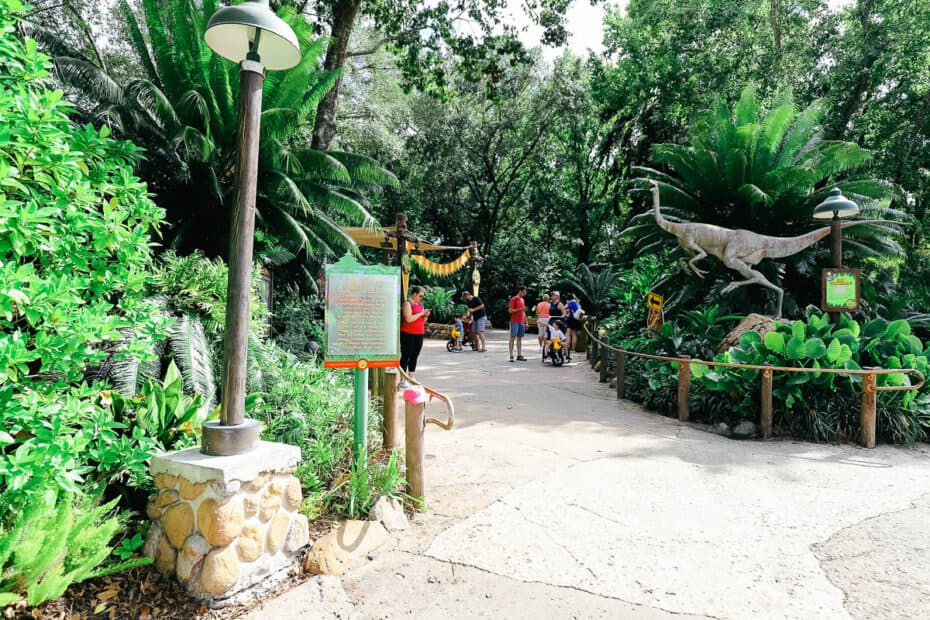 It's a little off the beaten path, but there's a sign out toward the front of the trail. Additionally, Daisy Duck meets toward the front of the trail. So if you see her out, you'll know you're in the right place.
Related: Meet Daisy Duck at Disney's Animal Kingdom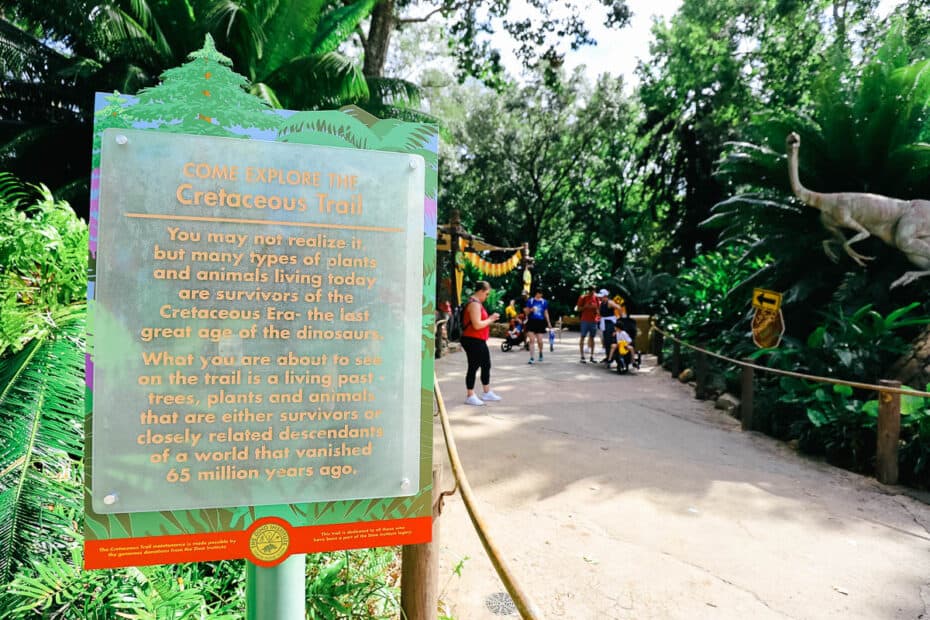 However, you won't see Chip and Dale because they meet toward the back of the trail. But you'll likely see a line ahead and a few signs indicating you're in the right place.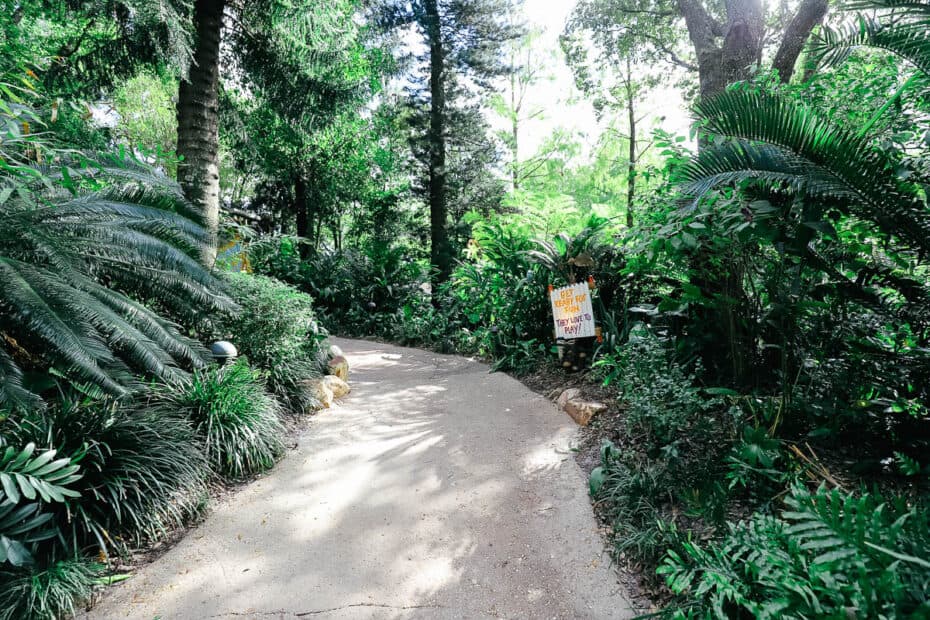 As you approach the character meet, you might run into a bit of a mess. It appears the pair of Chipmunk-O-Saurus have decorated the entire area.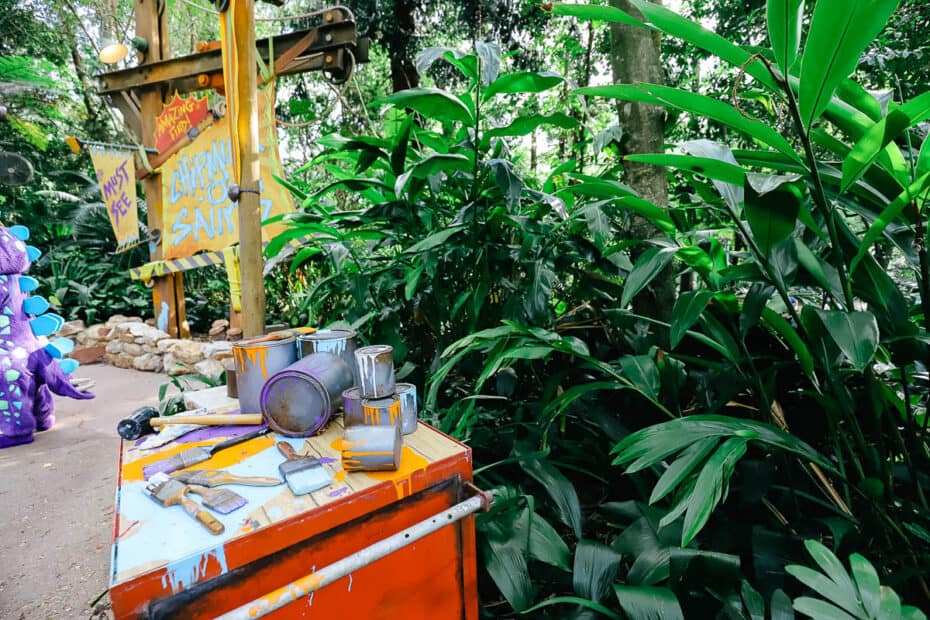 I liked how the Paleontologist Zone had been turned into a fun zone.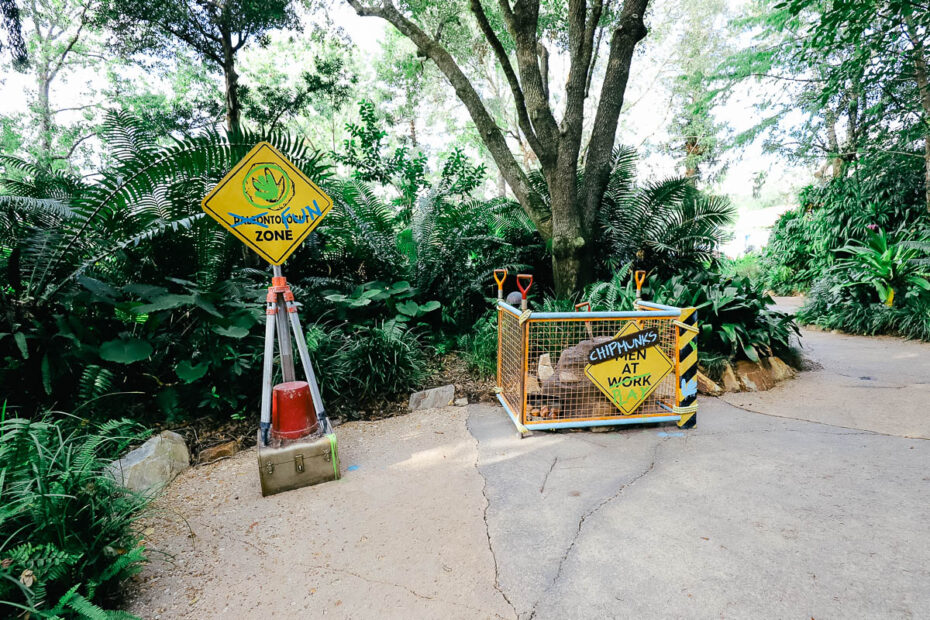 Chip is wearing a purple dinosaur costume, while Dale (red nose) is wearing a green costume.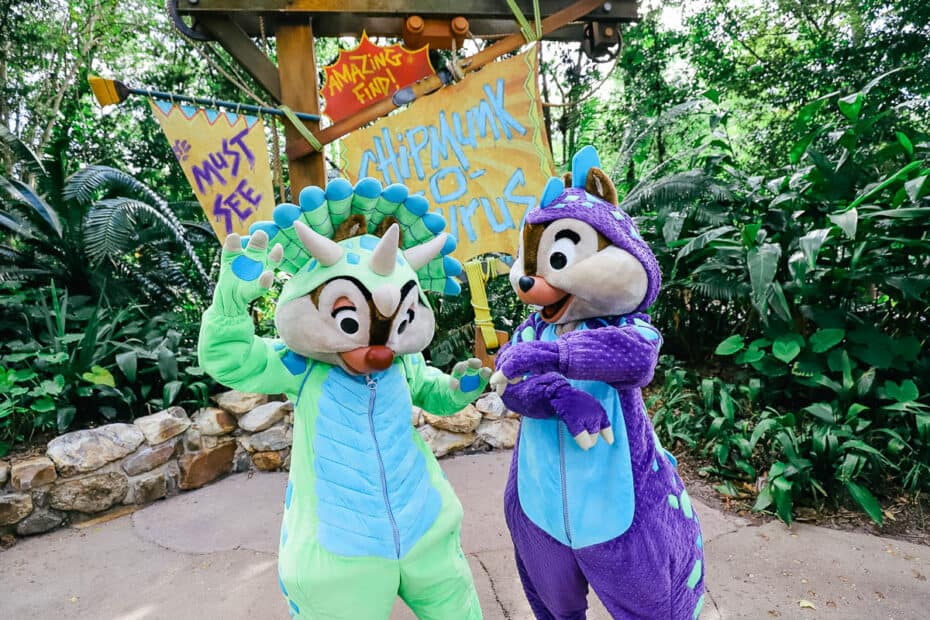 Both of the Chipmunk-O-Saurus were excited to greet their guests.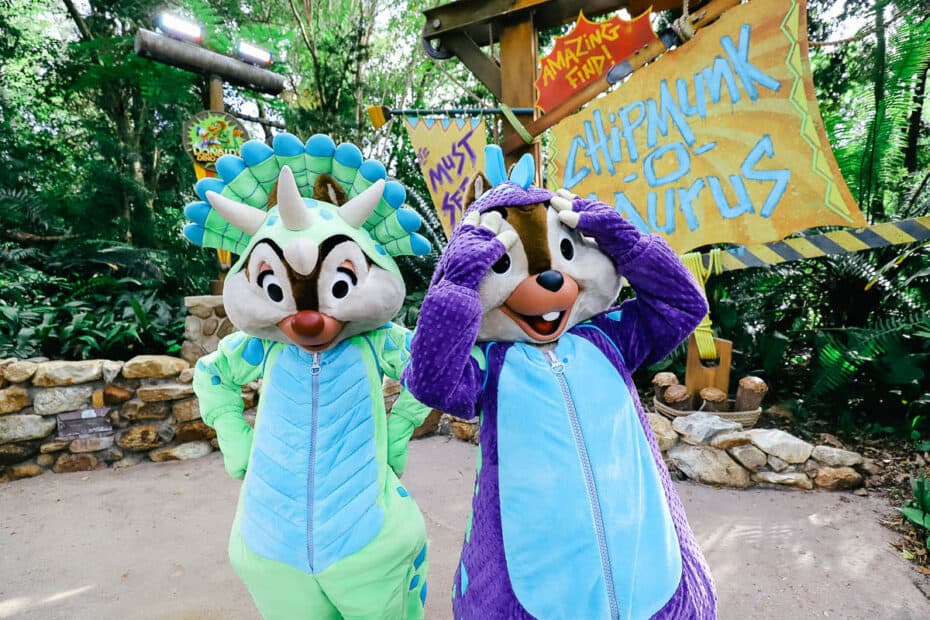 For this meet and greet, I arrived at 2:15 p.m. for the 2:30 p.m. meet listed in the My Disney Experience app. However, the cast member turned me away and said they would be back at 4:00 p.m.
Unfortunately, I didn't have any choice but to wait. So I sat on a bench nearby and waited for Daisy's next meet-and-greet.
While I waited, several other guests tried to join the line for Chip and Dale. They, too, were turned away.
I always suggest checking the My Disney Experience app on the day of your visit for exact times and locations. However, that's what I did this afternoon, and it didn't work out for me on the first try.
Since I only came over to Animal Kingdom to cover these meets, I waited until the next set. During that time, I was able to meet Donald Duck and Daisy.
Related: Meet Donald Duck at Animal Kingdom
After meeting Donald, it was nearly 3:51 p.m. So, I was able to come back and get in line for Chip and Dale's next scheduled time of 4:00 p.m.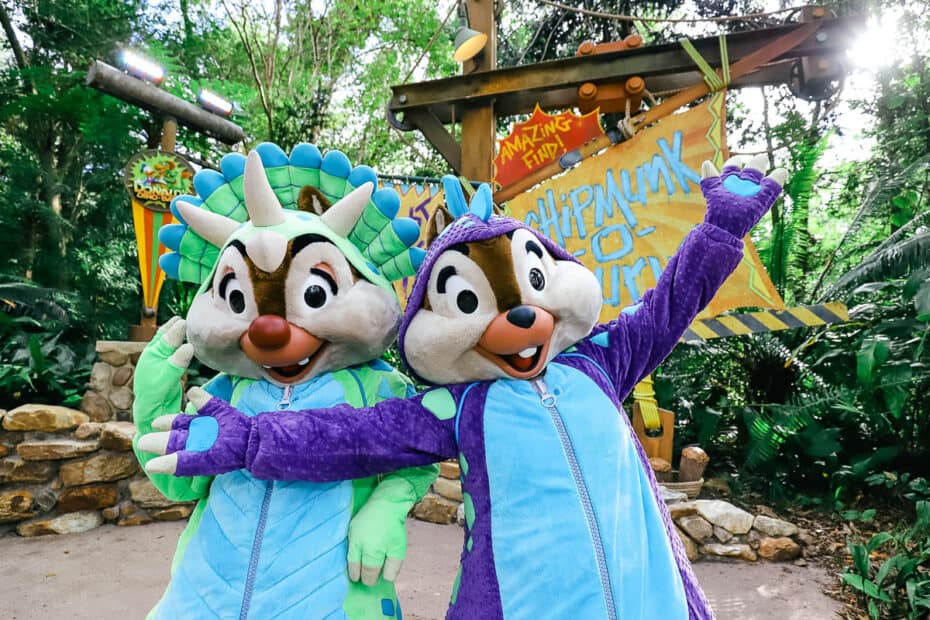 There were only two groups ahead of me when I got in line. Unfortunately, Chip and Dale were late and didn't get to the meet-and-greet until 4:09 p.m.
A PhotoPass photographer was present at this location on the day of my visit. In addition, both Chip and Dale sign autographs.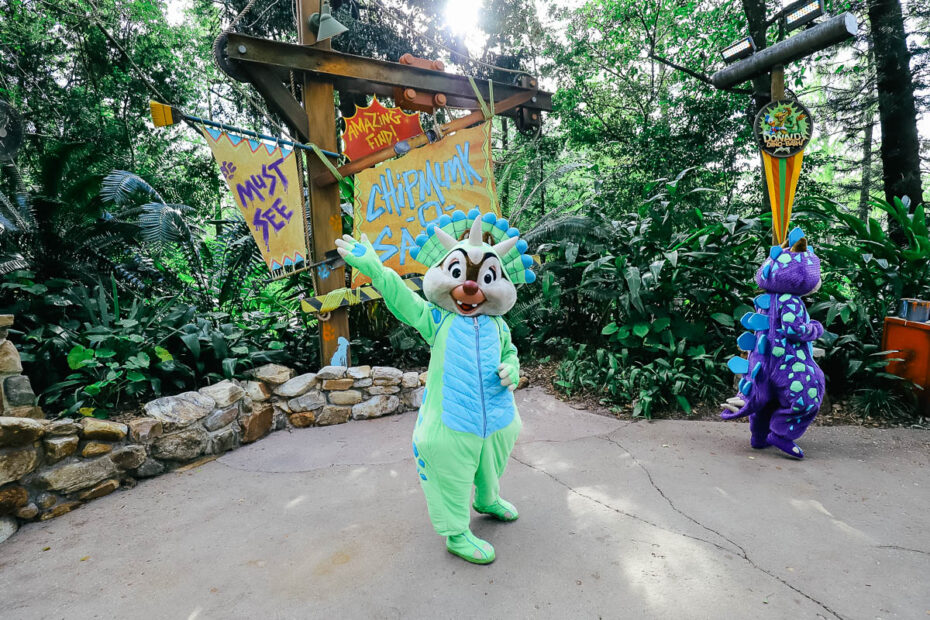 Overall, I was glad to meet the pair. Like most character meets, all was forgiven by the time it was my turn.
However, it would have been nicer had I met them the first go-around. Hopefully, you'll have better luck than me.
For more character meets at Disney World, you might enjoy the following:
In the Comments
What do you think about this special Chipmunk-O-Saurus meet featuring Chip and Dale at Animal Kingdom? Do you hope to meet them on your next visit?