Meet Donald Duck at Disney's Animal Kingdom
Donald Duck, the number one duck of all time, meets daily at Disney's Animal Kingdom in Dino-Land, U.S.A. Specifically, he's part of Donald's Dino-Bash, an area of the park where several classic characters have meet-and-greets.
For this article, we'll go over Donald Duck's character meet at Animal Kingdom. We'll discuss times, location, and how long you can expect to wait for this character meet.
You may remember we had a bit of a mishap when meeting a few other characters in this area. Chip and Dale were a bust on our first attempt, and then we waited nearly 30 minutes to meet Daisy, who was exceptionally late for her meet-and-greet.
Related: Daisy Duck Meet at Animal Kingdom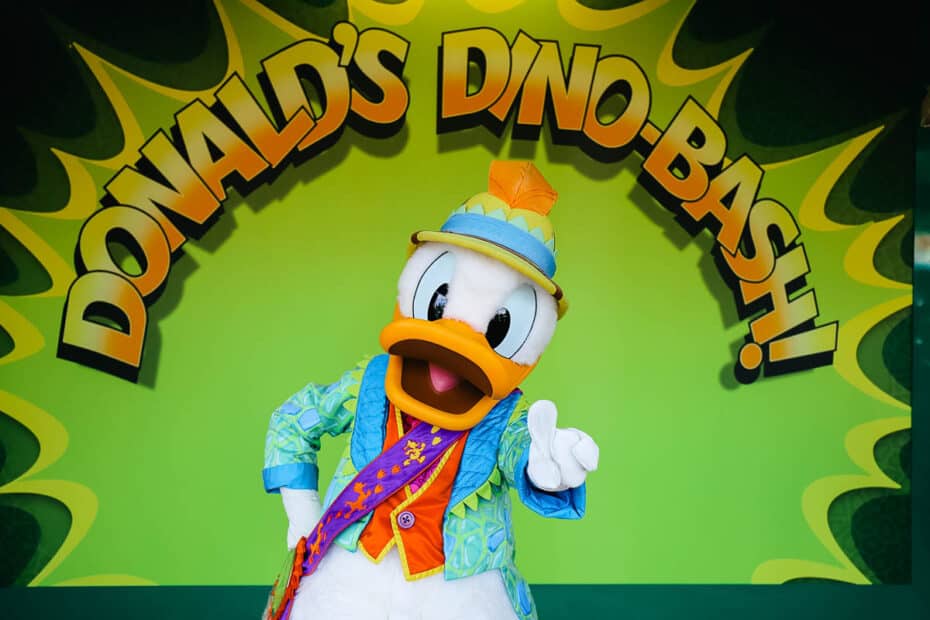 When we left off, the cast member at Daisy's meet told me to get in line for Donald Duck immediately after meeting Daisy. Thankfully, Donald's meet-and-greet location is right around the corner from where Daisy meets.
Donald Duck meets directly across from TriceraTop Spin. Below is a photo of the queue when I joined it at 3:10 p.m.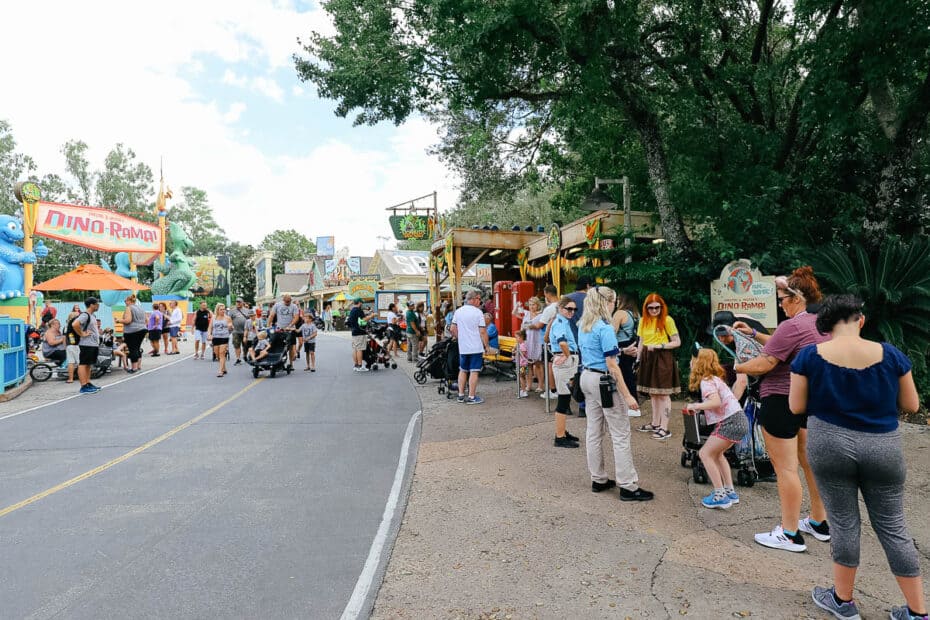 As you can see, it's a relatively long line. What's even more difficult to see is that the queue has an internal area that wraps around a bit. Therefore, the line is even longer than it appears.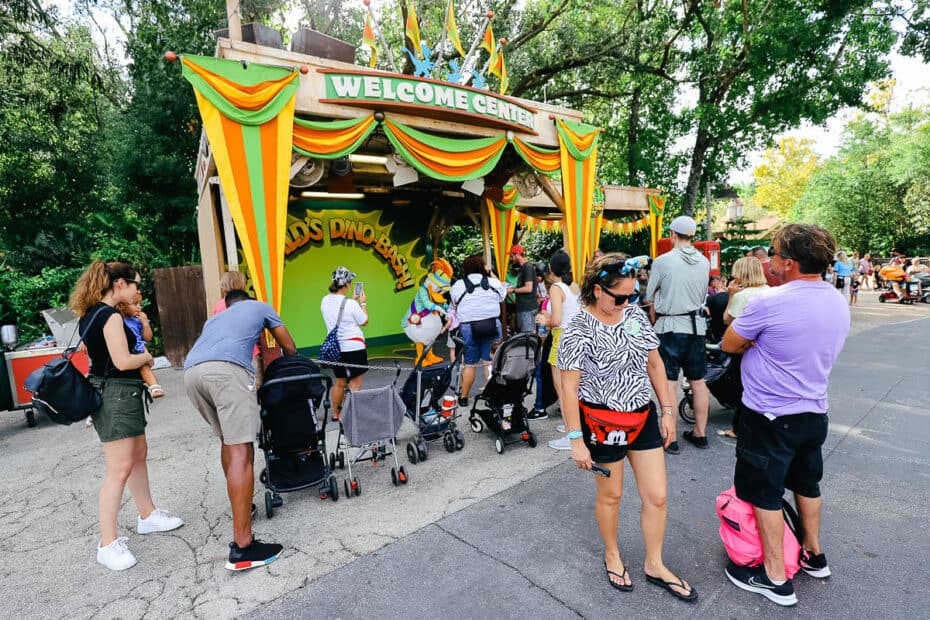 At 3:19 p.m., the cast member attending the meet announced that Donald would leave to check on his nephews in about 10 minutes. She said he would leave for a brief few minutes and asked that everyone hold their place in line.
This is standard procedure for most character meets, and I was glad to see the meet was operating in this manner. Donald left the area at 3:30 p.m. and returned at 3:35 p.m.
At this point, I was still far back in line. But I was hoping I would meet Donald before he took another break.
By 3:40 p.m., the cast member announced again that Donald would leave in about 10 minutes to check on his nephews. Since he had only just returned, this was confusing to most of us waiting.
Thankfully, I met Donald at 3:47 p.m. before he took another break. So it was a total wait of 37 minutes to meet him.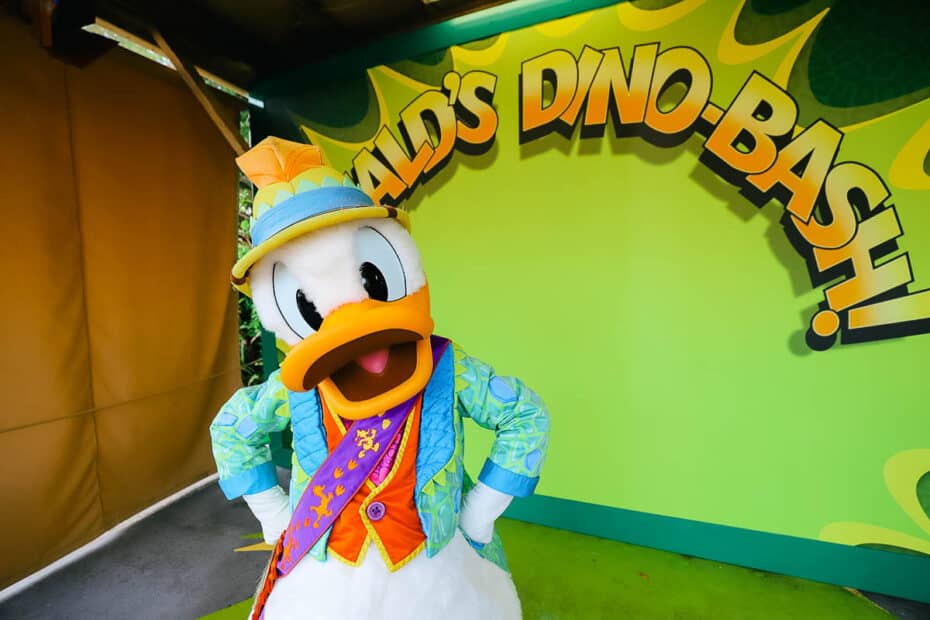 He was full of energy and happy to pose for a few photos.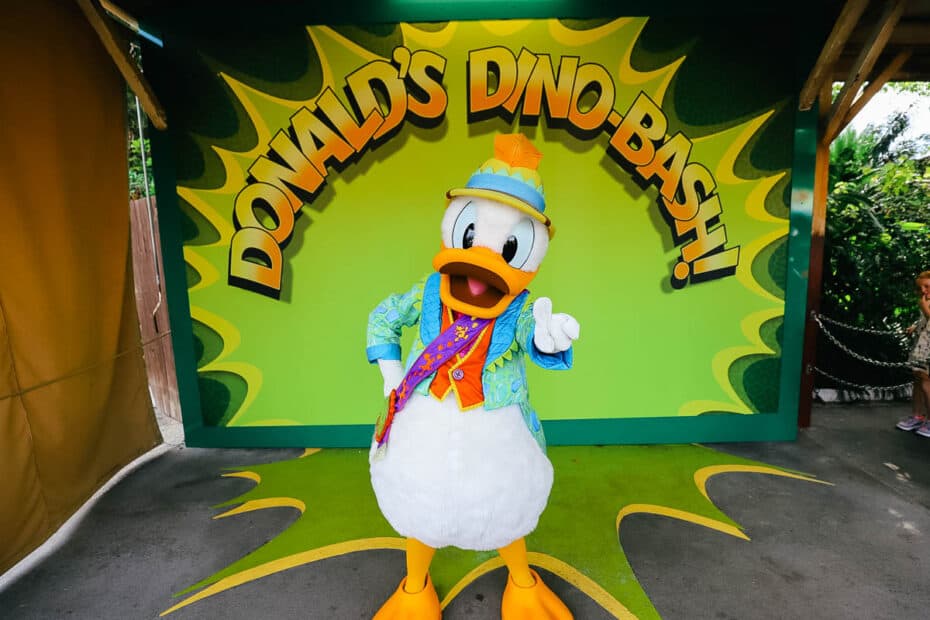 Donald Duck signs autographs at this location. So make sure to have your autograph books and pens out and ready.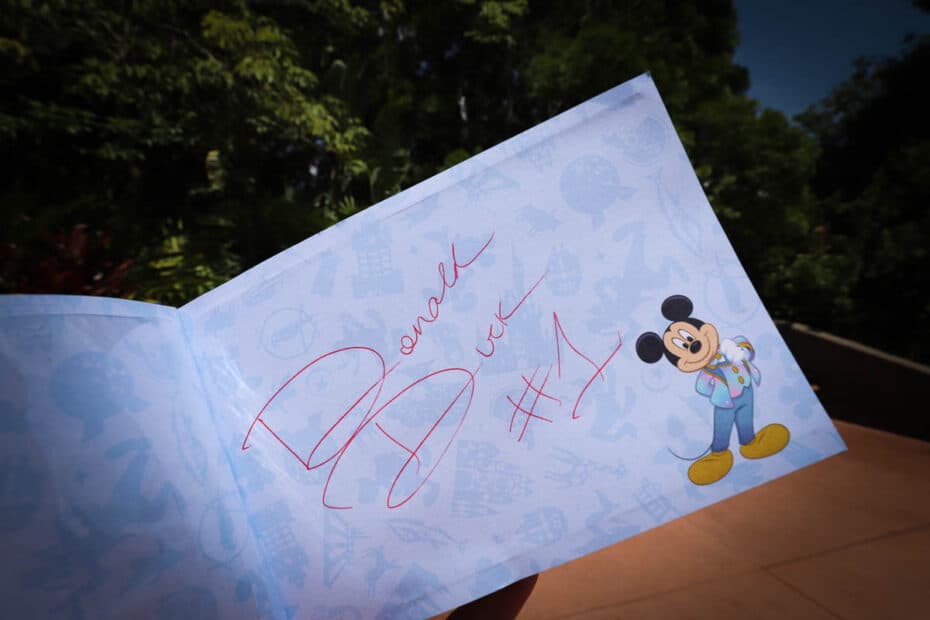 You'll want to check the My Disney Experience app on the day of your visit for the exact timing of this character meet. As of this update, he's meeting at the following times:
10:00 a.m.
10:30 a.m.
11:00 a.m.
11:30 a.m.
12:00 p.m.
12:30 p.m.
1:00 p.m.
1:30 p.m.
3:00 p.m.
3:30 p.m.
4:00 p.m.
4:30 p.m.
5:00 p.m.
5:30 p.m.
Additionally, Donald Duck meets daily at the Mexico Pavilion at Epcot.
Related: Meet Donald Duck at Mexico In Epcot
Also, he's often out with Daisy as a character sighting at Disney's Hollywood Studios. Sometimes they wave to guests from one of the balconies on Hollywood Boulevard.
Related: Meet Donald and Daisy (Together) at Disney World
Lastly, Donald Duck is one of the characters that meet at Tusker House in Disney's Animal Kingdom. He meets here in a safari suit.
Related: Character Dining at Disney World
If you've been following along, we're now off to meet Chip and Dale as Chipmunk-O-Saurus at Disney's Animal Kingdom. Maybe this time, we will prevail.
For more character meets at Walt Disney World, you might enjoy these articles:
In the Comments
Do you plan to meet Donald Duck on your visit to Disney's Animal Kingdom? Is he one of your favorite characters?