Meet Pluto at Epcot (Near the Park Entrance)
Pluto is once again meeting and greeting guests near the park entrance of Epcot! This classic character is a favorite for many, and you'll want to take a moment to meet him if you see him out.
In this article, we'll go over the details of Pluto's character meet at Epcot. I'll share a few details to help you find him on your visit and a few photos of the experience.
Thankfully, Pluto is easy to find. However, you might have to do a little backtracking to see him given his location.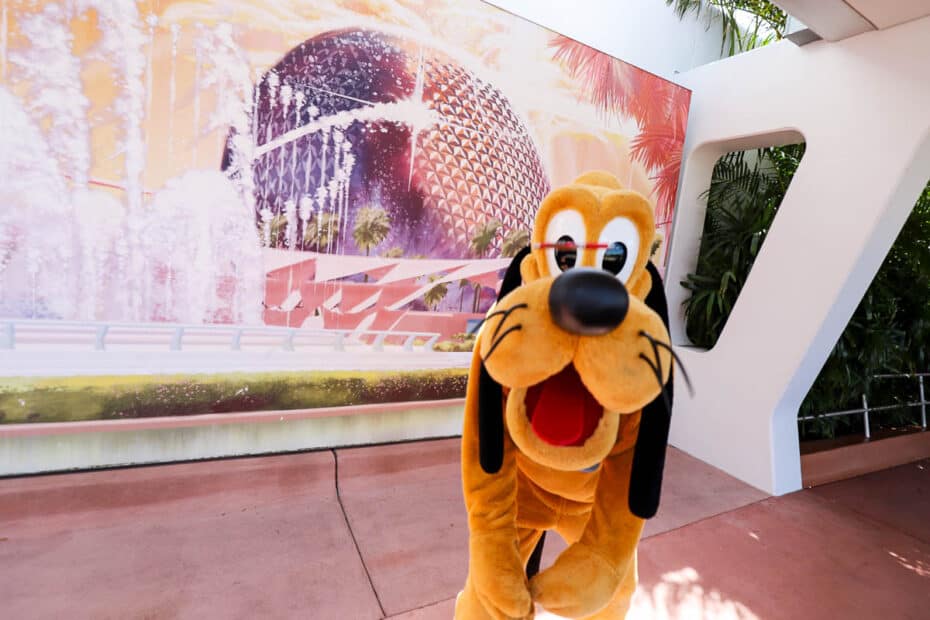 Pluto is located to the far right-hand side of Spaceship Earth after you enter Epcot. He stands in a partially covered area in front of a mural that features Spaceship Earth.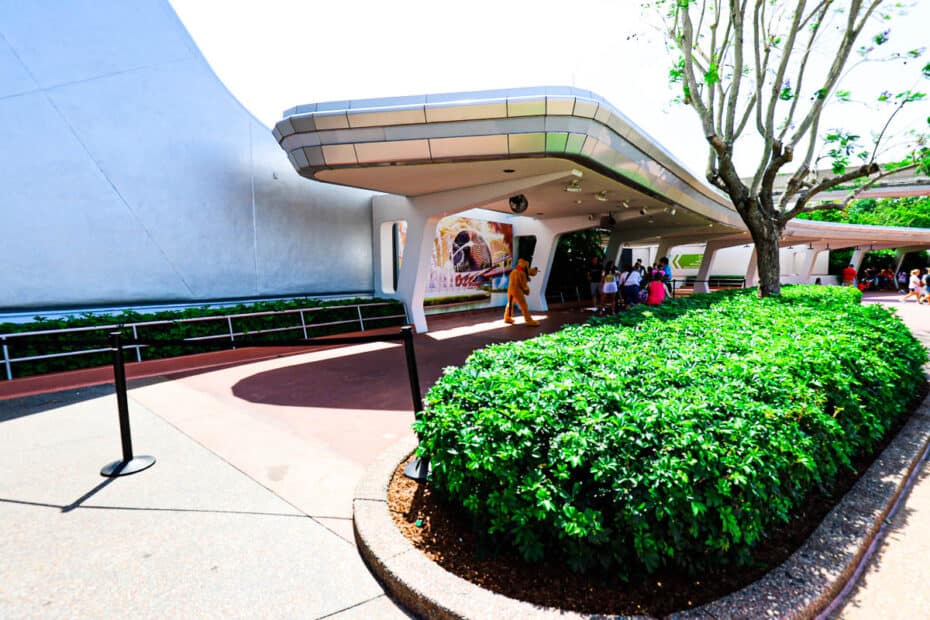 After entering the park, most guests do not return to this area unless they are riding Spaceship Earth. Therefore, you might like to coordinate meeting Pluto before or after you ride the attraction.
Pluto usually begins meeting guests around 9:00 a.m. At this time, his schedule looks something like this in the morning:
9:00 a.m., 9:30 a.m., 10:00 a.m., 10:30 a.m., 11:00 a.m., 11:30 a.m.
Then he meets again in the afternoon at:
12:00 p.m., 12:30 p.m., 1:40 p.m., 2:10 p.m., 2:40 p.m., 3:10 p.m., 3:40 p.m., 4:10 p.m.
However, these times can change from day-to-day. So check the My Disney Experience app on the day of your visit for specific times.
Pluto is an autograph signing character. He usually places the character autograph book on his nose.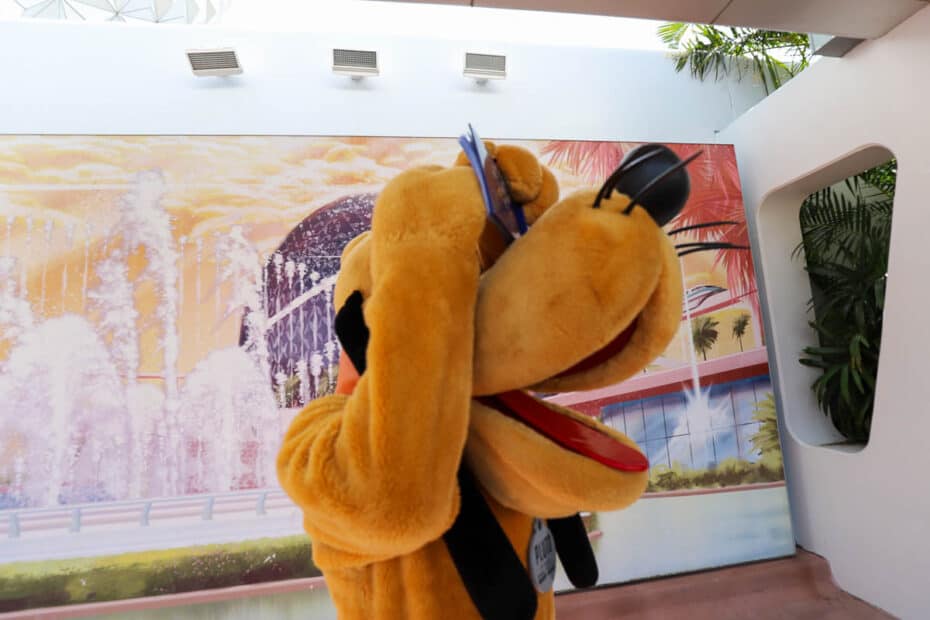 He makes for a fun character meet.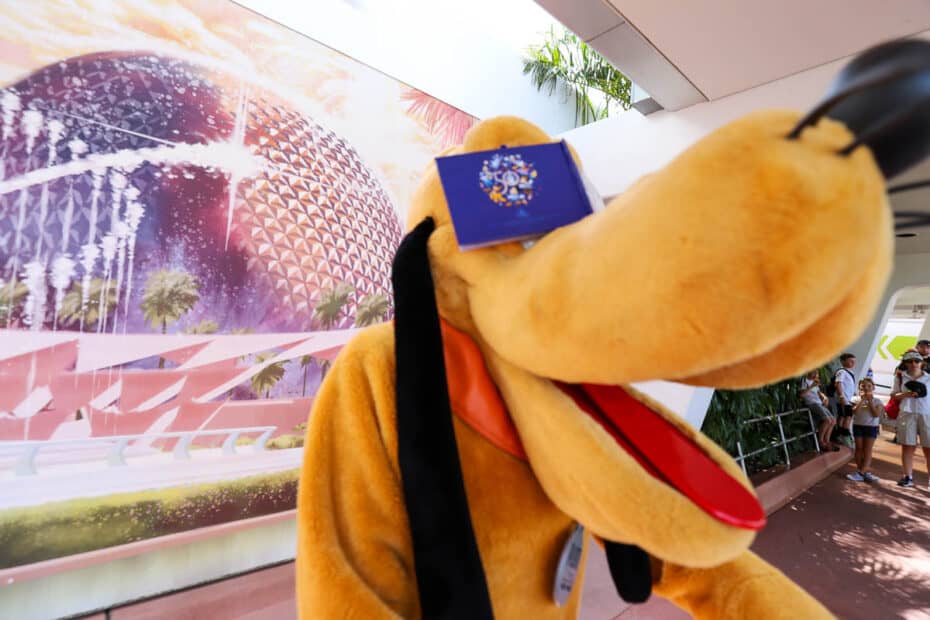 Pluto's signature included a paw at the end. What a pal!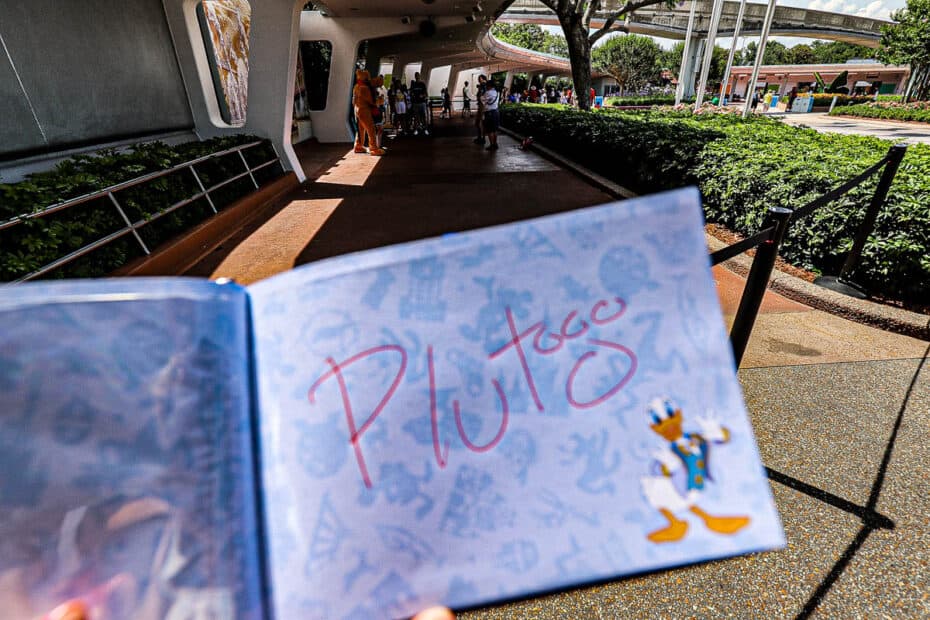 On this day, I met Alice in the United Kingdom Pavilion at 3:06 p.m. I knew Pluto's meet began at 3:10 p.m., and I was afraid the line would close before I reached the location.
Related: Meet Alice at Epcot
Regardless, I decided to try and see if I could make it. Thankfully, I reached Pluto's meet at 3:16 p.m. and was able to join the line.
Then I met him at 3:22 p.m. Unfortunately, I was having a bit of a camera issue with the focus. And I didn't realize it until much later in the day.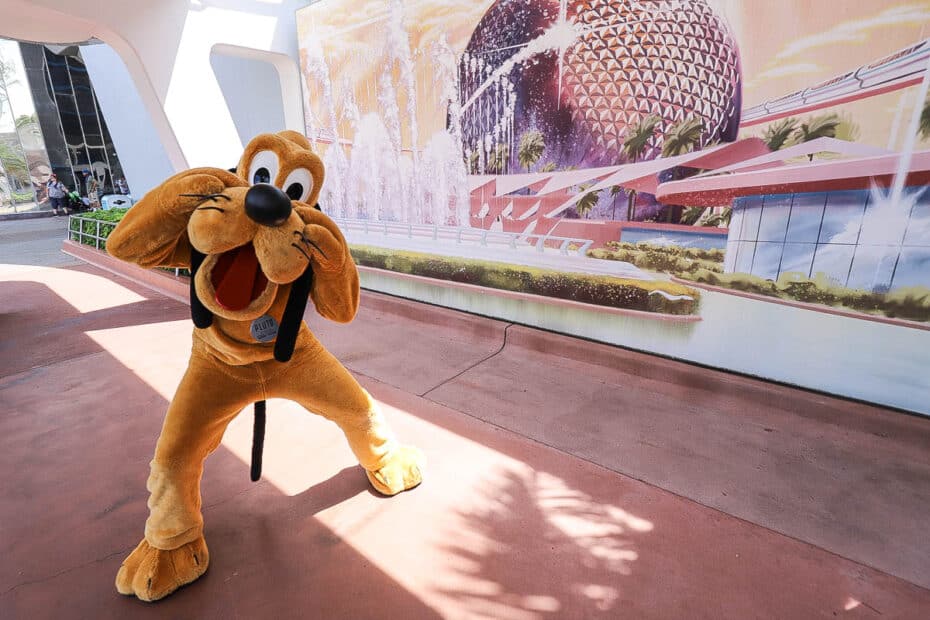 Speaking of photos, there is usually a PhotoPass photographer available at Pluto's meet.
For more character meets, you might enjoy the following:
Or you might like some of the character meets at Hollywood Studios. They include:
I hope you are able to meet Pluto on your vacation! If you have any other questions about this meet, leave them below in the comments.