Flavors from Fire Festival Booth Review 2023 (Where's the Fire?)
Similar to last year, Epcot's Flavors from Fire food booth left me questioning everything. Specifically–where's the fire? Nearly every dish I get at this location (regardless of the festival) is served cold.
When the booth originally debuted several years ago, I loved it. It was one of the few I considered revisiting.
However, over the past few years, what I've been served has been mostly unmemorable. But this year, I found myself enjoying one of the new items. Additionally, the booth has a trendy returning dish- it's just not my thing.
Let's look and see what you might enjoy!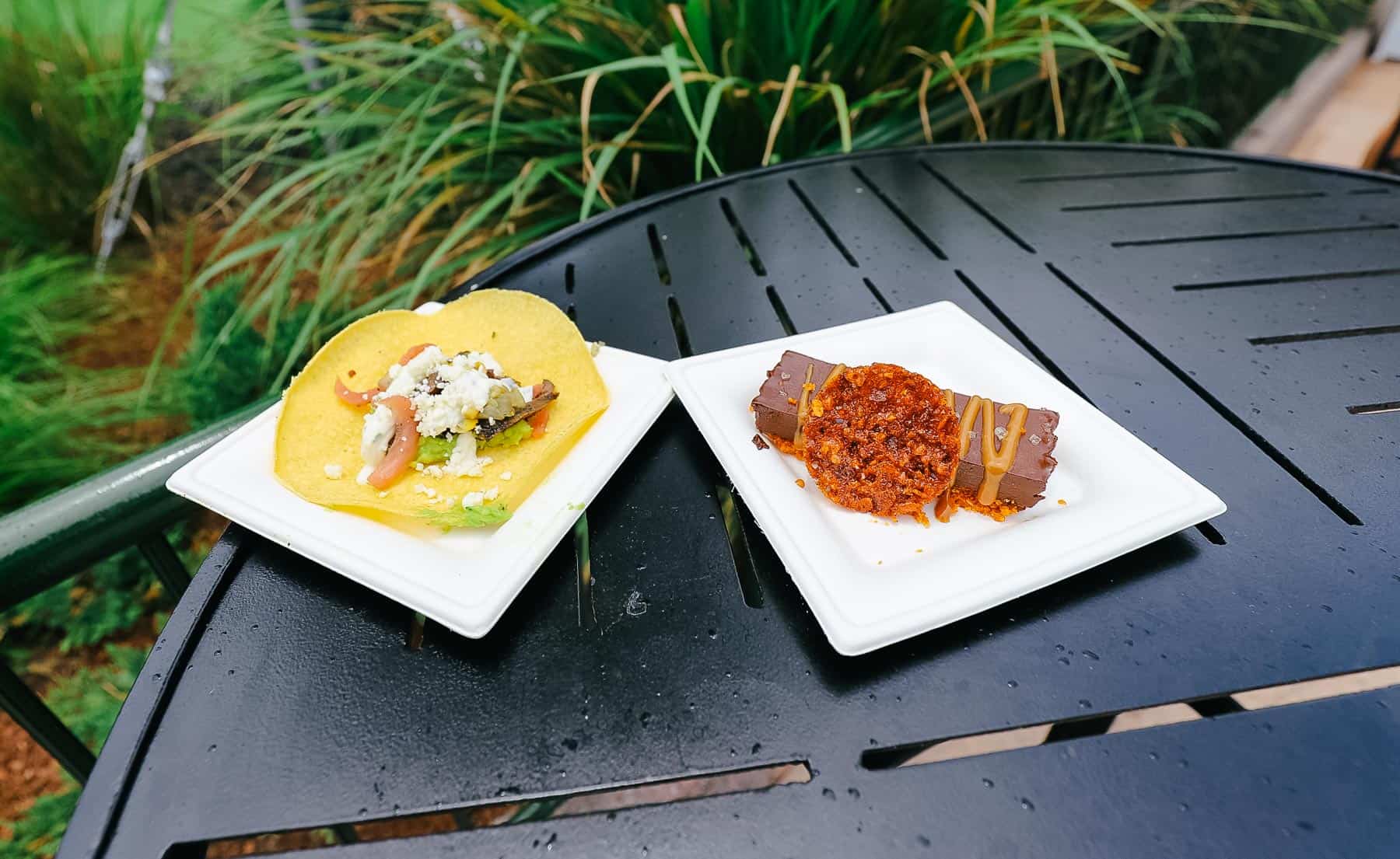 Flavors from Fire Menu Items
Below is a list of the Flavors from Fire menu items with prices.
The Impossible Slider ($6.00)
Smoked Corned Beef ($6.50)
Chimichurri Marinated Skirt Steak Taco ($6.50)
Spiced Chocolate Tart ($4.75)
Beverages
Four Virtues Bourbon Barrel Zinfandel ($6.50)
Swine Brine ($11.00)
Saugatuck Brewing Company Bonfire Beer ($5.50 or $9.50)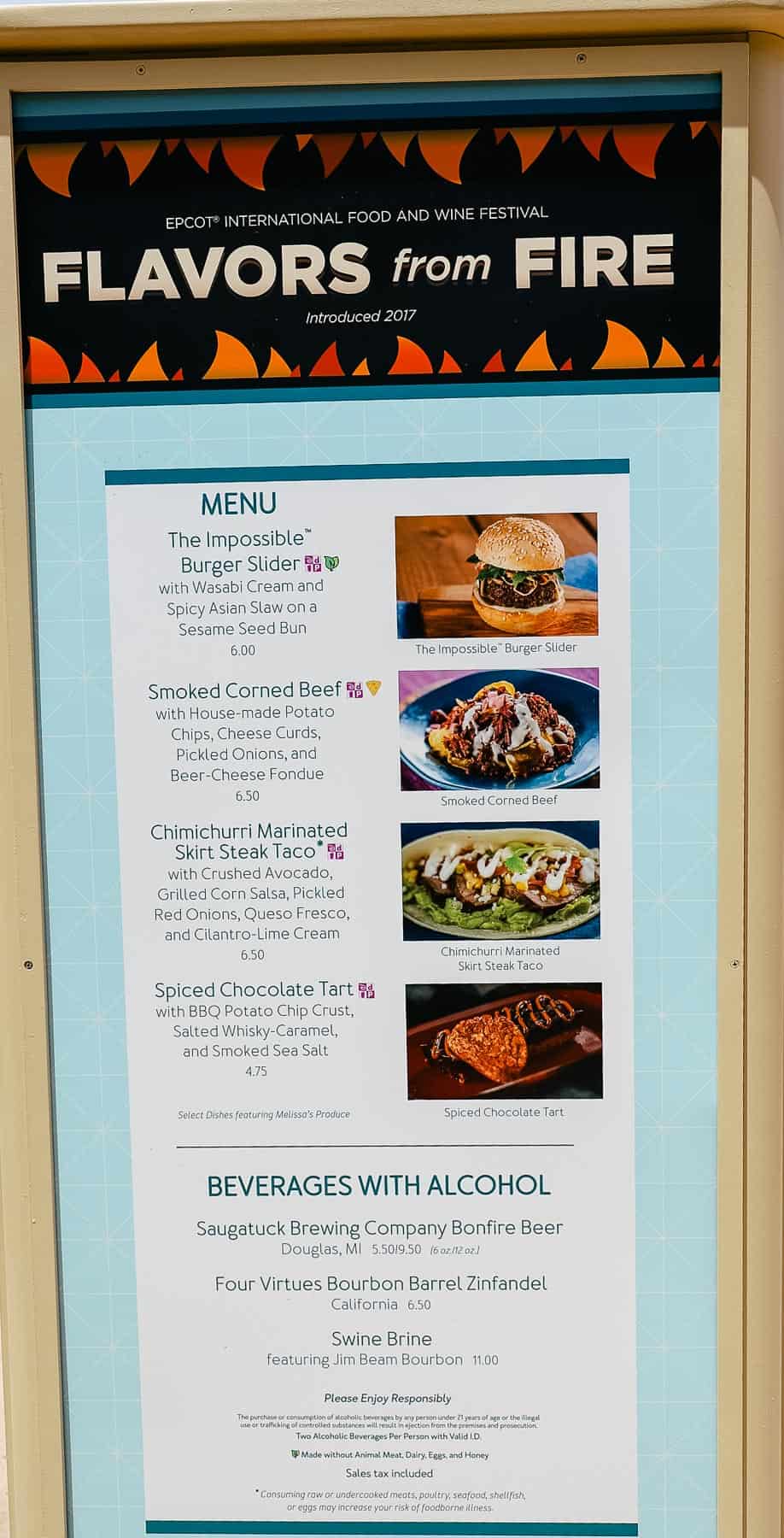 The Impossible Slider
The Impossible slider is back on the menu at Flavors from Fire this year. Initially, this slider debuted at this booth when it first opened. After that, we saw the slider disappear only to reappear on the Earth Eats menu.
Earth Eats, which specialized in plant-based items, did not return to this year's festival. Thankfully, the slider survived the menu cuts. On a side note, when preparing our list of Food and Wine menu items with prices, we noticed a lack of plant-based items, and no gluten-free items were noted on any of the menus.
As for this slider, I've had it several times over the years and think it's an excellent introduction to a meat "less" burger. It comes topped with a spicy Asian slaw on a sesame seed bun. Expect a spicy kick and a tasty burst of flavor!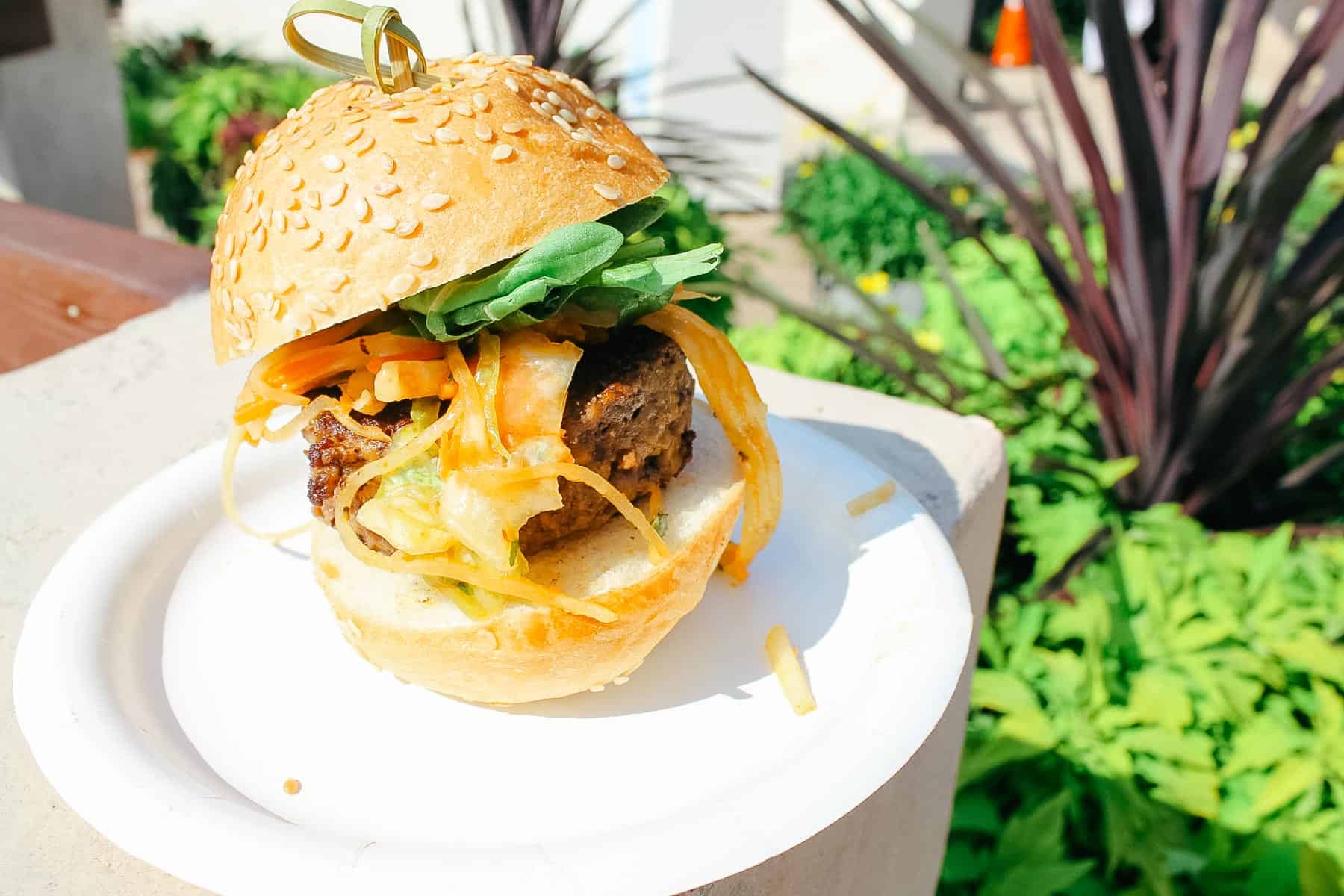 Chimichurri Marinated Skirt Steak Taco
New this year is a Chimichurri taco. Ugh, I wanted to like this, but it wasn't great. After waiting in line for almost fifteen minutes, you would have thought to receive something hot and fresh. But my corn tortilla wasn't even lukewarm.
When I noticed how cold it was, I grabbed a fork and pulled out a slice of the marinated skirt steak. It had a great smoky flavor but tasted like someone had cooked it an hour ago and left it on the counter.
I don't know about you, but I think a respectable taco should be hot, among other things. That said, the avocado corn salsa was a nice bite. However, the cilantro-lime cream kind of ruined it for me.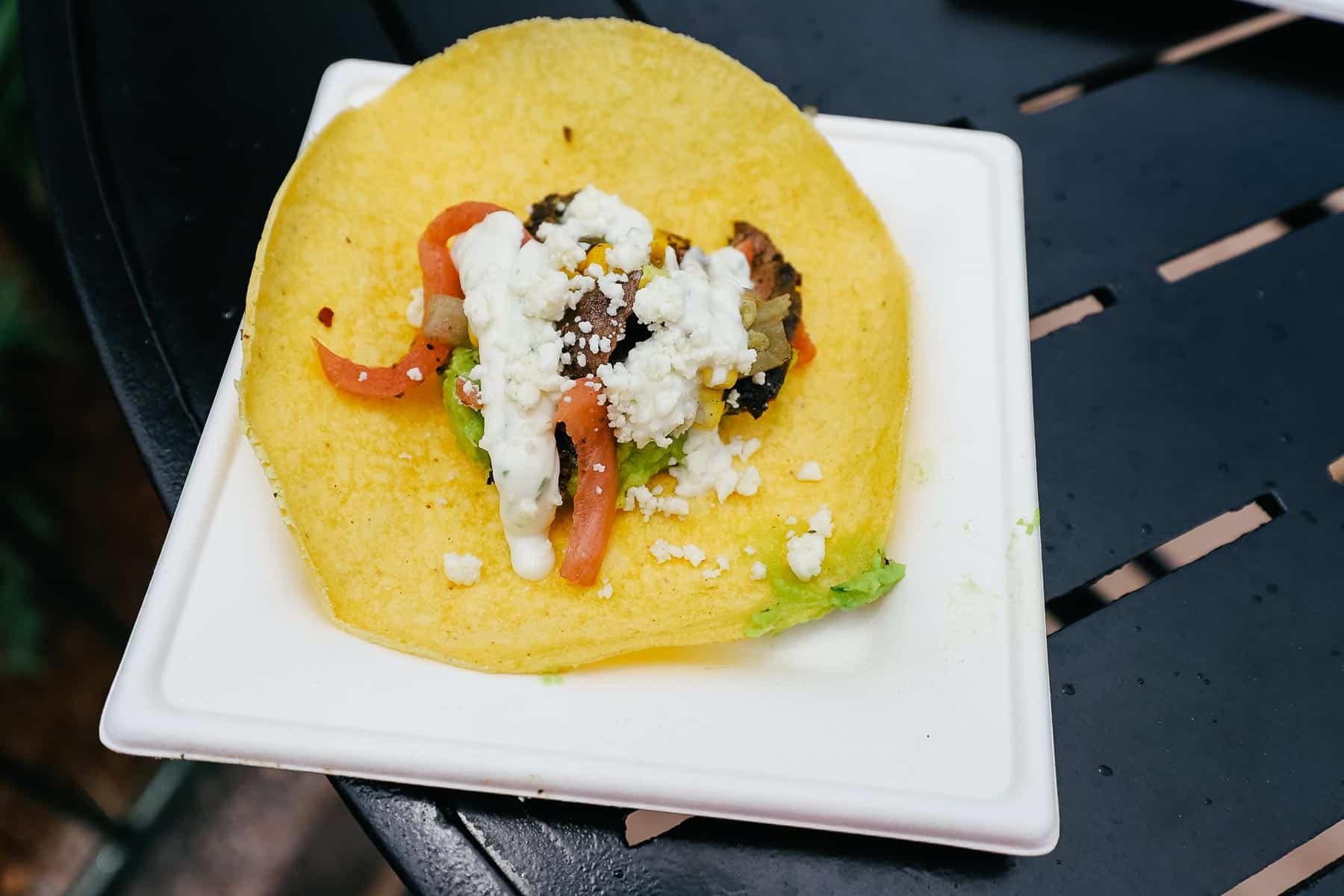 Smoked Corned Beef
As mentioned above, the smoked corned beef returns from last year. This is one of the more popular dishes at the festival. We can all agree it looks worthy of being at the top of our "must try" Food and Wine lists. It was at the top of mine last year.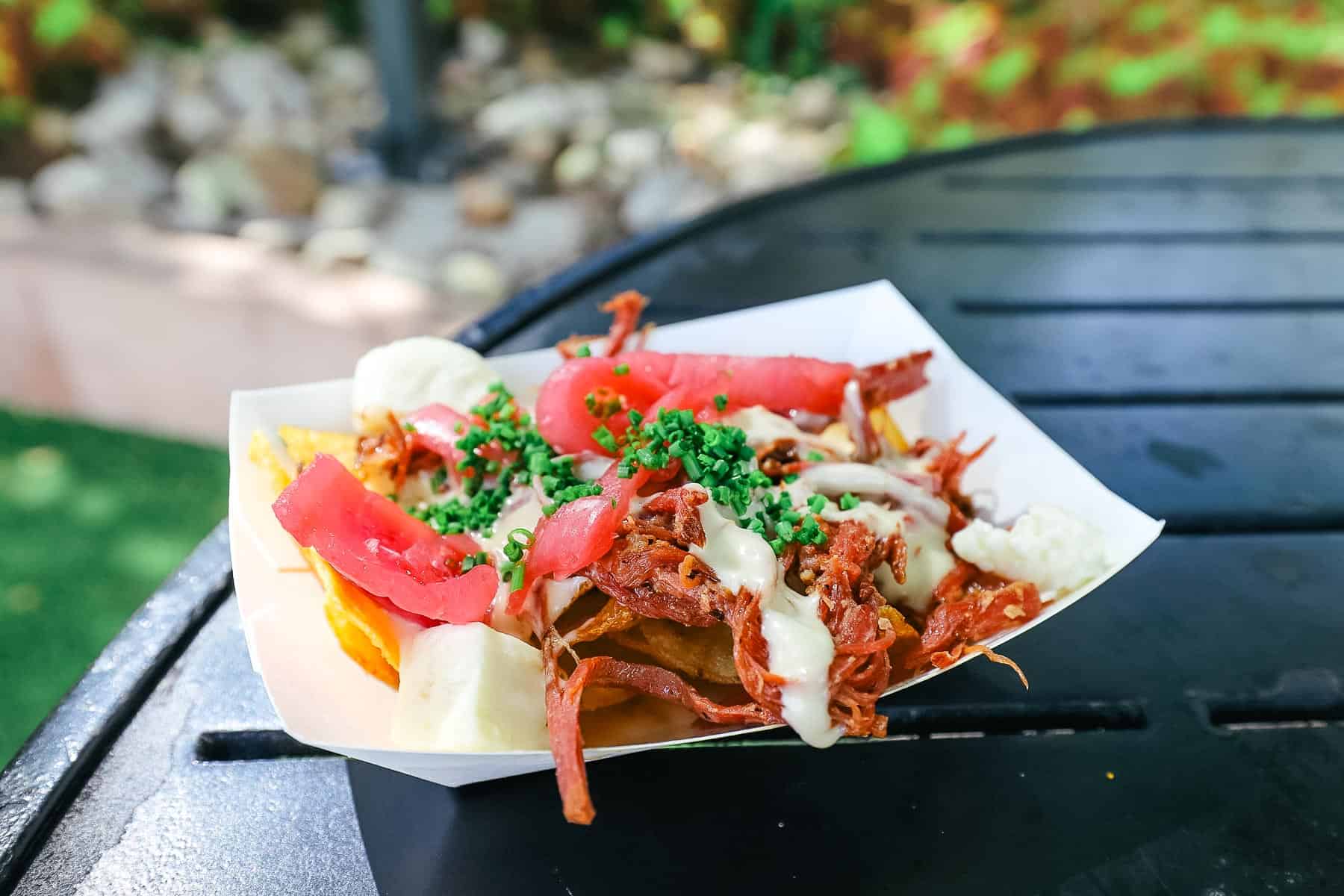 Here is a refresher of what I thought about the dish:
When they handed the corned beef to me, I thought, "Wow, this is going to be something." Unfortunately, that something was pretty terrible.
My problem(s) with the dish starts with the base of plain potato chips. If you're going to do nachos, shouldn't there be a base of hearty tortilla chips?
These poor kettle-like chips couldn't hold up the cheese sauce, much less the corned beef, pickled onions, and cheese curds.
Then the cheese curds were sour and conflicted with the smooth, neutral flavor of the dip. And while the pickled onions were tasty on their own, they didn't meld well with the already vinegary taste of the corned beef.
It felt like many of these items were headed in the same direction, tastewise, which left no room for them to marry or complement each other. I was left with an unpleasant, acidic dish of potato chips with sauce.
So if you try this dish and have a similar experience, don't say I didn't warn you. But, again, you may love it–to each their own.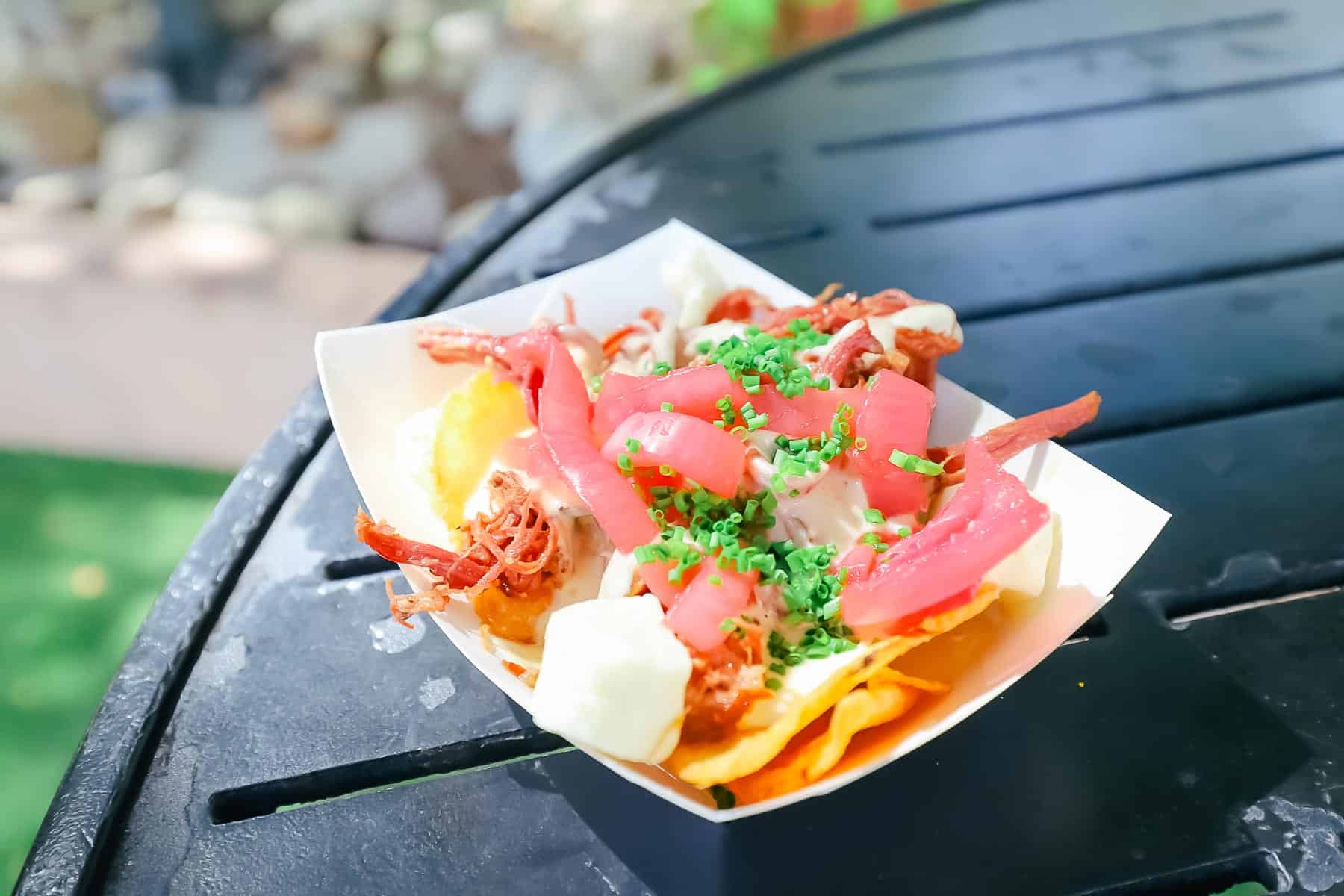 Spiced Chocolate Tart
We have the spiced chocolate tart for dessert, which is a significant improvement over last year's Rocky Road tart. However, I'm warning you now. This dish is decadent.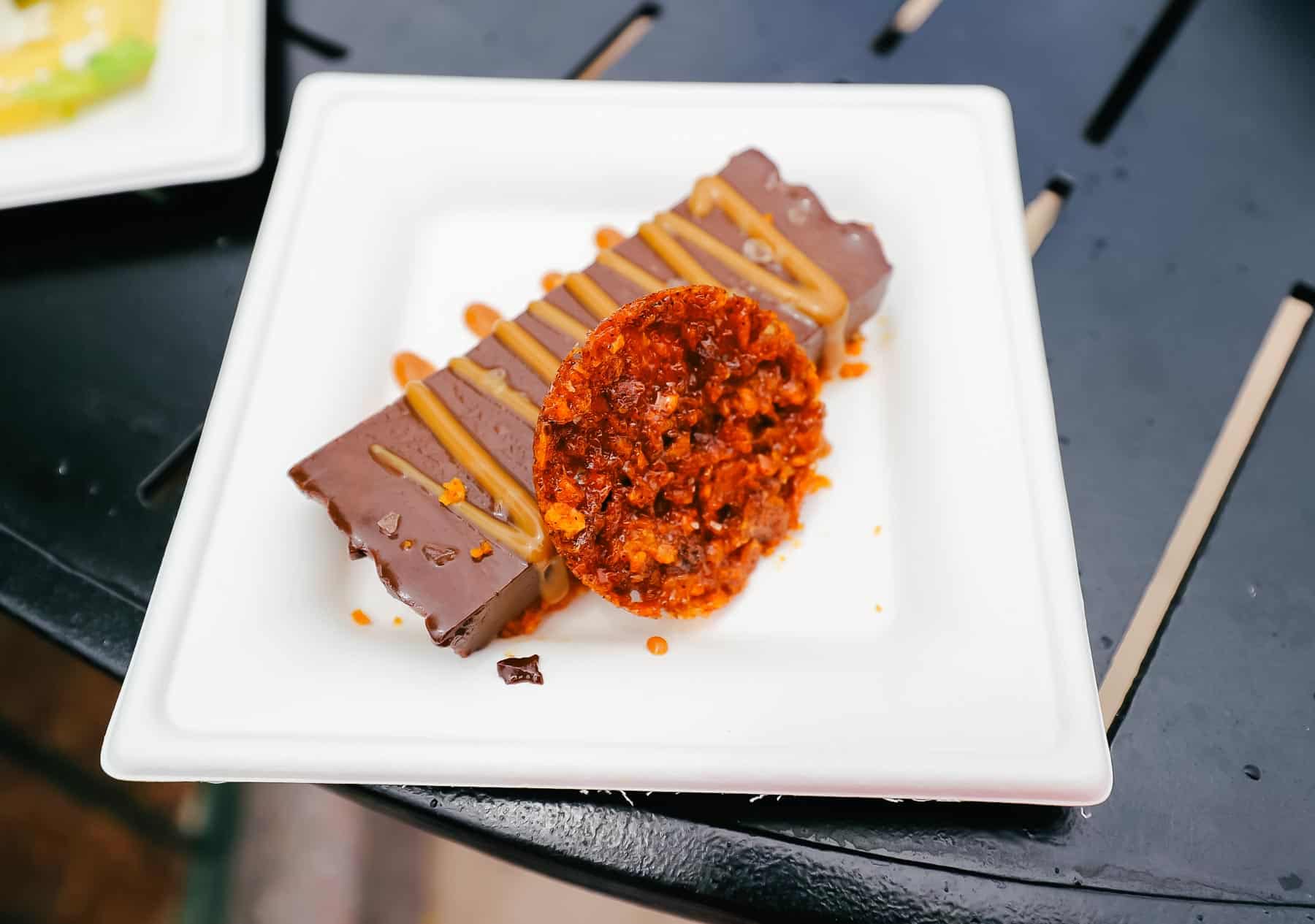 This dish is described per the menu as a spiced chocolate tart with a barbecue potato chip crust, a slated whisky caramel, and smoked sea salt. That hard caramelized chip was delicious, but the tiny bites of chips under the tart were a bit lacking.
As far as the chocolate goes, it was rich, and the caramel only added to the sweetness. My initial brain response was–wow, this is too sweet. But I also went back for two more bites. By then, I'd had enough. So I would definitely recommend sharing this item with at least one other person.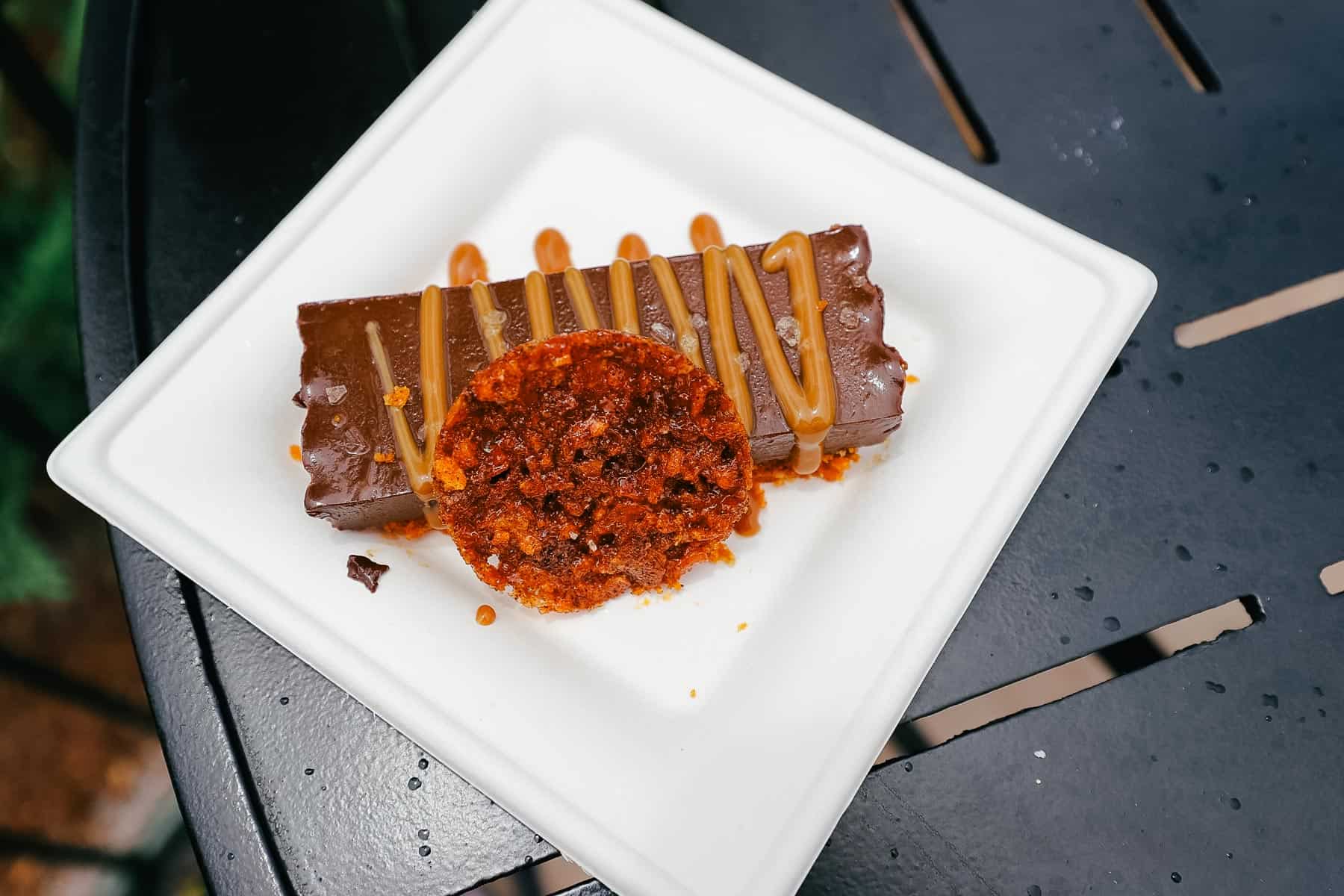 We'll have an updated list of the best desserts at Epcot's Food Festival available when we finish our reviews. This chocolate tart will be among our top choices!
Here are a few more individual food booth reviews:
In the Comments
Overall at Flavors from Fire, the chocolate tart is worth a stop, and if you have to have the corned beef, let me know how it goes. What are your thoughts? Are there any must-try items here on your list?
Planning a Walt Disney World or other Disney Destination vacation?
Our friends and travel partner, Firefly Travels, excels at doing Disney differently. You can fill out a plan your trip form on their website, and someone will reach out shortly to discuss the specifics.