Flavors from Fire Festival Booth Review (Where's the Fire?)
Y'all. I don't usually read other reviews of the food booths at Epcot Food and Wine. However, my experience at Flavors from Fire left me questioning everything.
The food I received (for the most part) was so disheartening that I wondered if other people felt the way I did. A few years back, I loved the Flavors from Fire booth. It was a booth I looked forward to visiting.
A quick Google search showed that others enjoyed the primary dish in question. Some even enjoyed it immensely.
But I'm not sold on this dish. Everything here sounds impressive on paper, and photogenically the items look more than promising.
But tastewise? You could do much better. Let me tell you why.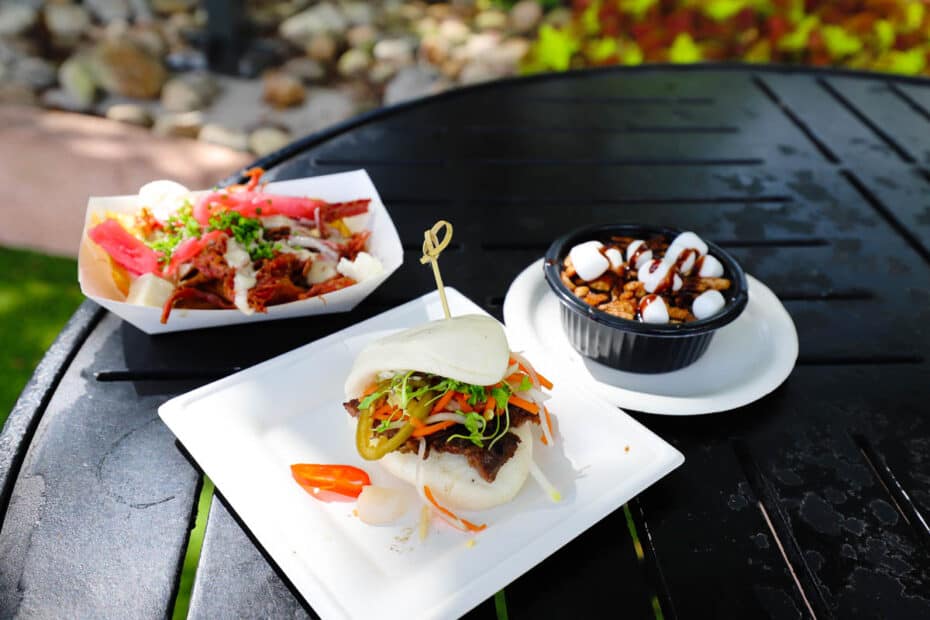 Flavors from Fire Menu Items
Below is a list of the Flavors from Fire menu items with prices.
Smoked Corned Beef ($5.50)
Banh Mi Bao ($5.75)
Rocky Road Chocolate Cake ($4.25)
Corckcicle Classic Tumbler ($32.00)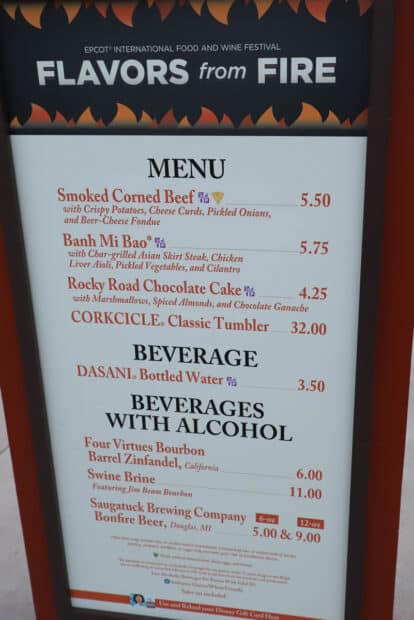 Beverages
Four Virtues Bourbon Barrel Zinfandel ($6.00)
Swine Brine ($11.00)
Saugatuck Brewing Company Bonfire Beer ($5.00 or $9.00)
Smoked Corned Beef ($5.50)
We'll just get right to it. The dish I had the main issue with is the Smoked Corned Beef. First, let me share with you that I grew up in Alabama.
About two people from Alabama know how to prepare corned beef. Coincidentally, I am one of them.
Anyway, every St Patrick's Day, I buy a couple of corned beef briskets to cook for my family. My family raves about my version of corned beef and cabbage. It's a simple and easy recipe that you can find here.
Now, if you're wondering why we only have corned beef in mid-March, it's because the only time the grocery stores (in Alabama) sell corned beef is around St. Patrick's Day.
I kid you not.
So here is the dish in question. We can all agree it looks worthy of going to the top of our "must try" Food and Wine lists. It was at the top of mine.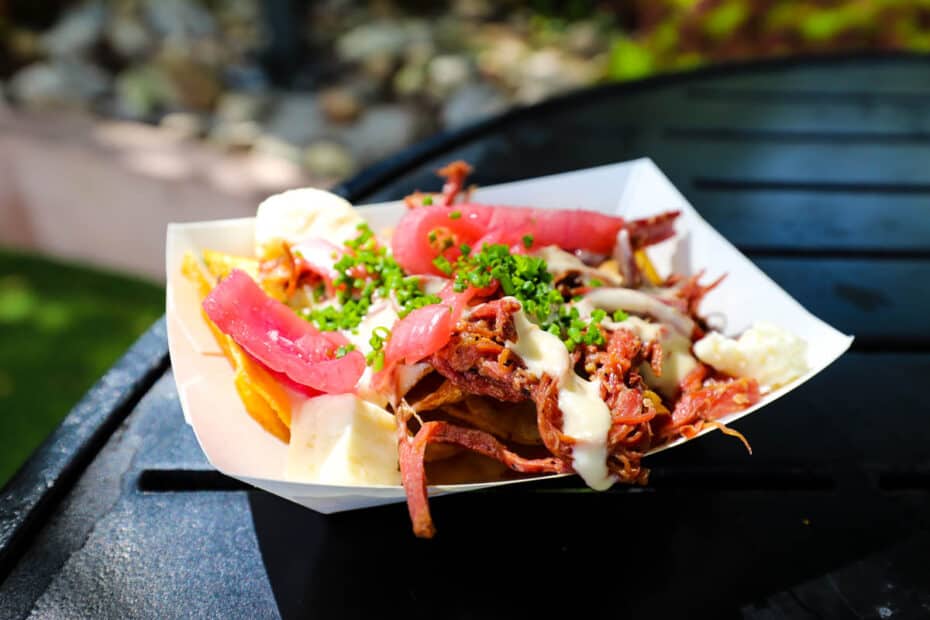 When they handed the corned beef to me, I thought, "Wow, this is going to really be something."
Unfortunately, that something was pretty terrible.
My problem(s) with the dish starts with the base of plain potato chips. If you're going to do nachos, shouldn't there be a base of hearty tortilla chips?
These poor kettle-like chips couldn't hold up the cheese sauce, much less the corned beef, pickled onions, and cheese curds.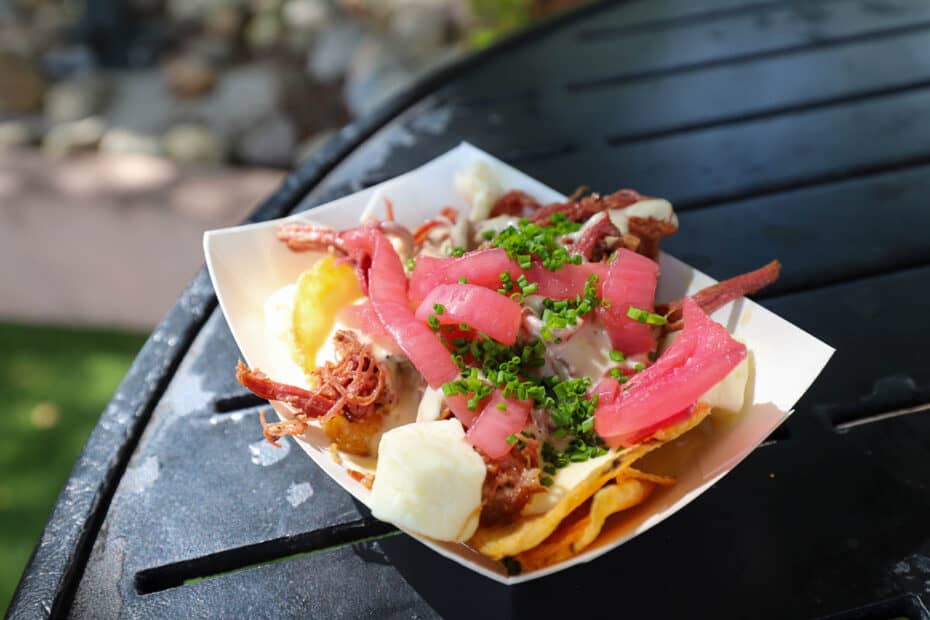 Then the cheese curds were sour and conflicted with the smooth, neutral flavor of the dip. And while the pickled onions were tasty on their own, they didn't meld well with the already vinegary taste of the corned beef.
It felt like many of these items were headed in the same direction, tastewise, which left no room for them to marry or complement each other. I was left with an unpleasant, acidic dish of potato chips with sauce.
So if you try this dish and have a similar experience, don't say I didn't warn you.
Banh Mi Bao ($5.75)
Thankfully, all is not lost at Epcot's Flavors from Fire booth. Below we have the Banh Mi Bao bun, the shining star of the trio of menu items.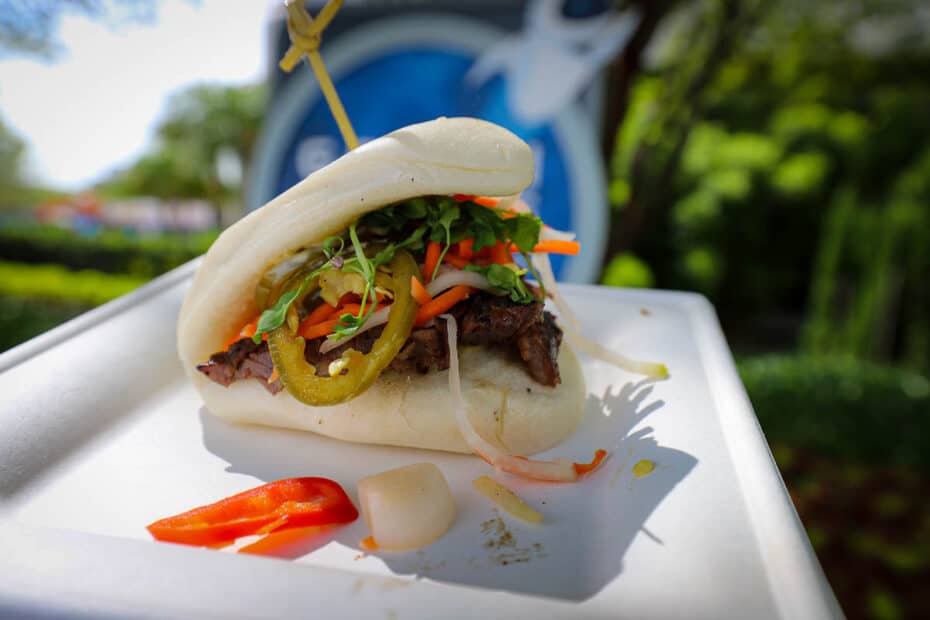 Surprisingly, I didn't anticipate enjoying this dish as much as I did the nachos. Therefore, I went with this one first to get it out of the way.
When I took my first bite, I was met with a burst of flavor from the beef. I remember thinking, "wait, do I like this?'
Then I went in for another taste, knowing it was just as delicious as that first bite teased. A moment later, I got a bite of the raw jalapeno that topped the bun, and I was even more pleasantly surprised.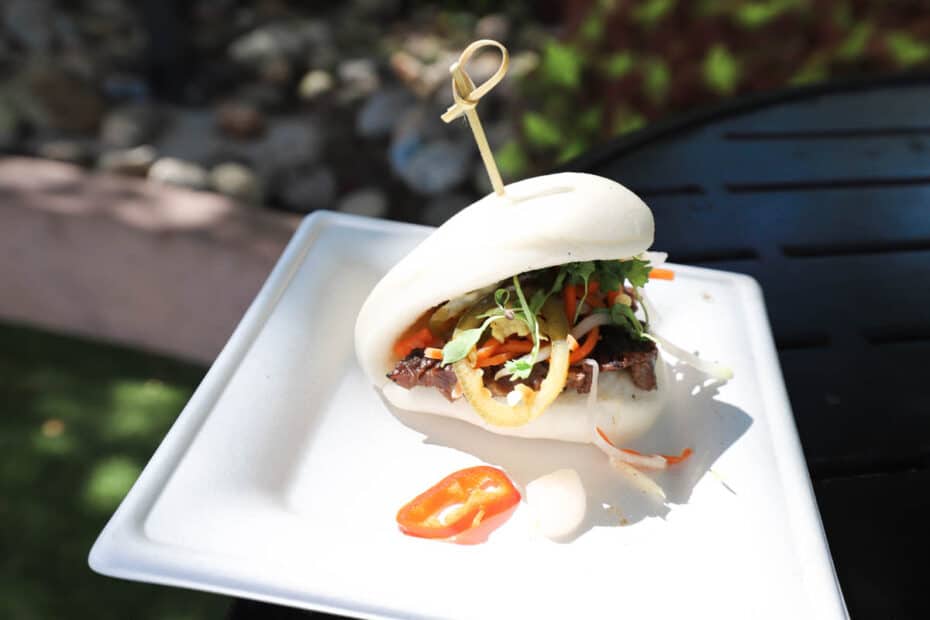 While the bun is more significant than the meat with toppings, the filling is excellent. The steak was perfectly marinated, and the topping worked well with the flavor.
This slider-like bun is a dish I would order again.
Rocky Road Chocolate Cake ($4.25)
Ha, Ha, Ha! It might sound like I'm being mean, but I'm not. The Rocky Road Cake is comparable to a microwave cake like the mixes you can buy in the grocery store and prepare in a mug.
You'll probably enjoy this Rocky Road version if you like microwaveable mug cakes. But, unfortunately, this dish could have been SO MUCH MORE.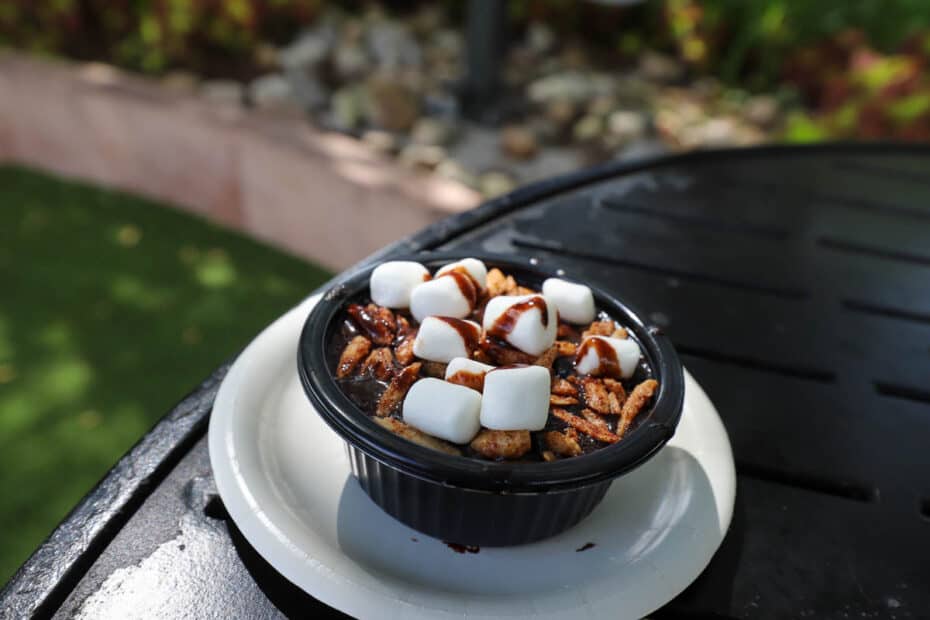 I don't know about you, but when I think of Rocky Road, I think of chocolate ice cream with almonds and marshmallows. So with this dish, you get chocolate cake, spicy almonds, and a few marshmallows.
Yeah, no.
The spicy almonds have a weird seasoning that leans toward cinnamon. There were so many almonds involved, and their texture was soft.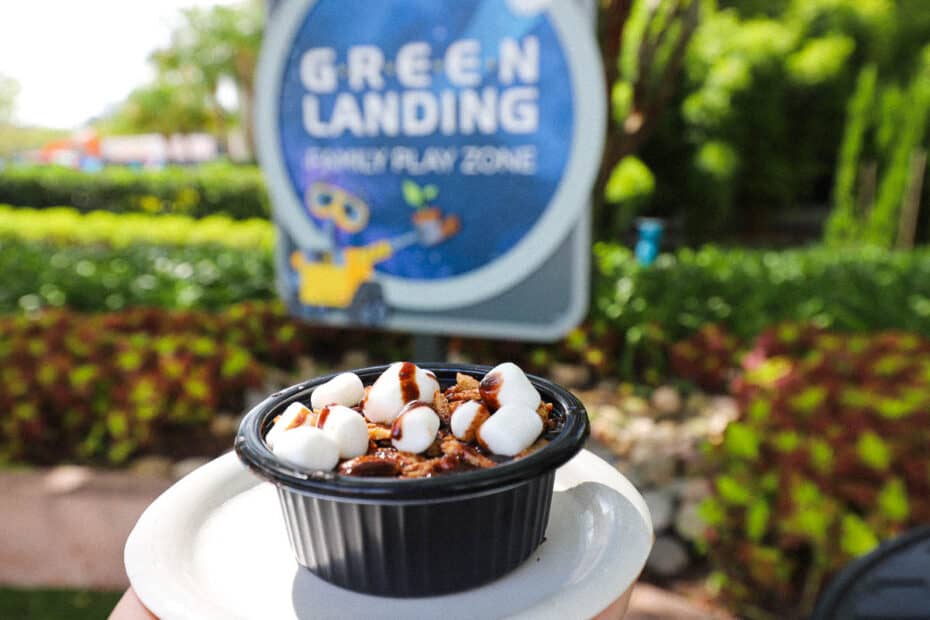 I kept chewing my first few bites, thinking, "what is that?" I had to get the Festival Passport out to determine the chewiness was the almonds.
As much as I want to remain in humble territory here on the site, I feel like we're in Little Debbie territory with this dish. This item was like paying $4.25 for a 12-pack of snack cakes that cost $3.99.
Yes, that guesstimate is with inflation consideration. If you're not located in the bible belt, you might want to add an extra fifty cents. I'm sure they probably cost more everywhere else.
Unfortunately, this dish doesn't live up to its name. You can do much better with the chocolate pudding cake in Ireland or the chocolate bread pudding at Mexico's Marketplace.
To date, here's where we've been:
And here's where we are headed:
Overall at Flavors from Fire, the Bahn Mi is worth a stop, and if you have to have the corned beef, let me know how it goes.
What are your thoughts? Are there any must-try items here on your list?