Is Disney After Hours at Hollywood Studios Worth It? (How Our Night Went)
In this article, we attend Disney After Hours at Disney's Hollywood Studios. We'll discuss whether this After Hours is worth the price, and I'll share a step-by-step walkthrough of our experience.
When I heard that After Hours was returning to Disney's Hollywood Studios, I knew I had to purchase tickets. Like many things in life, the mere thought of riding Slinky Dog Dash and Rise of the Resistance multiple times in one evening sounded too good to be true.
By the time I remembered to purchase tickets, the first event was sold out. Thankfully, the following week's event still had availability.
Additionally, an annual passholder discount was released around the same time for select Disney Resort hotels. So I planned a stay at Disney's Yacht Club.
My idea was to spend the day at Stormalong Bay, have dinner at the resort, and attend After Hours. Afterward, we could walk back to the room at the end of the evening. (As if I needed an excuse to stay at the Yacht Club.)
Since it was going to be late, the plan sounded ideal. But did it play out that way?
Let's examine how our night went and see if we made any missteps.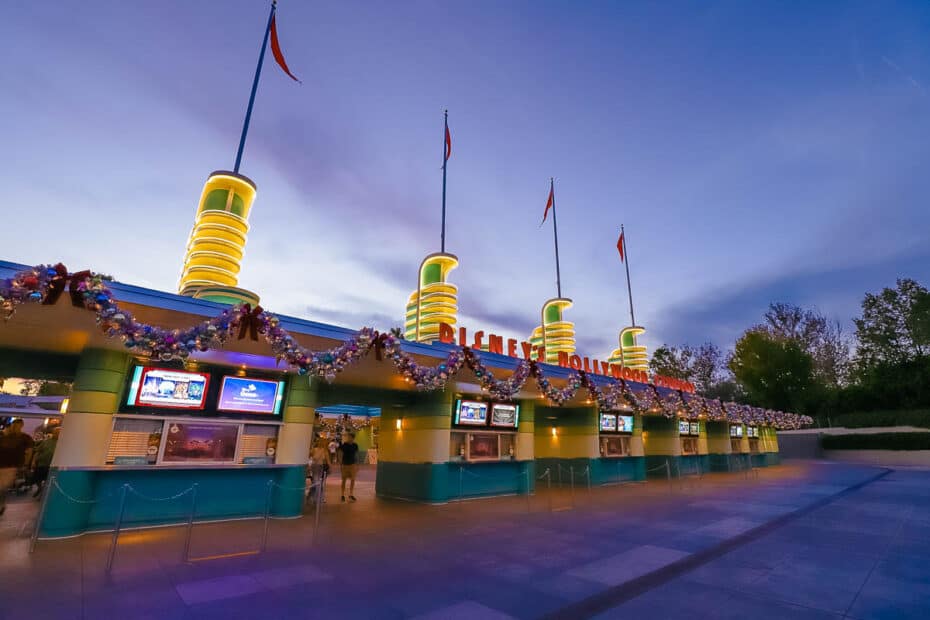 Disney After Hours at Hollywood Studios Review
We checked into Disney's Yacht Club around lunchtime on the day of our After Hours event. Thankfully, our room was ready upon arrival.
After taking a few photos of the room, it was time for a bit of rest and relaxation at the pool. So it was off to Stormalong Bay until about 4:30 p.m.
It was a glorious afternoon spent basking in the sun as though there were no other cares in the world. Unfortunately, those days are rare. But they are a good reminder that sometimes we should pause and reflect on what's important.
After receiving our fair share of vitamin D, we returned to the room to shower and change for dinner. Then it was off to Crew's Cup for a leisurely meal in the lounge.
Somehow, I managed to end up with a few leftovers. So I ran them back to the room and stored them in the fridge.
It was approaching 8:00 p.m., and it felt like the right time to make our way to Hollywood Studios. Per my notes, we arrived at precisely 8:10 p.m.
Now we could have gotten there earlier with our event ticket. Disney After Hours at Hollywood Studios formally lasts from 9:30 p.m. until 12:30 a.m. However, guests can enter the park beginning at 7:00 p.m.
You do not need a theme park reservation to attend After Hours. But you cannot enter the park until 7:00 p.m.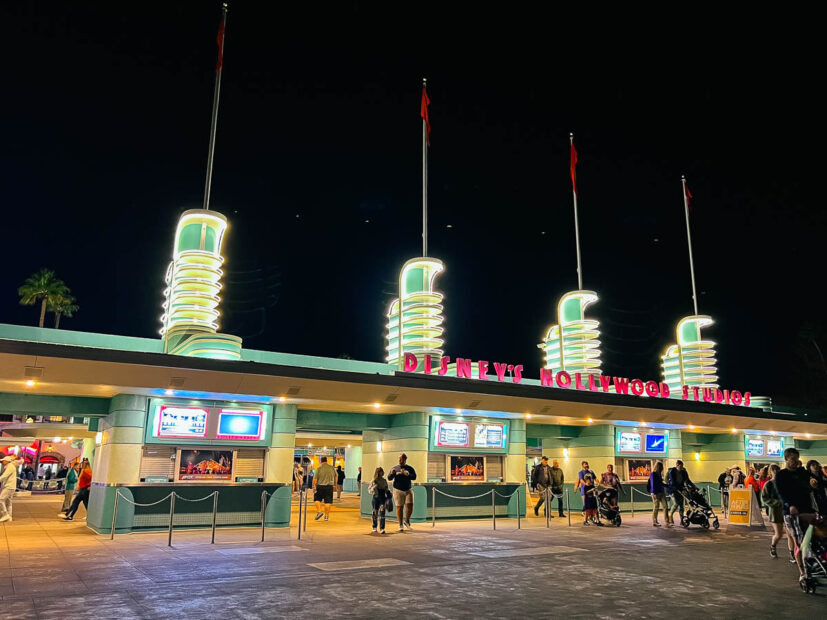 Therefore, you can get a little jump start on the night if you like. However, I knew going into this evening that I preferred to do as much as possible in the least amount of time.
For our group, that meant being prepared. If we were going to stay out that late and experience as much as possible, it was essential that we were well-rested and had eaten in advance. It was also a little cooler this evening, so we dressed accordingly.
Instead of entering through the turnstiles, there is a separate check-in area for Disney After Hours. There, a cast member will scan your band or ticket. Then you'll be given a wristband.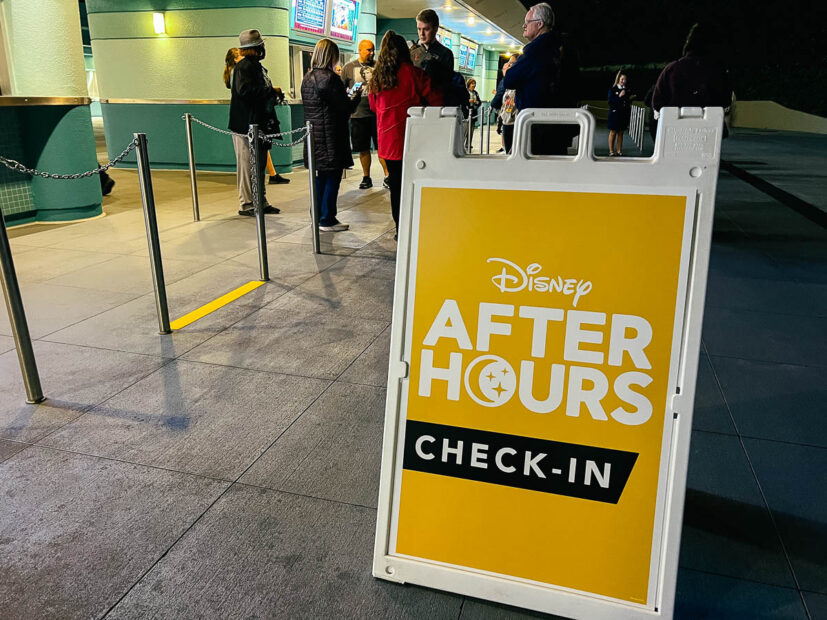 Wristbands are important because they distinguish you from regular guests. After the park closes to the general public, you'll show your wristband at most attractions' entrances.
After receiving our wristbands, another cast member handed us an After Hours guide. On one side, it listed special merchandise and entertainment offerings.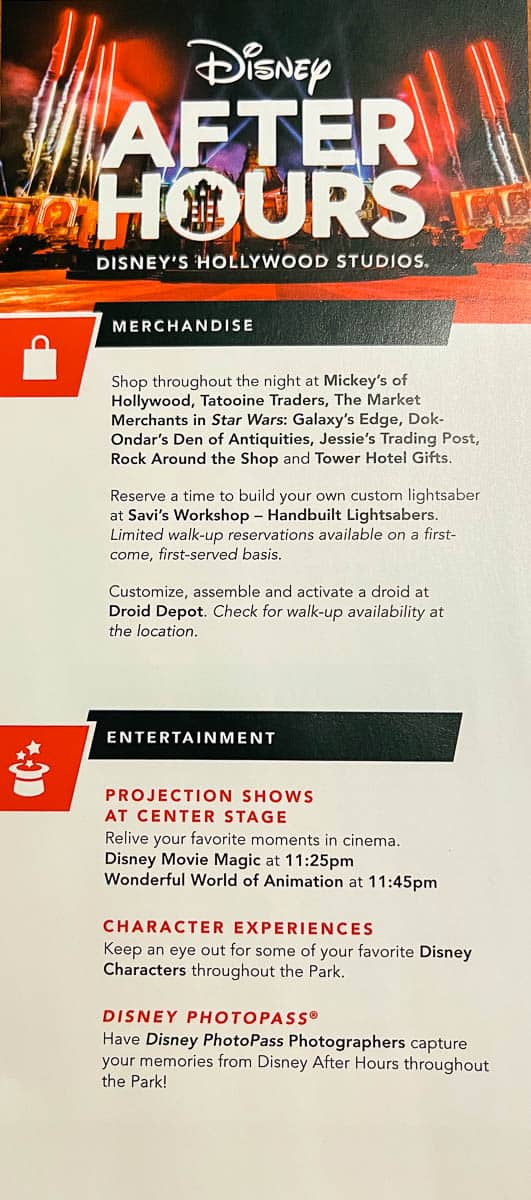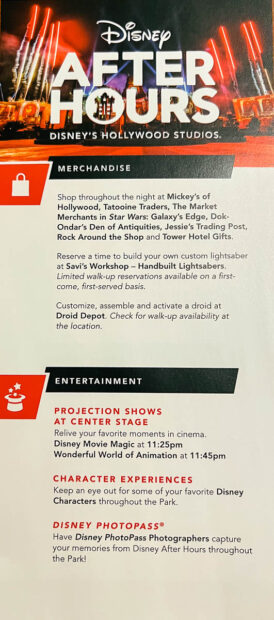 On the opposite side, it lists attractions along with food and beverage details.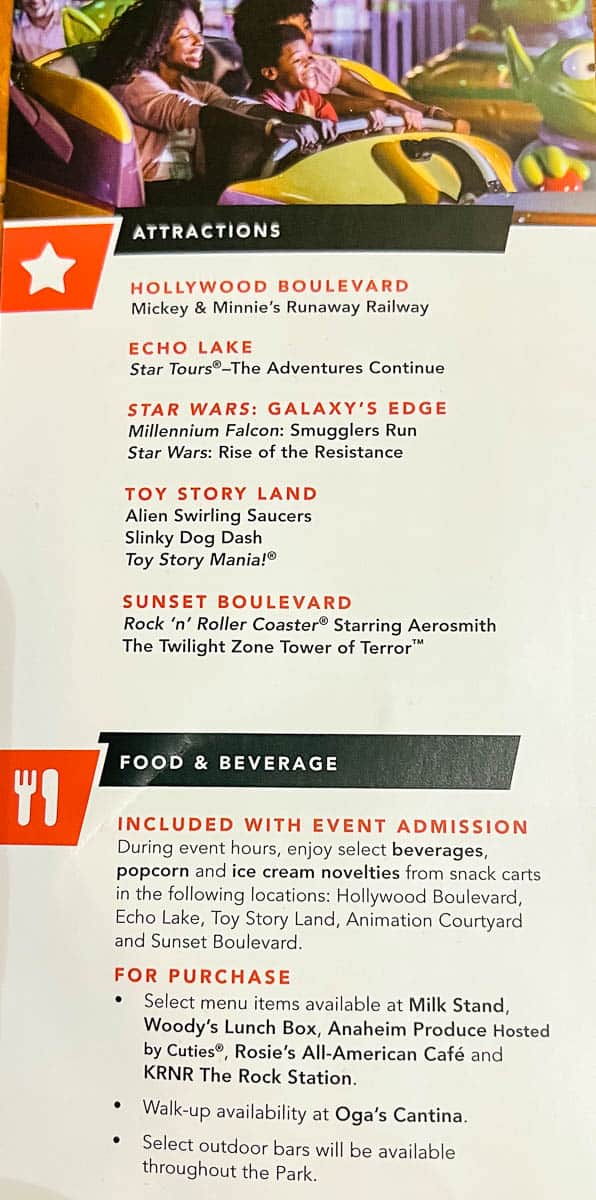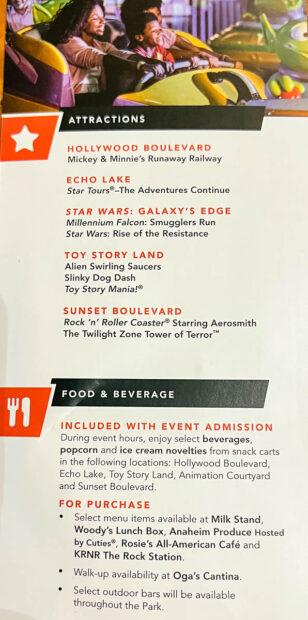 What's Included with Disney After Hours at Hollywood Studios
Before we discuss our evening any further, I wanted to take a moment to review what's included with this event.
Merchandise
Regarding merchandise, several shops stay open for the remainder of the evening. Savi's Workshop and Droid Depot remain open, with limited walk-up reservations available.
Of course, these experiences will cost extra and wouldn't be the best use of your time at an extra-ticketed event.
Entertainment Offerings at After Hours
I was surprised to see the following two entertainment offerings on the lineup:
Disney Movie Magic (11:25 p.m.)
Wonderful World of Animation (11:45 p.m.)
While these offerings are endearing, they wouldn't be the best use of your time.
Additionally, there were a few surprise character meets and PhotoPass opportunities. Unfortunately, there's no formal list of characters meeting at After Hours. However, I will share the characters we ran into throughout the evening.
Hollywood Studios After Hours Attraction List
Here are the attractions:
Mickey and Minnie's Runaway Railway
Star Tours — The Adventure Continues
Slinky Dog Dash
Toy Story Mania
Alien Swirling Saucers
Millennium Falcon: Smugglers Run
Star Wars: Rise of the Resistance
Rock n' Roller Coaster
The Twilight Zone Tower of Terror
Food and Beverage
During After Hours, you'll encounter multiple snack carts throughout the park offering popcorn and various ice cream treats. Last night, we saw popcorn, ice cream sandwiches, ice cream bars, and strawberry popsicles.
Soda and bottled water were also available.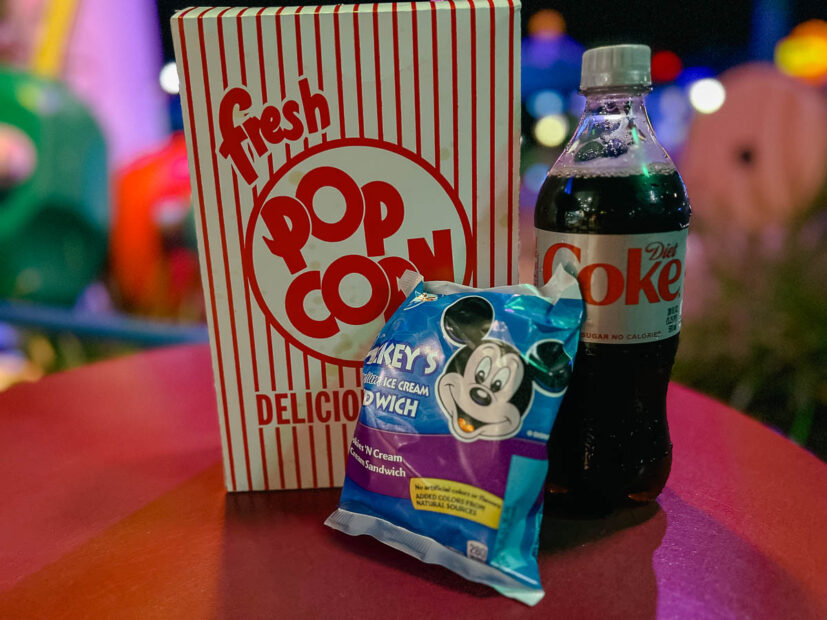 Additionally, several quick-service locations remain open with items for purchase. Oga's Cantina also remains open with walk-up availability.
How We Tackled Disney After Hours at Hollywood Studios
So we arrived at Hollywood Studios at 8:10 p.m. After checking in, we decided to head toward Toy Story Land.
While I'm not much of a morning person, I have some experience touring the parks in the evening. So going into this evening, I had a loose plan of how I hoped things would work.
At 8:25 p.m., we got in line for Alien Swirling Saucers, with a posted wait time of 15 minutes. We were on the ride by 8:32 p.m.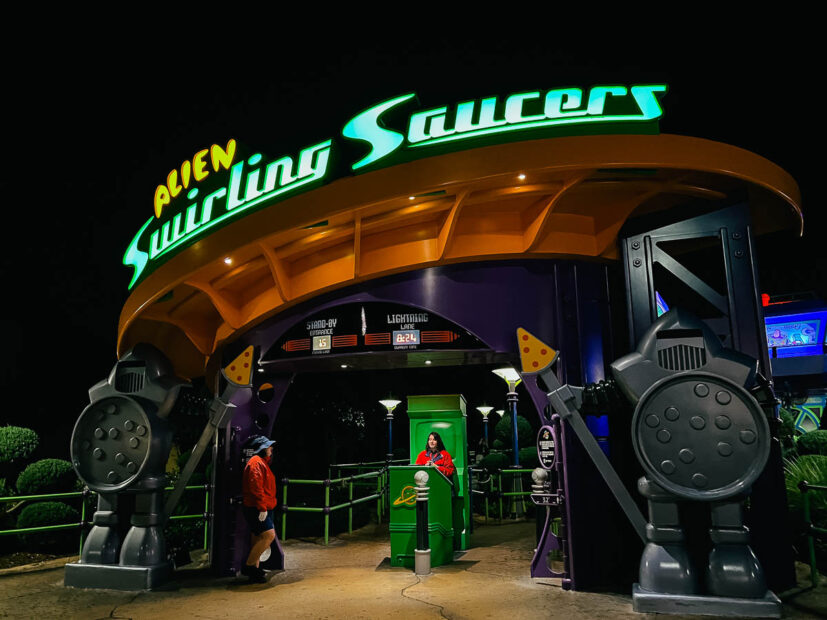 Immediately after exiting Swirling Saucers, we got in line for Toy Story Mania. I was a little hesitant here because the posted wait was 50 minutes.
It is typical to see an inflated wait time for this attraction in the evening. However, you can't see the queue from outside the line, so there's no way of knowing whether the wait time is accurate.
Thankfully, only a few guests were waiting, and we were on the ride by 8:45 p.m.
After exiting Toy Story Mania, we headed straight to Slinky Dog Dash and got in line at 8:57 p.m. Slinky was posting a 55-minute wait, and you could tell there was a good number of guests in the queue.
However, since the park closing was only a few minutes away, Lightning Lane would soon close. When this happens, the standby line begins to move swiftly.
Therefore, even with all the guests ahead of us, we only waited 23 minutes. So when we exited Slinky Dog Dash, it was still a few minutes shy of the official 9:30 p.m. start of After Hours.
At this point, I felt optimistic about how our night would go. So we used the back exit of Toy Story Land to enter Galaxy's Edge. From there, we went straight to the Millennium Falcon.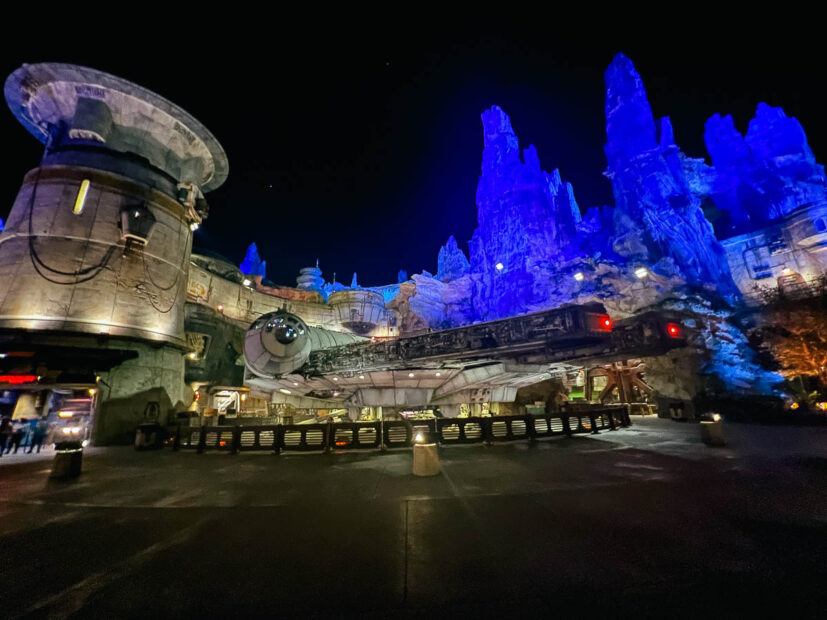 We got in line for Millennium Falcon: Smugglers Run at 9:29 p.m. It was a walk-on. However, the queue is a long walk.
After Smugglers Run, I noticed a few Stormtroopers out greeting guests. Additionally, Rey was in the area from time to time throughout the night.
I'm sure you can guess where we were headed next–Star Wars: Rise of the Resistance. It was 9:50 p.m. when we joined the queue.
I felt like our timing worked out here. Most nights, guests get in line for Rise of the Resistance right before closing.
Since we had started in Toy Story Land, it allowed time for those guests to clear the queue. There was a posted wait of five minutes at Rise.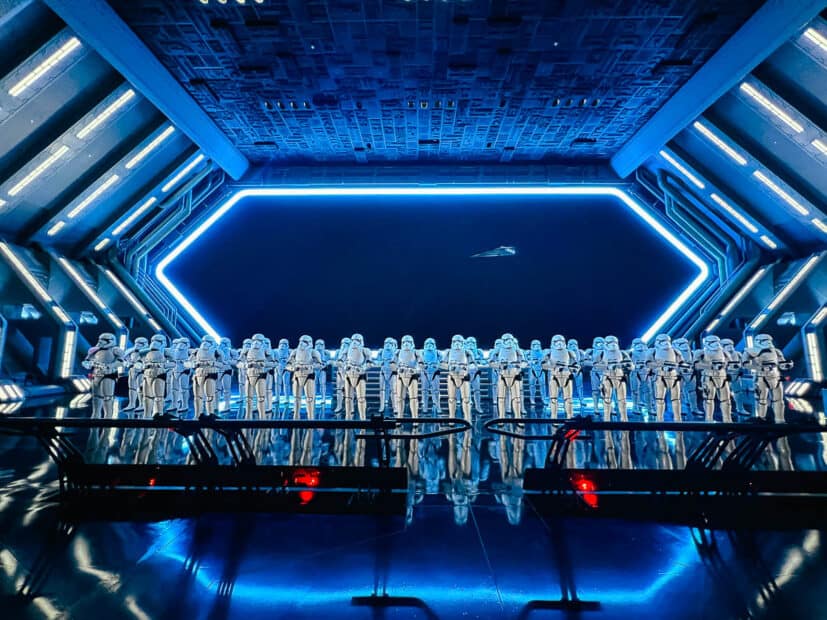 However, we did hit a bit of a snag here. When we reached the interrogation room, the attraction temporarily went down. So we ended up spending a little more time here than usual.
With that said, we were off the ride and walked straight into Star Tours at 10:27 p.m. At this point, I noted we still had two hours left. Things were going well.
After Star Tours, stopping in at Runaway Railway seemed only natural. Here we hit another issue. The attraction was down. (It was 10:43 p.m.)
Instead of moping about, we continued down Sunset Boulevard and got in line for the Tower of Terror at 10:47 p.m. Guys. I did this for you and you alone. I haven't ridden this attraction in years. But for the sake of being thorough, I did.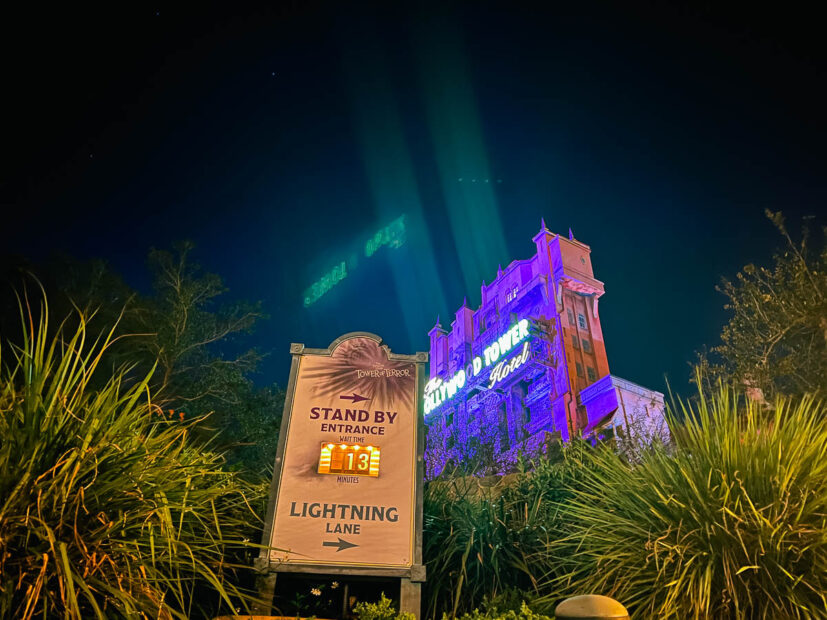 Of course, it was terribly scary. But we were back off in no time and headed to the Rock n' Roller Coaster, where I laughed in the face of danger.
I'm only kidding. Well, I'm partially kidding. Except for Tower of Terror, I'm a bit of a thrill-ride junkie, that is, when there aren't any lines.
We entered the line for Rock n' Roller Coaster at 11:10 p.m. and were back out front by 11:17 p.m.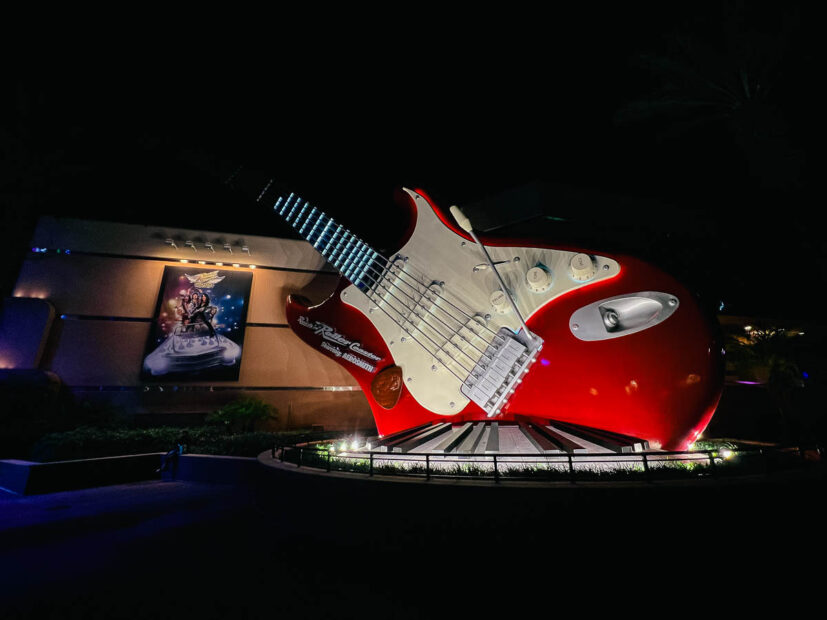 Okay, I don't know if you're counting. But at this point, we had ridden EVERYTHING except for Mickey and Minnie's Runaway Railway.
So we headed back that way and ran into Donald and Daisy Duck. They were dressed up for a night on the town!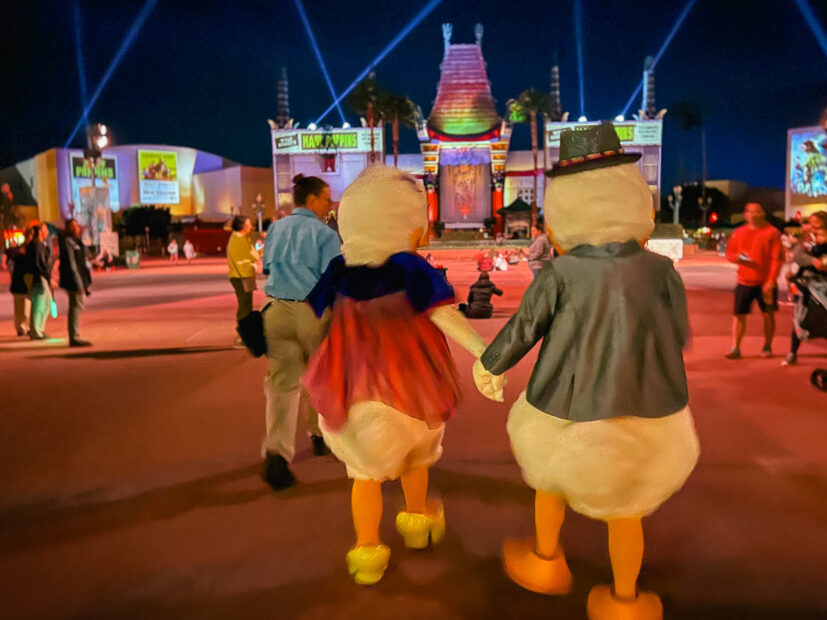 Thankfully, Runaway Railway was up and running this time. So we got in line at 11:24 p.m. and were back outside at 11:39 p.m.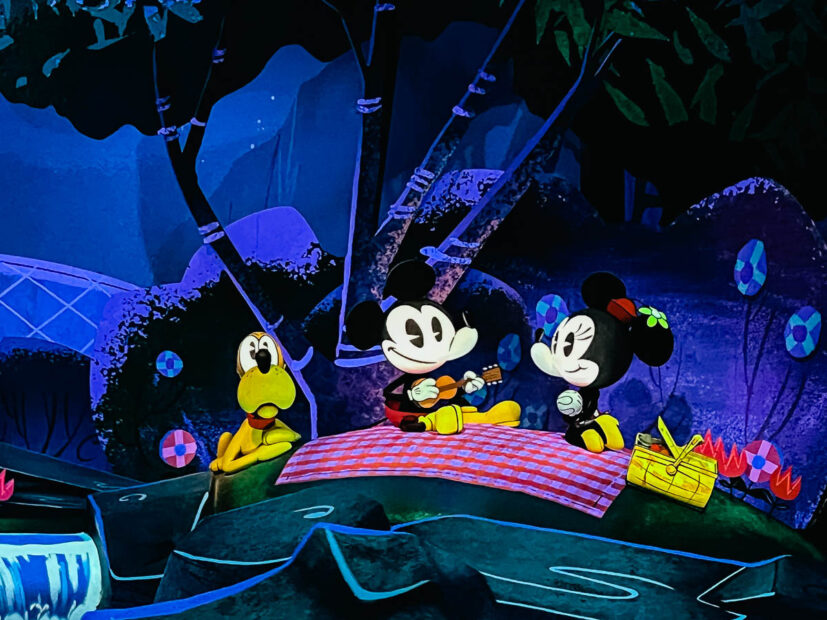 We still had nearly an hour left, but it was time for a snack. So we walked back to Toy Story Land and picked up a couple of drinks and treats.
Bo Peep was meeting guests in front of Toy Story Mania, which was a delightful surprise. She has become a rare character.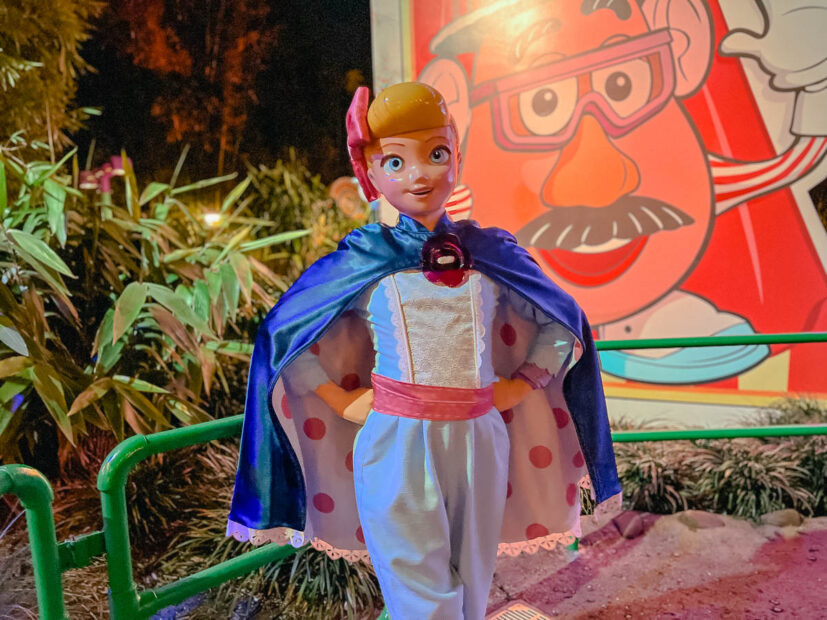 After saying hello to Bo Peep and finishing our snack, it was time for another round of Slinky Dog Dash. So we got in line at 11:57 p.m.
After Slinky, we returned to Rise of the Resistance for our last ride of the evening. It was 12:11 a.m. when we joined the queue.
Unfortunately, the attraction went down about halfway through, and we were evaced. Of course, a good portion of the riders went wild with delight.
As one of our fellow passengers put it, some fans live and die for this kind of thing. It was humorous but rather dull at the same time.
Thankfully, we were given a multi-use experience to use in any of the parks the next day.
After we finally got off the ride, it was 12:45 a.m. and time to head back to the room. Thankfully, it was nearby.
Do I even have to answer the question?
Was After Hours at Hollywood Studios Worth It?
Absolutely! Can you believe that we rode the following between 8:25 p.m. and 12:30 a.m.?
Alien Swirling Saucers
Toy Story Mania
Slinky Dog Dash
Smugglers Run
Rise of the Resistance
Tower of Terror
Rock n' Roller Coaster
Runaway Railway
Slinky Dog Dash
Rise of the Resistance
That's eight attractions for a total of 10 rides within four hours! You could spend an entire day at Hollywood Studios and not get this much done.
So, as long as Disney continues to keep ticket sales low for this event, it's more than worth it. We had not had this much fun at Hollywood Studios in YEARS.
If you are considering purchasing a ticket for After Hours, you can check available dates with prices here on Disney's site. Additionally, Magic Kingdom's After Hours dates and prices are available here.
Final Thoughts on After Hours at Hollywood Studios
Ultimately, After Hours at Hollywood Studios was a simple event that offered a good amount of bang for the buck. Compared to the seasonal parties at Magic Kingdom, this event focuses almost solely on guests experiencing attractions.
You're probably not going to want to visit under any other pretenses.
Additionally, I believe our night went smoothly for the following reasons:
First, we rested on the day of the event. This gave us the energy to push through the park and experience so much without exhaustion.
Then, we rolled with the punches. Sure, Runaway Railway was down on our first try. So we skipped it and kept right on going.
Lastly, we had a loose plan that was considerate of the park's footprint. This method of touring where you're at makes sense when there aren't any lines.
Hopefully, this review of After Hours helps you discern whether or not the event is right for your group!
Moving forward, we'll look at what's going on at the Festival of the Arts. I've also got a good deal of Yacht Club coverage coming your way. We'll see what we can do about another character breakfast.
For other Disney After Hours, you might enjoy:
For other extra-ticketed events, you might enjoy these articles:
In the Comments
Do you have any questions about After Hours at Hollywood Studios? Did you find this review helpful? Would you consider going to this kind of event?
Planning a Walt Disney World or other Disney Destination vacation?
Our friends and travel partner, Firefly Travels, excels at doing Disney differently. You can fill out a plan your trip form on their website, and someone will reach out shortly to discuss the specifics.