Staying Club Level at Disney's Beach Club
This review covers the details, amenities, and benefits of staying club-level at Disney's Beach Club. Additionally, we'll provide an overview of Disney's club-level offering that answers common questions about the service.
Staying club level at Disney's Beach Club is a treat. It's so much a treat that staying on the club level floor will leave you feeling like you're living your best life during your Disney vacation.
If you've ever thought about staying club level at Walt Disney World, you might have some reservations about the price. That's completely understandable–it's expensive.
This year alone, a standard club-level room at Disney's Beach Club averages between $811.00 to $1436.00 per night. Those ranges are based on the season, with no room discounts applied.
So, if you obtain a room discount or package deal, the rate will likely be less. However, it will still be pricey. A stay on the club level or concierge floor at Disney's Beach Club is an investment. Allow me to share the details.
This article was updated on September 7, 2023.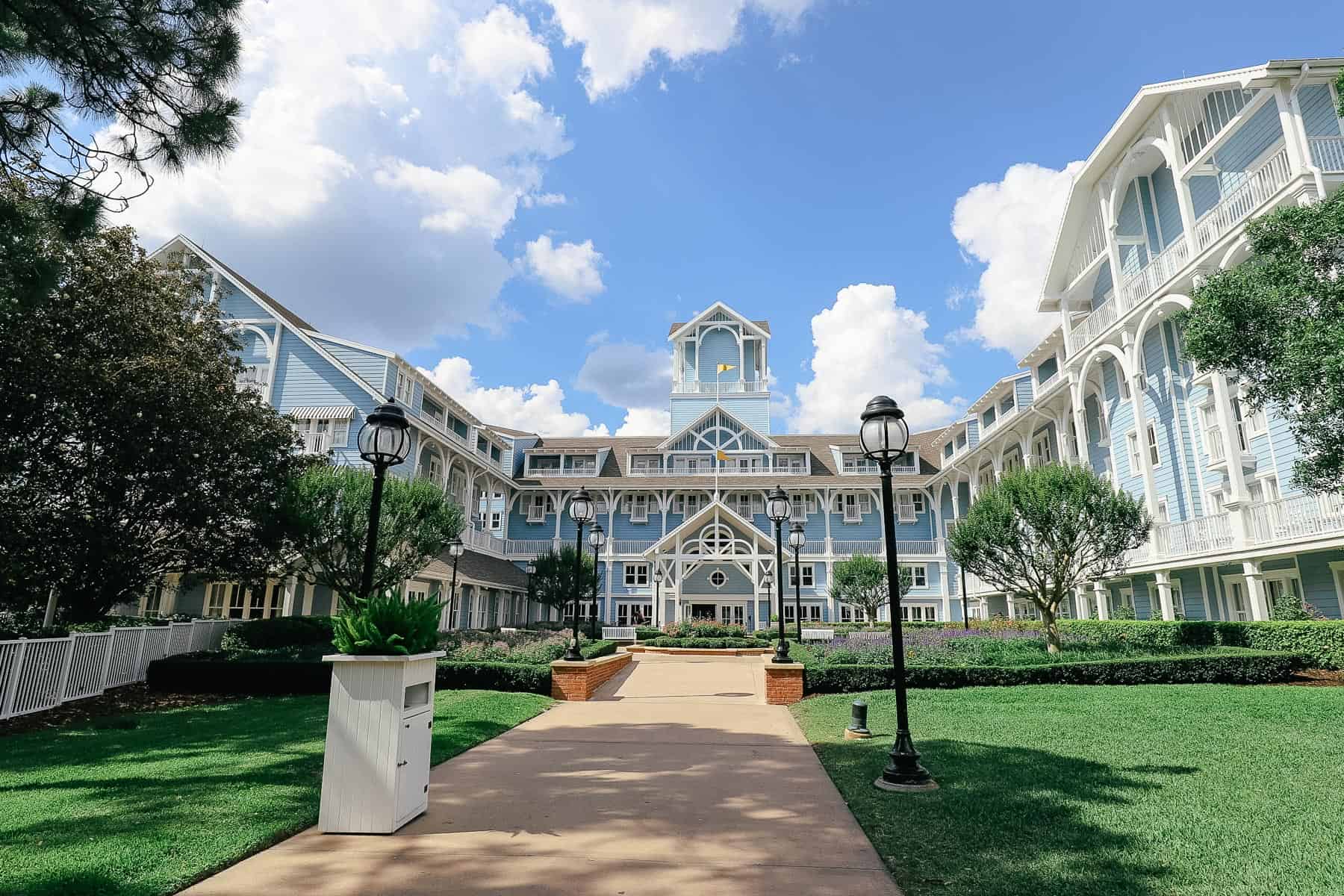 Club Level at Disney's Beach Club
I was immediately intrigued when I first heard that Disney's Beach Club offered a concierge floor. I began researching this opportunity because it sounded like something my family would enjoy.
At the time, we traveled to Disney often but had never heard of a club-level experience. Little did I know that all the deluxe resorts at Disney offered a concierge floor.
As I began researching, I had difficulty finding valid or up-to-date information about staying at the club level. I even started checking an online forum that had a club level thread. Unfortunately, there weren't many updates specific to the club level at Disney's Beach Club.
If you've ever read our Disney's Beach Club Resort Review, then you are aware it's my favorite resort at Disney. So, I was surprised that I had not discovered the Stone Harbor Club.
Stone Harbor Club is the name of the club level lounge at Disney's Beach Club. Located on the 5th floor, it's exclusive to club level guests.
So, in the spirit of trying new things, I reserved a club level stay for our next vacation. Many vacations later, I can affirm we enjoy the club level at Beach Club immensely.
We feel like we have become pros at the whole club level thing. But as I mentioned above, club level is expensive.
For those of you who plan to spend most of your days in the parks, it's probably not the right choice unless you're looking for exclusivity. However, the club level is worth considering for those who sleep late, come in from the parks early, or know you'll spend a balanced amount of time at the resort.
Therefore, it's important to discern whether or not you'll make the most of the concierge floor. The last thing you'll want is to spend extra money on this kind of room and not take advantage of the offerings.
With these thoughts in mind, I've included a few tips on how to space out dining reservations when planning your trip. I'll also share how we like stashing late-night snacks in our room's fridge.
What is Club Level?
Club Level is a special access floor that Walt Disney World offers guests who book this room type. The Stone Harbor Club at Disney's Beach Club is located on the 5th floor, and guests must have MagicBand or room key privileges to access it.
The photo below shows the special MagicBand scanner provided in the elevator. If you don't use a band, a room card that also does the trick will be provided.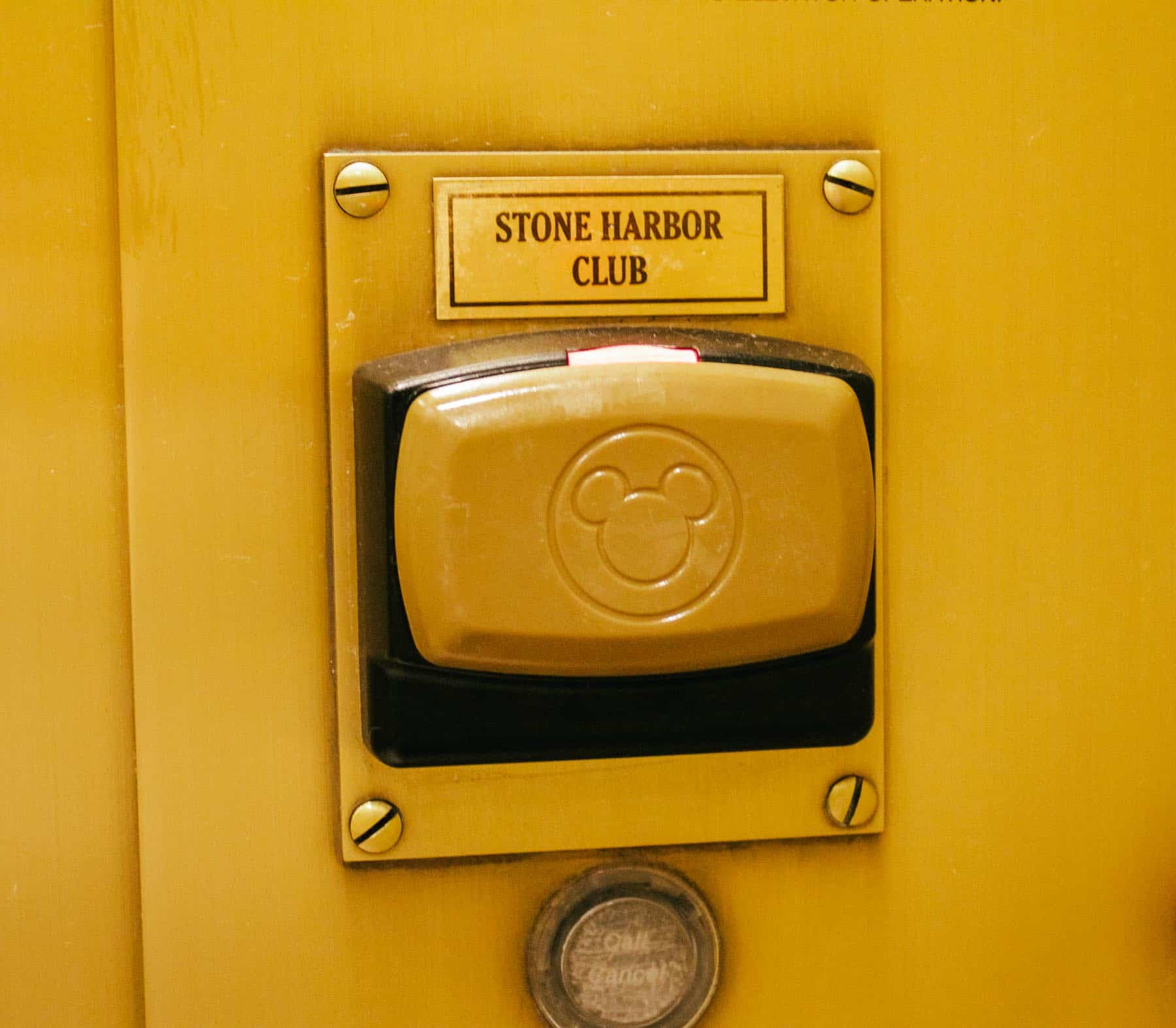 When you scan your band, the 5th-floor button automatically lights up. Occasionally, Disney places club-level guests on other floors to meet room requests. However, you'll still have these same magic band privileges to access the lounge.
Club Level is kind of an all-day smorgasbord or grazing fest. The lounge has five services throughout the day. Soda, beverages, beer, and wine are also provided in the afternoon and evening.
Here's a list of some of the perks included with a club level stay:
Club Lounge Daily Services and Food Offerings
Turndown Service
Concierge Staff at Guests Disposal
Special Welcome
Checking in to the Club Level at Disney's Beach Club
We arrived Sunday morning at Disney's Beach Club via our car. We drove to the entrance and had a bellman put our items on a luggage cart.
The bellman will store your items until your room is ready. We had a little time to kill, so I decided to see if early check-in was available. I had alerted the staff through the My Disney Experience app that we would arrive before standard check-in time.
Upon entering the hotel and heading over to the guest services desk, I was greeted by a resort manager. I was at the back of the line, and she asked if she could help.
For reference, club level guests are often greeted outside upon arrival. Therefore, I assumed she had been alerted that we had come through the gate when we arrived.
The manager quickly identified us as club level guests. One member of our party was parking the car, so we stood in the lobby and talked for a few moments, waiting for his return. Then she escorted us up to the club level floor.
Upon arrival at the club level, we were greeted by two cast members sitting at desks outside the lounge. They presented us with this letter detailing the lounge hours and a few other things.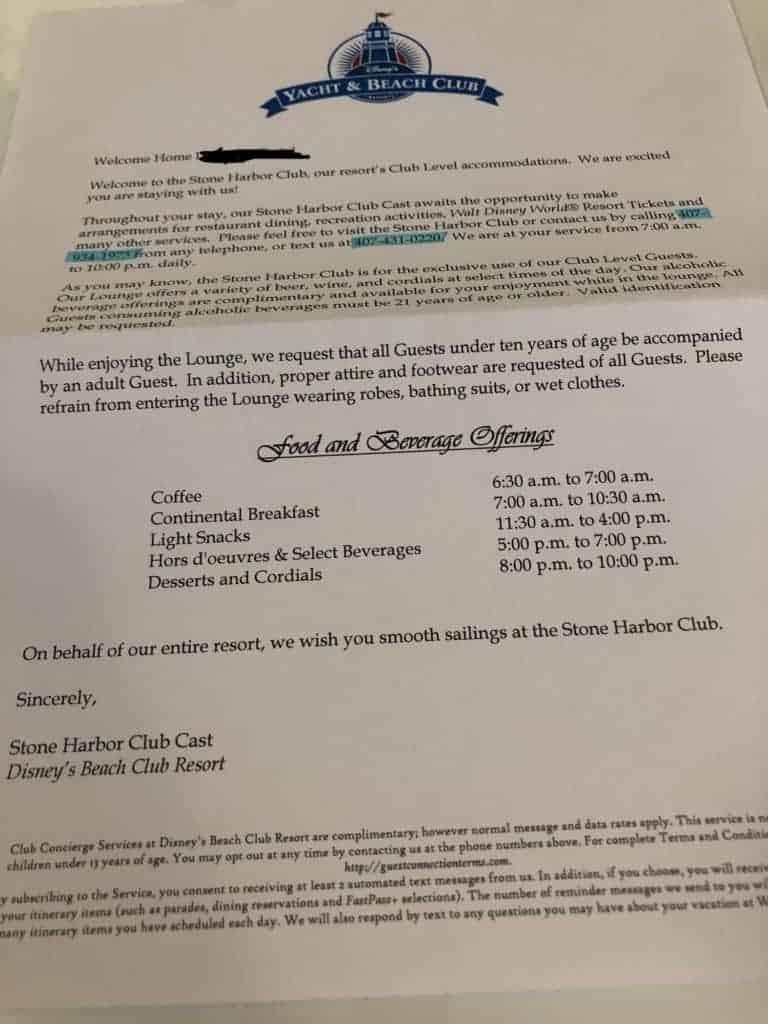 Club-level cast members are typically available from 7:00 a.m. to 10:00 p.m. This personal concierge service is to help assist with any needs during your stay. For example, if you wanted to purchase additional tickets, they could help you with that.
Regarding the welcome letter, I would advise you to take a screenshot of the service times on your phone after receiving it. That way, you have a quick and easy reference to the service times for food and beverage offerings during the day.
There will undoubtedly be times when you think you might want dessert and can't remember when the service starts. Or you might be like me and sleep late after a long night at Magic Kingdom.
Then, in the morning, you'll find yourself lying in bed, wondering if you can still make it to the lounge for breakfast. If that's the case, roll over, grab your phone, and refer to the screenshot.
As far as offerings go, a continental breakfast (with some hot offerings) is provided. Additionally, we have found the dinner offerings enough to make a meal.
We usually enjoy dinner in the lounge on days when we've had a late lunch or have been snacking in the parks. Often, the lounge is a suitable replacement for the days you don't have dining reservations. However, we still like to do two nice restaurants for dinner throughout a week's stay.
After arriving on the concierge floor, we were informed our room wasn't ready yet. A cast member suggested we visit the lounge and have breakfast or beverages before it closed for the next service changeover.
You can use the lounge any time on your arrival day. However, it will briefly close for small increments while cast members change out the offerings and tidy up the service area.
You can also use the lounge on the day you check out. It's an excellent place to relax if you have a late flight on your travel day. Club level guests can access the lounge until 10:00 p.m. on their check-out day.
Standard Club Level Room at Beach Club
Shortly after our arrival, we received a room-ready text notification. When we returned, I was immediately offered a welcome drink.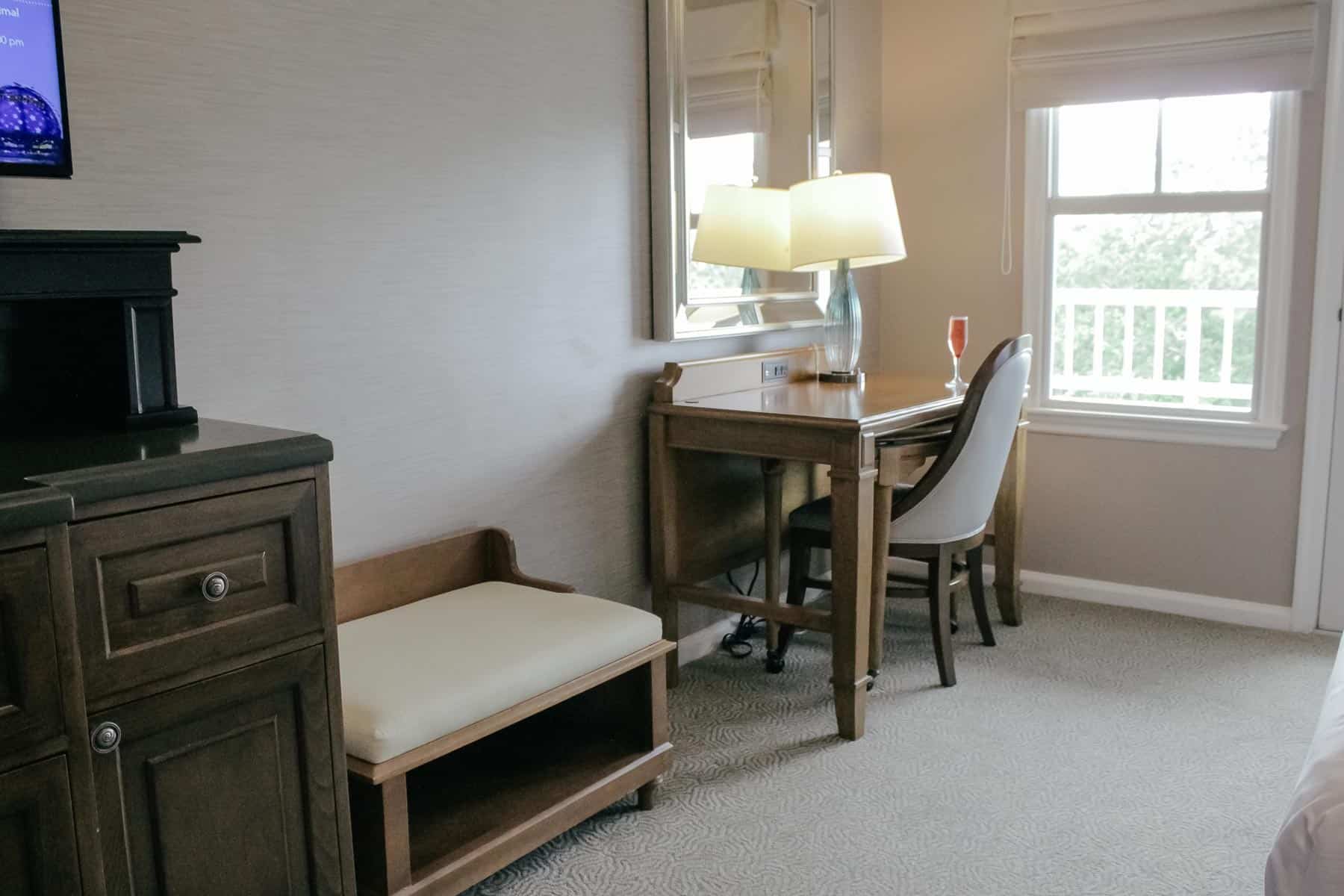 It was a sparkling wine mixed with something pink. This is a non-advertised perk that should be offered upon your arrival along with the welcome letter.
Our room number was 5714-a- a standard view club level room. We had a view that looked out to the resort's bus stop. However, we could also see a glimpse of Spaceship Earth to the far right.
Unless you have an upgraded room, club-level rooms are the same as the rest of the standard resort rooms. So you won't find any special room upgrades.
Update: These rooms were lightly refurbished in 2023. They now have solid surface flooring and artwork featuring various Disney characters at the beach. So you'll see a few nuances compared to these photos.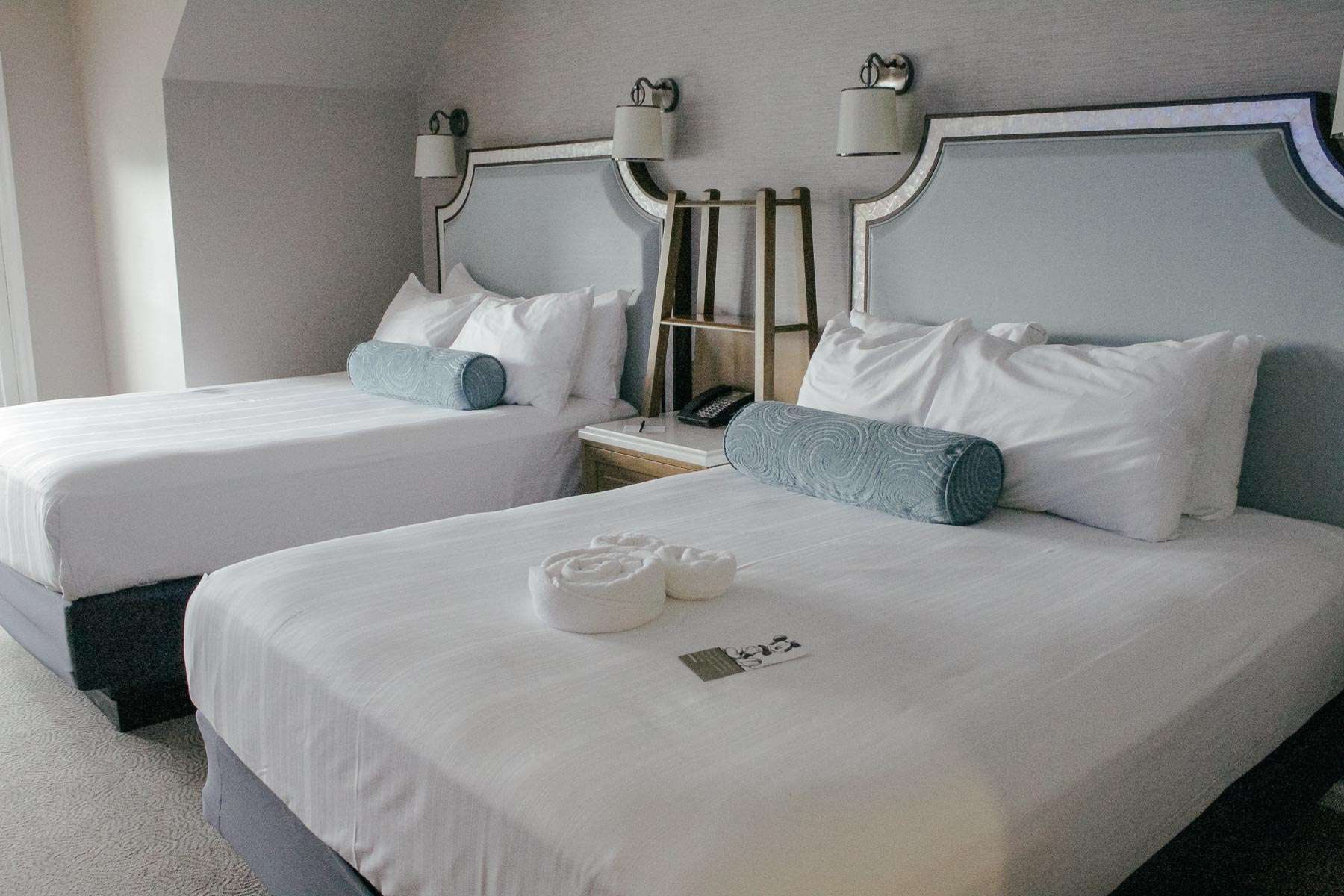 The bath area has a separate water closet with a tub and shower combination. This space allows multiple guests to get ready simultaneously.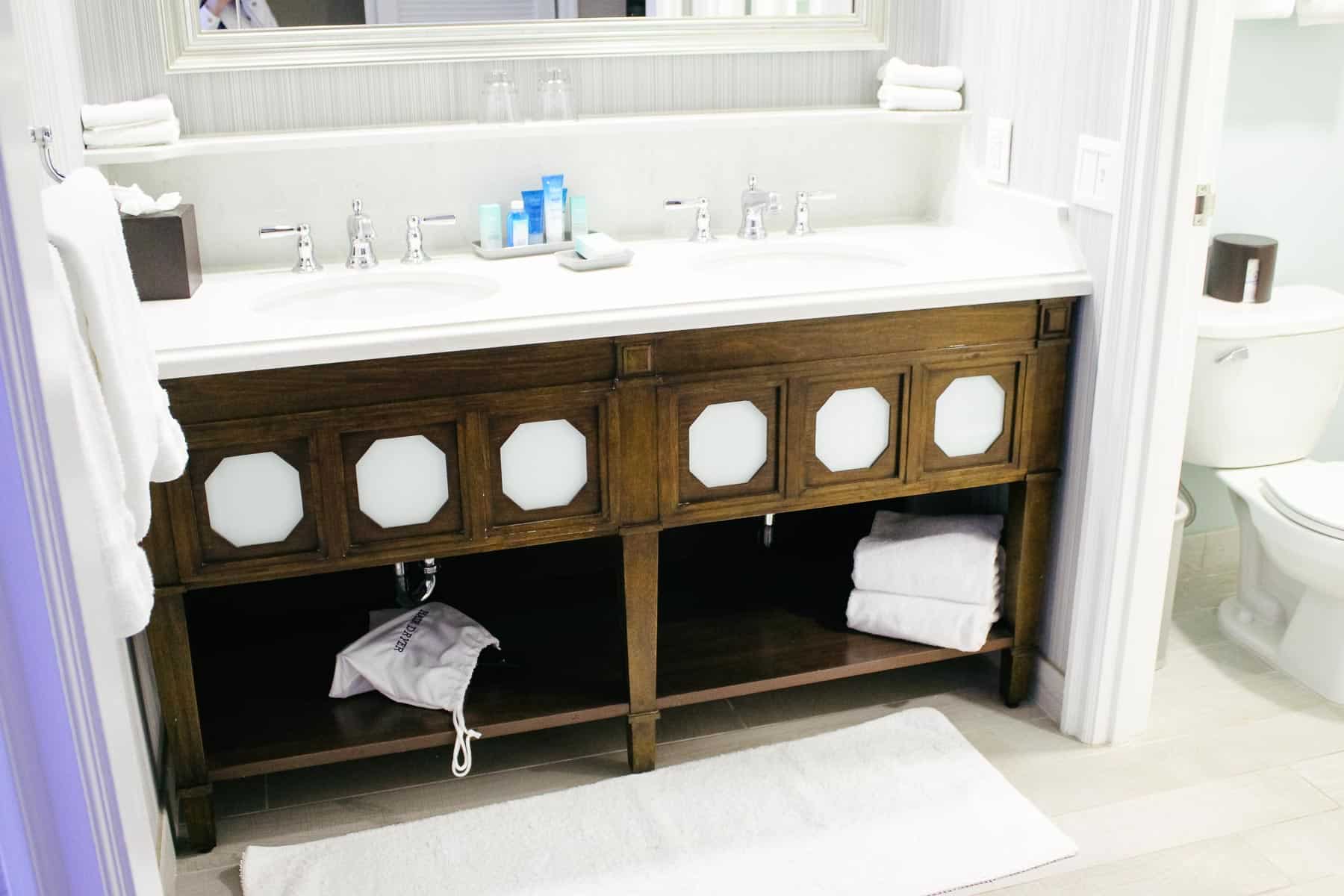 Toiletries included Q-tips, aloe, foot cream, and standard items like body wash, shampoo, and conditioner. Our room had a standard bathtub with a shower combination.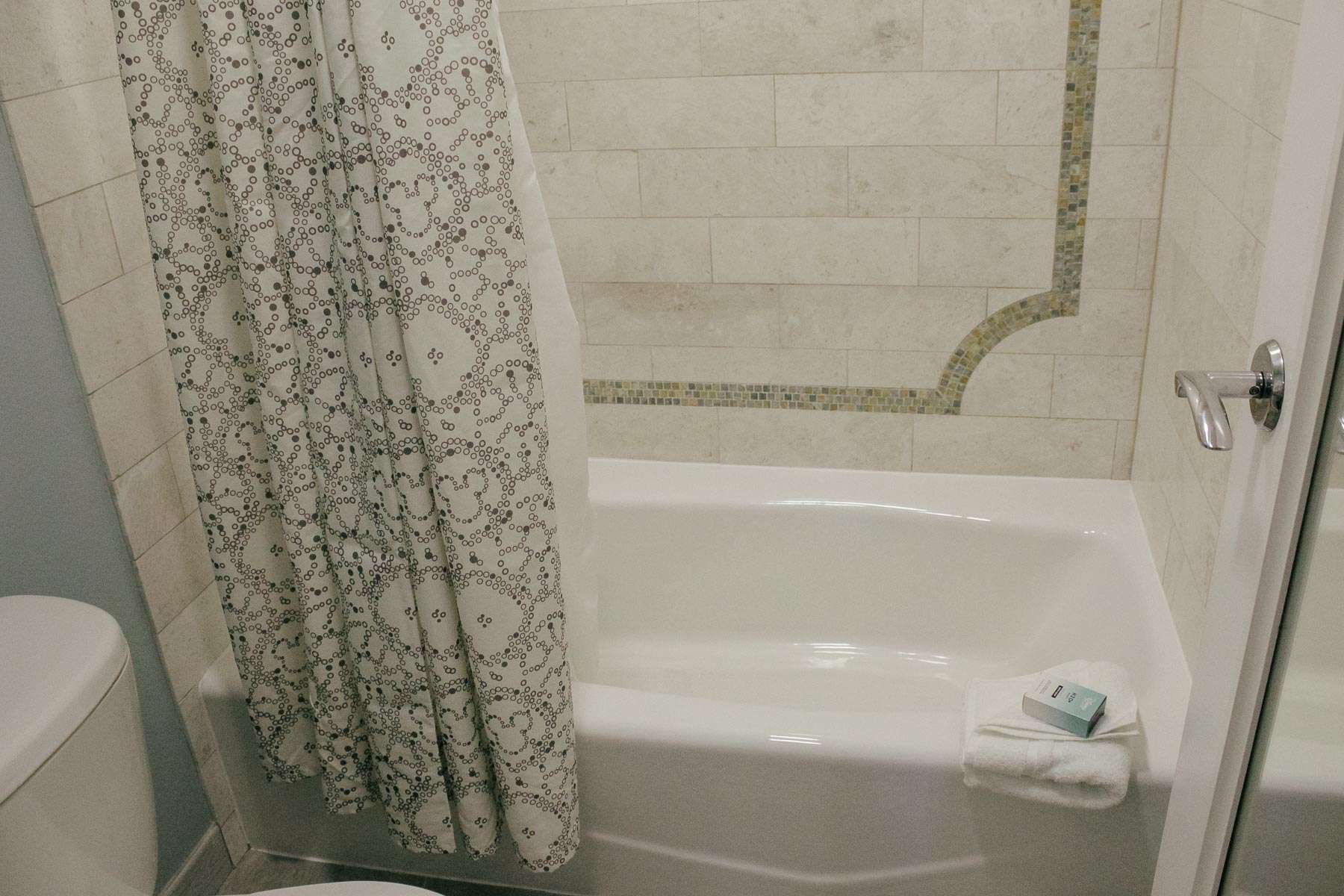 We had a balcony large enough for two chairs and a small table between them.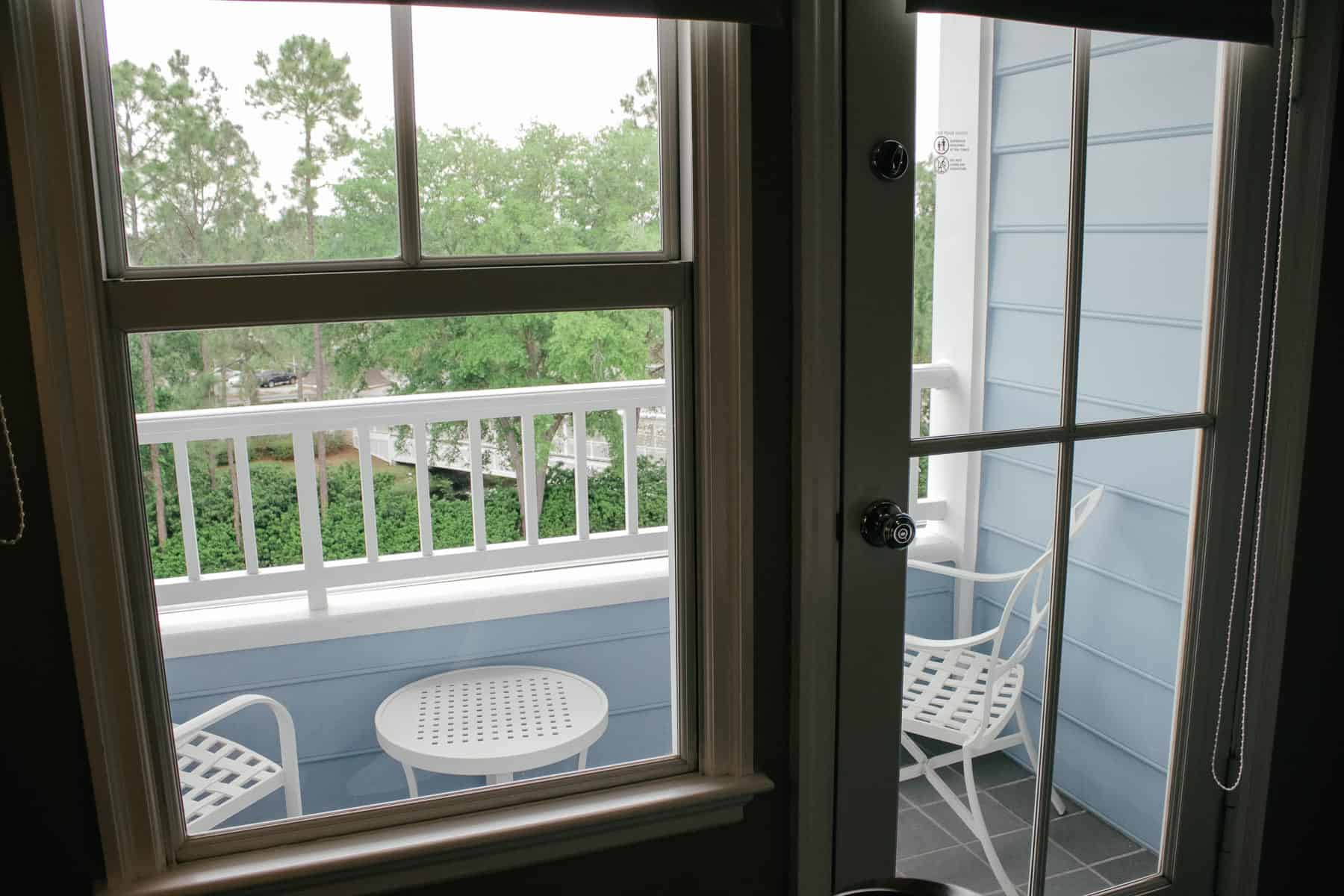 Upon our arrival, we found a box of Ganachery chocolates and the kindest note from the hotel's manager.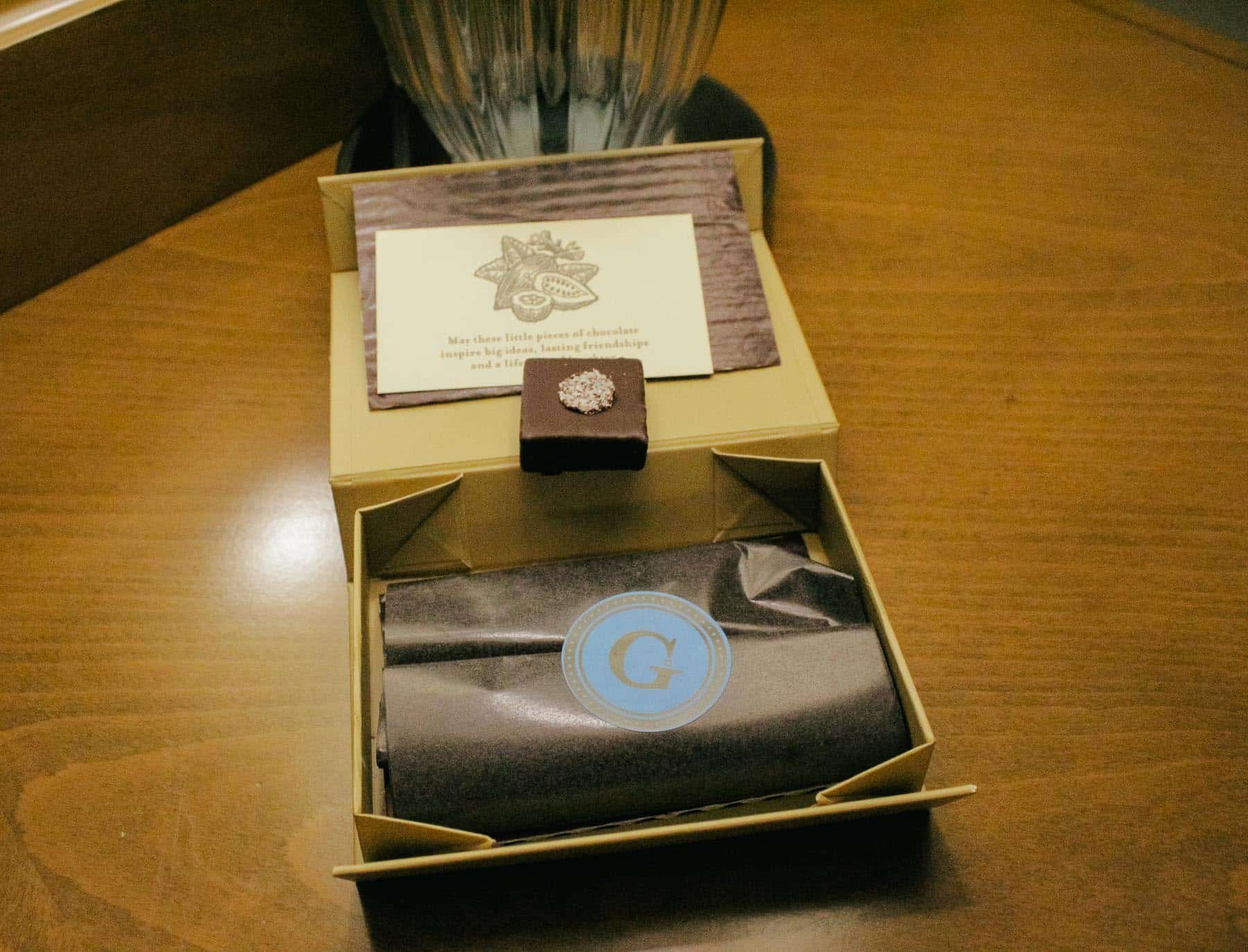 These kinds of things are so unexpected and appreciated when they happen. That extra touch solidifies our stays at the Walt Disney World Resort. No, these kinds of things don't happen all the time, but we are not soon to forget when they do.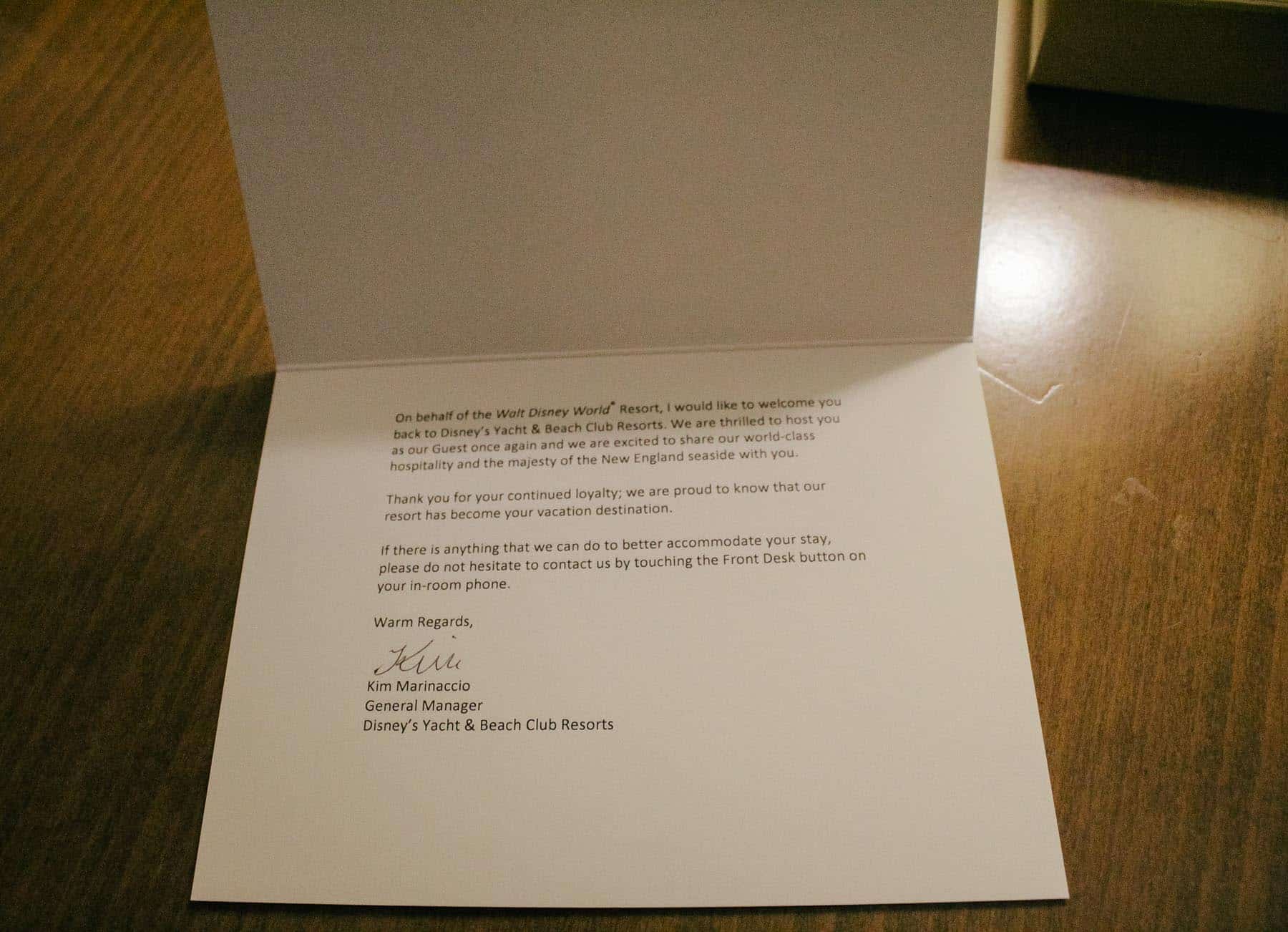 Stone Harbor Club Level
The Stone Harbor Club Level offers several services throughout the day. Most of these services are restricted to certain times. Between those services, the lounge might be closed for small periods so the staff can clean.
If you return to your room at approximately 4:15 p.m. and find the lounge closed, you can ask a cast member to provide a drink or snack. However, at 10:00 p.m. each evening, the staff retires, and the lounge closes.
Below is a list of the different services throughout the day:
Coffee
Continental Breakfast
Light Snacks
Hors d'oeuvres and Select Beverages
Desserts and Cordials
Additionally, the Stone Harbor Club Lounge has a seating area. Some people enjoy taking food to their rooms, while others prefer the lounge. We typically prepare a plate and head back to the room with it. However, sometimes we use the lounge.
Disney's Beach Club Club Level Offerings
Here is a preview of a few items we had throughout the week of our stay. A different flavor of quiche was available daily during breakfast. Below is a photo of one with Canadian Bacon and cheddar.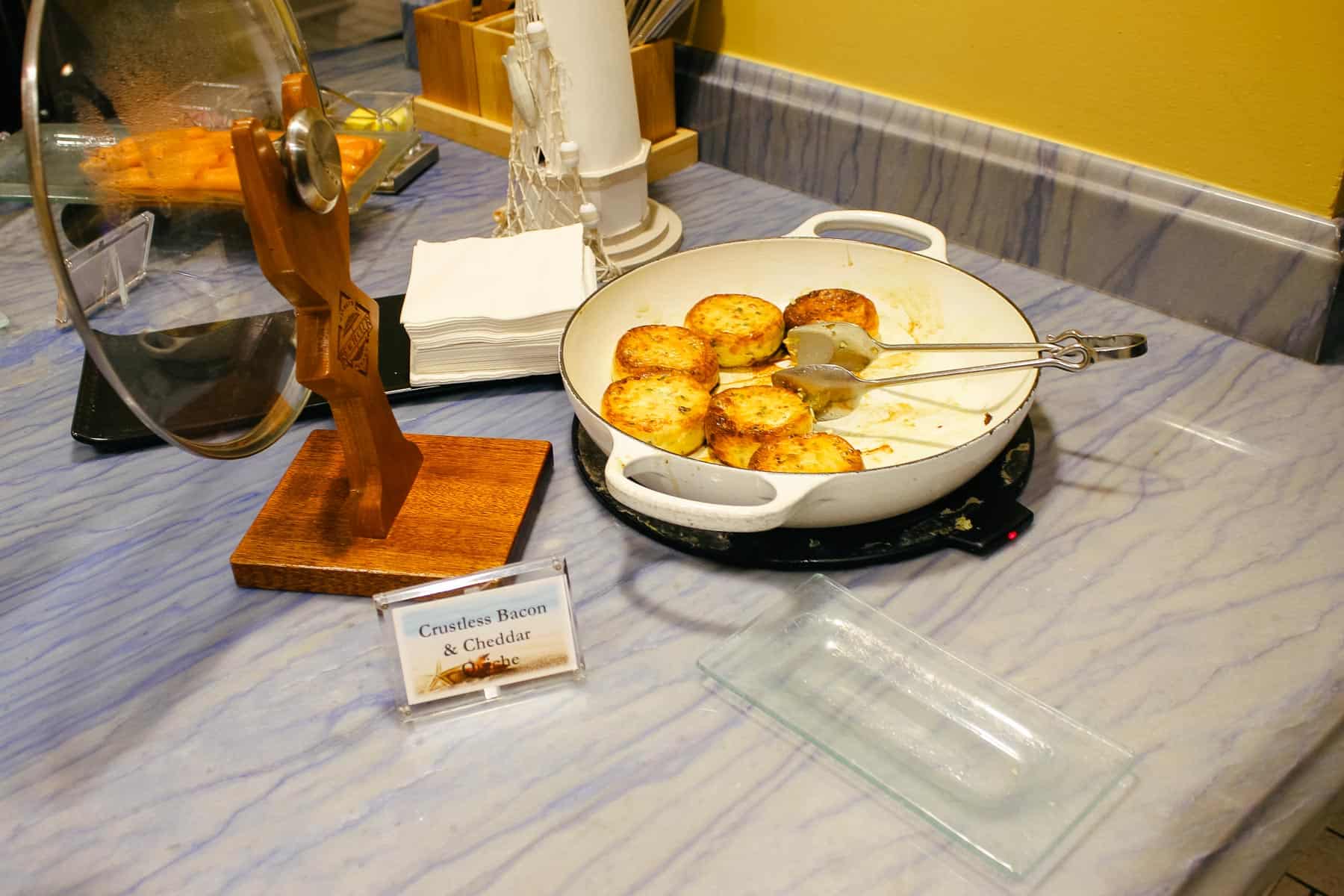 Each morning, we found a spread of sliced meats, cheese, and smoked salmon with accompaniments.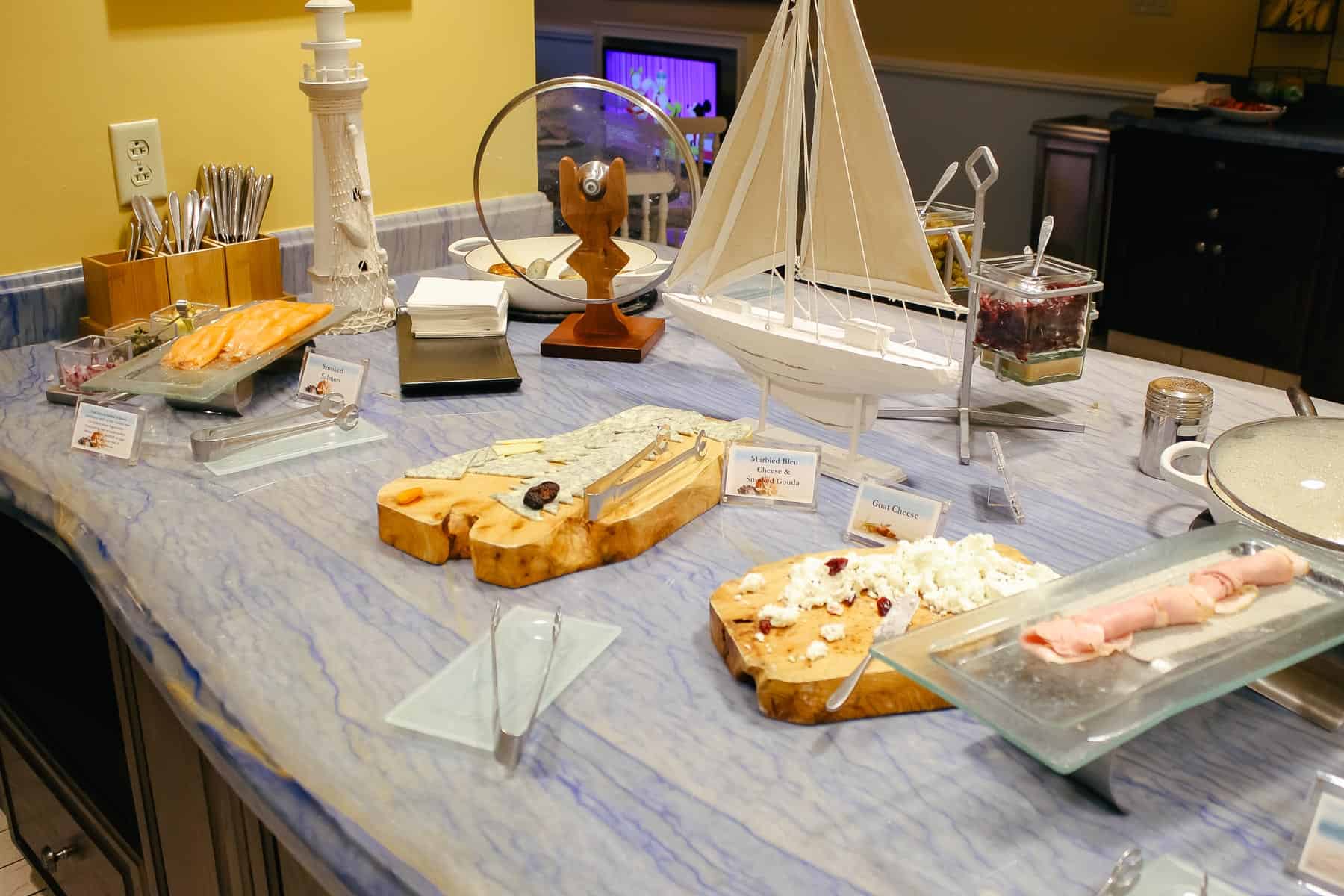 A bakery box provided an assortment of bagels, regular bread, muffins, and croissants. A toaster was available. Condiments included butter, spreads, jams, jellies, and cream cheese.
Other items, like fruit, yogurt, hard-boiled eggs, and pastries, were available during breakfast service. Here are a few more photos.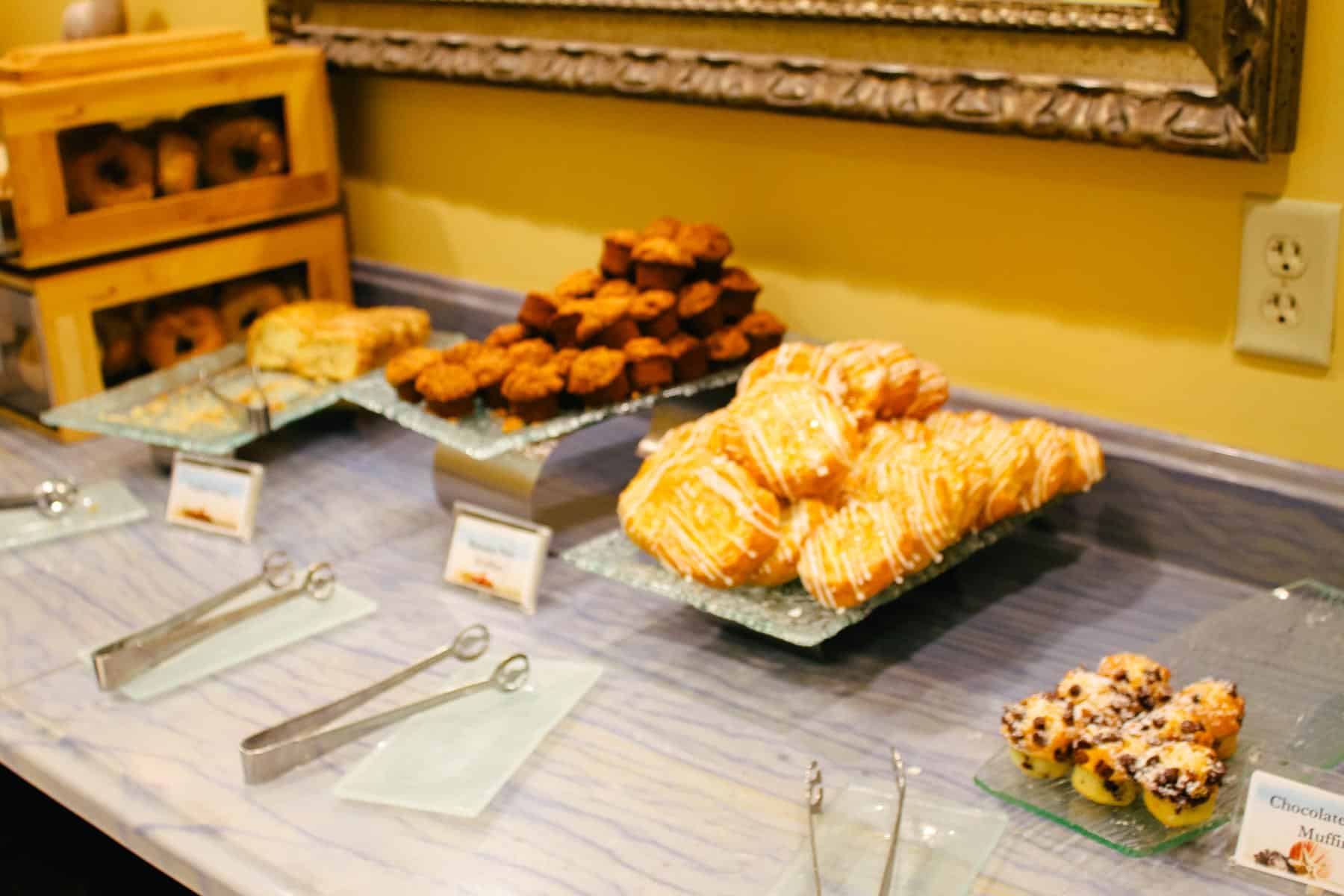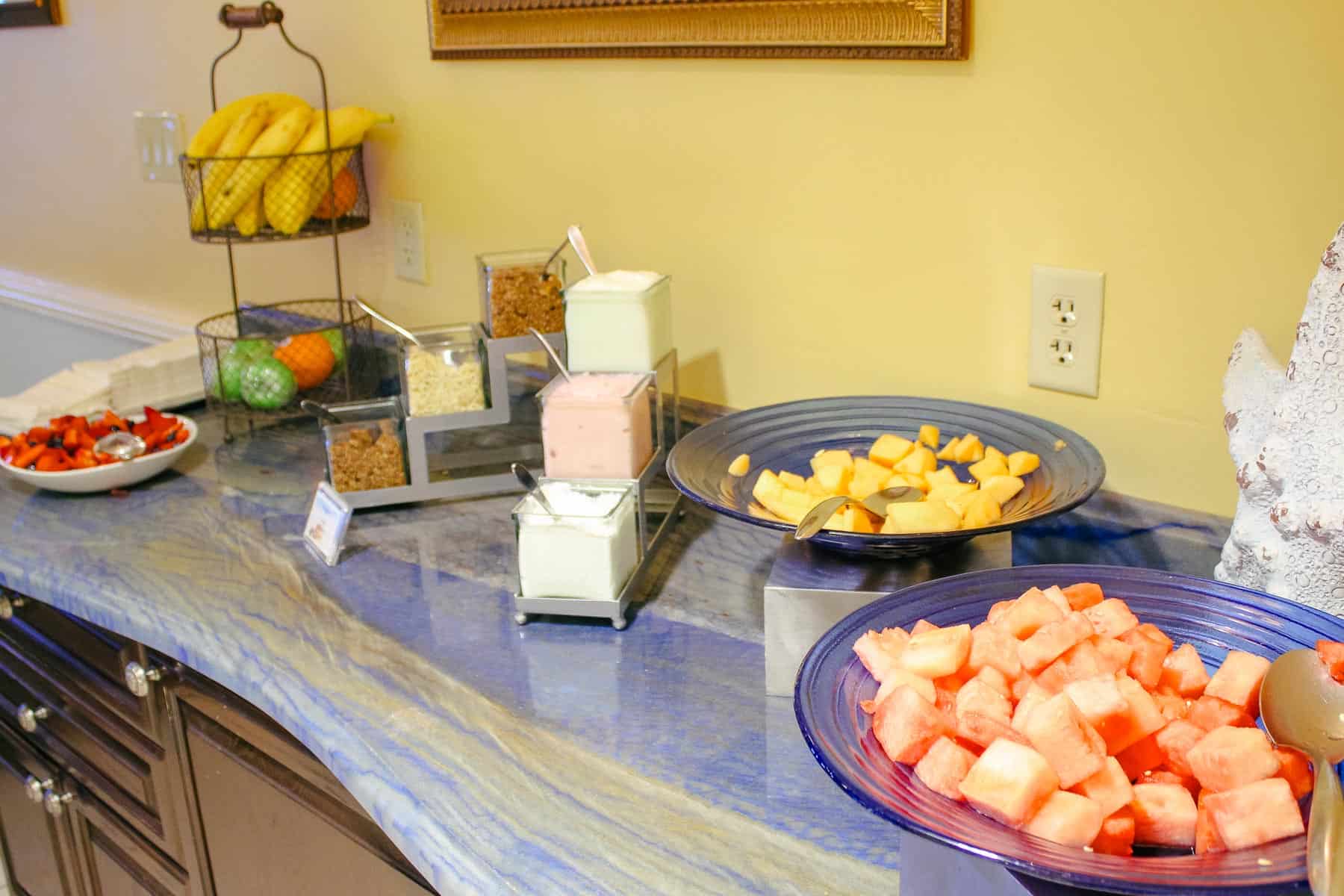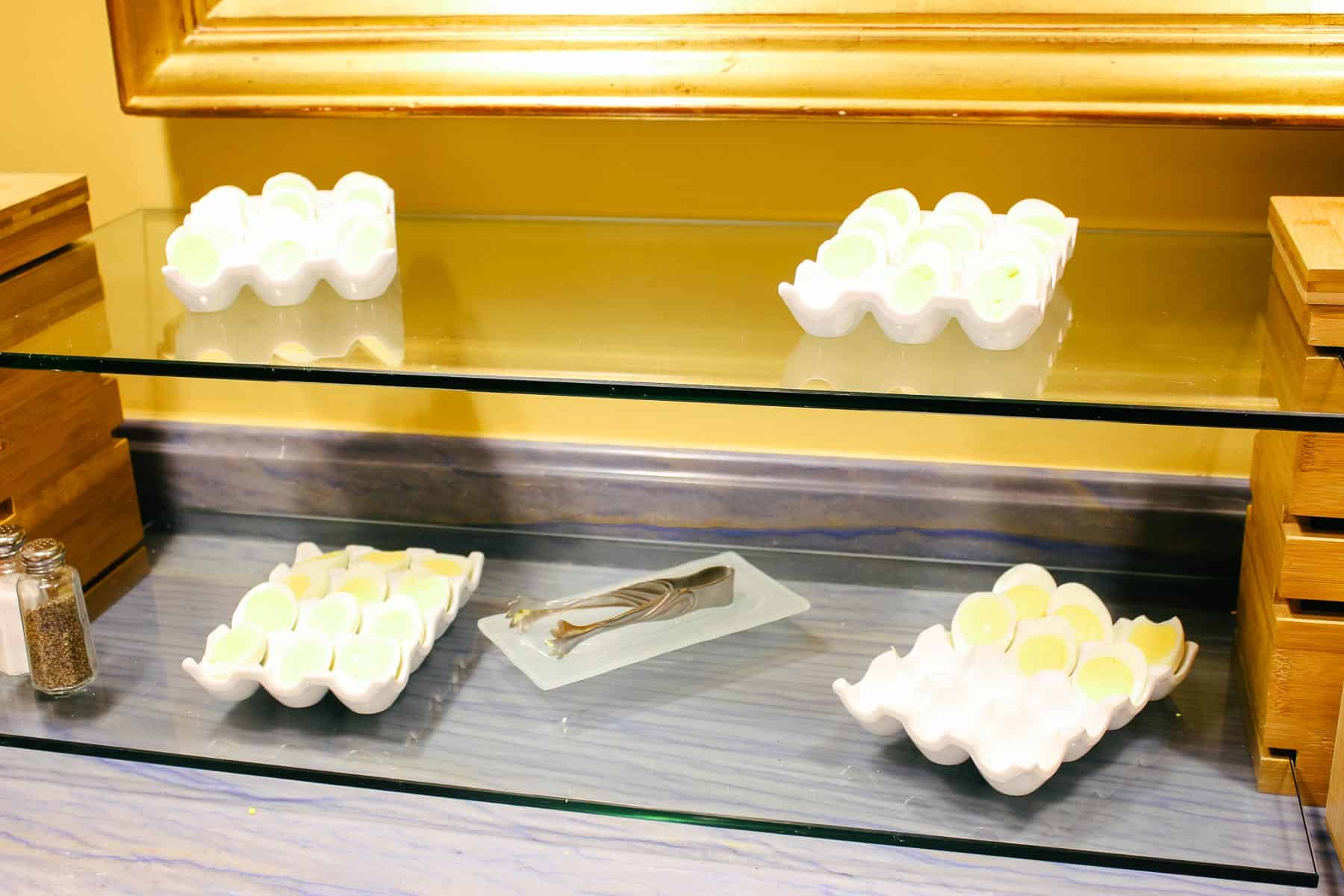 After breakfast, the entire area is cleared. A few jars of snacks and candies are placed throughout the lounge.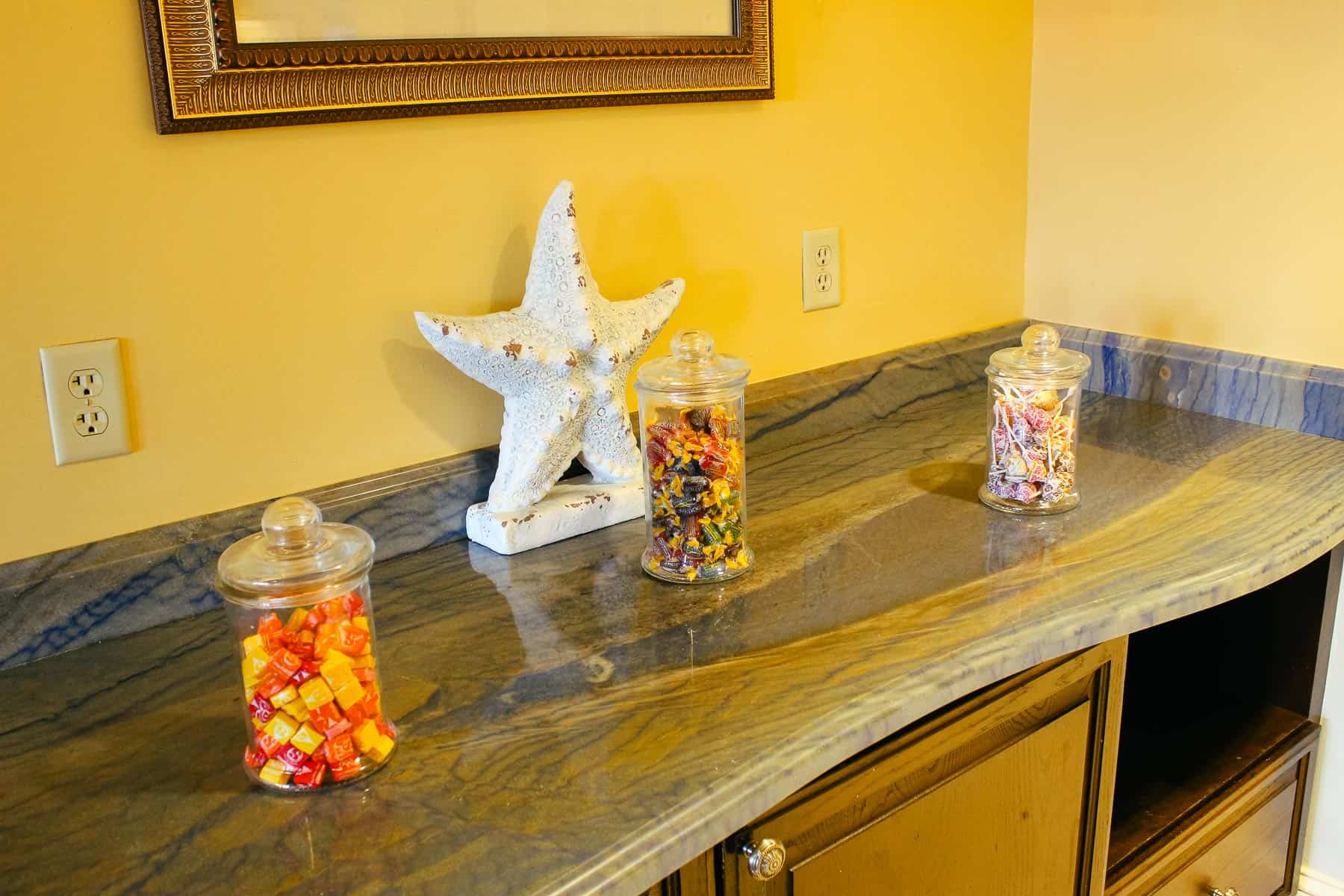 These snack mix items are worth trying. We usually grab a few disposable cups and fill them to take to the pool. Soda, coffee, water, juice, and beer are readily available. If you don't see something, you can ask, and a cast member will provide it if possible.
You might consider packing a small, foldable cooler. It will be handy to carry a couple of drinks to the pool.
Related: Everything You Need to Know about Stormalong Bay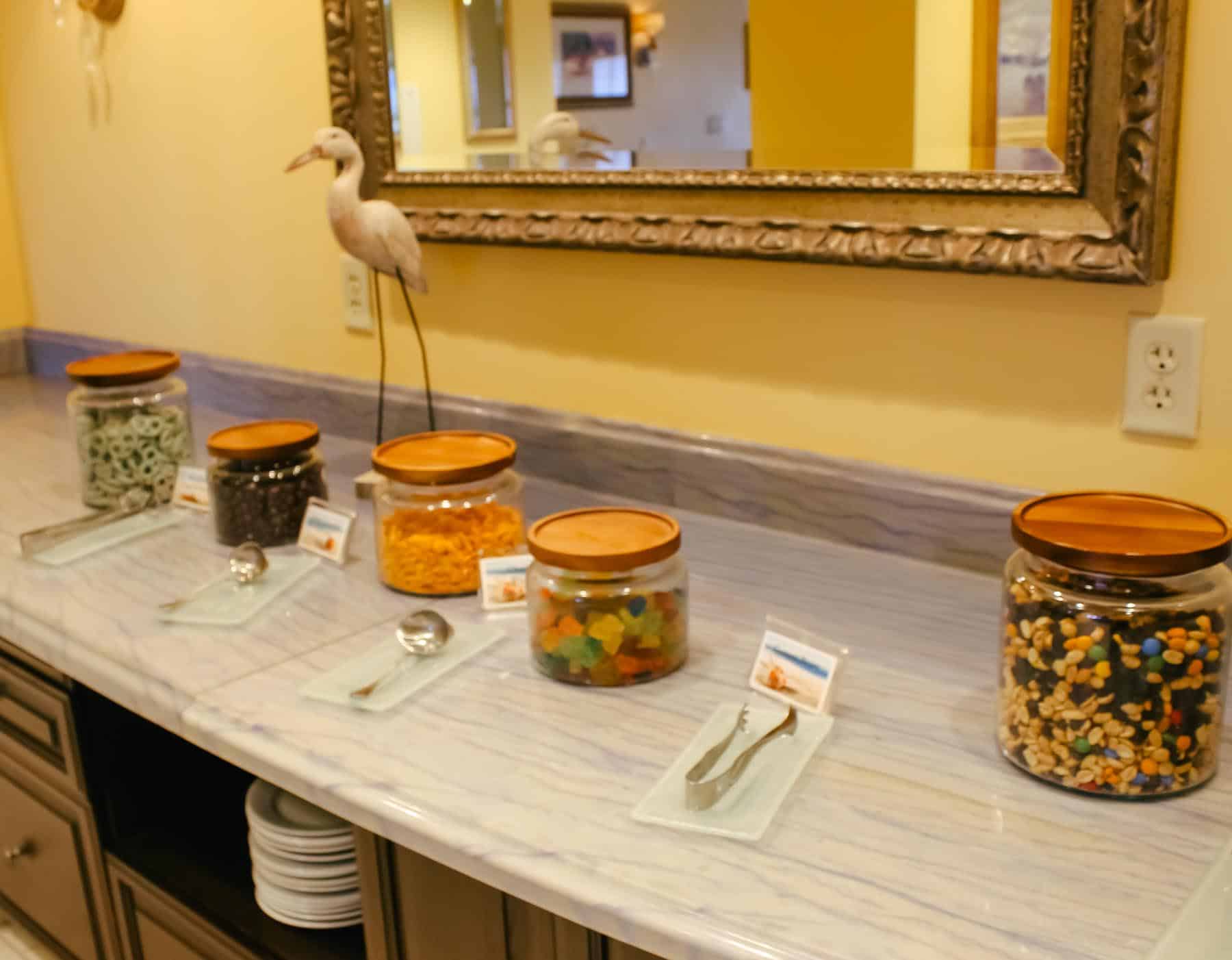 Usually, the most extensive spread is during the evening. Healthy options are almost always available, like vegetables and dips.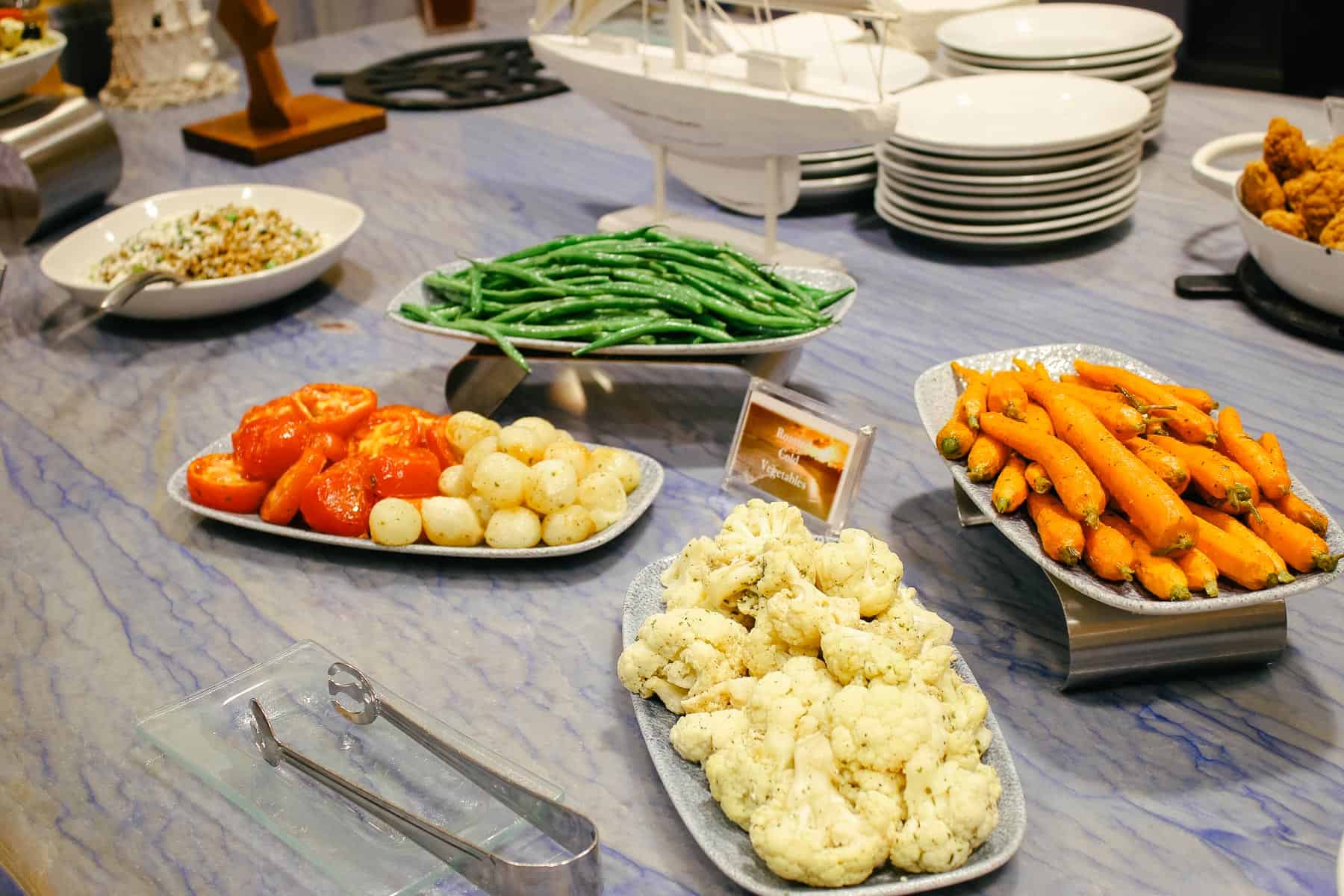 Another area has a variety of cheese, crackers, and charcuterie.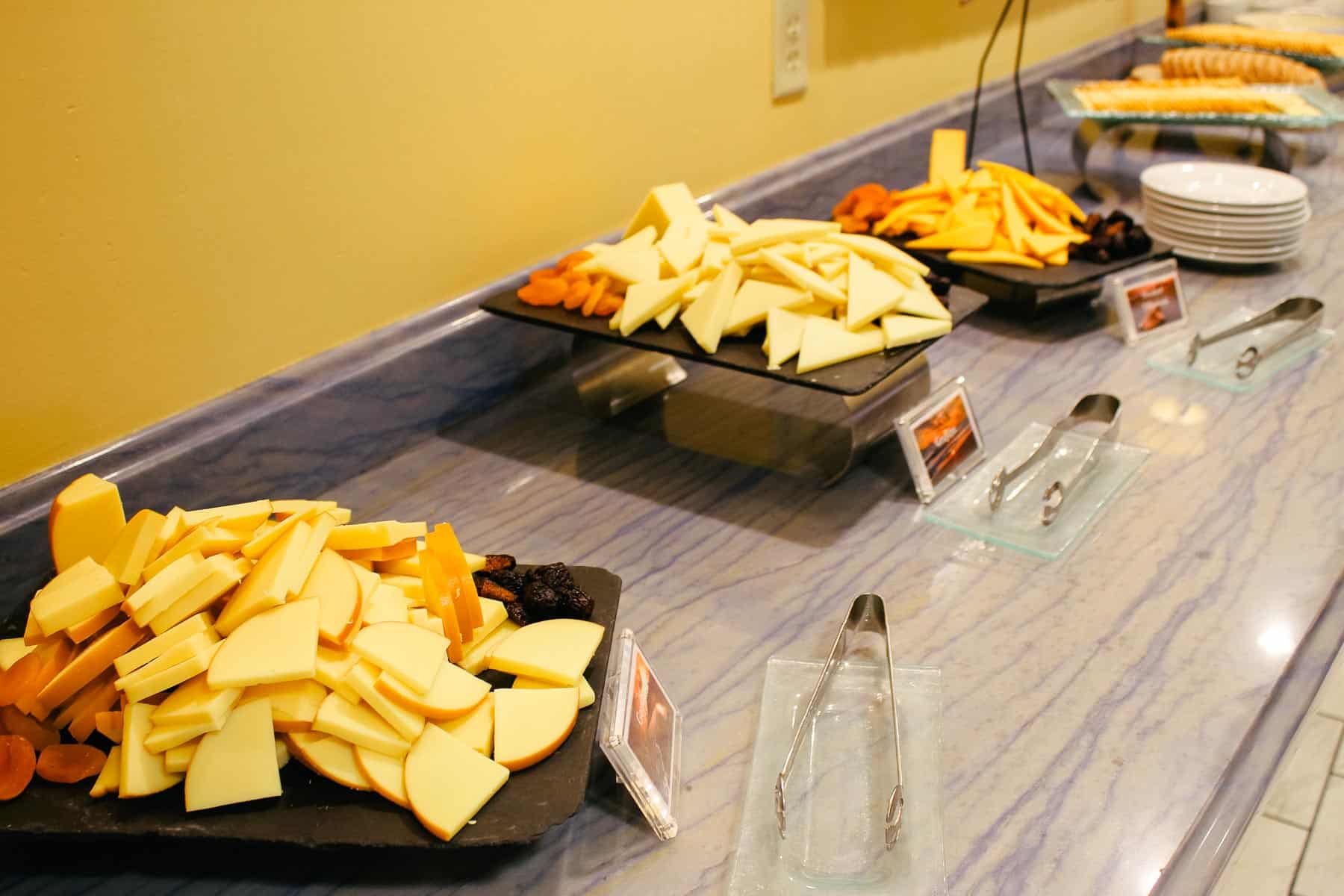 Hot soup is offered nightly. This New England clam chowder is delicious.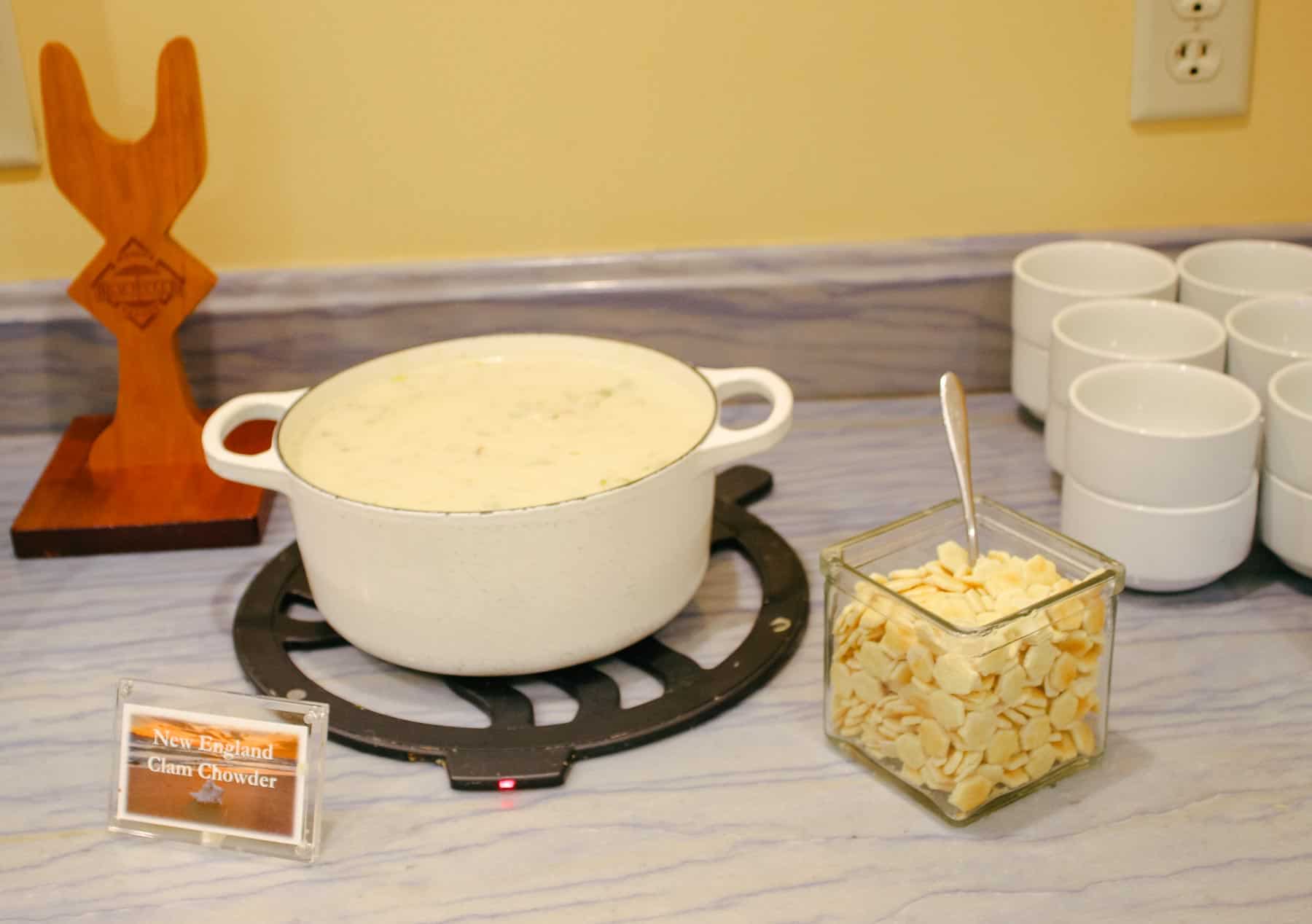 We had chicken vegetable soup on another evening.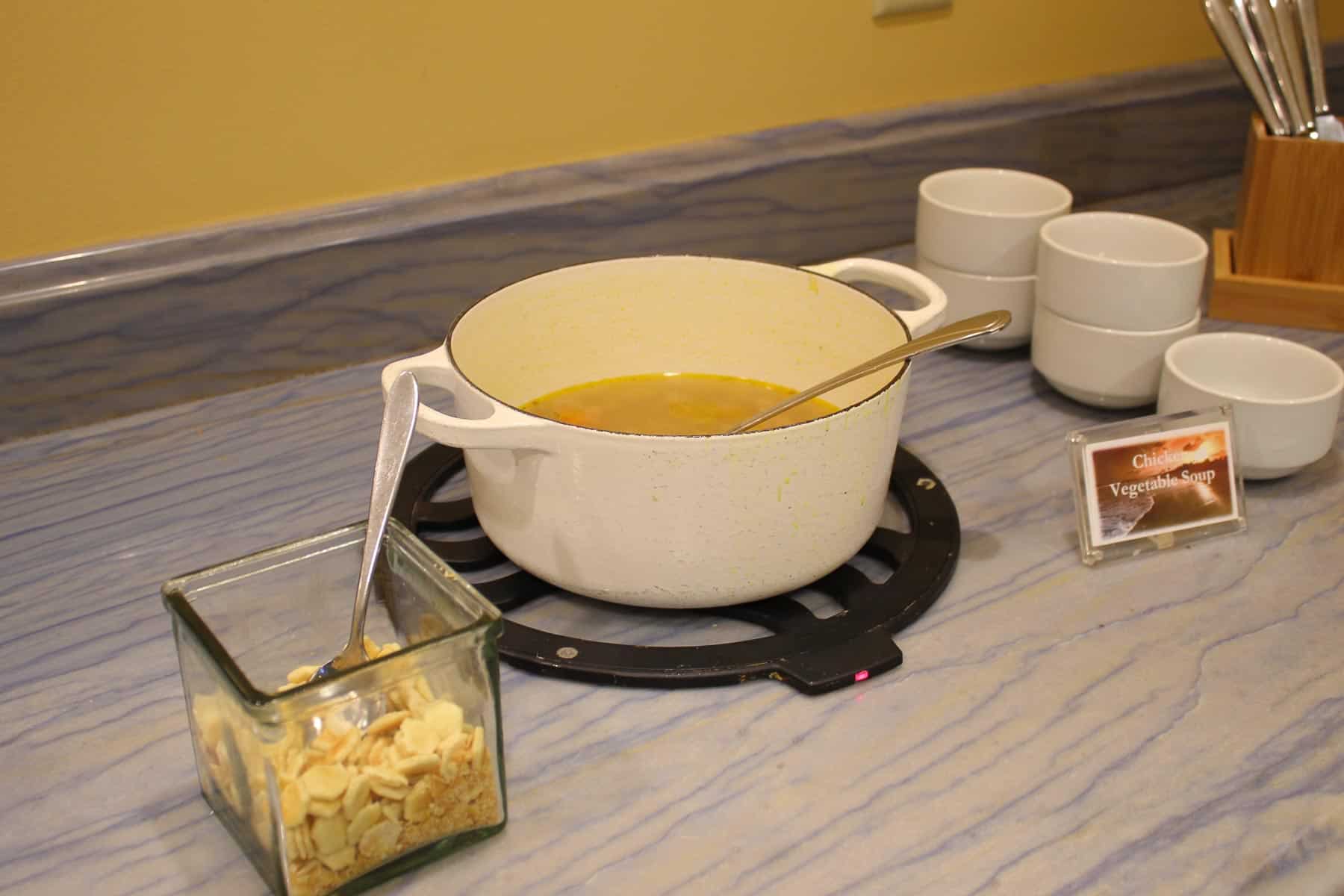 Each evening, the chef prepares an item called the chef's special. Some of the chef's specials throughout our stay were:
Beef and onion jam crostini
New England seafood roll
Bacon-wrapped scallops
Mac-and-cheese bar with toppings
Here are a few more items: Ceviche Style Poached Shrimp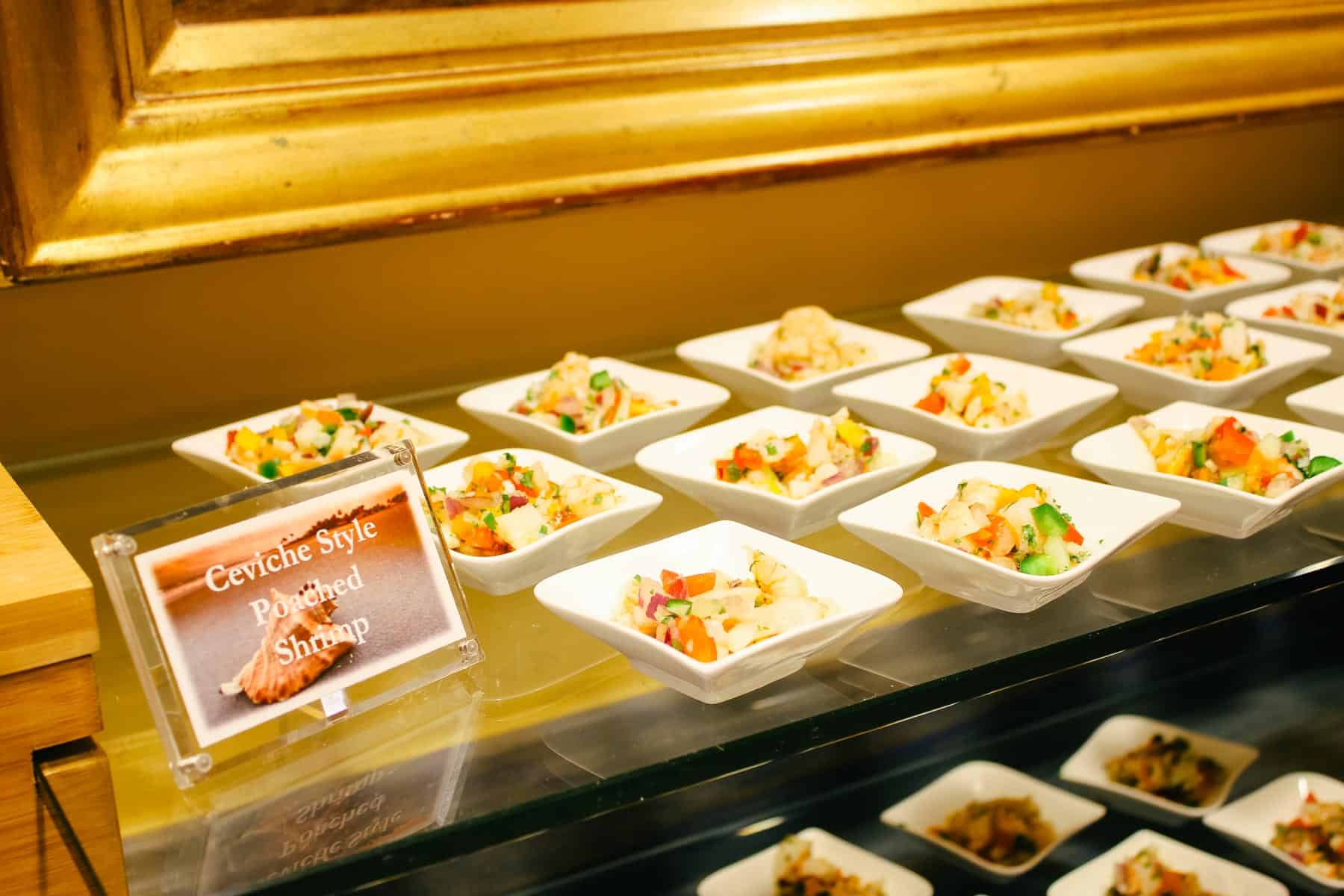 Tuna Poke in a Waffle Cone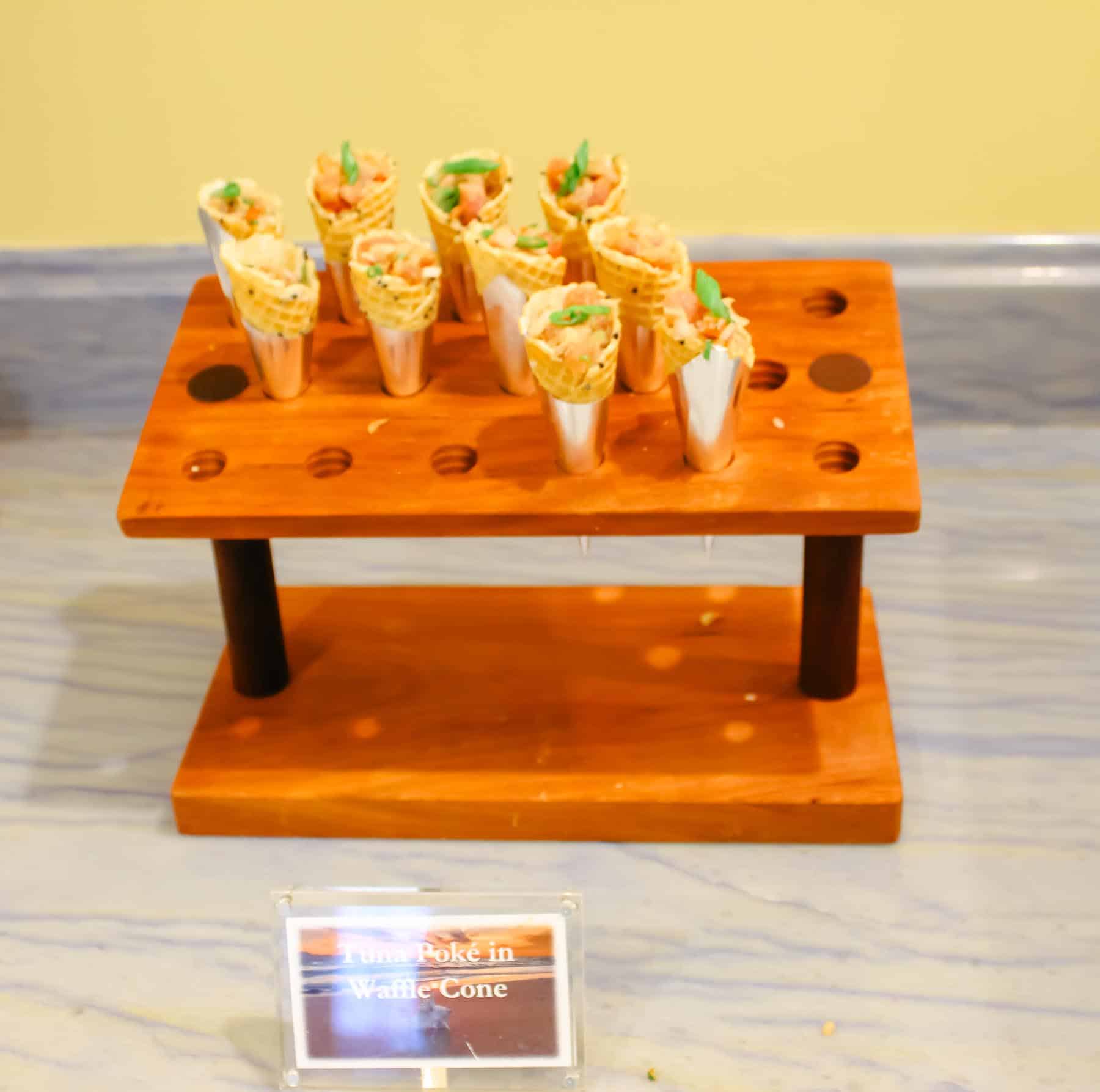 Red and Yellow Tomato Mozzarella Salad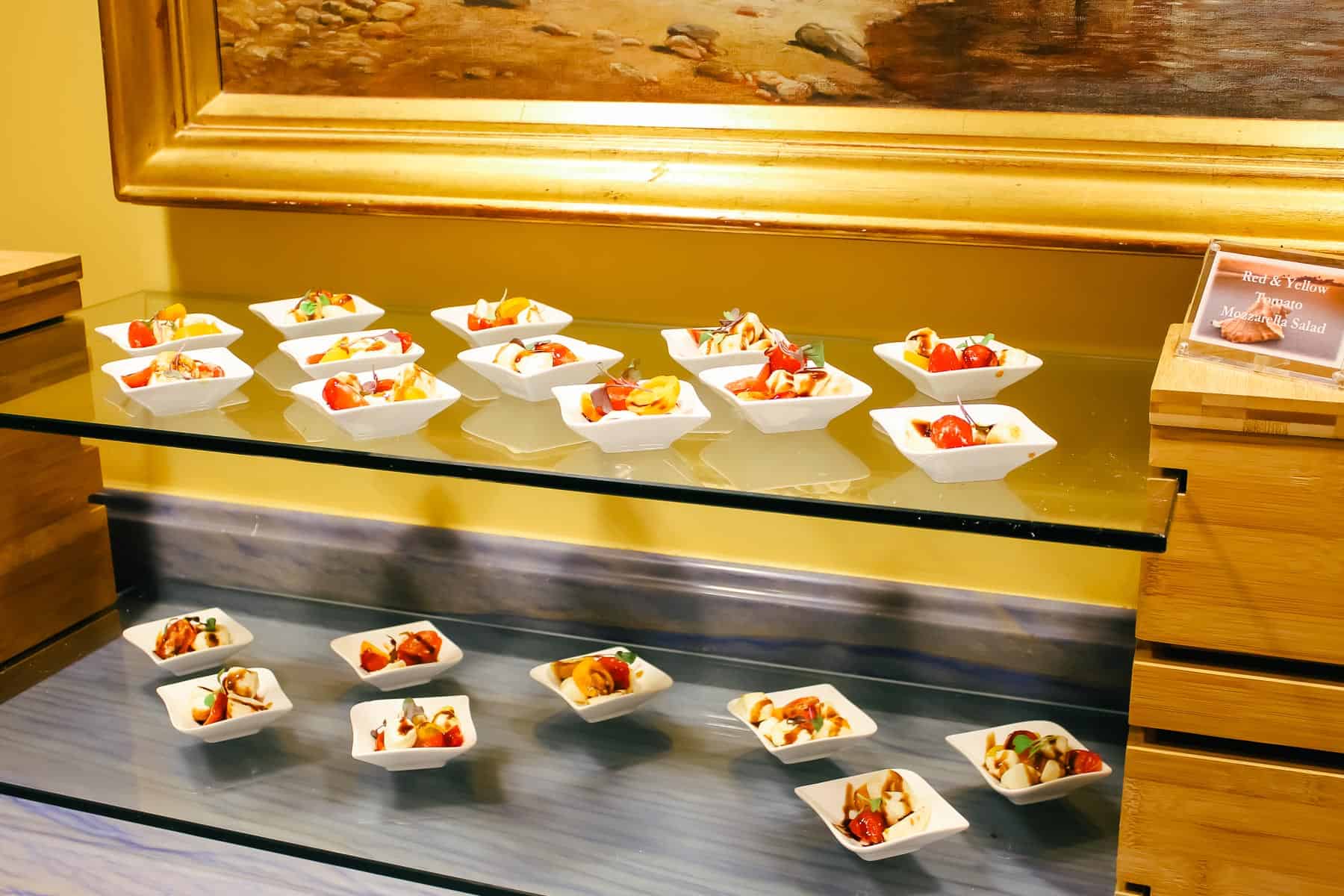 Chicken nuggets with dipping sauces were available for several evenings.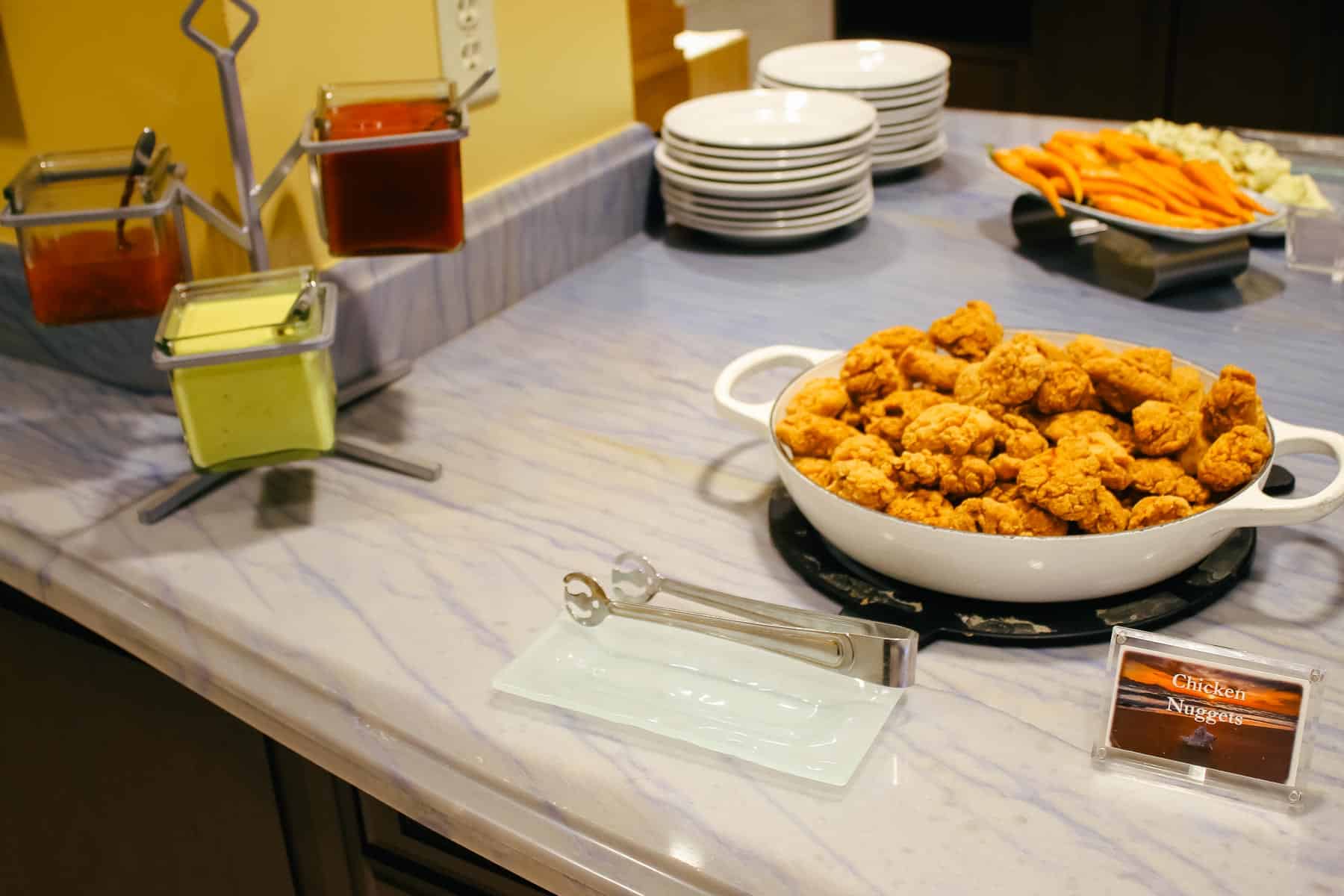 One night, we had meatball sliders. This was a great option.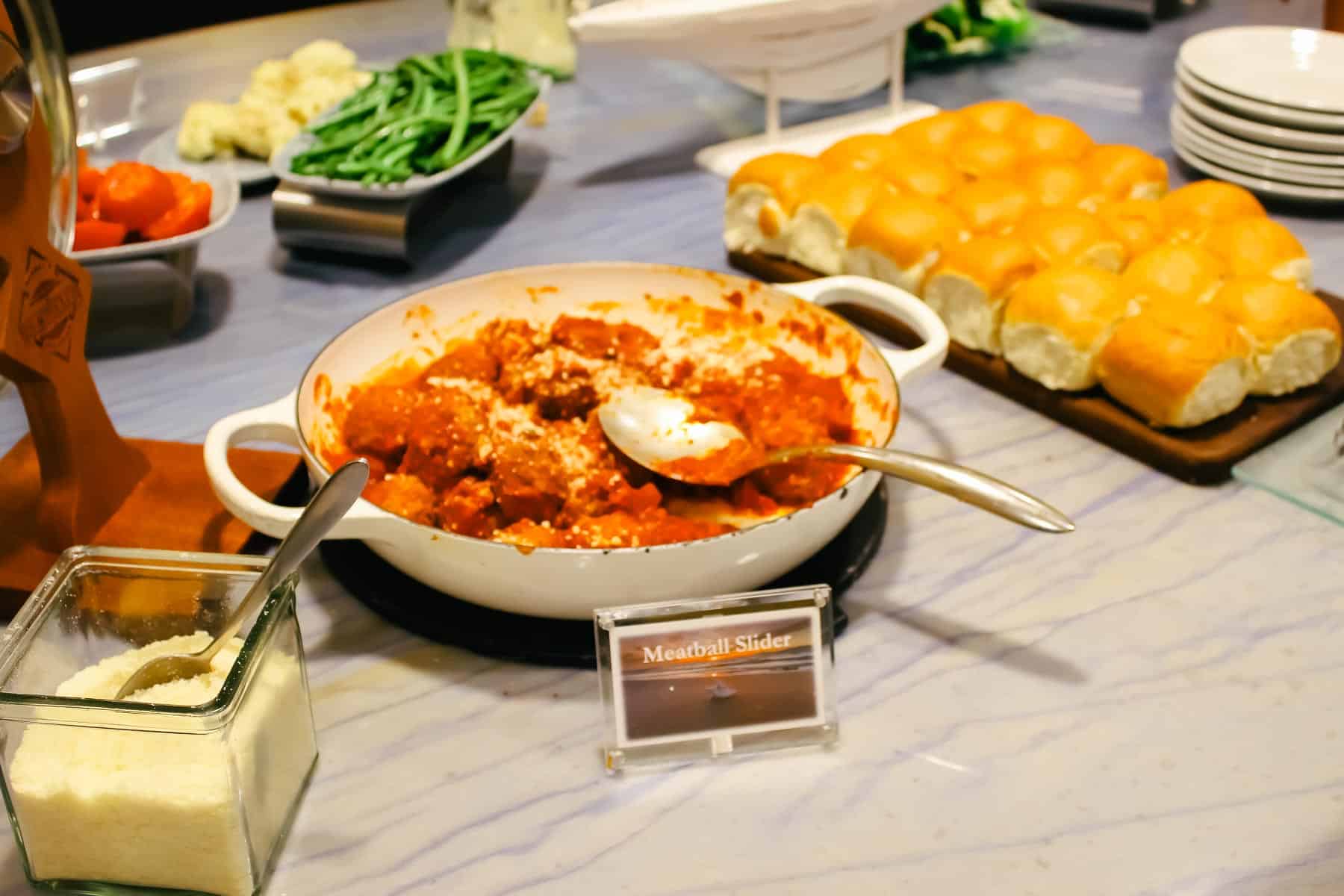 On another evening, we had soy-glazed salmon with lentils.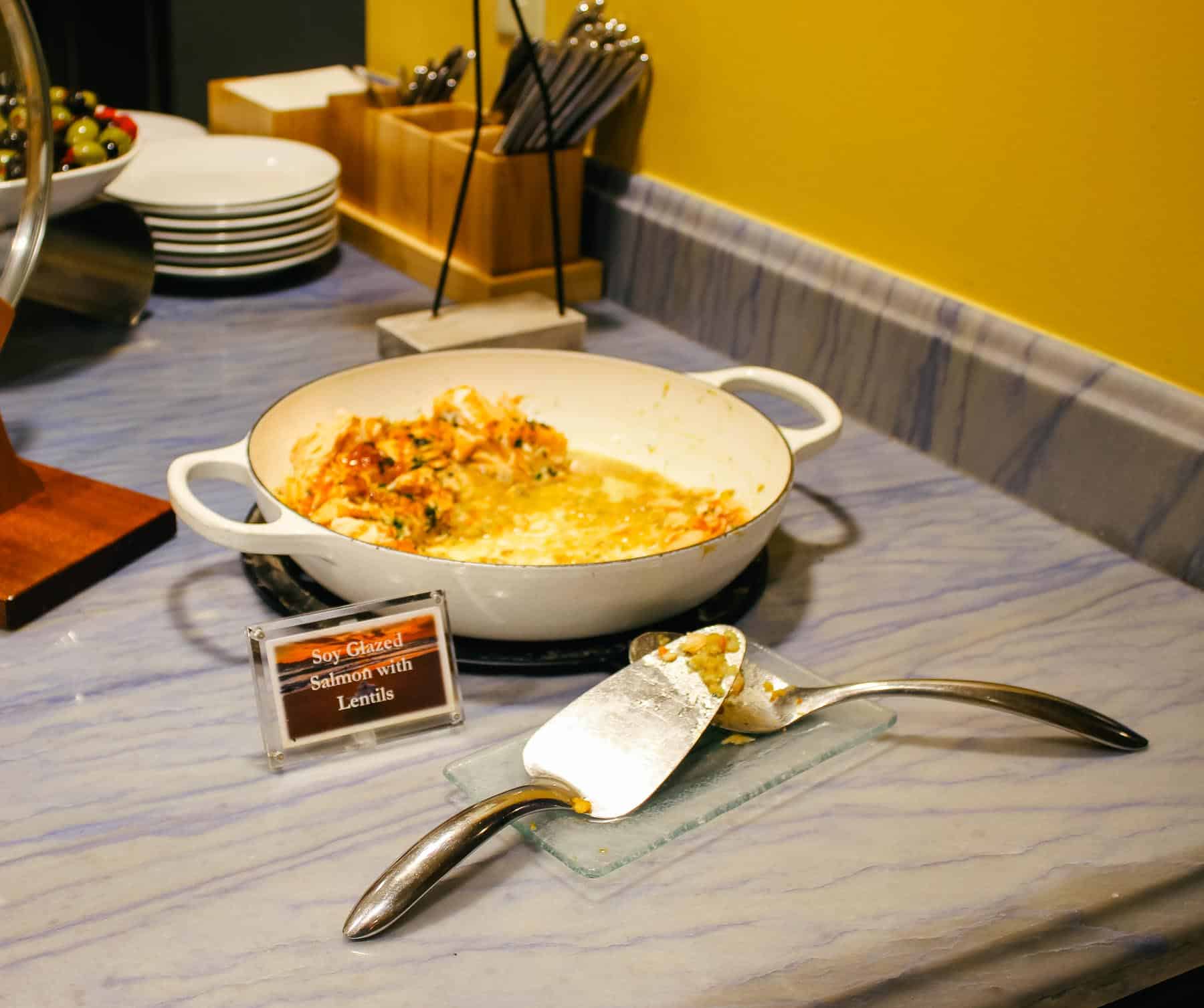 A variety of salads were present each night.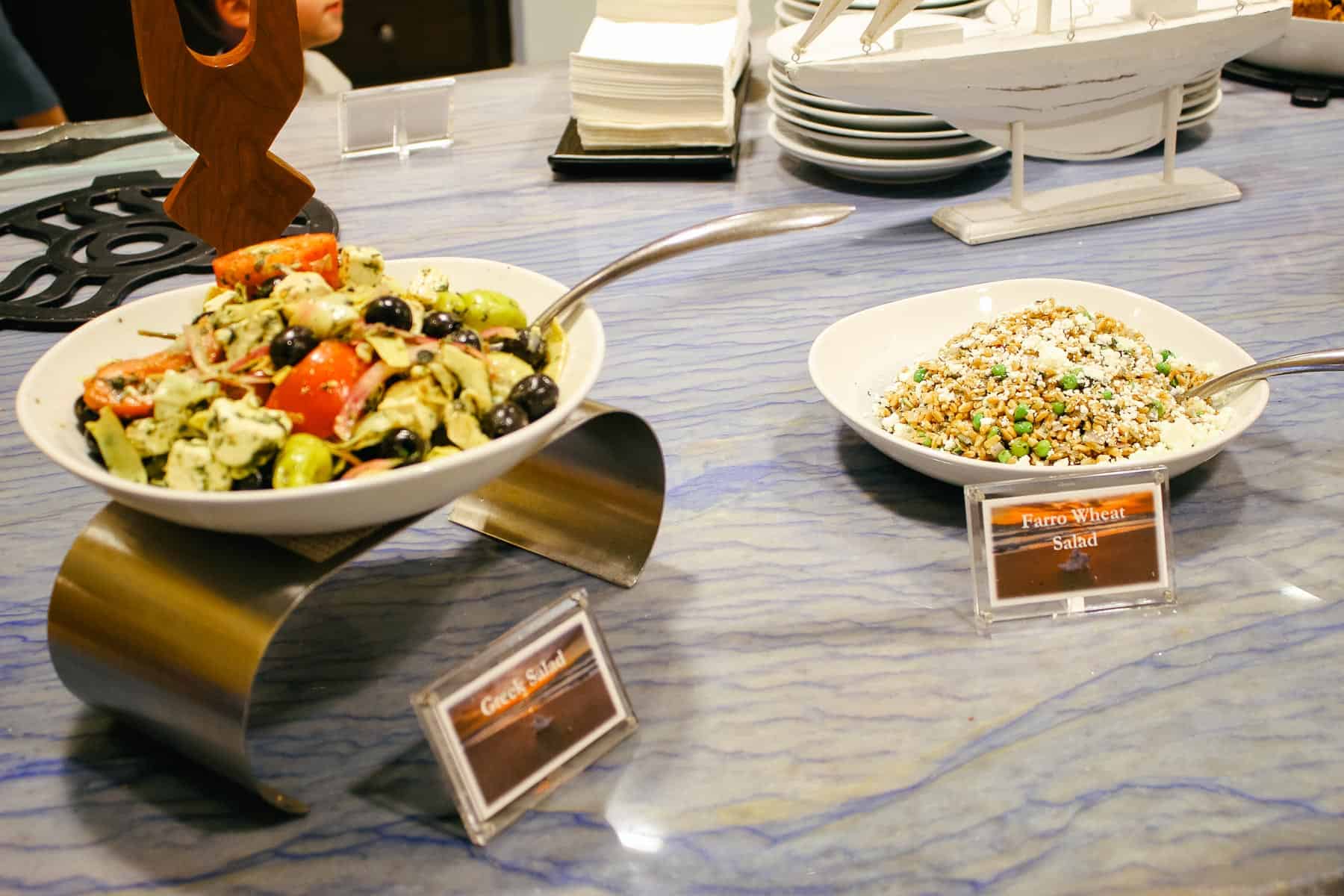 You will find cupcakes and other sweet treats for desserts and cordials. Items below include cookies, chocolate, and cupcakes with a toppings bar.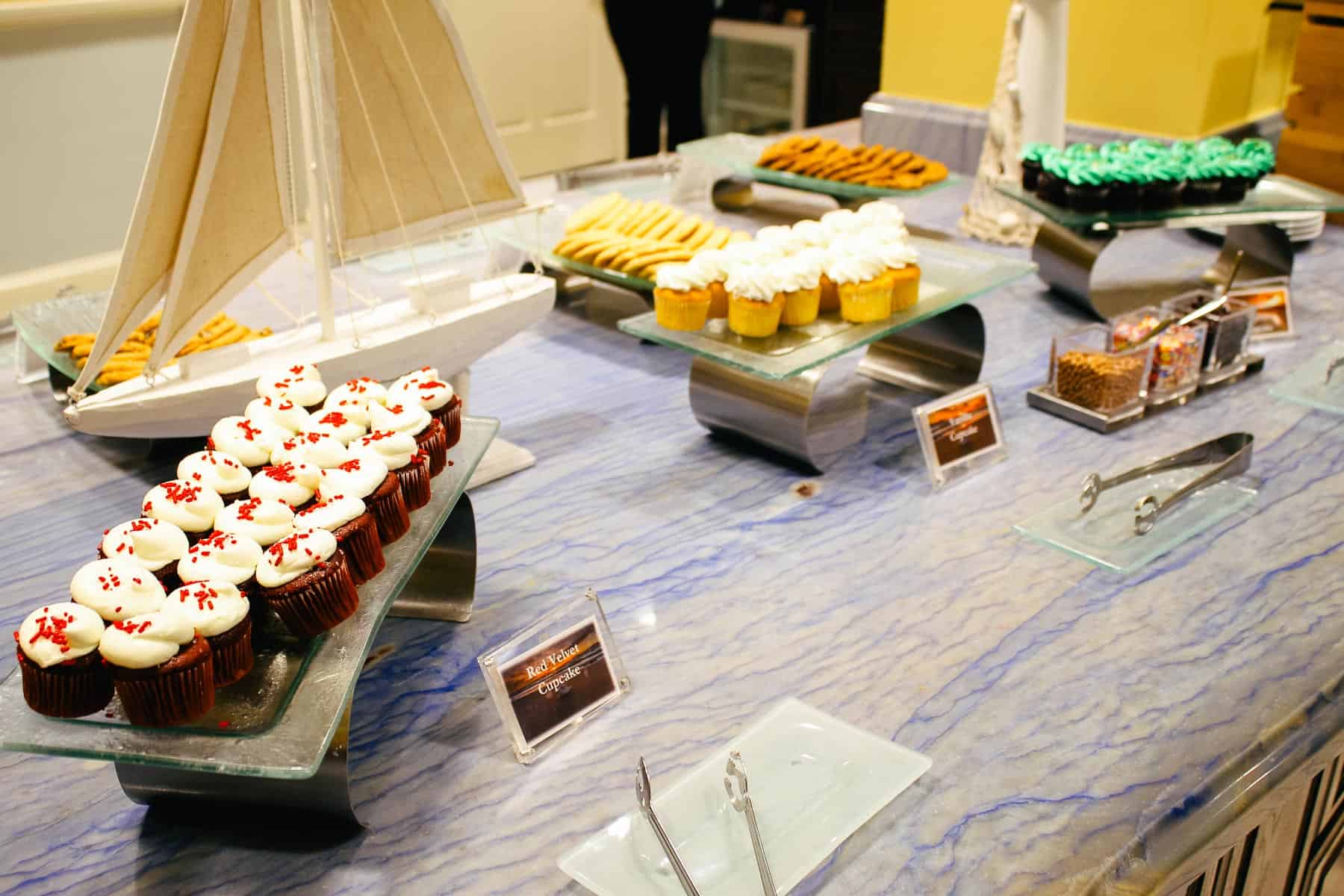 With so many options, it's difficult to choose. Thankfully, most of these items are bite-size, making it easy to try several things. Here, we have pastries, white chocolate bark with nuts and dried fruit, and more cookies.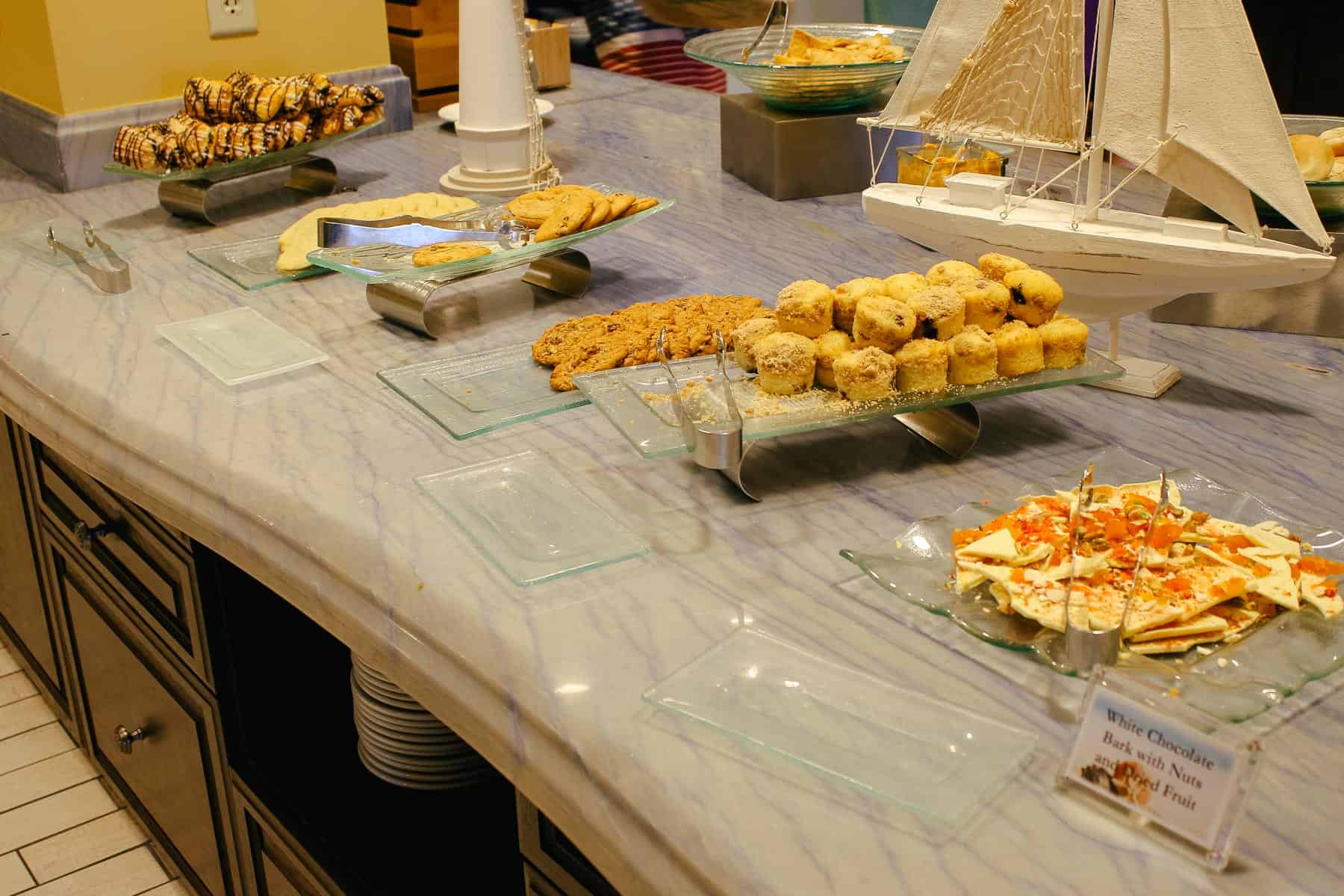 You'll likely find yourself looking for "more of" that favorite thing you had the previous evening. These items include brownies, rice crisp treats, a sugar-free tart, and a flourless chocolate cake shaped like Mickey Mouse towards the end.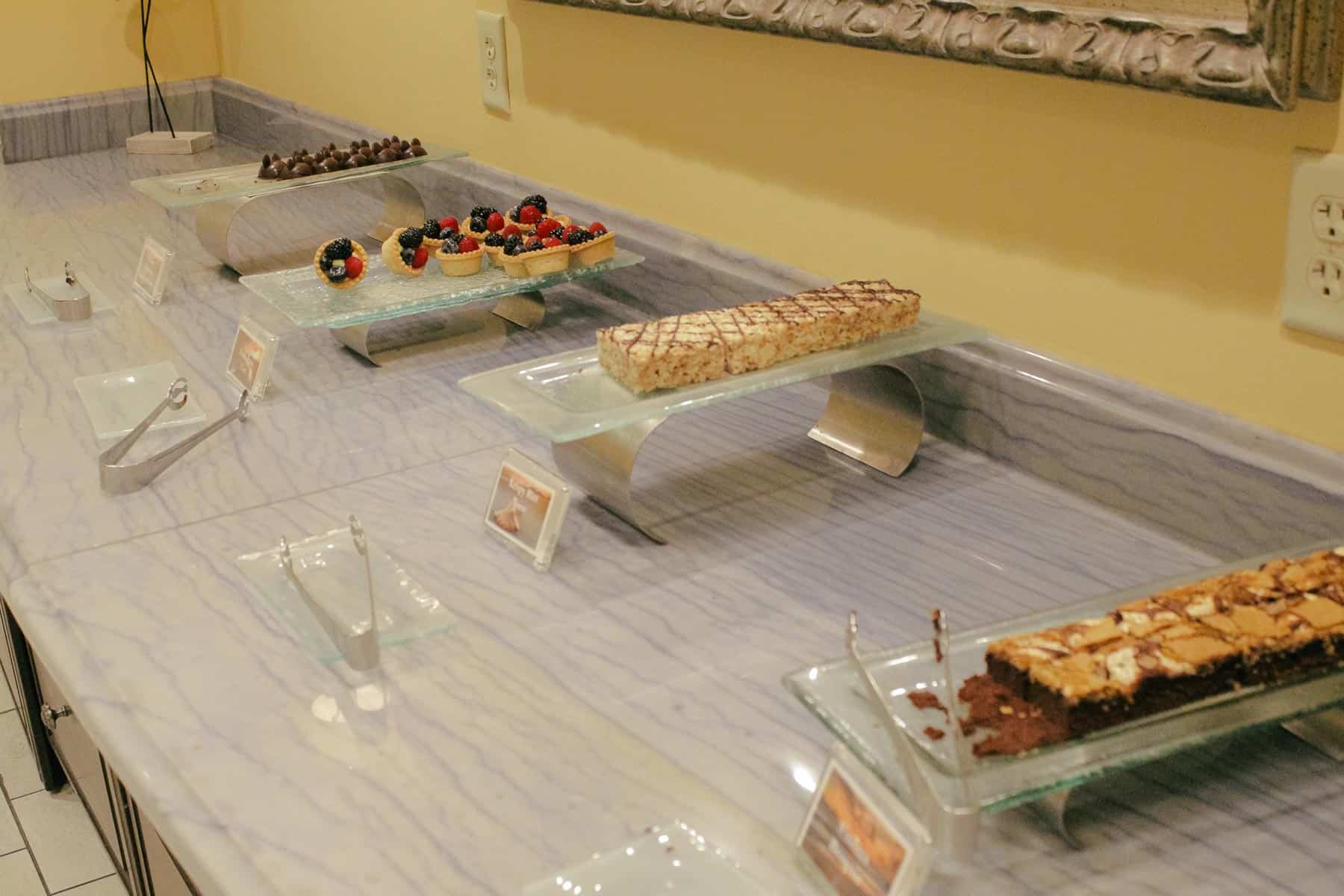 These little dishes on top are a coconut panna cotta with a pineapple compote. Below, we see a no-bake cherry cheesecake.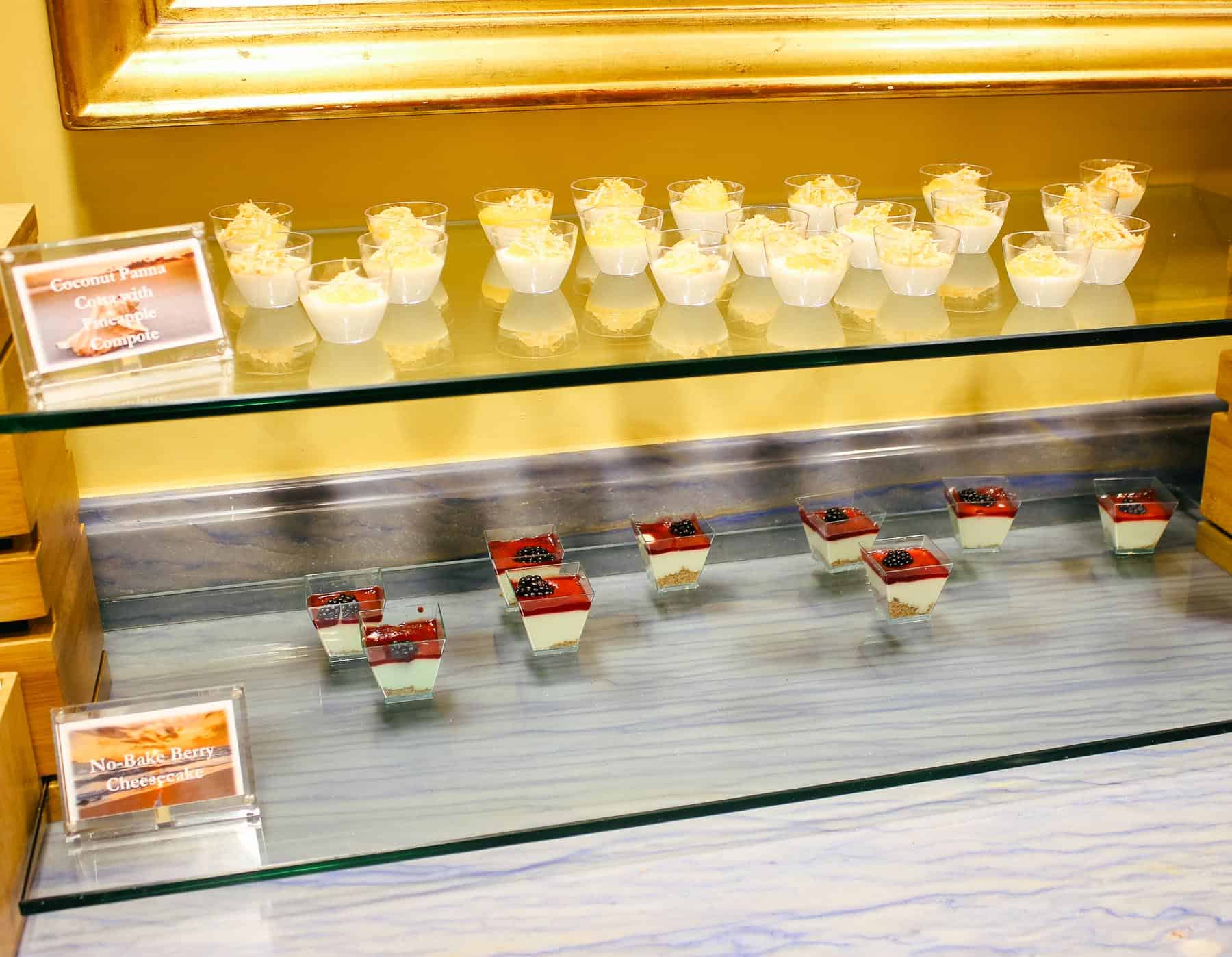 Throughout the day, you'll find a variety of beverages in the lounge. Here, we have lemonade, apple juice, and iced tea.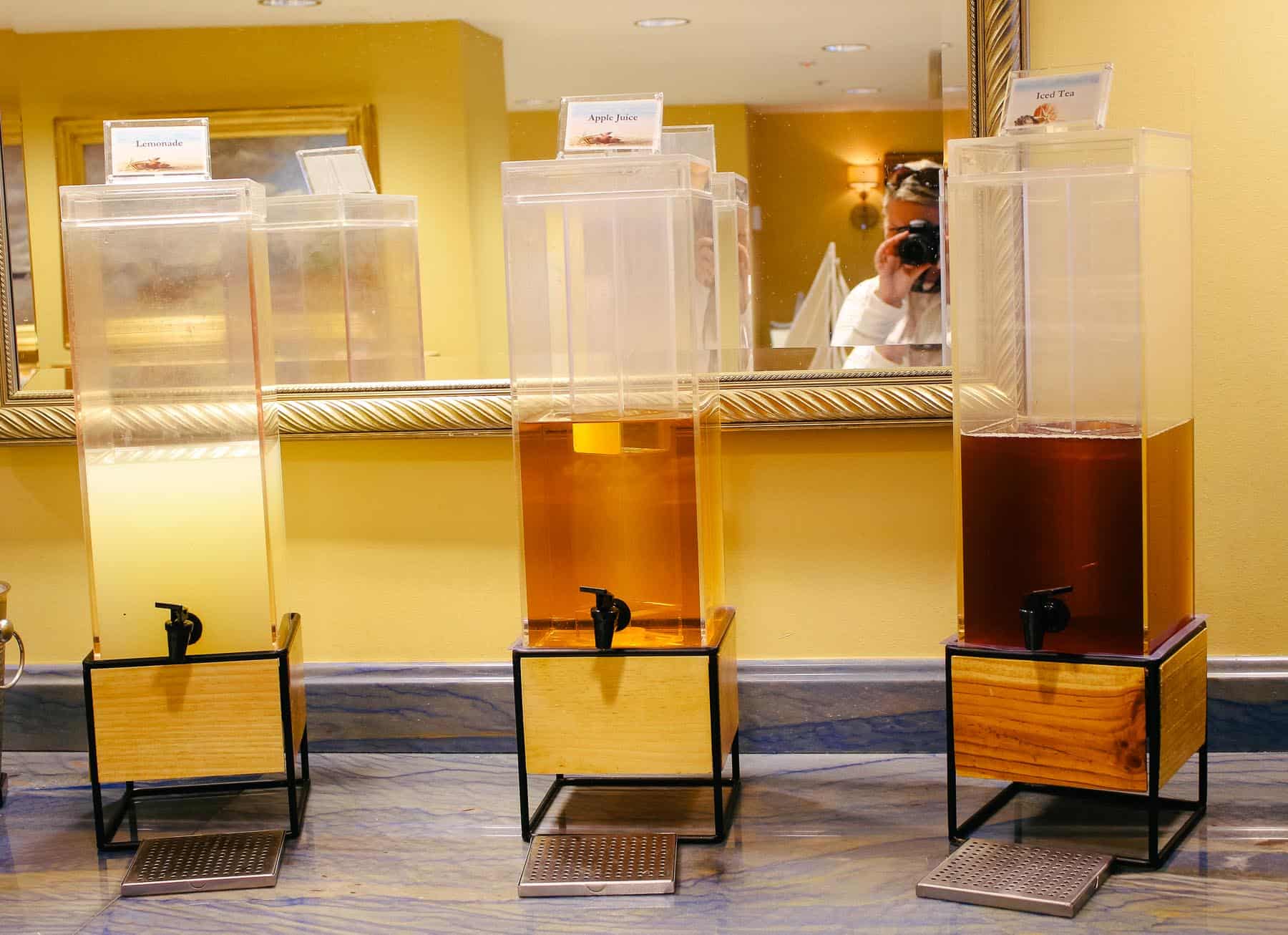 Here is coffee with various creams and flavor add-ons.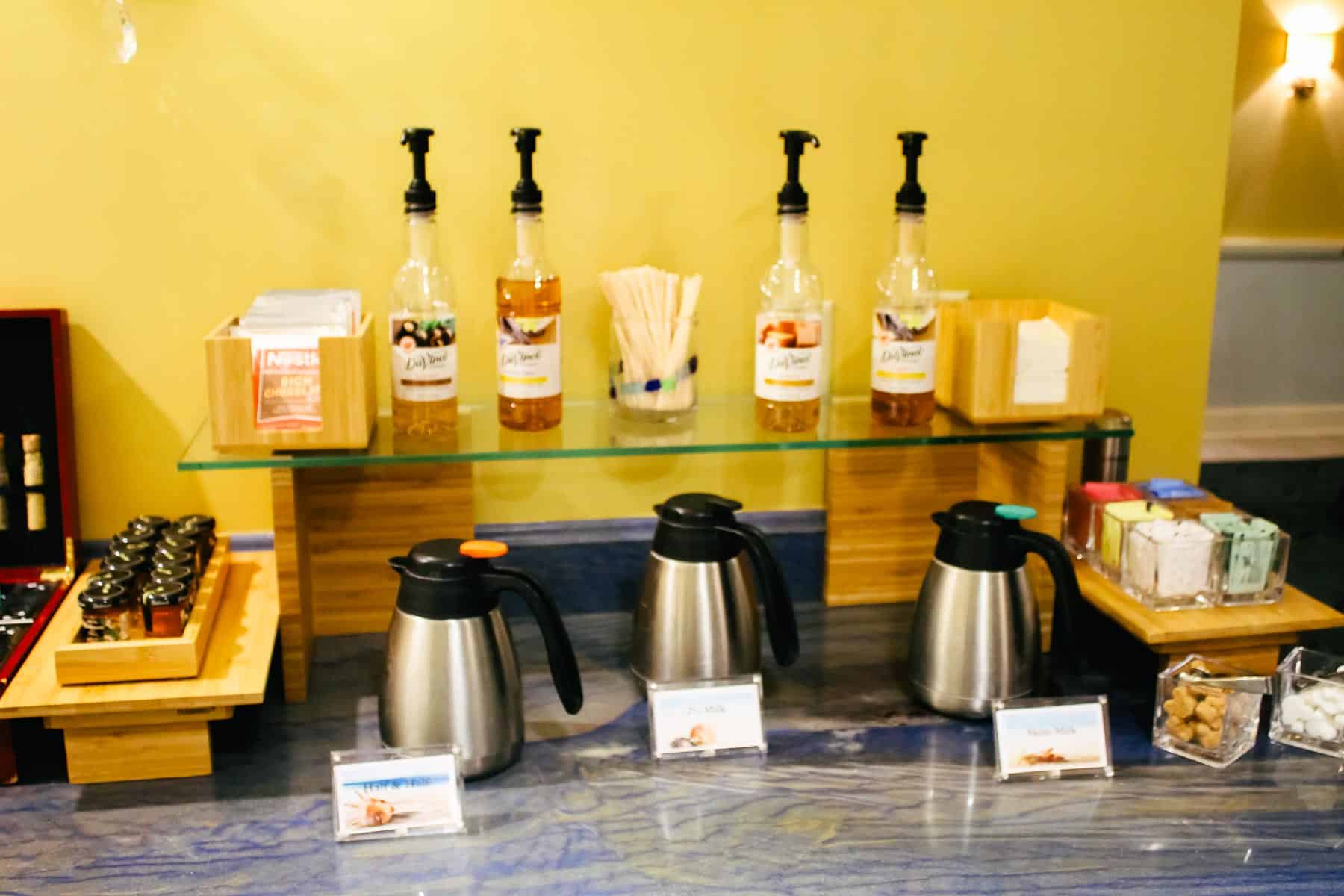 Most of the lounges have a machine that instantly makes various specialty coffee drinks. Below is a photo of the one at the Chronos Club Level at Gran Destino Tower.
From my understanding, this machine replaced the former Nespresso machines that were previously available in all the lounges. If you enjoy a specialty coffee, you must try it. But don't get too attached. After researching the price, I can't believe that Disney allows guests to use these things.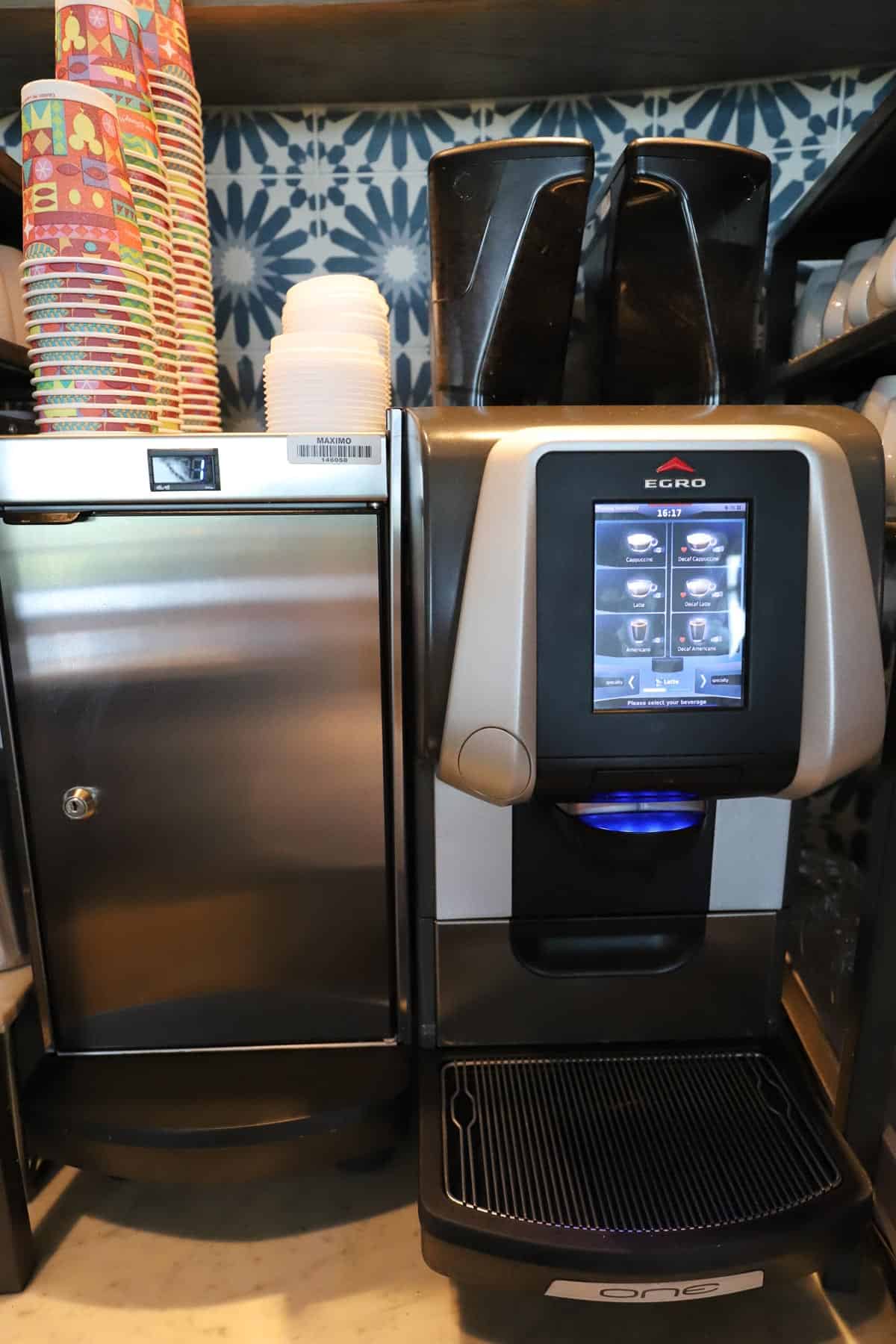 A cast member is usually available to pour wine and champagne during dinner. During dessert, a tray of cordials appears. It has been our experience that a cast member will provide a glass of wine throughout the day, even when it's not freely available in the lounge.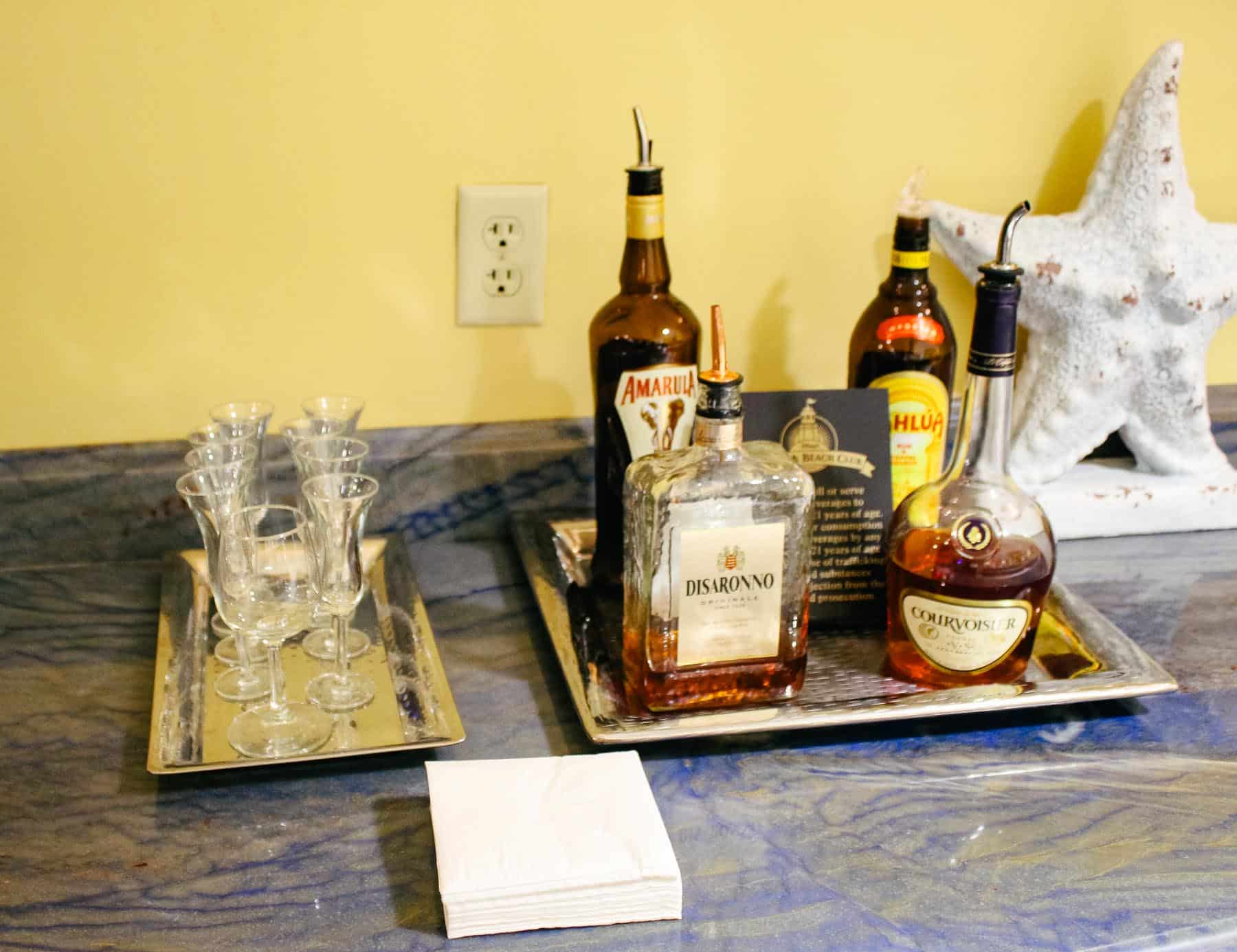 When we have plans for a late evening, we usually attend the evening service for dinner and stay until the lounge opens for desserts. Then, we'll prepare a plate of desserts and grab a few glasses of wine to take back to the room.
We store the desserts in the room fridge and cover our wine with napkins.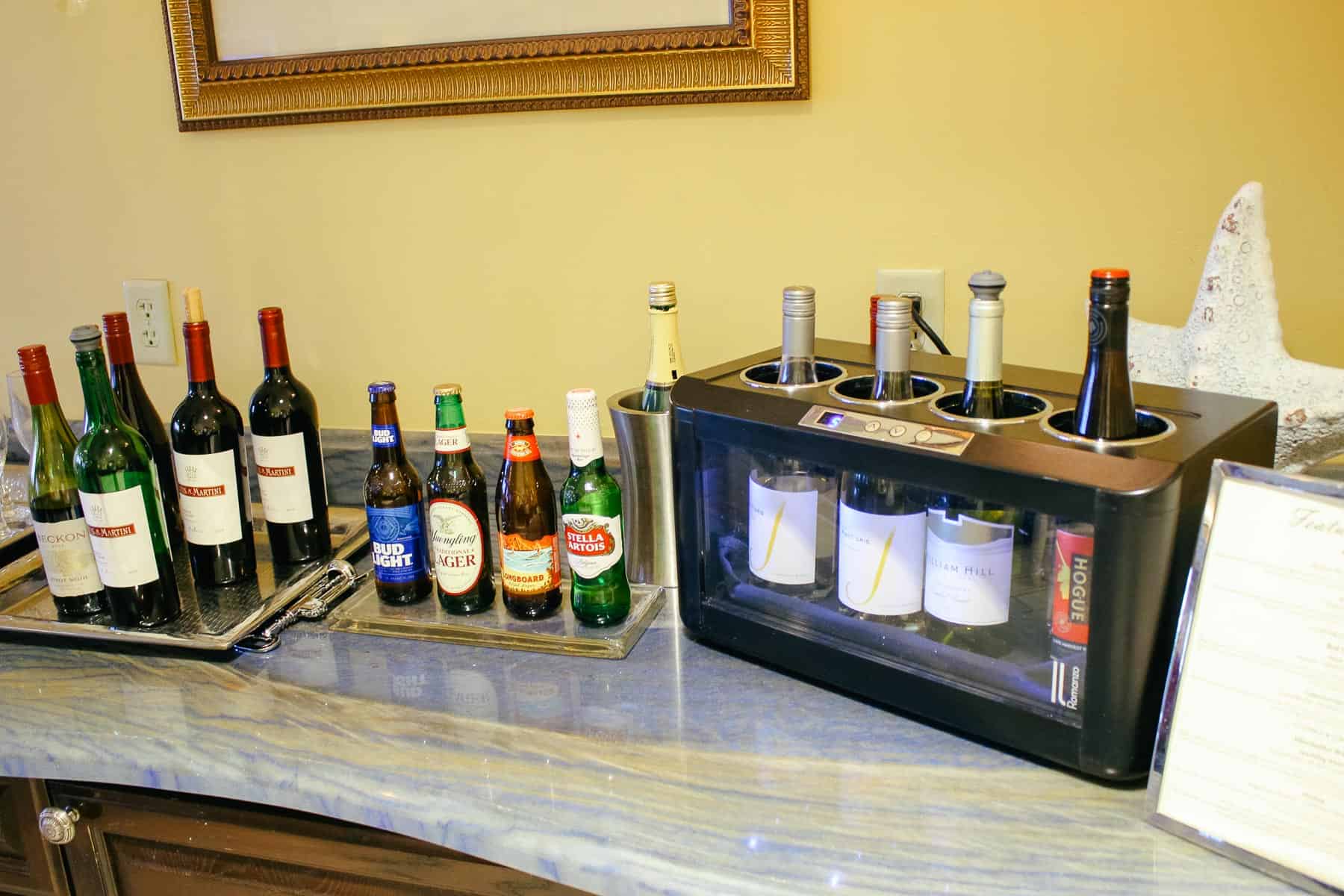 Then, we'll head out for fireworks or a park offering extended evening hours for deluxe resort guests. Since the lounge closes at 10:00 p.m., it won't be available by the time we return. However, we'll have a late-night snack waiting in the room.
These kinds of things are so enjoyable to us. However, we are spoiled because we visit the parks often. We also enjoy spending time at the resort. This upgrade might not be necessary or beneficial for those trying to maximize their time in the parks.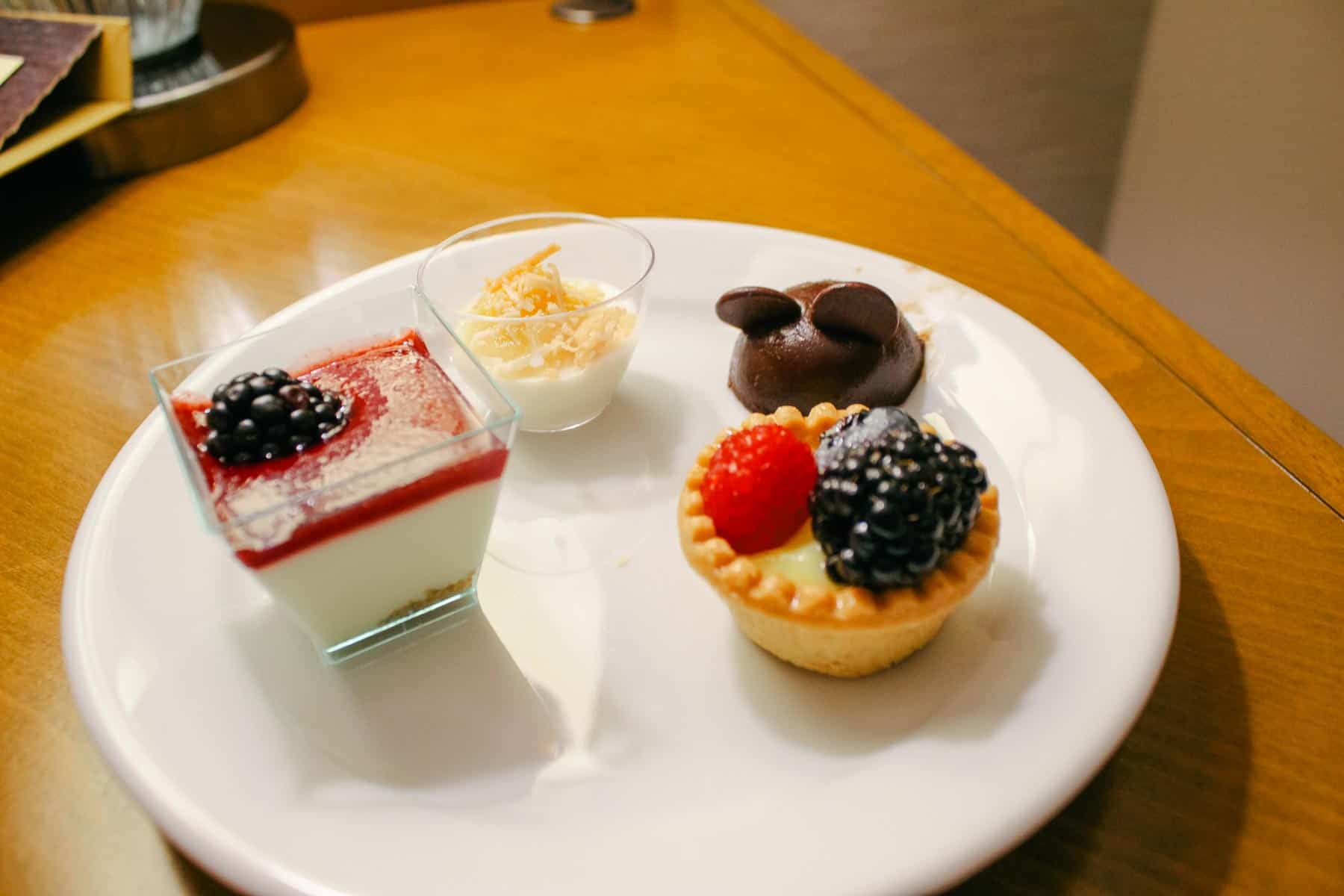 Turndown Service at Disney's Beach Club
One other service makes up part of club-level–turndown service. This is similar to the evening service you would expect on a cruise.
A housekeeping cast member will stop by your room between 5:00 p.m. and 7:00 p.m. They will turn down your bed covers or remake them if you have taken a nap.
Additionally, they will replace any towels or linens you have used since the room was last cleaned. They will also leave chocolates on your pillow.
I know this extra touch might sound silly to some. But it's the little things that have a way of making your stay more than memorable.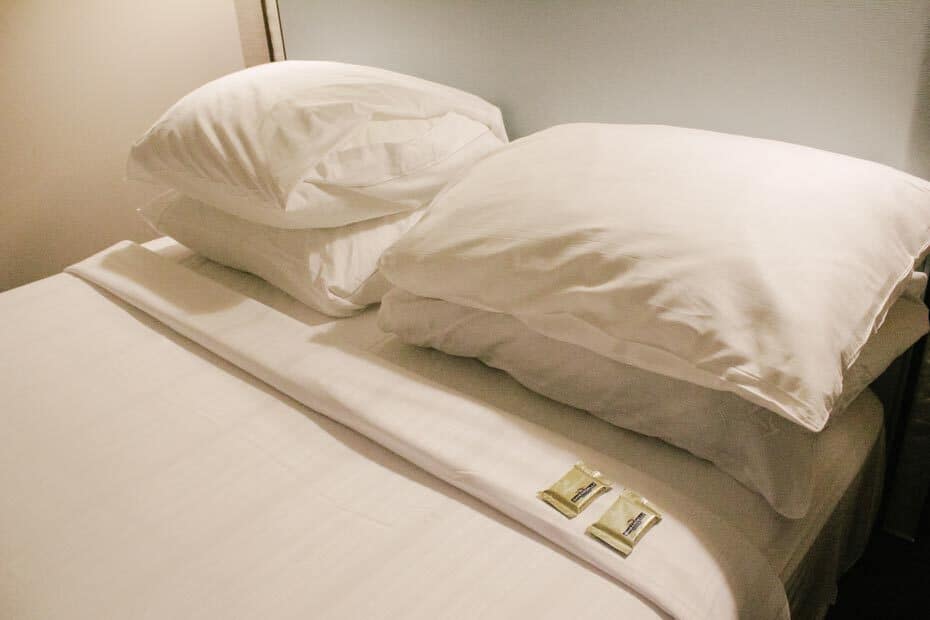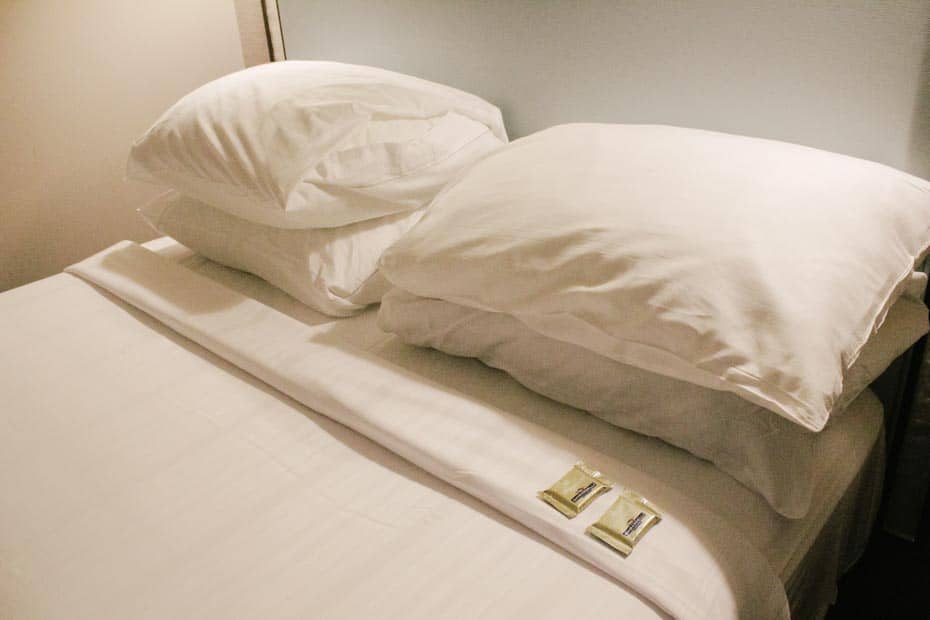 Is Club Level Worth It?
At this point, I think you probably have a good idea of whether or not the club level at Disney's Beach Club is right for your group. However, it might be worth emphasizing some pros and cons.
First, let's go over dining reservations. It's no secret that Disney World has tons of restaurants that you'll probably want to enjoy during your trip. If you plan a lot of dining reservations, it is doubtful that you'll benefit from a club level stay.
Next–how much time will you spend at the resort? I can't stress enough how important it is to plan your days and breaks when staying club level. The last thing you want is to fork out the extra money and then end up not using the lounge to your advantage.
You do not want to be at Magic Kingdom and realize it's 6:00 p.m., and you probably won't make it back in time for dinner. This will force you to pay for dinner elsewhere while feeling guilty for paying so much for something you're not using.
Location-wise, you can't beat the proximity of Beach Club to Epcot. Since the Beach Club is a short walk to the park, you can quickly return to the resort. Or you can walk over to enjoy fireworks in the evening with valid park admission. When staying at the Beach Club, we think having the park hopper option is essential for the extra time at Epcot.
So is club level at the Beach Club worth it? We think so if you plan to spend adequate time at the resort, will use the lounge, and don't have a ton of dining reservations.
Final Thoughts
Hopefully, this review of staying club level at Disney's Beach Club gave you a complete overview of the experience. We have always thoroughly enjoyed the times we've stayed club level and look forward to returning.
For more information about Disney's Beach Club, our articles are listed in a resort guide:
Or you might enjoy these individual articles:
For more information, you can read about Disney Signature Services on Disney.com.
In the comments:
What are your thoughts on staying club level at Disney's Beach Club? Is club level a yay or nay? Do you have any other thoughts, tips, or questions about the Stone Harbor Club?