The Chronos Club at Disney's Gran Destino Tower (A Review of the Concierge Floor)
This article discusses the Chronos Club, a club-level portion of Gran Destino Tower at Disney's Coronado Springs Resort. We'll review what to expect from the Chronos Club and when it might be worth your consideration.
Can you imagine a Walt Disney World vacation where you have access to breakfast, snacks, nightly hors d'oeuvres, desserts, and more, only a few steps from your hotel room? We're talking about the whole concierge experience within minutes of the magic–club level.
Gran Destino Tower is a specific portion of Disney's Coronado Springs Resort. While the village sections of Coronado Springs make up the original portion of this moderate resort, the tower hotel with interior room access was added several years ago.
Like the deluxe resorts at Disney, Gran Destino has a floor dedicated to club level called the Chronos Club. Gran Destino's club level is on the 15th floor and offers a private lounge for concierge guests to use throughout the day.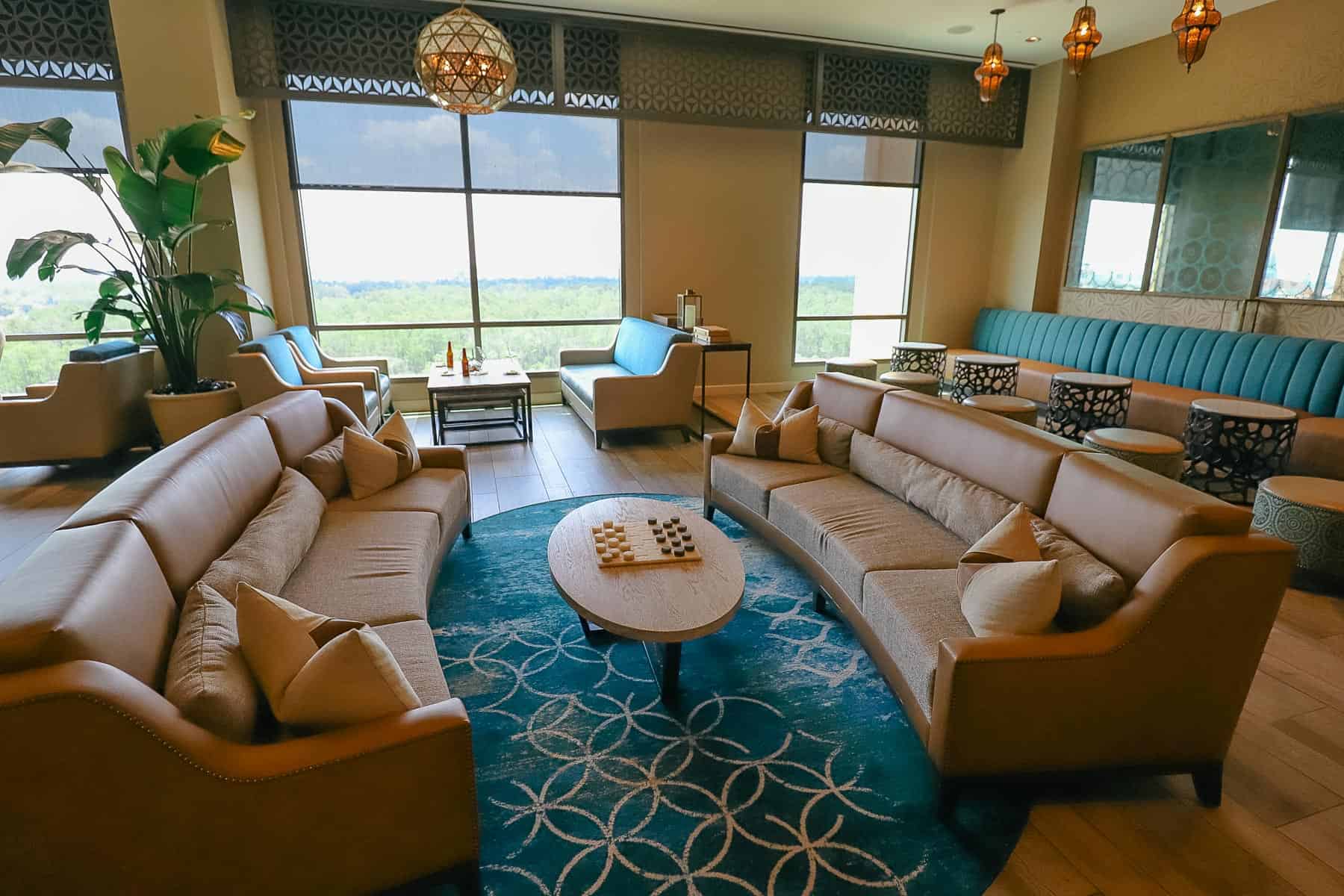 An Overview of the Club Level at Coronado Springs
Club Level is one of Disney's Signature Services. When reserving a hotel room at Disney, club-level rooms are listed separately and cost significantly more than standard guest rooms.
However, it is important to note that club-level rooms are typically the same room types as guest rooms on regular floors. Our club-level room at Gran Destino wasn't any different from the standard guest room we enjoyed on our first stay when the hotel opened.
But you can upgrade to various suites based on availability that are still part of the concierge floor. For instance, Gran Destino has the following room types for club-level stays in addition to the standard guest room:
Deluxe Suite
One-Bedroom Suite
Presidential Suite
Club level works almost the same across the board at Walt Disney World. Of course, each lounge will have its nuances and specialty items. But as far as service goes, you can expect the following:
Coffee (6:30 a.m. until 7:00 a.m.)
Continental Breakfast (7:00 a.m. until 10:30 a.m.)
Light Snacks (11:30 a.m. until 4:00 p.m.)
Hors d'oeuvres and Select Beverages (5:00 p.m. until 7:00 p.m.)
Desserts and Cordials (8:00 p.m. to 10:00 p.m.)
*Cast members are available to assist guests throughout the day between 7:00 a.m. and 10:00 p.m.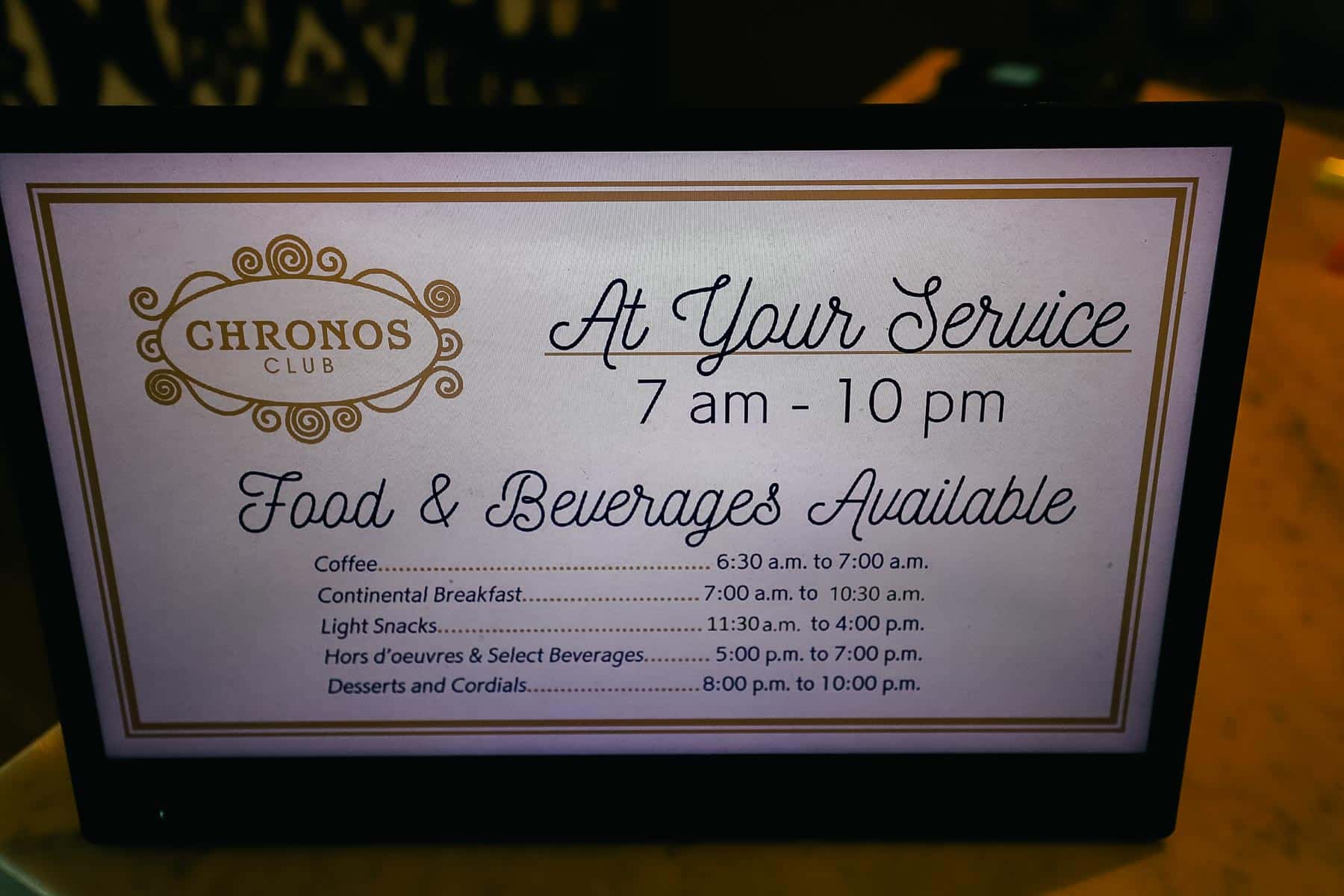 Chronos Club Lounge
Before getting into the offerings and what to expect, I thought we would take a spin around the lounge. Chronos Club is a beautiful space that continues the modern Spanish vibe of the resort.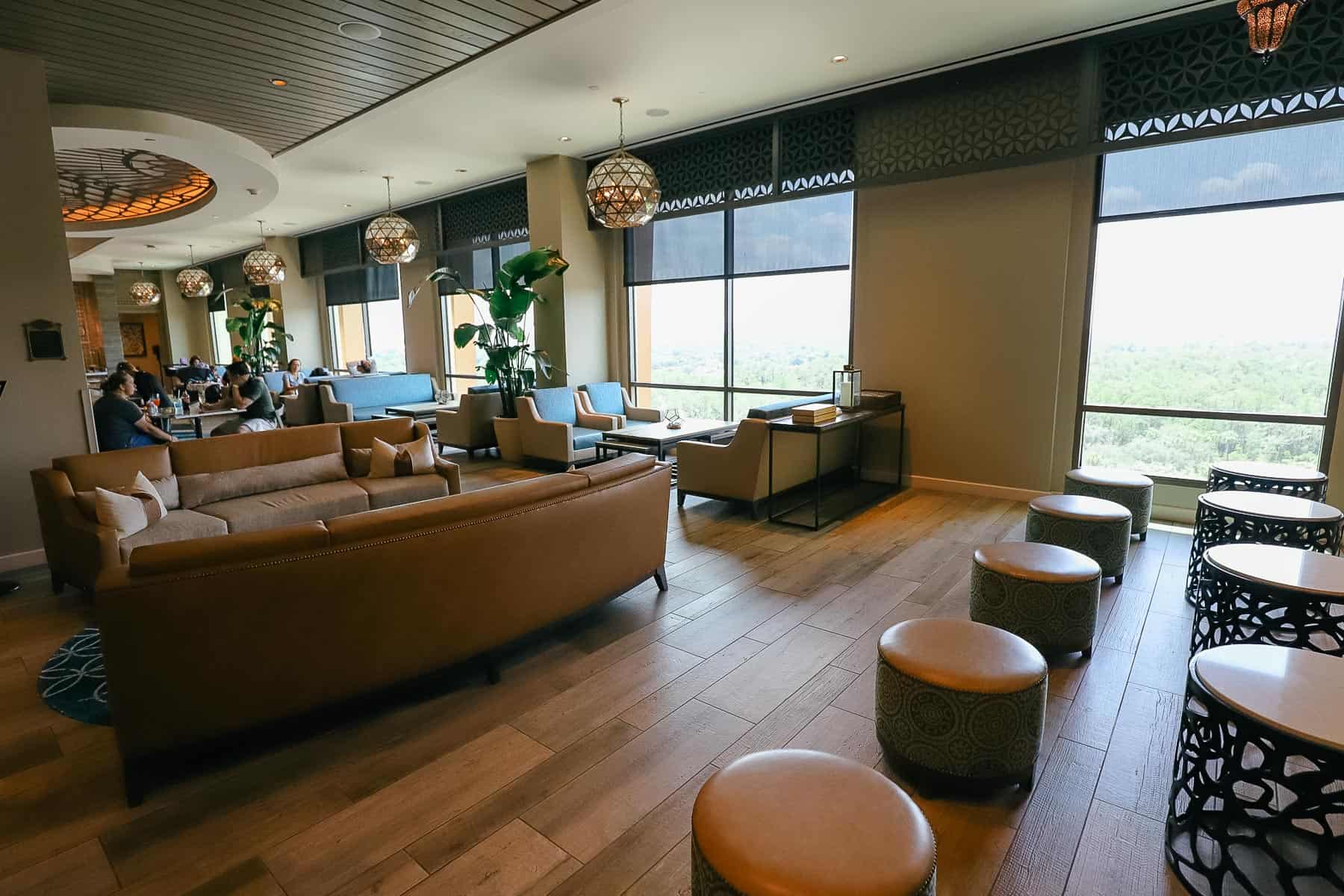 Inside, the lounge provides a variety of seating arrangements for guests to enjoy. Several board games are available. During our stay, I noticed multiple groups of guests playing games.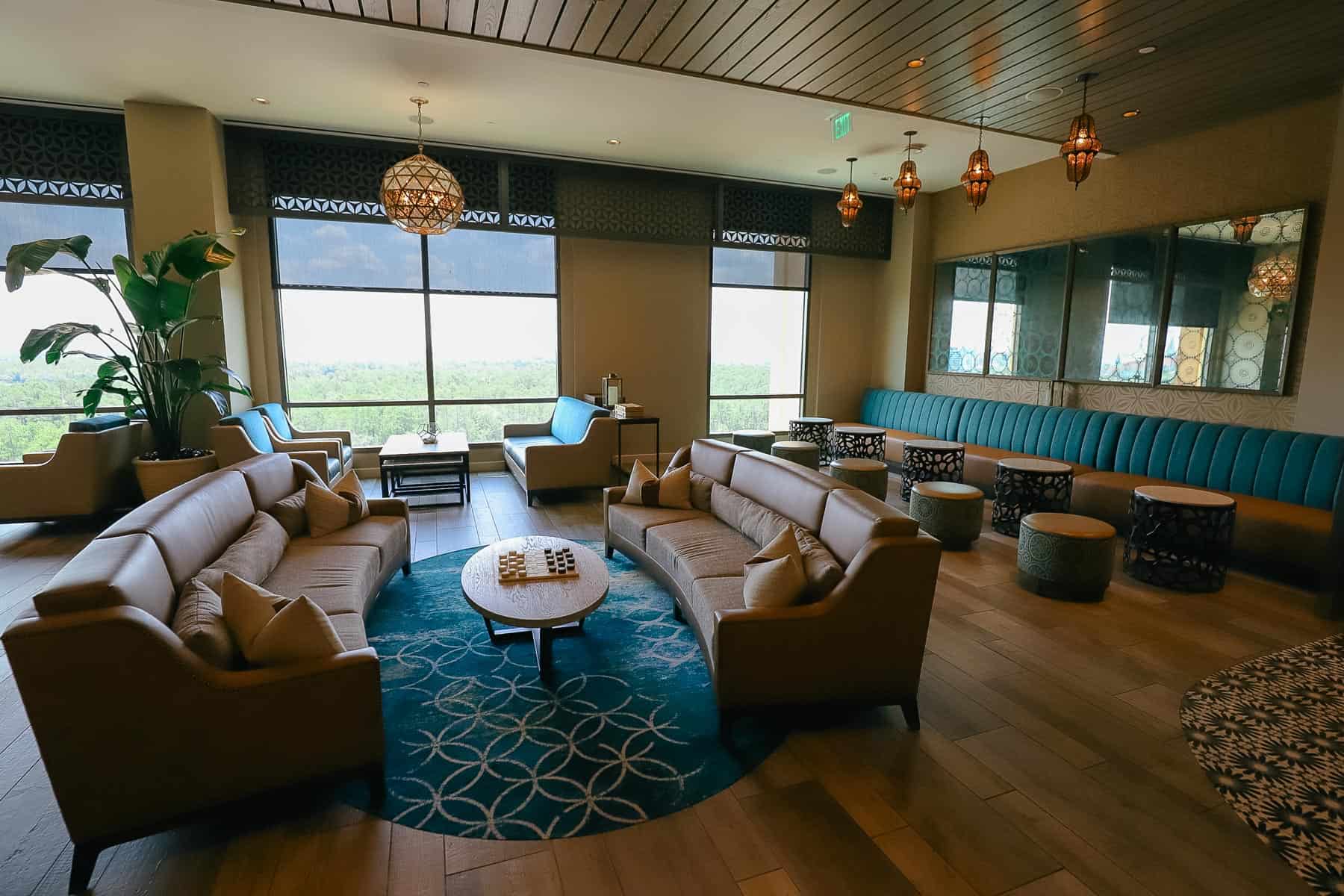 One side of the Chronos Club features a wall of windows.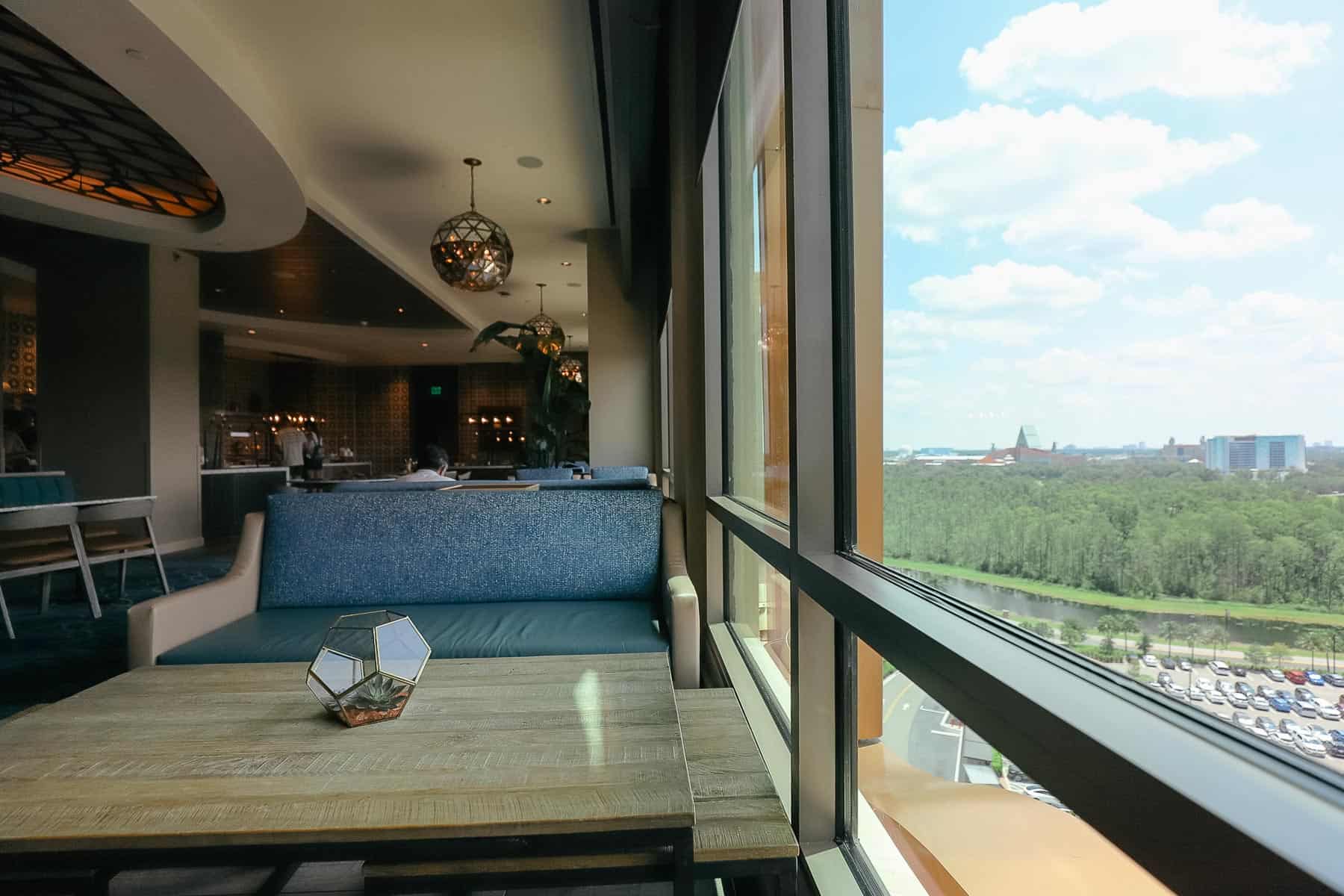 From Chronos Club, you can see Epcot in the distance. At night, the lights in the lounge are dimmed so guests can enjoy the fireworks. While the view of the fireworks is fun, it's nothing spectacular.
So I wouldn't necessarily plan an evening to watch fireworks from the lounge. We're not anywhere near seeing Happily Ever After from California Grill territory.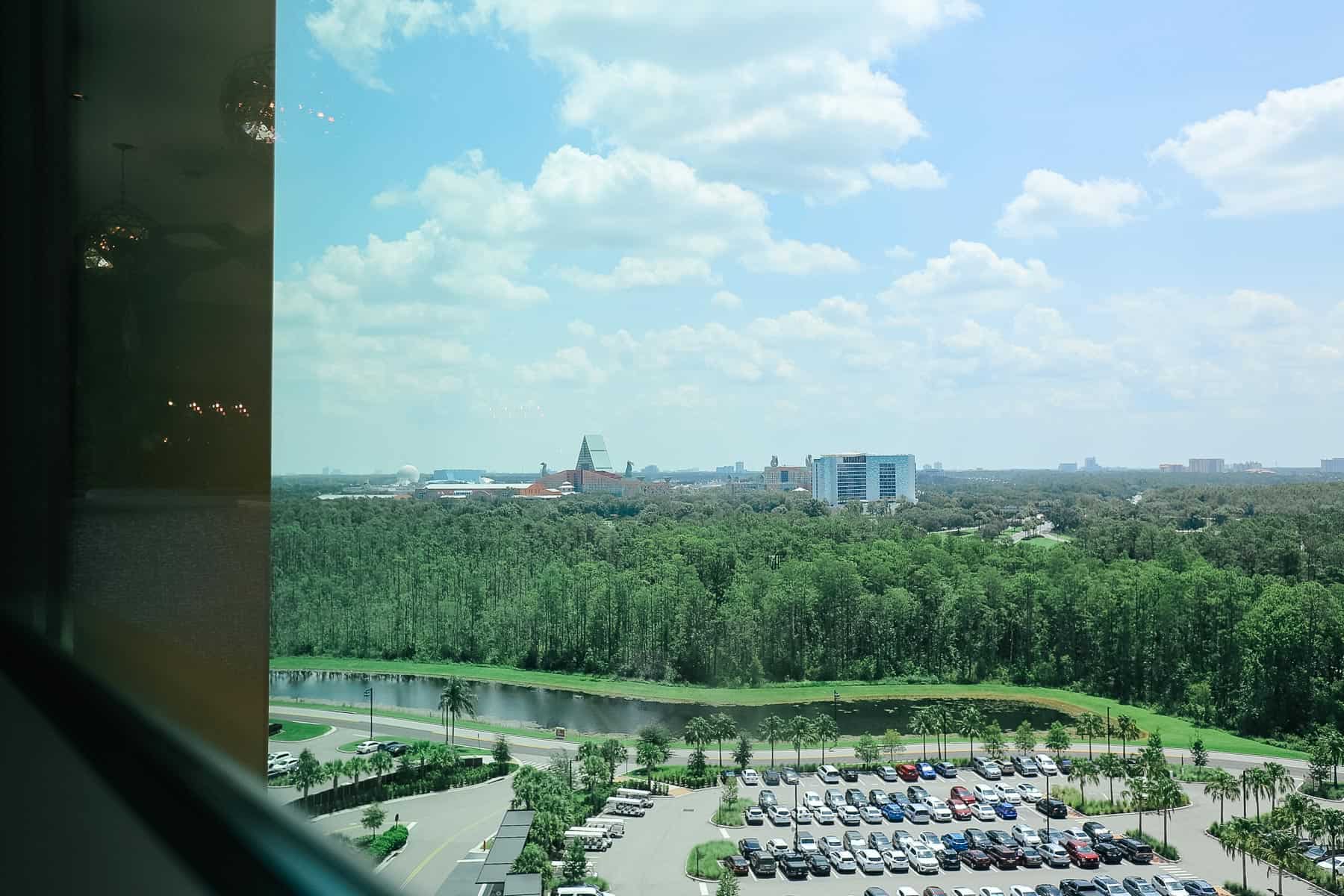 Chronos Club has an impressive lounge. I couldn't help but notice subtle and not-so-subtle hidden Mickey's throughout the space. Here are a few more photos.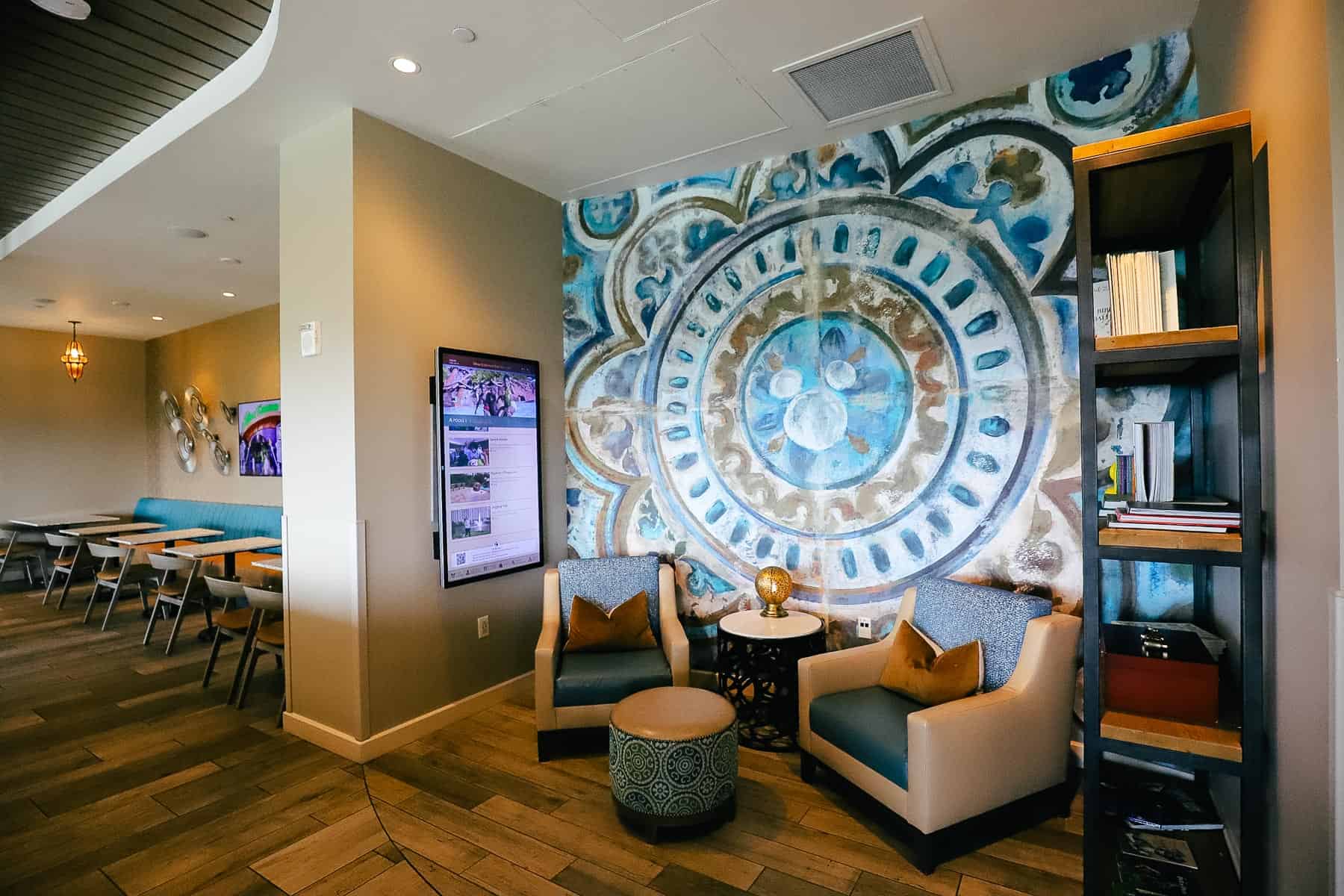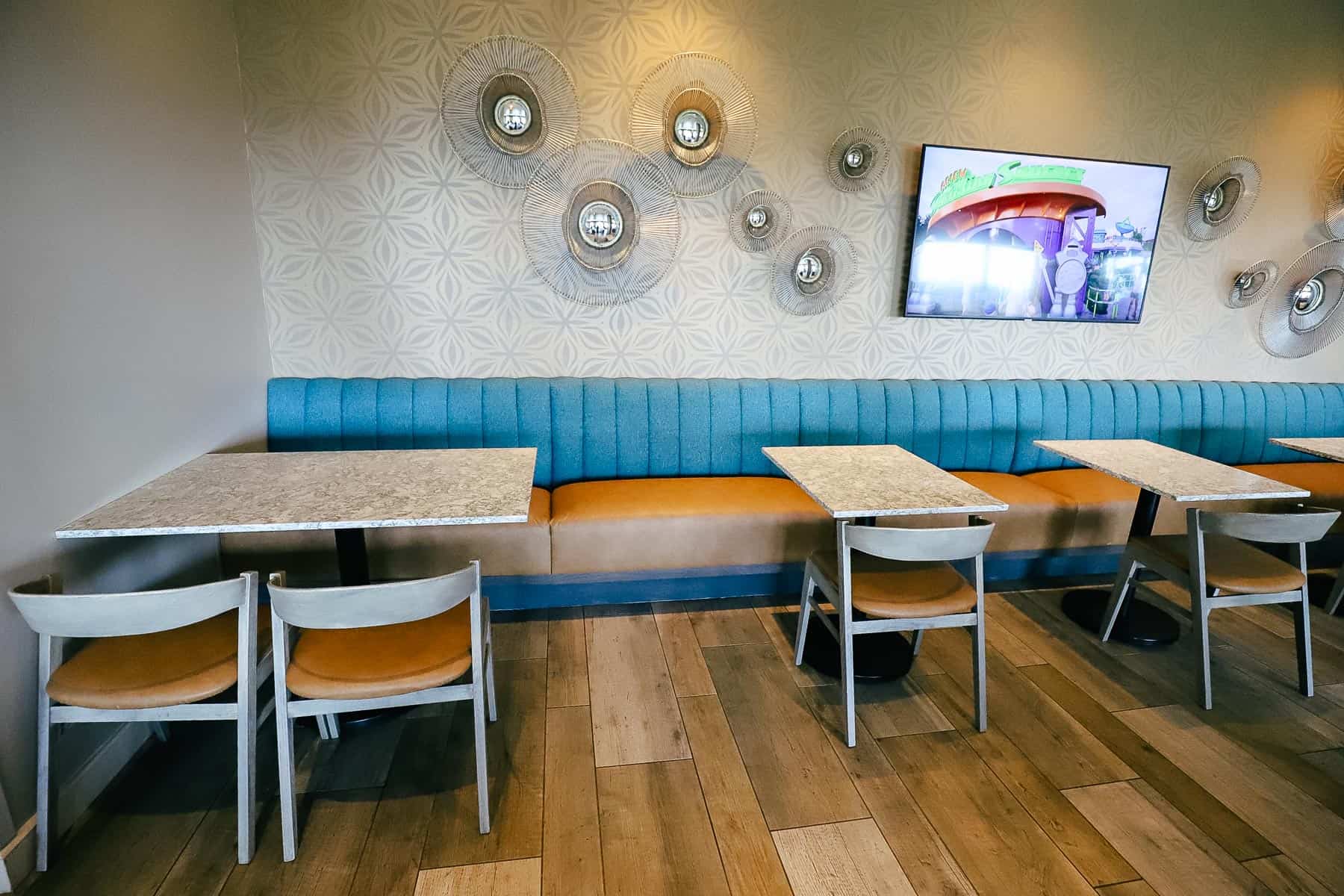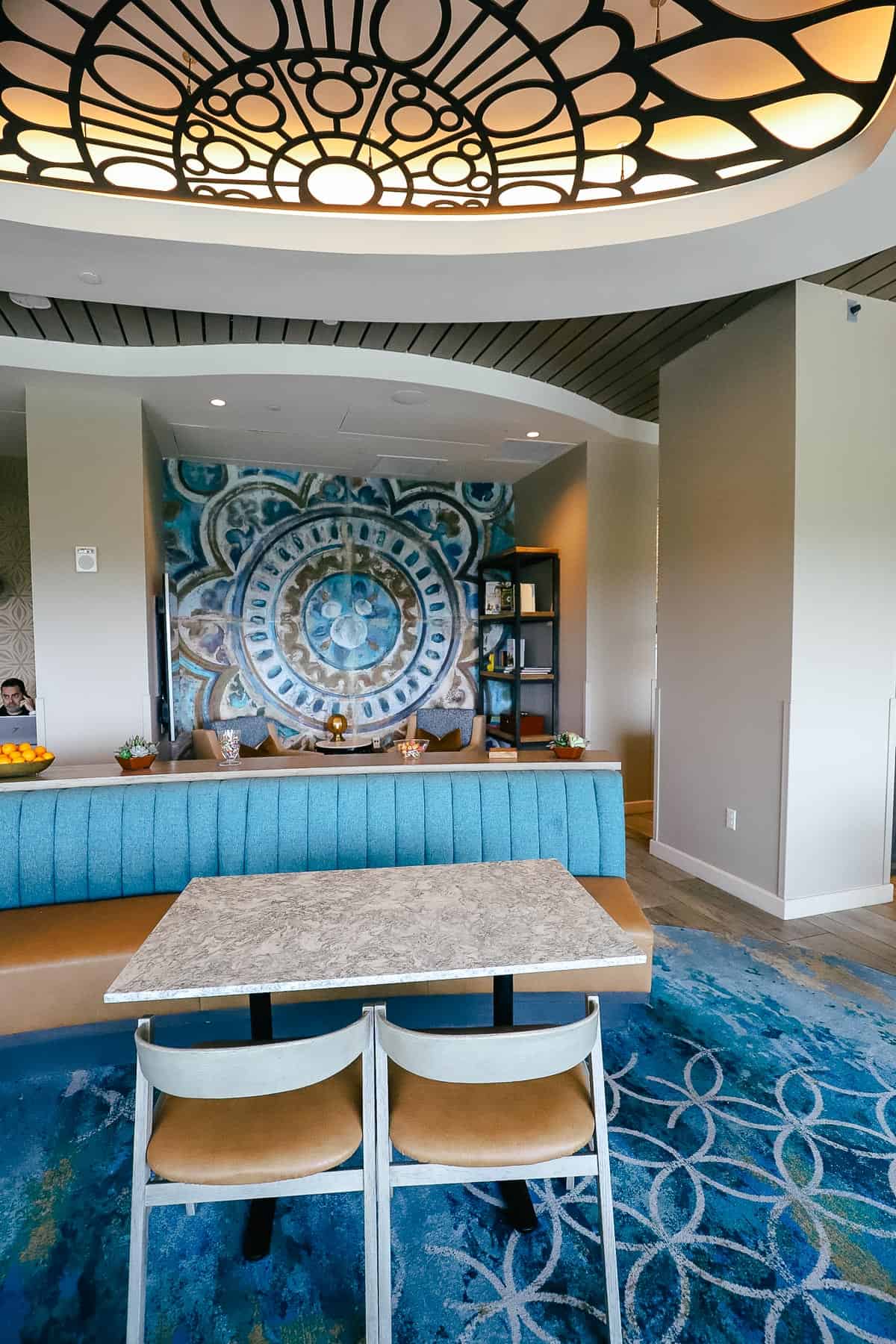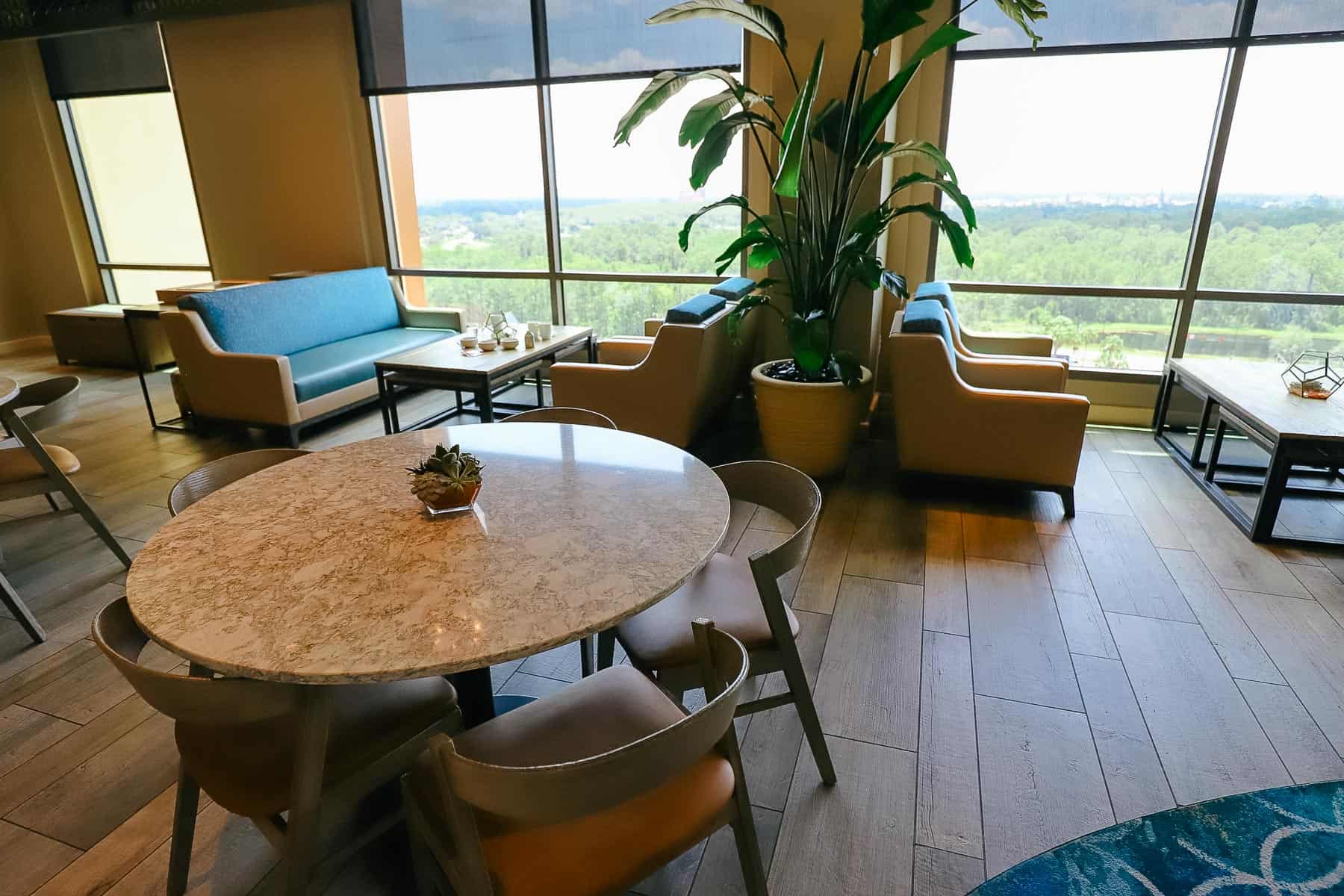 Chronos Club Review
When you arrive at Gran Destino Tower, a procedure for concierge guests is in place. However, you could bypass the process with Disney's text-to-room check-in offering. Unfortunately, we did.
Security is supposed to alert the front desk when you arrive that you're approaching the entrance. This is where we hit our first snag. Gran Destino offers bell services, but they also allow guests to use their luggage carts independently.
When we pulled up to leave our luggage, no carts were available. A single bellman was trying to maintain all of our items (we were doing a split stay and had just finished shopping at the outlets), and the entire thing was a bit of a fiasco.
Later, I inquired about the process and was told that guests take the luggage carts with them and then leave them in the hallways outside their rooms. So they end up scattered throughout the hotel instead of being returned to the reception area.
Funny enough, when I stayed here several years ago, I had a similar problem getting help with my luggage. It seems like a viable solution could be worked out to resolve the issue.
Anyway, we got the car parked and headed up to the room. I didn't want our luggage brought up until I had time to photograph and video everything.
While I was doing that, Kristen went to check out the lounge. Most club levels require scanning your Magic Band or room key to access the club-level floor via the elevator. However, Gran Destino is different. The scanner is located outside of the Chronos Club.
When you arrive at the hotel, someone should greet you at the entrance and recognize you as a special guest. That person will escort you to the club-level floor and take you to the lounge. From there, one of the concierge cast members will provide you with a welcome letter and offer a complimentary welcome drink.
Typically, this drink is a Mickey Spritz that can be made with or without alcohol. A child-friendly drink is also available.
Somehow, we were overlooked and didn't receive any of this. But since I was writing an article, I inquired about the process. In our previous club-level stays at Disney's Beach Club, we've always been escorted to the club level on arrival and offered a welcome drink.
When I mentioned this to the cast member, he immediately asked my name, provided me with a welcome letter, and apologized. It wasn't a big deal, but these items are a part of the service you pay for when reserving this category of room.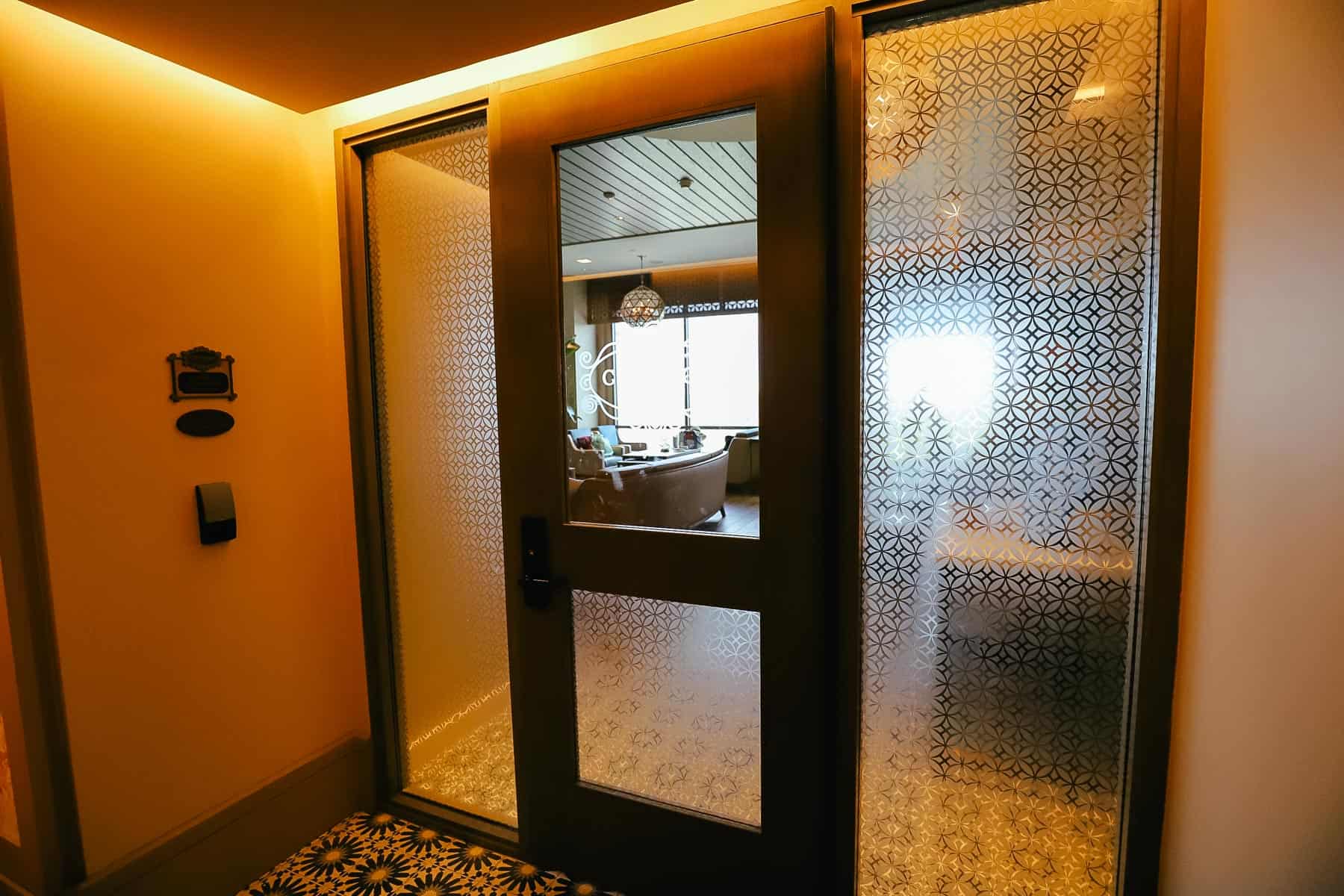 Continental Breakfast
As listed above, several offerings are available throughout the day in the Chronos Club. We'll look at breakfast first. You can expect most of the same items daily, with a few minor changes here and there.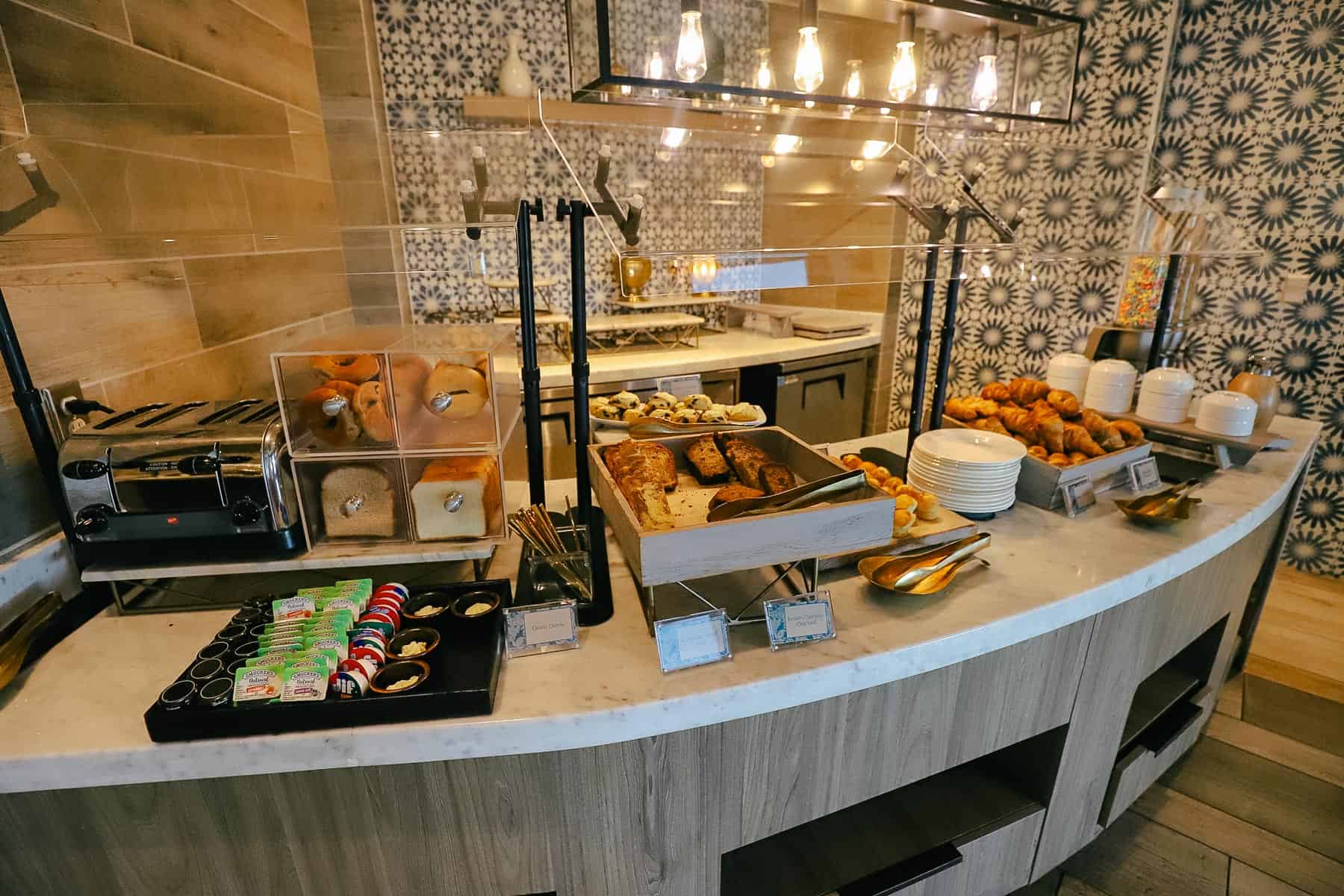 One area was primarily dedicated to carbohydrates like croissants, muffins, a banana chocolate chip loaf, marbled bread, and scones.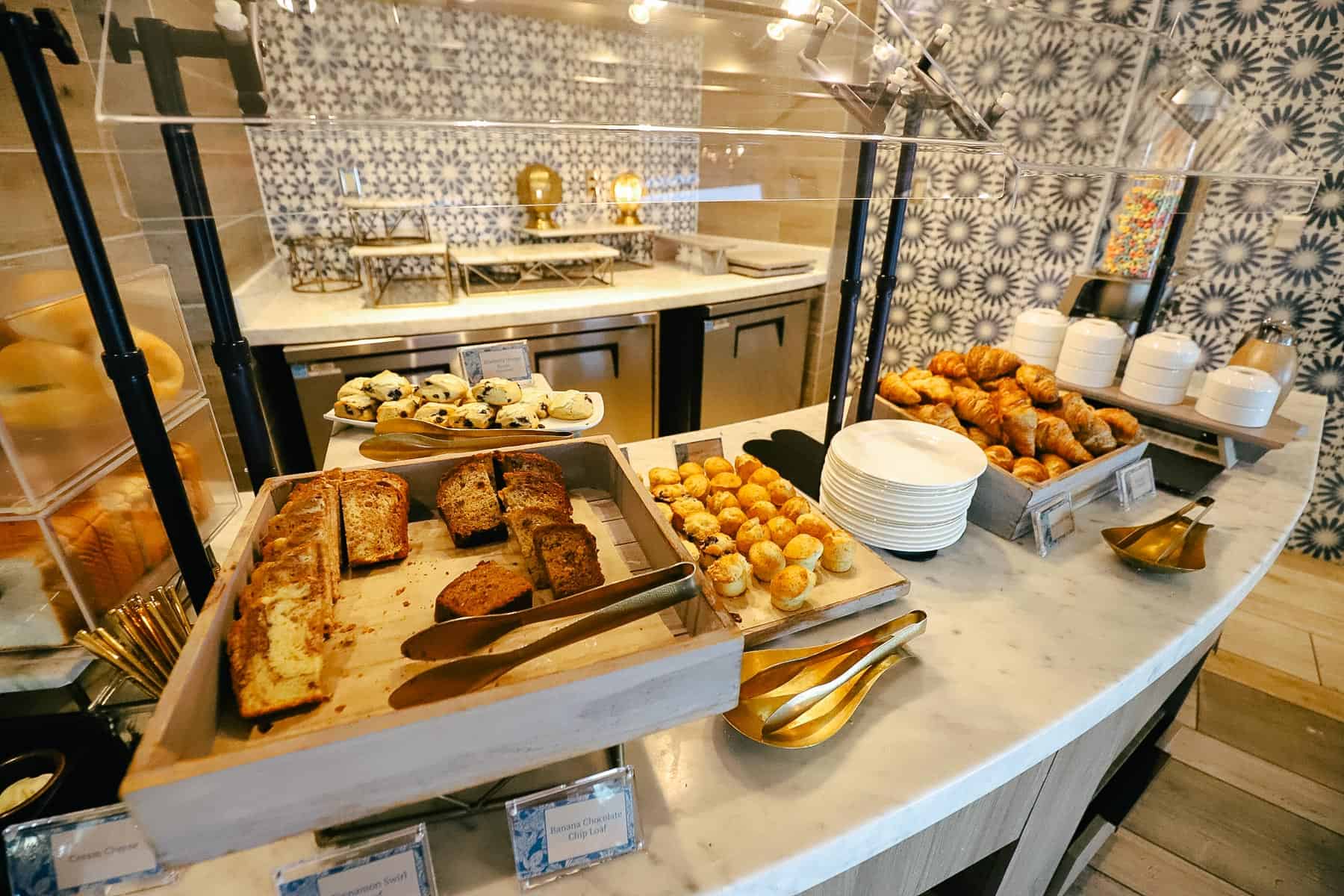 Those blueberry scones toward the back were drizzled in an orange glaze and were absolutely delicious.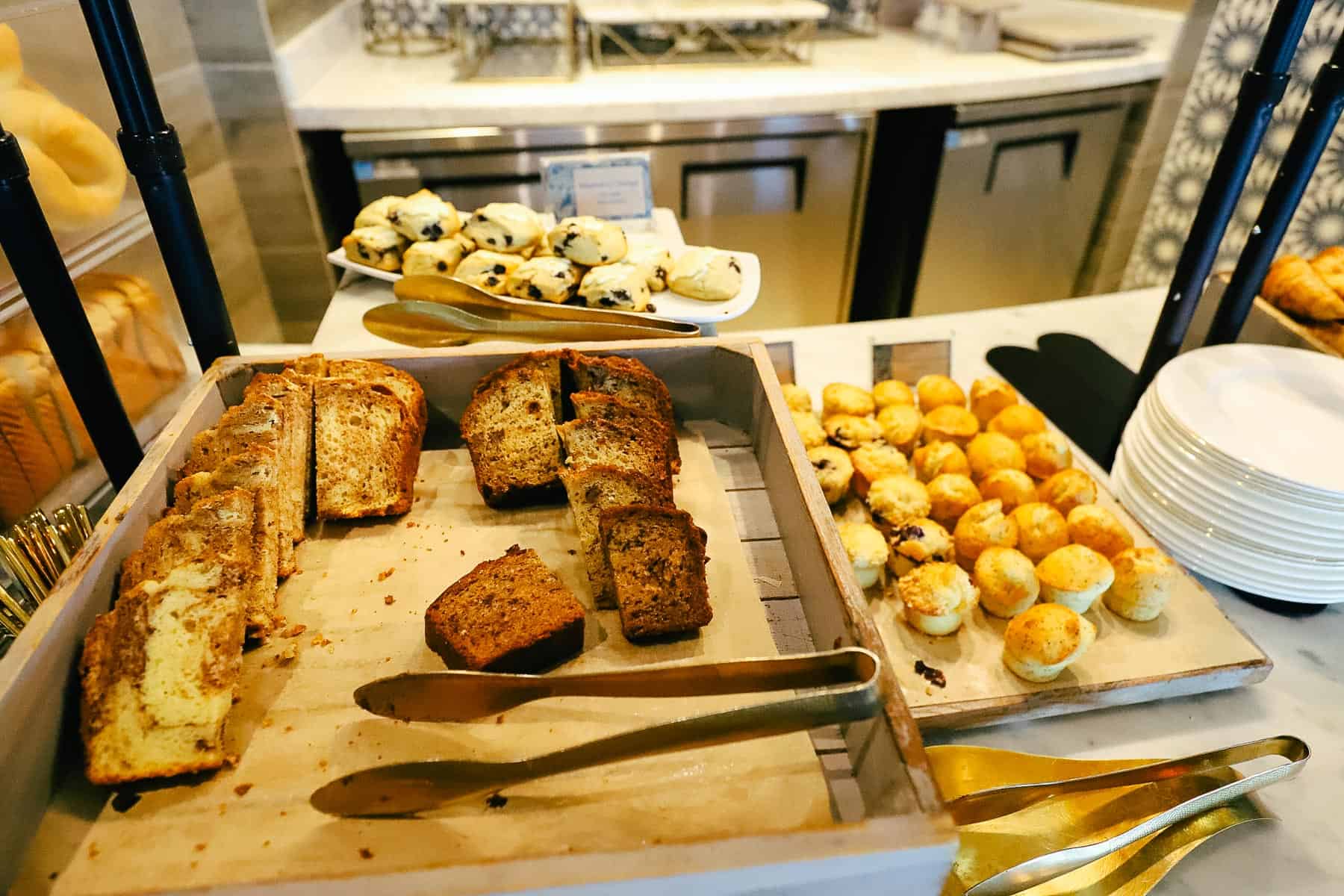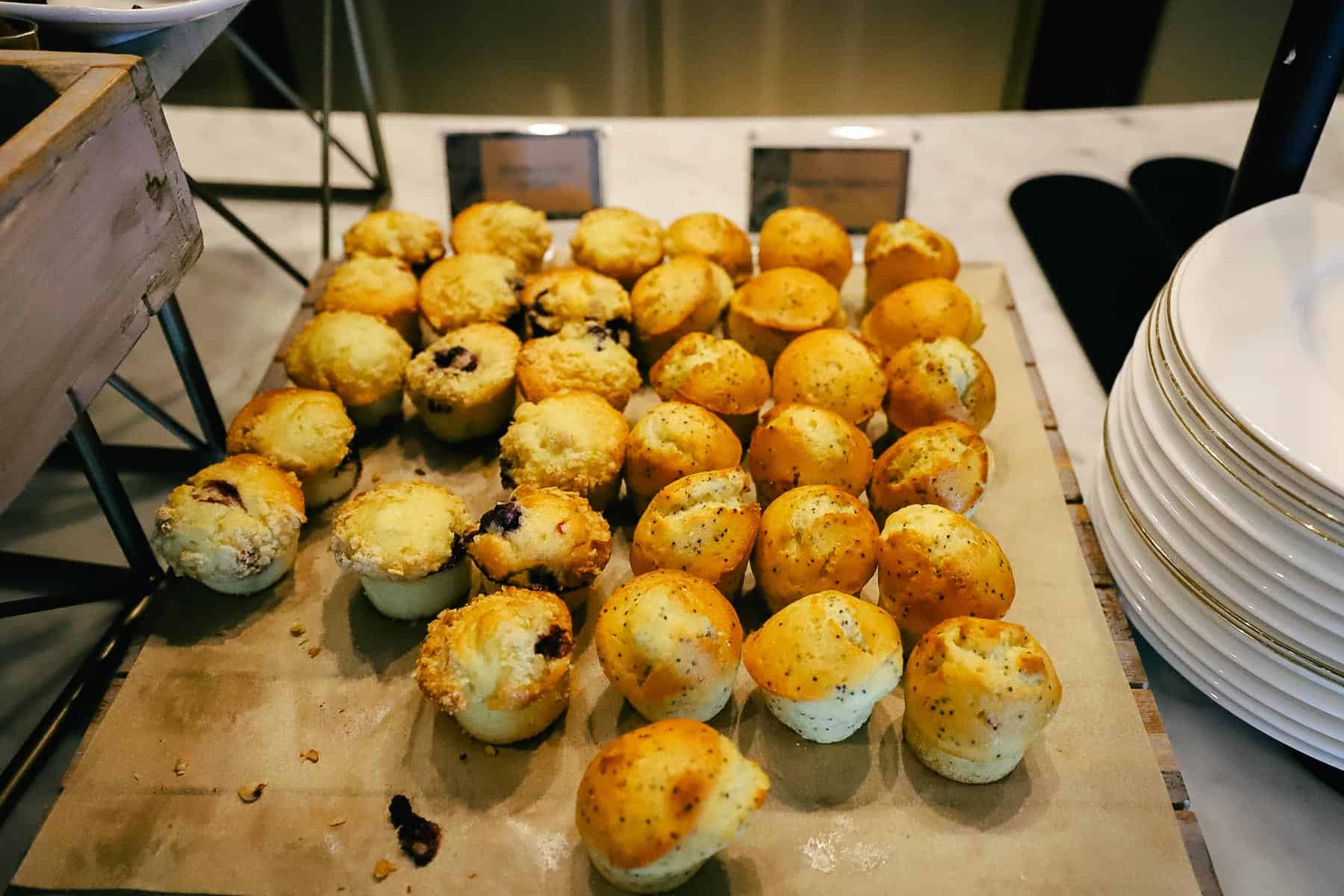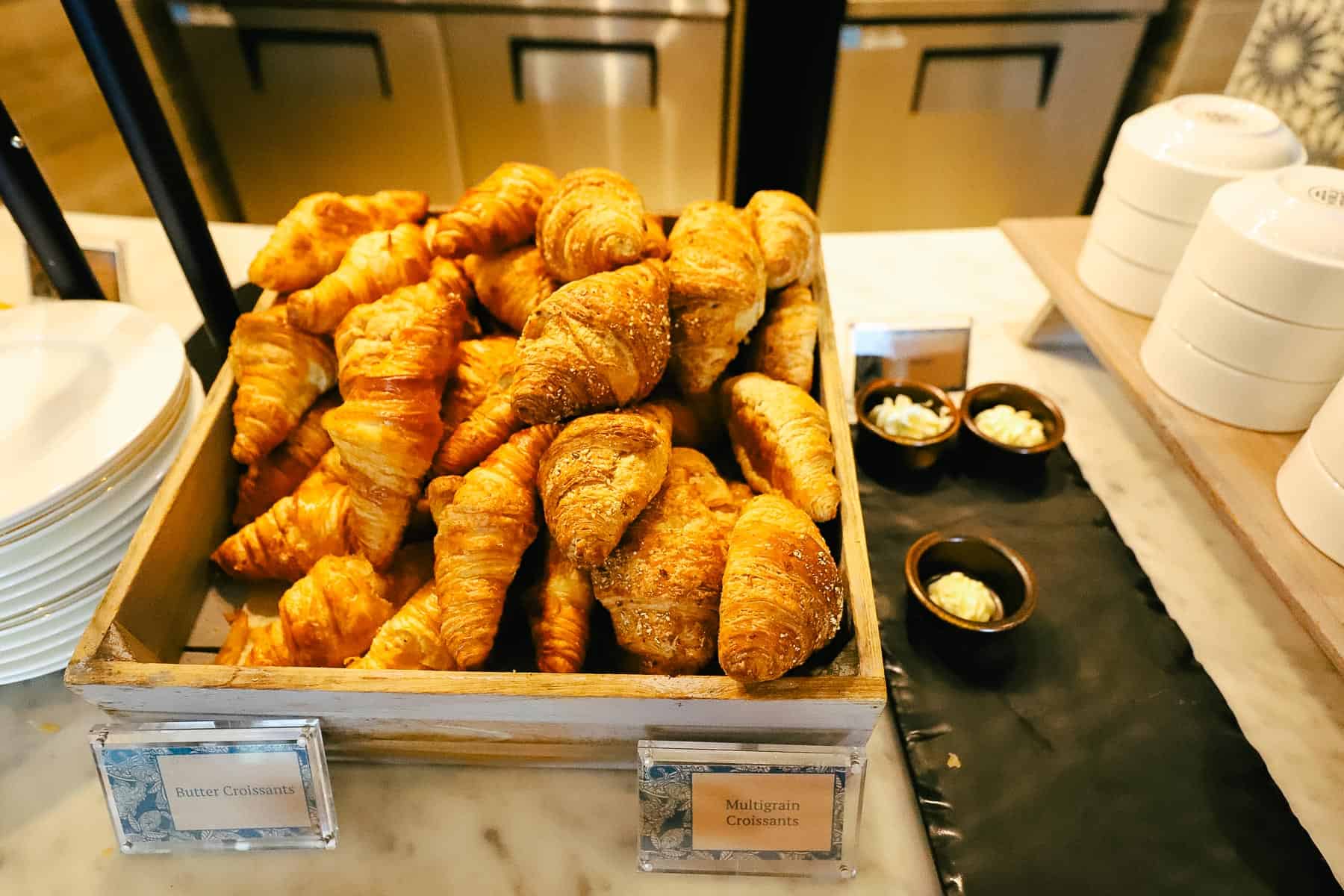 Several types of bagels and sliced bread were also available. It was nice to see fresh butter, peanut butter cups, jelly, and small jars of preserves.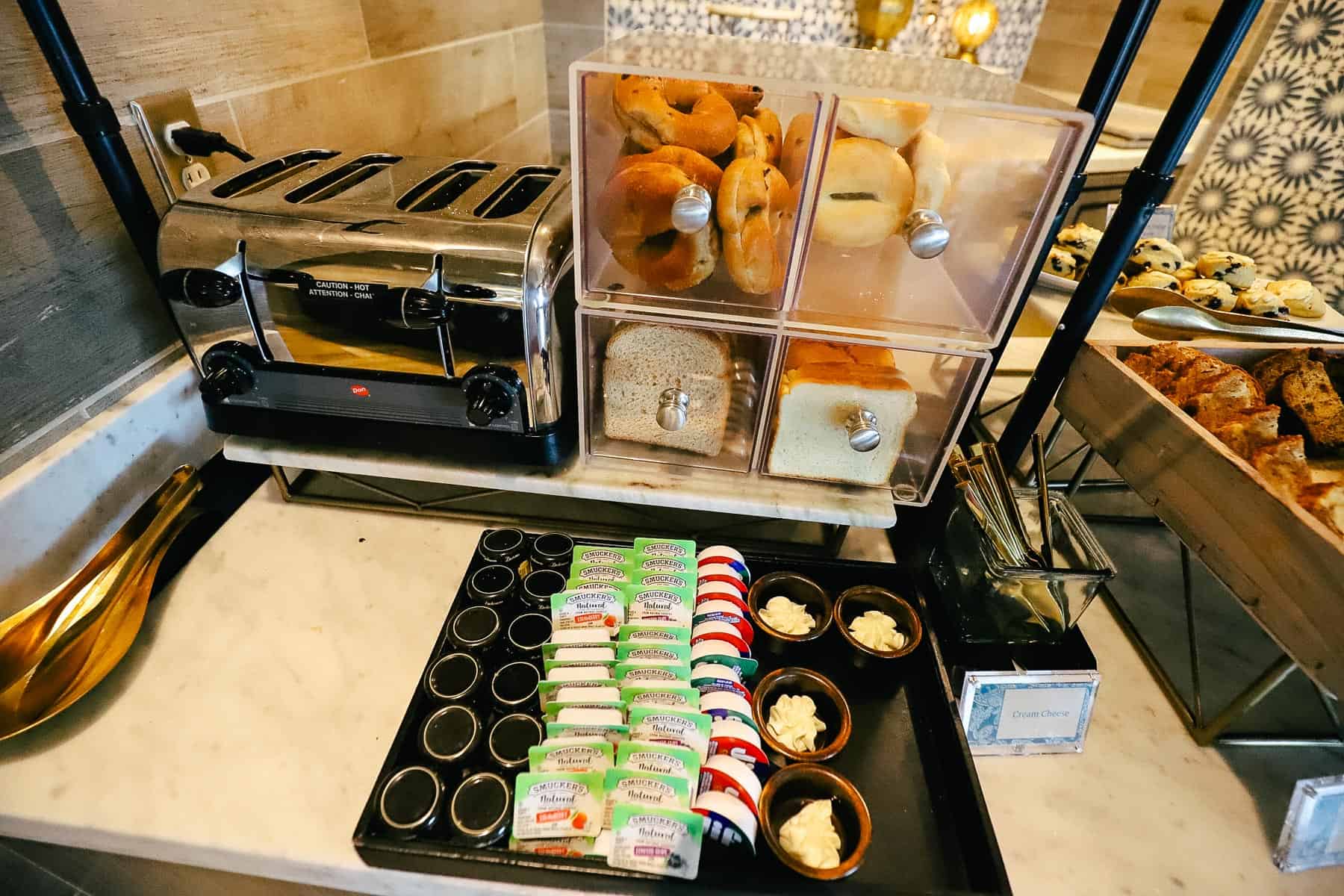 Several types of cereal were available in dispensers.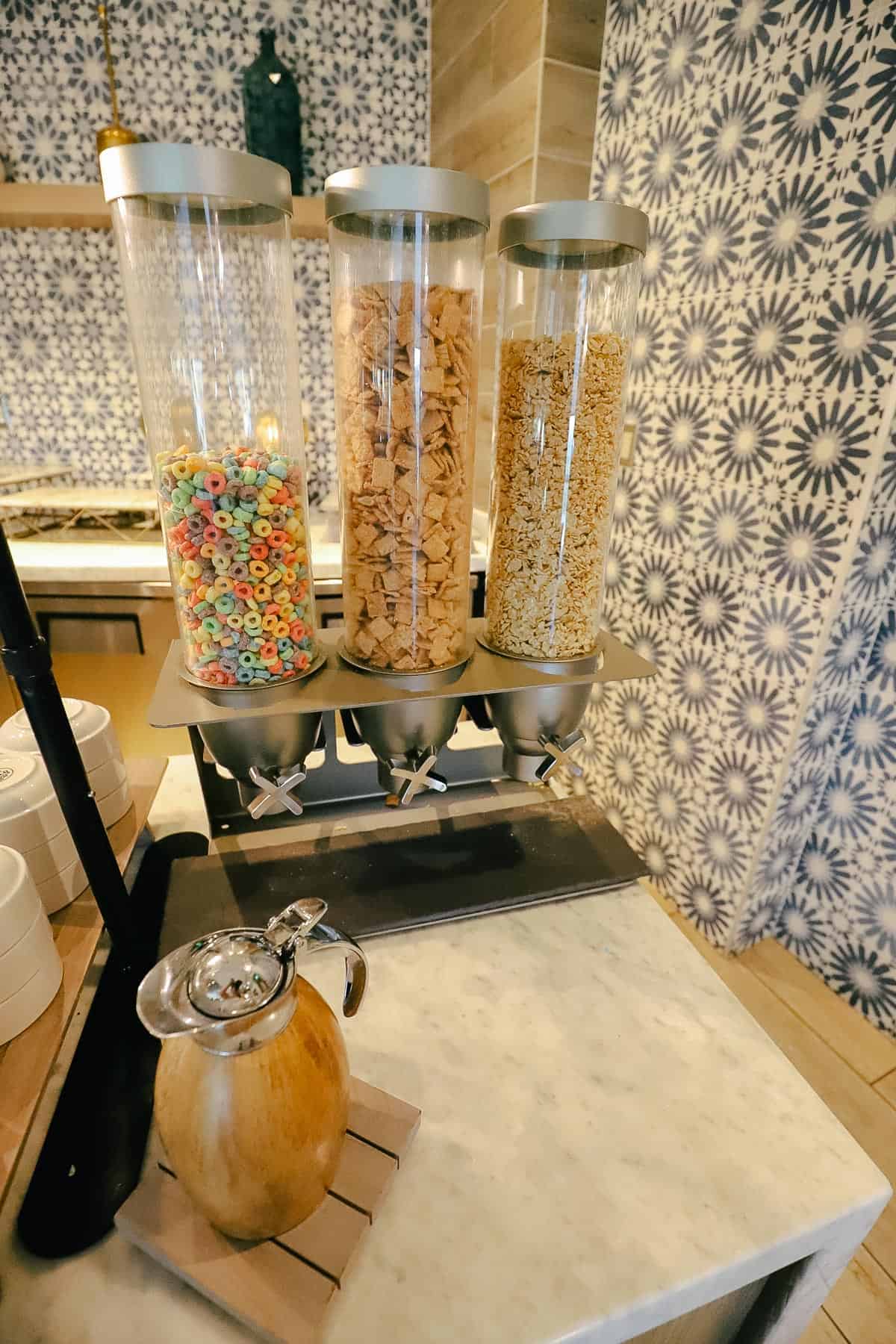 These grab-and-go cereals provided a few other options.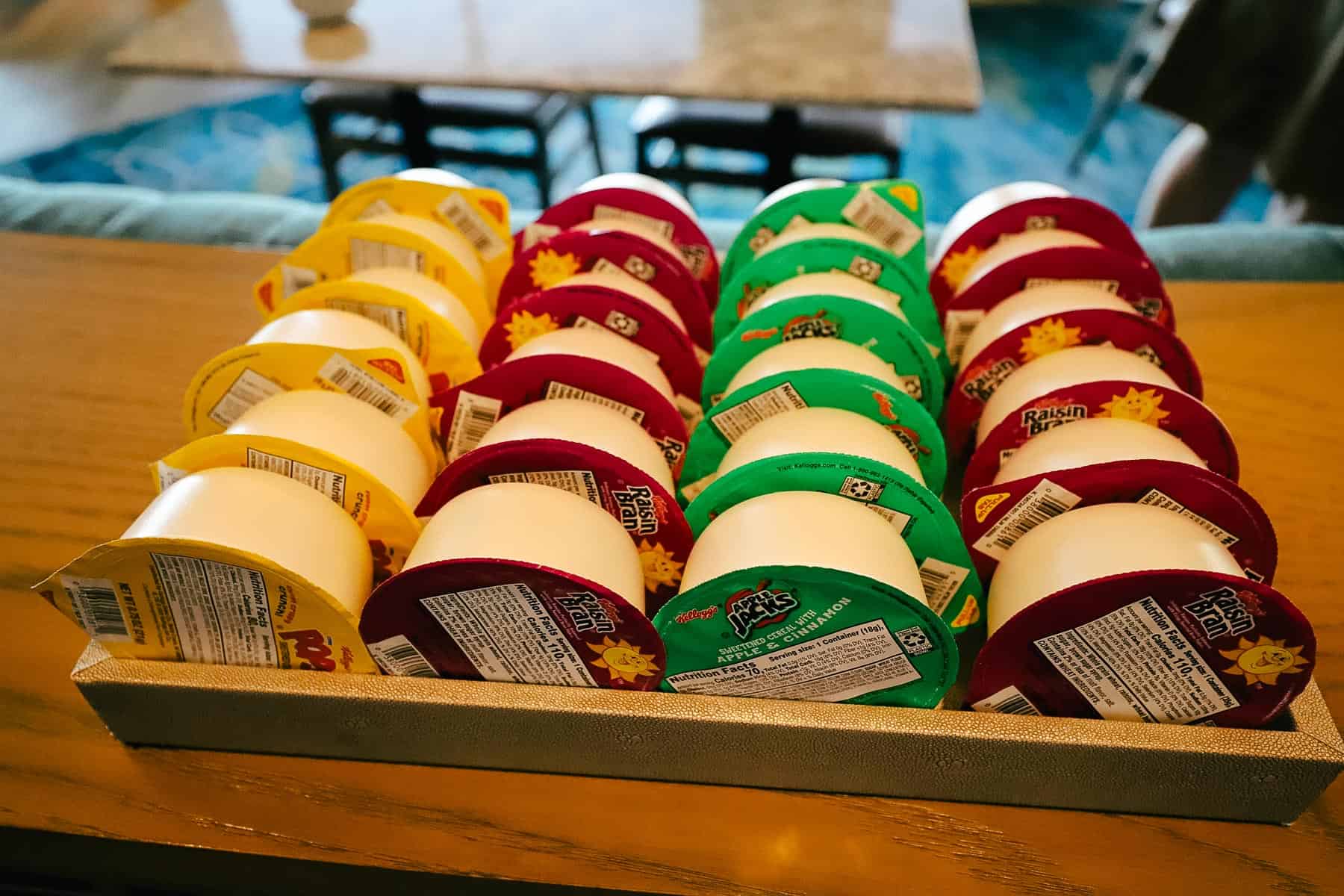 You might also check out the long shelf around the banquette area. During breakfast, they had several flavors of Kind bars. These are perfect for sticking in your backpack for a healthier snack later in the day. (This same area often had jars of hard candy, suckers, and Mandarin oranges.)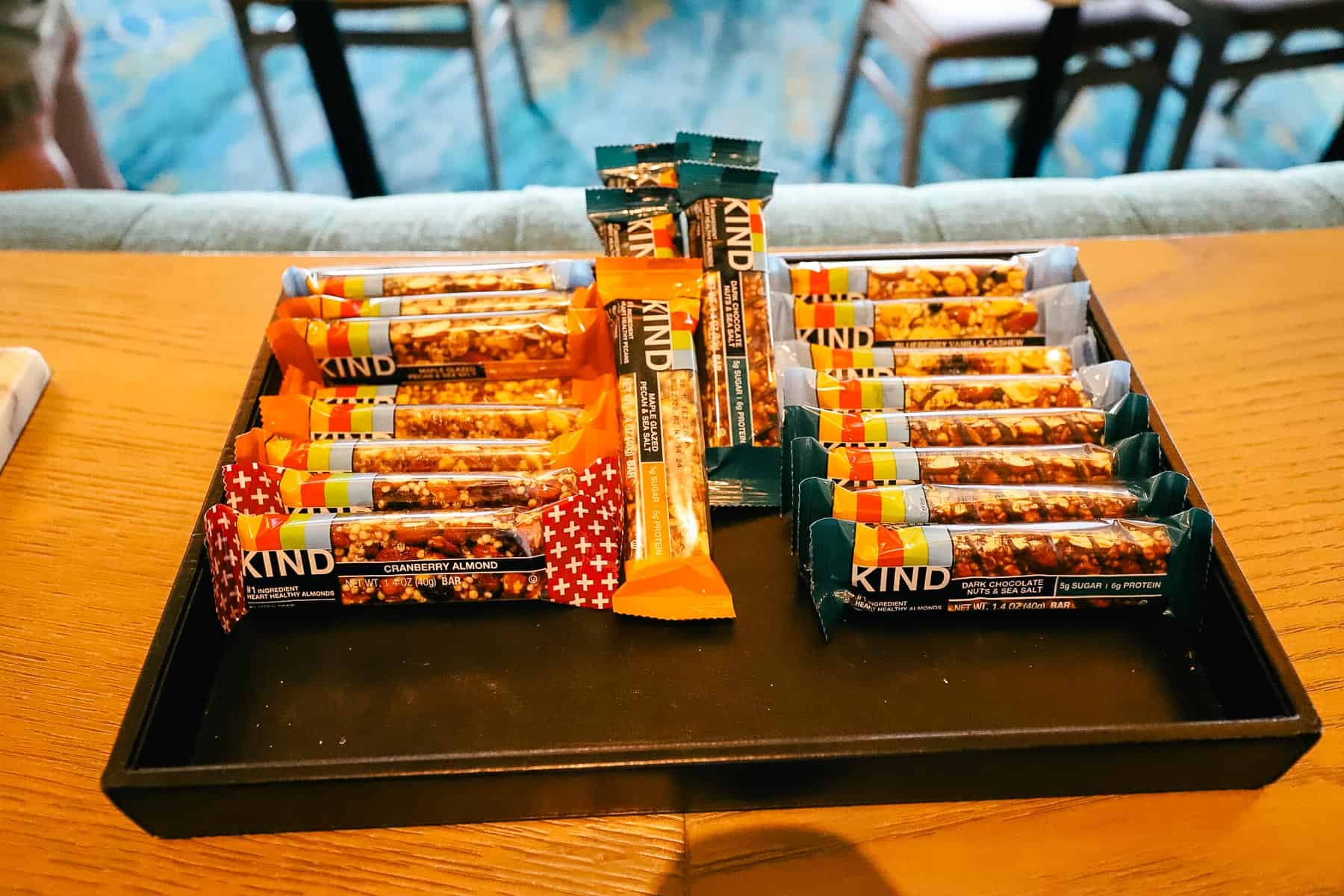 Each day some sort of eggs were available. This morning, we had a bacon frittata.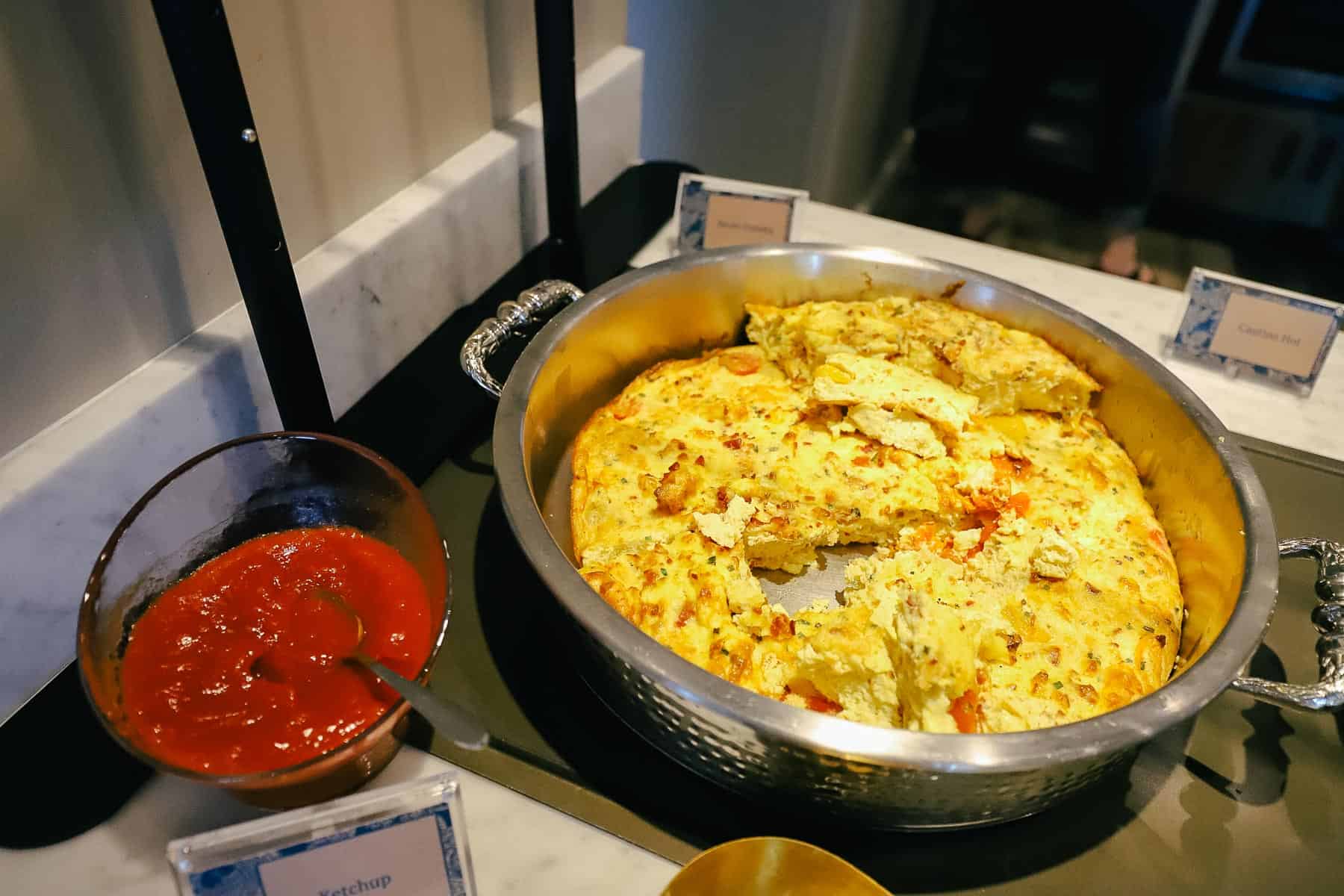 Chicken sausage was the primary meat option.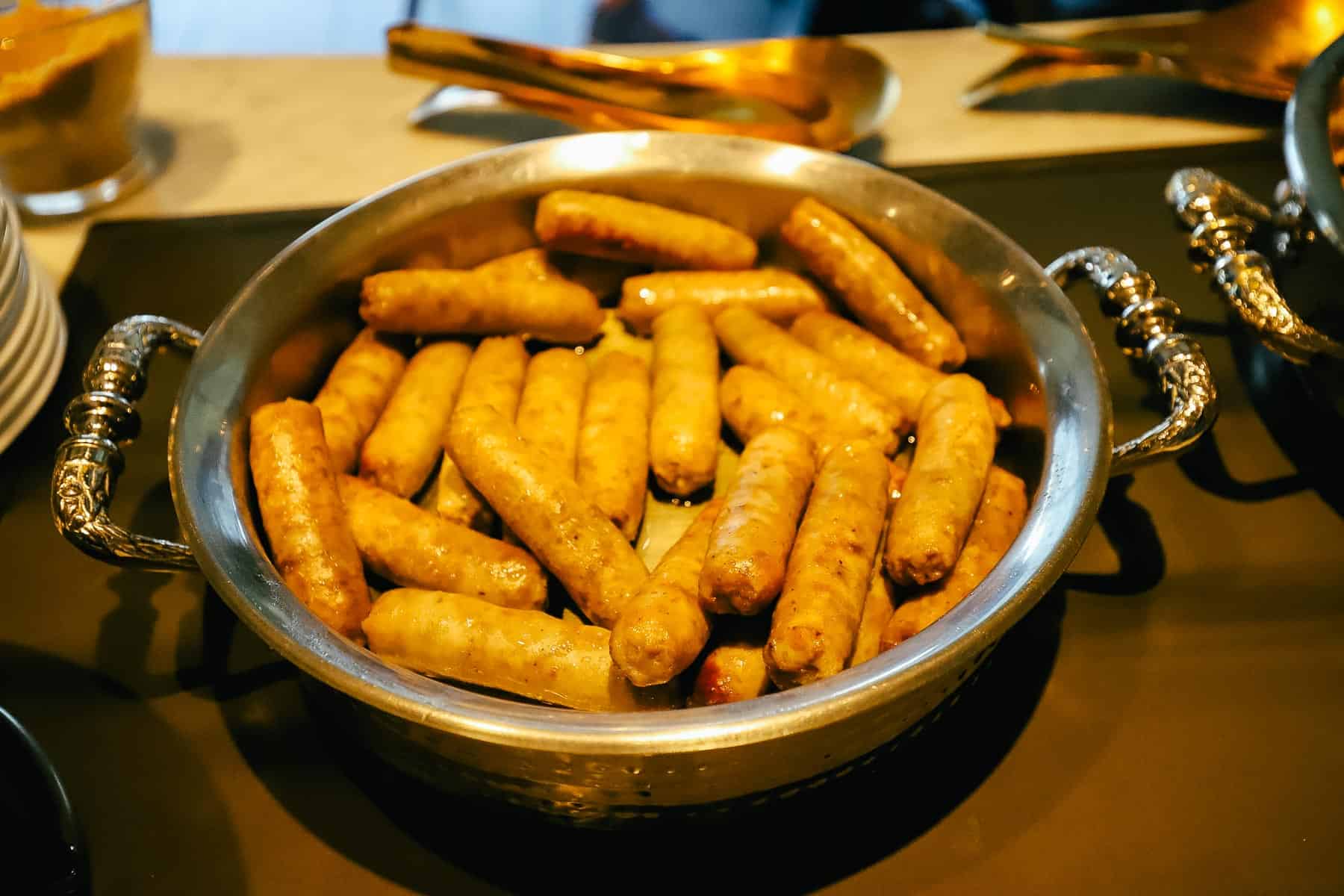 Small polenta cakes sat nearby. These were yummy bites.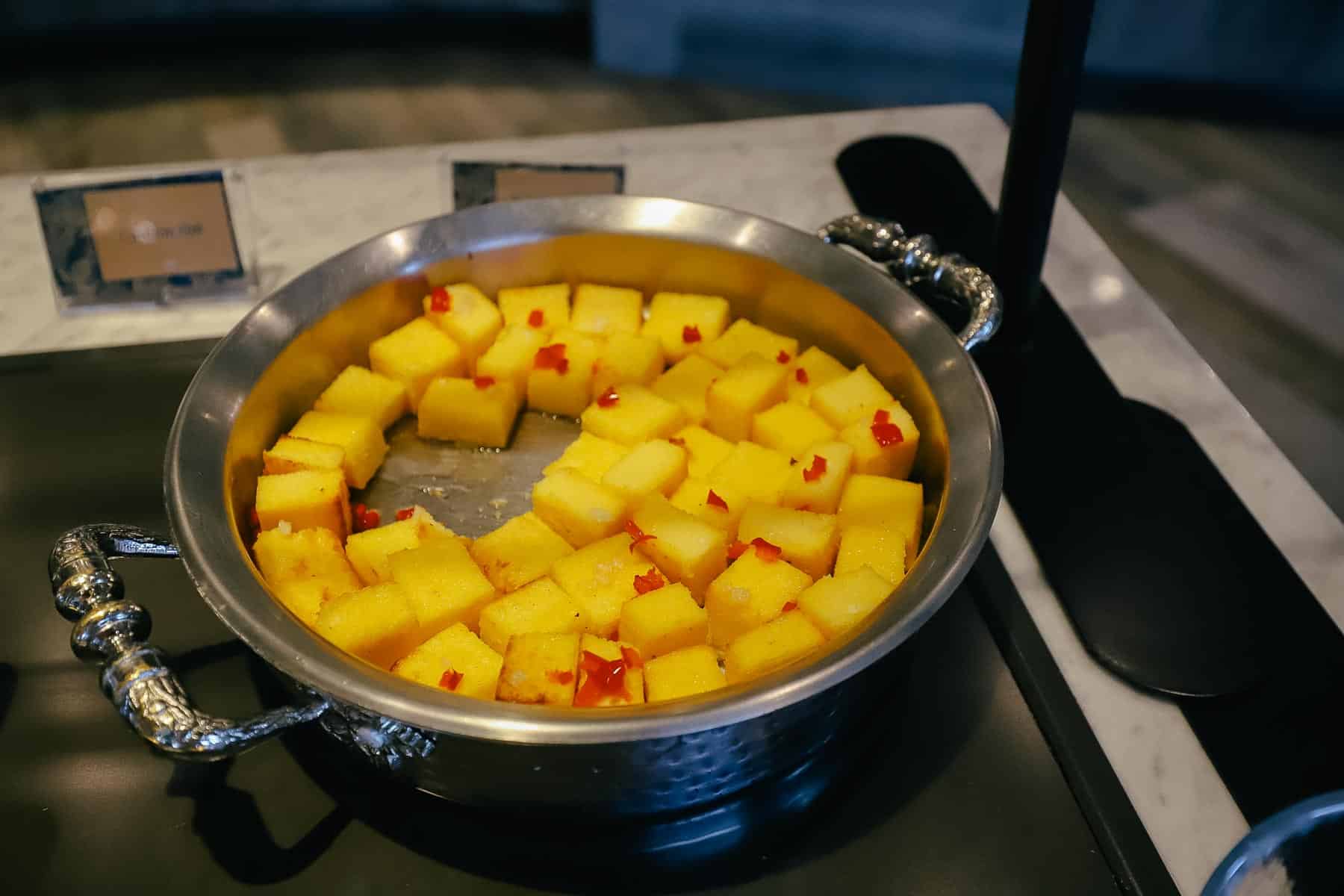 Steel-cut oatmeal was available with various toppings you would expect, like brown sugar and cinnamon.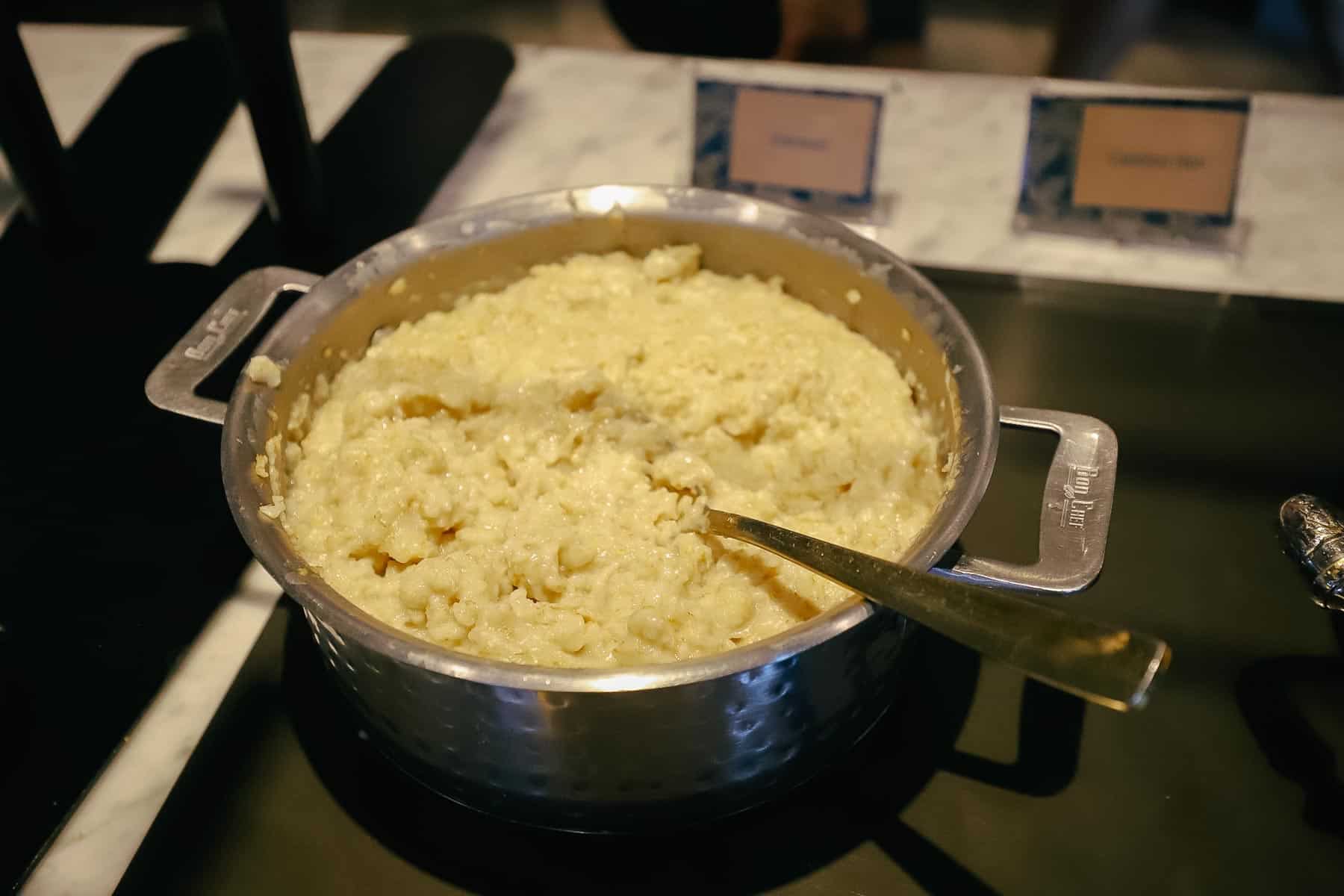 Fruit selections included grapes and pineapples.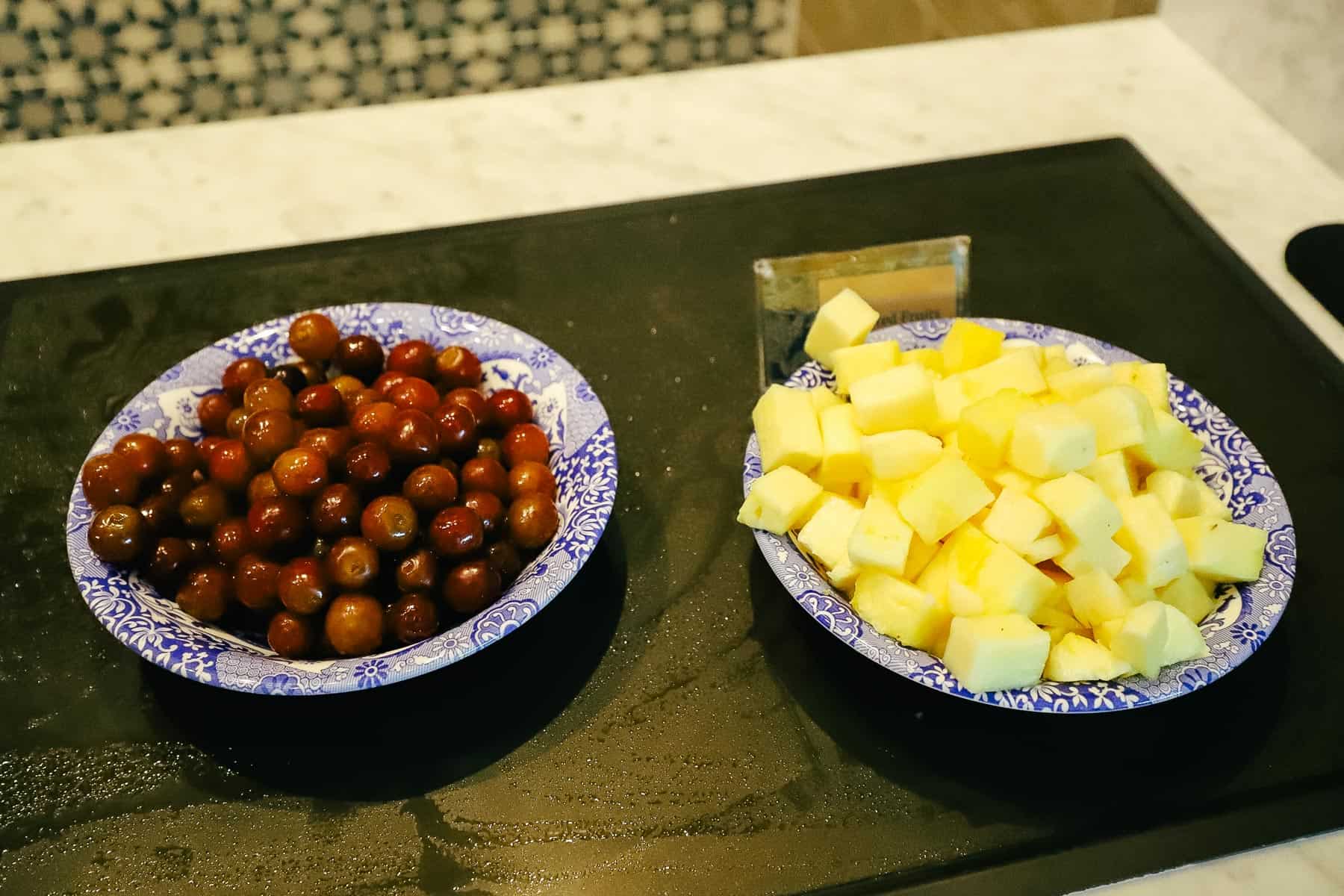 Here we have hard-boiled eggs, salami, and smoked ham.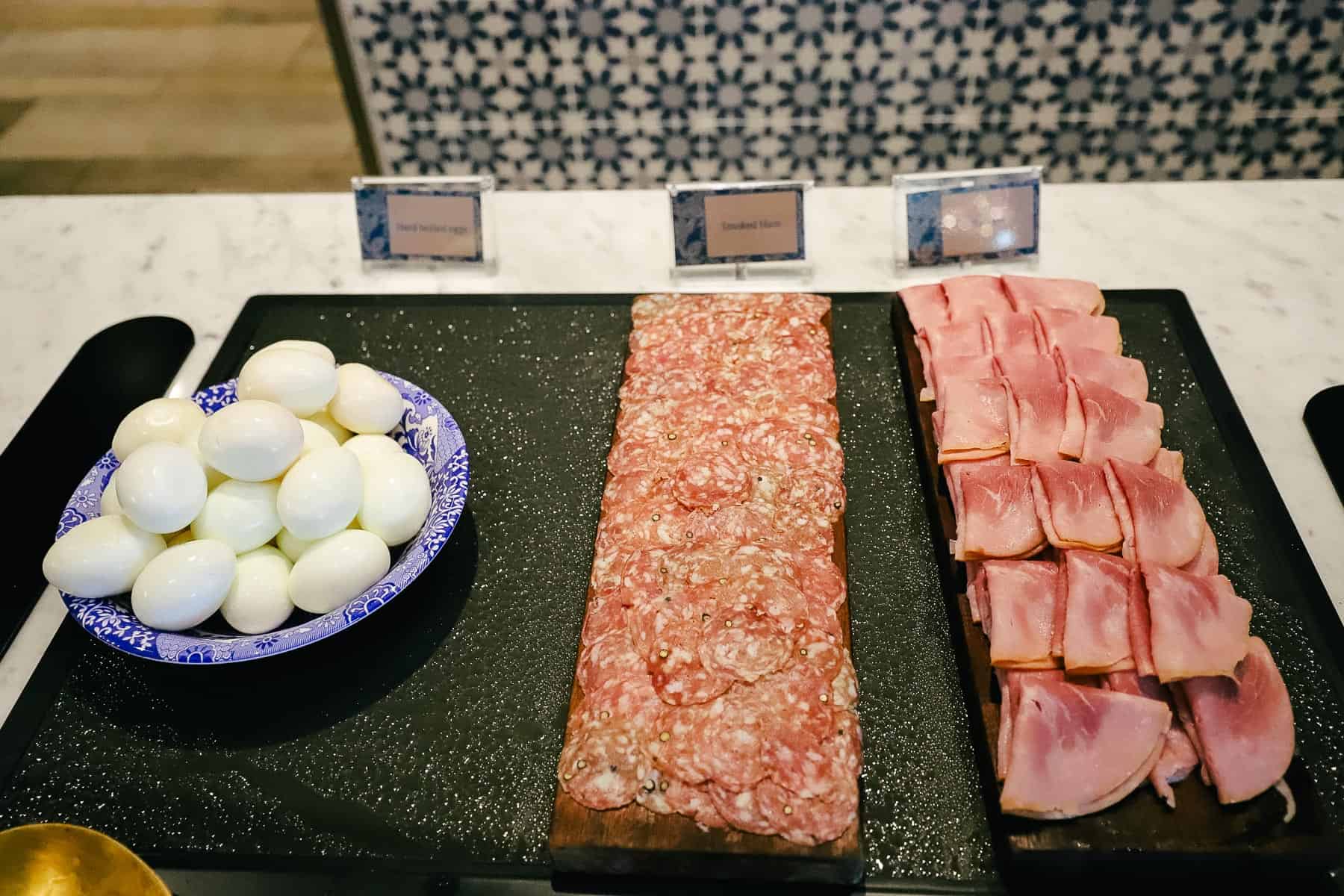 Two types of juice (orange and cranberry) were available during breakfast. Of course, you could request juice later in the day. Any staff member would gladly provide items they have on hand throughout the day.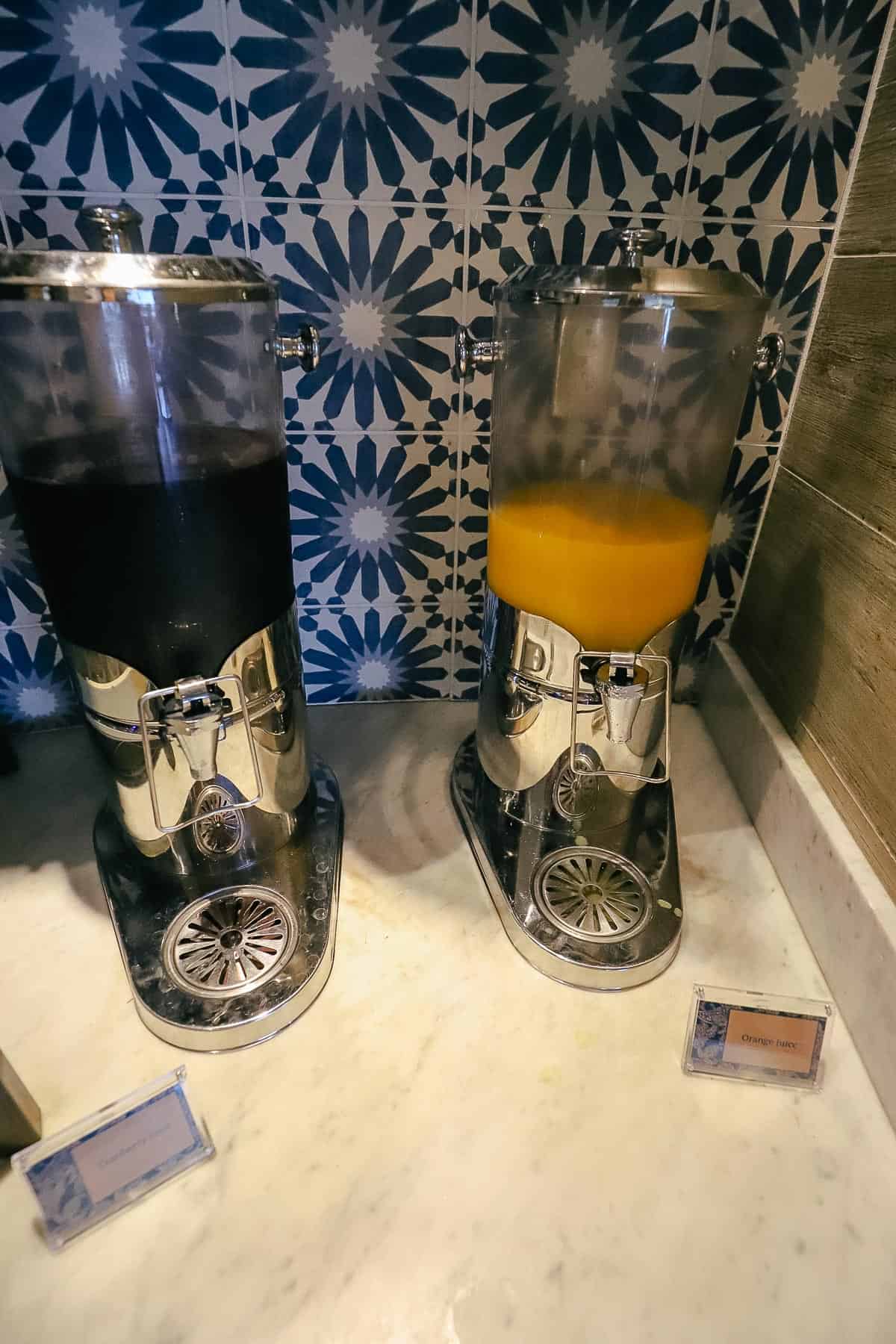 The Chronos Club has a beverage fridge with a few items that get changed out over the day. For example, the top of the refrigerator had grapes, apple slices, and various yogurt flavors during breakfast.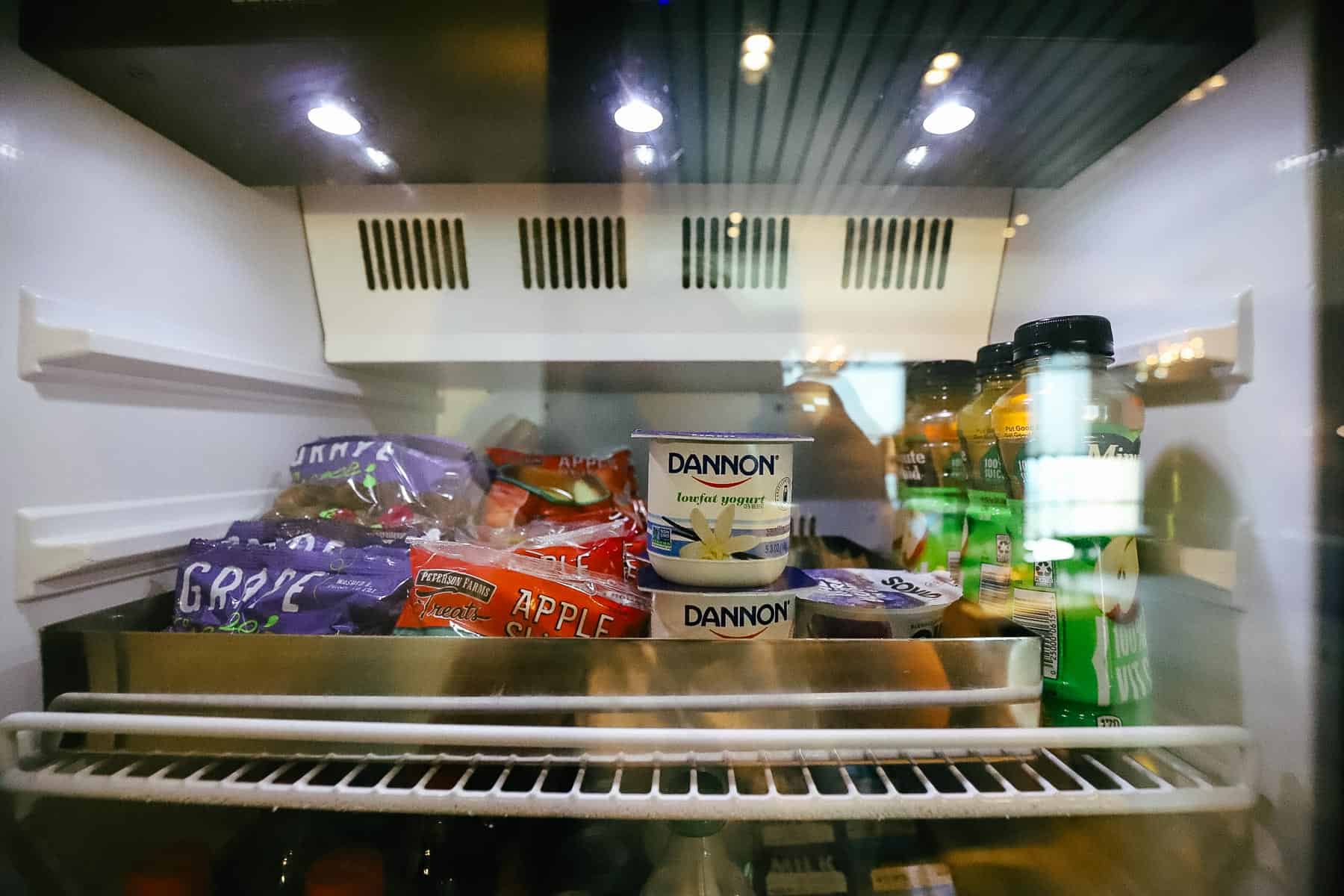 The following items were always available. (Coke, Diet Coke, Coke Zero Sugar, and Sprite)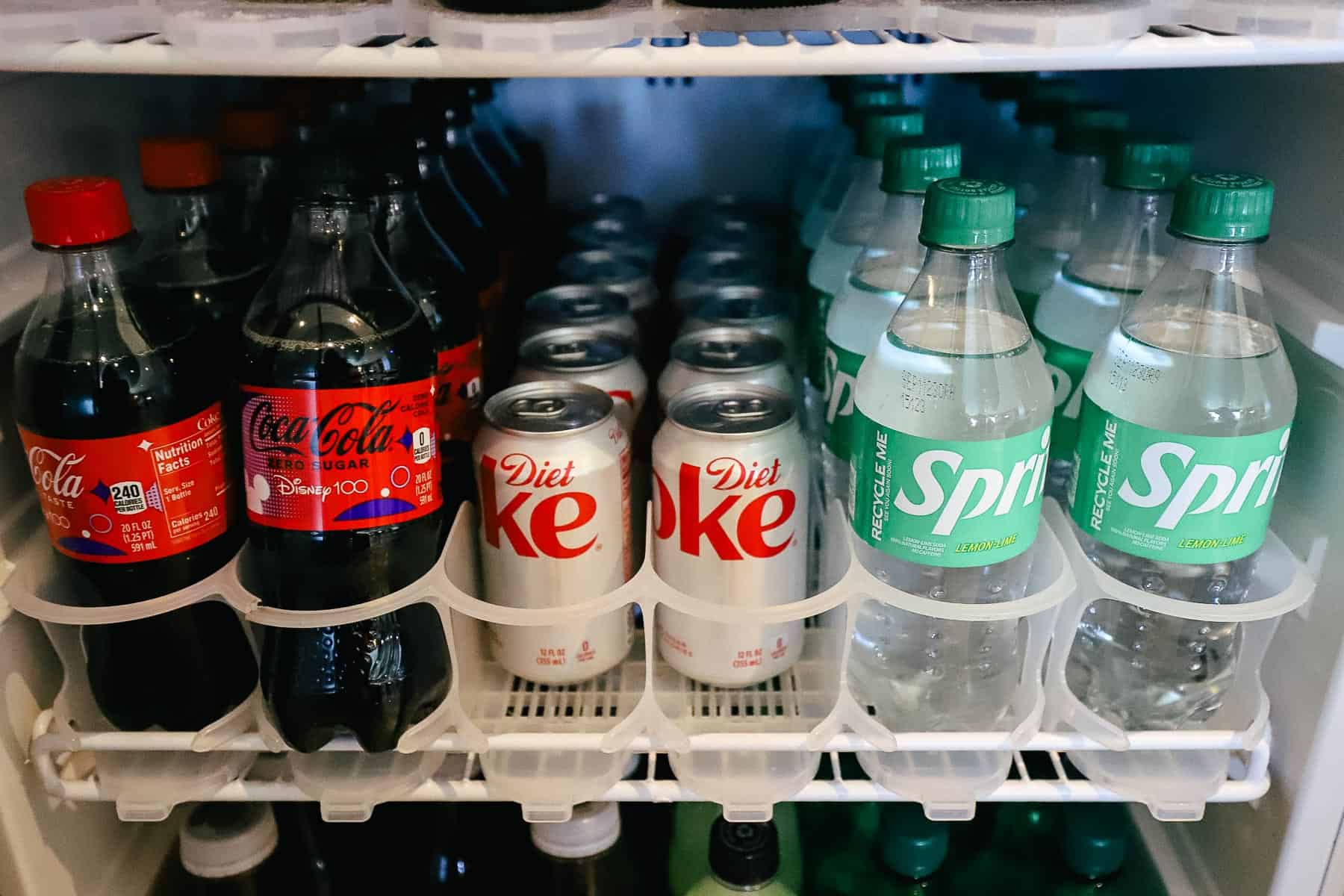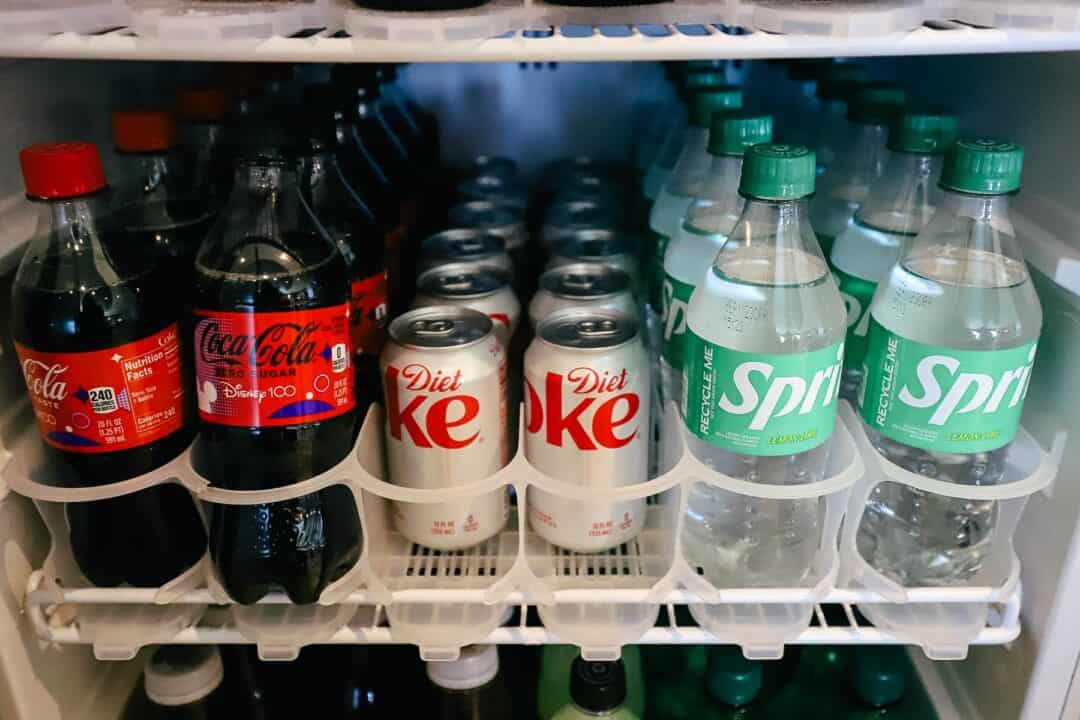 Gold Peak Tea, Minute Maid Lemonade, Perrier, and Dasani bottled water were other options.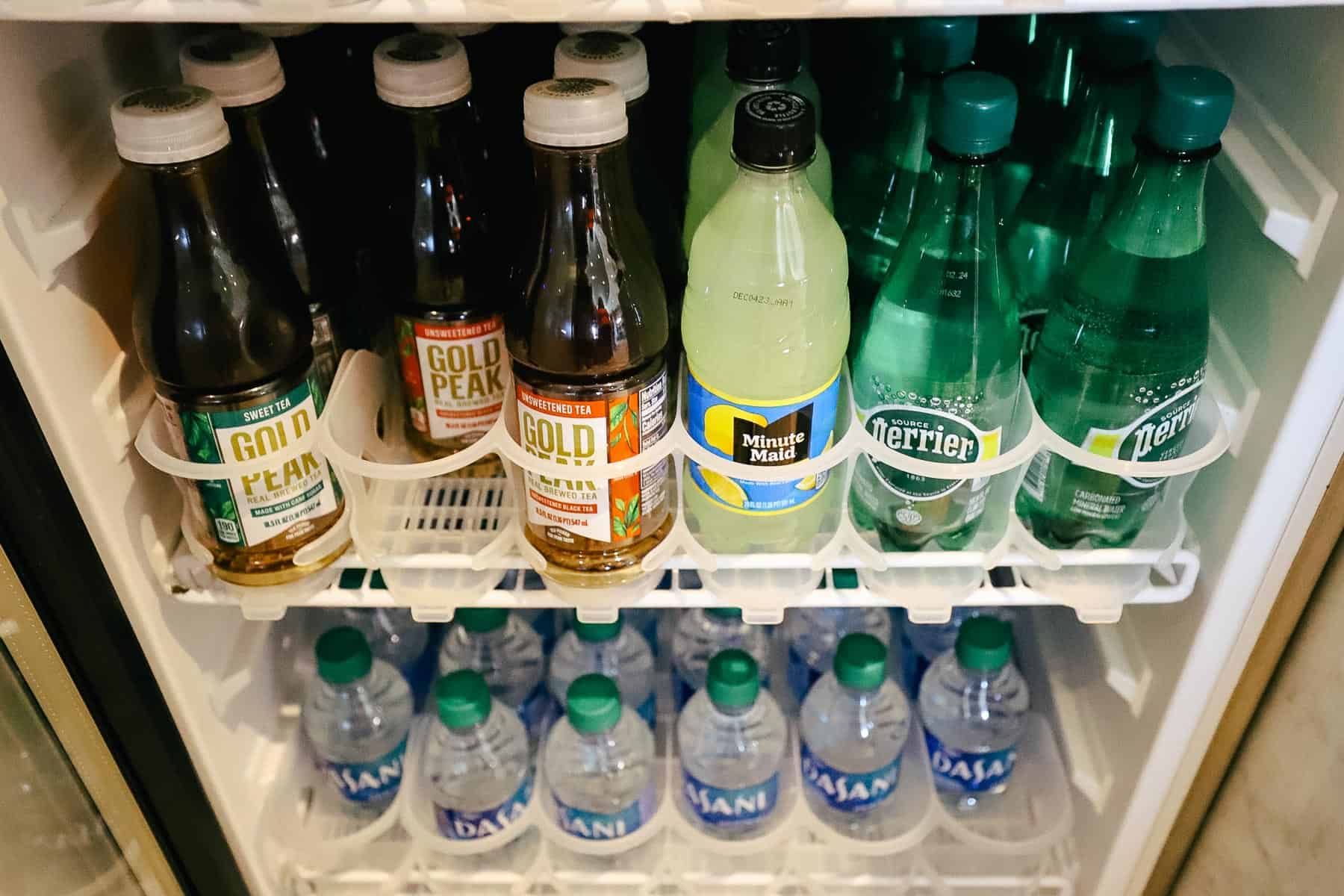 But the real deal was the EGRO coffee machine. With the touch of a button, it would prepare coffee, lattes, cappuccinos, and more within seconds. One side was regular, and the other was decaf.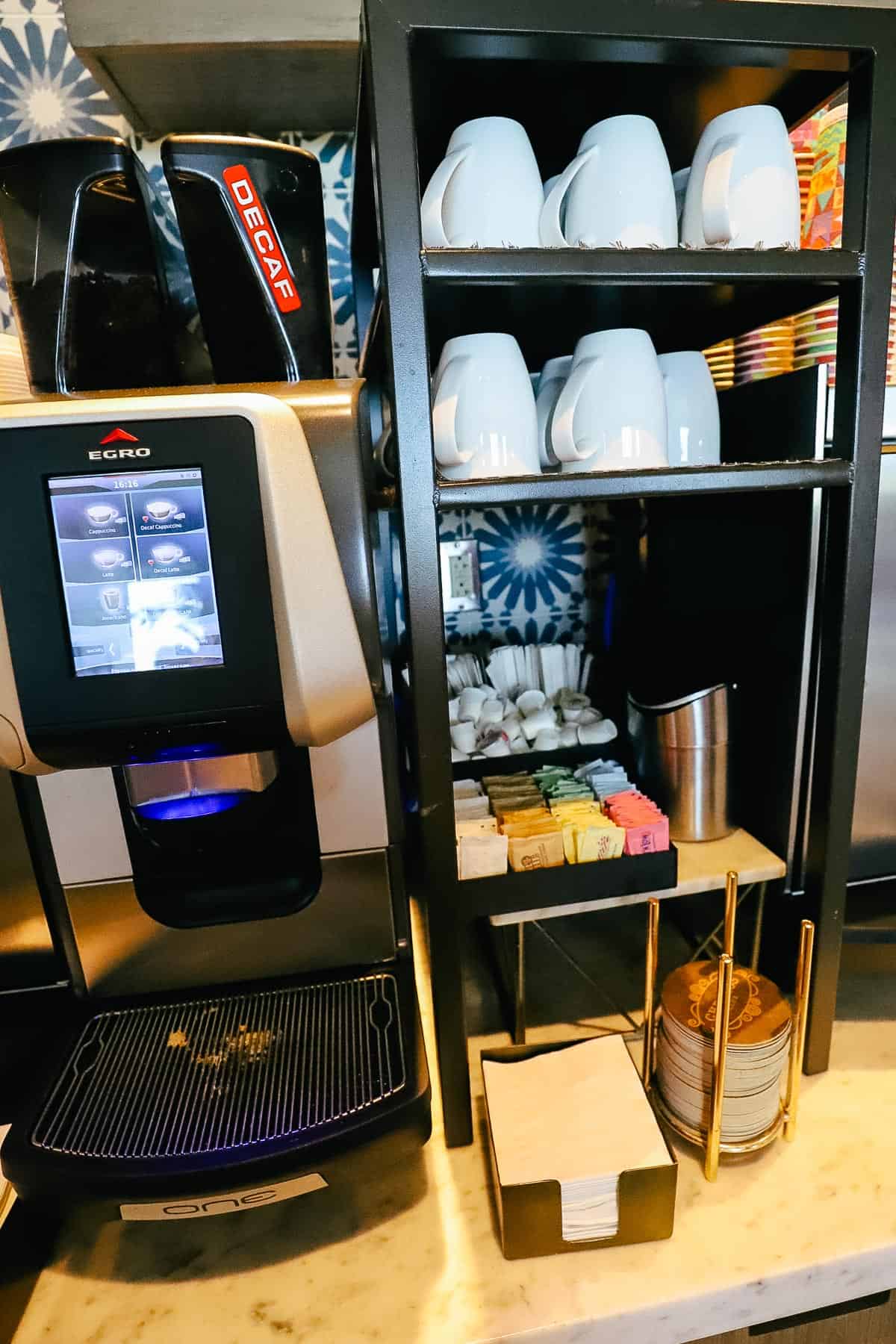 Here is a look at what I enjoyed for breakfast. It was more than enough to make a meal.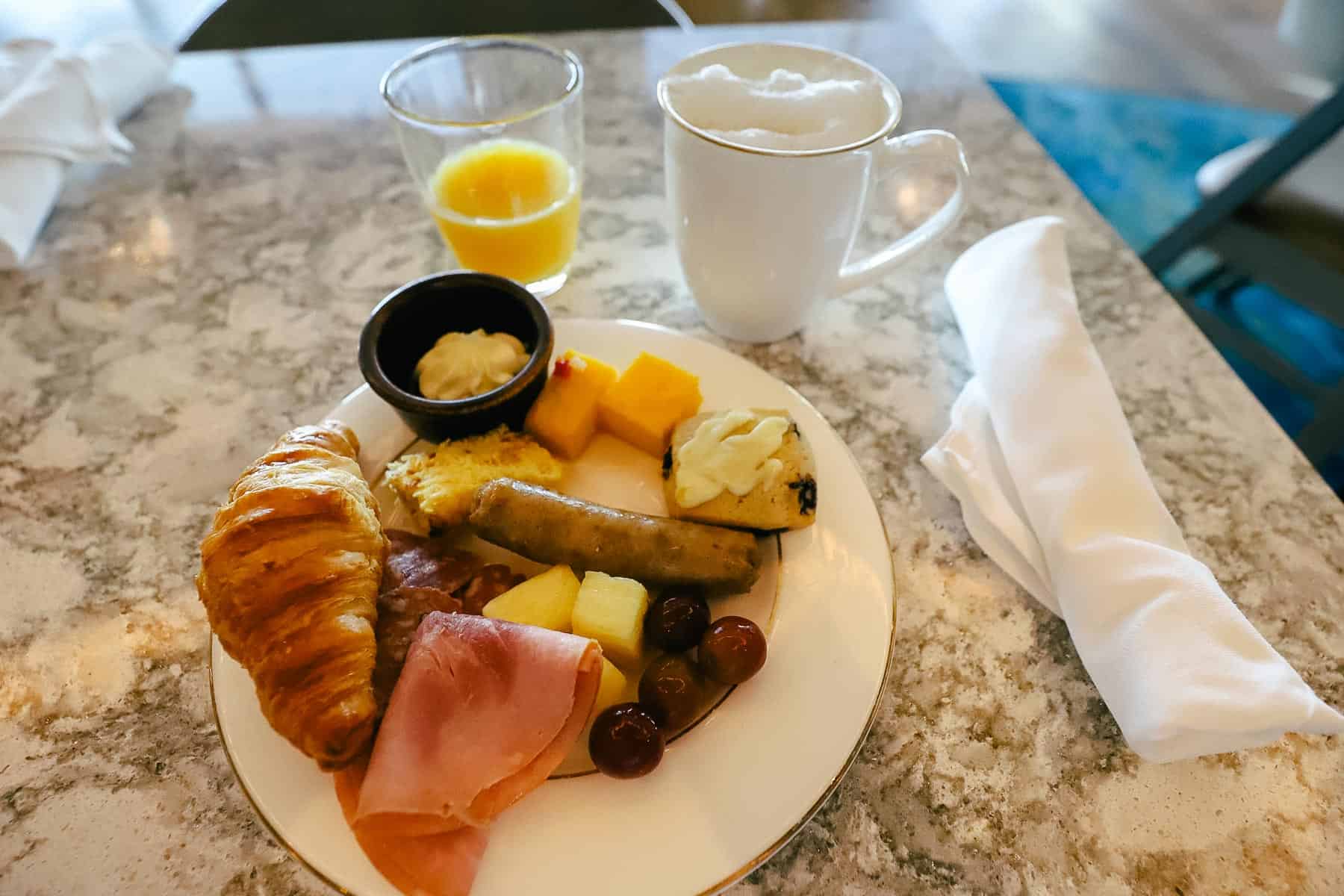 While we were eating breakfast, Kristen noticed that some guests had mimosas. A family sat down at a table next to us not long after. They were immediately acknowledged and asked if they wanted a Mickey spritzer or breakfast cocktail. So she asked if we could try one.
It was a little aggravating that we had to ask. And it wasn't just us. The lounge was pretty busy. But it was apparent that the servers had only checked on a few select guests.
A few minutes later, we were brought a mimosa prepared with POG juice (passion fruit, orange juice, and grenadine) and another with orange juice. Soon after, several other tables near us requested them.
Typically, a breakfast mimosa would cost you upwards of $15.00 at one of Disney's restaurants. So if you would prefer a mocktail or breakfast cocktail, they are included. But you might have to ask.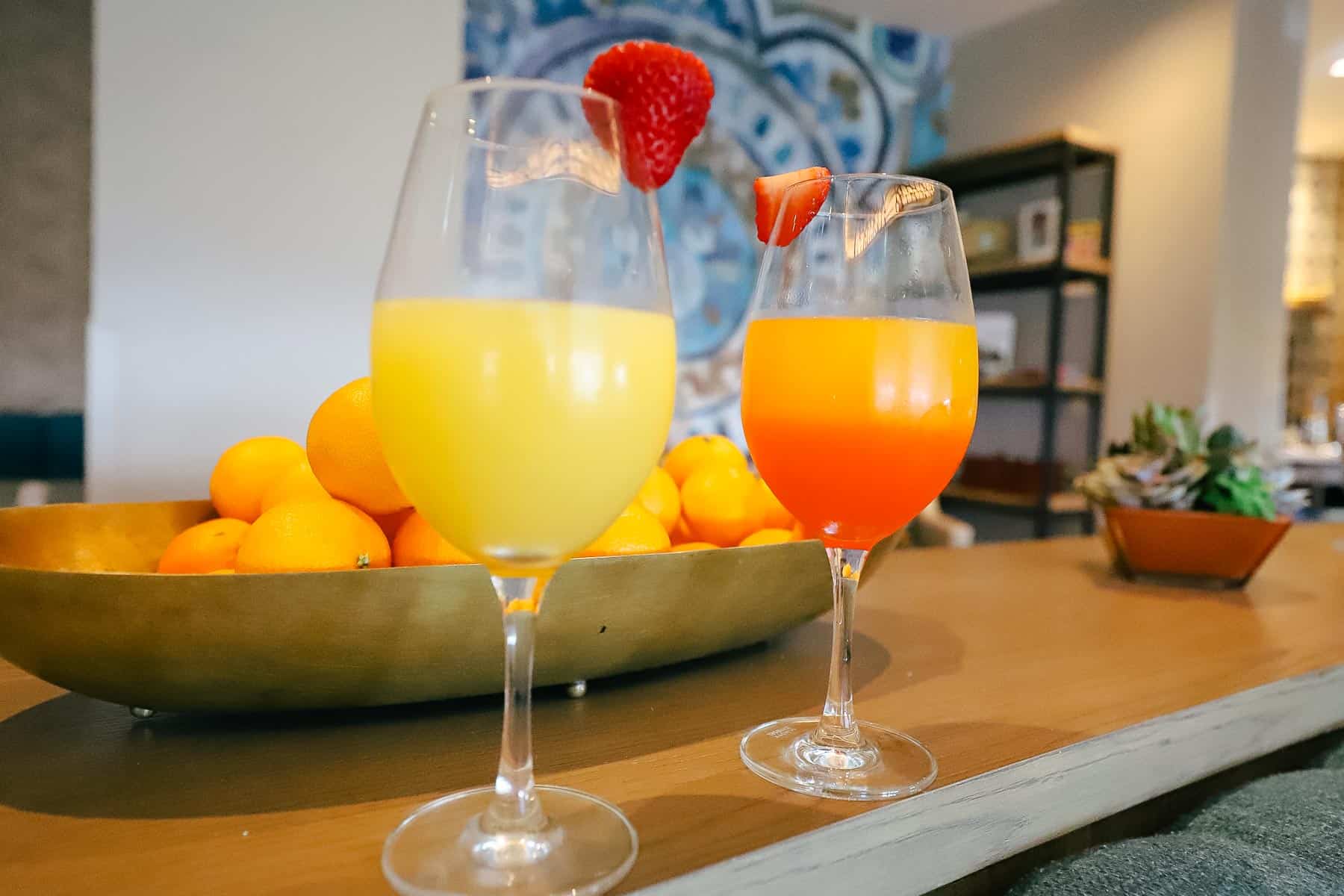 Light Snacks
After breakfast, club-level offerings transition to light snacks. These items would not serve as lunch by any means. But if you like to graze, you might pop into the lounge and enjoy a few things during the afternoon.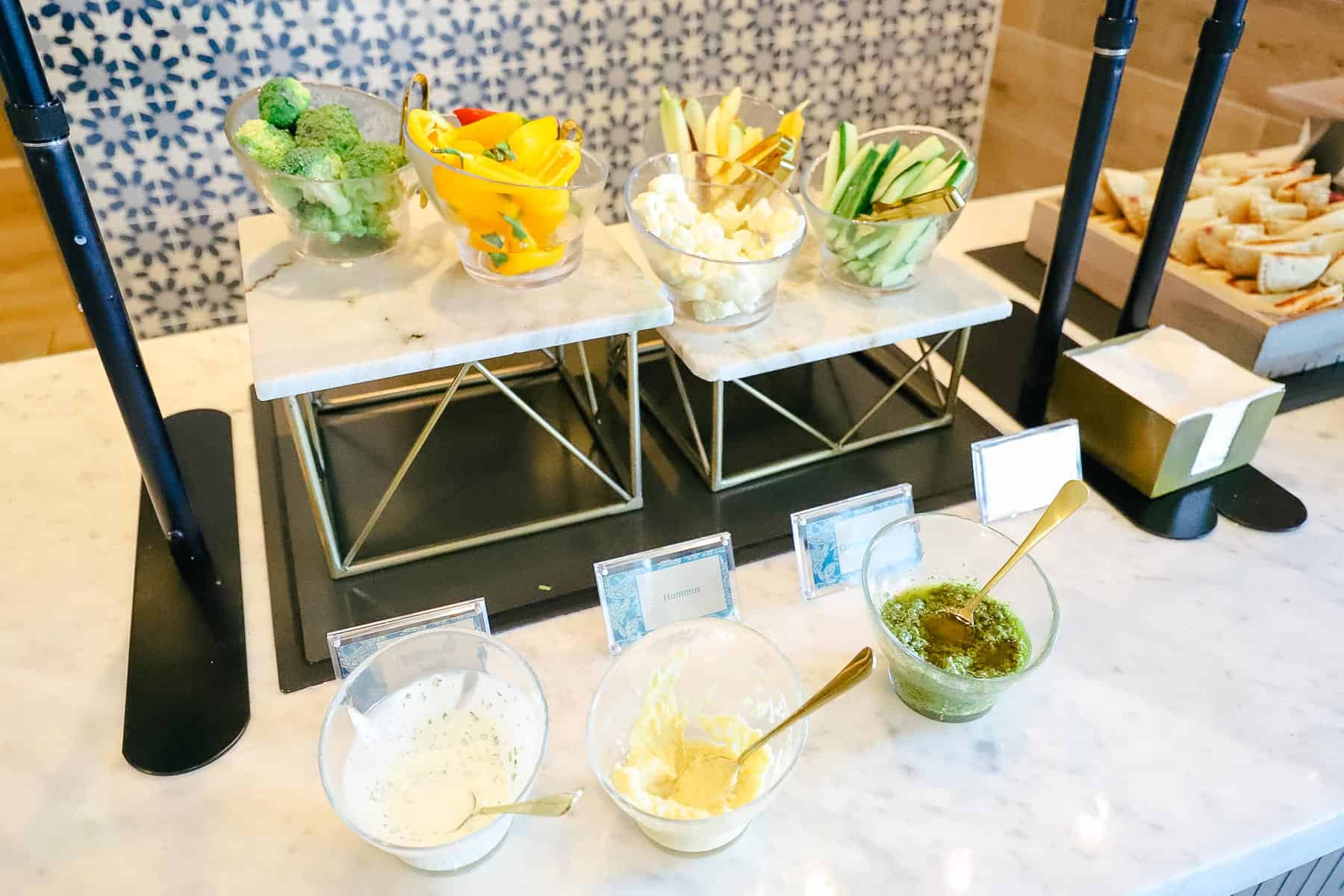 Several vegetables were available, like broccoli, peppers, cauliflowers, carrots, and zucchini.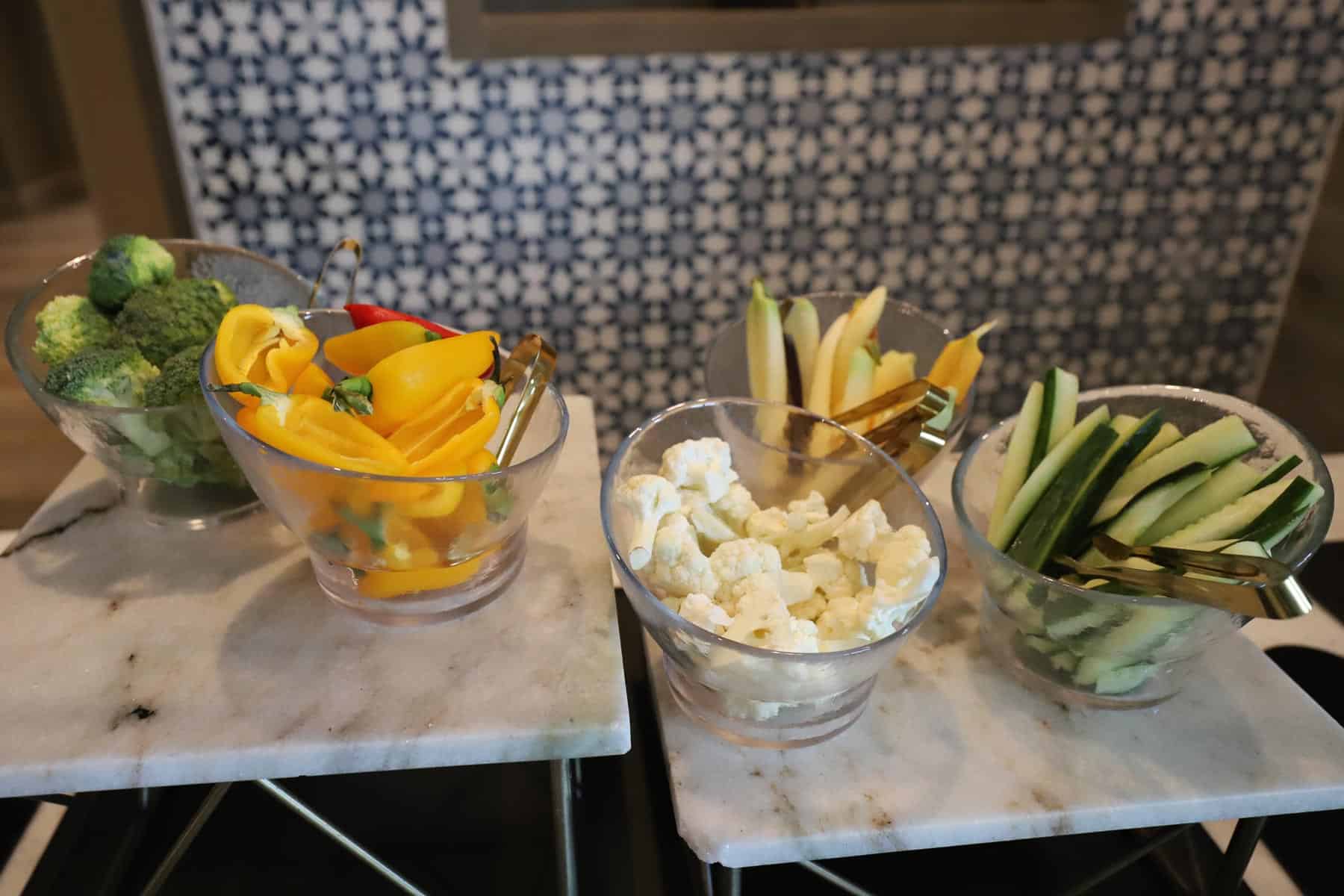 Dipping sauces included house-made ranch, hummus, and pesto.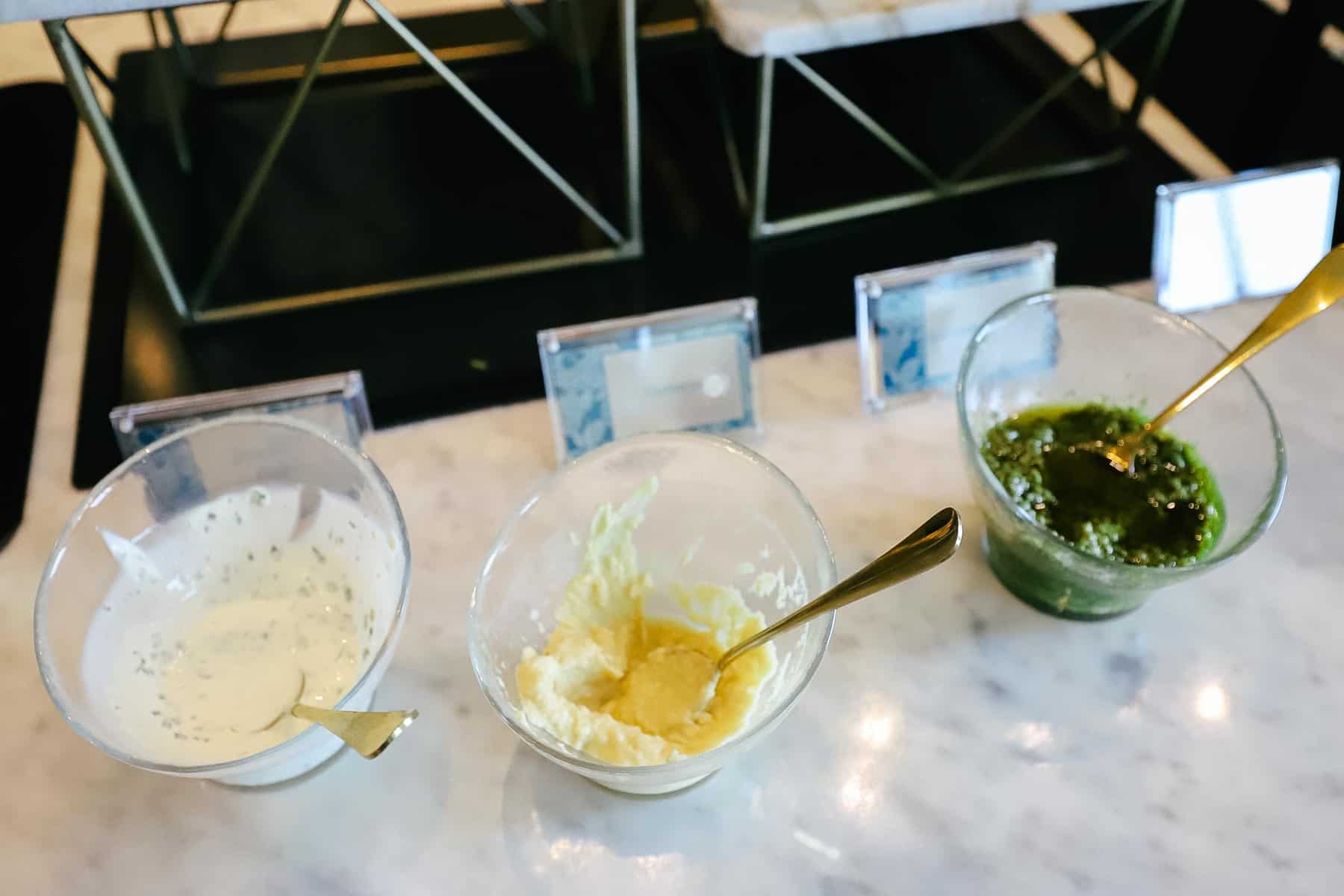 Miniature peanut butter and jelly sandwiches were another option. They were Uncrustables that had been cut in half. These items are not available at dinner. But I noticed one evening that a lady requested a few for her children, and they brought her several packs of Uncrustables.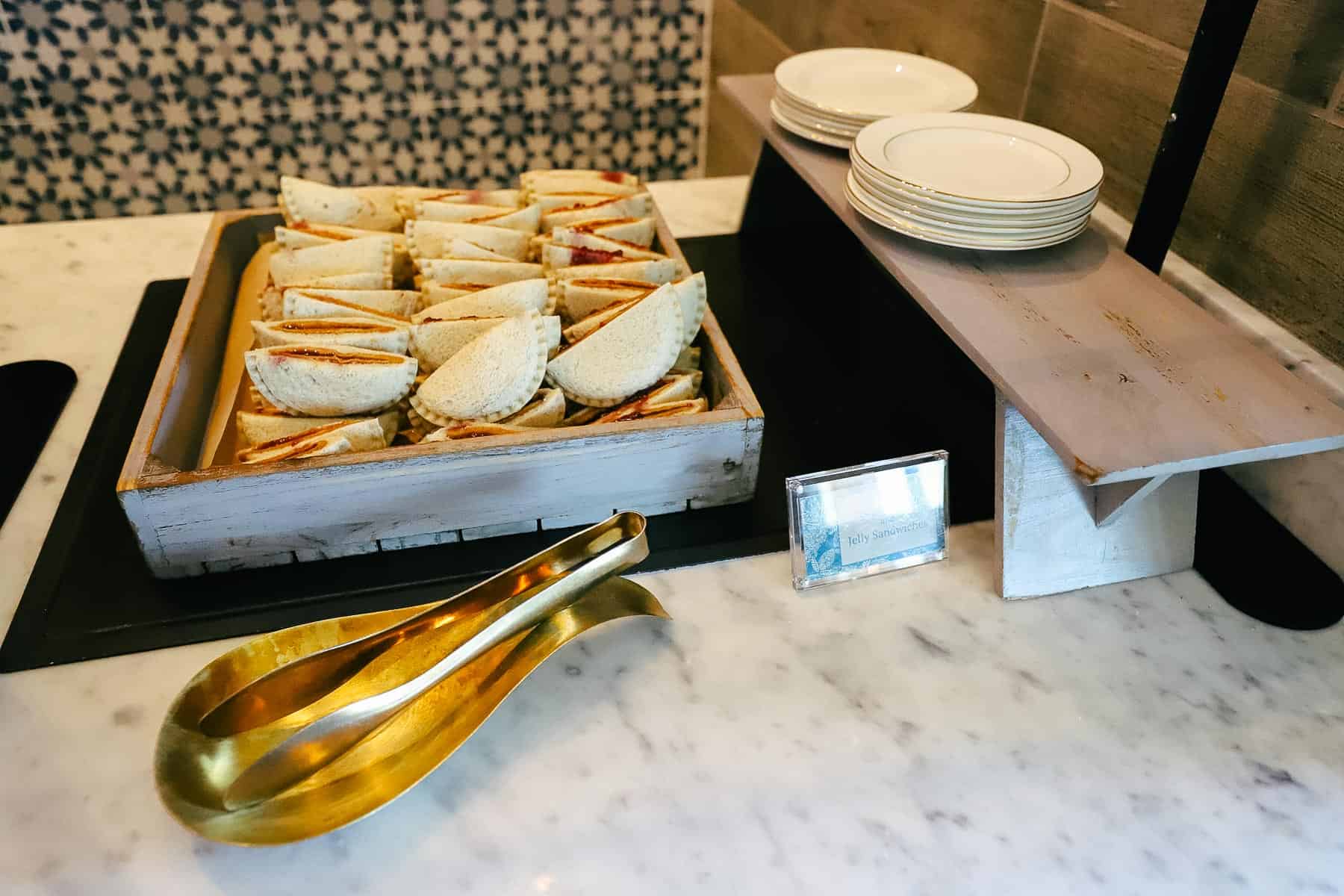 These packages of celebration cookies contained two cookies each. I believe they were sugar cookies, but I never tried them.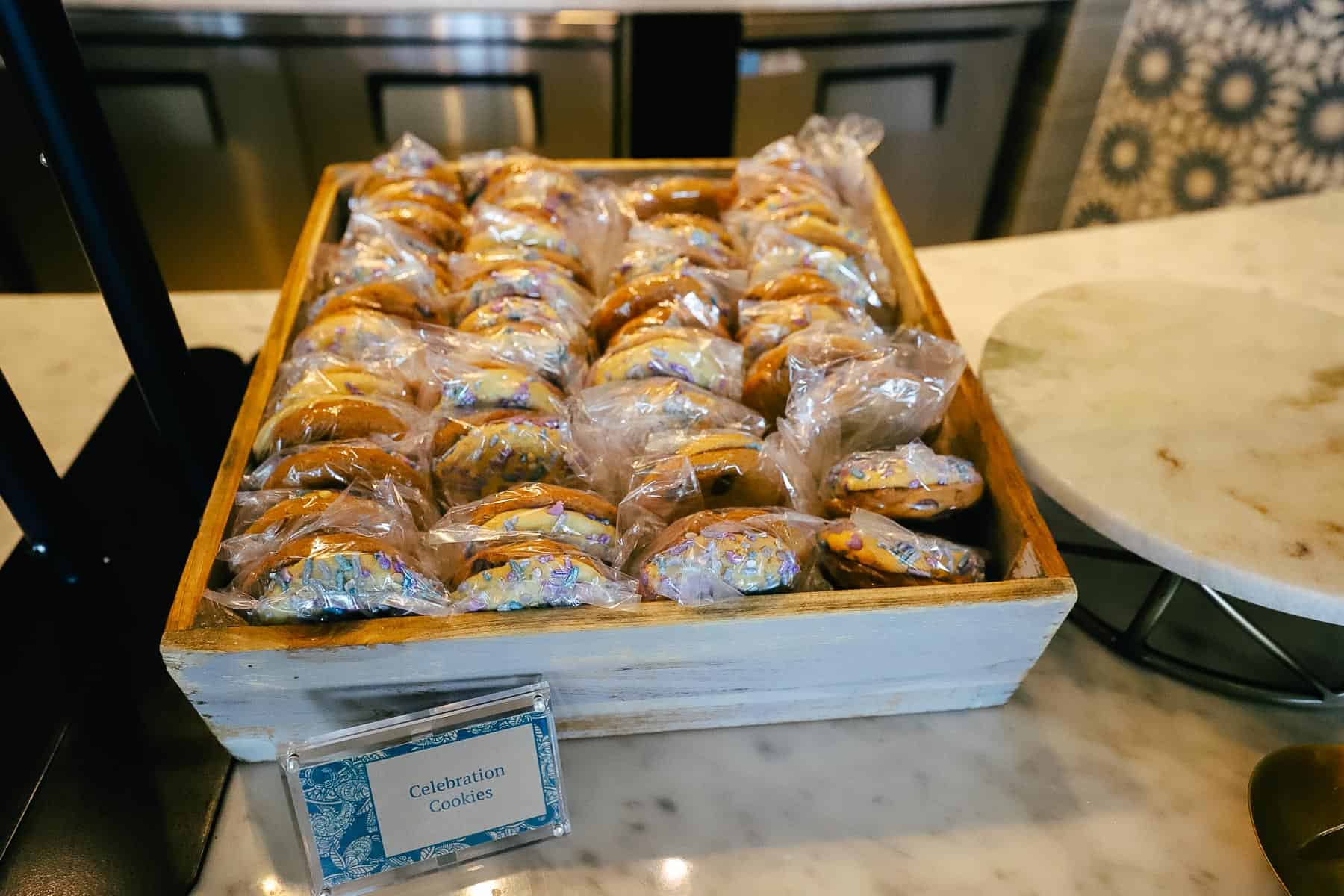 Banana chips, Goldfish, and yogurt-covered pretzels were available. You could grab a paper cup and make a snack mix out of these to take to the pool.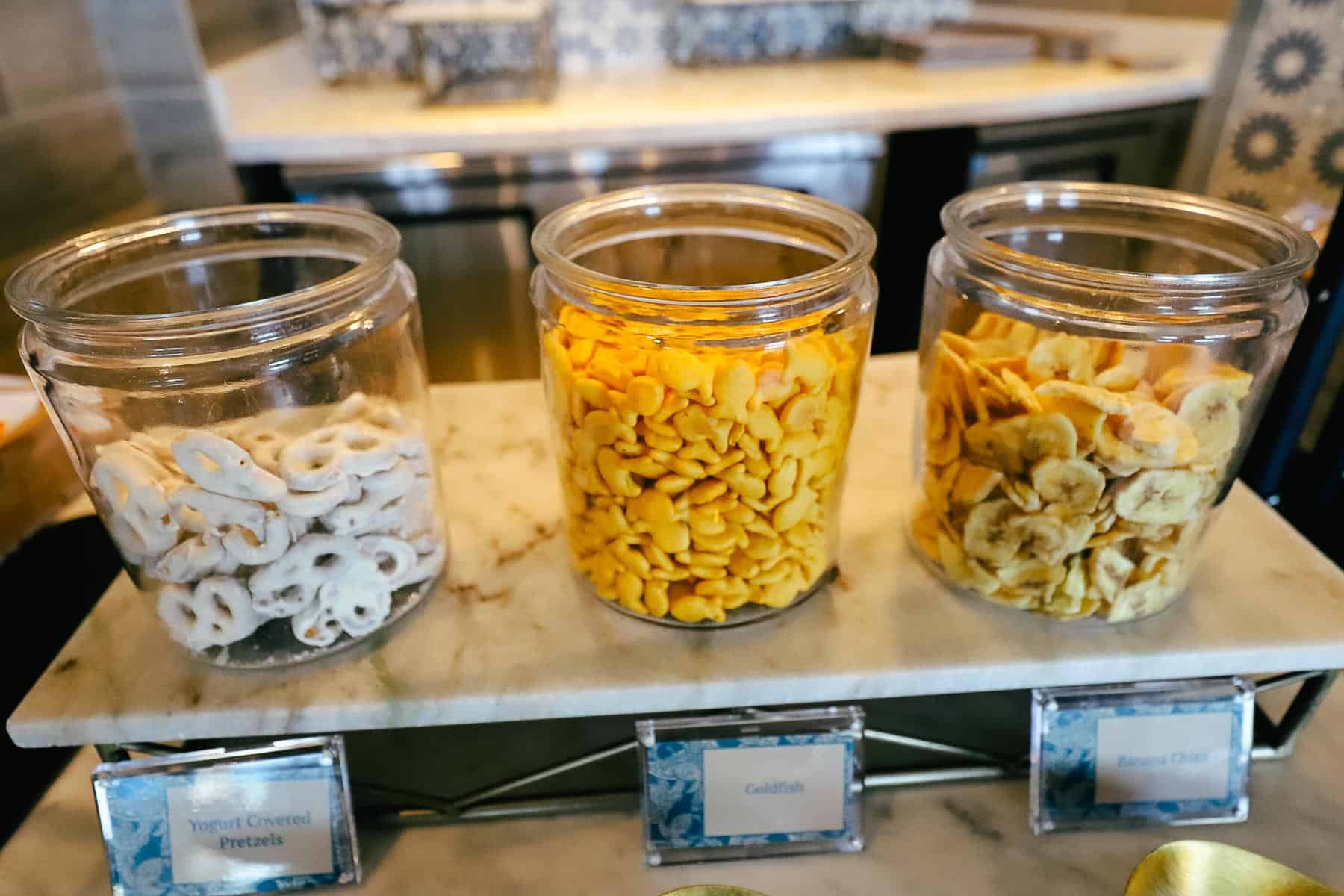 Several individual packages of chips were also available.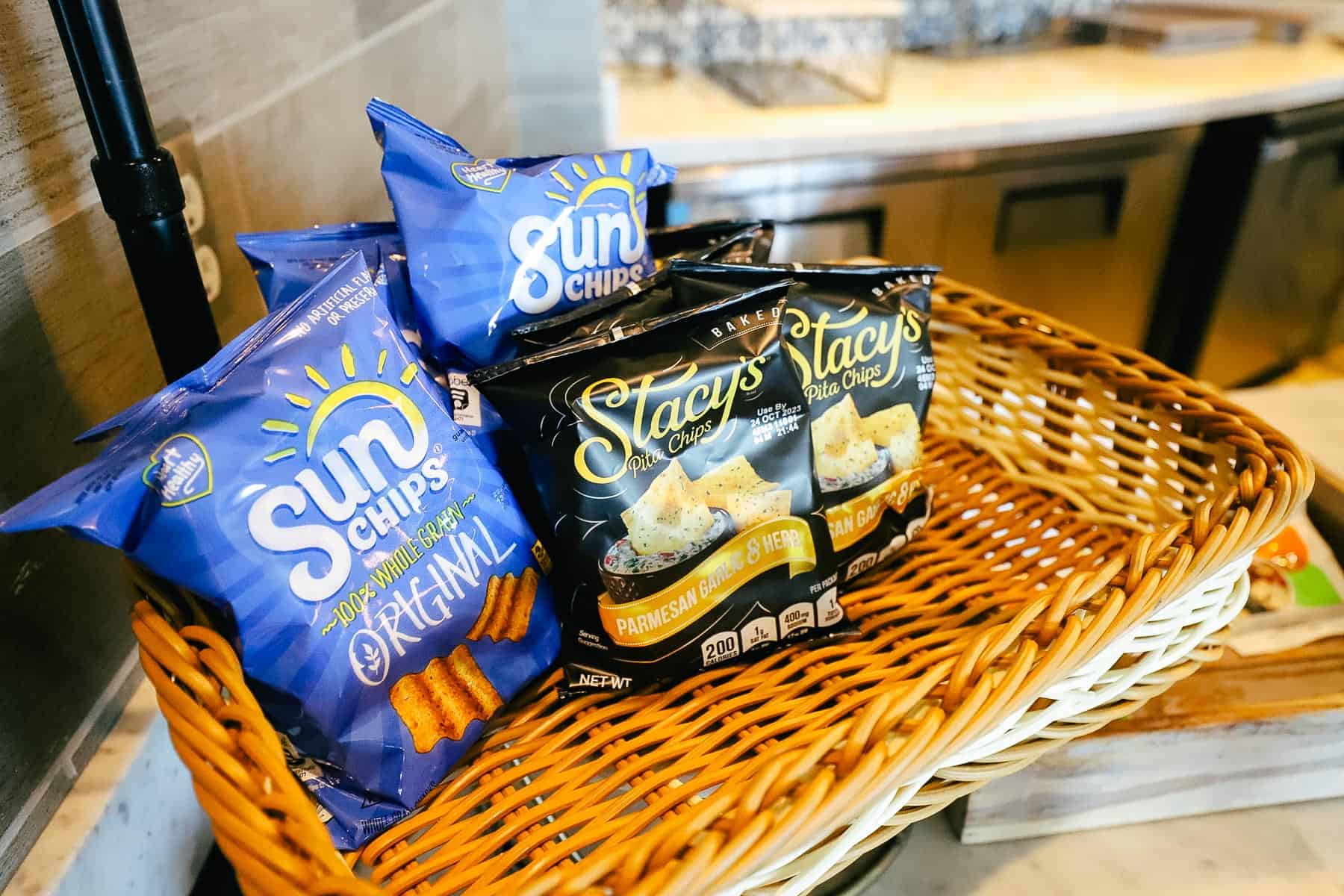 Here are a few bags of trail mix.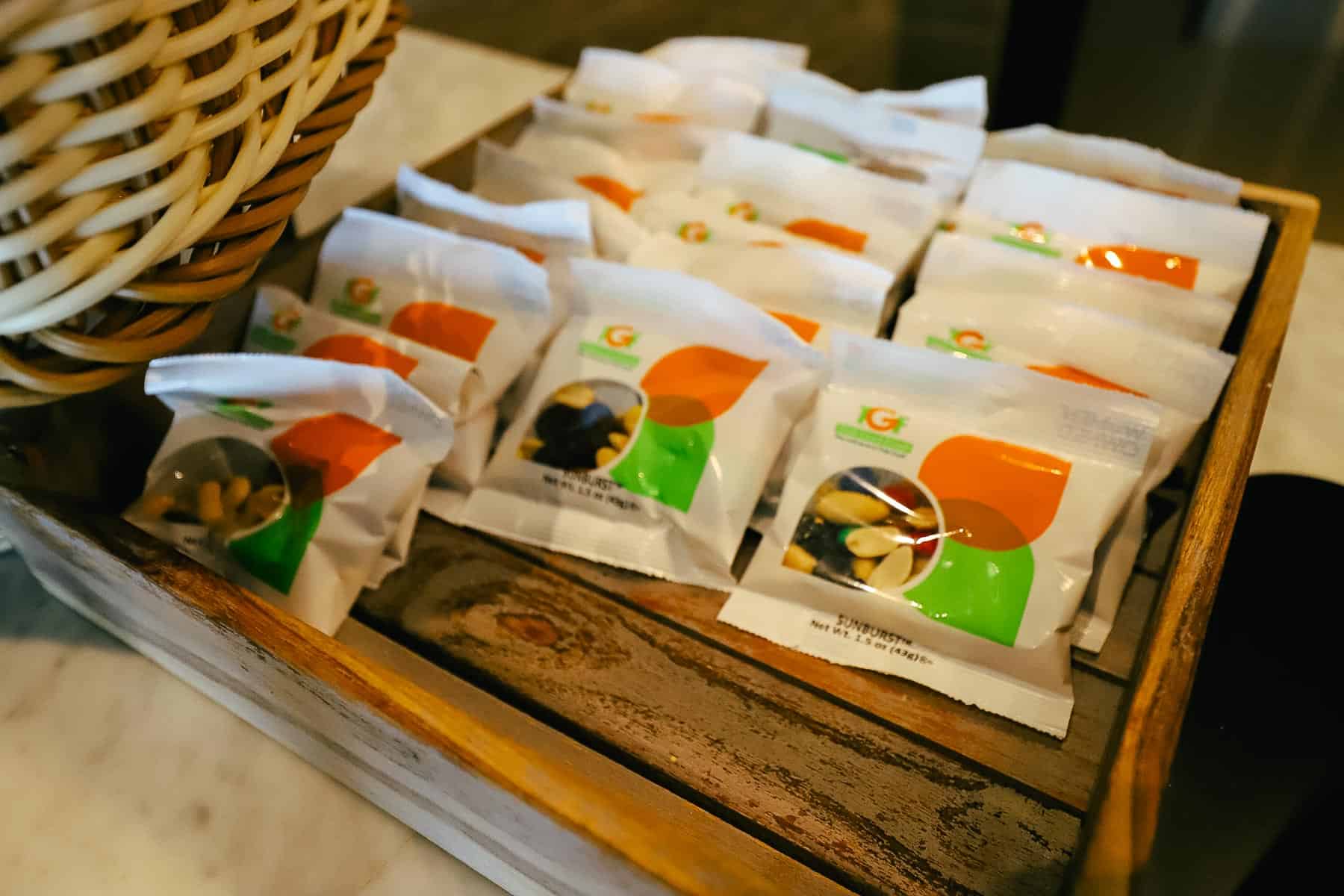 Fruit-flavored water and tea bags were also part of the afternoon spread. Standard beverages were also available in the cooler. You can request beer or a glass of wine at any time. However, they were not readily available until closer to evening service.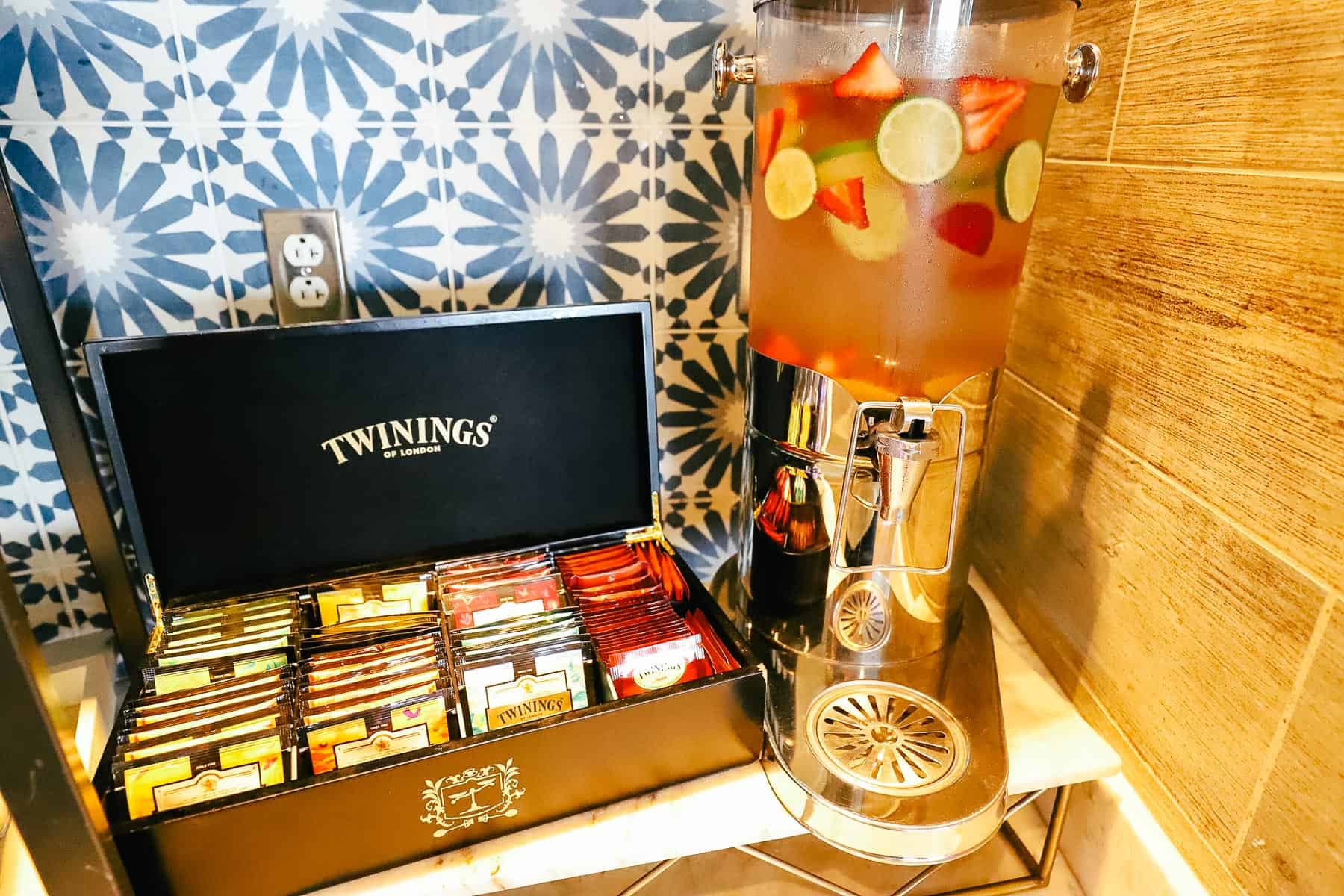 Hors d'oeuvres and Select Beverages
We'll look at the difference between two evening services for this stay. Ideally, one can make a small meal out of the offerings. But we wished they had at least one more hot option during this meal.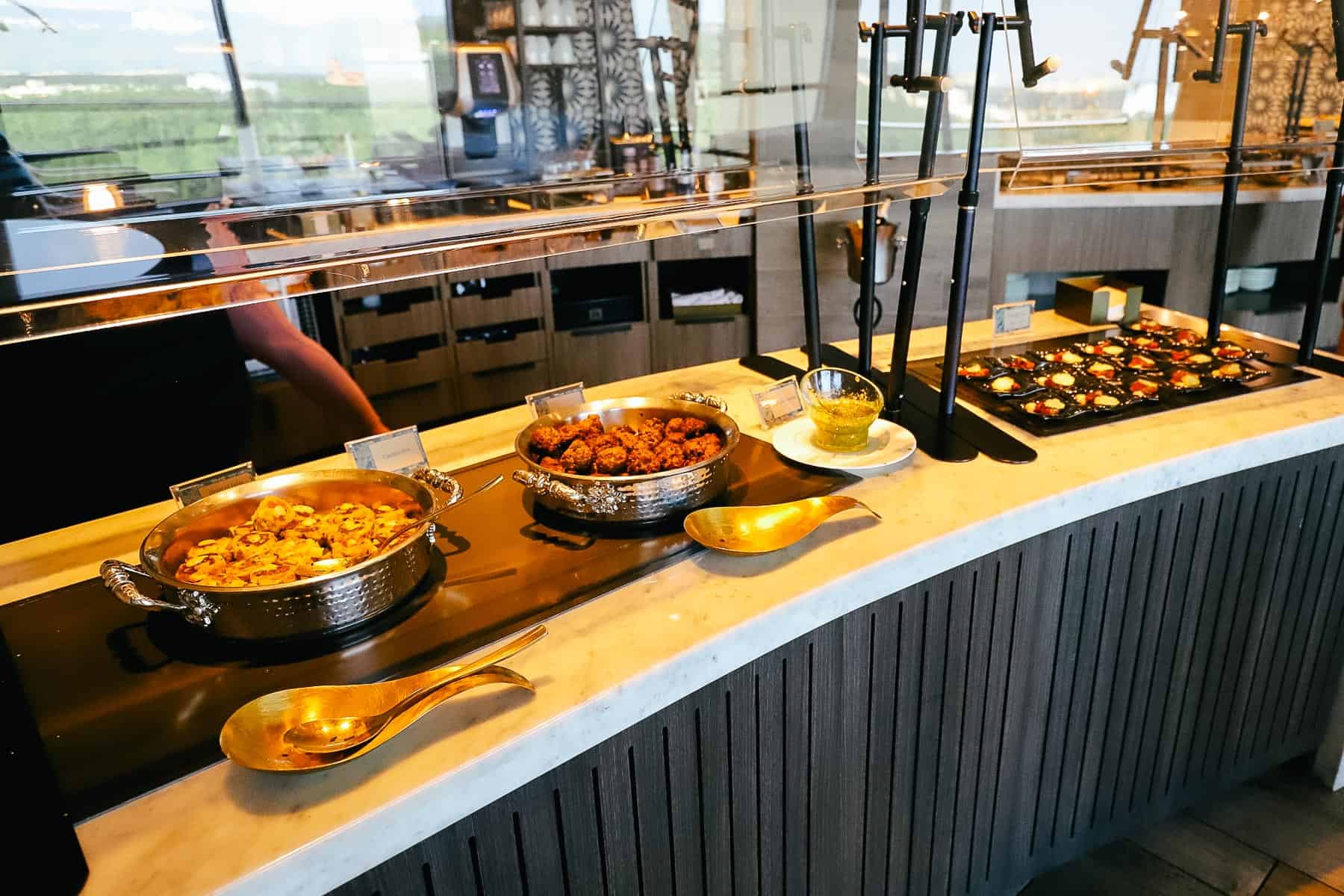 On our first evening, they had heart of palms cakes. This was a plant-based offering.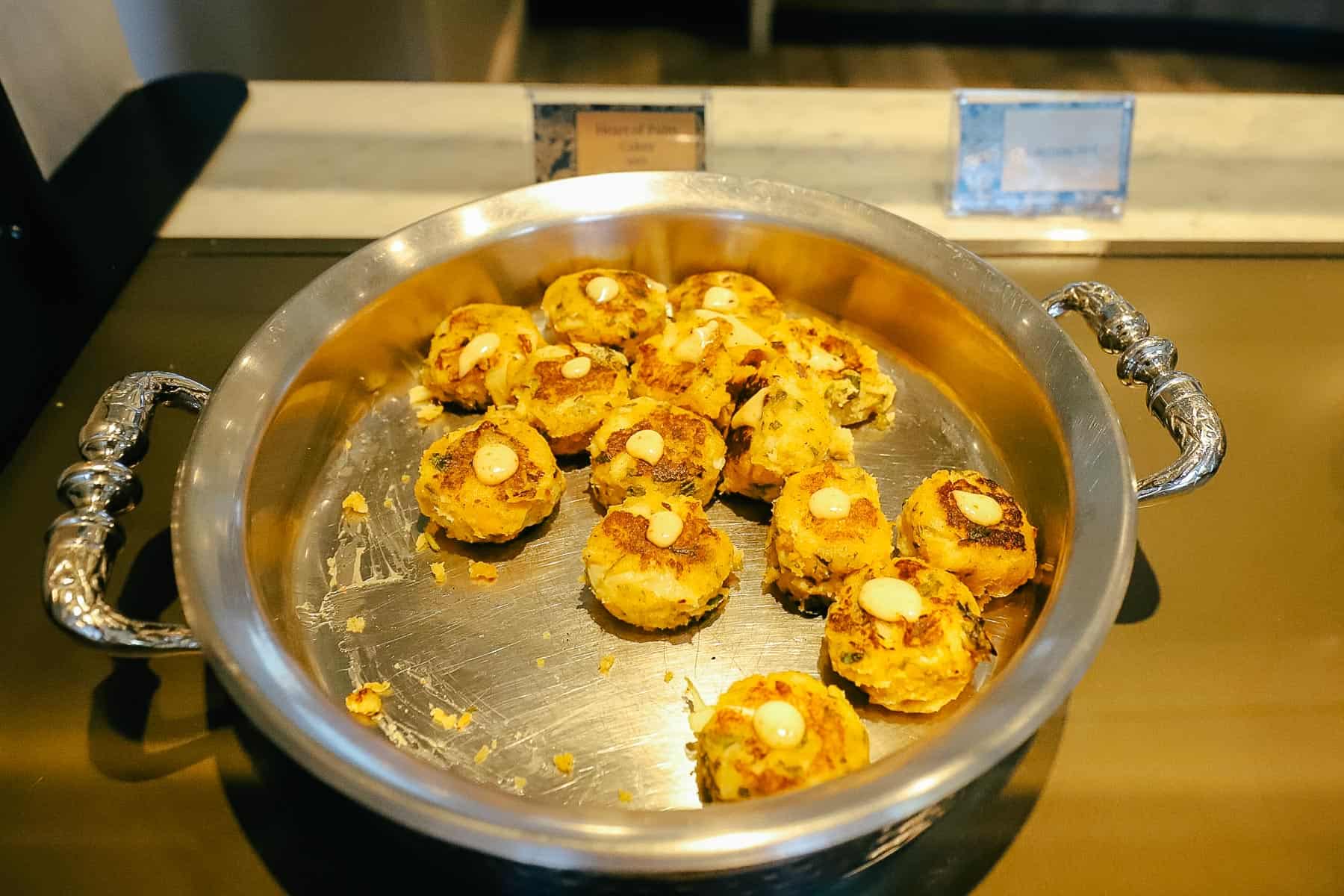 Meatballs were available with pesto.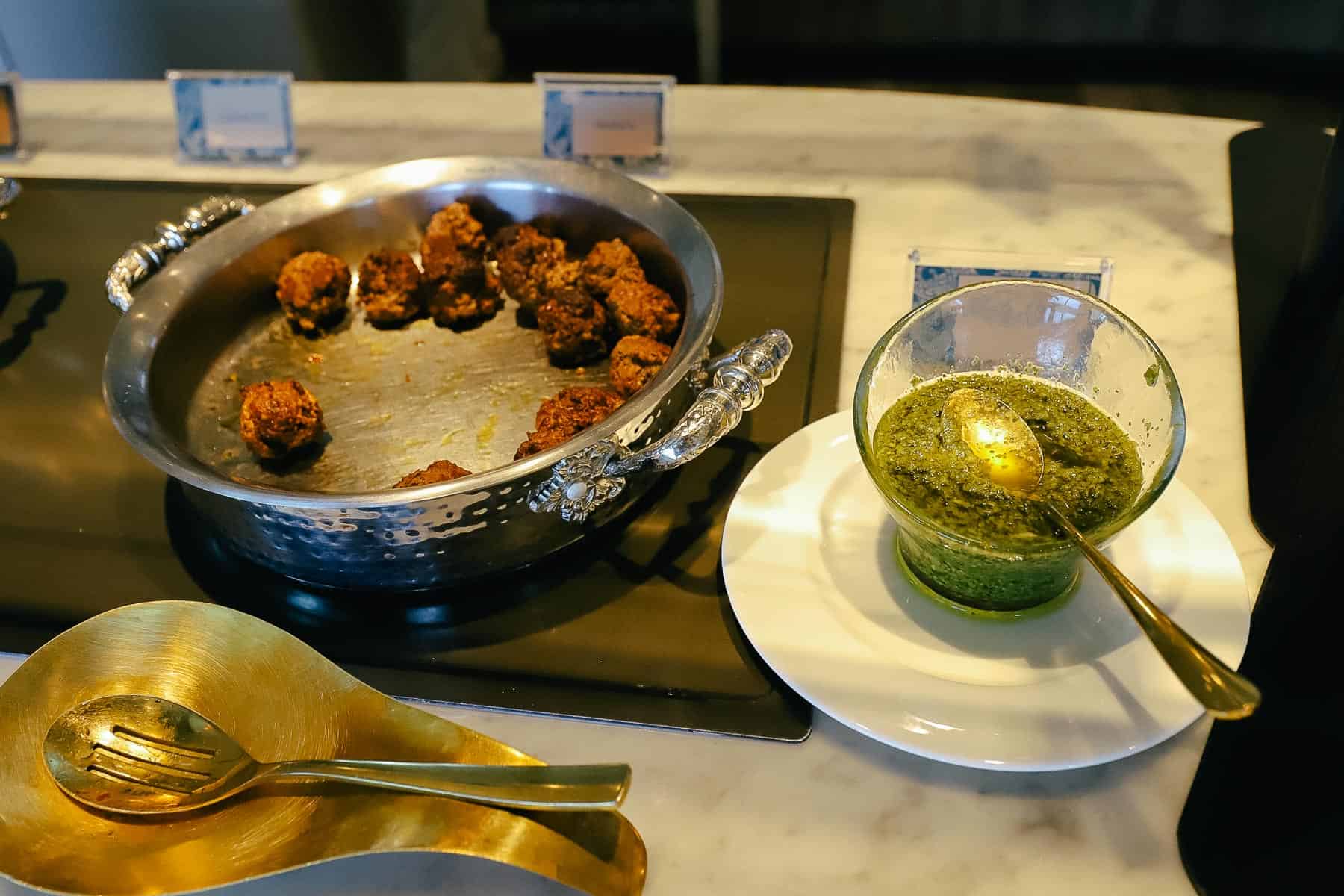 Each night a small chef's selection is available. This dish contained tuna.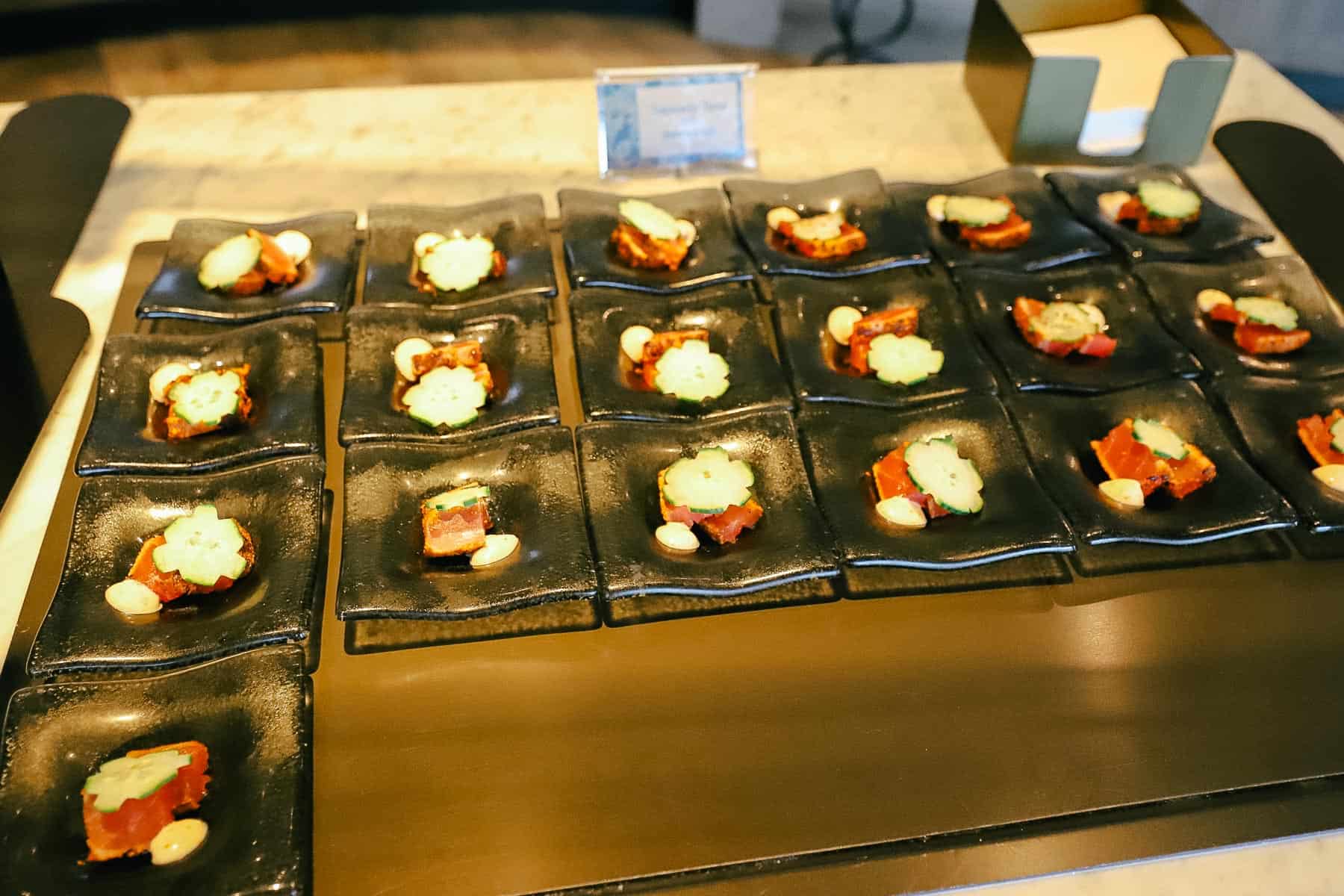 Raw vegetables were available again.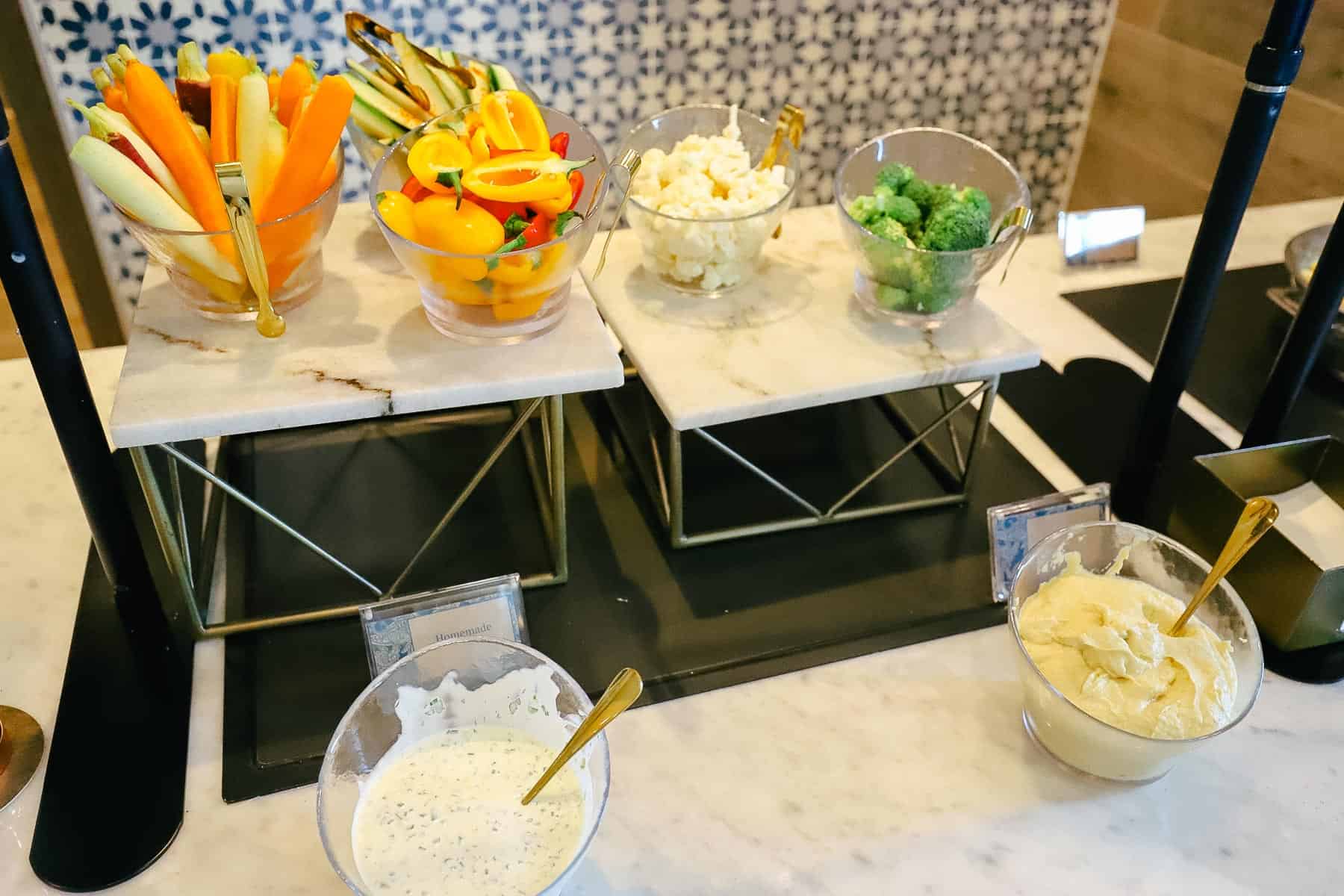 I appreciated this fresh option and thought the items were of good quality.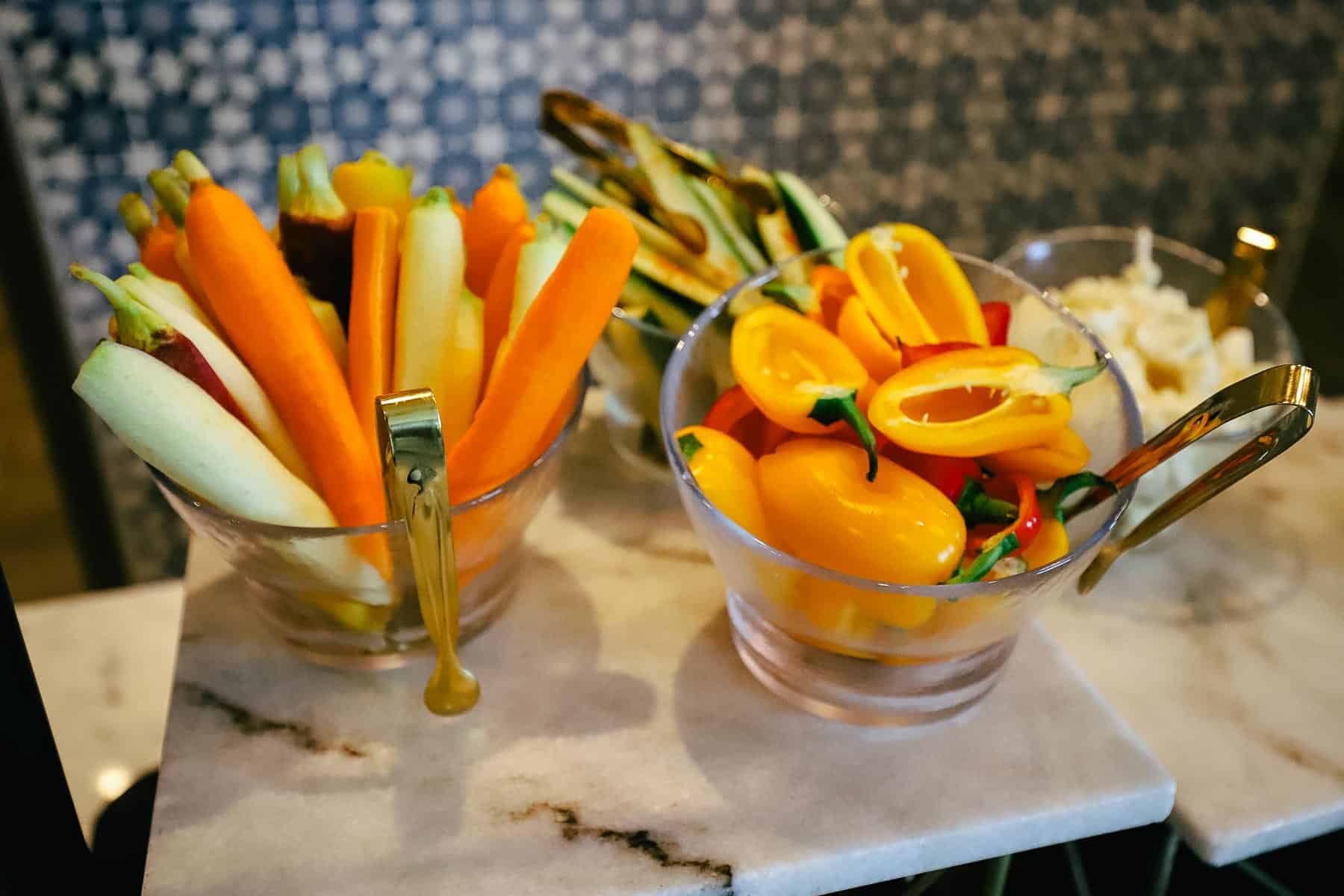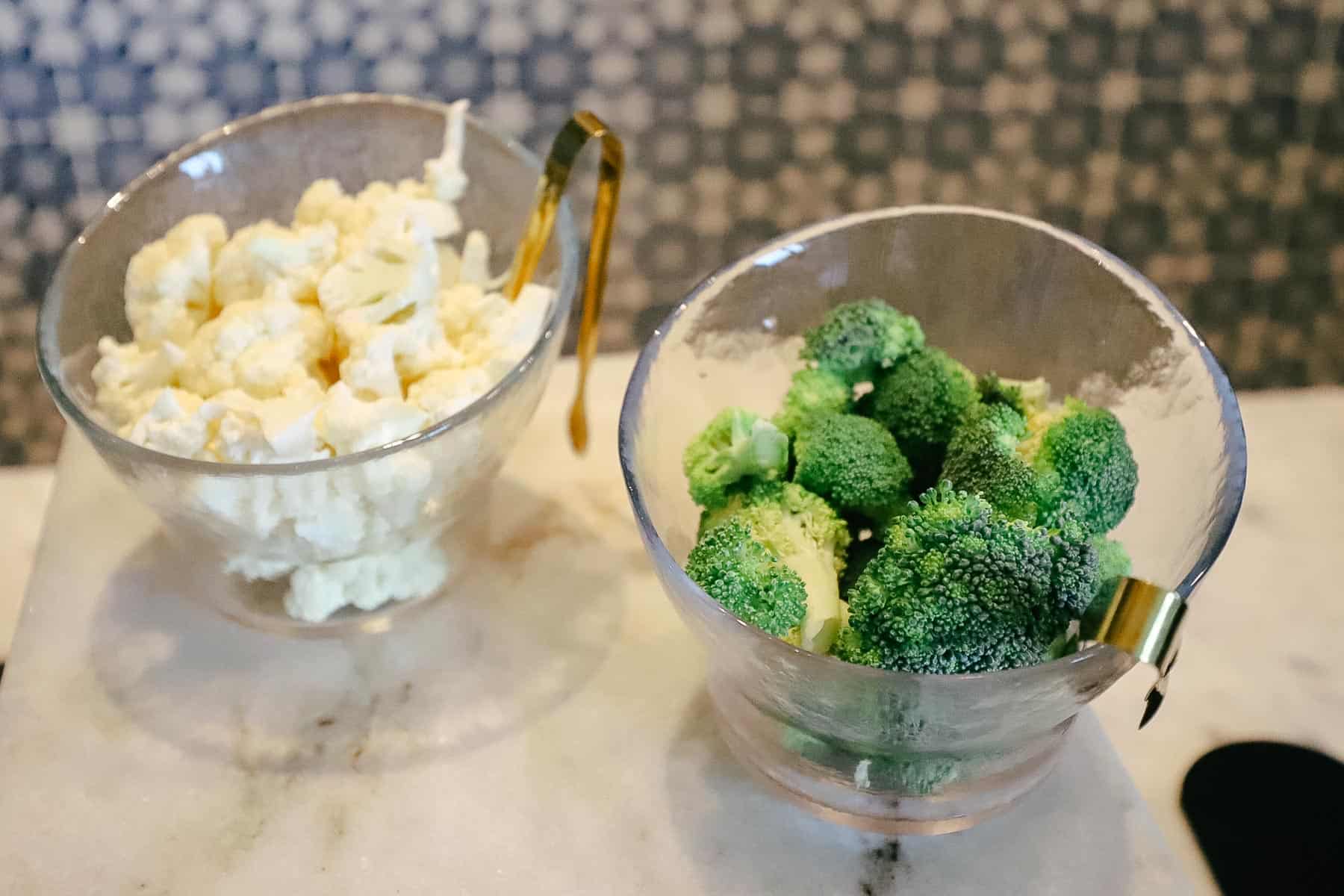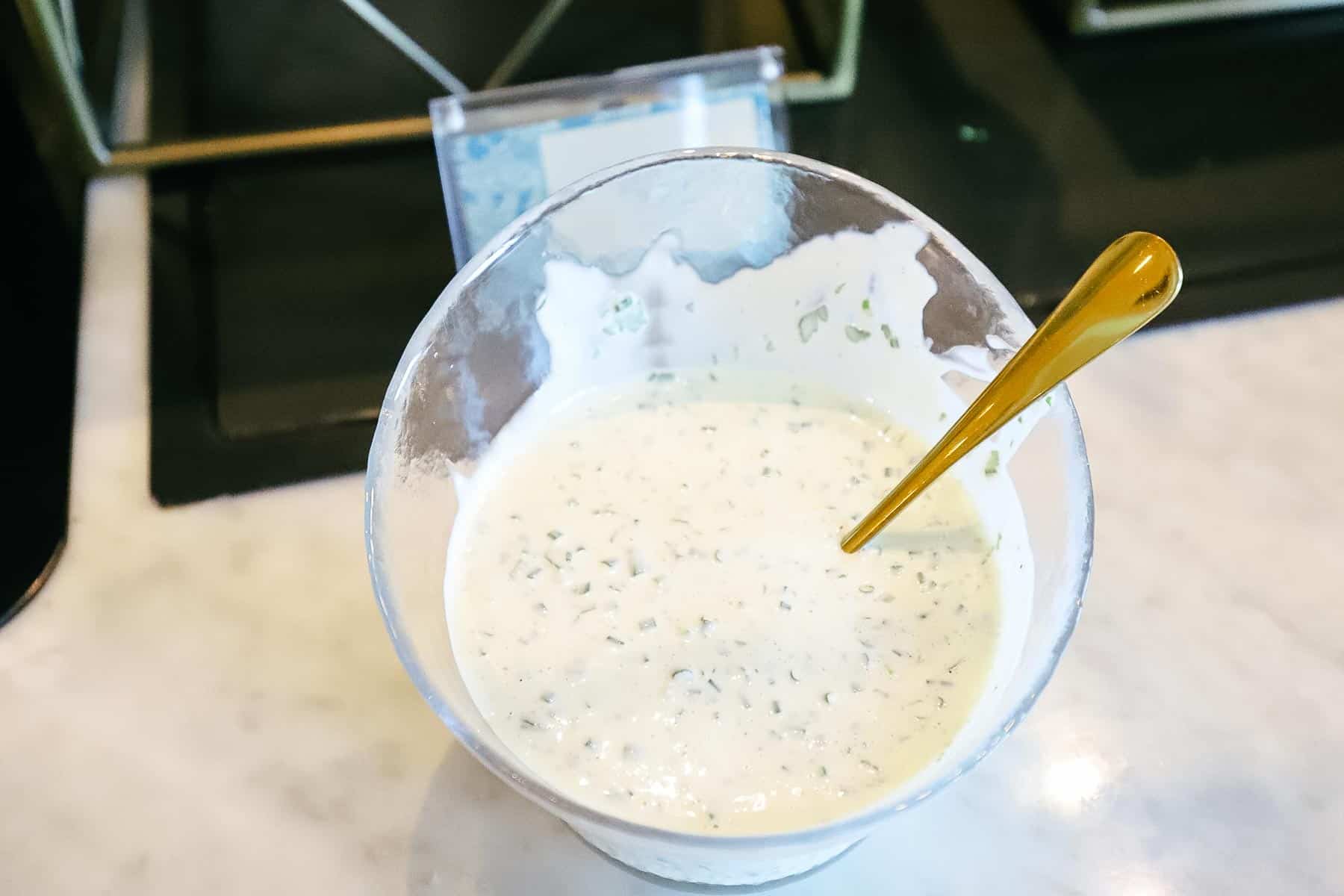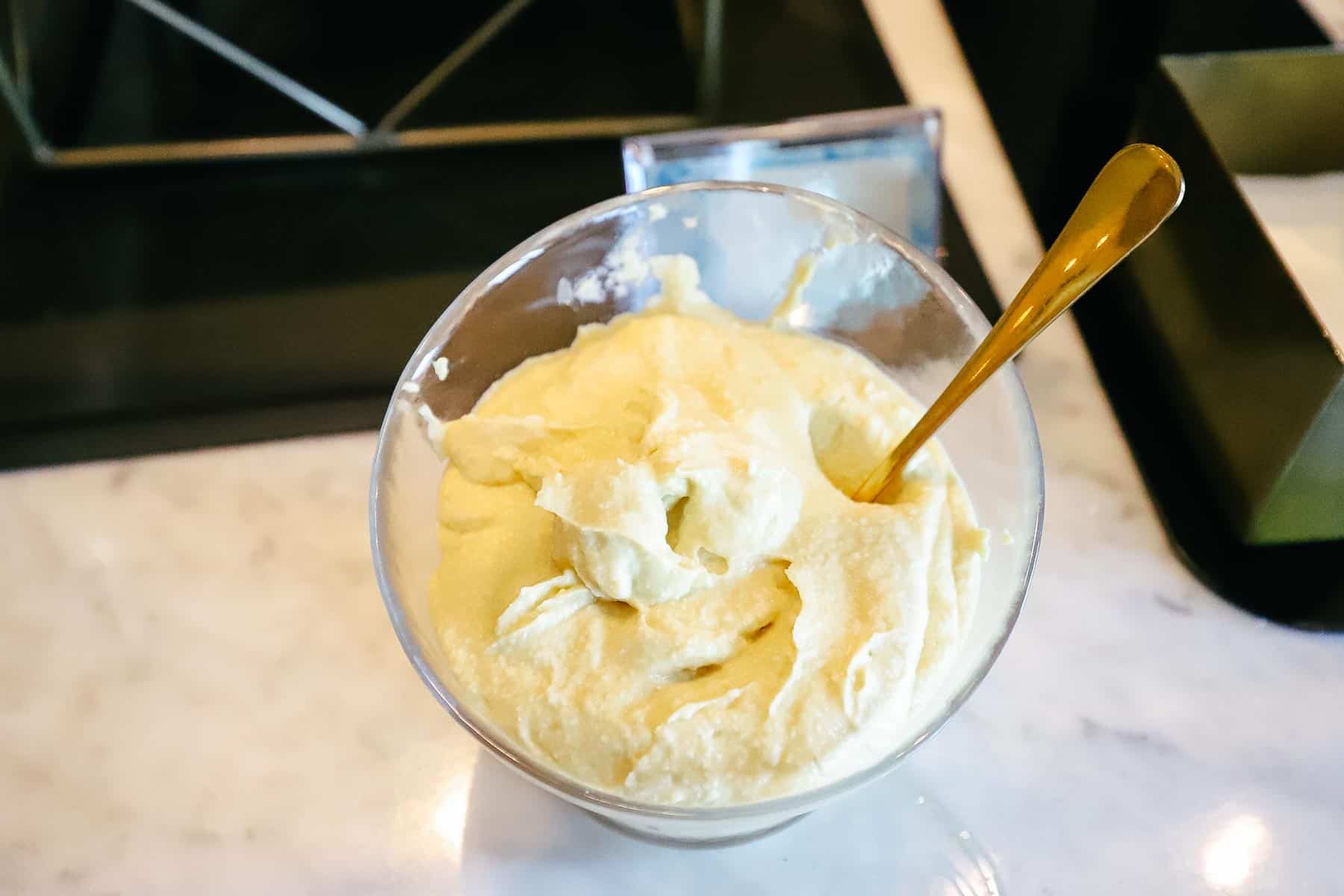 This first evening, macaroni and cheese was the popular dish. It was delicious, and the chef mentioned that it was a kid-friendly option. But I think everyone was filling up on it. They constantly had to replenish the dish.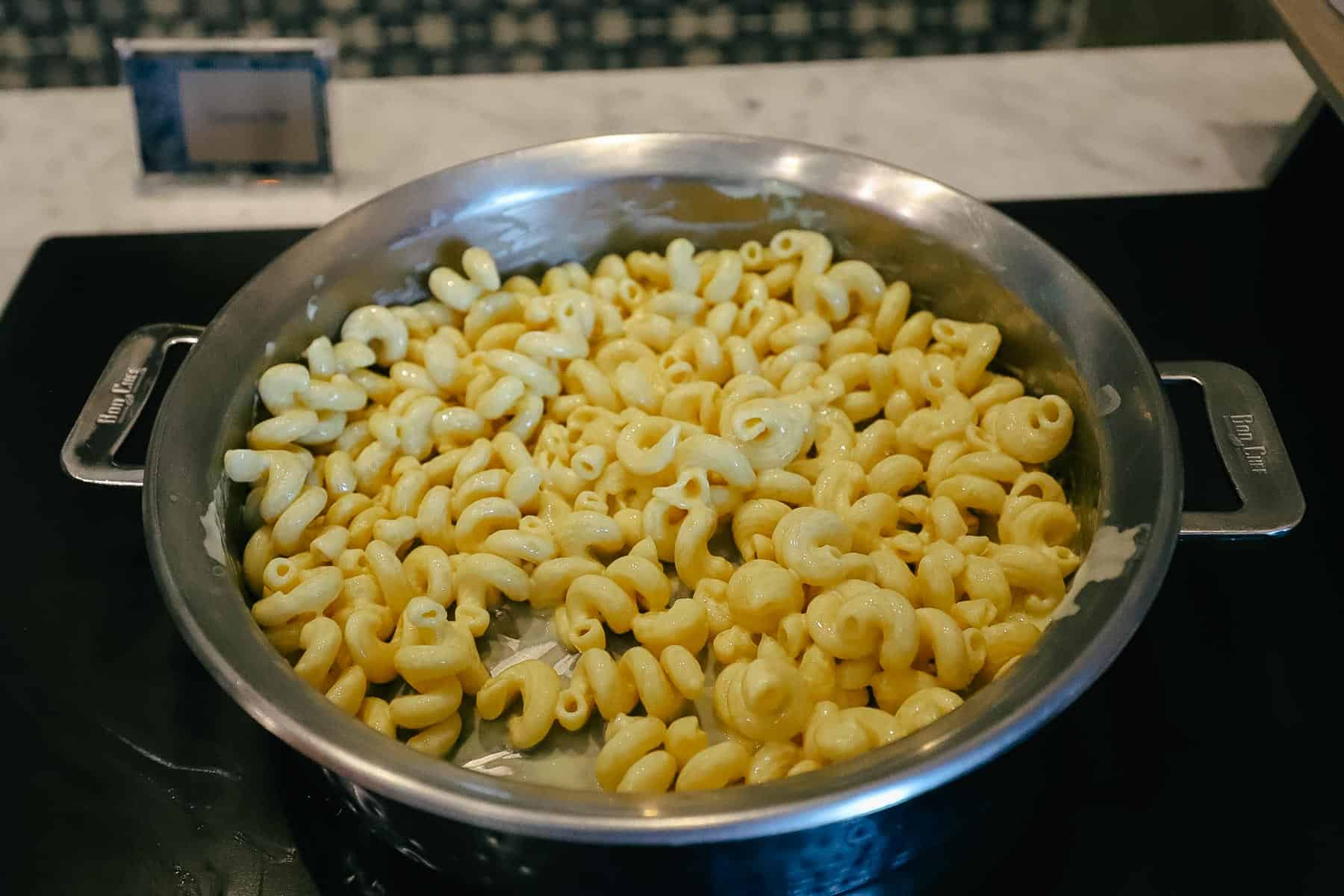 A separate area contained a charcuterie spread with a few other items.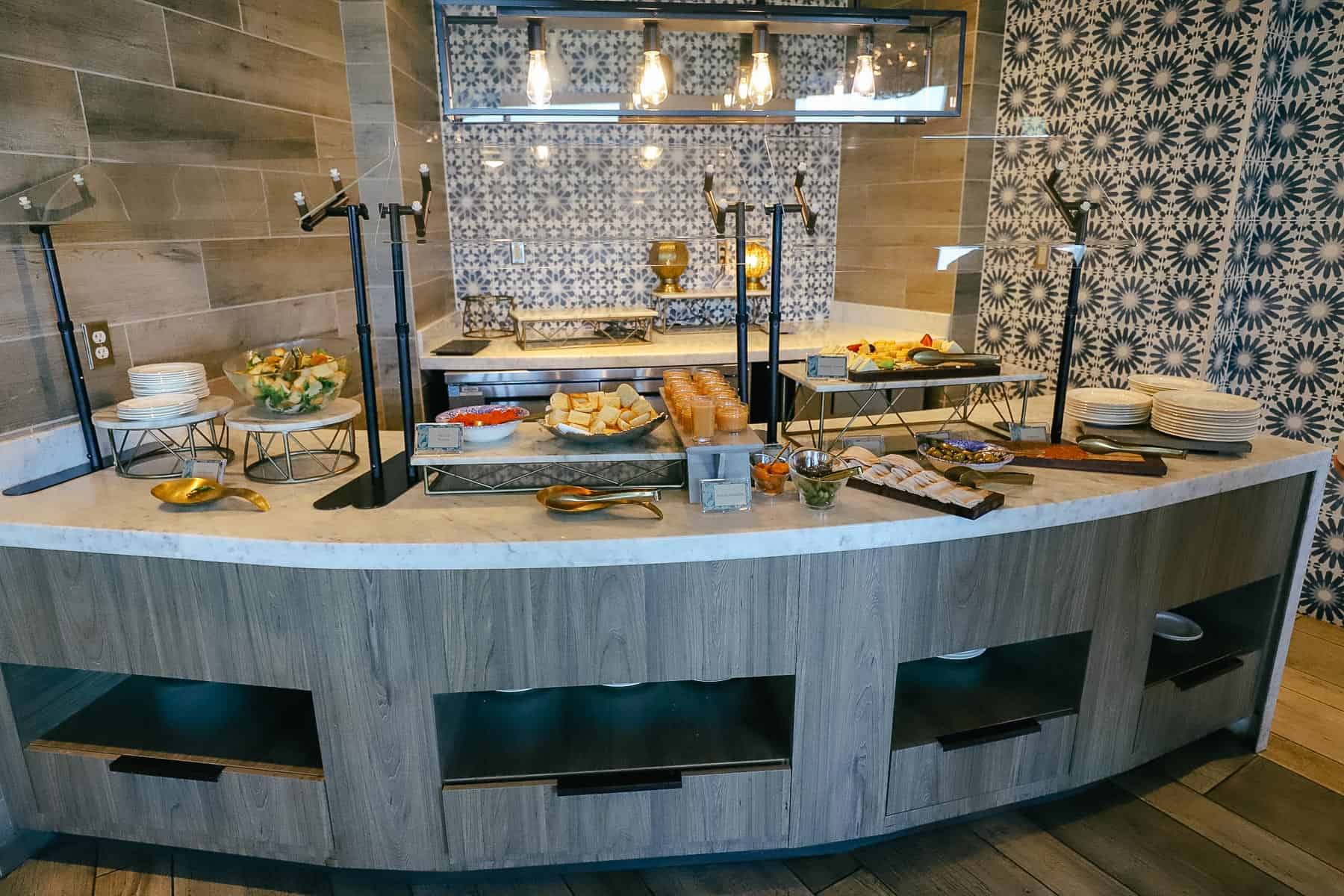 Here we have a Panzanella salad. It was one of my favorite things.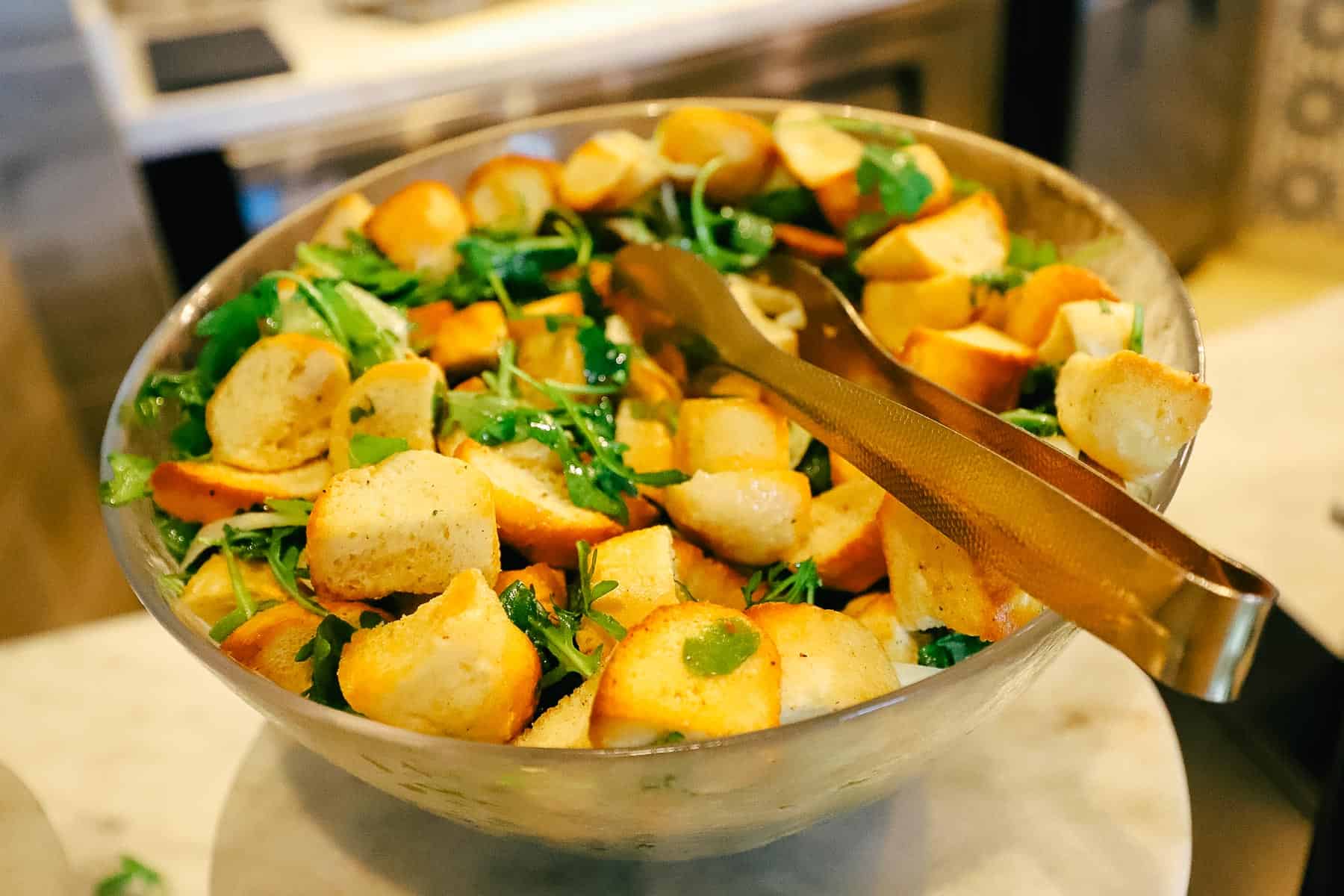 A pan con tomate dish was available with crispy pieces of baguette. This dish is served in several of the resort's restaurants.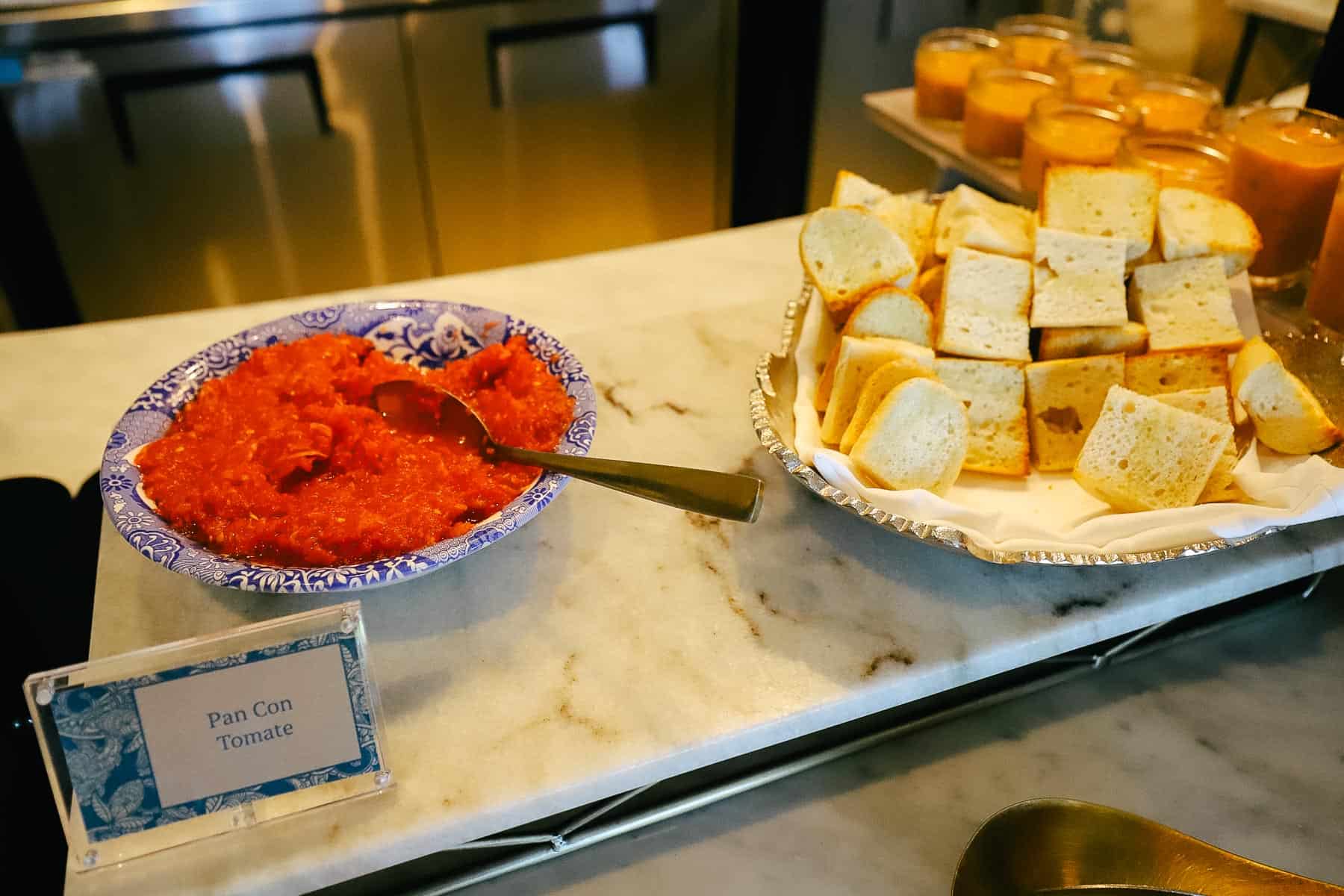 Here we have a tomato gazpacho.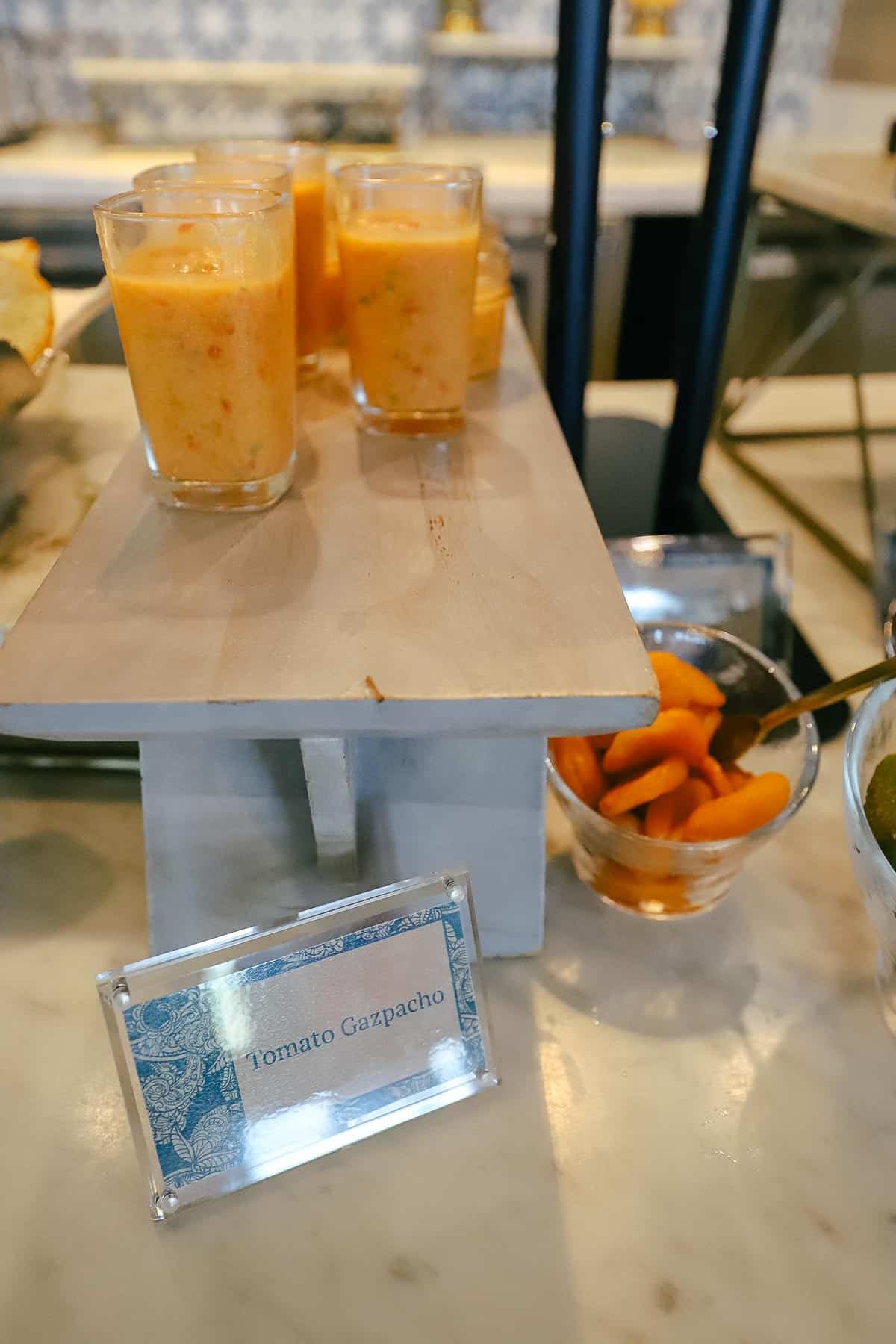 Charcuterie selections included cheese, meats, olives, and other accompaniments.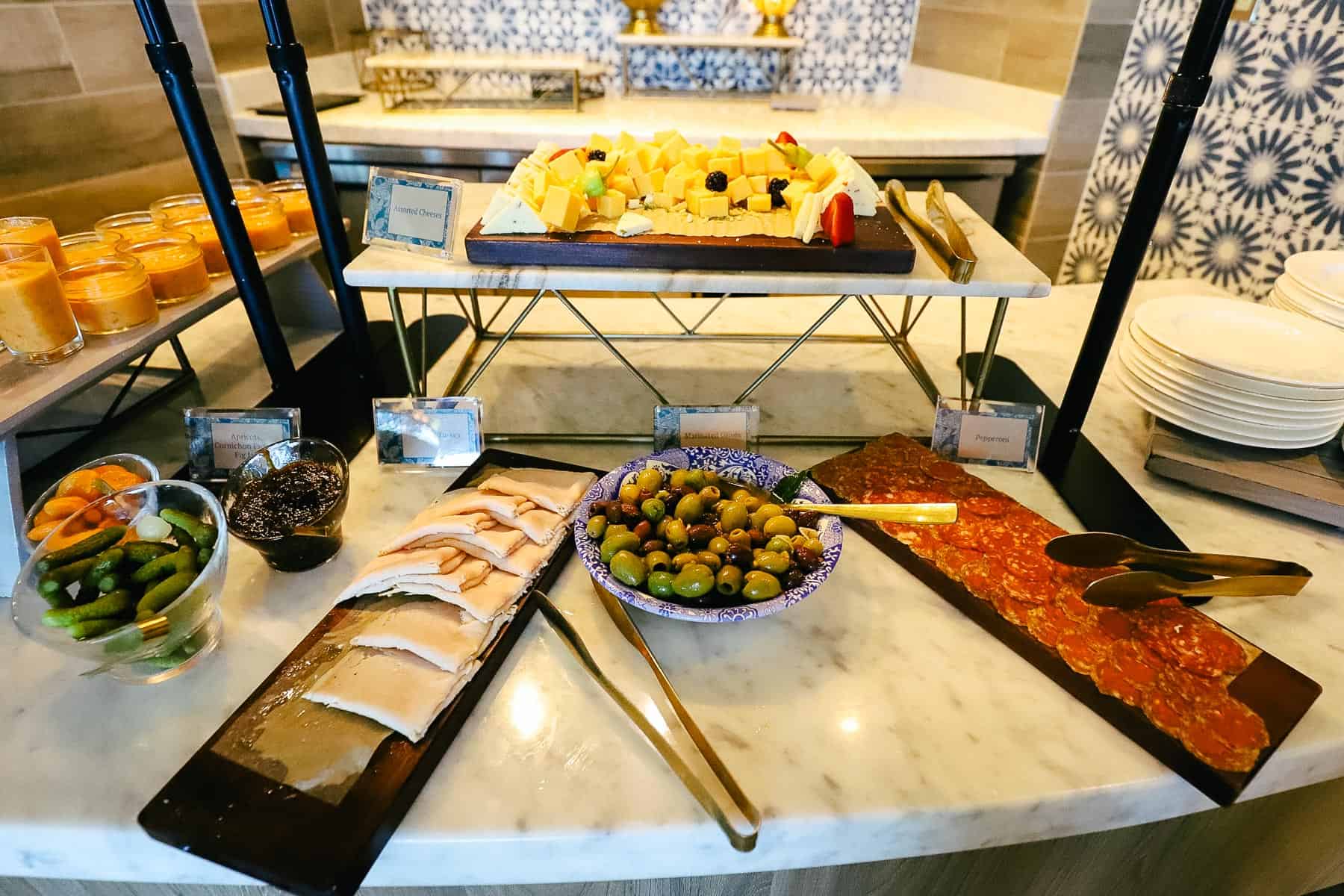 Cornichons, apricots, and a fig jam were also available. I always enjoy trying these little extras. They were tasty.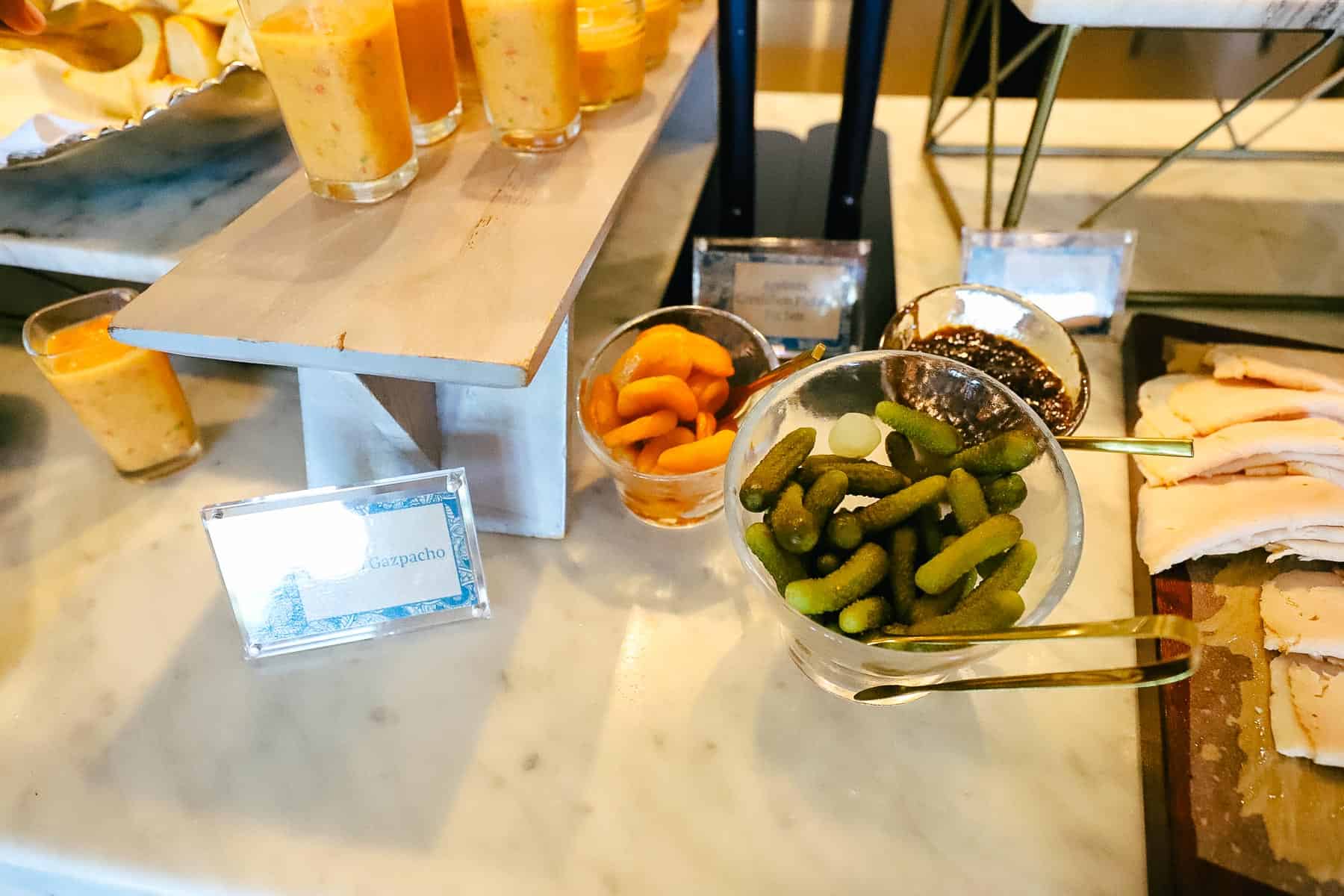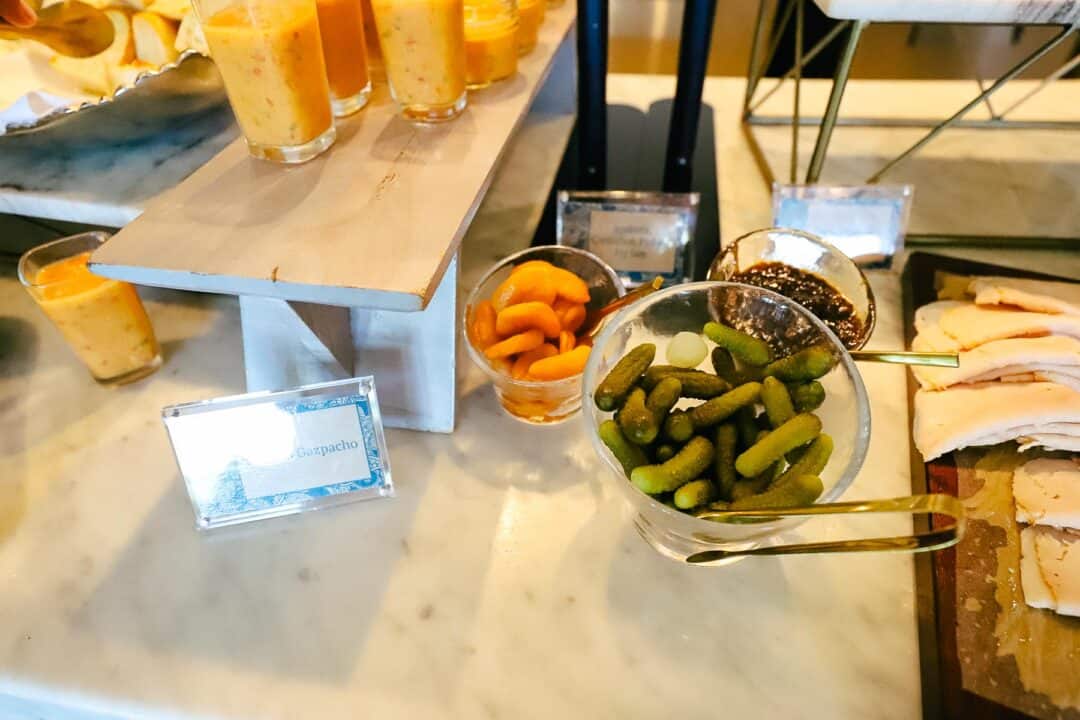 In the evenings, the beverage coolers contain a variety of beer and a hard seltzer option.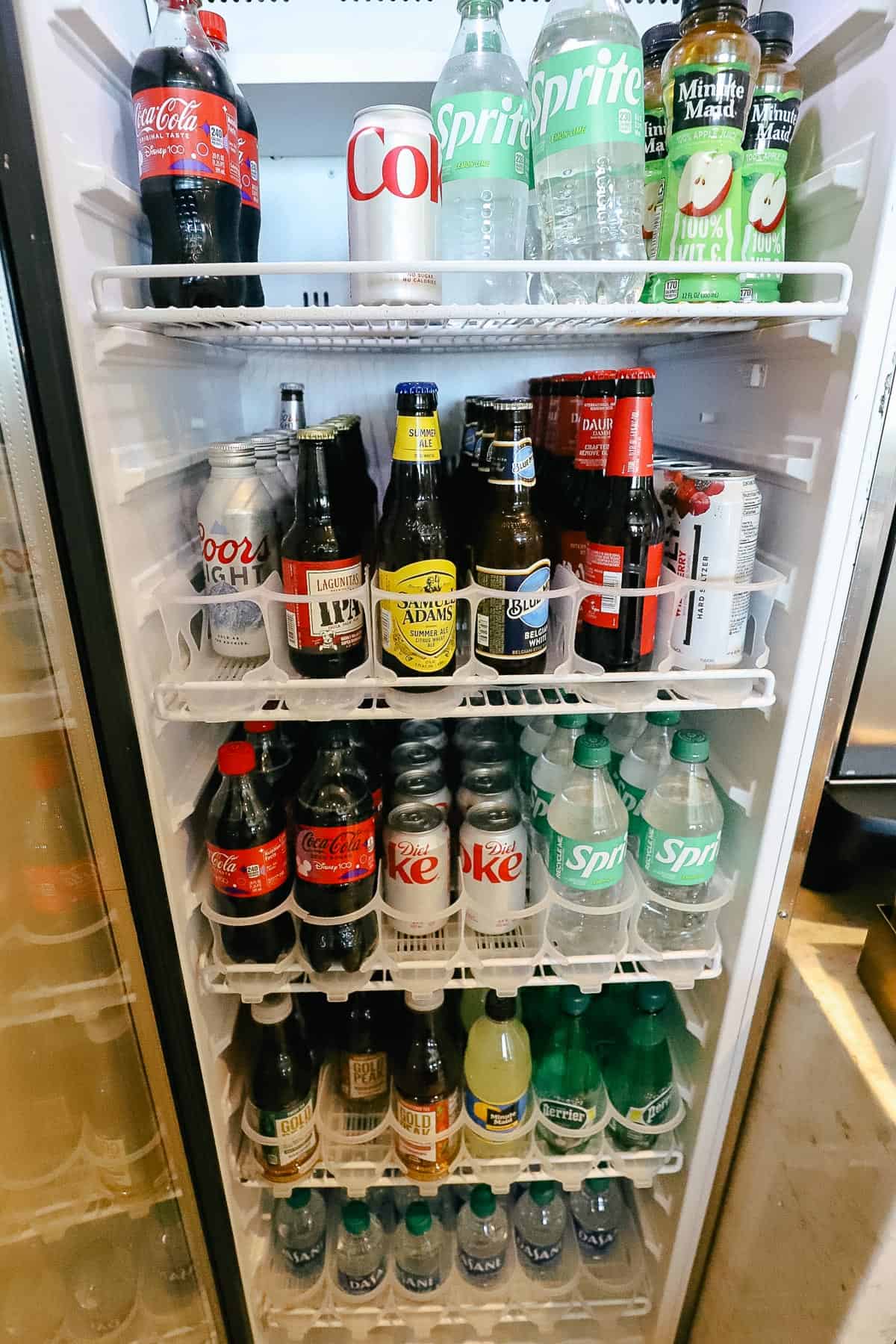 Several wines were available. From what I could tell, they were red and white wines. Okay, I'm joking. But you can tell a few were chilled, and some were not. Guests were allowed to pour their own wines, which is not customary at other club levels.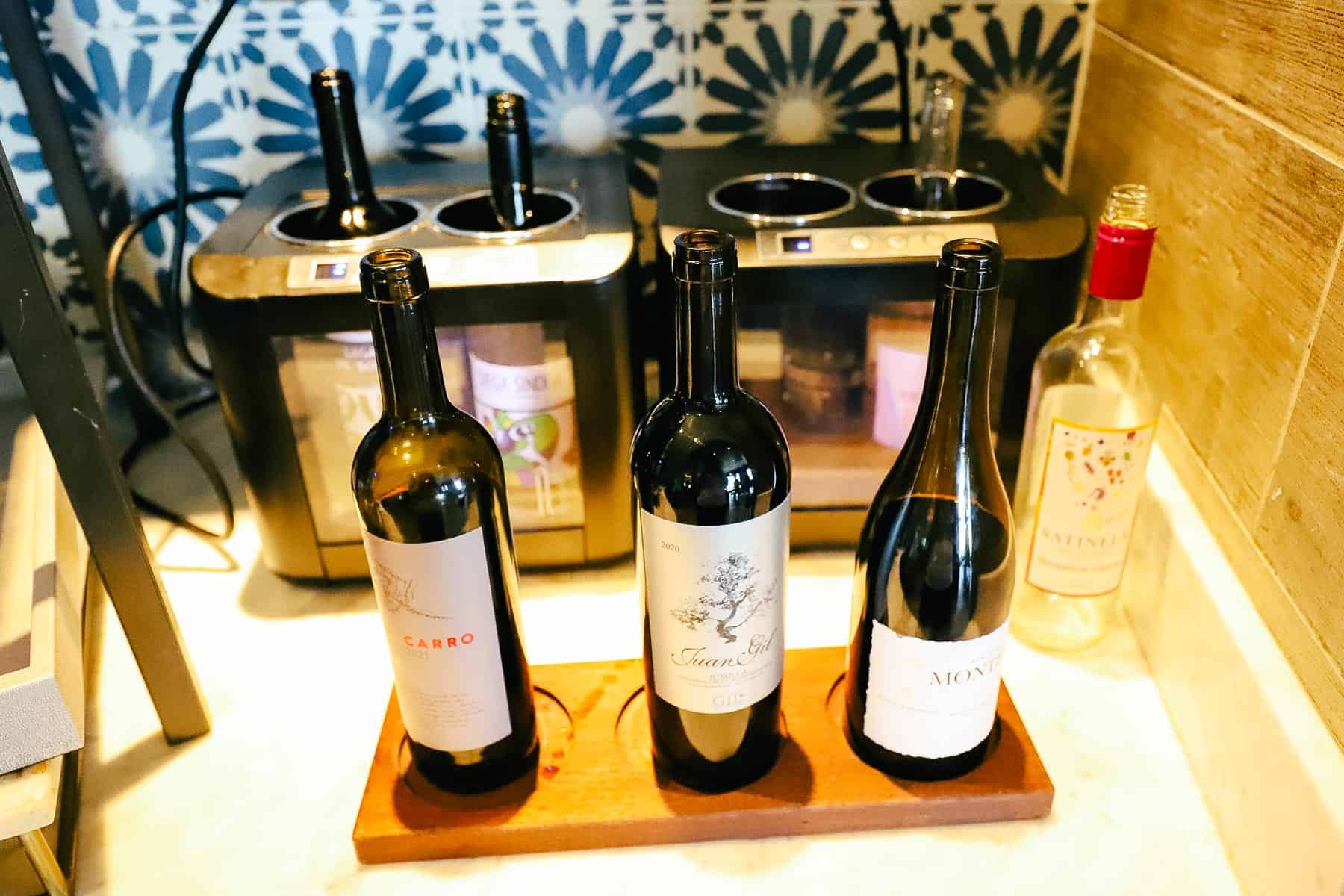 A bottle of champagne was also sitting nearby in a bucket of ice.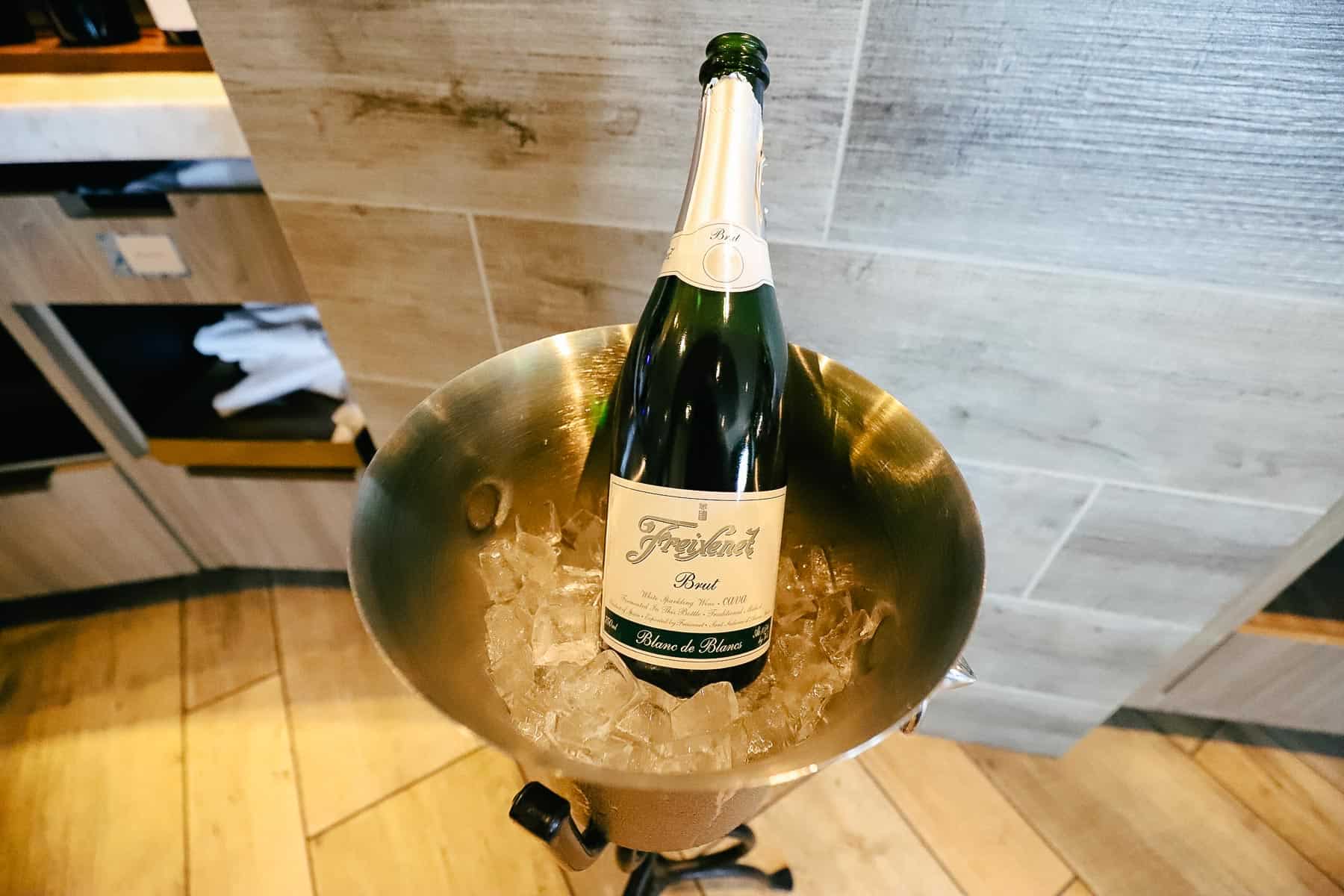 On our second evening, the food options felt more like you could make a meal out of them. We had a dish that contained steak with onions. It was a hearty dish with delicious flavor.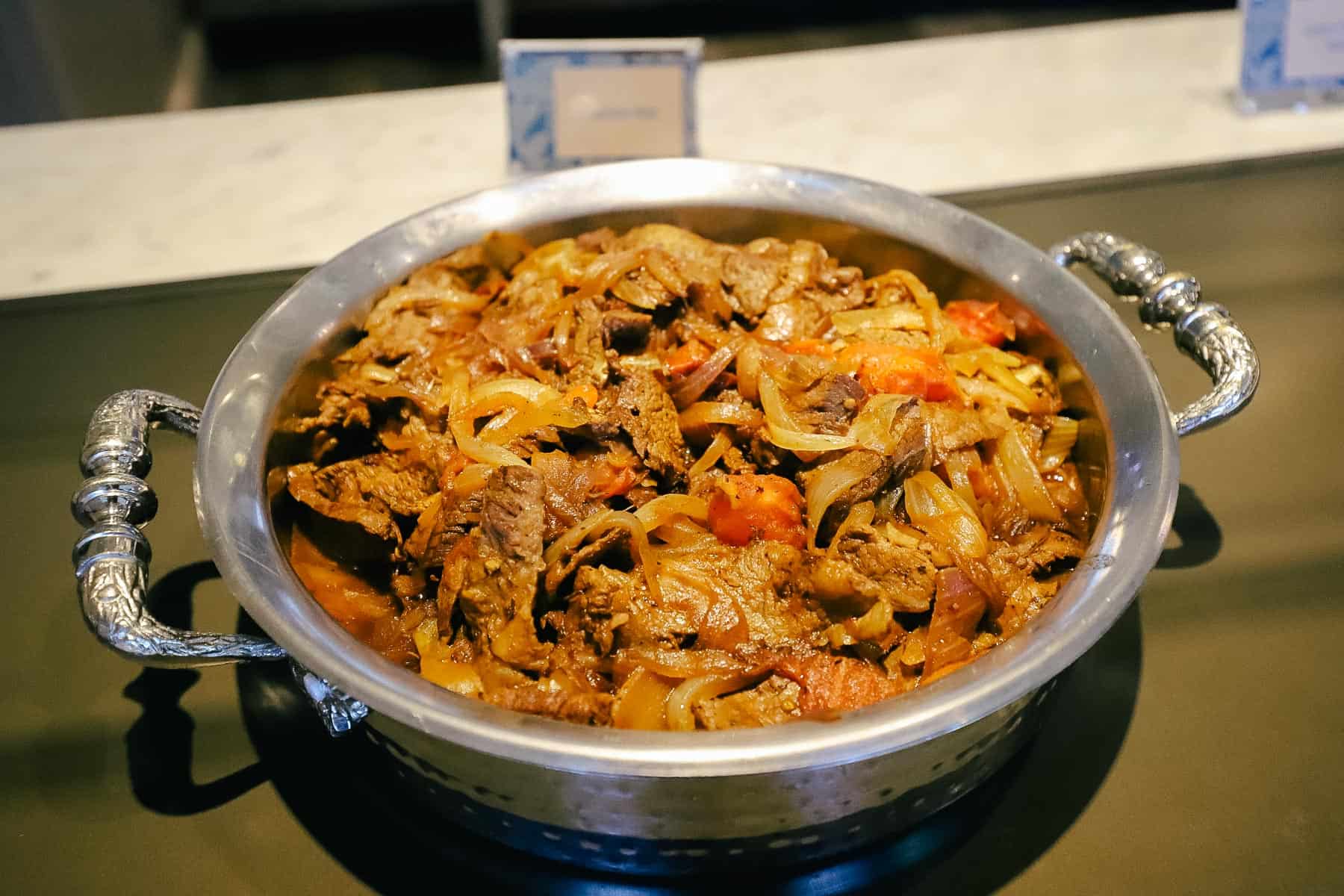 This scallops dish was the chef's selection. It was exceptionally popular. The table next to us had created quite the tower of these little black dishes by the time they were finished.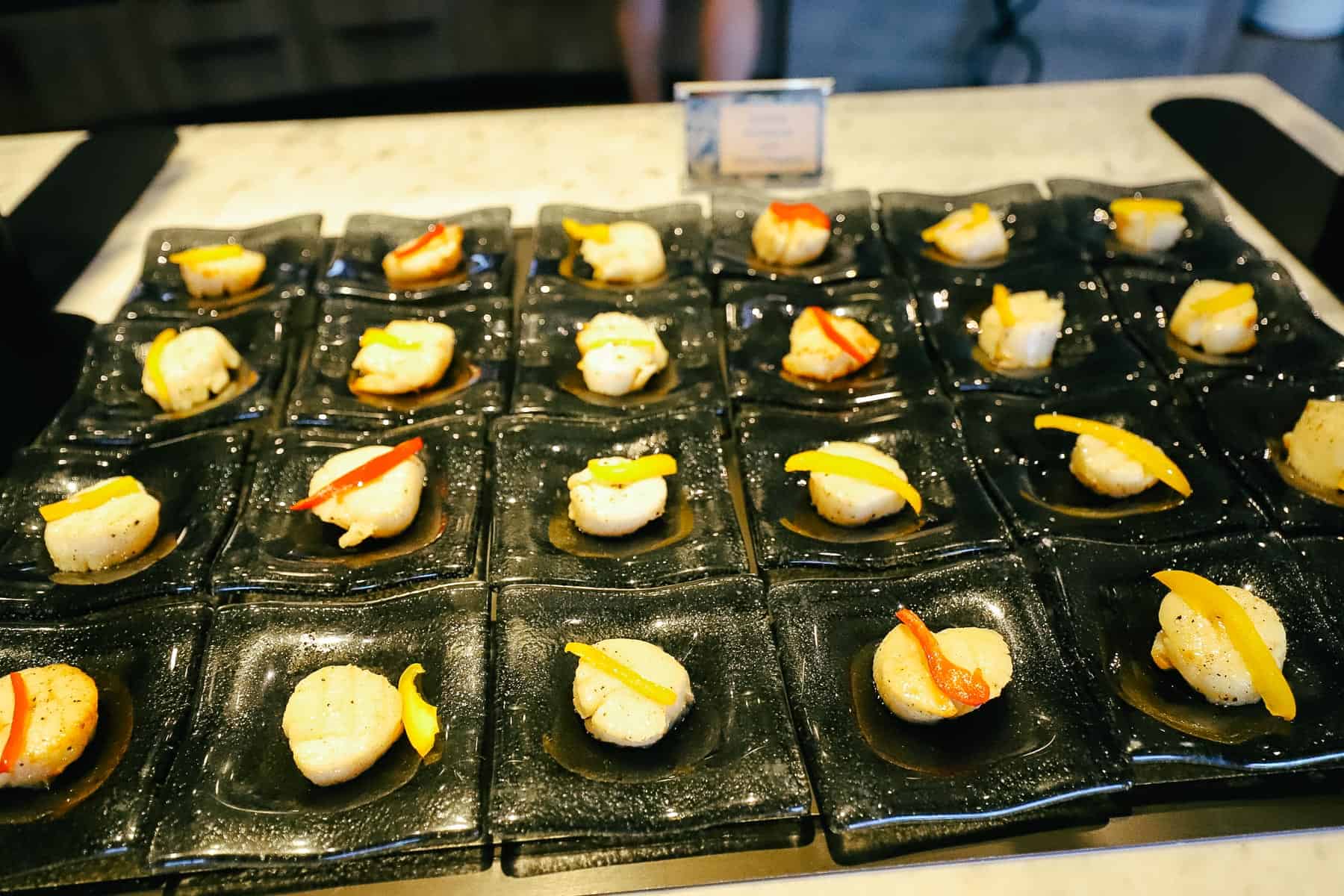 A citrus couscous made for another tasty option.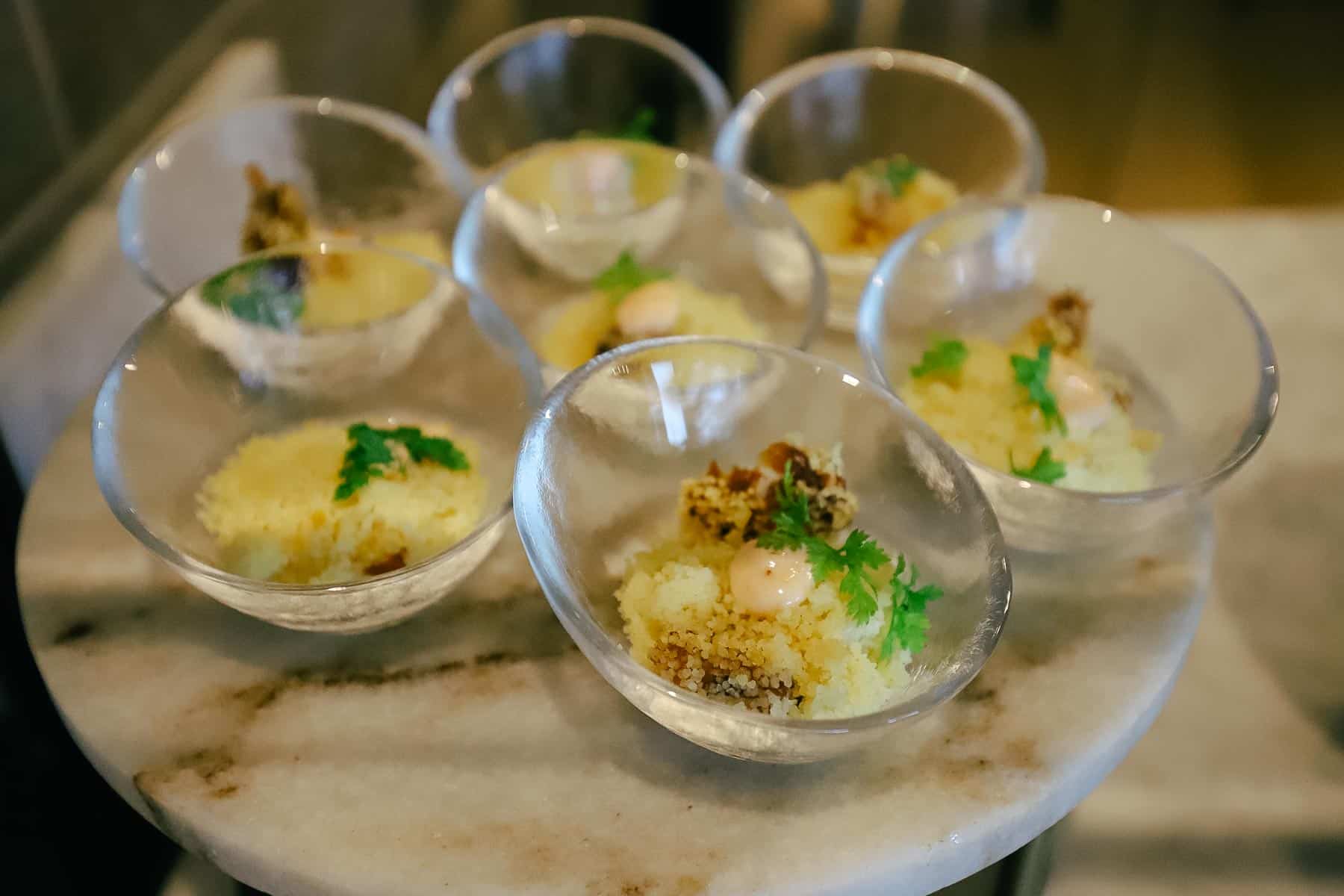 This evening we had a red bell pepper gazpacho.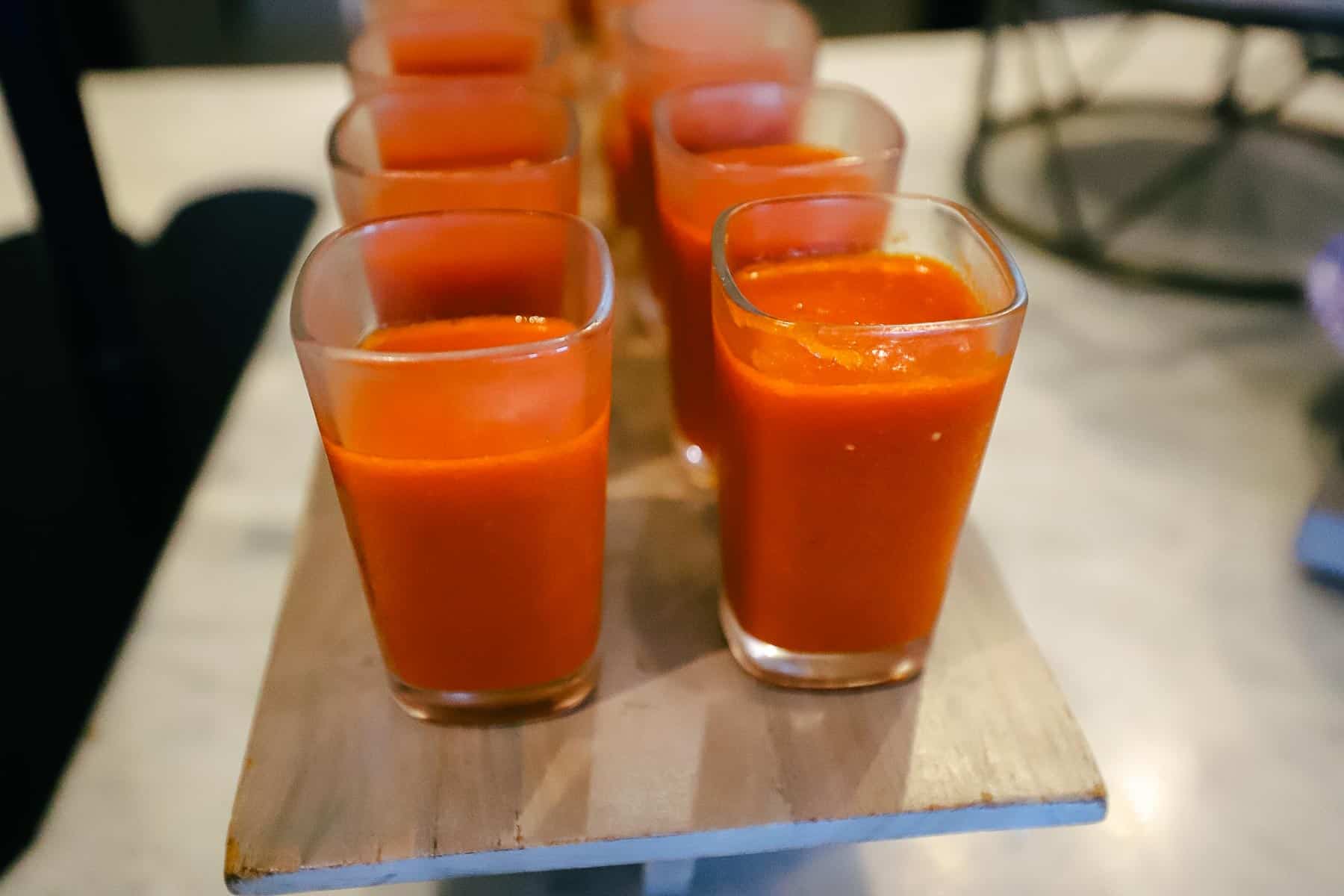 Additionally, the vegetables and charcuterie selection were identical to the previous evening. But it was nice to see those options again.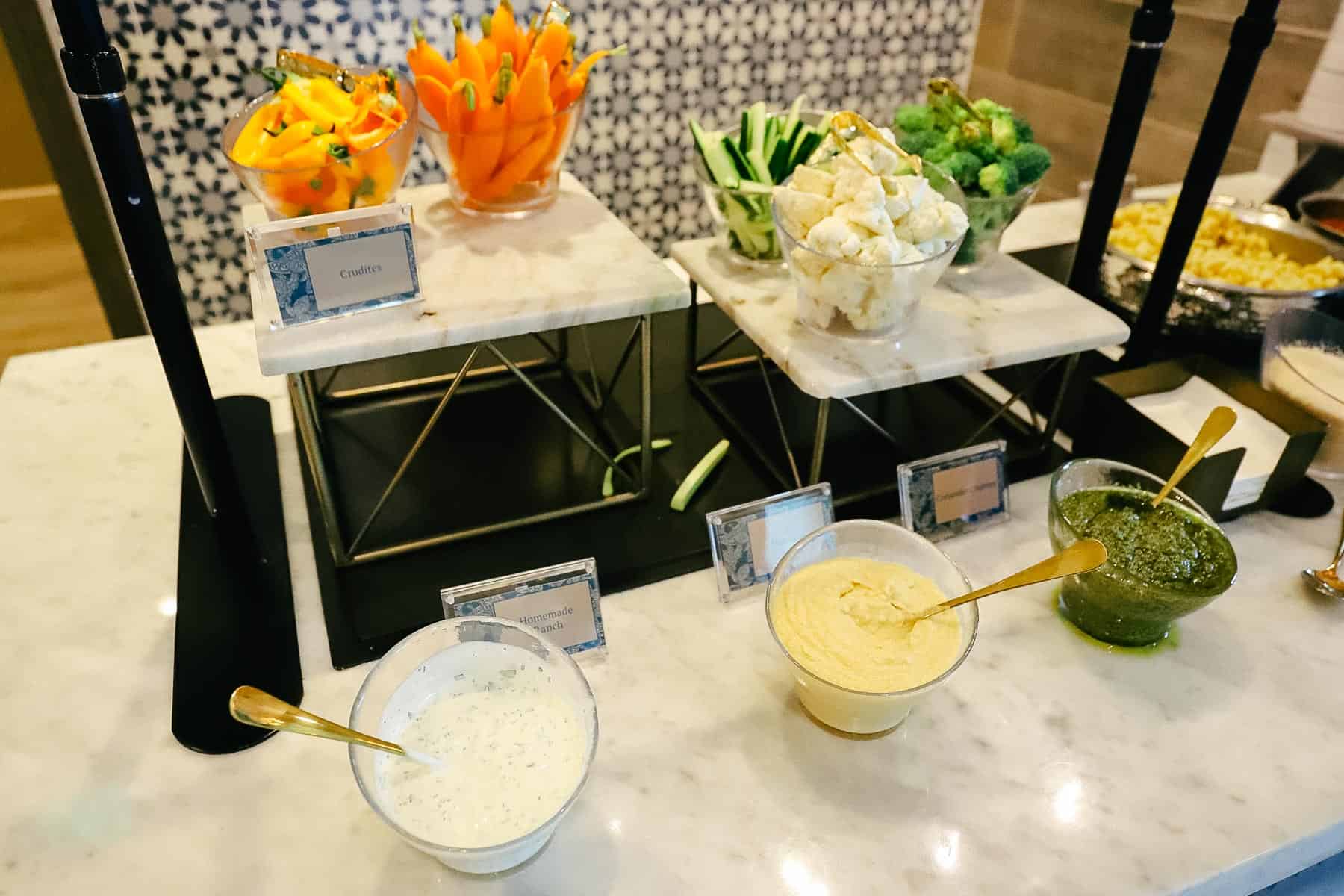 However, the biggest hit was the beef marinara with pasta.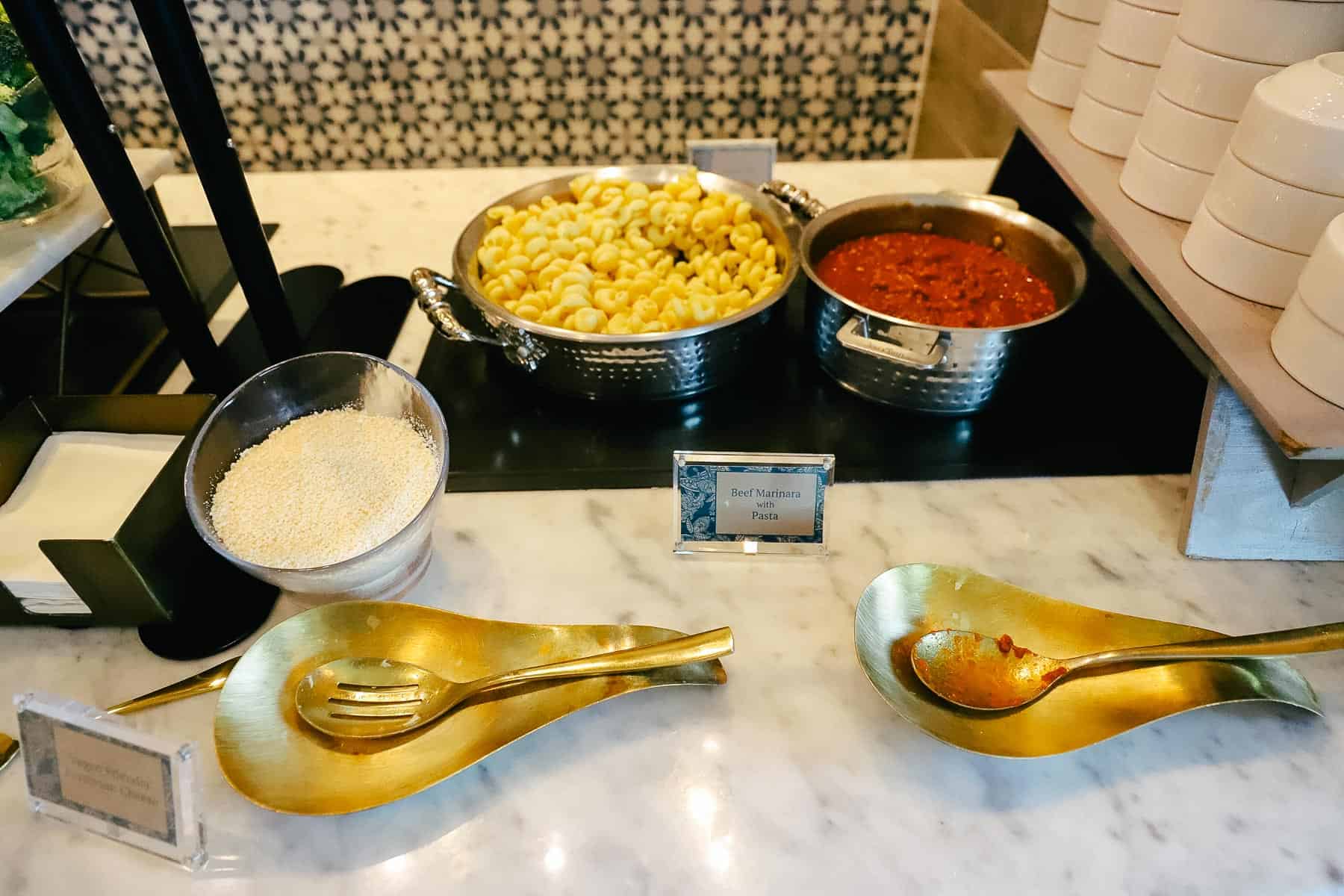 This stuff might have come straight out of the jar–who knows? But it was delicious, and everyone, including me, returned for seconds.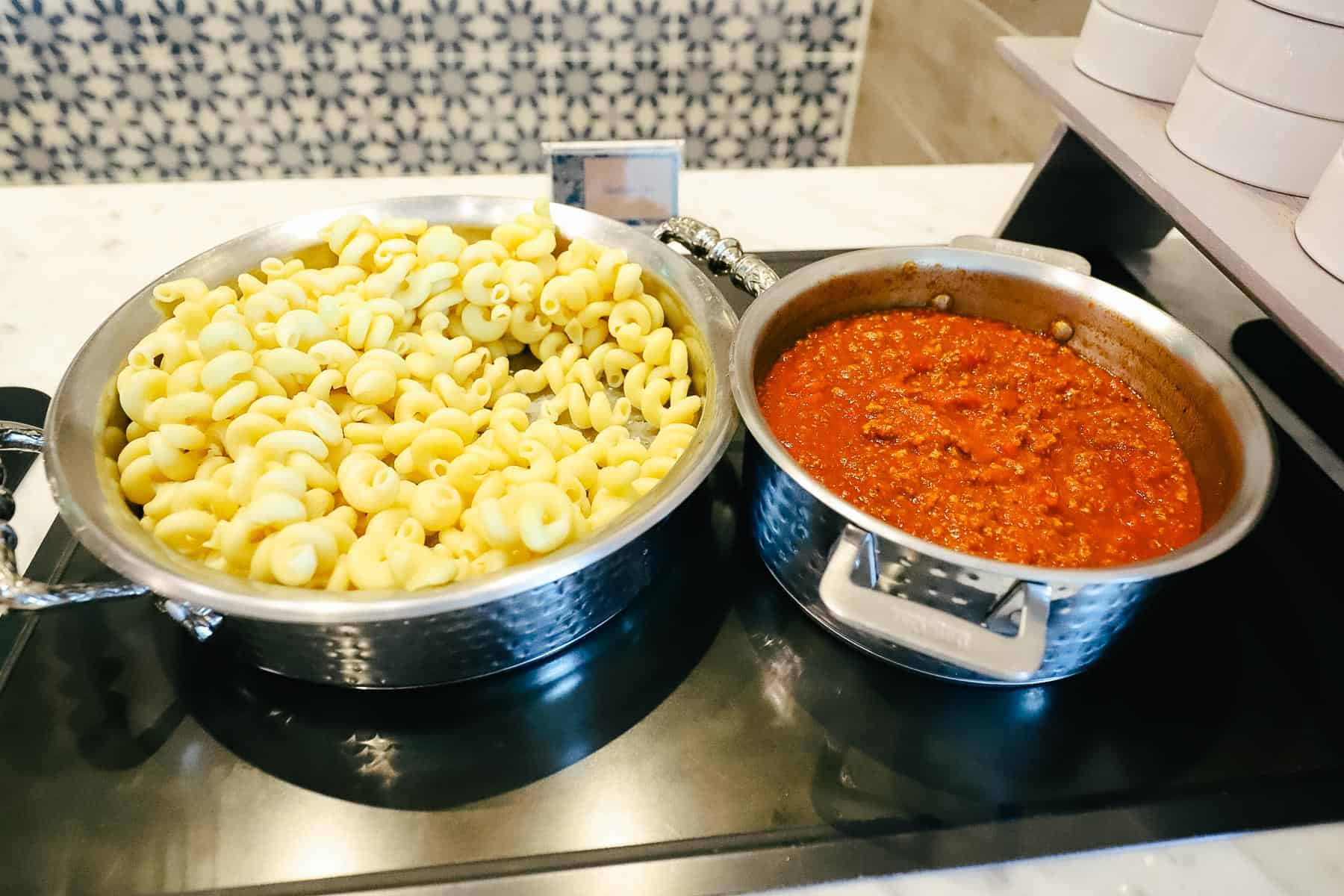 Desserts and Cordials
Lastly, the Chronos Club has several fun options for dessert each evening. Here is a look at the spread.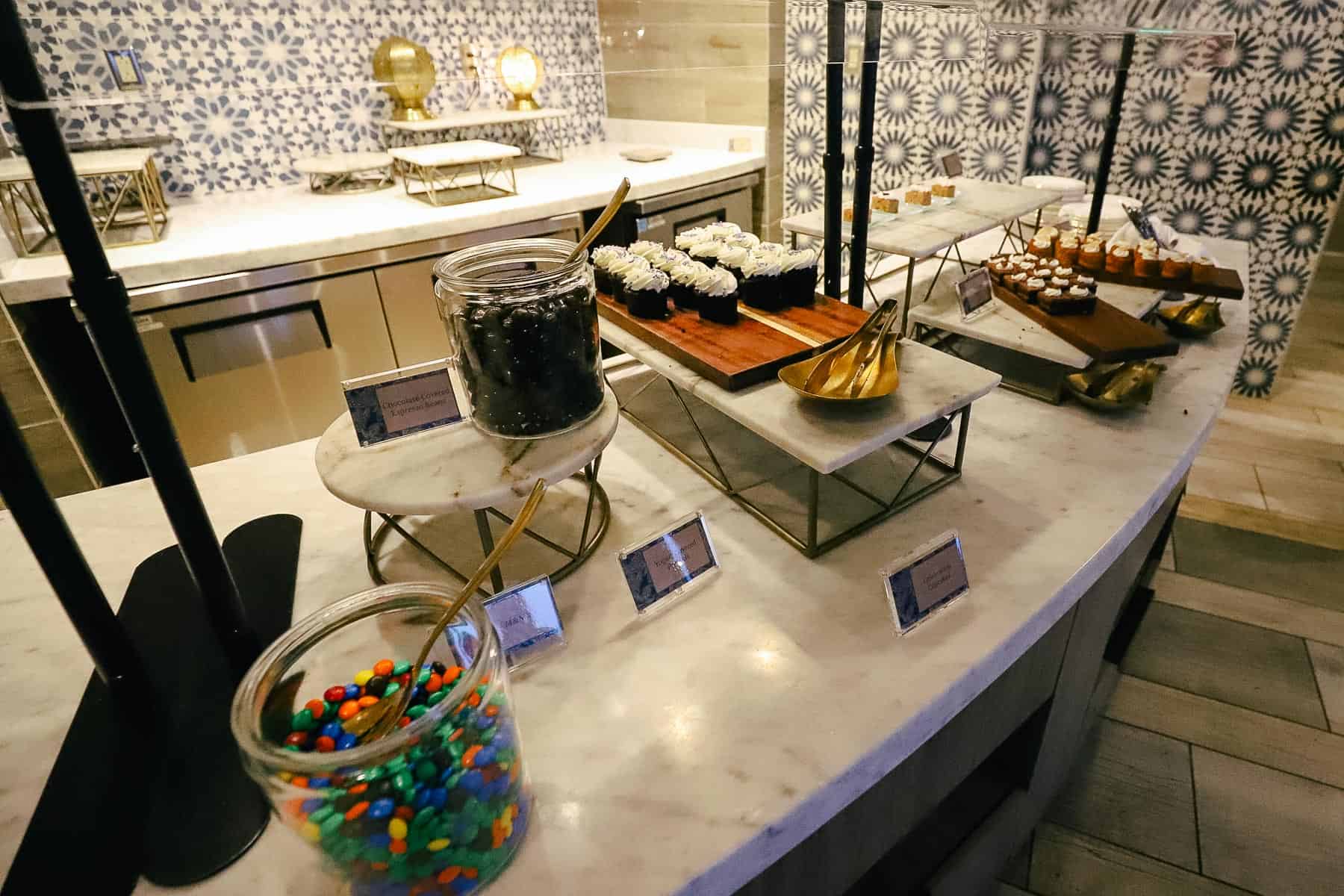 Fruit choices were the same as we saw at breakfast. But it was nice to have fresh options.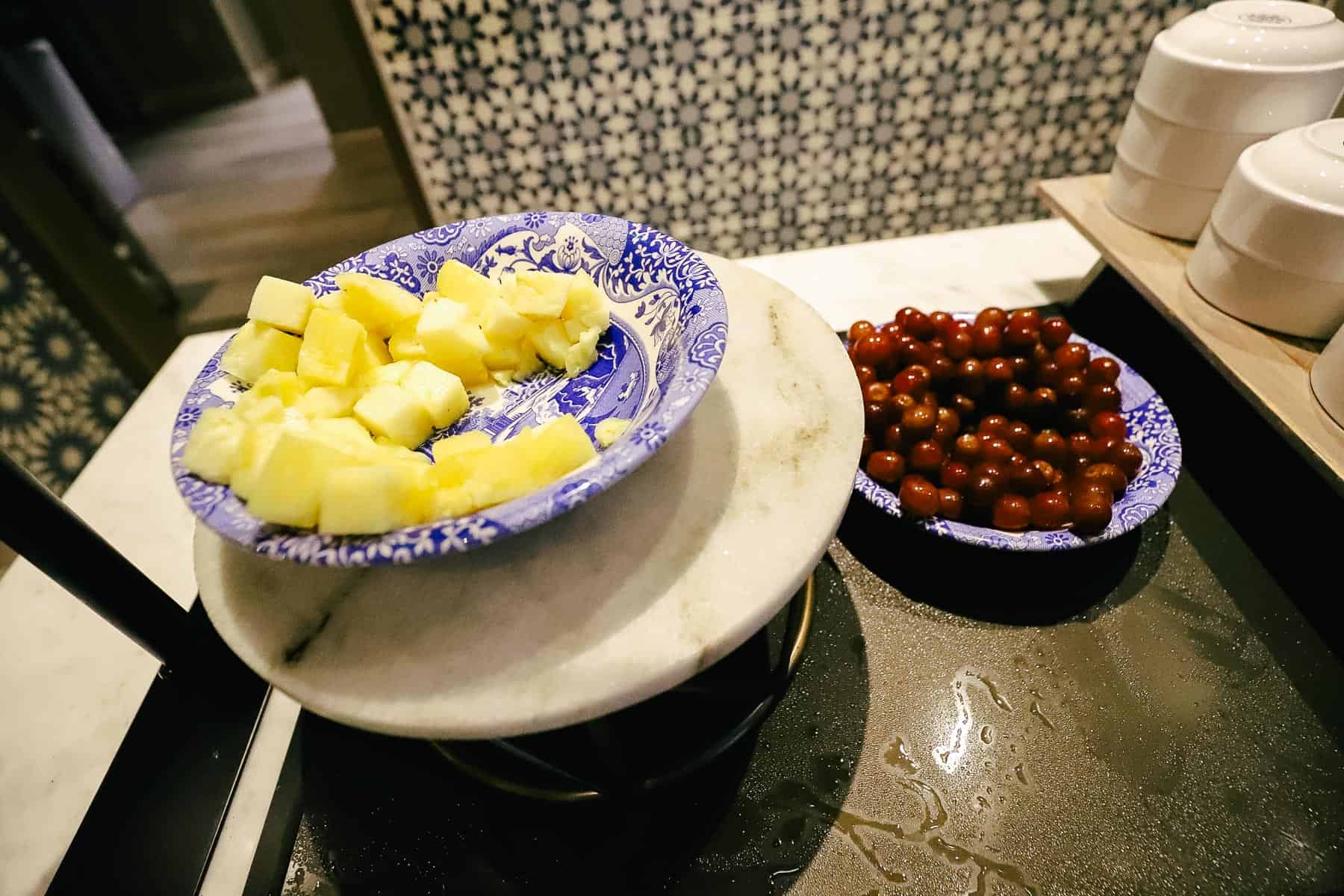 Here we have a chocolate orange cake, and a carrot cake sits toward the back.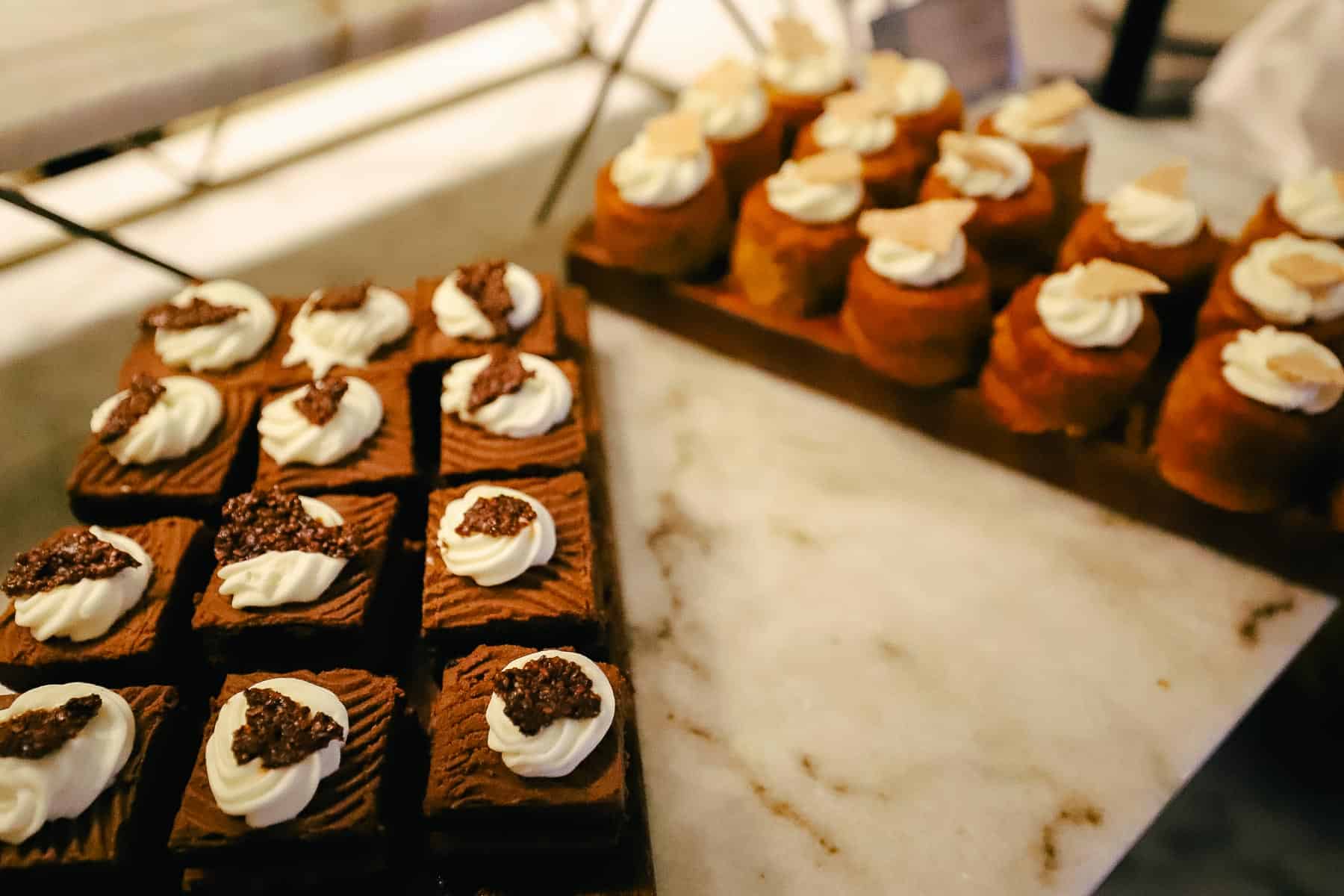 Blondies with icing were available. I usually love Blondies, but these didn't remotely taste like one.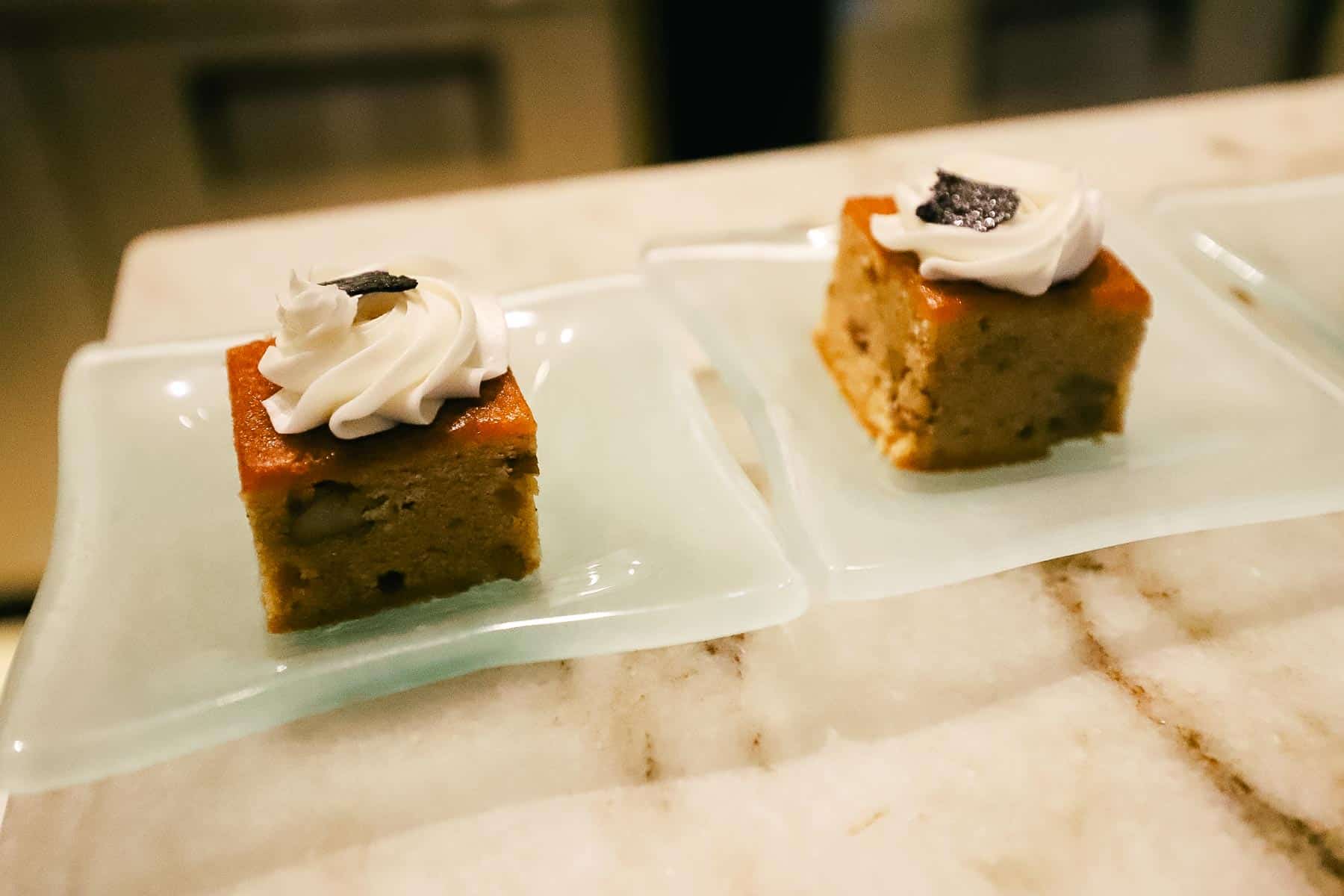 We both thought the chocolate cupcakes with white icing were the best-baked dessert items. For some reason, the smaller treats tasted a little off.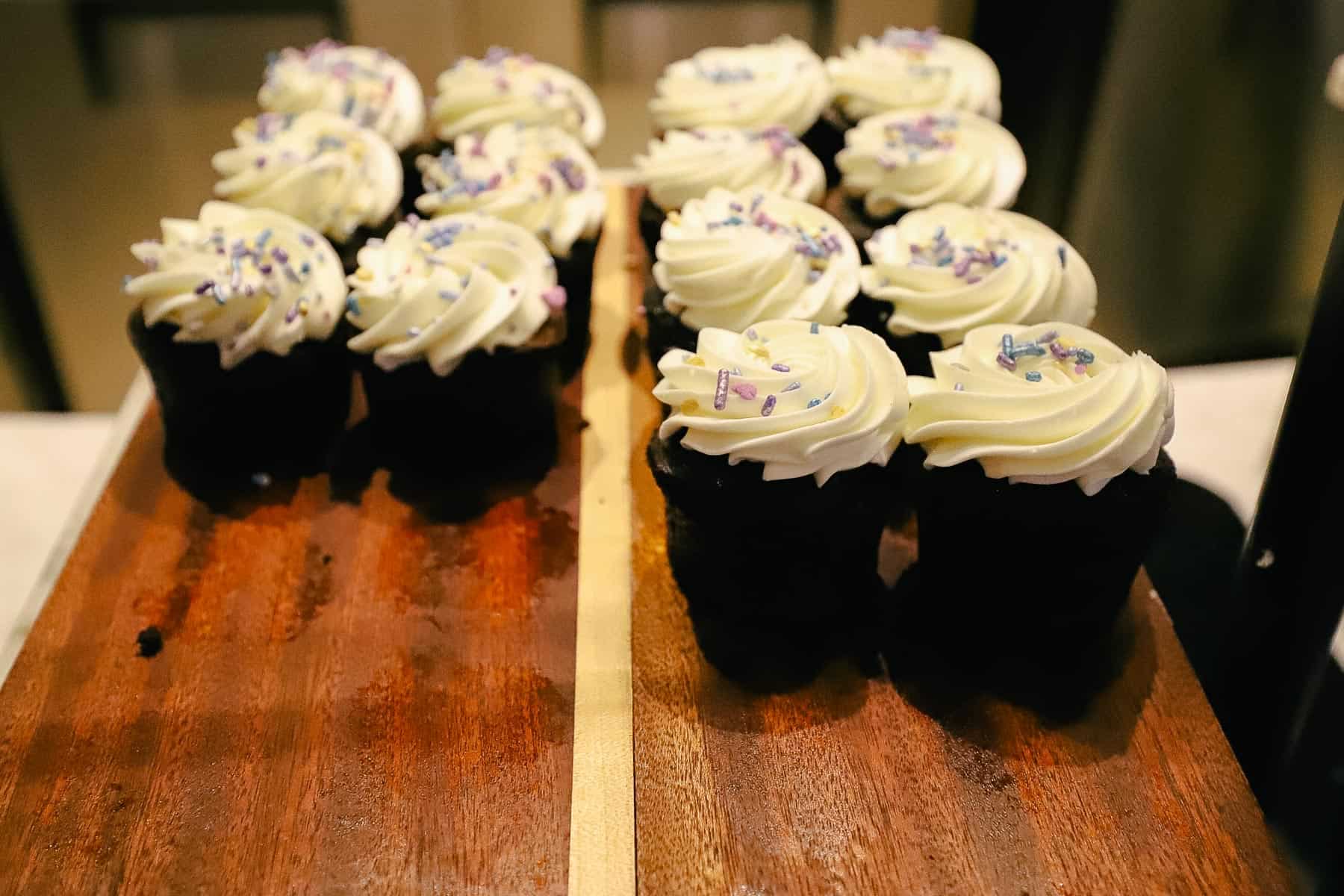 The celebration cookies were also present during dessert.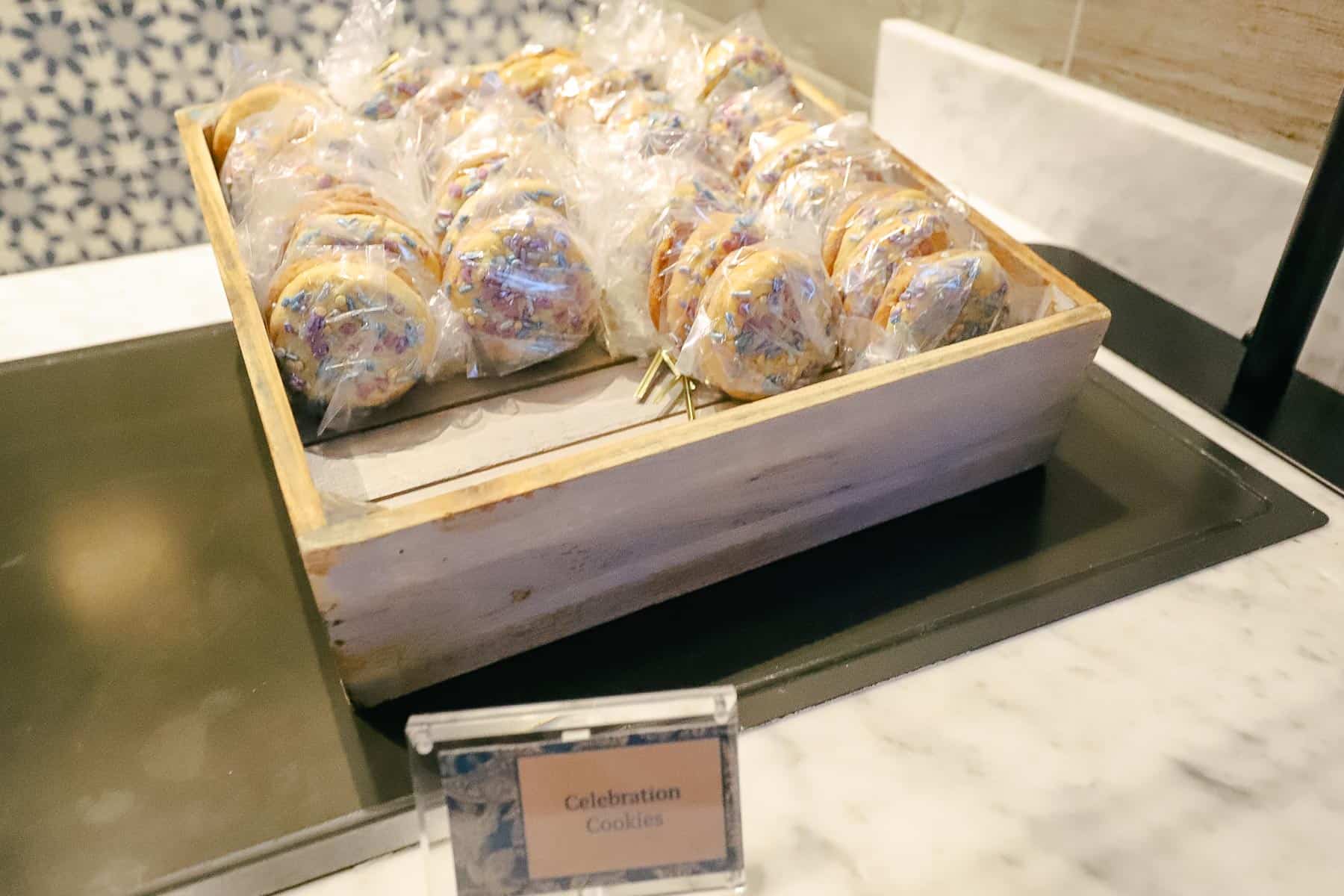 Here is a closer look.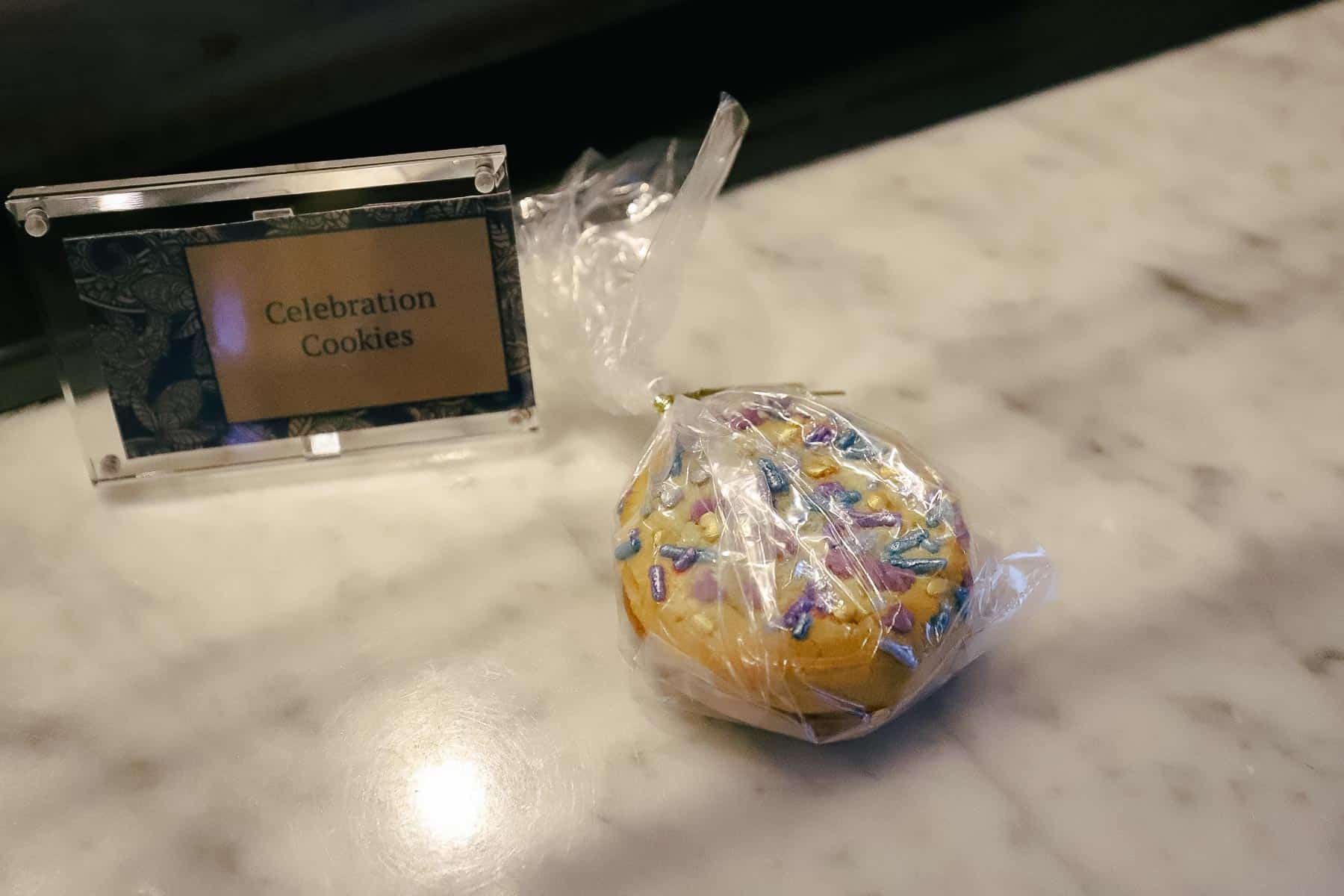 Chocolate-covered espresso beans, M&M's, and yogurt pretzels were available.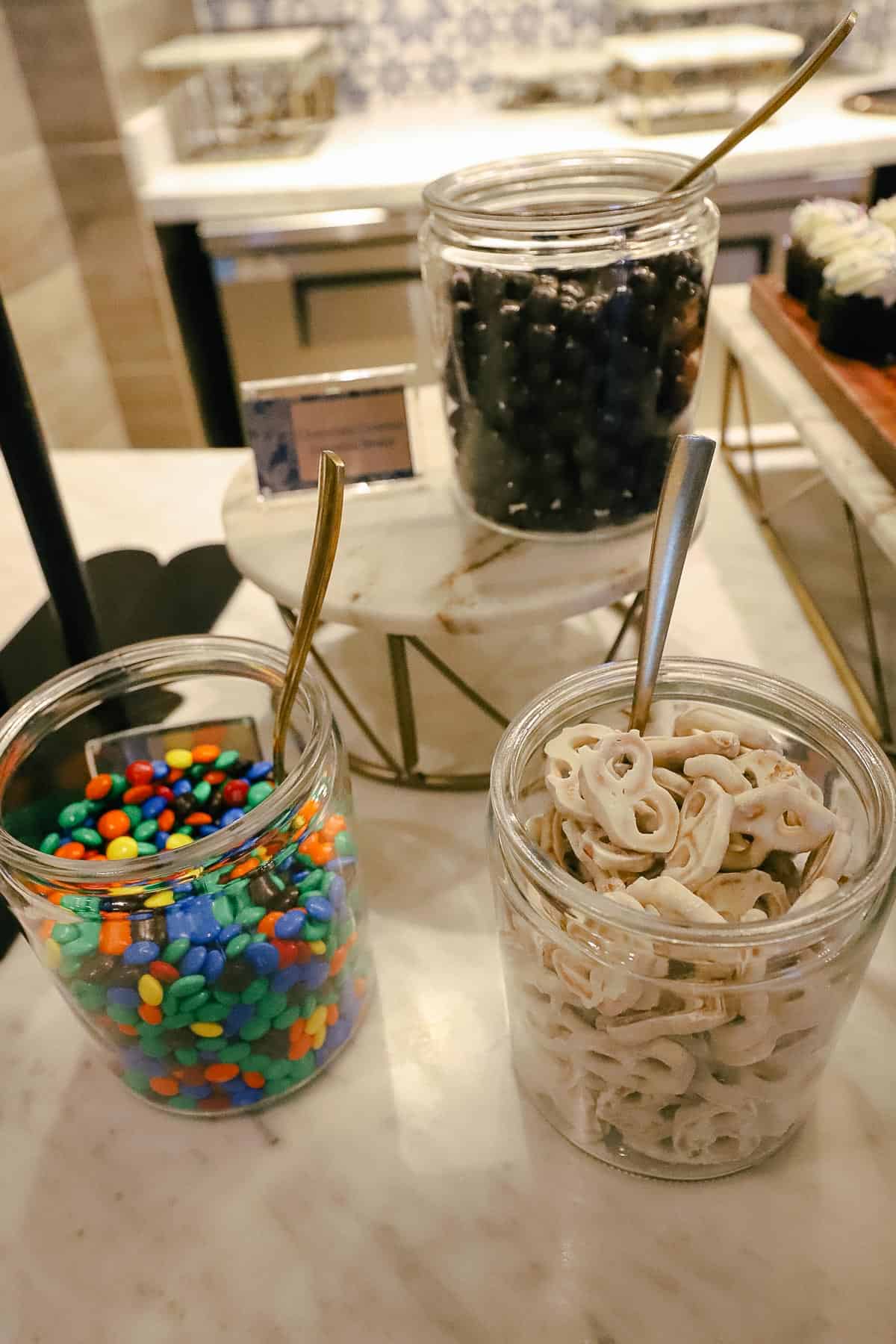 Beer and wine remained out until the lounge closed at 10:00 p.m. Additionally, cordials were available with small glasses.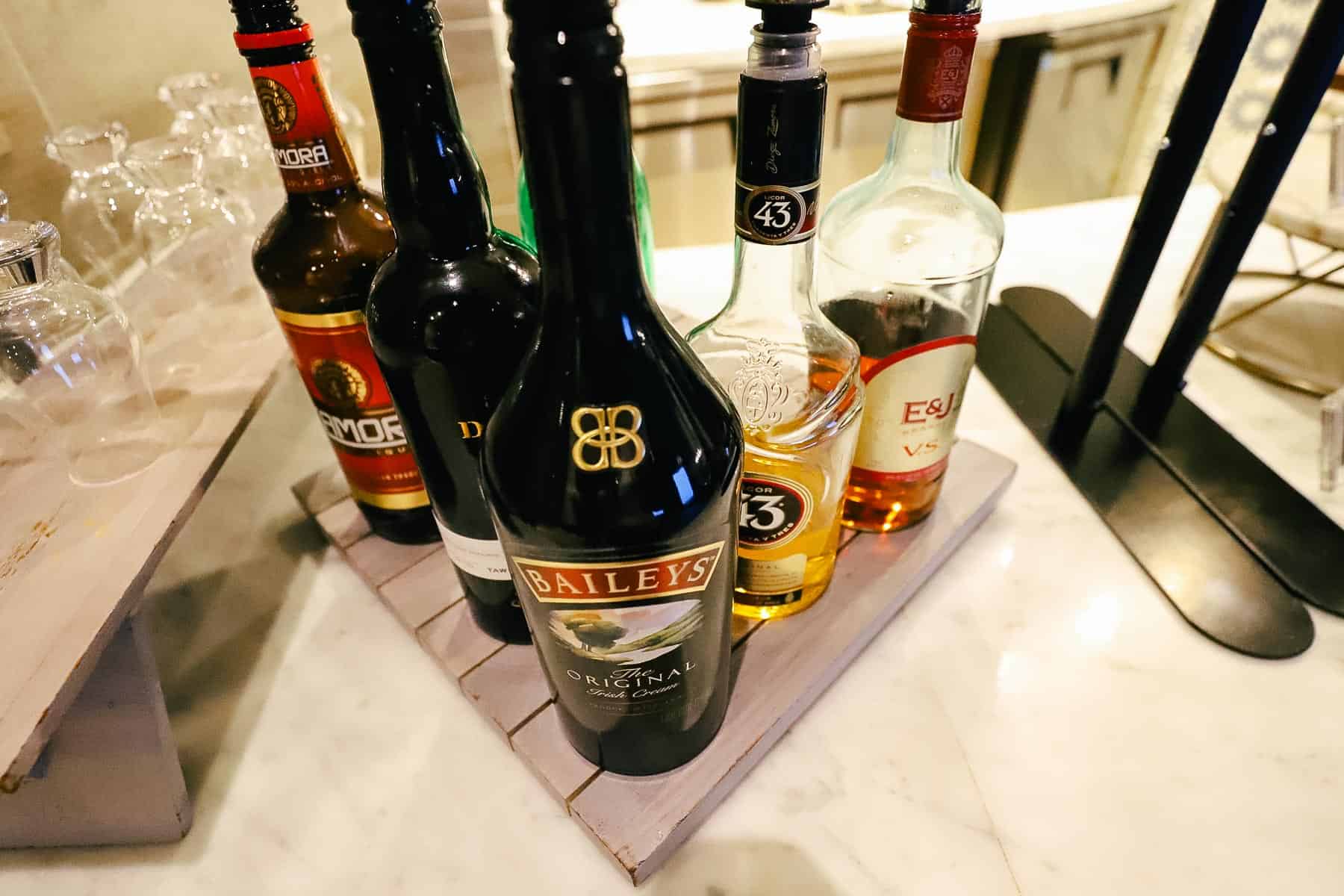 We brought a few things back to the room and made decaf drinks. That coffee machine was a huge hit.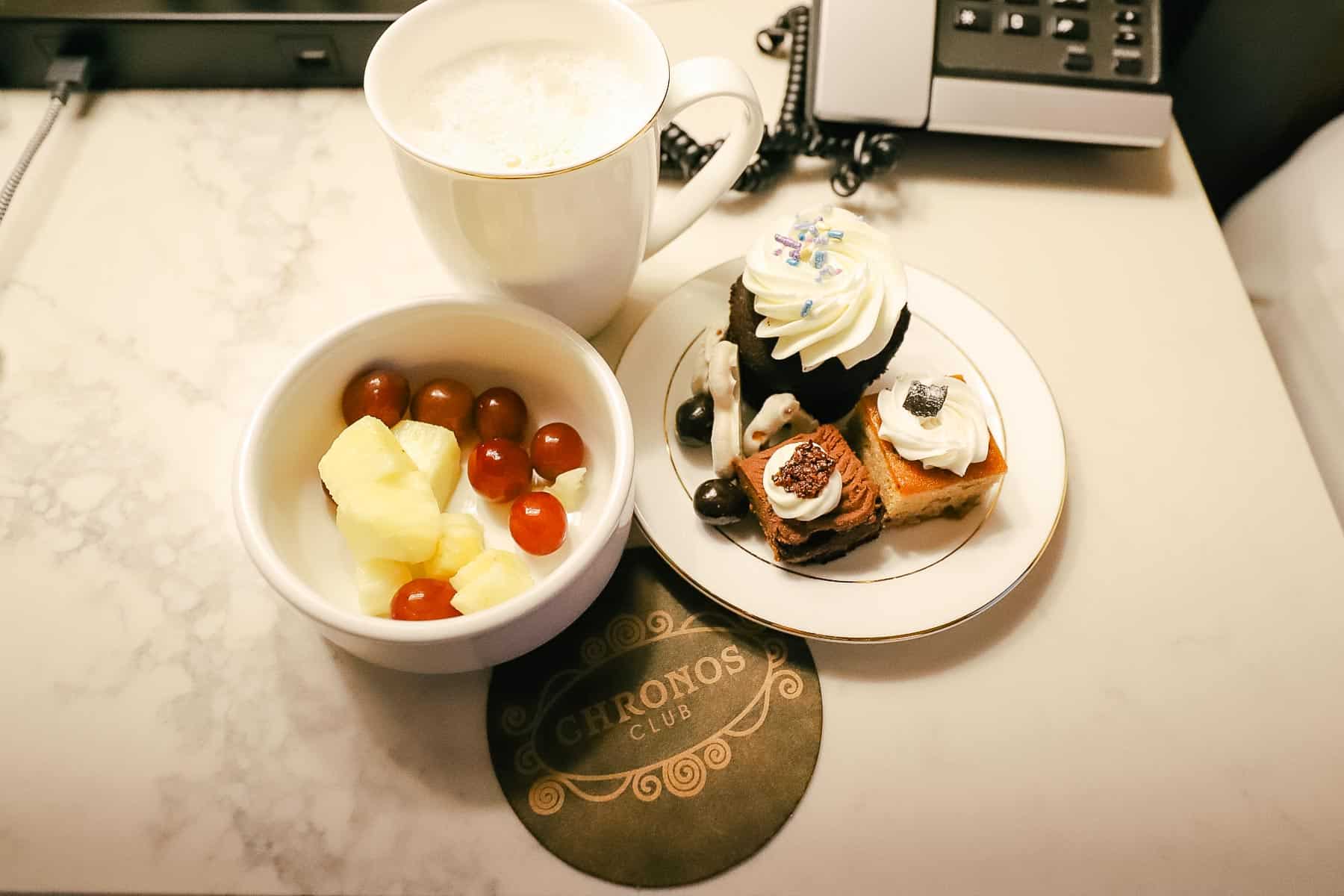 Was it worth it?
Since Kristen owns a company specializing in Disney travel, and I do this for a living, we spent some time discussing the value. She mentioned that she would be willing to return with her family and recommend Gran Destino Tower to her clients.
As for me, I was well-pleased with the offerings and level of service we received. While we did have a few hiccups and a time or two when we felt overlooked, it was still an excellent experience.
Many of the cast members went out of their way to check on us, and everyone was friendly. The main reason I mentioned these tiny details is that you'll know what to expect.
Most of us don't want to feel like we're overdoing it or taking more than our allowed share. But when you pay for the club-level experience, you'll want to ensure you receive your money's worth.
So remember these things when planning your stay and comparing the price to a regular room. If you take advantage of these offerings in the lounge, between the savings on the cost of several meals and the convenience, you might find it's worth it. We did.
However, you will still want to plan a few dining reservations and not rely on the lounge for dinner every evening. You will quickly get tired of the food, even with varying options.
For those on the dining plan or with tons of dining reservations, this extra will probably not be worth your time. While the food in the lounge is good, it leans more average and is not comparable to fine dining by any means.
Final Thoughts
Overall, we had a wonderful stay at Gran Destino Tower and found this portion of the resort more like a deluxe than a moderate one. However, you will have to rely solely on bus transportation since it's the only option offered at the resort.
For more information about the resort, we have a resort guide:
Or you might enjoy the following:
In the Comments
What are your thoughts on this review of the club level at Gran Destino Tower? Do you see yourself considering a stay in the Chronos Club?