5 Reasons You'll Love the Pools at Disney's Beach Club!
It's no secret that we love Disney's Beach Club and think everyone should plan a stay there at least once! But what about the pools at Disney's Beach Club Resort? Well, they are actually the main reason we enjoy this Disney Resort Hotel so much! (Other than the resort's amazing location!)
Now, you probably know that the Beach Club practically has its own mini-water park that it shares with Disney's Yacht Club called Stormalong Bay. However, that area is so large; it requires a full article here discussing it.
Plus, sometimes, you might want to enjoy more of a quiet spot to relax by the pool on vacation. And you might not be aware that there are three different quiet pools available to all guests of Disney's Beach Club and Yacht Club.
Since some of these pool areas are so private, I imagine that there are probably more than a few guests who never even know they exist! Therefore, on my last visit, I stopped in for a few photos to share with you.
And ended up spending a little time in the sun underneath an umbrella. Highly recommended.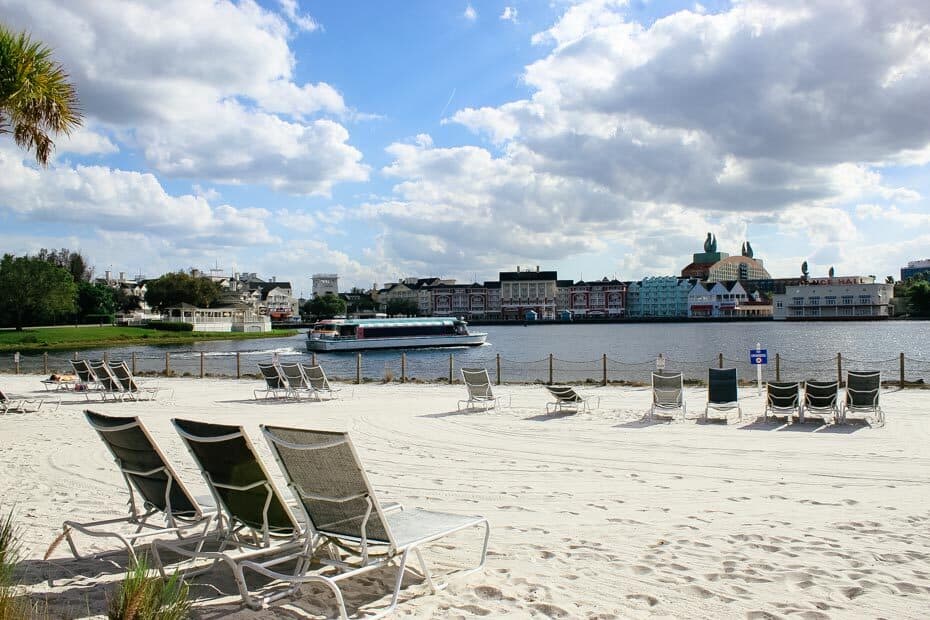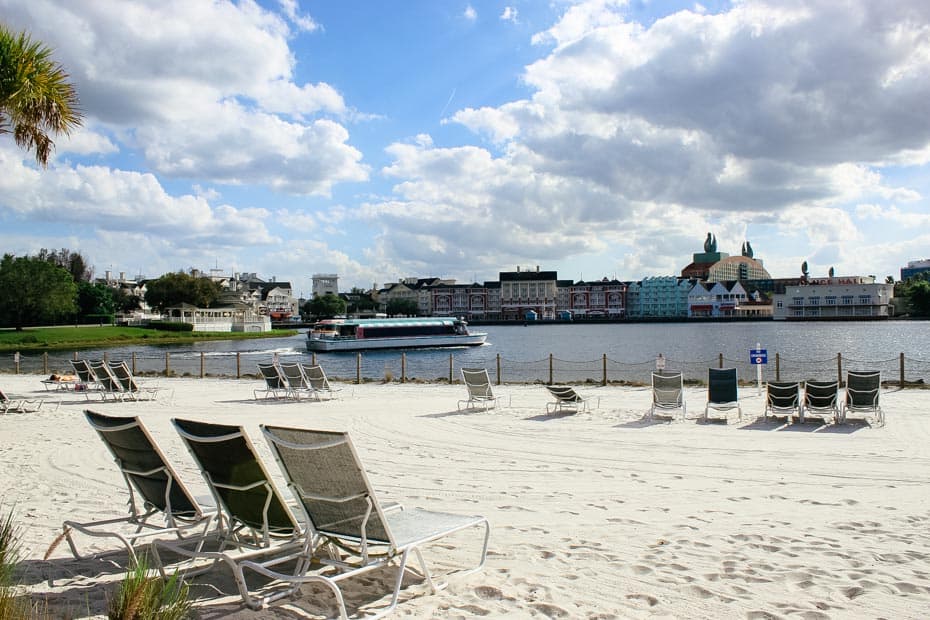 Now for all of the pools and things that will make you love the Beach Club (and Yacht)!
#5 Dunes Cove Pool at Disney's Club
Our first reason for stopping in to check out the pools at the Beach Club is the Disney Vacation Club pool at the resort. This pool is situated outside the Beach Club Villas as a convenience to DVC guests.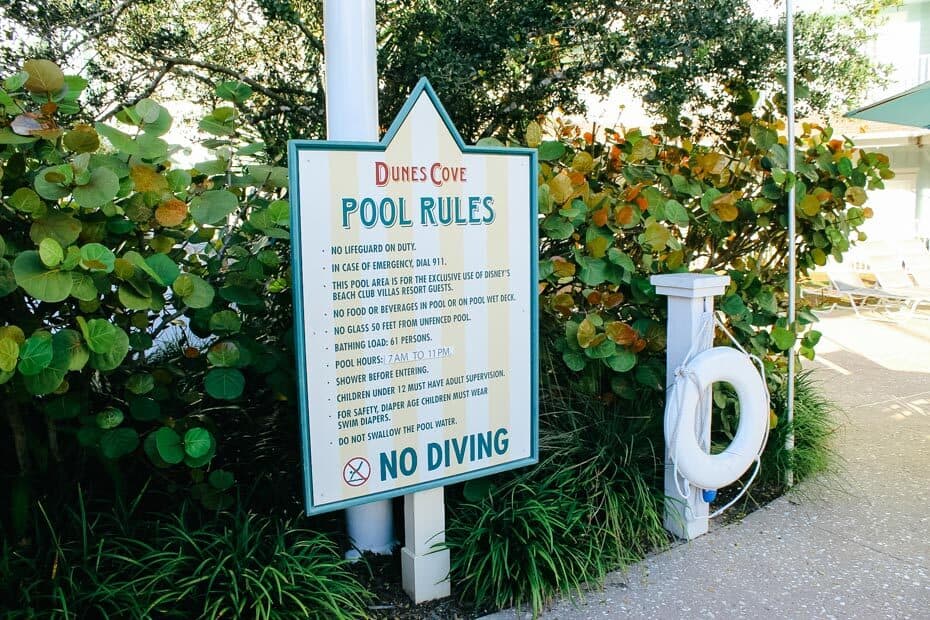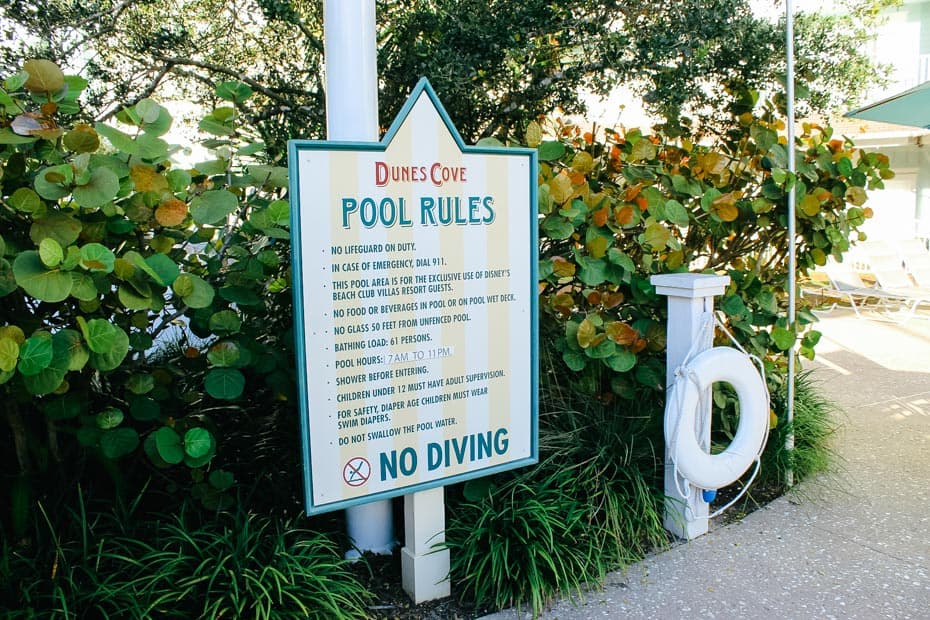 However, it is available to all guests of the resort. Pool hours were posted from 7:00 a.m. to 11:00 p.m. on my last visit. (The sign does indicate otherwise, but per Disney here, it is available to all resort guests.)
The Dunes Cove pool is in a nice private area. In fact, unless you stay in the villas section of the resort, you probably would never run into it.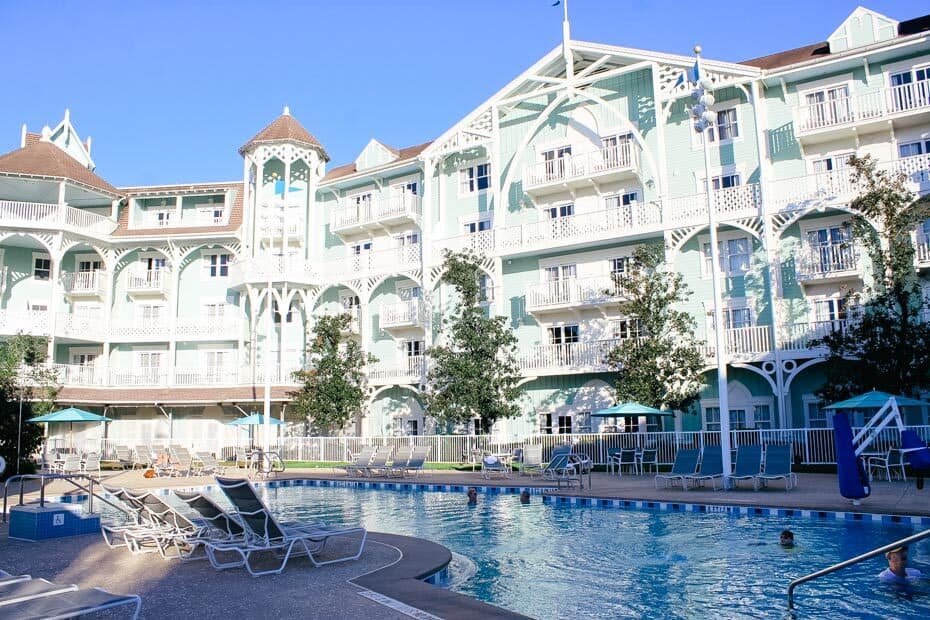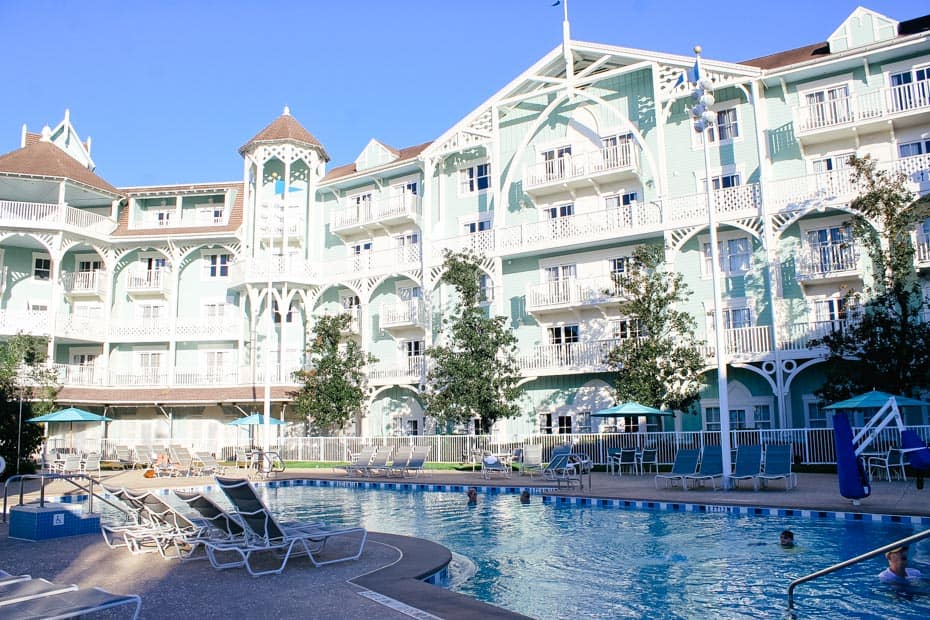 The pool gets a good deal of shade in the early evening. In addition, there is one whirlpool spa located on the pool deck.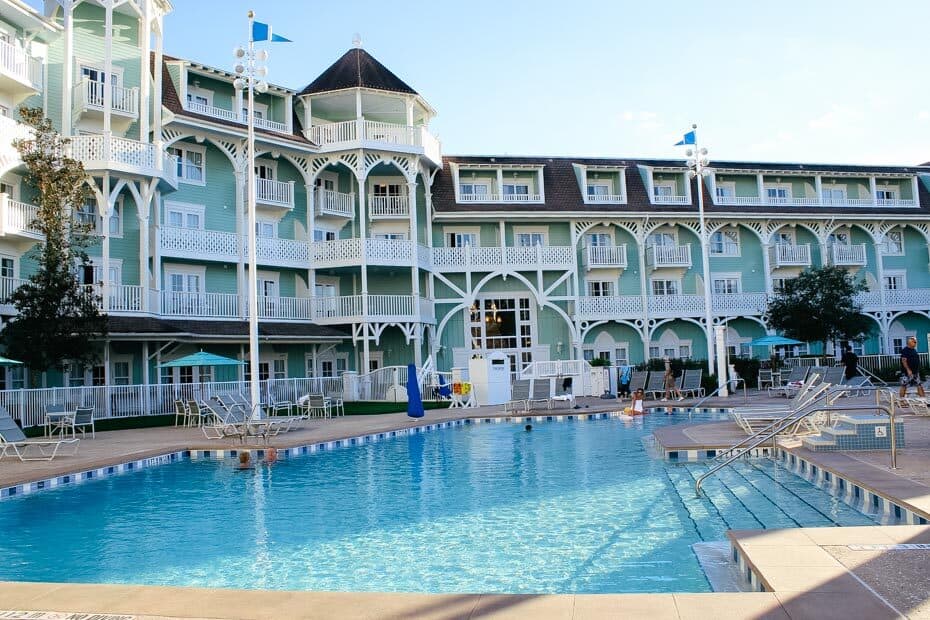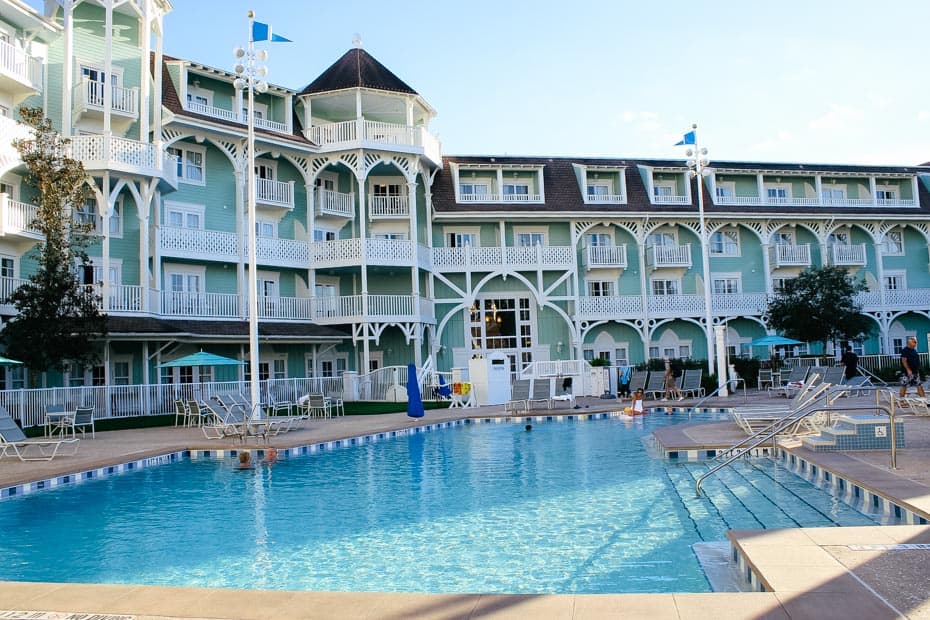 #4 Tidal Pool at Disney's Beach Club
Moving on, we'll take a look at the Tidal Pool, which sits on the front side of Disney's Beach Club. This is the smallest of the three quiet pools between Disney's Yacht and Beach Club. However, it always feels like the largest area.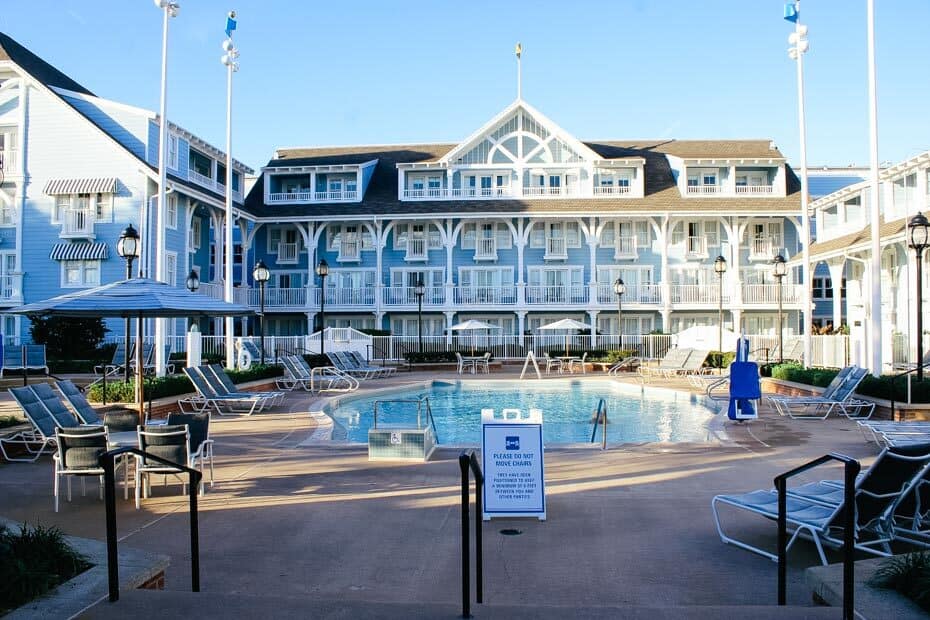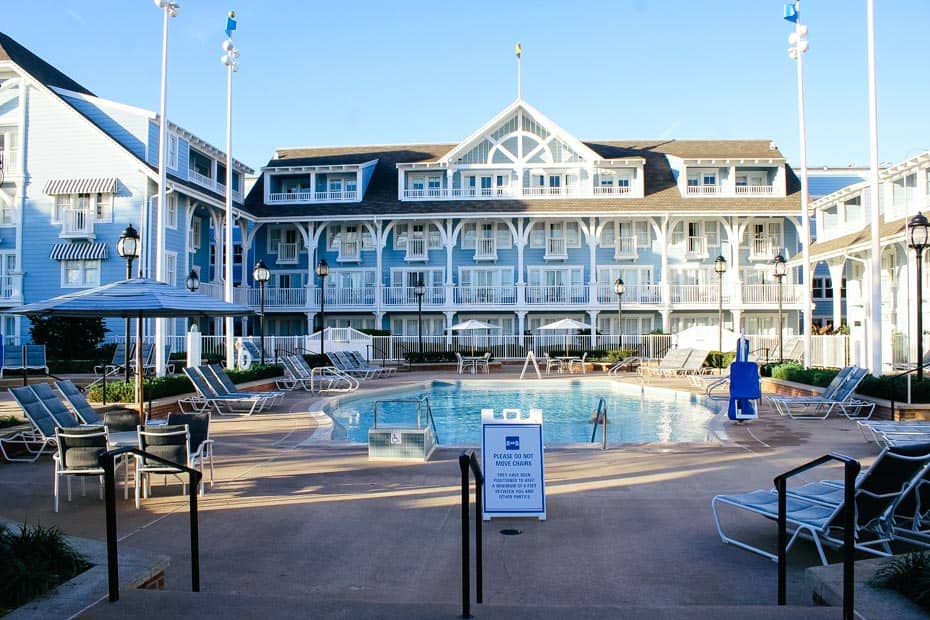 While the pool is pretty much surrounded, making it private, you can still catch glimpses out to beautiful Crescent Lake.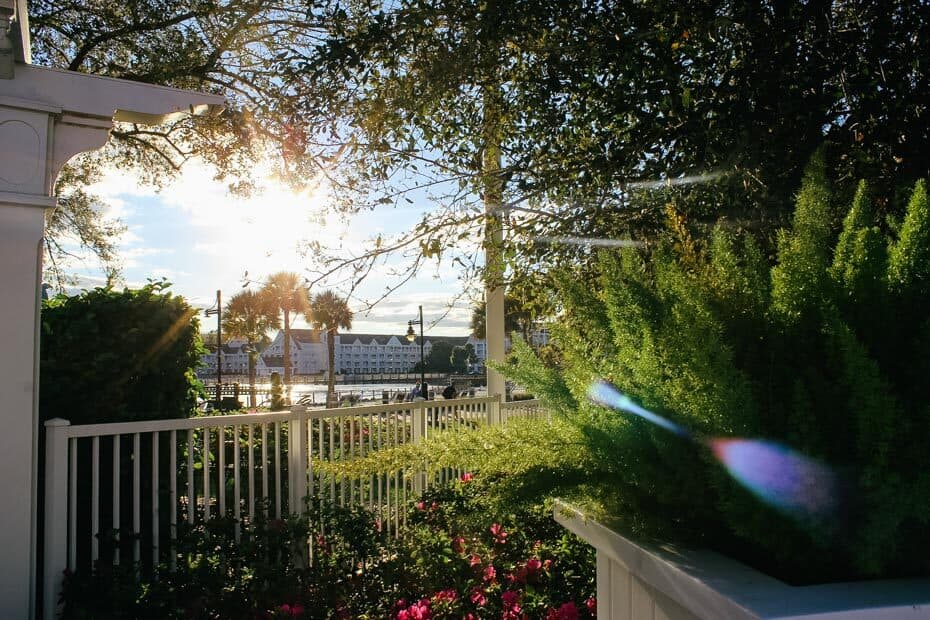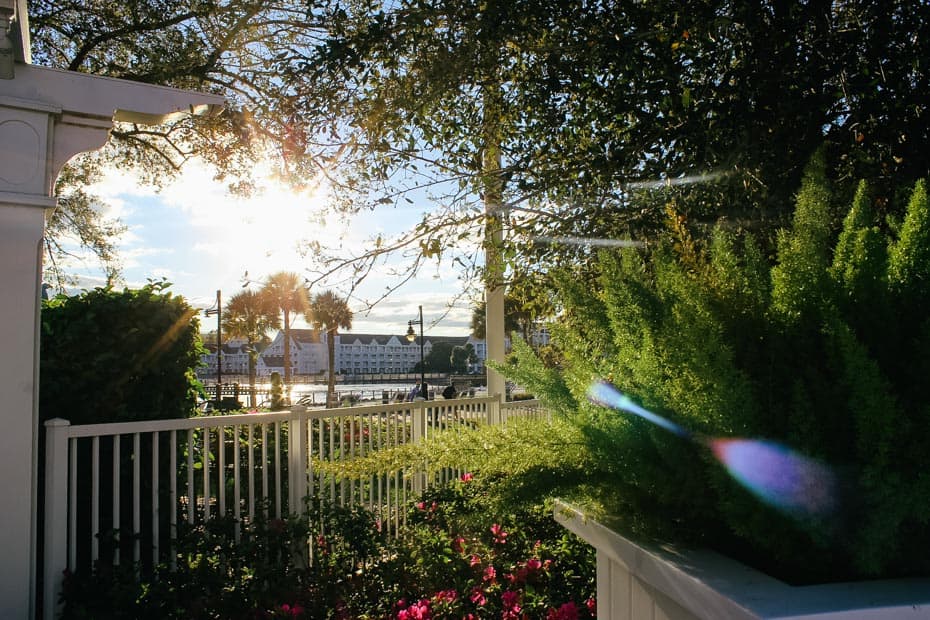 Between the pool and Crescent Lake sits a large laundry facility.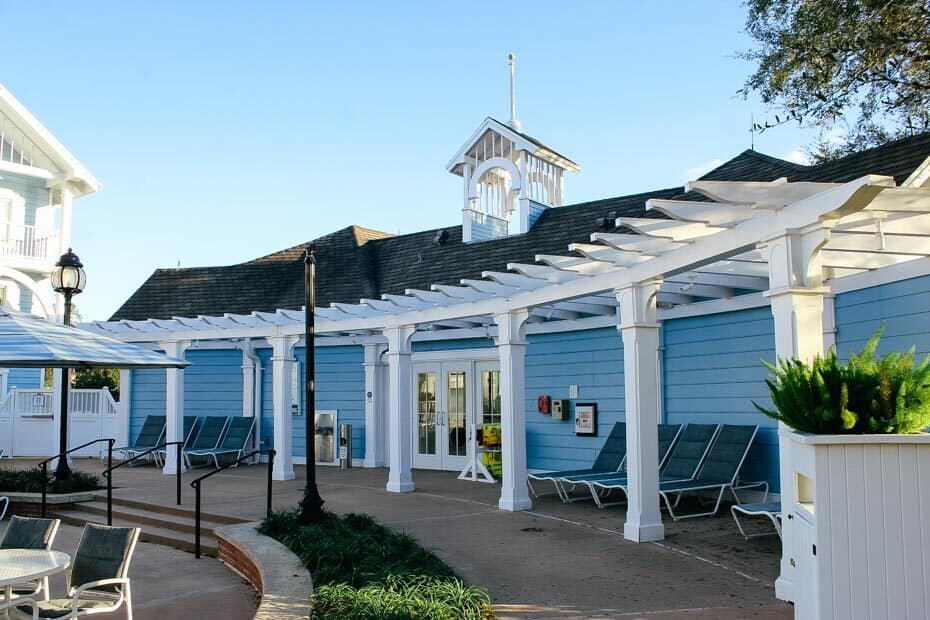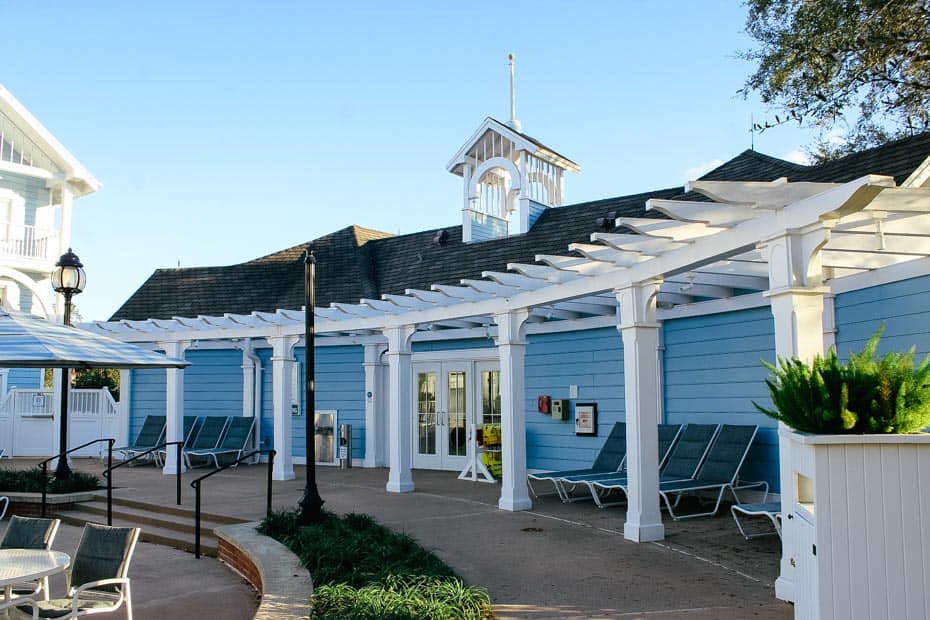 When we stay here, we usually end up doing a day at one of the nearby parks. Then, we'll come back early in the evening and do a little laundry while enjoying this pool.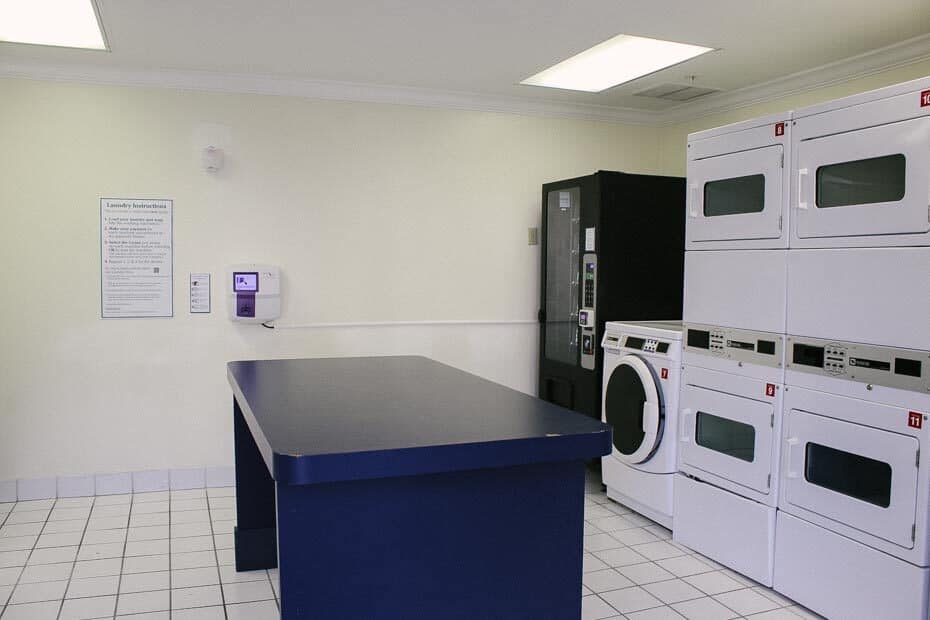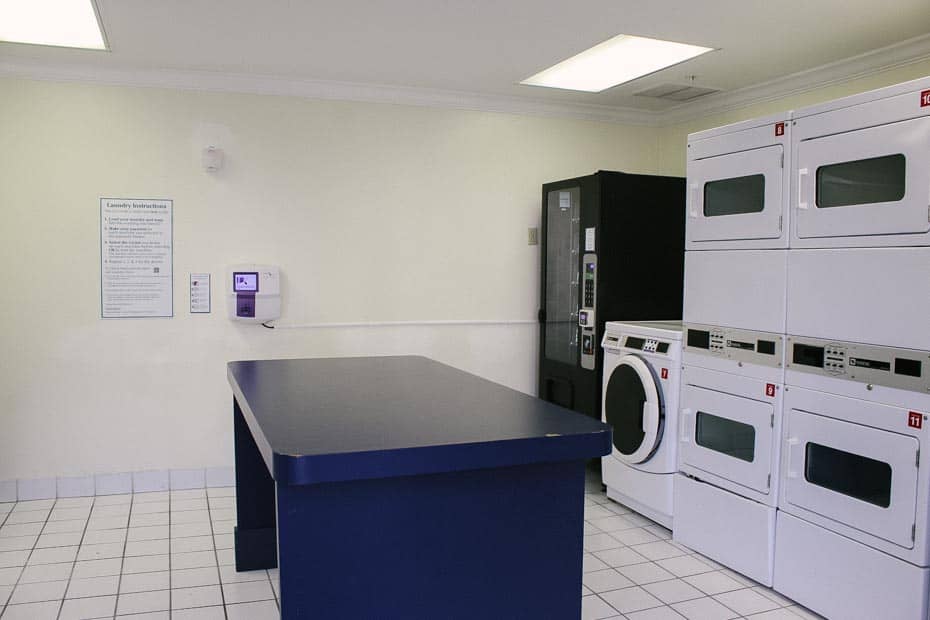 After it cools off, the whirlpool tub has some nice views of the surrounding area while still maintaining a little privacy.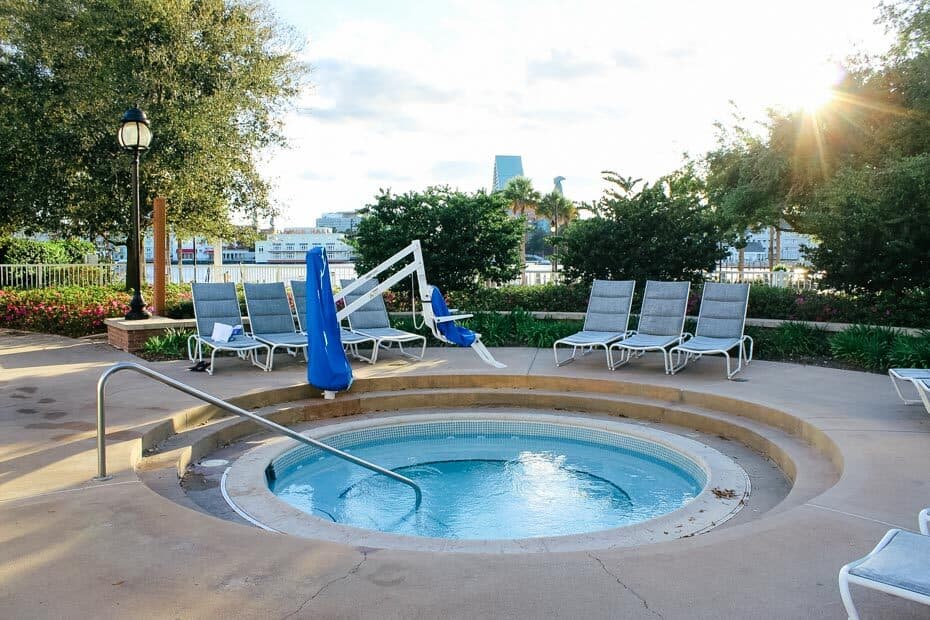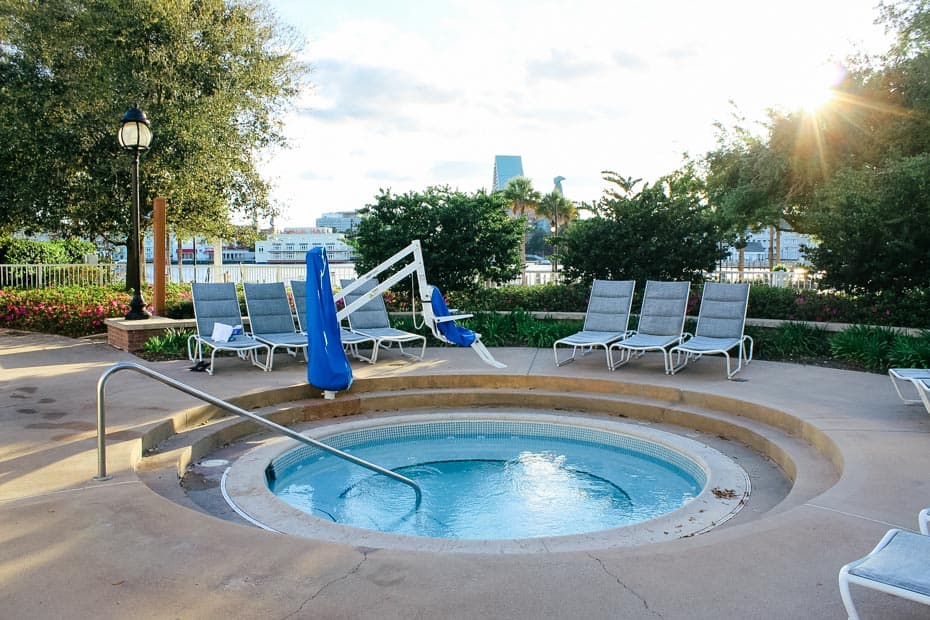 As fireworks time approaches, you can walk out onto the beach across the walkway to see them in the distance. While it may sound silly, a load of laundry, a quiet pool, and a few fireworks are some of the most pleasant times I've had at Walt Disney World.
#3 Admiral Pool at Disney's Yacht Club
Next, we have the Admiral pool, which sits on the far side of Disney's Yacht Club. If you are staying at the Beach Club, you can walk over and enjoy this pool. However, it will be a bit of a walk given its location.
From the Yacht Club lobby, you'll want to walk down the long hall past Ale & Compass Marketplace. At the very end of the hall, there are doors that lead outside. This is where you'll find the peaceful Admiral pool.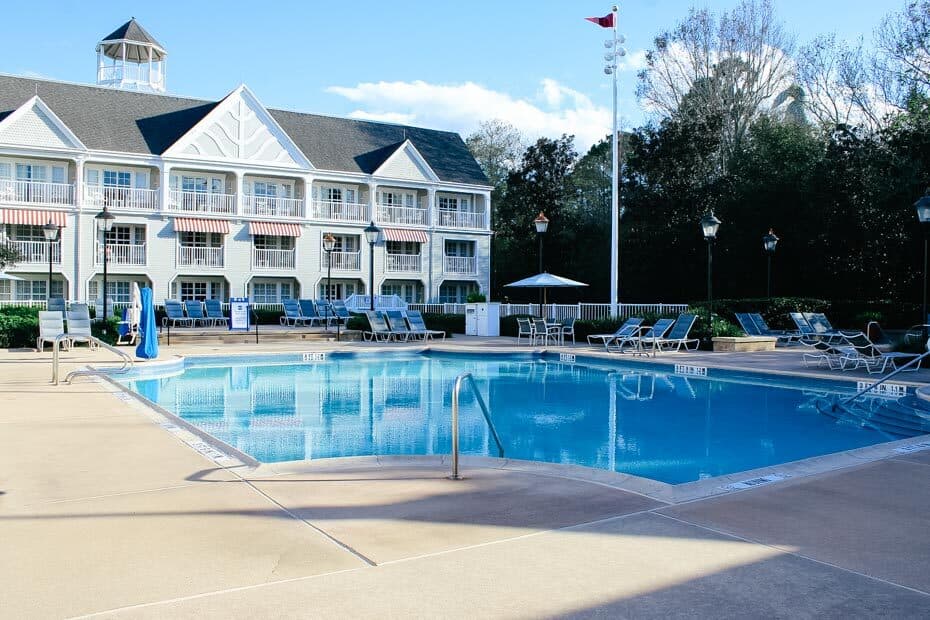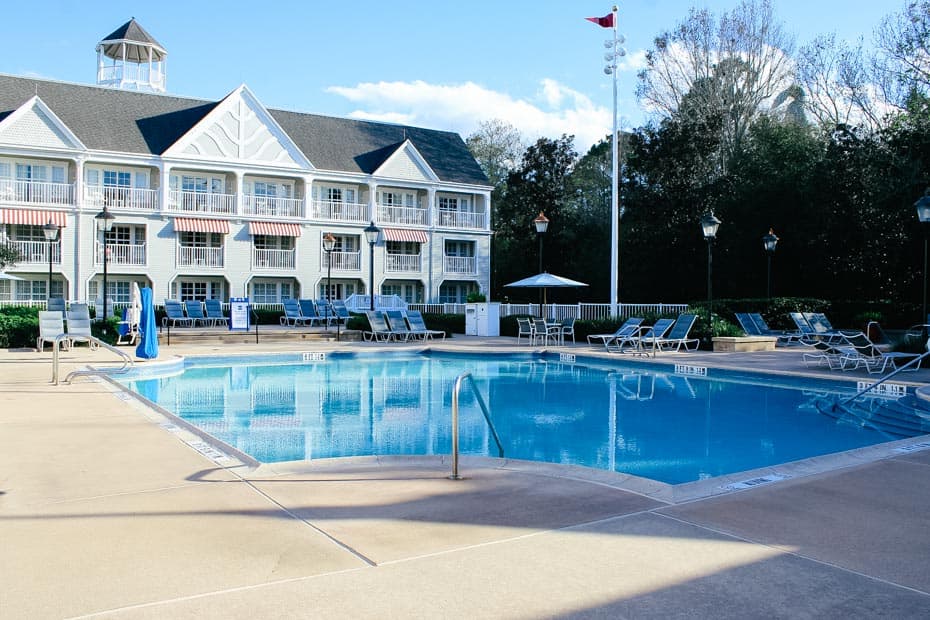 Like the Tidal pool, there is a large laundry facility for guests directly behind this quiet pool.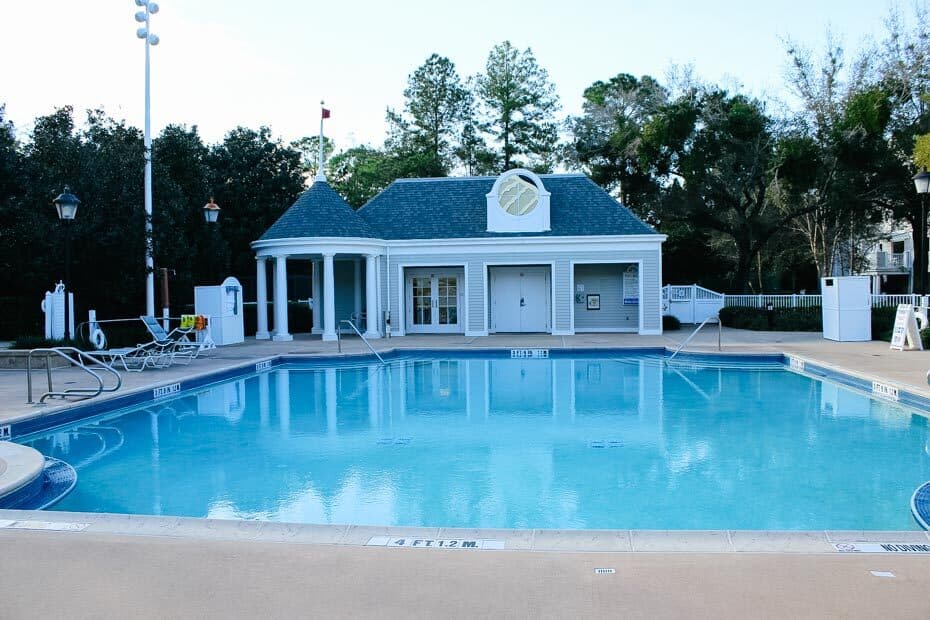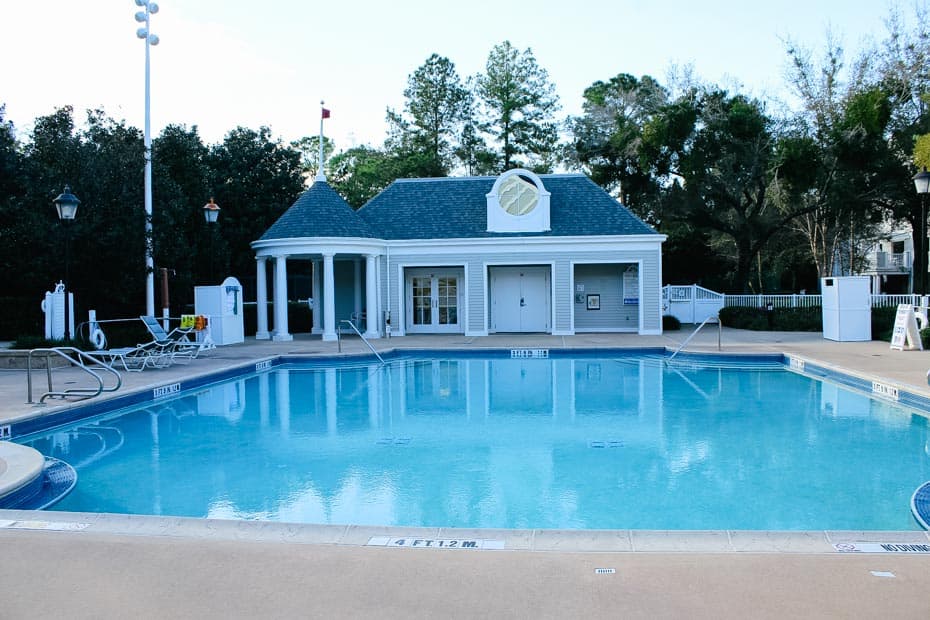 When we stay on the Yacht Club side, we tend to do things a little differently than at the Beach Club. Our normal routine is to plan a resort day here. After a long night at Magic Kingdom, we'll usually sleep in and then pick up lunch and enjoy it out here while catching up on a little laundry.
After we finish up the laundry, we'll move on and spend the rest of the day at Stormalong Bay. Sometimes we'll finish up the day with a signature dining reservation somewhere nearby, like Yachtsman Steakhouse.
You could also plan an evening enjoying the Boardwalk or visit Disney Springs. There is a full list of recommendations for the best places to eat at Disney Springs here.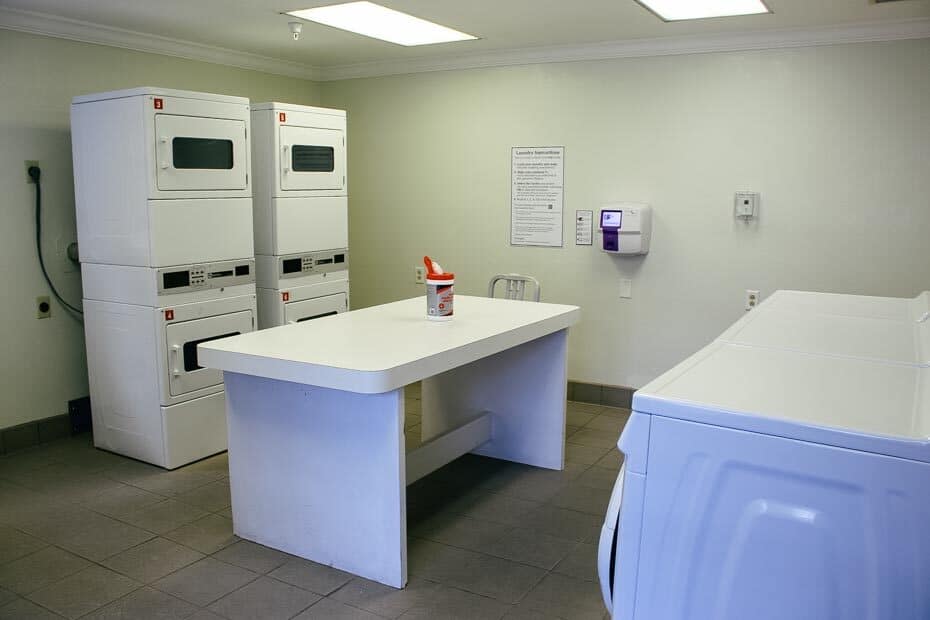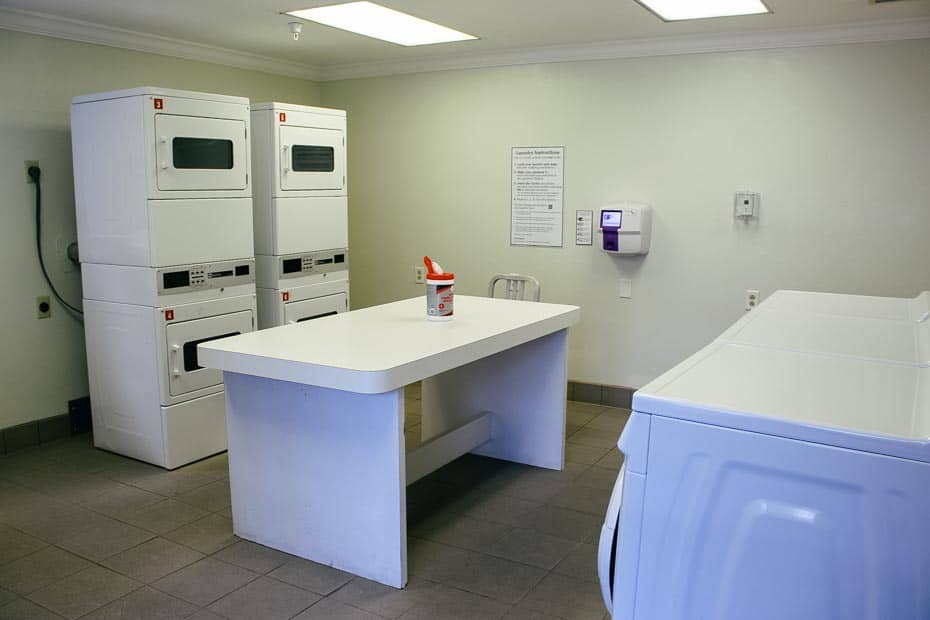 Additionally, you'll find a nice whirlpool hot tub here at the Admiral pool as well.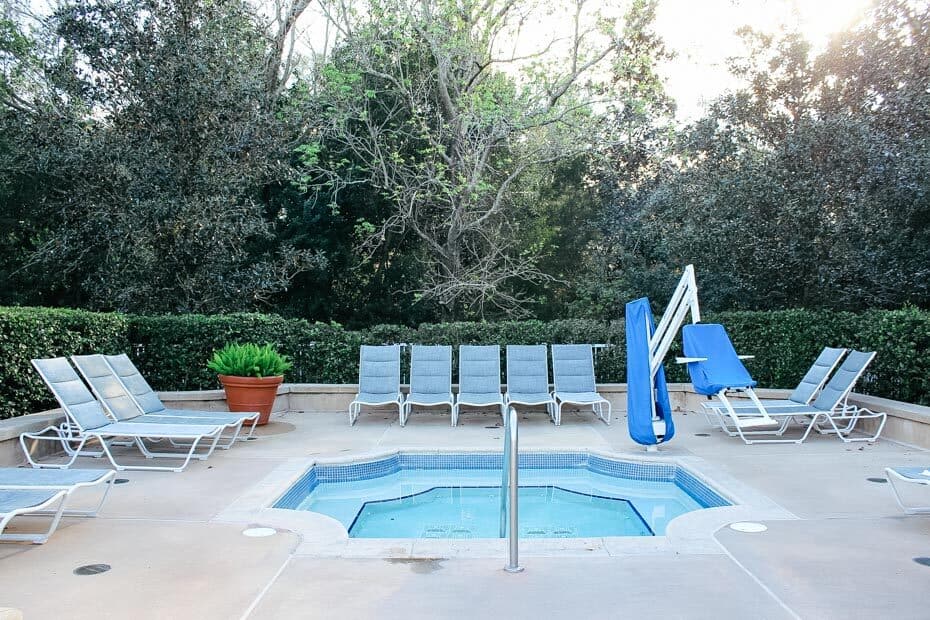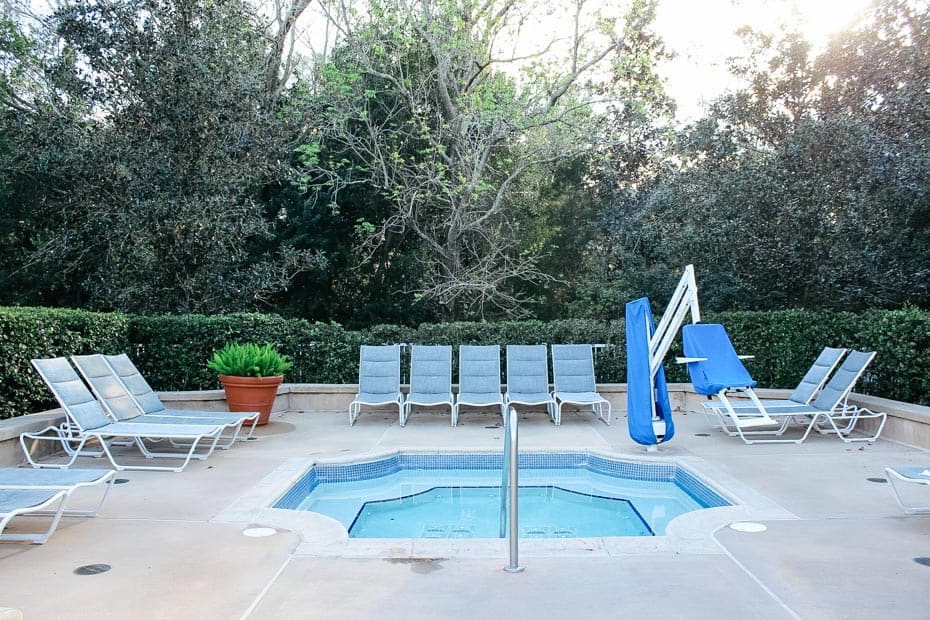 Now, where should you pick up that bite of food to enjoy at one of the Beach Club's pools?
A few months back, we took a close look at Hurricane Hanna's, which is the counter service dining location at the Beach Club's feature pool area. Normally, this is something we would consider one of the best quick services at the Disney Resorts.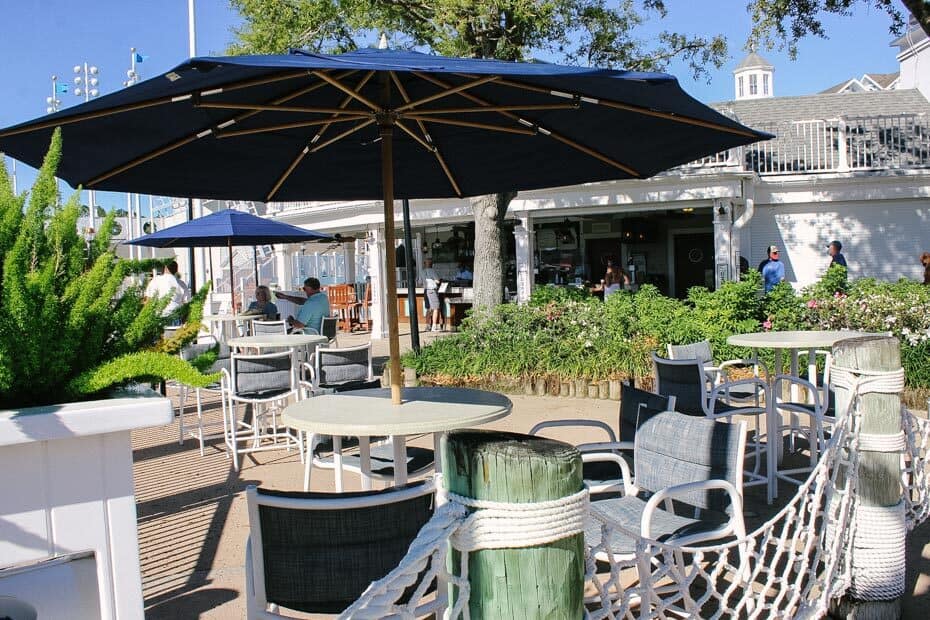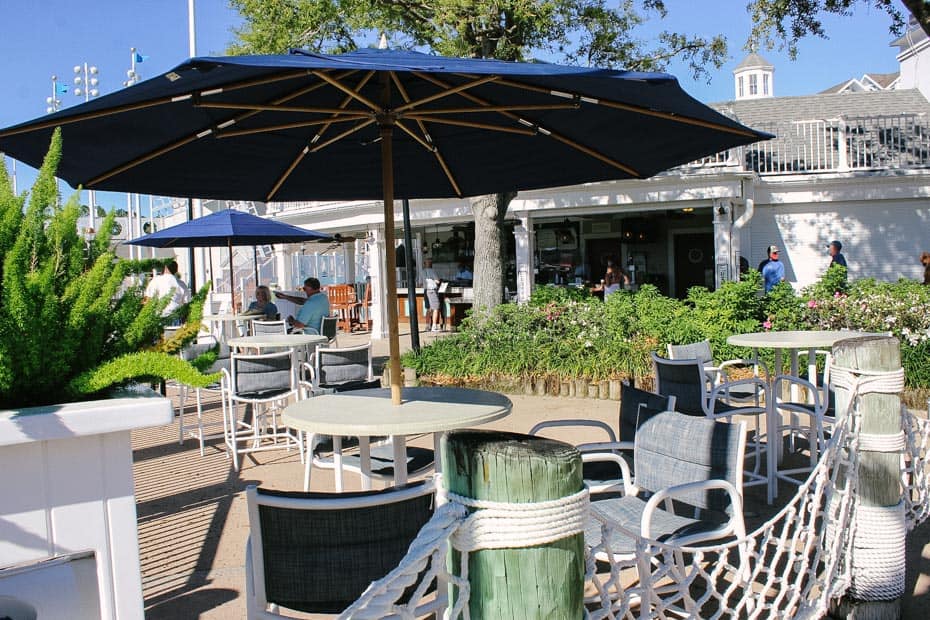 However, they are operating on a limited menu right now, and the choices are slim. So if you're headed to the Beach Club in the next few months, you might want to check the menu and see if the actual kitchen side has re-opened.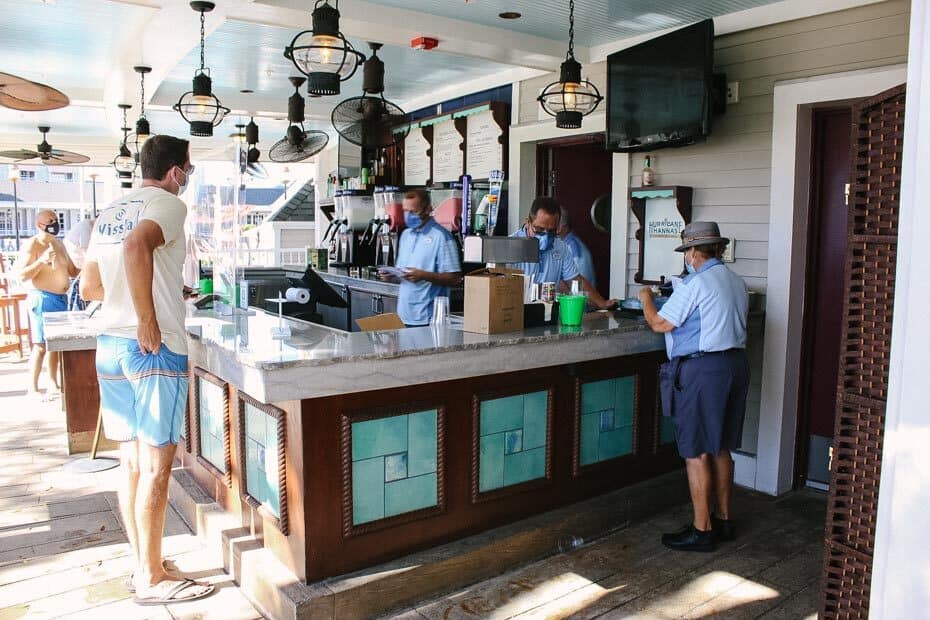 You'll probably have better luck for the time being at Beaches and Cream. This is a burger and soda shop that sits directly behind the feature pool. At this time, they are taking reservations on the My Disney Experience App, and walk-ups are available based upon availability.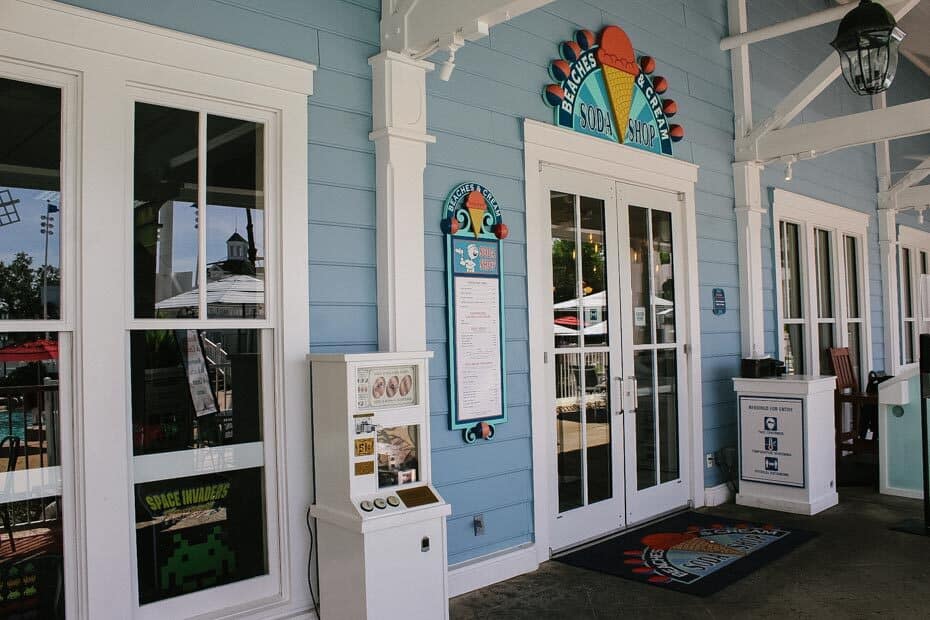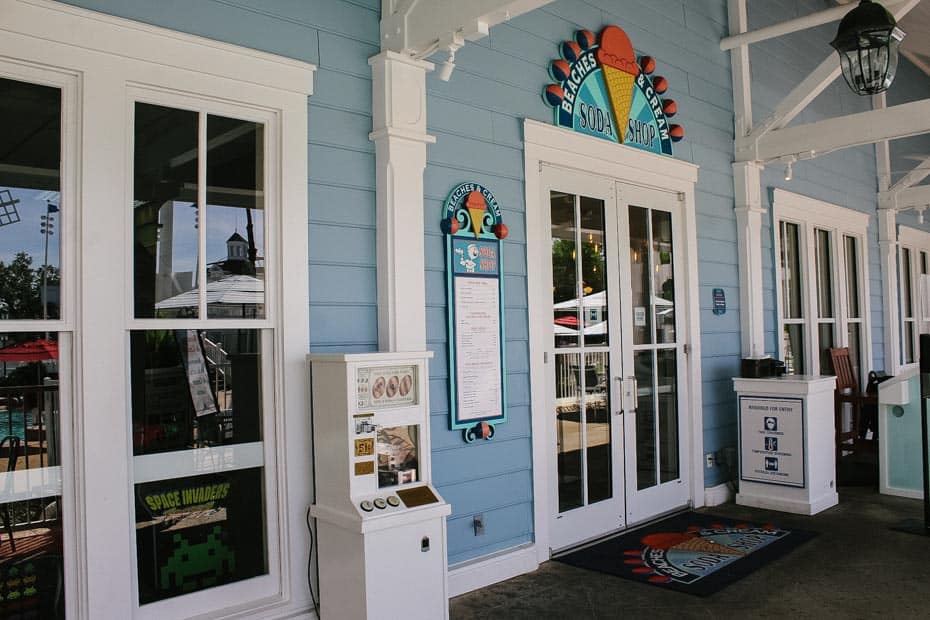 The food at Beaches and Cream is absolutely delicious. This is a patty melt I ordered with a side of onion rings. It was a real guilty pleasure.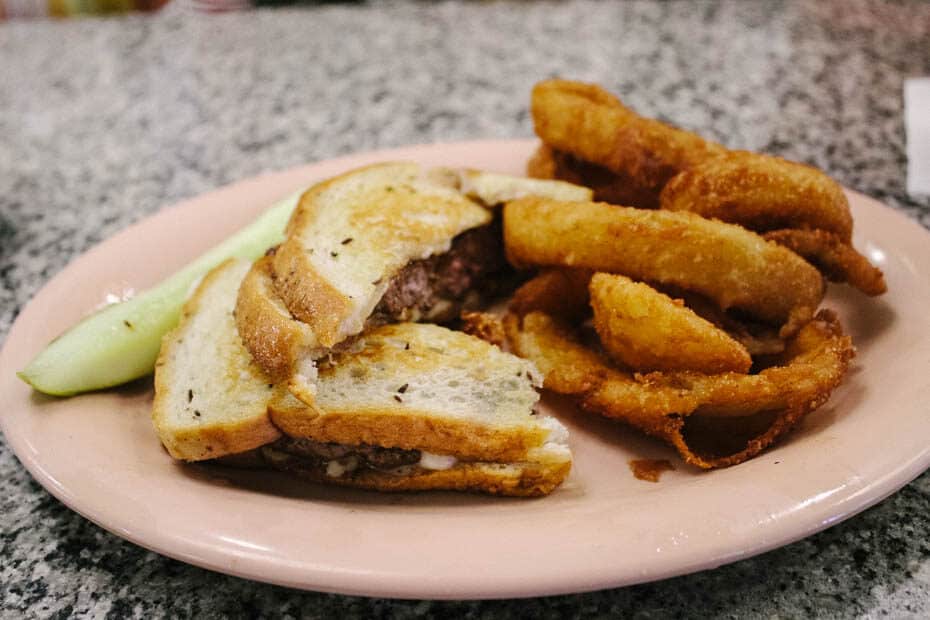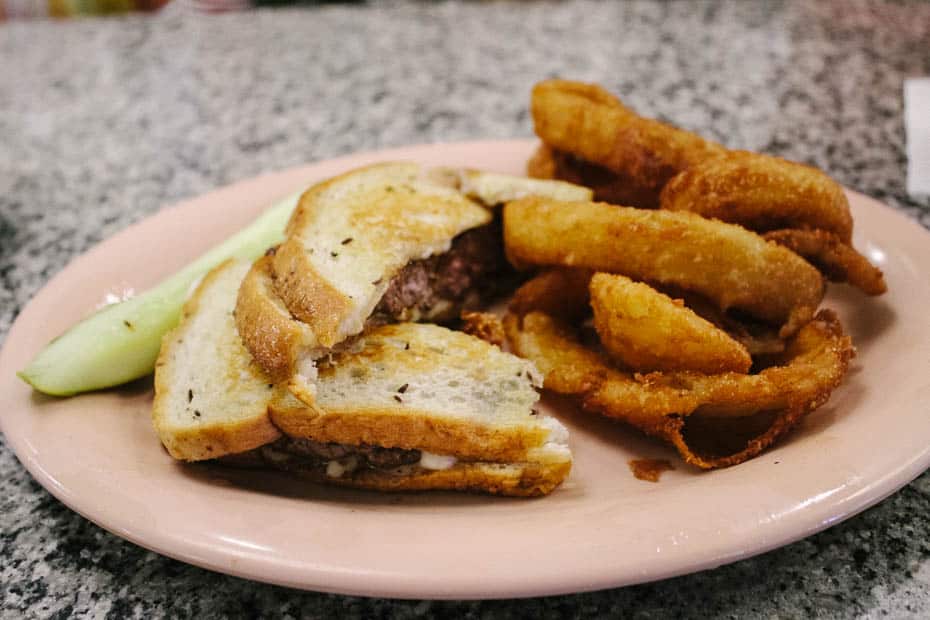 In addition, Beaches and Cream is famously known for its ice cream sundaes. This is where you can order the tremendous Kitchen Sink (serves four) and the popular No Way Jose. The entire menu is available here on Disney's site.
Pool guests might enjoy a meal outside the restaurant. However, seating is limited. There's a separate walk-up window available next to the entrance for those who only want an ice cream treat.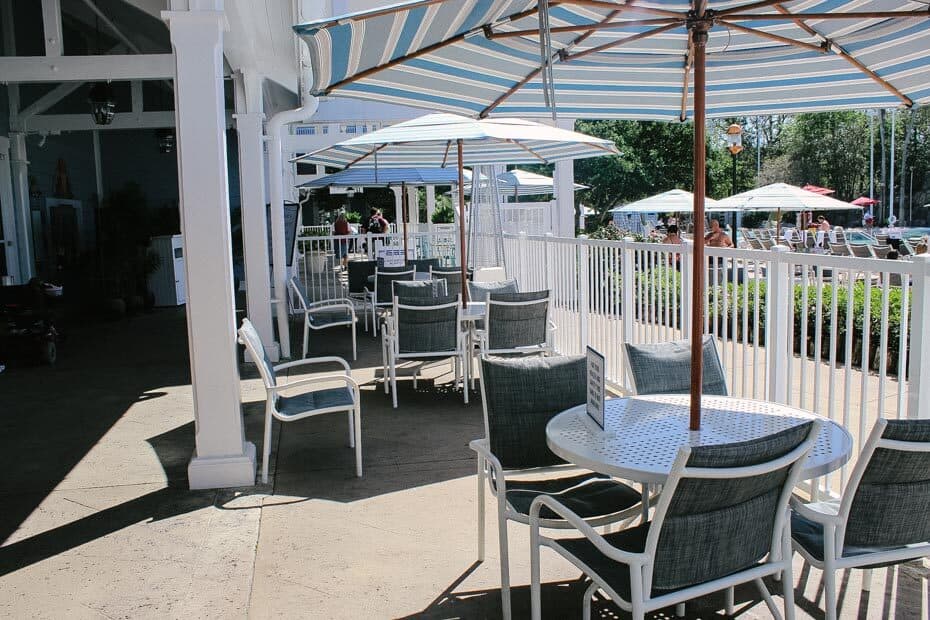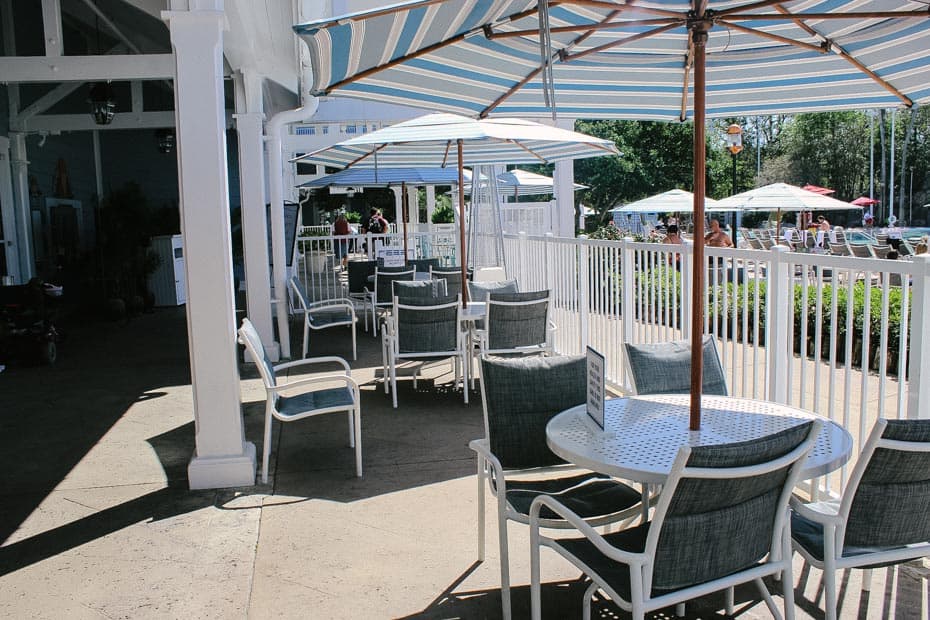 Other options for enjoying a meal alongside the pool at Beach Club include Beach Club Marketplace and The Marketplace at Ale & Compass. These both serve as the resort's counter service dining locations.
Additionally, Ale & Compass (breakfast review here) is offering to-go mobile ordering. So technically, you could order breakfast or dinner, walk inside and pick it up, and enjoy it at the pool. Their menu is available here. Breakfast is served until 1:30 p.m. If you try the chocolate waffles, you can thank me later!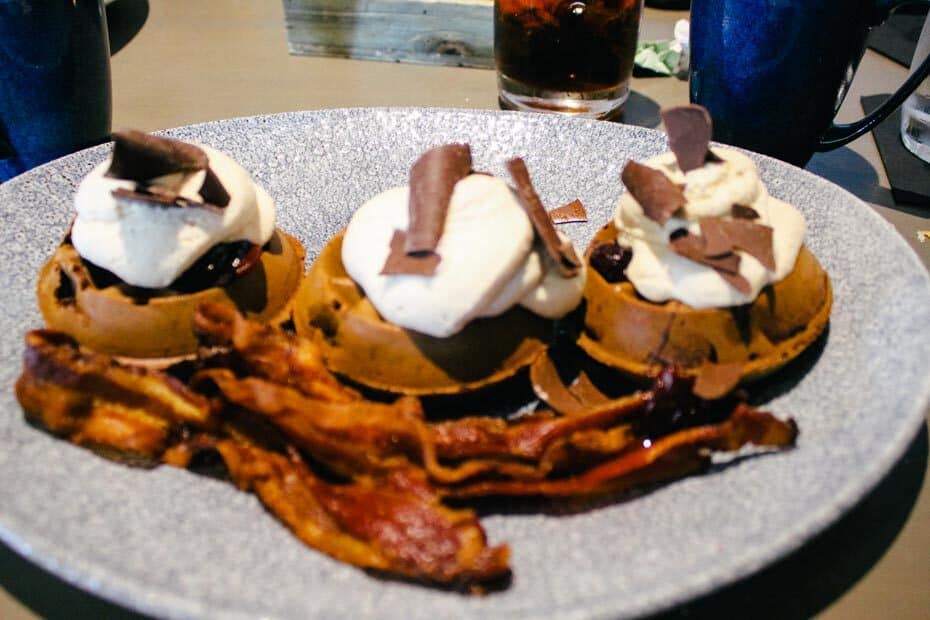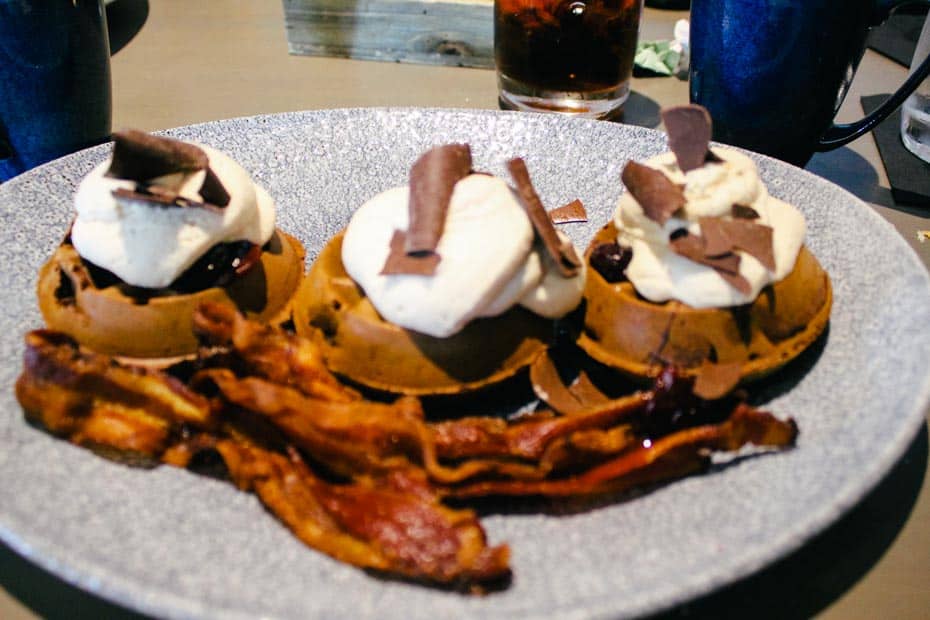 Seriously, can you imagine eating these under an umbrella out by the Beach Club pool?
#1 Stormalong Bay Pool at Disney's Beach Club
Lastly, our number one reason you'll enjoy the pools at Disney's Beach Club should come as no surprise. It's Stormalong Bay, a pool area that truly defines what staying at a Disney Resort is all about.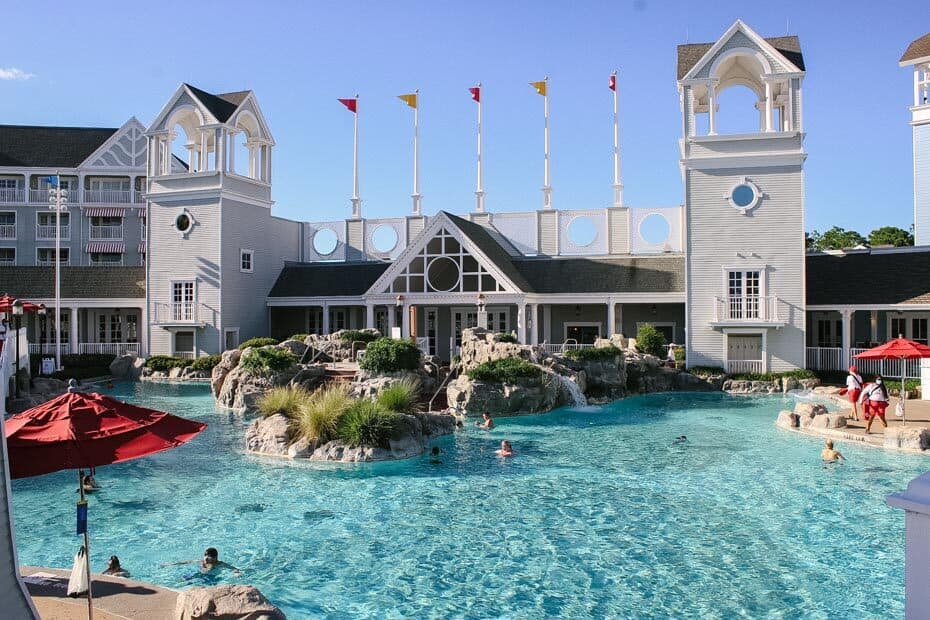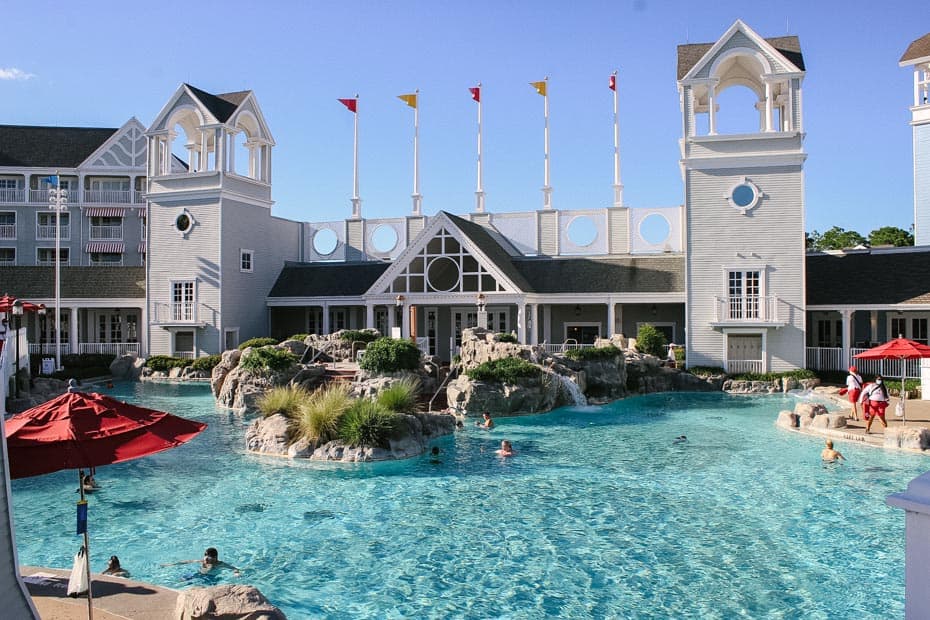 If your family enjoys spending time at the pool, I truly believe you could come here for a week and have an amazing time without ever setting foot in a theme park.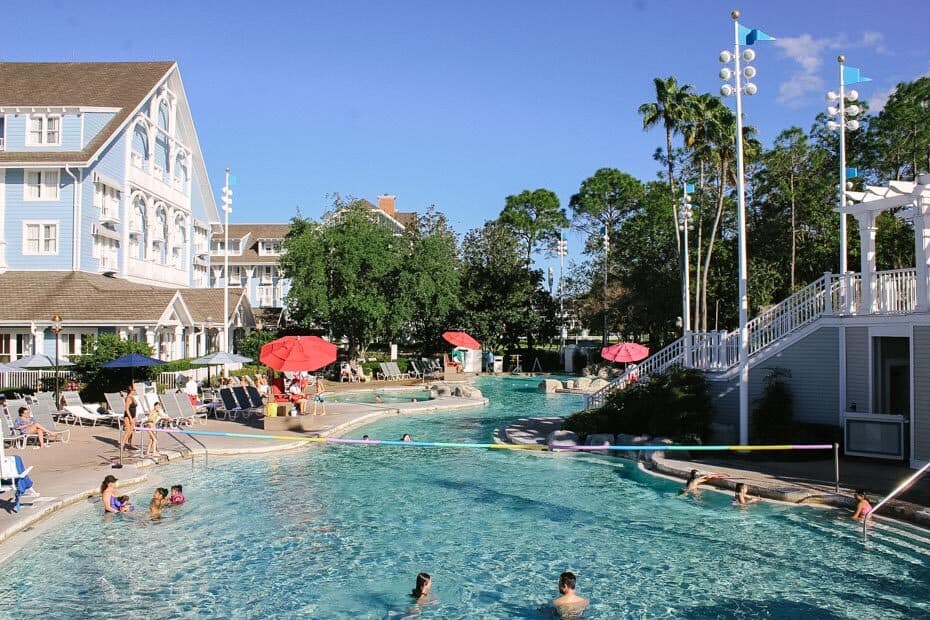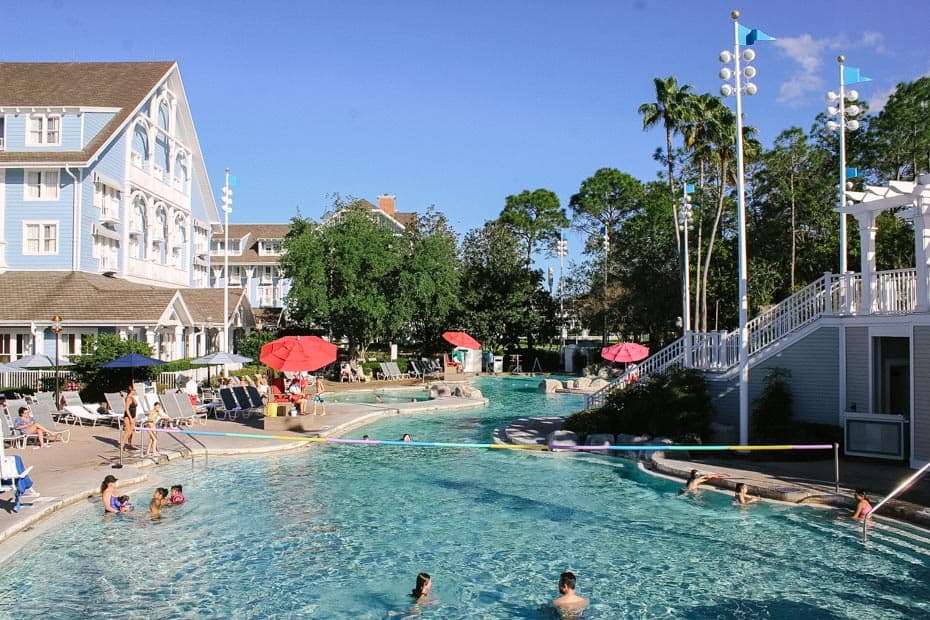 And while we love water parks like Blizzard Beach, we never plan a water park day when we stay here. You can probably see from these few photos that there is something here for all age groups.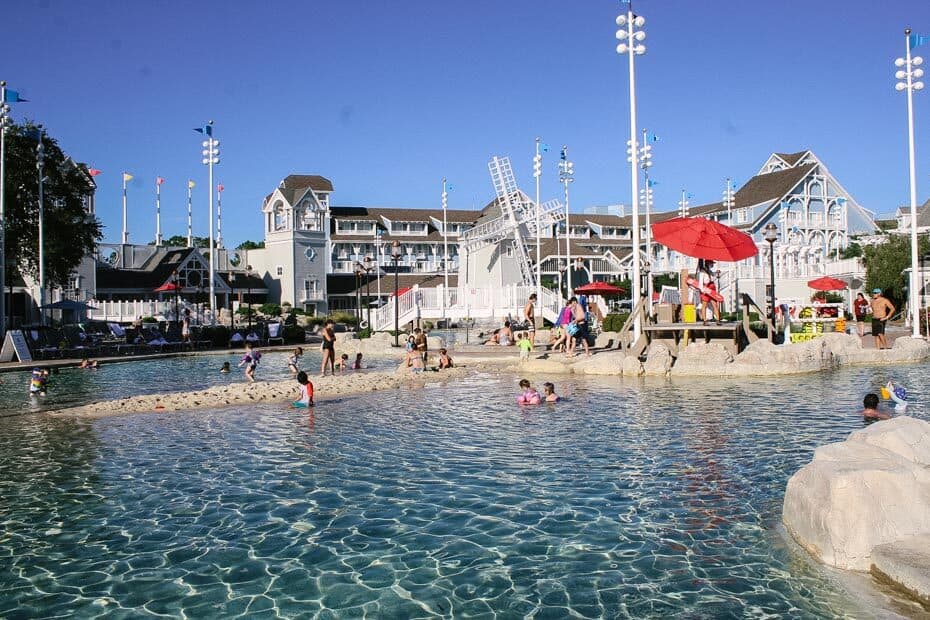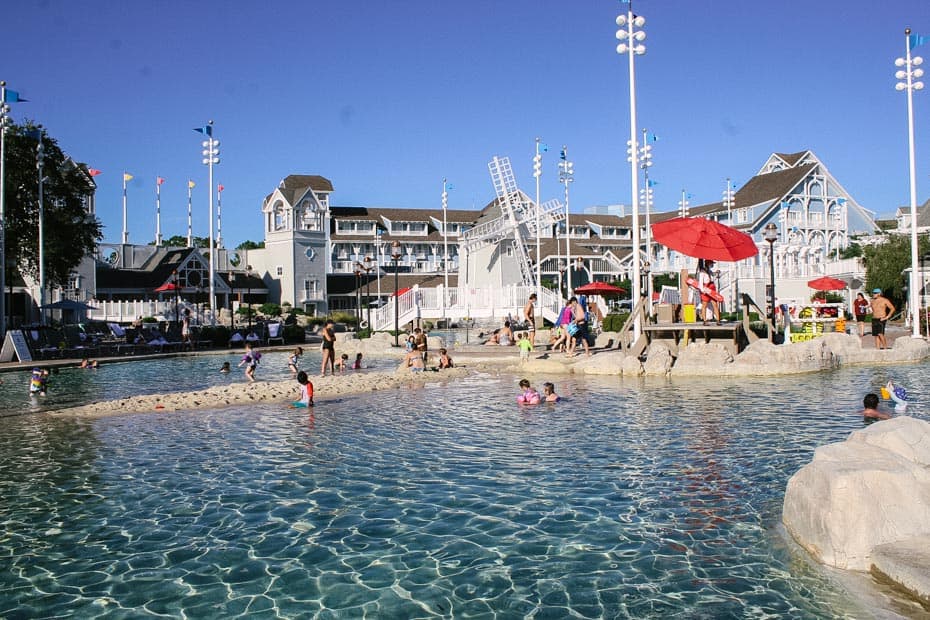 Even a water slide that sits across the walkway on the beach at the top of a shipwreck.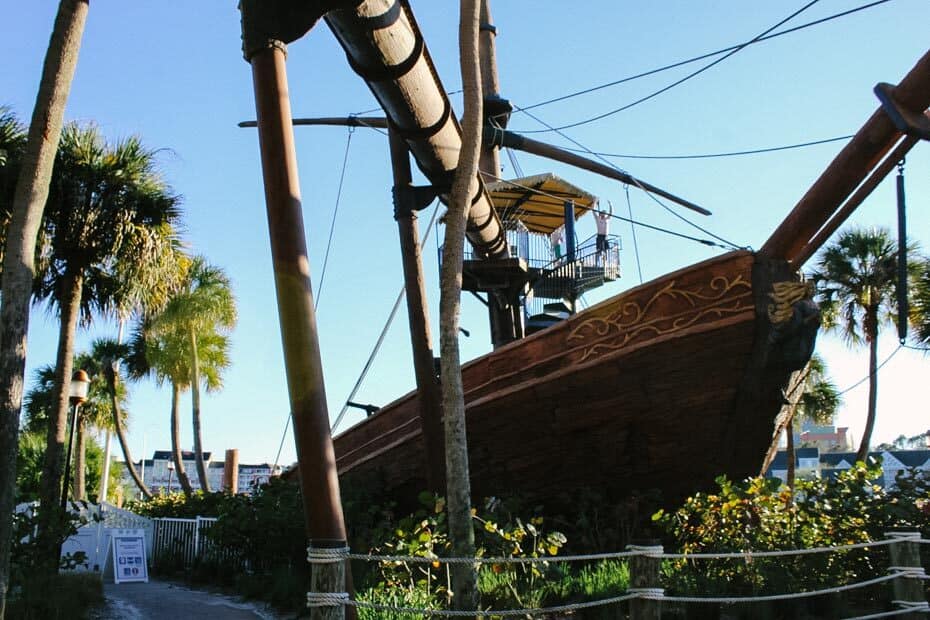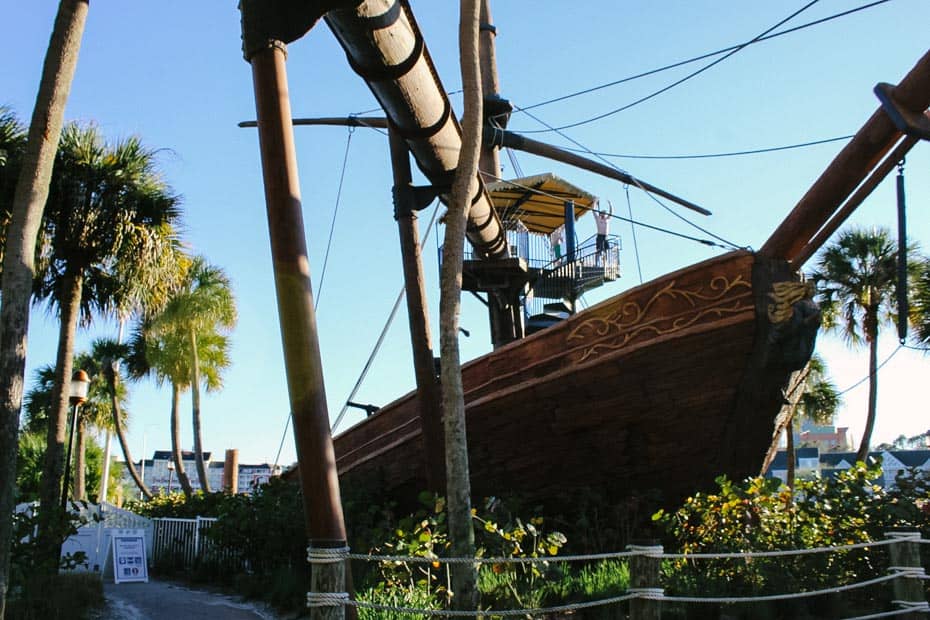 That has a kiddie pool inside the hull of the ship. Yeah, it's that cool.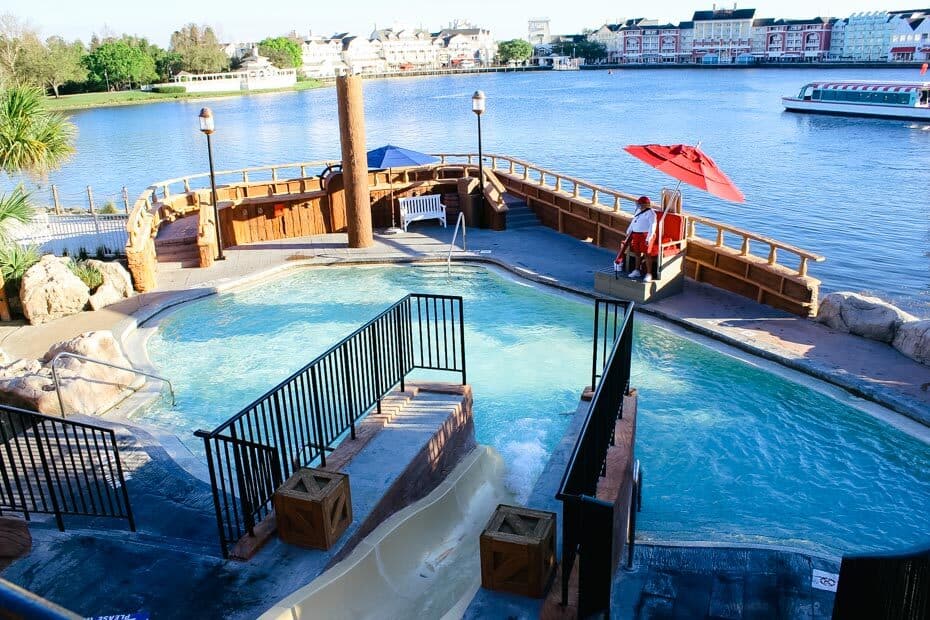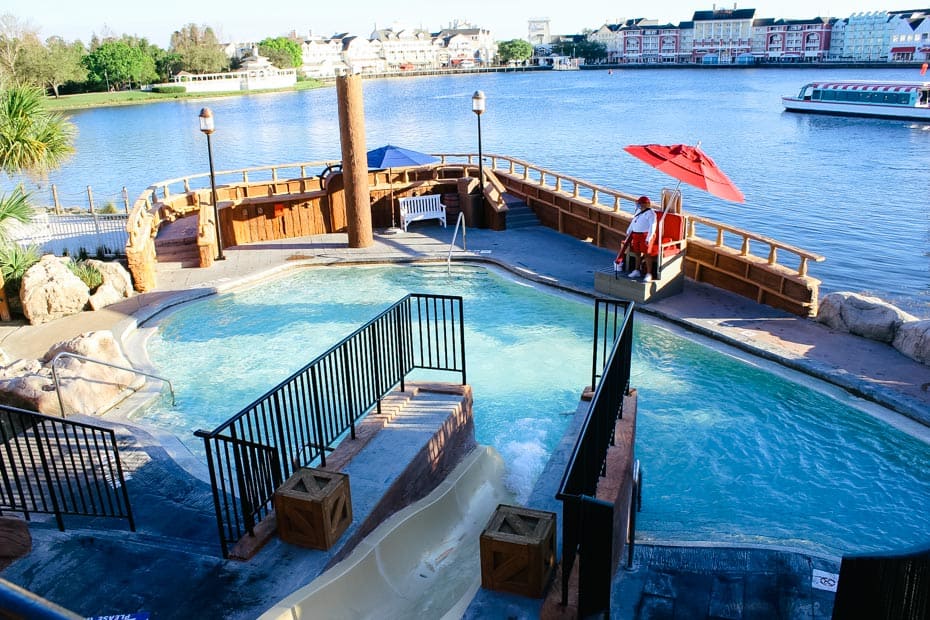 Truly, I could go on and on about this feature pool at Disney's Beach Club. There is so much to do here, and there's definitely a reason it comes in as our top choice for the best pools at Disney World.
We recently enjoyed a day here at the pool area and rented a cabana. It was a luxurious experience that we'll probably want to try again someday.
Final Thoughts on Disney's Beach Club Pools
Whatever reason you are planning a stay at Disney's Beach Club, make sure to plan at least one full resort day at the pool. Pack a summer read, find a spot in full sun or shade, and relax the day away. And don't forget the sunscreen!
You might even enjoy a little time pool-hopping between the quiet pools and feature pools over the course of your trip. It's your vacation, and these special times don't come often enough for most of us.
For more information about the resorts at Disney World, we have a full list of Disney World Resort Reviews. In addition, the other resorts in the Epcot area include:
Our travel partner, Firefly Travels, would be glad to provide you with a quote for any of the Disney World hotels. They stay up-to-date on all the comings and goings at Disney and will definitely light your way to an extraordinary vacation!
And if you're doing a little research for an already planned stay, I hope you'll have a wonderful time!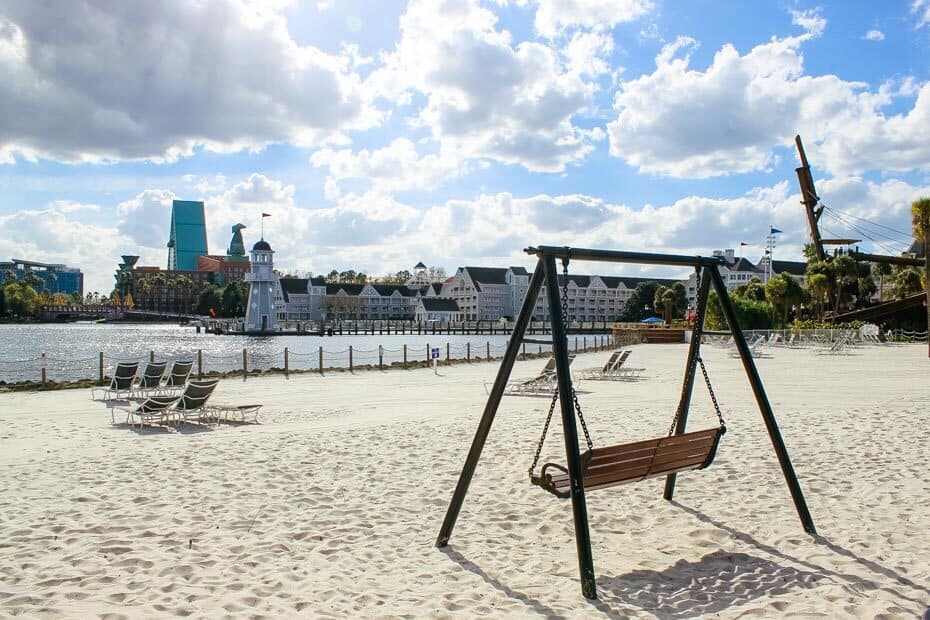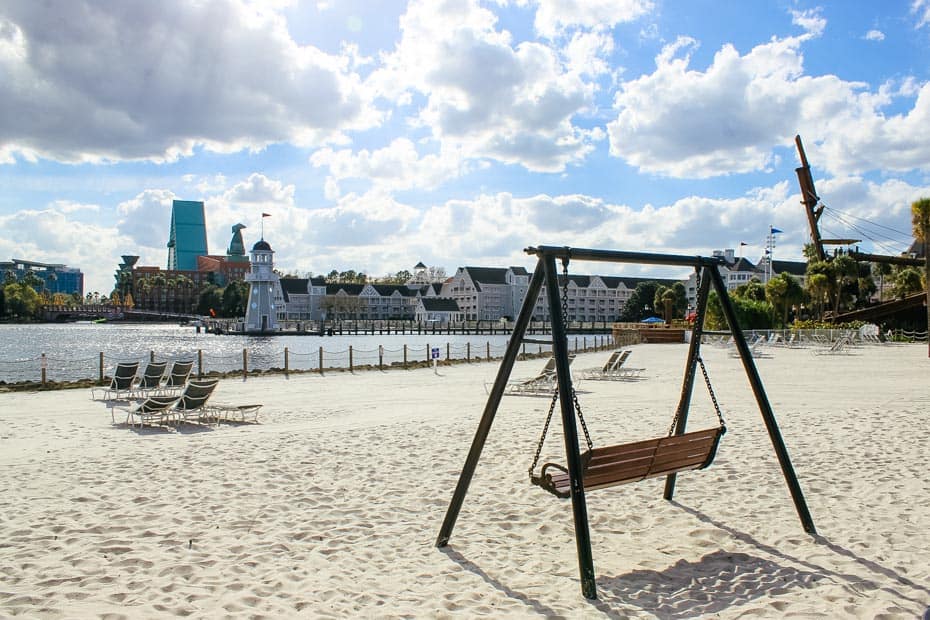 Now that we've had a look at all of the pools at Disney's Beach Club, what do you think? Are you more of a quiet pool person or feature pool person? Leave a comment below with your thoughts or any questions on the Beach Club and all the pool options.