Everything You Need to Know about Disney's Stormalong Bay
Stormalong Bay is the tremendous feature pool area at Disney's Beach and Yacht Club Resorts. A day spent here might be the best part of your Walt Disney World vacation.
We planned our first stay at Disney's Beach Club many years ago and fell in love with the entire Epcot Resorts Area during that stay. But what surprised us most was how much we enjoyed the massive pool. We found ourselves wanting to spend more and more time at Stormalong Bay than anywhere else.
On our last vacation day, we completely blew off our park plans and spent the entire day (and evening) at Stormalong Bay. I picked up a paperback novel in the hotel's gift shop and found a place in the shade to read while my son played with other children at the pool.
Even though the day was made up of small things like reading a book, it's still one of my favorite memories. We both know that sometimes the little things become the best memories.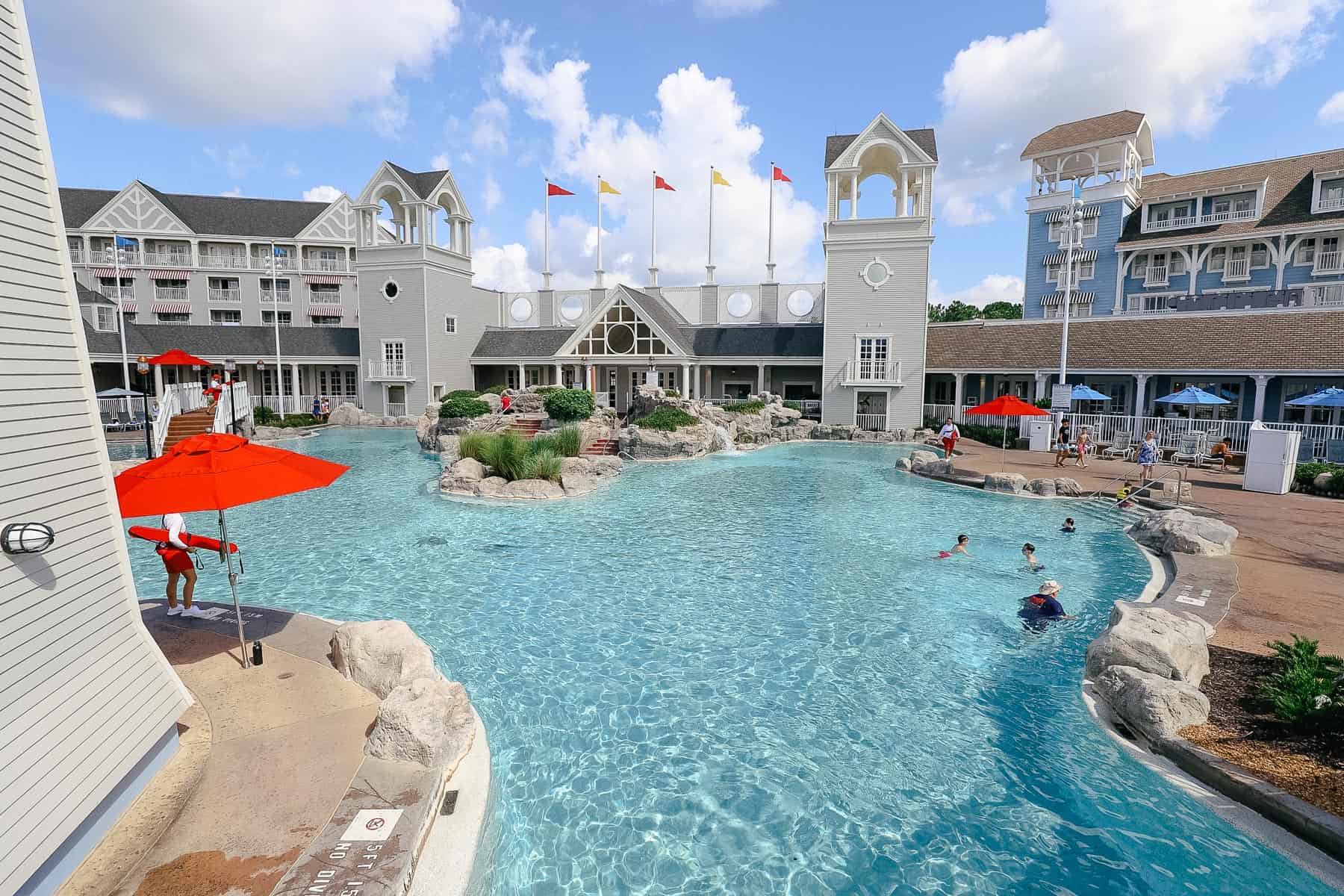 For some, that might be helping your child build a sandcastle at the sand bottom pool. That is until they meet a few pool friends. Soon after, you can return to reading that book. Meanwhile, the children will conspire to meet back at the pool the next day, oblivious to your vacation plans.
Whatever it is, Stormalong Bay has a way of making you want to linger a little longer than expected. Below, we'll discuss everything you need to know about Stormalong Bay. Additionally, we've included a video with clips of various pool areas toward the bottom of this article.
Refurbishment Announcement for Stormalong Bay: From January 2025 through May 2025, Stormalong Bay and Shipwreck Pool at Disney's Yacht and Beach Club Resorts will be closed for routine maintenance. Guests may see or hear construction work during daytime hours.
Stormalong Bay Pool
Stormalong Bay is more of a mini water park than a pool. The pool area is over three acres and holds 750,000 gallons of water.
Those areas include a lazy river, multiple whirlpool spas or hot tubs, sand bottom pool areas, waterfalls, a waterslide, a kiddie pool, a sand bar, and a shipwreck, among other things.
It's important to be aware that Stormalong Bay has deep areas. The various pools range from zero-entry to 8′ (feet) deep. That 8′ deep area is limited to a portion of the lazy river. However, some other pool areas transition from shallow to 4′ and 5′ (feet) deep.
The photo below shows a shallow pool for children at the far end of the pool. A sand bar sits in the center of the pool, where children spend hours building sandcastles. However, looking toward the photo's center, you'll notice a hot tub. Then, on the opposite side, steps lead into the lazy river, where it's immediately 6′ deep and soon after 8′ deep.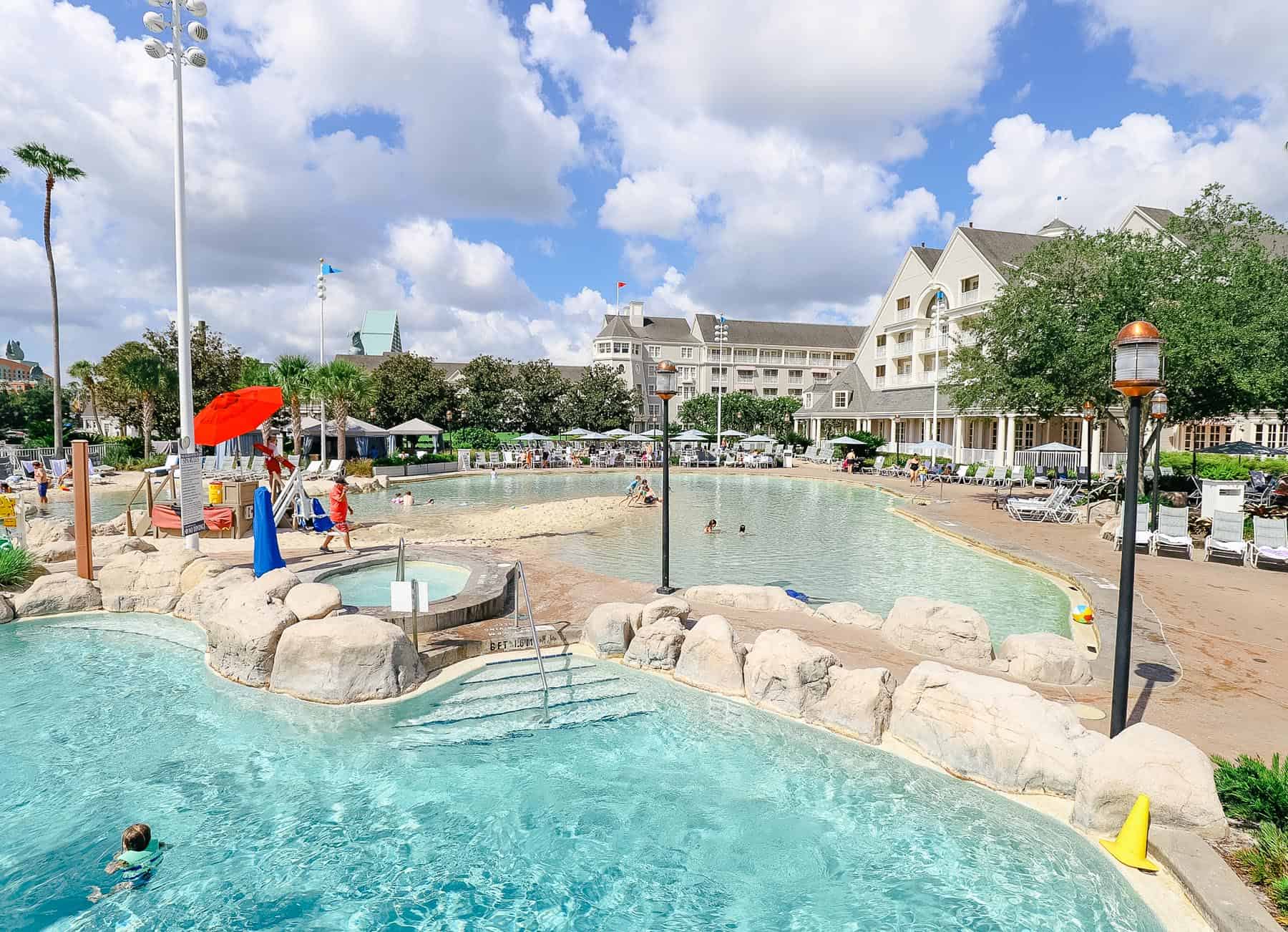 Complimentary lifejackets are provided for anyone who needs them. Additionally, lifeguards are stationed across the entire pool deck.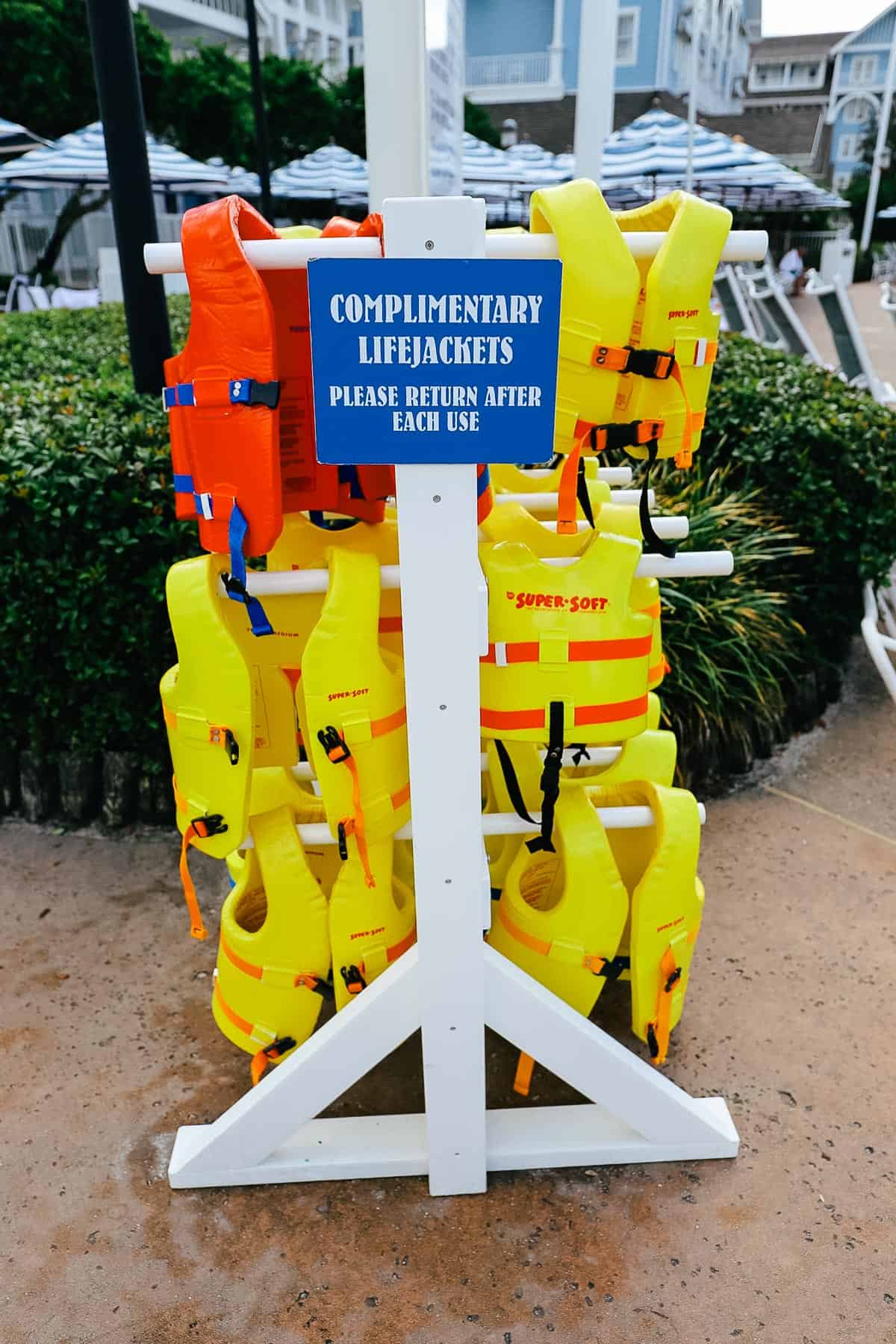 Stormalong Bay Pool Hours
Stormalong Bay is open daily from 10:00 a.m. until 11:00 p.m. during the busier times of the year. Guests of either Disney's Yacht or Beach Club can access the pool during regular operating hours.
Wristbands are provided at the gate, allowing guests to come and go from the pool. If you want prime seating (AKA by the pool, in the shade, or a table and chairs), you'll want to rope-drop the pool when it opens.
On our last stay (in mid-August), guests lined up as early as 9:30 a.m. at both pool gates to secure seats. While plenty of chairs are provided at the pool, it's often one of those scenarios where people throw their items or a towel down and then mysteriously disappear.
Pool hours might be reduced depending on several factors. For instance, when we stayed at the Yacht Club in January, the pool was only open until 10:00 p.m. due to fewer crowds. (We had no trouble finding seats during this time of year.)
Another instance is if you visit on a colder day. The pool might not open until the temperature increases to a certain degree, or if it's exceptionally cold, it might remain temporarily closed.
However, the pools at Walt Disney World, including Stormalong Bay, are heated to 82 degrees year-round. So when it's cooler outside, the pool will often feel pleasant, especially in the evenings.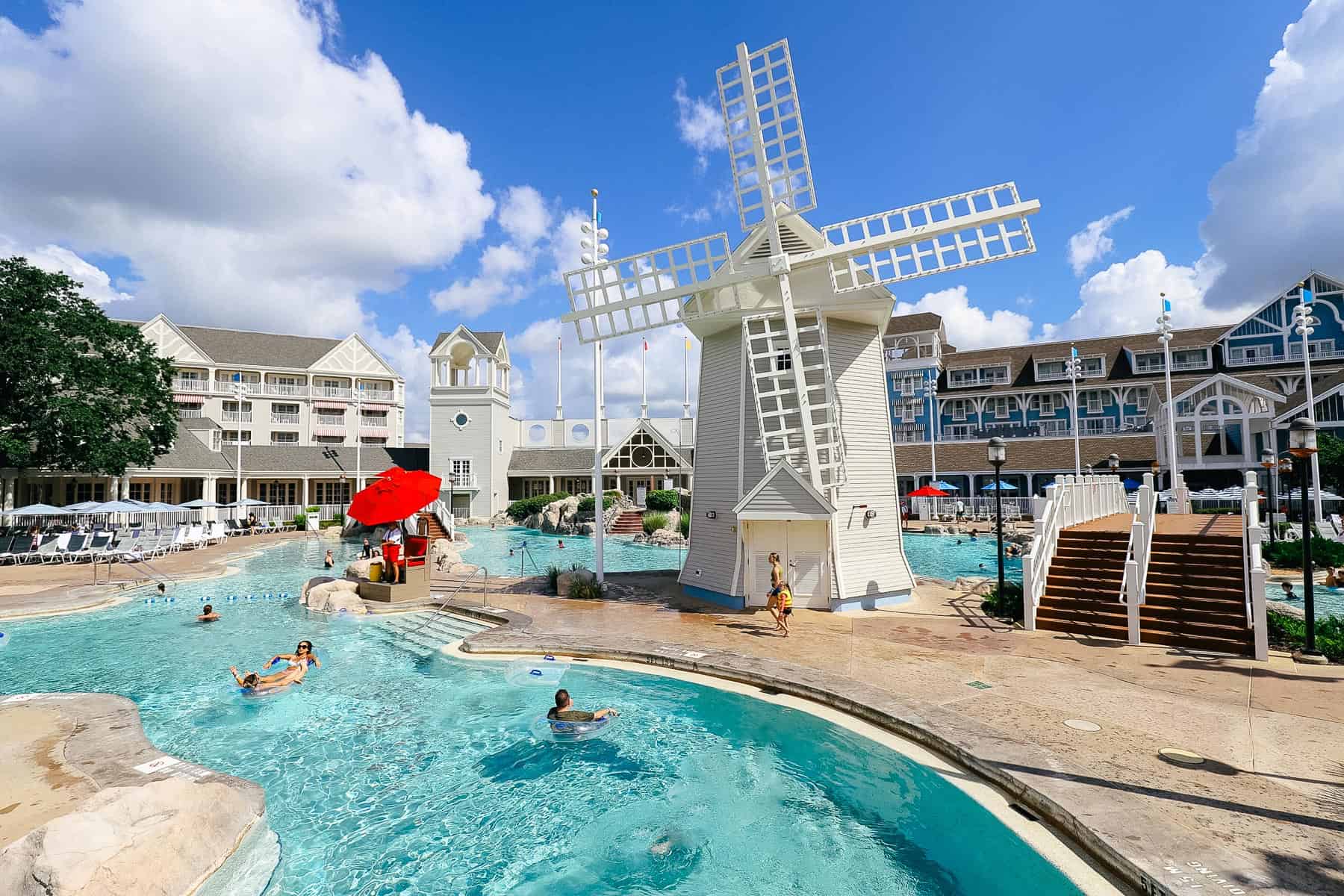 The Sand Bottom Pool at Stormalong Bay
Most of the pool area at Stormalong Bay has a sand bottom. It's soothing, unlike the typical abrasive concrete bottom pools that leave knees scraped.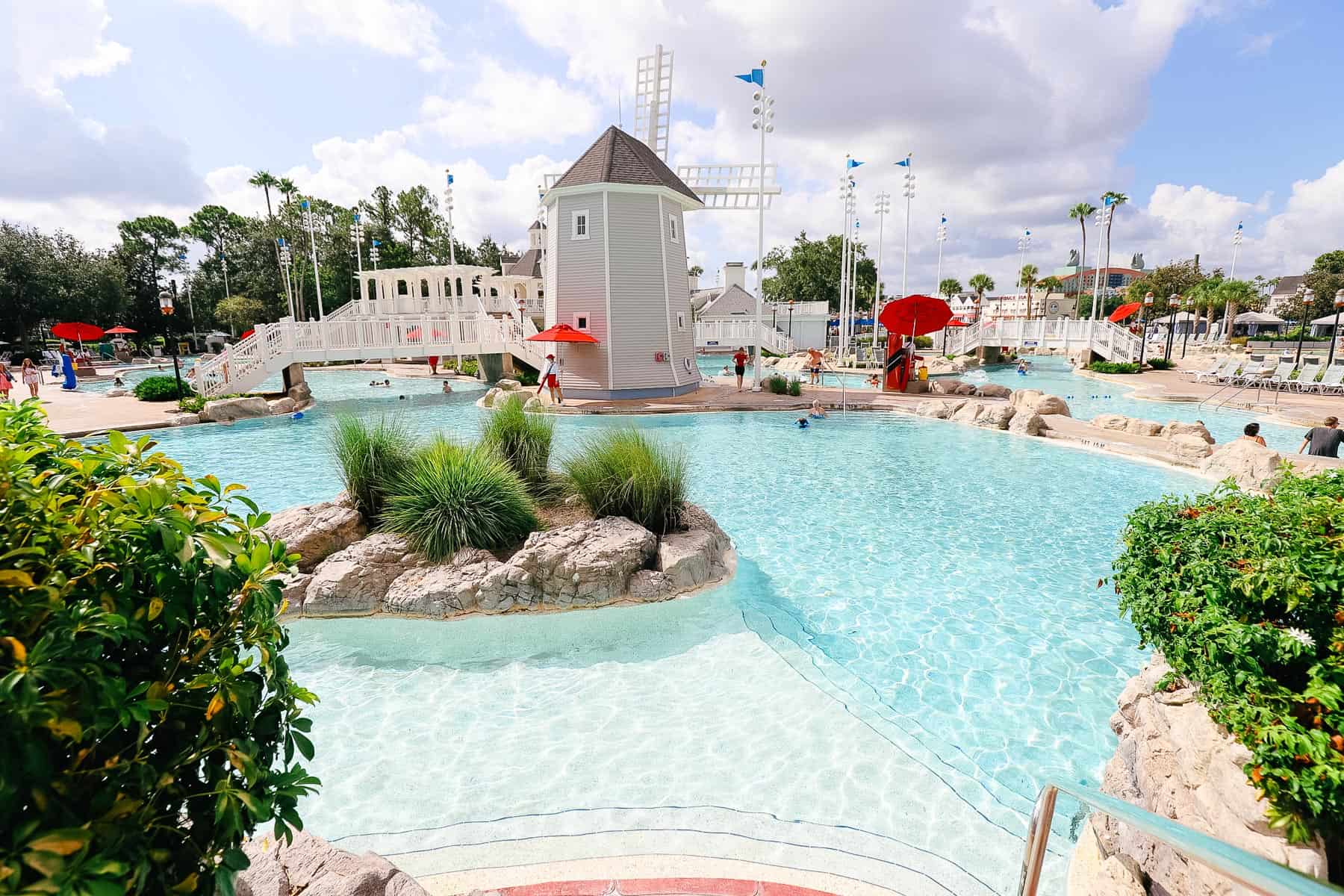 Stairs in the center of Stormalong Bay lead up to a private alcove.
Here, you'll find two separate hot tubs nestled among the rocks.
It was so hot in August that the pool water felt like a hot tub. So, no one was using the whirlpools. However, during our stay last winter, they were constantly packed.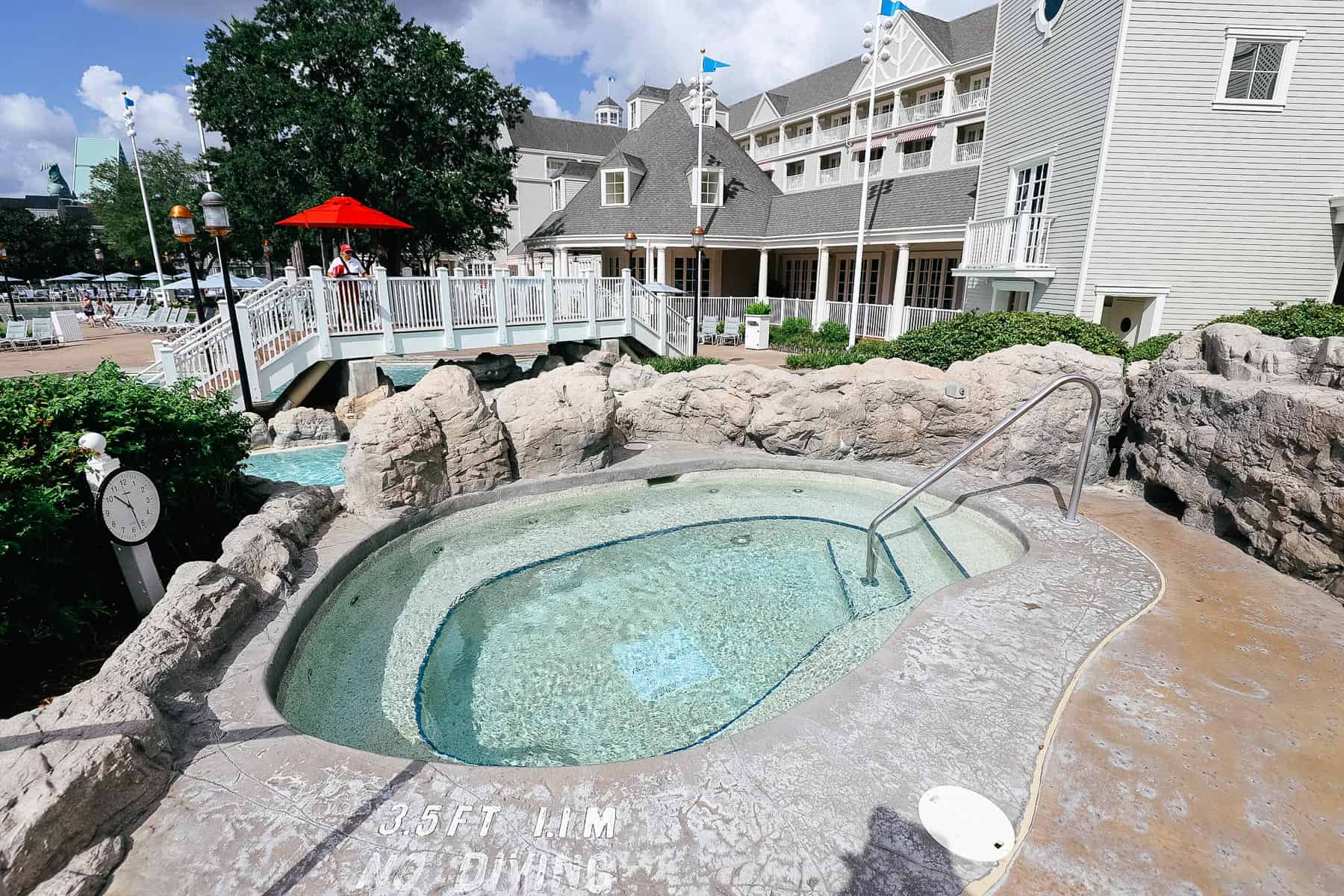 Waterfalls cascade down the rocks on both sides of the hot tub area.
Here are a few more photos of this area from various angles.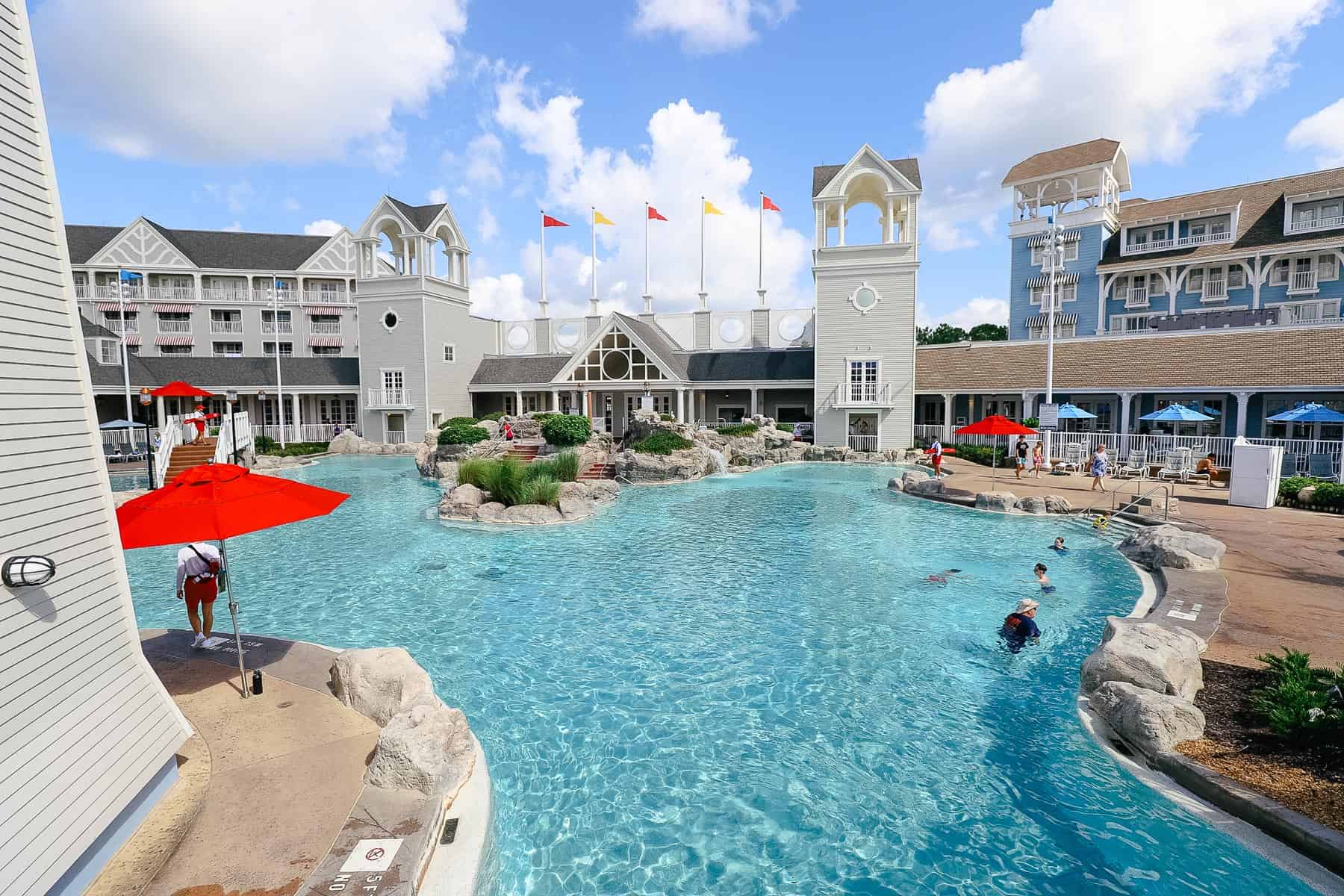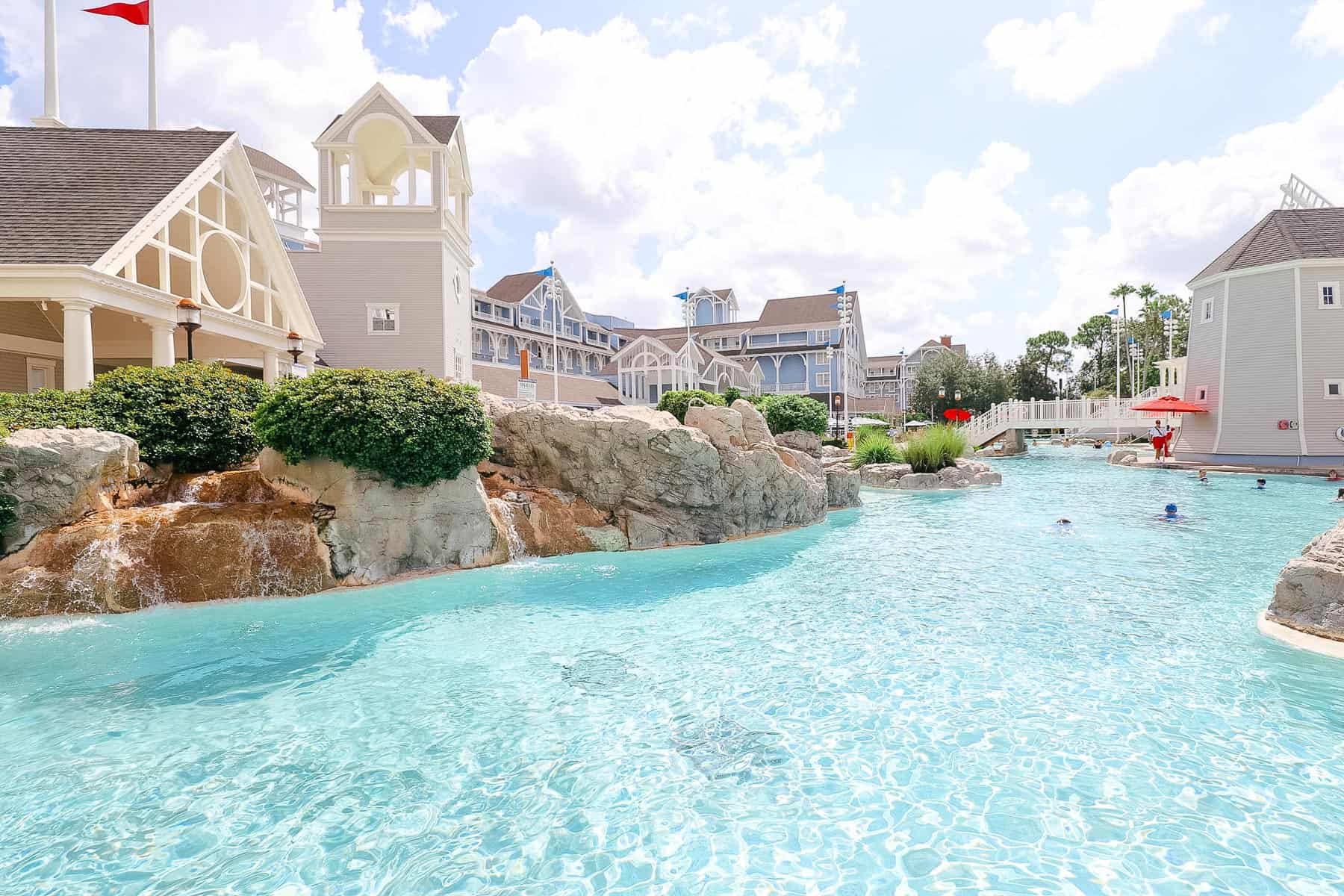 One side of this area adjoins the lazy river. A rope acts as a divider between the pool area and the lazy river.
Here is a view looking back from the lazy river.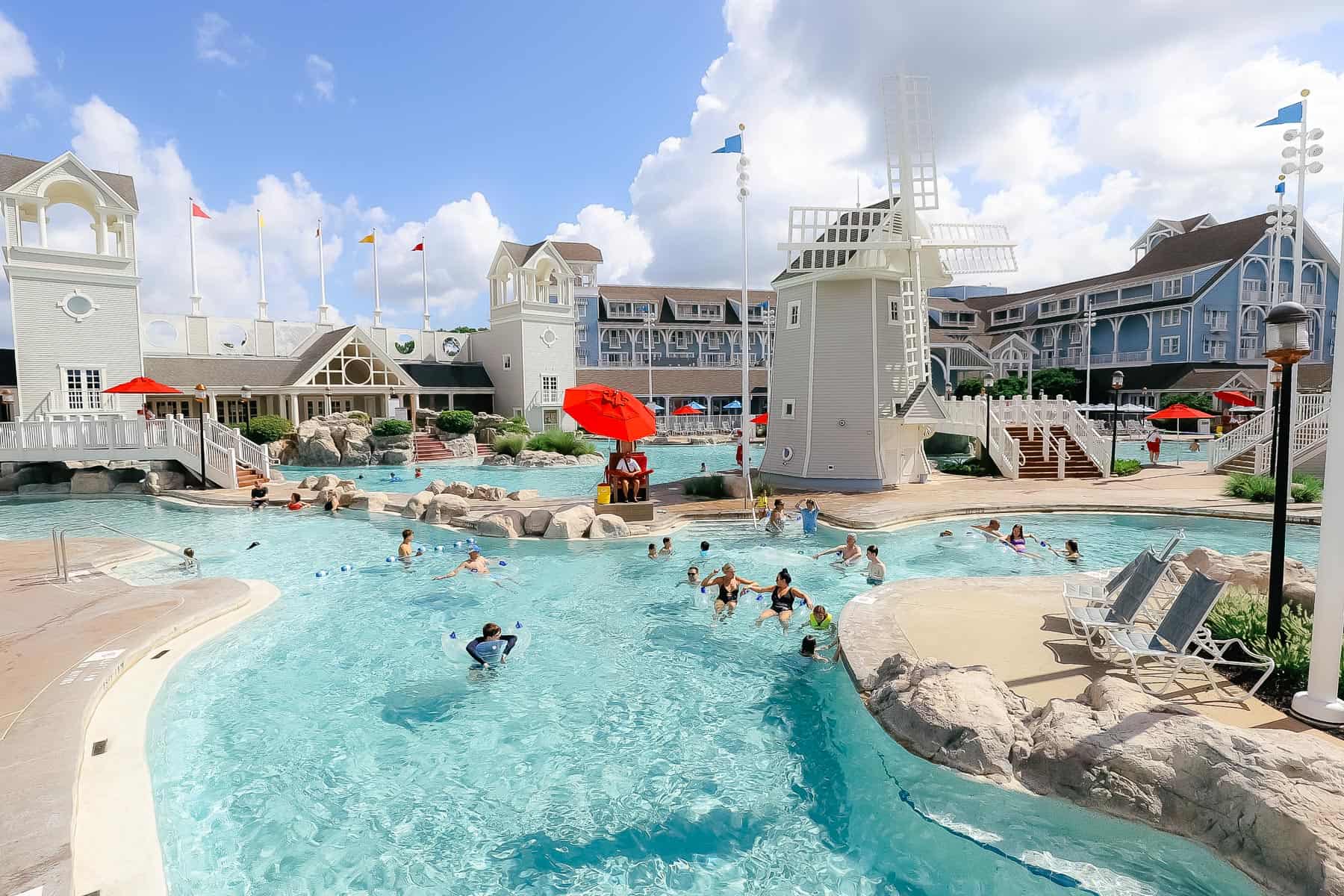 The pool stretches linearly on the opposite side (toward the right). A volleyball net made from pool noodles provides an excellent place to get up a game.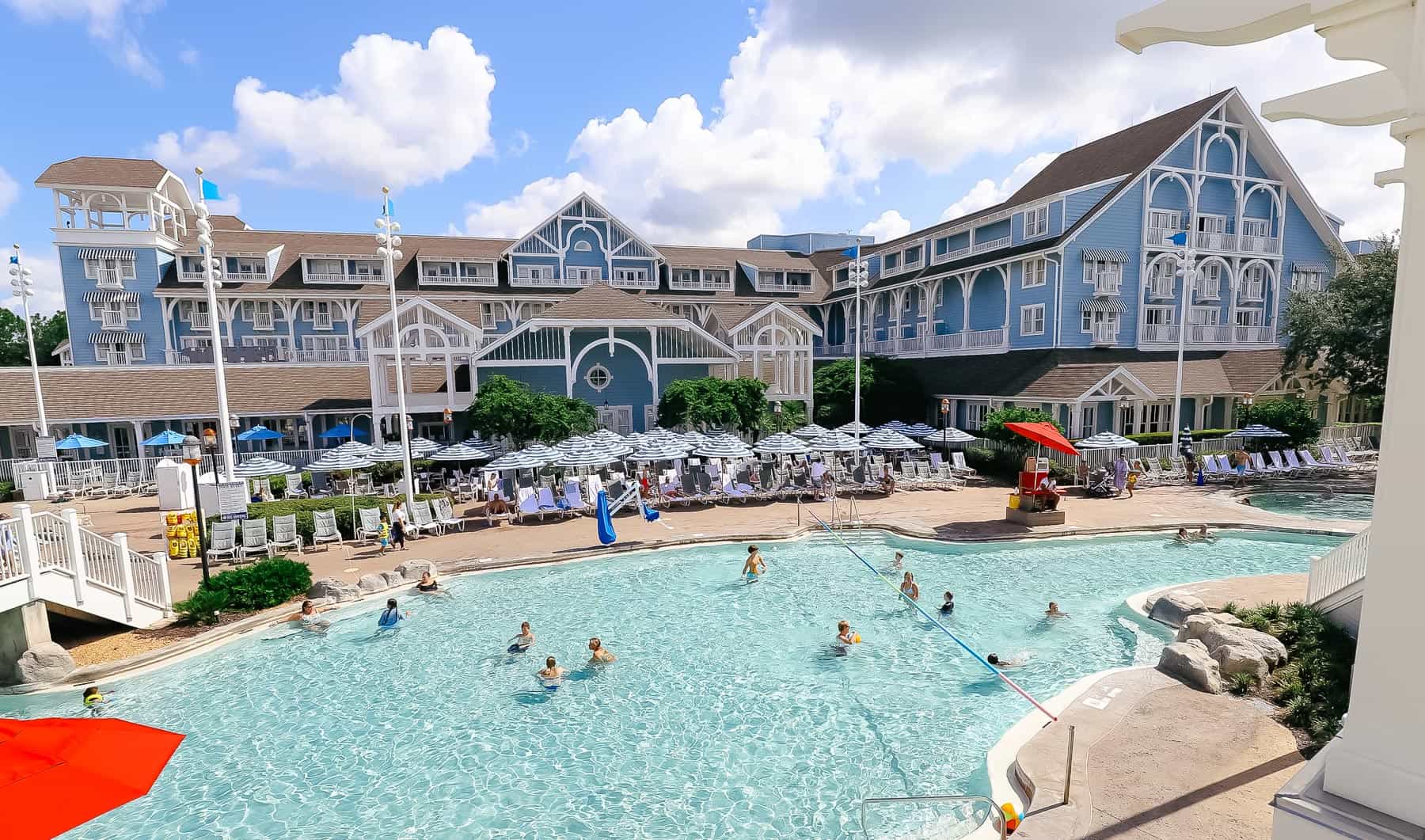 This area is where the afternoon activities for children take place. Those with children (who want to participate in the pool activities) will want to grab a spot on this end of the pool early.
Unfortunately, the pool deck in this area is narrow, so it can be difficult to find a seat. You can tell in the photo below that most of the chairs under umbrellas are already in use. This photo was taken within 15-20 minutes of the pool opening!
From around 1:00 p.m. to 4:00 p.m., recreation cast members provide entertainment every afternoon. They play pool games like Disney trivia and guess that tune. You might be surprised at how much everyone enjoys it.
As the day shifts to dusk, cast members invite everyone to join in on campfire activities like roasting complimentary marshmallows and Movies Under the Stars. Both resorts have a recreation calendar detailing the nightly movie and other specifics.
Past this portion of the pool, the area continues to Bubblin' Bay and a lagoon with whirling waters.
You'll find the slide's exit at the end of this area.
Lazy River at Stormalong Bay
At the opposite end, we find the lazy river, the deepest pool area. It has several entrances. But you'll want to remember that some of those entrances lead into 5′ to 8′ deep areas.
It's not a large lazy river. You can see its entire circular shape in the photo below.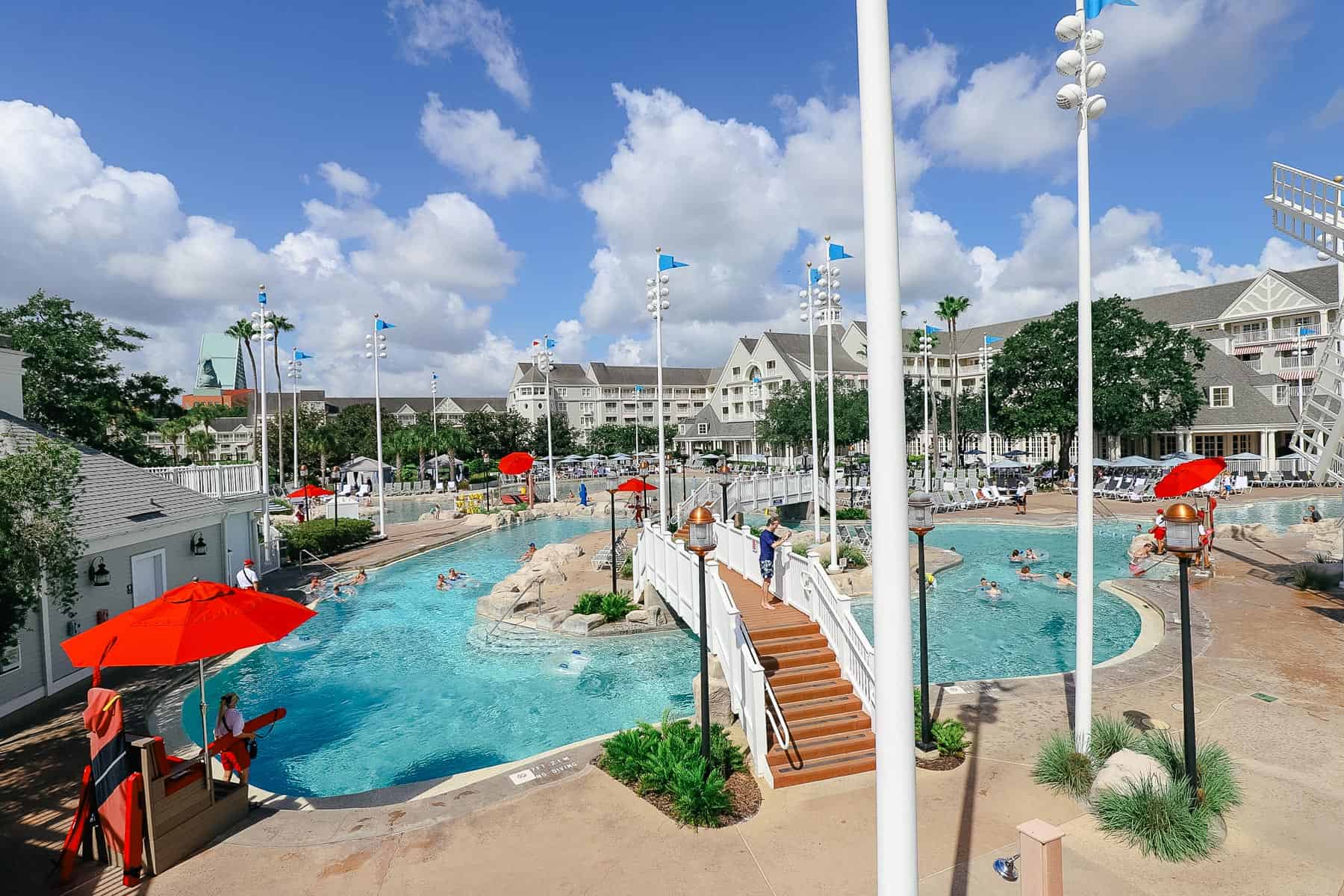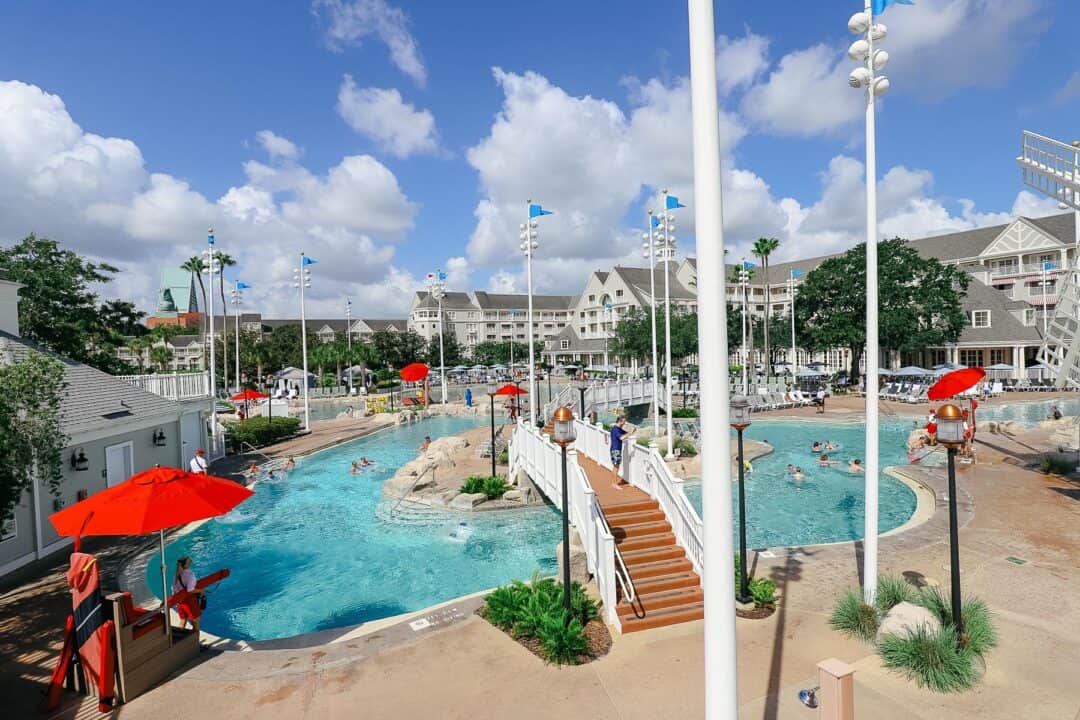 Hurricane Hanna's, the poolside bar and quick service, sits directly behind the lazy river.
A few clear inner tubes are available for guests to use. Naturally, the river does have a bit of a current that keeps you moving. However, on our last stay, less than ten were available. A good deal of guests were complaining about the lack of tubes.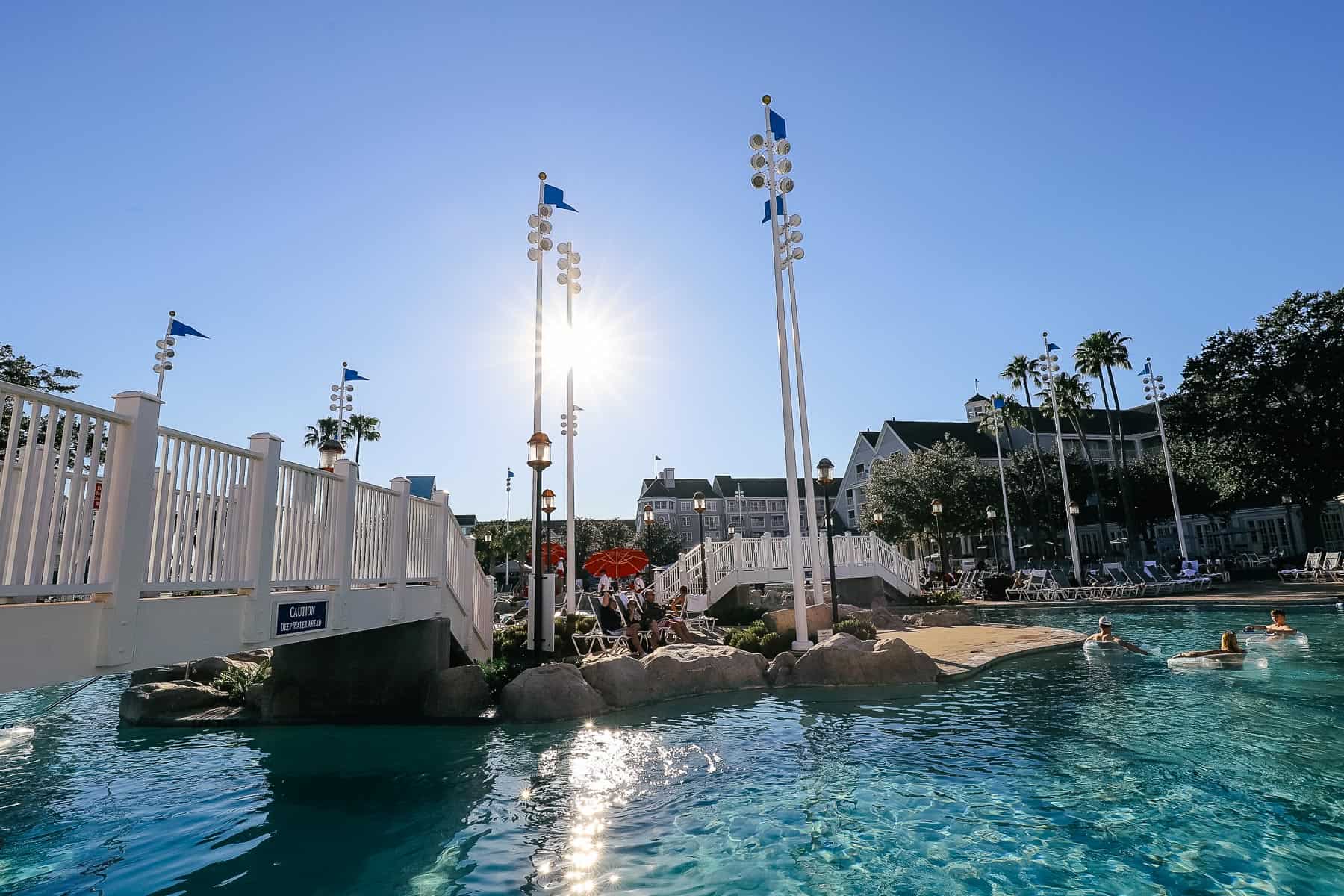 In case you're wondering, most of these photos were taken from a large deck on the Crescent Lake side of the pool.
Additional seating is available at the top. However, like everywhere else, it can fill up quickly.
A few coveted spots in the shade are available if you get there early enough. A pool table was also present.
Stormalong Bay Water Slide (The Flying Jib)
From the upper deck, you can see the Stormalong Bay slide. It's one of the best waterslides at the Disney Resorts. Called The Flying Jib, the slide is in a shipwreck across a walkway from the pool.
The shipwreck sits on the shores of Crescent Lake. Therefore, guests have to cross the walkway to get to the slide. You can see where the tunnel portion of the slide extends across the walkway from the ship back to the pool area.
Once you cross the path, you'll climb into the ship and up the spiral staircase to access the slide.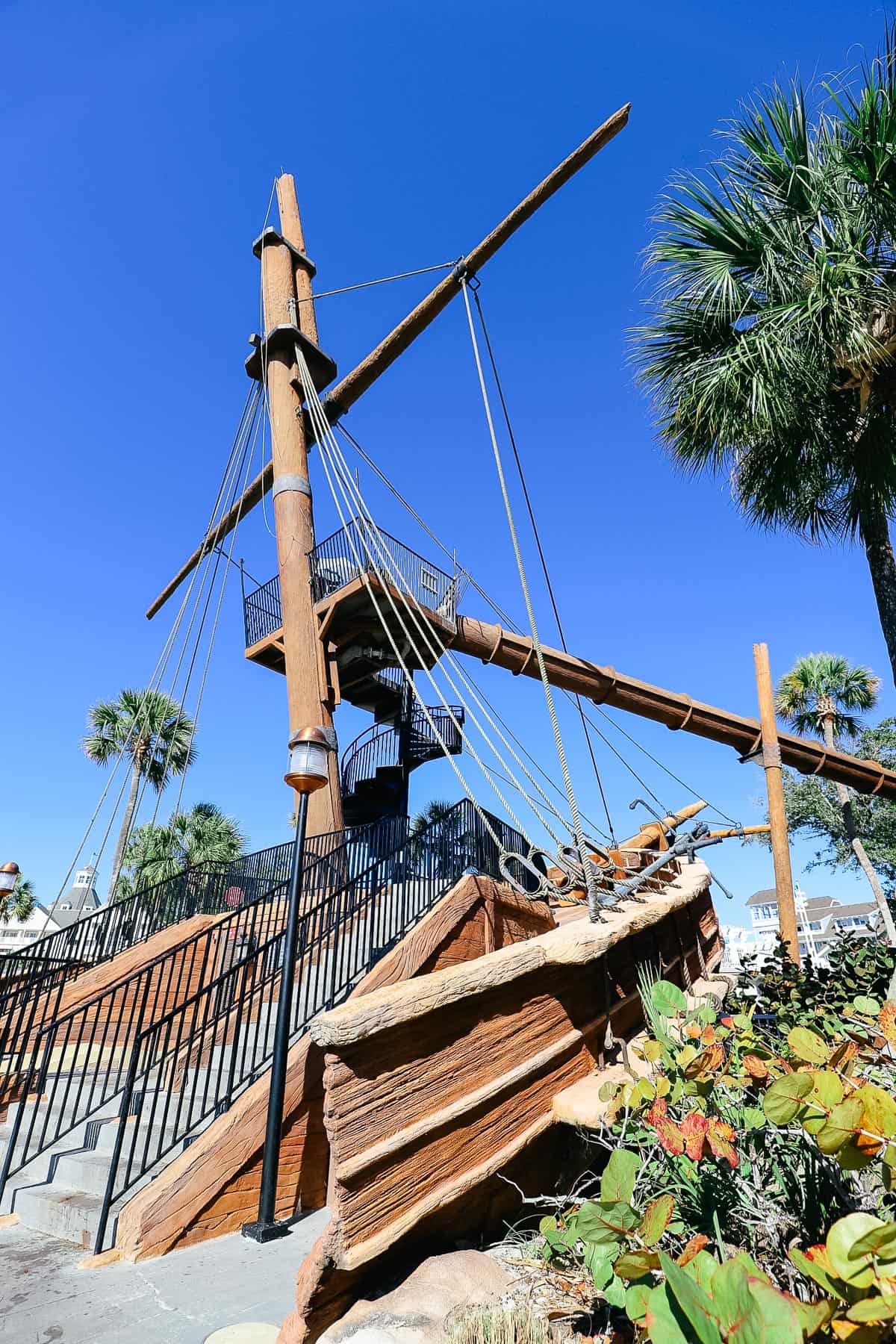 It's a speedy slide that almost always has a long line!
As far as the shipwreck goes, this is the same area where the nightly Movies Under the Stars are held. Cast members inflate a projection screen in front of the chairs sitting on the beach.
And here is a photo of where guests roast marshmallows each evening.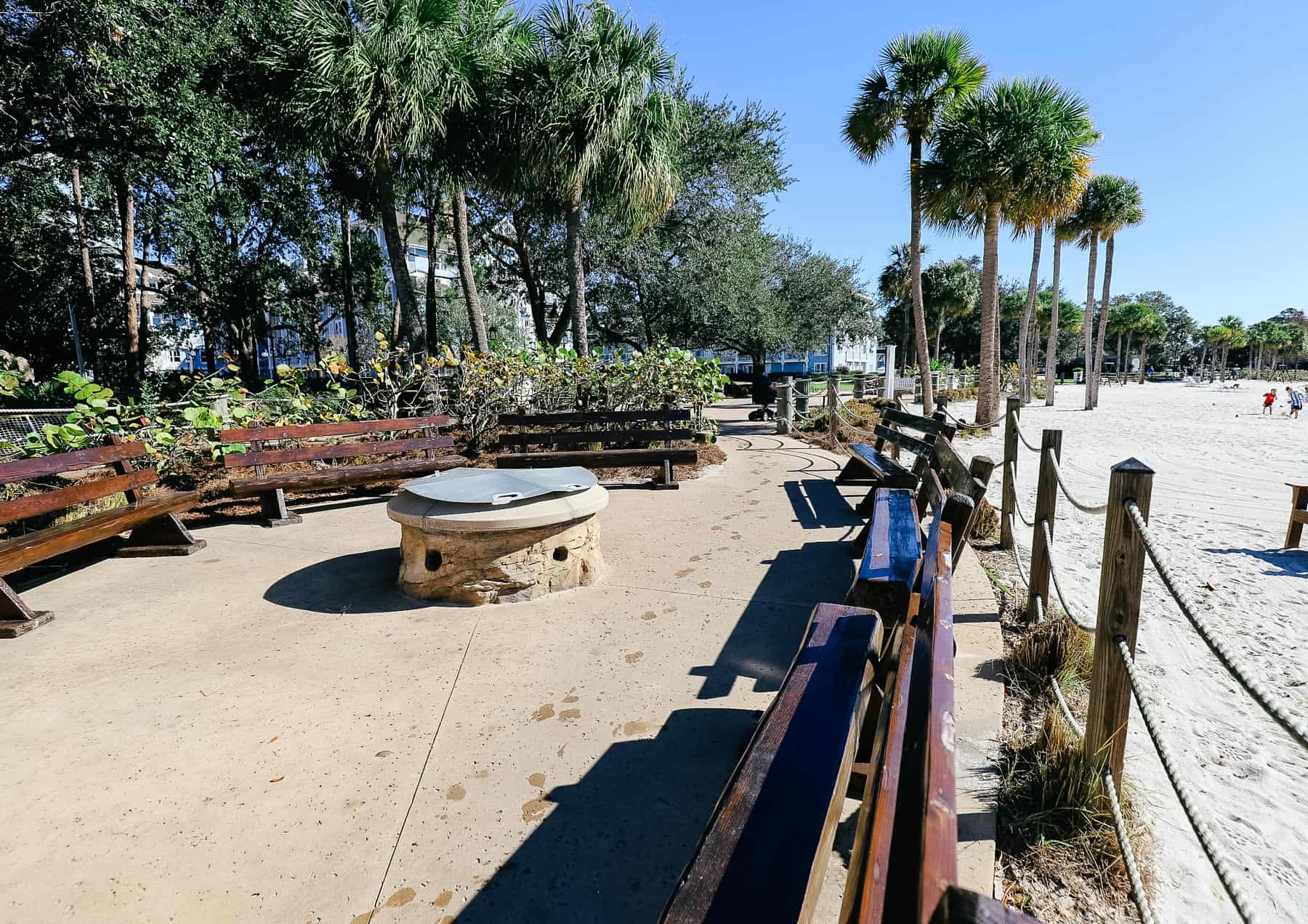 Kiddie Pool at Stormalong Bay (Shipwreck Pool)
Most guests have no clue that an additional kiddie pool sits inside the shipwreck. If you never took the time to check out the area, you'd have no idea it existed.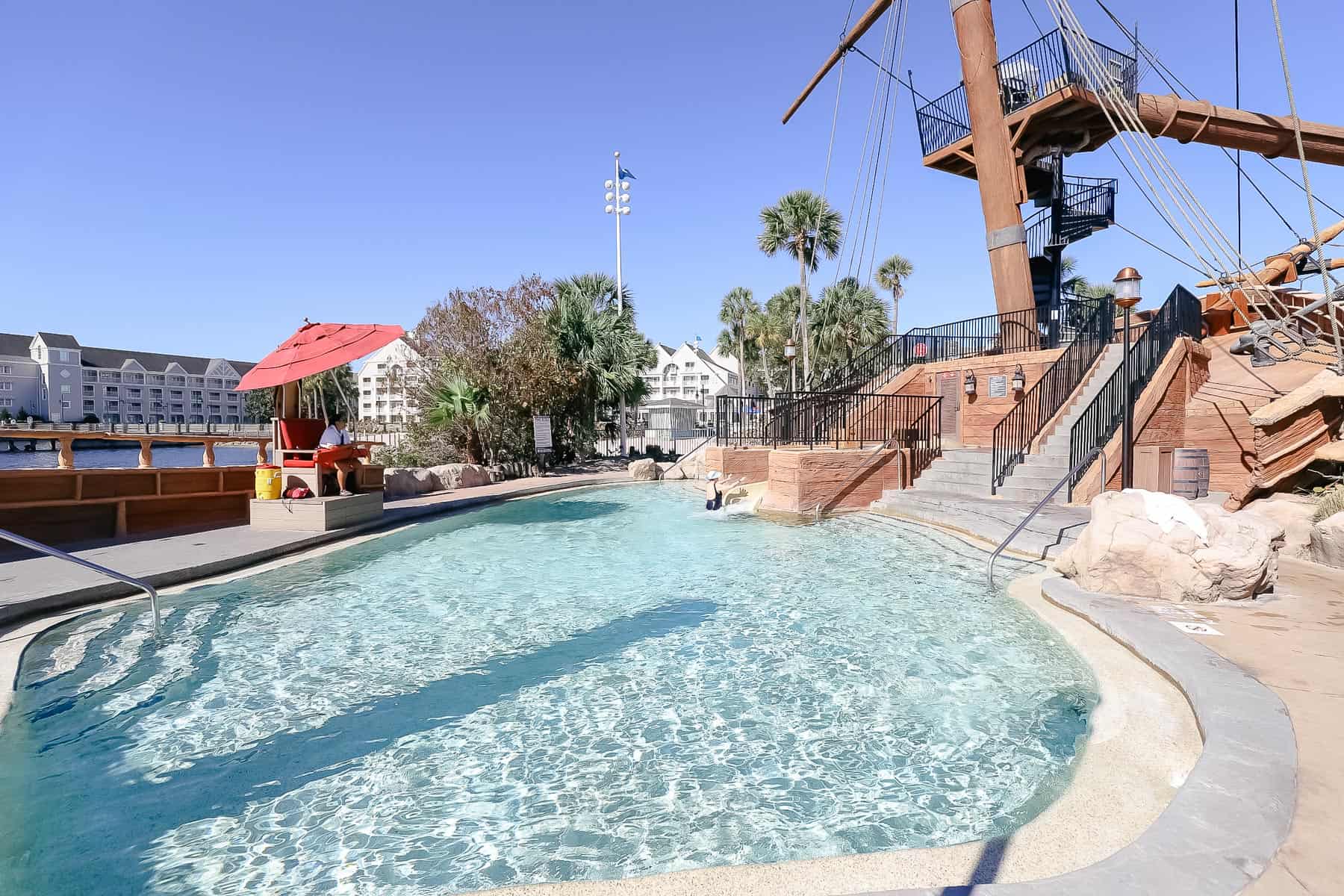 It has a separate kiddie water slide!
No sand is involved at this pool.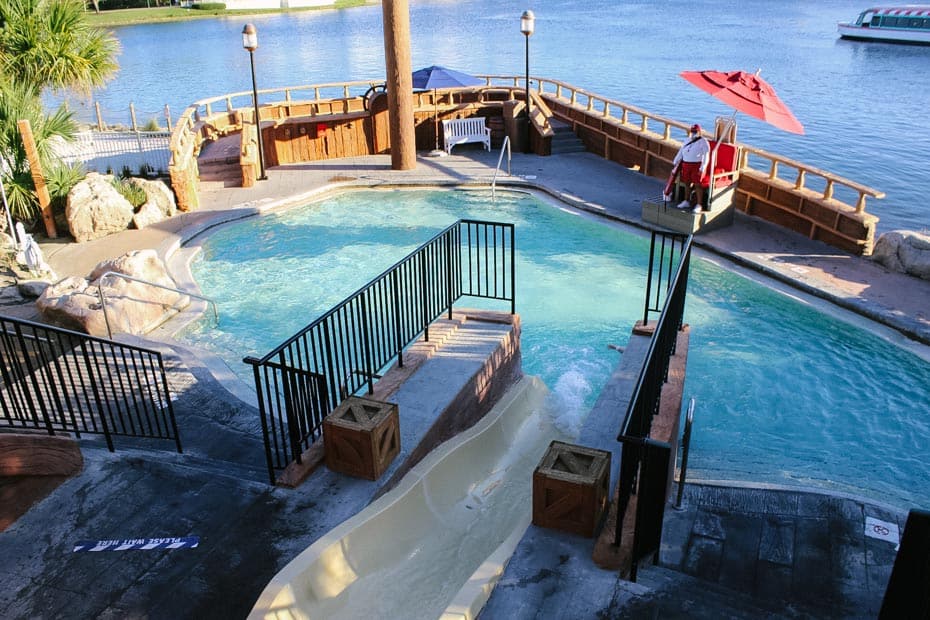 It's a fun area.
Sand Bar Kiddie Pool
The other kiddie pool is back on the Yacht Club side of Stormalong Bay. This large wading pool has a sand bottom and a massive mound of sand in its center.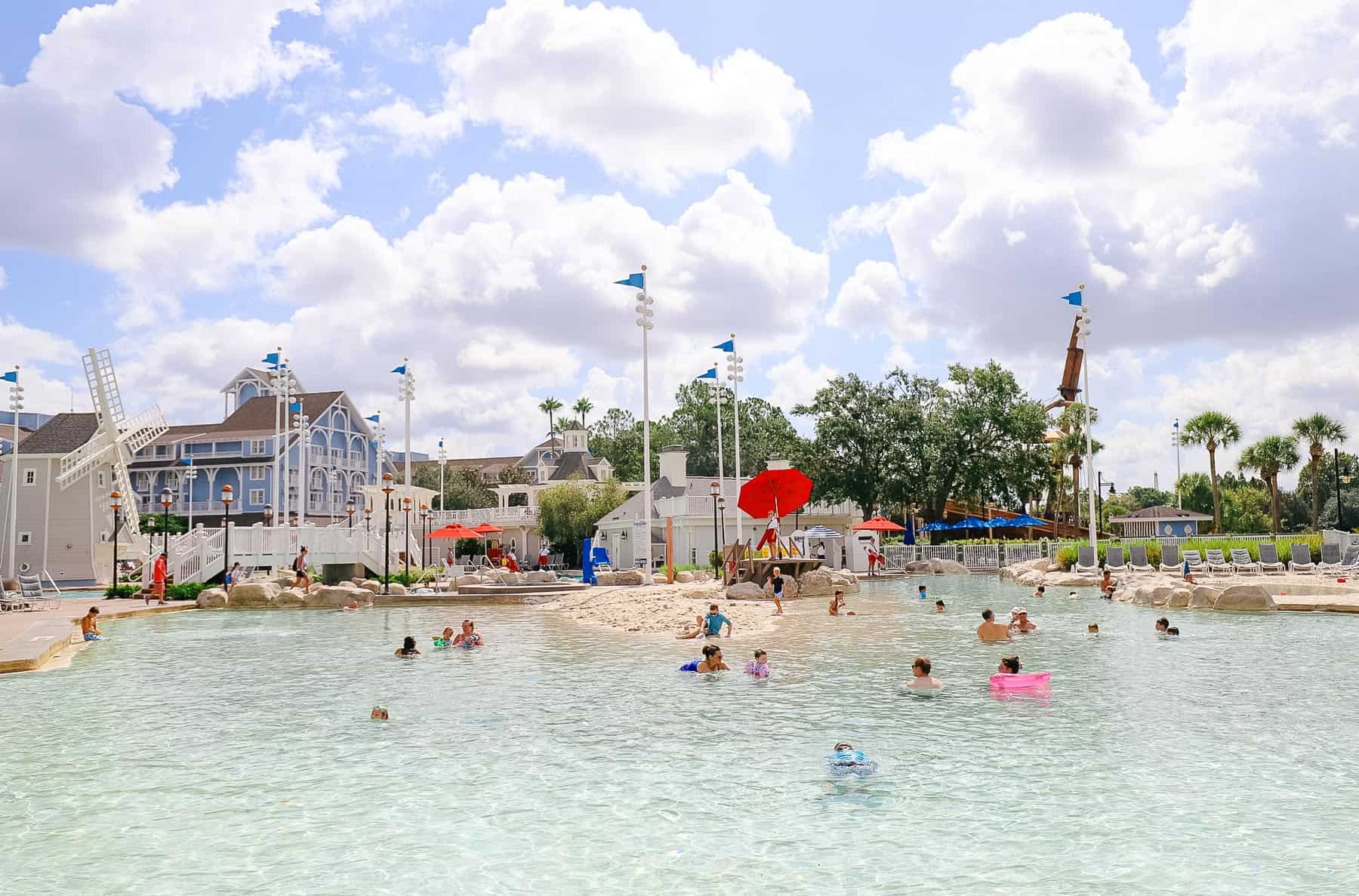 Additionally, Stormalong Bay's third hot tub resides in this area.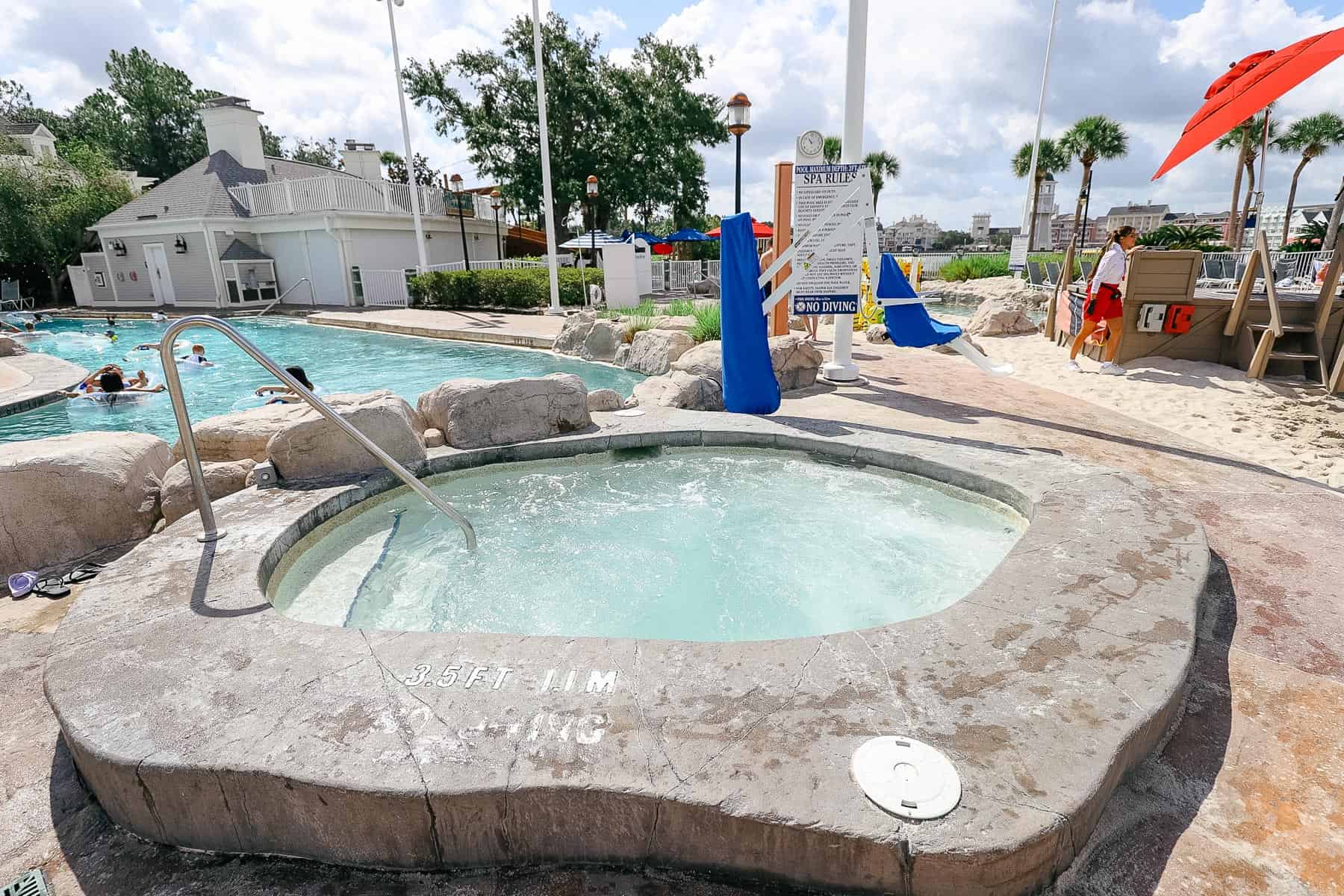 A word of warning–young children will probably always remember this trip to the Beach Club after spending time in this area. They will always ask to return to that place with the sand pool.
They will not want to leave when it's time to prepare for your dinner reservation. And if you take them to the pool early on during your vacation, they will continuously ask when you're going to the pool–even when you're in the parks. Can you blame them?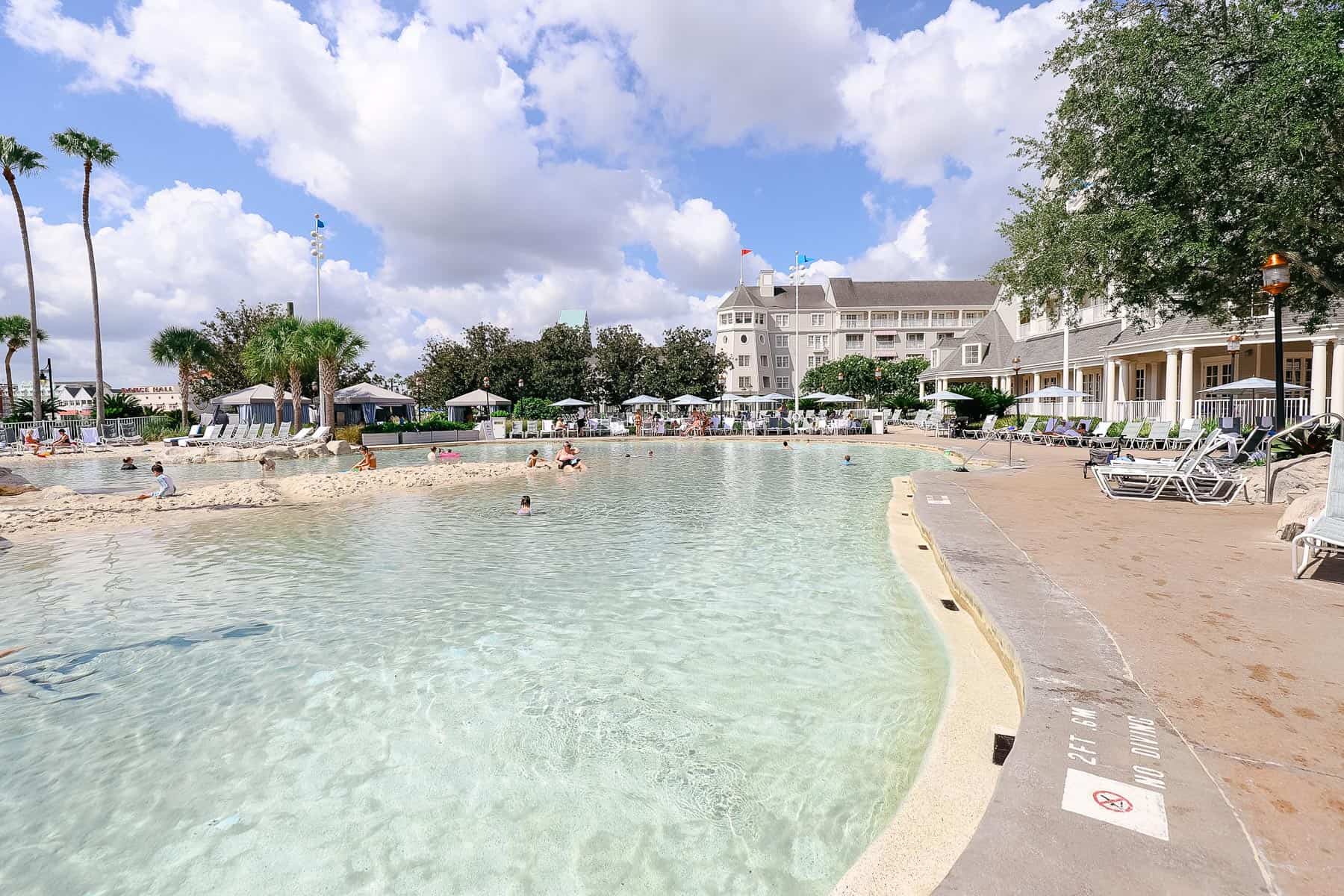 Toward the back of the sand bar pool, the area forms another lagoon that's approximately 3.5′ deep.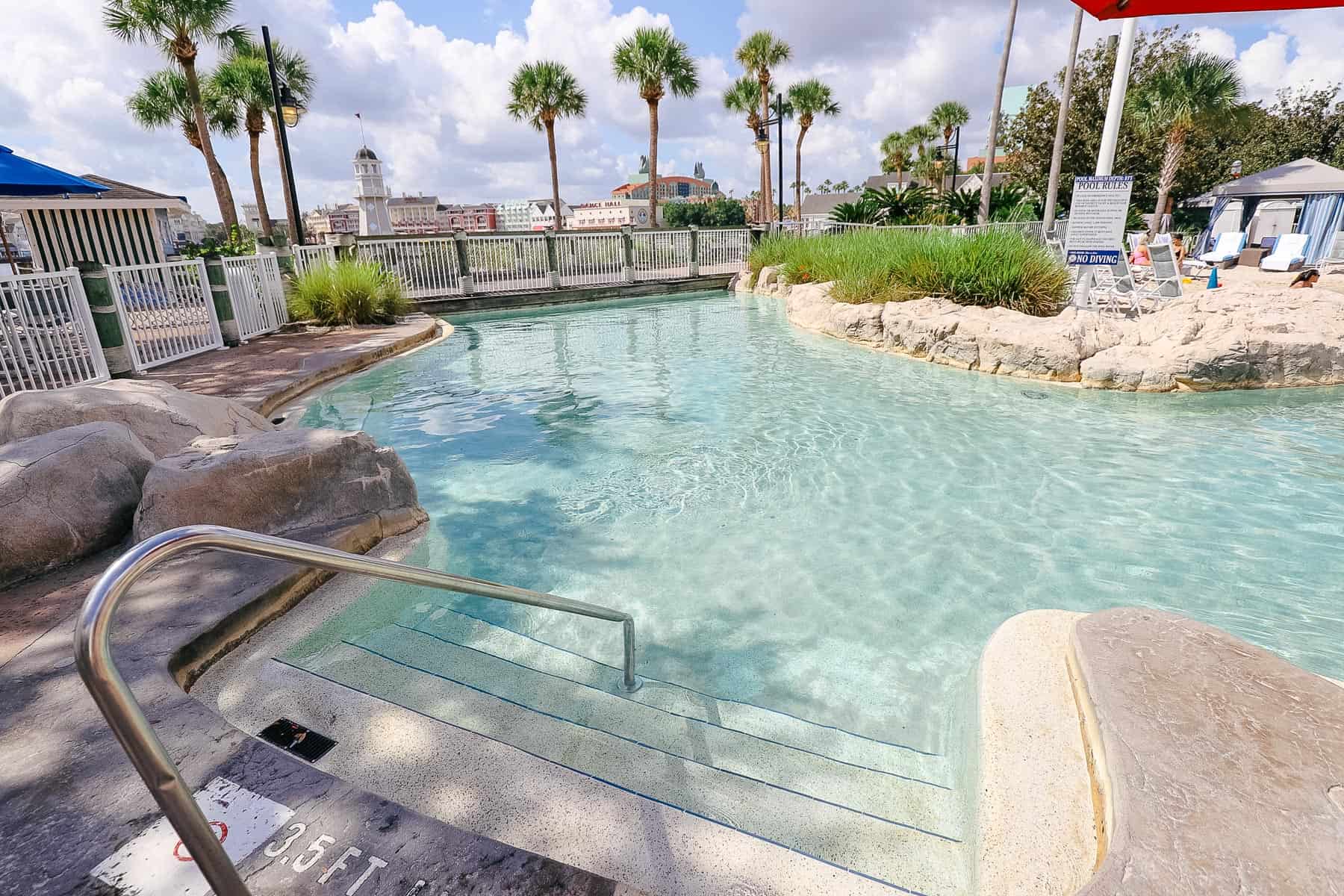 It's a pretty area that looks out to Crescent Lake and Disney's Boardwalk.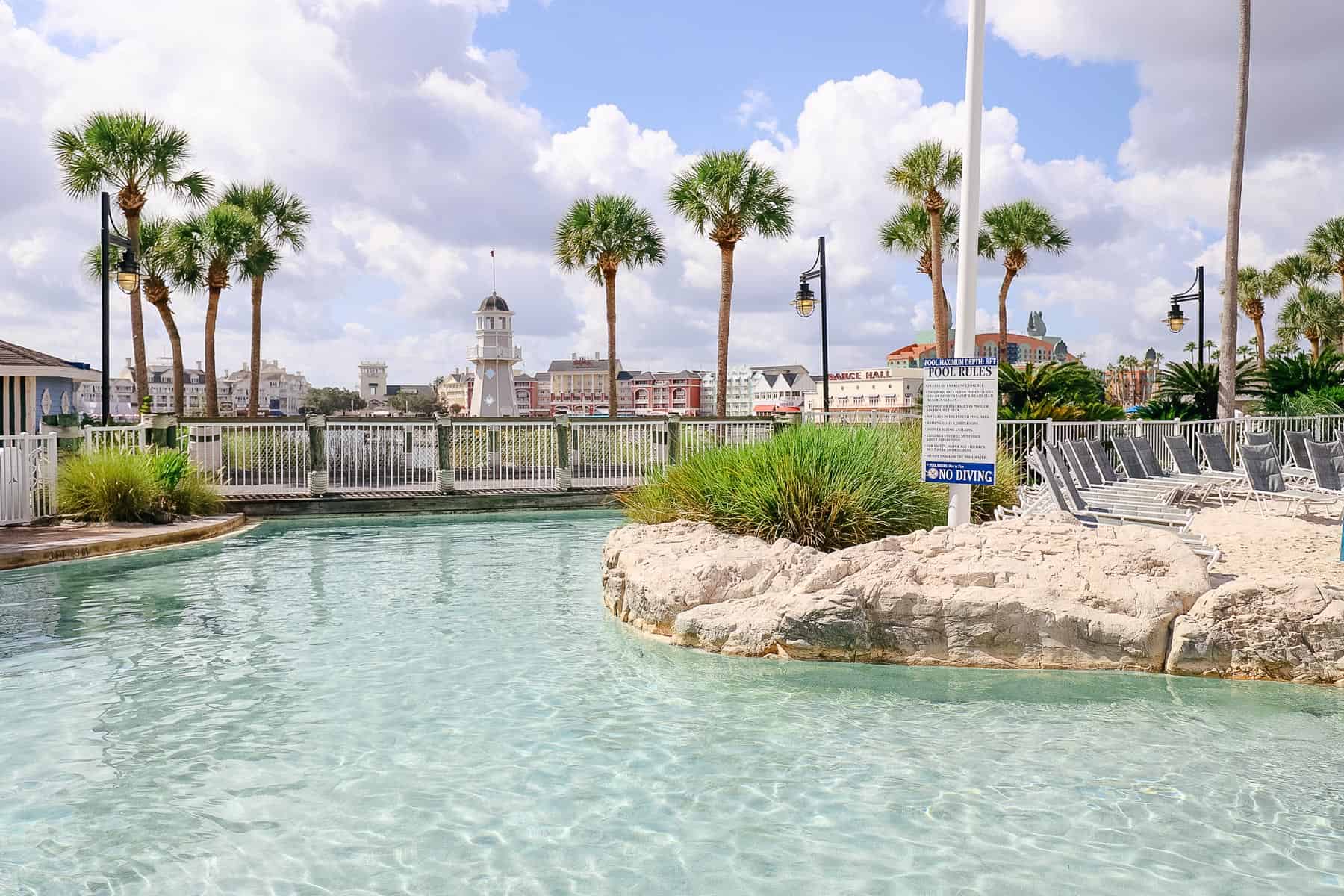 Cabanas at Stormalong Bay
Four cabanas are available to rent at Stormalong Bay. These cabanas are available at 60 days out and sell out quickly. They come with the following amenities:
A dedicated cast member providing service to the cabanas.
Cocktail Service
Ceiling Fan
Padded furniture, including chairs and a couch
Television with cable access
Charging Outlets/USB Ports
A mini refrigerator stocked with complimentary sodas and water.
Fruit Basket/Dessert Tray
Towels
A Cabinet Safe
Find details for cabana reservations and pricing on Disney's site. Since we stay at these resorts often, we've rented a cabana at Stormalong Bay. You might enjoy reading about our experience in this article: Renting a Cabana at Disney World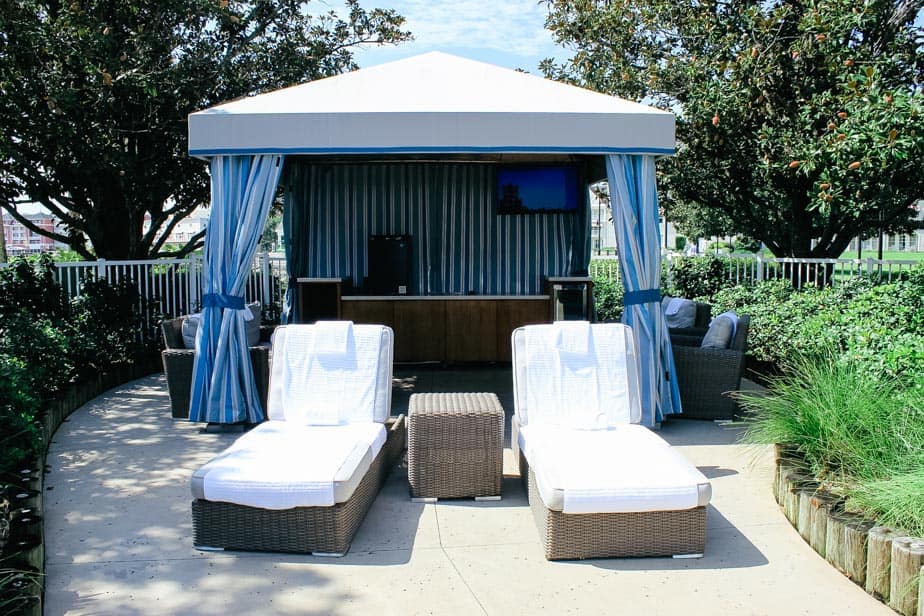 Towels, Lockers, and Changing Areas at Stormalong Bay
Before we wrap things up, I wanted to share a few other details that might help you plan time at the pool. For instance, towels are provided at Stormalong Bay. So you shouldn't need to pack them. Guests can get as many as they need throughout the day.
Additionally, a locker area is available for guests who might need to store a few items while in the pool.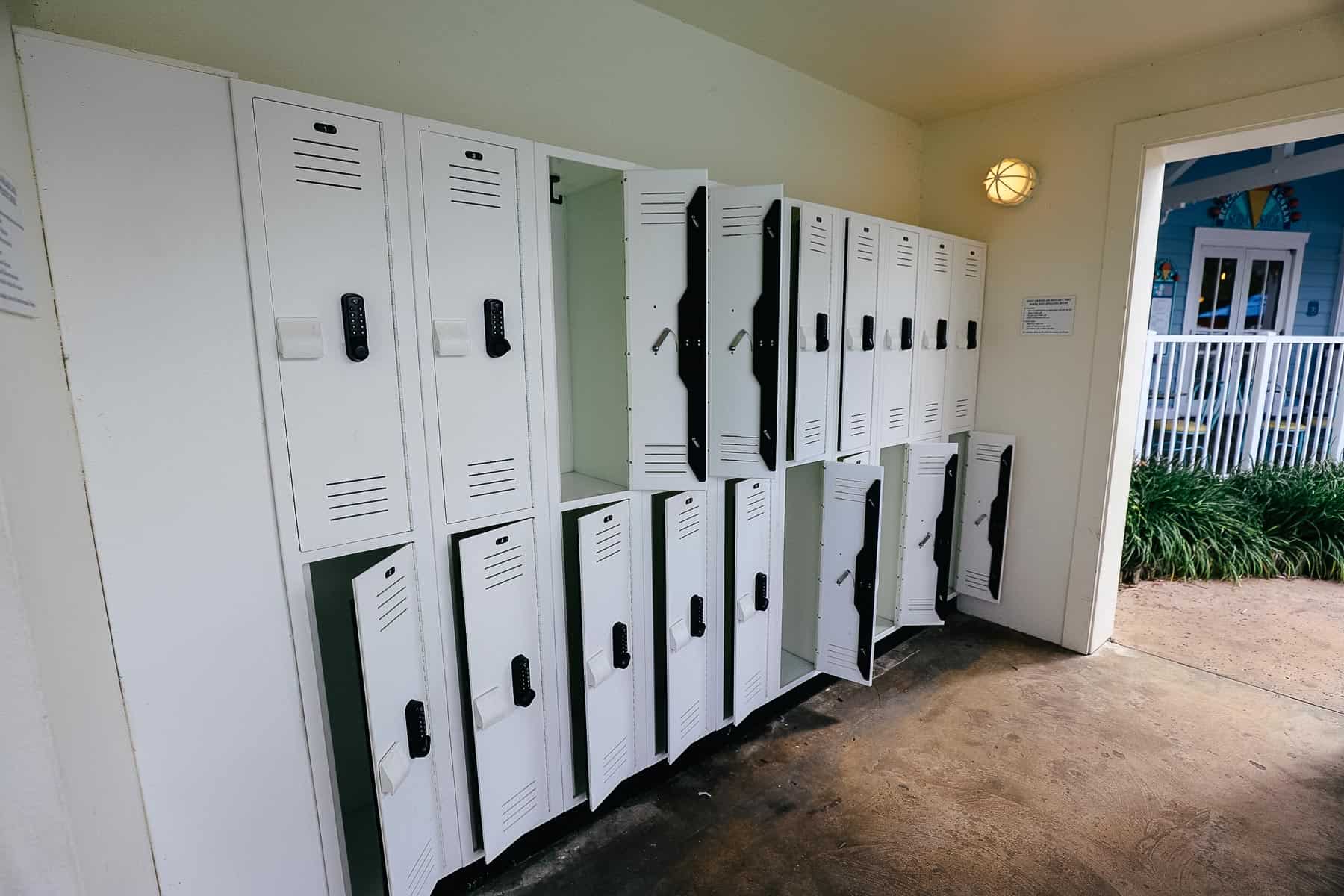 Restrooms are available immediately behind the pool area.
When you enter this covered area to the restrooms, you'll notice a sign that says showers on the far right-hand side. This area leads to showers and changing areas for men and women.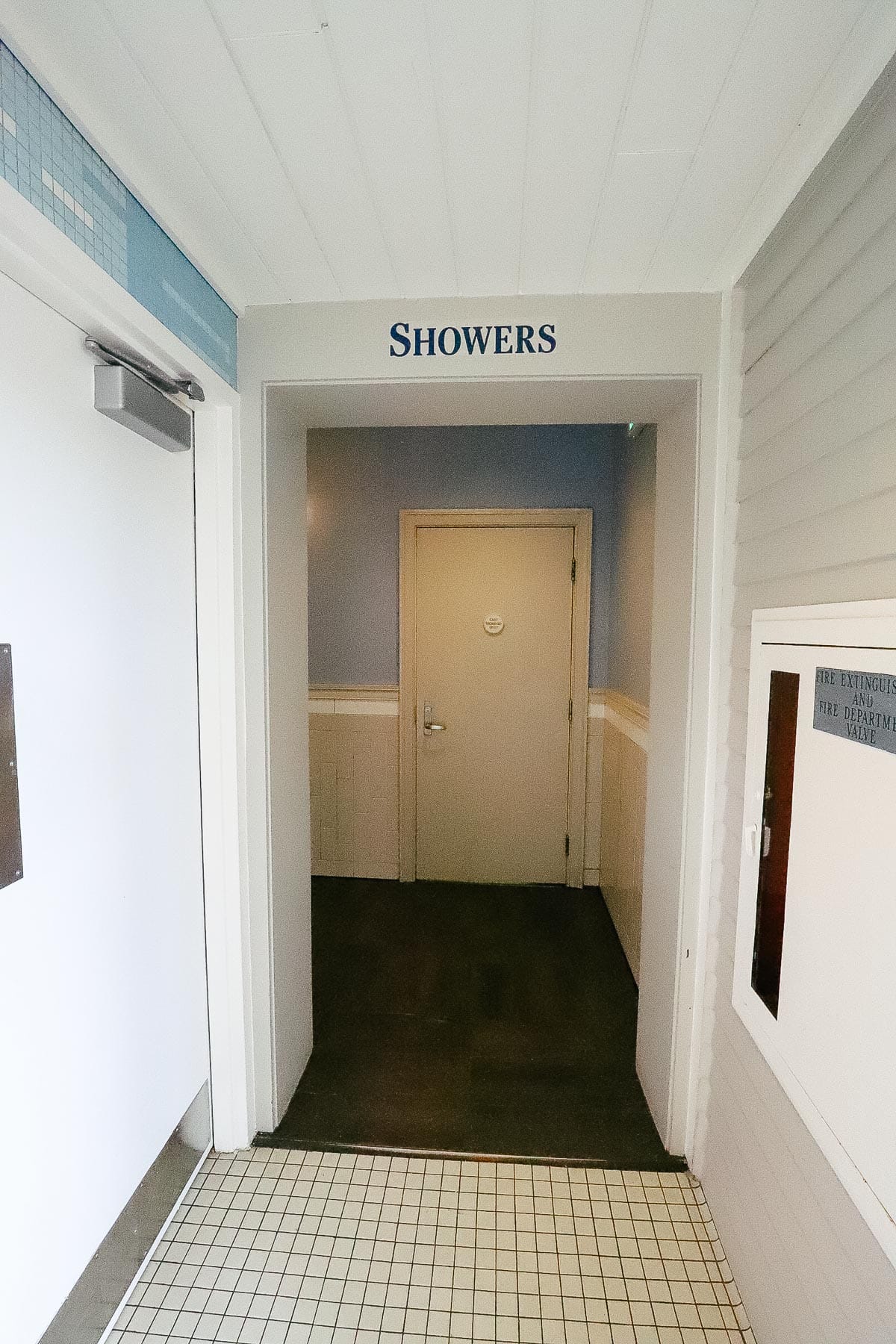 Inside, you'll find a couple of showers, towels, a bench, and a place to hang items.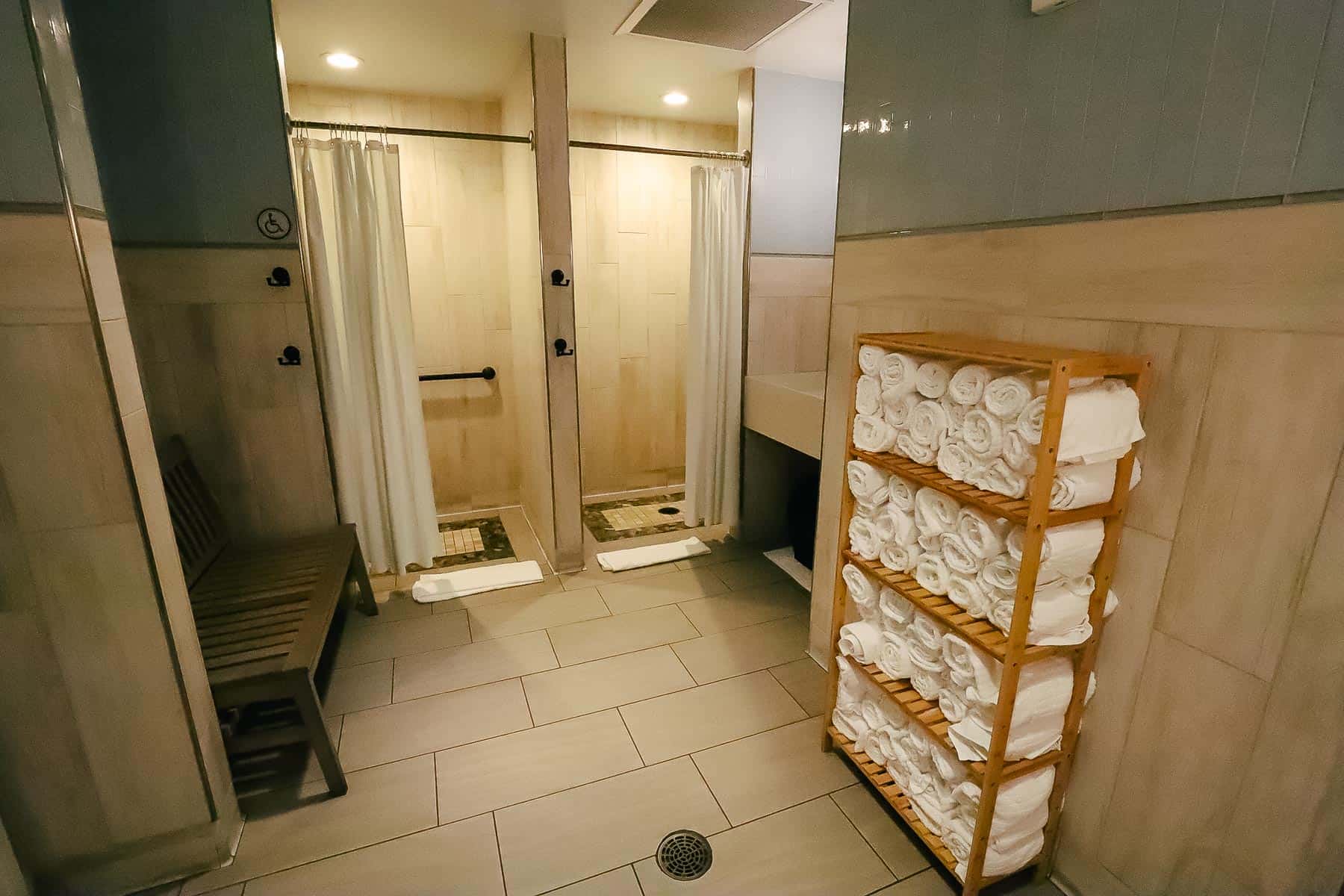 Toiletries like body wash, shampoo, and conditioner are available in the shower stall. This area provides a wonderful place to change or freshen up if you have a late flight on your check-out day. Or you might use this area to change into your swimsuit if your room isn't ready on arrival.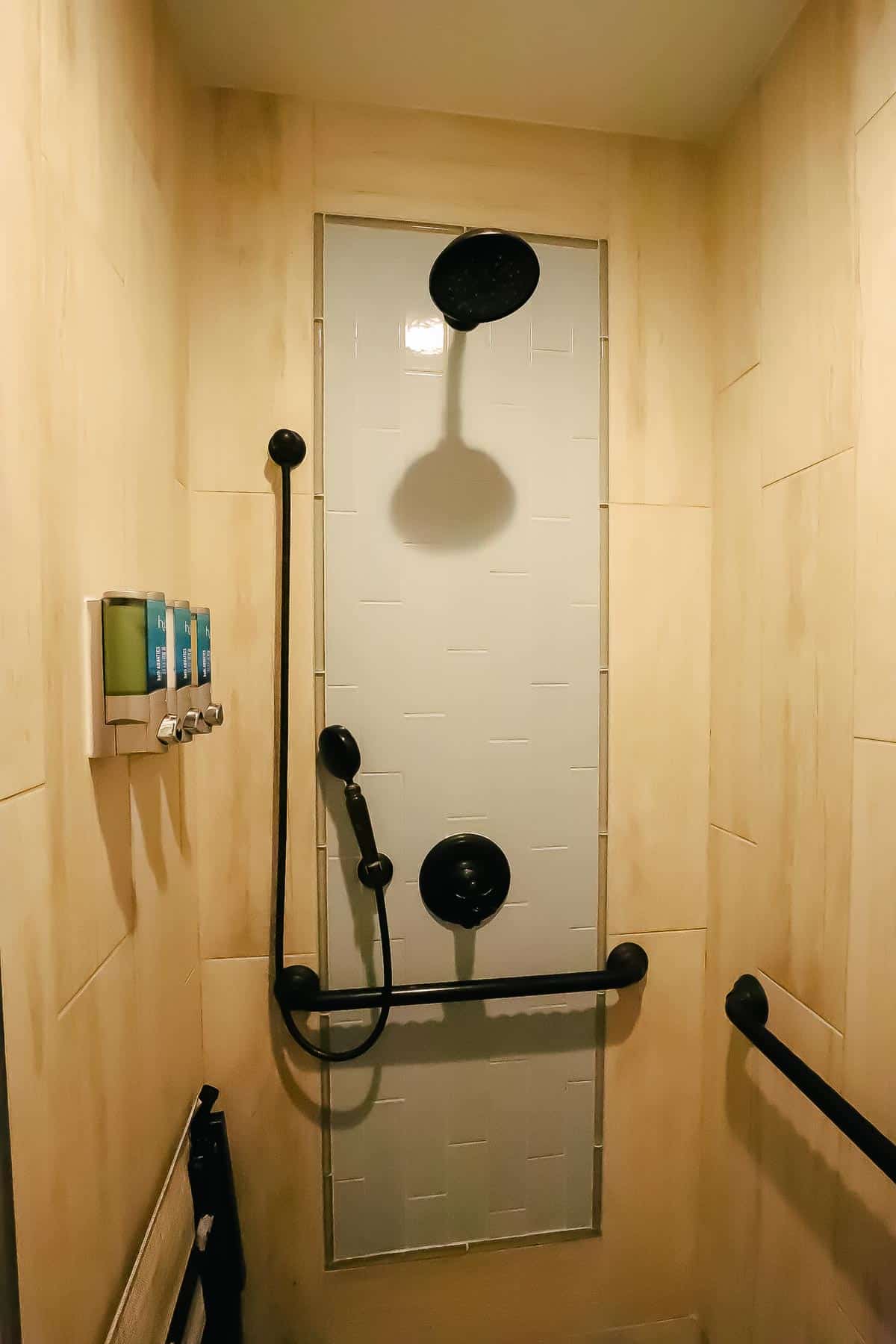 Stormalong Bay Video
Here is a video of Stormalong Bay.
Disney's Stormalong Bay Photos
Here are a few more photos of the pool.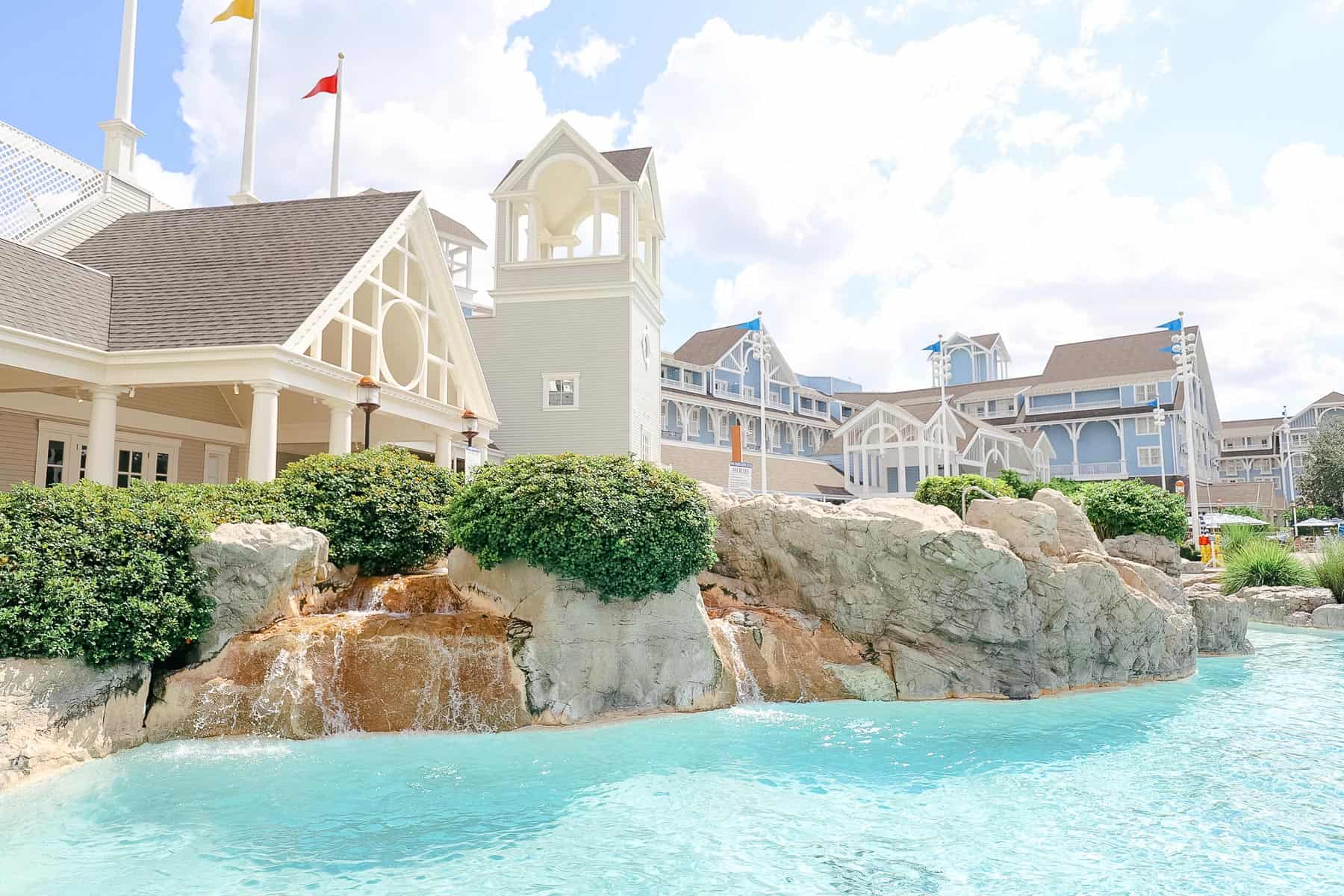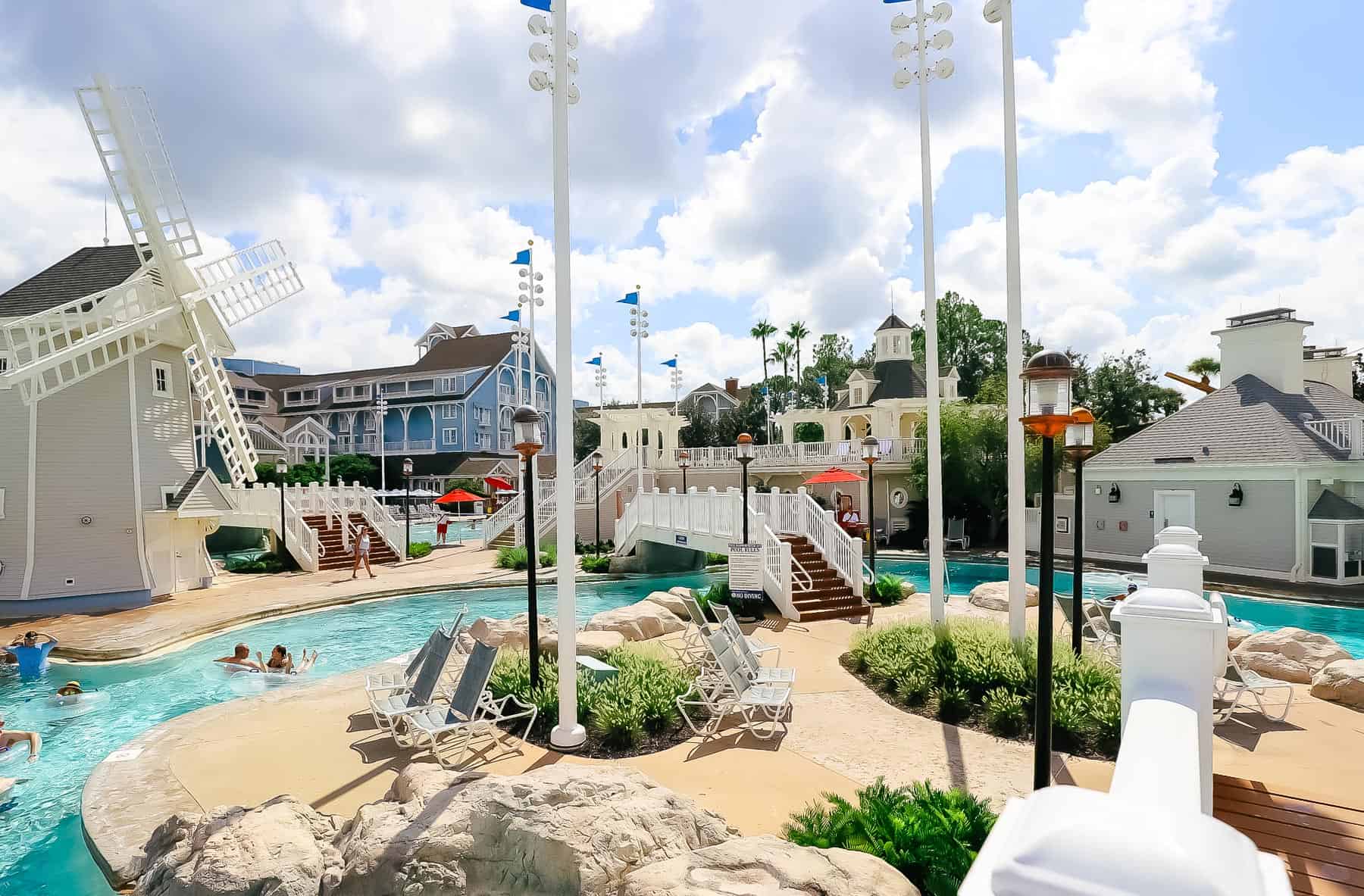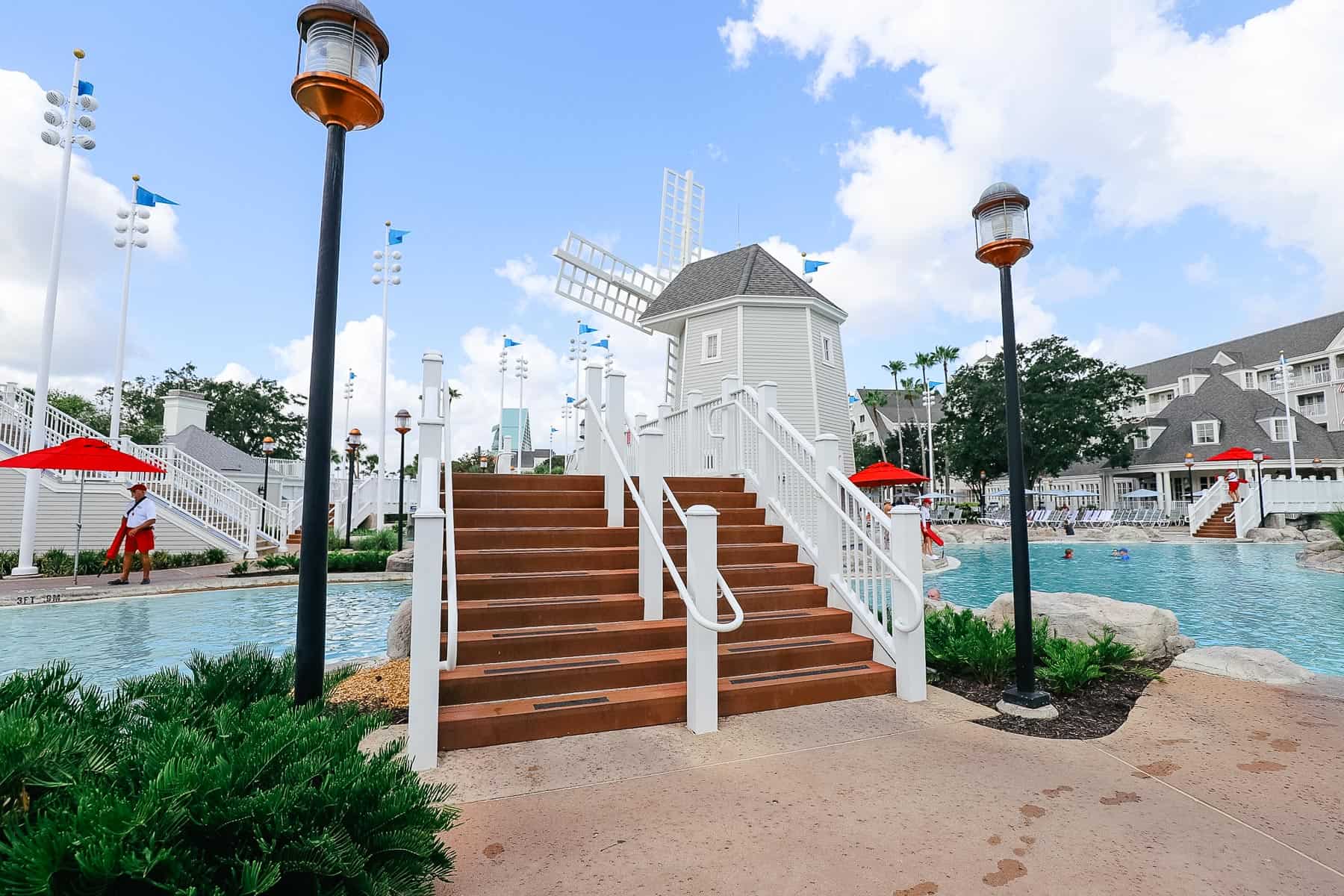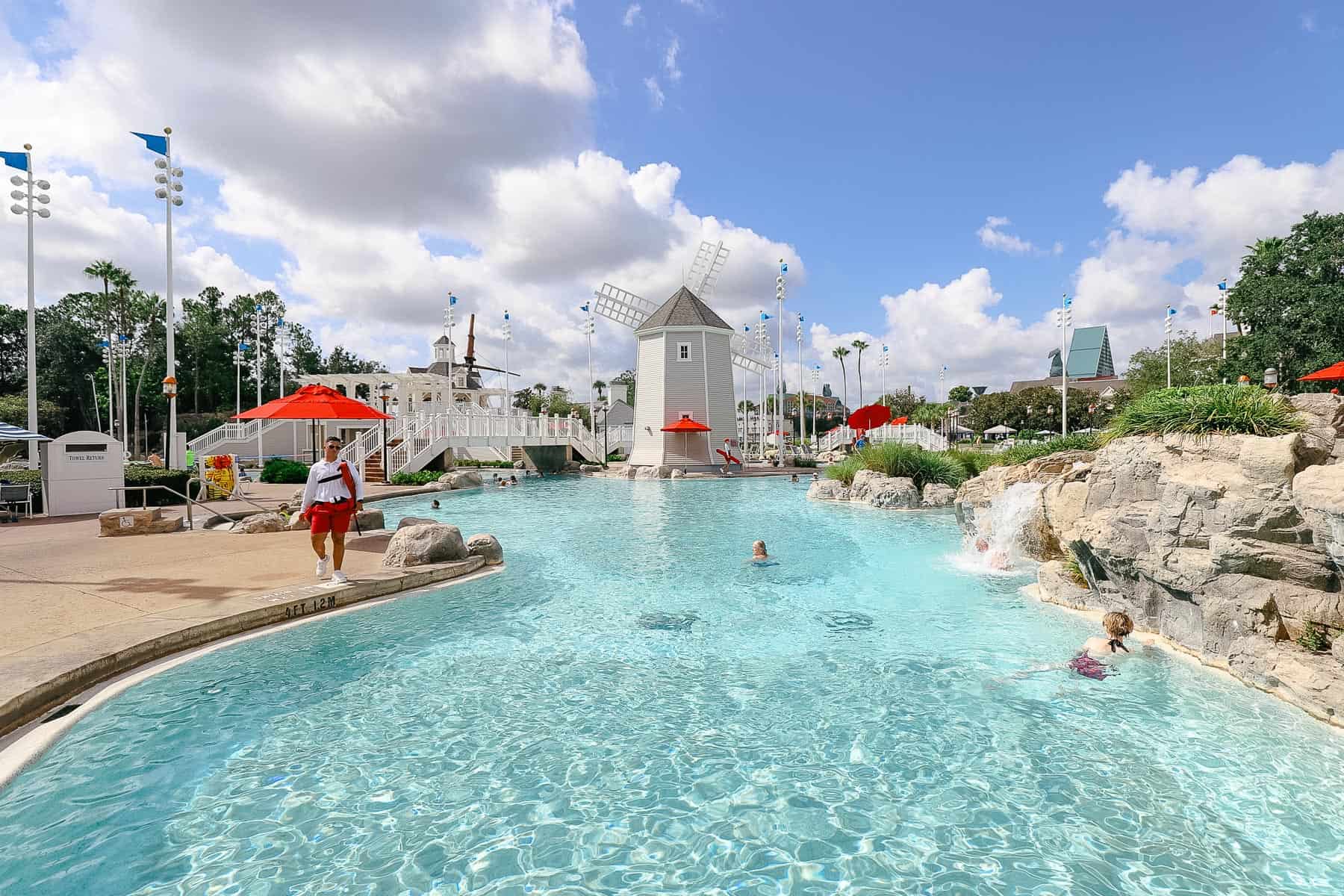 Final Thoughts
Hopefully, this review of Stormalong Bay provided you with everything you needed to know about the area to plan your vacation. We recommend spending at least one full resort day here during your vacation. Or maybe you can carve out time to spend here every day! We do!
If you want to learn more about the resorts, we have an entire resort guide for Disney's Yacht Club Resort and Disney's Beach Club Resort. You might also enjoy our guide to the best pools at Disney World. Spoiler: This one's pretty hard to beat!
Or you might enjoy one of the following hotel reviews. They are all located within the Epcot Resorts Area:
Feel free to comment below and share your thoughts on Stormalong Bay. Do you have any questions? What are you looking forward to experiencing here?
Disney's Stormalong Bay Pool Area
Planning a Walt Disney World or other Disney Destination vacation?
Our friends and travel partner, Firefly Travels, excels at doing Disney differently. You can fill out a plan your trip form on their website, and someone will reach out shortly to discuss the specifics.