Everything You Need to Know about Disney's Stormalong Bay
Stormalong Bay is the tremendous feature pool area at Disney's Beach and Yacht Club Resorts. A day spent here might end up being the best part of your Walt Disney World vacation.
Realistically, it could be so nice that you end up spending more of your vacation at Stormalong Bay than planned. At least, that's what always happens to us when we stay at either of these sister resorts.
My love for Stormalong Bay started quite a few years ago. More years than I would care to admit. I had planned an eight-day vacation at Disney's Beach Club Resort.
At that time, there wasn't much research involved in my planning. However, we had visited the resort for the first time the previous Christmas, and I knew I wanted to stay there.
During our vacation, I fell in love with the charm of the entire area. We could walk to Epcot. And we enjoyed taking the little Friendship Boats to Hollywood Studios.
But what surprised us the most was how much there was to do at the massive pool area. We found ourselves wanting to spend more and more time at the pool than anywhere else.
On the last day of our vacation, I ended up buying one of those summer must-read books in the gift shop. We completely blew off our park plans and spent the entire day (and evening) at Stormalong Bay.
Sometimes, it's the little things that make the best memories. Those little things might include taking the time to read a book by the pool.
For some, a little thing might be helping your child build a sandcastle in the sand bottom pool. That is until they meet a few pool friends, then you can head back to the book.
Meanwhile, the children will probably conspire to meet back at the pool the next day, oblivious to your vacation plans.
Whatever it is, Stormalong Bay has a way of making you want to stay a little longer than you probably would have ever expected.
This article will go over everything you need to know about Stormalong Bay. Additionally, I'll add a video with clips of the different pool areas toward the bottom of this article.
Stormalong Bay is more of a mini water park than a pool. The pool area consists of over three acres, and the pool holds 750,000 gallons of water.
Guests of both resorts can access the pool during regular operating hours. Stormalong Bay pool hours are ideally from 7:00 a.m. until 11:00 p.m. during the busier times of the year.
However, those hours are reduced depending on several factors. The exact pool hours will be posted during your visit.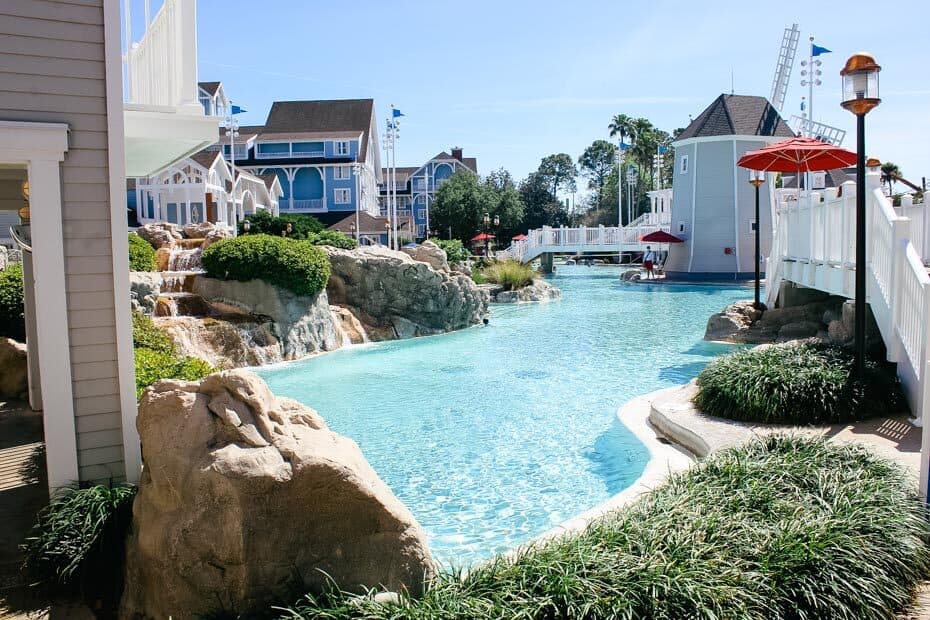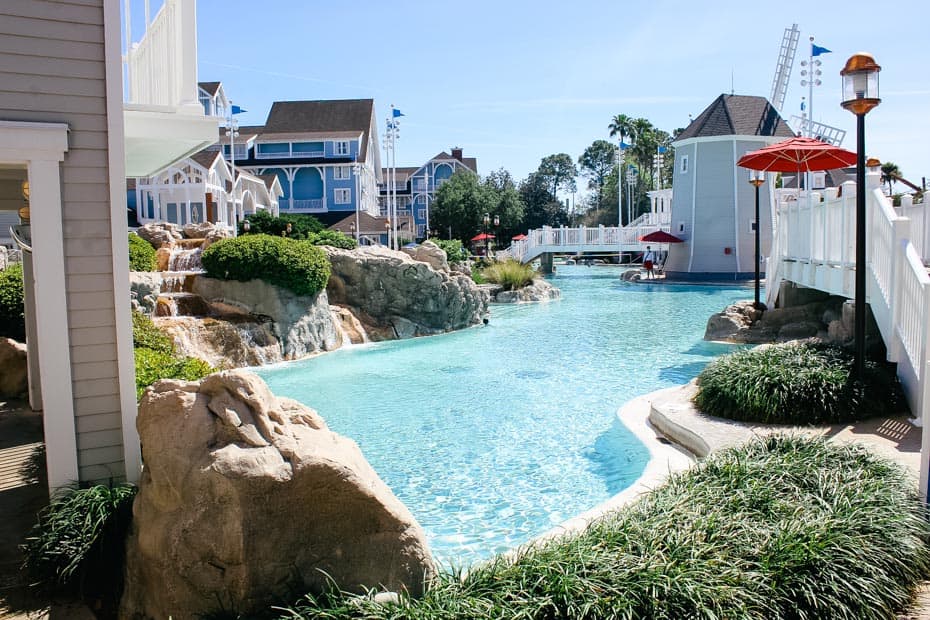 Stormalong Bay Pool Pictures
Since you want to know more about the pool, I felt like I could show you better than I could tell you. These photos came from early March when the weather was warm enough to enjoy the pool.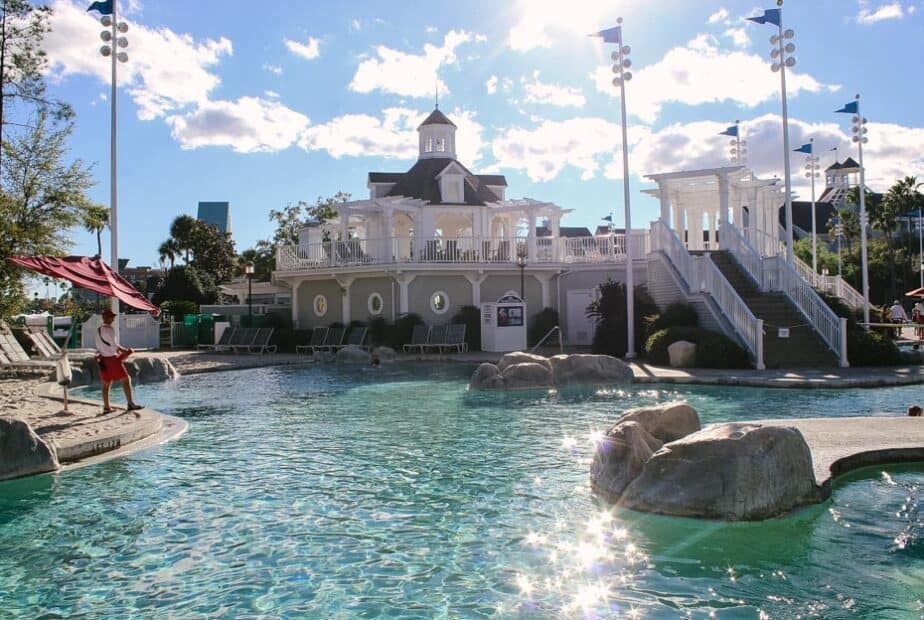 The pools at Disney World are all heated to 82 degrees. As a person who has spent a good amount of time swimming over their lifetime, I can attest that 82 degrees is not that warm.
However, it will feel warmer on a chillier day. Additionally, children don't notice the difference when they are busy building sandcastles.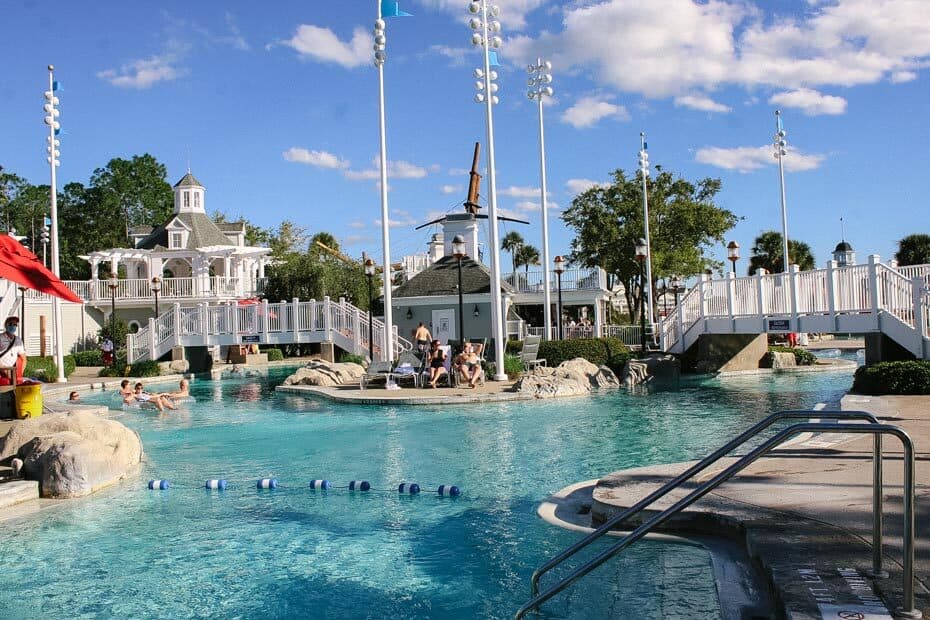 Stormalong Bay's pool area is expansive. It tends to shift from one swimming area to another. For instance, in the picture below, there's an extremely shallow area around two feet deep.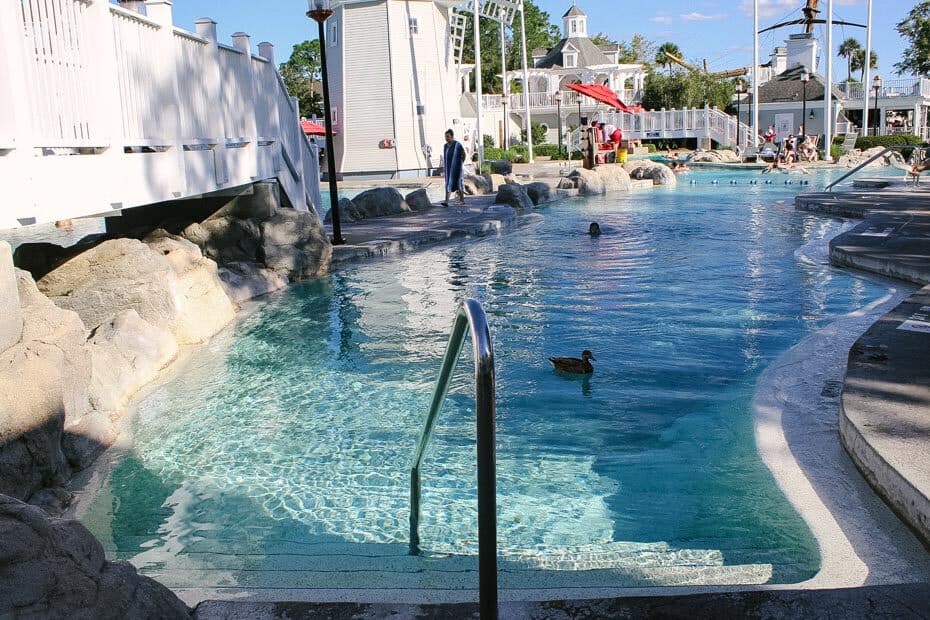 However, there's a rope over the water where the lazy river begins further down. The lazy river is the deepest area of Stormalong Bay.
Back in the shallow area, waterfalls cascade down the rocks. There are two whirlpool spas hidden from view up in the rock area.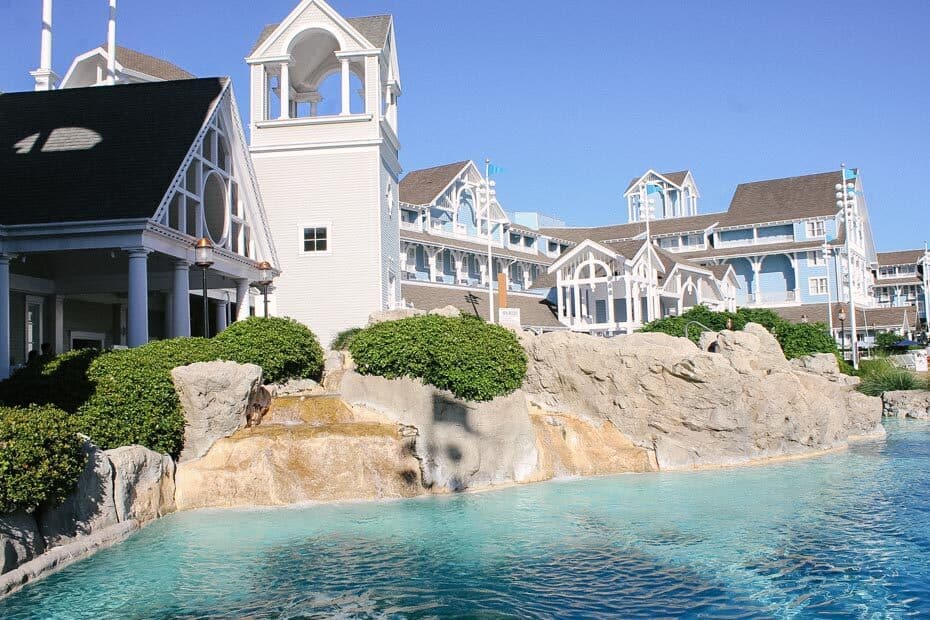 This large area is rarely crowded. In the photo below, the steps in the middle lead up to the hot tubs. Additionally, this entire area of the pool has a sand bottom.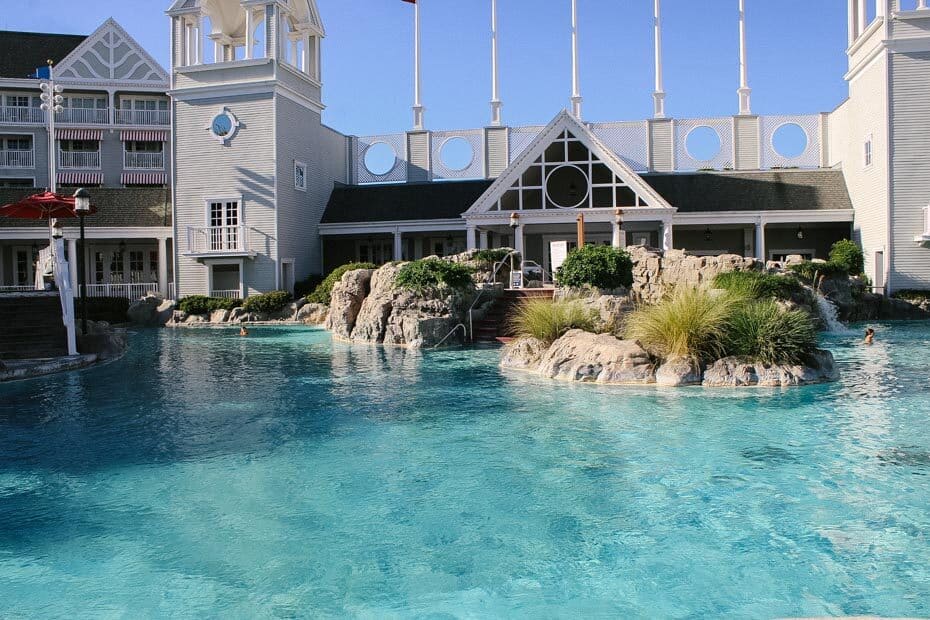 Between the area above and where the waterslide dumps out, there's a long stretch of water with a volleyball net made from pool noodles. This area is where the afternoon activities for children take place.
Those with children who want to participate in the pool activities will want to grab a spot on this end of the pool early. I have found that this area is usually the most challenging place to find seating.
Unfortunately, the pool deck in this area is narrow, and there are usually two rows of seating with a few tables in the mix. Here's a view of the area.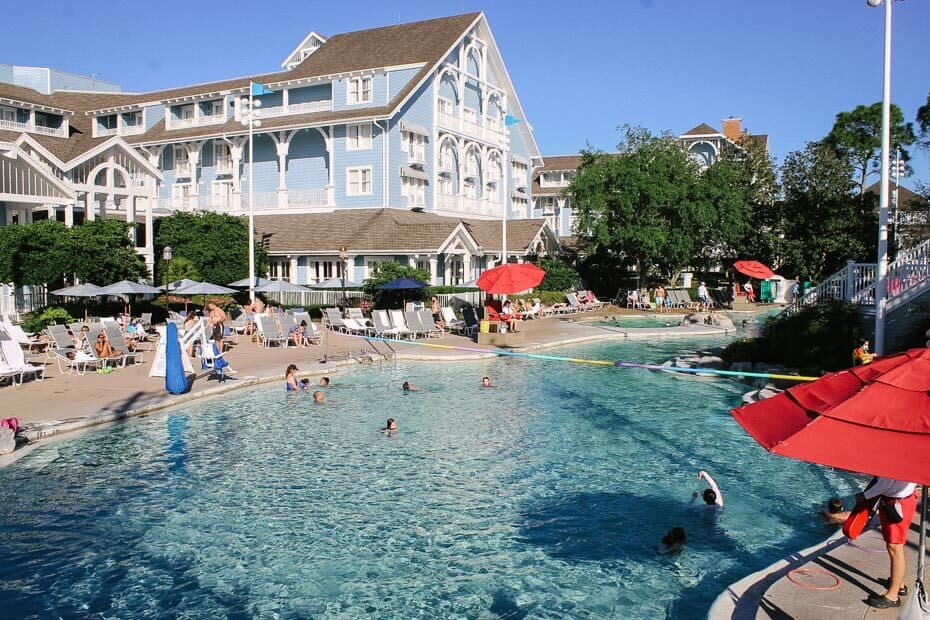 In the picture below, you can see one of the recreation cast members standing in front of the pool. The children on the edge of the pool are participating in some kind of game.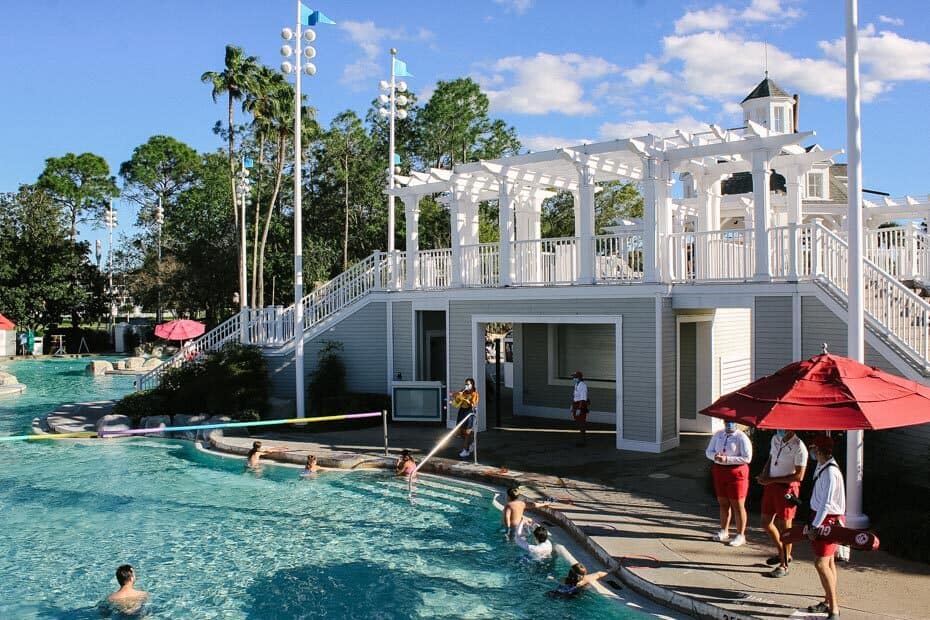 Every afternoon from around 1:00 p.m to 4:00 p.m., someone will provide entertainment. Cast members play pool games, have Disney trivia (it can be tough), and play Disney tunes.
As the day shifts to dusk, the cast members will usually invite everyone in the area to join in on campfire activities and Movies Under the Stars. Both resorts have a recreation calendar detailing which movie is playing nightly and other specifics. Make sure to pick one up upon check-in.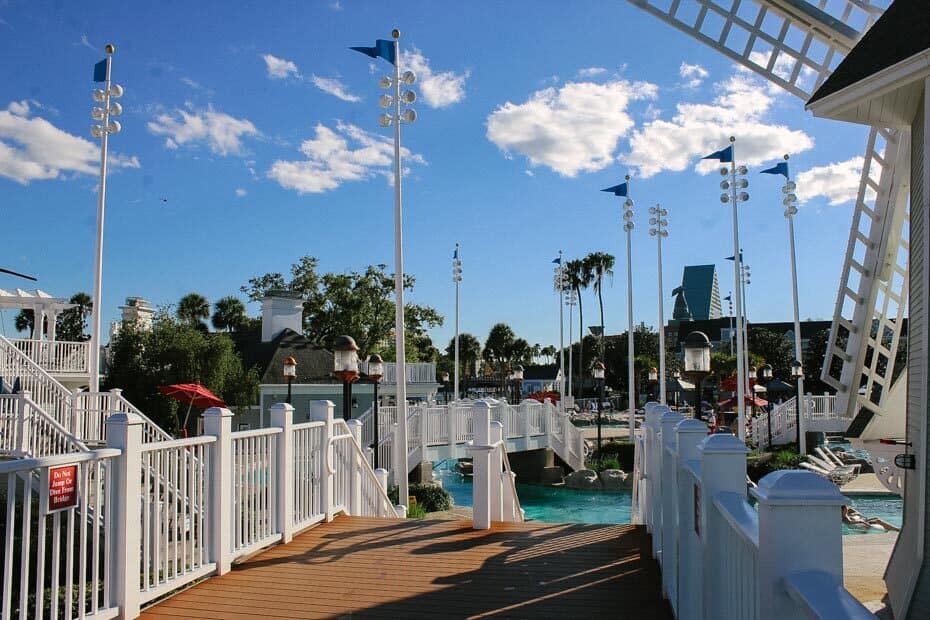 On the opposite side of the recreation area, there's a private area called Bubblin' Bay and another lagoon with whirling waters next to it. This area is where the waterslide exits.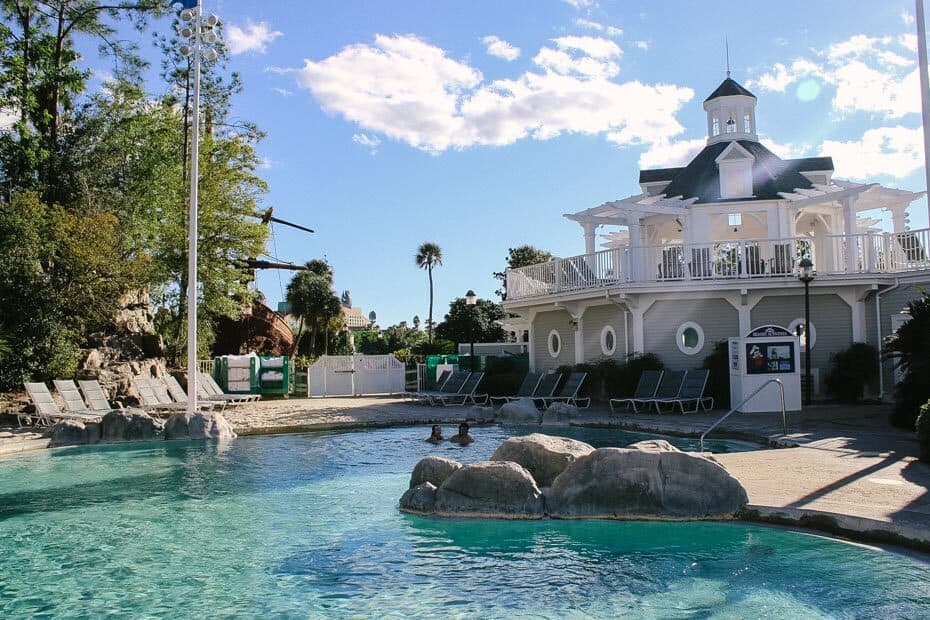 Lazy River at Stormalong Bay
The lazy river at Stormalong Bay is the deepest area of the pool. It is kind of off to itself with several different entrances.
The main thing you'll want to know is that the lazy river portion ranges from approximately 5 feet deep to 8 feet deep at specific points.
When I enter the area from the shallow side, I know I can barely keep my head above water. Under the bridge is the place is where it gets the deepest.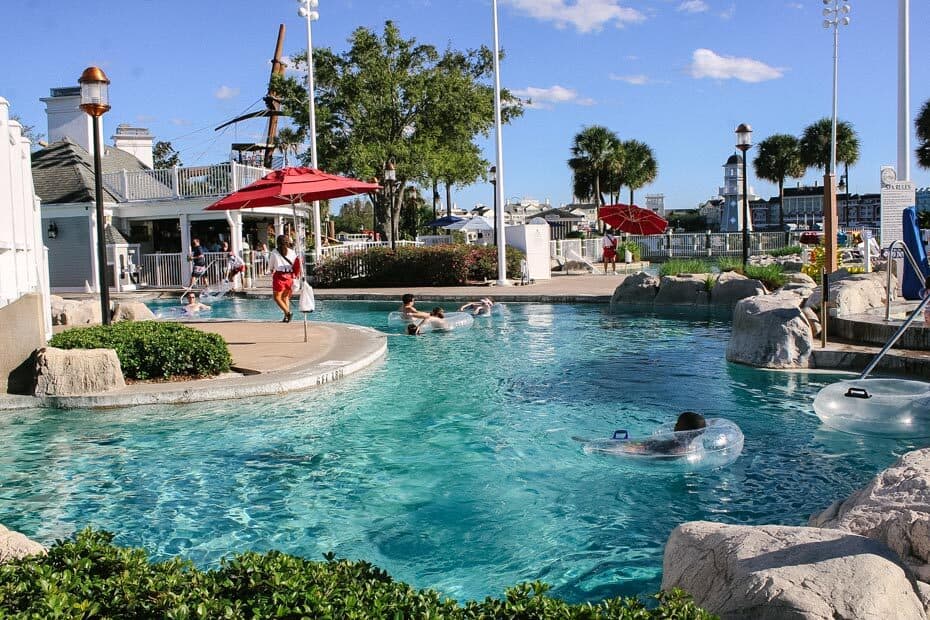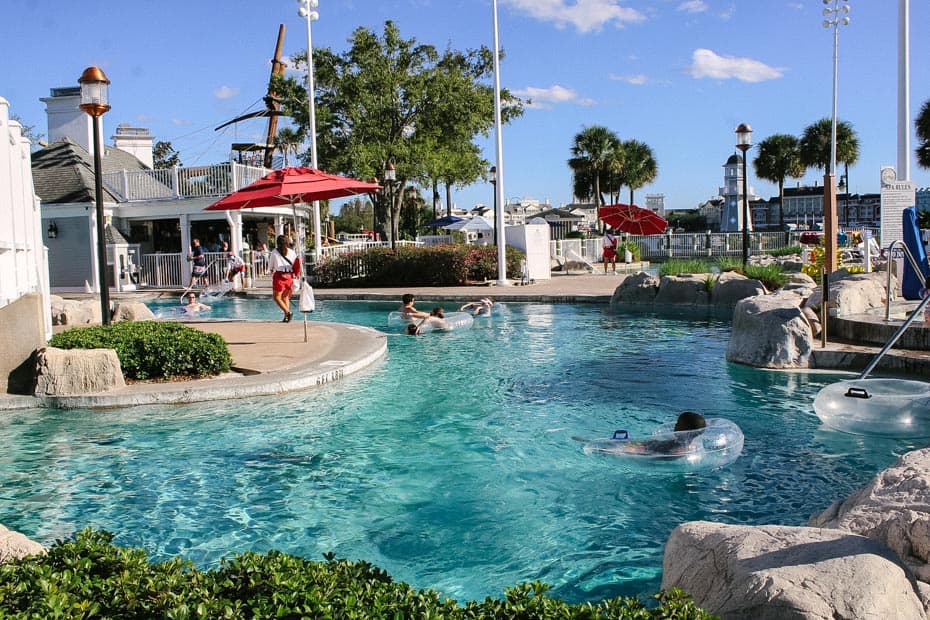 The backside of the lazy river is near Hurricane Hanna's, which is the pool's counter service dining area.
The lazy river has clear inner tubes for pool guests to use. The river itself is not long by any means. But it does provide a nice place to float around.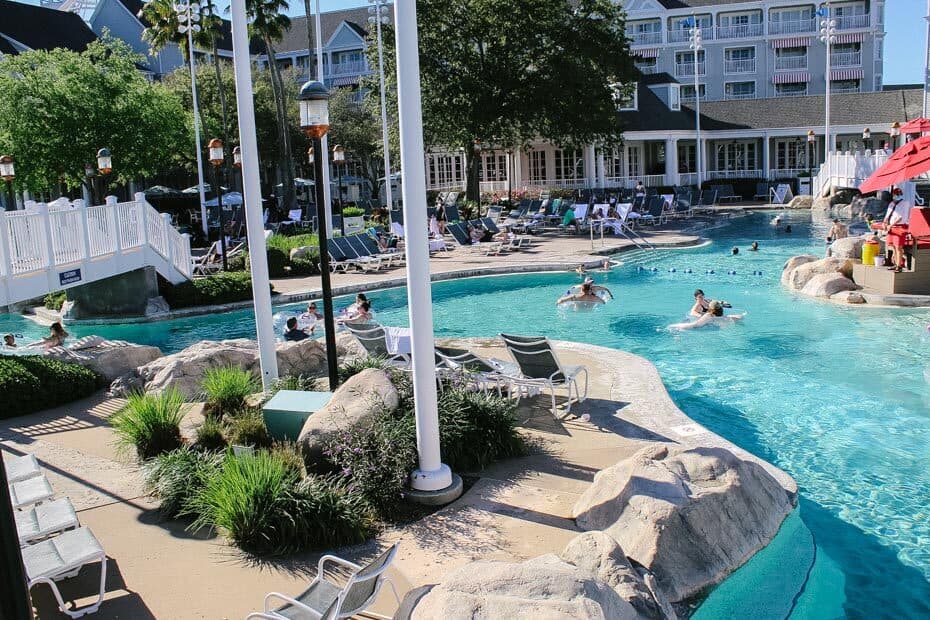 There is always a good number of lifeguards in the area.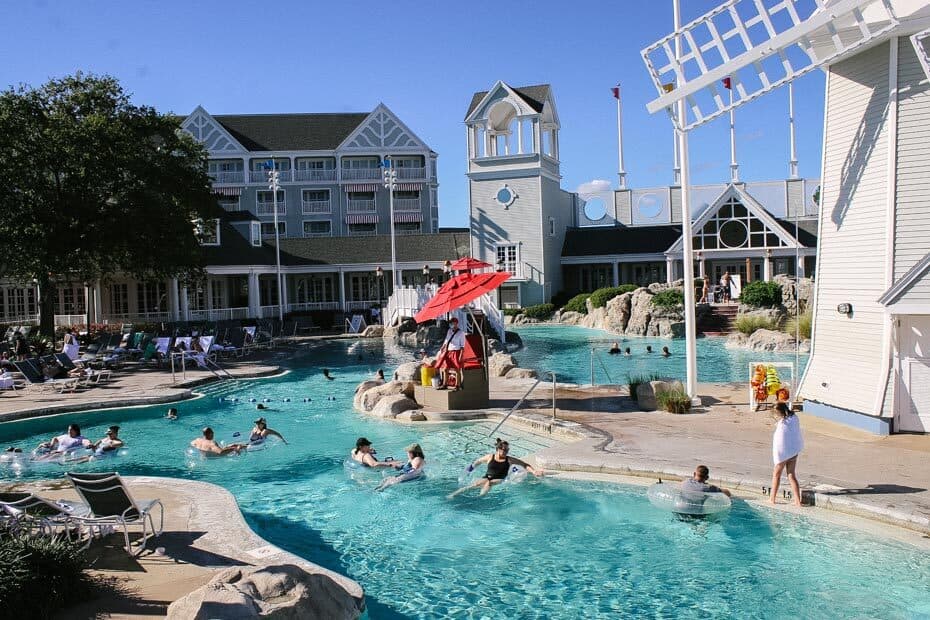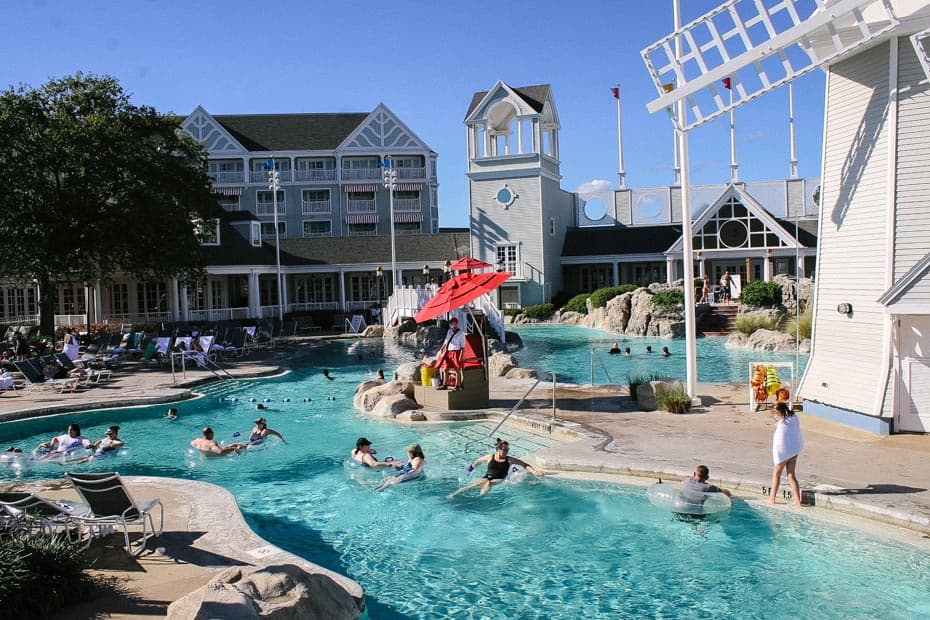 The lazy river doesn't have much deck space around it for guests to sit. This makes it easier for the lifeguards to monitor the area.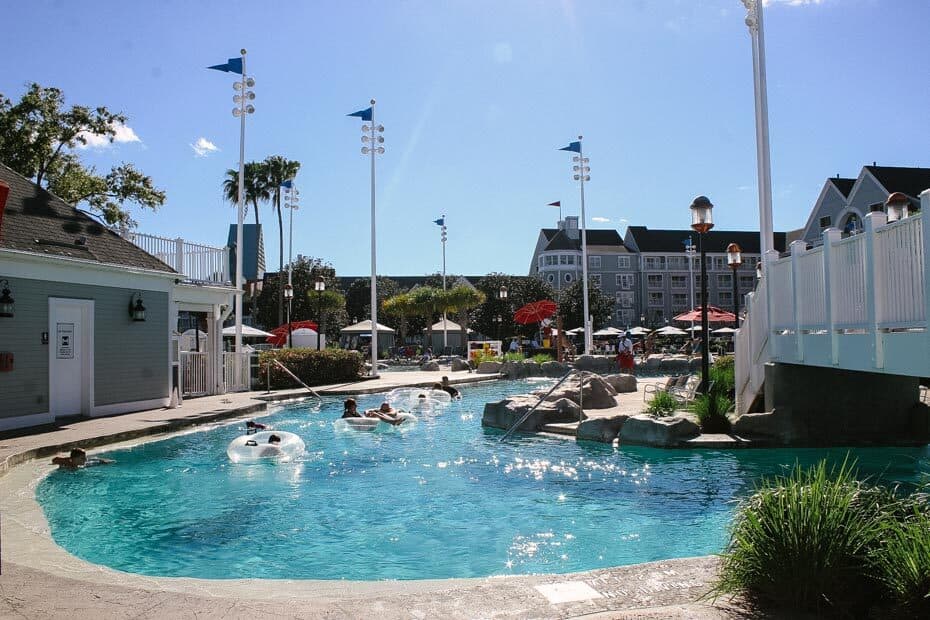 Naturally, the river does have a bit of a current that keeps you moving. Personally, I enjoy the lazy river when I have a float.
However, it is a bit of a workout if you decide to swim in it without one. There's a nice little ledge in the water you can sit on. It is situated within the rocks on the other side of those stairs in the picture above.
Flying Jib Water Slide
Stormalong Bay has one of the best waterslides at Disney World. It's in a shipwreck that sits out across the walkway from the pool.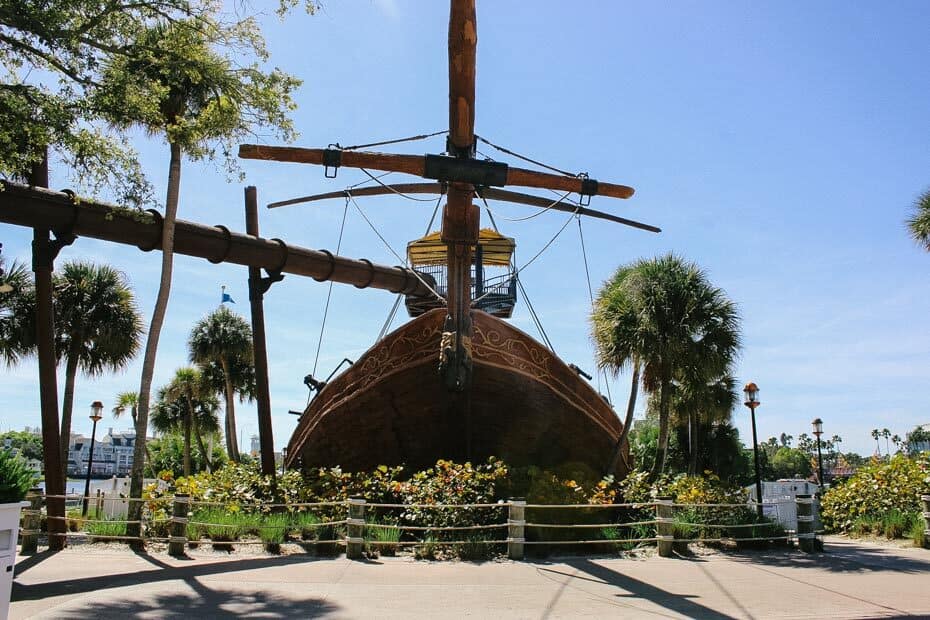 The shipwreck is poised out on Crescent Lake.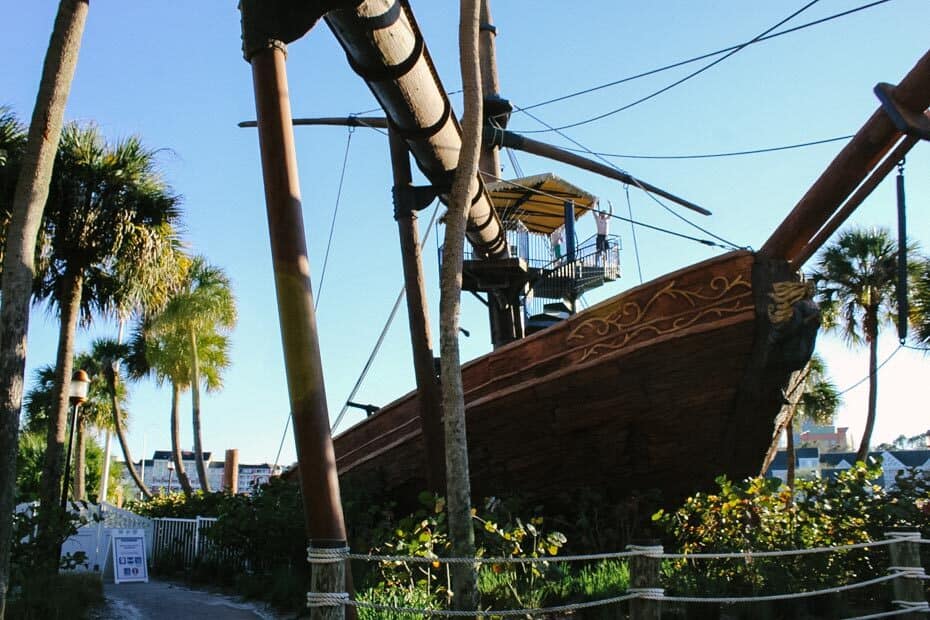 A private path comes out here and crosses the main walkway over to the shipwreck.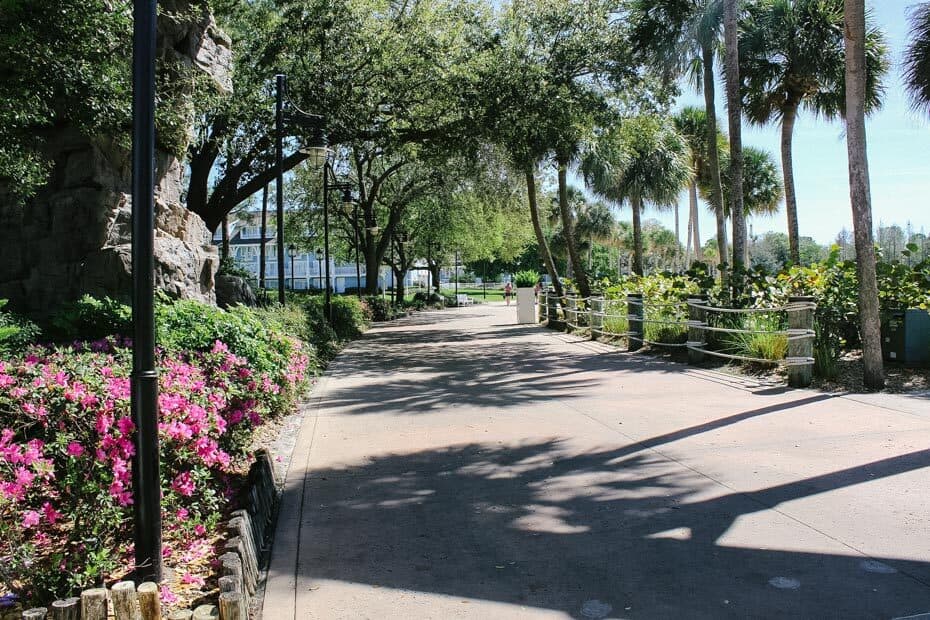 Here is the pathway on the other side.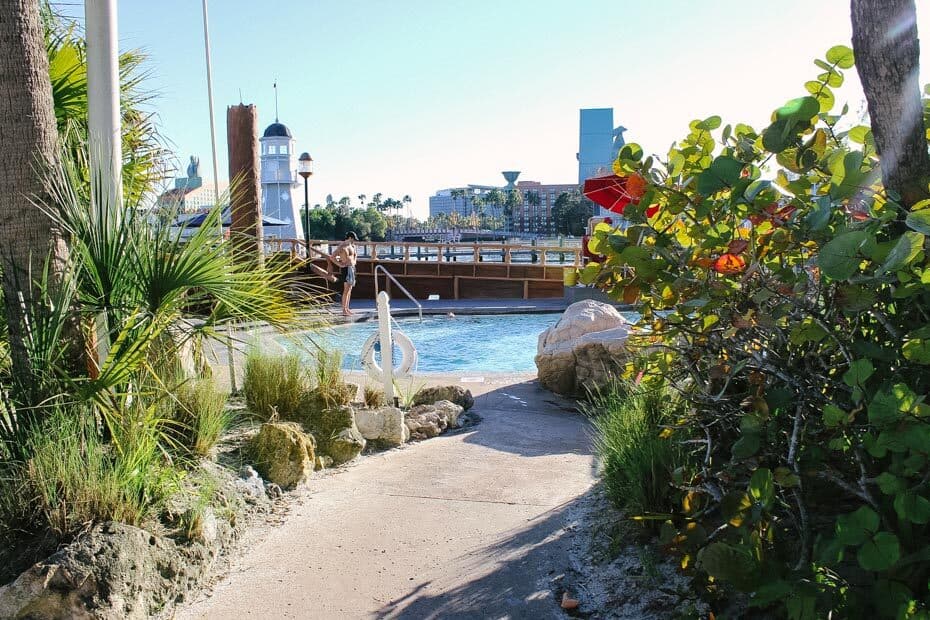 You'll climb up the stairs into the hull of the ship.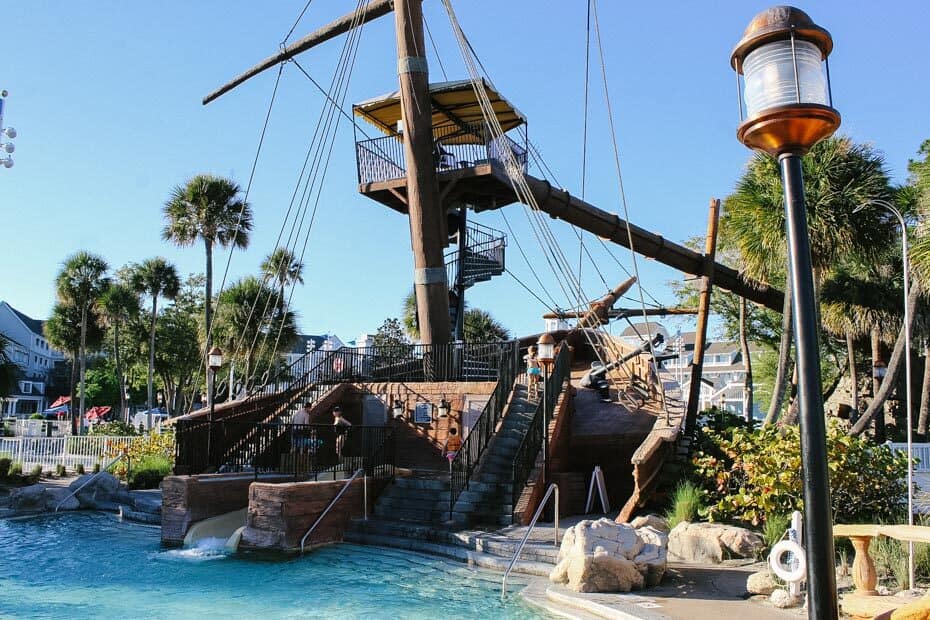 Then ascend the spiral staircase to reach the top of the mast.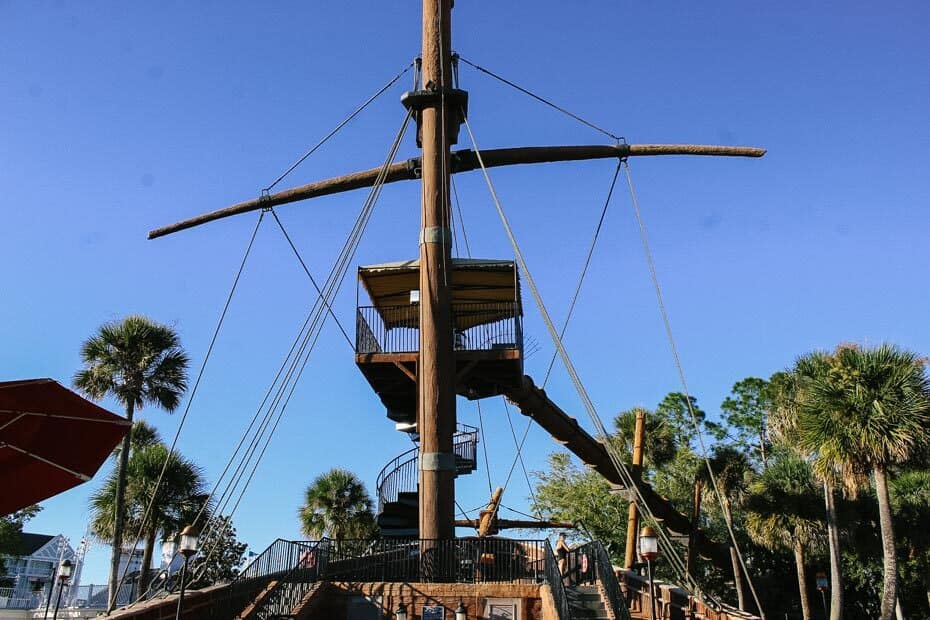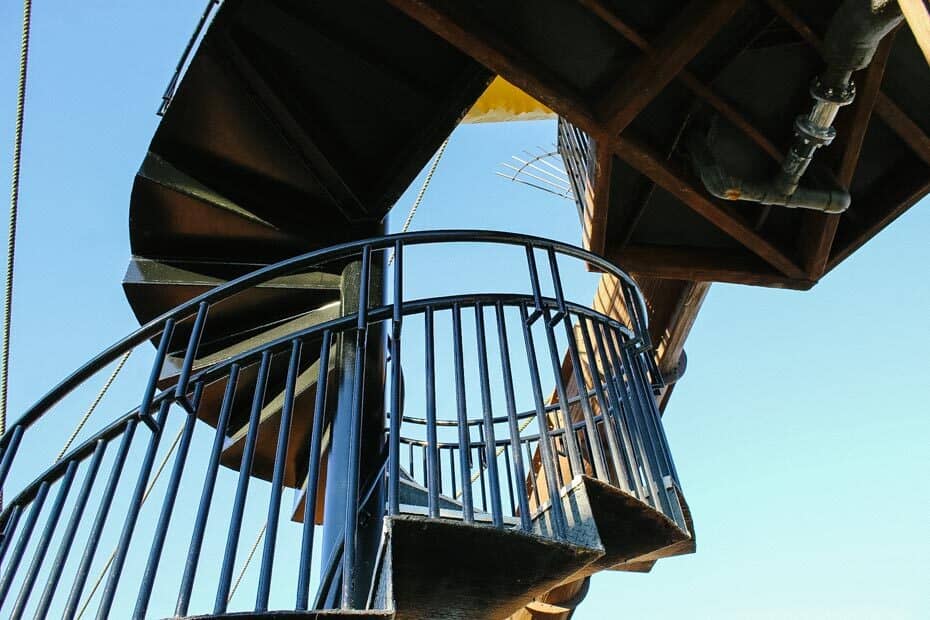 You can look over and see Stormalong Bay in the distance.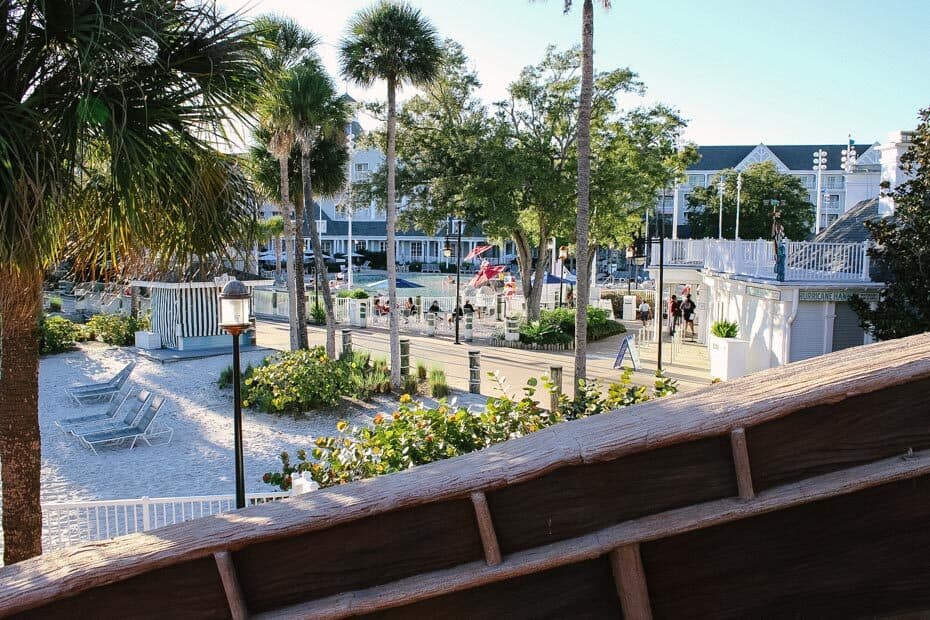 The slide is fun as it shoots out over the walkway and dumps you back out into the pool. I can recount from a previous experience that it is speedy, much more than I ever expected. It's called the Flying Jib for a reason.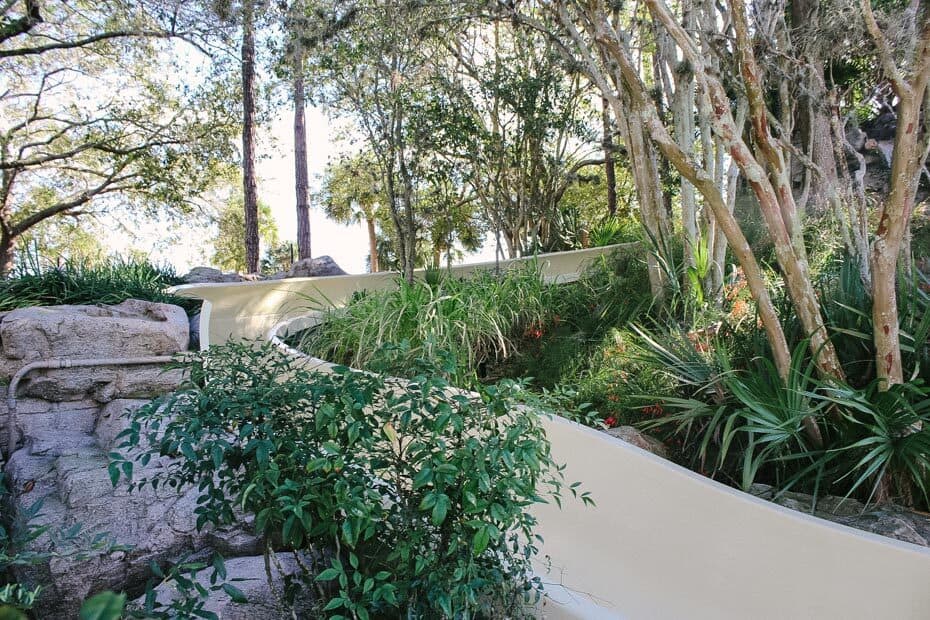 Below is where it dumps out into the far side of Stormalong Bay.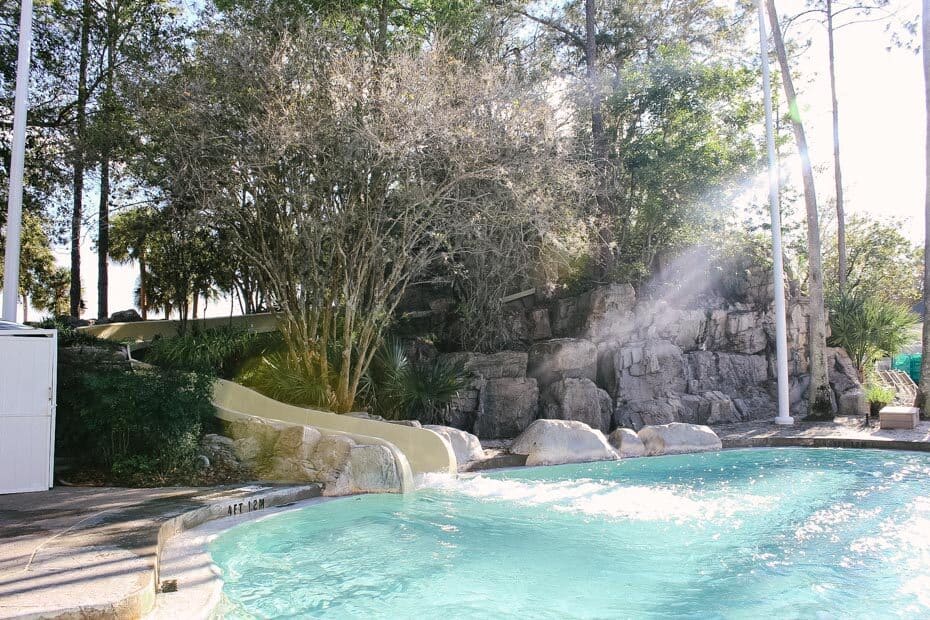 Parents can wait in this area for their children if they don't want to participate in the slide.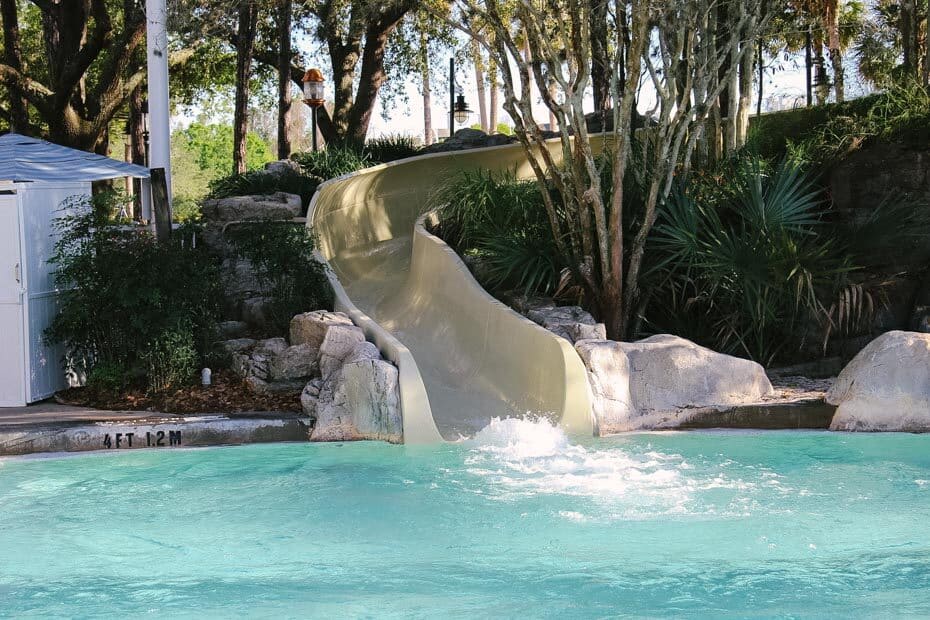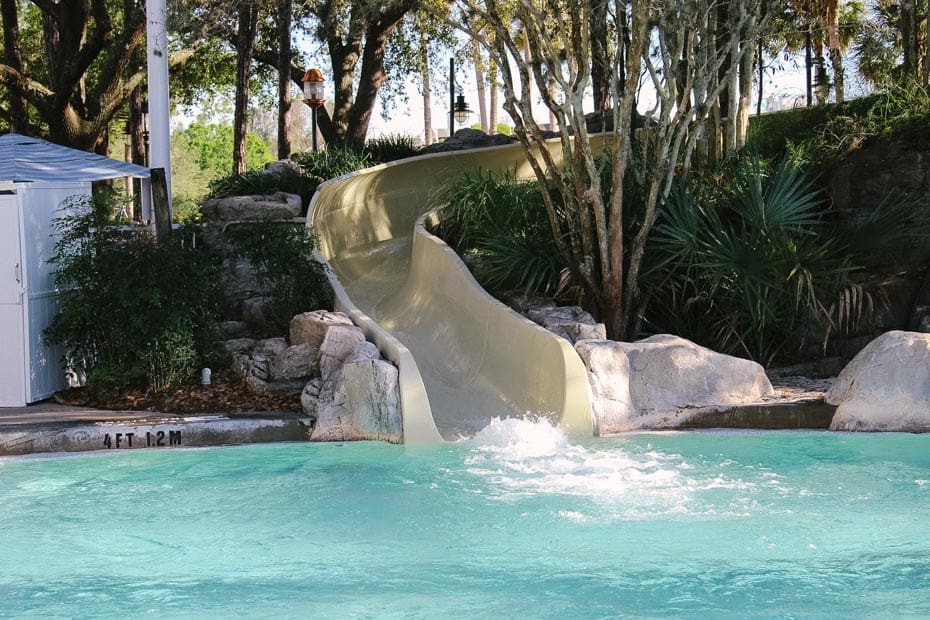 Kiddie Pool at Stormalong Bay
One of the things that I tend to forget is that there is a kiddie pool inside the shipwreck at Stormalong Bay. Having only done the waterslide one time a few years back, I was surprised to see this pool when I was recently taking photos for this review.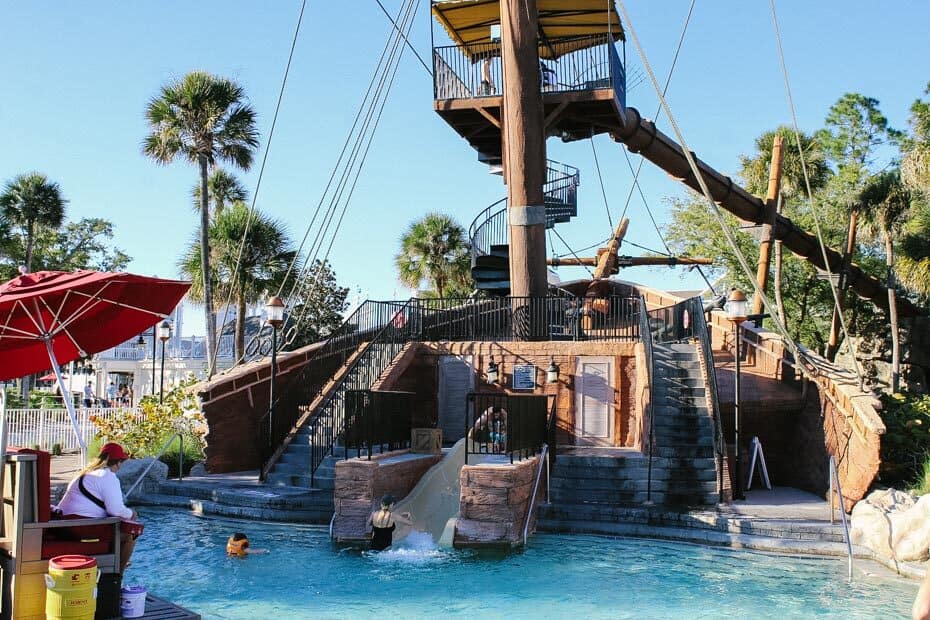 Inside the ship, there's a large kiddie pool with its own waterslide.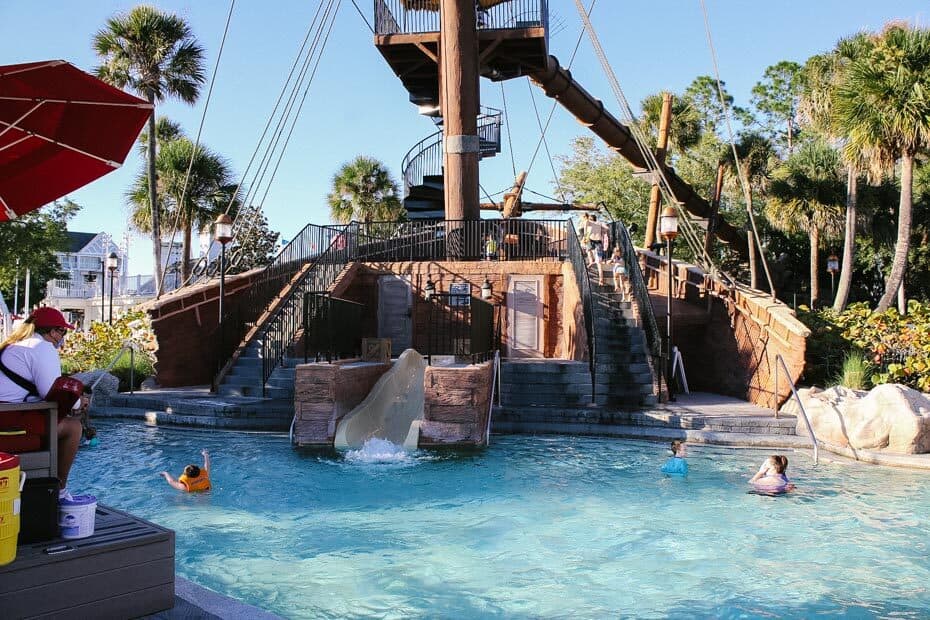 You can tell there's not much height involved making it perfect for the little ones!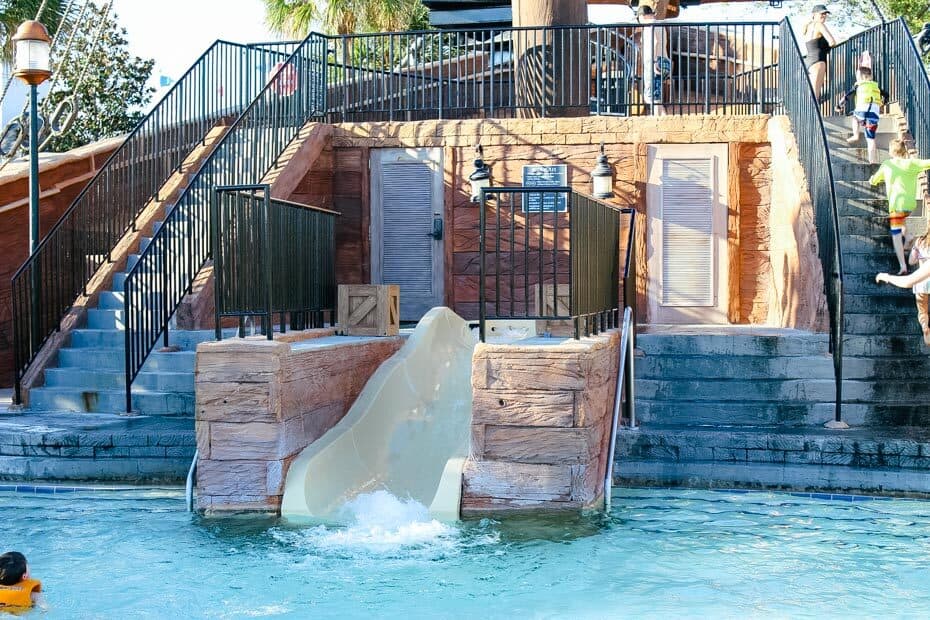 It's a wonderful area to enjoy, and there's no sand involved at this pool.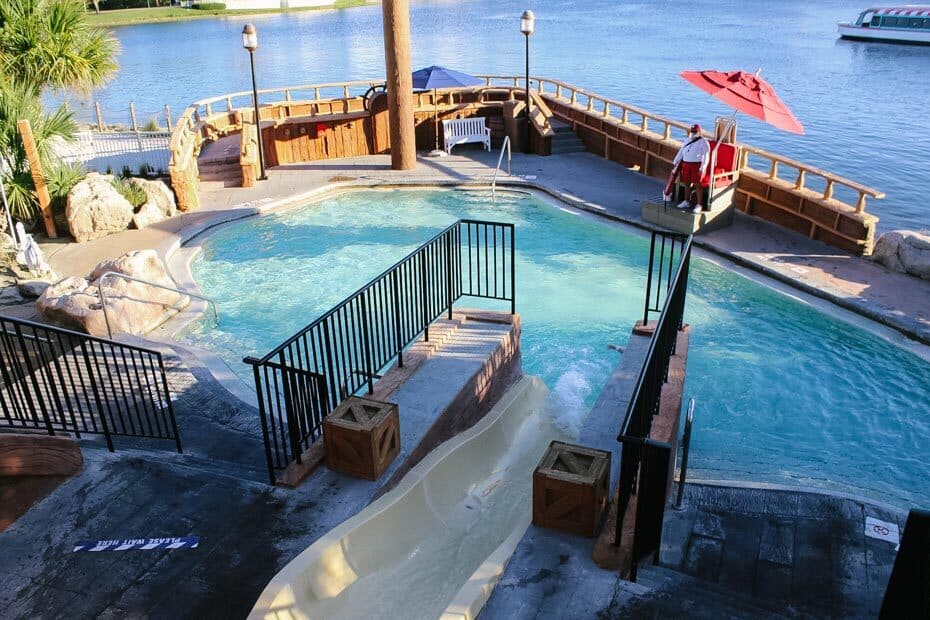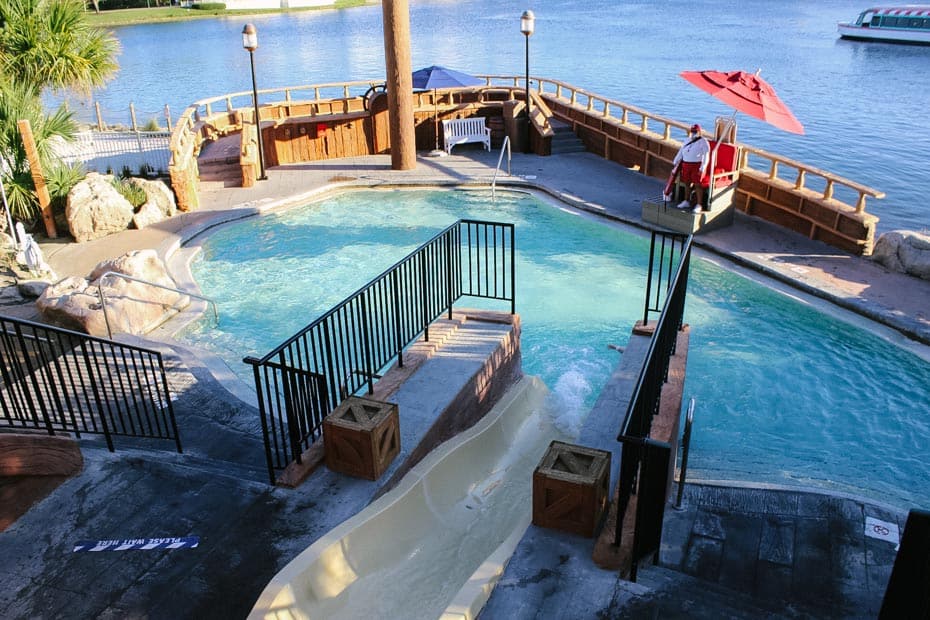 And the views from up here are pretty amazing.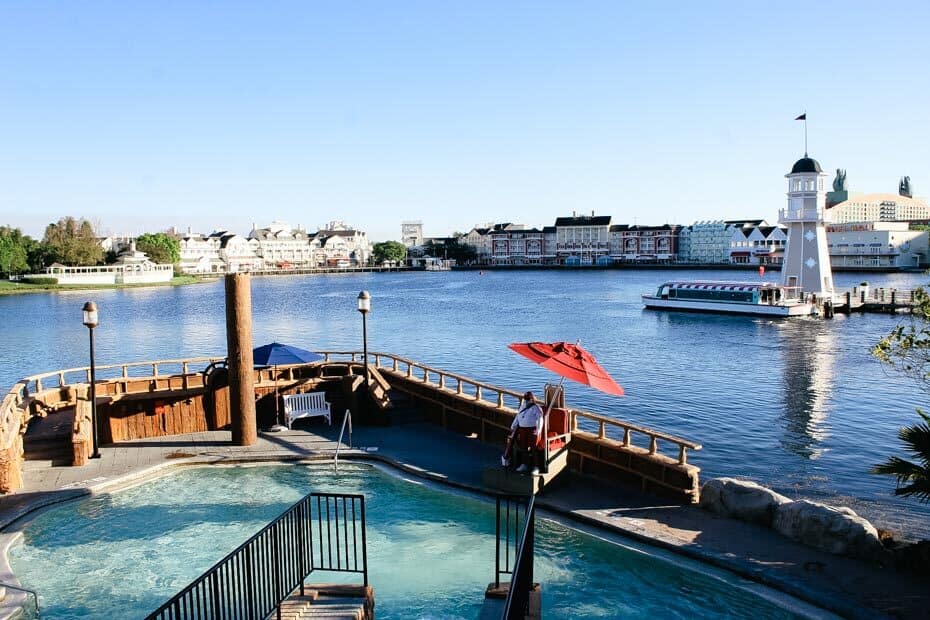 Back on the Yacht Club side of Stormalong Bay is the other kiddie pool. This is a large wading pool with a sand bottom and a massive mound of sand in the middle.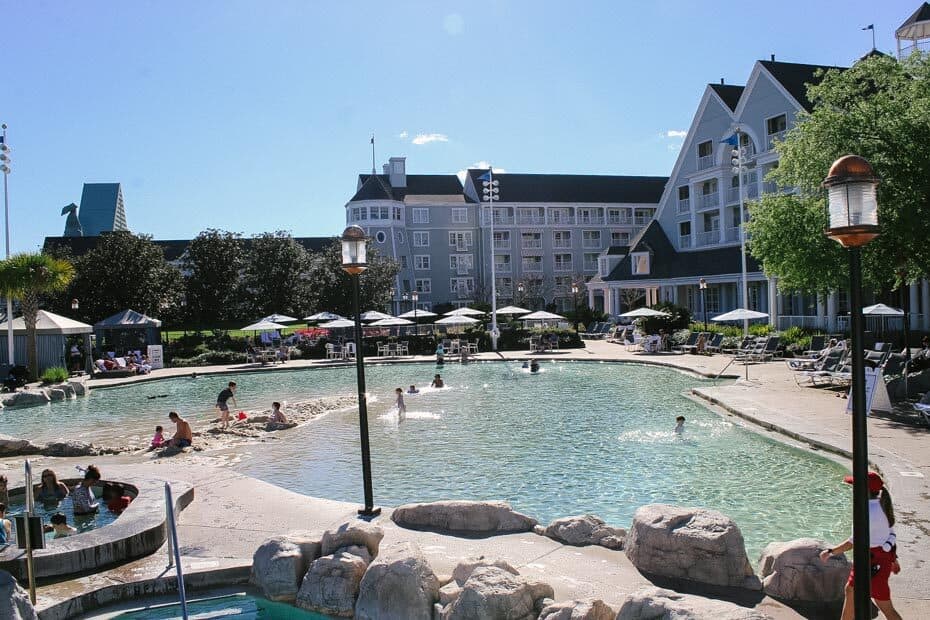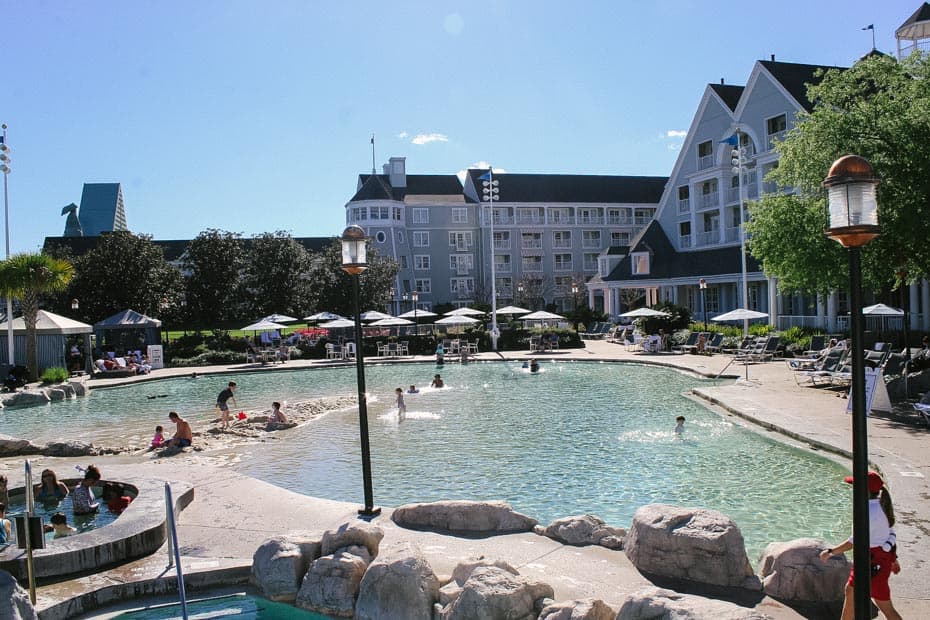 Additionally, Stormalong Bay's third hot tub resides next to this area.
Your children are probably always going to remember the Beach Club after you spend some time here. They will always ask you if they can go to that place that has the sand pool.
They will not want to leave when it's time to get ready for your dinner reservation. And if you take them to the pool early on in your Disney vacation, they will whine every day in the parks that they want to go back to the pool.
People talk about living their best life doing this or that. These children are living their best life at Stormalong Bay. Let them enjoy it. And you enjoy it as well.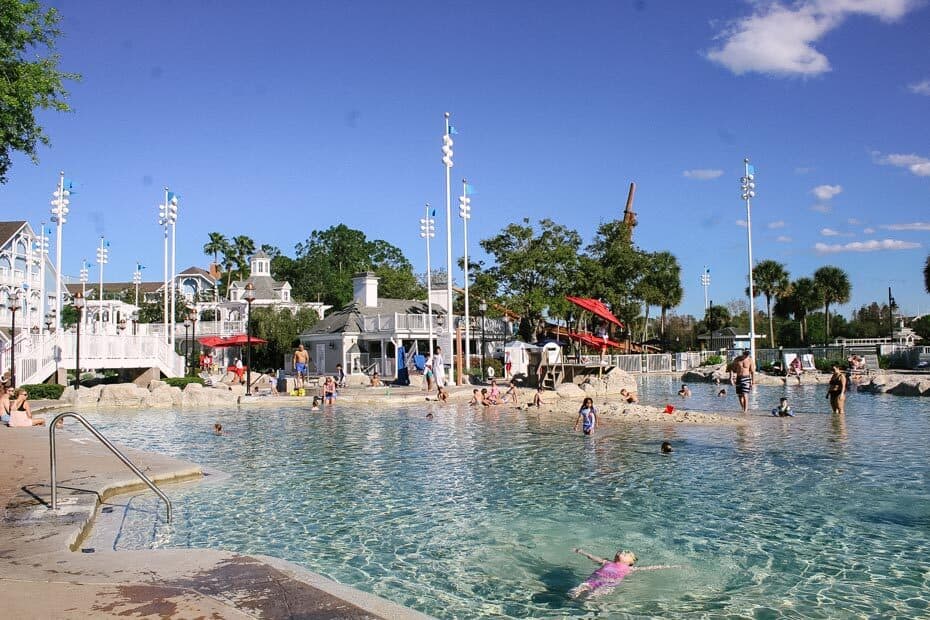 Do you want to build a snowman? I mean, sandcastle?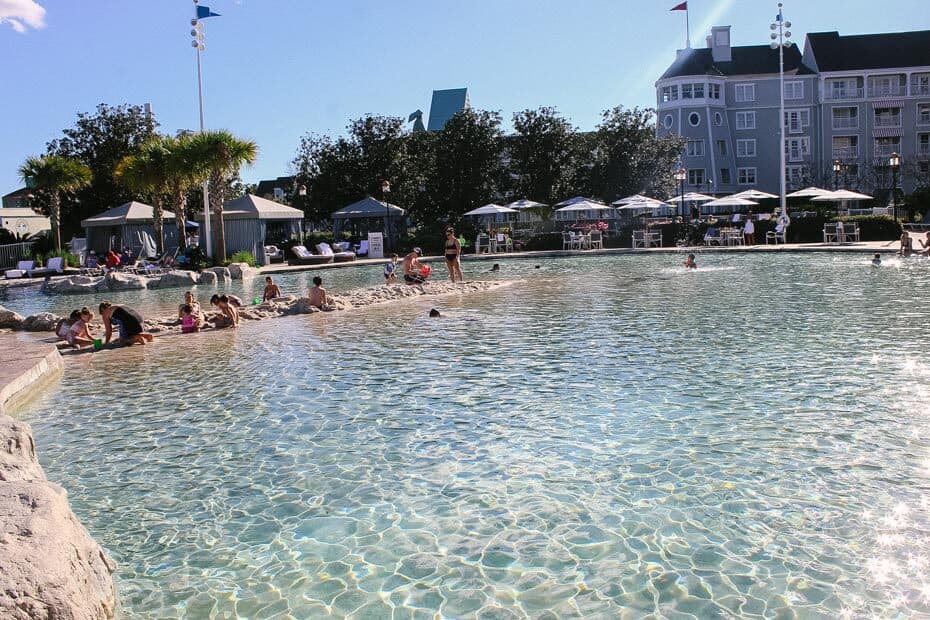 There is plenty of sand available. This is the Beach Club, after all.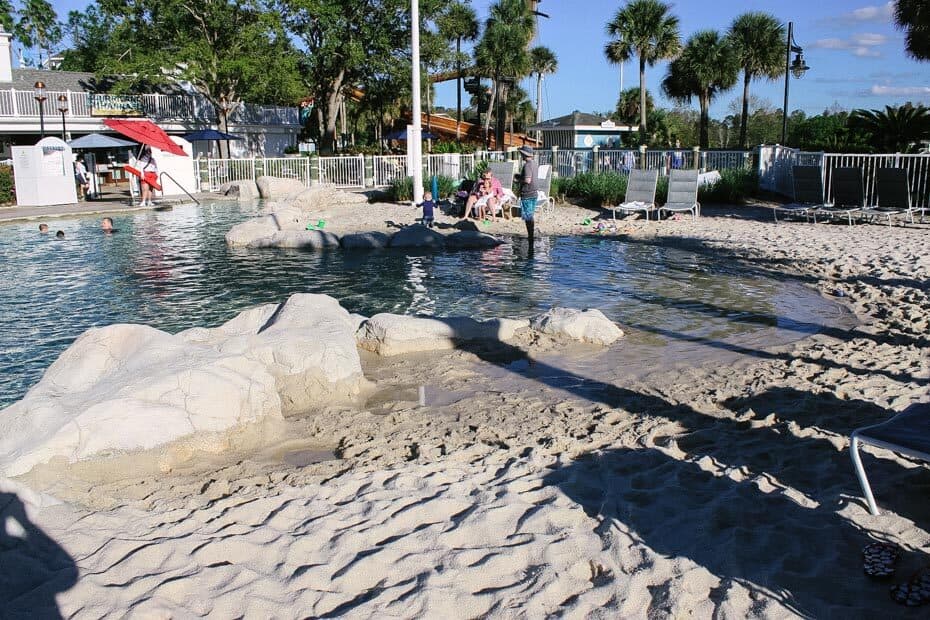 This entire area of the pool is shallow.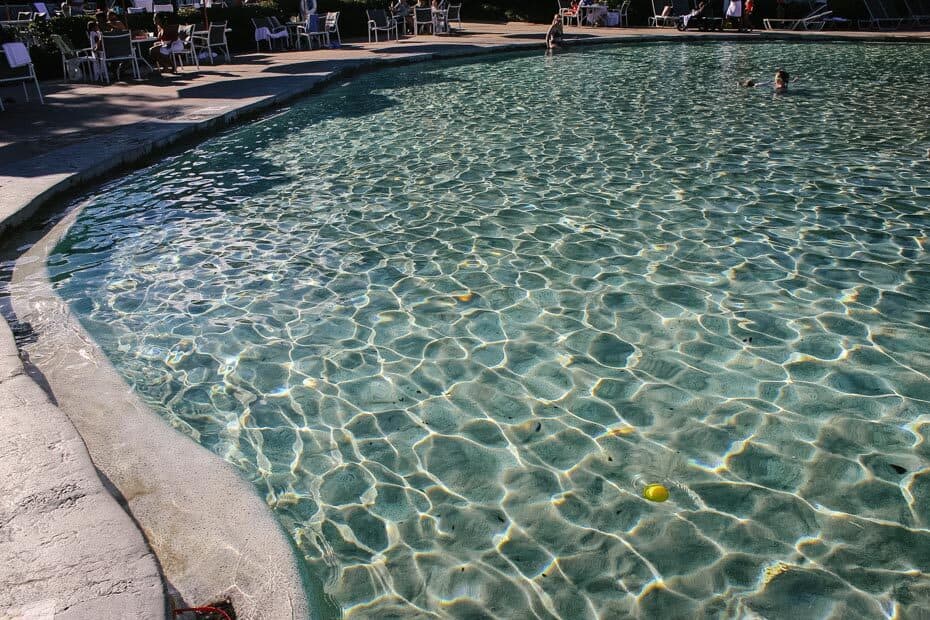 Next to the children's sand pool, cabanas are available for rent. They come with the following amenities:
Dedicated Cast Member providing service to the cabanas
Cocktail service
Ceiling fan
Padded furniture, including chairs and couch
Television with cable access
Charging outlet/USB
Mini refrigerator stocked with complimentary sodas and water
Fruit basket (may not be available without advance reservation)
Plush towels
Cabinet safe
If you are interested, more details are available here on Disney. Since I originally wrote this article, we rented a cabana at Stormalong Bay. It was a wonderful experience that I highly recommend for several different scenarios.
Related: Renting a Cabana at Disney World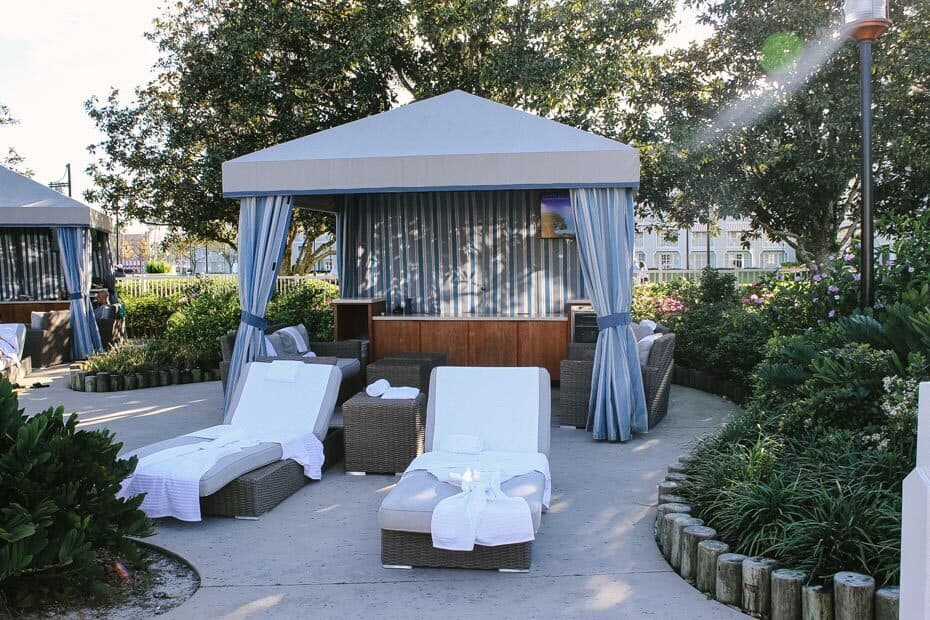 Towels for Stormalong Bay are provided at the pool. So there is no need to bring them with you on a Disney vacation.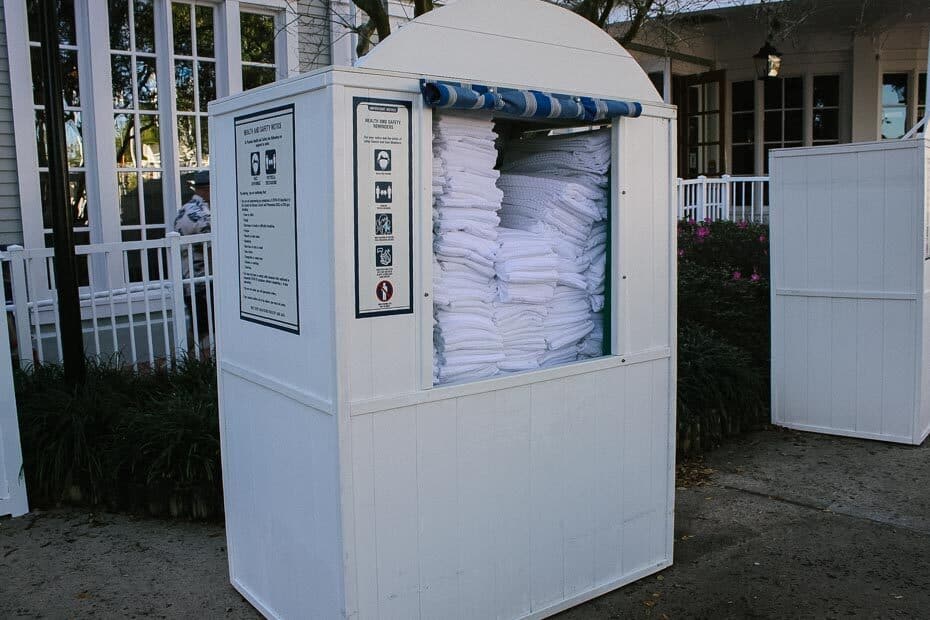 There is also a locker area for guests of the pool. The area was not in service on the day of my last visit. It will hopefully return in the future.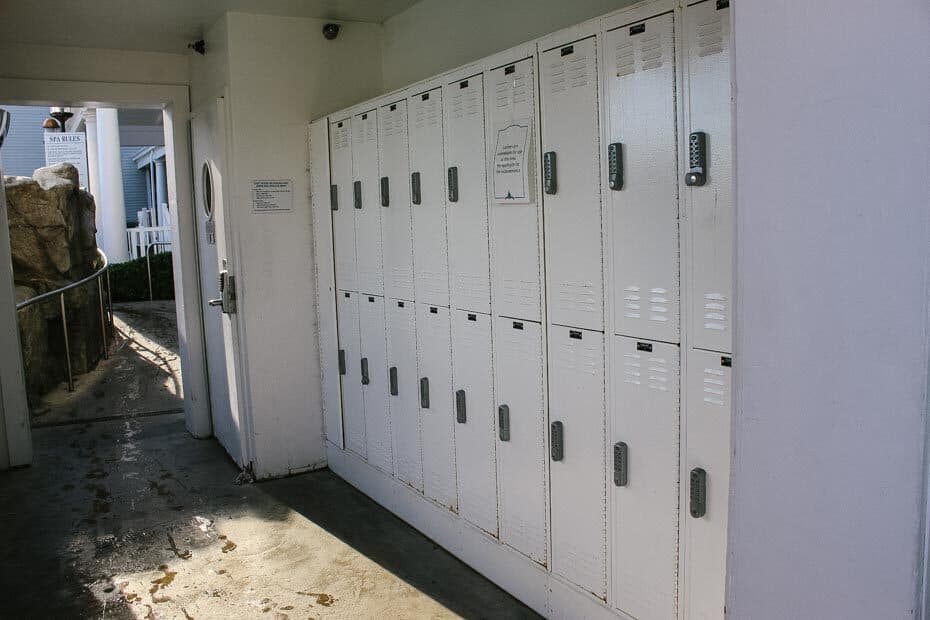 The pool decks usually have plenty of tables with chairs and lounge chairs available. However, sometimes, you might have to watch out for a table and chair to come open on a busy day.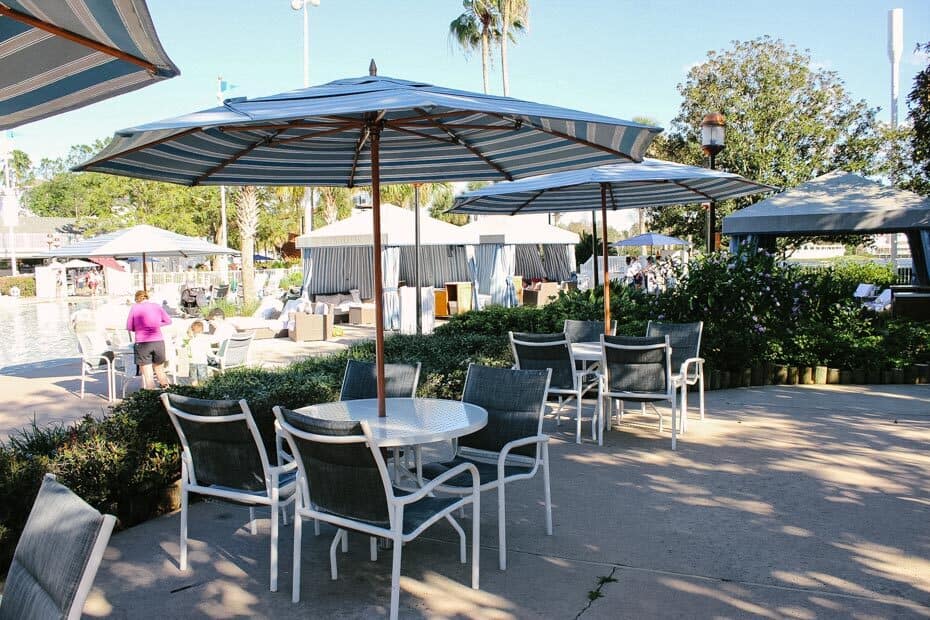 I also like that Stormalong Bay has excellent shaded spots for guests to enjoy. If you are spending a resort day at the pool, you probably aren't going to want to be in full sun the entire day.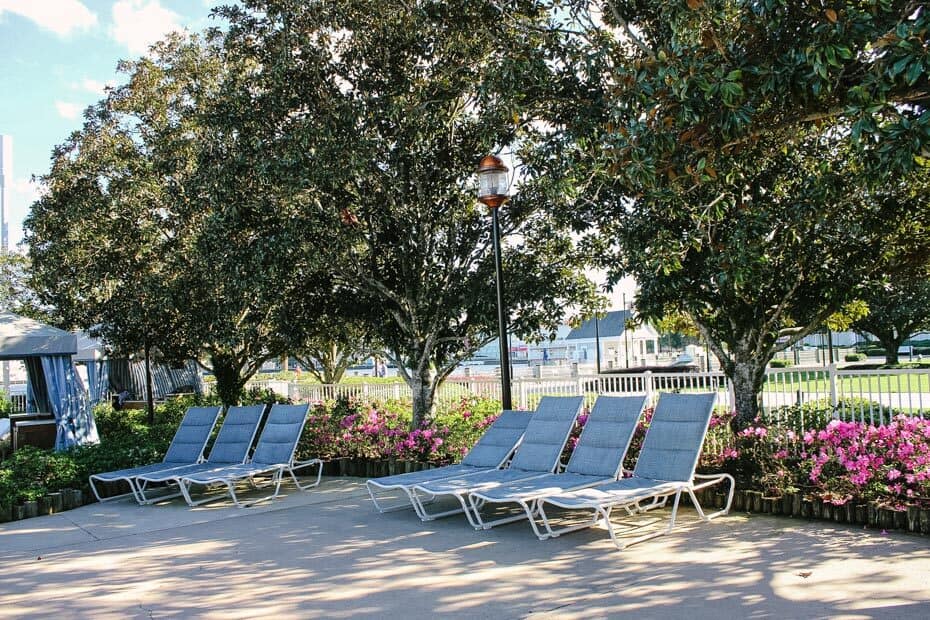 Final Thoughts on Disney's Stormalong Bay
I hope you enjoyed this review of the Stormalong Bay pool. Maybe it provided you with the details needed to schedule a full resort day here while on your Disney vacation.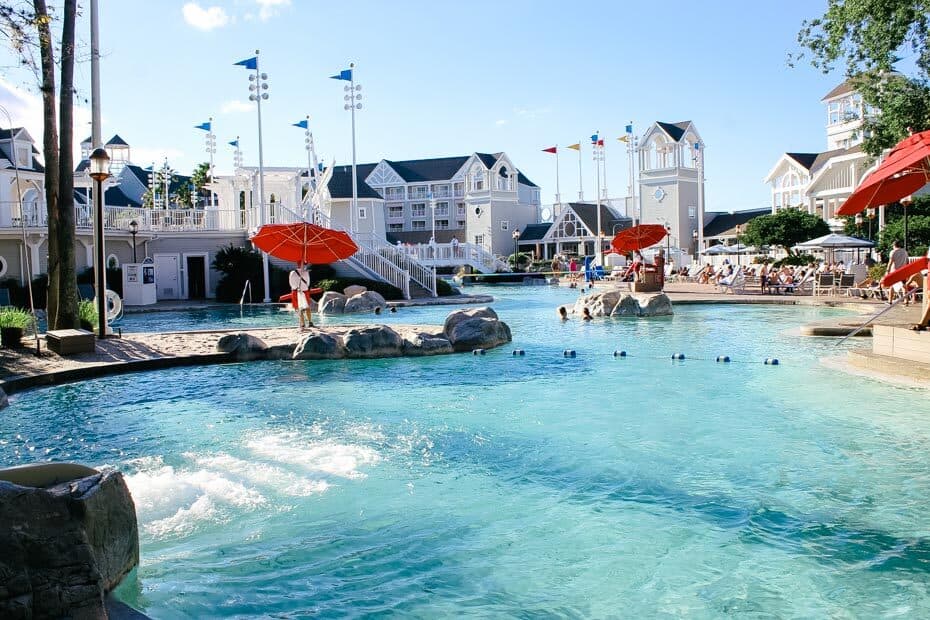 I put together a video featuring the different area areas of Stormalong Bay Pool if you would like a little different perspective.
For more information, all of our reviews related to Disney's Beach Club are available here. Or you might like to browse the other hotels in the Epcot Resorts Area.
Some of our favorites include:
Make sure to leave me a comment below and share your thoughts on Stormalong Bay. Do you have any questions? What are you looking forward to experiencing here?
Disney's Stormalong Bay Pool Area