Conch Flats General Store (The Gift Shop at Disney's Old Key West)
Conch Flats General Store is the quaintest gift shop at Disney's Old Key West Resort. Like the rest of the resort, the gift shop has beach-theming mixed with vibrant colors.
Since Old Key West is a Disney Vacation Club Resort, I feel it flies under the radar more than other resorts. So, unfortunately, we previously haven't had much coverage of the resort on the site.
However, I've recently spent a good deal of time at Old Key West to rectify the situation. In addition, I have an upcoming stay planned to round things out.
But for this article, we'll focus on the gift shop at Old Key West.
These photos were taken in May of 2022 when I visited the resort for a bicycle tour. Little did I know how much I would fall in love with the resort that day. I can't wait to pick up an Old Key West t-shirt or souvenir on my next stay.
Related: Bicycle Rides and Rentals at Old Key West
Let's look at what you can expect to find in the gift shop!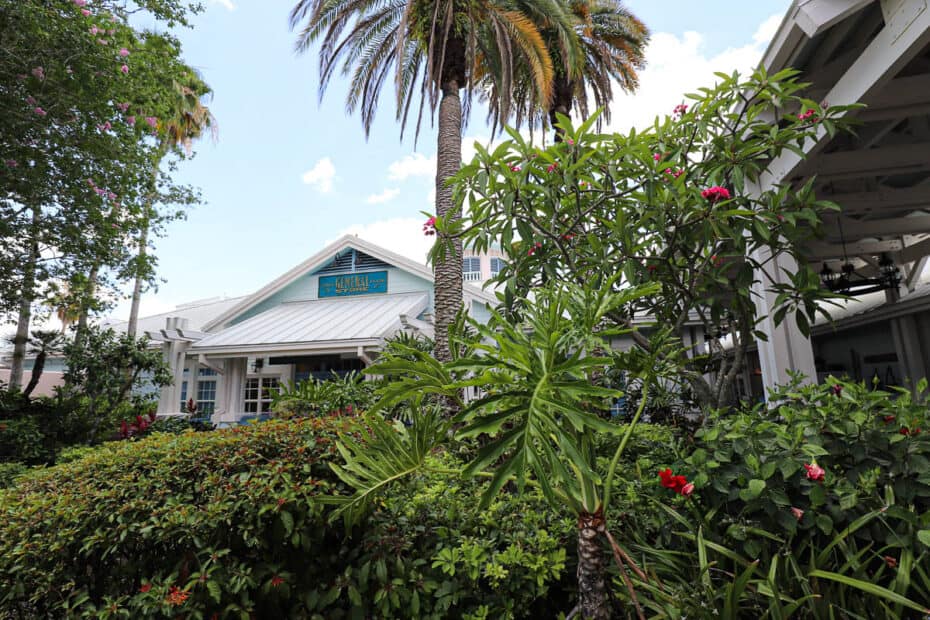 Conch Flats General Store is located toward the front of the resort, across from the main lobby and check-in area. It's also next door to the infamous Olivia's Cafe.
Related: Olivia's Cafe Review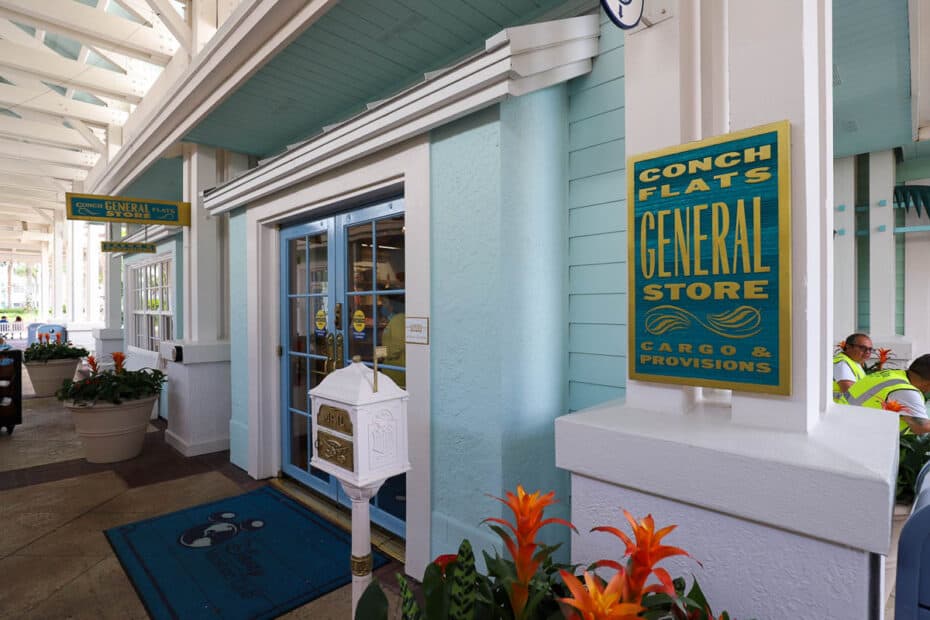 The gift shop is large and has a good deal of shell decor.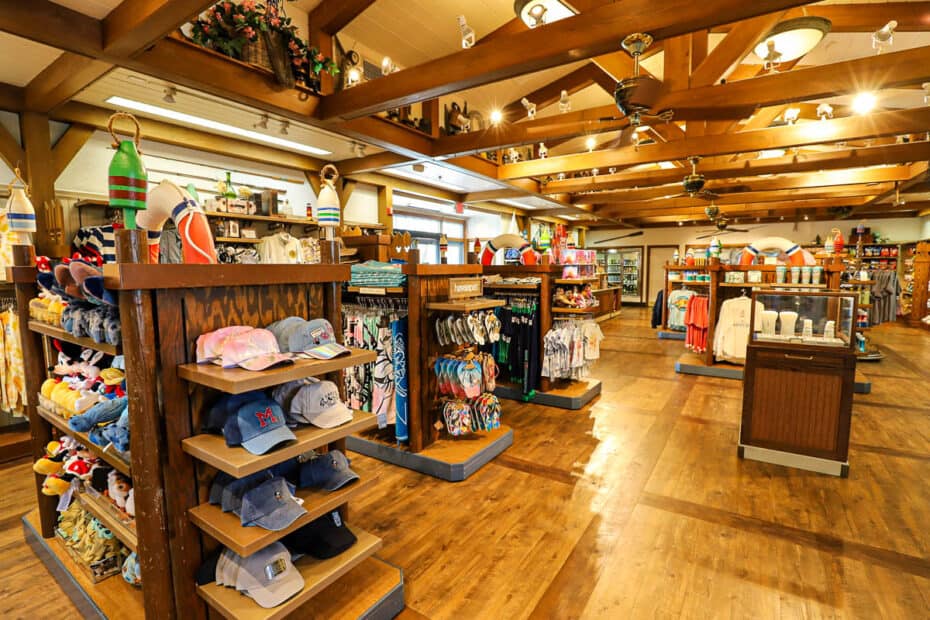 There was plenty of 50th-anniversary merchandise on this visit.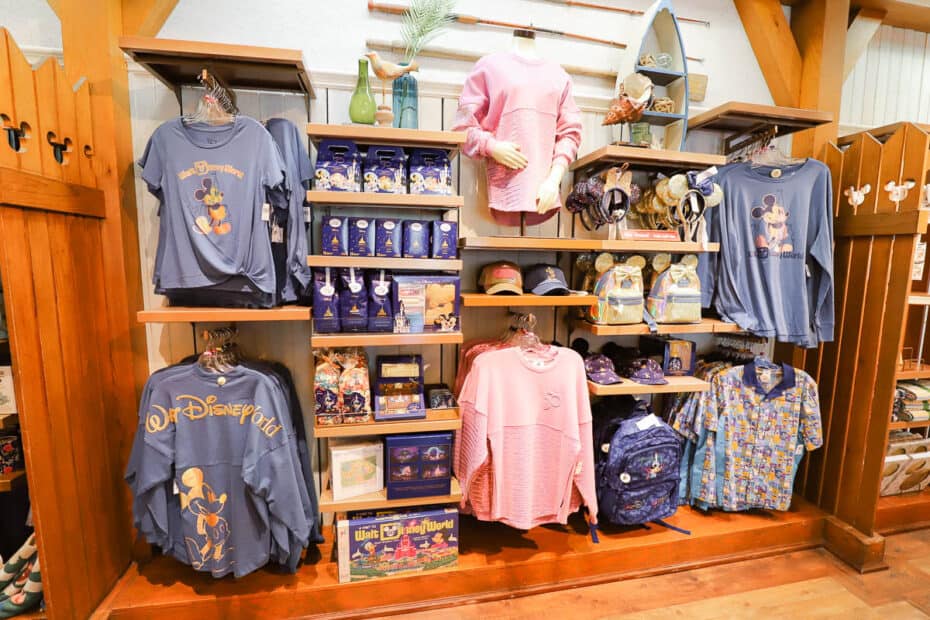 Old Key West's gift shop has an excellent selection of resort-branded merchandise. There were beach bags, towels, shirts, and tumblers.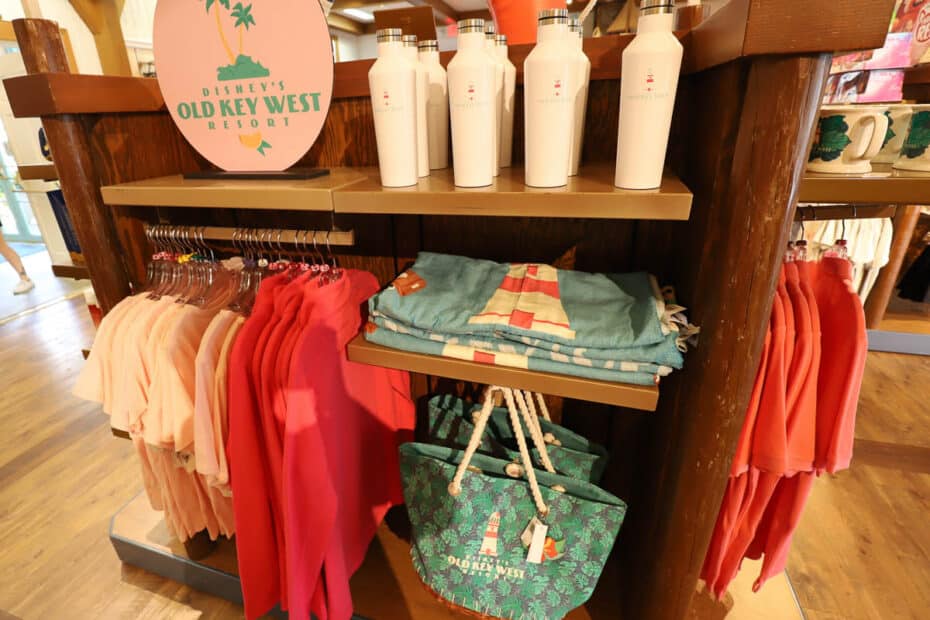 Here are a few mugs, glasses, and coasters.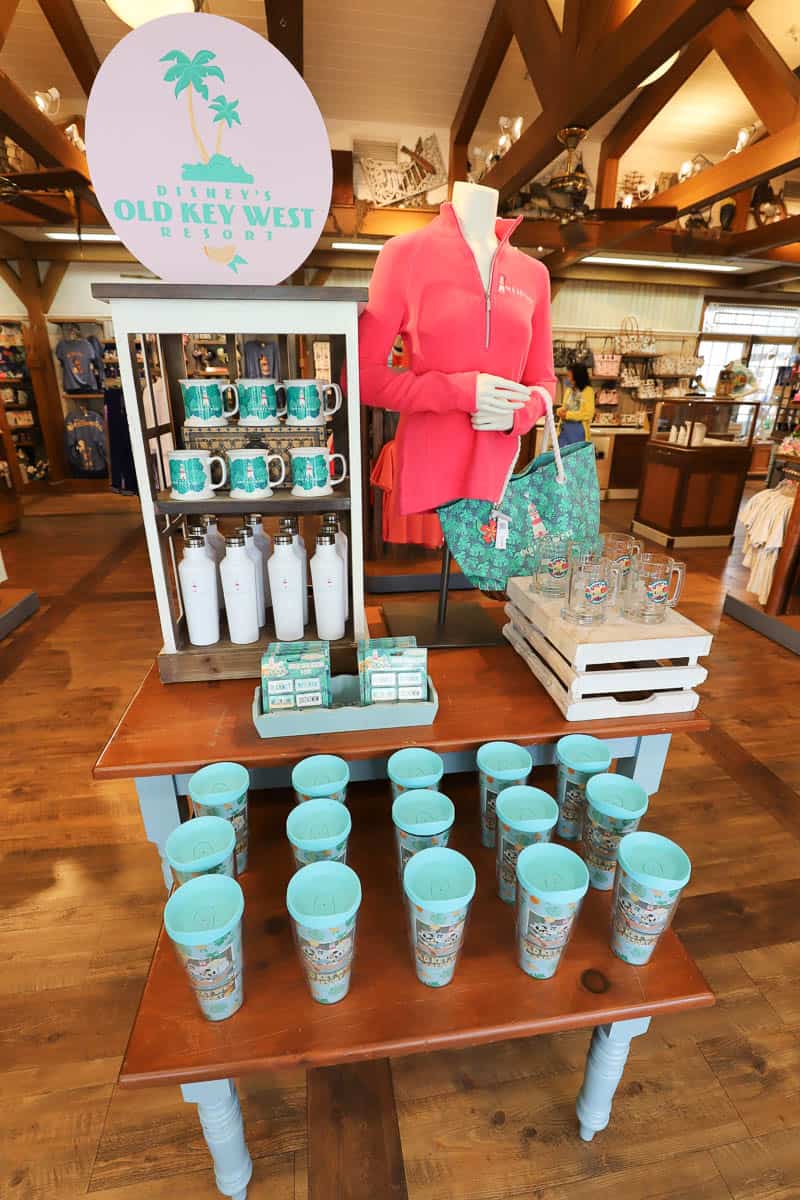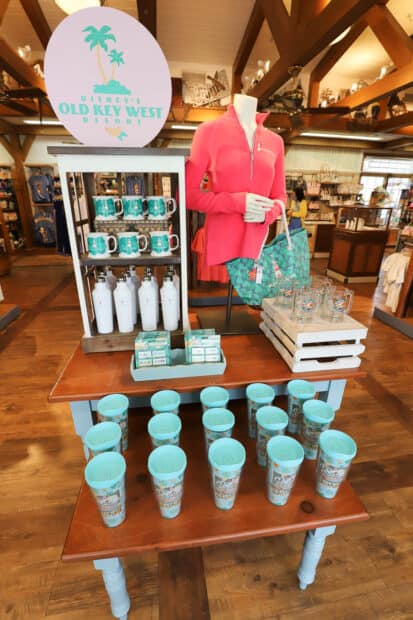 Below is a closer look at one of the mugs and a shirt with the Old Key West logo.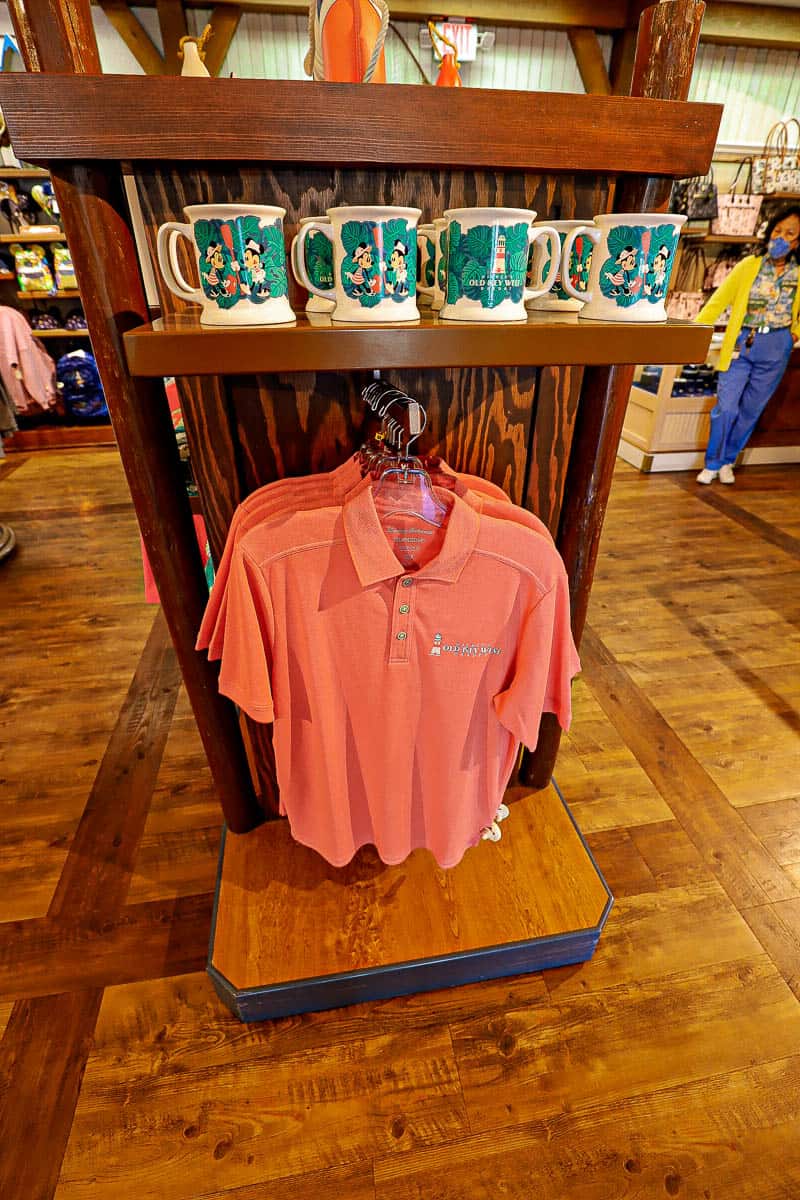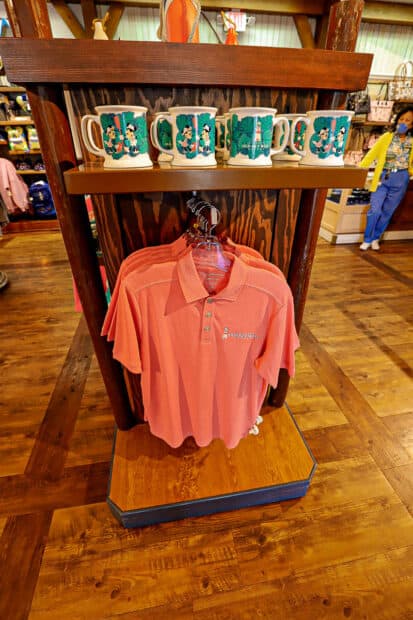 If you're a fan of the resort, then you're familiar with the Gurgling Suitcase. This fun t-shirt represents the hole-in-the-wall bar.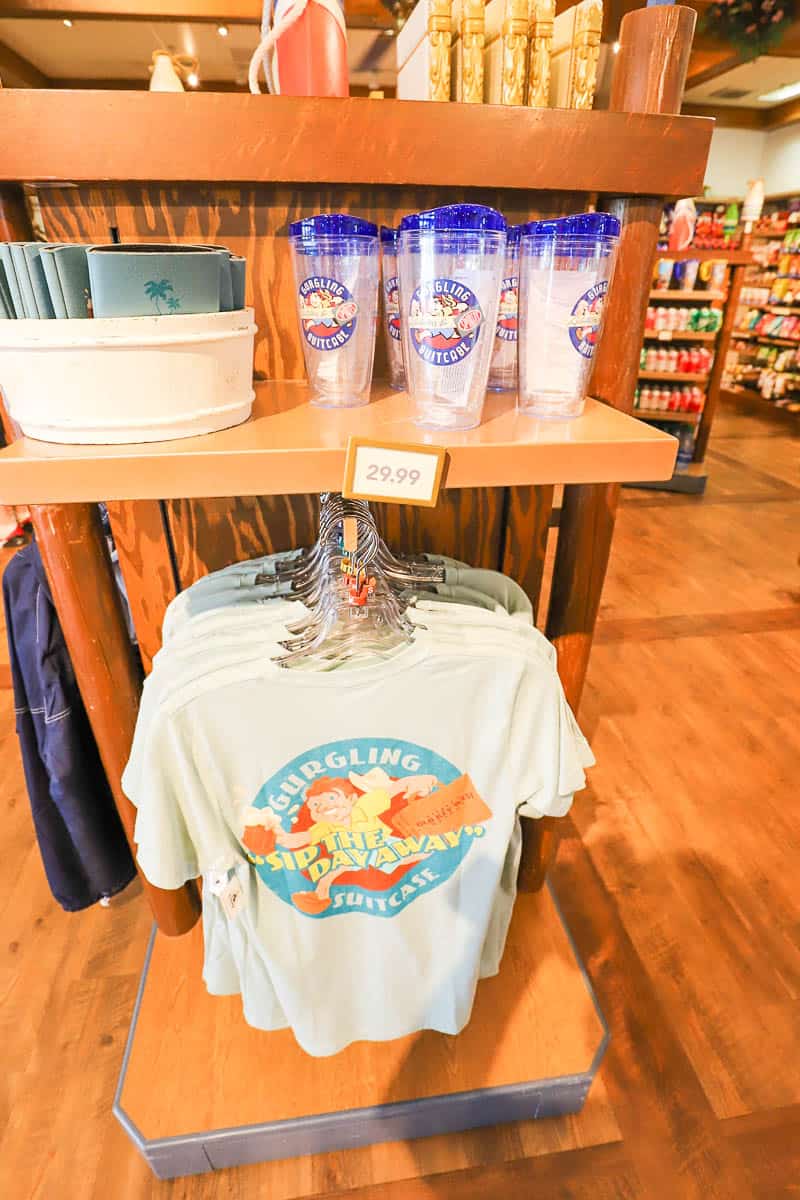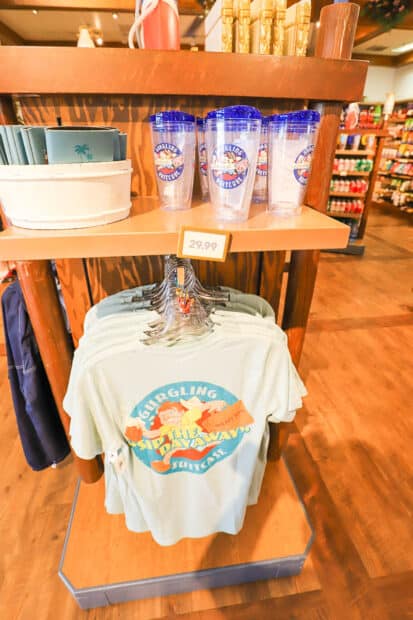 It's always impressive to see so much resort merchandise.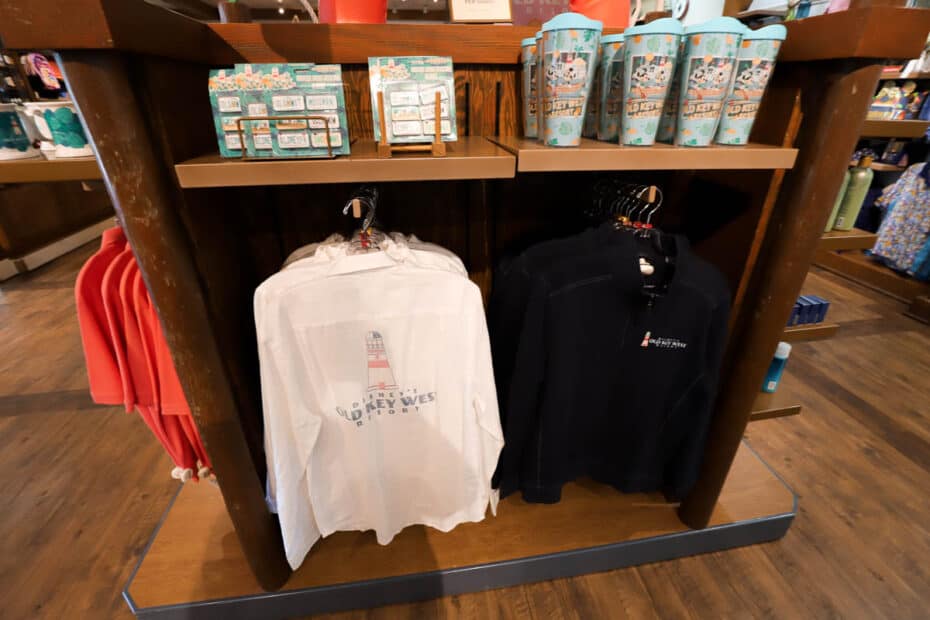 Alongside the resort merchandise, there was a good selection of DVC-branded merchandise.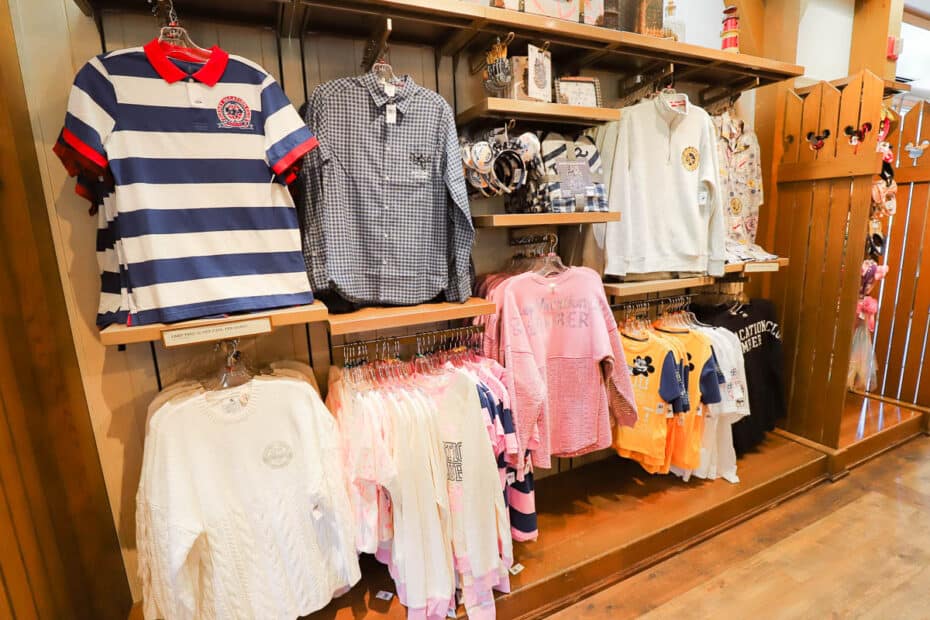 Here's another angle.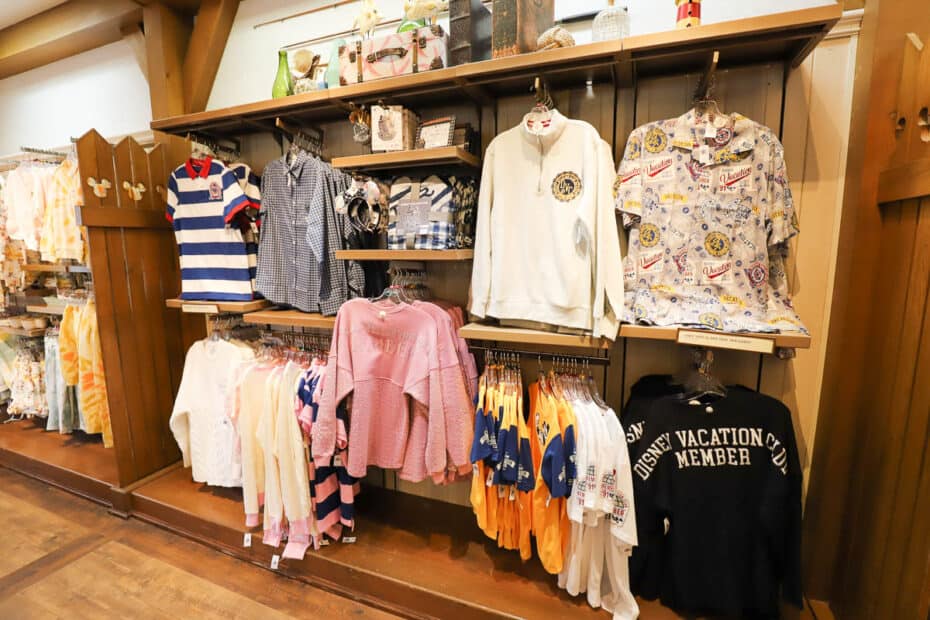 These long sleeve shirts are a fun option. We saw a few like these at Saratoga Springs Gift Shop.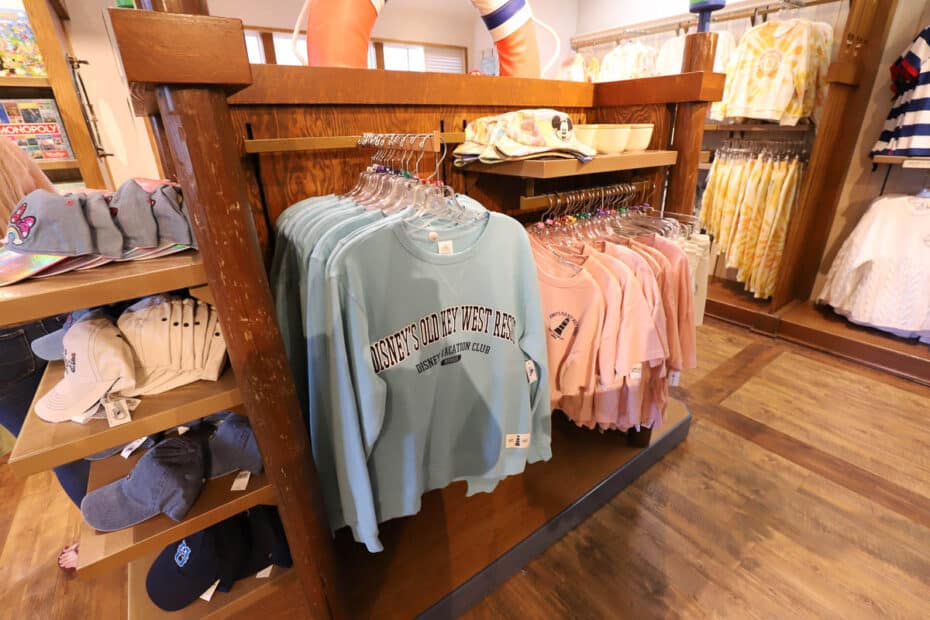 The 50th-anniversary character autograph books are a nice souvenir. Mine is already nearly full of signatures.
Related: Character Meets and Greets at Disney World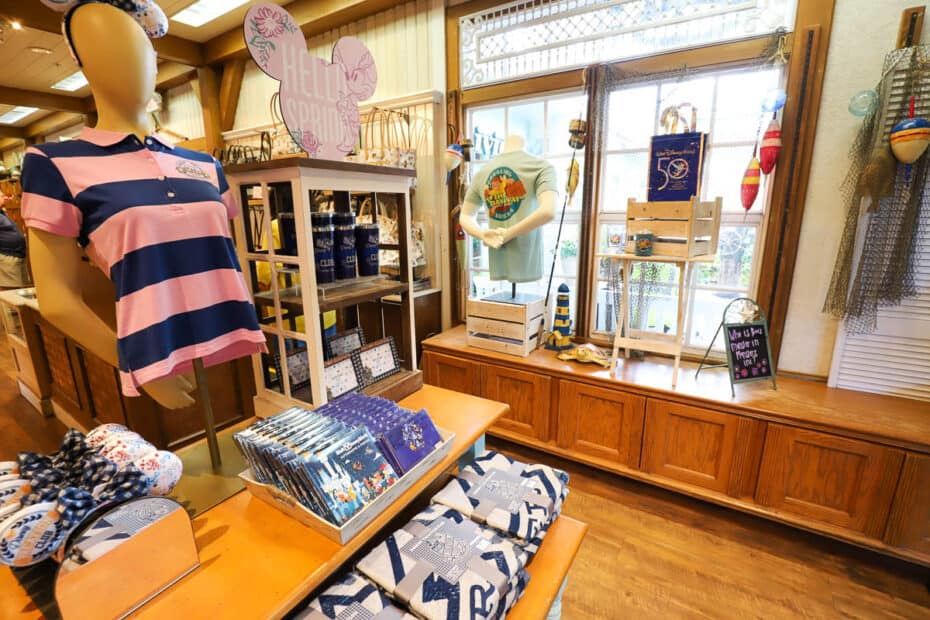 The latest Disney-branded apparel was available.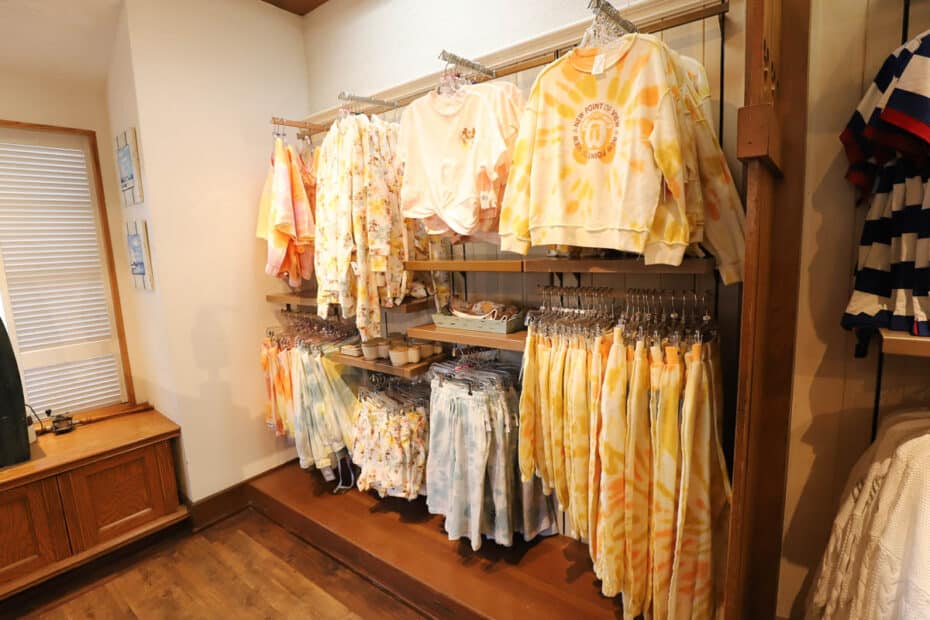 Here are a few Disney Loungefly backpacks.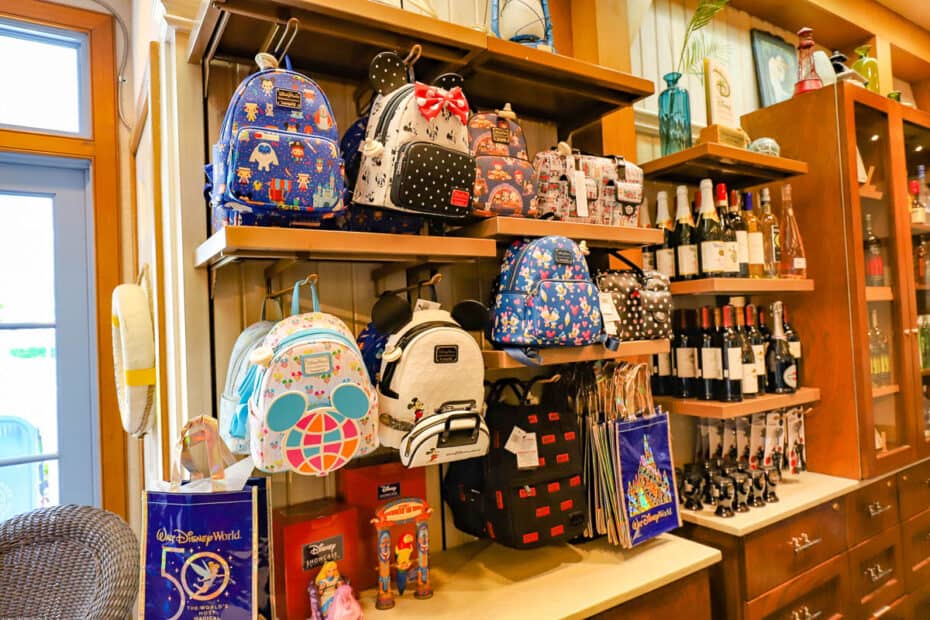 Many of these Minnie Mouse Ears sold out online a while back.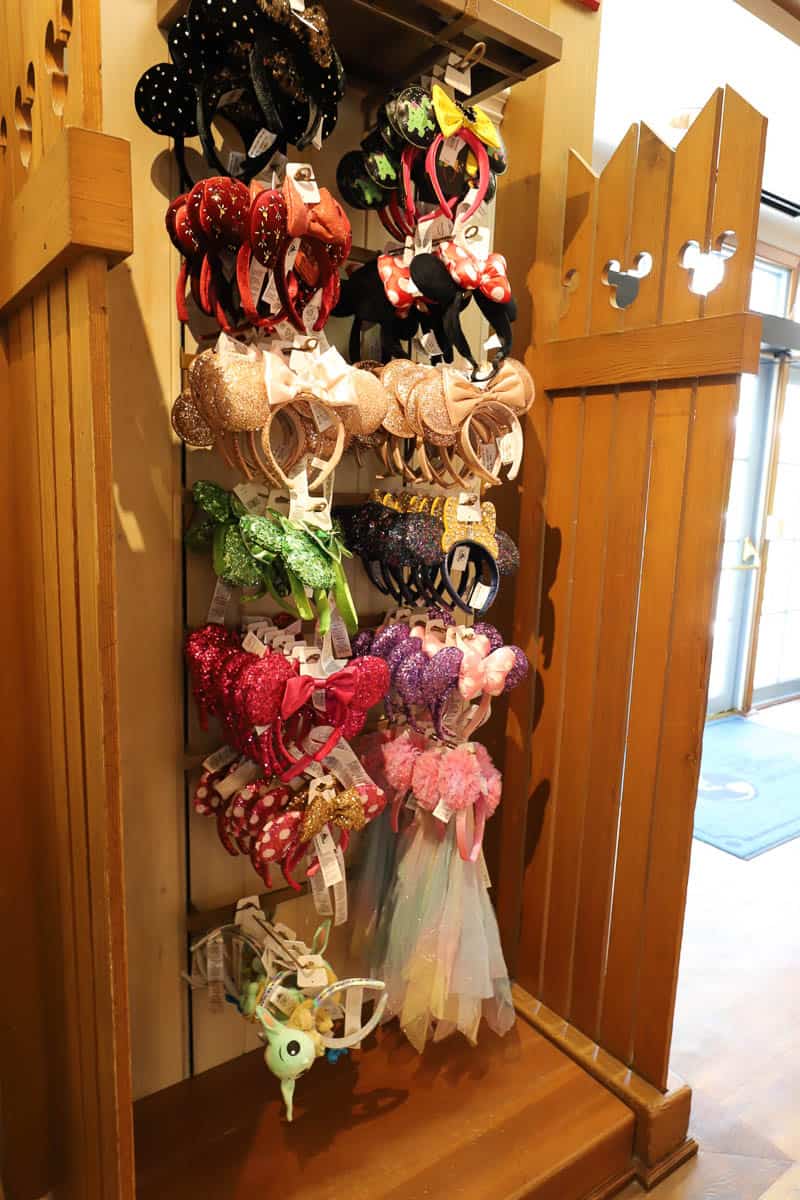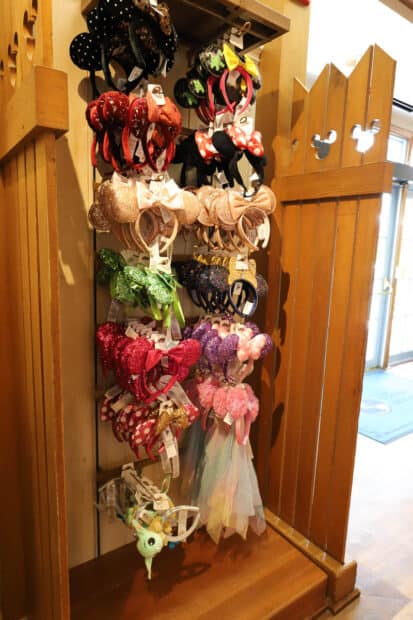 Behind the register, there were several Disney Dooney and Bourke handbag selections.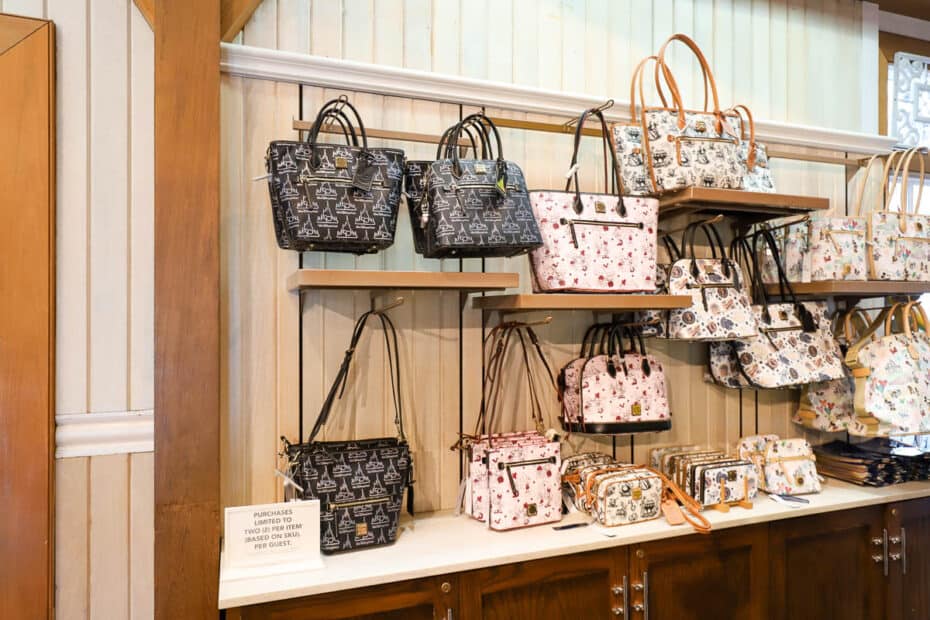 This case held a few higher-end pieces of jewelry.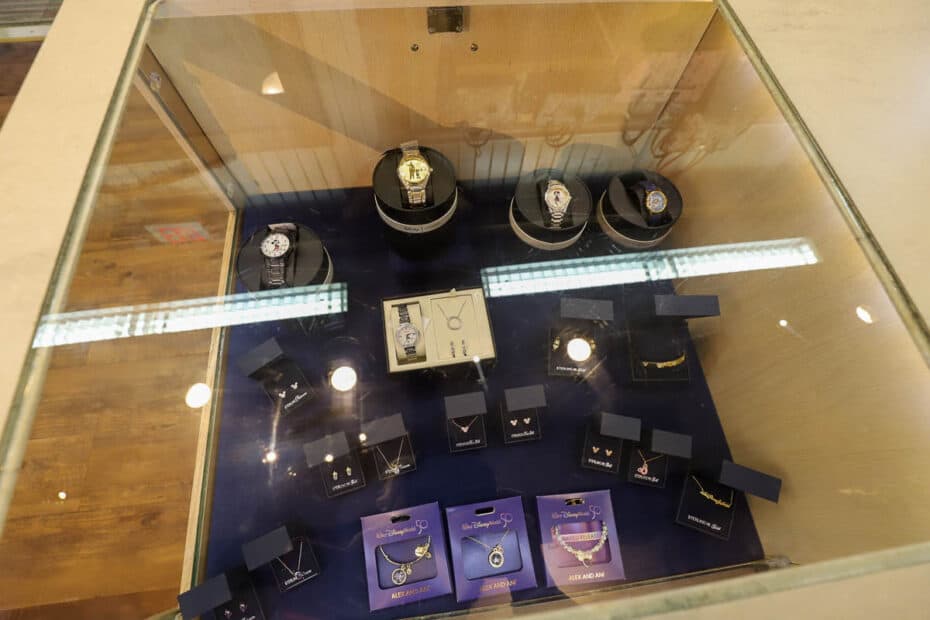 Here are a few plush items. They are perfect for snuggling.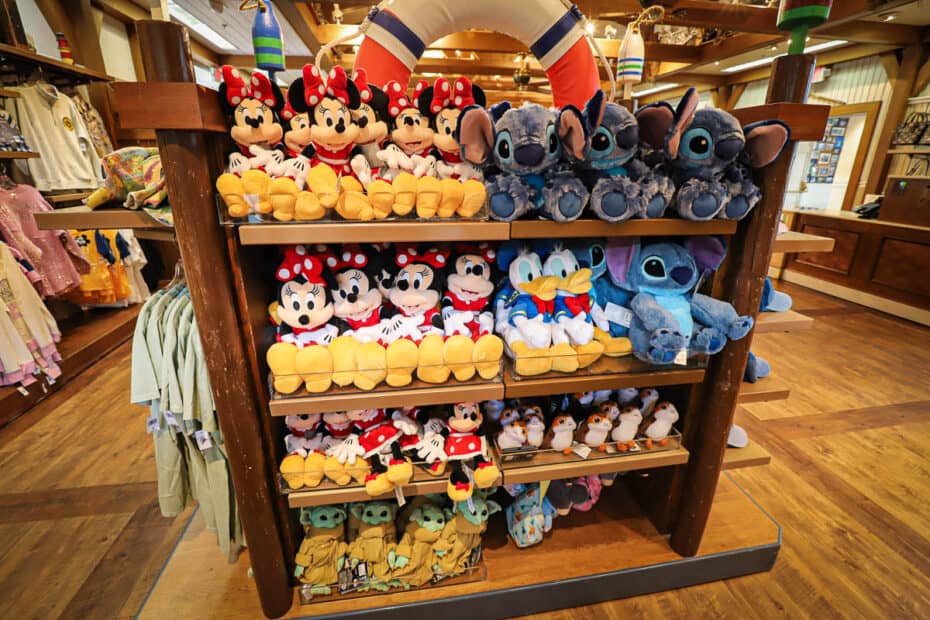 All of the gift shops usually have a decent selection of board games.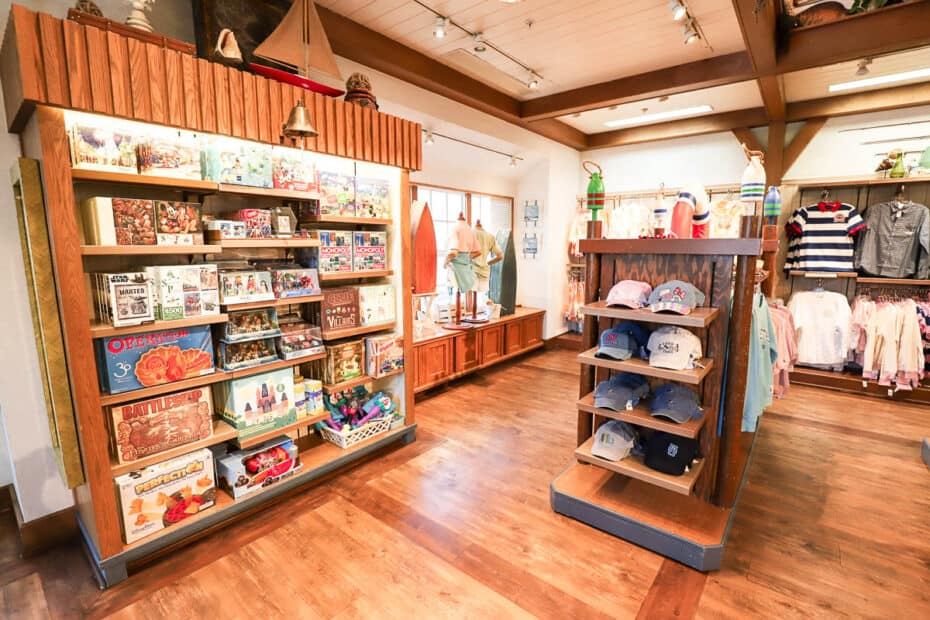 And here are a few odds and ends like backpacks, fans, luggage, and umbrella strollers.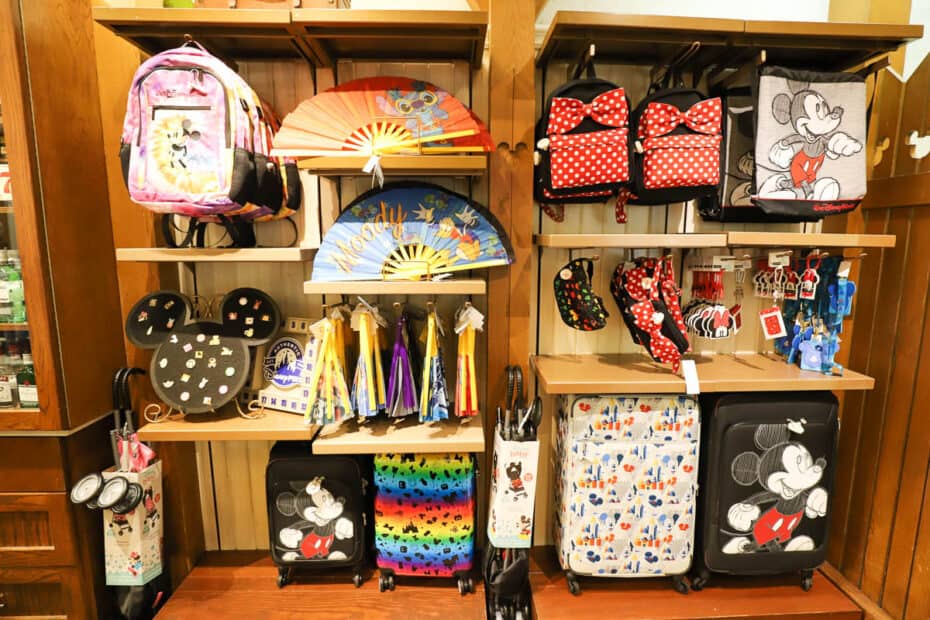 No gift shop would be complete without a section full of home essentials.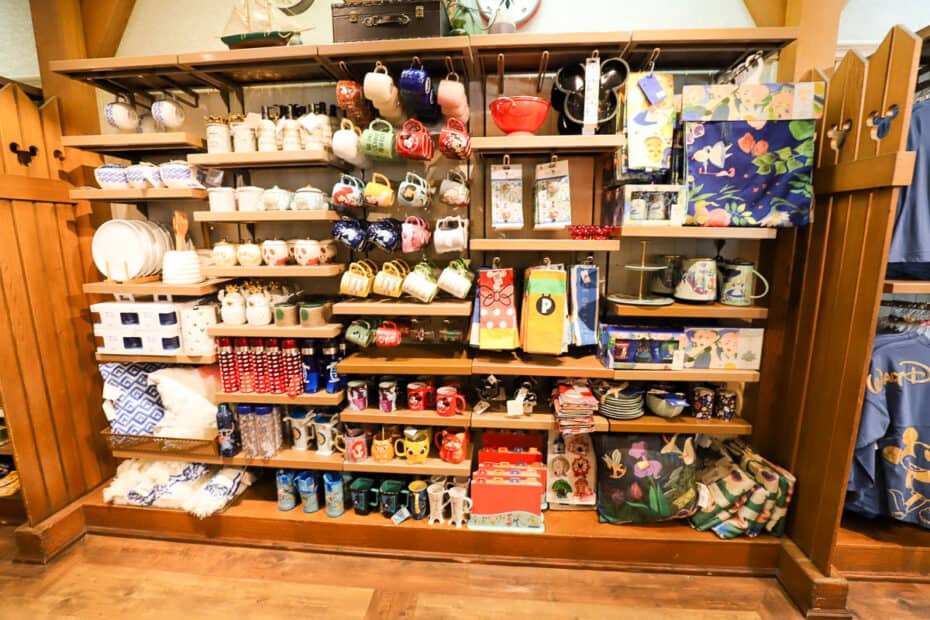 Since Old Key West is a DVC Resort, you'll find more grocery items in their gift shop. For instance, there's milk, juice, freezer meals, frozen pizza, waffles, etc.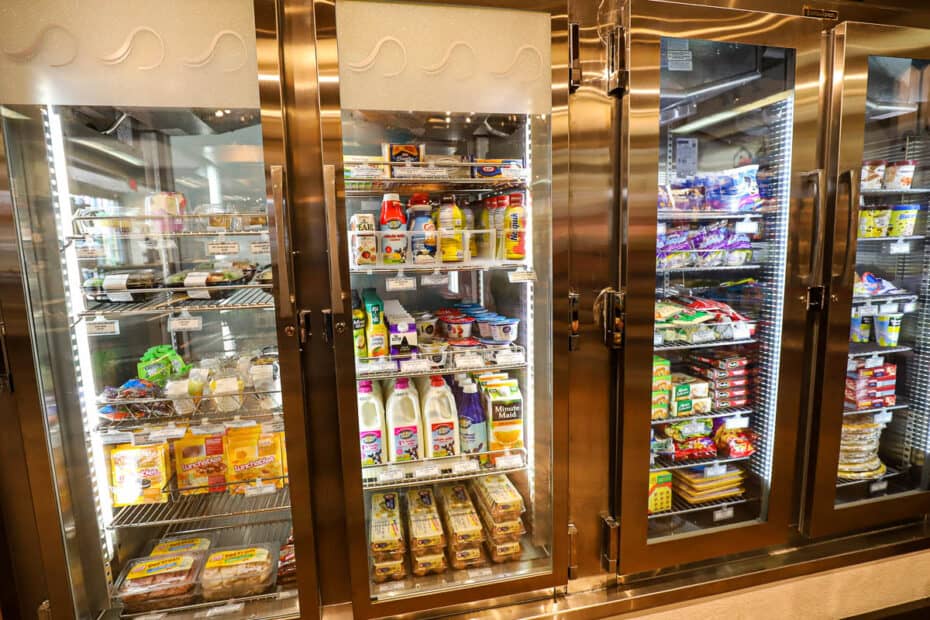 While drafting this post, I might have finished a pint of Haagen-Dazs.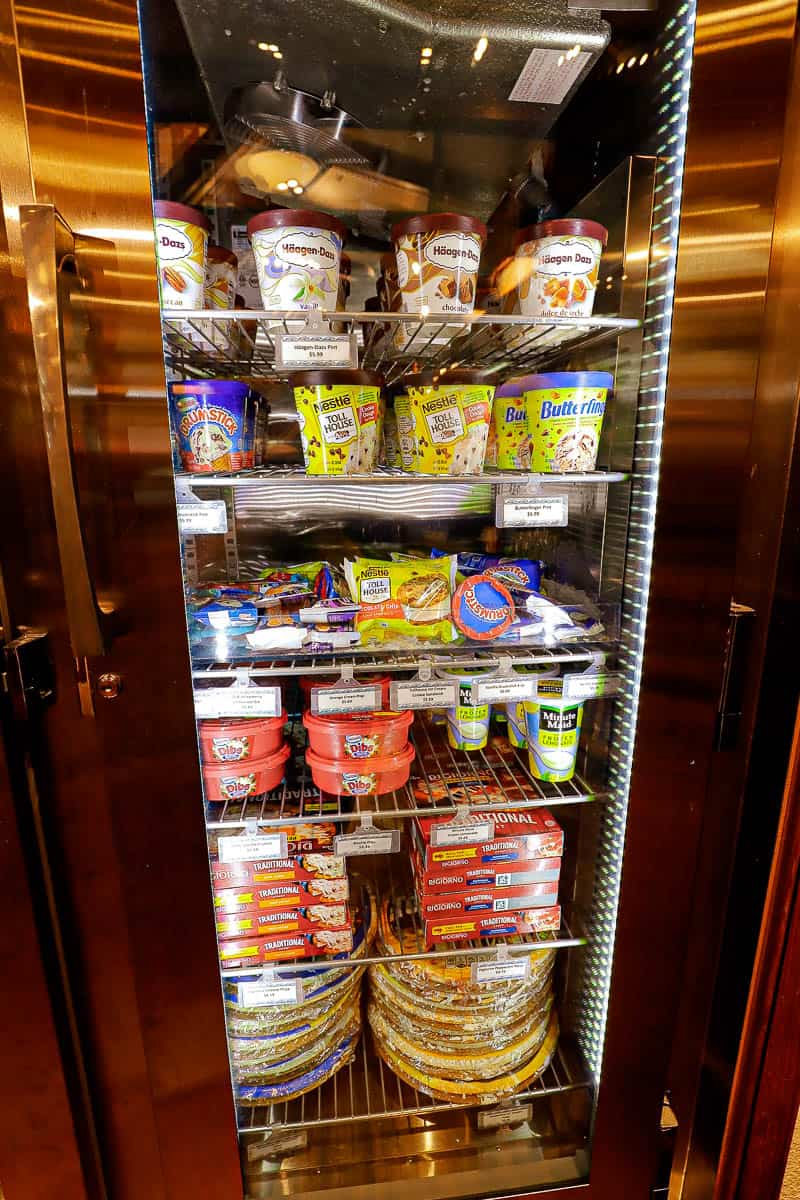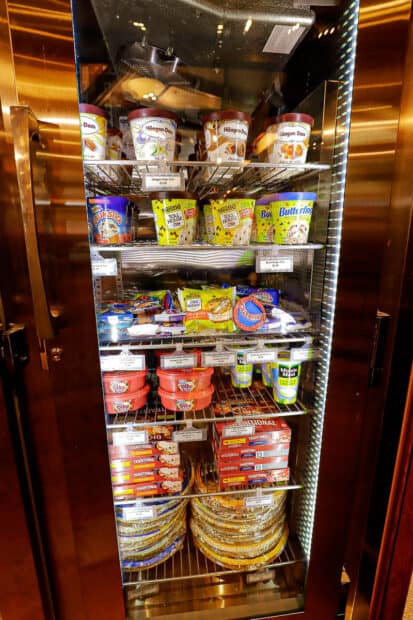 Here are a few more items. I always wonder how much of this stuff they sell. So many guests pick up groceries or have them delivered.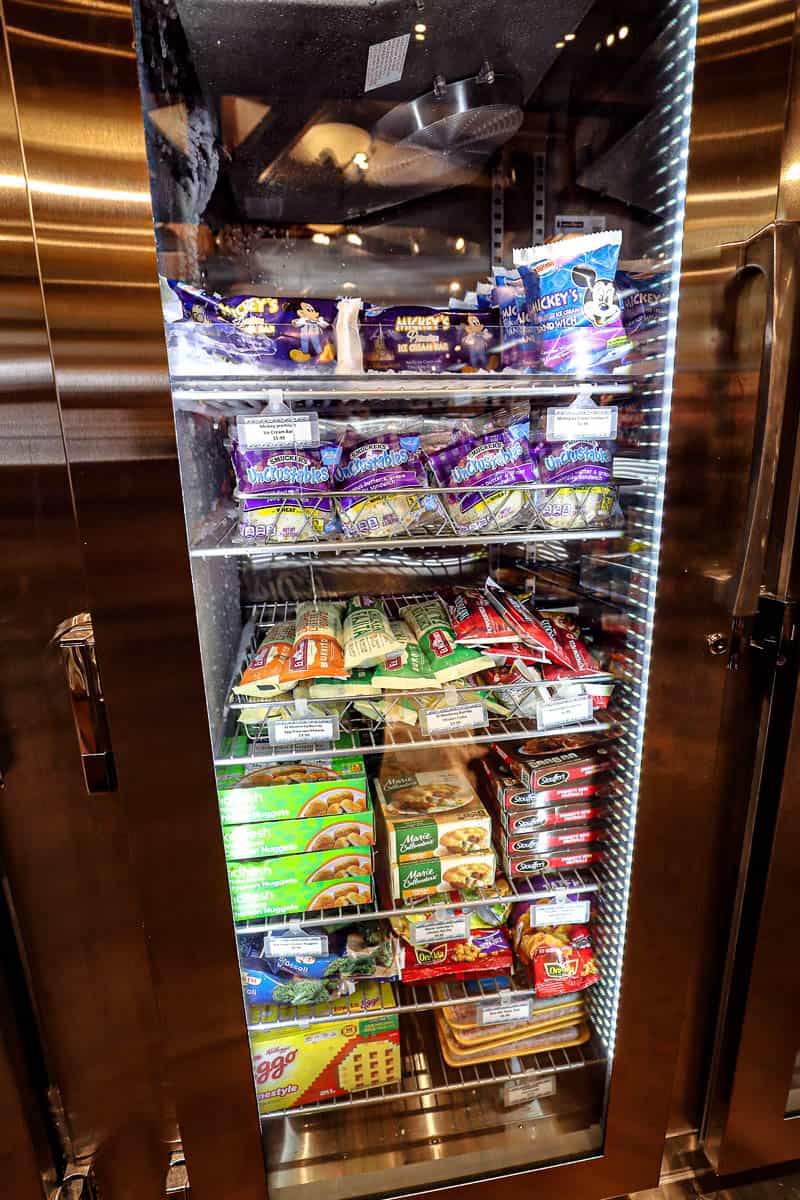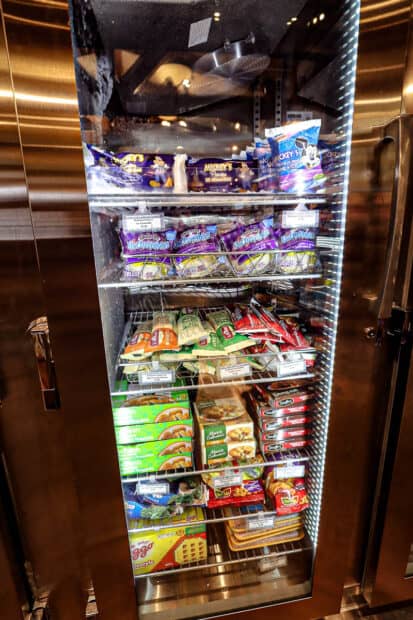 However, it's nice to have all of these options nearby. This case has cream, butter, yogurt, and eggs.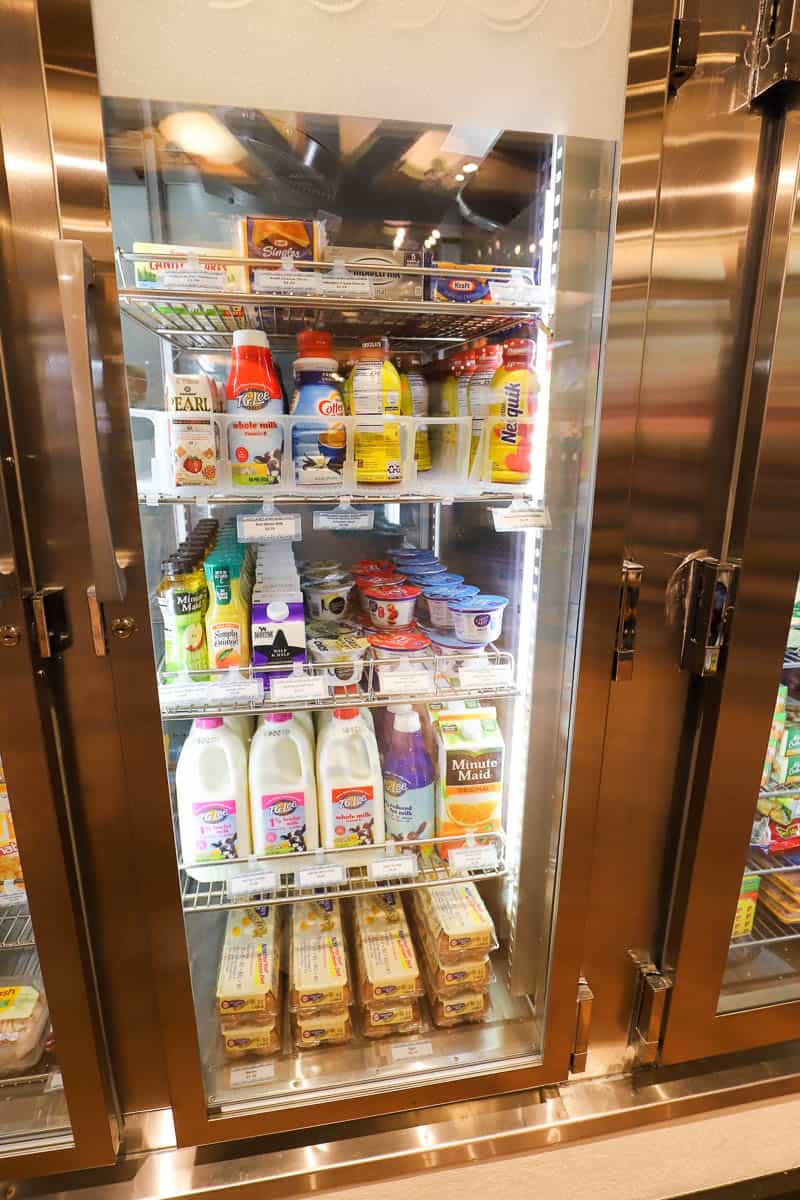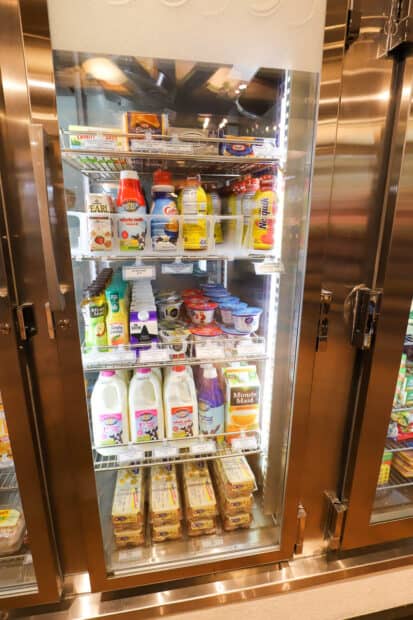 A few premade items were available, along with Lunchables and sandwich meat.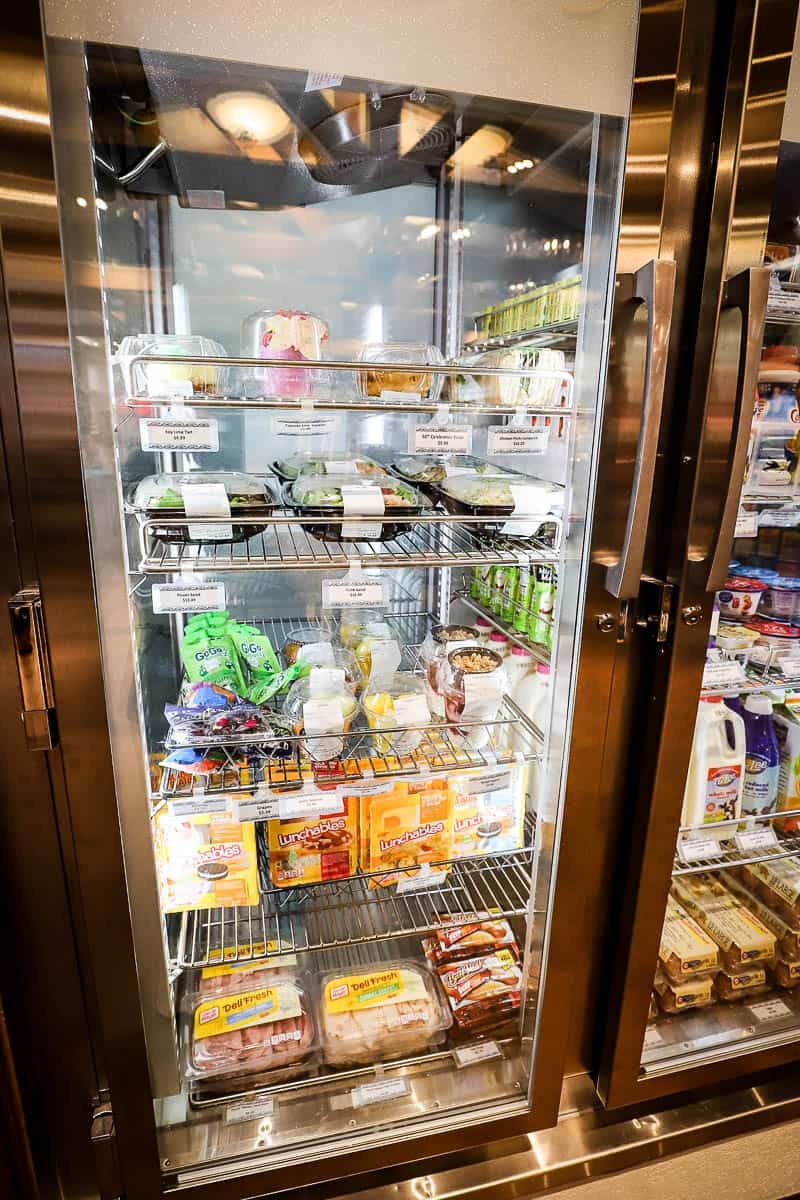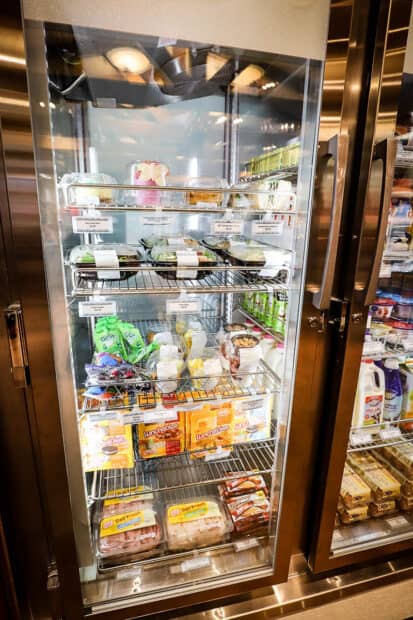 Coca-Cola products include all the usual plus Seagram's Gingerale. You can see a few refrigerated wines and beer on the far right.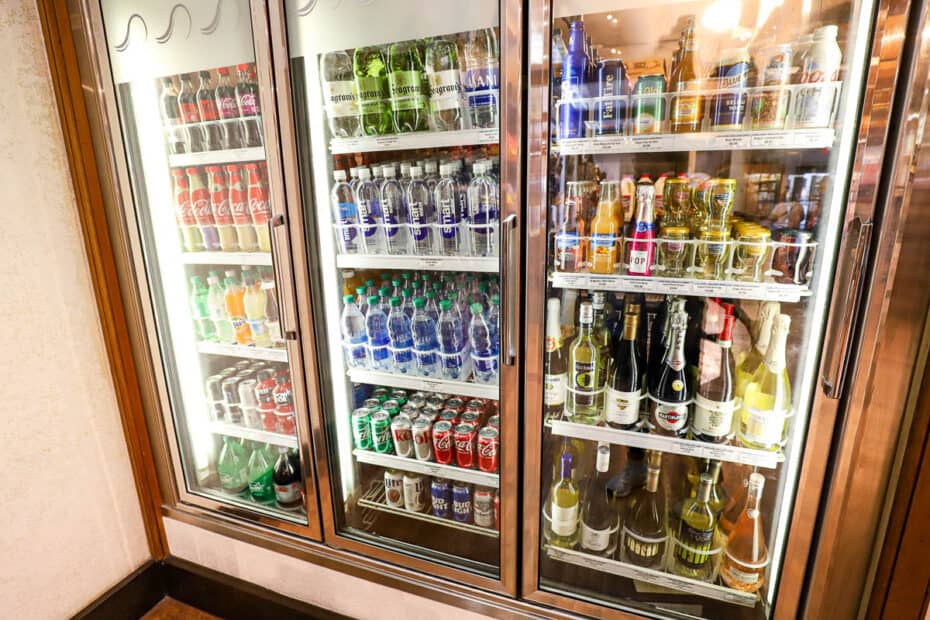 Smart Water and Dasani are both available.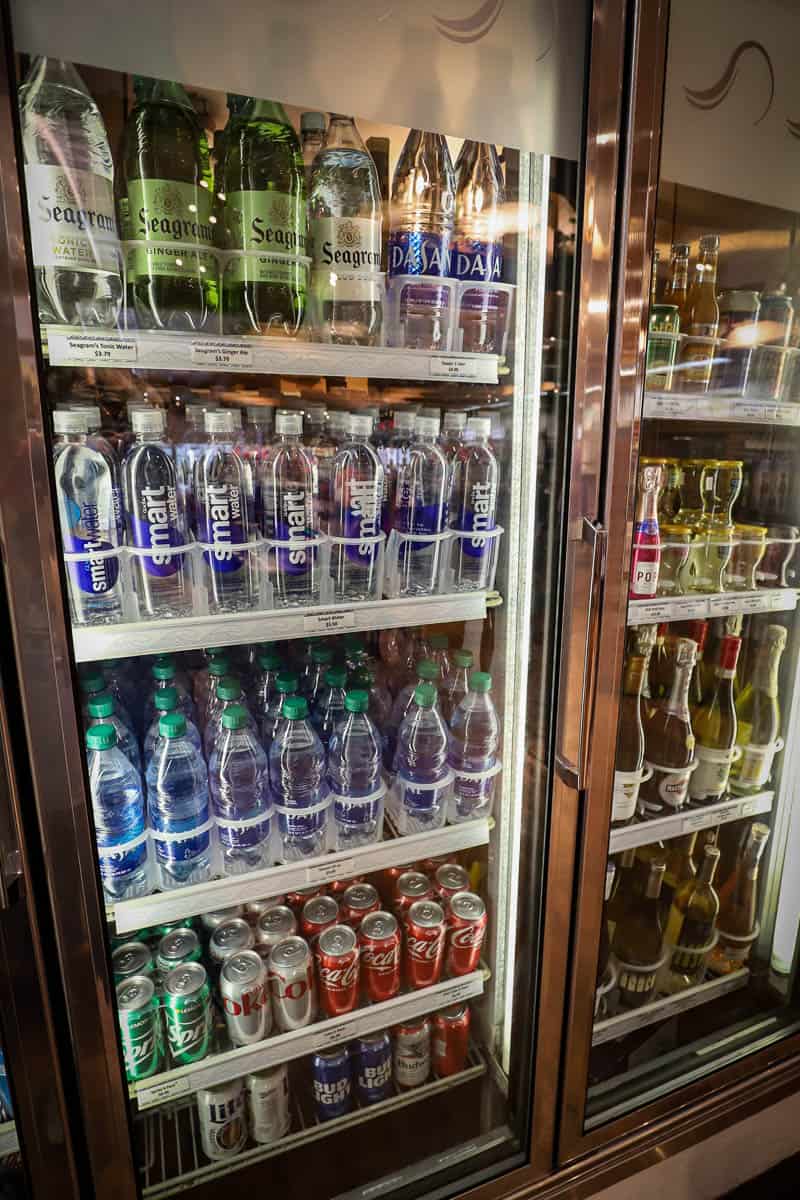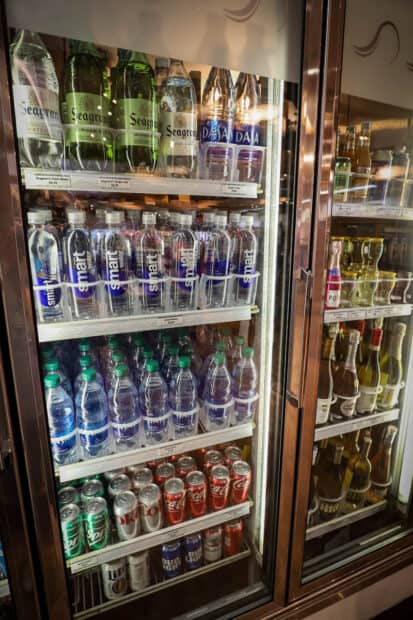 And here are the other beverages.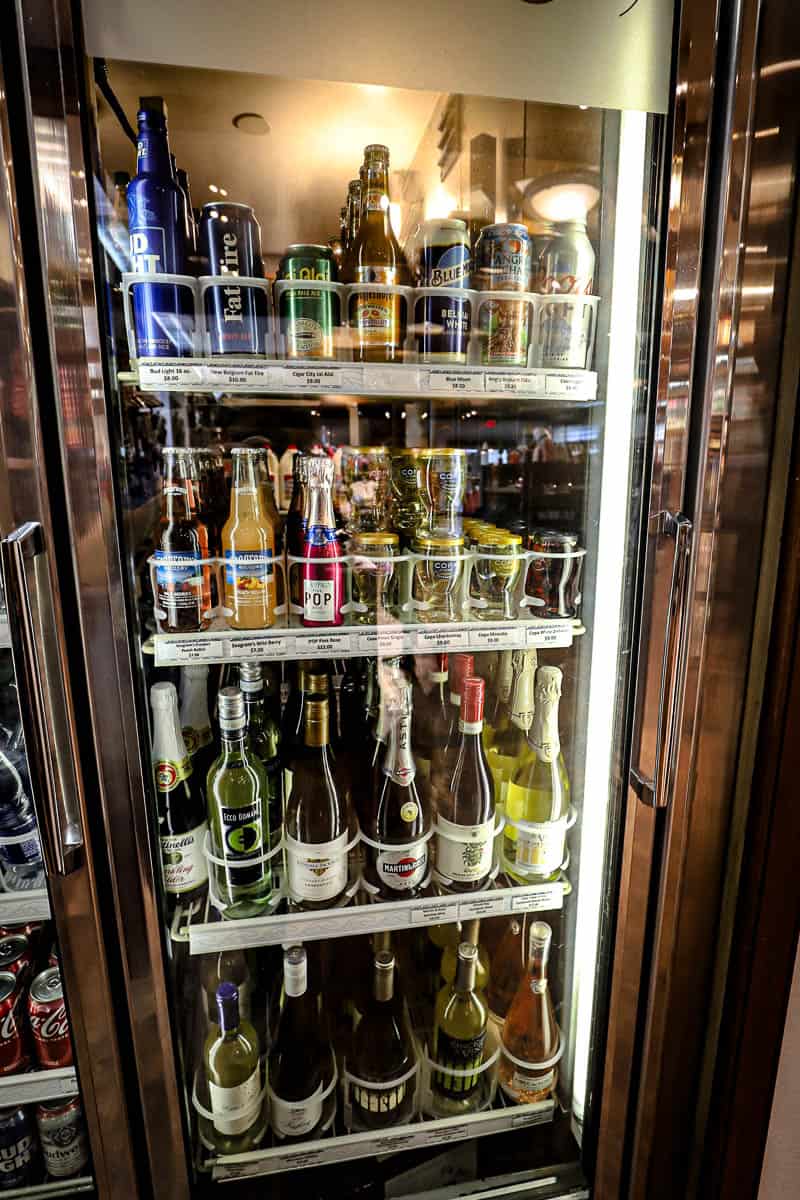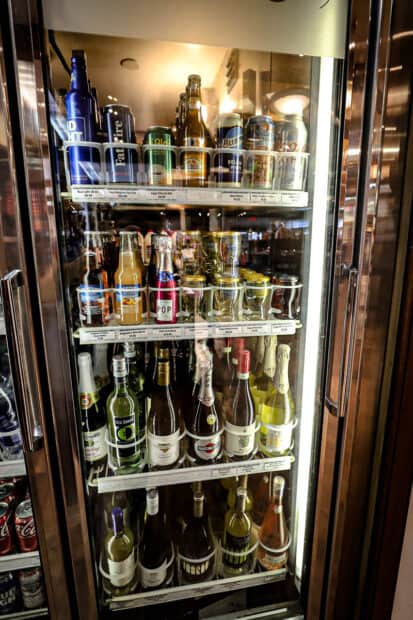 If you prefer something a little stronger, there's a selection of liquors behind the cash register.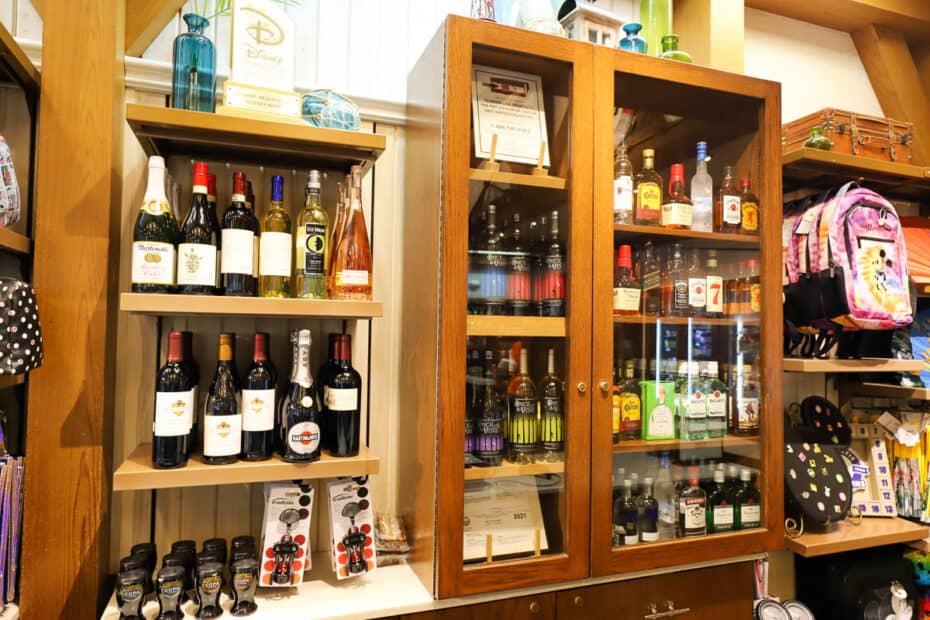 Conch Flats General Store is an excellent place to purchase a Rapid Refill mug.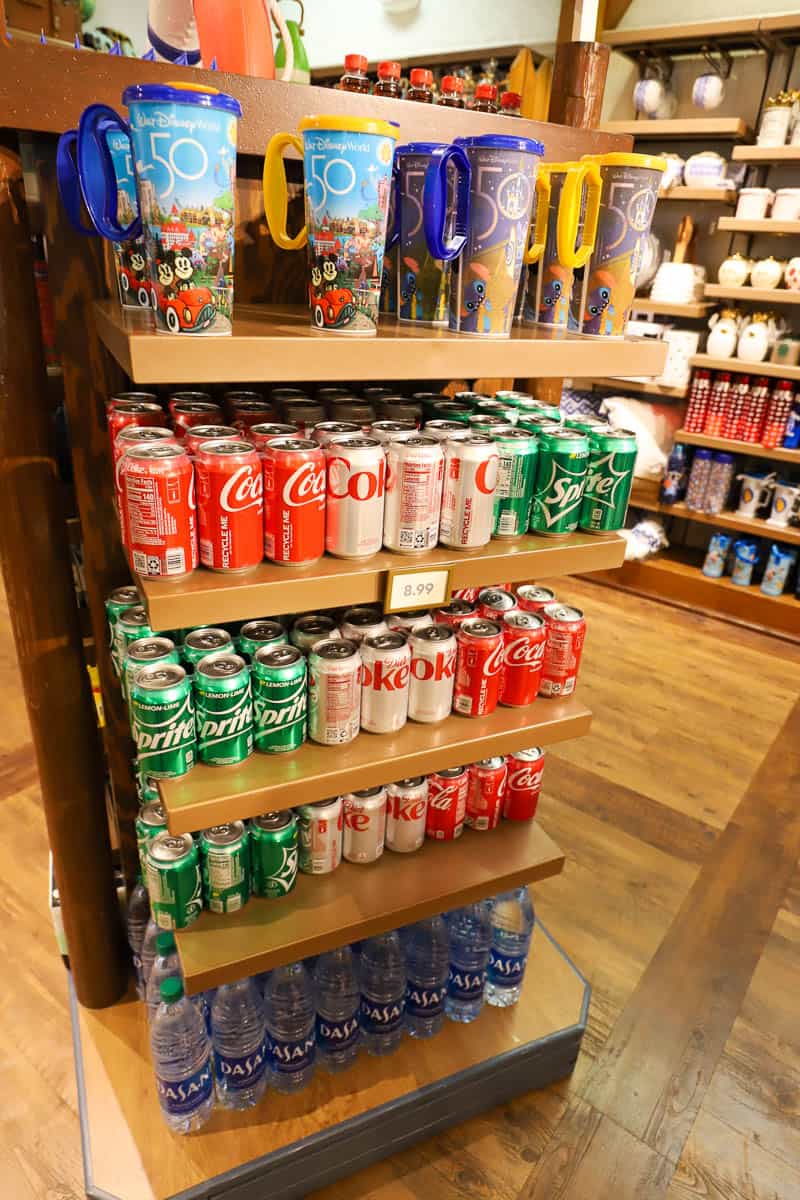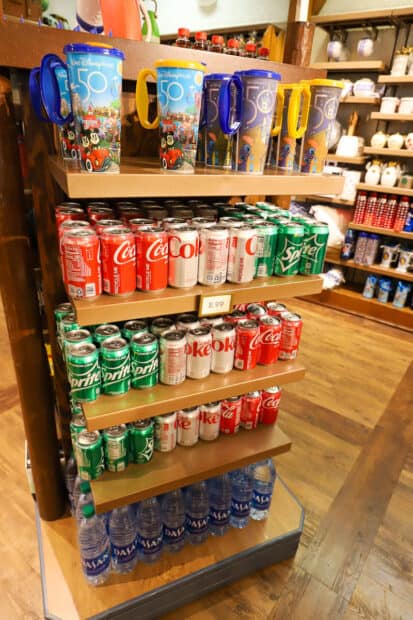 Here are a few more of the pantry items. There's everything from mustard to Frosted Flakes.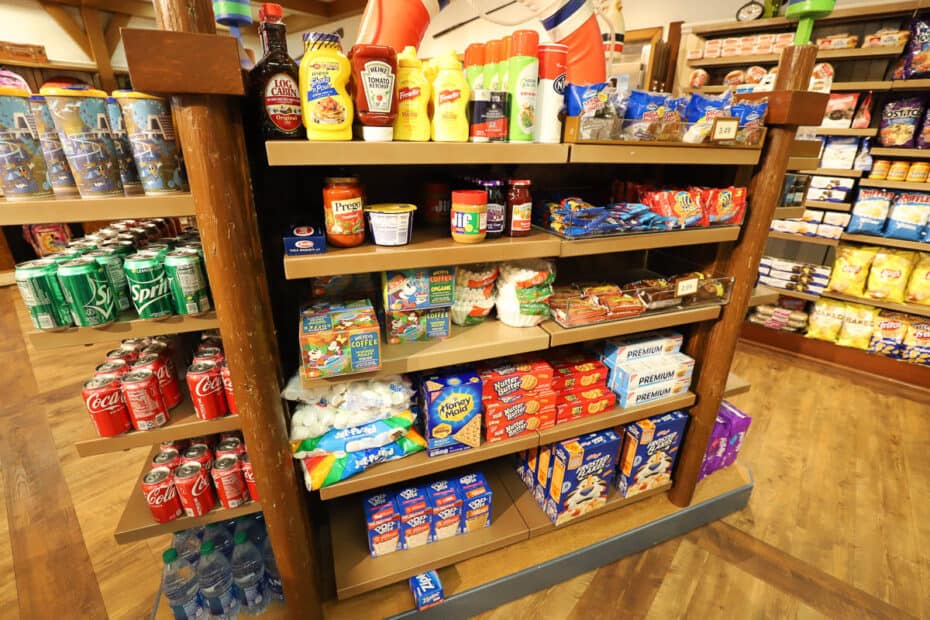 The carb section consists of bread, bread, and more bread. Actually, it was more like bread, donuts, pastries, and chips.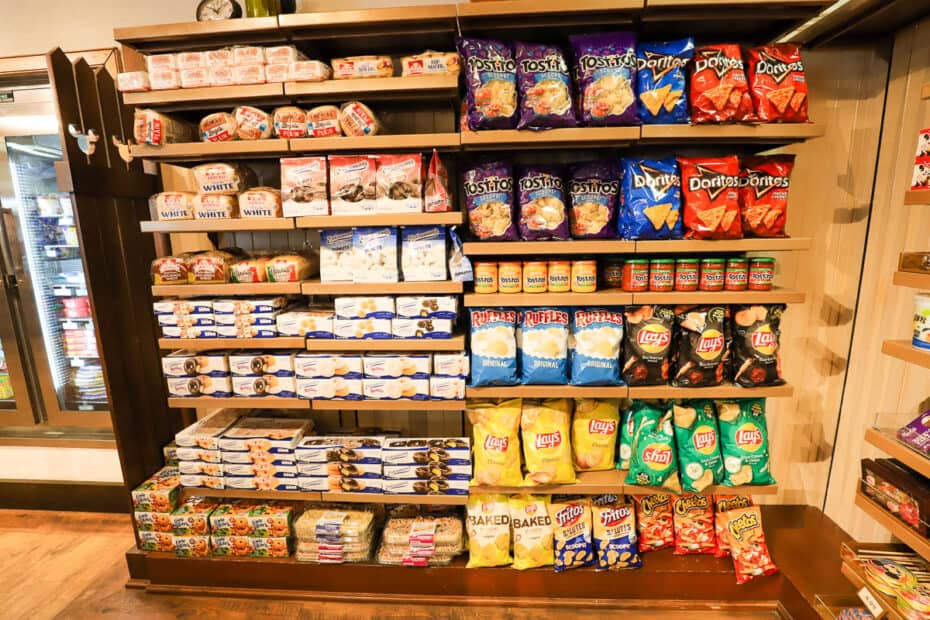 Here are a few items geared toward infants and toddlers.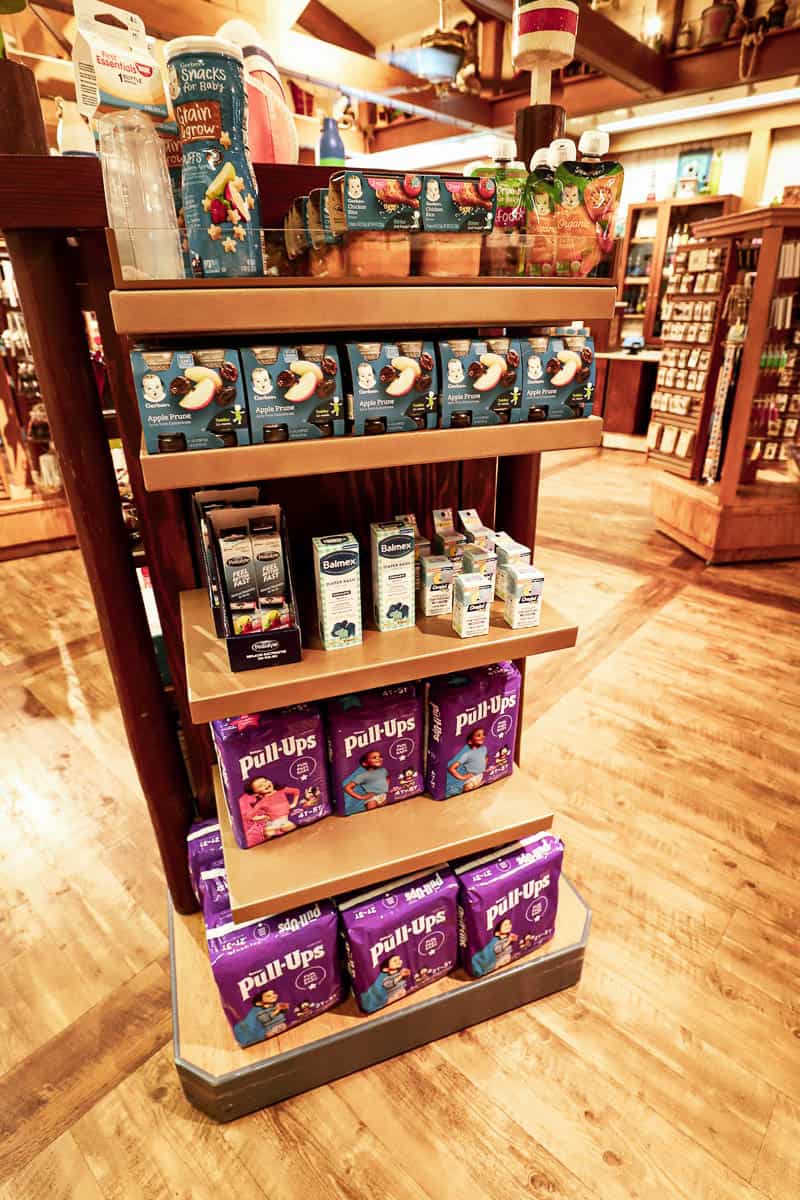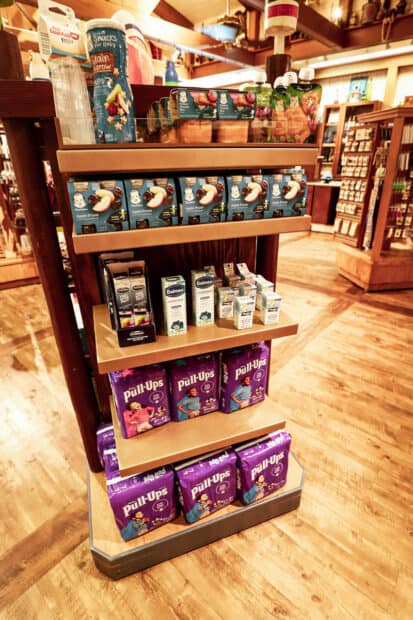 Disney-branded candy is available.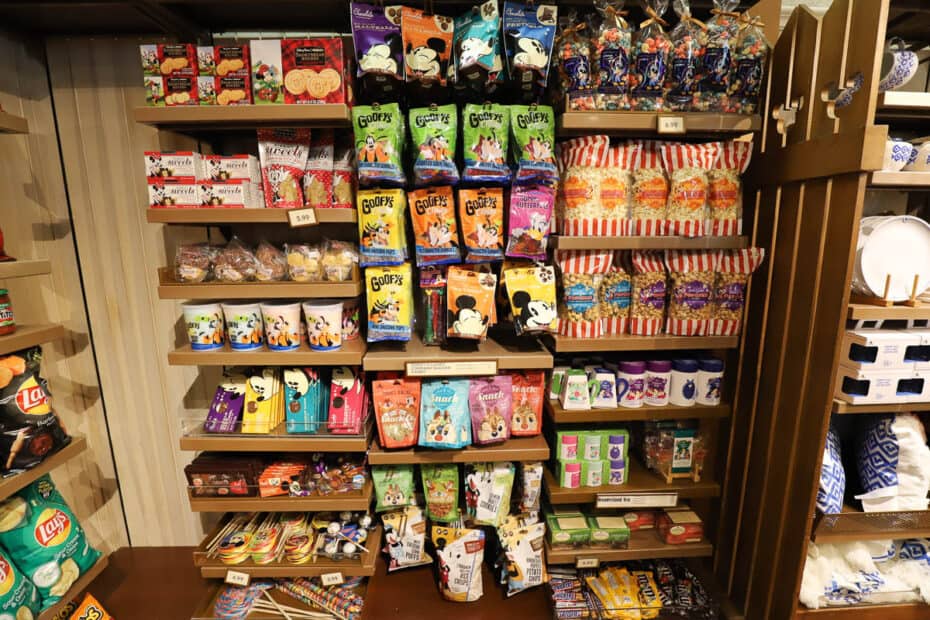 And here are some of the personal and health items.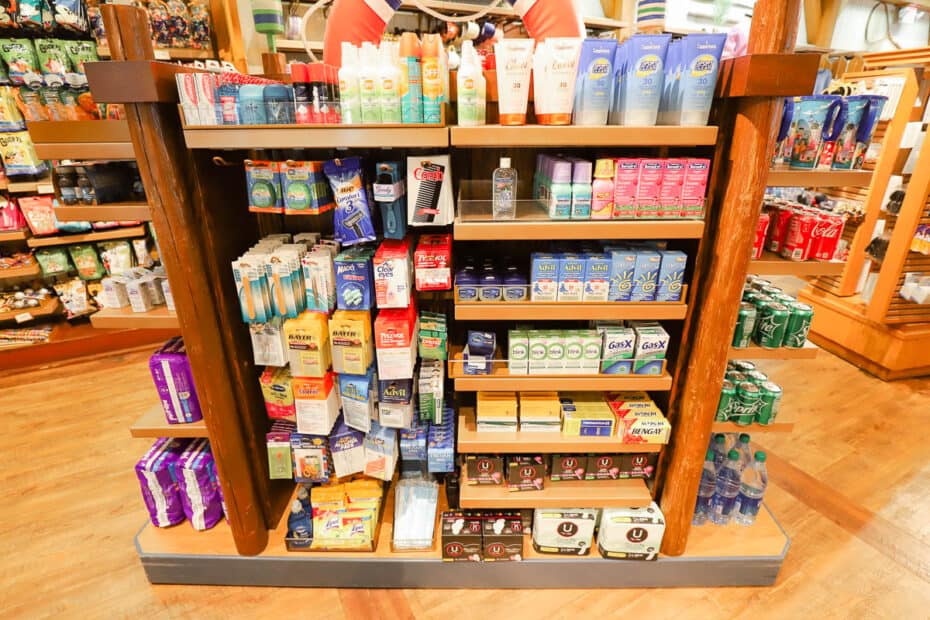 Overall, Conch Flats General Store has an adequate selection of merchandise. From resort-branded items to the selection of groceries and toiletries, this gift shop has something for everyone.
For more information about this resort, try our full guide, where all our articles are listed.
Additionally, we have several upcoming articles covering these specifics at Old Key West:
In the comments:
Did you see anything you would like to purchase at Old Key West's gift shop? What did you think of the resort-branded merchandise?