Room Tour: Deluxe Studio at Disney's Old Key West Resort
Disney's Old Key West is a beautiful resort completely different from most other resorts at Walt Disney World. One of those differences is that the resort features deluxe studios instead of standard guest rooms.
Of course, the resort is a Disney Vacation Club Resort. For reference, all DVC properties start with deluxe studios, and most go up to three-bedroom grand villas. But Old Key West is the first of its kind, making it the original timeshare resort at Walt Disney World.
Since I recently stayed here, I've put together a room tour of the deluxe studio at Old Key West. Below we'll look at the deluxe studio in detail, and I'll share a few pros and cons of the unit and its location.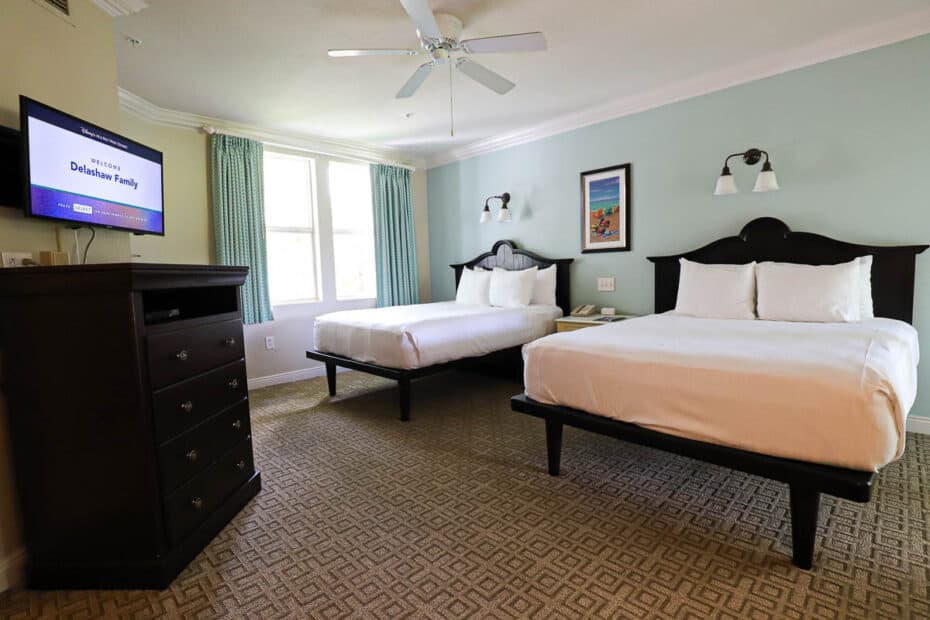 My room was outside the South Point bus stop, which is about as far away from Hospitality House (the main lobby) as you can get. If you plan to spend a good deal of time at the resort's feature pool, you might not care much about this location.
Overall, I enjoyed the privacy of the area and was happy to only be a few steps away from the bus stop. Of course, you can always hop on a bus and ride to the front of the resort if you desire.
However, don't forget to get off at Hospitality House. If you forget or aren't paying attention, you'll end up taking a ride to one of the theme parks.
The only issue I noted about being so close to the bus stop was that I could hear the alert sound the bus made when it was loading and unloading. One evening I went to bed a little earlier than usual and noticed the beeping as I fell asleep.
Since I'd had a full Disney day, the noise didn't keep me awake. But I made a note to mention it in case it might bother some of you who are making considerations for room requests.
In addition, there's one other thing about Old Key West that could be a major hiccup for some of you. Most of the buildings at the resort do not have elevators.
Therefore, if you receive a second-floor room assignment (or third), you must carry your luggage up the stairs. Naturally, you would also want to consider any accessibility issues.
Thankfully, I didn't have an issue, but I tend to refrain from staying at places that don't offer an elevator. First-floor accommodations can be requested. However, you would need to talk with your travel agent or Disney to see how they handle or honor those requests.
Now that we've got that out of the way, let's look at the deluxe studio. Each deluxe studio at Disney's Old Key West sleeps up to four guests and has two queen-size beds.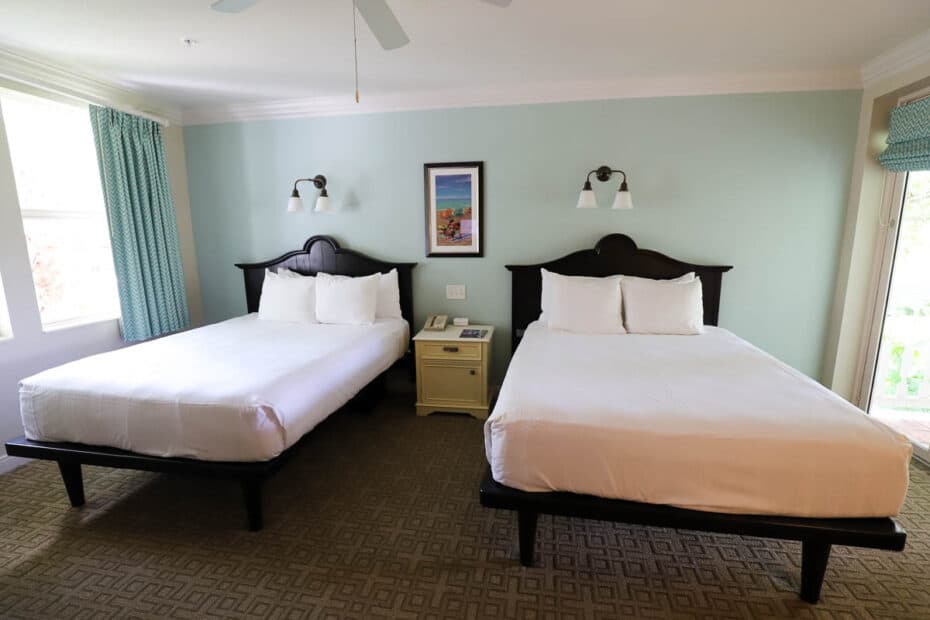 The deluxe studios at Old Key West are approximately 380 square feet, making them the largest studios at the Walt Disney World Resort. Additionally, I appreciated that my unit had windows on the front wall and a set of French doors on the opposite wall. This feature lets in a ton of natural light, making the space feel even more significant.
Here is a look at the artwork that hung between the two beds. One of these days, I'll get to the beach.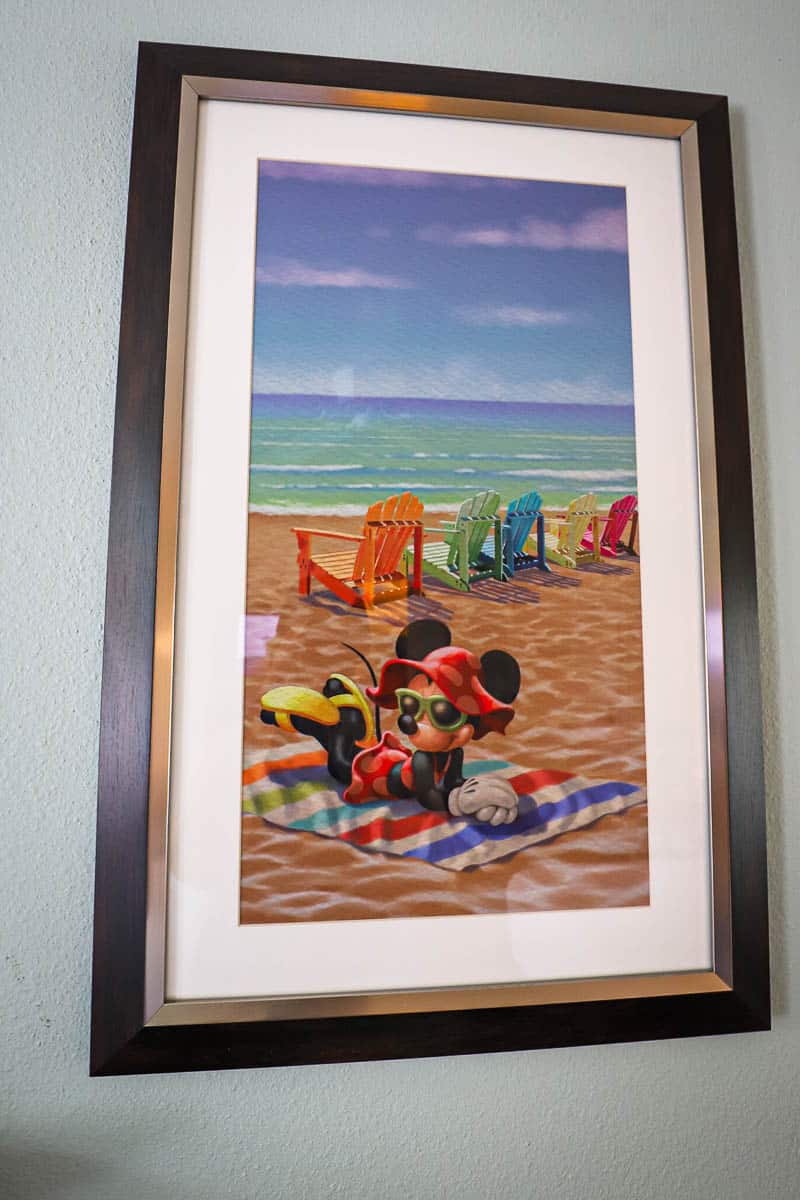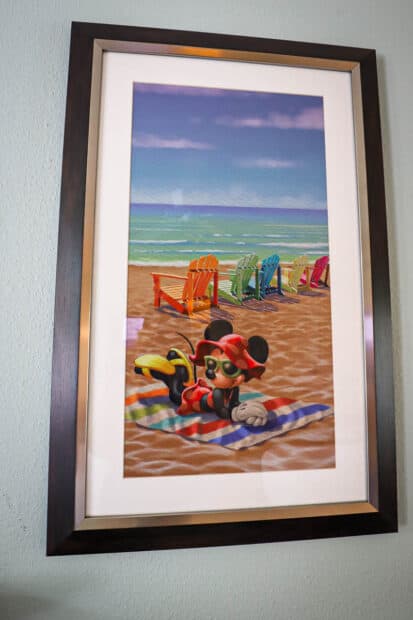 Most will appreciate the extra space to spread out. However, the layout doesn't offer room for an extra sofa or reading area.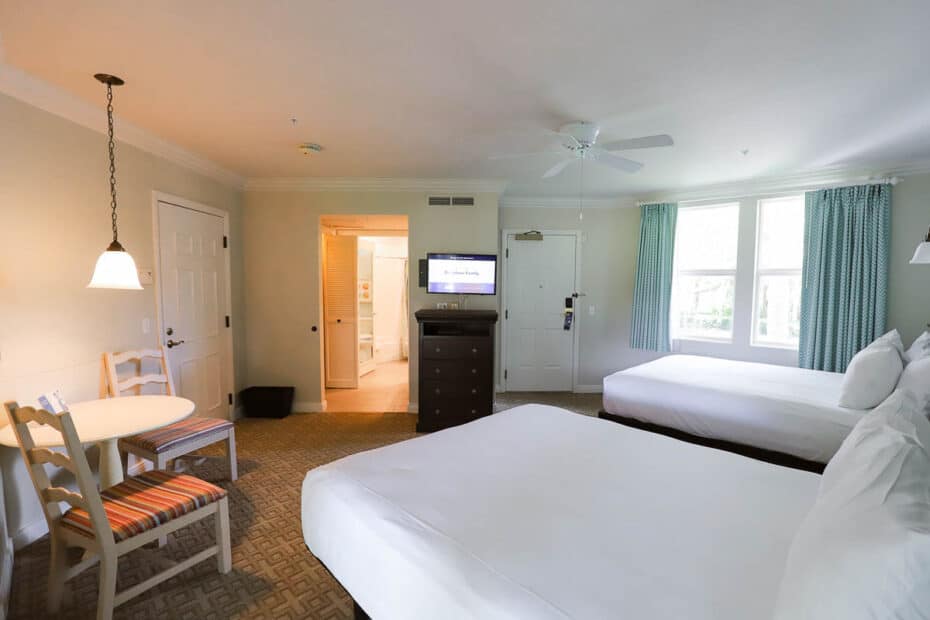 There is a table with two chairs, though. The door to the right of the table and chairs connects to another unit. Most of these units with connecting doors are called two-bedroom lock-off villas.
Related: Two Bedroom Villa at Disney's Riviera (with Lock-Off)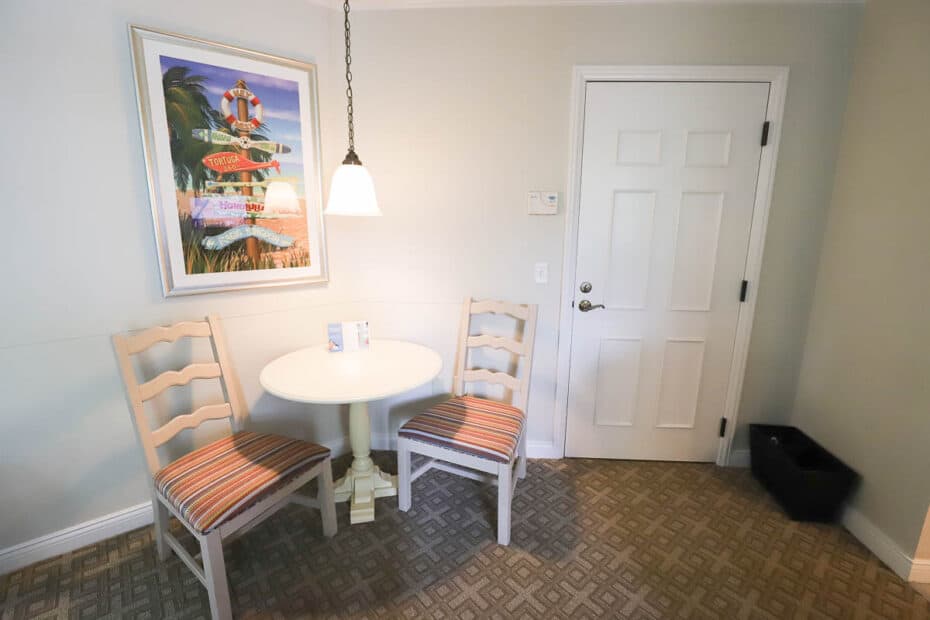 Here is a photo of the artwork above the table and chairs area. Honolulu or Magic Kingdom?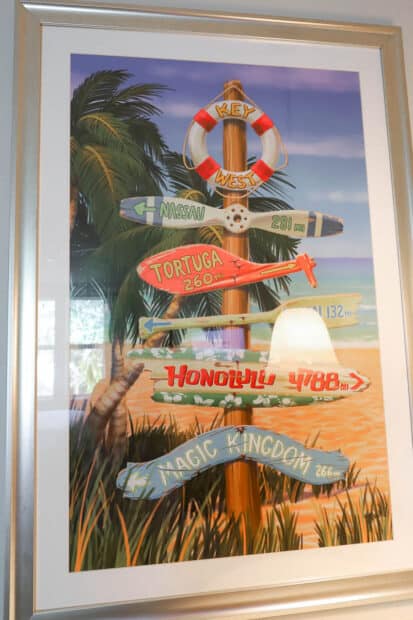 A small television is hung on the wall over the chest of drawers. I couldn't help but notice the TV was pretty small compared to most hotel rooms.
I don't know about you, but I'm more the type who enjoys the background noise of television after a long day in the parks. While the size of the TV wasn't a dealbreaker for me, it might be for some of you who will spend a good deal of time in the room.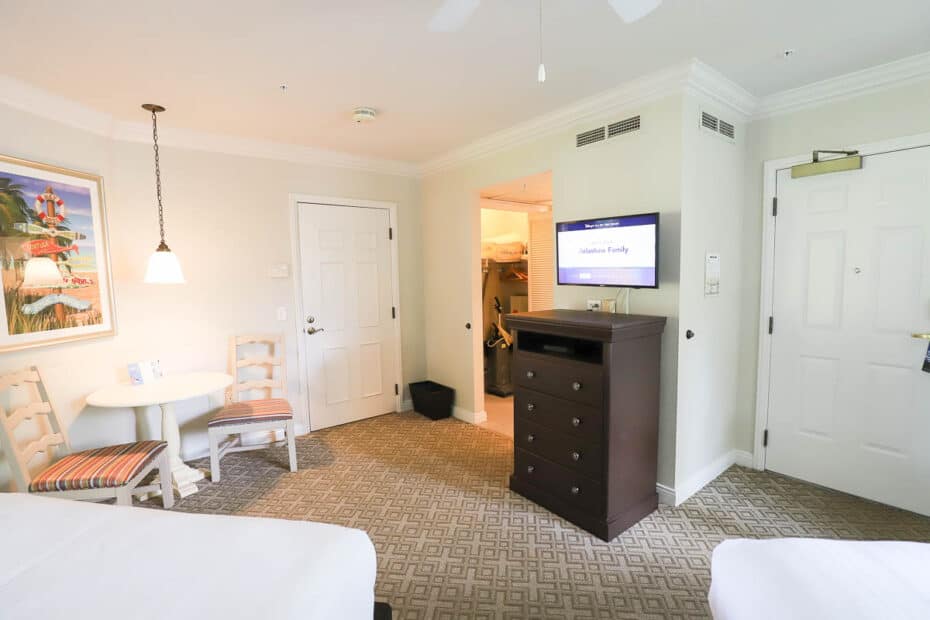 The chest of drawers offered a place to unpack a few items.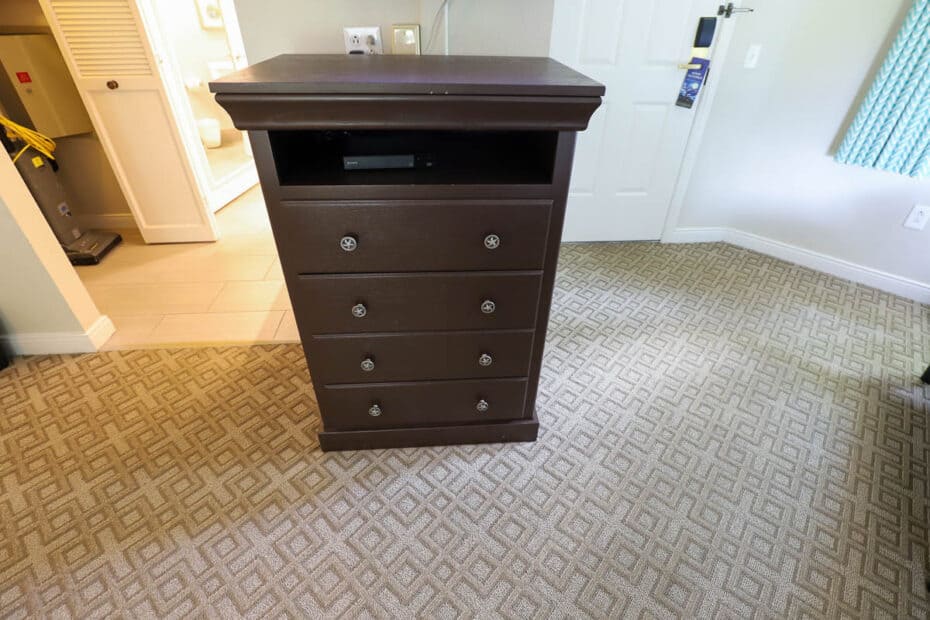 Here we have the kitchenette area. This is one of the amenities that separate a deluxe studio from a standard room.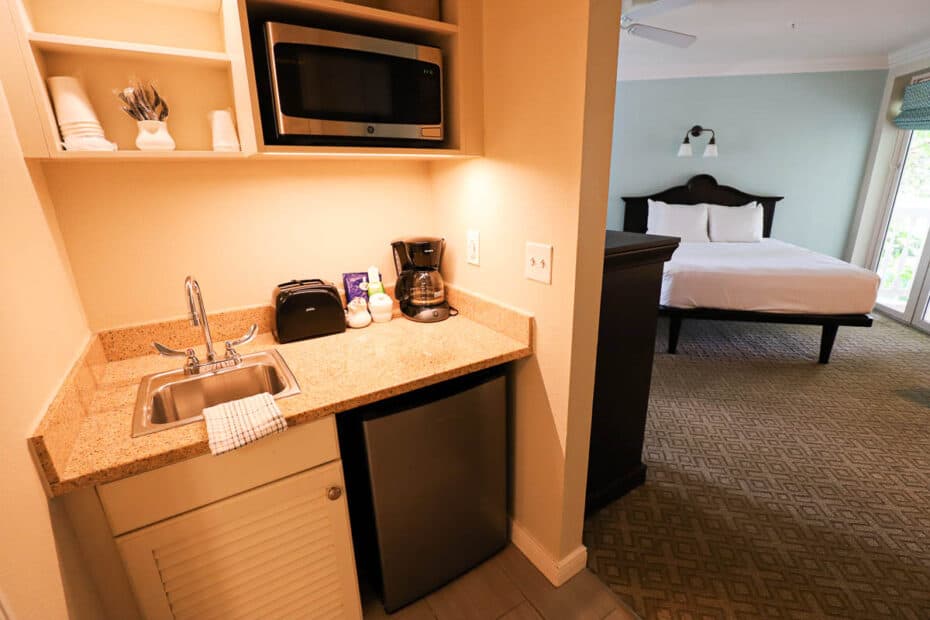 Having a small preparation area with a sink in your room is nice.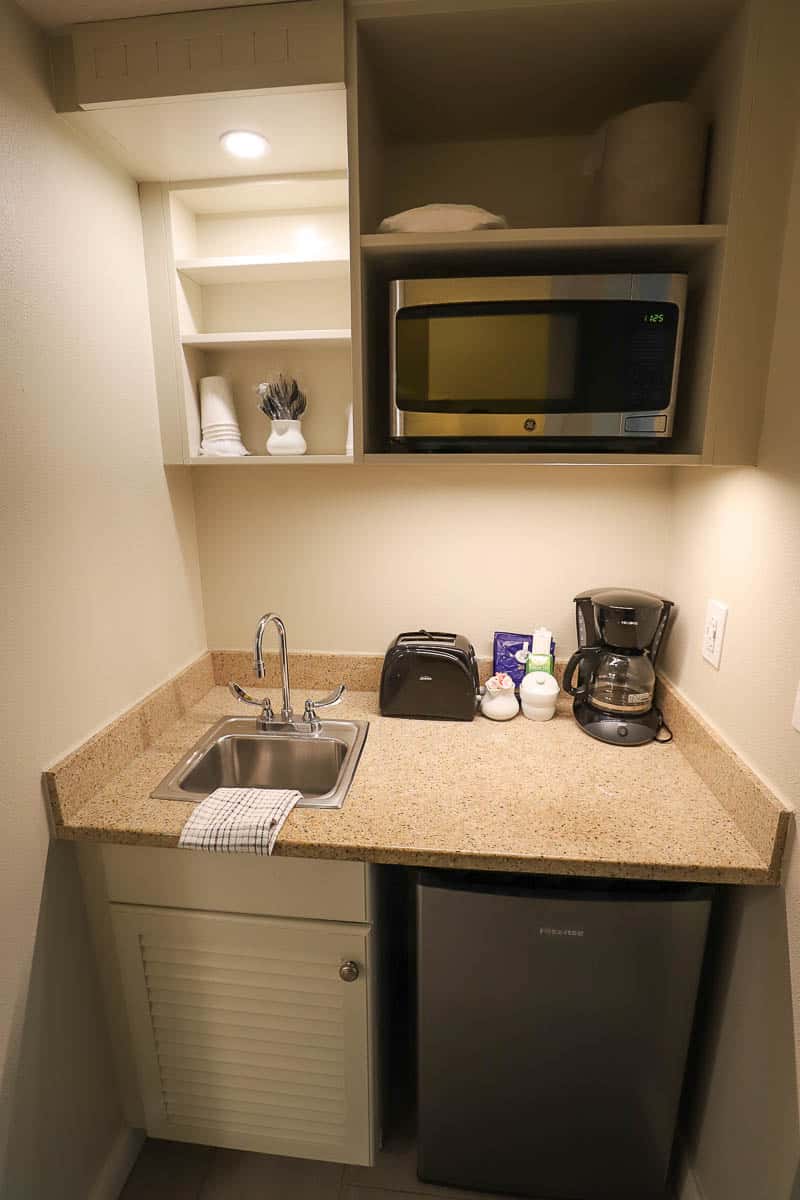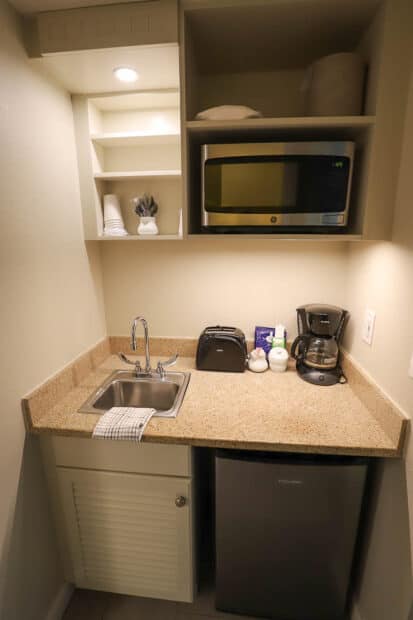 Under the counter, there's room for a garbage can, paper towels, and a few other things.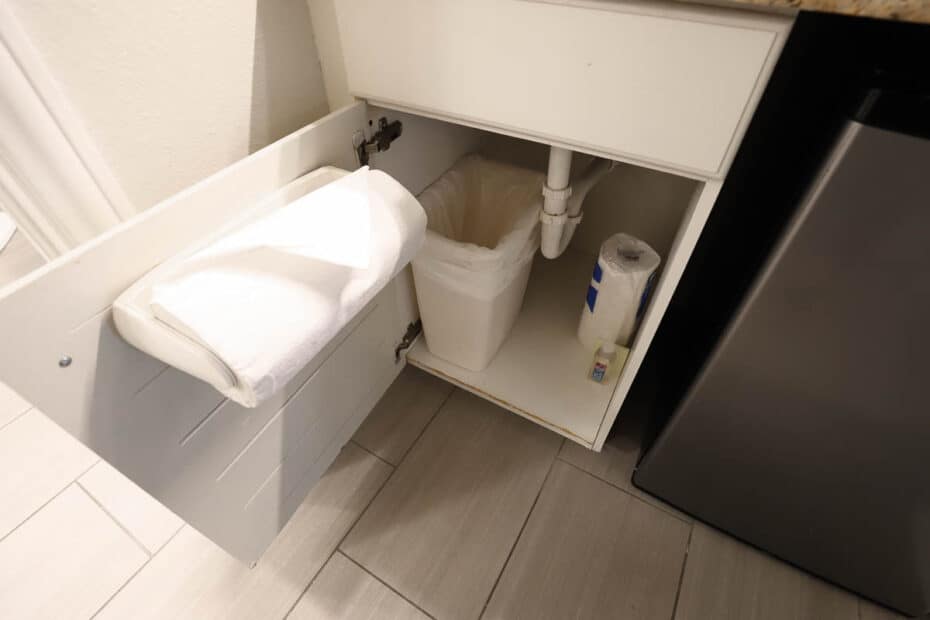 Each deluxe studio has a microwave.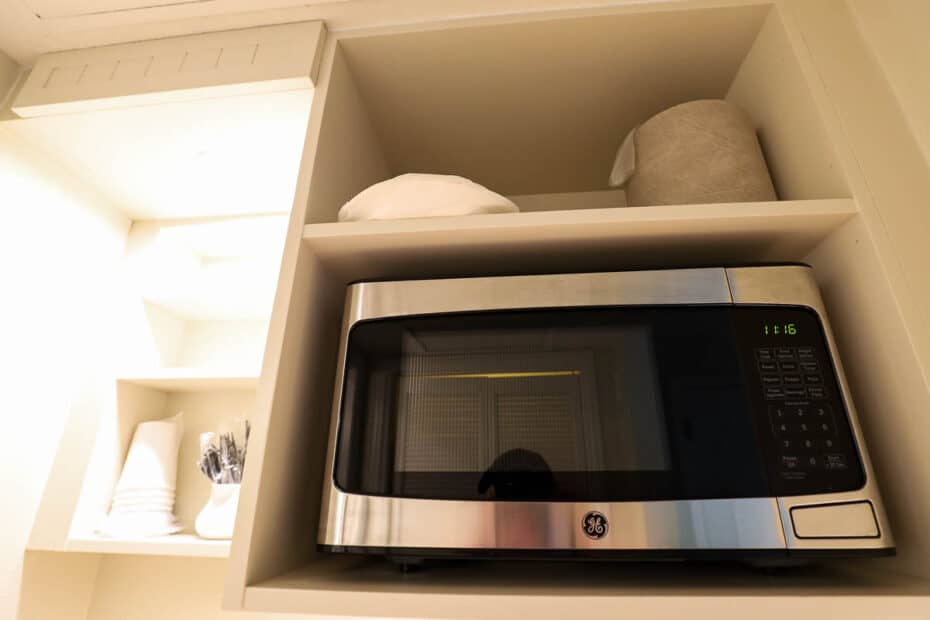 Additionally, there's a coffee maker and a toaster oven.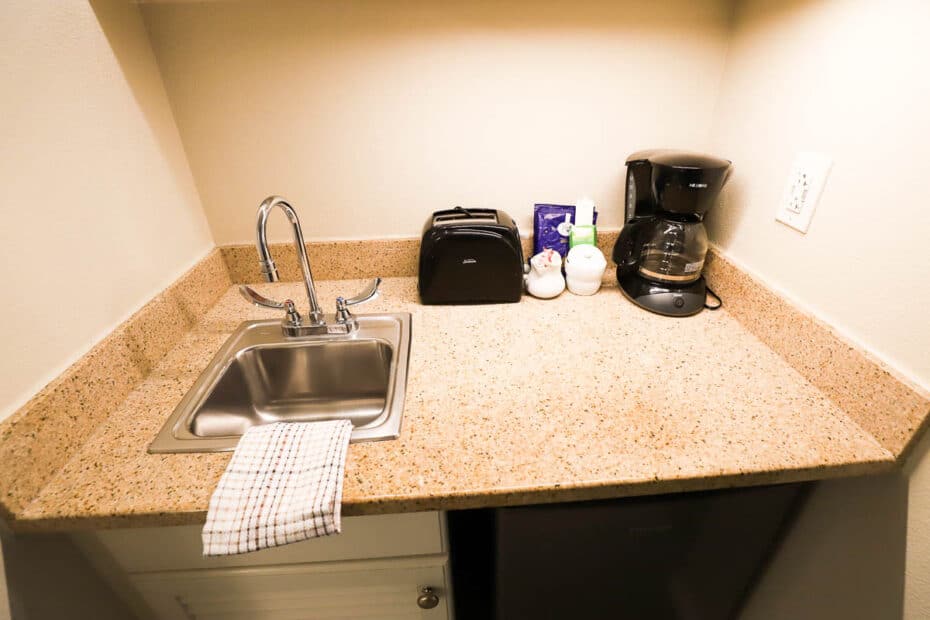 Here is a close-up.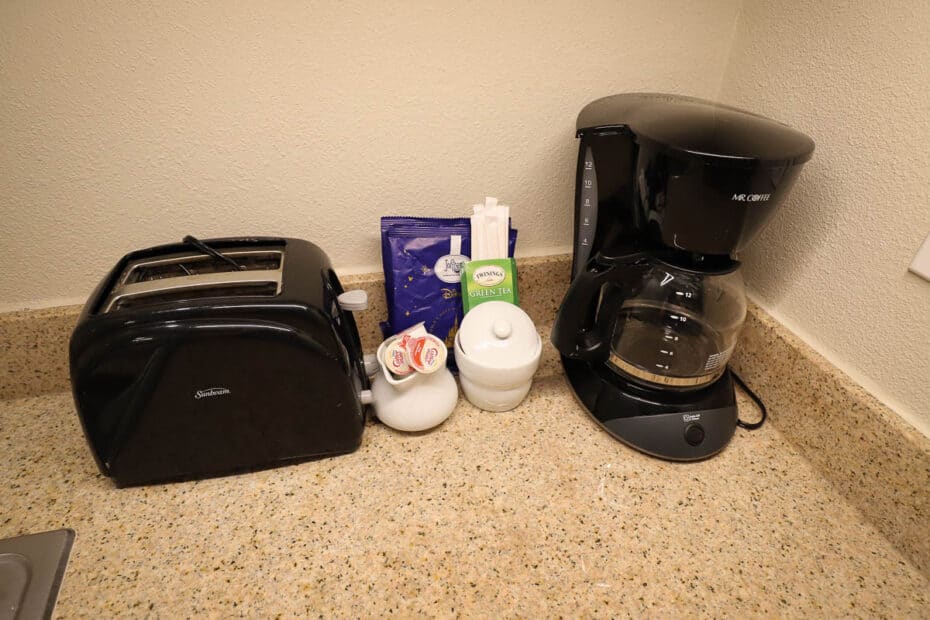 Unfortunately, we're still dealing with paper plates and cutlery. Hopefully, we'll eventually see the return of regular glassware and silverware.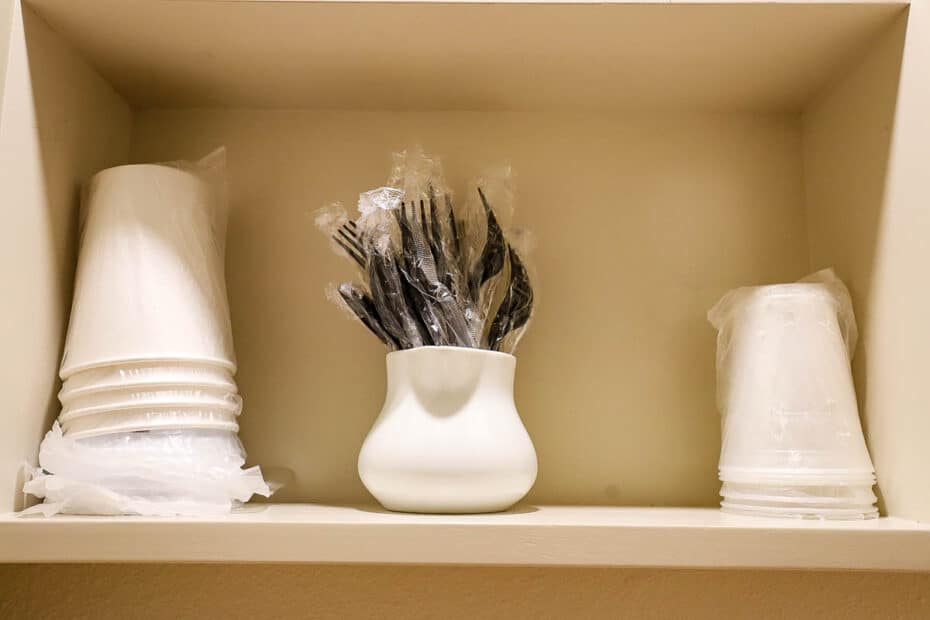 The mini-refrigerator is an upgrade from the beverage coolers we see in most hotel rooms.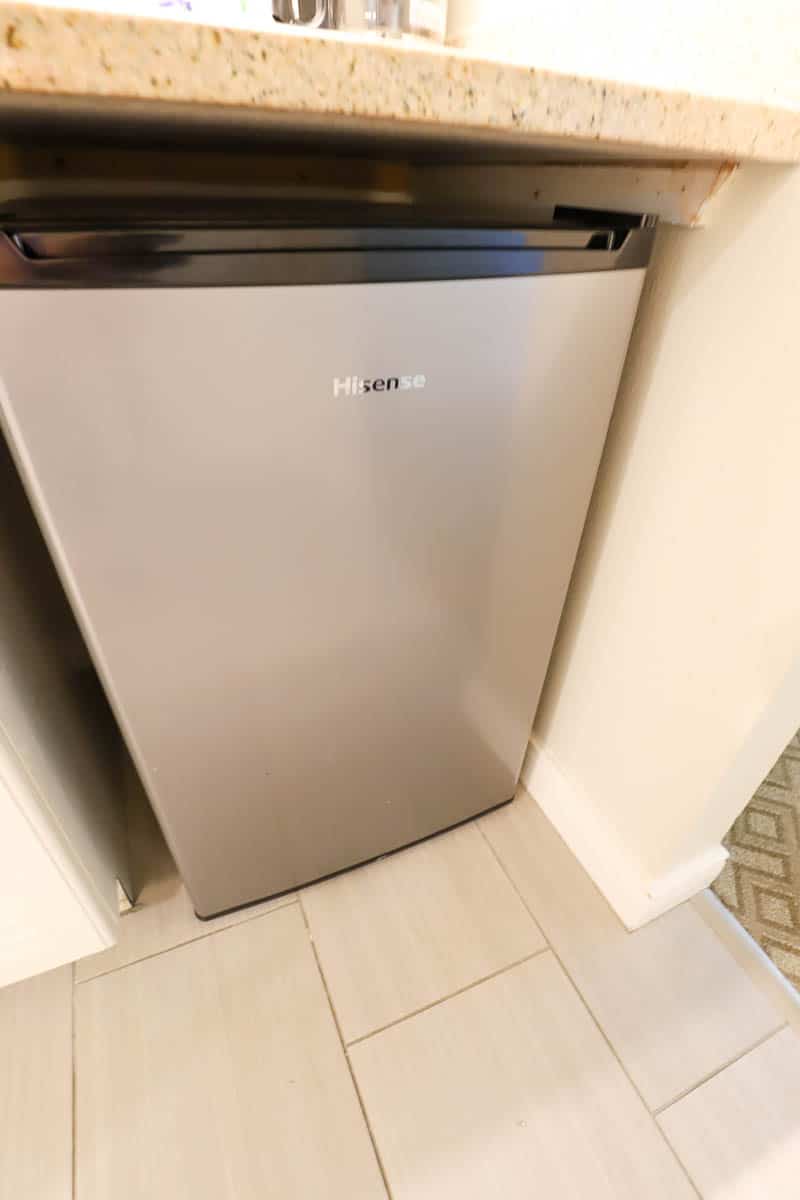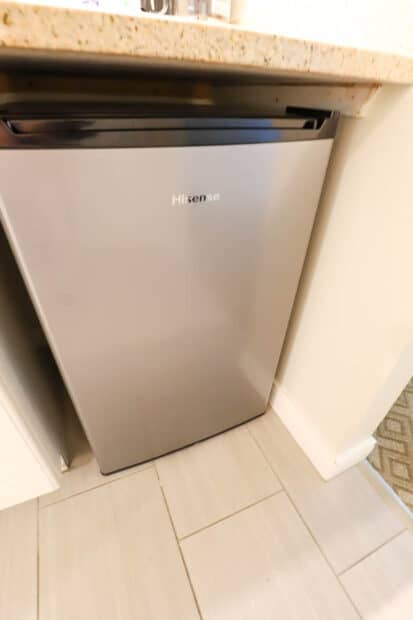 However, this one didn't have freezer space at the top. But it would hold a reasonable amount of items.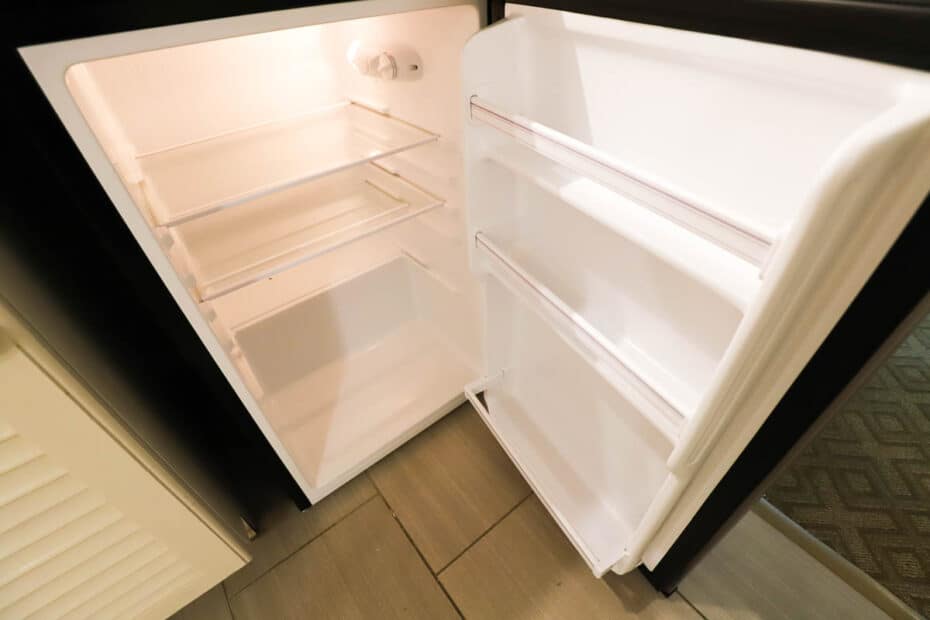 Across the hallway from the kitchenette, there's a closet with space to hang your clothing.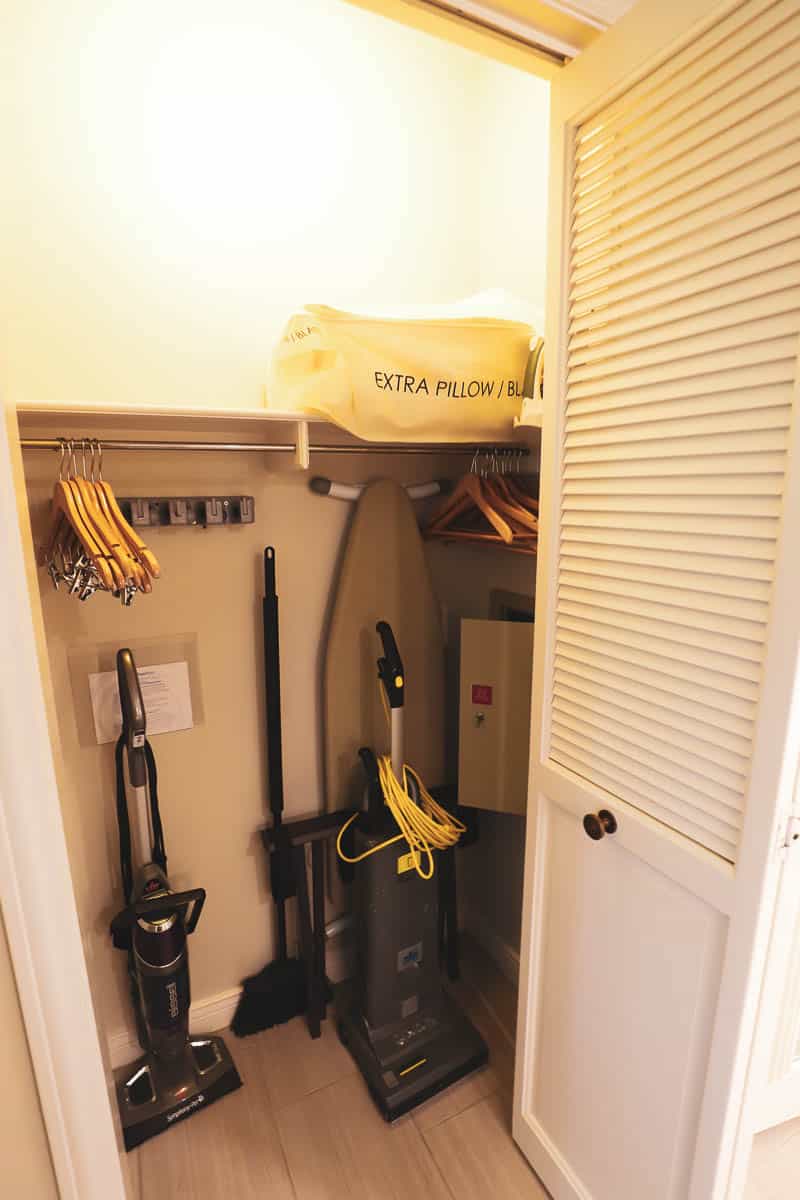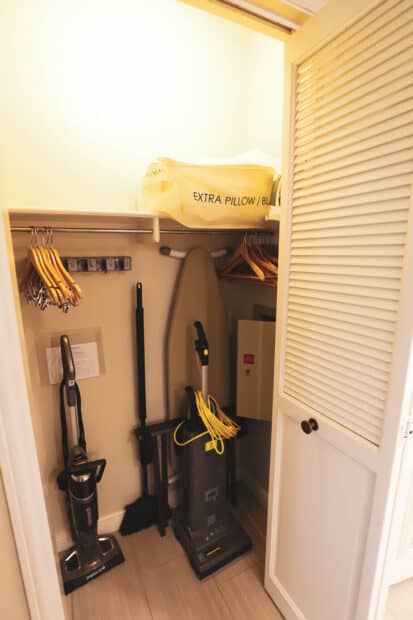 There is also an iron, ironing board, vacuum, and an in-room safe.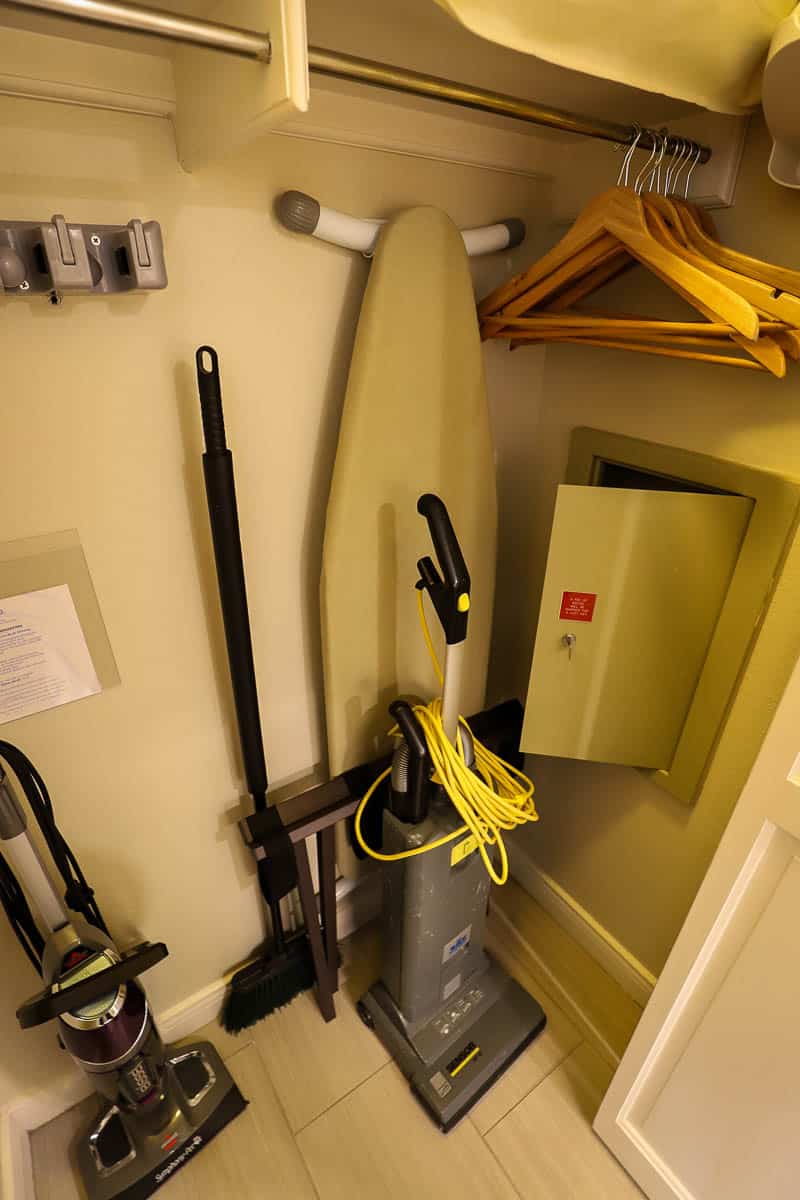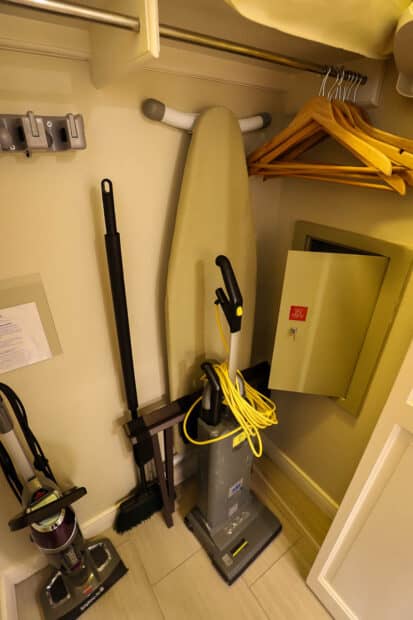 Here is an overall view of the kitchenette area toward the guest bath.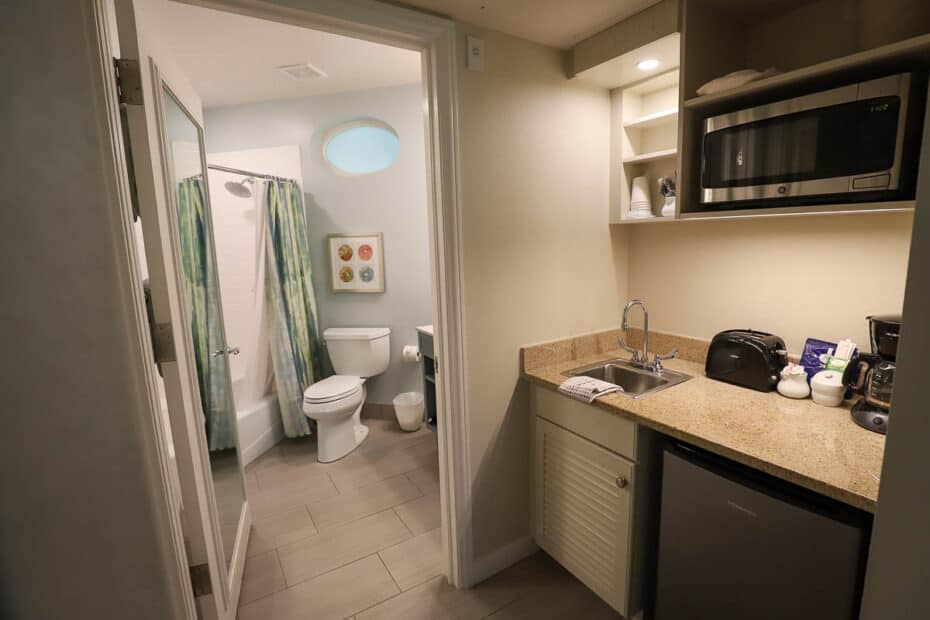 The guest bath was also spacious. There was only one sink, but I appreciated the vanity's extra counter space. In addition, there was storage available underneath the vanity.
The bath features a standard tub with a shower combination.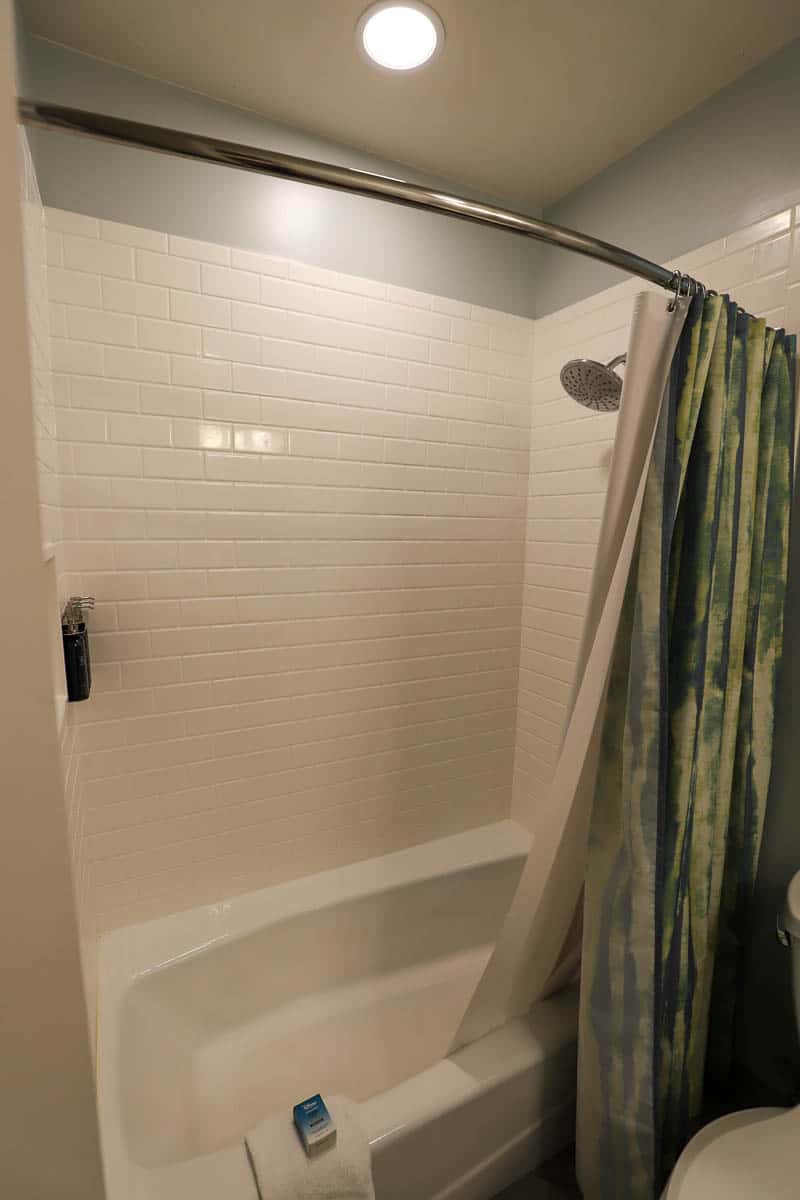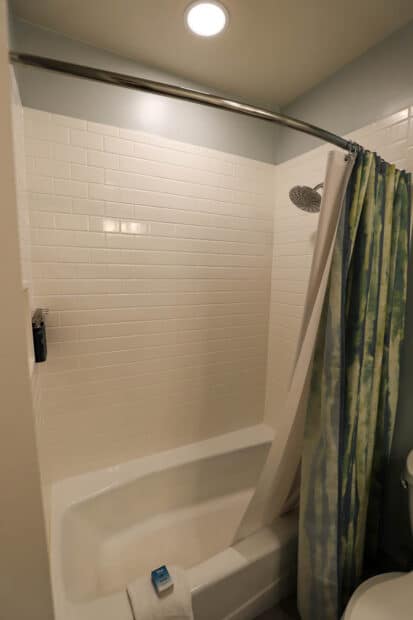 As far as storage goes, the beds are platform-style, which leaves room to slide luggage underneath.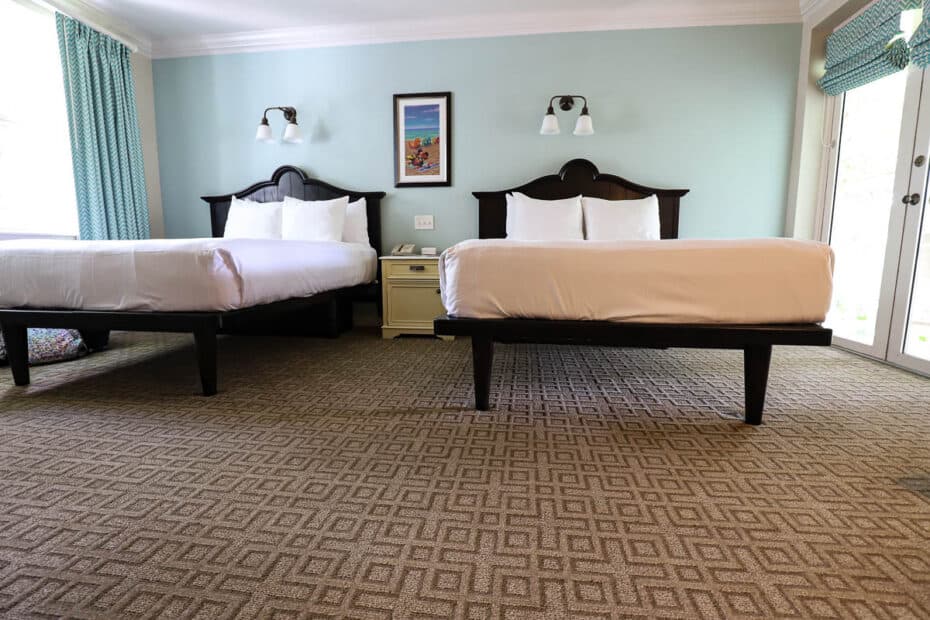 All the deluxe studios at Old Key West have a balcony or a patio.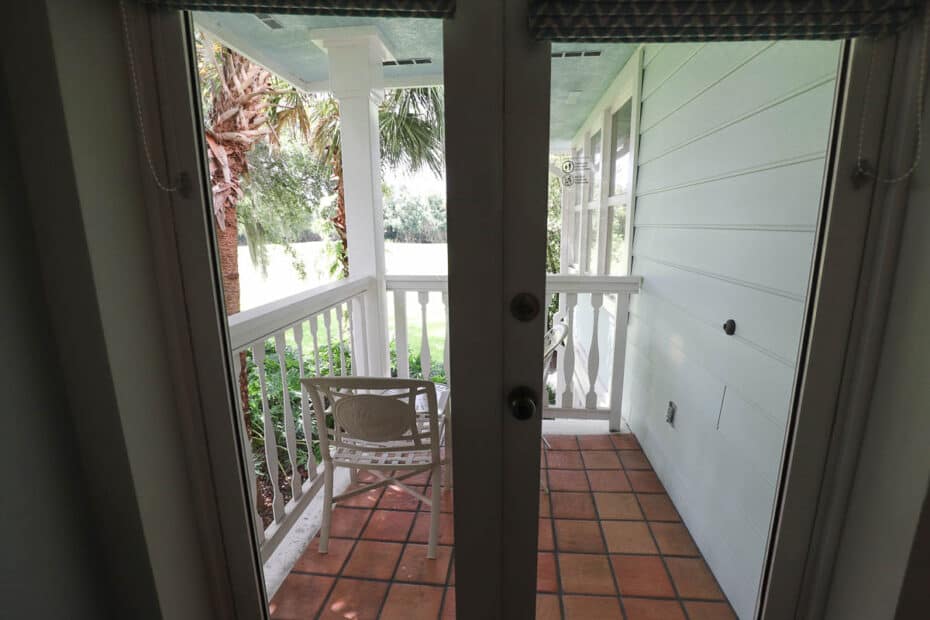 Each room offers a view of the water, wetlands, or fairways.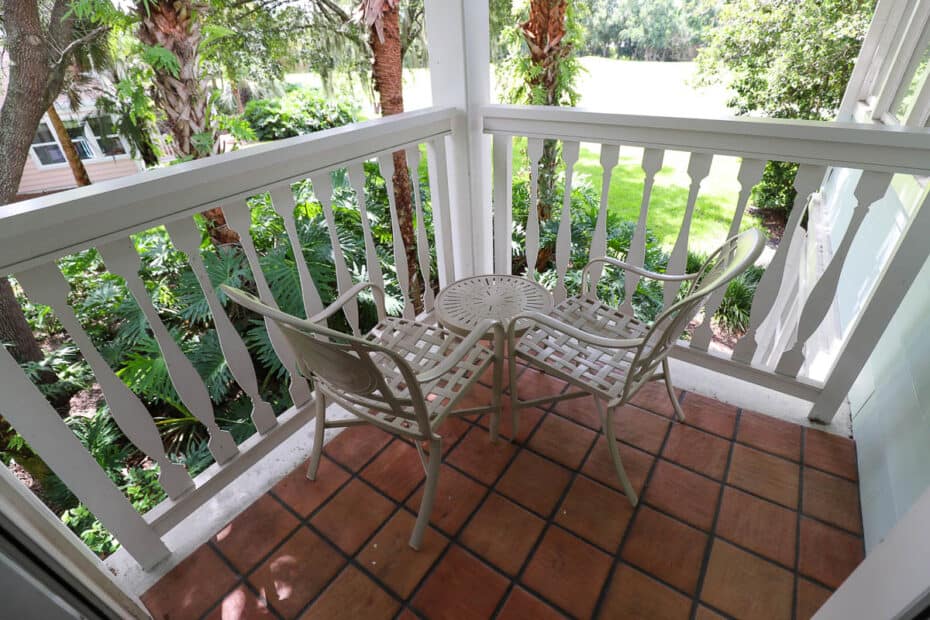 My deluxe studio had a nice view of the fairways.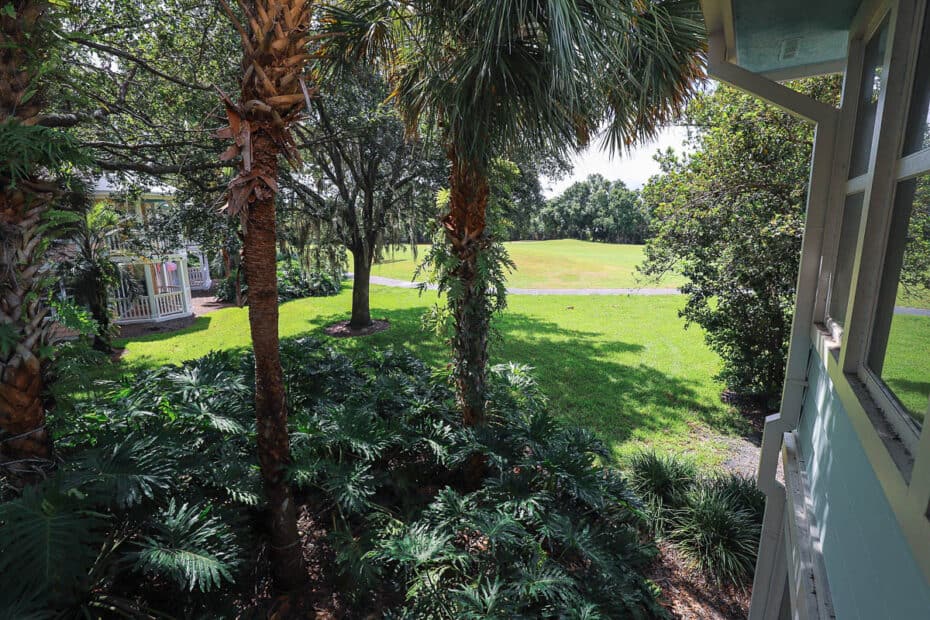 Video of a Deluxe Studio at Disney's Old Key West
Overall, I enjoyed my stay at Old Key West. The resort's tropical atmosphere is relaxing, and everything seems to move at a slower pace, which is reminiscent of the Florida Keys.
However, next time I stay here, I'll see what I can do about requesting a first-floor room. Dealing with bringing luggage up and down a staircase isn't necessarily how you want to start or end your vacation.
For more details about the resort, all of our articles are listed in our guide:
Also, I recently enjoyed lunch with friends at the resort (and breakfast for one) and shared that experience in a review of Olivia's Cafe.
We also have these other individual articles:
What are your thoughts on the deluxe studio at Old Key West? Would dealing with stairs be a deal breaker if you received a higher floor room?
Planning a Walt Disney World or other Disney Destination vacation?
Our friends and travel partner, Firefly Travels, excels at doing Disney differently. You can fill out a plan your trip form on their website, and someone will reach out shortly to discuss the specifics.