Disney's Old Key West Resort Review
This review of Disney's Old Key West discusses the resort in its entirety. We'll look at what it's like to stay at Old Key West, including rooms, dining, recreation, and other amenities.
Let me preface this review by saying that Disney's Old Key West is not for everyone. But don't get me wrong.
In its way, Old Key West is one of the best things Disney has going for it. If I were asked to describe the resort in one word, I couldn't. Instead, two words come to mind: loyalty and nostalgia.
Why loyalty? Old Key West is the first-ever Disney Vacation Club Resort, a timeshare development owned by Disney. (Yes, even though Old Key West is a timeshare property, any guest can reserve a room there.)
When Old Key West first opened, guests, many of them baby boomers, began buying into the development. They were committing to a lifetime of visiting Walt Disney World with their families. Many of them still do to this very day. Loyalty.
As for nostalgia, Disney's Old Key West was only built in the 90s. However, the resort reminds you of a time when no cell phones were glued to our hands, and the internet wasn't on standby.
It's kind of like Fort Wilderness, except plush, only we're not talking plush like a deluxe resort, either. So if you arrive at Old Key West with expectations of a dream vacation, you will probably be soon disappointed.
That is unless your idea of a dream vacation includes walking, spending time outside, playing shuffleboard or tennis, or riding bikes. Guests who fit the mold of the resort are rarely in a rush to get to the Disney Parks.
Let's take a closer look at whether or not a stay at Disney's Old Key West is right for you.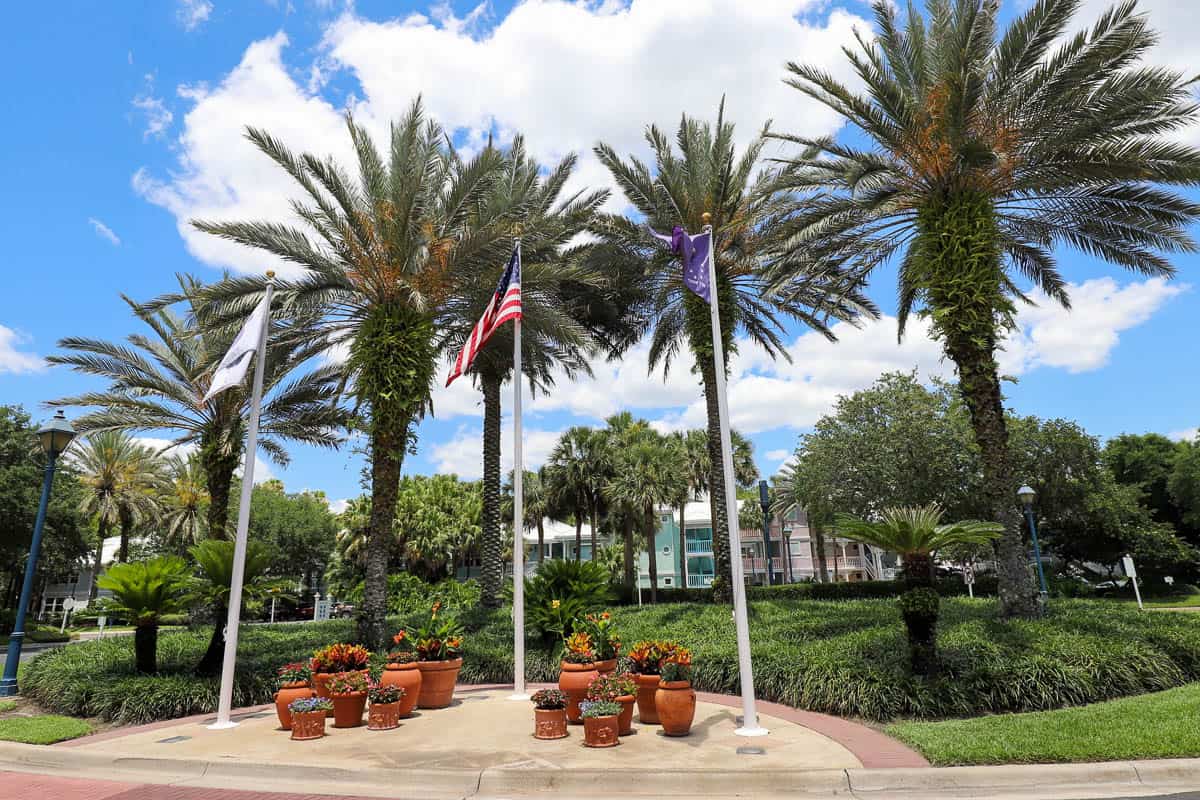 Old Key West Review
Since Old Key West is a DVC Resort (Disney Vacation Club), it falls under the category of deluxe villa resorts. It's one of the few stand-alone resorts of its kind.
Disney's Saratoga Springs Resort and Spa and Disney's Riviera Resort are the only two other dedicated DVC resorts. However, there are numerous other Disney deluxe villa resorts with separate wings.
For instance, the Villas at Disney's Grand Floridian are part of the Grand Floridian Resort and Spa. Nearly all of Disney's deluxe resorts have a separate timeshare wing.
As we continue this review, we'll look at a few of the things that make a villa resort stand out over a regular resort. But first, I want to discuss the two most important factors you'll want to consider–the size of Old Key West and its lack of elevators.
Disney's Old Key West is a sprawling resort on well over 100 acres. It backs up to the Lake Buena Vista Golf Course.
For you, this means you'll likely spend a good deal of time walking to various locations around the resort. However, you don't necessarily have to walk to get everywhere. You can rent a bicycle or hop on any bus and ride it up to Hospitality House. (That's the last stop before the bus leaves for the parks.)
So if the idea of staying somewhere that requires a good deal of extra steps sounds exhausting, you might consider one of Disney's deluxe resorts with interior halls and rooms. Another one, the only moderate option, is Gran Destino Tower at Coronado Springs.
Related: Gran Destino Tower Review
Secondly, there is another huge inconvenience. None of the buildings at Old Key West have elevators. Each building is three stories.
So if you receive a room assignment on the second or third floor, you must tackle the stairs every time you come and go. You'll also have to deal with luggage, groceries, etc., on arrival. Getting it all back down at the end of your vacation could be an issue for some.
Unfortunately, the lack of elevators at the resort is a negative factor for almost everyone. Even if you argued it wasn't an issue, what if you or someone in your party sprained their ankle during your trip?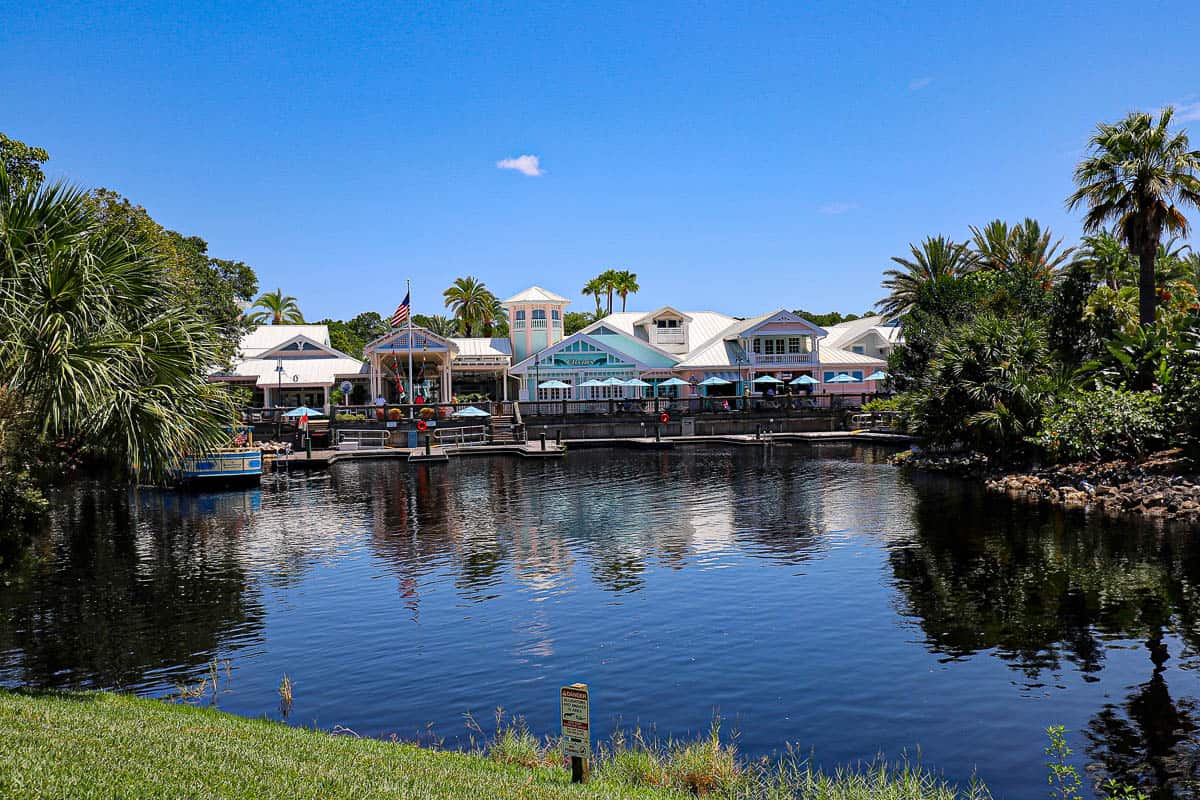 Now that we got those unpleasantries out of the way, every resort has them. Let's walk through the resort's main entrance. A porte-cochère sits out front providing a covered area for arriving guests.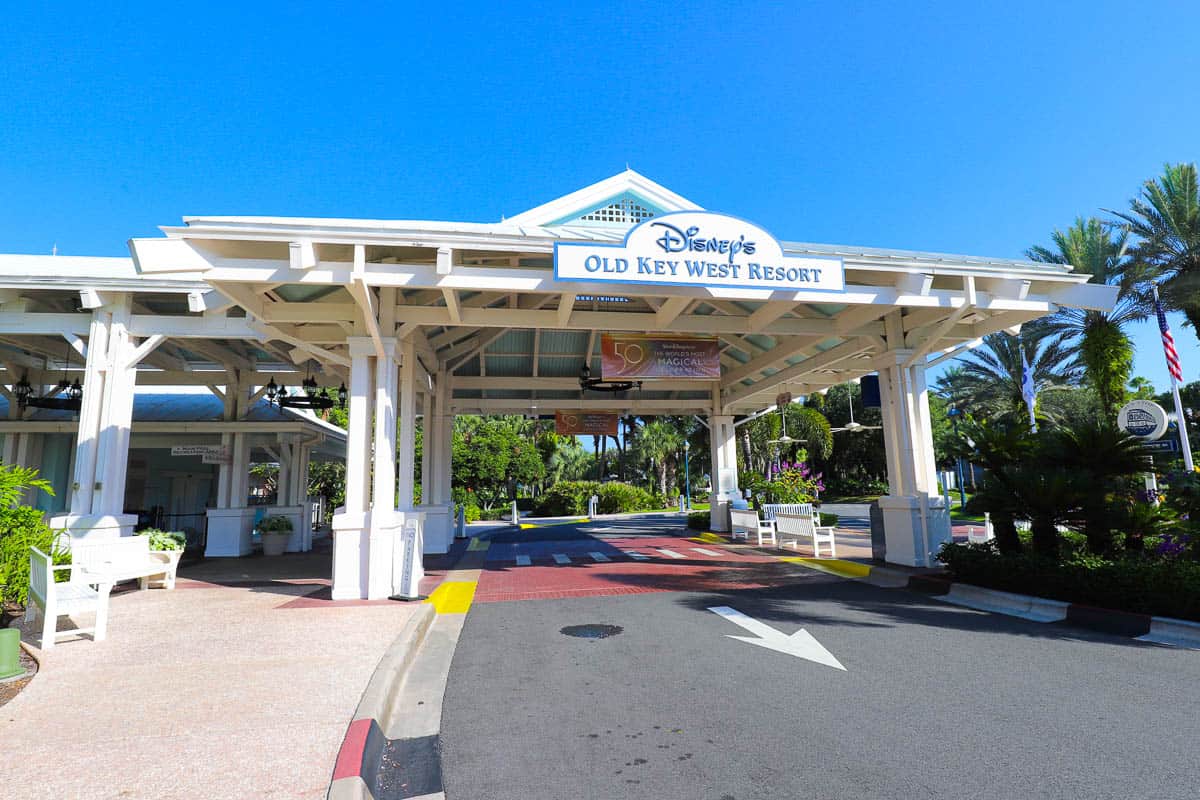 Instead of walking directly inside, you're greeted by this stunning covered walkway that leads to the lobby, shops, and restaurants. This entire area is called Hospitality House.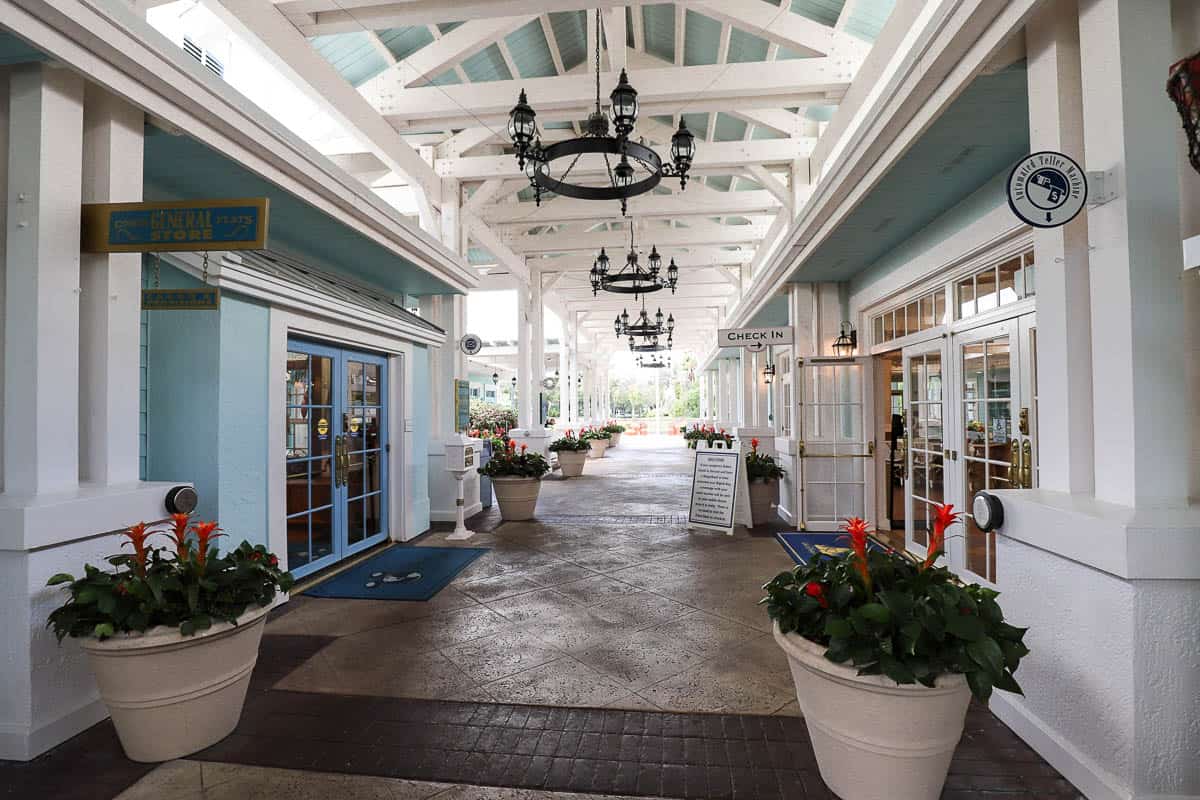 If you haven't visited Old Key West in recent years, you might be surprised by the refurbished lobby area. Disney did an excellent job with the space. I have yet to hear one complaint about it, and I keep my ear to the ground on all things resorts.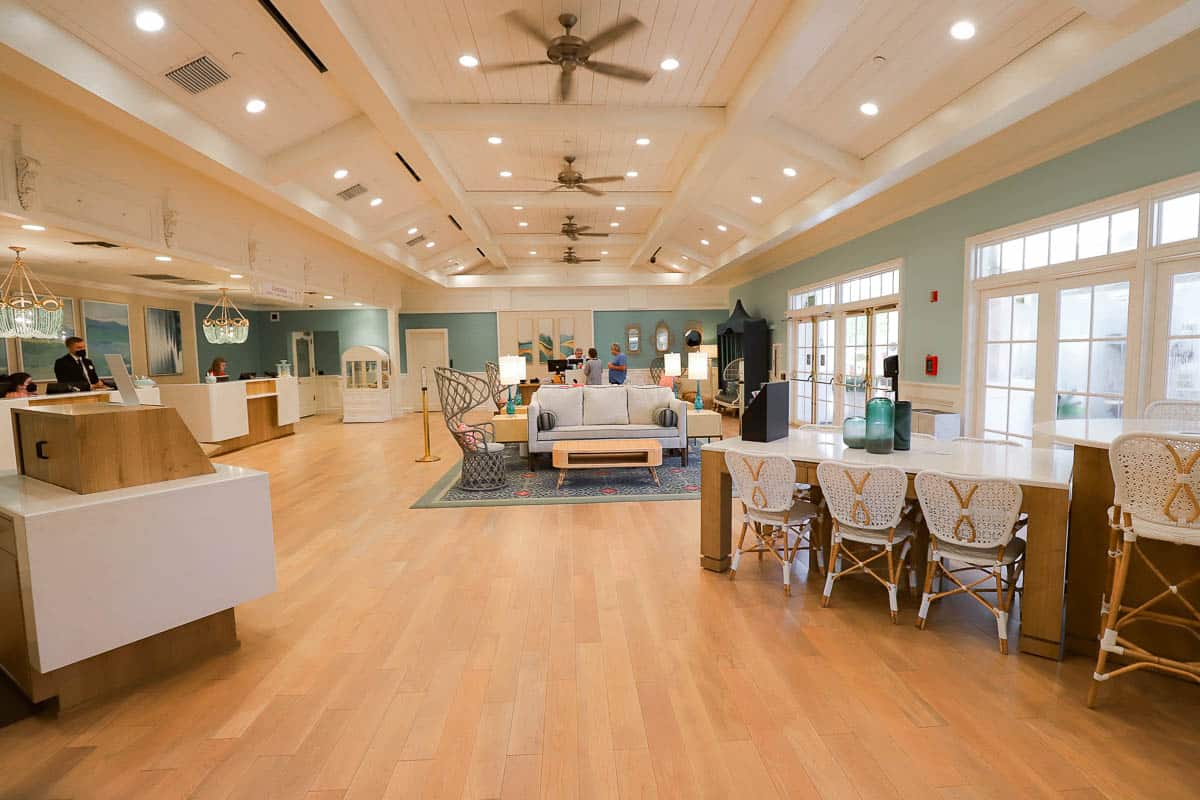 Adjacent to the lobby is Papa's Den, a nod to Ernest Hemingway. Hemingway wrote many famous pieces of literature during his time in Old Key West. His nickname was Papa.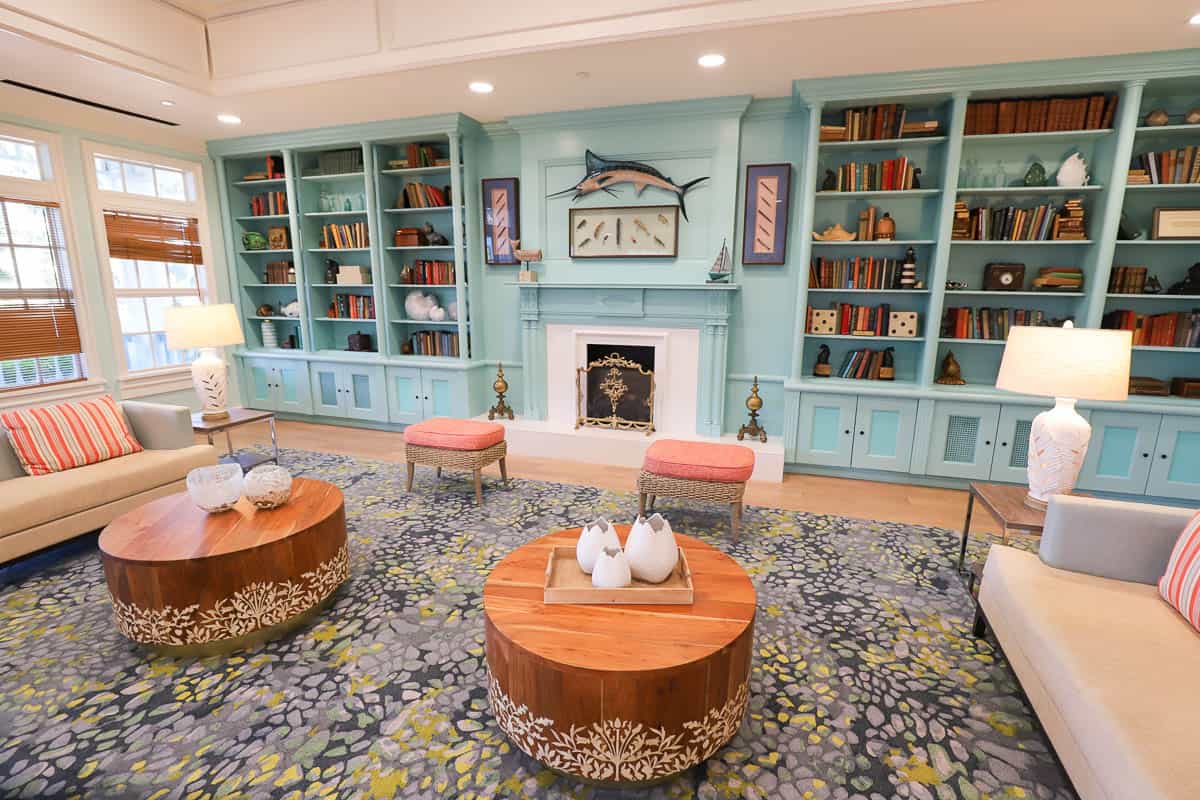 It's a pleasant place to meet up with friends, or you might find a comfortable spot to read a book.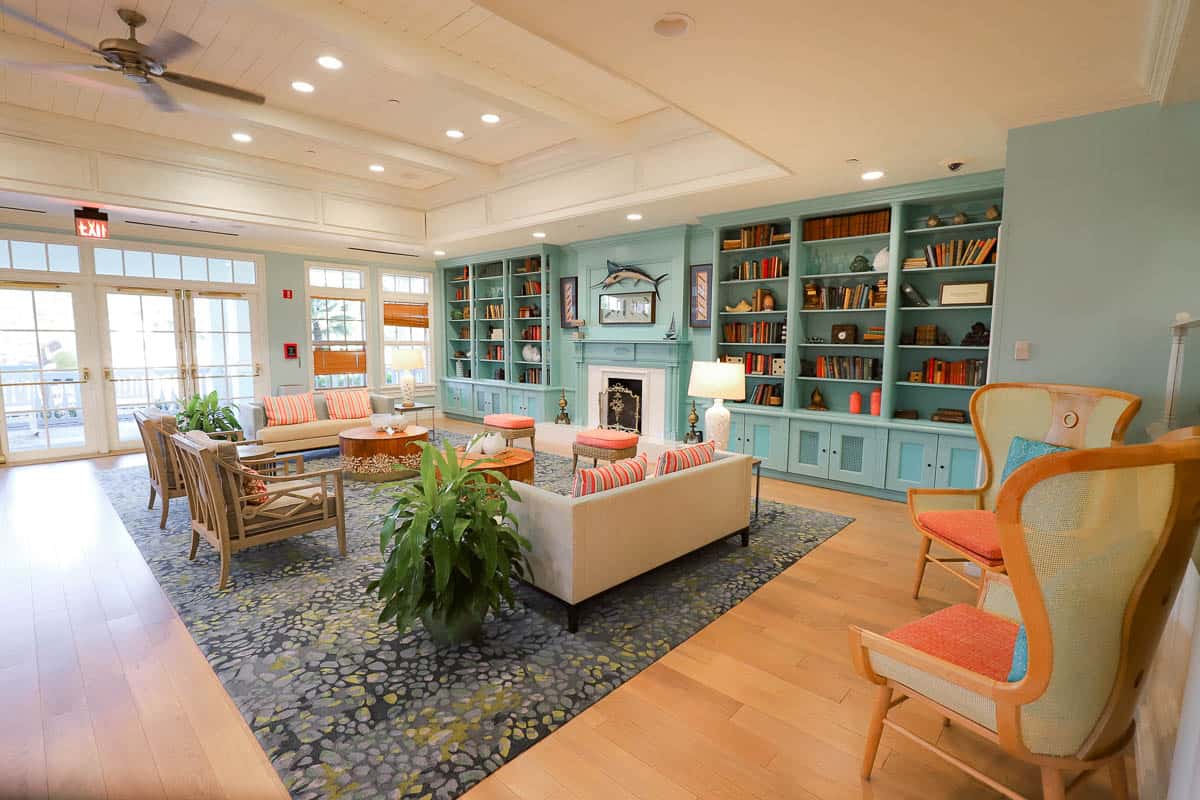 "There is no friend as loyal as a book." — Ernest Hemingway
Disney's Old Key West Layout
Since Disney's Old Key West is laid out over a massive amount of grounds, you likely won't be close to Hospitality House. There are only a few buildings with guest rooms at Hospitality House.
These buildings are 11, 12, 13, and 14 and are listed as "near Hospitality House." Additionally, there's a small loop that sits across the water that's within proximity to Hospitality House. Buildings in that loop are 23, 24, 25, and 26.
Other buildings within a reasonable distance of Hospitality House are 15-22 and 62-64. Anything else I consider to be in the back forty. That's a remote place.
With that said, for this stay, we received a room assignment in "the back forty." We were in building 52, right outside the South Point Road bus stop.
When I realized where we were staying, I couldn't help but think it was just my luck to get about as far away from Hospitality House as possible. But I ended up enjoying the privacy.
Also, I walked to the front of the resort early one morning to get photos of the pool when it opened. It was a nice walk, and I had breakfast at Olivia's before returning to the room.
As someone who enjoys being outside as much as possible, I couldn't help but marvel over the beauty of the resort. It's a humble place.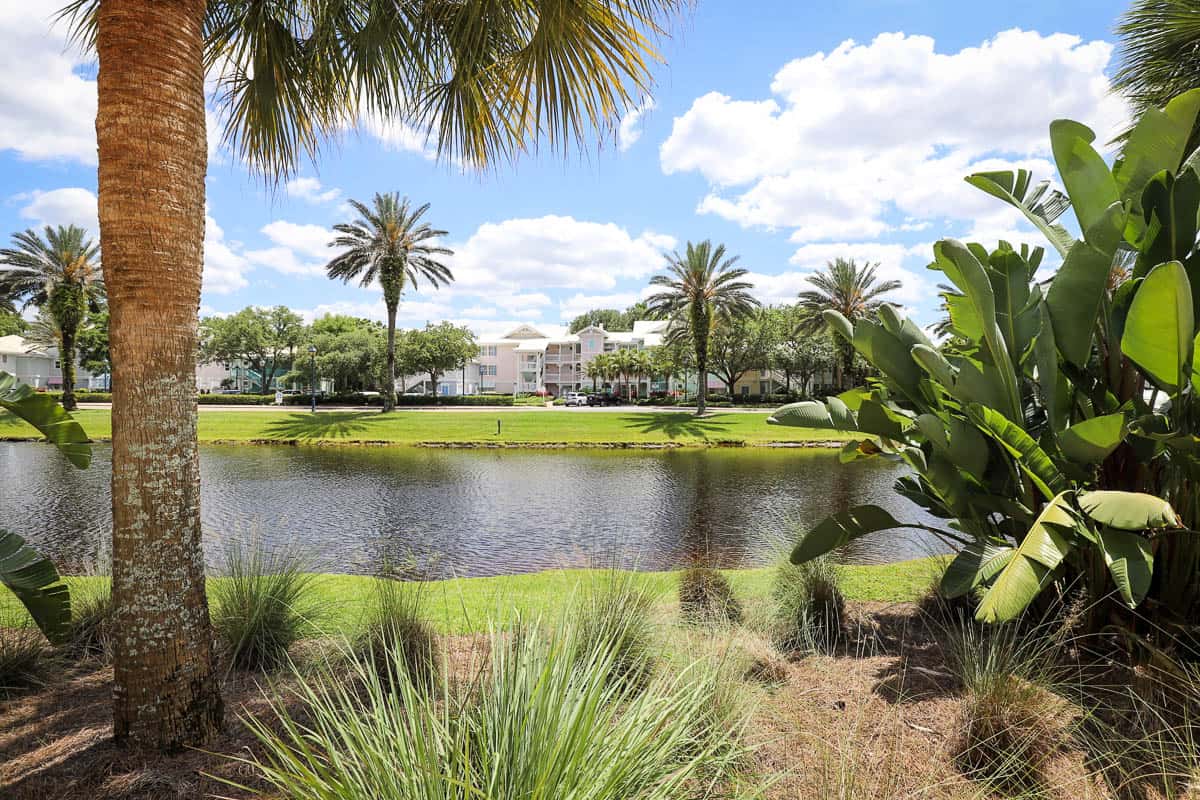 Benefits of Staying at Old Key West
While there are many benefits to staying at Old Key West, there are two benefits Disney has extended to Walt Disney World Resort guests in 2023. However, one of these benefits is only extended to guests of deluxe and deluxe villa resorts, in which Old Key West qualifies.
That first benefit is early theme park entry. Per Disney:
"Guests staying at Disney Resort hotels and select other hotels can take advantage of a 30-minute early entry into Walt Disney World theme parks every day."
Related: Hotels That Qualify for Early Park Entry
Additionally, Old Key West qualifies for extended evening theme park hours since it's a deluxe villa resort. These hours are usually offered two times per week. You can view the 2023 schedule here on Disney's site.
Being able to take advantage of both of these benefits is a big deal. Ultimately, you will have more time in the parks with fewer people.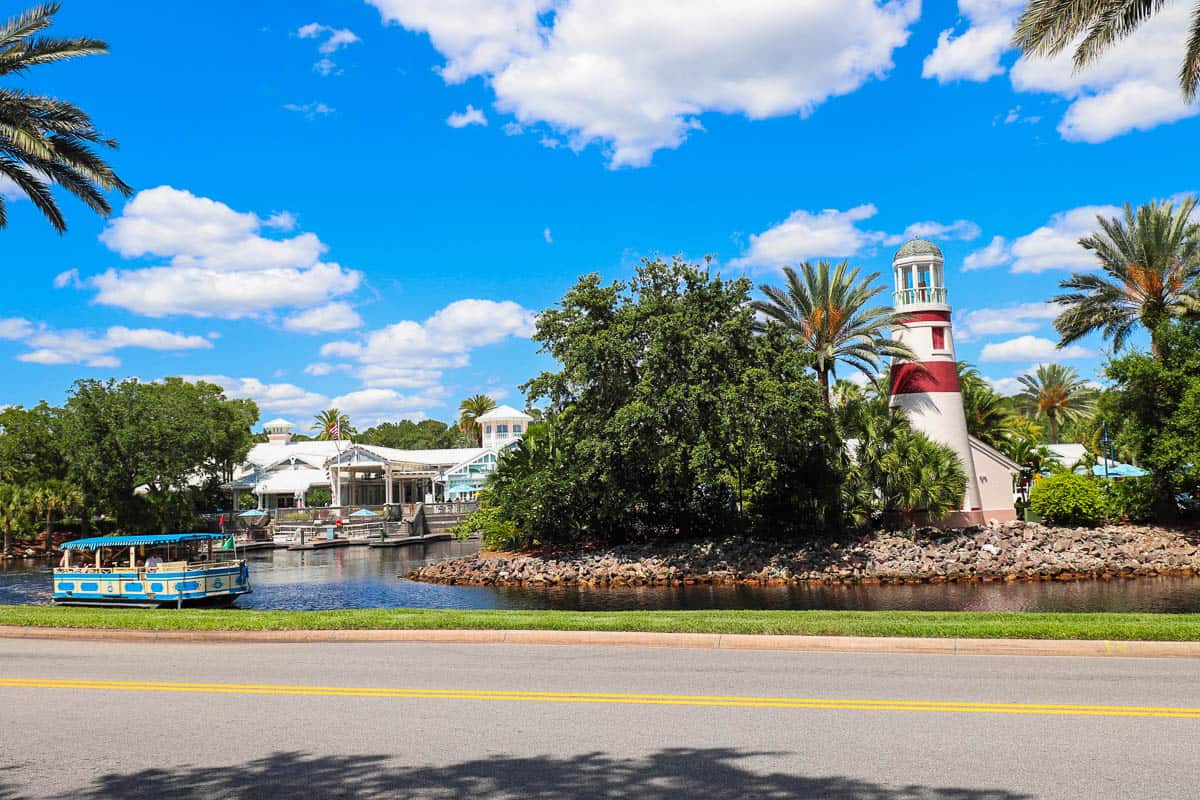 Rooms
For our stay, we had a deluxe studio on the top floor of our building. I can assure you that dealing with the luggage was a headache, considering I don't pack lightly. But it was more of a nuisance than a deal breaker.
There are several room types you can reserve at Old Key West. They are as follows:
Deluxe Studio
1 Bedroom Villa
2 Bedroom Villa
2 Bedroom Villa (with lock-off)
3 Bedroom Grand Villa
Each of these rooms has the "near Hospitality House" location offering. However, as discussed in the resort's layout, these rooms are limited and fill up quickly.
If you're wondering what a lock-off unit means, it combines a one-bedroom unit and a deluxe studio. Do you know how some hotel rooms have a door that could potentially connect to another room? This is the same idea.
We have an example of a two-bedroom lock-off at Disney's Riviera if you want to see an example. However, the floor plans and finishes will be entirely different and much more costly at the Riviera.
Here is building 52.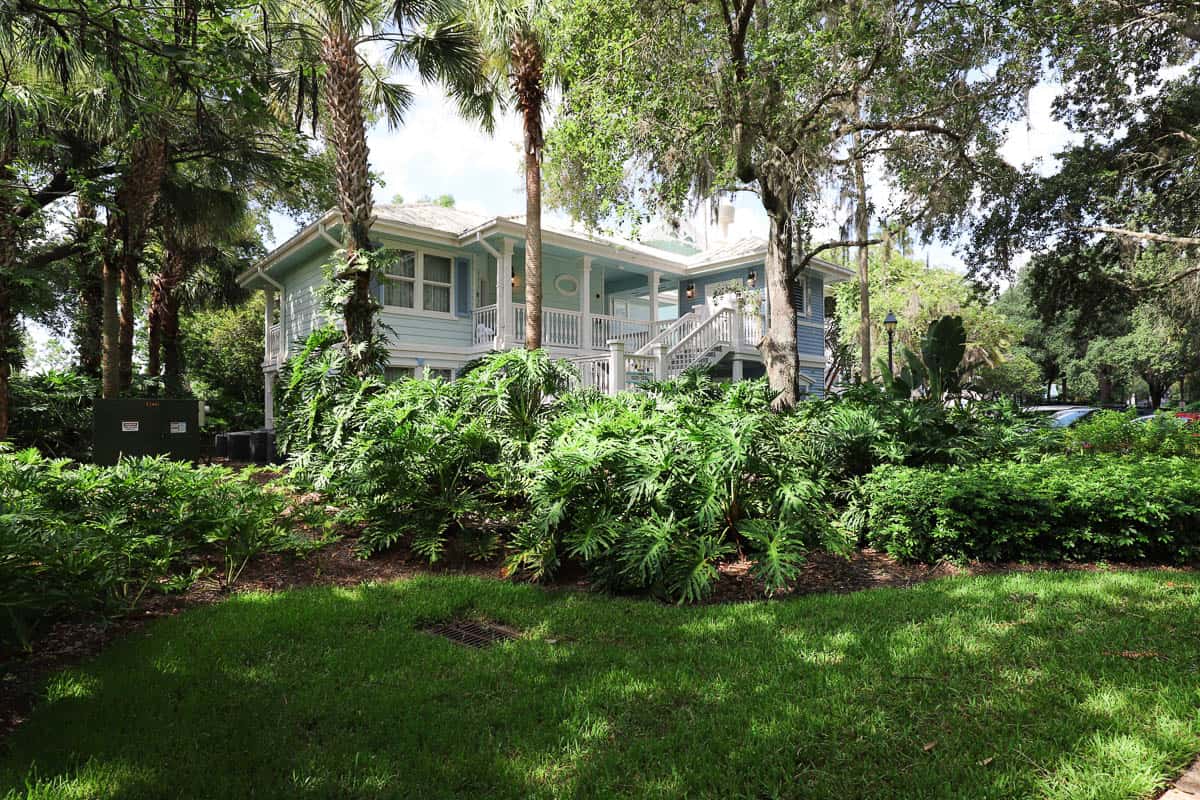 The picture below shows a few important things. First, you can see two flights of stairs with a landing in between. This was the walk-up to our room.
Then you can see a smaller structure with a sidewalk around it. This was the bus stop, and there was an ice machine on the side of it. So if you're looking for ice at the resort, it's at the bus stop.
We couldn't have been any closer to the bus stop, but as I noted in the room tour, I could hear the beeping noise of the bus every time it arrived. However, it was more of an observation than an issue.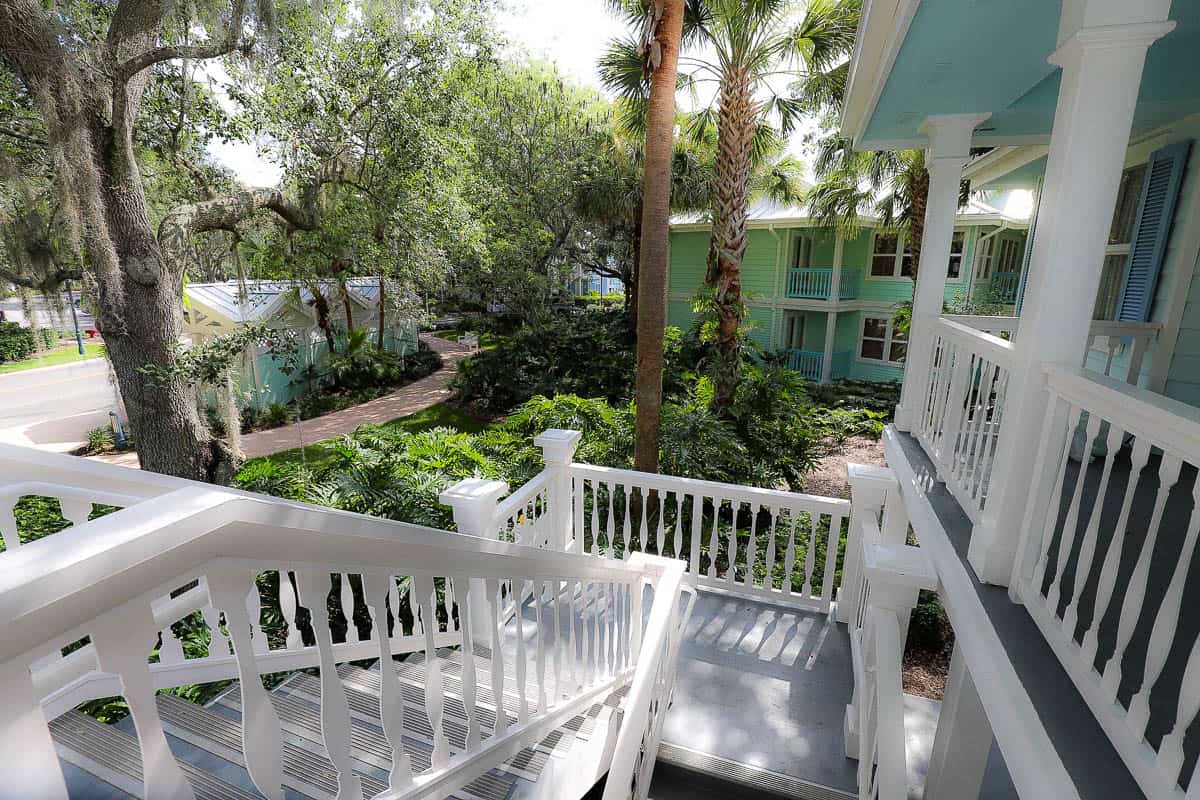 Rooms at Old Key West are laid out differently from most rooms. They are a bit more spacious square-footage-wise.
Deluxe studios have two queen beds. So you don't have to worry about a sofa bed like some of the other villa resorts.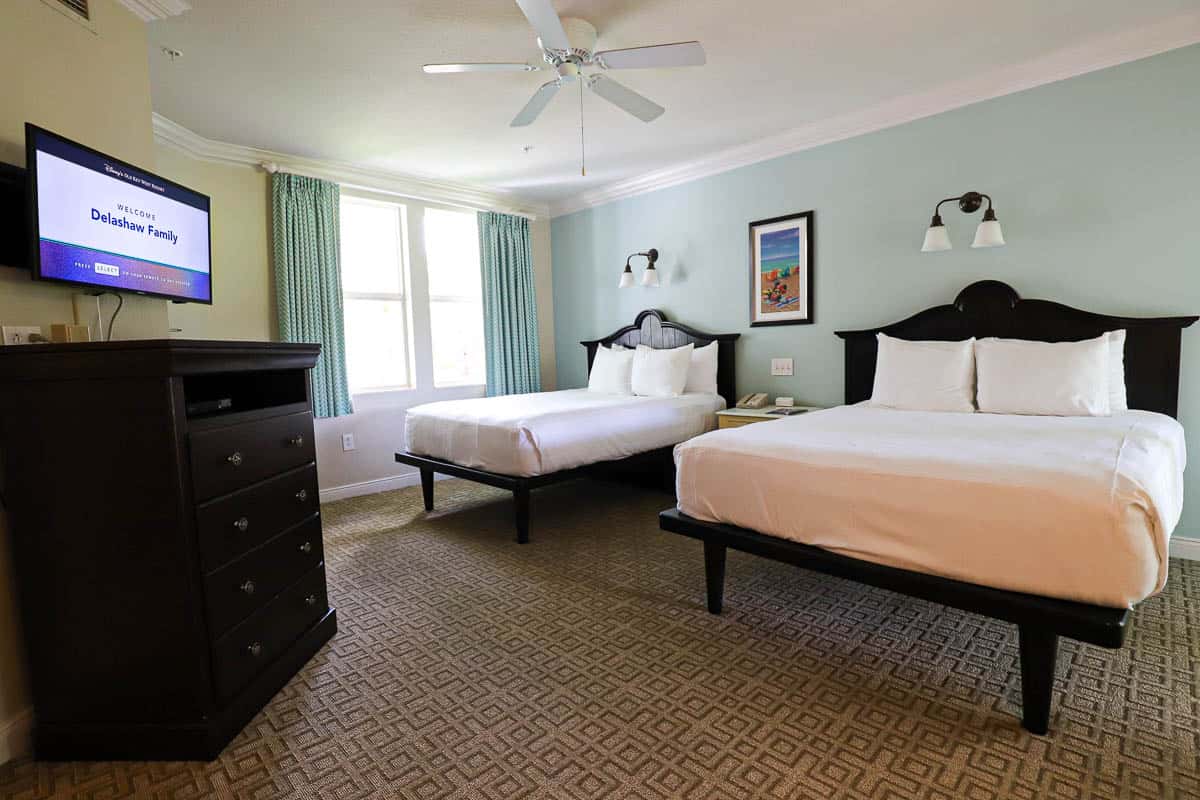 Here is an alternate view of the room. Note there's a small table with two chairs.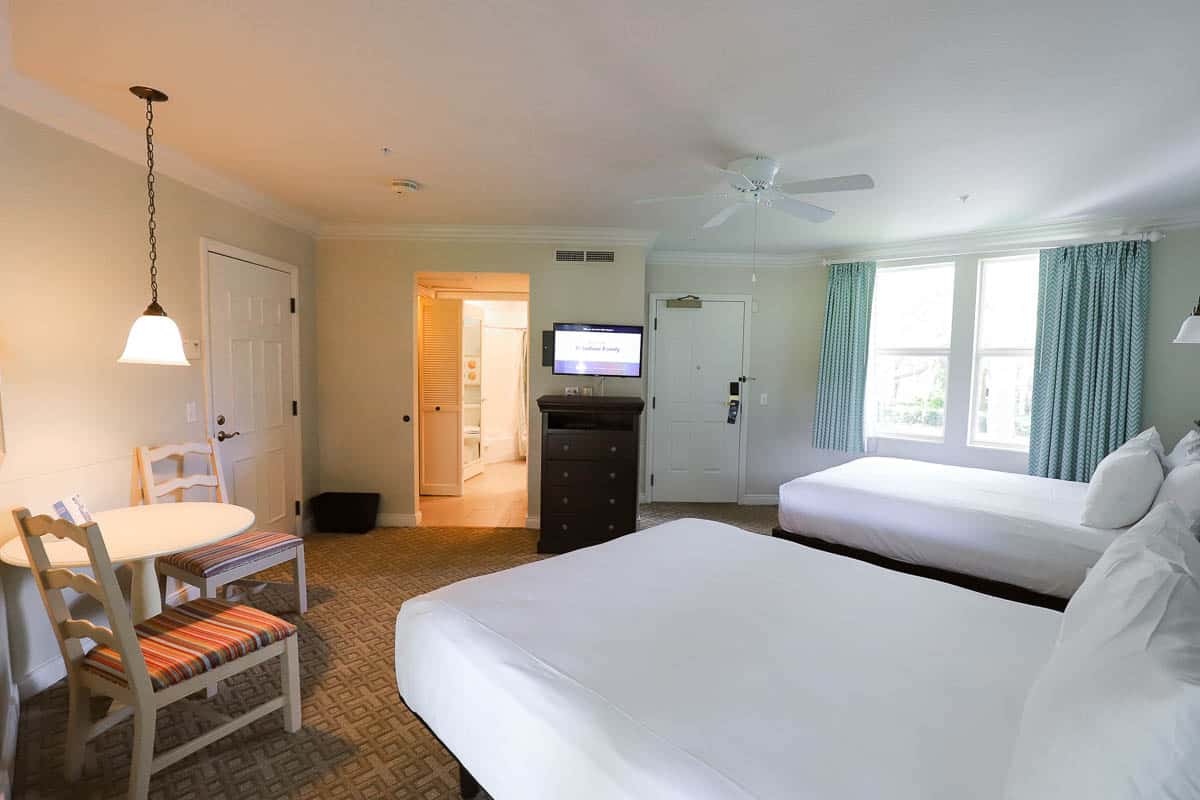 Another standout feature you'll only find at deluxe villa resorts is the kitchenette. Deluxe studios have a sink, mini-fridge, microwave, and a few small appliances. Of course, one-bedroom and larger units have a full kitchen.
Additionally, the deluxe studio at Old Key West has a standard bath with a tub-shower combination.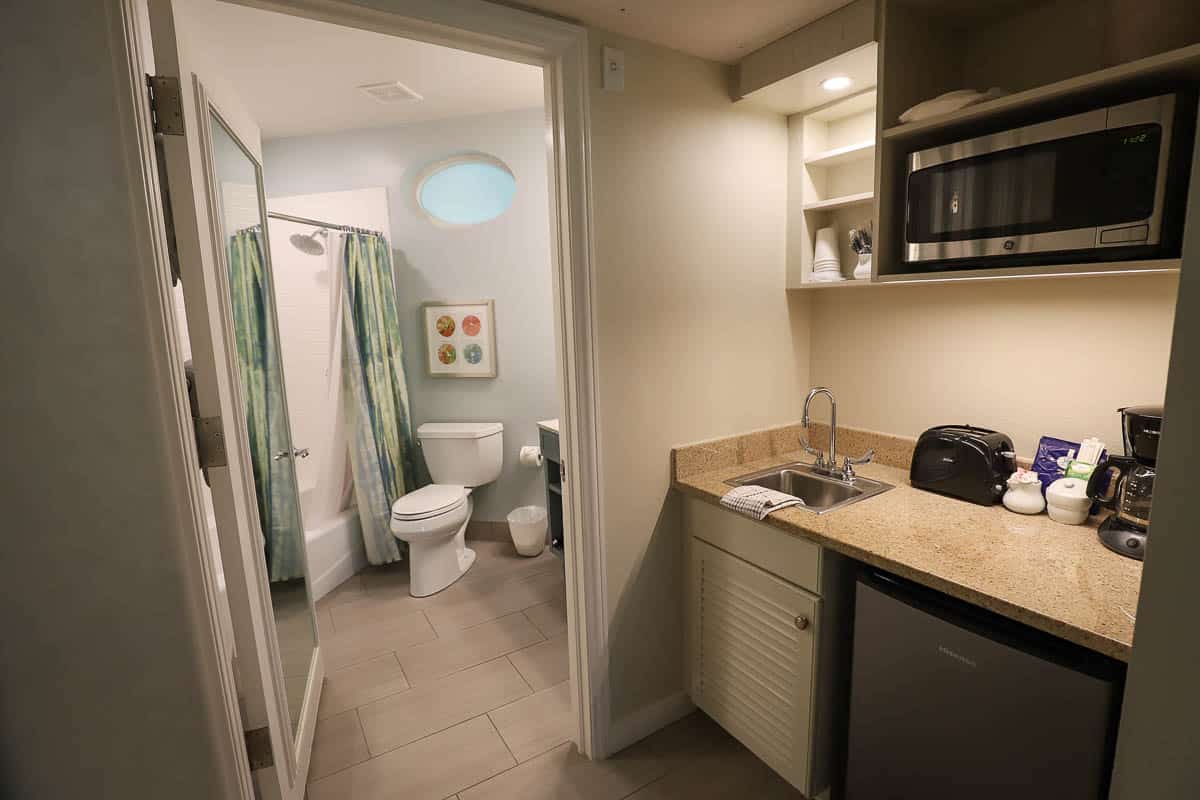 All rooms at Old Key West will have a balcony or patio. Our balcony has a table with chairs facing the golf course. It was a relaxing space with a decent amount of privacy.
Related: Old Key West Deluxe Studio Room Tour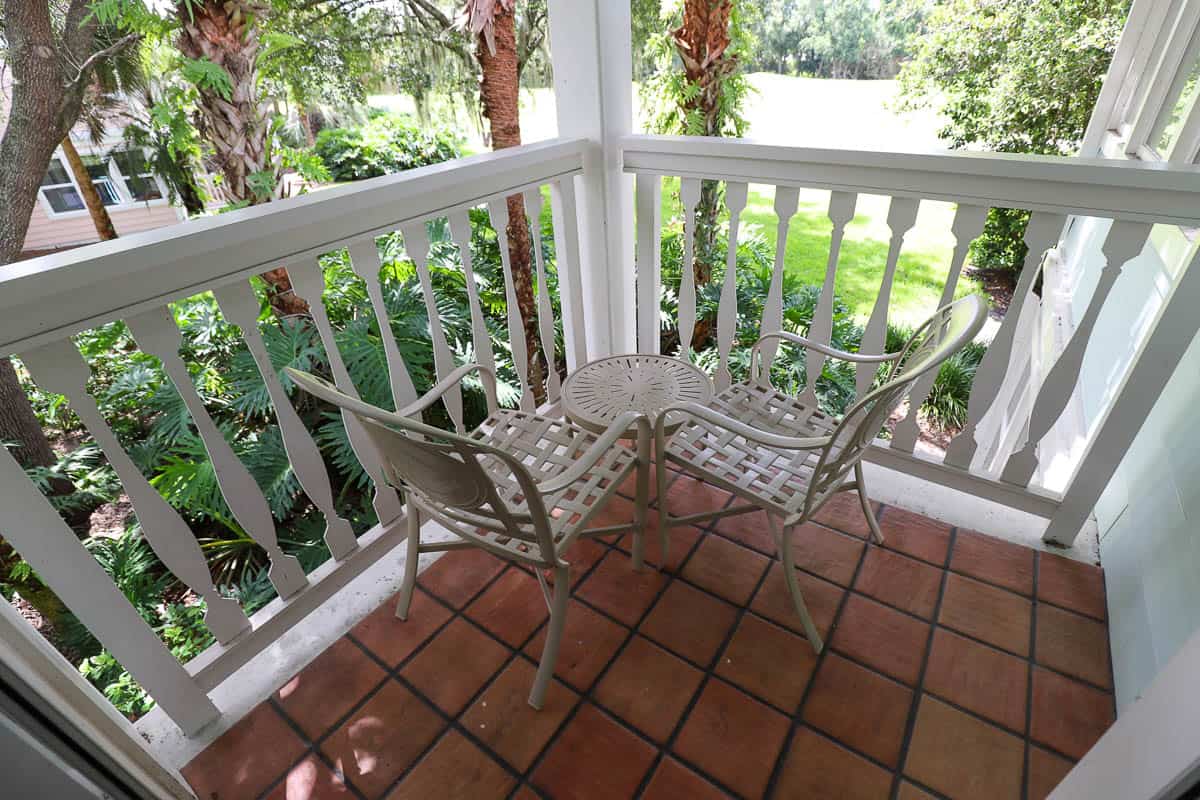 Dining
I'm the first to admit that dining options at Old Key West are a bit lacking. But, there is one significant factor that helps make up for it.
Since the resort makes up part of the Disney Springs Resort Area, the resort offers boat and bus transportation to nearby Disney Springs. So you can hop on a boat and dine at Disney Springs when you get there.
Not only is the boat ride pleasant, but Disney Springs has excellent dining options, ranging from quick service to fine dining.
Related: Disney Springs Best Restaurants List
Olivia's Cafe
Olivia's Cafe is the table service restaurant at Disney's Old Key West. Most will want to plan at least one meal here during their stay.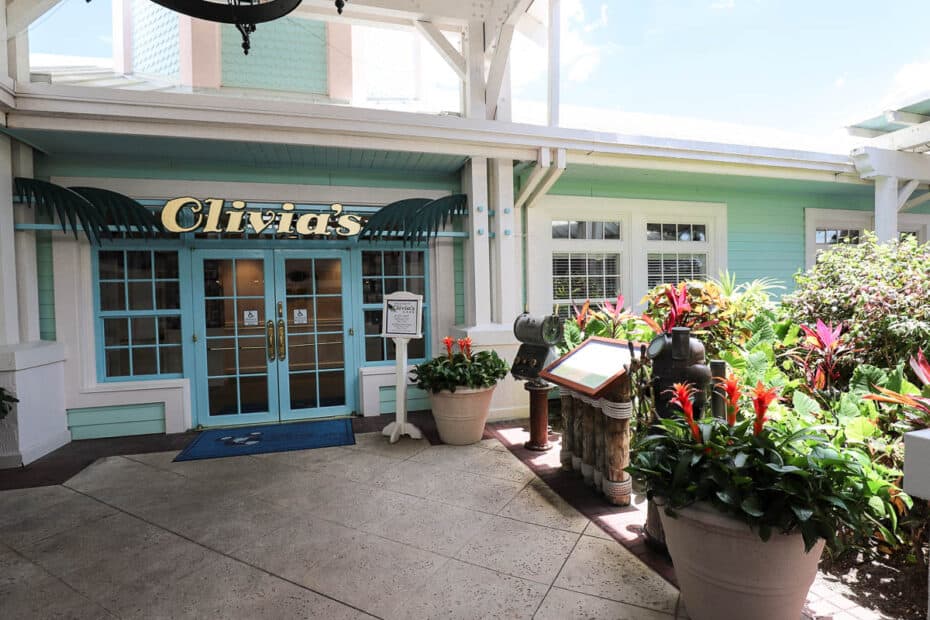 Olivia's offers a ton of charm along with a simple menu. We've had breakfast, lunch, and dinner here over the past few years. Their Southernmost Buttermilk Chicken is a staple menu item for lunch and dinner.
During this stay, I stopped in and had an order of pancakes with a side of grits and bacon. It was the perfect start to my day. I even requested to dine outside on the patio.
Related: Olivia's Cafe Review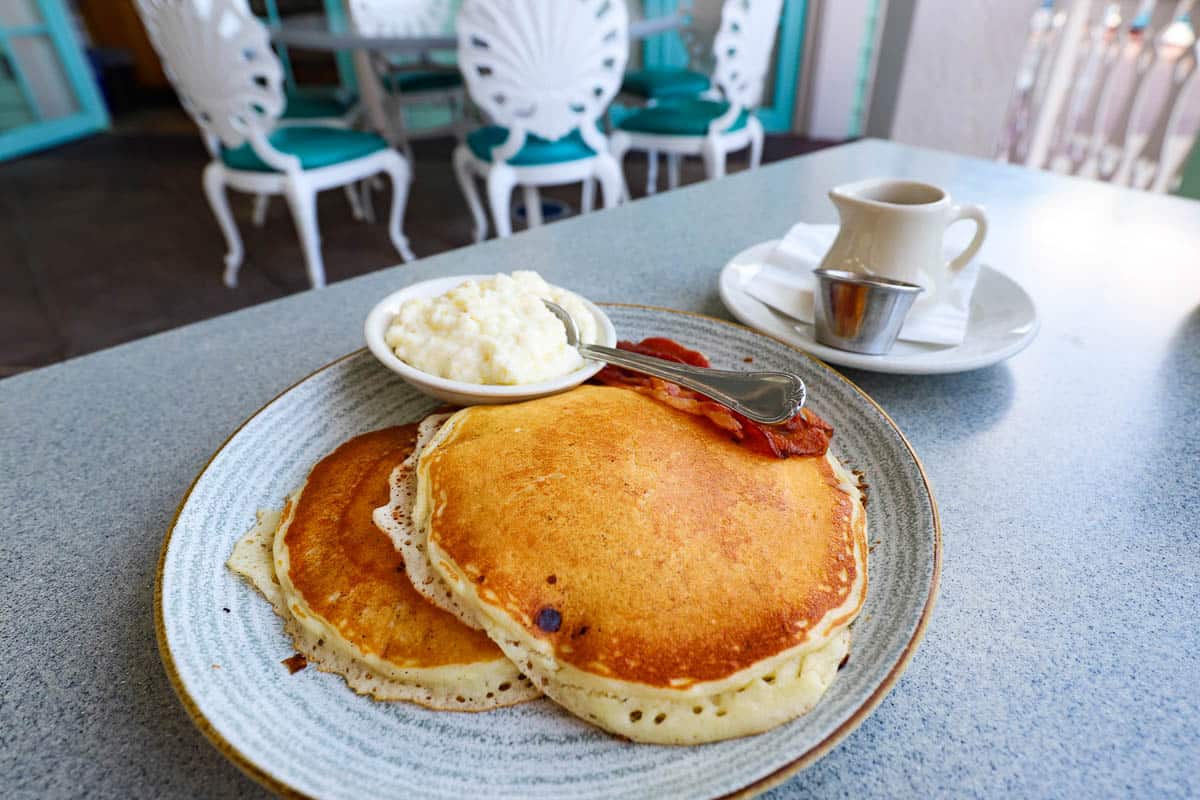 Good's Food To Go
Good's Food to Go is the primary counter service at Old Key West. This tiny hole-in-the-wall establishment is located at Hospitality House.
They serve breakfast, lunch, and dinner. Items range from Mickey-shaped waffles to sandwiches, burgers, and chicken nuggets. You can preview the current menu with prices here on Disney's site.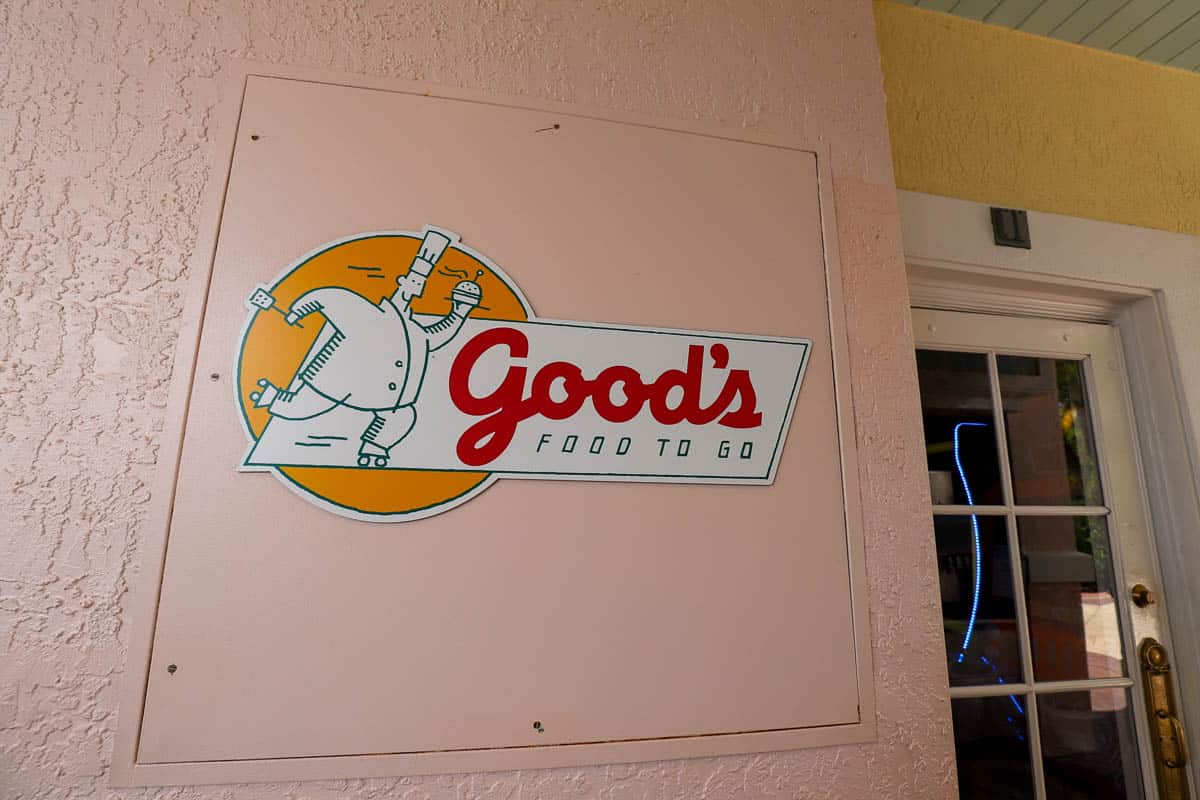 Gurgling Suitcase Libation and Spirits
Speaking of holes in the wall, Old Key West's lounge, the Gurgling Suitcase, sits next door. It also doubles as the pool bar.
Most days, the doors to the bar are slung open, and you can walk up and order a drink. There are plenty of shaded and covered areas nearby to enjoy a cocktail.
You can also order a few sandwiches and items from Olivia's. Check the menu here for specifics.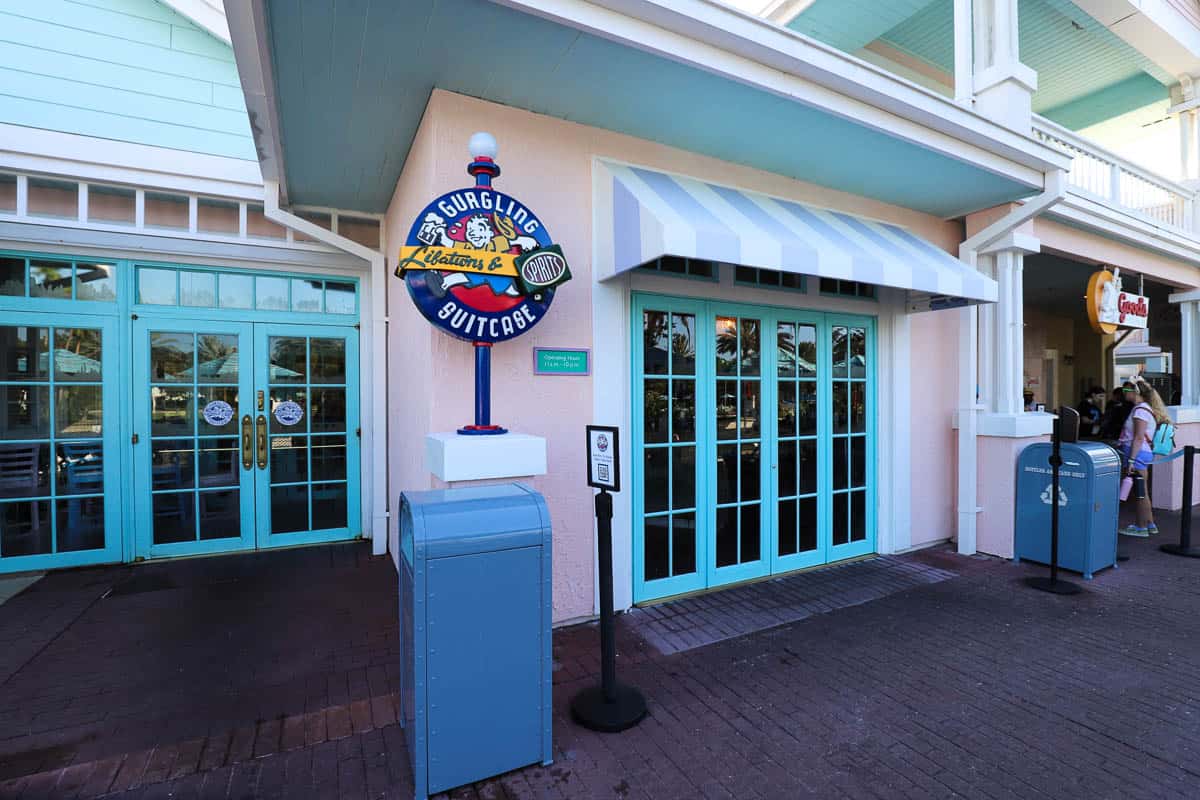 Turtle Shack Poolside Snacks
Since Old Key West is such a large resort, they have an additional quick service location at one of the resort's leisure pools, Turtle Shack Poolside Snacks. This location is usually open daily from approximately 11:30 a.m. until 5:30 p.m.
However, hours may vary based on the season. You can preview their menu here.
Recreation
One thing is for sure. Old Key West is winning when it comes to recreation. There is so much to do here. You could spend your entire week having fun at the resort.
First, there is the resort's feature pool, the Sandcastle Pool. This large pool is located at Hospitality House and has a huge sandcastle feature that doubles as a water slide.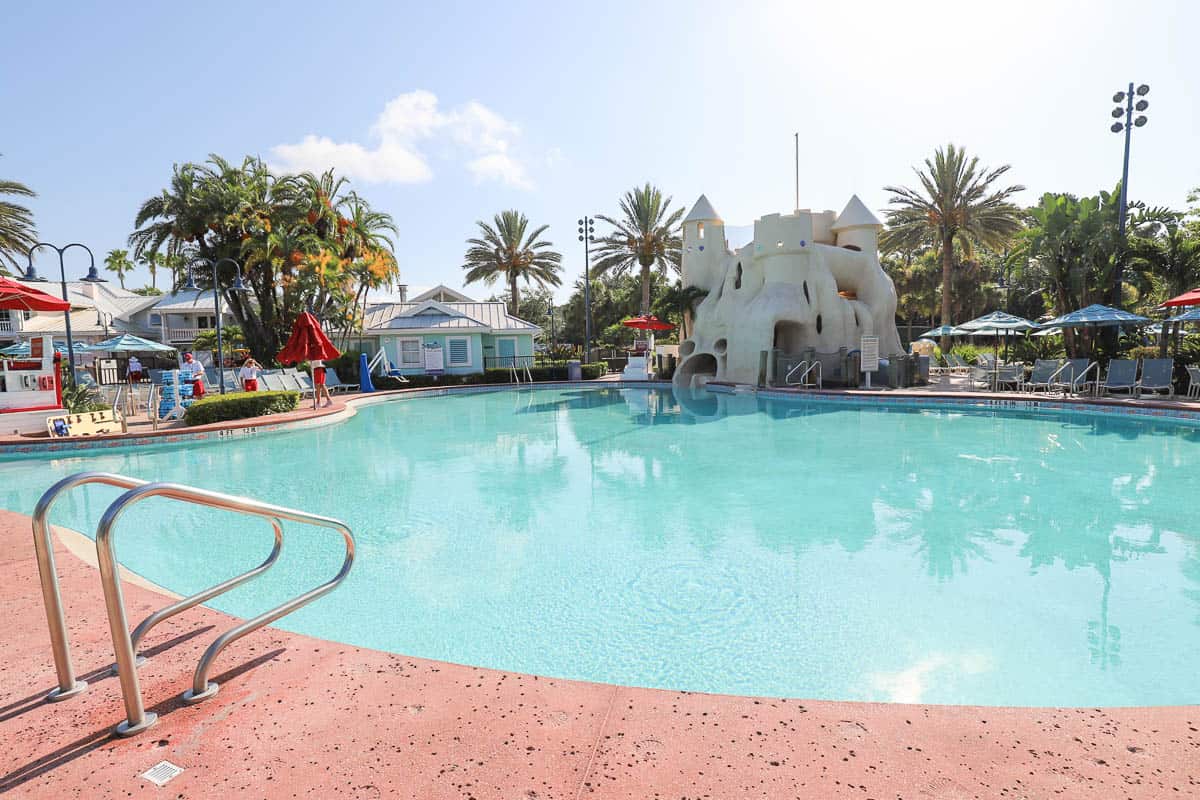 It's a fun element that includes a bit of a hidden Mickey.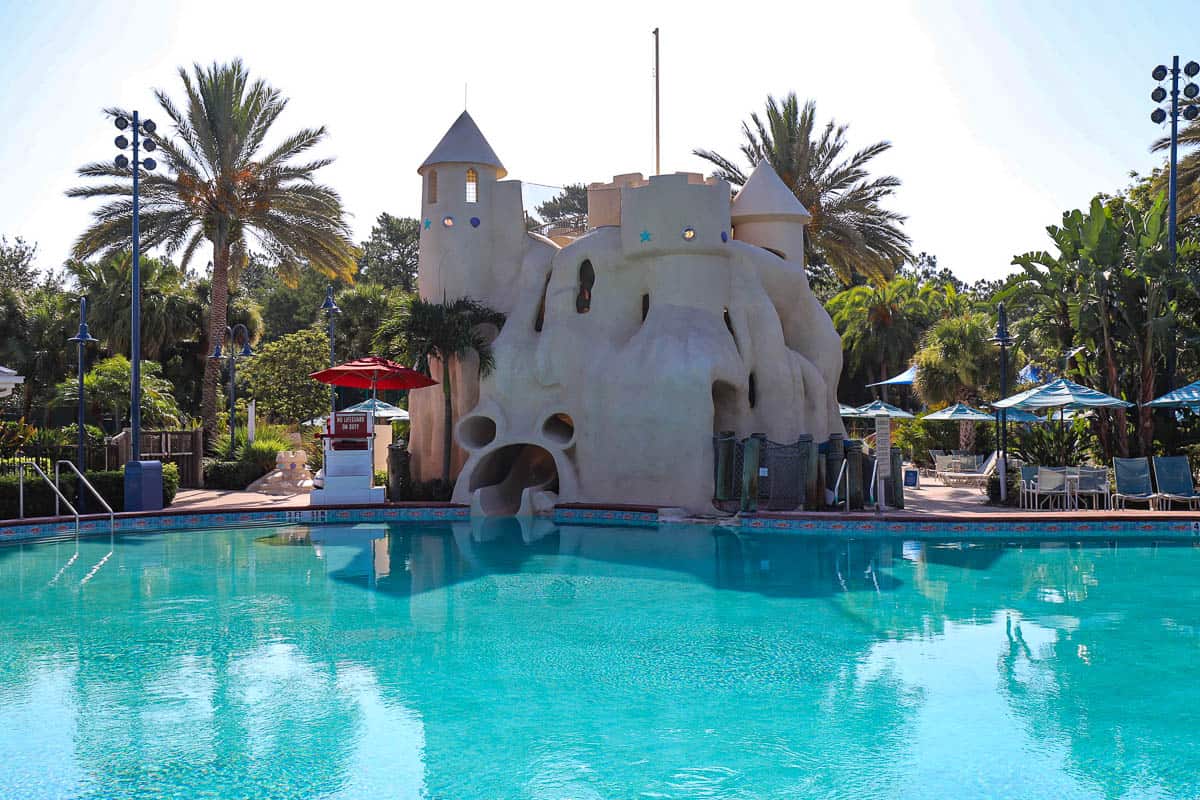 Nearby there are several whirlpool spas and a kiddie pool. For specifics about all of the pools at the resort, we have a separate article that goes into more detail.
Related: The Pools at Disney's Old Key West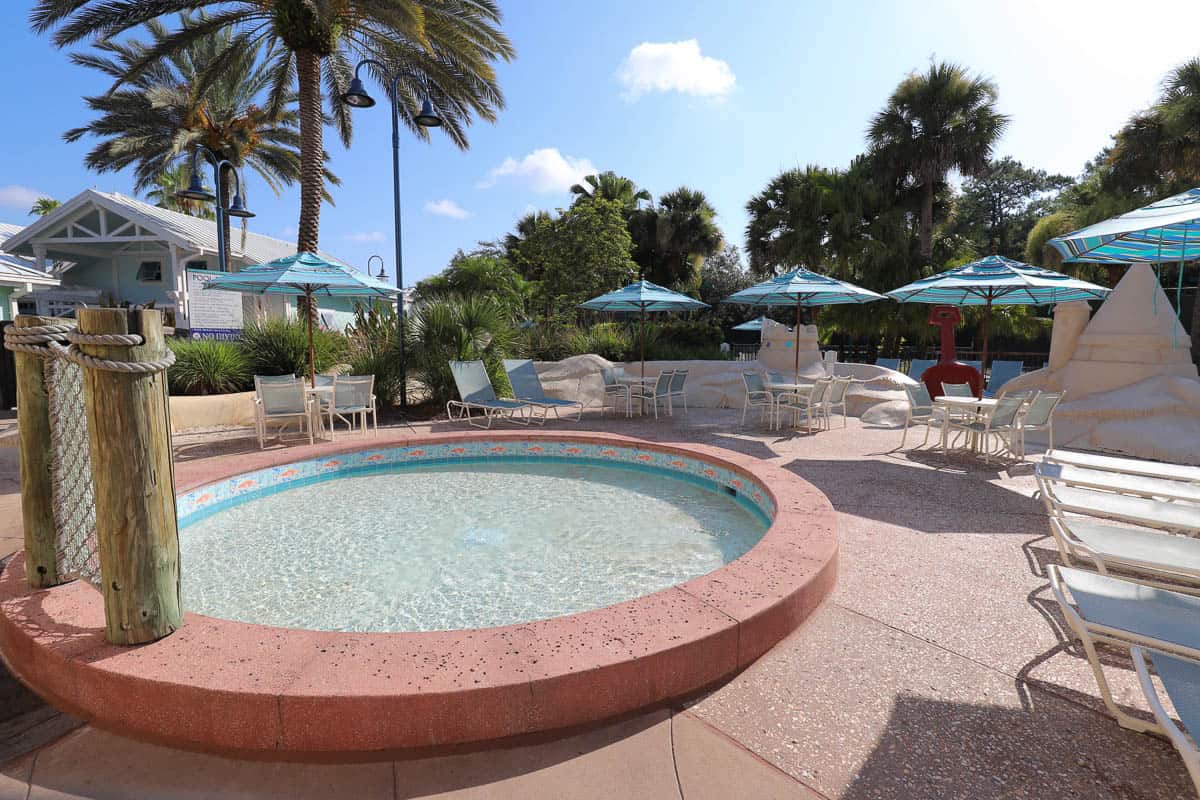 Oh, and before I forget. A stand-alone lighthouse at the pool has a dry sauna inside of it!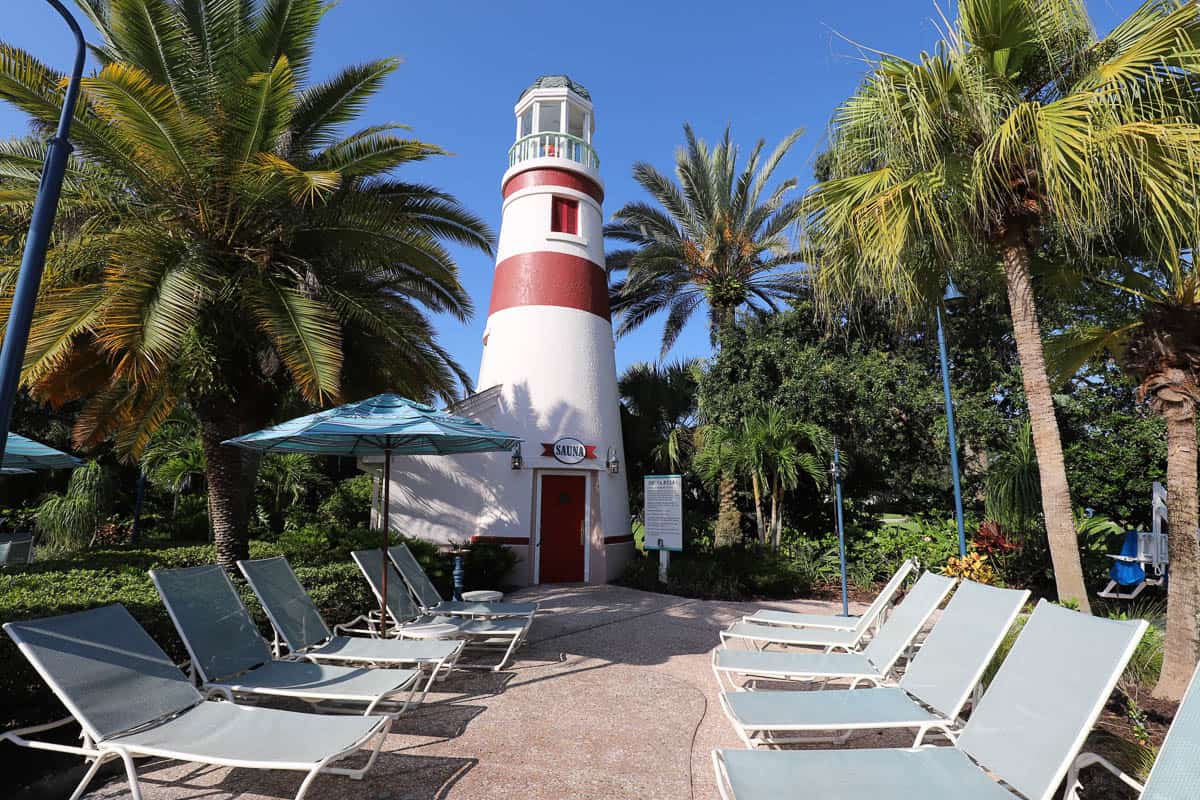 Theming around the pool is fun. I imagine you can expect to see dolphins at the real Old Key West in the Florida Keys.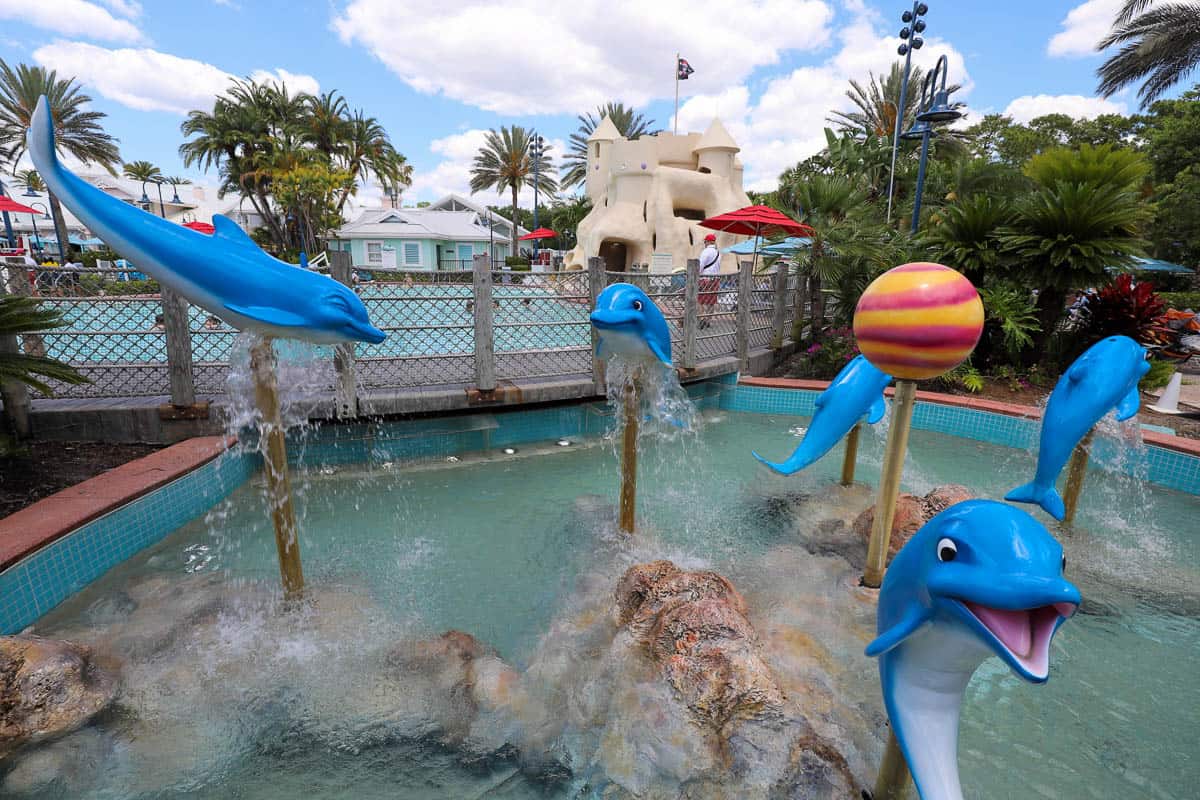 Near the pool, there's a playground and a sandy beach-like kid's play area.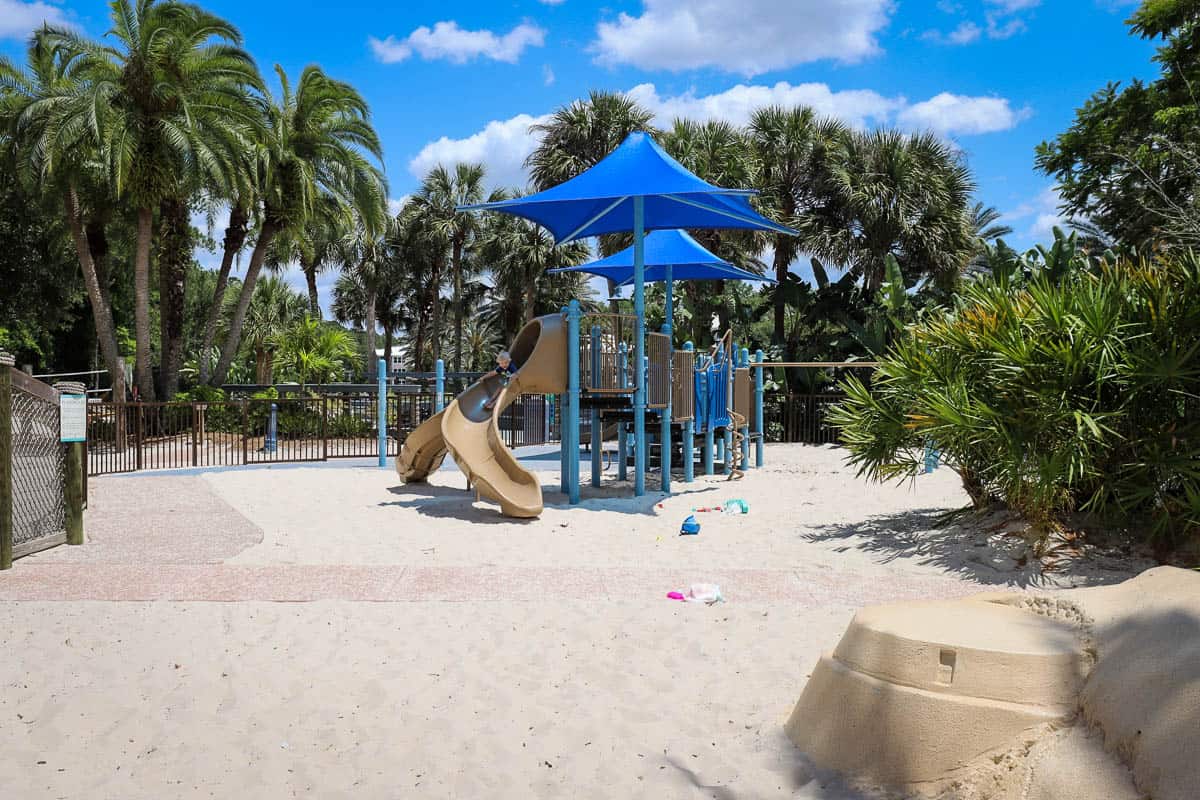 If you're familiar with Florida (or cruising), you know that a shuffleboard court is a requirement.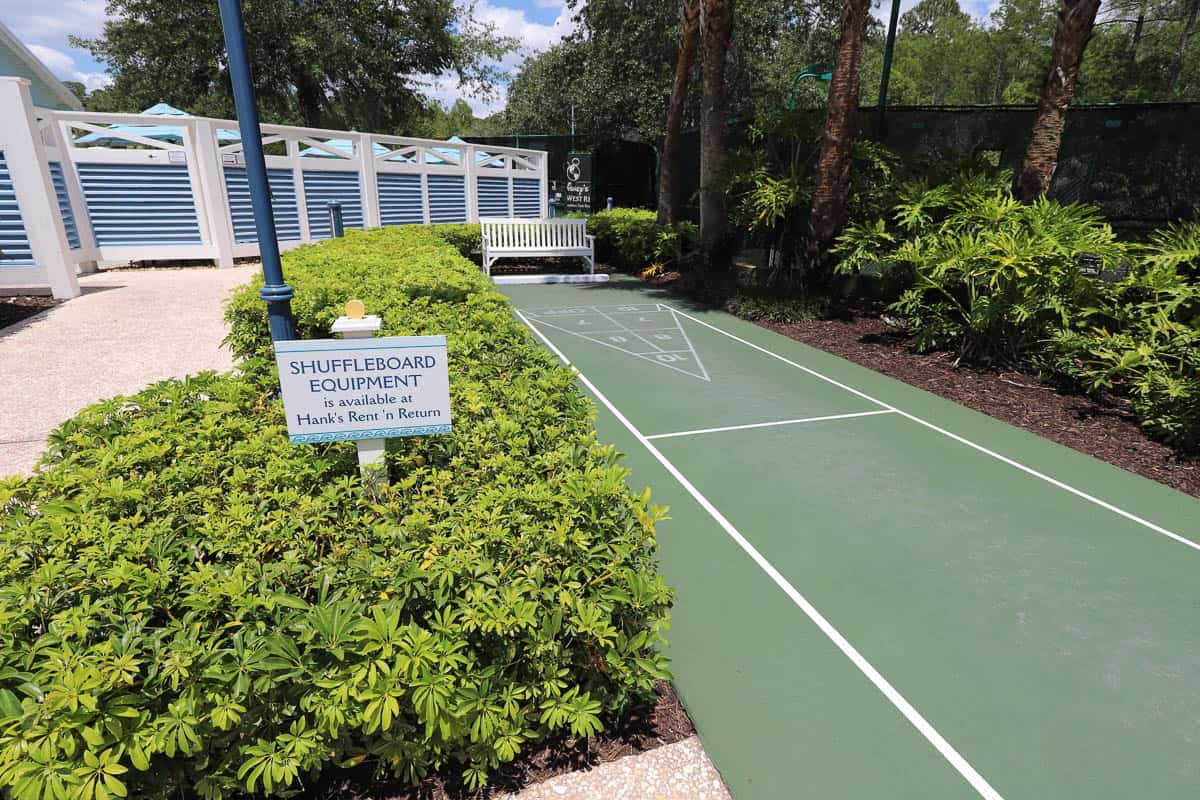 Old Key West takes it a step further and offers a basketball court.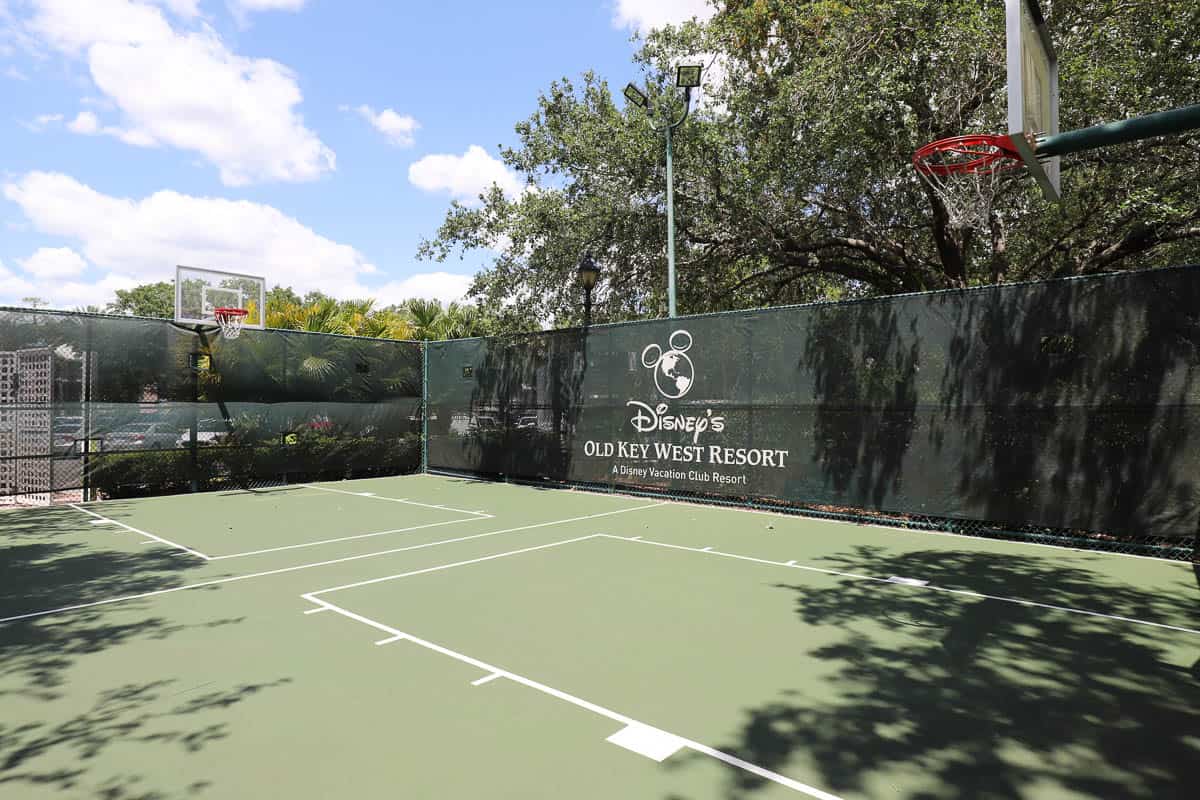 Tennis courts are also available.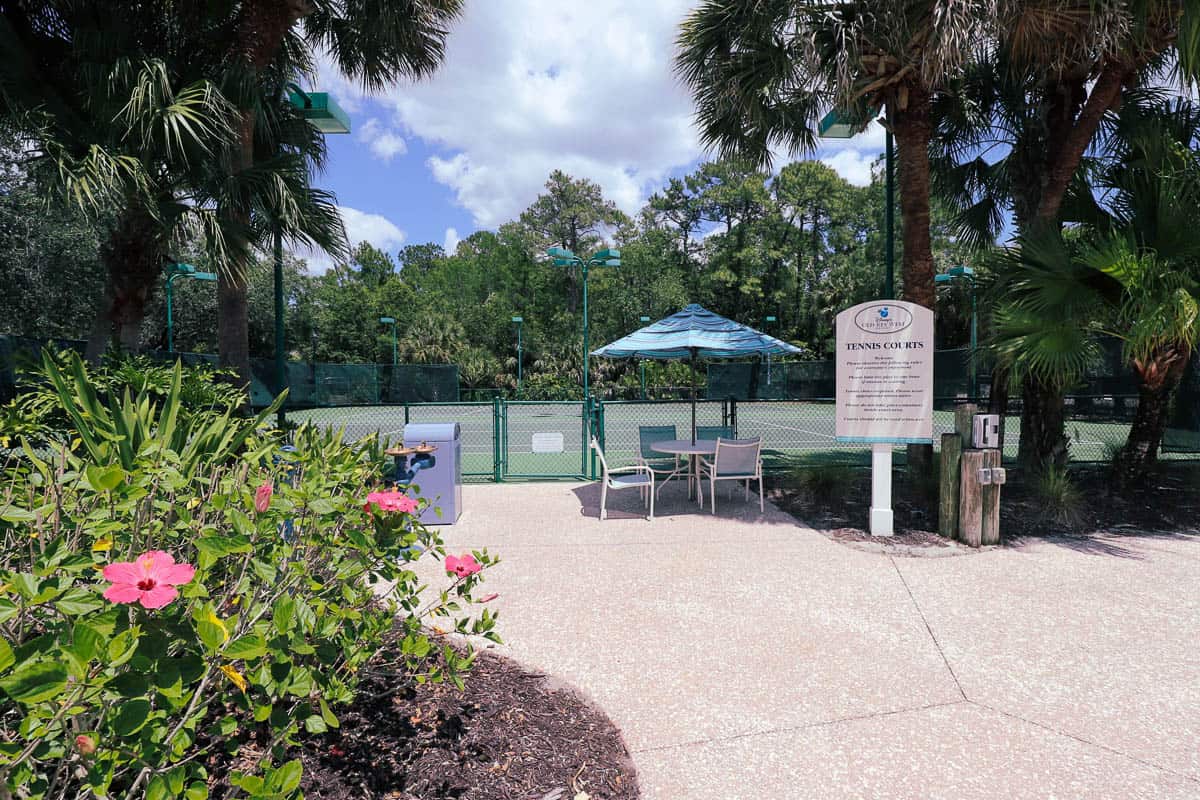 If you continue toward the back of the recreation area, you'll find various outdoor games like chess and checkers.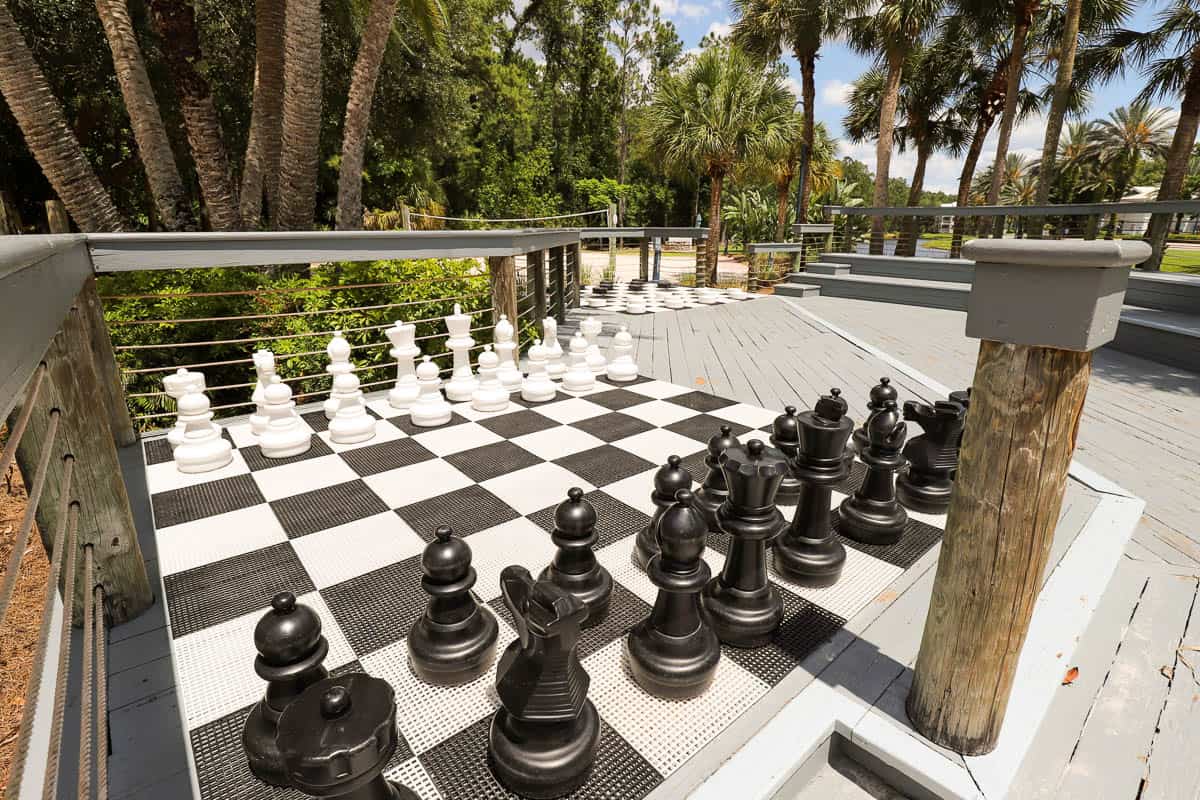 Sports equipment for volleyball or anything else is available at Community Hall.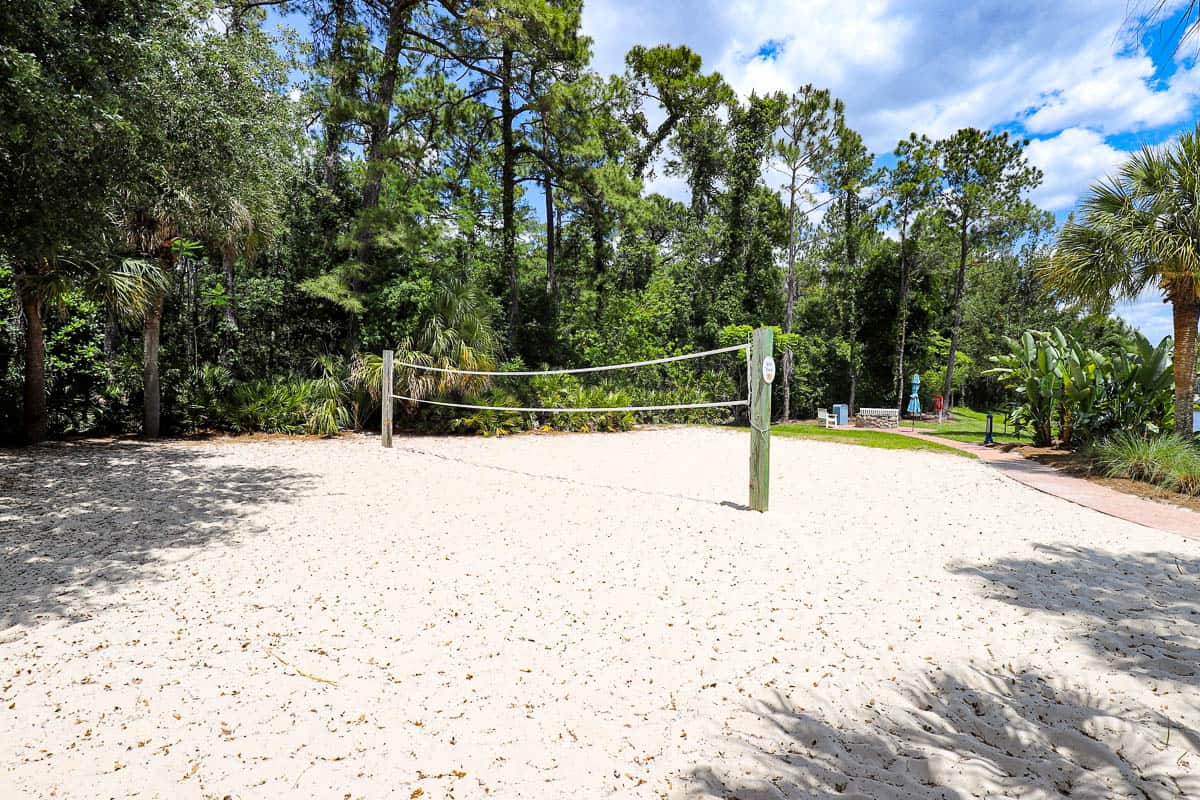 Where the sidewalk ends, there's an outdoor fire pit with a place to sit. You might happen upon a marshmallow roast out here around sunset.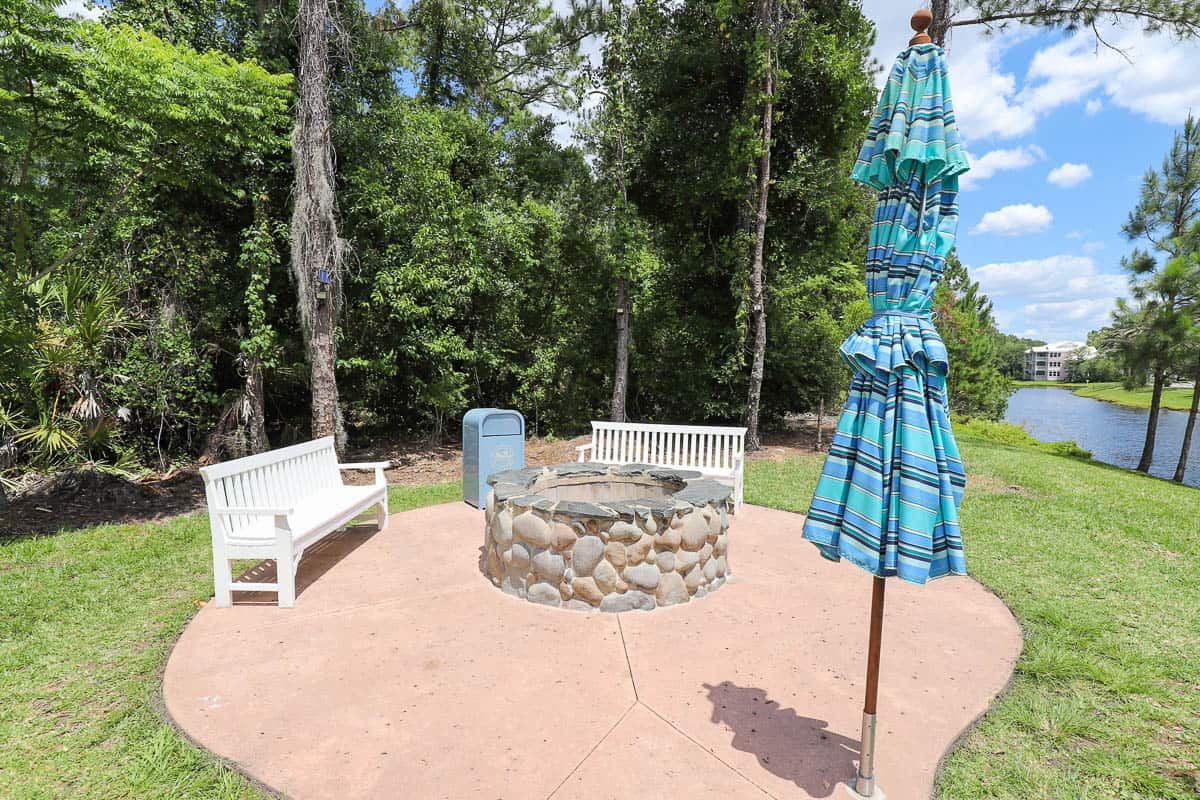 Old Key West has a fitness center, the Exercise Room, located at Hospitality House.
Related: Hotels with Gyms at Disney World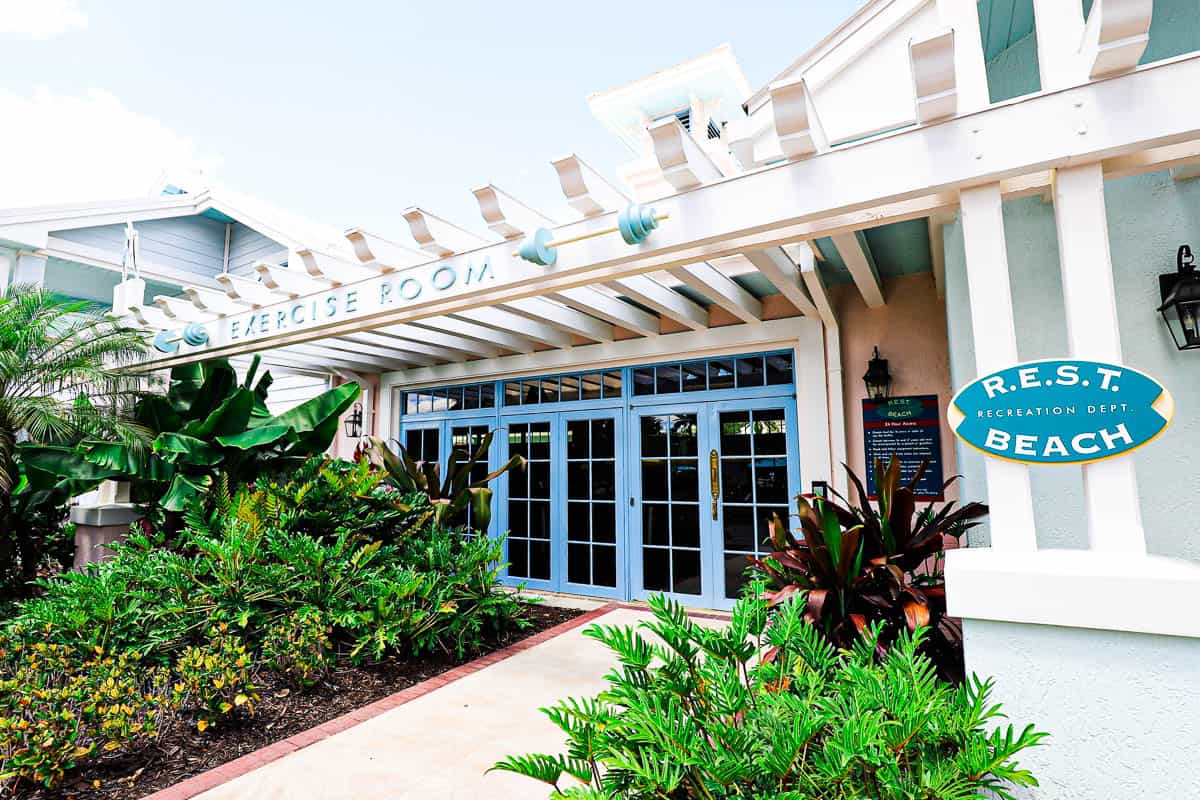 Here is a photo of the Electric Eel arcade at Disney's Old Key West.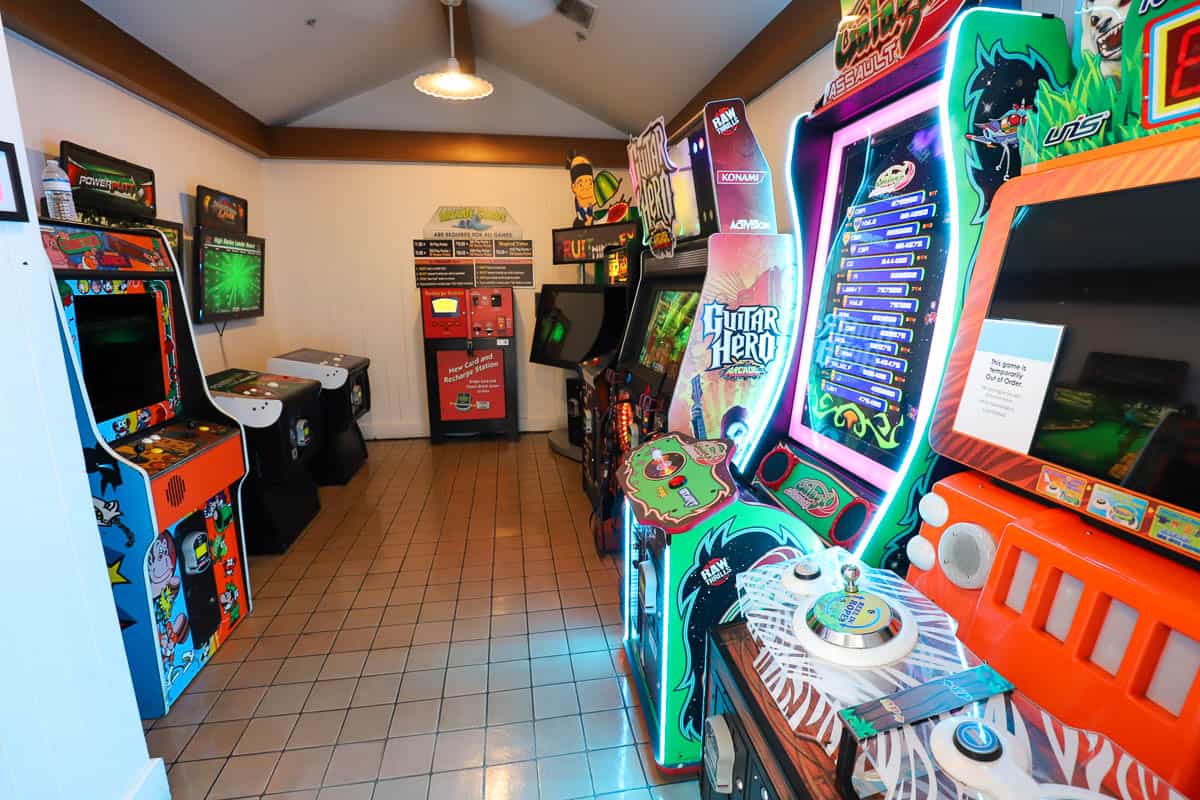 Like most of the resorts at Walt Disney World, Old Key West has a running trail.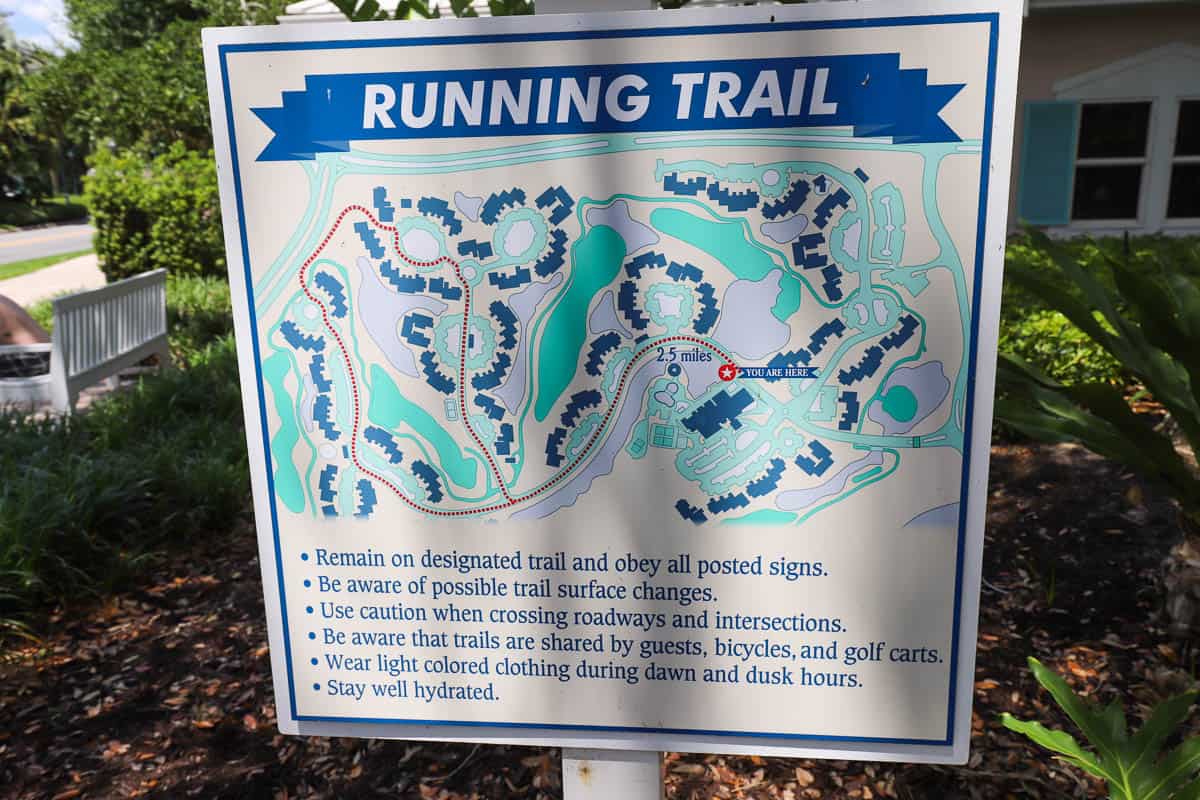 In addition to the main pool, there are three leisure pools spread out across the property. So no matter which building you get, a pool should be nearby.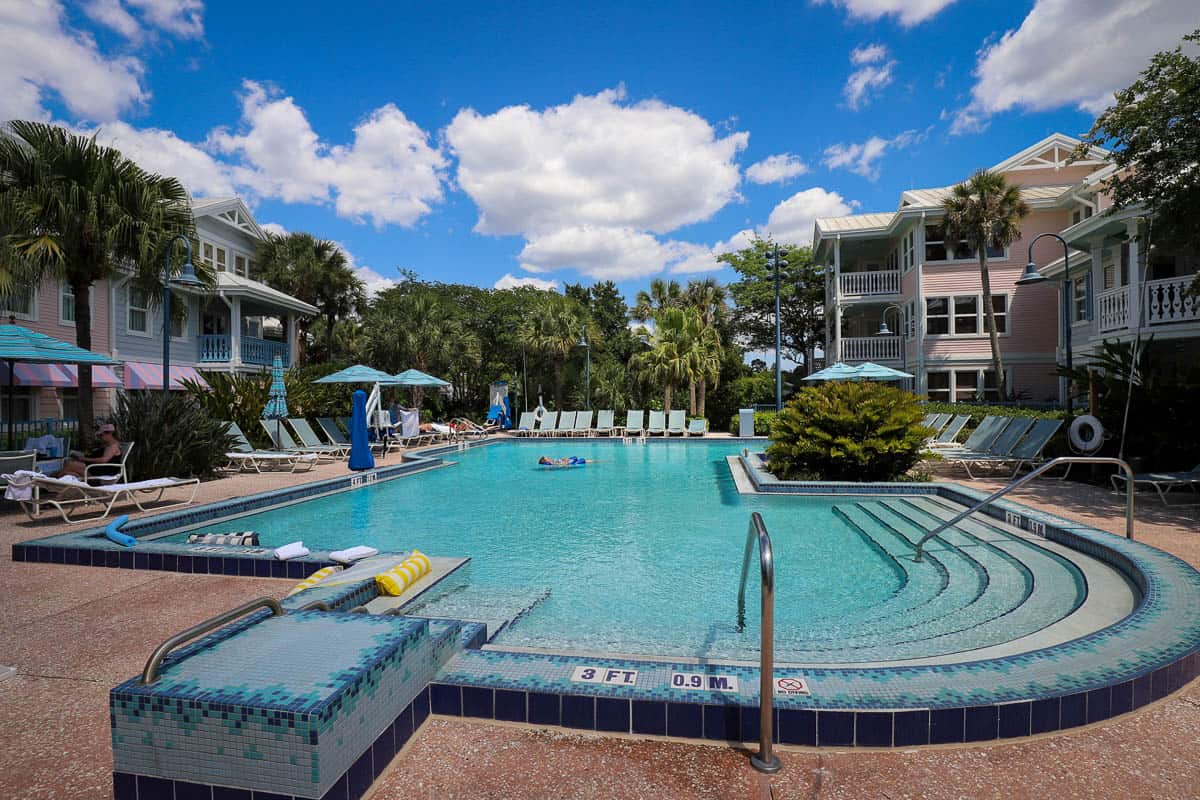 Lastly, Conch Flats Community Hall is located at Hospitality House. A recreation calendar lists the schedule for Movies Under the Stars.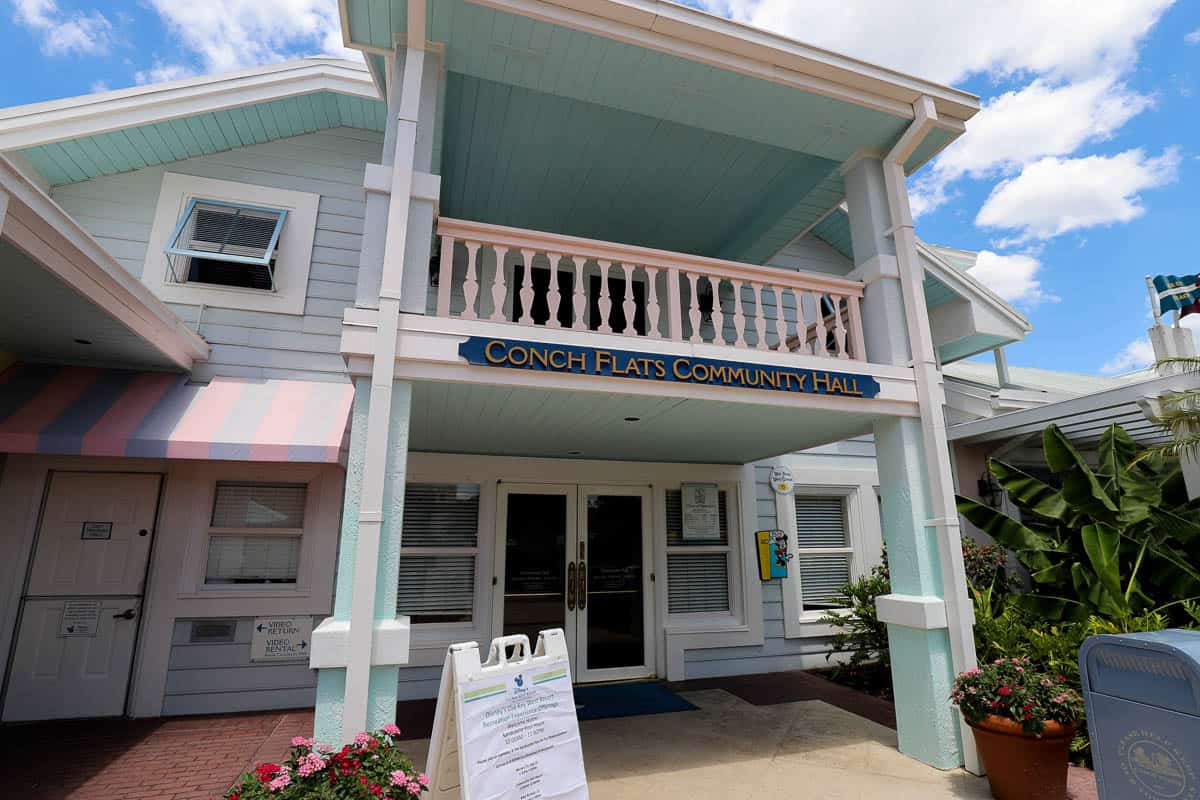 Inside, they have a variety of things to do.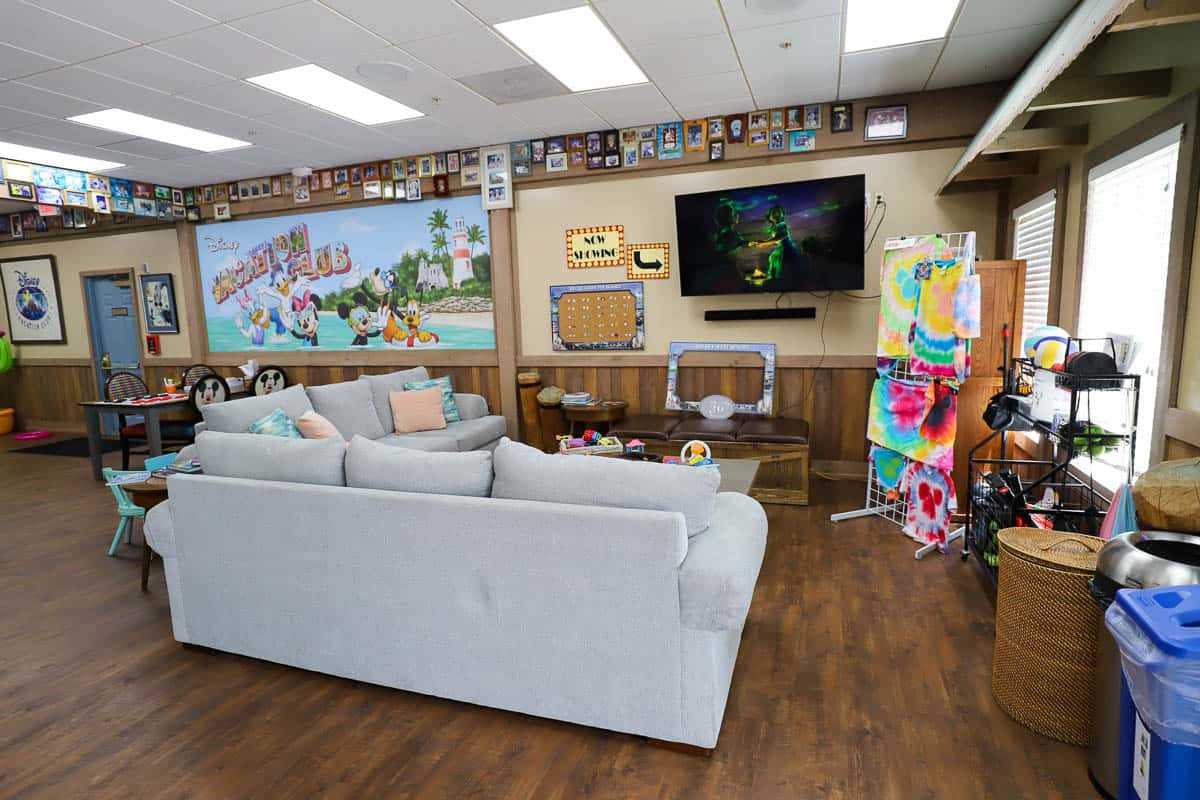 This is also where you would rent a Surrey bike.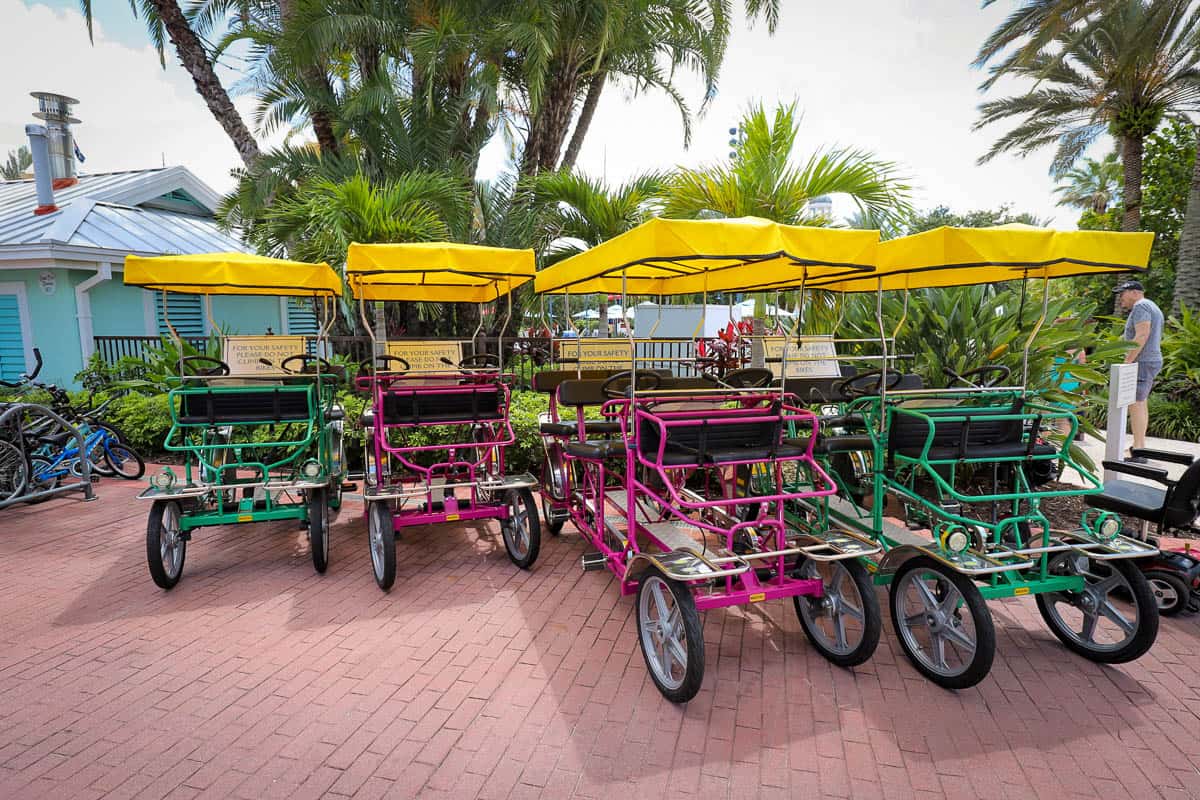 Additionally, you might rent a regular bike. Before this stay at Old Key West, I visited the resort a couple of times to do some leg work in preparation. On one of those visits, I rented a bicycle. It was a fun afternoon and an excellent way to see the property.
Related: Bicycle Rentals at Disney's Old Key West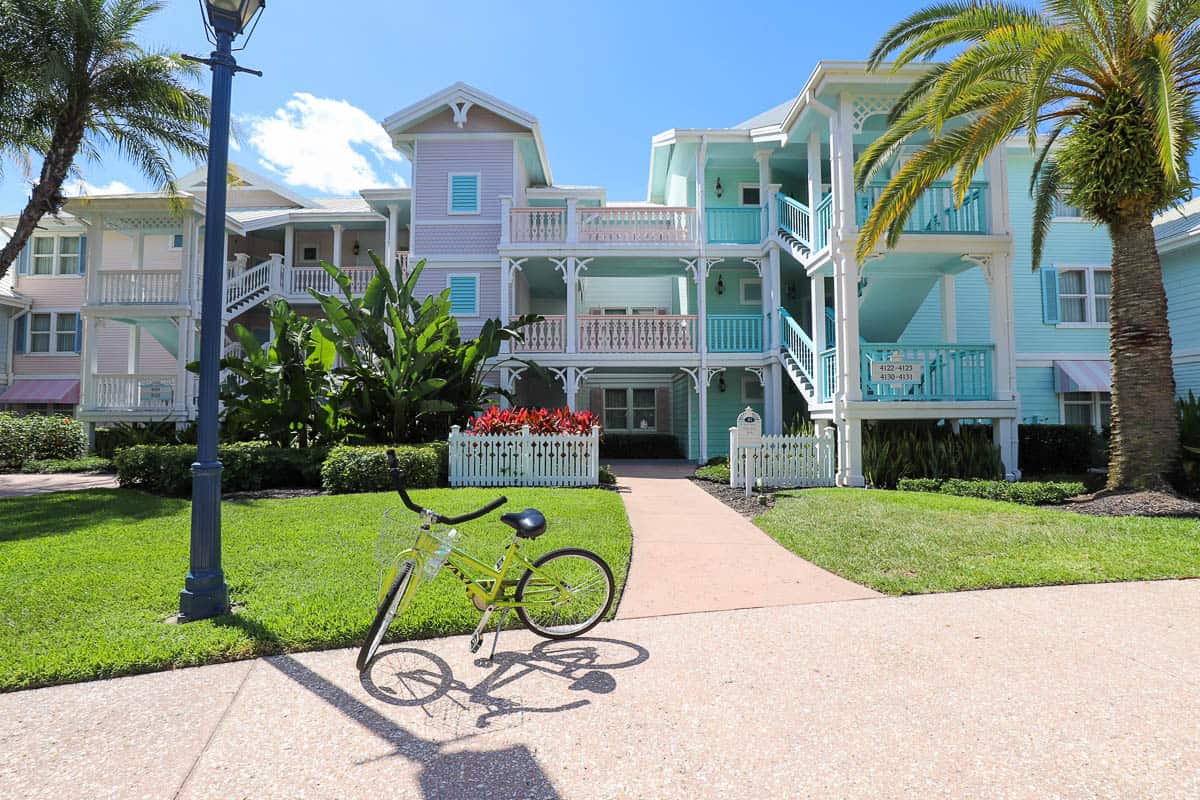 Transportation
As far as transportation goes, if you rely on Disney's transportation, you're stuck with the buses to most destinations. Thankfully, since there are several bus stops, you should have one near your building.
Here is a list of the bus stops:
Peninsular Road
South Point
Old Turtle Pond Road
Miller's Road
Hospitality House
Buses travel from Old Key West to the following:
Magic Kingdom
Epcot
Disney's Hollywood Studios
Disney's Animal Kingdom
Disney Springs
Blizzard Beach and Typhoon Lagoon*
*Both Disney Water Parks usually require taking a transfer bus with an additional stop. Signage at the bus stop will indicate which bus to take.
We have a separate article that goes over our experience with using transportation at the resort. If you have a stay planned, you might benefit from it.
Related: Transportation at Disney's Old Key West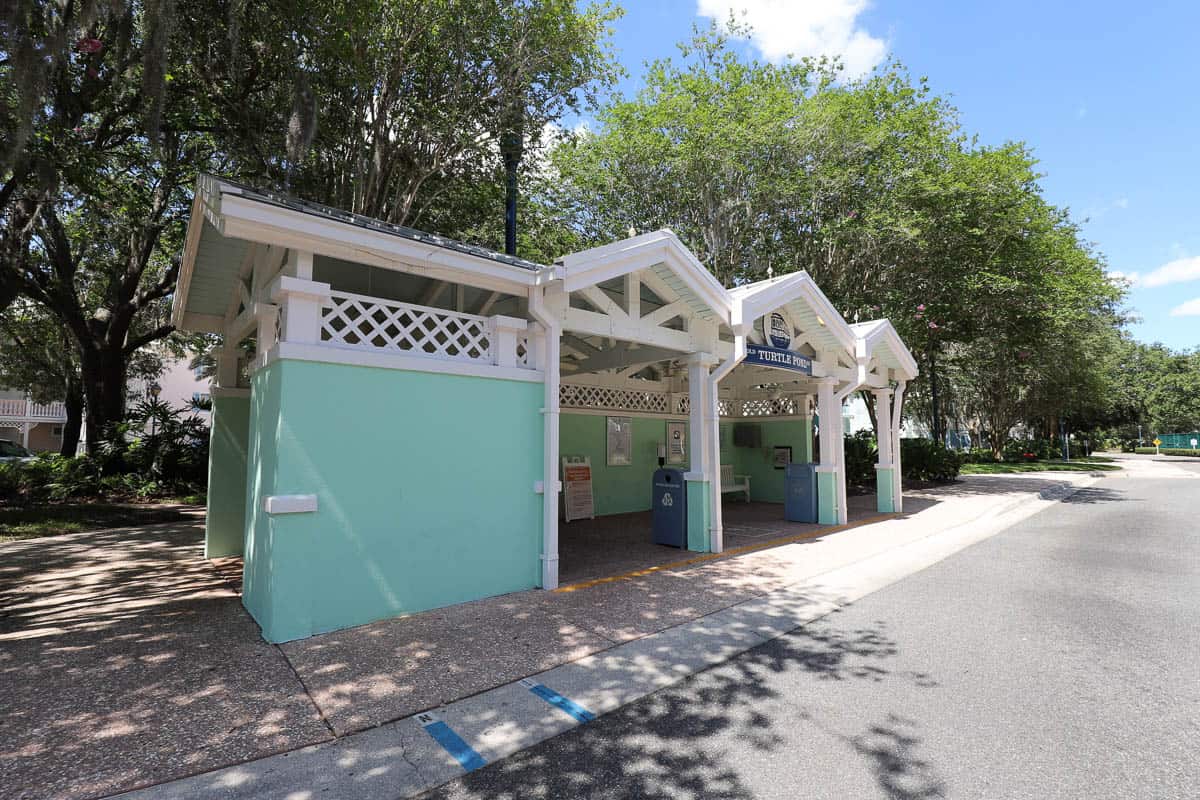 Additionally, Old Key West offers a water taxi service to and from Disney Springs. The boat dock is located at Hospitality House.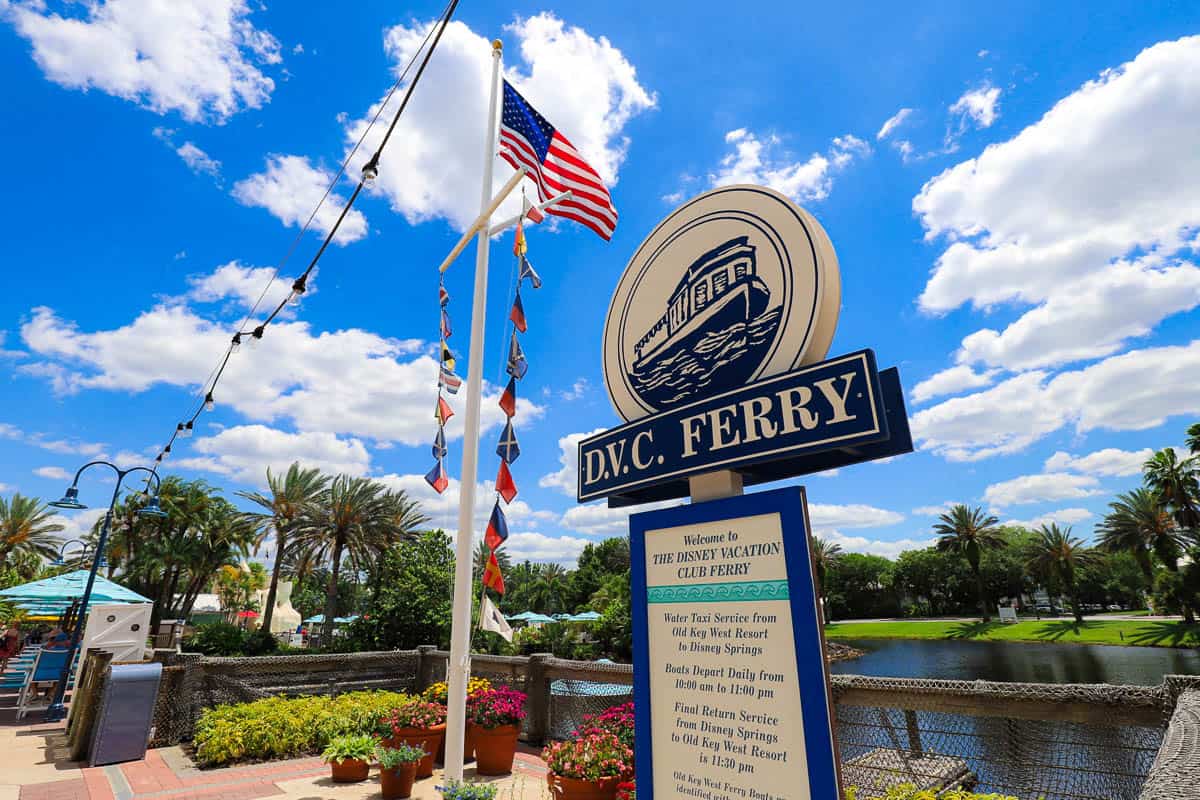 It's a beautiful trip down the river to reach Disney Springs. We have a separate article if you want to know more about how to get around Disney Springs.
Related: Transportation Tips for Disney Springs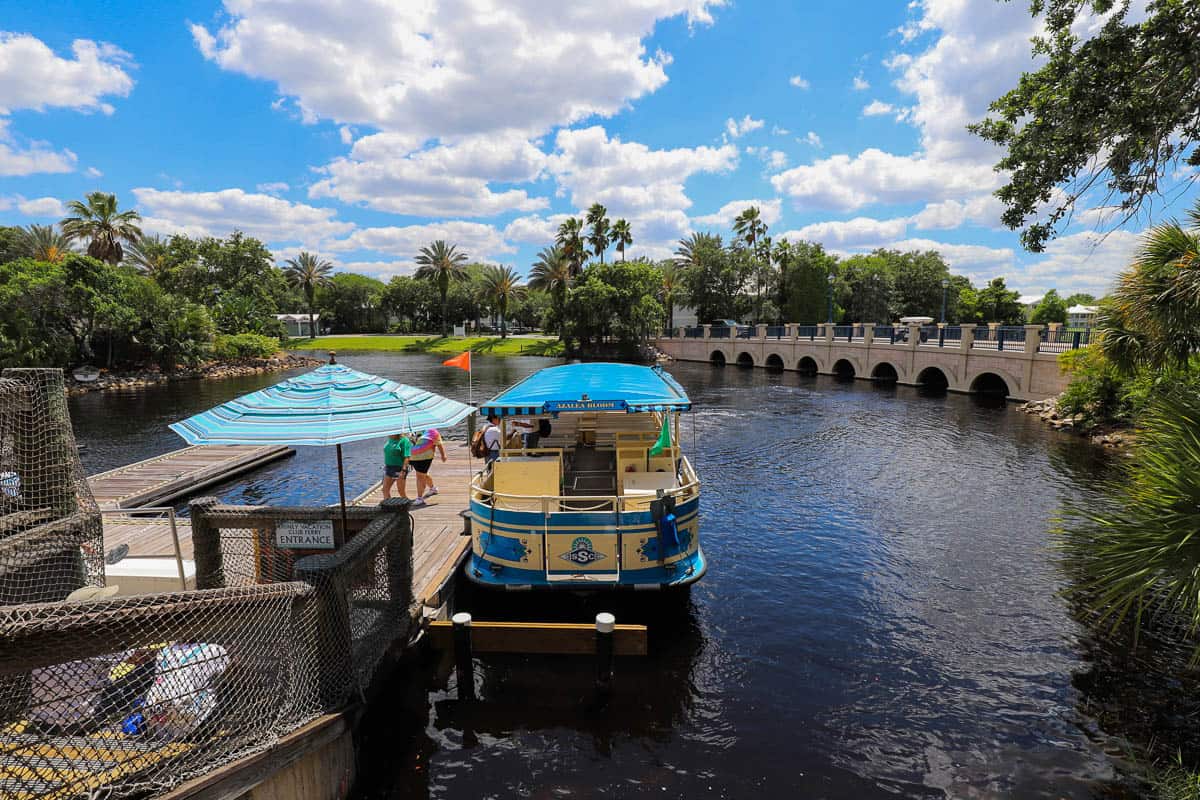 Amenities
Before we wrap things up, I wanted to share a few other amenities we've yet to mention. Old Key West has a darling gift shop, Conch Flats General Store.
This shop contains tons of Disney merchandise, grocery items, health, and other sundries. Since most of the rooms at Old Key West have a microwave or kitchen, there are also food items available that you can prepare in your room.
However, if you're planning to cook several meals during your vacation, you would do better to have a grocery order delivered to the resort after arrival. Things at any gift shop can be pricey.
Related: Conch Flats General Store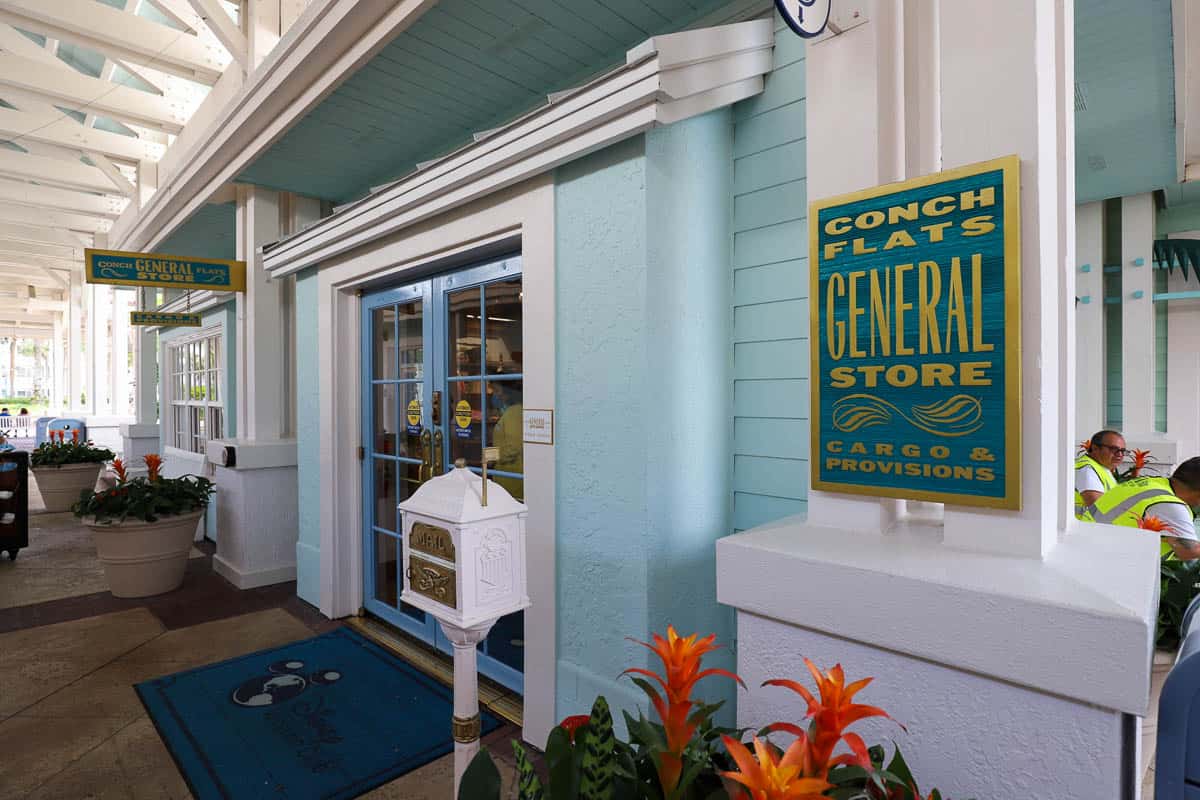 Old Key West is the kind of resort where you might end up doing a load or two of laundry. Each pool area at the resort has a laundry room. However, one-bedroom and larger villas will have a washer and dryer in the unit.
Related: Laundry at Disney's Old Key West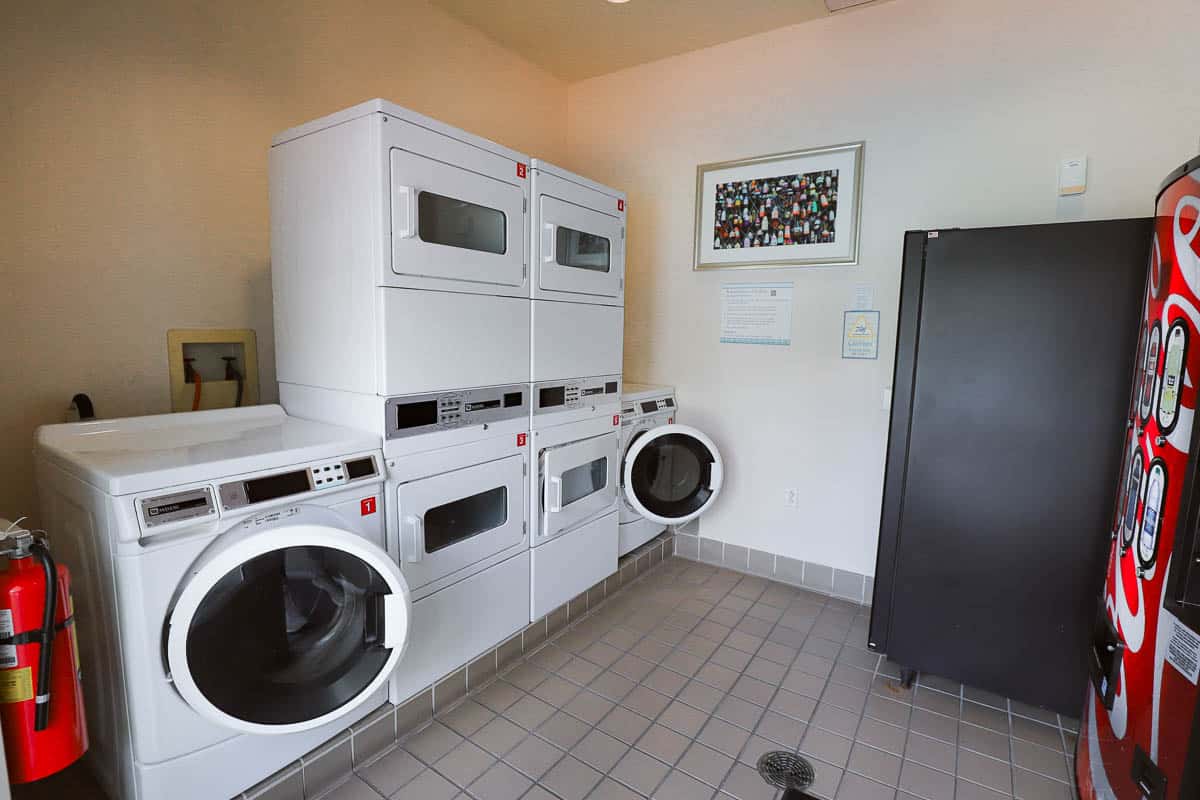 Final Thoughts (Old Key West Review)
As far as Disney's Old Key West goes, I would return in a heartbeat. Before this stay and the few times I visited beforehand, I was unfamiliar with the resort.
These visits surprised me in so many ways. First, as a person who loves Florida, I was delighted that the resort reminded me so much of it.
Sure, it has a few negatives that some will need to consider. But, like I said earlier, this resort is not for everyone.
What I like most of all is that Old Key West remains a traditional resort. There's no push to be modern here, even with the recent renovation.
Disney's Old Key West truly has an island-time feel that not just any in-land resort could pull off. But, boy, do they ever.
For more information about this resort, we have a complete guide:
You might also enjoy these other villa resort reviews:
In the Comments
What are your thoughts on this Disney's Old Key West review? Do you agree? Have you stayed here before? What items are negatives for you? Or any positives?