Gingerbread Giraffe and Zebra Add Holiday Touch to Disney's Animal Kingdom Lodge
Over the last few years, a new and fresh gingerbread display has been introduced to Disney's Animal Kingdom Lodge for the holiday season. This particular gingerbread display is unique because it's designed to look like two of the animals you might see on the resort's savannas.
Both the gingerbread giraffe and zebra sit toward the back of the Jambo House lobby. In addition to the display, iced gingerbread giraffe cookies are available.
Let's take a closer look.
You'll find the gingerbread giraffe and zebra at the back of the lobby near the staircase that leads down to the Arusha savanna overlook.
They are a little difficult to photograph during the day because of the natural light flooding in from the multiple-story windows in the background.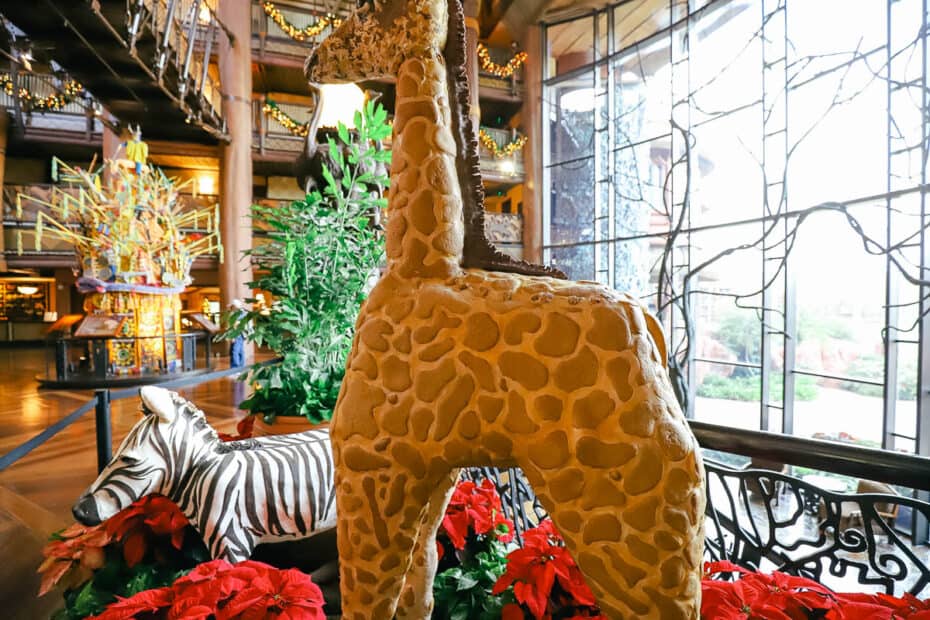 But a closer look reveals fine attention to detail on the giraffe's spots and zebra's stripes.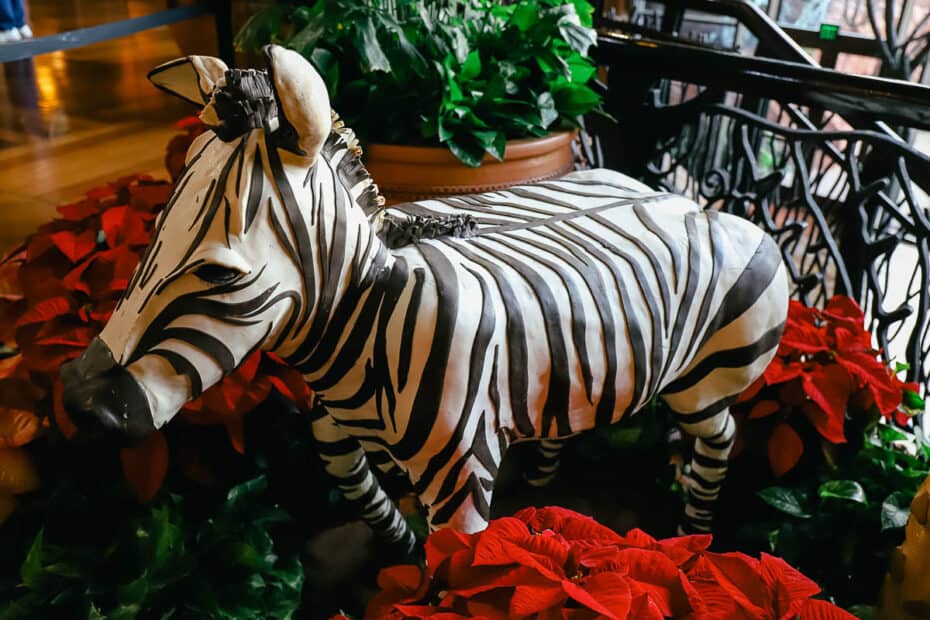 Signage near the display notes that the first of these creations, the giraffe, was introduced last year. Her name is Ginger-affe.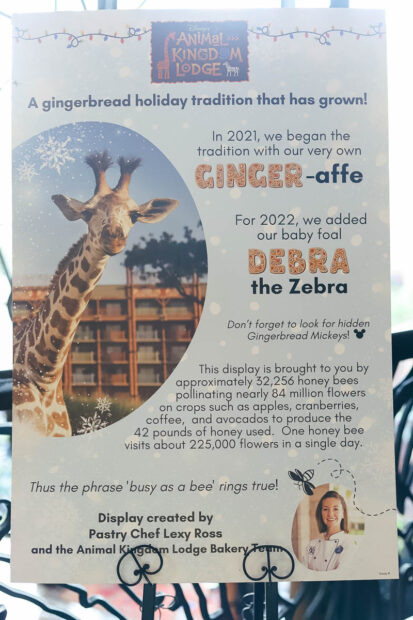 New in 2022 is the addition of the zebra, named Debra the Zebra.
Pastry chef Lexy Ross and the entire bakery team at the resort created Animal Kingdom Lodge's gingerbread display.
A few hidden Mickeys are included.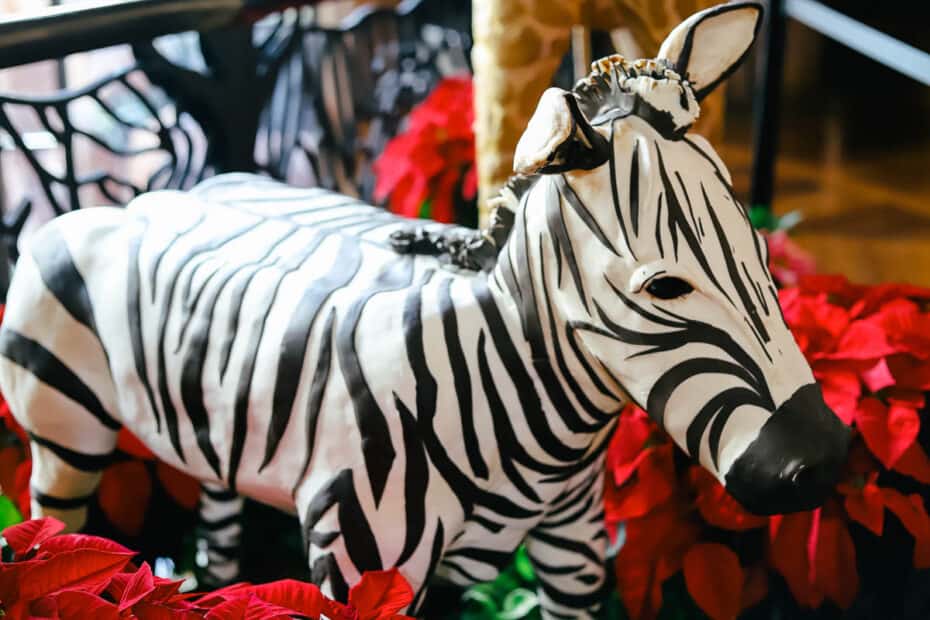 There's a register set up near the display during the afternoon and evening hours. A Gingeraffe cookie frosted with milk-chocolate buttercream is available for $6.29.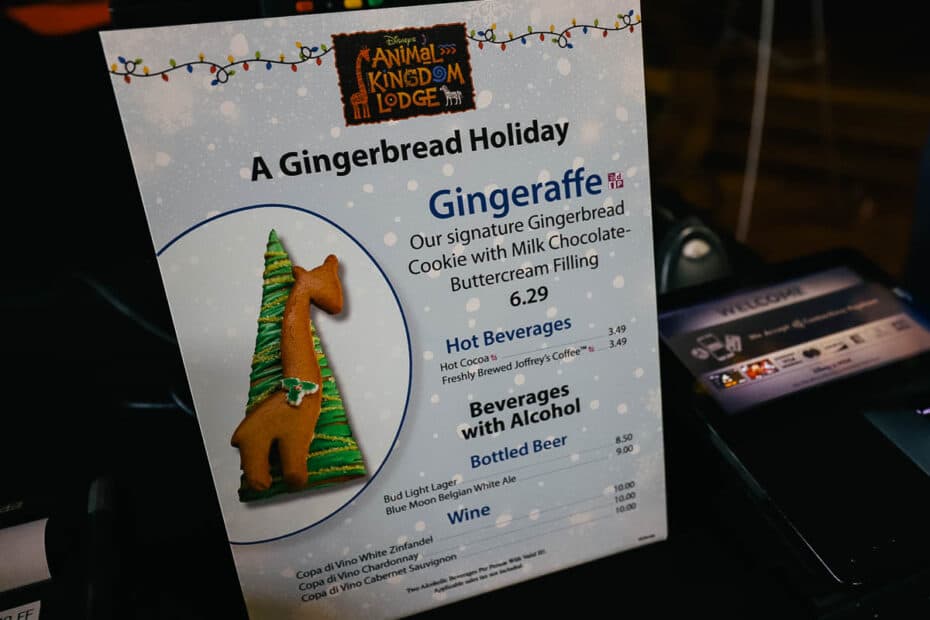 Additionally, you can purchase hot cocoa and coffee. Also, several bottled beers and wines were available.
Here are those cookies.
I thought they were cute.
Overall, the giraffe and zebra add a fun twist to the gingerbread displays at Walt Disney World. Of course, Disney's Animal Kingdom Lodge is always worth a visit regardless of Christmas.
Related: Disney's Animal Kingdom Lodge at Christmas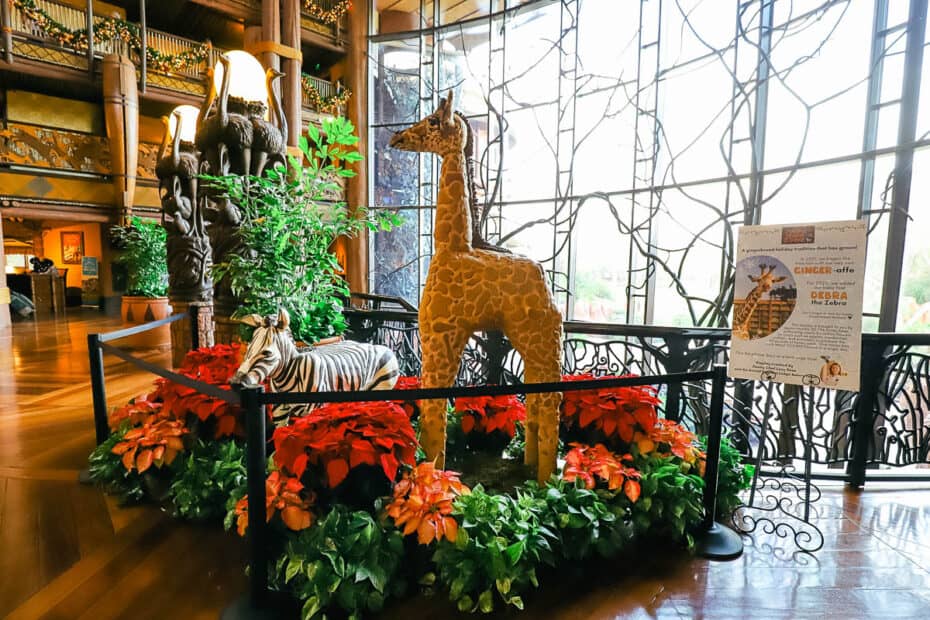 For more resort hopping over the Christmas holiday, you might enjoy the following:
And here are the other gingerbread displays at Disney World:
In the Comments
What do you think of the gingerbread giraffe and zebra at Disney's Animal Kingdom Lodge? Do you like their names?