A Visit to Disney's Wilderness Lodge for Christmas
Anyone that's visited Disney's Wilderness Lodge at Christmas will tell you that it's a must-do on their list of holiday stops at Walt Disney World. Since the Wilderness Lodge is modeled after the Northwest Pacific, it offers one of the most unique settings in central Florida.
If you arrive at the Wilderness Lodge by boat, you'll immediately notice the changes in the landscape. Tall trees with Spanish moss line the raised wooden walkways that lead up to the main resort.
If you arrive by the resort's main entrance, you'll notice wildflowers with touches of holiday decor in the mix. It's very picturesque.
This article was updated on December 1, 2022.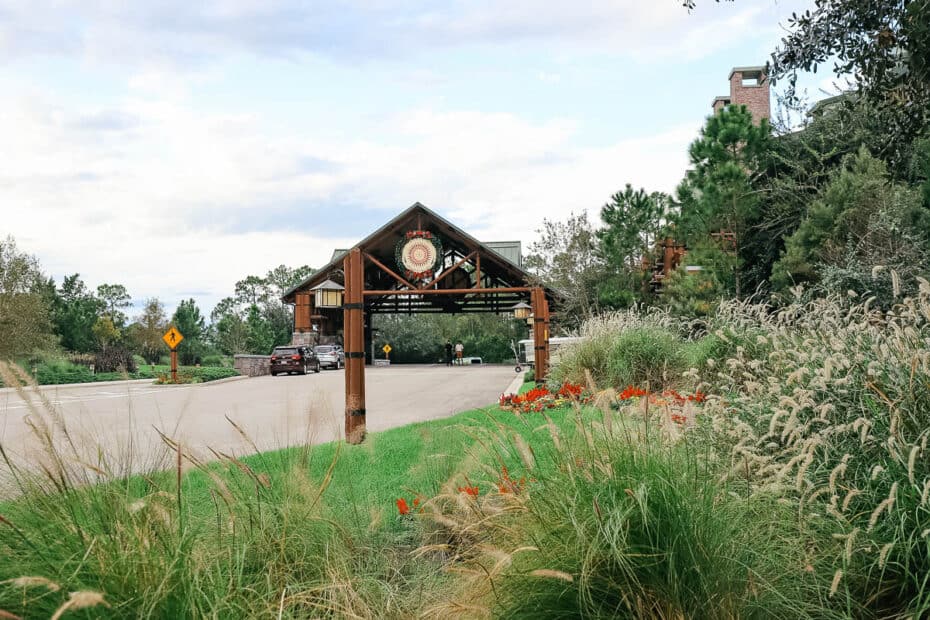 For those who visit Disney's Wilderness Lodge by bus, you'll be greeted by gorgeous red and green wreaths and long strands of garland.
If you're visiting Disney's Wilderness Lodge as a resort or day guest, we have a guide with tips for getting to and from the Wilderness Lodge.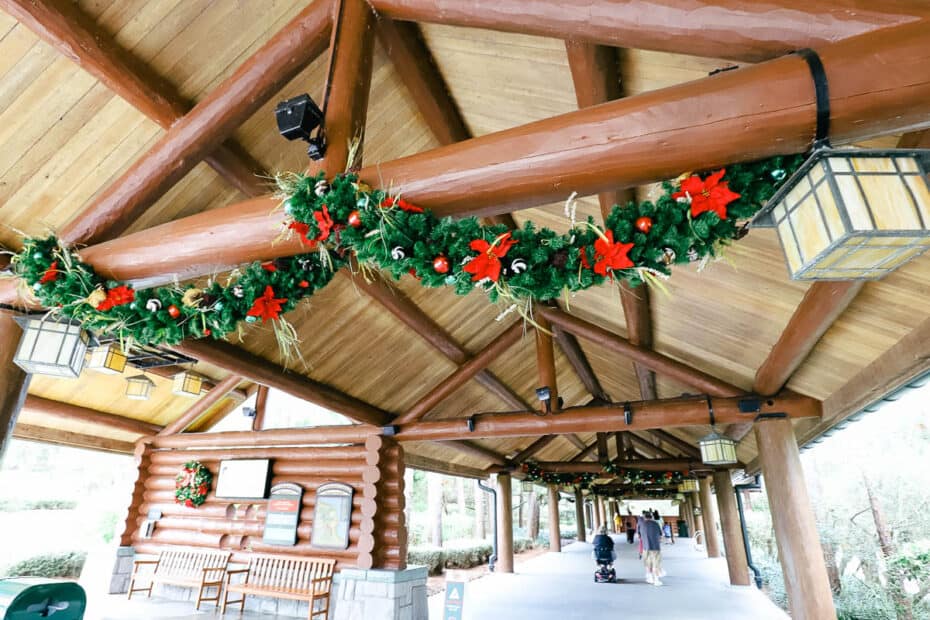 No matter how you arrive, you'll eventually step foot into the resort's main lobby. It's impressive, especially at Christmas.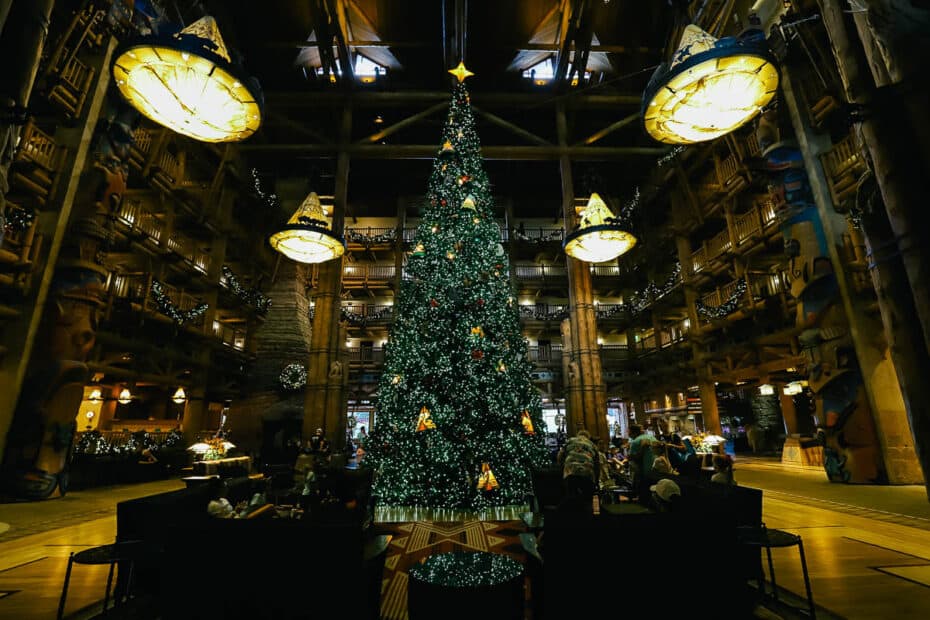 Even the temperature drops 10 degrees or so, adding to the feel of Christmas. A large fireplace offers a little heat to warm you up if you get chilly. It's a wonderful place to sit and relax, even when it's hot outside.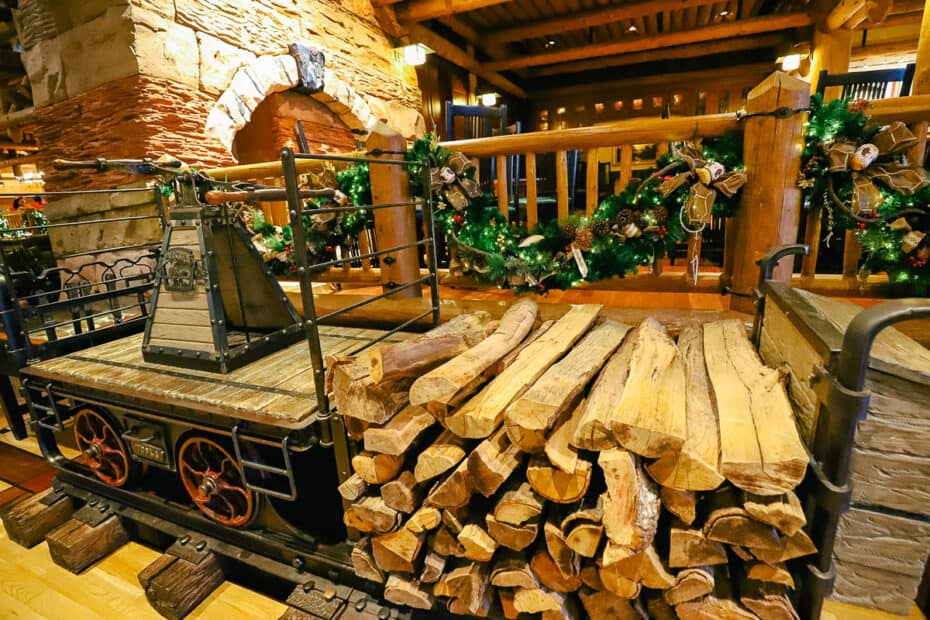 Copper Creek Falls begins inside the Wilderness Lodge.
Related: Copper Creek Villas Review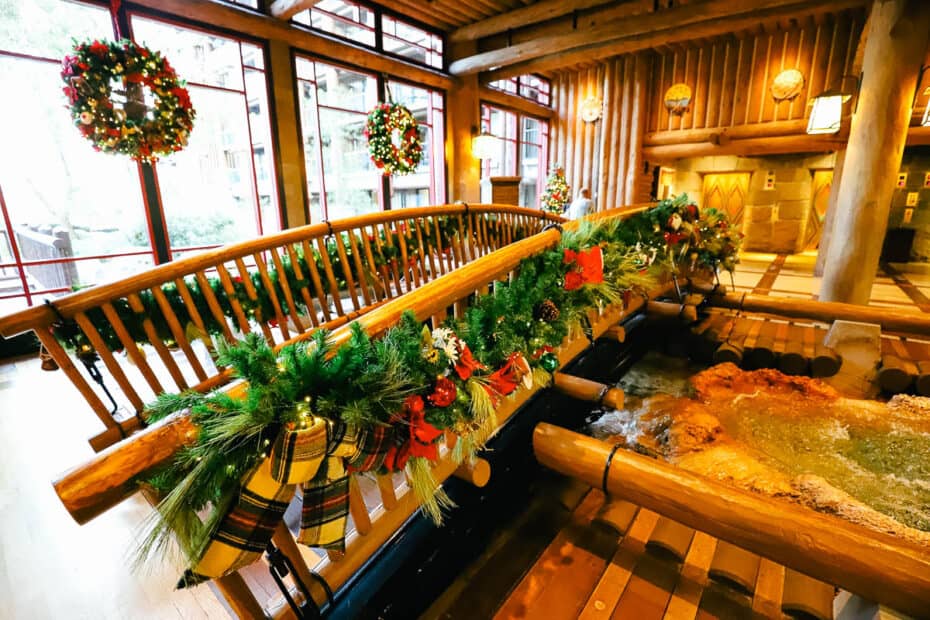 A charming bridge crosses over it in the lobby.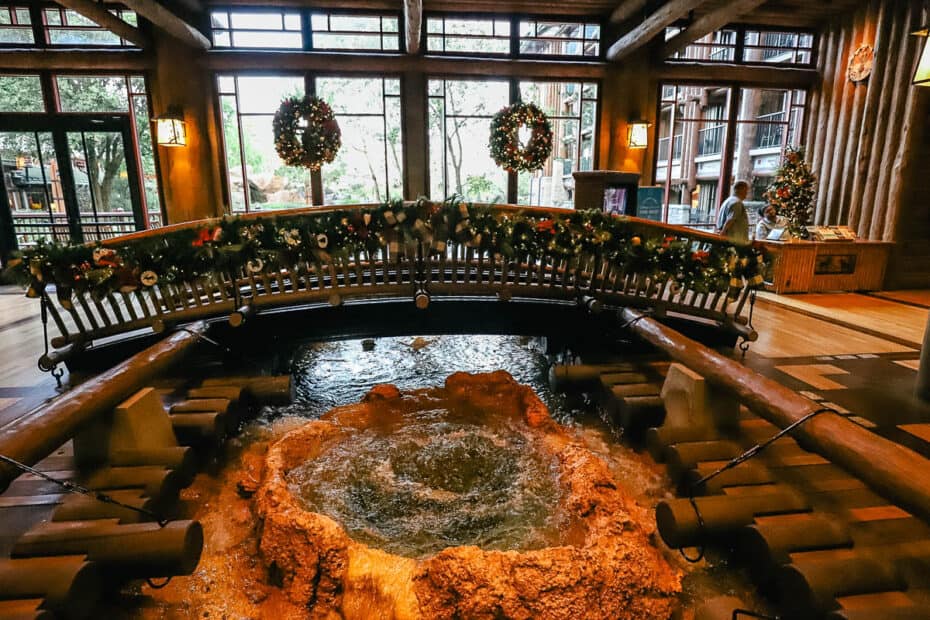 During Christmastime, the bridge is adorned with unique trimmings of green boughs, red poinsettias, and plaid bows.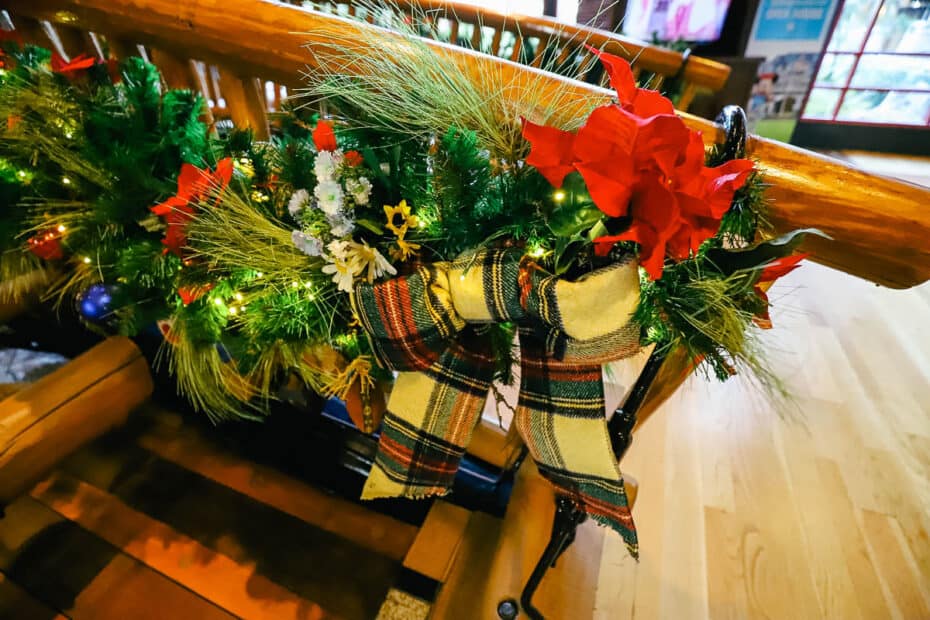 The sound of the falls running through the lobby makes for an excellent sound buffer when it's crowded.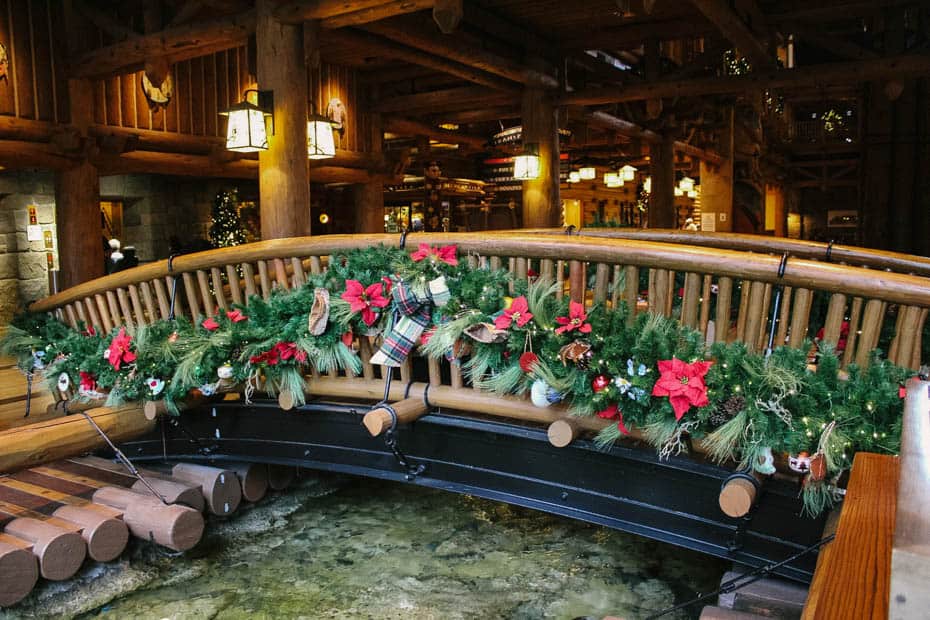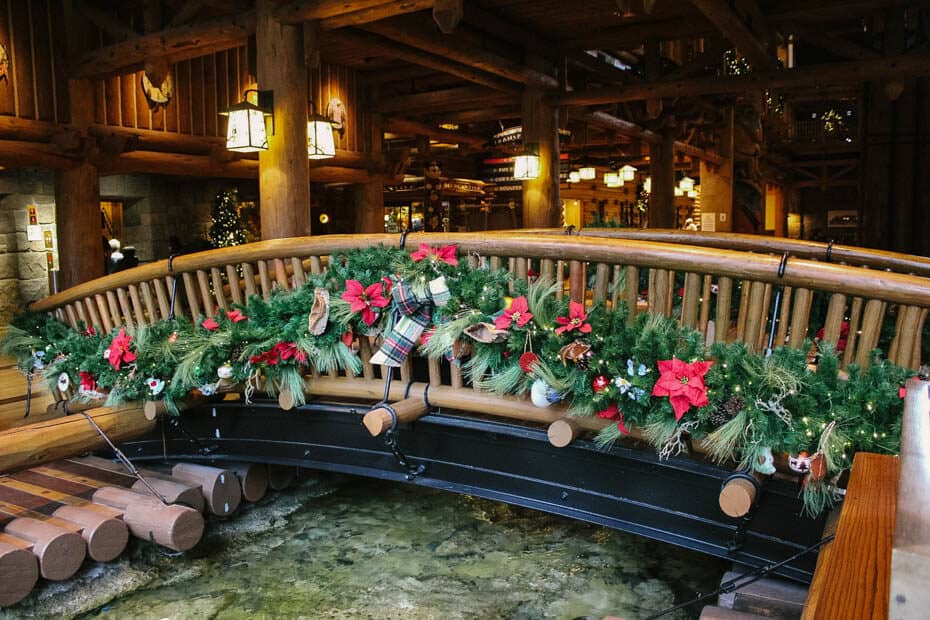 So pretty.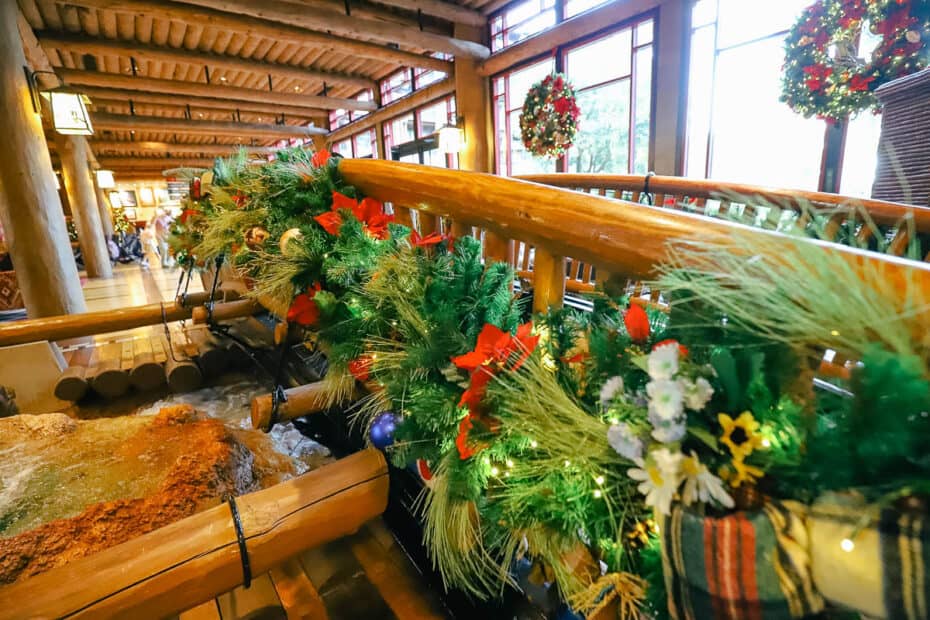 Most of the light fixtures have decorations.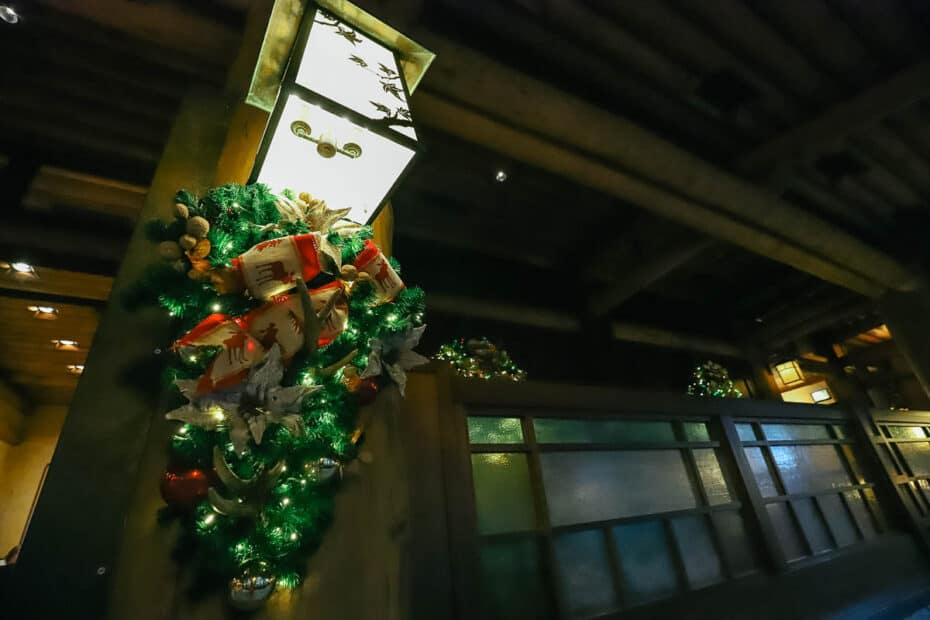 Ribbons with white and red trim are woven into them.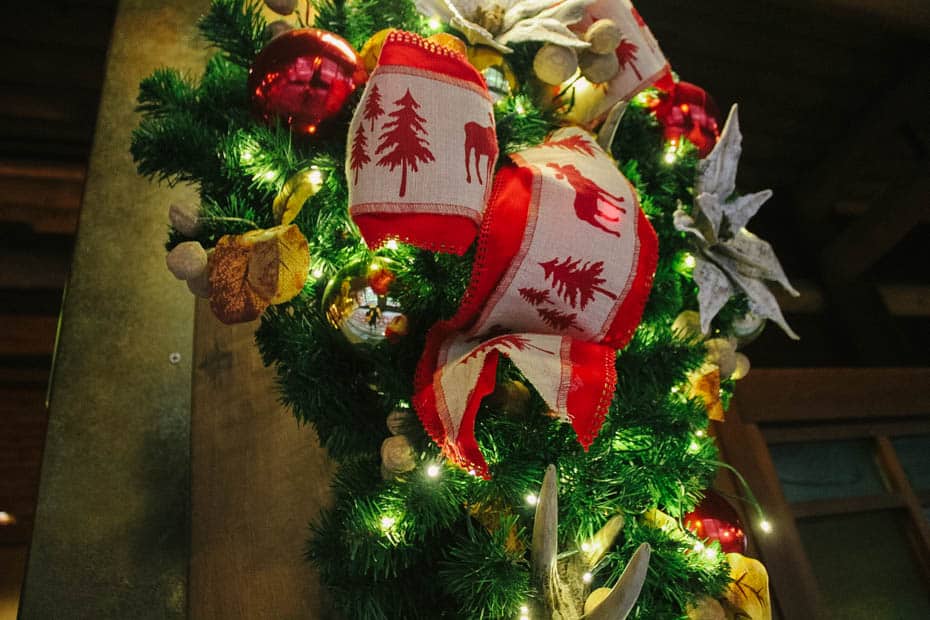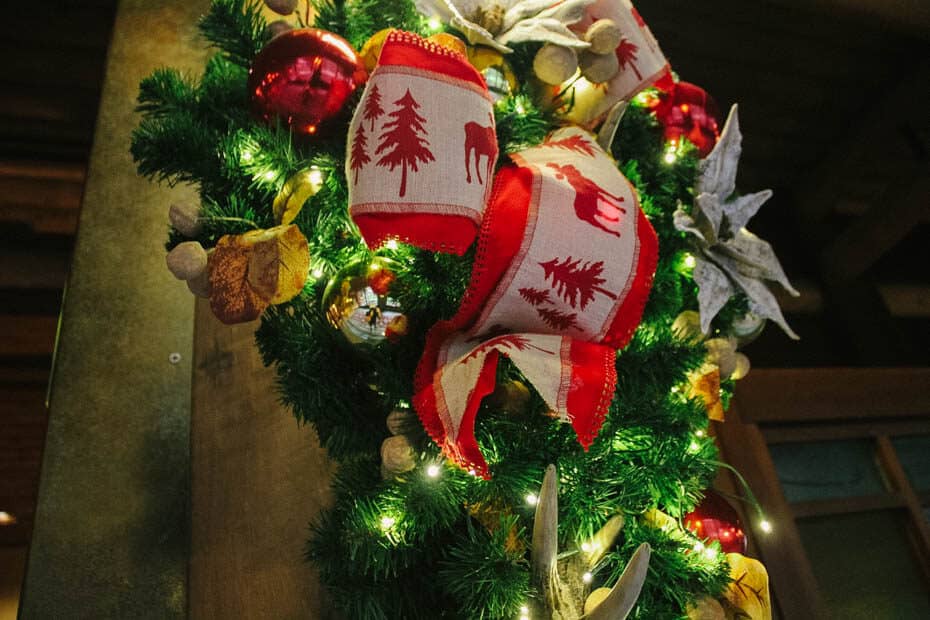 The lobby invites you to find a spot and stay for a while.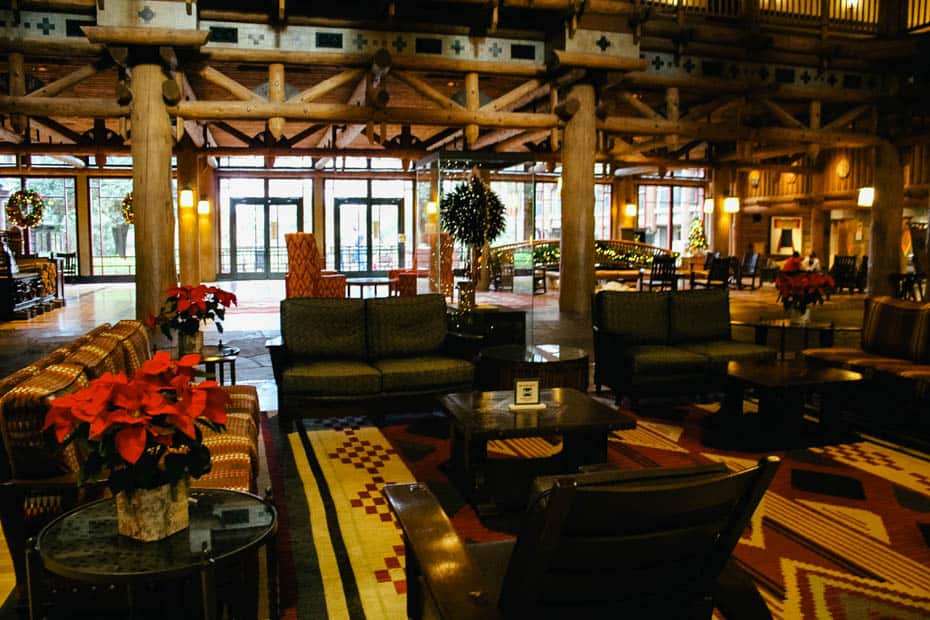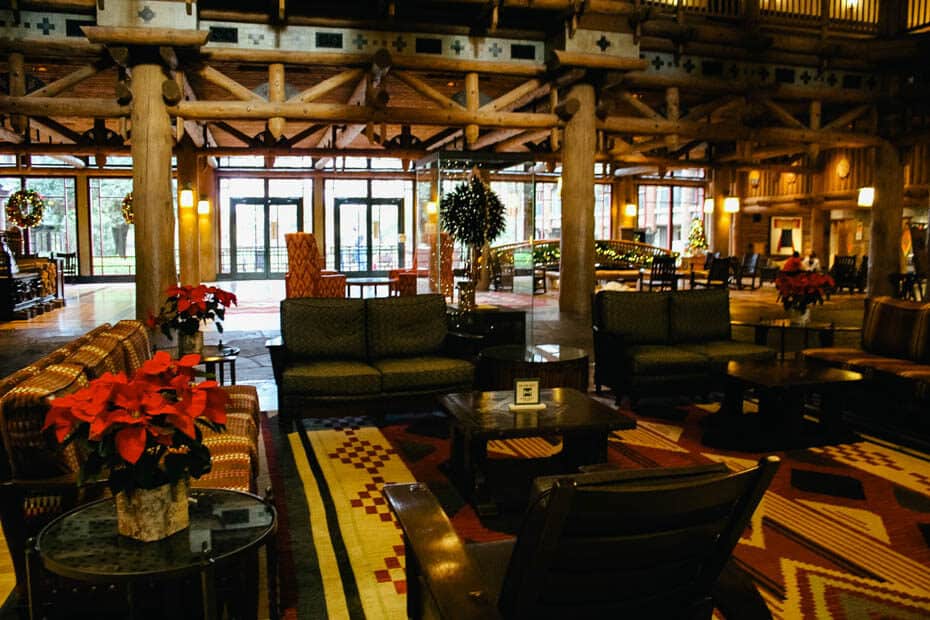 A few Christmas trees are appropriately placed in various corners of the Wilderness Lodge. They seem carefully placed so as not to take away from the main event.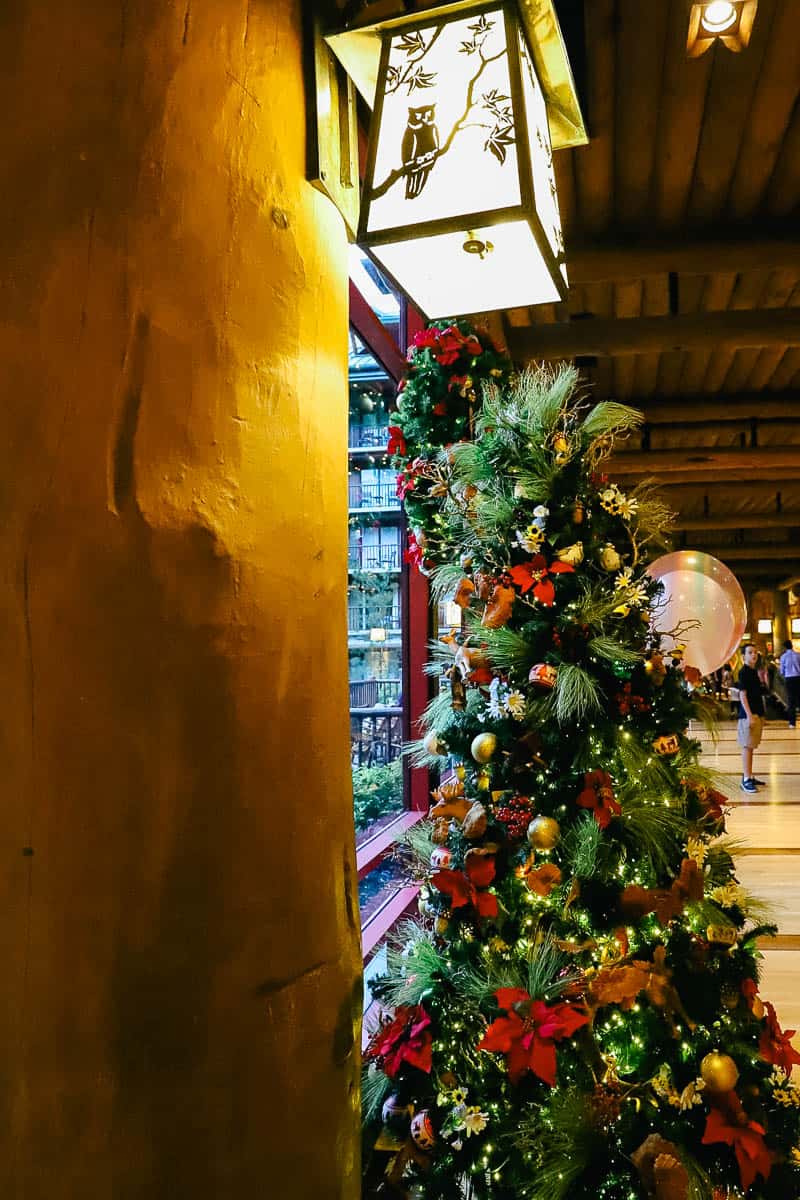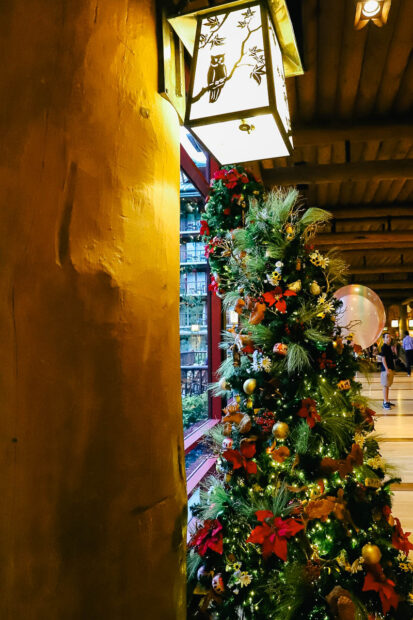 Some of the wreaths have a touch of moose antlers, wildflowers, and lights.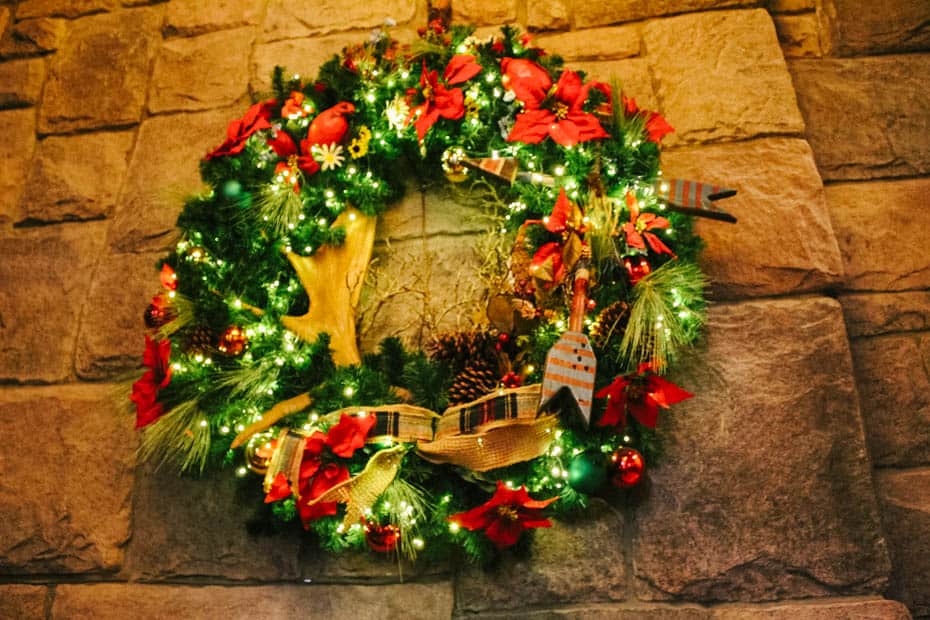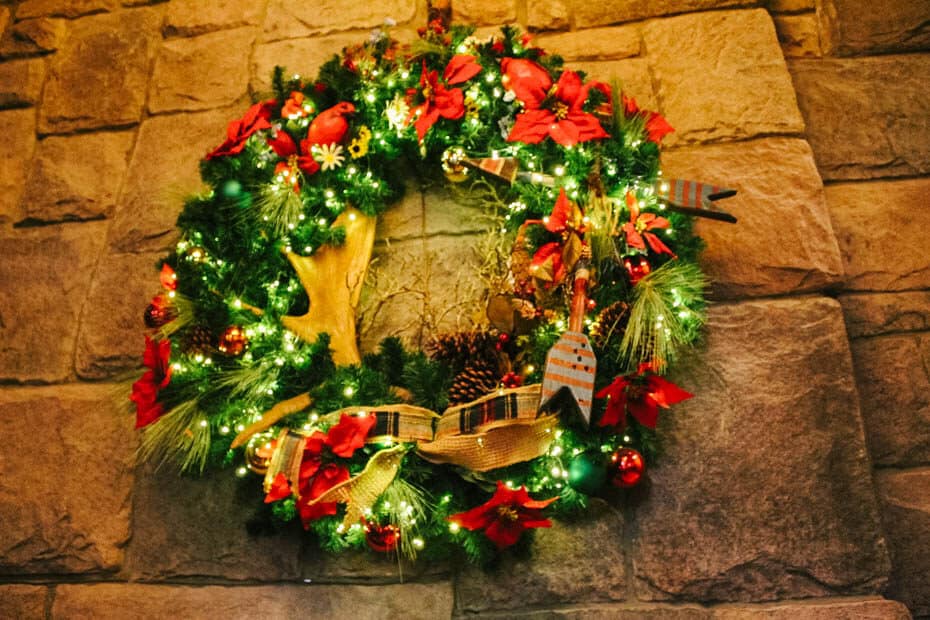 On this day, what was left of the sun was casting a nice light onto the Wilderness Lodge's Christmas tree.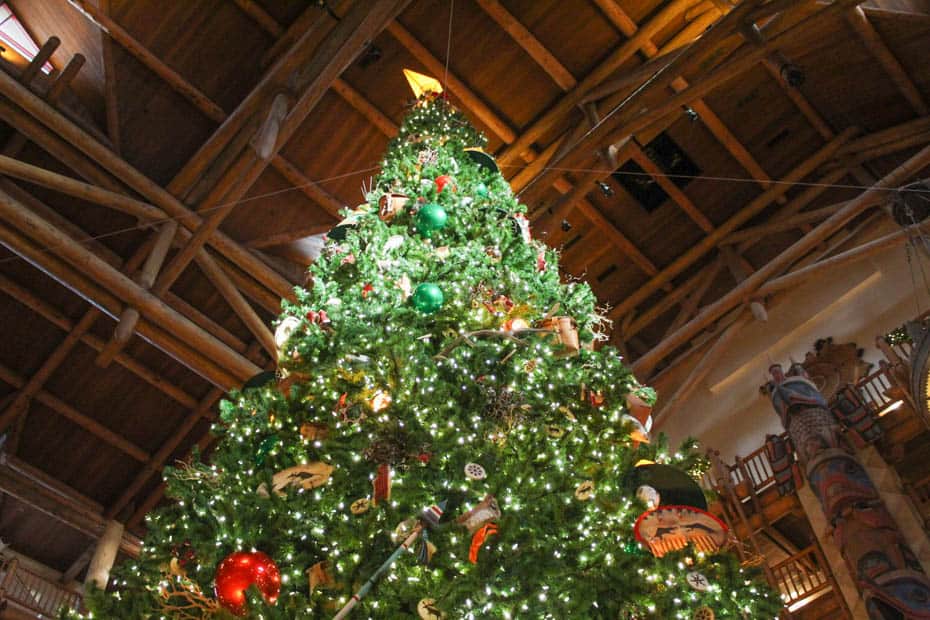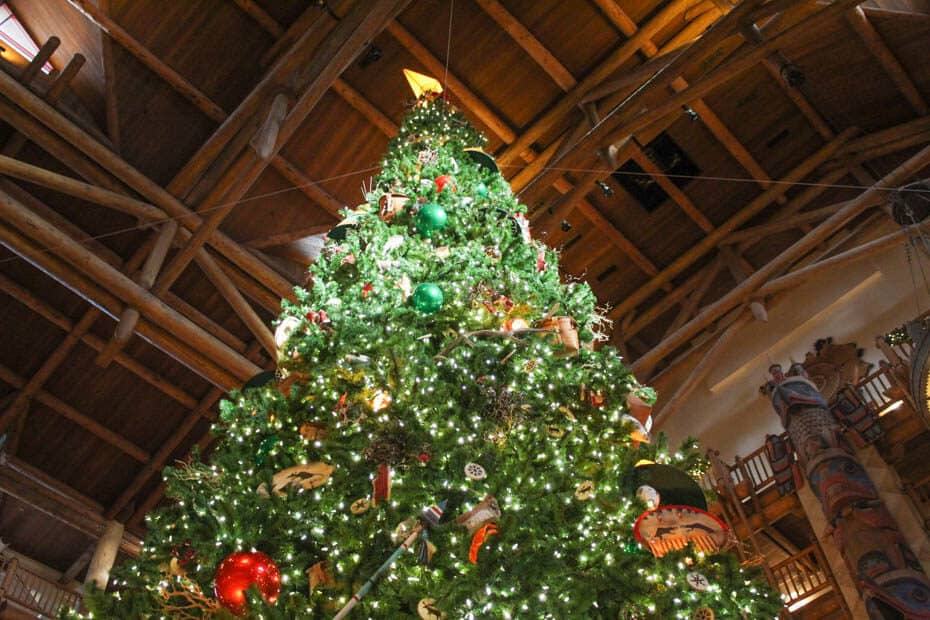 Here are a few of the Christmas tree ornaments.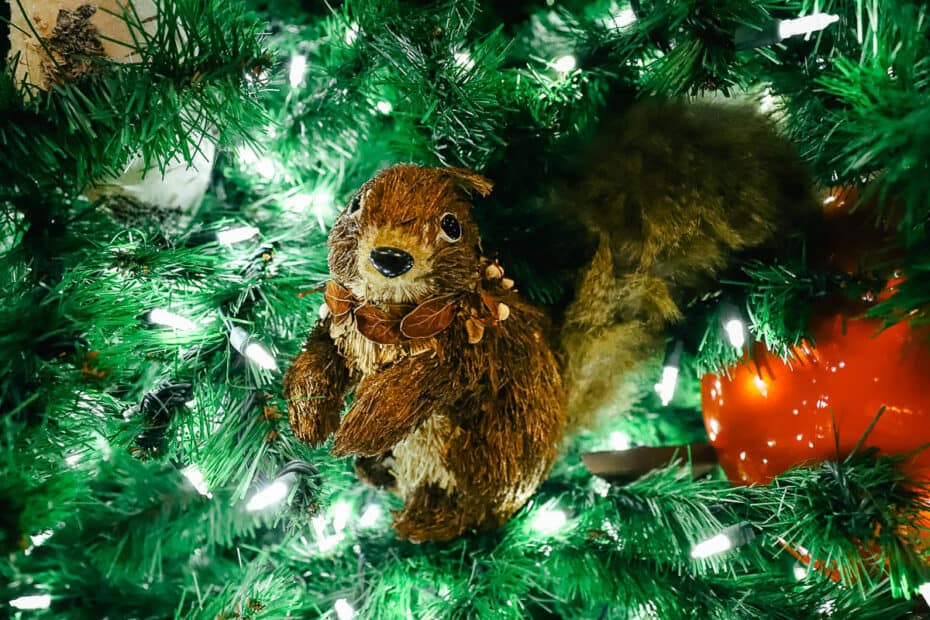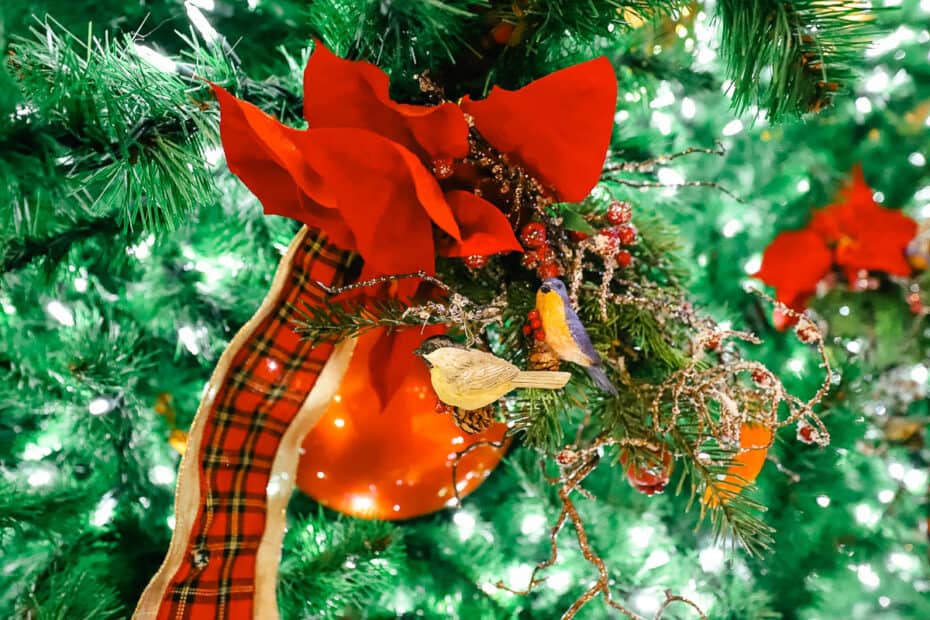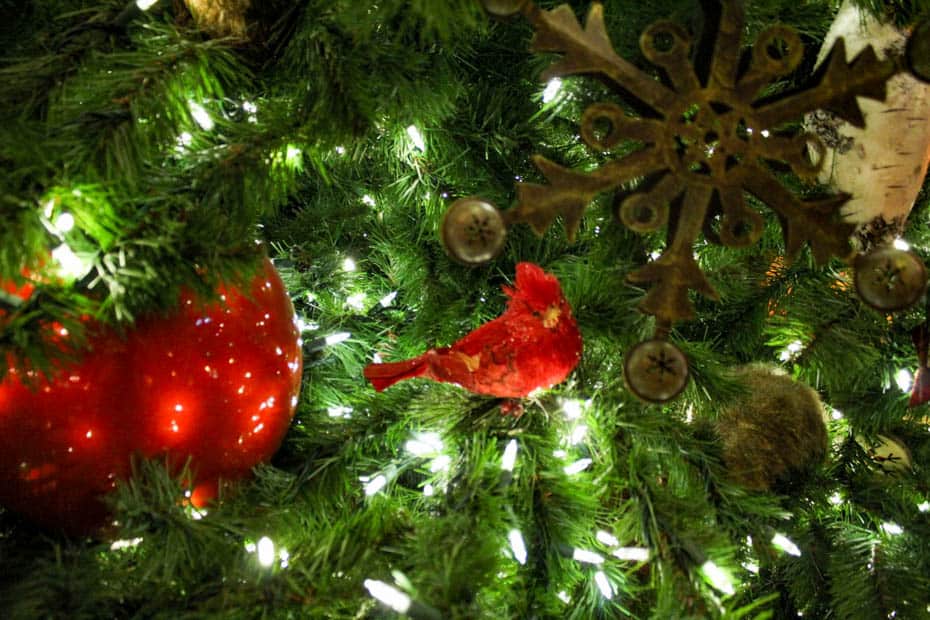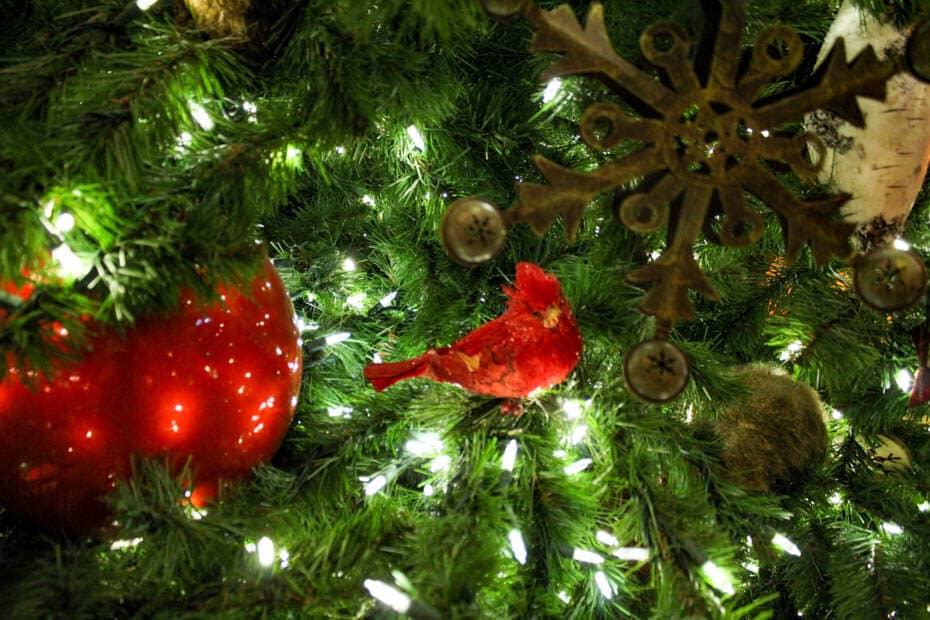 Tepees on the tree light up.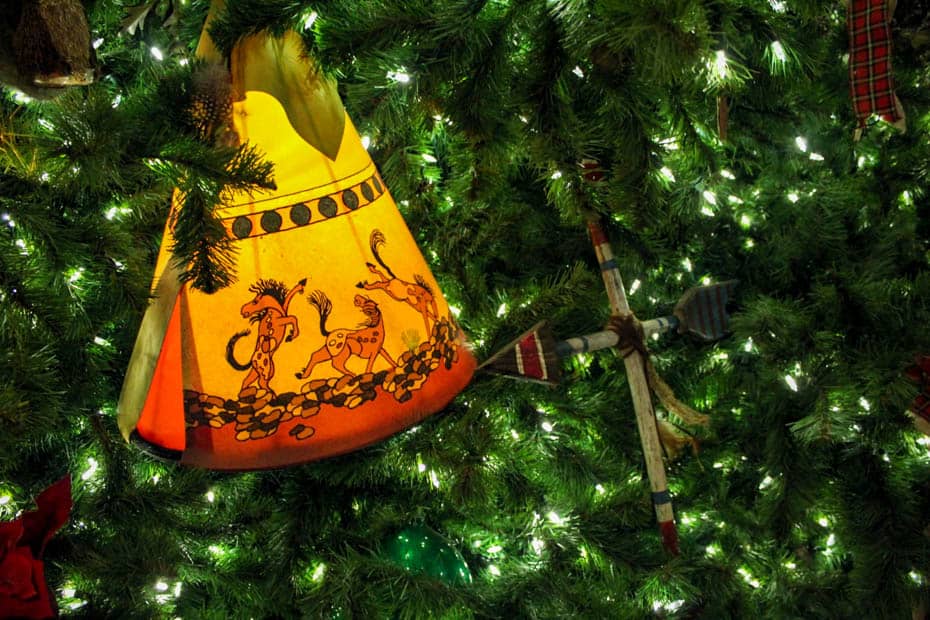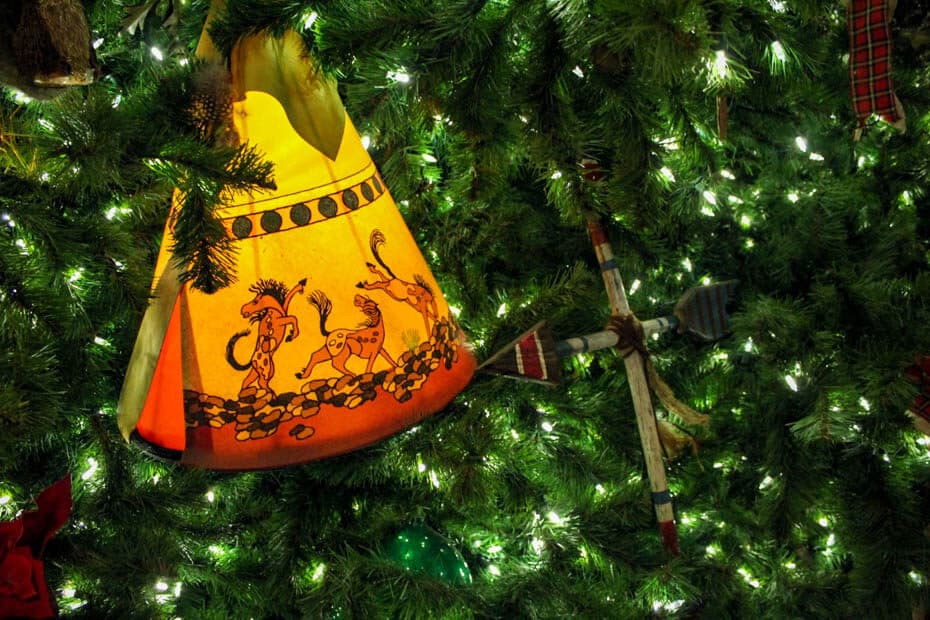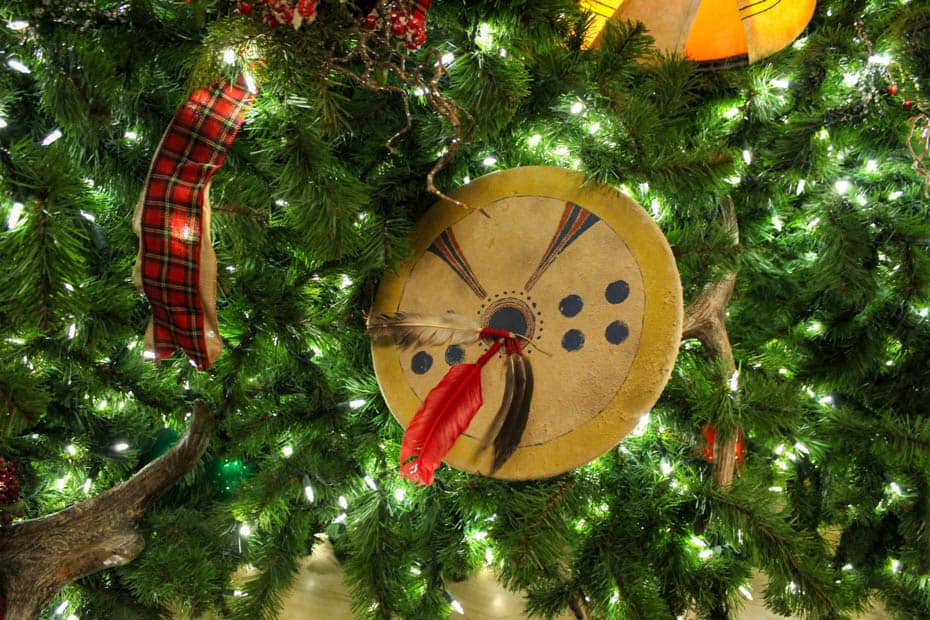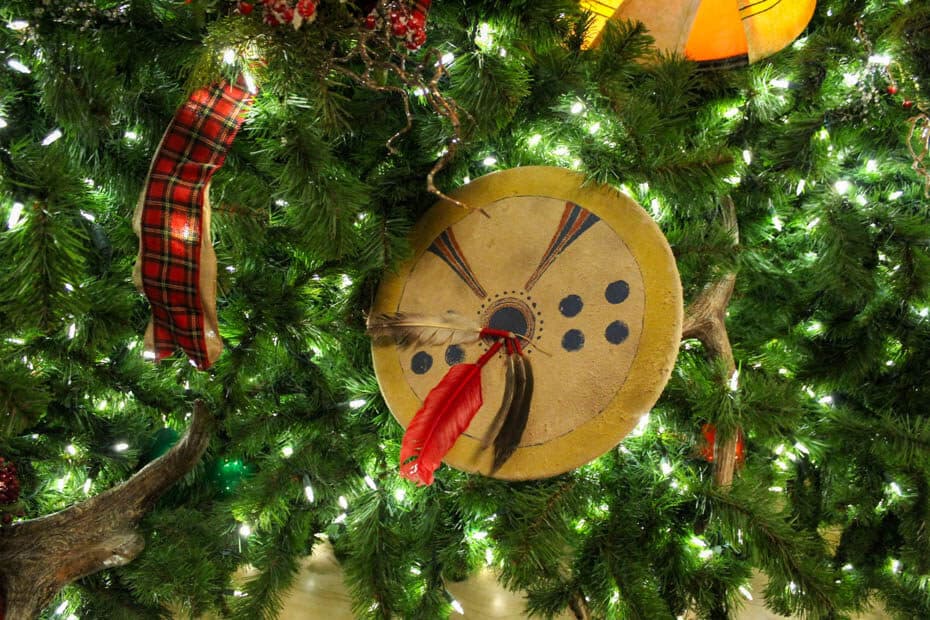 Lanterns with reindeer silhouettes adorn the tree. Additionally, giant moose antlers are subtly placed throughout.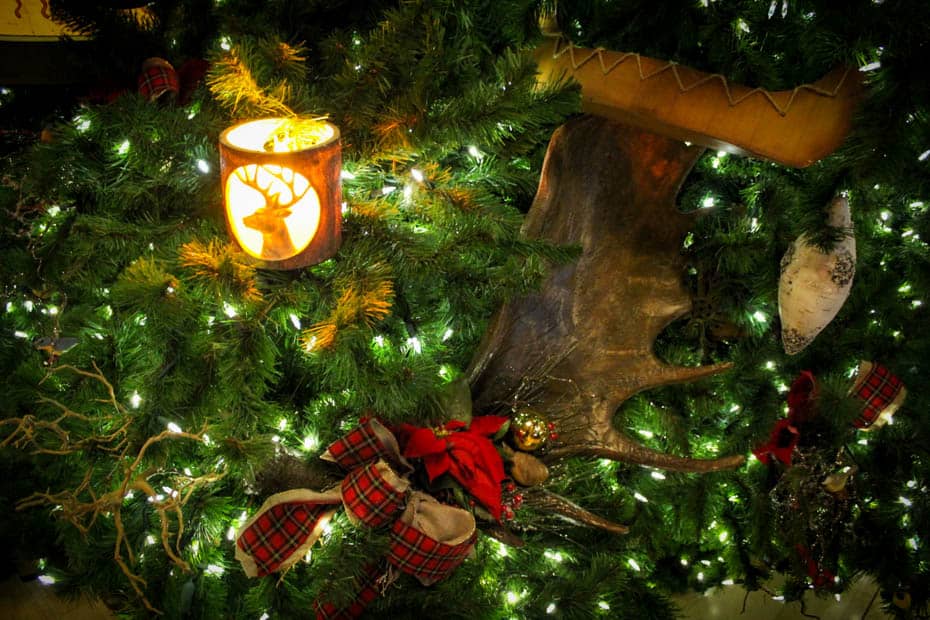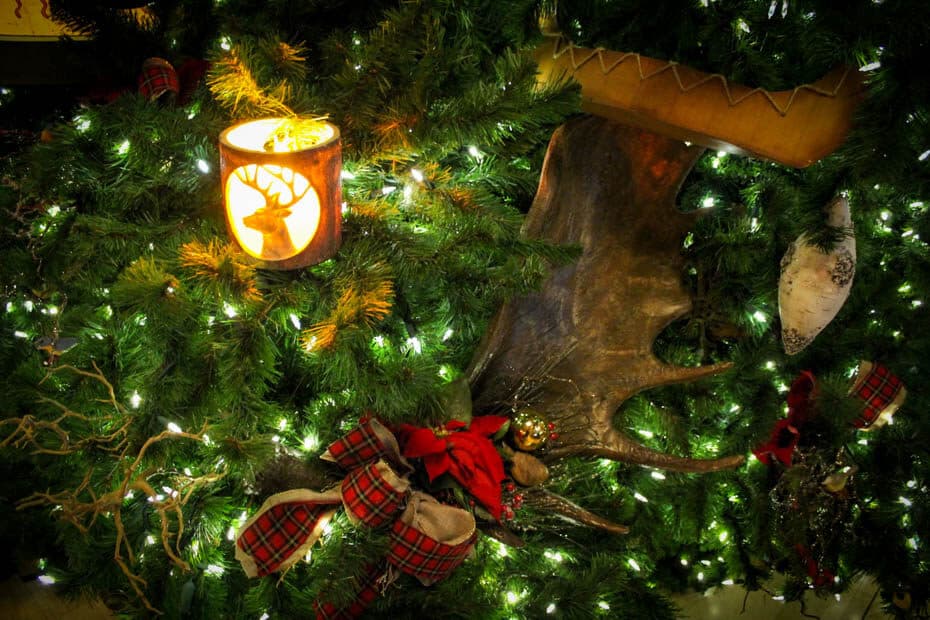 An owl perches on a branch.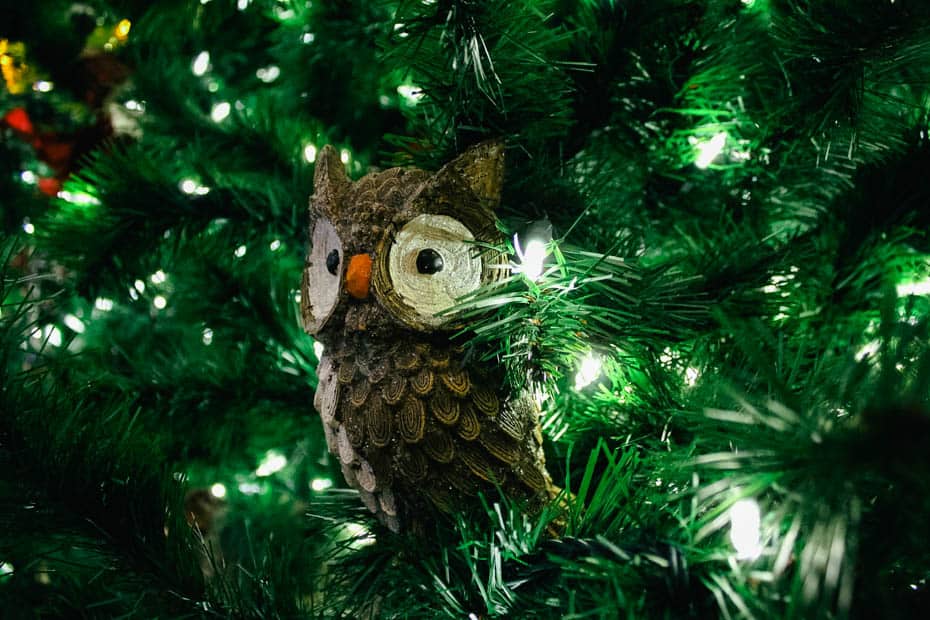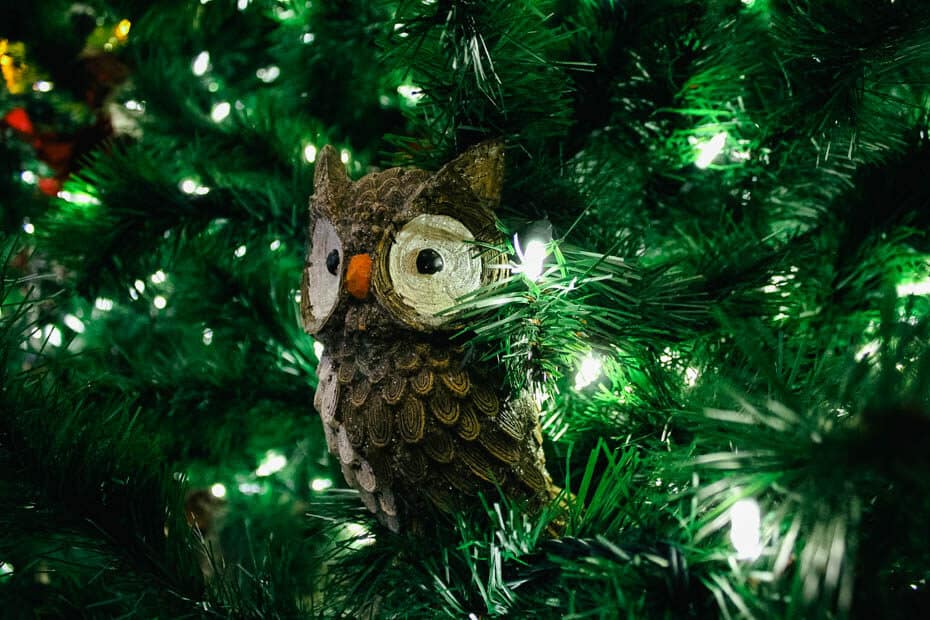 And these wooden plaid stars have forest animal cutouts.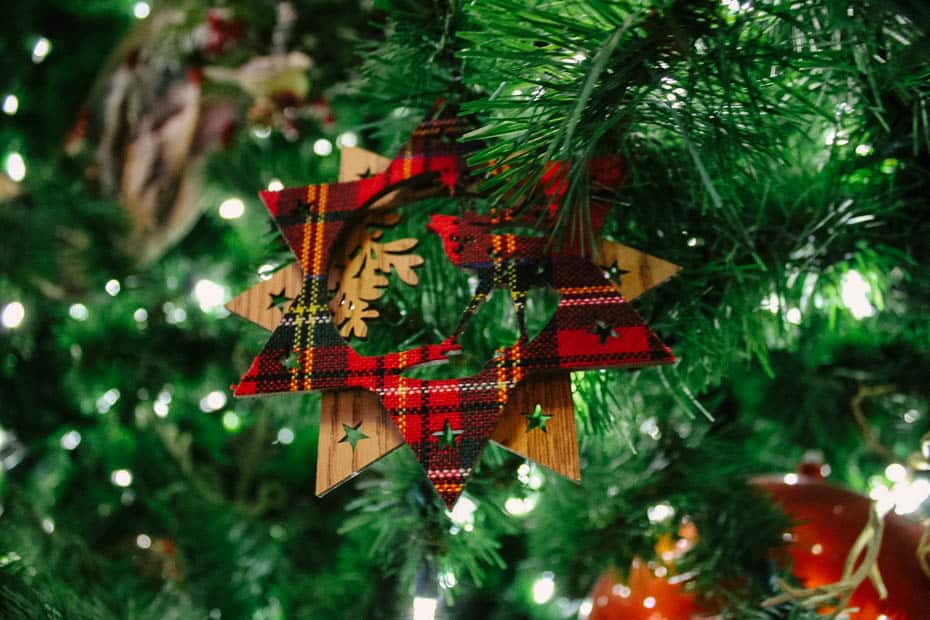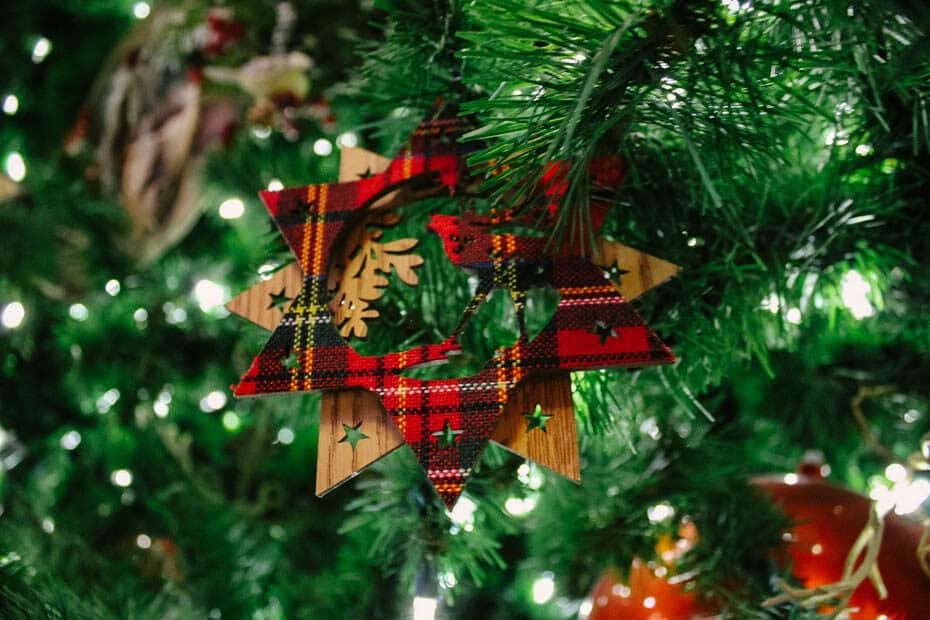 Native American baskets hang from some limbs.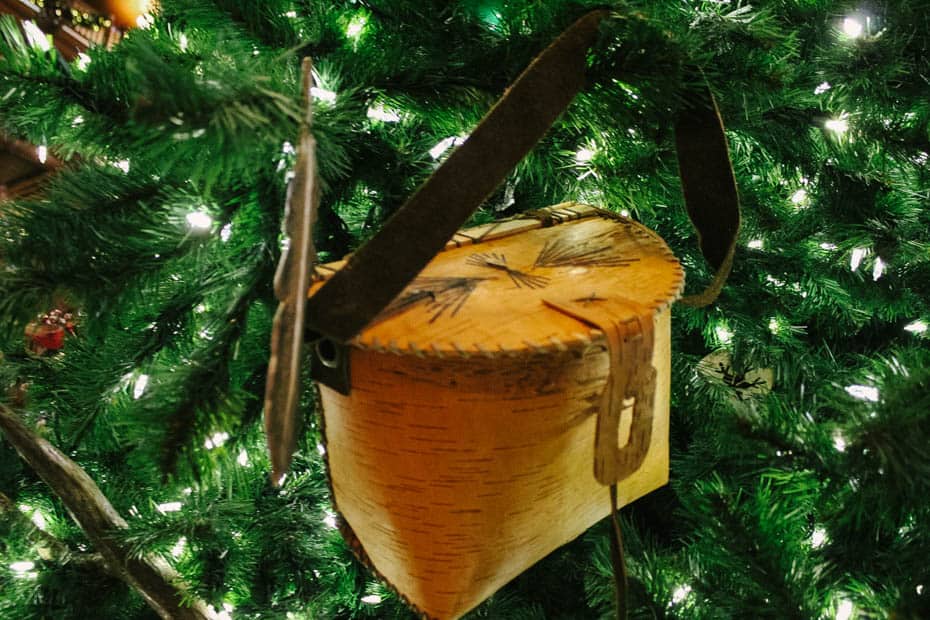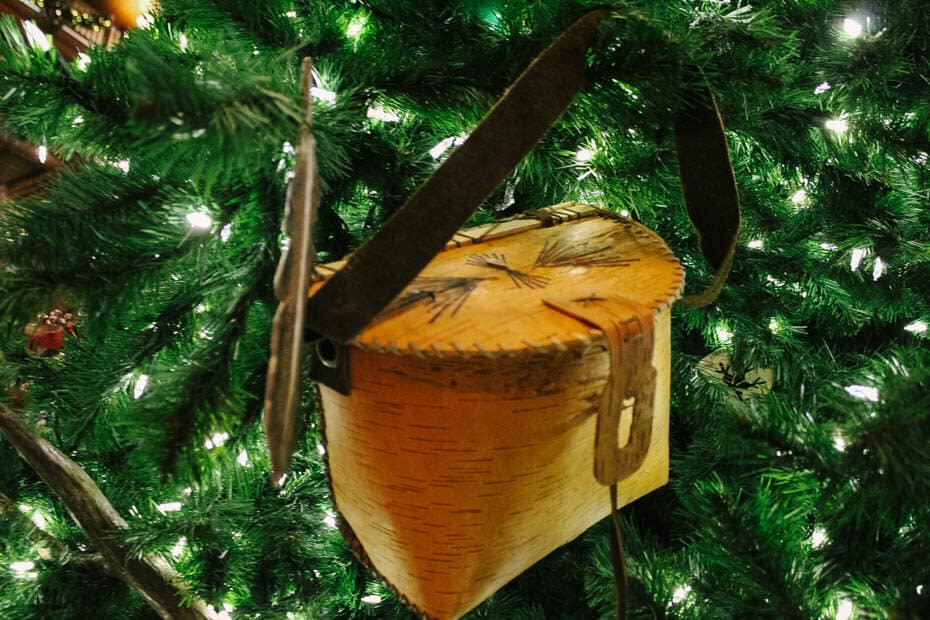 Everything has its place on the Wilderness Lodge Christmas tree.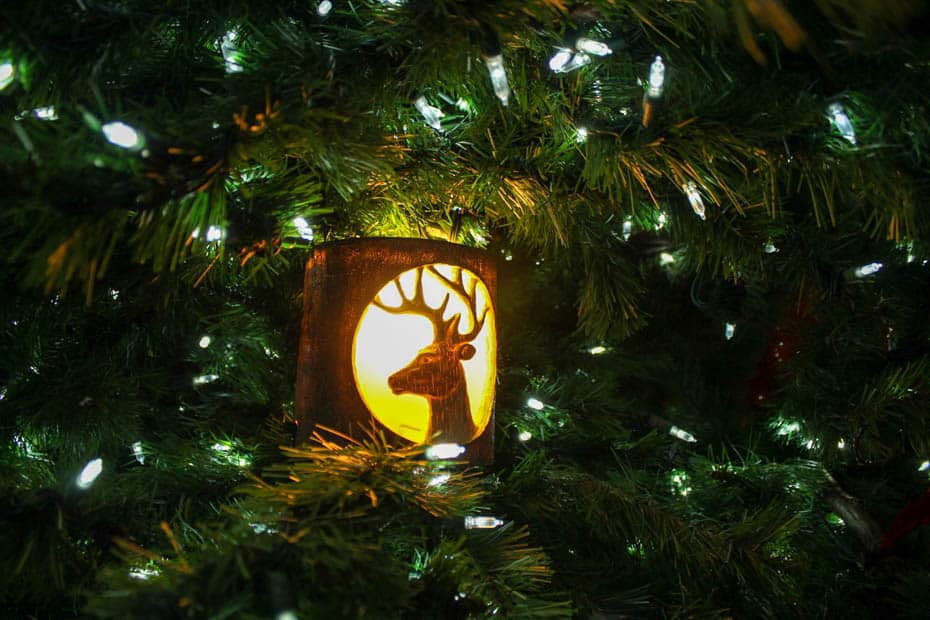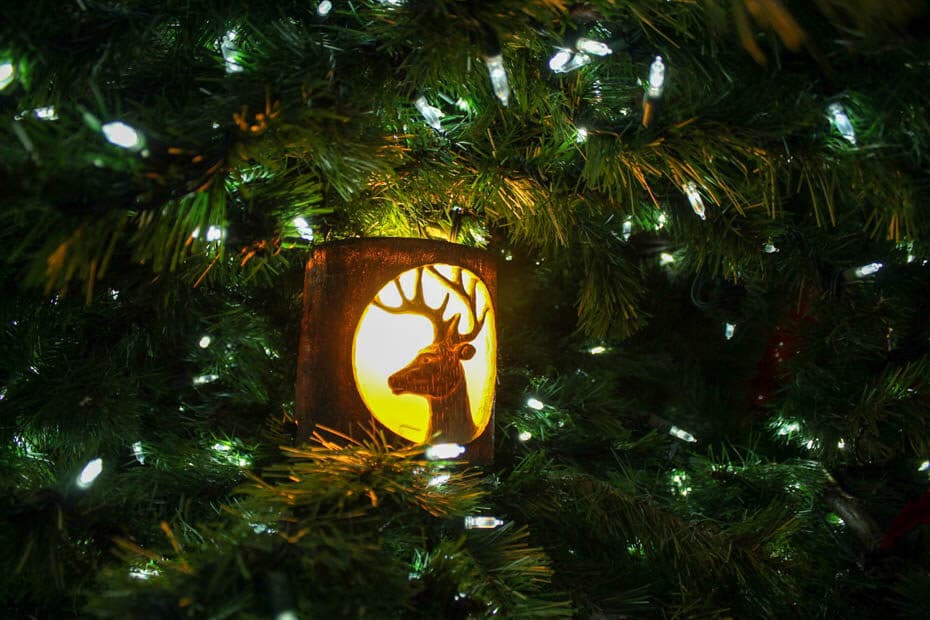 Maybe we should go upstairs and check out the view from above.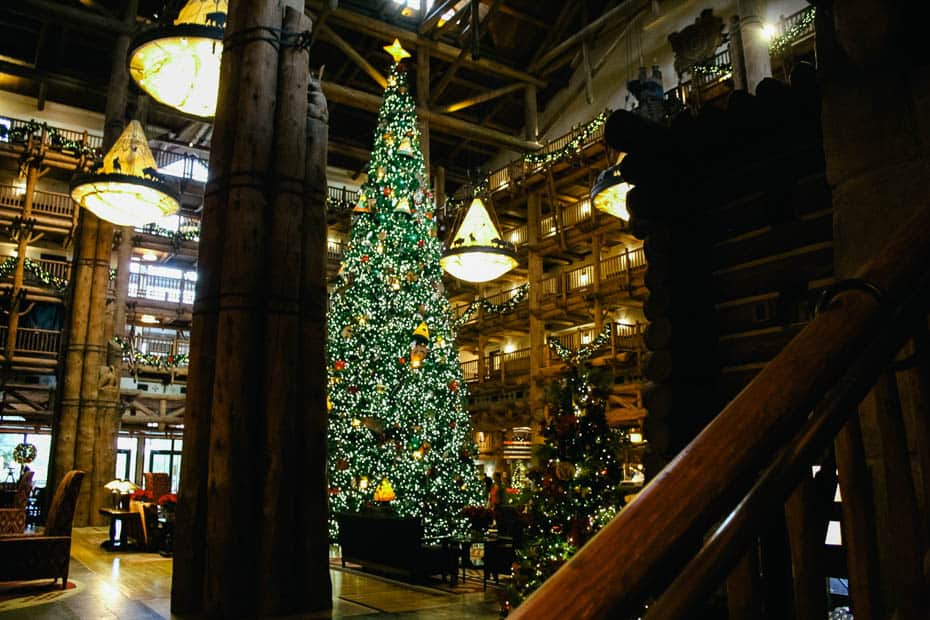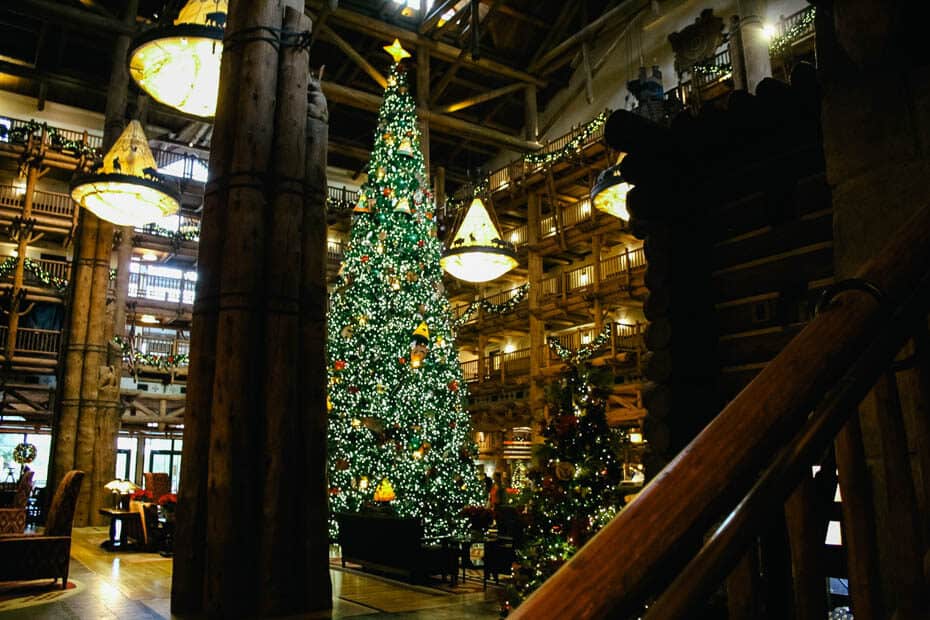 Here is a view looking out between the railings.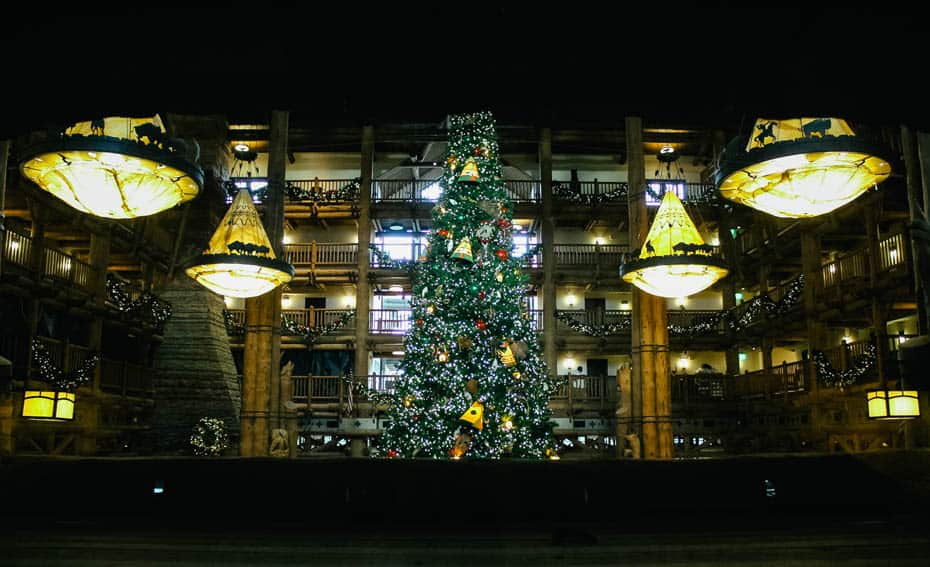 There's a neatly enclosed portion of the staircase off the main lobby. I don't know the exact purpose, but a glass door between the first and second floors creates a pocket of sorts.
All of the different levels have sitting areas. Some even have sofas with fireplaces.
You could bring a book, nap, and enjoy the views for as long as you like.
No one would blame you.
Disney's Wilderness Lodge is an elaborate place that somehow feels humble.
I love how the American flag hangs in the balance.
There are lanterns, garlands, and more wreaths every way you look.
The Mercantile store at Wilderness Lodge has a Christmas display in the windows.
Related: Wilderness Lodge Gift Shop
While touring the Wilderness Lodge for Christmas, I decided to walk down to the Boulder Ridge DVC lobby.
Related: Disney World Villa Resorts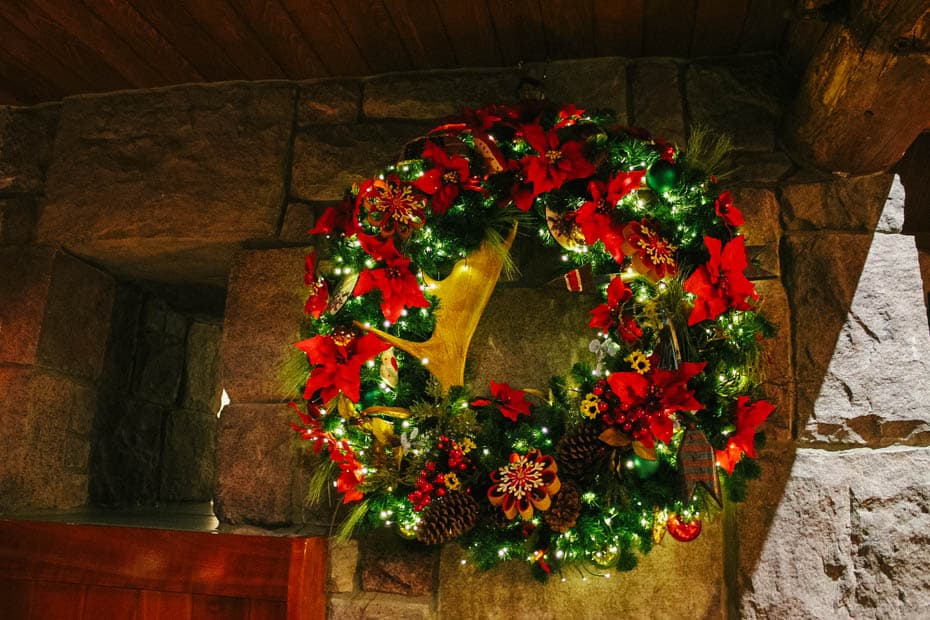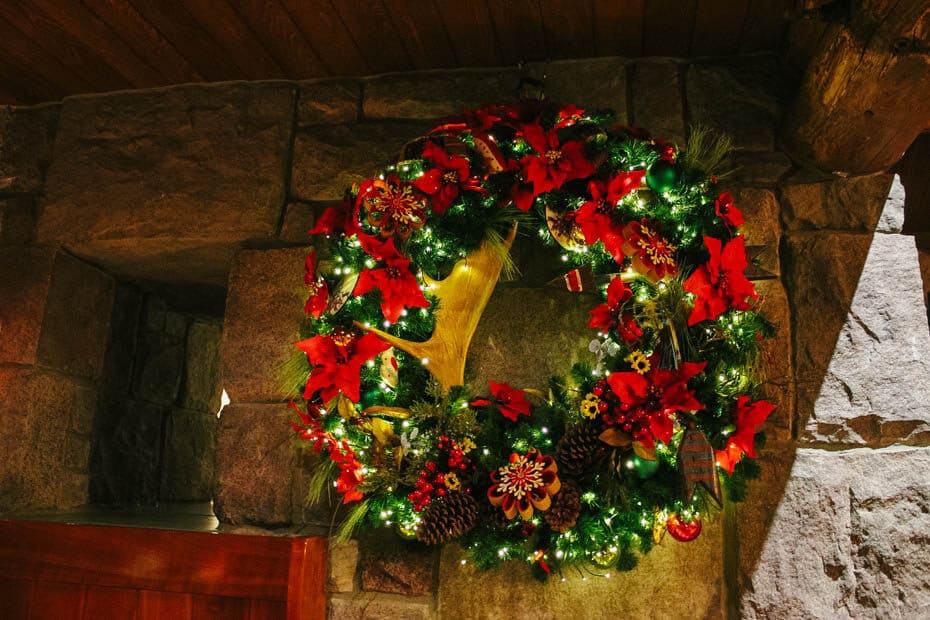 It was equally warm and inviting.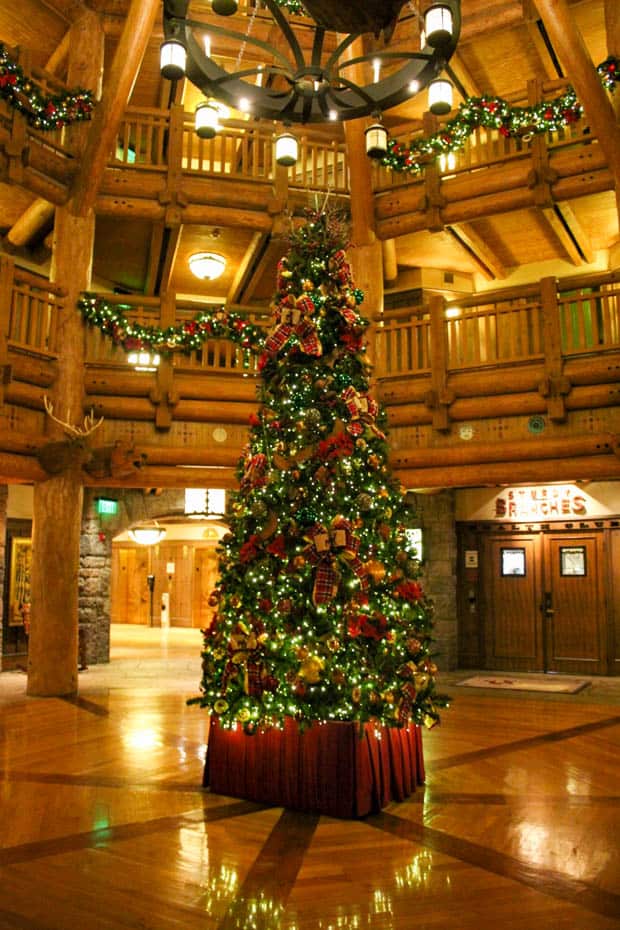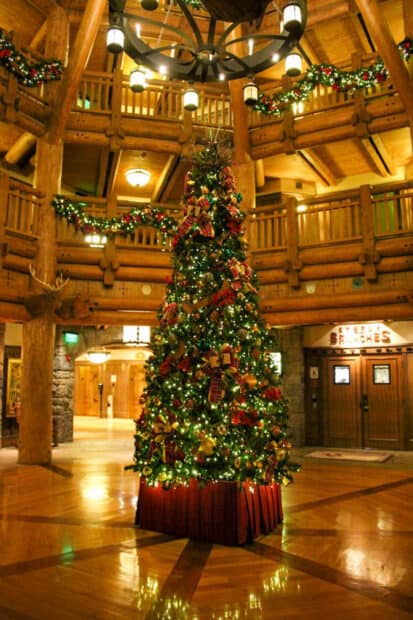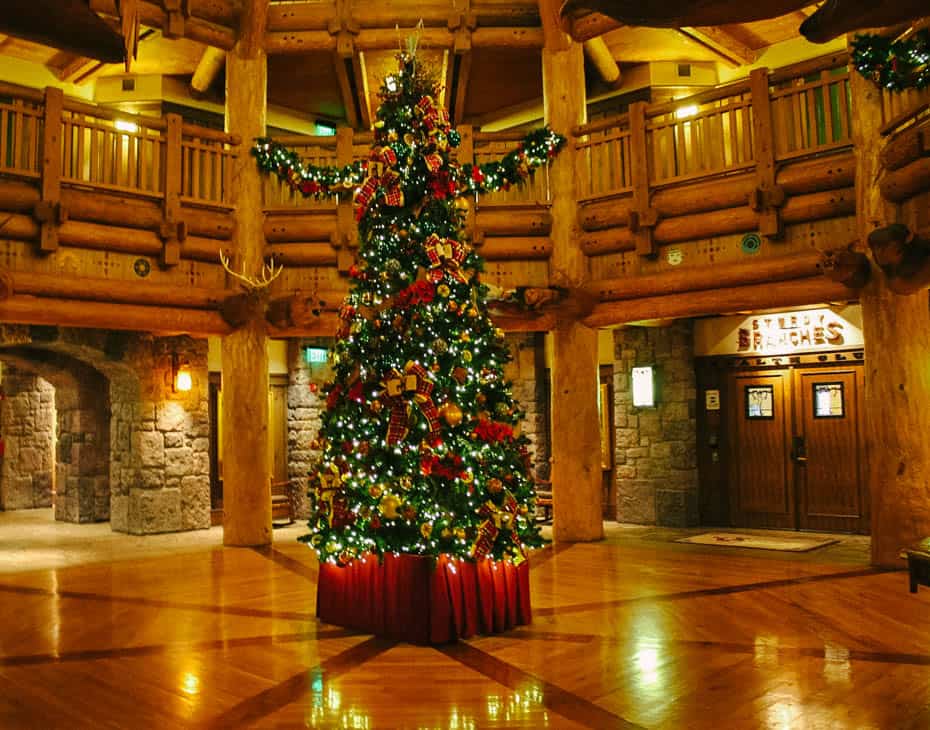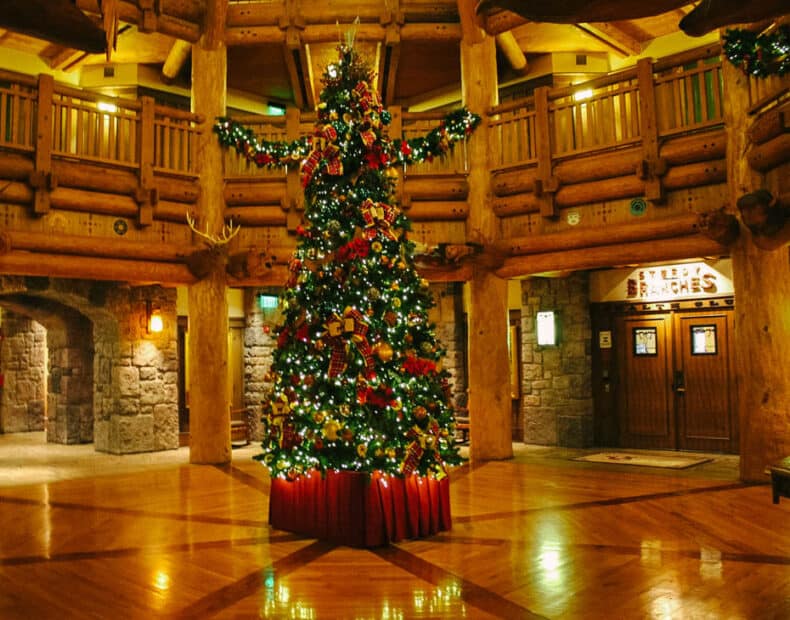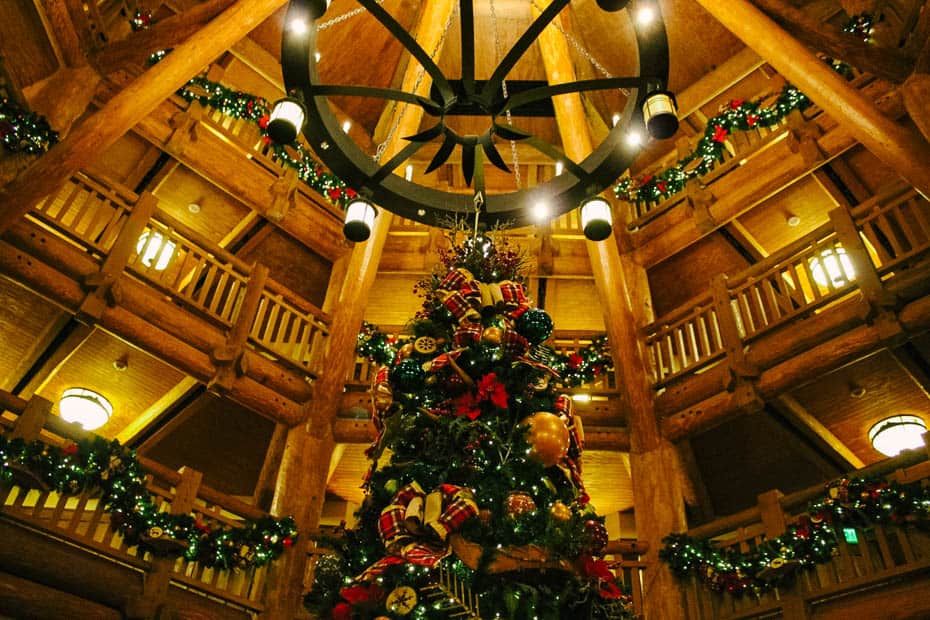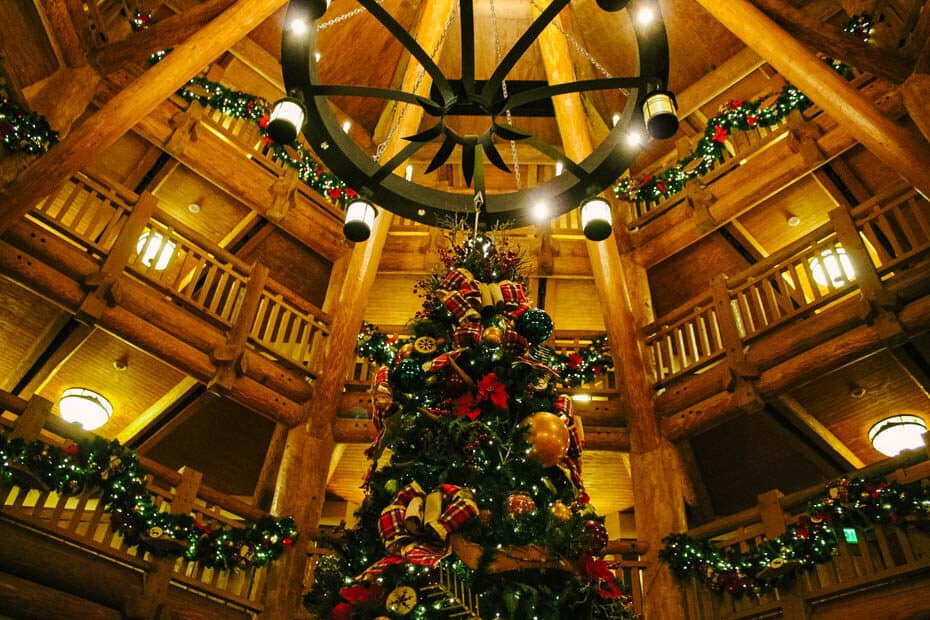 The lobby down at Boulder Ridge has a lovely separate sitting area with a fireplace. There is a portrait of Walt Disney with his train set there.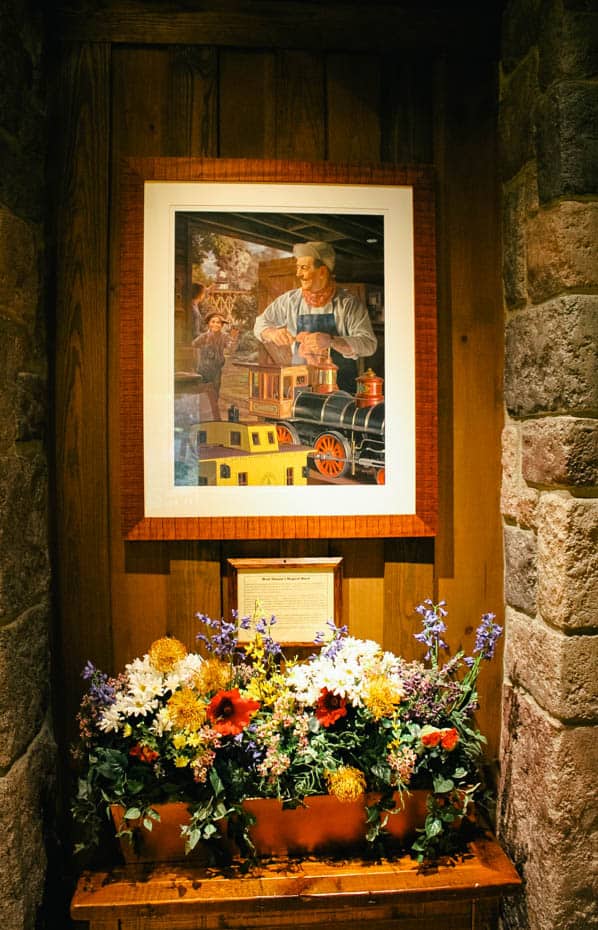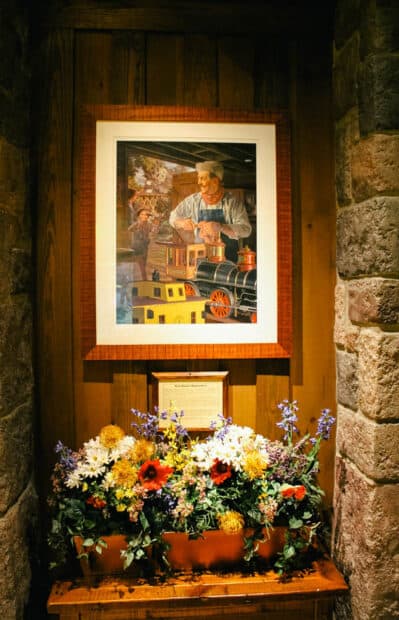 His legacy allows us to have favorite places like the Wilderness Lodge at Christmas. Or any other day of the year, for that matter.
In addition to the Christmas decorations at Disney's Wilderness Lodge, there's a holiday shop of sorts set up in the lobby.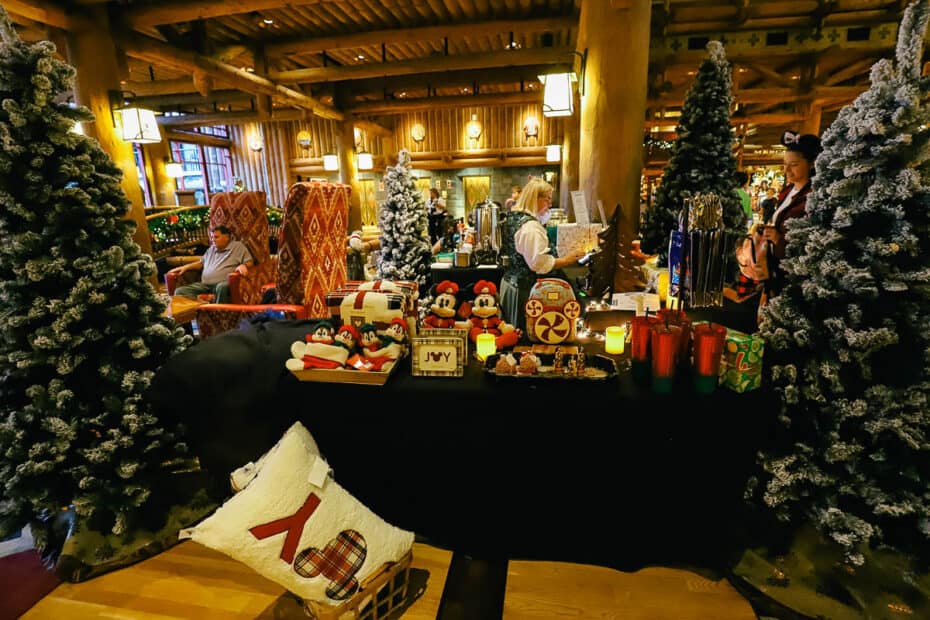 For those following along, we see another resort-branded gingerbread ornament specific to the Wilderness Lodge.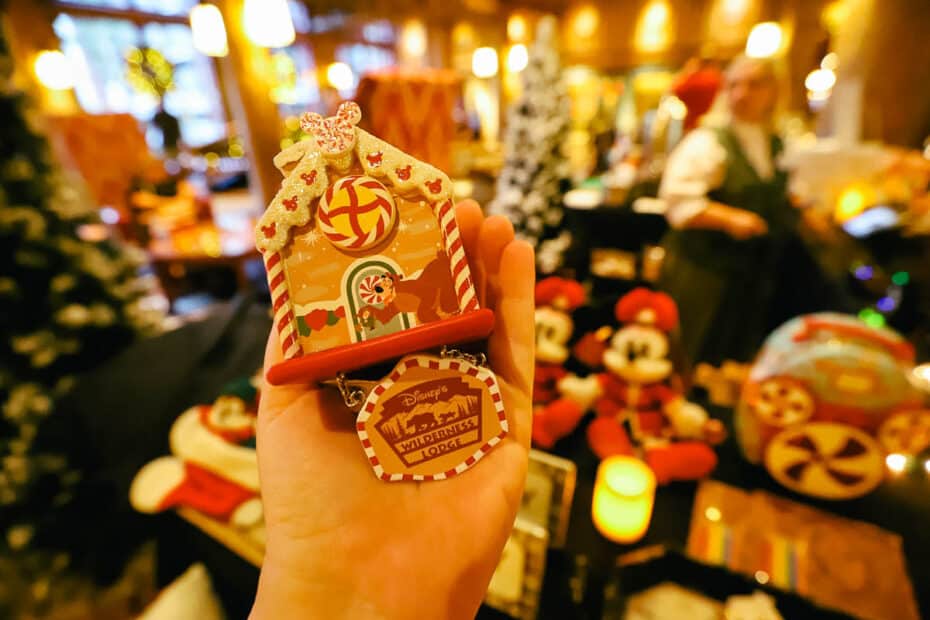 Unfortunately, there is no gingerbread display at the Wilderness Lodge this year. Here is a list of the gingerbread displays at Disney World this year.
However, you can still pick up a gingerbread or other holiday treat in the Wilderness Lodge's lobby.
There were a variety of options.
Per the menu, these items are available daily from 2:00 p.m. –9:00 p.m.
Gingerbread Pine Tree
Spiced Moose Cookie
Molasses Crackle Cookie
Peppermint Bark
There were also a few drinks:
Cider
Hot Chocolate
Worth Melting for Cocktail
I hope you enjoyed this mainly photo post of Disney's Wilderness Lodge during the holiday season. For more information, all of our articles for the resort are listed in our guide:
Additionally, you might enjoy these:
And for more Christmas at the Disney Resorts, try the following:
In the Comments
Have you visited the Wilderness Lodge during Christmas? Do you love to find a spot in the lobby and admire the massive Christmas tree?