Christmas at Disney's Animal Kingdom Lodge
This article shares a preview of Christmas at Disney's Animal Kingdom Lodge, including the decorations and the resort's Christmas tree.
It seems like yesterday, that first Christmas holiday we spent at Disney's Animal Kingdom Lodge. We had heard many stories about how the resort's elaborate Christmas tree embellished the lobby.
It was late when we arrived for check-in. We were greeted by the soft ambiance of yellow lights strung on the Christmas tree.
Jambo! A welcoming voice broke the silence. That's how you're greeted when you visit Disney's Animal Kingdom Lodge.
We were then off to find our room, exhausted from our travel day yet still excited to see what animals we might find upon waking the next morning.
Many years later, memories of our first time visiting the Animal Kingdom Lodge at Christmas are still fresh. It was a wonderful trip.
There's a good reason that Disney's Animal Kingdom Lodge comes in as our choice for the best deluxe resort at Walt Disney World. However, Christmas at Disney's Animal Kingdom Lodge is like icing on the cake.
So as we continue our Christmas tour of the Disney Resorts, we find ourselves stopping at Disney's Animal Kingdom Lodge. Below we'll preview those special touches of Christmas at the resort, including the beautiful tree.
Additionally, I'll add a few tips for planning your visit. For example, if you're interested in seeing the holiday decorations, it might be fun to plan a meal and tour the resort after you're finished.
Christmas decorations go up around the second week of November at Animal Kingdom Lodge. This year, in 2022, those decorations were completed by November 23rd.
Animal Kingdom Lodge's lobby usually hustles and busts with guests throughout the holiday season. However, there are plenty of places to sit, relax, and enjoy the atmosphere.
Most visit for the sole purpose of seeing the Christmas tree. Its golden glow is warm and inviting.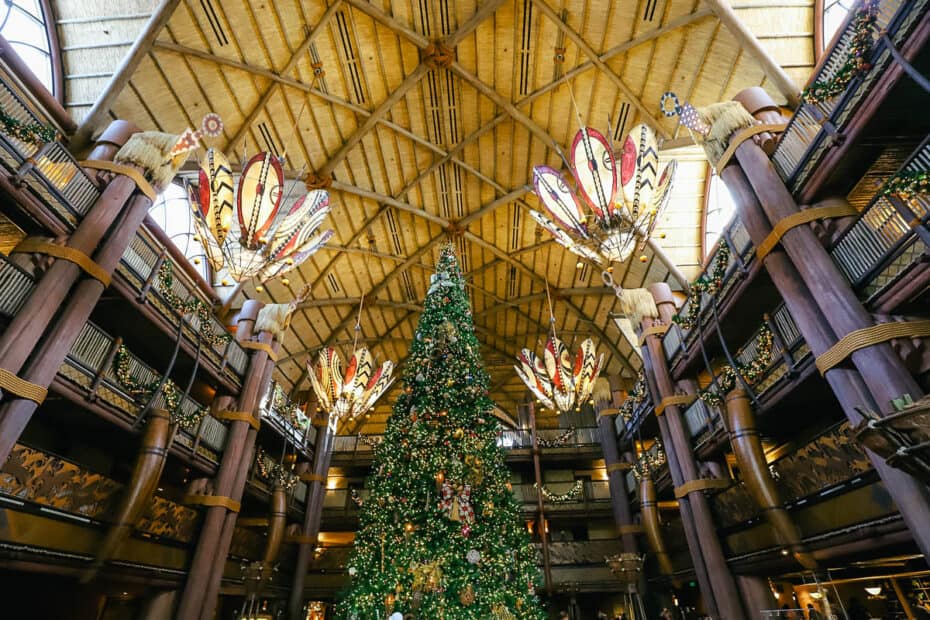 Make sure to inspect the different decorations while you are there. These beautiful bows add a pop of color in all the right places.
Cornucopias tend to blend into the tree while adding a gorgeous overall effect.
All of the bows come in a variety of different color ribbons.
Here are a few more decorations: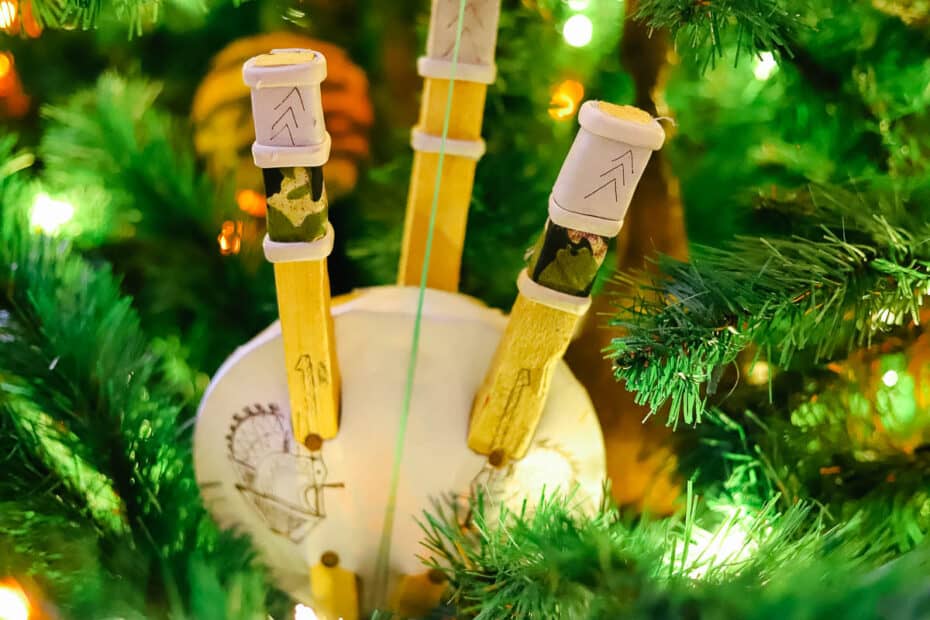 Like most Christmas trees at Disney, the more you look at them, the more you will see.
In addition to the out-of-the-ordinary decorations, there's another must-see holiday element at Disney's Animal Kingdom Lodge. That element is a gingerbread display featuring a gingerbread giraffe and zebra.
This display sits toward the back of the Jambo House lobby before you reach the stairwell that leads down to the savanna outlook. We have a separate article if you would like to see more photos of the display.
Related: Gingerbread Giraffe and Zebra at Animal Kingdom Lodge
As mentioned, you might want to plan dining reservations for one of the restaurants at Disney's Animal Kingdom Lodge. Although, if so, you've got a tough choice. There are plenty of great options.
For breakfast, we love Boma, Flavors of Africa. This breakfast buffet is open from 7:00 a.m. until 11:00 a.m. for breakfast.
So technically, you could consider it brunch if you plan a late-morning reservation. It's also an excellent buffet, and that's coming from someone who doesn't necessarily love buffets.
Related: Boma, Flavors of Africa Breakfast Review
If you're looking for a more formal meal, you could try Jiko, The Cooking Place. This is one of Disney's highest-rated signature dining locations.
Related: Jiko, The Cooking Place Review
For table service, you might consider visiting Kidani Village for lunch or dinner at Sanaa. That's where you can get the delicious bread service with tons of sauces.
Related: Sanaa Review (with Bread Service)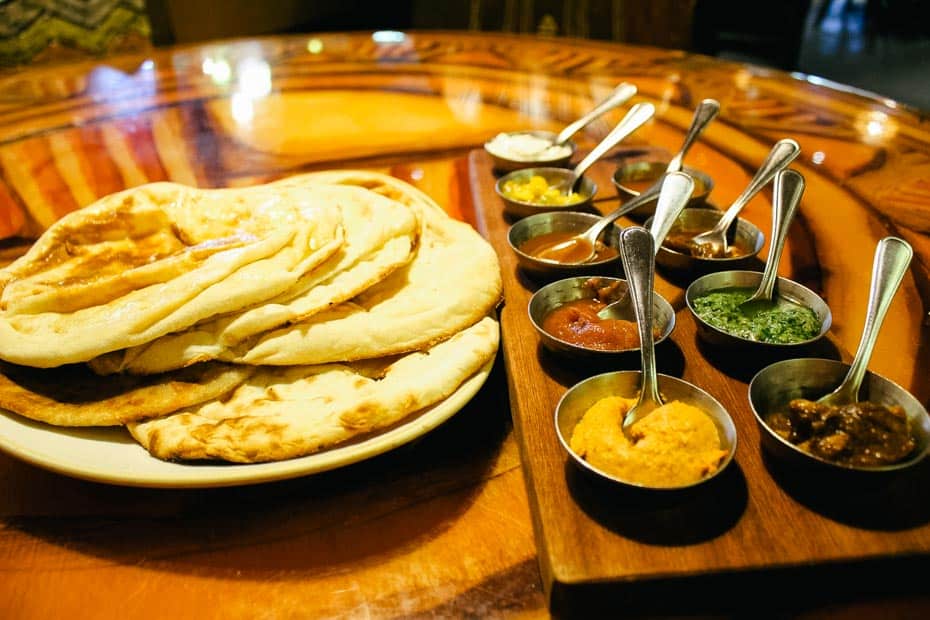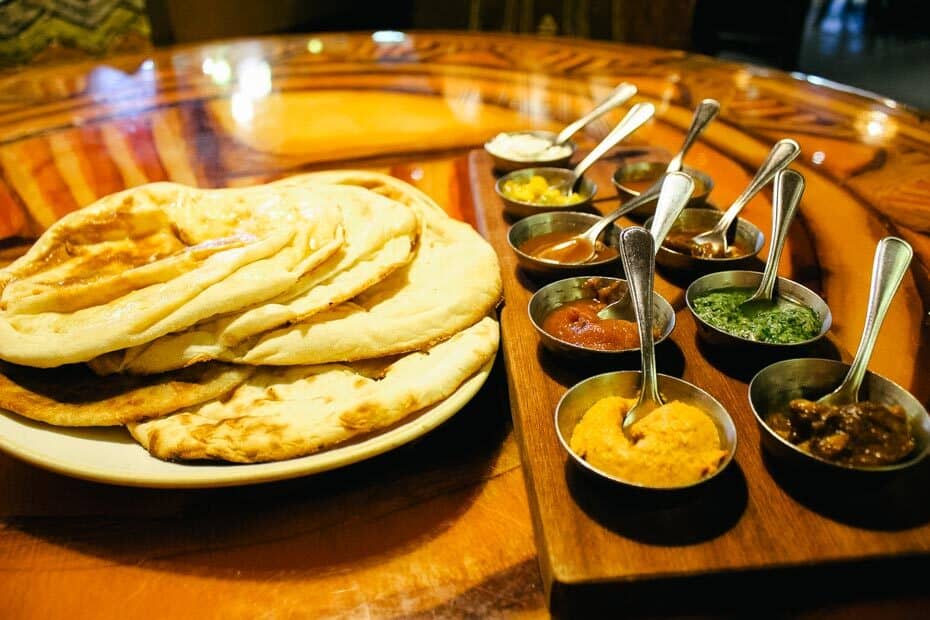 Additionally, while visiting the Animal Kingdom Lodge, you might consider taking the time to tour the resort. At Jambo House, there are two outdoor savanna viewing areas. One is off the back of the resort's lobby.
You might also take the stairs on the right side of the lobby down to the lower level. This is where Boma and Jiko are located.
From there, you'll take a large set of double doors outside. A large walkway circles the pool at Animal Kingdom Lodge. Additionally, The Mara, the resort's counter service restaurant, is out in this area.
You'll go past the pool on either side, and toward the back, you'll run into the Uzima Savanna viewing area. It's a pleasant walk, and often we see giraffes in this area.
Here is a video of some of the Christmas decorations at Disney's Animal Kingdom Lodge.
If you want to learn more about this resort, we have a complete list of articles in our guide.
Or you might enjoy one of the following articles:
Are you planning a stay at Walt Disney World? Then, make sure to browse all of our Disney Resort Reviews!
For more Christmas at Walt Disney World, try these:
In the Comments
What are your thoughts on Christmas at Disney's Animal Kingdom Lodge? Have you ever visited the hotel? If so, did you visit during Christmas to see the tree?
Planning a Walt Disney World or other Disney Destination vacation?
Our friends and travel partner, Firefly Travels, excels at doing Disney differently. You can fill out a plan your trip form on their website, and someone will reach out shortly to discuss the specifics.