Christmas at Disney's Animal Kingdom Lodge
As we continue our tour of the different Disney resorts, we find ourselves making a stop for Christmas at Disney's Animal Kingdom Lodge. The resort is generally worth the trip over for those who have never visited before.
But the seasonal touches, along with the Christmas tree, make for an extra special visit over the holidays.
In this article, we'll preview those touches of Christmas at Animal Kingdom Lodge. We'll look at the resort's decorations, trees, and other extras you might find during this time of the year.
Holiday decor usually goes up around the second week of November at Animal Kingdom Lodge. So if you're visiting Disney between November and December, you might go over for a visit.
Since the Animal Kingdom Lodge reopened, everything is now back in full swing. Even, Jiko, The Cooking Place is up and running again!
And breakfast at Boma is back! You might want to plan a meal at Boma over the holiday season and check out all of the Christmas decorations while you're at it!
Related: Boma, Flavors of Africa Breakfast Review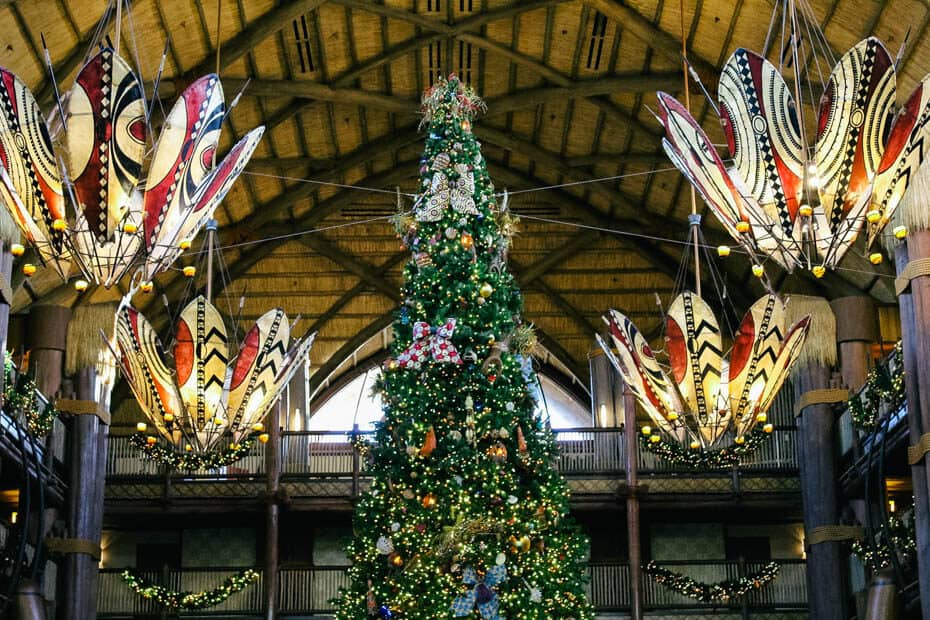 With a dining reservation, you can easily drive over to the resort, enjoy a meal, and spend a little time touring while you're there. Speaking of dining, another option you might consider is Sanaa down on the Kidani Village side of the resort.
You could enjoy a meal there and walk back up to the Lodge to see all of the Christmas stuff when you're finished. There is a full review of Sanaa if you'd like to learn more. And yes, it includes a preview of their delectable bread service.
Related: Animal Kingdom Lodge Restaurants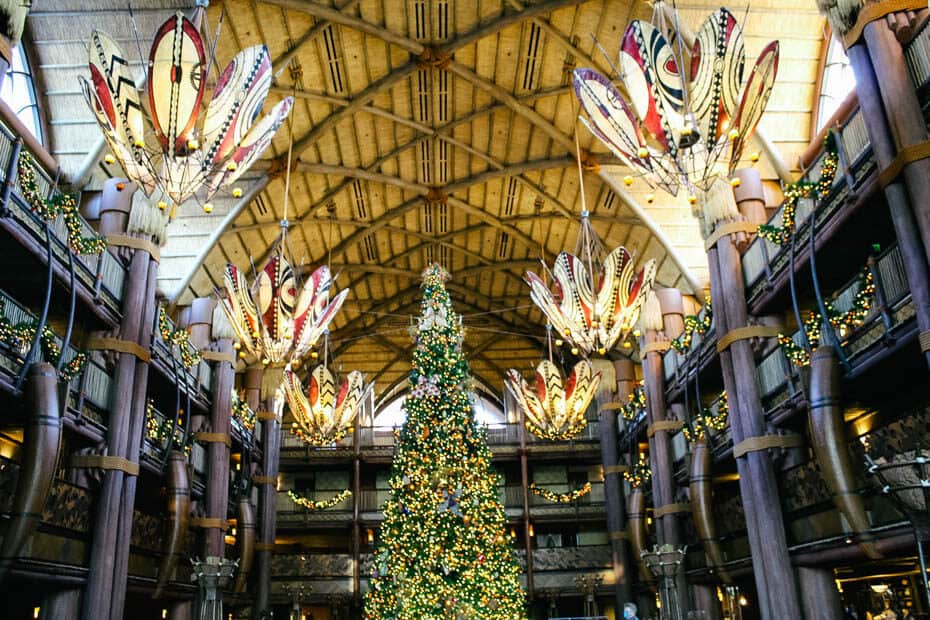 As for Christmas at Animal Kingdom Lodge, the resort is usually hustling and bustling with guests. The lobby is similar in design to Disney's Wilderness Lodge. So there's plenty of room to find a seat and relax for a while.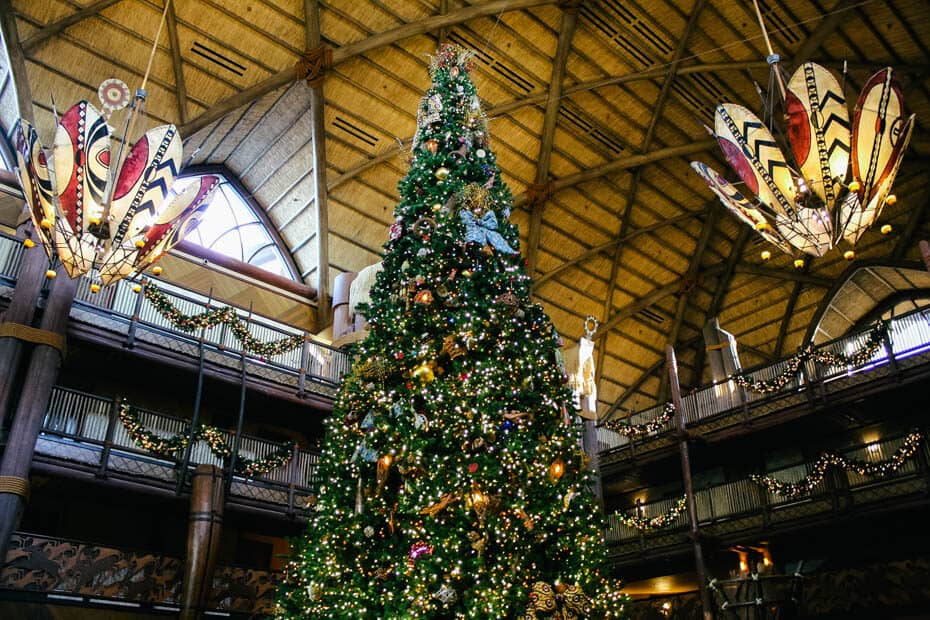 The Christmas tree at Animal Kingdom Lodge provides just the right ambiance to the setting.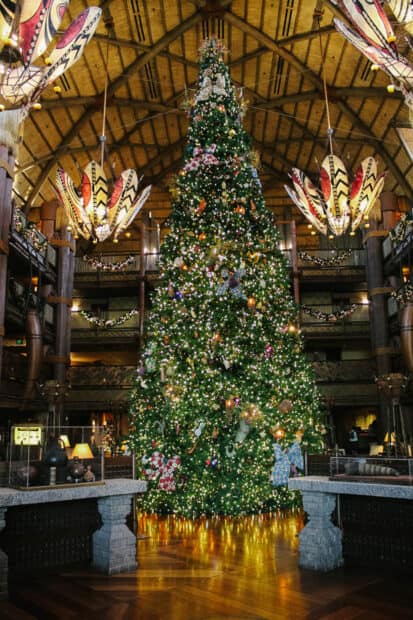 Its golden glow is warm and inviting. Many guests will take turns having their family photos made in front of the tree.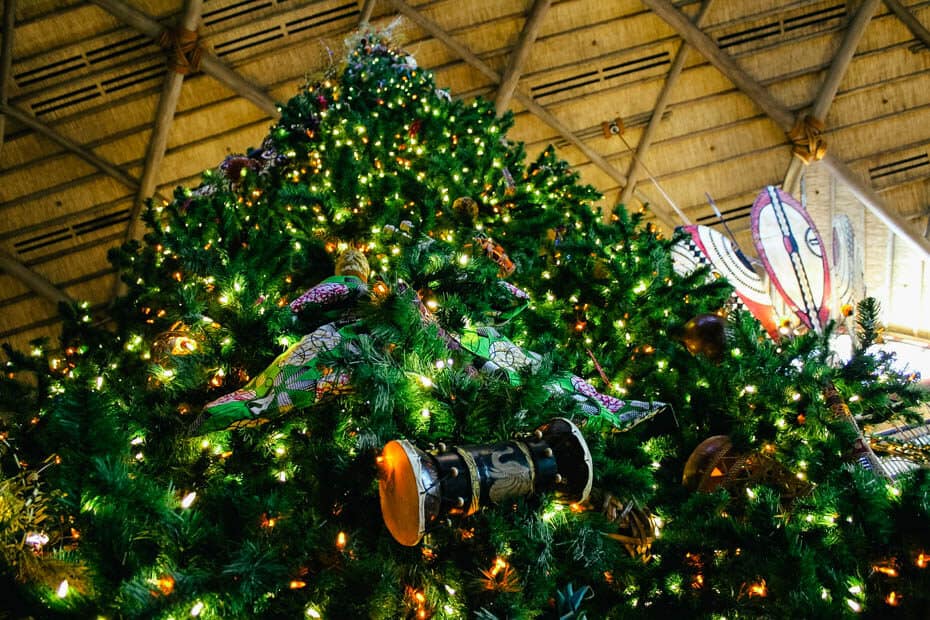 Make sure to closely inspect the different decorations while you are there. These beautiful bows add a pop of color in all the right places.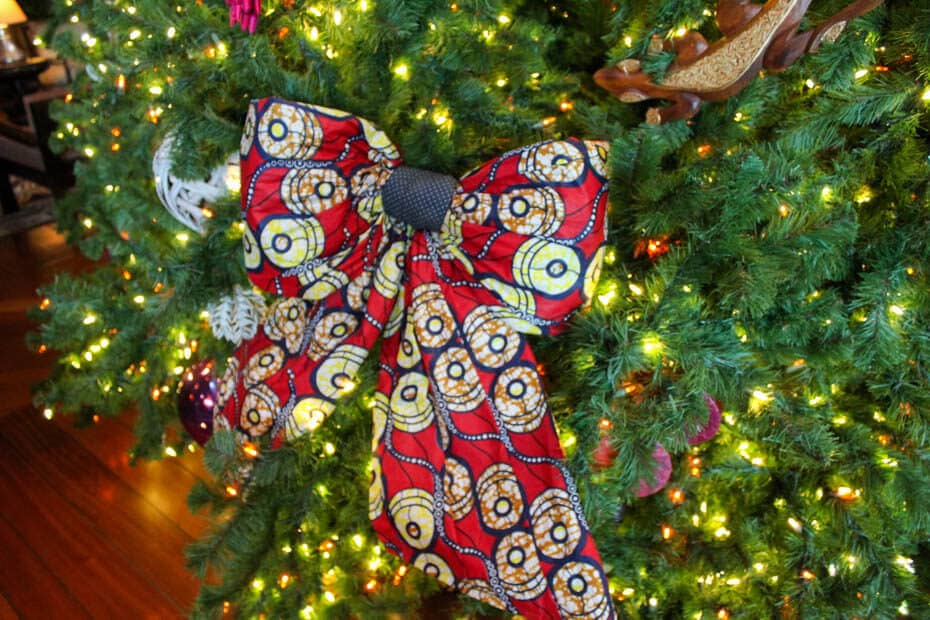 And these cornucopias kind of blend in while still really adding to the overall effect of the tree.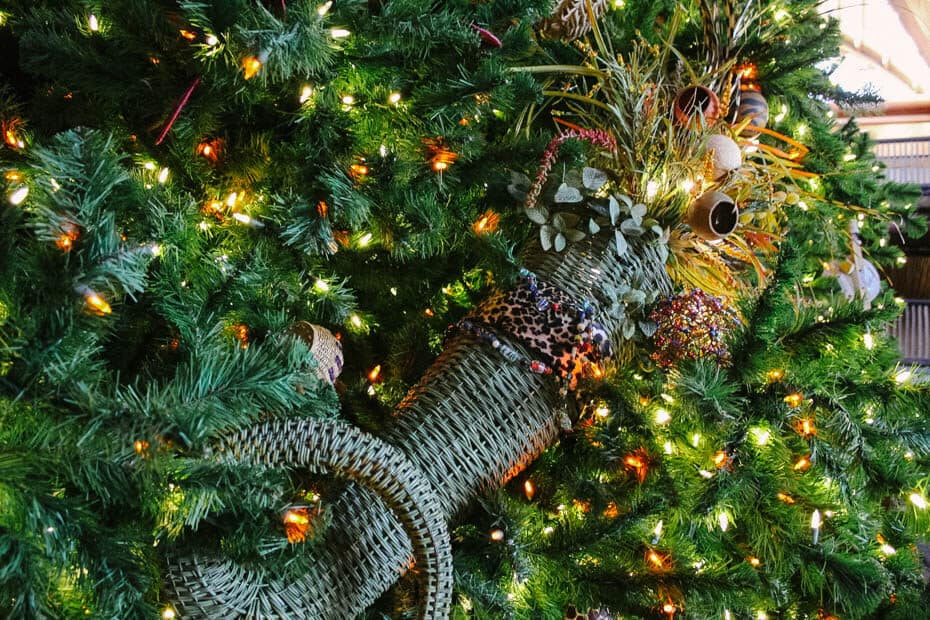 The bows come in a variety of different color ribbons.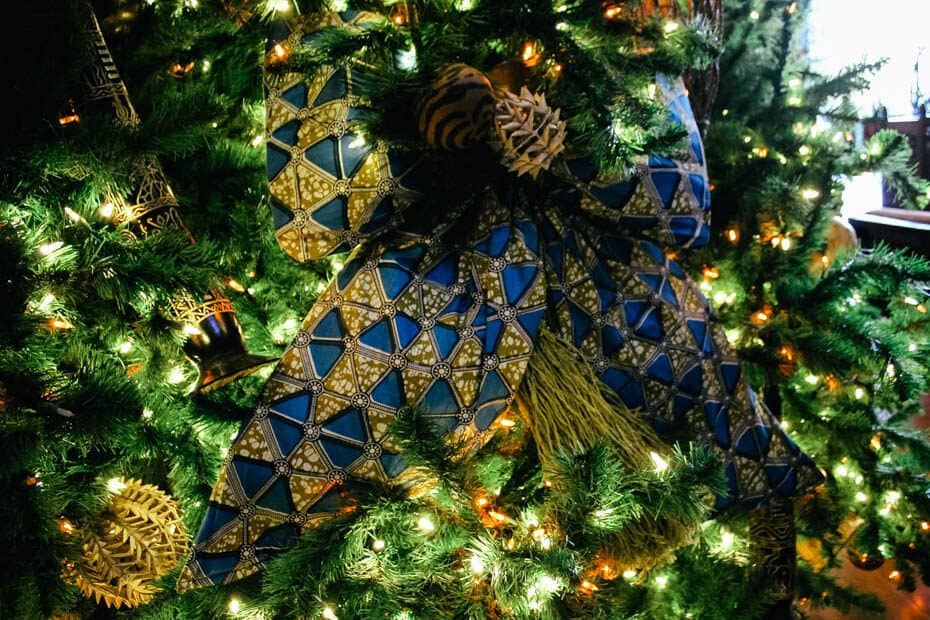 It's truly a stunning tree.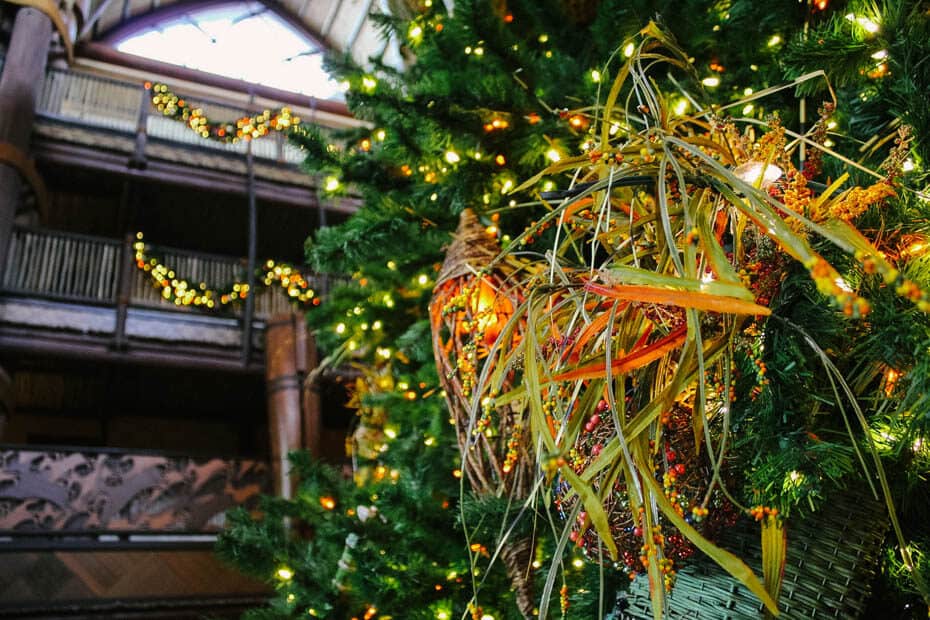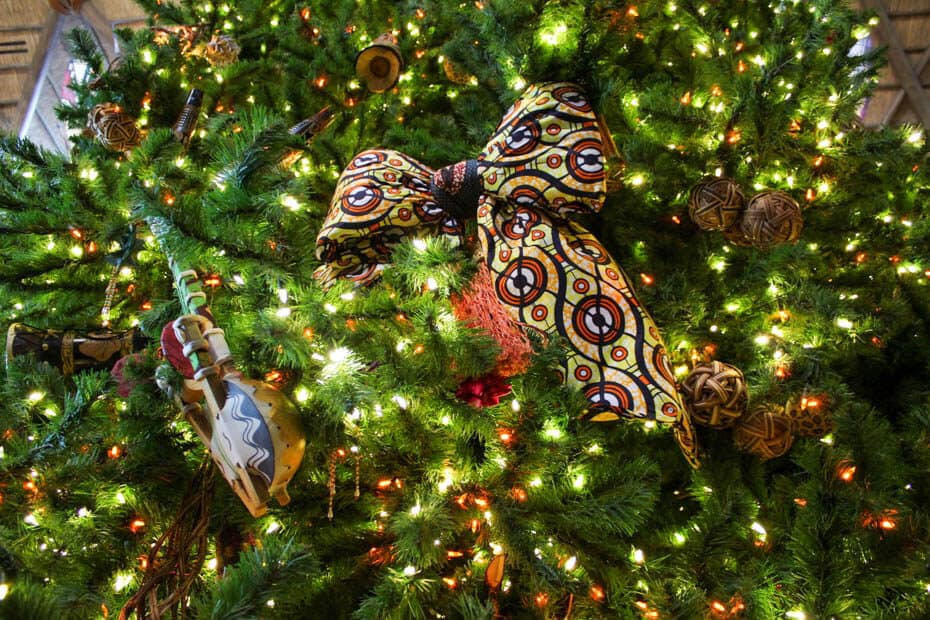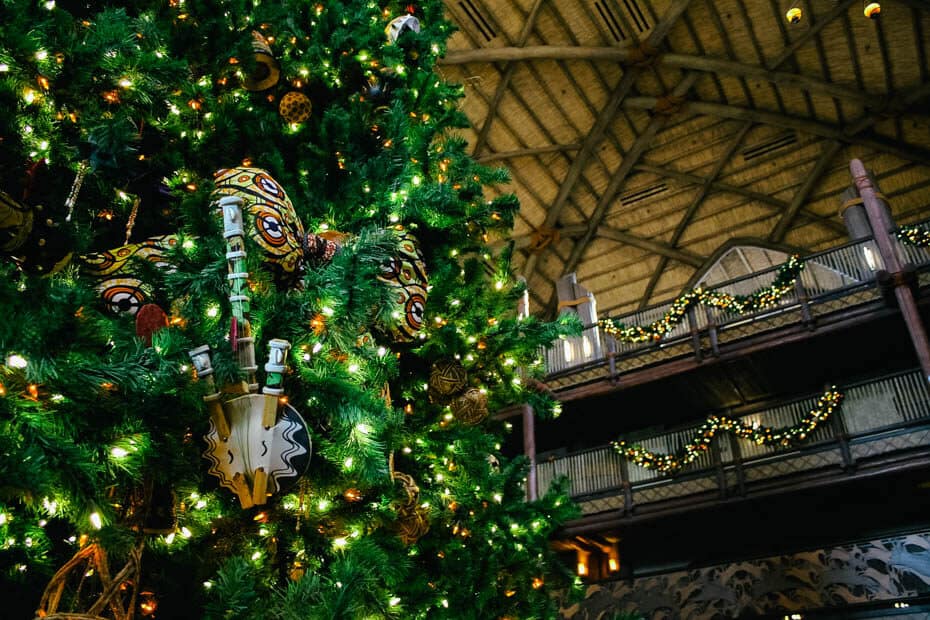 Like most Christmas trees at Disney, the more you look at it, the more you will see.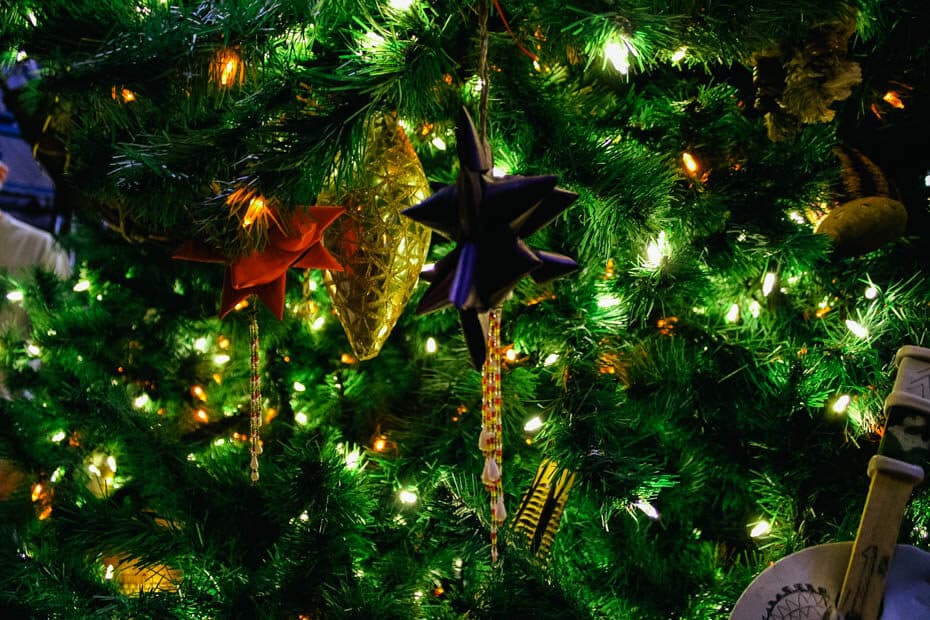 I recommend walking down the stairs at the back of the lobby during your visit to enjoy the outdoor savanna viewing areas. There is a large viewing area right outside the glass doors, and there's no telling what kind of animals you might see.
You might also take the stairs on the right side of the lobby down to the lower level. This space is where Boma and Jiko are located. After you go outside, you'll run into The Mara and the pool at Animal Kingdom Lodge.
Go around past the pool on either side, and you'll run into the Uzima Savanna viewing area. It's a pleasant walk, and sometimes I tend to see giraffes in this area.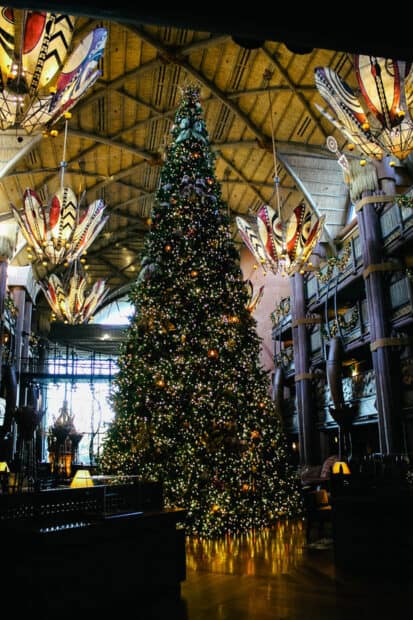 Merry Christmas from Disney's Animal Kingdom Lodge!
If you would like to learn more, our complete list of articles for the Animal Kingdom Lodge is available here. Or you might enjoy one of the following articles:
Are you planning a stay at Walt Disney World? Then, make sure to browse all of our Disney Resort Reviews!
For more Disney World Resorts at Christmas, try these:
Have you done a little resort-hopping at Christmas before? If not, you'll want to check out our Top Disney World Hotels to Visit at Christmas article.
As for Christmas at the Animal Kingdom Lodge, make sure not to miss this one during your visit! Have you been to the hotel during the Christmas season? That tree is amazing! Leave a comment and let me know your thoughts below.