Disney's Grand Floridian at Christmas (Holiday Photos and Video)
This article shares photos and a video of Disney's Grand Floridian at Christmas, including the grand tree, holiday flower arrangements, and gingerbread.
First, there's the Grand Floridian. Then, there's the Grand Floridian at Christmas. Think of that Christmas distinction as being like icing on a cake.
For those who have visited the Victorian-themed resort during the holiday season, you already know it's a must-do. From the multi-story Christmas tree to the house made of gingerbread, the entire resort has received white glove service for the holidays.
Below, we'll walk through the resort to see the holiday decorations. Additionally, this year I took the extra time to walk through the Disney Vacation Club wing to see their decorations. So we'll preview those as well.
Toward the bottom of the article, I've included a video of the Christmas decorations in the Grand Floridian's lobby. In addition, it has a close-up of this year's extraordinary flower arrangements.
So grab a candy cane and a mug of hot chocolate! We're off to Disney's Grand Floridian to see what the resort has in store for us this holiday season.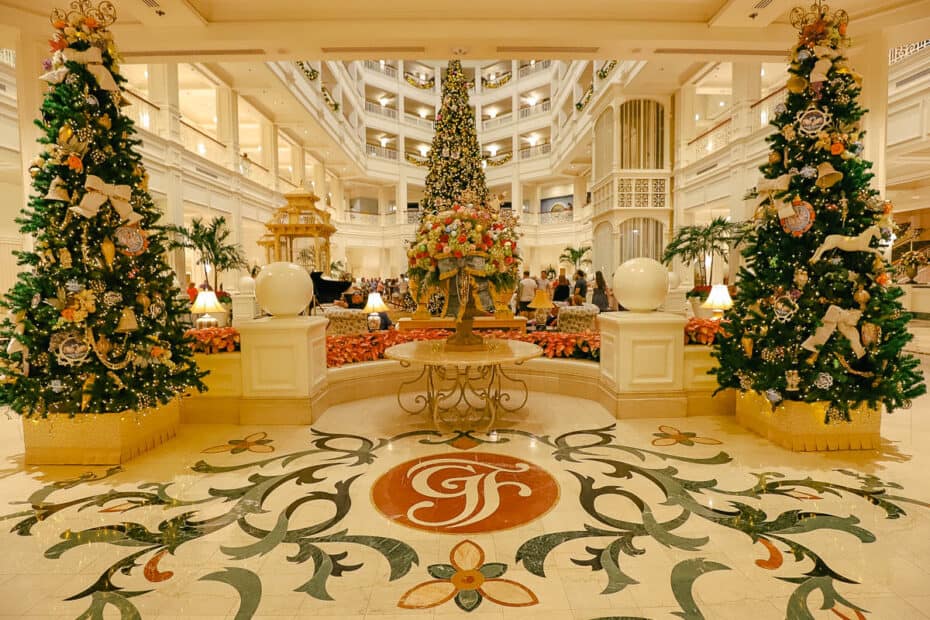 Christmas at Disney's Grand Floridian
On my way to Disney's Grand Floridian, I stopped at Polynesian for a few photos of their Christmas decorations. Since the construction walkway between the two resorts is not that pleasant, I hopped on the monorail from the Poly to travel to the Grand Floridian.
Related: Christmas at Disney's Polynesian Resort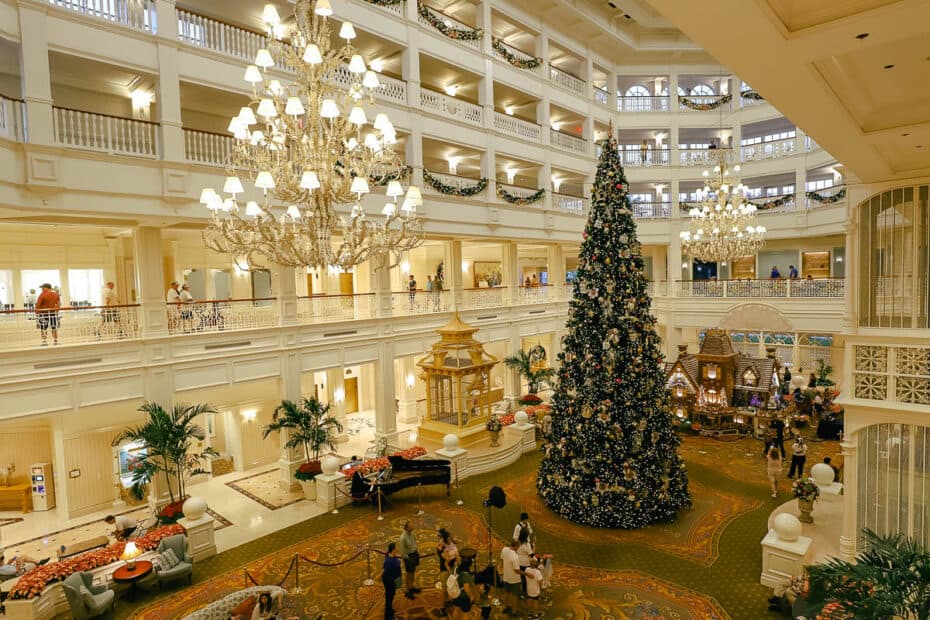 On the monorail ride over, I couldn't help but notice the astonishing sunset. However, I was on a tight schedule, so I continued inside the Grand Floridian to take Christmas photos.
My first stop was in M. Mouse Mercantile, the gift shop on the resort's second floor. They always have cheerful red Christmas decorations.
While taking a photo of this wreath in the window, I thought it was a shame to miss such a sunset.
So I walked back out and noticed a good deal of guests in the lobby admiring the gingerbread house and Christmas tree.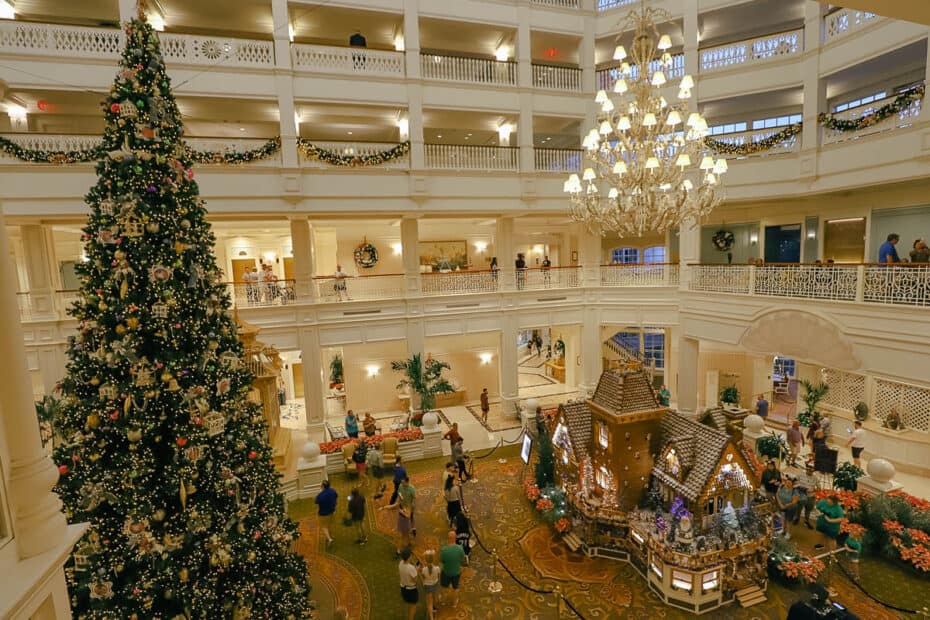 We covered this year's gingerbread house in a separate article if you would like to see more photos and details.
Related: 2022 Disney's Grand Floridian Gingerbread House
For other gingerbread displays at Disney World, we've also visited the following: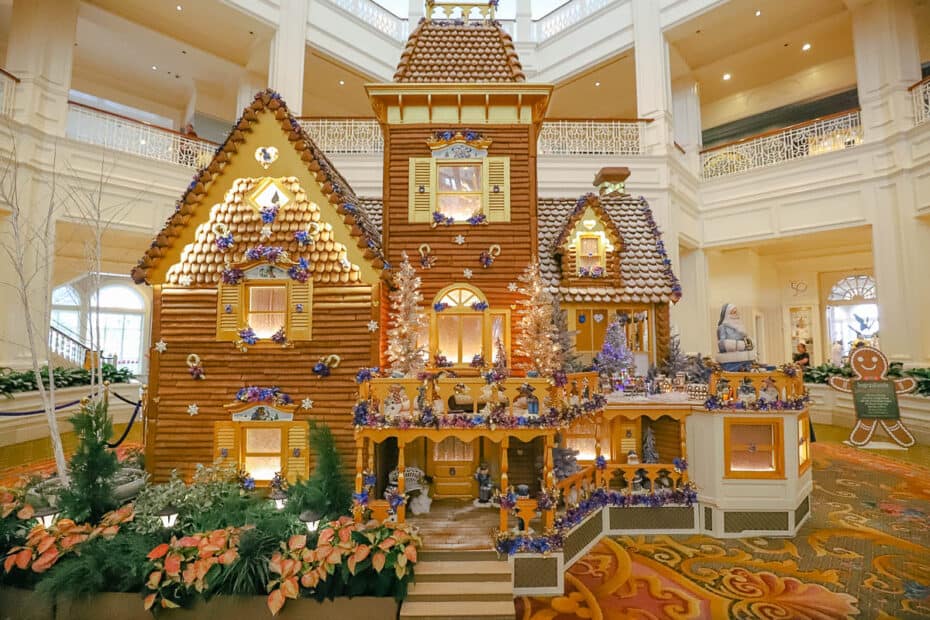 Since the sunset is always fleeting, I decided it wouldn't hurt to go outside for a few minutes. So I made my way down the grand staircase.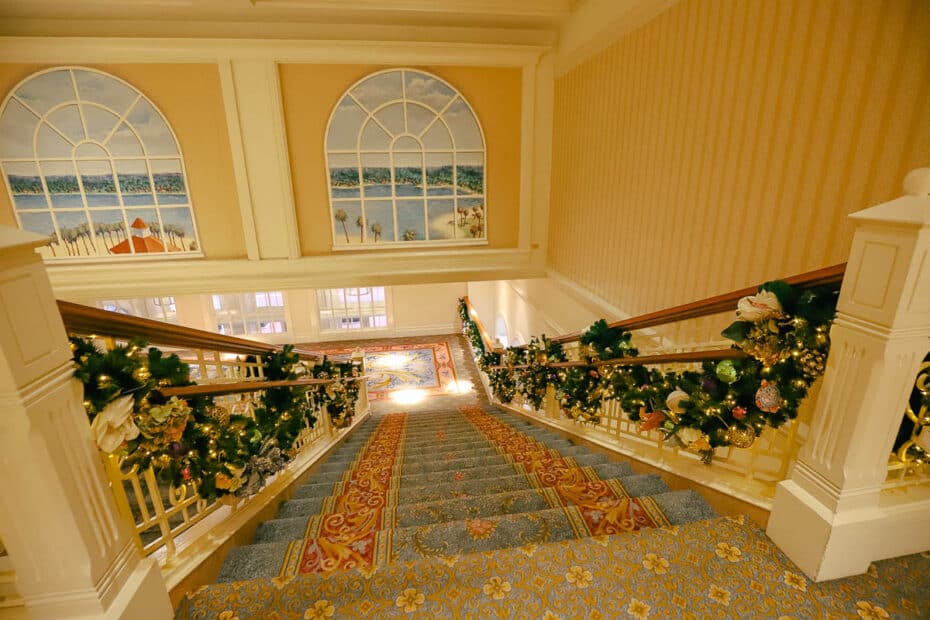 I don't know about you, but I always think of Cinderella as I hurry down these steps.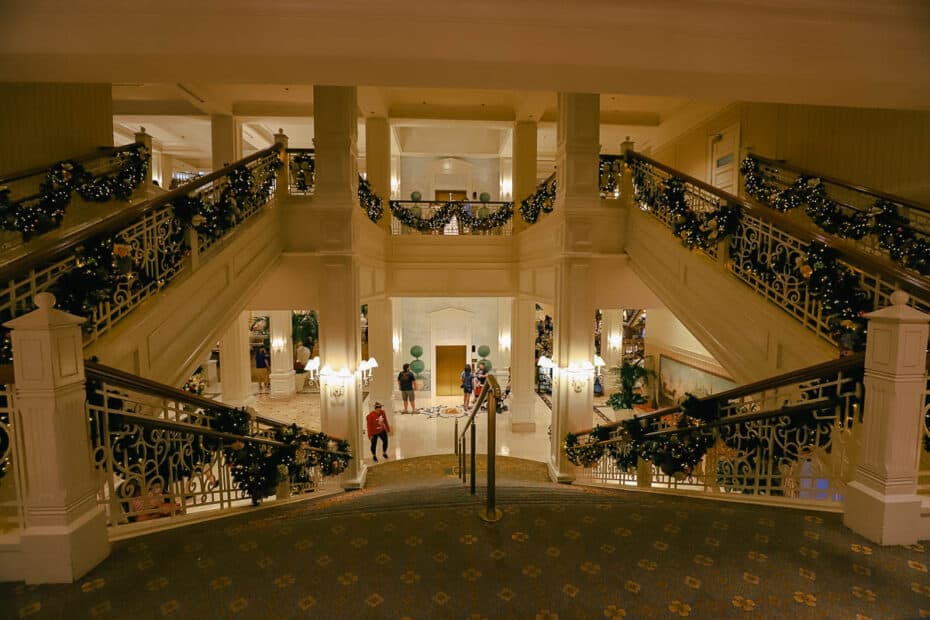 Grand Floridian's staircase is trimmed in elegant garland.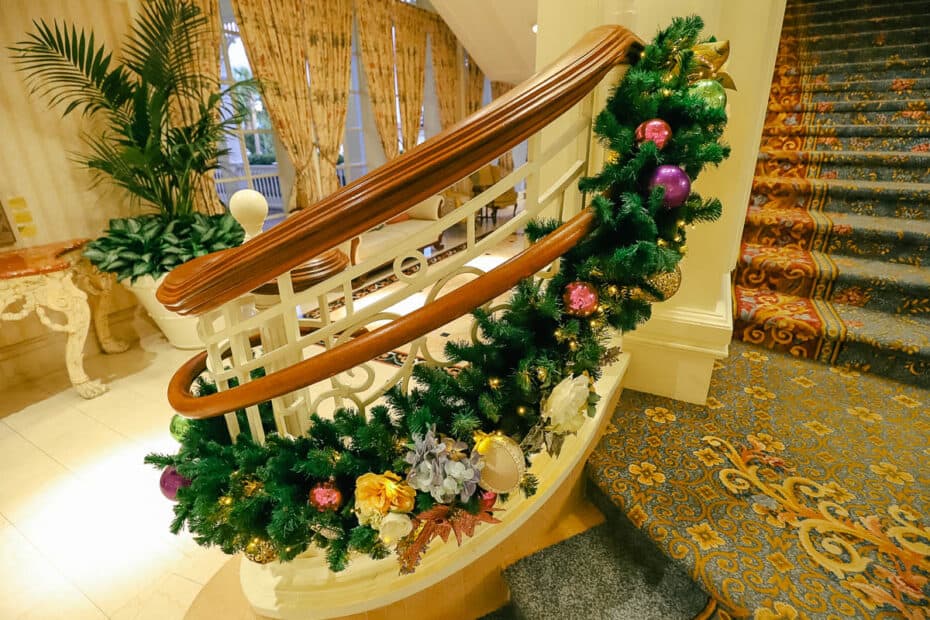 These pictures hardly do it justice.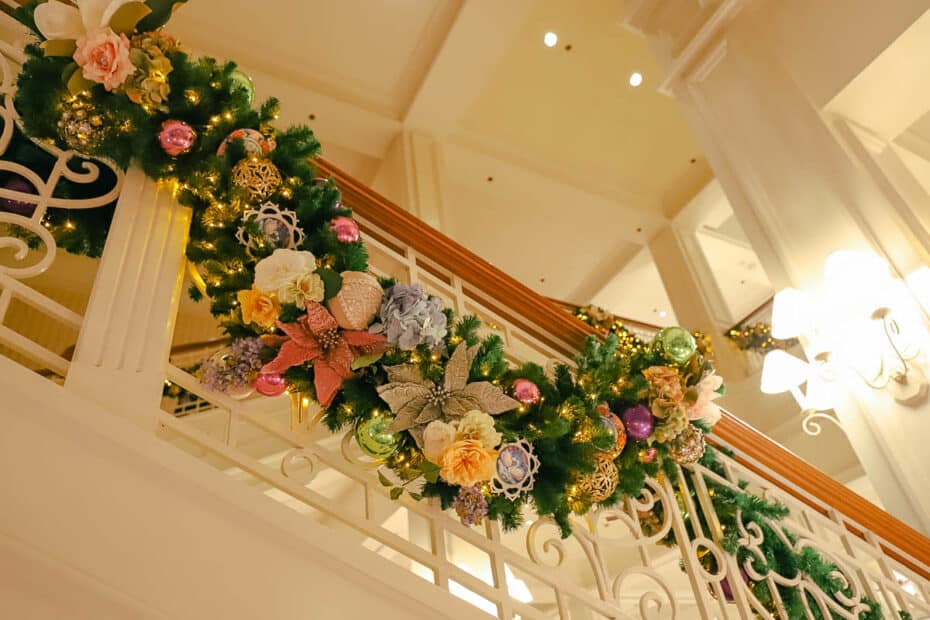 Anyway, I made my way outside to see God's nightly artwork.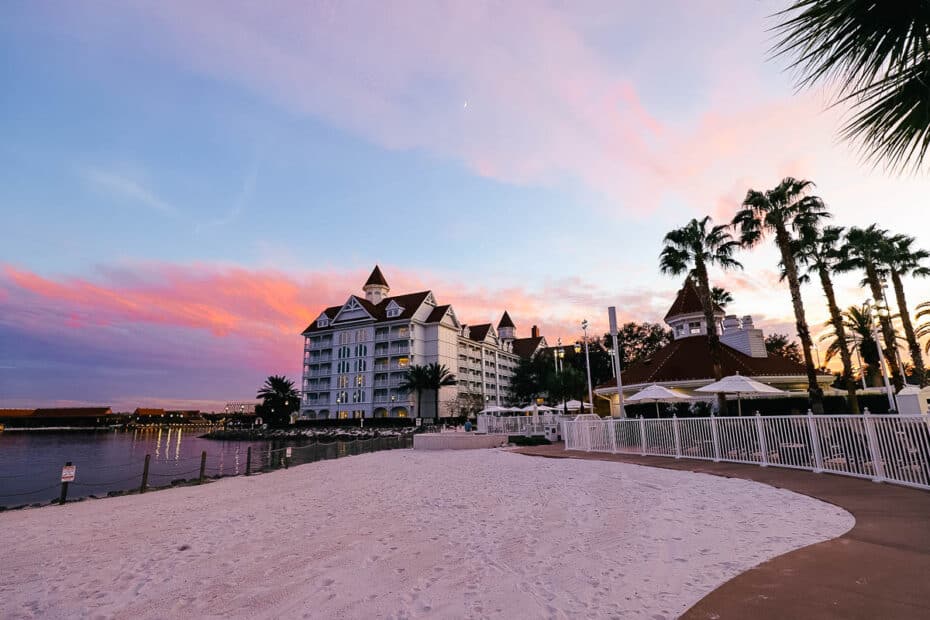 Then I decided to mix things up a bit and have a bit of a restart at Disney's Grand Floridian Villas.
Related: Disney's Grand Floridian Villas Review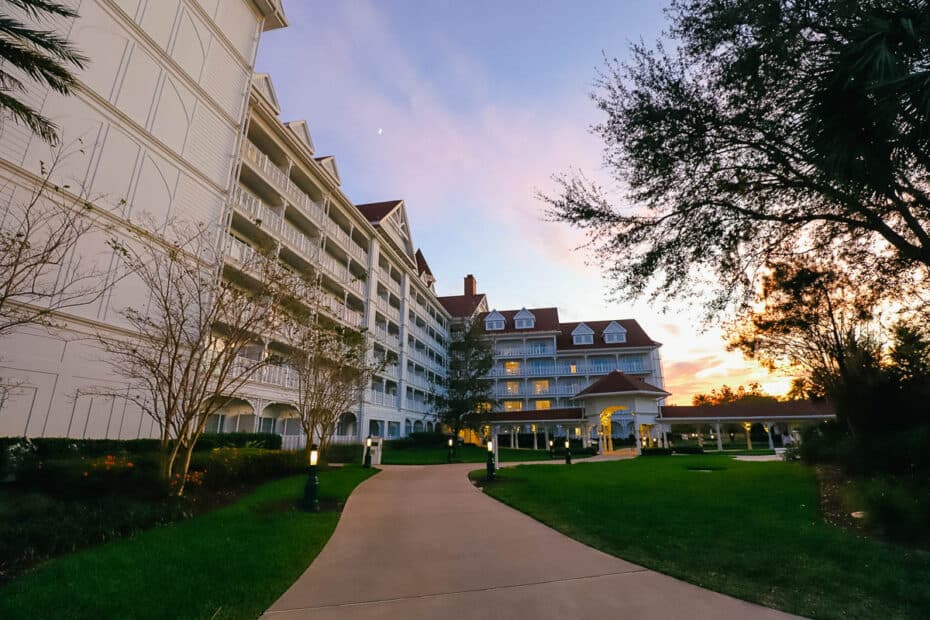 Outside the entrance, there were a few holiday decorations.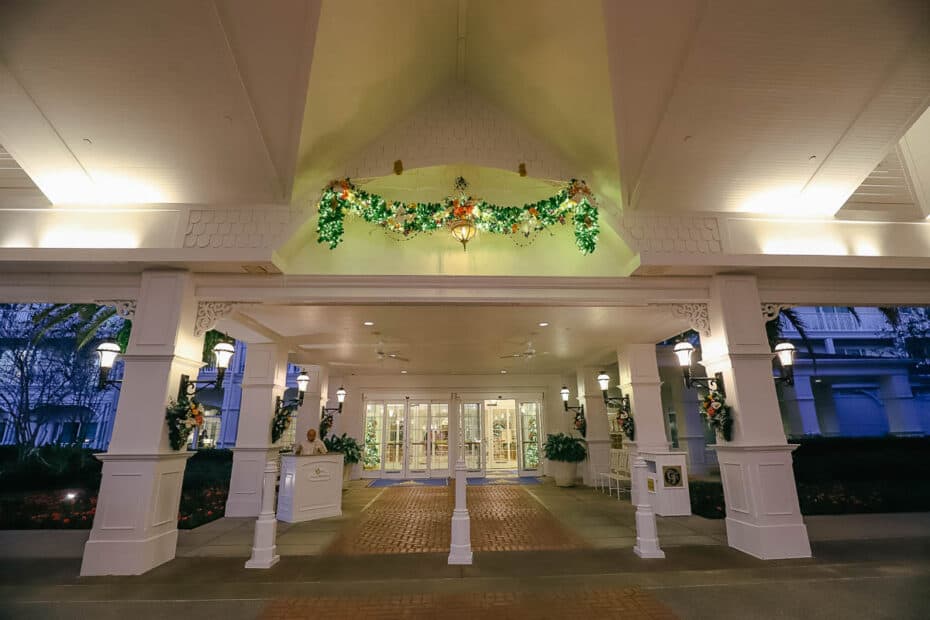 I thought these were beautiful.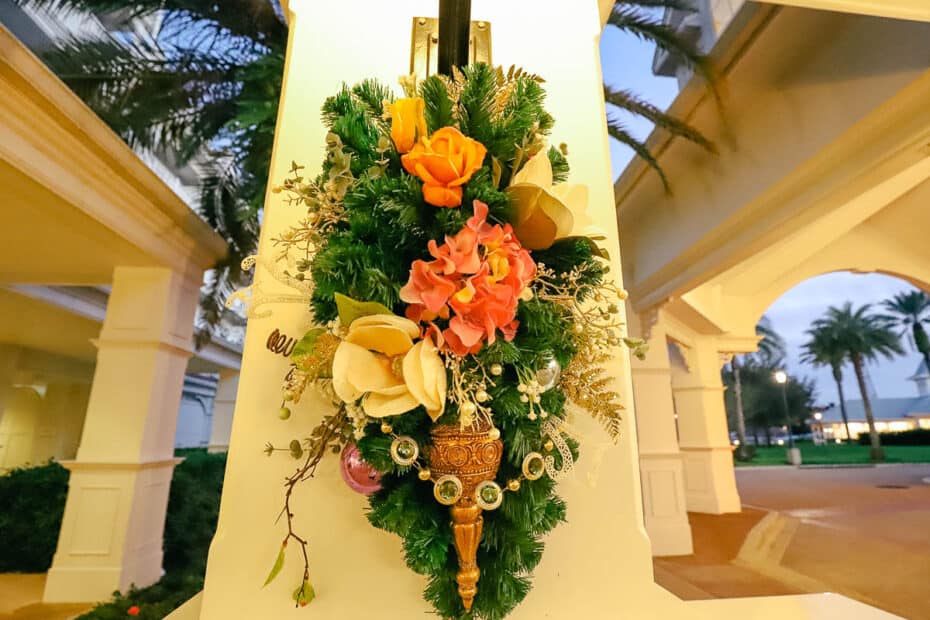 A small tree stands inside the foyer.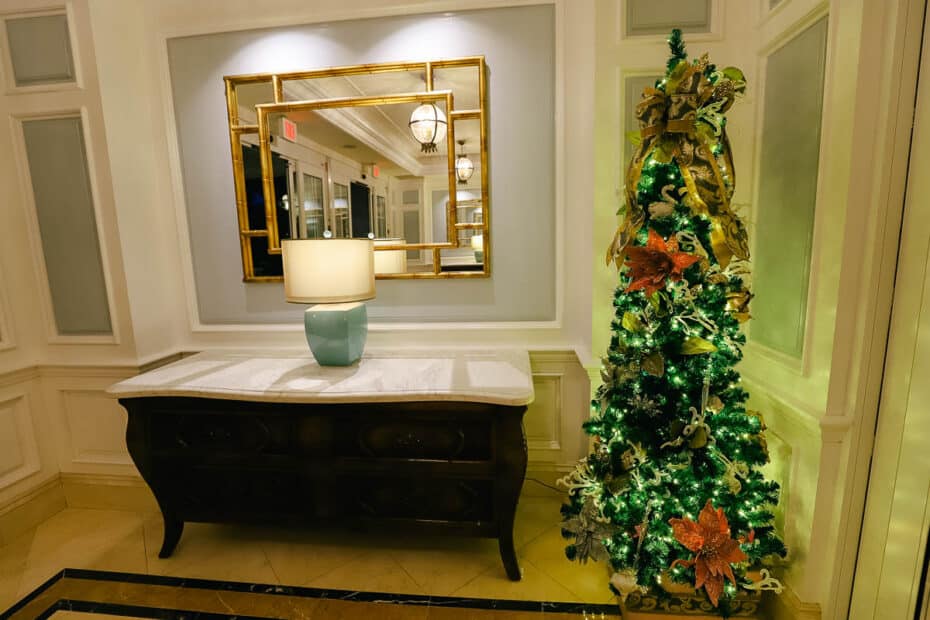 It was nice to see fresh flowers in the villa's lobby.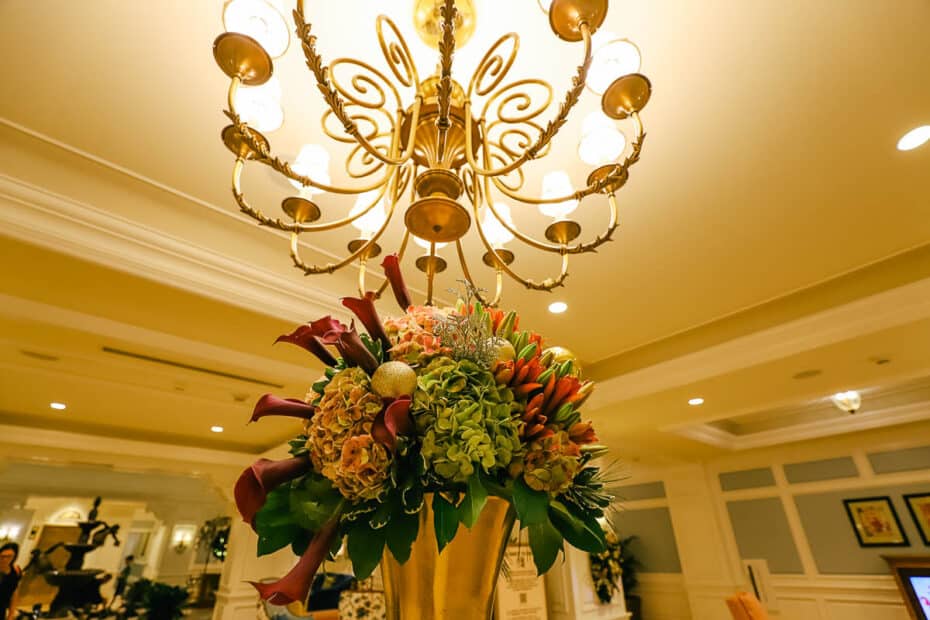 Every time I stop by, something has changed lately. For instance, new furniture was added back in the Spring. Since then, new rugs have been laid. I'm not entirely sure all of this works together.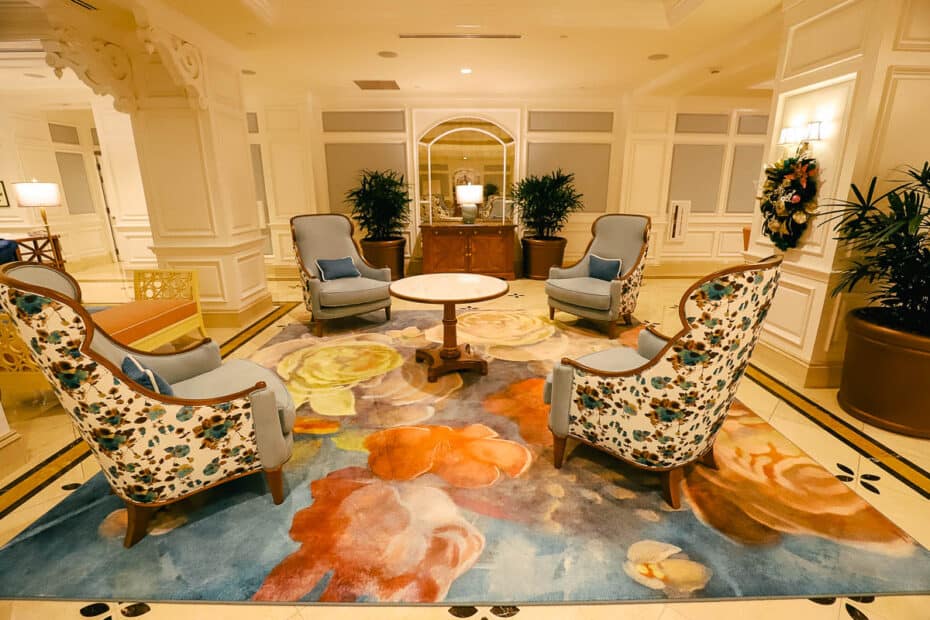 Unfortunately, while the Christmas decor in the Grand Floridian Villas is lovely, I don't think it warrants walking over to see. However, you should visit if you've never seen the Mary Poppins penguin fountain.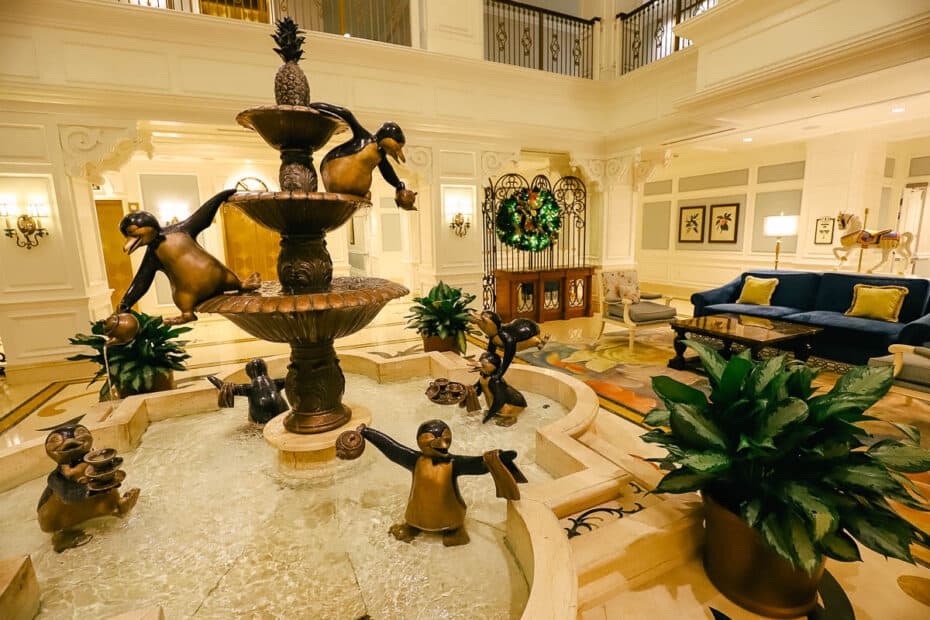 Several of these gorgeous wreaths add a touch of holiday cheer.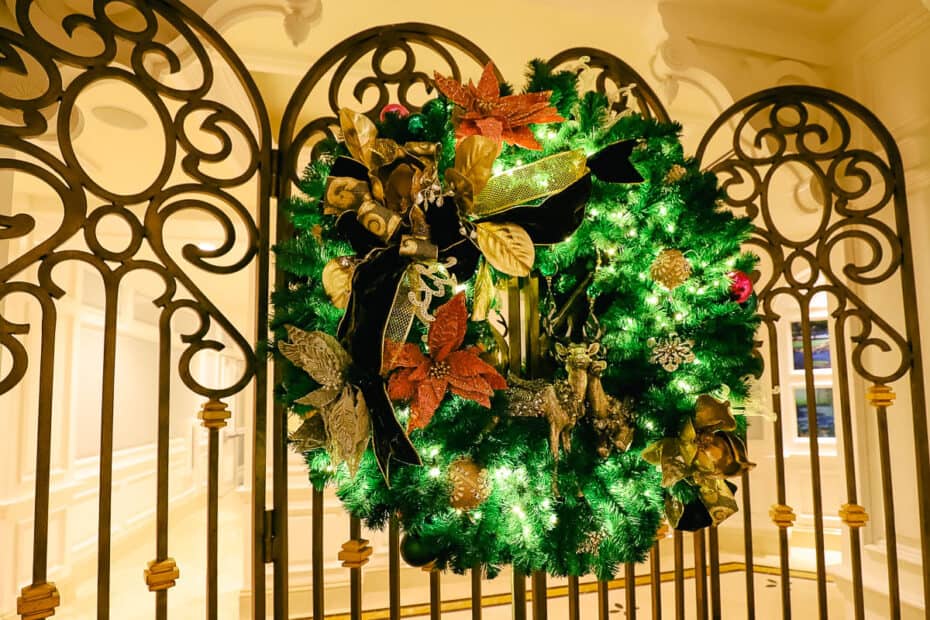 A closer look reveals two reindeer.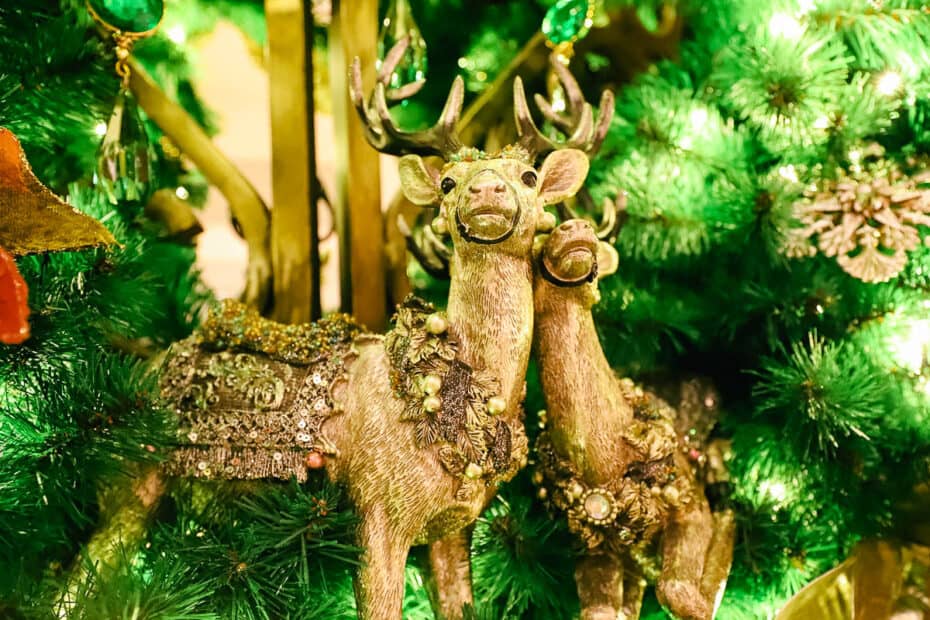 One of the nice things about the main DVC building is its covered walkway to the Grand Floridian's lobby.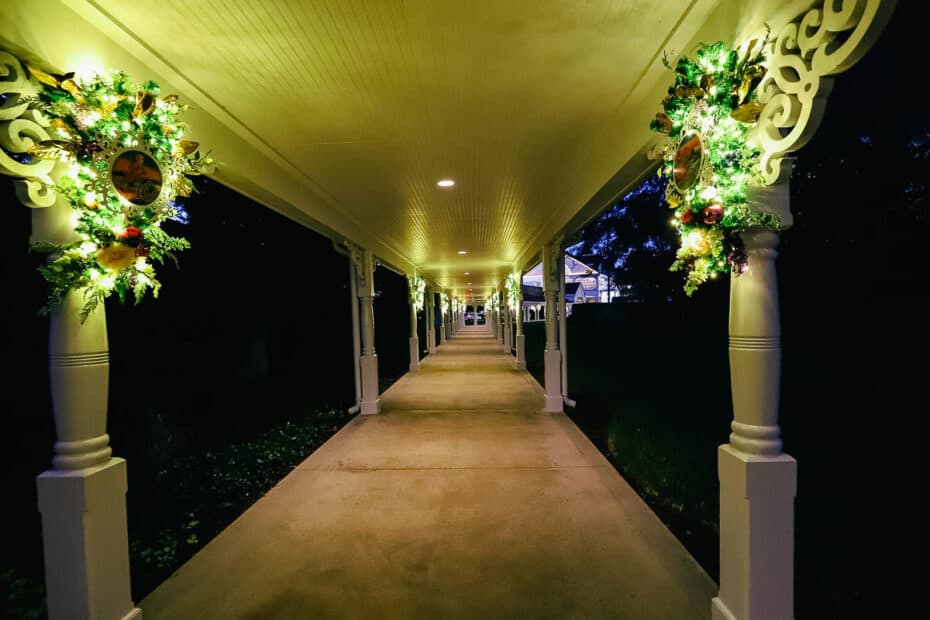 Here are a few photos.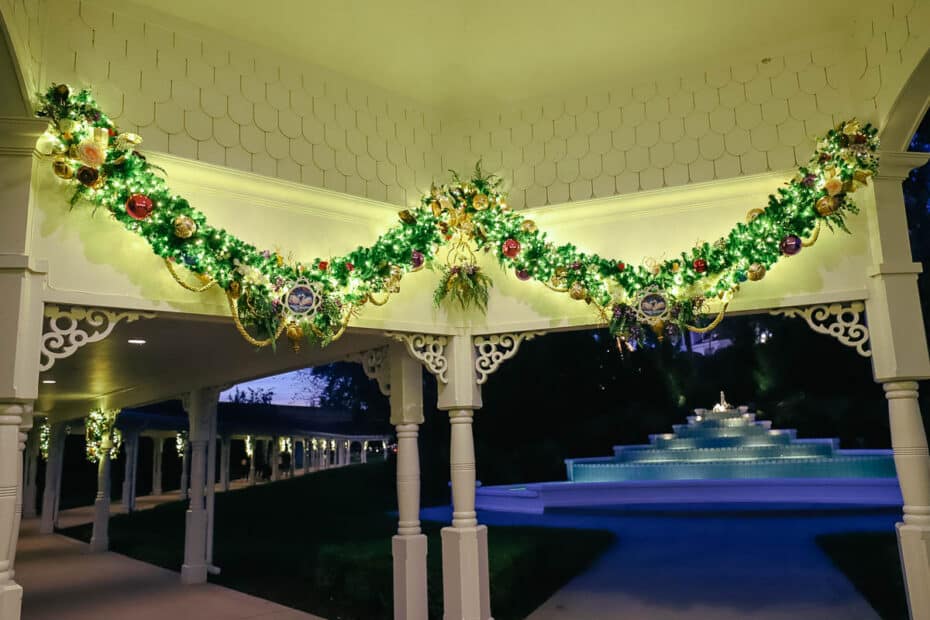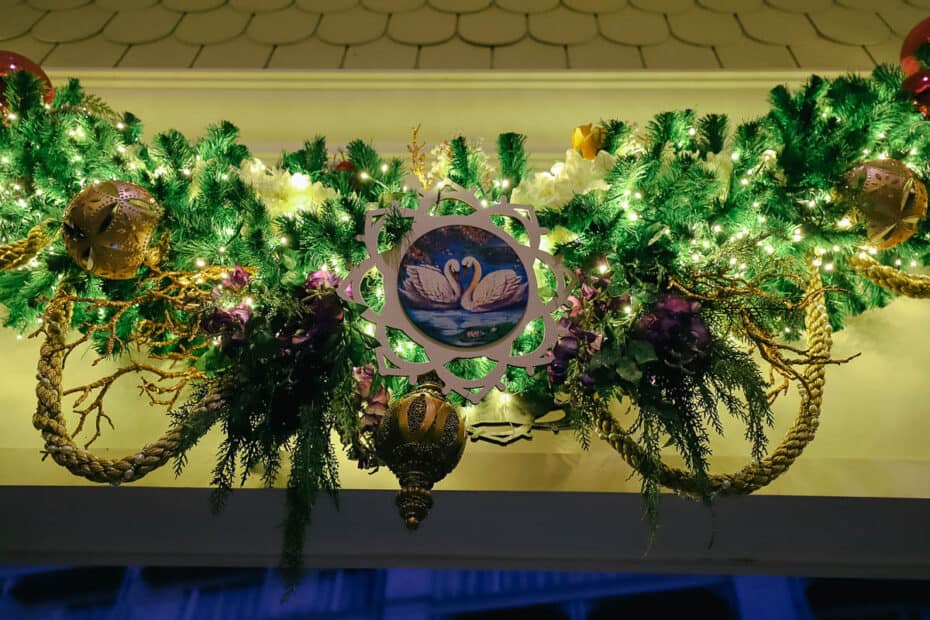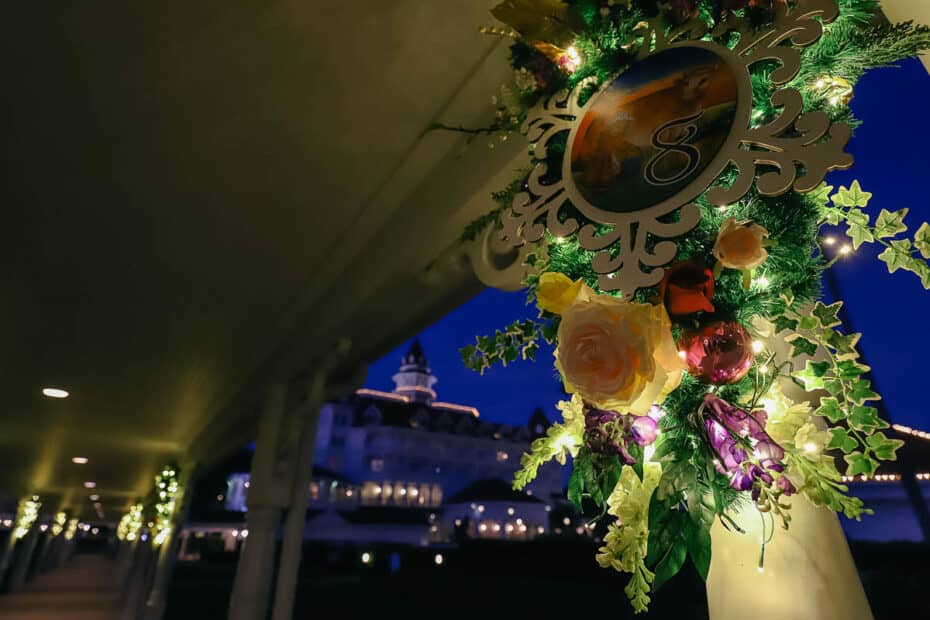 We've once again reached the Grand Floridian's lobby. Only this time, we're entering the main level.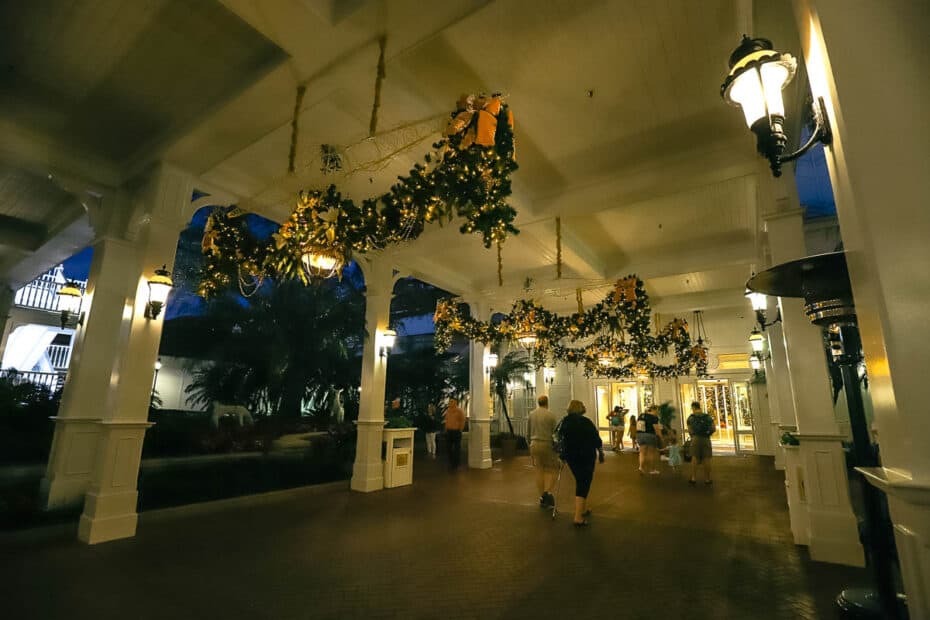 Some of the most sensational garlands I've ever seen hang over the entry.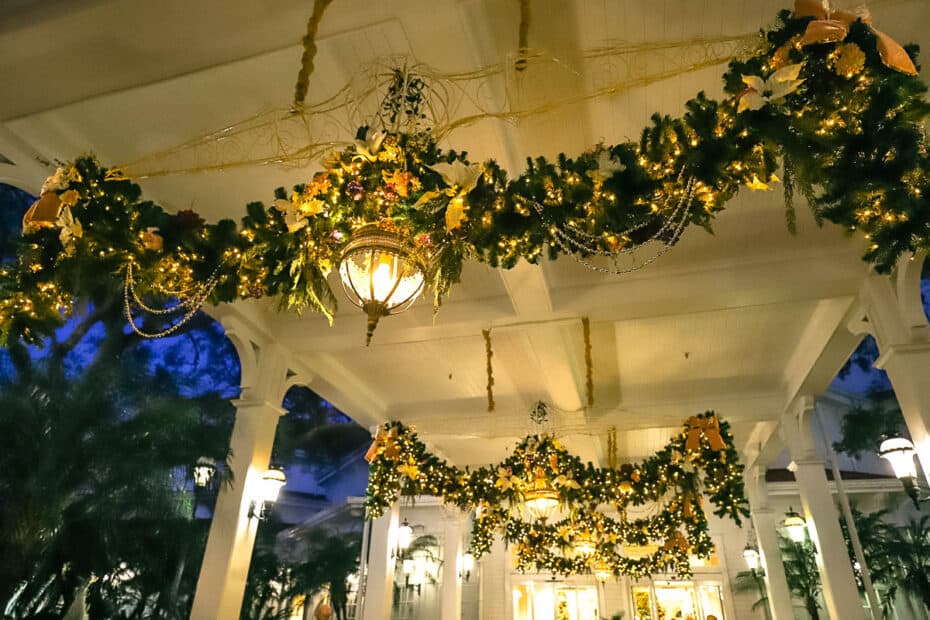 Here is a look during the daytime.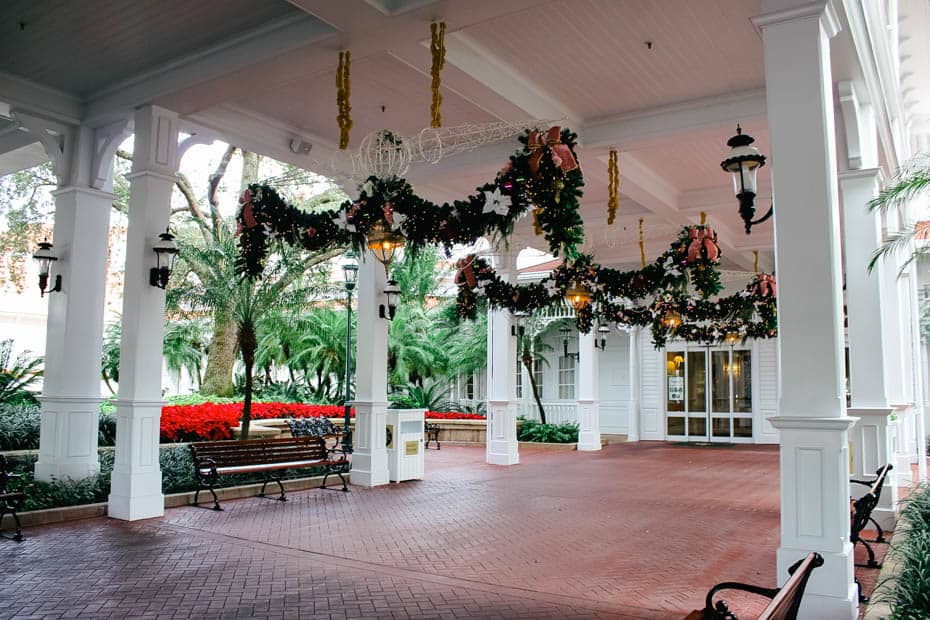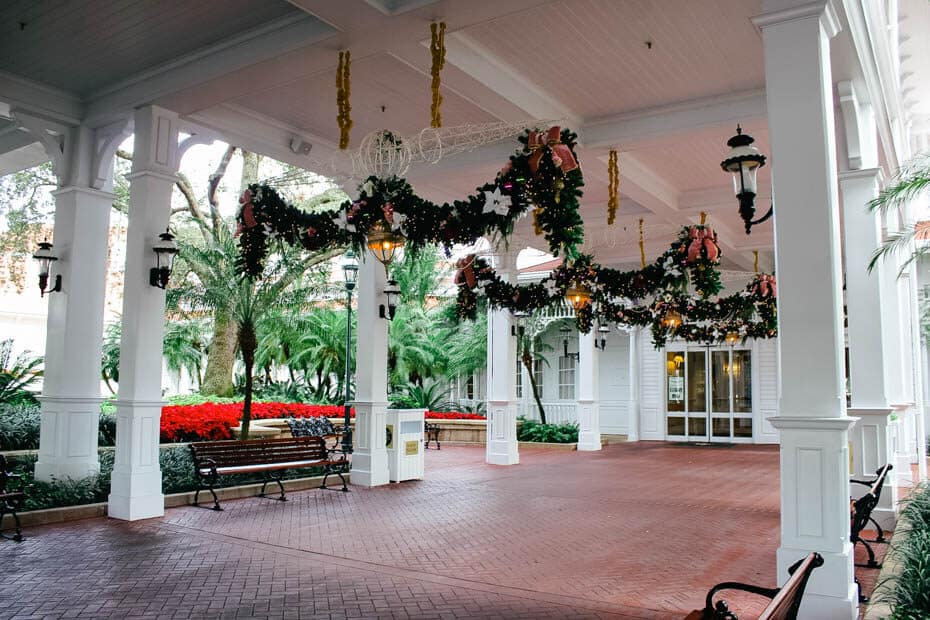 Don't forget to look up.
Last year, we saw red poinsettias.
But this year, there's a mix of pink and red. In addition, a few white reindeer have been added.
Perhaps the best part is walking through those large sliding glass doors and being greeted by this sight.
Of course, the flower arrangements are to die for.
Don't forget to look for hidden Mickeys.
Here are a few ornaments from the two Christmas trees at the entrance.
Grand Floridian's lobby is a wonderful place to relax.
There are poinsettias galore during Christmas.
Tiny Christmas trees are positioned on both sides of the elevator.
These tiny toy soldier teddy bears are a fun touch.
Here is the grand staircase again.
A PhotoPass photographer is often out to take photos of guests in front of the tree.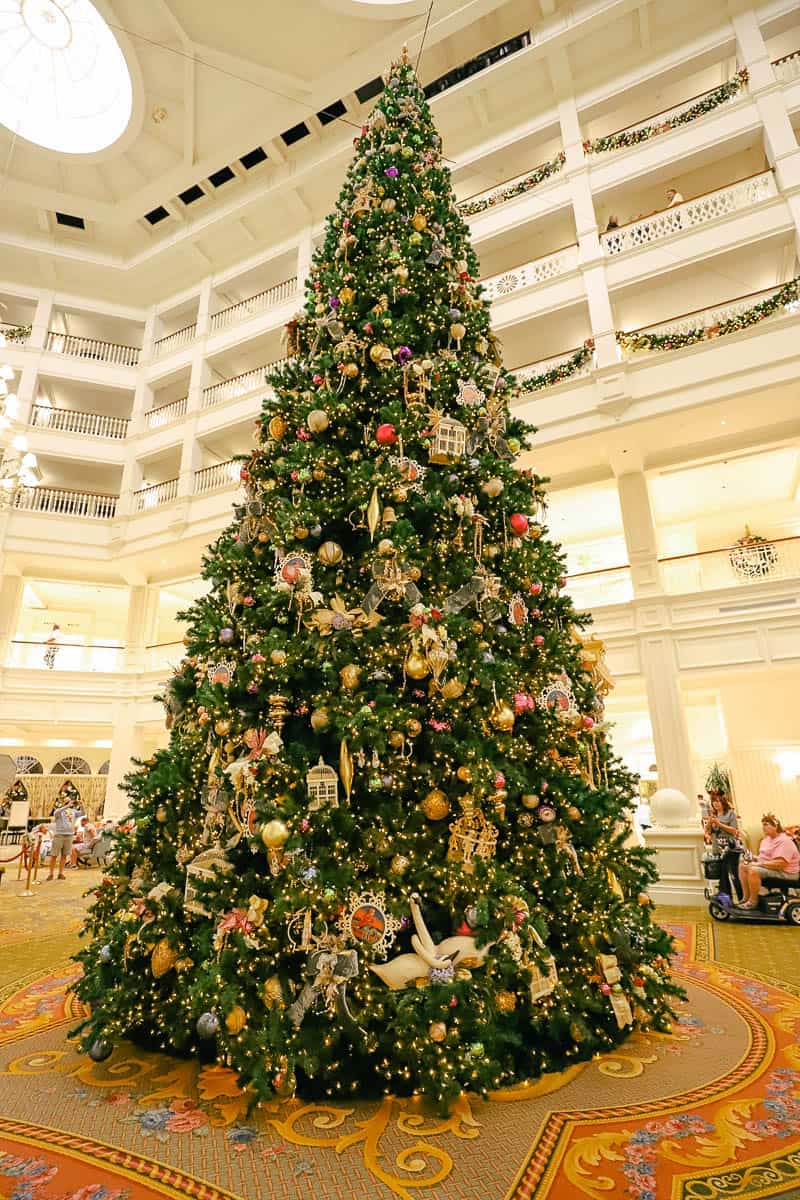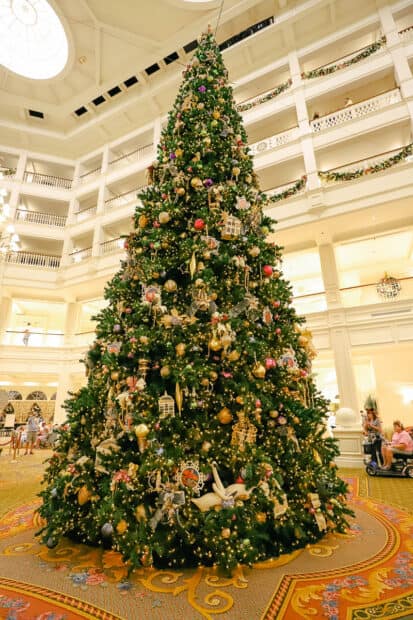 If you don't have the Memory Maker, you can always ask the photographer to take a photo with your phone or camera.
Here are a few of the decorations on the giant tree.
I'm not sure how easy it is to tell from photos, but some of these ornaments are massive.
Wreaths hang around the parameter of the lobby.
Thankfully, a piano player is again available in the resort's lobby. You'll usually see the pianist in the afternoon to early evening hours.
Video of Grand Floridian's Christmas Tree
Here is a video of the Christmas trees at Disney's Grand Floridian.
As always, I hope you enjoyed our special Christmas tour of Disney's Grand Floridian. For many of us, Christmas is a special time of year.
For more Christmas at Disney World, you might enjoy these articles:
Additionally, we'll have a few more Christmas articles in the coming week. If you have any questions or comments, please let me know.
After we wrap up a few more details, we'll also have an updated look at our list of the best Disney Resorts at Christmas.
If you would like to learn more about staying at the Grand Floridian, check out our articles related to the resort in our complete guide.
Or you might also enjoy these other articles:
In the Comments
What are your thoughts on visiting the Grand Floridian at Christmas? Do you hope to visit to see some of the holiday decorations? Does your family have special Christmas memories at the Grand Floridian?