Preview the New and Improved Deluxe Studios Coming to The Villas at Disney's Grand Floridian
New rooms are coming to the Grand Floridian Villas! In this article, we'll take a look at Disney's recently released photos of the new rooms.
This expansion of the Disney Vacation Club at the Grand Floridian was announced in the Fall of 2021. Per Disney, approximately 200 studios will be added to the resort in the coming months.
This redesign includes new deluxe studio rooms consisting of two queen size beds and a daybed, sleeping up to five guests. In addition, updates to existing deluxe studio rooms will include the addition of a pull-down queen bed that replaces the former sleeper sofas.
Here is an inside look at these new rooms!
Below, you can see the new deluxe studio room has two queen size beds and a daybed that doubles as a sofa in the corner. Note that solid surface flooring replaces traditional carpet. Additionally, a large rug underneath the bed area provides a proper balance.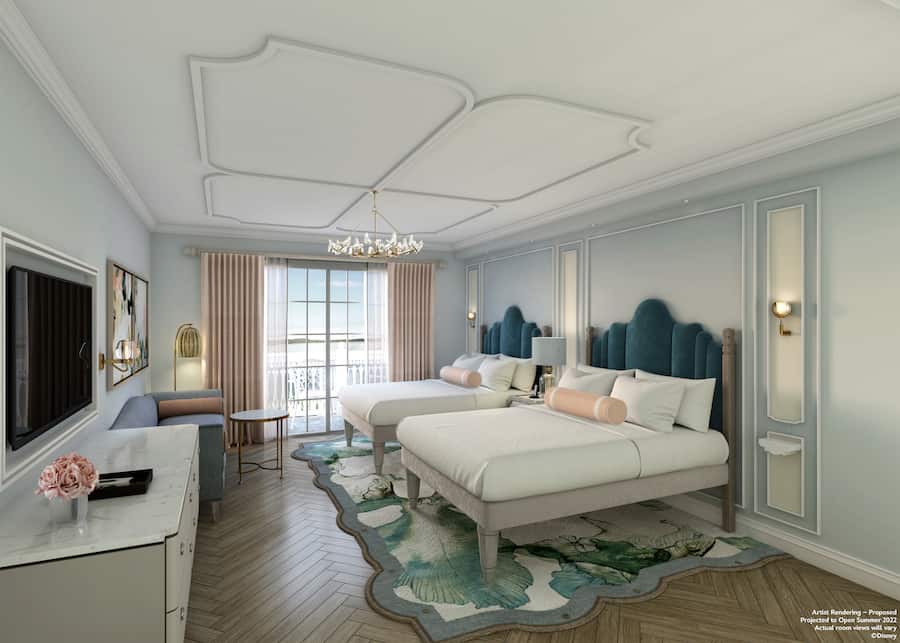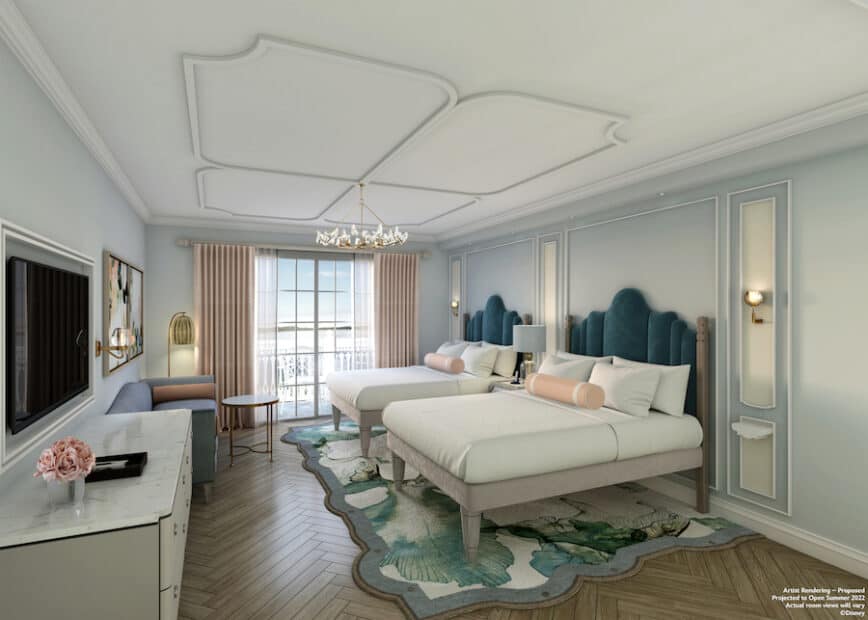 The lack of traditional nightstands on each side of the bed opens up the space. Padded headboards provide a comfort element combined with a stylish look. For me, this first look at the new studios screams Disney's Riviera Resort with its Parisian influences. And that's not necessarily a bad thing.
Related: Review: Our Stay at Disney's Riviera Resort
Below, we have a preview from Disney of an existing deluxe studio room with new updates.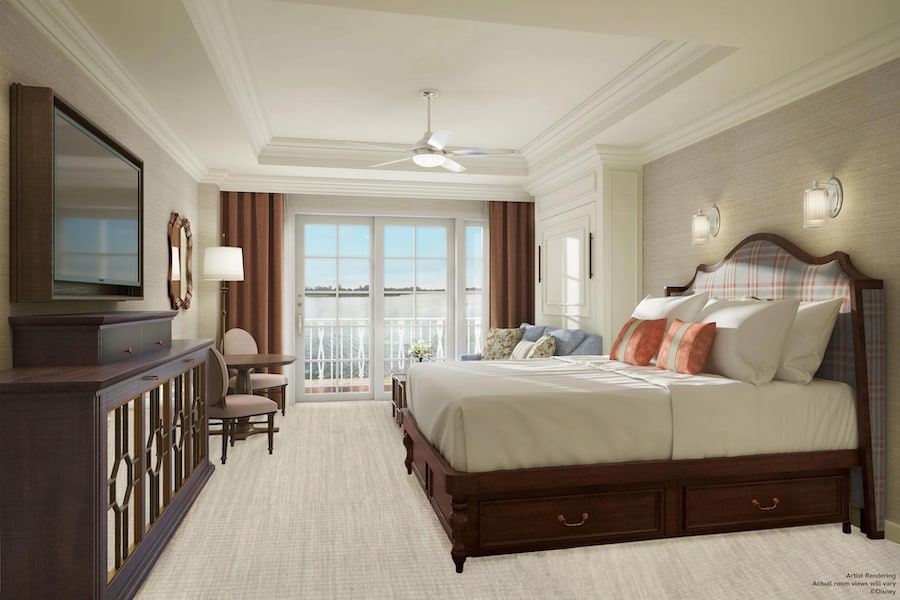 For reference, below is a photo of the same room before the updates. This was from our stay at the Grand Floridian Villas last summer.
Related: Grand Floridian Villas Review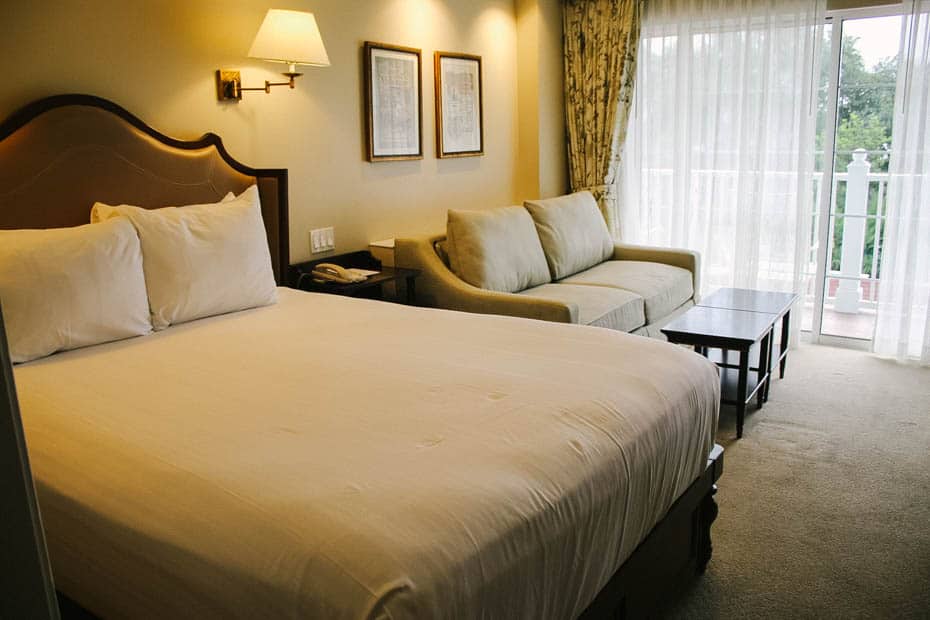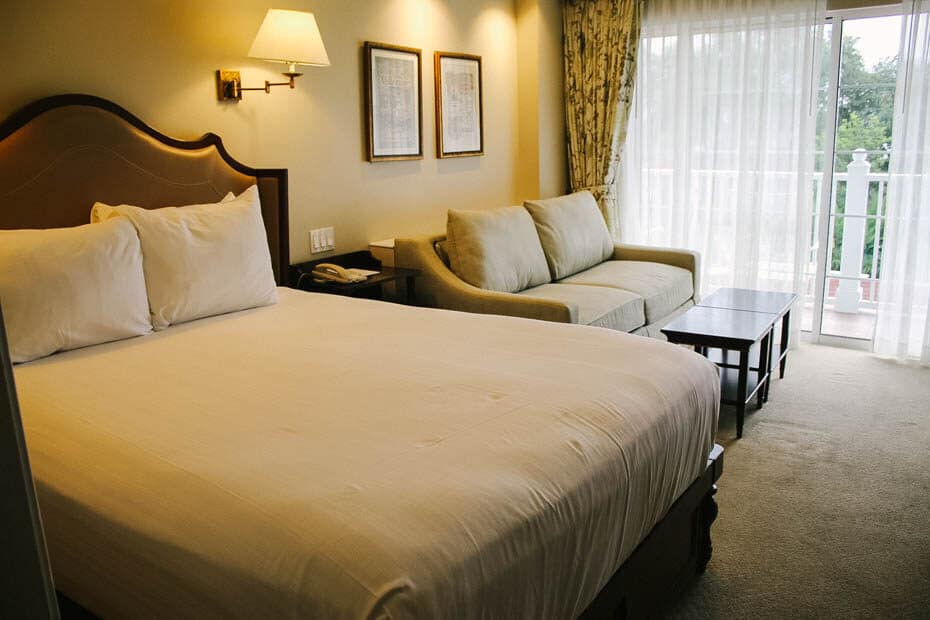 In the new deluxe studios, a pull-down Murphy bed replaces the sofa with a queen sleeper. From my experience, the new pull-down beds sleep as well as regular mattresses. Hopefully, all sofa sleepers will be eliminated across Disney Resorts as refurbishments take place.
Studios at the Grand Floridian range from deluxe, which sleeps up to five guests, to the three-bedroom grand villa, which sleeps up to 12 guests. Below is a look at updates to the grand villas.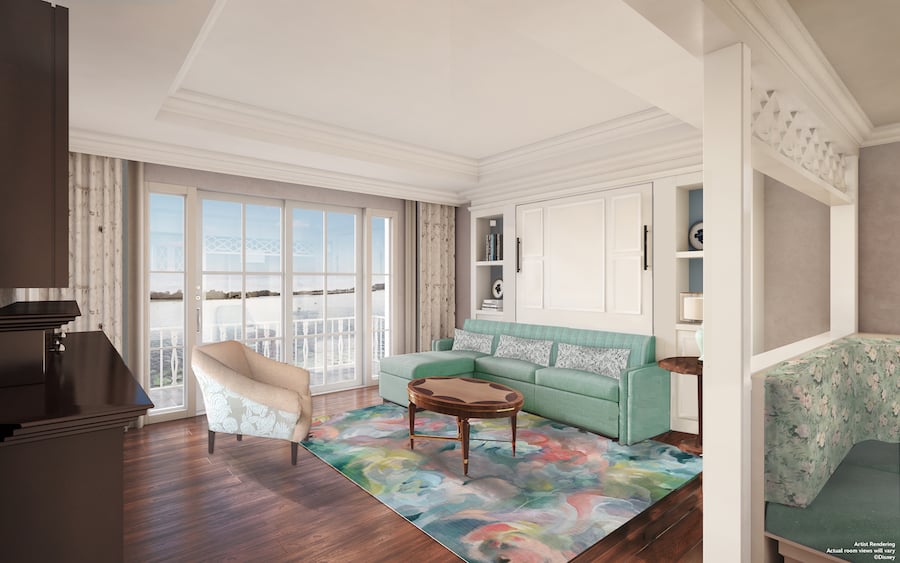 Per this article on the Disney Parks Blog, " Charming accents in the rooms include Mickey Mouse and Minnie Mouse Victorian-themed silhouettes and other artwork featuring Mary Poppins and Dumbo."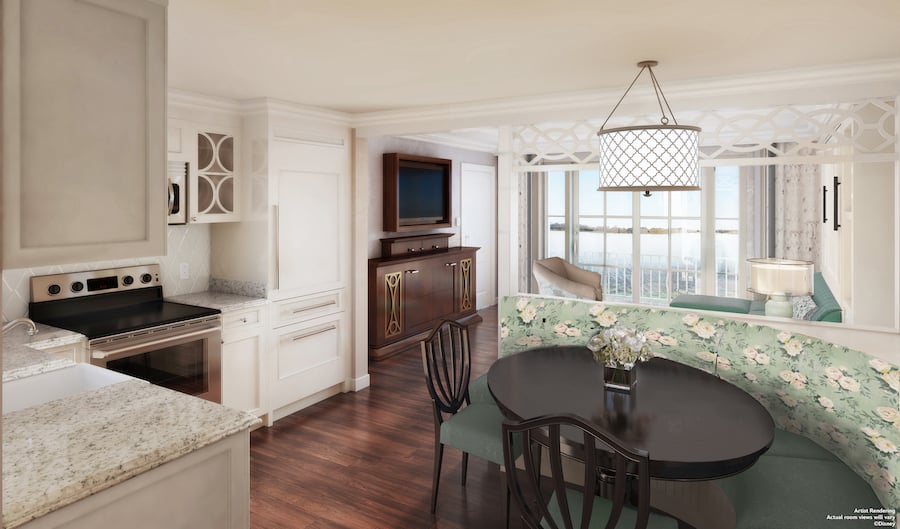 As with similar room enhancements we've seen over the last few years, it appears that the feeling of your staying at Walt Disney World has departed. However, you can still find that feeling at any of the Disney Value Resorts.
While nostalgic memories of Mickey positioned on my night lamp at the Beach Club still linger, I am okay with these modern updates. If my hotel room is efficient, comfortable, and, most of all, clean, I can deal with these changes without making too much of a fuss.
But I understand that you may not feel that way. So maybe at some point, they'll add back in a throw with the scene that includes Mickey and Minnie sitting on the shores of the Grand Floridian enjoying the sunset.
Now that could be a blanket that I fall asleep underneath. (And I would probably buy one at the Grand Floridian gift shop too, but please don't tell Disney!)
For more information about the Grand Floridian, you can browse all of our articles related to the resort in our resort guide.
Some of the most popular ones include:
What are your thoughts about the new rooms coming to Disney's Grand Floridian Villas? Leave a comment and let us know.
Planning a Walt Disney World or other Disney Destination vacation?
Our friends and travel partner, Firefly Travels, excels at doing Disney differently. You can fill out a plan your trip form on their website, and someone will reach out shortly to discuss the specifics.