Review of the Villas at Disney's Grand Floridian Resort
Disney's Grand Floridian Villas is a separate portion of one of Disney's most iconic resorts., the Grand Floridian Resort and Spa. If you have visited Walt Disney World before, you can probably identify the Grand Floridian rather quickly.
The resort sits nestled on the shores of Seven Seas Lagoon with a white exterior and bright red roof. Most guests will notice it sitting across the water as they make their way to the entrance of Magic Kingdom. Given its close proximity, the resort is only a short walk, boat, or monorail ride away from the theme park.
This particular portion of the resort is formally known as The Villas at Disney's Grand Floridian Resort & Spa, a Disney Vacation Club Resort (DVC).
DVC at the Walt Disney World Resort is synonymous with the word timeshare. Guests can purchase into the Disney timeshare program and use their points to reserve a variety of guest rooms in any Disney villa resort.
As far as staying here as a guest, you do not have to be an owner or hold any points. Anyone can reserve a villa here through a travel agent, subject to availability.
We had the opportunity to stay at the villas in a deluxe studio room this past year. Comparing it to our last stay, I feel that the villas section is an upgrade as far as the room amenities go. For reference, our last stay was in a standard room with a water view.
This review will specifically cover staying in the Grand Floridian Villas portion of the property. We'll take an in-depth look at the villa's deluxe studio, guest bath, amenities, and immediate surroundings. I'll also share my thoughts about staying here versus some of the other Disney Vacation Club resorts on property.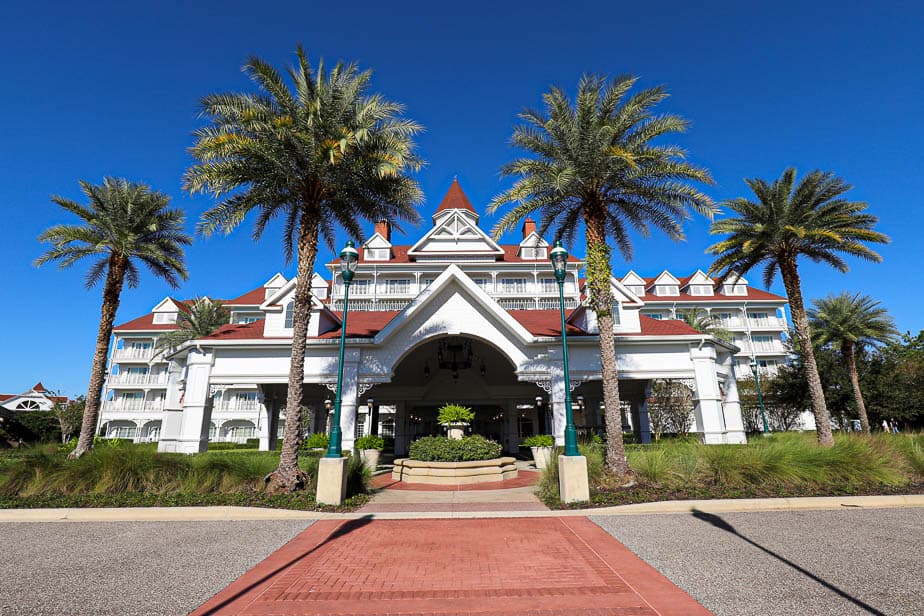 Grand Floridian Villas
If you are stumbling across this review and are not familiar with the different types of resorts at Walt Disney World, let me provide you with a brief overview.
Walt Disney World has over 20 different resorts that you can choose to stay at while visiting. For a preview of those resorts, make sure not to miss our entire selection of Disney Resort Reviews.
Those resorts come in categories like value, moderate, and deluxe. Grand Floridian Resort falls under the Disney deluxe resort category. And as I mentioned above, it also offers a defined area for Disney Vacation Club members. I am emphasizing this to make you aware that the resort and villas are two separate entities on the same property.
All of these separately defined resorts inside resorts per se are available for rent on the points system for members of the vacation club. Anyone can purchase points for ownership directly through Disney or on the timeshare resale market.
However, from my understanding, guests that do not purchase through Disney will not receive all of the benefits as an owner who did.
At this point, you might be wondering why you would even want to reserve a villa over a regular room. The main reason is that the room amenities offer a few more modern conveniences than standard accommodations.
The Grand Floridian Villas have their own building located to the far right of the property. Below is a map that hangs in the lobby of the villa's resort building.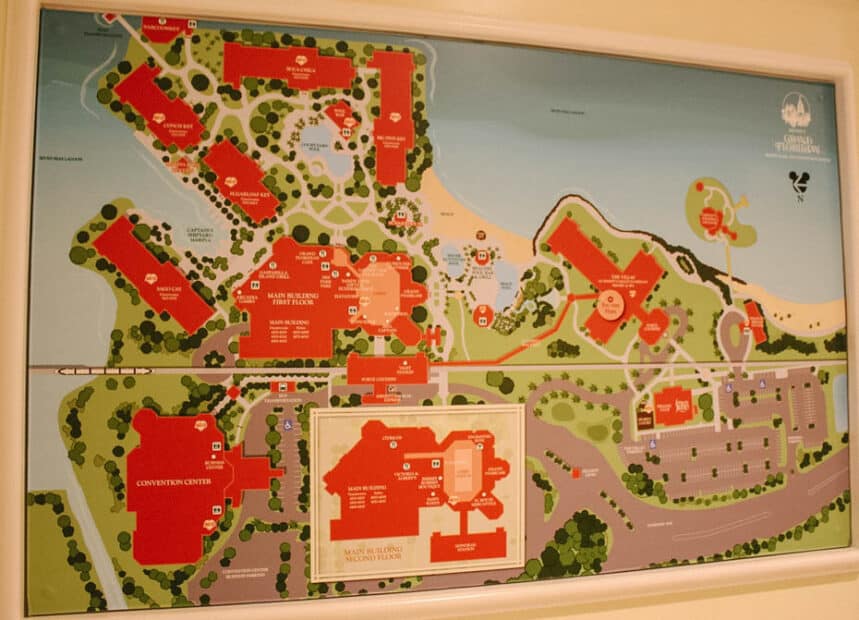 Disney's Grand Floridian Resort Villas opened back in 2013. Those familiar with this portion of the resort will recognize the Mary Poppins fountain with penguins. It's the centerpiece of the lobby.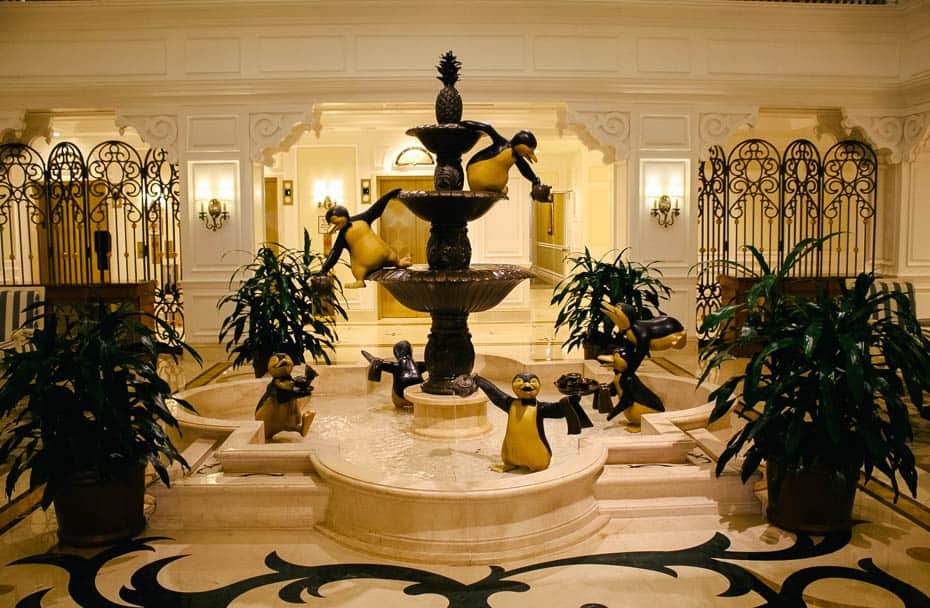 If you stay here as a regular resort guest, you will probably never see the fountain unless you make an effort to walk over to the villas and see it. So if you are a Mary Poppins fan (I am), make sure to remember to check it out during your vacation.
Here's a look at the backside of the delightful fountain.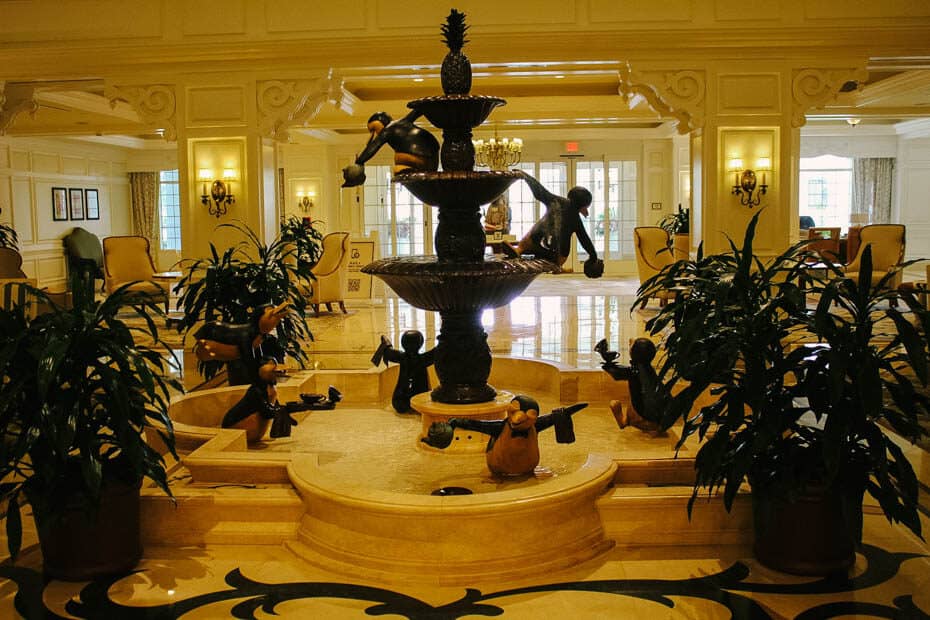 The lobby has a few other pieces on display as well. This eagle piece has been in the resort's main lobby before. The resort as a whole has a nice collection of art that gets moved around from time to time.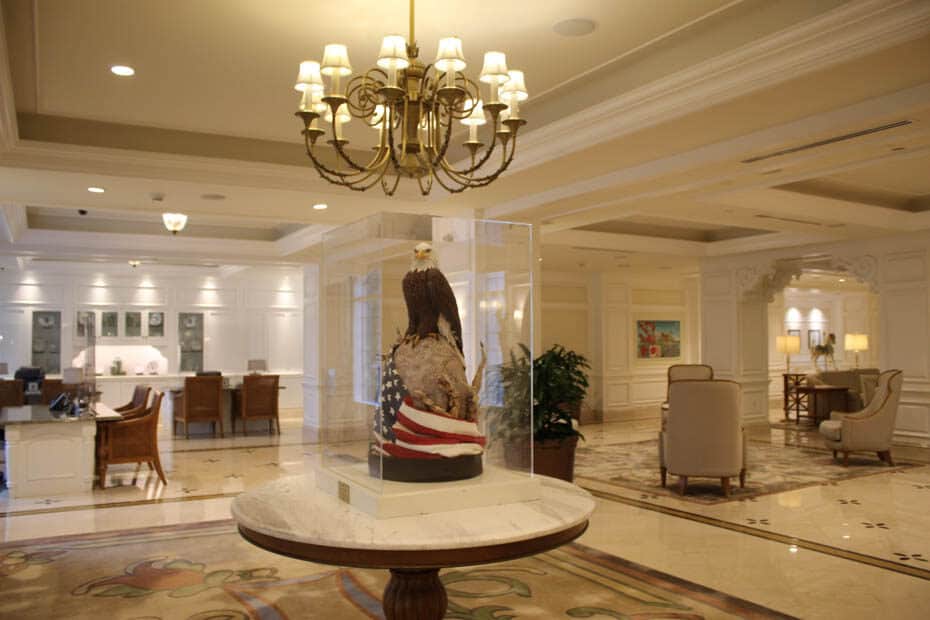 One of the things that I enjoyed the most about staying here in the mini-resort area was the privacy from everything else.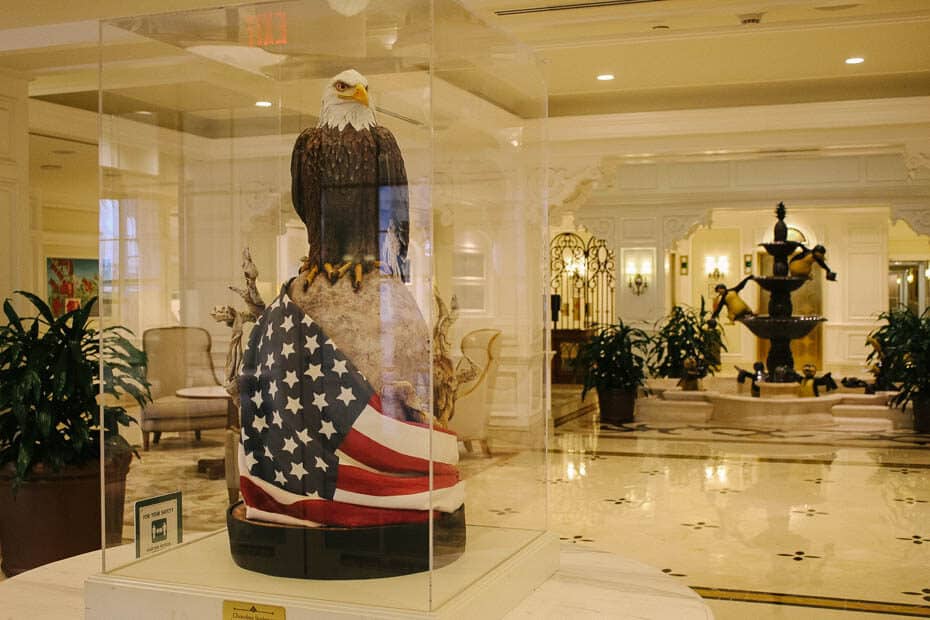 Grand Floridian's main lobby can be very busy with so many resort and day guests combined using the space. Naturally, there's always the hustle and bustle of tourists coming and going from Magic Kingdom Park as well.
The lobby here in the Grand Floridian Villas was spacious and never crowded during our stay. Multiple sitting areas are spread out around the area.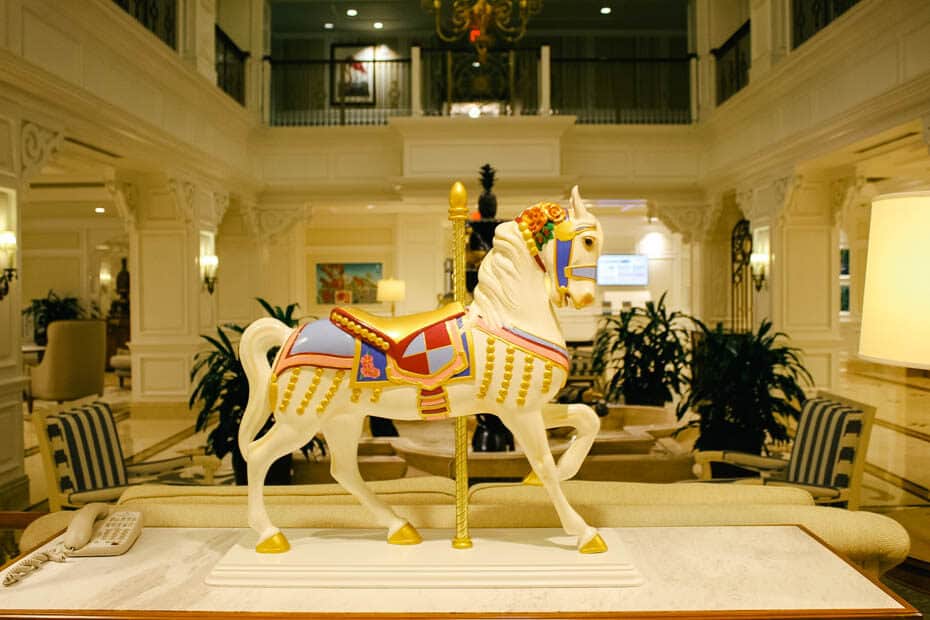 Right outside the villa's main entrance, you'll find a porte-cochere, which is a wonderful place to pull up and drop off your luggage when arriving by vehicle. However, if you require bell services, you'll want to pull up to the main entrance upon arrival. A cast member will bring your luggage over for you.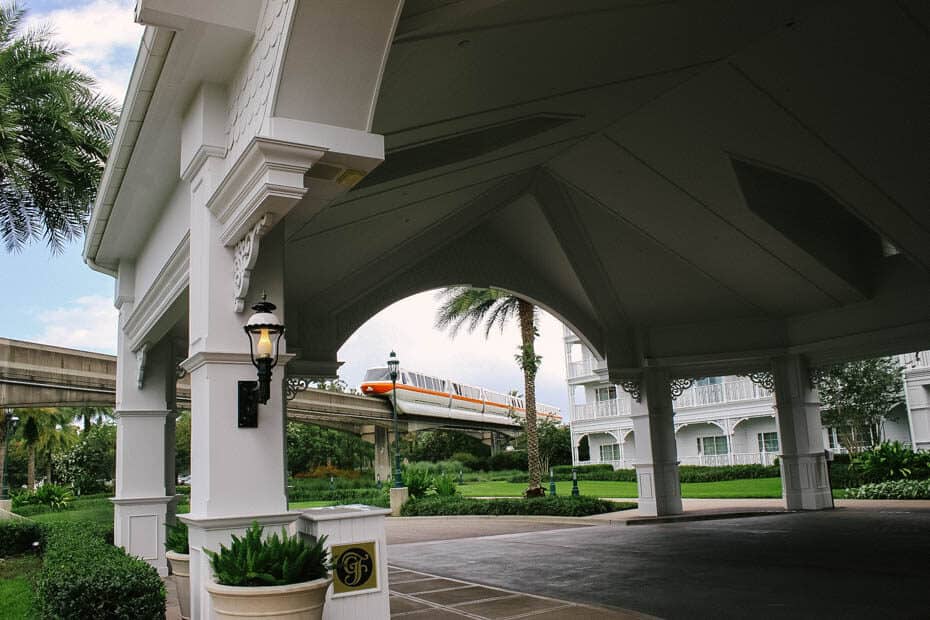 The Grand Floridian Villas also has its own separate parking lot located immediately by the building.
Back inside, one of the things I really liked was the wide hallways and the golden tones against the crisp white trim. The design here reminds me a lot of our stay at the Waldorf Astoria.
Related: Waldorf Astoria Orlando Review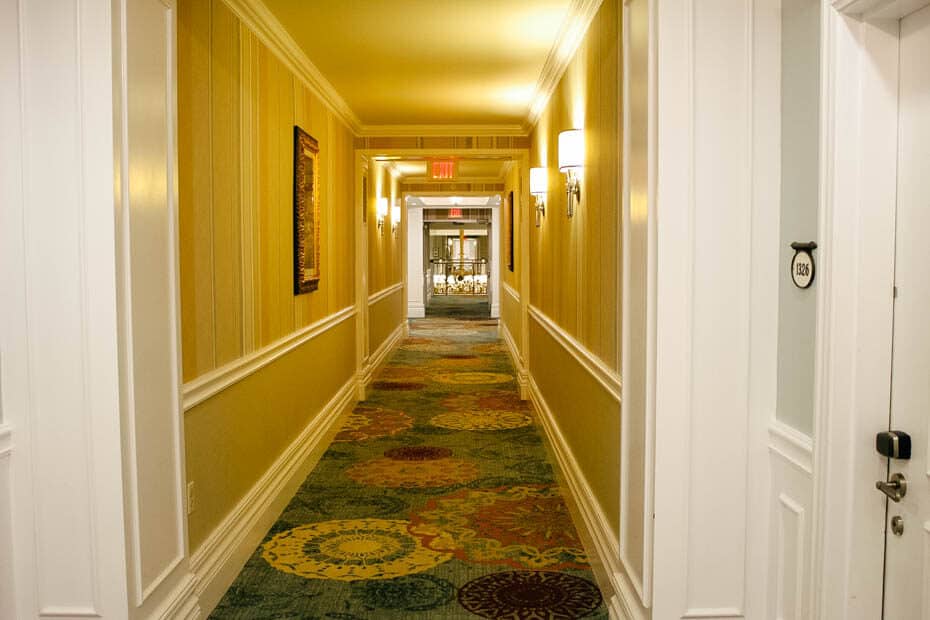 Looking down from above, accents of gold against the marble complement the overall look. Another thing I like about the Grand Floridian Villas is that the space is modern but not stuffy. The design tends to invite you in, and I consider it a job well done.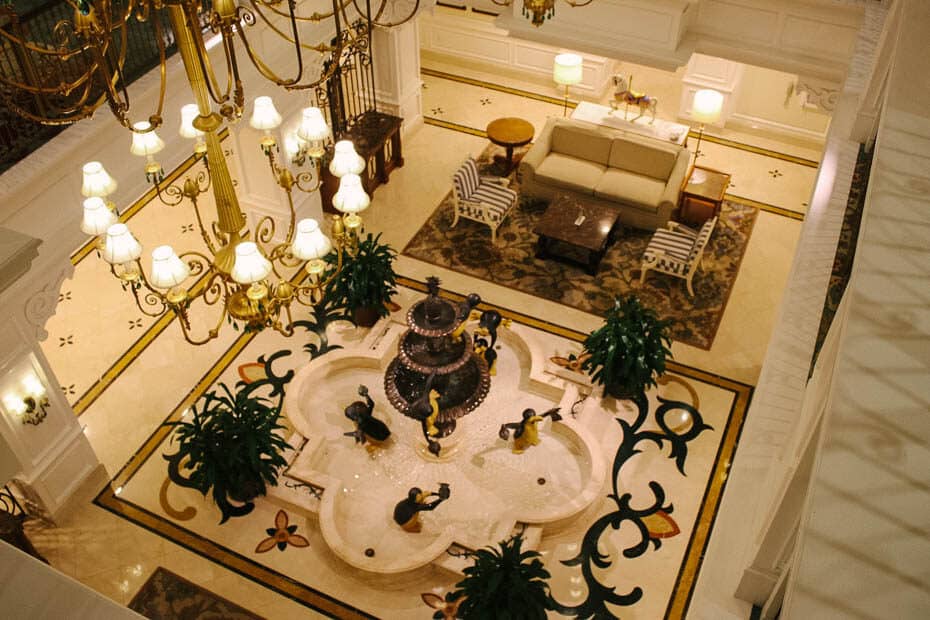 There's a subtle elegance here that you won't find anywhere else on Disney property.
Grand Floridian Villas Deluxe Studio
Below is a photo of our Grand Floridian Villas deluxe studio guest room. This room is somewhat more spacious than a standard hotel room. It was also light and airy. The back of the room featured a wall of windows that lead out to a balcony. This always helps contribute to the space feeling larger.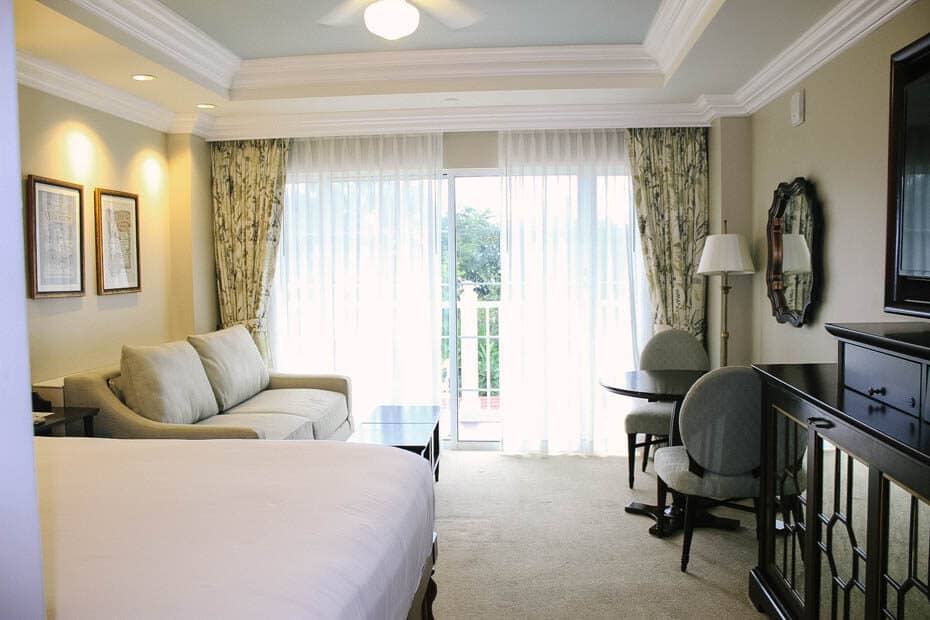 This next photo offers a look at the room with the trundle bed pulled down. The trundle allows for extra bed space for a child up to around 12 years old. It's a bit smaller than a twin-size bed, so use your best judgment.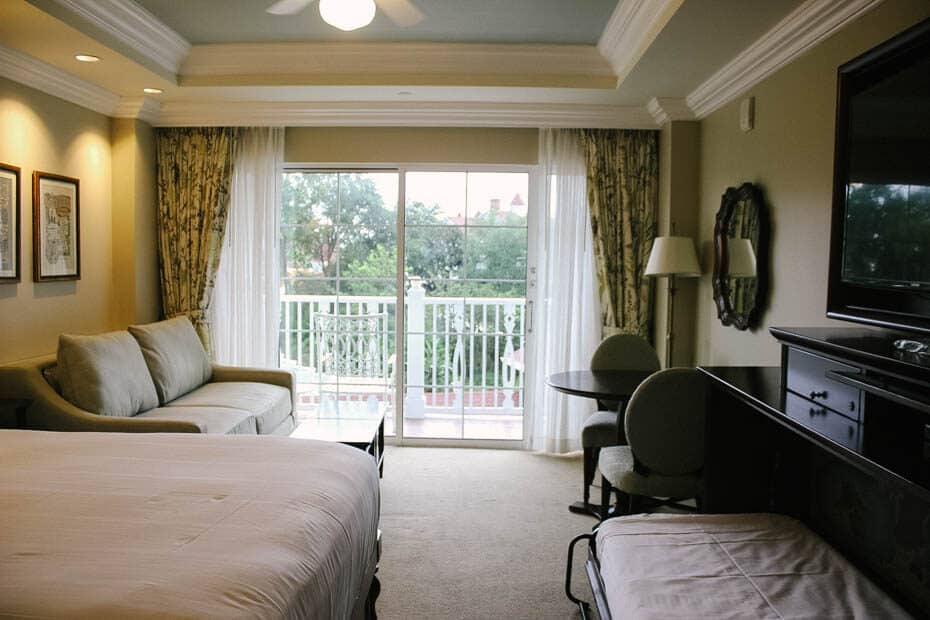 The artwork detail in the trundle bed is precious. It says Sweet Dreams and features Dumbo and his mother.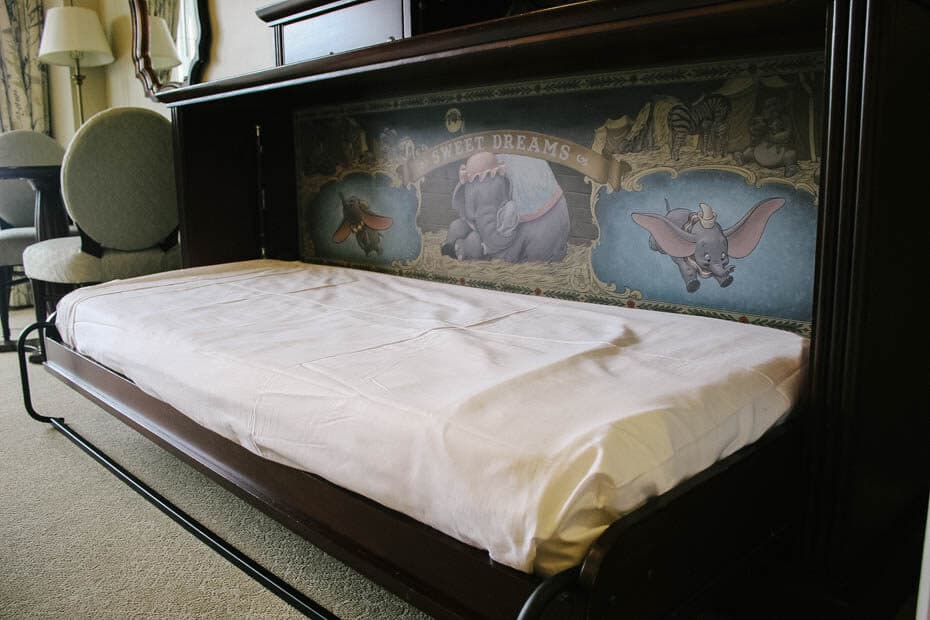 And here's a look at that same space with the trundle put away.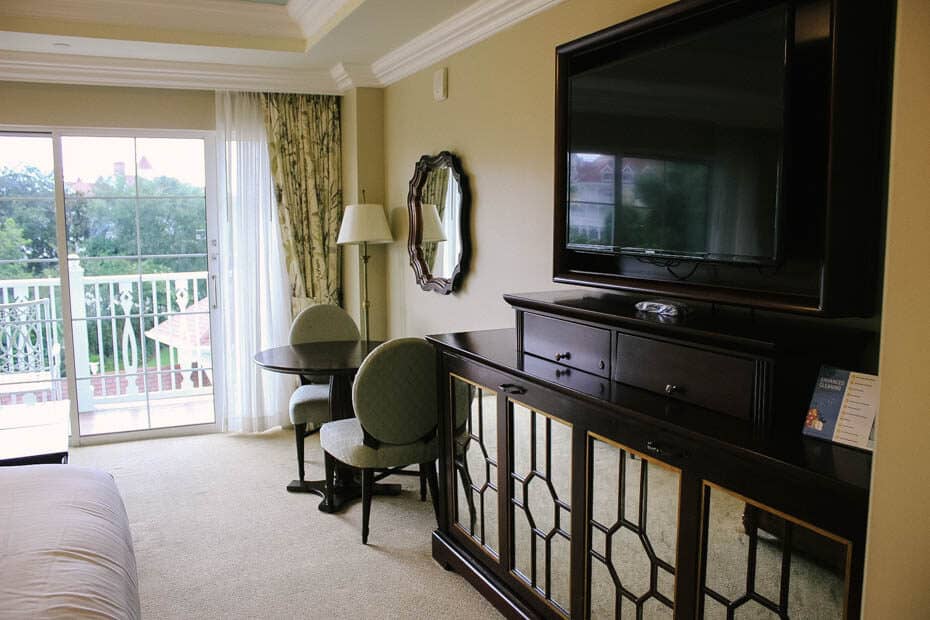 The studio deluxe room comes with a queen bed. It had a stylish headboard that provided a little extra comfort with the padding. Lamp fixtures on each side of the bed provide a little extra reading light.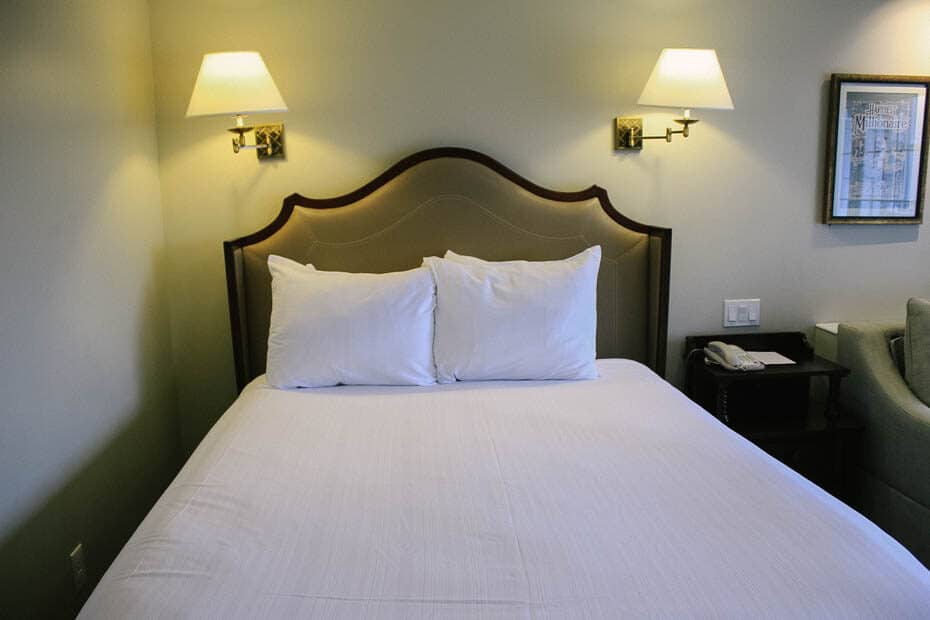 There is also a queen size sleeper sofa providing more bed space. I feel like in the future, we will see fewer of these couch beds and more Murphy beds like they have at the new Disney's Riviera Resort. Hopefully, that will be the case, because they are much more comfortable.
Related: Disney's Riviera Resort Review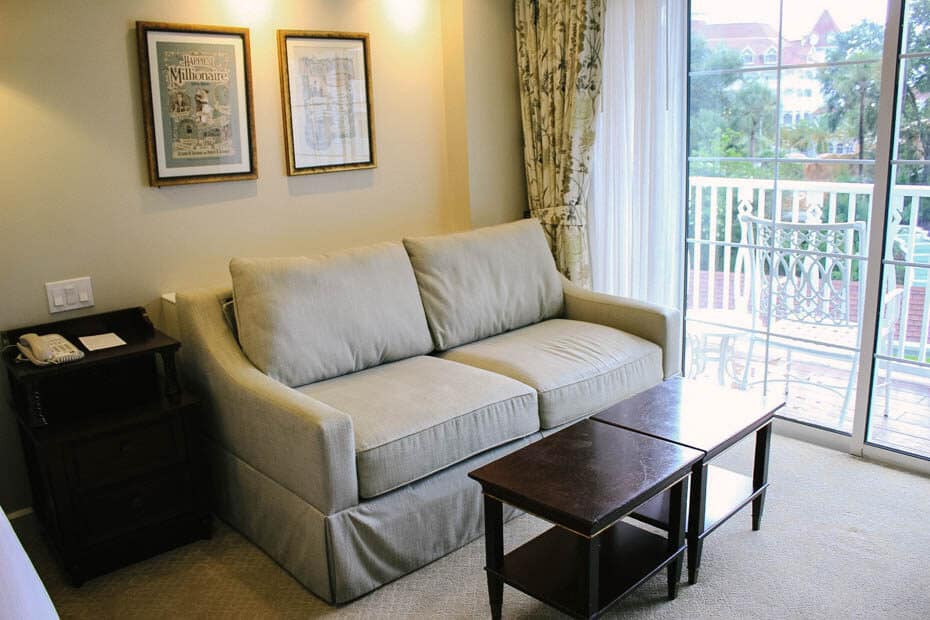 There's also a table and chairs for two making a decent place to have a meal or get a little work done. Hopefully, you are here for vacation and not for work. But most work tends to travel these days, so if you are like me, you might need the space.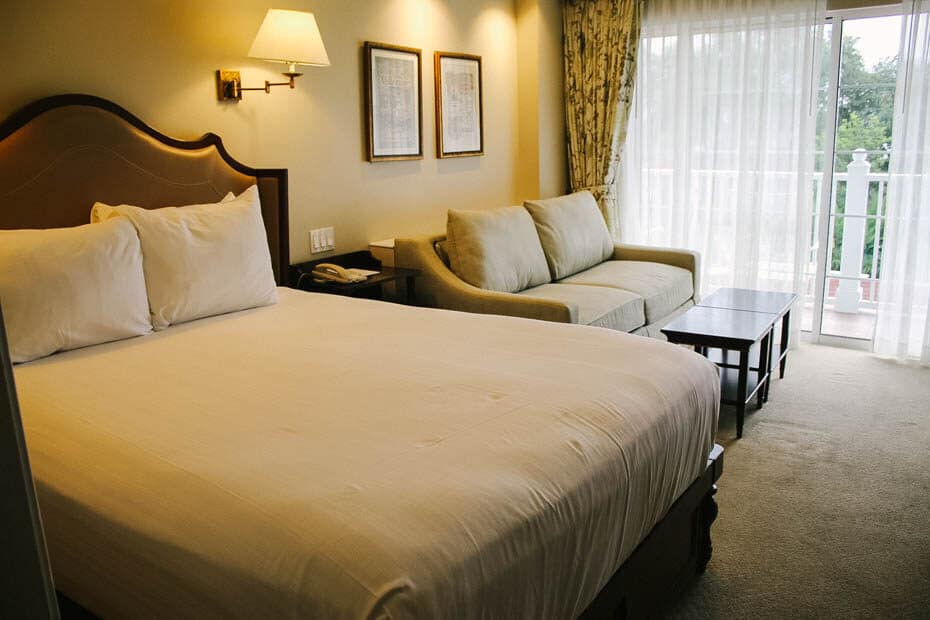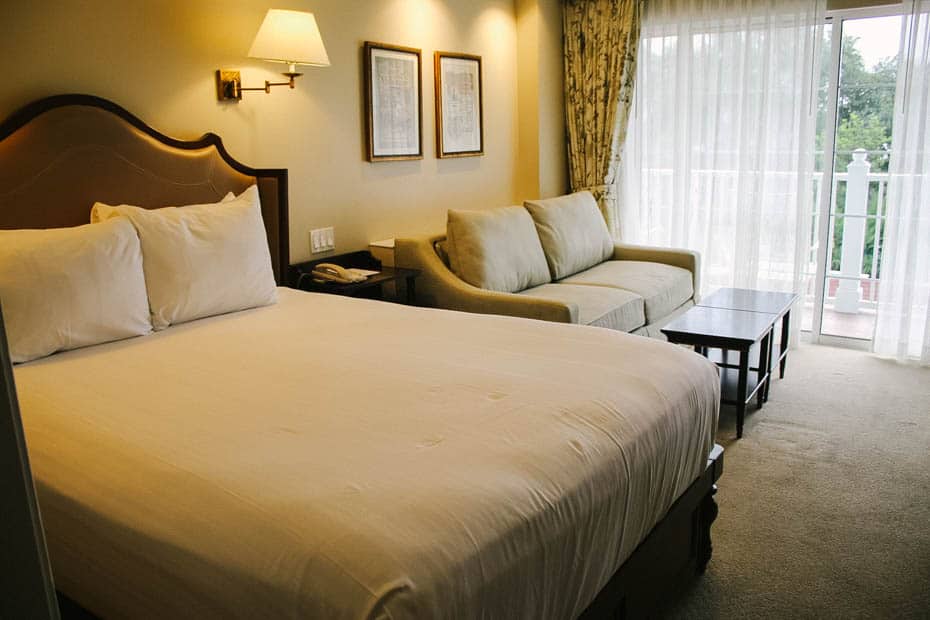 Where you'll see the additional space square-footage-wise in the deluxe studio villas is in the bath and kitchenette areas of the room.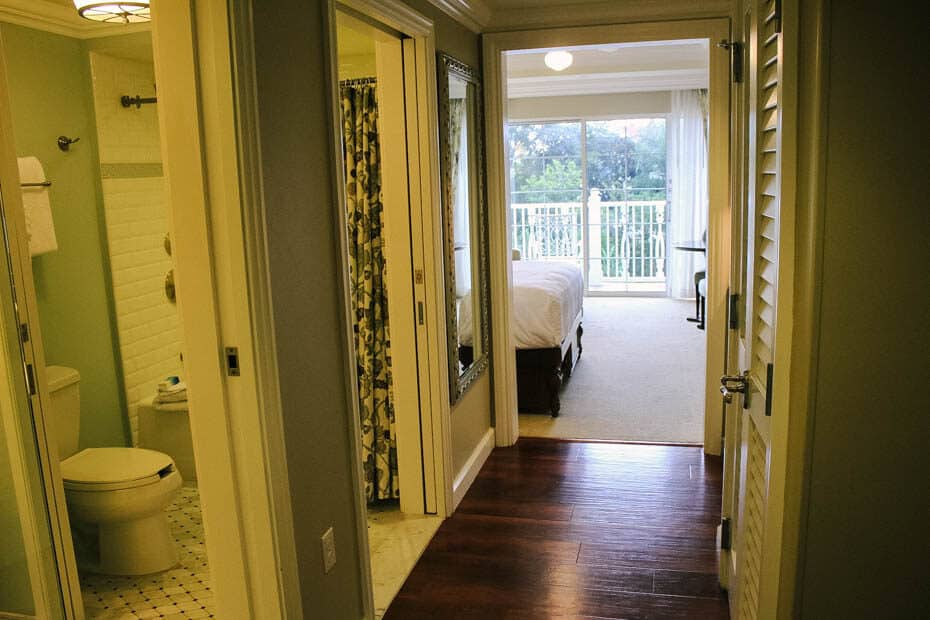 You get a bath and a half. And that's the best way I can explain this setup given my real estate background. On one side of the bath, there's a vanity area and a full walk-in shower.
You might notice that there's a TV in the mirror, which turned out to be a fun feature I used when getting ready. I really enjoyed watching a few of my favorite shorts while preparing for dinner or a day at the parks.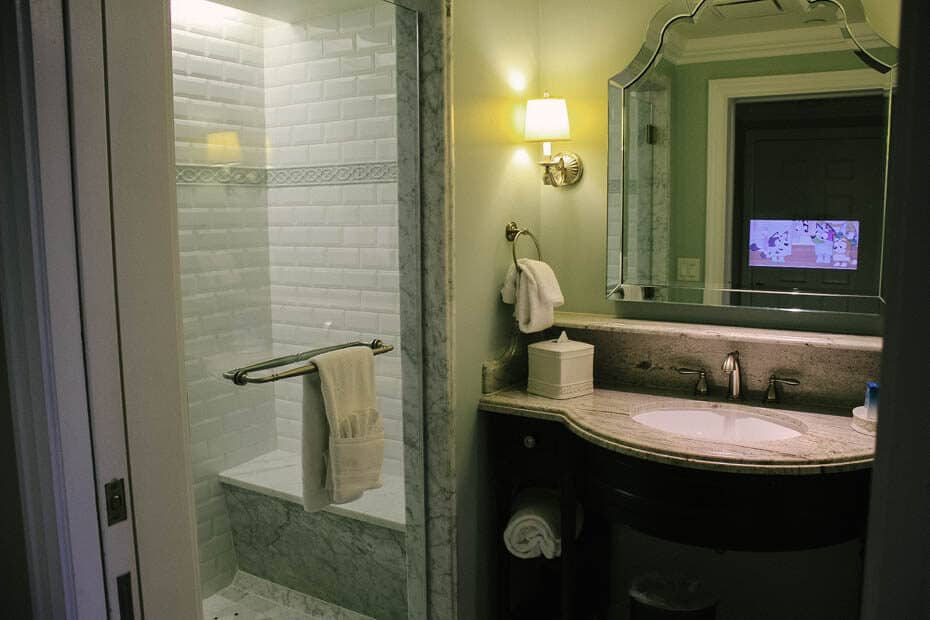 You could probably watch the news and keep up on current events if you like. But what fun would that be?
The other half of the bathroom is a water closet of sorts with a tub and shower combination.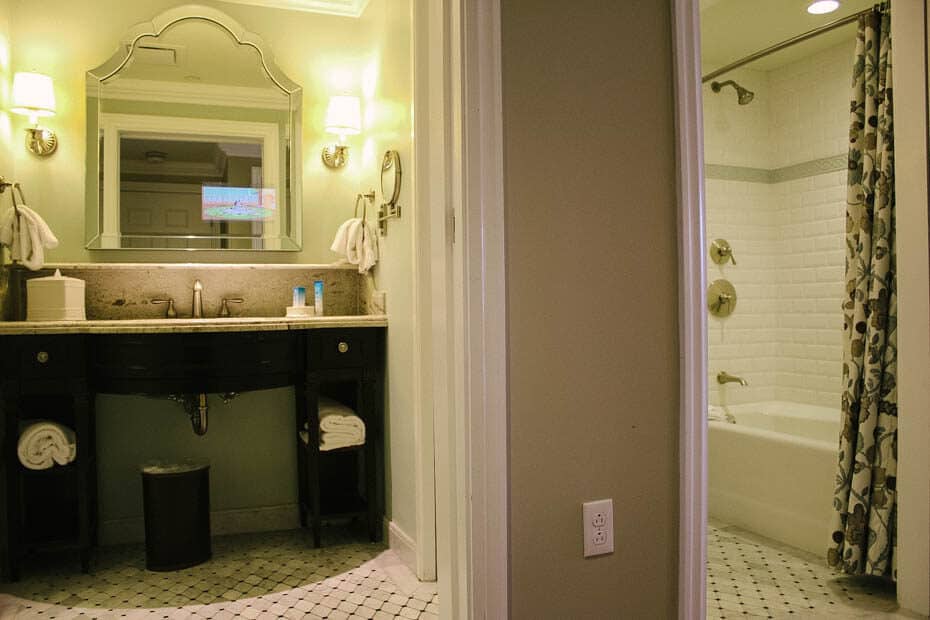 Most guests with smaller children will appreciate the tub over the walk-in shower.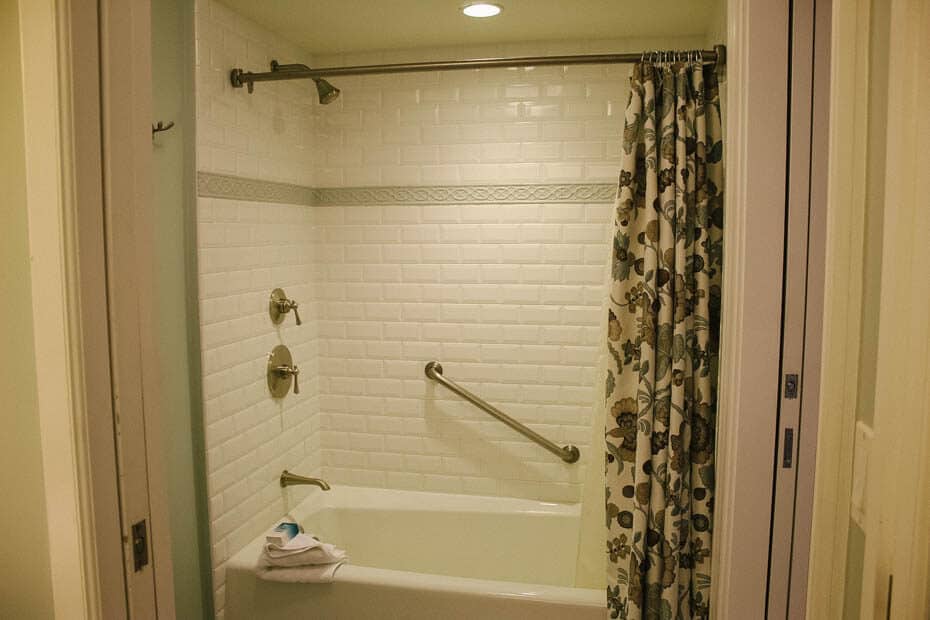 But the walk-in shower is a nice option for most guests.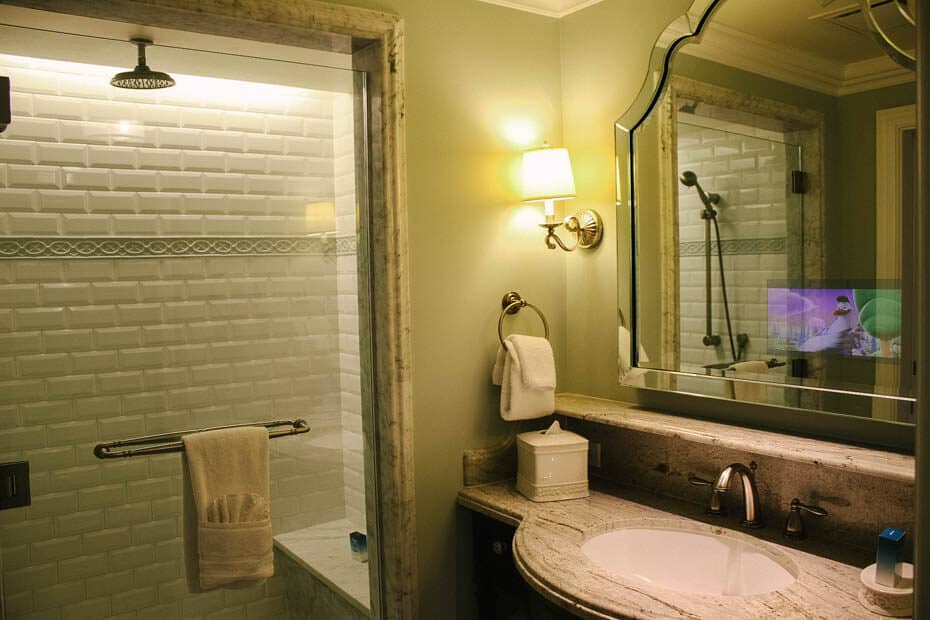 I enjoyed the rain shower option overhead and the detachable shower head that served as a standard fixture.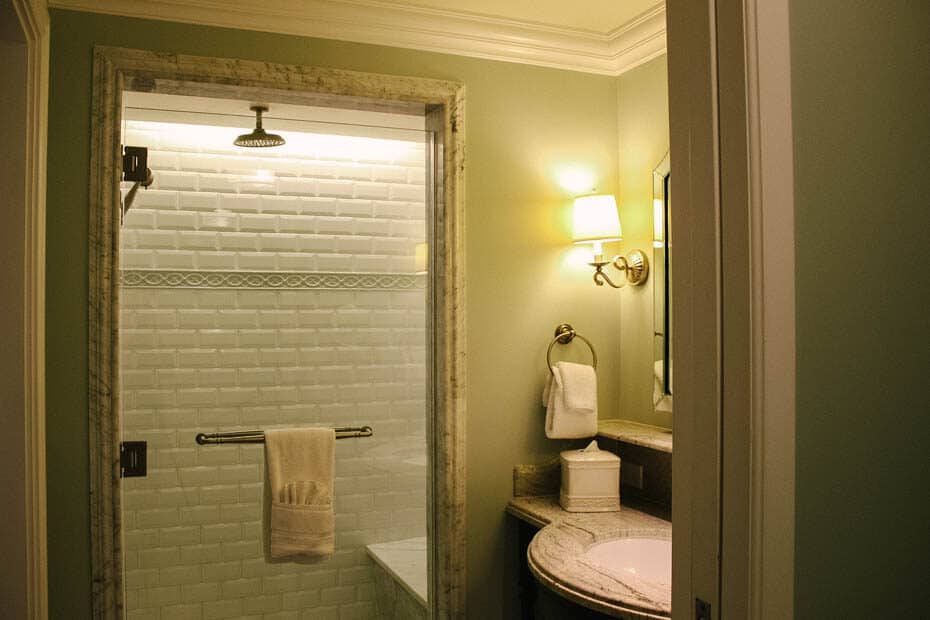 The kitchenette area is also a huge plus when staying in a villa resort.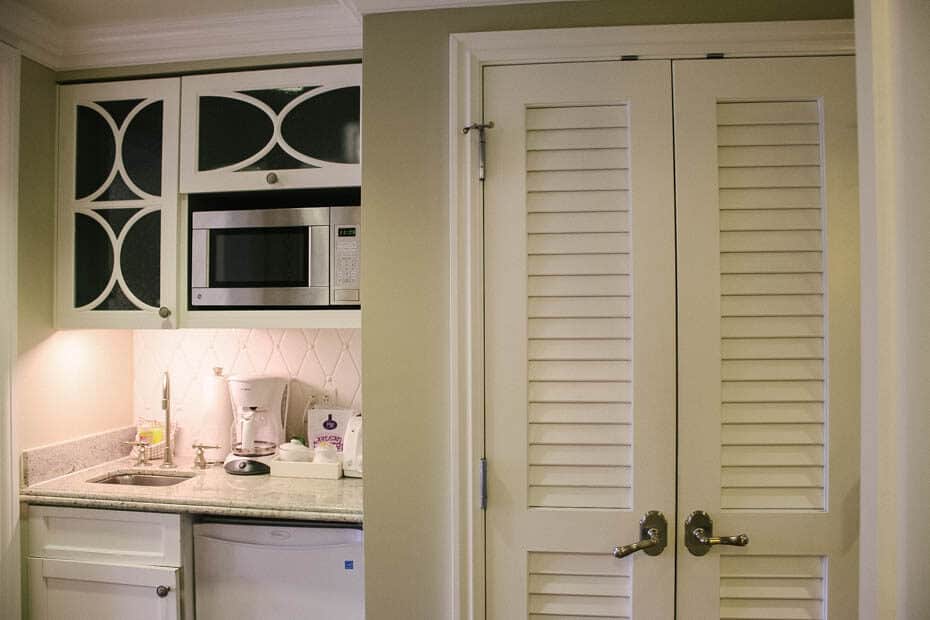 A few extra's included: a standard coffee maker with supplies, a toaster oven, paper towels, dishes, and silverware. Right now, Disney provides disposable dishes and plasticware that are wrapped separately. And you'll find the sink a nice option for tidying up.
On another note, as far as cleaning and DVC goes, you only get a full cleaning service on day four. Then you'll receive trash and towel service again on day eight. This is standard across the board for all of the Disney Vacation Club resorts.
There are usually plenty of extra towels and things to get you through until service. Of course, you can always request more if needed, but you won't receive regular housekeeping daily here.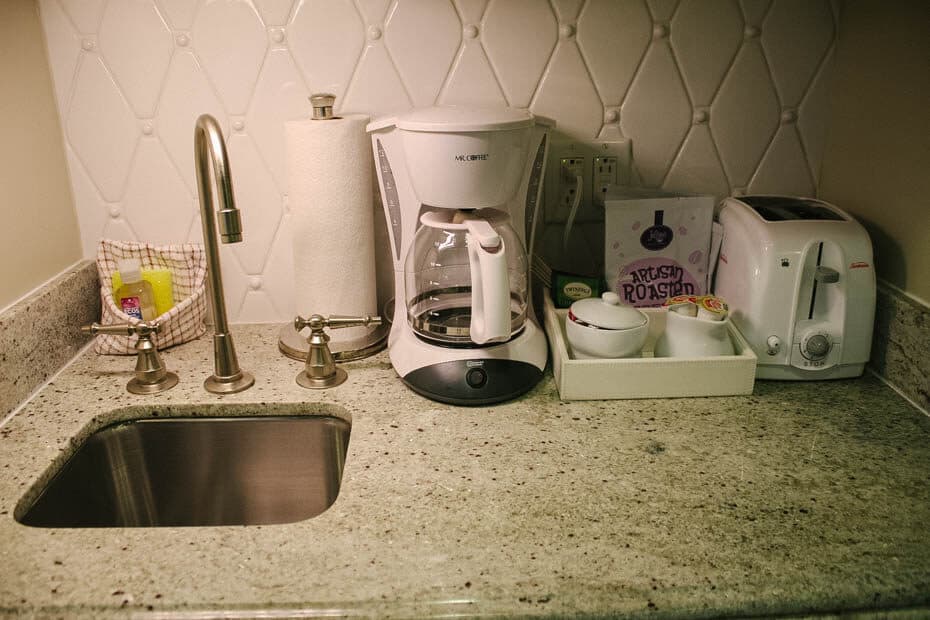 The refrigerators in these rooms are larger than what you'll find in the standard resort rooms.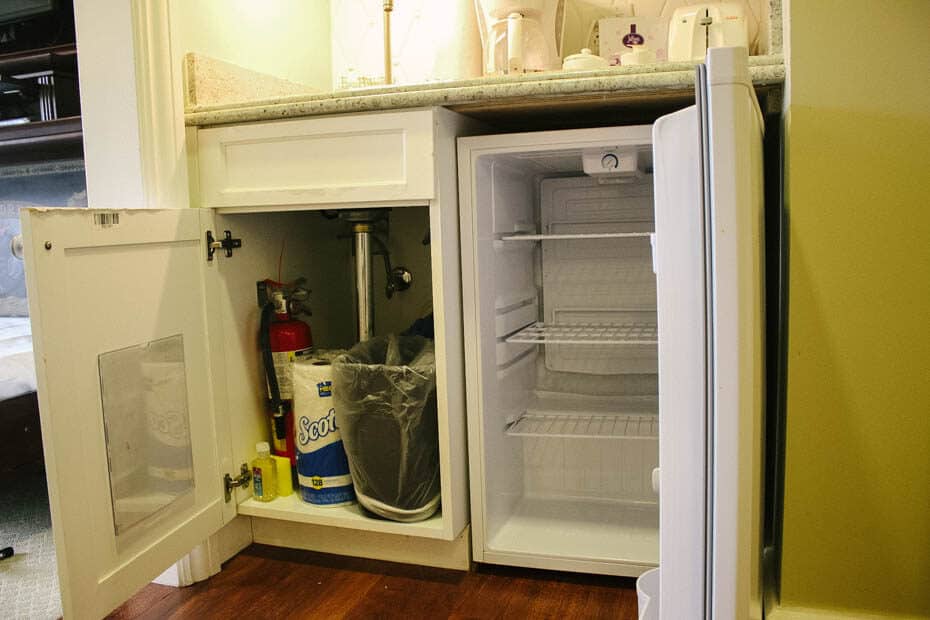 Another perk is the microwave. Most of the villa resort's gift shops have a few frozen microwaveable meals you can pick up. It's also great for reheating leftovers.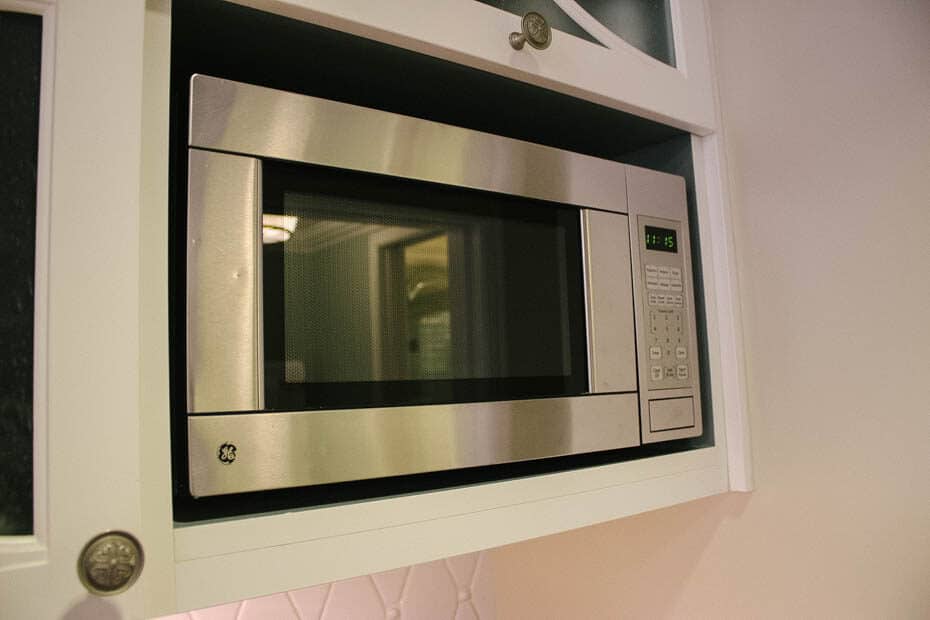 The closet in the room is a decent size with several different compartments for storage.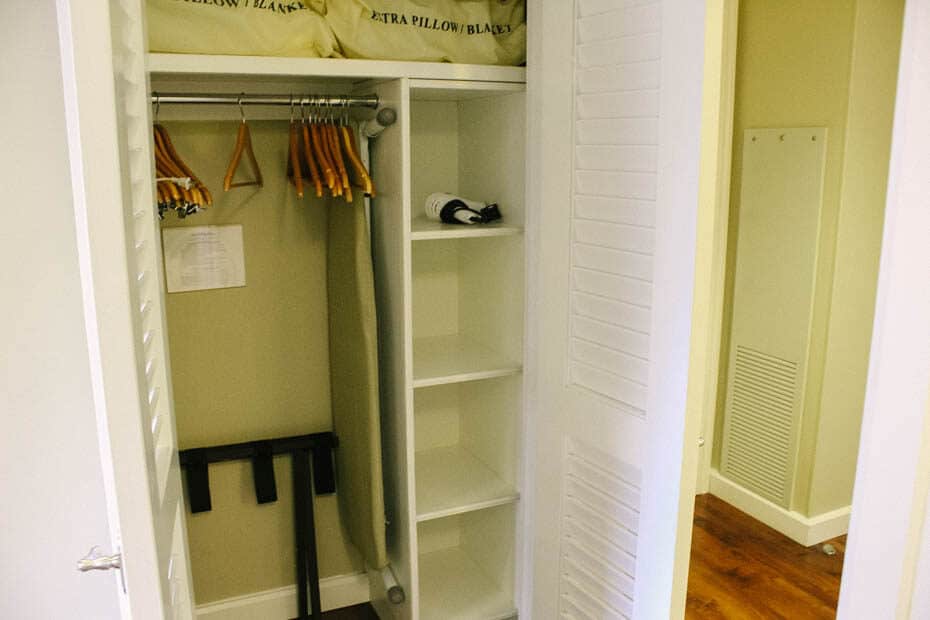 A safe is tucked inside for storing valuables.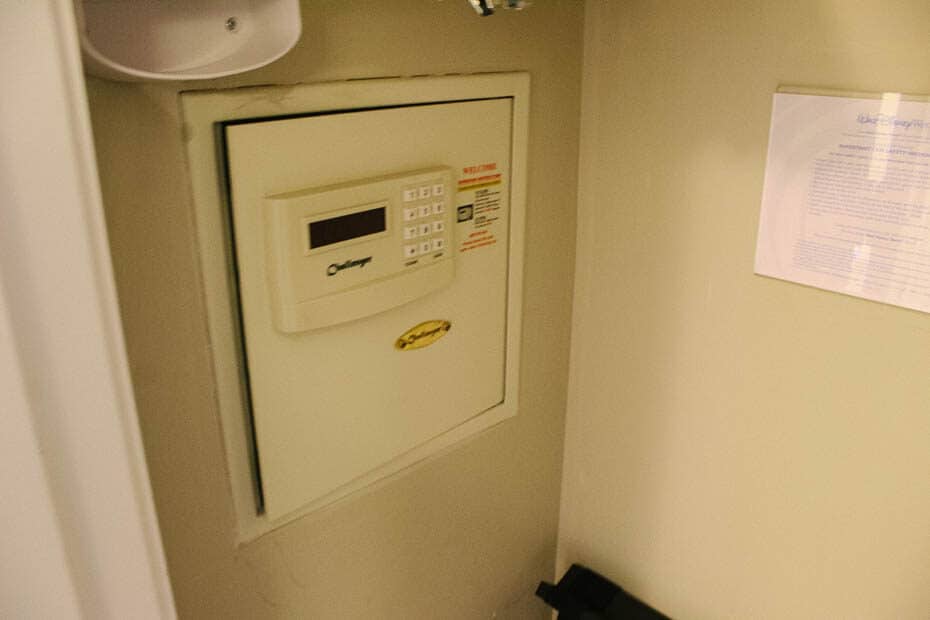 The only real issue I had with the room was the overall lack of storage. While the closet was a decent space, the only in-room storage was in the drawers under the bed. You can probably tell there is an issue. The drawer closest to the nightstand is basically rendered useless.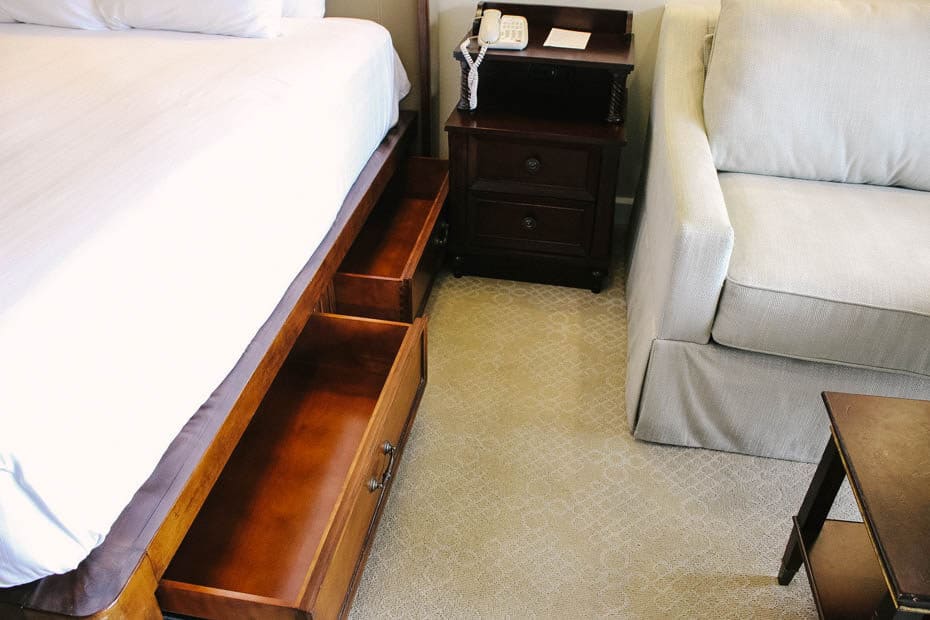 Additionally, I felt that it would be extremely easy to forget items stored down here.
Moving on, I felt the balcony and whole room with a view thing made up for the lack of storage space in the actual room.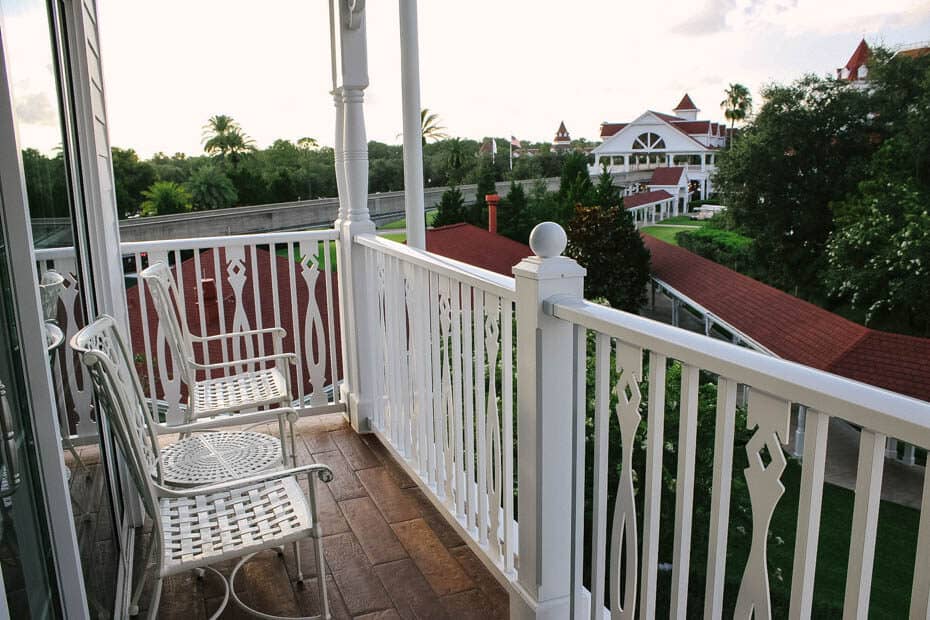 In fact, I spent most of my stay at the Grand Floridian Villas on this very balcony.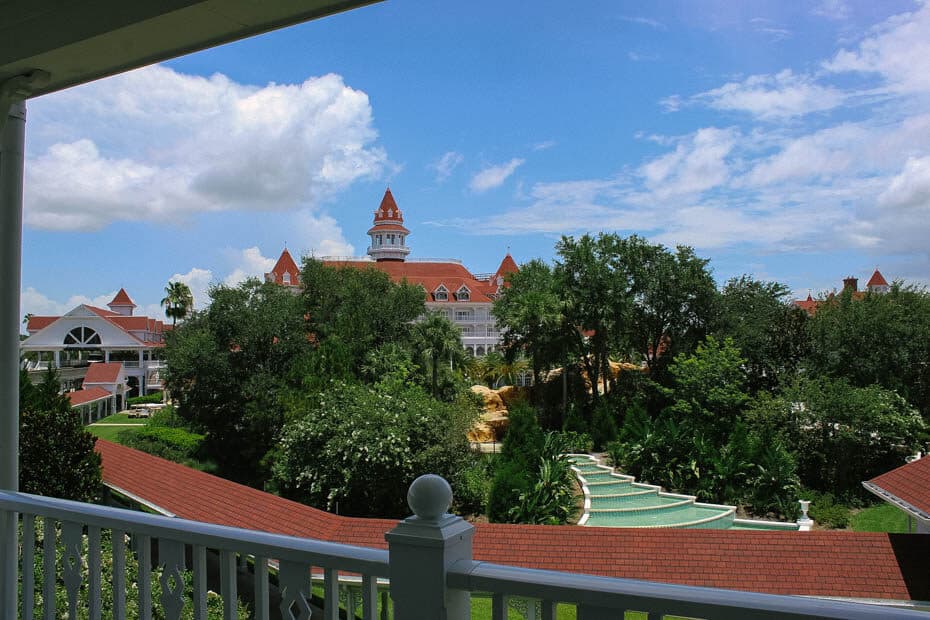 And who wouldn't want to sit outside as the monorails glide by on their little highway in the sky?
You can see the nose of the monorail as it sits at the station. Awaiting guests to board so it can whisk them away to the Magic Kingdom park for a day of adventure.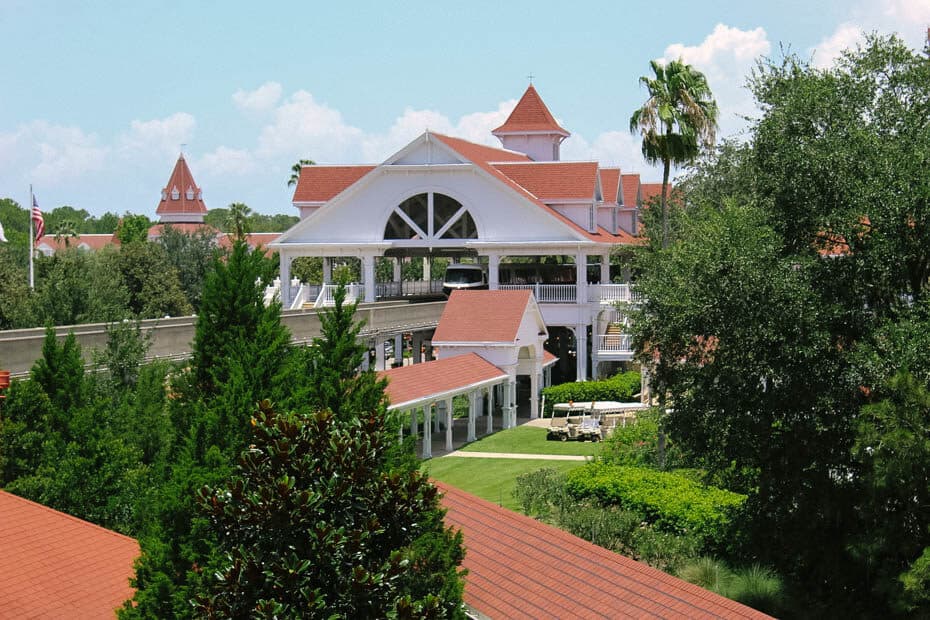 Every morning I enjoyed a cup of coffee out here before preparing for the day. And I often found myself here at sunset witnessing the beautiful end of a pleasant day.
Room Types at the Grand Floridian Villas
To provide a brief overview, the following different room types are available at The Villas of Grand Floridian:
Deluxe Studio (Standard and Lake View)
One Bedroom Villa (Standard and Lake View)
Two Bedroom Villa (Standard and Lake View)
The Grand Floridian 3 Bedroom Villa (Lake View)
All the Grand Floridian one-bedroom suites and larger feature at least 1 king bed mixed with various other combinations.
The categories are available here on Disney's site.
Grand Floridan Villas Amenities
Outside of the actual room upgrades, the Grand Floridian Villas offer a few extras in the immediate area. For starters, the resort is conveniently located close to the main resort's entrance and lobby. There is a covered walkway right outside the villa's back door that will take you straight over.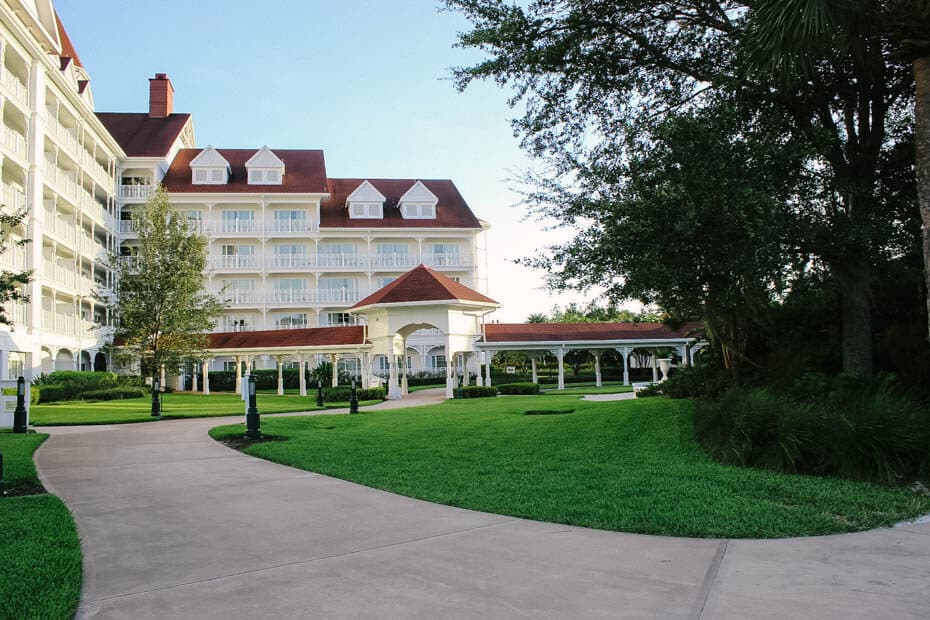 This is the Grand Floridian Villas Beach Pool. It's literally only a few steps out the back door. The pool is zero entry and has a feature water slide and waterfall area. I have a separate review of the pools at Grand Floridian if you'd like to learn more.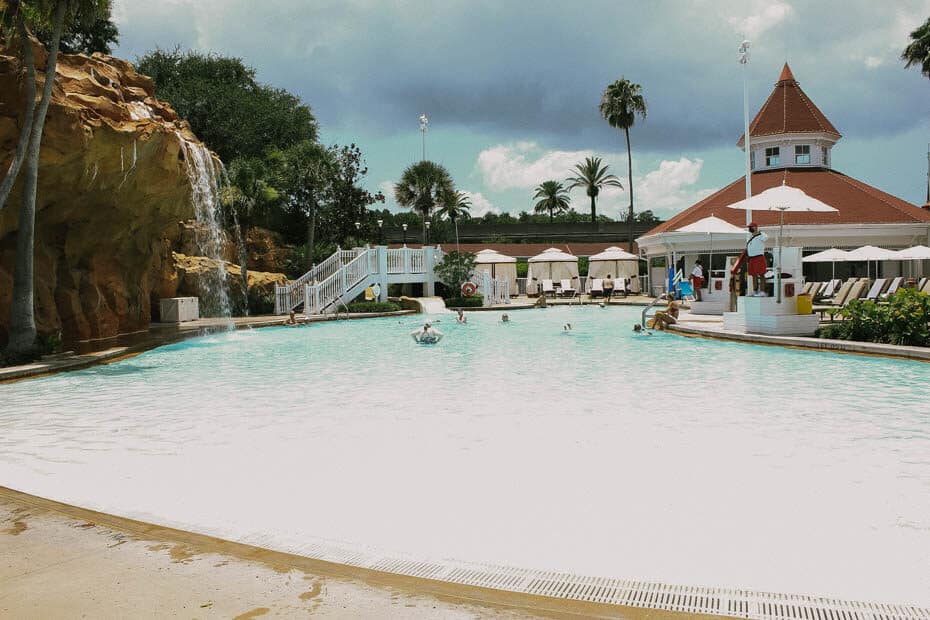 In addition, this pool is listed in our best pools at Disney World.
On the front side of the villas is the Grand Floridian's gym. And there's also a barbecue with grill area for anyone staying in the villas on the side of this building.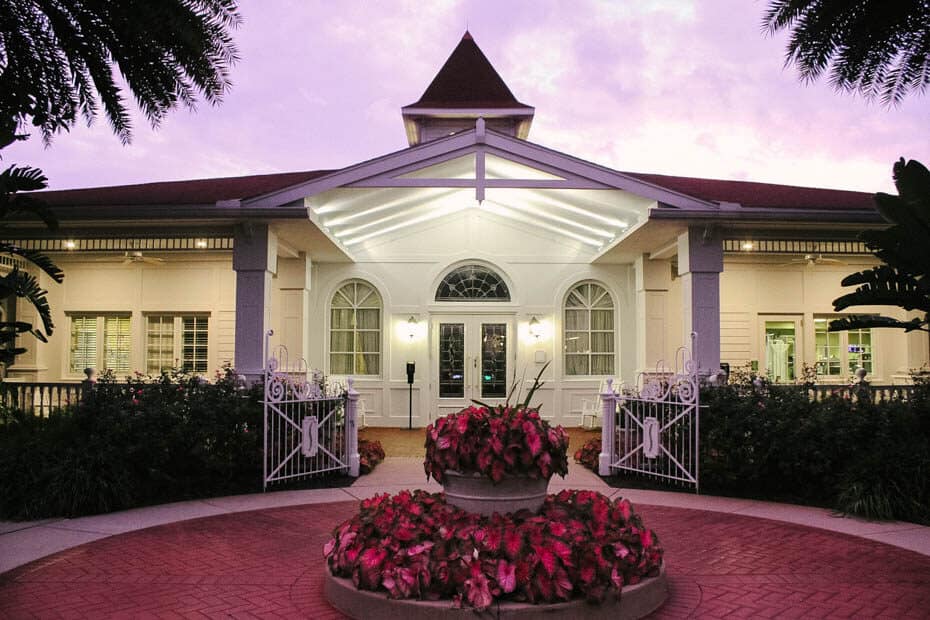 The gym was a nice size and it's off the beaten path with respect to the rest of the resort. I imagine it's rarely used.
Related: Fitness Centers at Disney World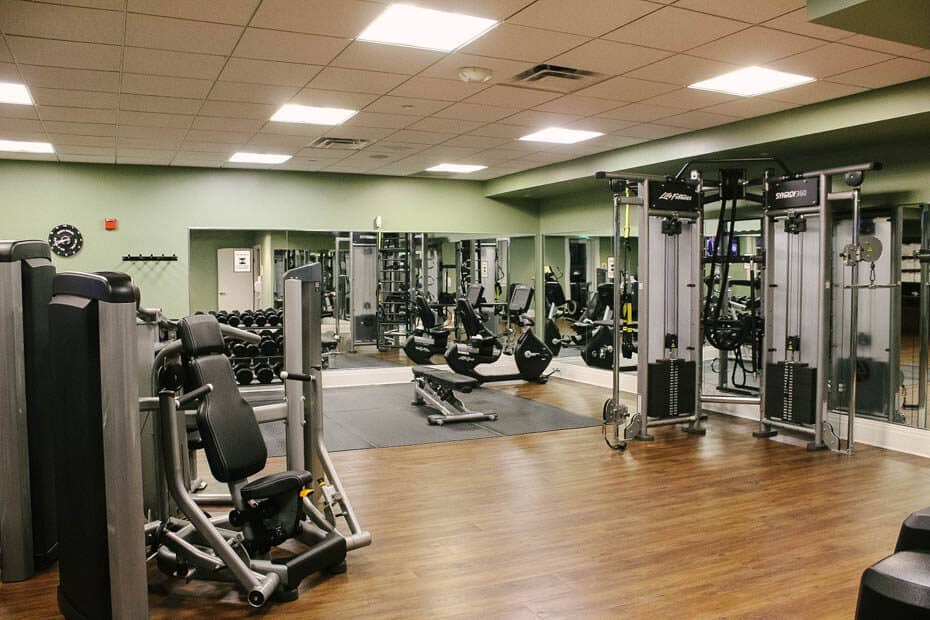 Next door, you'll find the Grand Floridian wedding chapel as it practically floats out on the Seven Seas Lagoon.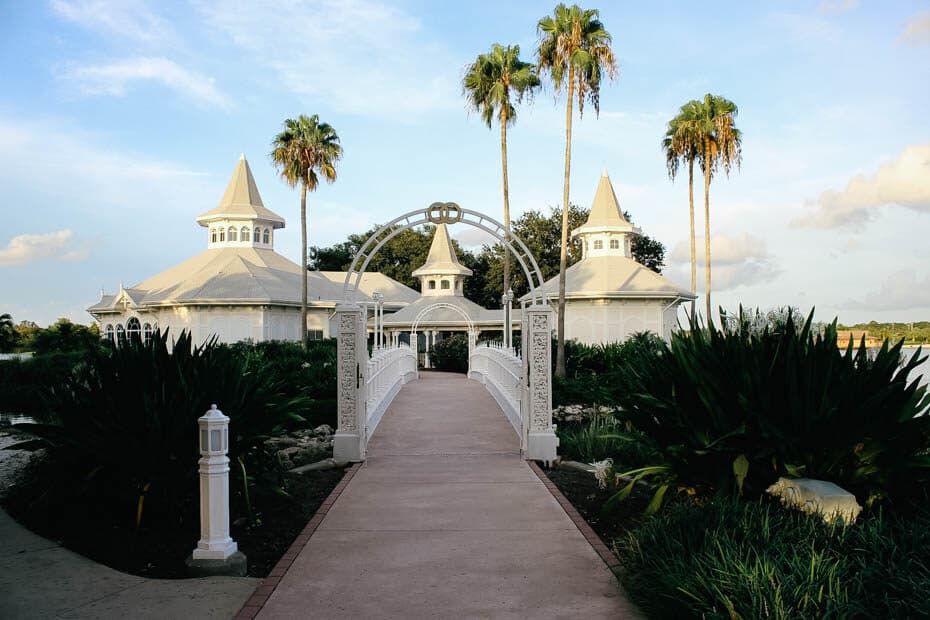 The wedding chapel sits between the villas building and Disney's Polynesian Resort. This brings us to another huge perk of staying at the Grand Floridian Villas. And that's the walkability factor of the resort.
Related: Can You Walk Between Grand Floridian and the Polynesian?
Not only can you walk to Disney's Polynesian, but you can walk past the Polynesian and access the Transportation and Ticket Center. When the monorail is running you can board it to Epcot.
Of course, you also have the option to board the monorail at the resort and take it all the way around to the Transportation and Ticket Center. But the walk is extremely pleasant. I wouldn't miss taking a walk here for the world.
Related: Disney's Polynesian Resort Review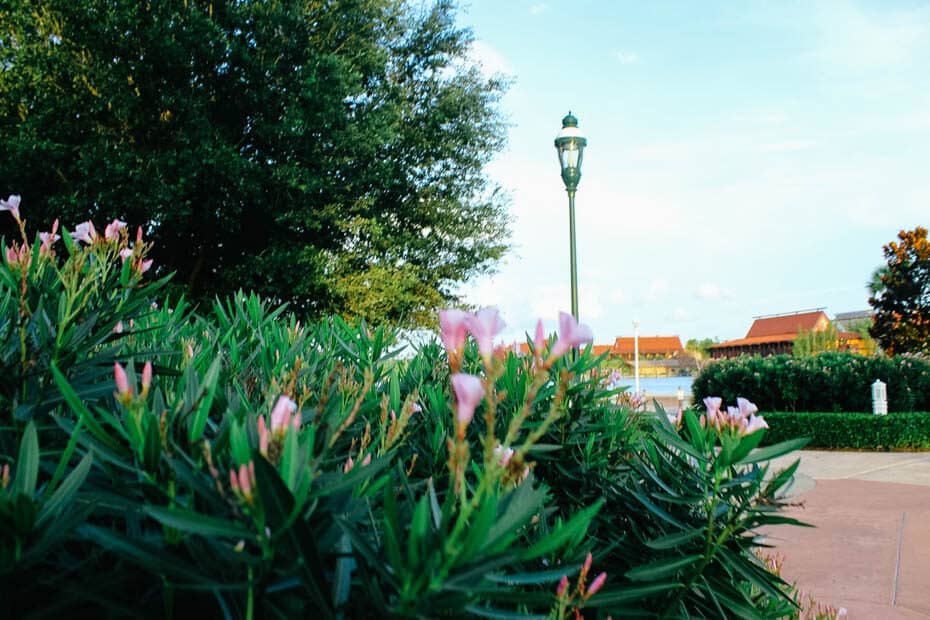 Plus, you can now walk to and from Grand Floridian to Magic Kingdom Park when staying at Disney's Grand Floridian. This walkway takes about 10-12 minutes at a moderate pace to reach either.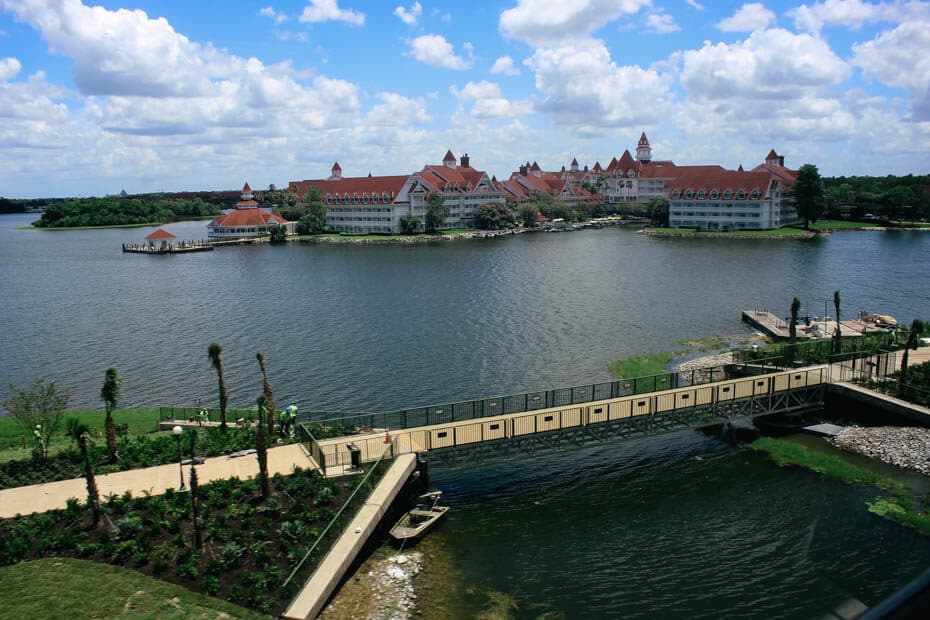 When considering a stay at the Grand Floridian Villas there are a lot of factors to take into account. For me, the largest factor is almost always the price. And the price tag here can be quite expensive.
However, from time to time, there are special rates and discounts. Make sure to check with an authorized Disney vacation planner to get the best rates available. I have a form down below that links to our recommended travel agency.
You might have heard that Disney's Magical Express service has ended. An authorized Disney travel planner will be able to help you make arrangements to and from the airport on top of the services they already provide.
For those interested in staying at the Grand Floridian Villas but can't swing a full week, consider staying here on a short trip. Or you might consider doing a split stay.
That's where you stay at a deluxe resort on the lowest-priced days of the week, and stay at a value or moderate on the higher-priced days. The prices are always highest at the resorts on Fridays, Saturdays, and Sundays.
The other main factor that comes into play is location. If you plan on spending a lot of time at Magic Kingdom, you can't beat any of the Magic Kingdom Hotels.
It's so nice to be able to leave for a special event and be back in your room in no time. For instance, if we are attending Mickey's Halloween Party, we are usually exhausted by the end of the night.
Being able to leave the party and get back to your room in less than 10 minutes is amazing. And that really goes for any time you leave the park. This is another huge plus for the Grand Floridian Villas.
Some other favorite locations nearby include the Contemporary Garden Wing. And if you want to stay in a villa, check out the review of Bay Lake Tower. Additionally, the Copper Creek Villas at Disney's Wilderness Lodge are only a boat ride away.
Final Thoughts on the Grand Floridian Villas
For us, this stay was the first in a long time away from the Disney parks. A time that none of us probably ever saw coming. Being able to return was a dream come true, and being at the Grand Floridian Villas made it extra special.
So when the time (and price) is right, and the Grand Floridian is on your wish list of Disney Resorts, I highly recommend the stay. It's pretty hard to beat.
Between the prime location, dining options, and extra amenities, the Villas at Grand Floridian have so much to offer. If you would like to learn more about dining options at the resort, we have a full restaurant guide available.
Related: Restaurants at Disney's Grand Floridian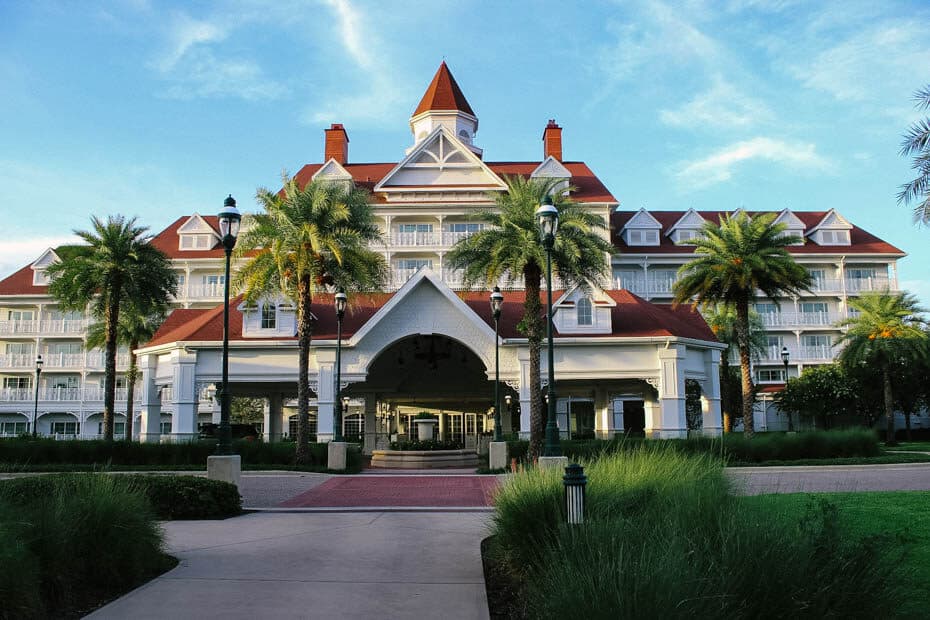 If you are considering Disney Resorts, you might be interested in a few other reviews. I really enjoy staying at Coronado Springs Resort when it comes to the moderates. And you might even like the new Gran Destino Tower on that same property.
Related: Coronado Springs Resort Review
If you're wondering, the Beach Club is our favorite place to stay on property. And the Animal Kingdom Lodge is well consideration if you are looking for something a little unique and tranquil.
Additionally, Disney's Boardwalk Villas is a great option for being able to walk to Hollywood Studios.
The only thing I forgot to mention is that if you plan on staying at any of the deluxe resorts, make sure to allocate time to actually spend at the resort. There are so many amenities at each resort and that is what you are paying for when staying here.
If you have read any of my other resort reviews, you know that I warn you not to look longingly at your resort on your departure day. It's hard to leave vacation, wishing you had spent more time there.
Leave a comment below and let me know your thoughts on staying at the Grand Floridian Villas! Have you had a chance to stay here yet?