Disney's Grand Floridian Restaurants (A Resort Dining Guide)
In this article, we provide a list of the restaurants at Disney's Grand Floridian Resort and Spa, along with an overview of each one.
When it comes to dining options at Disney's Grand Floridian Resort, there are more than a few. This leaves you with some decisions to make when planning a stay at the resort.
Of course, if you're only visiting the resort for dining, the choices don't get any easier. Your decision will likely be decided by how much money you are willing to spend on a meal.
Thankfully, Grand Floridian's dining options range from an affordable counter service restaurant to one of the most upscale (and expensive) restaurants you can imagine. We'll discuss both more in detail as we continue.
With so many options, we've put together an updated dining guide for Disney's Grand Floridian Resort. We'll look at the resort's counter service, pool bars, table service, and signature dining locations.
By the time we're finished, you'll have a good idea of all your options. Unfortunately, however, the decision as to where to eat won't be any simpler.
Disney's Grand Floridian is unique because it has three fine-dining restaurants. For reference, all the deluxe resorts at Disney have a signature dining location. However, none of them have three!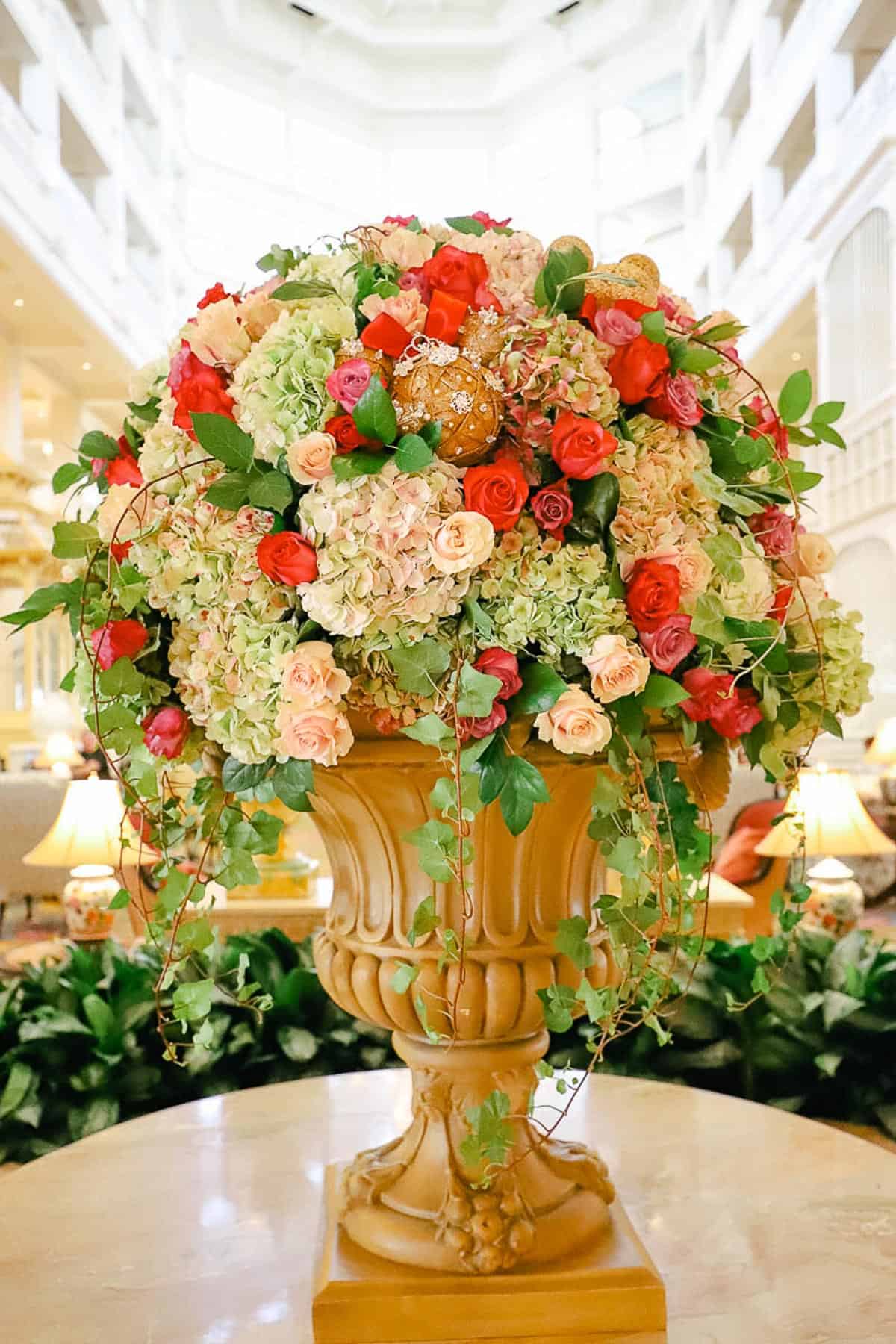 Grand Floridian Restaurants List
Below is a list of the restaurants at Disney's Grand Floridian Resort and Spa.
Gasparilla Island Grill
Grand Floridian Cafe
1900 Park Fare
Narcoossee's
Citricos
Victoria and Albert's
Enchanted Rose Lounge
Beaches Pool Bar
Courtyard Pool Bar
Garden View Tea Room
In-room dining (room service) is also available at Disney's Grand Floridian Resort and Spa.
*Disney Dining Plans are not available at the time of this update.
*As of this update, 1900 Park Fare has not reopened. Narcoossee's is undergoing a complete renovation but is set to reopen on April 1, 2023.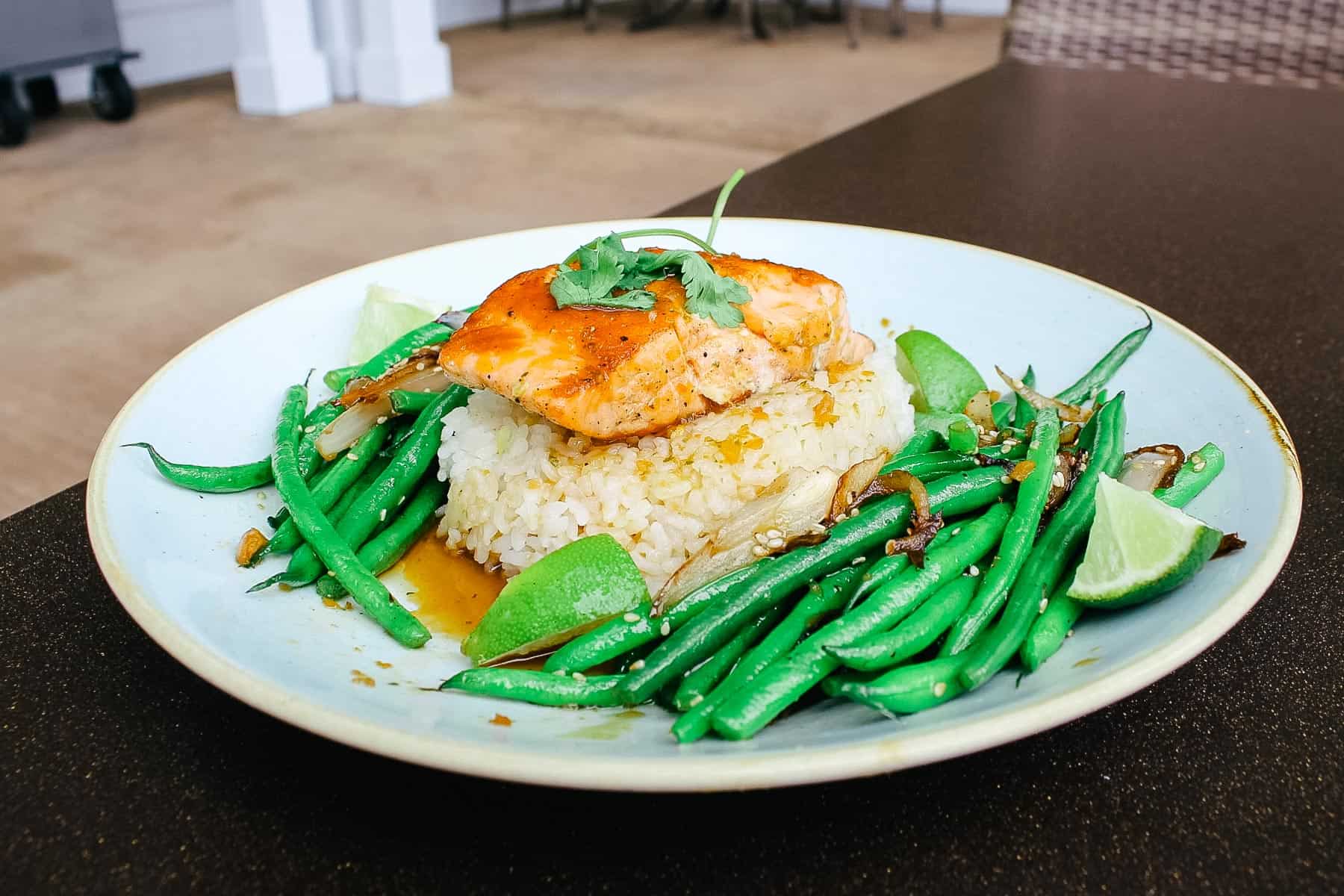 Gasparilla Island Grill
For starters, we have Gasparilla Island Grill, the Grand Floridian's primary quick-service restaurant. Since Grand Floridian is a deluxe resort, it does not have a food court like you would find at a value or moderate resort.
Gasparilla Island Grill is usually open daily between 6:00 a.m. and 12:00 a.m. They serve breakfast, lunch, and dinner. Additionally, they have various grab-and-go items and a late-night menu.
Items for breakfast include:
Breakfast Platter
Egg White Wrap
Mickey-shaped Waffles
Croissant Egg Sandwich
Acai Bowl
Oatmeal
The entire breakfast menu with prices is available here.
For lunch and dinner, you will find items like chicken fingers, burgers, flatbreads, and kids' meals. We recently stopped in for lunch and had one of their newer menu items, the Cuban sandwich.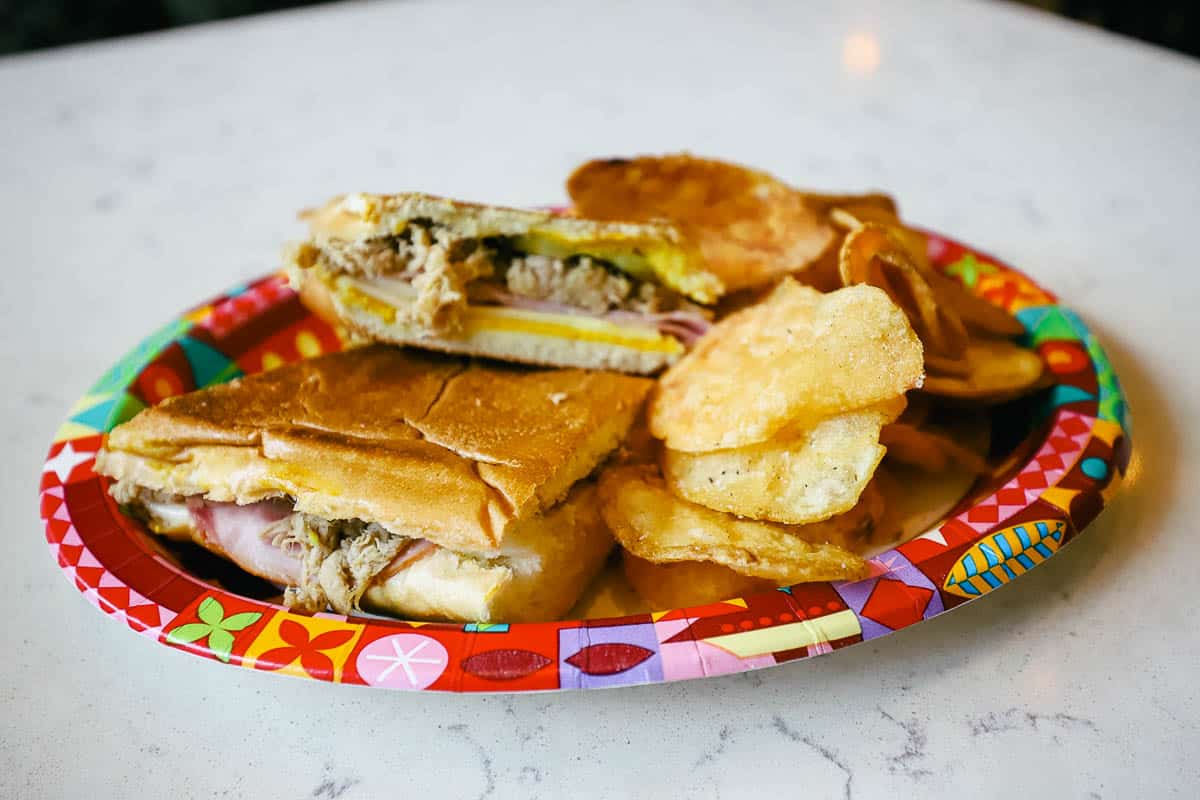 Below is a look inside Gasparilla Island Grill. You can use Disney's mobile order service to place an order, or you can order in person.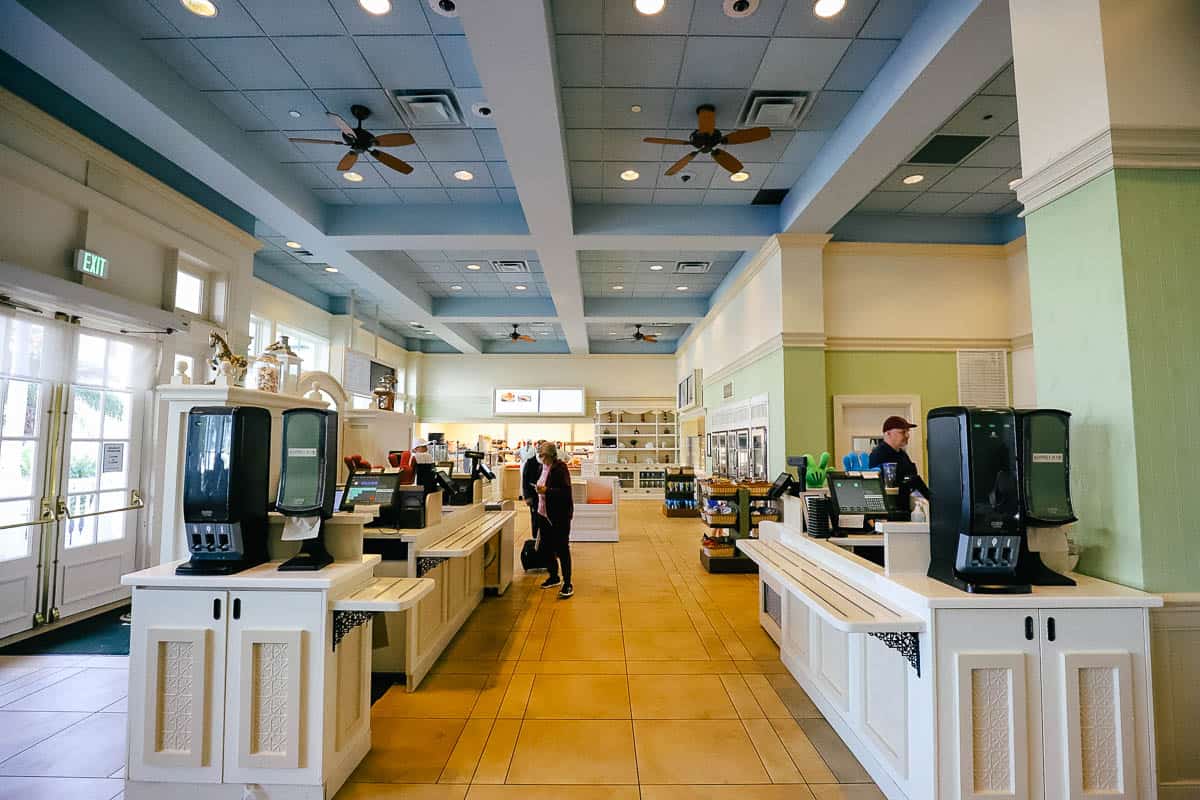 Mobile order is fast and extremely convenient. It also allows you to customize special orders. For instance, I ordered this sausage and peppers flatbread without the sausage.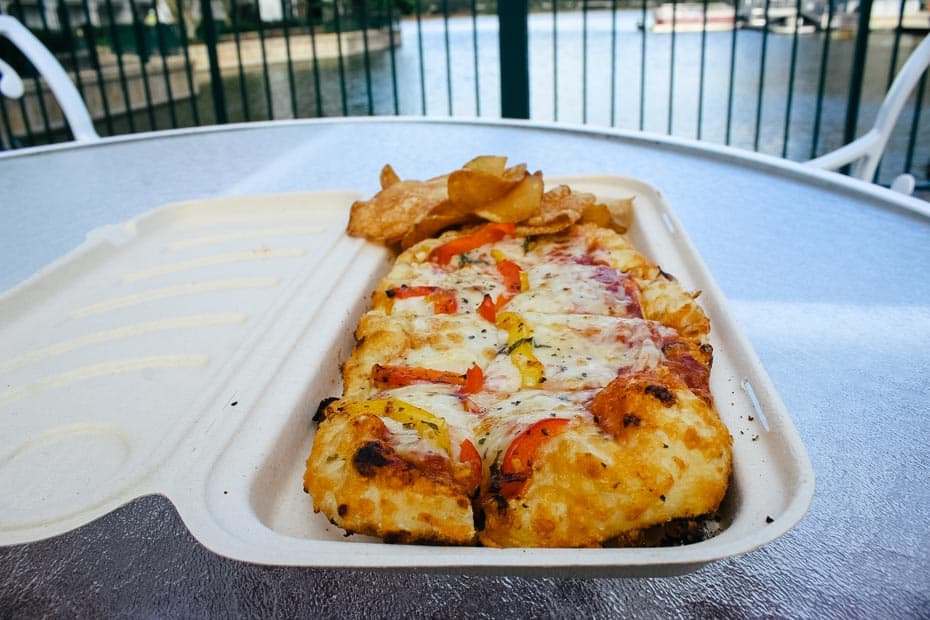 In addition, Gasparilla Island Grill has a specialty coffee menu. They had these options on our last visit:
Cold Brew
Expresso
Espresso Macchiato
Expresso con Panna
Americano
Cappuccino
Caffe Latte
Caramel Macchiato
Cafe Mocha
Frozen Blended Coffee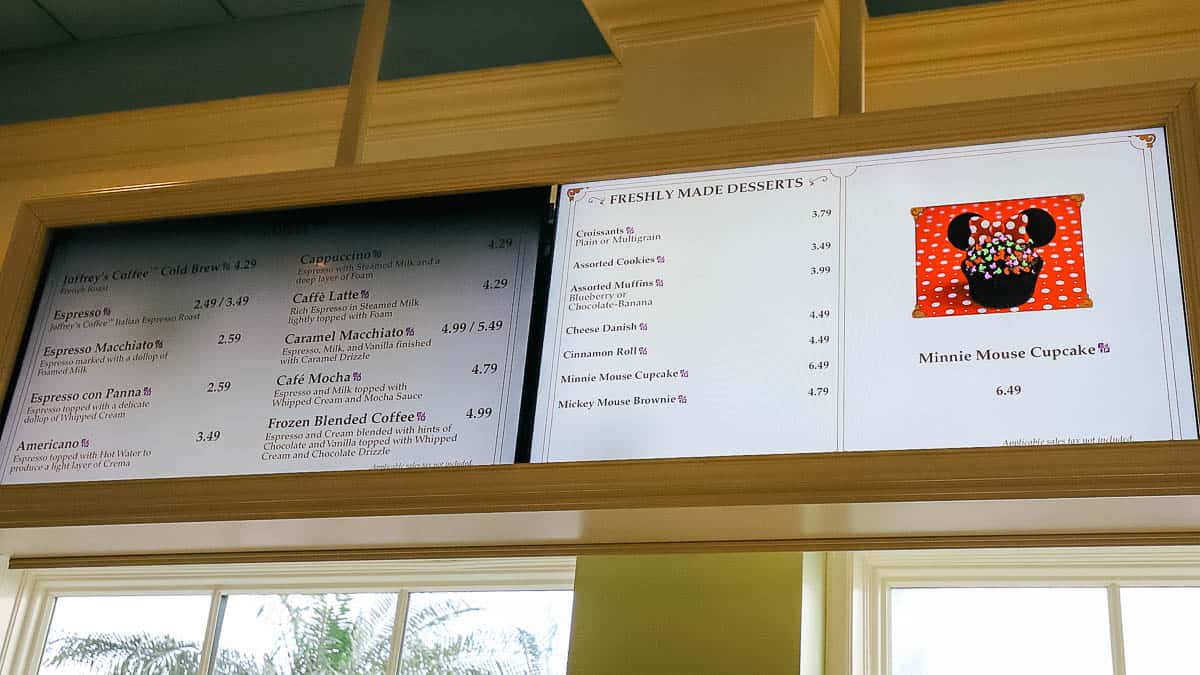 As far as dining goes, the counter service has a lovely outdoor patio in front of the restaurant.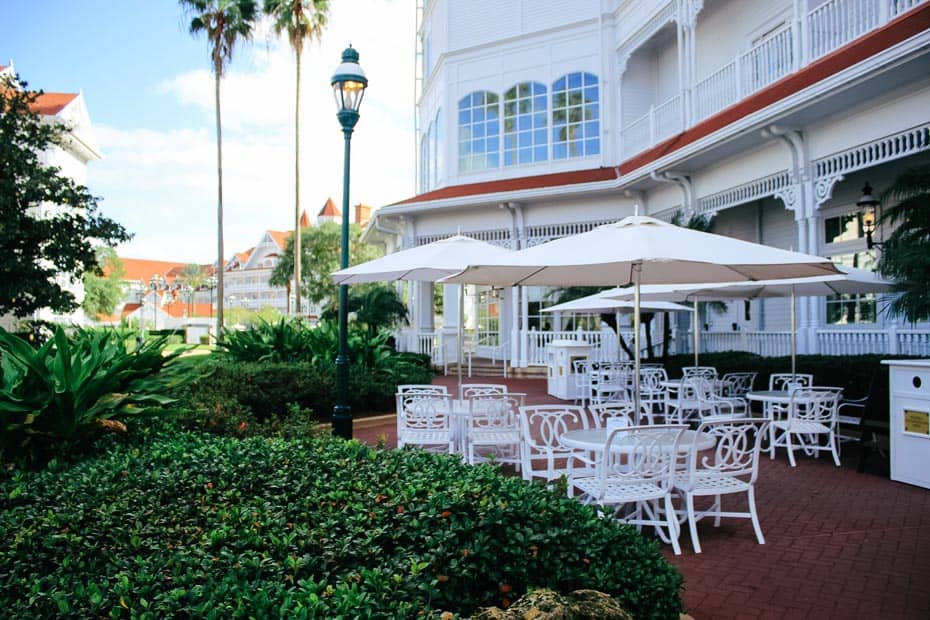 Or you might prefer to dine inside. Both options are pleasant, but dining outside is fun when the weather is pleasant enough.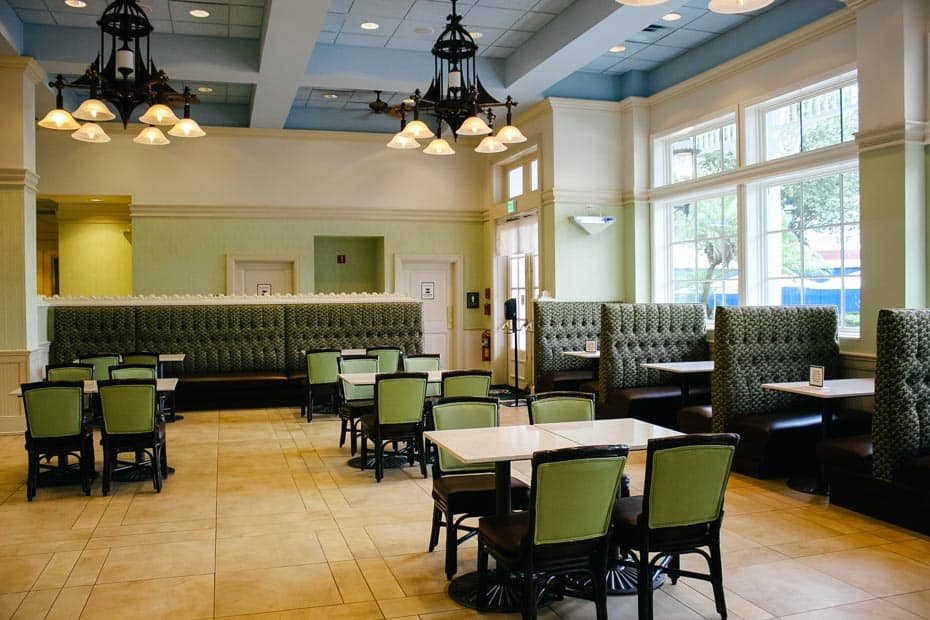 If you want to learn more, we have a review that includes photos of grab-and-go items, drinks, pastry cases, and other items available on our last visit.
Related: Gasparilla Island Grill Review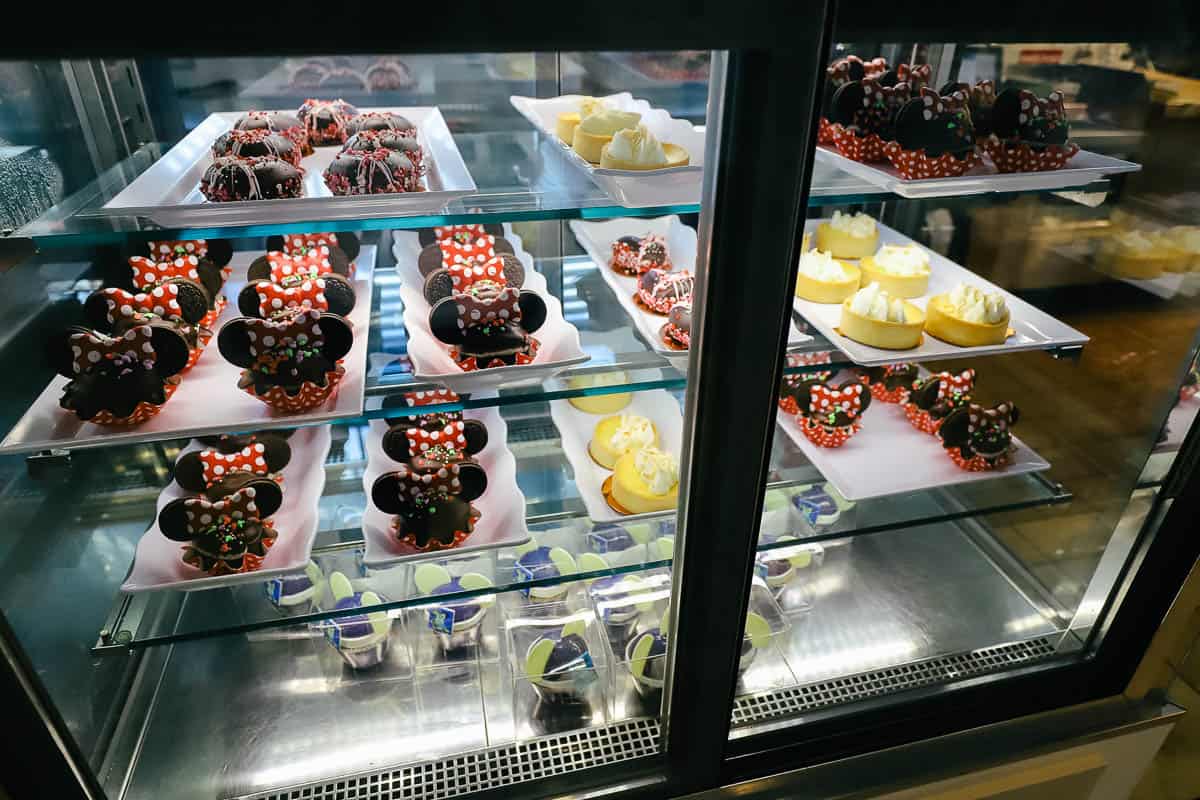 Grand Floridian Cafe
Grand Floridian Cafe is one of our favorite dining stops at the Walt Disney World Resort. We consider it a hidden gem.
You'll find this Grand Floridian restaurant toward the back of the resort's lobby by the large set of doors that lead outside. This location is open daily for breakfast, lunch, or brunch between 7:30 a.m. and 2:00 p.m. Then they close and reopen for dinner between 5:00 and 9:00 p.m.
One of our favorite things about this restaurant is the combined breakfast and lunch menu available during lunch hours. We love to plan brunch here on a day when we might sleep in or get a late start.
Breakfast menu items range from buttermilk-fried chicken and waffles to the Lobster Benedict. You can also order a hearty breakfast like The Grand Breakfast or keep it simple with pancakes.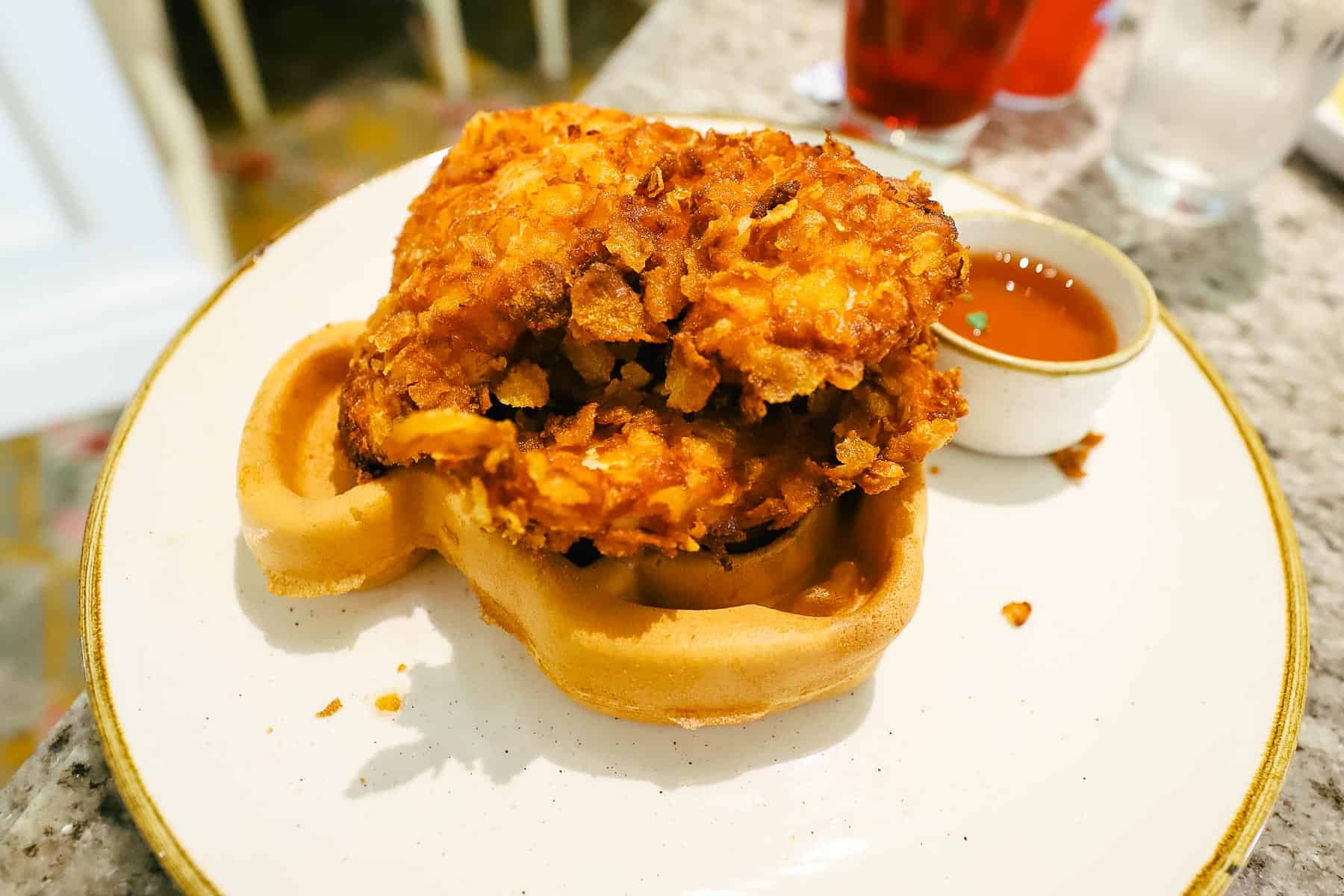 My son, who has food allergies, enjoys having Mickey waffles at lunchtime with sausage and bacon.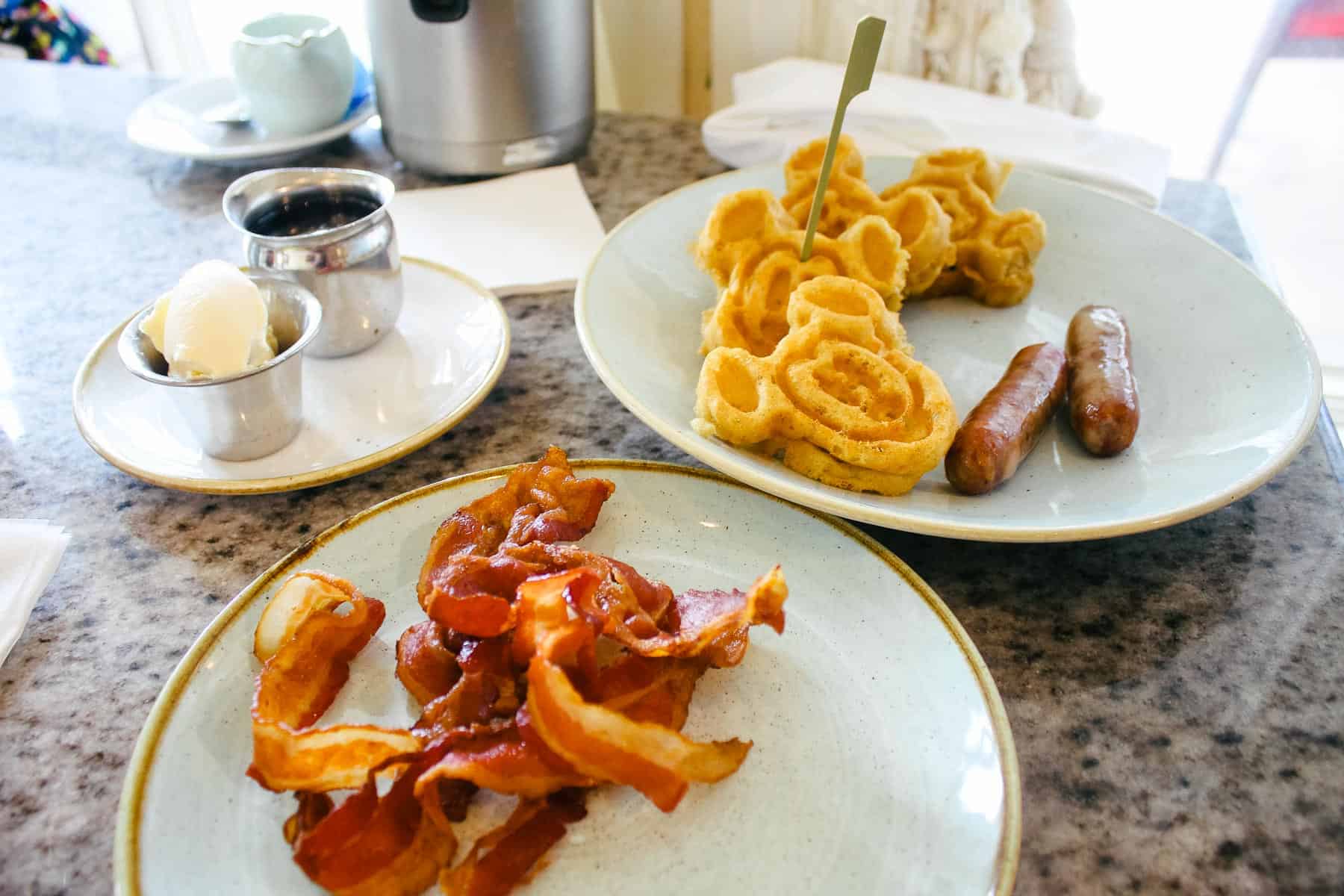 Another popular menu item is the cheesy hash brown casserole. So good!
Related: Best Breakfast at Disney World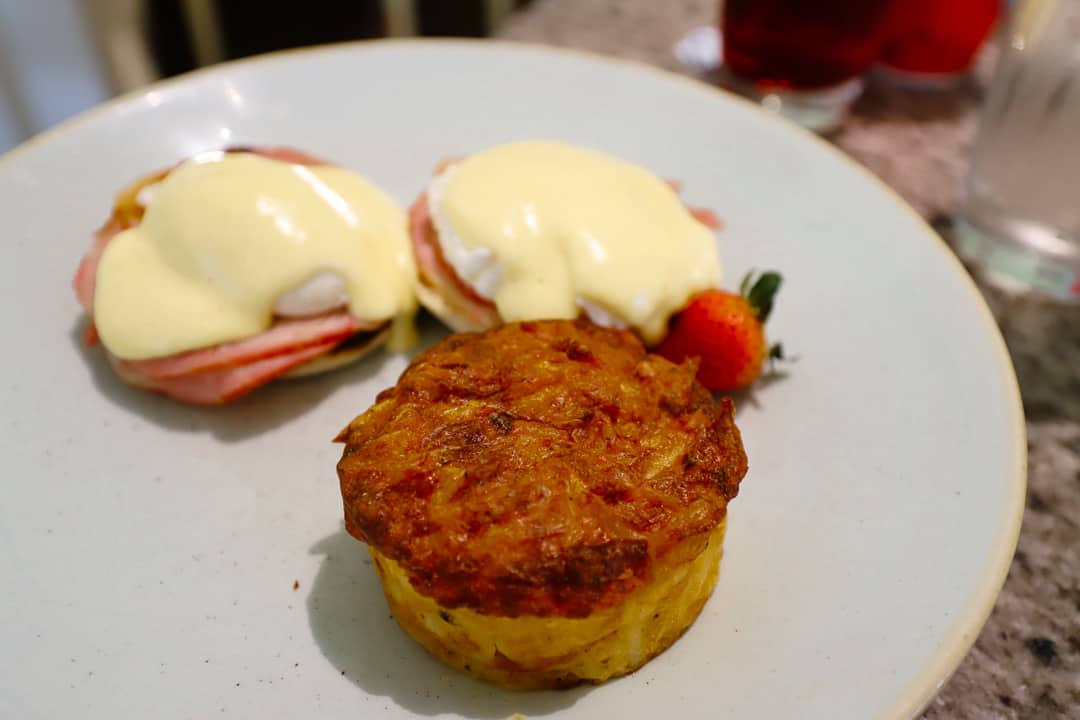 This chilled jumbo shrimp cocktail was out of this world good!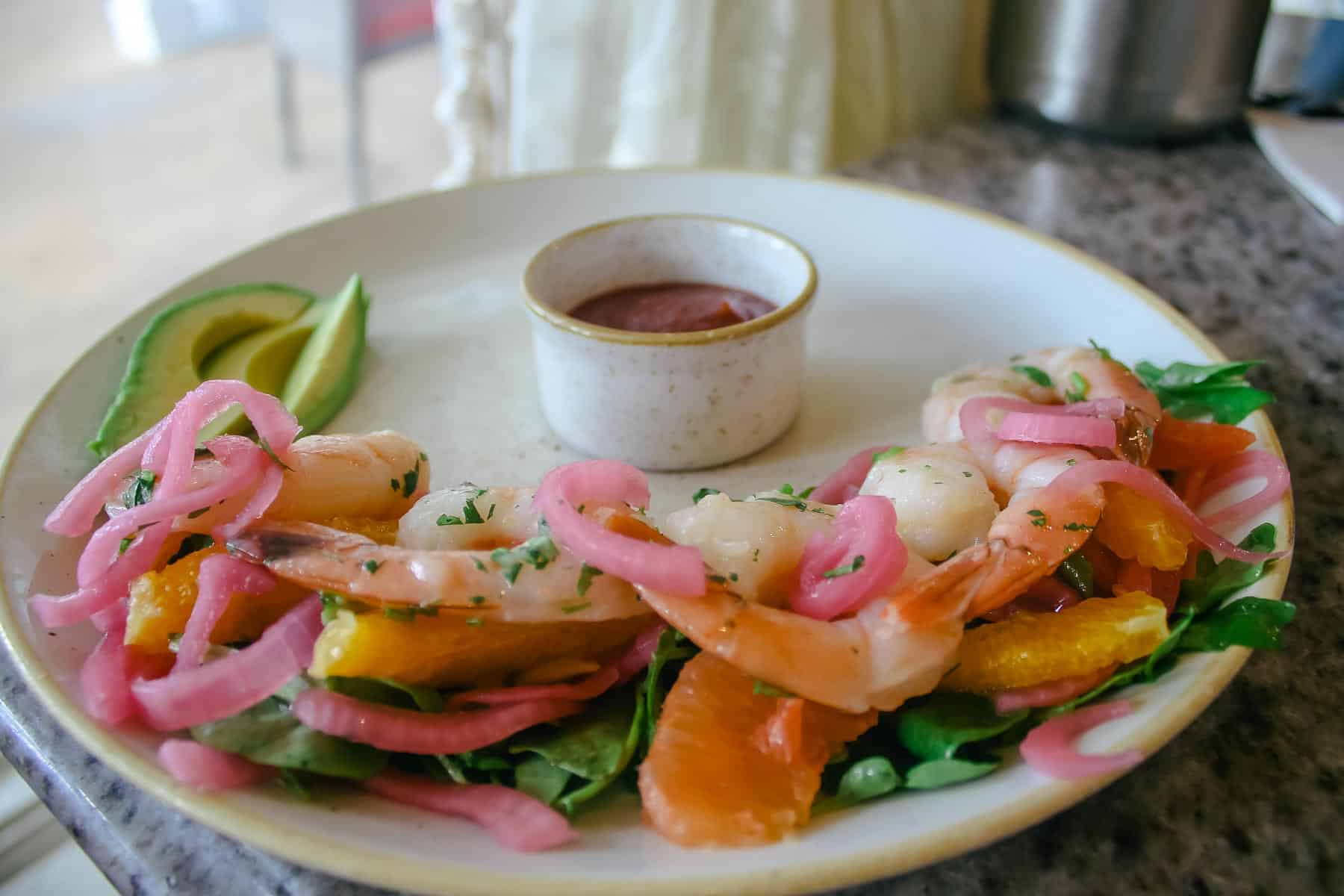 Other breakfast items include a Brioche French Toast, a regular Eggs Benedict, Banana Foster Steel Cut Oatmeal, Steak and Eggs, and Old-Fashioned Pancakes. You can preview the entire breakfast menu with prices on Disney's site.
Additionally, we've had regular lunch and dinner items at Grand Floridian Cafe. Here is the restaurant's take on an Impossible Burger. It's topped with caramelized onions and plant-based smoked gouda and comes with an order of French fries.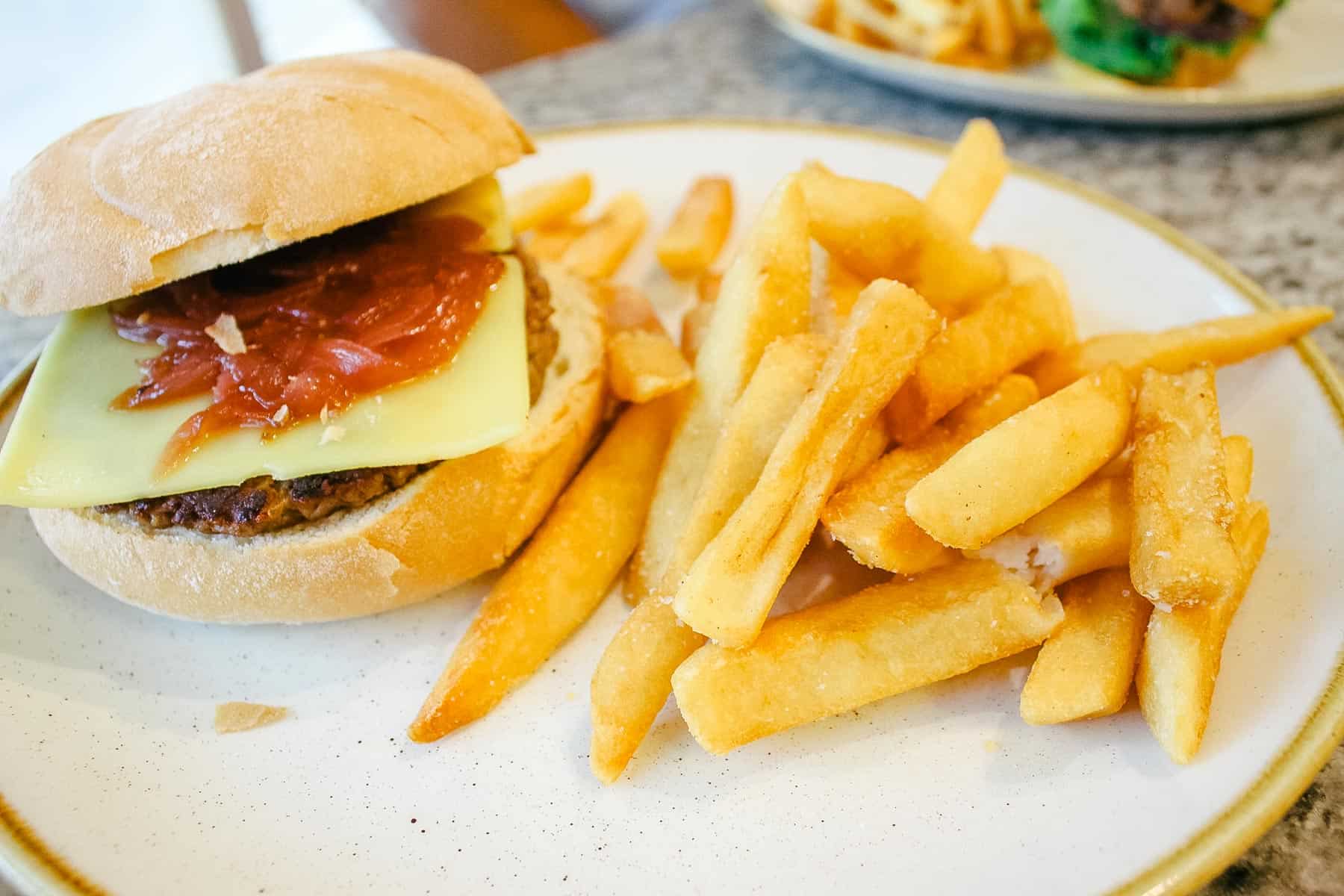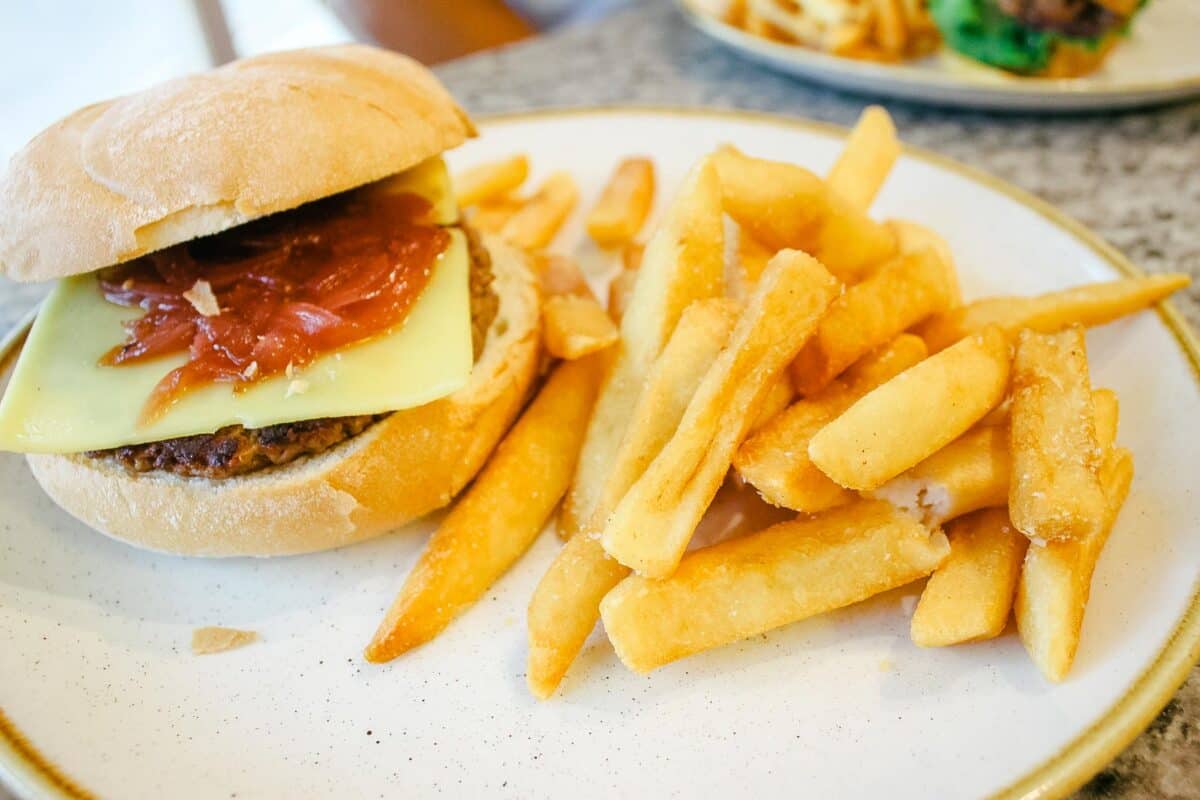 Additionally, one of our all-time favorite menu items is the Miso-glazed salmon. If you're looking for something healthy, this is a tasty dish.
Whether you are staying here as a guest or visiting for a meal, this Grand Floridian restaurant is an excellent option. If you want to learn more, both of our restaurant reviews are listed below.
Related Reviews: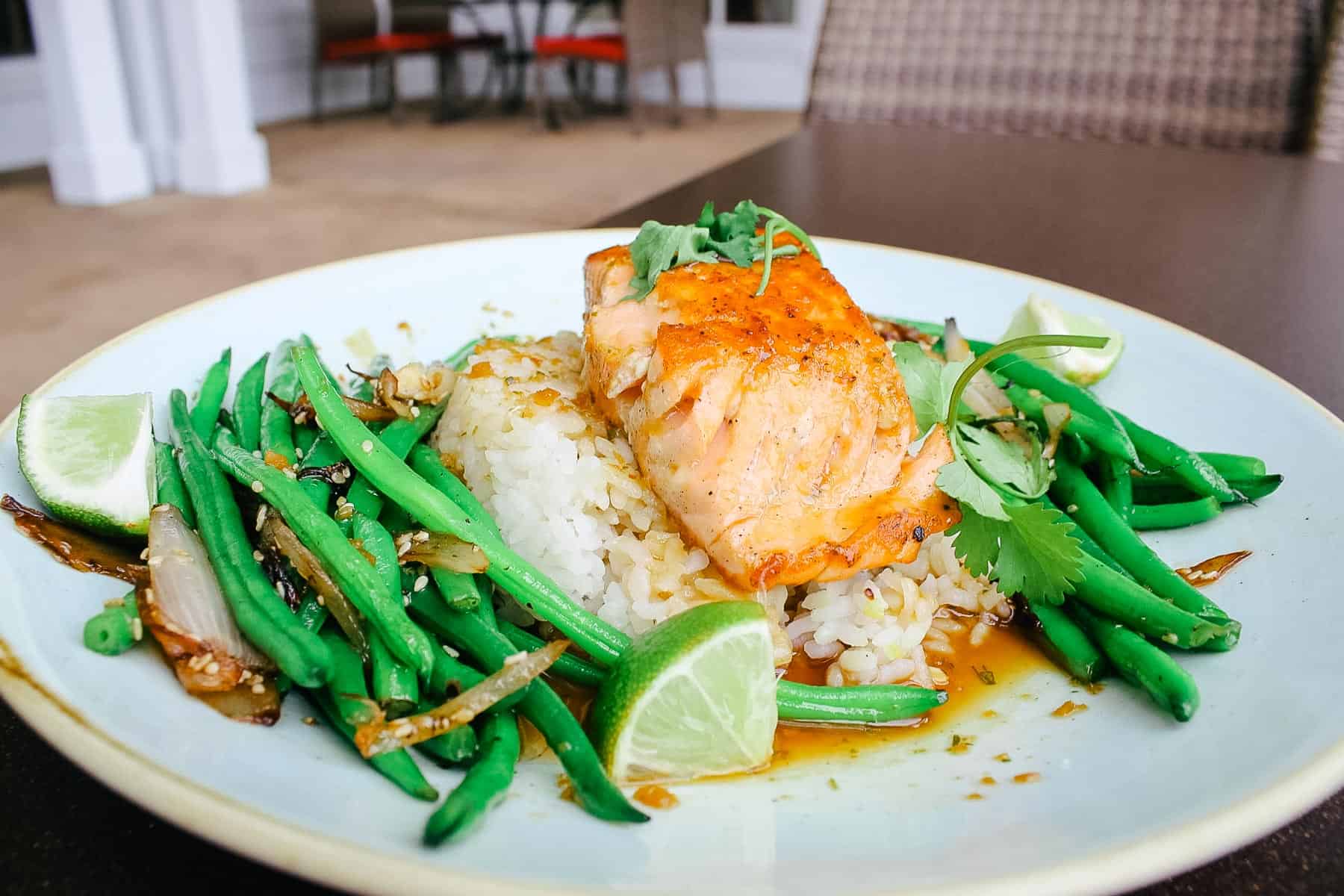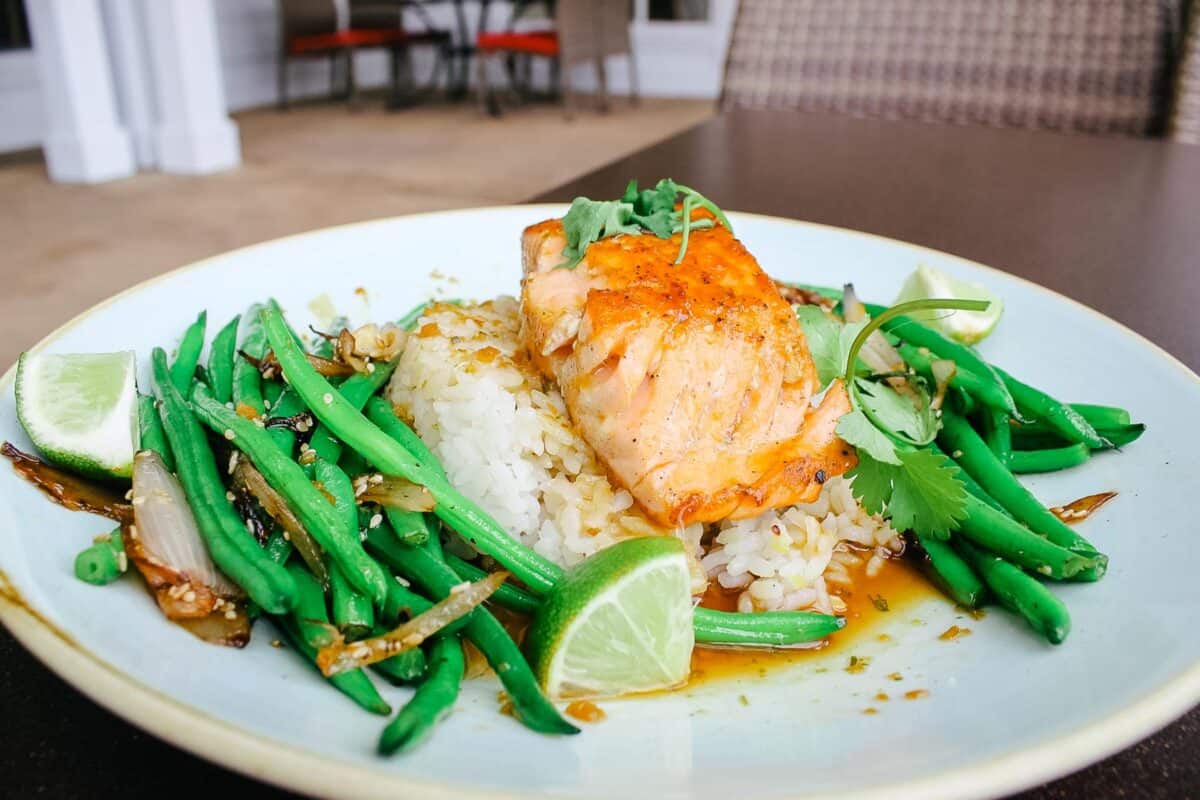 1900 Park Fare
*1900 Park Fare has been closed for several years as of this 2023 update. Many are hopeful that the restaurant will be remodeled and reopen when the resort's main building undergoes refurbishment later this year. However, Disney hasn't released any formal news for this location yet.
1900 Park Fare is the resort's character dining restaurant that featured two distinct meal options. The first option is the breakfast buffet at 1900 Park Fare. This is called the Supercalifragilistic Breakfast, and the following characters made appearances:
Mary Poppins
Alice
Mad Hatter
Winnie the Pooh
Tigger
Guests that visited for dinner attended Cinderella's Happily Ever After Dinner. These characters were present during that meal period:
Cinderella
Prince Charming
Lady Tremaine
Anastasia
Drizella
If you have the opportunity to enjoy character dining at the Grand Floridian, make sure to bring an autograph book and something to take photos with during the meal.
Photopass photographers are usually not present. So you'll want to take pictures of your children when the characters visit your table.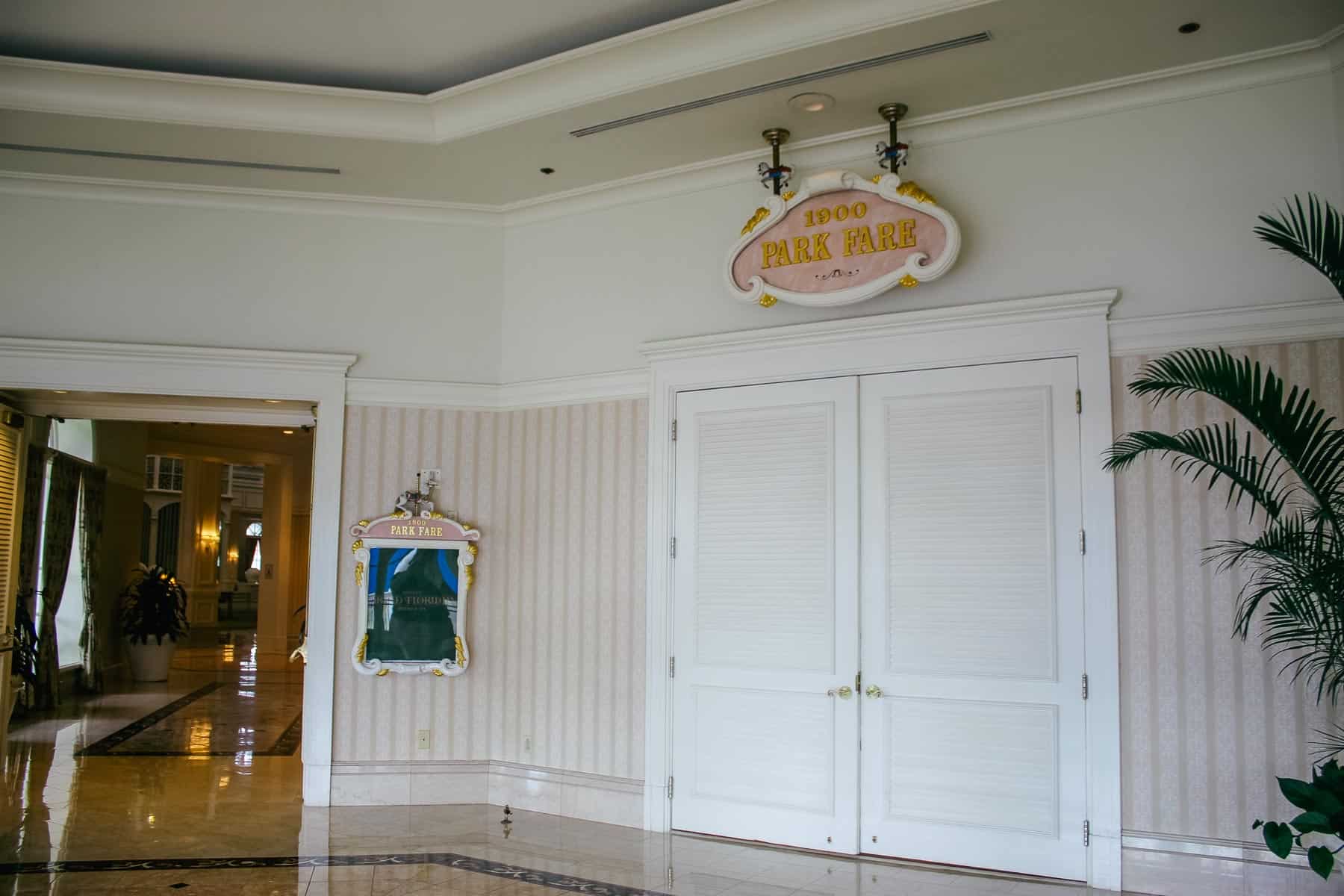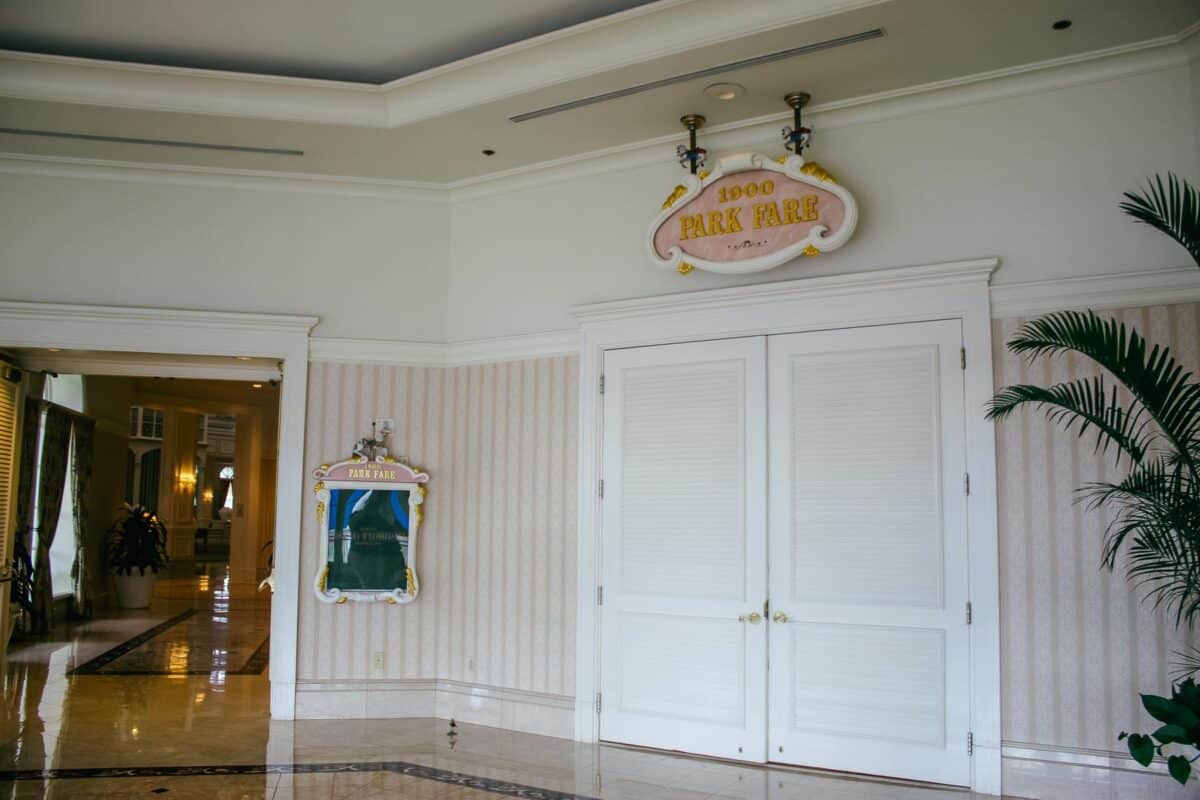 Narcoossee's
Narcoossee's is located next to the resort's boat dock. If you're traveling to the resort from the Magic Kingdom, the resort's boat service will drop you off immediately next to this Grand Floridian restaurant.
Narcoossee's is one of three signature dining restaurants at the Grand Floridian. They are typically open daily between 5:00 p.m. and 9:30 p.m.
Aside from the food, one of the perks of dining here is that if you time it right, you can enjoy a view of the Magic Kingdom fireworks from the restaurant's back deck. Music is streamed in the area, and you'll have a unique viewpoint from what you would in the park.
You might also have the opportunity to see the Electrical Water Pageant drift by, depending on the timing of your reservation.
Narcoossee's will debut new menu items when they reopen. A few highlighted include:
Blackened Redfish
Roasted Vegetable Paella (Plant-Based)
Dry-aged Pork Rib-Eye Chop
Plancha-Seared Scallops and Parisian Gnocchi
Almond-crusted Cheesecake
Berry Pavlova
You can preview the entire menu with prices here on Disney's site.
Related: Disney World Signature Dining Guide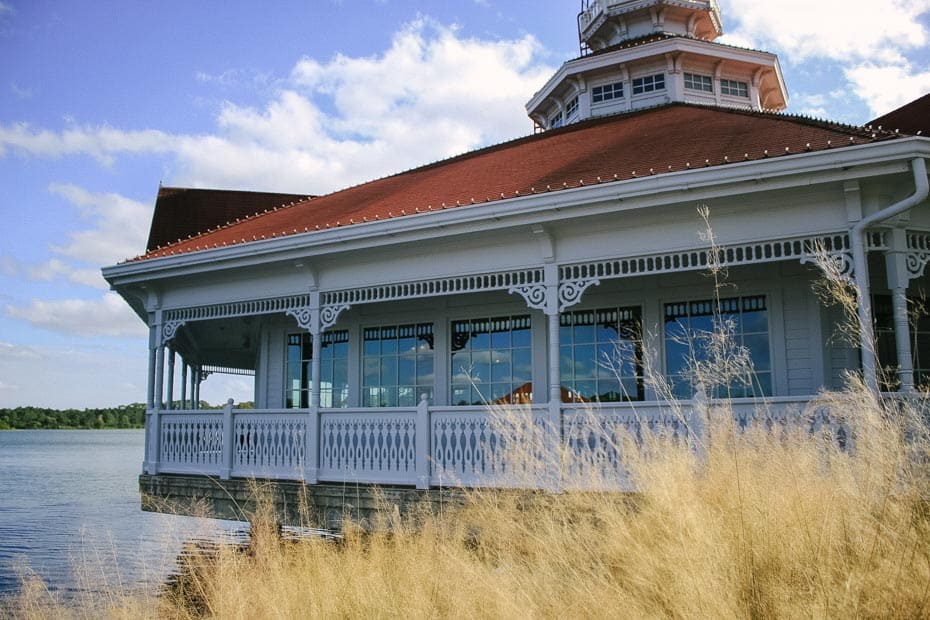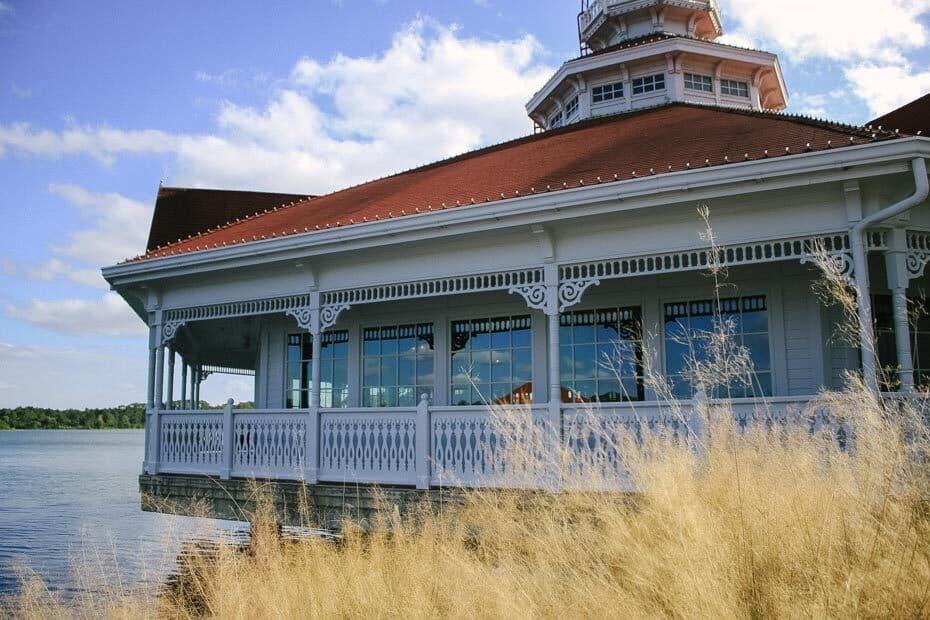 Citricos
Citricos is the second signature dining restaurant at Disney's Grand Floridian. This restaurant has been remodeled in recent years and features a touch of elegant Mary Poppins theming.
Since they reopened, the restaurant tends to get rave reviews. However, we haven't revisited the restaurant since its remodel.
Citricos is open daily for dinner service between 5:30 p.m. and 9:00 p.m. This restaurant is located off the second floor of the Grand Floridian's main lobby.
Additionally, Citricos has a bar and lounge area that takes walk-ups. So if you have trouble securing a reservation, you might ask if there is room to dine in the lounge.
Signature menu items include:
Oak-grilled 12-oz Prime New York Strip Steak
Guava Barbecued Short Ribs
House Made Rigatoni
Orange Blossom Flan
Apple Rose
You can preview the entire menu with prices here on Disney's site.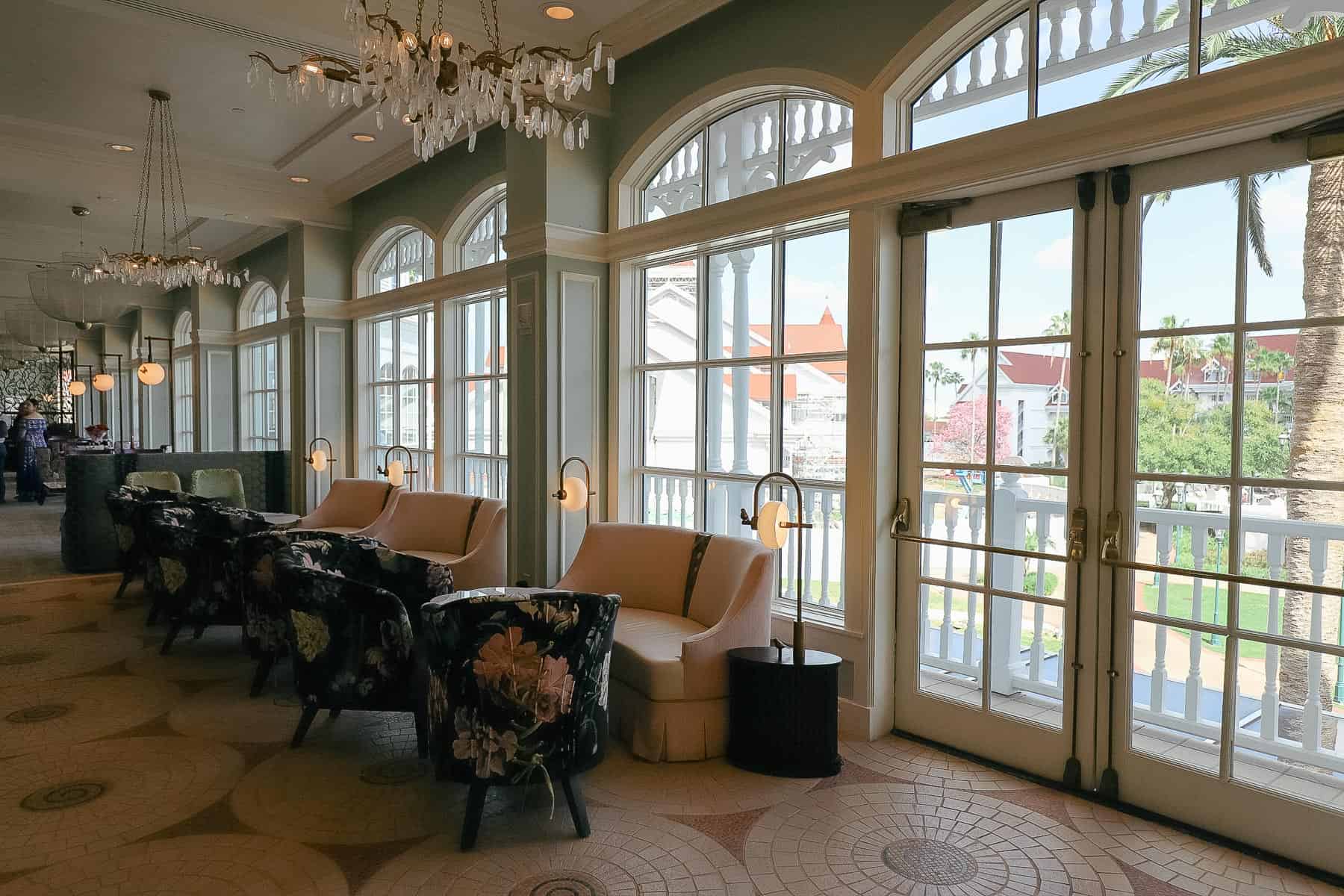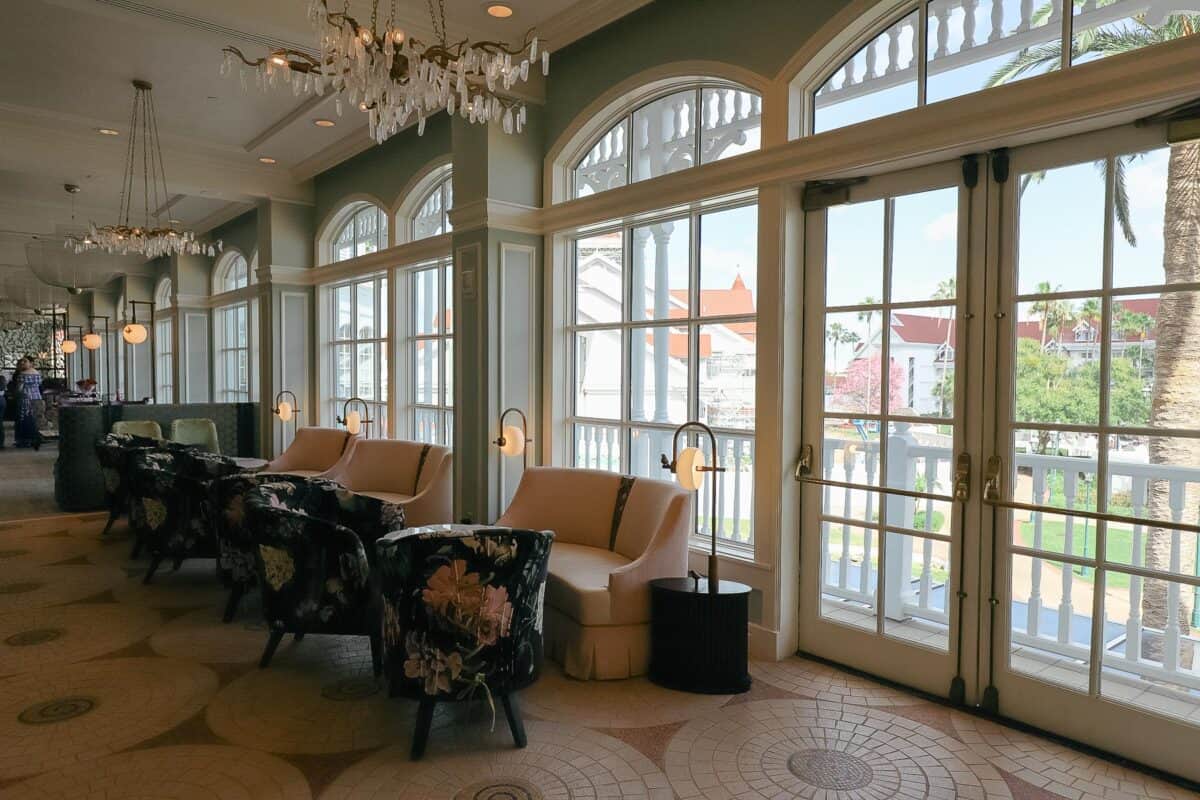 Victoria and Albert's
Victoria and Albert's sits adjacent to Citricos. This Grand Floridian restaurant offers the most exclusive dining experience in the entirety of the Walt Disney World Resort.
Guests can expect to pay upwards of $200.00 per person for this lavish meal that includes many courses. Guests can choose between three dining options when making reservations:
The Dining Room
Queen Victoria Room
Chef's Table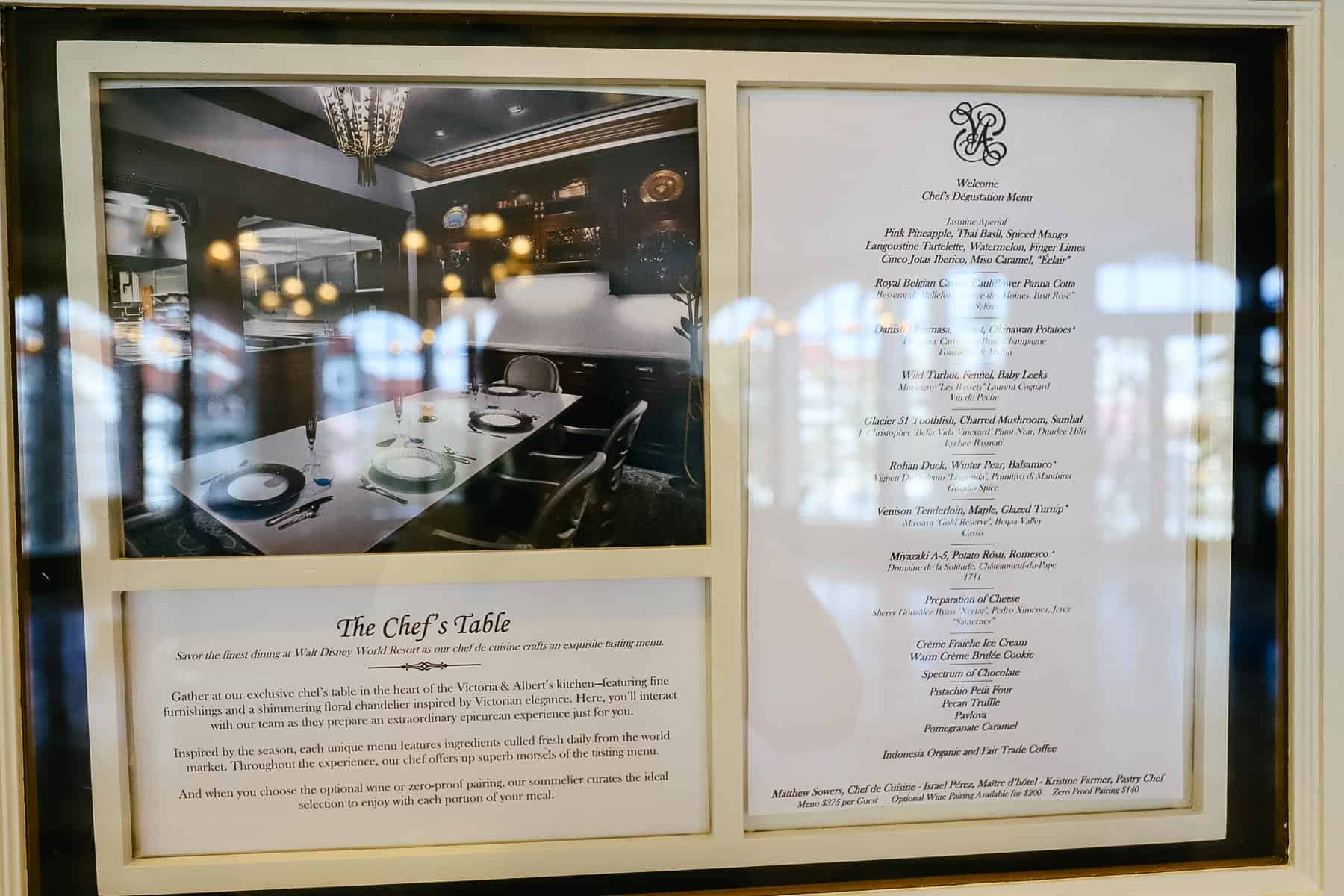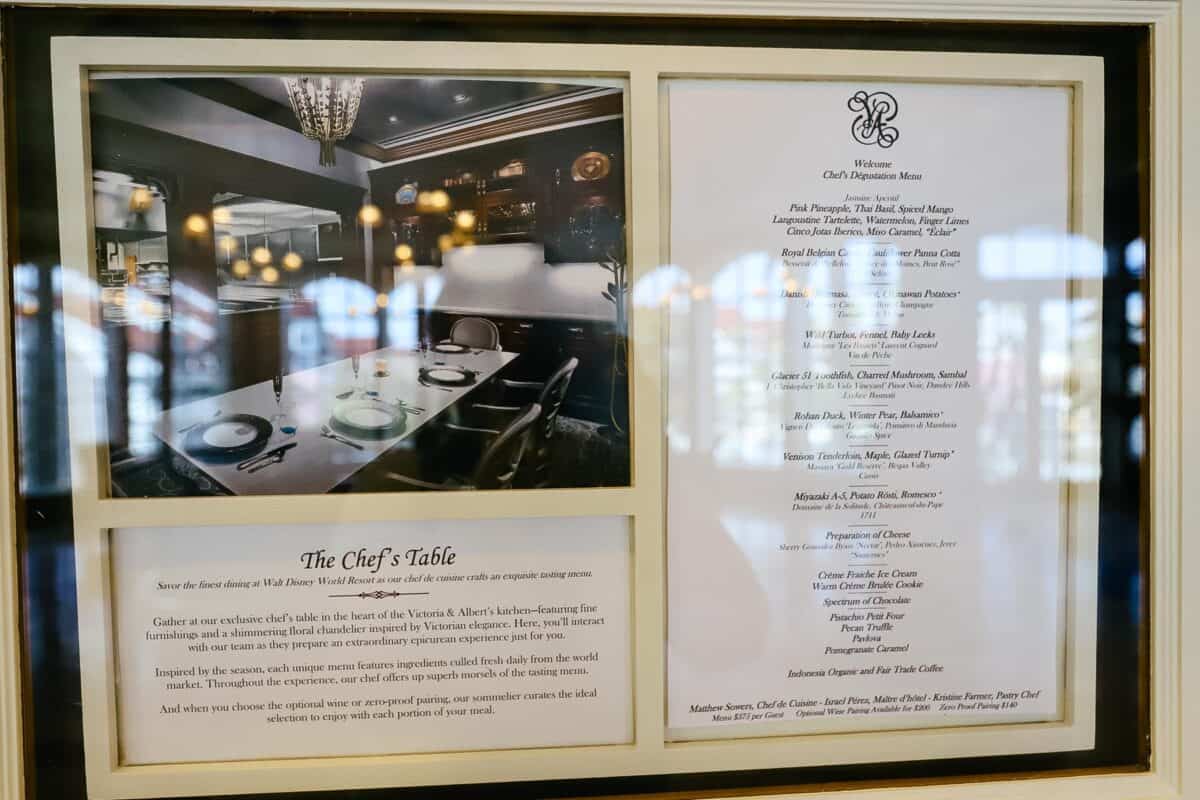 As with any experience of this caliber, the menu changes based on the seasonality of food items. Below is a picture of the menu posted outside the restaurant on my last visit.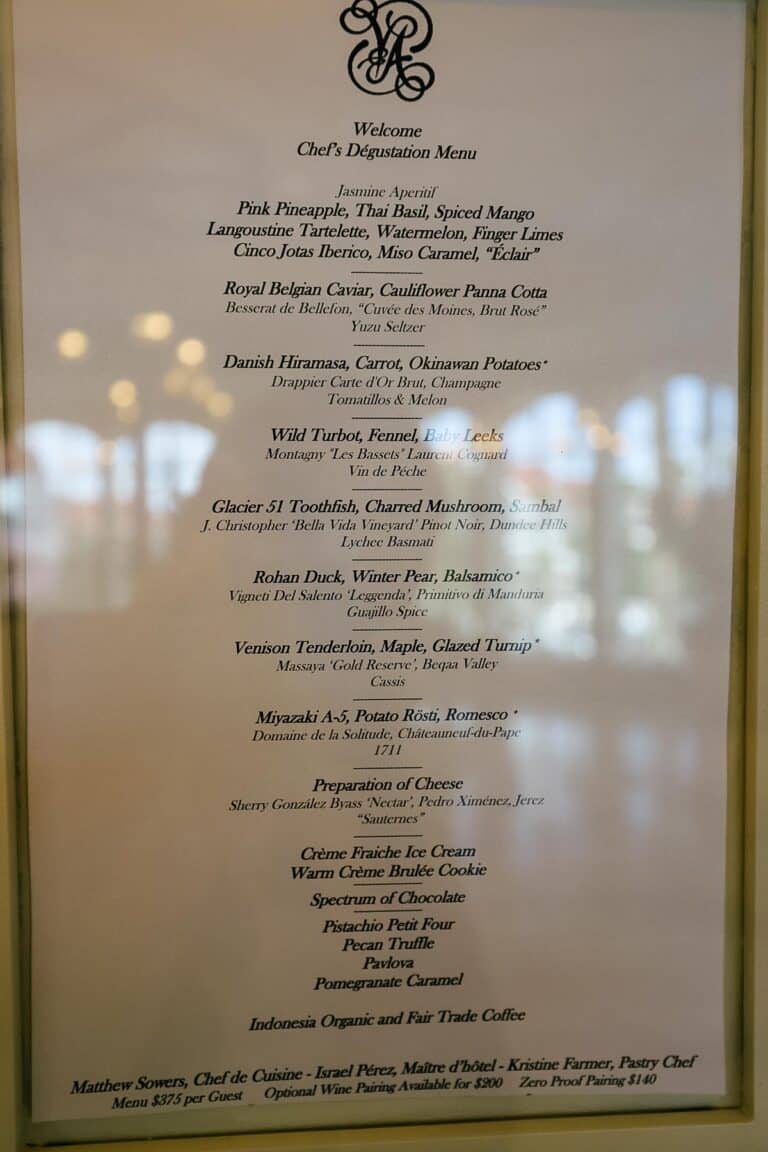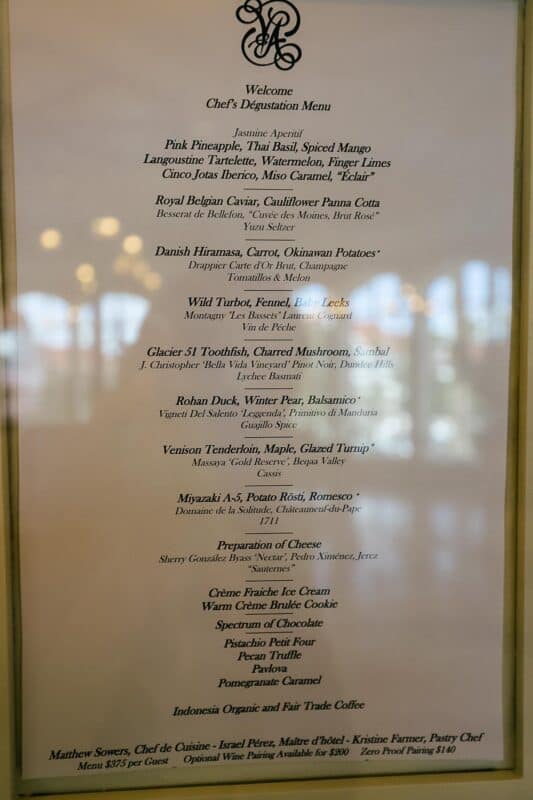 Here are a few of the restaurant's facts and accolades:
Victoria and Albert's has been a AAA Five Diamond Award Recipient since 2000
Chef Scott Hunnel has been a James Beard Foundation award nominee for best chef in the South.
Victoria & Albert's is an exquisite and intimate upscale dining experience and the culinary crown jewel of Walt Disney World Resort. Guests are expected to dress accordingly in semi-formal/formal attire that respects the restaurant's elegant and opulent aesthetic.
A $100-per-person cancellation fee will apply for cancellations within five days of reservation. The full price will be charged if canceling within 24 hours or a no-show for the reservation.
Valet parking is available for guests dining at no additional cost.
If you would like to learn more about dining at Victoria and Albert's, try here on Disney's site.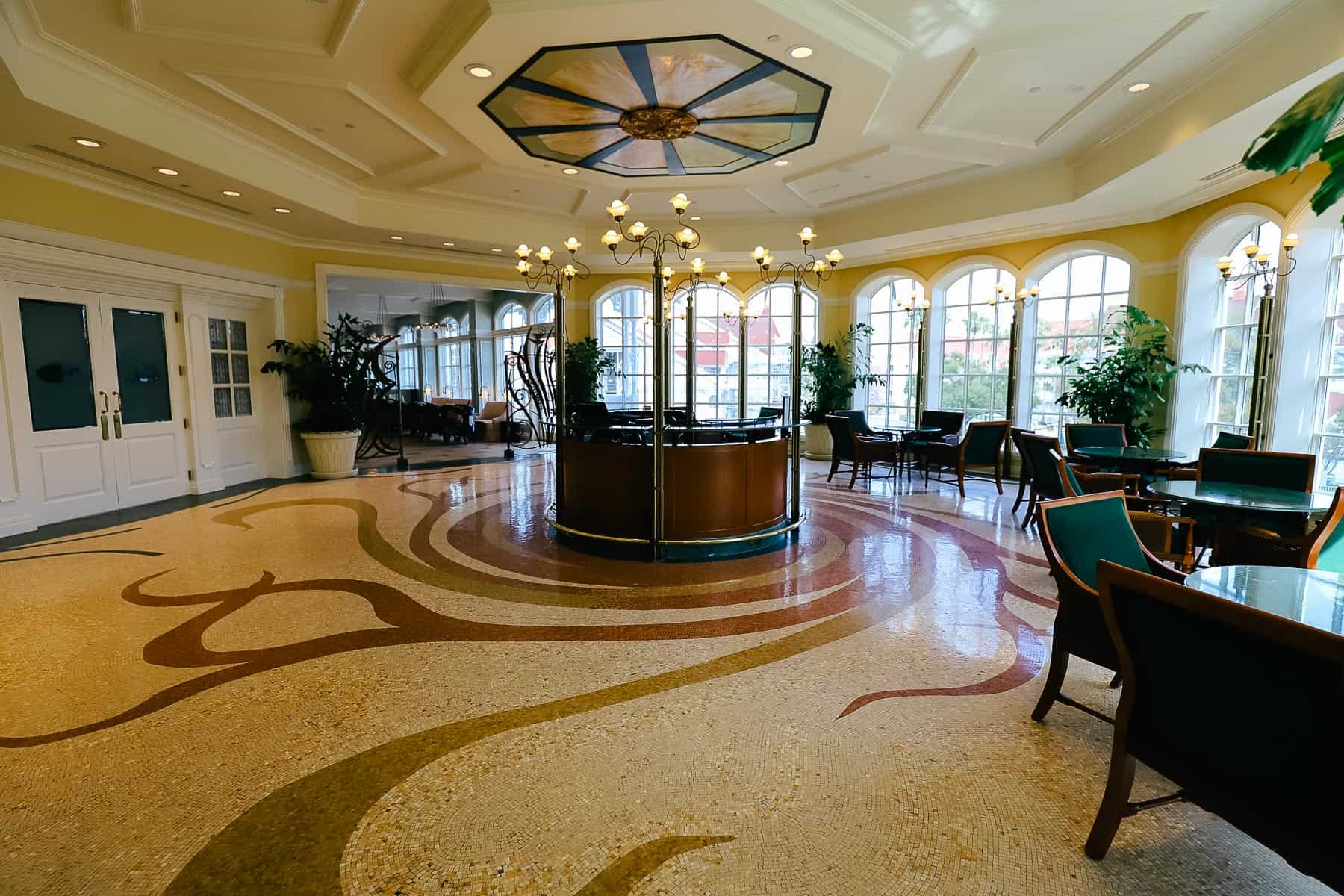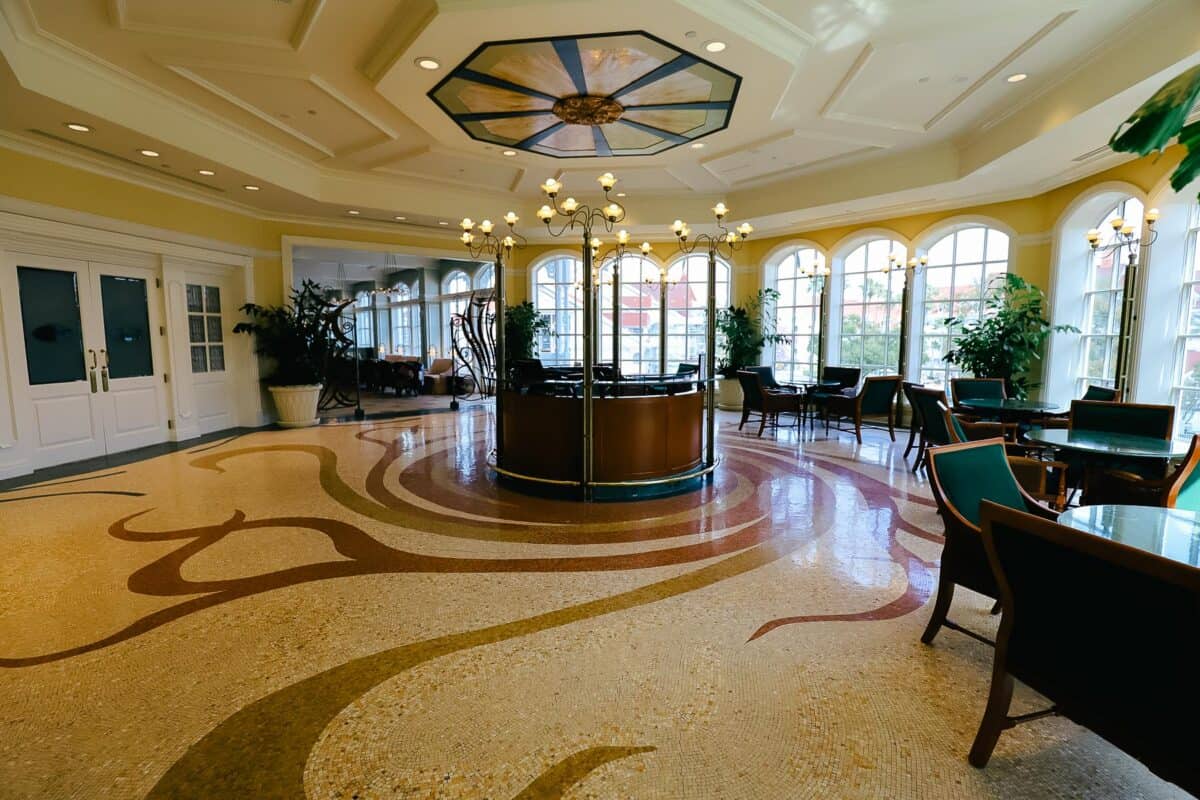 Enchanted Rose Lounge
Enchanted Rose Lounge serves as the formal lounge for Disney's Grand Floridian Resort & Spa. This location has quickly become a favorite with its charming aesthetic.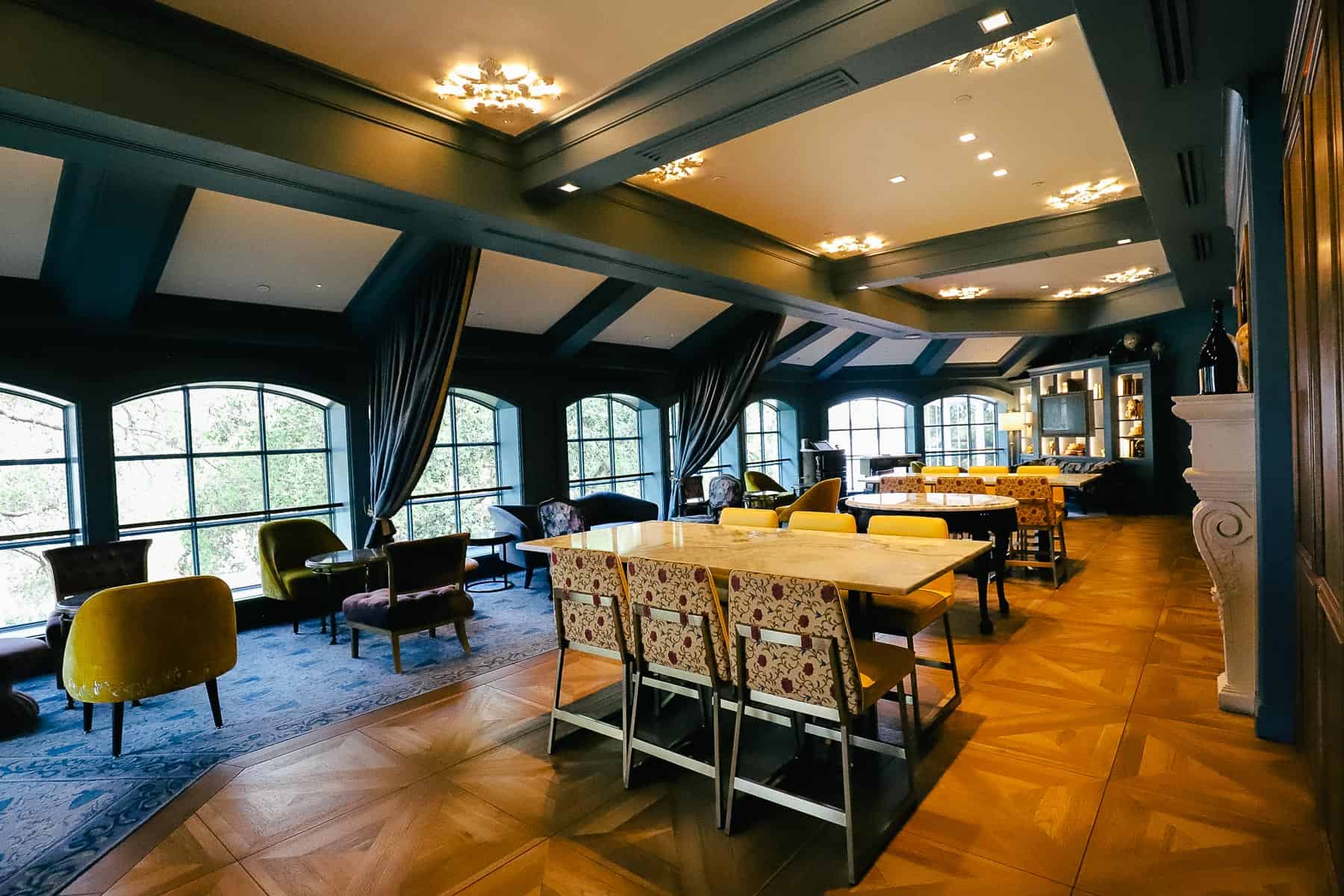 This Beauty and the Beast-inspired lounge features French and Baroque details. A formal bar is centered underneath the light of a chandelier that pays homage to Belle's yellow evening gown.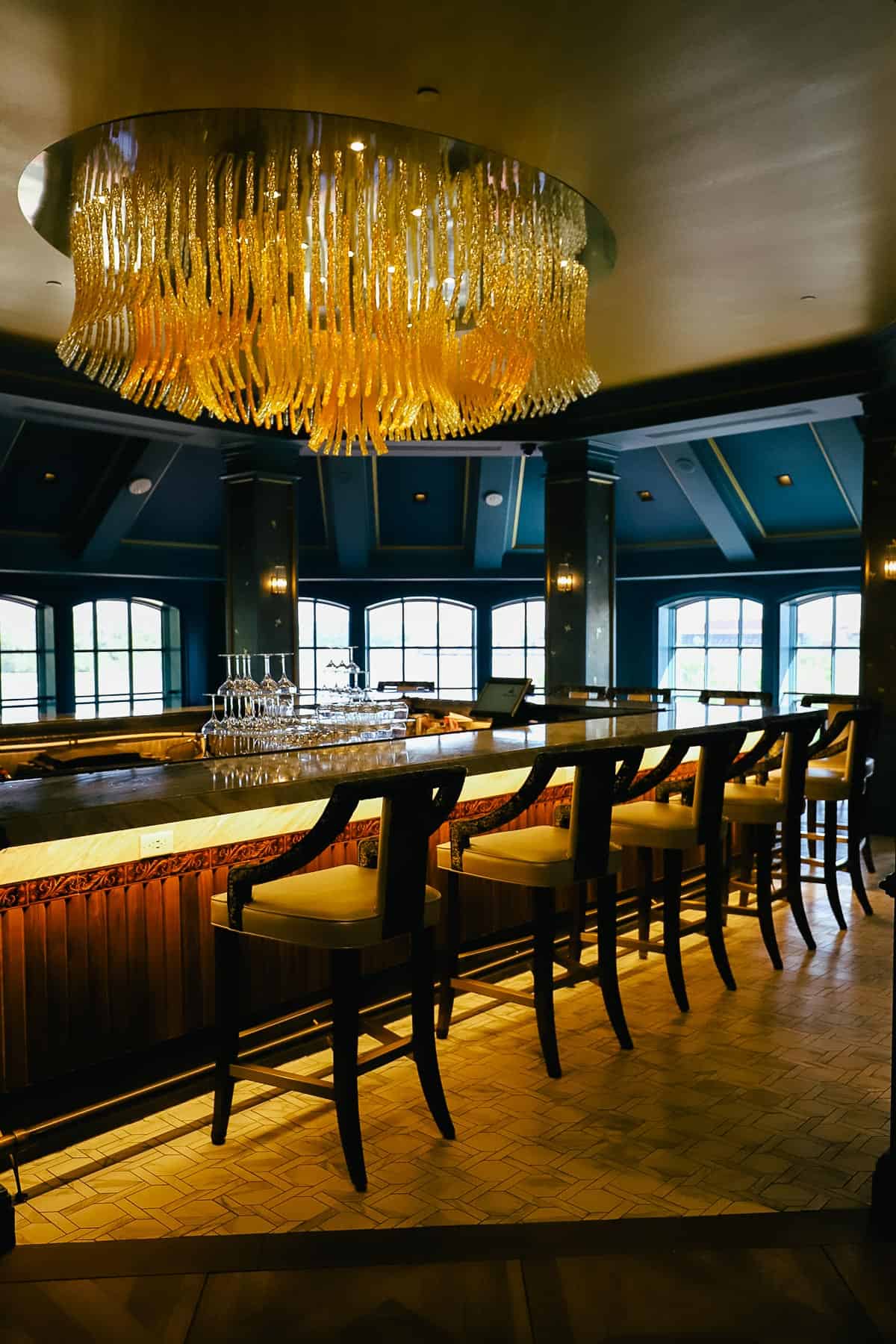 The lounge area offers inviting spaces with a charming library-like feel.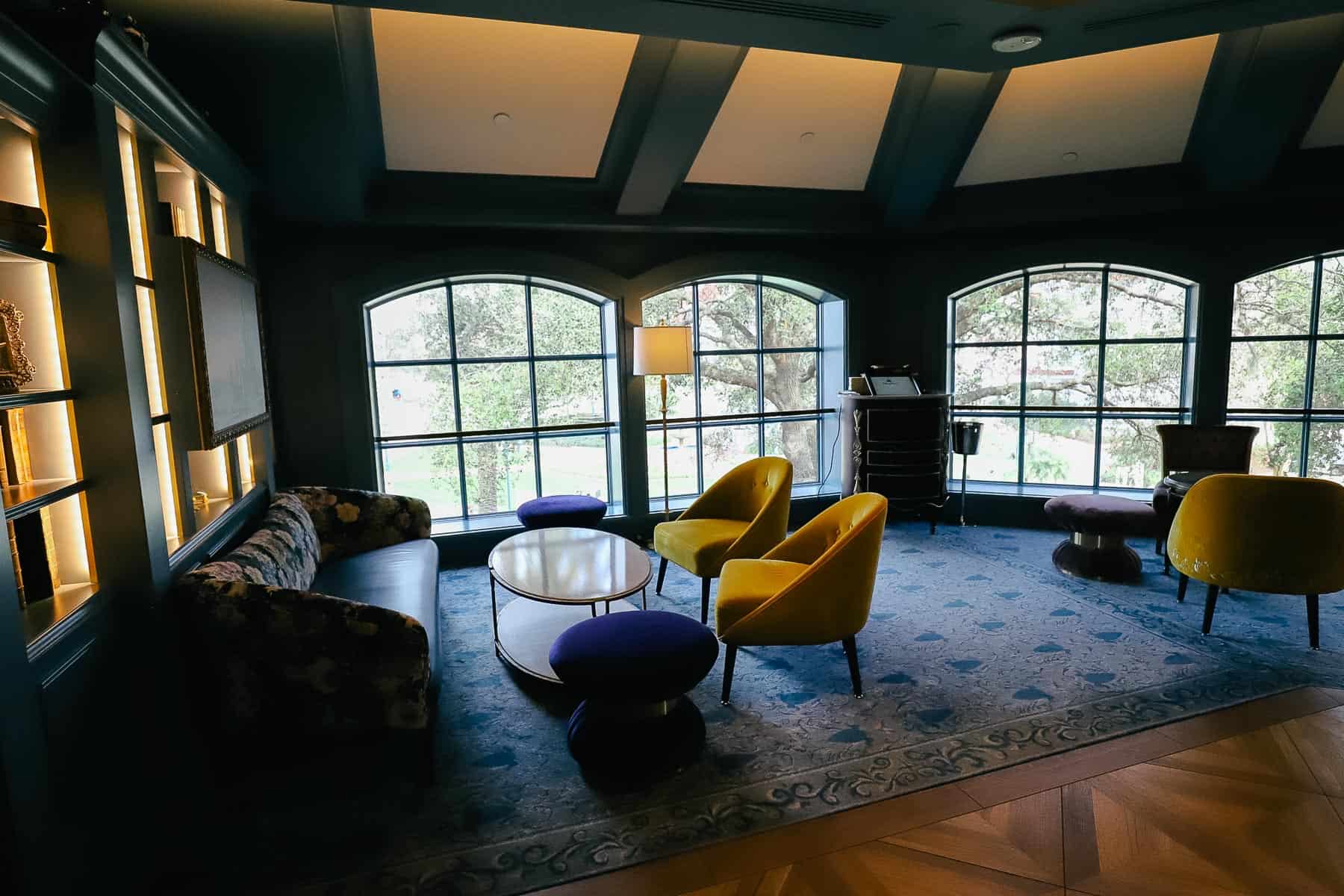 Menu highlights include crab mac and cheese, truffle fries, and brisket sliders. Those fries are among the best I've ever had.
Related: Enchanted Rose Lounge Review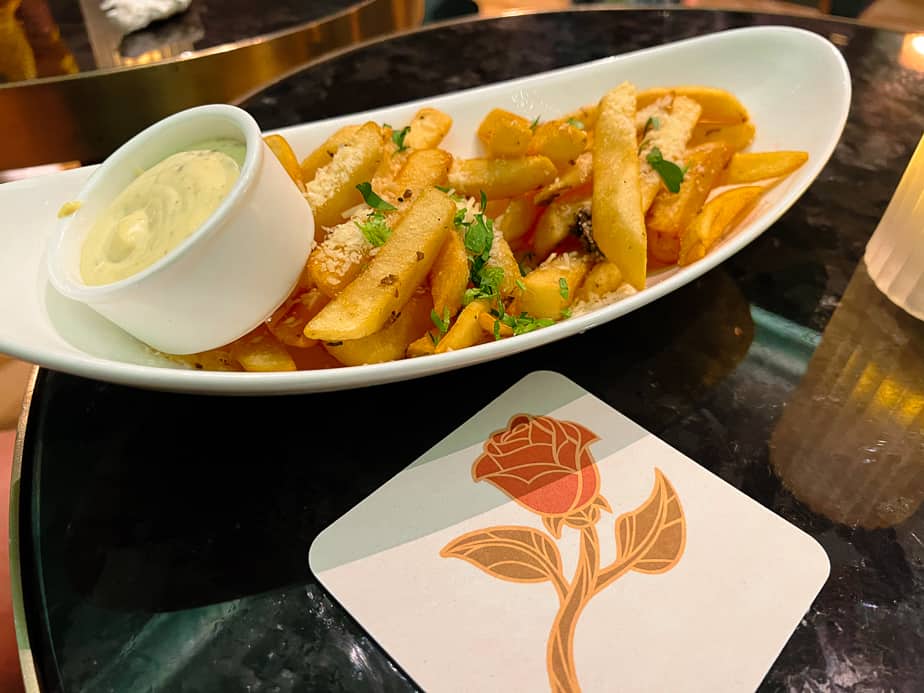 Beaches Pool Bar
Disney's Grand Floridian is home to two pools, which means there are two pool bars. First, there's the Beach Pool, which is immediately next to the Grand Floridian Villas.
Beaches Pool Bar and Grill serves as the pool bar and secondary resort quick service. Their menu contains a variety of items, including:
Island Chicken Caesar Salad
Shrimp Sliders
Chicken Strips
Artisanal Burger
They also have a few kids' meal options and a separate outdoor dining area. You can preview their entire menu with prices here on Disney's site.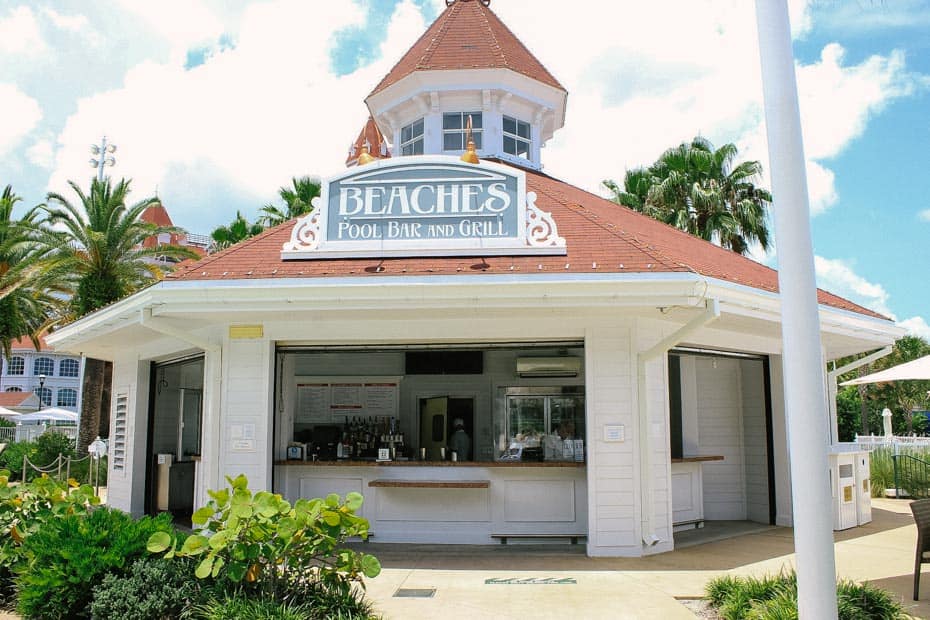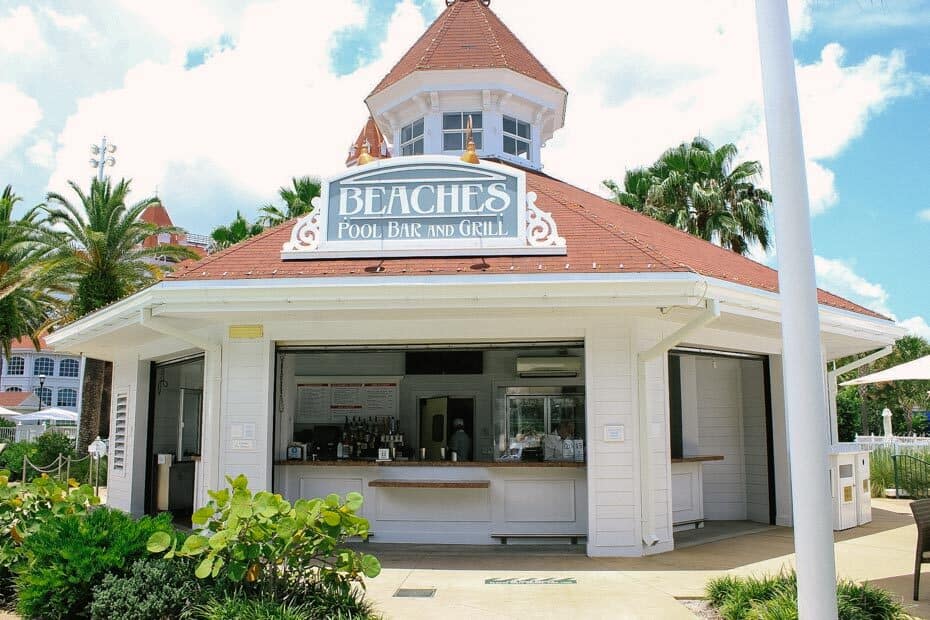 Courtyard Pool Bar
Additionally, the Courtyard Pool sits directly behind the resort's main lobby. So the Courtyard Pool Bar sits toward the back of the pool.
This menu has some of the items you might find at Gasparilla Island Grill. Since the counter service is only a few steps away, we usually order something from Gasparilla and bring it to the pool.
Here are a few items listed on the current menu:
Caprese Sandwich
Gourmet All-Beef Hot Dog
Italian Sandwich with Chips
You can preview the entire menu with prices here or in the My Disney Experience app.
Overall, between Beaches and the Courtyard Pool Bar, guests can enjoy salads, sandwiches, and cocktails. Or you can always order something from Gasparilla Island Grill.
Related: The Pools at Disney's Grand Floridian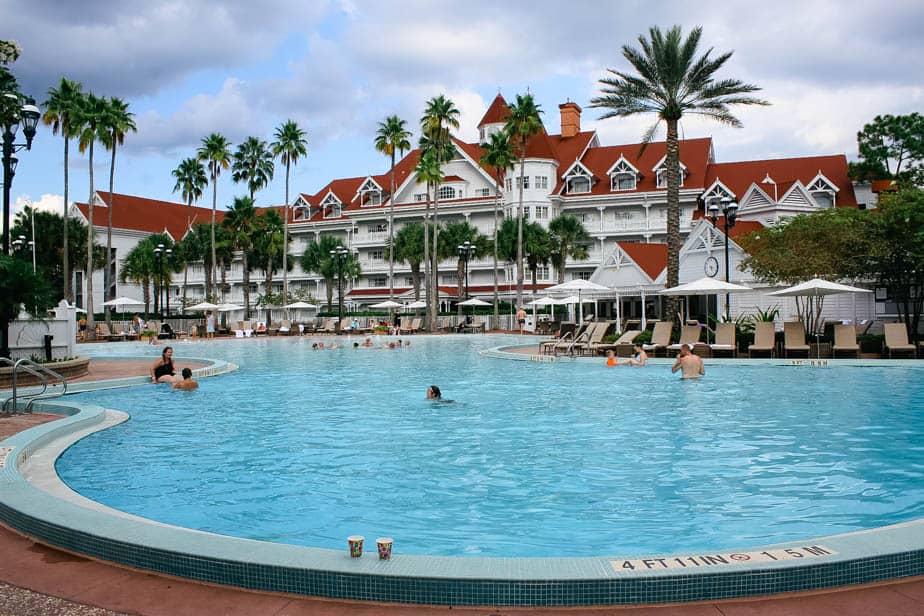 Additionally, Disney's Polynesian Village Resort is only a short walk away. So if you were looking for something with an Asian twist, you could order from Captain Cook's and walk over to pick it up.
Related: Restaurants at Disney's Polynesian Resort
Garden View Tea Room
The Garden View Tea Room has not reopened as of this update. We'll provide updates when we know more about the future of this location.
Guests can enjoy formal tea in the Garden View Tea Room with reservations when this experience returns. As with a few other Grand Floridian restaurants we've covered, check for availability before your arrival.
Formerly, there were two different options for tea in the tea room. The first is Disney's Princess Tea Party, which typically began at 9:00 a.m. on select weekdays. This memorable experience included a character meet and extra enhancements.
Lastly, afternoon tea was offered in the Garden View Tea Room throughout the week between noon and 4:00 p.m. The location is toward the back of the main lobby on the ground level.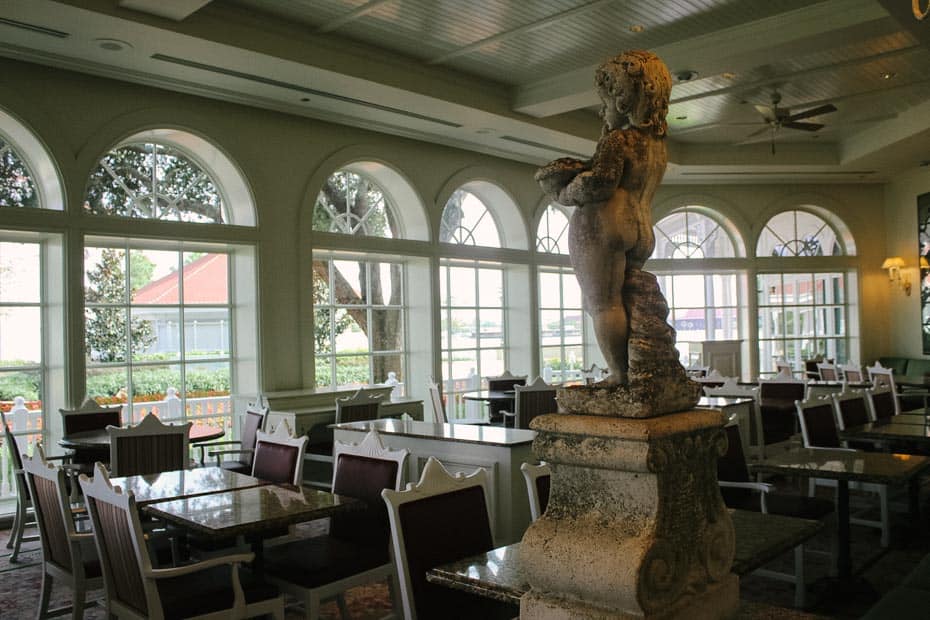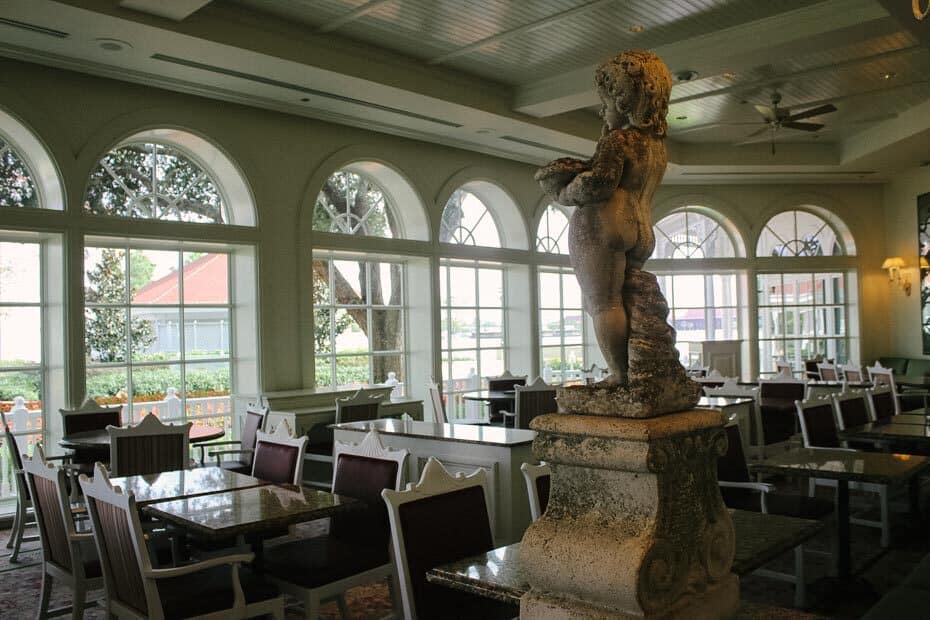 Lastly, room service is available for guests staying at the resort.
Final Thoughts on the Restaurants at Disney's Grand Floridian
Overall, there is a multitude of dining options at Disney's Grand Floridian Resort. Now, all you have to do is decide which ones you think you'll enjoy the most!
For more information about the resort, you might enjoy browsing all of our articles in our resort guide:
Some of our favorites include:
For other Disney Hotel Restaurants, try these resort dining guides:
If you are looking for more dining experiences at Walt Disney World, visit the entire list of Disney restaurant reviews.
In the Comments
What are your thoughts on these restaurants and dining options at Disney's Grand Floridian Resort? Do you have a favorite?