Disney's Grand Floridian Restaurants Guide
Disney's Grand Floridian Restaurants provide an opportunity to dine at a number of options during your vacation. In fact, there are a plethora of restaurants at Disney's Grand Floridian and it's important to know your options.
There are actually 9 restaurants total at the Grand Floridian! That leaves guests of the resort with a lot of decisions to make.
If you do spend a week-long vacation here, you might enjoy relaxing outside by the pool, while eating at one of the pool bars. Or you could plan a late morning brunch at one of the many restaurants. Spoiler, the cafe has a wonderful breakfast, lunch, and dinner menu!
Those looking for signature dining will probably have a hard time choosing which Grand Floridian restaurant to eat at. That's because the resort has three Disney signature dining locations to choose from! All of the deluxe resorts at Disney have signature dining locations. But none of them have three!
When planning dining at Disney, it can become difficult due to the number of choices. Often, I have found that guests aren't even aware of all the options at their resort. Furthermore, they're oblivious to the choices property-wide.
This Grand Floridian restaurant guide will help you become familiar with the resort's dining options. Below you'll find a list of each restaurant. Then there's an overview of what to expect and how to best plan the options that interest you for your vacation.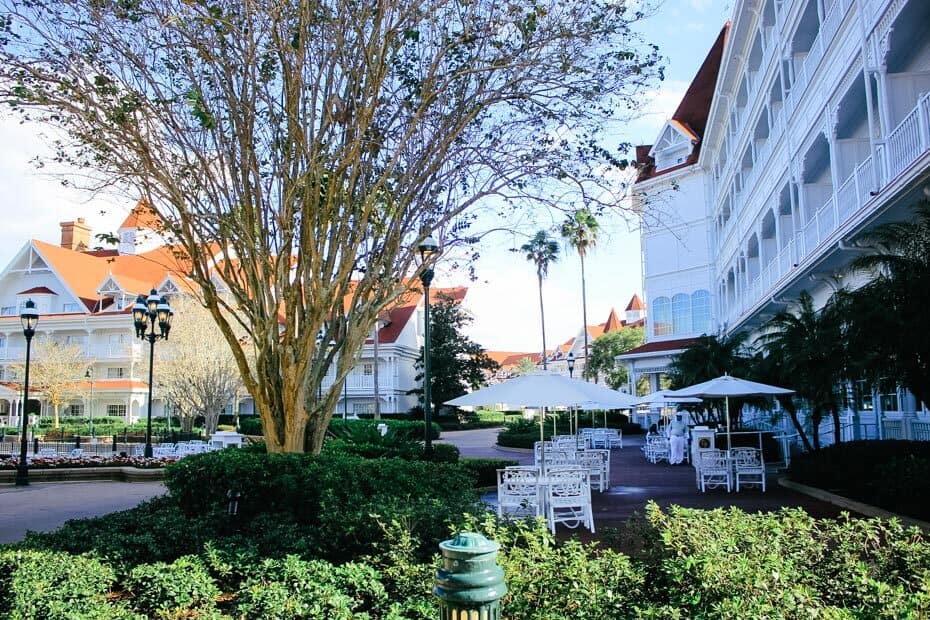 Before we get started, I wanted to add in a few tips for accessing the restaurants at Grand Floridian.
The hotel is located across the lagoon from Magic Kingdom. Guests traveling from the theme park can access the resort by taking the walkway from Magic Kingdom to Grand Floridian or a boat.
Additionally, there's the option to take the Disney monorail from Magic Kingdom or any monorail resort to Grand Floridian.
If you are a guest of another Walt Disney World Resort, I suggest taking a bus to Magic Kingdom. From there, you can take either the walkway, monorail, or resort boat launch to get to your Grand Floridian restaurant reservation.
Grand Floridian Restaurants
Here is a list of all the restaurants available at the Grand Floridian. Each section links to full dining reviews where applicable if you'd like to learn more about a specific restaurant.
Additionally, Citricos has its own lounge, and in-room dining is available for those staying at the resort.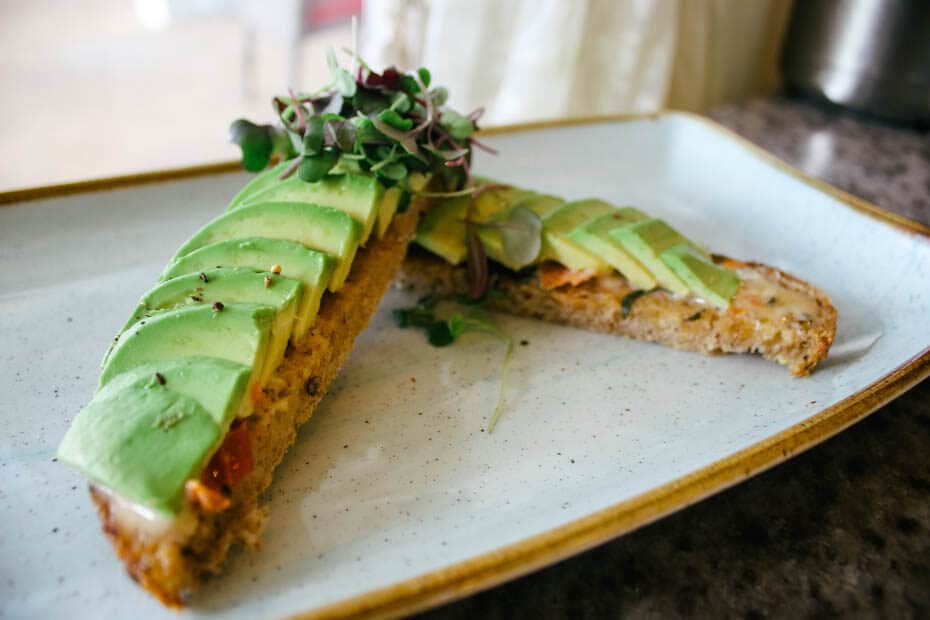 #10 Gasparilla Island Grill
Gasparilla Island Grill (review) is the main quick-service restaurant at the resort. Unfortunately, the Grand Floridian does not have a food court as you might find at a value or moderate resort.
The good thing is you will find items like chicken fingers, burgers, flatbreads, and kids' meals at this counter-service location. Below is a look inside Gasparilla's. Guests will need to place orders via Disney's mobile order dining service.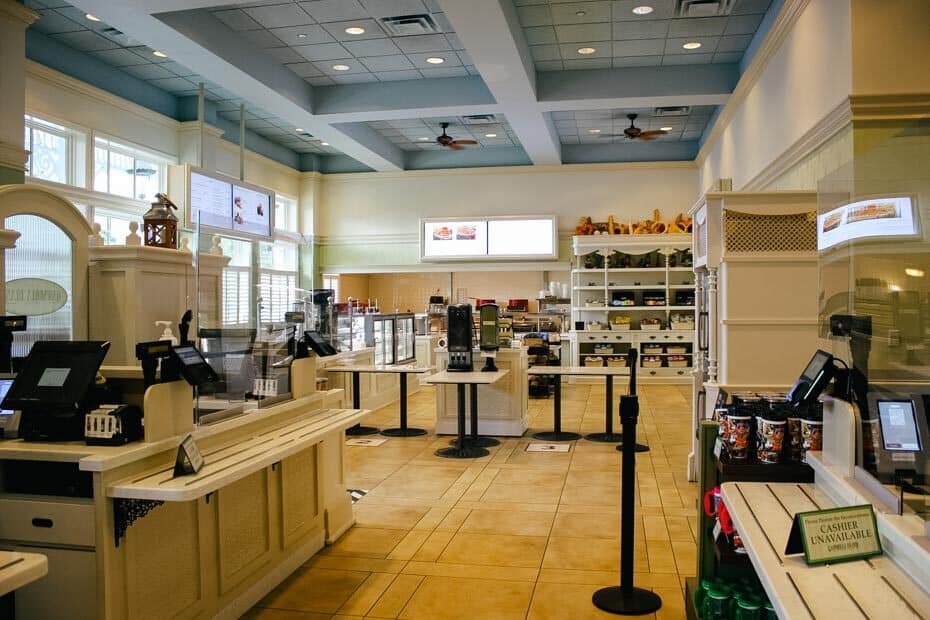 Mobile order is fast and extremely convenient. It will allow you to customize special orders. For instance, I ordered this sausage and peppers flatbread with house-made chips. The app allowed me to remove the sausage, making it vegetarian.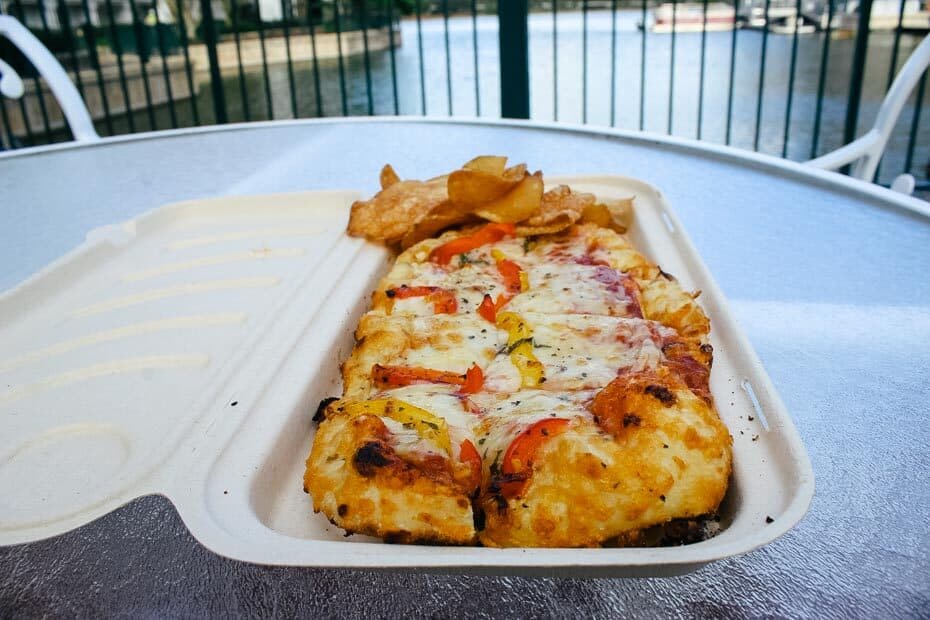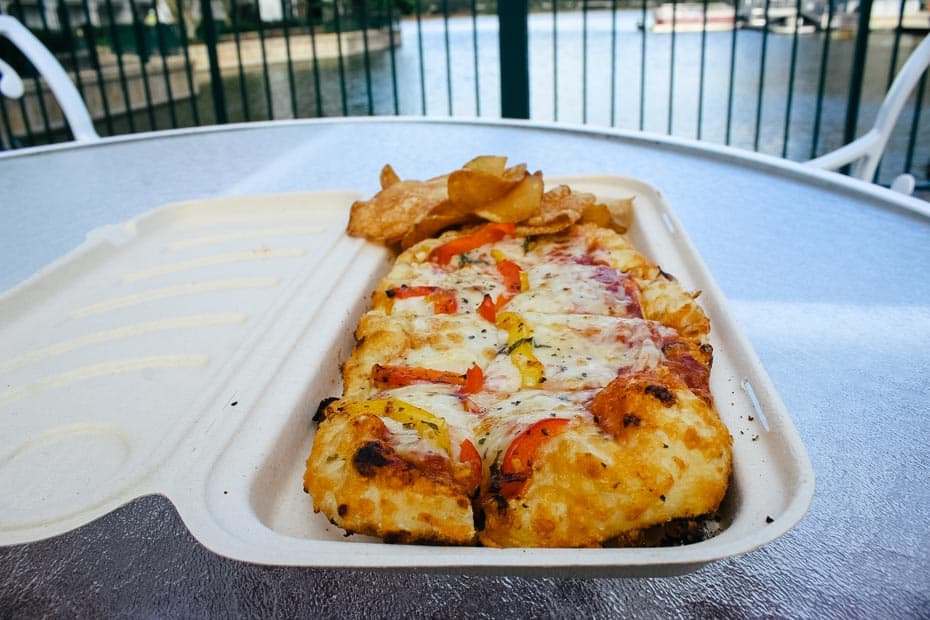 I enjoyed the meal on the patio just outside the restaurant. All of the orders are boxed to go at Gasparilla which gives guests the option to eat inside, outside, or take a meal back to your room.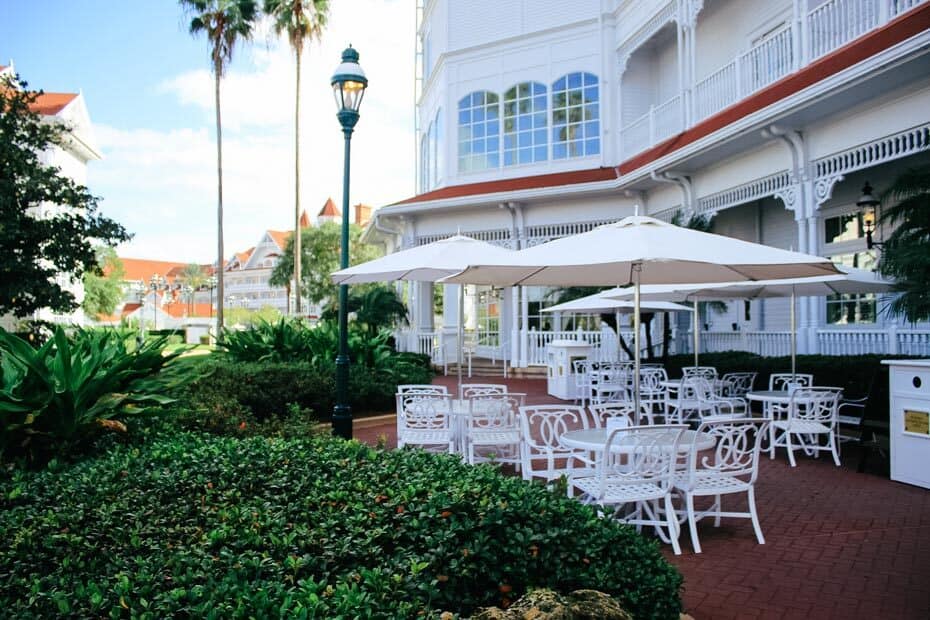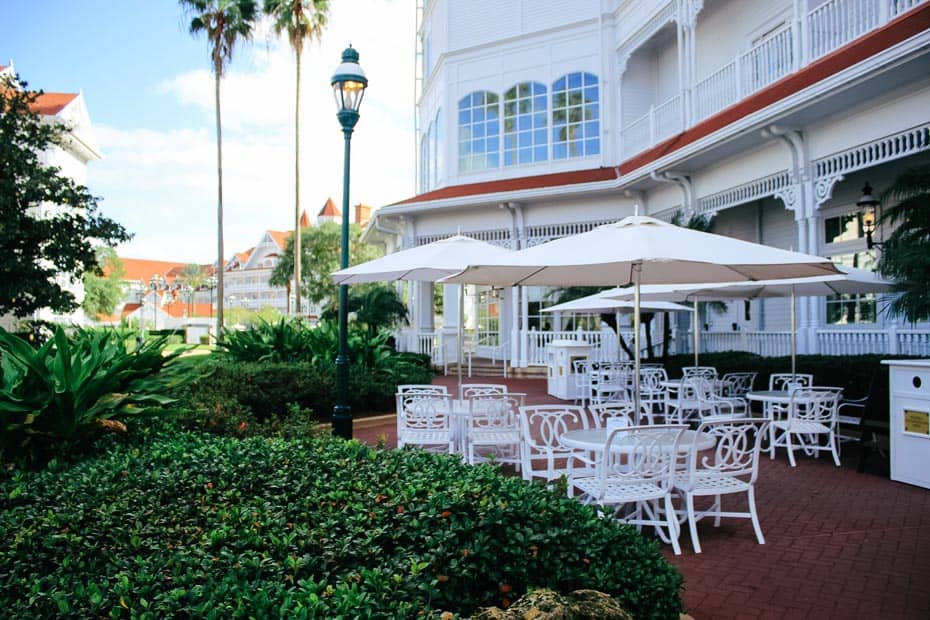 This Grand Floridian restaurant serves breakfast, lunch, and dinner. So this is the perfect place to pick up your morning Mickey waffle fix! They come in adult and kid-size orders.
#9 Grand Floridian Cafe
Next, we have one of my favorite stops at the resort. You're in for a treat when you plan a meal at Grand Floridian Cafe! The restaurant is located on the backside of the lobby. I consider the cafe one of Disney's hidden gem dining locations.
My favorite thing is the ability to enjoy breakfast items for lunch! The great thing about the restaurant is they offer the full breakfast and lunch menus during lunch service. We could call it brunch. In fact, when we stay at the Grand Floridian we always plan a brunch and a dinner here at the Cafe. You can read our entire review of staying at the Grand Floridian Resort if you'd like.
And if you love lobster, there are two popular menu items, the lobster thermidor burger, and the Lobster Benedict.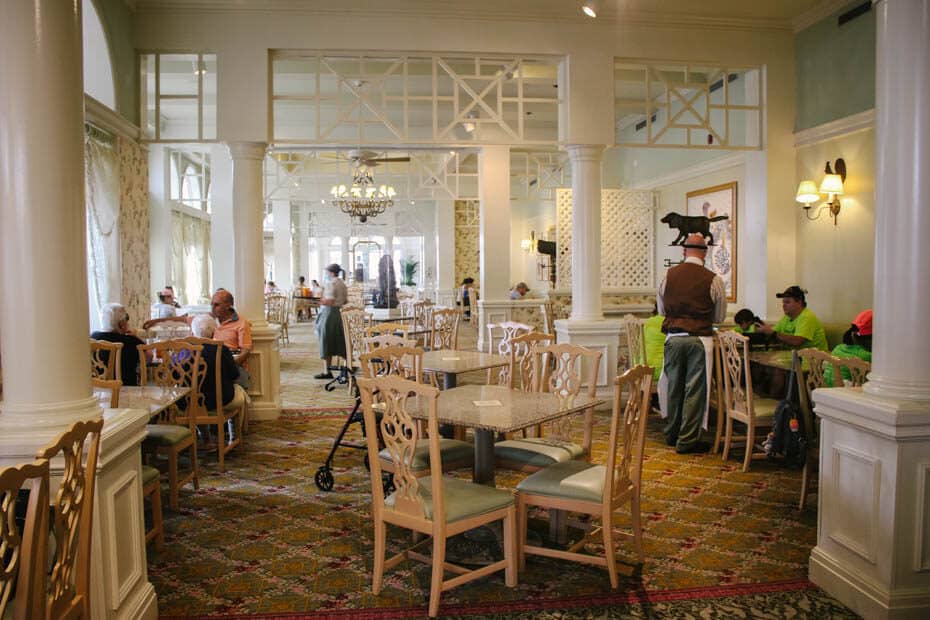 My son, who has food allergies, enjoys having Mickey waffles at lunchtime with a double side of meat.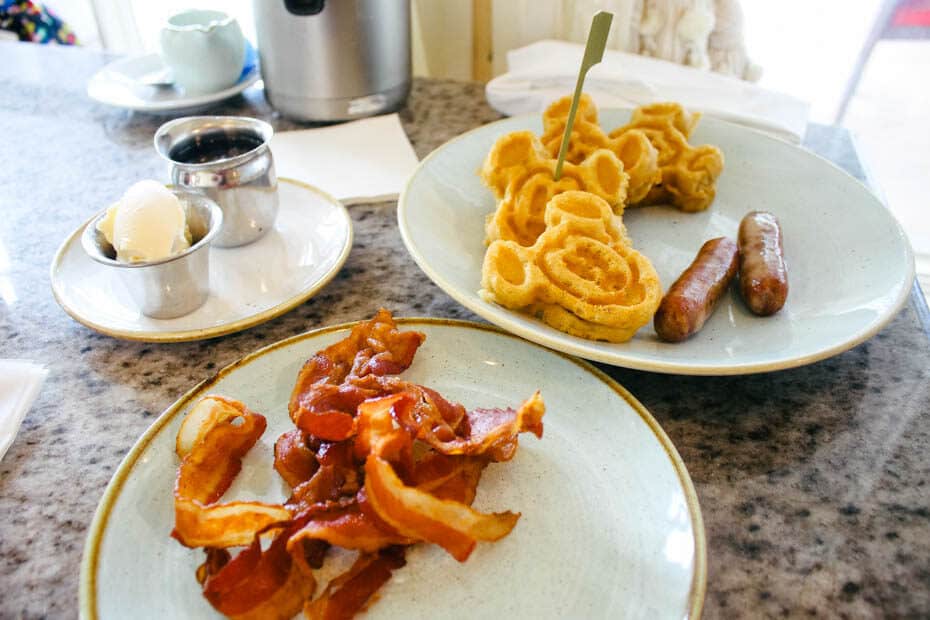 Another popular menu item here is the Grand Floridian breakfast entree with eggs, bacon, sausage, and cheesy hash brown casserole.
This chilled jumbo shrimp cocktail was out of this world good! I enjoyed it, along with the avocado toast pictured toward the top of this review.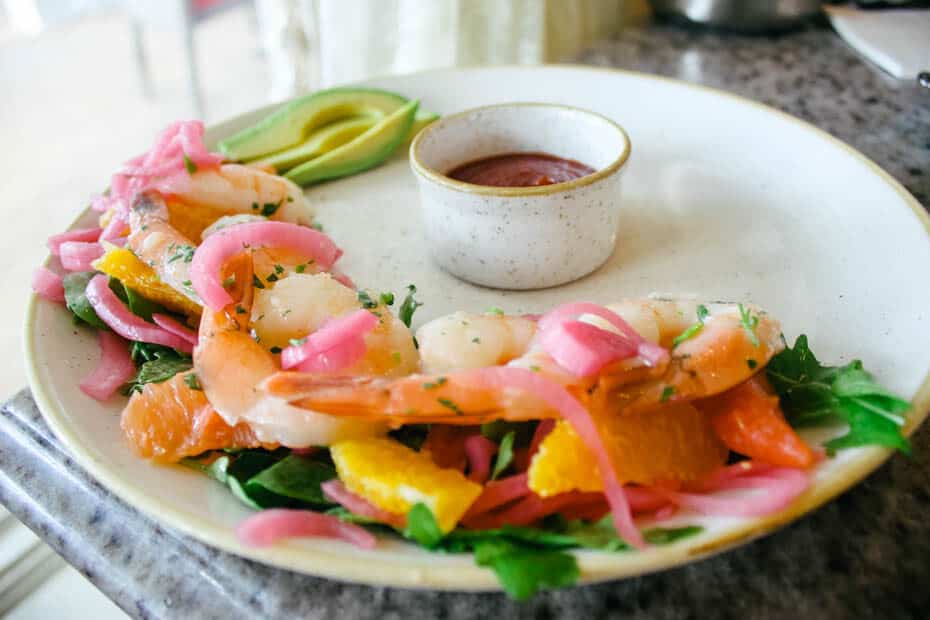 Since I started eating a vegetarian diet this last year, I've tried several Impossible Burgers across Disney property. This version has been my favorite to date. It comes with caramelized onions and is topped with a plant-based smoked gouda.
Funny story, when I tried this, I hadn't committed to a vegetarian diet yet. I remember thinking that it would have been dairy-free without the slice of cheese. It wasn't until I included it in a review much later that I realized it wasn't really cheese. I guess the cheese thing is why I'm not vegan yet.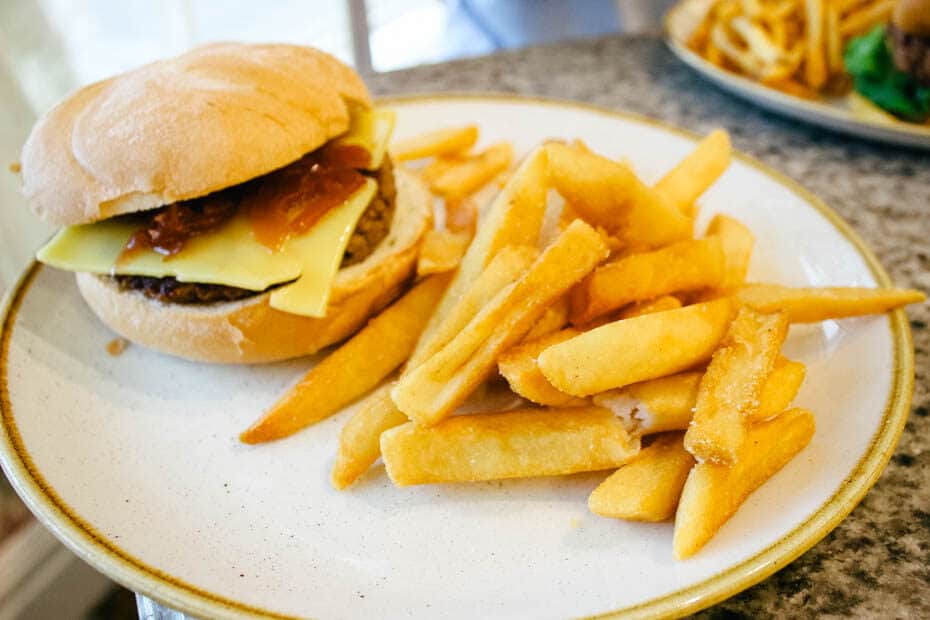 Whether you are staying here as a guest or visiting for a meal, I highly recommend securing a reservation for the Grand Floridian Cafe (review). They are typically fairly easy to get on the day of if you can adjust your schedule to what times they have available.
#8 1900 Park Fare
Grand Floridian has one character dining restaurant that has two different options for meals. Note, the restaurant has not re-opened at the time this review was written. Check for availability before your vacation.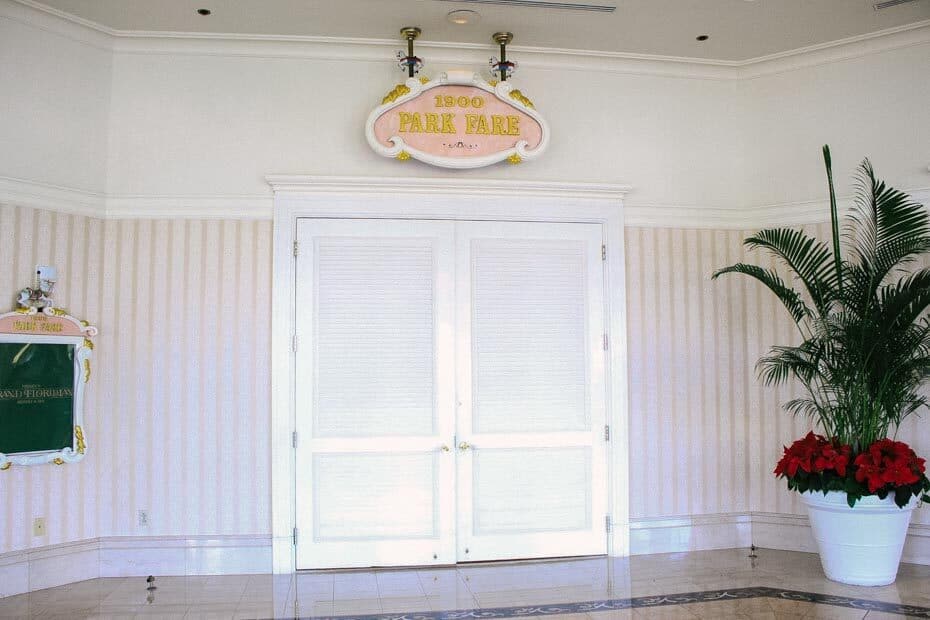 The first option is the breakfast buffet at 1900 Park Fare. This is called the Supercalifragilistic Breakfast, and the following characters make appearances:
Mary Poppins
Alice
Mad Hatter
Winnie the Pooh
Tigger
Guests that visit for dinner will enjoy Cinderella's Happily Ever After Dinner. These characters are present during that meal period:
Cinderella
Prince Charming
Lady Tremaine
Anastasia
Drizella
If you decide to enjoy character dining at the Grand Floridian, make sure to bring an autograph book and something to take photos with during the meal. There are usually no photographers present, so you will want to take photos of your children when the characters visit your table. I have a full guide on Disney World character dining with tips and restaurants that offer this option.
#7 Narcoossee's
Out on the water, guests will find Narcoossee's. If you are coming from Magic Kingdom, the resort's boat service will drop you off immediately next to this Grand Floridan restaurant.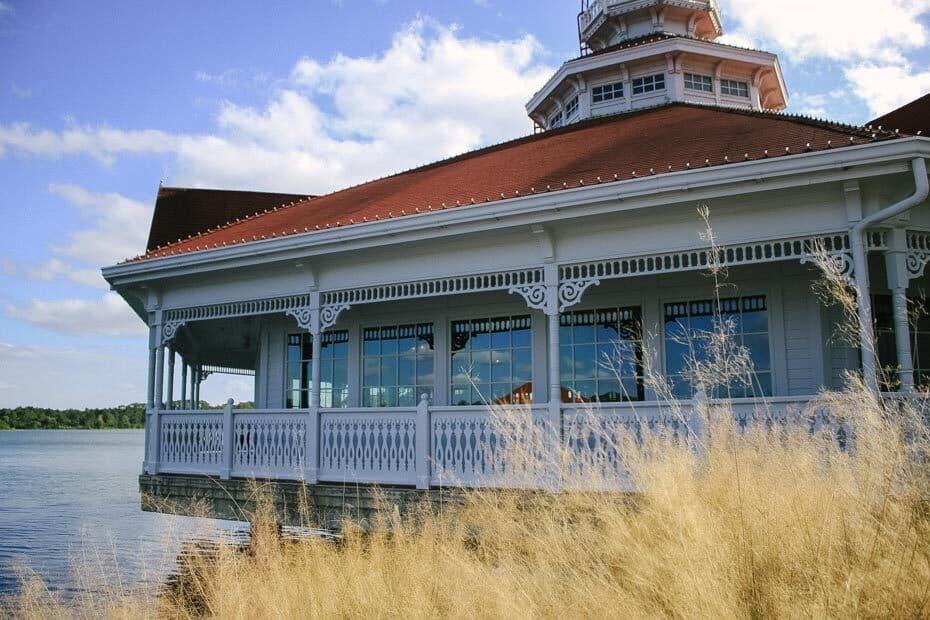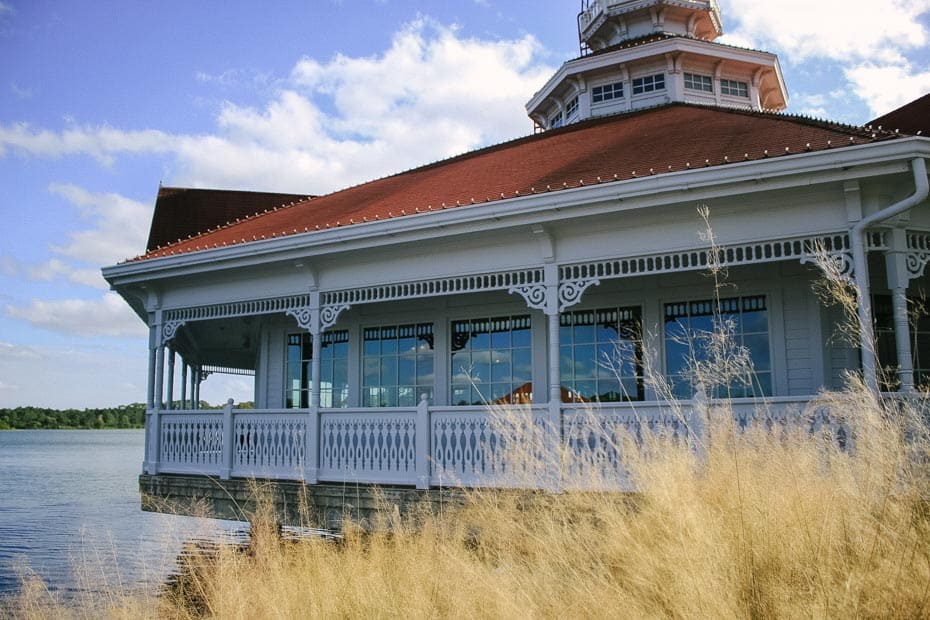 Narcoossee's is one of the three signature dining restaurants at the Grand Floridian. Meals here require reservations and only serve the dinner meal period. Unfortunately, they have yet to re-open at this time, so make sure to check in advance if you would like to eat here.
One of the perks of dining here is that you can enjoy a view of Magic Kingdom's fireworks from the restaurant's back deck. The music is piped into the area, and you'll have a different view of the fireworks than you would from inside the park. You might also enjoy seeing the Electrical Water Pageant drift by if you time your reservation just right.
If these things interest you, Disney's California Grill (Review) offers the best views, in my opinion, of the nightly entertainment. No matter what time you dine there, you can bring back your receipt on the same night to enjoy their observation deck for fireworks. That is when they are available again.
#6 Citricos
Citricos is our second signature dining restaurant at Grand Floridian. I dined at Citricos a few years back. Unfortunately, our service was lacking, and I haven't had the desire to revisit it since.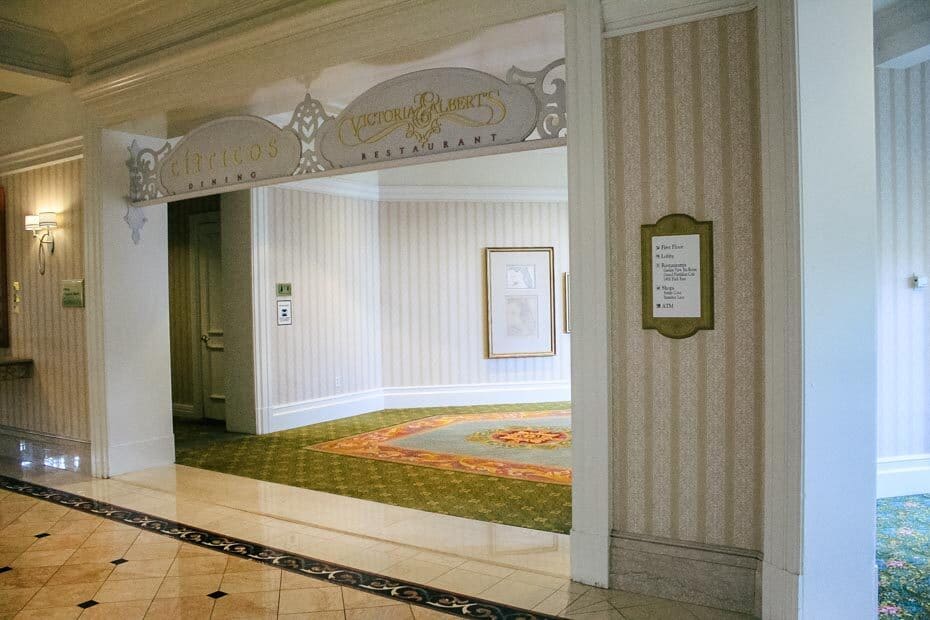 Citricos does consistently get rave reviews, and our food was fine. But you know how it is when you have a bad experience at a restaurant? Or you spend an extremely long amount of time waiting for food because maybe your server had other things going on? It makes it hard to return.
So I wouldn't let my experience keep you from visiting. And I do eventually plan to dine here again to provide a better opinion. If you can't secure an advanced reservation, you can check the Citricos Lounge's availability at the restaurant's check-in area.
The good news is Citricos recently re-opened and the restaurant has been re-imagined to a Mary Poppins Returns theme. The menu is also entirely new and I can't wait to see what they have to offer.
#5 Victoria and Albert's
While I plan to return to Citricos, I don't have any plans for Victoria and Albert's. Not in my near future anyway. This is the most high-end dining experience in all of the Walt Disney World Resort.
You are looking at spending $200 per person at the very least when enjoying a meal here.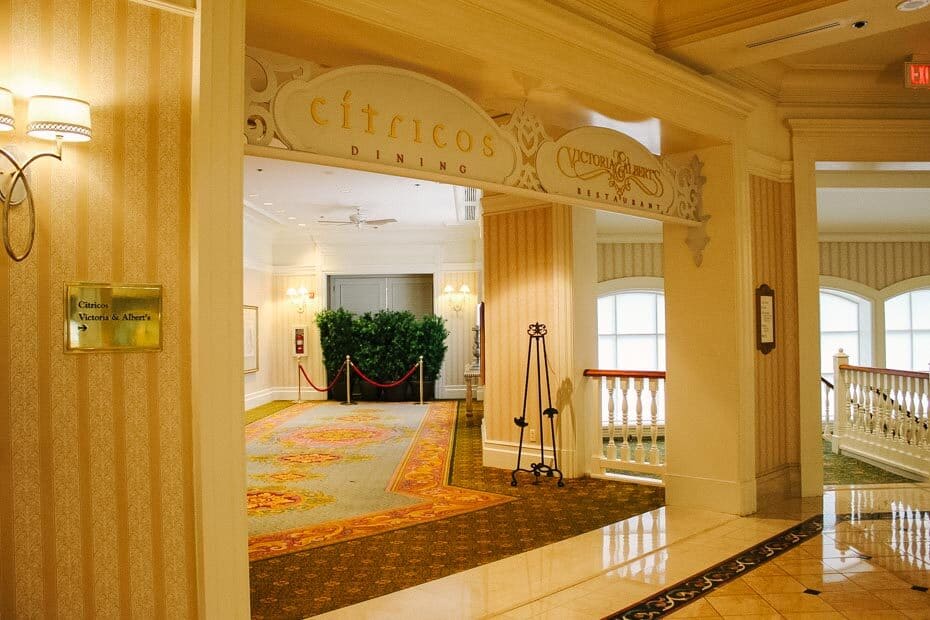 Since I haven't had the opportunity to eat here, I can share with you a few facts about the restaurant you'll want to know in advance:
Victoria and Albert's has been a AAA Five Diamond Award Recipient since 2000
Chef Scott Hunnel has been a James Beard Foundation award nominee for best chef in the South.
A strict dress code is required. (View here on Disney's site)
There is a $75 per person cancellation fee for no-shows and guests who cancel within 72 hours of their reservation.
Valet parking is available for guests dining here at no additional cost.
#4 Enchanted Rose
The newest option for a meal or cocktail at the Grand Floridian is the Enchanted Rose lounge. It's stunningly beautiful and a nice nod toward what the resort is supposed to emulate.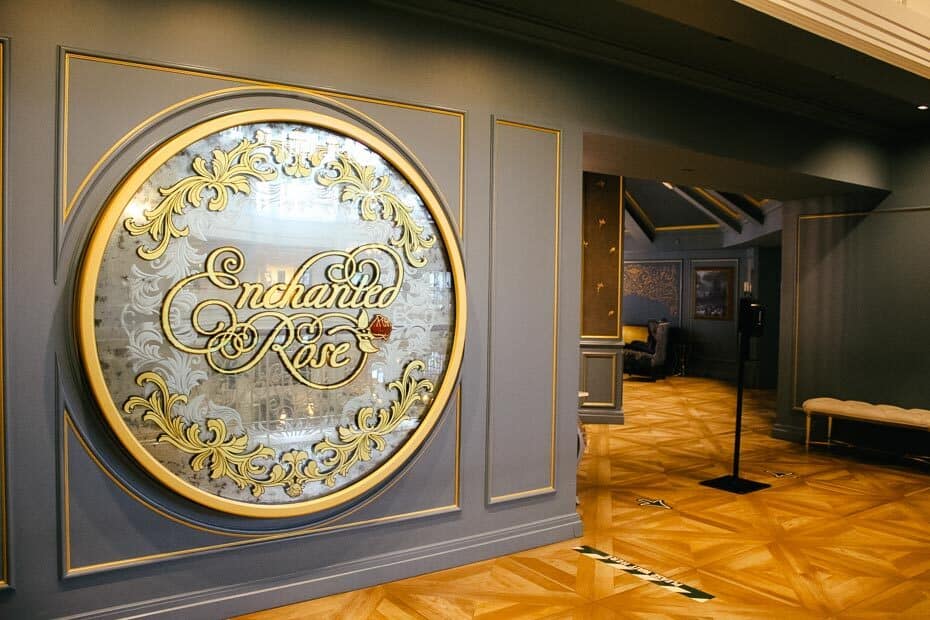 This Beauty and the Beast-inspired lounge features French and baroque details. There's a formal bar centered underneath the light of a chandelier that represents Belle's evening gown.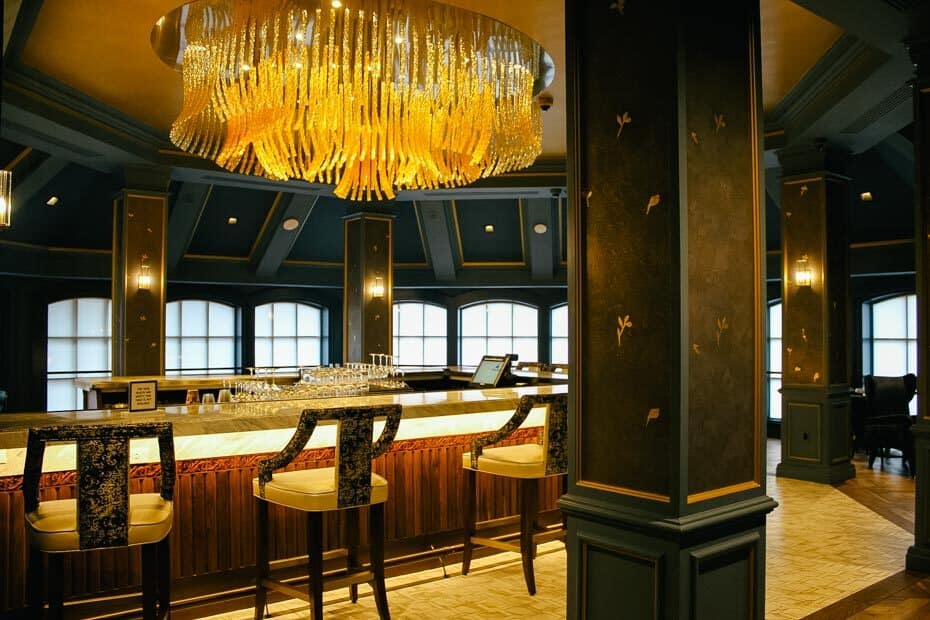 The lounge area offers inviting spaces with its charming library-like feel. And don't miss the patio off the back if you prefer to enjoy the Florida weather.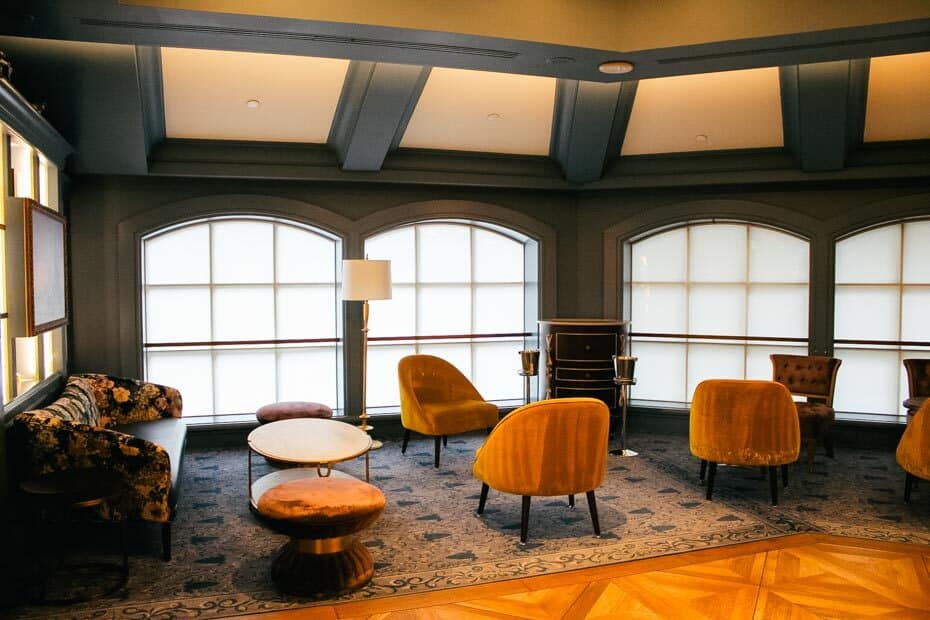 Menu highlights include crab mac and cheese, truffle fries, and brisket sliders at the lounge.
#3 Beaches Pool Bar and the Courtyard Pool Bar (#2)
Next, Beaches Pool Bar is located next door to the Grand Floridian Villas portion of the resort.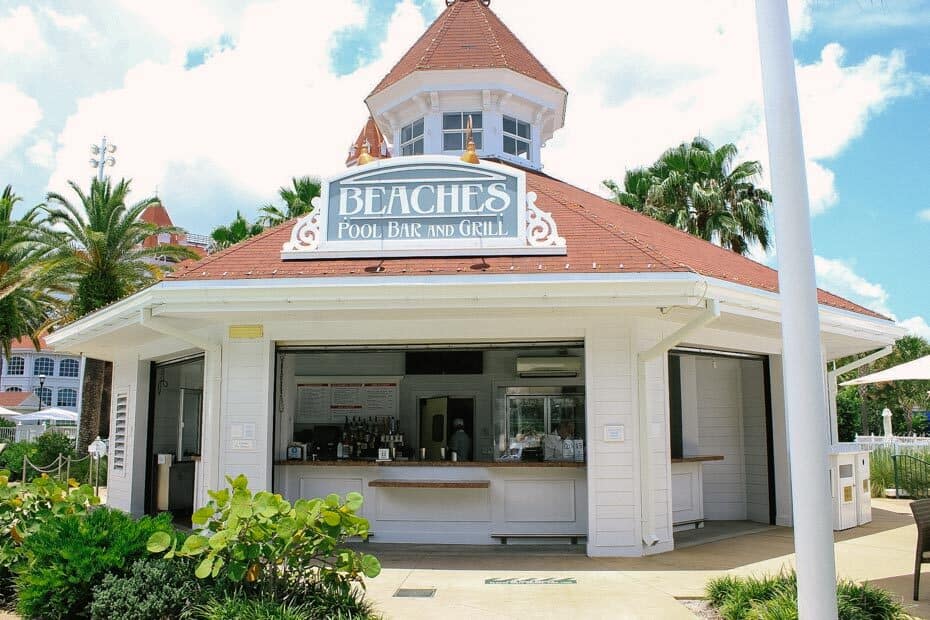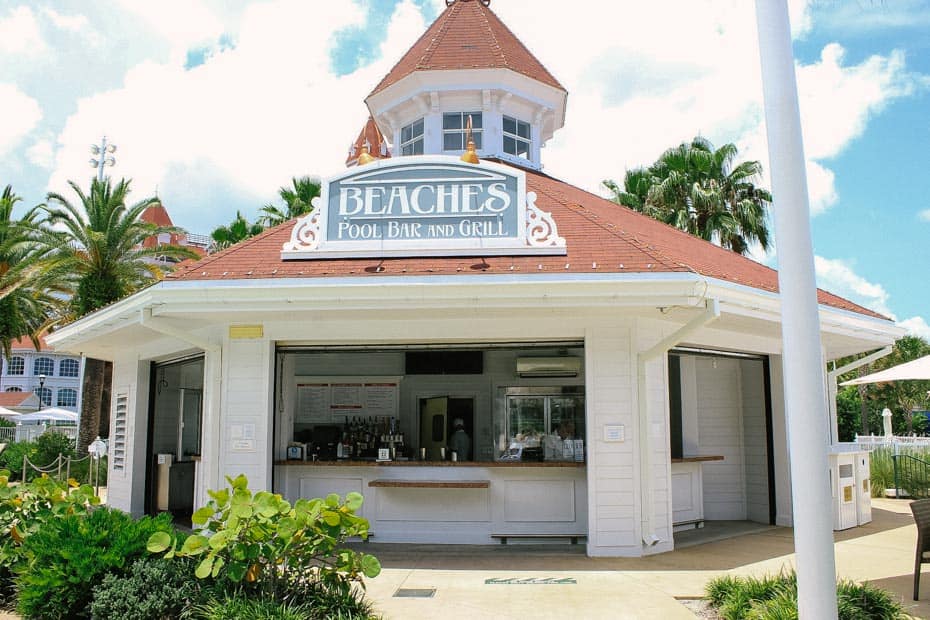 Between it and the Courtyard Pool Bar, guests can enjoy salads, sandwiches, and cocktails. When spending the day at the pool, my suggestion is to check the menu here and Gasparilla Island Grill. If you find more options at Gasparilla, do a mobile order and bring it back to the pool.
With Disney's Polynesian Village Resort only a short walk away, you might like to mobile order from Captain Cook's (review). All of the neighboring dining options are listed in our Polynesian Resort Restaurants guide.
#1 Garden View Tea Room
Lastly, guests can enjoy formal tea in the Garden View Tea Room with reservations when these experiences return. As with a few of the other Grand Floridian restaurants we've covered, check for availability before your arrival.
There are two different options for tea. The first is Disney's Princess Tea Party that typically beings at 9 a.m. on select days. This special experience includes a character meet and extra enhancements. You can read the full list of benefits with prices here on Disney's site.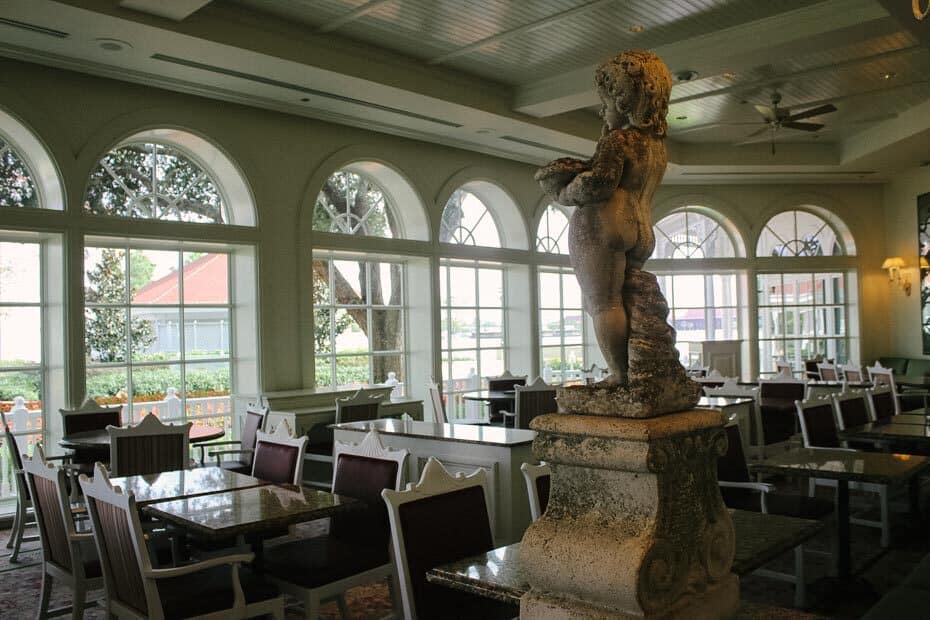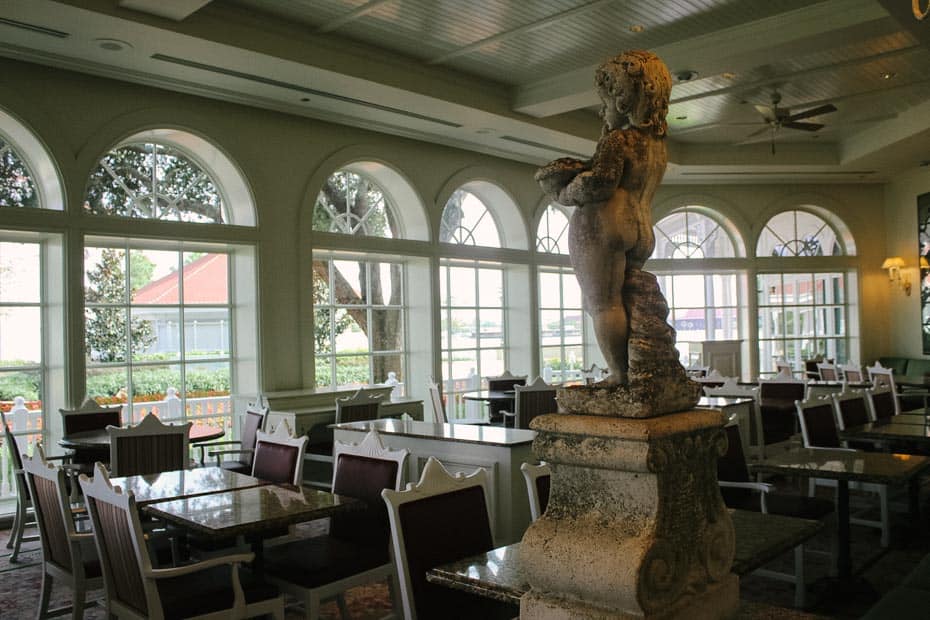 Usually, afternoon tea is offered in the Garden View Tea Room throughout the week between noon and 4:00 p.m. The location is toward the back of the main lobby on the ground level.
Lastly, room service is available for guests staying at the resort.
For other Disney Hotel Restaurants, check out these resort dining guides:
If you are looking for more dining experiences at Walt Disney World, visit my entire list of Disney restaurant reviews.
For more information about the Grand Floridian, you might enjoy our Grand Floridian Resort Review or you can browse the entire section of Disney World Hotel Reviews here. Additionally, every article related to the Grand Floridian Resort & Spa is available here.
Leave a comment below and let me know your thoughts on the Grand Floridian restaurants. Is there anywhere you are interested in dining here?