A Walk Around Barefoot Bay at Disney's Caribbean Beach Resort
Barefoot Bay is the large lake in the middle of Disney's Caribbean Beach Resort at Walt Disney World. All of the villages, recreation, and even neighboring Disney's Riviera Resort are neatly positioned around the lake.
For this review, I thought we'd take a leisurely walk around Barefoot Bay. We'll also explore Caribbean Cay, which is the island that sits in the middle of the lake.
Additionally, this will kick off a new series of posts to get to know the Disney resorts more in-depth. Since the Skyliner opened, Caribbean Beach is a resort that's definitely on more people's radar. So I thought this would be a good place to start.
If you are planning a trip to Caribbean Beach or the Riviera, this walk-through will provide you with a few tips for enjoying some time at the resort. It's a wonderful place to take a jog or long walk.
You might be thinking, Amber, we walk enough at Disney. Why would we want to add to it?
But I am of the school of thought that a little extra walking amongst beautiful scenery (even when it's hot) does the body good. It's one of the best ways to decompress, especially after spending time in the theme parks.
Plus, it doesn't hurt that Caribbean Beach is a beautiful resort. So for our walk, we'll start at the lighthouse.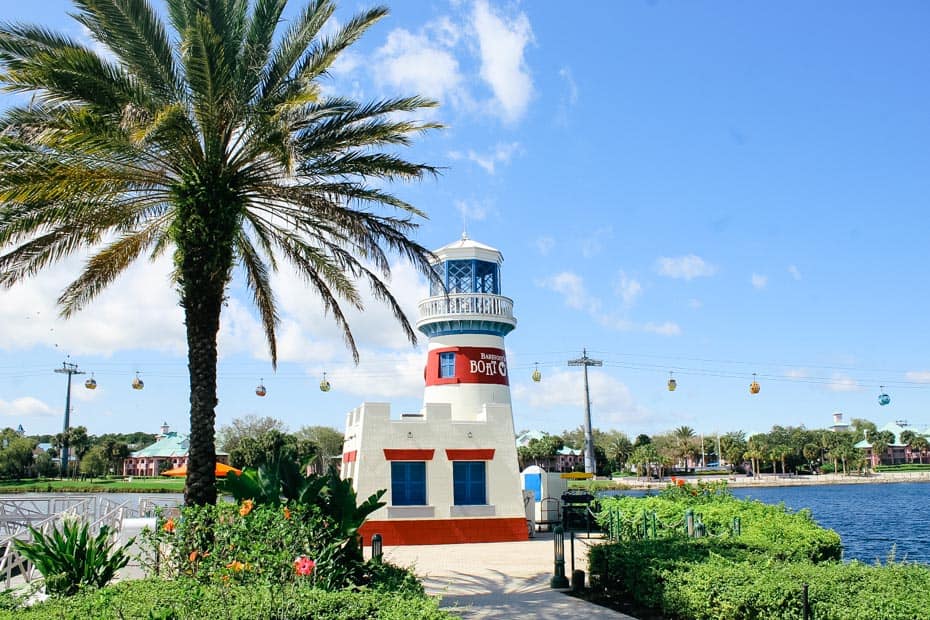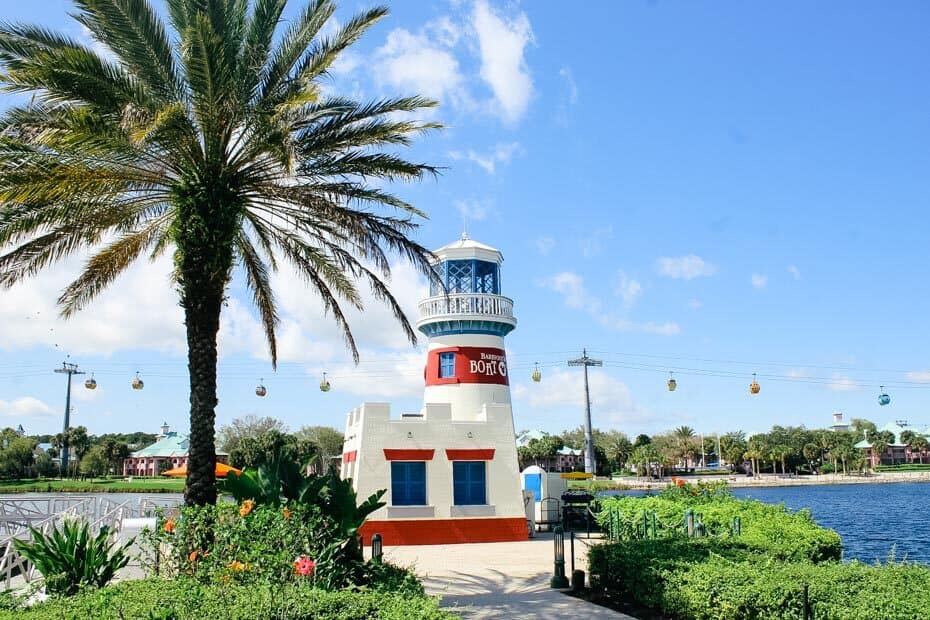 The lighthouse at Caribbean Beach sits at the edge of Barefoot Bay in front of Old Port Royale.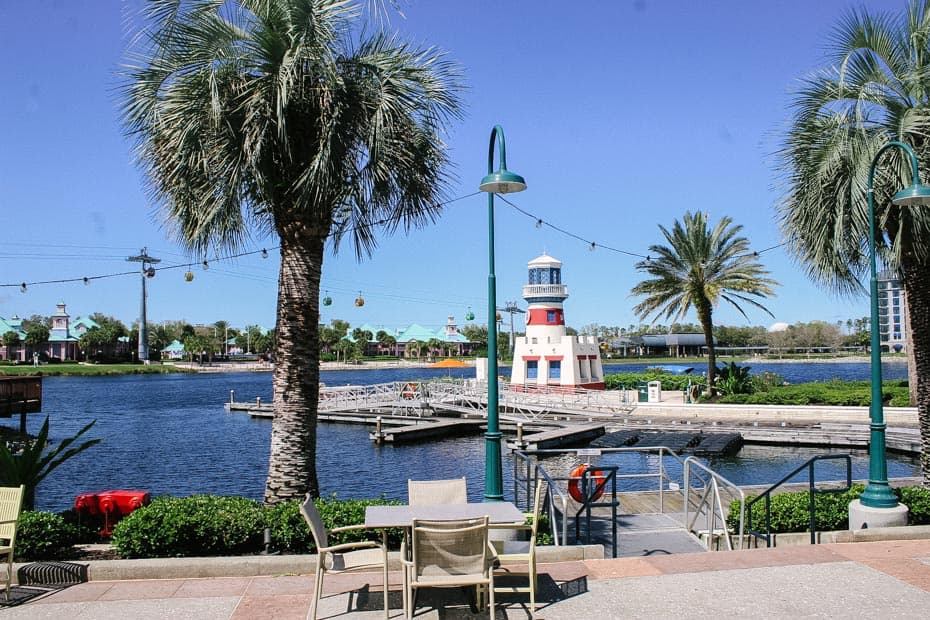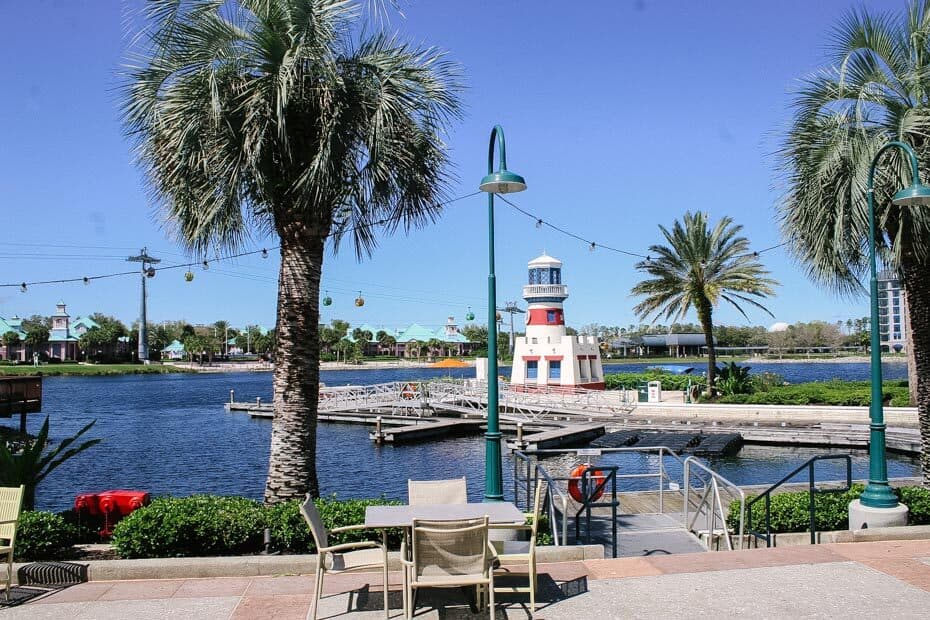 Old Port Royale is the hub of the resort, where the lobby, feature pool, and main dining areas are located. There is a large deck around the entire area that makes it feel like you are sitting on the dock of a bay.
Normally, there is a good deal of benches and chairs in this area. In the evenings, you can see some of Epcot's fireworks from the deck. It's not a perfect view by any means, but it's a nice place to sit after dark.
Everything at the resort is colorful and exudes a tropical vibe.
As we continue our walk, we pass by Sebastian's Bistro and the Banana Cabana Pool Bar. Sebastian's Bistro is a fairly new table service restaurant at Disney World. Banana Cabana sits adjacent to the pool and doubles as an outdoor lounge for guests.
Related: Caribbean Beach Restaurants Guide
Speaking of pools, Caribbean Beach has a wonderful pool. There is a full overview of the pool if you would like to know more.
Related: Caribbean Beach Resort Pool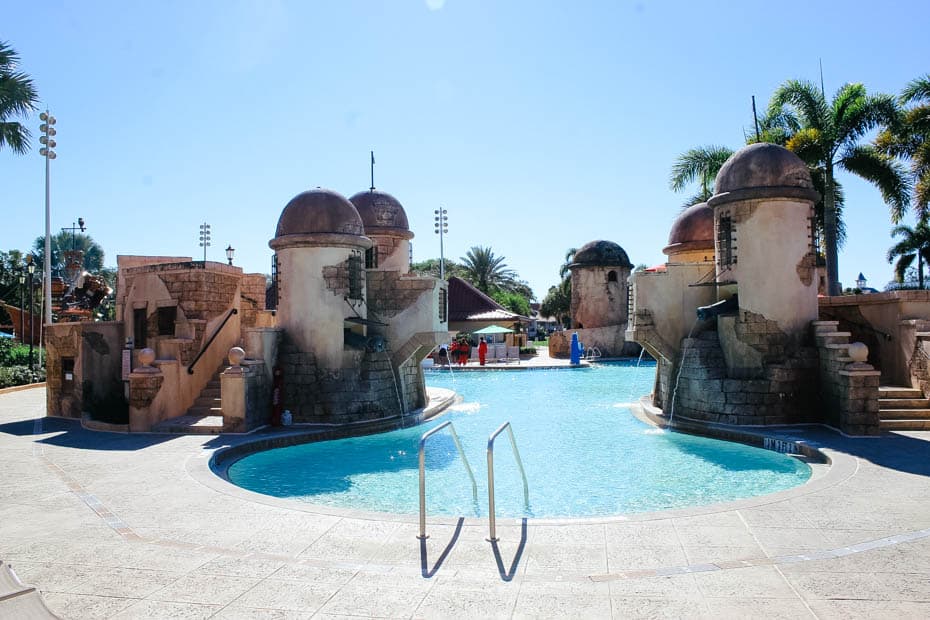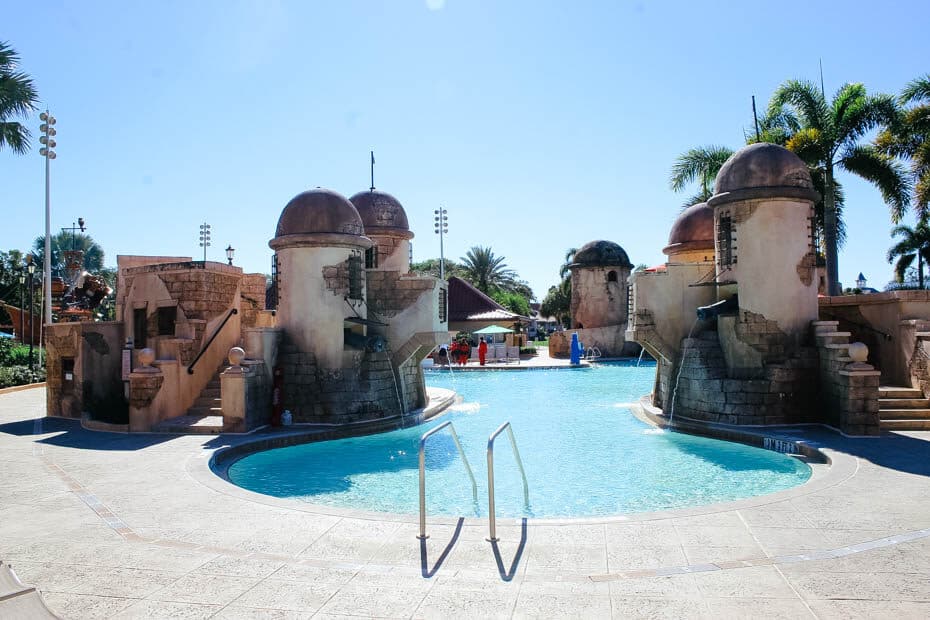 The pool is so nice that it makes our list of the top resort pools at Disney World.
Related: Best Pools at Disney World
We'll hang a sharp right by the pool and cross over to the island, Caribbean Cay.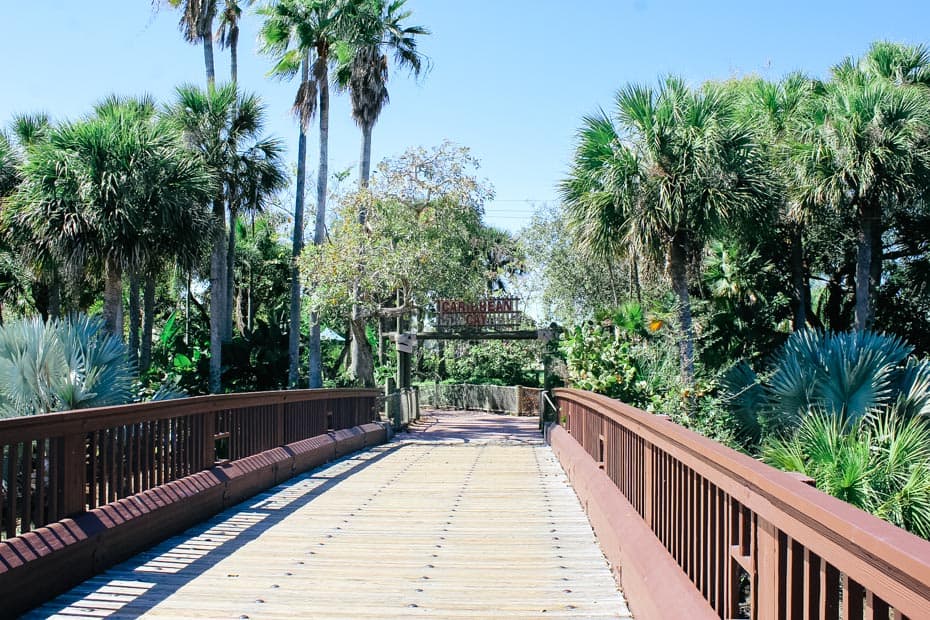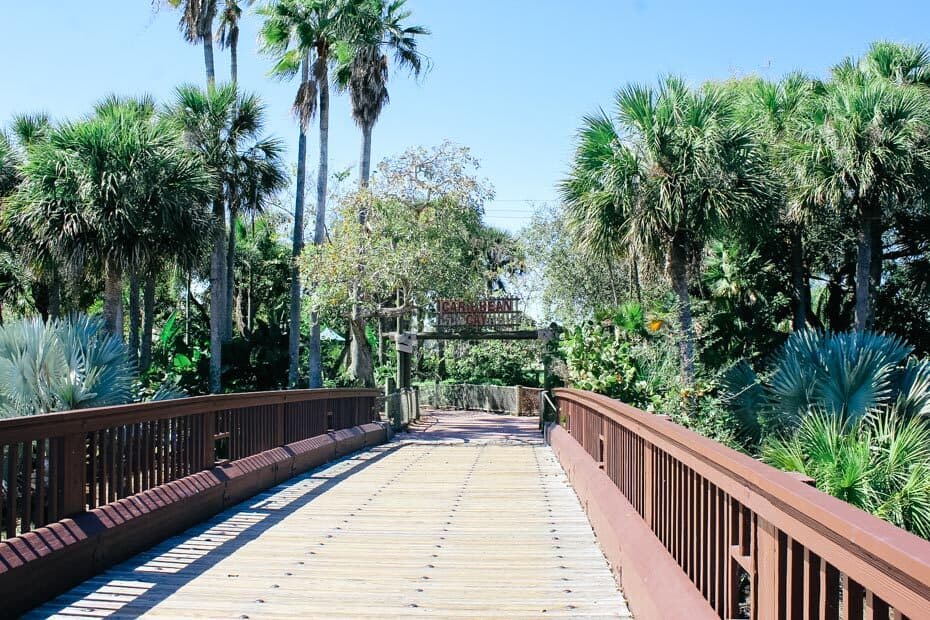 There's a cute sign on both sides of the bridge welcoming you to the island.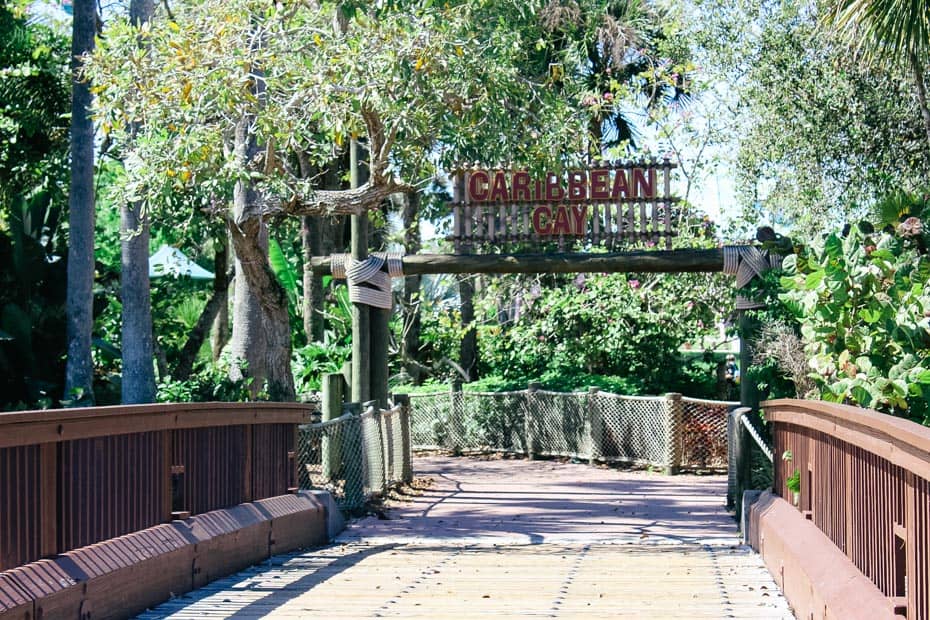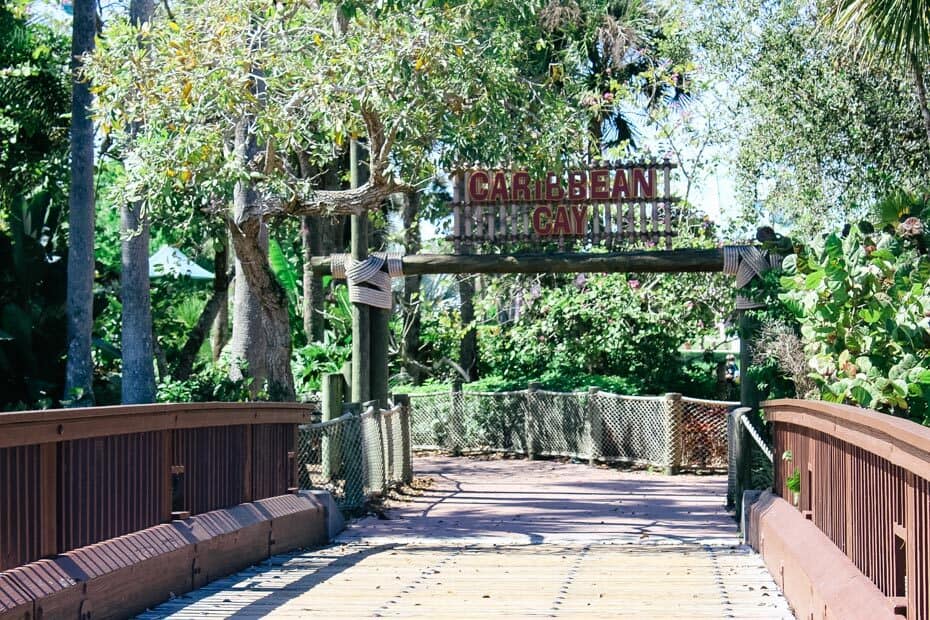 Looking back from this same side of the island, we can see the pool behind us.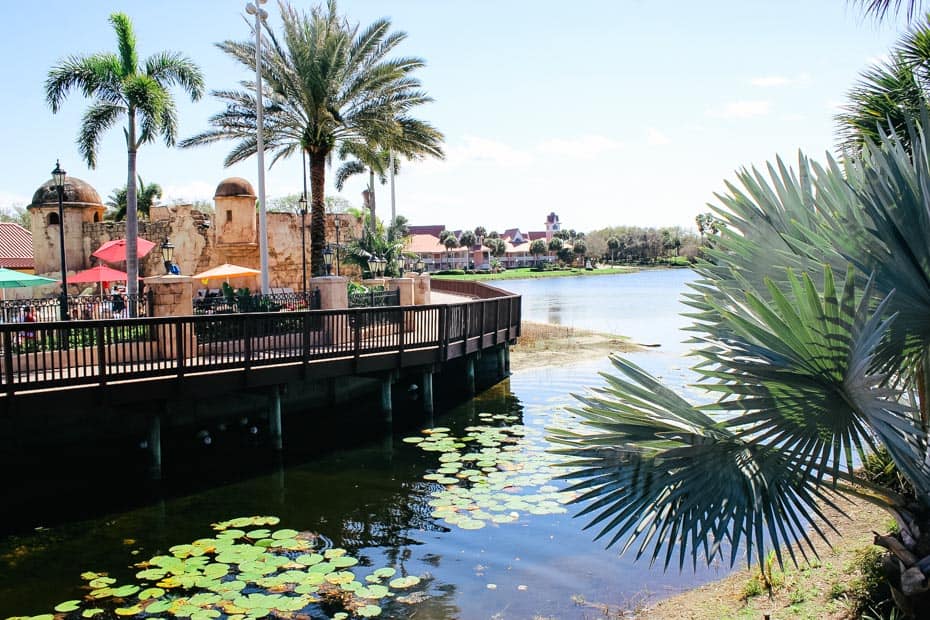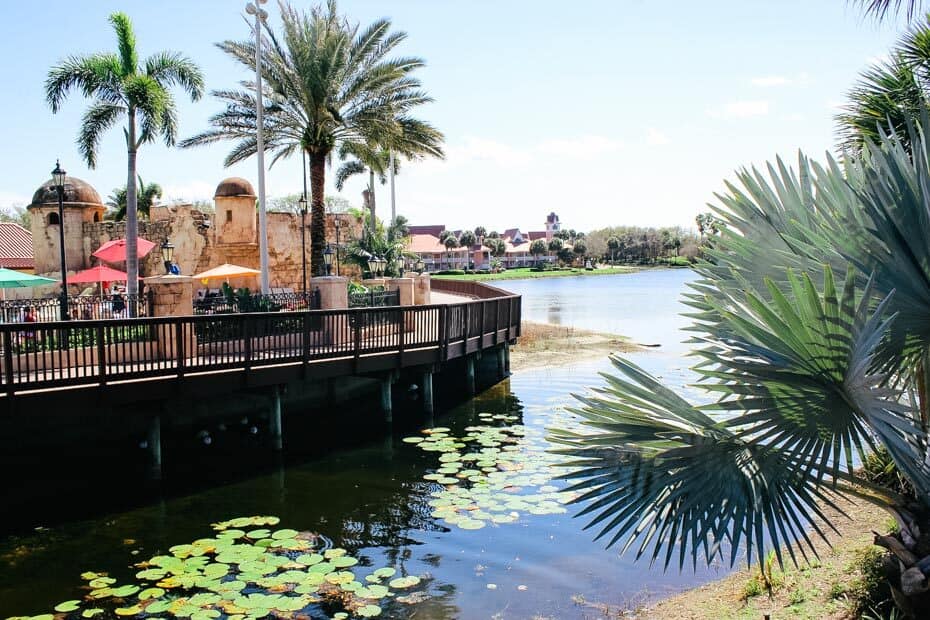 Across the way, we'll enter into the Caribbean Cay playground area.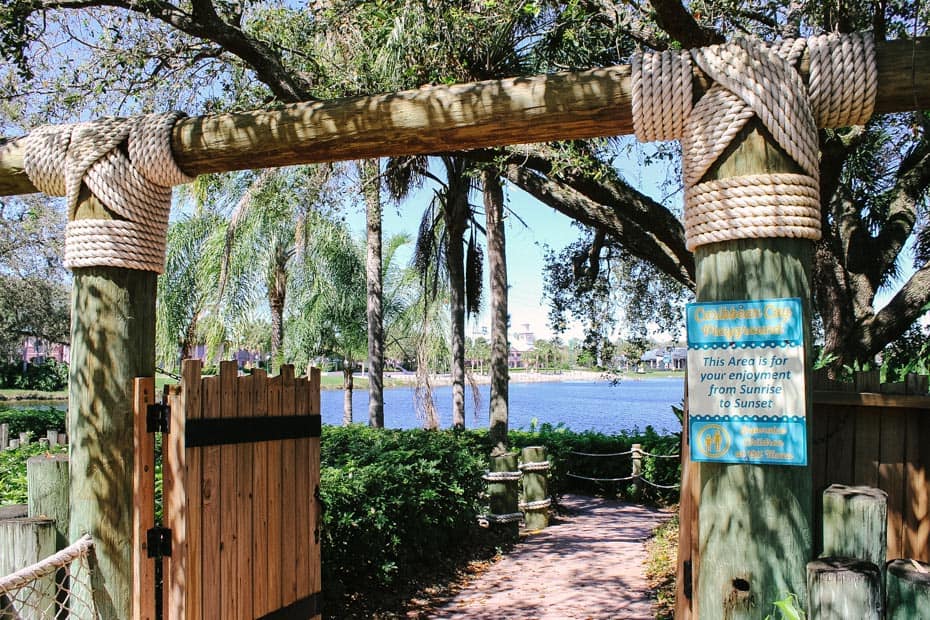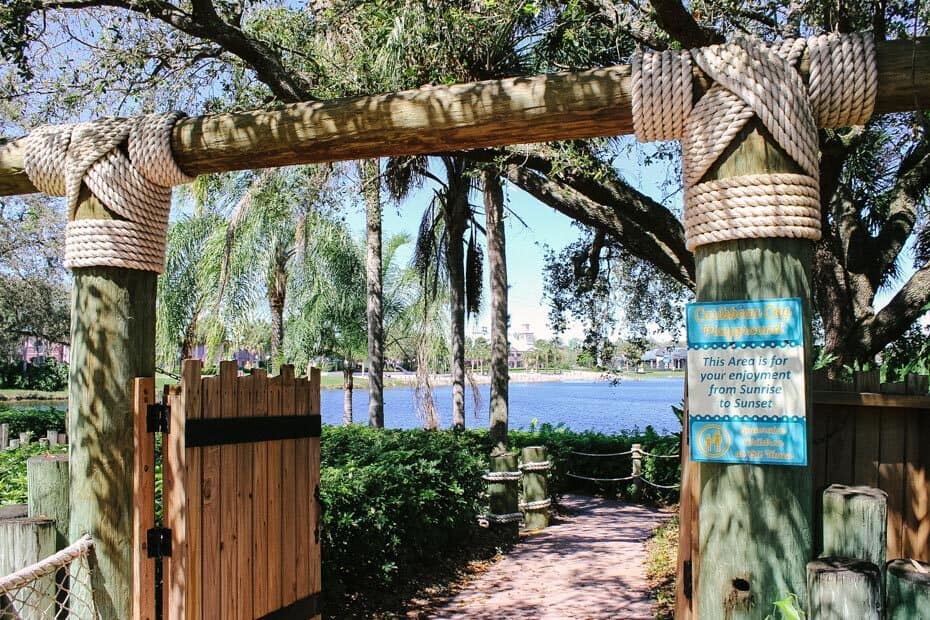 It's a nice playground that has a tarp providing a little extra shade.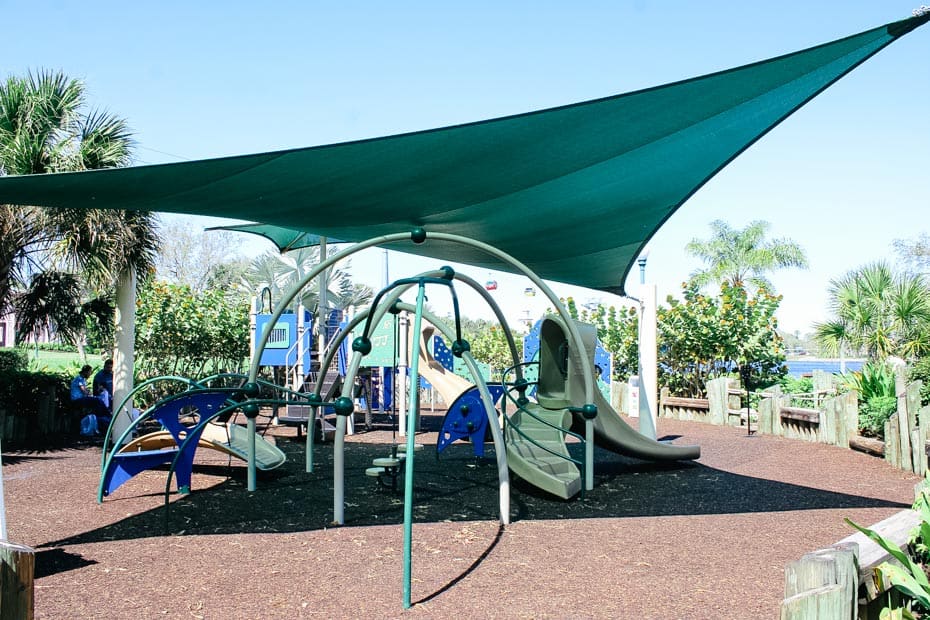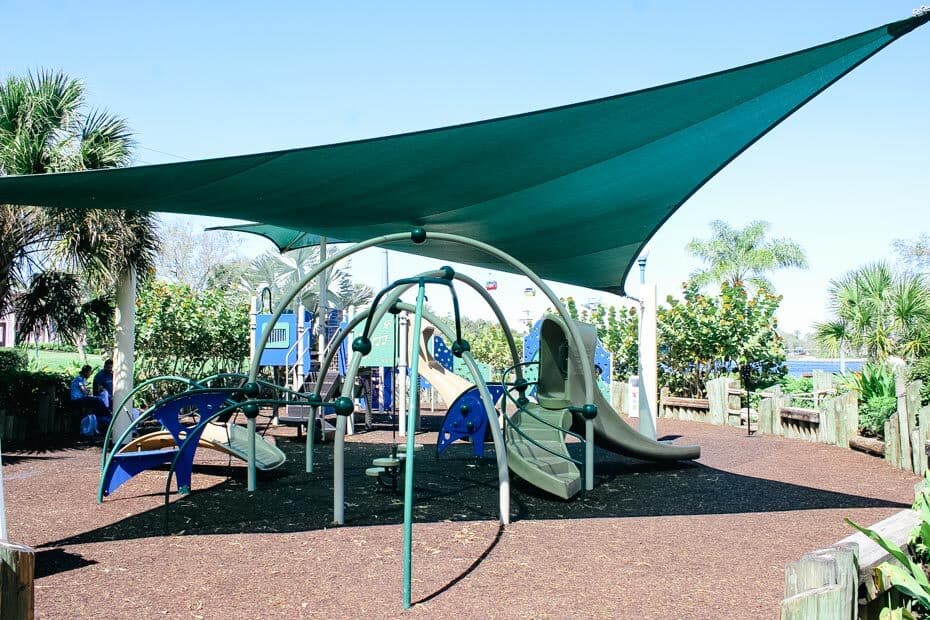 These areas are always great places to let children be children for a little while.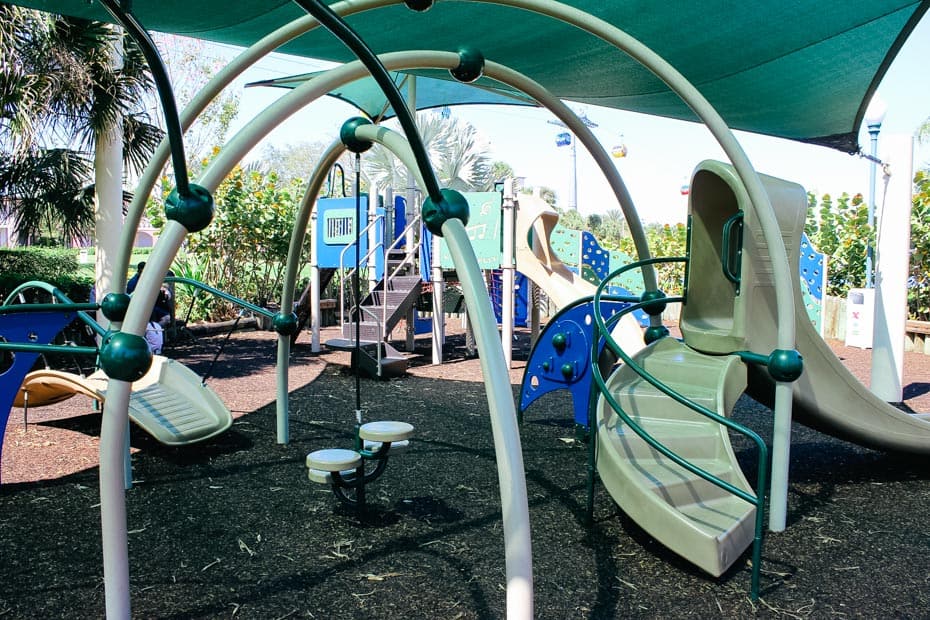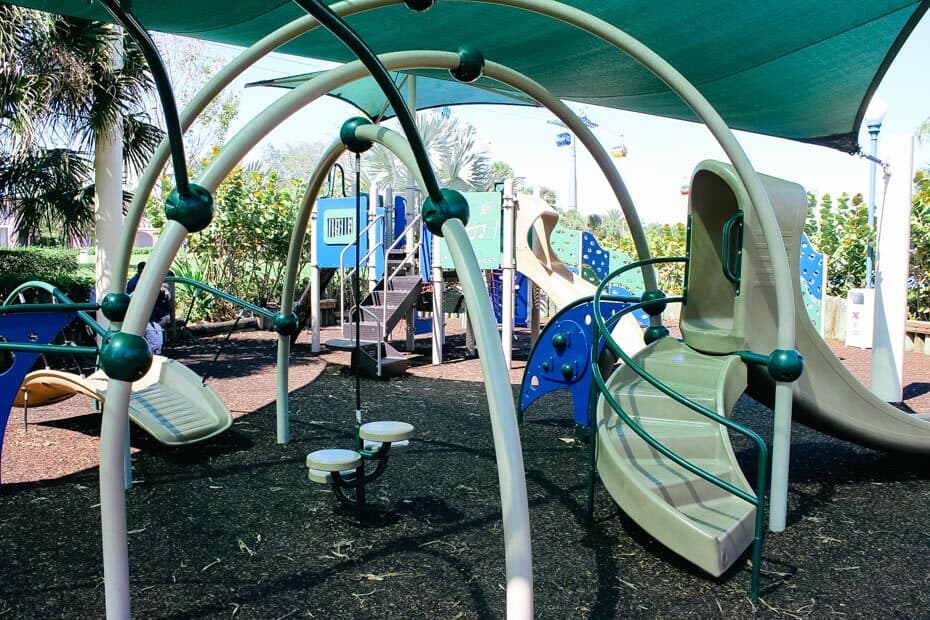 Meanwhile, you can sit back and take in this view.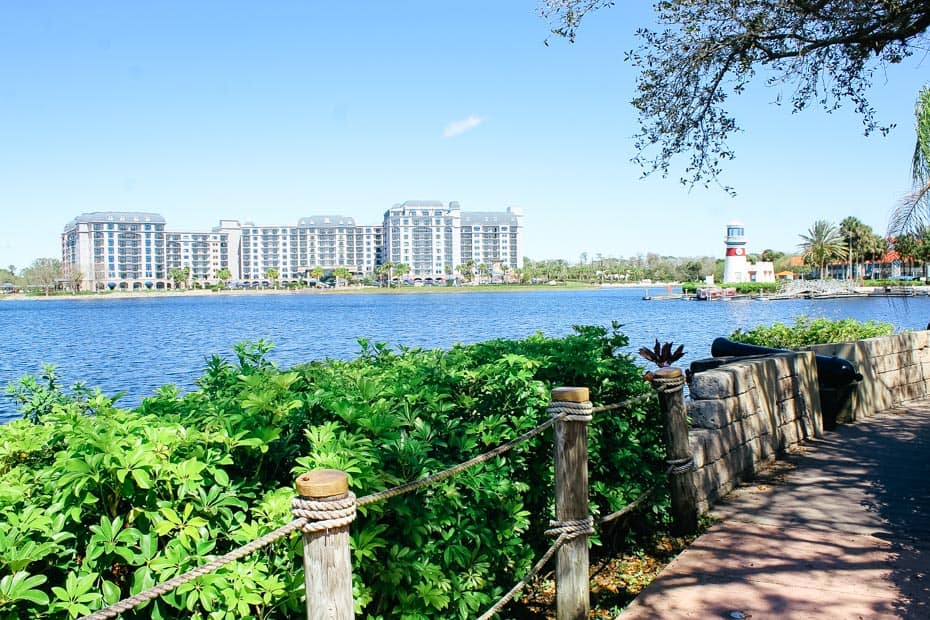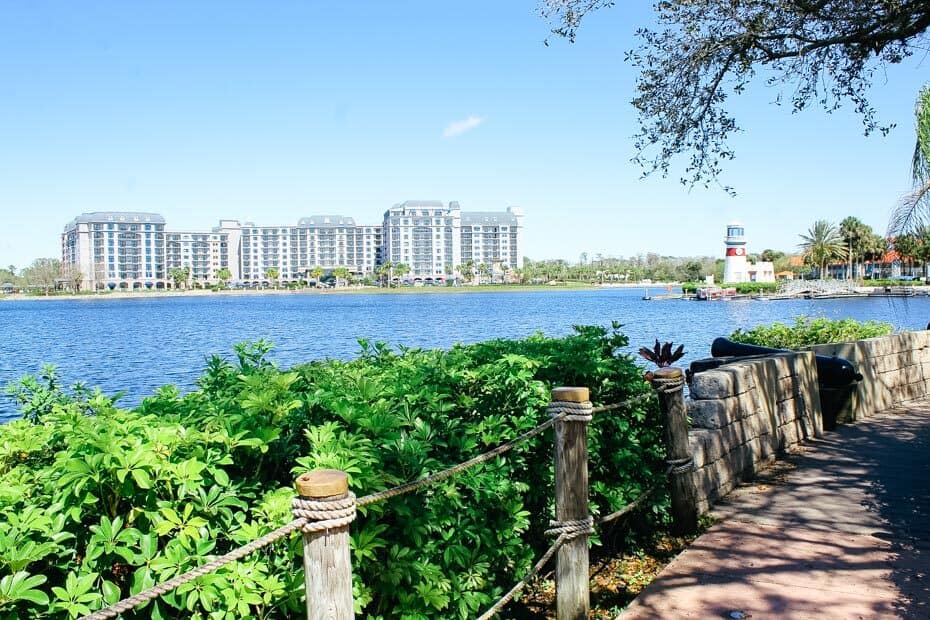 There are even a few old cannons leftover from when pirates inhabited the island.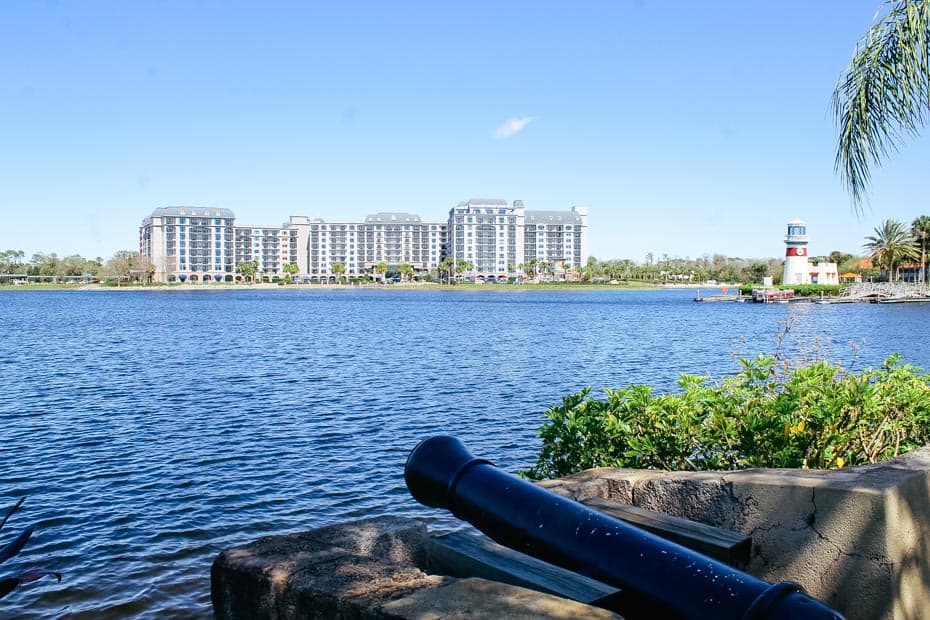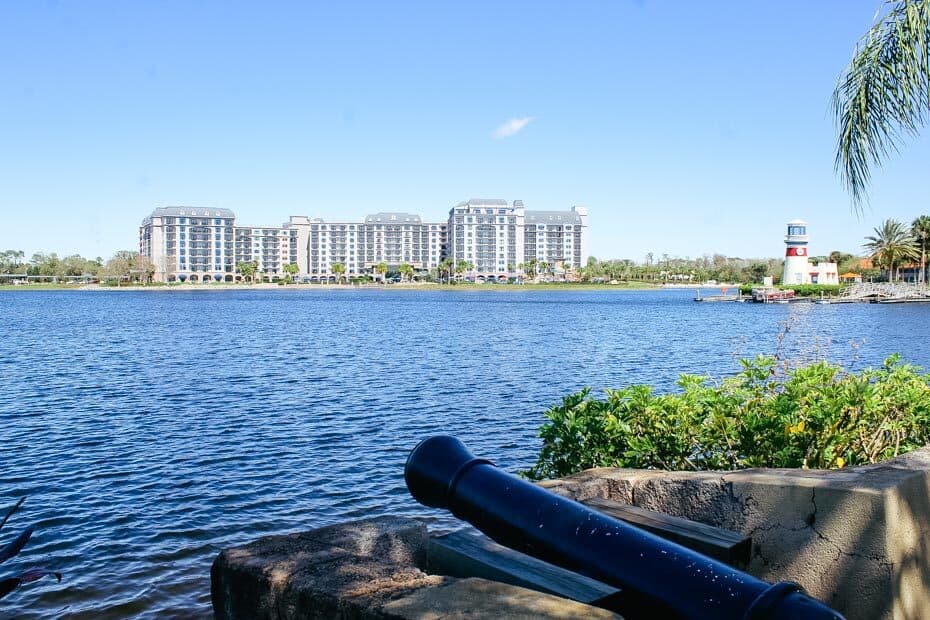 Watch out for crocodiles!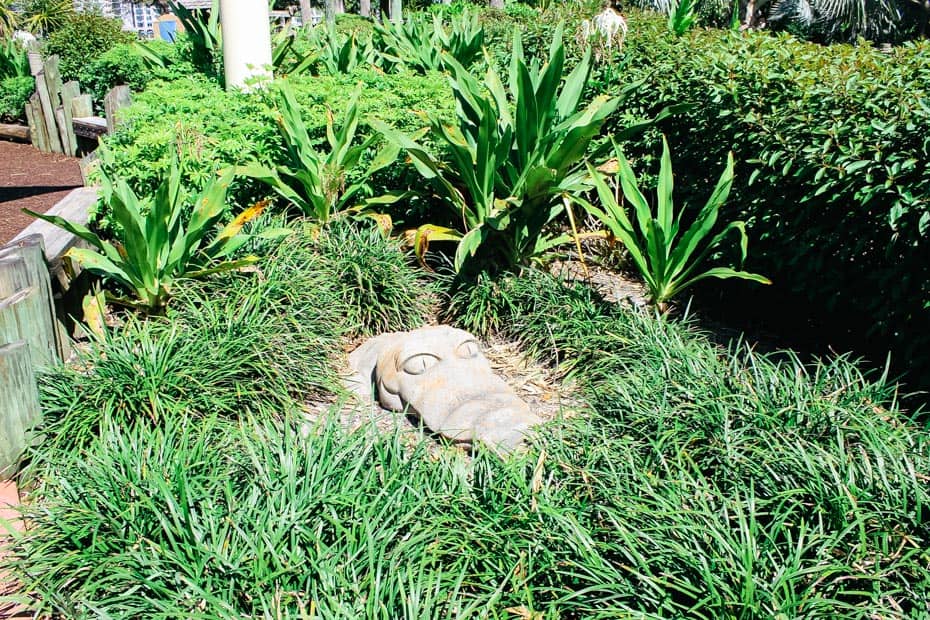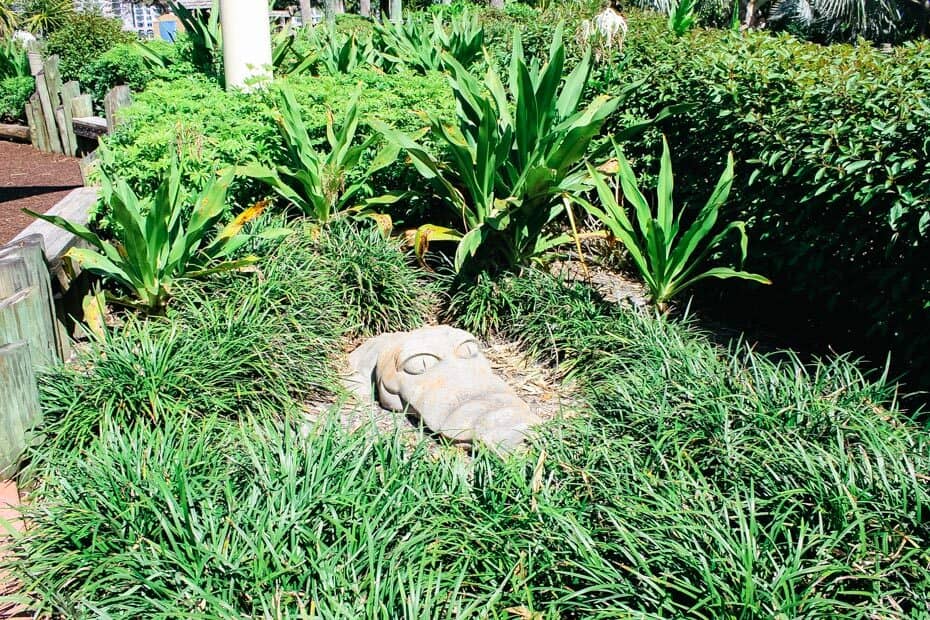 One of the neat things about the island is that it has these little pathways with private seating areas.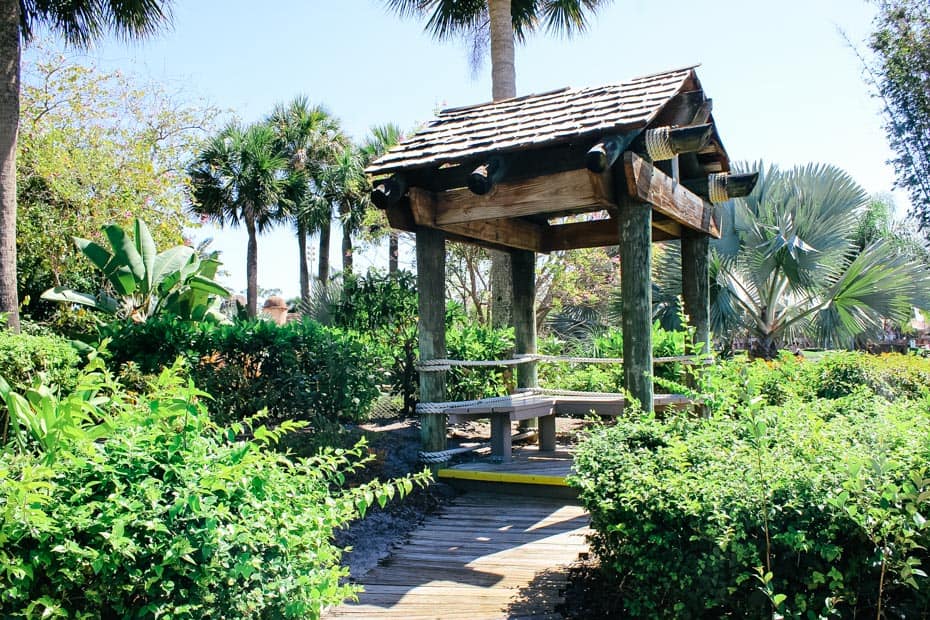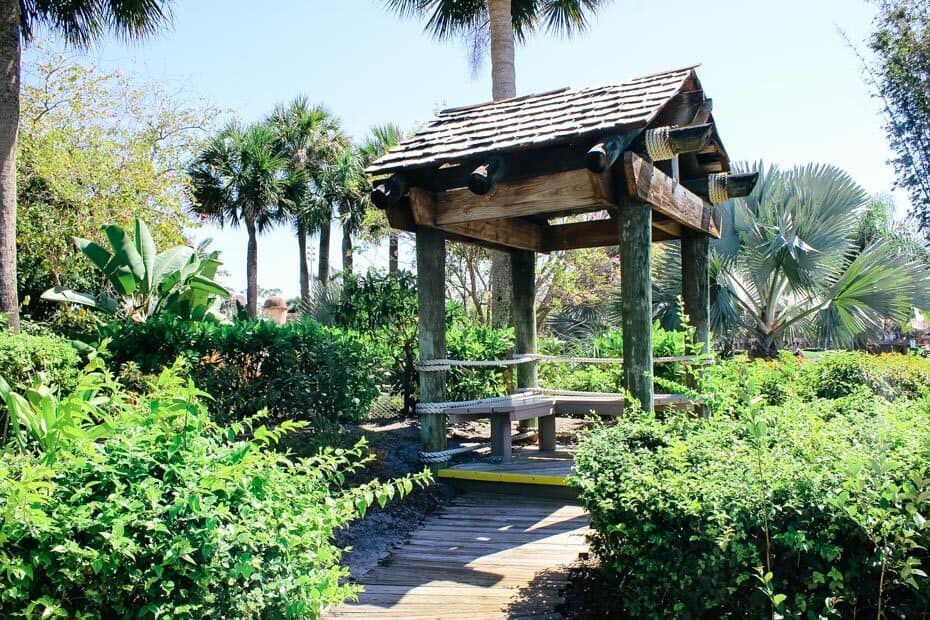 There are several gliders.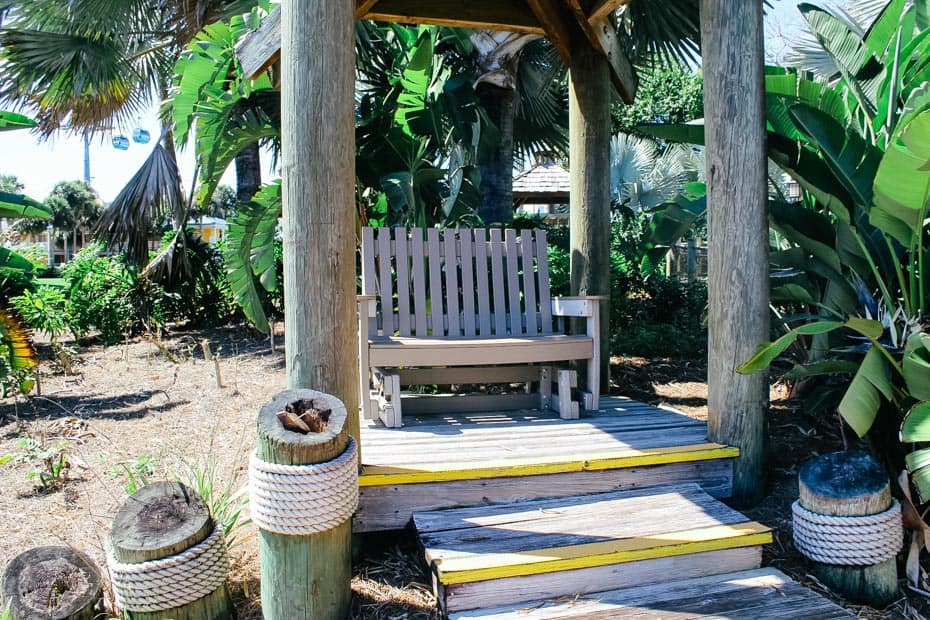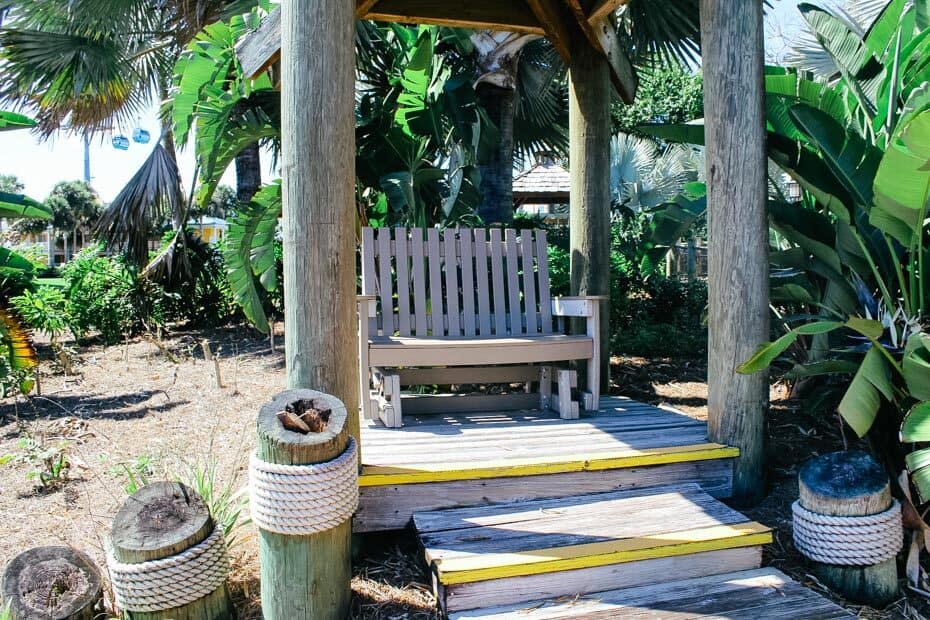 And a little pavilion.
Each one of these looks out onto Barefoot Bay.
Peaceful places at Disney are priceless.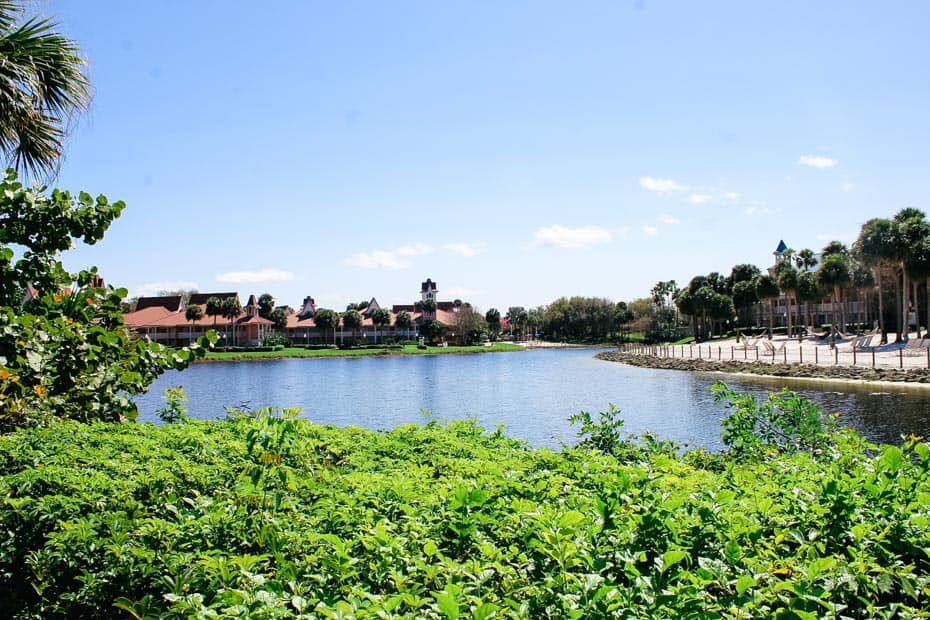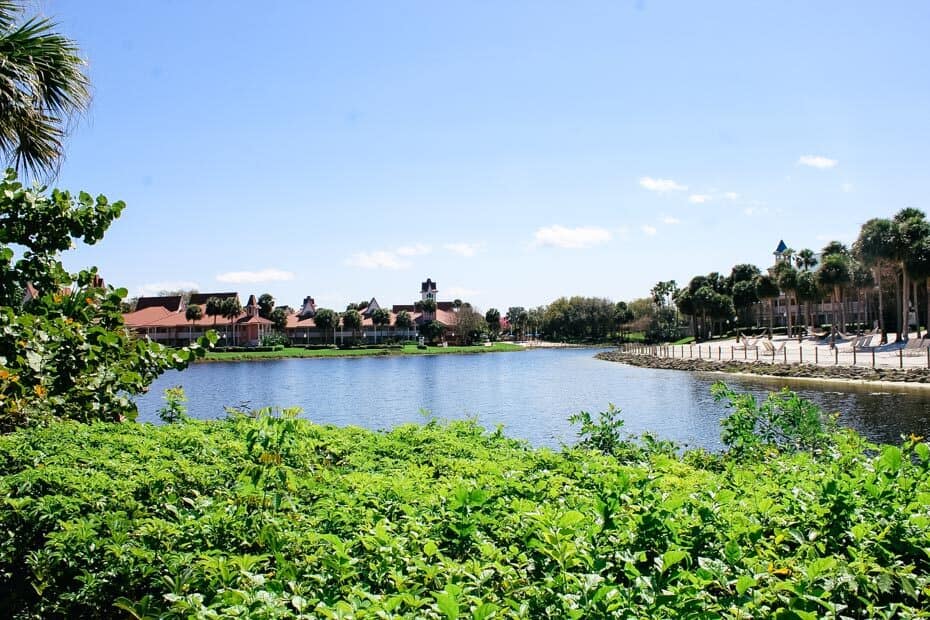 We'll continue on across the bridge.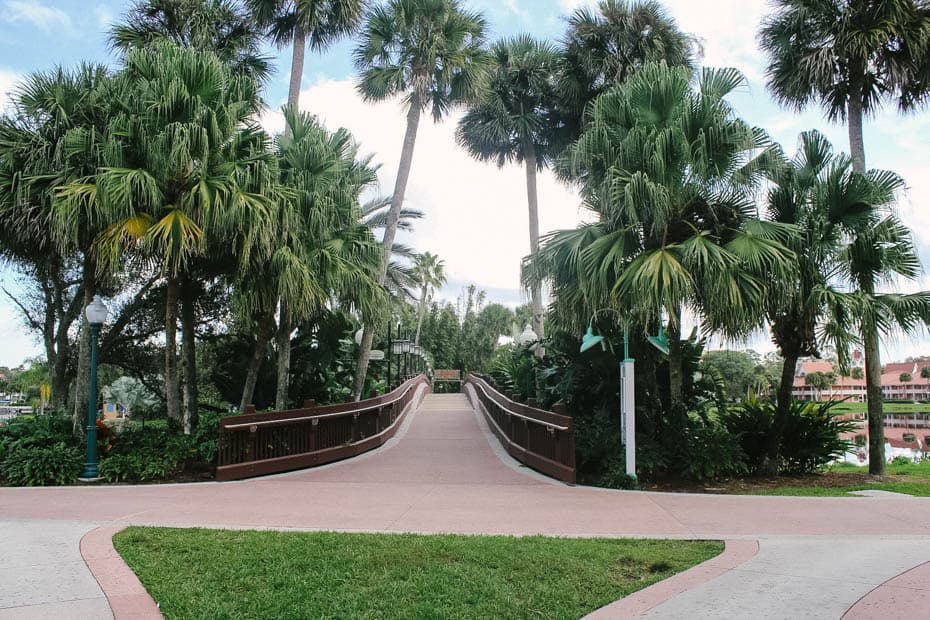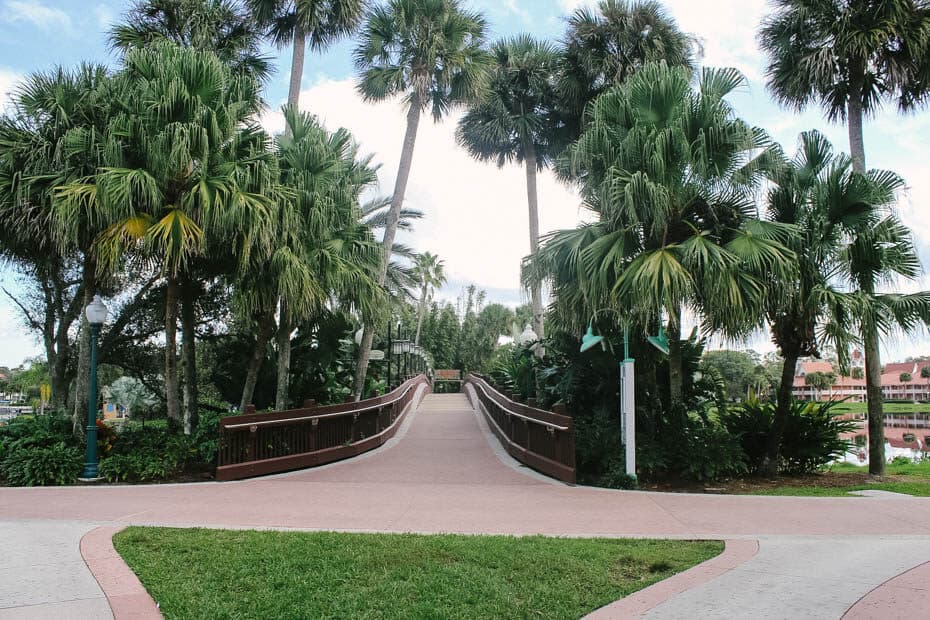 And hang a sharp left as we saunter down to the far end of Caribbean Beach.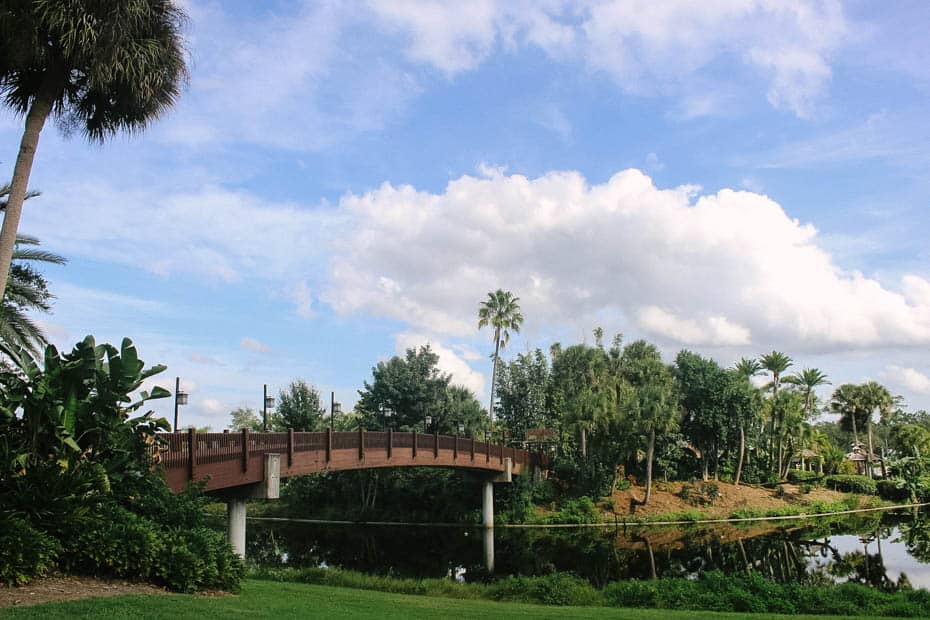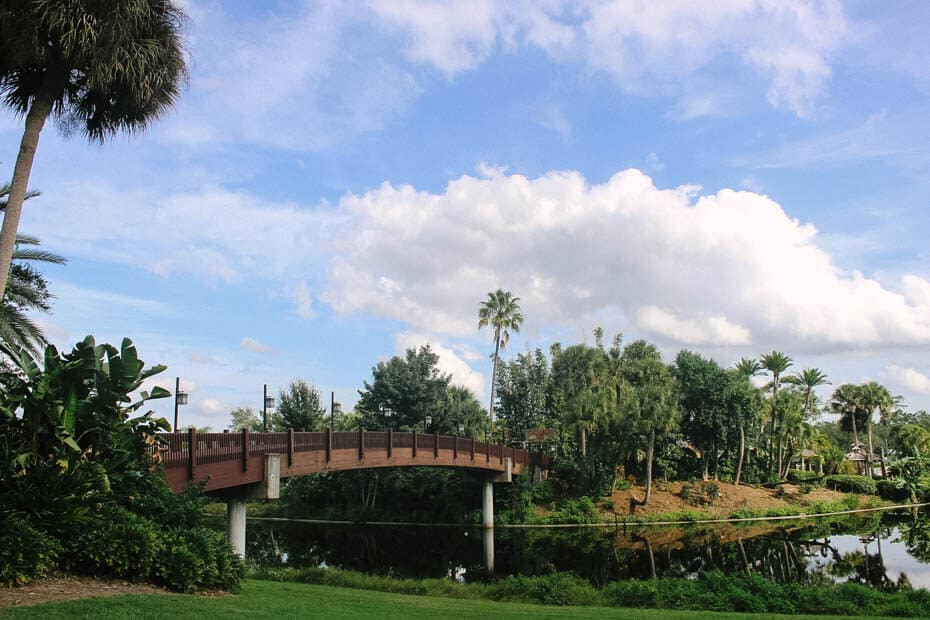 We'll head down this way so you can see the location of the main Skyliner station.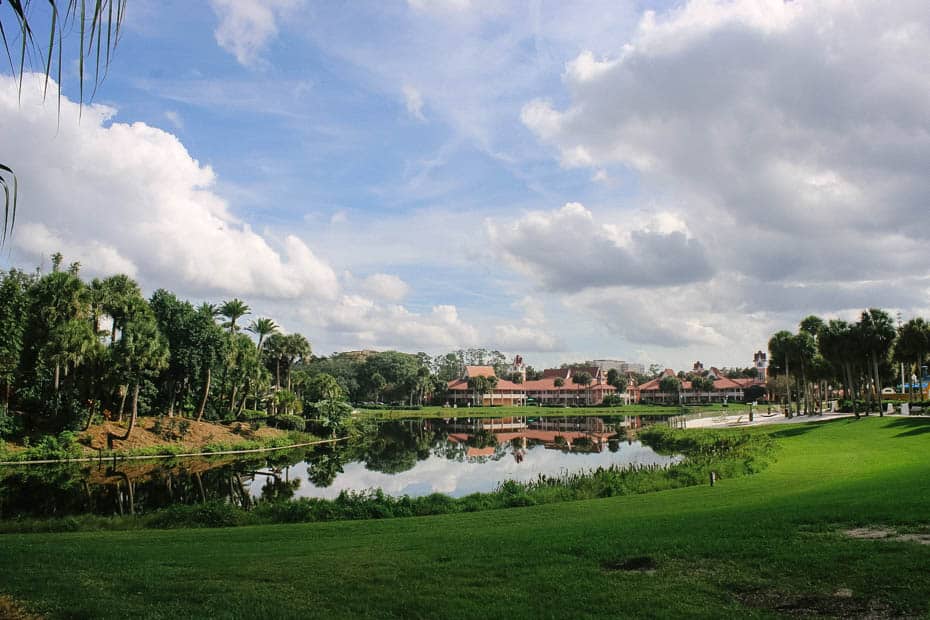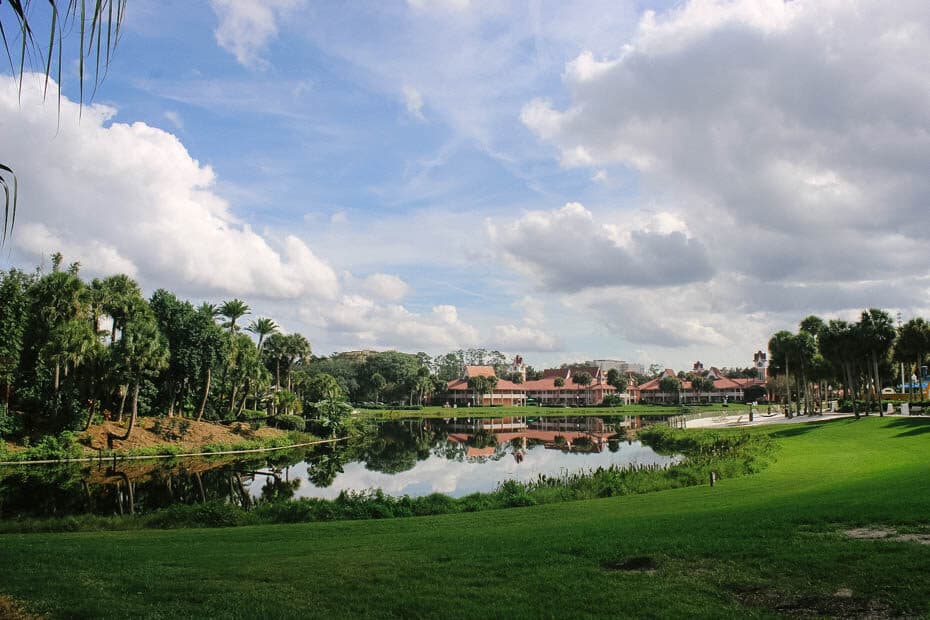 Passing the beaches along Barefoot Bay as we continue.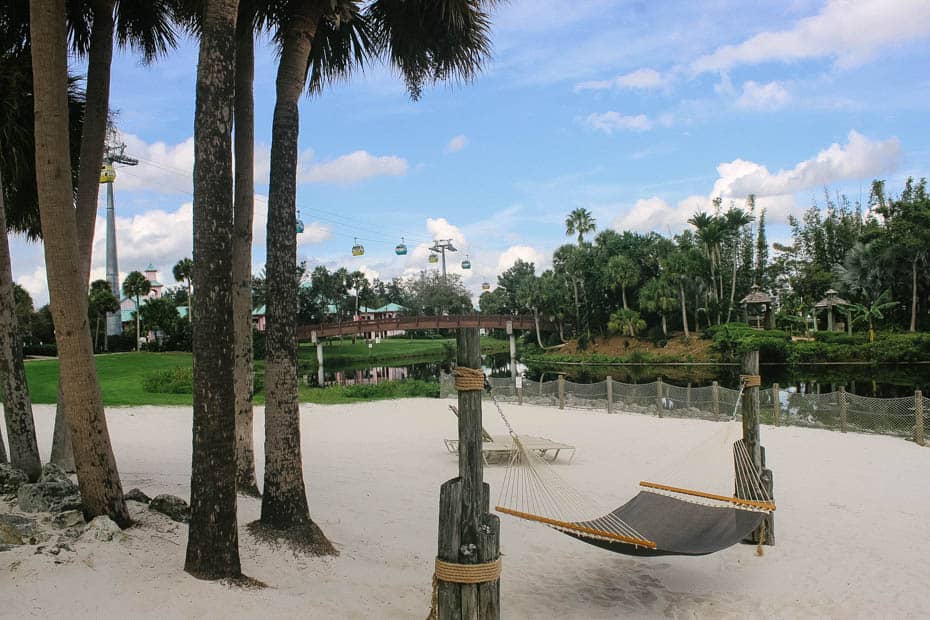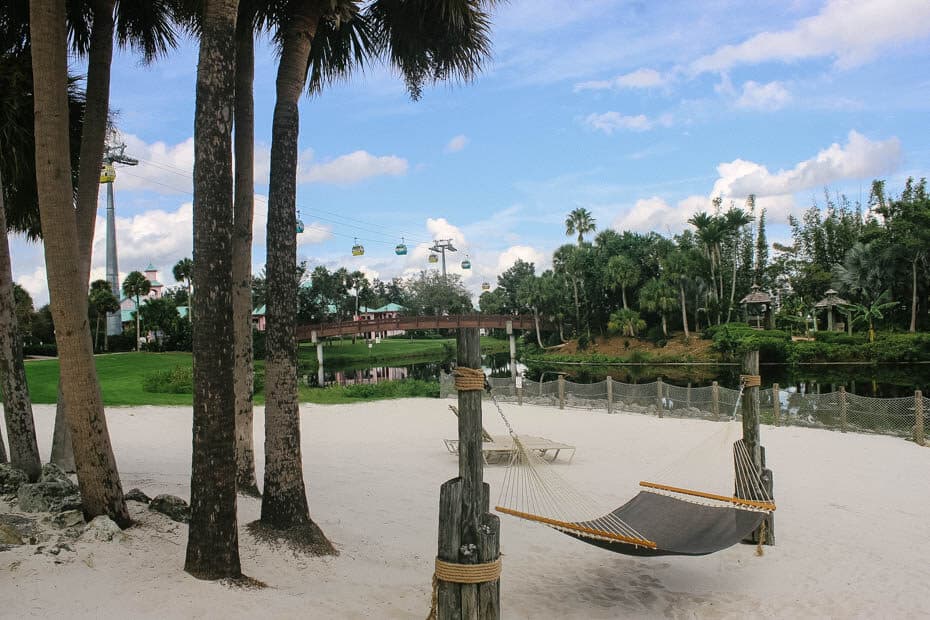 We'll cross underneath the bridge. (Watch out for trolls!) I always think about trolls when I find myself underneath a bridge.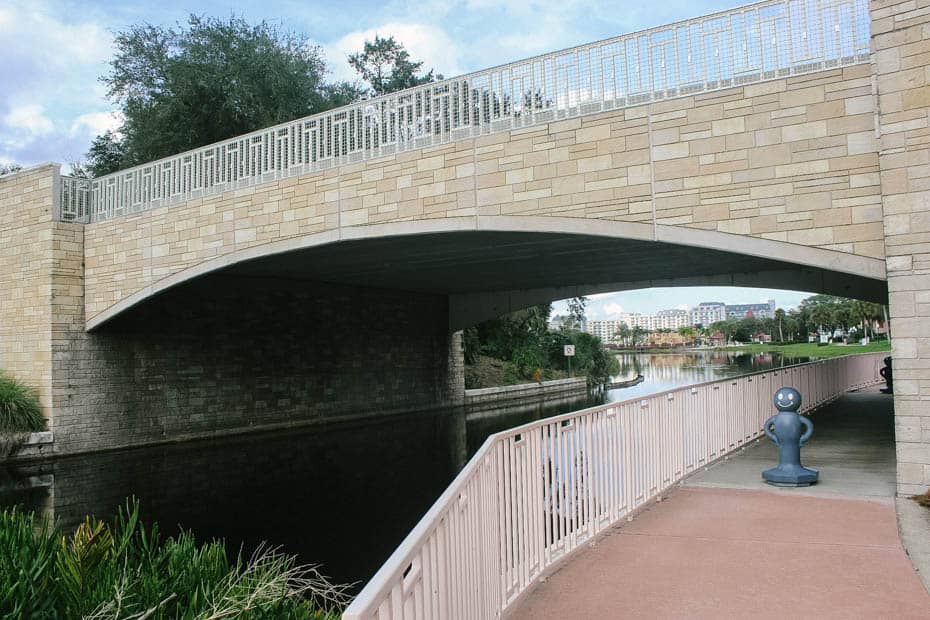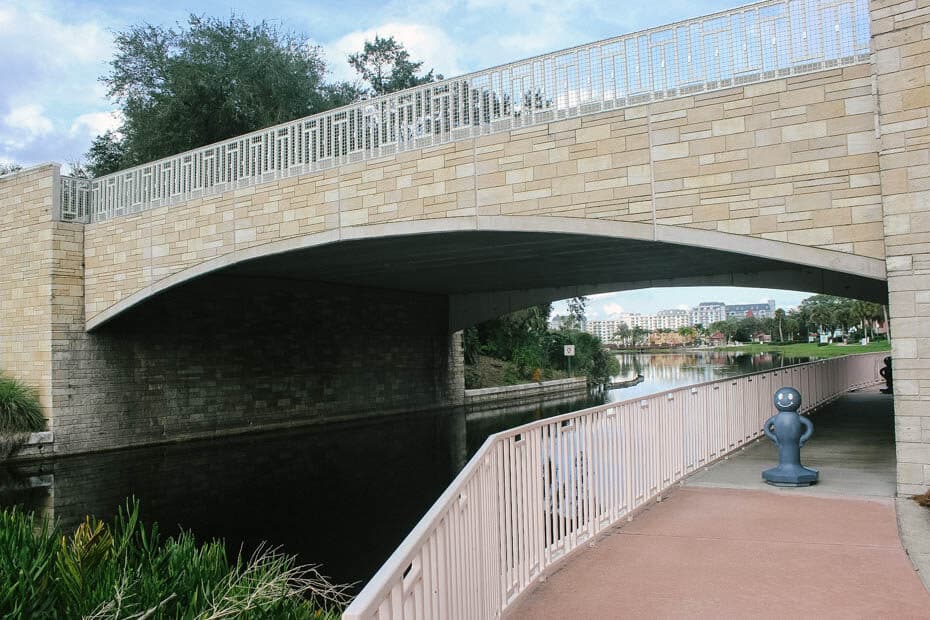 Once you cross underneath the bridge, you'll see the Skyliner station in the distance. I wanted to mention that in the picture below, I'm standing in front of the Trinidad section looking over to the Skyliner.
For those considering a pirate room, they are located in Trinidad. In order to get to the Skyliner from this section, you would have to walk back to the car bridge. Then you'll cross over it on the pedestrian walkway and walk down to the Skyliner.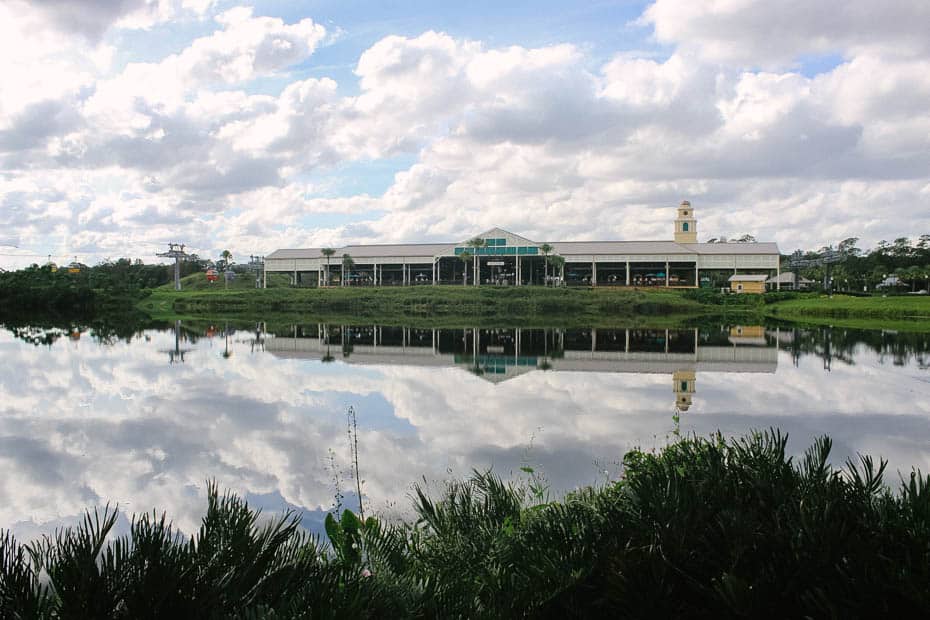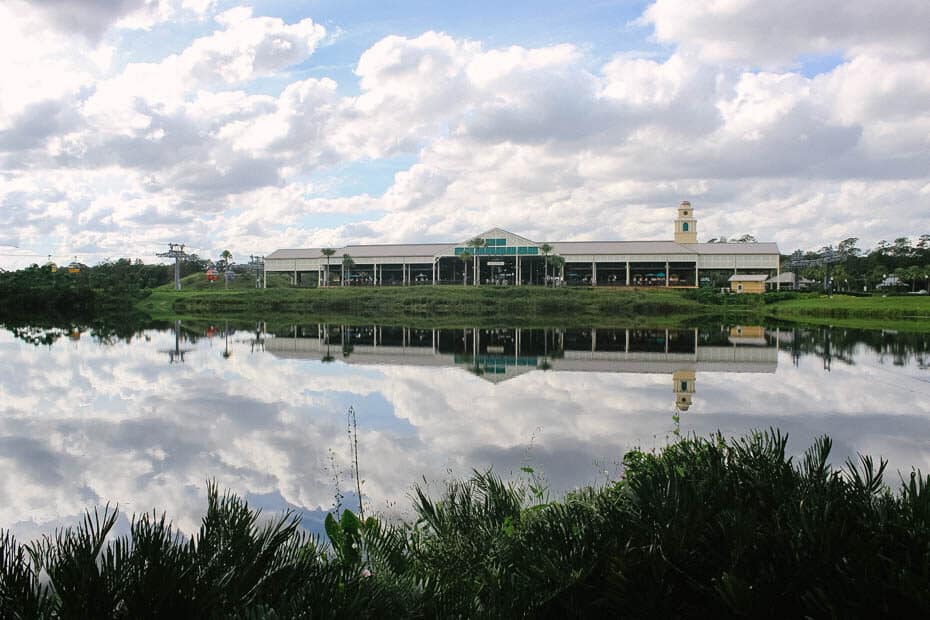 Additionally, the rooms in Trinidad are the furthest away from Old Port Royale and the Riviera.
So if you decide to upgrade to this special type of room, you shouldn't necessarily think you will be in a good location.
Personally, I wouldn't want to be stuck all the way down here. (This is similar to the Royal Princess Rooms at Riverside. They are not in the best location either.)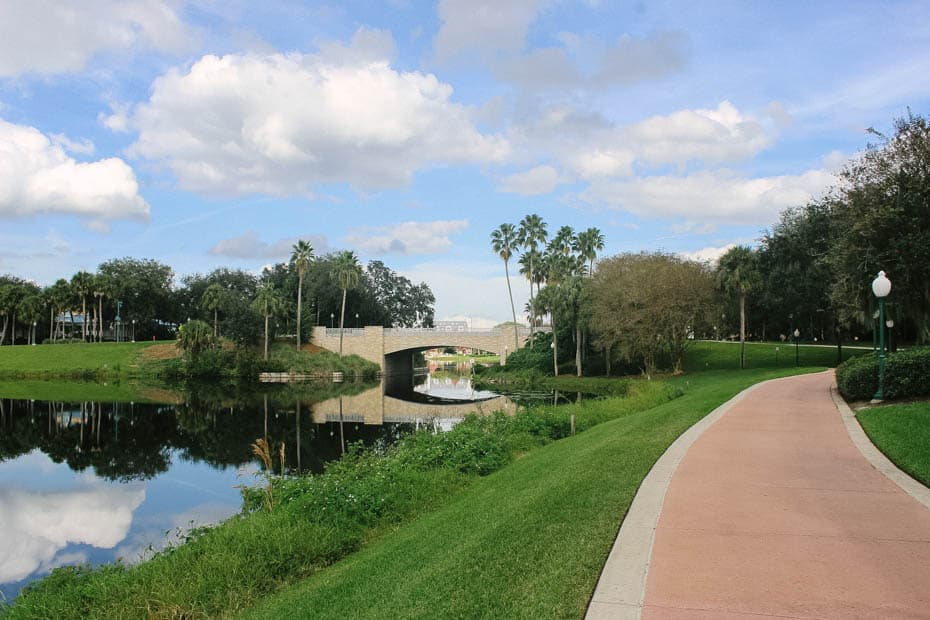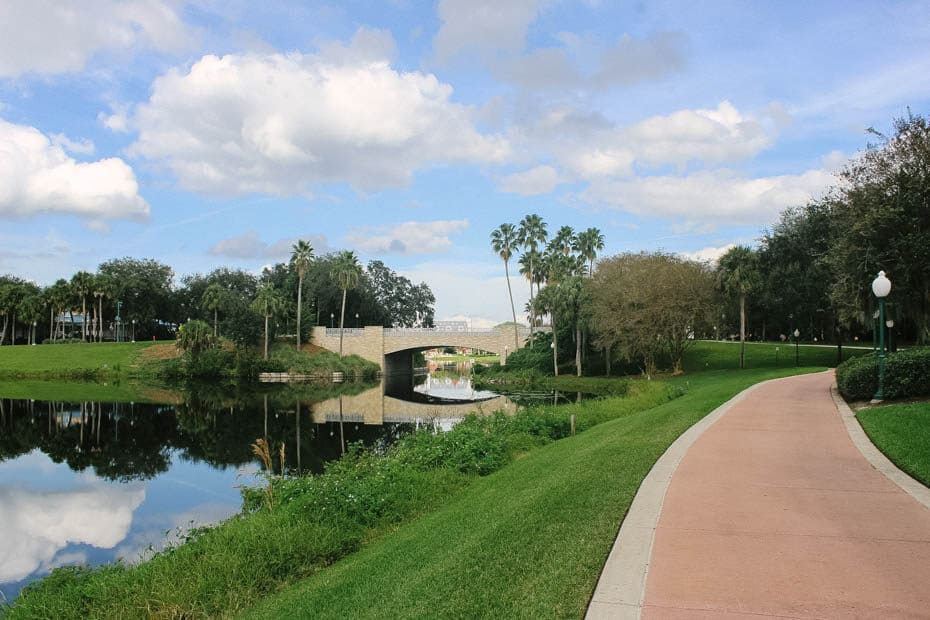 Continuing our walk, we pass by the Spyglass Grill mural. The Spyglass Grill is a secondary counter service dining option at Caribbean Beach.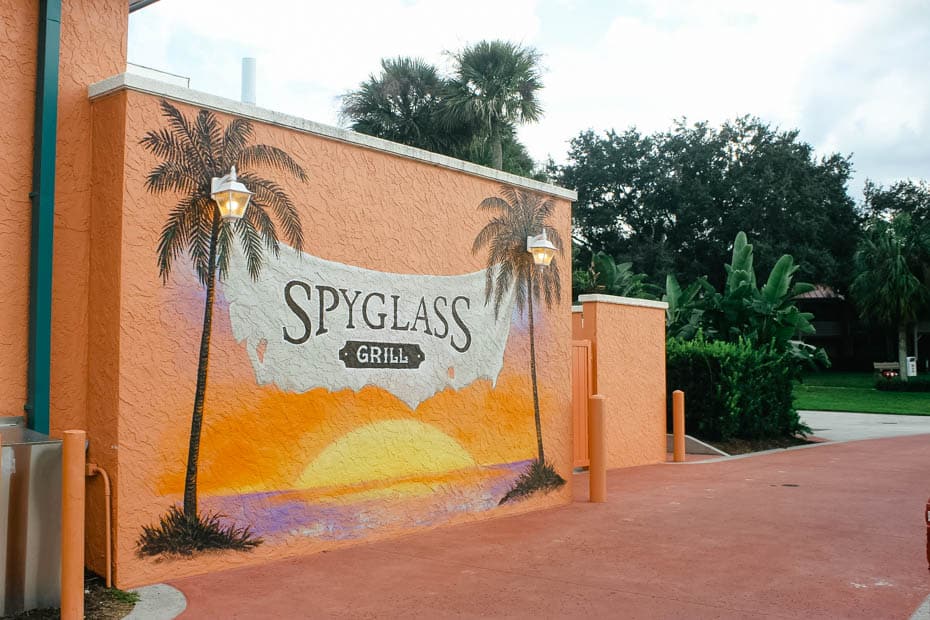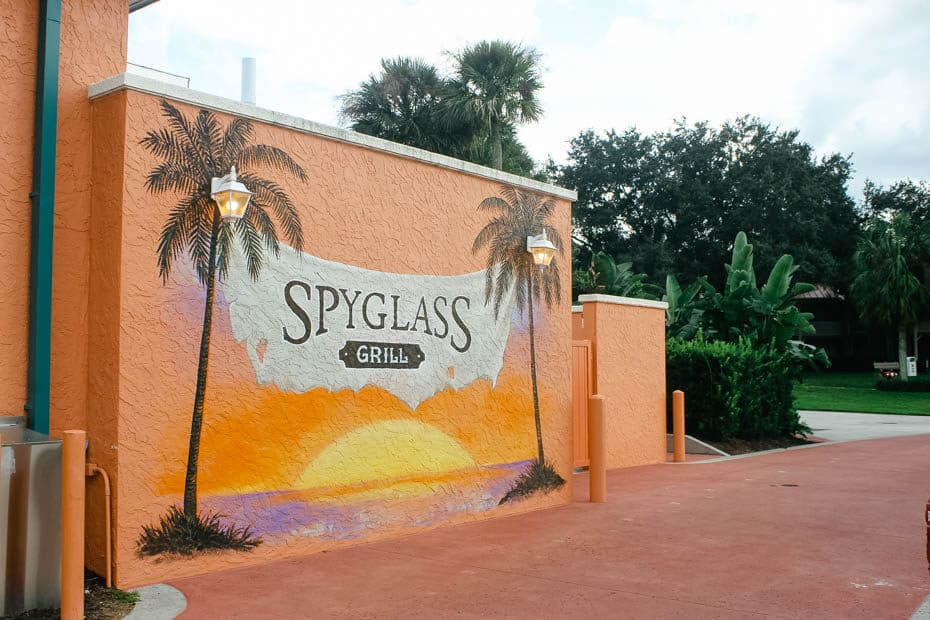 And here is the last beach on Barefoot Bay on this end of the property.
We'll now make a u-turn to head all the way back to the Riviera.
We'll do a little backtracking as we stay on the Jamaica and Aruba side of the resort.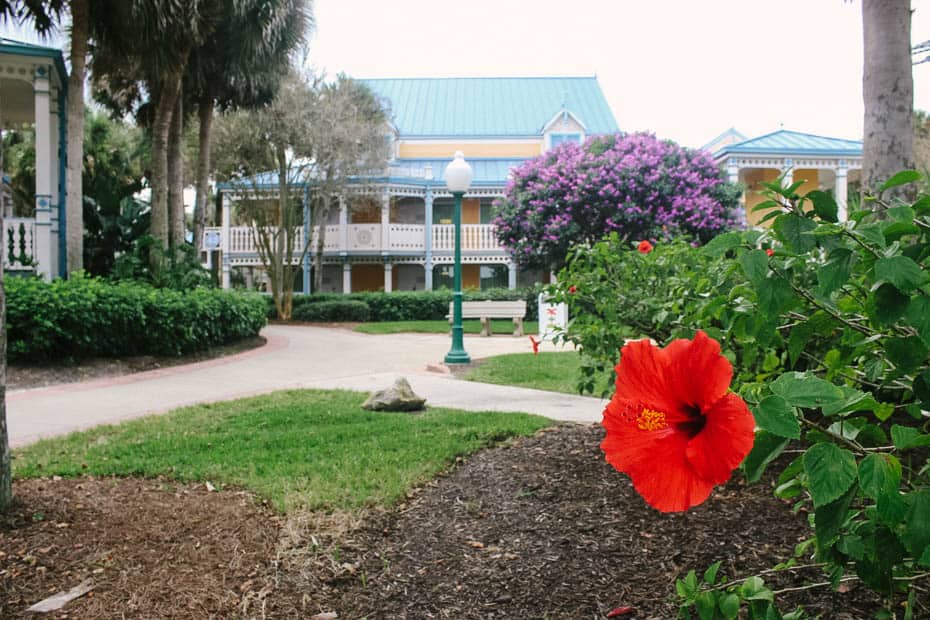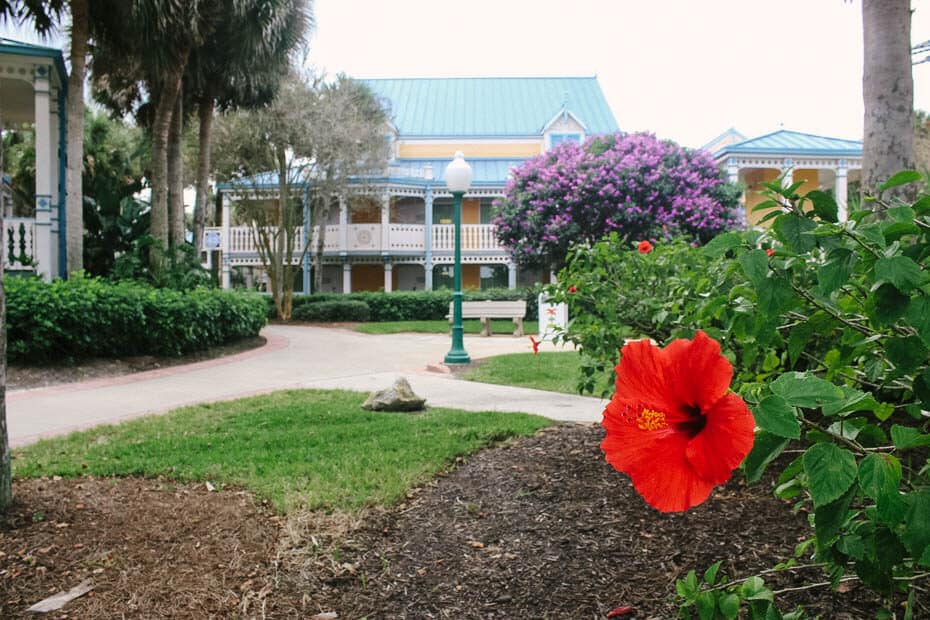 All the while taking in the surroundings.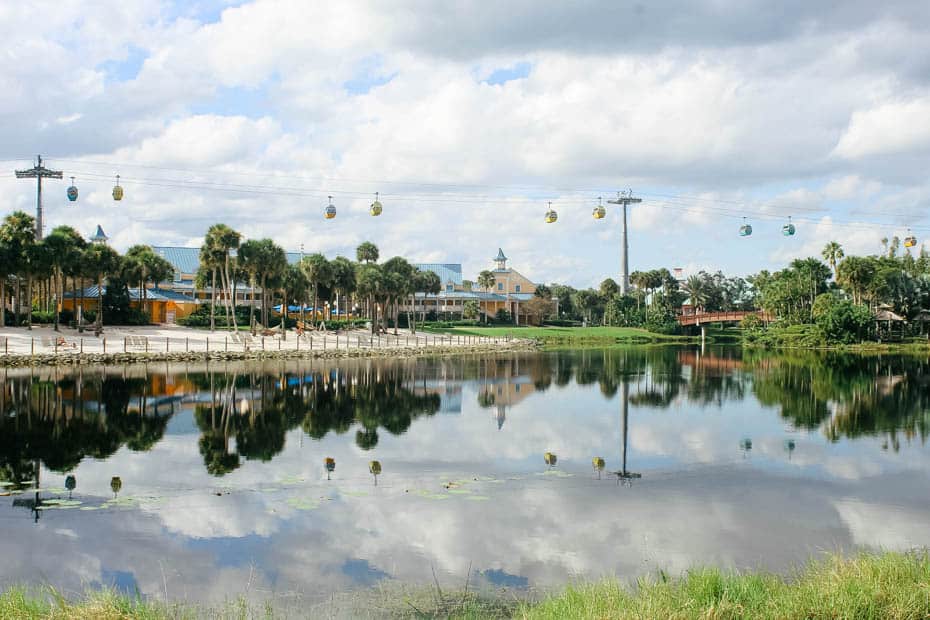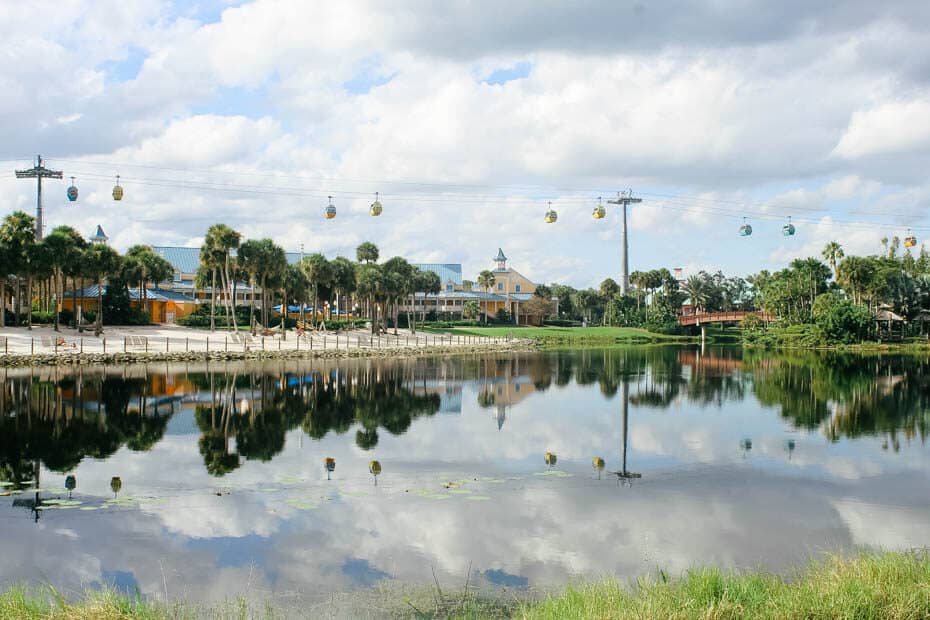 The Riviera begins to get closer as we move in that direction.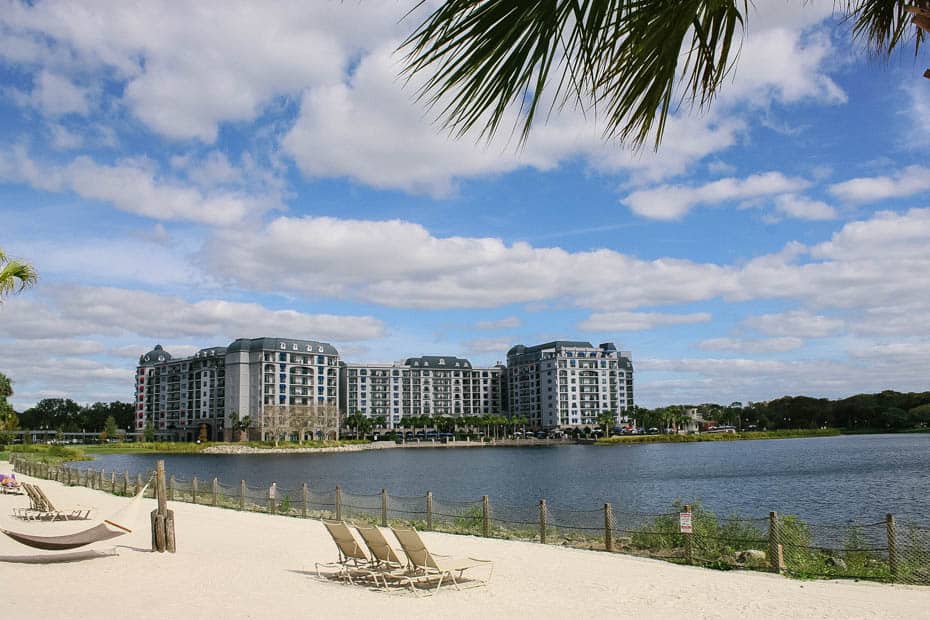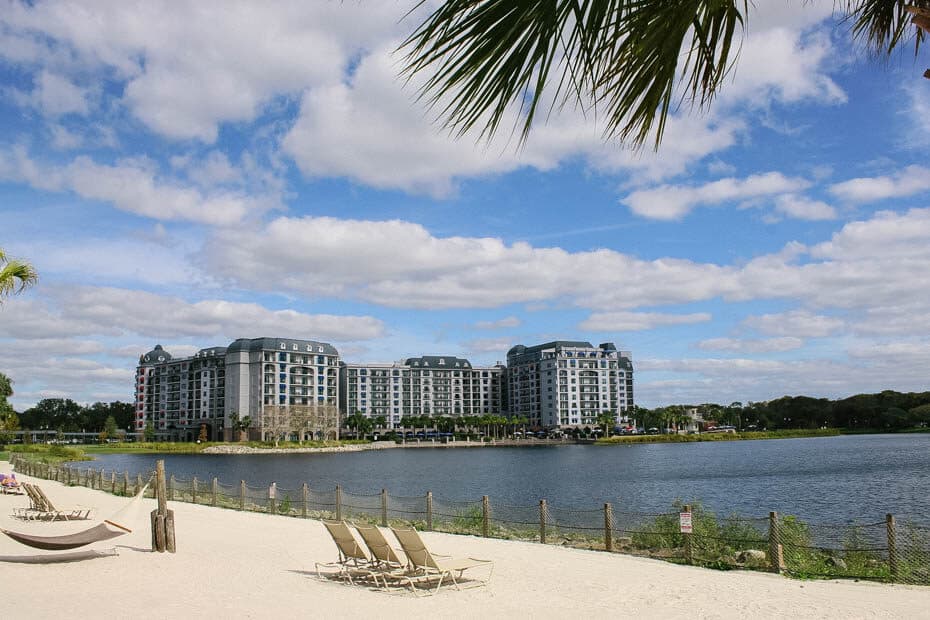 It's really a good-looking hotel.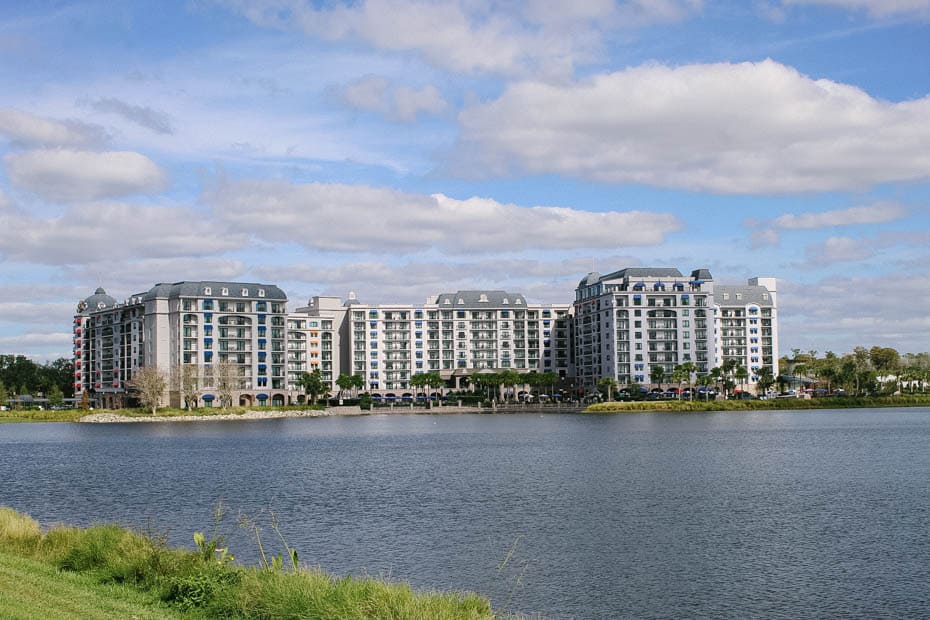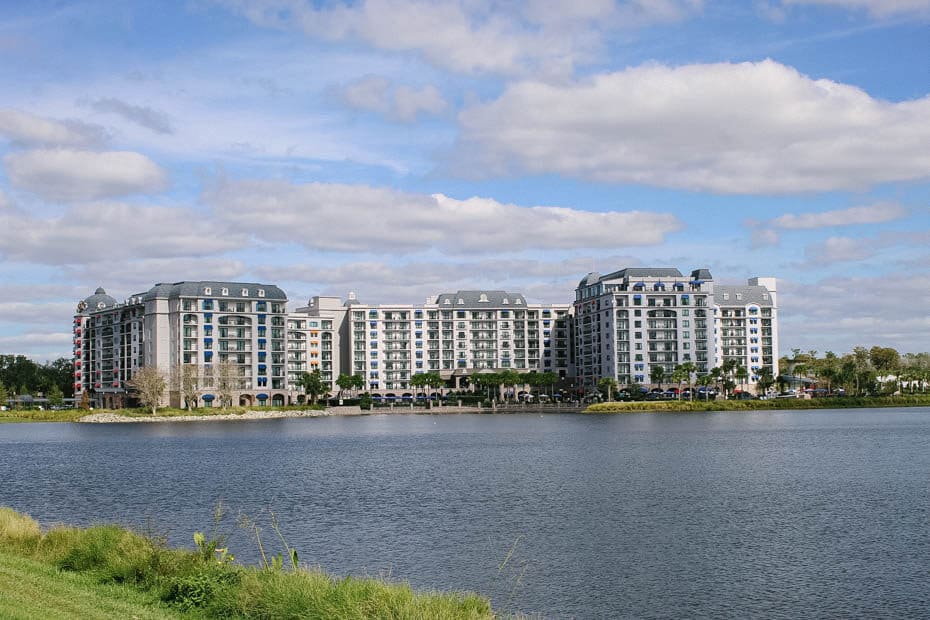 Related: Disney's Riviera Resort Review
And so is Caribbean Beach as we look back to Old Port Royale from across the lake.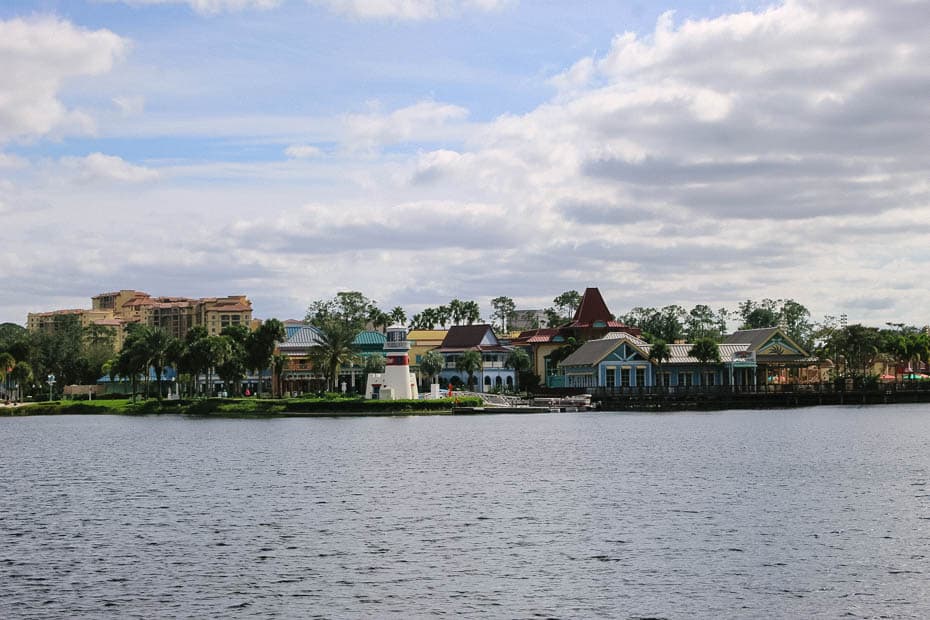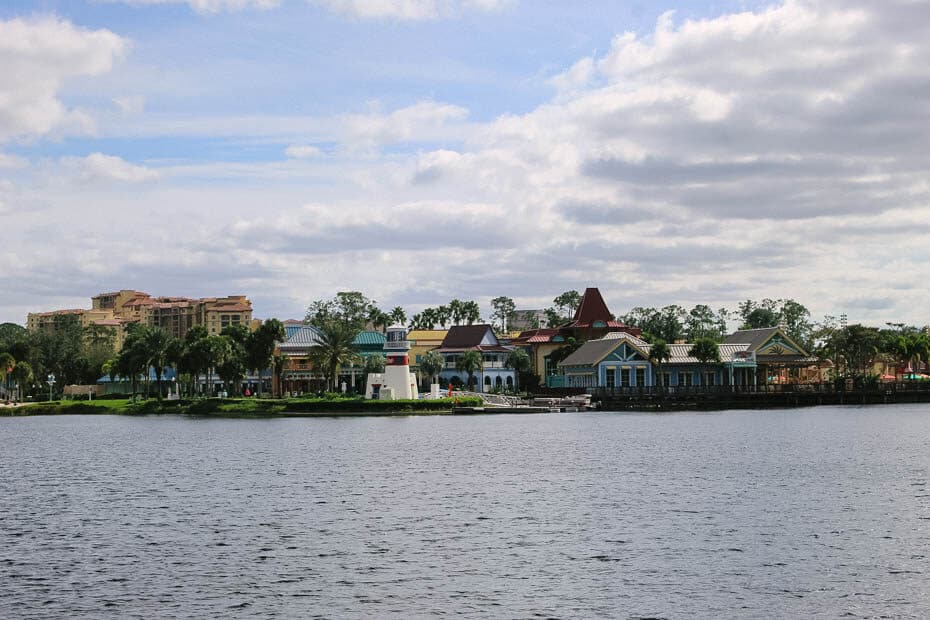 Right before we get to the Riviera, we run into its Skyliner station. If you are wondering how the Skyliner works, we have a full guide to the Skyliner with stations and travel times.
Related: Disney Skyliner Resorts with Travel Times
For those that haven't ridden it yet, it probably works a little differently than you think. Therefore, it's imperative to know how to use it in advance of your trip.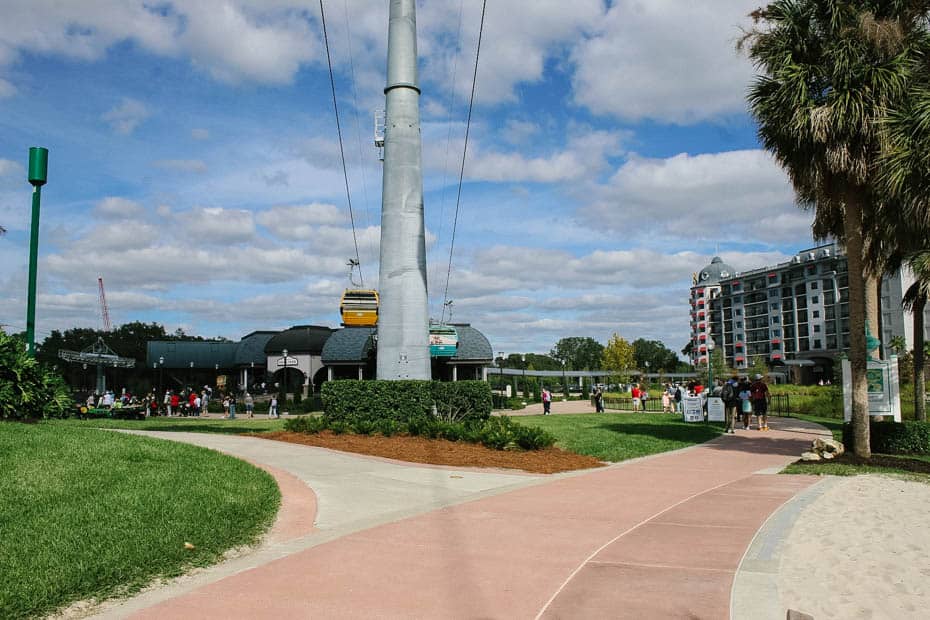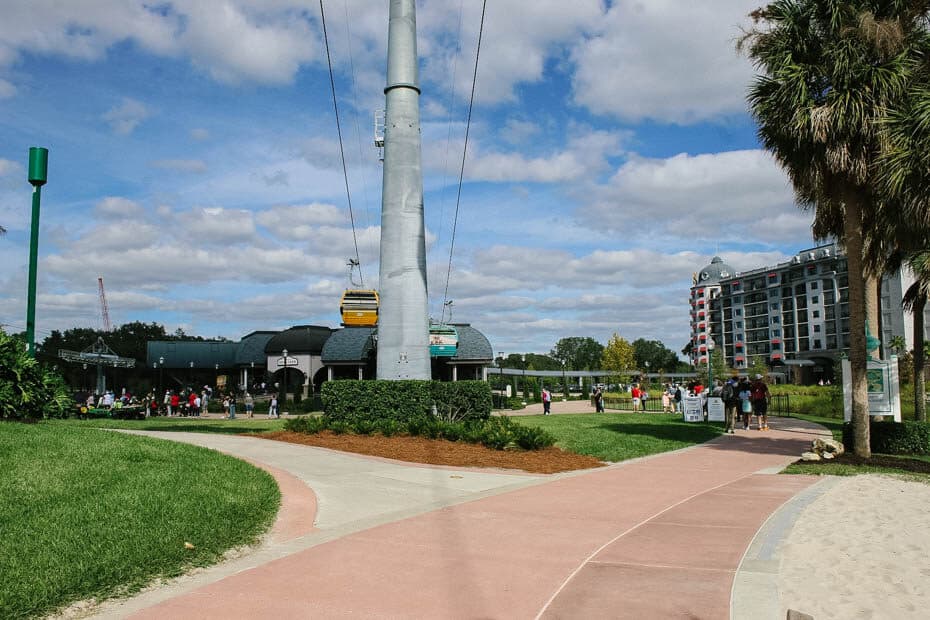 Anyway, as we continue on our tour around the lake, we have the option to walk through the entrance to the Riviera station.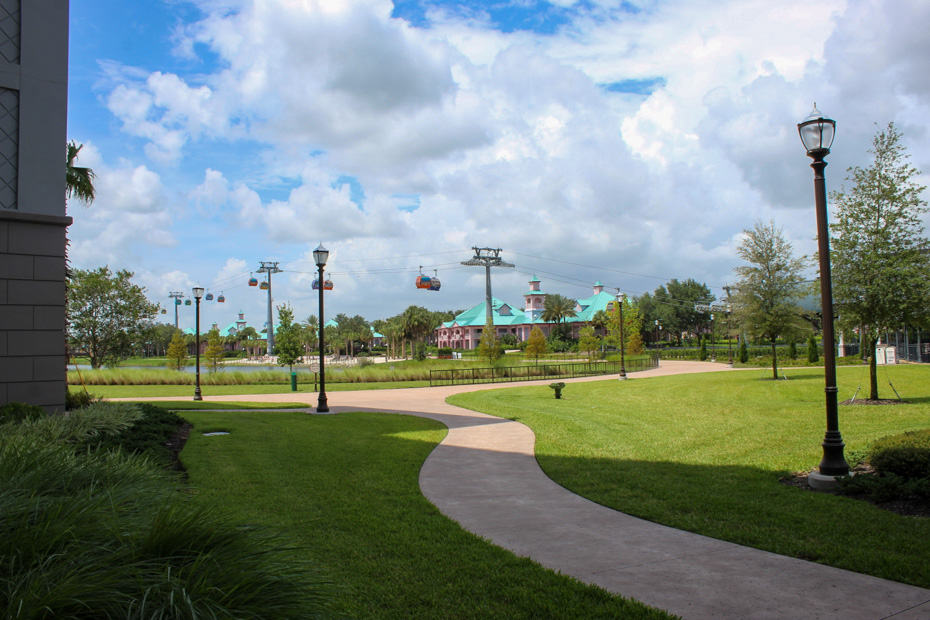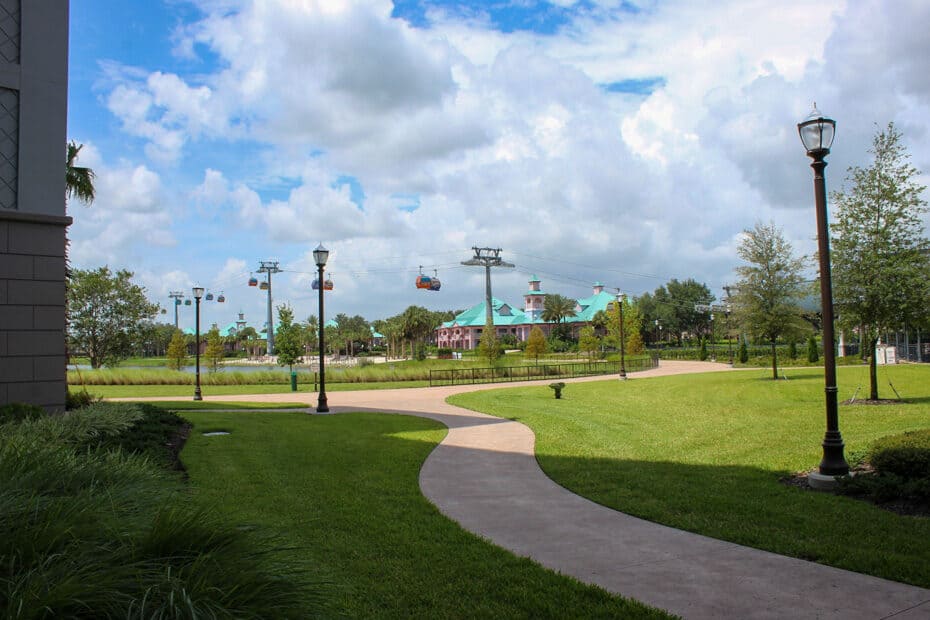 This is where the Tangled and Peter Pan mosaic murals are located.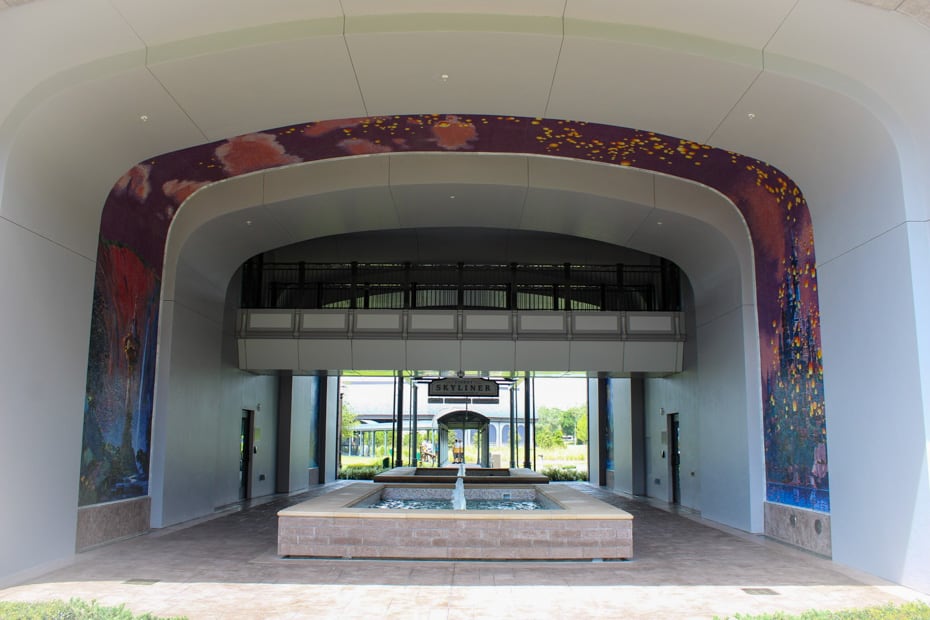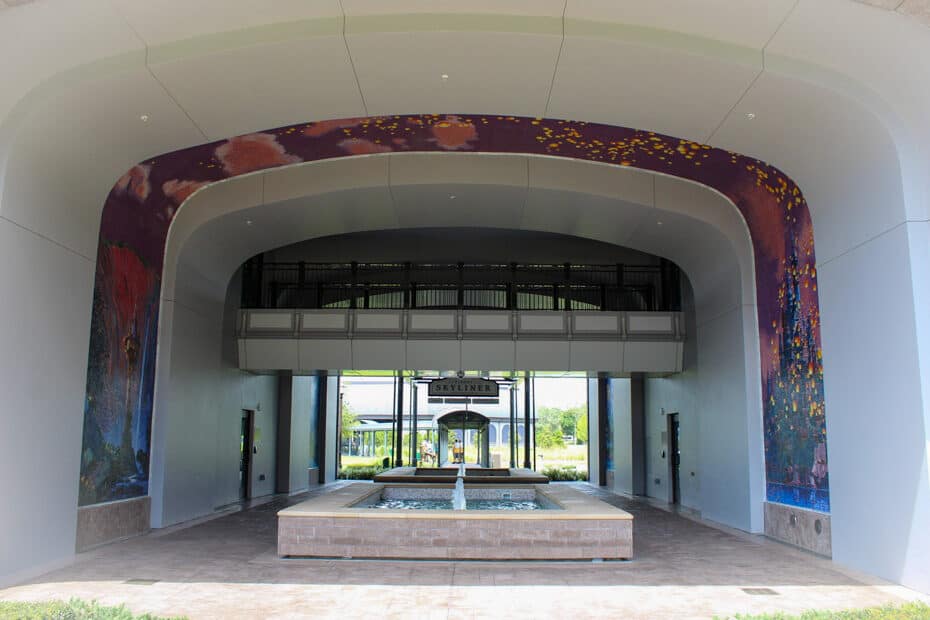 You'll come out here into the Riviera courtyard.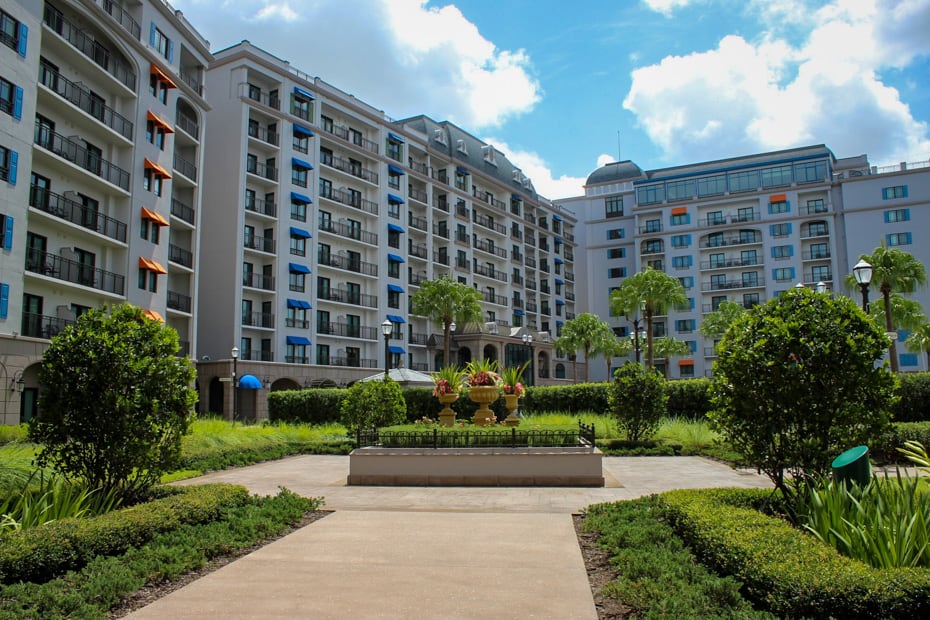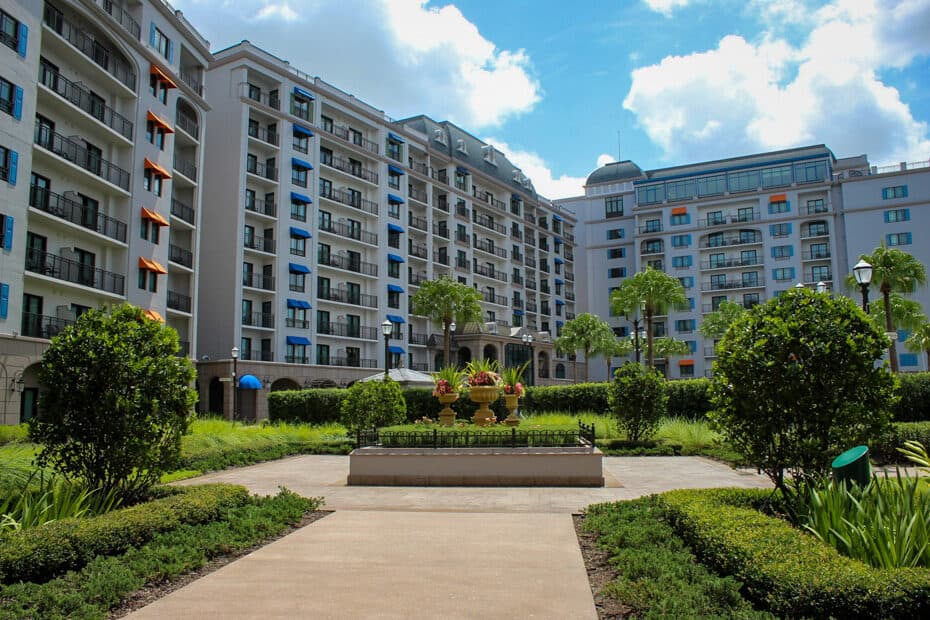 You may even enjoy a sunset walk around the area.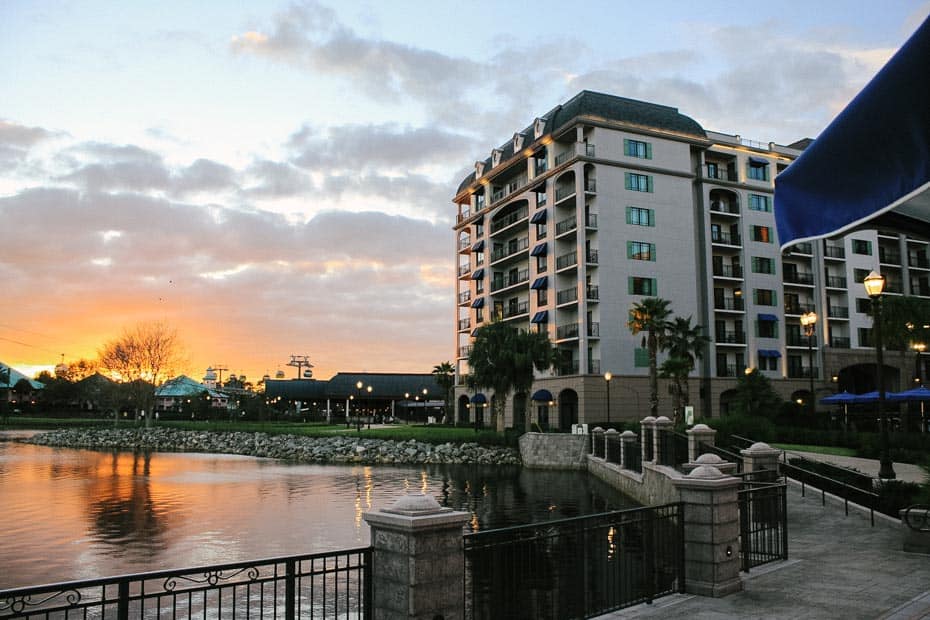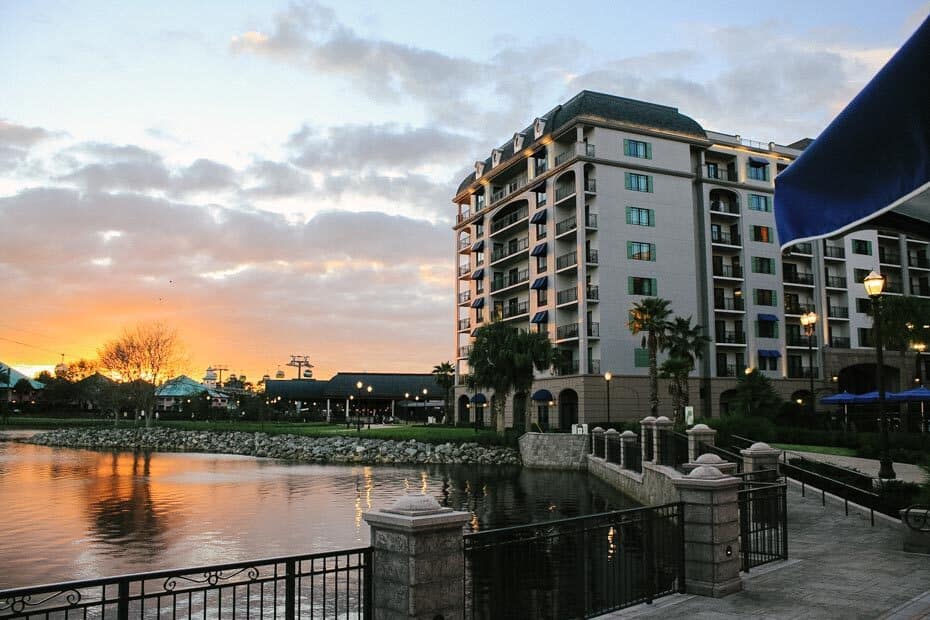 It is stunning.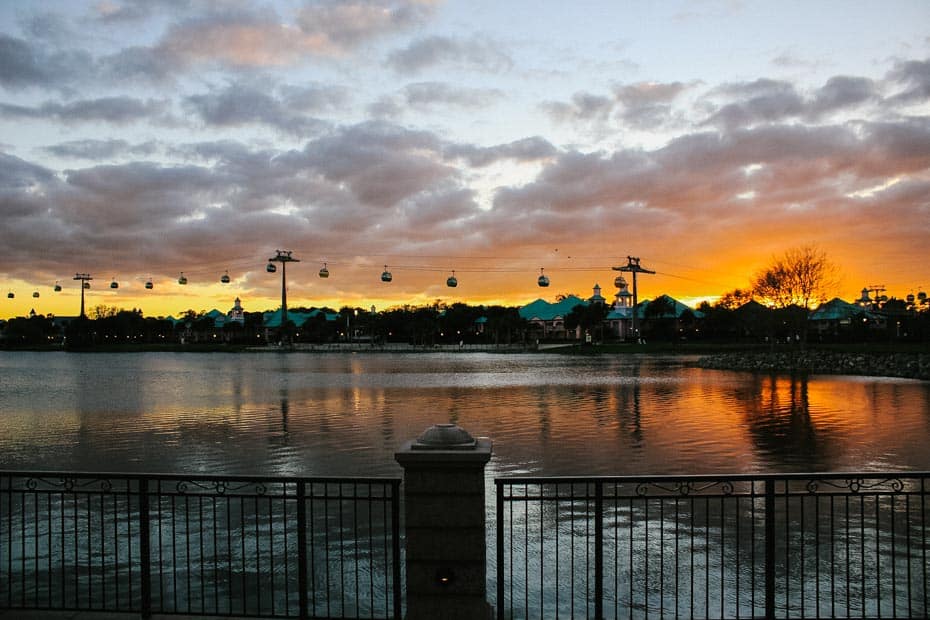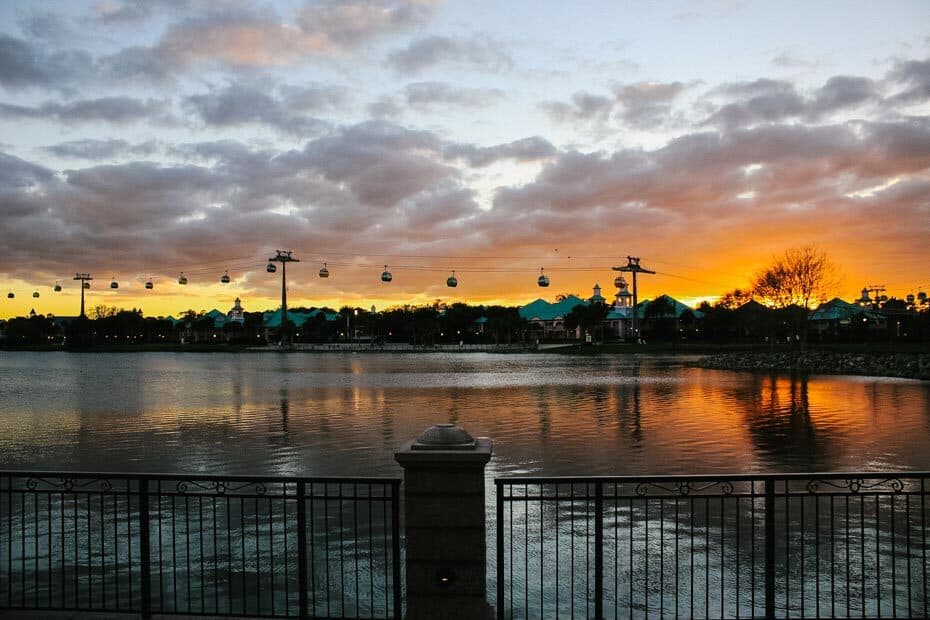 As we continue our walk along Barefoot Bay, we pass by the different pools at Disney's Riviera.
Related: The Pools at Disney's Riviera Resort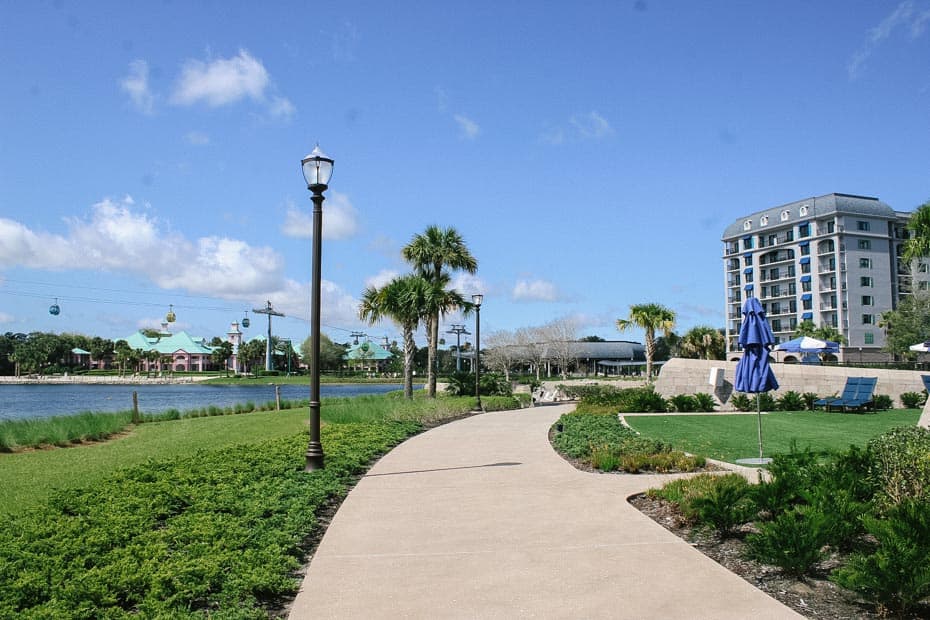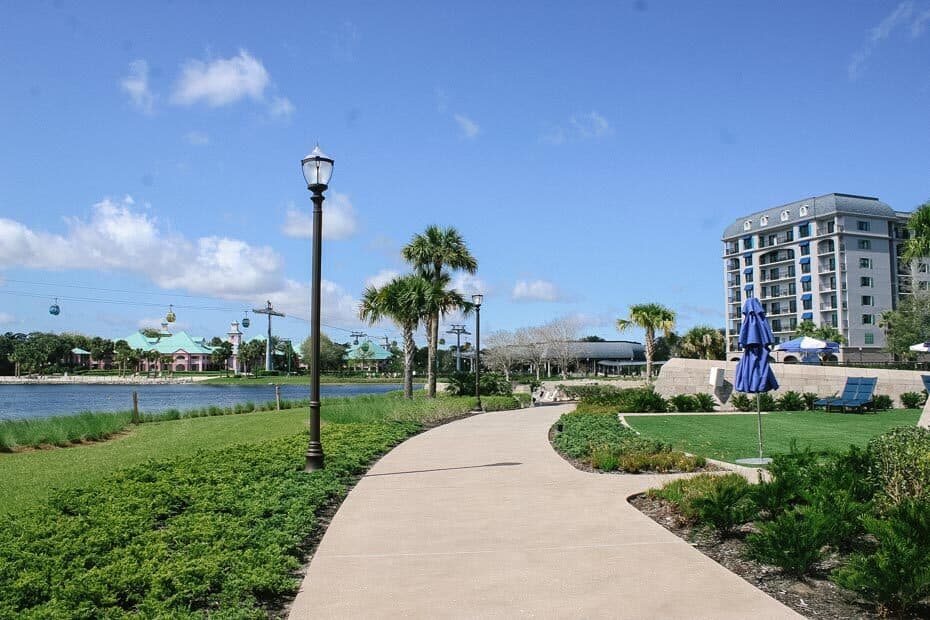 There are several dining options at Disney's Riviera Resort. For example, you might enjoy a drink from Bar Riva or stop in for a meal at Primo Piatto.
And don't forget Le Petit Cafe for a specialty dessert or fancy cocktail.
Related: Disney's Riviera Restaurants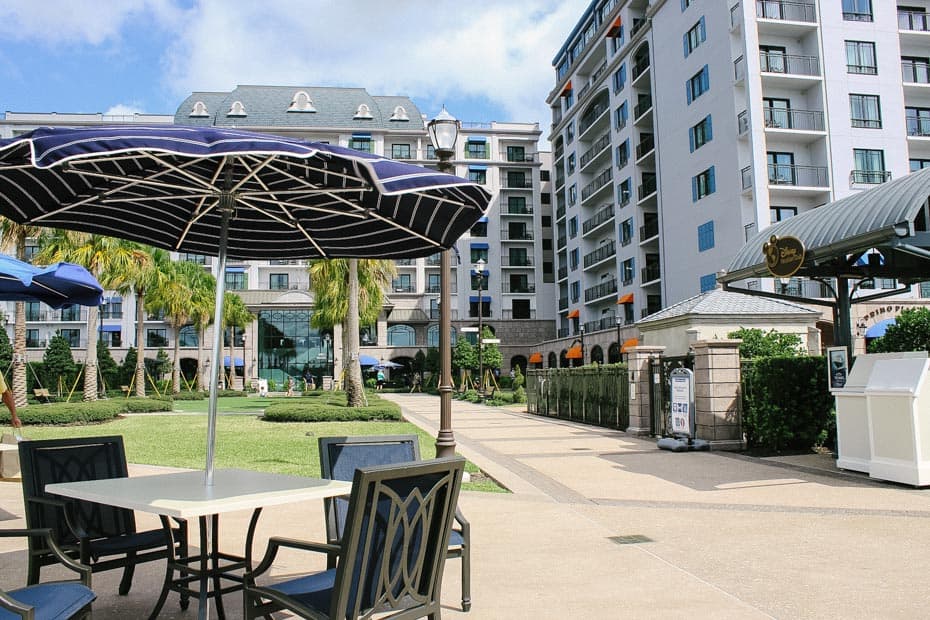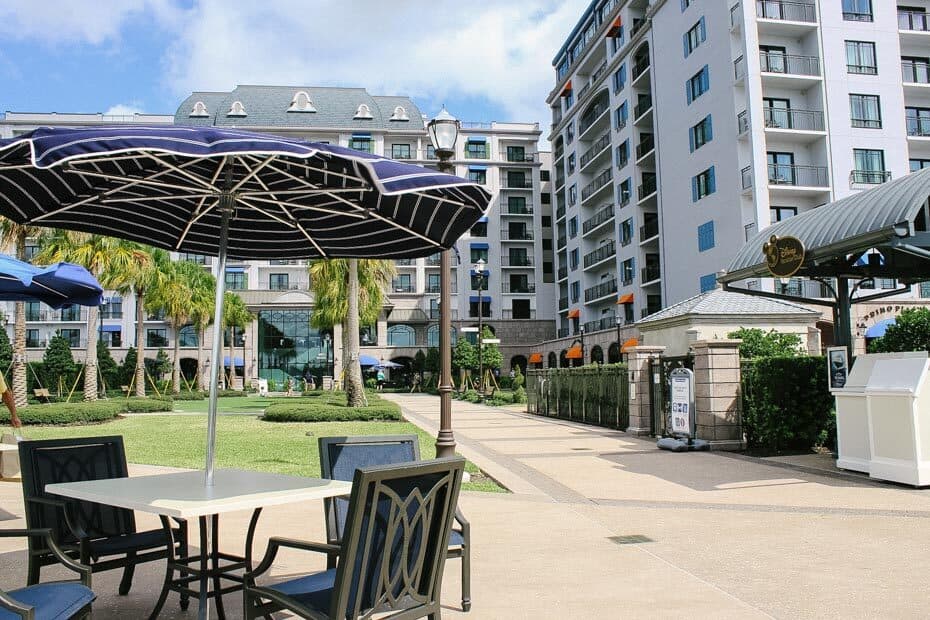 There are plenty of nice places to stop and relax along the way.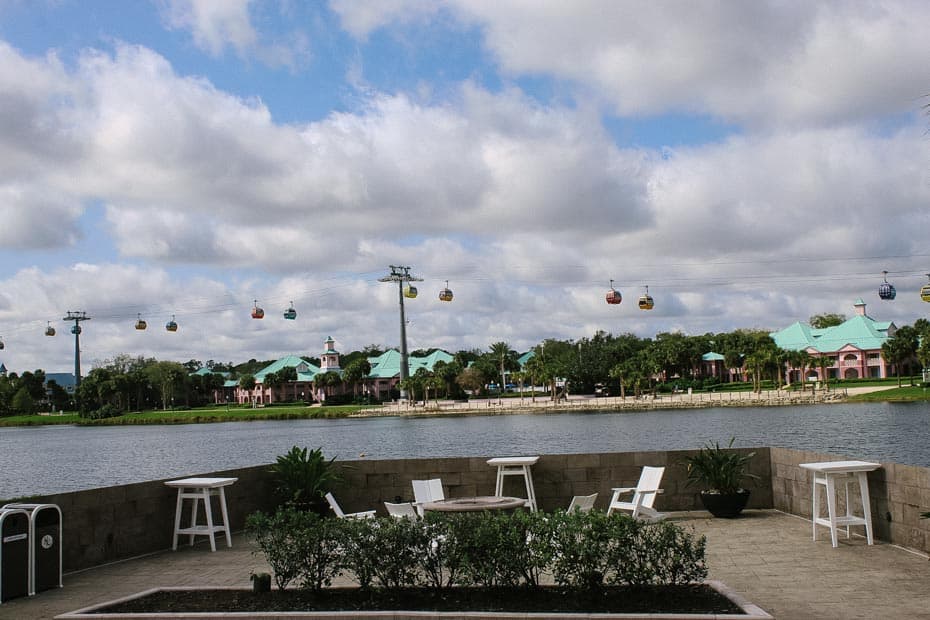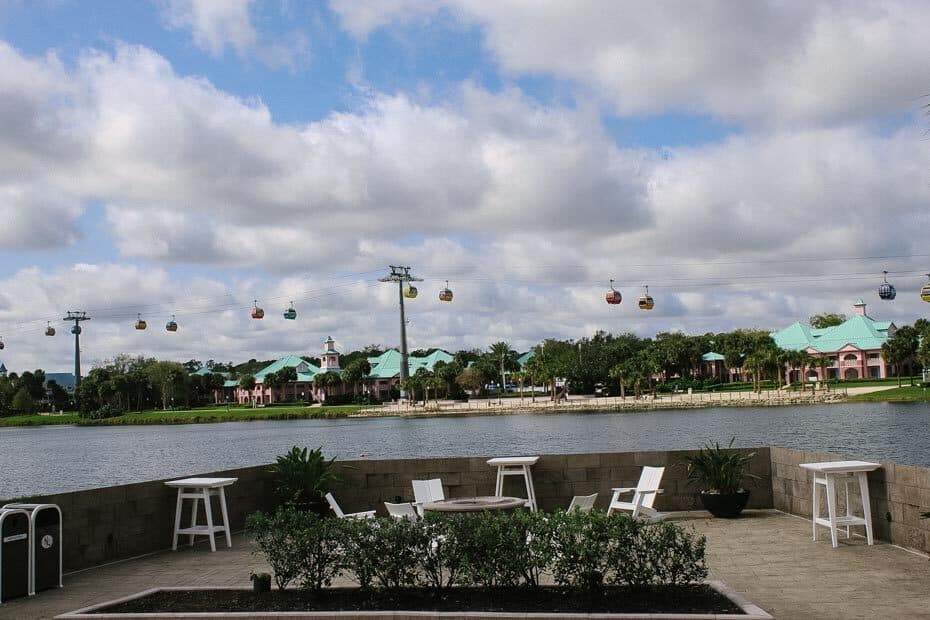 You might even enjoy a few moments on one of the beaches.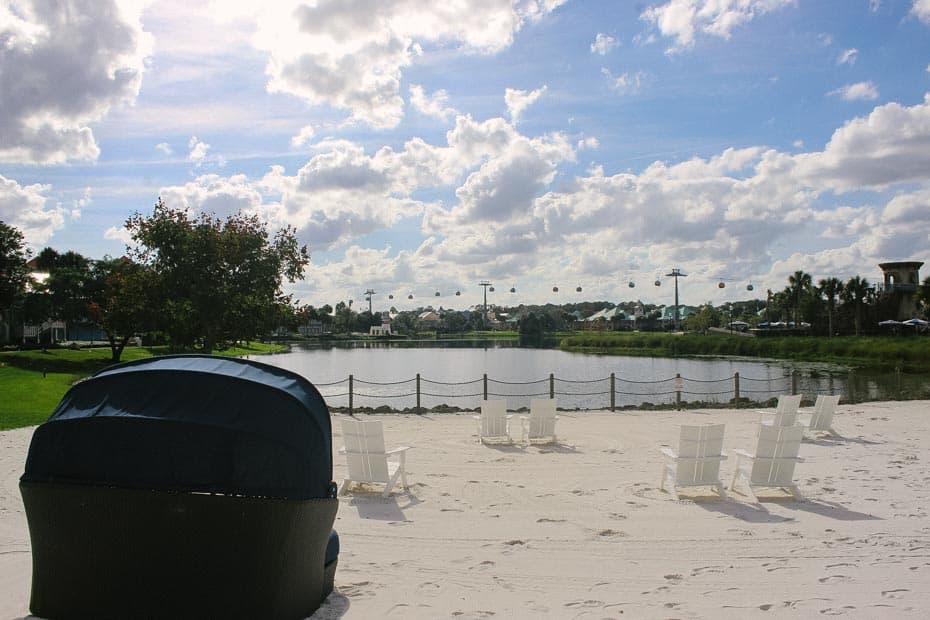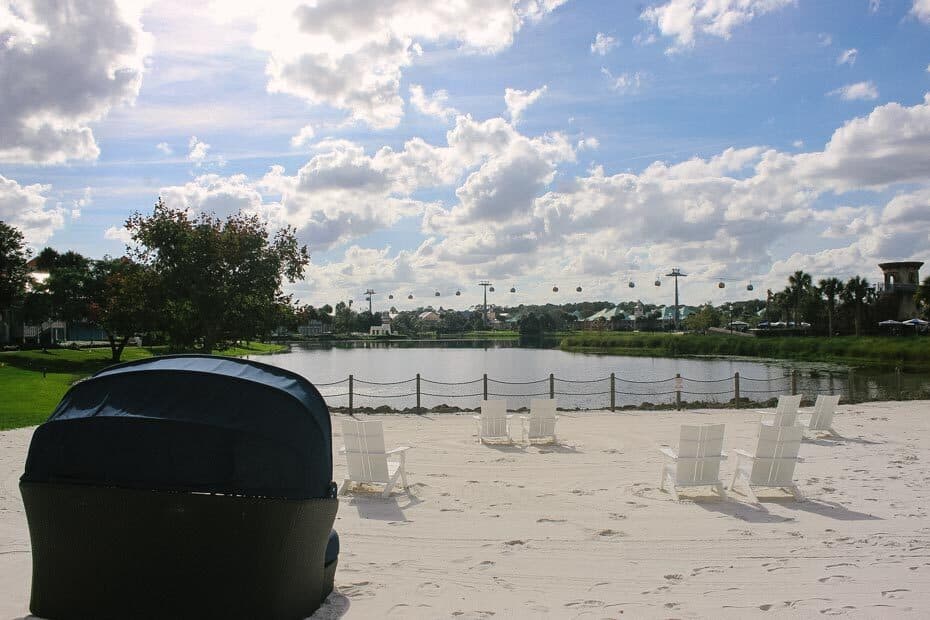 The large lounge chairs offer a little shade when the weather is pleasant.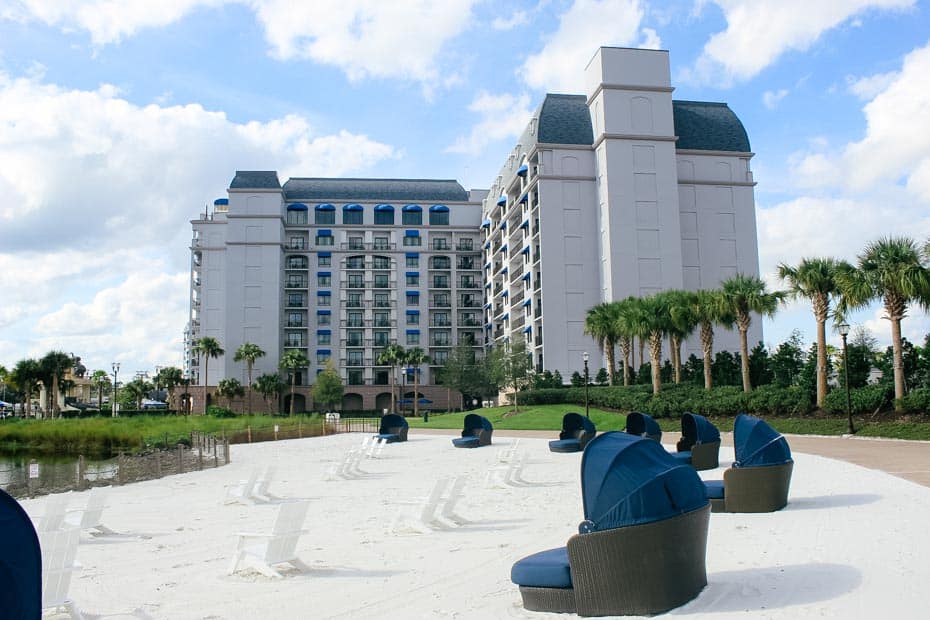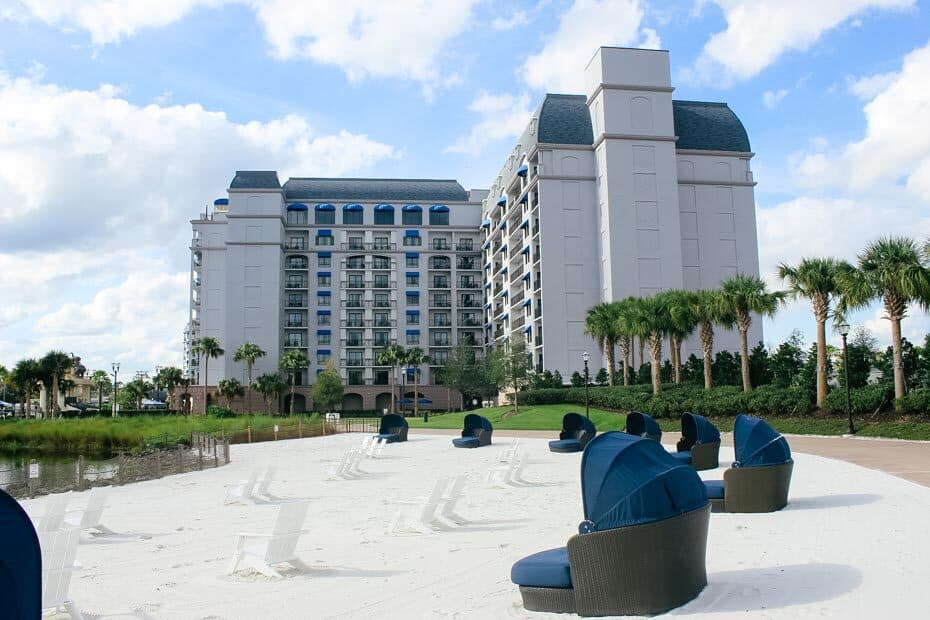 As you can see, we've made it almost full circle back to Old Port Royale.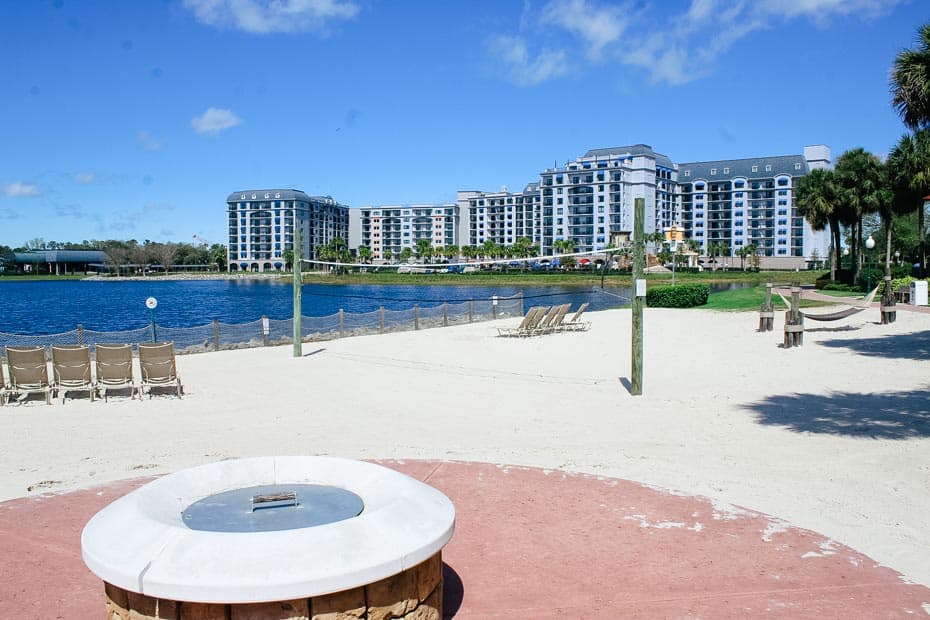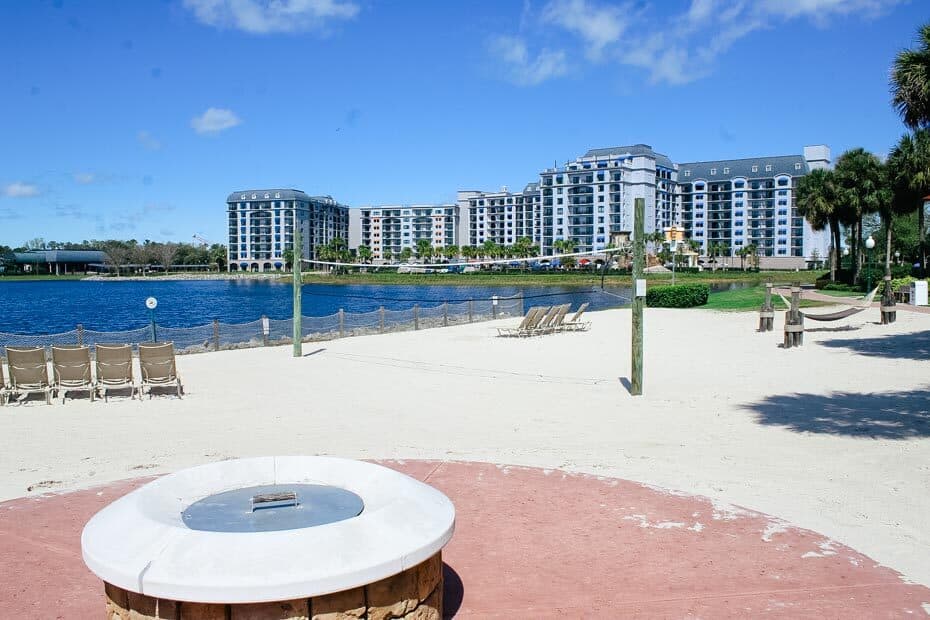 Caribbean Beach offers a wonderful full-circle walk around the lake since the Riviera Resort was added. In the past, it was more of an odd shape that required a little backtracking, depending on where you were headed.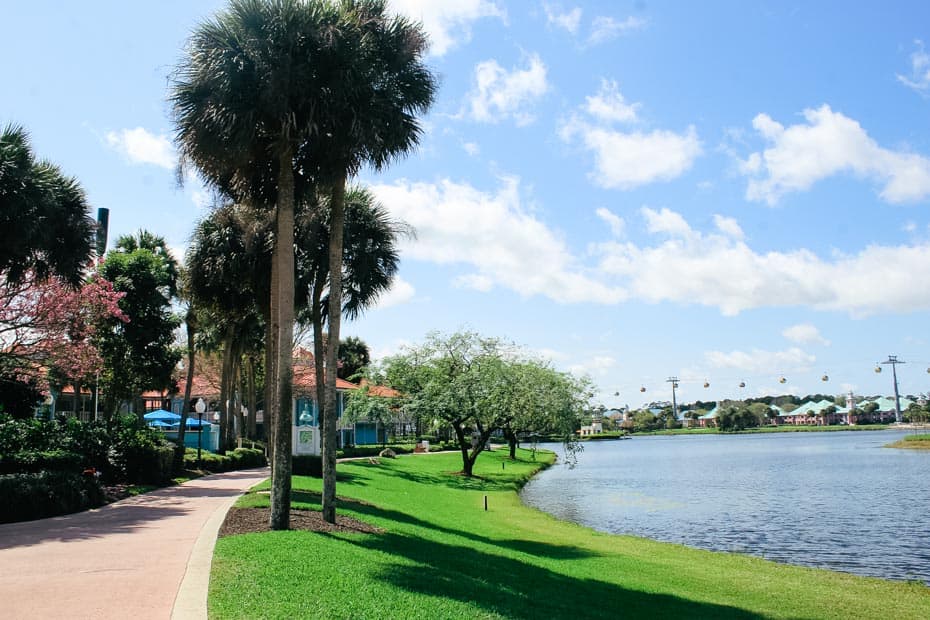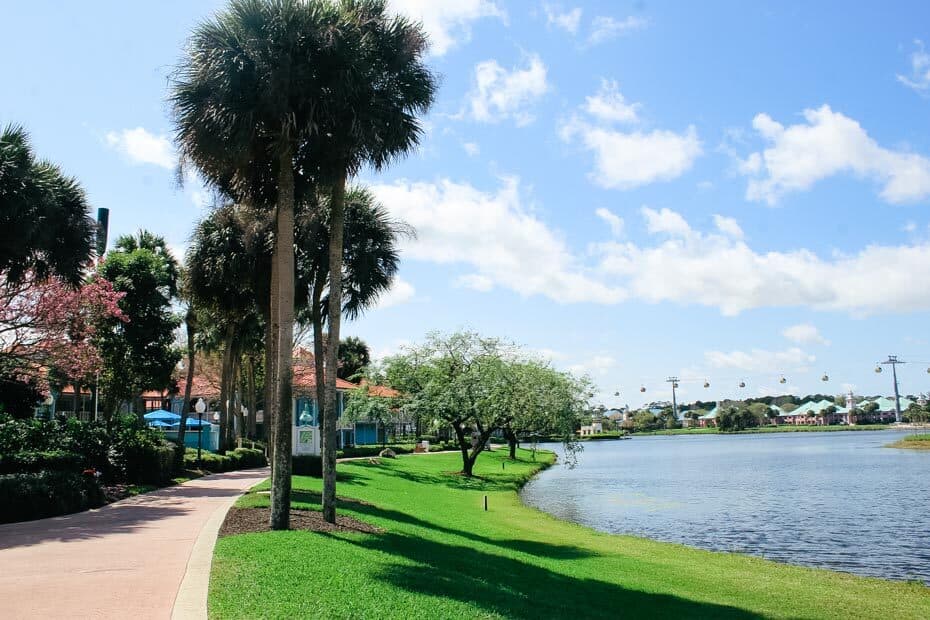 Staying at this resort has always had its benefits, but the addition of the Riviera has most definitely added a few positives. That main perk is being located within walking distance to all the different restaurants and Skyliner.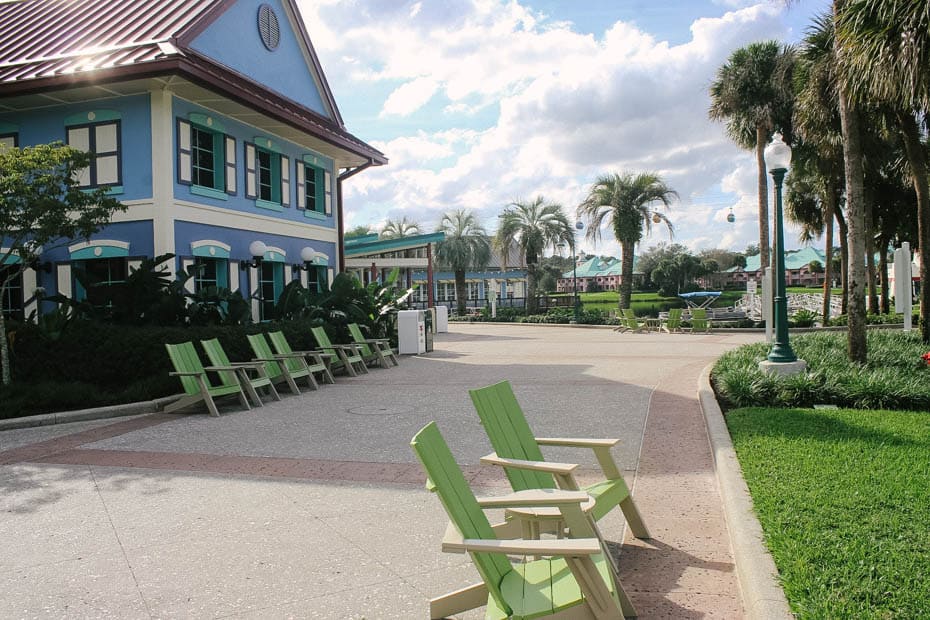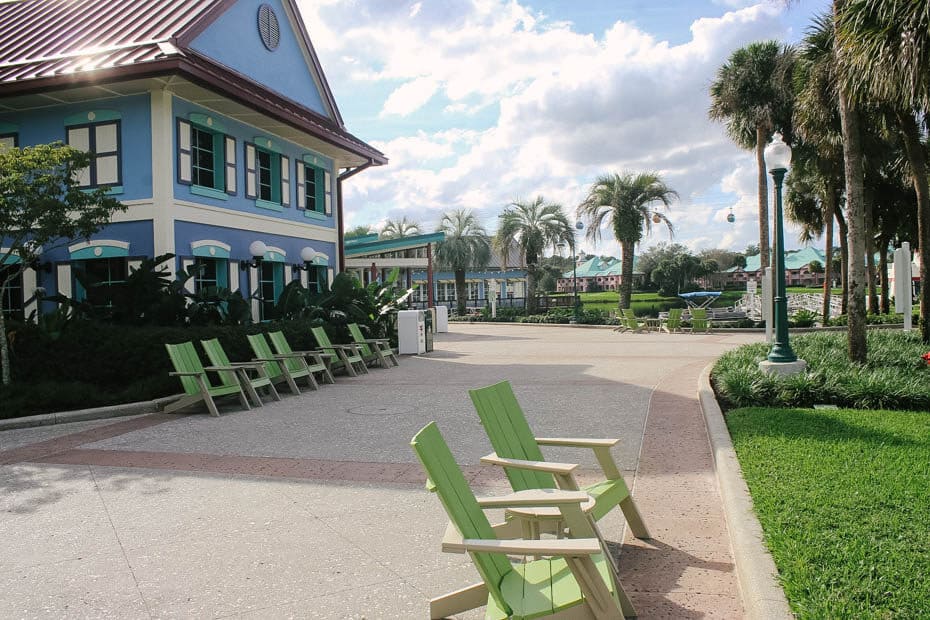 I hope you enjoyed our little walk around Barefoot Bay. For more information, we have a complete list of articles for Caribbean Beach Resort here. Or you might enjoy the following: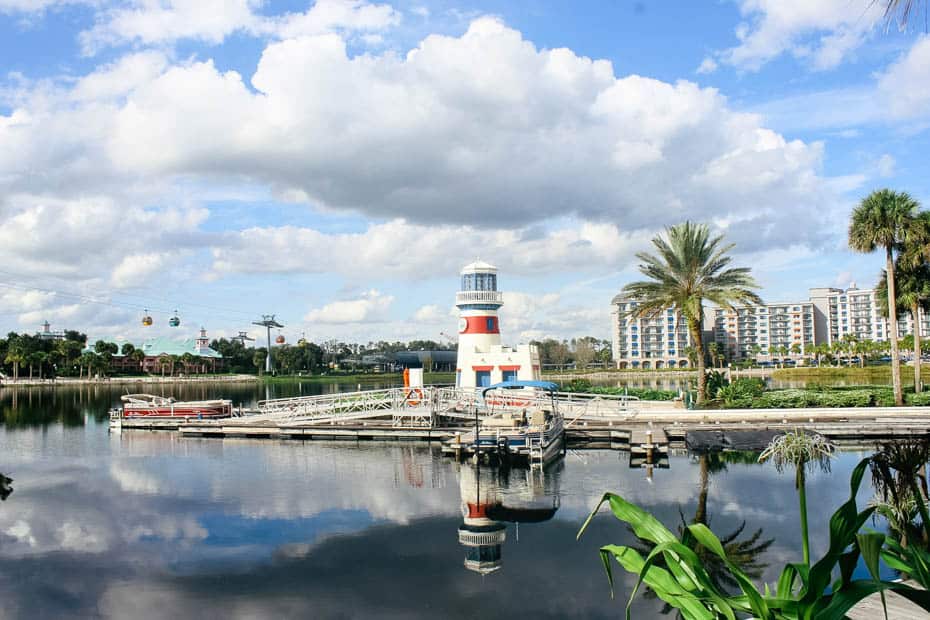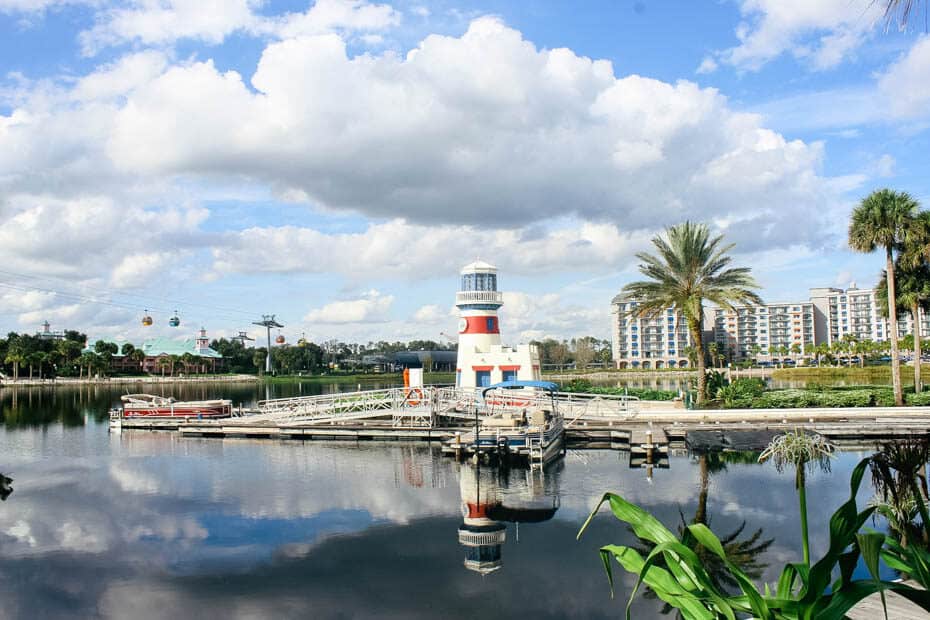 You might also enjoy reading about the Topolino's Terrace breakfast with characters located at the Riviera. That meal includes breakfast with Mickey and friends, and the food is excellent. We recommend planning it on the morning of your Epcot park day.
If you're planning an upcoming stay near Caribbean Beach I hope you found this article helpful. Plan an evening at the resort, pick up your favorite beverage, take a walk, rest in a swing, and then grab a bite to eat.
After dark, grab a seat along Barefoot Bay, and you might even see a few fireworks. I have a hunch that you'll actually feel like you are on vacation!
Moving along, I have a few posts planned over the next week that include jogging trails and fitness centers at the Disney Resorts.
Then we'll continue our series with a nice, long walk around Crescent Lake in the Epcot resorts area. And we've taken another walk around Hourglass Lake, which is nearby.
In the meantime, tell me, have you spent any time at Caribbean Beach walking around Barefoot Bay? What are your thoughts? Do you like the layout of the resort?