La Boutique, the Gift Shop at Disney's Riviera Resort
La Boutique is the gift shop at Disney's Riviera Resort. The boutique is located right off the resort's lobby. It is on the immediate left when you walk in the front entrance.
In this article, we'll preview what you can expect to find in La Boutique. While the gift shop is relatively small in size, it's packed with merchandise. Not only that, the shop offers some of the best resort-branded merchandise around.
All of the photos in this post were taken in December of 2021. Therefore, every item you see might not be available on your visit.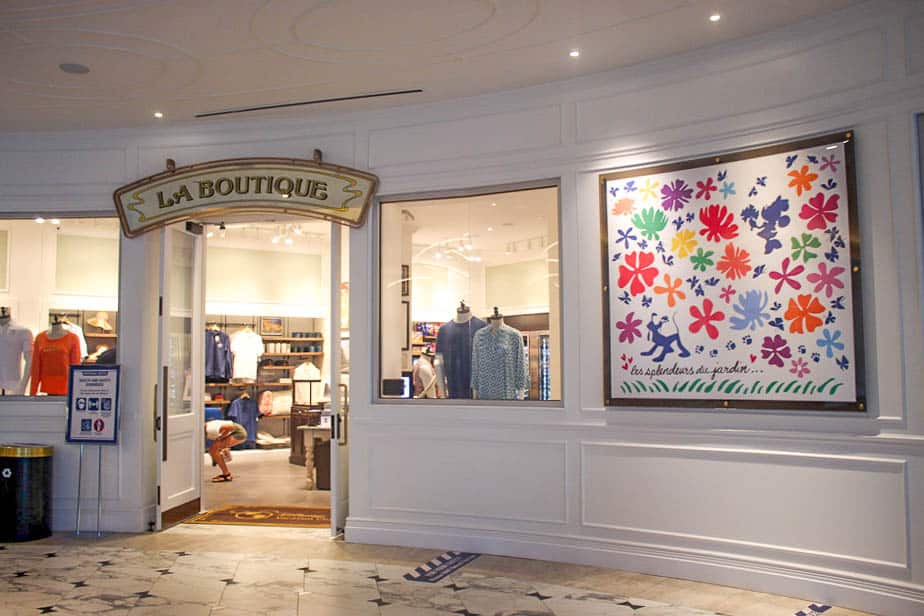 Like most everything at Disney's Riviera Resort, La Boutique is a petite shop of sorts. It has a bit of an odd shape. However, I don't think it has any less merchandise than other gift shops.
Related: Best Resort Gift Shops at Disney World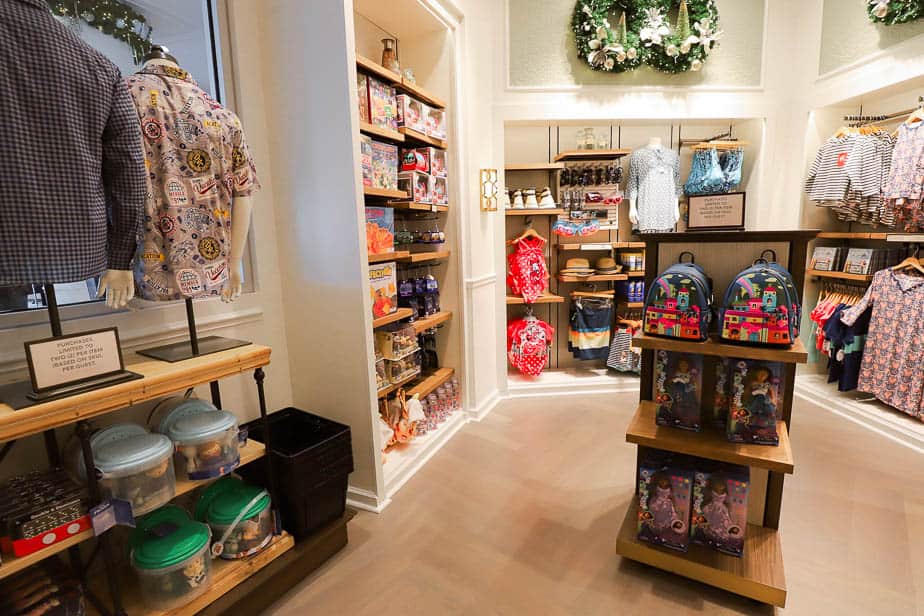 Fans of the resort love the fact that there is a plethora of resort-branded merchandise available. So if you want something with the Riviera logo on it, you can choose from a wide array of items.
For instance, all the items in the photo below are branded to the Riviera. Items include children's clothing, adult apparel, hats, and towels. The Donald and Daisy Duck items represent the characters you'll find upstairs at the resort character's breakfast.
Related: Topolino's Terrace Character Breakfast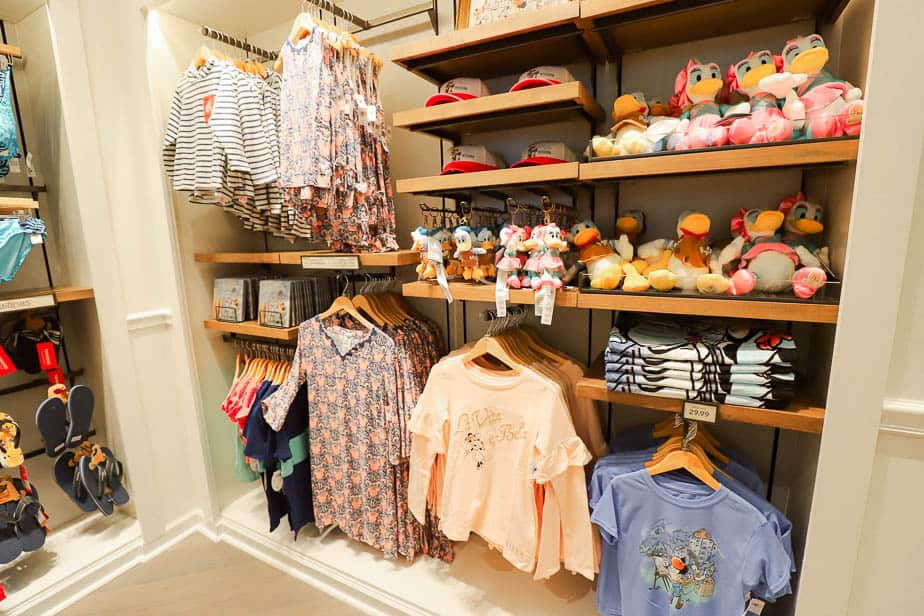 Here is a closer look. That beach towel in the bottom right corner is super sharp.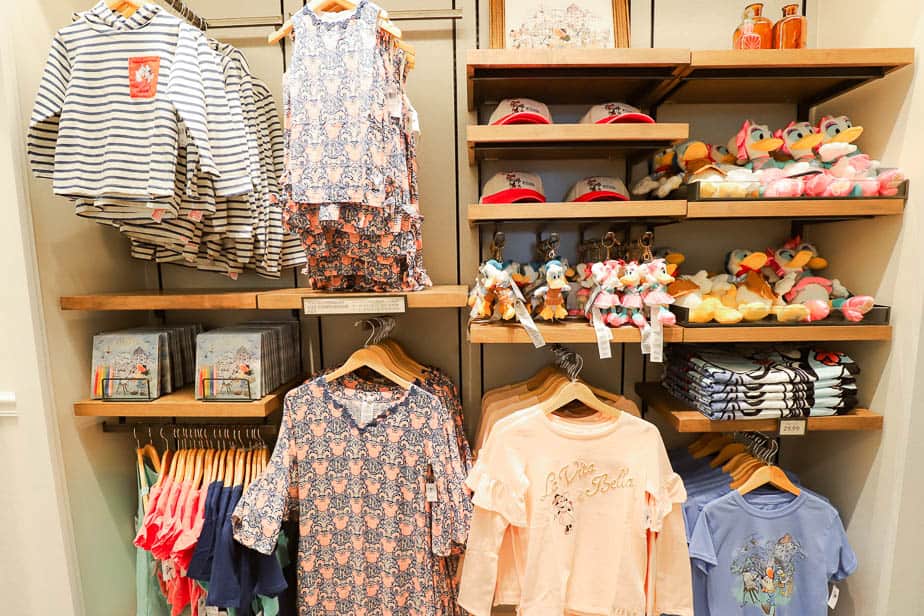 Almost the entire length of this back wall featured merchandise for the Riviera Resort. I visit the gift shops at Disney World regularly, and this store, by far, offers more resort merchandise than any other.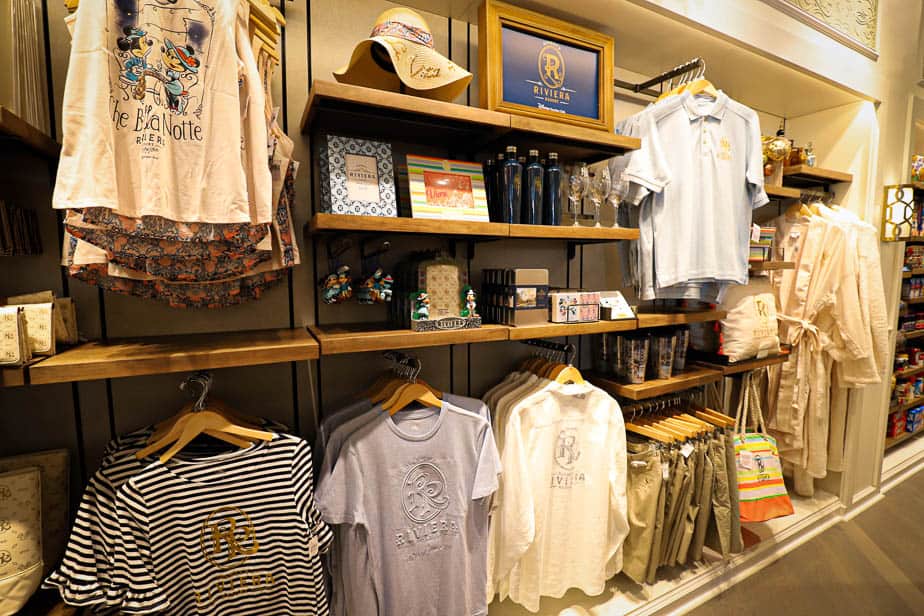 You might already know that Loungefly makes handbags, backpacks, and ears with the Riviera branding. Unfortunately, the Loungefly backpack was sold out on this visit. However, the shop did have a new collection of Loungefly handbags featuring the resort logo.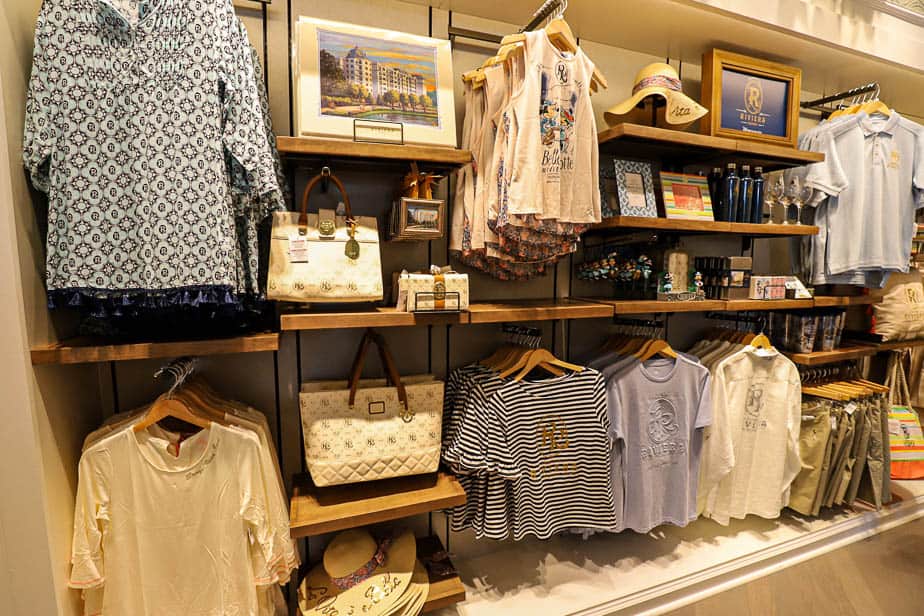 There are also men's shirts, a throw pillow, jackets, tumblers, wine glasses, and more. On the far right of the photo below is a white robe. All of the deluxe resorts have a robe branded to their specific hotel.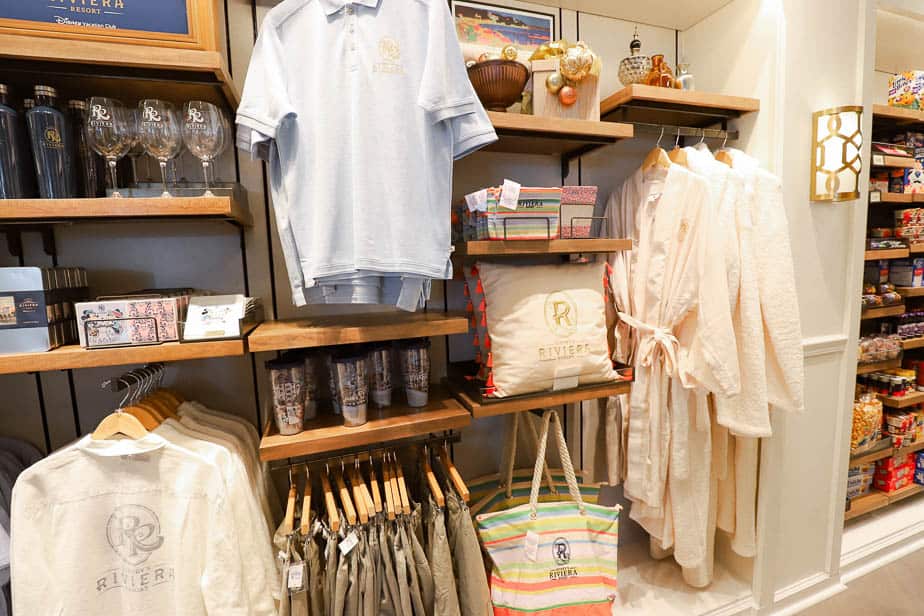 The center of the display featured a few other fun items. There are photo frames, coasters, cards, a beach hat, and a notebook. An ornament features Mickey and Minnie in European attire.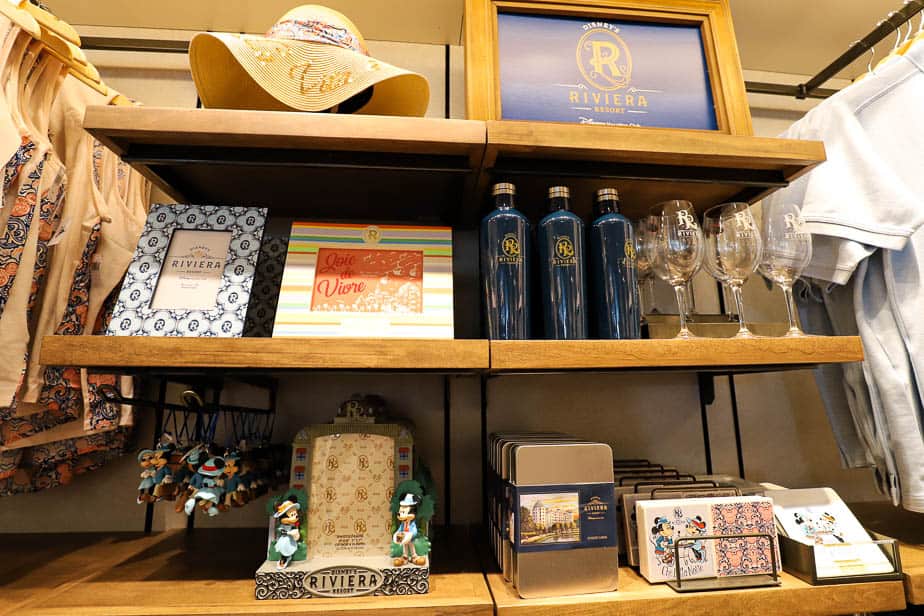 All the gift shops at the resorts have an area designated for swimwear. No worries if you forget something and want to spend a day at the pool. And for the record, the Riviera Resort has two lovely pools. Most will want to spend some time there.
Related: The Pools at Disney's Riviera Resort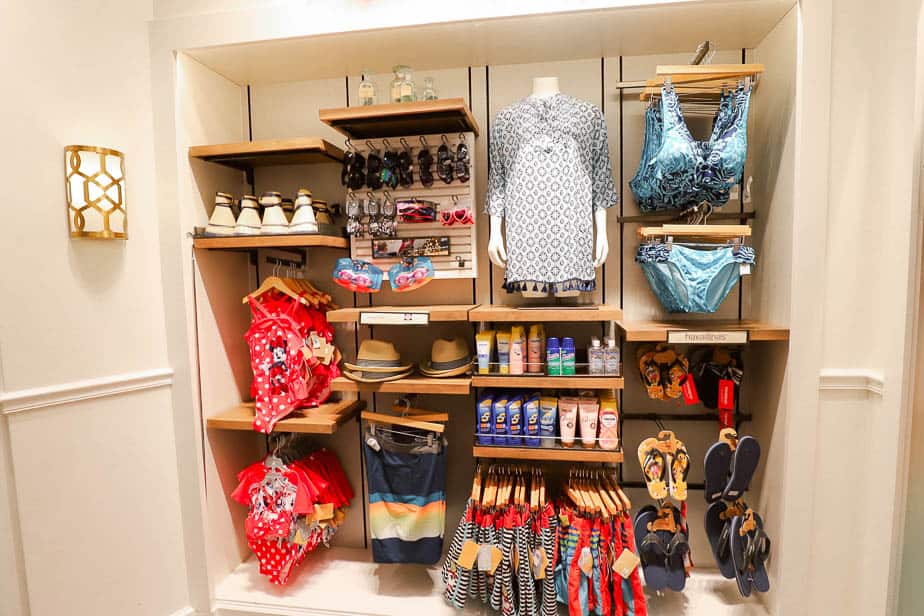 In the center of the gift shop, I saw a display featuring Pandora jewelry.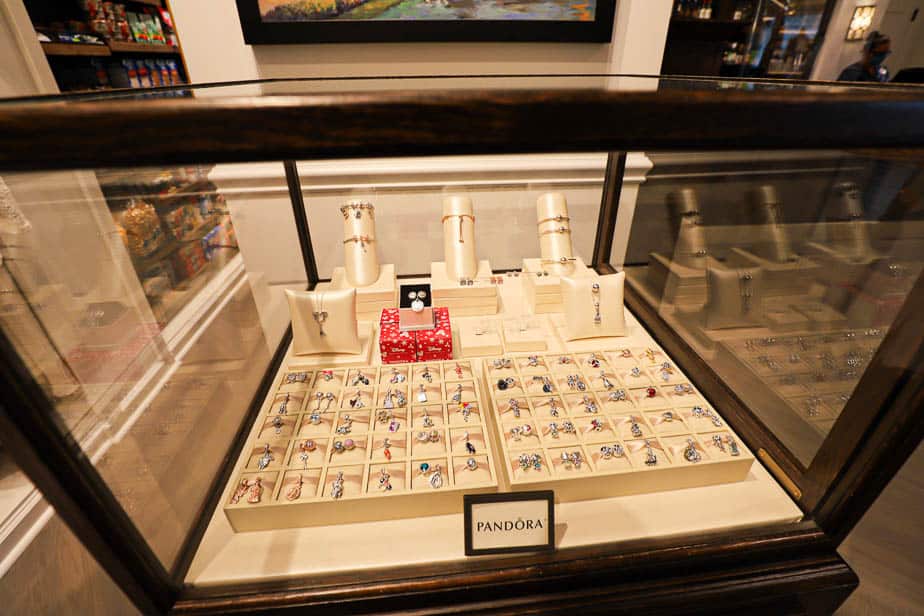 And the opposite corner of the store had a variety of merchandise, like lanyards and pins for pin trading. Yes, a resort pin was available too.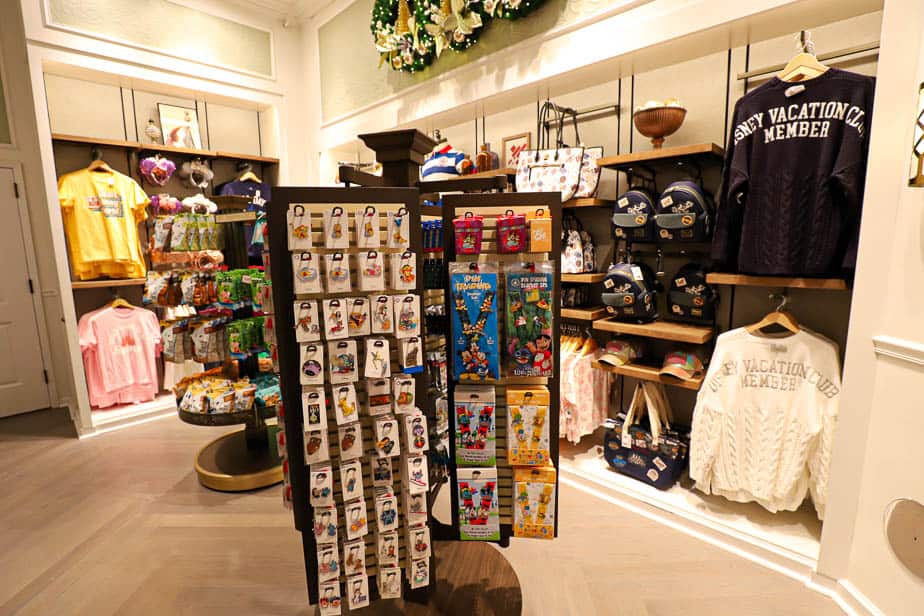 A few Disney Dooney and Bourke handbags were on display.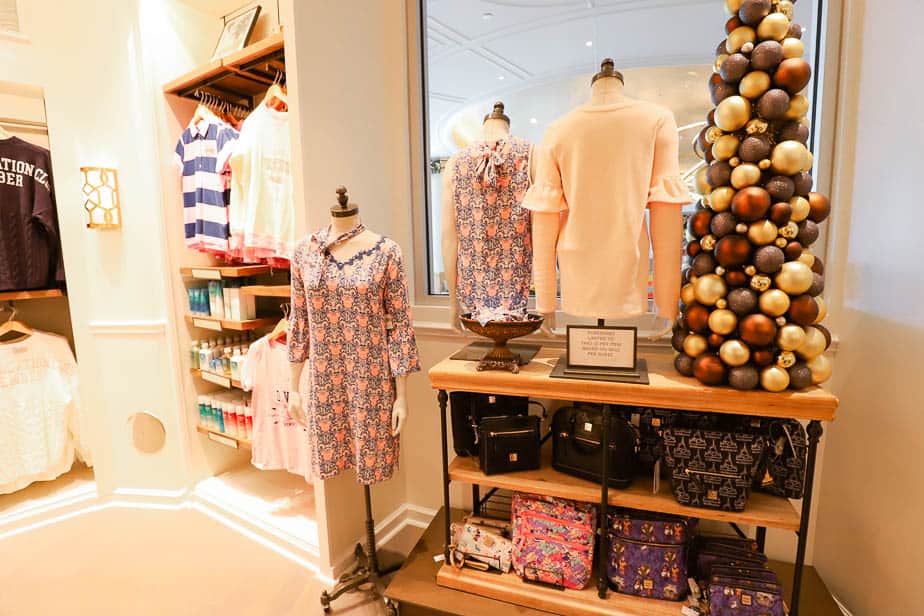 Disney's H20 products were available. H20 is the brand of toiletry items available in the hotel rooms.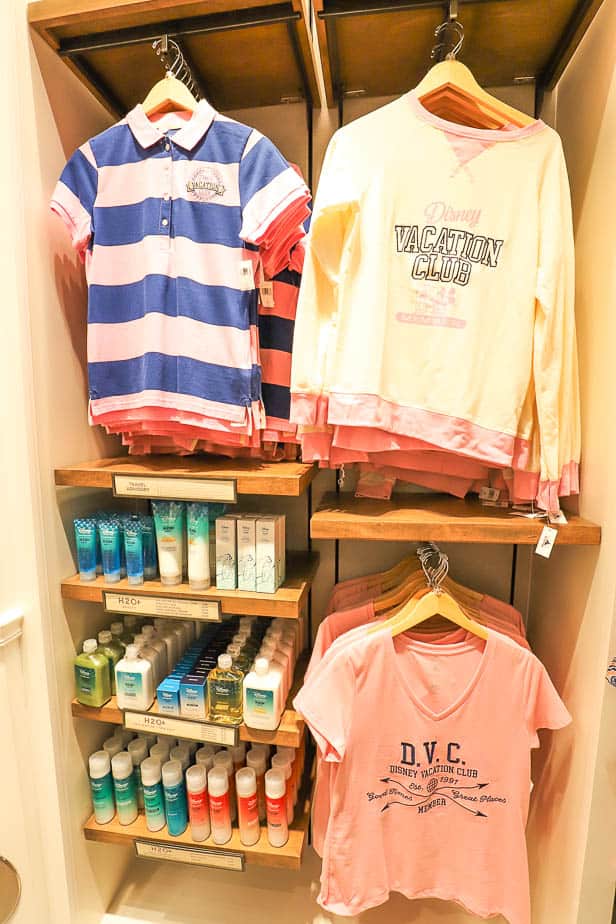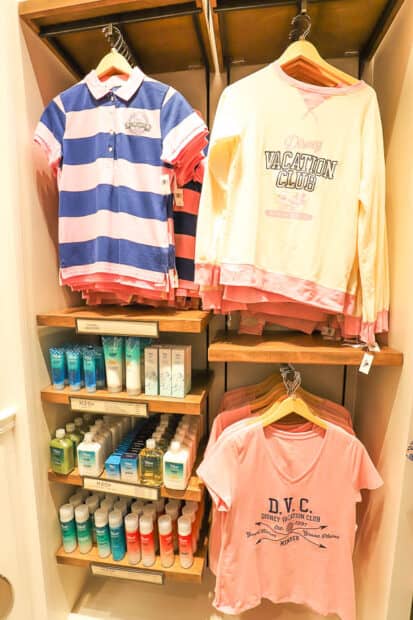 Additionally, La Boutique is an excellent place to pick up Disney Vacation Club items. Since the Riviera is a dedicated Disney Villa Resort, you'll find more things here than at a regular resort.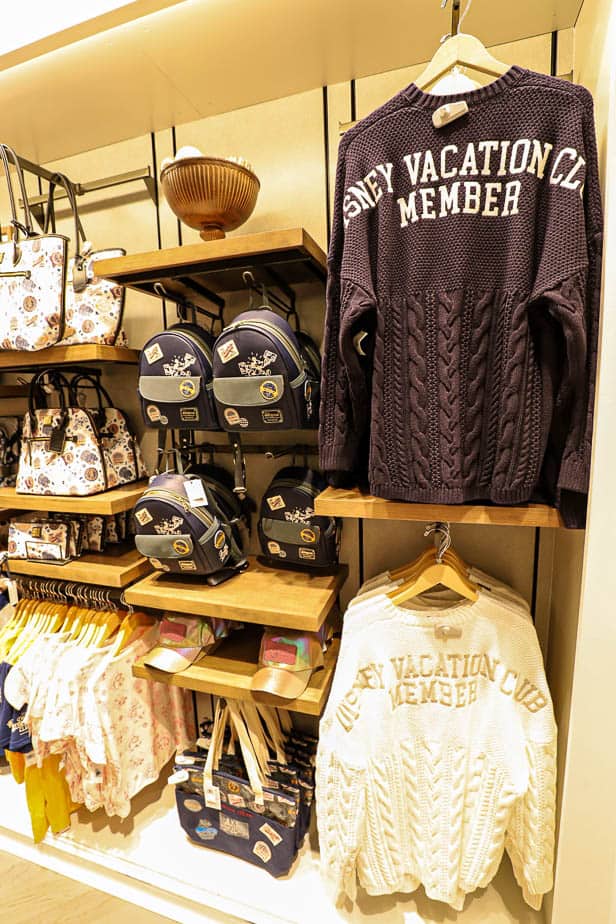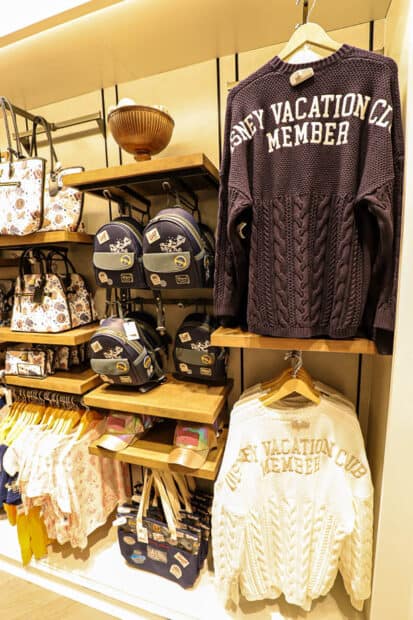 Disney Vacation Club has its own Loungefly and Dooney and Bourke merchandise line.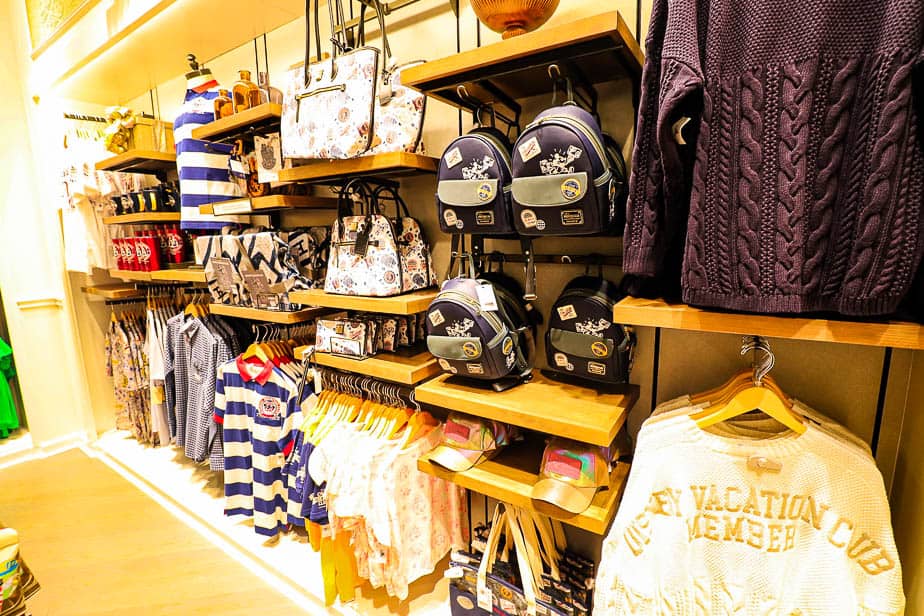 In addition, the gift shop has an excellent selection of other club merchandise.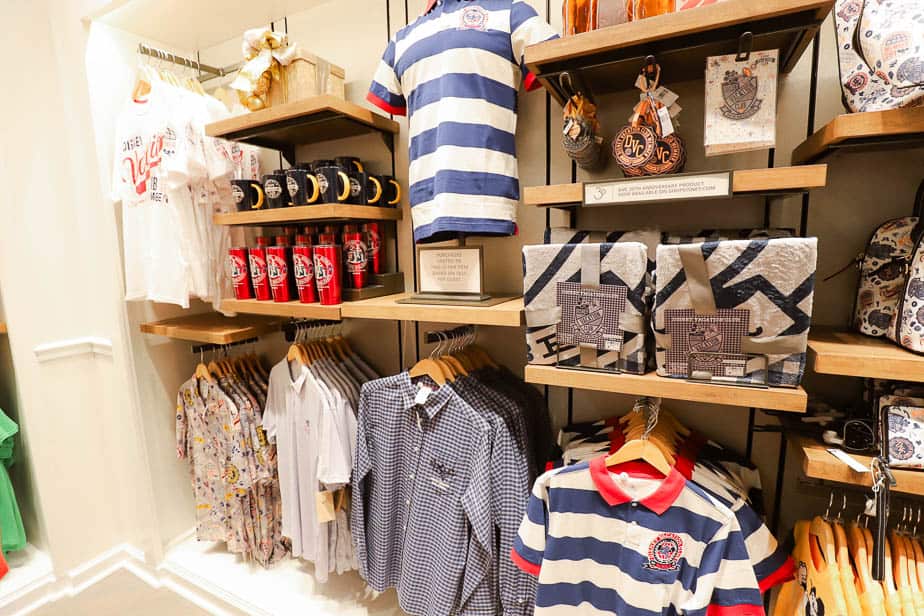 Or you could always pick up a few things specific to Walt Disney World.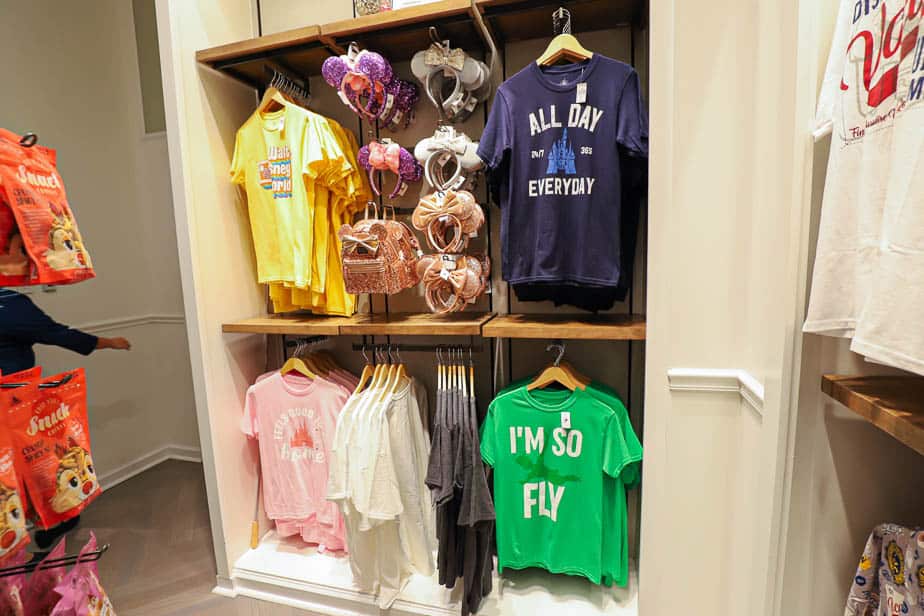 Behind the register, there's a case of liquors and a few higher-end items available for purchase.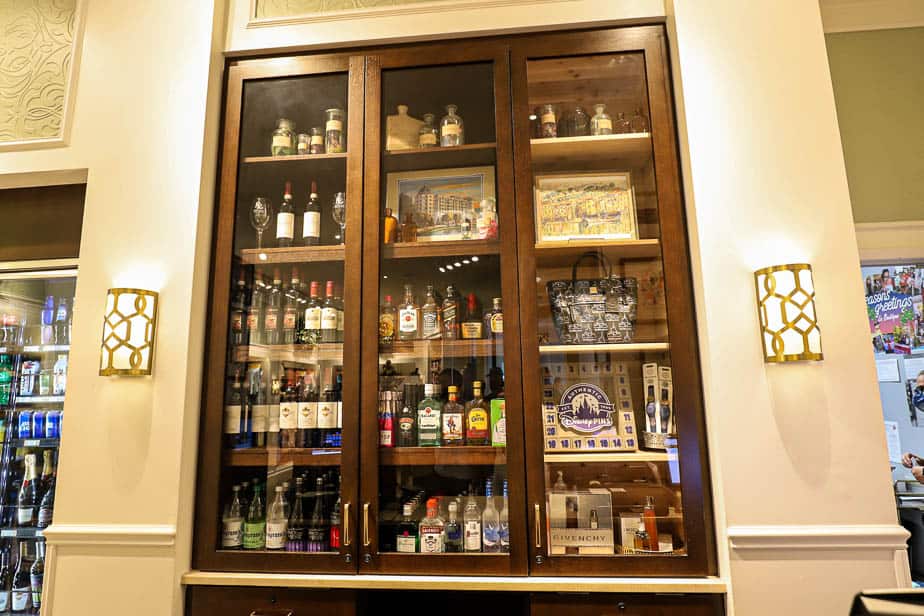 La Boutique also has a decent selection of pantry items. Since the resort is DVC, all rooms have a kitchenette at the bare minimum. Or you could go full grand villa at the Riviera and end up with a luxury kitchen.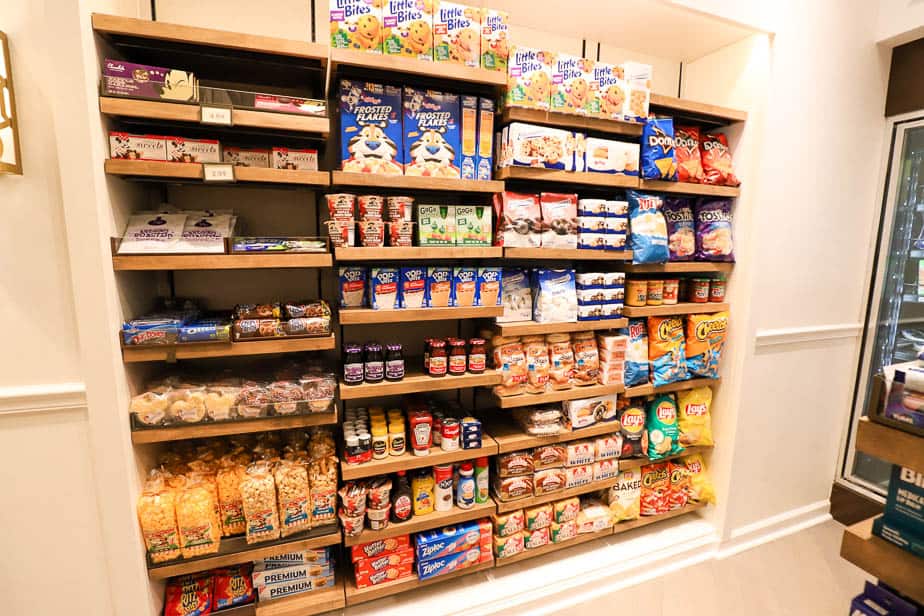 Health and personal items include anything from over-the-counter medicine to batteries.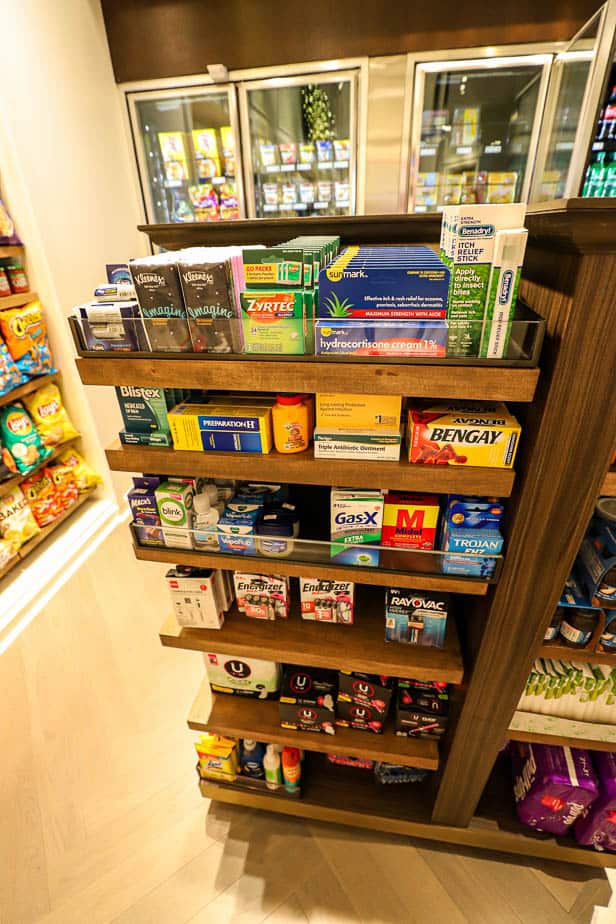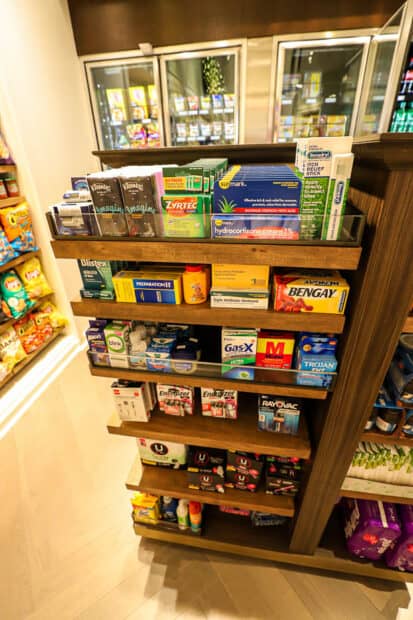 The refrigerated case has a variety of items you can prepare in your room, like waffles, frozen pizza, fries, and sausages. These are nice if you need to pick up something. But I think most guests intending on using the kitchen will benefit from having groceries delivered to the resort.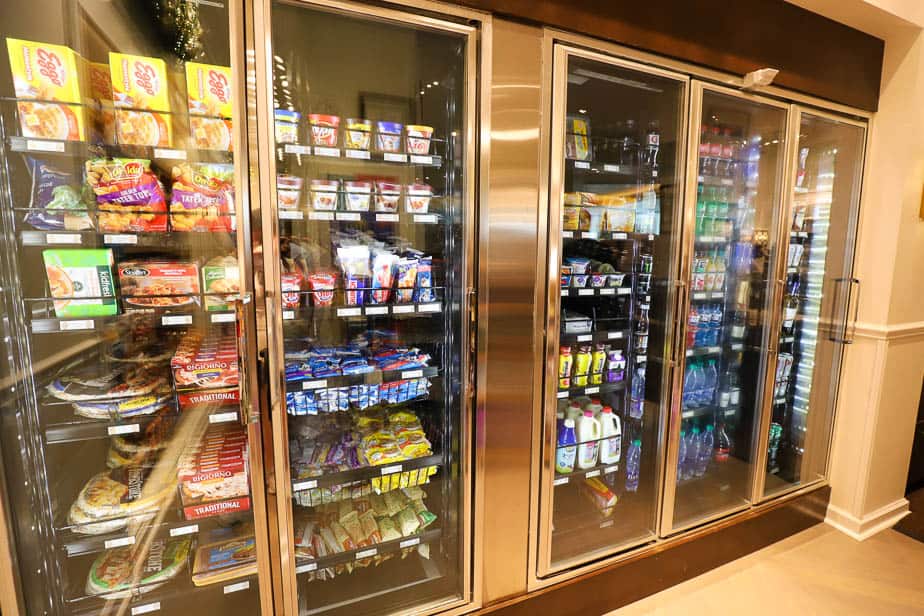 Nevertheless, if you forget something, having these convenience items nearby is an asset.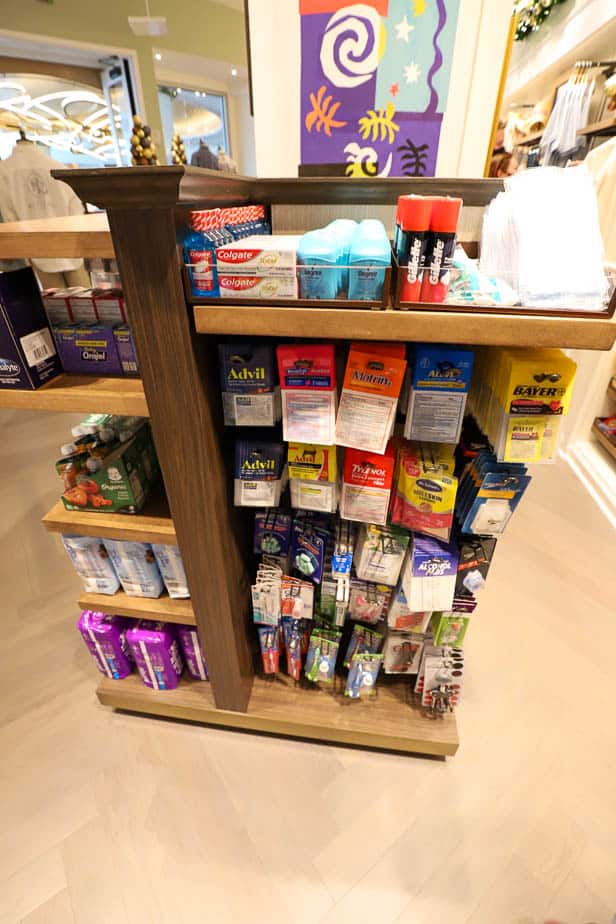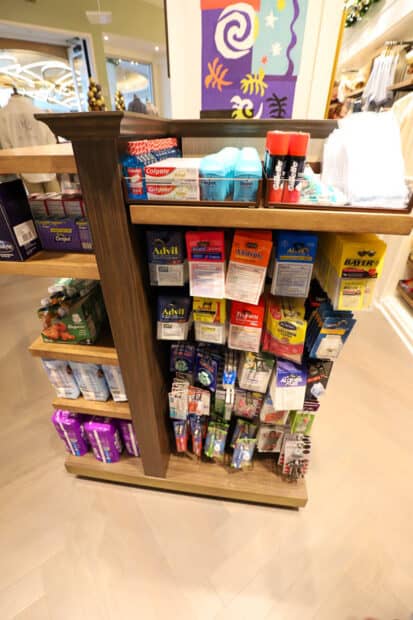 For children, there is baby food, children's medicine, diapers, and wipes, among other things.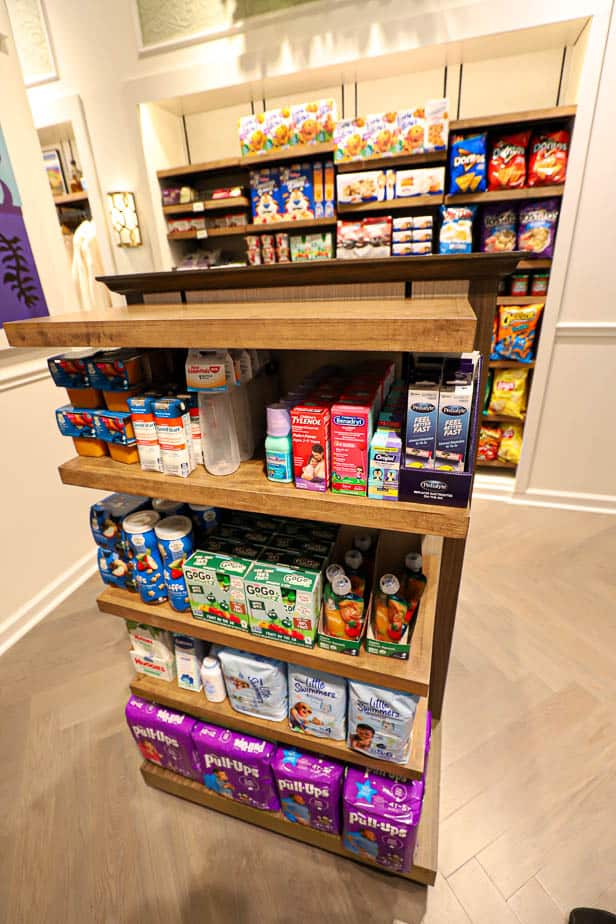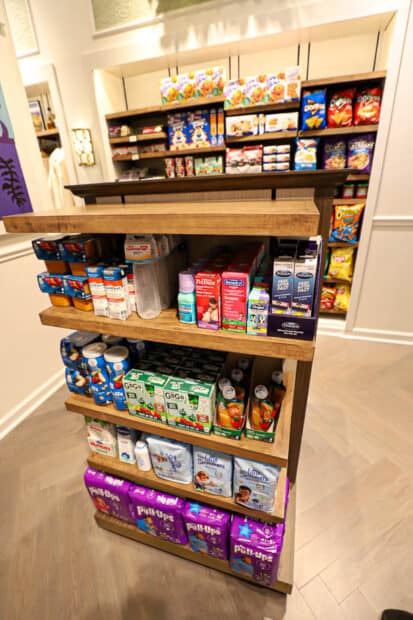 Lastly, I wanted to mention the art kiosk in the gift shop. If you've visited the Riviera Resort before, you know that they have a nice art collection on display.
There's even a scavenger hunt you can pick up at the DVC Kiosk in the lobby to complete. The search has you locate the various paintings on display.
This self-serve kiosk allows guests to walk up and select a print, a print size, framing options, and more.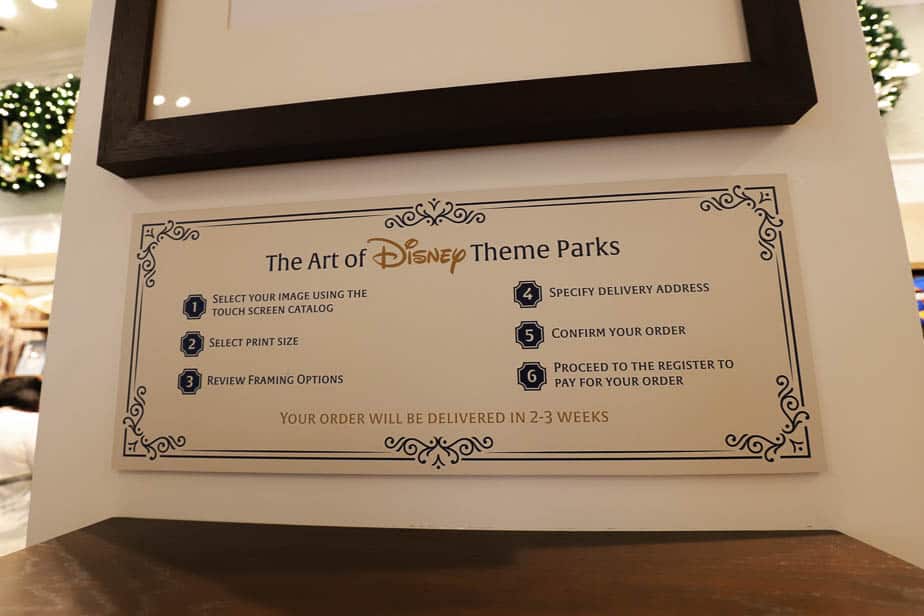 You pick out what you would like, pay for it, and they will ship the artwork to your home within a few weeks. And what's great is that all the pieces are on display in the resort, so you can view them before ordering.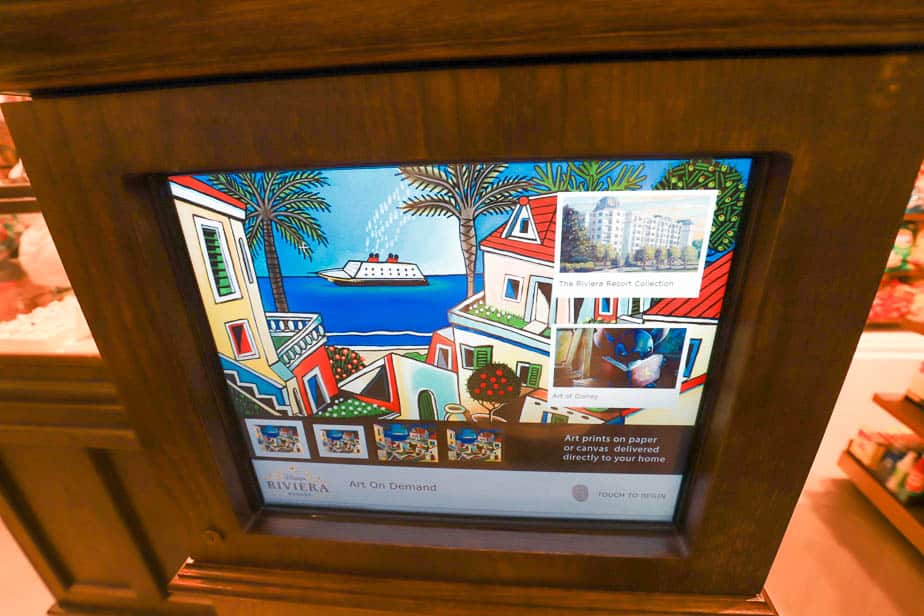 Hopefully, this article gave you a good idea of what's available at Riviera's gift shop. To learn more about the resort, all of our related articles are listed in our guide:
Some of our most popular include:
Additionally, we cover all of the resorts at Disney World. Browse our entire list of Disney Resort Reviews to learn more.
Did you see any merchandise you might like to pick up at La Boutique? Leave a comment down below.
Planning a Walt Disney World or other Disney Destination vacation?
Our friends and travel partner, Firefly Travels, excels at doing Disney differently. You can fill out a plan your trip form on their website, and someone will reach out shortly to discuss the specifics.