Photos of Disney's Riviera Resort
Since Disney's Riviera Resort opened, we've accumulated several photos of the resort. Therefore, I felt it was time to put together an article with photos of Disney's Riviera Resort.
Like our other resort photo posts, you can scroll through them, and I'll provide a little commentary. In addition, I'll add links to articles where applicable for specific information relating to a topic.
Disney's Riviera is an absolutely beautiful resort that is a mix of both French and Italian. The resort is modeled after the French Riviera that borders Italy, gleaming influences from both countries.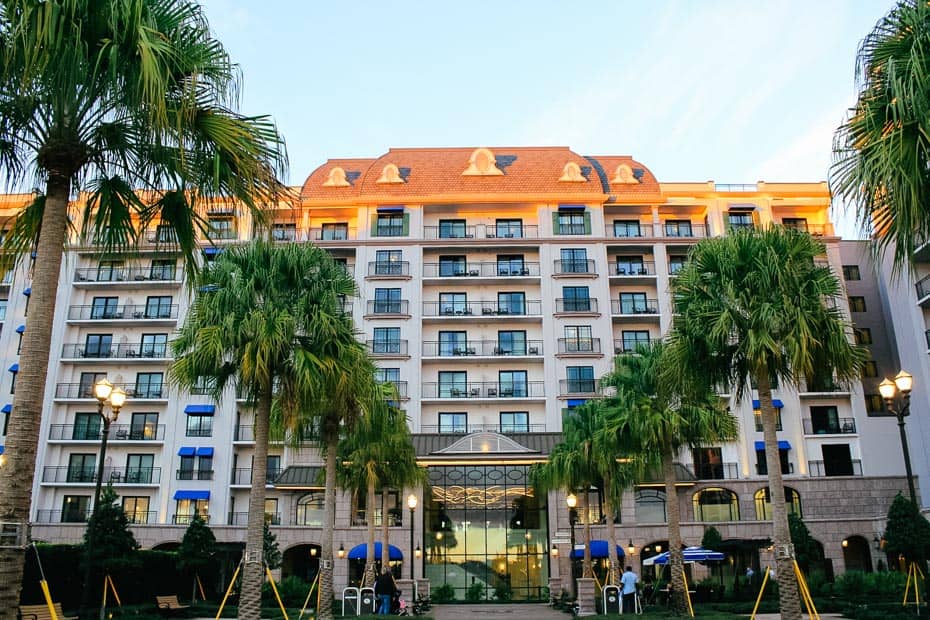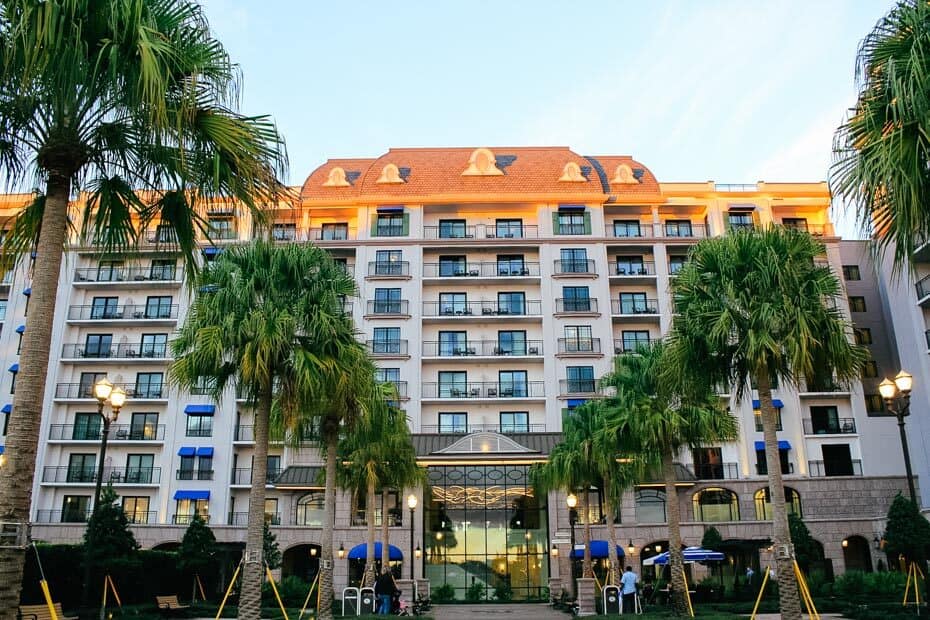 Most of these photos of the Riviera Resort were taken around sunset. I love how the sun casts light on the hotel in the evening.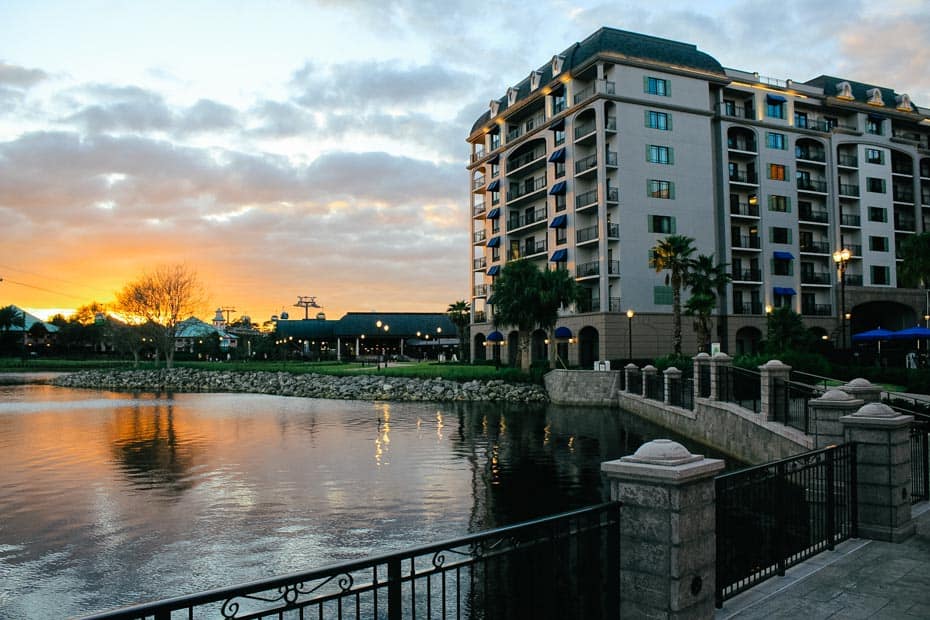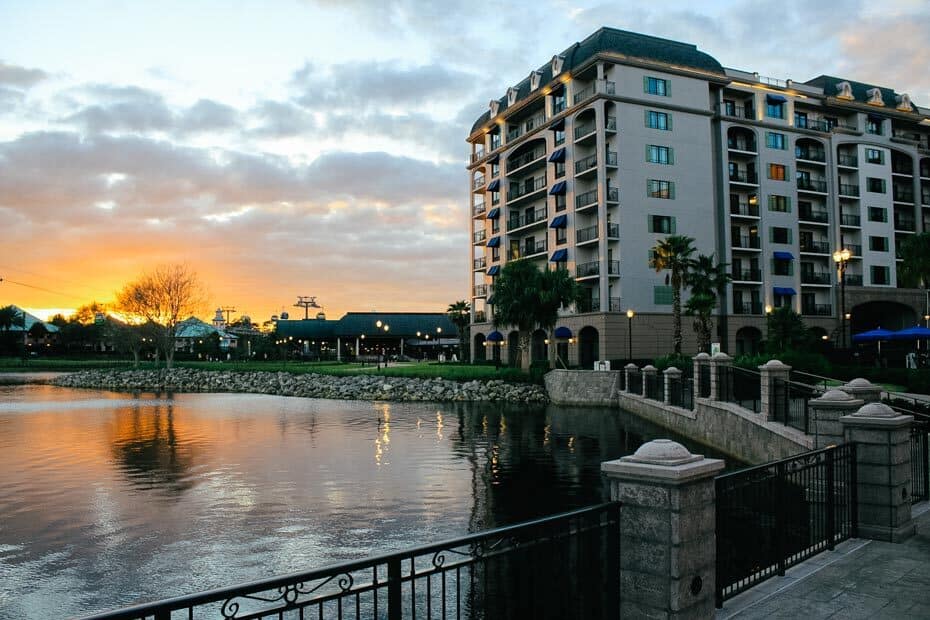 The Riviera has a Disney Skyliner station nearby. You can see it in the distance from most places on the property.
The gondolas are a pleasant way to travel to Epcot and Hollywood Studios when the lines aren't too long.
Related: Disney's Skyliner Resorts with Travel Times
Here are a few more photos of Disney's Riviera at sunset.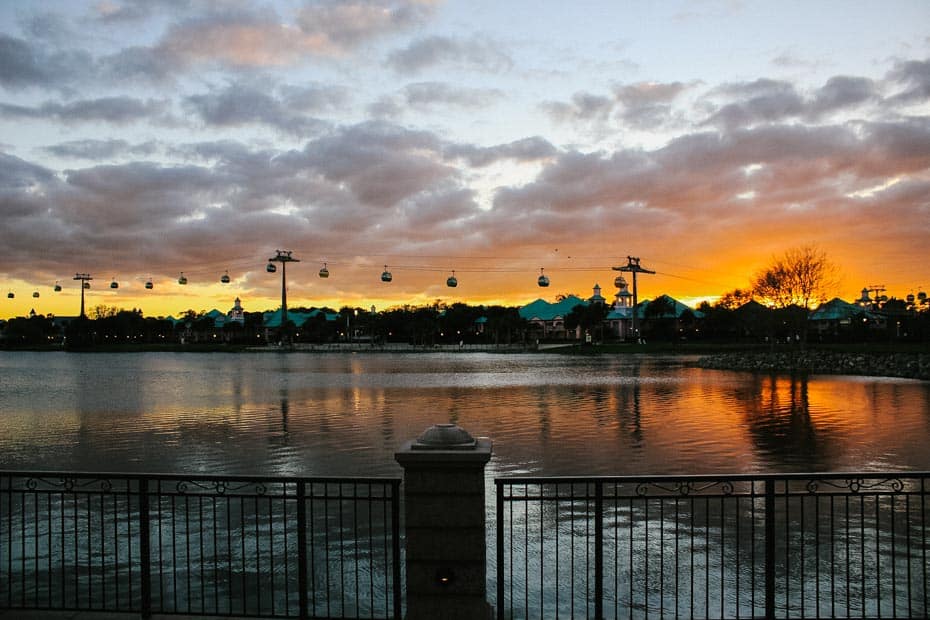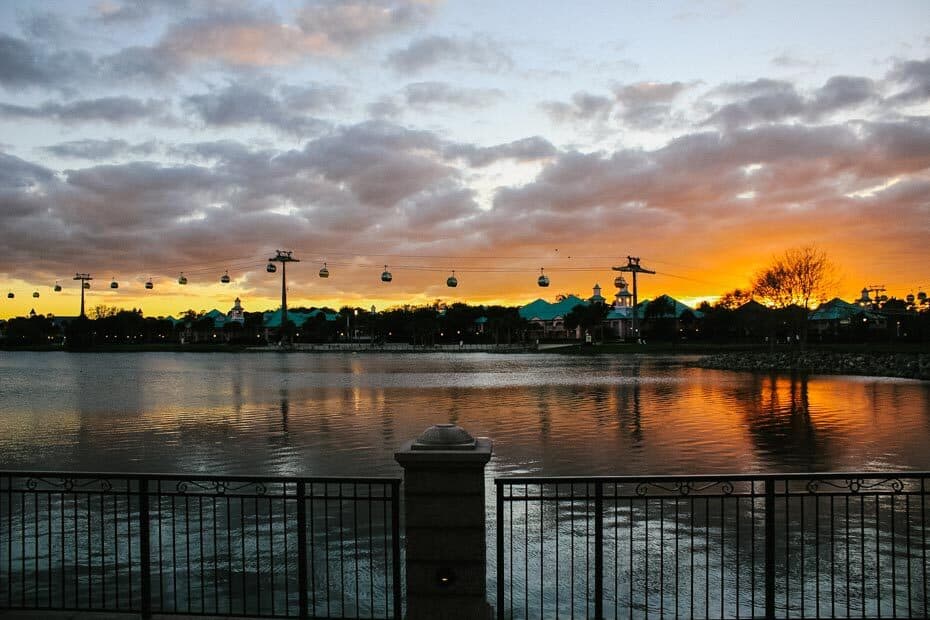 These photos kind of show how charming the entire area is!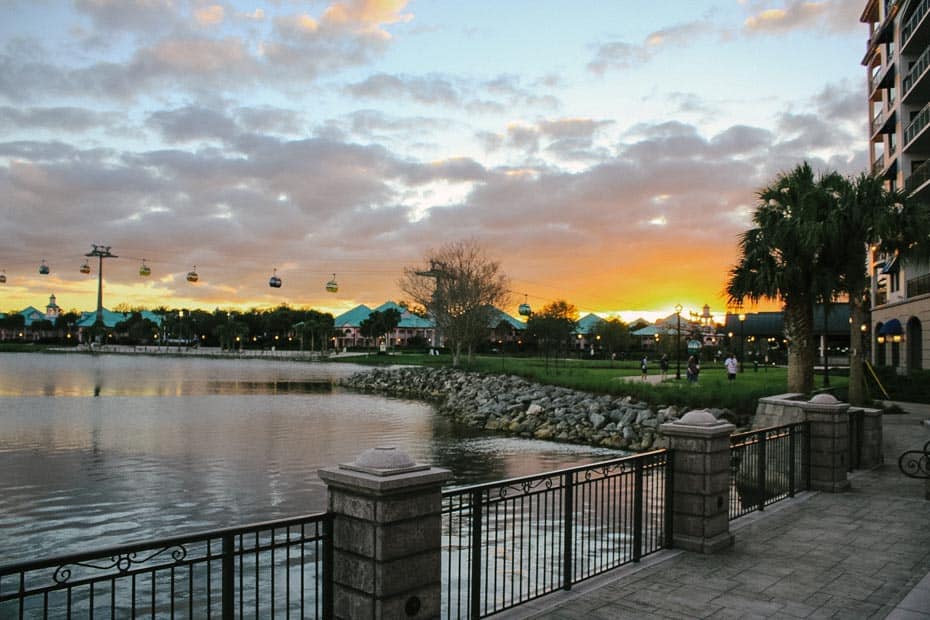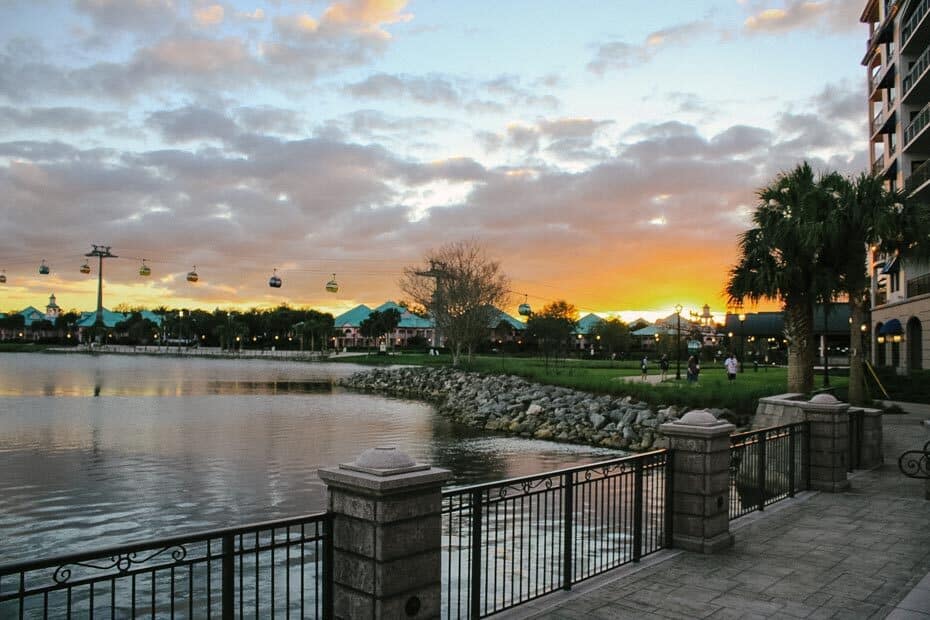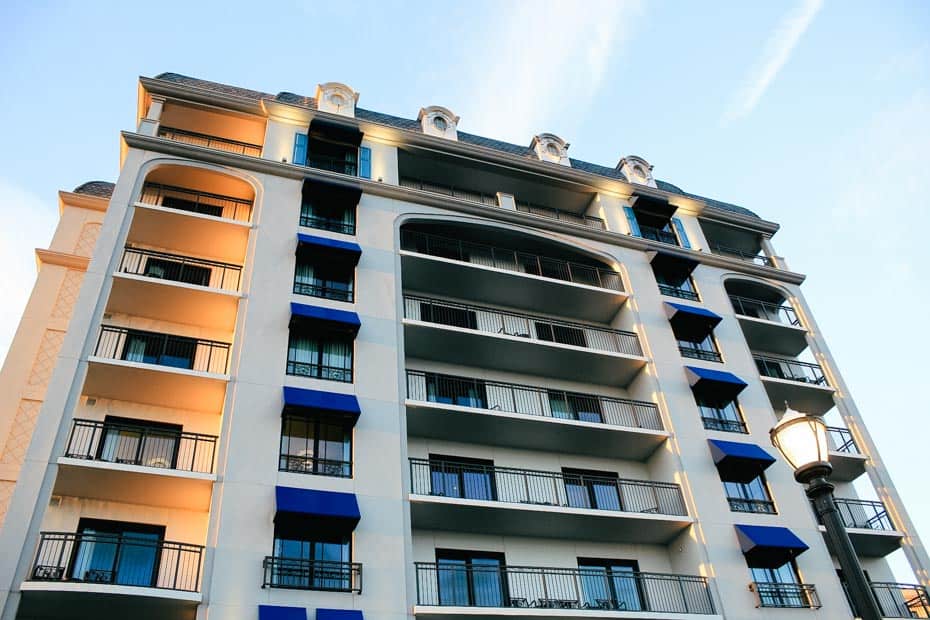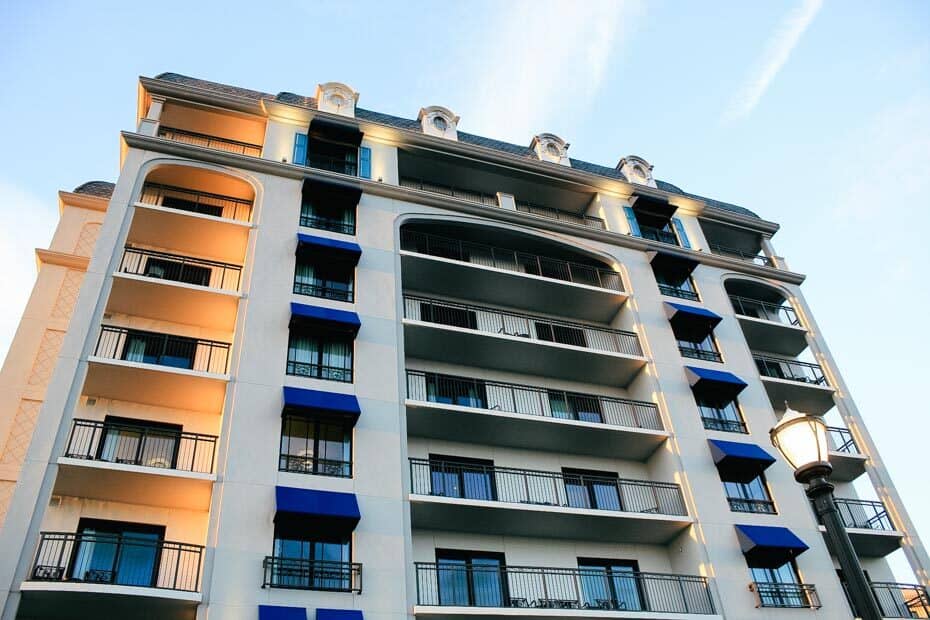 Back to the front of the hotel, we have a photo of the entrance with Riviera's logo.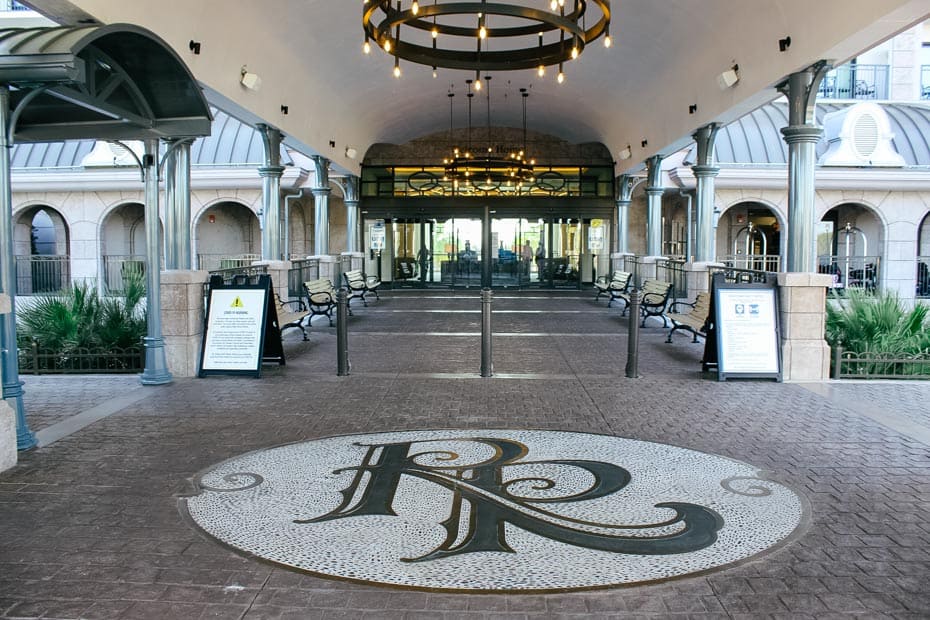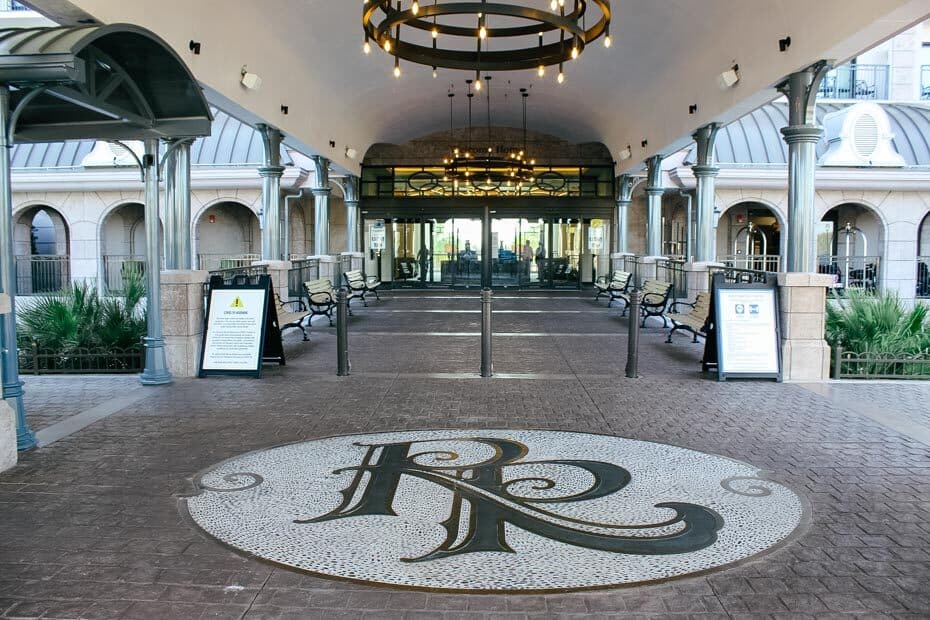 Both sides of the hotel's entryway are flanked with beautiful water features.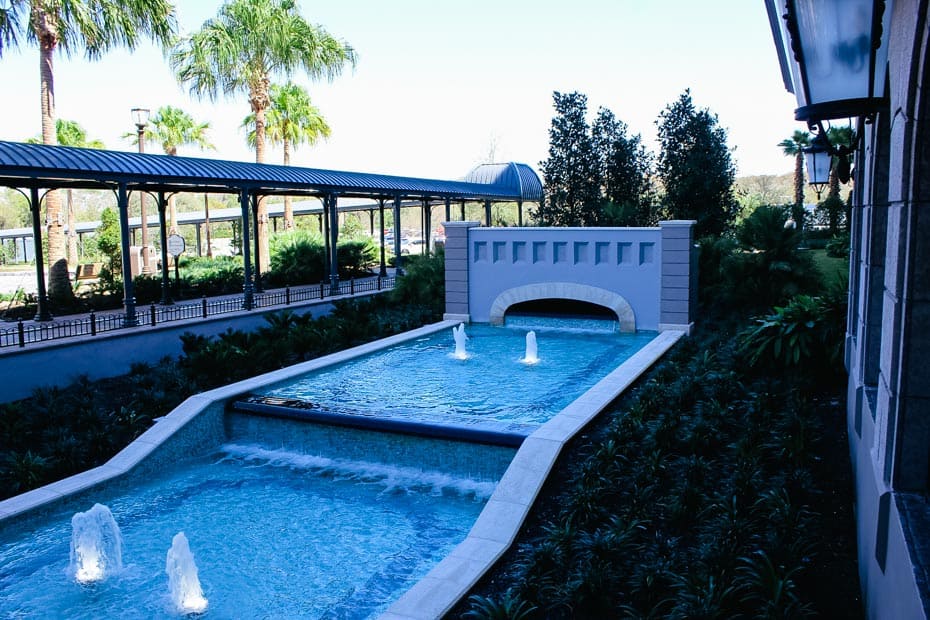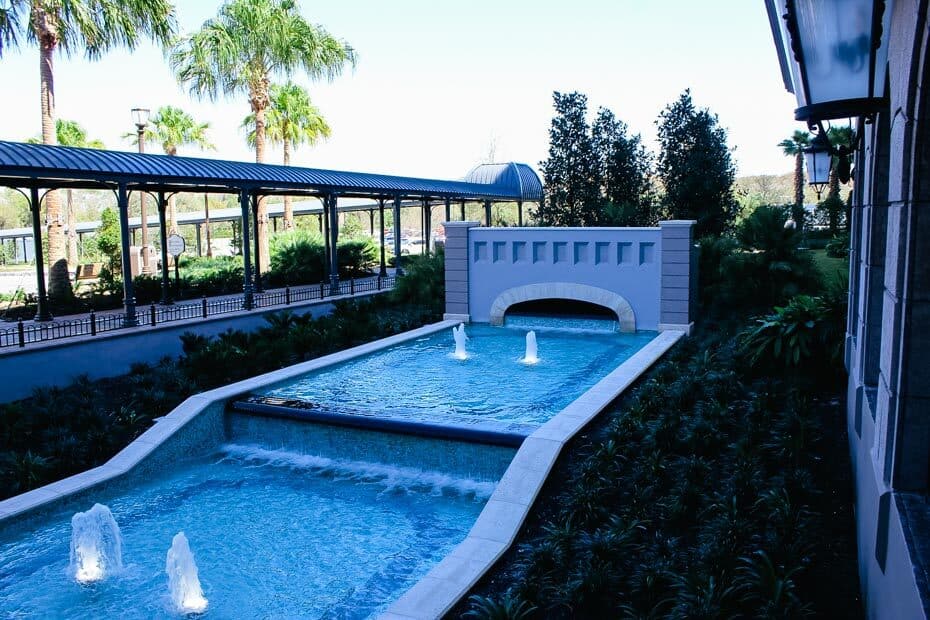 There are several seating areas on the outdoor patios at the front.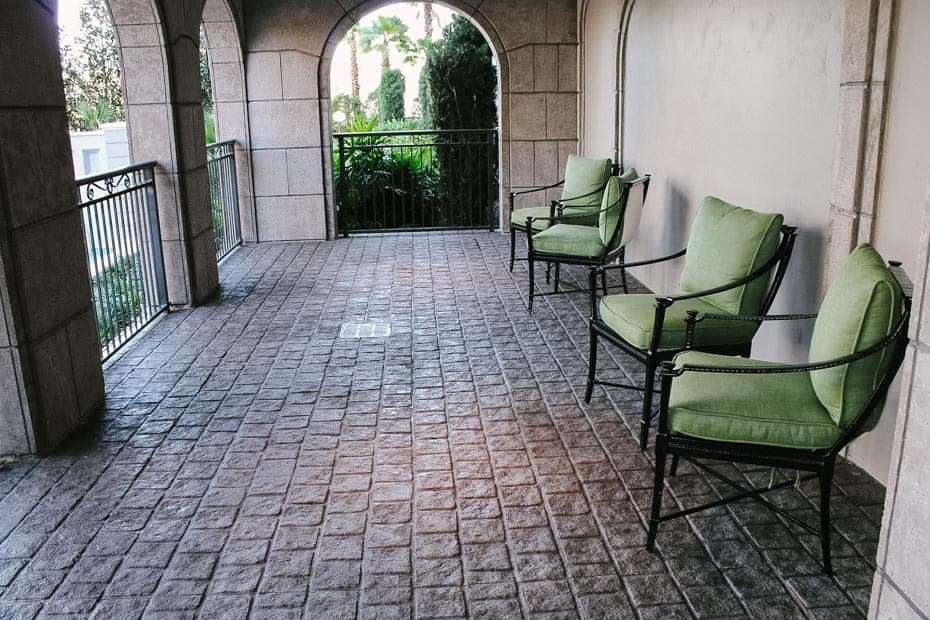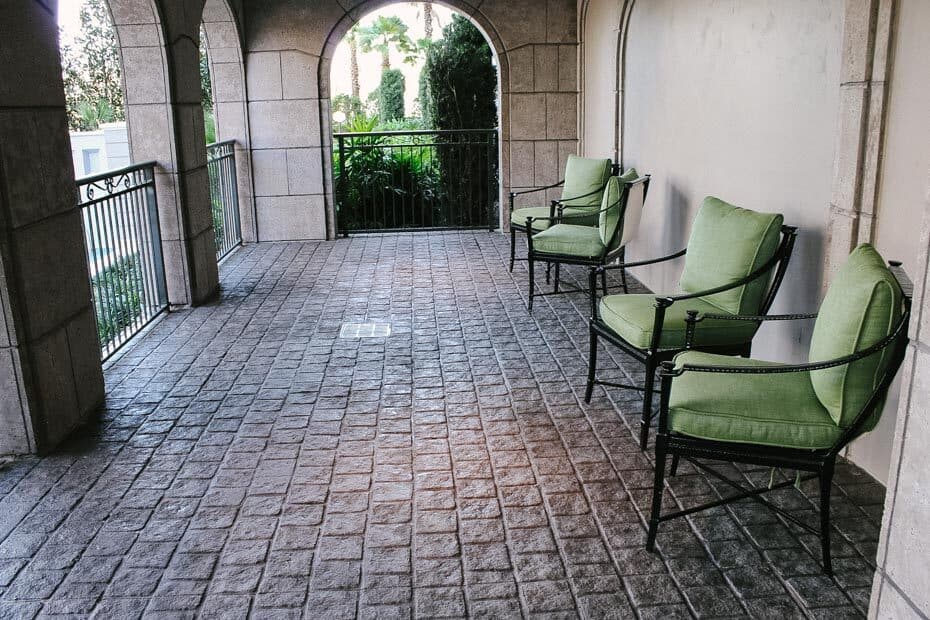 The seating areas provide a nice place to enjoy a little moment of zen.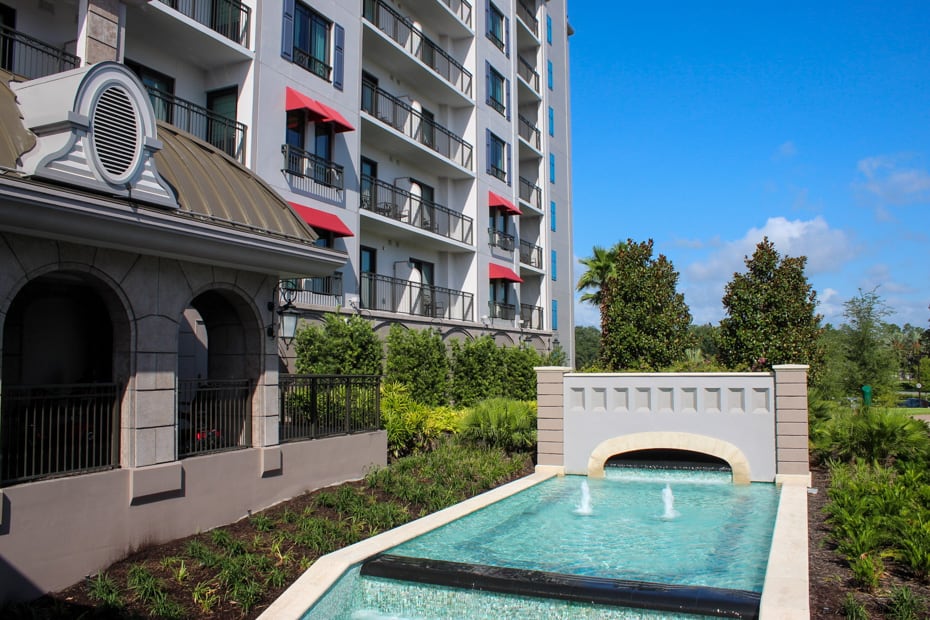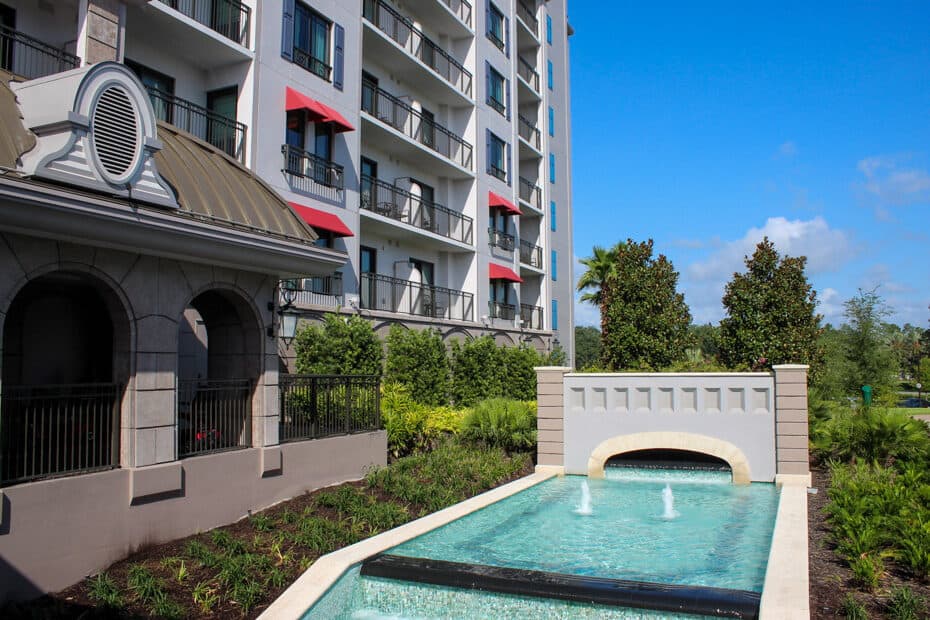 If you read any reviews of Disney's Riviera, you'll find that most complain about the resort's tiny lobby. Unfortunately, the lobby doesn't provide much of a gathering space for guests.
Related: Disney's Riviera Resort Review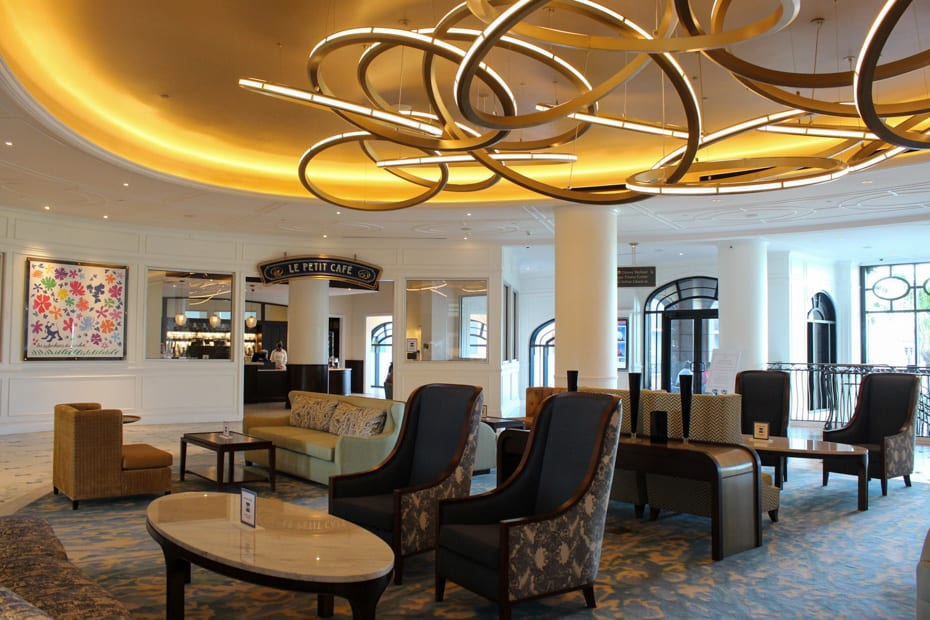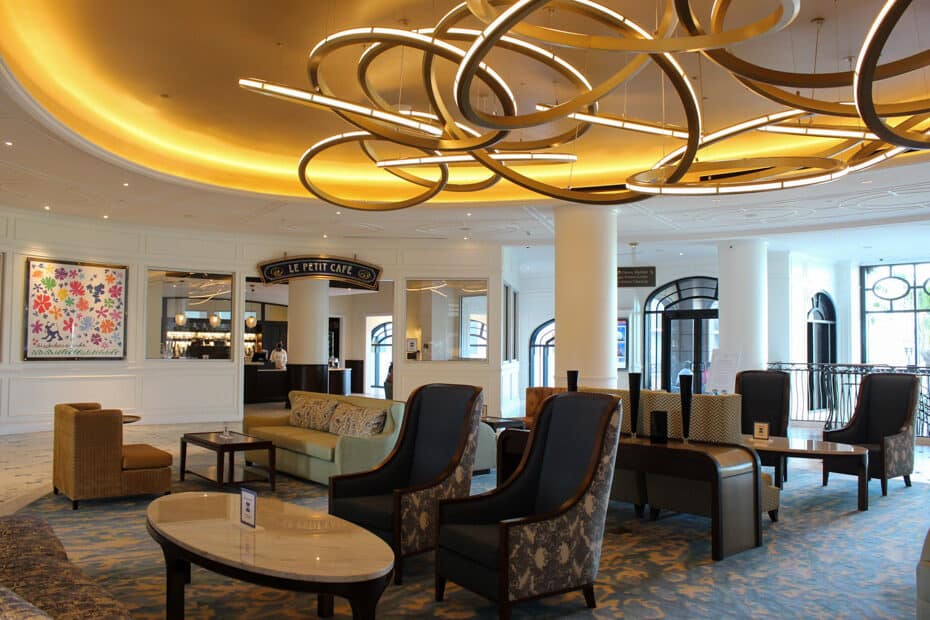 But the Riviera does have a nice collection of artwork. Below are a few photos of the paintings on the main level.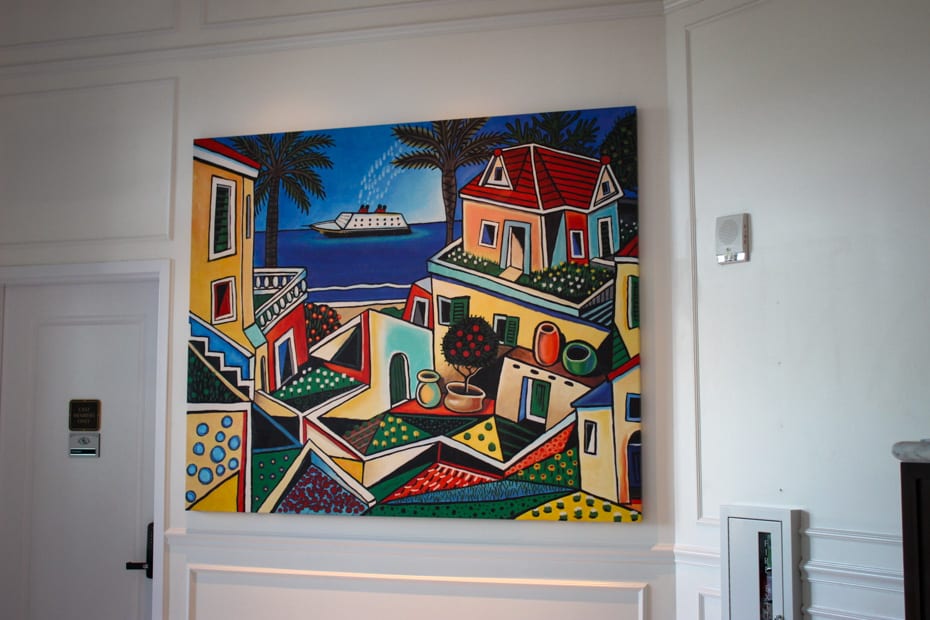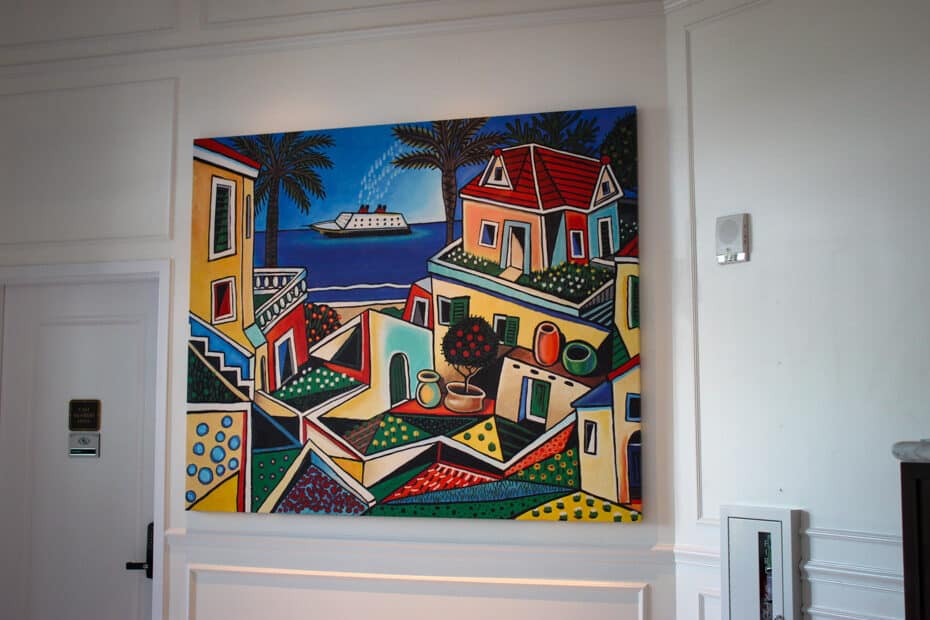 In fact, the resort boasts over 40 pieces of unique artwork exclusively created for the hotel.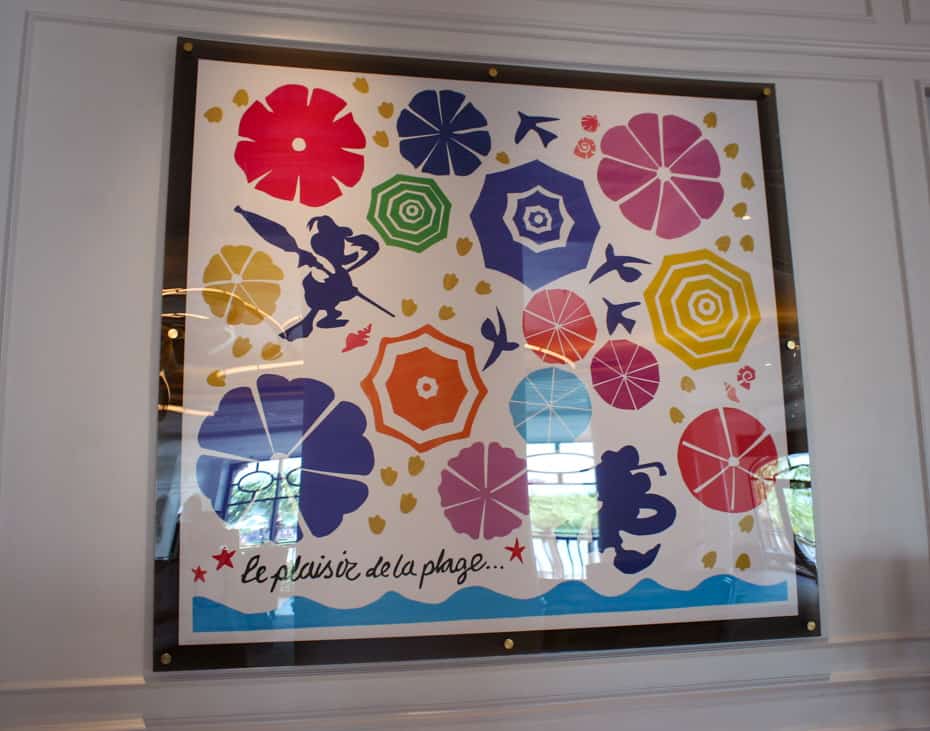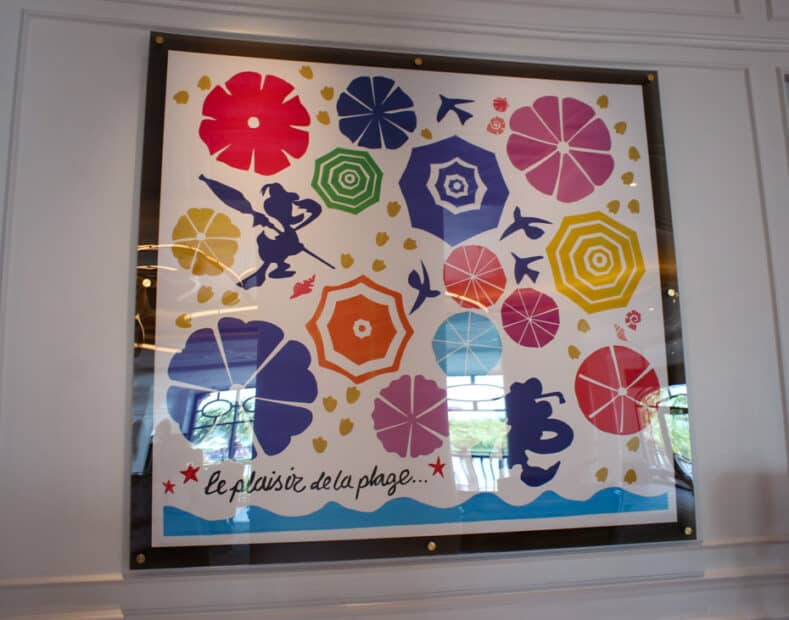 Eventually, I will get back over that way and do an art tour. But, in the meantime, Disney has a little information here about the different pieces.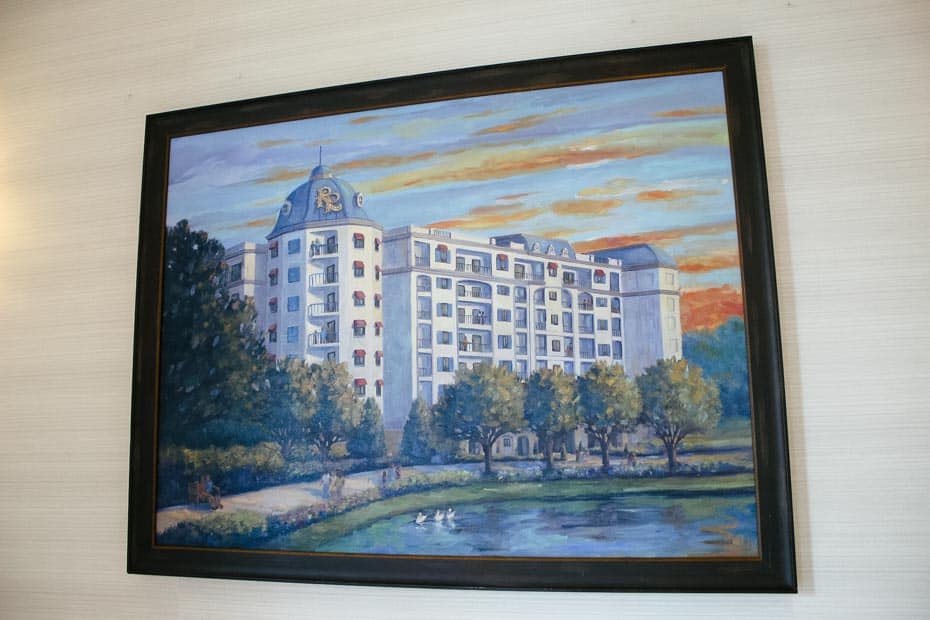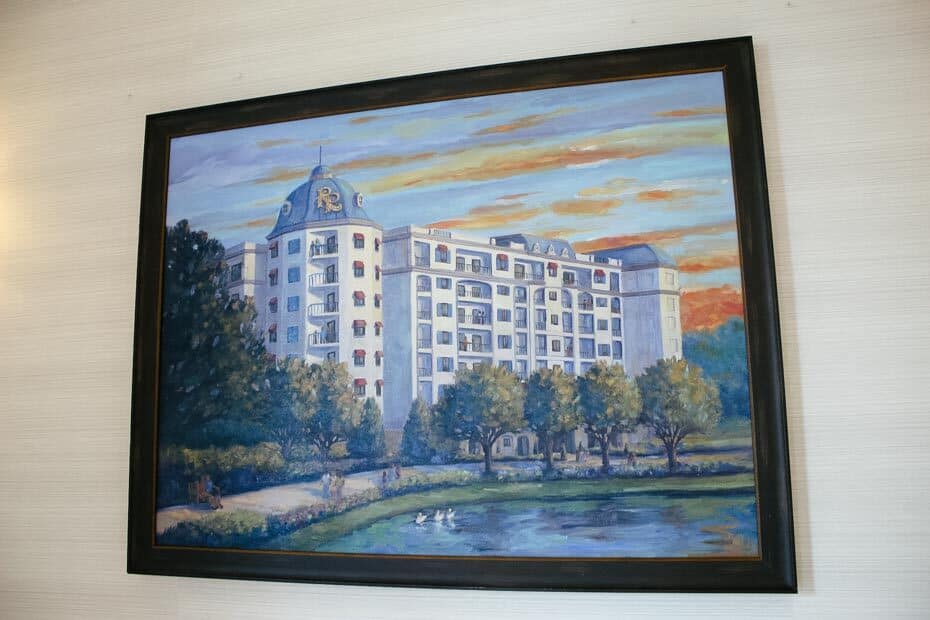 If there's a specific piece you like, you can order it from a kiosk inside the La Boutique Gift Shop. The order will be shipped to your home.
Related: La Boutique Gift Shop at the Riviera
These black and white photos of Walt Disney and family are a nice touch.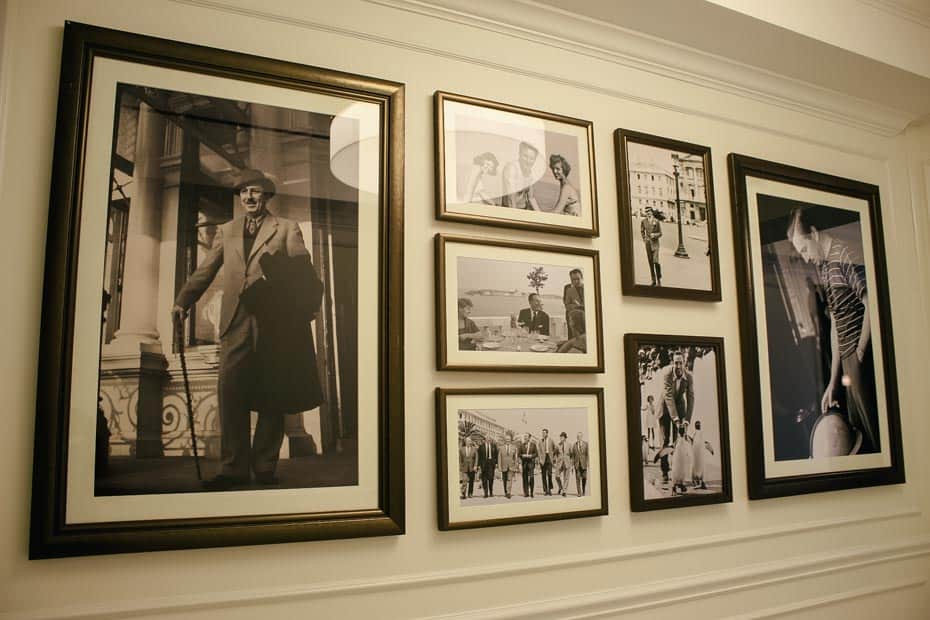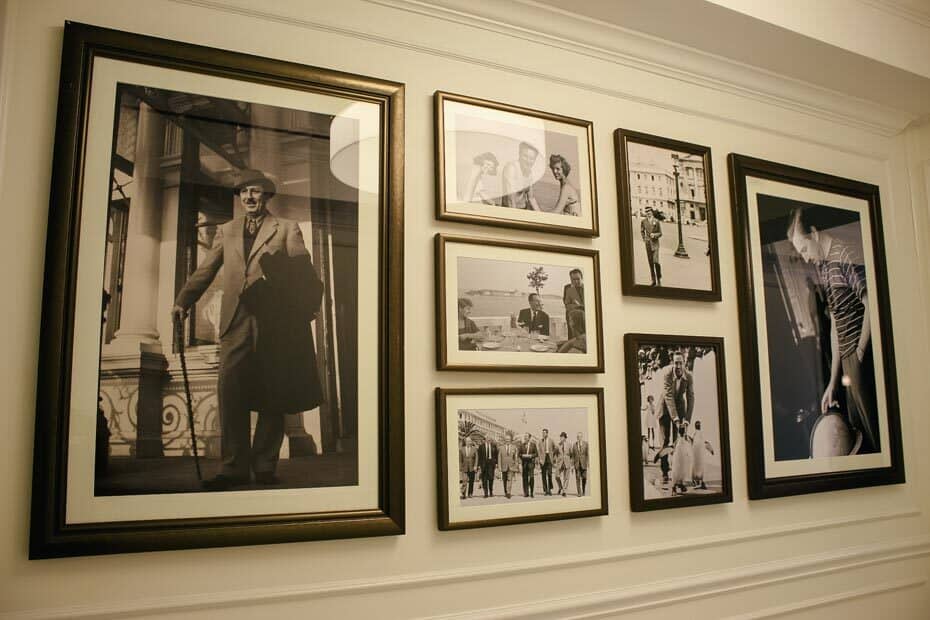 There is a long hallway with Disney movie posters on the ground floor. The posters are in French.
If you close your eyes, you might imagine you have spent the day at the Cannes film festival.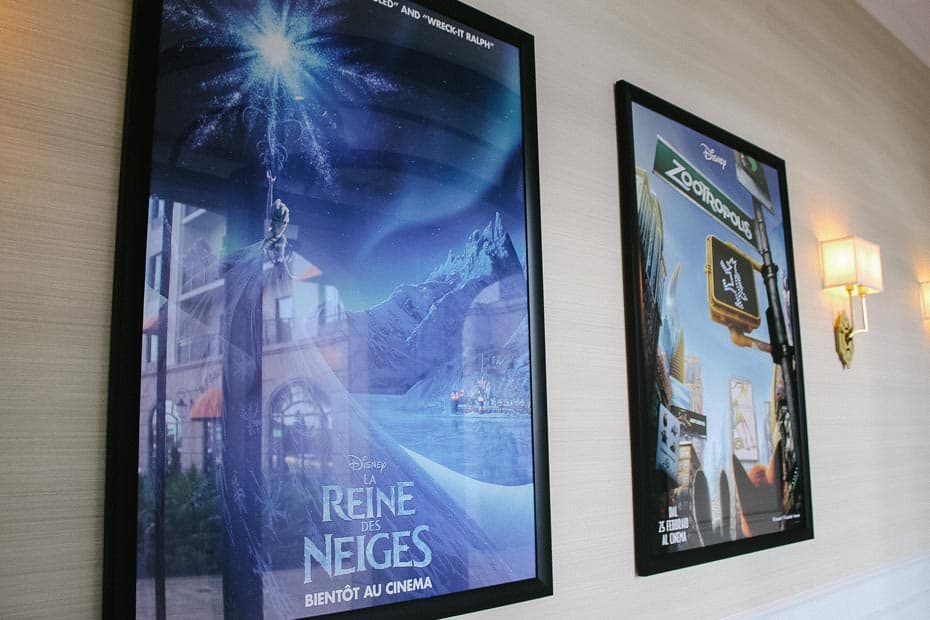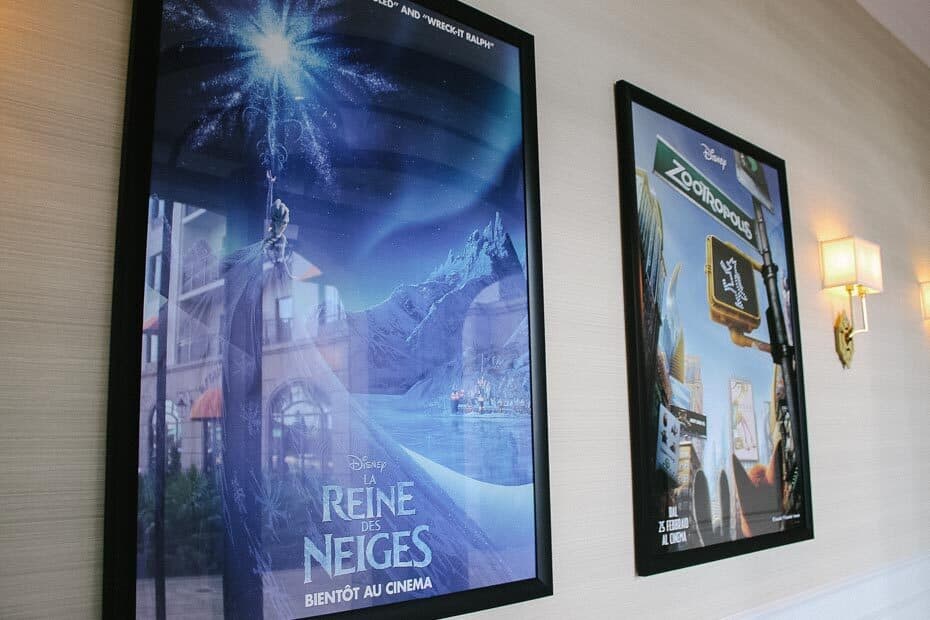 Or vice-versa. I think that's supposed to be Inside Out.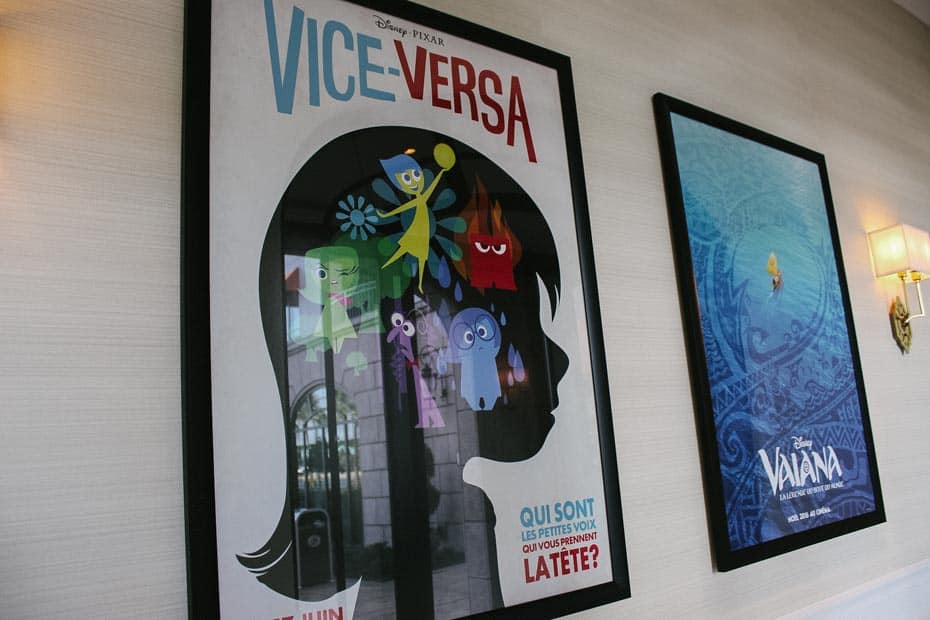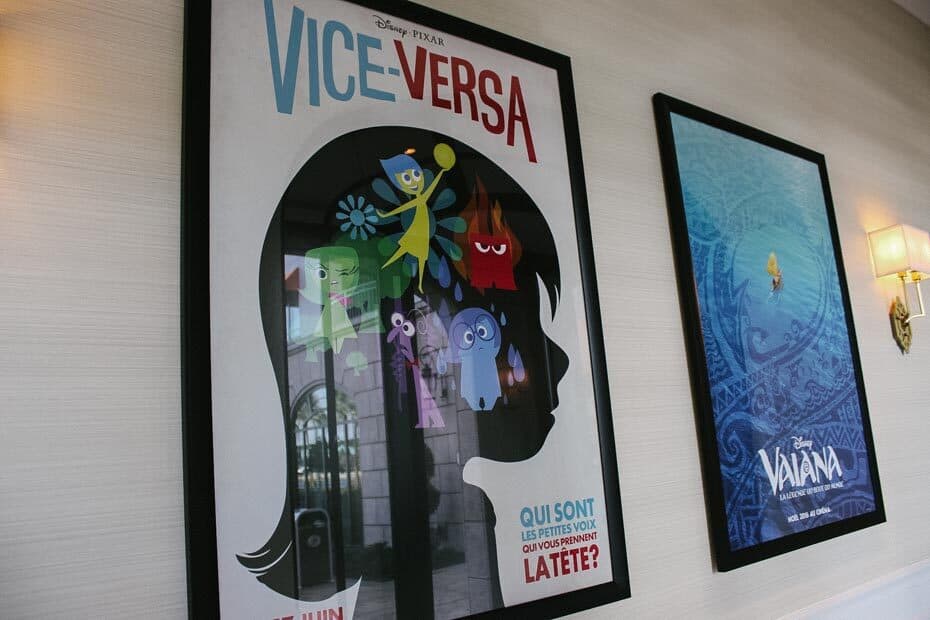 While the lobby doesn't have much of a seating area, Voyageur's Lounge is only right around the corner. This area provides a nice resting spot.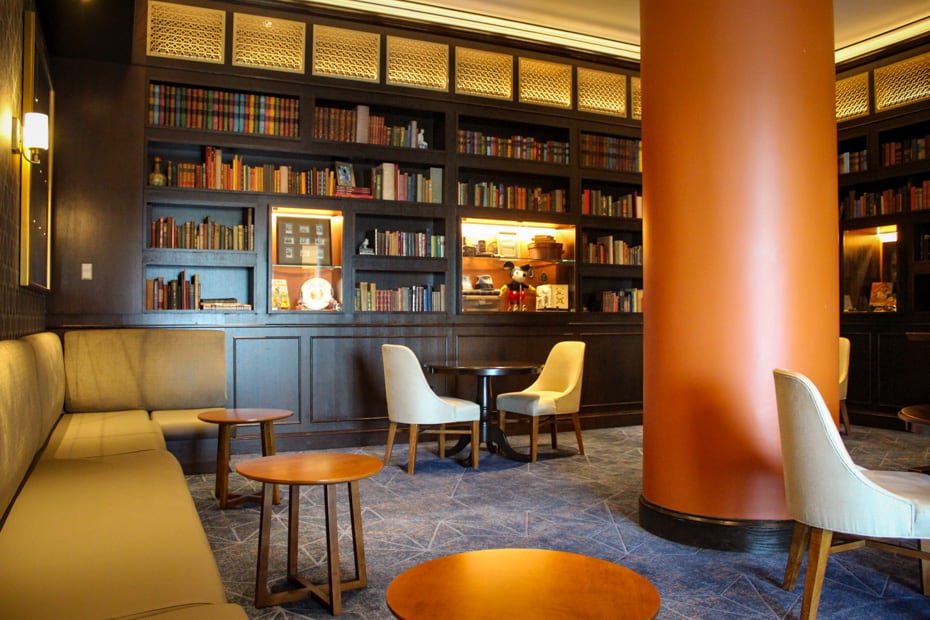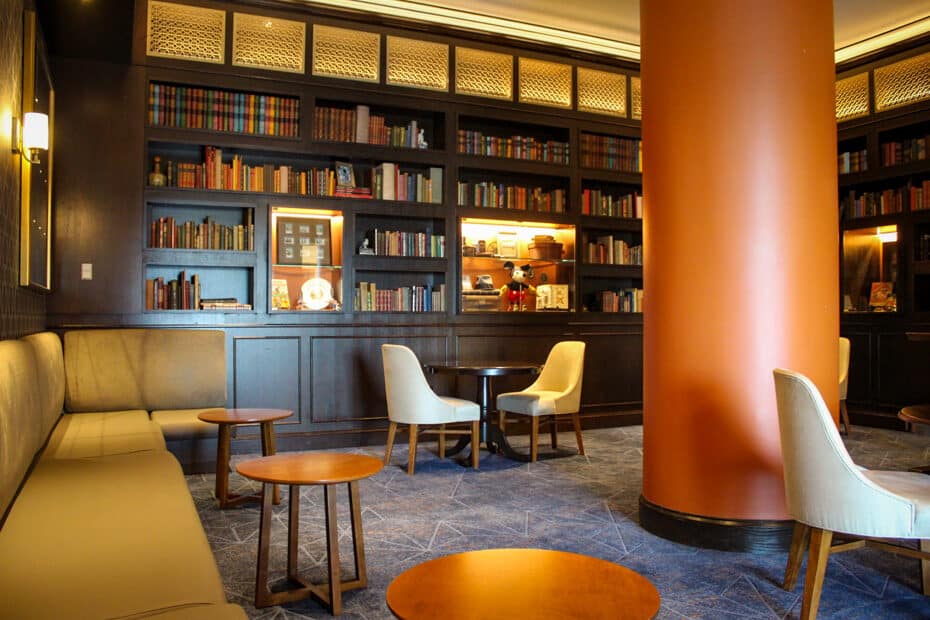 There are plenty of conversation piece's on display.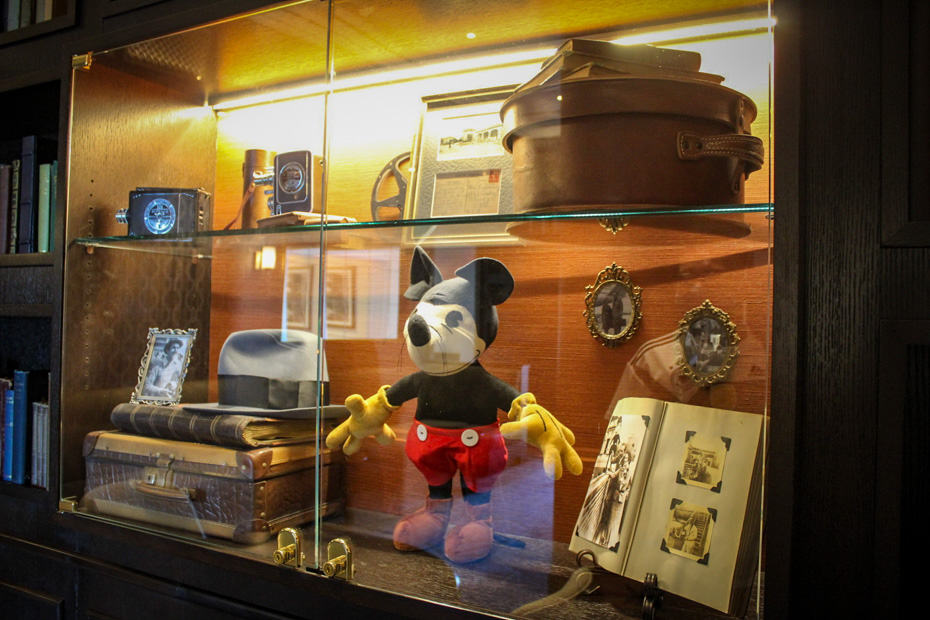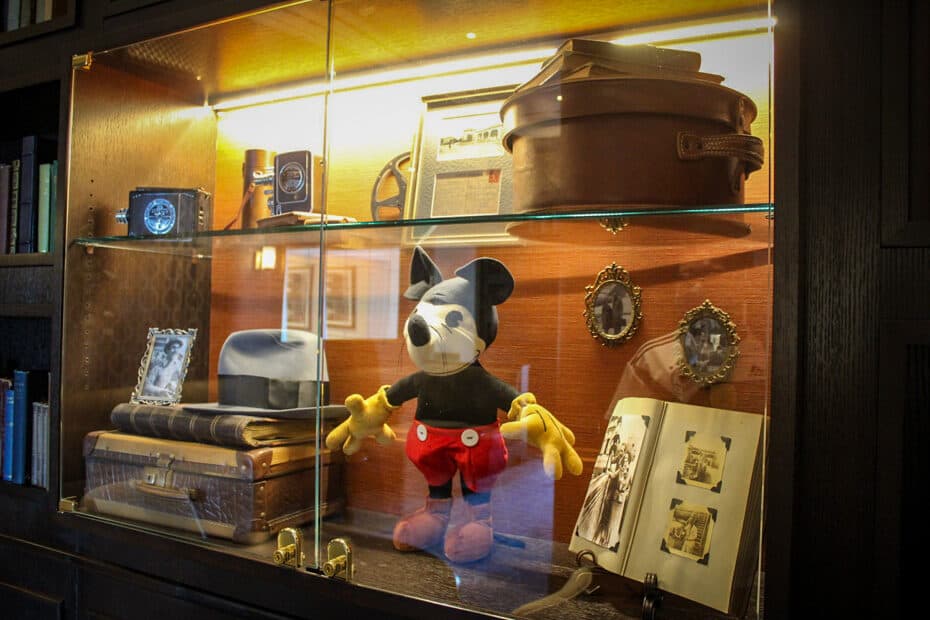 And one can't walk through the lobby without noticing this window display of desserts from Le Petit Cafe. This photo of Riviera's treats probably doesn't do them justice.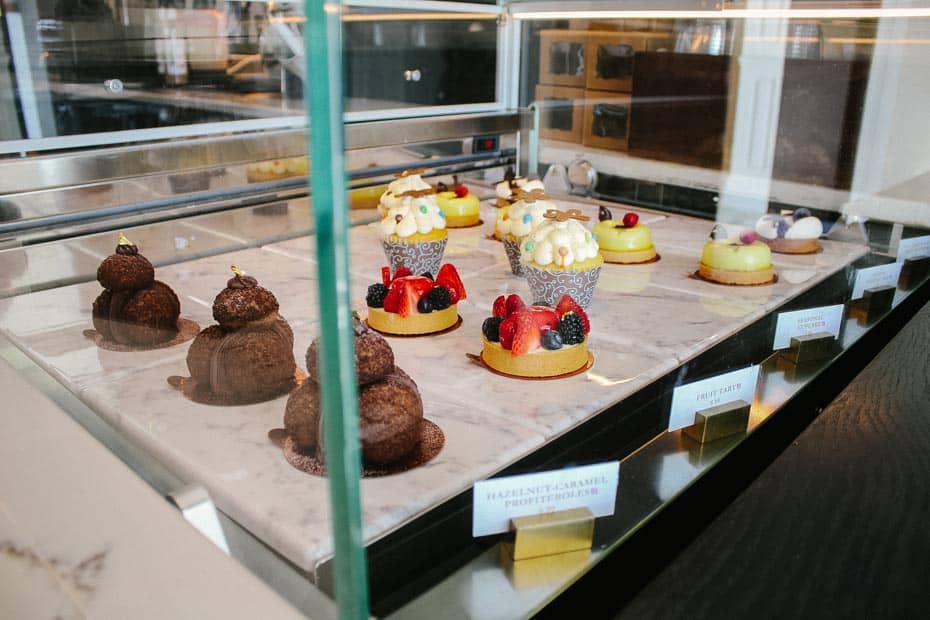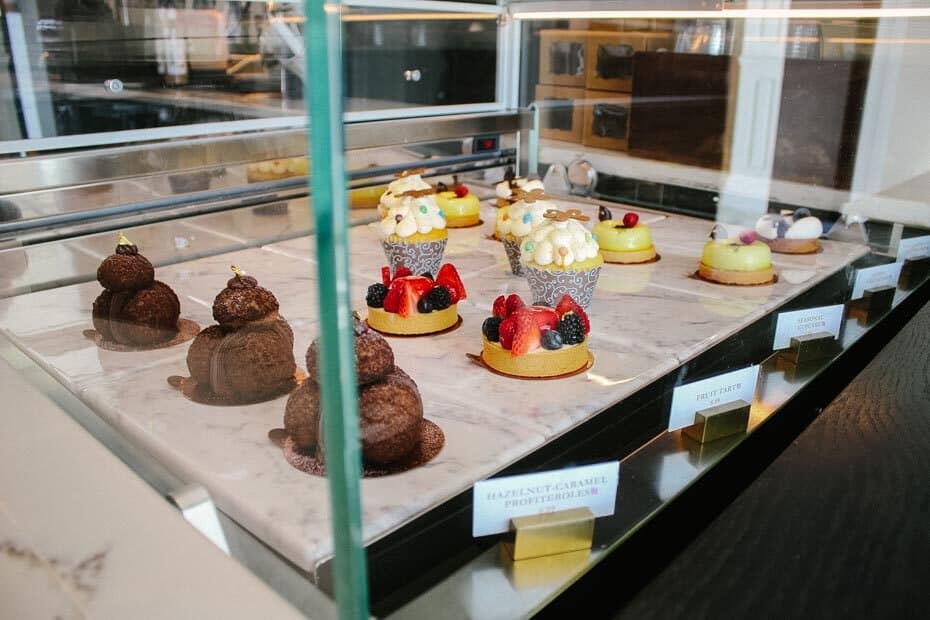 I had the fruit tart on my last visit, and it was delicious.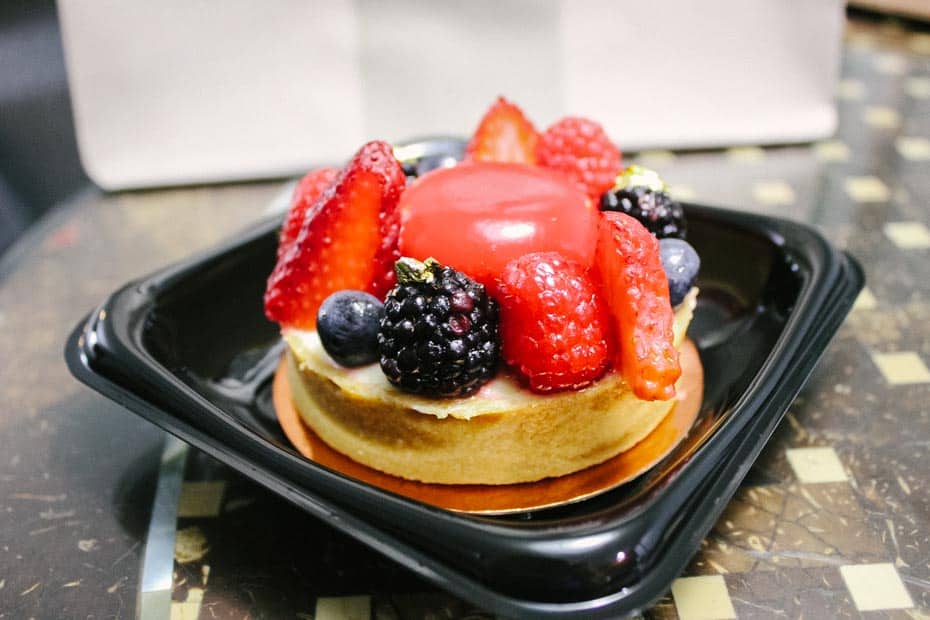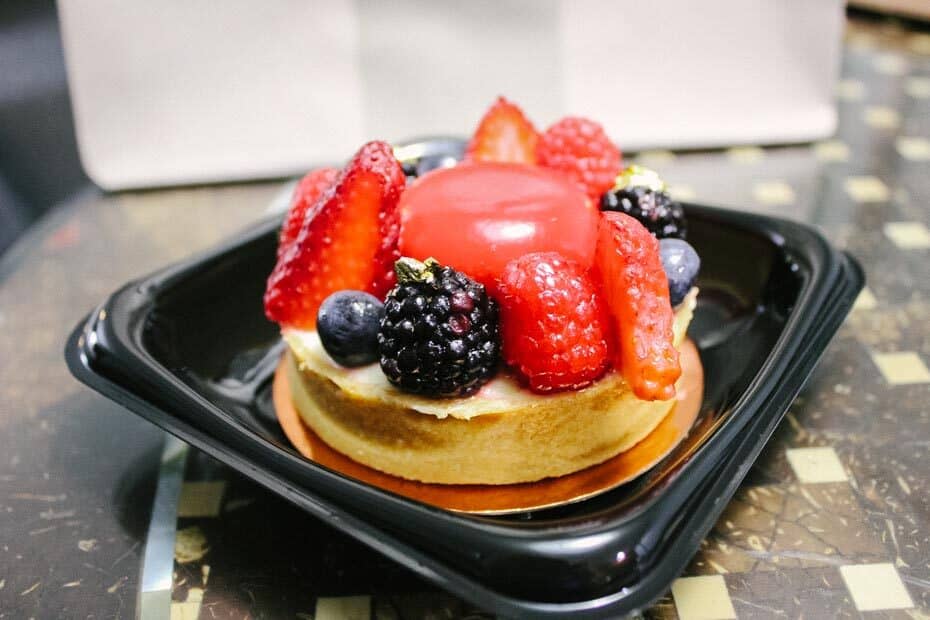 One thing that makes the Riviera so desirable is its dining options. Below is a picture of Mickey Mouse at Topolino's Terrace.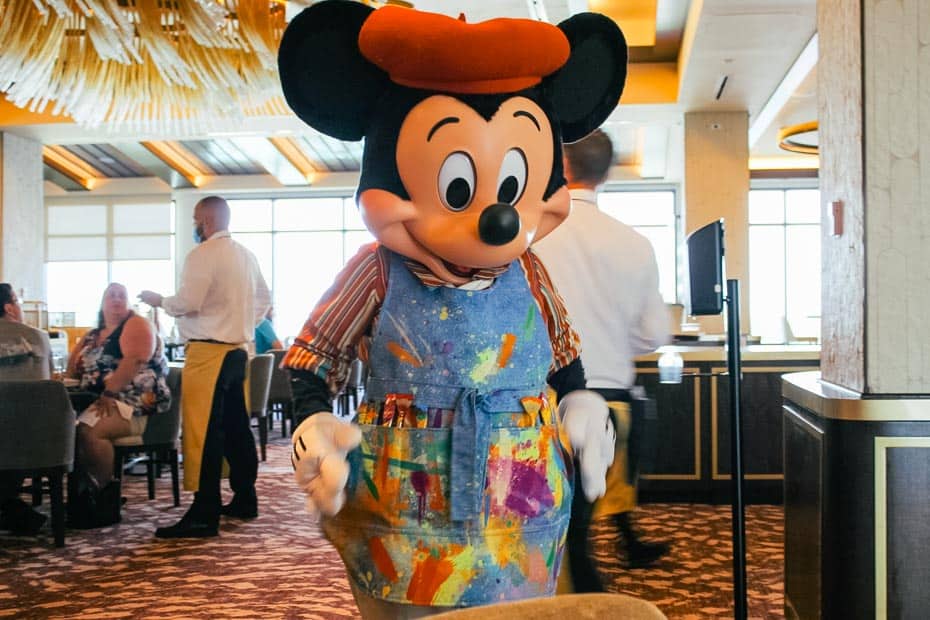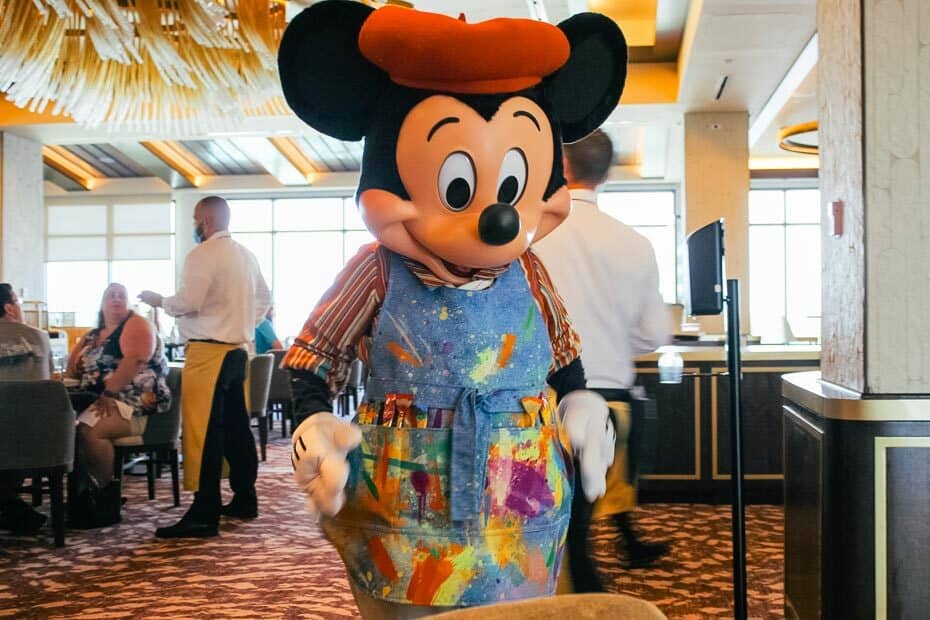 This is from the Breakfast a la Art with characters at Topolino's Terrace.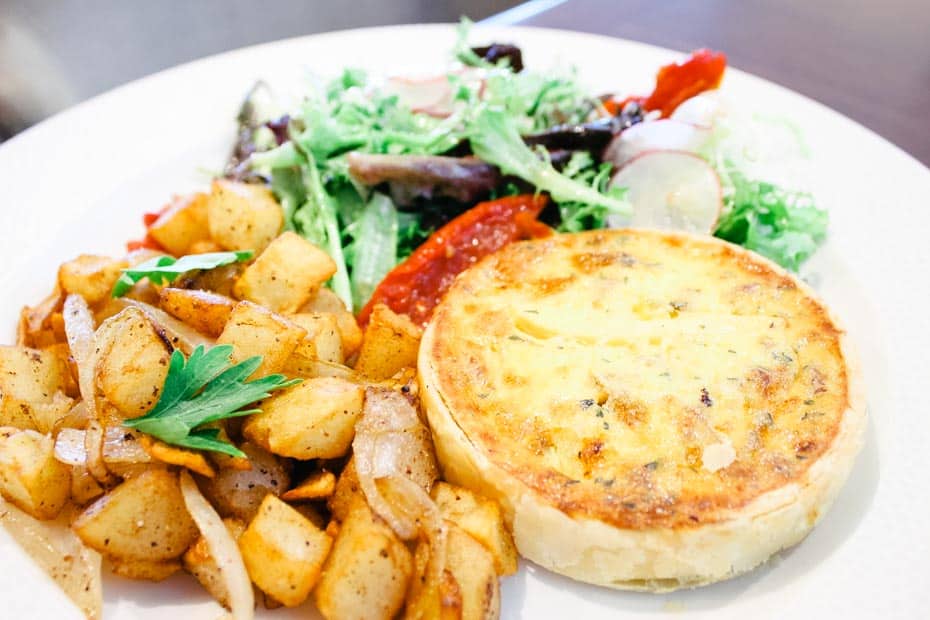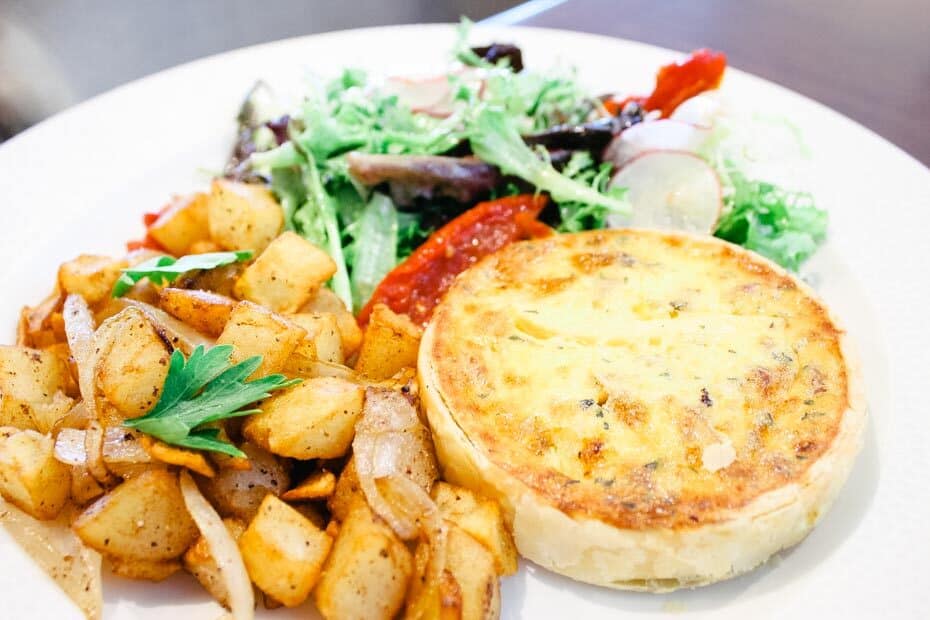 These photos of Disney's Riviera are from the rooftop deck at Topolino's Terrace.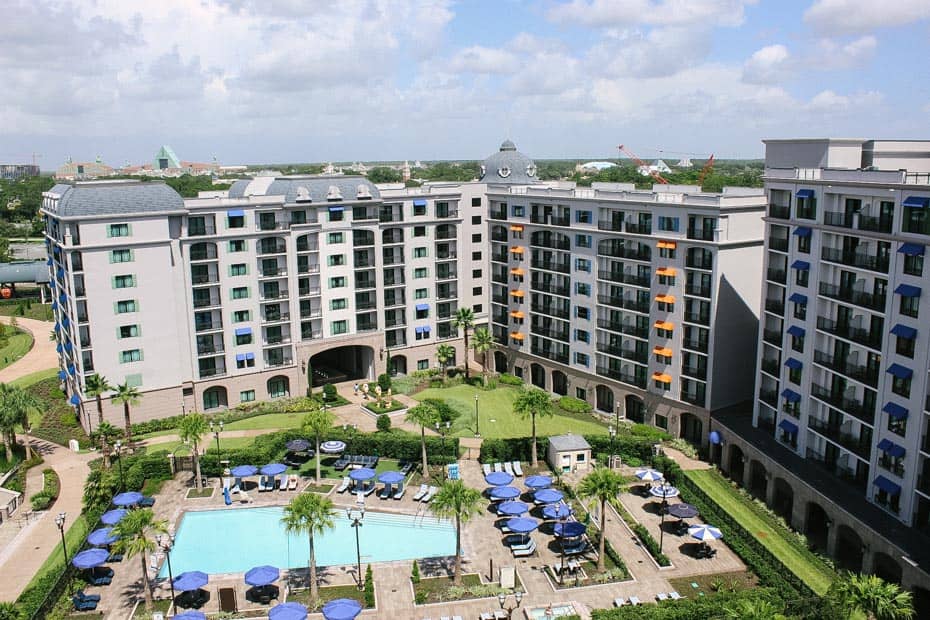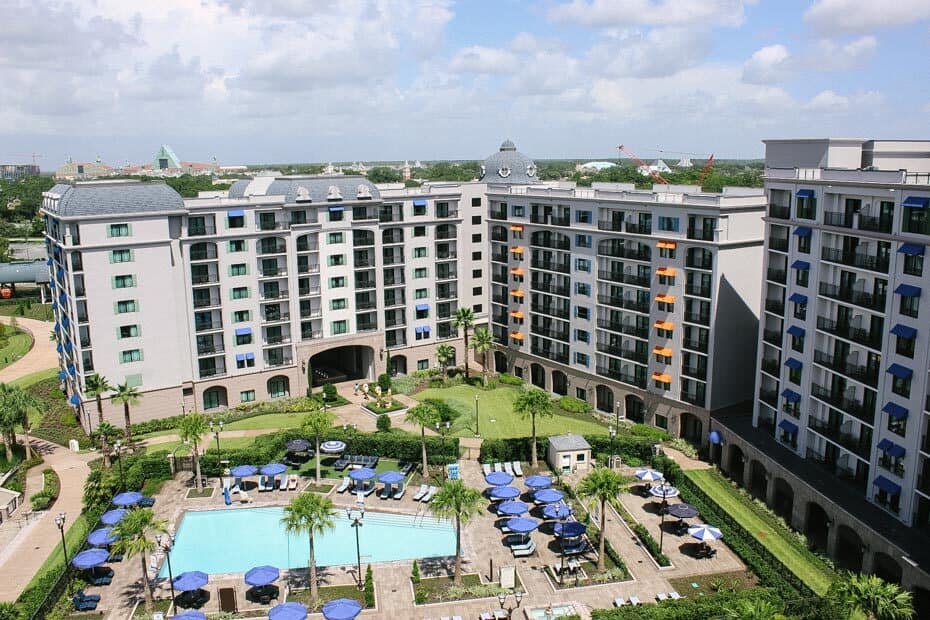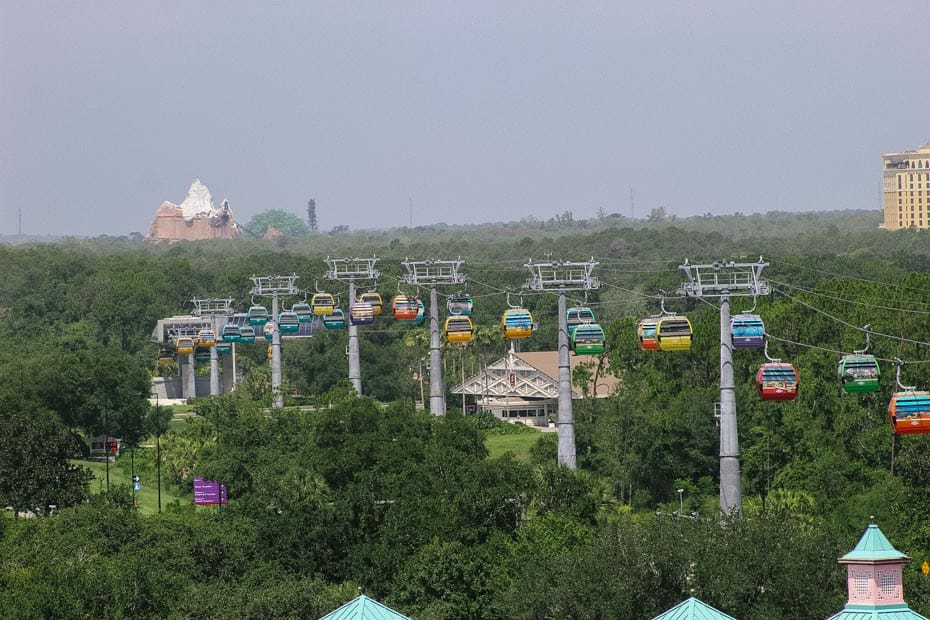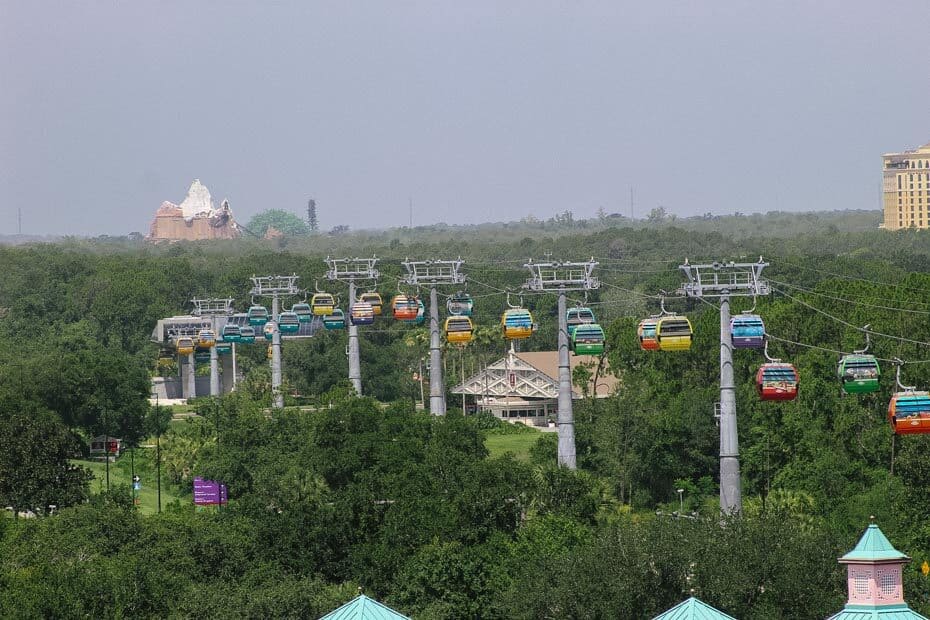 If you want breakfast at the Riviera with a reasonable price tag, might I suggest enjoying a quick service meal from Primo Piatto?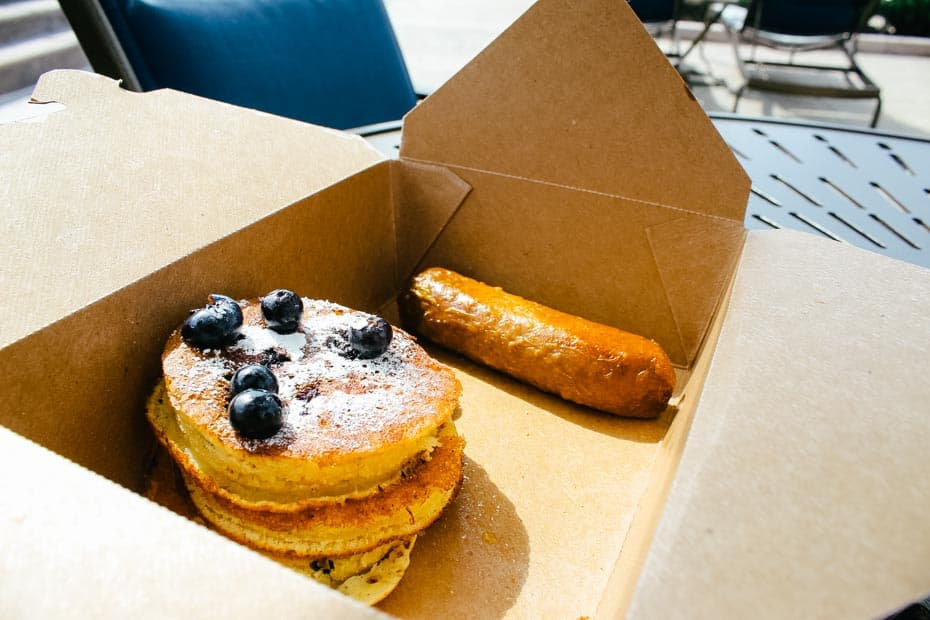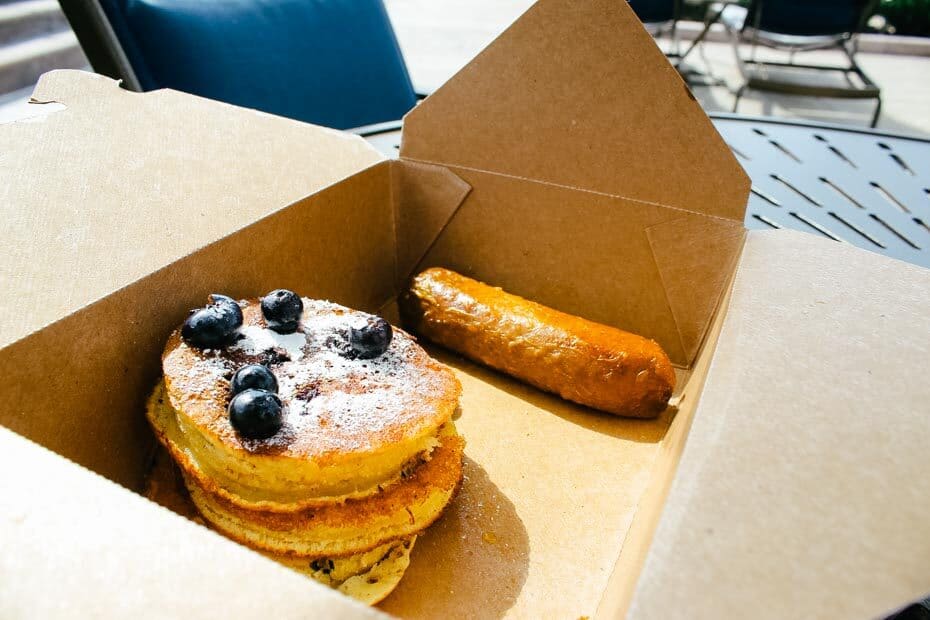 I had those lemon pancakes out at the pool one morning. I can't imagine a more enjoyable way to start your day at Disney.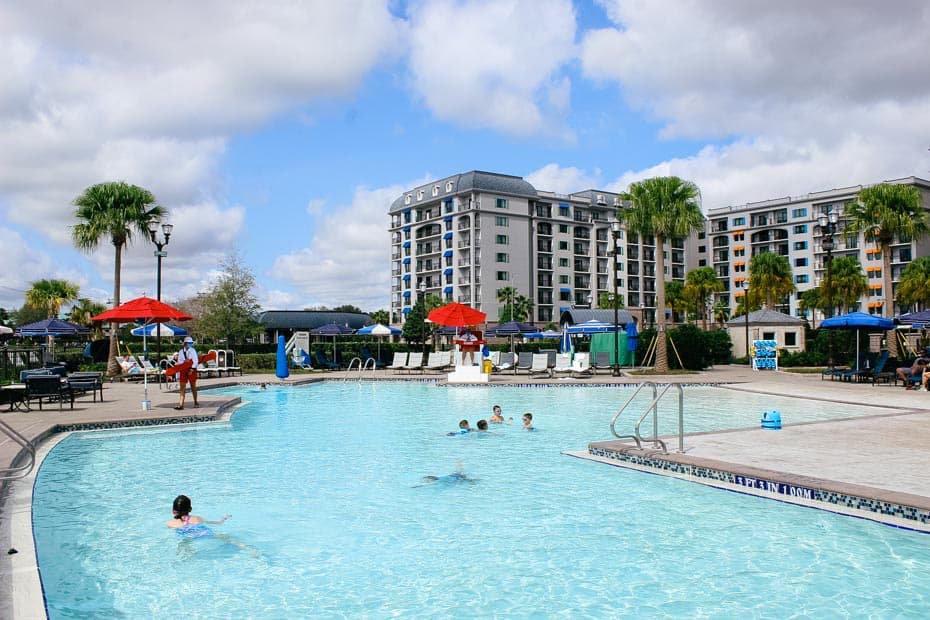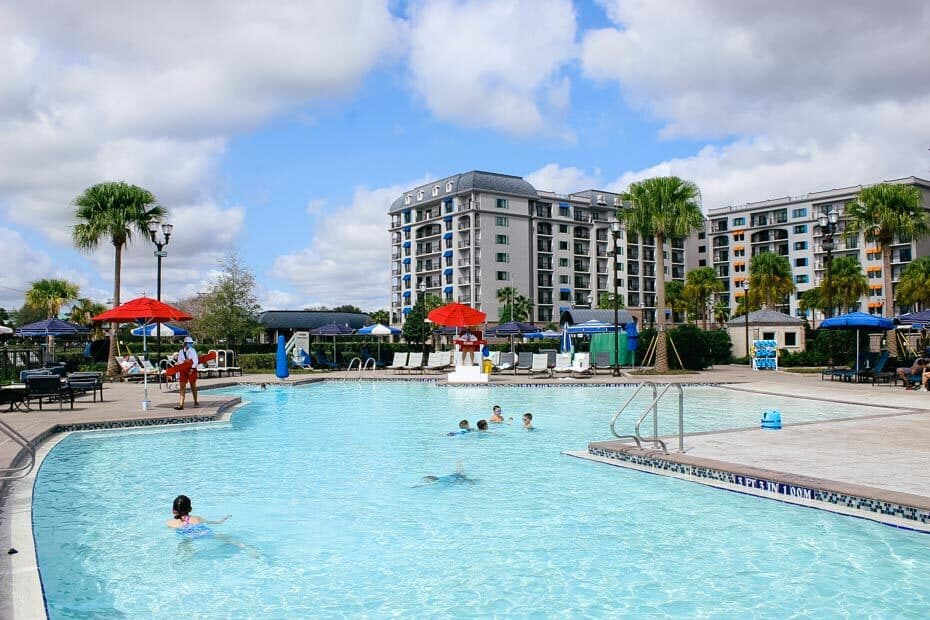 Disney's Riviera has two pools and an aquatic water play area called S'il Vous Play.
Related: The Pools at Disney's Riviera Resort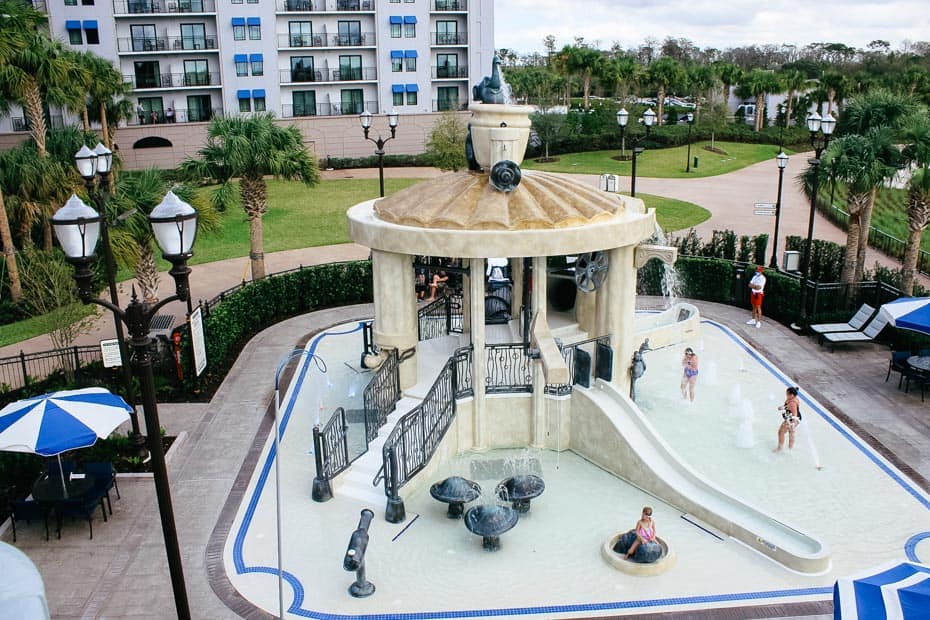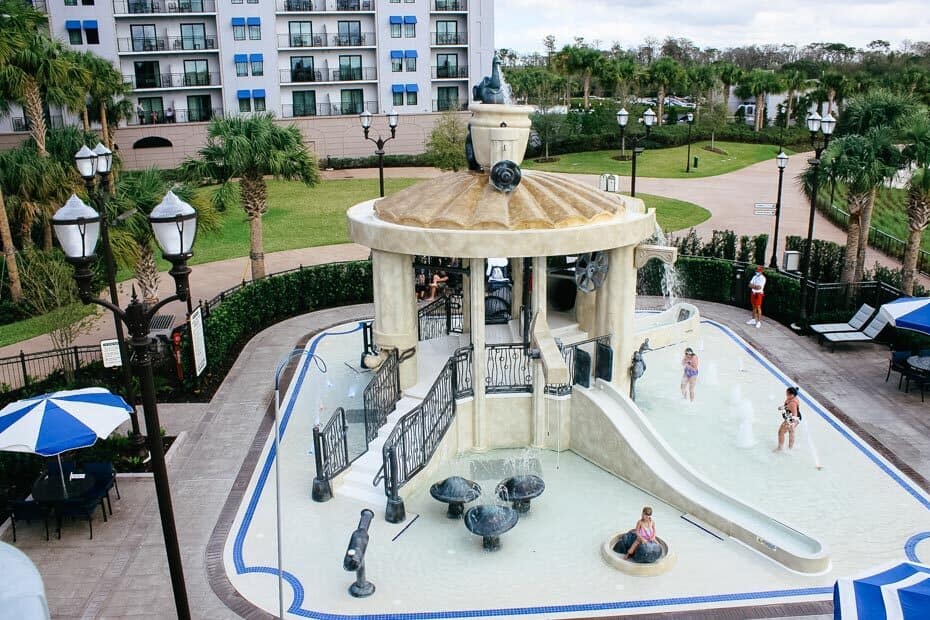 You can still see those Skyliner views from the pool.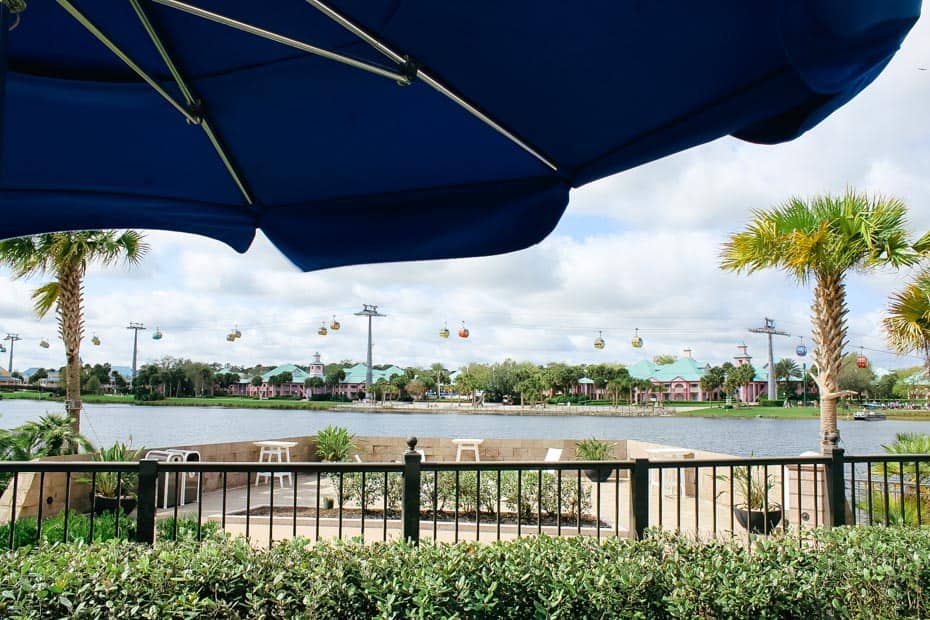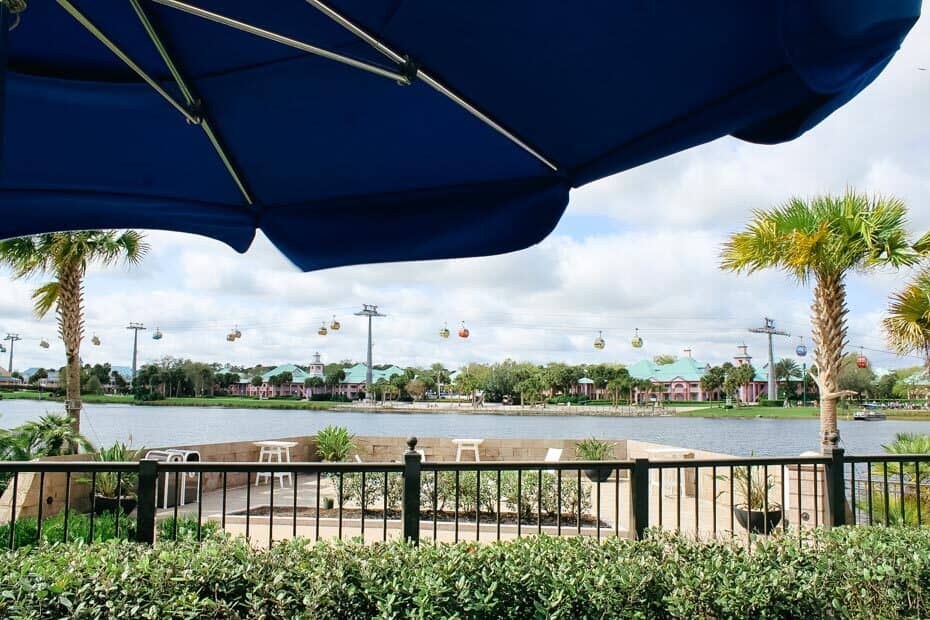 The pool area is so lovely that it's even included on our list of best pools at Disney World.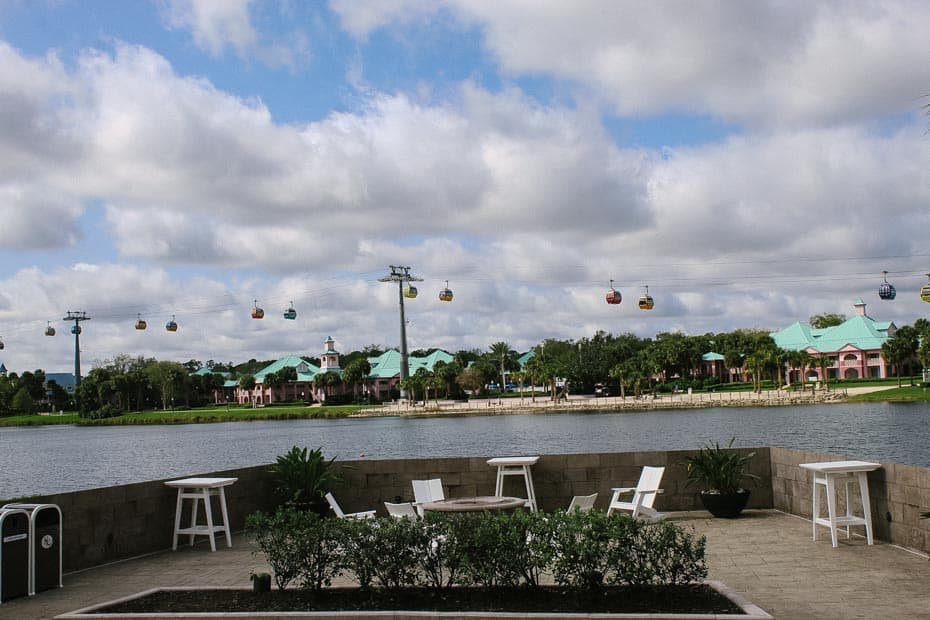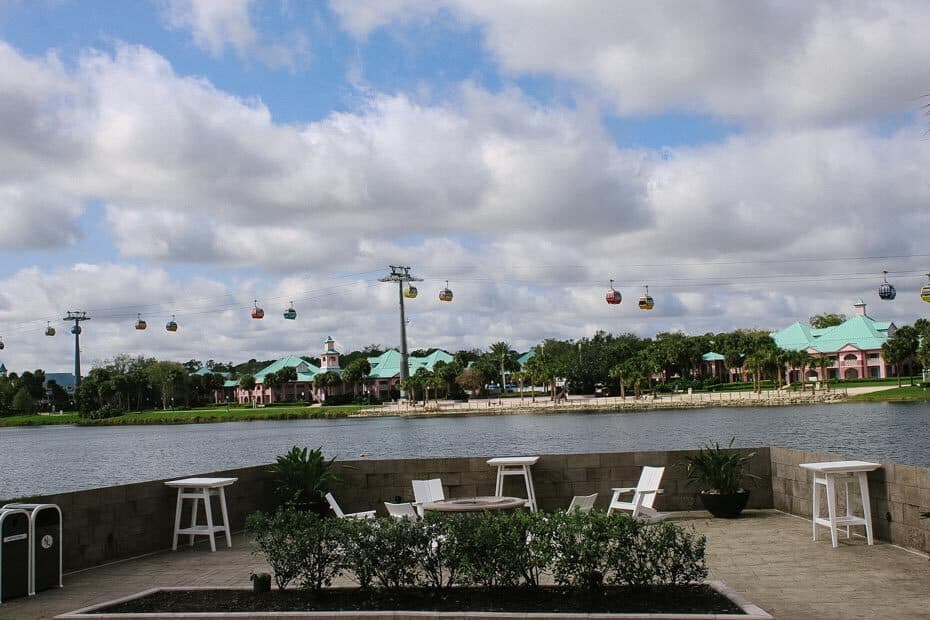 I wanted to add a few photos of Disney's Riviera's backyard. This is really where the resort tends to shine. There are so many outdoor lounges and seating areas.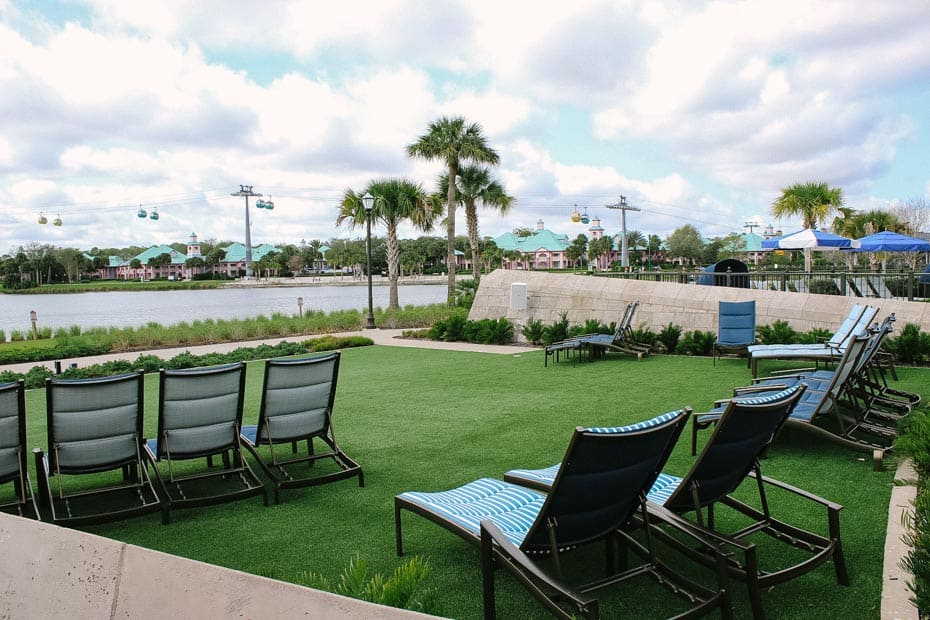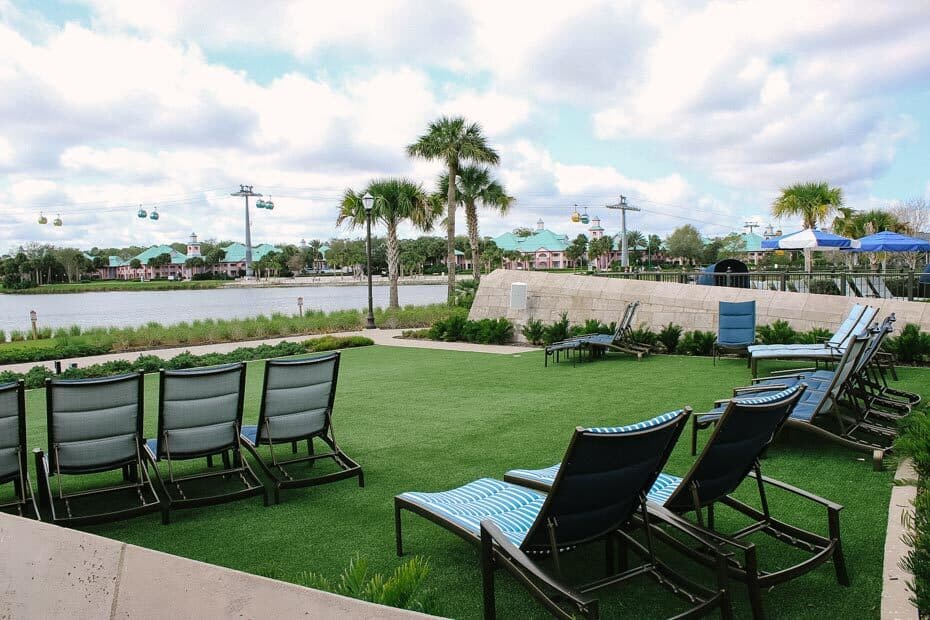 I can't tell you how much I've enjoyed being able to order meals to go here and then enjoy them outside at the resort.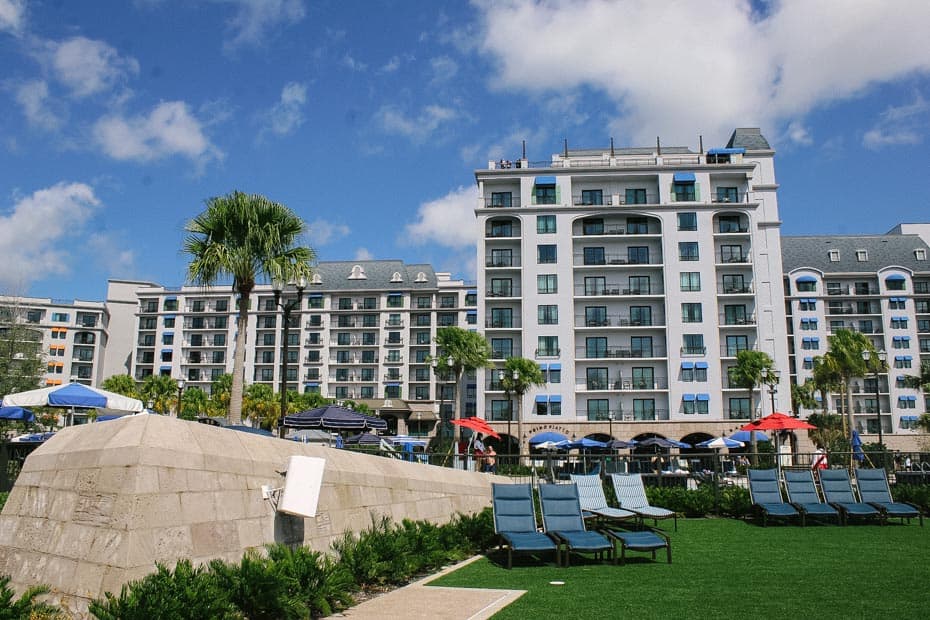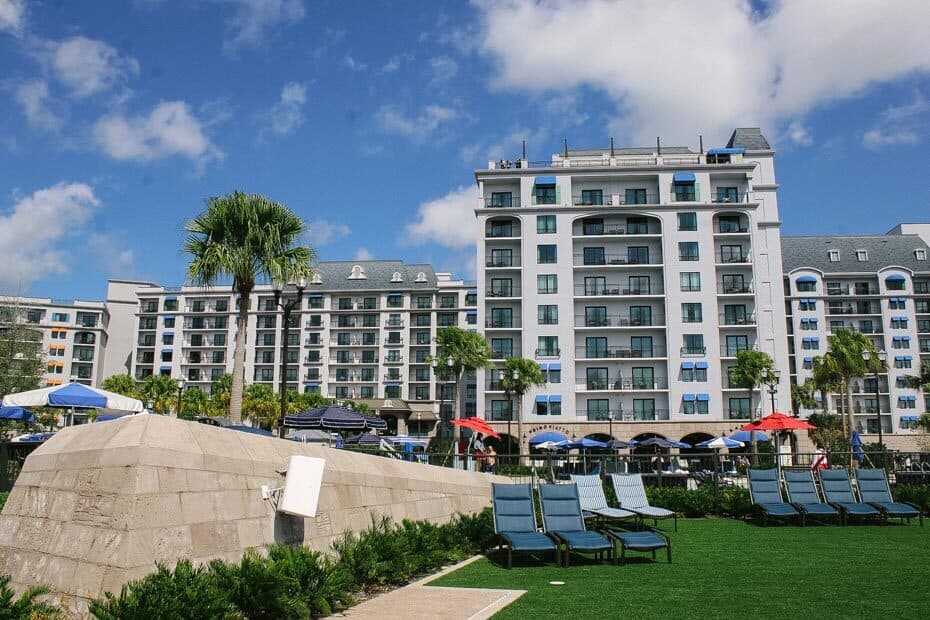 An extensive pathway loops around the Riviera and adjoins Disney's Caribbean Beach Resort on both sides.
Related: Disney's Caribbean Beach Review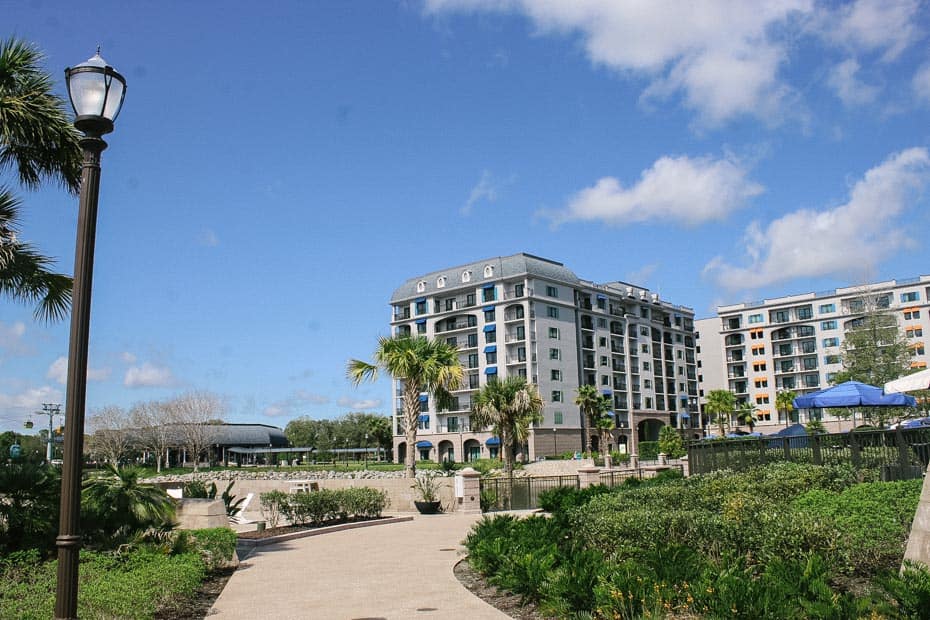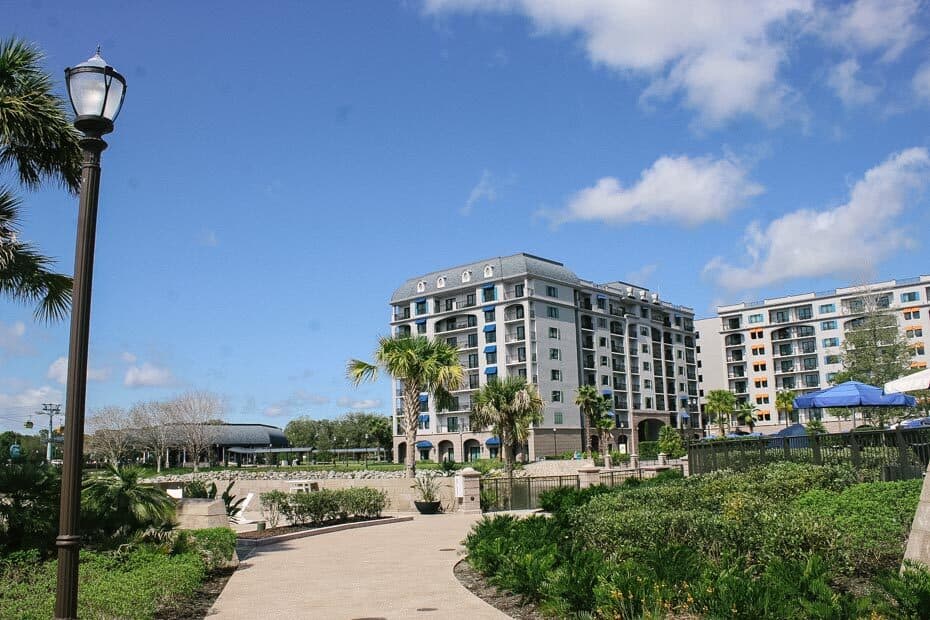 You can enjoy a leisurely walk or maybe even a jog.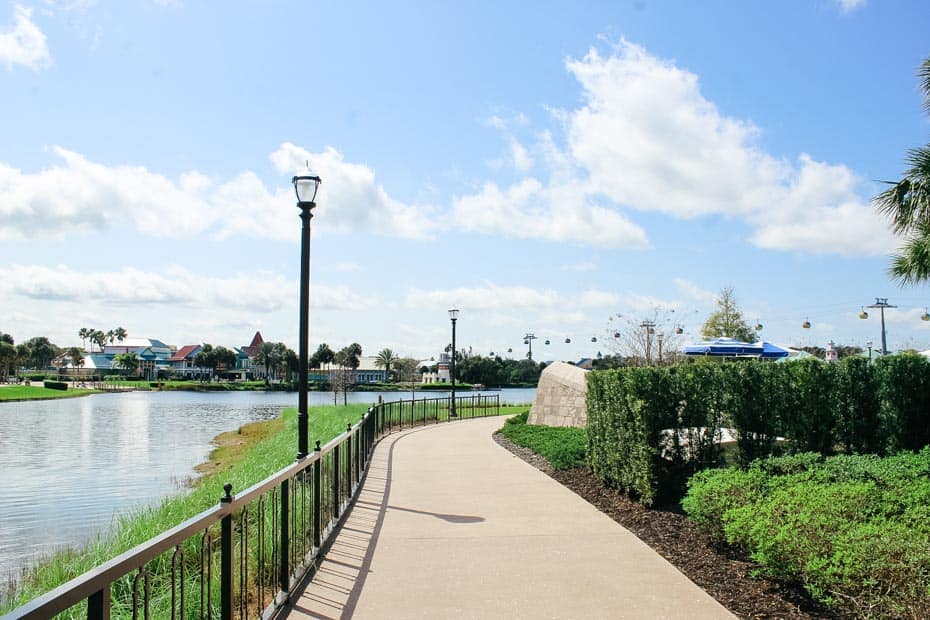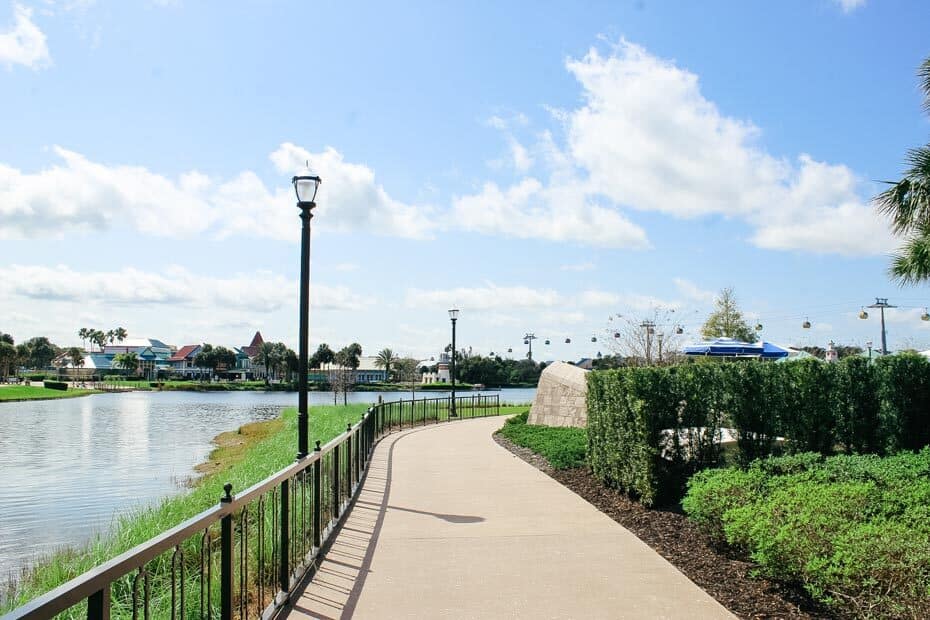 Below is a photo of Caribbean Beach from Disney's Riviera Resort.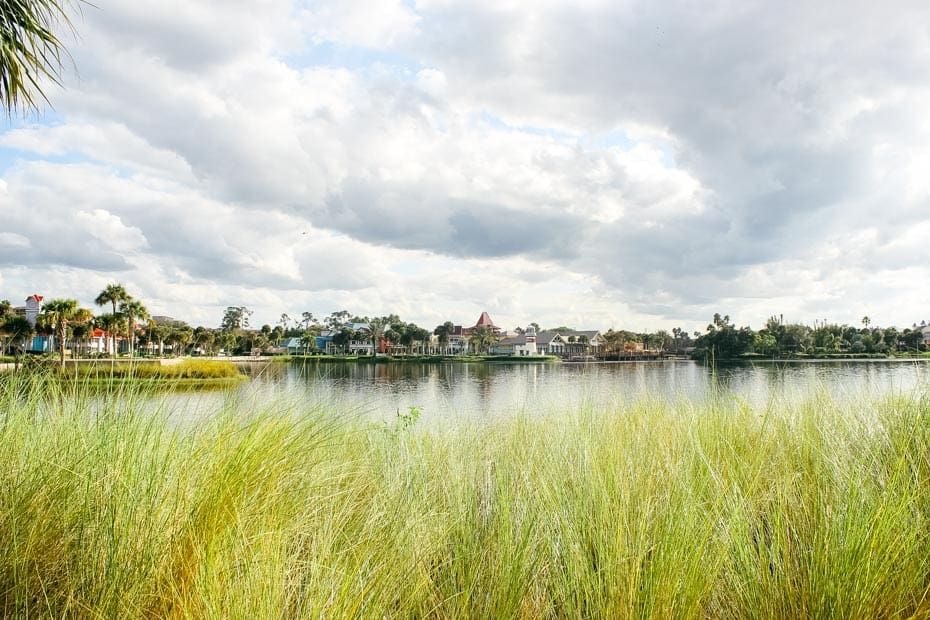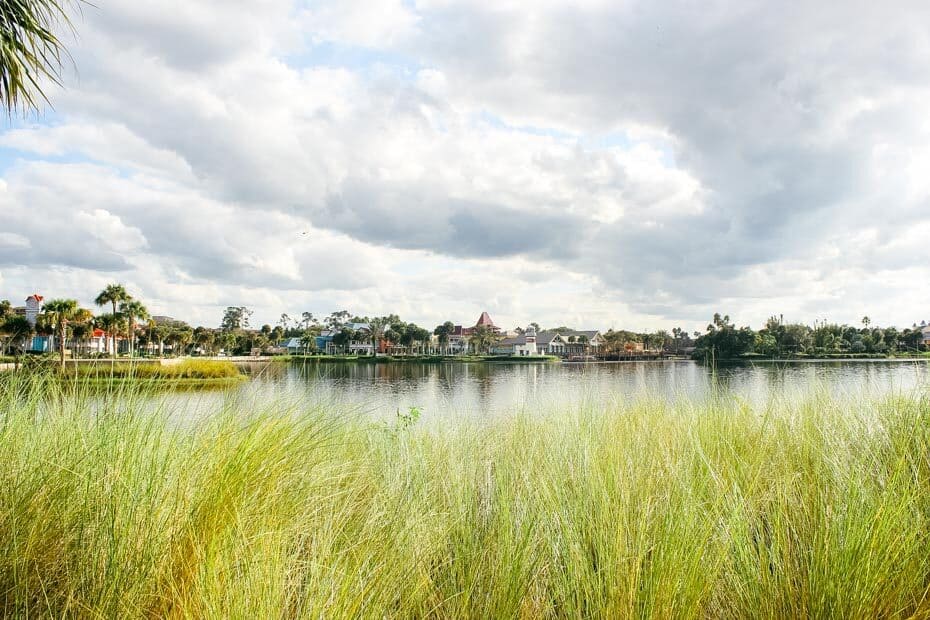 There is a lovely white sand beach out on the far east side.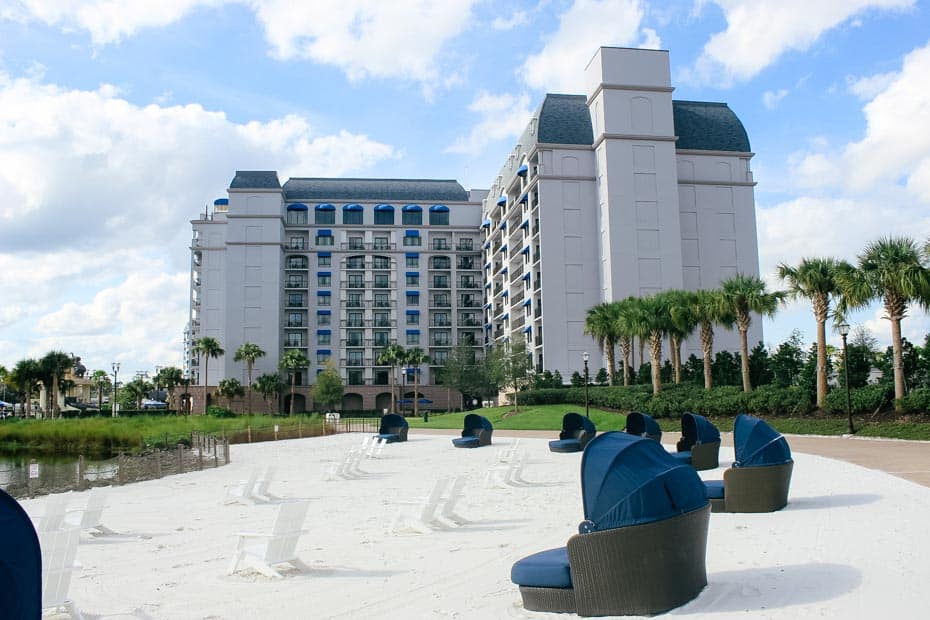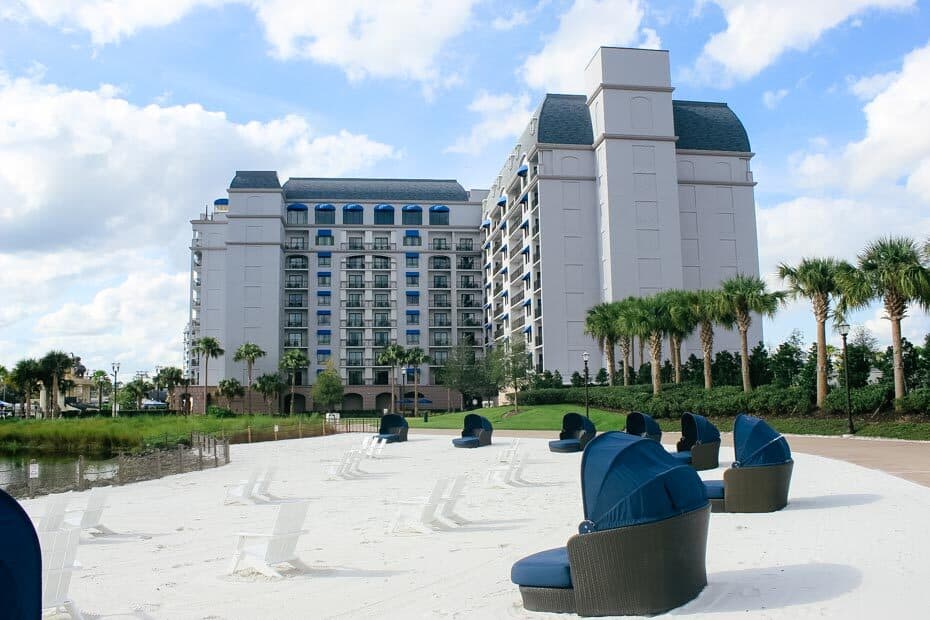 Here are a few photos of Disney's Riviera in the distance.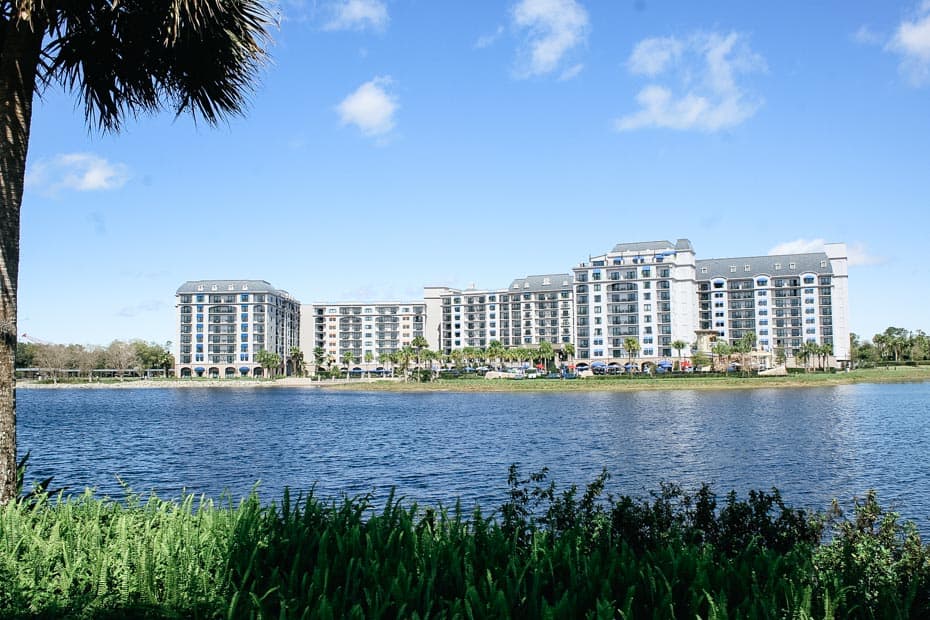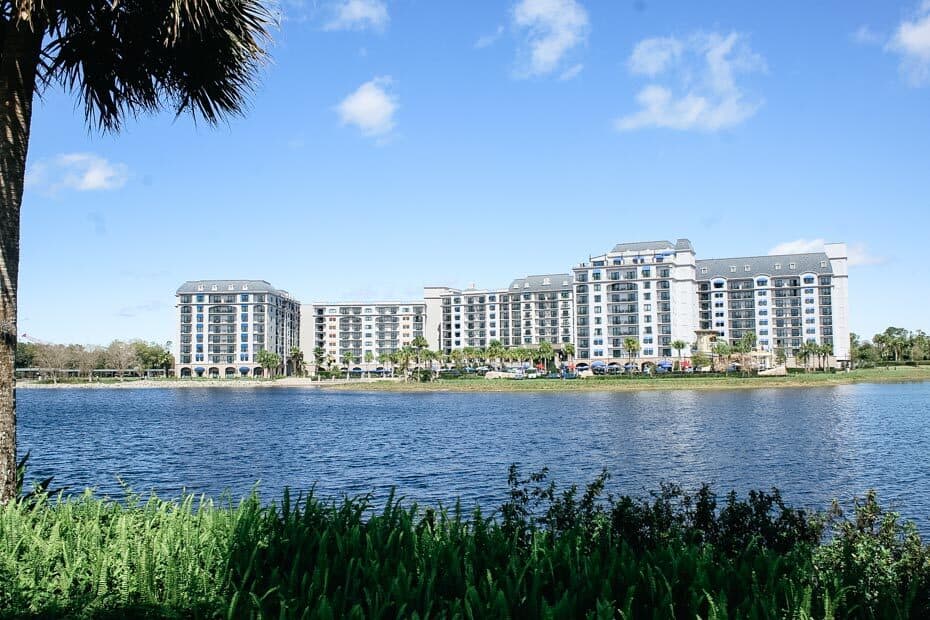 There are plenty of recreational items in the area.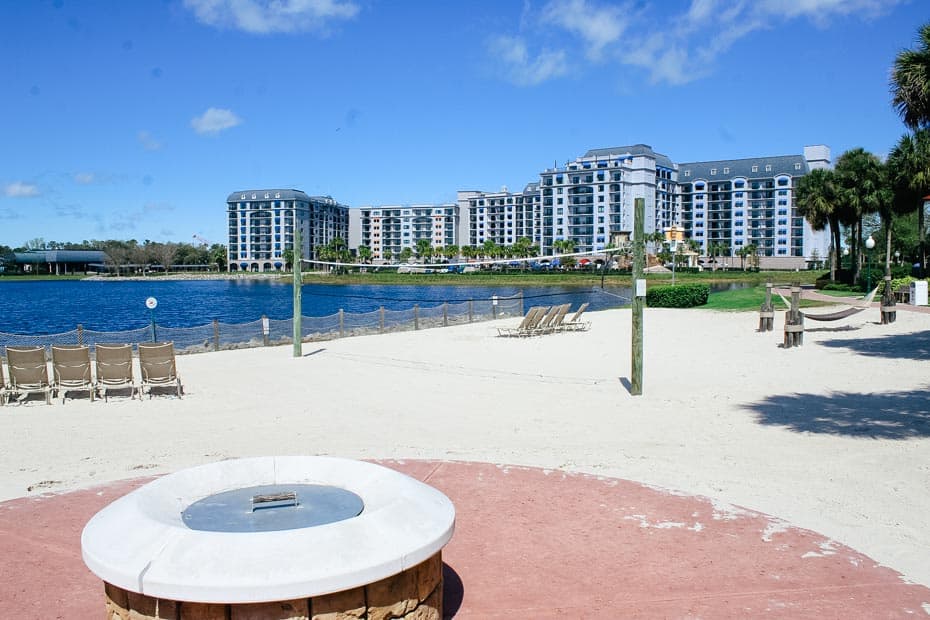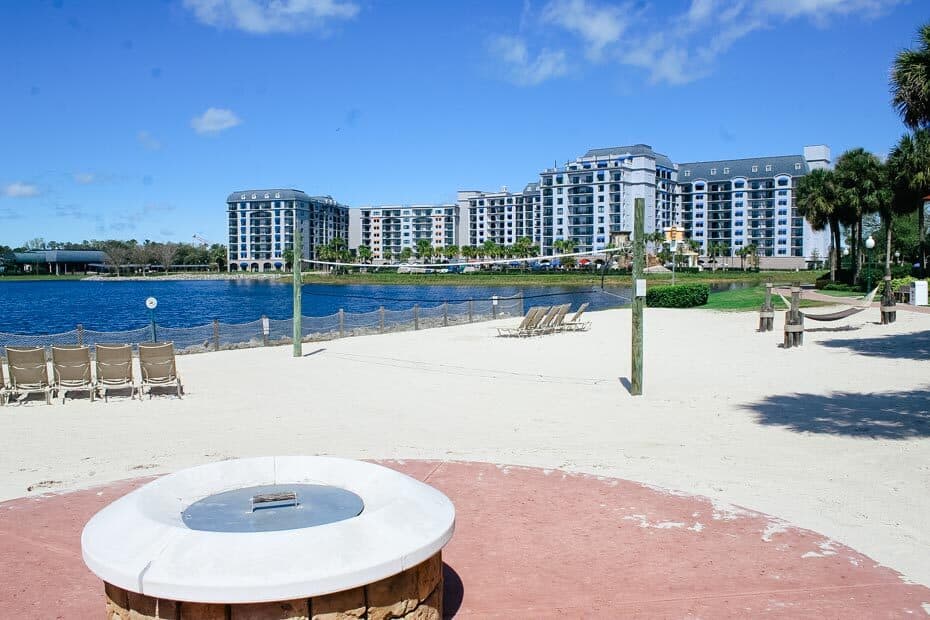 You can tell in this photo how the Riviera Resort is easier to get around than a hotel that's more spread out.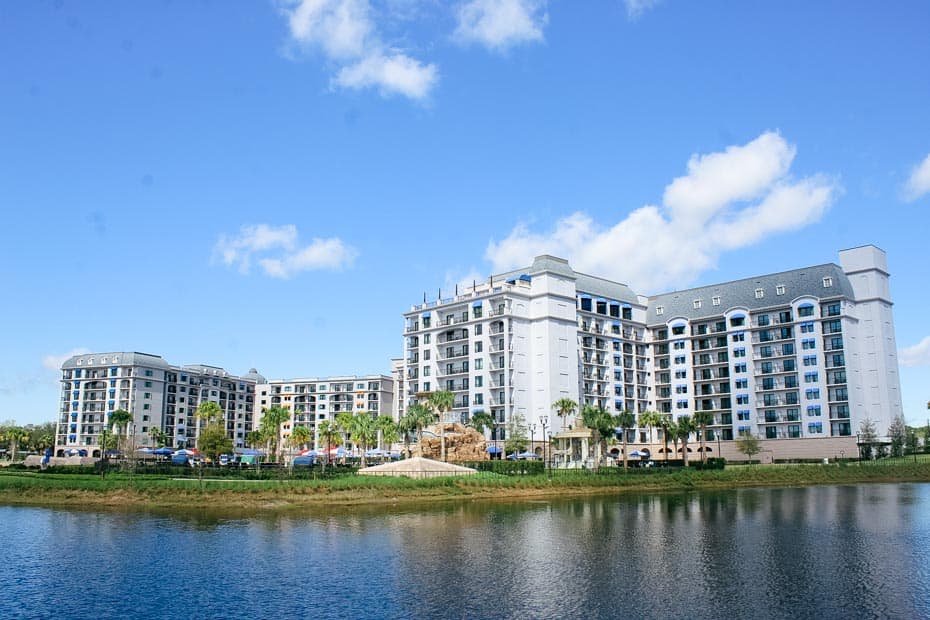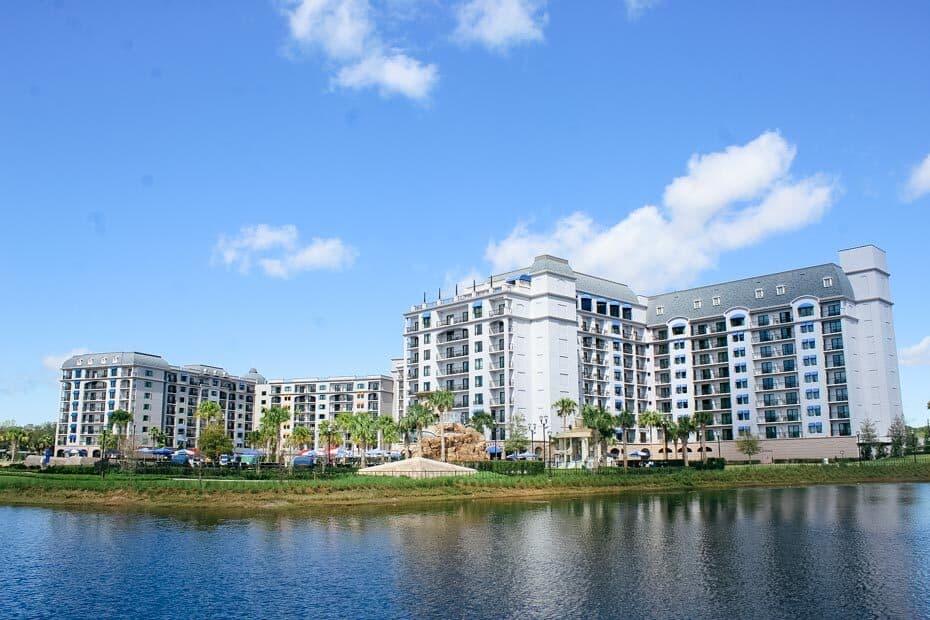 There are different tables with chairs for outdoor dining on the left-hand side of this picture.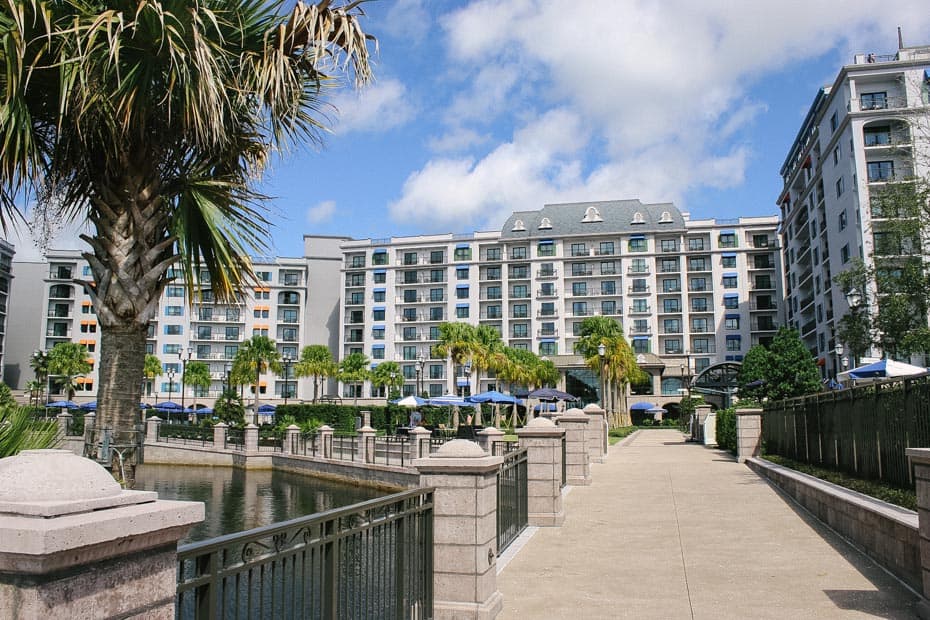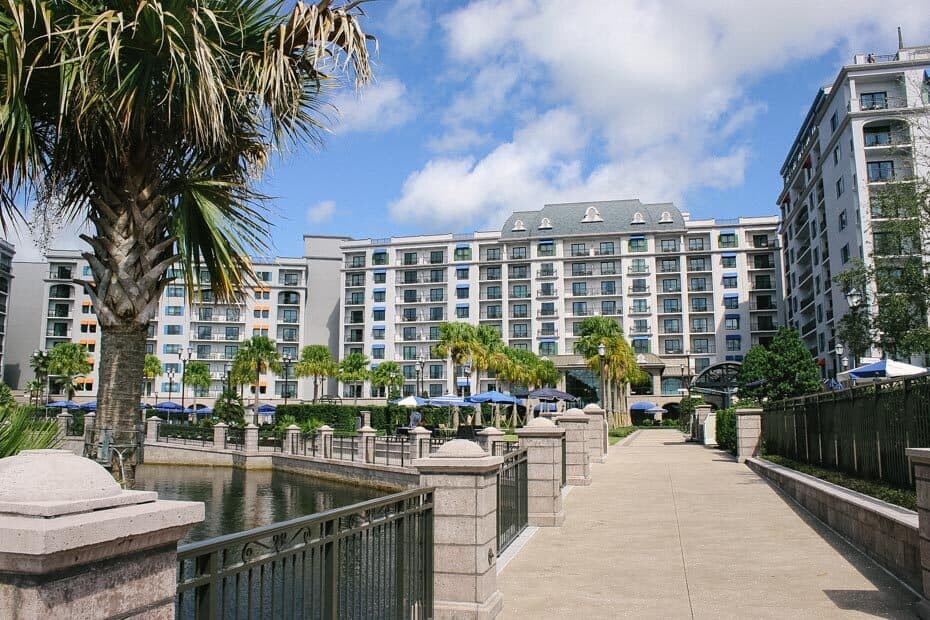 These seating areas aren't far from Primo Piatto and Bar Riva.
Related: Bar Riva Review at the Riviera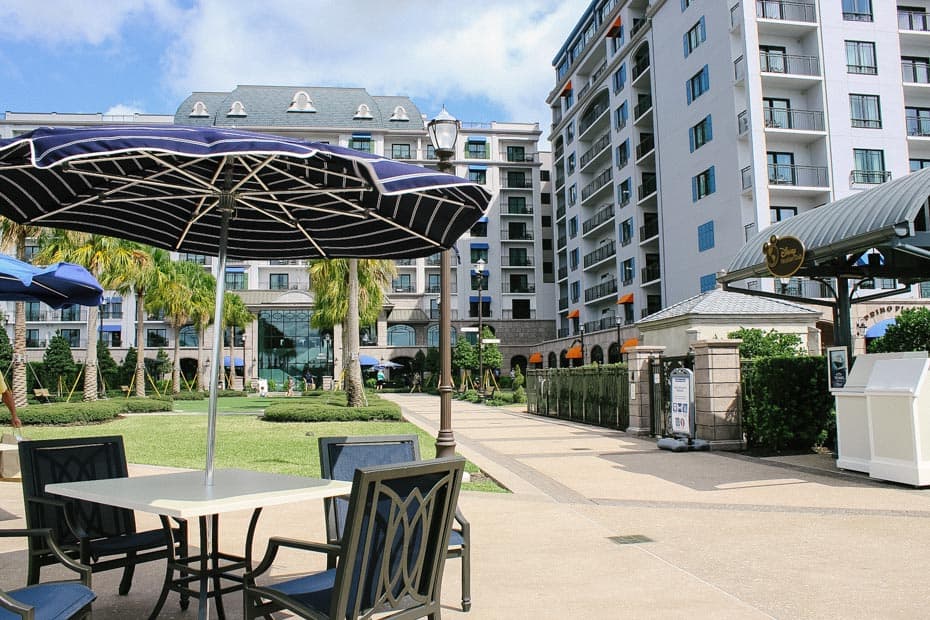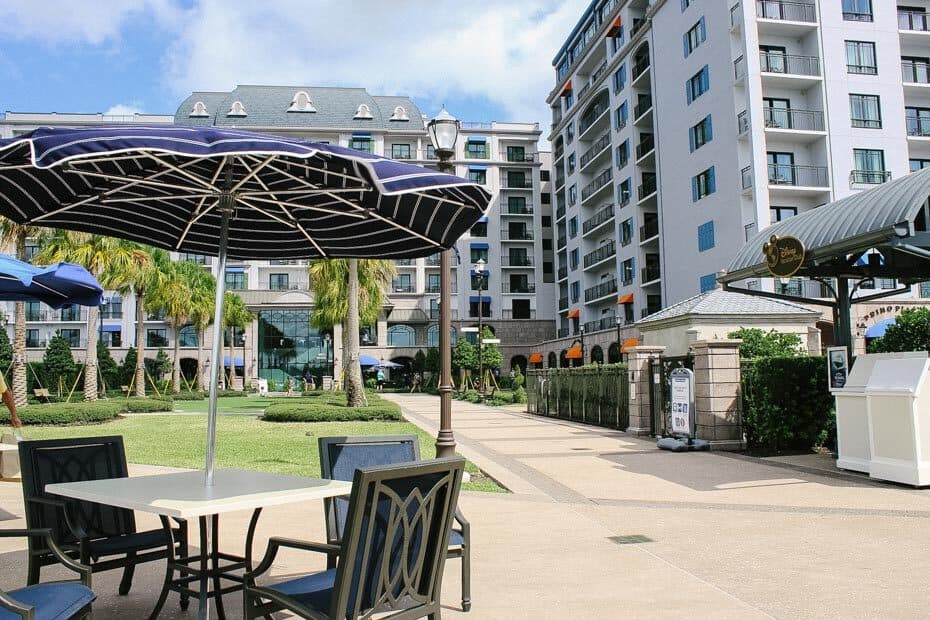 The landscaping at Riviera is extremely pleasant. Enjoy a meal or two outside while you're staying here. All of the options are in the Riviera Resort restaurant guide.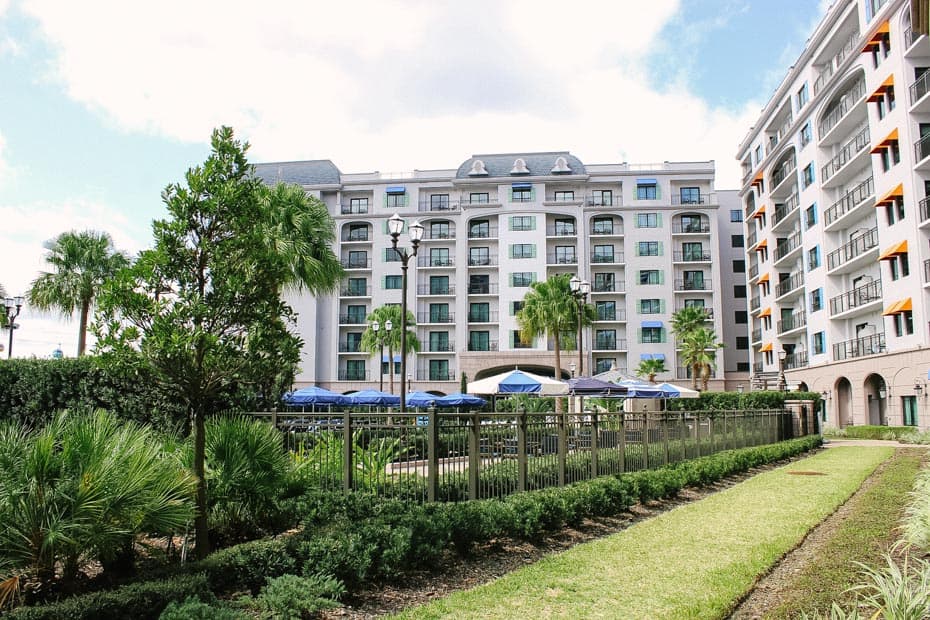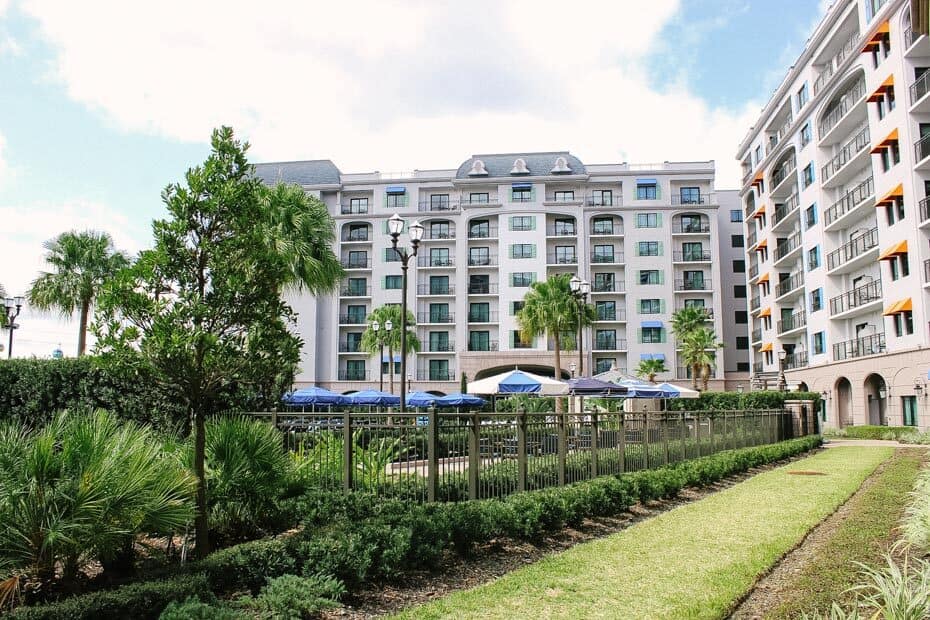 You will feel like you stepped into an oasis of green with all the different shades of the vibrant color.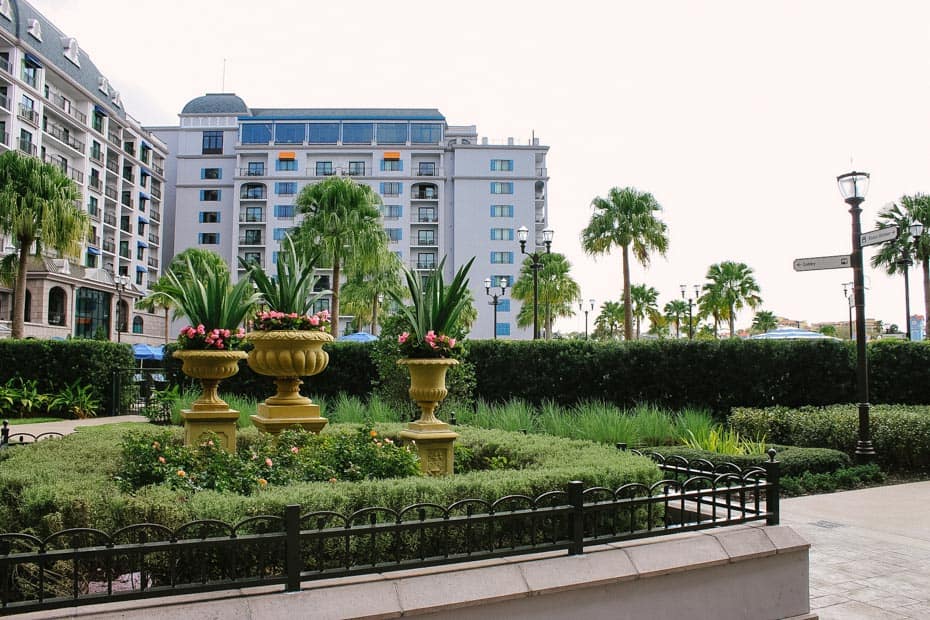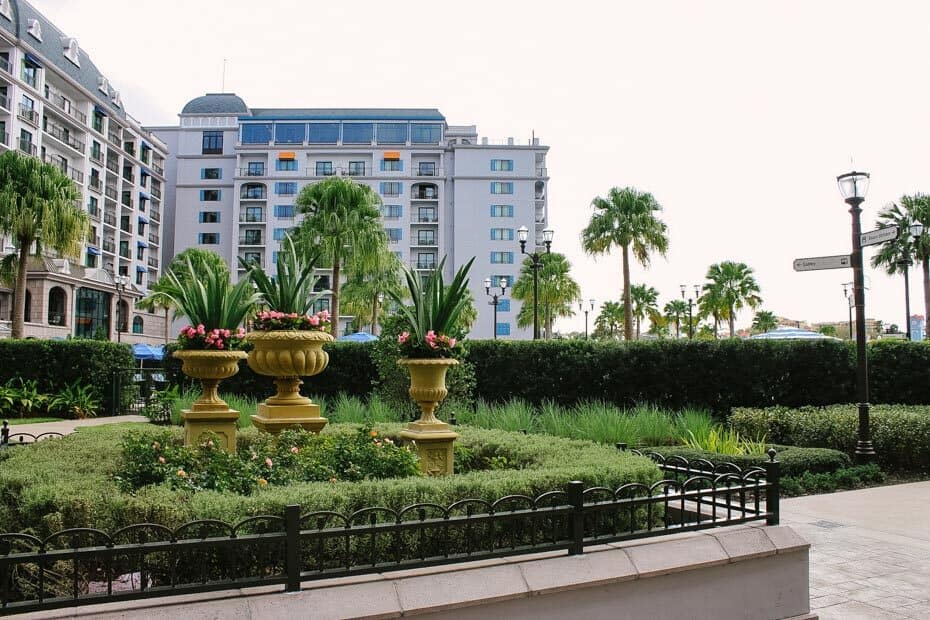 The Tangled and Peter Pan murals are located inside the breezeway to the Skyliner.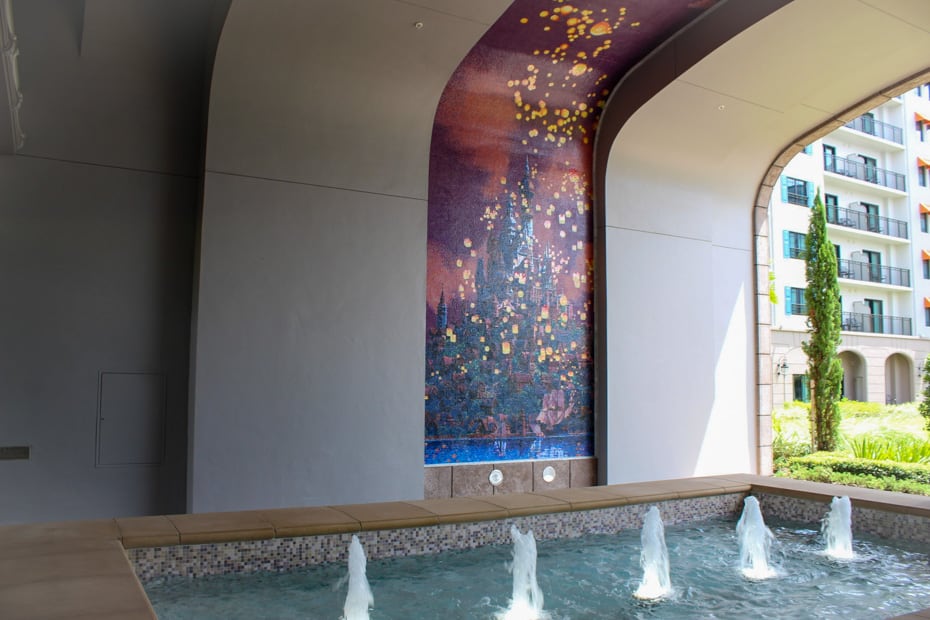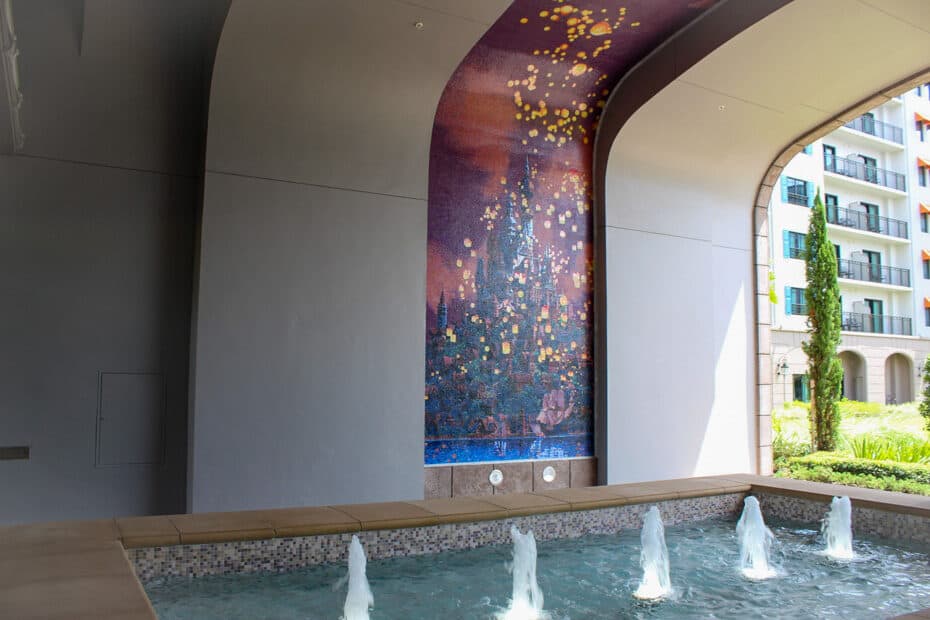 It's relatively shady, so it's not the easiest place to get a good photo.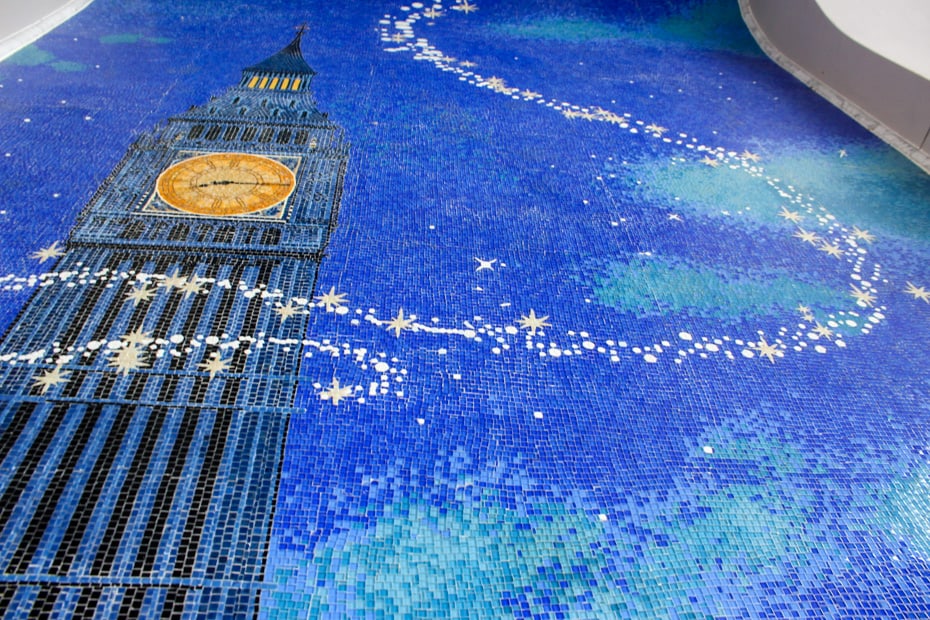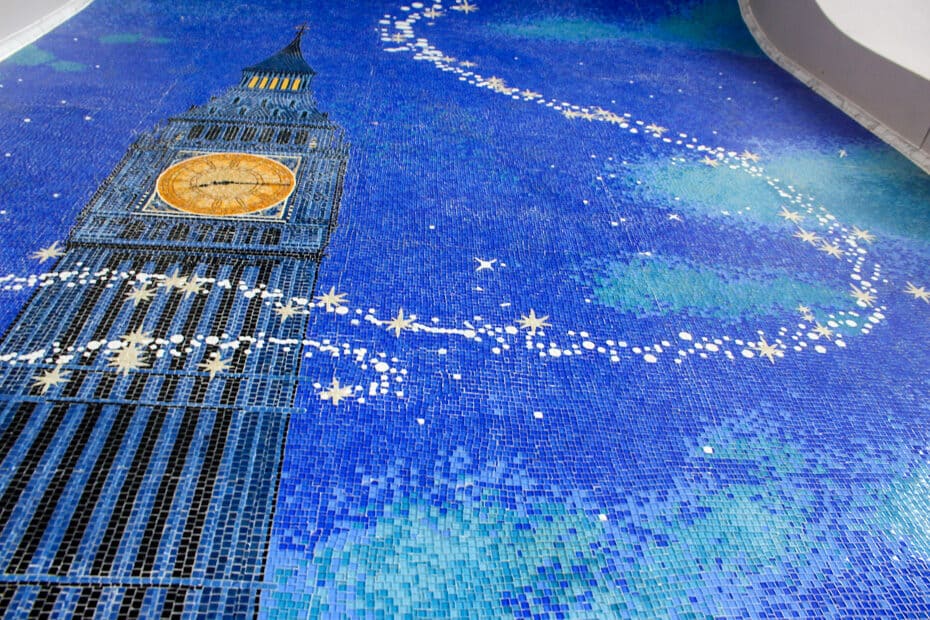 Here are a few more photos of Disney's Riviera Resort before wrapping things up.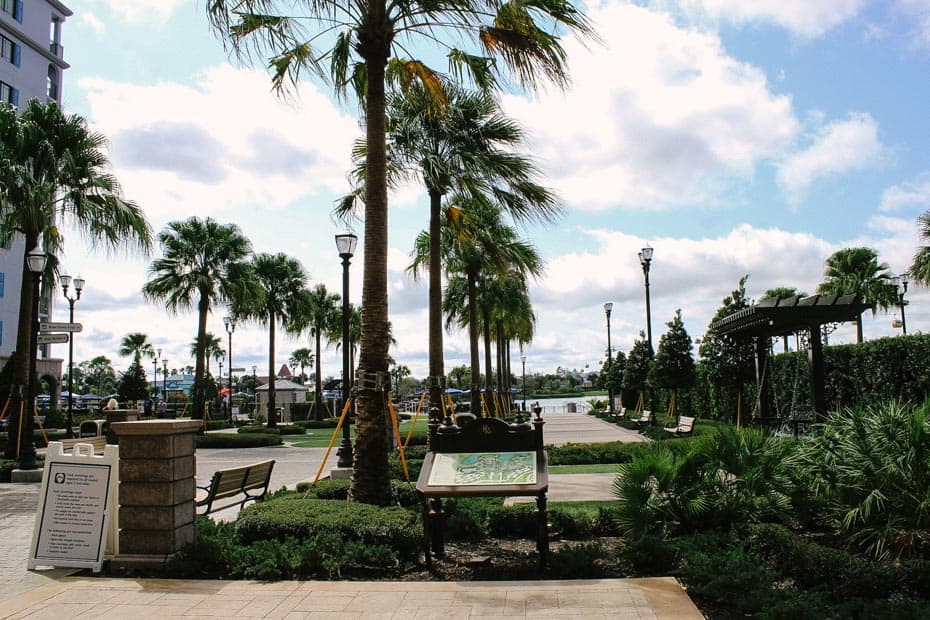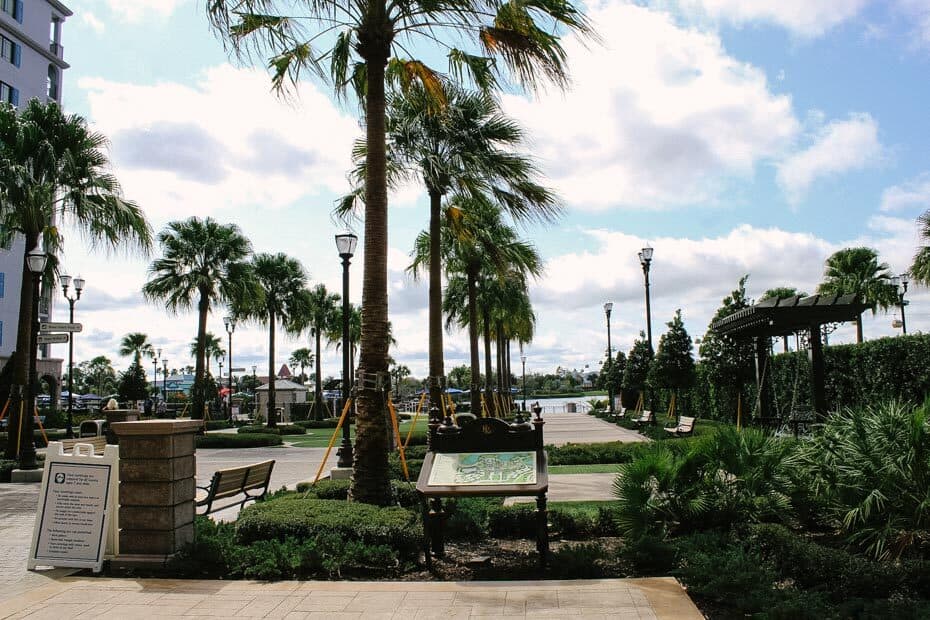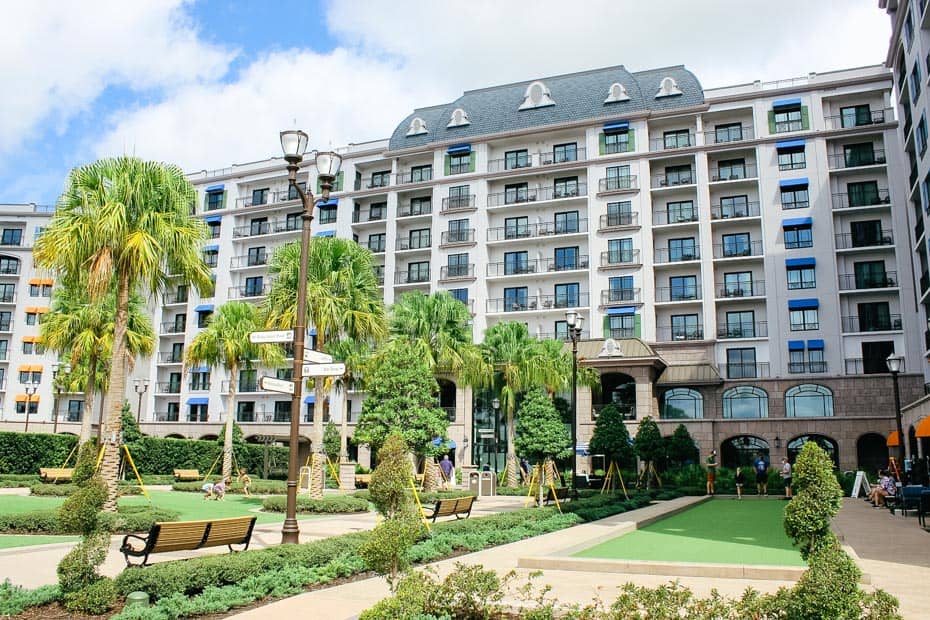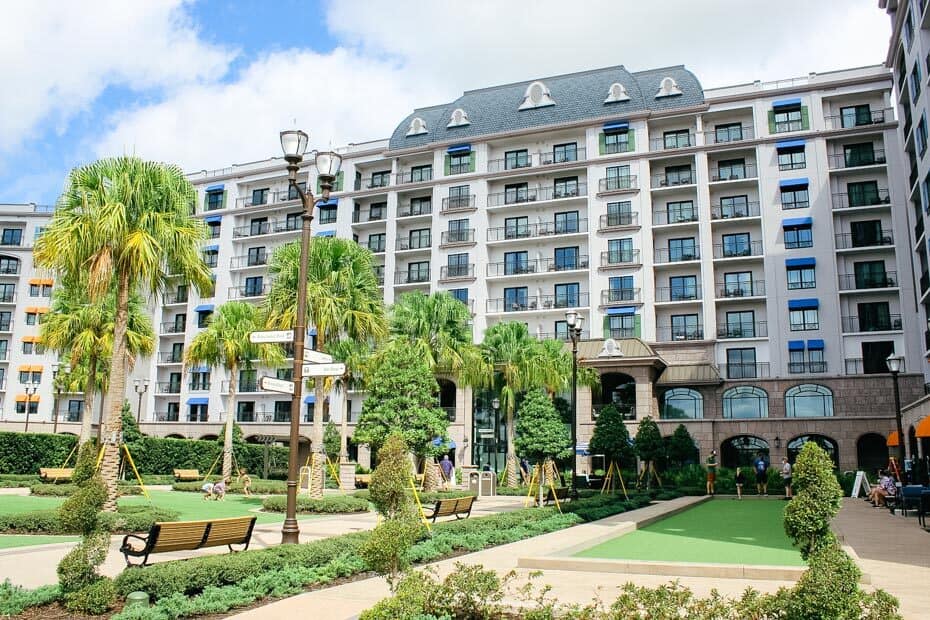 Barefoot Bay was reflecting the sky the day I took this one.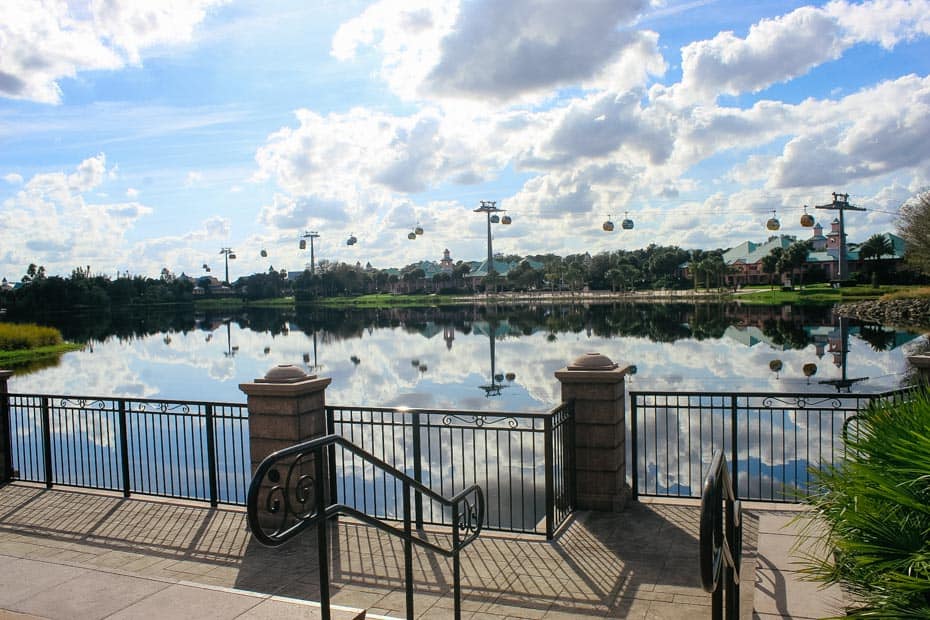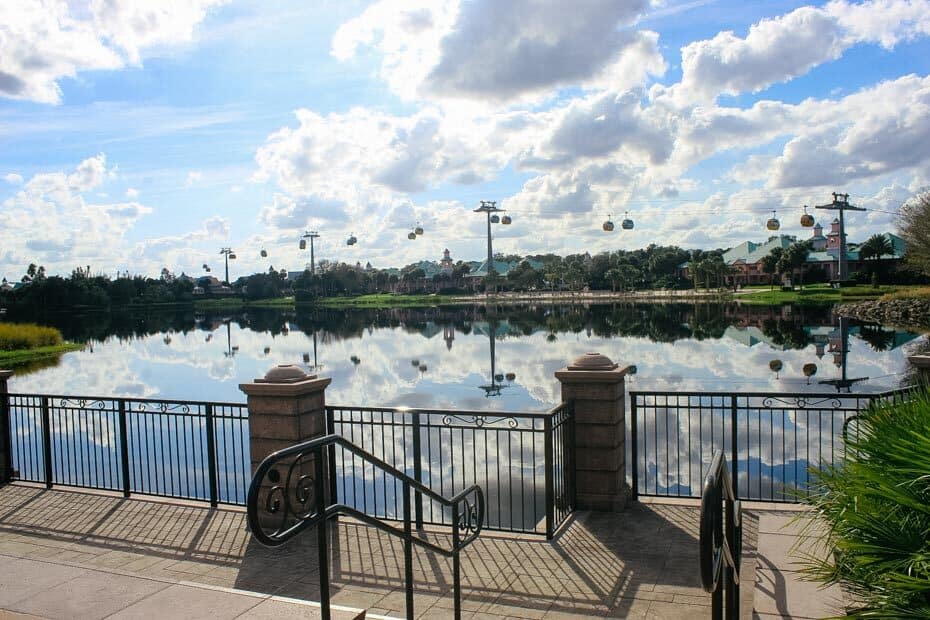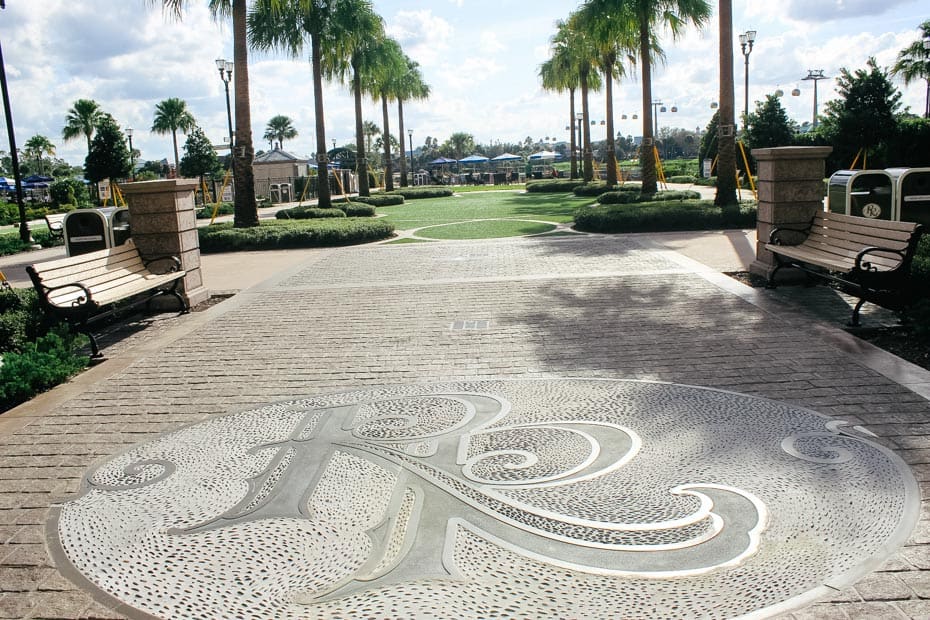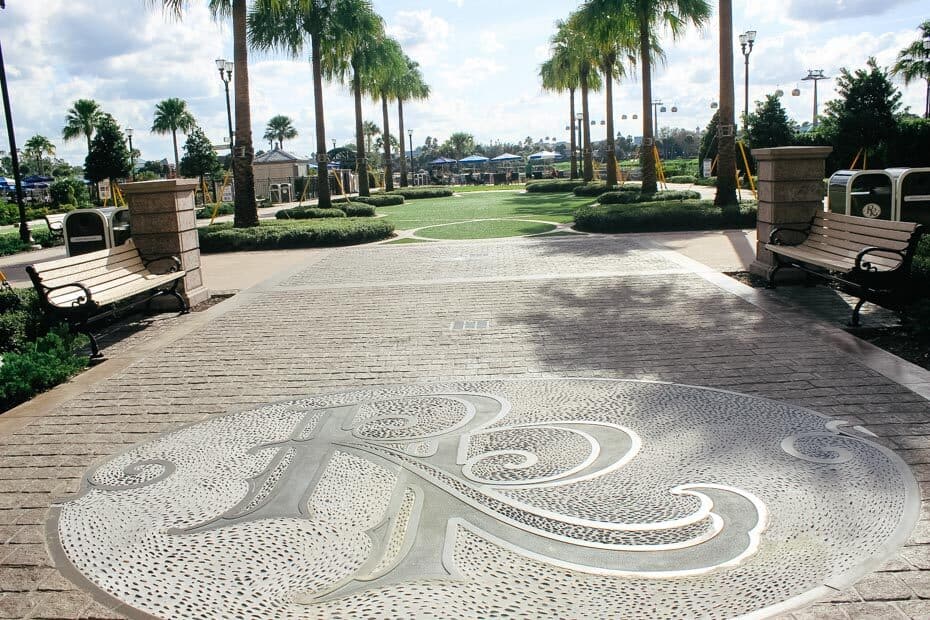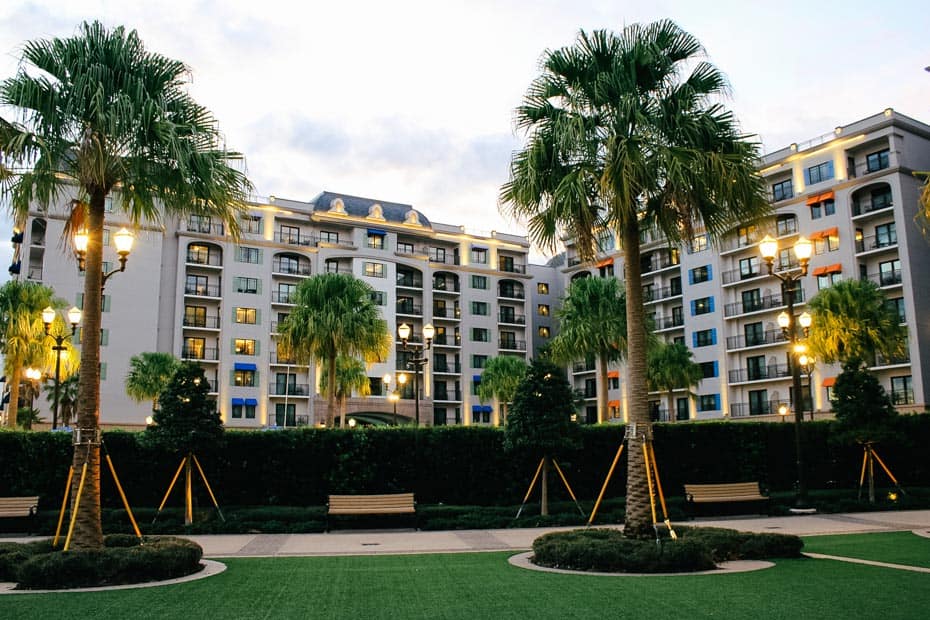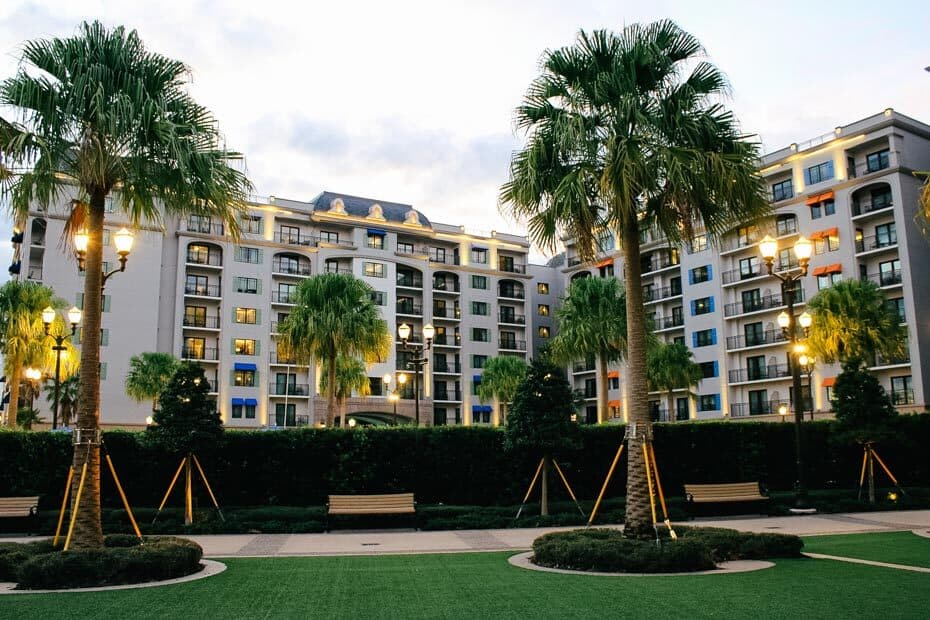 We've made it back to the sunset hour. If you plan a vacation to Disney's Riviera, I recommend taking a leisurely walk one evening around sunset.
It's fun to take the Skyliner this time of day as well! The views are simply stunning.
Related: Disney World Resort Hopping Guide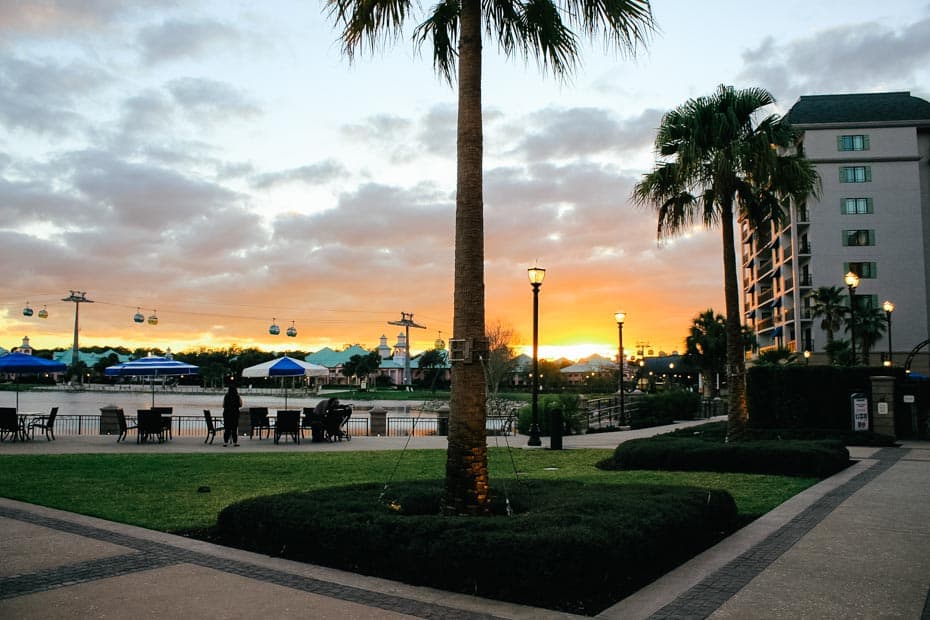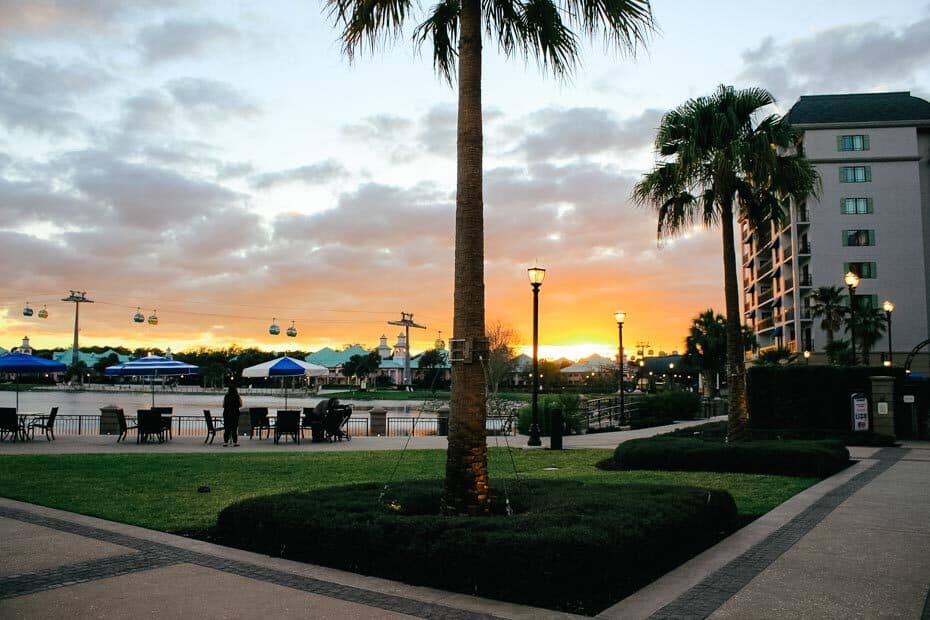 If you are looking for more information on the resorts, check out all of our reviews of all the Disney World Resorts. There are so many choices at Disney that it's often difficult to figure out what works best for your family.
Resorts Gal's primary focus is to help you narrow down that decision by providing thorough information from our Disney Resorts experiences.
And if you need a travel agent, you might like to check with Firefly Travels. You can fill out their travel inquiry form here, and one of their agents will be in touch shortly.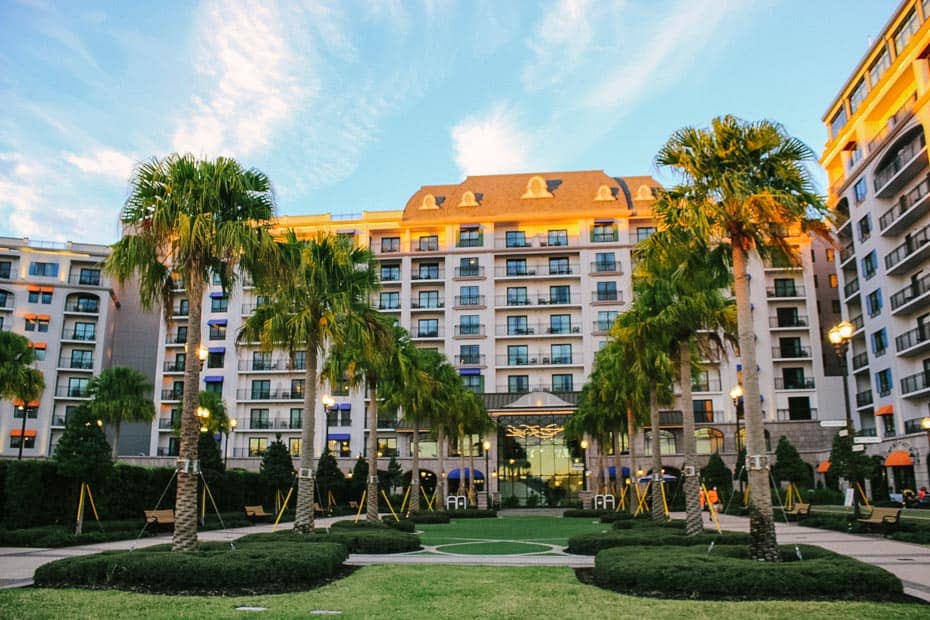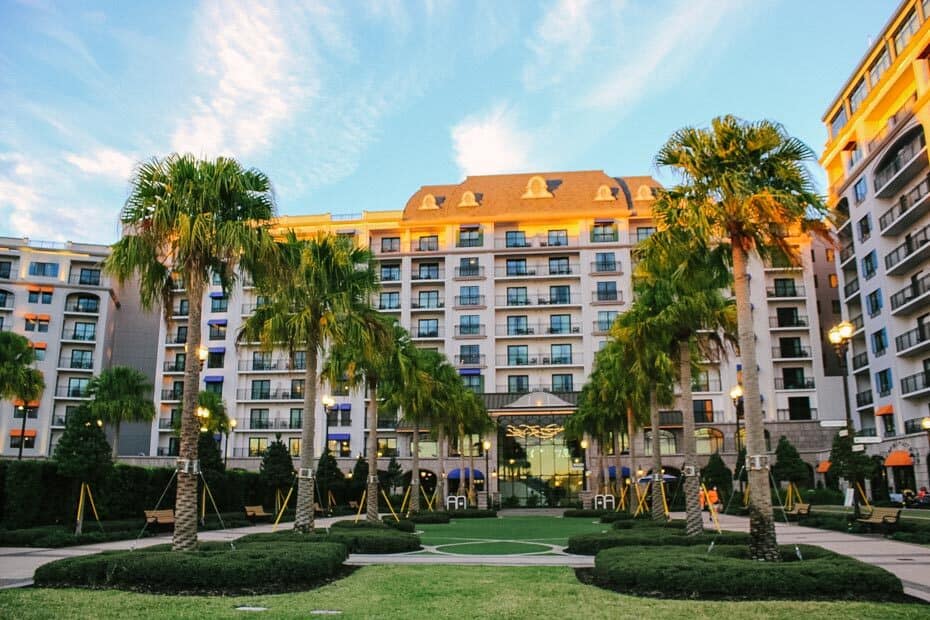 Riviera is considered a deluxe category Disney resort. But it's also part of the Disney Vacation Club Villa Resorts. You can check out these other villas resort reviews for comparison:
Thanks for coming along today on this photo tour of Disney's Riviera Resort. For more information about the Riviera, all of our articles are listed here.
In the comments: Did you enjoy this photo tour? Do you have plans to vacation at Disney's Riviera Resort? What are your thoughts?