Easter Egg Display at Disney's Contemporary Resort in 2023 (A Photo Tour)
We're off on another egg hunt! This time we're visiting Disney's Contemporary Resort to see their charming display of Easter eggs. While most of the resort's eggs are presented in one display, you might have to do the bunny hop to find a few hidden ones!
For starters, the golden egg is located at the resort's lower-level entrance. As for egg hunts, traditionally, whoever finds the golden egg is the one who wins a special prize.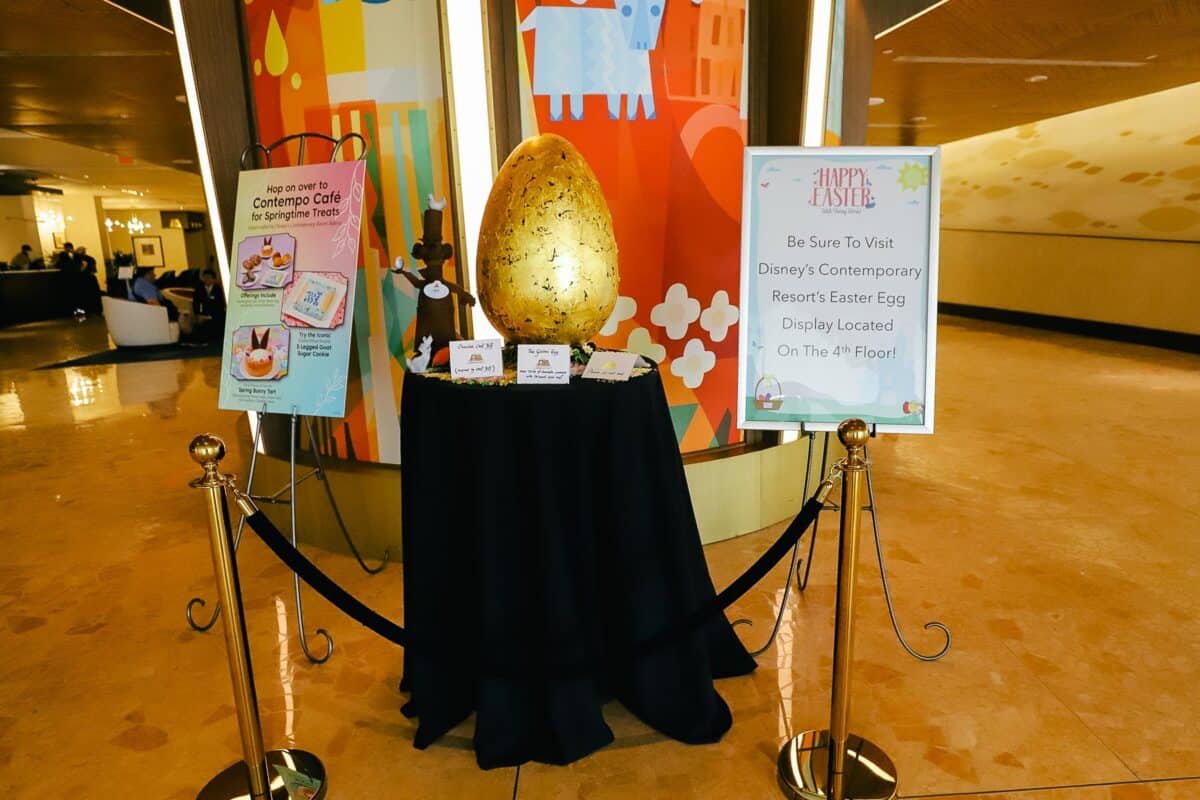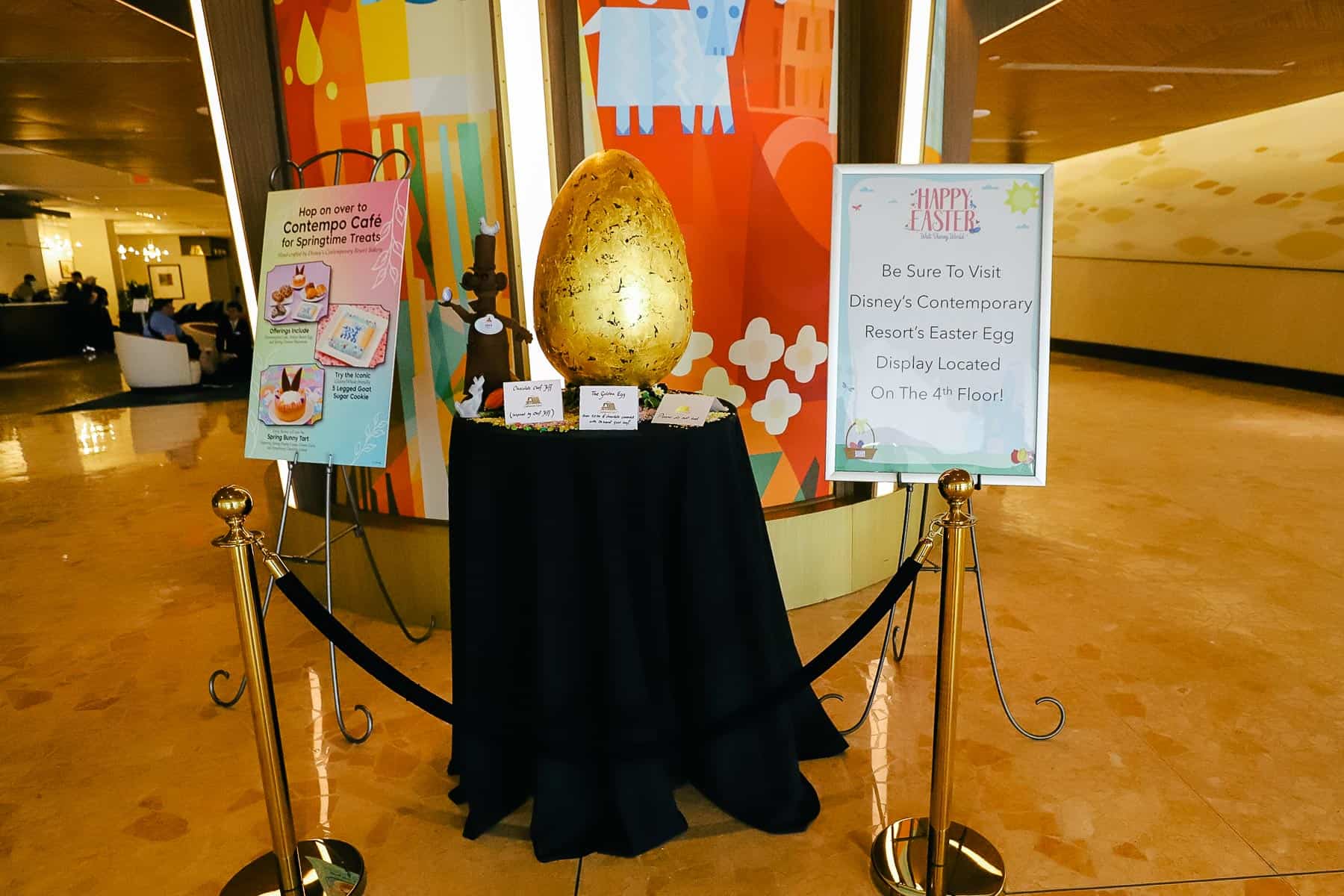 Of course, that's not the case with the Contemporary Resort's golden egg. It sits prominently on display containing over 50 lbs of chocolate with 24-karat gold leaf.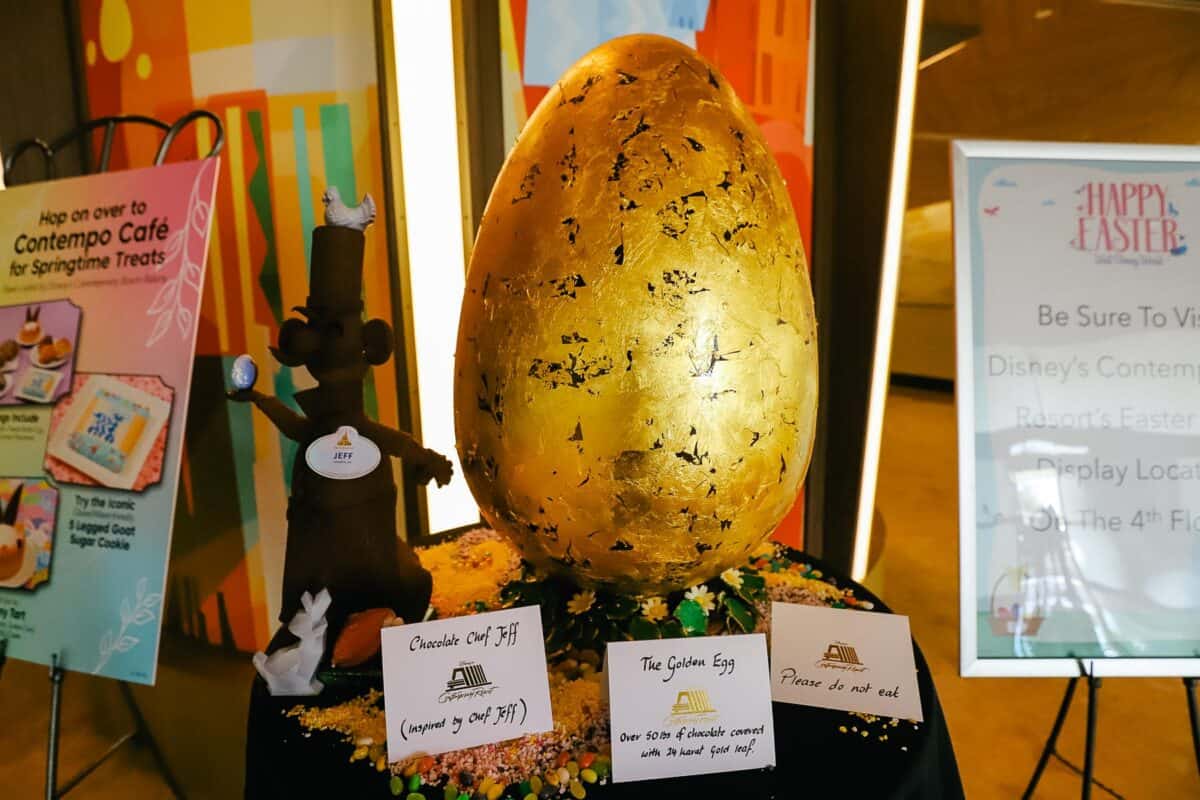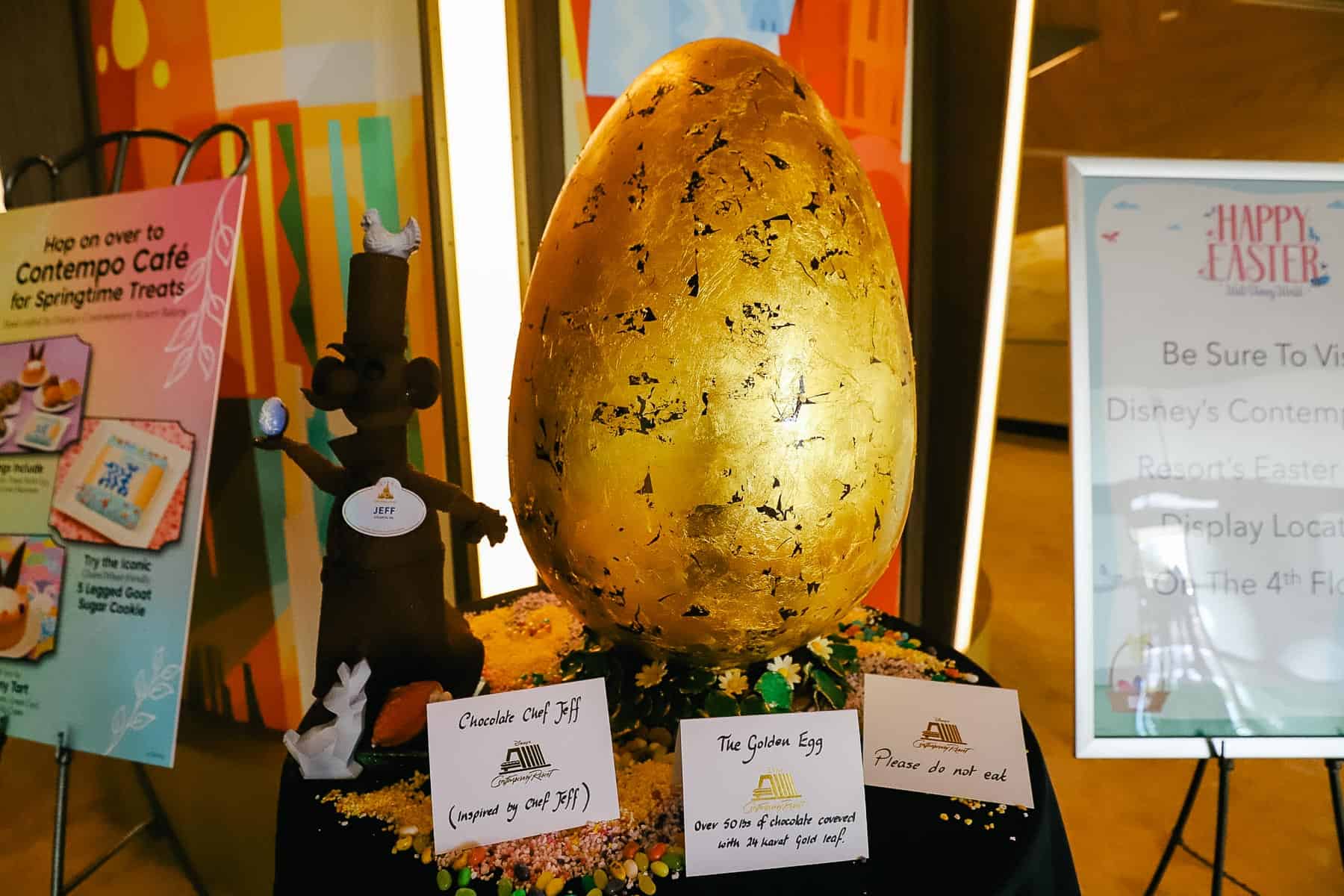 Beside it, there's a chocolate figurine of Chef Jeff Barnes, who heads up the team of pastry chefs at Disney's Contemporary Resort.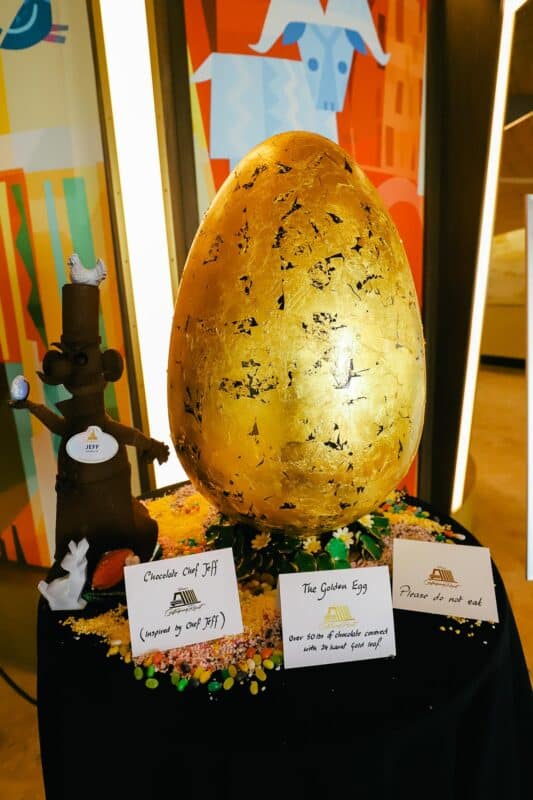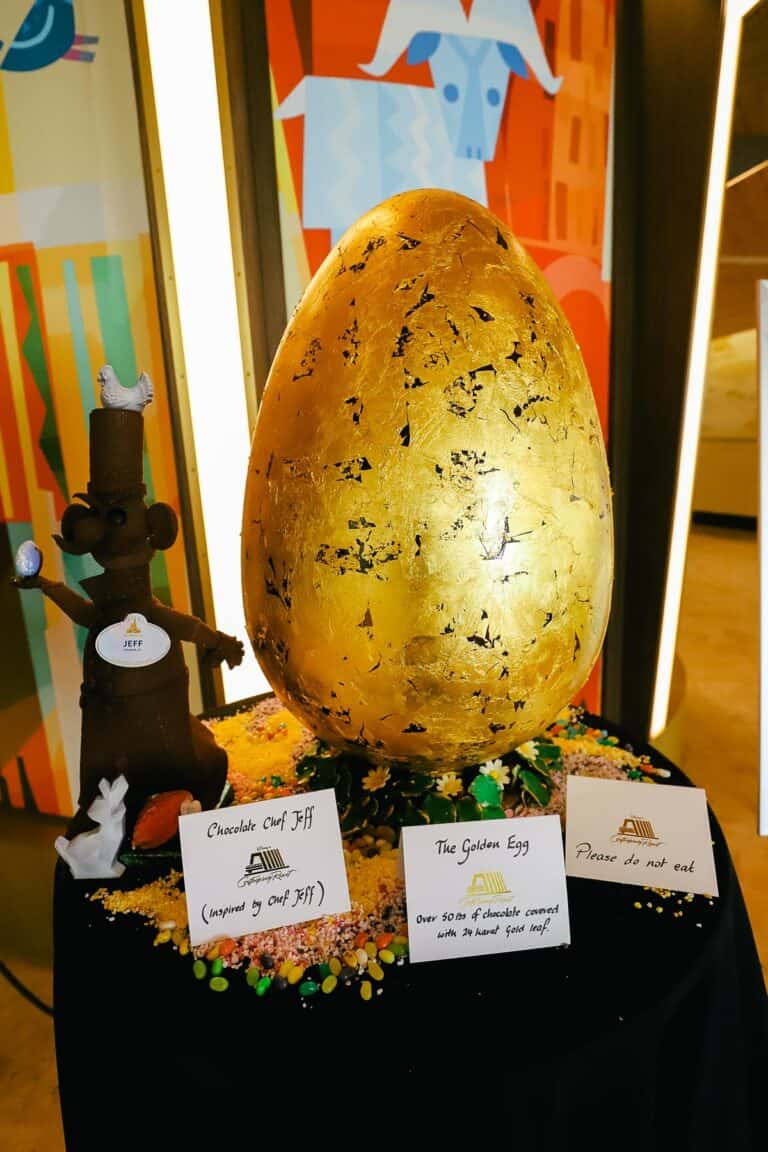 Signage invites guests to the resort's fourth floor to see the entire Easter egg display.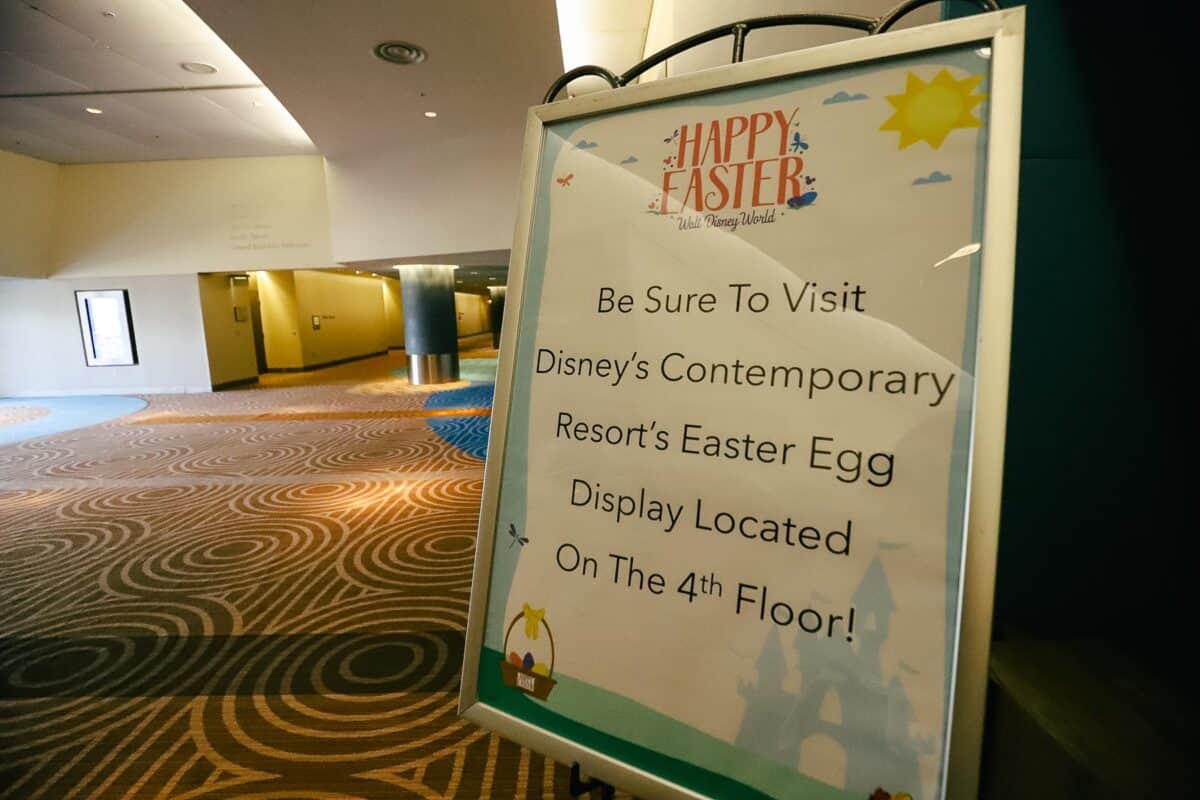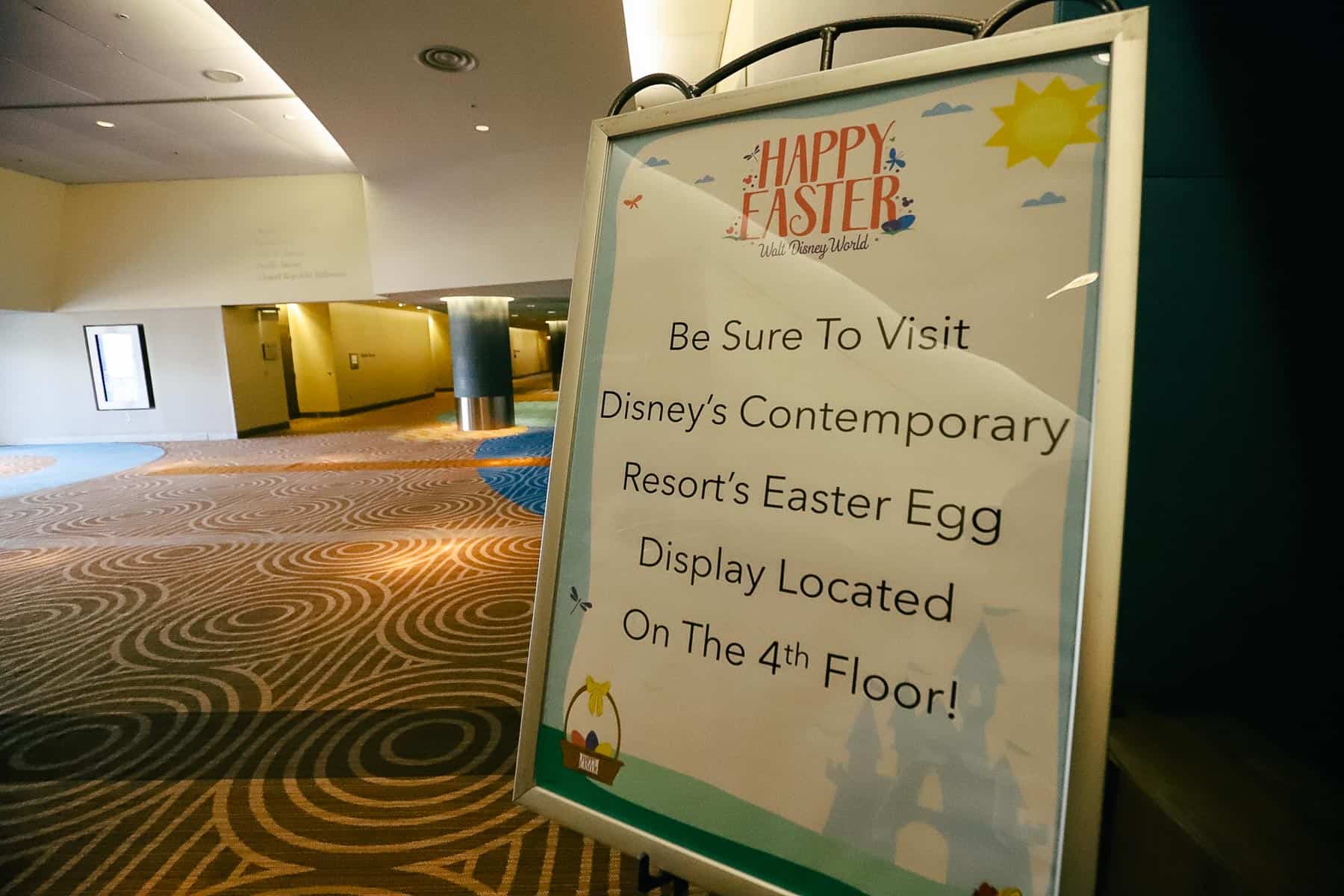 We ran into this marbled egg and chocolate bunny on the way.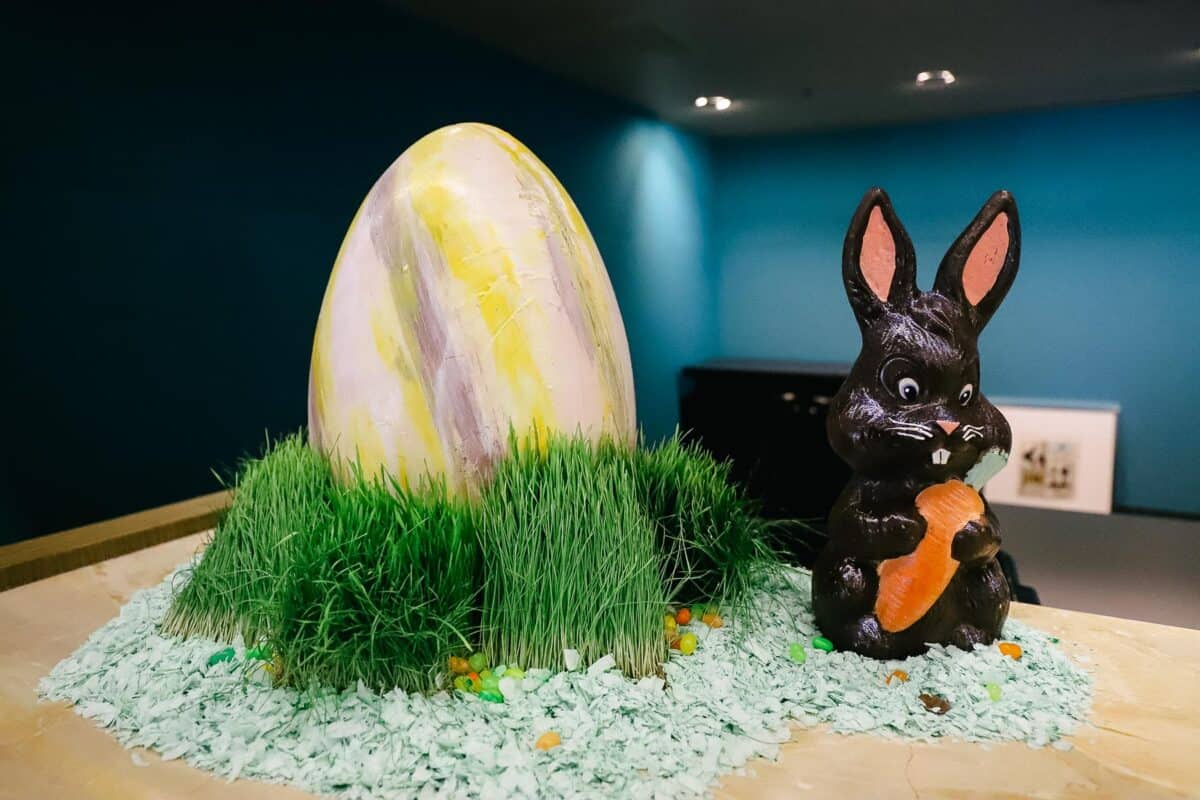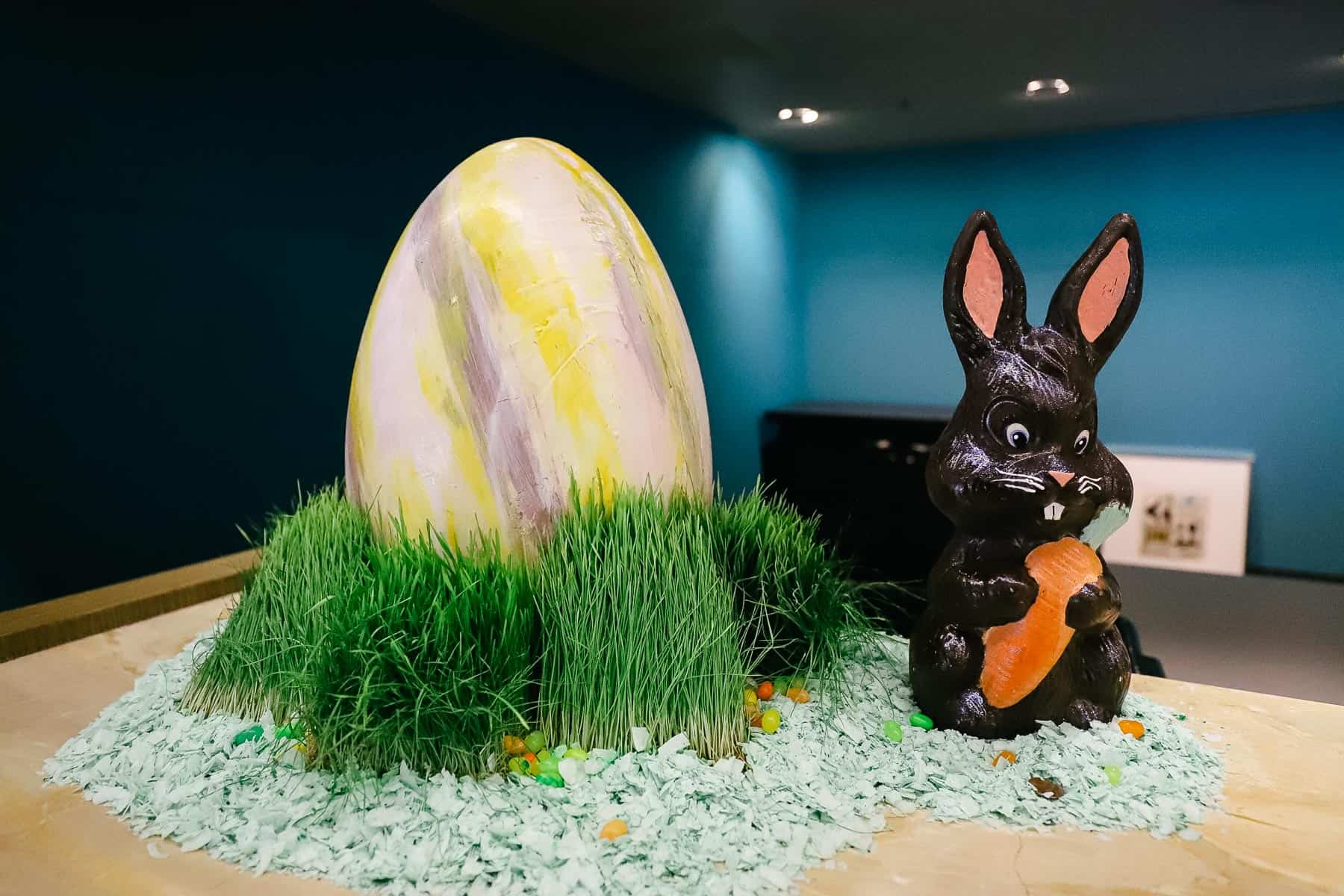 Once you reach the fourth floor, you'll see the display. It sits in the middle of the Grand Canyon Concourse, directly underneath the Mary Blair mosaic mural.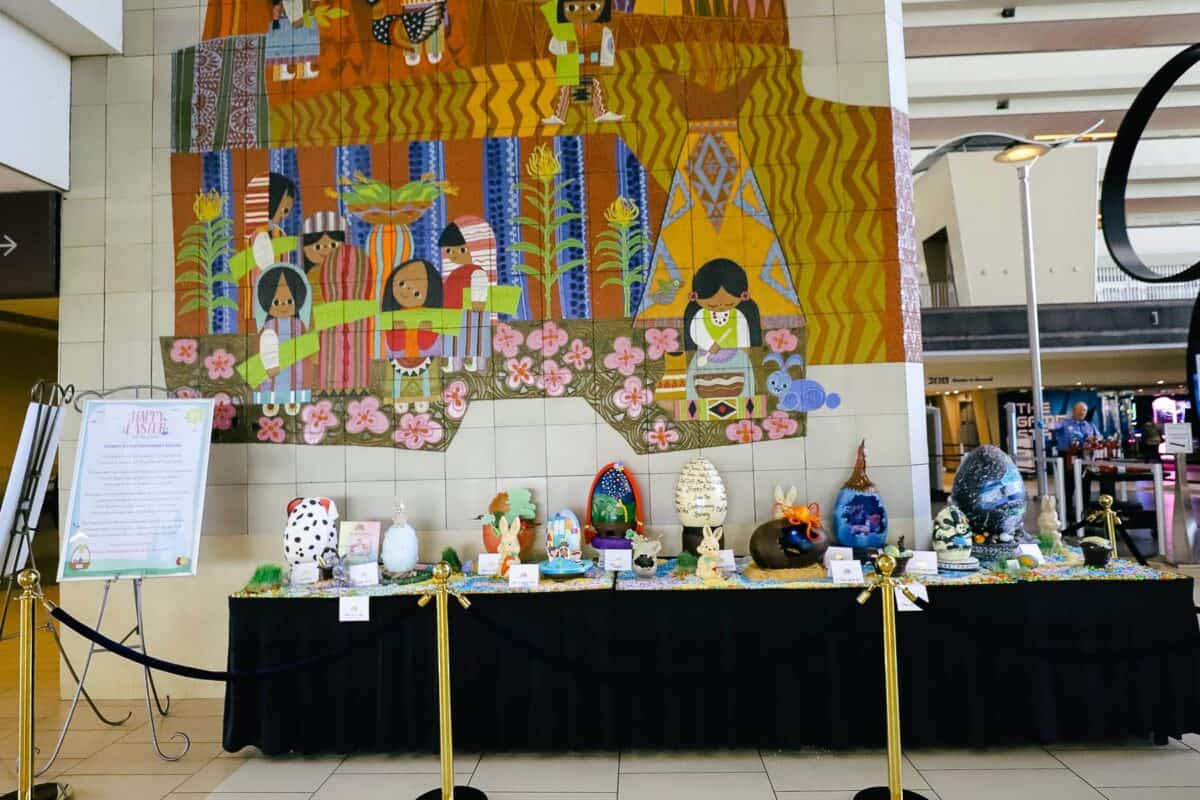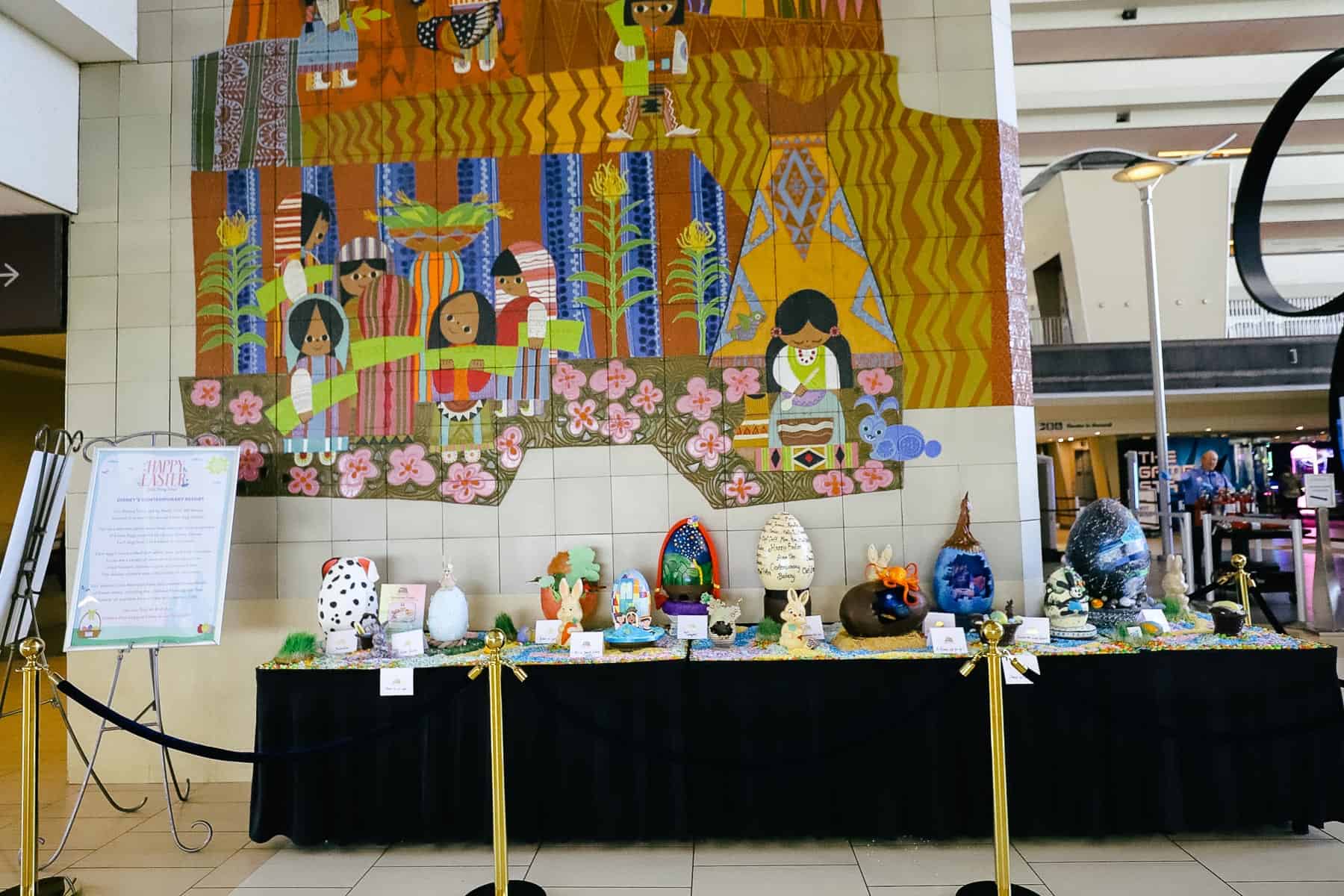 It took the bakery team 3 to 4 weeks to complete each egg. The sign reads:
Each egg is hand-crafted with white, dark, and milk chocolate. In use are a variety of decorative products such as rolled fondant, colored sugars, and cocoa butter. This display contains over 200 pounds of chocolate.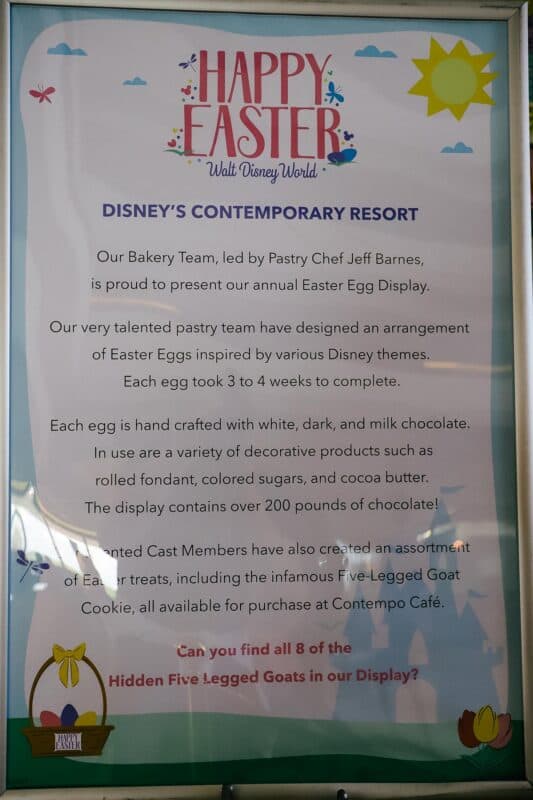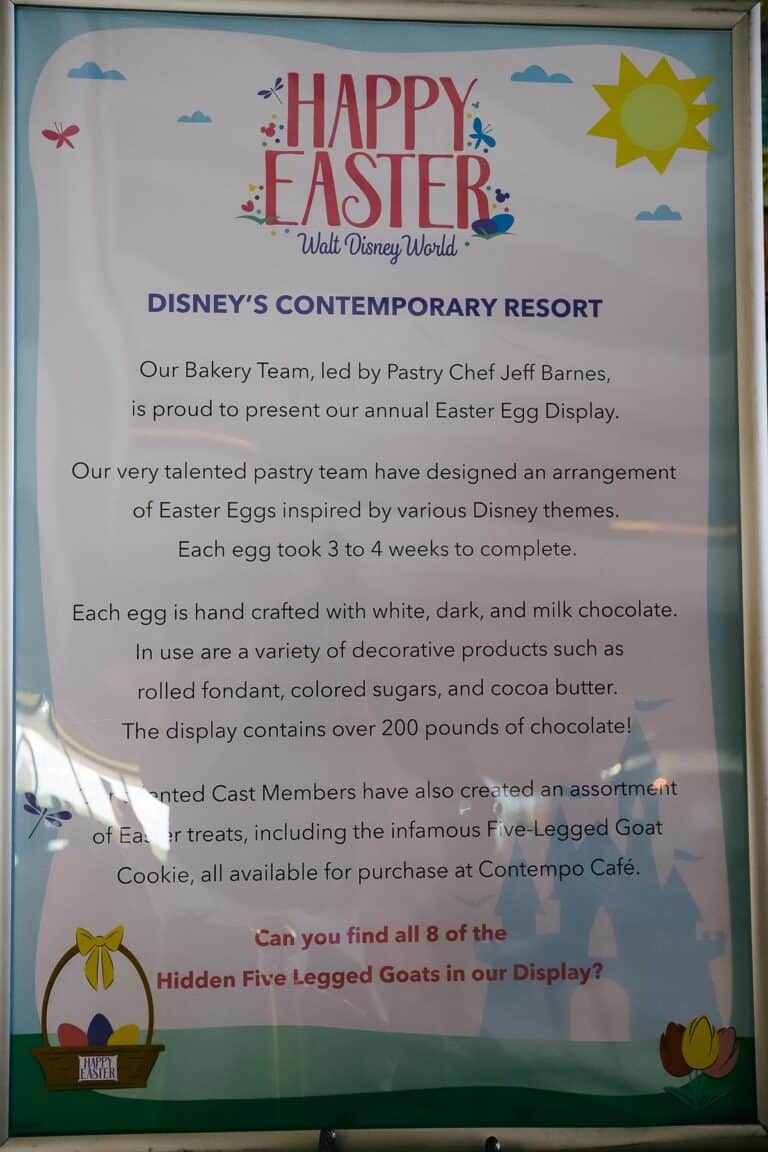 Like the Easter eggs at Disney's Grand Floridian, each egg is themed.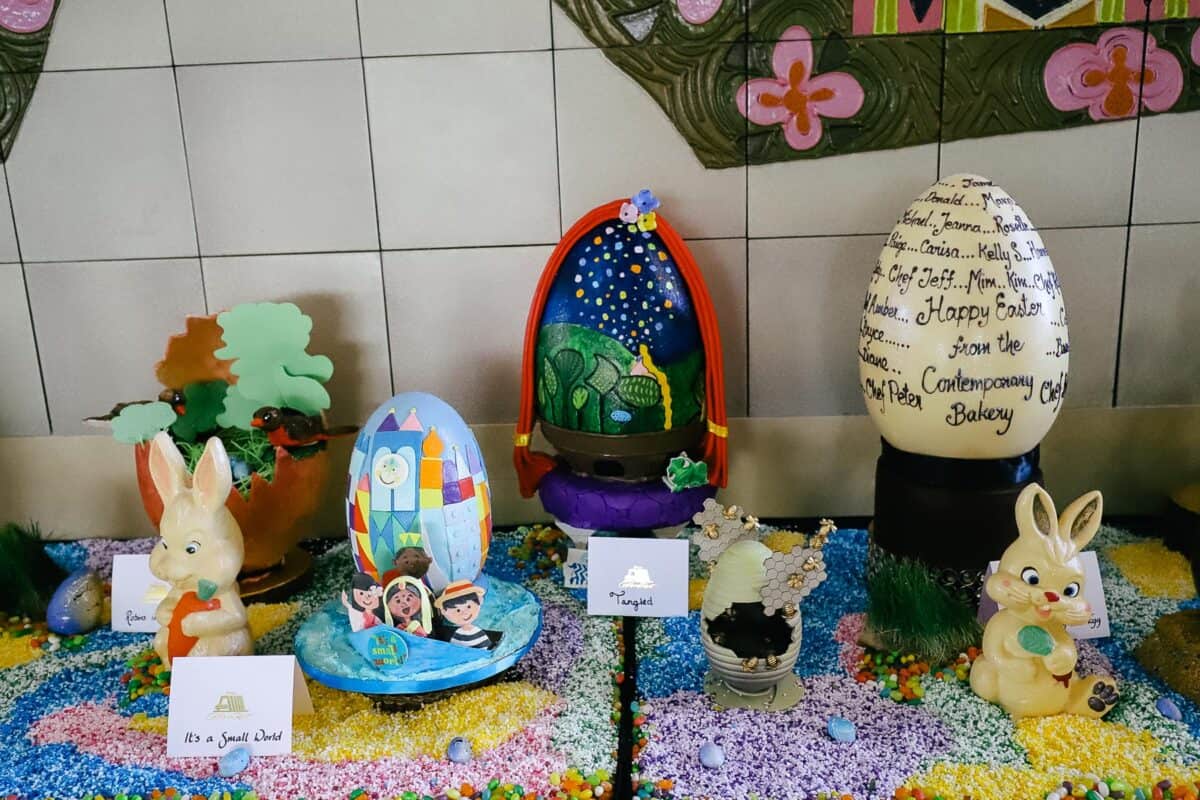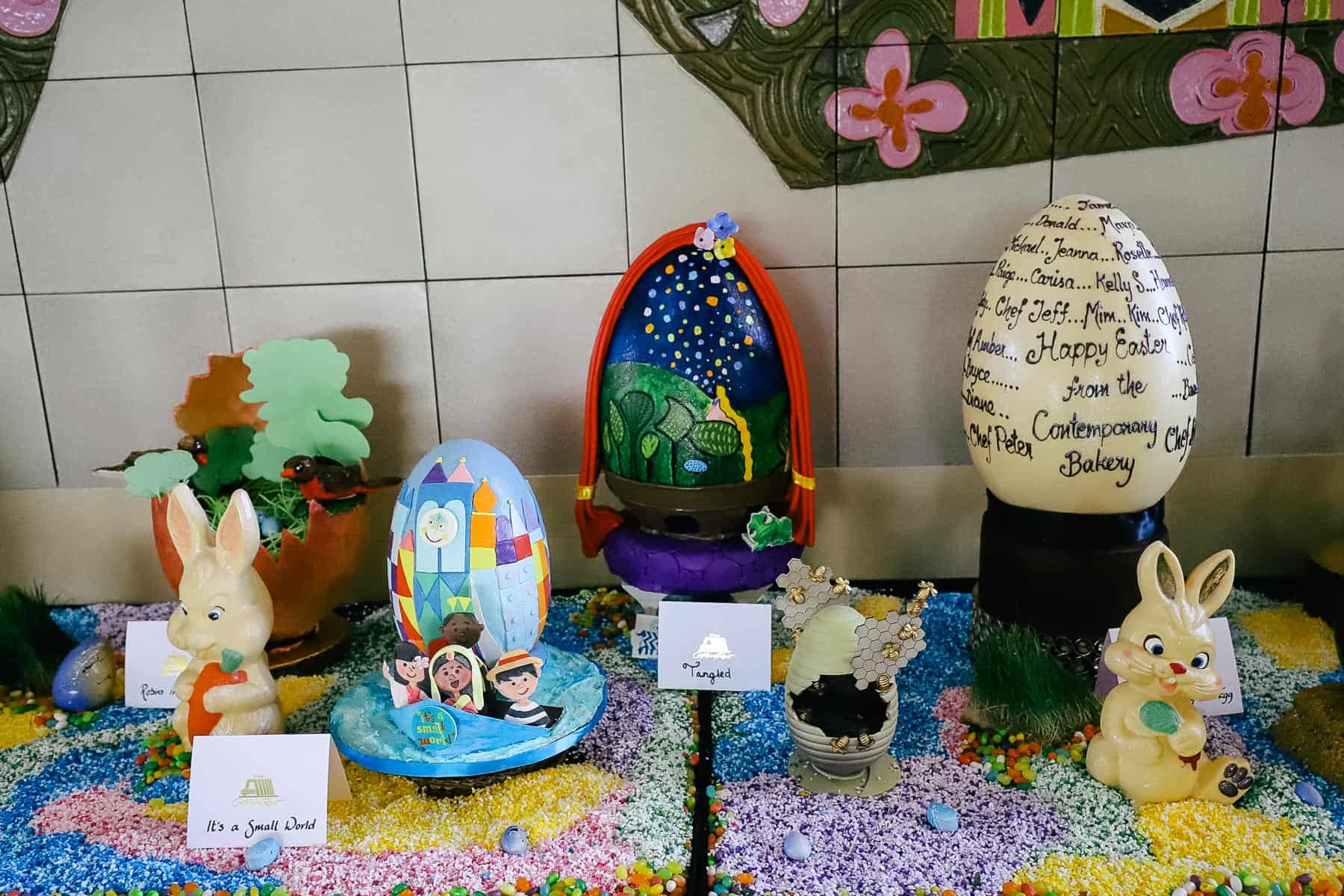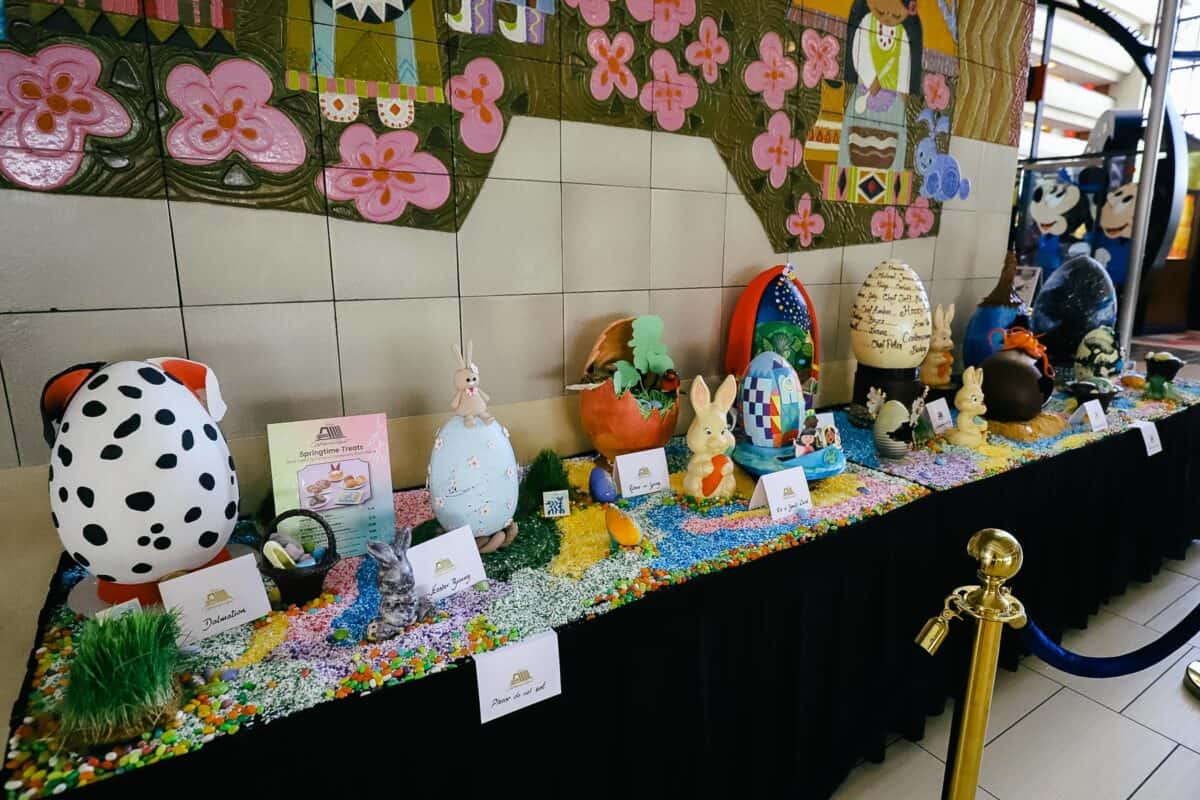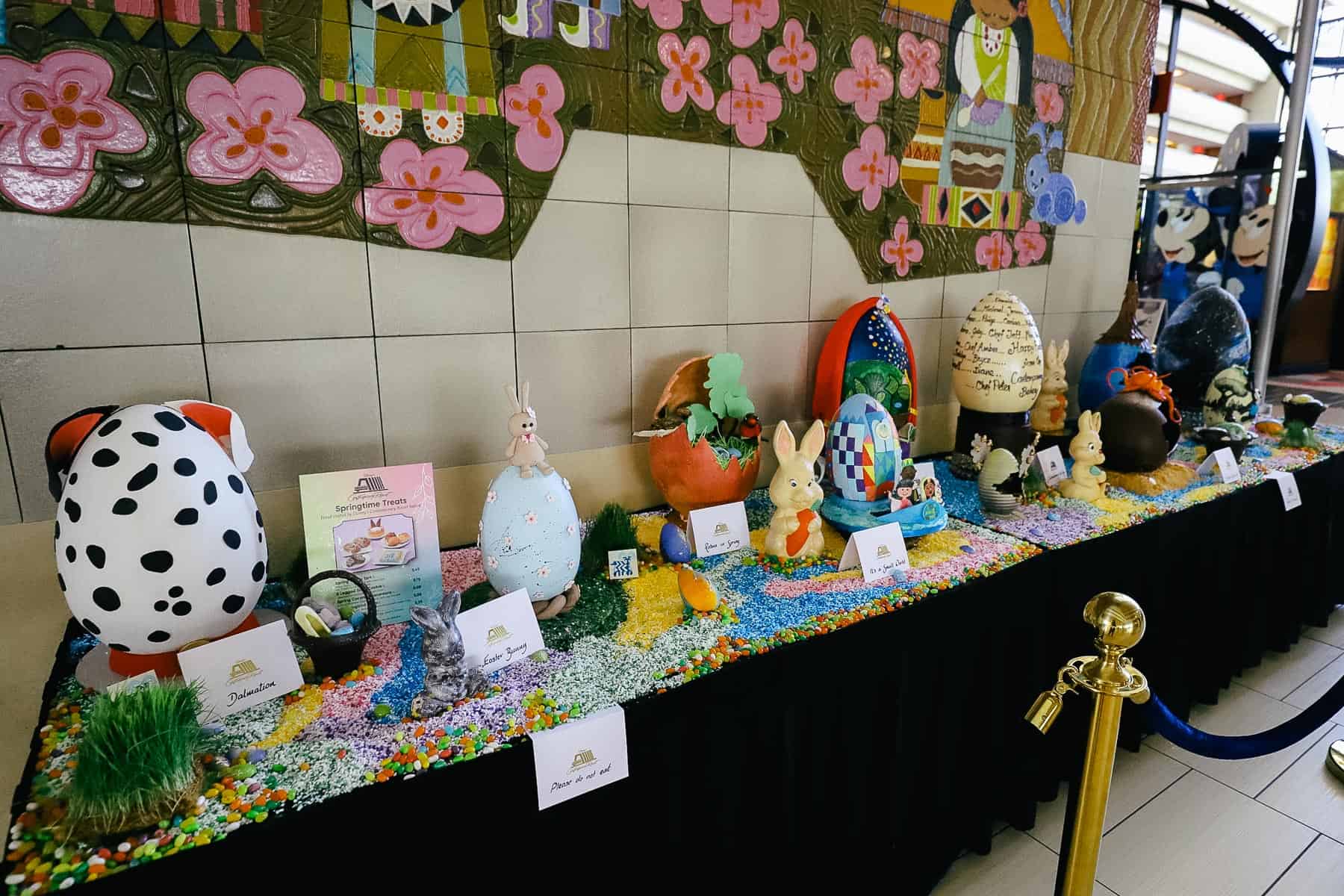 This first egg represents a Dalmatian.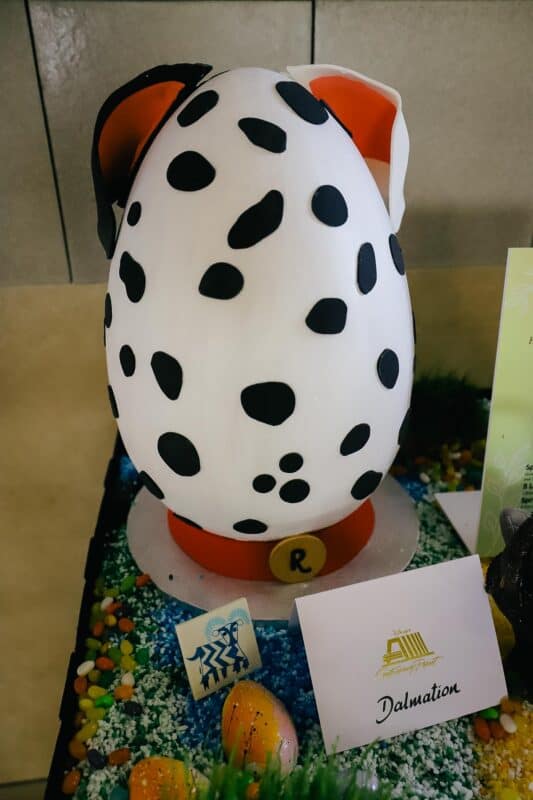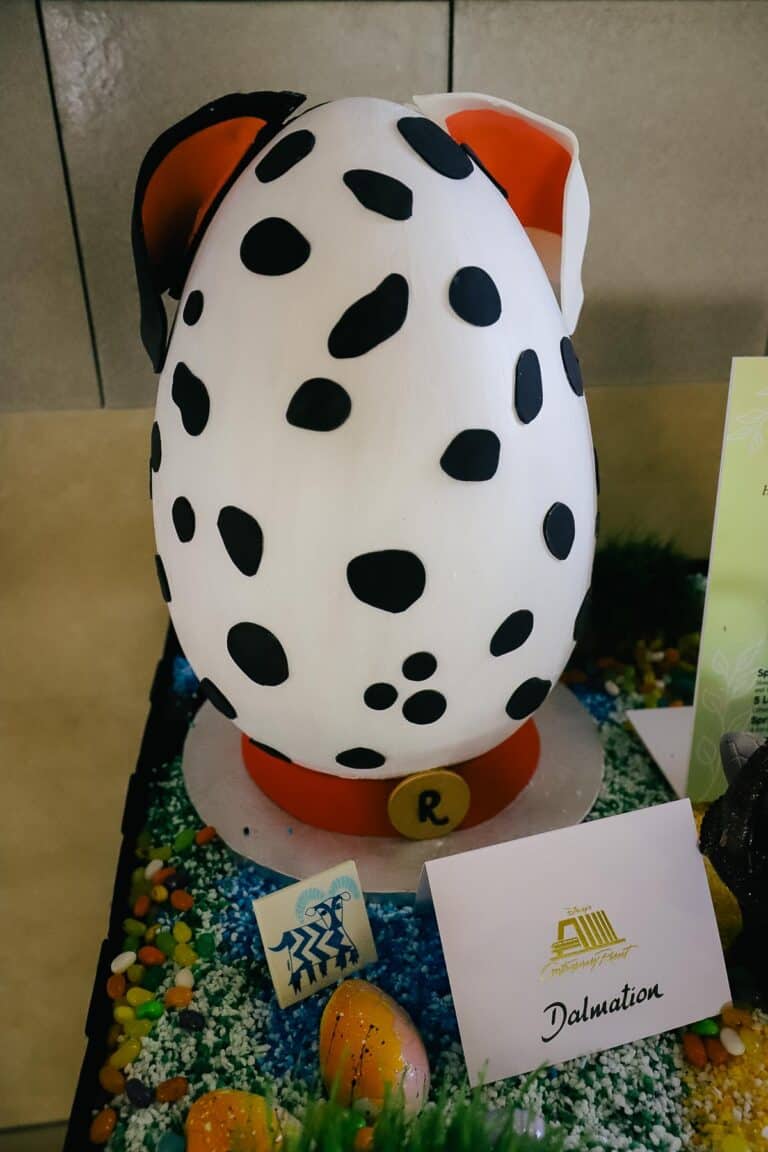 Next, we have the Easter Bunny!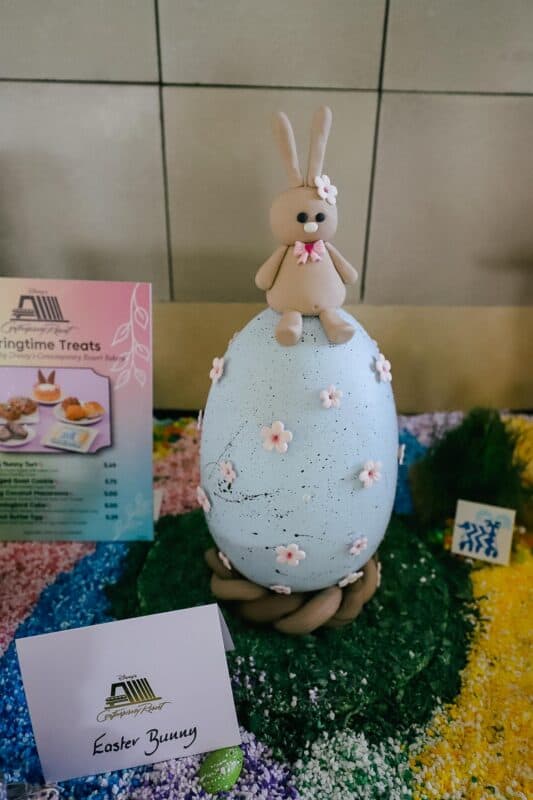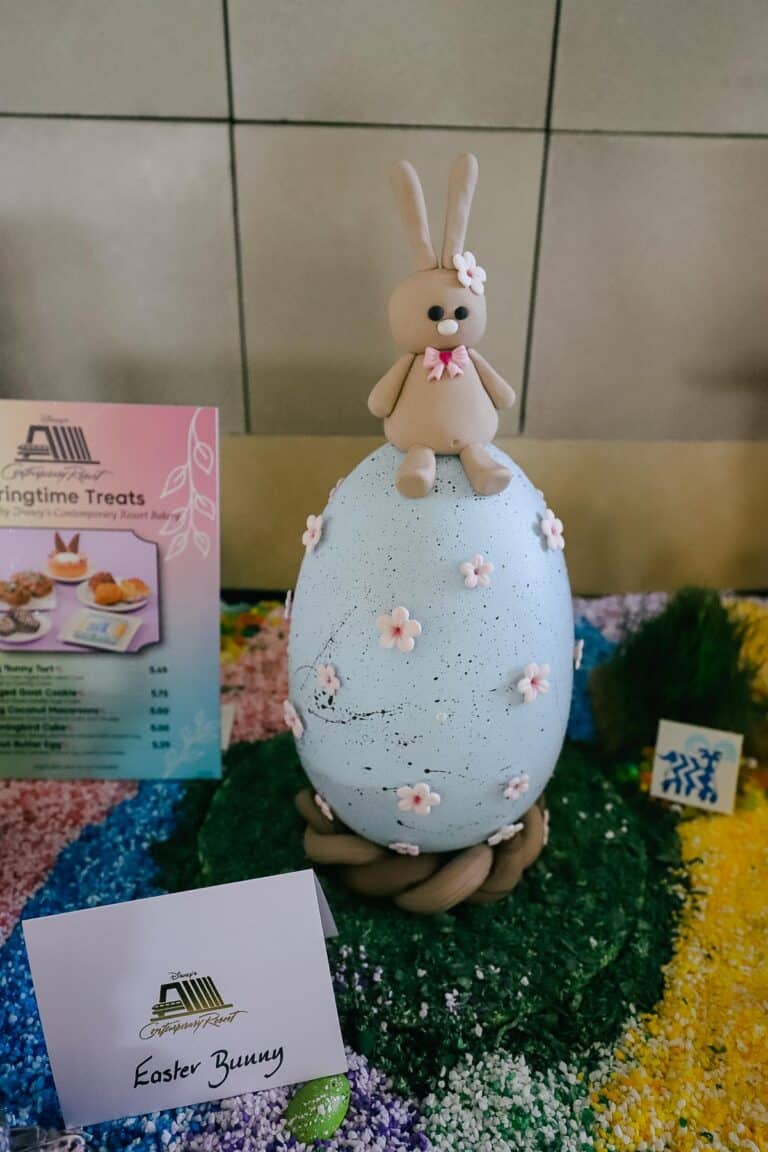 Here are a few robins in Spring.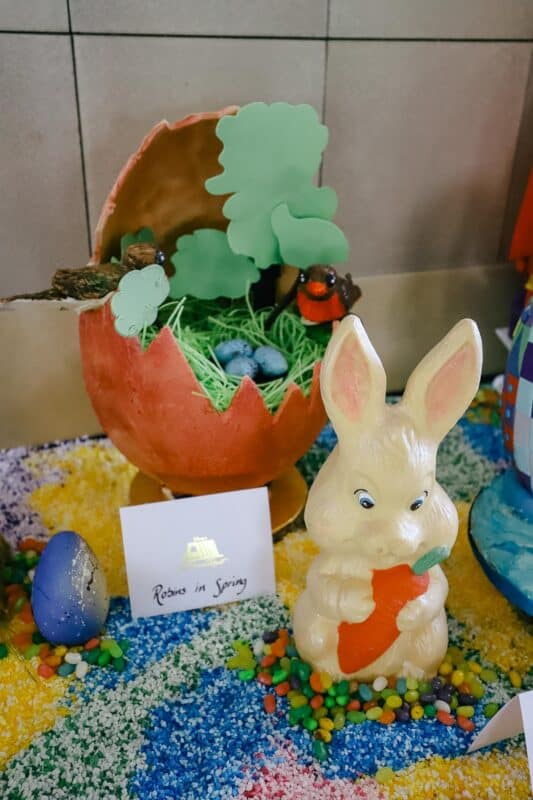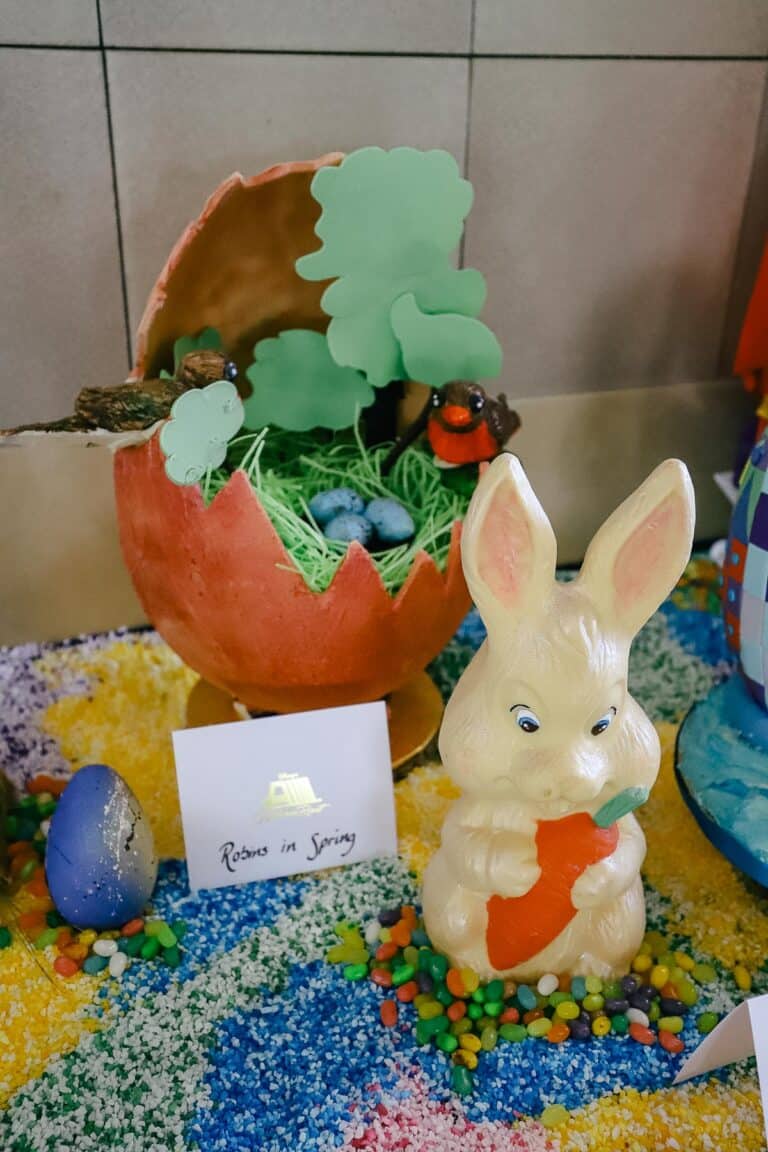 This egg represents the attraction, "it's a small world."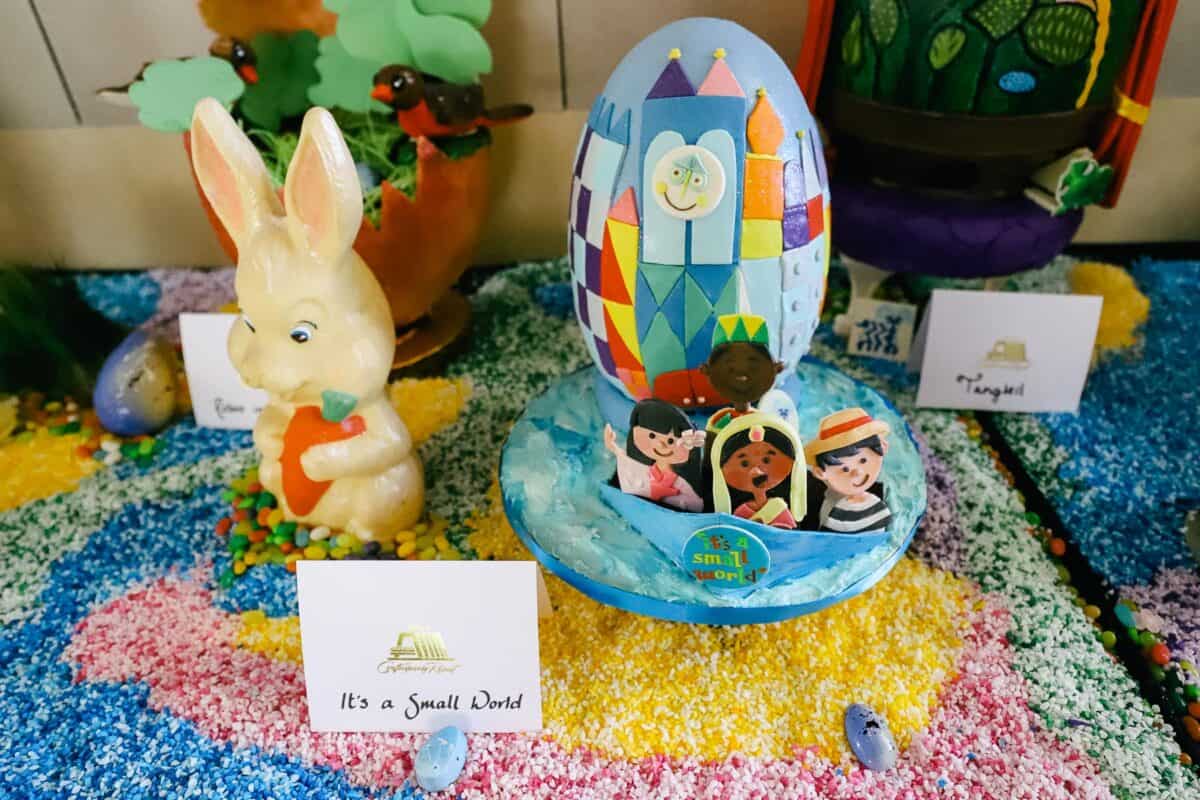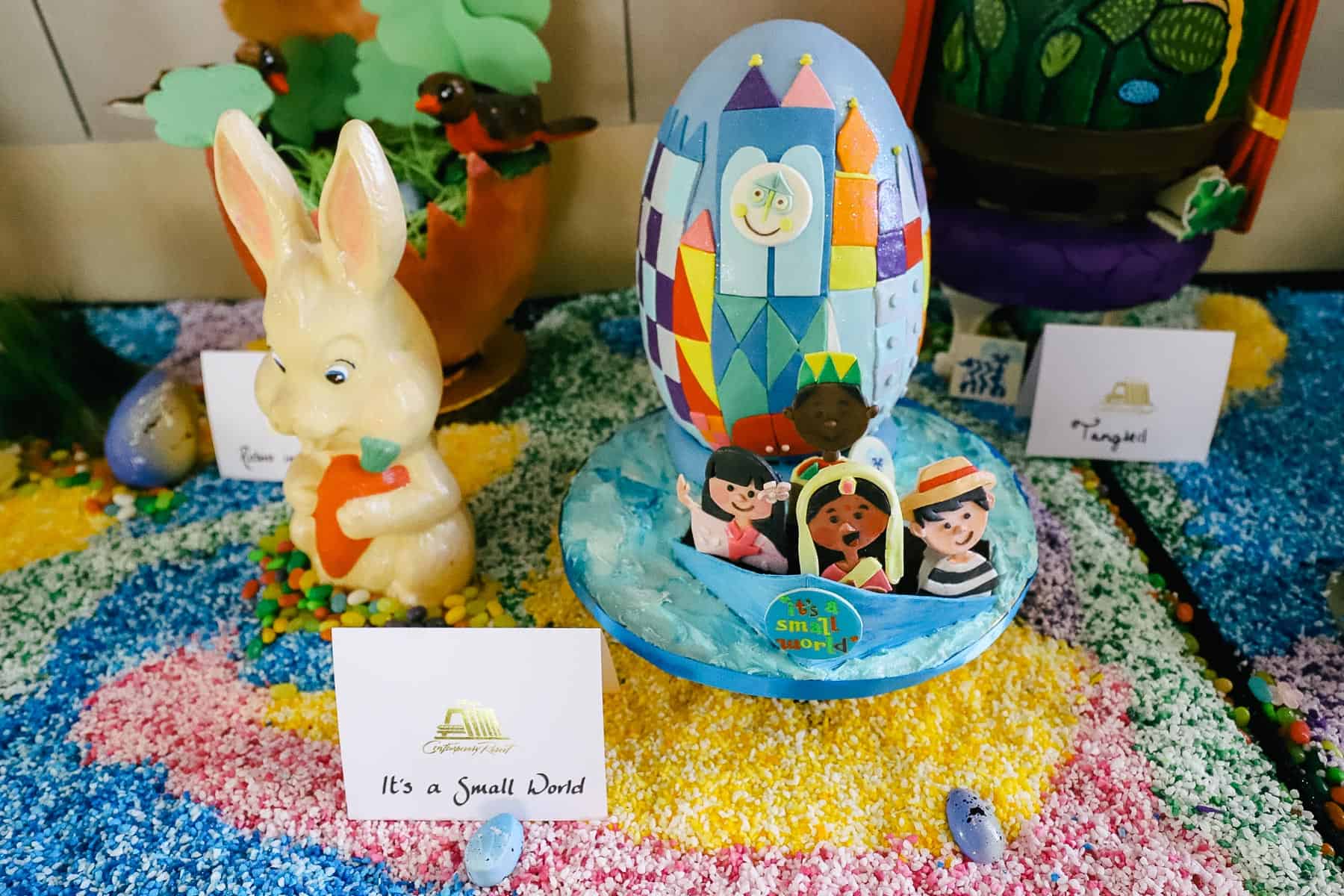 Here is the lantern scene from Tangled.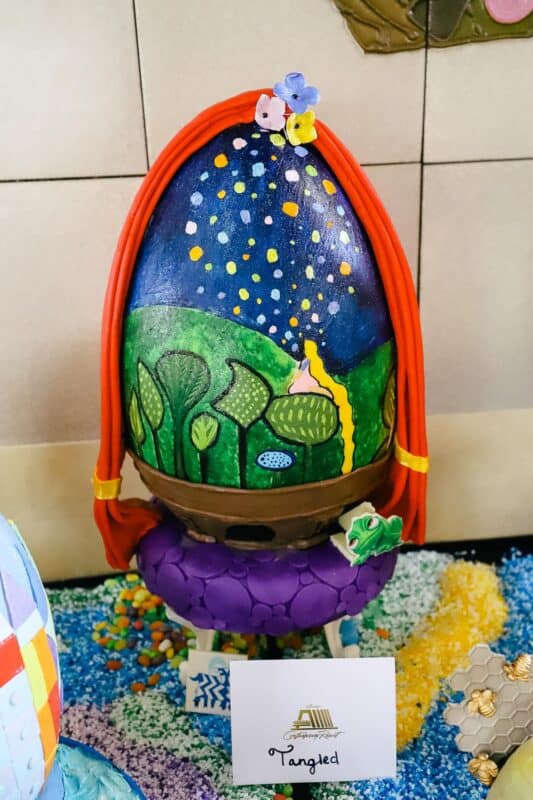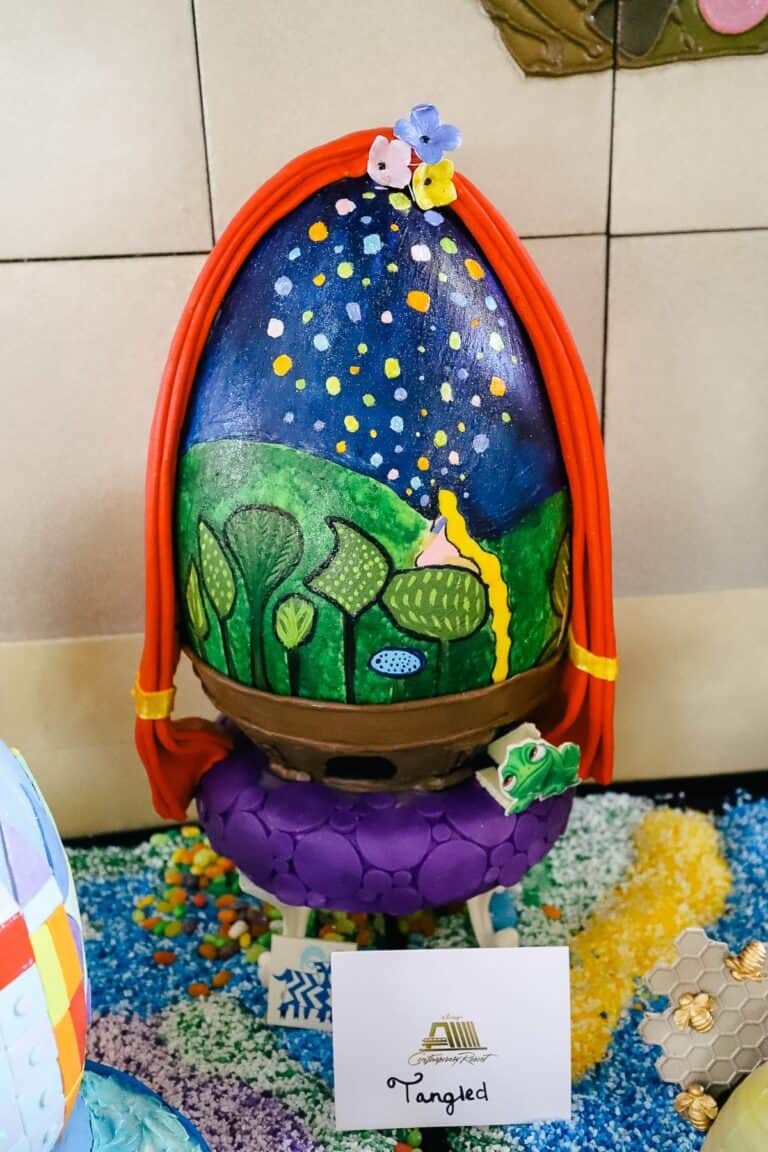 This simple egg lists the names of the cast members who worked on the display.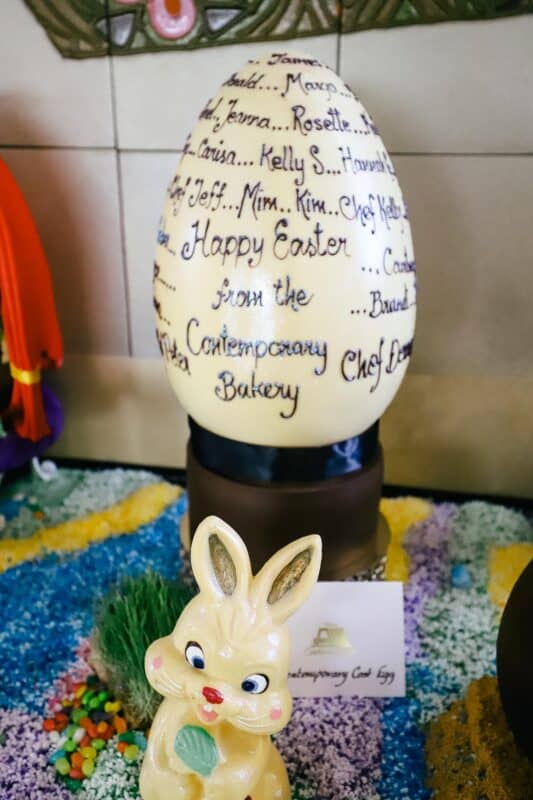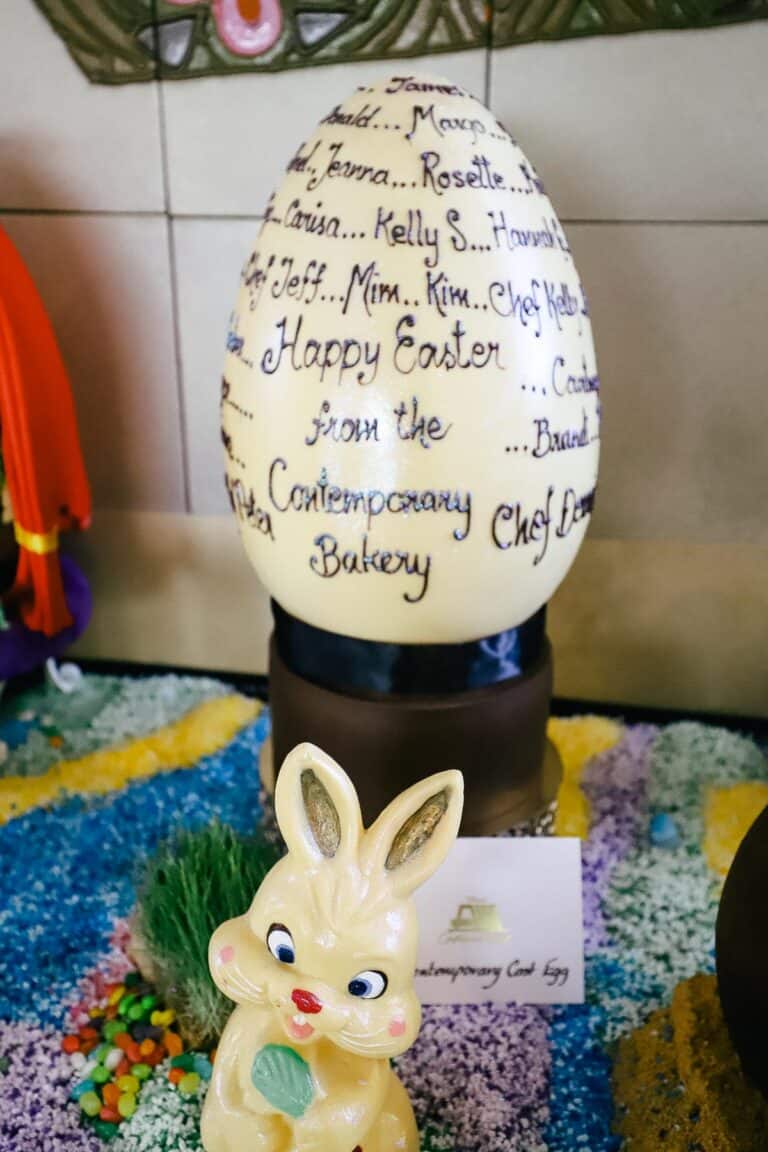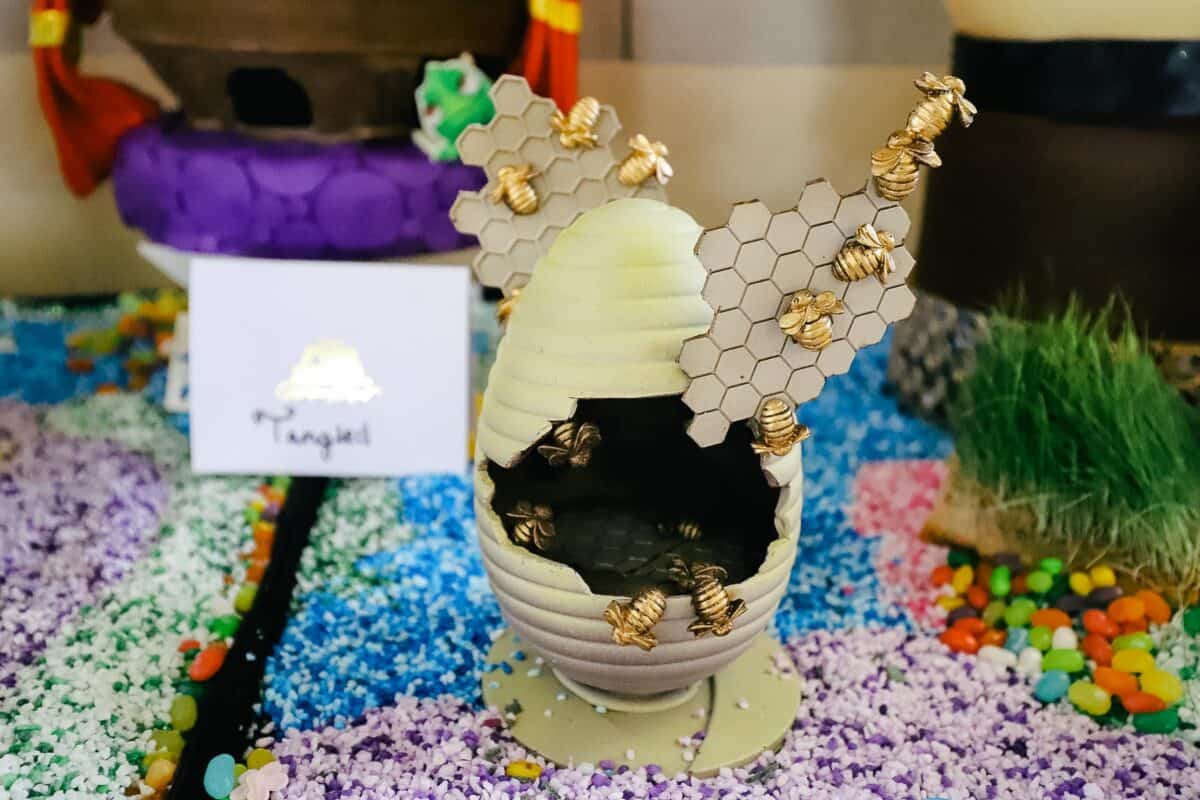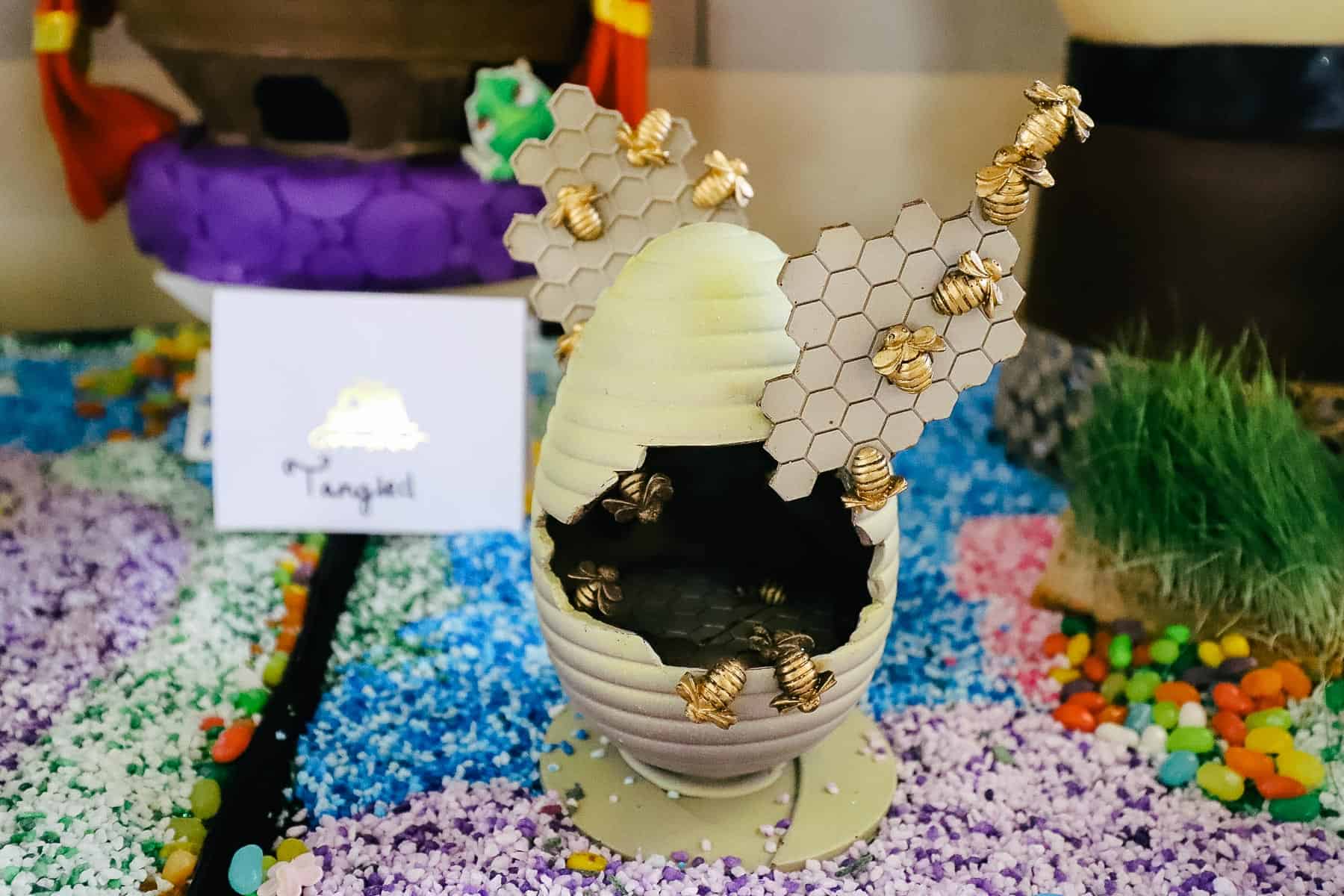 Here we have "A Pirate's Life for Me."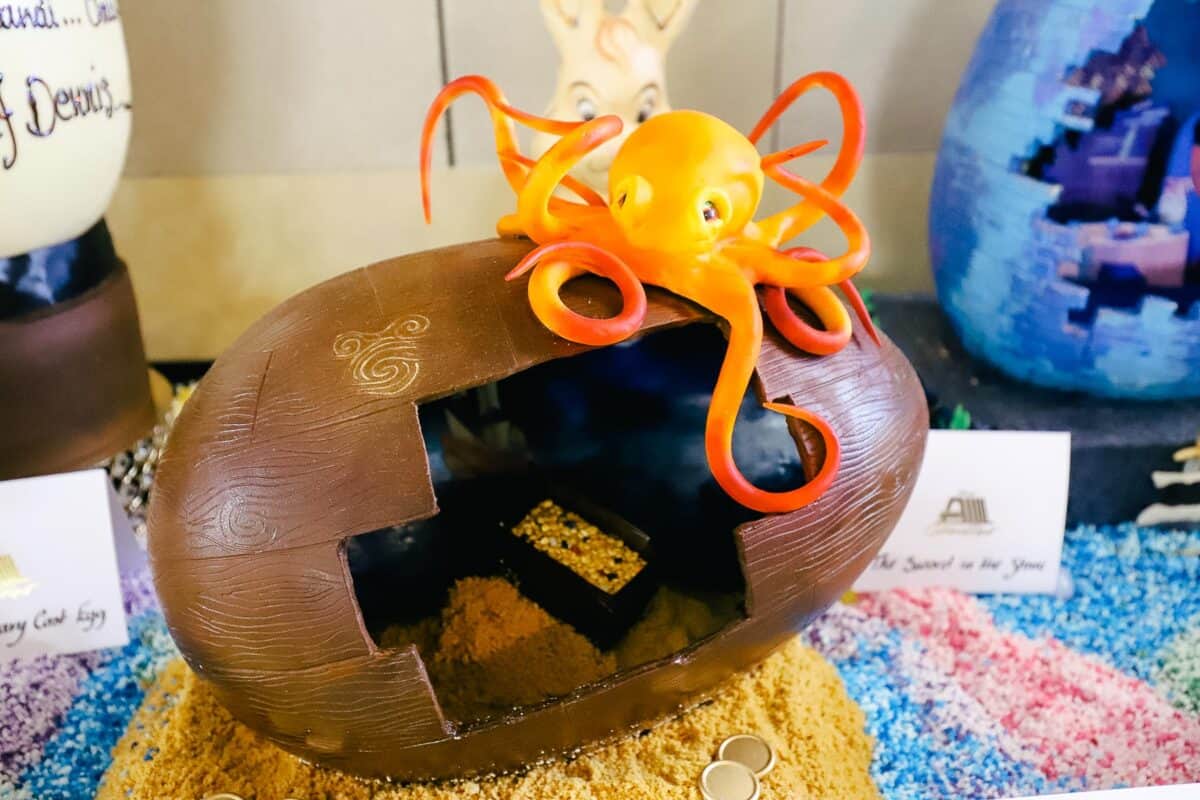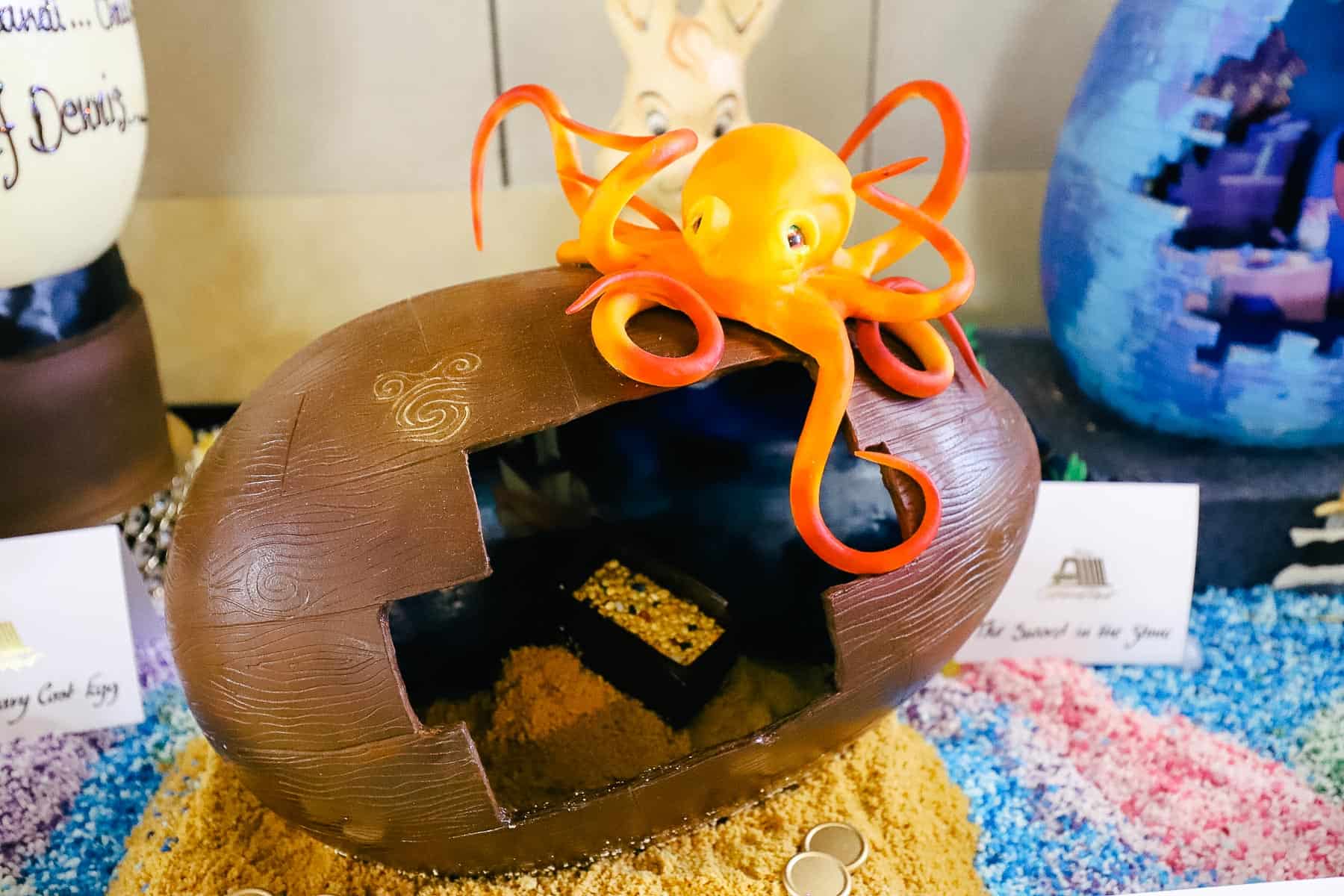 This egg representing Disney's animated film The Sword and the Stone brings back memories.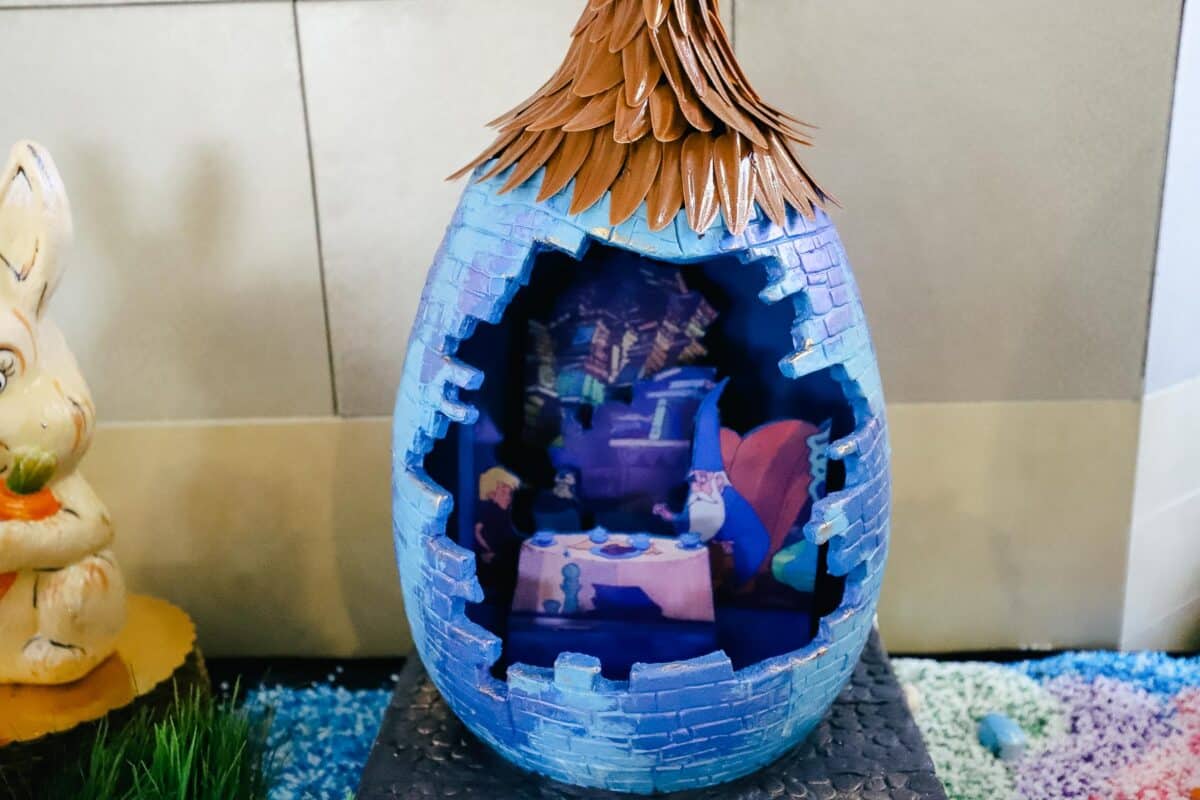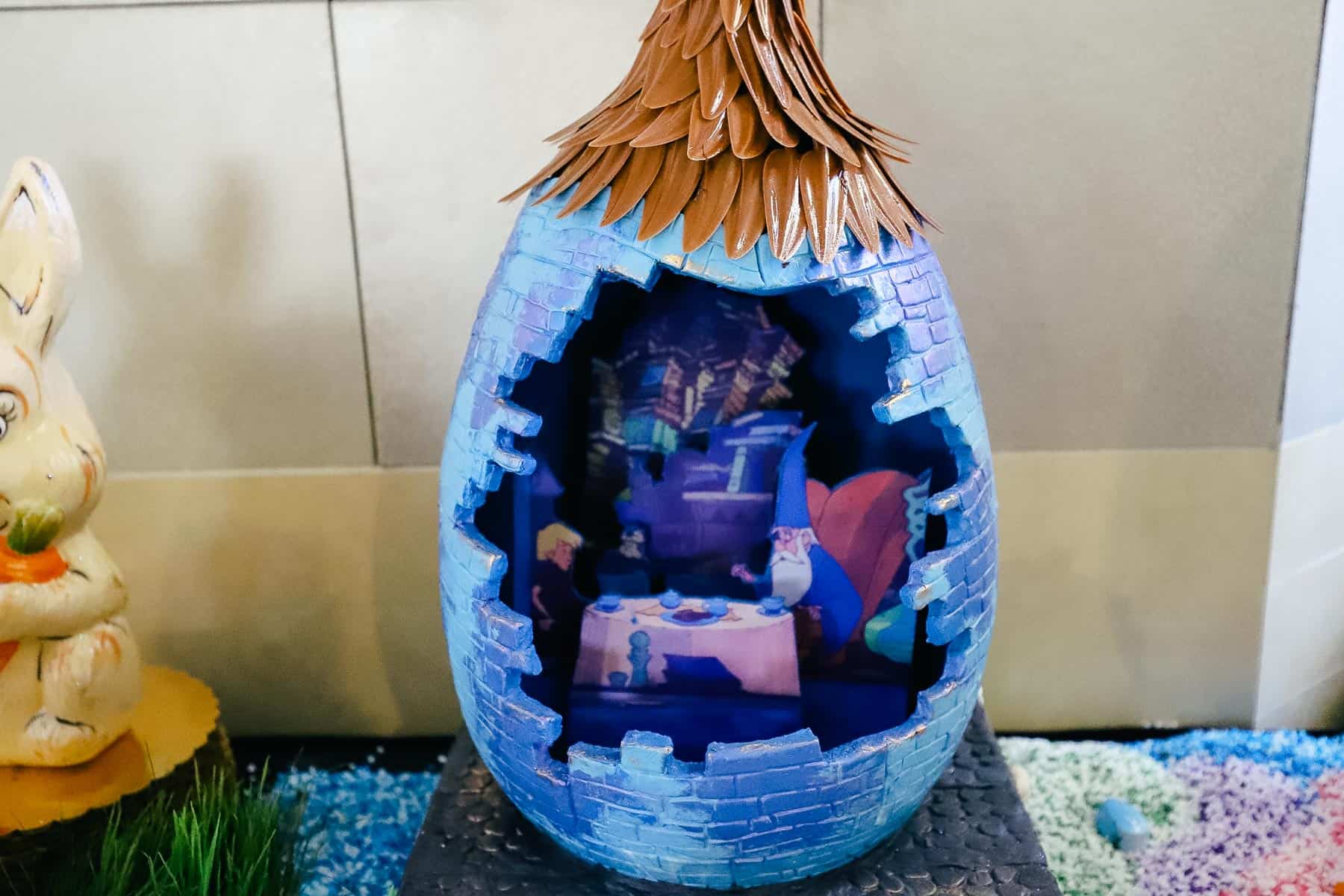 Oswald is wielding a bouquet of flowers. He sits on a film reel.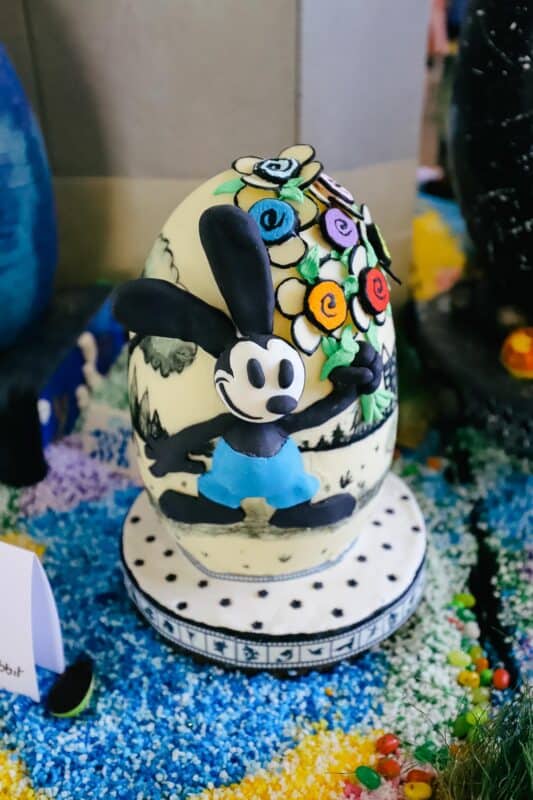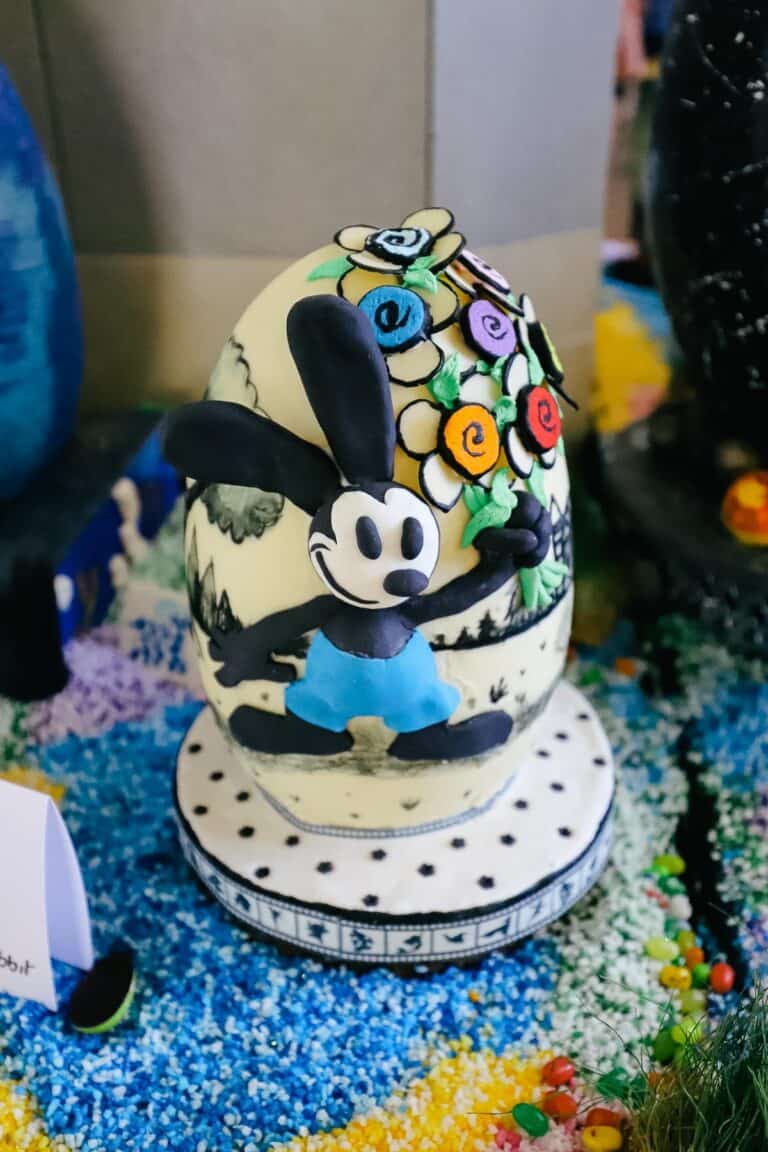 This Tron egg is appropriate. What team are you on?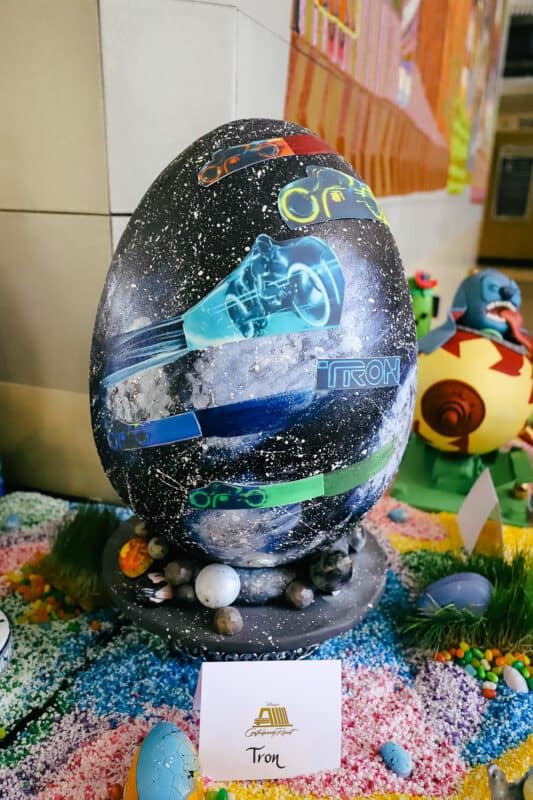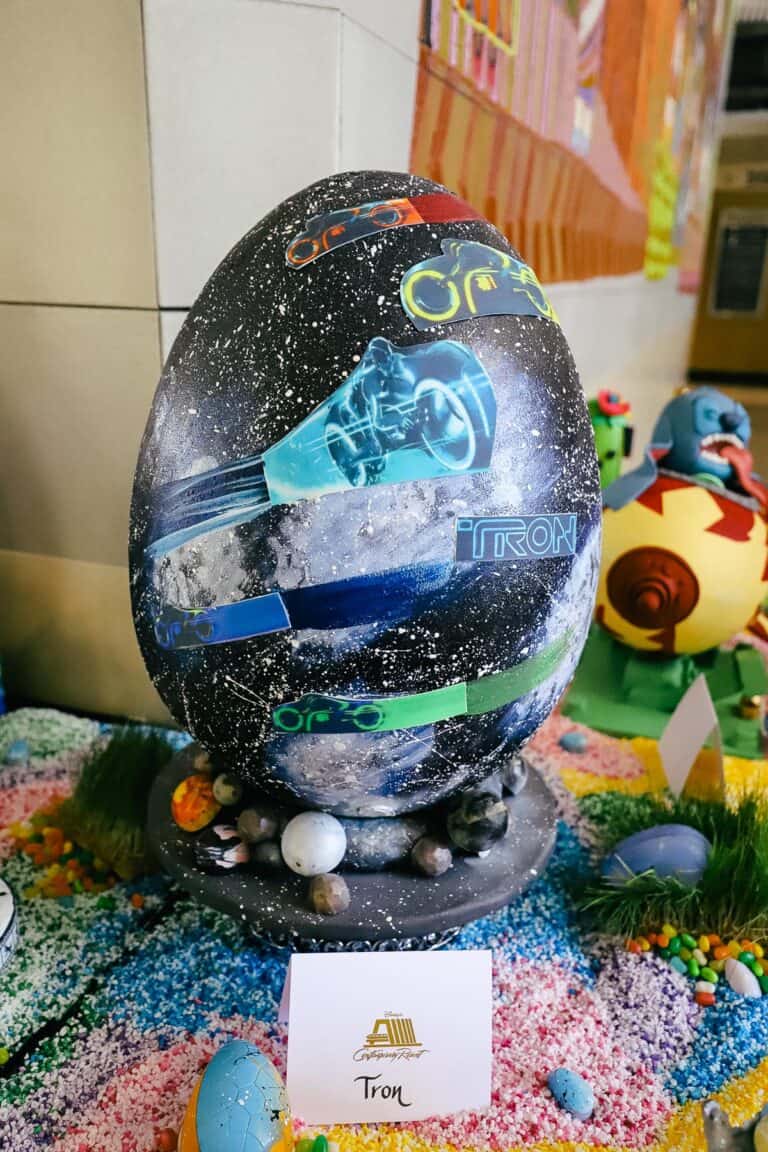 The display extends around the corner towards the security entrance for the monorail.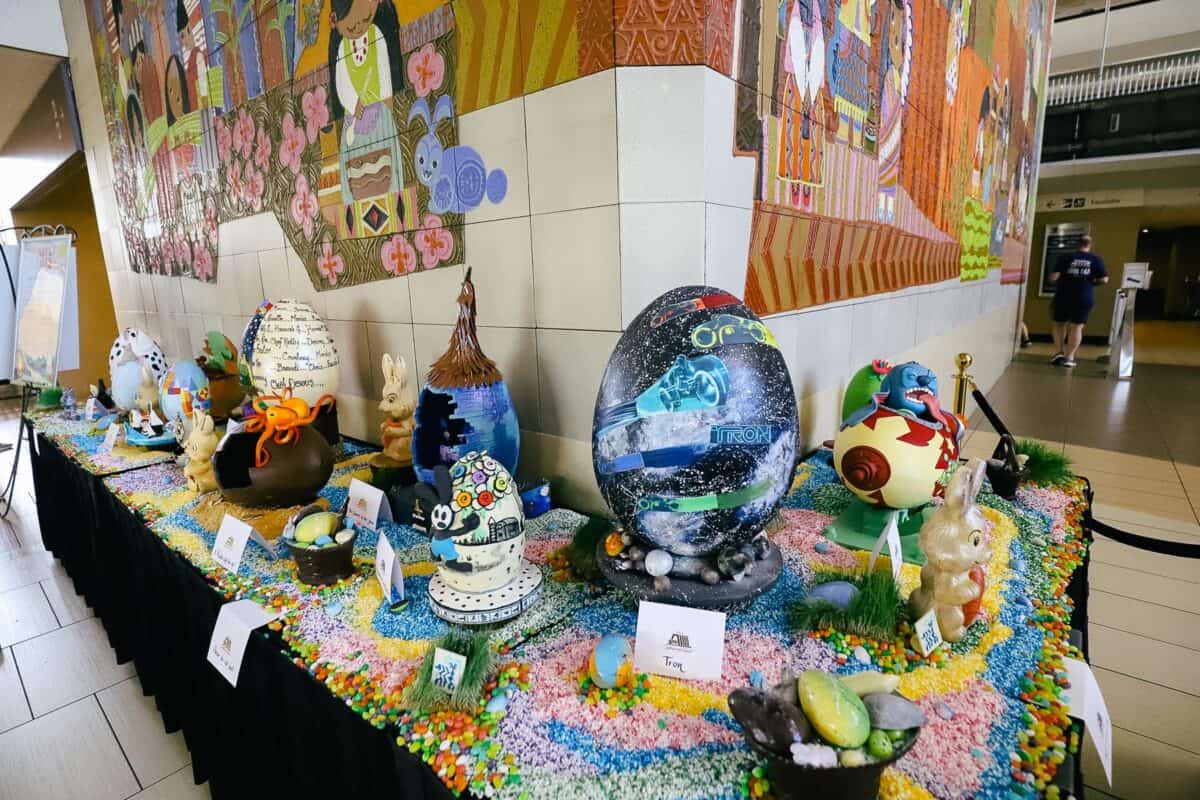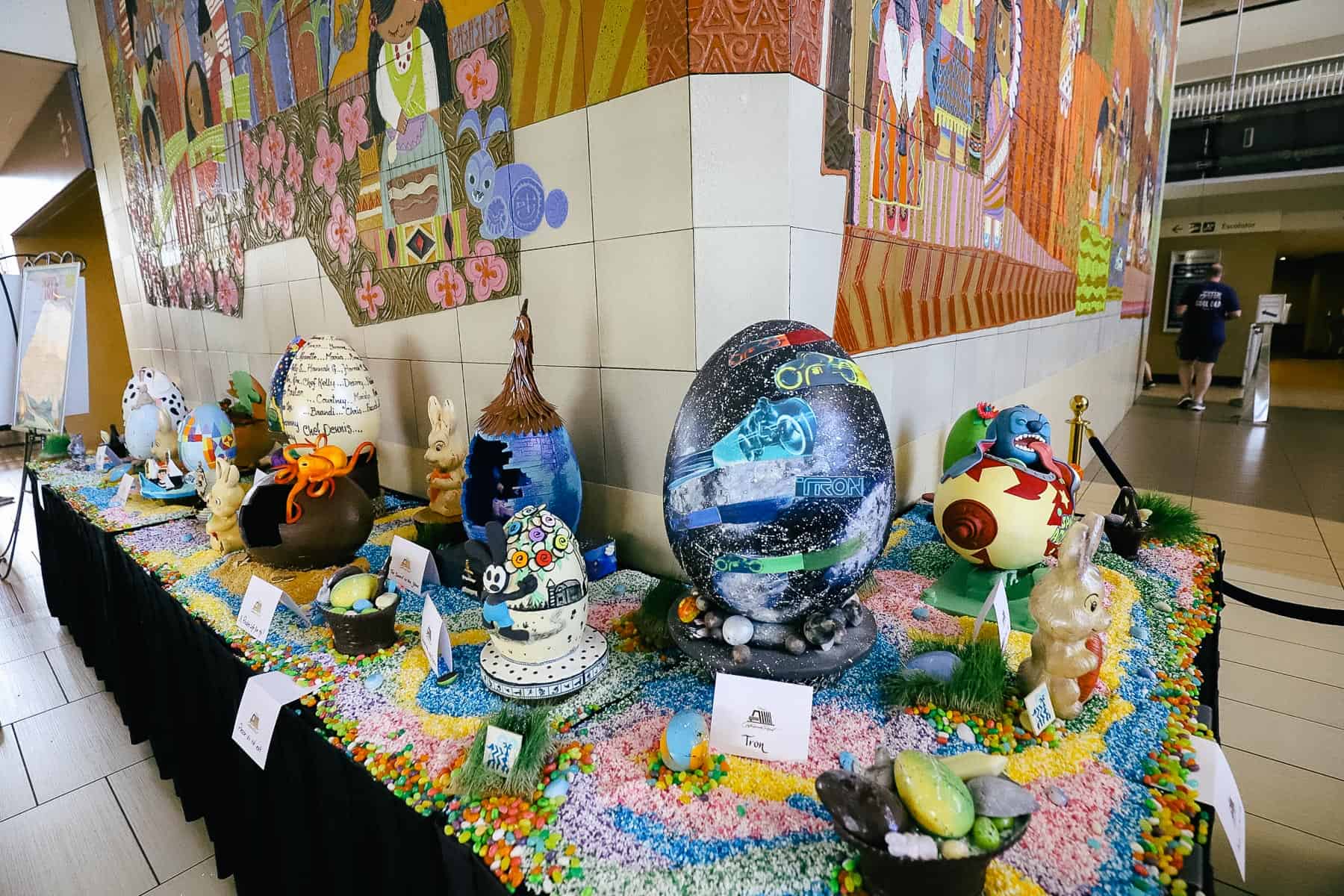 This egg features a beautiful silhouette from the "Can you feel the love tonight?" scene in The Lion King.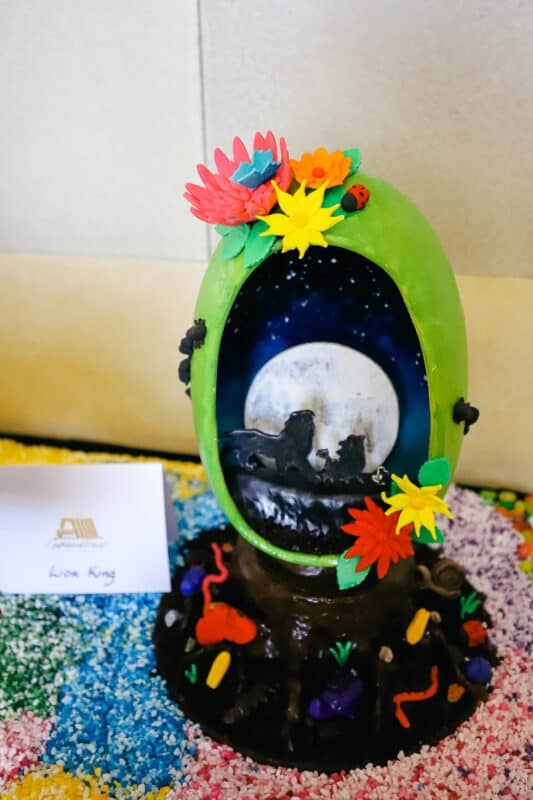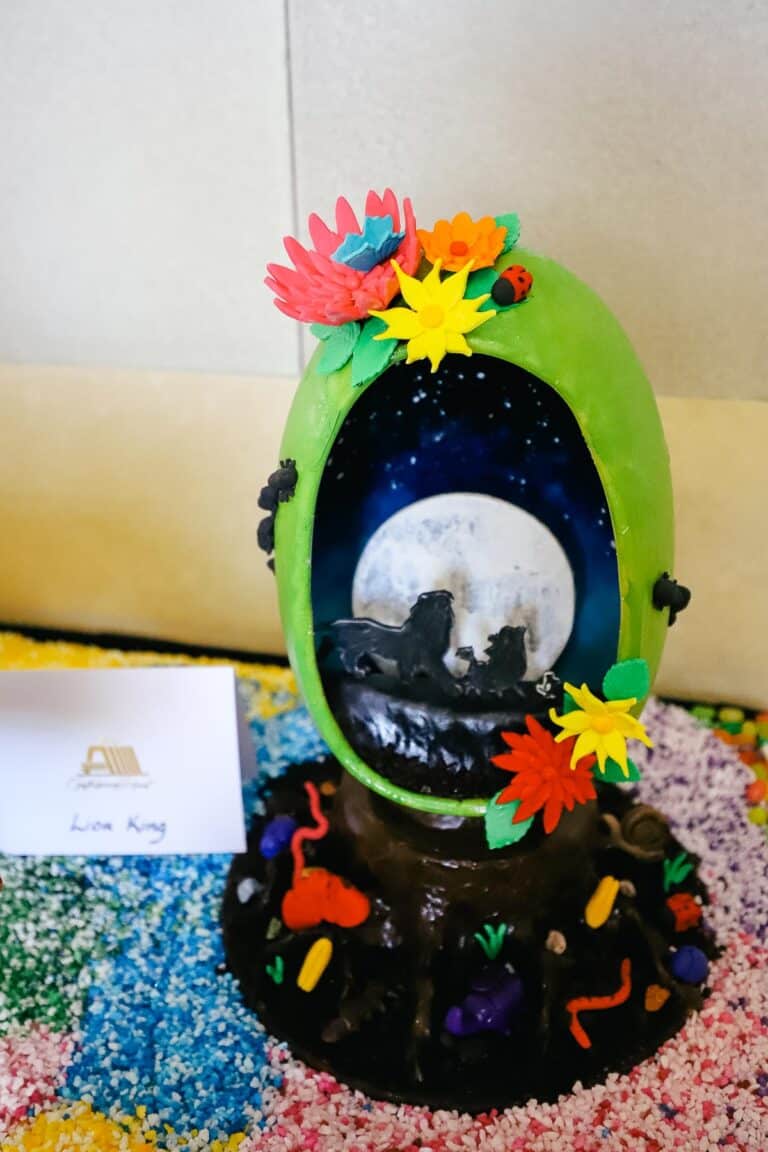 Of course, no Easter egg display at the Contemporary would be complete without a nod to Stitch from Lilo and Stitch.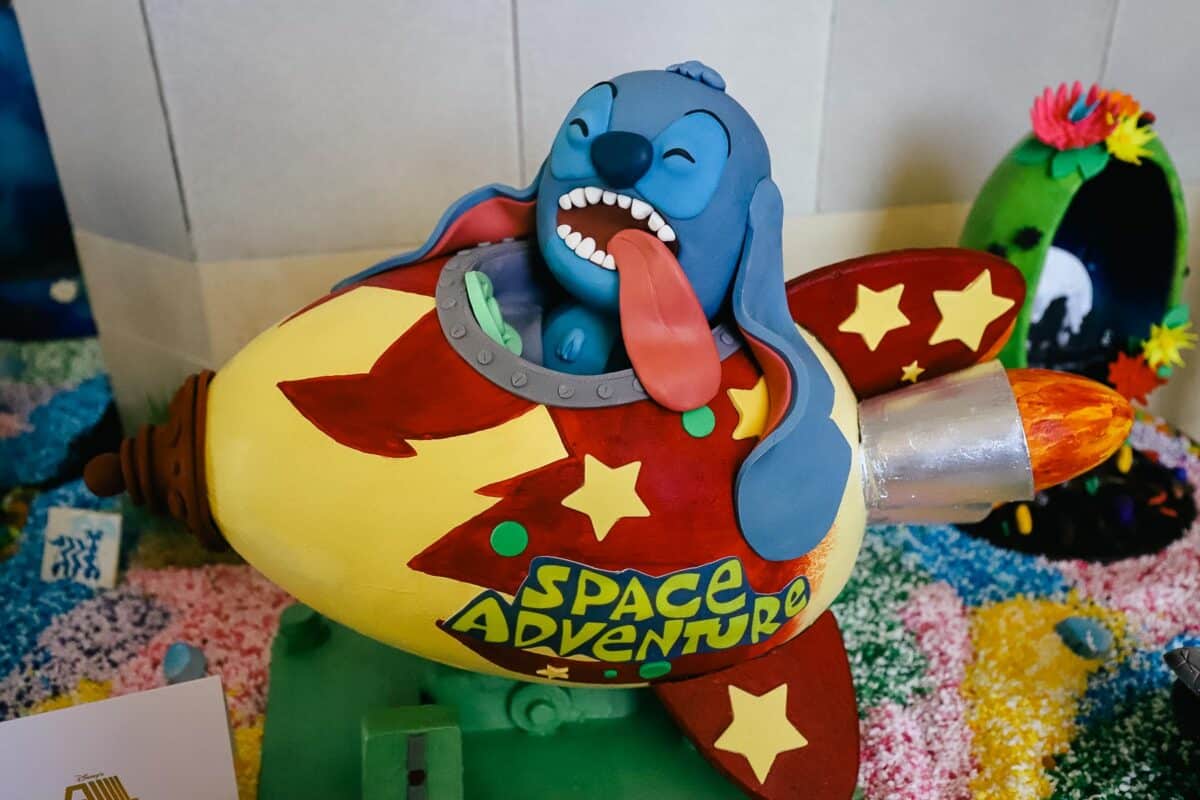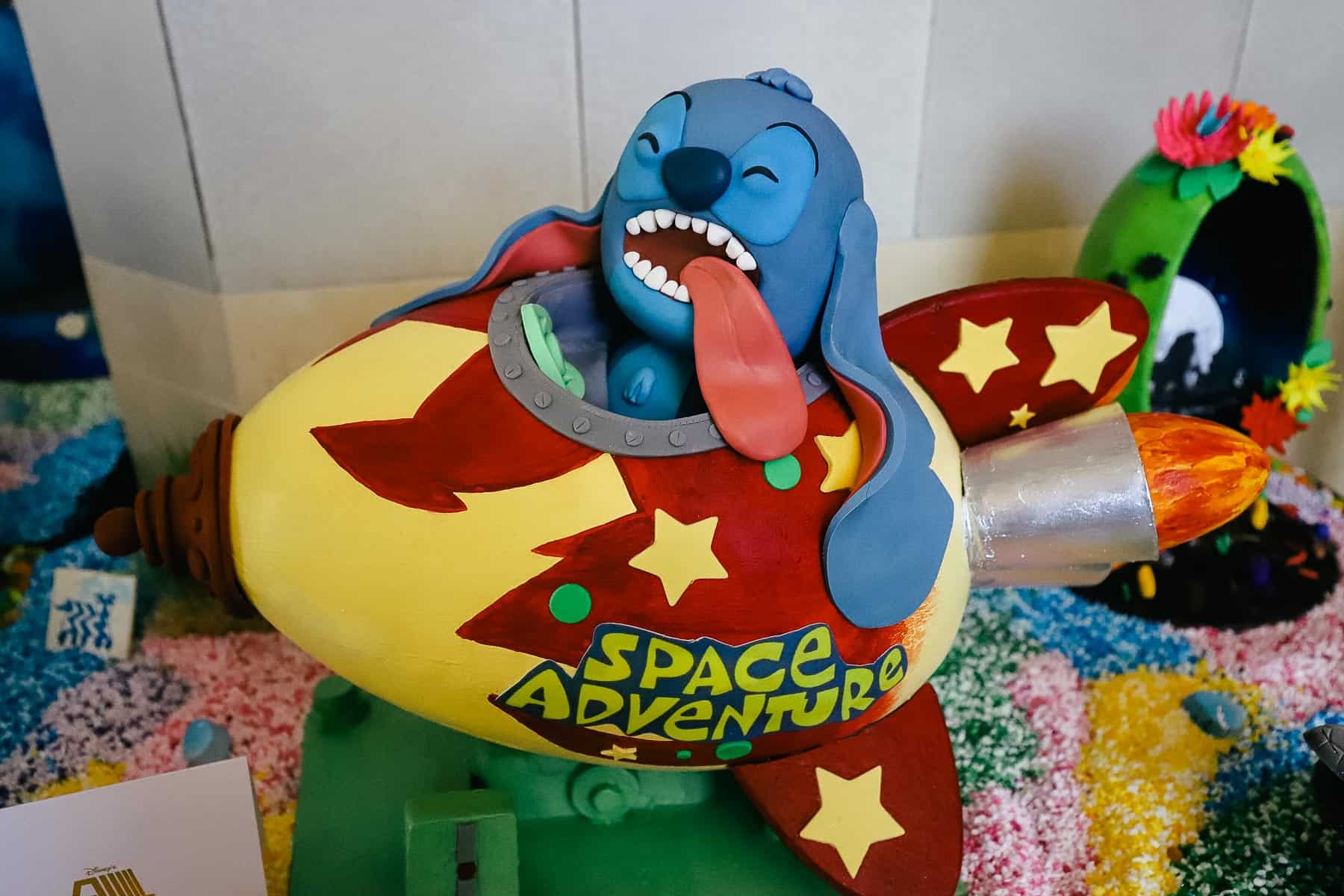 Several signs mention that you can–Hop on over to Contempo Cafe for Springtime Treats. Those treats include:
Hummingbird Cake
Peanut Butter Egg
Spring Coconut Macaroons
5 Legged Goat Sugar Cookie
Spring Bunny Tart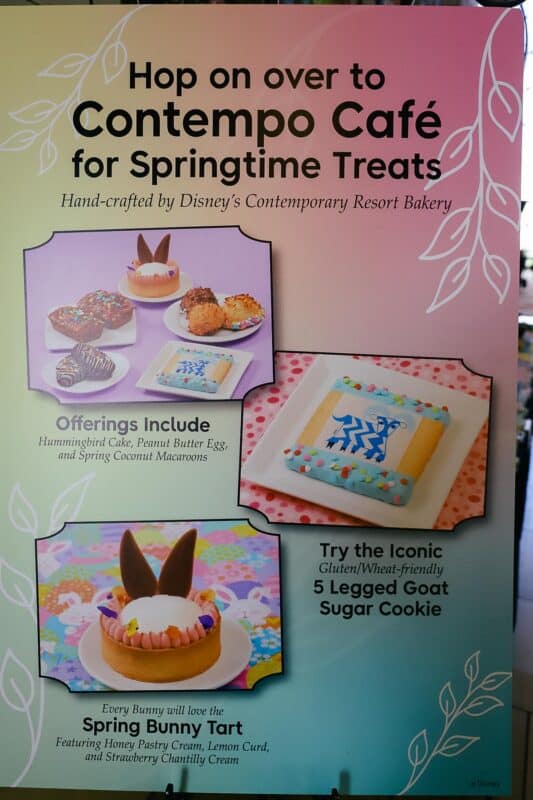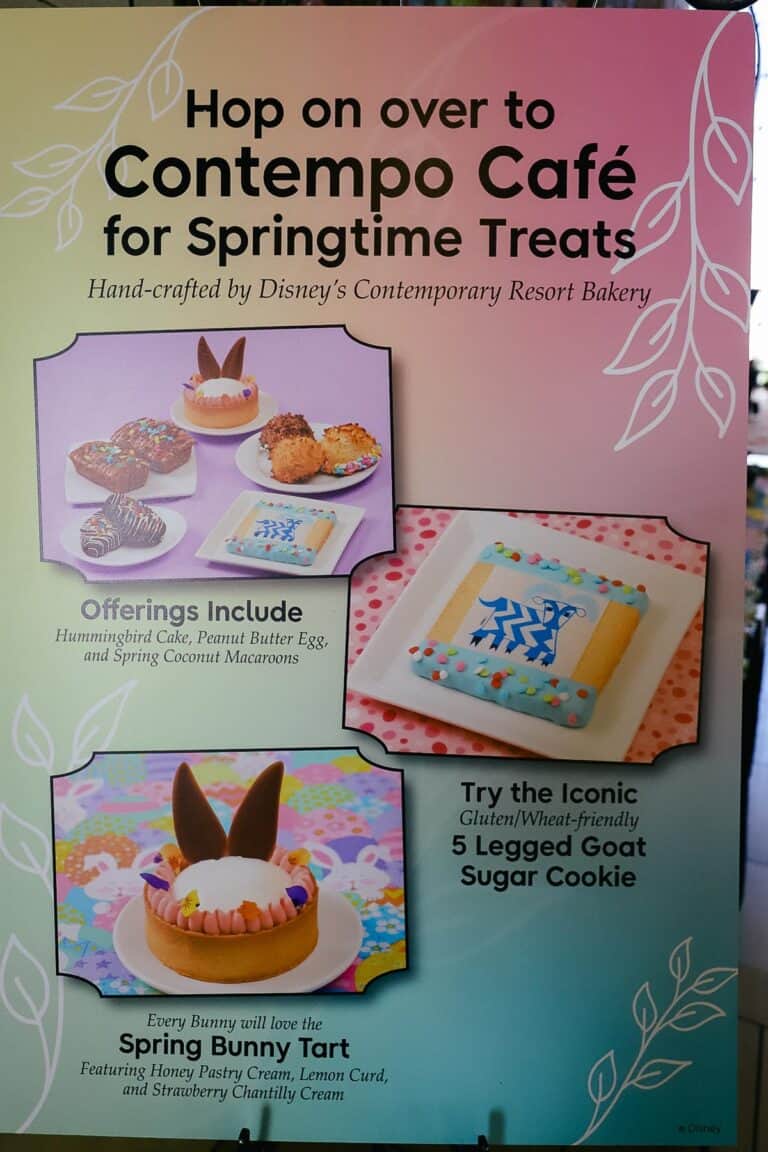 At Contempo Cafe, I noticed they had another egg on display.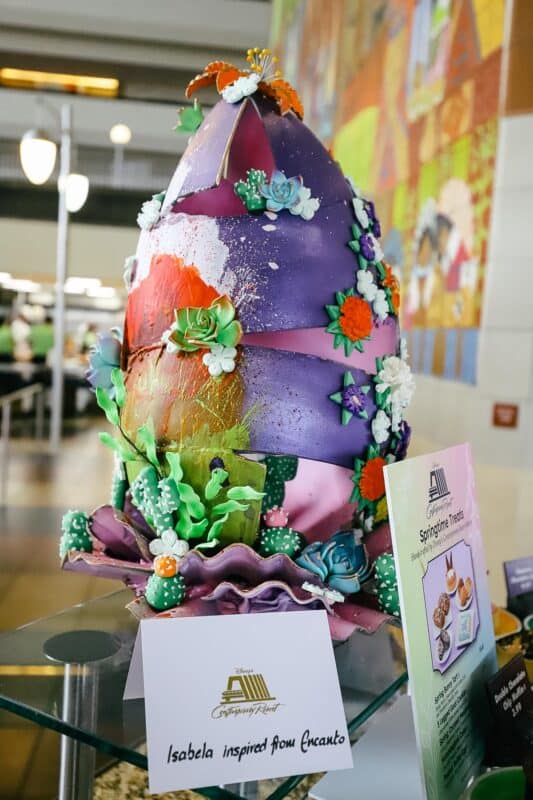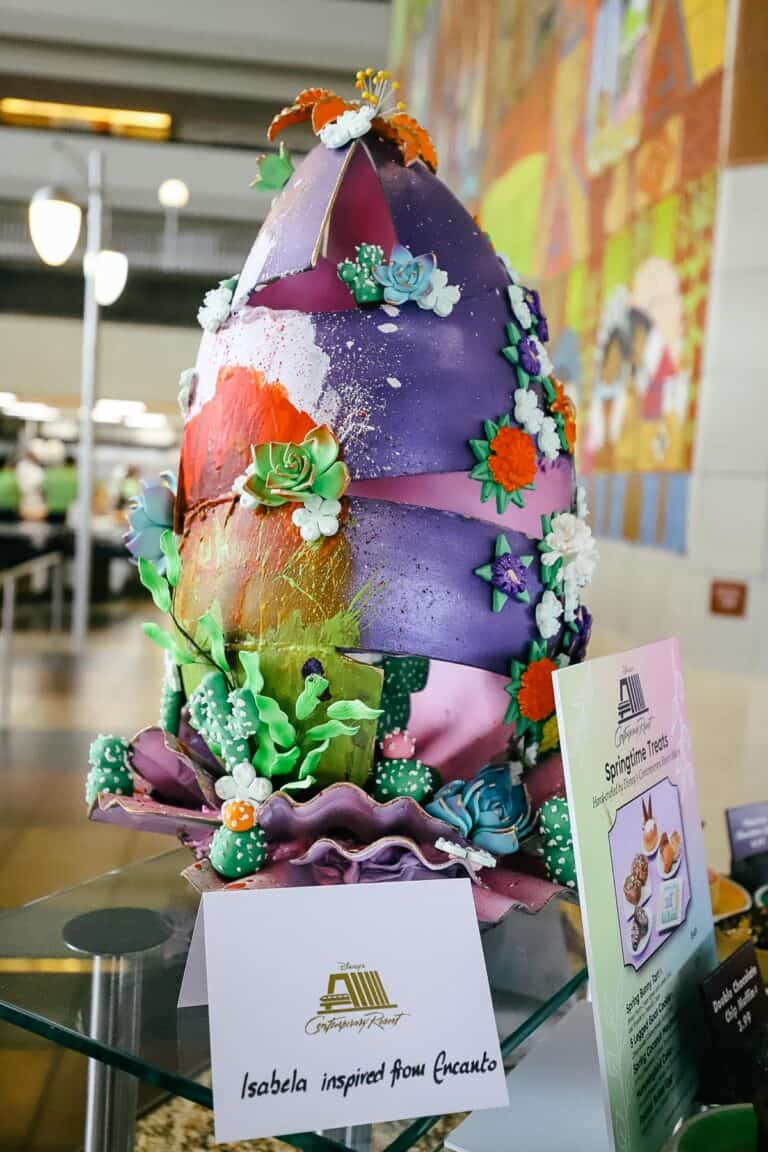 This one was called Isabela and was inspired by Encanto. It's a beautiful egg, and I found several faux cacti with hidden Mickeys. We found a similar themed Easter egg at Disney's Beach Club.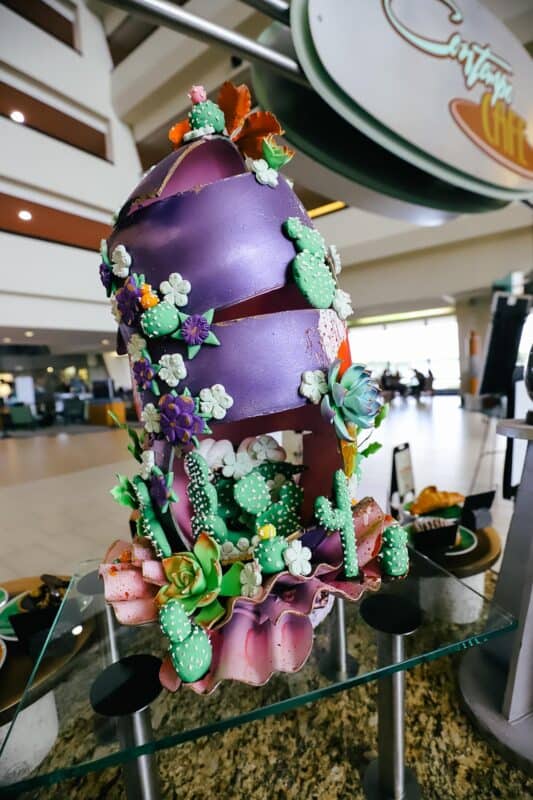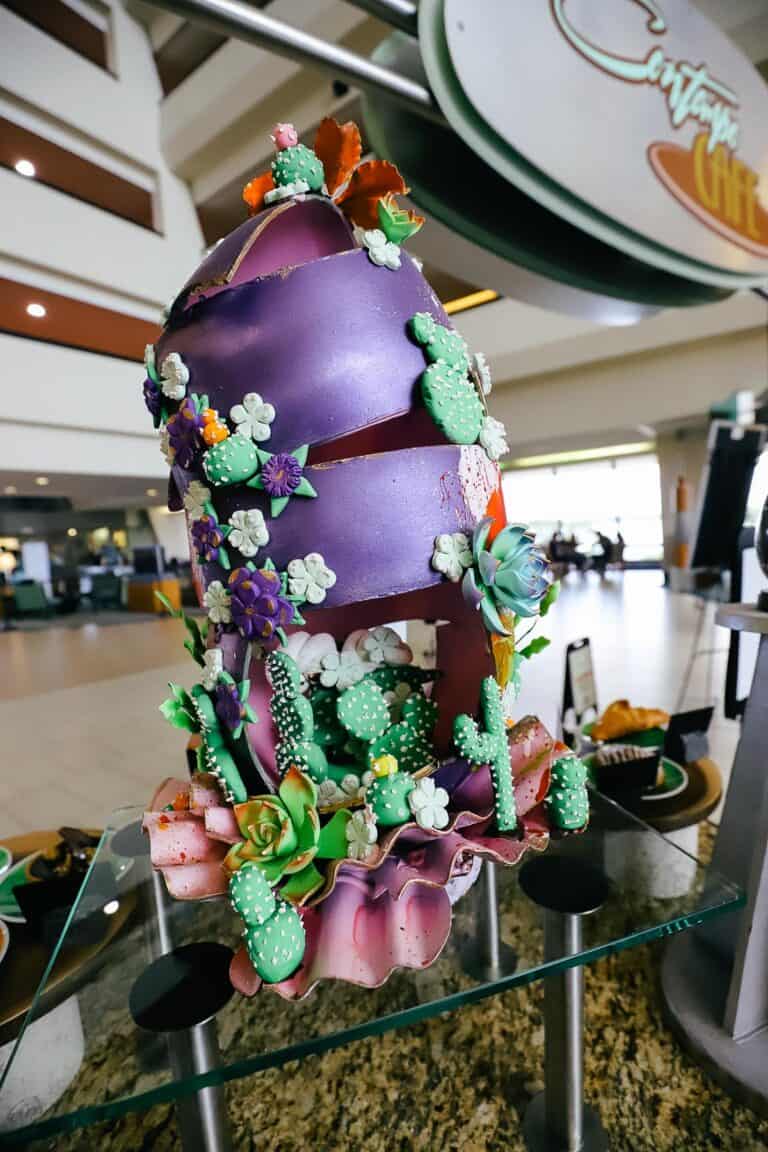 Speaking of hidden Mickey's, I mean Easter Eggs. I found a few surprise eggs inside the BVG!
Related: Bayview Gift Shop at the Contemporary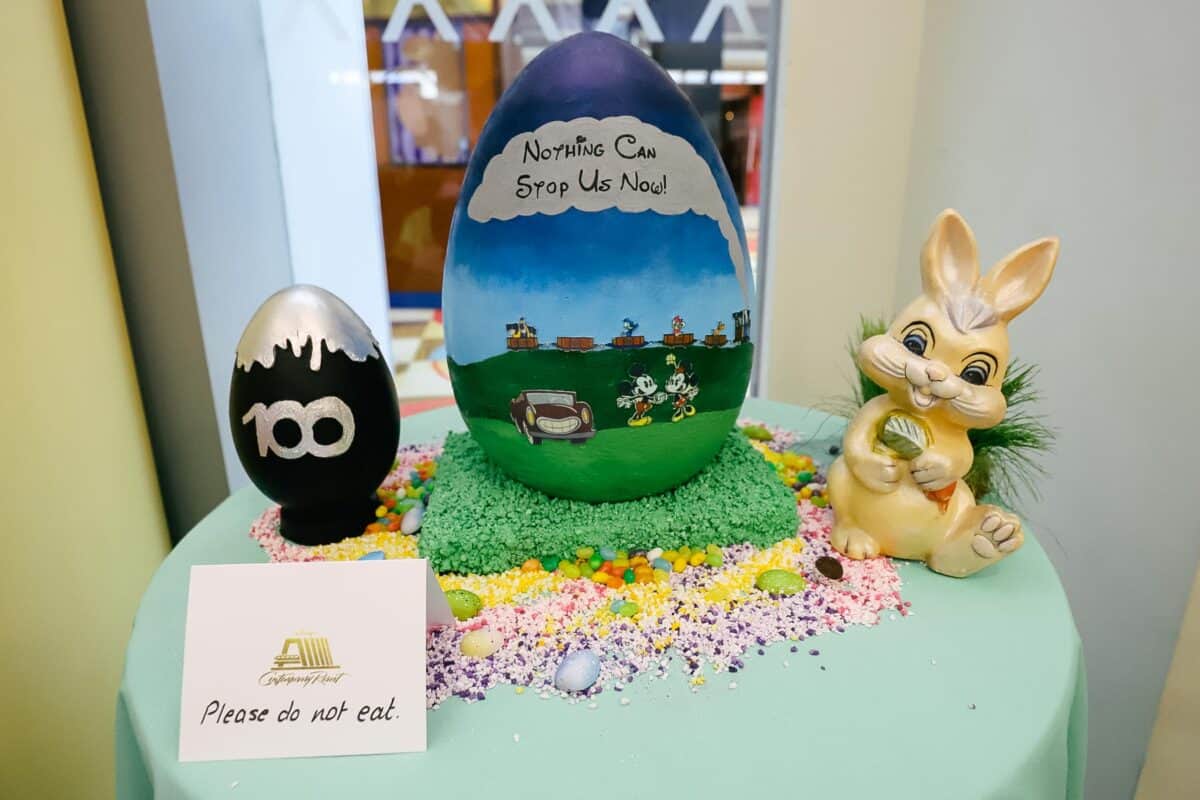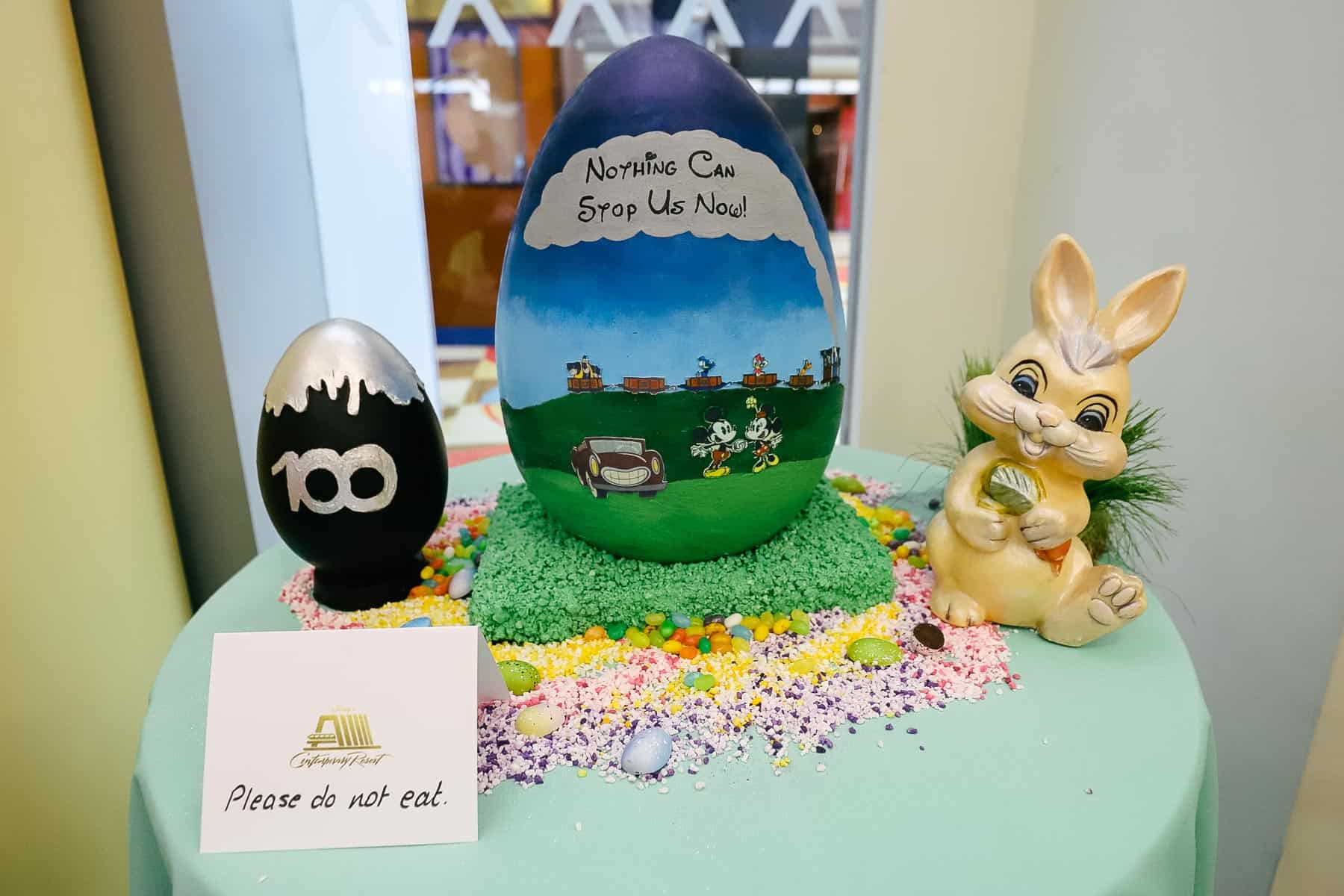 One display featured this trio of eggs celebrating Disney's 100th anniversary.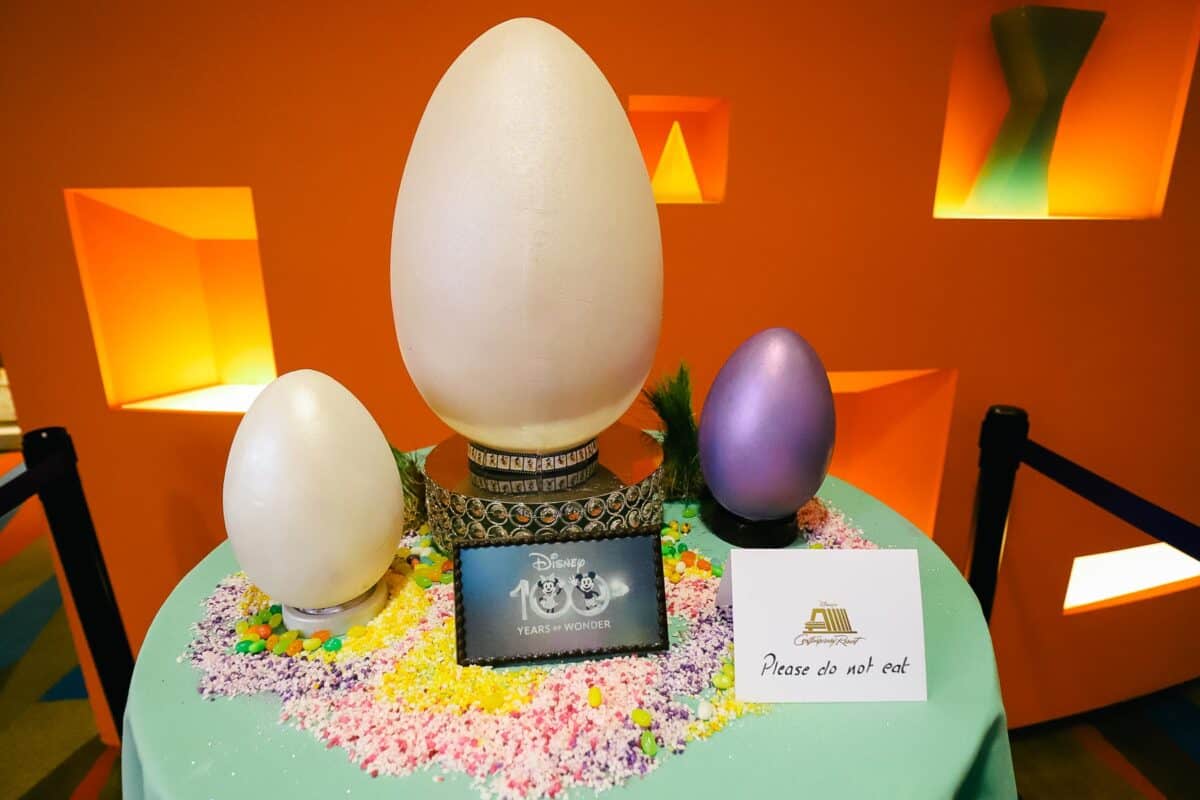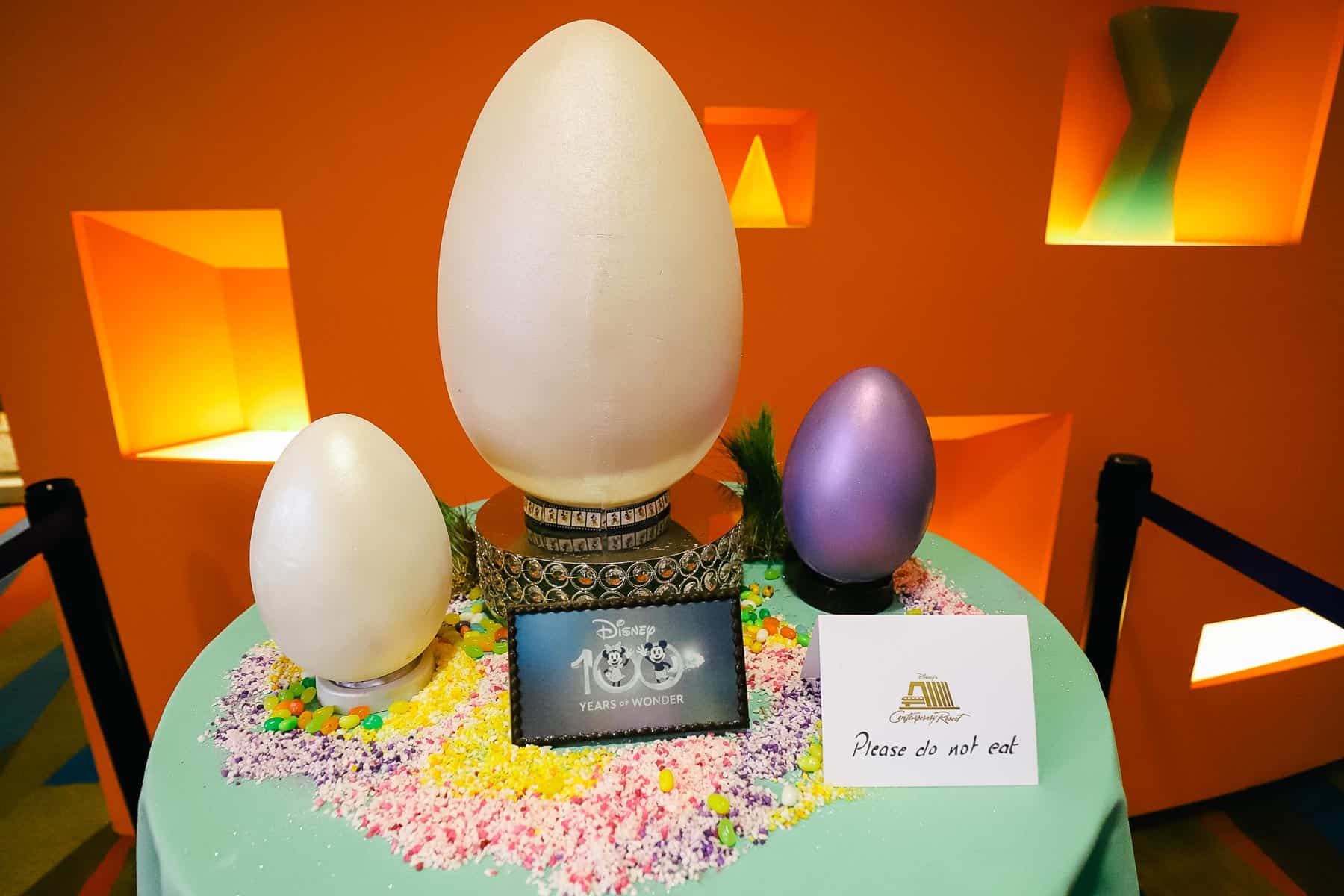 Another set featured Mickey and Minnie Mouse and the Runaway Railway attraction. "Nothing can stop us now!"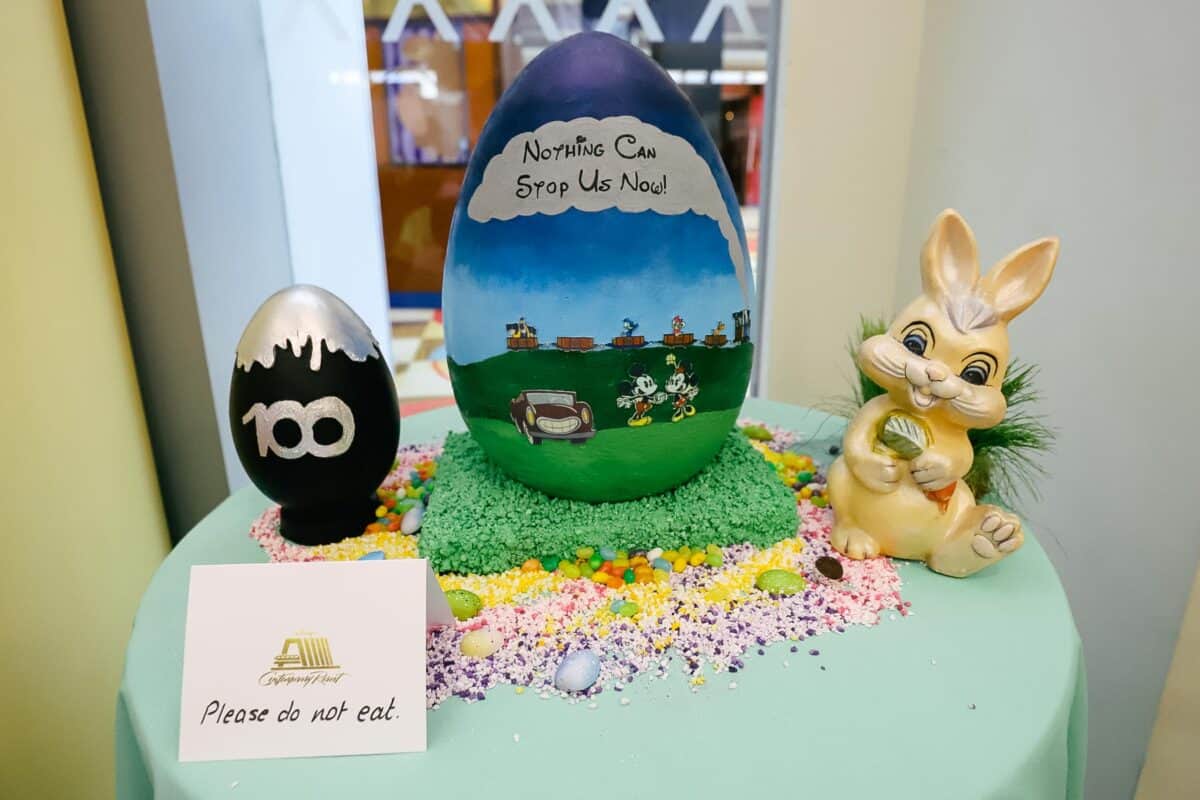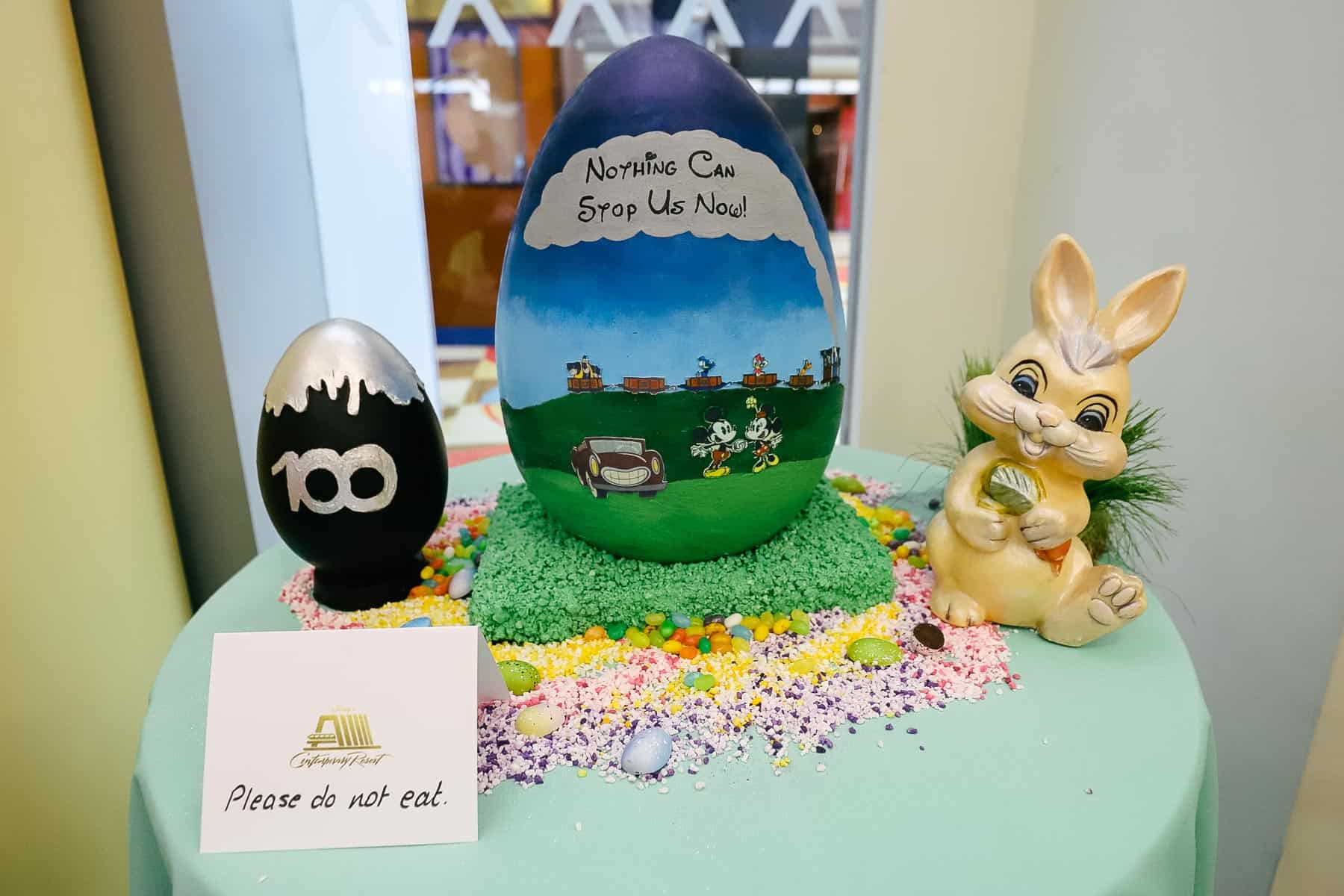 I don't know about you, but I found all the "Please do not eat" signs a little humorous. But, with that said, some parents seem oblivious to their children's behavior. Hopefully, those children can read.
Since writing this article, we've added a guide for finding all of the Easter Egg Displays at the Disney World Hotels. It includes the Easter Eggs at Disney's Yacht Club, which are themed to Finding Nemo and Finding Dory this year!
For more information about the resort, we have a resort guide:
You might also enjoy some of these other articles:
In the Comments
What do you think of the Easter Eggs at Disney's Contemporary Resort? Do you have a favorite?