Proposed Disney Vacation Club Tower for Disney's Polynesian Villas
The Disney Vacation Club recently announced a new proposed expansion for Disney's Polynesian Villas and Bungalows. It appears that this further expansion will reside along the walkway between Disney's Polynesian Village Resort and Disney's Grand Floridian Resort and Spa.
Unfortunately, this news means the Spirit of Aloha Dinner Show will remain permanently closed. Below is the rendering for this new project.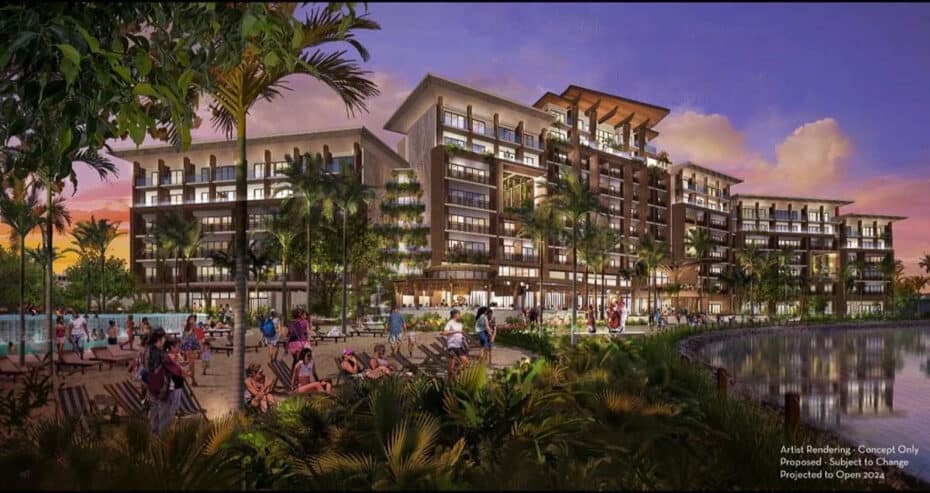 At this time, there haven't been many details released about the expansion. However, Disney fans seem divided over the idea of this modern hotel.
Long-time Polynesian fans are afraid this contemporary-looking structure will ruin the overall look and vibe of the resort. At the same time, many DVC members are hopeful that one, two, and three-bedroom villas will be added to the mix.
Currently, the Polynesian Villas only offers deluxe studio villas and the two-bedroom Bora Bora Bungalows that sit out over the water. You may remember we recently took a look at the newly remodeled deluxe studios at the Polynesian.
Related: Deluxe Studios at Disney's Polynesian
As for me, one sentence of the press release stood out more than any other:
"Proposed plans would offer additional rooms, new recreation offerings, and dining options."
New dining and recreation are needed at the Polynesian. While I love the resort, the lounges, restaurants, and pools are nearly always packed.
Of course, with this addition comes more rooms, which will mean more guests.
Additionally, I can't help but wonder what else will have to go to construct this tower. How will it blend in next to the Grand Floridian wedding chapel? Or will it?
Those, along with many other answers, remain unknown at this time. So make sure to check back as we follow the progression of the new villa resort at Disney's Polynesian.
Related: Construction Progress at Disney's Polynesian Resort (New Hotel)
In the meantime, you might enjoy these other articles related to the resort:
In the comments:
What are your thoughts on this proposed construction at Disney's Polynesian Villas? Are you for the expansion or have misgivings?