Gift Shops at the Disney World Resorts (Don't Miss a Few of These!)
Below we provide a list of the gift shops at the Disney World Resorts. Additionally, we rank our choices for the best gift shops at the resorts. You don't want to miss a few of these!
For most of us, a vacation to Walt Disney World includes a few trips to the gift shops. It's just part of the fun.
Whether you're looking to bring home a souvenir for someone or an item that will serve as a reminder of your vacation for many years to come, the gift shops have something for everyone.
Of course, there are plenty of shops to browse in the Disney Parks. But often, it's simple to pick up an item at your resort.
And I don't know about you, but I almost always want a piece of resort-branded merchandise to show off where I stayed. Most resort gift shops offer items like beach towels, robes, and apparel with the resort's logo.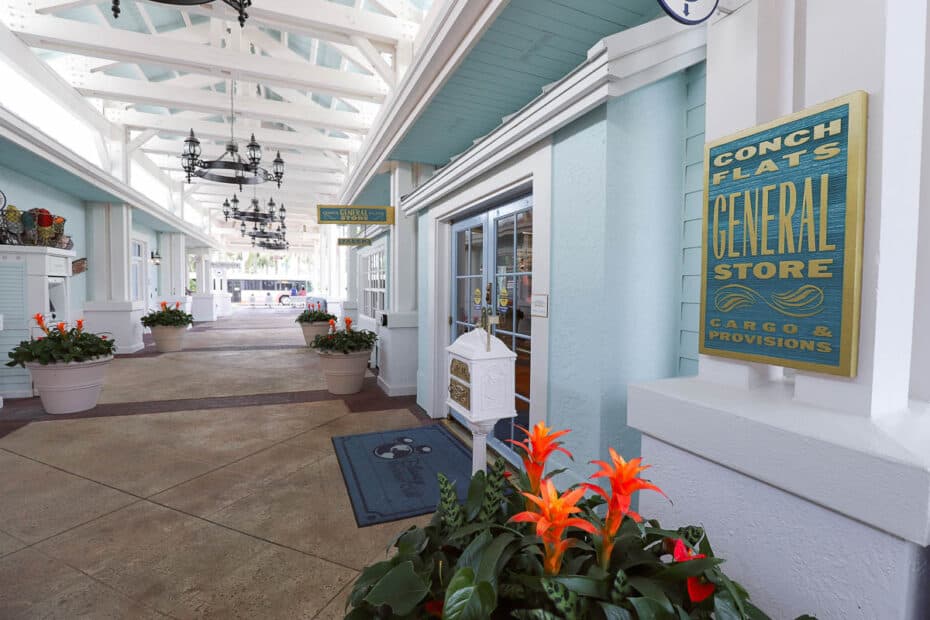 Over the last year, we've visited all of the resort gift shops at Walt Disney World. Below, you'll find a link to each of them.
You can select anyone on the list to preview the type of merchandise you'll find at that gift shop. However, keep in mind that styles change from time to time.
So not every item pictured will be available. But you will get an idea of what kind of sundries, snacks, and other essentials will be available during your stay.
List of Resort Gift Shops at Disney World
Each resort's gift shop is listed below by category of the resort.
Value Resort Shops
Moderate Resort Shops
Deluxe Resort Gift Shops
Villa Resort Gift Shops
Best Resort Gift Shops at Disney World
While we love all the gift shops at the resorts, a few stand out a little more than others. Below we've ranked our five favorite resort gift shops at Disney World.
If you're looking for something special, these are some of the best shops to browse during your vacation!
#5 La Boutique at Disney's Riviera
Everything at Disney's Riviera Resort has a boutique feel, so it's appropriate that the gift shop's name is La Boutique. While this shop is super tiny, it packs a punch when it comes to merchandise.
If you're not staying at Disney's Riviera, you might enjoy visiting the resort via the Skyliner. You can stop in for a meal and some shopping while you're there.
La Boutique is located on the resort's second floor, off the main lobby. Don't miss the Riveria-specific merchandise at this shop. If only every resort modeled this one!
You can preview photos of the merchandise available on our last visit here.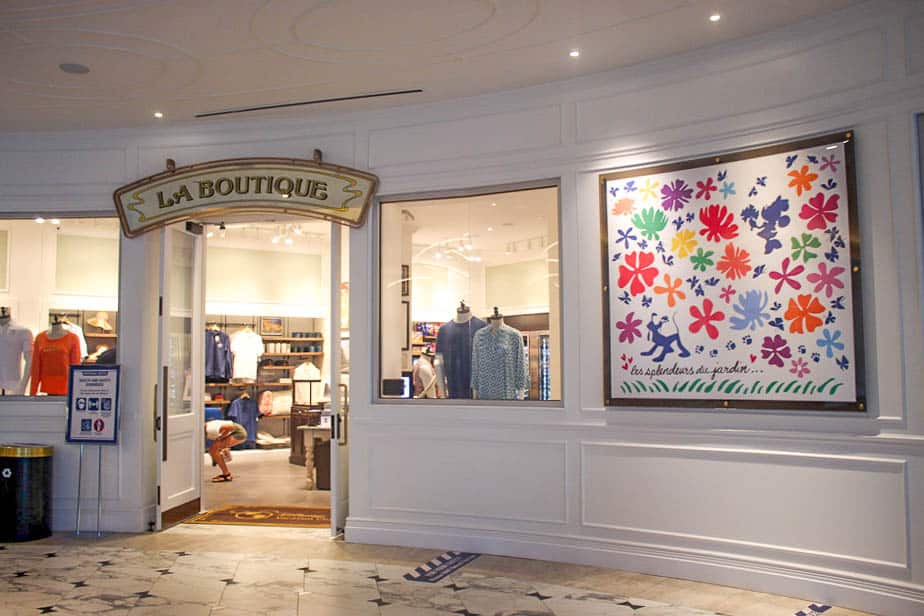 Tip: Since Disney's Riviera is a DVC (Disney Vacation Club) Resort, you'll usually find an entire section of DVC merchandise. So DVC members, this is a perfect shop for you!
#4 Panchito's at Coronado Springs
Panchito's used to be one of the most fun gift shops at Disney World. Unfortunately, most of the props that made it fun were removed a few years back when Disney's Coronado Springs Resort was remodeled.
With that said, Panchito's is still an excellent gift shop. First, they usually have tons of resort-branded merchandise representing Coronado Springs.
Secondly, this massive gift shop is filled to the brim with apparel, toys, art, snacks, gifts, and many souvenirs. You could spend a good amount of time shopping here.
Panchito's is located inside El Centro, the main lobby at Coronado Springs. You can preview merchandise from our last visit here.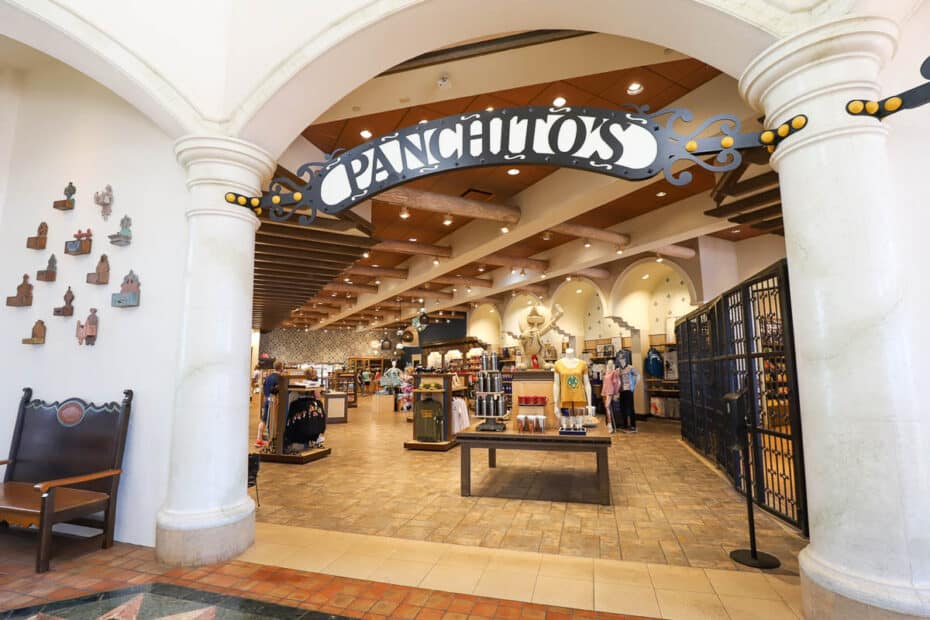 #3 Zawadi Marketplace at Animal Kingdom Lodge
Any reason to visit Disney's Animal Kingdom Lodge is a good reason. One of those reasons could be to visit Zawadi Marketplace.
This gift shop has all of the usual souvenirs. But they also have an extensive collection of African animal wood carvings. Often, you'll find a native African wood carver sitting outside the entrance of the gift shop crafting his wares.
You might also find a few cheetah print items like Minnie Mouse Ears or a Disney backpack by Loungefly. Both are usually available when we stop in to browse.
Zawadi Marketplace is located on the immediate right once you enter the Jambo House lobby. Additionally, a secondary entrance from the outside walkway leads down to the bus stop. Photos from our latest visit are available here.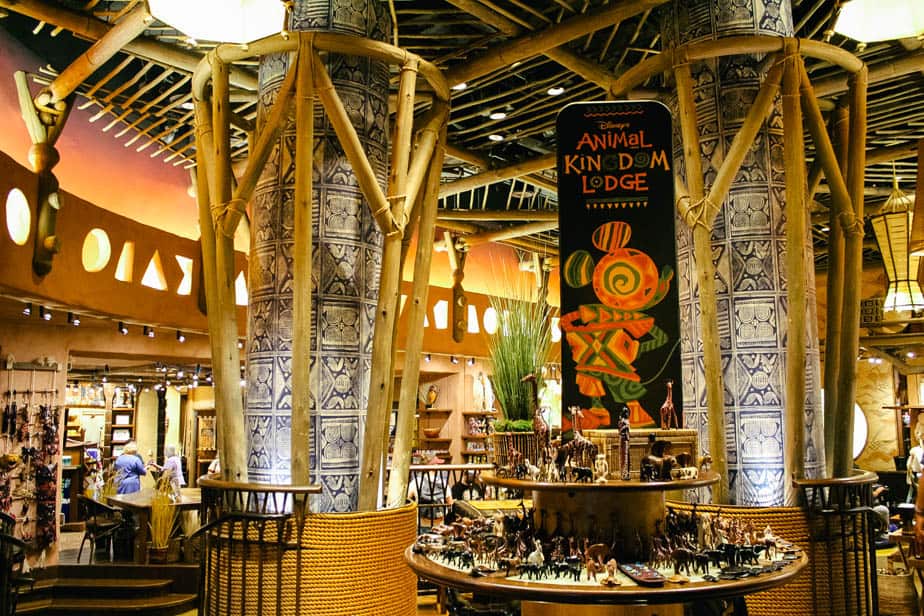 #2 Boutiki at Disney's Polynesian
Have you ever had a store where you knew you were in trouble before you got there? Well, Boutiki at Disney's Polynesian Village Resort is one of them for me.
As I write this, several cute Tommy Bahamas dresses are on my mind. Maybe they'll be sold out soon before temptation gets the best of me.
However, there will likely be something new to replace them because Boutiki has tons of cute merch! Don't say I didn't warn you if you stop in for a visit.
Photo's from one of our recent visits to Boutiki are available here. Poly's gift shop is located on the first floor of the Great Ceremonial House.
Tip: The Polynesian Tiki Lamp is notorious for getting broken during shipping.
#1 BVG at Disney's Contemporary
Ask any day, and we'll tell you that the best gift shop among the Disney Resorts is the BVG, short for Bayview Gifts at Disney's Contemporary Resort. While Boutiki gives this store some fierce competition, the BVG gets a bit of an edge.
Why? Well, where else would you find monorail merchandise? This shop is also constantly refreshed with the latest items. It's a real treasure trove.
You'll find BVG on the resort's Grand Concourse floor. Inside the shop, a few windows look out to stunning Bay Lake. Hence the name Bayview Gifts.
See why we love this shop here in our photo post of the gift shop.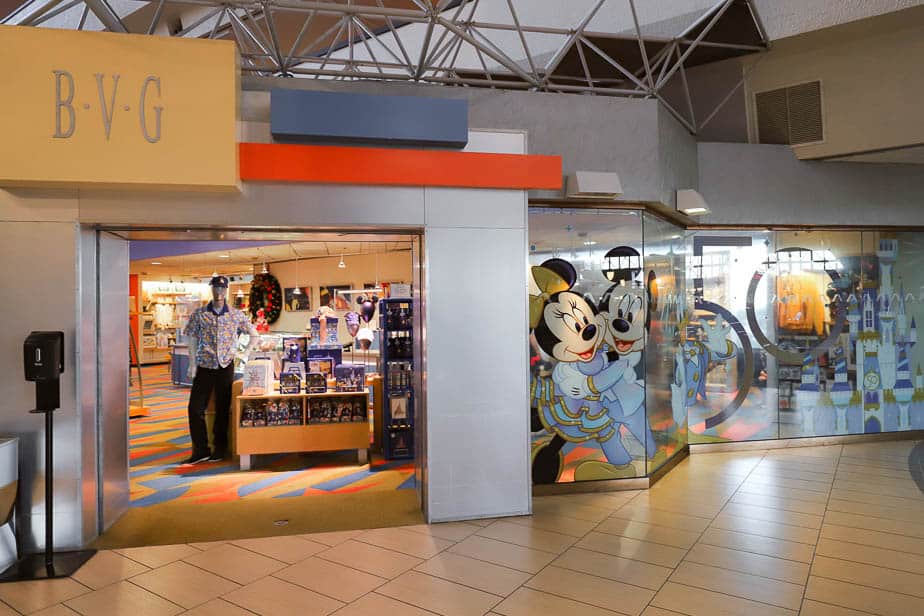 Tip: If you're looking for the latest Disney Dooney and Bourke bags, this is an excellent place to check. They usually have a nice selection along the back wall.
Final Thoughts on the Resort Gift Shops at Disney
Overall, we love all of the resort gift shops at Walt Disney World. However, the ones mentioned above require a stop every time we visit the resorts. So we consider them a little extra special.
For more resort-related information at Walt Disney World, you might enjoy the following:
In the Comments
What are your thoughts on the resort gift shops at Walt Disney World? Do you have a favorite? What kind of souvenirs or purchases do you usually make at gift shops?
Planning a Walt Disney World or other Disney Destination vacation?
Our friends and travel partner, Firefly Travels, excels at doing Disney differently. You can fill out a plan your trip form on their website, and someone will reach out shortly to discuss the specifics.