Steakhouse 71 Lunch Review (A Lunch Not Far From the Magic)
You probably didn't think we'd return to Steakhouse 71 at Disney's Contemporary anytime soon! But with a fresh breakfast review out of the way, I was reminded of a few lunches I'd had at the restaurant over the last couple of months.
So I thought it would be fun to put together a quick lunch review of Steakhouse 71 and share why I dine here regularly. Let's face it. We both know when it comes to dining at Magic Kingdom, the options are pretty terrible.
Insert–Steakhouse 71—a place to enjoy lunch only minutes from the magic. You'll only need to exit the park and monorail or walk to the Contemporary. However, it's probably a good idea to check availability before you head that way. That said, I have found that I can usually get lunch reservations here easier than breakfast or dinner.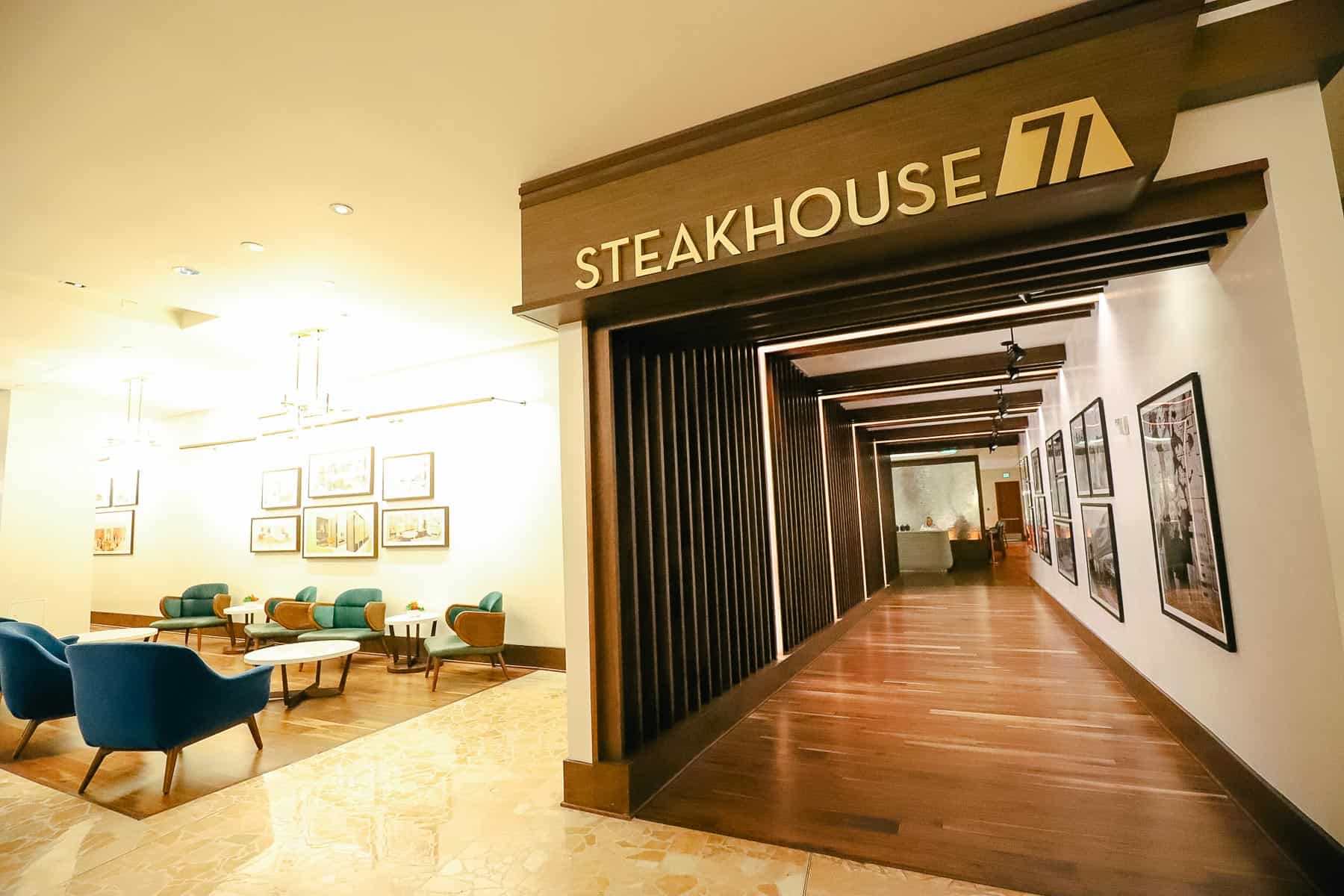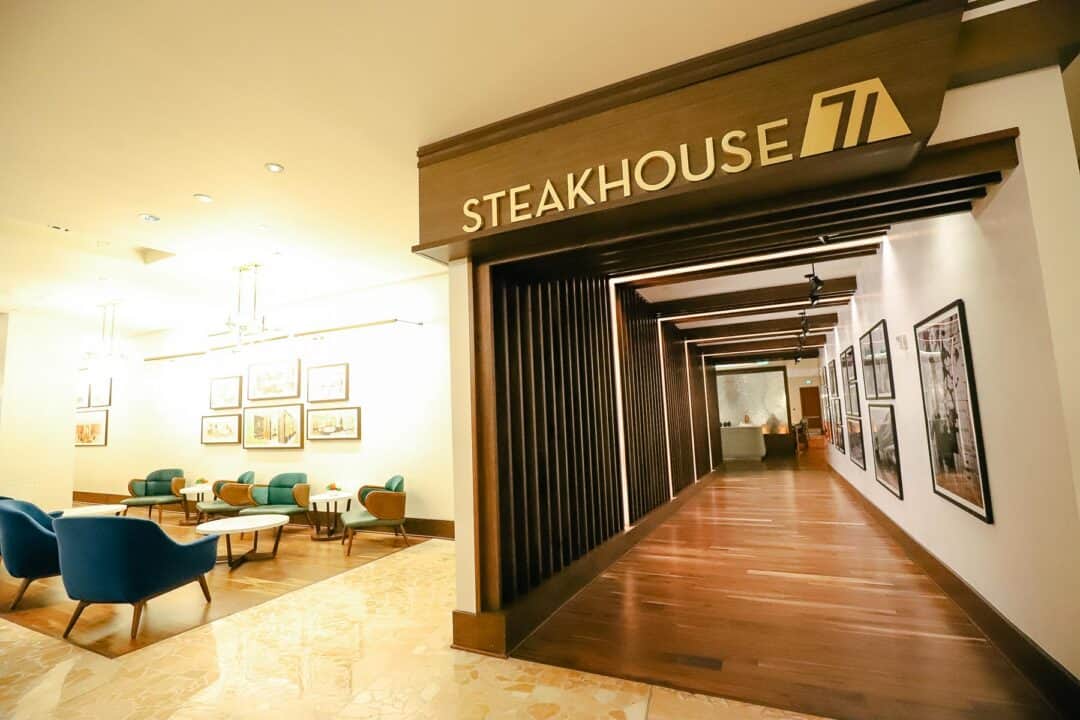 Steakhouse 71 is open daily for breakfast, lunch, and dinner. Lunch hours are between 11:30 a.m. and 2:00 p.m. Seating in the attached lounge is available after 2:00 p.m. While the lounge has a limited menu, it has been my experience that you can still order from the regular menu while the dining room is closed.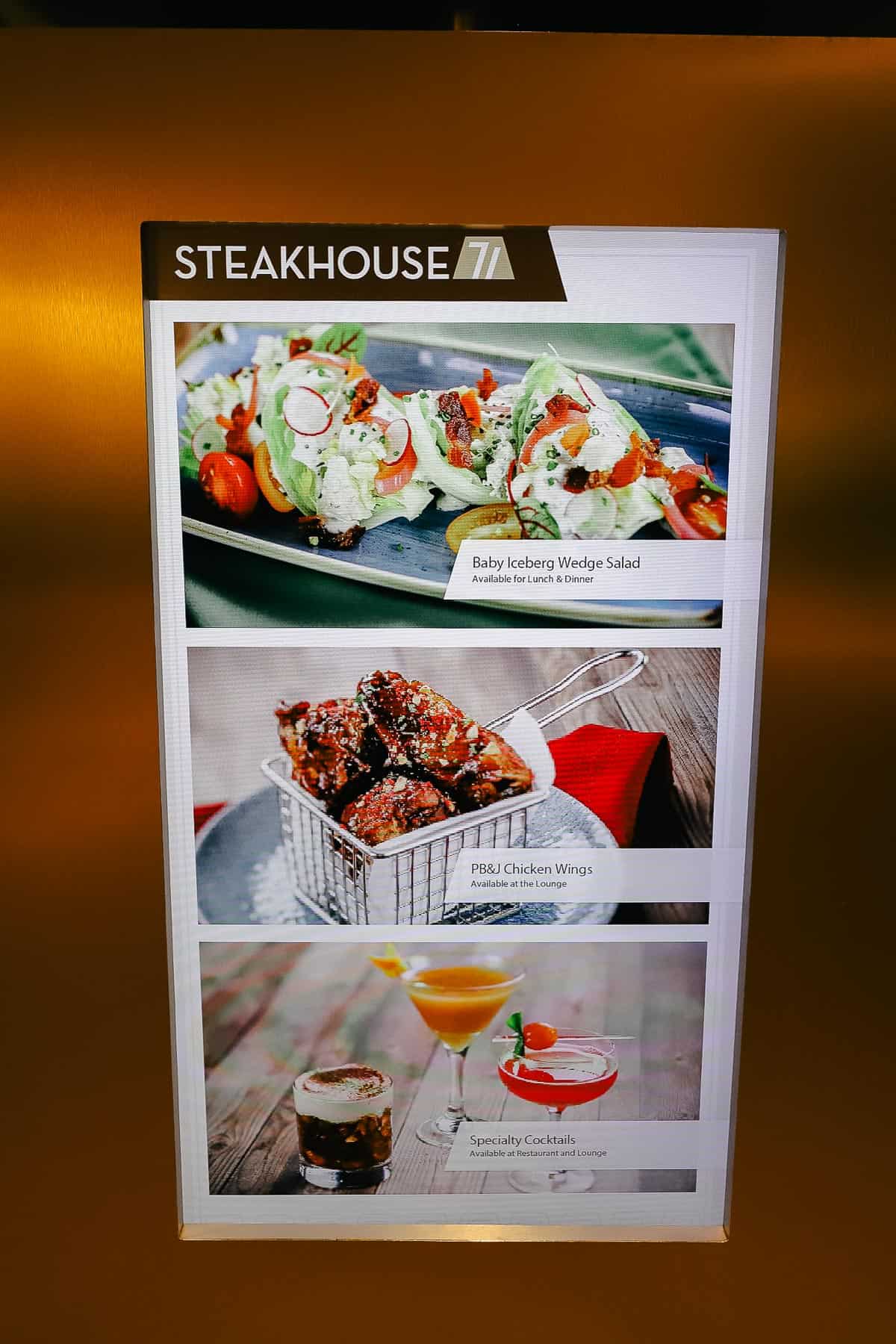 Steakhouse 71, formerly The Wave, was refurbished a few years ago. It underwent a name change during that time, and the 71 was added to celebrate the Contemporary's 1971 opening.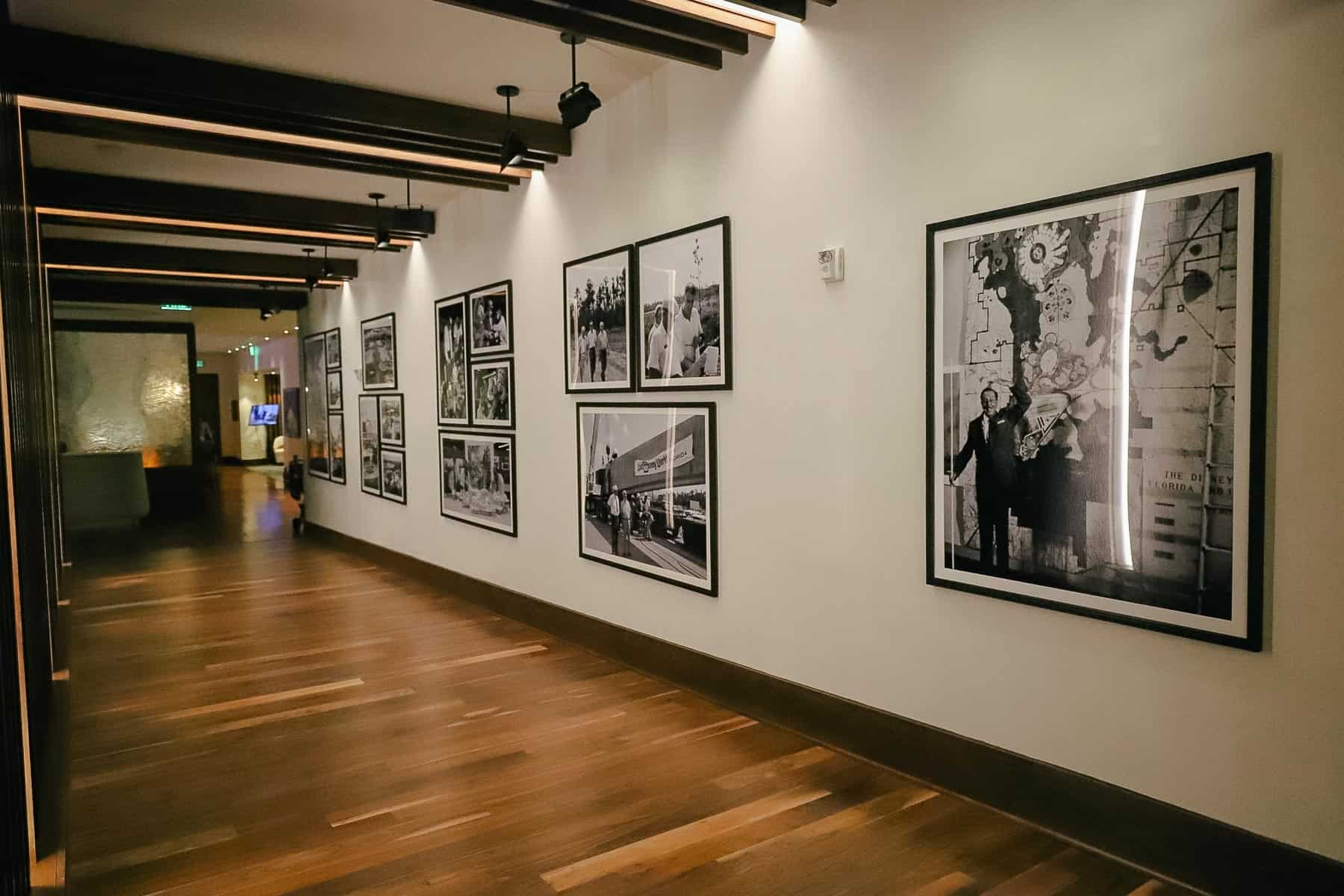 A gallery featuring vintage photos is displayed at the entrance. If you are interested in Walt Disney World's history, you might enjoy taking some time to observe the collection.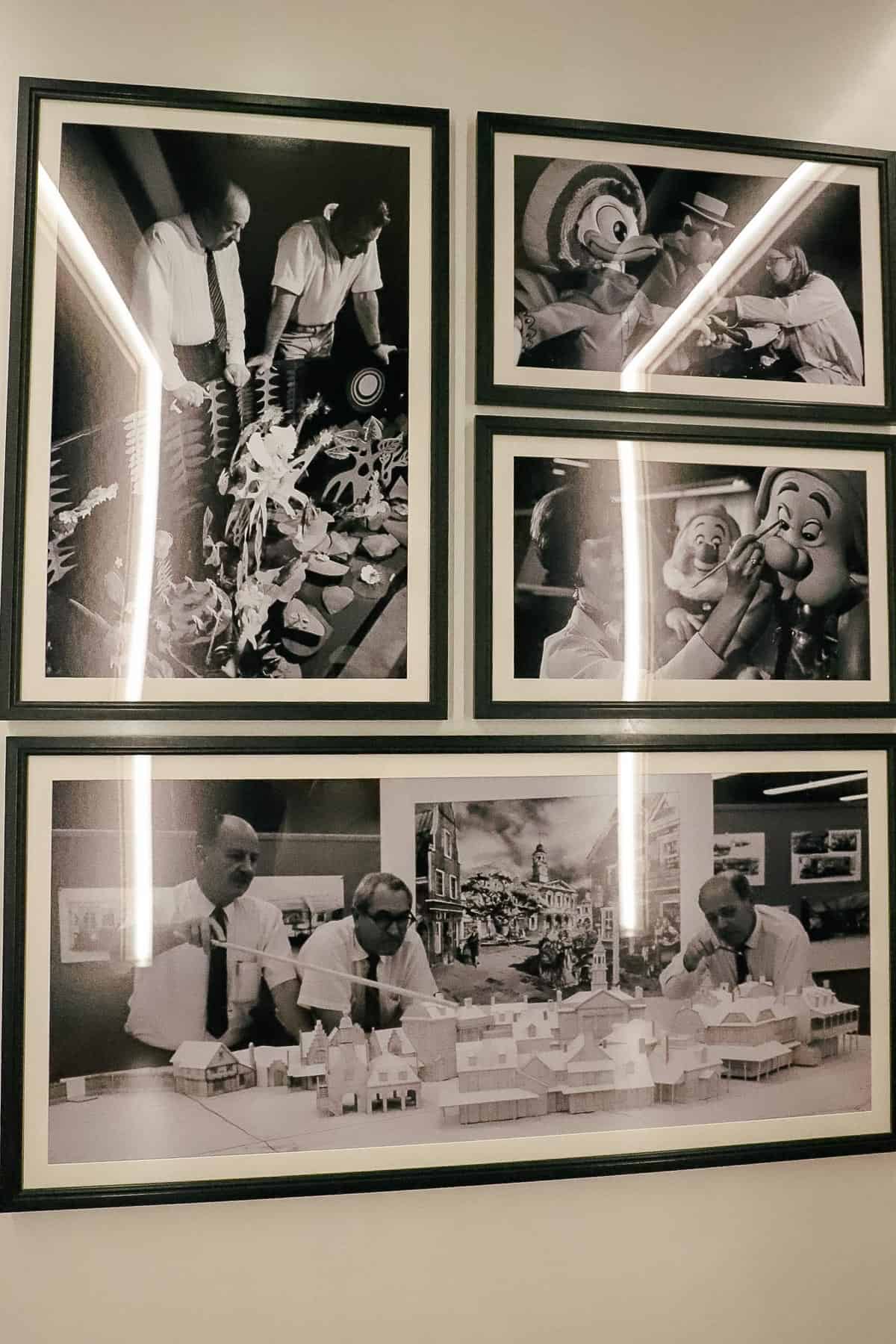 Some of the pieces portray the early days of the Contemporary.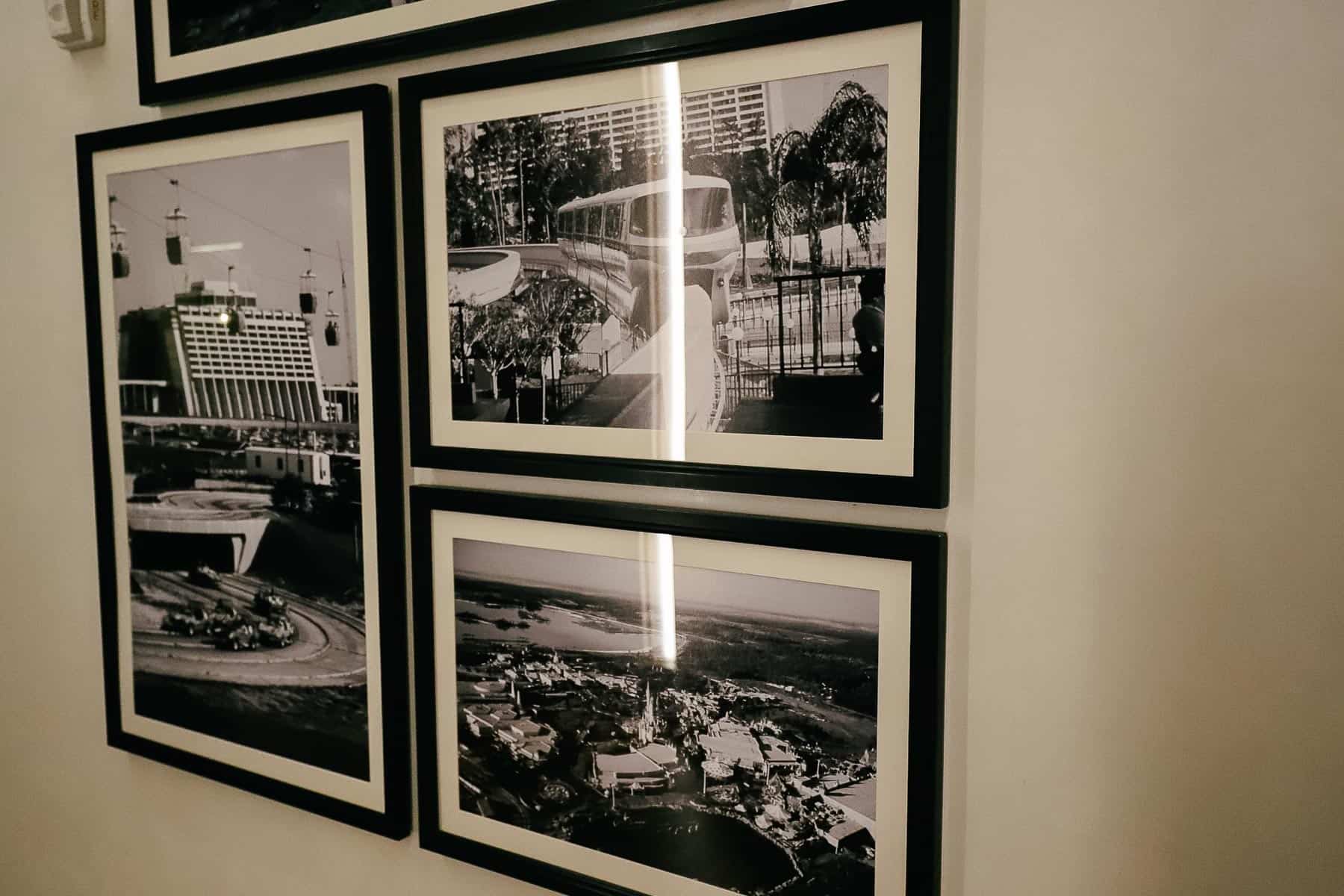 Here is a photo of the menu, or you can preview it on Disney.com.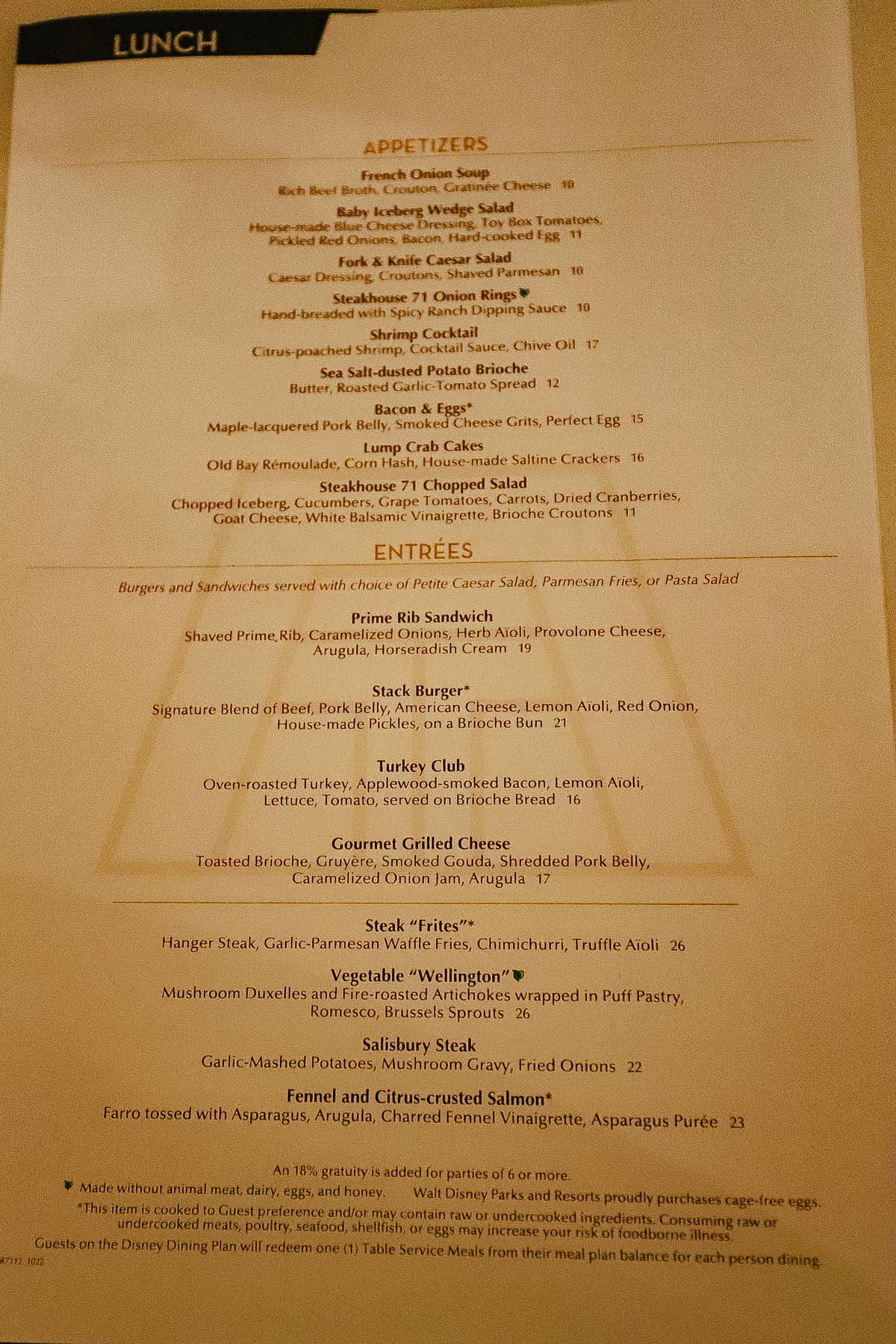 Steakhouse 71's most popular menu item is, without a doubt, the Stack Burger. Unfortunately, I haven't tried this item yet. But it gets rave reviews.
My mind often wanders to the sandwich portion of any lunch menu. Who doesn't like a good sandwich? So on my last visit, I ordered the turkey club.
This item is described as oven-roasted turkey, apple-wood smoked bacon, lemon aioli, lettuce, and tomato served on Brioche. It comes with a choice of a petite Caesar salad, parmesan fries, or pasta salad.
For this visit, I ordered the sandwich minus the tomato and requested a side of honey mustard. It was a sizable sandwich that I could have easily shared with someone.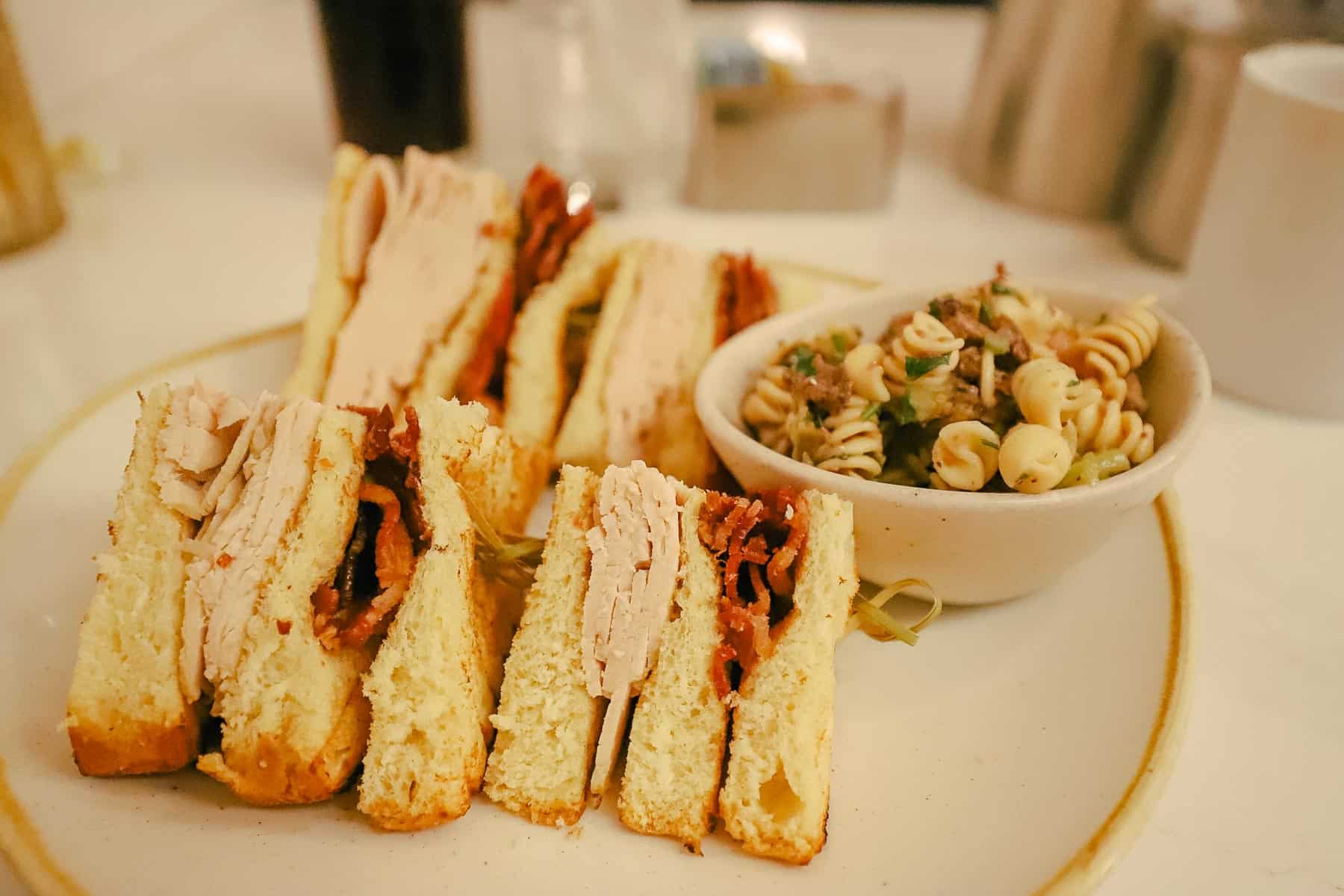 But what impressed me the most was the pasta salad. It was refreshing and a nice change from the usual side of potatoes.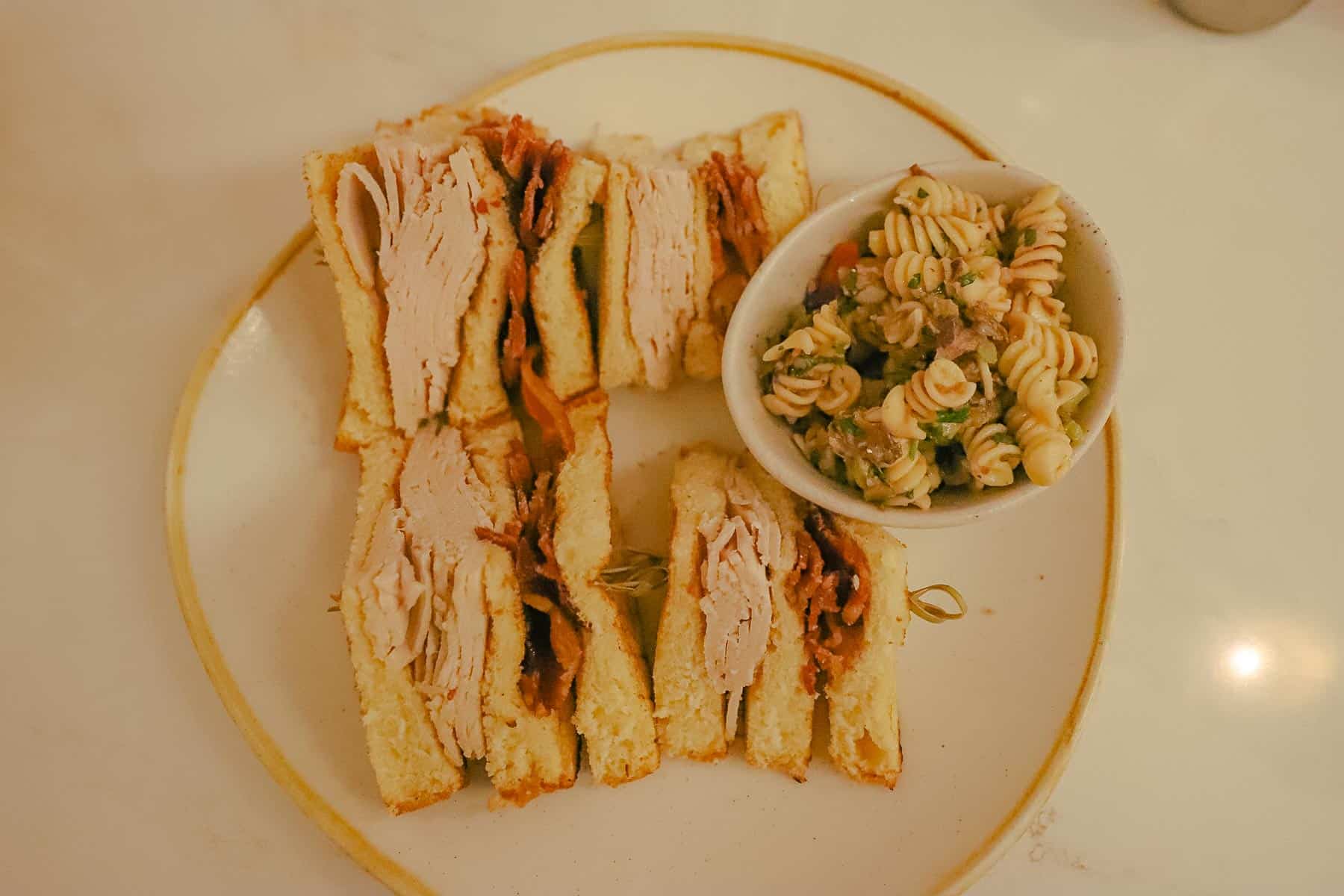 On a previous visit, I was intrigued by the gourmet grilled cheese. This item features toasted Brioche, Gruyere, smoked Gouda, shredded pork belly, caramelized onion jam, and arugula. I ordered the parmesan fries with this meal.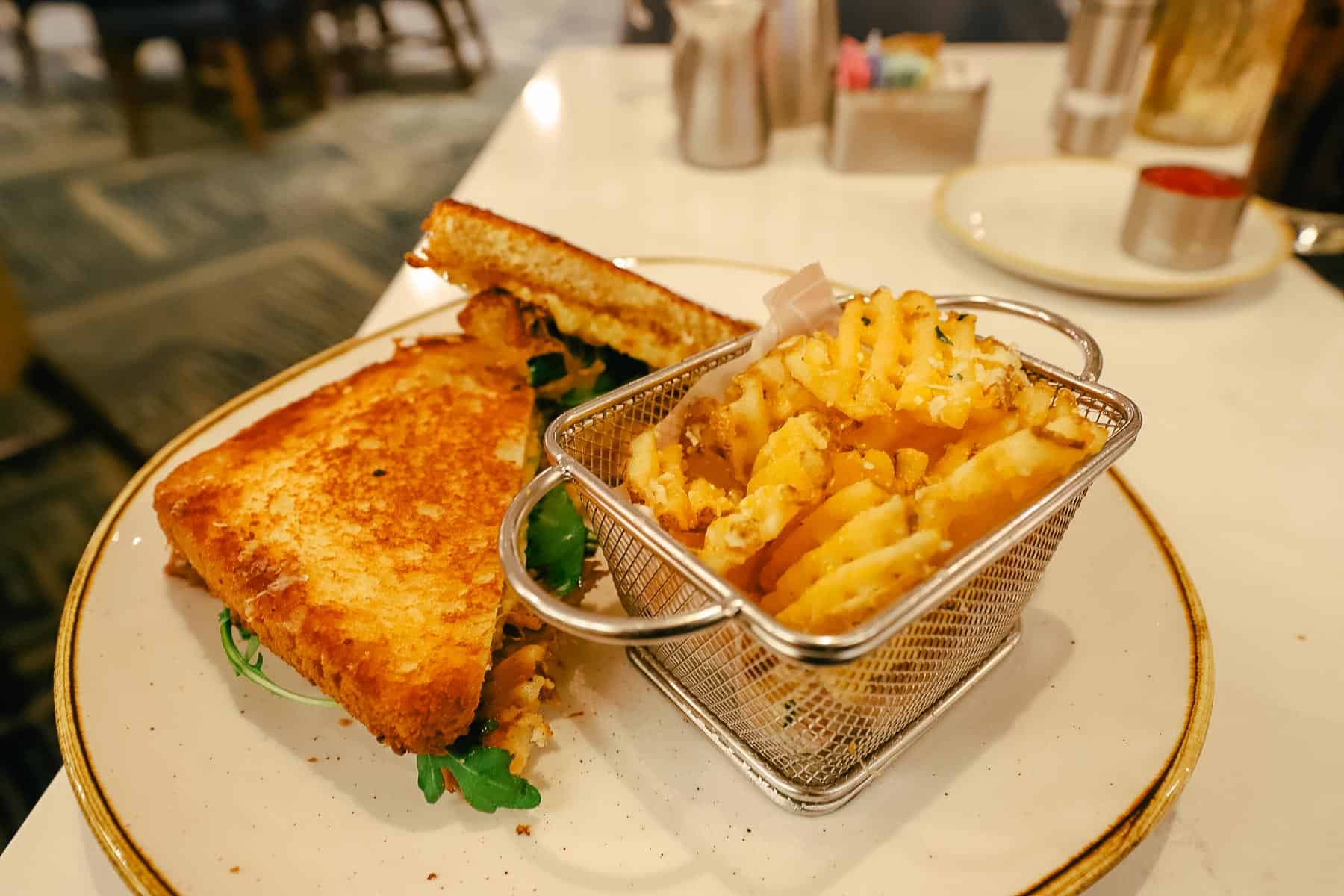 It was another tasty sandwich, and I would gladly order it on a return visit. The waffle fries were also good. But I would have difficulty passing up the pasta salad, and I've yet to try the petite Caesar salad.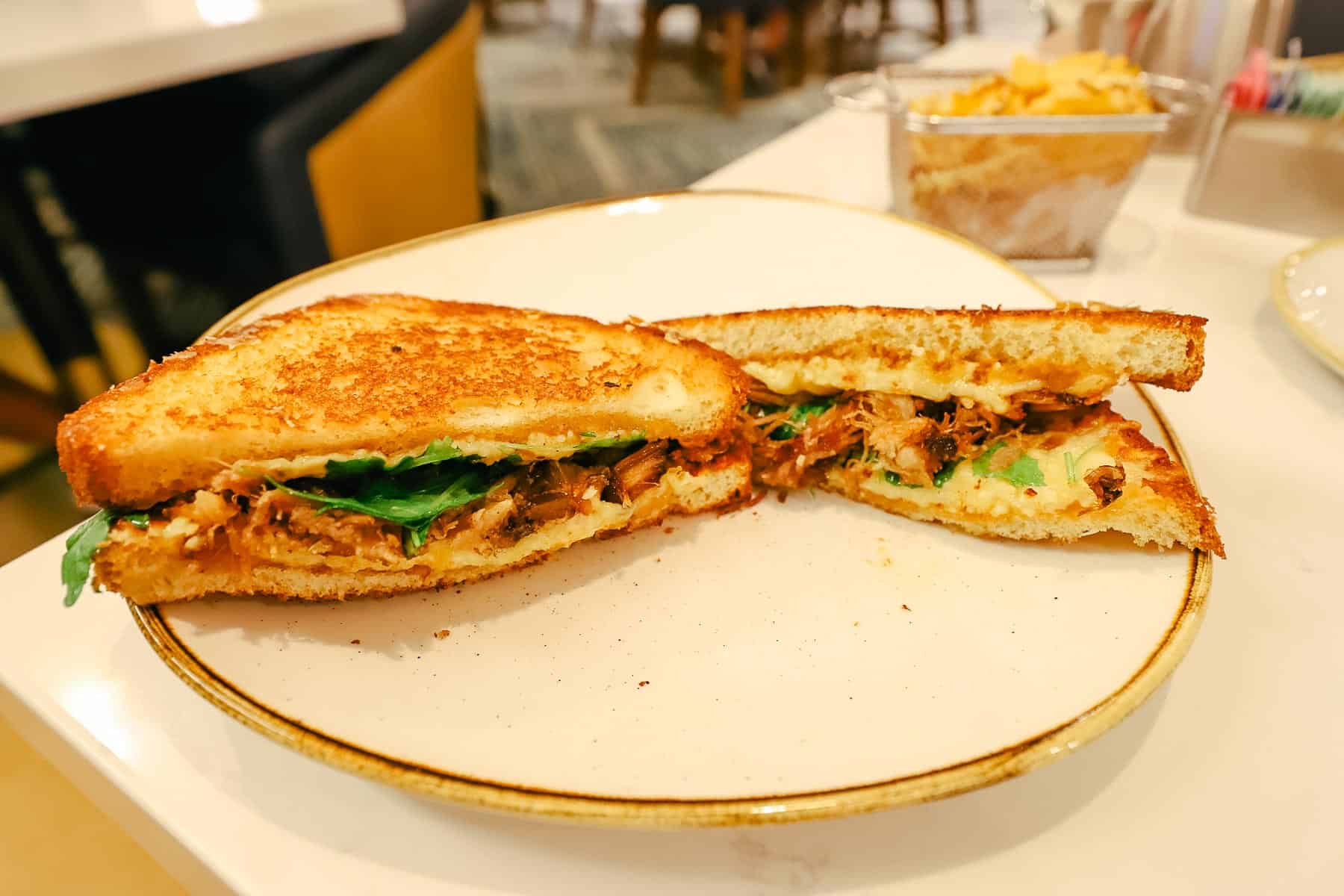 Lastly, Steakhouse 71 accepts mobile orders, so you can get away with ordering a kids' meal. This is one of my favorite things to do when I'm hoping to enjoy something along the lines of table service that won't break the budget.
Below is the 4 oz beef filet kids' meal with mashed potatoes and broccoli. On this visit, I added the appetizer portion of the Steakhouse 71 chopped salad. When my order was ready, I took it upstairs and found an empty table and chairs on the resort's 4th floor that looked out to Bay Lake.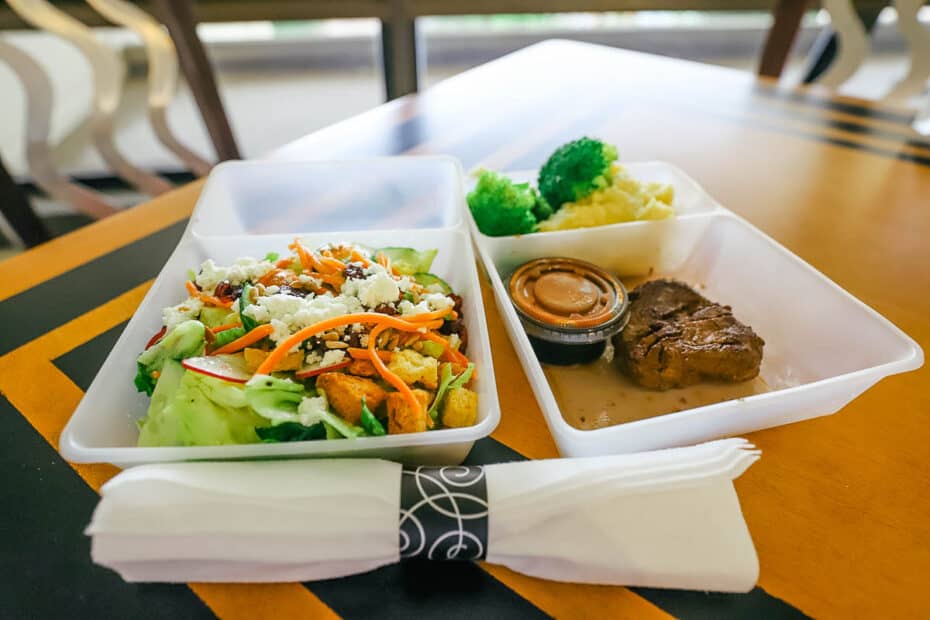 It was an excellent meal, and I had more than enough food since I had ordered the side salad. It was also lovely to enjoy a quality piece of steak that didn't cost $50.00 or more!
Ultimately, Steakhouse 71 is a dining option worthy of your consideration. If you're at Magic Kingdom and need a break from the heat, keep this restaurant in mind. You can check the My Disney Experience app for a reservation on the fly. Additionally, it will list whether or not they have availability for walk-ups.
Some of our other favorite places to grab a bite for lunch include:
Or you can preview our entire list of Disney Restaurant Reviews.
For more information about Disney's Contemporary, you might enjoy our resort guide:
Or these individual articles:
In the Comments
Have you had lunch at Steakhouse 71? Would you consider leaving Magic Kingdom for lunch in a more relaxed environment?