Chicken Guy! Review (Disney Springs Location)
In this article, we provide a review of Chicken Guy at Disney Springs. We'll look at the quality of the meal versus the price and how long you can expect to wait on a busy Friday evening.
Chicken Guy! is a counter-service dining location at Disney Springs, most commonly known for its chicken finger menu. It's also celebrity chef Guy Fieri's restaurant.
You've probably at least heard of Guy's popular television show, Diners, Drive-Ins, and Dives, which airs on the Food Network. But, of course, Guy hosts numerous other television shows these days.
Chicken Guy is technically located in the Town Center area of Disney Springs. However, its location borders the West Side and is closest to the Orange parking garage.
You'll find the restaurant on the backside of Planet Hollywood. It sits directly across the walkway from Wolfgang Puck's Bar and Grill.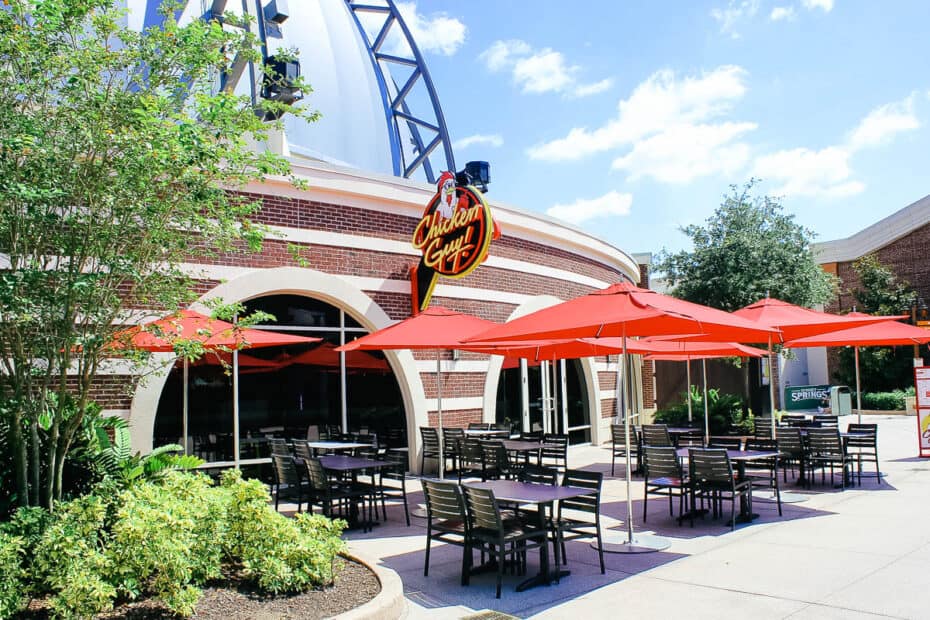 Here are a few quick reference details for Chicken Guy!
| | |
| --- | --- |
| Disney Springs Restaurant | Chicken Guy! |
| Location: | Town Center |
| Type of Service: | Quick Service |
| Type of Food: | American |
| Price Range | $14.99 and Under |
| Disney Dining Plan | Unavailable |
| Tables in Wonderland | No |
| Annual Passholder Discount: | No |
| Menu | View Here |
A menu is posted outside of the restaurant. Pretty much everything at Chicken Guy! consists of chicken fingers.
For entrees, they have chicken fingers sandwiches, chicken tenders, and salads with chopped chicken. You can order the chicken crispy fried or grilled all-natural.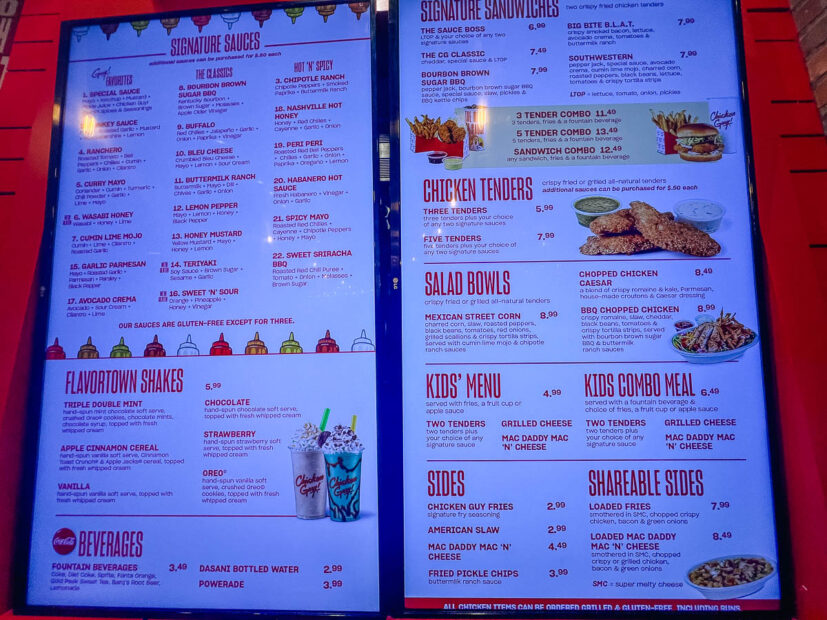 In addition to chicken fingers, there are sides like fries, slaw, mac-and-cheese, and fried pickle chips. Kids' meal options include tenders, grilled cheese, or mac-and-cheese.
For dessert, you can order one of the Flavortown Shakes. Flavors include triple-double mint, apple cinnamon cereal, vanilla, chocolate, strawberry, and Oreo.
And then there's the sauce. Chicken Guy! has over 22 different selections of sauces.
Each meal comes with a choice of two sauces. In addition, you can purchase individual sauces for 50 cents each.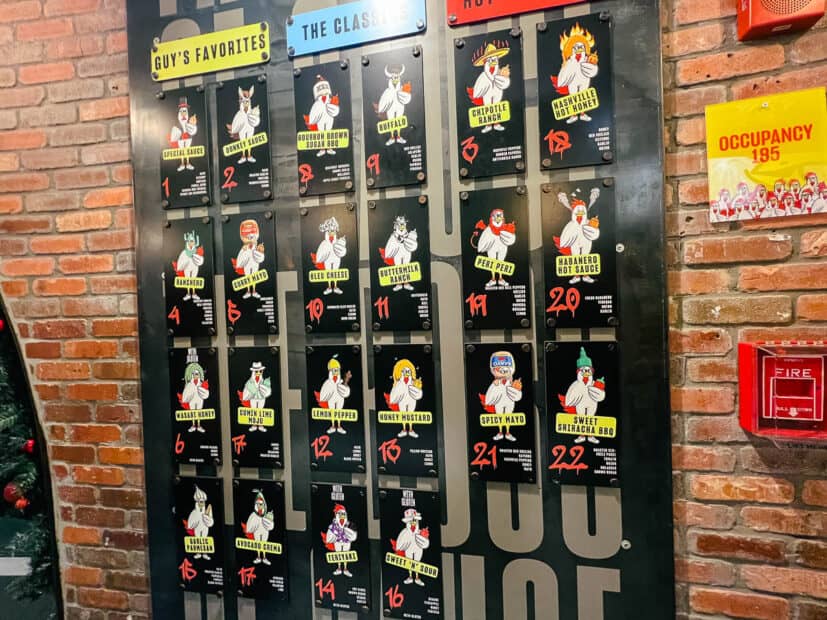 When I arrived at Chicken Guy! this Friday evening, there was a significant line. However, every restaurant had a line, and there were no reservations at any table-service restaurants.
So anyone with plans to dine at Disney Springs was in for a wait. That wait was approximately one full hour from when I got in line until I sat down to eat.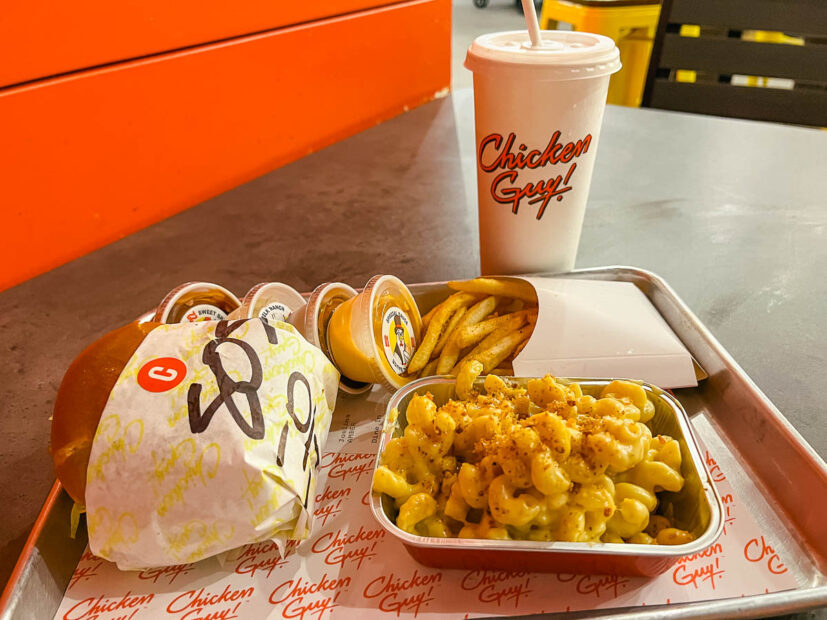 Since this was my first visit to Chicken Guy! I wanted to try the chicken sandwich and fries. Also, I couldn't resist ordering their Mac Daddy mac-and-cheese.
Chicken Guy's mac-and-cheese was right up my alley. My portion was a little more on the dryer side of things, which I prefer. It came topped with a crispy panko-like topping.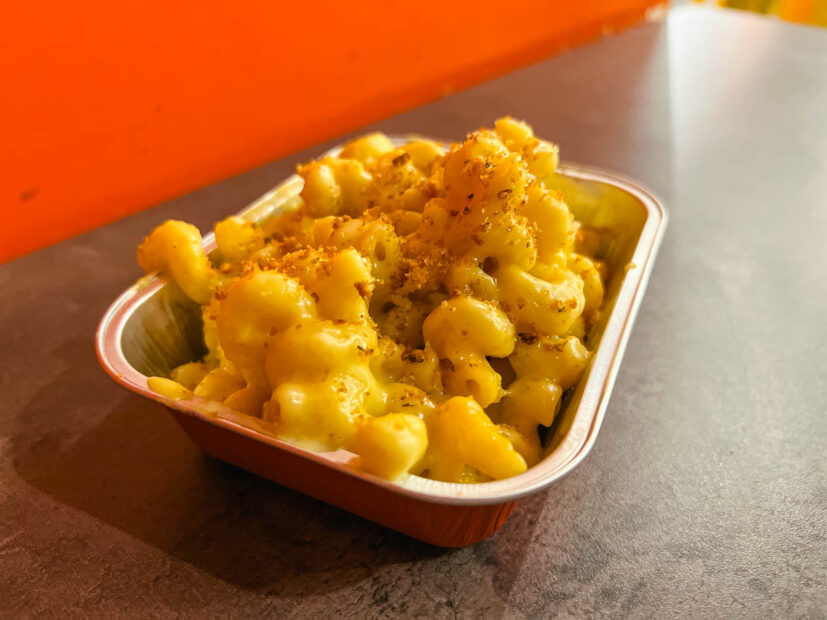 For less than $5.00, I was pleased with the portion size. Everything I ordered felt tremendous in size. There was no way I could come close to finishing anything.
I ordered The CG Classic combo for my main meal. A combo comes with a chicken sandwich, fries, and a soda. It was $12.49 at the time of this visit.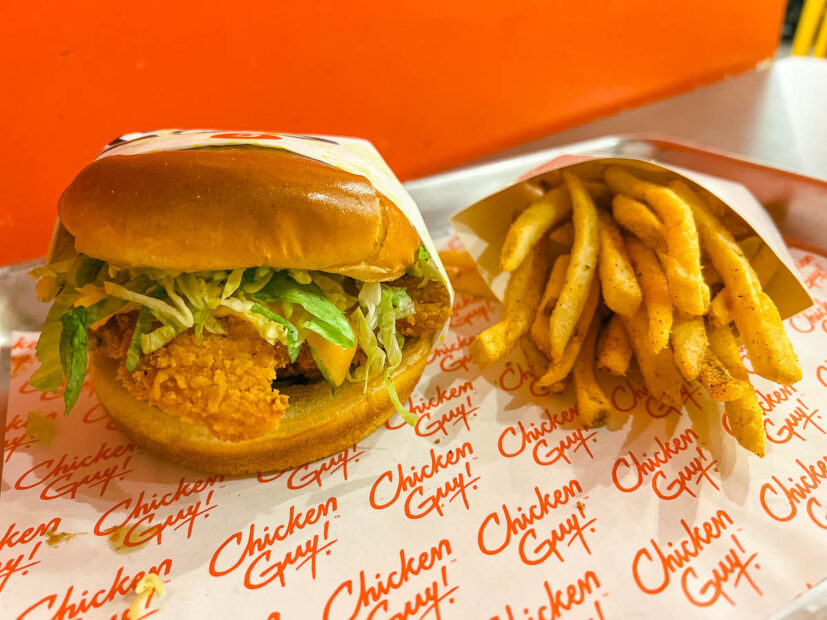 The CG Classic comes with two chicken fingers (yes, that's two!), lettuce, tomato, pickles, onions, cheddar, and Guy's special sauce.
For reference, the special sauce is a mixture of mayo, ketchup, mustard, pickle juice, and Chicken Guy! special spice seasoning. I ordered my sandwich minus the tomato and onion with the special sauce on the side.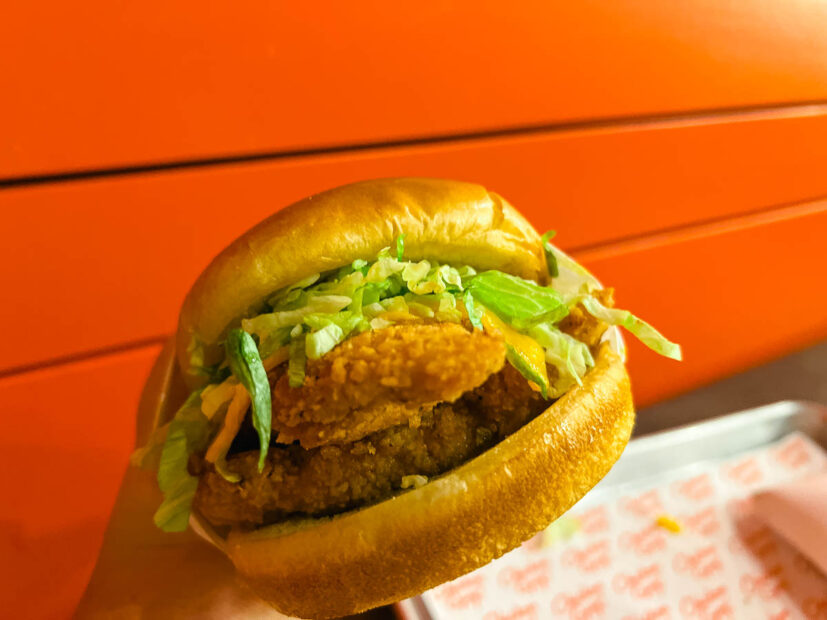 This was a delicious sandwich that I could have split with someone else. Had I anticipated how large this meal would be, I would have ordered it to-go and taken part of it home for later.
As for the fries, they were delicious. They came coated with Guy's signature fry season, which was a nice touch.
Now, for those sauces.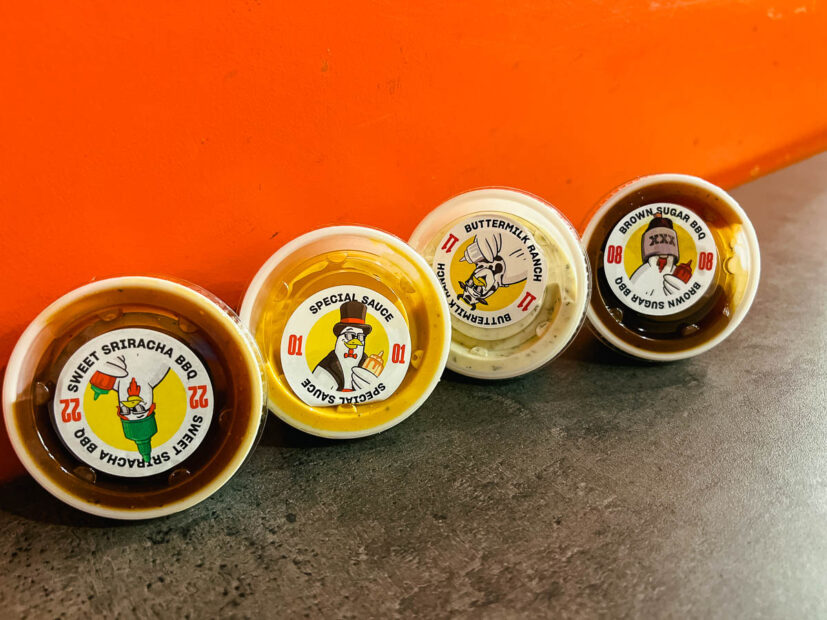 Two came with the meal, and I ordered an additional two on the side. Here are my choices:
01 Special Sauce
08 Brown Sugar BBQ
11 Buttermilk Ranch
22 Sweet Sriracha BBQ
Per the menu, sauces fall into these categories Guys' favorites, The Classics, and Hot 'n' Spicy.
Unfortunately, I wasn't a fan of the special sauce. But since I don't care for mayonnaise, I didn't expect to like it.
However, I also didn't expect to enjoy the Buttermilk Ranch, which ended up being my favorite of the sauces. Additionally, I loved the Sweet Sriracha BBQ sauce. It was hot but not unbearable.
As for the Brown Sugar BBQ sauce, I found it comparable to an average barbeque sauce. It was okay, but there wasn't anything out of the ordinary about it.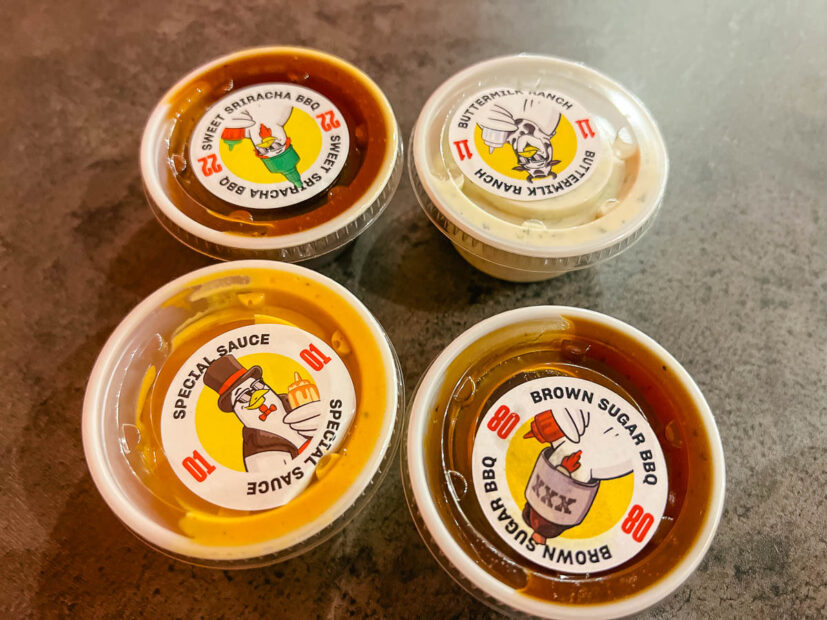 Overall, I enjoyed my meal and was impressed with the tender, juicy chicken. It was an excellent sandwich between it and the perfectly toasted buttery bun.
At less than $20.00, this meal also felt like a good value, especially considering I was at Disney Springs. Blaze Pizza is the only other counter service restaurant that offers this much bang for the buck at Disney Springs.
Related: Blaze Pizza Review at Disney Springs
Was it worth standing in line for an hour? If you are at Disney Springs without a dining reservation on a busy evening, it's probably one of your best options.
Often, when the venue is crowded, many restaurants post signs saying that walk-ups are unavailable. So if you want to try Chicken Guy! without the wait, you might get there early or visit around lunchtime on a weekday.
You'll probably still deal with some crowds but not as much as you might on a busy weekend night. Or, and this is something I didn't know until this visit, you can order online and walk in to pick up your meal at the register.
While waiting for my food, I kept noticing that one of the runners would shout, "online order." Then someone would walk up and pick up their bag of food.
So ordering online is not the same as using Disney's mobile order service. D Luxe Burger remains the only full-counter service listed for Disney Springs in the mobile order section of My Disney Experience.
However, you can visit the Chicken Guy! website here and select Disney Springs as the location. Then you can shop or explore Disney Springs while you wait instead of standing in line.
After you pick up your meal, you can still dine at the restaurant. Seating is available inside and outside.
With so many options at Disney Springs, it can be challenging to pick just one. So before your visit, you might enjoy browsing our dining guide for the venue.
Some other options include:
Or you can browse the entire list of Disney World Restaurant Reviews.
Need to learn how to get to, from, or around Disney Springs? Our guide provides tips plenty of tips:
In the Comments
Have you dined at Chicken Guy! before? What do you think of this review? Would you try a sandwich, salad, or maybe one of those Flavortown milkshakes? What sauces would you get?