A Glance at Blaze Fast-Fired Pizza at Disney Springs
Blaze Fast-Fired Pizza at Disney Springs is located in the Town Center section of the popular venue. It's a little off the beaten path but easy to access from the Lime parking garage and Disney's bus stop area.
If you are coming from the Orange Garage, you can walk up toward Ye Sake Kiosk and cross the bridge toward Homecomin'. Blaze Pizza will be on your right, as shown below.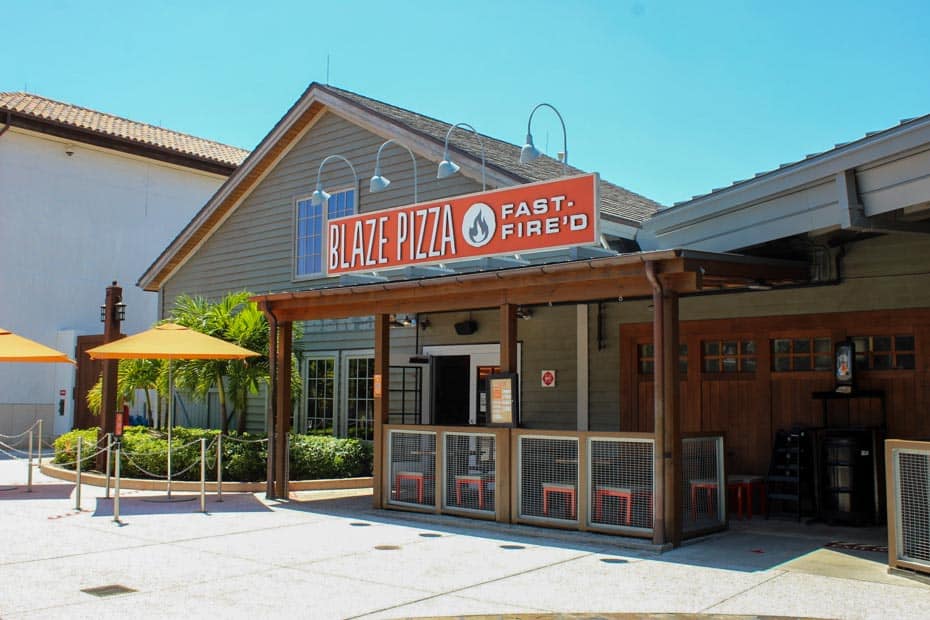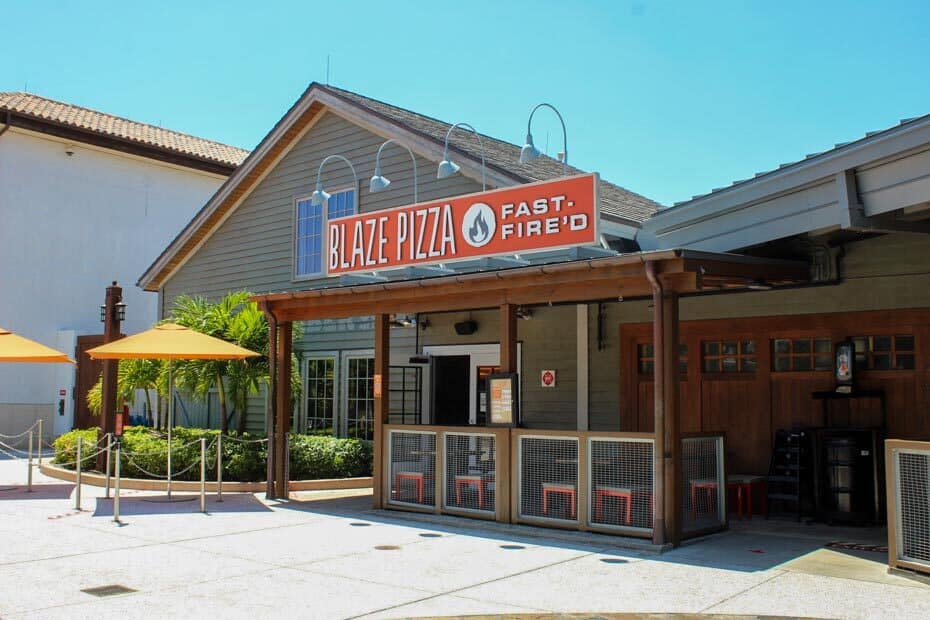 Blaze Pizza is the perfect place for anyone wanting to create their own pizza. Guests can choose their toppings or order one of their specialty pizzas directly from the menu.
The option to create-your-own pizza is a huge plus for anyone dealing with potentially picky eaters. It's nice for everyone to be able to customize a pizza to their liking.
The other thing that Blaze Pizza has going for it is the price. A majority of their single-serving pizzas cost an average of $10.00. The price is a win for most people on a budget.
Here's everything you need to know:
This article was updated on May 17, 2022.

Disney Springs Restaurant:


Blaze Fast-Fired Pizza


Location:


Town Center

Type of Service:


Quick Service

Serves:


Lunch
Dinner

Type of Food:


Pizza

Price Range


$14.99 and Under

Disney Dining Plan


Unavailable

Tables in Wonderland


No

Annual Passholder:


10% off food and
non-alcoholic beverages

Menu


View Here
Blaze Pizza Disney Springs
The link to the menu for Blaze Pizza is in the table above. Here is a preview of the menu.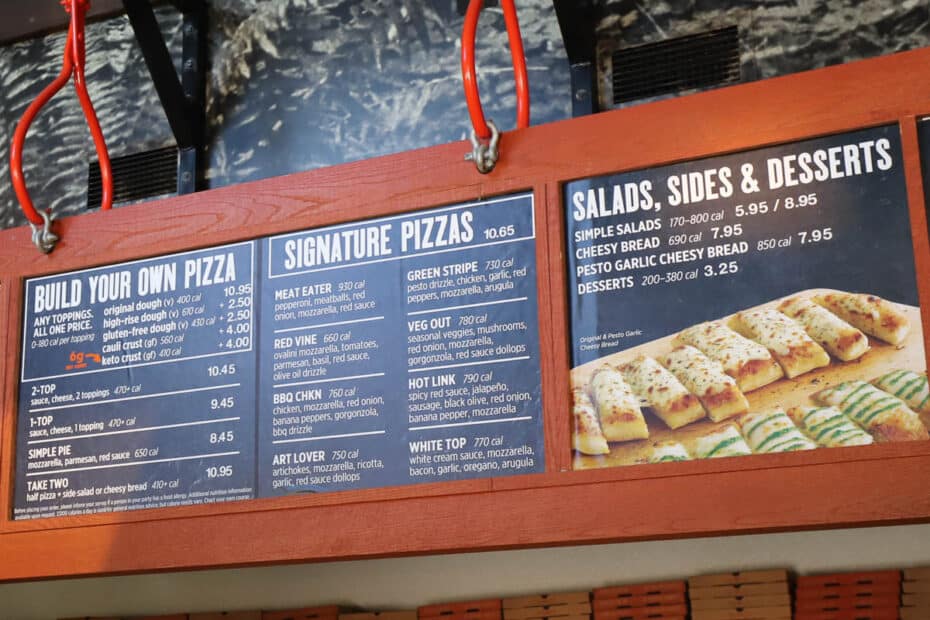 You can eat inside or outside when dining at the Disney Springs Blaze Pizza. I recommend grabbing a table on the covered deck if the weather is pleasant.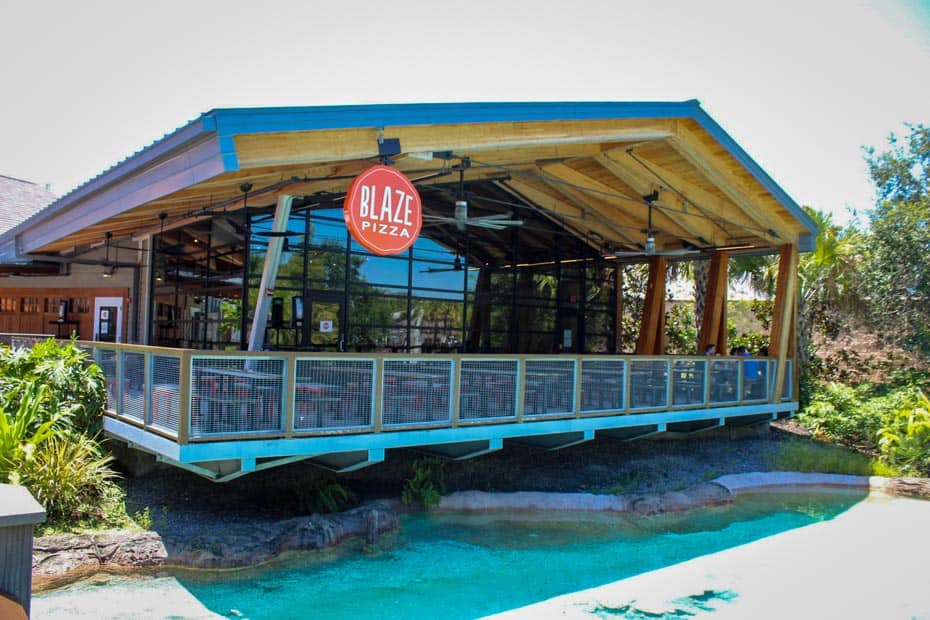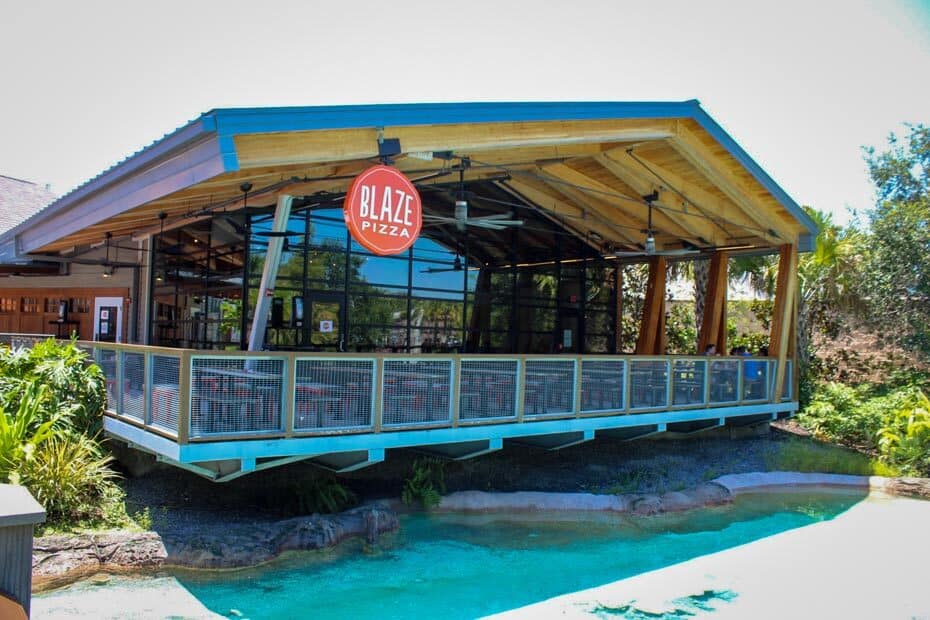 The deck faces out to the springs part of Disney Springs and provides a pleasant spot to enjoy a meal.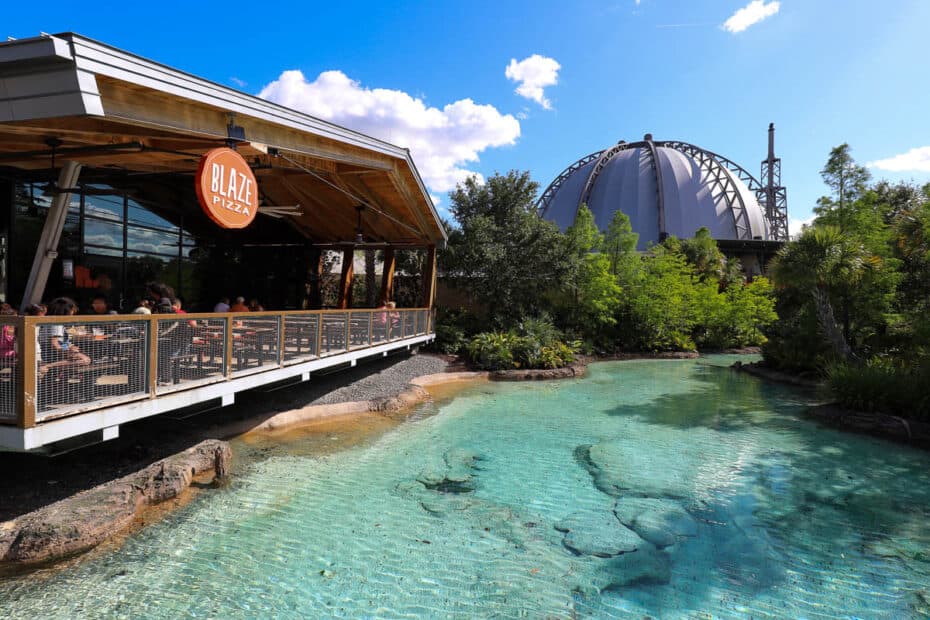 However, you'll want to be prepared to wait in a fairly decent line during busier times. That queue outside the door is typically pretty packed, especially in the evenings.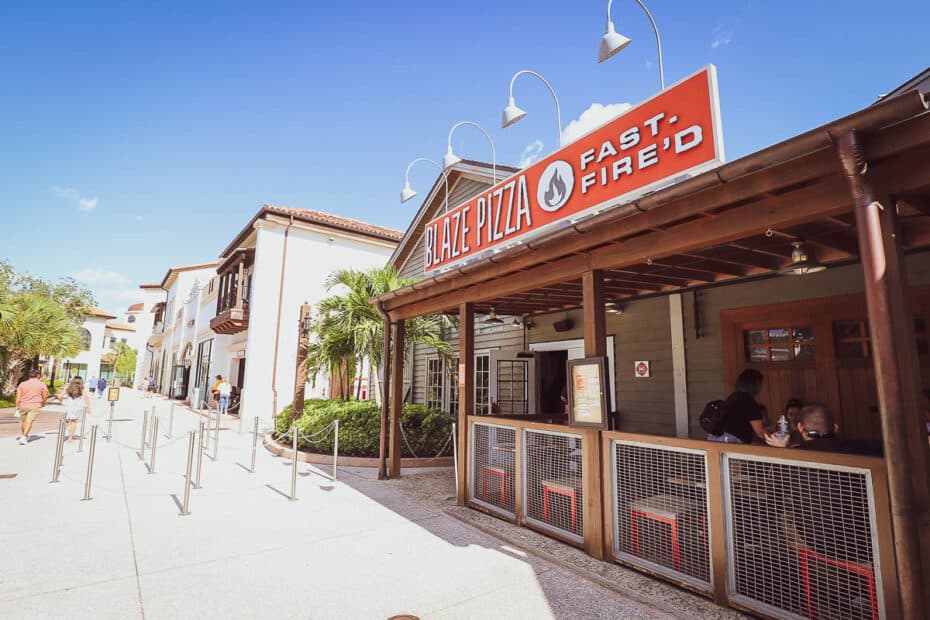 Once you get inside, you'll place your order. If you decide to create a custom pizza (most people do), you'll walk through and let the person at each station know which ingredients to add to your pizza.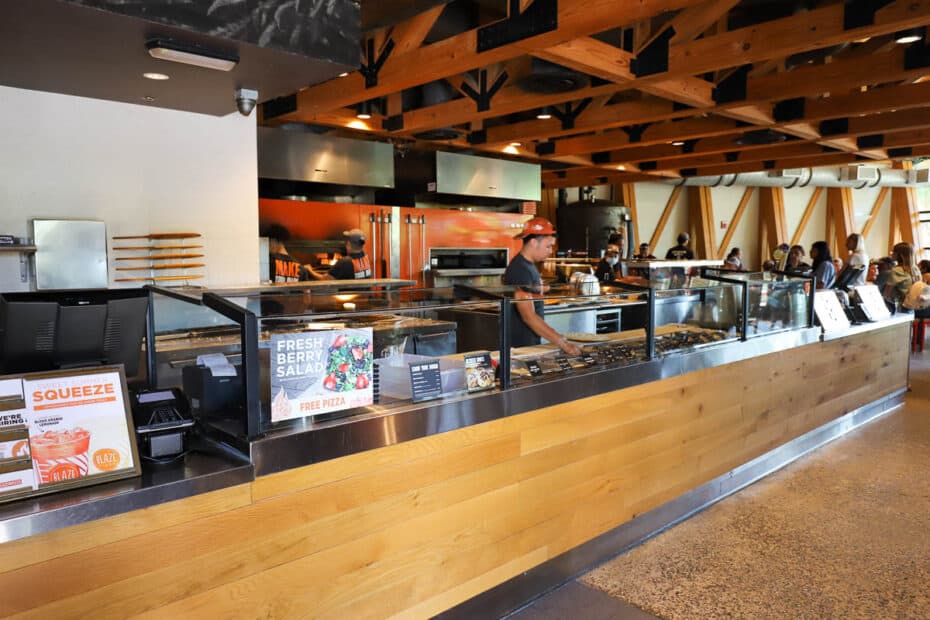 They'll place your pizza in the oven at the end of the line while you pay. It takes about five to seven minutes for your pizza to cook.
I went with a create-your-own pizza with a gluten-free crust on this visit.
I chose toppings like pepperoni, smoked ham, artichokes, Kalamata olives, roasted garlic, goat cheese, and mozzarella. This individual pizza could have easily served two, and I could not finish mine.
However, it was delicious. The roasted garlic and goat cheese took the pizza to another level. Just don't forget to bring the antacid.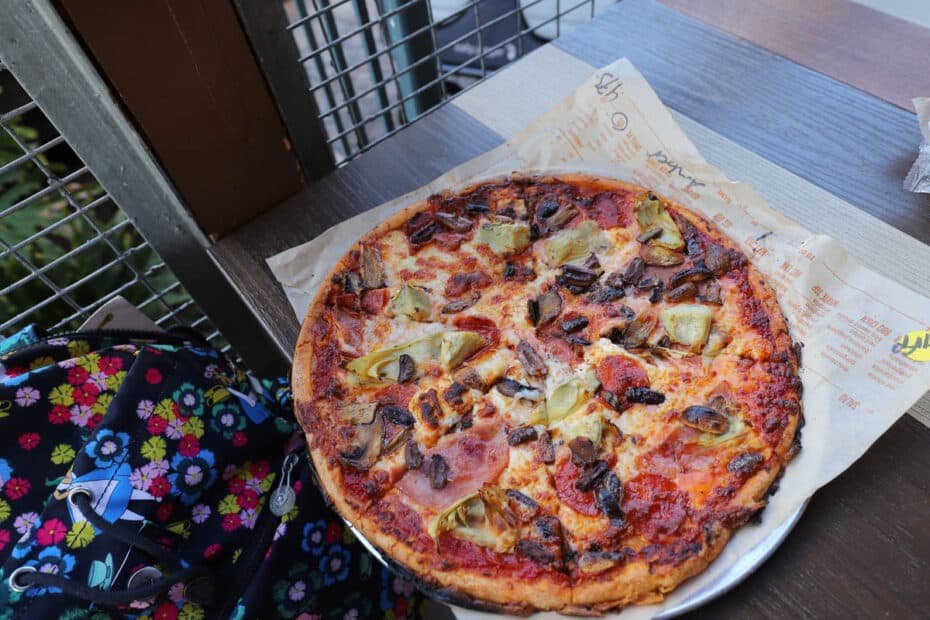 Blaze Pizza is hard to beat for those looking to enjoy a budget-friendly and tasty meal at Disney Springs. The only other counter-service offering a comparable price value would be Chicken Guy!
Related: Chicken Guy Review at Disney Springs
If you want more dining options, check out our list of the best restaurants at Disney Springs. Or you may prefer a few of these other articles:
Or you might enjoy our entire list of Disney World Restaurant Reviews.
In the comments
Have you ever visited Blaze Pizza? What are your favorite toppings?