A Trip to D-Luxe Burger at Disney Springs
This article reviews D-Luxe Burger, a counter-service restaurant at Disney Springs. This location is most commonly known for offering a range of burgers and artisanal shakes.
Sometimes in life, you crave a juicy burger, right? It's like something inside of us calls out for a good old-fashioned hamburger.
That's where I was last week. After a long day of work, I began to think about what I wanted to prepare for dinner, and a hamburger sounded like it would hit the spot.
Since I was already planning an afternoon at Disney Springs the next day, followed by a stay at the new Drury Plaza Hotel at Disney, I decided to have lunch at D-Luxe Burger during my visit.
If I was going to indulge in a burger, I wanted it to be good. D-Luxe Burger has become one of our go-to dining locations at Disney Springs. We eat there for two reasons-they have good burgers and offer quick service.
Their location is a little off the beaten path. If you come from the main bus stop entrance or the Lime parking garage, it will be within nearby proximity.
D-Luxe Burger sits directly behind the Disney Springs Welcome Center Guest Relations in Town Center. If you're familiar with a few other locations at Disney Springs, it's near Blaze Pizza, Chef Art Smith's Homecomin', and a handful of other restaurants in the area.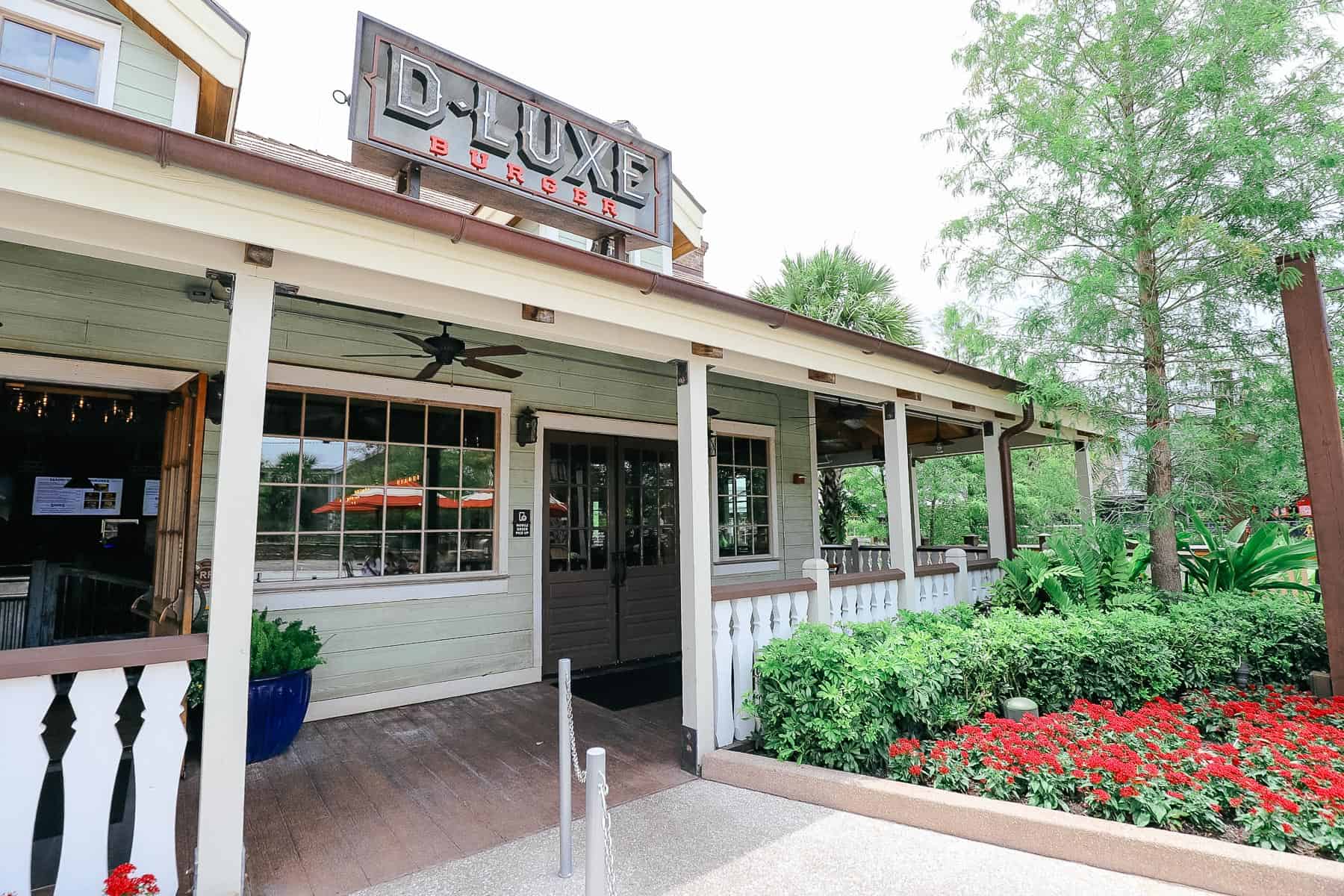 Here are a few quick reference details for D-Luxe Burger
Disney Springs Restaurant
D-Luxe Burger

Location:


Town Center

Type of Service:


Quick Service

Serves:


Lunch
Dinner

Type of Food:


American

Price Range


$14.99 and Under

Disney Dining Plan


Yes


Tables in Wonderland


NA

Annual Passholder Discount


No

Menu


Preview Menu
D-Luxe Burger Review
When I arrived at D-Luxe Burger, the sky was threatening rain. So I quickly eliminated the idea of sitting at one of the patio tables in front of the restaurant.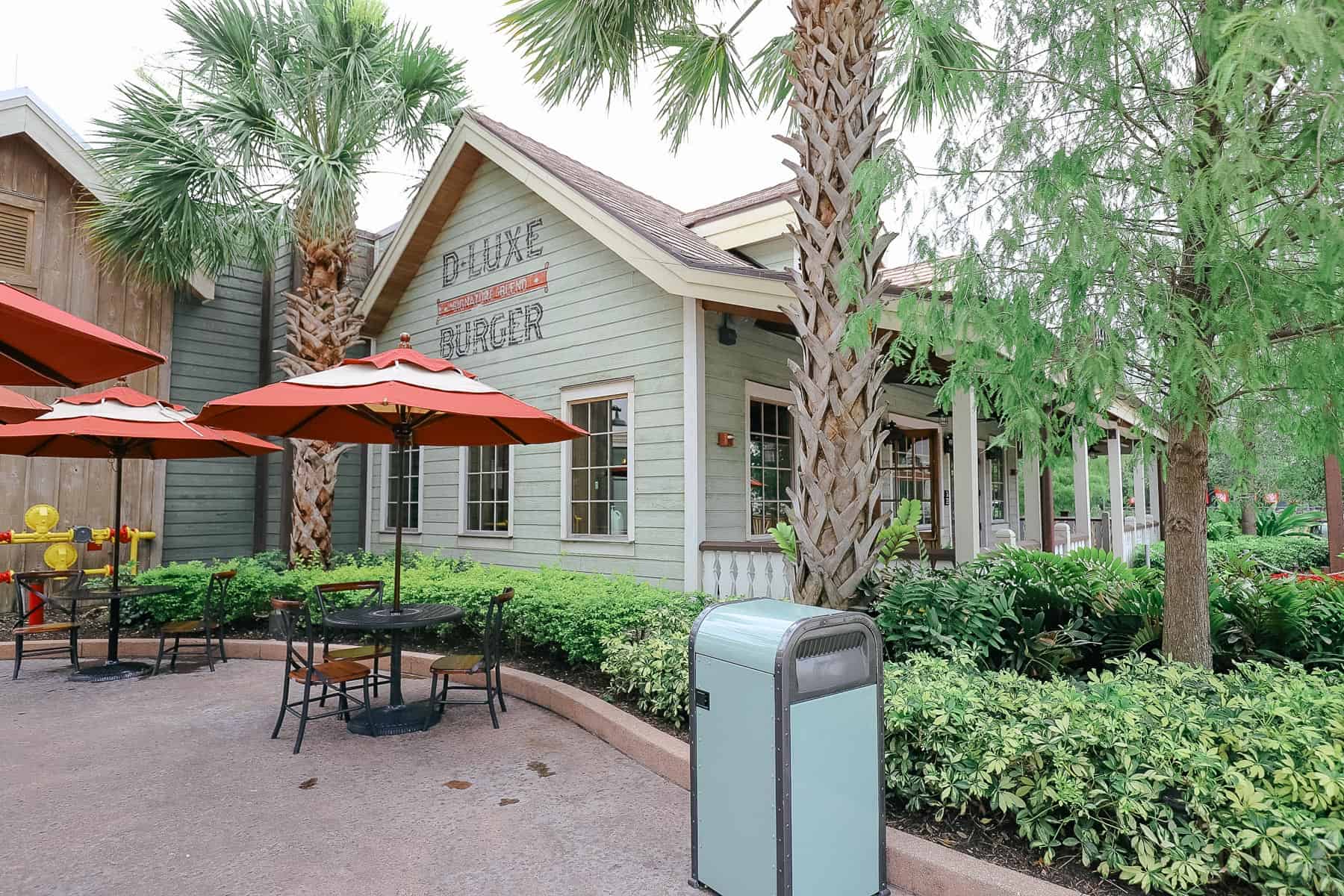 After perusing the menu, I ventured inside to place my order. Usually, when visiting this location, I will place a mobile order on our way to Disney Springs.
Then when I park or arrive at the bus stop, I'll select "I'm here, prepare my order" in the My Disney Experience app. By the time I get to the restaurant, our order is often ready.
Here is a photo of the menu.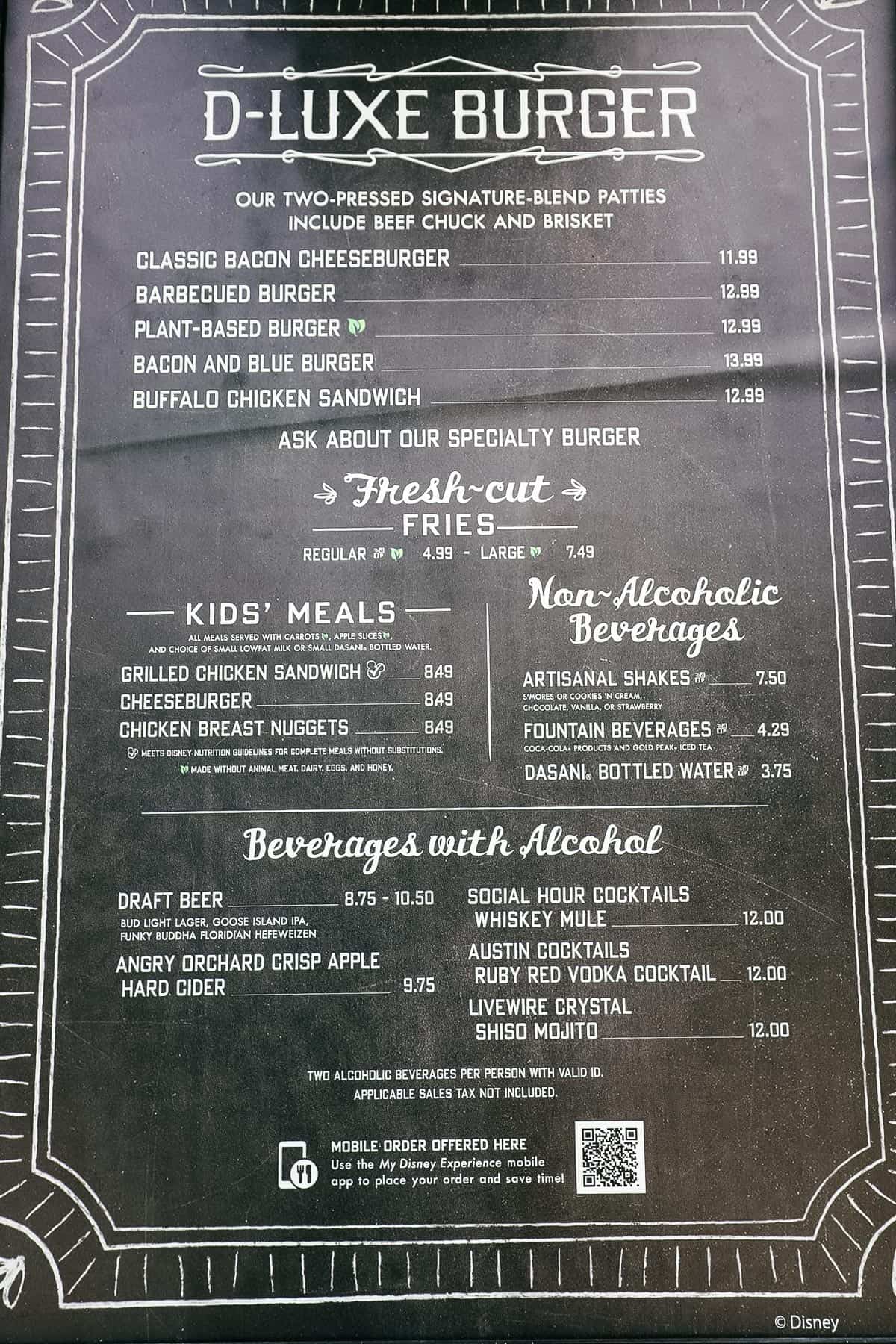 I won't list every item on the menu, but here are the burgers:
Burgers:
Classic Bacon Cheeseburger (Two-pressed Signature-blend Patties topped with Cheddar, 1921 Sauce, Lettuce, Tomato, and Pickle)
Barbecued Burger (Two-pressed Signature-blend Patties topped with a Fried Onion Ring, Muenster, Bacon, Lettuce, and Barbecue Sauce)
Plant-Based Burger (Plant-based Gouda, Pickles, Lettuce, and Tomato served on a Parker House Roll)
Bacon and Blue Burger (Two-pressed Signature-blend Patties with Bacon, Onion Jam, Blue Cheese, Lettuce, and Tomato)
Buffalo Chicken Sandwich (Fried Chicken Breast topped with Buffalo-Ranch Sauce, Blue Cheese Crumbles, Bacon, Lettuce, and Tomato)
Southern Burger (Two-pressed Signature-blend Beef Patties, Pimento Cheese, Fried Green Tomato, Bacon, and Jalapeño Jam on a Cheddar-Chive BiscuKids'it)
On this visit, the burger of the month was the Southern Burger, which is often on the regular menu. However, the popular Lime Garage Burger returns soon.
Lime Garage Burger (Pressed Signature-blend Patty, Citrus Pork Belly, Pepper Jack, Avocado-Jalapeño Crema, Fried Green Tomato, Iceberg Lettuce, Parker House Bun. Available for Flavors of Florida. Available July 1 through August 13, 2023)
After going back and forth between the Barbecued and Bacon and Blue Burgers, I decided to go with the Barbecued Burger. In the past, my go-to order was the El Diablo Burger, which combined chorizo in the ground patty mix. It's not currently available.
D-Luxe Burger makes their hamburgers in-house with a signature blend that combines brisket, short rib, and ground chuck. Not only that, but they make their buns fresh daily and offer hand-cut fries with specialty dipping sauces like garlic ranch, curry ketchup, horseradish, honey mustard, chipotle mayonnaise, and more.
After placing my order at the register, I grabbed a few sauces and found a seat. It wasn't raining yet, so I sat outside on the covered porch facing the springs.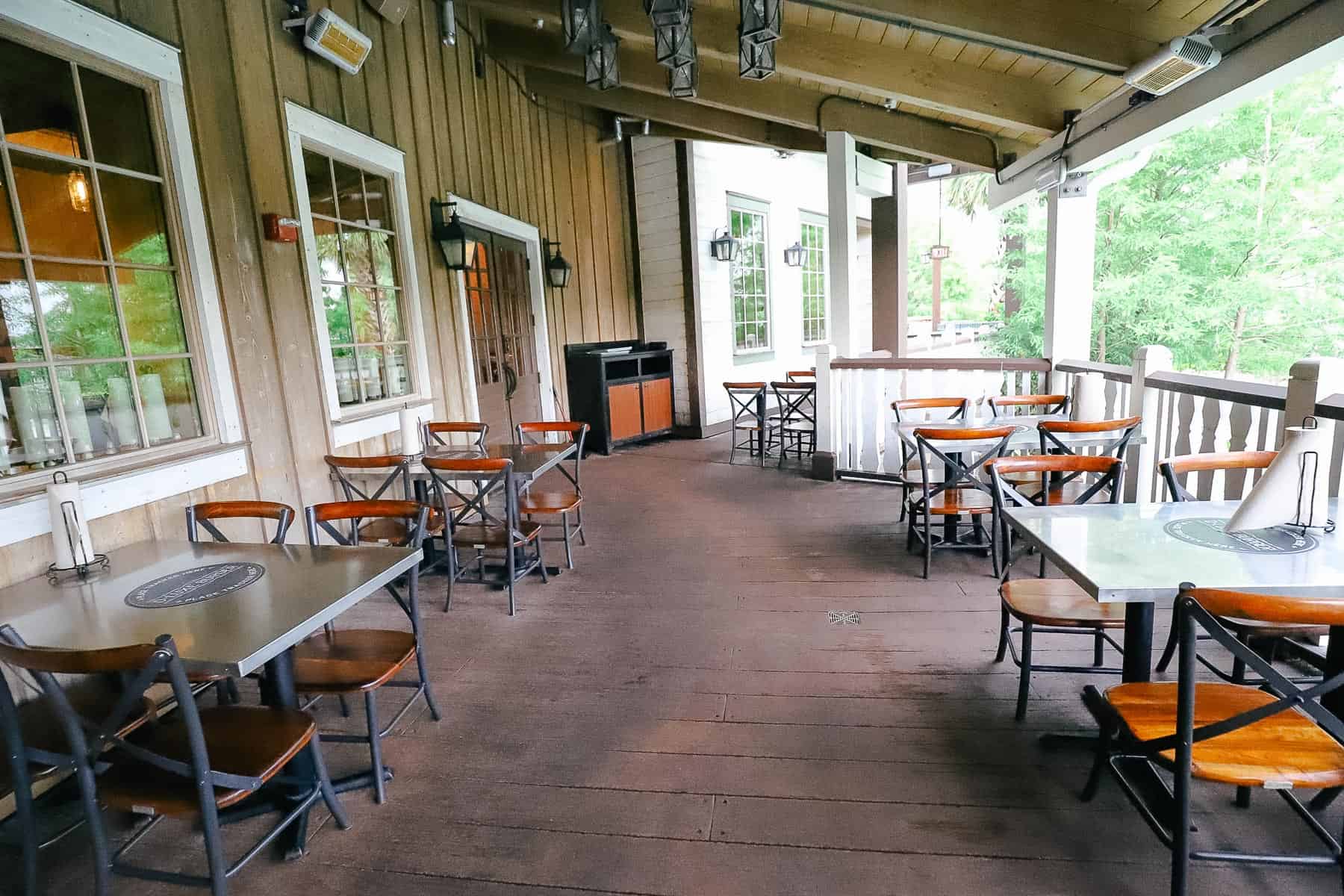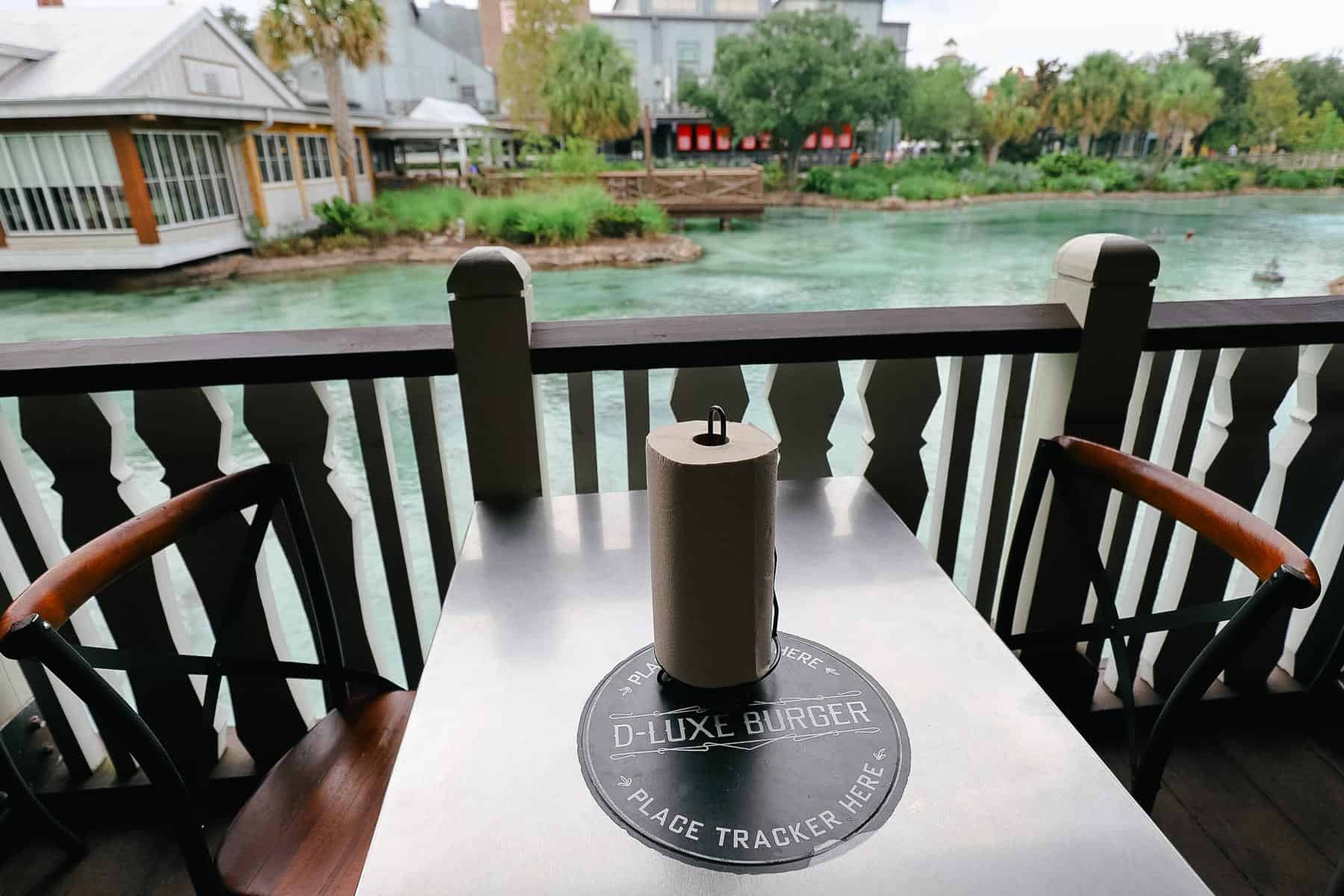 If the weather is comfortable enough, this is an excellent place to dine. However, don't be surprised if a few birds perch nearby, hoping to snag a fry when you're not looking.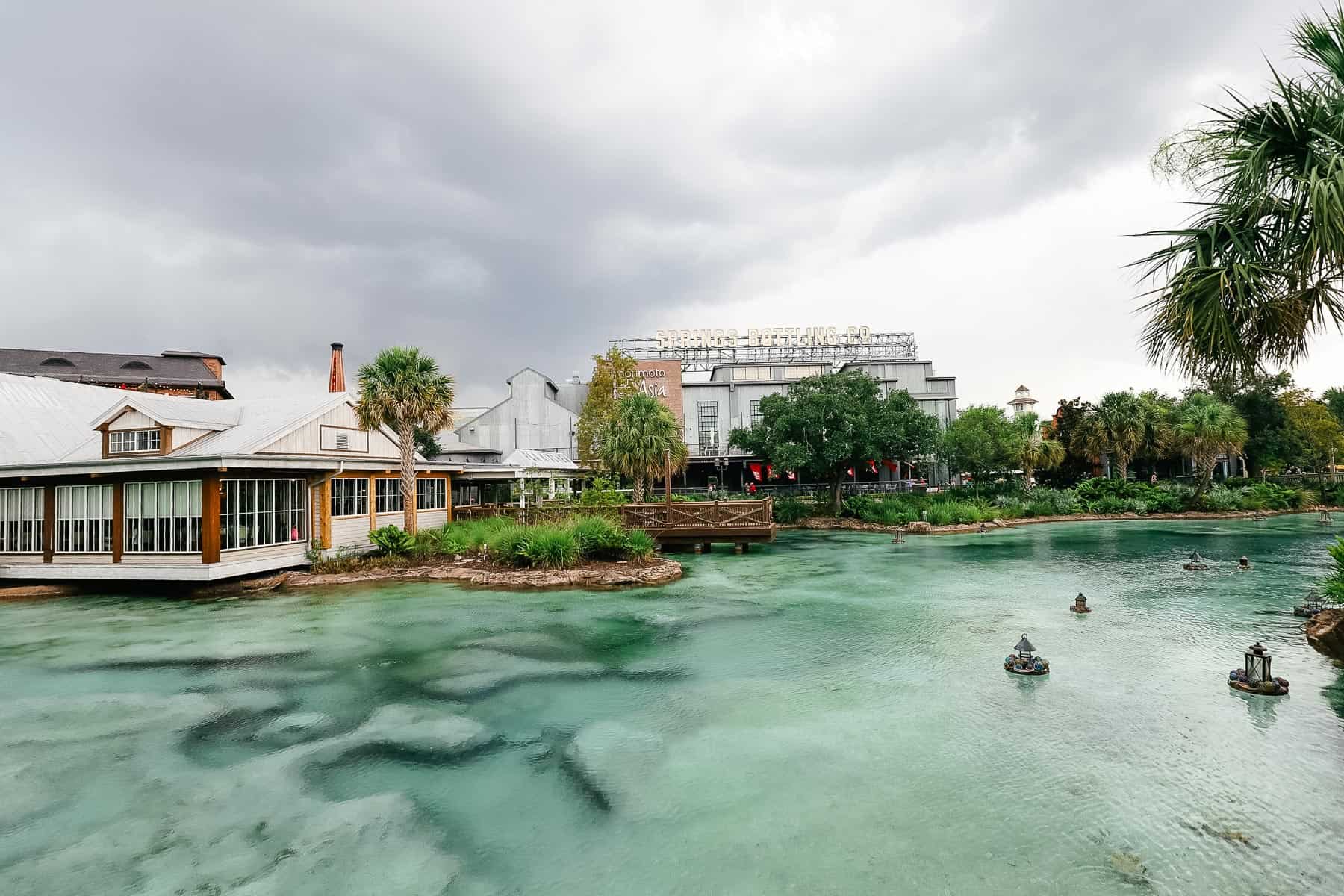 Here is my burger and fries. This is a regular-size order of fries. So you might consider splitting an order with someone.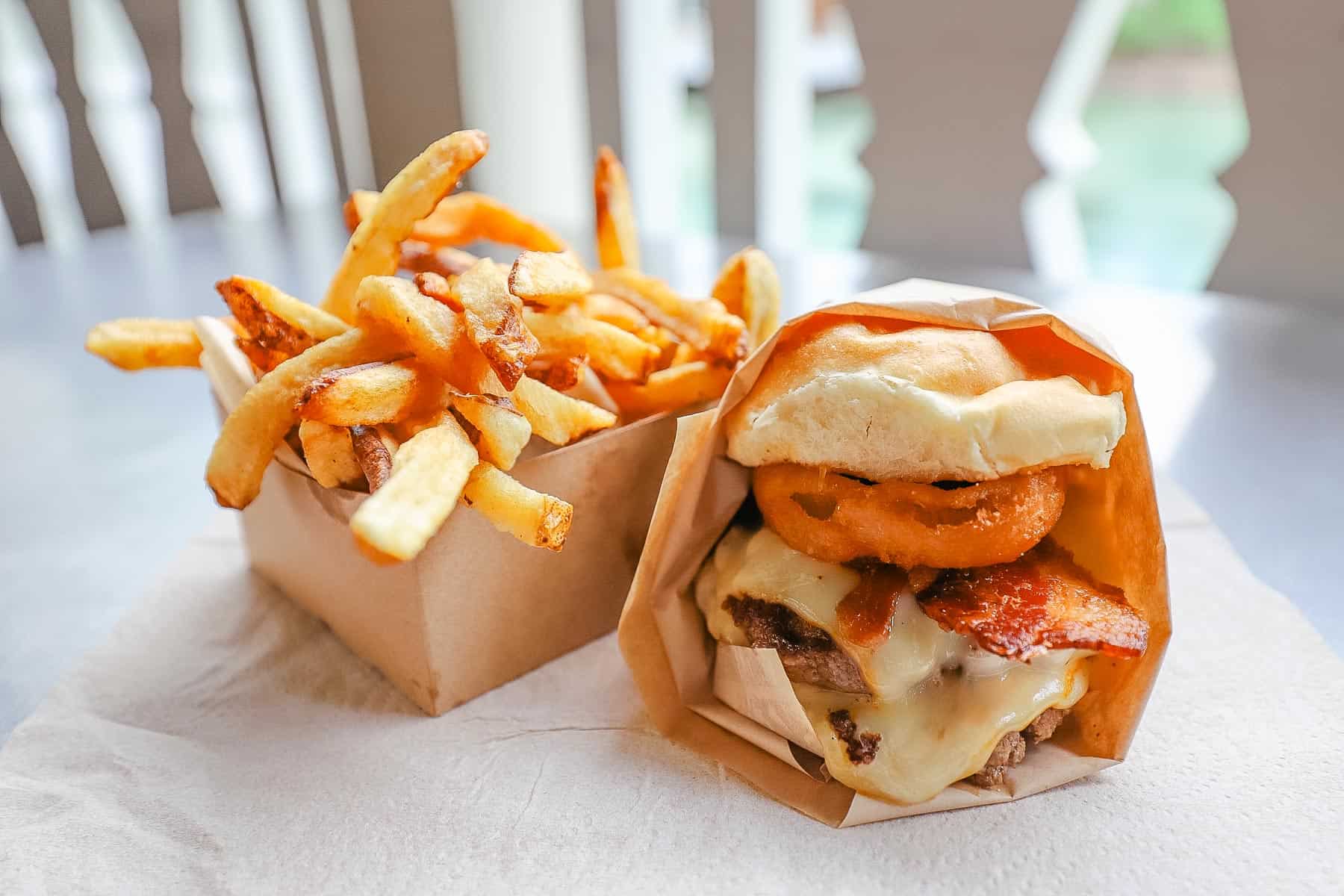 Since you couldn't see the burger well, I removed it from the paper and took a photo. Unfortunately, it wasn't easy to eat afterward. So I would recommend keeping it in the wrap.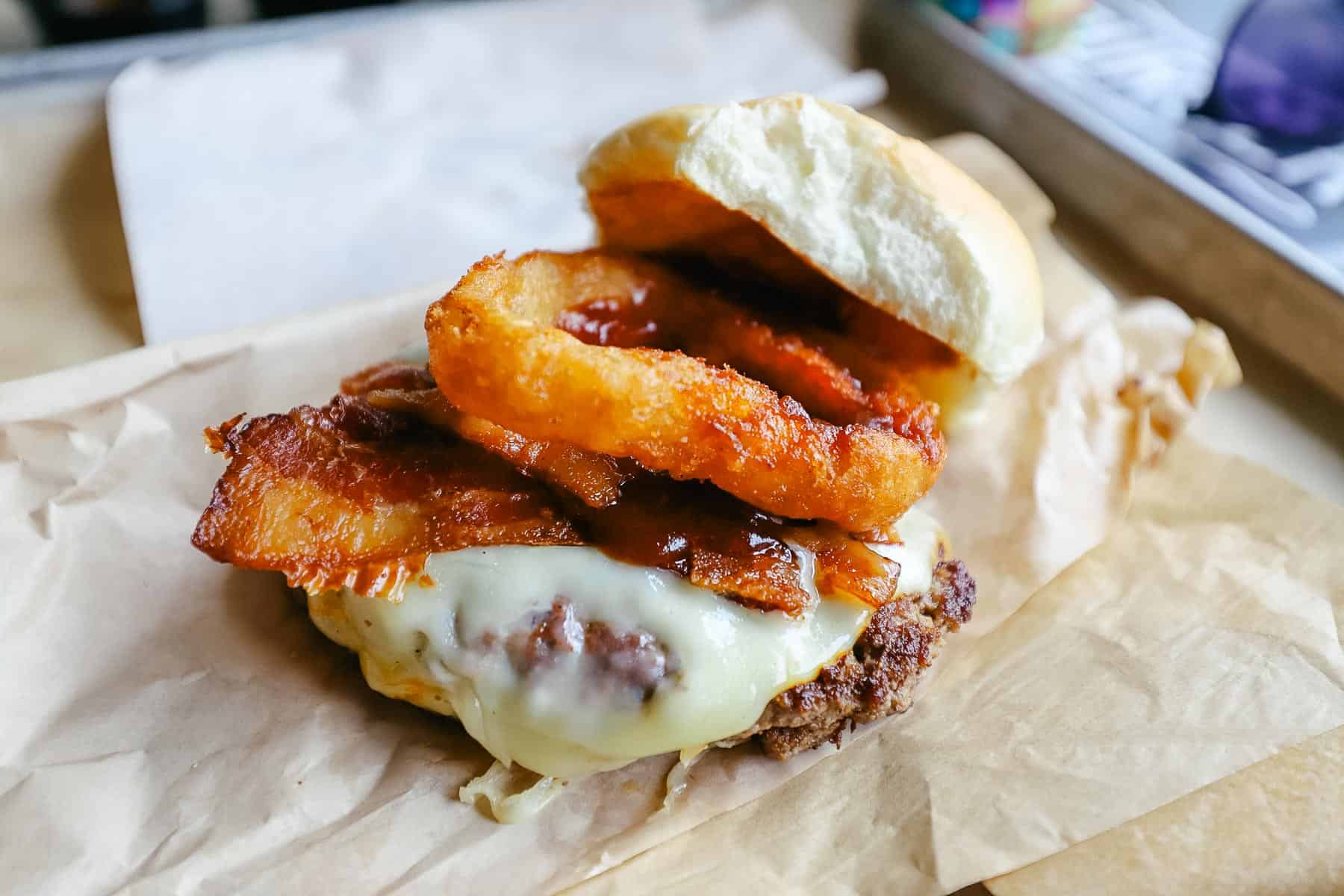 My burger was delicious, and my craving was satisfied. My only complaint was that my fries were lukewarm, and I would have preferred them piping hot. But it was still a great meal.
Additionally, D-Luxe Burger has several milkshake options. Like the burgers, the flavors change from time to time. The following options were available on this visit: vanilla, chocolate, strawberry, s'mores, and cookies 'n cream.
When it comes to the best burger at Walt Disney World, D-Luxe Burger is going to be hard to top. You can order anything from a classic cheeseburger to a unique gourmet burger that you won't soon forget.
For more of the best Disney Springs restaurants, you might enjoy these other reviews:
Or you might like to browse our complete list of Disney Restaurant Reviews. Some of our dining guides include:
In the comments:
What do you think of this review of D-Luxe Burger at Disney Springs? Have you ever had one of their burgers?