Disney's Boardwalk Restaurants (The Full Guide)
When it comes to dining, there are plenty of restaurants at Disney's Boardwalk. In fact, there are over ten different dining locations on the Boardwalk.
These places to eat range from counter service dining and lounges to table service and fine dining restaurants. You might even pick something up from one of the to-go carts that sit along the Boardwalk. There is truly something for everyone here.
In this review of the restaurants at Disney's Boardwalk, we'll look at where you might want to eat during your stay at the resort. This guide will also be helpful if you're planning a recreational visit to the Boardwalk during your trip.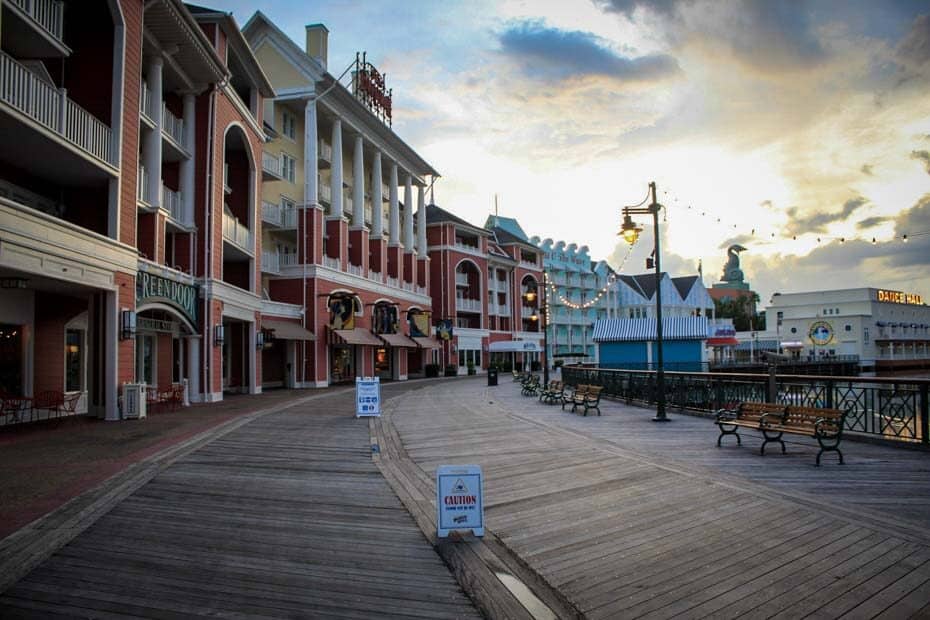 Before we get started, I want to warn you about one thing. I find that the counter service at Disney's Boardwalk is lacking. Not only is the counter service inadequate at the Boardwalk, but the entire Epcot Resort area suffers when it comes to good quick service dining options.
Don't get me wrong, there are excellent table service restaurant options and lounges within the immediate area. Unfortunately, all of the resorts that sit around Crescent Lake have counter service locations that have transitioned to mostly pre-made options in recent years.
Therefore, you might like to consider staying in Disney's Boardwalk Villas if you are set on the Boardwalk. At least, then, you'll have the ability to purchase microwave frozen pizzas down at The Screen Door store and reheat them in your room. I might know a thing or two about that from experience.
And if you are not averse to purchasing a pre-made sandwich at 9:00 pm after a long day in the parks (that was probably made nearly 24 hours earlier), then you'll be fine with the options at Boardwalk Bakery.
My first and last pre-made sandwich purchase was at the Boardwalk Bakery several years ago. The sandwich was so soggy, it ended up in the garbage.
Unfortunately, I feel we've taken a slight turn off-course already. So let's take a look at those restaurant options at Disney's Boardwalk before we stray again.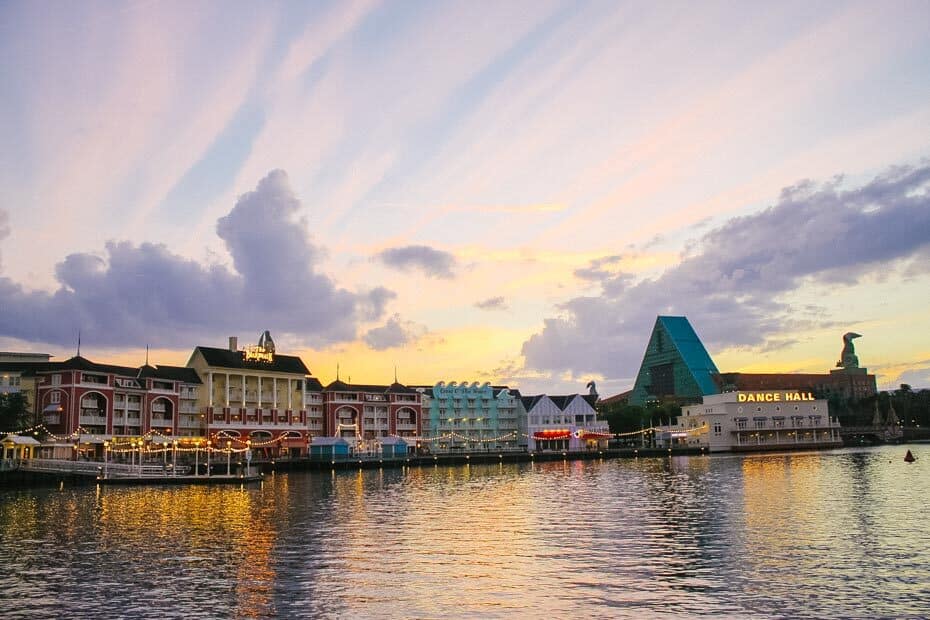 Related: Disney's Boardwalk Inn Review
Disney's Boardwalk Restaurants
Here are the restaurants available on Disney's Boardwalk:
Boardwalk Bakery
Pizza Window
The To-Go Cart
Funnel Cake Cart
Boardwalk Ice Cream
Boardwalk Joe's Marvelous Margaritas
Belle Vue Lounge
Abracadabar
Leaping Horse Libations
ESPN Club
Big River Grille and Brewing Works
Trattoria al Forno
Flying Fish
*Since Disney's Boardwalk Resort re-opened, I wanted to get this dining guide out for this location. However, a few of these restaurants, like ESPN Club and Flying Fish, have yet to re-open. (Boardwalk Updates)
We'll start with the counter service dining options. After that, we'll preview the lounges before moving on to the table service restaurants and signature dining.
Boardwalk Bakery is our first stop for dining on the Boardwalk. This is the resort's dedicated counter service dining location.
One important thing you'll need to know is that there is no seating at this quick-service restaurant. However, there is some outdoor seating available on the Boardwalk.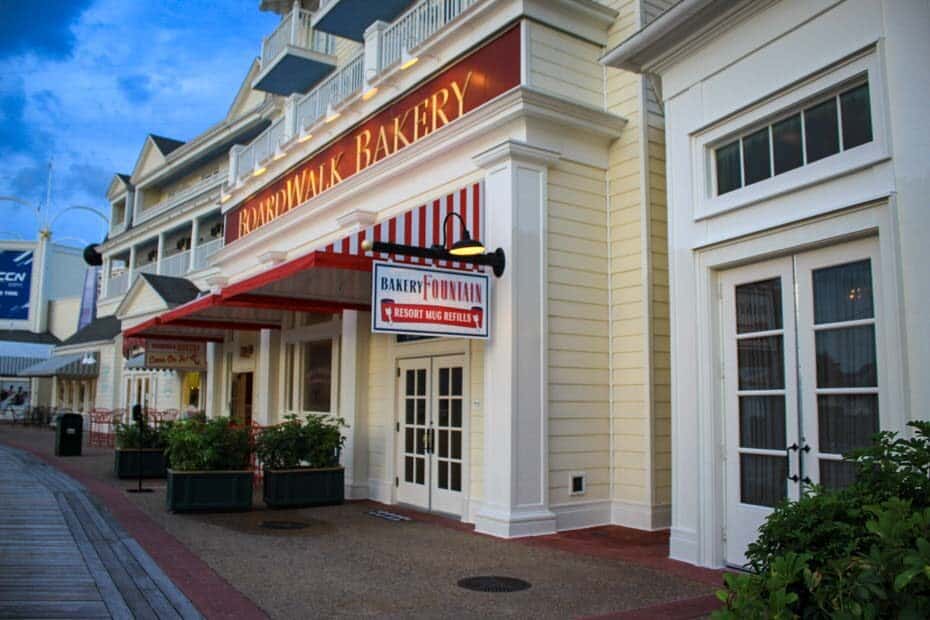 In the past, I haven't been a fan of the Boardwalk Bakery because of the whole pre-made sandwich thing. However, this past year a grilled cheese was added to the menu. Since this type of sandwich is not pre-made, I ordered it on a recent visit.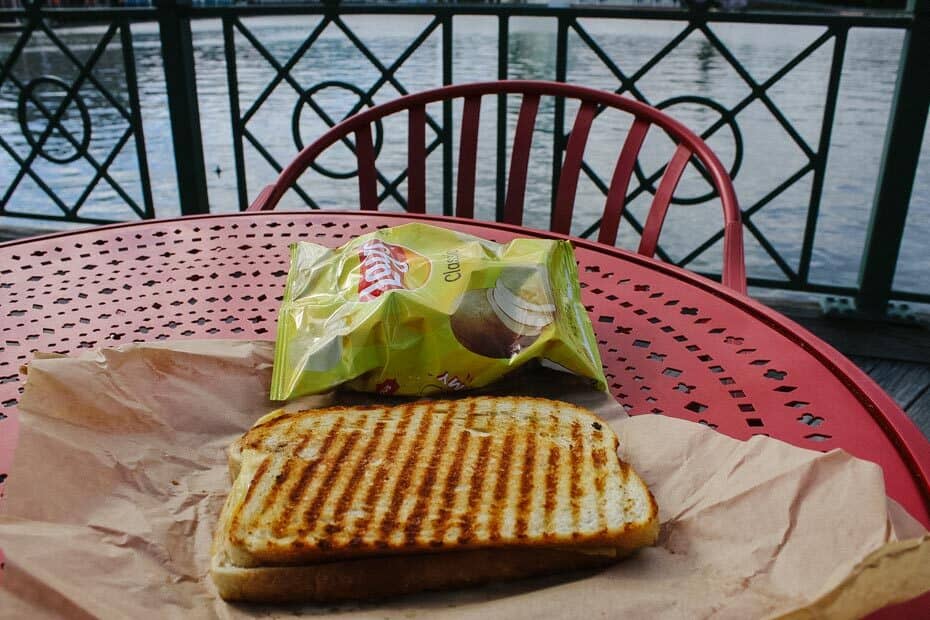 It turned out to be a decent lunch item that came with a side of chips. While I was there, I noticed a salad in the case that appeared very fresh. I had it on a return visit and found it to be a good option for a healthy quick meal.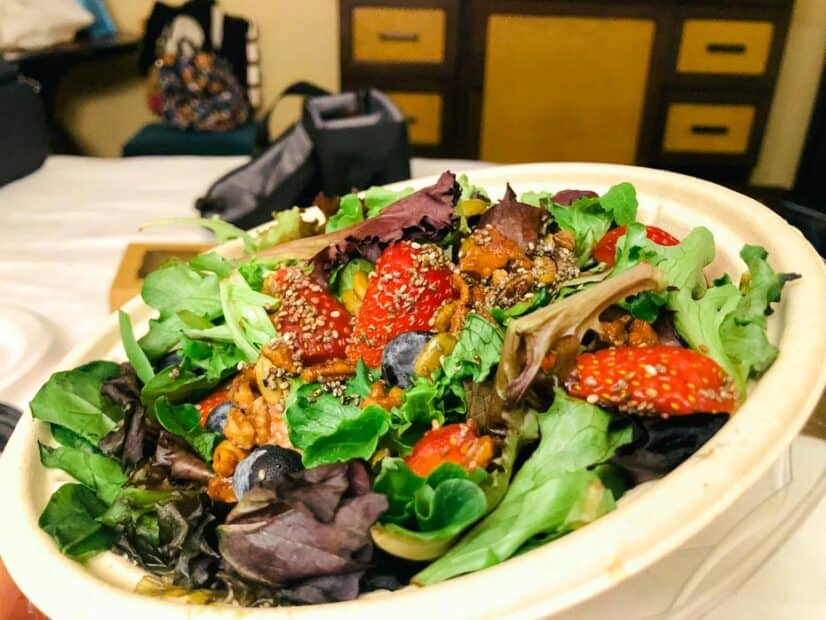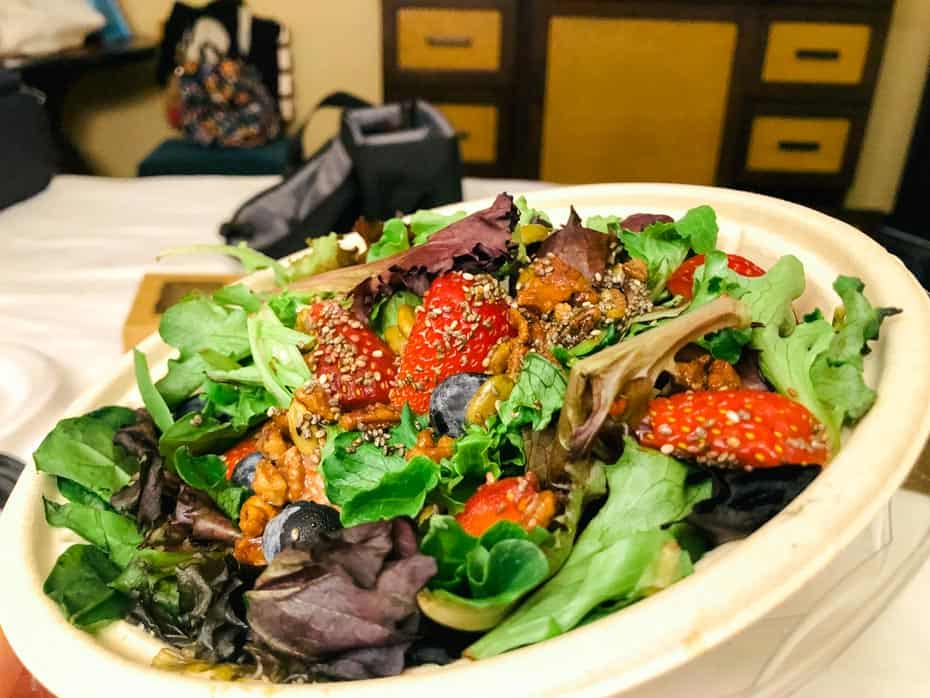 Other than that, the menu boasts a couple of sandwiches and a Caesar salad. Kids' meals consist of ham or turkey with cheese sandwiches, which is simple. My main point is that if you paid several thousand dollars to spend a week here, it seems like they could up with a few made-to-order options.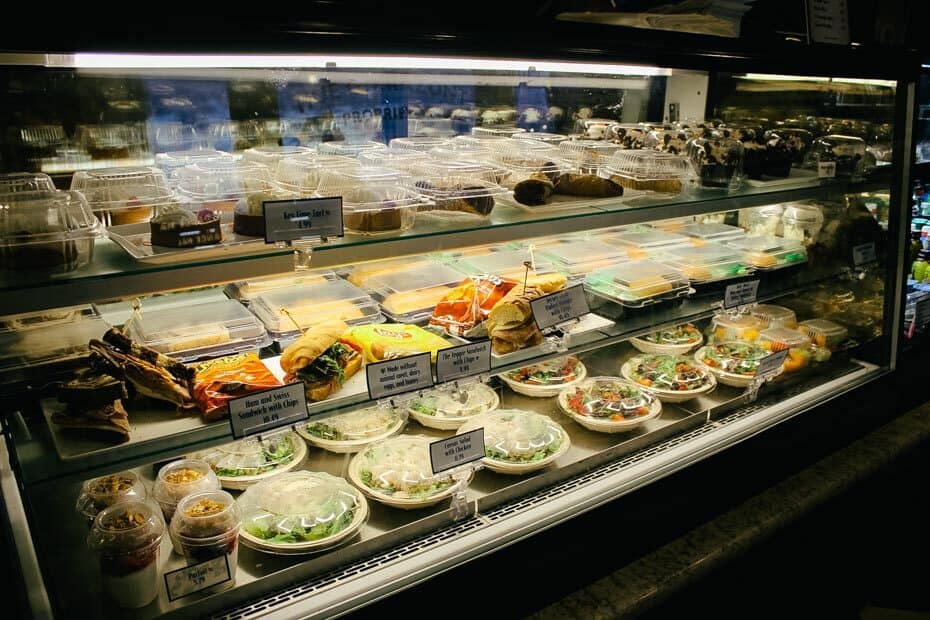 Another dining option on the Boardwalk, when available, is the Pizza Window. This location usually has three different types of pizza. You can order it by the slice or the whole pie. Additionally, they have standard beverage items available.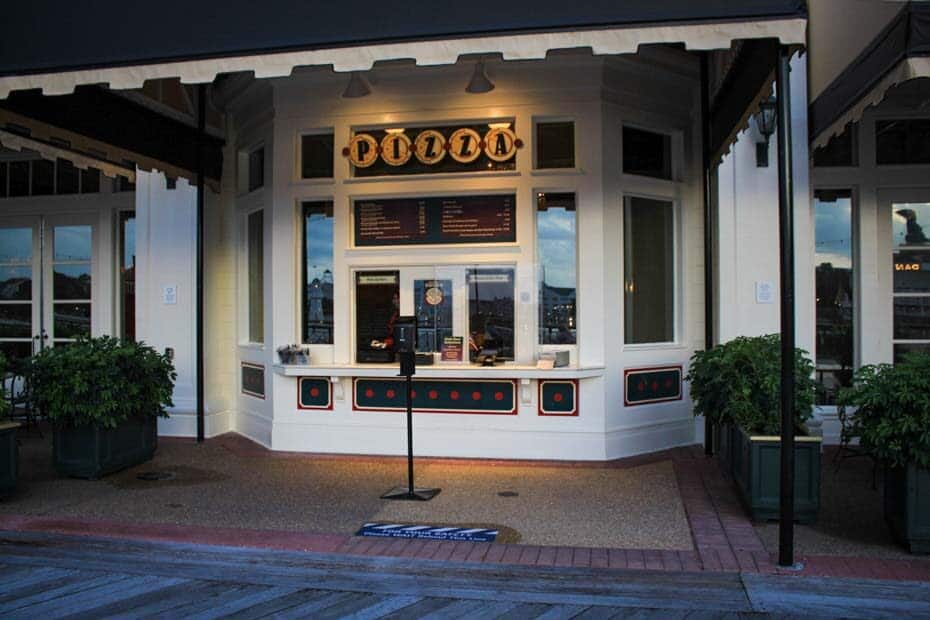 Unfortunately, it has been my experience that the pizza here is not that great. I would compare it to something like a cheap buffet pizza or similar.
This is why I mentioned staying in a villa room, picking up a frozen pizza, and heating it in your room. It will probably be better than the poor Pizza Window.
Since Disney's Boardwalk is designed to mimic a real boardwalk, there are several stands and carts that serve food during normal business hours.
The To-Go stand is a fairly decent option because they offer burgers, hot dogs, and chicken fingers. However, they haven't re-opened at this time either. When they do, I'll come back and provide an update.
Our next stop on the Boardwalk is the Funnel Cake Cart. As you can probably imagine, they sell funnel cakes.
Moving on, the new Boardwalk Ice Cream shop replaces the former Ample Hills that closed last year. You can get anything from a scoop of your favorite flavor of ice cream to a Mickey Mouse sundae here.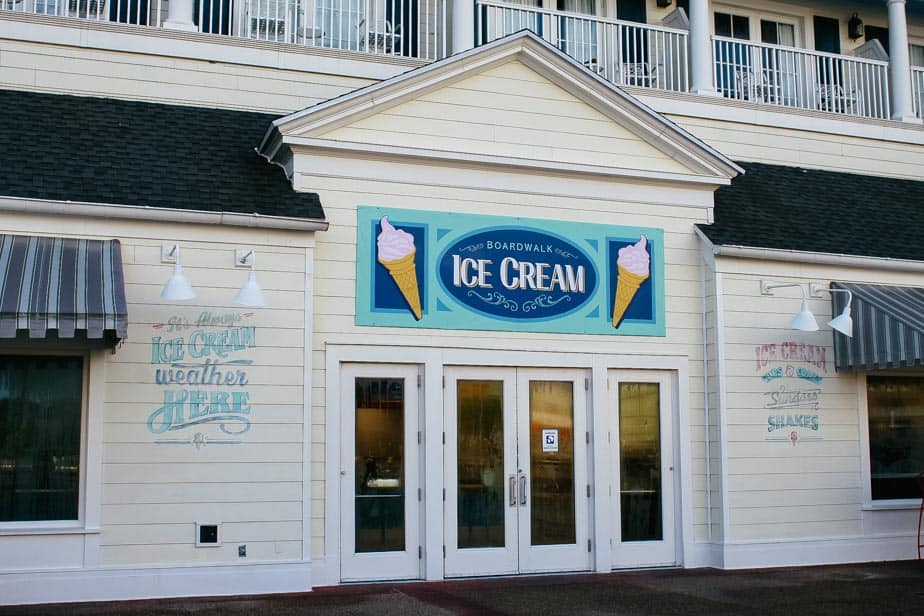 There's even a brownie a la mode and strawberry shortcake on the menu. However, if you are wanting a diner-style meal with ice cream for dessert, try to get a reservation at Beaches and Cream. It's located next door at Disney's Beach Club.
For those of you who enjoy a little sweet and sour cocktail, Joe's Marvelous Margaritas is another stand that sits along the Boardwalk. Joe's has several types of margaritas, including the Marvelous Watermelon Margarita and the Patron Disney Select Anejo Margarita.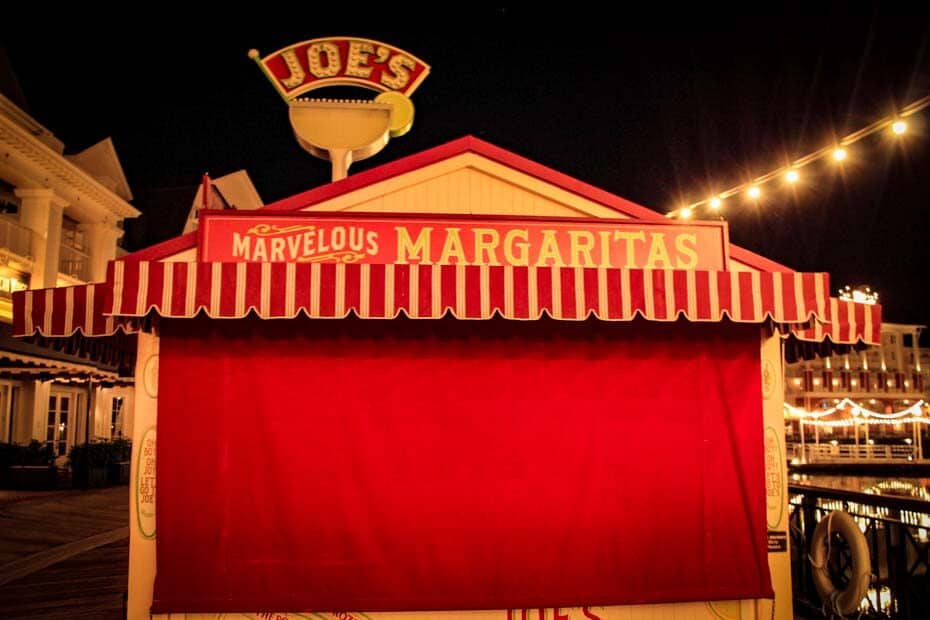 Make sure to pick up a jalapeno stuffed pretzel to pair it with! Sounds like the perfect Boardwalk snack, right?
We'll move back inside the Boardwalk Inn to take a look at Belle Vue Lounge. Belle Vue serves as the resort's formal lounge and is a wonderfully comfortable space to enjoy a cocktail.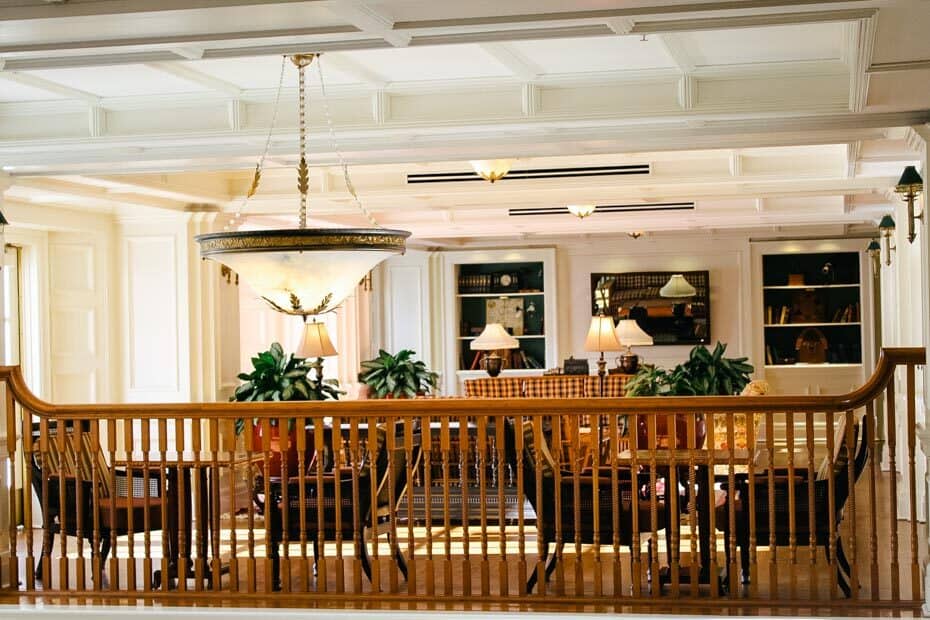 The lounge is located on the main level of the Boardwalk hotel and serves breakfast items like pastries and coffee. I haven't had a chance to try breakfast here yet, but it might be a good stop on a morning when you need a quick bite to eat.
Belle Vue is typically open from around 4:00 p.m. to 10:00 p.m. in the evenings with a full cocktail menu. You can preview the offerings here.
Back out on the Boardwalk, Abracadabar is a magician-themed bar with limited food items. Elixirs, magic tricks, and illusions are the name of the game at Abracadabar. Appetizer items are available, however, they are minimal. You can view them here.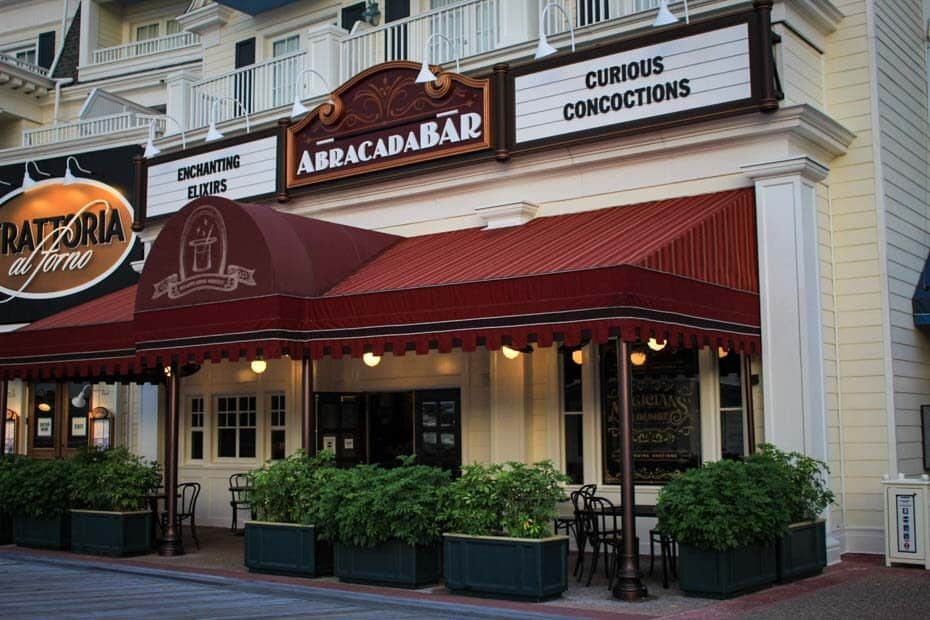 Those planning to spend time out at Boardwalk's Luna Park pool might enjoy Leaping Horse Libations. The fun pool bar is themed to resemble a carousel.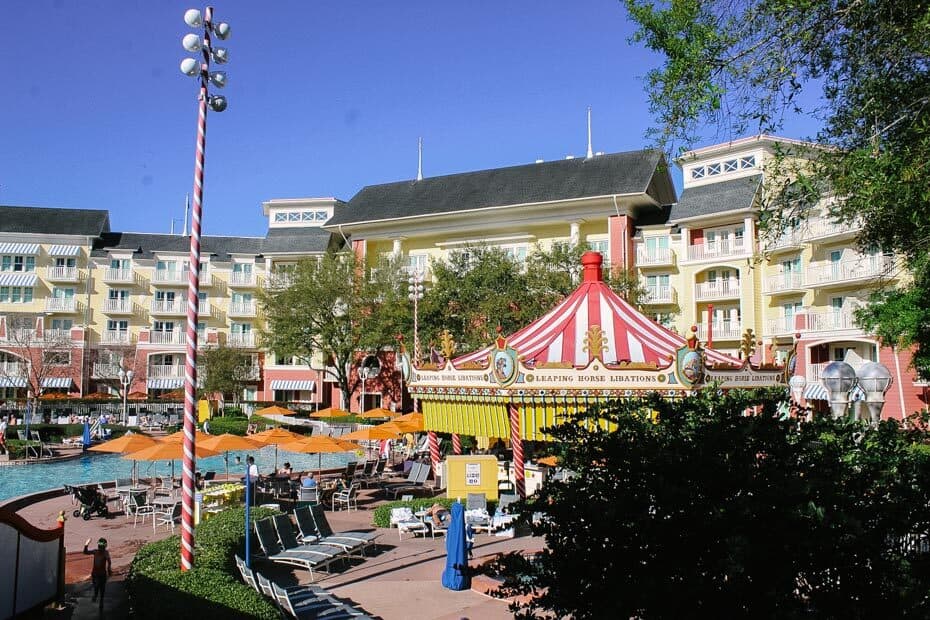 Related: Best Pools at Disney World
While Leaping Horse Libations has a fun cocktail and beverage menu, there isn't much in the way of food offerings. Most resorts have a fairly decent quick service at the pool. But, again, that's not the case at Boardwalk.
I assume that the people who plan these things out don't actually stay here. And as you can probably tell, there appear to be plenty of options. However, in reality, there's not a good dining option at the pool, breakfast options are lacking, and there's no late-night dining available here. It's very frustrating.
Wrapping things up on a few positives notes, we'll take a look at the table service restaurants at Disney's Boardwalk.
First up, we have a place that most dads will want to hang out on those hot, Fall weekends during football season, ESPN Club. Here you can enjoy a variety of appetizers and entrees while watching your favorite sport (probably).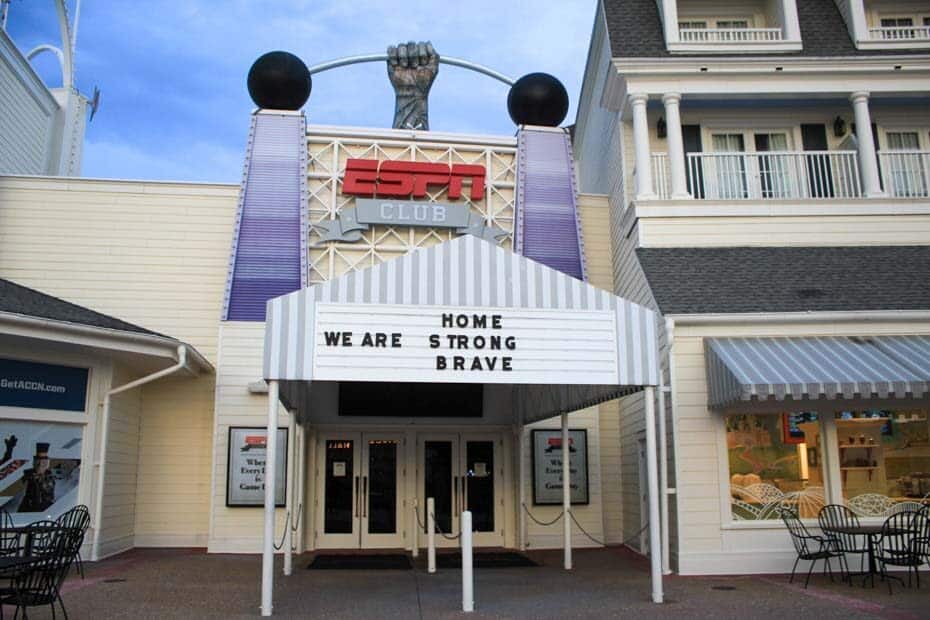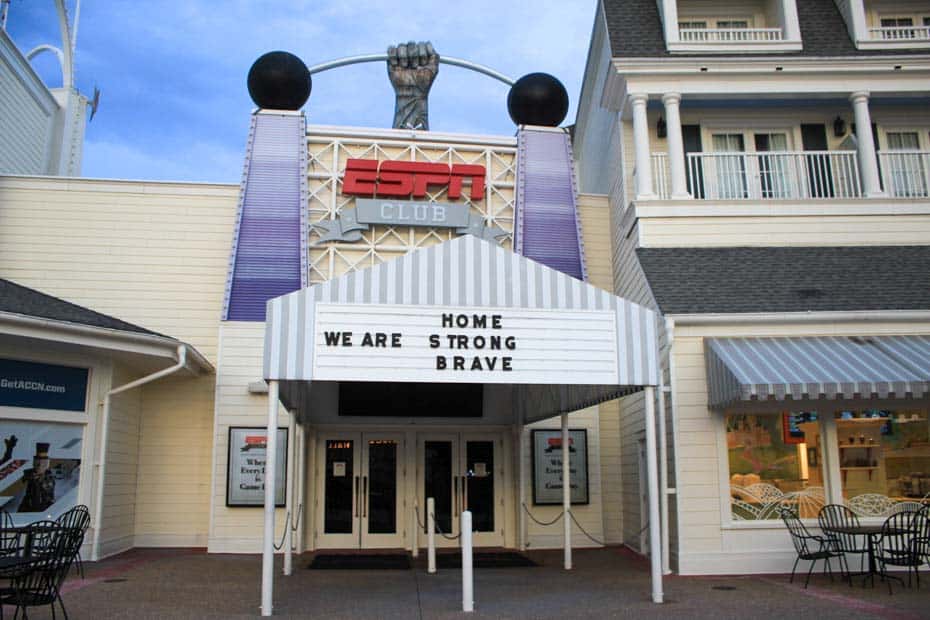 ESPN Club boasts over 100 screens with 30 different programs running. This sports bar-style restaurant normally serves lunch and dinner seven days a week with extended hours on Saturday and Sunday.
You'll definitely want to make reservations in advance if you would like to enjoy a meal here. Walk-ups might be an option based on availability. However, due to the popularity of this location, there could be a long wait.
Our next stop for dining at Disney's Boardwalk Inn is the Big River Grille and Brewing Works. This location is a stop I consider a bit of a hidden gem on the Boardwalk. Additionally, outdoor dining is available at this table service restaurant. If the weather is pleasant, I highly recommend it.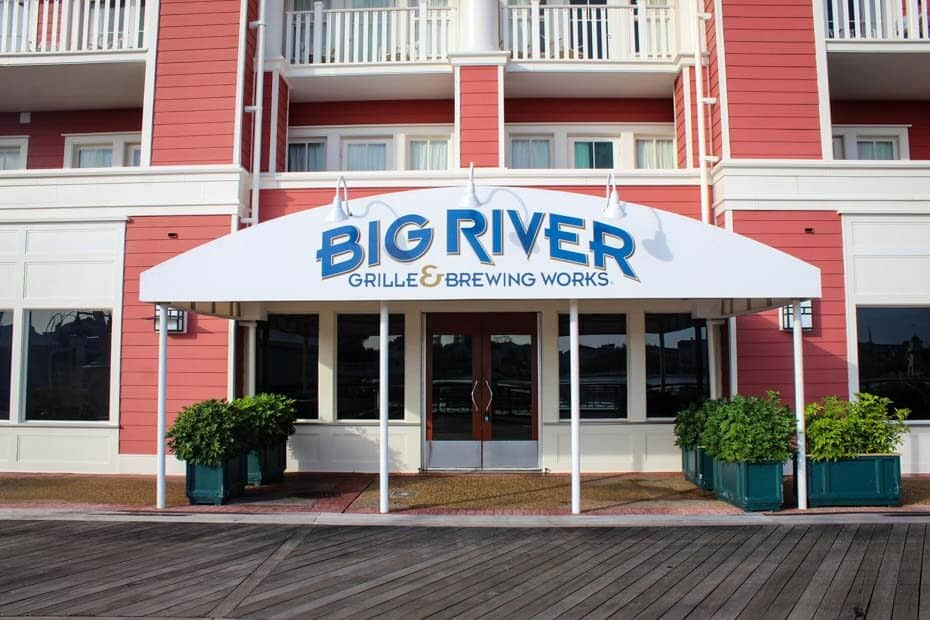 Big River Grille offers classic American menu items like nachos, burgers, sandwiches, and salads. In the past, I've enjoyed several items here like their club sandwich and Caesar salad.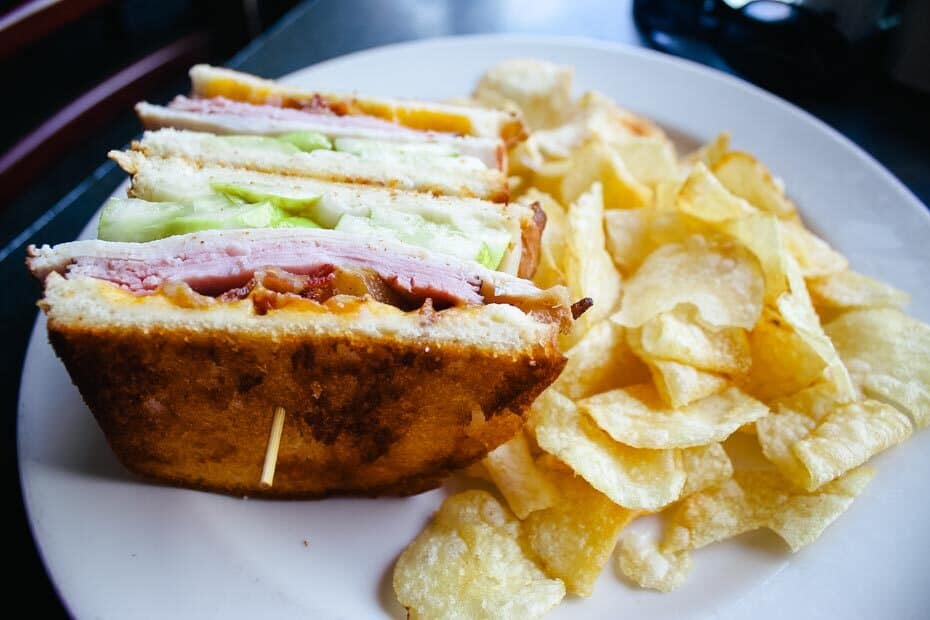 From my experience, the food is always good, service friendly, and the price is reasonable. And those are the reasons I consider this spot a bit of a hidden gem. Preview the menu for this location here.
Moving on down the Boardwalk, we'll briefly discuss the Italian cuisine at Trattoria al Forno. This restaurant offers a character breakfast in the mornings and dinner in the evenings. You will need to secure an advanced dining reservation for both meals.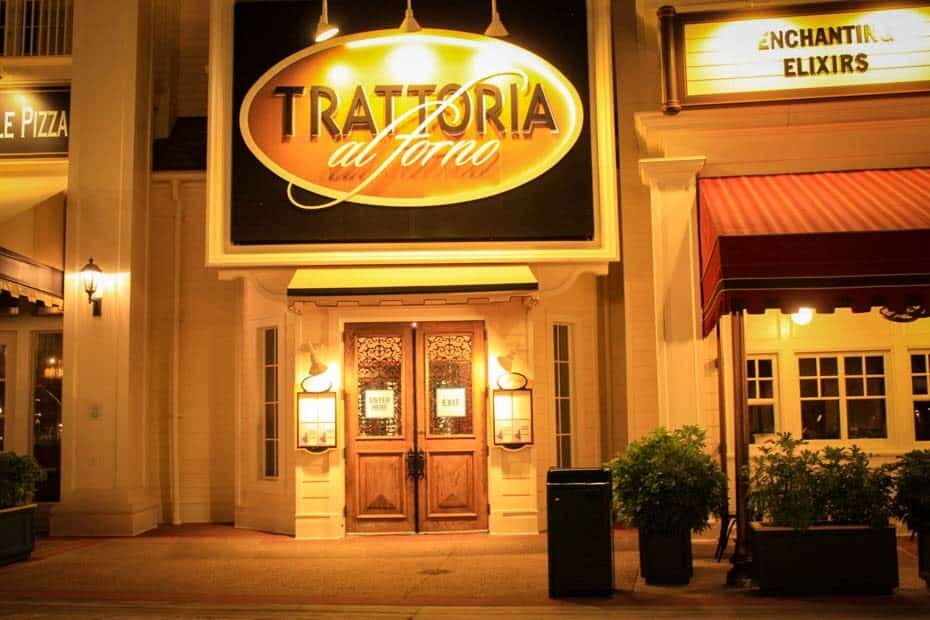 At this time, breakfast is available without characters. This character dining experience is normally called the Bon Voyage Character Breakfast and offers the opportunity to meet Ariel and Prince Eric with Rapunzel and Flynn Rider. Preview the menu here.
Overall, the food at this meal is known to be elevated compared to other character meals at Disney World. If you are looking for a meal with characters at this time, you might look into having breakfast at Topolino's Terrace. Those of you staying at Disney's Boardwalk Inn can take the Disney Skyliner (that sits outside Epcot's International Gateway) to the Riviera for that meal.
Our last stop for dining in this area is the infamous Flying Fish, not to be confused with the Flying Fish Cafe. Flying Fish is one of Disney's signature dining locations. If you enjoy seafood and are looking for a nice dining experience on your Disney vacation, this restaurant would be an excellent choice.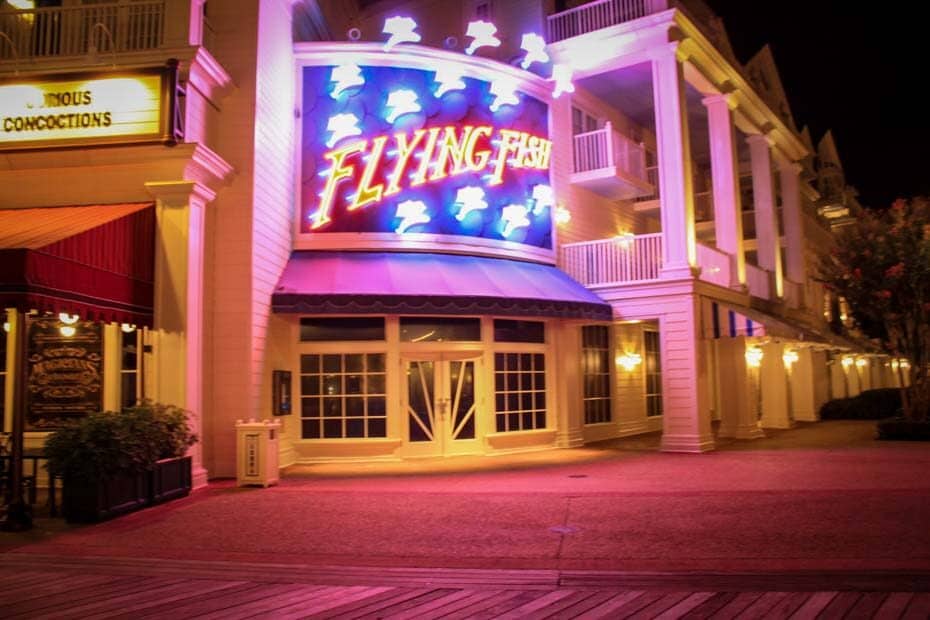 Unfortunately, this is another one of the dining locations that has not re-opened at this time. In the meantime, you can preview the menu here.
For similar fine dining experiences, you might try our review of California Grill, which is located at Disney's Contemporary Resort. Another option within walking distance is the Hollywood Brown Derby at Disney's Hollywood Studios. However, valid theme park entry will be required along with a reservation to dine there.
As far as other Disney World restaurants near the Boardwalk, there are plenty of options. For example, guests can walk over to Disney's Beach Club Resort and enjoy a counter-service meal at Beach Club Marketplace or seafood at Cape May Cafe.
Related: Disney's Beach Club Review
Disney's Yacht Club sits next door and has another of our favorite off-the-radar restaurants, Ale and Compass. We have a review of several breakfasts at Ale and Compass. Don't miss the chocolate waffles! They are a long-time favorite item.
Related: Disney's Yacht Club Review
In addition, there are several dining locations nearby at Disney's Swan and Dolphin Resort. While this isn't a Disney-operated hotel, the restaurants are all available in the My Disney Experience app.
Related: Disney's Swan and Dolphin Restaurant Guide
Another breakfast spot we love is the Grand Floridian Cafe. This restaurant is located at Disney's Grand Floridian Resort and would be ideal on a Magic Kingdom morning if you weren't in a hurry to get to the theme park early.
At this time, the Disney Dining Plan has not returned. However, Disney has announced it does plan to offer the dining plan again in the future.
If you like, we have a full list of all the Walt Disney World Dining Reviews we have available to date. This might help you get an idea of what other dining options are available.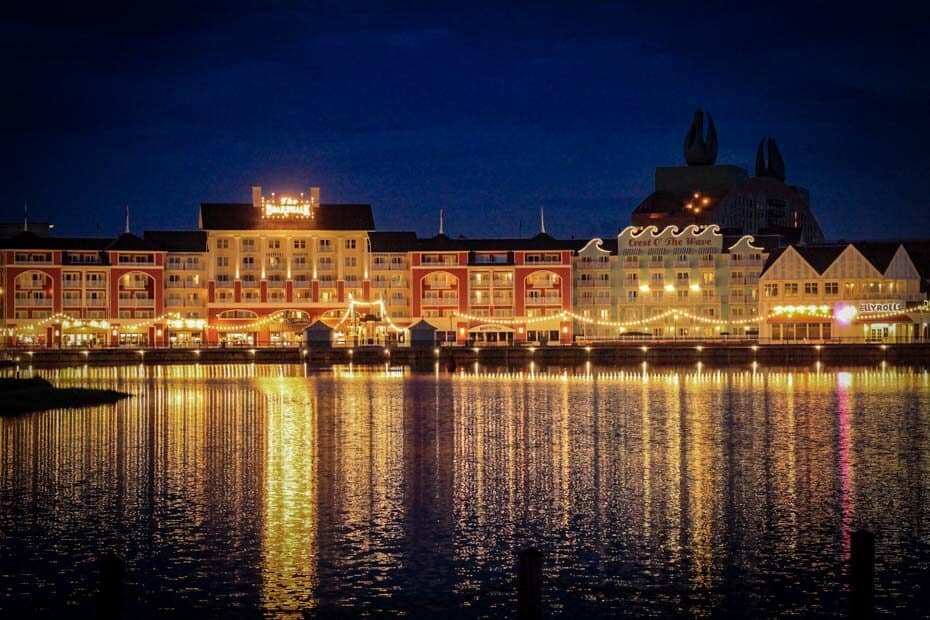 Planning a Walt Disney World vacation? Make sure to check with our friends at Firefly Travels. They'll be able to fill you in on the latest offers.
Other popular resort dining guides on the site include:
Lastly, all articles related to Disney's Boardwalk are available here if you would like to learn more.
So now that we've taken a closer look at all of the restaurants at Disney's Boardwalk Inn, what do you think? Leave a comment below with your thoughts about dining here.