Disney's Boardwalk Restaurants (The Full Guide)
This article covers the restaurants at Disney's Boardwalk. We'll look at the Boardwalk's counter service, table service restaurants, lounges, and the pool bar.
Disney's Boardwalk Inn has plenty of restaurants, especially table-service dining locations. However, the resort is somewhat lacking in quick service options. The Boardwalk has eleven current dining options, with two additional locations expected to debut later this year.
With new options on the way, some options are no longer available. Several notable dining changes have occurred over the last few years. As we continue, we'll preview a list of the current restaurants at the Boardwalk, what's coming soon, and note the permanently closed locations.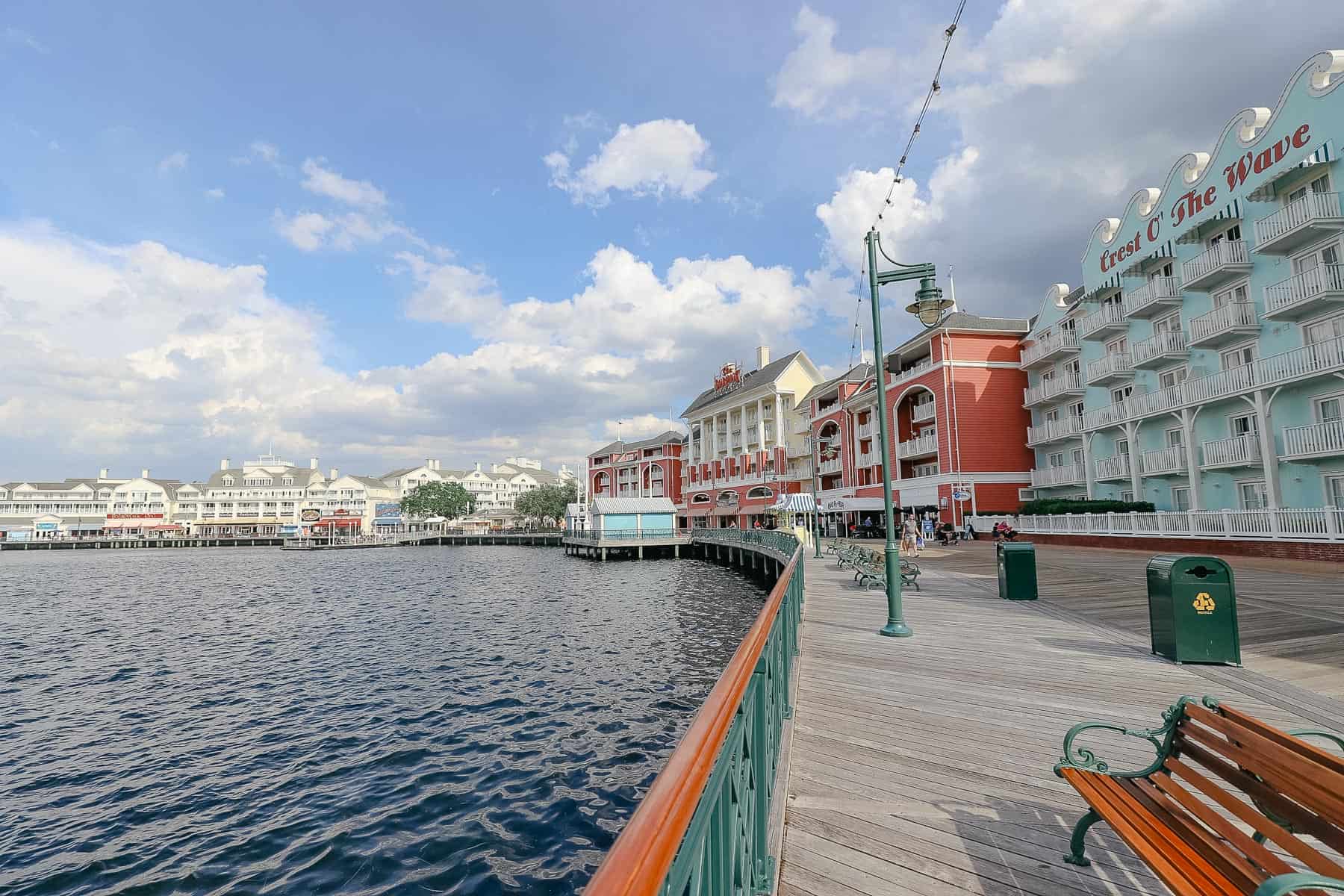 Disney's Boardwalk Restaurants List
Here is a list of restaurants at Disney's Boardwalk.
Boardwalk Deli
Carousel Coffee
Pizza Window
Boardwalk Ice Cream
Boardwalk Joe's Marvelous Margaritas
Belle Vue Lounge
Abracadabar
Leaping Horse Libations
Big River Grille and Brewing Works
Trattoria al Forno
Flying Fish
Coming Soon
The Cake Bake Shop
Blue Ribbon Corn Dogs
No Longer Available
ESPN Club (Sports Bar)
Funnel Cake Cart
The To Go Cart
Below, we'll start with the counter service and quick service dining at Disney's Boardwalk Resort. Then, we'll preview the lounges, table service restaurants, and signature dining locations.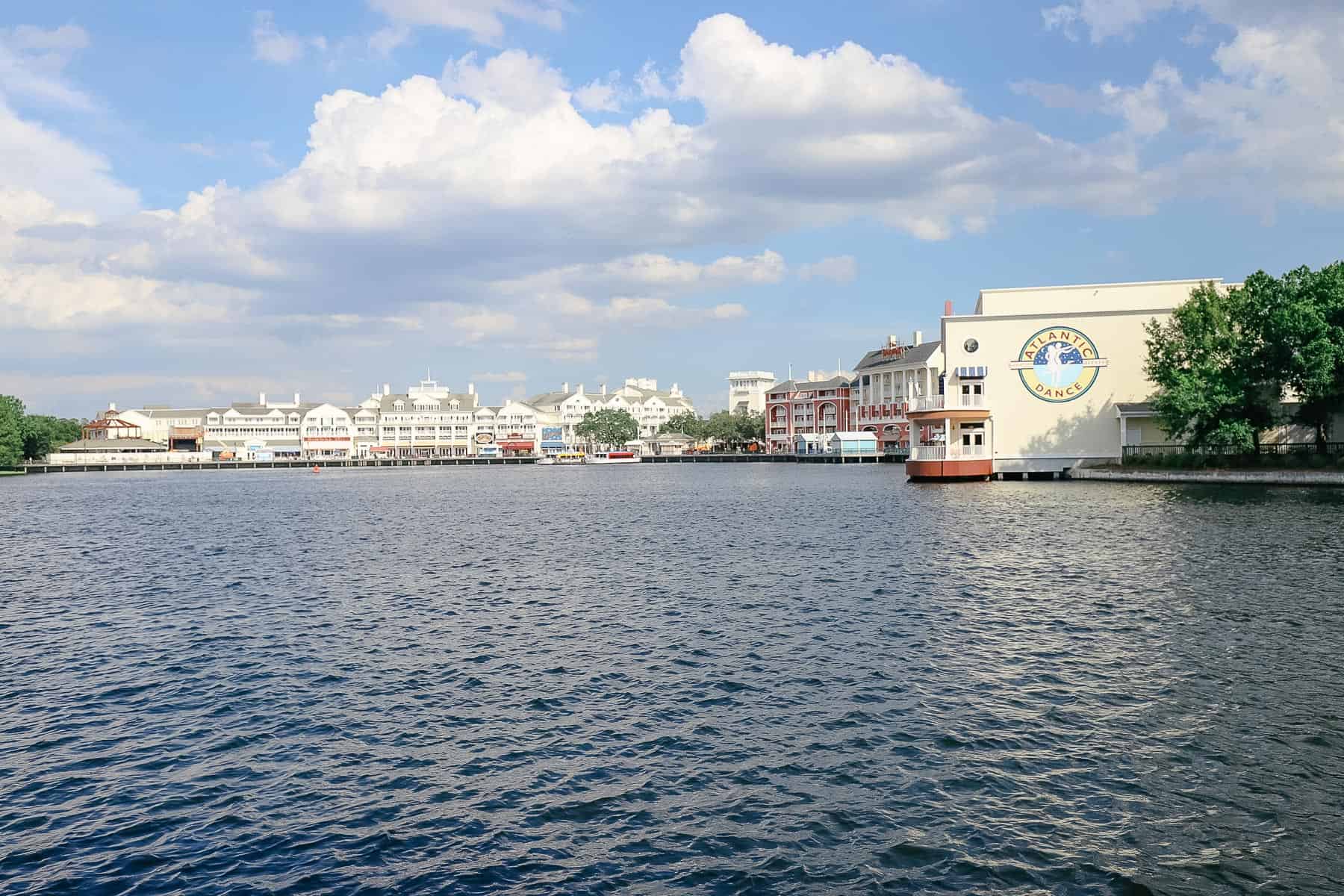 Boardwalk Deli
Formerly the Boardwalk Bakery, the Boardwalk Deli is our first stop for dining on Disney's Boardwalk. This is the resort's dedicated quick-service dining location.
However, the Deli is not your average Disney quick service. It's strictly a place to pick up a meal and take it elsewhere to enjoy. No interior seating is available. Outdoor tables and chairs are usually available on the Boardwalk, which is an excellent place to enjoy a meal when the weather is pleasant. (An emphasis should be placed on the word when.)
Boardwalk Deli serves breakfast, lunch, and dinner between 7:00 a.m. and 10:00 p.m. Depending on the season, those hours might fluctuate. So you'll want to check their exact hours of operation for your visit.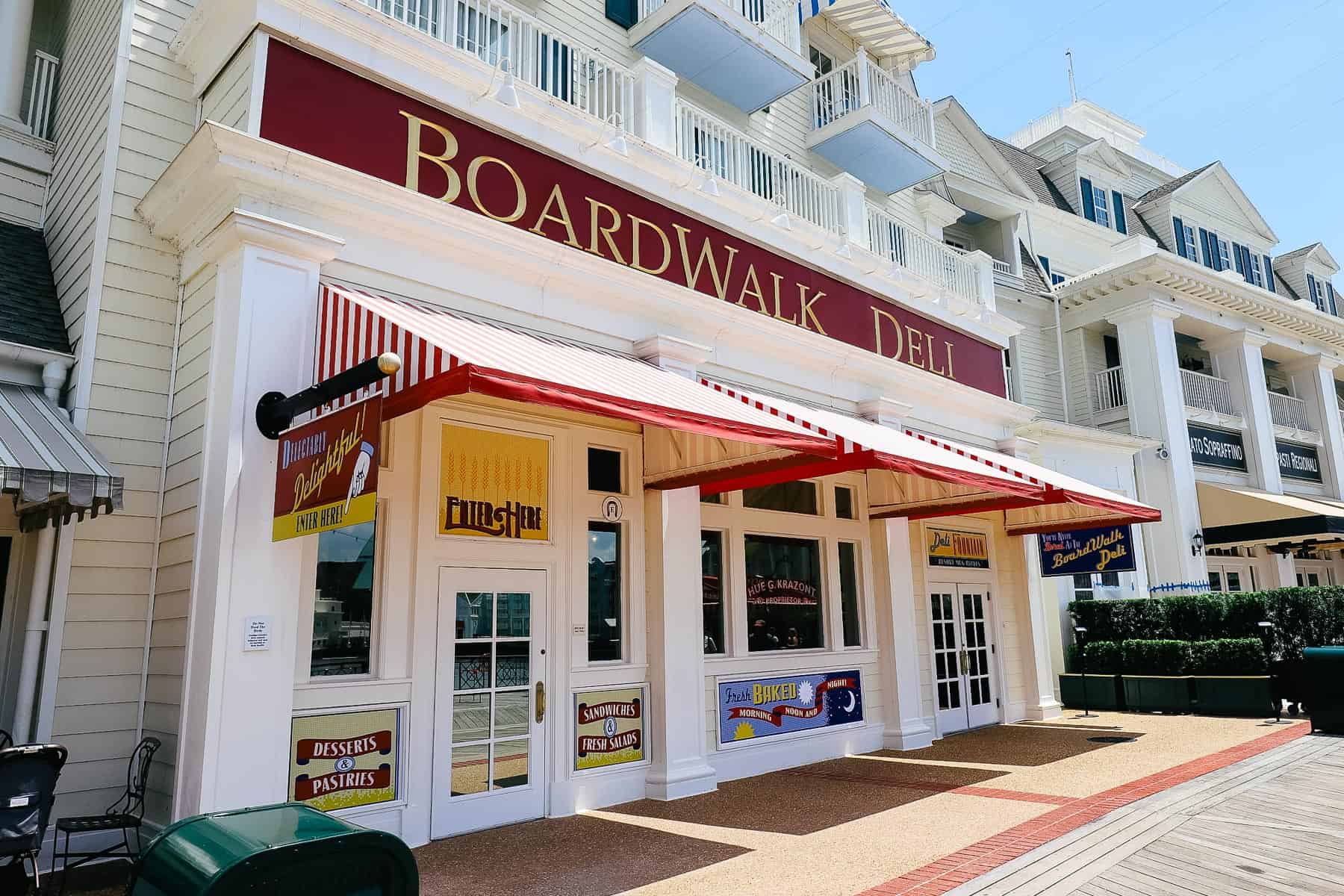 Disney's Boardwalk Deli has a few bagel sandwiches, pastries, and a plant-based option for breakfast. Here are a few items:
Bagel Breakfast Sandwich
Everything Bagel Sandwich
Everything Bagel with Smoked Salmon
Plain Bagel with Smoked Salmon
Ciabatta Breakfast Sandwich 🌱
Pastries include items like croissants, muffins, scones, and bagels. Here is a photo showing some of the selections.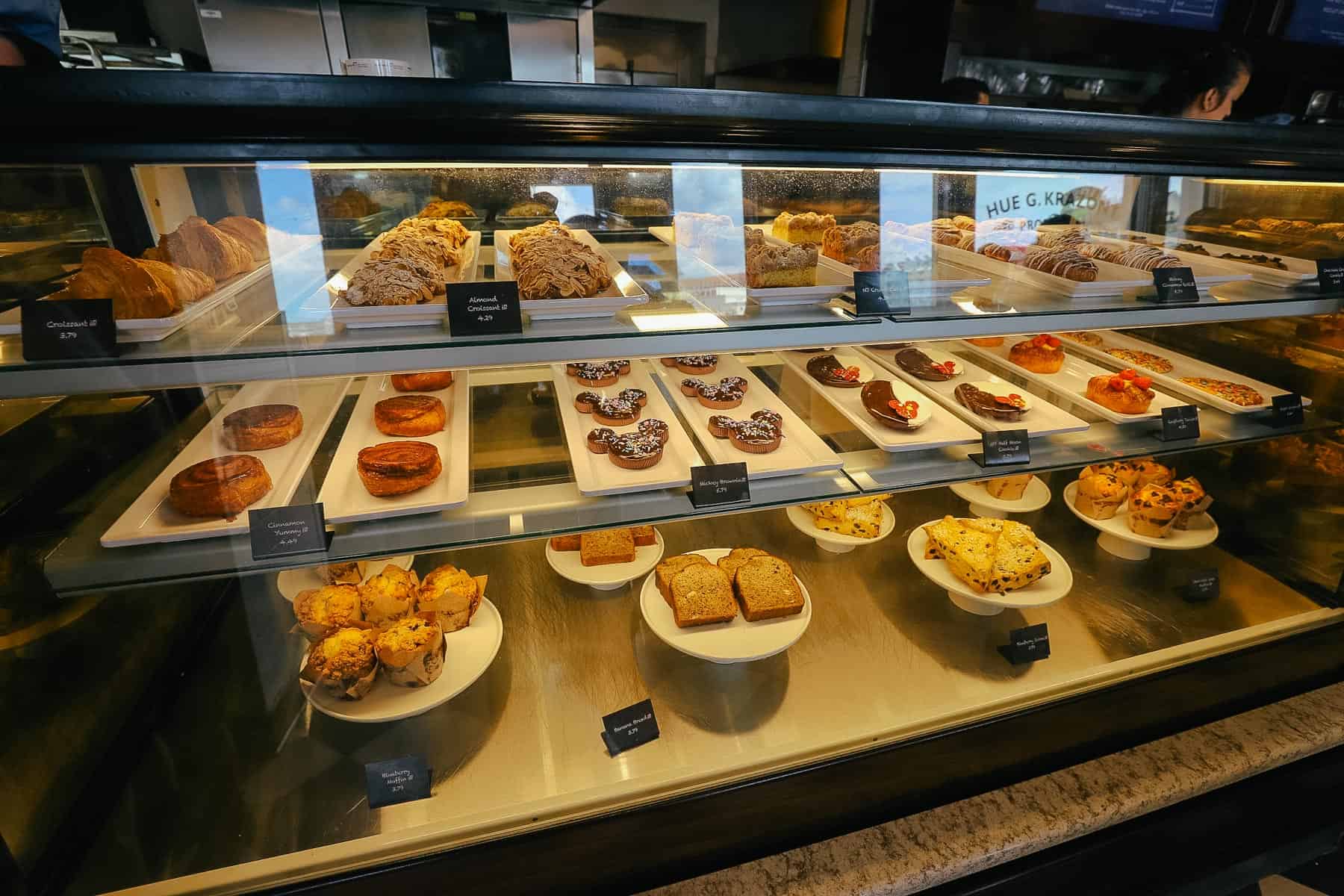 For lunch and dinner, options include:
Warm Pastrami Reuben
Chicken and Walnut Salad Wrap
Grilled Cheese Sandwich
Italian Sub
Roasted Turkey Sandwich
Veggie Crunch Muffuletta 🌱
Kids' Meals include:
Ham and Cheese Sandwich
Grilled Cheese Sandwich
A few premade salads are available, along with soup selections. Again, the items are pretty limited. However, we have eaten here a couple of times and have enjoyed the things we've tried to date.
Boardwalk Deli is exceptionally better than the former Bakery. We only wish more choices were available here or along the Boardwalk.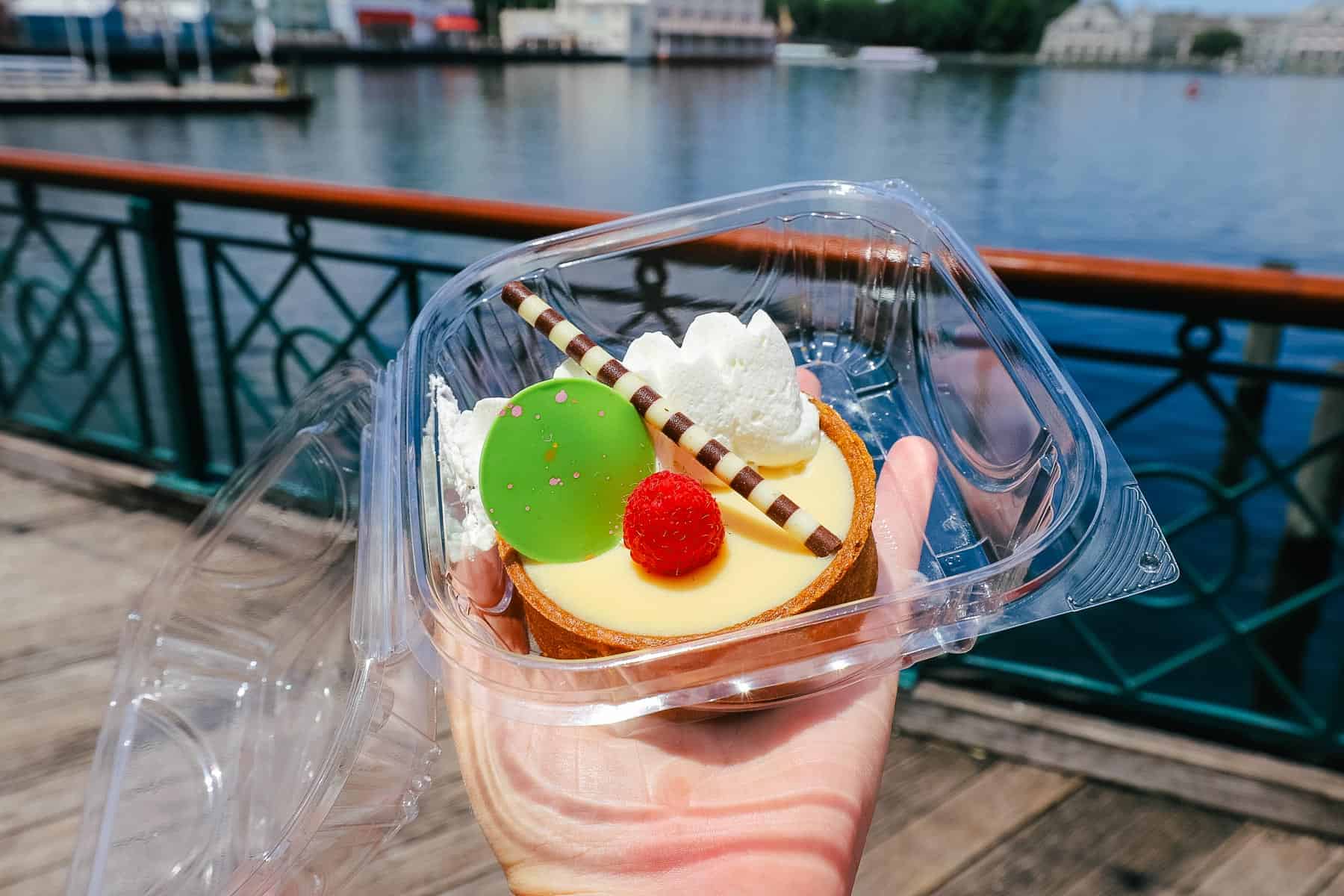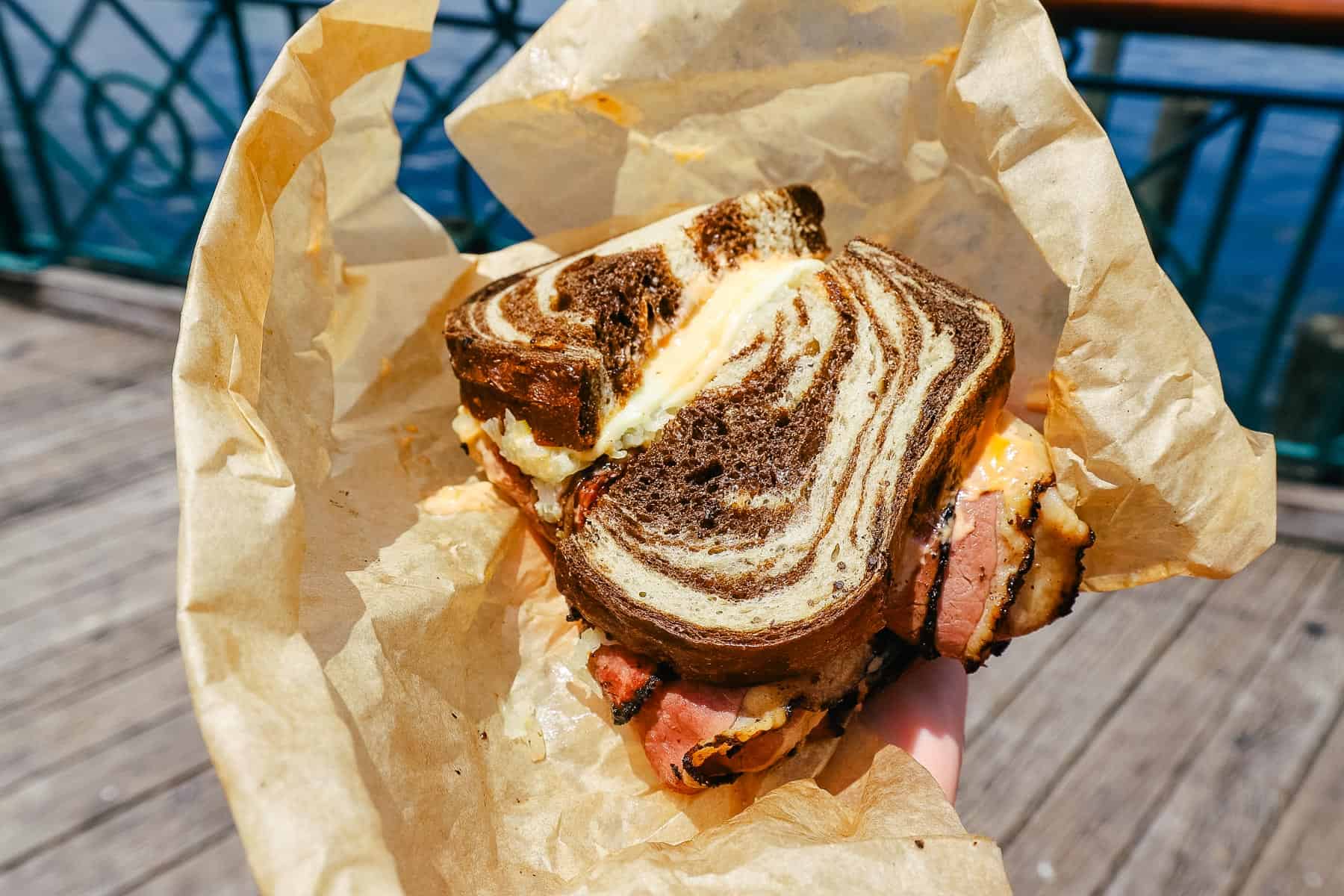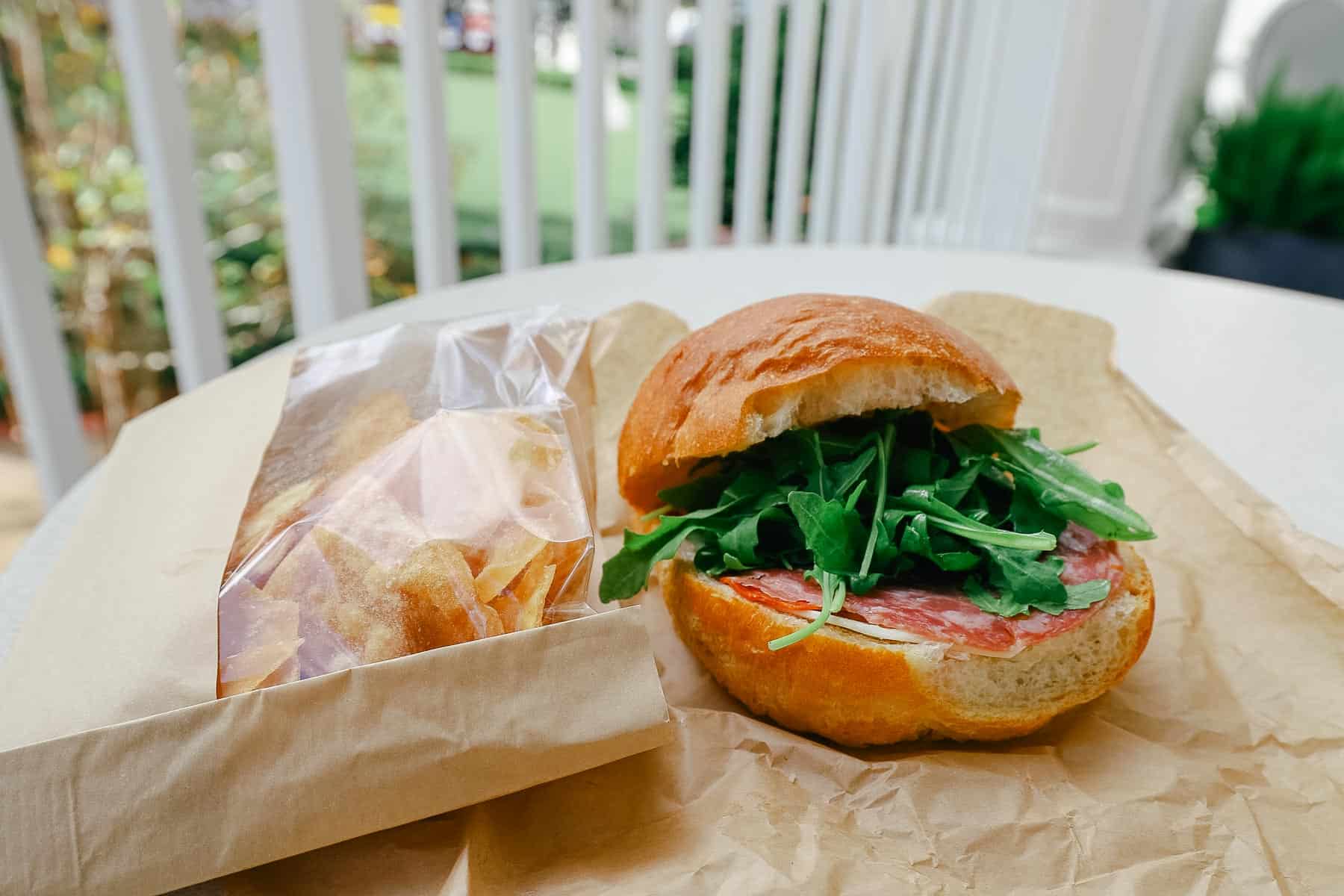 Here is a look inside the Deli.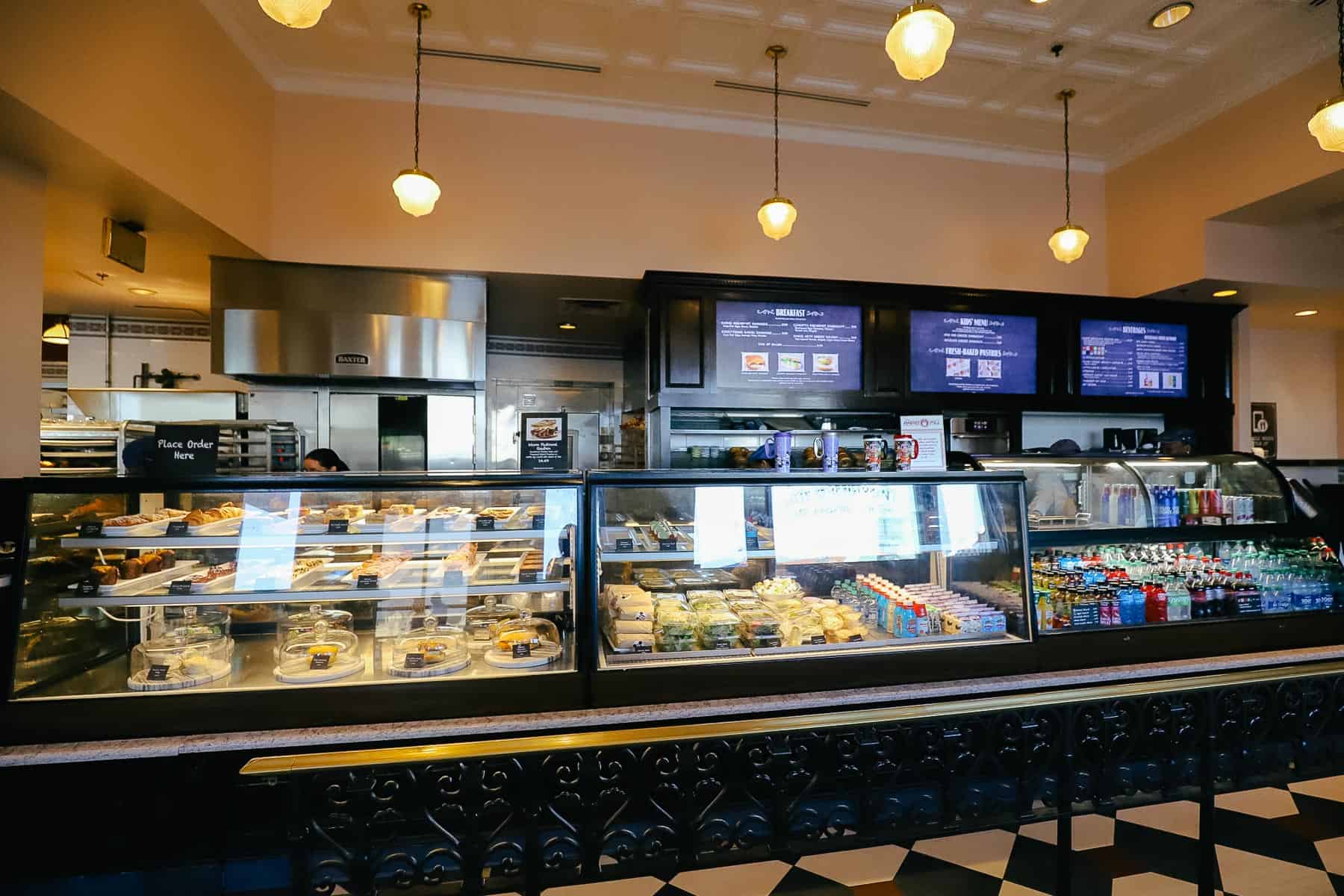 If you stay at the Boardwalk Inn, you can purchase and refill Rapid Fill mugs at the Deli. Unfortunately, besides the pool bar, this is the only location to refill mugs at the hotel. So if it's raining or whatever the reason, you must exit the hotel, walk the length of the lawn, and down the Boardwalk to refill your mug.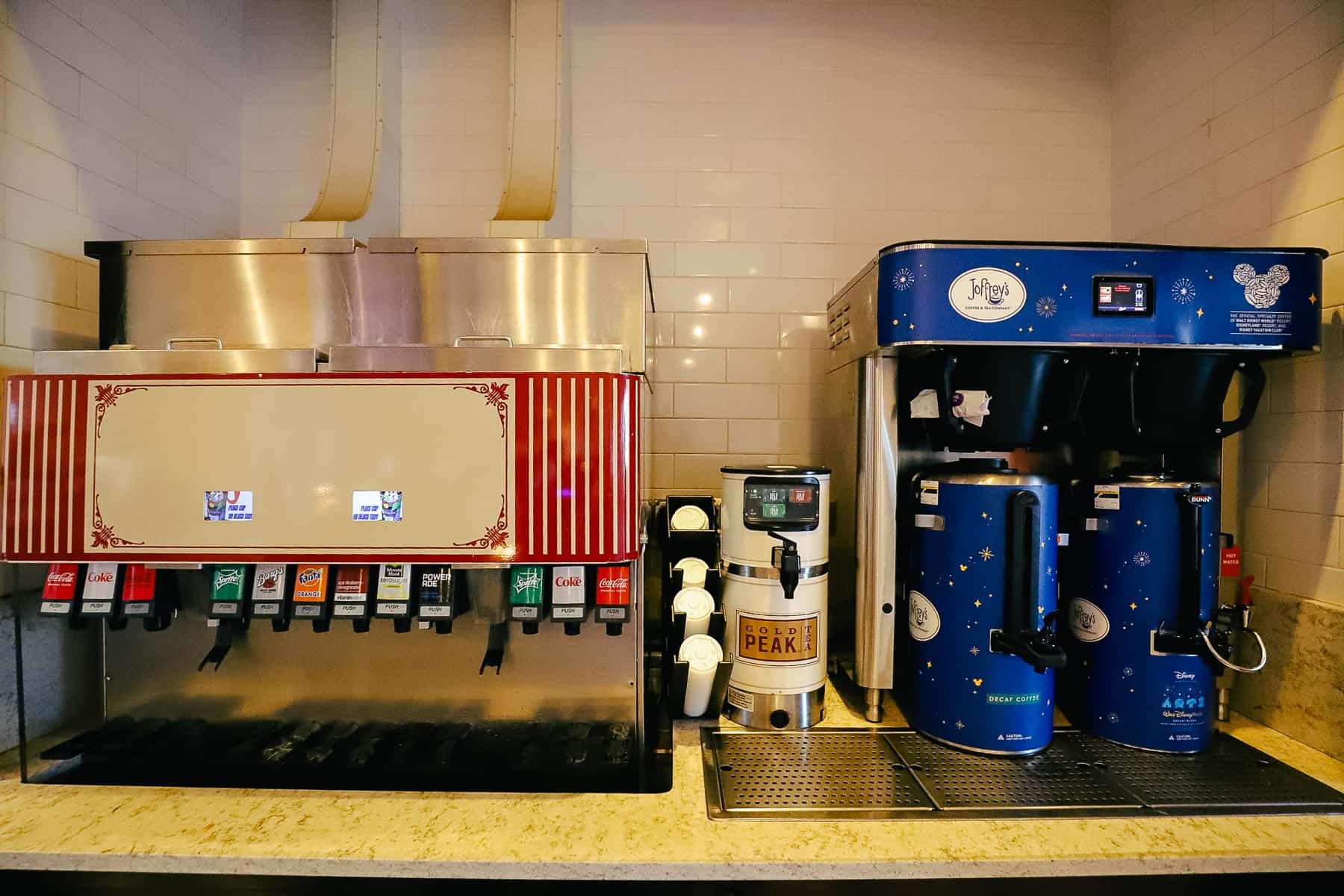 A sink is available next to the beverage area to rinse your mug.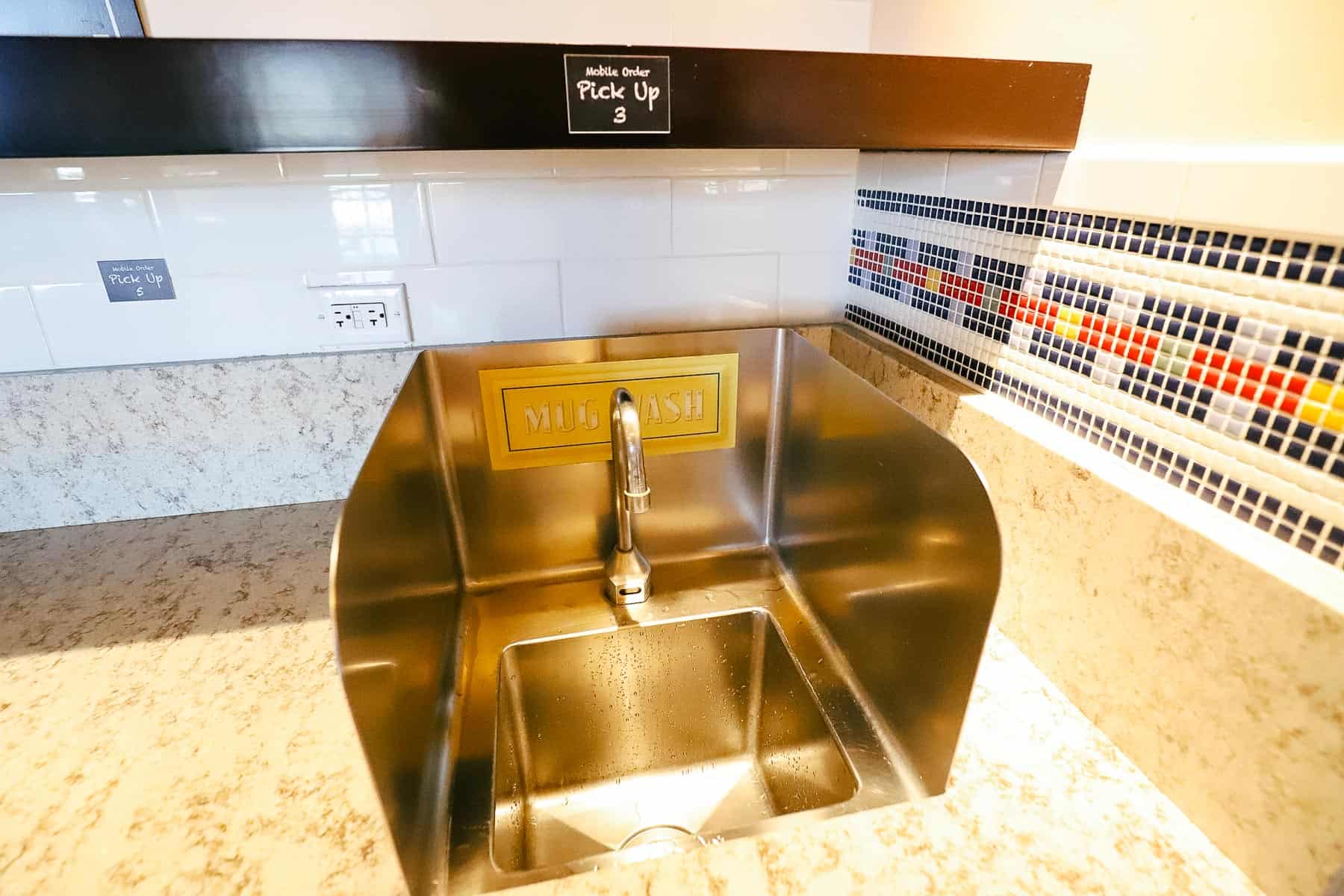 Here are a few of those table and chairs on the Boardwalk. You can enjoy views of the Epcot Resorts Area while you dine. For more information about this restaurant, we have an entire review of the Boardwalk Deli.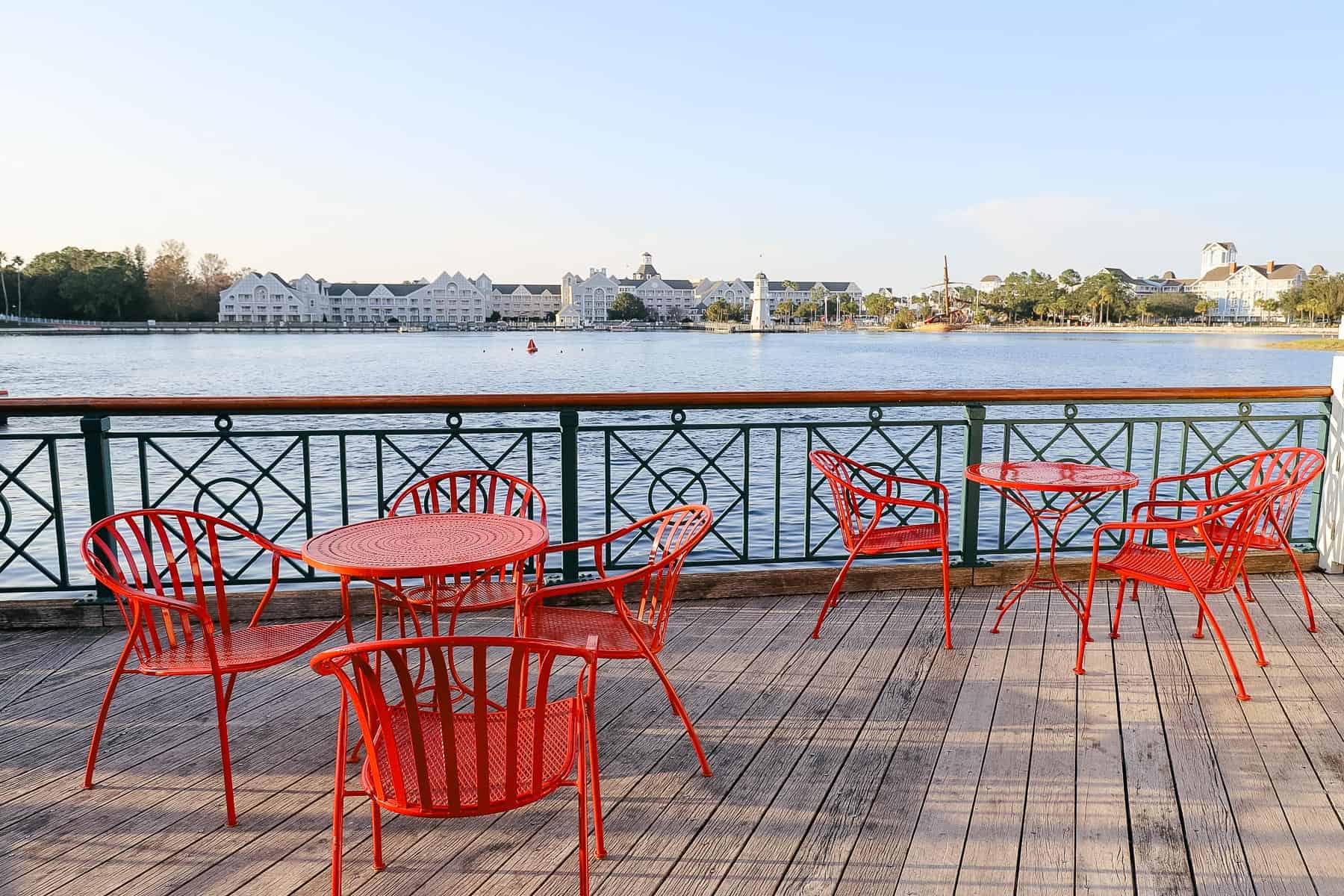 Carousel Coffee
Carousel Coffee is the Boardwalk's coffee shop. It is off the hotel's lobby in the former Dundy's Sundries location.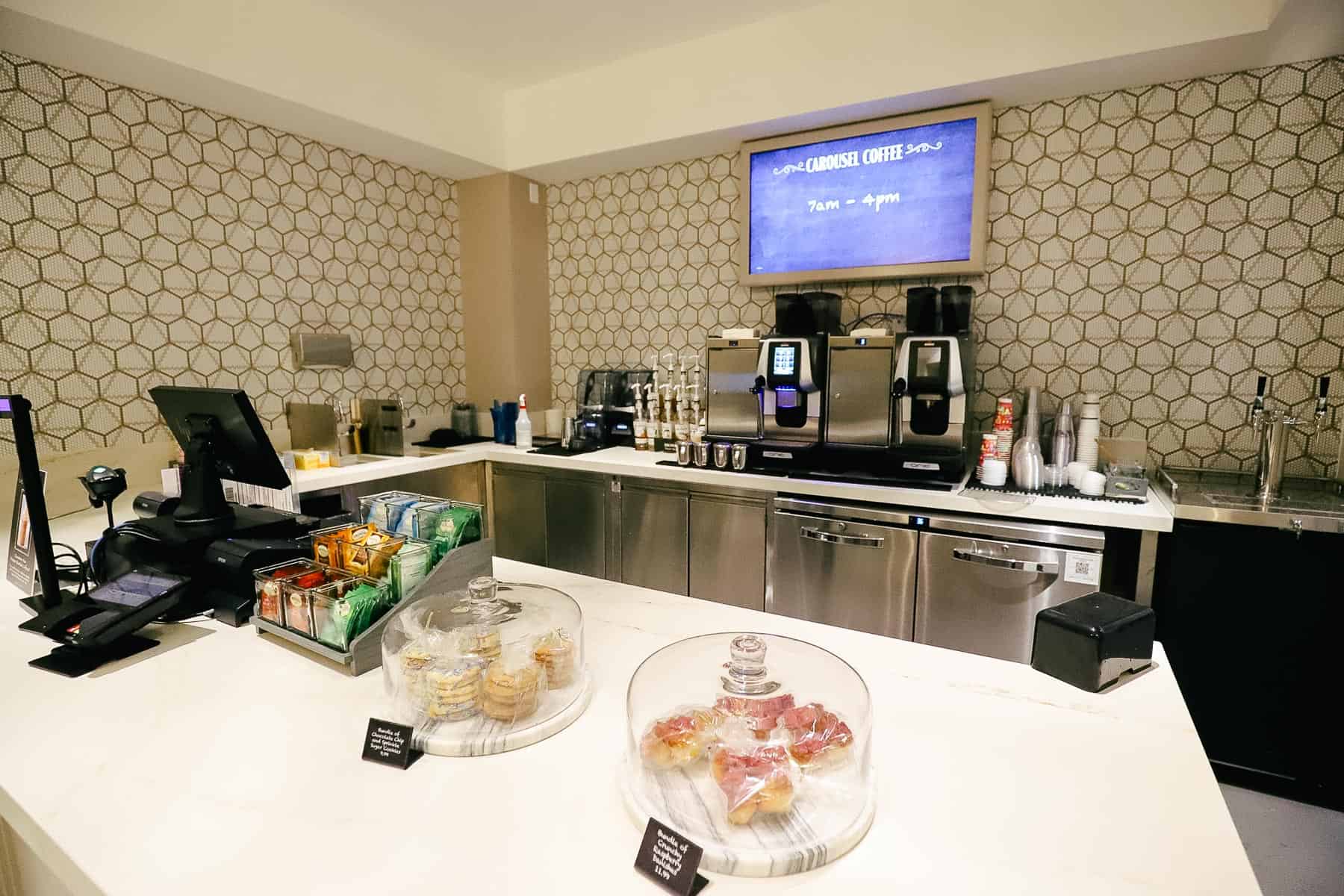 Carousel Coffee was open daily from 7:00 a.m. through 4:00 p.m. However, during our last stay at the Boardwalk, they were closing earlier.
This coffee shop offers a selection of pastries and specialty coffee. Signature items include the Crunchy Raspberry Danish and the New Jersey Crumb Cake.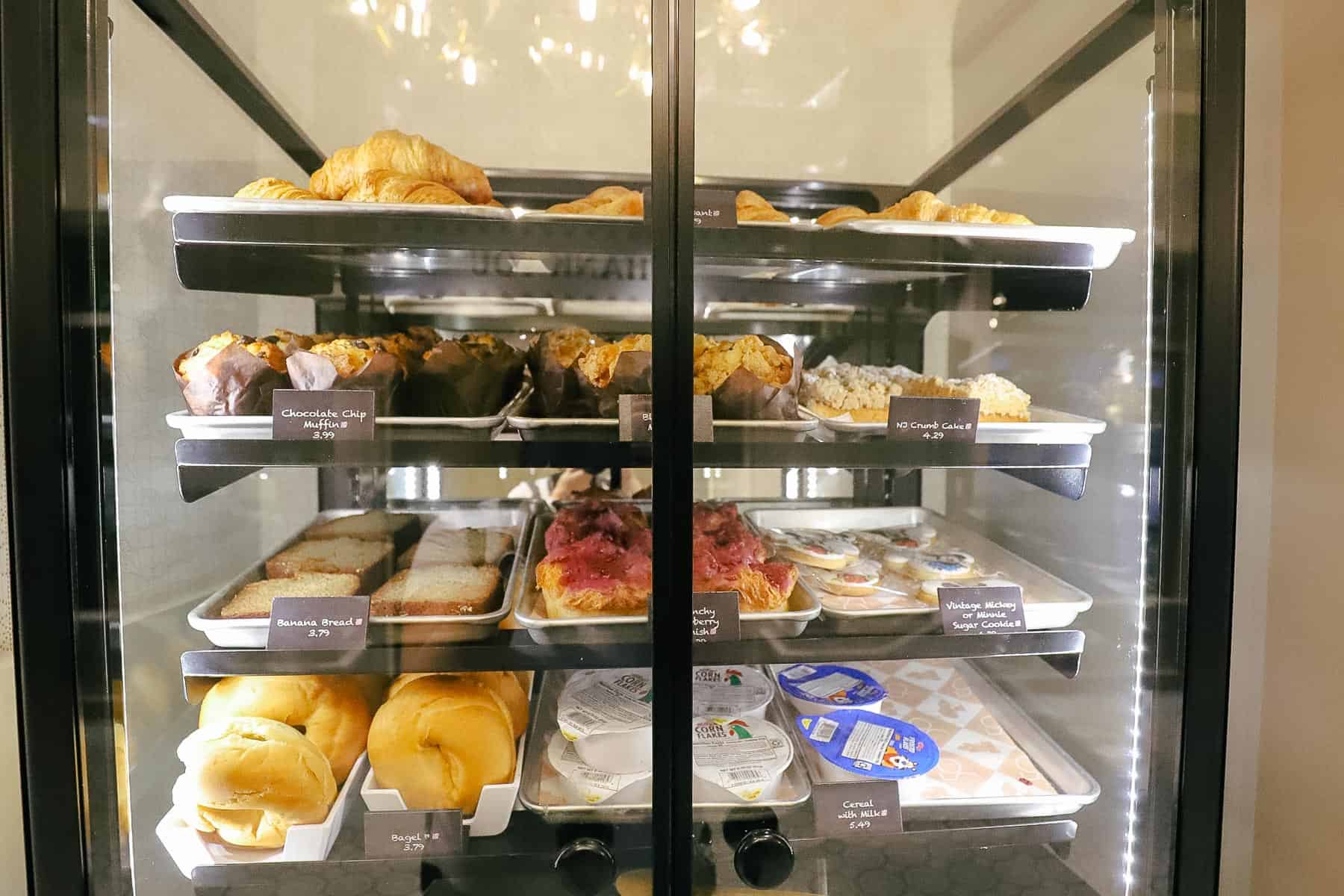 An area off the lobby was transformed into a sitting area for Carousel Coffee.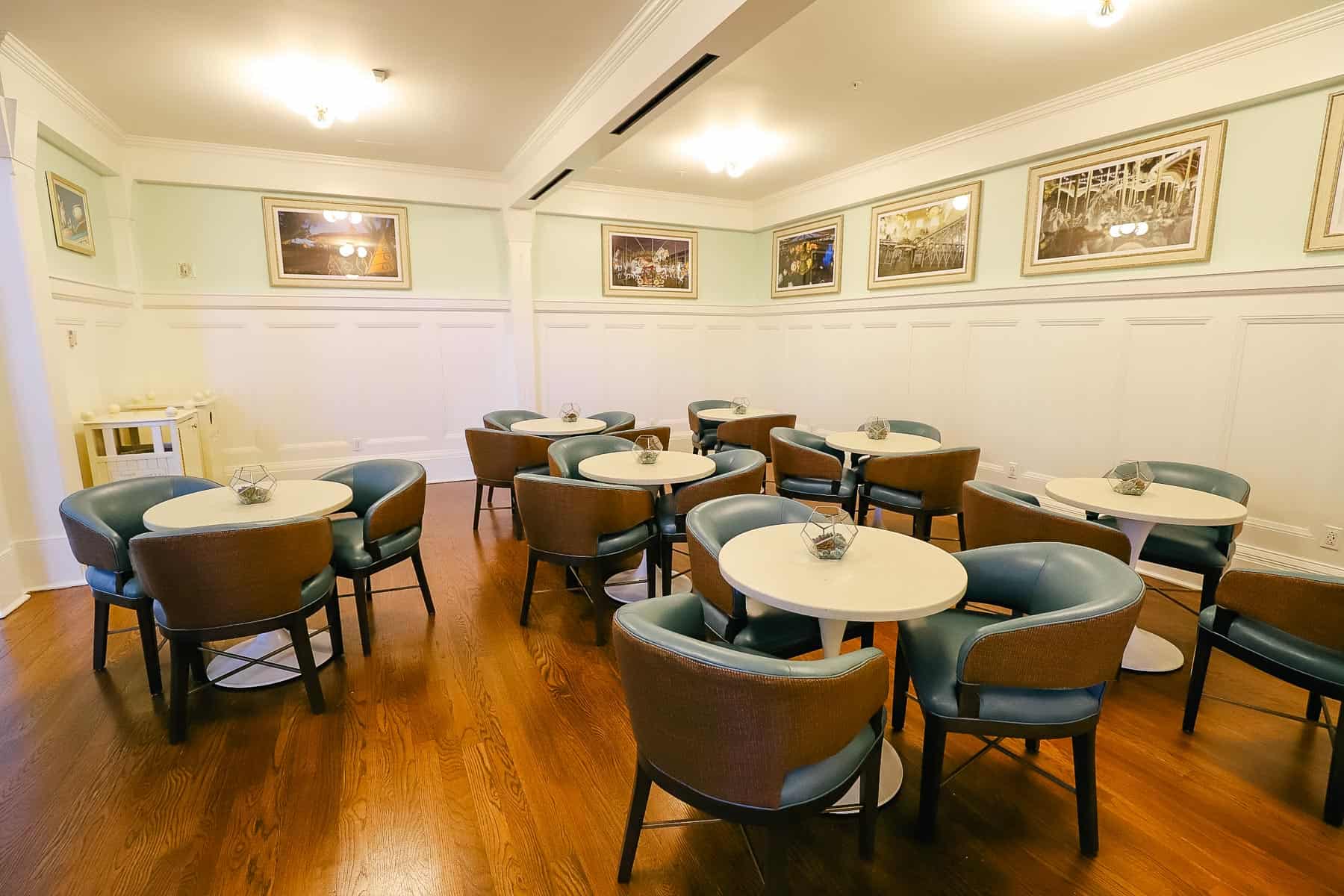 Pizza Window
Disney's Boardwalk has a quick service walk-up called Pizza Window. In the past, this location typically offered three kinds of pizza. You could order it by the slice or a whole pie.
However, on our last visit, we noticed that only two types of pizza are now offered–pepperoni and cheese. Additionally, you could only order it by the slice. It has also been my experience that the pizza here is subpar. I would compare it to a cheap buffet or school cafeteria slice of pizza.
If you're staying in one of the villas at Disney's Boardwalk and have access to a kitchen, you might consider adding frozen pizza to your grocery order. I hate to say it, but the frozen pizza will likely be better and cheaper than Pizza Window.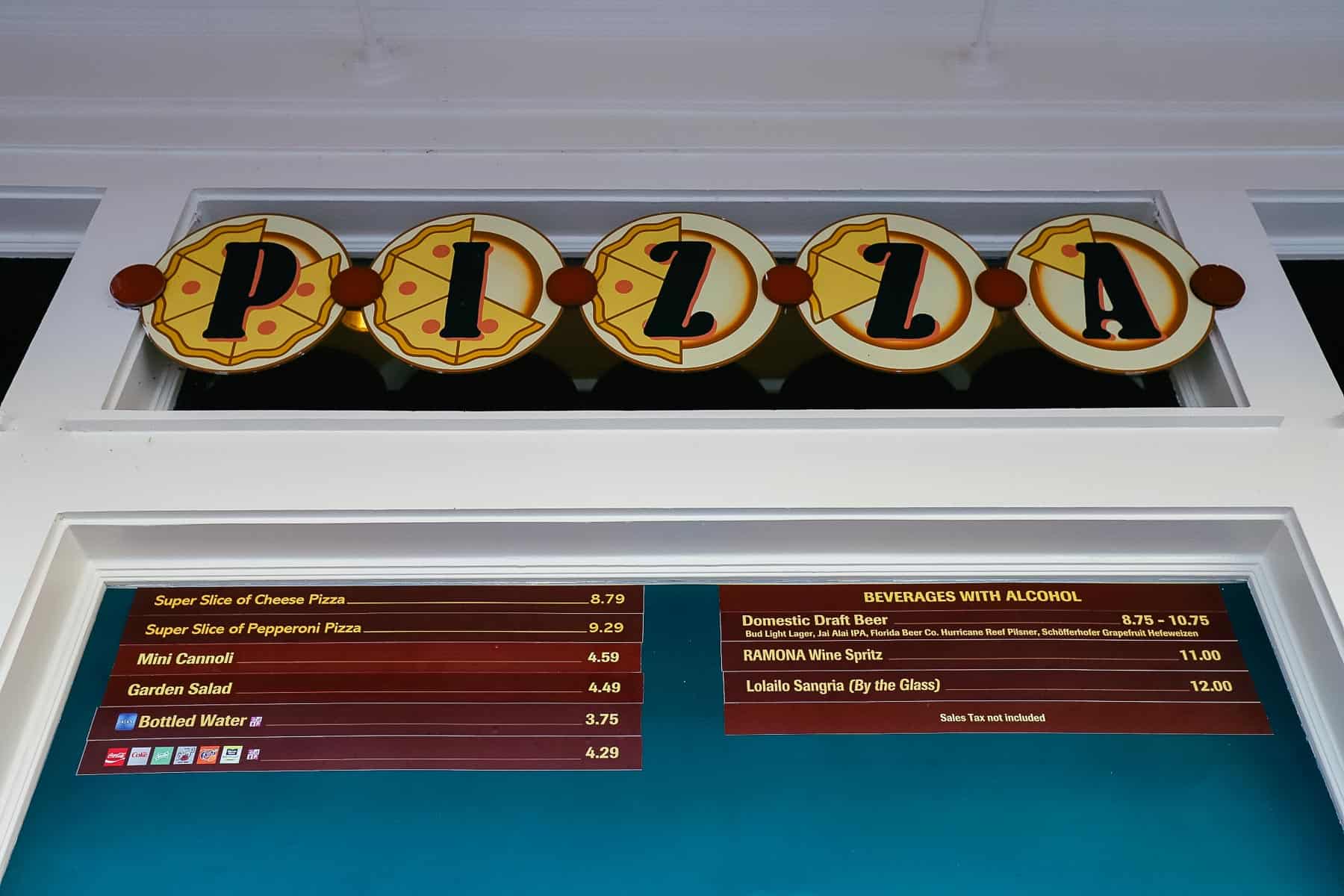 Boardwalk Ice Cream
Boardwalk Ice Cream sits near the Deli on the Boardwalk. You can get a variety of sweet treats here, from a scoop of your favorite flavor of ice cream to Mickey Mouse sundaes.
Here are a few of the menu items:
Cones (Cake or Sugar)
Ride the Wave Sundae – Three Scoops
Shoreside Sundae
Strawberry Splash Shortcake
The Classic Wave of Double Scoop – Ice Cream Cup
Surf's Up Sundae – Two Scoops
Bayside Brownie À la Mode
Thundering Surf Peanut Butter and Chocolate Sundae
Mickey Kitchen Sink Sundae
The brownie a la mode, strawberry shortcake, and kitchen sink are among the most popular treats. You can preview the ice cream shop's menu on Disney.com.
However, if you want a diner-style meal with ice cream for dessert, try to get a reservation or walk up to the Beaches and Cream Soda Shop. It's only a short walk away at Disney's Beach Club Resort.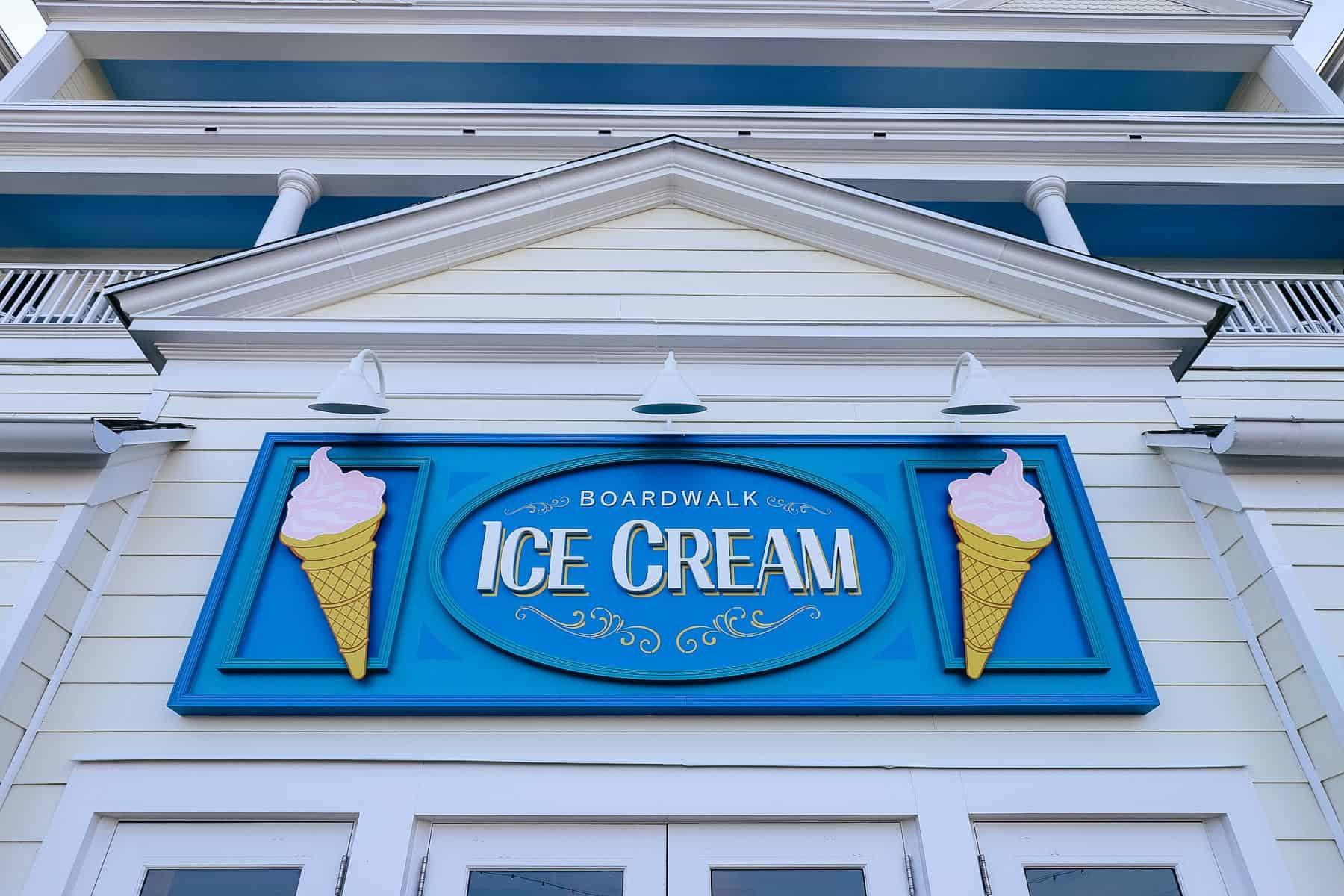 Boardwalk Joe's Marvelous Margaritas
Boardwalk Joe's Marvelous Margaritas is a stand on the Boardwalk that serves various margaritas, including the Marvelous Watermelon Margarita and the Patron Disney Select Anejo Margarita.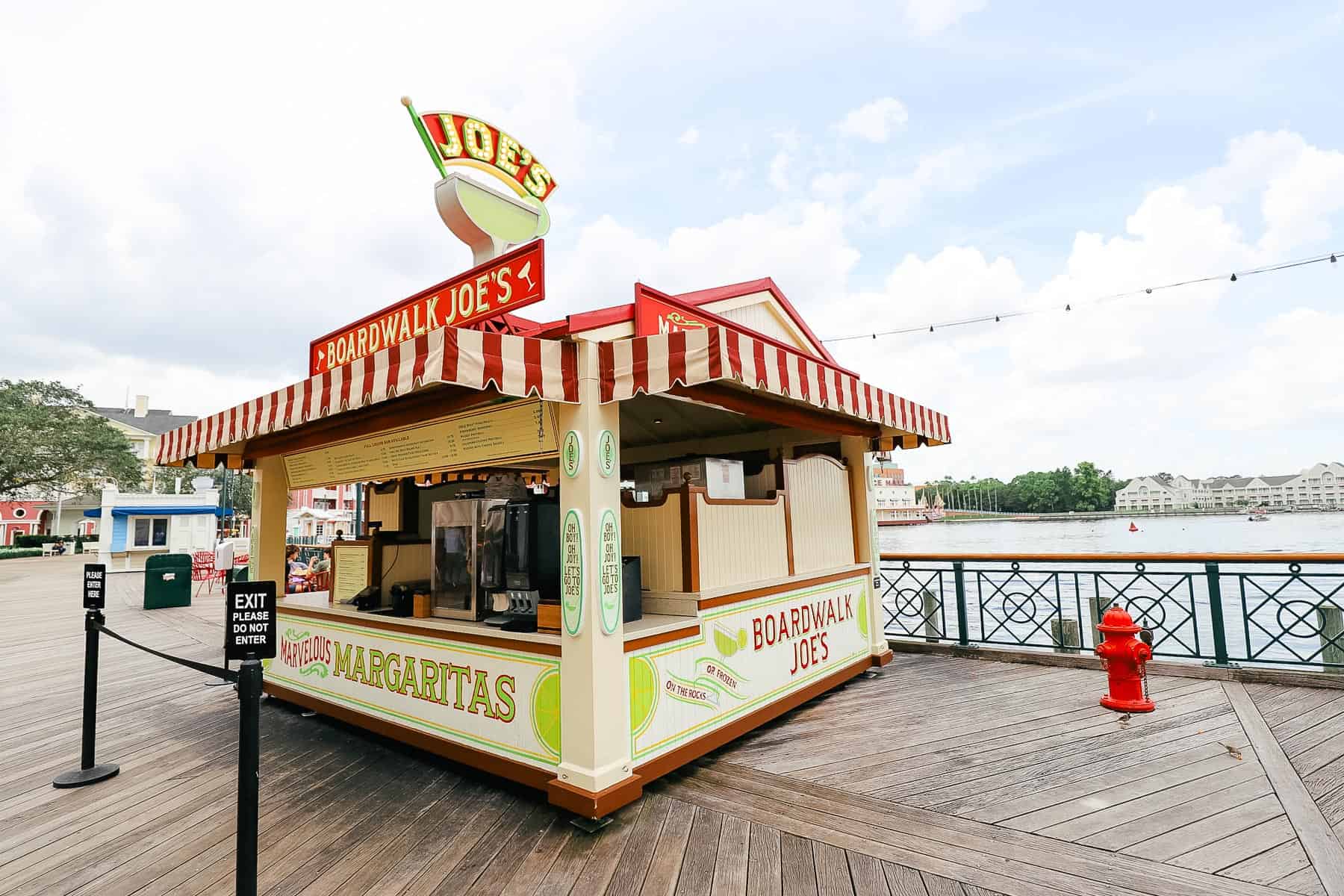 Here is their menu.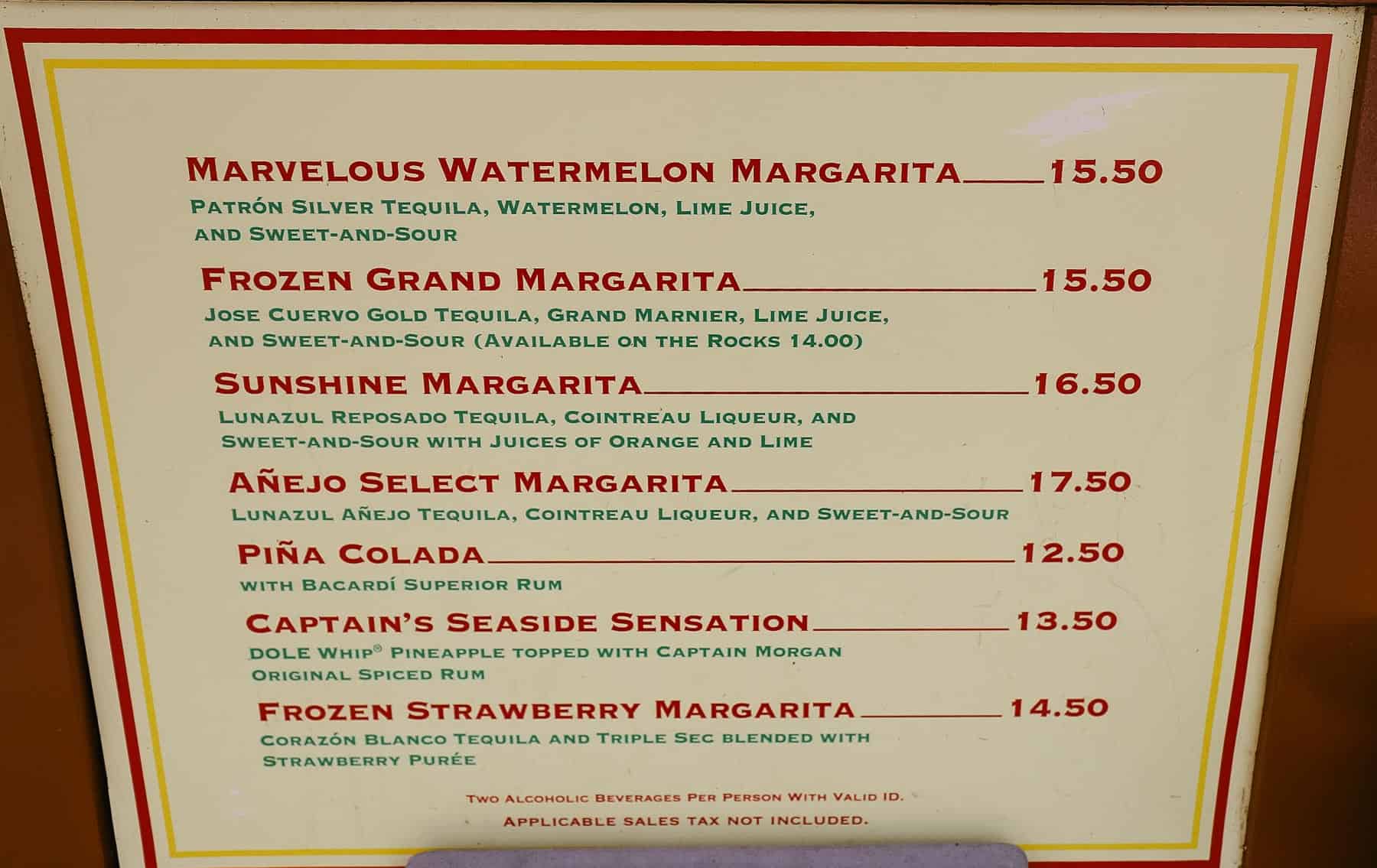 Joe's has a few snack items like nachos, a Mickey pretzel, and a Jalapeño stuffed pretzel. Sounds like the perfect Boardwalk snack, right? Joe's is open daily from noon until midnight.

Belle Vue Lounge
Belle Vue Lounge is the primary lounge at Disney's Boardwalk Inn. They are open from 4:00 p.m. until midnight. You'll find the lounge on the opposite side of the staircase that leads to Disney's Boardwalk.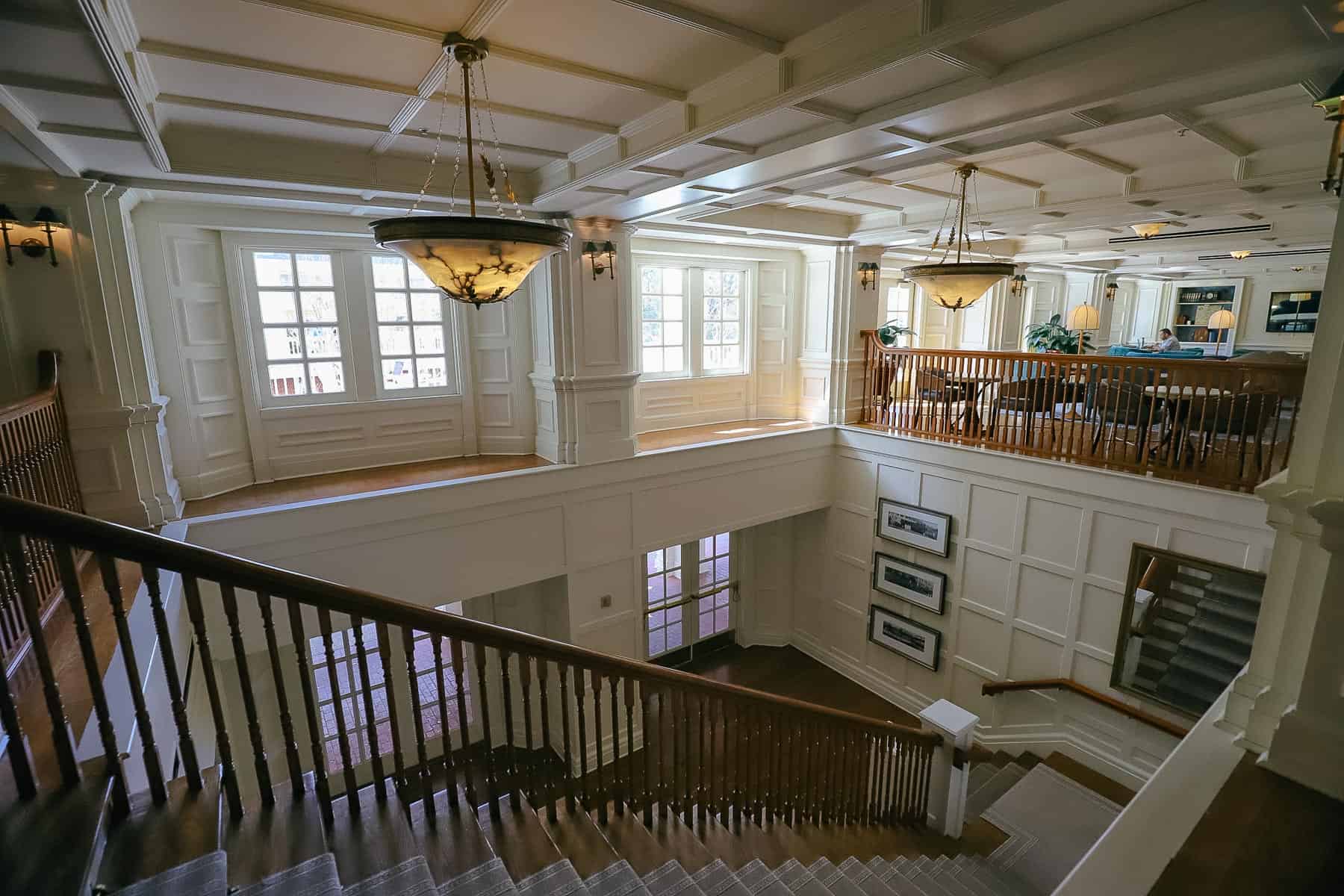 As you may know, Disney's Boardwalk is undergoing an extensive refurbishment. Belle Vue Lounge was completely remodeled during the process. Here is a photo of the finished look.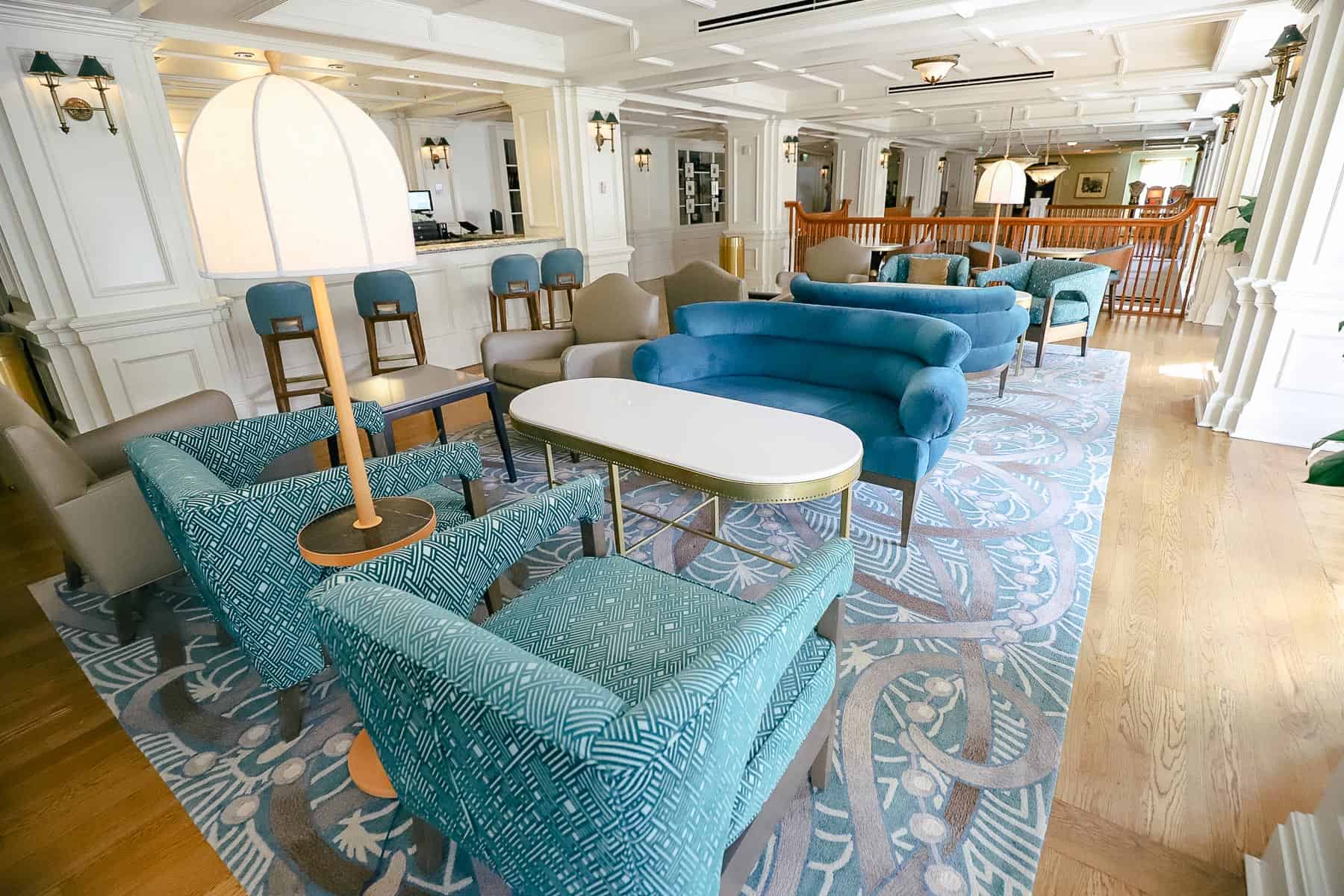 Belle Vue Lounge serves Disney's standard cocktail menu. Unfortunately, this location doesn't have food offerings. However, they do have a few signature drinks like:
Belle Vue Cosmopolitan
Straight Up Margarita
Orange Blossom Manhattan
They have an extensive list of champagne, white wine, red wine, beer, whiskey (Scotch and American), Cognac, Port, Rum, and Tequila. You can preview the entire lounge menu on Disney.com.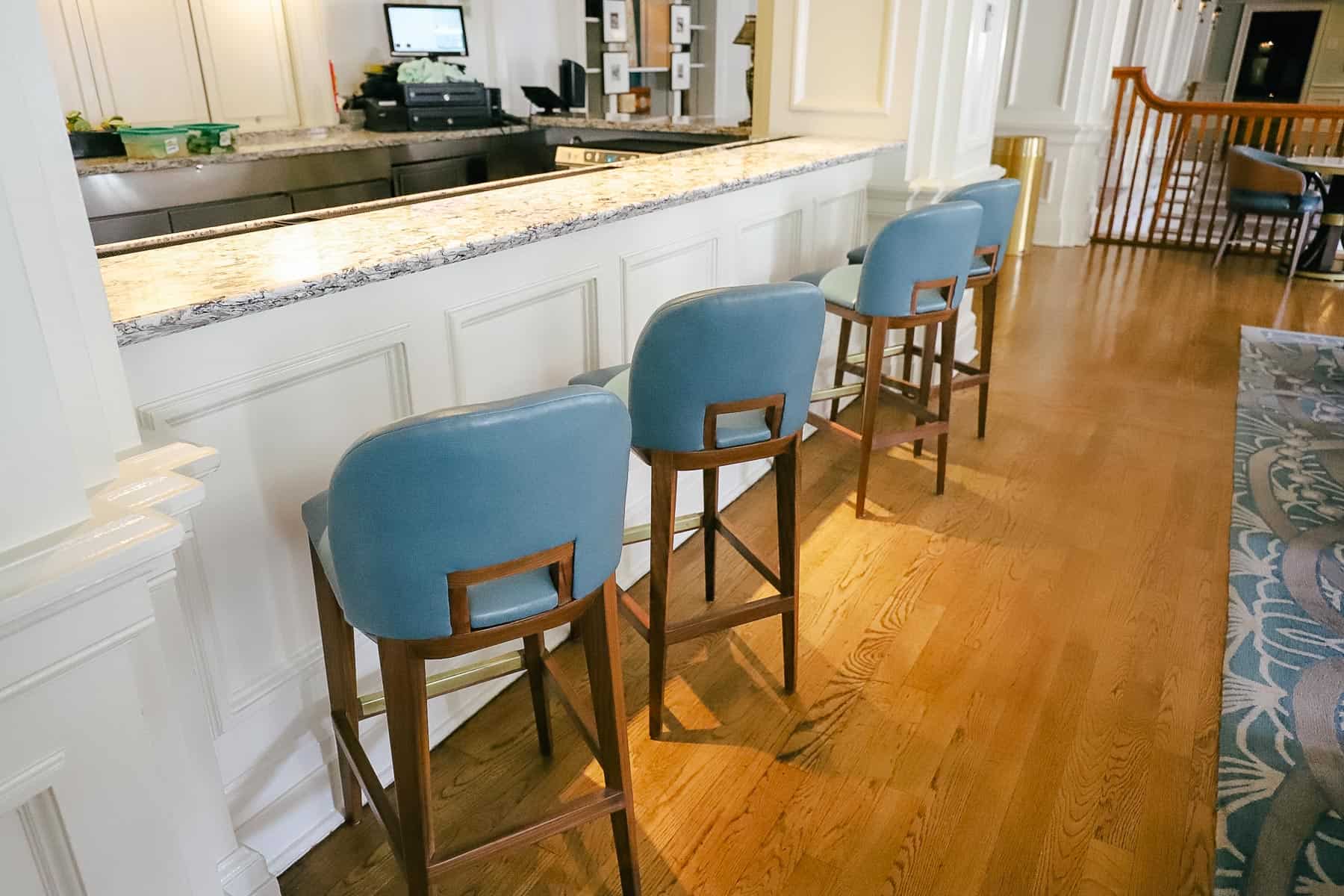 Abracadabar
If you enjoy magicians and similar entertainment, you'll love Abracadabar. Yes, that's like Abracadabra, except with a bar on the end.
This magician-themed bar is open daily from 4:00 p.m. until 12:00 a.m. Abracadabar has a few appetizer items, including charcuterie, truffle fries, and a flatbread pizza option.
However, most of the menu items are elaborate cocktails. Elixirs, magic tricks, and illusions are the name of the game at Abracadabar. You can preview the menu for Abracadabar.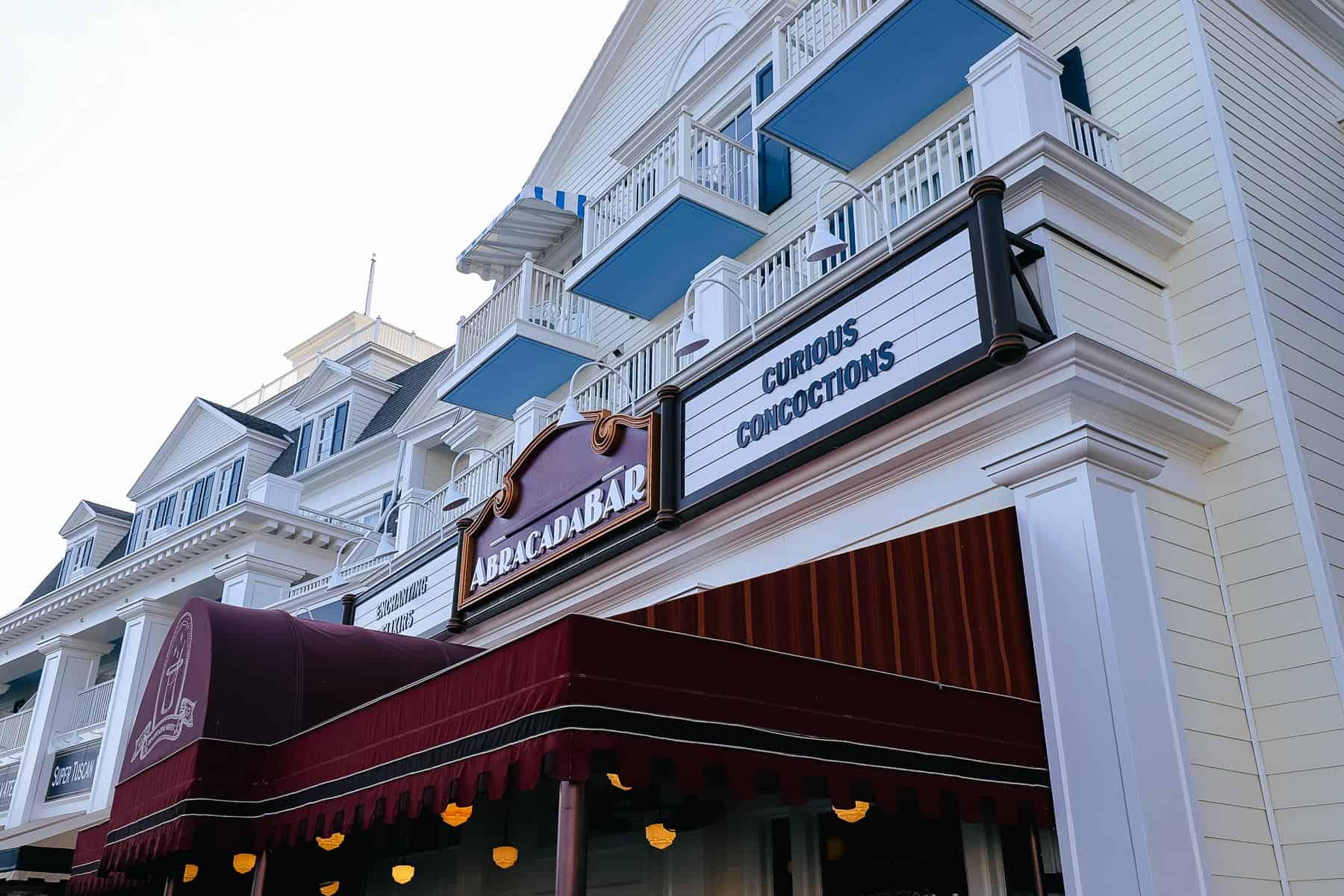 Leaping Horse Libations
Leaping Horse Libations is the pool bar at Boardwalk's Luna Park Pool. This fun pool bar is themed to resemble a carousel. They are open daily from 11:00 a.m. until 10:00 p.m.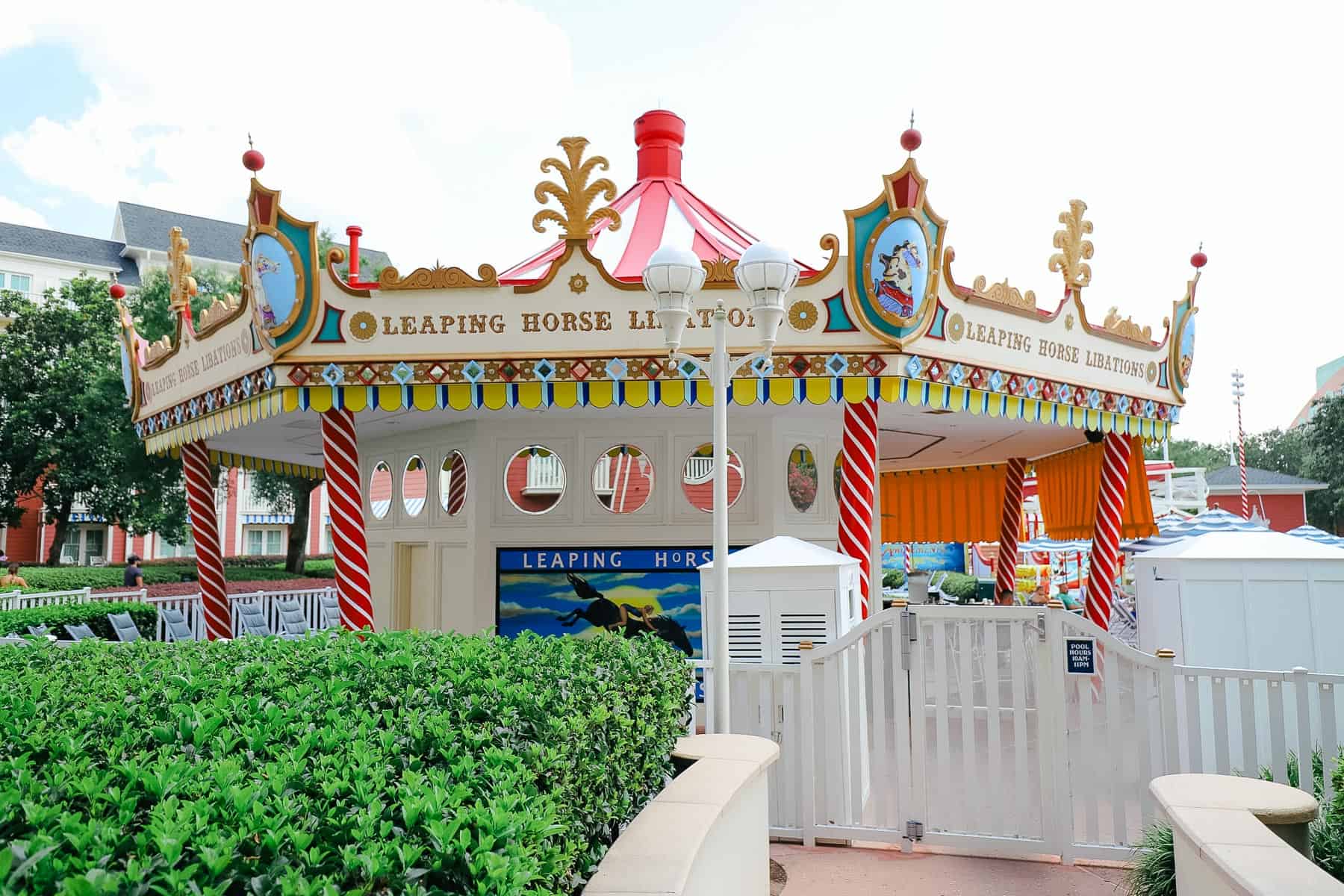 While Leaping Horse Libations has a full cocktail and beverage menu, there isn't much in the way of food offerings. On our most recent stay, the menu options included:
Cheese or Pepperoni Ciabatta Pizza
Pretzel Dog
Pre-made Poolside Salad
Pre-made Greek Salad Sandwich
Kid's Ham and Cheese Sandwich or Ciabatta Pizza
Here are photos of the cocktail menu: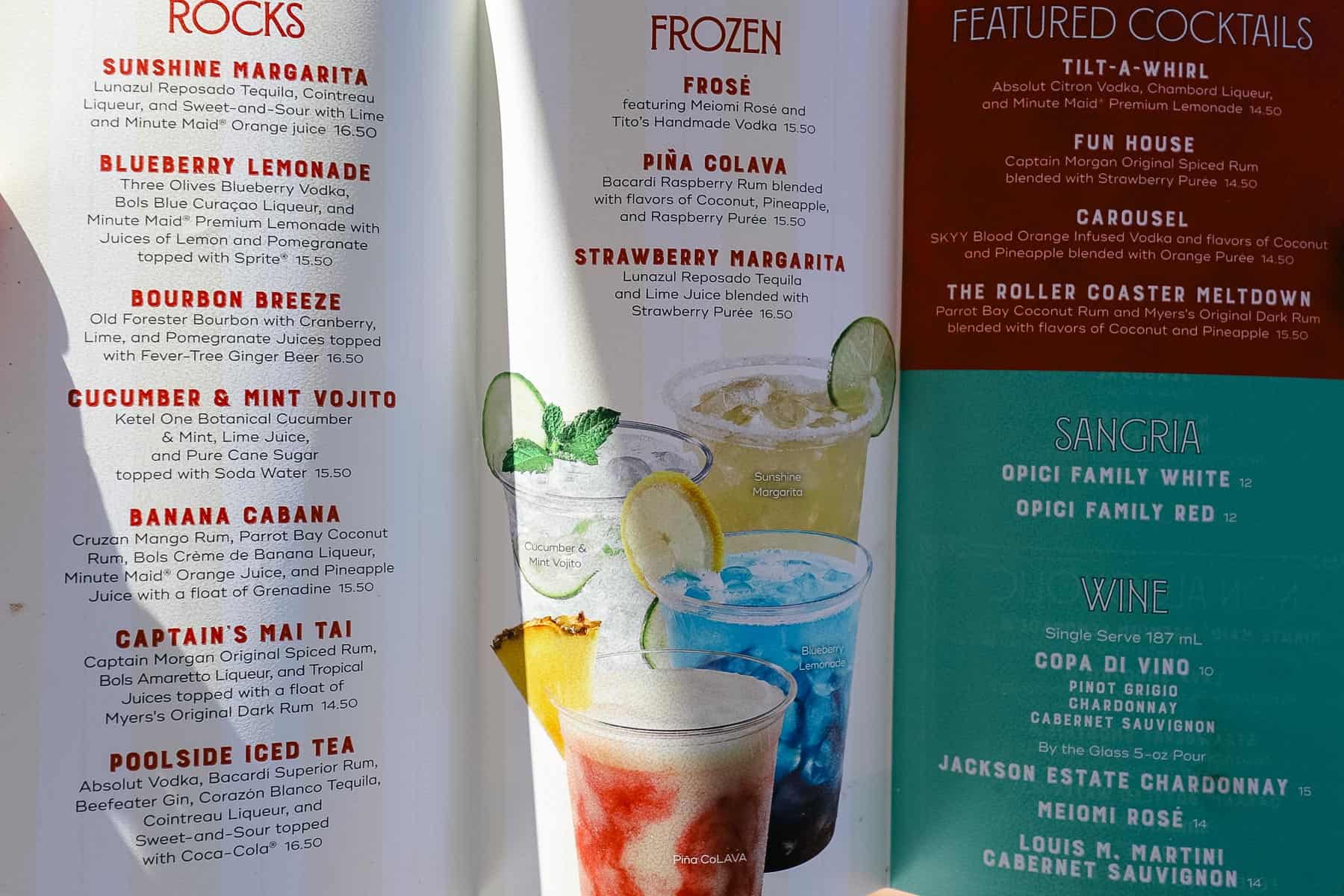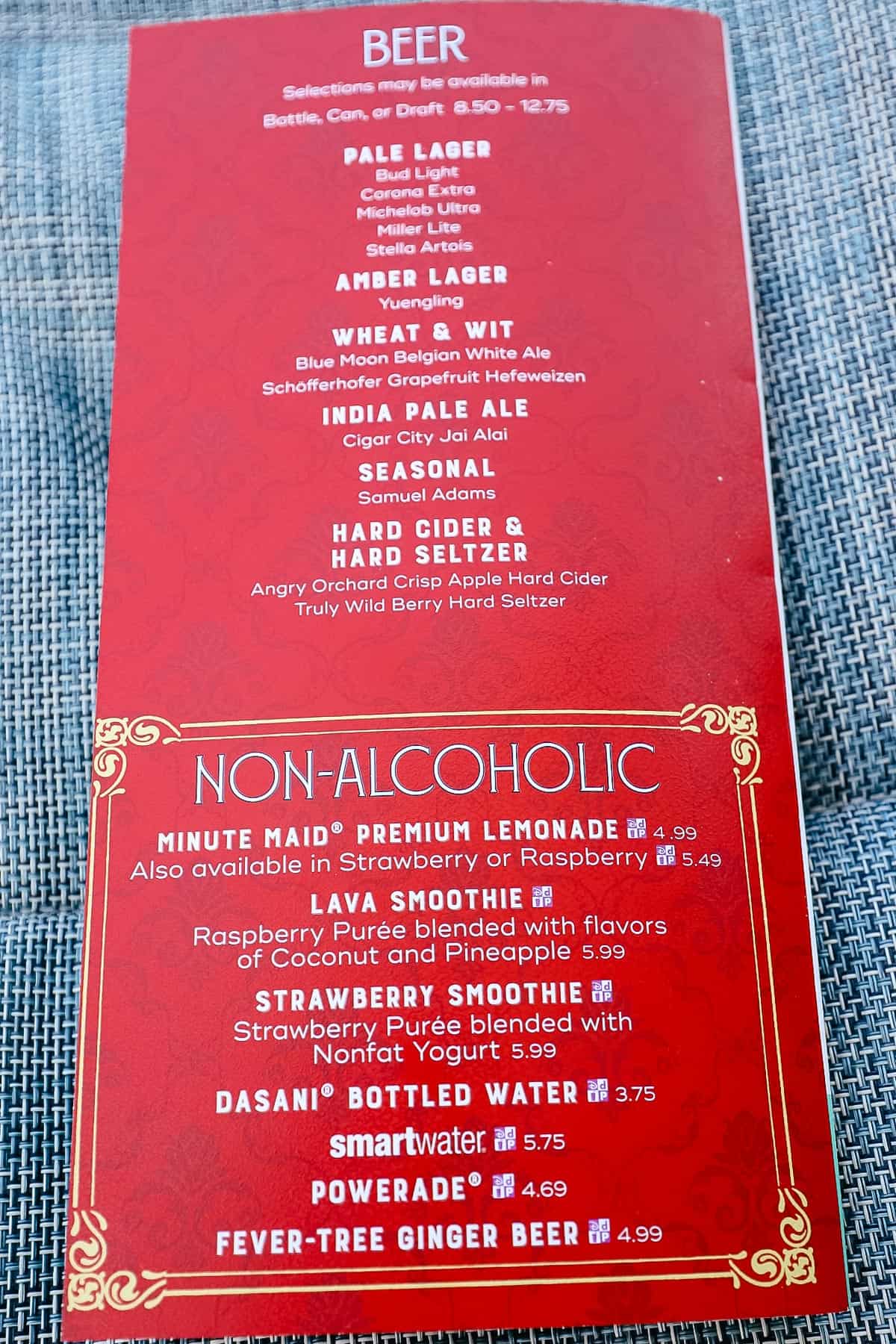 Big River Grille and Brewing Works
Our next stop for dining at Disney's Boardwalk Inn is Big River Grille and Brewing Works. This Boardwalk restaurant is one I consider a bit of a hidden gem.
Big River Grill and Brewing Works is a table service restaurant and a microbrewery. It's one of our favorite Disney Boardwalk restaurants.
When the weather is pleasant, we enjoy finding dining outside at this location. It's fun to do a little people-watching while you enjoy a meal.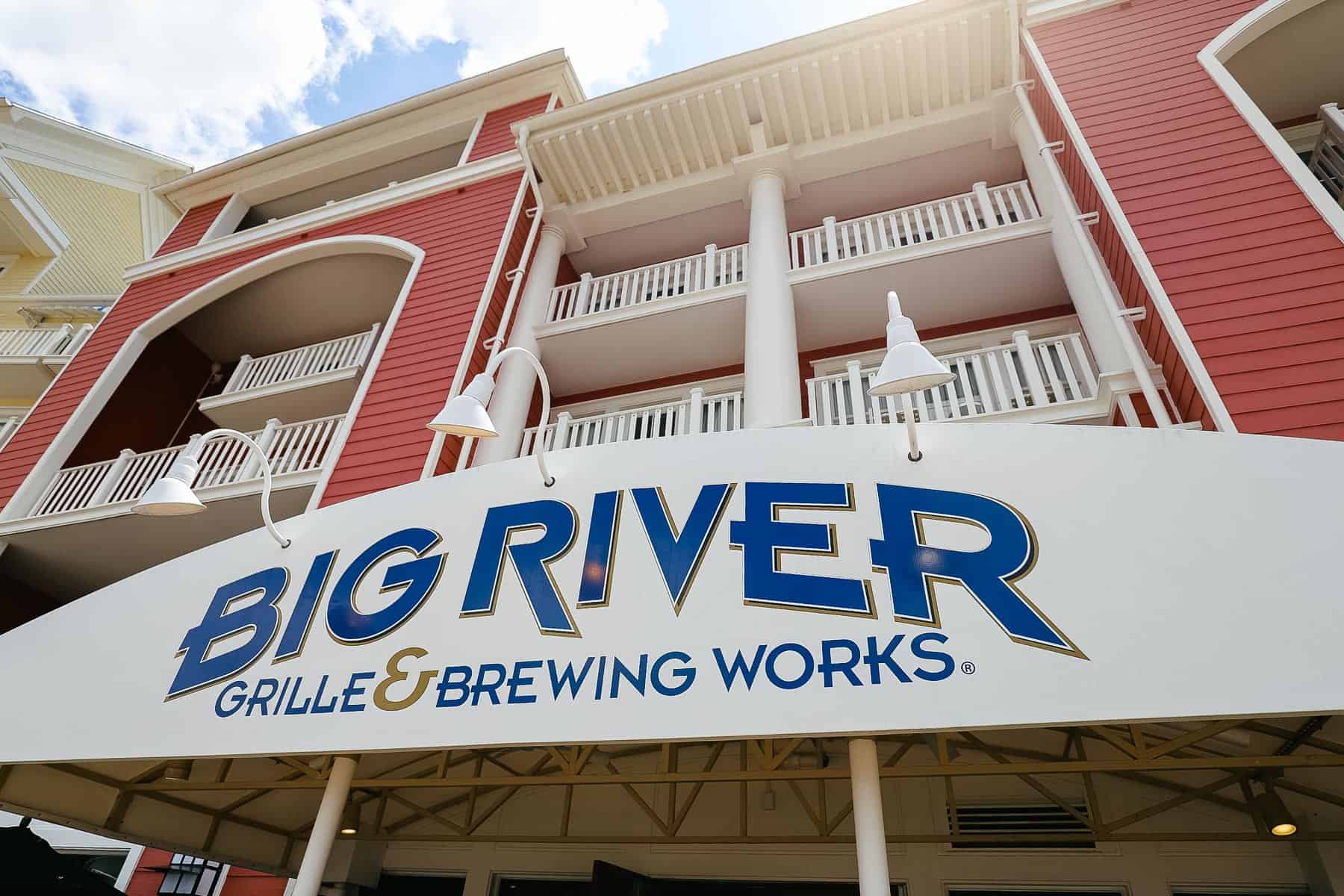 Big River Grille offers classic American menu items like nachos, burgers, sandwiches, and salads. In the past, I've enjoyed several things here, like their club sandwich, fish sandwich, and Caesar salad.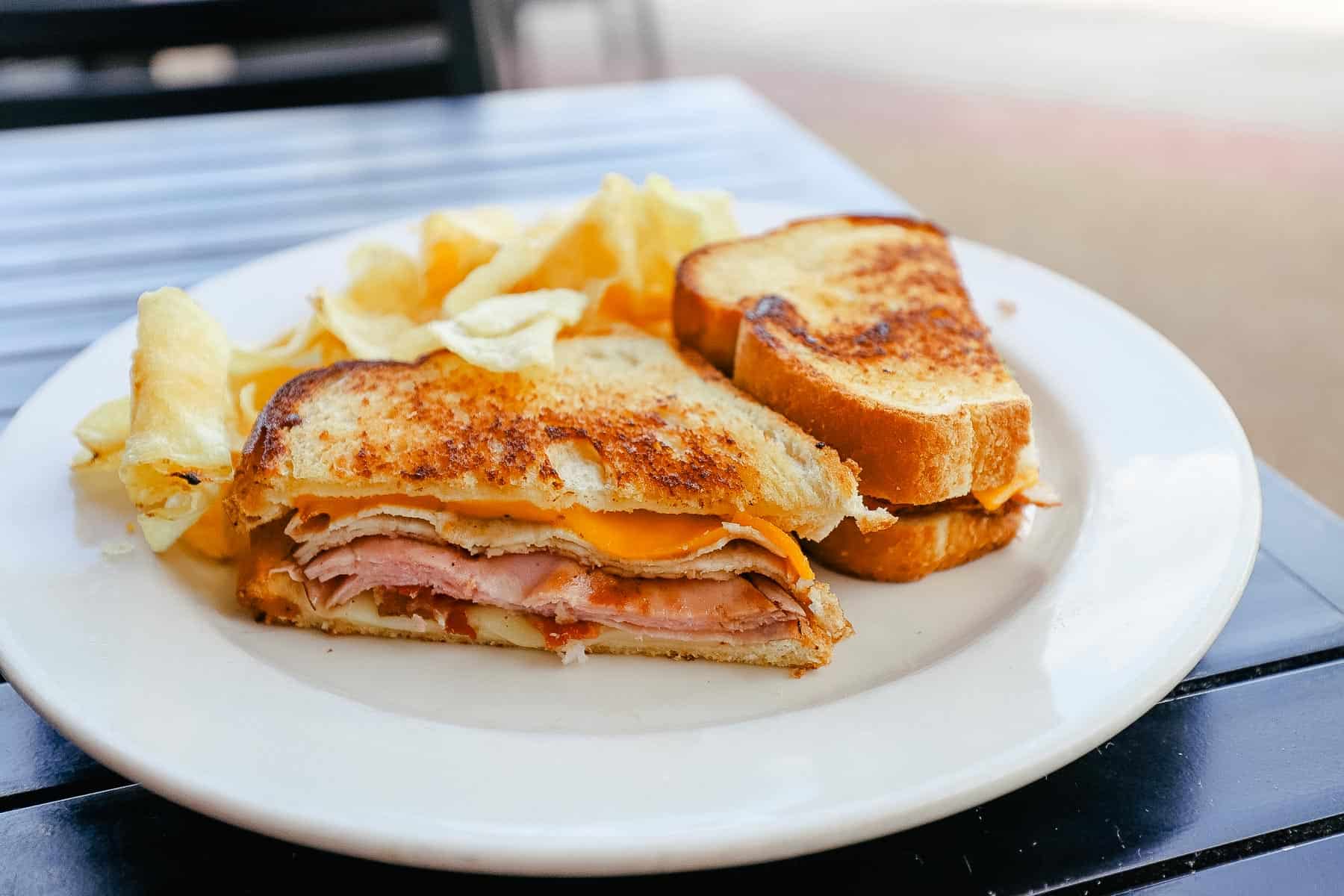 From my experience, the food is always good, the service is friendly, and the price is reasonable. We have a separate Big River Grille Review if you want to learn more about this location.
Another bonus is that you don't need a reservation because they take walk-ups. However, you will have to wait when it's busy. Here is a photo of their menu.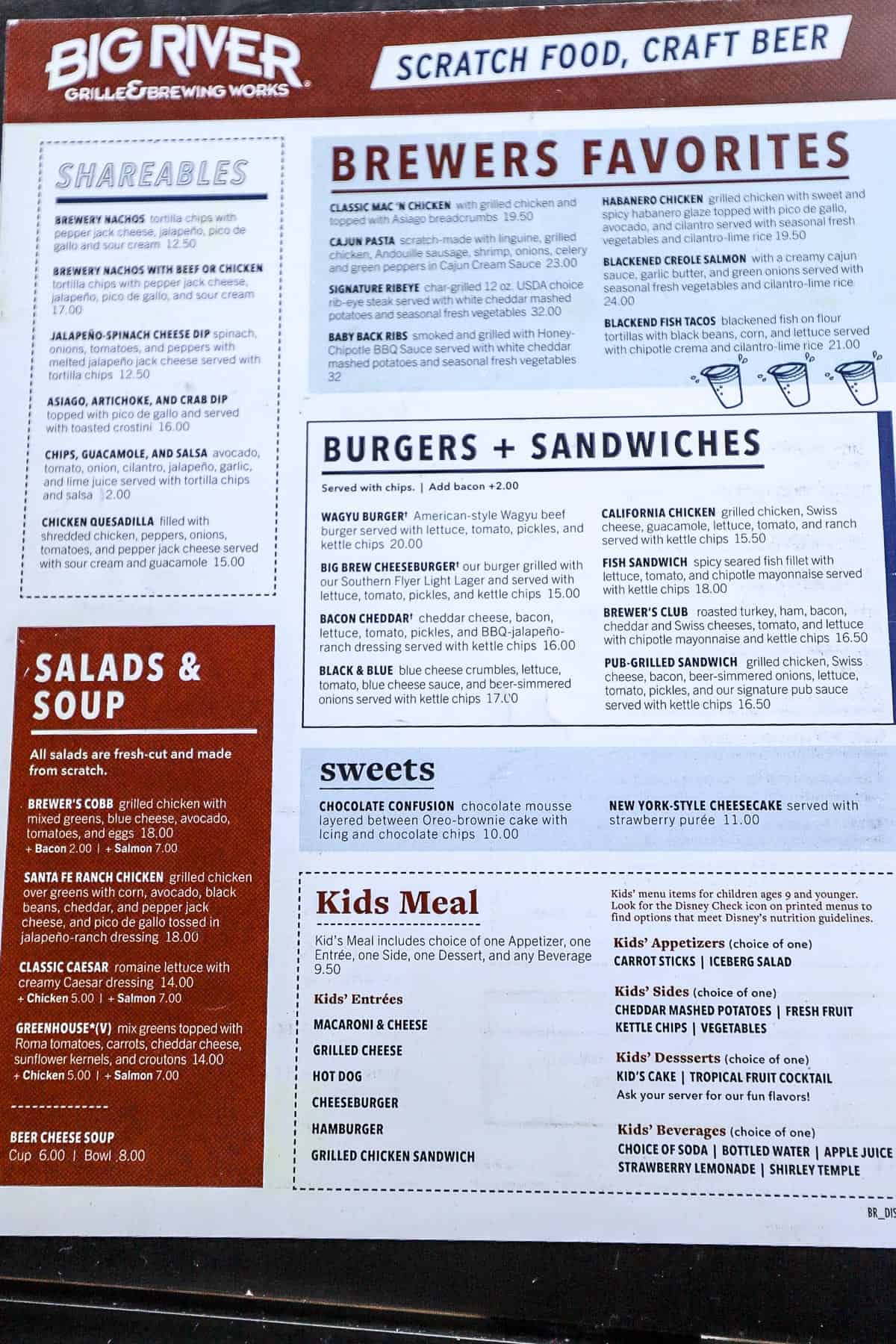 Trattoria al Forno
Next on our list of Boardwalk restaurants is Trattoria al Forno. Trattoria is an Italian restaurant that serves breakfast and dinner.
Elevated dishes like oak-grilled steak and eggs or Tiramisu bread pudding are available during breakfast. Guests can also request to dine on the Boardwalk based on availability.
Here is a photo of their breakfast menu.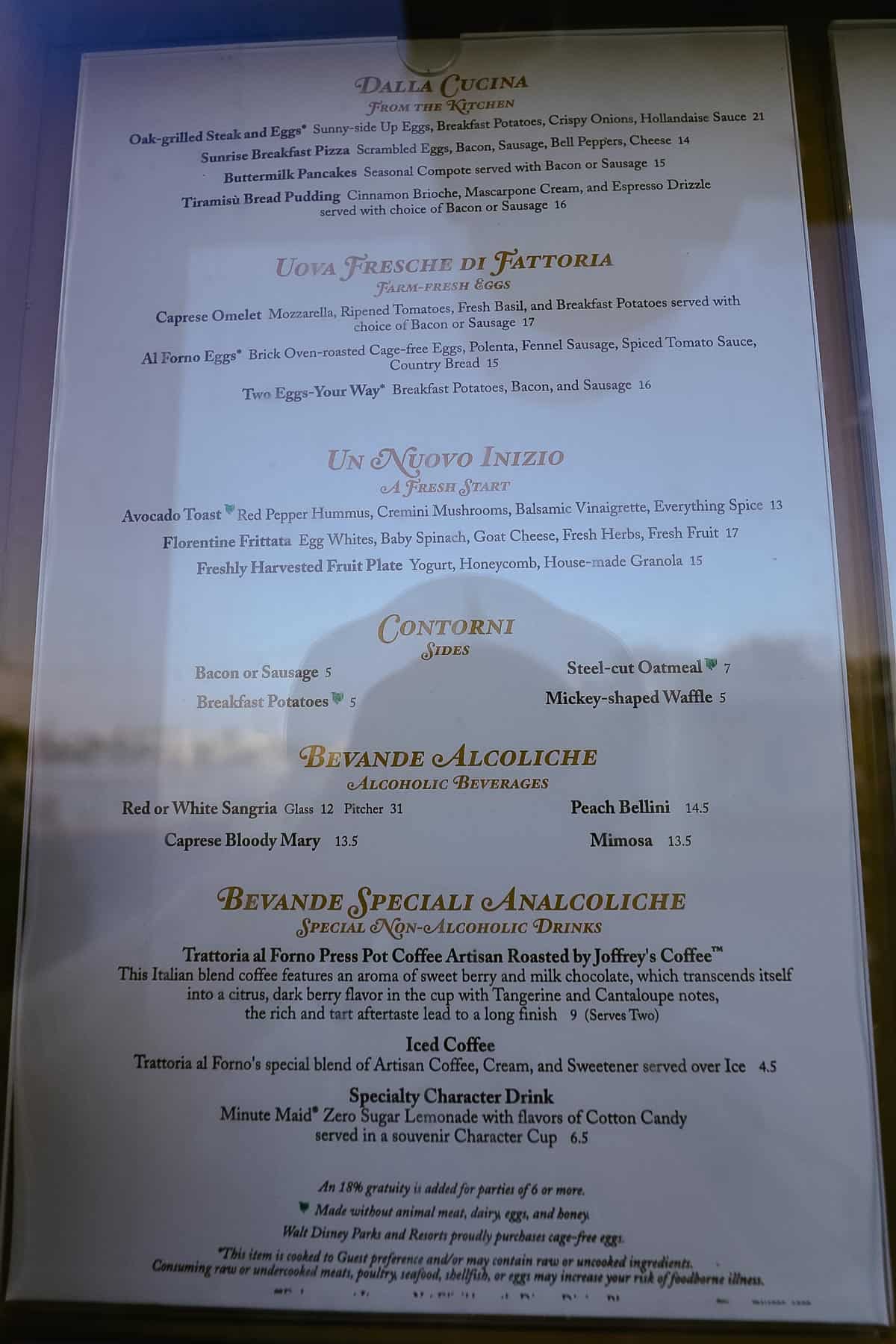 Trattoria al Forno formerly offered a character breakfast called The Bon Voyage Adventure Breakfast. Unfortunately, that experience has not returned.
Previously, this character breakfast offered the opportunity to meet Ariel and Prince Eric with Rapunzel and Flynn Rider. Hopefully, we'll see characters return in the future. We considered it one of the best character dining experiences at the Walt Disney World Resort.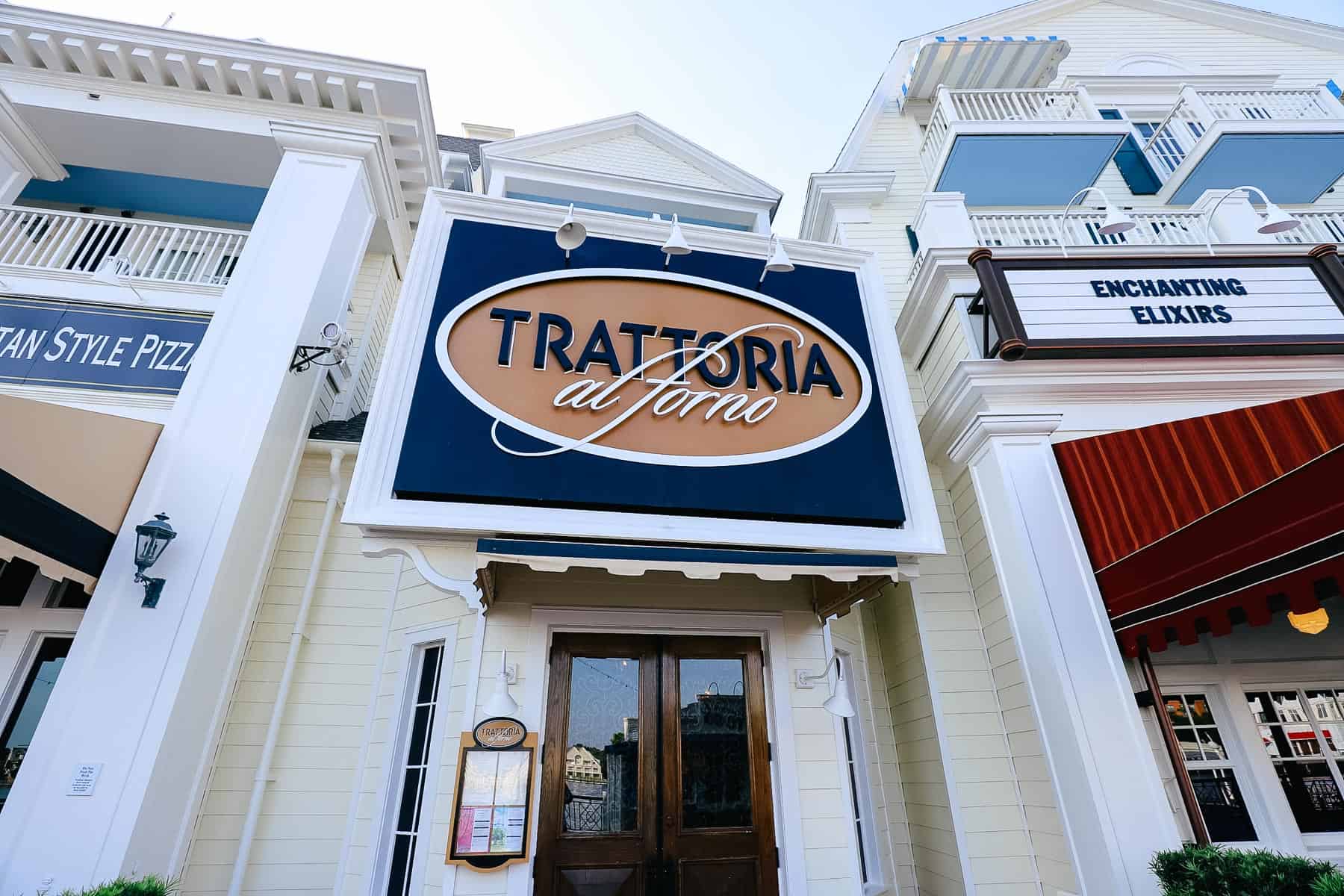 During dinner, you can anticipate a variety of Italian entrees, pizzas, kids' meals, and more. Here is a photo of their dinner menu and kids' menu.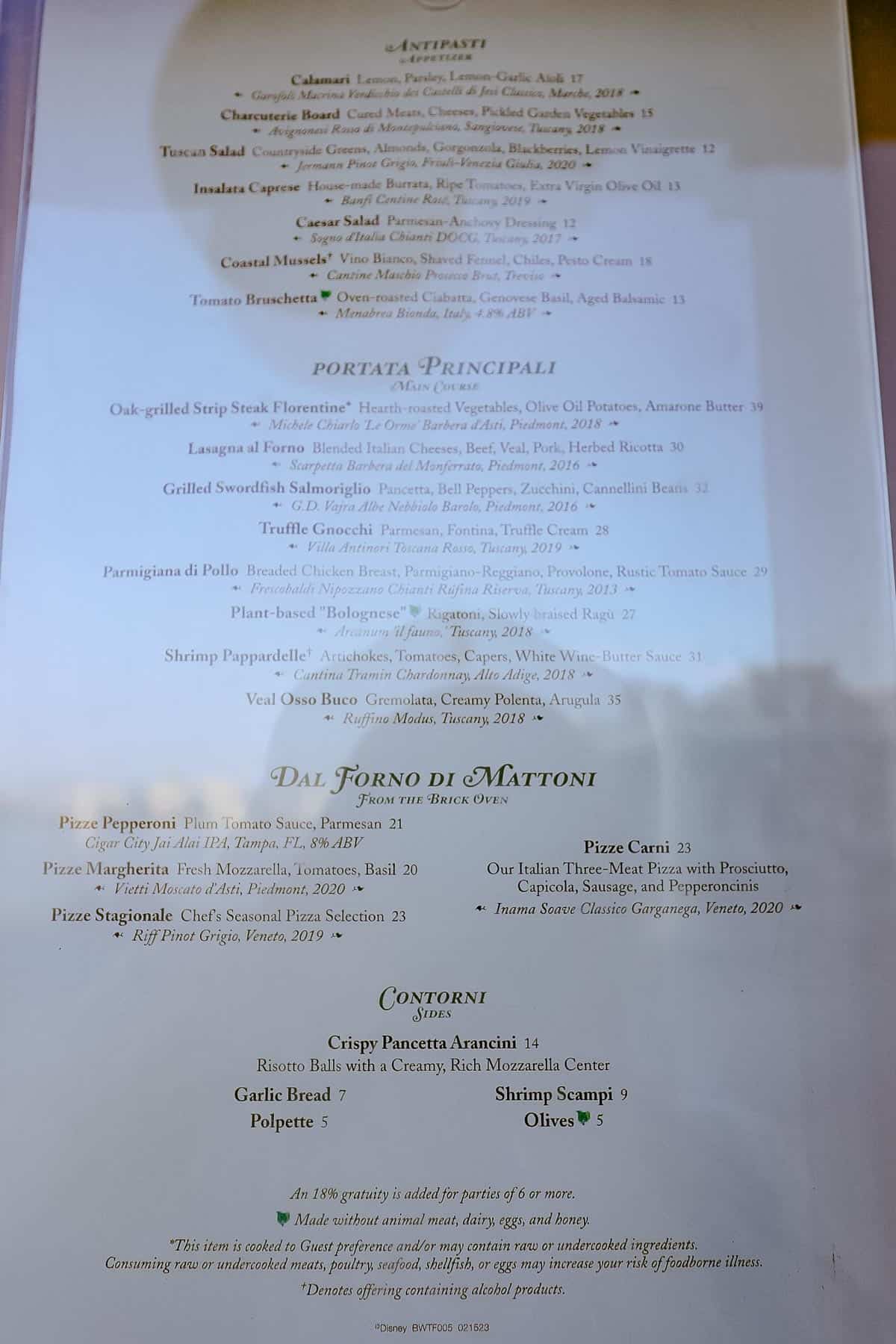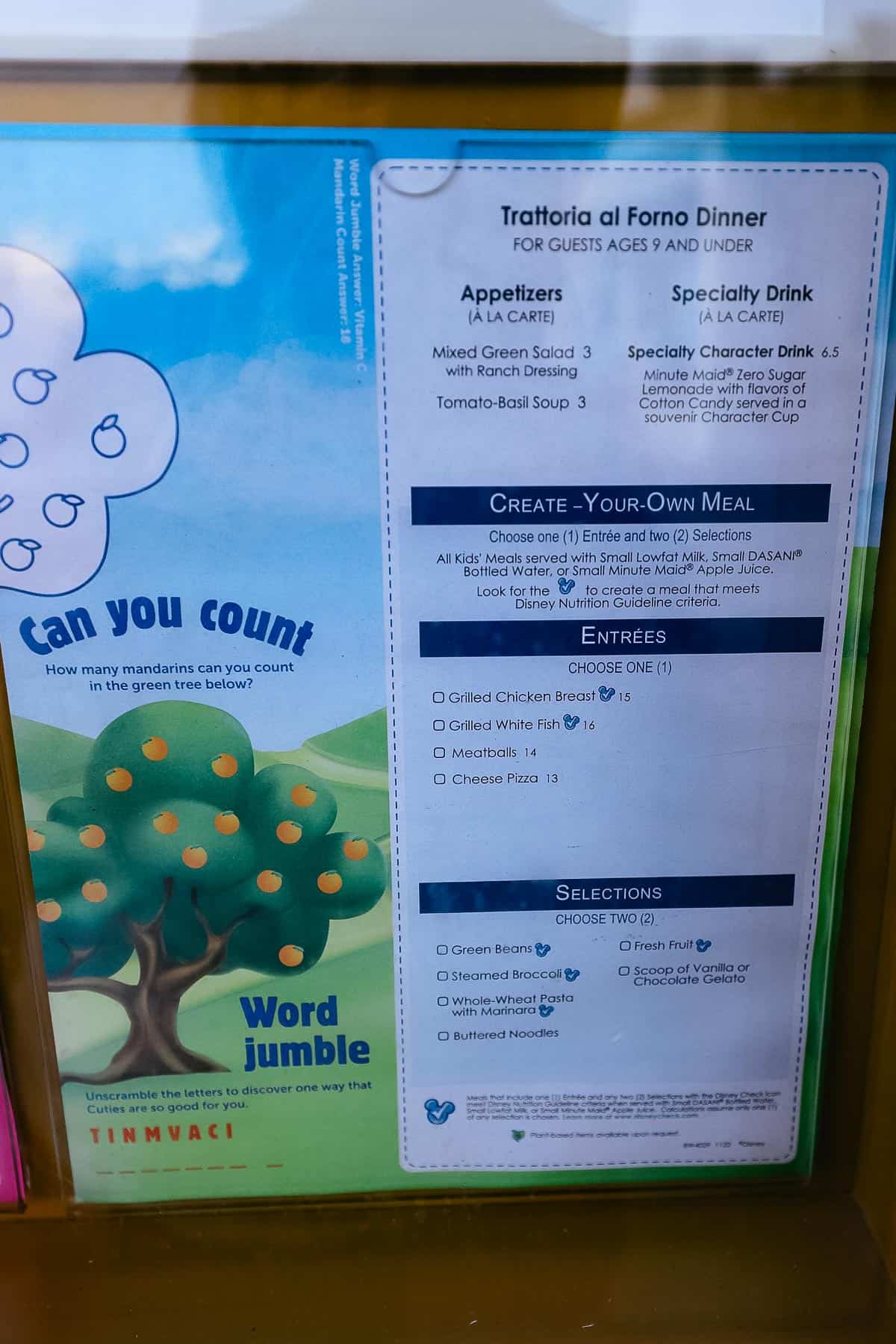 Flying Fish
Flying Fish is the Boardwalk's signature dining restaurant. This location consistently receives five-star reviews. From the open kitchen to the chefs who prepare the meals, it is one of the most coveted dining reservations at Walt Disney World.
Flying Fish is open nightly from 5:00 p.m. until 9:30 p.m. Advance reservations are highly recommended for this location. But they will take walk-ups based on availability.
Flying Fish's dress code asks that guests dress in "attire that respects the restaurant's sophisticated and upscale aesthetic." Since it's Disney, you can expect most guests to wear casual to dressier clothes for this type of restaurant.
If you use the Disney Dining Plan (which returns in 2024), this location will require two table service credits per guest. This is standard at most fine dining and character meals.
Flying Fish offers a seasonal menu. Guests can expect items like Verlasso Salmon, Chilean Sea Bass, Filet Mignon, and Plancha-seared Scallops, among other American and seafood entrees. You can preview the Flying Fish menu on Disney.com.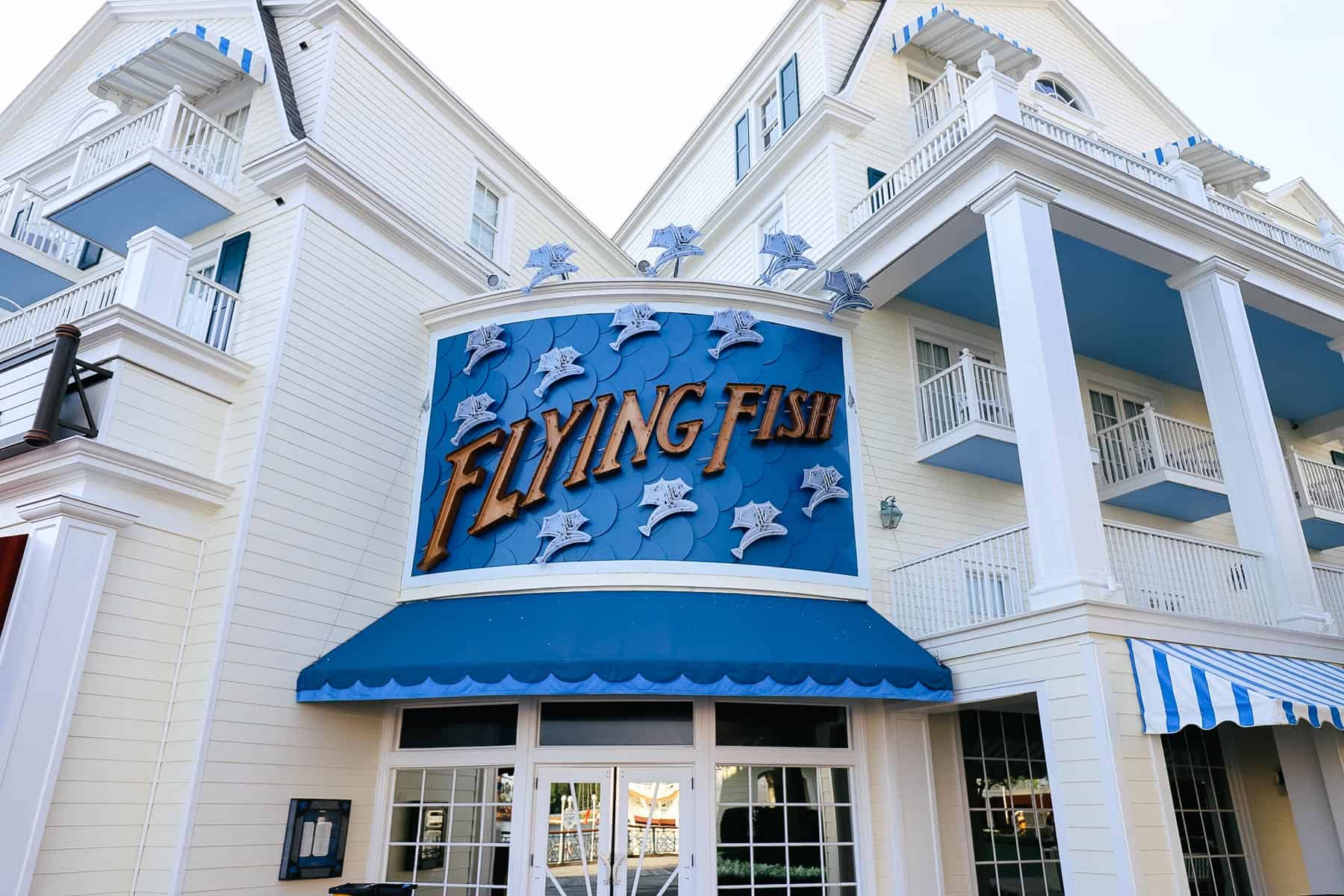 Blue Ribbon Corn Dogs
Blue Ribbon Corn Dogs recently announced they would open a location on Disney's Boardwalk later this year. It appears they will take over the former To-Go Cart location.
Blue Ribbon Corn Dogs already has a popular location at Disneyland. They are famous for their pickle and peanut butter corn dog and have several other unique flavor combinations.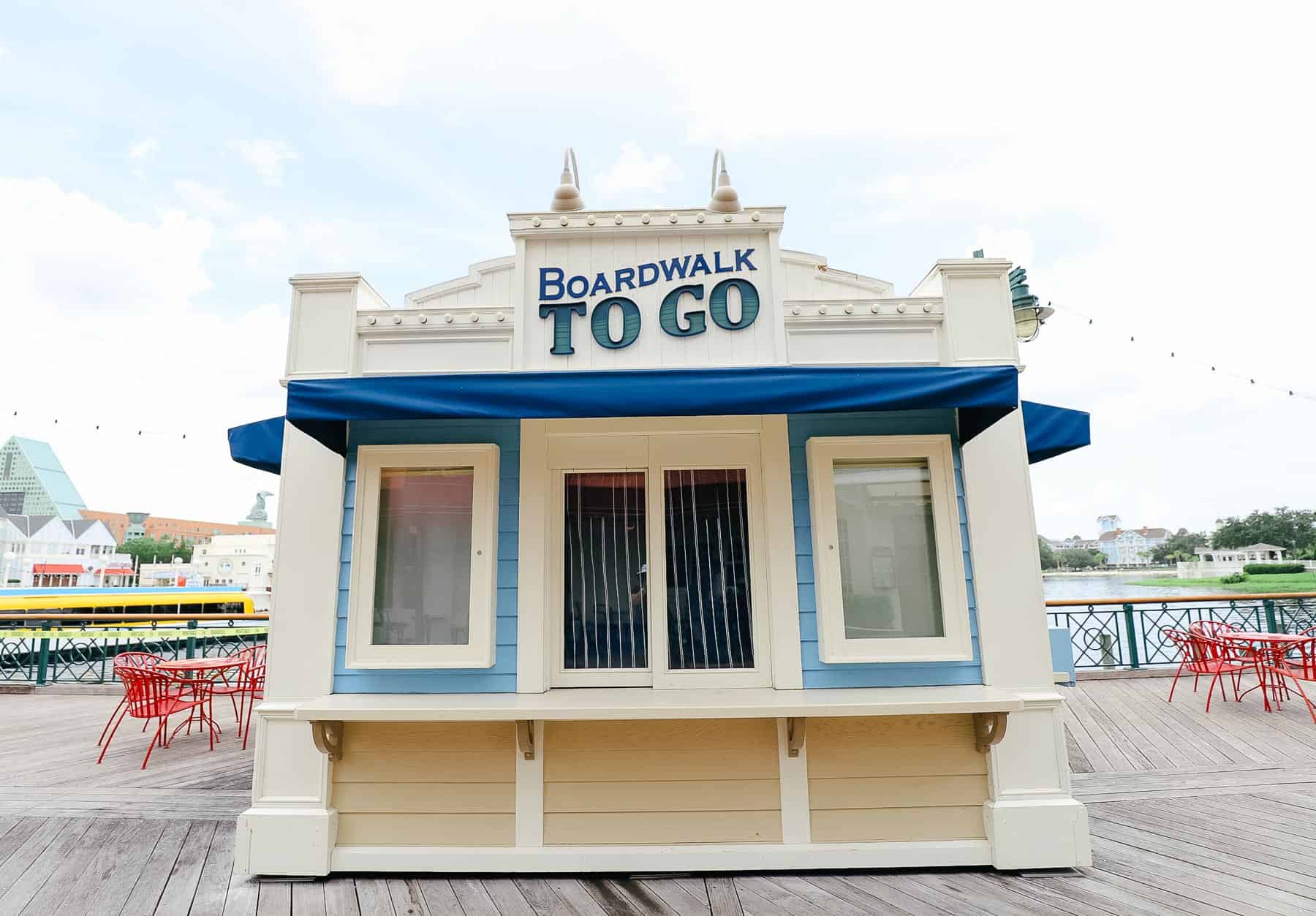 The Cake Bake Shop (Under Construction)
The Cake Bake Shop by Gwendolyn Rogers, a chain restaurant based out of Indiana, is expected to open on the Boardwalk at some point. It was scheduled to open this year. However, the construction process has lagged, leaving one to wonder when exactly it will be finished.
This location is supposed to be a table service restaurant with an adjoining shop where guests can purchase a slice of cake and other bakery treats. It is expected that this location will have an afternoon tea service.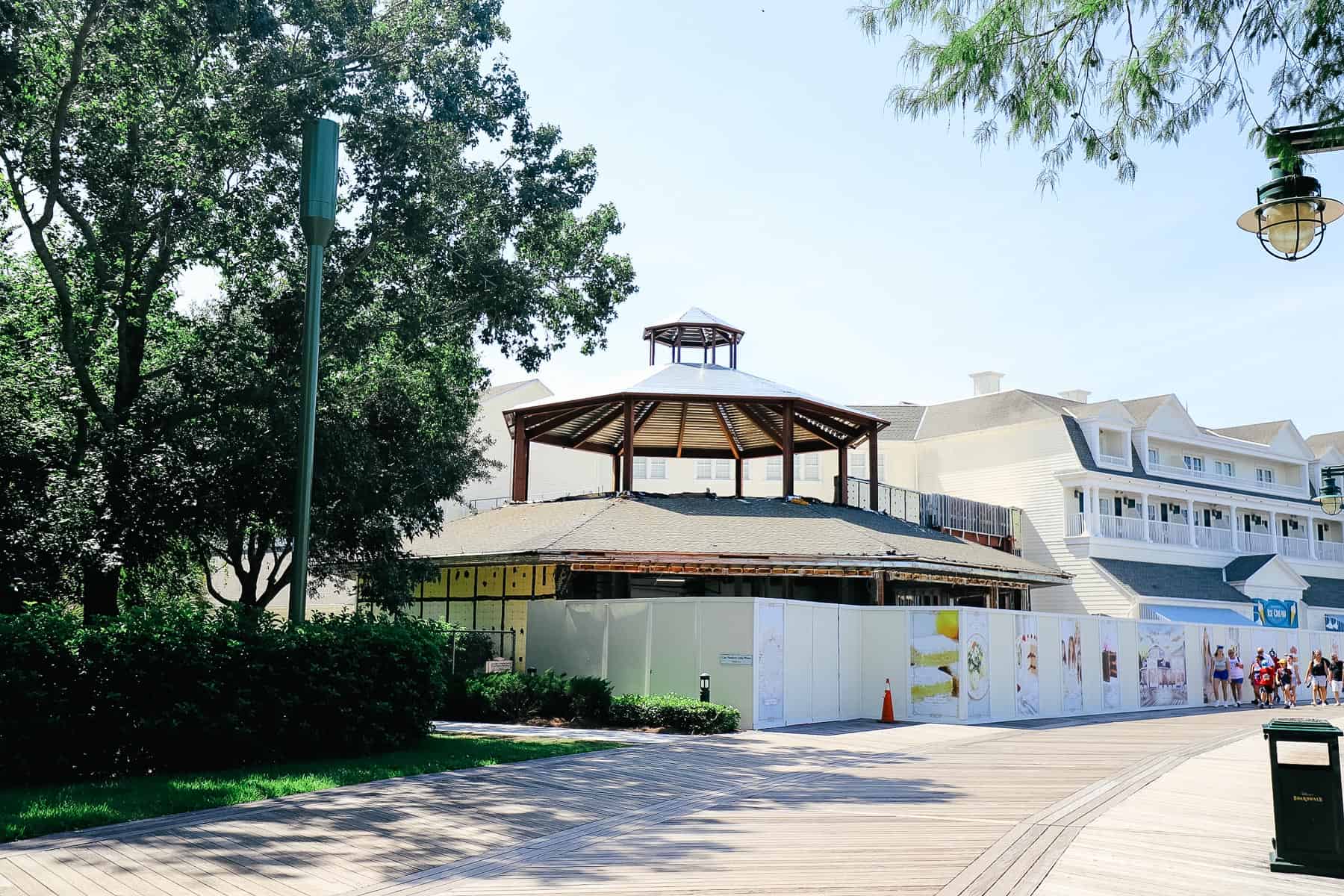 Restaurants Near Disney's Boardwalk
While many guests visit Disney's Boardwalk as a destination, those staying at the resort might like to consider other nearby restaurants. For instance, Disneys Boardwalk is within walking distance (or a boat ride) of the following locations:
Epcot
Disney's Beach Club Resort
Disney's Yacht Club Resort
Disney's Swan and Dolphin Resort
Disney's Hollywood Studios
Of course, you'll need valid theme park admission for Epcot and Hollywood Studios. You can get a walk-up reservation for the nearby resorts or easily acquire reservations at most table-service restaurants.
Between Disney's Beach and Yacht Club, we enjoy Ale and Compass for breakfast and have a separate dinner review. You might also enjoy a quick service meal from Beach Club Marketplace or a seafood buffet from Cape May Cafe in the evenings. Additionally, Cape May Cafe hosts Minnie's Beach Bash Breakfast. Martha's Vineyard, Beach Club's lounge, has an excellent early evening menu with appetizers and entrees. We love their seafood chowder.
Disney's Swan and Dolphin has several dining options. For table service, you might consider having a meal at The Fountains. However, if you're looking for fine dining, you don't want to miss Shula's Steakhouse. Additionally, Rosa Mexicano is an excellent option. We have a Disney's Swan and Dolphin Restaurant Guide that provides more details.
Final Thoughts on the Restaurants at Disney's Boardwalk
Other than the lack of counter-service restaurants, Disney's Boardwalk has excellent options when it comes to dining. Those planning a stay at the Boardwalk Inn might consider park-hopper tickets for access to dining at the nearby theme parks.
For instance, we enjoy pizza at Epcot's Via Napoli when we stay in the area. You might spend the day at one park and then hop to Epcot for dinner and fireworks later. Don't forget to take advantage of extended hours offered to deluxe resort guests during your stay.
Given the Boardwalk's excellent location, we could go on and on about dining in the nearby Disney Parks. But ultimately, you'll have to choose which options sound best for your group.
If you would like to learn more about dining, we have a list of Disney Restaurant Reviews and a separate list of hotel restaurants at Disney.
As for after-dinner nightlife on the Boardwalk, you might consider visiting Jellyrolls for dueling pianos or Atlantic Dance Hall. For family-friendly fun, the Boardwalk offers Surrey bike rentals, arcades, carnival games, and evening entertainment.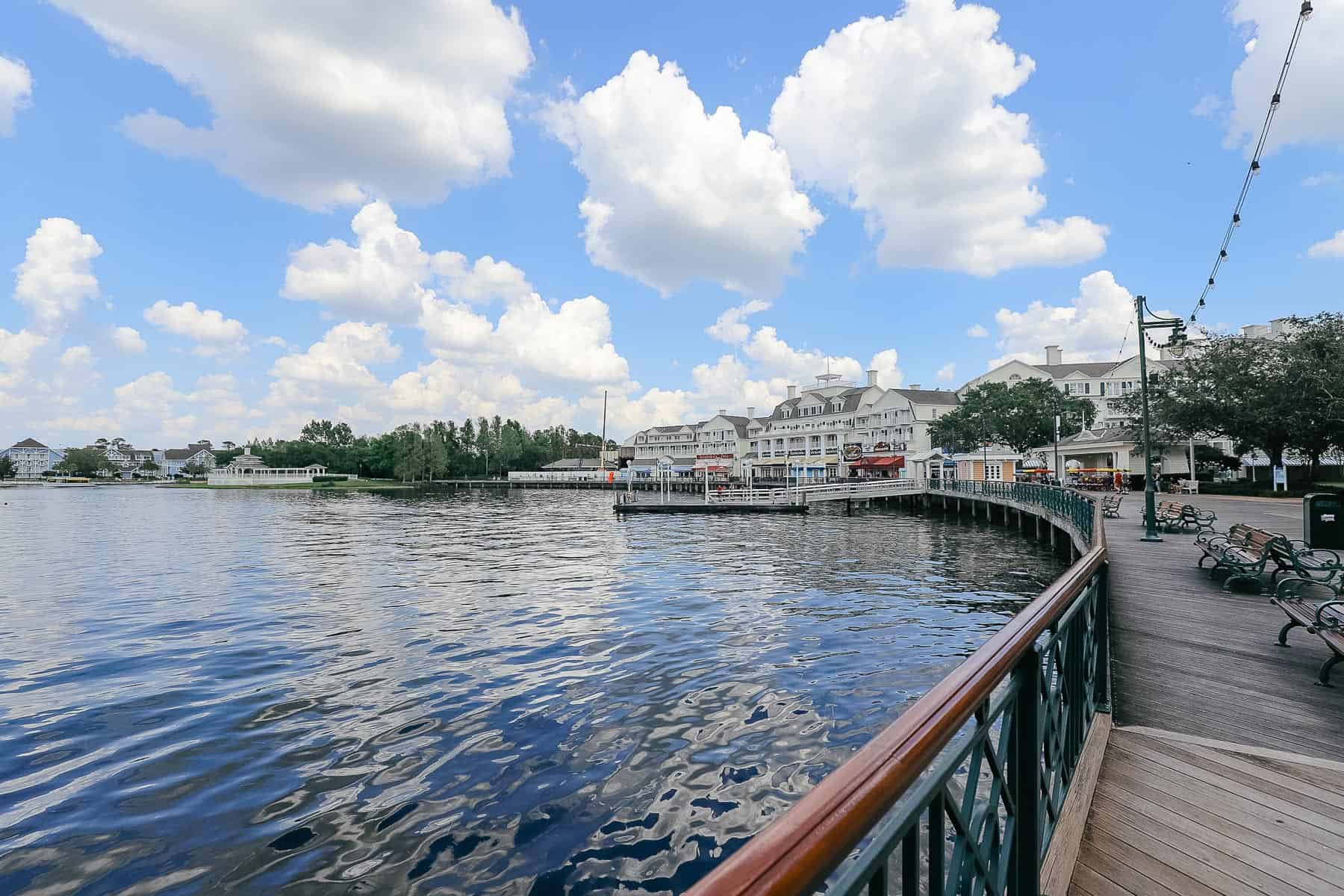 Are you planning a stay at Disney's Boardwalk Inn? Our articles related to the resort are available in a resort guide:
Or you might enjoy these individual articles:
In the comments:
What are your thoughts on the restaurants at Disney's Boardwalk? Do you wish the resort had one large counter service dining location like the other resorts? Or do you like the setup here better?
Planning a Walt Disney World or other Disney Destination vacation?
Our friends and travel partner, Firefly Travels, excels at doing Disney differently. You can fill out a plan your trip form on their website, and someone will reach out shortly to discuss the specifics.