Disney's Jiko, The Cooking Place Review
Disney's Jiko, The Cooking Place is a culinary dining experience that consistently receives rave reviews in the Disney community. Jiko is a signature dining restaurant that's located at Disney's Animal Kingdom Lodge.
In fact, Jiko is often referred to as one of the best places to eat at Walt Disney World. You'll even find it listed as one of our top five choices in the best of Disney signature dining reviews.
The atmosphere of the restaurant gives off a subtle African vibe combined with class and sophistication. Jiko's menu reflects a variety of African, Mediterranean, and Indian cuisine. Let me share a review of Jiko, The Cooking Place, with you.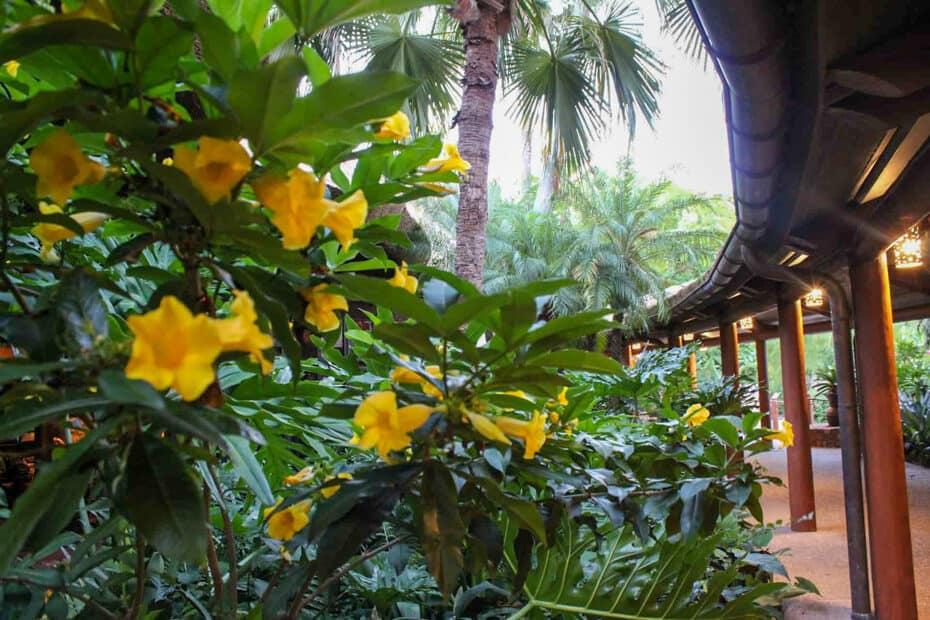 Jiko at Disney Review
Jiko, The Cooking Place is the only fine dining experience at Disney's Animal Kingdom Lodge. In this Jiko review, we'll look at the menu, location, and overall dining experience. In addition, I'll provide a few tips at the bottom for touring the lodge on your visit.
When it comes to dining at Jiko, I have to give the experience a full 10/10. The restaurant comes in so high because of the overall experience, unique menu items, location, ambiance, and quality!
One of Jiko's attributes is the calming ambiance offered at the restaurant. While you are enjoying a fine dining experience, it still offers a very casual resort feel.
The restaurant also doesn't make you feel too formal or stuffy when dining here. For me, it's calming, probably, because a majority of the restaurant looks out onto this exterior view below.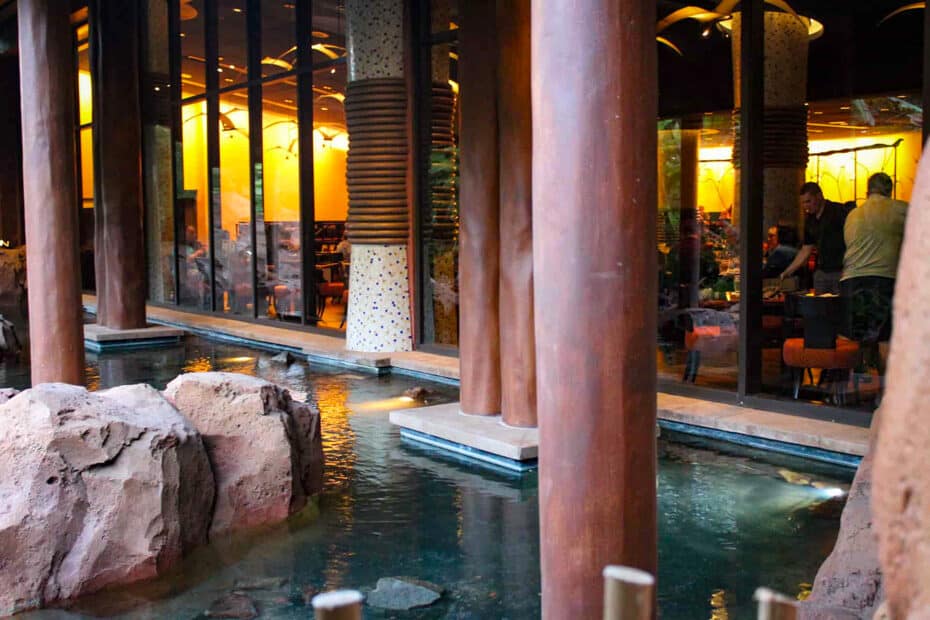 Here is a look at the interior of Jiko. On a recent visit, I stepped into the restaurant before they opened so I could take a photo of the interior.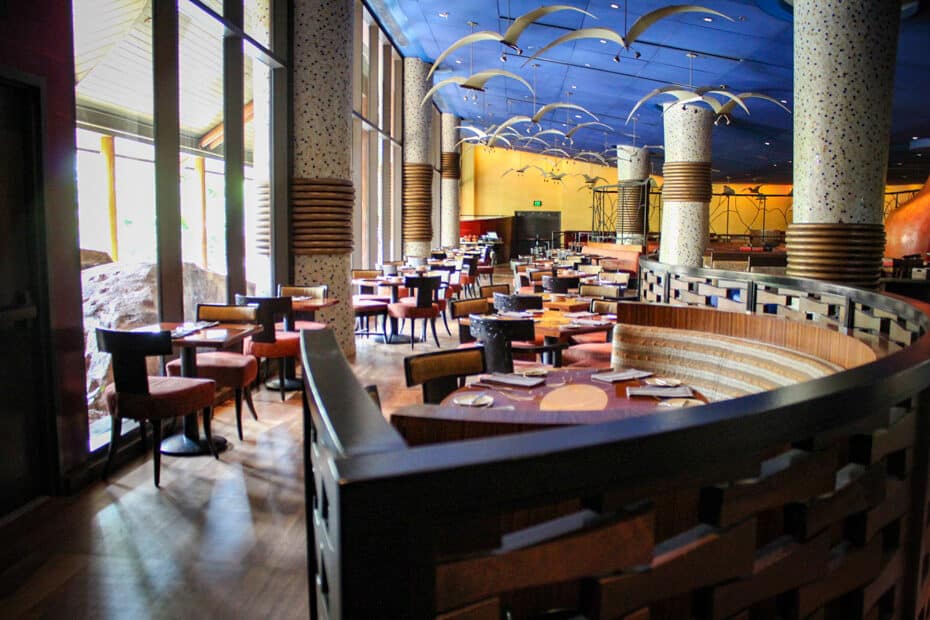 Guests commonly ask if Jiko has a dress code, and the answer is yes, they do.
Since this restaurant is a refined dining establishment at Walt Disney World, they do have a dress code as most signature restaurants require. Basically, this means to show up in respectable clothing for your meal.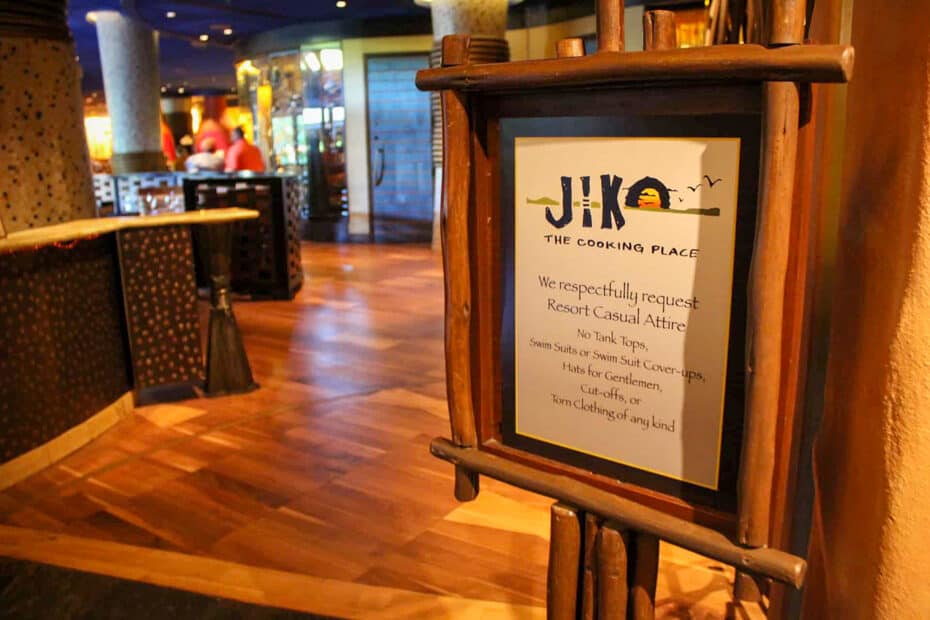 As the sign states above: No tank tops, swimsuits, or cover-ups. No hats for gentlemen, cut-offs, or torn clothing of any kind.
Casual resort attire is welcome at Jiko, along with the other signature restaurants. However, this doesn't mean you have to be formal or dress up for a special occasion. You will more than likely see a variety of people in different attire during your meal here.
Since the parks have reopened, Jiko is one of the Walt Disney World restaurants that have not reopened yet. I'll update you when that changes.
Meanwhile, you can view the menu here on Disney's site.
Jiko is located on the lower level of Disney's Animal Kingdom Lodge (full resort review). When entering the lodge, go toward the right-center of the lobby, where there is a raised bridge. Here you will find a walkway downstairs.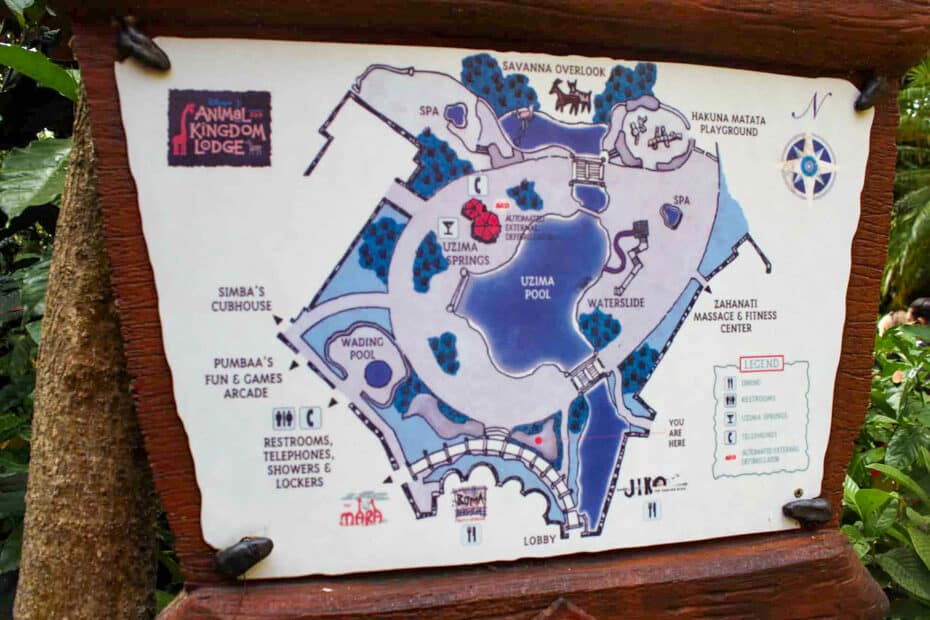 There are also elevators in this area, but the walk down is more scenic if you are able.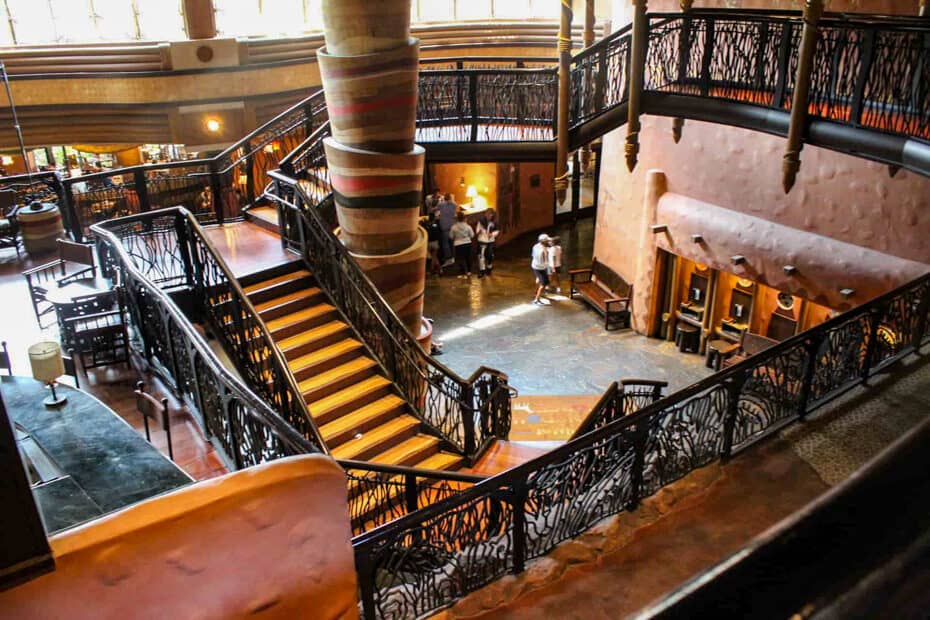 Once you reach the bottom of the stairs (there is a landing on the way down at Victoria Falls Lounge), you will weave around past Boma and then run into Jiko. The elevator area is also in the same vicinity, and Jiko is just around the corner. I also have a full review of breakfast at Boma if that piques your interest.
And then there's a review of Sanaa (with bread service) down at Kidani Village.
Jiko does have its own private bar located in the lobby of the restaurant. The area provides a place to sit and have a cocktail while you are waiting for your reservation.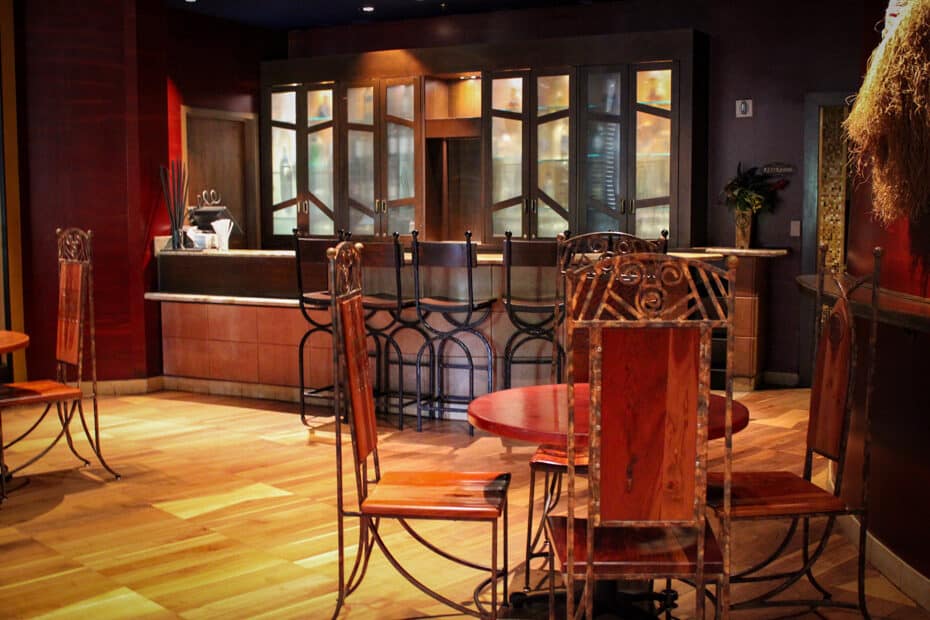 The view below is from outside the restaurant on the walkway that circles the resorts pool area.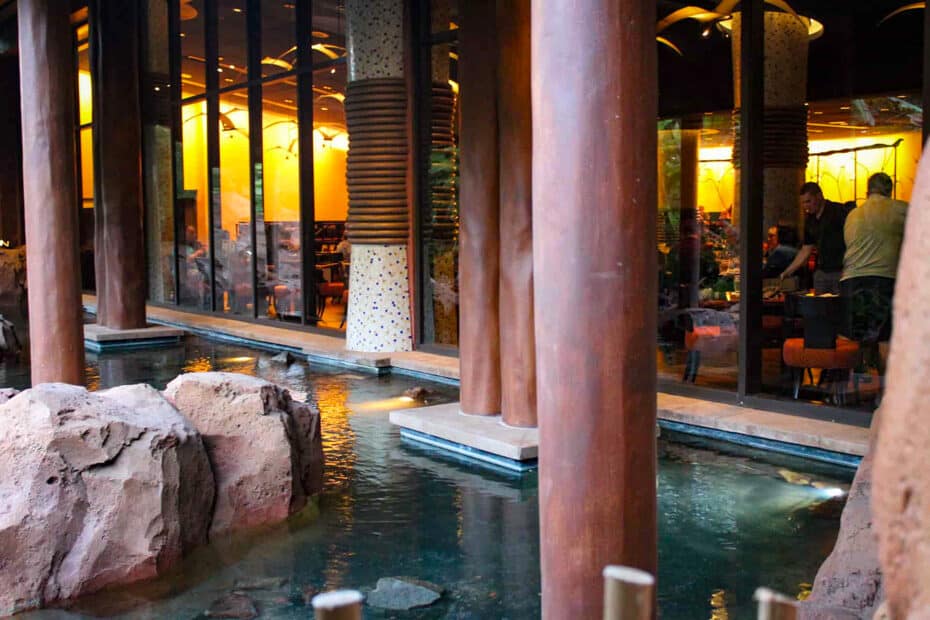 One of the seating options at Jiko is the chef's bar where food is prepared in front of you.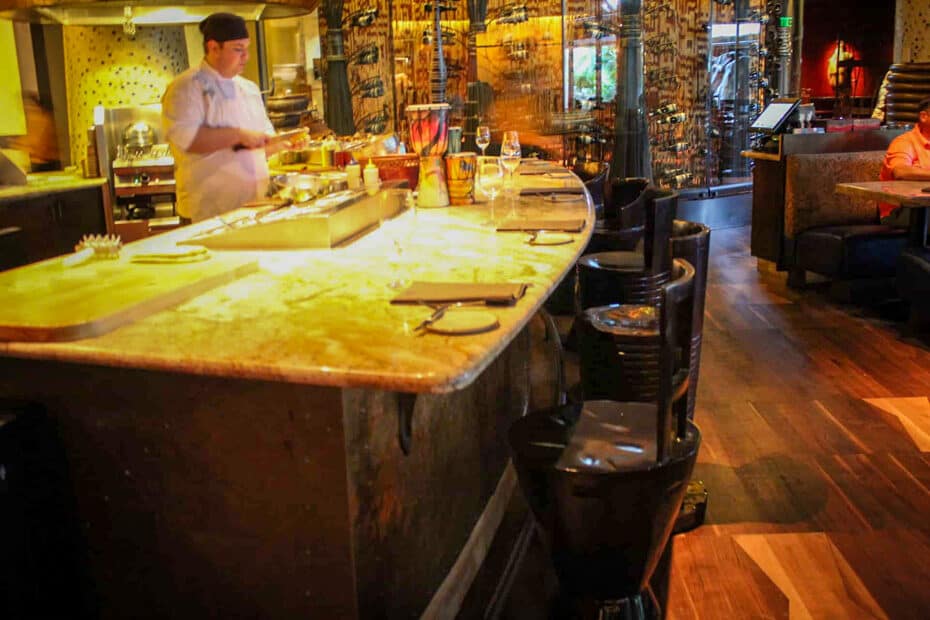 If you like, you can request to sit at the Chef's Bar and have some interaction with the cast members. I would imagine this would be an exciting and enlightening dining experience. Unfortunately, I elected to sit at a more private table this evening, given my clunky blogger equipment.
Upon arrival, I was taken to my seat, and the hostess presented me with a hot towel on a plate for refreshing my hands. This was a nice and welcome touch to the experience.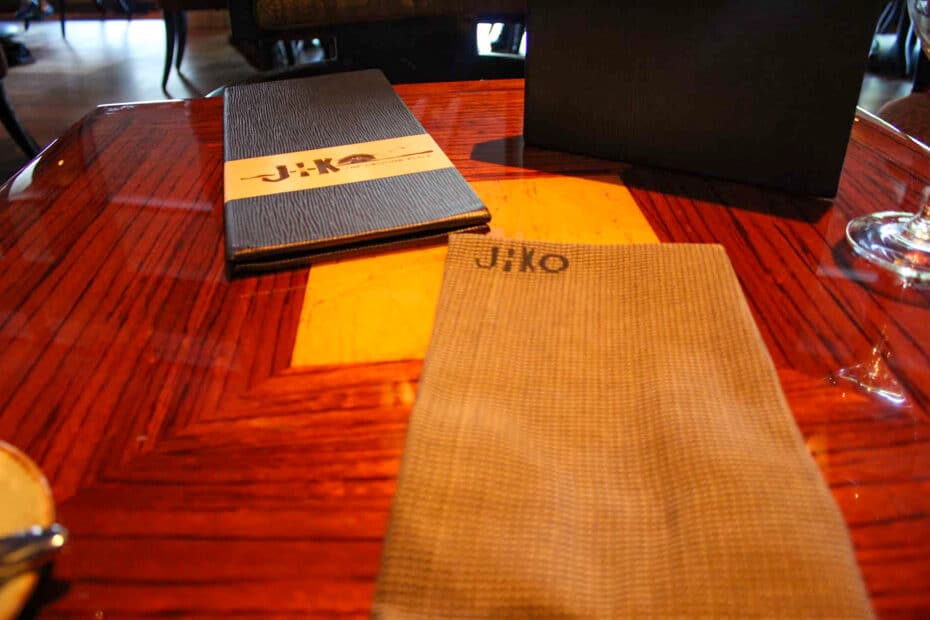 I was then given a menu to review and a nice sample of tea. Jiko is known for its specialty tea and has a separate menu for them. This night I tried the Moroccan Mint.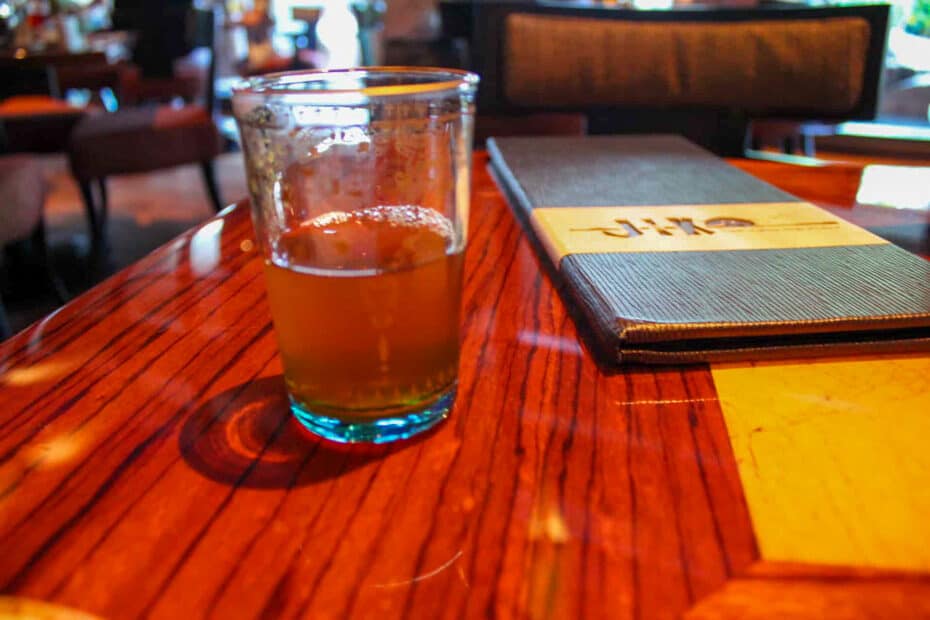 This Moroccan Mint was a classic blend of Chinese gunpowder tea and mint. The gunpowder's earthiness and vegetal notes anchor the mint's brightness.
I really enjoyed this tea and it was a great start to such a palatable evening.
Bread Service is provided at the beginning of the meal. These soft, fluffy rolls are divine and that's a spread of soft butter next to them. That butter was extremely spreadable, in case you can't tell.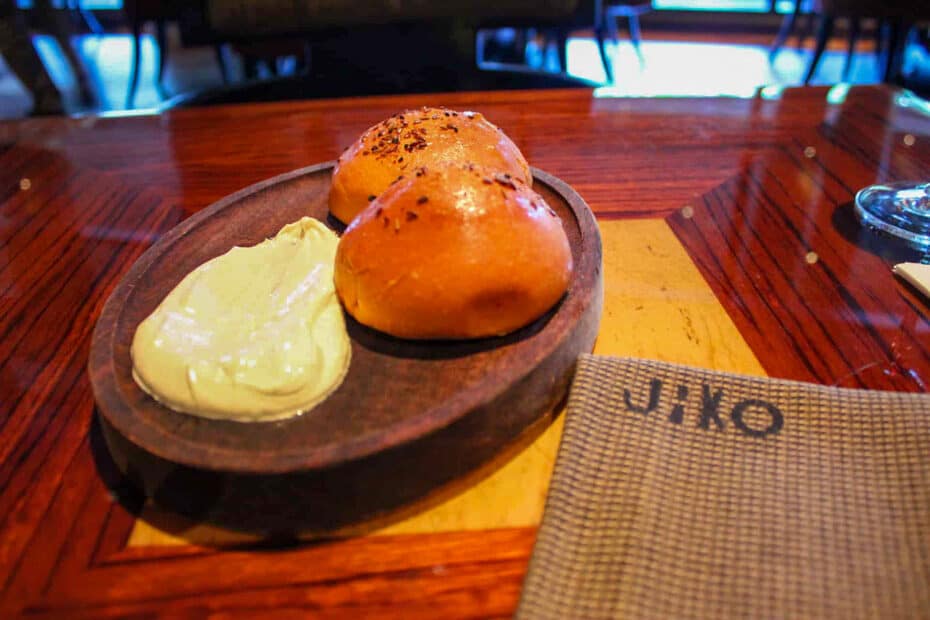 The wine for this meal was ordered by the glass, but the server left the bottle for the picture.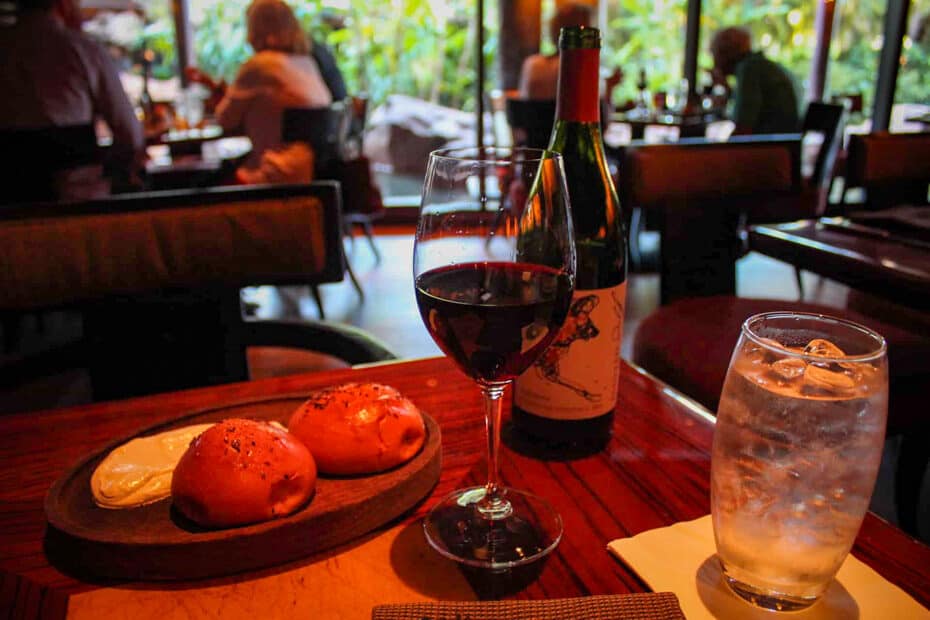 One of the items that Jiko prides itself on is the unique wine list and number of offerings. This was the Painted Wolf "Guillermo" Pinotage, Swartland. It came in at $16 for a glass, which was a little high, given a bottle retails at about $20, but it was a nice pour and a good start to the meal.
For appetizers, I had an order of Mushroom Flatbread that fell into the "From the Cooking Place" category of the menu. Being a fan of mushrooms, I knew this was going to be my first selection after reviewing the menu.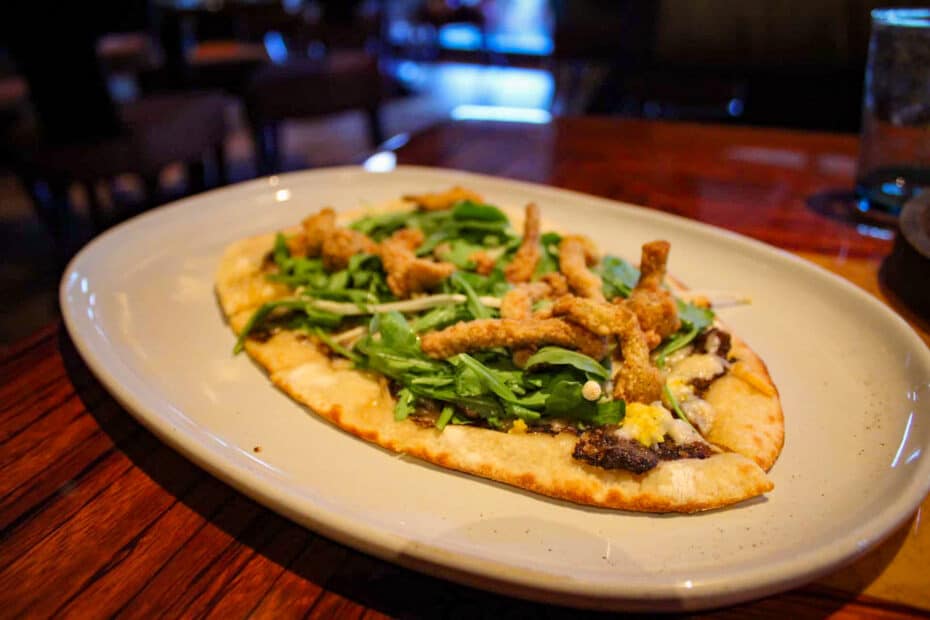 Per the menu: Mushroom Flatbread–Mushrooms, Duxelle, Maize-rusted Pickled Mushrooms, Curried Ricotta, Midnight Moon Goat Cheese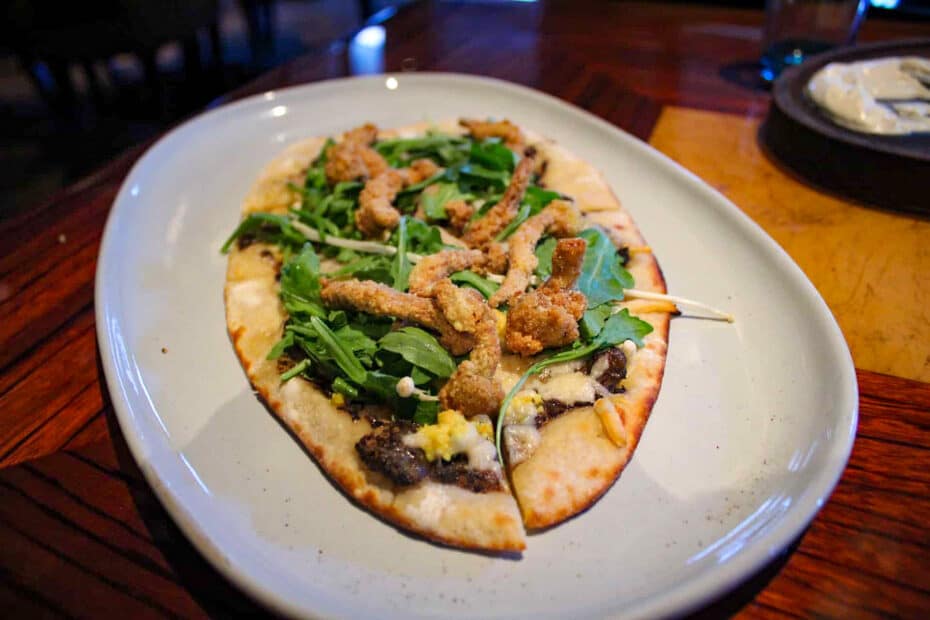 This was an excellent choice. It was a large appetizer and the server had warned me of the size prior to ordering. Since I had also chosen an entree, I elected to eat only half and have the remainder boxed for takeout.
The entree selection of the menu at Jiko had some tough choices. A majority of the items looked like excellent options.
I had a hard time deciding between the sustainable Vulcan-spiced Fish, Mrouzia-style Moroccan lamb shank, and the Cocoa-Crusted Bison. Ultimately, I ended up going with the cocoa-crusted bison.
When my entree came out looking like this I was pleased with my selection.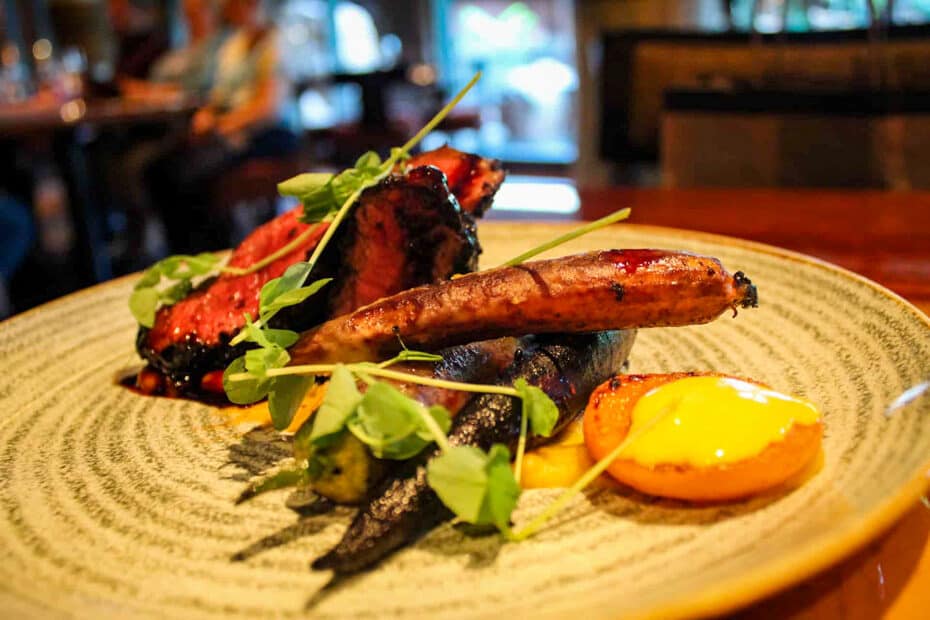 Per the menu: Cocoa-crusted Bison–Butternut Gnopi, Glazed Root Vegetables, Bain's Whisky-Poached Peaches, Saffron Crema, Ghana Chocolate Demi-glace
That orange item to the side of the above plate is the poached peach with saffron crema. Delicious.
And below we have a better look at the butternut gnopi and demi-glace on the side of the plate.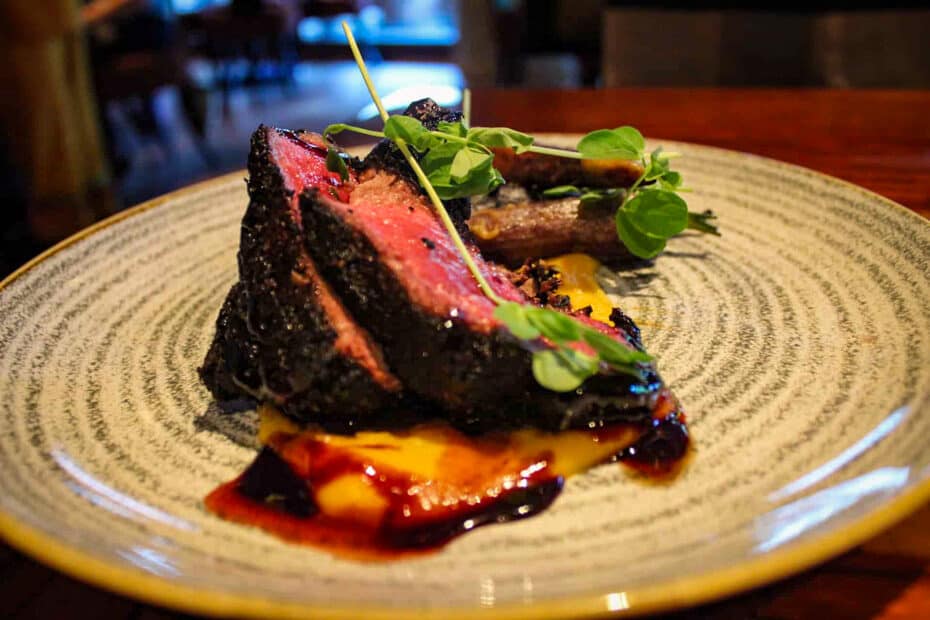 Even though the menu mentions chocolate that is not the actual flavor you get with these items paired together. The bison was buttery with a hint of sweet affair that leaves your taste buds lingering for another bite.
Jiko also offers a nice selection of dessert items if you have room at the end of your meal.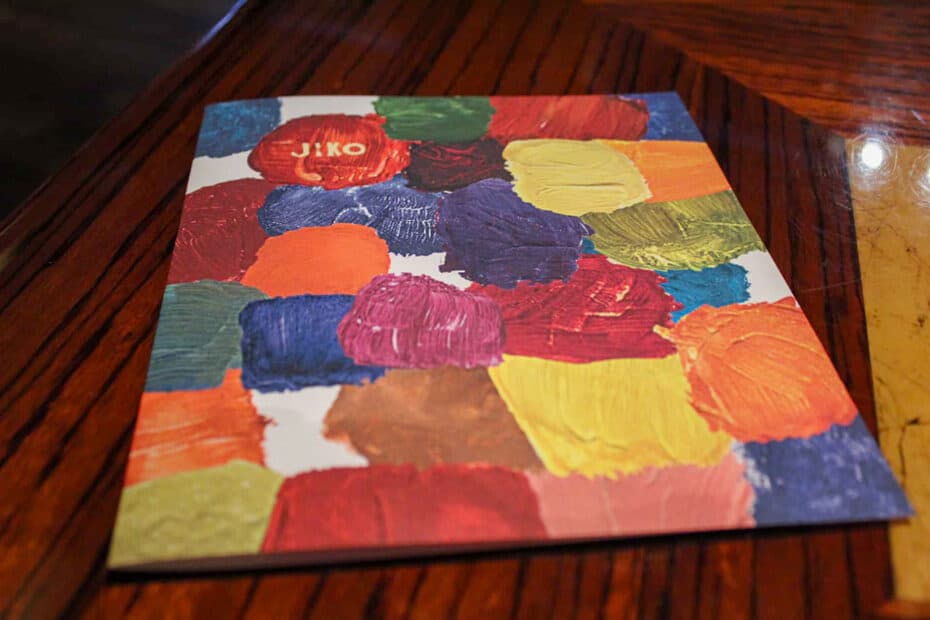 Here is a look at the dessert offerings on the menu during my visit.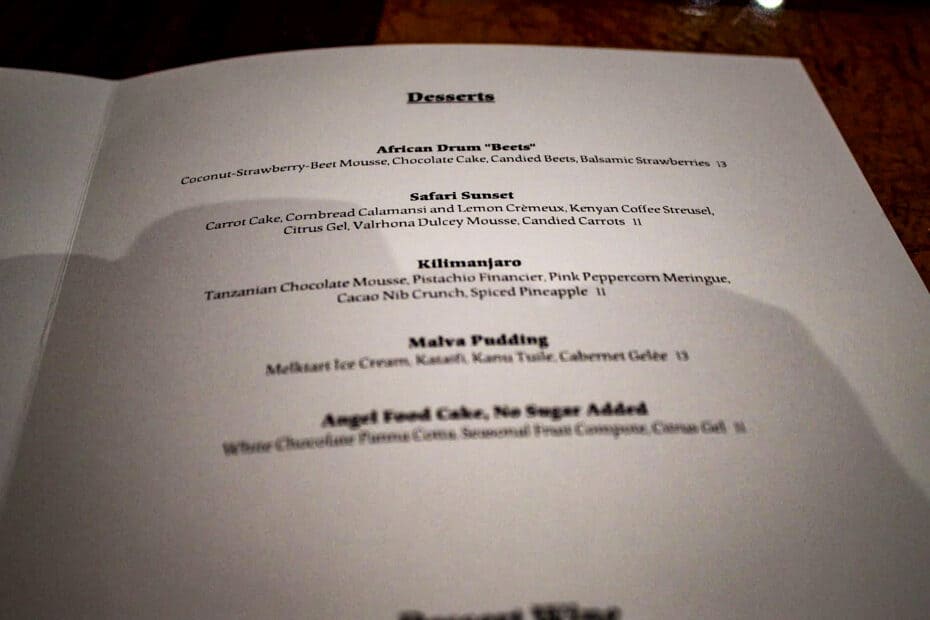 After having such a large meal with partial appetizer and entree, I did not have room for a dessert this evening. The chef was kind enough to bring two chocolate truffles for me to sample at the end of the meal. It was a very nice ending to the entire culinary experience.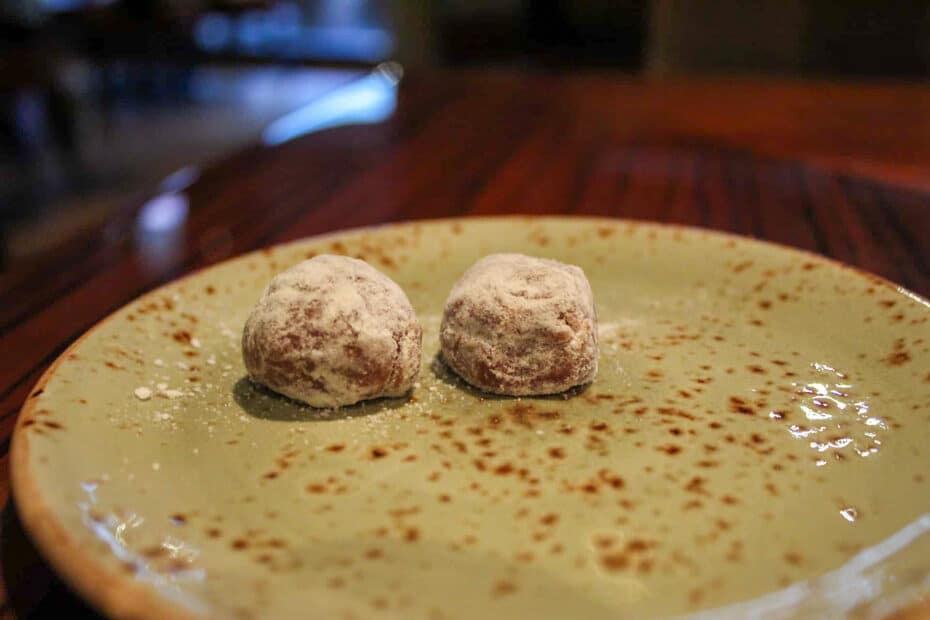 Jiko is also where you will dine if you reserve the Wanyama Safari and dining experience. Reservations are available on Disney's site here. I haven't had a chance to experience this meal with safari yet but it's definitely on my list.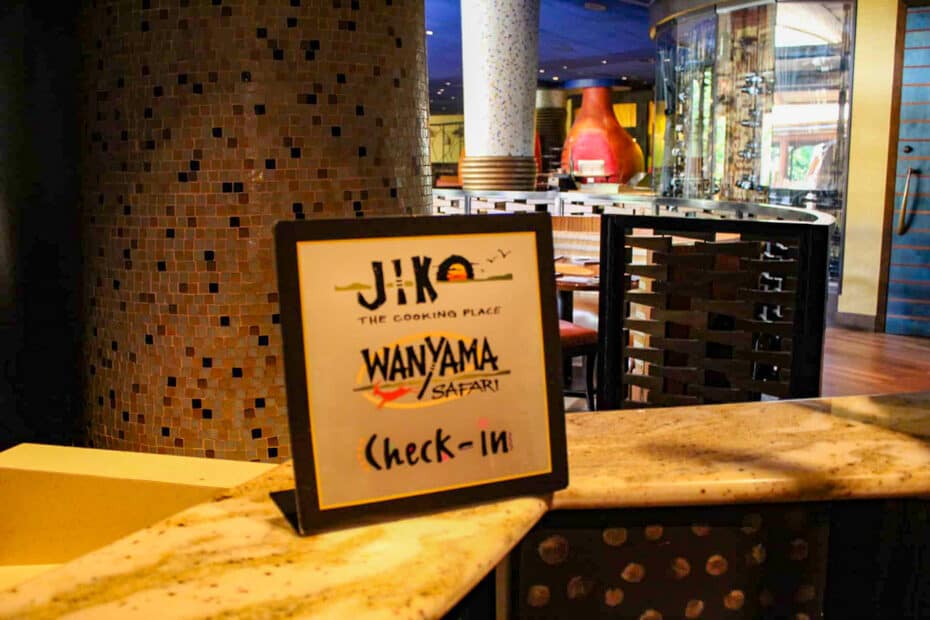 From my understanding, there is a 90-minute safari that ends with a multi-course meal including dessert and wine sampling. Only twelve people are allowed on each experience so make sure to reserve this in advance if you have any interest.
Final Thoughts on Jiko, The Cooking Place
All in all, Jiko is one of the best restaurants at Walt Disney World. Visiting here for a meal is one of the most relaxing ways to spend your evening while on vacation.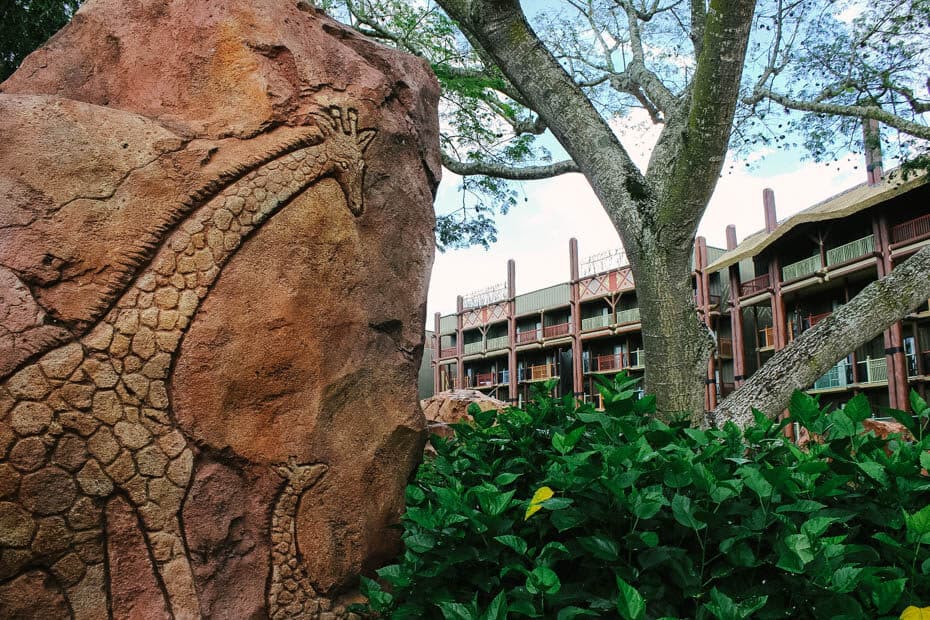 If you decide to make a reservation at Jiko make sure to take at least an hour or so to tour the Animal Kingdom Lodge during your visit.
Just outside Jiko is a walkway that leads to one of the savannah viewing areas. It's a pleasant area and quite beautiful at sunset.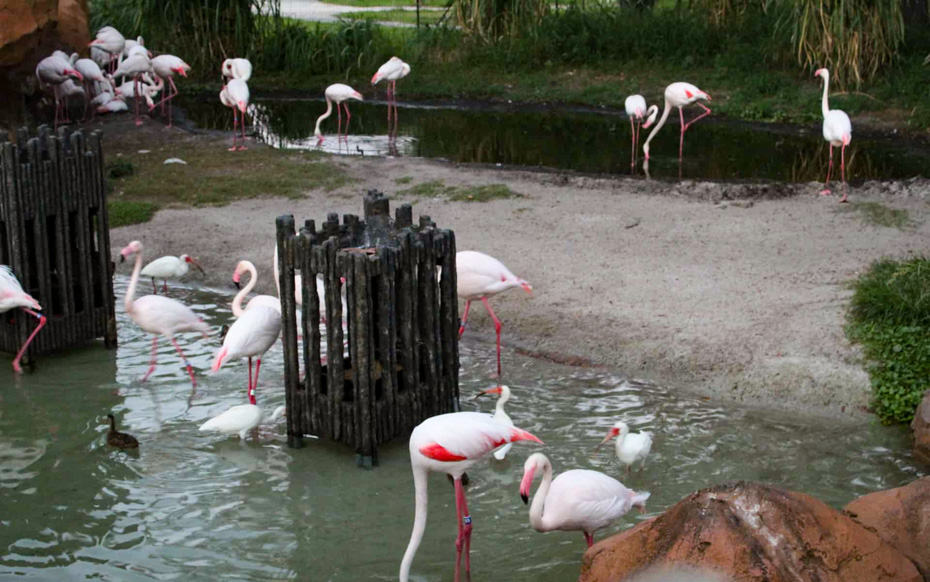 There are quite a few things to see from time to time. These flamingos are usually out in this area on the backside of the pool.
Just a little past them is the back view of the savanna. Right now you might find a few baby giraffes out in the area. I've been lucky enough to see them a few times.
They also have night viewing goggles if it's already dark, so don't let that stop you from walking out and taking a look.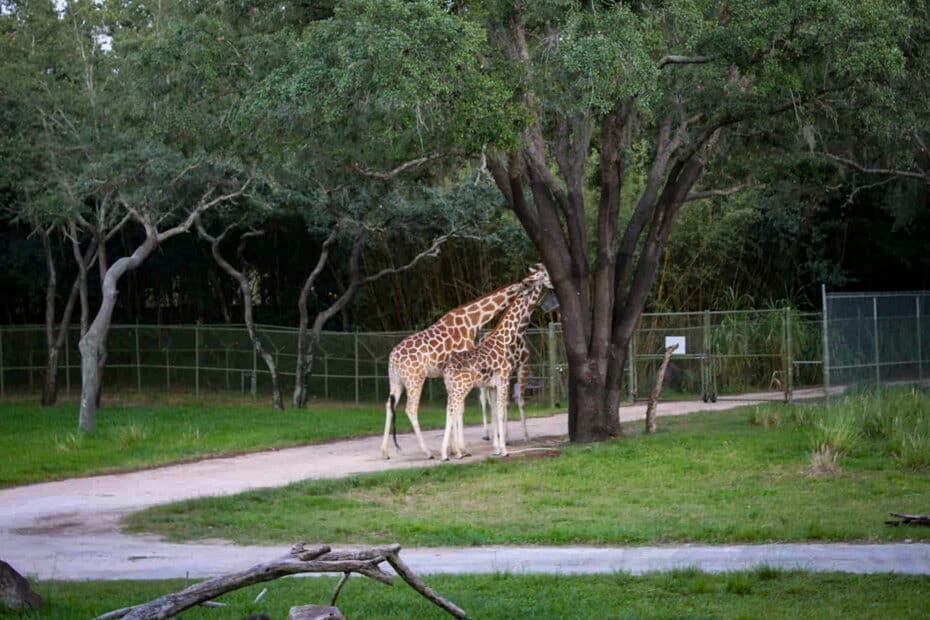 And the interior of the Animal Kingdom Lodge is worth taking a look around as well.
If you are interested in other dining options at the lodge, make sure to check out the full Animal Kingdom Lodge Restaurant Guide.
Or you might enjoy these specific Disney restaurant reviews:
Planning a trip to a Walt Disney World water park? Our Blizzard Beach Ride Guide has you covered! It includes every single thing you'll want to know about spending the day at Blizzard Beach.
You might also enjoy our Disney World Hotels list. It includes a link to every resort we have coverage of available on the site.
As for Jiko, I couldn't recommend a meal here more. Have you had the opportunity to dine here? Let us know in the comments.