Parking at Disney World Resorts & Parks (Costs & Tips)
Planning an upcoming visit to the Walt Disney World Resort? Have you thought about parking? Parking at Disney World is probably one of the most important things you'll need to be aware of when you plan to use your own vehicle. And I'm talking parking at the Disney parks, preferred parking, handicap parking, paid parking, free parking, parking at the resorts, and more!
That's a lot of parking. And if you aren't careful, those parking costs can add up. So it's important to take them into consideration and plan your days accordingly.
In this review, we are going to cover parking at Disney World thoroughly. We'll take a look at your different options, how much you can expect to pay, and I'll even provide a few of my best secrets and tips for parking.
Disney Hotel Parking Fees
If you've read any of my reviews, you know I'm not a fan of paying to park or resort fees. Thankfully, Disney doesn't charge resort fees yet. However, a few years back, they did begin charging parking fees at their resorts.
Those parking fees are as follows:
Value Resort Parking $15.00 per night
Moderate Resort Parking $20.00 per night
Deluxe Resort Parking $25.00 per night
Valet parking is normally available at $33.00 per night. However, at this time, it has been suspended. Disney has updated their website here to mention it will be returning soon. Valet service is available for guests with disabilities who require parking assistance. Additionally, accessible parking is available for guests with a valid disability parking permit.
These parking charges will be charged on the back end of your stay. Disney will email you a list of room charges incurred during your trip on your checkout day. In addition, this receipt will display daily parking charges where applicable.
How does Disney know you parked your car at the resort? Well, there are a variety of ways. For instance, when you enter any Disney Resort property, you have to stop and check-in with the security guard on your initial visit. They will verify your reservation, check your ID, and instruct you where to park.
If you were to check-in via the front desk, which is becoming more and more obsolete, the cast member asks how you arrived or if you will have your car with you during your stay.
Additionally, it's obvious if you are using your magic band or the phone app to open the self-service gate when you come and go. That's a pretty good indicator you have a personal vehicle or rental.
Now, if you do have your car with you, Disney is quick to remind you that they offer complimentary standard parking at their theme parks for resort guests. But let's face it, you are paying for parking. You just aren't paying for parking twice. So it's really not free.
While there aren't many ways to get around parking charges at the resort, I do have a parking tip for hotel guests of the deluxe Disney World Resorts. If you have been out shopping in Orlando or picking up groceries and come back to the hotel in the pouring down rain, use valet.
Valet parking is only $8.00 extra for one day and well worth your time to unload your packages in the breezeway. Remember to retrieve the car from valet parking by the next morning. (And make sure it's noted on your ticket.)
Disney Vacation Club members will not be charged for standard self-parking when staying at one of the deluxe villa resorts. However, if you are staying at a non-villa resort and not using DVC points, you will be charged for parking like everyone else.
In addition, per Disney, day guests visiting a Walt Disney World Resort hotel can enjoy complimentary parking for dining, shopping, and recreation. So, this is what the Disney website states, but I want to throw out a big red flag here. You will need some sort of dining reservation or scheduled recreation to park at a resort under most circumstances.
I know, because I often park at the resorts and can tell you now, you're going to have difficulty parking without a reservation. Now and then, I'll have someone that lets me park (usually in the DVC lots), but a majority of the time, I have to find an alternative without a reservation.
For me, that's no big deal because I am an annual passholder. Annual passholders can park for free in the theme park parking lots. However, we are still subject to daily parking fees at the resorts like any other Disney Resort guest.
Now that we've covered parking at the resorts let's take a look at the theme parks.
Disney World Parking Cost
Our next area of Disney World parking takes a look at the theme parks. The daily parking fees for all four of the Disney parks are as follows:
Preferred Parking ($45-$50 per day)
Standard Parking ($25.00 per day)
After you pay for parking, it is good for the entire day at any of the Disney theme parks. So if you were to park at Animal Kingdom in the morning and then park hop to Magic Kingdom for fireworks, show your receipt to park again at Magic Kingdom.
Additionally, guests of the Disney Resort hotels can upgrade to preferred parking. You do this by paying the difference in cost between your included parking and the going rate for preferred parking.
Unless you have some reason you need to be at your car quickly, I wouldn't recommend doing preferred parking. It's an outrageous cost to potentially be a few rows closer to the entrance.
And it's important to know that when parking at Magic Kingdom, you still won't be able to reach your car quickly.
The Magic Kingdom parking lot is actually called the Transportation and Ticket Center. When you park in this lot, you'll walk to the Transportation and Ticket Center. There you'll have a few choices. You can board one of the three different monorails, take the ferry to Magic Kingdom, or catch a bus to Magic Kingdom.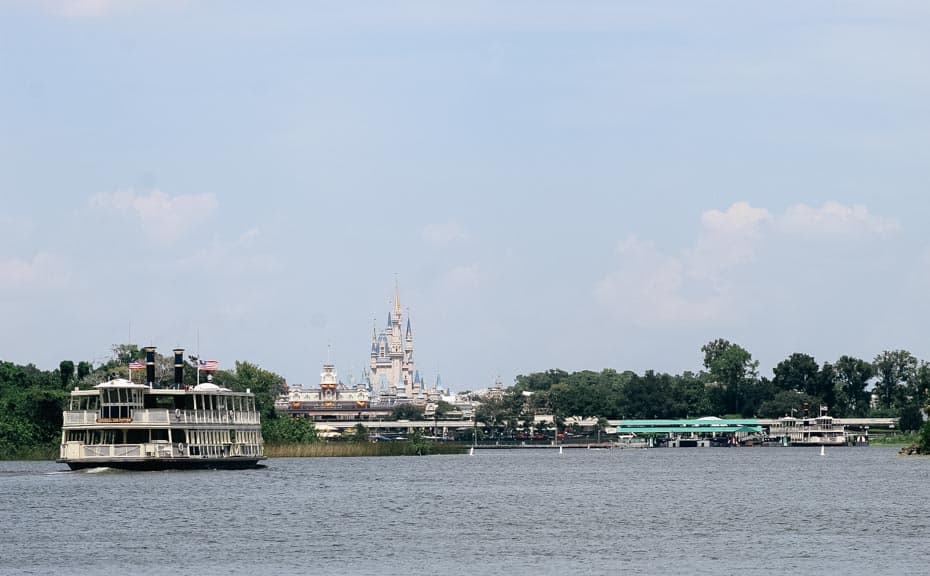 In most cases, guests of the Disney Resorts will want to take a bus from their resort to Magic Kingdom. Those buses drop off on the other side of the lake within a few steps of the theme park.
Now at this time, the tram service has not returned to the parks, so you will have to walk further. Hopefully, the trams will return soon since the Epcot monorail has finally re-opened.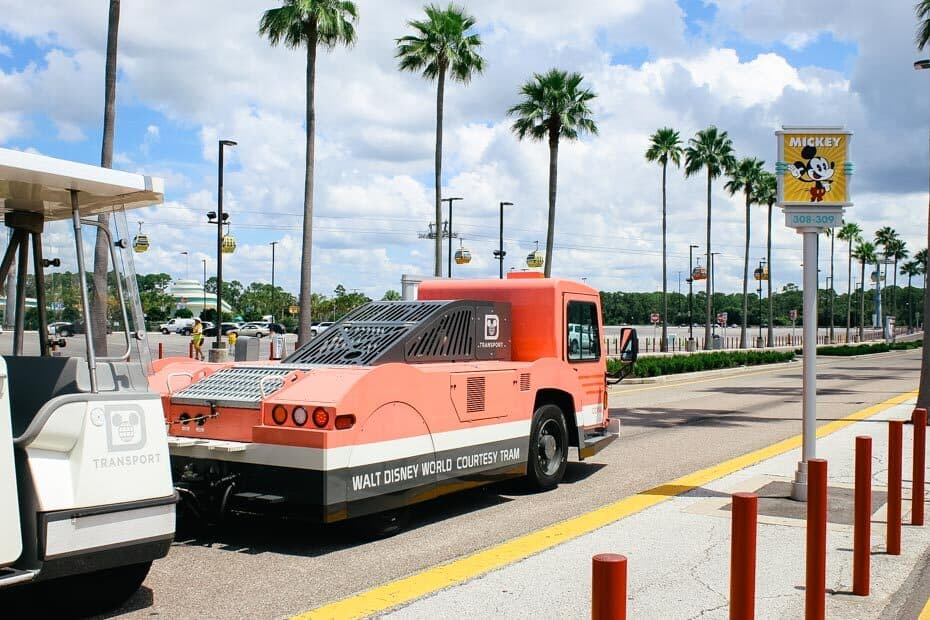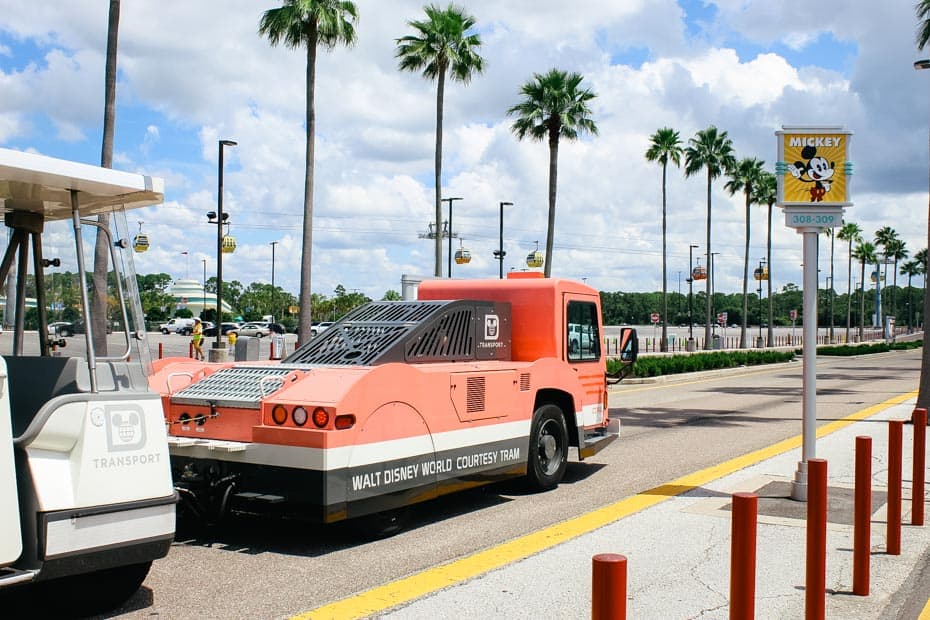 On return to your car from Magic Kingdom, make sure you remember how you can get back. You'll want to take the Ferry or Express monorail back to the Transportation and Ticket Center. Then you'll need to walk (or tram when available back to your car.)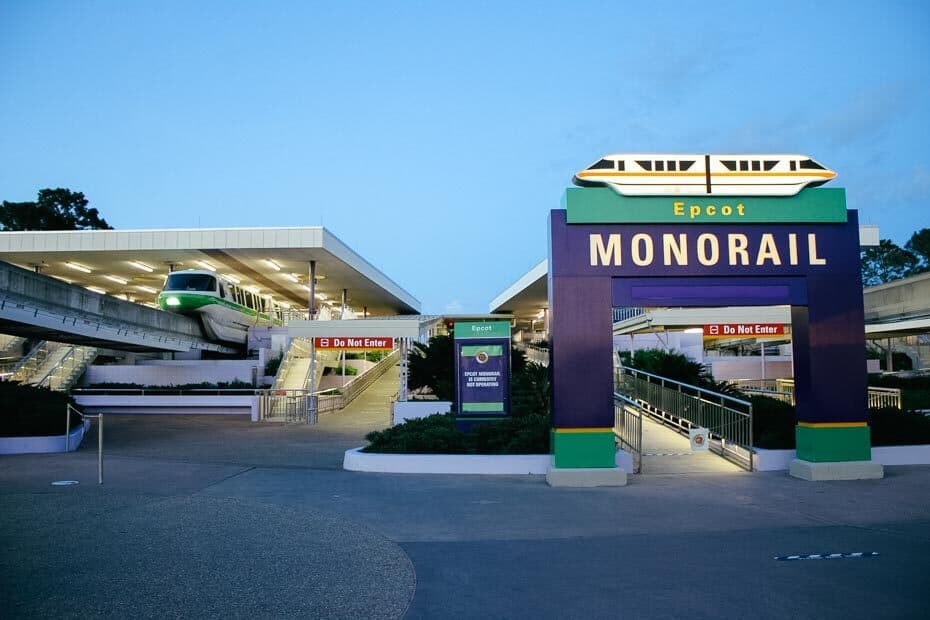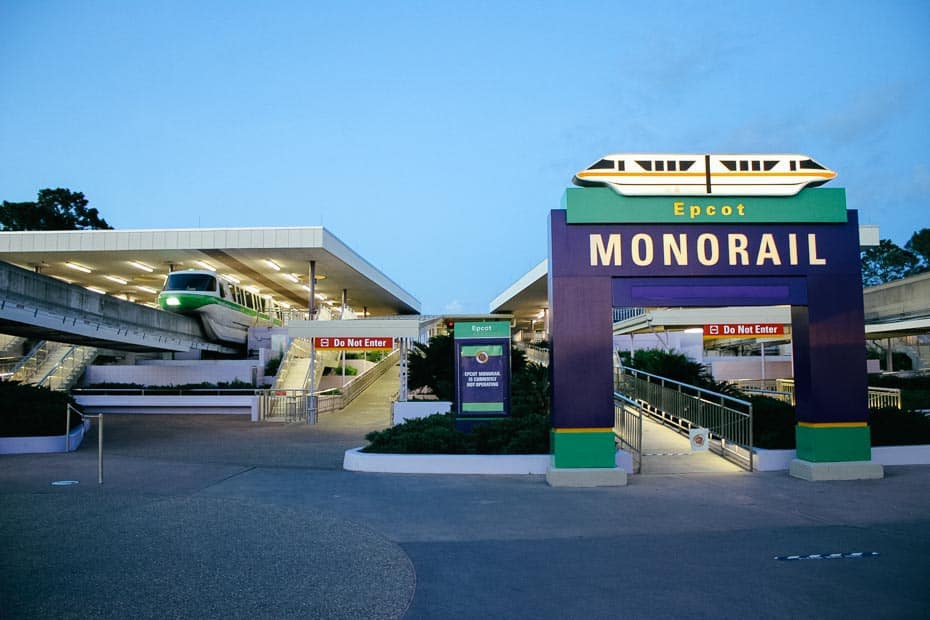 One other important thing to remember is where you actually parked. I try to take a picture with my phone at the end of the row where I parked. When the trams are operating, the driver will remind you of where you parked before pulling off. But if you are trying to get settled and not paying attention, you'll be whisked away and completely miss the announcement.
Tip: If you were to forget where you parked, find assistance from a cast member or the tram driver. They might have a few ways to help you find the general area based on your arrival time.
The parking lot at Magic Kingdom is huge. You could spend a long time looking for your vehicle if you're not careful. It's so large that it's divided into sections, Villains and Heroes.
For instance, you might get Heroes, Peter Pan, row 35. Therefore you would want to exit to the Heroes lot, locate Peter Pan (or exit the tram at Peter Pan), and then look for row 35.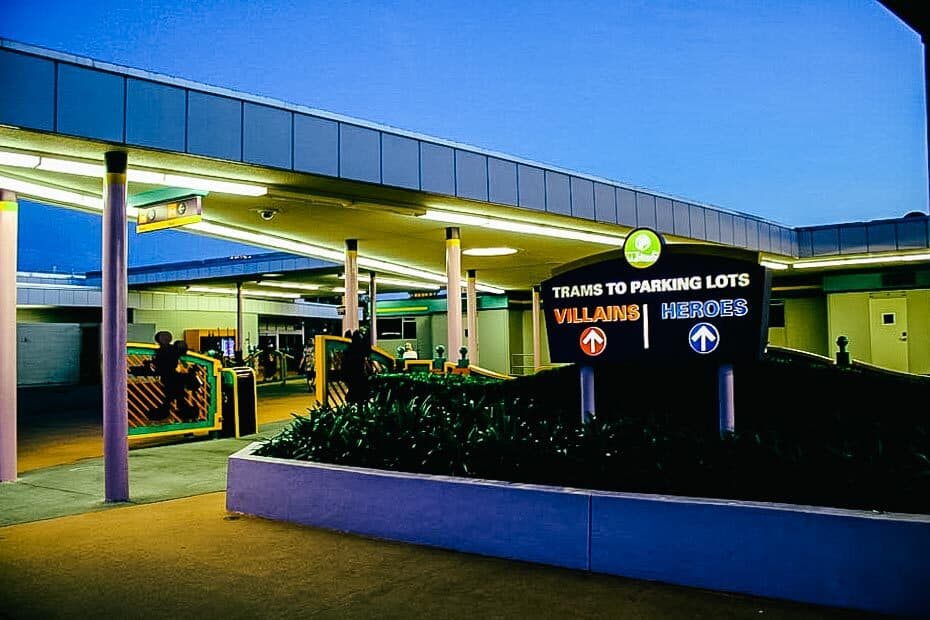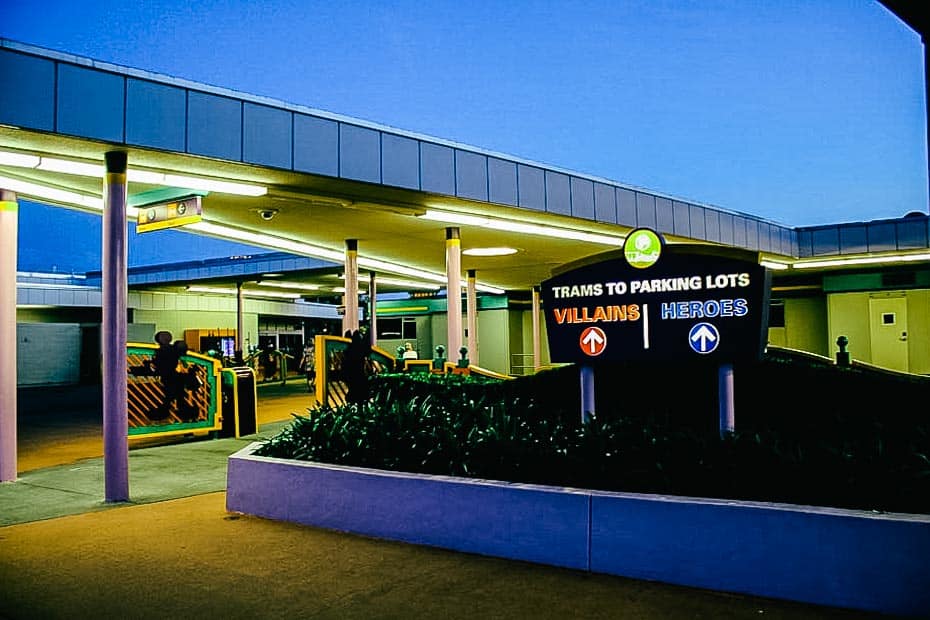 The same goes for Epcot, Hollywood Studios, and Animal Kingdom. However, those are all fairly walkable parking lots.
Some of you might want to know my take on whether you should drive to the parks or take the Disney bus system. A few years back, we almost always stayed on Disney property. Back then, I heavily relied on using all forms of Disney transportation. I parked my car at the resort and didn't see it again until check-out day.
At that time, I was a true die-hard, stay on property and don't drive, Disney fan. Now I tend to stay off-site most of the time, drive my personal vehicle, and park at the theme parks.
Related: The Best Off-Site Hotels Near Disney World
If you aren't familiar with Disney property, take the bus. Transportation, like anything else, can work smoothly or be a real headache. There have been times when I've waited for over 30 minutes for a bus along with a lot of other tired, upset guests. Understandably, people in these situations start to vent. However, it's also unpleasant.
Since I've started driving to the parks, I almost always prefer to drive over taking the bus. That way, I'm in control and don't have to rely on anything else. Also, there is no drama when exiting the park, walking to your car, and leaving. Unless you forgot where you parked. Even I am guilty of that sometimes.
For those who are staying off-site and don't want to incur parking every single day at the theme parks, I do have one tip. You can trade parking costs for the price of a meal.
By that, I meant you might enjoy breakfast one morning at, say Grand Floridian Cafe. With a reservation, you could park at the resort and then take the monorail, boat, or walk to Magic Kingdom after your meal. (Or Kona Cafe at the Polynesian is a good option.)
When you leave Magic Kingdom, head back to the Grand Floridian and then retrieve your car. The plus side of this is that you won't be charged for parking that day, and you will have a nice meal instead. The downside is that you probably won't make it to the park at opening time.
For Epcot or Hollywood Studios, you might try a breakfast reservation at the Riviera's Topolino's Terrace or Ale and Compass at the Yacht Club. Topolino's offers a character breakfast. And Ale and Compass is one of our favorite spots to enjoy breakfast at Disney World.
For Disney's Animal Kingdom, you could do breakfast at Sanaa. However, I might do Sanaa for an early lunch so you can have bread service. Plan this on a day where the park was open later, and you can experience Pandora, World of Avatar in the evening.
Again, these are just suggestions to help offset parking charges for off-site guests. And the tradeoff might not be worth it for those of you who plan to spend the early morning touring time in the parks.
Parking at Disney Springs & Disney's Water Parks
Lastly, I wanted to mention parking at Disney Springs and the Disney World Water Parks. At this time Blizzard Beach is the only water park open.
Thankfully, parking is complimentary at all three of these locations:
Disney Springs
Blizzard Beach
Typhoon Lagoon
Both water parks have two large surface parking lots outside the entrance. In addition, Blizzard Beach shares a parking lot with Winter Summerland's mini-golf course.
At Disney Springs, there are three parking decks available and one surface parking lot. The lime parking garage is central to most of the popular locations. However, it can be somewhat comparable to the Fast and Furious when it comes down to finding a parking space on a busy day.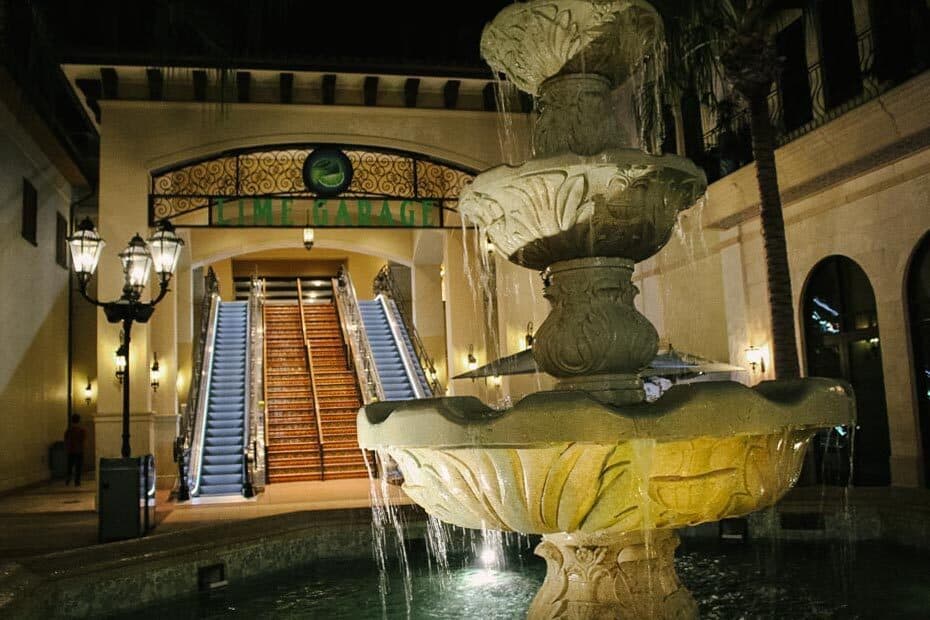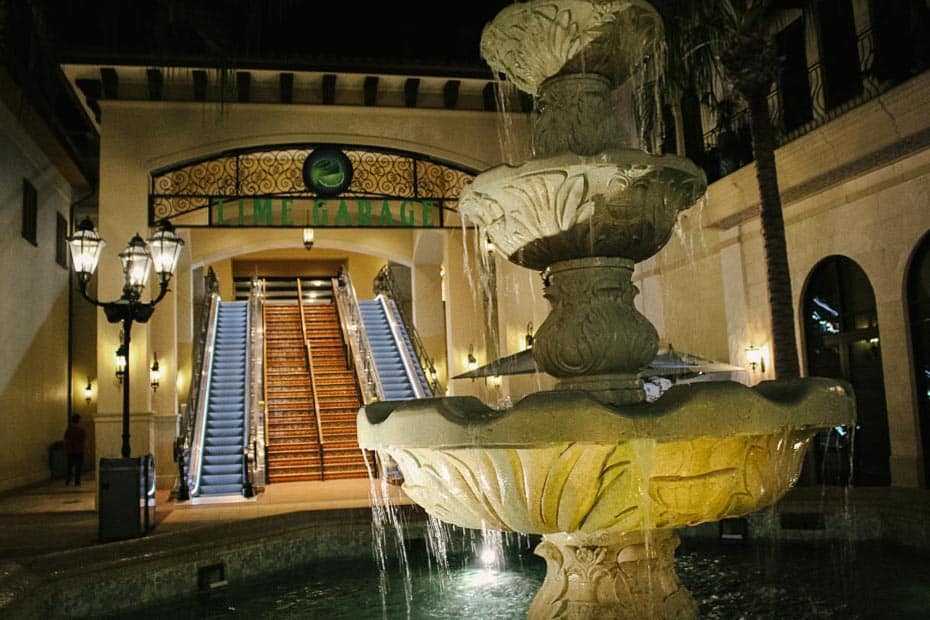 We have a full transportation guide for Disney Springs, that provides plenty of tips for getting to and from the venue.
For those visiting Disney World on a tight budget, you might consider an off-property resort-like the Springhill Suites at Flamingo Crossings. They are one of the few hotels in the area that does not charge for parking. More details for that hotel are in our best Marriott Hotels at Disney World article.
And for those looking at the Disney Value Resorts, Art of Animation and Pop Century are both good choices.
Related: Disney's Art of Animation vs. Pop Century
That hotel does offer a shuttle to the parks. Personally, I don't recommend relying on an off-property resort's shuttle service. You might do good to take the shuttle to the park in the morning. However, I'd familiarize myself with using a car service like Uber or Lyft so I wasn't tied down to a bus schedule.
Hopefully, this article was able to provide you with a good overview of the parking costs at Disney World. Feel free to tell us your favorite parking tips or thoughts about paying for parking down below in the comments!