Taking the Magic Kingdom Ferry (With Resort Boat Service Tips)
Magic Kingdom's Ferry is one of the most well-known forms of transportation at Walt Disney World. The ferry boat takes guests back and forth across Seven Seas Lagoon from the Transportation and Ticket Center. This is a process that happens daily before the busy theme park opens and late after it closes.
Additionally, some guests will want to access other boat options from the surrounding Magic Kingdom Resorts. You might be staying at a resort or visiting for a meal and need to know the best route to and from Magic Kingdom.
For this review, we'll first take a look at the Magic Kingdom Ferry boat service. After that, I'll add a section for each resort in the Magic Kingdom area covering how their boat service works.
As you probably know, these tips and details are based on my personal travel experiences. I intentionally walk through these processes and take these photos when I'm visiting the parks and resorts.
Taking the Magic Kingdom Ferry boat and other watercraft can be quite pleasant. For those that visit regularly, I recommend trying as many different transportation options as possible. That way, you'll get an idea of what forms of Disney transportation you enjoy incorporating into your vacation.
Learning all of your options is important for those times when you end up in massive crowds heading to or from Magic Kingdom. It's always nice to be in the know instead of guests who only know the one way they got to the park and are relying on it to get back. That is if they even remember how they got there after a long day in the theme park.
Another factor to consider is that knowing how to get around Walt Disney World can save you quite a good bit of time. And as we all know, vacation time is limited. So it's important to make the best use of it.
Let's get started.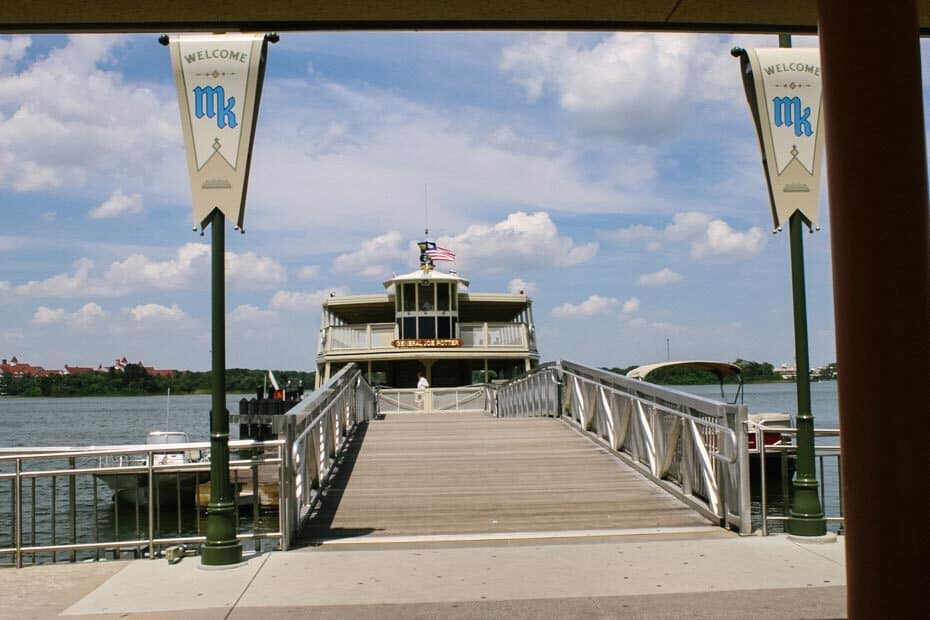 Magic Kingdom Ferry Boat
When visiting the Magic Kingdom, guests that drive or are coming from an off-property resort will have to park in the Magic Kingdom's massive parking lot. After parking, you'll head to the Transportation and Ticket Center at the front of the lot.
In a rush to get to the park, don't forget to take a photo or write down the row where you parked. The last thing you want is to spend 30 minutes looking for your car after 12 hours of standing in line for rides all day. I know because it's happened to me on more than one occasion.
When you arrive at the Transportation and Ticket Center, you have two main options for getting to the Magic Kingdom:
Magic Kingdom Ferry
Magic Kingdom Monorail
If you are interested in taking the monorail, make sure to read the Disney World monorail review. It will walk you through the different options and steps for using that mode of transportation. As of 2021, it includes several updates due to recent changes for the service.
Before making your decision on which to take, you'll head through security screening. Security was formerly on the other side of the water after arriving at the park. I think you'll find this new way of doing things to be a tremendous improvement for those that have visited before.
Normally, there are two Magic Kingdom ferry boats running back and forth across Bay Lake. Each one will dock, delivering guests from its journey and picking up new guests to return across the water.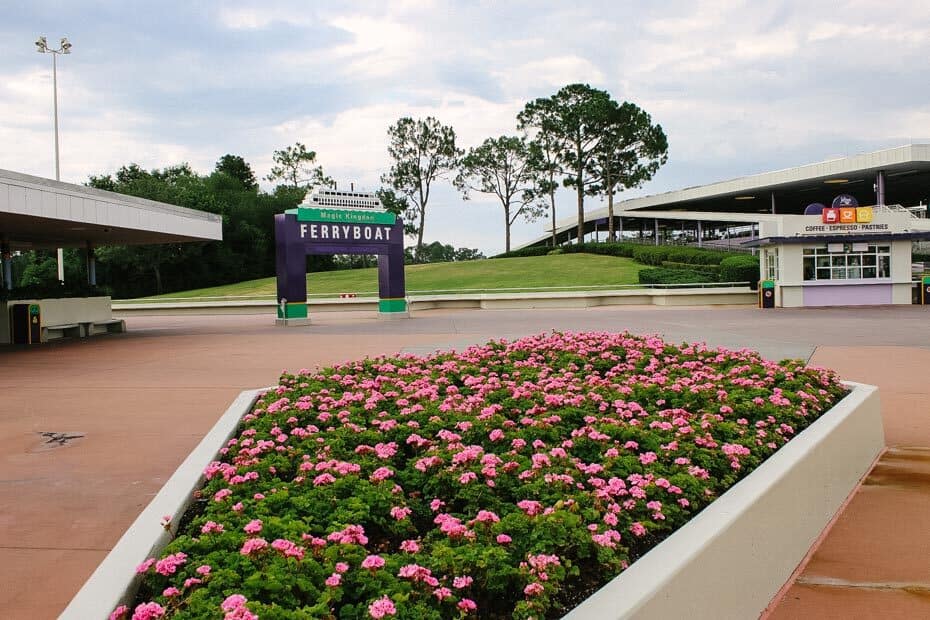 The Ferry Boat dock will be to the far left after entering the Transportation and Ticket Center area. After the ferry unloads from its returning trip, a cast member will come and open the gate for new guests to board.
You are then welcome to board the ferry and decide to stay on the main level or head up to the second level. Seating is fairly limited on the ferry. Therefore, if needed, make sure to grab a spot as quickly as possible.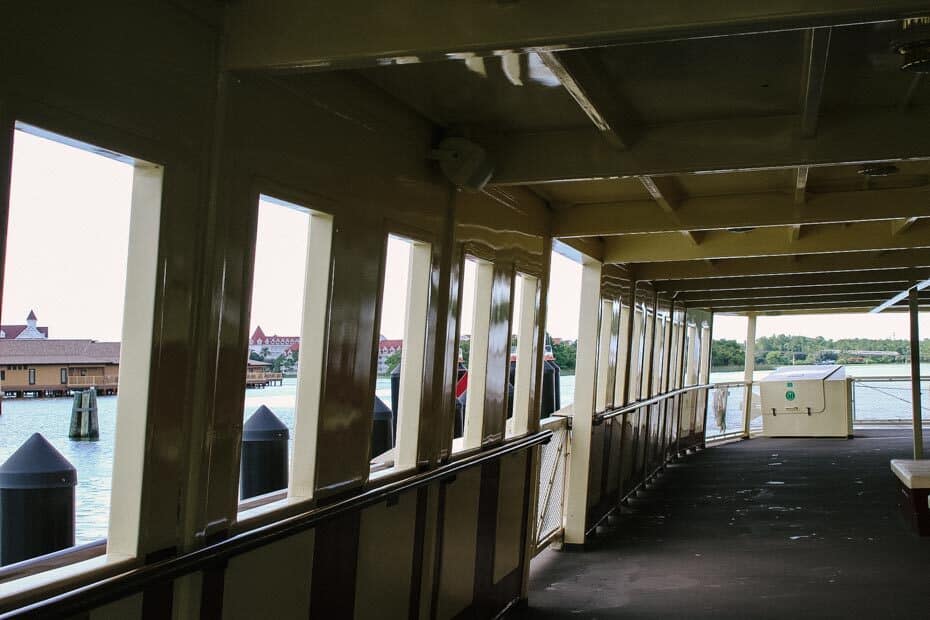 The ferry offers great views of the Magic Kingdom and the surrounding area. I have found that taking this option is enjoyable and not a rushed pace. With that being said, the ferry really doesn't take that long to get to the theme park.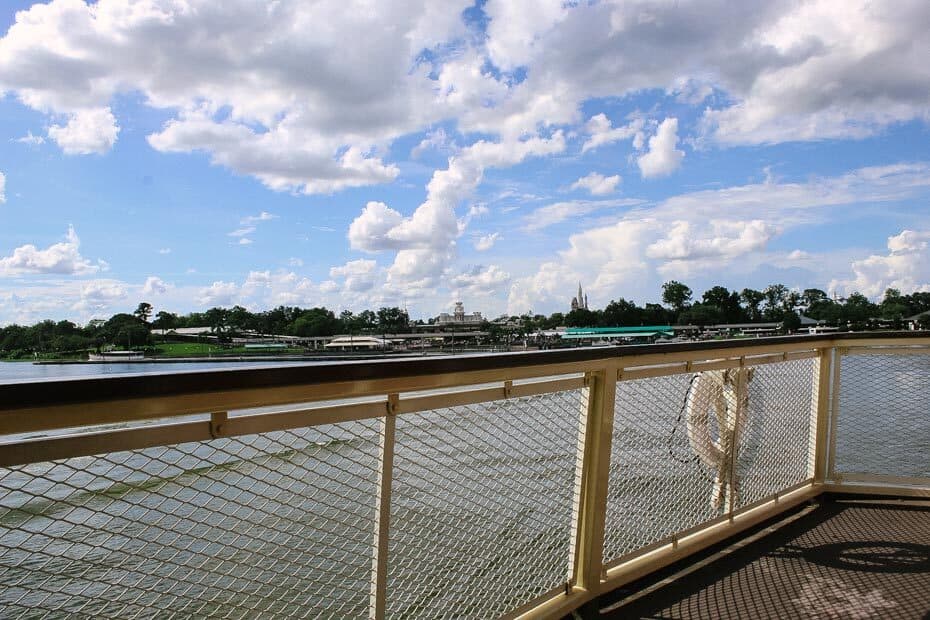 It takes approximately 15 minutes to board the Magic Kingdom ferry, travel over, and then dock. You could spend the same amount of time waiting in line for the Express monorail. However, if there isn't much of a line for the monorail, that might be the fastest option if you are in a hurry. I don't know the exact specifics of how many guests can board each vessel. But it seems that the ferry has a higher capacity.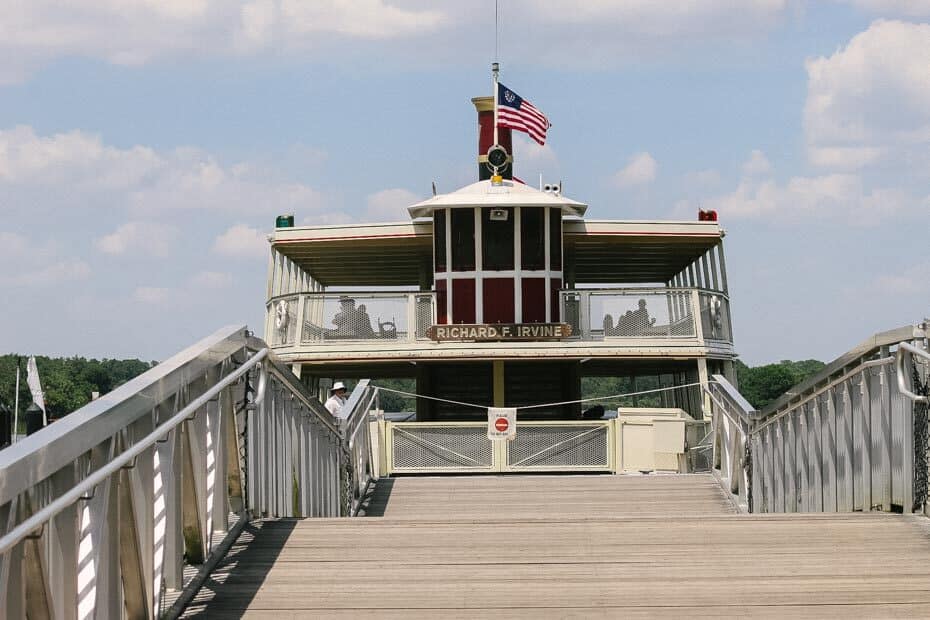 When heading back from the Magic Kingdom, you'll return to the same dock.
My favorite time to take the ferry is on a leisurely day when the sun is shining, and it's nice to be outside. Additionally, if I were to walk up and the ferry was immediately starting to load, I usually opt to take it over the monorail.
After leaving the Magic Kingdom at night, the ferry can have extremely long lines. But from my experiences, I have found that it's usually the best way to get back across the water.
Magic Kingdom Resort Boats
If you are staying at or visiting one of the Magic Kingdom Resorts, you will have several different transportation means to the theme park. The following resorts offer boat service to the Magic Kingdom:
Grand Floridian
Polynesian
Wilderness Lodge
Fort Wilderness
The resort boats are substantially smaller than the ferry, but there won't be nearly as many guests using them.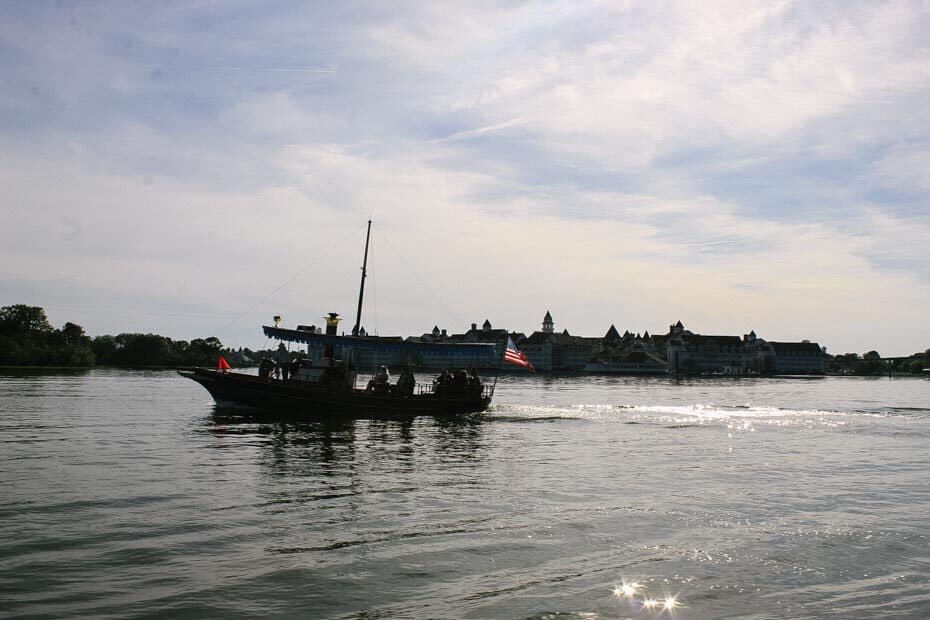 When you exit the Magic Kingdom there are three different boat launches.
Magic Kingdom Ferry Service
Boat Dock 1 (Disney's Grand Floridian & Disney's Polynesian)
Boat Dock 2 (Disney's Polynesian and Disney's Wilderness Lodge)
If you have visited the Magic Kingdom before and have used boat service, you'll want to know that the resort boat docks have been swapped.
Now the center boat dock 1 is for guests headed to the Grand Floridian and Polynesian.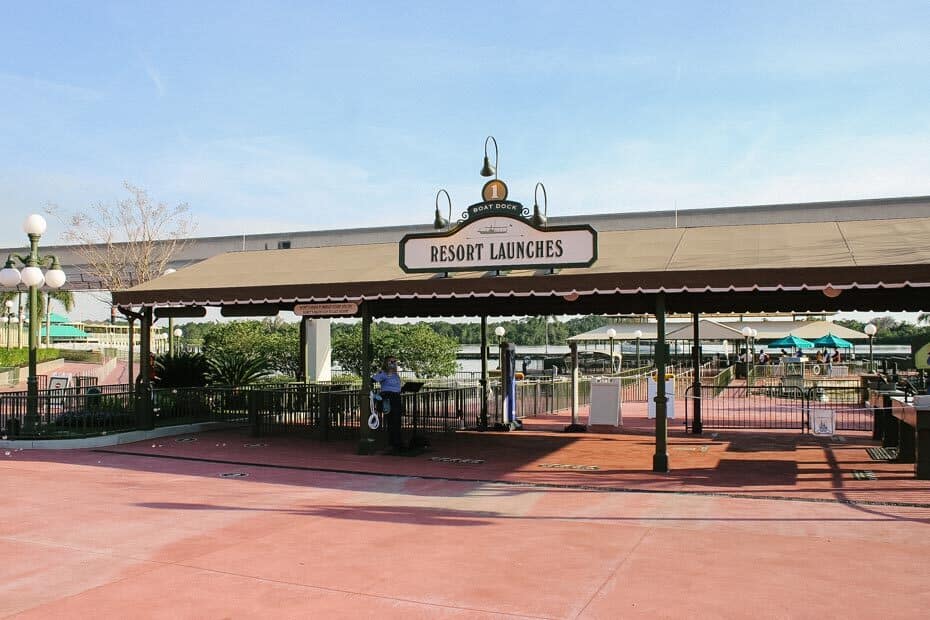 And the boat dock on the far right-hand side (boat dock 2) will deliver guests to the Wilderness Lodge and Fort Wilderness. The new walkway from Magic Kingdom to Grand Floridian begins directly behind this dock.
Below we'll cover each of these routes in more detail per resort.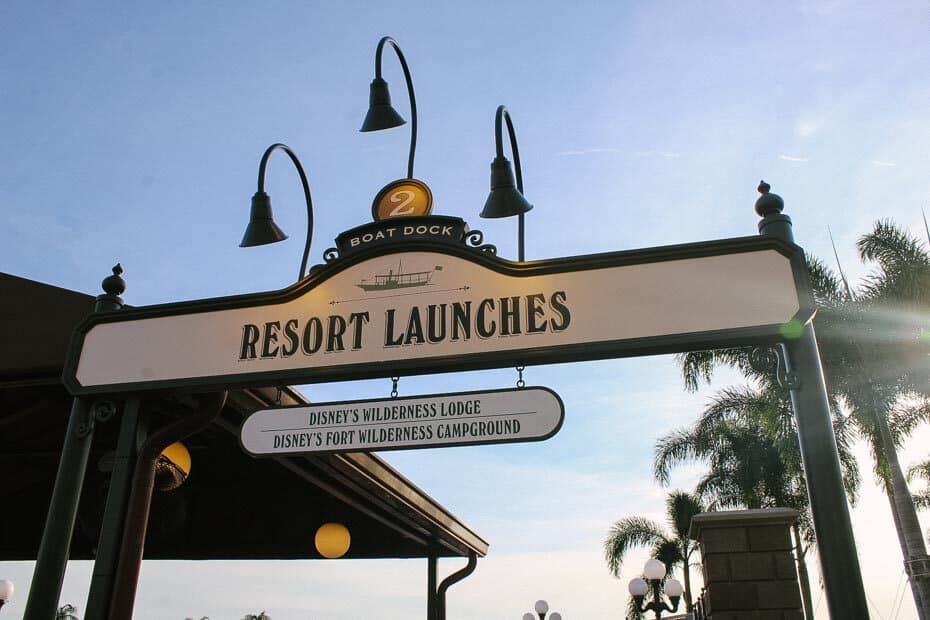 Here we have a photo of the resort boat dock at Disney's Grand Floridian.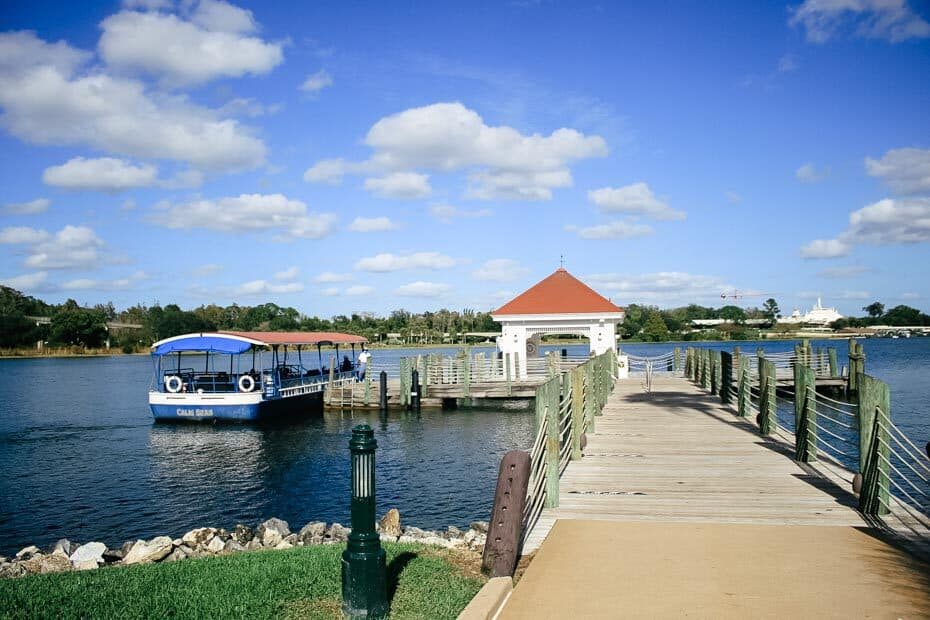 This boat typically travels from the Magic Kingdom to Grand Floridian and then heads over the Polynesian.
Anyone that enjoys walking but doesn't want to make the full walk back from Magic Kingdom might enjoy walking from the Grand Floridian to the Polynesian. The walk between the two resorts is extremely scenic. I often take the resort boat from Magic Kingdom to the Grand, disembark, and walk over to the Poly.
If you want to learn more about this specific resort, check out the guide on transportation at the Grand Floridian. It covers all the different options for visiting the Magic Kingdom and other parks and popular destinations.
As mentioned above, when heading to the Polynesian from Magic Kingdom, you will now head out to the center boat dock past the exit. When leaving the Polynesian, you'll find the resort's boat launch sits out on the lagoon. This is behind the Polynesian's volcano pool area.
Here is a photo for reference.
Typically, when you board one of the resort boats at the Polynesian, you'll head directly to Magic Kingdom. As the sign outside the boat launch indicates, the boat travels to Magic Kingdom and Disney's Grand Floridian before arriving back at the Polynesian.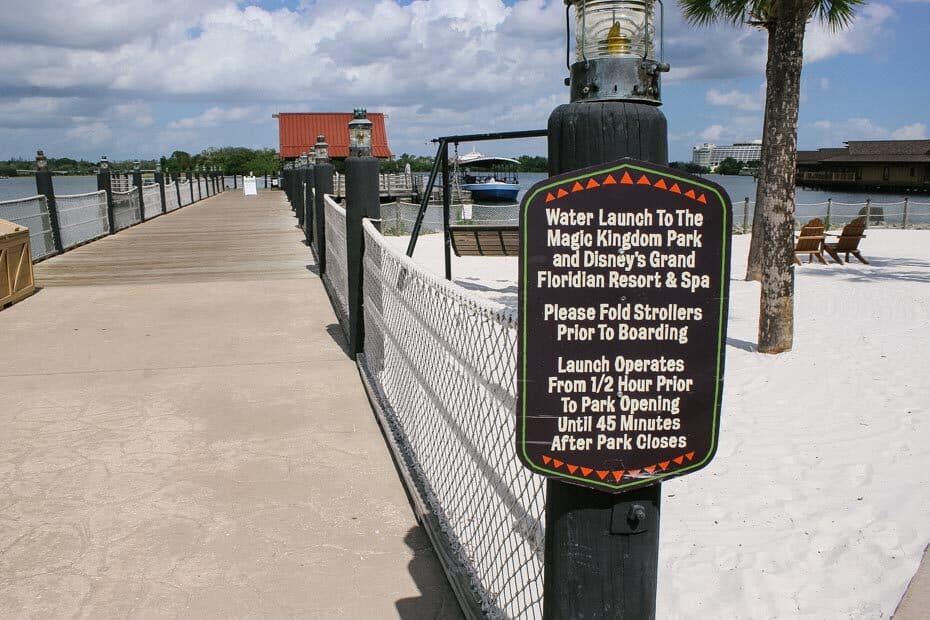 Here are a few pictures of the Polynesian boat dock in the distance.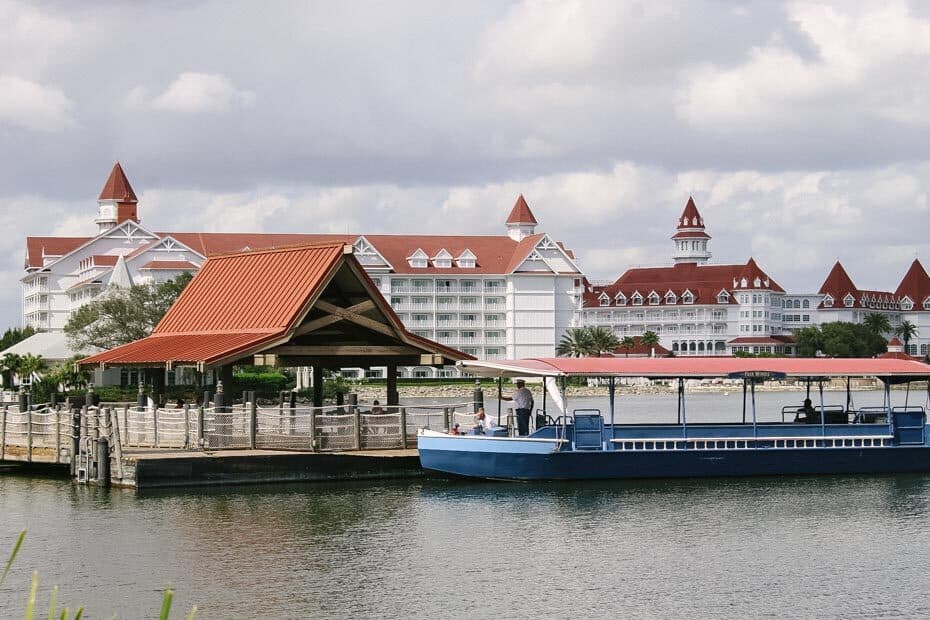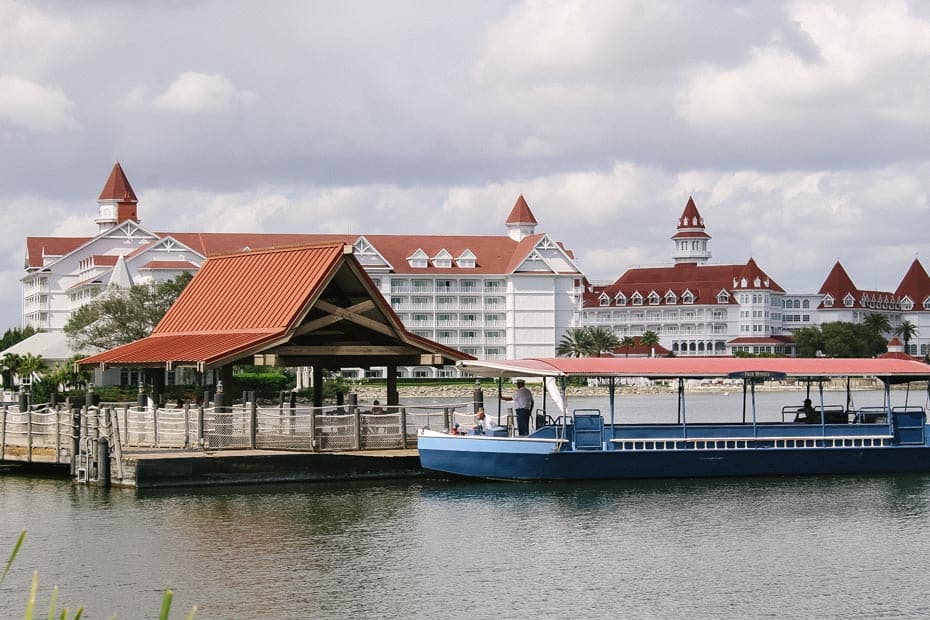 There are directionals all over the grounds. Most guests will want to head straight toward the Great Ceremonial House, which is the main lobby. The Great Ceremonial House is where you'll find all the Polynesian's major dining and retail areas.
Next up, we have the boat service from Magic Kingdom to Disney's Wilderness Lodge. Sometimes larger boats will pick up here that hold more guests than the smaller exterior boats that service the other resorts. Just make sure to enter the line on the right side because this launch is shared with Fort Wilderness.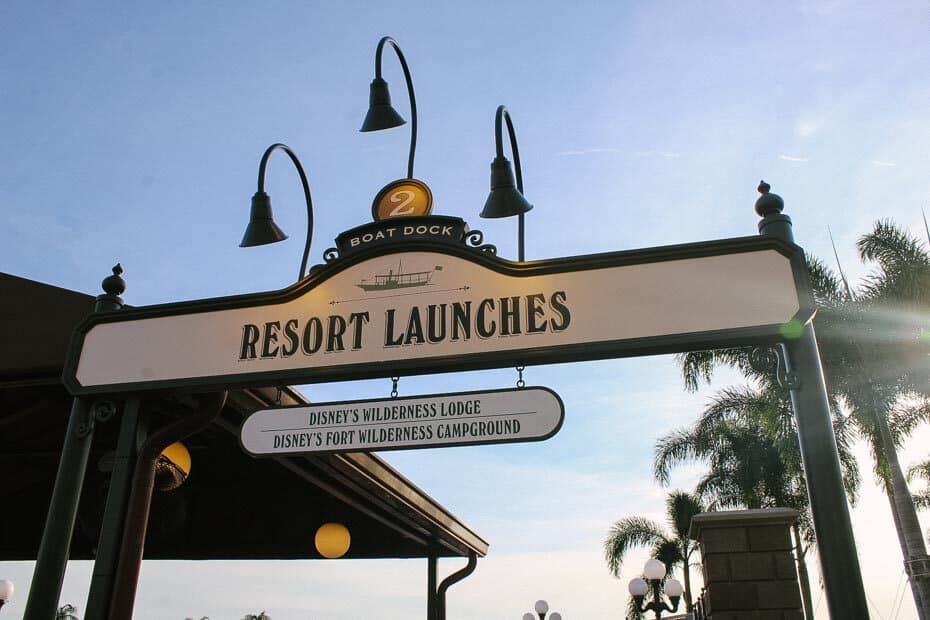 When you exit at the Wilderness Lodge, you will be greeted by this scenic walkway through a wooded area.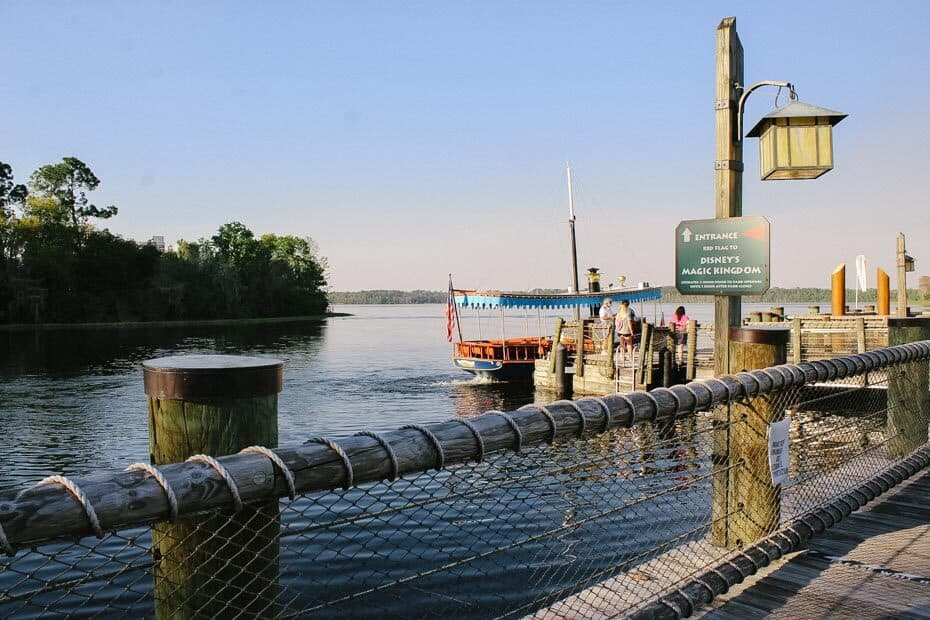 There are plenty of directionals here to get you going in the right place as well. This might sound like information that doesn't need to be repeated. But the resorts are large, and not everyone has a great sense of direction.
Some of my favorite moments on Disney property are spending quiet, relaxing times at a resort. And that includes when I'm visiting as a day guest and not actually staying there.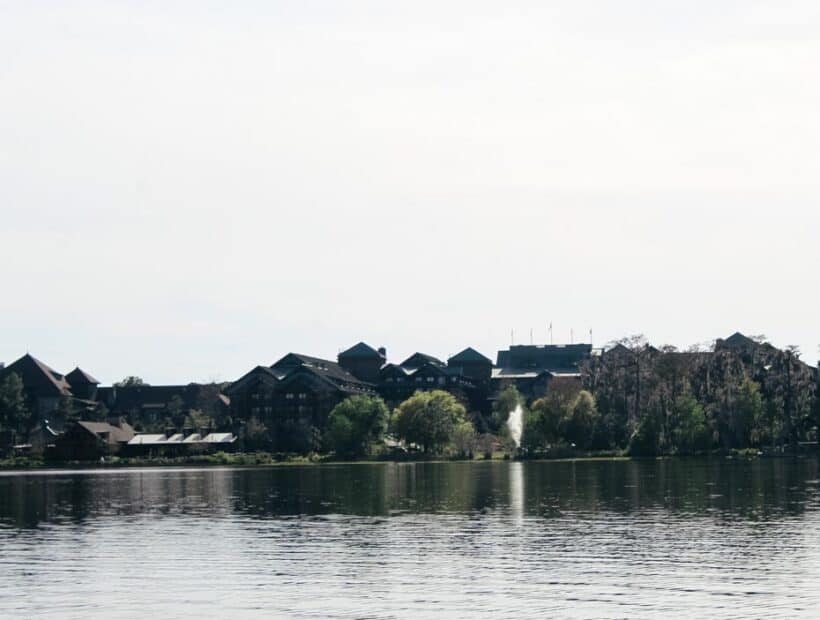 Our last resort boat launch from the Magic Kingdom is Disney's Fort Wilderness Resort and Campground. The Fort Wilderness boat launch from Magic Kingdom is on the right-hand side and shared with Wilderness Lodge.
These boats have to travel a bit further, so most of them have interior and exterior seating. When the weather is pleasant enough, they usually seem to have both types of boats running.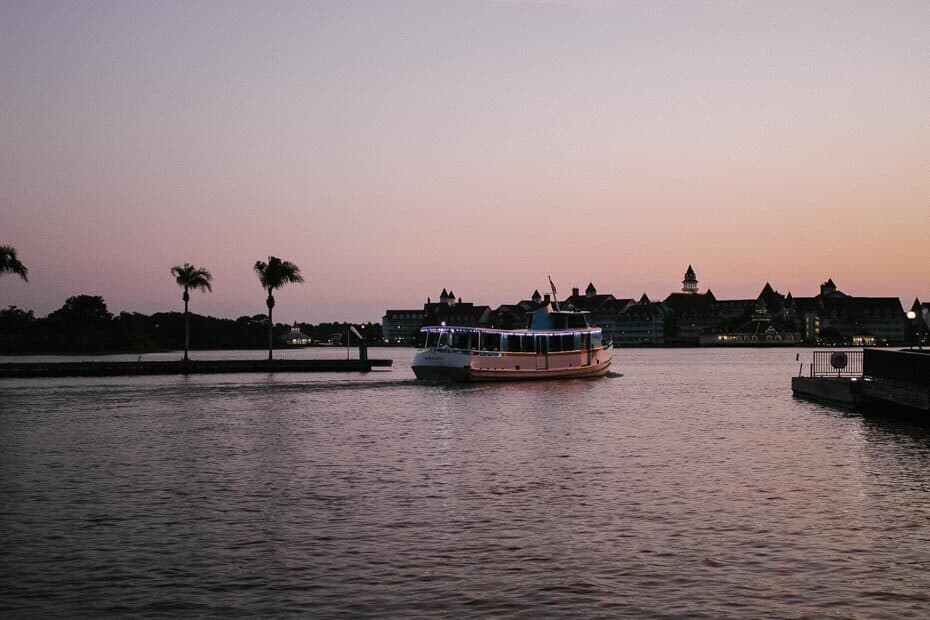 After exiting at Fort Wilderness you will be within walking distance to Pioneer Hall where Trails End Restaurant and Hoop Dee Doo Revue are located.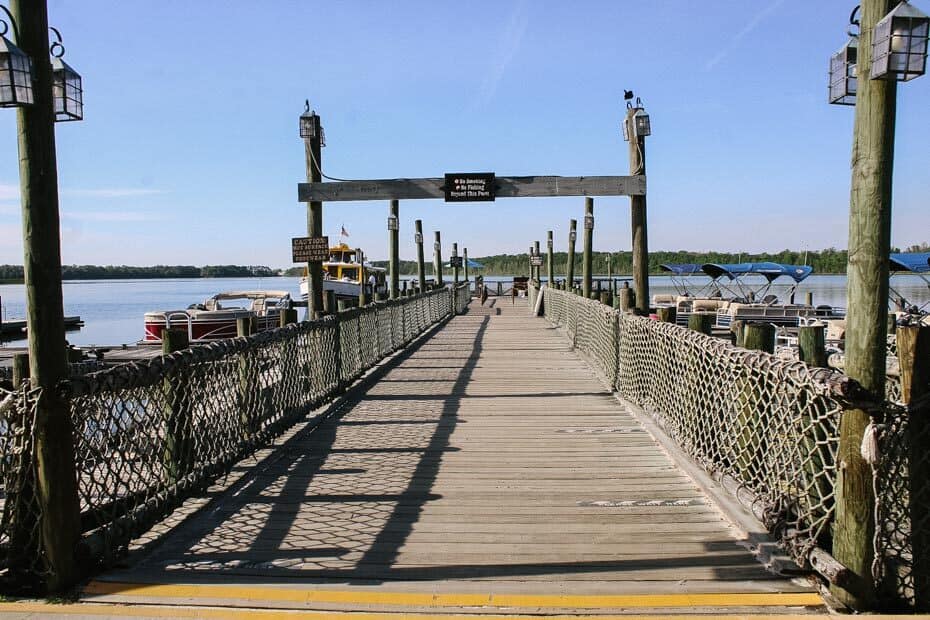 If you are visiting to do horseback riding, you will need to find bus transportation. Fort Wilderness is a massive resort, and they have a resort interim bus service. There are two stables on the property, but the one that offers horseback riding is at the front of the resort, which isn't close to the boat dock.
We did this a few years back, and there was a lot of confusion from cast members about where we were going. We ended up in the wrong place. It took us quite a while to get good directions after initially docking at Disney's Fort Wilderness.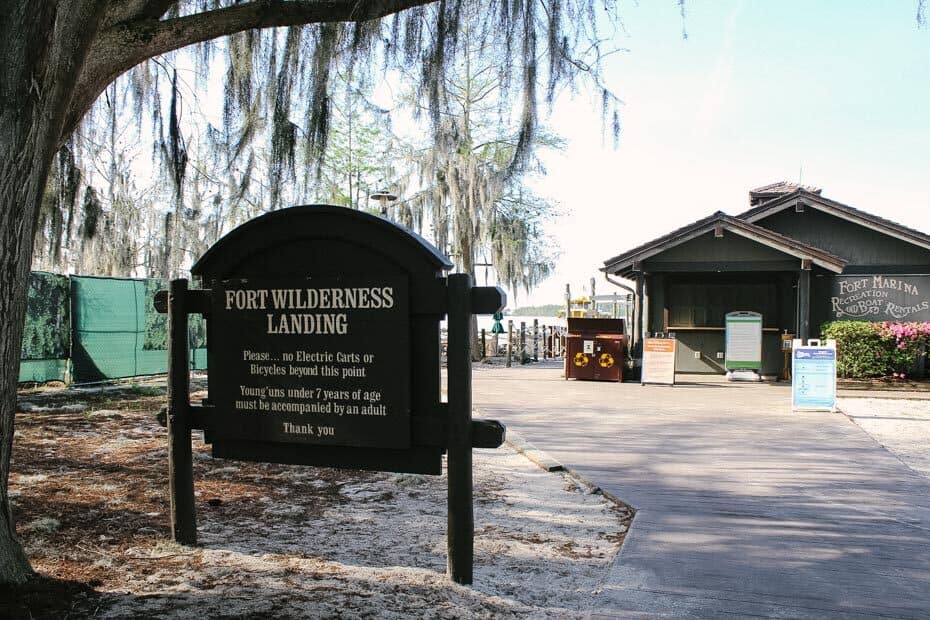 With that being said, Fort Wilderness is another very unique resort and a great place to visit for anyone who loves spending time outdoors!
The only Magic Kingdom resort that doesn't offer boat transportation between it and the park is Disney's Contemporary Resort. That's because the Contemporary is right next door to Magic Kingdom, and you can easily walk back and forth.
I have a full review of Disney's Contemporary Resort here and neighboring Bay Lake Tower here.
However, the resort's backyard is still located on the water and offers boat transportation to Fort Wilderness and Wilderness Lodge. You'll want to check availability on your vacation if you have any plans to dine or visit one of these resorts.
When I took this picture below, the boat was running from 6:45 a.m. to 11:30 p.m.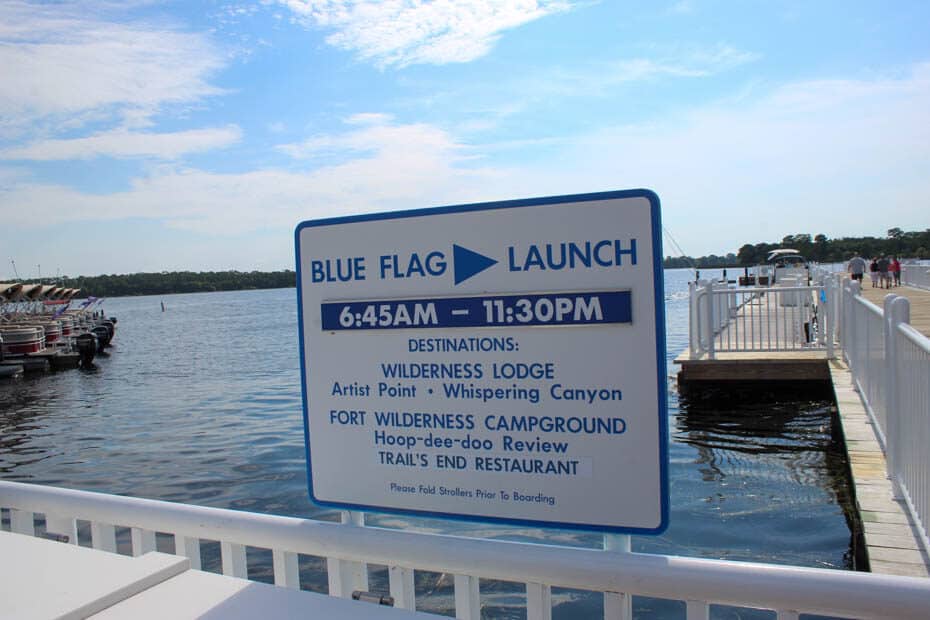 We have taken the boat over to the Wilderness Lodge for breakfast at Whispering Canyon Cafe.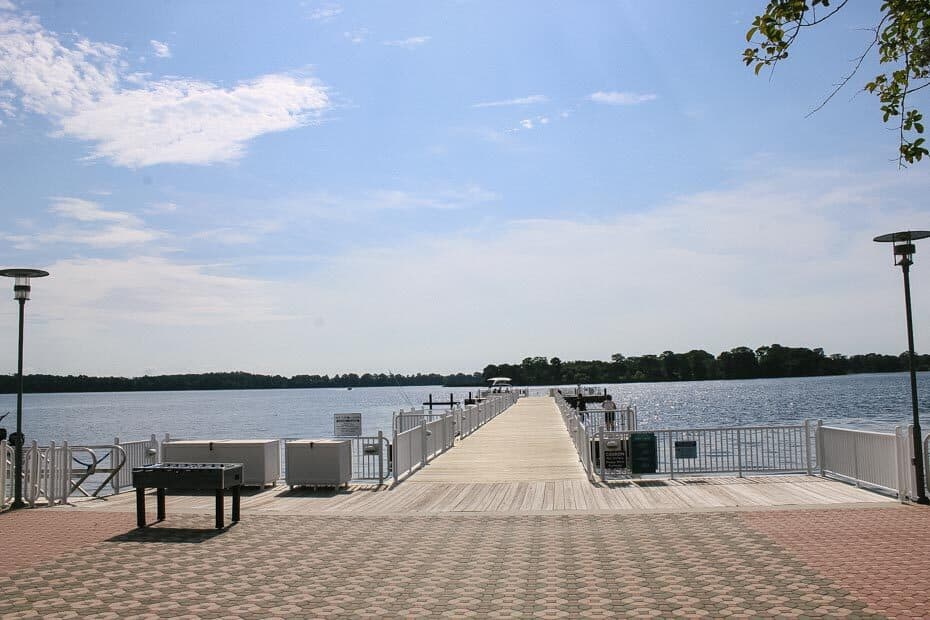 Normally, this boat goes in a triangle from the Contemporary to Fort Wilderness and back to Wilderness Lodge before returning.
Final Thoughts on the Magic Kingdom Ferry
The Magic Kingdom Ferry and other surrounding resort boat launches provide not only a service but enjoyable experience while at Walt Disney World. A warm sunny day sailing across the Seven Seas Lagoon can improve even an already cheerful mood.
If you have visited Resorts Gal before, you probably already know I have a love for transportation at Disney World. I can not reiterate enough the importance of learning the different options and best ways to get around Disney property.
My other passion is sharing information about resorts, characters, and dining. You can read the full list of Disney World Resorts reviews here on the site.
Not for sure if you want to stay on Disney property? Make sure to check out our guide to finding the best hotels that are off-site near Disney World. Or browse over our list of the Best Marriotts near Disney World.
You've probably heard before that sometimes the most fun is in the journey. And let's face it, where else can you take a scenic boat ride, a highway in the sky, or gondola for free while on vacation? Speaking of gondolas, feel free to read my thoughts and tips on using the Disney World Skyliner.
As always, I enjoy reading your comments and thoughts on these types of things. So feel free to leave any below. Do you like to take the Magic Kingdom Ferry over to the park?