Meet Disney Junior Characters at Disney World
This article discusses meeting Disney Junior Characters at Disney's Hollywood Studios. We'll look at their character meet-and-greet locations and autographs. Additionally, we'll provide details for a few other places to find them!
Disney Junior characters are some of the best meets available at Disney, especially for younger children. So if you have children that fall into this age group, you are probably familiar with the latest and most popular Disney Junior characters.
However, you might not be aware that many of them meet at Hollywood Studios. For starters, characters like Fancy Nancy, Vampirina, Doc McStuffins, and Pluto meet guests daily in Animation Courtyard.
This article was updated on February 5, 2023.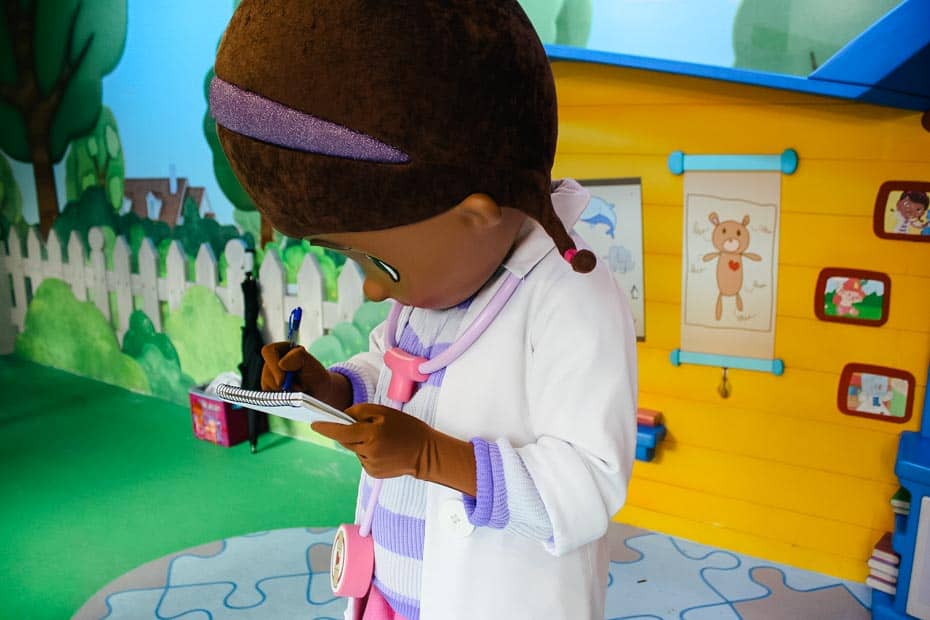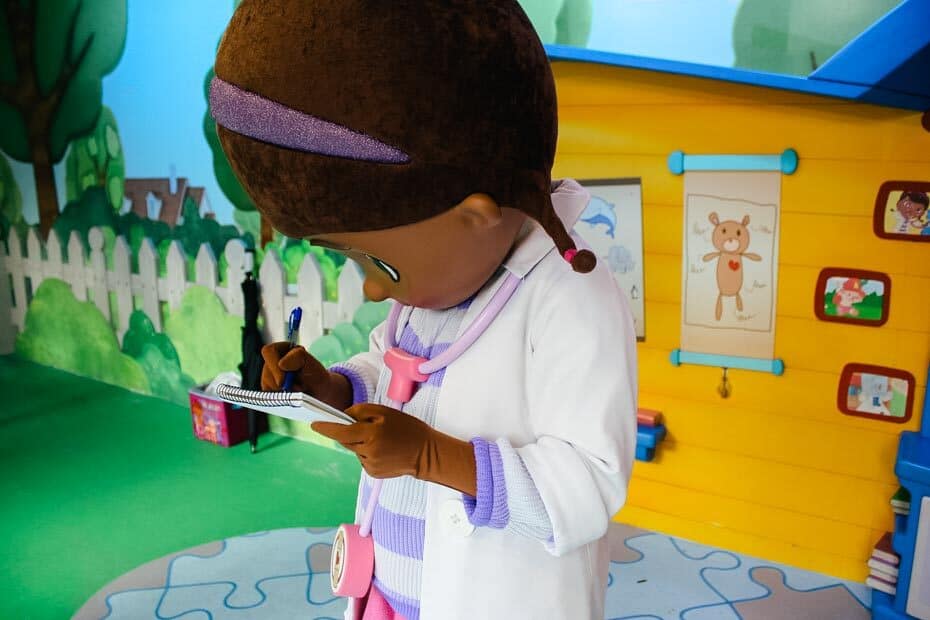 In addition, several Disney Junior characters meet with guests at Hollywood and Vine each morning for a character breakfast. However, this experience will require an advanced dining reservation.
Related: Disney World Character Dining Guide
Thirdly, you can meet Disney Junior characters at the Disney Junior Dance Party. We have a full review of this entertainment offering here.
However, for this article, we'll focus on the characters who meet in Animation Courtyard. Each of these characters sign autographs, and there's usually a PhotoPass photographer available.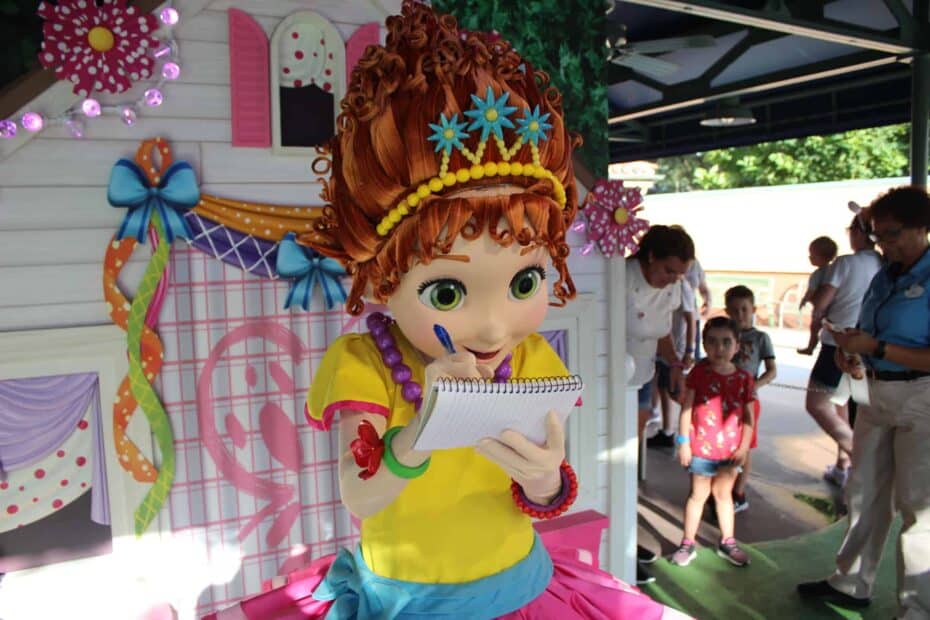 Disney Junior Characters
The Disney Junior characters are located in the Animation Courtyard at Disney's Hollywood Studios. This location is next to the Disney Junior Dance Party and Star Wars Launch Bay.
Below is a picture of the overall character meet area. These character meet-and-greets are between 9:30 a.m. to 6:30 p.m.
However, you'll want to check the My Disney Experience app for their exact times on the day of your visit. Or you can view the schedule here on Disney's website.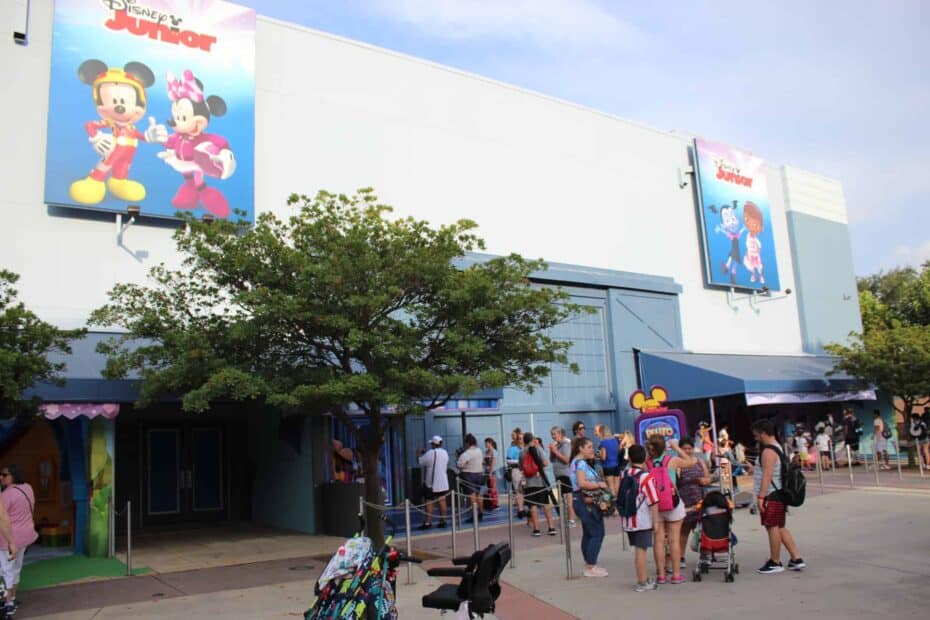 Times and appearances can change from day to day. However, these specific characters are pretty consistent.
From my experience, the lines for these character meets are usually busier earlier in the day than in the afternoon. That can vary a good deal, though, based on what time of year you're visiting.
On the day I took photos for this review, I met all four Disney Junior characters in about 40 minutes. That was on a late Friday afternoon during warmer weather.
Overall, the wait was extremely reasonable. It didn't seem like anyone had to wait too long to meet a specific character.
What Disney Junior Characters Meet at Walt Disney World?
Below are the current Disney Junior characters meeting at Hollywood Studios. Keep in mind as new shows become popular, characters can change.
However, since this meet-and-greet has returned, the characters are still the ones who were meeting before.
Fancy Nancy
Vampirina
Doc McStuffins
Pluto
First, we have Fancy Nancy, meeting on the far end of the Animation Courtyard.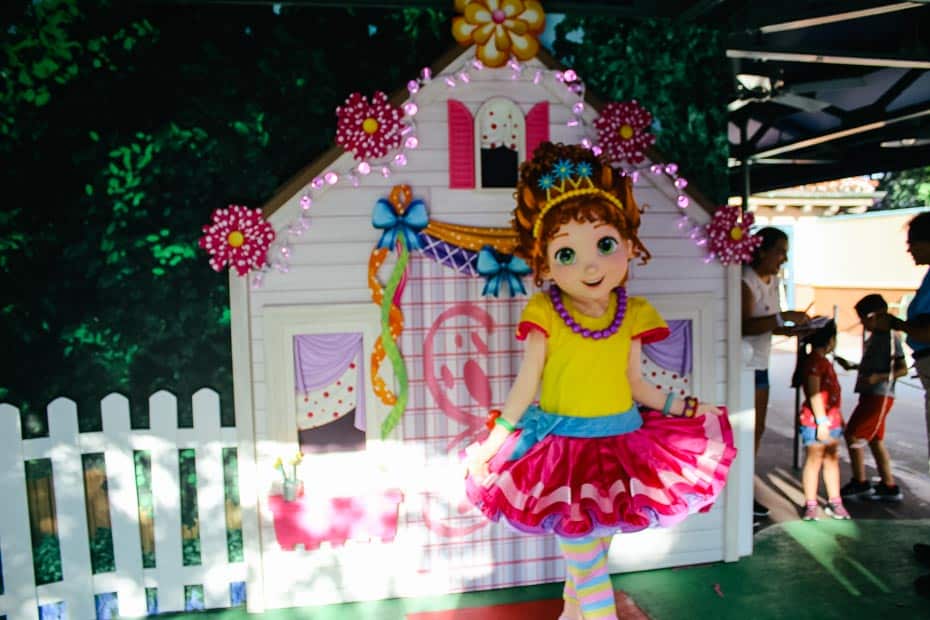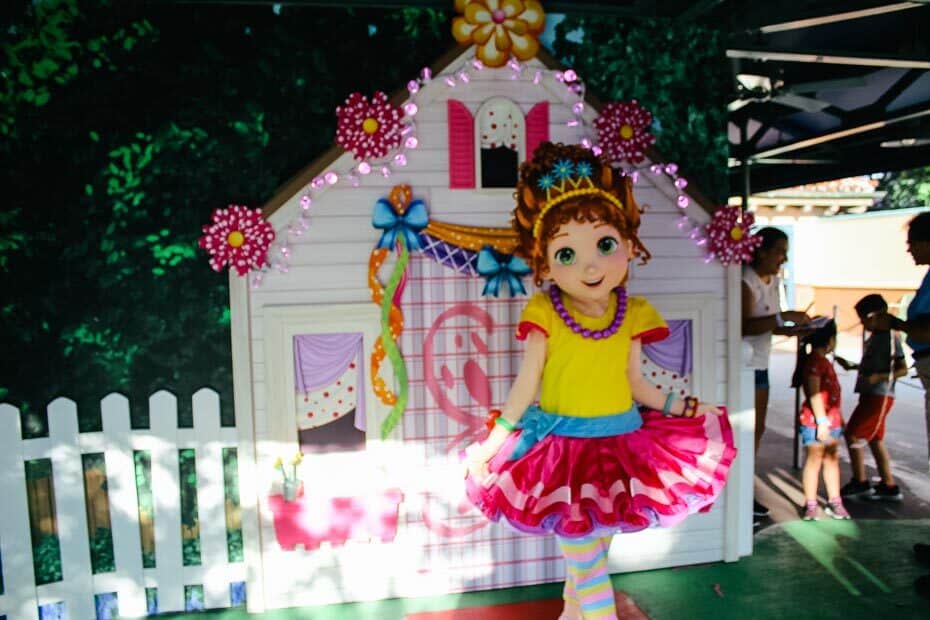 She is the first meet you will see in the line-up of Disney Junior characters.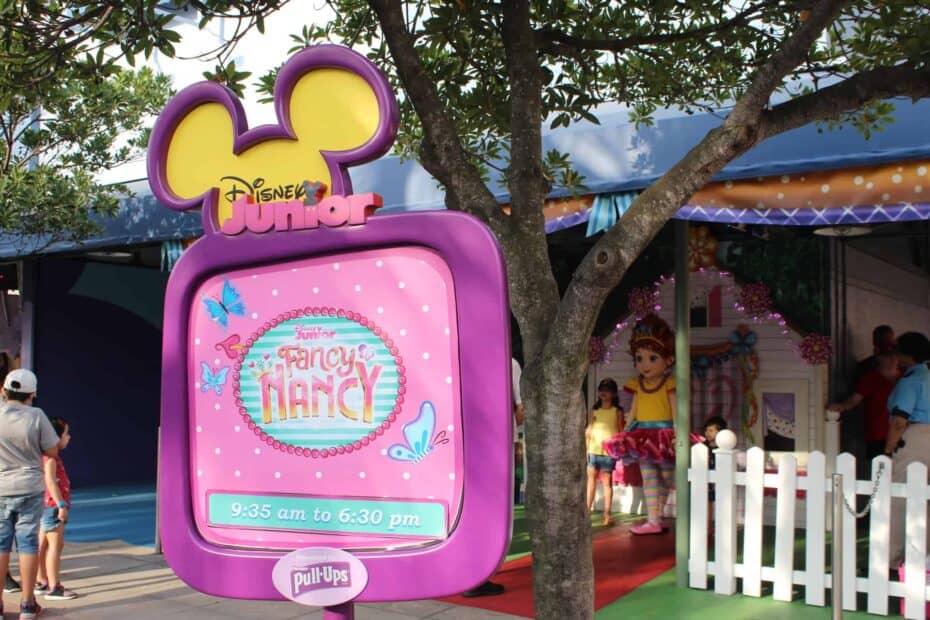 As shown above, there is a sign in front of each meet and greet area. One of the good things here is that all four characters meet in the same place.
That makes it easy to meet one character and immediately get in line for the next.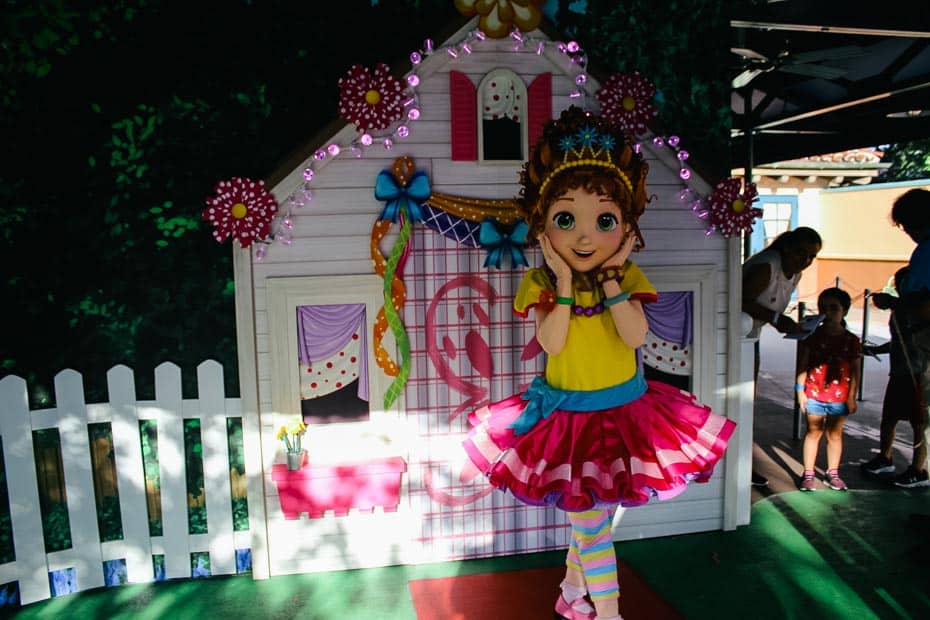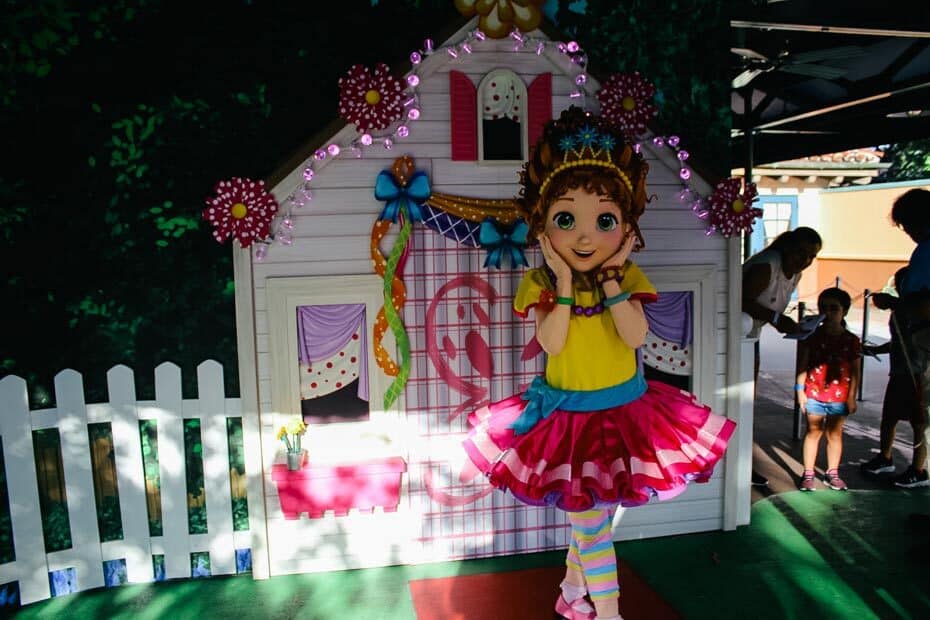 Fancy Nancy is in front of a cute house with a picket fence. Her line is actually to the right side of her meet area.
The Disney Junior characters all sign autographs. Make sure to have a pen and paper handy.
Some children like to have autograph books, but any paper or small notebook would work.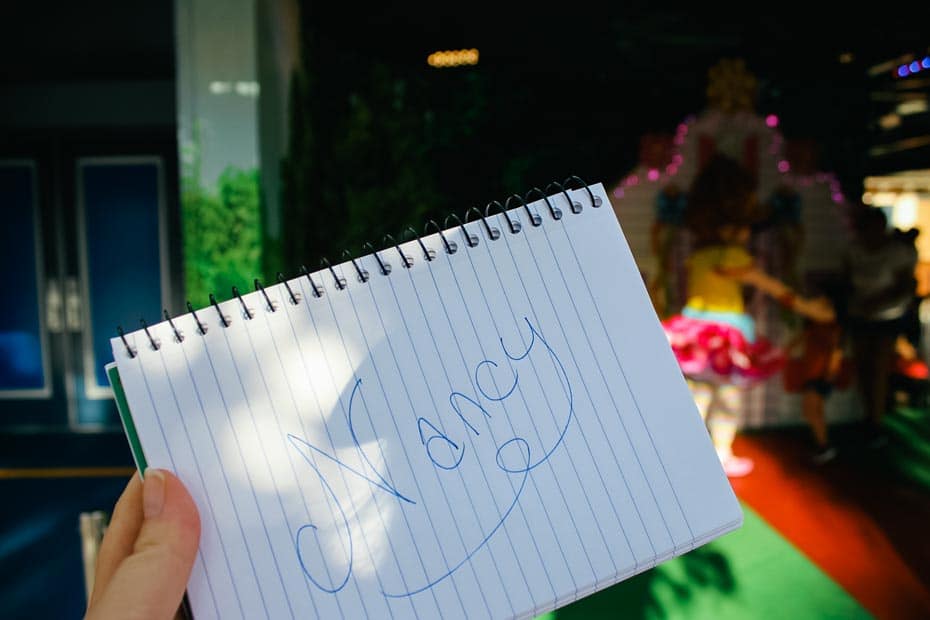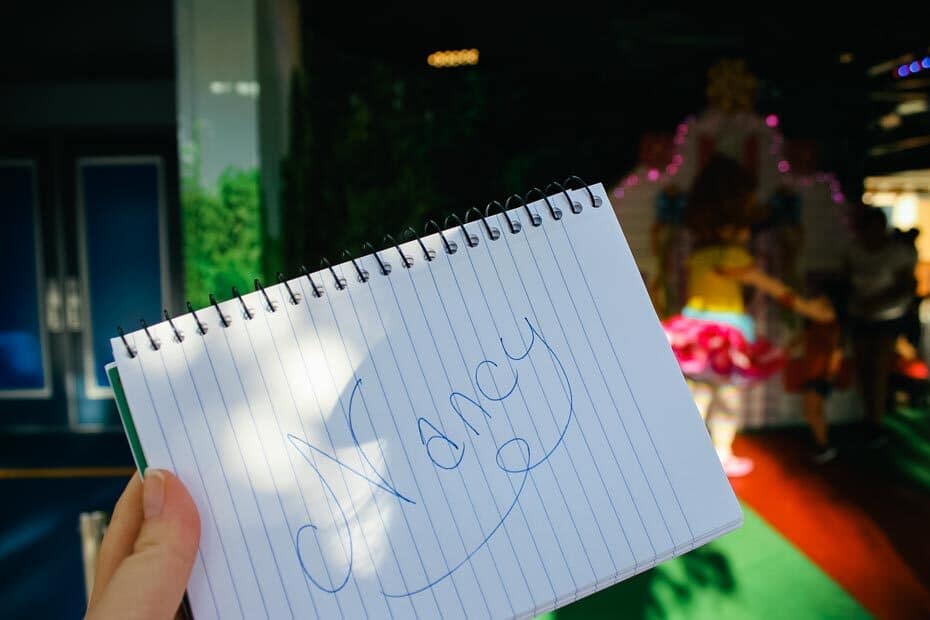 Here's a look at her autograph. Most of the characters have unique signatures, and this is something fun they can take home.
It might be something you would like to include in a frame or scrapbook with a picture of your child and the character.
The following Disney Junior character you will run into at the Animation Courtyard is Vampirina. She is probably the most energetic and hip of the characters meeting in the area.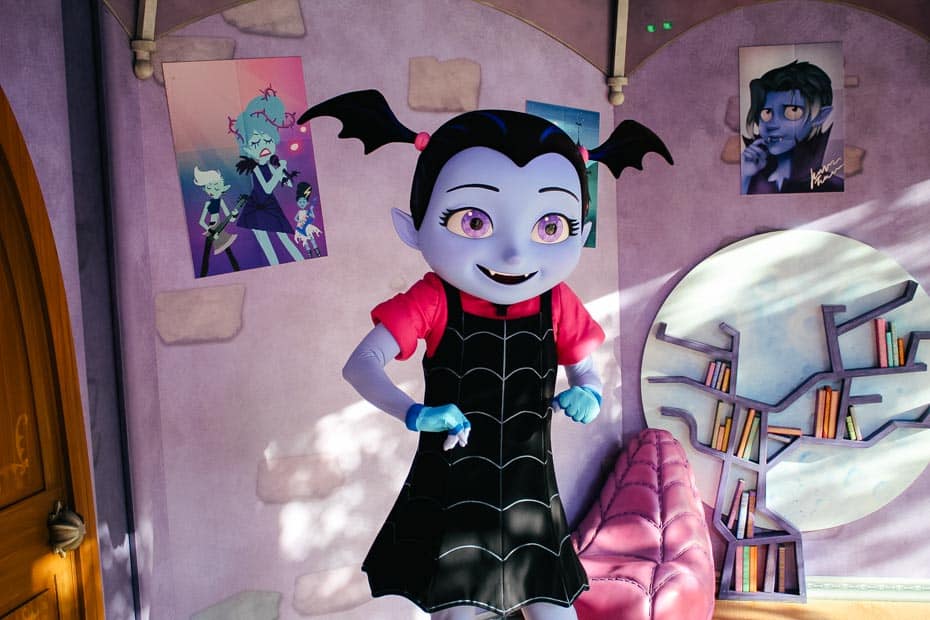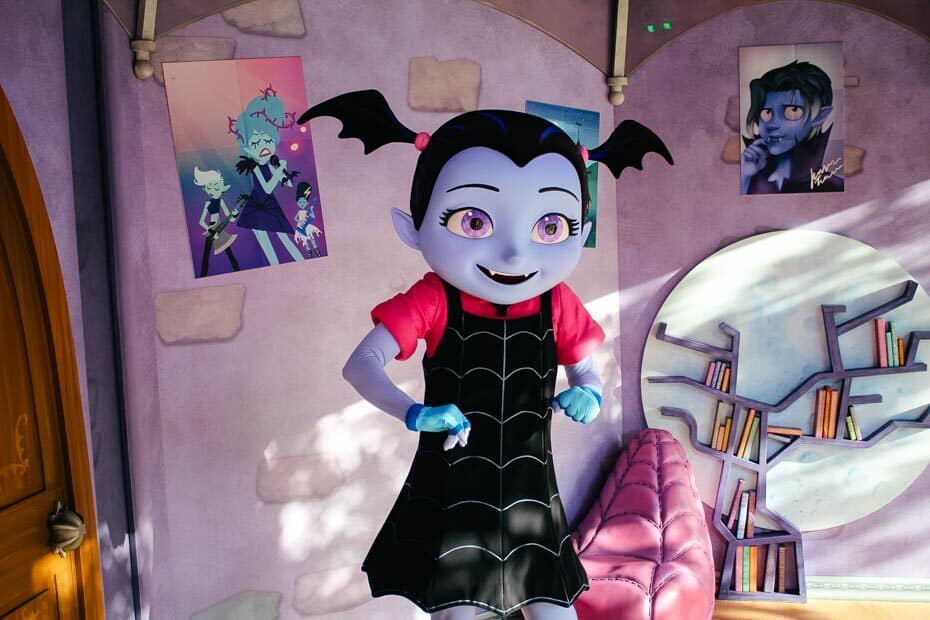 It was cute how her hair flaps like bat wings when she jumps up and down.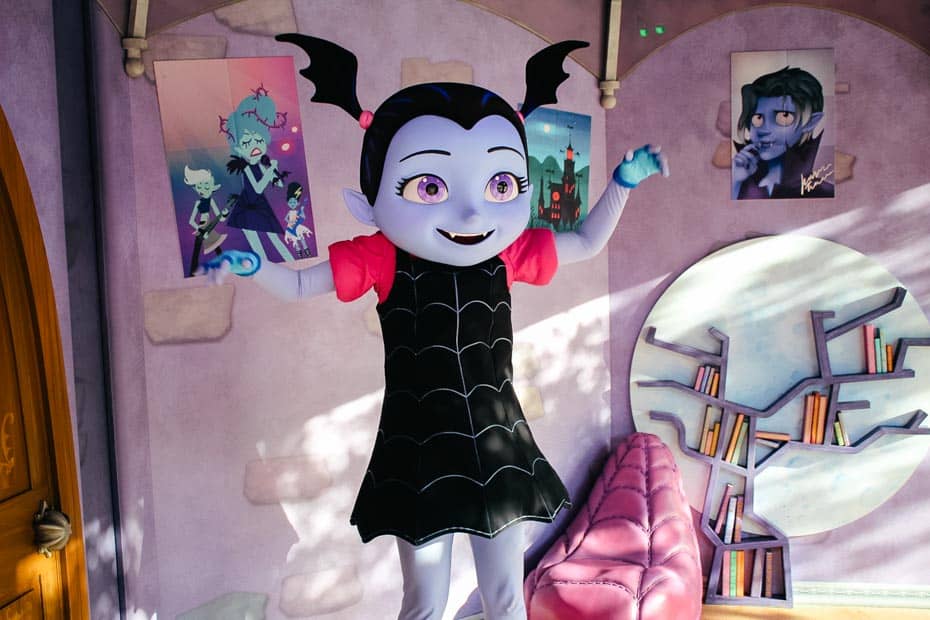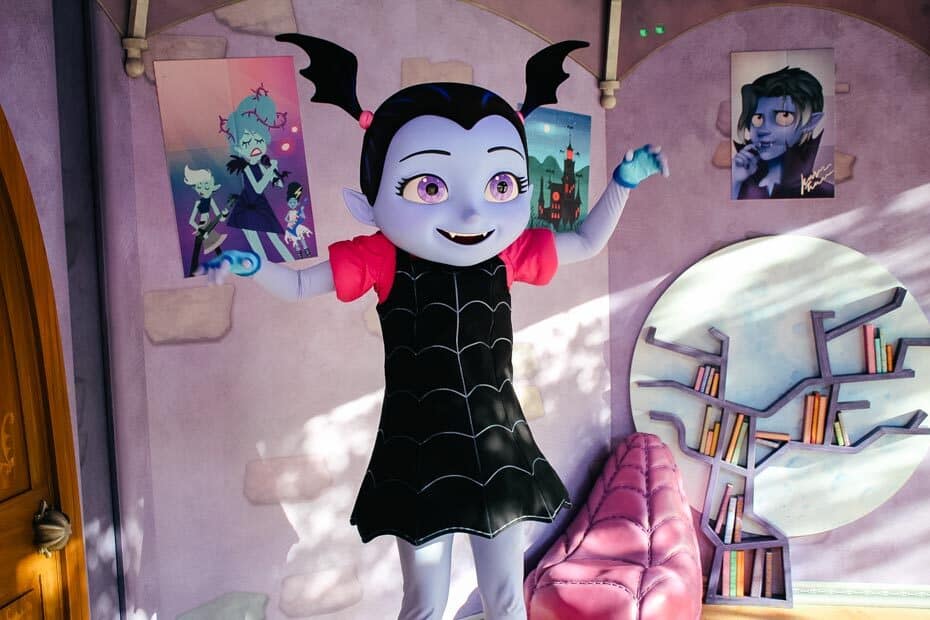 Vampirina will provide you with an autograph.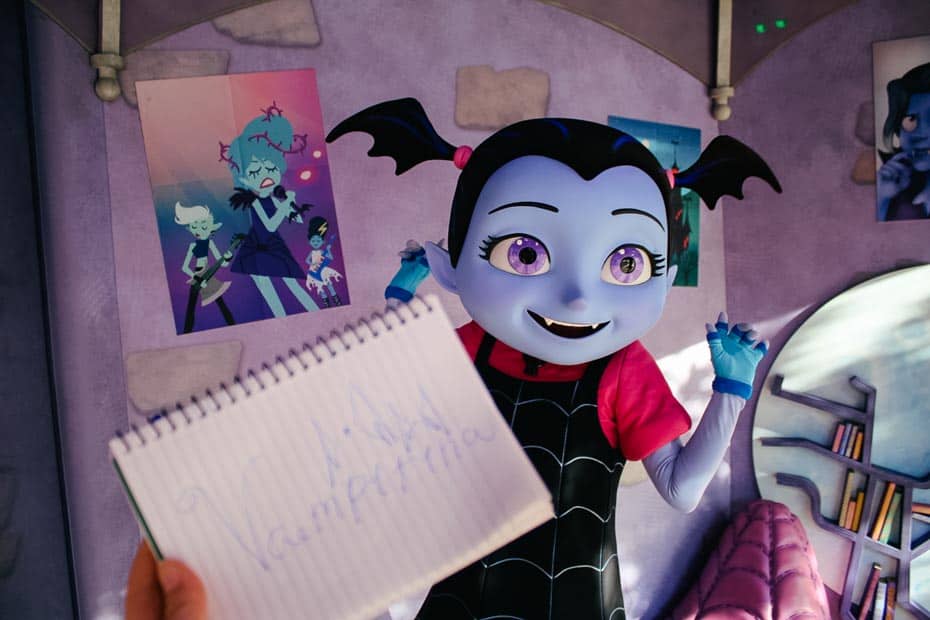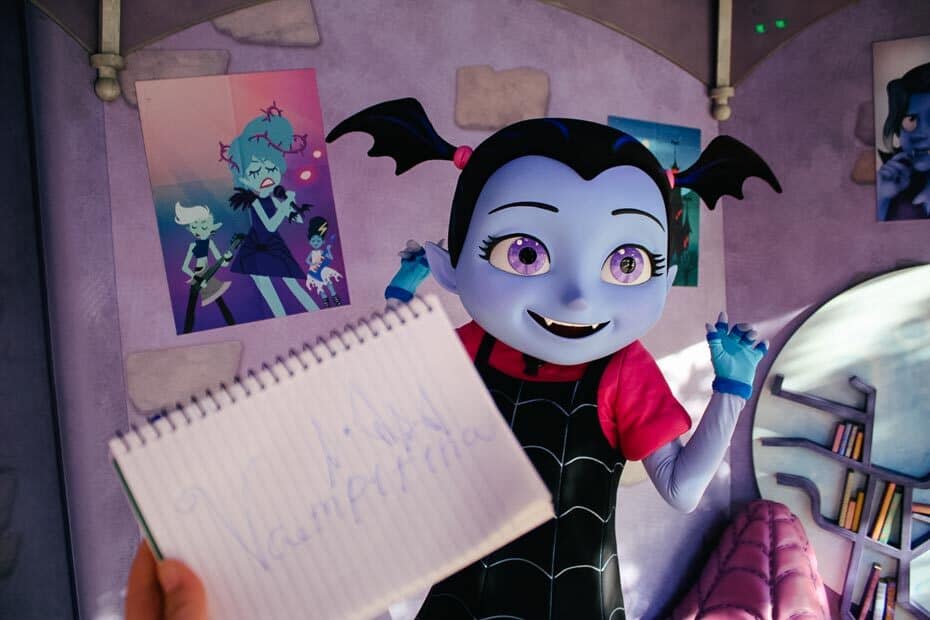 It took her a minute to write it out, but it was worth it. She dot's her I's with bat wings!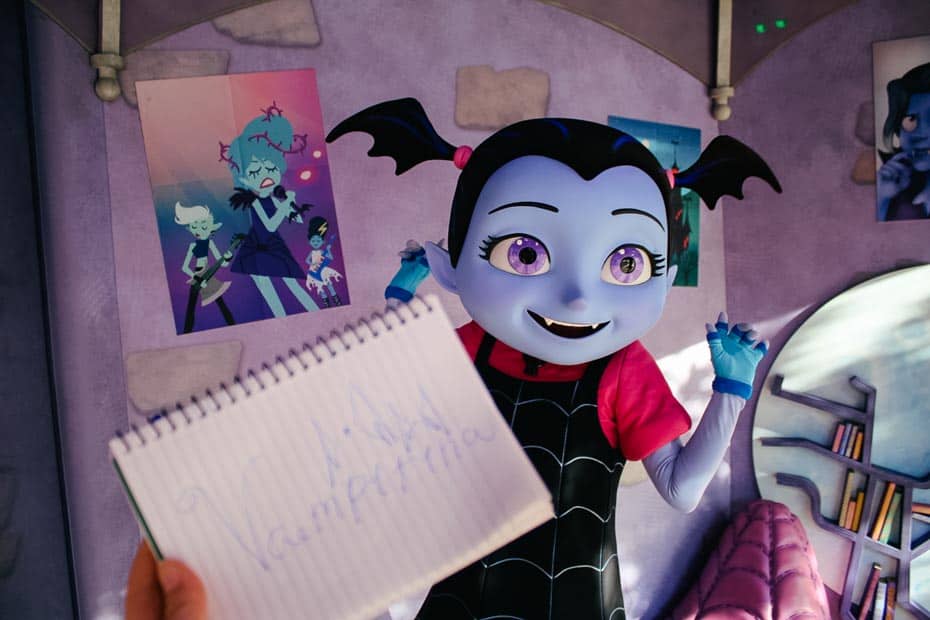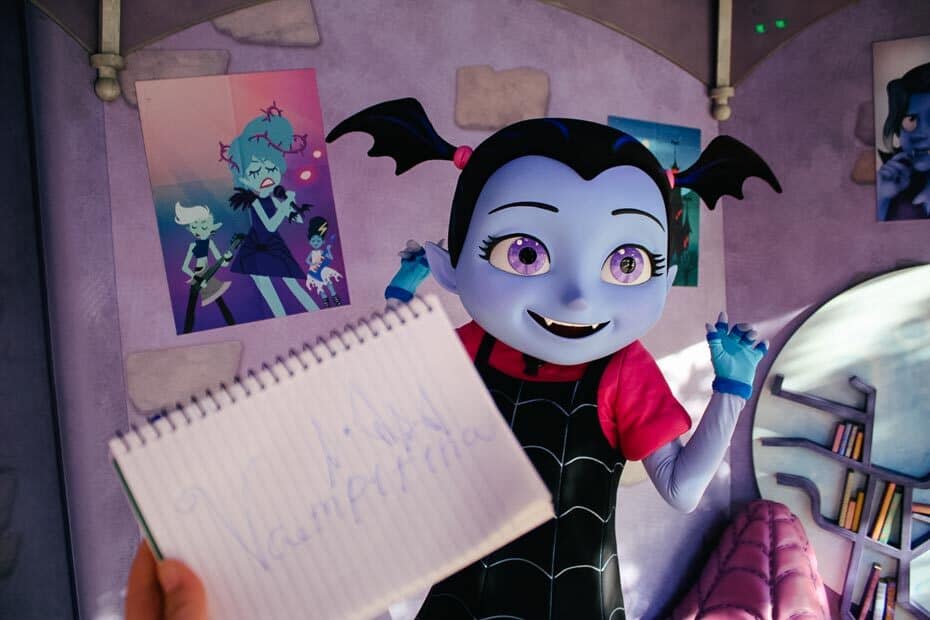 Down the line, you will bump into Doc McStuffins. She is actually toward the end and next to the entrance for the Disney Junior Dance Party.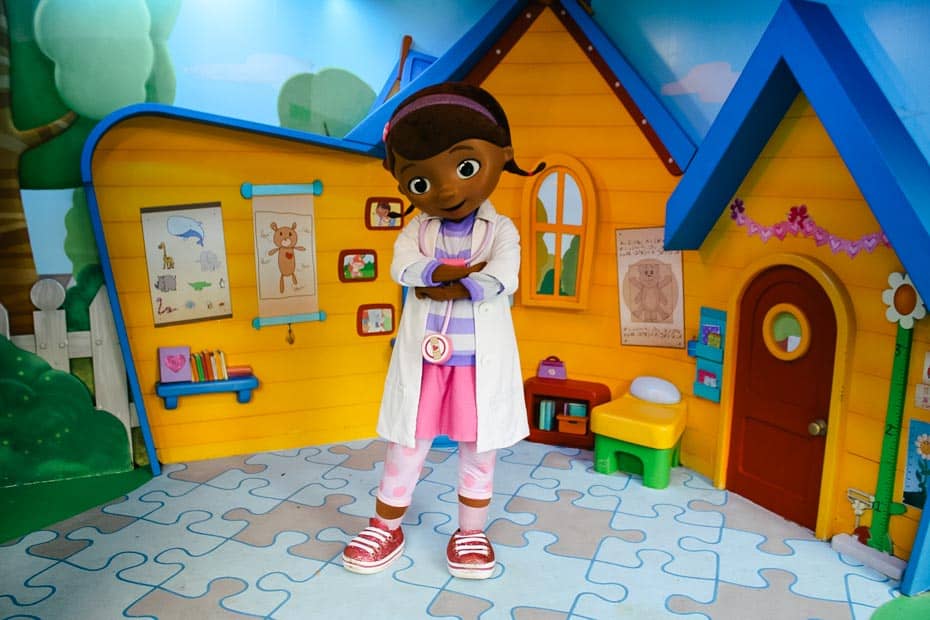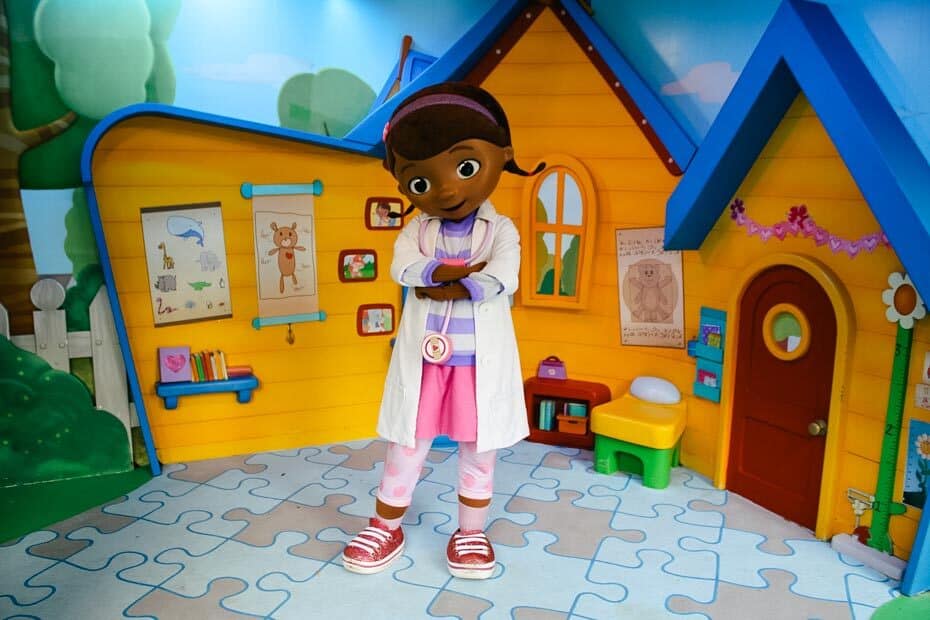 Here is a look at her sign below and autograph. She added a band-aid with a heart on it.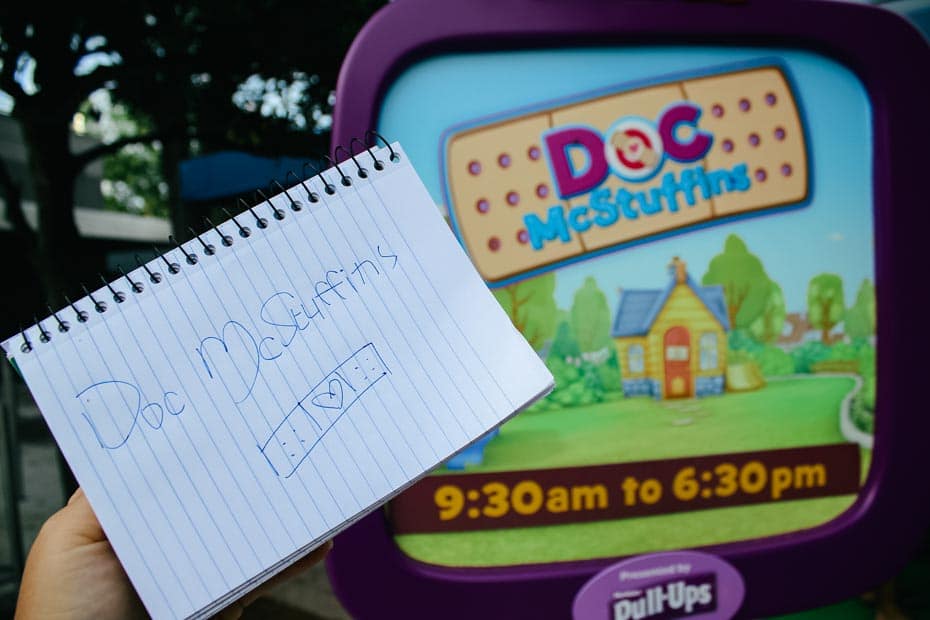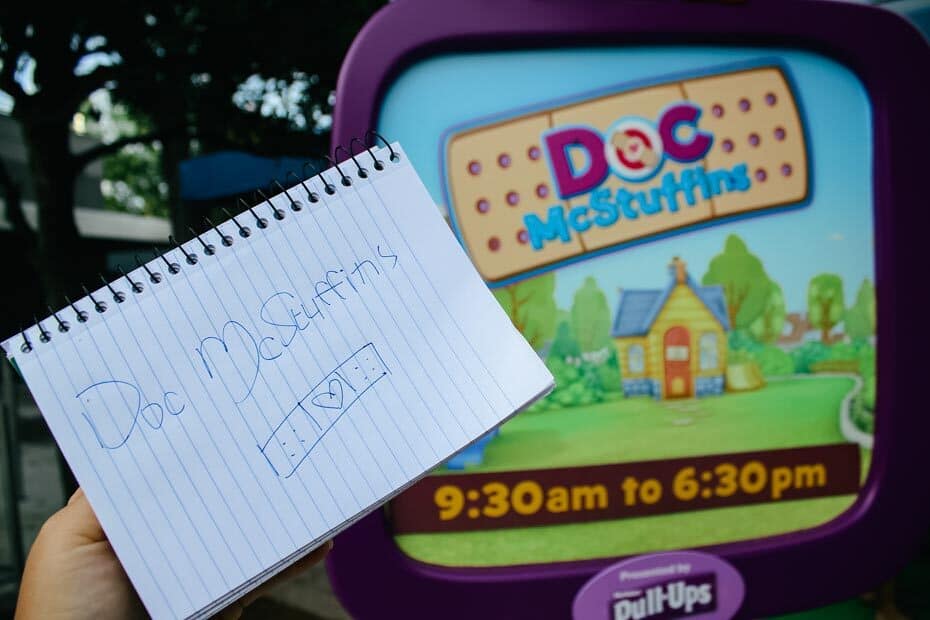 Her setup is naturally like that of a child-friendly doctor's office.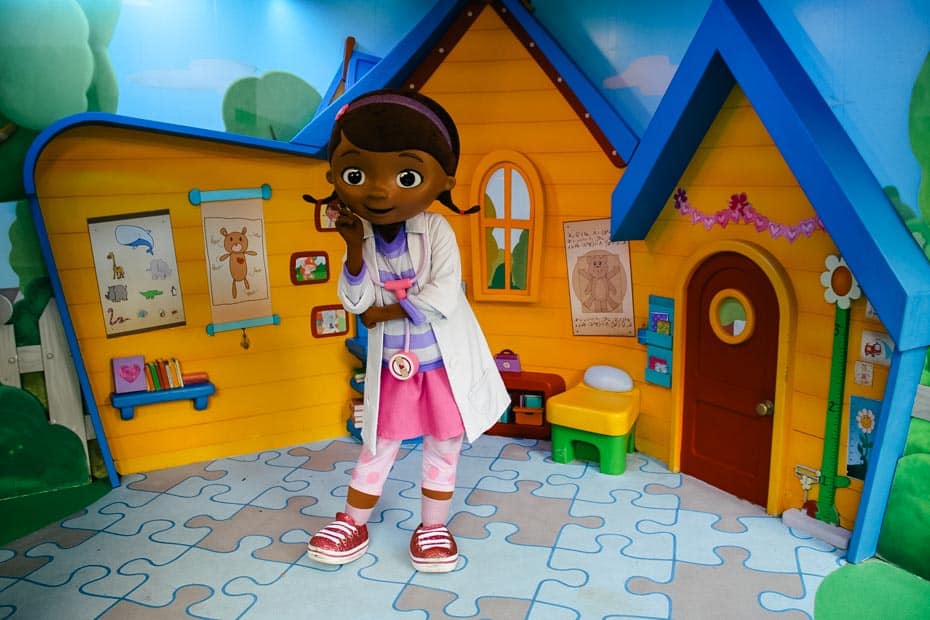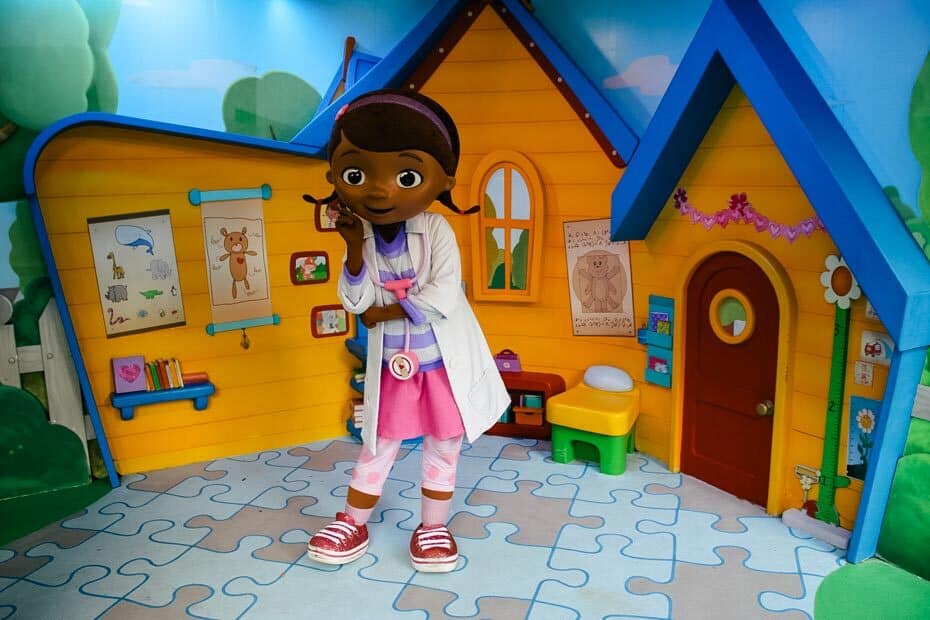 Usually, the characters will greet you, sign autographs, and take pictures with you and your family.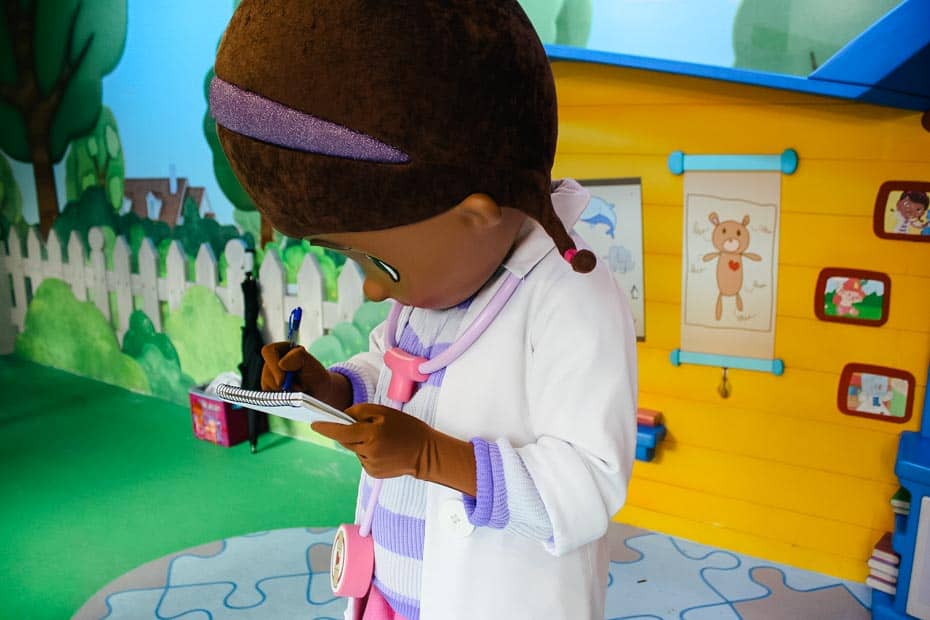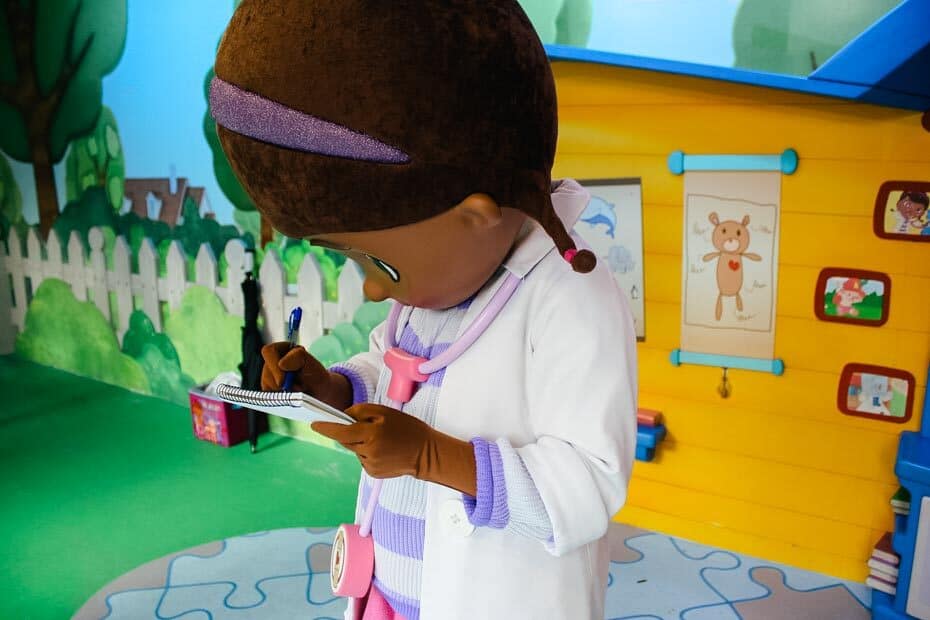 A note to make here is that all of these characters' meets are partially outside. Therefore, in rain or storms, they cease to meet.
Additionally, they take breaks due to the heat and because they wear these costumes for extended periods. So if you are in line for a character and see them exit, do not fret.
They will be back in about three to five minutes. You will more than likely see this happen if you plan to meet all of the characters in this area.
Last but not least, we have everyone's favorite dog pal, Pluto! Oh, Pluto! He is sure to make you laugh.
Hollywood Studios is one of the easier places at Walt Disney World to meet him. You might remember he also has a character meet at Epcot.
Related: Meet Pluto at Epcot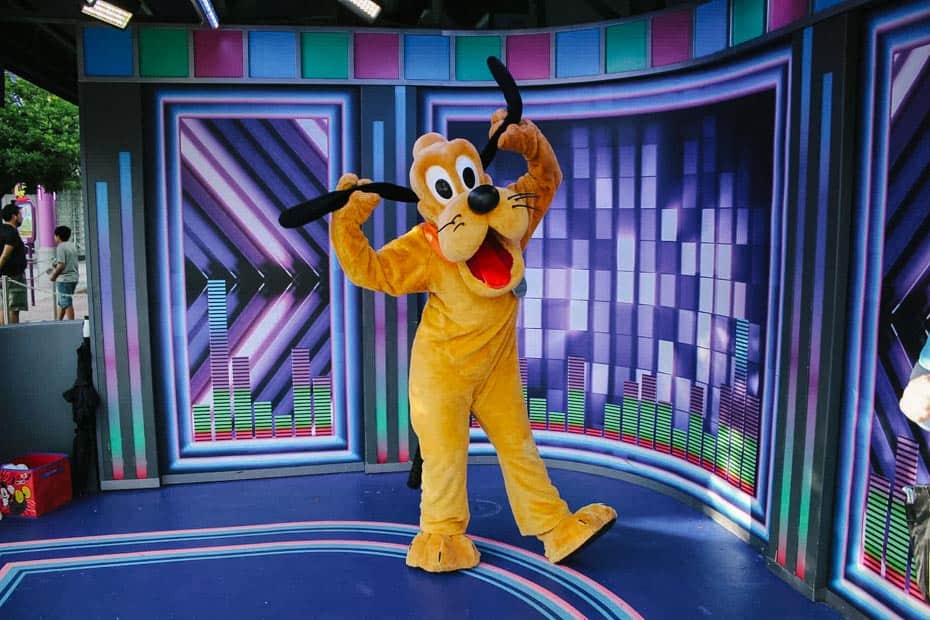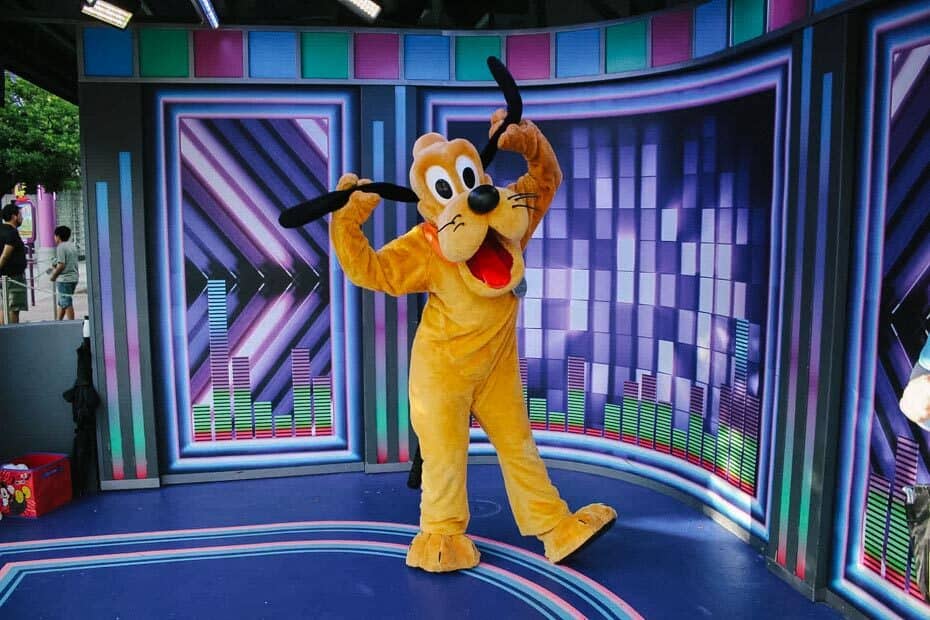 Pluto signs autographs as well. He's so silly. He signed one on top of his nose for me. Who says an old dog can't learn new tricks?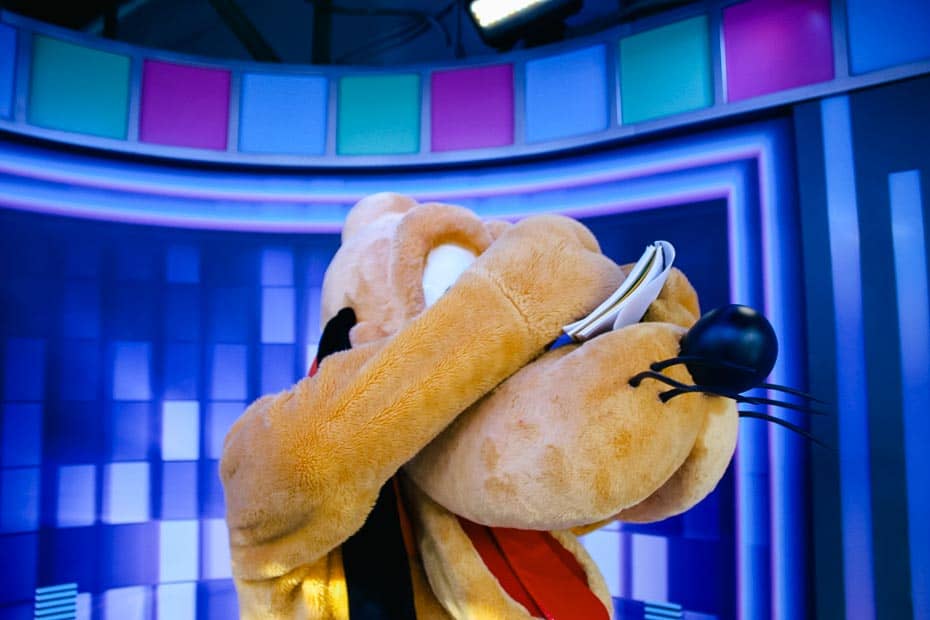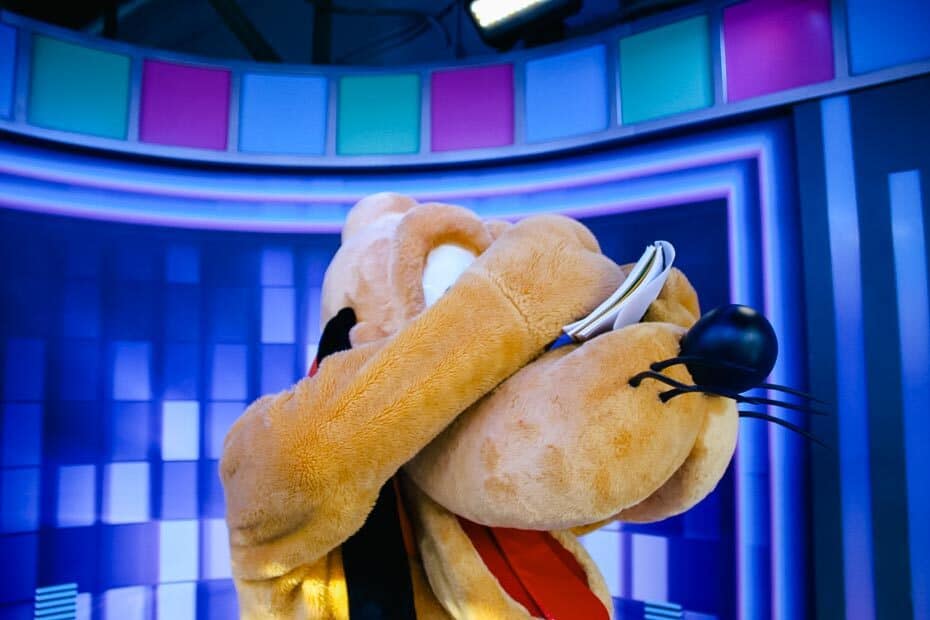 A PhotoPass photographer will take pictures during the meet. There is one available at each of these meets.
If you have your camera or cell phone, the PhotoPass photographer will take a picture for you if needed. This is a good option for a family photo.
Final Thoughts on the Disney Junior Characters
Meeting the Disney Junior characters at Hollywood Studios is fun for the younger fans! I noticed during my visits that many of the children were ecstatic while waiting in line to meet these characters.
If your children watch these popular shows, this is a must-do character meet for them while on vacation.
Animation Courtyard is also home to a popular Disney Junior retail store called In Character. This shop is an excellent place to pick up an age-appropriate souvenir.
*Unfortunately, this store has been closed as of late.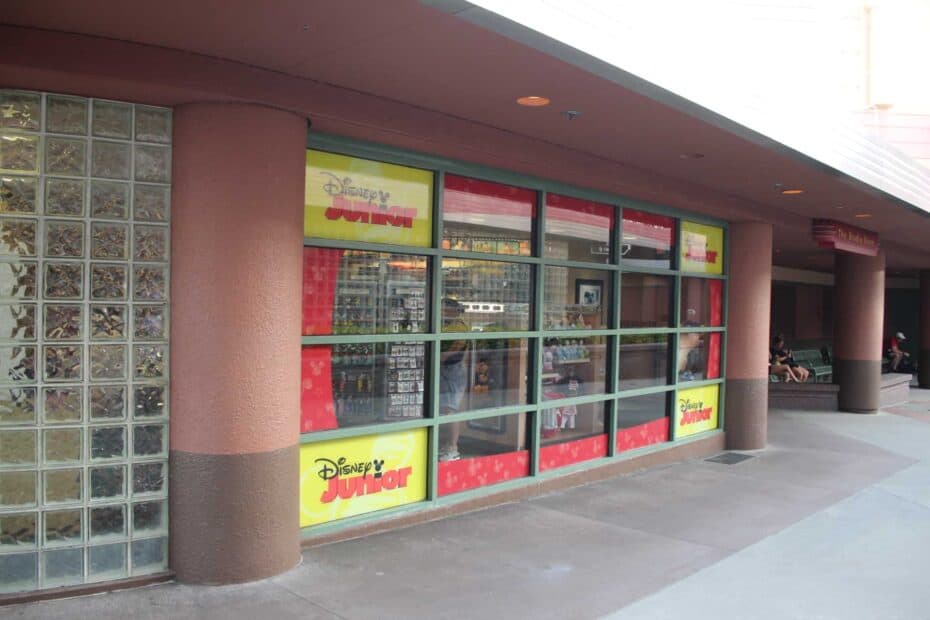 For more information about meeting characters, we have a complete list of Disney World Character Meets. It includes links to every character meet we've experienced in all of the theme parks at Disney World.
For more characters at Hollywood Studios, you might enjoy the following:
You might also enjoy some of these other locations:
Additionally, for anyone planning a trip to Walt Disney World, you might enjoy browsing our Disney World Resort Reviews. We have an extensive list of on-property resort reviews and recommendations for the best off-site resorts near Disney World.
In the Comments
Does anyone in your family have a favorite Disney Junior character they'd like to meet? Leave a comment below and let me know!
Planning a Walt Disney World or other Disney Destination vacation?
Our friends and travel partner, Firefly Travels, excels at doing Disney differently. You can fill out a plan your trip form on their website, and someone will reach out shortly to discuss the specifics.